Posted on Tuesday, February 4th, 2020

At the dawn of the computer age, it was simple. You purchased a program for your computer, the license to use the program was yours, and you could keep using it so long as it would continue to run on whatever equipment you were running it on. If the developer was kind, they would issue patches so you could continue to use it on newer machines and new OS versions. But eventually you would have to purchase an upgrade because the old program would no longer run or there were new features that made it worth the money to upgrade. If the developer were
really
kind, they would give you a free upgrade, but I never minded paying. They had to put work into the new version and it was only fair they be compensated.
That was the Golden Age of software.
We are now degrading to the Rusty Fork Age of software, and it's all because of The Subscription Model.
Instead of outright buying a program... or app, as they are now known... you purchase a subscription to the app. The license to use the app is renewed month-to-month or year-to-year and said app will cease to function if you stop paying for it.
I fucking hate this shit. And let me tell you why...
It's because it leaves you with nothing when you can no longer pay. Nothing!
In most cases when somebody moves to The Subscription Model I just say "fuck you" and take my business elsewhere. A classic example is an app called TextExpander which went subscription in 2016. It's an app that will automatically expand abbreviations you specify to an un-abbreviation you set. Tired of typing "With Best Regards," over and over? Just set "wbr" as a shortcut and it will expand to the full phrase instantly. TextExpander went from an app you could buy for $35 and use for years to an app you had to rent at $8 a month... or $48 a year. That was absurd, I told them to kiss my ass, and switched to a competitor.
Just this past week Flexibits took their app called Fantastical to a subscription model. This is a really great calendar app that is far better than Apple's Calendar, and I've been using it for years on my Mac, iPhone, and iPad. I paid for the upgrade from version 1 to version 2 because the features they offered were worth the money to me. Now, with version 3, you rent the full program for $5 a month ($60 a year) or $40 a year renewed annually. They went to subscriptions because they didn't want to "worry about the 'every few years' upgrade old school nonsense" to which I say, excuse me? That was never a worry for me... your customer. I GOT TO DECIDE if I wanted to upgrade every few years. It was my choice. I think it's safe to say that there is no feature they could ever add to a fucking calendar app that will make it worth $40 to $60 a year. None. That's the real "nonsense" here, and I would go back to Apple's free Calendar before I'd pay that kind of outrageously stupid money. And, with that in mind, get this... one of the benefits they say that comes out of charging you $40 to $60 every fucking year is that they can offer a free, feature-restricted version of the calendar. How the fuck is it a benefit to paying customers that they offer a free version to non-paying customers? What kind of horse shit "nonsense" is that? I was ready to tell Flexibits to go fuck themselves and that they can shove Fantastical up their collective asses, but apparently they anticipated that. Existing Fantastical 2 users get upgraded to the Fantastical 3 app and get to keep the version 2 upgrade features they paid for plus get the "free" features they added to version 3. But for how long, they don't say. I'm sure when Fantastical 4 rolls around they will say that they are no longer supporting version 2 features and you have to subscribe or stop using the app. At which point I will tell them to shove Fantastical up their collective asses. Because unless they add a feature where their app can blow me, I am not paying $40 to $60 a year for a fucking calendar.
But at least with TextExpander and Fantastical I have options. There are competitors selling apps which do much of the same thing. Perhaps not as feature-packed or elegant, but there are alternatives.
What happens when you don't have alternatives?
Enter Adobe...

"Creativity for All"... well, not "all"... only if you can afford $53 a month.
Adobe's "Creative Suite" is a pile of bloated, bug-ridden shit that constantly changes established tools and alters the way the program works for no fucking logical reason. Even worse, usually you can't even set a preference so that it goes back to working the original way something has worked for decades. All of which cost people money. I fucking hate HATE HATE Adobe for screwing everything up with each new "upgrade," but am forced to deal with their shitty apps because there's really no other choice... and they know that. I especially love paying a huge chunk of money every month for a massive bundle that includes dozens of apps I will never use. And that's not hyperbole. A "Creative Suite" subscription is $53 a month! There's no way to pay for Photoshop, Illustrator, InDesign, and Acrobat Pro only for a more reasonable $10 a month... I am forced to pay for dozens of apps even if they never get installed.
Which makes Adobe the new cable/satellite TV provider of the modern age... charging people money to subsidize shit they will never use, just like cable/satellite companies charged you money for channels you would never watch.
But there is hope.
A company called Affinity is coming out with their own "suite" of creative apps. As an alternative to Adobe Photoshop they offer Affinity Photo. As an alternative to Adobe Illustrator they offer Affinity Designer. As an alternative to Adobe InDesign they offer Affinity Publisher. And they are not stupid-ass subscriptions... they are $50 each. Period. Not $636 a year. $150 total. Until you choose to upgrade.
Now, make no mistake, the Affinity apps are most definitely not feature-equatable to the Adobe apps. But they are good, and getting better every day. And believe you me, I am most definitely looking forward to the day I can tell Adobe to fuck off and take their shitty apps with them.
At which point Adobe will buy out Affinity, I'm sure. Adobe's monopoly gives them billions of dollars for just such an occasion, and it's all thanks to The Subscription Model.
If Apple were smart, they'd buy out Affinity first, discontinue the Windows versions, and include the apps with MacOS. Heaven only knows they have the billion dollars to make it happen. Alas, they seem woefully short on smarts lately, so I'm not holding my breath.
Posted on Monday, February 3rd, 2020

There's a difference between "I really connect to your lyrics"... and "I'm going to break in."
I never gave much thought to Taylor Swift. Her music was originally Country, which I don't listen to. Then she dropped into the world of Pop music with 1989 but I wasn't "in that place" at the time, didn't like the single Bad Blood at all, and ignored it. When Reputation was released I didn't much care for the first single, Shake it Off and ignored that album too.
Then I heard the song Mean while shopping in a store somewhere and didn't know who sang it, but Shazamed it even though it was Country because I was hooked by the lyrics...
Someday I'll be living in a big ol' city
And all you're ever gonna be is mean
Someday I'll be big enough so you can't hit me
And all you're ever gonna be is mean
I made a mental note to take another look at Taylor Swift because that one song impressed me so much.
When I finally remembered to pull up her catalog on Amazon Music Unlimited while brushing my teeth one morning, the first song to come up was New Romantics...
Cuz baby I could build a castle
Out of all the bricks they threw at me
And every day is like a battle
But every night with you is like a dream
I remember just standing there, toothbrush in hand, toothpaste dribbling out of my mouth, trying to really listen to the lyrics, which were pretty great. From there I blew through all her music, consistently impressed with her songwriting, even if I didn't always like the song itself. But most of the songs from 1989 and Reputation I did like quite a lot.
Then the singles from Lover started dropping and I was suddenly full-on fan of Taylor Swift... putting Lover in the top spot of my favorite albums of 2019.
And now, just when I didn't think I could love Taylor any more than I already do, a documentary dropped on Netflix called Miss Americana...
I enjoyed it quite a lot. The film is an intimate look into the highs and lows of Taylor's life and gives a glimpse into her songwriting process (which is worthy of a documentary all on its own). There's also a good chunk of time devoted to Swift's decision to unleash her political beliefs, even though she knew full well what the consequences might be for her life and career. The scene where she's about to unleash a political tweet that changes everything was almost a hold-your-breath moment.
It would be really easy to watch her struggles and think "Oh boo hoo! Go cry into your millions of dollars because nobody cares!"
But any such snap judgements are made out of ignarance. Swift built herself a castle out of all the bricks that were thrown at her and earned her millions of dollars with hard work and talent. The fact that she uses her popularity and fame to speak out against bigotry and injustice when her life would be a lot easier if she just sat quiet and smiled is what makes Taylor Swift be Taylor Swift.
Even though she all too often gets burned for it.
And so... Miss Americana is recommended for Taylor Swift lovers and haters alike. If you have Netflix, give it a look.
Posted on Sunday, February 2nd, 2020

It's National Football Day, but it doesn't matter much to me... because an all new Bullet Sunday starts... now...

• NED... NED RYERSON! I honestly don't care about the Super Bowl. I am not invested in football even a little bit. But I do like that companies are willing to spend all kinds of money creating commercials that I actually want to watch...
And, holy cow, would you look at this awesomeness...
After the Big Game is over, all the remaining commercials will be released. It's like Christmas for advertising nerds like me.

• Pringles! And then there's this, which I love for obvious reasons...
The second half of the new Rick and Morty season cannot get here fast enough.

• Happy Endings. One of the best shows to come along in quite a while for me is The Good Place. At least for the first two seasons. I watched the first couple episodes because I love Kristen Bell, didn't care for them, then said goodbye. Then one evening a number of weeks later I needed some background noise while I worked, landed on the show, and quickly became obsessed. Then they dropped one of the most mind-blowing season finales I've ever seen, left you wondering where the show could possibly go next, then topped themselves in the second season. I maintain that The Trolley Problem is one of my favorite episodes of all time of any show ever. And it's because it's filled with hilarious and brilliant moments like this...
Sadly, things started to fall apart in the third season. Then it all went to shit in the fourth and final season. I couldn't even watch it any more. But I tuned in to the final episode to see how it all wraps up... and was reminded of how good the show could be. That final moment which shows what becomes of you after The After was poetic and beautiful. Not enough to make me run back and watch all the fourth season episodes I missed... but pretty darn special. Really happy for shows that get a proper ending.

• iPad × 10. This past week the iPad turned 10 years old. It doesn't seem as though it's been that long since Steve Jobs introduced it to an unsuspecting world...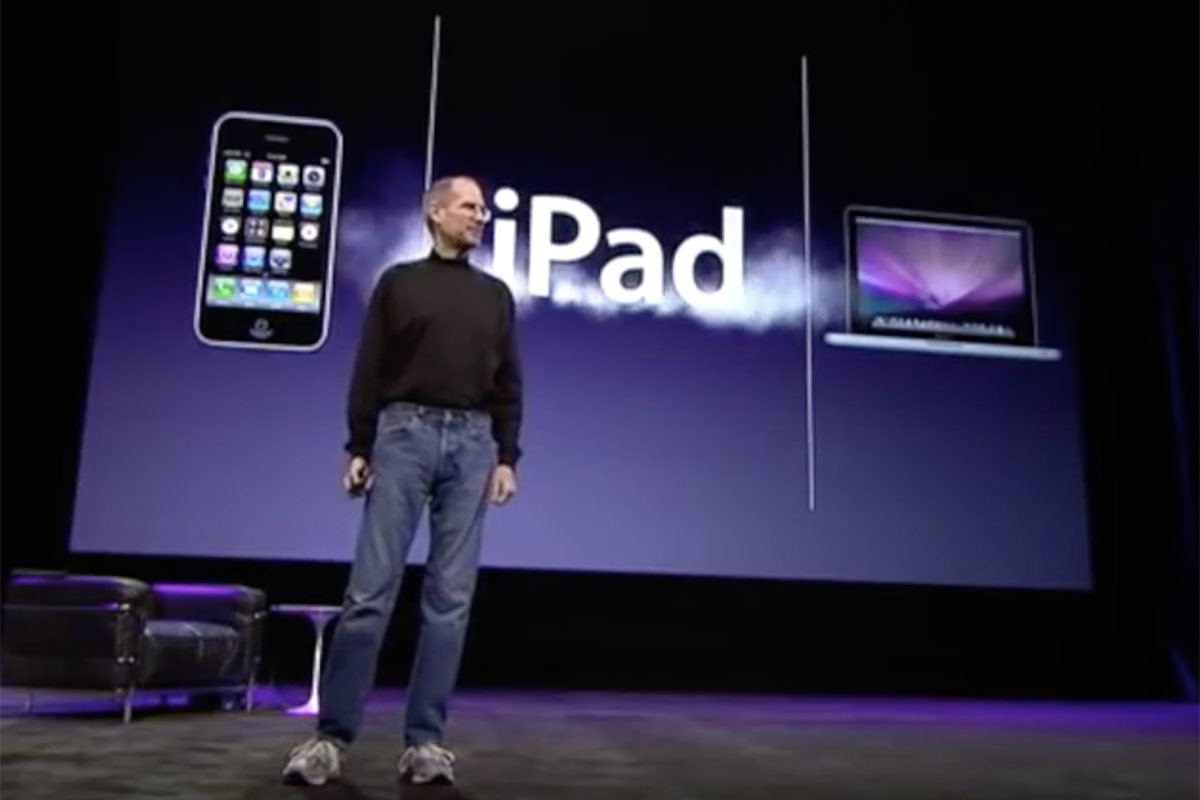 I remember the criticism vividly. A lot of people hated the name, equating it to a maxi-pad. A lot of people thought it would never sell because it was just a big iPhone that lacked any serious computing power. I was on the fence, but bought one anyway. Mostly because I liked the idea of it for travel. If there was even a chance that I could leave my laptop behind and carry the much smaller and lighter iPad with me, why wouldn't I? Sadly, the iPad didn't end up being the laptop killer I was hoping for. Not for my work anyway. It's getting closer and closer every day though. The first release of Photoshop for iPad was a grave disappointment, but I'm sure that's temporary. They'll get there eventually. I guess we shall see. Right now the only thing I use my iPad for is digital drawing and painting. And it's pretty great for that. My trial run at blogging worked okay, so perhaps in a year or two when the apps are right it will be exactly what I need it to be.

• BAYHEM! Some may question the wisdom of Netflix backing a dump truck full of money up to Michael Bay's house and asking him to make them a Michael Bay movie. I am not one of those people. Sometimes you just want to watch stuff exploding and things getting blown up in the most unrealistic and insane way possible and that's what Michael Bay delivers...
Doesn't hurt that they got Ryan Reynolds to star, and then let him totally be Ryan Reynolds. Or that they totally put the time, effort, and money into the epic location shoots or making the special effects look so good. For all the obvious reasons, the general consensus between critics is that they hated it. For even more obvious reasons, I loved it. Sequel please!

• Frozenless. Last night's Saturday Night Live had some moments. But this was the one that I had to rewind and watch over again...
But the best sketch of the night was the cold open...
No rational person thought that the Republicans would get behind an actual trial with witnesses and evidence and anything that makes a trial a trial... so color me unshocked that this is exactly what happened.

See ya next Sunday... when we won't have to worry about football again for 8 months.
Posted on Saturday, February 1st, 2020

You will be pleased to hear that a life-long dream of mine was realized this week: Jake has consistently been falling asleep on my cold feet while I am working in bed. He did it on occasion over the years, but it was seemingly random and by accident. Then, on Tuesday he fell asleep on my toes... and has every day since. It's his favorite place to be now, apparently, and it's certainly my favorite place for him to be. So... win-win then, I guess...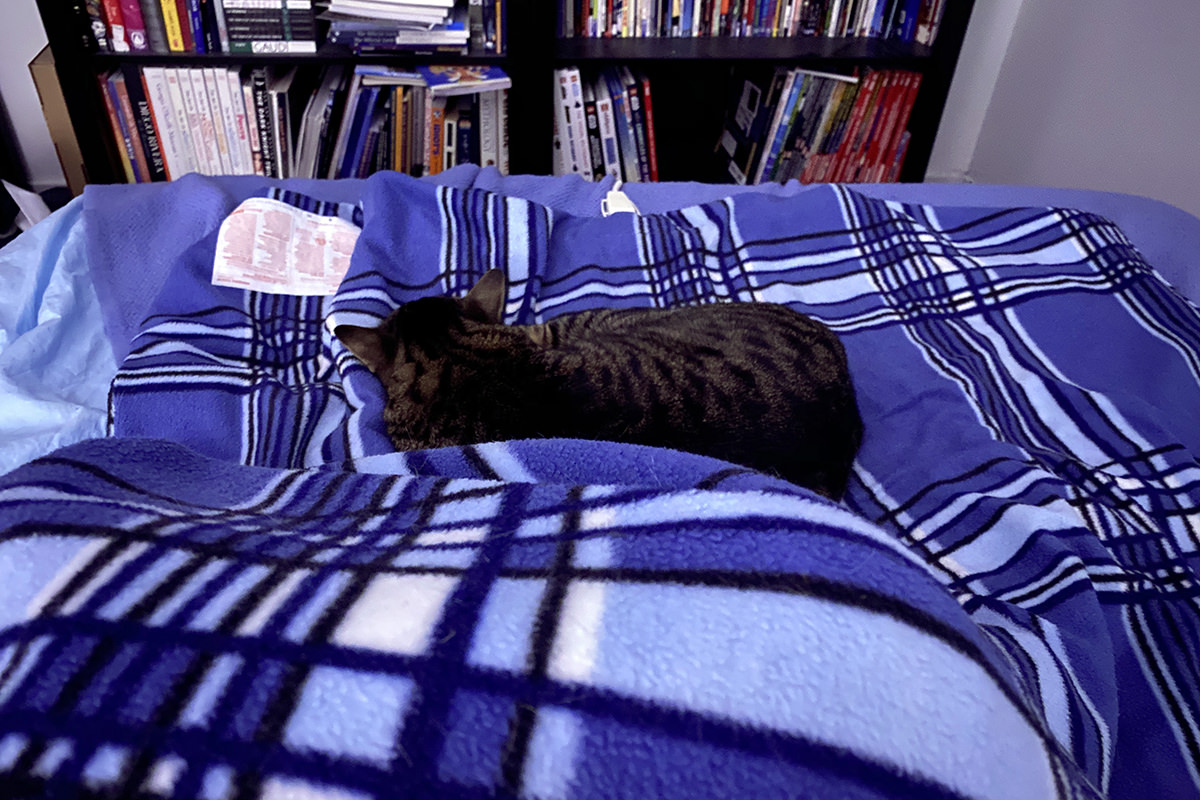 Last week Dolly Parton started a meme sensation that's been picked up by just about everybody...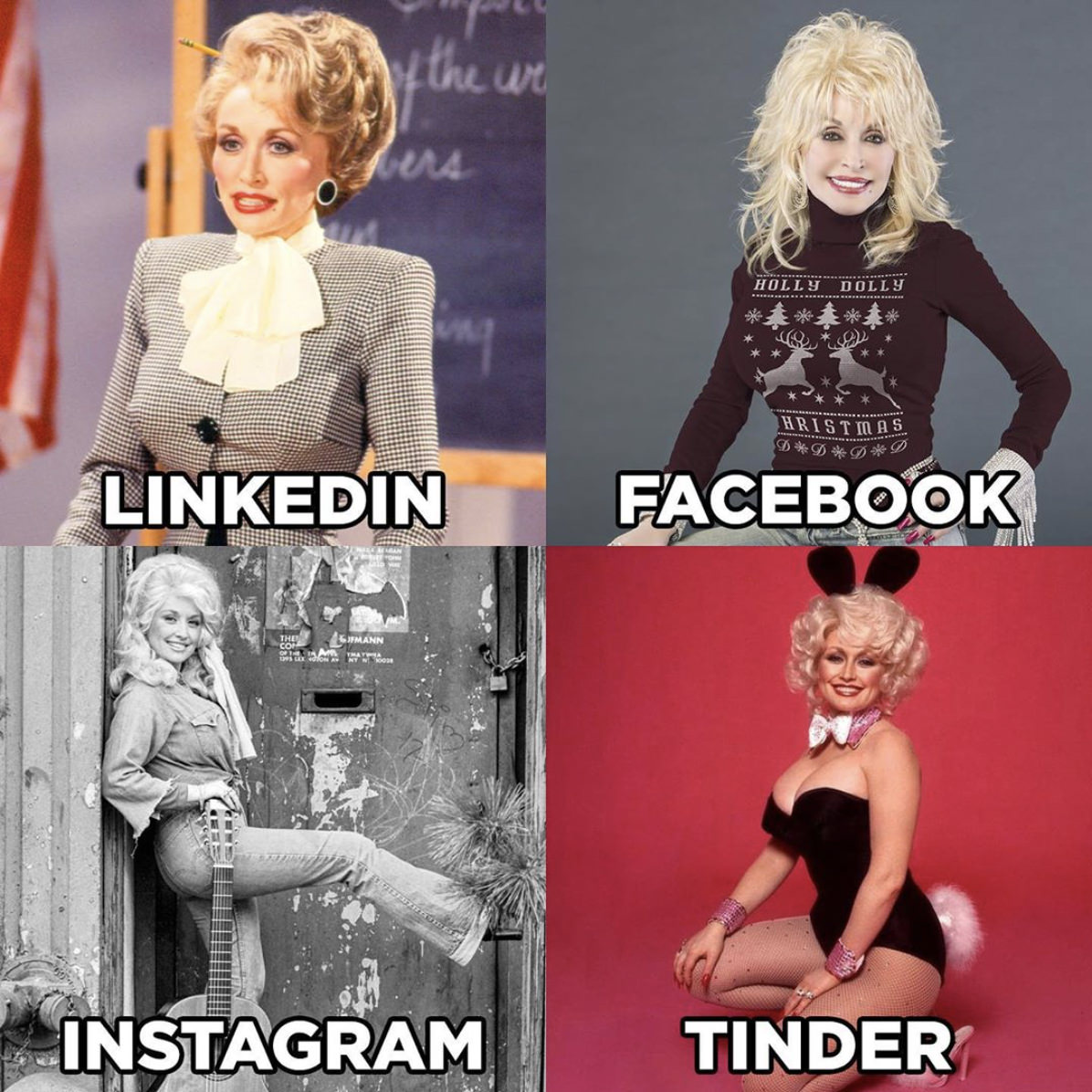 Earlier this week I made one for Jake...
And one for Jenny...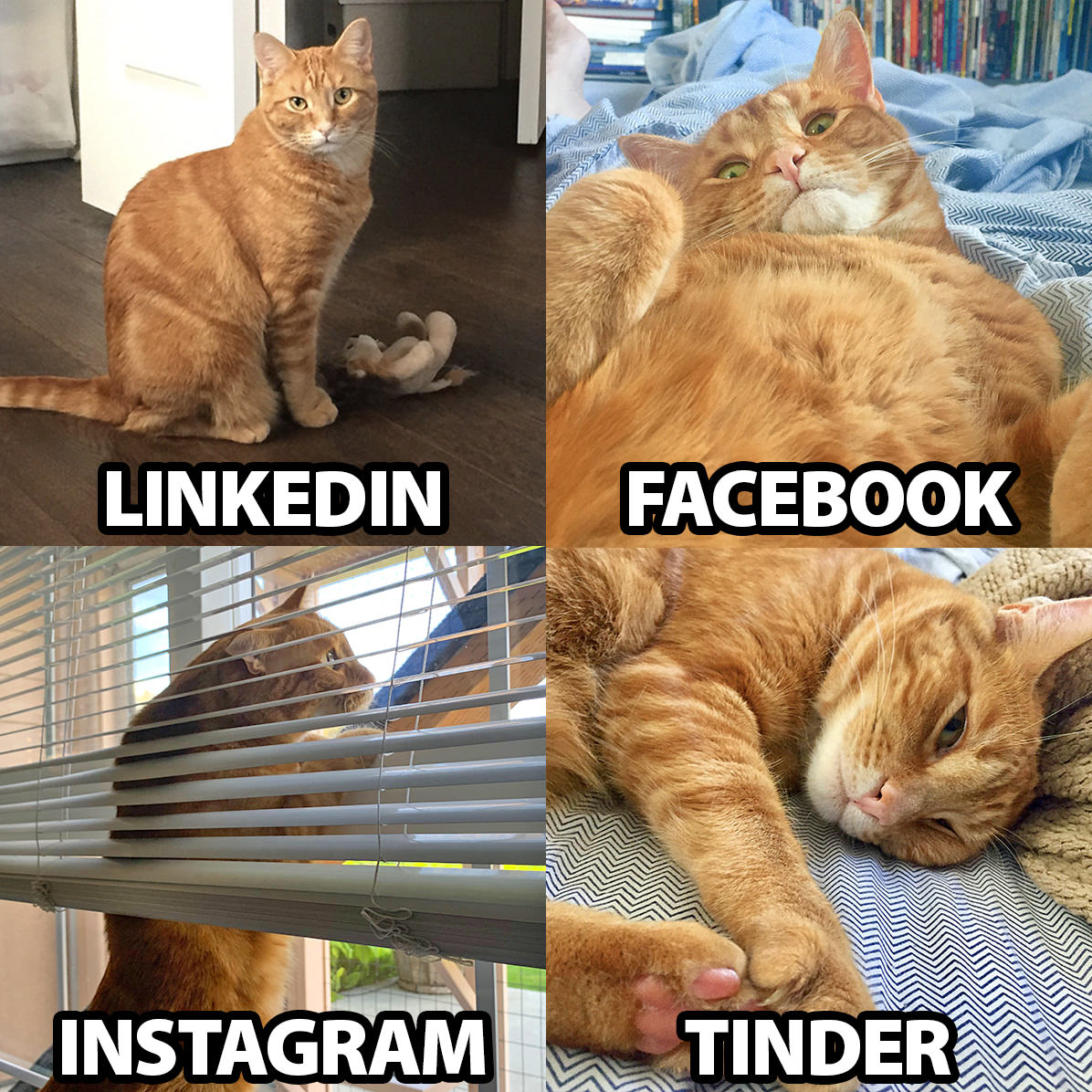 And that's all I have to say about that.
But before I go... watch this until the end...
I love raccoons almost as much as I love cats.
Posted on Friday, January 31st, 2020

I started another woodworking project last night, lost track of time, and was too tired to go to the store as I had planned.
And so I went after work today.
Which was a huge, huge mistake because everybody and their dog was buying crap for their Super Bowl watch parties. The traffic is jacked up on the road to the grocery store on a good day... but today? Bedlam.
All I really needed was potatoes and eggs so I could whip up some potato salad for dinner tomorrow, but there were sweet savings in celebration of Super Bowl Weekend that I was compelled to take advantage of, so I guess it made the horrible trip worthwhile.
Now I'm too tired to blog.
Posted on Thursday, January 30th, 2020

I've tried a number of different "meal services"... some of them send a recipe with the ingredients you need... some of them send complete meals that you microwave. I prefer the stuff you assemble from ingredients by a wide, wide margin... things just taste better and fresher.
The problem with these meal services is that I'm vegetarian and most of them put mushrooms in everything vegetarian. Since mushrooms trigger a reaction which can cut off my air supply and kill me, I have to substitute something or just leave them out. Since these meal plans are expensive, I don't like the idea of paying for recipes that are incomplete, so I generally get frustrated and quit. There's rarely many vegetarian options so it's not like they give me much choice.
Then I found Martha Stewart & Marley Spoon and all that changed. Martha always has a good assortment of vegetarian selections and none of the stuff I've selected have had mushrooms in them. NONE! How refreshing!
But the best part? I really like the stuff I've been sent!
Ingredients are (mostly) fresh and good quality. Recipes are good. Some are very good. None of them are overly-complicated or difficult to prepare, though Marley Spoon's recipes are a bit more involved than others I've tried.
Like all of these services, each "meal" is supposed to be two servings for two people. Since I'm alone, and like big dinners, I'm usually just eating both portions. Any leftovers get tossed in the fridge for lunch the following day.
There are a few downsides, however.
First of all, you have to actually cook. I'm more of a take-something-out-of-the-freezer-and-microwave-it kinda guy. Second of all, since the recipes are a bit involved, there are a number of steps which make a lot of dirty dishes...
Thirdly, and this is a big one, the meals are expensive, yo. Each week you get two meals which are, in Marley Spoon's opinion, four servings. The cost is $41.00 plus $9.00 shipping. So... FIFTY DOLLARS for two dinners and two leftover lunches (most times). Now, $20 dinners and $5 lunches may not seem like an extravagant amount of money if you eat out all the time. But I don't because I have other places my money needs to go and $25 a day is outside my budget. That being said, I do consider the Martha Stewart meals to be a fairly good value (and a great value if you eat the meals with meat in them). Especially when you consider that I get to keep the recipes and will absolutely be making some of these meals again. After my "promotional discount ends" I will likely be skipping most weeks since I can't afford them, but I will still buy an occasional box that sounds too good to pass up when I can afford it so I can get new recipes.
And, lastly, because I'm in a rural area, my boxes are hit-or-miss as to whether they arrive on time. It's running about 50/50. This wouldn't be terrible, except the vegetables start to age so they can end up yucky and need replacing. Another bummer? They do not seal the boxes very well. A single piece of thin tape, and it sometimes comes open during shipment. Since this is food, they should really be using WIDE security-printed tape so you know if your box has been tampered with.
And now for the recipes I've tried so far...

01. Tortelloni & Butternut Squash with Harissa Butter & Roasted Almonds
My very first meal was my favorite. And it's so simple that I can easily make it myself. Essentially you cube up a bunch of butternut squash, chop up an onion, then sauté with harissa spice until soft. Mix that with cooked cheese tortelloni, butter, and top with chopped almonds. Done. I had never heard of "harissa spice" before and immediately fell in love with the stuff. It wasn't at my local market and we don't have a Middle-Eastern market, so I ordered from Amazon. Fantastic stuff. Odds of me making this again? 500%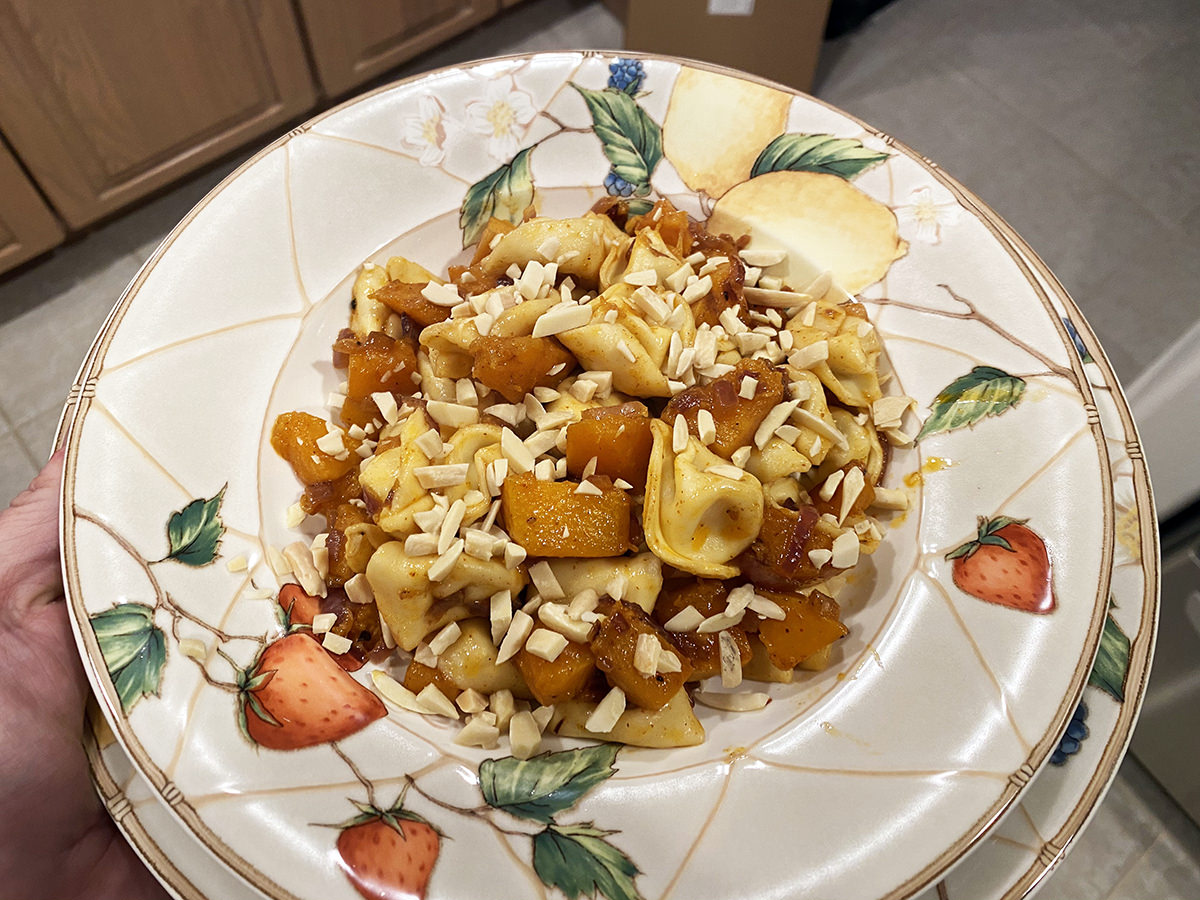 02. Cheesy Black Bean Chili with Warm Tortillas & Quick Salsa
The beans were canned, but everything else was fresh and had to be prepared (which involved a lot of chopping). I've never made chili from scratch before and was surprised at how easy it was. And how much better it tastes than canned. The only hiccup was with the tortillas, which they ask you to brush with oil and heat on a flame. Well, my oven is electric not gas, so I'm guessing they wanted me to light my kitchen on fire or something. Instead I broiled them. Not the same, but good enough. Odds of me making this again? 100%

03. Southwestern Veggie Flatbread with Pico de Gallo & Crema
This was my first problem with ingredients I received. My poblano was starting to turn brown, so I had to lose a chunk of it. There was still enough left to make the recipe though, so I guess it's all good. The flatbreads are crisped, topped with sautéed onion and poblano, then baked with sharp cheddar cheese and garlic. You top that with crema and cilantro and serve with a salad made from halved cherry tomatoes, onion, garlic, fesh-squeezed lime juice, and cilantro. This salad would have been much better with some feta, so that's how I'll make it when I do it. Odds of me making this again? 75%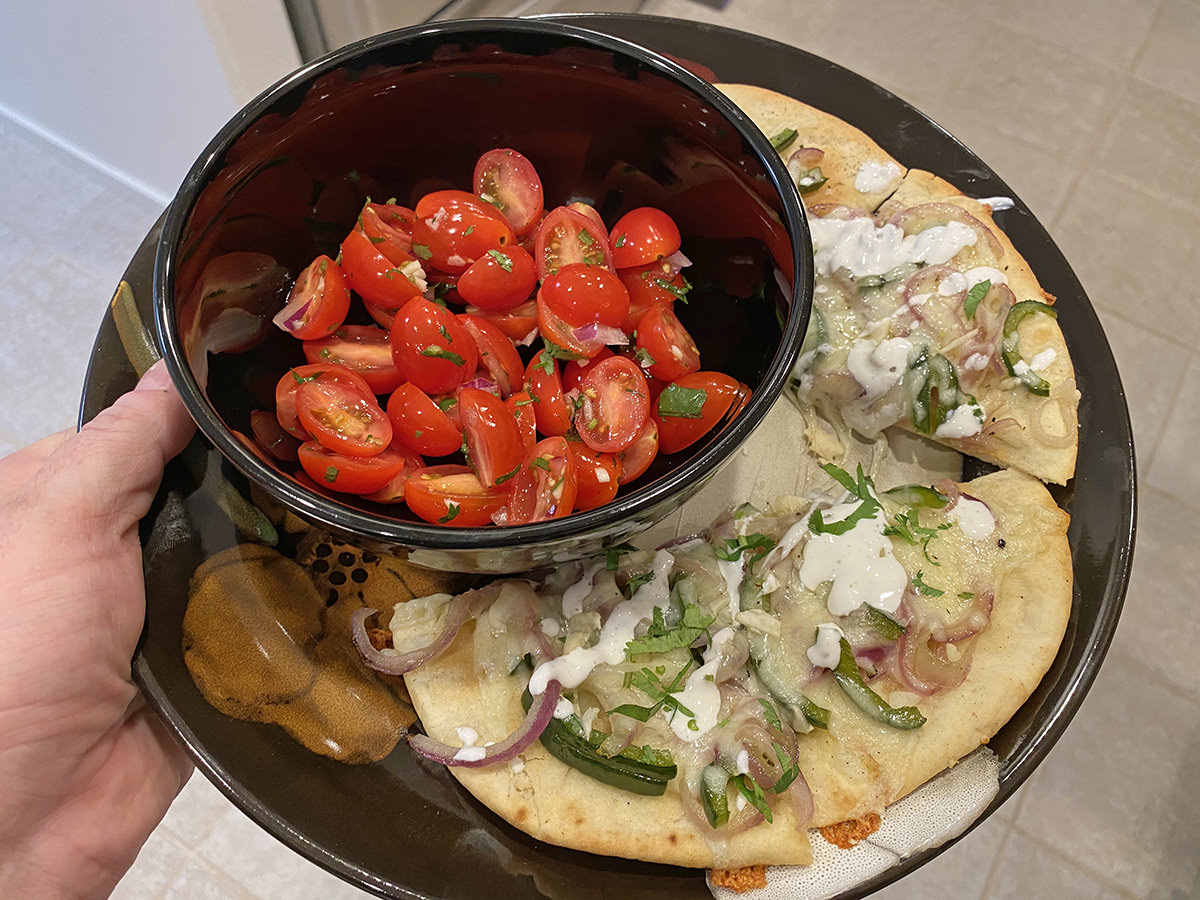 04. Veggie Bolognese Alla Norma with Eggplant & Pappardelle
Roasted eggplant, carrots, onion, and celery mixed with chopped tomatoes, basil, and garlic and dumped over pasta sheets that's been cut into 1-inch strips. While this wasn't bad, I could make a superior pasta dish on my own... and it wouldn't include celery, which is a water-logged waste. This was the first dish that I found boring and cheap. Not nearly as imaginative and delicious as the previous three dinners. I made toast and added garlic butter. Odds of me making this again? 0%

05. Fresh Pappardelle with Walnut Cream Sauce & Arugula Salad
Martha Stewart... my queen... my goddess... my master of culinary delights... you slayed it with the pasta in my dinner tonight! I LICKED THE BOWL! — MY CAT LICKED THE BOWL! — And it was everything I could do not to eat the remainder for dessert because it's supposed to be my lunch tomorrow. Amazing! 1-inch strips of pasta are cooked with mascarpone, shallots, crushed walnuts, butter, and parmesan with a bit of pumpkin spice. The salad was a bit meh though. I am not a fan of arugula. To me it tastes like bitterness and sadness. But it was made edible thanks to the dried sweet cherries, so I guess that's something. Odds of me making this again? 1000%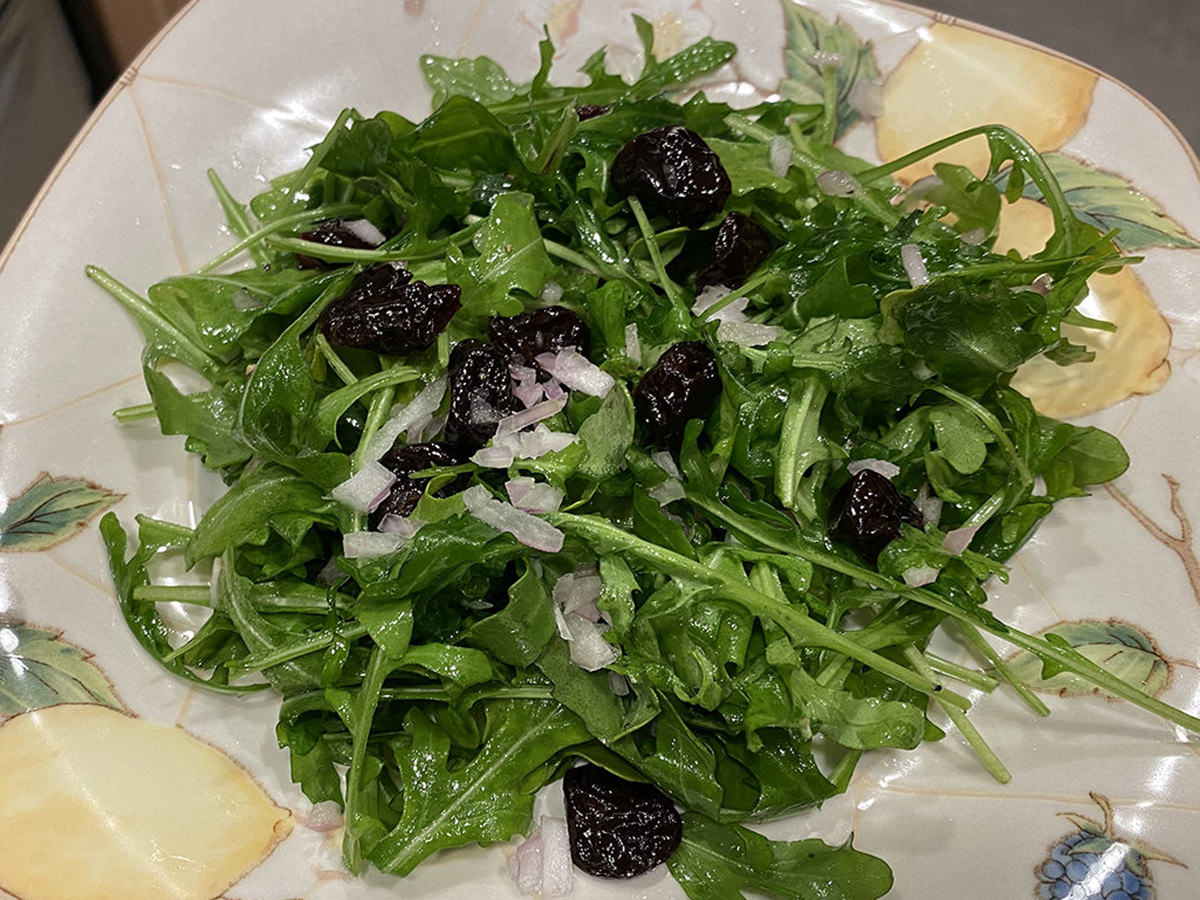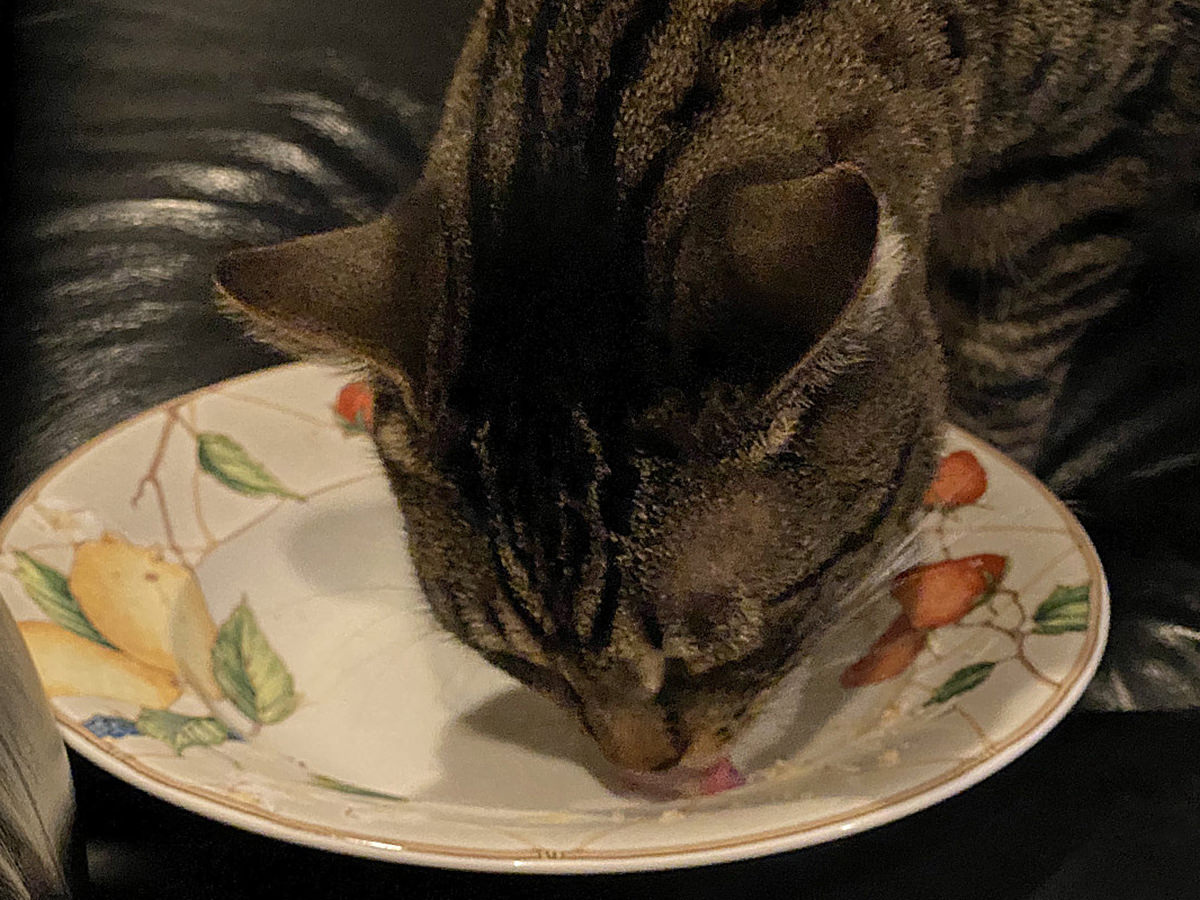 06. Chickpea & Carrot Falafel with Tzatziki & Spinach Salad
I was really looking forward to this one (I love falafel), so imagine my surprise when I open my VEGETARIAN ingredients bag and find BEEF JUICE and WORCESTERSHIRE SAUCE in it! So gross. My recipe doesn't mention any of this, so I go back to the bag and see that I was sent ingredients for MEATLOAF...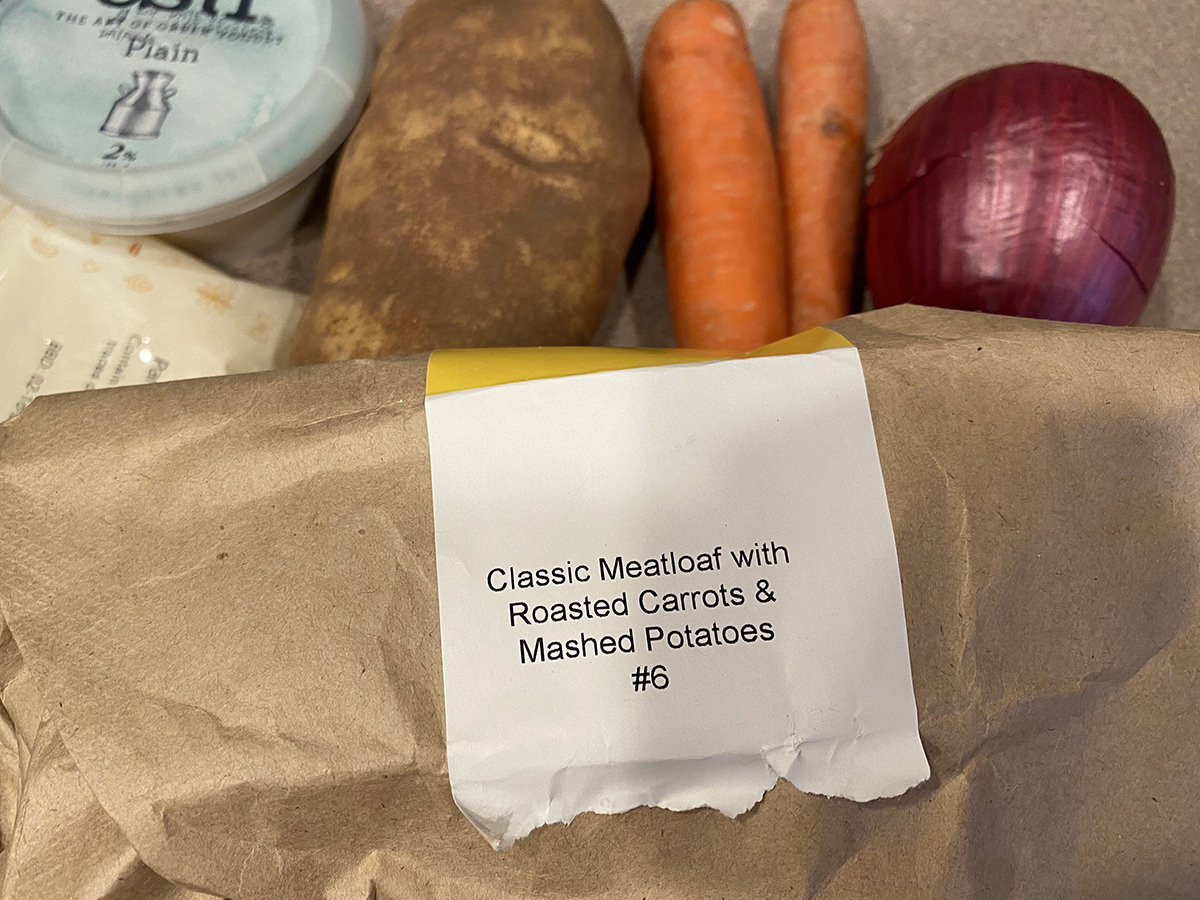 BOOOOOO!

07. Oven-Fried Veggie Chimichangas with Avocado Crema & Salsa
When you're reducing the can of black beans they tell you to bring to a boil and cook until most of the liquid has evaporated... 3 minutes. That's crazy. Try 13 minutes minimum. Another issue was that they give you four tortillas and you're to divide the filling and cheese between them. If you do that, they are so full that it's tough to get them rolled. There really should have been 5 or 6 tortillas. Also? The filling cooks down quite a bit, so even though I rolled them so tight they were about to split apart, they were still kinda hollow. Which means Martha HAD to have spooned in more filling when she took the recipe card photo. I like the sour cream and guacamole sauce, but the "salsa" was just greasy vinegar tomatoes. Hysterically enough, they toss the tomatoes in a sack with the can of beans which means my tomatoes were beat to hell. That's just sloppy. Odds of me making this again? 75% (without greasy tomato salsa)

08. Cheese Ravioli & Brown Butter Sauce with Roasted Squash & Toasted Walnuts
This is a rehash of my all-time favorite Martha dish (and the first one I tried: Tortelloni & Butternut Squash with Harissa Butter & Roasted Almonds)... except the pasta is ravioli and it's walnuts not almonds. Instead of harissa spice they rely on fresh thyme for flavor and, though I prefer the hairssa by a wide margin, this was a nice change. Where the recipe fails is that they have you dump in a bunch of arugula and the bitter flavor obliterates the subtle thyme and brown butter notes. When I make this again I will leave out the arugula completely. Still... yummy stuff. Odds of me making this again? 100%

09. Coconut-Peanut Rice Noodles with Blistered Zucchini & Green Beans
Phenomenal. Most of the time I take a pass on the Asian cuisine selections because it has mushrooms (which I can't eat) or broccoli (which I loathe). This time the Asian selection had neither. If I change anything when I make this again (AND I WILL ABSOLUTELY MAKE IT AGAIN!) I will halve the amount of Sriracha. It wasn't too hot... I like the heat... but I love love love love charred vegetables, and much of the char flavor was obliterated by the spice. Even so... I can't wait for my leftovers lunch tomorrow! Odds of me making this again? 100%

10. Brown Butter & Sage Gnocchi with Sweet Potatoes & Pecans
I nearly passed on this one because I detest kale and they have a kale salad as a side. And yet... I love toasted sage and the mix of gnocchi and sweet potato sounded fantastic. And, shocker, it totally was. I ended up adding a dash of my beloved harissa spice. Not enough to overwhelm the sage, but enough to add a little extra flavor... and it was even better. Odds of me making this again? 100%
Jake wandered over and licked the bowl clean, so I guess he liked the sauce too...
The kale salad with greasy green apple dressing wasn't great... but at least it wasn't arugula. I HATE HATE HATE HATE HATE HATE HATE ARUGULA! IT'S JUST BITTER AND SAD! STOP TRYING TO MAKE ARUGULA HAPPEN, MARTHA!!!

And there you have it.. my first ten meals with Martha & Marley Spoon.
I dearly wish I could afford to get these meals every week. They so rarely disappoint. On the contrary, most of the time they are amazing, awesome, and delicious in every way. I am discovering wonderful foods and great cooking methods that will last far longer than any one meal. But, alas, I have reduced my Martha with Marley Spoon meals to every-other-week (or less, if the recipes are not different from what I've already tried). It's still more money than I should be spending, but I can't give it up. I make the recipes again and again, so the value is far beyond the cost of the food. It's like getting food PLUS creating a recipe book with only the most incredible meals I've found. Who wouldn't pay top dollar for that?
And now, not to end this on a sour note, but I really have to...
In my last shipment, Marley Spoon announced that they will no longer be including recipe cards. You have to view them online or download them and print them yourself...
We wanted to tell you about an important change to your upcoming Martha & Marley Spoon deliveries. In an effort to reduce our product's environmental footprint in 2020, we are replacing the paper recipe cards in your box with downloadable recipe cards on our app and website. We believe that every green step we take is important. We hope you agree.
They are not including recipe cards to save the environment? Horse shit. They just don't want to spend the money. So I do NOT agree. People having to print the recipe cards instead of Marley Spoon printing them is not saving the environment. And you really need to print them because who wants to get their computer all greasy and covered in food while cooking? You could literally ruin your computer doing that. So much for convenience! Furthermore, most people are going to save the cards so they can make the recipes again, so it's not a waste. I know I sure do.
But the biggest reason I call bullshit on this?
If Marley Spoon was truly interested in "saving the environment" they would shut down. Because the carbon footprint to deliver their boxes... not to mention all the packaging they use which just gets tossed in a landfill... is far, FAR more damaging than a couple recipe cards. I mean just LOOK at this crap... TWO ICE PACKS AND A GIANT FOAM-LINED PLASTIC BAG TO SHIP TWO TINY, TINY PIECES OF CHEESE!
"Saving the environment" my ass. I may love the meals I get from Martha & Marley Spoon, but this is about as lame an excuse as it gets.
But setting that aside... still so happy I discovered Martha's meal service. Some of the best food I've ever cooked. Which isn't saying much considering I usually microwave frozen meals... but still... good stuff.
Posted on Wednesday, January 29th, 2020

As I mentioned in my entry for "yesterday," I broke my blog. Something that didn't get fixed until "tomorrow." I actually still wrote entries for "yesterday" and "today" but decided to save them for "tomorrow" and "the day after tomorrow."
If that's all confusing to you, just think about how it feels to be me! My head has to be in the past, present, and future at the same time. All because I decided to go messing in Blogography's guts without a backup.
I've been thinking back to what I did today (yesterday) and, other than hammer away on WordPress, I can't think of anything special.
Oh... check that... I did clean up my garage wood shop! The shelves I built got all sanded, varnished, and delivered, so I wanted to put my tools away and clean up so I'm starting my next project organized and sawdust-free. And it took a minute, I tell you what. It's shocking what a mess I had made. Why I can't put a tool back after I use it is a genuine mystery. It would certainly make my life easier.
What would also make my life easier? Throwing garbage in the trash rather than on the garage floor. Contrary to popular belief (held by me) you can't just sweep it all up at the end of the day. Dustpans can only hold so much. And so I end up having to pick it all up before I sweep. Which takes longer than if I had just tossed it in the trash in the first place.
But don't try telling me that.
When I'm being a wood surgeon, the last thing I want to hear is somebody telling me what to do. I actually became wood surgeon specifically to get away from people telling me what to do.
And, oh yeah... in case you didn't notice, I've started using the term "wood surgeon" now. I find that I prefer it over "wood worker." I toyed around with "wood doctor" for a while, but telling people that I have a doctorate in playing with wood seemed dishonest somehow. I'm amateur at best.
I bet Bob Vila never has to deal with existential crises like this (he says while wondering if whomever came up with the plural for "crisis" realized how stupid it looks and should have just made it be "crisises" like you'd expect it to be).
Probably not. He's Bob Vila. He gets to be a fucking wood wizard if he wants to!
Ooh. Now I wanna be a wood wizard.
Posted on Tuesday, January 28th, 2020

And... I killed my blog.
The template for this blog is really old. So old that it's starting to break with the newer versions of WordPress. Comments haven't worked properly in over two years. Commenter name and contact information is no longer stored and the comment field is wider than the blog container. Not that it's a tragedy since I don't get many comments now-a-days, but still... it annoys me.
And so last night* I set out to see if I could fix it.
Idiot that I am, I didn't backup my old templates. Nor did I write down the old settings I had. Instead I just plowed forward and made tweaks that I thought would make things work a bit better.
Nope!
Screwed everything up. Couldn't even log in.
Long story short... I had to download my blog archive, extract the template code, rebuild WordPress, rebuild my custom templates (faults and all), then re-link the database so my entries could be found again.
Time to complete? THREE DAYS!
I am writing this on Thursday, January 30th after having finally getting everything working again this morning before I headed into work.
What I would like to do is purchase a spiffy new "Gutenberg-Ready" template and modify it so that it looks like my blog. Then I could do all kinds of cool stuff that the new WordPress editor allows me to do. Problem is that I don't have time. I'd hire somebody to do it for me, but I have even less money than time. And so... I guess I should just be grateful that Blogography keeps on running at all.
Until WordPress releases an update that breaks my blog completely. Which is any day now, I'm sure.

*The word "yesterday" being relative, in this case.
Posted on Monday, January 27th, 2020

Ideally, you will be working with high-quality wood that isn't warped, twisted and coved. But I didn't have the budget for that kind of wood on this project... so I ended up using common boards of dubious quality. I picked out the best lumber I could find, but it still wasn't flat or smooth or even pretty.
The key to using cheap lumber is to own a planer to grind it into shape.
Except I don't have a planer, so instead I assembled my project with small screws, dampened it a little bit. Then let it set for a couple days to see how it all comes together.
It wasn't too bad... only minor adjustments and some sanding to whip it into shape. It sits level and looks like a million bucks... even though it only cost me $25 to make. Time to remove the little screws and move up to the big screws so it will be solid as a rock...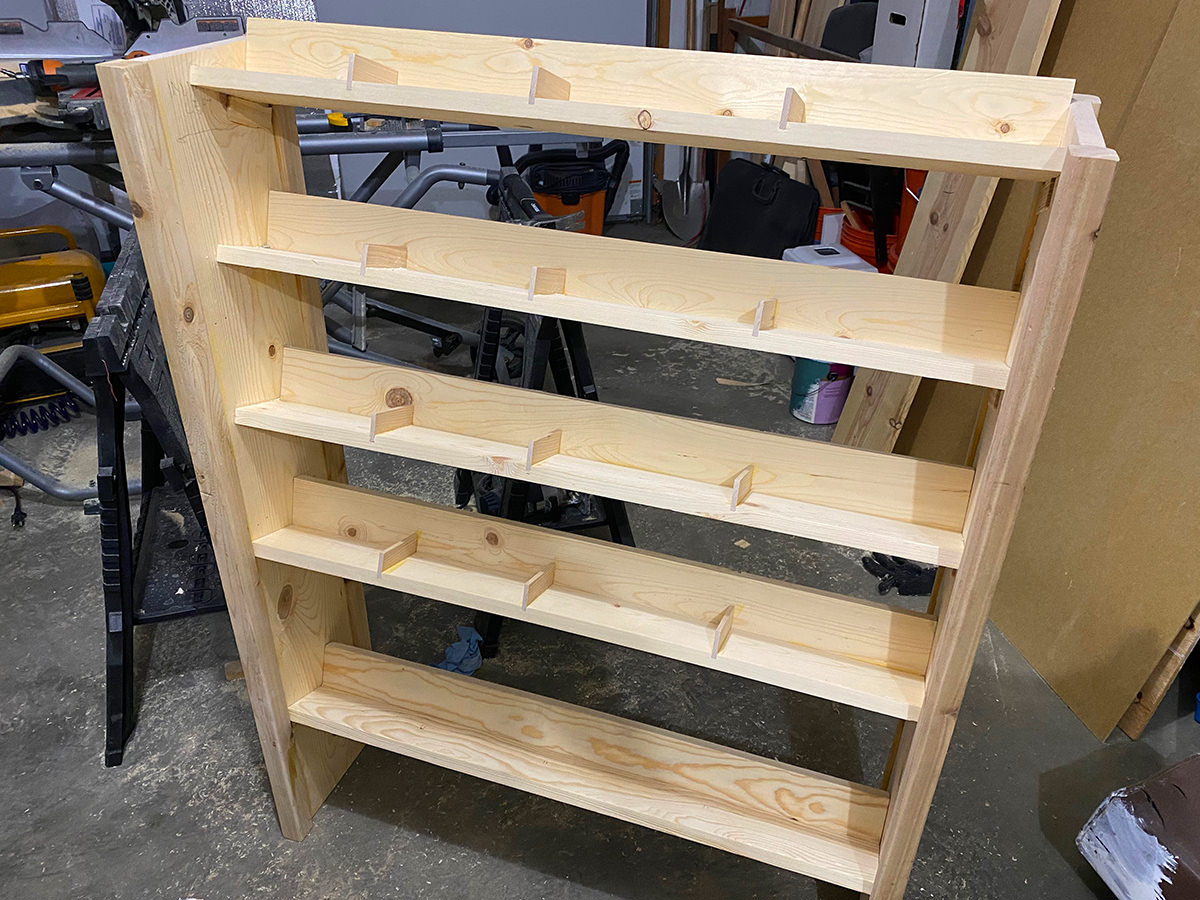 Shot with a wide-angle lens in my tiny garage wood shop... it's square, I swear!
My favorite trick when needing thin pieces of wood? Paint stir sticks! They cost 98¢ for ten of them! And they always look fantastic! I edged the little booklet displays I made with them...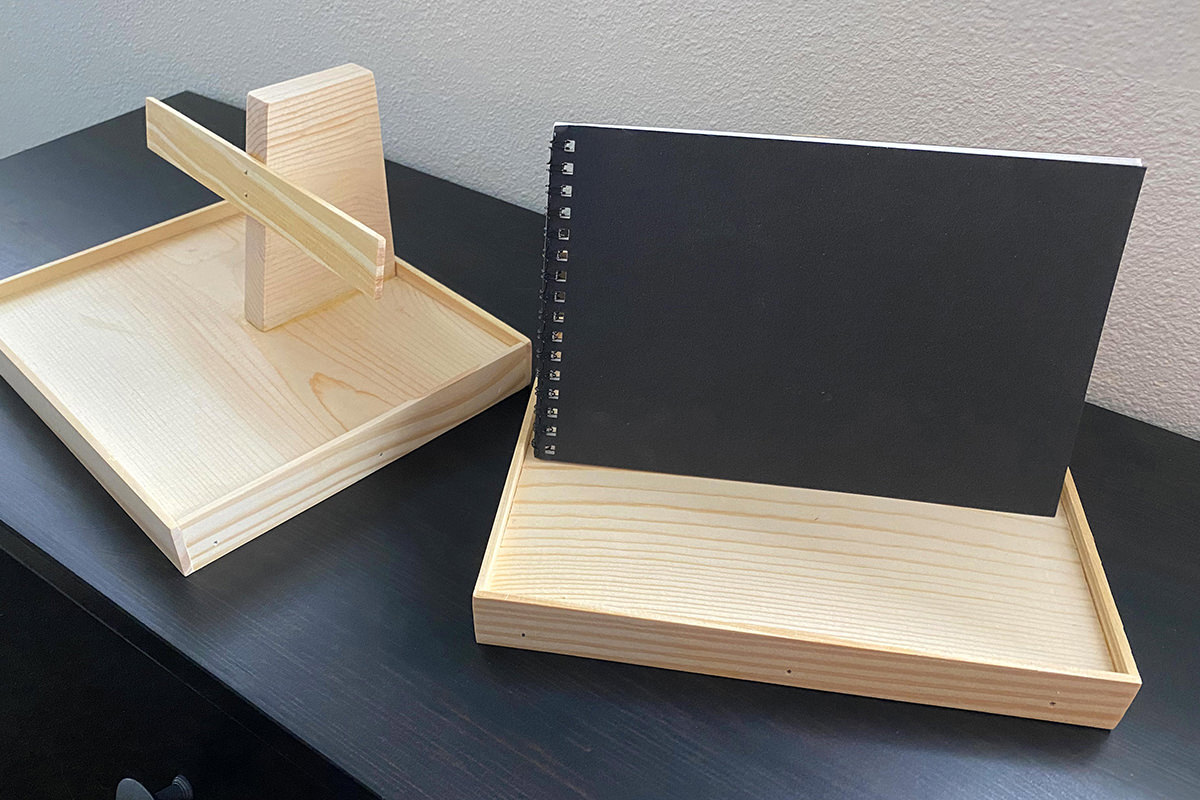 Unfortunately, Home Depot didn't have an 1/8" router bit in stock (even thought their website says they did)... so I had to pay $5 for some 1/4" hemlock to make the dividers...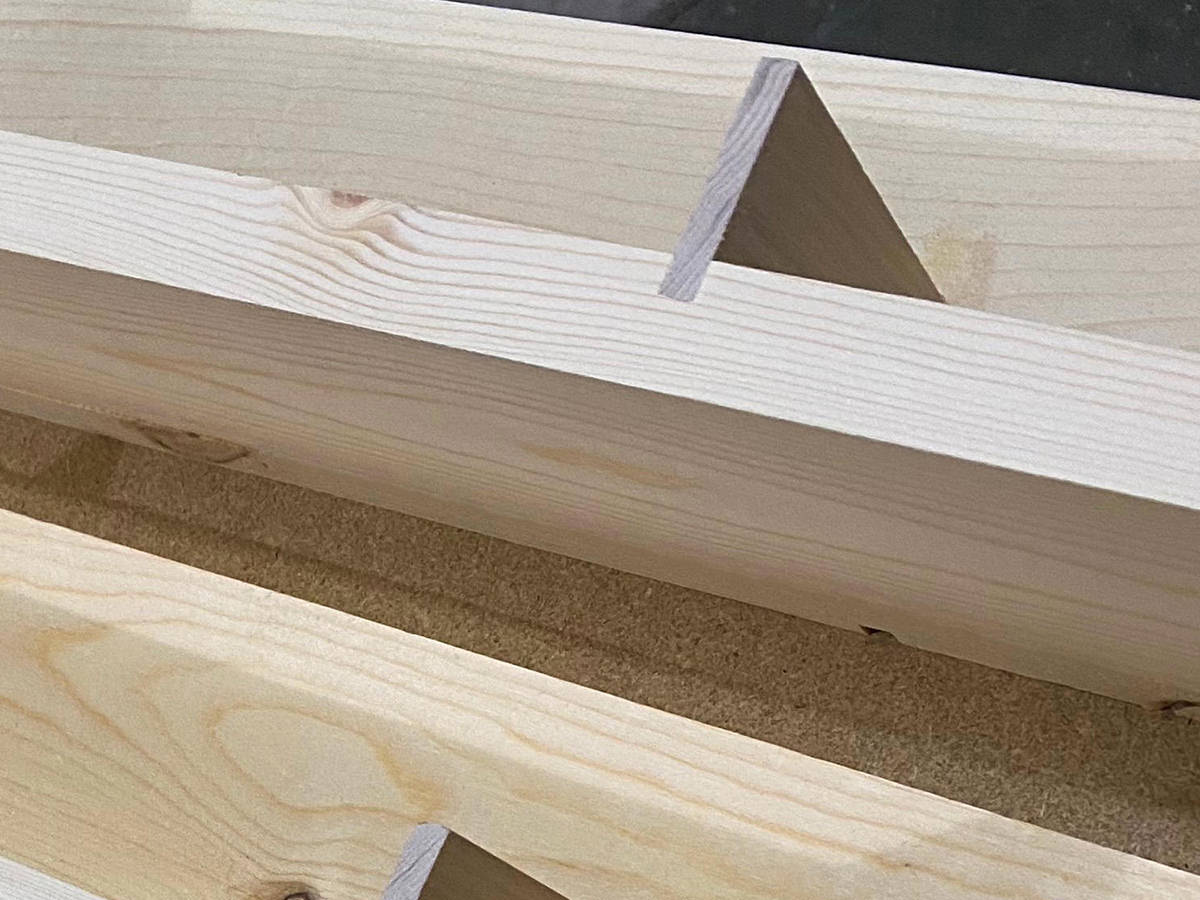 The contrast between the light pine and the darker hemlock is actually pretty cool! So I meant to do that!
All that's left is to sand it, varnish it, then haul it to its new home!
I would do woodworking every waking minute of every day if I had the time.
Posted on Sunday, January 26th, 2020

I may be ankle-deep in sawdust, but here I am... because an all new Bullet Sunday starts... now...

• Push Back. The impeachment trial is absurd. There is overwhelming evidence of wrongdoing in a number of areas, and it's clear the president is exploiting his office for personal gain at every possible opportunity. But because Republicans in The Senate are 100% willing to enable his abhorrent behavior, he's going to remain in office. Which is why This post from Dan Rather is so important. "As many of us focus on the news out of Washington, let us not forget on these cold, winter nights, many are struggling with hunger and hopelessness. There are the lonely, the homeless, the sick, and scared. Service to others is a way to push back at the cynicism of our times."

• TEMPORARY! OH MAN! TIME TO STOCK UP MY FREEZER! YOU SIMPLY CANNOT BEAT THESE SAVINGS!!!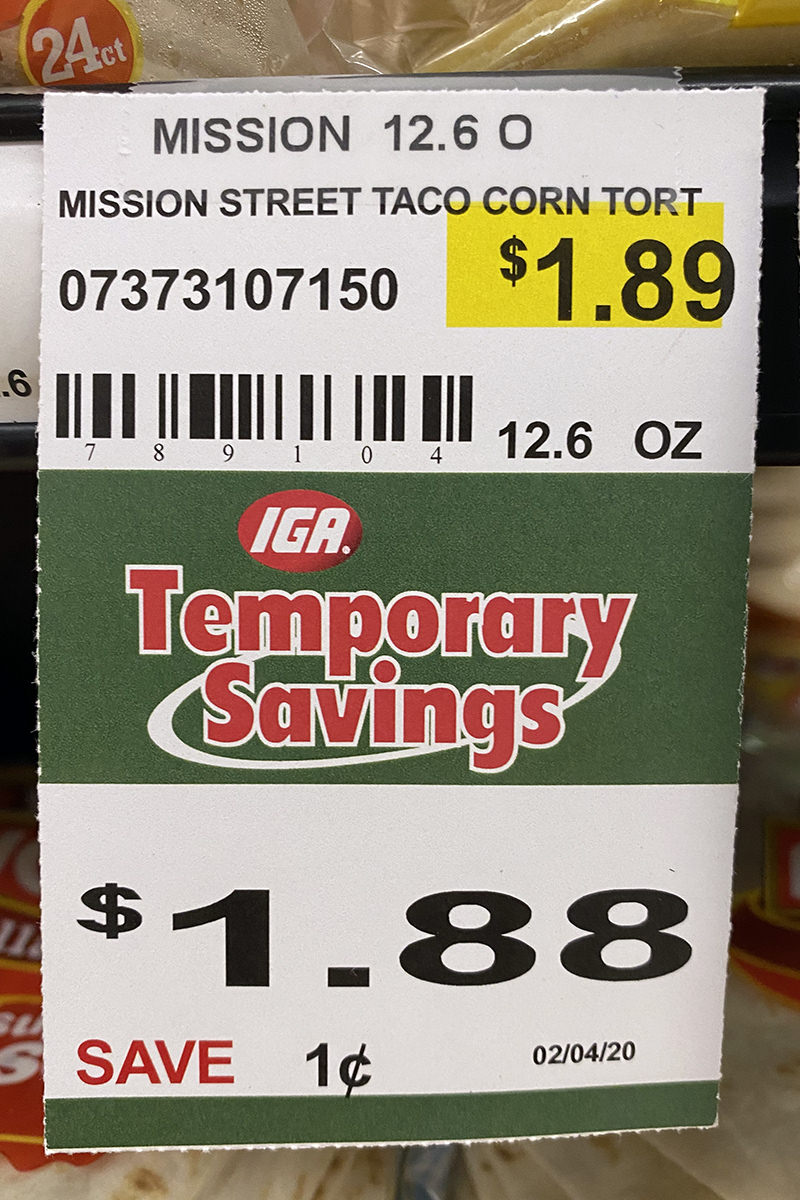 As I've made known many, many times, I rarely buy anything at the grocery store that's not on sale. I build my meals around what I can find that's inexpensive. I very nearly grabbed these for taco night until I was like "Wait a minute! Aren't these usually about $2?!?" Stores are pretty devious. They expect people will grab something on sale without looking for how much it's on sale.

• Dance Dance Dance. A new bird has been discovered. It's feathers are like a black hole, absorbing most light. This results in a very cool mating dance you gotta see...
It's amazing that we keep discovering new animals as scores of others are going extinct.

• Scraps. It's hard to complain about working on the weekend when I get to set up my wood shop and build displays! I cut the pieces for a rack display I will assemble tomorrow, and now I am building a half-dozen little fruit-crate-inspired booklet displays. They will have a small standee sitting next to them with info and pricing...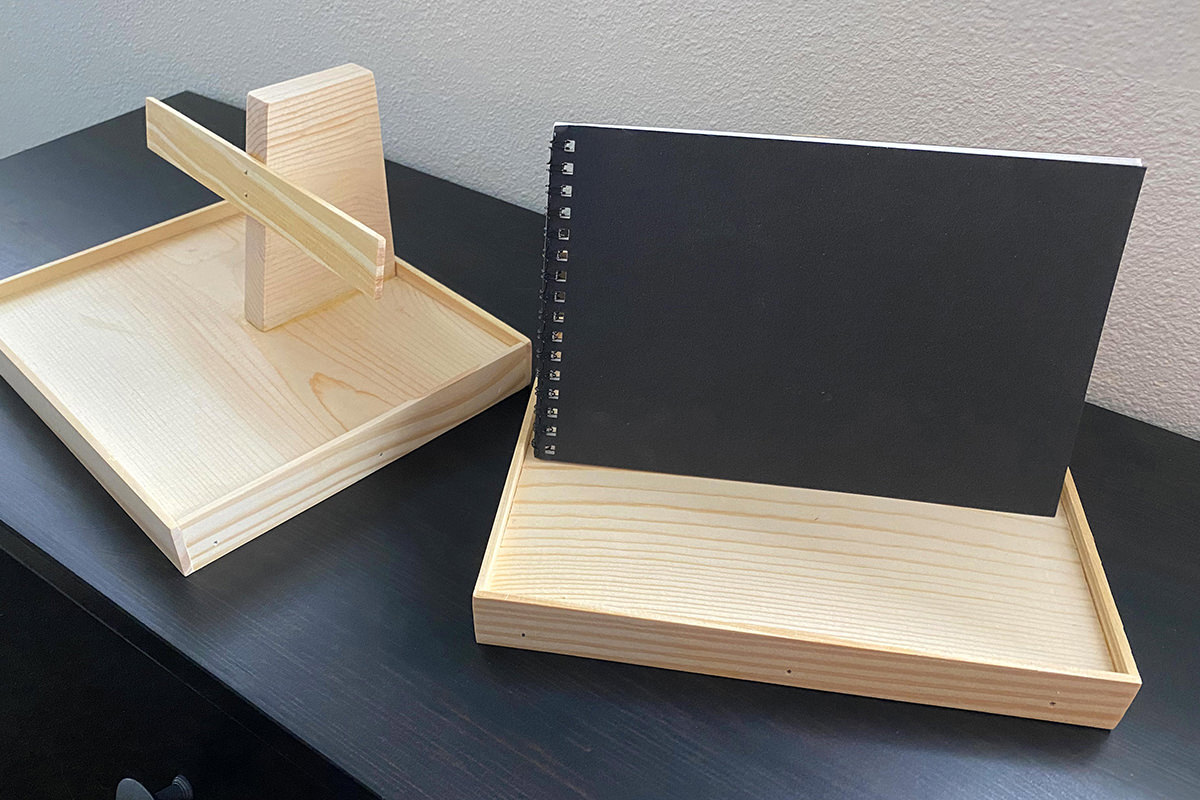 As thrifty as I am for my own projects, I've doubly so when spending money for work. The stands had to be heavy so they wouldn't move... and deep so they wouldn't tip over. I made the tray part look nice, then used whatever scraps I had laying around for the back-stops since they don't show. Works like a charm, and they ended up costing a whopping $2.20 each. =sigh= Designing and building displays is the best part of my job. Wish I got to do more of it.

• Peanut Hell. Killing time until 10:00 so I can fire up the power tools... I'm watching SNL from last night with Adam Driver. The cold open takes place in hell where Flo from the Progressive Insurance commercials is visiting. She sold her soul to the devil so she could be on television forever. THEN can you guess what commercial comes on? Just guess! I hope that was planned and SNL contacted Progressive to have it happen, because that's genius.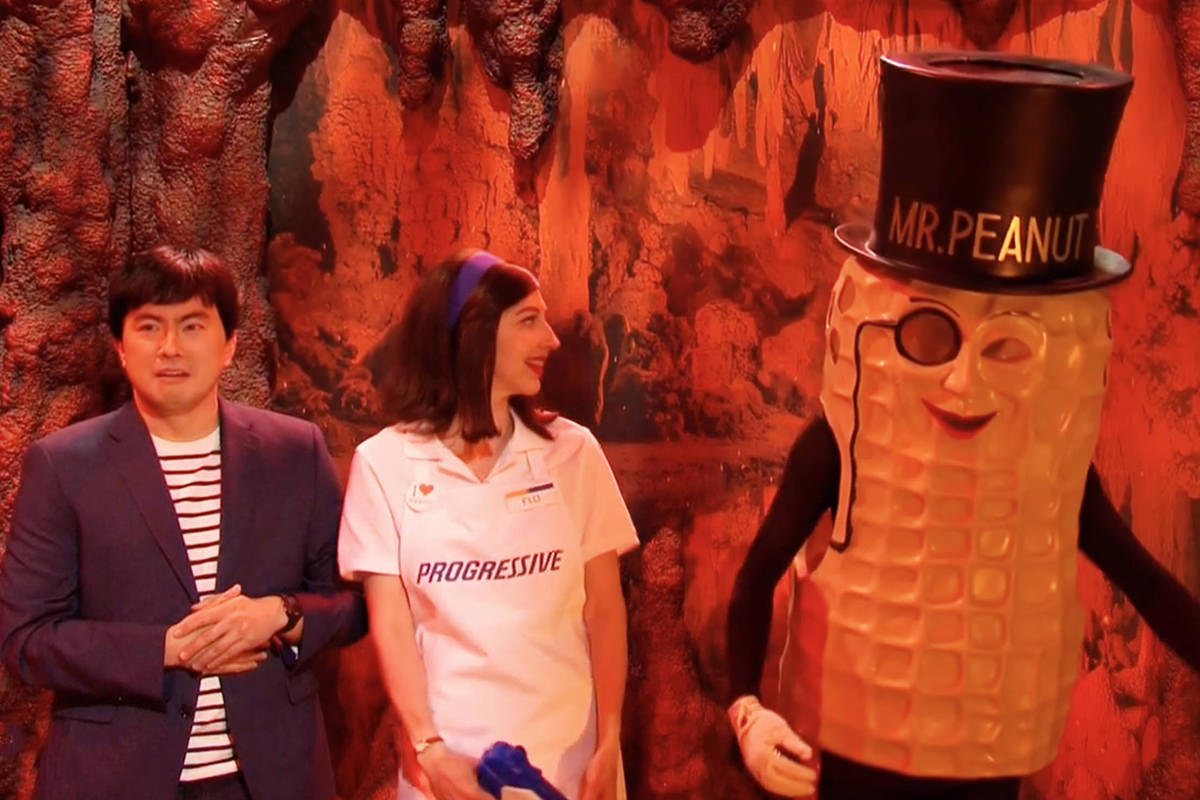 In other news... POOR MR. PEANUT! Guess he shouldn't have killed all those kids with peanut allergies!

• Art. I recently read a Facebook post by Rachael Eliot Barker that's so important to me that I am reprinting it in its entirety...
"Recently, there was a dust-up over The Comedian, a piece in which Italian artist Maurizio Cattelan taped a banana to the wall of a gallery and sold it for $120,000. A gallery patron made additional news by pulling the banana off the wall and eating it. Interviews made it clear that everyone involved was trolling. The saga was catnip to people who believe that conceptual art is full of shit.
Maurizio Cattelan is clearly full of shit, but his work begs the question: could an artist ever walk into a gallery with some snacks, say 'This may look like something I picked up at the bodega on the way here, but it is in fact my Art, behold my Art,' and NOT be full of shit?
In my opinion, the answer is yes.
My opinion is heavily informed by this 1991 piece by Felix Gonzalez-Torres. Untitled (Portrait of Ross in L.A.) is a pile of free candy. Visitors are invited to take one piece of candy. Frivolous, right? The piece may be staged in any gallery that follows a few simple rules. The most important rule is that the pile should weigh 175 pounds.
175 pounds was the healthy weight of Gonzalez-Torres' partner Ross Laycock, who died of AIDS.
González-Torres had a Roman Catholic background, and taking the candy is meant to be an act of communion. The patron partakes in the "sweetness" of Ross while participating in his diminishment and torturous death.
The decision to use candy has political significance. In 1991, public funding for the arts and public funding for AIDS research were both the hottest of hot-button issues. HIV positive gay male artists were being targeted for censorship. González-Torres was desperate to be heard, and part of the logic of Untitled (Portrait of Ross in L.A.) was that you can't censor free candy without looking ridiculous. The replicability of the piece makes it indestructible; González-Torres had an intuitive, ahead-of-its-time understanding of virality that came from dealing with an actual virus rather than the internet.
I've never seen this piece staged, but I think about it all the time. The artist, sadly, is no longer with us. But we will always have the most brilliant, heartbreaking free candy to ever be heaped in a corner. The key to conceptual art is storytelling — how well can you tell a story without words OR a "proper" picture? The banana on the wall sucks because it doesn't tell a story about anything but attention-seeking and greed. I can't stand Banana Guy or the media coverage surrounding him because stunts like that make people close their minds to unconventional art and storytelling, which can be just as sophisticated and moving as conventional art and storytelling."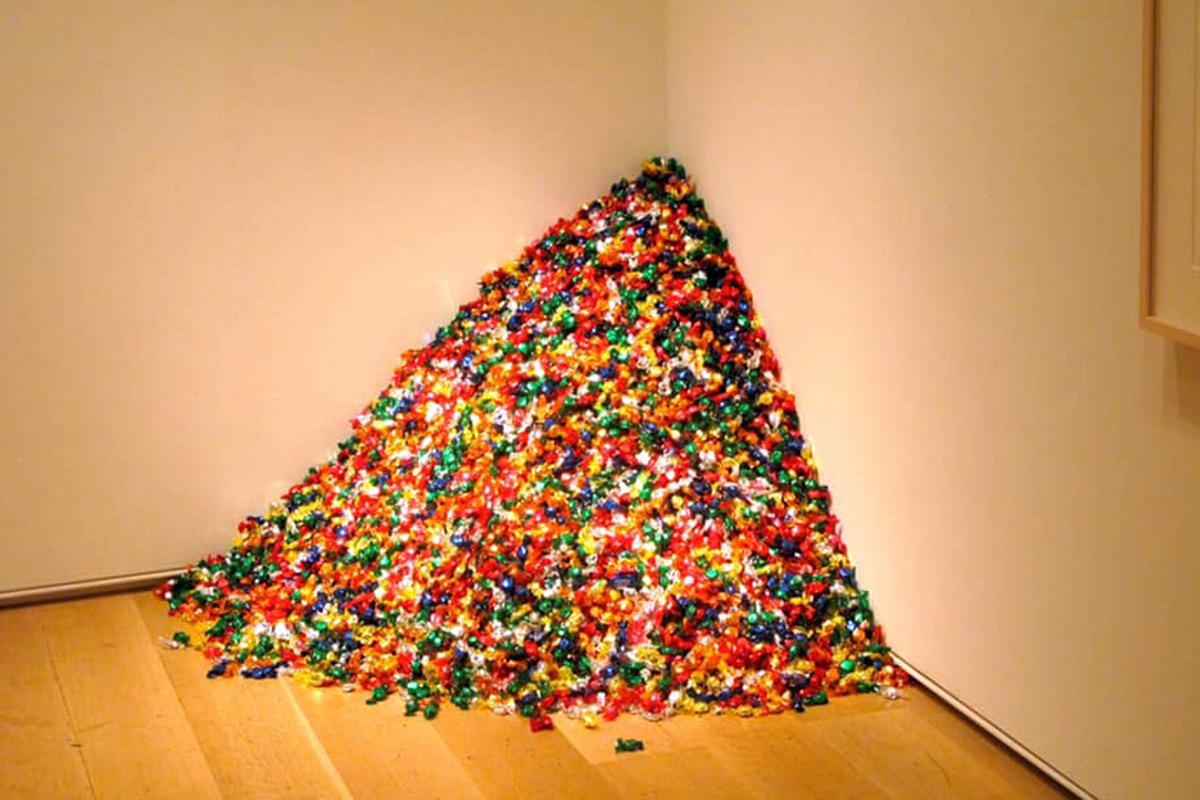 I always assume that there's a story like this behind every artistic endeavor. I may not understand it... I may dismiss it... I may not like it... I may disagree with it... and all that is okay. So long as it means something to the artist and not just a stunt, I can at least respect them putting themselves out there like this.

And that's it for Sunday bullets.