Posted on Sunday, July 14th, 2019

I'd rather be anywhere else today, but escape is not in the cards... because an all new Bullet Sunday starts... now...

• MADness! It was announced this past week that MAD magazine will end its original-content run with the August 2019 issue. After that, it's all reprints with new covers that will only be available by subscription or in comic shops. Despite not having picked up an issue in years, this is more than a little sad to me, because MAD was a huge part of my past. I bought occasional issues in the latter-half of the 1970's, but became a MAD addict after the December 1978 issue (the Star Wars musical parody issue)...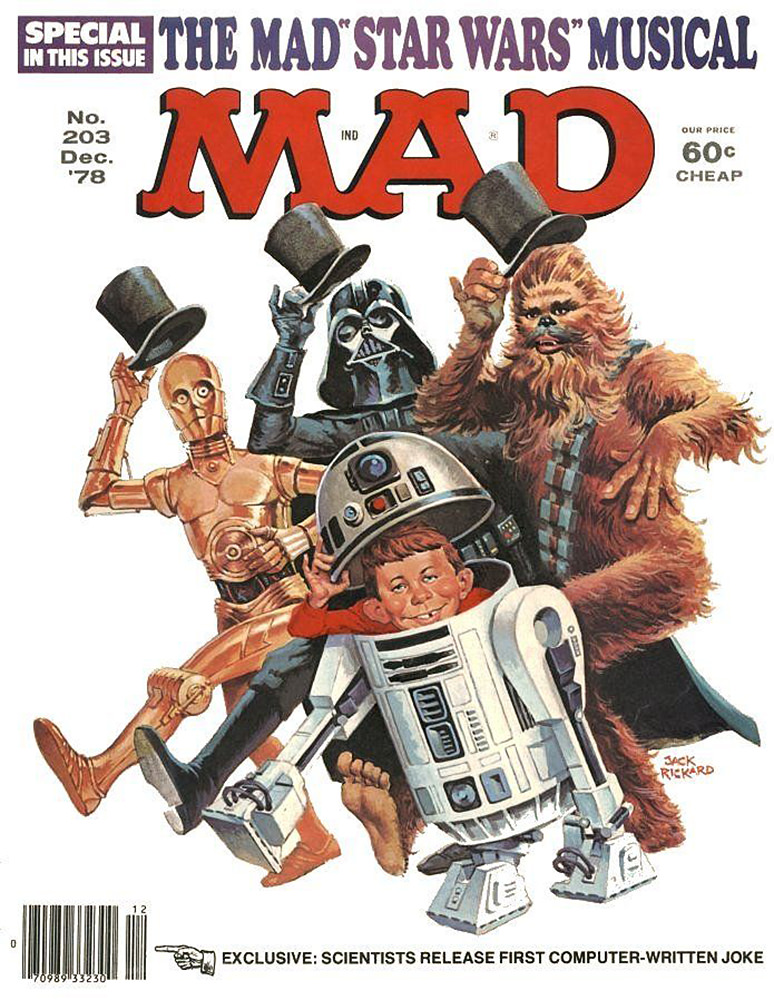 I purchased every single issue from No. 203 through No. 250, at which time I went back to only buying issues that had material I was interested in. I also purchased every reprint book I could get my hands on, scouring the local News Agency to obtain as many as I could find by my favorite MAD contributors... like Al Jaffe, Sergio Aragonés, Don Martin, and Dave Berg... and, of course, Antonio Prohías, who was the guy behind Spy vs. Spy. It's not just my favorites that are burned into my brain... contributors like Mort Drucker, Dick DeBartolo, and Jack Davis did a huge amount of work for the magazine and were a big influence on how I saw the world.

• Mushu? A gorgeous trailer dropped for the live-action version of Mulan...
It looks like Disney put some serious money into this remake! But where's Mushu? Is Eddie Murphy coming back to voice Mulan's dragon? Is Mushu even going to BE in the film? I will be sorely disappointed if he is not. Characters like that are what make it a Disney movie.

• Blown Away! I've never blown glass myself, but I love the art of it and I've been to many, many glassblowing shops. Including my idol Dale Chihuly's shop in Tacoma (and many of his installations) plus I've traveled to the "glassblowing island" of Murano in Venice so I could see the famous shops there as well. I love glass and have circled the globe to see the best of it. So you can imagine how excited I was when I learned that Netflix was developing a show called Blown Away...
Fortunately it's a show like Forged in Fire where the focus of the series is on the artistry rather than the shitty manufactured personal drama (ala Ink Master), which makes it fun to watch. The contestants are pretty great... the massive 10-furnace facility they built to host the show is amazing... some of the pieces are truly remarkable.... and the tension and drama from breakage is high. I do have some problems, however... A) Why aren't there enough tools for everybody that they have to wait for somebody to finish at a critical juncture? Also find it strange that they have to share hot-boxes. B) I don't get how the host got this gig. What experience does he have in order to be qualified to weigh in on the judging? According to his site, he's a professional rollerblader and organic chemist? WTF? C) Why can't we hear the judges deliberate? This would go a long way towards understanding their decisions. D) Why the time limit for a GLASS art competition? I'd much rather give them enough time that they can take risks and not be finished if they break late in the game.
Despite all that, Blown Away is still a great show if you love glass... or art... or demonstrations of skill.

• Blank! Netflix keeps blowing up their original entertainment, and Blown Away is not the only thing that's new this week... we also got a movie called Point Blank, a remake of a French film starring Anthony Mackie and Frank Grillo...
The concept is good. Mackie and Grillo are good. And money was spent on getting the action scenes right. Which is why I'm kinda puzzled as to why I feel so "meh" about the film. Perhaps because the most memorable thing about it was some truly bizarre 80's music choices. I guess I'm glad I watched it, but it didn't really grab me as I would have expected.

• Aziz! And Netflix isn't done there! They also released a new stand-up special by one of my favorite comedians, Aziz Ansari...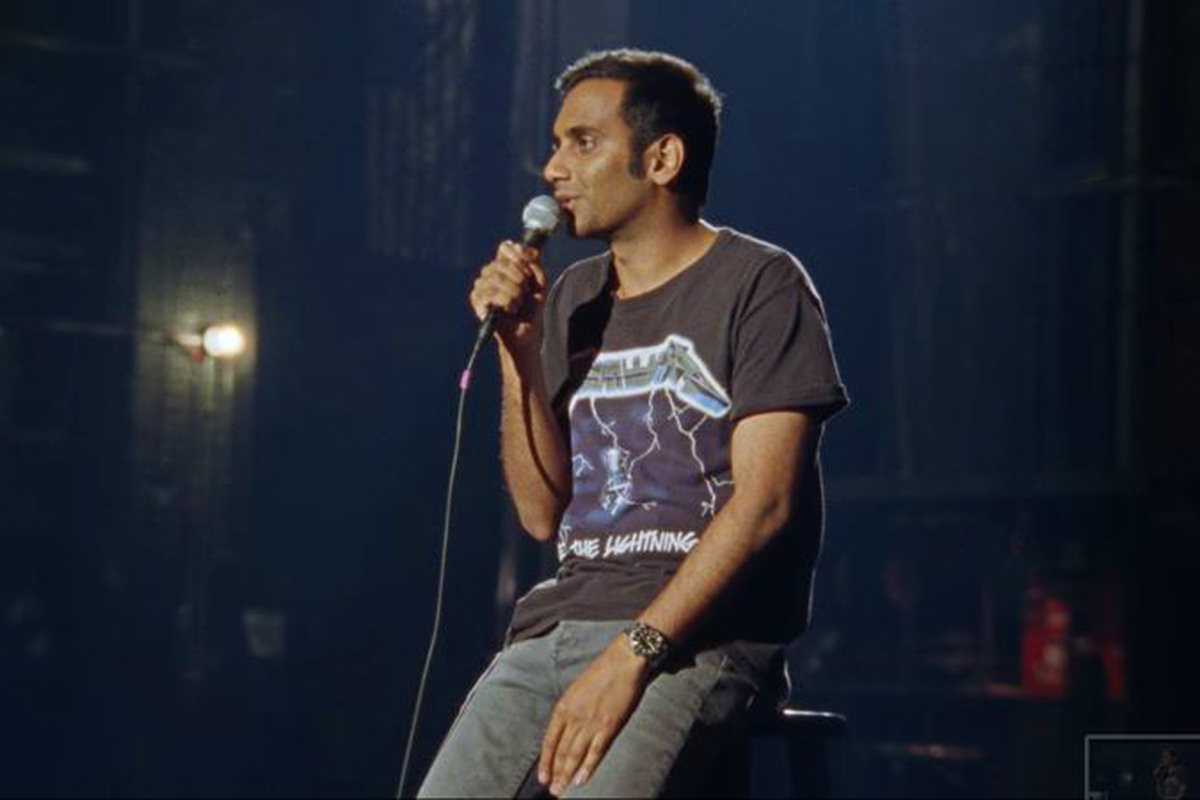 I'm not going to lie, it was an awkward show to watch. Aziz addressed the sexual misconduct allegations which were brought against him at the very beginning. But not really. He more "acknowledged" it than really "addressed" it. But he does seem sincere about having regrets and having learned something, so I guess that's better than nothing. From there Aziz goes on to deliver a varied set covering a range of topics, and most of it is pretty funny. What's not so funny is his delivery, which is subdued and kinda sad as he sits on a stool and sometimes speaks so quietly you can barely hear him. This is a wild departure from his previous stand-up specials which were crackling with energy... but he has moments of poignancy which wouldn't have worked otherwise, so I guess it was necessary. If you're a fan, Aziz Ansari: Right Now is worth a look. But don't expect what you've been conditioned to expect from him.

• Tacumentary! Last up on my parade of new Netflix shows? Las Crónicas del Taco. A documentary film on one of my favorite dishes... tacos! This trailer is in Spanish, but the documentary series has subtitles in English and French available...
Even though I'm a vegetarian, I still found this meat-based-documentary series to be fascinating. And depressing at times when brief glimpses of the animals are shown, because the conditions they are kept is not ideal. And with six different episodes exploring the history and preparation of six different style of tacos... Pastor (shepherd-style pork), Carnitas (slow-cooked pork), Canasta (basket-stacked tacos), Asada (grilled beef), Barbacoa (barbecue pit-style), and Guisado (stew)... there's more than enough taco here for your viewing pleasure. Worth a look if you're a foodie... or even if you're not, really.

• IN THE NEWS: TRUMP TAX PLAN LEADS TO $54 BILLION DECLINE IN CHARITABLE GIVING. "Many Americans want to give generously to charities, but they may not be able to afford to do so now with the changes implemented in the 2018 tax law." — The charity I work with knew that there would be a hit. Nobody had any idea it would be this bad. What's so horrible is that many charities fill in the gaps for people who are just trying to survive. As more and more people lose government assistance thanks to Trump Administration cuts, the number of people who will rely on charities increases... all while donations to these charities decreases. It's a recipe for disaster. But, hey... billionaires got tax cuts so they could gold-plate the toilets on their private jets, and that's what's important, right?

• Boys from the Dwarf! If the truth be told, Red Dwarf went on longer than it should have. Things started to go downhill with Series VI, and everything that came after that was really hit or miss. But, man, those early seasons are some of my most favorite television ever, so I'm always glad to see "The Boys from the Dwarf" again... even if it's just in a commercial...
And now I want to go back and watch the show all over again.

Bon Voyage, my Sunday bullets.
Posted on Saturday, July 13th, 2019

I was only away for two nights, but my cats seemed more bothered than usual by my absence. This has me a bit concerned for my upcoming travel. Fortunately, I have security cameras everywhere to look in while I'm gone and can call a neighbor if they need help... but since they are so afraid of strangers, that would probably just add to their anxiety.
Which is the reason I don't hire a cat-sitter any more. Jake and Jenny just run and hide, so what difference does it make? Unless I'm going to be gone long enough that the Litter-Robot will need emptying, it's probably better to just let them be.
Heaven only knows I wouldn't want to interrupt their busy day of sleeping and lounging in the catio...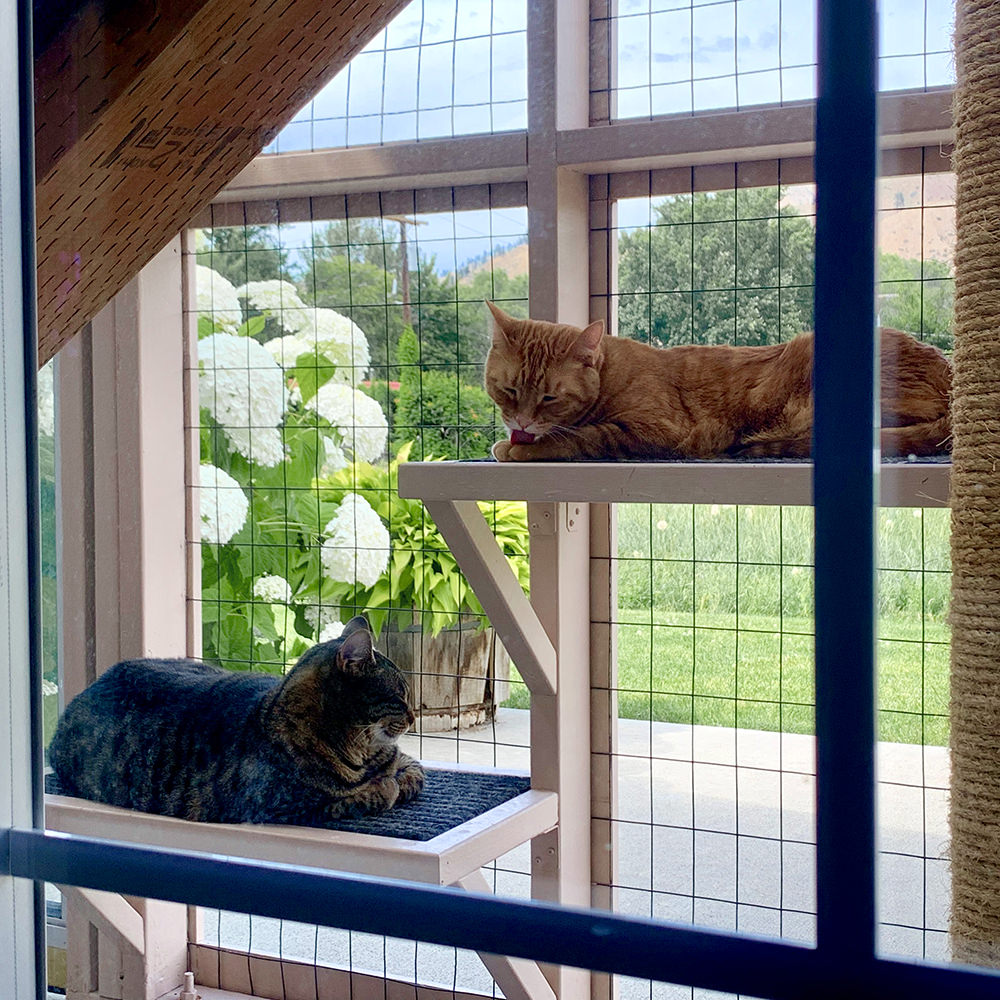 Surprisingly, despite how hot it's been out, bot my cats are still spending a lot of time in the catio. During the day, it's for napping and bird-watching...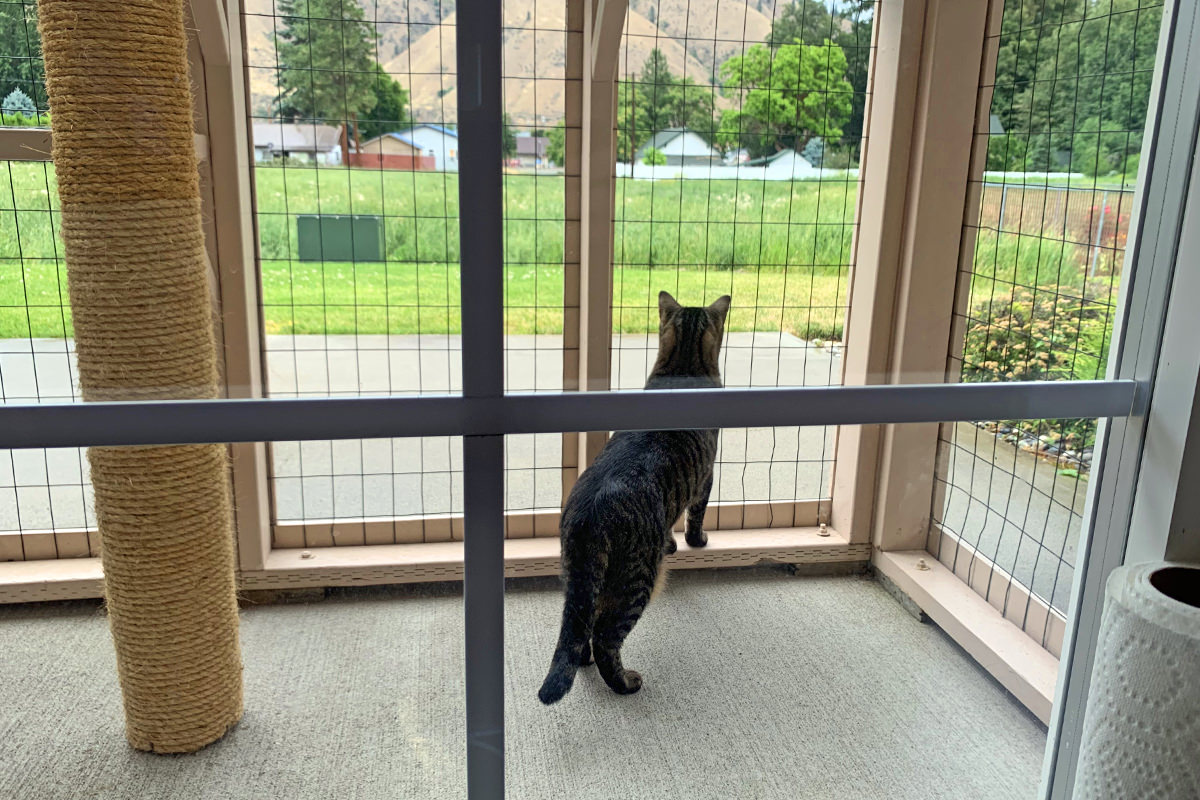 Or just watching me while I work...
As the sun sets, it becomes all about catching bugs (yuck) and eating bugs (double-yuck).
Here's Jenny observing a bug before Jake literally pushes her off the perch...
It's hard to tell from the camera angle... but I was watching it happen, and Jake absolutely put his paw around her and shoved her off while she was leaning over.
Jake seems to like poking and pushing Jenny for no reason other than his own amusement...
Fortunately, Jenny is not shy about poking back when she's had enough of Jake's crap. You can see in the above photo what she looks like juuuuuuust before she's about ready to snap.
Fortunately, my cats mostly get along, so the poking is kept to a minimum.
And so long as they're not poking me, it's all good.
Posted on Friday, July 12th, 2019

And so there was an earthquake near me early, early this morning. I was semi-awake at the time and thought that somebody had dropped something heavy in the kitchen above me. I didn't really think much of it until I woke up and saw the news.
The epicenter of the 4.6 magnitude quake was at Three Lakes, which is about 15 miles from where I'm staying...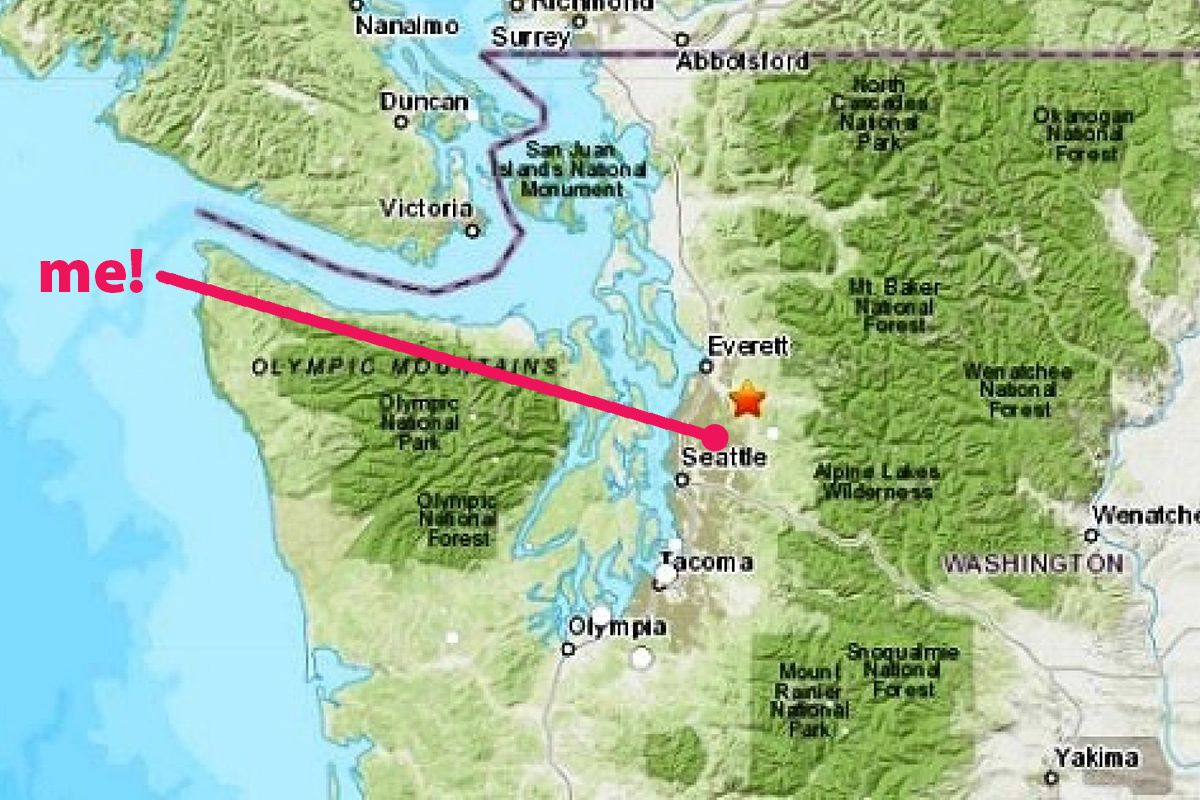 Earthquake Map by the USGS
This should probably be cause for concern, given the earthquakes that have been hitting California lately. Maybe the Pacific Ring of Fire is getting ready to blow? I guess we're all doomed.
Of course I checked on my cats to see if they noticed.
I don't know if they were able to sense it, but they were definitely active. At the time of the quake, Jake went running to the stairwell and started staring up there...
A couple minutes later, Jake left and Jenny ran downstairs...
After that they just kinda wandered around until sunrise. This is fairly odd, because usually they're sleeping...
But no worries. I'm sure they will make up for it by sleeping all day.
Unfortunately the West Coast is not alone in natural disasters. I've been gutted seeing the photos of the flooding that has hit New Orleans due to Tropical Storm Barry. My favorite American city can't seem to catch a break.
And neither can I. I'm Heading back home a day early to get to an appointment I had to make yesterday. For my next vacation I'm hoping to be air-dropped into a place with no internet and no mobile phone service.
No people would be icing on the cake.
Posted on Thursday, July 11th, 2019

Today was the first day I've felt like I'm actually on vacation. I mean, sure I answered a few work emails and made a few work calls... but I didn't do any actual "work" the entire day. That's exceedingly rare.
One of the things I did do was accompany my grand-nephew to Everett's Imagine Interactive Children's Museum. Sometimes these things end up being pretty janky, but this one was actually very cool. Plenty of imaginative exhibits to keep kids entertained for hours. Like an air-tube exhibit where you can see how air-flow can be used to push a scarf through some clear pipes...
Young kids won't get the air pressure science that's being demonstrated... but they sure have fun chasing down those scarves! Pretty slick. Though I guess nobody at the museum has ever heard of a fart before...
It's a museum built for kids, but no worries... the adults were able to have fun as well...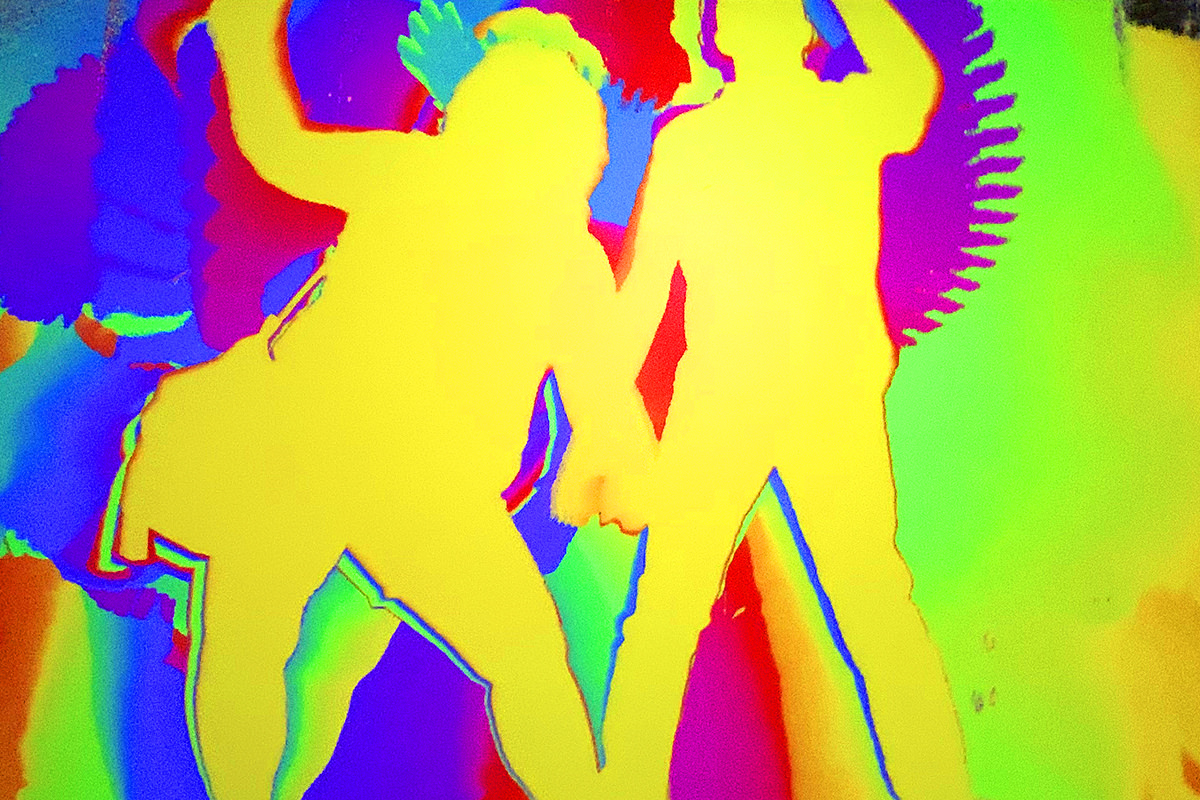 I got to be a chef with plastic food...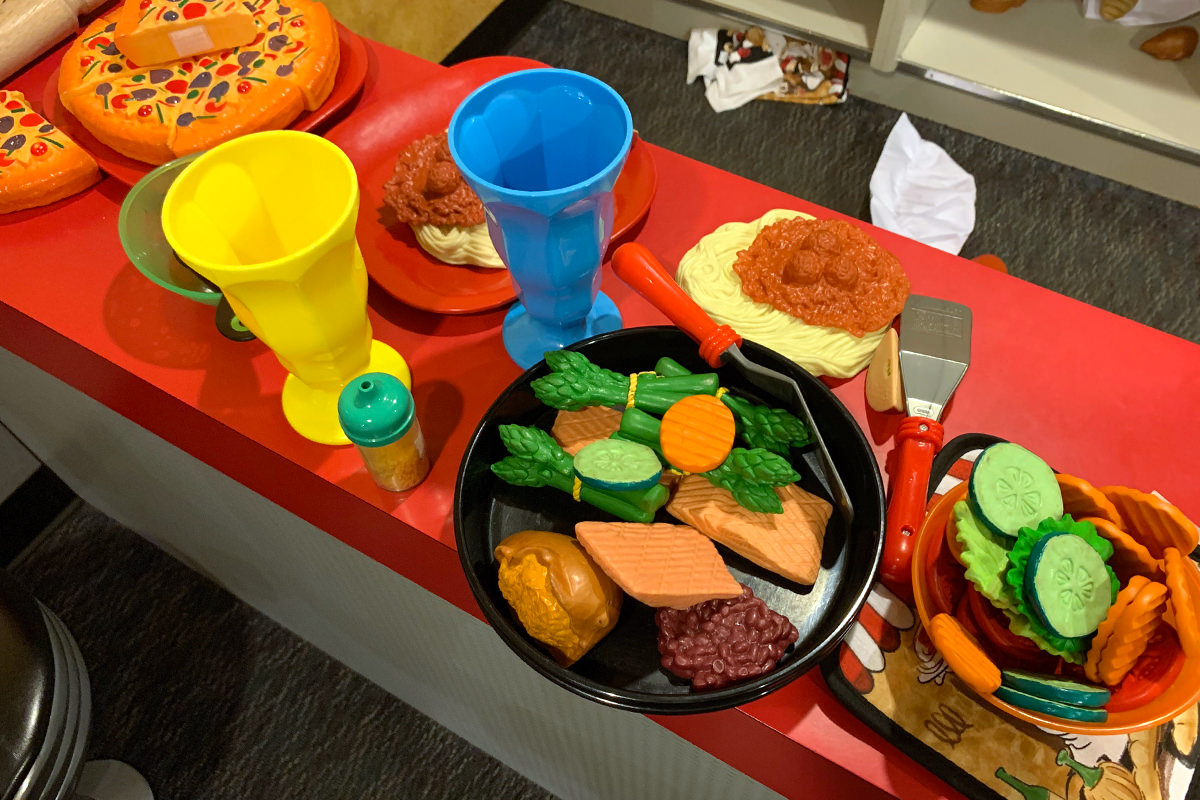 I got to play with glow-in-the-dark puzzle pieces...
I got to milk a giant plastic cow...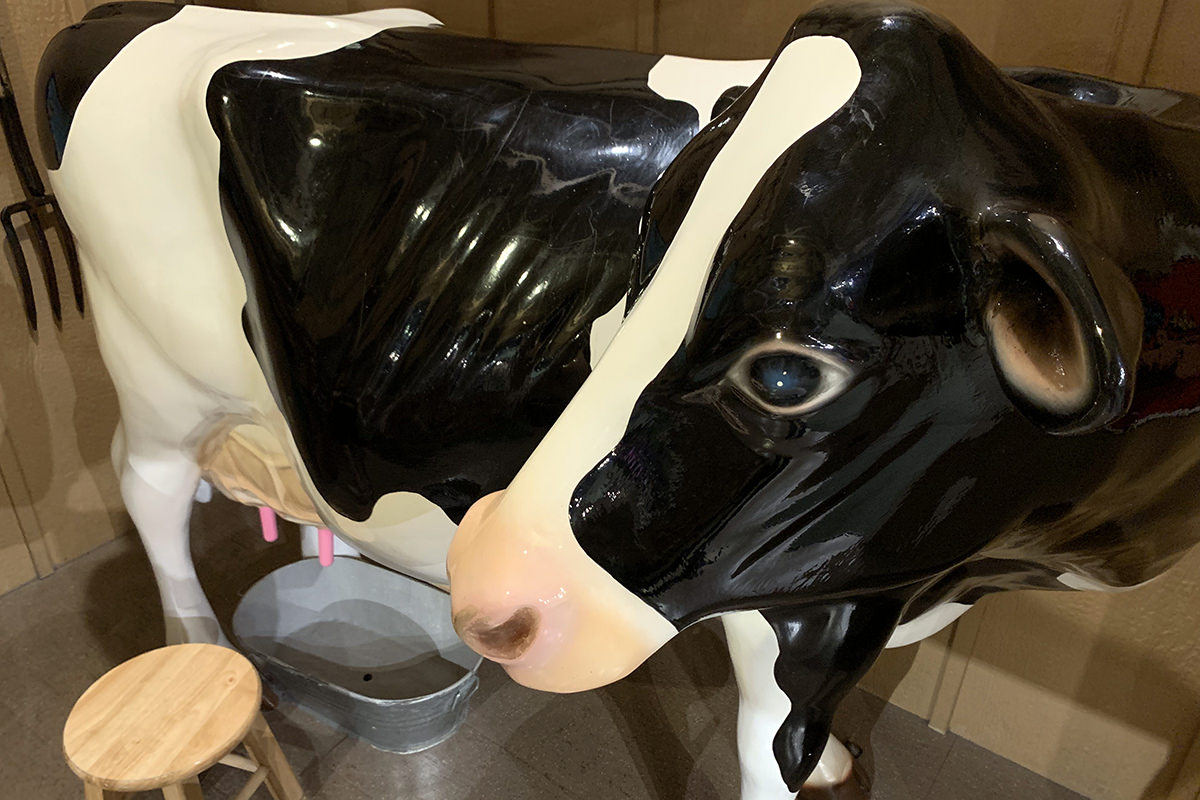 I got to shoot water-guns at balls...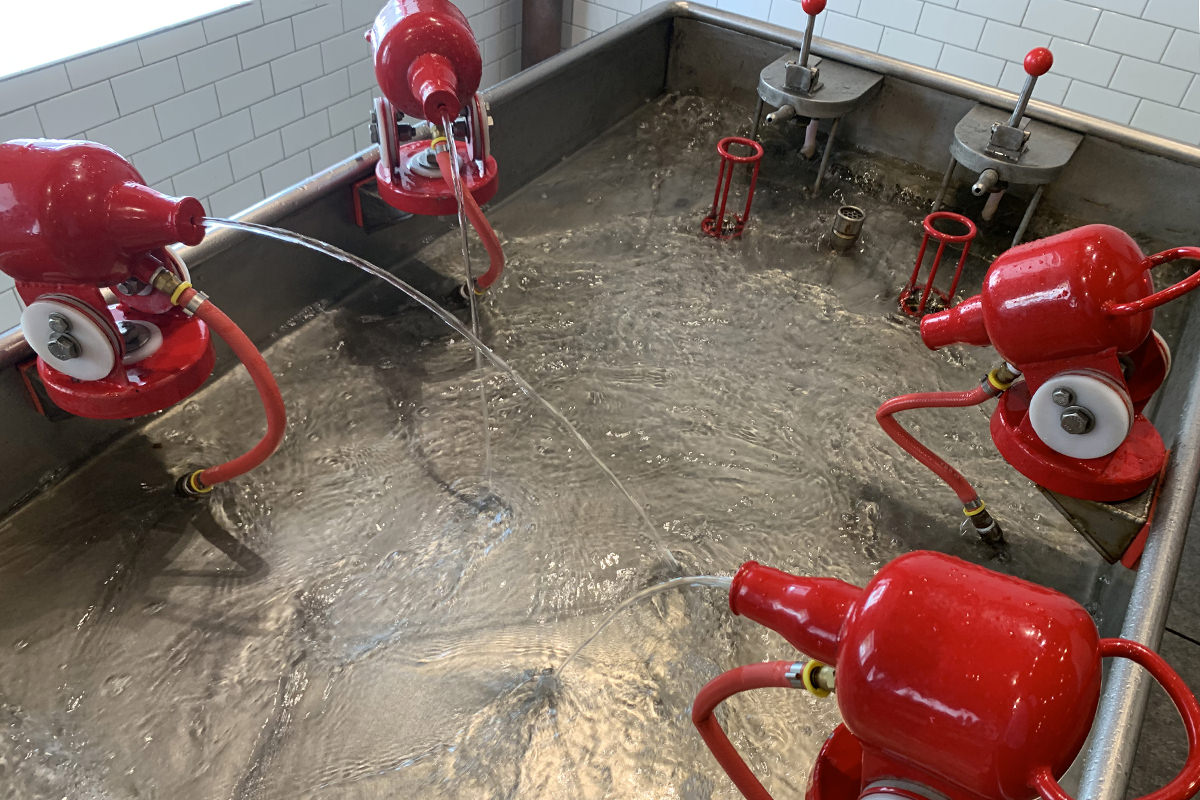 I got to play with wooden monkeys...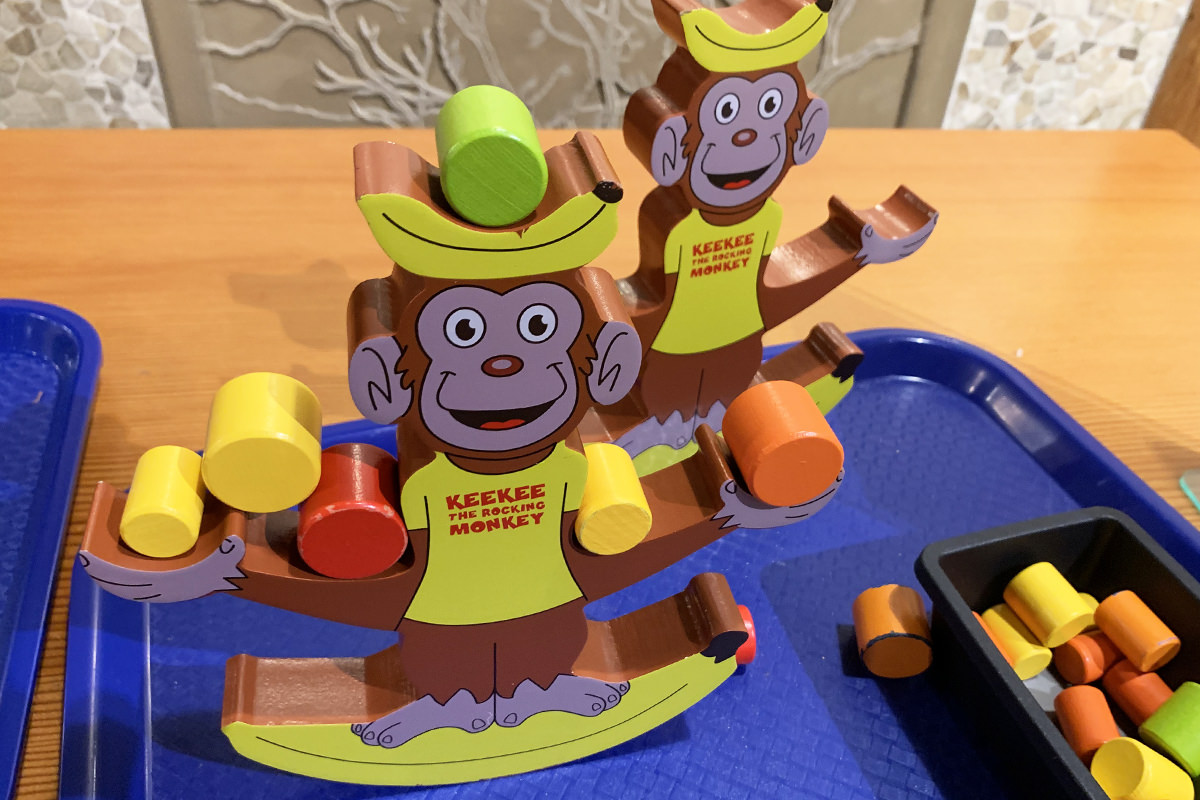 I got to build some interesting architectural structures...
And I also got to watch kids go nuts at the rooftop play-space, which is pretty great...
They even have a dinosaur dig!
Kids absolutely love this place and, if you've got young ones and are in the Snohomish County region, it's worth a visit.
An aside here... I was surprised that they allow you to take photos inside the place. I was careful not to get kids in my shots and, for those photos where kids were in them, to never photograph their faces. I'm pretty sure most people who were snapping away with their mobile phones were not so careful, and this raises some privacy concerns. Yes in this day and age you can pretty much be photographed anywhere at any time but, in a space that's exclusively meant for children, you'd think that it would be in everybody's best interest if photography was not allowed? I dunno. Perhaps I'm just overly paranoid.
Though the paranoia may not be entirely my fault.
There are statues with creepy eyes right out in front, so the museum kinda puts you in a paranoid state before you even step inside the place...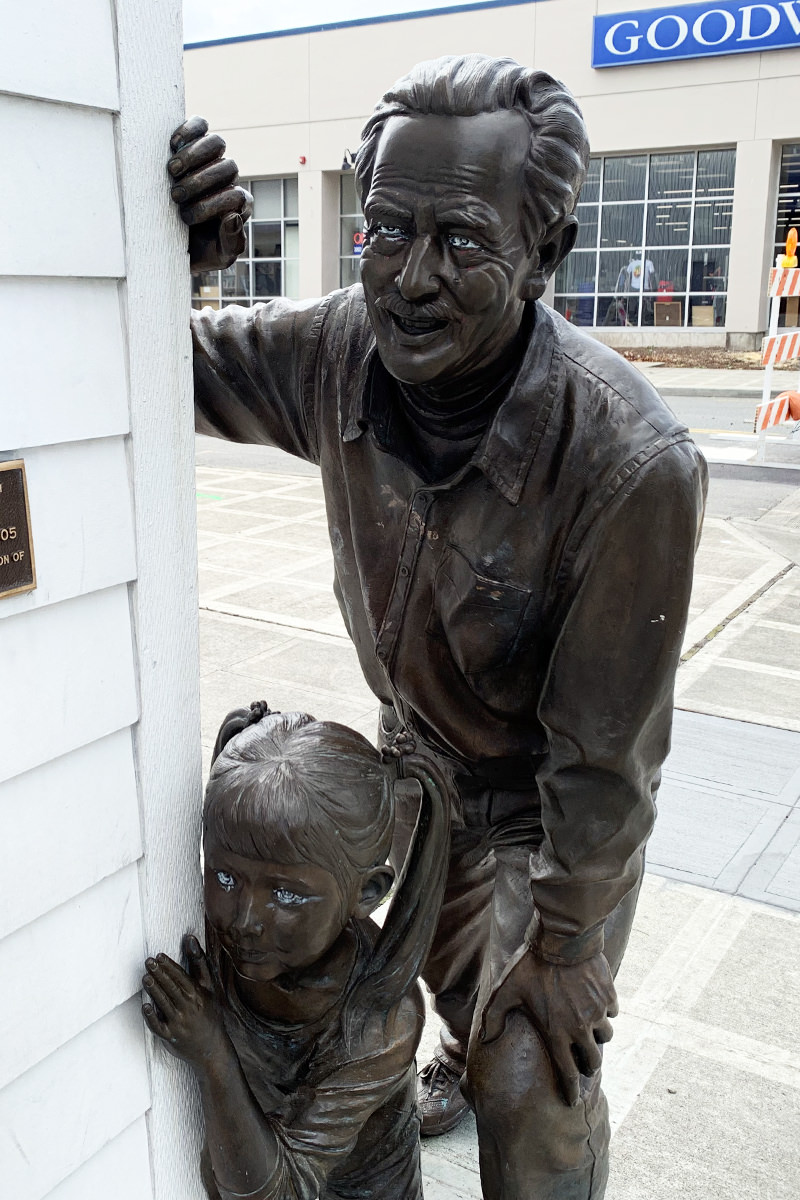 It's a nice enough artwork, but the white eyes make grandpa look like a pervy child predator or something. And is it just me, or does the little girl look like she's possessed by demons?
Probably just the paranoia again. I should probably look into that.
Posted on Wednesday, July 10th, 2019

I cannot seem to catch a break on this vacation thing. This morning a full city maintenance crew started working in front of my house AT SIX FORTY IN THE FUCKING A.M.! At the time I have no clue what in the hell they are doing, but it's so noisy that the cats wouldn't even come out to eat breakfast.
Why do I even bother taking a vacation if I can't sleep in and have to go to work all the time?
After me and my houseguest got up to start our day, we quckly figured out why The City was making so much noise so early in the morning.
The water was out.
Oh.
Yes, please feel free to make noise at any time of the day or night to restore water service. I am perfectly okay with that!
Especially since I had a doctor's appointment today. I spent yesterday afternoon in a pool and would prefer not to smell like chlorine, sweat, and laziness while I'm being examined by a doctor who deserves much better than that.
Lucky me, the water was restored in time for me to take a shower, wash some clothes, and get on with my life.
And now? A drive over the mountains so my real vacation can start...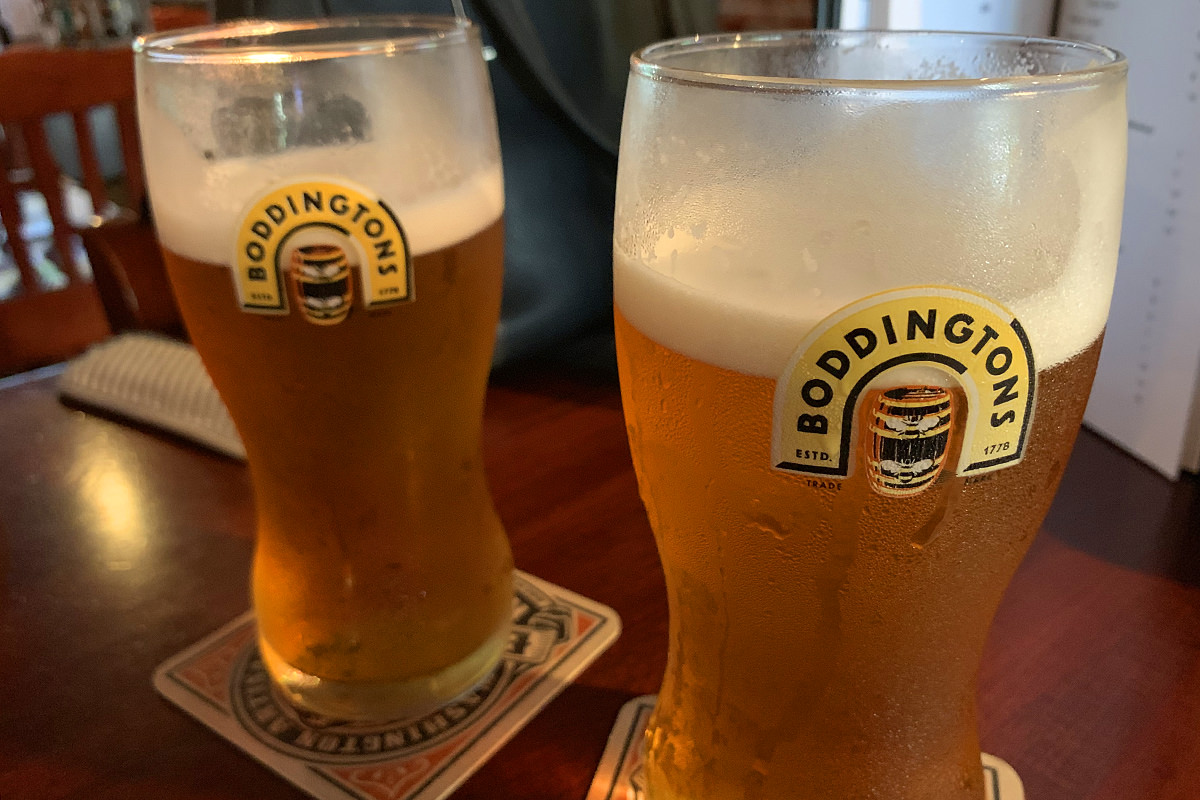 Happy hump-day, everybody!
Posted on Tuesday, July 9th, 2019

Yesterday morning I spent my vacation working.
Clearly I am doing my vacation all wrong and need to change things up.
So yesterday afternoon I spent my vacation drinking blueberry margaritas...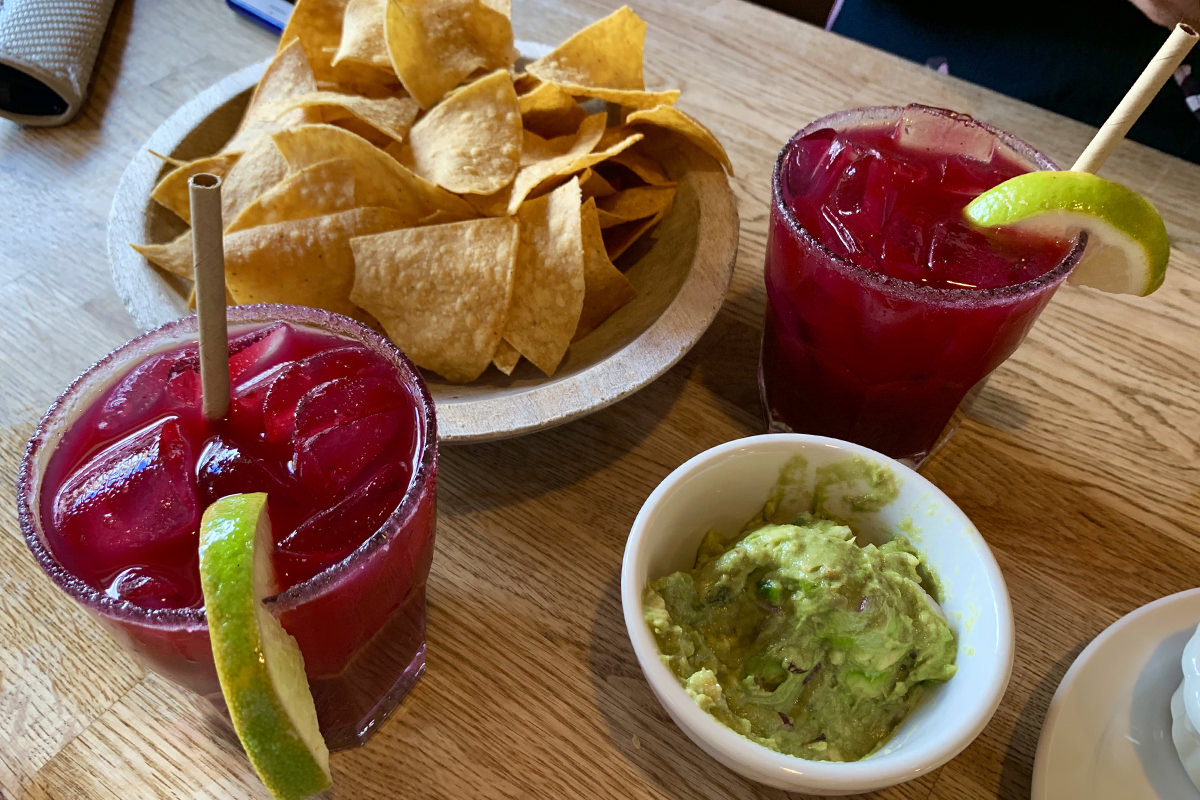 ...then making an impulse decision to go floating down the river with friends again. It's just such a relaxing way to spend a lazy summer day...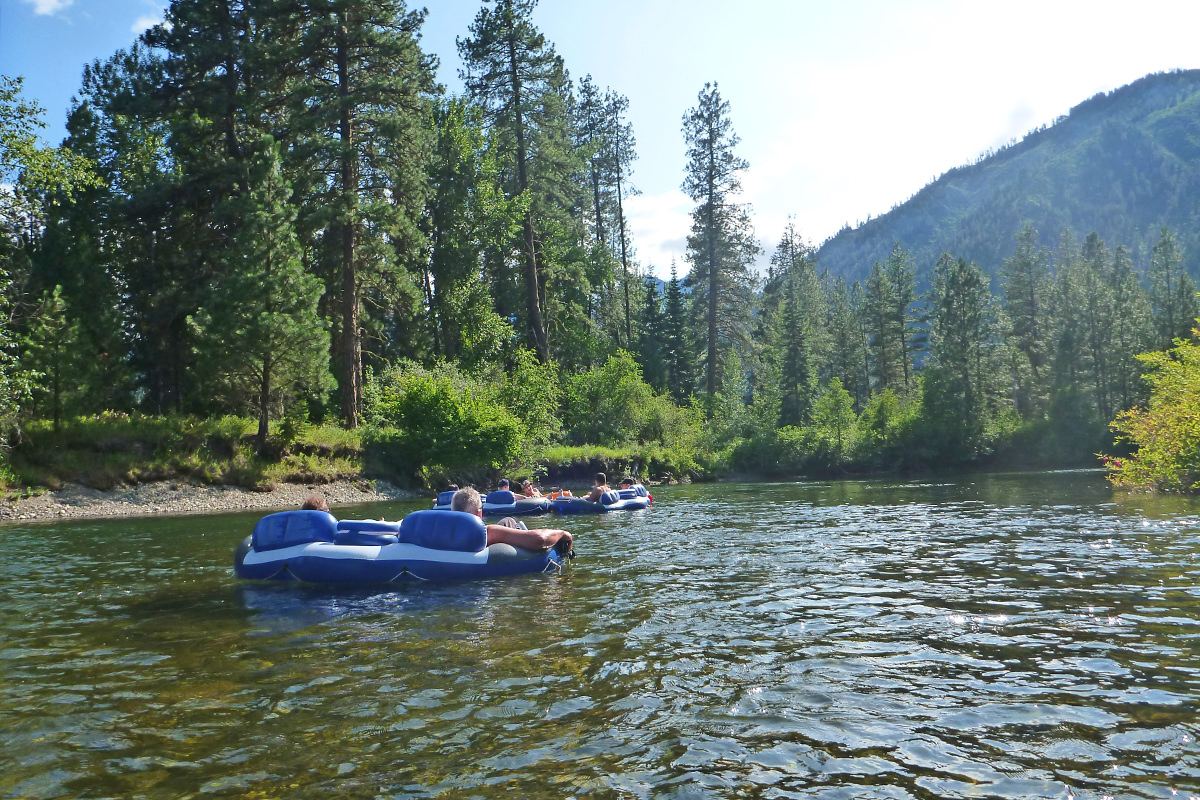 The river is getting really low in spots, so I spent a good chunk of my time lifting my butt so I wasn't dragging on the riverbed...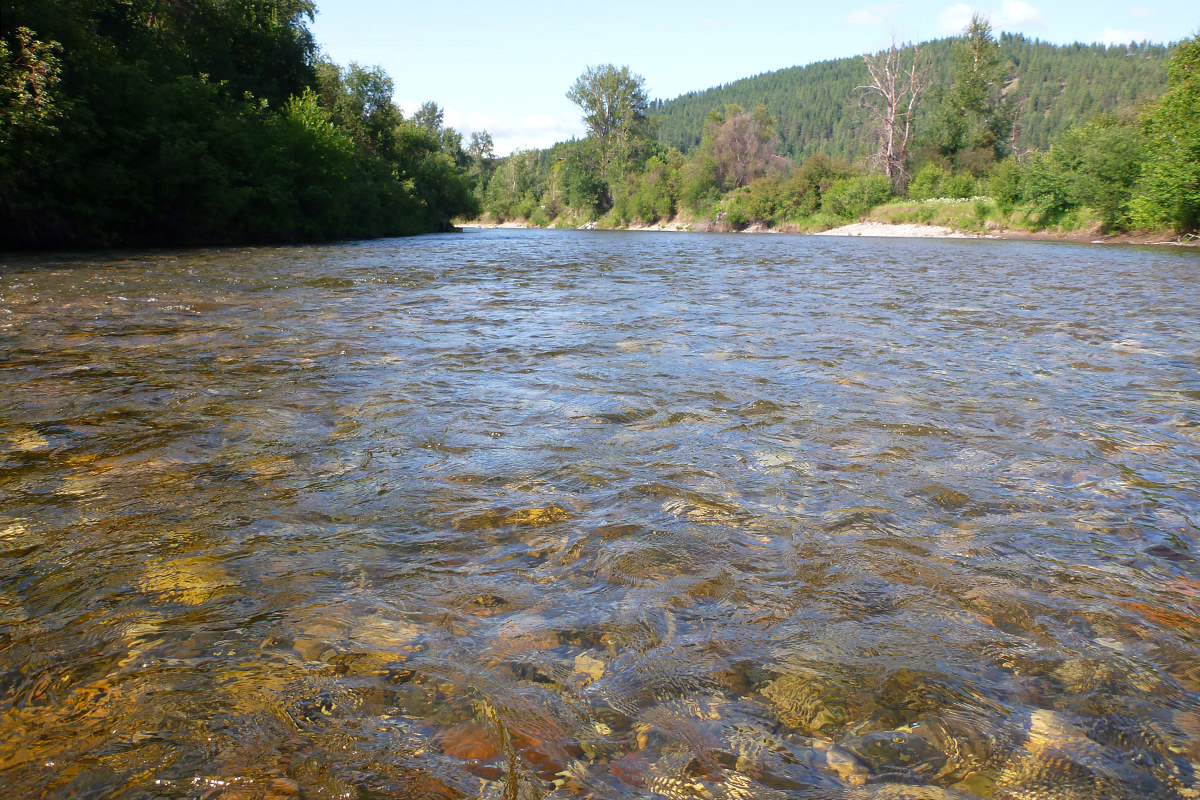 It was a nice day, and ducks were out everywhere...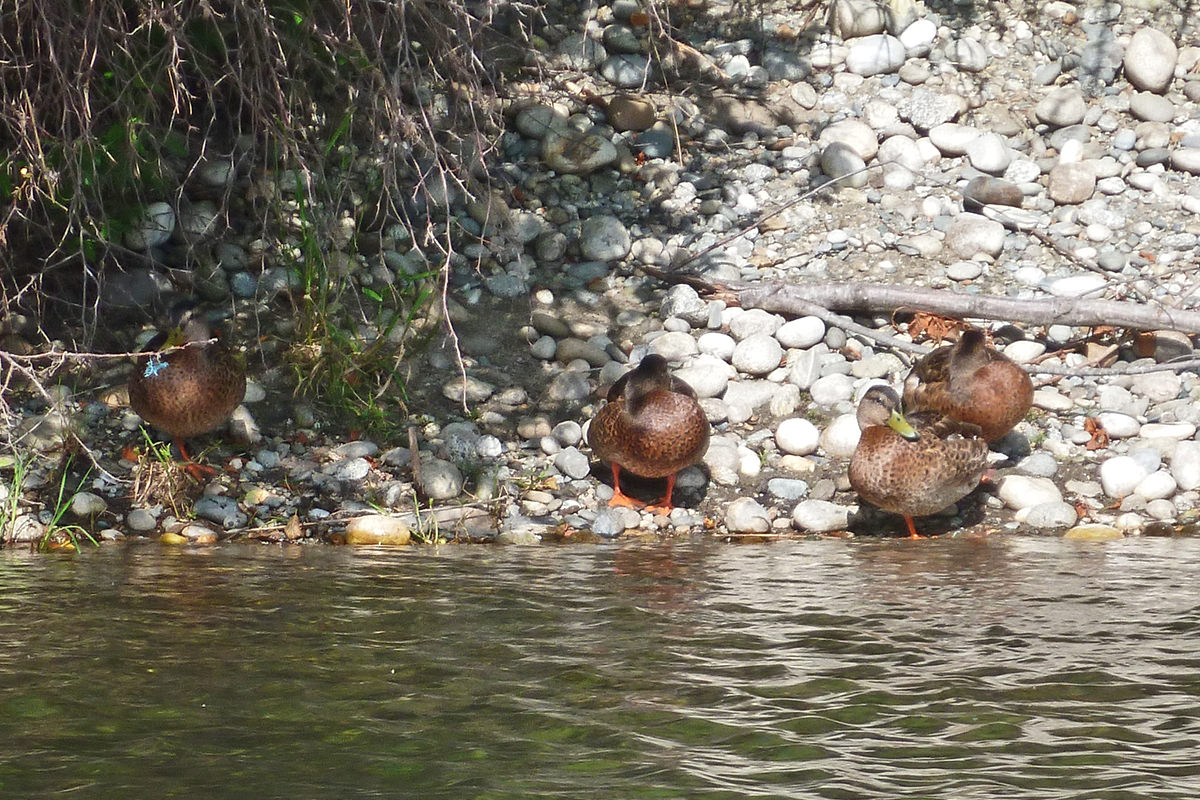 As the sun started falling, it got to be pretty shivery. Having your butt in cold water with cool breezes is fine when the sun is warming you... not so fine when it's not. By the time we made landfall, I was a popsicle.
And then my cold, dead heart was warmed watching a momma duck with her four babies...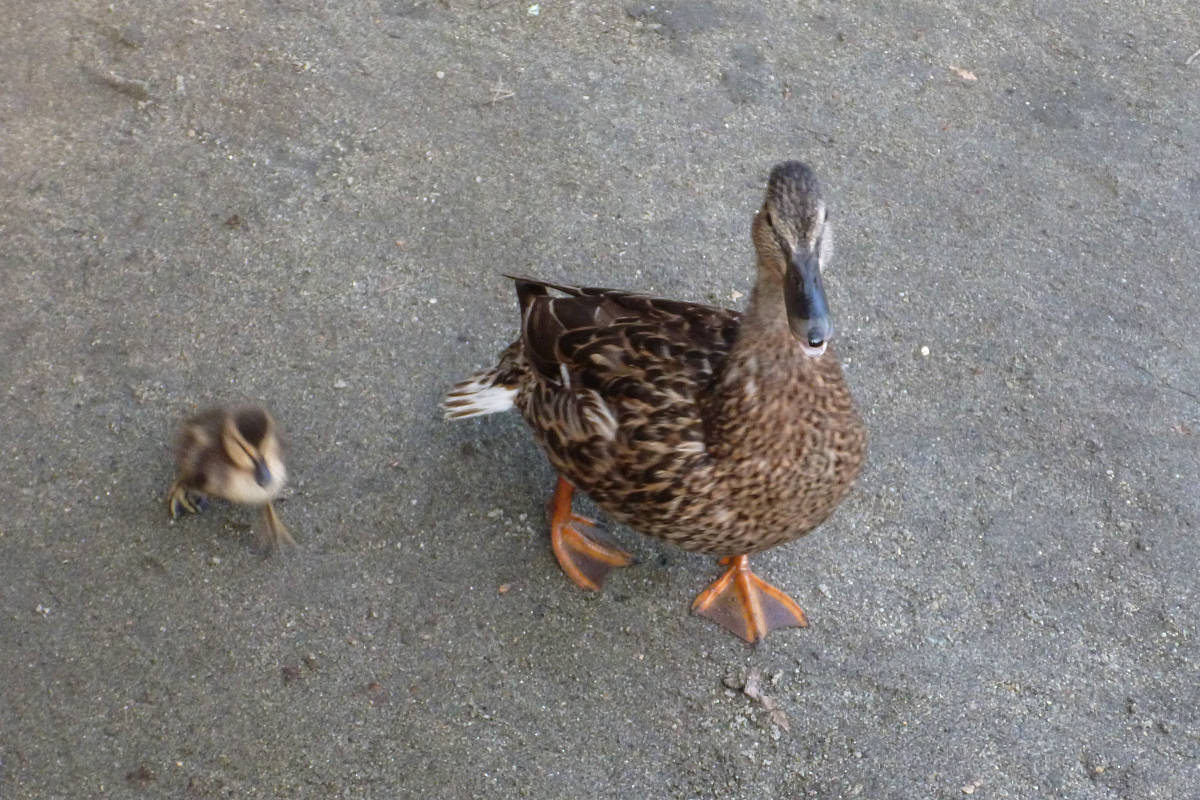 The little ones move so fast they were almost impossible to photograph...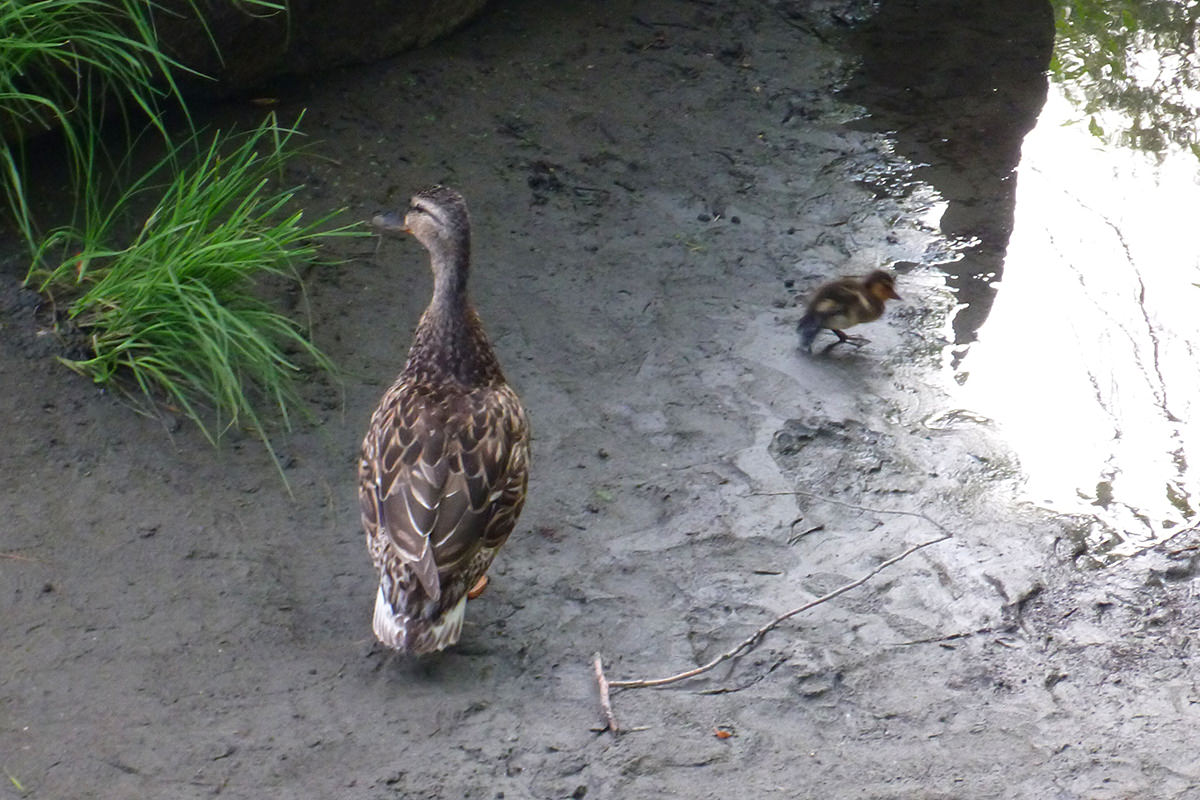 That poor mom had her wings full, I tell you. Two of her babies would go one way... two would go another way... then she'd have to run back and forth until she had them all corralled. It's a tough job. But she was up to the task.
That's pretty good vacationing, isn't it?
Which is why I didn't feel quite so bad that today I spent half the day working, then cut my hair, cleaned my house, and paid my bills.
I did go swimming in the late afternoon though, so I guess it's all good.
Posted on Monday, July 8th, 2019

I have had Hinterland on my Netflix watch-list for a long time. Tonight I finally watched the first episode of the first series.
It's fantastic. Mostly due to the remarkable performance of lead Richard Harrington. You can feel the wheels turning any time he's on screen...
Granted, I'm only half-way through the first season, but I'm sure liking this show. The atmosphere they've created permeates every scene so the series feels more "real" than most.
What's interesting about this show (other than how good it's been) is that every scene is filmed twice... once in English and once in Welsh (which is called "Cymraeg" in the Welsh language). I did a YouTube search to watch some of the Cymraeg scenes and it's amazing how all these actors have to essentially perform the same show twice. And since Hinterland looks so grueling and demanding of the actors, I can't imagine how difficult that must be...
I'm sure they use all kinds of tricks to make the show affordable. In the scene above where he destroys a kitchen, for example, they were careful to make sure there was no dialogue so they only had to shoot it once. If he had said "I hate my life!" while smashing the dishes, they would have had to buy all new dishes, clean the set, then reset the scene so he could say "Rwy'n casáu fy mywyd!" for the Welsh version.
Here's the trailer in Welsh...
I first learned about Wales and the Welsh language in anticipation of my visit to the beautiful Hard Rock Cafe in Cardiff (Caerdydd). Cymraeg is a fascinating language which is estimated to be spoken by less than a million people around the globe. Most people have probably only ever heard of it on viral YouTube videos where people are pronouncing very long Welsh words...
Before wrapping up this post, I'd be remiss if I didn't post a link to one of my favorite comedy bits by Welsh comedian Rhod Gilbert...
Happy Monday, everybody!
Posted on Sunday, July 7th, 2019

It's a glorious day to be alive... because an all new Bullet Sunday starts... now...

• IN THE NEWS: Mississippi makes it a jailable offense to call plant-based or cultured-meat patties "burgers."
Seeing as how Mississippi ranks 49th out of the 50 states in education. Perhaps it's understandable that their state government thinks the populace is TOO FUCKING STUPID TO KNOW THAT A VEGGIE BURGER ISN'T MADE FROM A COW. But are they smart enough to know that a veggie dog isn't made from a dog or do hot dogs confuse them too?

• Ski! Somehow I missed this excellent short video on Jim Niehues, the guy responsible for painting so many of those ski run posters you see at all the resorts...
Incredible stuff.

• Dreaming! Any comic book series is going to have its ups and downs. A series which had less downs than usual was Neil Gaiman's Sandman. A complete reimagining of the cheesy DC Comics character...
My favorite thing to come out of the series was Sandman's sister, Death, as she appeared in the mini-series spin-offs by Gaiman Chris Bachalo...
Death: The High Cost of Living is easily one of my all-time favorite comic books.
And now comes the news that Netflix has commissioned a Sandman TV show. Despite the fact that Gaiman himself will be involved, I am more than a little nervous. The series seems all but unfilmable given the visual language of Sandman's world. And the stories are wildly tied to the medium they were created for, and I question how well they will translate to television. I hope it's good. I hope Death makes an appearance...
"A wizard attempting to capture Death to bargain for eternal life traps her younger brother Dream instead. Fearful for his safety, the wizard kept him imprisoned in a glass bottle for decades. After his escape, Dream, also known as Morpheus, goes on a quest for his lost objects of power."

• German! I ran across one of my favorite Trevor Noah's Between the Scenes the other day...
I mean, they're all good... but his wit is at its sharpest here.

• Mermaids! Disney has found their latest live-action princess when they cast Halle Bailey as Ariel in The Little Mermaid. She's incredibly talented and I know of her from appearing in Grown-ish (the TV spin-off from Black-ish)...

Photo by Evan Agostini
Disney, being the savvy company they are, cast who they felt was best for bringing the character to life... regardless of race. She's a Grammy nominee, for heaven's sake. But of course the bigot brigade is all #NotMyAriel because the idea of a fictional half-fish girl being played by a Person of Color is just too much for their tiny brains to process. Time will tell If Bailey will make a good Ariel. Personally I am trusting Disney on this. But holy crap... give the young woman a chance! They haven't even started filming yet! I sure hope she isn't bothered by all this nonsense.

• Plus Plus! Speaking of Disney... as if the Marvel and Star Wars series in development weren't enough reason to compel me to subscribe to the Disney+ streaming service when it debuts later this year, now they've got a new series called Life and Deaf in development with one of my all-time favorite actors, Marlee Matlin. Somebody at Disney is very, very serious about competing with Netflix!

Have a great Sunday!
Posted on Saturday, July 6th, 2019

Apparently I had some motivation in me after all?
Today was so beautiful out that I ended up floating the river with friends instead of lounging around the house doing nothing.
Though laying on a floatie drinking booze and letting the river take you is pretty close to nothing...
At the end of our float, there was a couple with their too-cute dogs out enjoying the sun. One of the pups was tuckered out and decided to take a nap under a cap...
But this is Caturday and not Dogurday, so back to the usual feline madness that Saturday brings...
I ended up having to leave the post-float party early because I have ghosts...
Asking Jenny to go close the door had no effect.
Behind my house is a big field filled with dandelions that have gone to seed. So leaving the door open like that will guarantee that dandelion fluff will fill my living room if I don't take care of it, so off I went.

Whenever I have guests staying over, my cats cower upstairs in my storage closet until everybody goes to bed... then they come out and goof around until everybody wakes up and they hide upstairs again. This morning poor Jake was lounging in the catio and didn't make it upstairs before we were all awake. This is the look on his face when he realized he was "trapped" in the catio until we all left for the day...
He didn't have to wait long, but enjoyed staring at us from behind the safety of my massive pole...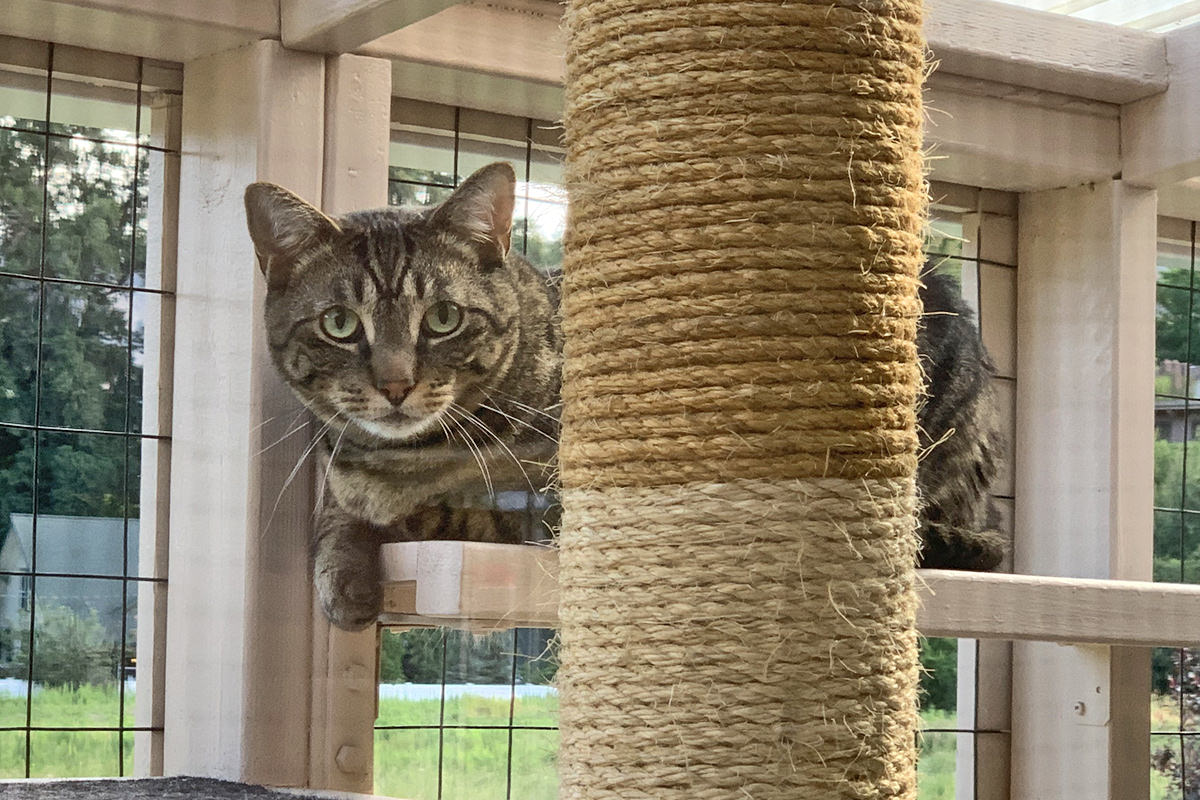 I have tried many, many times to get my cats so they are not afraid of people. It never works. After a few days Jake might come wandering out for a minute if it's quiet and calm, but he's completely scared and on edge the entire time. Jenny won't even think about it. This makes me terrified as to how my cats will manage if I'm in some kind of horrible accident. Will anybody want to adopt them if they are this frightened? Are there kind souls who are patient and caring with a feral rescue who's terrified of people? I sure hope so.
Of course, just getting ready for guests is an adventure unto itself. I try to get everything cleaned up and organized, but this is never easy. "Oh, you just made the bed? Here, let me get on that, even though I haven't been on the bed in weeks...

And now, as I retire on this fine Caturday, I leave you with this...
Oh. And this...
Cats are the best.
Posted on Friday, July 5th, 2019

I just finished a big project at work that's been consuming my every waking moment for weeks. A part of me is anxious to move on and start on something new (heaven only knows there's enough to be done), but there's a part of me that wants so badly to do nothing at all. Just for a little while.
Good thing I'm on vacation for a week...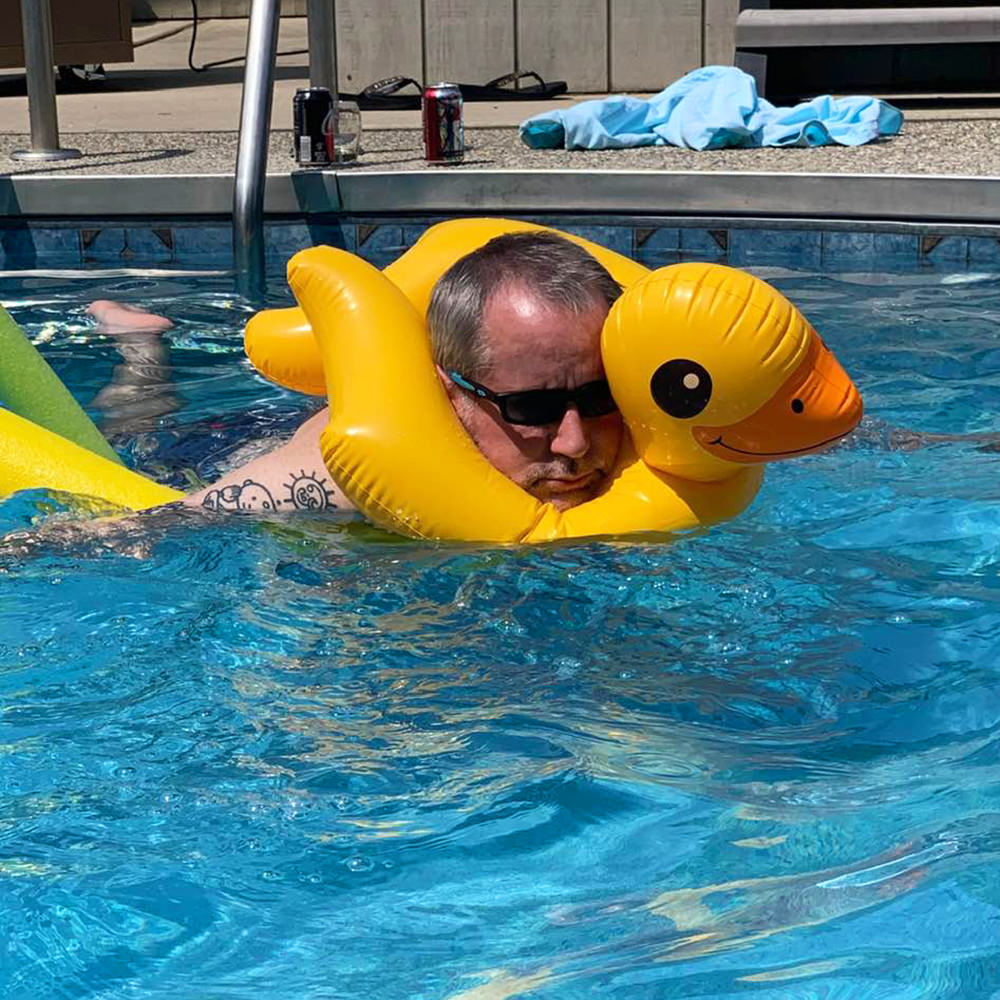 Maybe if I wasn't so exhausted I'd be motivated to do something, but I'm really just not.