Posted on Saturday, February 16th, 2019

I end up in Las Vegas for work a lot. Four to six times a year. On those trips, it's not my favorite place. Because when you're here for work, it can be the loneliest city on earth. It's not like most cities where you can wander to a small corner cafe, soak up the atmosphere, and feel a part of something real. Partly because there are no small corner cafes (at least not on The Strip or in Old Town), but mostly because nothing in Las Vegas is real.
But when you're here with friends?
Las Vegas is one of the most exciting cities on earth.
Tonight we wandered around and ended up at the fountains at the Bellagio, which is always nice...
From there, some of us went to Brilliant, which is a light show at the Neon Museum "boneyard" where to play popular songs associated to Vegas while signs light up and videos play. I've seen it before, and it was actually quite nice...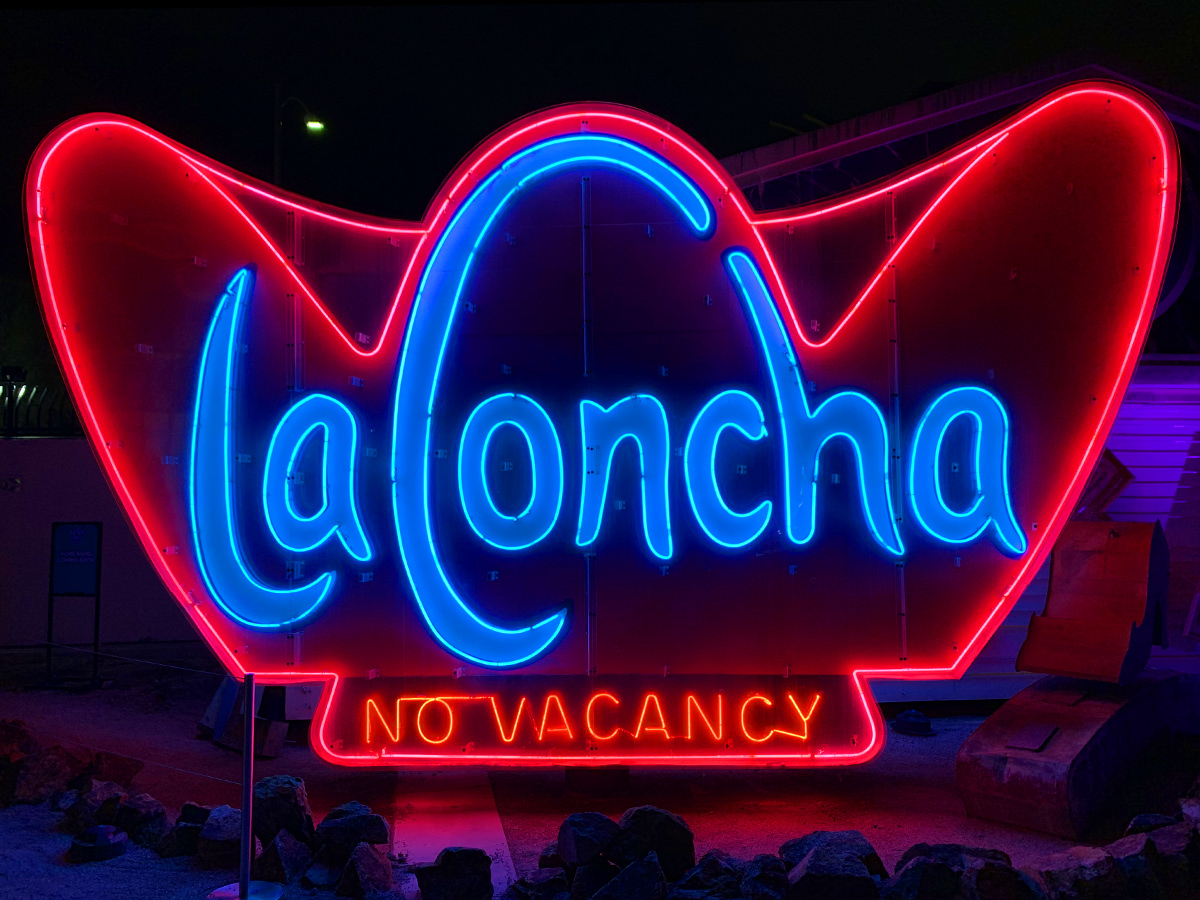 Except...
As you can tell from that bottom photo where everybody is bundled up an shivering, this time is was bitter cold. As in "I'm wearing my winter coat but still freezing my ass off" cold. And thank heavens I had my winter coat, because I would have been a wreck without it. I rarely travel to Vegas in the dead of winter, so I had no idea this was what was awaiting me. Fortunately, I had dressed for the weather back home to get to the airport, so I was (somewhat) prepared.
At the end of the day, I was up $36 thanks to a lucky pull at a slot machine in the Paris hotel. If I play my cards right (or, better still, don't play cards at all) I just might go home with my shirt on my back.
Given the weather both here and back home, that's actually my best-case scenario.
Posted on Friday, February 15th, 2019

I woke up not knowing whether or not I'd be on my way to Las Vegas today.
The forecast for this week was "partly cloudy" but it ended up being "Snowmageddon Part 2: The Snowpocalypse" and flights were being canceled left and right. I don't think I single flight left my local airport yesterday. Driving over the mountain passes was out of the question because they keep closing.
But because this is one of those rare trip to Vegas for fun with friends where I don't have a deadline... all my flights were fine. Better than fine, actually, thanks to a First Class upgrade...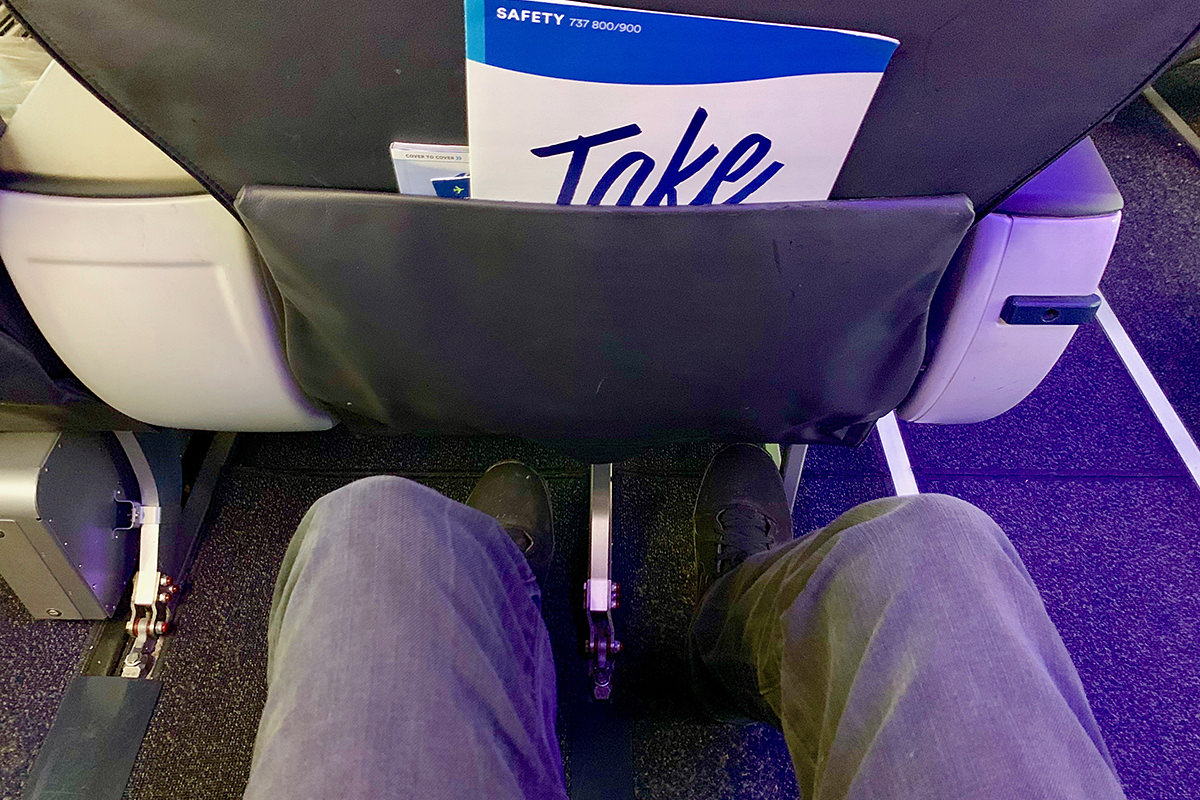 It's only when I have to be at a critical meeting at a precise time that all my flights are delayed, canceled, or otherwise screwed up.
And so...
Glitter Gulch awaits.
Posted on Thursday, February 14th, 2019

For the first time in nearly 40 years, I didn't buy any flowers for today.
When I was young, my mom would give me money to buy flowers for my grandmother on Valentine's Day. Once I started earning money of my own I carried on, buying grandma flowers every year until she died in 2015. Because of that, it's tough not to think of my grandmother whenever February 14th rolls around. Even those years I had a girlfriend and would load her up with flowers and candy, it was still my grandma's holiday.
I would sometimes buy flowers for my mom, but every time I did she would tell me I should save the money for our next vacation instead. And so I did. Mostly. After she couldn't travel any more I started buying her flowers for Valentine's Day again in the hopes it would brighten her life a bit. Lord only knows she could use it given that her days were spent being confused and confined to a building.
But now she's gone as well.
And I am single.
So no flowers. But I do have my annual Valentine's Day card...
For past year's Blogography Valentine cards, click here!
Posted on Wednesday, February 13th, 2019

Don't ask me why, but I watch the Westminster Dog Show every year.
This year my dedication was rewarded with "Winky"... a little Bichon Frise running the agility course. This hilarious pup was in no hurry at all to complete the course, and was happy to stop for applause a couple of times. Needless to say, the crowd loved Winky...

Definitely not the fastest time, to be sure, but my favorite run of the show.
Posted on Tuesday, February 12th, 2019

Air travel is expensive, yo.
And as somebody who has done their fair share of finding fair fares, I can tell you that it's just getting worse and worse. Airlines are raking in millions... billions... in profit, and they're doing it by raising the cost to fly and nickel-and-diming you to death for absolutely everything. Most airlines still serve you a tiny cup of Coke and a cookie or a wee bag of snack mix for "free"... but if you want to actually have something to eat, you'll have to pay for it. Want to check a bag? You'll pay for that too. Want to sit in the front of the plane? How about have a reserved seat? Oh yeah, most airlines are definitely charging for that now.
It reminds me of a cartoon series by Al Jaffee from MAD magazine back in 1975...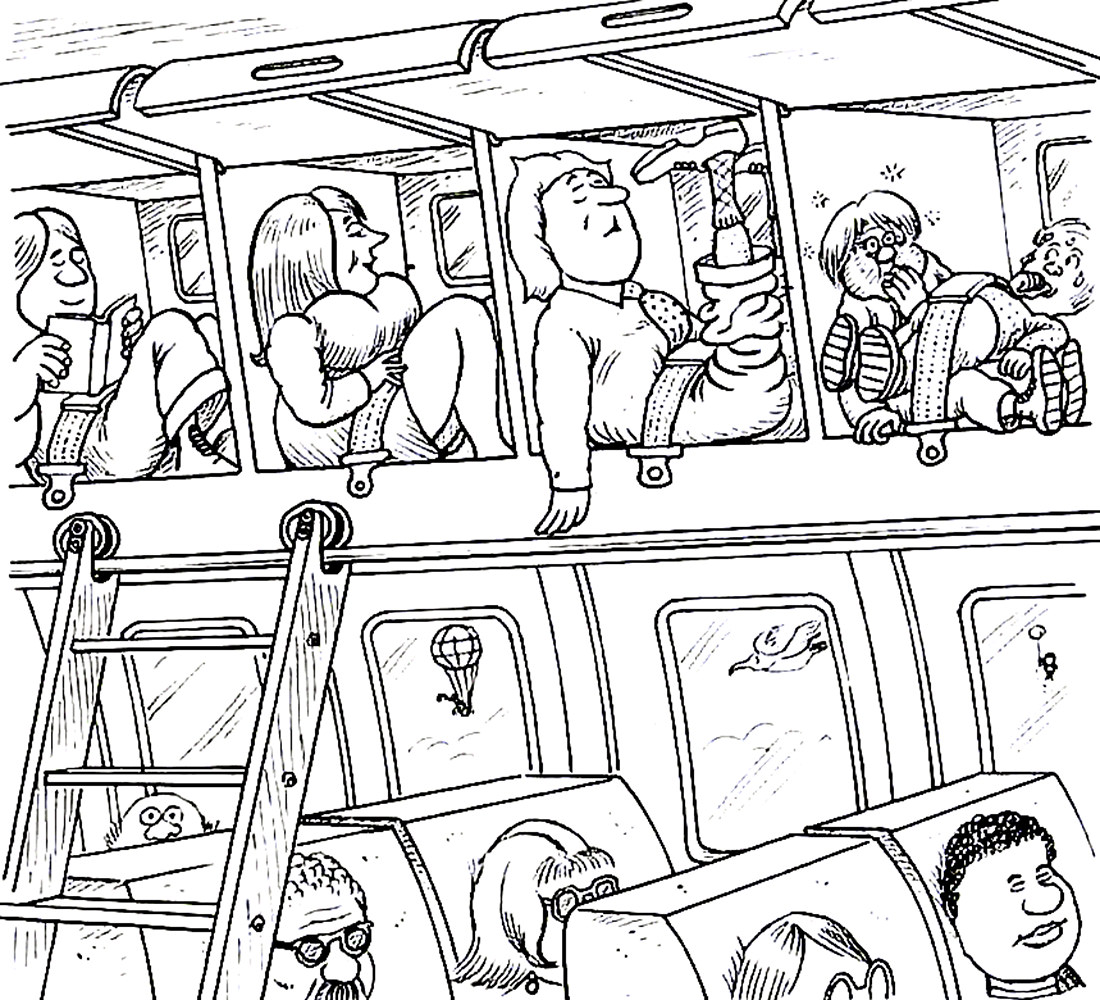 Artwork by Al Jaffee and ©1975 Mad Magazine — from Heritage Auctions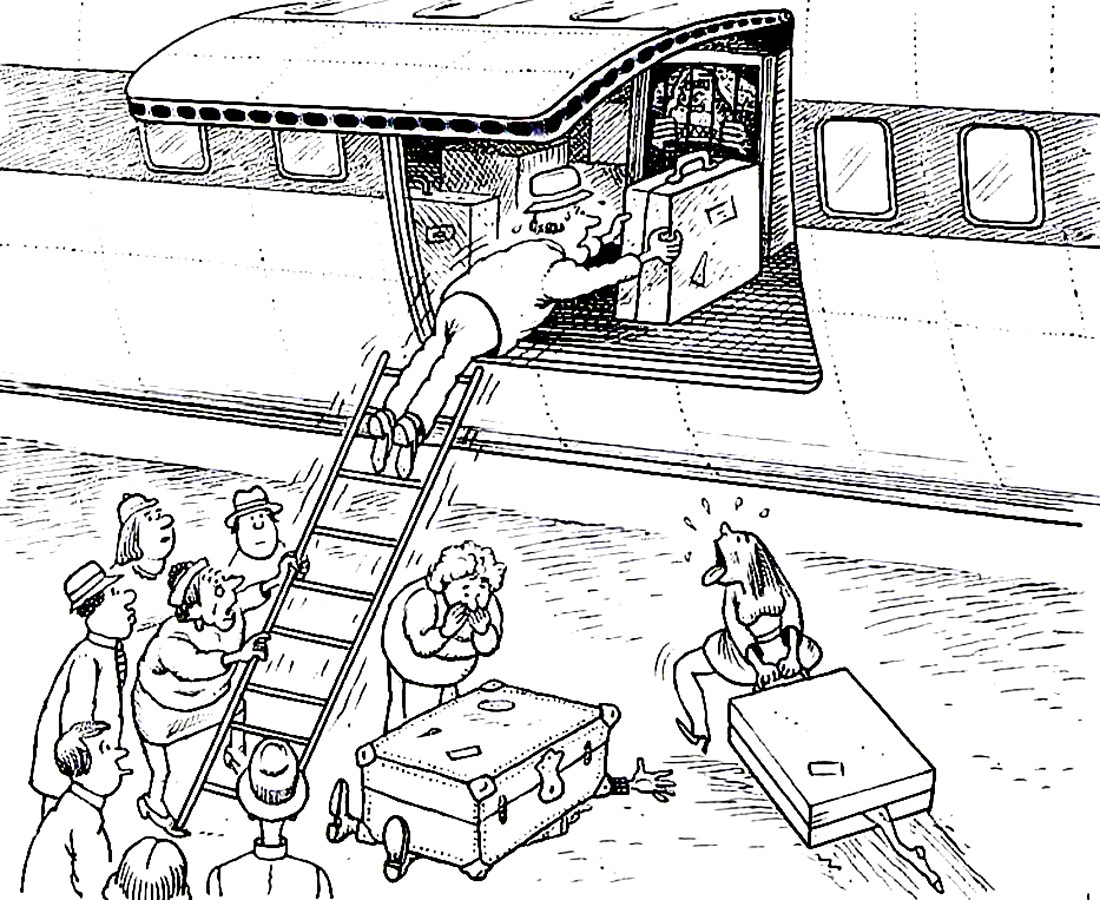 Artwork by Al Jaffee and ©1975 Mad Magazine — from Heritage Auctions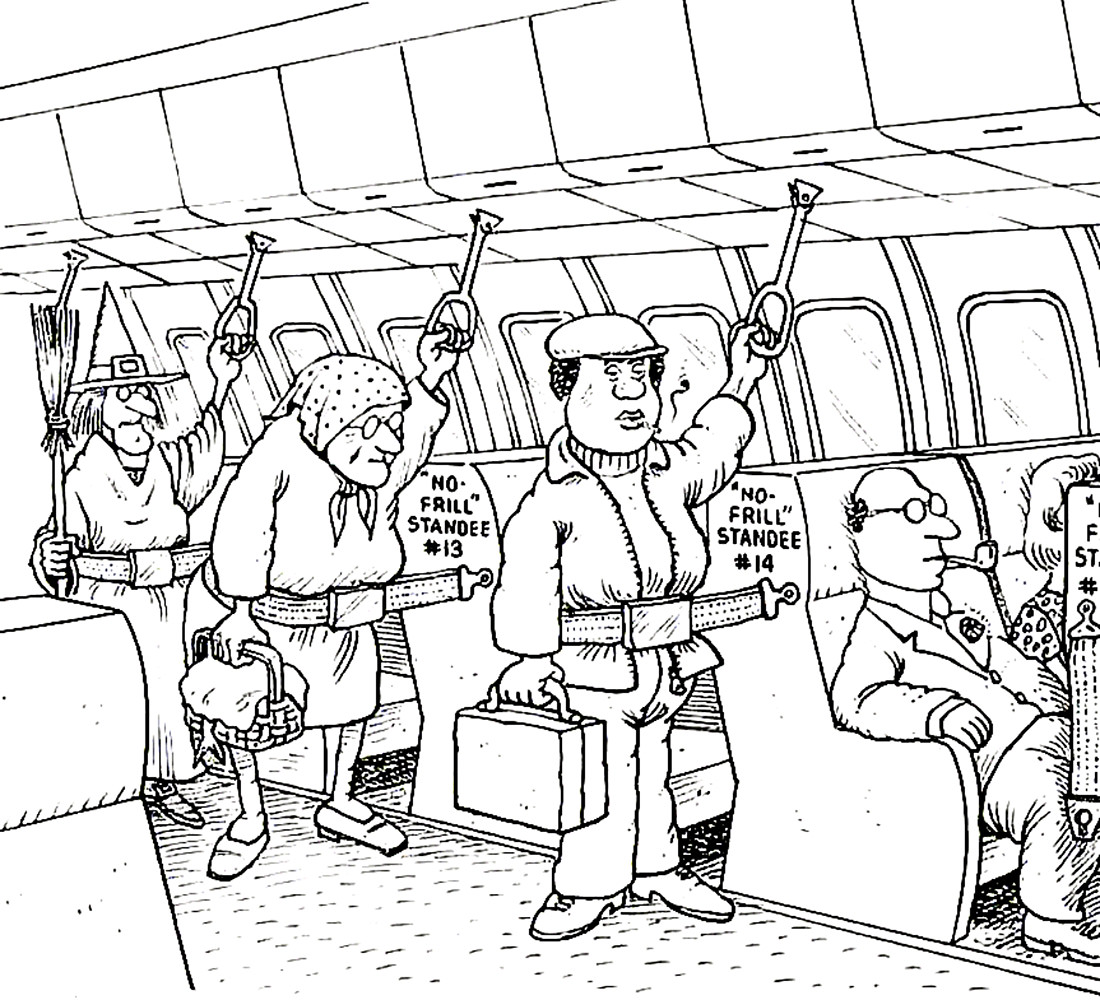 Artwork by Al Jaffee and ©1975 Mad Magazine — from Heritage Auctions

Artwork by Al Jaffee and ©1975 Mad Magazine — from Heritage Auctions
Funny thing is... Jaffee wasn't that far off. Kinda.
Well... unless you are an elite flyer with the airline. Then you get some of those perks at no additional cost. There's also perks (like checked bags) which you can get by having a credit card from the airline.
But for the casual traveler? Most of the things you pay for now are stuff that you didn't have to not so long ago. Given the price to fly, it's like adding insult on top of injury, but that's the way it goes.
A while back my home airline, Alaska Air, was facing stiff competition in critical markets from discount no-frills airlines. Rather than continue to lose infrequent flyers to these bargain-basement alternatives... or have to cut fares on their "Basic Economy" seats and lose money... they introduced "Saver Fares" which give you a cheaper rate with some serious restrictions...
Non-Refundable. Something happens and you need to cancel? Not so much.
Not changeable. Did your plans change? Looks like you're buying a new ticket!
No front-of-cabin seats. Back to the back of the bus you go.
No complimentary upgrades. Even if you fly 500,000 miles annually!
As an example of the savings, here's a Seattle to Boston flight, each way...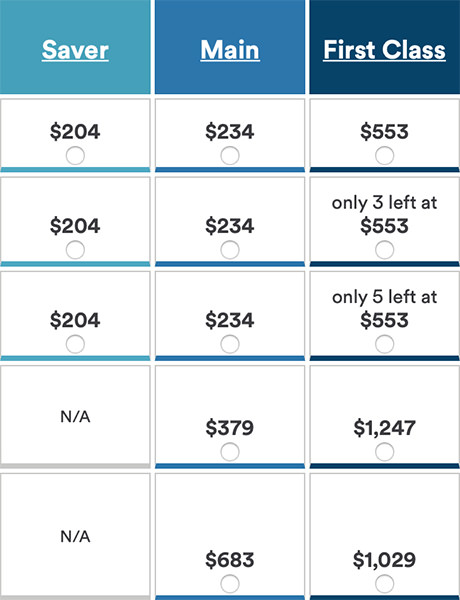 So... $60 savings total, roundtrip.
Unless I was really strapped for cash and positive my plans wouldn't change, there's just no way I'd ever do this. Sure you save $60... but if something happens with your travel plans (this happens to me all the time), you're out $468 for a ticket you can't use.
Despite my having an aversion to "Saver Fares," I am awfully glad that Alaska has them for people who only care about price. I want my local airline to be successful, and anything they can do to be competitive is something I am in favor of.
At 6'2" what I'm not in favor of is cutting legroom... yet again... though it would seem the FAA has put a stop to that. At least for now. Heaven only knows what regulations Presidebt Trump is going to abolish next that fuck people over in favor of his corporate owners.
But something tells me it will resemble something straight out of Mad magazine, like everything else he does.
Posted on Monday, February 11th, 2019

Worst. Monday. Morning. Evar.
Which is bound to happen when your bed ends up covered in cat vomit and you pull a muscle in your back.
But we'll get to that. First let me back up to yesterday, which was a much better day for me.
As I've mentioned a few times, Jenny has a vindictive streak and knows exactly what buttons to push on poor Jake when he pisses her off. First thing on her list? Stealing Mufasa, his stuffed lion and favorite toy. Many times when Jake has done her wrong, she runs off with Mufasa and hides him away somewhere. Jake will then spend hours trying to find him.
Yesterday I found Mufasa stuffed behind the garbage can in the bathroom so I took him to Jake, who was lounging on top of the cat tree in my bedroom. It was like Christmas morning...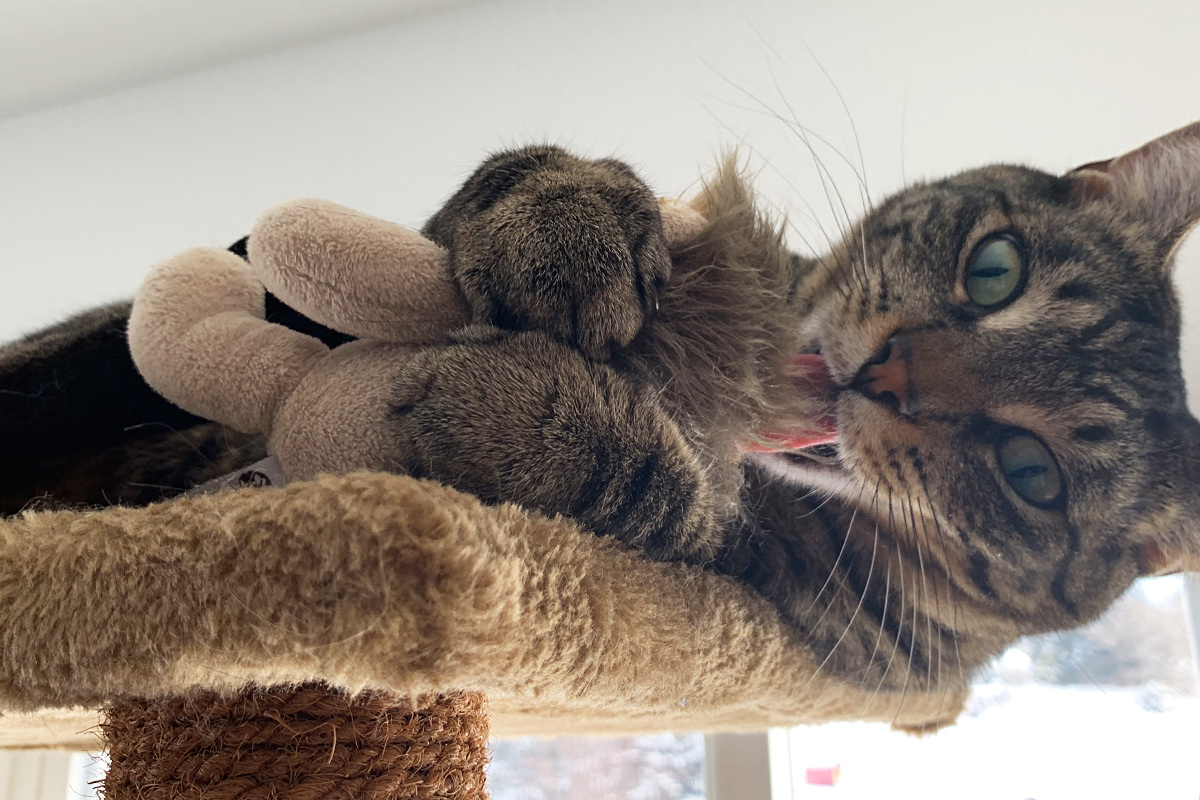 Jake oftentimes latches onto Mufasa with his claws and swings him around...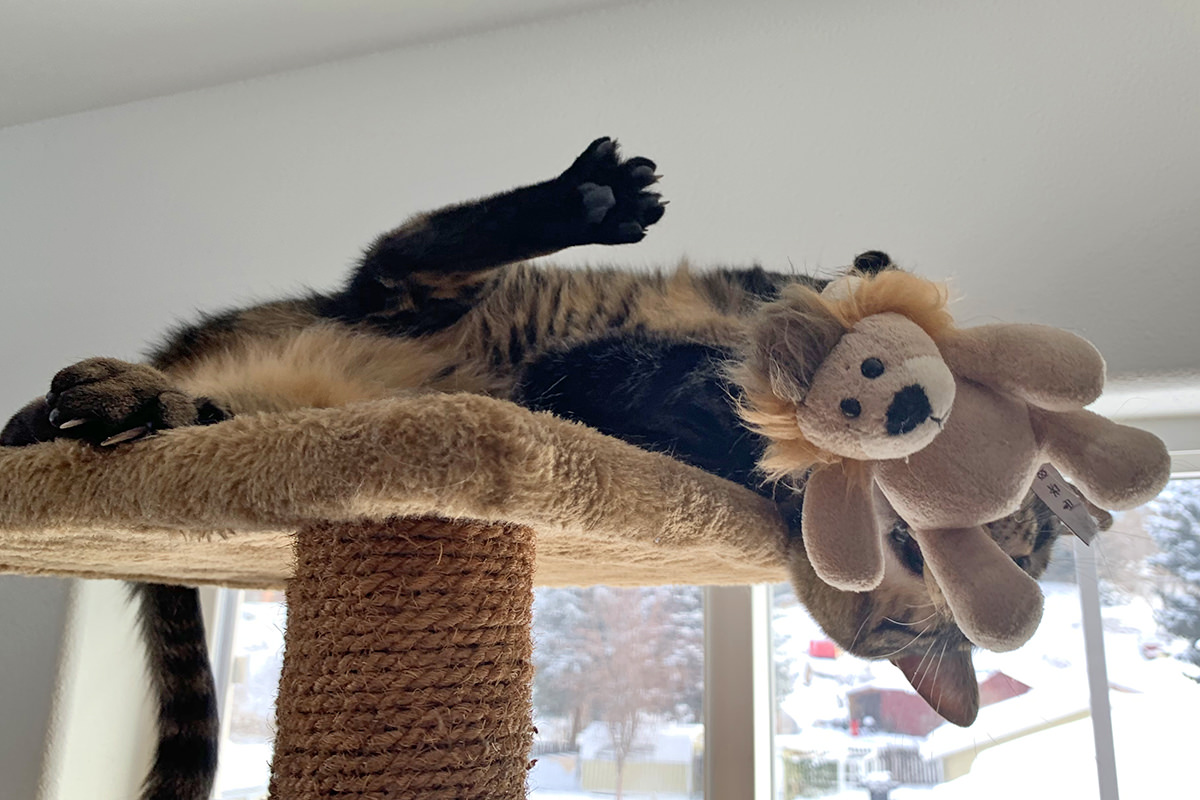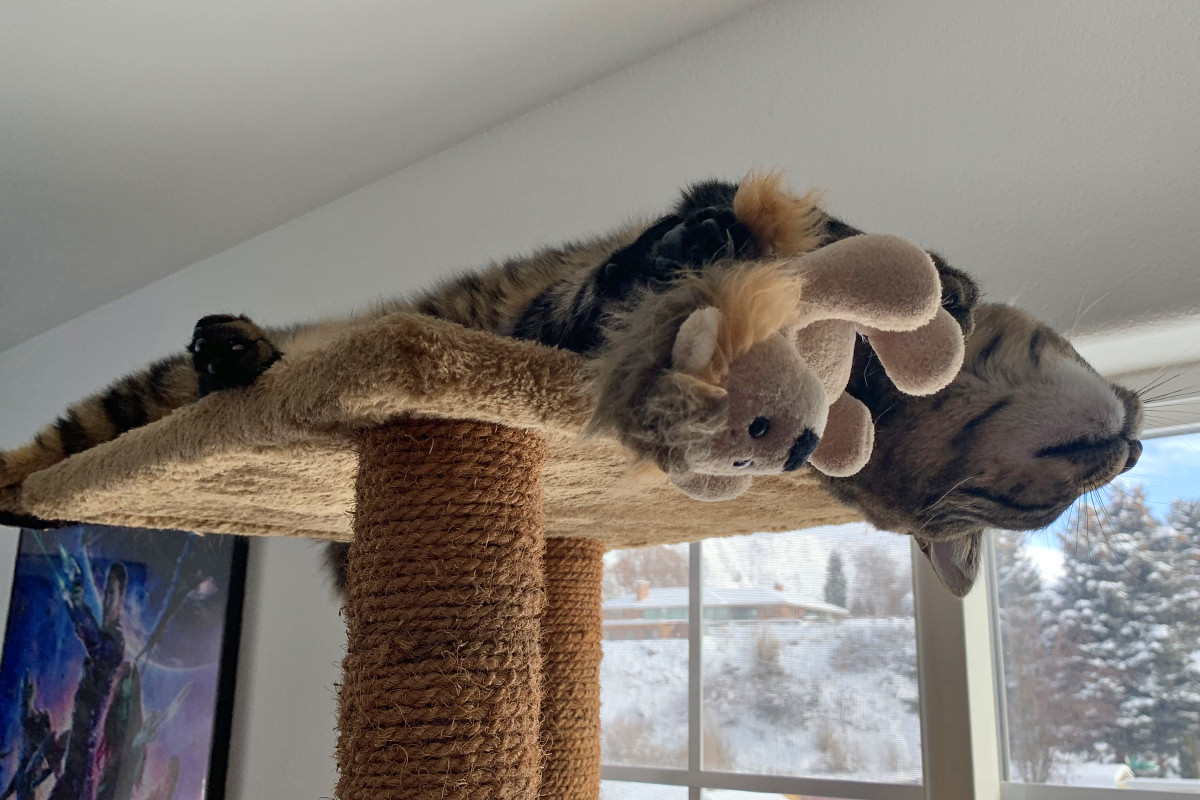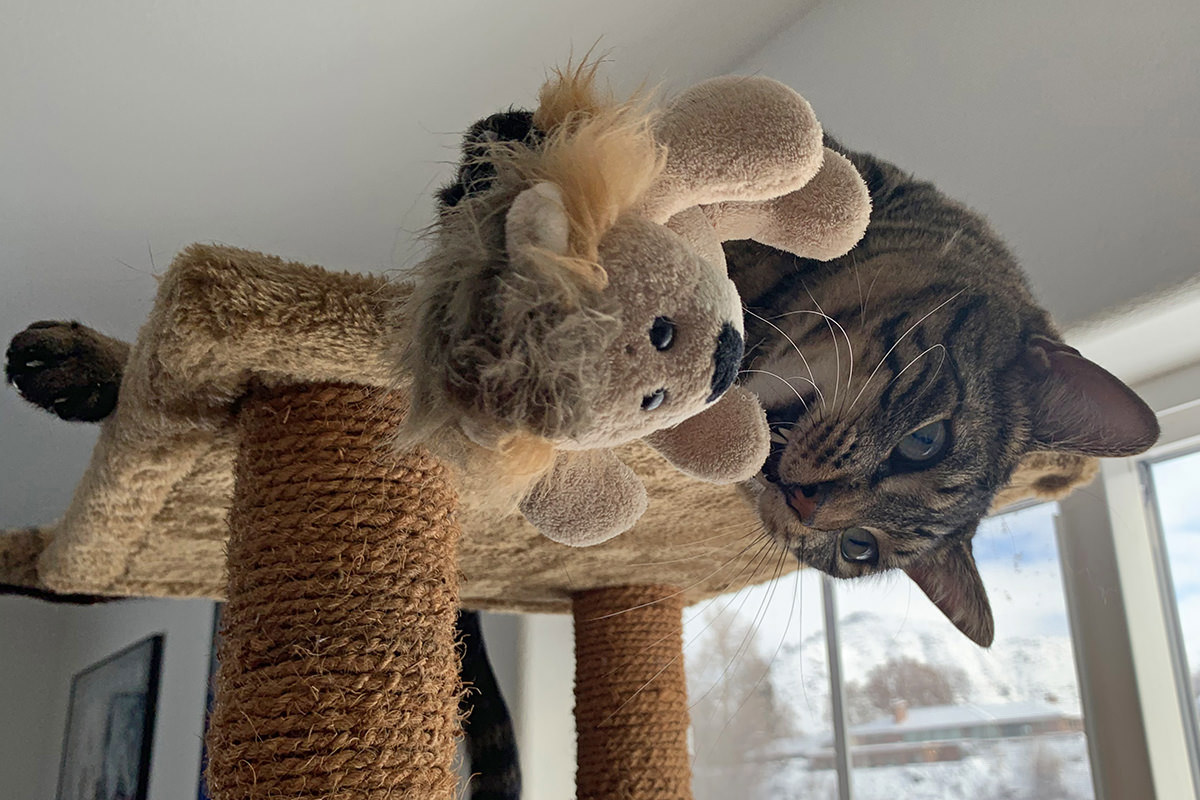 But it always comes back to bite-bite time...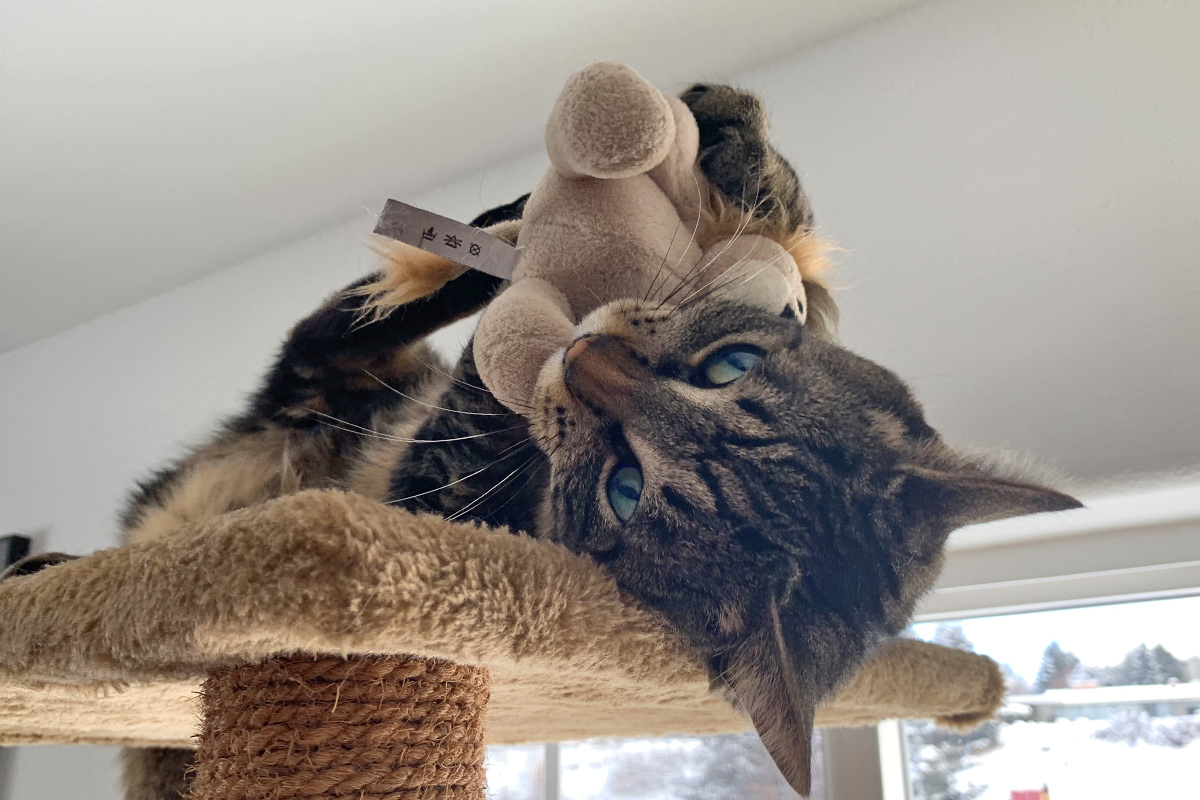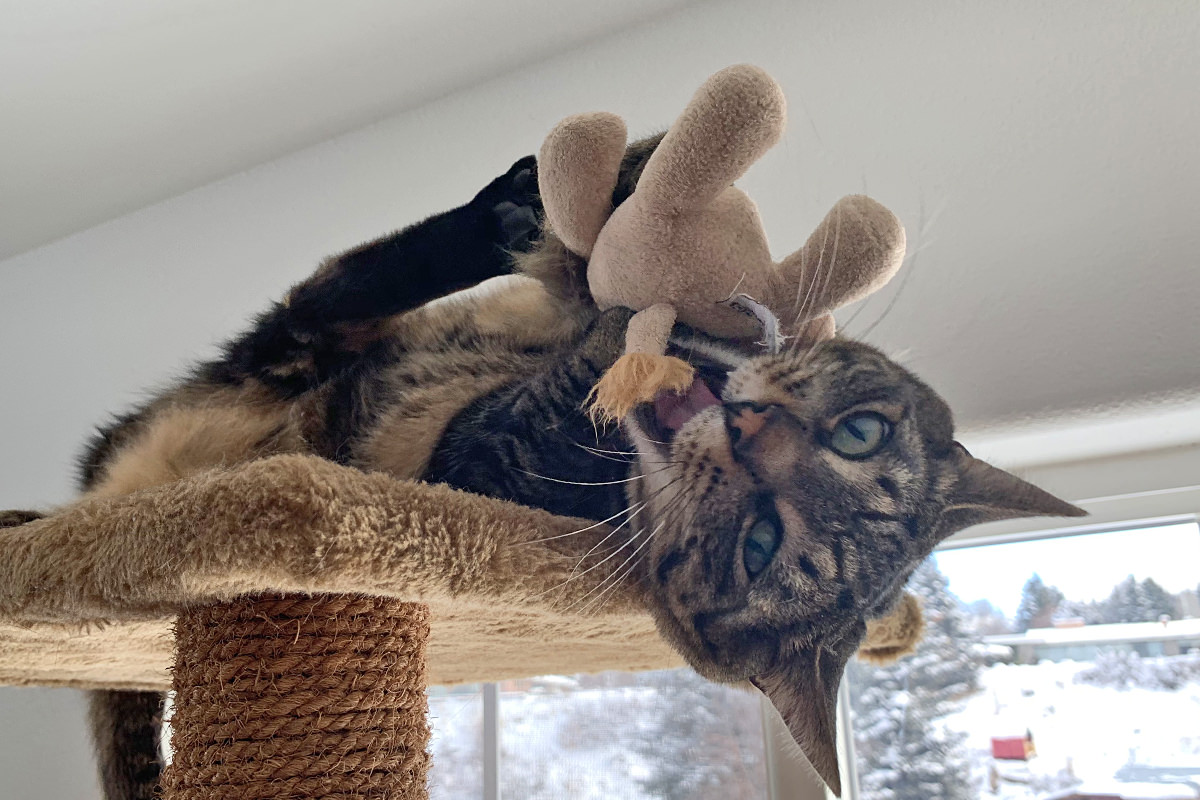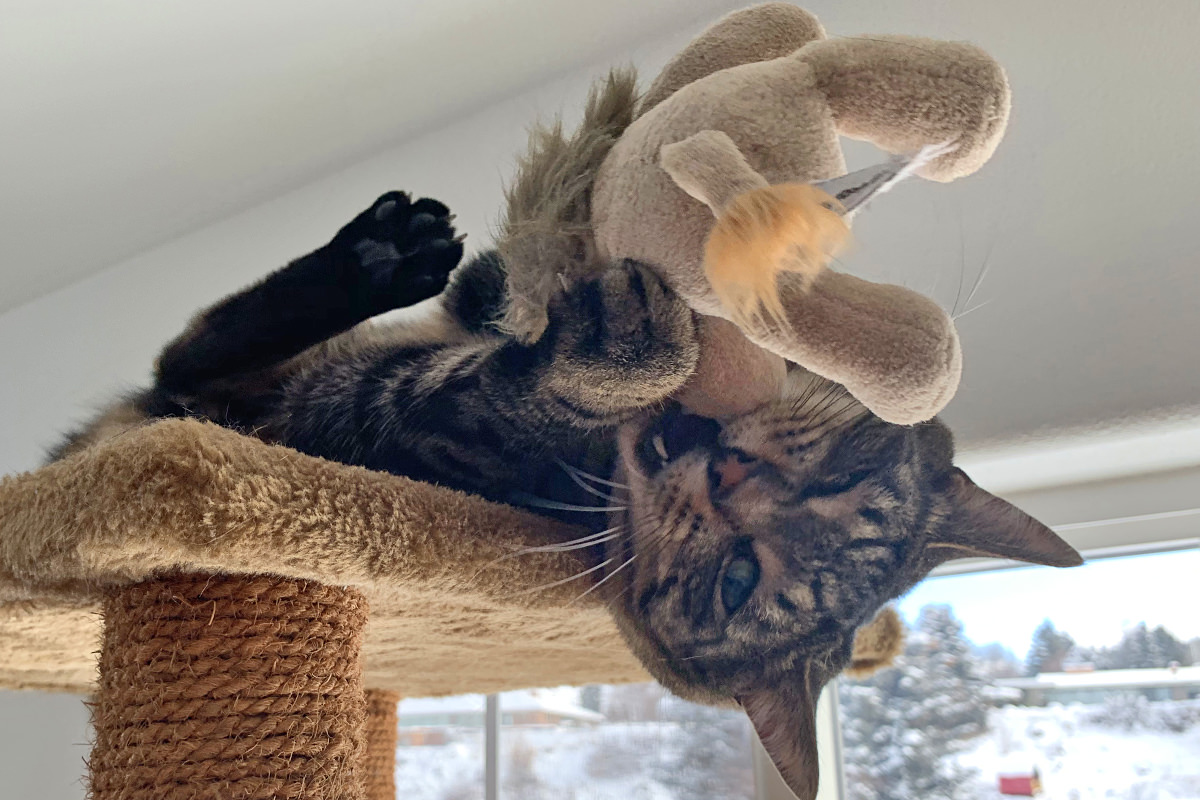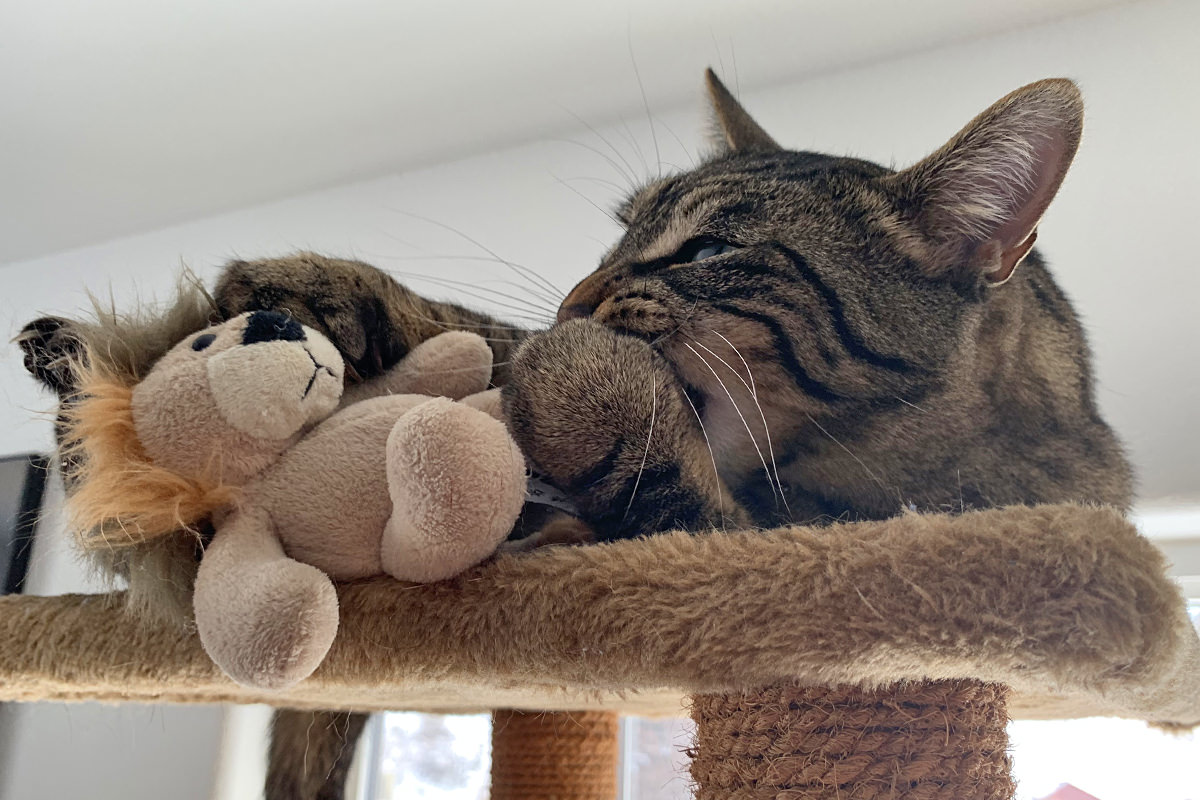 He was all smiles for a good ten minutes...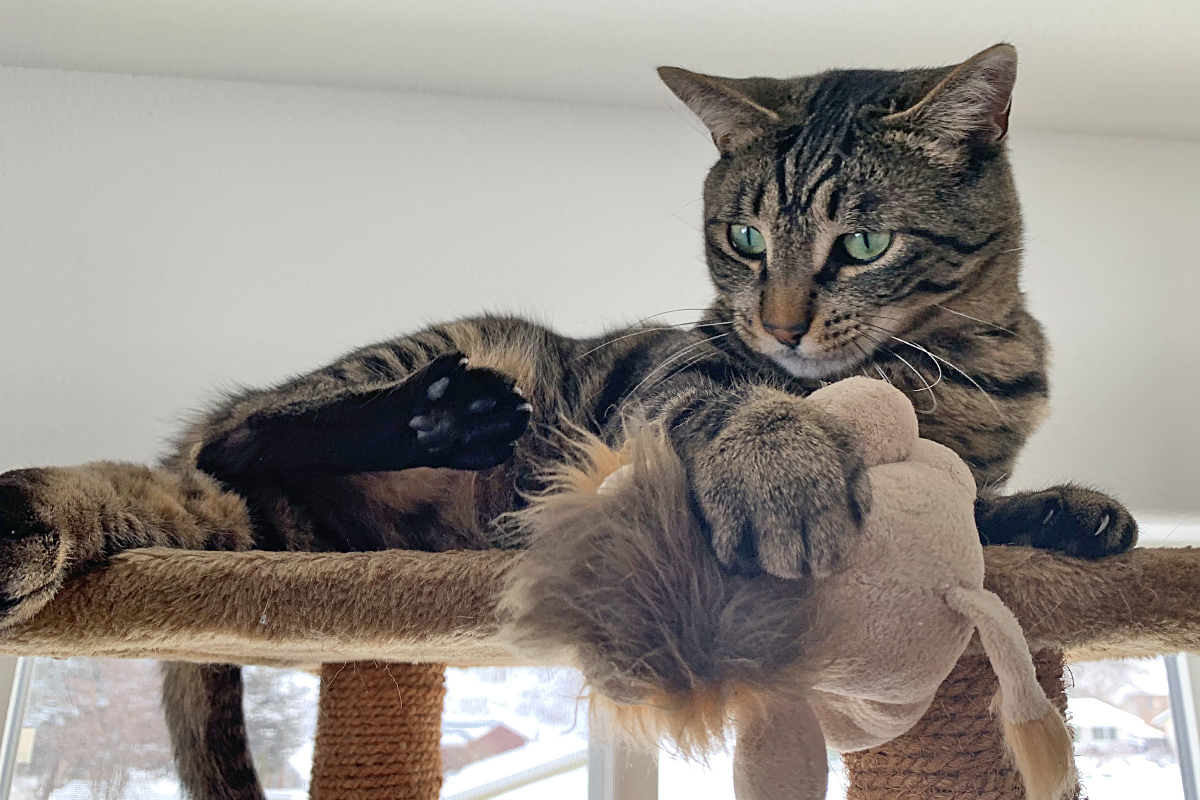 Good times. Good times.
I am dreading the day that Mufasa gets ripped to shreds. I've already had to repair him once, so his time on this earth is coming to an end eventually. A friend checked at the gift shop "Out of Africa" in Johannesburg's airport where I got him but, alas, they are no longer selling Mufasas. Every once in a while I check eBay just to see if one will pop up, but no luck so far.
Anyway...
This morning at 4:00am Jake hops on the bed and wakes me up in distress. He's making chirping noises and acting like he wants to throw up, which is a rare thing for my cats to do. I'm immediately worried that he's sick with a urinary problem again, but it turns out it was just a hairball. A hairball that took him a full ten minutes to hack up, the poor guy. He was pretty whipped after that, so I threw off my vomit-covered sheets and let him rest up for a bit before I took them to the wash.
Not wanting to disturb Jake on my bed after his rough morning, I decided to take a nap on the couch. But it wasn't ten minutes before I heard a cat howling and was freaking out that Jake or Jenny was hurt... only to realize that it was coming from outside. Turns out that the people who plow my driveway piled the snow over the path that I keep shoveled for the neighborhood cat, Fake Jake, to get around my home so he can get to his food and his bathroom out back.
And so... there goes my morning nap...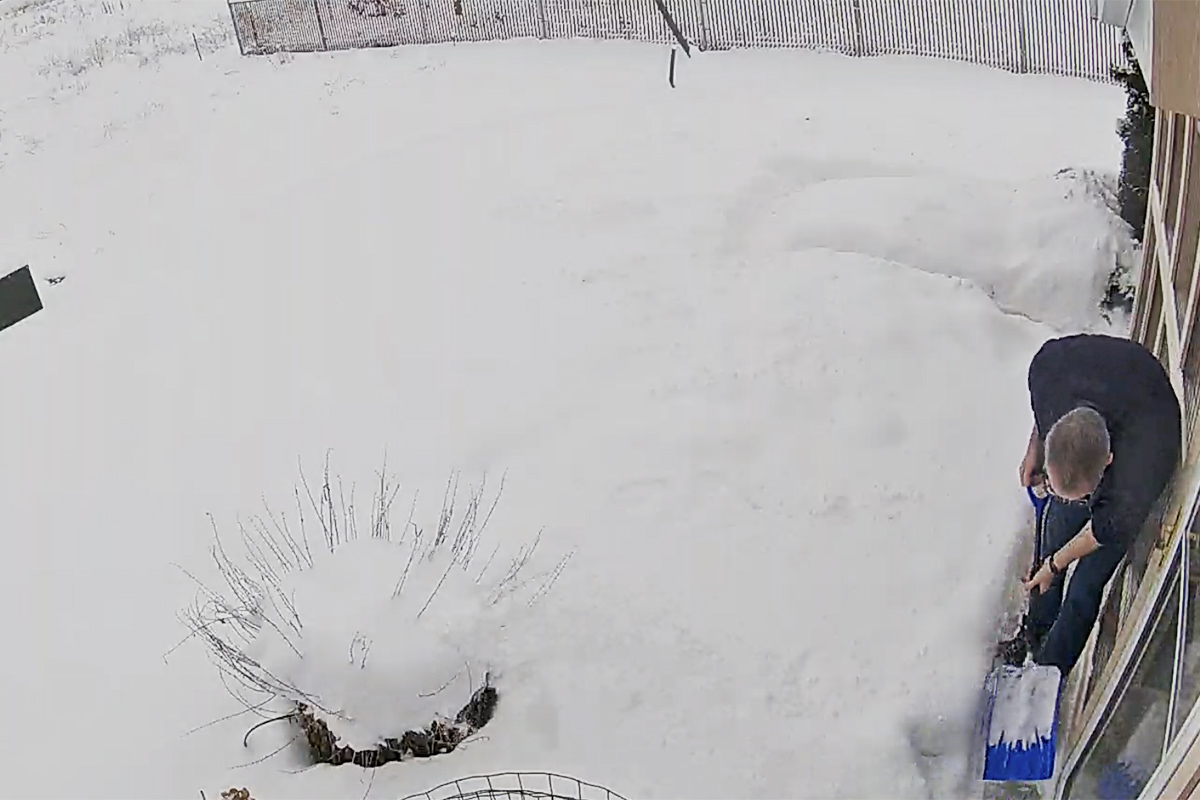 And so... crisis averted...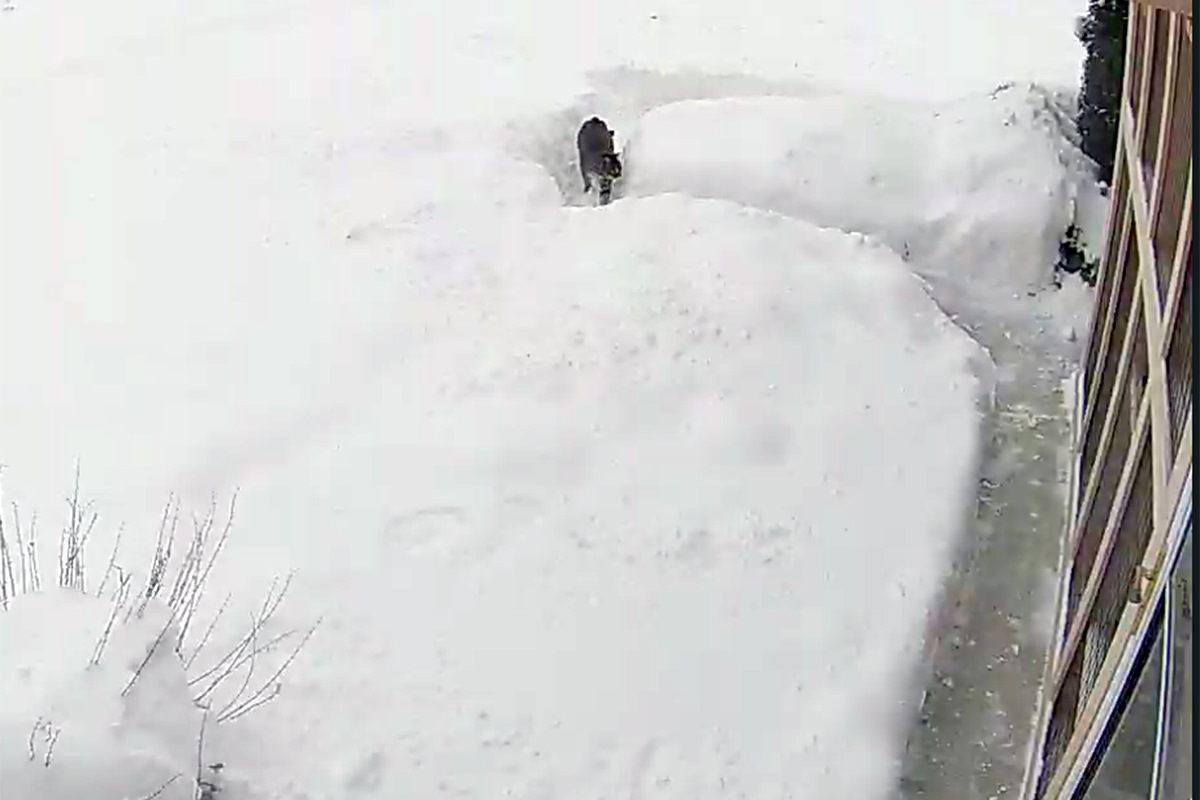 That'll teach me not to get up and start shoveling when the snow removal team messes with Fake Jake's routine!
After my bagel and cream cheese breakfast, I took a shower and got ready for work. All was good... until... I went to get in my car and pulled something in my back. I had screwed it up last week and had been taking care to move gently until it had healed. I thought I was fine... but then had to go shoveling a path for a cat and messed things up again.
Good times. Good times.
Posted on Sunday, February 10th, 2019

Don't go fretting that you aren't in touch with what's new in life... because a Very Special Edition of Bullet Sunday starts now...

• NEW Disco! I tell you what... Star Trek: Discovery has been knocking it out of the part again this season. Even slow, throw-away episodes (like the latest one) have surprising depth. But, then again, any time spent with my favorite Kelpien, Saru, is time well-spent...
There is a campaign to get Doug Jones an Emmy for his work as Saru, and I can't think of another actor more deserving. Jones has flawlessly constructed movement, voice inflections, and mannerisms that feel completely alien, and the skill to be doing all that while completely encased in makeup and facial appliances is remarkable. He had better at least get nominated.
If you like sci-fi and are not watching Disco, you owe it to yourself to take out a free trial for CBS All Access and see what you've been missing. I am a diehard fanatic of Star Trek: The Original Series, and feel that this is the best series to come out in the Star Trek Universe since then. I was not impressed with any of the Next Generation/DS9/Voyager/Enterprise shows, but this? This is great stuff (despite the bitching and moaning from "Star Trek fans" that hate it... which, if that's you, don't worry... you'll be getting your Next Generation pablum when Captain Picard comes back with his new show).

• NEW! Netflix has just unleashed the third season of the One Day at a Time reboot, and it did not disappoint...
If there's a flaw, it's that the show feels the need to continue addressing absolutely every social issue in existence. It's handled really well, but it can still be exhausting. Yes, it's great to see the show address current events, but it's at its best is when it focuses on the people behind the issues. Fortunately there's plenty of that as well, and I'm hoping we get a fourth season.

• NEW Boys! Pet Shop Boys have a new EP that just dropped called Agenda. And it's as relevant and interesting as you would expect...
And then there's thinly-veiled political message, perhaps?
Yeah. Just when we needed it most.

• NEW Ellen! What would it take to coax Ellen DeGeneres to do her first standup special in 15 years? Apparently it's the $20 million that Netflix ponied up for Relatable, which was released back in December...
I just watched it again last night and I gotta say... it's worth the money. Ridiculously funny. Probably my favorite of all her specials so far. Until Netflix lures her back with $50 million maybe?

• NEW Boarding! CGP Grey released a new video this past week on how to best board an airplane. It's an interesting discussion, to be sure...

• NEW Country! With rare exceptions, I am decidedly not a country music fan. Though recently Casey Musgraves has me re-thinking this stance with her amazing Country-Pop fusion, which is some of the best music I've heard in a while. Because of that, I found this analysis on the current state of Country to be a fascinating watch...
The fact that the finger-snapping madness is becoming such a predominant force in music today is pretty disheartening. Time will tell if it's eventually replaced by something even worse.

No more new for you. See you next Sunday.
Posted on Saturday, February 9th, 2019

And so we're in the middle of a Winter Storm Warning.
Which sounds like a bad thing, but I'm so grateful that there will be more snow accumulating in the mountains that I just don't care. Not having to go through a drought come Summer is worth it.
Jake doesn't care much about the snow or rain. He mostly ignores the weather. If the snow is really coming down, he might go out in the catio and watch for a while. Jenny on the other hand?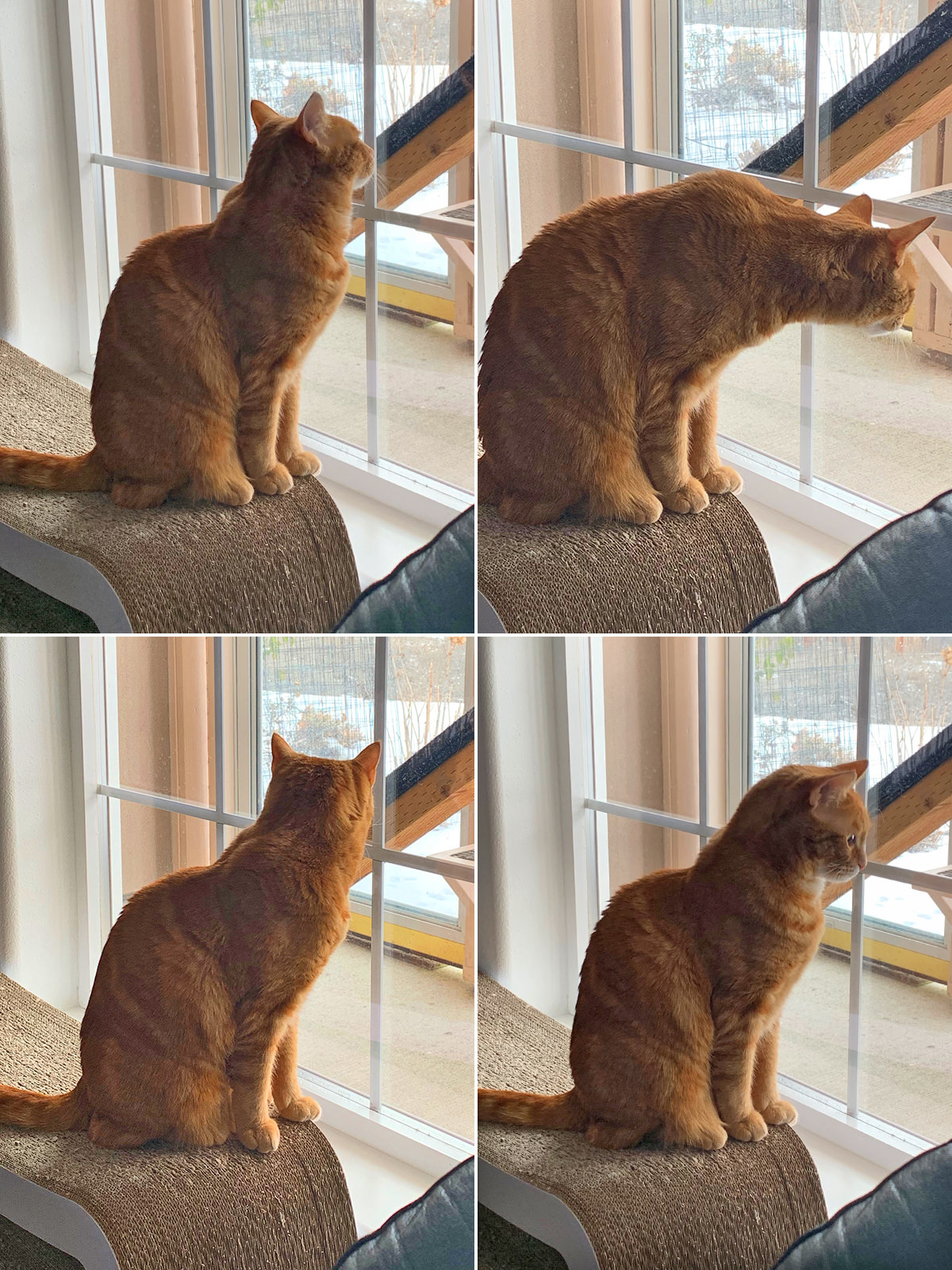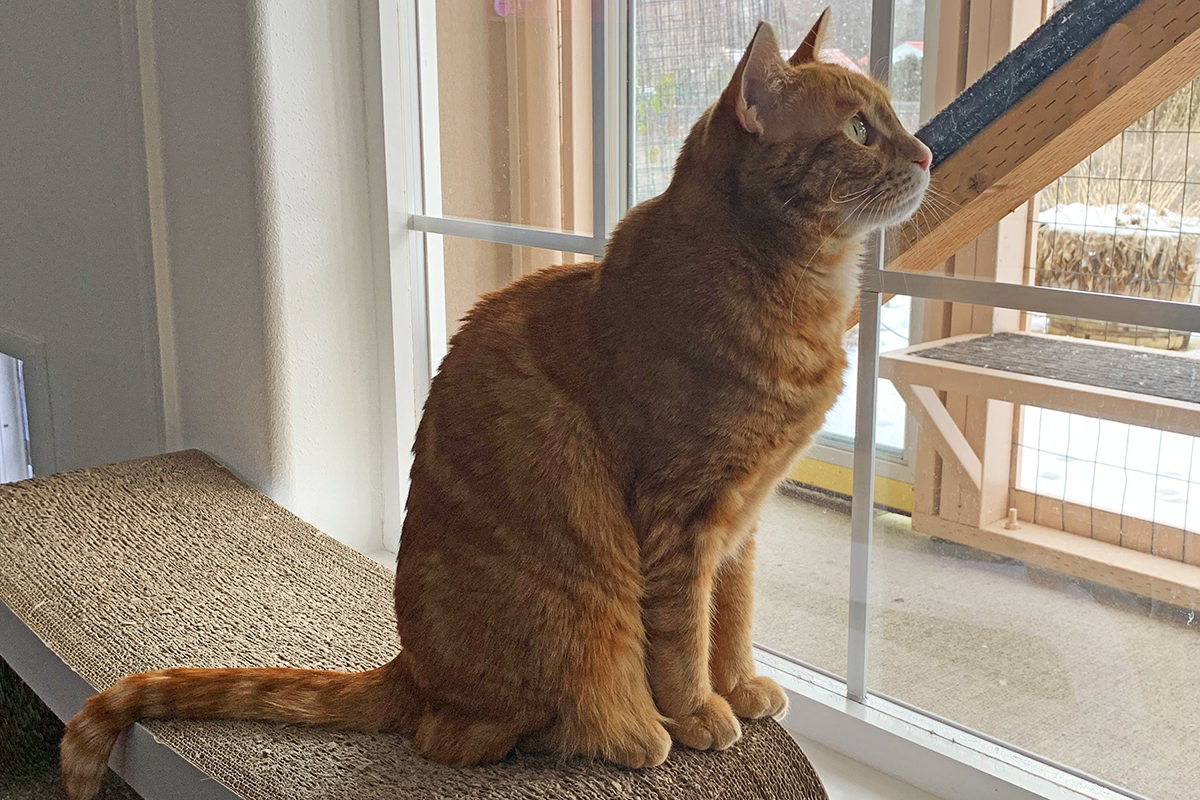 Jenny is greatly upset by the weather. When it rains, she meows at the drops falling on the roof. When she sees big snowflakes falling, she meows at them (and her brother) through the window...
Or hides in a paper bag...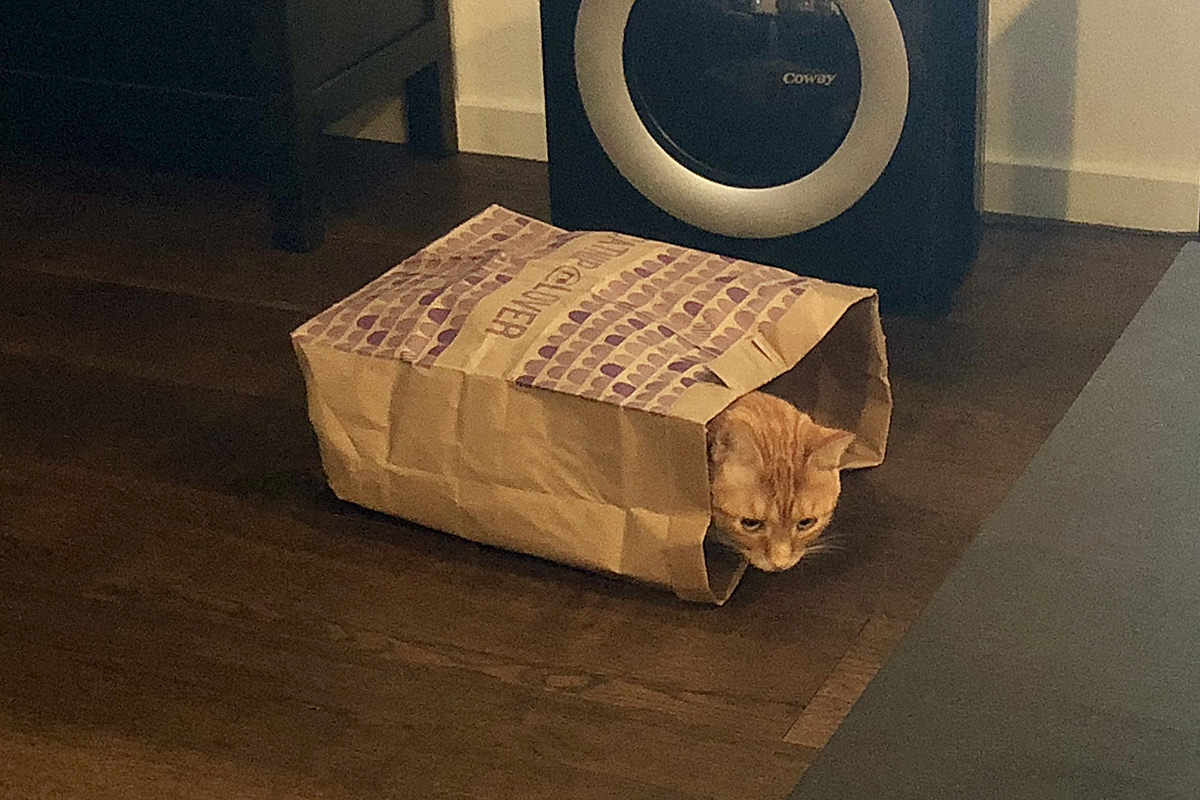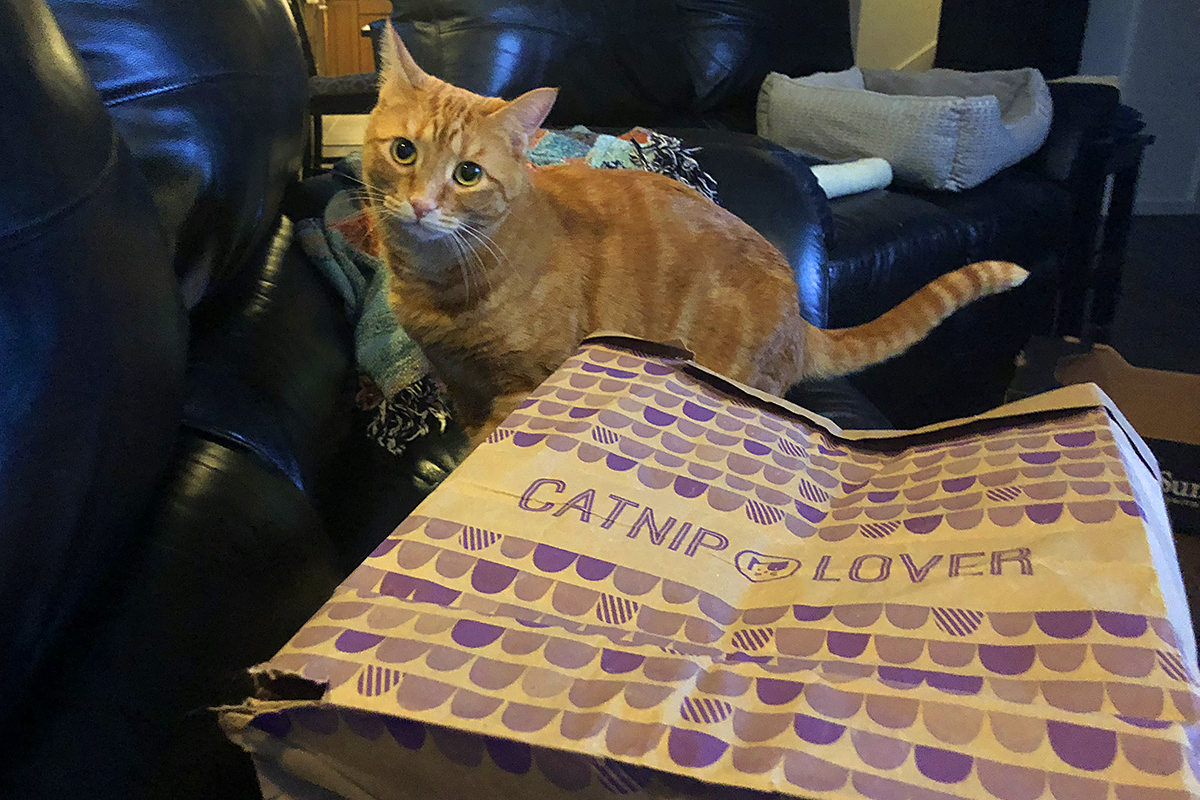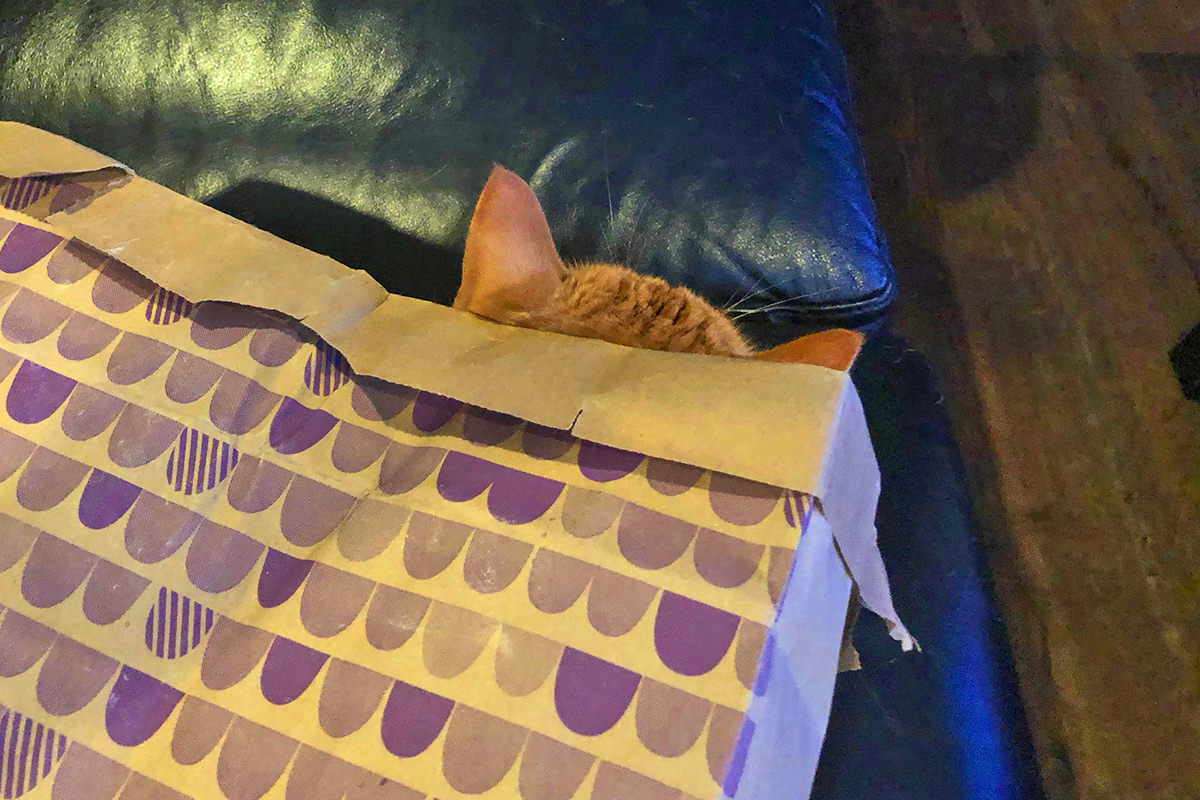 In other news... Jenny is still stealing Mufasa from Jake whenever he does something to piss her off.
So there I was headed to take a shower when Jenny comes charging up the stairs with Mufasa in her mouth at top speed. She dashes into her bedroom and I hear rustling as she runs through the cat tunnel... then strolls out of the room like nothing happened. I must say, this is not a very inventive hiding spot...
Don't worry about Jake though. He knows how to console himself by eating my junk food picnic...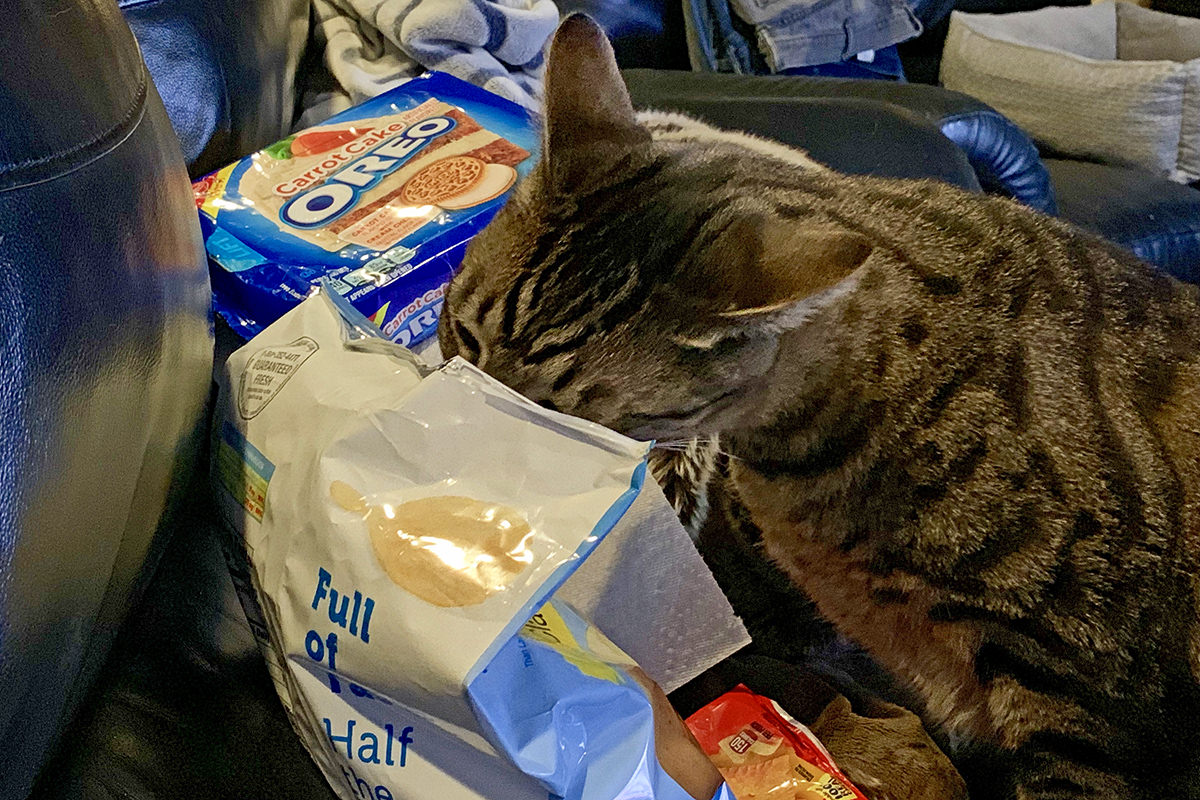 And demanding consolation scratches...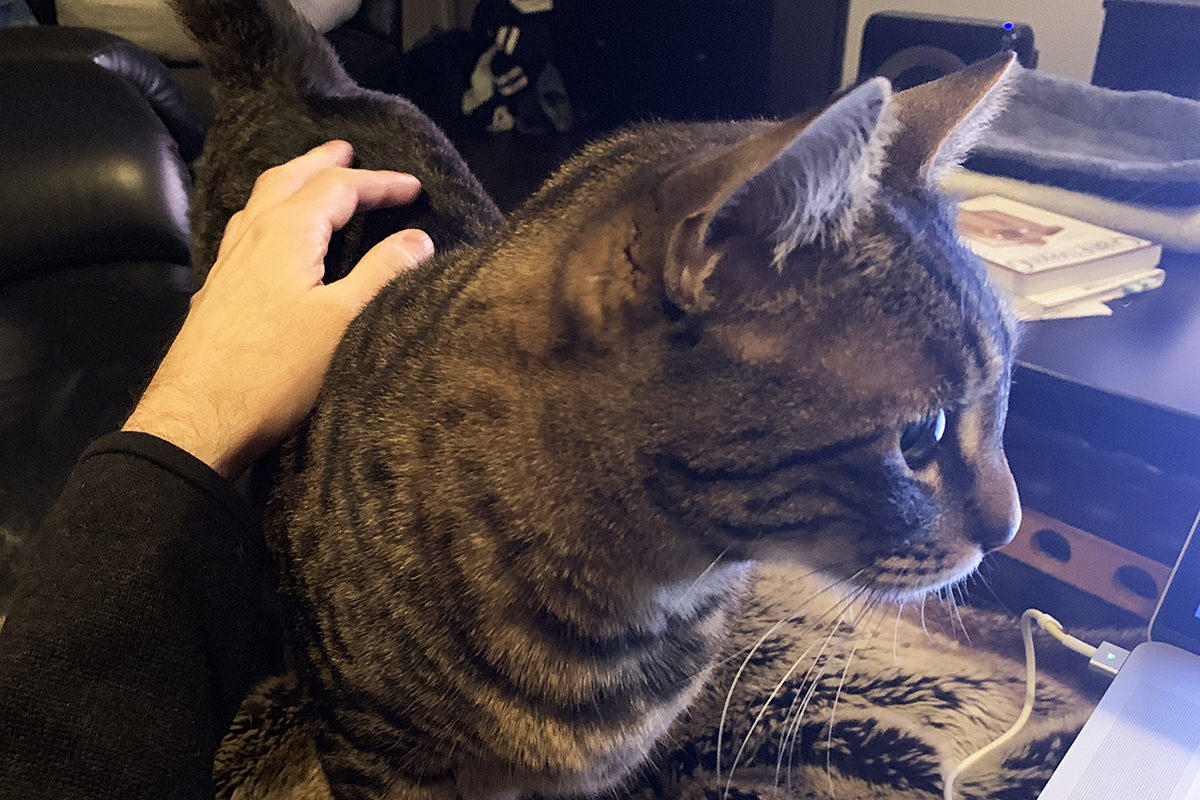 And... it looks like the foot of snow we got is going to be it. Not much of a "winter storm" if you ask me.
But don't try to tell Jenny that.
Posted on Friday, February 8th, 2019

I don't even know where to start.
Posted on Thursday, February 7th, 2019

I've been preoccupied with work lately, starting up at at 5am and working until late. This is no fun for me... but it's even less fun for my cats. I still make time for them whenever they want attention or need to be petted, of course, but I'm not going out of my way. This is confusing to them, resulting in Jake and Jenny being a little more needy than usual.
"Excuse me. Do you have a moment to talk about our Lord and Savior, Hill's Prescription Diet Ocean Fish Dinner?"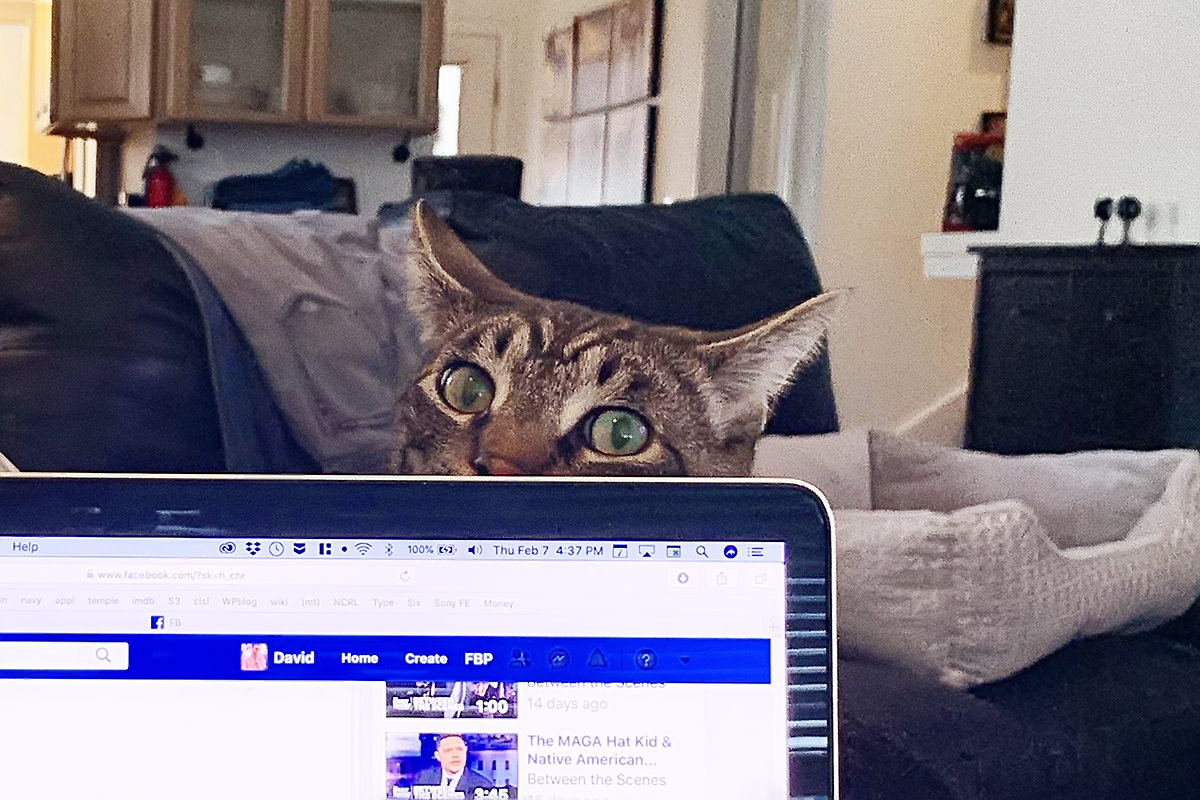 After next week I'm hoping to be caught up enough that things can get back to normal.
Or whatever passes for normal when you have cats.