Posted on Tuesday, January 22nd, 2019

Happy Martin Luther King Jr. Day, everybody!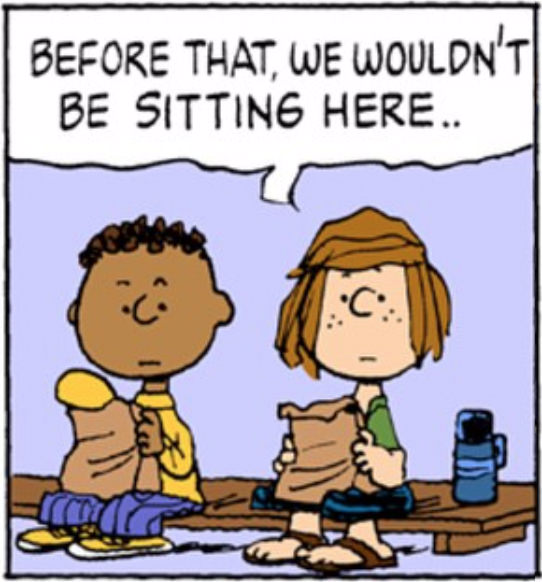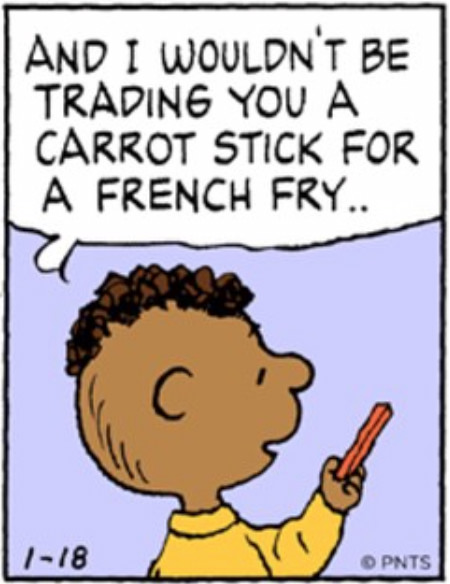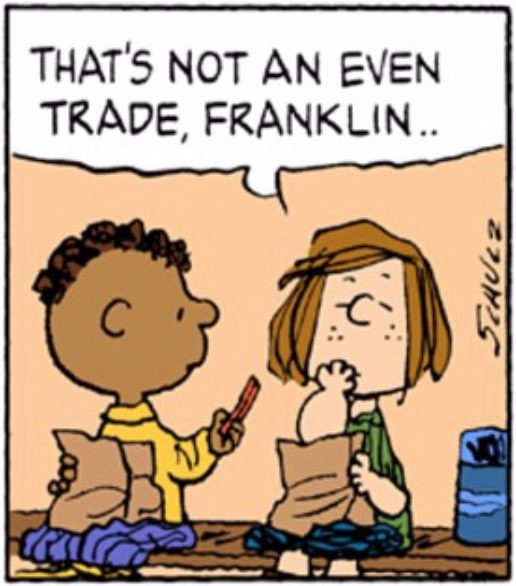 Posted on Sunday, January 20th, 2019

Rejoice and be saved... because an all new Bullet Sunday starts now...

• Stuck In Your Head! Oh man, I cannot wait for February 8th!
And... it's stuck in my head! So good!

• Judas? Two of my favorite YouTubers are John Crist and Trey Kennedy. Every once in a while they collaborate on a video and the result is darn funny. Like their latest: If Bible Characters Had iPhones...
Here's another one that's entirely too funny...
More, please.

• Baroque! There's an artist named Christy Lee Rogers who is creating these stunning underwater photos that look like amazing baroque paintings...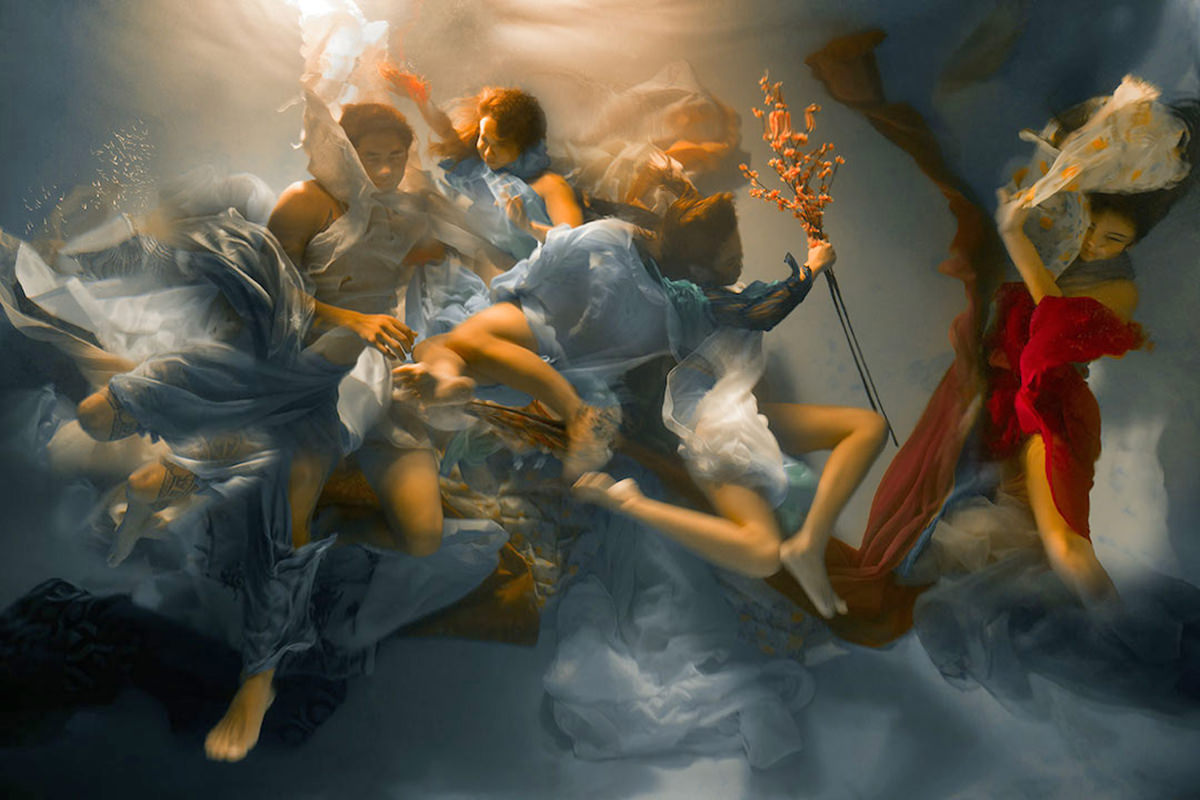 The article over at My Modern Met is a must-see.

• NEWS! Conservatives are outraged a gay couple is on the cover of 'Parents' magazine
"Mothers and fathers are seeing more and more similar examples of children being indoctrinated to perceive same-sex couples as normal, especially in the media," an unsigned blog post on One Million Moms's website says. — Oh dear. My eyes just rolled to the back of my head and are stuck there. I am typing this while blind, so please excuse any spelling mistakes.
If a same-sex couple is what you have for parents... and they love you, care for you, provide for you, and foster your growth into adulthood... THEN YOUR PARENTS ARE FUCKING NORMAL! Likewise, if you have only one parent (for whatever reason) and they are doing their best to provide the same? THAT'S A FUCKING NORMAL FAMILY TOO!
"It could be displayed in waiting rooms of dentist and doctor offices, where children could easily be subjected to the glorification of same-sex parents," the blog post says. — YES, GOD FORBID YOUR CHILDREN SEE A PHOTO OF A HAPPY FAMILY. THEY MIGHT THINK IT'S OKAY TO NOT BULLY THE KID WHO HAS TWO DADS!

• Dads! AND, YES, IT DOES OCCUR IN NATURE. IT IS ACCORDING TO GOD'S PLAN. AND ALL YOUR ENERGY HATING PEOPLE WOULD BE BETTER SPENT NOT BEING ASSHOLES. WHY NOT TRY BEING ACTUAL CHRISTIANS FOR ONCE?
Penguins are the best!

• Jesus Christ. When you lie, like, ALL THE TIME... it gets hard to keep your lies straight...
I mean, holy shit...
You know it's fucking bad when the Saturday Night Live parodies aren't as funny as our actual government...
This is just exhausting. I am physically and mentally checked out.

And... I'm done. DONE!
Tags:
Art
,
Bullet Sunday
,
Dumbassery
,
LEGO
,
News
,
Photography
,
Politics
,
President Trump
Categories:
Bullet Sunday 2019
,
LEGO
,
News – Politics 2019
,
Photography 2019
—
Click To It:
Permalink
—
0 Comments: Click To Add Yours!
Posted on Saturday, January 19th, 2019

I am telling you... if I end up dead under mysterious circumstances, my cats are likely responsible.
Earlier this week I was awakened by my cats raising holy hell in the guest bedroom downstairs. Wanting to know what in the heck was going on, I grabbed my phone to look at the security camera and got... a black screen. Reviewing the footage revealed that one of them had pushed the camera off the dresser at 1:02am. The last thing recorded was A GIANT ALIEN CAT EYE STARING AT THE LENS!!! ZOMG!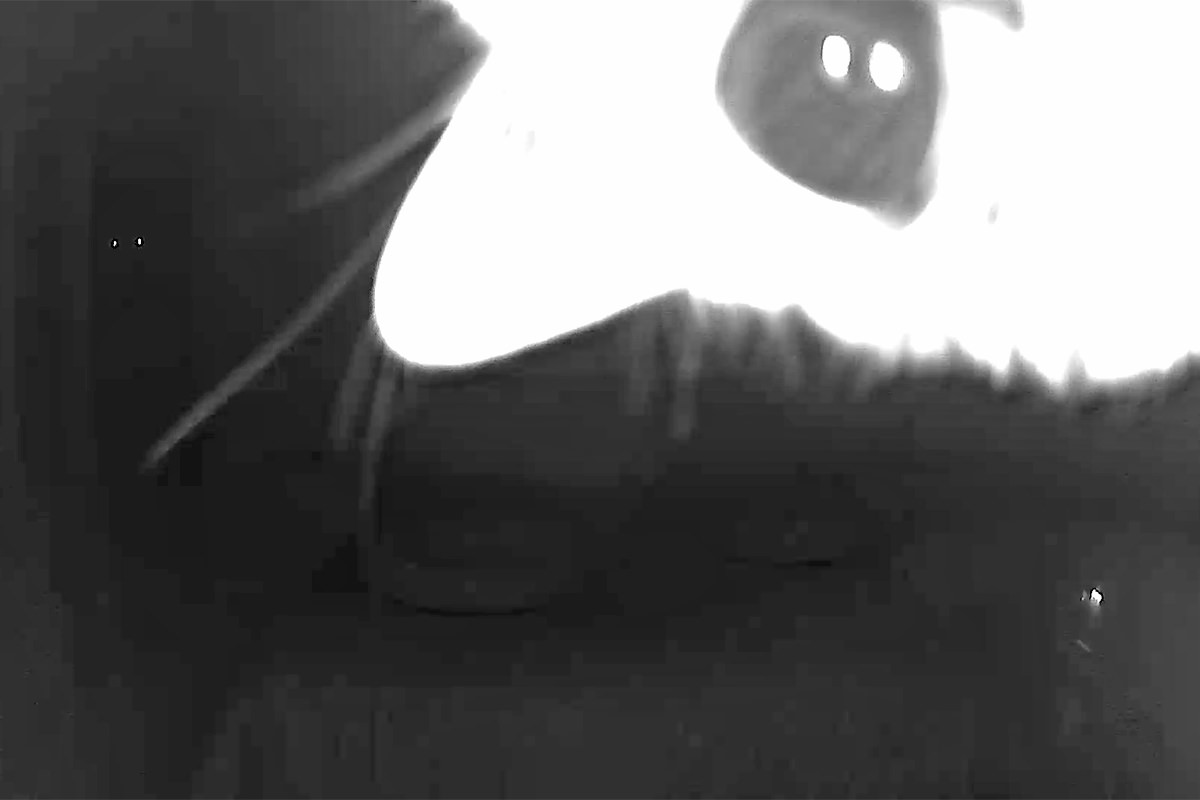 Which means their shenanigans this morning were premeditated. I don't bolt the camera to the wall because I need to remove it when guests are staying with me. I honestly didn't think that would be a problem. But there I go again... underestimating my cats...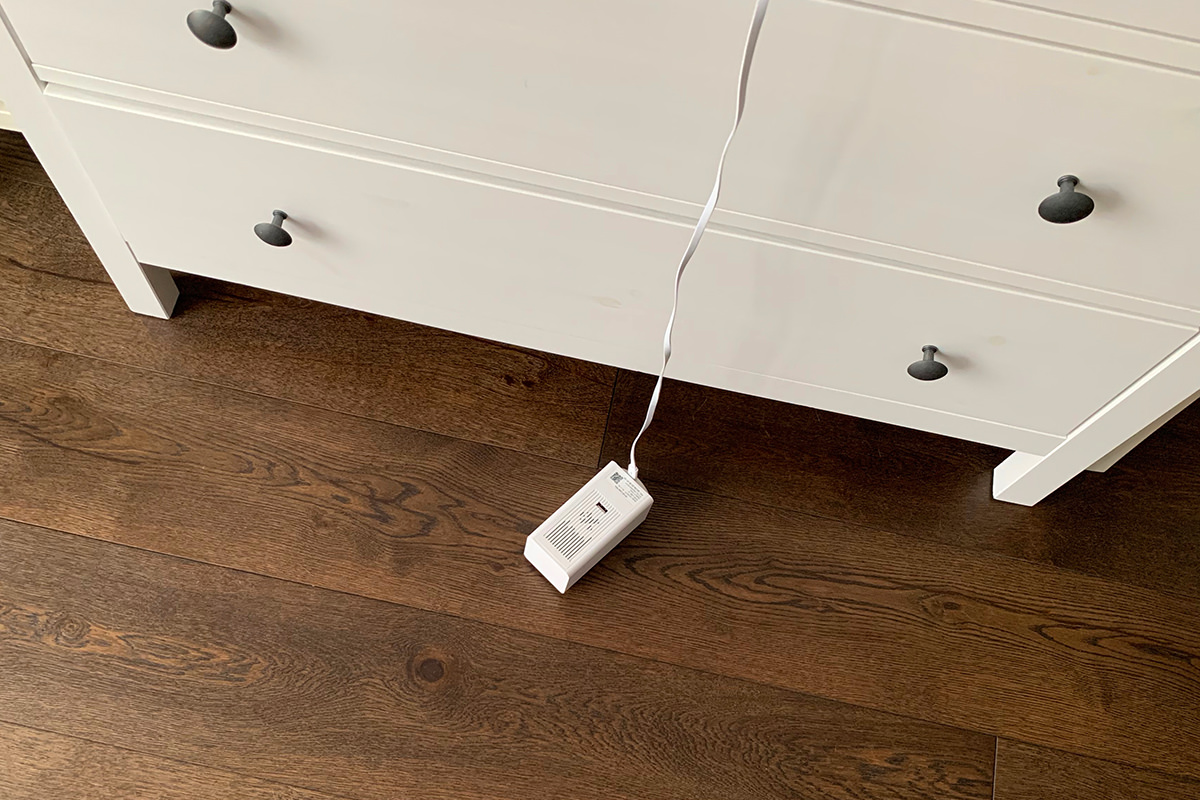 In other news...
Jake has started sitting like this now...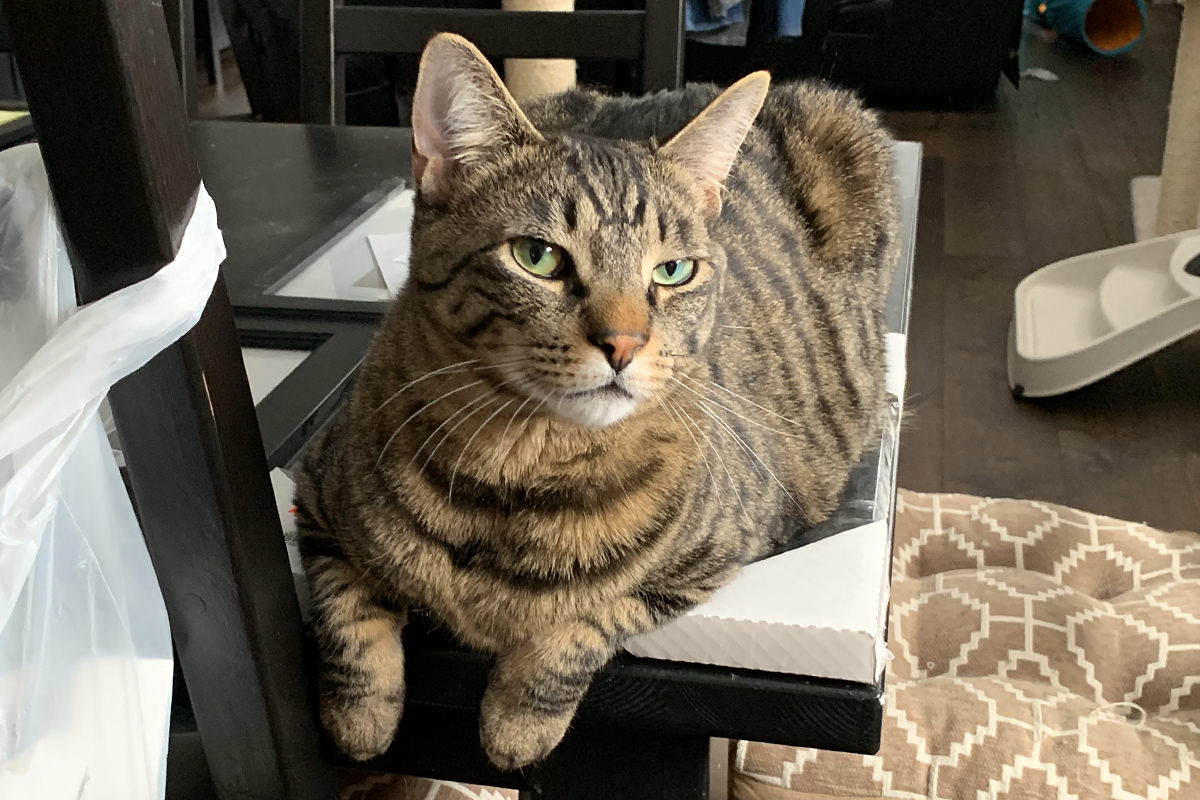 He does it everywhere...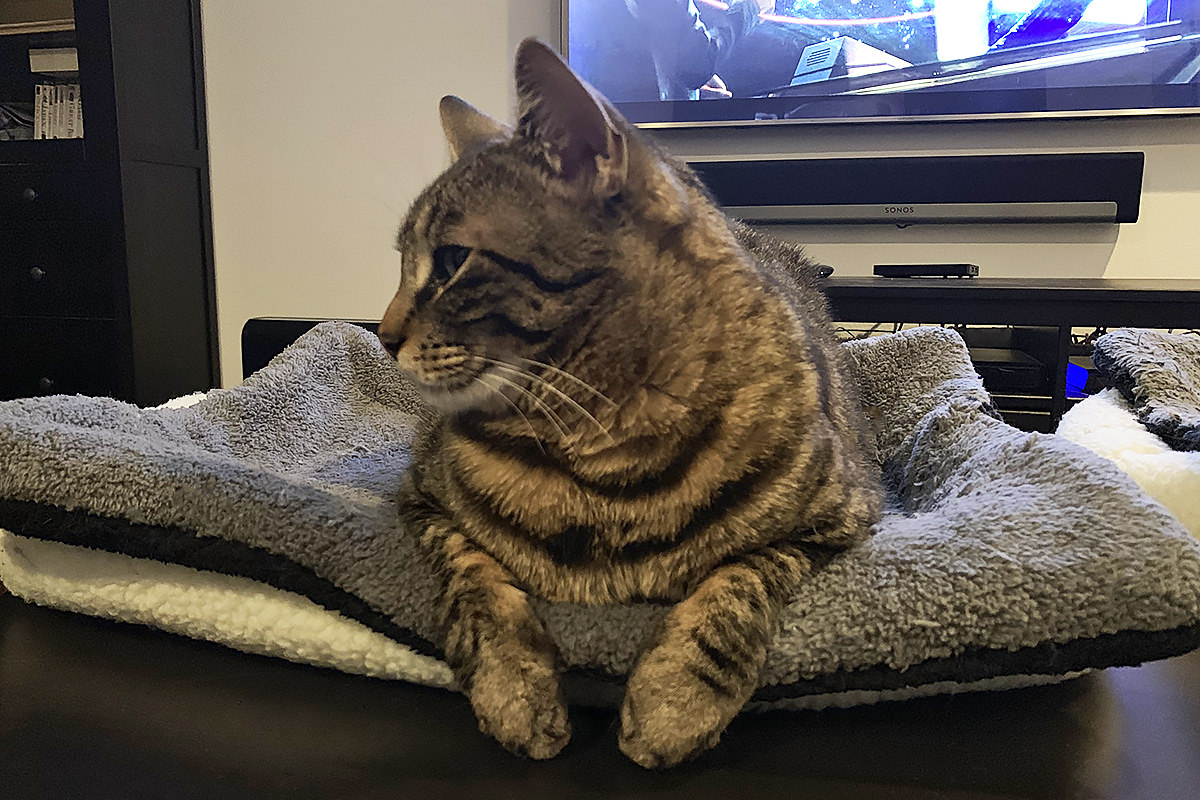 And he's thoroughly irritated that I'm photographing him all the time. Look at that face!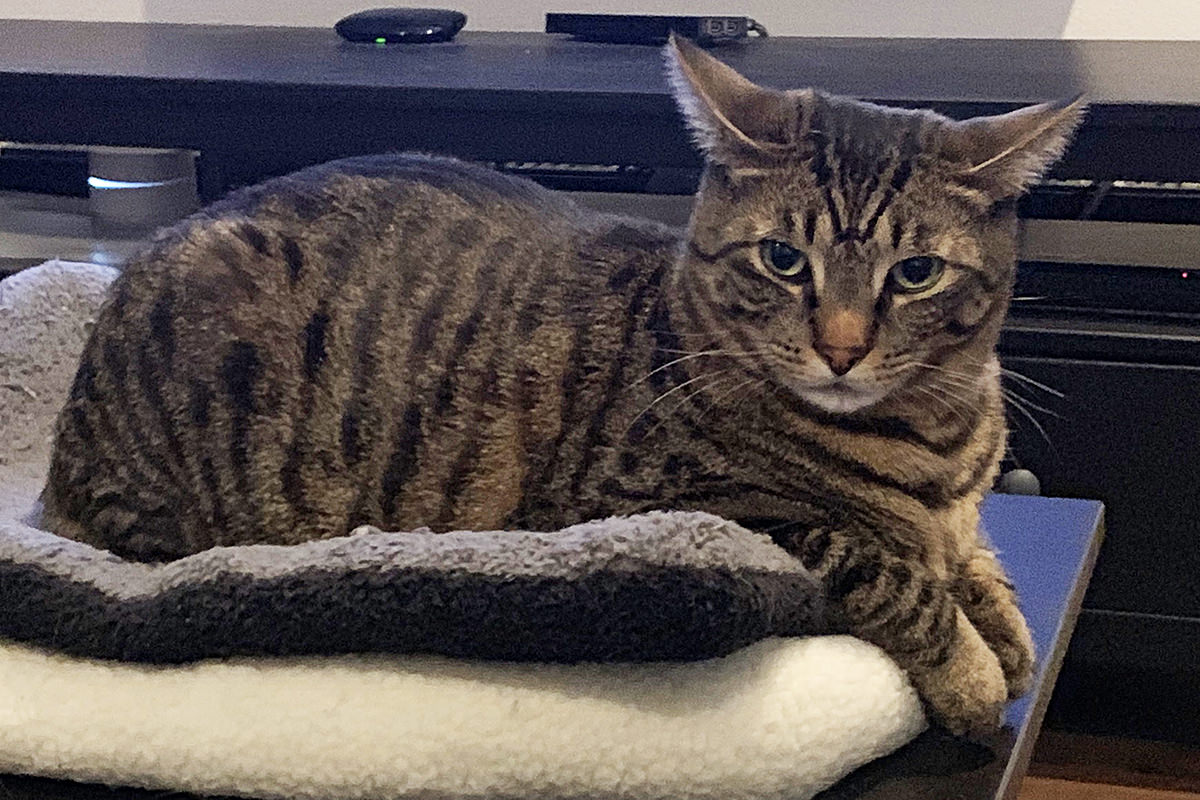 Awwww... look at that face...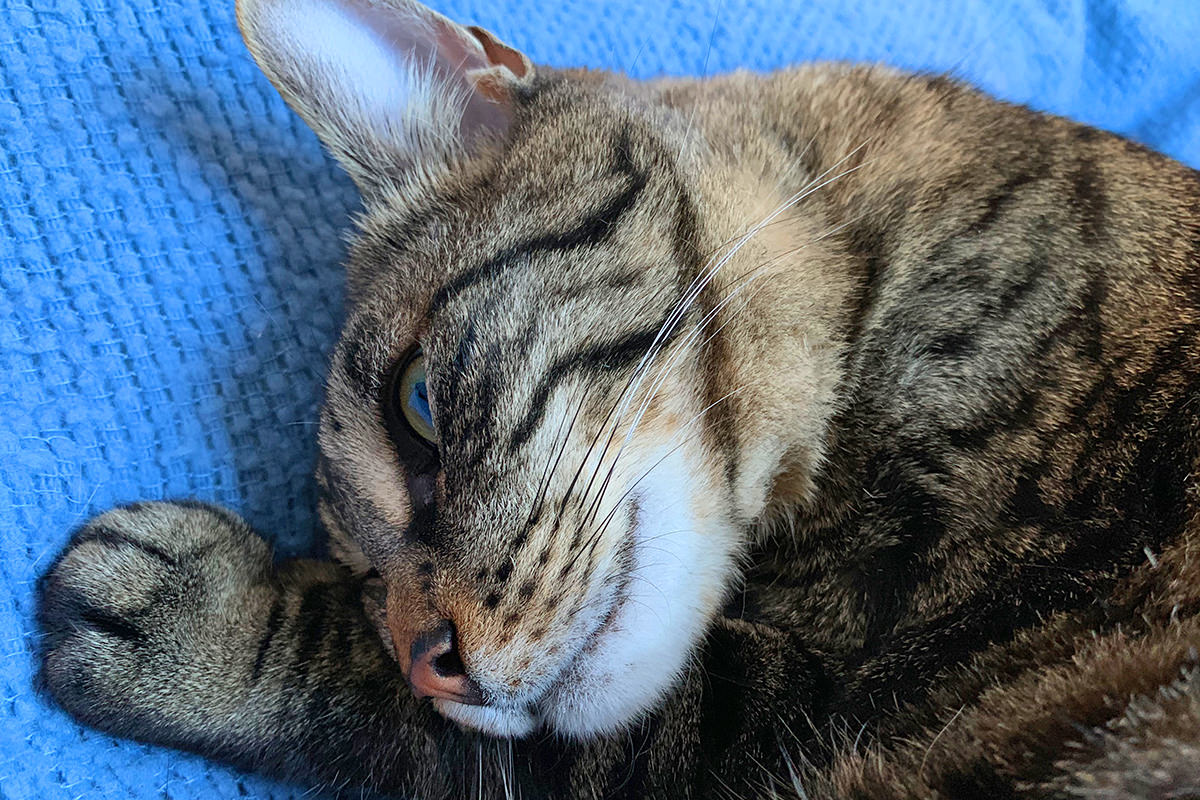 And in Jenny news...
I try not to interfere in my cats' skirmishes. I worried about Jenny for the longest time since she's smaller than Jake... but it turns out that she's more than capable of taking care of herself. Not only that, but she often is the instigator. Take, for example when Jake was out in the catio running around acting the fool. She sits there watching him through the window... AND THEN... when Jake wants to come back inside, she lunges for the cat door and scares him off. SHE DID THIS THREE TIMES IN A ROW!...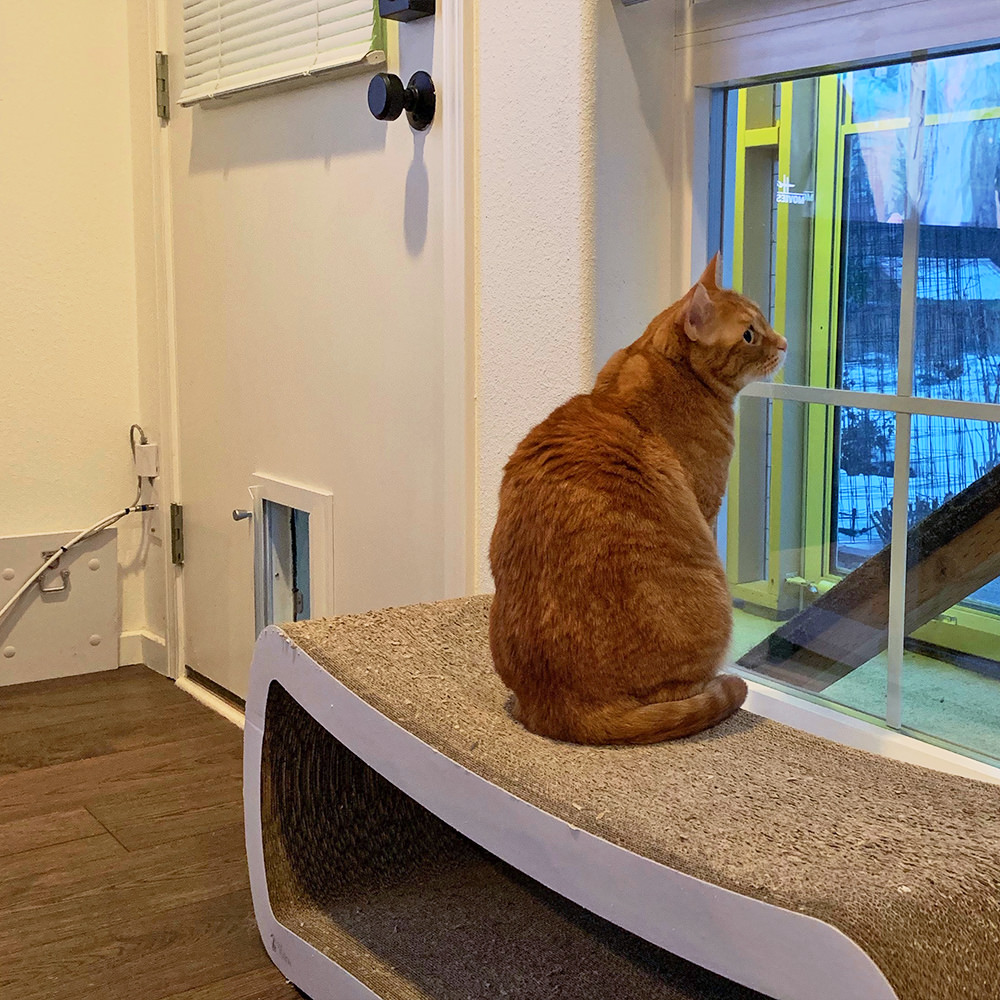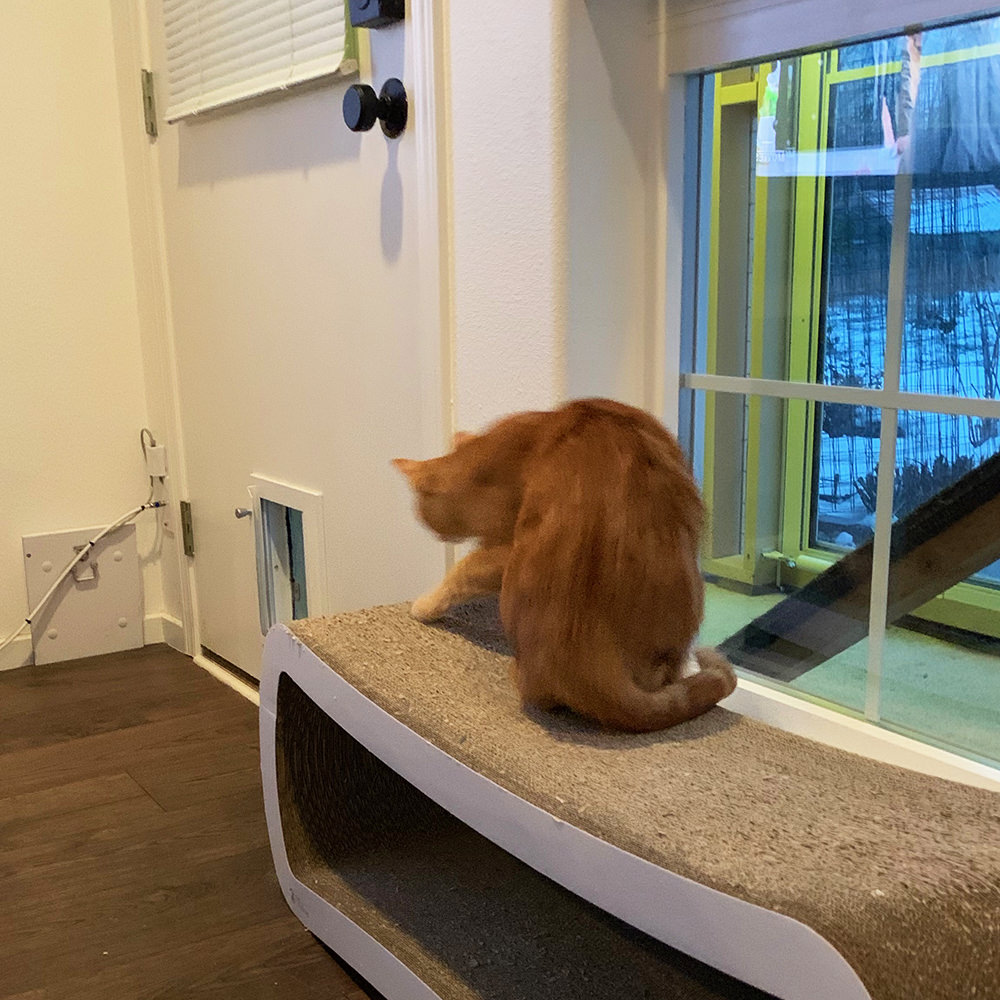 I finally had to intervene so poor Jake could come inside.
But they still hang out together otherwise, so I guess it's all good...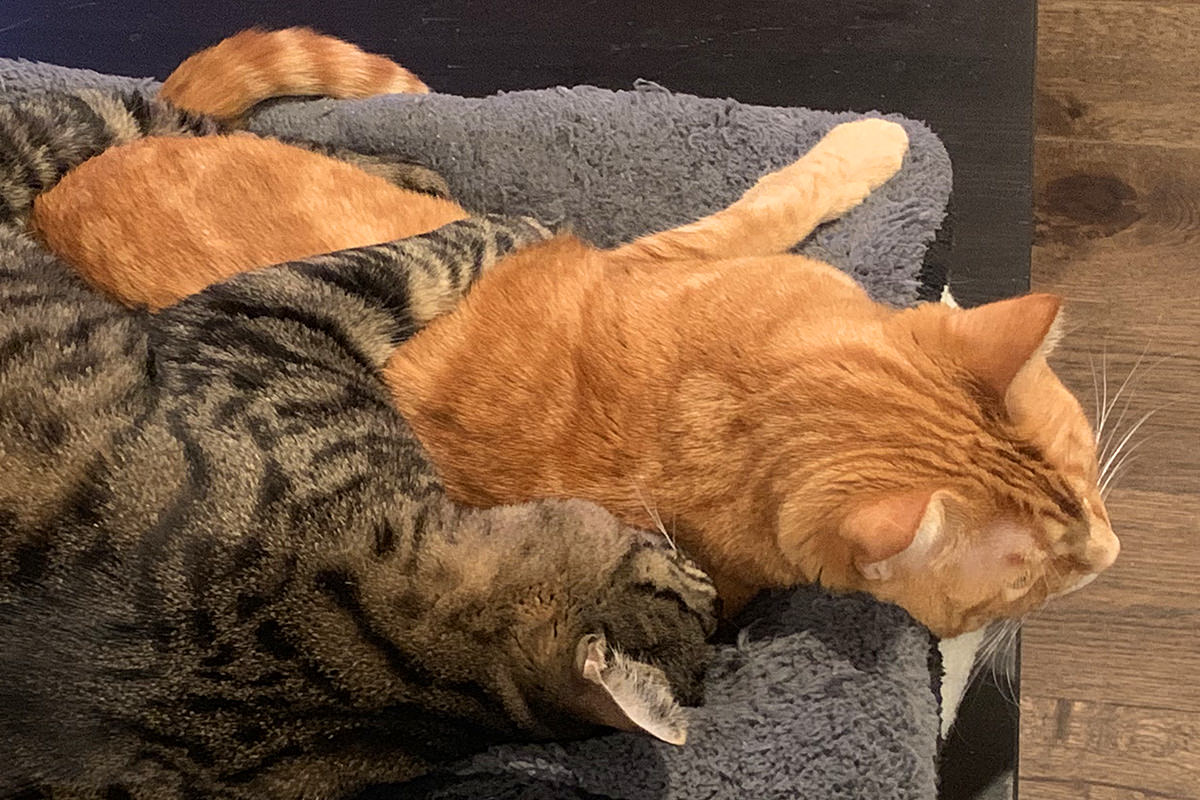 And now... it's kitty dinner time. Can't keep the little monsters waiting.
Posted on Friday, January 18th, 2019

We keep getting promised snow in the weather forecast, but it never comes. Then yesterday morning it started coming down like crazy. We had inches accumulate in short order. My cats couldn't get enough of it, and spent all morning hanging out in the catio watching the flakes fall. They came in for breakfast, but then it was right back outside.
When it was time to go to work, I stuck my head out to make sure all was well...
JENNY: =meow=
JAKE: =squawk=
ME: Yes, I see that. It's snowing!
JENNY: =meow=
JAKE: =squawk=
ME: Yes, how exciting!
JENNY: =meow=
JAKE: =squawk=
ME: No, you can't go play in it. You'll get all wet and make a mess in the house!
JENNY: =meow=
JAKE: =squawk=
But then I got to thinking that it's unfair they don't get to experience snow like outdoor cats do. They also don't get to experience walking on grass. What I need to do is create some kind of catio tunnel out to the yard. Then I need to find a way to bury some latches under the grass so I can secure a cage there. That way I can have a safe way for Jake and Jenny to walk on snow in the winter and grass in the summer... but also have it be removable so the lawn can be mowed.
Something to think about. In the meanwhile... I can shovel a little snow into the catio for them to play with.
Jenny ran out immediately so she could see what it was all about...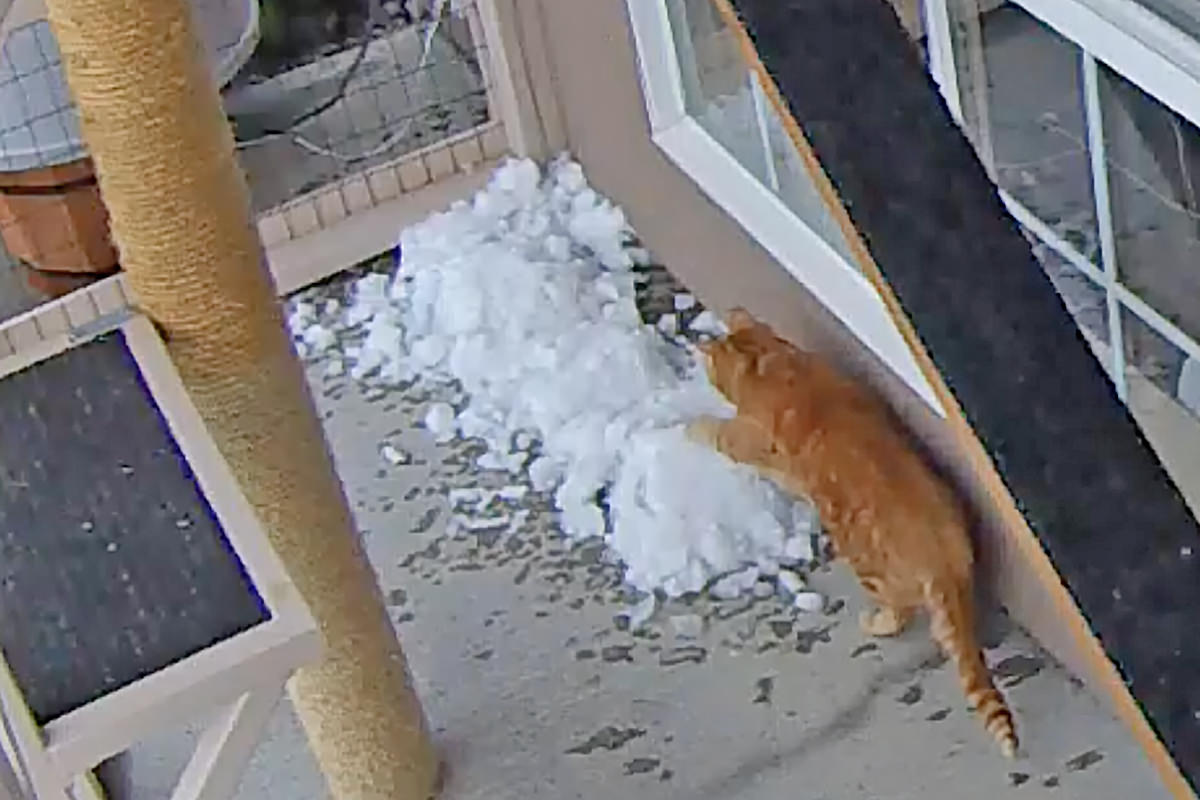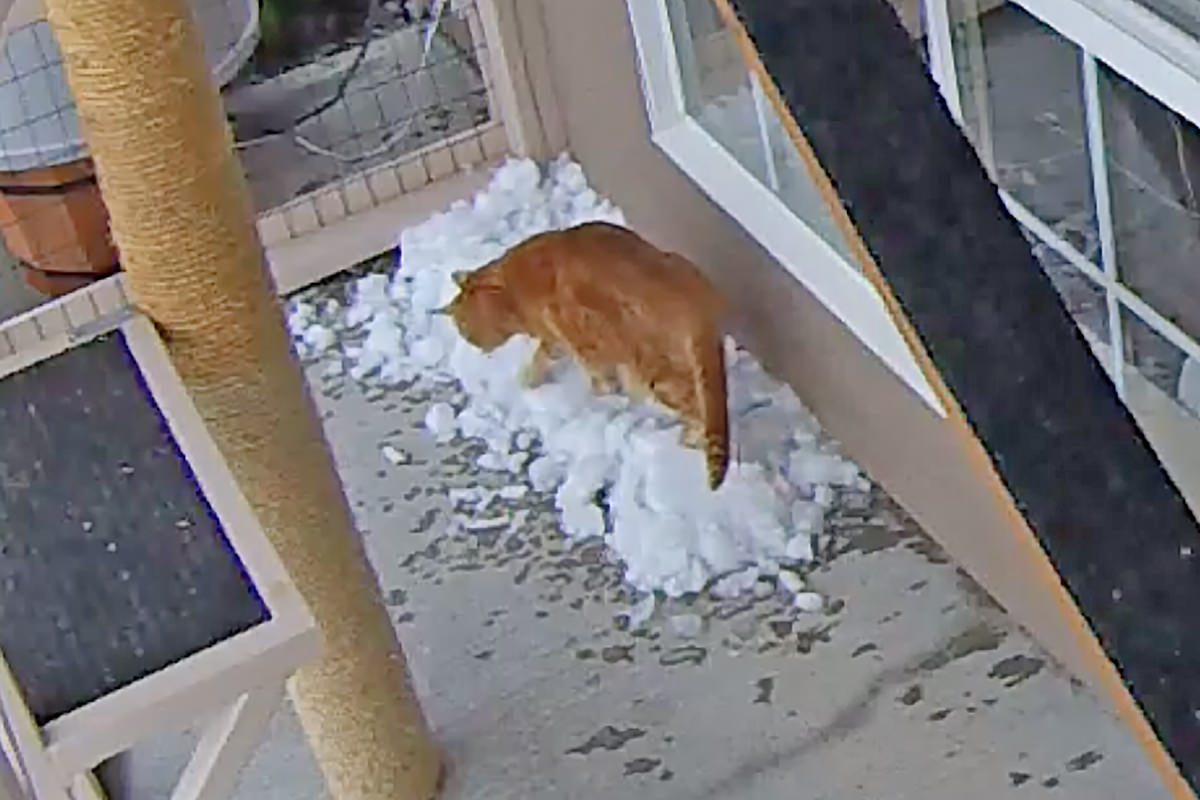 Jake was a bit more cautious. He circled around it trying to sniff out what it could be. Probably trying to determine if he could eat it...
Then he pawed around it for a while...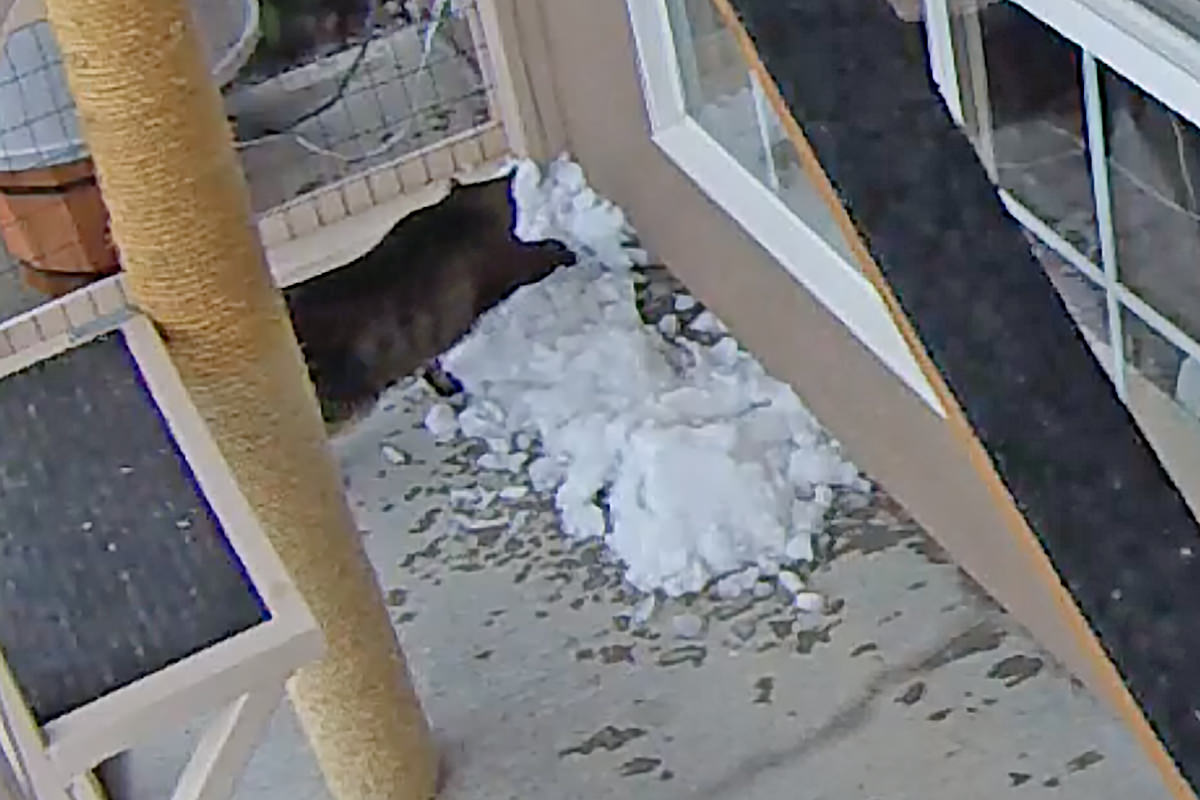 Eventually he saw me through the window and started squawking at me. Assumably telling me that the snow made his feet cold. I tried to explain that he needs to step off the snow to fix that, but he just stood there complaining...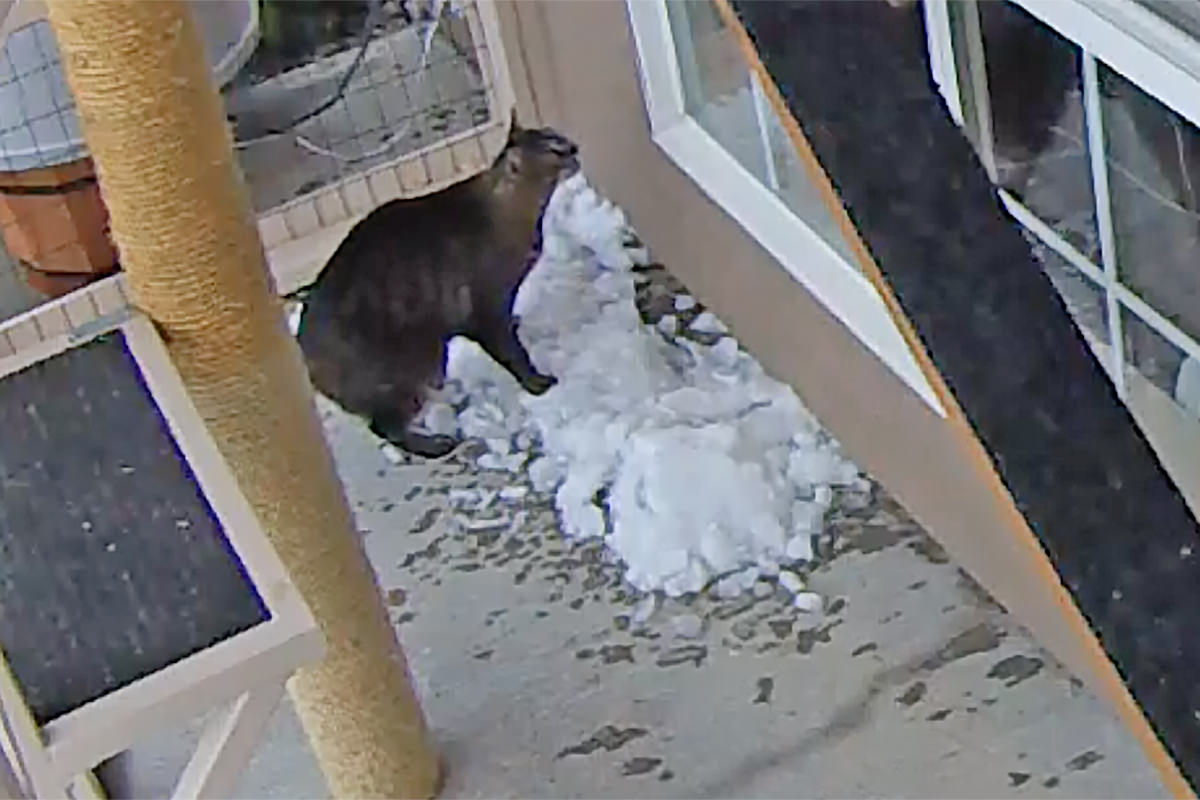 And that was the end of that. Tonight it's pouring rain, which I'm assuming will melt all the snow. Again.
Guess it was good while it lasted.
Posted on Thursday, January 17th, 2019

This morning while I was at work, I received a notification from my security cameras that somebody was breaking into my front door. This happens whenever anybody is in the vicinity of the exterior doorknobs. I wasn't too worried because my door locks weren't reporting any tampering. But I was curious. Did somebody leave me a pamphlet or something? Let's take a look, shall we?
Well, that's disappointing...
But pretty.
I love birds. Especially in flight...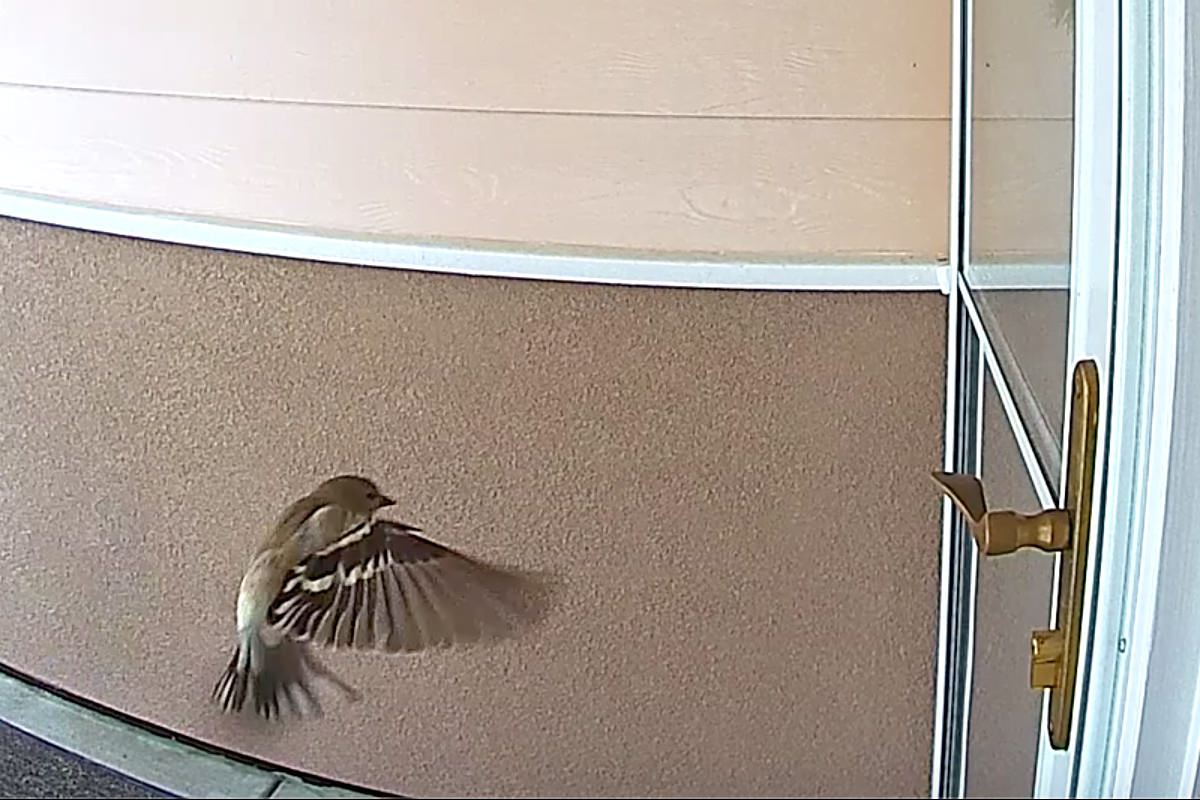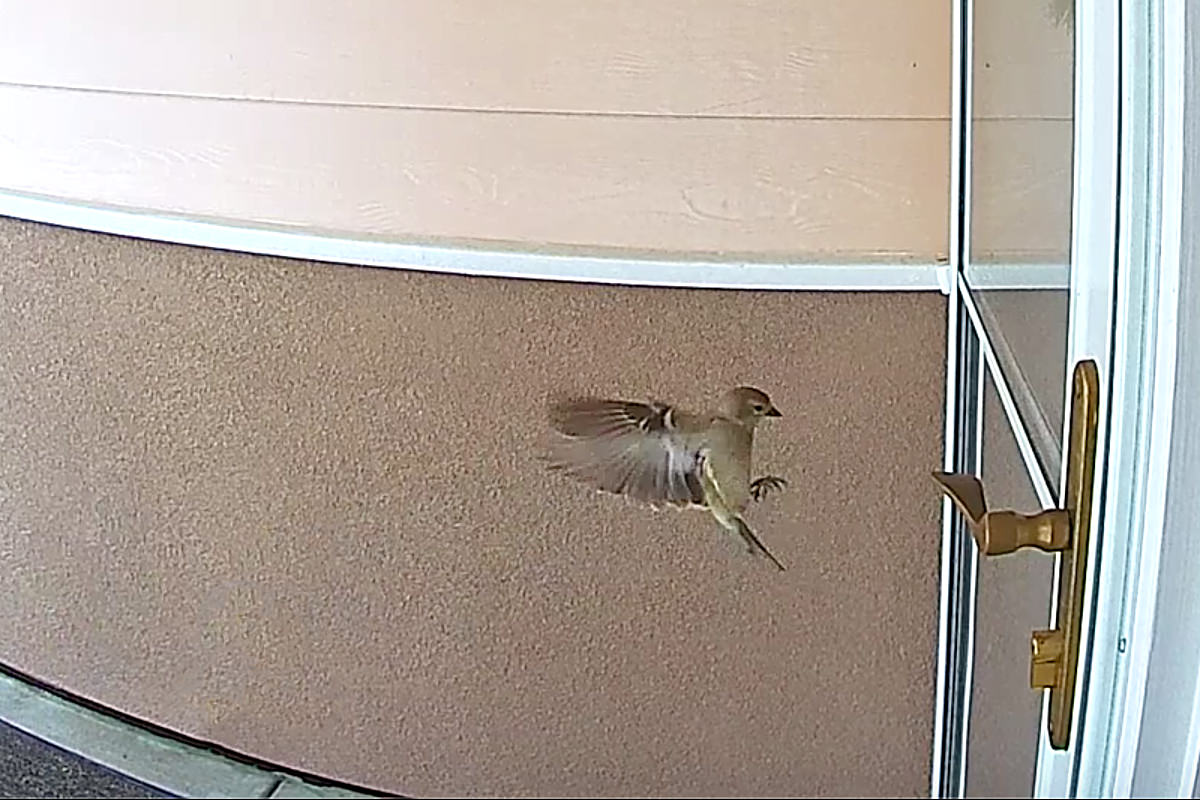 And now, if you'll excuse me, the first episode of Star Trek: Discovery Season Two is here! I loved the first season, so I'm hoping for more Star Trek goodness this time around...
Live Long and Prosper...
Posted on Wednesday, January 16th, 2019

My only complaint about Marvel Studios is that they are restricting themselves to three movies per year. This seems lacking in ambition. I understand not wanting to crowd the theaters in a wash of super-hero films, but maybe after the 21st Century Fox merger is complete they will up their game a bit? Hopefully.
In the meanwhile...
The first trailer for Spider-Man: Far From Home dropped earlier this week...
The most obvious piece of new information here is Jake Gyllenhaal as Mysterio...
He doesn't seem like he's a villain... yet? I guess?
From appearances, it would seem Peter Parker is being deputized by Nick Fury to become "Spider-Man: Agent of S.H.I.E.L.D." or something like that. Apparently to fight some elementals terrorizing Europe. That's seems pretty mundane and impersonal for a Marvel movie, so I'm guessing something (or more likely, someone) is behind it all.
Since the new Spider-Man takes place after Avengers: Endgame it's interesting to note that life on earth has returned to normal. Which means it returns to normal in Endgame. Which seems to indicate that Thanos and his snap were eradicated from the timeline? We shall see.
And then there's Captain Marvel...
New character posters for the forthcoming movie have been unleashed. Notably absent is a poster for Ronan the Accuser. Kinda weird that he didn't get one when everybody else did...
Captain Marvel / Carol Danvers, of course...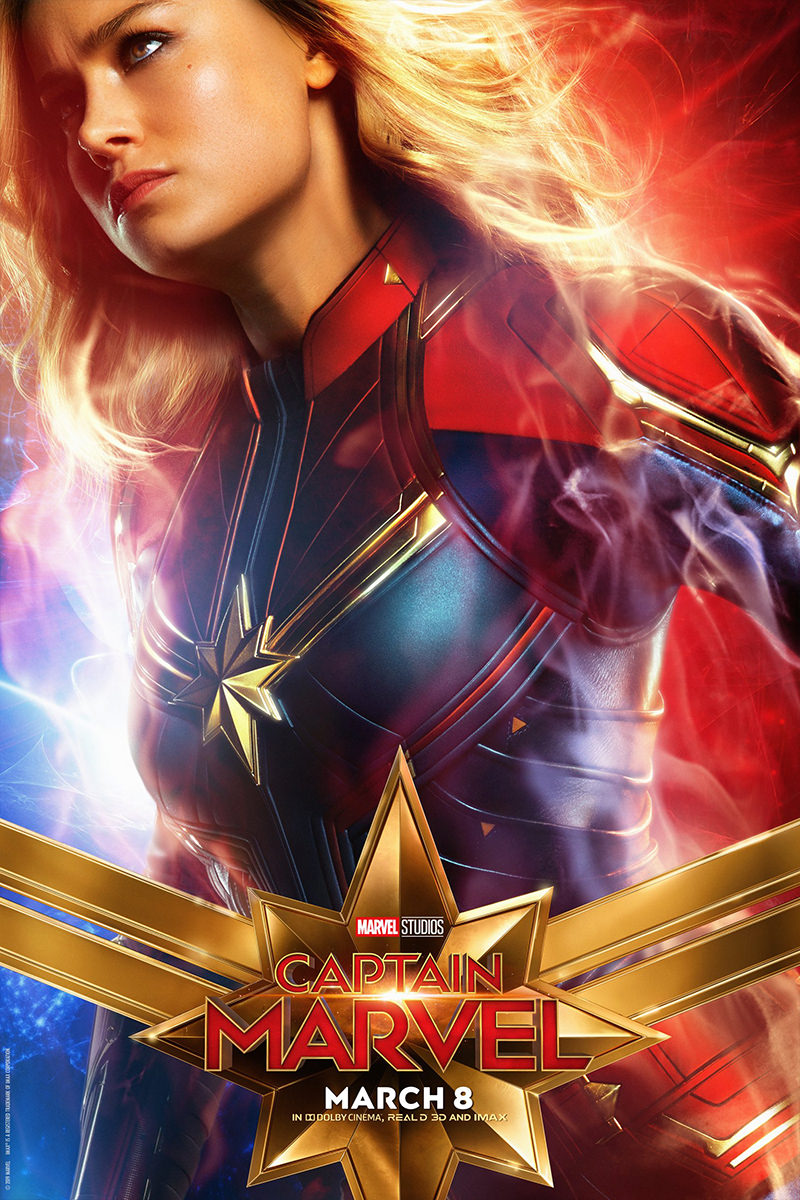 Agent Nick Fury, having been CGI youthed to his 90's self...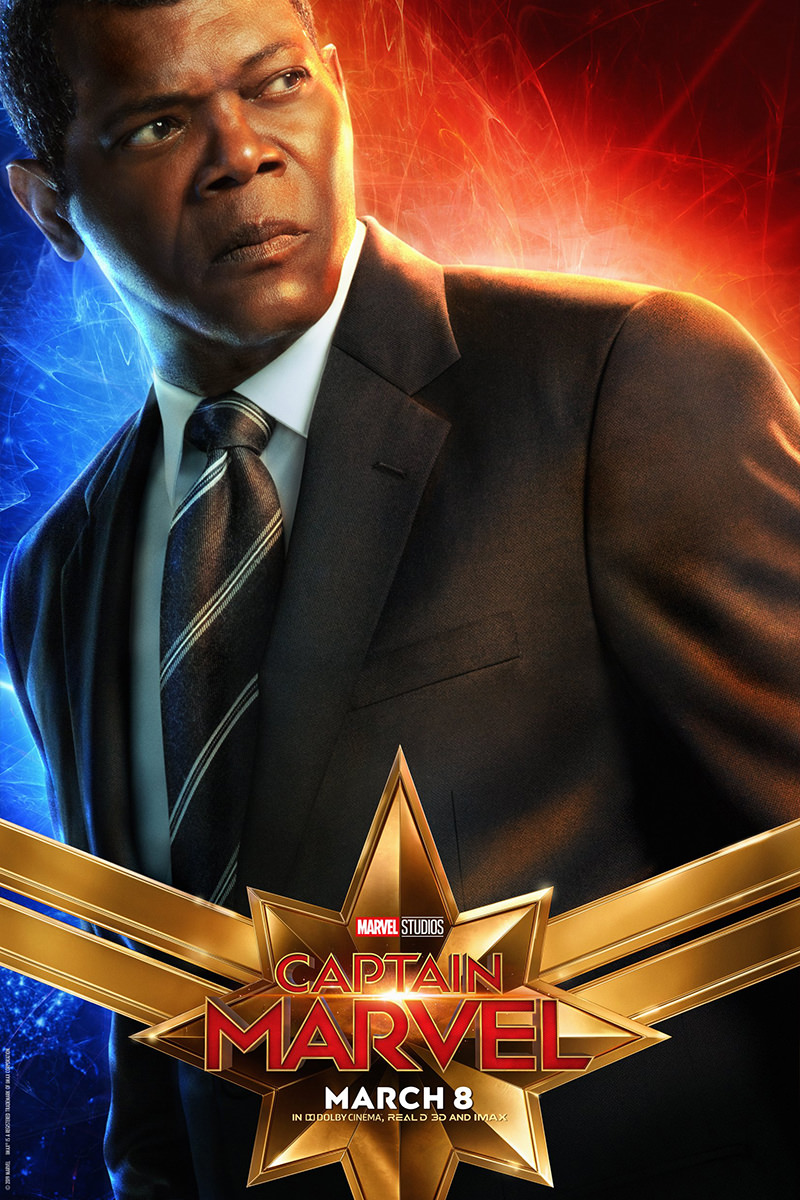 Agent Phil Coulson, likewise youthified...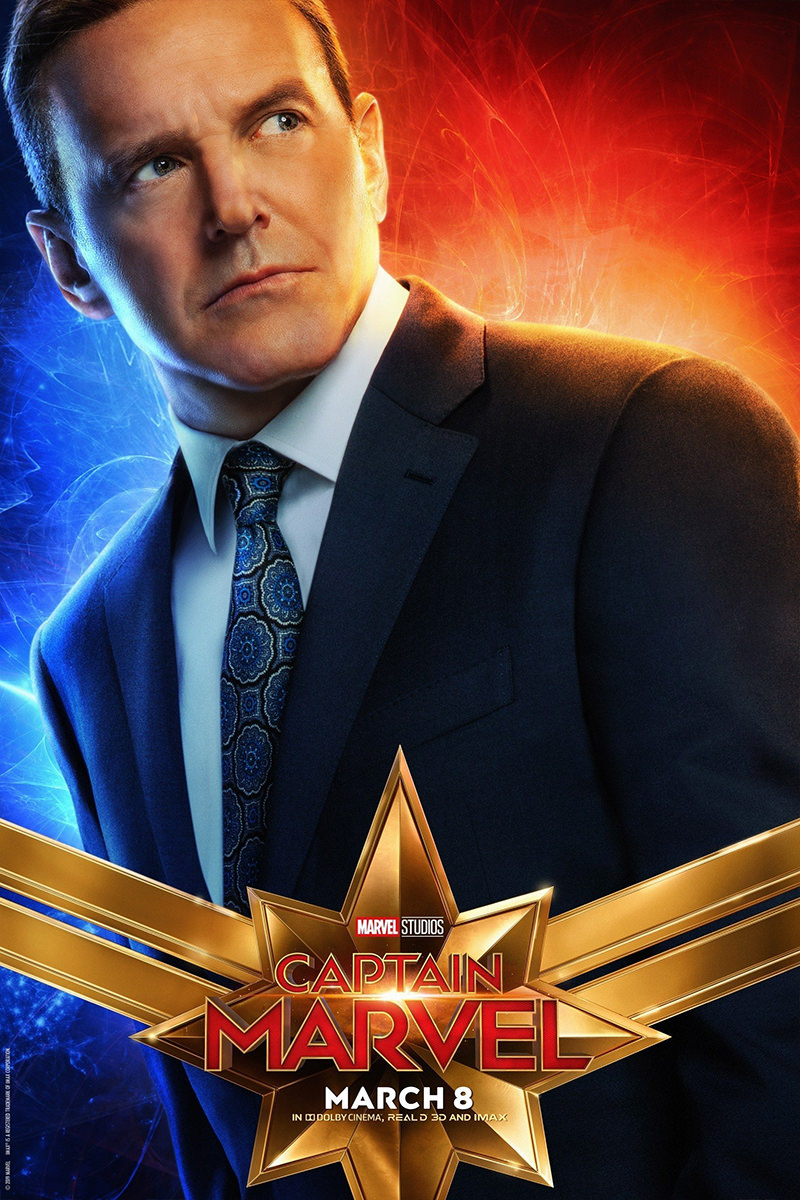 Maria Rambeau, whom I'm guessing is future-hero Monica Rambeau's mom and fellow pilot...
Goose, Carol's cat... which is named "Chewie" in the comic books (after Chewbacca)... and is apparently named after Anthony Edward's Top Gun character here...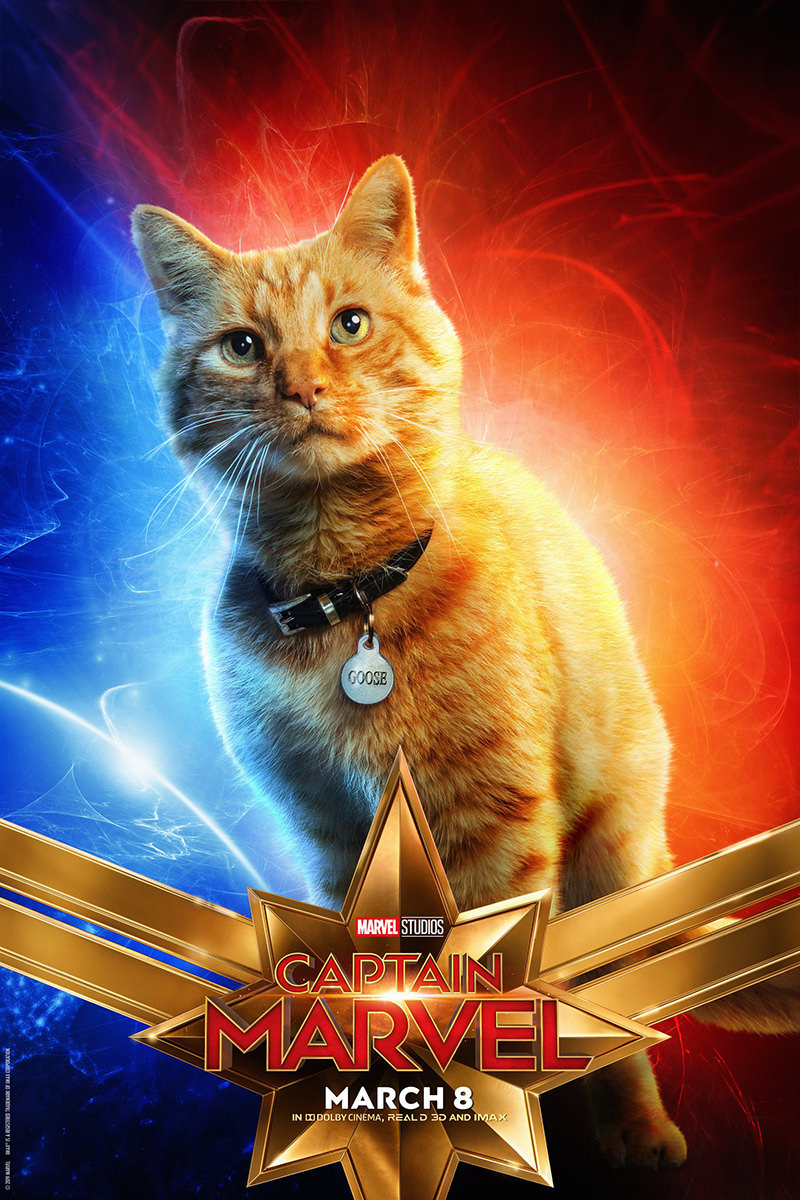 Mar-Vell(?) is the original Captain Marvel in the comic books but, since the origin is changing for the movies, he could be playing somebody completely different...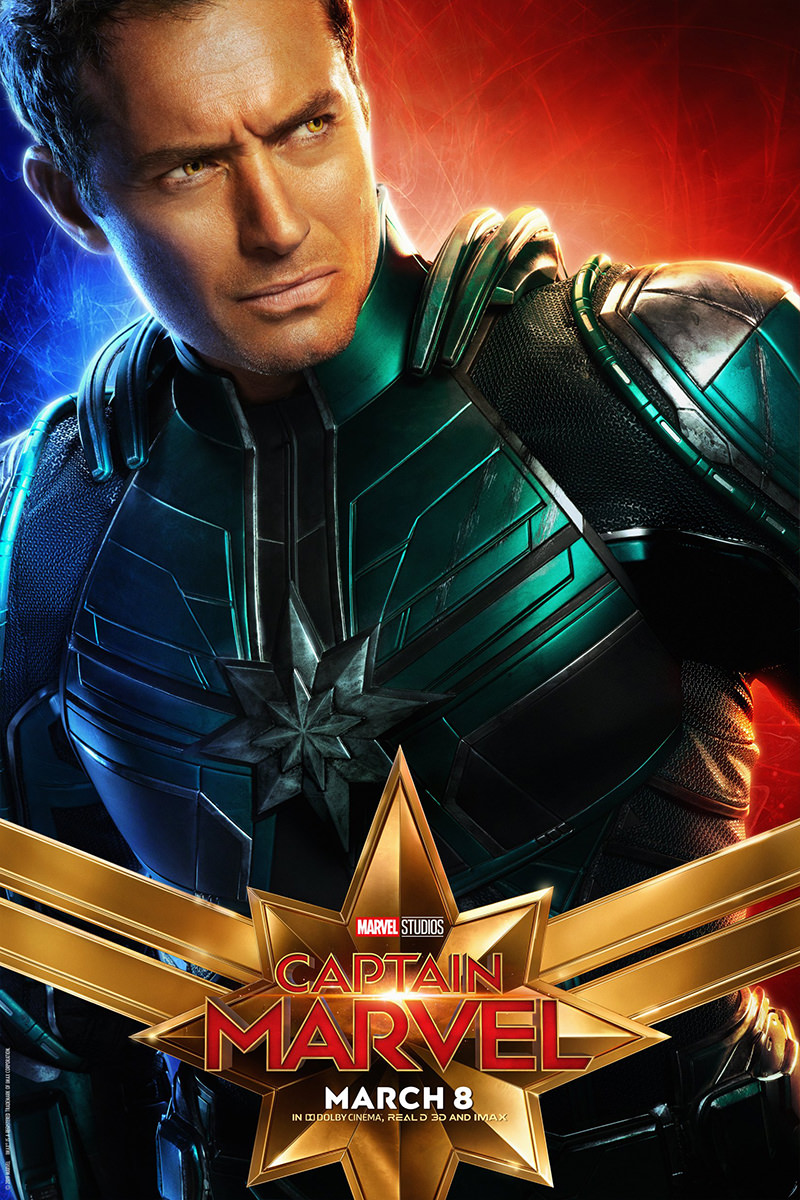 Korath, whose last appearance was in the first Guardians of the Galaxy movie...
Minn-Erva, an enemy of Carol in the comics, but apparently isn't that (yet) in the movie...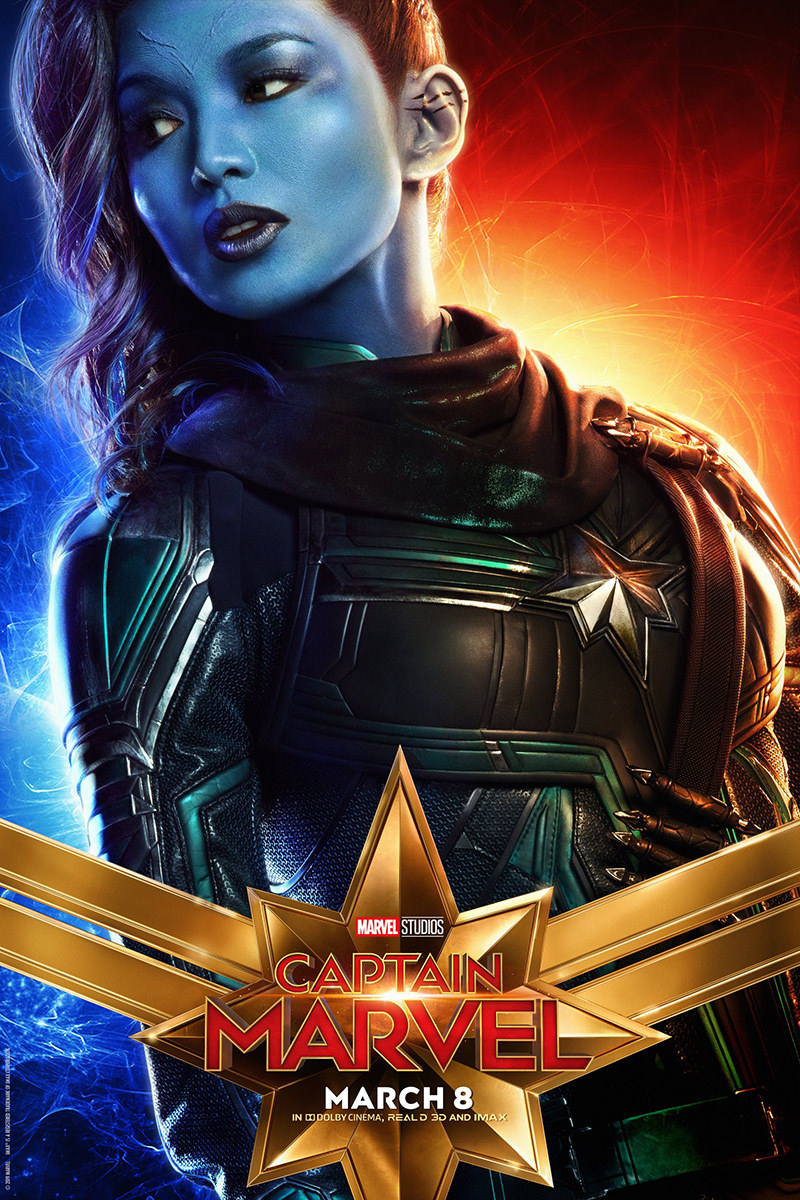 Talos, an evil alien Skrull shown here in his human form...
??? No idea who Annette Bening is playing in the movie... Supreme Intelligence in human form perhaps...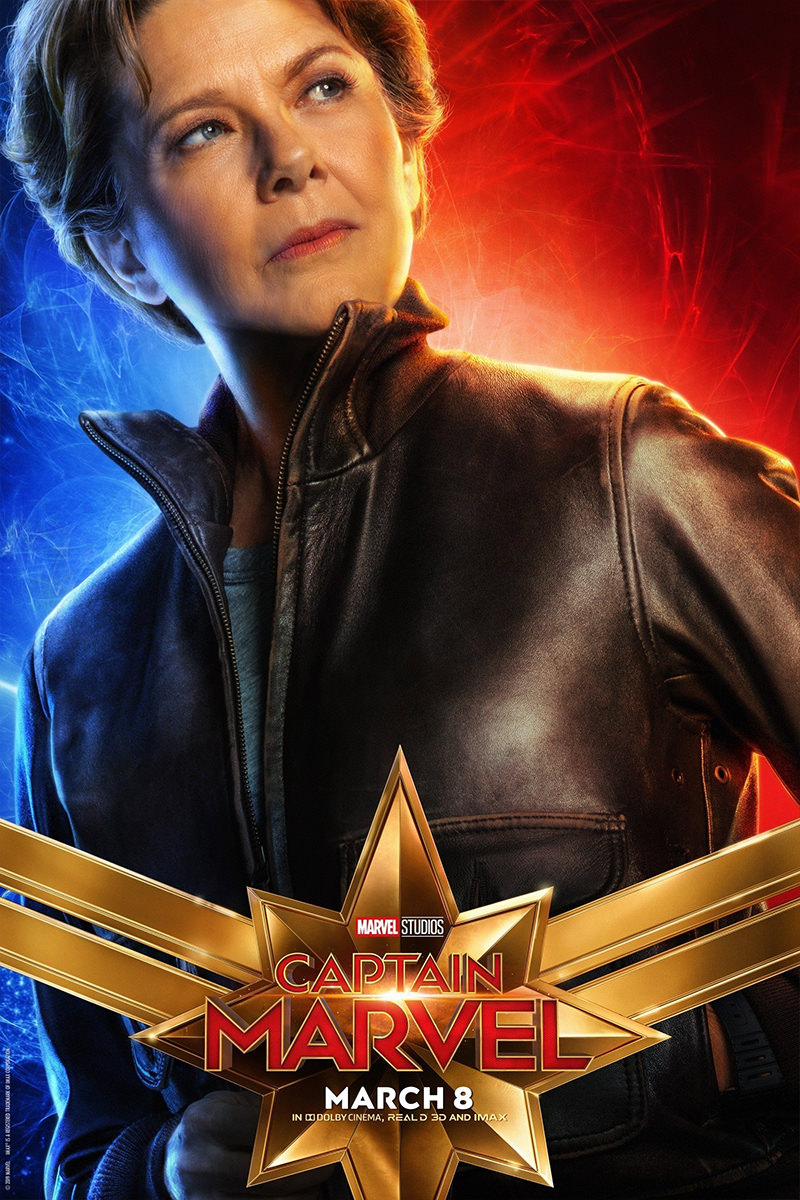 March 8th can't get here soon enough.
Posted on Tuesday, January 15th, 2019

And... I had to cancel all of my March travel because there's no way to plan for a US Government shutdown that has no end date. If this thing is still going through February, I'm guessing I'll have to cancel my travel for April. This is extraordinarily bad. Both for the charity I'm trying to work with and the people who rely on that charity to, you know, continue living and stuff.
Not to mention all the people who are going to have a tough time surviving right here at home. If they have government jobs (or are in industries linked to the government) I'd imagine that money for things like rent and utilities and gas and food is going to be in short supply soon. It's really tough to see people posting their worries online only to be met with helpful comments like "YOU SHOULD HAVE SAVED MONEY IN CASE THIS HAPPENED! ARE YOU STUPID? Well, if they're like so many people, they're not stupid. They're just having to live paycheck to paycheck and don't have an opportunity to save. I paid $46 for two bags of groceries the other day. That'll cover me for about a week. If I didn't already have cat food, that total would have been higher. I can't imagine how much it costs to feed a family of four for a month.
What's difficult for me to figure is the non-stop political blame game that's currently going on. DEMOCRATS WERE FOR A WALL BEFORE THEY WERE AGAINST IT! Well, not really. They were for a "Secure Fence Act"... thirteen years ago... which was attached to a lot of concessions. Needless to say, a lot has fucking happened in thirteen years, so it's not the apples-to-apples comparison it seems. DEMOCRATS ARE WEAK ON BORDER SECURITY! THEY WANT WIDE-OPEN BORDERS! Well, not really. Any Democrat I've heard speak on the subject says that border security is a priority for them... they just want to invest money into something that's actually going to work (and not bankrupt the country over a pathetically inadequate budget projection). THIS IS ALL THE DEMOCRATS' FAULT! Well, not really. According to 2013 Donald J. Trump, weak presidential leadership is at fault for government shutdowns. NO, REALLY, THIS IS ALL ON THE DEMOCRATS! Well, not really. There are Republicans opposed to the stupid-ass wall as well. Enough Republicans that President Trump couldn't get it funded before Democrats took the House earlier this month. If Republicans can't convince Republicans when they are in control of everything, it's the Democrats' fault? Really?
What's even more difficult for me to figure is how people are okay with their very lives being nothing more than bargaining chips over a wall that's not even going to fucking work. I may loathe Chuck Schumer and Nancy Pelosi in equal measure, but they've got one thing correct: border security should be debated apart from the livelihood of Americans just trying to get by. But Clownface VonFuckstick doesn't give a shit about people who aren't millionaires, which is all the justification he needs to carry on with his temper tantrum stand-off bullshit. And that's enough for his supporters to taunt, ridicule, and otherwise rip into people wondering how they're going to be able to afford food and shelter if things keep going as they have been.
I'll ponder all that while trying to figure out how I will find space in my calendar to fit the three trips I just canceled. They're going to have to be pushed to Fall where travel dates are already scarce. But since actual lives are at stake, I'll make it work somehow.
Assuming we're not still shut down.
Posted on Monday, January 14th, 2019

The big news of this past week here in the Pacific Northwest is the closure (and eventual destruction) of Seattle's Alaskan Way Viaduct, an elevated double-decker highway that runs along the city. Built in pieces over the entire decade of the 1950's, it's long been a controversial structure because it divides Seattle from its waterfront...

Photo by David Simmer II — Viaduct highlighted in pink, click image to embiggen.

Even though it's not solid like a wall, it's a big, clunky, ugly, double-layer structure which casts giant shadows that make it feel like a wall...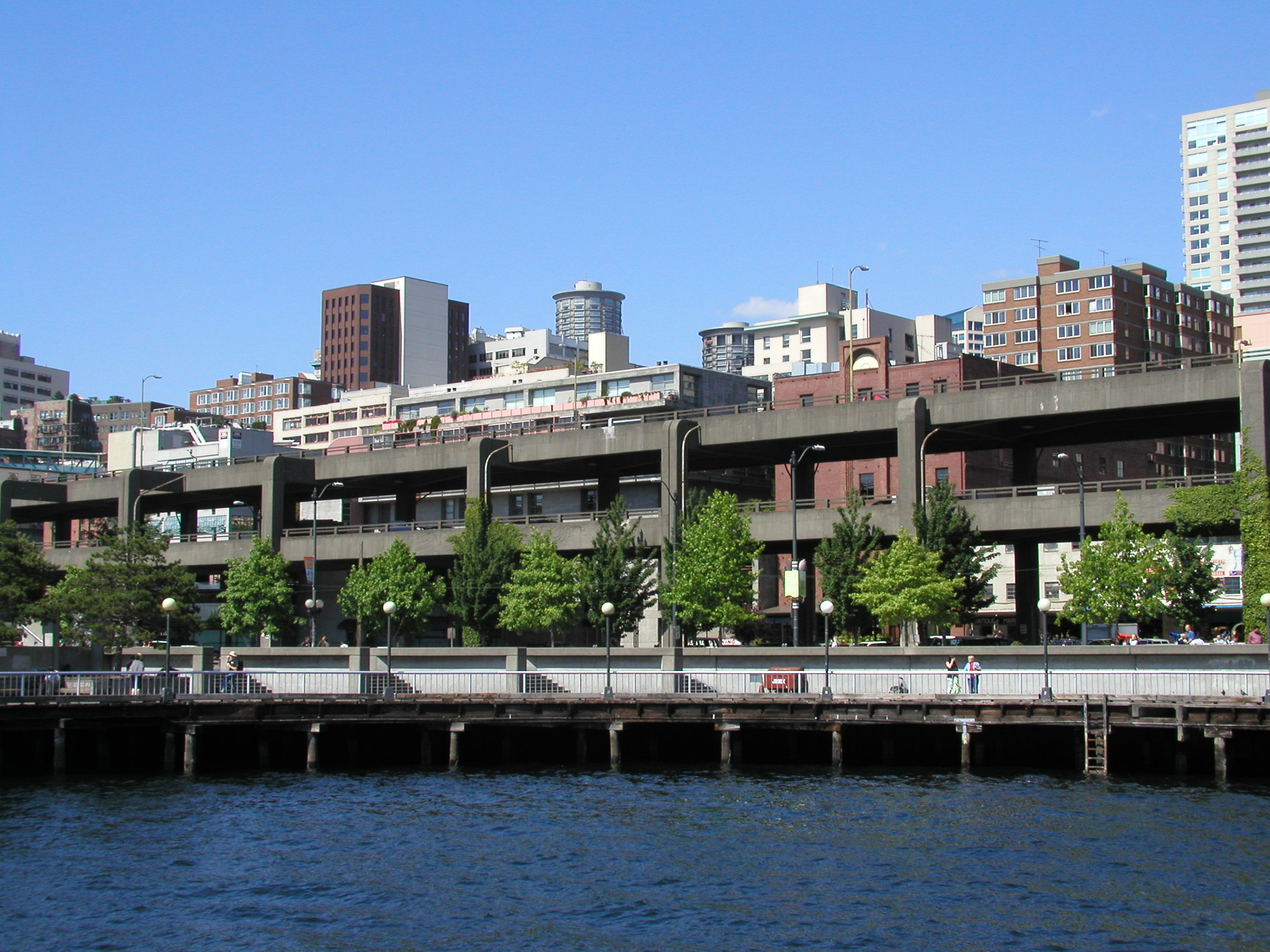 Photo by Waqcku — Courtesy of Wikipedia's Wikimedia Commons.

I've driven the viaduct many, many times when getting from my work in West Seattle to my hotel downtown. It's kinda scary at times because the lanes are a bit narrow and the exits are awkward. That being said, the views of the city and Elliott Bay could be stunning, as shown in this terrific drone video...

There are many reasons that removing the viaduct is a good thing. In addition to getting rid of an eyesore, it also gets rid of a major earthquake hazard. Like all cities along the Pacific Rim, Seattle is in constant danger of a major earthquake which could easily flatten the viaduct and pancake anything underneath.
To replace the viaduct, Seattle built a massive 2-mile long, $3-billion tunnel that runs the length of the city. We're told that it's far safer to be in the tunnel during an earthquake than on the viaduct, but I'm not anxious to find out first-hand if that's true. It is a really cool structure though...

Image Courtesy of WSDOT.

The digging began in mid-2013 using "Big Bertha," the largest tunnel-boring machine in the world at the time which cost $80-million. The construction was fraught with criticism and had its share of problems. The biggest of which was a 2-year delay that happened when Bertha broke down after less than five months of digging.
But now it's all over, the tunnel is finished, and roads are being rerouted over the next three weeks so traffic can finally use it starting February 2nd.
And while the new SR-99 Tunnel is exciting and everything, it's not a perfect solution.
For one thing, the tunnel is two lanes in each direction. The viaduct was three. This will be offset, in part, by a new surface street which runs where the viaduct used to be. But the fact remains that there is one less lane bypassing downtown Seattle, which could be highly problematic given how bad the traffic is.
Another issue is that the tunnel will be an electronic toll road to drive on. The price will vary depending on traffic and such, but it kinda sucks that you'll have to spend minimum $2 a day to get to and from work if you live north of the city and work south of the city (or vice-versa).
Another issue is the loss of an area many of Seattle homeless use as shelter.
Yet another issue? Just look at this hot mess...

Image Courtesy of WSDOT.
I hope Google Maps is ready to navigate this pretzel of a roadway.
The plans for the space once occupied by the viaduct look nice. In addition to the afore-mentioned surface street, there are plans for greenery, bike lanes, a pedestrian walkway, some parks, and other cool stuff which will completely transform Seattle's waterfront...

Image Courtesy of Waterfront Seattle Program.

Overall, I like the plans I've seen very much. Where it falls apart for me is the proposed signage, which is trying way too hard to do way too many things. Signs should be pretty, yes, but their primary function should be to TELL PEOPLE HOW TO GET TO WHERE THEY WANT TO GO. But the "wayfinding markers" that were in the proposal kit are a jumbled mess of ideas that don't do a very good job of it...

Image Courtesy of Waterfront Seattle Program.

I mean, seriously, how in the hell is this ugly mess helpful? Especially from a distance. You'll have to be right on top of it to make use of the thing...

Image Courtesy of Waterfront Seattle Program.

The design also looks dated before they've even been built. I am hopeful that common sense will prevail and somebody will rethink things to create a more clean, simple, easy-to-read signage design which also reflects Seattle culture and its location in the Pacific Northwest.
And so...
I am anxious to see how all the plans pan out. Seattle has the potential for one of the most beautiful waterfronts in the country. But it's been buried under chunks of steel, concrete, pavement, and heavy shadows for far too long.
It will be nice to see all that change.
Posted on Sunday, January 13th, 2019

Don't let the long cold nights of winter get you down... because an all new Bullet Sunday starts now...

• Duck! It's no secret that I love museums. I've made it my mission in life to see many of the world's great (and not-so-great) museums as I can. Which is why I got a big kick out of this article: Museums around the world are soliciting duck pics from each other...

Image Courtesy of The Museum of English Rural Life.
If you're even a little fan of art, this article is a must-see.

• Cars! These Walmart curbside pickup "cars" commercials are phenomenal...
I can't fathom how much money it cost to license all these properties.

• Akeem! One of my all-time favorite movies is Coming to America starring Eddie Murphy and Arsenio Hall in multiple roles. It's a great story chock-full of funny situations and had some real heart to it...
There are many other things to love about the film... namely James Earl Jones and Madge Sinclair as Eddie Murphy's parents. But there are also the incredible designs for the country of Zamunda. Make no mistake, Zamunda was Wakanda way before Wakanda was the benchmark for fictional African countries!
And now it comes to light that there is a sequel in the works with Eddie Murphy reprising his role as Prince Akeem. Right now, I am deliriously happy about that. But given how badly things could go wrong, I'm also more than a little nervous.

• Again! Again! Speaking of an Eddie Murphy movie getting sequels... apparently Boomerang, another movie I love more than butter, is getting a television sequel...
The show will continue the story with Marcus and Angela's son and Jaqueline's daughter. No word if Eddie Murphy, Halle Berry, or Robin Givens will be making an appearance. But I sure hope so. The thing that gives me hope is that Lena Waithe is onboard. As is Halle Berry as an executive producer. Fingers crossed.

• Monument! As somebody who loves travel photography but can't stand people walking through my shots, I was excited to hear about "Monument." This new technology that Adobe is developing will automatically remove moving objects from photos. It's a fascinating idea that I'm anxious to try out. There's a video which takes a look at Moment but Nick Offerman is an idiotic distraction throughout. Why in the hell they couldn't have just presented the tech without the comedic bullshit is beyond me...
It's only a matter of time before machine learning with this kind of smarts gets dropped into all our cameras. As popular attractions become more and more crowded, it will be a handy and very welcome thing to have.

• Puck! My new brown sugar container came with a small terra cotta coaster in the box. I was telling a friend about it and laughing because I don't have any glasses small enough to fit on it. "ARE YOU HIGH? YOU SOAK IT IN WATER AND PUT IT IN THE CONTAINER SO YOUR BROWN SUGAR DOESN'T DRY OUT!" In my defense, there weren't any instructions. Just the little puck thingy in a baggie. How was I to know?
Is this some secret everybody knows but me? Is there some brown sugar conspiracy to exclude me from this magic?

And... I'm spent. No more bullets for you.
Posted on Saturday, January 12th, 2019

Ever since Jake got home from his week-long stay at the vet, he's been more clingy than usual. He also doesn't want to be left alone. If Jenny follows me upstairs while he's asleep, he'll wander around crying when he wakes up until I holler down for him.
This has been tough of Jenny, who likes her independence.
I've tried to make sure that everywhere there's a bed she likes to sleep in, there's a second bed for Jake. This was a little confusing for her at first...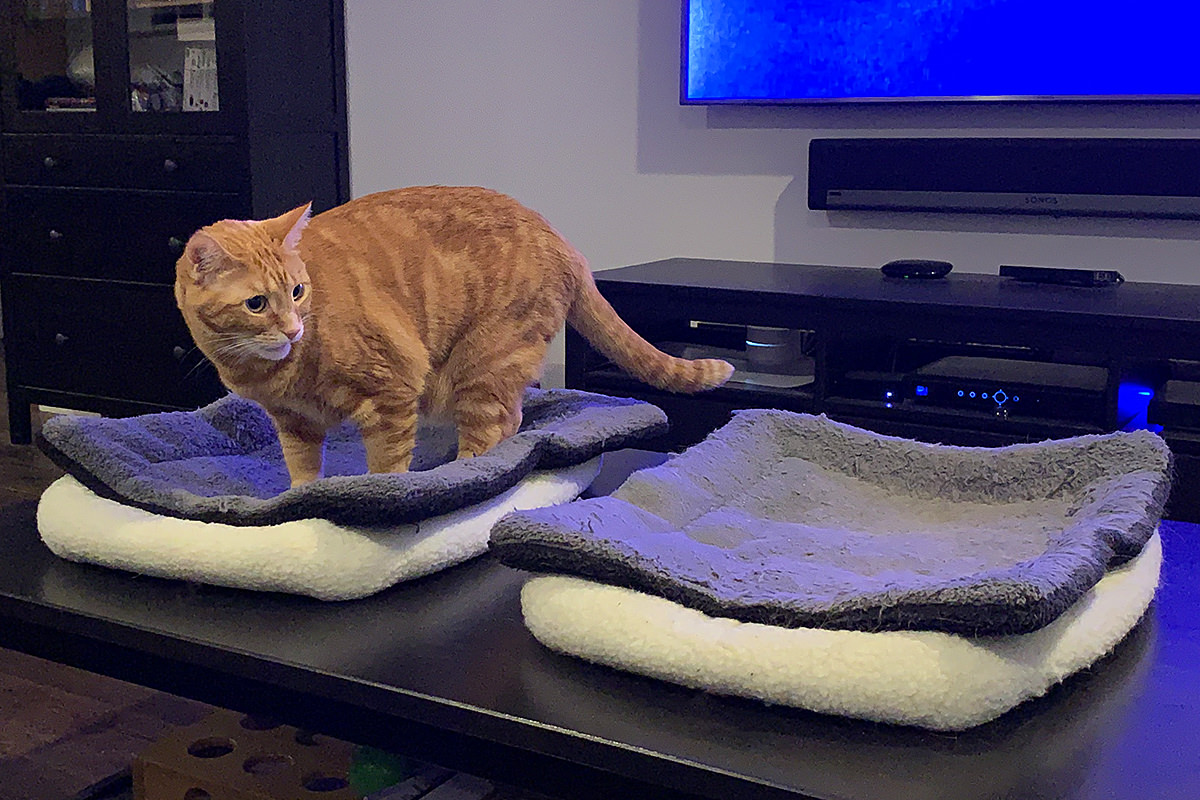 But it actually ended up working...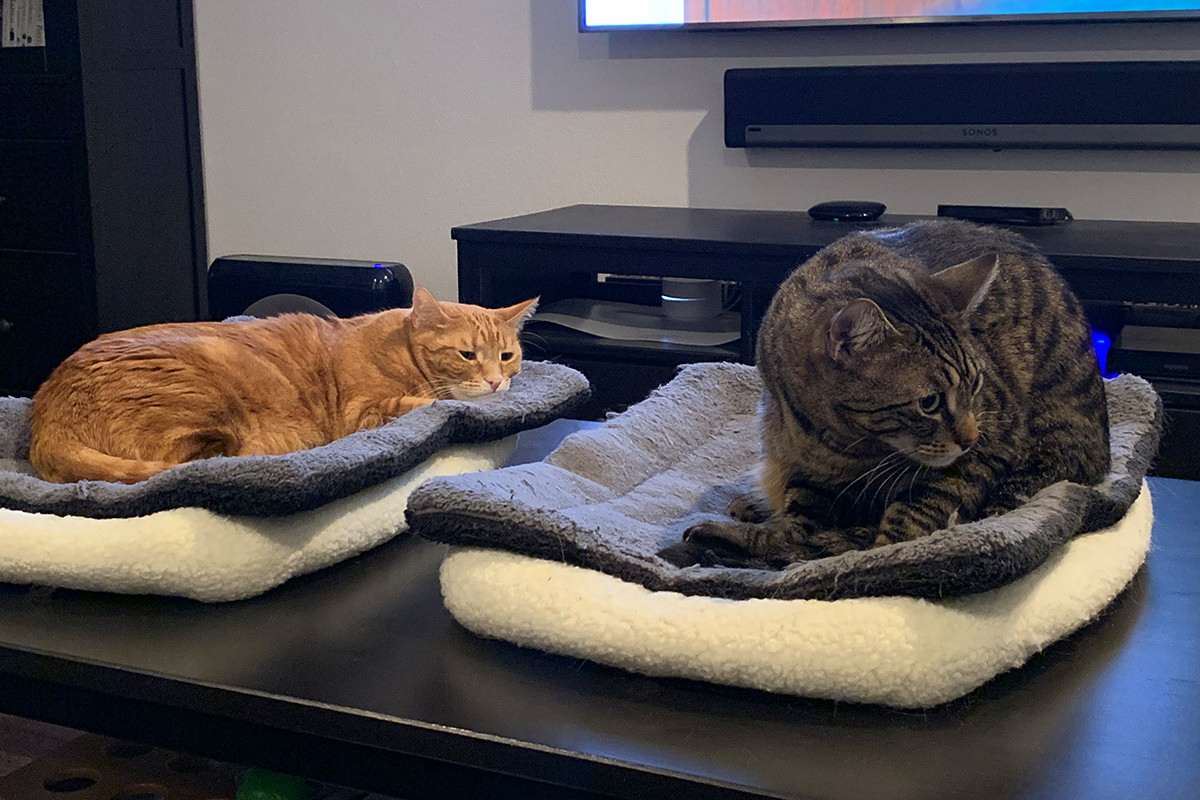 For a minute or two. Then Jake was right back to crowding in on her...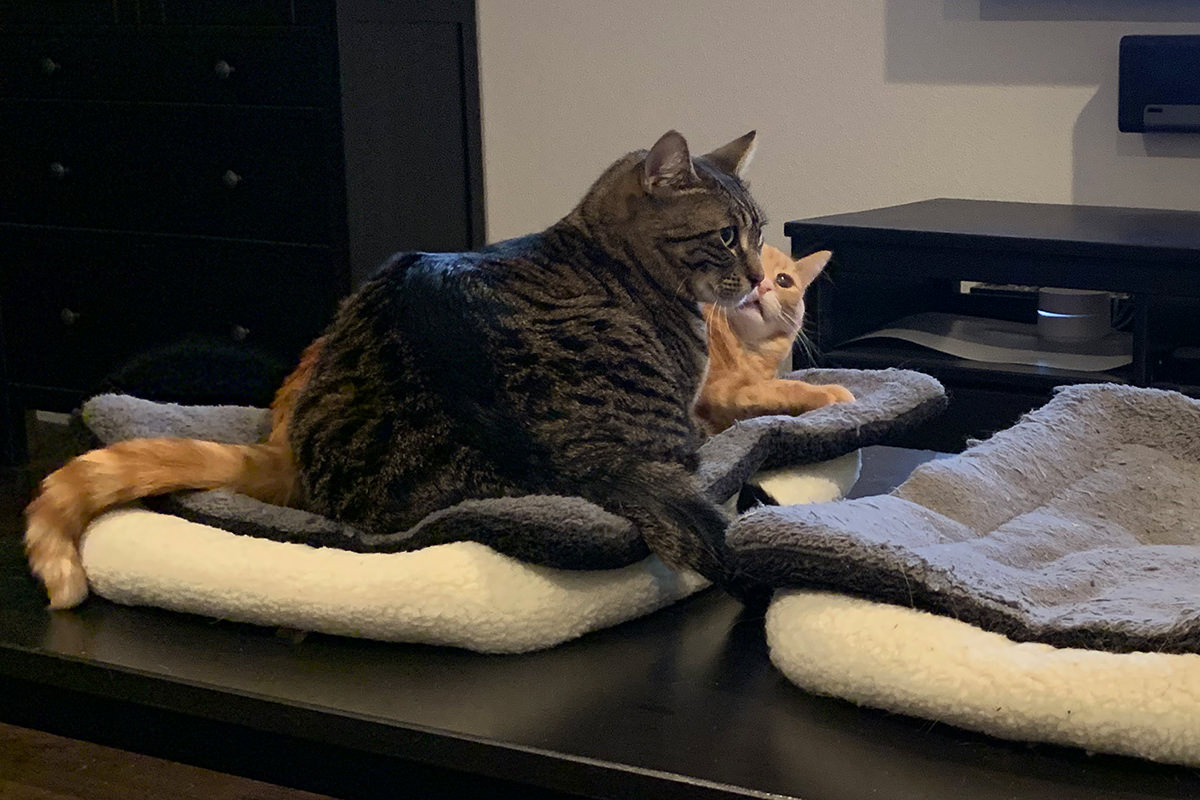 Needless to say, she isn't thrilled...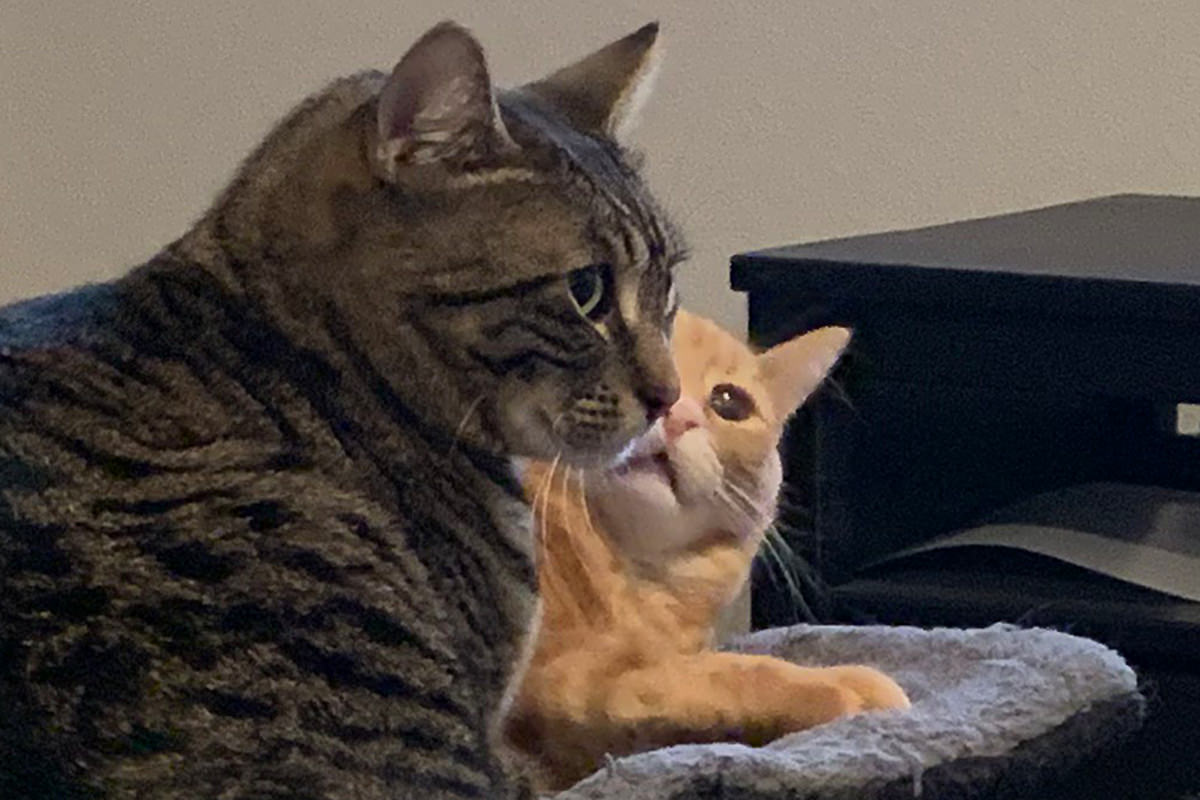 After a while Jenny escapes, leaving poor Jake alone again...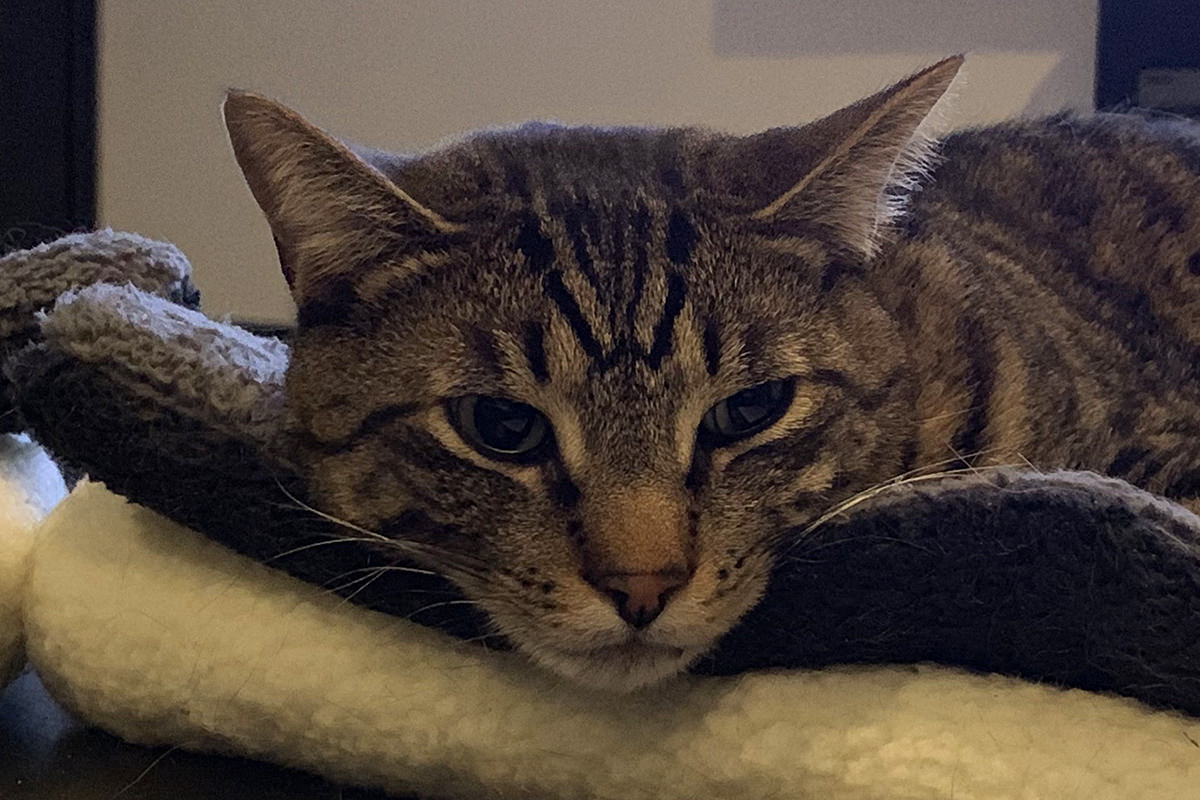 Every once in a while Jenny does a bit of rearranging, which kinda works...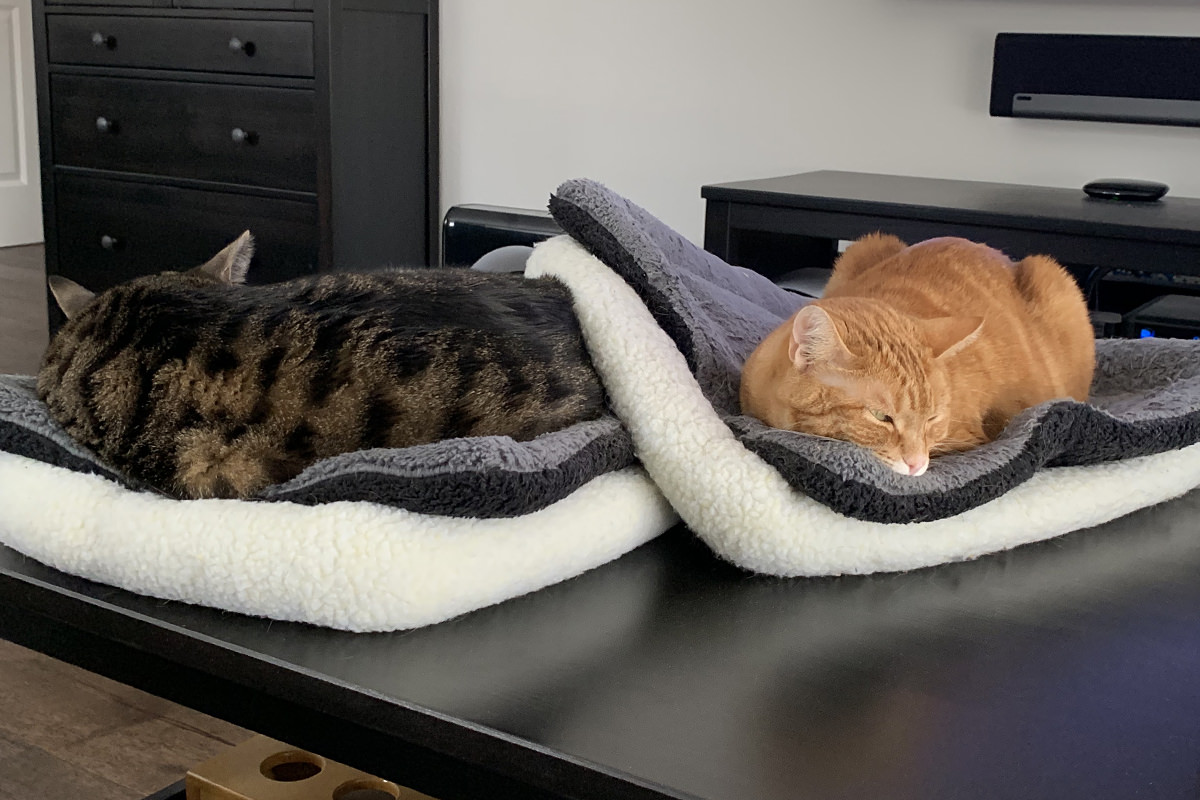 But the minute things are back to the way they were, Jake wants to share again...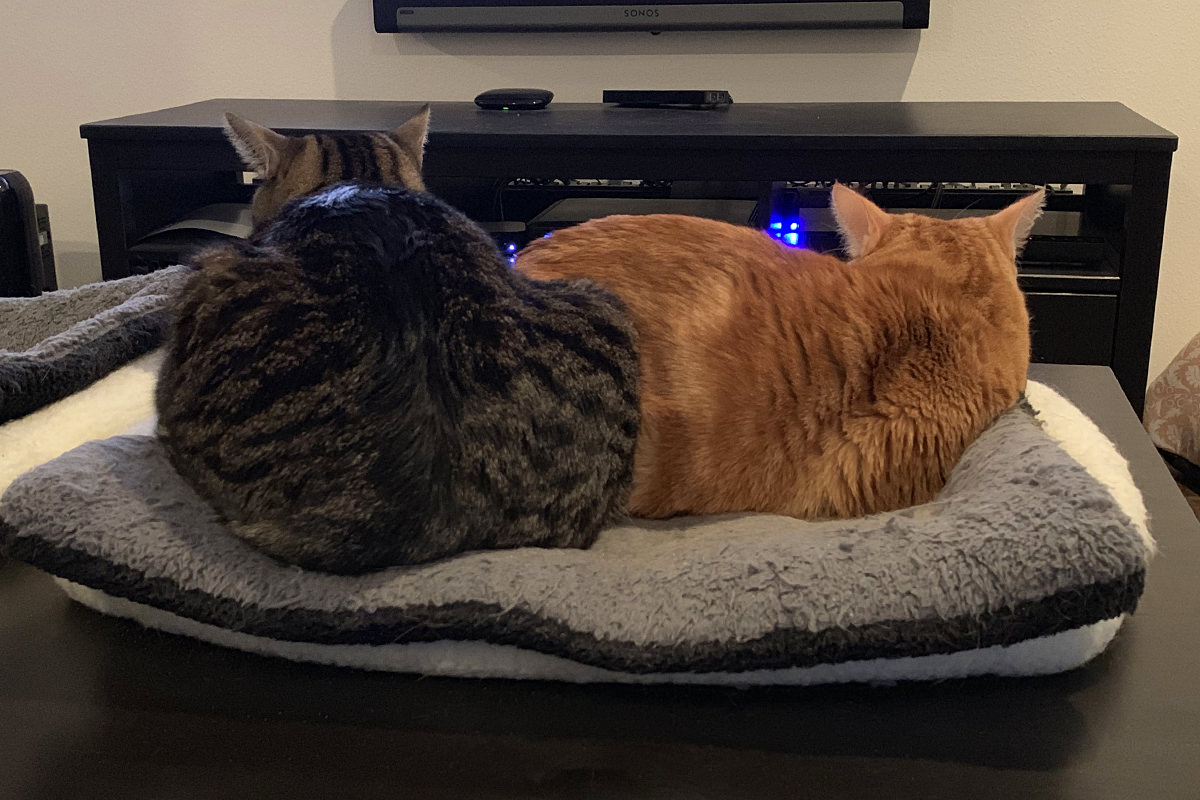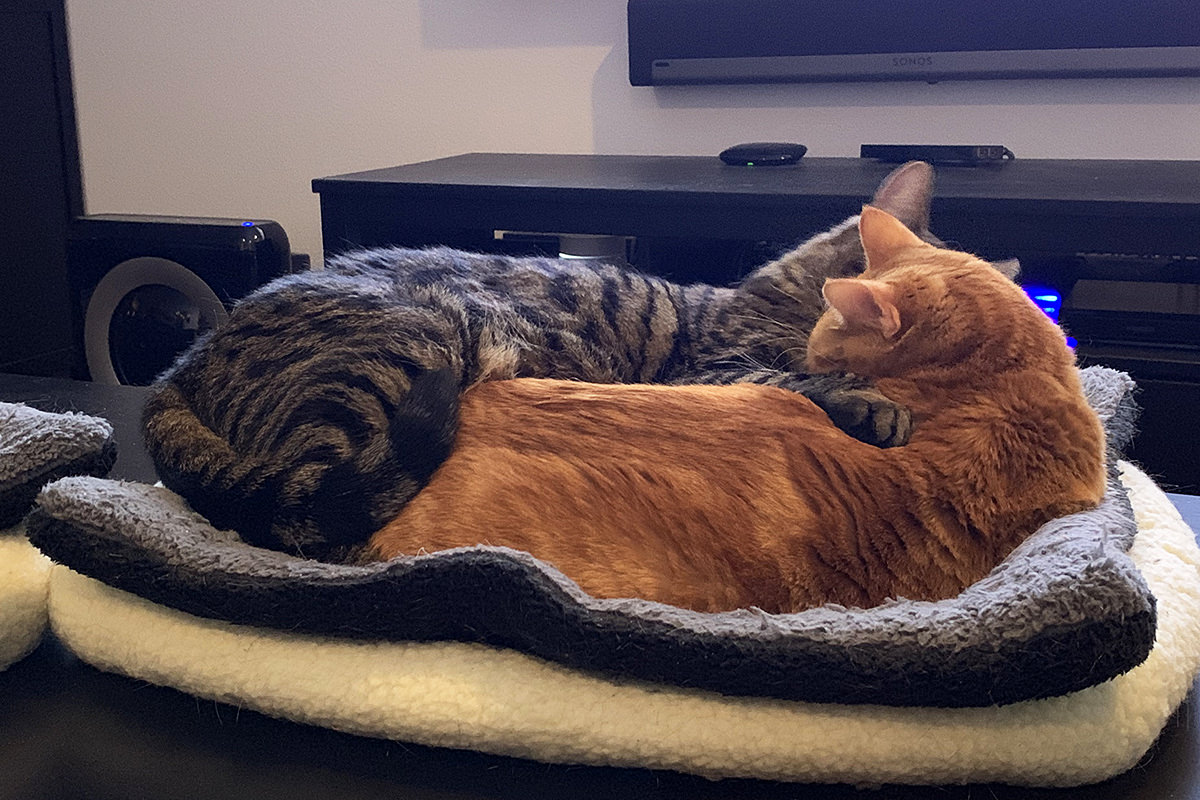 It's been three months since the vet, so I can only guess Jake's behavior change is here to stay.
How this is going to affect Jenny's behavior remains to be seen.