Posted on Saturday, February 15th, 2020

What in tarnation is happening here? There's no need to check your calendar... because an all new Bullet Sunday on Saturday starts... now...

• Red Sox! And so it begins... the team is converging on Fort Meyers for Spring Training, which begins full-squad workouts on Monday. Well, full-squad except Mookie Betts, who got traded to L.A. for some stupid reason (okay, it was probably to fall under the Competitive Balance Tax threshold for 2020, but still stupid)...

Photo from NBC Sports
I sure hope Boston has a better season this year than last year.

• 1917! If you know me, you know I love maps. This is so frickin' cool.

• You Better Work! As somebody who loves RuPaul, there was no way I was going to miss his new 10-episode series on Netflix...
From the trailer I expected it to be entertaining and funny. I did not expect it to be as deep, smart, and genuinely sweet and touching as it. Bonus: There's a lot of familiar faces popping up throughout, including many, many contestants from Drag Race What sabotages the show is two things. 1) The kid is irrationally bratty and shitty at random times, screaming her head off for no reason. I have no idea why Ru and Michael Patrick King felt it necessary to go that far. And, 2) It doesn't have an ending and absolutely everything was left in the air with no resolution whatsoever. If Netflix doesn't give it a second season, viewers are screwed. Still, worth tuning in for.

• Miss Jackson! Janet Jackson Herself has announced that her new album and tour, Black Diamond, will be dropping this summer.

• Great Scott! These deep fakes are just getting more and more frightening...
Frightening because they are looking more and more realistic.

• Goo! If you did any kind of graphic design work in the 1990's, odds are you know of Kai Krause. His design tools allowed you to create some truly wondrous stuff... but had the absolute worst possible interfaces to get there. I never understood why they were so utterly wacky and nonsensical. Apparently, it was to spur creativity... to get people to just "play" with things until they were intuitively doing what they wanted to do. It never worked like that for me. I'd much rather have proper menus and tools that made it clear what was happening. Kai's Power Goo, for example, was just a mess. But it was Photoshop "liquify" before there was Photoshop liquify, and you have to respect that...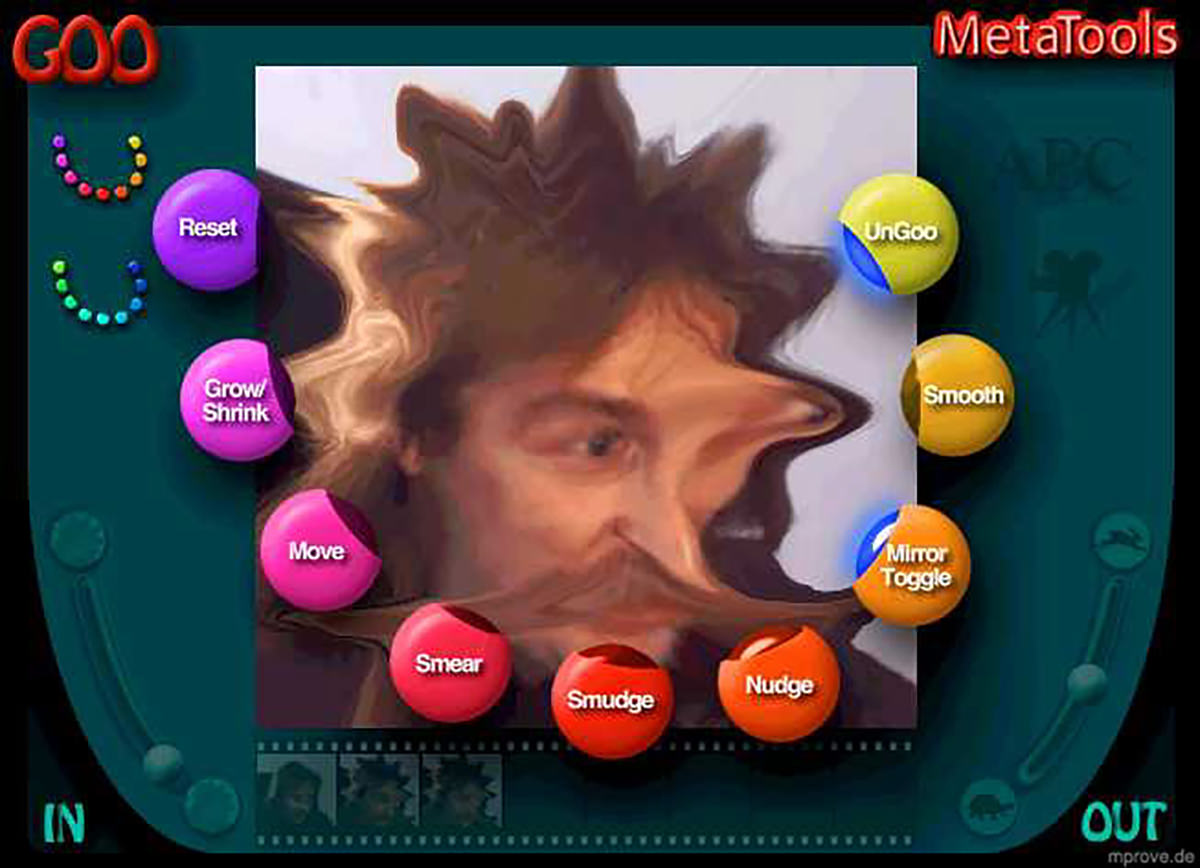 I owned absolutely everything Kai ever released. Used his tools all the time, even as I hated the way they worked. Even so, I found the story of his interface design an interesting read.

And that's Sunday Saturday Bullets.
Posted on Friday, February 14th, 2020

As much as I wasn't a fan of Valentine's Day before, I am especially not a fan now.
I've been trying really, really hard to change my attitude about stuff that just doesn't matter (like Valentine's Day) but it's proving incredibly difficult. In a day and age where everything is shit that's impossible to escape, even the little things can be completely overwhelming.
In the State of The Union address a week ago, Cheeto Jesus said "I am thrilled to report to you tonight that our economy is the best it has ever been."... then a couple days ago he cut Federal employee raises that were scheduled because of "serious economic conditions." So which the fuck is it? Do we have the best economy that the entire universe has ever known... or is it in the toilet? Like most things in life, both statements are probably true. For billionaires and mega-millionaires, the economy is the best it's been in decades. For everybody else, it's not so great. Partly because of rising costs. Partly because we keep losing things that our taxes have traditionally paid for. Take, for example, libraries.
The presidents current crusade includes cutting funding for libraries. The only way some people can afford to read books is to borrow them from the library. The only way some people can afford to watch movies is to borrow them from the library. The only way some people can afford to get the news from newspapers and magazines is to borrow them from the library. The only way some people can have access to the internet or a computer is to use them at the library. BUT POOR PEOPLE DON'T MATTER, SO CUTTING THEIR ACCESS TO EDUCATION, ENTERTAINMENT, AND A WAY TO COMMUNICATE, FIND A JOB, OR JUST FUCKING EXIST IS NO BIG DEAL WHEN BILLIONAIRES NEED TAX CUTS TO PAY FOR THEIR GOLD-PLATED TOILETS, RIGHT?!?
And then there's the little things. Like the desire to live free from deadly diseases. As you may have heard, the Coronavirus is a big deal. Currently in China, but it could end up wrecking havoc here very easily. Then there's the looming threat of old diseases coming back, which scientists warn could be unleashed from thawing permafrost. And yet President Trump is wanting to slash funding to the Center for Disease Control. It's madness.
But we've got billions to transfer to the ineffective and idiotic "Wall" President Trump is hellbent on constructing. Hope it can stop diseases from getting through.
But anyway... Happy Valentine's Day...
For past year's Blogography Valentine cards, click here!
Posted on Thursday, February 13th, 2020

For months now I've had minor pain in my right arm. It's not a muscle thing... it's deep inside. Like in the bone or something. I've most ignored it and just chalked it up to getting old. Everything else hurts, so why not my arm?
Then this morning I woke up because the cats wanted breakfast, went to get out of bed, and... ouchie... searing pain shooting through my tricep (or what passes for a "tricep" on my muscle-free arms). It was so intense that I let out a yelp and was knocked down to the bed. Which wouldn't have been bad, except I missed the bed and landed on the floor. Holding my arm, I managed to climb back on the bed in agony.
Meanwhile Jake and Jenny, who had just ran downstairs in anticipation of food, came running back up to see what was taking so long. WHY HAVEN'T YOU FED US?!? WE'RE DYING!!!
And so I managed to get up and head down to the kitchen with the cats venting their frustration every step of the way. After managing to get them fed using my left arm, I took some Ibuprofen and headed back to bed so I could wallow in my misery.
And it's weird how the pain works.
I thought getting undressed would be agony. Nope
I thought shampooing my head would be painful. Nope.
I thought getting dressed would be excruciating. Nope.
What hurts... and hurts so bad... is stupid stuff like forgetting my arm is messed up and pulling the drawer open that has my toothpaste with it. THAT is so unbelievably painful that it quite literally knocks the wind out of me.
And so... doctor's appointment on the 26th.
I probably need physical therapy or surgery or something else I can't afford, but that's life.
In the meanwhile I'll try to baby my arm and use it only when I have to. Which is tough, because sometimes just walking or breathing is enough to cause stabbing pain go shooting through it.
Boy I wish I had a really good story to explain this. "I think I pulled it skydiving" or "I got stabbed in a knife fight" sounds so much cooler than "It happened during a sleeping accident."
Posted on Wednesday, February 12th, 2020

There's a cruise ship quarantined off the coast of Yokohama, Japan due to a Coronavirus outbreak onboard. With the exception of China, the ship has more cases than any country on earth, clocking in at 175 people infected. The worry is that with so many people living in such close proximity that the virus will continue to spread. If that's the case, the bulk of the passengers may end up with the disease despite all efforts to keep it contained.
As a result, cruiselines are taking drastic measures to avoid this situation from happening on their ships. Most of them are canceling or rerouting cruises to China and other Asian countries. Some of them are denying passage to any customers with a Chinese, Hong Kong, or Macau passport. Anybody having visited those countries within 30 days, regardless of citizenship, will also be denied passage.
Needless to say, many passengers are canceling their cruising plans regardless of destination because they are worried a carrier of the Coronavirus will end up onboard.
The media, always hungry to stoke people's fears because fear is good for their business model, are all too happy to keep feeding the fire.
Not a good time to be a cruise company.
I've never been a big "cruising" person, but my mom absolutely loved it. She loved being able to go to lots of places on a single vacation. She really loved being able to go to so many different places without having to pack and unpack each time. So we ended up going on a number of cruises, including The Caribbean (twice), Alaska, The Mediterranean (twice), and The Panama Canal. They were all great, we had a fantastic time, and I am grateful to have found travel which was low-stress for my mom since that was all that really mattered...

Mom aboard the Dawn Princess in the Caribbean in 2004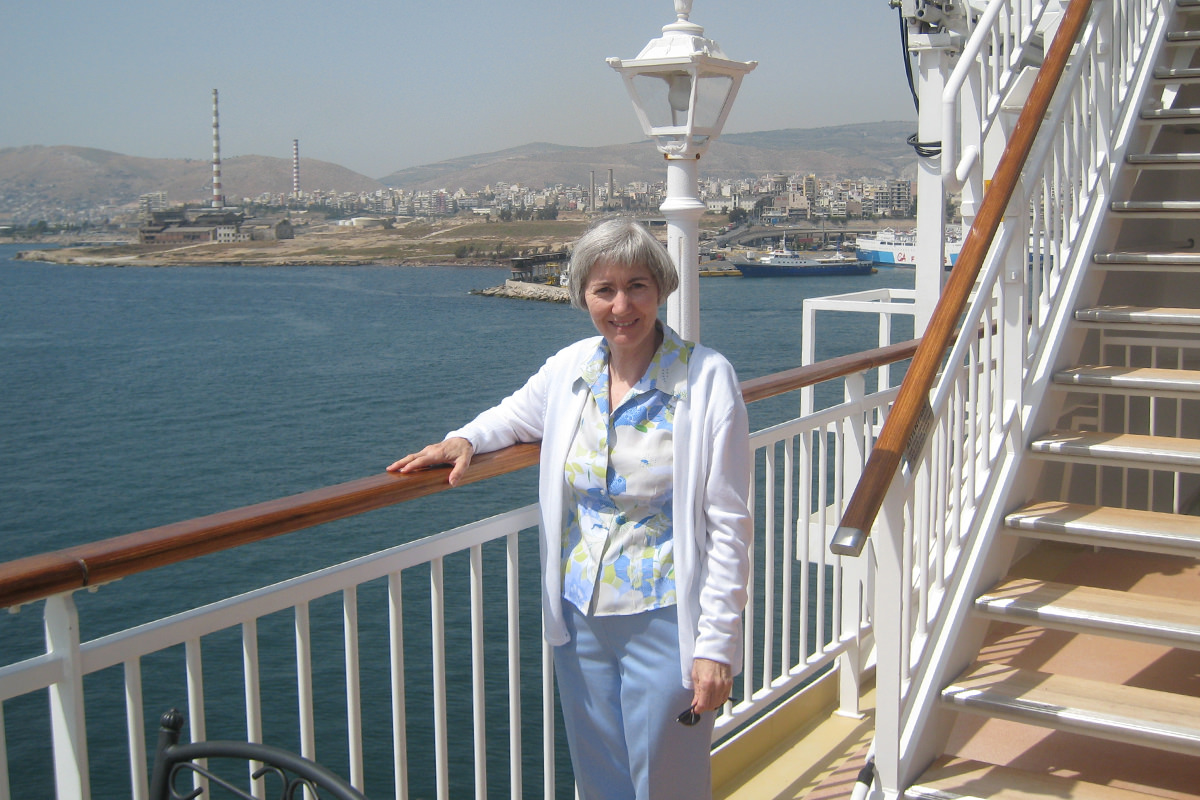 Mom aboard the Norwegeian Jewel in the Mediterranean in 2007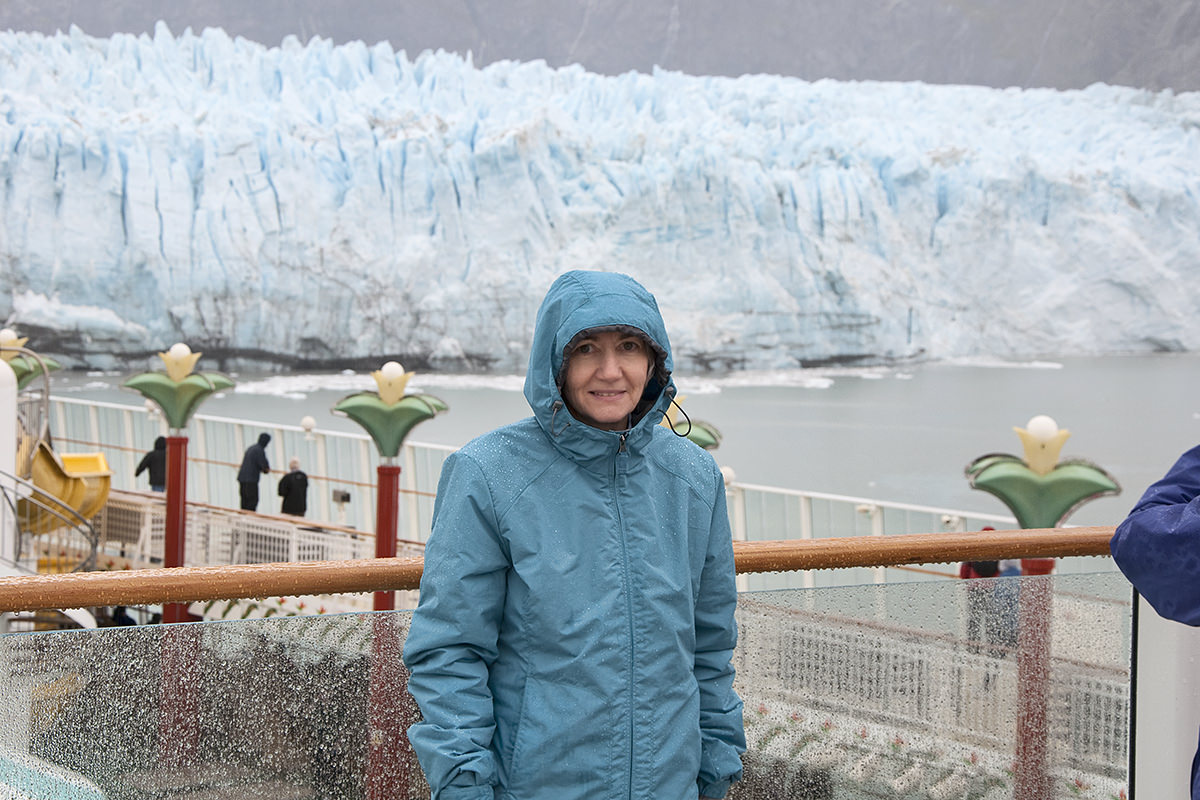 Mom aboard the Norwegian Pearl in Alaska in 2009

Mom aboard the Disney Magic in the Mediterranean in 2010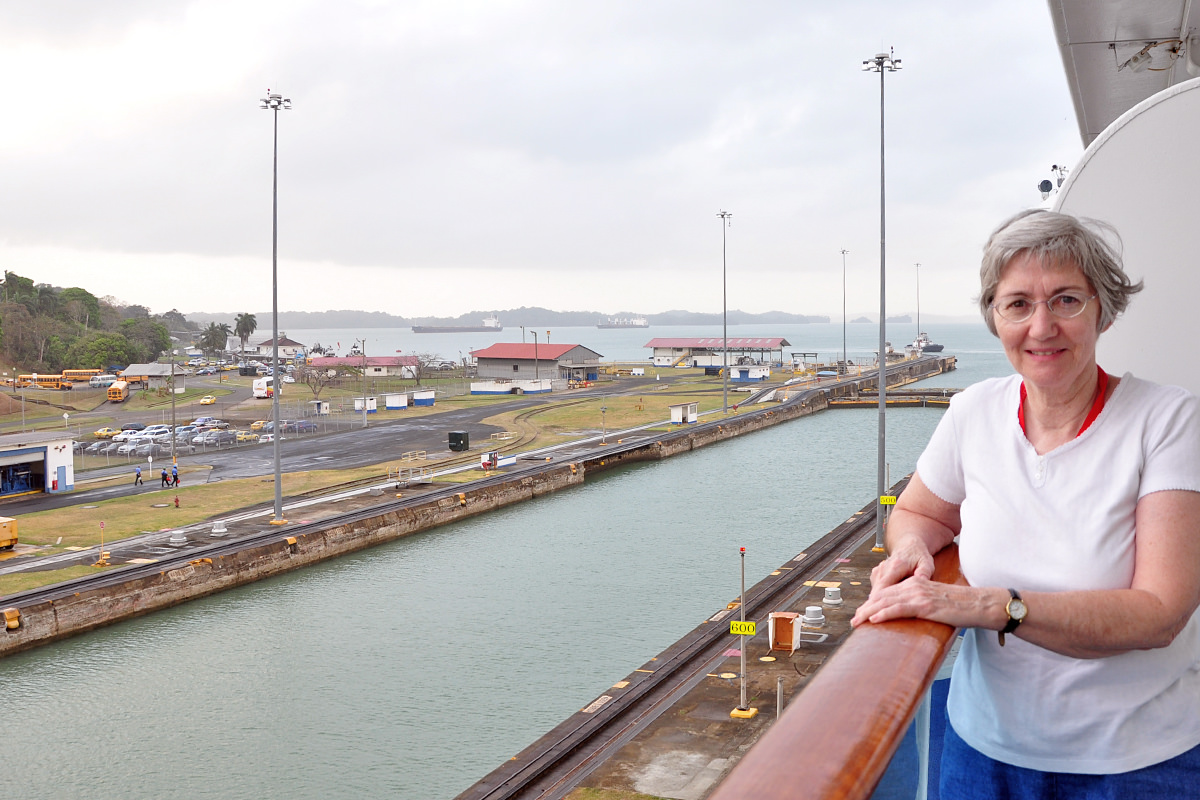 Mom aboard the Island Princess in the Panama Canal in 2012
And, let me tell you, EVERY. SINGLE. TIME. people found out we were going on a cruise there was at least one of them telling us "I would never go on one of those because it's too easy to get sick when you're trapped with so many people on a cruise." Which may be true, but neither me nor my mom ever got sick. Not even so much as a cold on any of the half-dozen voyages we were on.
Meanwhile I've gotten sick after flying on planes, staying in hotels, or attending events where people were sick. I've also been run down by a van in the South of France, hit by a taxi in Chicago, and been run over by a cyclist in Salt Lake City. As if that weren't enough, I've been held up at knife-point in Seattle and at gun-point in San Francisco. And that's just the tip of the iceberg. I've gotten injured and had many other problems... all while not traveling on cruise ships.
So...
Would I cruise again? Of course I would. There are pitfalls, sure... especially in China and especially now. But there are pitfalls in any method of travel. And the positives for cruise travel are really too good to ignore. Even if you're not a big "cruising" person like me.
While I am not much a "cruising" person, I am an amateur woodworker.
And nothing quite tests your resolve as a woodworker than having no budget to build something. I drew up a plan for a gift shop's children's book display and calculated the materials would cost $48 to build. I only had $10-$12 to spend. So instead of actual boards, I scrounged around Home Depot for the cheapest possible lumber. They had warped thin boards for cheap, so I bought $12 worth and just spaced them out as far as I could to hold exactly what was required securely...
It was a strange project. I didn't have the material to use pretty miter joints everywhere, so I used them only in the places they would show, then used butt joints everywhere else. ALL of the boards are curved. I just nailed and glued them into place, straightening as best I could as I went. Worked great, and I had a whopping 3-1/2 inches of board left when I was through!
Whew.
Posted on Tuesday, February 11th, 2020

The Academy of Motion Picture Arts and Sciences finally addressed the omission of Luke Perry from the "In Memoriam" segment of The Oscars telecast... tl;dr, they only have a limited amount of time so he got bumped to their website instead.
Now, far be it for me to tell The Academy how to run their low-rated shitshow, but they can shove one of those little gold statues straight up their collective asses.
First of all... Perry appears in Once Upon a Time in Hollywood, nominated for Best Picture in the same fucking telecast. And he was glorious in it. Totally held his own against Leonardo DiCaprio in a fantastic, critical scene. You can't claim that Once Upon a Time in Hollywood is a great movie without acknowledging his part in it. Of which Quentin Tarantino said this...
"It was really fun," says the director. "I had a couple of different roles I could have put Luke in. Luke was like, 'I want to be on the Western show!' Because he's just a really great rider and he loves doing Westerns. When we did one of his big horse scenes, Luke slides the horse to the front of the saloon and all the other riders fall in alongside him. I was like, 'Luke, do you want us to help you out? Do you want me to put a mark on the ground?' He was like, 'Quentin? You could take a dime and throw it in the dirt and I will land on that dime. The take you'll use is when everyone else gets it right.'"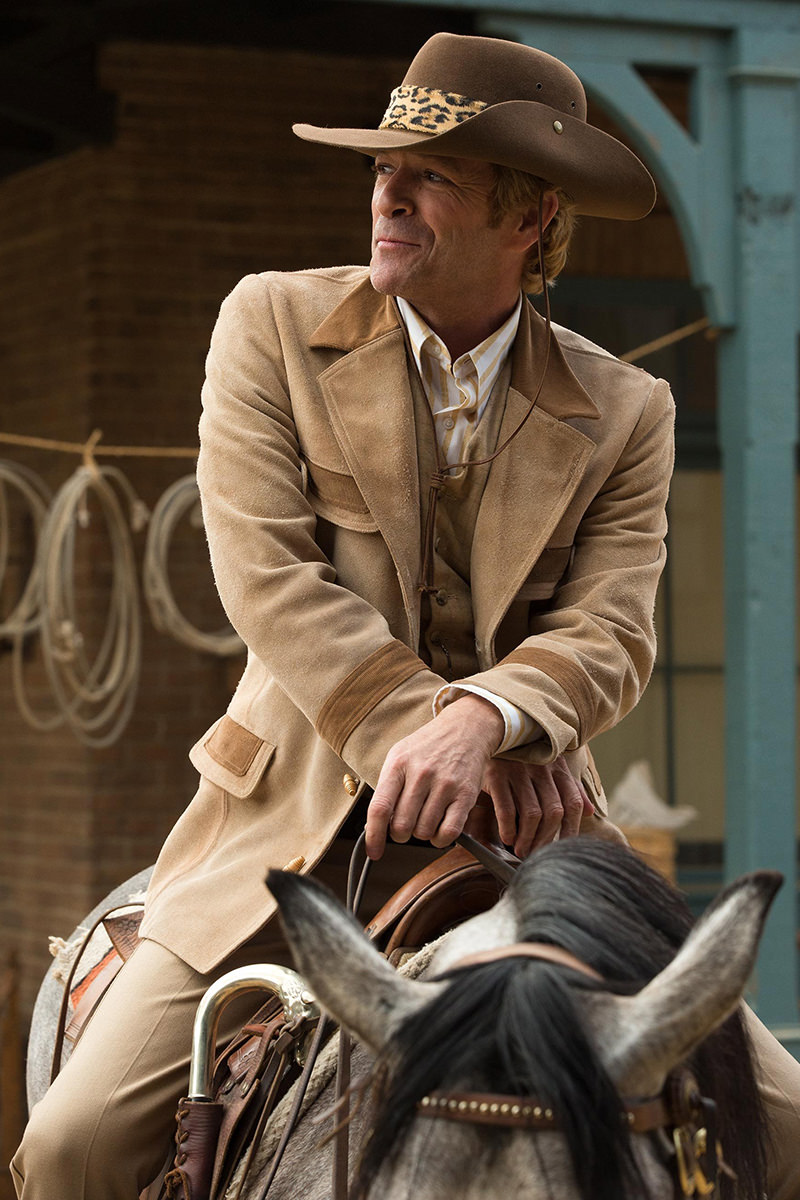 Second of all... THIS WAS LUKE PERRY'S FINAL FILM ROLE!!! How the fuck do you use "we were short on time" as an excuse when the guy's last film is a Best Picture nominee at the time of broadcast? Insanity.
Third of all... did I mention that he was in The Fifth Element? Only like ONE OF THE GREATEST MOVIES OF ALL TIME!
But anyway...
I'd like to end this diatribe on a good note, so here we go...
As you may or may not be aware, I am a Hallmark Movie fanatic who has seen hundreds of them. If you go to the main screen of Dave's Hallmark Movie Page and scroll down to FAVORITE MOVIES you will see Love in Paradise (2016) listed there. This is essentially "The Luke Perry Hallmark Movie" and I reviewed it thusly...

✓ Favorite Love in Paradise (Winterfest • Emmanuelle Vaugier and Luke Perry • January 2, 2016)
Okay, come on, it's a Luke Perry movie! Say what you like about him, he's a surprisingly good actor and can make even the smallest parts something special (remember him in The Fifth Element?). In this one he plays a former Western movie star who's having to do TV commercials for beans in order to make a living. But when a family ranch in Montana calls him away from his pampered New York City lifestyle as a publicity stunt, both parties get more than they bargained for. This one is funnier than you'd think... mostly because Luke Perry has never been one to shy away from poking fun at himself and is just plain funny. As a fake cowboy trying to keep up with a real cowboy's routine, he plays it note-perfect. And you really can't discount Emmanuelle Vaugier as the straight-man, because she's terrific too. The romance is a bit forced, but the chemistry between the leads is flawless. I didn't even mind that this was yet another SAVE THE RANCH FROM EVIL DEVELOPERS story.

In the movie a big point is made about Luke Perry's character being a fake cowboy star who didn't know how to ride a horse. On his movies he had people to ride the horses for him, and he just pretended to mount and dismount. But, by the end of the story, he's a darn good rider and it made me wonder if Perry had to learn how to ride for the movie.
— queue the laugh track —
After Googling for an answer, I found out exactly what Quentin Tarantino was talking about. Apparently I missed the riding movie 8 Seconds (1994) where his prowess in the saddle was showcased. After reading his short interview in American Cowboy, I of course checked out 8 Seconds. The movie was panned by the critics, but adored by fans, and I can see why. Technically it wasn't great, but it had a lot of heart... and Luke Perry was at its center. From there I found other Luke Perry Westerns like Fine Step and A Gunfighter's Pledge plus a series of other Hallmark movies in the Goodnight for Justice series. The guy was a serious cowboy actor. Who knew?
And so... yeah... Luke Perry didn't get an on-broadcast mention in the "In Memoriam" section of The Academy Awards, but he was a dedicated and beloved actor for decades who ended his career in an Oscar-nominated movie. If that's not a qualification, I don't know what is.
And don't ask The Academy of Motion Picture Arts and Sciences because they apparently don't know either.
Posted on Monday, February 10th, 2020

I don't usually share work here that's not my own, but sometimes there's something that really begs to be shared, and I'm all too happy to oblige.
I ran across Michele Rosenthal's work many years ago when I was looking for an illustrator for a packaging project. She has a wonderful paper-cut-out kind of style that I love, and is able to distill concepts down to a simple presentation in a way that looks effortless. I've bookmarked her site (along with a hundred other artists) and check in from time to time to see what's new. A couple years ago, it what this work of sublime brilliance...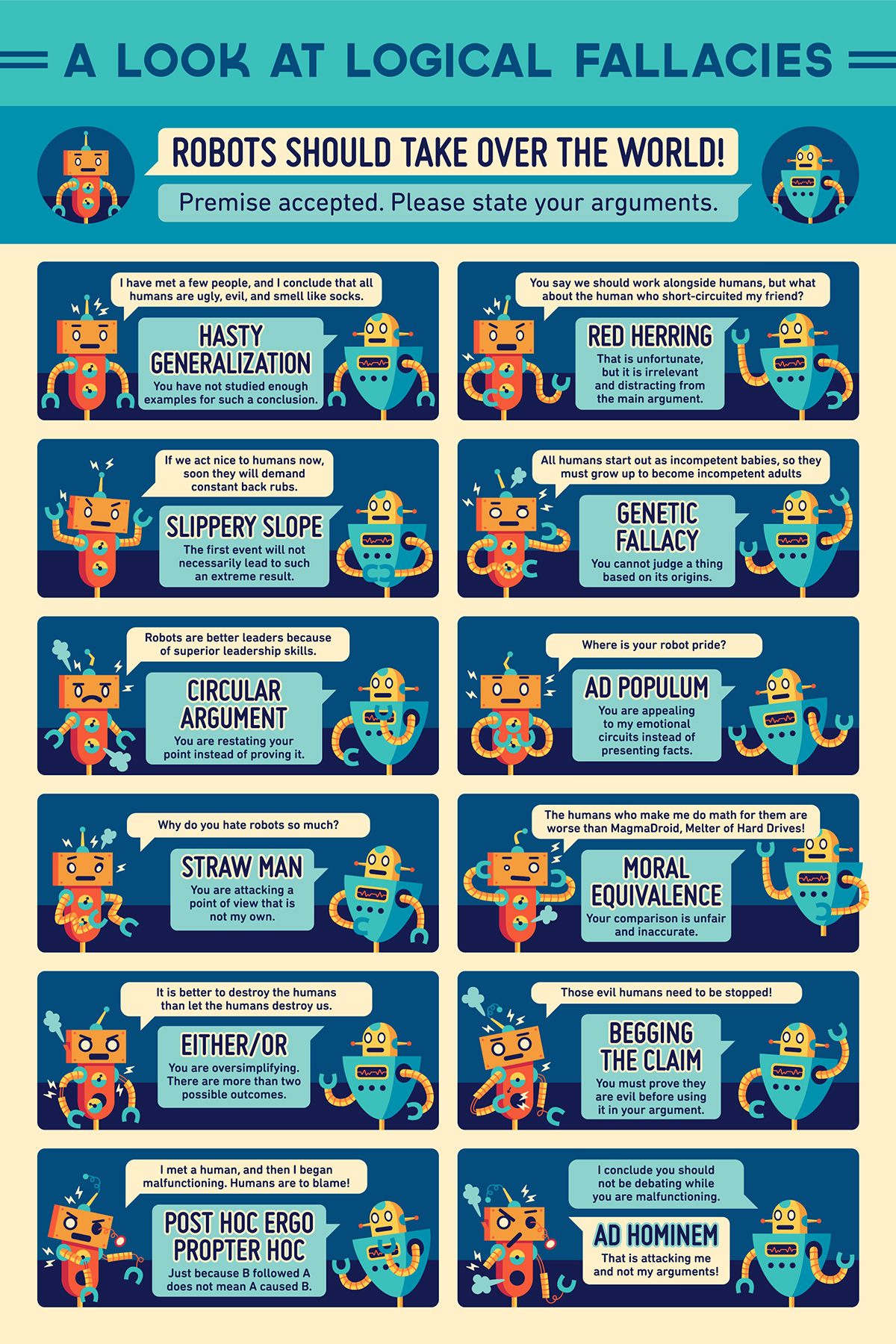 To see the full-size piece or buy a poster, you can visit her website.
Somebody posted it to Facebook today, and I was reminded of how great it was. But the best part was that Michele created some "stickers" that you could paste when you're debating with somebody online and they unload a logical fallacy to support their (poor) argument...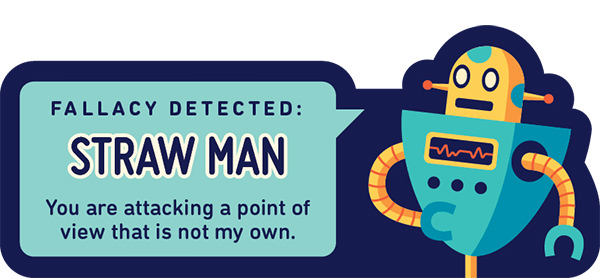 You can see all the stickers on Michelle's website here and here.
I used the stickers exactly one time.
It did not go over well... at all.
In fact, to say "It did not go over well" is a monumental understatement. Their initial reply to my sticker was pretty scathing and yet another logical fallacy. My response was another sticker.
I was unfriended and blocked.
So as not to lose the entirety of my online friends, I just set the stickers aside and decided to use them only in the event of a serious emergency.
Which is all the time, but I'm trying to show restraint. Hey, I'm guilty of logical fallacies myself. I just try not to be mean about it.
Well, mostly.
Posted on Sunday, February 9th, 2020

It's Oscar Sunday but I just don't care, because an all new Bullet Sunday starts... now...

• Crapple! Given my longstanding rant against Apple being complete and total assholes by sticking their customers with shitty butterfly keyboards for years before they FINALLY thought to replace them with something not-quite-so-horrible, this one's for you. It's at the 2-minute mark...
People think this is funny... but, but I'm the biggest Apple Whore I know, and even I was seriously shopping for PCs before the 16-inch MacBook Pro was released. I hope Apple is fucking embarrassed at this, because they should be.

• Gold! I used to do a big thing on the Oscars, but I stopped giving a shit when they kept rewarding the same old crap. This year it looks like things are on a better track. Here's my list...
Best Picture:

Should Have Won

—Jojo Rabbit,

Won

—Parasite. Not the least bit disappointed. Parasite was a remarkable film.
Lead Actor:

Should Have Won

—Jonathan Pryce,

Won

—Joaquin Phoenix. I have no desire to see Joker. It's not the comic book character and I don't care how many accolades it gets.
Lead Actress:

Should Have Won

—Renee Zellweger,

Won

—Renee Zellweger. That was a pretty darn impressive performance, even if I was kinda meh on Judy.
Supporting Actor:

Should Have Won

—Brad Pitt,

Won

—Brad Pitt. It's surprising that Brad Pitt actually lives up to the hype. I've been a fan since 12 Monkeys, and he should have won for Tarantino's Inglourious Basterds AND Once Upon a Time in Hollywood.
Supporting Actress:

Should Have Won

—Scarlett Johannson,

Won

—Laura Dern. Dern is a fine actor, I just hate hate HATE the film Marriage Story. Complete crap. Jojo Rabbit, on the other hand, is genius.
Director:

Should Have Won

—Bong Joon Ho,

Won

—Bong Joon Ho. As a diehard Tarantino fan, Once Upon a Time in Hollywood should have ben a shoe-in. And he was, until I saw Parasite.
Animated Feature Film:

Should Have Won

—Toy Story 4,

Won

—Toy Story 4. I don't think this was as good a finale for the series as Toy Story 3 was, but it was a good story with mind-blowing animation by Pixar.
Animated Short:

Should Have Won

—Hair Love,

Won

—Hair Love. I liked all the nominees... and Kitbull was such a great short. But Hair Love feels new and timely in a way that made a huge impression on me.
Adapted Screenplay:

Should Have Won

—Taika Waititi,

Won

—Taika Waititi. This was the no-brainer of the night.
Original Screenplay:

Should Have Won

—Bong Joon-ho and Jin Won Han,

Won

—Bong Joon-ho and Jin Won Han. This was a tight race for me. I loved Rian Johnson's Knives Out, 1917, and Once Upon a Time in Hollywood... but Parasite felt truly original. Don't ask me why Marriage Story is here though. It's just people yelling at each other.
Cinematography:

Should Have Won

—Roger Deakins,

Won

—Roger Deakins. Despite not liking The Irishman even a little bit, I think the cinematography was great. And Once Upon a Time in Hollywood was gloriously shot. But 1917 was next-level, and I regret deeply not seeing it in theaters.
The love for Parasite, which would usually be thrown in the "Best Foreign Language Film" category (it still was and won there too), was a breath of fresh air. I didn't see it until last week or else it surely would have been one of my favorite movies of 2019.

• Mythical! If you haven't been watching Mythic Quest: Raven's Banquet on Apple TV+, it's worth a look. Especially if you love video games. Apparently Rob McElhenney (who is at his most Rob McElhenneyist here) and Charlie Day consulted heavily with Ubisoft to get some semblance of accuracy even though this is a comedy about what goes on behind the scenes at a video game company. It shows. The show is absolute gold, and will easily make my list of favorites for 2020. It's not quite The Office or The IT Crowd, but it kinda draws from both...
The jokes come fast and most of them land well. I cannot believe that they got F. Murray Abraham. He has the perfect amount of gravitas for his part. But this is Rob McElhenney from start to finish and he's absolutely perfect.

• Starch! Wow. How come nobody told me that adding corn starch to scrambled eggs makes them taste like they've been slow-cooking for 30 minutes? This is reeeeeally nice. So creamy and rich. If you haven't tried it, these are pretty great. Also works wonders with omelettes. I will never cook scrambled eggs without it.

• NEWS: Antarctica logs hottest temperature on record with a reading of 18.3°C. That's 65°F, people. When I visited, there were many times I took off my jacket because Antarctica was too warm to have it on. I worry for the wildlife which calls this continent home. How is this going to disrupt their habitat and can they survive it?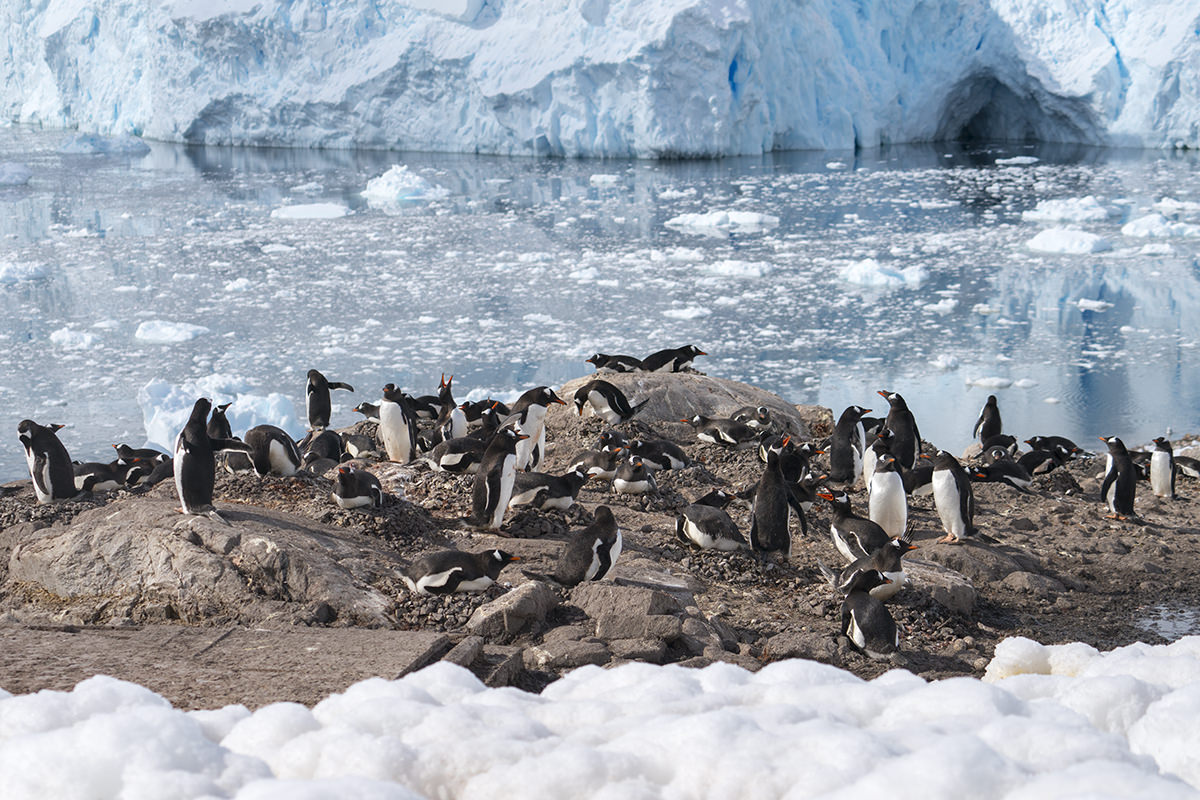 Penguins are already having a tough time of it, and things look to be getting worse. And then there's polar bears starving in the Arctic. Troubling times for our planet.

• trAIn! Apple has put Artificial Intelligence "Machine Learning" in their iPhone and are making good use of it (especially with the camera). As time goes on, it's just going to be surreal how it changes our lives. Take for example this footage from Denis Shiryaev, which upscaled the video to 4K with machine learning and resounded it... Arrival of a Train at La Ciotat, by Auguste and Louis Lumière, 1896...
Looks old, but almost new. Here's the original footage...
We are really close to the unreal easily being mistake for the real, if we're not there already.

• Netflix Fix! And, lastly, apparently there is a God... you can finally tell Netflix to STOP AUTO-PLAYING FUCKING PREVIEWS WHILE YOU ARE TRYING TO SEARCH FOR SOMETHING TO WATCH! People have been complaining about this bullshit FOR YEARS and Netflix did nothing. Apparently somebody finally figured that customers were worth listening to... or maybe it's because many other streaming services are treating customers with a lot more respect by not irritating the ever-loving-shit out of them...
Apparently you set it once in your preferences and it goes into effect everywhere. I haven't yet verified this, but I sure hope it's true.

And that's a wrap, little golden statue dude!
Tags:
Apple TV+
,
Bullet Sunday
,
Food
,
Movies
,
Netflix
,
Television
,
Travel
Categories:
Apple Stuff 2020
,
Bullet Sunday 2020
,
Food 2020
,
Movies 2020
,
Television 2020
,
Travel 2020
—
Click To It:
Permalink
—
4 Comments: Click To Add Yours!
Posted on Saturday, February 8th, 2020

As I've mentioned before, there's nothing more stressful in my life than when my cats are sick. I've been very, very lucky*. Other than a rare hairball and an even more rare "scarf and barf," they've been really healthy cats, and they rarely puke.
So when Jenny started being antisocial, then puked in her dinner this past week... then puked in her dinner again when I cleaned it up... I was understandably freaking out. I tried feeding her a snack at midnight and she threw it up immediately. Not good.
Usually Jake and Jenny sleep in their separate beds like they are tonight...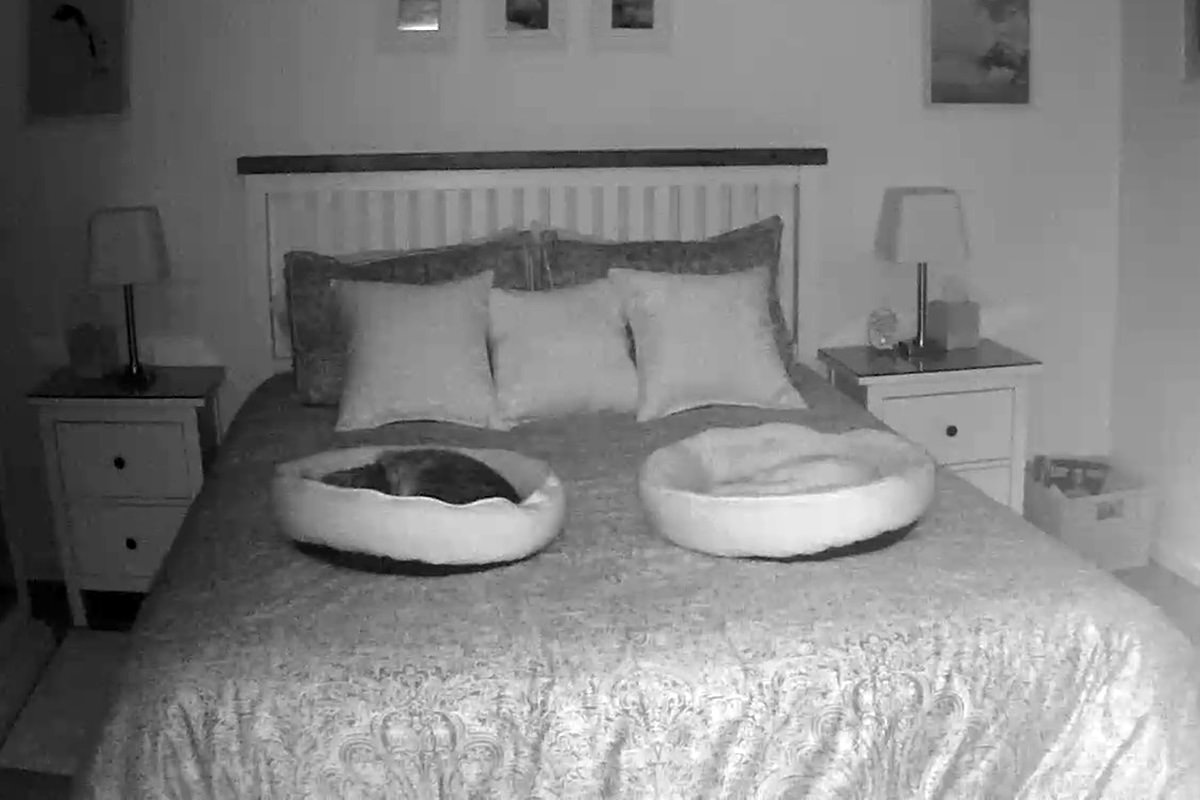 But with Jenny feeling so terrible, Jake sought to comfort her by crawling into bed with her and watching over things while she slept...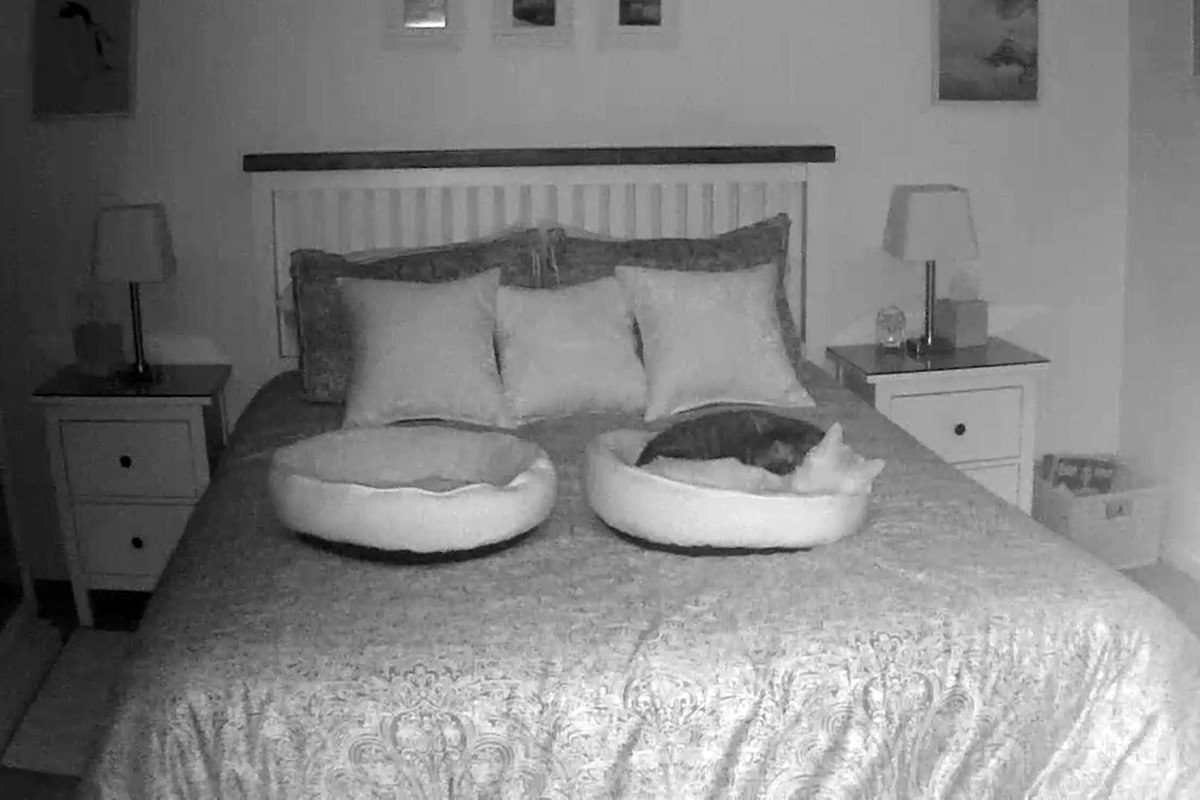 Whether she wants him to or not. I kept checking in on them with the security cameras and saw that she crawled to the other bed... only to have Jake follow her there...
After I dropped a plate on the floor, I thought I probably woke them up. But only Jake was awake. Jenny was still passed out...
He's such a good brother. He does the exact same thing when I take them to the vet and Jenny goes catatonic...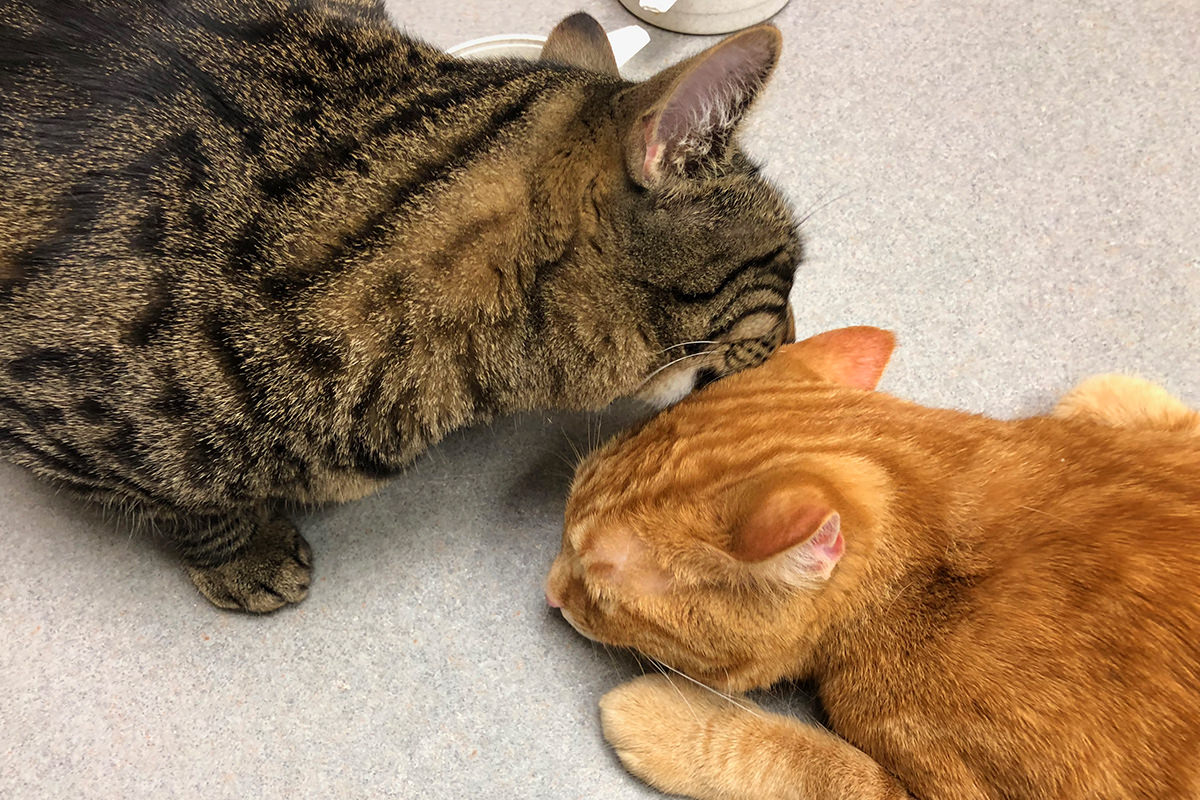 The following morning Jenny had thrown up a bunch of water. Rather than panic and head immediately to the vet, I decided to feed her only small portions to see if she could keep food down. After a day of that, she had a full dinner, but was still being anti-social. She wouldn't let me near her.
Then the next morning she had breakfast without incident, then showed up while I was working in bed and was back to her usual self...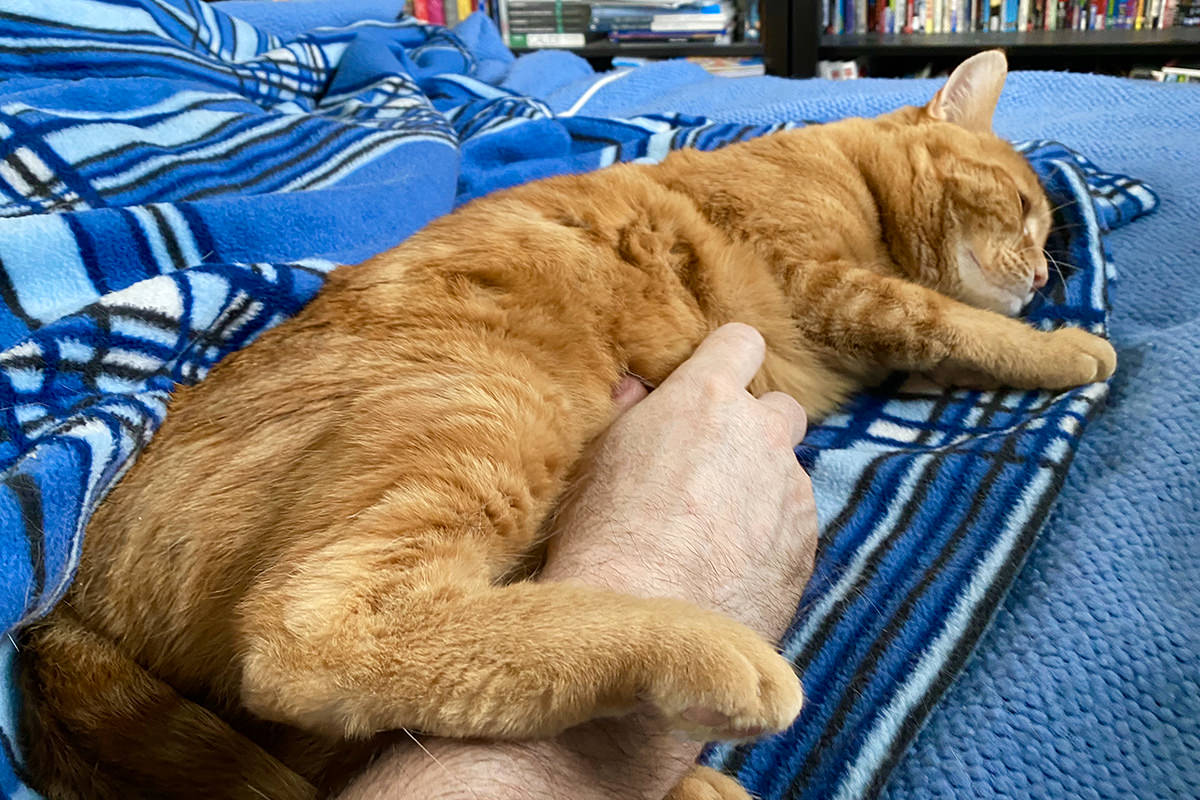 And then there's Jake.
I've been waking up the past several mornings with him LAYING ON TOP OF ME. I finally put a security camera in my bed so I could see what was up. Turns out there's no reason for it. Jake comes wandering in around a half hour before breakfast time, then just climbs right on top...
Which is nothing new. He's constantly crawling up on me even when I'm not in bed... hoping for some scratches...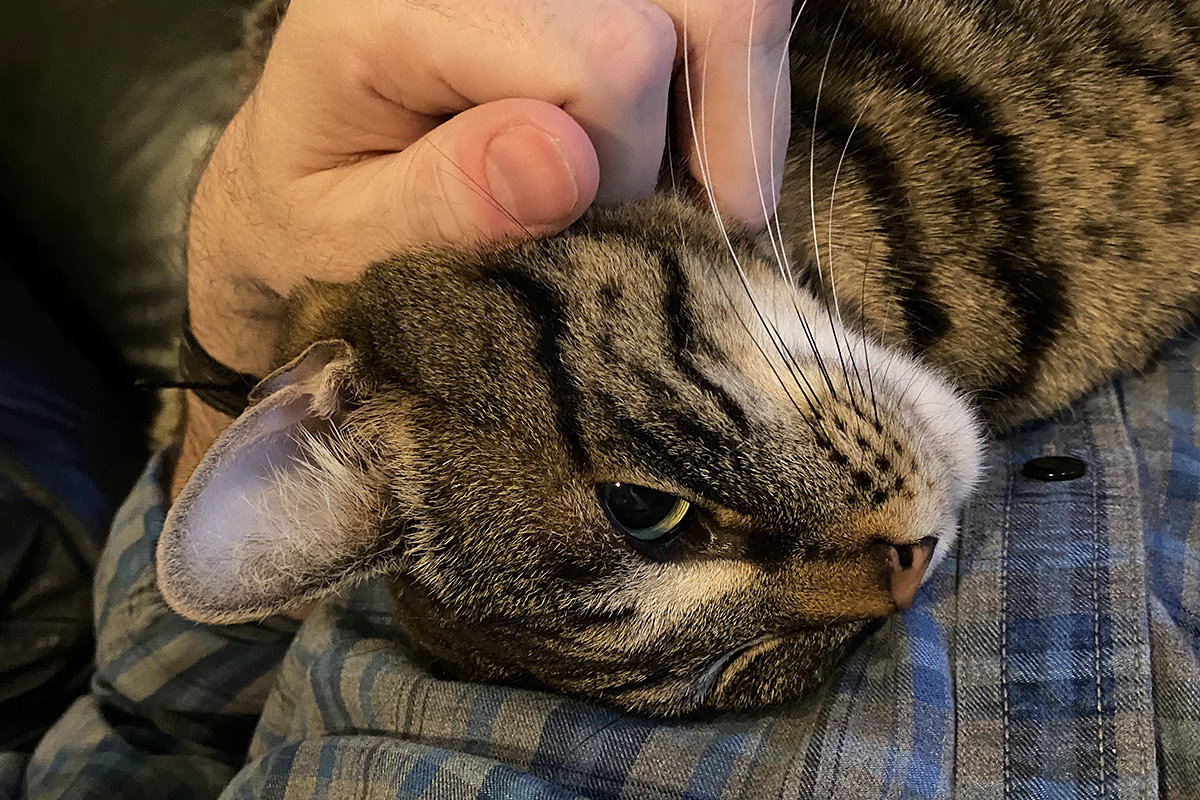 The weather has been warming up at an alarming rate. This has meant that Fake Jake is leaving his shelter more and more. He's out most of the day now unless it's pouring rain out. Nights are still spent laying on the warming pad though...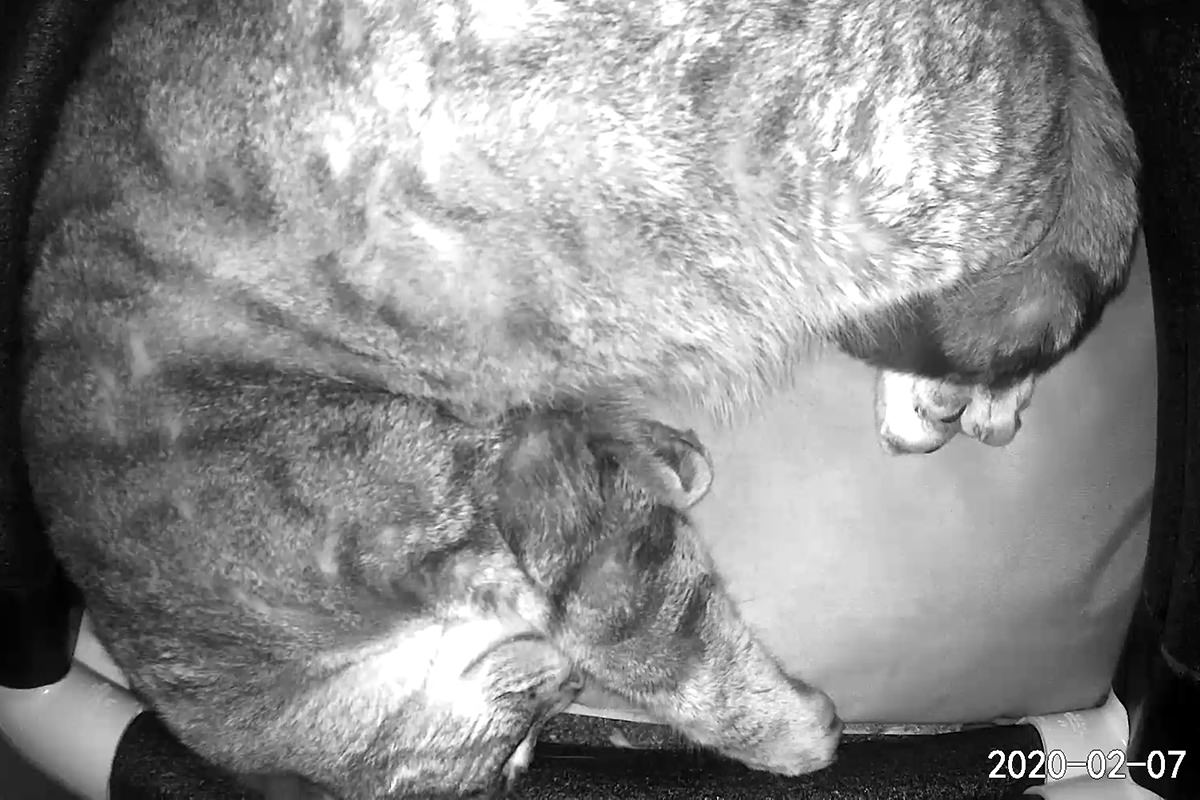 When I got home yesterday, Fake Jake came meowing and running from across the street. He was desperate for some scratches and pets. Then, as usual, he got overly-enthusiastic and snagged me after about five minutes. I just wait until it happens because I know he's not being mean... he's just being a cat... and it seems unfair to cut his time short...
Oh well. That's what anti-biotic spray and band-aids are for, right?
---
*Seriously lucky. I've only had three real "incidents" for the entire four years I've owned them...
Jake started puking and couldn't even keep water down. Eventually he was so lethargic that he didn't even put up a fight when I packed him up in the kitty carrier and took him the vet. When I got there they had a line and asked if he had been using the litter box. I didn't know, so I checked the security system and found out that he had been trying to go to the bathroom many times... but I never heard anything drop when the Litter-Robot cycled. They immediately admitted him and, sure enough, his urinary tract was completely blocked. It was horrifying, and he had to stay in the hospital while I went to Hawaii and back.
Jenny had itchy skin so bad that she was scratching herself raw to bleeding. She was clearly miserable, waking up from sleep in order to scratch. I did my best to scratch her with fingertips whenever I saw her scratching so she wouldn't scratch with her claws. I coudn't figure it out, as there were no dietary changes and the whole-home humidifier keeps the air from going too dry. Eventually I started saturating her fur in the itchy spots with a rotating assortment of anti-itch sprays until, eventually, everything went back to normal.
Jake was hiding and could not be coaxed out. I was mortified that his urinary blockage came back despite switching to a pricey prescription food. At the vet they couldn't find anything wrong. When I brought him home, I saw he was limping badly. Checked the security cameras and, yikes, he fell down the stairwell and hurt his leg.
Posted on Friday, February 7th, 2020

Every year the Six Colors blog on all things Apple issues a report card. For the past week I've taken time when I have a free minute to make up a report card of my own.
I should start out by saying that I remain disappointed that Six Colors doesn't have a "Customer Service" section on their report card. If they did, I would give Apple an F- or whatever the lowest possible score is. The two horrendous incidents I endured in 2019... both of which were 100% Apple's fault... were so trauma-inducing that I STILL haven't been able to sit down and write out a blog entry on what happened. Every time I start, I get so overwhelmed with seething hatred that I have to stop. Maybe one day. But, suffice to say, Apple "customer service" is so downright horrific that the very thought of it has me questioning if I ever want to buy anything from Apple ever again.
But on to the report card...
The Mac — B
Over the past five years I would have given Apple a D. Their shitty, shitty "butterfly" keyboards on their MacBook Pro laptops were a fucking disaster, and everybody hated them. But Apple being Apple felt that everybody was wrong and kept using the stupid things. They finally came to their senses and released a MacBook Pro with a "scissor" keyboard in 2019 and it made all the difference. I'm still upset that they removed Firewire, USB-A, and MagSafe from a so-called "pro" laptop, but I guess Apple is going to remain being Apple and ain't going to stop any time soon. The giant trackpad I was anticipating liking actually ended up being a negative, because it takes up a huge amount of space and is easy to touch when you don't mean to. Also? I have a hard time selecting text with it or click-dragging, something I've never had a problem with before.
When it comes to the desktop Macs, I have to drop Apple down a grade. They are so focused on the high-end Mac and iMac that it feels like the "models for the rest of us" are getting shafted. And don't get me started on the Mac mini. The original idea for that was to give people on a budget a way to afford a Mac by bringing their own periphreals. But now? The cheapest model is $800. EIGHT HUNDRED DOLLARS! If this is meant to be an entry model which is priced to be budget-friendly, it fails spectacularly.
When it comes to MacOS X, which is apparently included in this category, I am indifferent. It feels like MacOS has been stagnating for years. Nothing overly-exciting or truly fresh and new has been released in what feels like forever. To me, MacOS X Catalina was actually a step backwards. My MacBook Pro comes with a fingerprint sensor for TouchID. You would think that this means you are done with entering your passwords. You would be wrong. I am constantly entering my fucking Apple ID password. CONSTANTLY! It is fucking embarrassing just how bad Apple is at security. They put on this huge show of how they are encouraging people to use stronger passwords, then completely sabotage it by making people have to enter these longer, more difficult passwords over and over and over and over and over and over and over and over and over and over and over and over and over and over and over and over and over and over and over and over. Who the fuck is going to use a complex, hard-to-crack password when you have to keep entering it over and over again? Nobody. Apple's claim to be making strong passwords more common is 100% bullshit. If anything, Apple's piss-poor handling of passwords encourages easier-to-remember, easier-to-crack passwords.
iPhone — A
I love, love, love the latest iPhone. The phone part is all the same... just a bit faster is all... but the camera is sublime. The camera is everything. I wrote extensively about the iPhone 11 Pro and its miracle-camera here. If anything, my opinion has only gone up since I wrote it. Between Night Mode, Deep Fusion, three lenses, and the amazing quality of it all, I almost never use my DSLR any more. Why would I drag it around everywhere when I can take shots like these with my frickin' phone?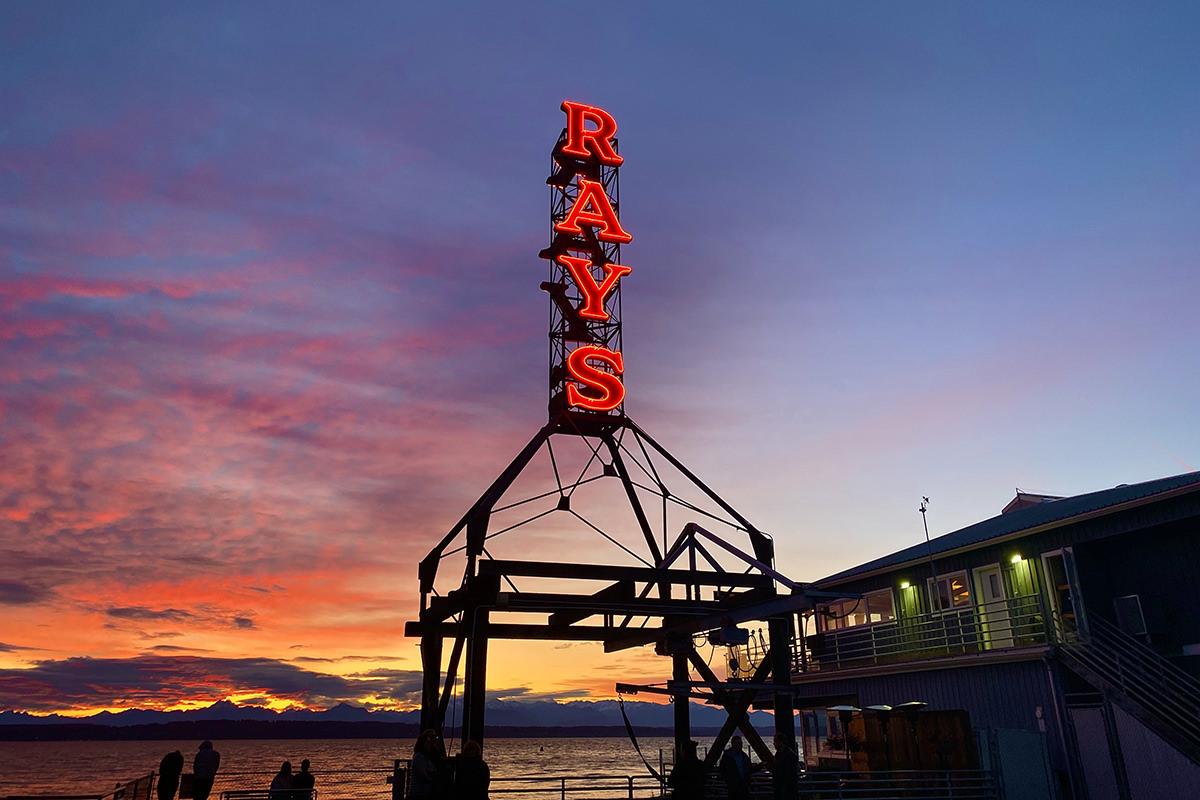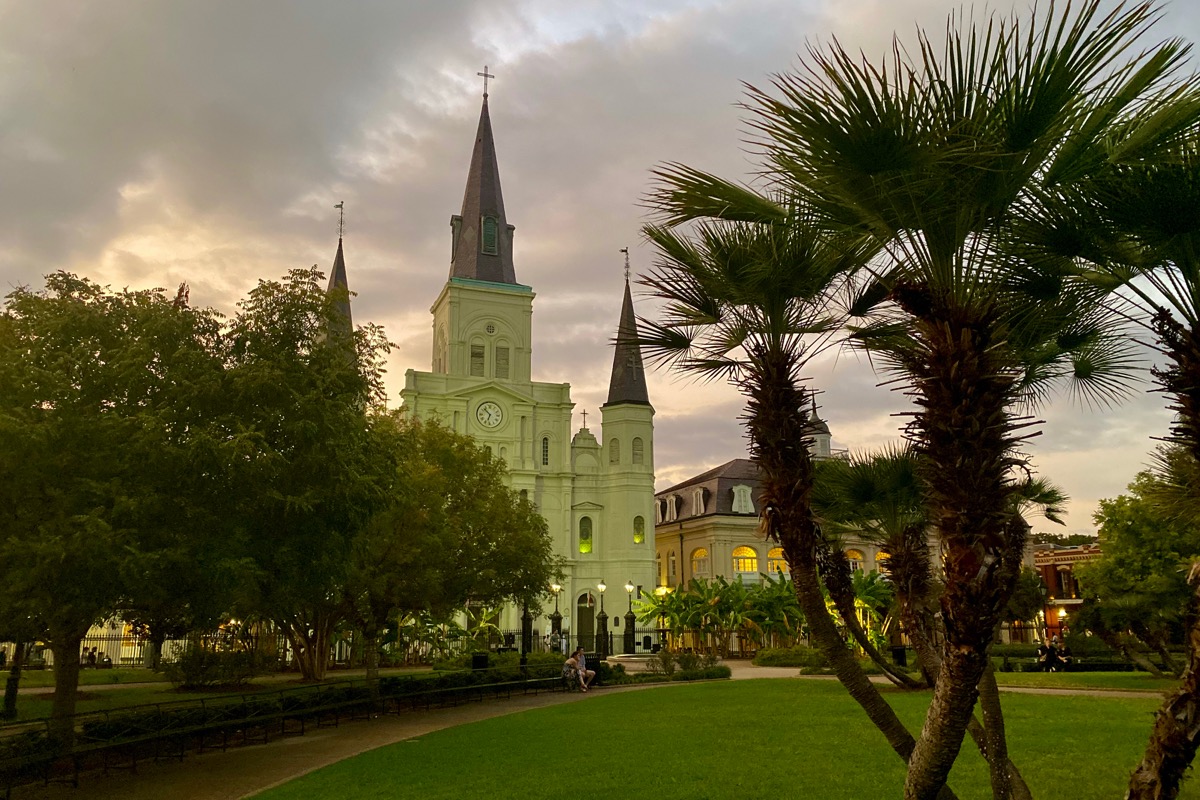 Amazing. If this keeps up, in another couple years most people won't even think about buying an actual camera.
iPad — C+
iPad is an amazing, amazing tool. Drawing and painting on it is a sublime joy that still amazes me. And, as they release newer models of iPads and Pencils, it just keeps getting better and better. Where the problem lays is with iOS for iPad. It's just so darn bad. I have been trying and trying to figure out how the gesture-based multi-tasking works, and just when I think I understand it something happens which makes me realize that I absolutely don't. In all honesty, this aspect of iOS for iPad needs to be completely gutted so they can start over from scratch. Just burn it to the ground and start over. The user interface is a place where Apple usually excels. But this? THIS?!? Complete shit. It doesn't matter how good the hardware is when the OS driving it is this cumbersome. And so I averaged them together to get my grade.
Apple Watch / Wearables — C
I'm probably not qualified to comment here because I don't own an Apple Watch and have no plans to buy one. They are just so darn thick that I find them uncomfortable. Why they aren't investigating putting the battery in the band somehow or doing something to make them thinner is a mystery. Because if you've got a thin wrist like I do, it's just not a very good option. It's a real shame too, because I really like the health features. That being said... if a chunk of money lands in my lap, I might bite the bullet anyway because there's just so much good stuff to be had so conveniently.
AppleTV — D
Apple seems content to let AppleTV languish, and it's really too bad. The interface is abhorrent. So horribly difficult to use. Have a ton of movies? I hope not. Because you'll spend a lot of time scrolling and scrolling. But what's worse is that Apple content is just plain shitty to stream. Constant buffering errors, drop-outs, and pauses. And before you blame my fiber internet (which is what Apple does)... I don't have this problem with ANY OTHER SERVICE when streamed on my AppleTV. Not even with Disney+ or Amazon Prime streaming on Ultra HD!
Then there's Apple's idiotic attempt at doing away with logins by tying services you purchase through them to your Apple ID. I say "attempt" because the shit DOES NOT WORK. I can't tell you how many times I've subscribed to a streaming service through the AppleTV in my living room then can't use it on the AppleTV in my bedroom. And since you don't get a login, there's absolutely nothing you can do... EXCEPT NEVER, EVER, EVER SUBSCRIBE TO ANY STREAMING SERVICE THROUGH APPLETV! As if that weren't enough, if you subscribe to a service through AppleTV that doesn't have a desktop app, you can't watch it on your computer. You could probably watch it online through the provider's website if you got a login from AppleTV, but you don't so you can't. It makes no sense... NONE... as to why you'd ever go through Apple.
And don't even get me started on the shitty, SHITTY fucking remote they bundle with the thing. It is the single worst remote control I have used on any product ever. Constantly grabbing it by the wrong end. Constantly having trouble navigating content. Constantly losing the little fucker in my couch. I HATE it. And I mostly hate AppleTV, even though most third-party apps are pretty decent... and those gorgeous screen savers are sublime.
Services — C
I don't subscribe to Apple News+ or Apple Arcade, and only have Apple TV+ because I get it free for a year. I subscribe to iCloud, but it's so horribly priced that I only buy the bare minimum for iPhone backup. The only plus is that iCloud Drive is content to just be a cloud drive, which is more than you can say for DropBox, who keeps adding the most ridiculously shitty and bloated services to their cloud drive that I just don't want. About the only thing I can truly comment on here is paying for Apple services. For weeks I've been getting a pop-up on my Apple Wallet asking me if I want to link my Apple Cash as a payment method at Apple. I absolutely do. Except it fails when I make the attempt. EVERY FUCKING TIME!
Why in the hell do they bother asking if it doesn't ever work?
HomeKit

HomeShit — F
I fucking hate HomeKit. It's a flakey, incomplete, crusty asshole of a technology. After waiting forever for compatible devices to come out, I started buying them... then immediately stopped because the experience was so bad. Rarely worked well. Sometimes didn't work at all. I'd recommend that Apple just give it up already, but they just joined a consortium with Amazon, Google, and the Zigbee Alliance, so maybe they're on the right track now. Hopefully this will at least result in a workable technology, because I am totally ready to have my home automation built into iOS.
Hardware Reliability — B
My score is comparative. When compared to every other tech company, Apple reliability is pretty darn good. It's not perfect, however. I've had to replace hard drives in two Macs in two years because the internal drives started failing.
Software Quality — F
Where do I start? I hated iTunes. I railed against what a profoundly shitty app it was and how bad my digital life was with it. Then they released the AppleTV app for MacOS and the Music app for MacOS and they are so fucking horrendous that I find myself longing for iTunes again. The TV app is the worst of the bunch. Try finding anything. You can't. Can't find the content you own easily. Can't find new stuff to buy AT ALL. When I go to the "movies" tab, for example, there are a bunch of things that AREN'T EVEN FUCKING MOVIES...
And that's just the tip of the iceberg. Everything from Photos to the App Store to Books to Messages have serious problems and Apple doesn't seem to give a shit just how bad an experience it is.
Developer relations
As I'm not a developer, I can't really comment here. Except to say that I still question Apple's App Store policy of taking 30% of in-app purchases. That seems high considering all they do is process payment. Credit card charges aren't nearly that high, and it seems an absurd percentage in exchange for the convenience. In-app purchases should just be another reason why developers love developing for iOS. As it is, many developers just don't use it because the cut is too high. Want to buy a comic book in Comixology? Sorry. Have to go to the website and buy it that way because Amazon apparently doesn't have margin enough on books to give away 30%.
Environmental/Social/Societal Impact — D
Apple seems increasingly willing to suck up to the Trump Administration... wanting to play nice to get tariff exemptions, I'm guessing. From not speaking out against outright lies about President Trump convincing Apple "to open a new plant in Texas"... to Tim Cook (WHO IS GAY) sucking up to Cheeto Jesus even though he has been rolling back LGBTQ rights at every opportunity, I am disgusted to my very core on this. The only reason Apple gets a D instead of an F is that they seem to continue to improve working conditions and environmental aspects of the company abroad. Still a lot of room for improvement (and it's happening way too slowly), however.

And that's the end of that. Nobody wishes I could have given Apple better scores than I, but things are sliding so badly in so many areas that I really didn't have much choice. The lone exemption being the iPhone, which is better than it's ever been.
And one of these days... I promise... I will finally unload on the heinous state of Apple Customer Service that I had to endure. It is one of the most mind-boggling, mind-blowing things I have ever experienced in "service" and that is saying a lot considering the crap I've had to put up with over the years.
Posted on Thursday, February 6th, 2020

I haven't had a chance to play video games in months.
I bought Untitled Goose Game the day it was released on Friday, September 20th, played it through the weekend, then never picked up my Nintendo Switch again. The brand new LEGO Jurassic World game I bought for Black Friday hasn't even been taken out of the wrapper. That's a darn shame, because it looks like big fun...
Monday when I got home I had to tear apart my media center to diagnose why I had no internet. I discovered pretty quickly that one of the cats was underneath and hit the fiber box so it dropped and came unplugged (found a toy there and the security cameras showed Jenny was the culprit). Since I had it pulled out, I unhooked everything and started re-wiring everything from scratch. Since I had gotten rid of cable internet and satellite TV and wired speakers and such, I was able to rip out a bunch of junk that was adding clutter for no reason.
I was seriously considering not plugging my Nintendo Switch back in and tossing it in the drawer with my PlayStation 3, Xbox One, and Wii-U. Why bother to have it out when I'm not playing it?
On one hand, this is pretty sad. I love video games and would dearly love to have more time to play them. On the other hand, I have hobbies like woodworking and drawing/painting that I'd much rather be doing over playing video games.
Which has lead me to the conclusion that the Nintendo Switch will likely be the last video gaming console I buy. And boy does that make me feel old. I mean, ME, NOT PLAY VIDEO GAMES? Insanity.
Not wanting to be this old this quickly, I plugged the Switch back into my media center. Who knows if I'll ever have time to play it, but at least it fends off my impending decrepitness for a while.