Posted on Friday, January 17th, 2020

Happy birthday to one of my favorite people on earth: BETTY WHITE! 98 years young! I've been a fan long before The Golden Girls... mostly thanks to appearances on The Tonight Show and reruns of The Mary Tyler Moore Show.
Anyway...
Today I finally finished a project I've been working on all year long (ha!), so I decided to leave a couple hours early so I could bake bread and do some cooking.
Namely, trying to figure out the perfect egg bite recipe.
There are dozens of recipes on the internet, possibly even hundreds. I've gone through a lot of them and have cooked many of them. Eventually I started experimenting on my own, combining recipes and adding my own ingredients.
Some things I've learned...
Green onions, purple onions, sweet onions, any kind of onions make the entire egg bite taste like onions. If that's your thing, go right ahead. I avoid avoid avoid.
Cottage cheese makes them more fall-apart, so I avoid it.
Most cheeses are too mild to have much impact. I eventually solved this by using SHARP Cheddar Cheese and spicy Queso Blanco (Totino's brand, which sucks for chips, works really well).
Bland egg bites are yuck, and most of my experimenting was trying to find a way to spice them up while still getting a good balance of flavor. Again, Queso Blanco was my solution.
Many of the recipes I found call for Greek yogurt (anywhere from two tablespoons to a quarter-cup). I didn't find it made a lot of difference, especially after I started going down the Queso Blanco route.
Which brings us to...
Dave's Spicy Egg Bites.
Start by dumping all this in a blender...
3 Large Eggs (or 4 Egg Whites)
1/4 cup Queso Blanco (plus 1-2 Tbs. extra, if you like added spice)
1/2 cup Sharp Cheddar Cheese
1 Tbs. Sour Cream
1/4 tsp. Ground Black Pepper
1 Tbs. Crumbled Feta Cheese (optional)
1/8 tsp. Tabasco (optional)
Blend on medium speed until well-mixed. Then add...
1/4 cup Red Peppers, diced into small pieces then heated in a microwave-safe bowl until they just start to brown. I cook for 1-1/2 minutes, stir, then cook for another 1-1/2 minutes. Your microwave may vary. Don't let them burn!
If you want ham or bacon in them, dump in a 1/4 to 1/2 cup of whatever. Be forewarned that a lot of extra stuff will cause the egg bites to fall apart easier.
Pulse-blend on slow just until mixed, don't pulverize the peppers!
Spray silicone egg cups with cooking spray (I know they say you don't have to, but they always stick if I don't). Evenly divide egg mixture amongst cups. Place a cup of water into the bottom of your instant pot then lower the silicone bite tray into the pot with the wire steam rack. Most recipes say to put a circle of foil on top of the egg tray so condensation doesn't drop onto the eggs. I don't bother.
I have an 8-quart Instant Pot. I have no idea if this makes a difference if you have the 6-quart, but I often have to increase cooking times from recipes I find. There are two ways I've tried to cook these things. There doesn't seem to be a big difference. I prefer to steam because they seem softer, but I am including the pressure-cook version which also works...
STEAM: Cook on STEAM-HIGH for 15 minutes. Quick-release. Cool/deflate for 5 minutes, then gently pop or scoop out of the cups.
PRESSURE COOK: Cook on PRESSURE-LOW for 10 minutes. Natural-release for 5 minutes, then quick-release. Cool/deflate for 5 minutes, then gently pop or scoop out of the cups.
If you don't eat all of them, you can put them back in the silicone egg cups and use the provided plastic lid to store them in the refrigerator for a few days. I just pop them on a microwave-safe plate, cut in half, then cook for 30 seconds to warm them.
If you're not going keto you can chop them up and eat them on toast, which is my most favorite way to eat them. Also delicious? Chop up, mix with crispy hash brown potatoes and more cheese, put in a steamed flour tortilla with salsa.
These are pretty good stuff, if I do say so myself, and it's the Queso Blanco which ended up being the key. I didn't find it on any recipe I dug up, which is strange. Adding it seems obvious, it was the other factors that took a lot of time to figure out (I wasted many a batch with different onions and cottage cheese until I got rid of them completely).
I'll keep experimenting and post any changes if I find out they work better.
Posted on Thursday, January 16th, 2020

Ugh. NBC just released the details of their new "Peacock" streaming service and it's not good news for me.
I have been ditching online streaming services right and left in an attempt to save money. I've decided that I'm just going to rotate between them so I have no more than two active at a time. Hulu and Netflix are getting temporarily dumped in favor of CBS All Access so I can watch Picard later this month. Then it looks like I'm going to have to dump that when all the Picard episodes have aired so I can switch to NBC's "Peacock" service for Will Forte's new MacGruber series. I loved the shorts on Saturday Night Live and really loved the MacGruber movie, so there's no option for me to avoid "Peacock" as I had planned...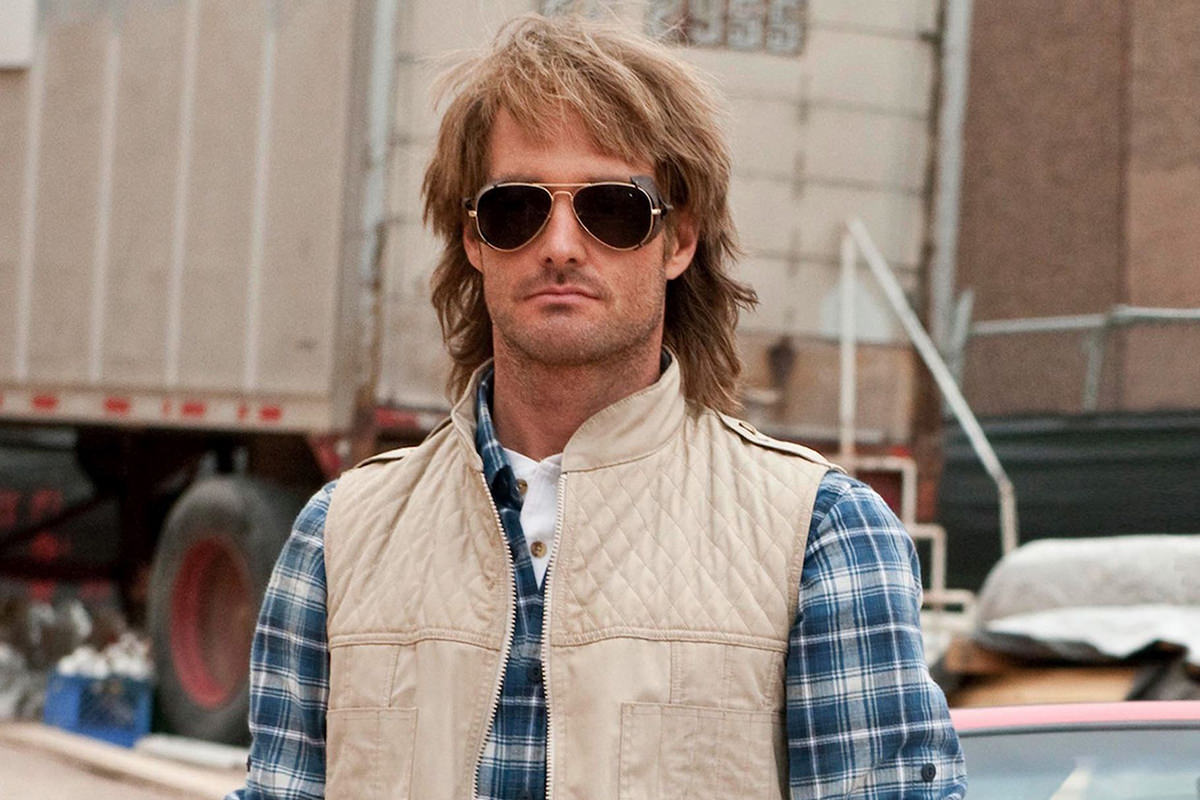 I hope hope hope that Kristen Wiig will at least do a guest-shot as Vicki St. Elmo on MacGruber... but she's got so much going on with movies and such that it's probably a long shot.
So let's take stock of where I'm at with paid streaming services, shall we?
✓ Fubo (My main service for television)
✓ Disney+ (Prepaid for three years)
✓ Apple TV+ (Free for a year)
✓ Amazon Prime (Free with Prime membership)
✓ HBO GO (Free with AT&T cellular plan)
• Netflix ($13/mo. when I need it)
• ABC Hulu ($6/mo. when I need it)
• CBS All Access ($6/mo. when I need it)
• NBC Peacock ($5/mo. when I need it, starting July)
• Sundance Channel Now ($5/mo. when I need it)
• Hallmark Now ($6/mo. when I need it, assuming they stop being bigoted assholes)
Such a load of crap. The pricing almost ensures that people will not keep their subscriptions year-round but will instead rotate between everything like I'll be doing. They would be a lot smarter to drop from $6 a month (average) which will likely net $18 from me annually to a pre-paid yearly plan of $40 which would get them double the revenue. But oh well. I'm sure there will eventually be some kind of shakeup and consolidation, because there are likely even more streaming services on the way.
The biggest losers? Cable and satellite companies who have fucked over their customers for decades by forcing expensive massive packages with channels people will never watch. Had they gone à la carte ages ago, they could have survived this. As it is? Good riddance.
Posted on Wednesday, January 15th, 2020

The plan was to meet a friend for dinner in nearby big city 20 minutes away. But it was pretty dark at 4:30 and snowing like crazy so I called to cancel. Turns out my friend had forgotten all about meeting up, so it was no harm no foul. Instead my dinner consisted of veggie hot dogs. Which was lame, but better than the bag of potato chips I had for lunch.
Though it's tough to feel too sorry for myself after I saw this video this morning...
Animals around the globe are having such a tough time of it... and people are not doing enough to help. Indeed, it seems so many of the problems animals face are due to humans in the first place. This kind of shortsightedness is incredibly depressing, and I can't help but wonder how close we are to catastrophic failure of our ecosystem.
Then we humans will be the ones having a very tough time of it.
And it will be fully deserved.
Posted on Tuesday, January 14th, 2020

Yesterday I ran to the grocery store to throw some money away on food. It never ceases to amaze me the cost of food nowadays. Every time I go shopping it seems like the prices have gone up. Ten items... $45, please.
One of the items I purchased was a bottle of spicy brown mustard.
To eat it.
Which, if you have known me for any length of time, is a surprising turn of events given that I spent the majority of my life hating mustard. Sure I've always got a bottle of that yellow stuff in my refrigerator for friends who come over for barbecue, but the only time I use it is as an ingredient for potato salad.
But then last month I had a Market Fresh Sandwich at Arby's and everything changed.
Let me back up a second there.
I don't usually buy Market Fresh Sandwiches at Arby's because I don't like having to pay for something I'm not eating. They don't have a cheese sandwich at Arby's, so I have to order the Roast Turkey & Swiss Market Fresh Sandwich and have them hold the turkey... AND DEFINITELY HOLD THE MUSTARD.
Except last month when I ordered I forgot to tell them to hold the mustard because it had been four or five months since I last had one.
The sandwich was incredible.
And it took me a minute to realize that the reason it was incredible was because there was mustard on it. I was dying to know what kind of mustard it was, so I went up to the counter and asked for an extra packet. But I didn't put it on my sandwich. I took it home so I could add it to my shopping list.
And so here we are.
Except the store didn't have spicy brown honey mustard like they use at Arby's so I had to buy regular spicy brown mustard and mix a touch of honey in.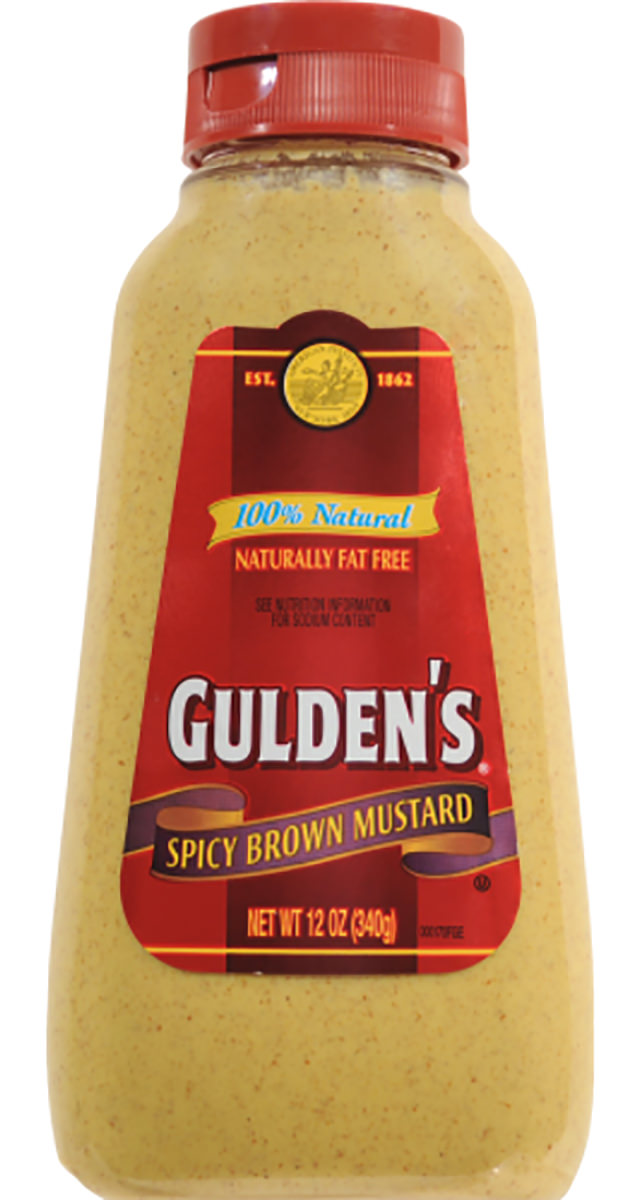 Tonight for dinner I had a Swiss cheese sandwich with lettuce, tomato, mayo, onion, and the spicy brown mustard with honey. It was delicious, as I knew it would be. And now I am wondering what other things in life I need to try that I decided I don't like because they might be something that I actually like. Well, except cauliflower and broccoli. I know that shit hasn't gotten any better since childhood.
Posted on Monday, January 13th, 2020

When I got home from work I burned through thesecond season of Fleabag. Don't ask me why it took me this long to get around to it. Maybe it's because I didn't freak out over the first season like everybody I know did. Sure I liked it, but it wasn't better than sliced bread, I tell you what.
No, it's the second season of Fleabag that's better than sliced bread.
And speaking of better than sliced bread...
Nice to see that Marvel dumped some serious money into giving Black Widow the movie she deserves. Taskmaster is the perfect opponent, so something to look forward to (as if I weren't already).
Posted on Sunday, January 12th, 2020

The world may be cold and bleak right now but there's a bit of warmth to be had, because an all new Bullet Sunday starts... now...

• WWDD? I am very late to the party with What Would Diplo DO? but am very glad that Hulu recommended it to me. James Van Der Beek plays a parody of real-life DJ Diplo and the result is some of the funniest television I've ever seen. I can't believe that Diplo signed off on this (as well as produced it). I hesitate to link to this (NSFW) trailer because the show is so much better than this would indicate, but here it is...
It seems impossible we haven't seen a second season since the show was originally released in 2017. Since there's only five episodes available (which I've already watched twice), I need more Diplo in my life.

• Deeply Faked. I was disappointed by The Irishman... everybody involved has done better work elsewhere and I was bored by it all. But I did watch it. And a big part of the movie is the fact that the story is told over a long period of time. So Netflix had to pony up a big chunk of money for computer FX to de-age the characters. It was done well enough that it wasn't distracting... nor did it stray too far into uncanny valley territory. But it wasn't terribly convincing either. Which is why I find the fact that some guy used free "deep fake" tools to do a much better job of it for zero dollar so amusing...
These are the same free tools that did a far superior job of replacing Superman's face after Henry Cavill couldn't shave his mustache for Justice League. I wonder how long until Hollywood gets smart about these tools. I also wonder how long before faked video is indistinguishable from authentic video... and how that's going to change the world. What happens when you can't tell what's real any more?

• HEADLINE: 32-year-old Medford man fighting severe flu case. I stopped getting the flu vaccine because it never seemed to make a difference. I started again when I became a granduncle because I wanted to take every possible precaution that I wouldn't get him sick. My doctor once asked me if I had gotten my flu shot and I told him that I stopped doing that. His reply? "Well, 50,000 people a year die from the flu, but it's your call." That didn't change my mind, but I see this story and what he said is stuck in my head. 32 years old. Man, I wish this poor guy the best of luck and hope he gets better soon. Get your flu vaccine, people. And if you want to know more about it, the CDC has a page for that.

• Front and Center. Holy cats! This $3 utility restores MacOS X window functionality so that clicking on one window will bring all windows for that app to the front. I have NO idea why Apple changed this behavior from all the MacOS's before X, but it drives me insane. And now it's BACK, baby. No idea how much I've missed this. 100% critical app.

• WAKANDA FOREVER! Yo, Marvel Studios... what is it going to take to get an M'Baku series on Disney+? The guy steals every single scene he's in! He lives in one of the most magical places on earth! He's a character everybody loves! Winston Duke is a cinematic treasure! It's like... how many pieces need to click together before you do what needs to be done? Is Kevin Feige asleep at the wheel?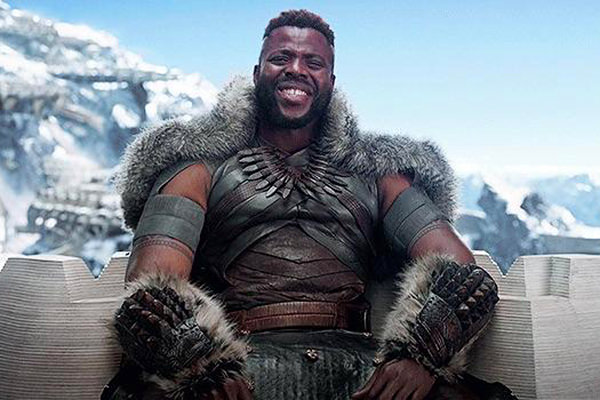 And who wouldn't guest star in THAT piece of awesome? Black Panther? Shuri? Okoye? Nakia? They could all make an appearance. This is a show that's begging to be made.

And now for some hot chocolate.
Posted on Saturday, January 11th, 2020

I will never understand my cats.
Never.
After I returned from my travels a week ago, my cats were all over me. They wouldn't leave my side any time I was home. Jake and Jenny could not get enough of me and I was adored.
Until today.
But before I get to that, let's take a look at eight photos of them not being able to get enough of me...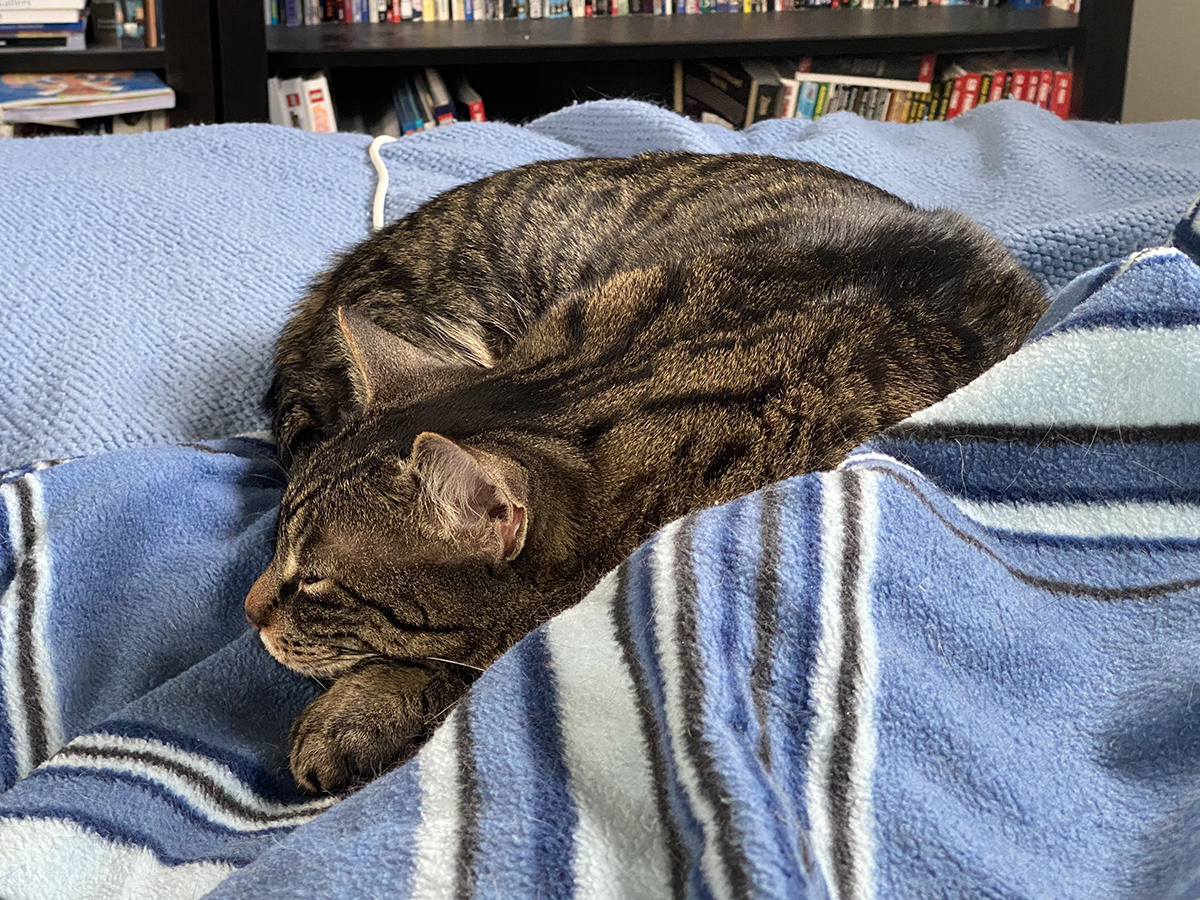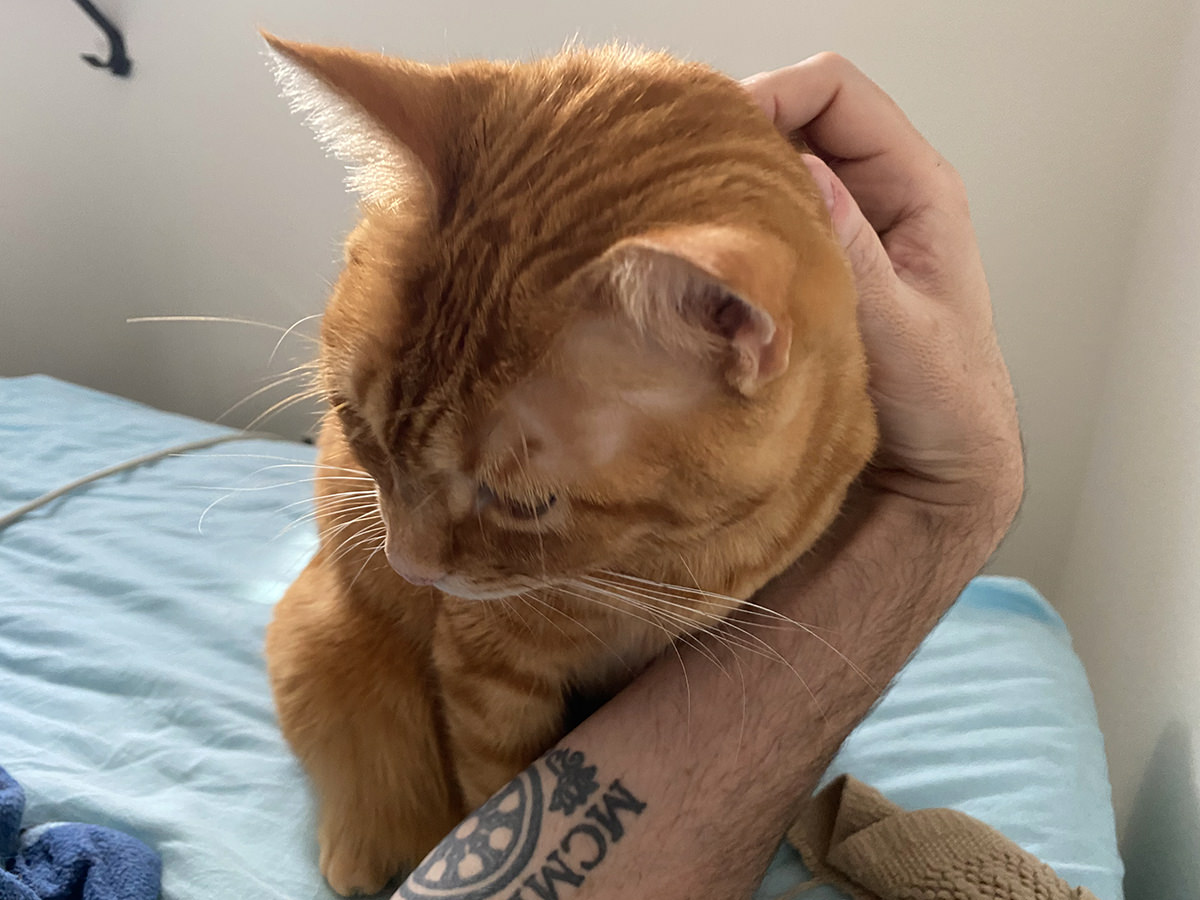 Tonight I was at the office working. I lost all track of time, so I didn't get home before Jake and Jenny's dinner alarm sounded. When I walked in the door seven minutes late, they were both sitting there waiting for me.
They were livid.
L-I-V-I-D-!
They ate their dinner and then, instead of coming into the living room to hang with me, they ran upstairs!
A couple hours later Jake finally came downstairs. After a while he hopped up on the couch next to me. Mostly so he could show me his ass...
After making sure his butthole had been clearly presented, he lay down at my feet and threw his head down on my leg so he could look as forlorned as possible... his dinner was seven minutes late, and he was still devastated by the memory of it all. Devastated.
He went to sleep soon after.
I started talking to him so he would come lay on my lap and keep me company while I watched TV. He looked up at me... grunted... THEN TURNED AROUND AND WENT BACK TO SLEEP...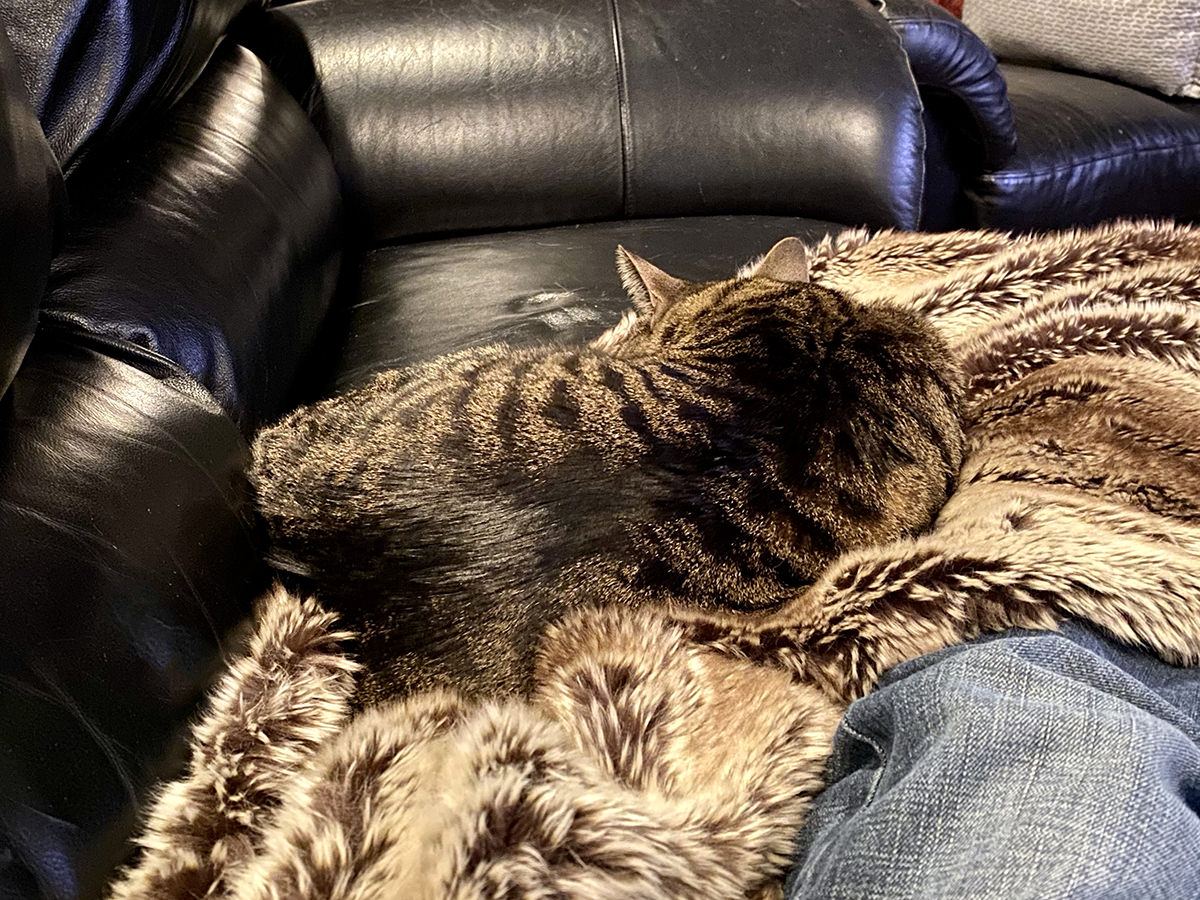 Jenny is still upstairs not speaking to me.
So... gone for seven DAYS, cats can't get enough of me.
Seven MINUTES late for dinner and they are so mad they want nothing to do with me.
I will never understand my cats.
Posted on Friday, January 10th, 2020

Today was the second time this winter that we had snow dump down on our heads. The first time we had about 8 inches accumulate, but it eventually melted away. This time it's smaller flakes, but is accumulating nicely. Problem is that the forecast for tomorrow is sun, so it may very well be gone in short order.
This is not boding well for the snow pack in the mountains. We're currently running less than 70% of where we should be. Unless we get some serious snowfall soon it could means drought this summer. Which means the wildfires will be out of control. Which means we're boned.
I was happy to have the snow hold off until I was done traveling, but now Mother Nature needs to get to work. Bring on the white stuff.
Posted on Thursday, January 9th, 2020

When I first started traveling, I always went to a place with the mindset that I will likely never get to visit there again.
Sometimes it was true... but many times it was not. Places I fell in love with I would find a way to get back to. Spain is a perfect example. I wanted to see Barcelona. I went to Barcelona, loved it, then wanted to see more of Spain. So I kept going back to the country again and again and again. I also went back to Barcelona two more times. That was completely unexpected. And there are still parts of the country I am dying to see. Valencia, Seville, Toledo, Córdoba, Bilbao, Zaragoza... and dozens of others.
Italy is another example. I've been to many, many places over several trips... but there's always someplace else to see. Palermo, Como, Parma, Genoa, Bari, Catanzaro... I'd visit any of those cities in a heartbeat. I'd also be happy to return to Rome and Venice even though I've been to each multiple times.
Thanks to writing about travel journals a couple days ago, all this was running through my head when I woke up this morning and had the realization that the bulk of my traveling days are probably behind me. Now that I've got a mortgage and cats, I have more important things to spend my money and time on. I look at my travel map and think "Haven't I done enough?
And yet... there's an awful lot of open space on that map. Granted, a lot of it I probably don't need to see, but there's quite a lot I do. And probably even more that I don't realize I need to see.
So probably not this year, but maybe next year?
Assuming travel outside the USA is even a possibility in 2021. Or there's a world left in 2021.
Posted on Wednesday, January 8th, 2020

Most of my day was spent wanting a chocolate cupcake with vanilla frosting and sprinkles. Something I haven't had in over a year because I shouldn't be eating such things, which is probably why I want one so bad.
Instead I had a rice cake and a Coke Zero, which pretty much sums up my Wednesday.
Of course I also spent the day thinking it was Thursday, so there's that. Once I realized that I had two days before the weekend instead of one day before the weekend, that whole chocolate cupcake thing kind of went by the wayside.
And so here I am waiting for the premiere of the Schitt's Creek sixth and final season. I'm hoping for the best so the day isn't a total loss.
Boy, 2020 is shaping up to be a heck of a year.