Posted on Tuesday, November 12th, 2019

And so Disney+ is finally here.
Unlike Apple TV+, the content you get is staggering. Tons of shows and movies from the Disney archives (some of them having been buried for a long time) plus shows and movies from Disney affiliates (every episode of The Simpsons is right here). And of course the new shows and movies they have been promoting from the very start which will leverage their Disney, Marvel, Star Wars, Pixar, and National Geographic properties. I got in on a pre-purchase deal that dropped the cost to less than $4 a month, and at that price this is a bargain and a half for what you get.
Granted, the Marvel shows that I'm really looking forward to are a ways off yet, but I'd pay $4 a month for The Mandalorian alone, so it's all kinda a no-brainer.
And now, just as I did with Apple TV+ content, I am dropping my thoughts on what Disney+ originals bring to the table, from my favorite to least favorite...
The Mandalorian. The entire reason to get Disney+ from the get-go is right here. And, with the exception of Rogue One, it's better than most of the Star Wars stuff that's been released in the past 20 years. Mostly because Jon Favreau and Co. just didn't care about anything but taking all the cool stuff from Star Wars and doing something truly new with it. Between the mysterious nature of Pedro Pascal's namesake Mandalorian... and a freakin' fantastic appearance by a droid from the IG-88 series (IG-11). If you have even the smallest, most basic interest in Star Wars, here's your show. And reason enough to climb onboard the Disney+ train.
The Imagineering Story. The first of six episodes looking behind the scenes of creating the Disney parks. It's fantastic, featuring archive footage and modern interviews to explain how Disneyland (and everything that followed) came to be. Really cool stuff here... like a look at the incomparable Mary Blair at work. I'd pay the $7 price of admission just to watch this series.
Marvel: Expanding the Universe. A quick 12 minute sneak peak of all the stuff I am dying to watch on Disney+ (AKA the entire reason I subscribed). There's precious little new information here, but it definitely gets you excited for what's to come.
SparkShorts. These independent Pixar shorts are, well, everything you expect from Pixar. The first three (Purl, Smash and Grab, and Kitbull) were excellent, so there was no reason to expect anything less from Float. And it doesn't disappoint. Gorgeous animation about a dad trying to deal with a kid who can... float. It's sweet, heartfelt, and amazing. Interesting to note that Disney+ has added other amazing Pixar shorts like Bao and Piper to the service as well.
The World According to Jeff Goldblum I am not quite sure what this is supposed to be. It's essentially just Jeff Goldblum being Jeff Goldblum at his Jeff Goldblummiest while looking into a subject through the lens of Jeff Goldblum. The result is pretty great, but not exactly groundbreaking. Other shows have done this kind of thing better. But none of them had Jeff Goldblum, and that's the point isn't it? In the premiere, Jeff gets into the inexplicably cutthroat world of sneakers and the jaw-dropping price that people are willing to pay to get collectible pairs. Along the way we get mini-lessons about where vulcanized rubber came from, how companies like Adidas create sneakers, and other tangents. No mention of sweat shops in Indonesia paying children $1 a day to make the sneakers though. I guess you could call this superficially educational... superficial edutainment? Though Jeff slaps back against flat-earthers and dinosaur deniers, so there's that. Definitely watching this one.
Lady and The Tramp. The live-action remakes from Disney have been a mixed bag. Some of them are amazing (Jungle Book was fantastic), some of them are okay (Christopher Robin has great elements, but kinda flails) and some are just bad (Dumbo was sincerely lacking). The animated Lady and the Tramp was beautiful to look at, but not a favorite. I didn't expect the live-action remake to change my mind. But they pulled out all the stops to create a good film. No, it's not a cinematic masterpiece (and is not as good as the original), but the rescue dog stars they got were great. The casting was perfect (Sam Elliott as Trusty? Come on!). And the CGI talking effects were well-done. This is kinda a perfect example of what Disney+ should be. A place for movies not quite reaching the quality of a feature-film release, but deserving of more than some $9.99 direct-to-video dump.
Marvel Hero Project. If there's a promise for Disney+ outside of the obvious, shows like this are it. Inspiring, true-life stories that find heroes in humanity and showcase how they are changing our world... THEN, ZOMG, MADE INTO A MARVEL COMIC BOOK! The first issue has Jordan, a girl with limb differences, working to make the world more accessible for everyone. There's an awful lot to like about this show... even without the Marvel element... but made oh so much better because of the Marvel element. I mean, yeah, fashioning a "glitter arm" and shooting sparkly glitter at people may seem like a silly idea to build an episode around, but when you see the show you "get it." It will be interesting to see what future episodes will bring.
Noelle. Given my predilection for Hallmark Christmas movies, I thought this would be right up my alley. Anna Kendrick and Bill Hader? Oh my garland! Sign me up! And yet... it's not that at all. Instead it's more like a remake of Elf but not really nailing it. Sure it's cute, clever, brimming with Christmas charm, and has the eternal optimism you expect from Disney... but it's all kinda meh despite incredible production values and a great cast. Santa has retired and his son doesn't have the confidence, skills, or desire to take over, so it falls to his daughter Noelle. Given the date of the Disney+ debut, I suppose there had to be a Christmas movie. And this wasn't bad. Though I wonder if kids will be able to get into it? My guess is not.
Encore! Kristen Bell attempts to revive old productions of amateur high school musical theater... with the original cast! The first episode is Annie with the cast of a 1996 Santana High School production. I don't like musicals, at all, but was fascinated by the concept. And Kristen Bell. They start with a catchup of where all the cast is today... police officers, teachers, stay-at-home moms, and such. Then gather them together with a professional director, music director, and choreographer to stage a modern take on the original. And along the way you get to see them come together and rehash the past and discuss what's been happening in their lives. The result was okay... but ultimately not my thing. Not the personal drama nor the musical theater. And yet... I might keep tuning in on occasion? It's an interesting idea for reality television for sure.
Ask Forky a Question. Cute to see Forky and Ham again, but this first short (What is Money?) was pretty uneventful. Just Forky being Forky and nothing really happening.
Pixar in Real Life. A godawful attempt to bring Pixar into the real world. This first one brings in the control panel from Inside Out to the real world where passerby can control the emotions of two actors. Pointless and not the least bit entertaining. It's five minutes long. I made it to a minute-and-a-half before bailing.
Disney Family Sundays This is some kind of weird-ass crafting show for kids. But a horrifically bad one. In the first episode they make Dumbo's circus tent. The supplies include A PRE-MADE CANOPY TENT?!? WTF? Who has that laying around? Can you even buy that? Then you essentially hot-glue-gun a bunch of garish crap to the pre-made canopy. This is what passes for "crafting" now-a-days? Pathetic. And I just don't get it. First you have to watch the show, then you have to make a massive laundry-list of supplies to go buy (or try to find to buy), then you have to watch the show again as a step-by-step. Lame. I guess I should have expected some cheap "filler" shows to fill in the gaps, but this?!?
High School Musical: The Series No. Won't do it. This is where I draw the line.

And that's it.
Well, not really. Tons of Disney, Marvel, and Star Wars content await. Including some stuff from my childhood that I didn't expect to ever see again... like The Love Bug series (including Herbie Rides Again with Helen Hayes) and The Cat from Outer Space. And stuff I don't own that I'd definitely like to revisit (including Saving Mr. Banks and Hannah Montana).
I've read about people having connection problems with Disney+ but haven't had any major problems. Once or twice I've had an error pop up...

...but after I dismiss and restart the program everything works just fine. And, much to my surprise, the program picks up right where the problem occurred. Nice!
The Apple TV interface is fairly good. The web interface is pretty bad. No navigation within the site... you have to use your browser's back button. But, in both cases, the content played just fine so I can't really complain.
Disney+ is off to a good start. But it's what's to come that has me excited to be a subscriber.
Posted on Monday, November 11th, 2019

Happy Veteran's Day to all who have served or are serving!
I haven't had time to put my "DO NOT BOTHER ME!" sign back up after Halloween. And, wouldn't you know it, the Mormons came-a-knockin' last week. I don't have any problem with them, I just don't appreciate having them intrude on my calm. Especially during the dinner hour.
Regardless, I have always tried to be friendly with them whenever I see them... especially when traveling in foreign countries... because I know they are usually far from home and just trying their best to live by their convictions whileI find missing their friends and families. I have yet to meet an LDS church member that hasn't been kind and generous, so I try to respond in kind.
I was shocked to see that the two Elders standing outside my door were in thin sweaters with no coats or gloves. It's already 38 degrees out and falling. I told them that I have friends in the church, but I'm not going to be joining them. I then told them to stay safe, try to stay warm, and have a good evening. They asked if there was anything they could do to help me out, and I told them to get some warm jackets.
And now I'm going to feel guilty that I didn't invite them in for a cup of hot chocolate so they could warm up for a minute. Or seeing if I could scrounge up some gloves. I dunno though. Maybe being cold is how they prey on people's sympathies to get them invited inside or whatever? Even so, whether by accident or design, I think it's sad that they have to be cold. Isn't somebody looking out for them? Assuming there are, they are grossly negligent.
Guess I should put my sign back up so as to avoid these moral dilemmas...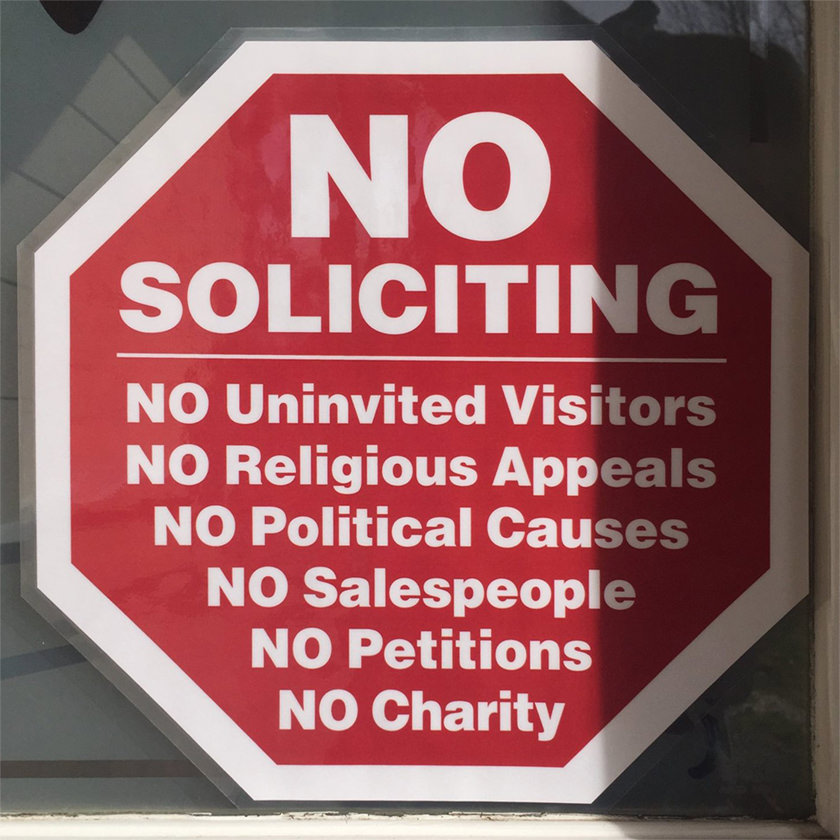 Though, as we learned the hard way, that's no guarantee they'll leave me alone.
Posted on Sunday, November 10th, 2019

Hallmark Channel Christmas is in full swing this Sunday, but I'm making time for blogging anyway, because an all new Bullet Sunday starts... now...

• OctoCup. I don't know whether to be happy... or bust out crying because of how we're destroying this planet with our filth...
Probably both. Poor creatures of earth. Fuck the climate change debate... clean up the planet because we have a moral reponsibility to do so. Humans are not the only thing living here.

• Madalorian. By and large, I've been disappointed with the post-Star Wars offerings. The prequel trilogy was utter crap. The sequel trilogy is lacking. Solo was okay, but not a homerun. And while I did love Rogue One for being the most Star Wars since The Empire Strikes Back, it had serious story issues. The final movie in the trilogy of trilogies, Rise of Skywalker arrives in December and looks like it will be a delicious special-effects spectacle. But what I'm really forward to? Jon Favre and Pedro Pascal's The Mandalorian coming to Disney+ on Tuesday...
Boy does that look good. Firmly set in the Star Wars Universe, but giving us something new outside of what the past films are mired in. I sure hope it lives up to the hype.

• AT&ampT Nickel Diming. Upgrading my iPhone through the Apple Upgrade Program was a mess. Worthy of an entire blog post when I have time to document the horror I went through with Apple. Turns out that the fun was just beginning because when I got my AT&ampT bill, there was a $30 upgrade fee on it. Even though AT&T didn't do a damn thing. The process of activating and transferring my phone was entirely automated and done by me! This is just another case of AT&T squeezing money out of their customers by nickel-and-diming them to death. When I called AT&T to ask them what in the hell they did to merit a $30 charge, their answer was... all the carriers do it. Which may be true. But AT&T costs considerably more than other carriers. And so... time to investigate a possible change. Free HBO that's a massive pain-in-the-ass to activate via AT&T's pitiful AT&ampT TV Now service (formerly DirecTV Now) is not worth it. Not by a damn sight. And they're dishonest assholes who still charge you full price, even when they are blacking out channels and not paying for them.

• Rank. Step One of getting rid of our fatally-flawed and totally shitty two-party system stranglehold is adopting ranked-choice voting. And... oh my.. here is something interesting.

• Padded. I have been attempting to use the new Adobe Photoshop on iPad. Except, despite it's name, it is NOT Adobe Photoshop. Not even remotely close to Photoshop. Of course I knew that there were going to be sacrifices (especially in the beginning), but this pathetic effort is so feature anemic as to be laughable. For one thing... no resizing or crop tools. I mean, sure there's a "crop tool" but you can't set a dimension. Your only choice is to "lock current ratio." THAT'S IT! Need a certain size? Fuck you. Need a certain resolution? Fuck you. Need a certain ratio? Fuck you. And... oh yeah... the crop tool doesn't snap to edges! What a fucking joke. It's not like I'm upset because I can't use all my filters and am demanding that every possible obscure feature from the desktop Photoshop be added... but holy fucking shit! CROPPING IS A BASIC FEATURE! IT'S NOT EVEN A BASIC FEATURE... IT'S LIKE THE MOST RUDIMENTARY FUNCTION OF AN IMAGE EDITING PROGRAM THERE IS! Pathetic. Can't believe we waited a whole YEAR for this?

• Wavy. Boy does this bring back memories of crossing The Drake Passage! I always wondered how they managed to cook on rough seas!
There were two times in crossing that dishes were thrown from our tables. Thrown. Which is why the expedition company I went with have to replace half the dishes every season.

• Punch Away. WE LITERALLY FOUGHT A WAR AGAINST THEM!
Hopefully. Hopefully.

And now... back to our regularly-scheduled Christmastime programming...
Posted on Saturday, November 9th, 2019

I try to make my trips as short as possible so that Jake and Jenny aren't left alone for extended periods of time. Thanks to the automation tech I bought for feeding and litter box cleaning, they actually could be left alone longer, but I get the feeling they would rather me be here.
This feeling comes from the toy gauntlet that they build for me whenever I get back from being away...
Jake still does most of the work... hauling Moose the Mule all the way upstairs... after trotting him on the dining room table. Which is great, because I was dying to disinfect it, and this is just the excuse I need...
After breakfast Jake decided to hang out in bed while I watched emails...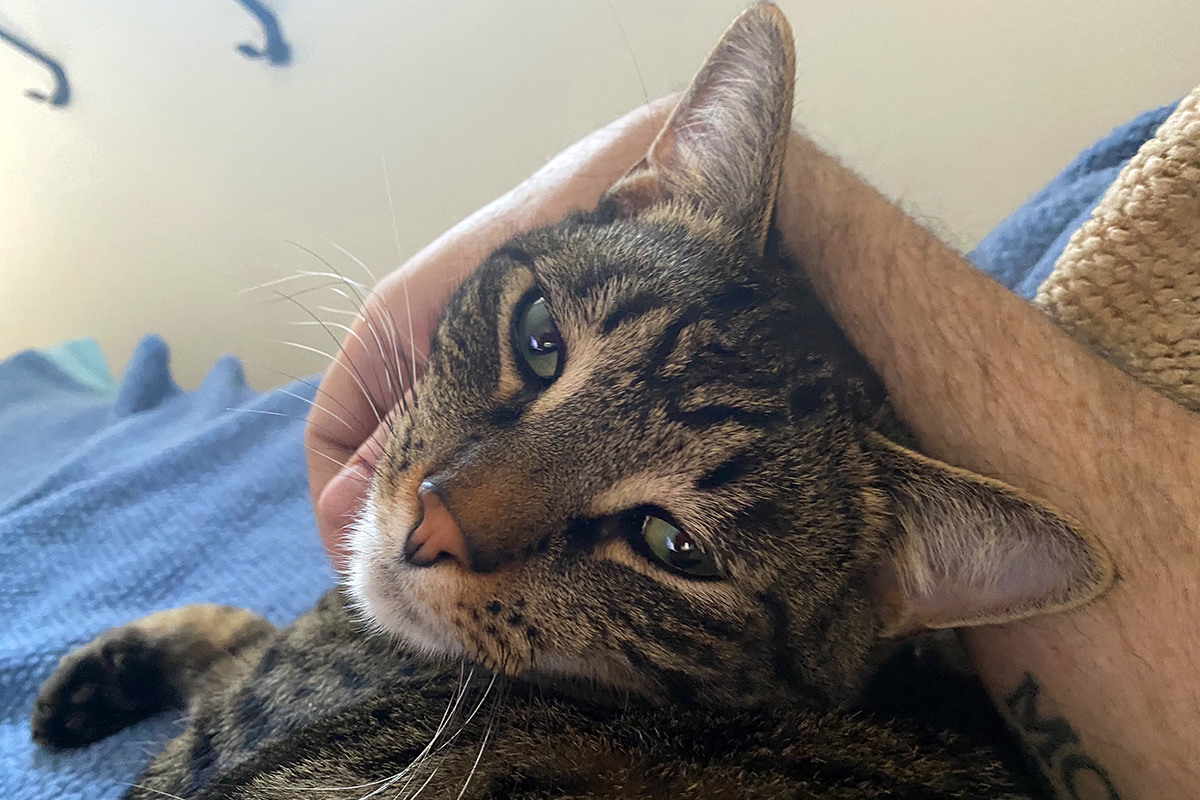 But it was Jenny who wouldn't leave my side. She missed out on two days of scratches, and she was determined to make up for lost time. Unlike Jake who just kind of sits there and is happy to get scratched wherever you want to scratch him, she moves around so you scratch her exactly where she wants to be scratched...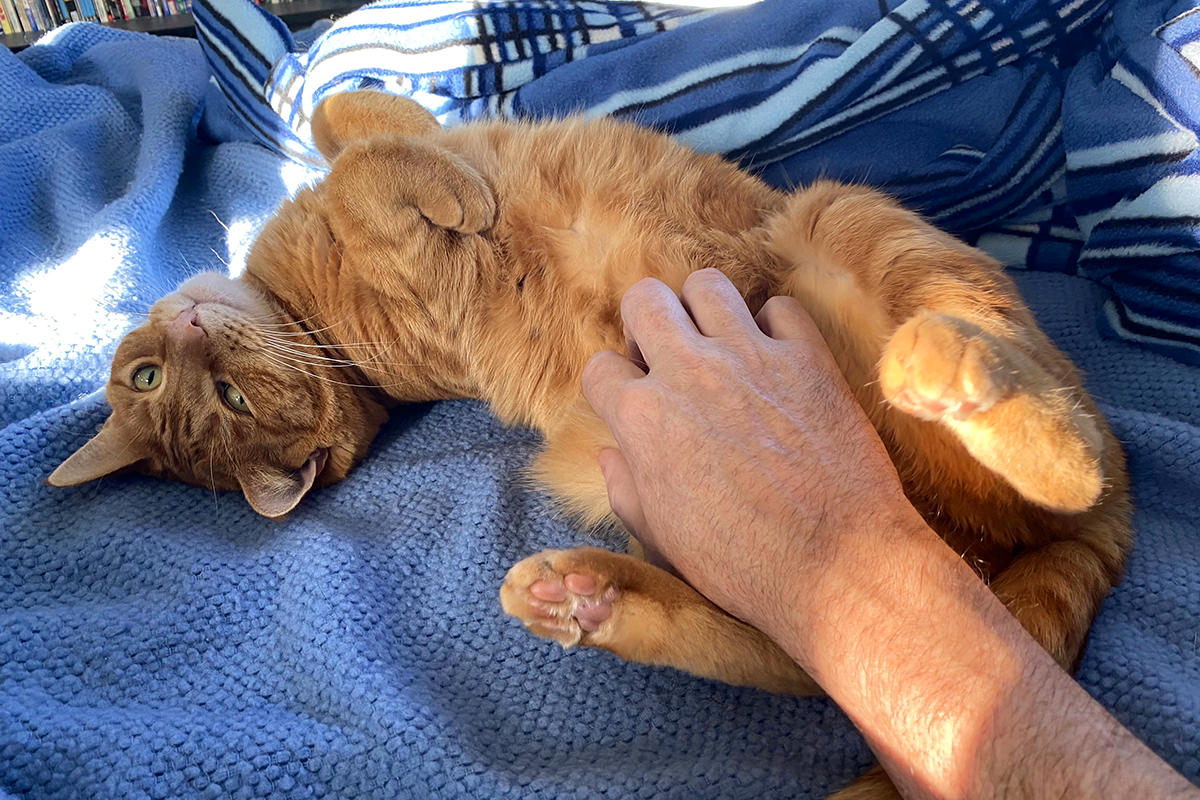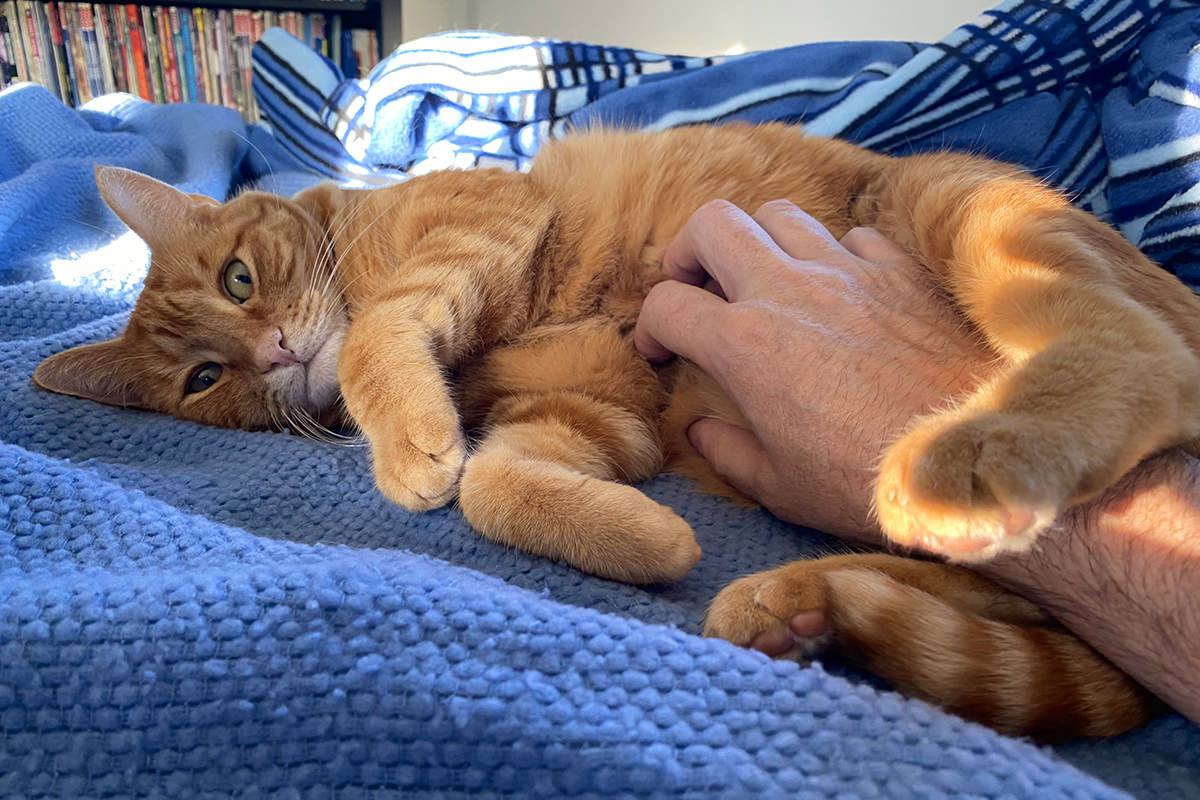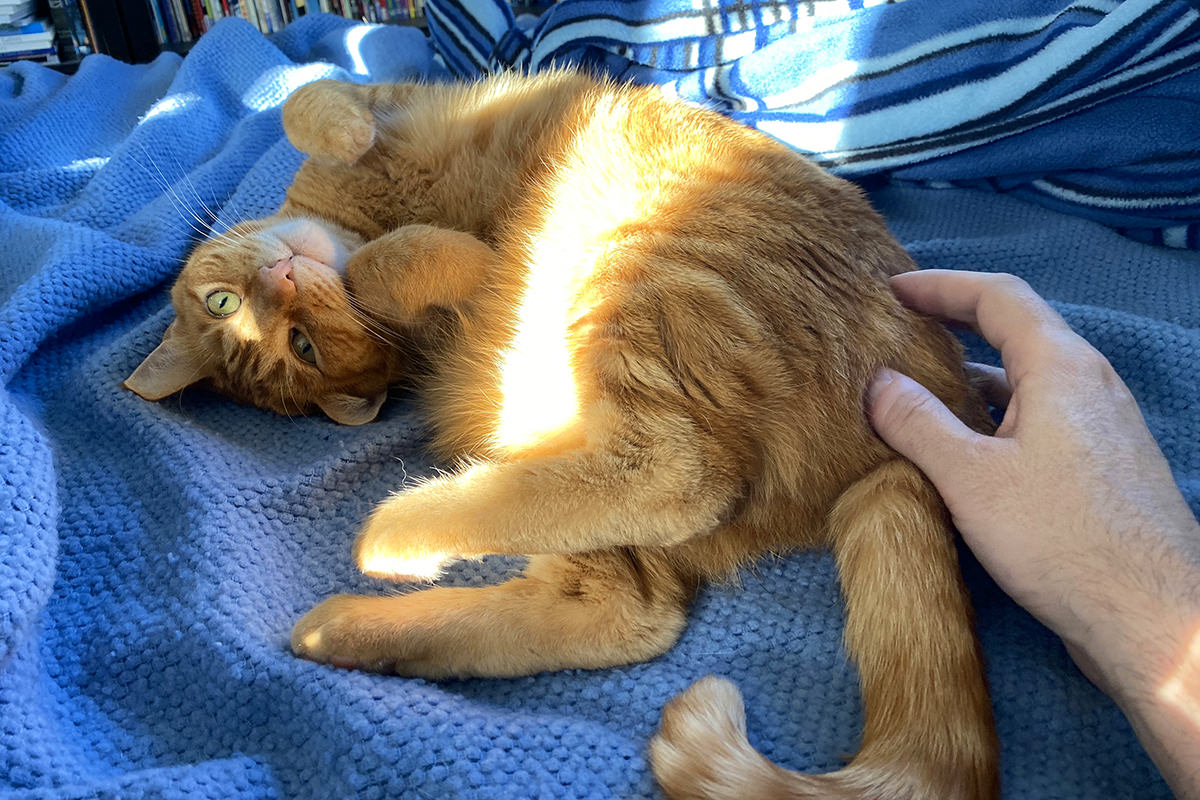 My poor cats are so deprived.
Happy Caturday!
Posted on Friday, November 8th, 2019

Back when my mother's dementia had robbed her of her ability to make new memories, it was understandably a confusing time for her. Out of necessity I devised all kinds of deceptions to make both our lives easier. One of the most important was a big sign I put on the inside front door which said "David will be back in 15 minutes so we can go out to eat... please wait here." I tried to take my mom with me everywhere I went because it was just easier. If I needed to run to the store or drop off something for a friend, she went too. But for the three years where she had no memory (but was perfectly able to stay home by herself), I couldn't take her to work or out to dinner with my friends. Rather than leaving her confused as to where I was, I put the sign up before I went anywhere. Then checked in on her every ten minute or so with the security cameras.
And it worked great.
Usually television kept her occupied. If she heard the television was on, she'd sit down to watch it for hours. But every once in a while she'd walk around looking for somebody, then try to leave the house when she realized she was alone.
Which would be disastrous.
And so I came up with the sign.
Rather than go outside, she'd see the sign and go get ready to go out to eat. She'd make sure her purse was by the door... comb her hair... change her clothes... whatever she felt she needed to do to be ready and look presentable. Sometimes she would do all that, forget she did all that, go back to the door, then start all over again in a loop. Then eventually she'd hear the television and get absorbed in it again... until the next time.
Yes, I was lying to her, but if the lie meant she wasn't constantly leaving the house in confusion... or experiencing massive anxiety because she didn't know where she was or where anybody was at... and meant I could leave the house to go to work... was it really such a horrible thing?
Before the sign, she was upset constantly and I worried constantly anytime I had to leave. Then one day I put the sign up so she could get ready for dinner while I ran to get gas, realized what a total game changer it would be if I just put it up every time I left, and never stopped using it.
When I was in support forums for dementia caregivers, some people thought it was genius and decided to try it. Some people were already doing something similar. And some people thought I was the most vile, evil person on earth for lying to my poor mother like that.
In every case of the latter I would reply with "And how many people do you have helping you with your mother's care? How many people can you call to help watch her when you have to go out? How many immediate family members will step up to give you a break when you need one? If the answer is greater than zero, then kindly keep your opinions to yourself because I have NOBODY." And I did not give a single fuck what they had to say afterwards. My mother, who was suffering through a horrific problem, was happier and less stressed. I, who was there suffering along with her, was less worried and less stressed. So why would I give a fuck about what you think? Especially if you've got a team of friends and family helping you out?
This is not to say that I can't say these things to myself, of course.
Nobody... and I mean nobody... beat me up over the things I had to do to survive my mother's dementia more than myself. Not even close.
I lost untold hours of sleep wrestling with decisions. Questioning the decisions I had to make. Second-guessing the decisions I had already made (and, all too often, crying myself to sleep because I wasn't sure I made the right decision). Because that's what it all comes down to doesn't it? Decisions?
Some decisions made themselves. If there were three options and you could only afford one of them, that's not a decision that's a reality. But other decisions, sometimes over the stupidest things, can destroy you.
Which care facility do I choose?... now that was a decision. You can see how that would tear me up inside, both before and after making it. To this day I question whether I made the right choice.
Do I sign the papers to enter mom into hospice?... was a decision that seemed so easy ("God, yes... she would have never, ever wanted to live this way!") but it was also an agonizing one to make. How do I sign what is essentially her death warrant?
Which of these pajamas do I pick?... sounds idiotic, I know, but just think about it for a minute. When you have no memory, all you have is the "right now." Spending the only thing you have with pajamas that itch... or pajamas with a design you hate... or pajamas where the color disturbs you... it's tantamount to torture, isn't it? So what do I buy? How will I know if they are uncomfortable or upsetting? Sometimes she wouldn't respond. Sometimes she'd tell her caregivers at the facility if something was wrong and they would pass it along, but most of the times all I could do was wonder if I made the right decision.
Is telling a lie wrong if it helps make life better?... if I'm honest, I still have no idea. And I questioned it every time I put that sign up.
But what was the alternative? I never tried a sign which said "David probably WON'T be back in 15 minutes, but believe it anyway because I have no idea what I'm doing or how to make things better... but I will be back eventually because I love you."
Eh... probably wouldn't have been the best decision I could have made.
Or would it?
I can't decide.
At least now I have that luxury.
Posted on Thursday, November 7th, 2019

Home again.
Last night after experiencing Avengers: Damage Control, Kyle and I went to an amazing Cuban restaurant in southern Minneapolis. It was a tiny place, but had a big heart which contained by lovely graffiti-strewn walls...
My iPhone's "Night Mode" came in real handy when trying to read them...
My dinner was a vegetarian plate. Seasoned black beans with rice... a Cuban slaw... sweet plantains... and, of course, yuca frita!
Kyle had a shrimp dish that was worthy of an umbrella!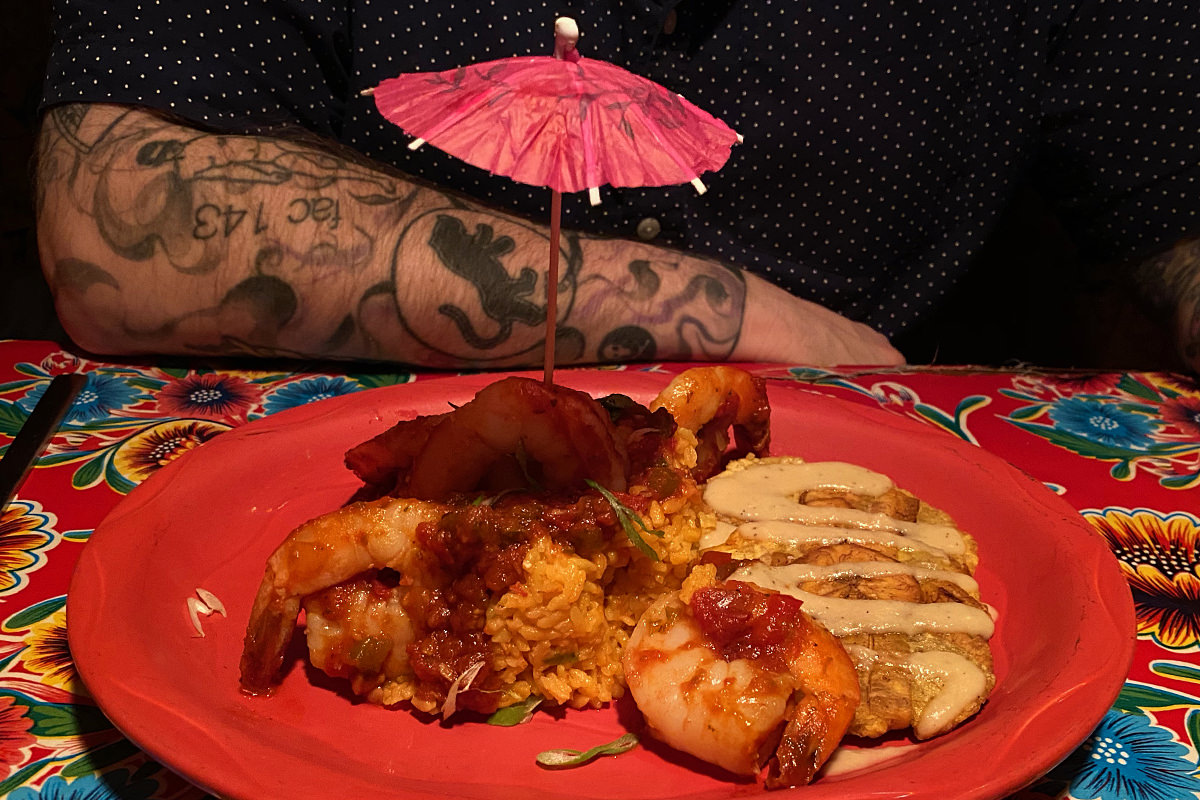 I had to be up and getting ready at 4:30am, so it was an early night for me.
Once my hotel shuttle had deposited me at MSP, I started looking for a breakfast snack. Surprisingly, not much was open at 5:00am. But eventually I ran across Dunkin Donuts which, much to my surprise, had BOTH a veggie option AND Coke Zero! They were using Beyond Sausage on a muffin with egg and cheese. It was fantastic! I wish more restaurants would offer this kind of thing...
Burger King is having one of its best quarters ever thanks to their vegetarian Impossible Whopper causing a surge of 10% in sales. And it's easy to see why. It tastes fantastic. Probably due in part to the fact that it's cooked with real meat products, which I'm fine with because Burger King didn't have to kill any animals for what I'm eating. Apparently McDonald's is working on their own vegetarian burger. Which is kind of silly when the McVeggie Deluxe they once offered at their Times Square location was amazing and they could just do that.
I am genuinely excited to see vegetarian options being adopted like this. They don't always work for my tastes (Qdoba has the Impossible Fajita Burrito which tastes "off" to me) but the fact that I can go to so many restaurants and at least have something I can eat is fantastic. I wish it wasn't made more expensive than the meat options (thanks government subsidies!), but I'll gladly pay a premium if it's something I like. Most places the Impossible Whopper is just $1 more than a regular Whopper... worth every penny, and Burger King gets my business.
Anyway... before I knew it I was back at SeaTac which wouldn't be SeaTac if at least one thing I needed to use wasn't busted to shit...
The drive home was uneventful (thankfully) and here I am hanging with my cats for an hour before going into work at noon. They are, needless to say, happy to have me home.
If, for no other reason, that the heat will no longer be on "Away Mode."
Posted on Wednesday, November 6th, 2019

Well that was fun.
I flew to Minneapolis for one day because I am a Marvel Studios completist and just HAD to do Avengers: Damage Control at The Void (thanks to Kyle for being a good sport and doing it with me!). It's an immersive VR experience that's part game, part virtual world. You strap on a backpack filled with tech, don a VR helmet, then walk through a physical "studio" which has been remapped in your goggles with an entirely new reality. Along the way you fight Ultron robots and stuff...
So far as the technology goes... it's pretty glitchy. You're in the "experience" with three other people and move from area to area with them. But the physical representations of the other "players" is not entirely stable or accurately mapped. Sometimes you'll look over at somebody and they will be walking in place oddly or randomly switch directions. The hybrid Black Panther /slash/ Iron Man suits you get mapped on you are pretty cool though...
The mapping of your real hands to your virtual hands is... okay-ish. But many times my hands would disappear or jump to a wildly different spot. Kyle has tattoos on his arms and hands which made it so one of his virtual "hands" rarely functioned at all. And it's a little tough to "get into the action" when your hands keep disappearing! So... helpful hint, I guess... if you have arm/hand tattoos, maybe you need to wear white lycra sleeves and gloves or something?
That being said... the coolest part of the experience is not the "game" part. It's being able to look around at the world they created, which is absurdly cool. I almost wanted to go back through again so I could ignore the battle and just see all the stuff going on in your environment that's 360° around you. You go from Shuri's training center to Doctor Strange's Sanctum Sanctorum to a full-on battle with Ultra-Ultron on a New York City rooftop. And along the way you meet a goodly selection of Avengers...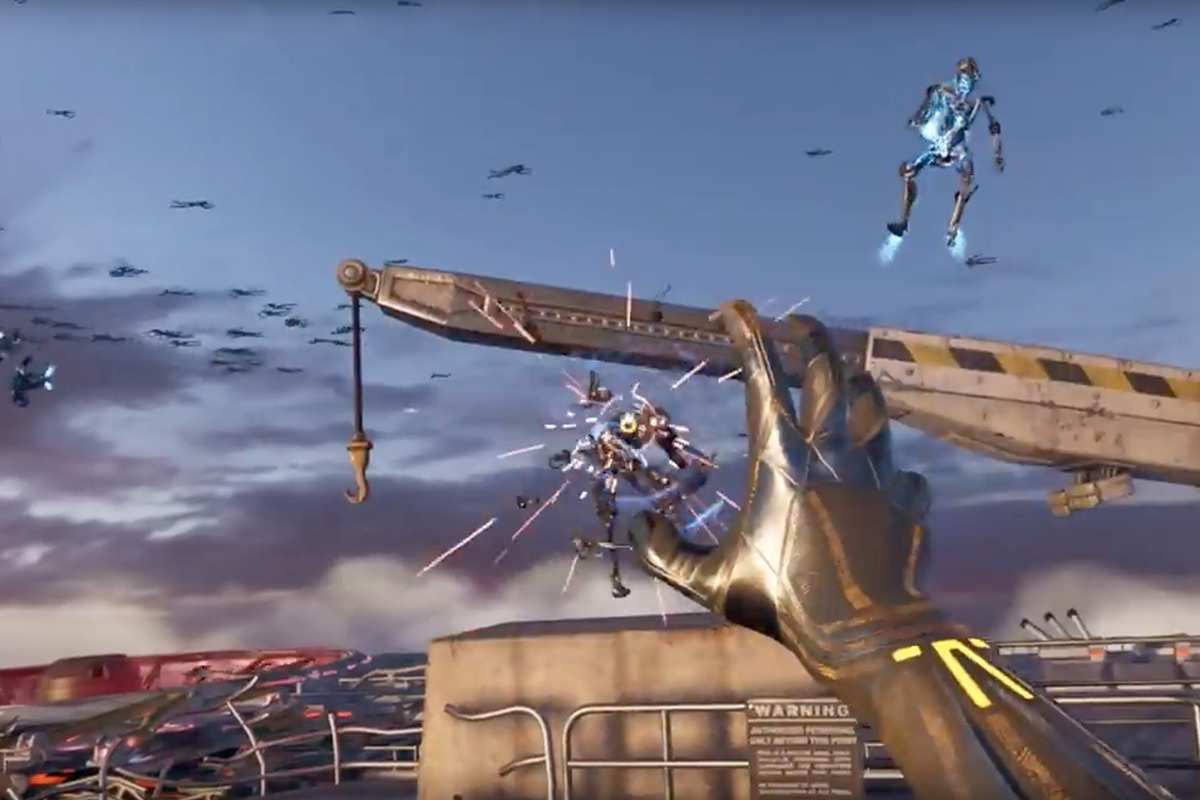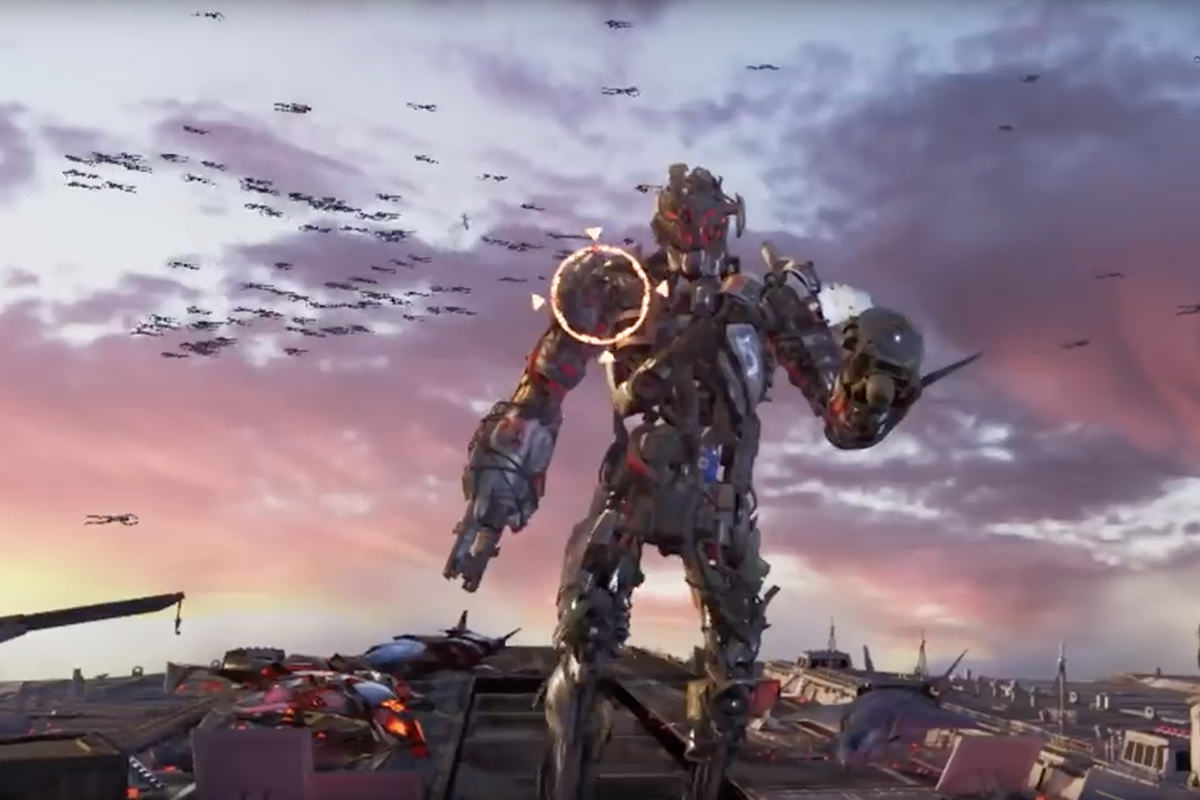 The major characters in Damage Control are Shuri, Doctor Strange, Ant-Man, and The Wasp. And they actually got Letitia Wright to act in it, plus Benedict Cumberbatch, Paul Rudd, and Evangeline Lilly to voice their CGI characters (which is why it was worth my flying to Minneapolis to see it all, since it's the real deal and not some imitation video game. Though all the other characters who speak were imitation, but done pretty well. I guess they ran out of budget to get all the stars?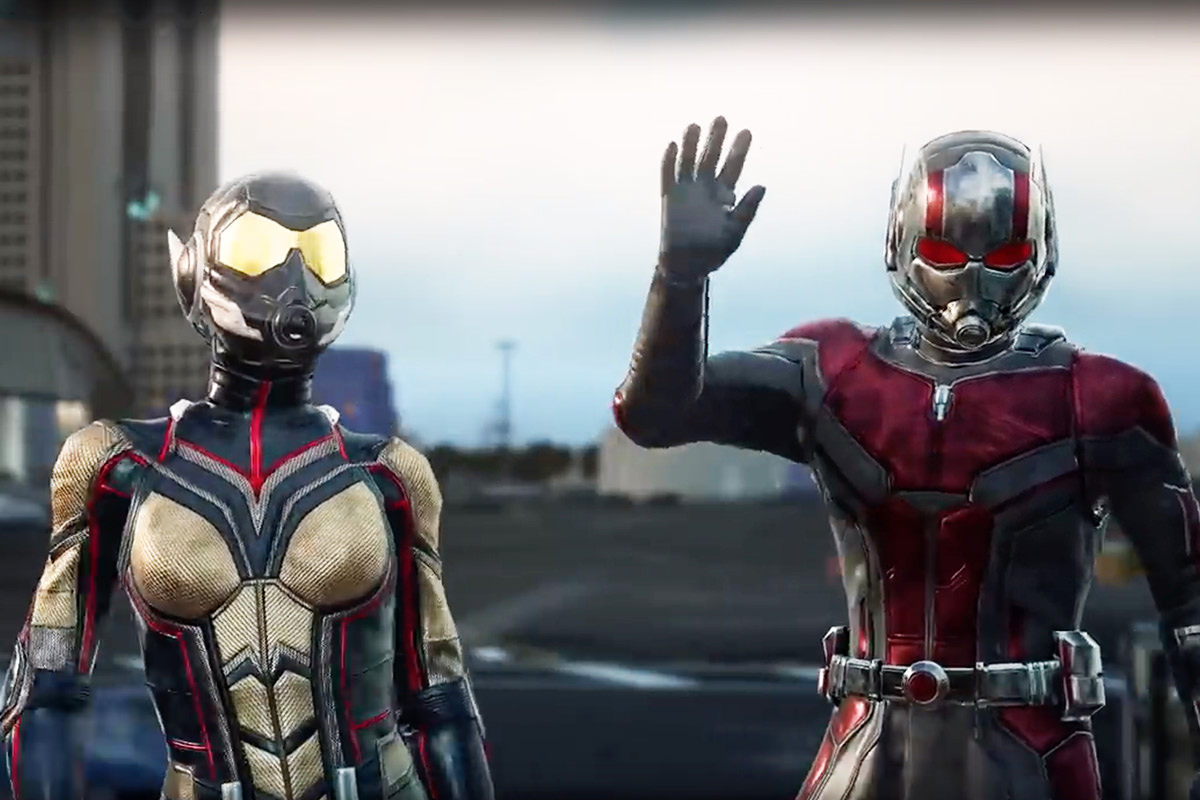 Seattle doesn't have a The Void location. And not all locations have Avengers: Damage Control. I just picked the cheapest to get to, which was the Mall of America in Minneapolis (surprisingly, it would have taken more miles to get to Las Vegas or a South-California location, which is weird because they're closer). The price of admission is $40. I don't know that it's worth that to somebody who isn't a fan of Marvel movies... and felt a little overpriced even for somebody like me who is. Apparently the Avengers experience is a limited-time engagement through the 15th, so if this is something you absolutely must try, then you might want to get some tickets and get on that.
Right now, things are still a bit glitchy, and those glitches do take away from the experience. I'd imagine within another five years you'll just put on some VR specs and be able to do this kind of stuff in your living room perfectly. Until then, you can invest in an Oculus VR headset and have a non-walk-through experience at home, or go to a VR space like The Void and take what you can get.
And what I need to get is some sleep, because I have to be up at 4am to head home.
Posted on Tuesday, November 5th, 2019

The idea was simple, really... fly out tonight for a quick trip, then fly back home on Thursday morning.
And things started out totally great. Really they did. The weather was absolutely gorgeous for my drive over the mountains and I made it to Seattle Tacoma International Airport in record time. I then managed to find a parking spot at WallyPark in only 15 minutes (which sounds a lot easier than it is, even with a reservation). The TSA PreCheck line wasn't longer than the regular line (for once), so I even made it through security fairly quickly!
Score, right?
Eh...
The inbound flight was a little late, but they can "make it up in the air" so no harm no foul.
Then a valve wouldn't work that they need to pressurize the plane... or depressurize the plane... or something like that... so we headed back to the gate to wait for repairs.
My money was on it being the Fetzer valve. In which case I was hoping they had some ball bearings, 3-in-1 oil, gauze pads, and about ten quarts of anti-freeze (preferably Prestone) so we can get this show on the road...
So eventually they fixed the valve.
Then we went out onto the tarmac again.
Then the valve was still broken, so we went back to the gate again.
Then they decided it would be best to switch to an entirely different plane some hours later.
I was already going to be arriving pretty late, but now we were arriving four hours late on top of that. Which sounds bad until you think about how it's much better to have mechanical problems on the ground than in the air.
In a way... I'm disappointed at this missed opportunity I had here. I've seen many, many things in my decades of air travel. I've seen a fist-fight mid-flight. I've seen a fire in the galley while over the Pacific Ocean. I've been on a plane that's had to make an emergency landing... twice. I've had police board the plane to remove a drunk passenger. I've been detoured to some random city four or five times. I've missed connecting flights more times than I can count. I've been trapped in cities for days because no flights were going out. I've even been in a "crash landing" where the plane ran off the runway and we had to be driven to the terminal on a bus (no emergency slide, darn it!). But I have never been in a cabin depressurization where the masks drop from the ceiling! Apparently this valve malfunction we had would have meant they could not pressurize the cabin (or something to do with cabin pressure) and maybe I finally could have checked that one off my list!
Oh well. Maybe on the way back?
Posted on Monday, November 4th, 2019

I have been trying... really trying to get my life together lately. Alas, I've been met mostly with failure at every turn.
I'm going to get caught up with work! Then something happens to heap even more work on me and I get even further behind.
I'm going to start eating healthier! Then magically cupcakes end up in my shopping cart and that idea vanishes like a fart in the wind.
I'm going to save more money! Then something expensive comes up to wipe out my entire savings and end up slapped on my credit card.
I'm going to clean my yard before winter! Then something even more dire pops up and there goes my weekend.
I'm going to work on my book tonight! Then I run out of hours in the day, it's suddenly time for bed, and I have no idea what happened.
I'm going to catch up on all the shows on my DVR! Then Hallmark unloads yet another huge batch of movies I haven't seen yet, so my DVR is even more packed than usual.
I'm going to exercise more! Then I realize that I just don't feel like it.
Maybe I'll try again next year.
Posted on Sunday, November 3rd, 2019

Worried you don't have time to watch all those new Apple TV shows? Well worry no more, because an all new Very Special Apple TV+ Edition of Bullet Sunday starts... now...

• Who Dis? And lo did Apple decree that some of their billions of dollars shall be put aside to create their own media, and it was done. And lo did Apple then decree that all new iPhone purchasers would get a year of Apple TV+ for free, and it was done. And since I had a bunch of work to tackle all day yesterday, I just let Apple TV+ shows run while I was working. There are hits and misses, but most of it is just a "why?" situation. There's nothing so revolutionary here that Apple just had to step up with a pile of money to make sure they were seen. It's pretty much just more of the same.

• The Morning Show. The opening shot of the first episode of this show is Mark Duplass answering his iPhone. The next shot is Steve Carell answering his iPhone. The next is Jennifer Aniston ignoring a call on her iPhone. Reese Witherspoon is too busy putting on eyeliner for me to see her phone, but the guy in back of her in the car has an iPhone. While not unrealistic that absolutely everybody on earth would all own iPhones, it does seem like a ridiculous abundance of product placement and left me wondering if the show was going to revolve around Apple products instead of stories and actors. Fortunately, that wasn't the case. But it was still jarring to see Apple absolutely everywhere when the real world doesn't work like that. And "the real world" is what they're trying to give us: When the co-host of a popular morning news show is fired for sexual misconduct, personal politics and interpersonal relationships are put to the test...
It may be only three episodes so far, but like this show. I like it quite a lot. It's deliciously twisty and appropriately ruthless without being overly-complex, stifling, or boring. The acting talent is impeccable. It's rumored that Aniston and Witherspoon are making TWO MILLION DOLLARS PER EPISODE. This seems wildly excessive. But when they make millions upon millions for movies, that's what it's going to cost to get that kind of talent on your TV show. I'm not saying they're necessarily worth that in the context of The Morning Show, but I will say that they elevate things to a level you probably wouldn't have gotten from many others. And don't discount Steve Carell... his character is equal parts horrifying and charisma, and he's great. Everybody is. That's what $15 million an episode gets you.

• See. "In the land of the blind, the one-eyed man is king." Or is he? Let's assume that I can put aside the complete lapse of logic which permeates this show. Let's further assume that I can overlook the ableist aspects of the concept behind the show. And let's finally assume that I can dismiss the obvious idea that Apple wanted their own Game of Thrones for launch, and See (featuring Khal Drago!) is that show. Assuming all that... and you can... I still couldn't get into this post-apocalyptic show about what happens when most of the population of earth is wiped out, those two million remaining are blinded, centuries afterwards everybody thinks that sight is a myth which is heresy to speak of, and evolution has brought us to a time when some are being born with the ability to... see...
Each episode costs $15 million. The same as being spent on The Morning Show. And yet... for the life of me I cannot figure out where all that money is going. It's just inconceivable to me that I'm looking at $15 million per installment. Maybe if $10 million an episode was going to Alfre Woodard that would explain things. I dunno. What I do know is that I was bored bored bored by the goofy lameness of it all. High concept needs to have high entertainment value. This just... doesn't. From bizarre crap like the queen's unorthodox method of "praying" to the whole "betrayal among us" trope being the entire crux of future hurdles... it's just so tired. I don't hate the show, I just don't know if I will make time to watch future episodes. Maybe if I'm bored and there's nothing else on?

• For All Mankind. This terrific alternate-history series is just so... pretty. Not just because of the money put into making it look great... but because nothing puts all of humanity into such vivid perspective as our quest to reach the stars. Yes, things start slowing down after the first episode, but it's still pretty good stuff.
I had read nothing about the series, ignored all the "first look" videos, and had no idea what the show was about until I watched. At the time I was anticipating Apple TV+ costing $12.95 a month, so why invest the time in something I won't see? Because of this, the extended opening which defines the entire series took me completely by surprise. In a good way. Hopefully nobody has spoiled it for you, because surprises this finely crafted don't come along that often! For this reason, I am NOT including the advertisement video here. It spoils everything! I'm hopeful this is headed somewhere interesting.

• Snoopy in Space. I actually liked the computer-rendered Peanuts movie. I found it beautifully rendered and fully faithful to both the comic strip and the animated specials. That being said, I was pleasantly surprised to find that Apple's first effort with the property was to be traditionally-animated. Though, from the looks of things, it's not so traditional. It's too fine and too clean and definitely looks digitally drawn. Not a good look...
But the real importance here would be the story. How does it live up to what Charles Shultz created? It doesn't. The plot is that Snoopy dreams of being an astronaut and breaks into NASA's astronaut training program so he can go into space. Since the Peanuts universe doesn't have adults you can understand, there's an absurd and annoyingly emotional computer standing in. What follows is mundane explorations into NASA, the ISS, the moon, and Mars. And it's so awful.
As a lover of the original Peanuts strips... a liker of the original Peanuts television specials... this show fell completely flat for me. It's like they took popular Peanuts elements that people would recognize and jammed them together into a NASA-sponsored docu-series. There's no real charm or genuine humor here and the story is both horrible and boring. Especially if you love Peanuts, in which case it's just insulting.

• Dickinson. Needless to say, a teen angst reinvention of Emily Dickinson's early life was not going to be my cup of tea. I don't give two shits about that kind of CW crap. And yet... I was genuinely curious to see where Apple would go with this. I'm a fan of Dickinson's poetry and writings, and their nature is ripe for interpreting her life...
Alas, what we got was a complete mess. It's a period piece injected with thumping modern music and familiar modern tropes, but not in a necessarily edgy, interesting, or clever way. Characters use phrases like "I'm pretty psyched about it!" and "Totally!" and "This is bullshit!" which is somehow supposed to be funny or something. What actually was funny was seeing Wiz Khalifa pop up as Death with his magical coach pulled by ghostly fire horses and Jane Krakowski gliding through her every scene as if she's a Jenna Maroney parody of Emily's mom. Everything else fails to hold together. One minute Emily is baking bread for her father as an apology for getting caught sitting in at an all-male lecture on volcanoes at Amherst... the next she's getting fingered by her brother's fiancé as some words from her poem I have never seen "Volcanoes" appear on screen and images of bread baking in a hot oven pop up. It's like they didn't even try. Just one silly, contrived situation after another ("Let's have an opium party so I can hallucinate dancing with a giant talking bee!"). I made it through four episodes... fast forwarded through the last half of the fifth... then skipped to the ninth and tenth just to be done with it. I'm sure there are people who will love this, but it's sure not me.

• The Elephant Queen. If you've ever seen the show Meerkat Manor which documents the life of meerkats struggling to survive their cruel world, The Elephant Queen will feel a bit familiar. This documentary follows Athena, an African elephant trying to save her heard once they are forced to leave their old watering hole in search of a new one...
Beautiful to look at and nicely narrated by Chiwetel Ejiofor, this is a wonderful but somewhat superficial film. Sure there's tragedy and death along the way. But no mention of poachers despite that being a serious threat and always topical... I mean, come on, even Disney World managed to add poaching into their Kilimanjaro Safari ride at Animal Kingdom. If there's a negative here, it would be the unnecessary addition of comical sound effects and some clueless music queues. Even so, it's a compelling film that's worth your valuable time.

• More to Come... Though Apple doesn't have much content, they seem intent of keeping it coming. Up next are a show by M. Night Shyamalan... a show by Rob McElhennrey and Charlie Day... a show with Octavia Spencer... a show with Chris Evans... more Amazing Stories... more Time Bandits... and, of particularly interest to me, a new series based on Isaac Asimov's Foundation novels. Among others. Odds are, they're going to be fairly watchable given the amount of money and talent Apple is dumping on them. We shall see.

And... not a bad start. The only complete misfire was Snoopy (what were they thinking?) and even that might have appeal to some. Whether or not I'll pay $5 a month to keep it going a year from now will entirely depend on what's playing at that time. Another series for The Morning Show would be enough for me to pay a couple months, but I'm guessing Apple will have a lot more in store than just that.