Posted on Monday, July 16th, 2018

We're on fire again and smoke fills the air... but don't despair, because an all new Bullet Sunday starts now...

• M-S-G Can You Dig It? Absolutely fascinating...
I don't eat Chinese food hardly at all (it's not very good here, and choices for vegetarians are severely limited)... and yet I've heard the MSG myth forever.

• Monkey Business! In case everybody doesn't know... I put the first volume of Bad Monkey Comix up to read online for free. You can take a look by clicking on this image...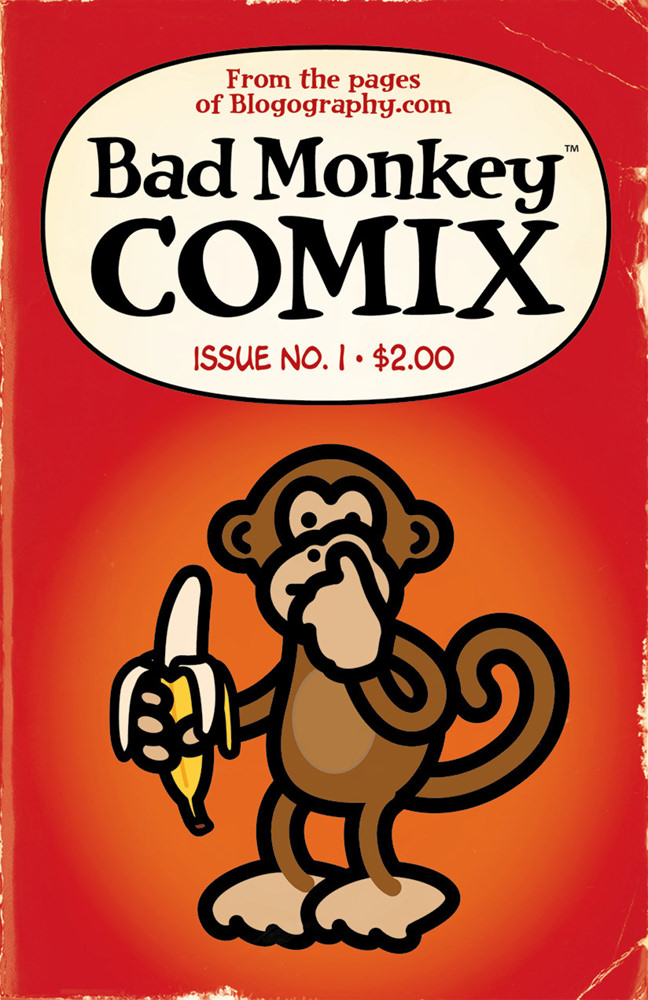 Or you can just click this link!

• New MacBooks! Apple's new "Pro" MacBooks once again lacking the ports that "pros" need to actually FUNCTION in their fucking JOBS. Such a crock of shit. DONGLES! DONGLES EVERYWHERE!!!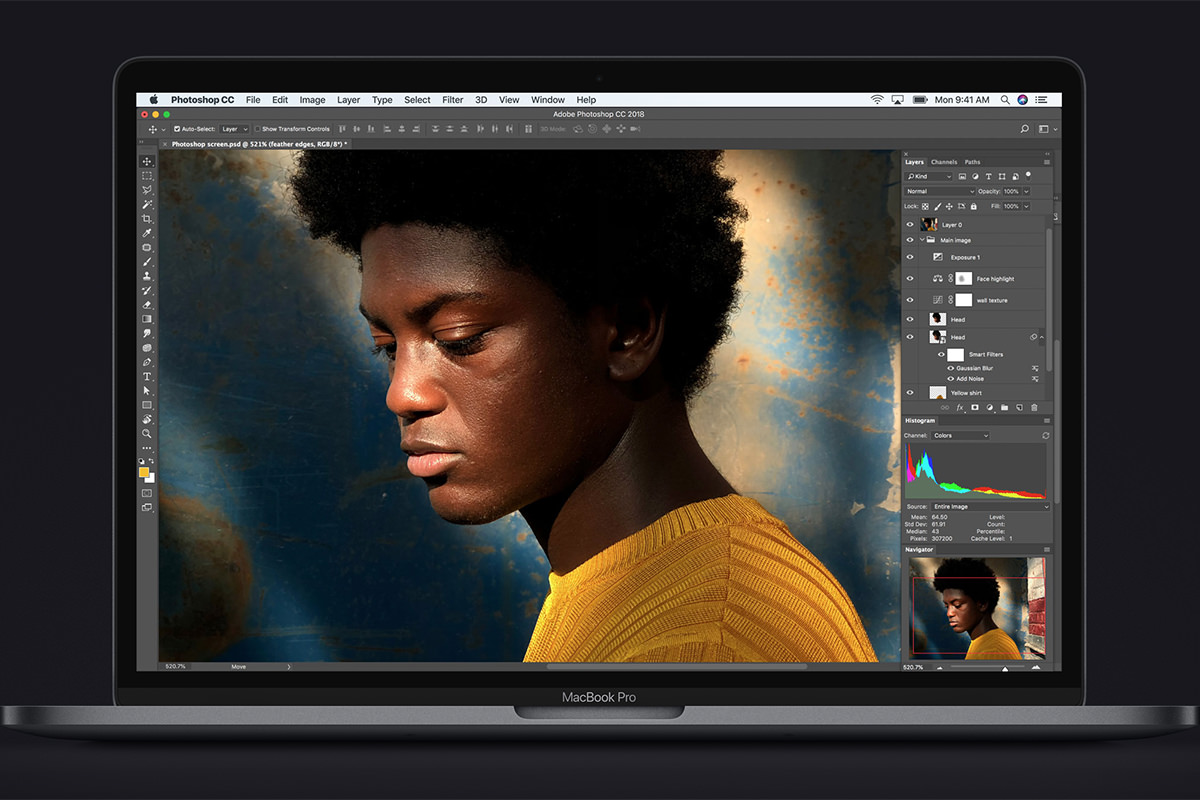 I thought that Apple was supposed to be working with pros to find out what they want in "pro" products? I don't think that's true. Otherwise they wouldn't be sticking with a shallow, shitty keyboard and no standard USB ports. At least you get more than one port now. Still no MagSafe, which sucks.

• Science Fact! Tom Bailey's new album, Science Fiction, is here! If you pre-ordered, it has probably arrived (my autographed copy of the deluxe set did!) but you can also listen to it on the usual streaming services. I'm saving my review for another entry, but here's a sneak preview: love it.

• Be You! Oh noes. Roll up on a woman, call her a slut because of what she is wearing, then think that you can then proceed to slut-shame her into submission? Not. This. Woman. Not today. My guess is not any day...
What absolutely kills me about this is how we rave about "American freedom"... but never seem to back that up. Whether it's telling a Muslim woman she's wearing too much... or telling this woman she's wearing too little... everybody is just DYING to tell OTHER PEOPLE HOW TO LIVE THEIR LIVES. Well fuck that. Live your truth. Be who you are. Defy those who would oppress YOUR FREEDOM by defining what it means for you to be free. So long as you're not endangering others, be free to be you.

• Incompetence. I have been trying very hard to keep politics off of Blogography because I don't want it degrading into a comedy of horrors that makes me want to slit my wrists every time I visit my own blog. But things are so bad right now. So bad. And people don't even seem to realize what's happening. The Trump Administration trade fiasco is probably going to damage this country more than anything so far. Companies are already laying off scores of workers because the reciprocal tariffs are making it impossible for them to operate. It's horrendous, and it's just the beginning. From Professor David Honig...
I'm going to get a little wonky and write about Donald Trump and negotiations. For those who don't know, I'm an adjunct professor at Indiana University - Robert H. McKinney School of Law and I teach negotiations. Okay, here goes.

Trump, as most of us know, is the credited author of The Art of the Deal, a book that was actually ghost written by a man named Tony Schwartz, who was given access to Trump and wrote based upon his observations. If you've read The Art of the Deal, or if you've followed Trump lately, you'll know, even if you didn't know the label, that he sees all dealmaking as what we call "distributive bargaining."

Distributive bargaining always has a winner and a loser. It happens when there is a fixed quantity of something and two sides are fighting over how it gets distributed. Think of it as a pie and you're fighting over who gets how many pieces. In Trump's world, the bargaining was for a building, or for construction work, or subcontractors. He perceives a successful bargain as one in which there is a winner and a loser, so if he pays less than the seller wants, he wins. The more he saves the more he wins.

The other type of bargaining is called integrative bargaining. In integrative bargaining the two sides don't have a complete conflict of interest, and it is possible to reach mutually beneficial agreements. Think of it, not a single pie to be divided by two hungry people, but as a baker and a caterer negotiating over how many pies will be baked at what prices, and the nature of their ongoing relationship after this one gig is over.

The problem with Trump is that he sees only distributive bargaining in an international world that requires integrative bargaining. He can raise tariffs, but so can other countries. He can't demand they not respond. There is no defined end to the negotiation and there is no simple winner and loser. There are always more pies to be baked. Further, negotiations aren't binary. China's choices aren't (a) buy soybeans from US farmers, or (b) don't buy soybeans. They can also (c) buy soybeans from Russia, or Argentina, or Brazil, or Canada, etc. That completely strips the distributive bargainer of his power to win or lose, to control the negotiation.

One of the risks of distributive bargaining is bad will. In a one-time distributive bargain, e.g. negotiating with the cabinet maker in your casino about whether you're going to pay his whole bill or demand a discount, you don't have to worry about your ongoing credibility or the next deal. If you do that to the cabinet maker, you can bet he won't agree to do the cabinets in your next casino, and you're going to have to find another cabinet maker.

There isn't another Canada.

So when you approach international negotiation, in a world as complex as ours, with integrated economies and multiple buyers and sellers, you simply must approach them through integrative bargaining. If you attempt distributive bargaining, success is impossible. And we see that already.

Trump has raised tariffs on China. China responded, in addition to raising tariffs on US goods, by dropping all its soybean orders from the US and buying them from Russia. The effect is not only to cause tremendous harm to US farmers, but also to increase Russian revenue, making Russia less susceptible to sanctions and boycotts, increasing its economic and political power in the world, and reducing ours. Trump saw steel and aluminum and thought it would be an easy win, BECAUSE HE SAW ONLY STEEL AND ALUMINUM - HE SEES EVERY NEGOTIATION AS DISTRIBUTIVE. China saw it as integrative, and integrated Russia and its soybean purchase orders into a far more complex negotiation ecosystem.

Trump has the same weakness politically. For every winner there must be a loser. And that's just not how politics works, not over the long run.

For people who study negotiations, this is incredibly basic stuff, negotiations 101, definitions you learn before you even start talking about styles and tactics. And here's another huge problem for us.

Trump is utterly convinced that his experience in a closely held real estate company has prepared him to run a nation, and therefore he rejects the advice of people who spent entire careers studying the nuances of international negotiations and diplomacy. But the leaders on the other side of the table have not eschewed expertise, they have embraced it. And that means they look at Trump and, given his very limited tool chest and his blindly distributive understanding of negotiation, they know exactly what he is going to do and exactly how to respond to it.

From a professional negotiation point of view, Trump isn't even bringing checkers to a chess match. He's bringing a quarter that he insists of flipping for heads or tails, while everybody else is studying the chess board to decide whether its better to open with Najdorf or Grünfeld.

— David Honig
This level of incompetence when it comes to trade is going to completely and totally fuck us. And make no mistake that we, as a country, are fucked. And this is just trade. We are equally fucked in many other areas. Which leads me to believe that President Trump thinks that the era where America was "great" is The Great Depression.
And don't think that just getting a new president in two years is going to fix the problem. The things that have been screwed up may very well take decades to correct. If they are correctable at all.

• Czech! Came home to see Stripes was on this past week. It was at the part where their unit has accidentally crossed the border into Czechoslovakia and so, naturally, they're all going to die. Amazing how international relations have changed within my lifetime. I've been to Czechoslovakia... and China... and Romania... and other countries it was assumed I would never be able to step foot in back in the day...
Of course... thanks to the ineptness of the Trump Administration, we may very well be going back to those times, so I guess I'm happy to have enjoyed it while it lasted. Pretty soon the only place that Americans may be able to travel is Russia and North Korea.

• Which Brings Us To... So... under President Obama we were the laughing stock of the world you say? What about now, you feckless ridiculous ignorant fuck?
The absurdity of where we are as a country keeps hitting new lows.

And, I think that's enough bullets for a smoke-filled Sunday. See you next week!
Tags:
Apple
,
Bullet Sunday
,
Davetoons
,
Dumbassery
,
Dumbfuckery
,
Music
,
Politics
,
President Trump
,
Travel
,
Trump's America
Categories:
Apple Stuff 2018
,
DaveToons 2018
,
Music 2018
,
News – Politics 2018
,
Travel 2018
—
Click To It:
Permalink
—
1 Comment: Click To Add Yours!
Posted on Sunday, July 15th, 2018

Jake is a lovable lump of a gentleman... Jenny is a lovable petite little lady. It's tough to compare their size because you can't corral them to sit next to each other. All I know is that Jake is quite a bit larger than his sister.
Then the other day after feeding them, I noticed this...
I have no idea which sibling is older.
But Jake will forever be the big brother...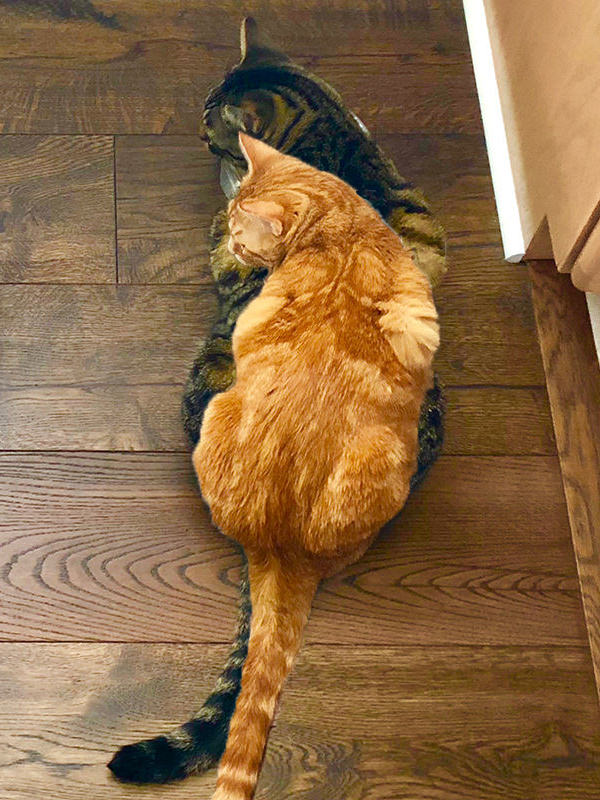 By about a third, I'm guessing.

And now?
Trying to do laundry in a house with cats...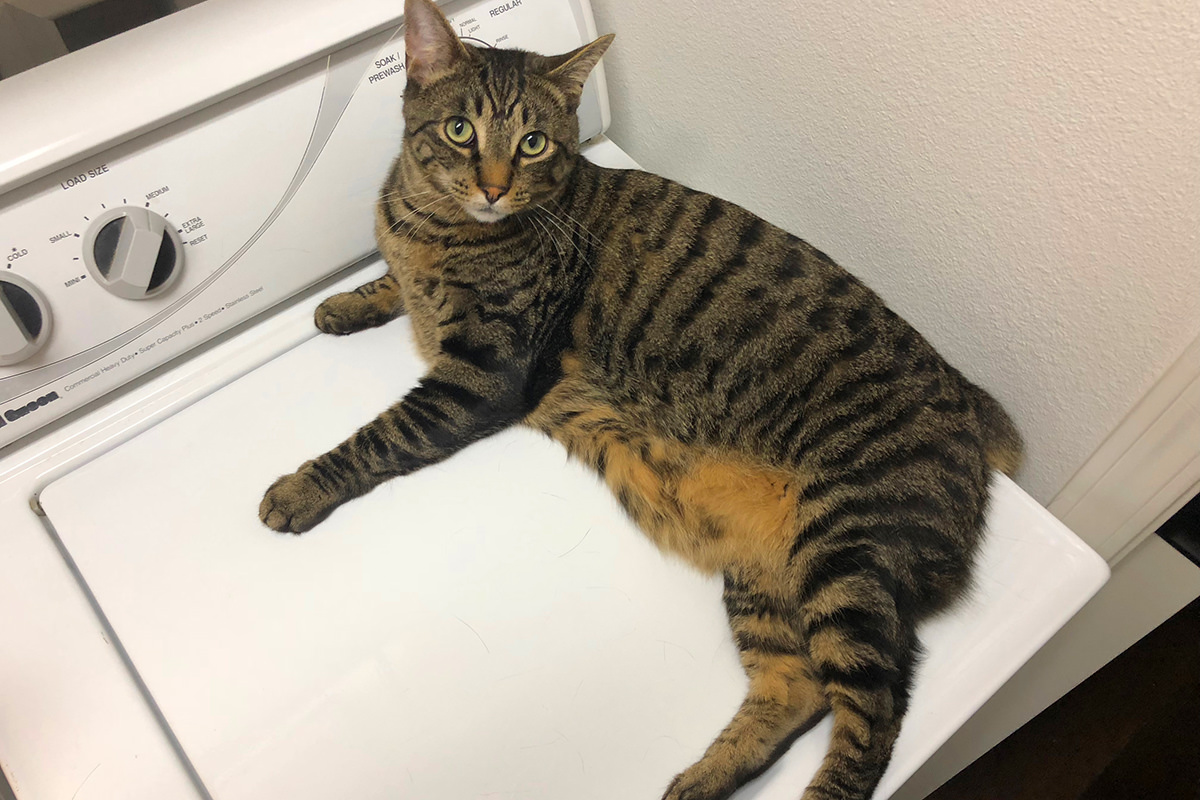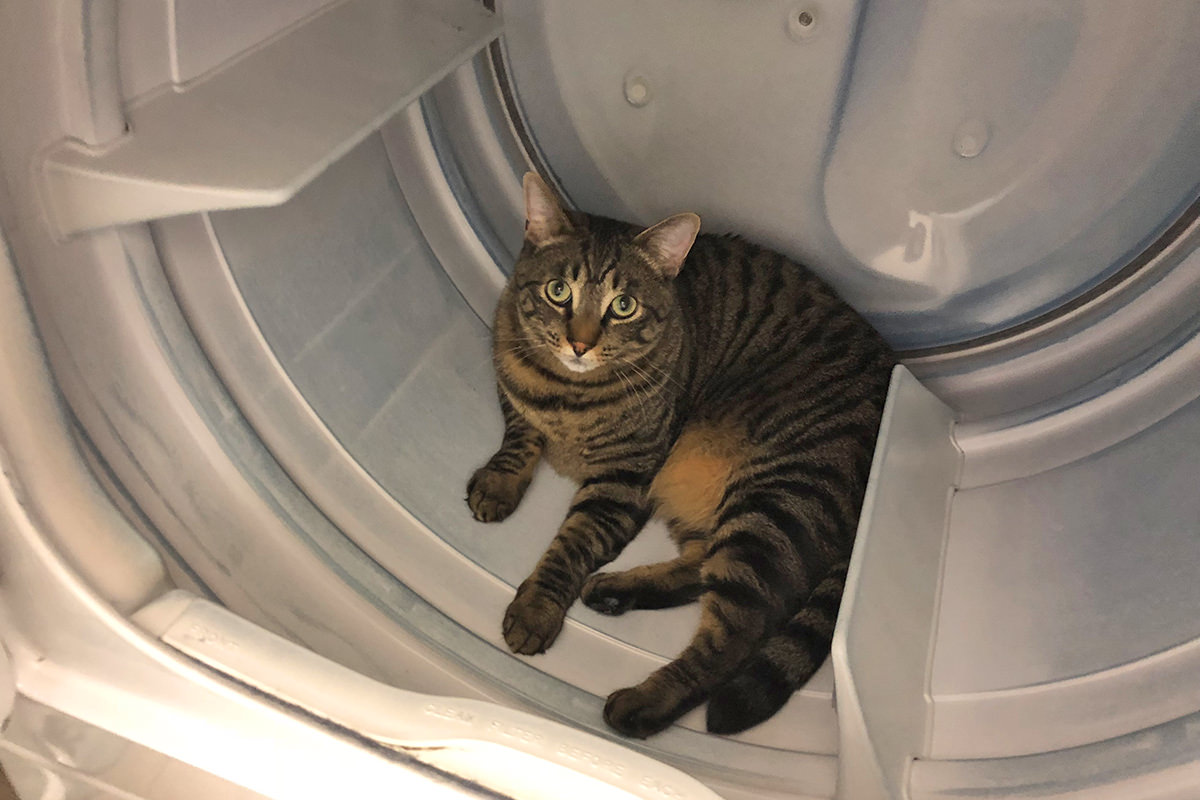 And just when one cat finally gives it up...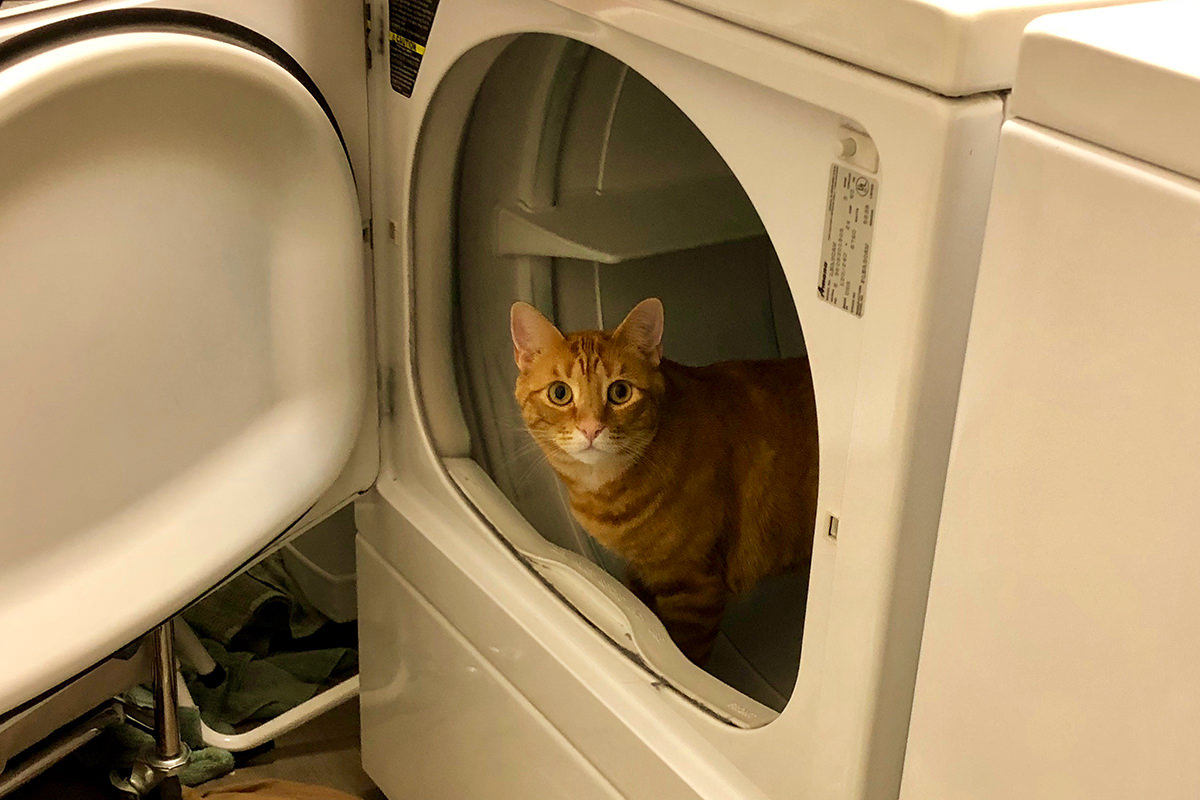 And lastly...
When you spend lots of time and money to create catio perches and toys... but your cats would rather lay on the cool concrete. Hot summer nights and all that...

And last-lastly...
I leave you with cats who like to sleep...
Except Jenny woke up before I could get my phone out, so she's not sleeping any more. But she was sleeping...

See you next Caturday.
Posted on Saturday, July 14th, 2018

I just noticed something... odd.
Rachel McAdams sure ends up in a lot of movies with a time traveler.

Rachel McAdams and a time traveler in The Time Traveler's Wife, a silly concept for time travel that doesn't quite work as sci-fi or romance...

Rachel McAdams and a time traveler in Midnight in Paris, a Woody Allen film I refuse to watch because I loathe Woody Allen...

Rachel McAdams and a time traveler in About Time, one of the sweeter romance films I've seen with time travel used to good effect...

Rachel McAdams and a time traveler in Doctor Strange, one of the better super-hero movies I've seen...

Kind of surprising that she wasn't cast as Rita in Edge of Tomorrow.
Is it too much to hope that my favorite Dean Koontz book, Lightning, gets made into a film? Rachel McAdams would make a good Laura Shane.
Posted on Thursday, July 12th, 2018

Blogography may be screwed up for a bit, but I'm still blogging!
After twelve years of suffering through my current web hosting provider, I'm moving to greener pastures.
When I first investigates Media Temple, they were more expensive than others, but billed themselves as a "pro" solution and were hosting some of the biggest sites on the internet. I figured the extra money would be worth it, and signed up.
And, for a while, I think it was worth it. They offered tools and goodies that most others were not, and their support was very good. I didn't like my annual bill, but I liked everything else.
Then they moved to a new "grid" architecture, and it sucked ass. Basic stuff like... oh... I dunno... SITE BACKUPS were gone. Downtime was rampant (and they never felt like reimbursing you for the time your site wasn't available). But they kept promising that they were working out the kinks and that the missing tools would be restored, so I stuck with them.
After two years, things stabilized. Downtime was still happening, but it was okay for a personal blog. And then? That was it. They just coasted along and nothing changed. And that backup tool? Oh... it's still coming!
A decade passes and I'm still fucking waiting.
I stuck around despite it all because I didn't want the hassle of moving. The thought of losing emails in the transfer was always a big deterrent.
And then? I kept getting hacked. I installed protection, which helped, but the attacks never let up. My hosting company doesn't offer any help in this arena what-so-ever (knowledge-base articles didn't much help), and so I've been attempting to handle it on my own. As I'm working on it, my "GPU" points ran out, and so I had to pay for overages... $38 for last month alone... in order to cover my backups and blog hits. $38 I can't afford.
And so I wrote to support from Media Temple.
After the bullshit canned answers I've come to expect, I couldn't take it another minute. Twelve fucking years as a customer, and they don't give a shit about me. No "Hey, sorry you're having problems we don't offer tools to deal with, so let us reimburse you the $38 as you're working through things because we value you as a customer!" Not even close. And so? They can just fuck all the way off. I'm moving to a new hosting company that may or may not be better, but at least I'm not paying a premium to host there... and, oh... THEY OFFER FUCKING BACKUP OF MY SITE AUTOMATICALLY!!!
A few things I've learned through all this...
The paid Wordpress "easy migration" tools don't work. I tried three of them (ranging from $30 to $45) and not one of them was able to handle my massive Blogography site... or even my much smaller DaveCafe site. Hoping that all their "money-back-guarantees actually happen.
Using the built-in WordPress export tool to collect your entries, comments, and such is fine... but the import tool to get them in your new site is total shit. I had to manually split my export file into two pieces because of size limitations... then the installer kept timing out before finishing, so I had to figure out which entries were missing, edit the files to only contain them, then install those. Then repeat. Again and again. Blogography ended up being tens of thousands of lines of XML code. Do you know what it's like to try and edit that shit? Thank heavens for TextMate and the ability to define blocks to copy/paste! (Command-Shift-DownArrow, Command-Shift-UpArrow).
All my templates are custom-coded by me. A skill I have long-since forgotten how to do. This meant a lot of time wasted trying to figure out how my templates work so I could repair everything.
Do not panic when your archives say "0 comments" on entries you know you have comments... the actual post page will have the comments intact. You have to Google for a PHP script to fix all that (though I am really nervous about doing so when I just got everything working, finally).
The SSL certificate "ca-bundle" goes in the "Intermediate Certificate" field or else secure site hosting won't work. Why hosting companies can't label where things go is beyond me. I had the same issue with Media Temple, and finally remembered what I did to get it working.
You can look up your database prefix in MyPHPAdmin. Don't forget to put it in the appropriate spot in the wp-config file or nothing will work. And, no, I don't know why WordPress puts that not with the database credentials section, but instead all the way down the page where you can easily miss it.
If you hard-coded links on your site, every last one of them will fail if you customized your permalinks (under settings). I customized mine to "/archives/%year%/%monthnum%/%postname%.html" in order to be backwards-compatible with the Movable Type blogging platform (that was my pre-WordPress platform).
Just copy all your plugins via FTP and add them directly to your new site... don't try to search for them inside WordPress because half of them are missing, unsupported, or abandoned.
Screaming at your computer display does nothing except scare the kitties. Don't do that.
Posted on Wednesday, July 11th, 2018

Um... yeah... things may be messed up here for a little while. Everything is helplessly screwed up, and I'm trying my best to restore from my backup... but the backup software I purchased won't restore properly. And so I'm kinda trying to manually restore, which isn't going so well either. Such is life.
Posted on Tuesday, July 10th, 2018

Jenny went from a kitten who would never let me touch her to a cat who wants to be petted all day long. She's still terrified of other people, but loves to hang out with me.
What's great about Jenny is that she will absolutely let me know exactly where and how she wants to be petted, and will contort herself into a pretzel to make it happen. And if I am petting her wrong or in a way she doesn't like, she'll paw at me or kick at me to let me know. There have been times she'll paw at me or kick at me because I'm not looking at her as I pet her. The little diva wants my full attention and not some half-assed distracted petting.
Most days now she will clean up after breakfast then run upstairs to hang with me while I'm working in bed. I don't get as much done when I'm working one-handed, but I don't mind because it's a nice way to start my day.
Every once in a while her purring will stop as I'm petting her and I know that she's fallen asleep...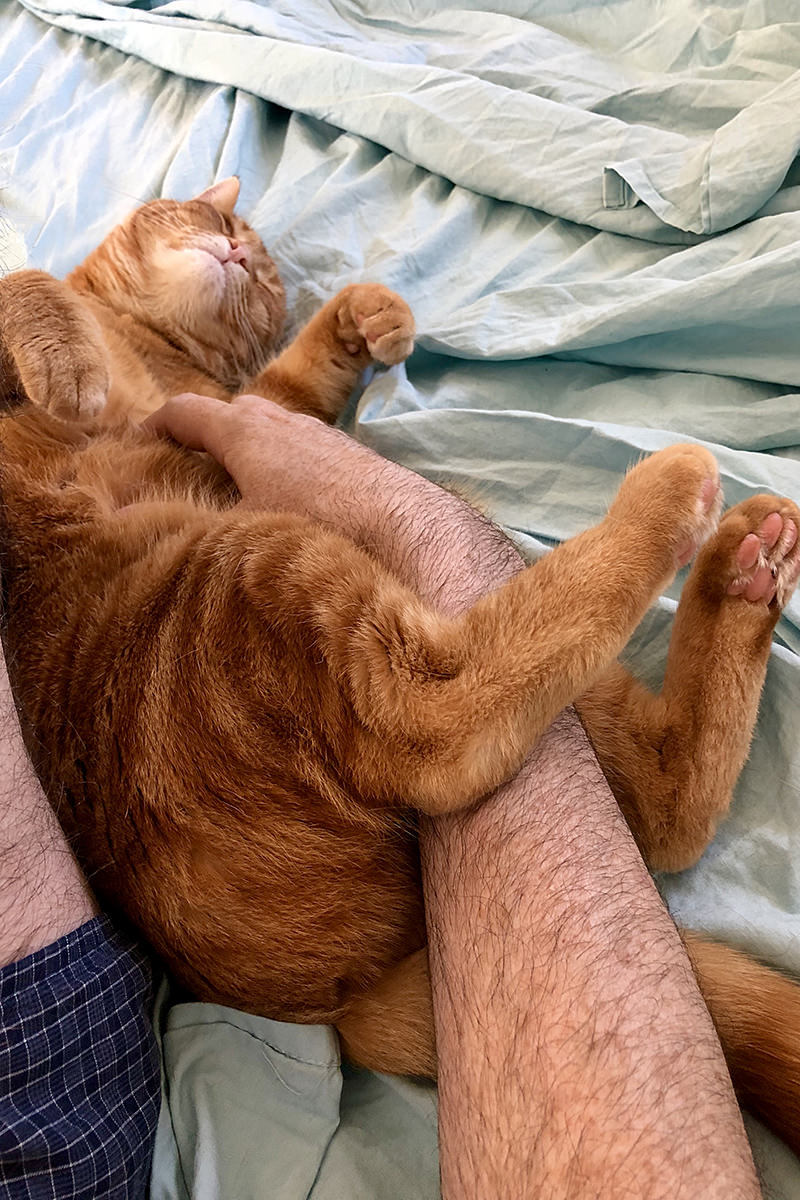 This morning she fell asleep on my foot, which means I can't get up. Sure I could waker her and try to explain that I have to go into the office or else I can't earn money for her food, shelter, and toys... but something tells me she won't be having it.
And so I guess I'm late for work today.
I can always make money putting cat videos on YouTube, right?
Posted on Monday, July 9th, 2018

My cats are too weird... when they are apart. When they are together it's an entirely new level of weird.
When I first got my cats as babies, they were inseparable. Probably because they were scared to be in a new place... but their bond lasted well past the time they got used to their home. You would never see one without the other, and one would always follow the other wherever they would go.
Eventually they decided to live separate lives. Sure their paths cross all the time, but they don't feel the need to constantly be together. Jenny, in particular, is happy to find a private spot to sleep or play where her brother won't bother her. Fortunately my home has two levels, so there's never a problem for them finding a way to escape from each other.
And then over the past month something strange started happening. Jake started following Jenny around like old times... playing where she's playing, sleeping where she's sleeping. At first Jenny was irritated by this and would leave the second she felt he was crowding her. But in the past couple of days she's had a change of heart. Sometimes when she absolutely should not...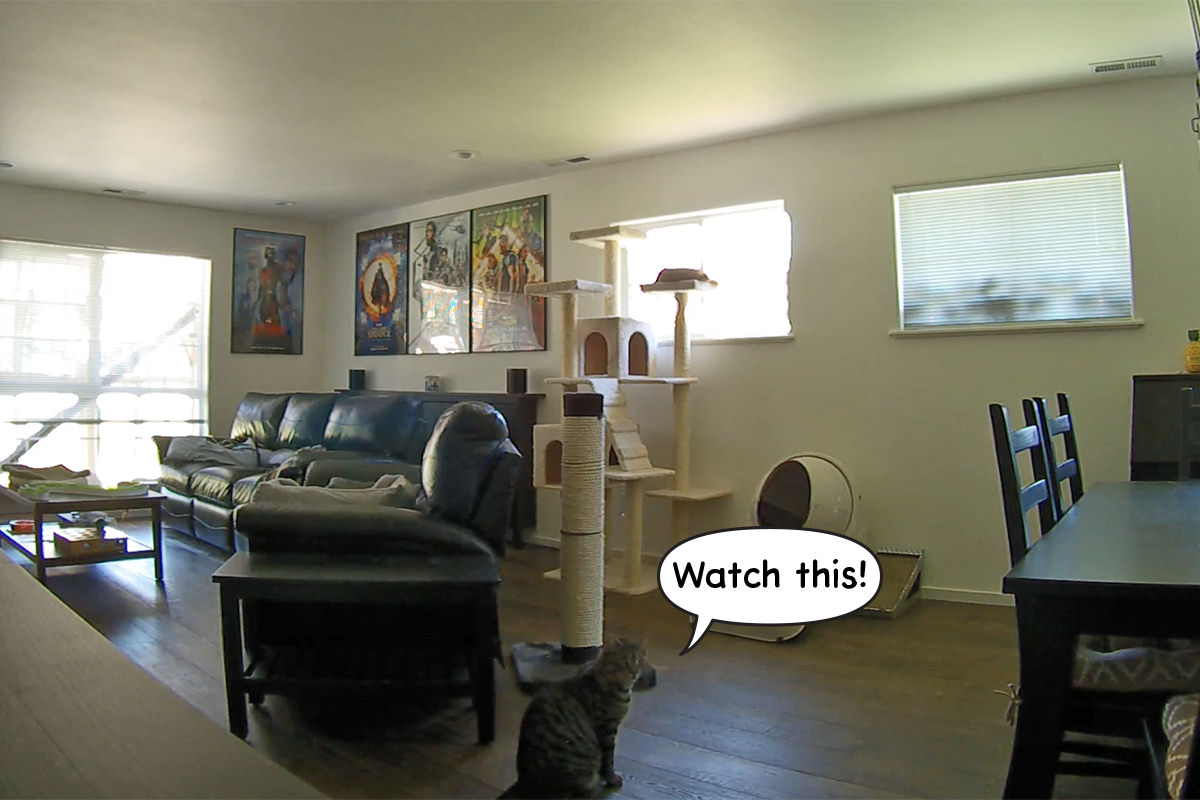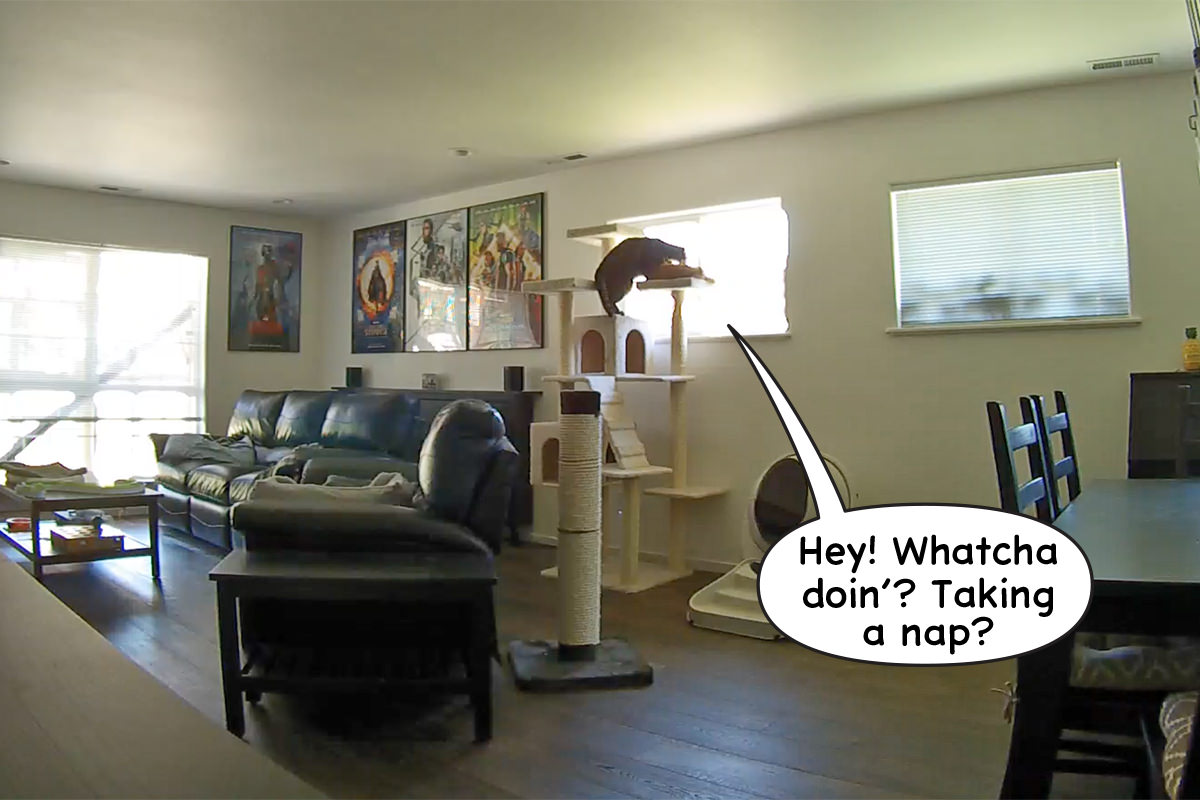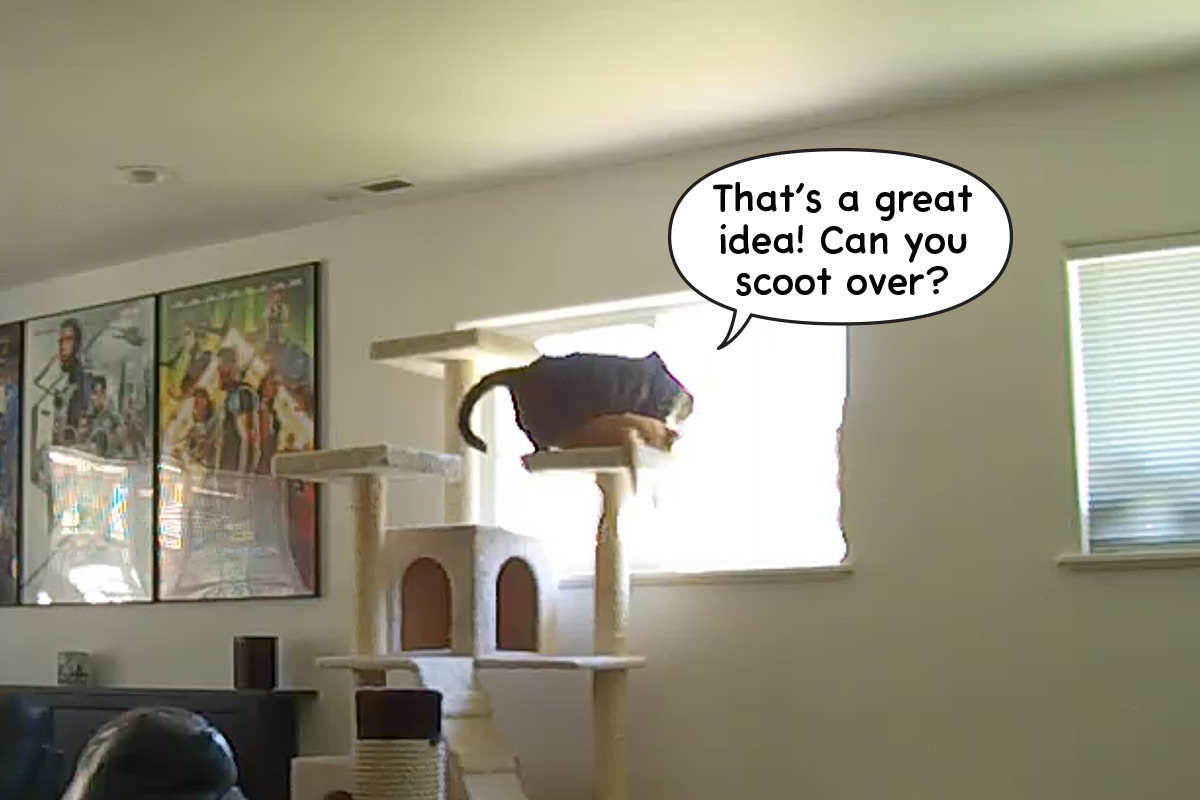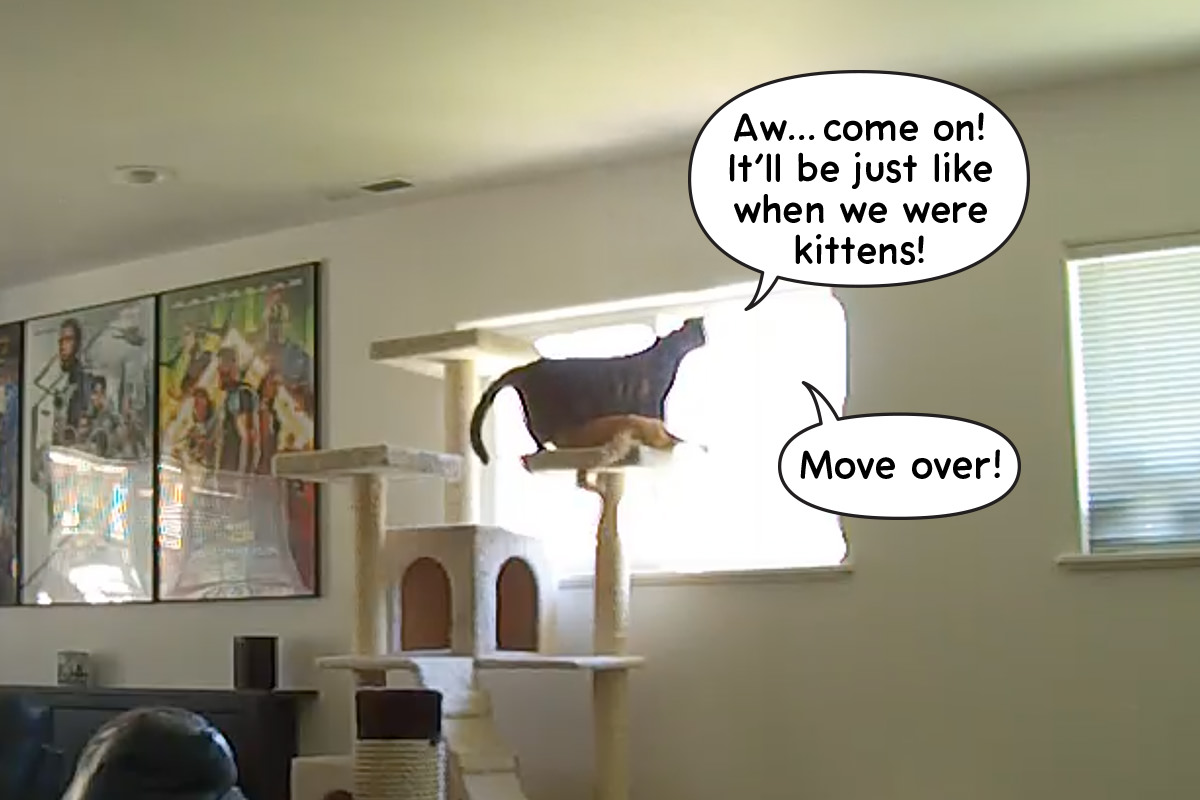 Because they absolutely don't both fit on the same platform like they used to...
And it's not just on top of the cat tower... Jake will climb onto whatever space Jenny is occupying...
And lest you think that Jake doesn't return the favor...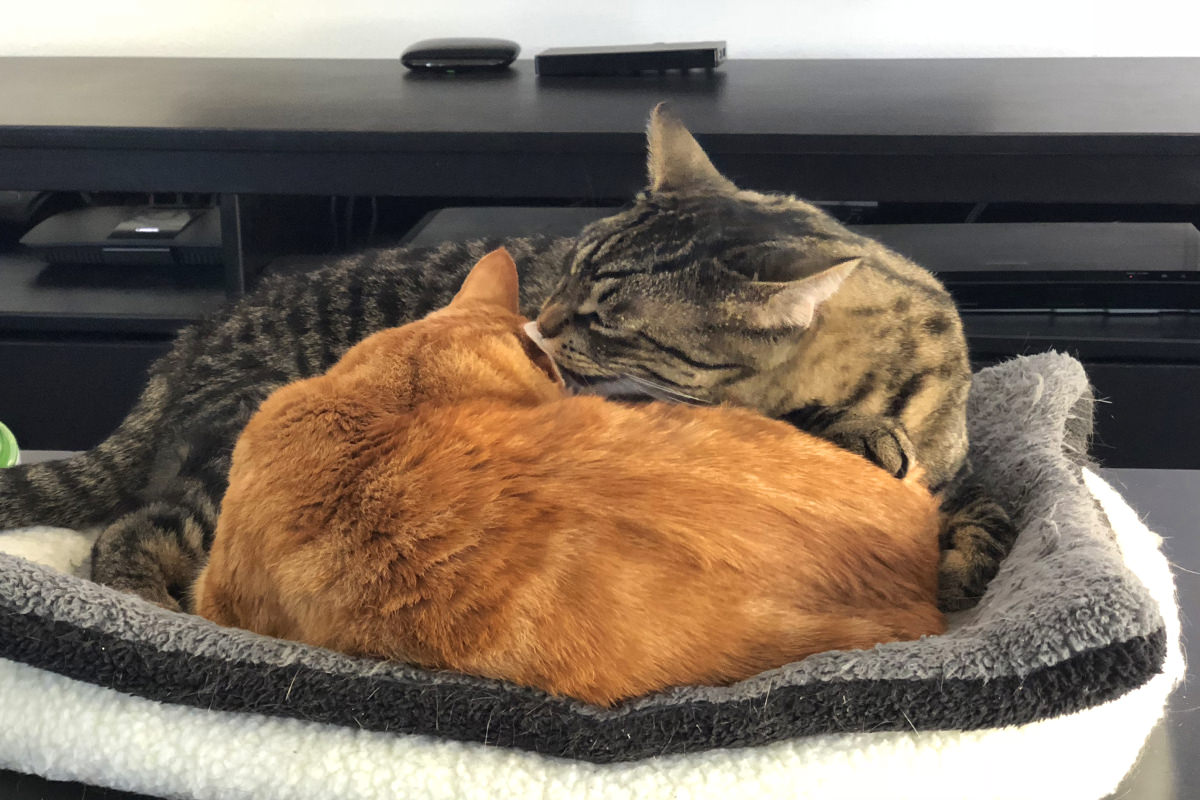 I am very, very grateful that my cats get along. But there are times I think Jenny probably wishes Jake would just leave her alone.
Posted on Sunday, July 8th, 2018

Everything in the world seems to suck... but life goes on, because an all new Bullet Sunday starts now...

• Science Fiction! One of my all-time favorite bands is the Thompson Twins. I maintain that Quick Step and Side Kick, Into the Gap, and Here's to Future Days is one of the best trifecta of albums released. Not bad for a band that considered themselves to be a joke. Eventually lead singer and writer for the Twins resurfaced for a series of 80's flashback tours. He ended up having so much fun that he decided to write new material... sticking to the slick hooks and 80's vibe that made his work so popular. And now there's an album coming from Tom Bailey called Science Fiction. If the single What Kind of World is any indication, I'm going to love it...
Only have to wait five more days...

• Coaster! That Kayla is a lucky girl...
Who needs Disneyland?

• Gaston! And speaking of Disneyland... whomever hired this cast member struck gold...
The rides are cool and all that, but it's the people at Disney that make it theme park magic.

• Coaster! And speaking of theme park magic, take a look at this amazing video...
The riders are lucky that the camera and selfie-stick didn't fly out of his hand and kill somebody... but... very cool.

• MALKOVICH! How did I miss that Spike Jonze and Jordan Peele accepted a fan theory about a link between Being John Malkovich and Get Out? Then Peele confirmed that he now considers it to be true?
Bizarre! Which is what you'd expect when Being John Malkovich is involved.

• NOT MALKOVICH! Now, I hesitate to compare any film to Being John Malkovich, but this sure looks like a contender in the bizarre department...
So cool that there are people trying to do something different in movies... and that there are studios supporting them.

• Triple Header! I still have no idea how Luca Stricagnoli does what he does. You'd think that his brain would explode trying to do so many things at once...
Beautiful. Amazing how his interpretation just keeps getting better and more complex as time goes on.

And that's all she wrote for bullets this Sunday. See you again in a mere seven days.
Posted on Saturday, July 7th, 2018

When it comes to my cats, I am the absolute worst kind of parent. Rather than enact strict discipline in my household, I always take the path of least resistance because I find it incredibly difficult to tell Jake and Jenny "no" to anything.
It wasn't always this way. I started out with all kinds of rules. My #1 Rule has always been to keep the cats out of my kitchen... for two reasons. The first is that this is where there front door is located, and I didn't want them to wait there and run outside as I came and went. Second of all is because this is where I prepare food, and I didn't want kitty germs and cat hair all over my counters. I went to great lengths to keep them out. Even going so far as to purchase Scat Mats to electrocute them when they walked across them. Well, "shock" not "electrocute" but you get the picture.
Unfortunately, my cats were smarter than Scat Mats...
Yes. Jumping over the mat. Who'da thunk it? But that wasn't even the start. They would also drag things over the mats so they could walk across without getting shocked.
And so... they were allowed in the kitchen since there didn't seem to be an easy way to stop them. Oddly enough, they stopped hopping on the kitchen counters once I let them in, so I am declaring myself the voctor here.
It goes on and on.
Most all my rules have been tossed out the window. About the only one I have left is to not allow them outside, but they've got a catio for that, so I'm not sure I won that battle.
The latest battle I've lost? Letting them play in the cat food cupboard.
I made the huge mistake of storing all the cat food in a lower cabinet. It's all sealed up to keep it fresh, so they can't really get into anything, but I still try to keep them out so I don't have to clean up all the stuff they drag out of it...
What's interesting to note is that my cats know the difference between the food packets and the treat packets.
They will pull food packets out of the cupboard, but the only packets they try and open are the treat packets. Food packets never leave the kitchen. Treat packets are dragged and thrown all over the house...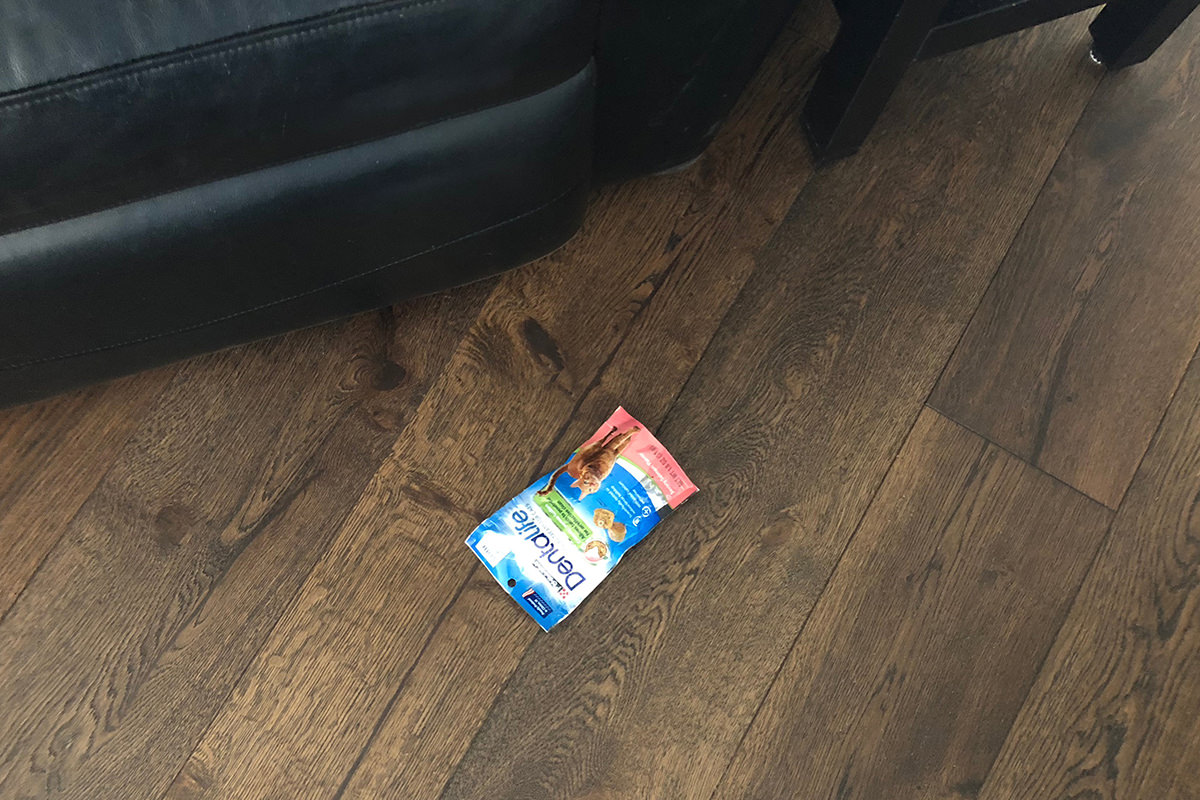 This morning when I woke up, I heard a ruckus downstairs. I knew what was going on before I even looked at the security cameras...
There was Jake, throwing around a treat packet trying to break it open since he can't find a way to bite it open.
Usually, I run downstairs and take it away because I have a rule about not letting them mess around with food like this... but... well... another rule down the drain. Who am I to deny them fun times like this? I've bought toys which they have ignored that cost a lot more than a bag of treats.
And speaking of treats... Jake loves air conditioning. Loves it. The minute he hears the AC kick in, no matter where he is in the house, he will run as fast as he can to get to the vent above the cat tree so he can bask in its coolness...
I've posted this photo (or a photo like it) before, but here's Jake showing his true love of cold air...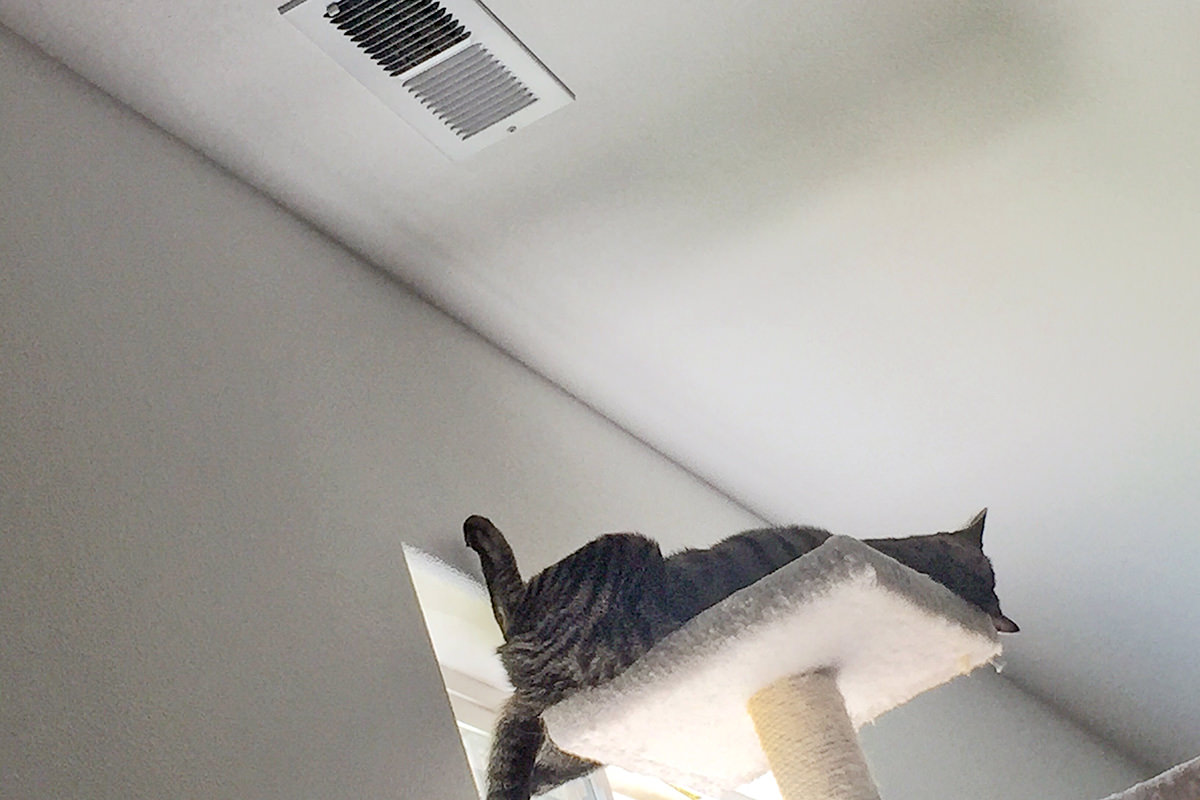 And since we just can't seem to get enough Jake this Caturday...
There I was, working away, when I have to stop so I can check my security cameras and find out which cat is responsible for the foul-smelling dump that just got left in the Litter-Robot. Because this is my life now.
Turns out it was Jake (big surprise). BUT HERE'S THE PART WHERE I FREAK OUT, BECAUSE AFTER HE TAKES A DUMP, HE SITS THERE STARING AT THE CAMERA LIKE HE KNOWS I'M GOING TO BE LOOKING. JUST LOOK AT THIS SMUG LITTLE BASTARD! ALL PROUD OF THAT POOP HE JUST UNLEASHED!
Oh gawd... why in the hell are you reading my blog? Who needs to know this stuff? What is wrong with you?
See you next Caturday!
Posted on Friday, July 6th, 2018

As a movie-lover, it's tough to put my finger on my favorite films. Such a list would change from day to day depending on my mood or what I find entertaining at the moment. Sure, some movies will always be near the top (there's no way that Field of Dreams is ever going to drop off my favorites) but I don't think I would even attempt a definitive list for the ages.
That being said, there are many films that I love watching over and over that would not rank highly on such a list if I were to make one.
Like Eddie Murphy movies.
I simply cannot pass them up when I see them pop up on my television. And when I'm looking for a movie to run while I work, Eddie's films comes up far more often than others...
Despite being enormously talented and having this uncanny ability to make mediocre movies into something fantastic, it's not like Eddie is perfect, however. I mean, films like Meet Dave, Pluto Nash, and Holy Man seem to suggest he's not exactly worried about missteps.
Anyway...
Last night Eddie Murphy movies came up in conversation and we were all trying to decide on our favorites. This is pretty much what I came up with...
Beverly Hills Cop If there's one movie that defines the absolute core of what Eddie Murphy can accomplish on-screen, it's this. From a really good script to some hilarious improvisation, all that I love about Eddie Murphy is right here.
Coming to America This movie so deftly drifted between hilarious moments and genuinely touching romance that I think it gave Hollywood pause as to what Eddie Murphy was capable of. I've seen this movie so many times that I can practically recite it from memory.
Trading Places I debated putting this film in the top spot, because it was the first time I truly "got" how huge a movie star Eddie was going to be. All the performances were spot-on here (the casting was flawless), but this was Eddie's film from start to finish.
Harlem Nights I don't understand the critical disdain for this film. I absolutely loved it. Some of the best funny moments in Eddie's career. And not only did it drop in some amazing A-list talent (Redd Foxx? Richard Pryor? Della Reese?), but it was absolutely beautiful to look at. The sets... the wardrobe... the styling... all so beautifully done. And Murphy directed it as well? Too much greatness for people to handle, I guess.
Beverly Hills Cop II Did it match the first one? No. Did it completely live up to my expectations? Absolutely. The whole "Alphabet Killer" thing was a weak plot element (how could you be labeled the Alphabet Killer after one crime?), but it was otherwise a good story with some genuinely funny moments.
The Distinguished Gentleman This movie is so overlooked and I don't understand why. In many ways I think it's a smarter film than others ranking higher on this list, and have always felt that the story was perfect for the day (and painfully relevant even now). The thing that keeps me watching it over and over is how beautifully all the pieces fit together. Everything is scripted to keep moving the story along as bit after bit clicks perfectly into place. No, the characters aren't fleshed out to any depth, but they don't have to be. Everybody is designed to contribute to making things funny and keep Eddie at the top of his game. And with this movie he definitely is.
The Golden Child This was not a great film. And it felt as though Eddie was phoning it in the entire time. Some of his delivery was just plain awful, and so much less than he was capable of. It's like he insisted that he only have to perform one take per scene because nothing felt as polished as his other movies. And yet... even when he's phoning it in, Murphy is still funnier than most people on the planet combined, and the film worked on that basis alone. It was non-stop Eddie doing exactly what makes him so hilarious to watch.
48 Hours It's hard to ignore the film that started his big screen career, though I don't think it holds up as well as his other works. Still, this is a great film and a terrific debut.
Boomerang Okay... I'm going to admit that Eartha Kitt, Grace Jones, and Halle Berry went a long, long ways towards me liking this film as much as I did, but they didn't overshadow Murphy's performance. He was just so on-the-money scene after scene as the story kept building to its inevitable conclusion.
Bowfinger I couldn't decide between Bowfinger, Dr. Doolittle, and Life for my last film because I like them equally. But Bowfinger had these genuinely wacky moments that could have only come from Eddie Murphy. And it was great to see him matched with a talent like Steve Martin who could so easily hold his own on screen.
This list doesn't include his standup.
Oh man I hope he does at least one more standup movie before he retires.