Posted on September 16th, 2018

Fall has arrived and warm Summer days are over, but all is not lost... because an all new Bullet Sunday starts now...

• Dark! Whilst looking for something new to watch on Netflix I happened upon Dark Tourist. The show was a bit meh until the fourth episode when host David Farrier visited Turkmenistan. Holy shit. If not for North Korea, this would be the most bizarre restricted country on earth! Even if you don't want to watch the show you owe it to yourself to at least watch the animated intro, which is fantastic...
And here's the trailer for the actual show...
If you're bored and like off-the-grid travel, Dark Tourist is worth checking out!

• Tourist! And speaking of travel...
It's funny because it's true.

• Tammy! And speaking of things that are funny because they're true...
Classic Redneck Tammy!

• Solo! It's difficult to sort through my feeling on a movie which was essentially two hours of Easter eggs. Most likely because this ended up being both a blessing and a curse. A blessing because it firmly entrenches the film in the Star Wars universe. A curse because you spend the entire film going "So that's why that happens" and "So that's how that started." Fun as this was, it was a bit distracting. And not in a good way...
The story was actually kind of good, and having it constantly being interrupted with made for a bit of a slog. Even so, it's a beautiful film to look at. It has a great cast. The special effects and sound design are incredible and the action sequences are well-constructed. I just wish it had more of an imagination about it and broke new ground to keep moving the Star Wars Universe forward. Instead it's more of the same. Which puts it in the middle of the pack of Star Wars movies for me...
I was hoping for a bit more, but still liked it quite a lot. I wish I had seen it in a really good theater, but I bought into the rumors that Alden Ehrenreich was so terrible that he required an acting coach and the movie was going to be terrible. But he was terrific as Han Solo. Guess that's what I get for believing internet rumors.

• Caught! You know how you happen across a video and it's pretty great and you want to see more so you click over to YouTube to see what else there is? Yeah... this started it all...
Adorable. Wouldn't it be wonderful if all judges were like this instead of megalomaniac assholes? If you want to fall down a YouTube rabbit hole of entertaining videos, the Caught in Providence channel is worth a look!

• Heart! Ooh! The latest book from Thrice Publishing is out! This wonderful tale of growing up in Ireland from longtime Thrice Fiction contributor James Claffey is a perfect add to your Fall reading list, and is now in-stock at Amazon with Free 2-Day Shipping for Amazon Prime members!

And that's a wrap. Have a great week!
Posted on September 11th, 2018

As I said last year, pretty much all I have left to say on the subject of 9/11 can be found here. Now that my mom is gone, that's even more true since it's her story too. And so I'll just be linking to that entry from here on out when it comes time to remember the tragedy of the terrorist attacks.
Except...
When I was going through my mom's stuff last month I found this...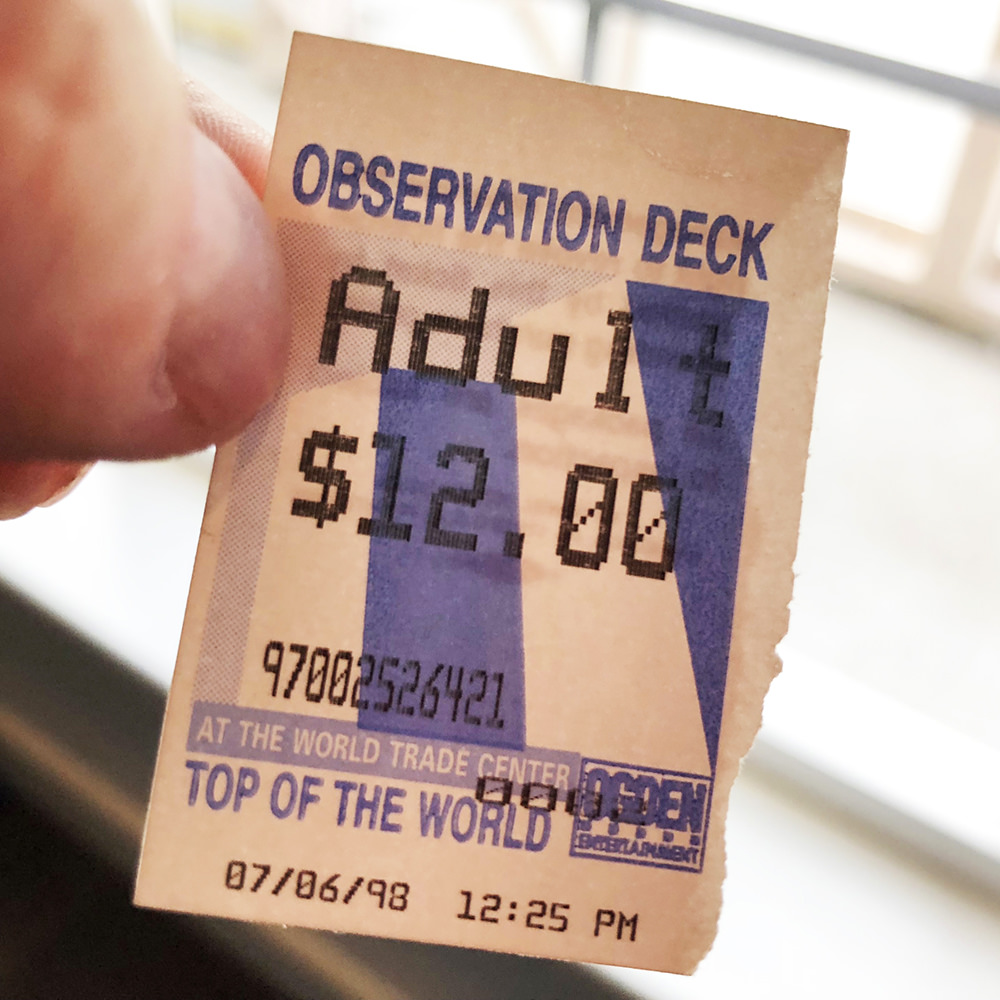 She saved her ticket stub from when I took her up the "Top of the World" at The World Trade Center on that day.
Mom saved a lot of stuff from our travels. Tons of stuff. I'm finding things like matchbooks and coasters from restaurants to brochures and pamphlets of activities we did to receipts and ticket stubs like this one. I had asked her why she'd want to save all this kind of stuff and she'd explain that it was just souvenirs. One day she thought she'd want to look back and remember all the things we did when she was too old to travel any more.
It's sad that she never got that chance. But kinda cool that she was so busy visiting new places that she never had time to look back on old travels while she was alive. Well, except for the photo books I made her. She'd look at those often. Many times while showing them to other people. Where the first words out of her mouth would be "Are your hands clean?"
Funny how I didn't start out as much of a picture-taker, but the books kept getting thicker and thicker as I was taking more and more photos. There's no book for 2006 because I helped her buy a car instead of taking her on vacation that year. I think I ended up taking her with me on a work trip to San Francisco or something, but it wasn't the same.
One of these days I really need to look at these again. And create a book for all the miscellaneous trips we took from 1994 to 2001 that I never got around to. Most of these I haven't opened in years. And one of them I can't find. Her book from Cambodia and Laos (Southeast Asia Vol. 2) has gone missing.
Even if I don't find it, I'm sure there's a matchbook from Cambodia around here somewhere.
Posted on July 28th, 2018

And so my work ended two days early. I can either...
A) Take two days off, get some much-needed down-time and disappear... or...
B) Get an earlier flight home so I can see my cats.
What to do? What to do? What to do?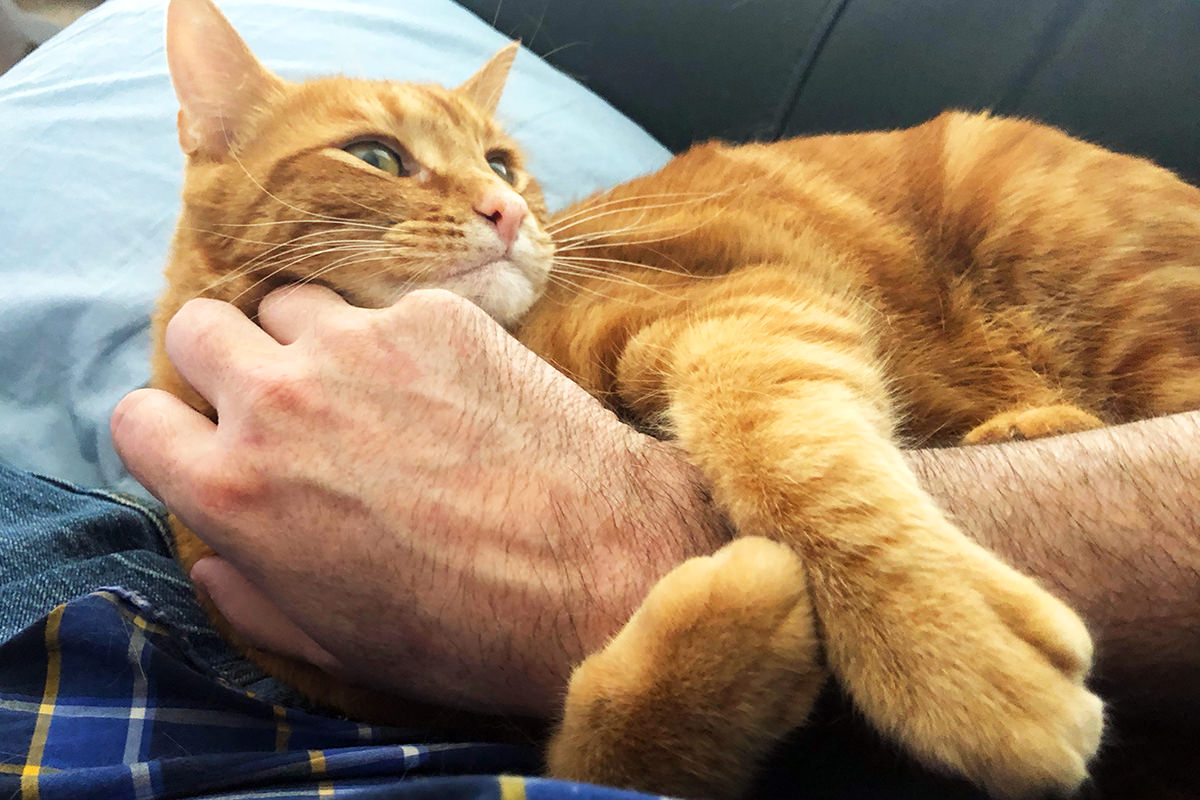 I'll have to think on that and get back to you...
Posted on July 27th, 2018

Breakfast was leftover pizza. Lunch... was also leftover pizza. For dinner there was no more leftovers to be had, so I decided I'd wait 3 or 4 hours, put down my laptop, and venture out for a late supper. But then I heard thunder booming around 4:00, and decided I would rush out to eat before a torrential flood of rain unleashed like it did yesterday.
Dinner was uneventful... thank heavens.
The walk back from dinner? Mostly uneventful...
• There was a scuffle in the parking lot between two guys whom, it would seem, arrived together in the same car. It was more verbal than physical... except for one poorly-timed slap that landed badly and a spit-response. Then one of them ran off while the other got in the car. Apparently to give chase and run him down.
• Whenever I come to the Auburn/Lewiston Area, I note that the Androscoggin River (which divides the two cities) is bordered by "Great Falls Boulevard" on the Auburn side. Problem is... in the years I've been coming here, I've never seen the "Great Falls" be that great. I'm guessing it's great in the Spring, but I'm here in the Summer and Winter when it's just rocks. Today I finally asked about it. "Well, it's not really that great most years any more."
• Today I finally decided to make a quick stop at Veteran's Park next to the above-said-not-so-great-falls. I knew it was here... never stopped. It's dedicated with a marker, which I sadly noted didn't have any women in service on it (sorry for the glare)...
Until I took a closer look(?)...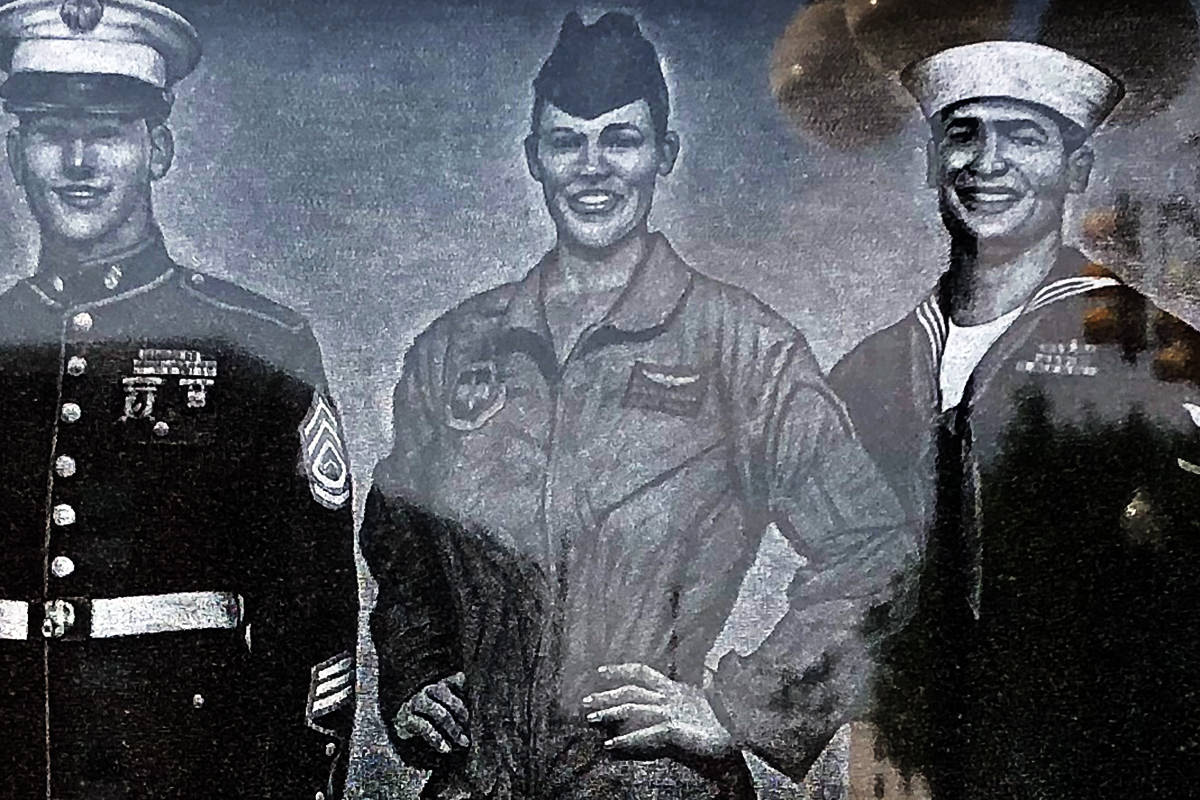 The hands-on-hips should have given her away.
• Other than the odd choice to have a gun firing at a jeep(?) it's actually a nice little park...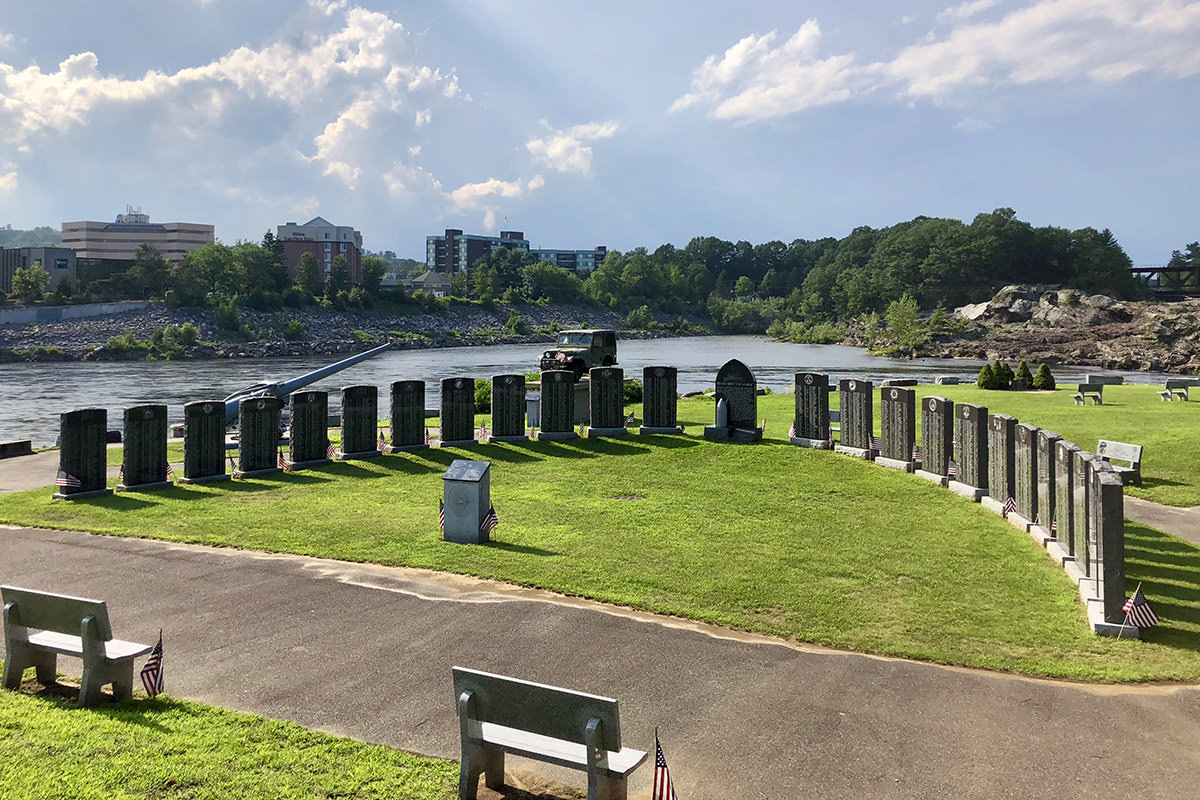 In case you are wondering... off to the right there are the Great Falls.
• As I was nearing the end of the bridge, I noticed that there was a Trump Protest going on across the street, almost all of them (I'm guessing) being senior citizens. They were calling for his impeachment...
Maine, like my home state of Washington, is a Blue State. But Androscoggin County, like my home county of Chelan, is a Red County. Meaning more than 50% of the people voting voted for President Trump. Don't know if that would be the case today.
• As I walked up to my hotel, the thunder was growing in intensity, but there was still no rain. As I walked in the sliding doors to the glass-enclosed vestibule, I saw a poor little bird flying back and forth. He was smashing into the windows from one side to the other, and I felt terrible about it. And so... I spent the next five minutes corralling the little fellow until I could shoo him out the front door. Time well spent, even though everybody in the lobby thought I had gone insane.
• When I got back to my hotel room, I noticed that there was a photo of the Great Falls (where there were actually falls) hanging in the bathroom (sorry again for the glare)...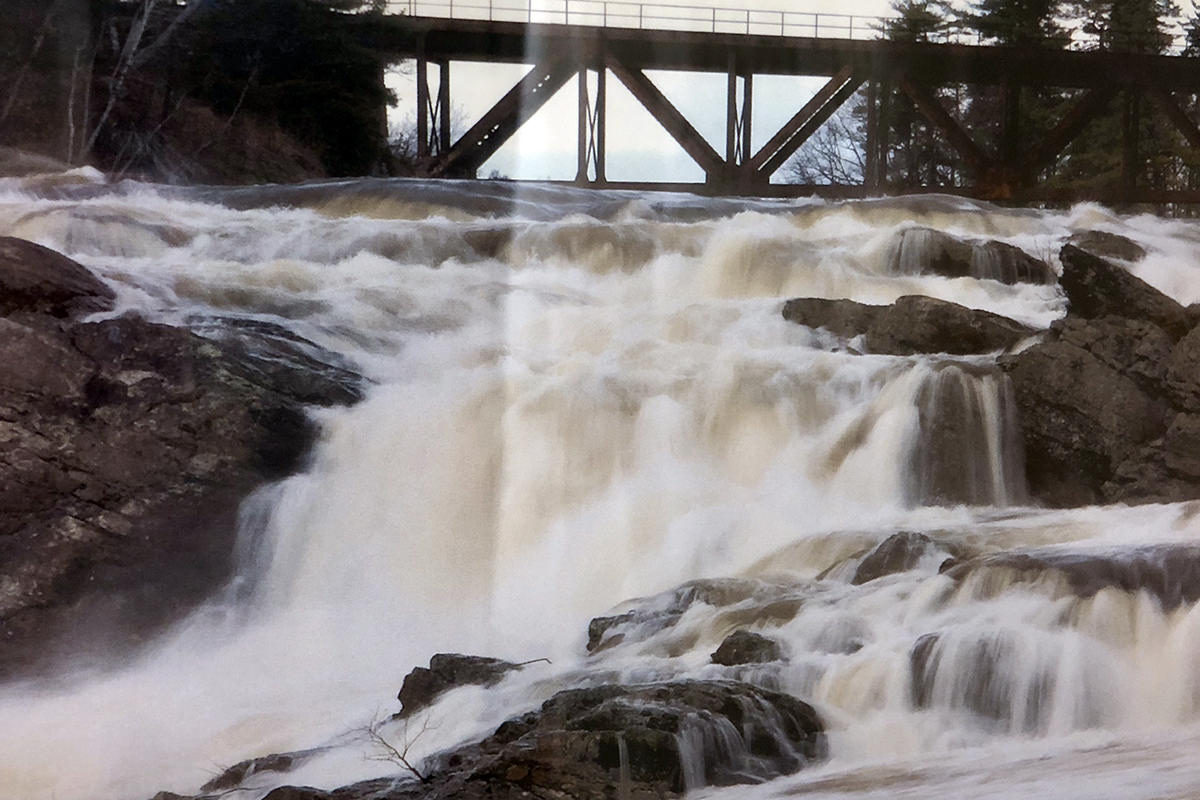 Okay, I have to admit that this does look pretty great!

And thus ends my big day. Tomorrow it's back to work again.
Posted on July 26th, 2018

When I finished work at around 8:30am (which made it a 13-1/2 hour shift) I went straight back to the hotel so I could try and get some sleep after 23 hours of being awake. I was hoping for more than six hours, but I'll take what I can get.
And what I wanted to get at that point? Food.
When I went to bed, it had just started to sprinkle. When I went down to the lobby to drive somewhere to eat though? Rainageddon. My first clue was when the hotel staff was furiously attempting to clean up the gallons of water that had poured into the building...
I was then told that many roads were closed because they were flooded... and the rain was so bad that part of the roof of the local hospital had collapsed. And so... I decided to walk to a local eatery rather than risk being out on the roads. Problem is, I didn't have a raincoat.
And so I made one by clipping a plastic bag into a long-sleeve shirt...
That coupled with my faithful Boston Red Sox hat didn't do much to keep me from getting soaked, but it was better than nothing. Totally worth it... because pizza and beer...
By the time I had finished eating, it was still raining... but not nearly as much. And yet the damage had been done. My clothes were completely soaked...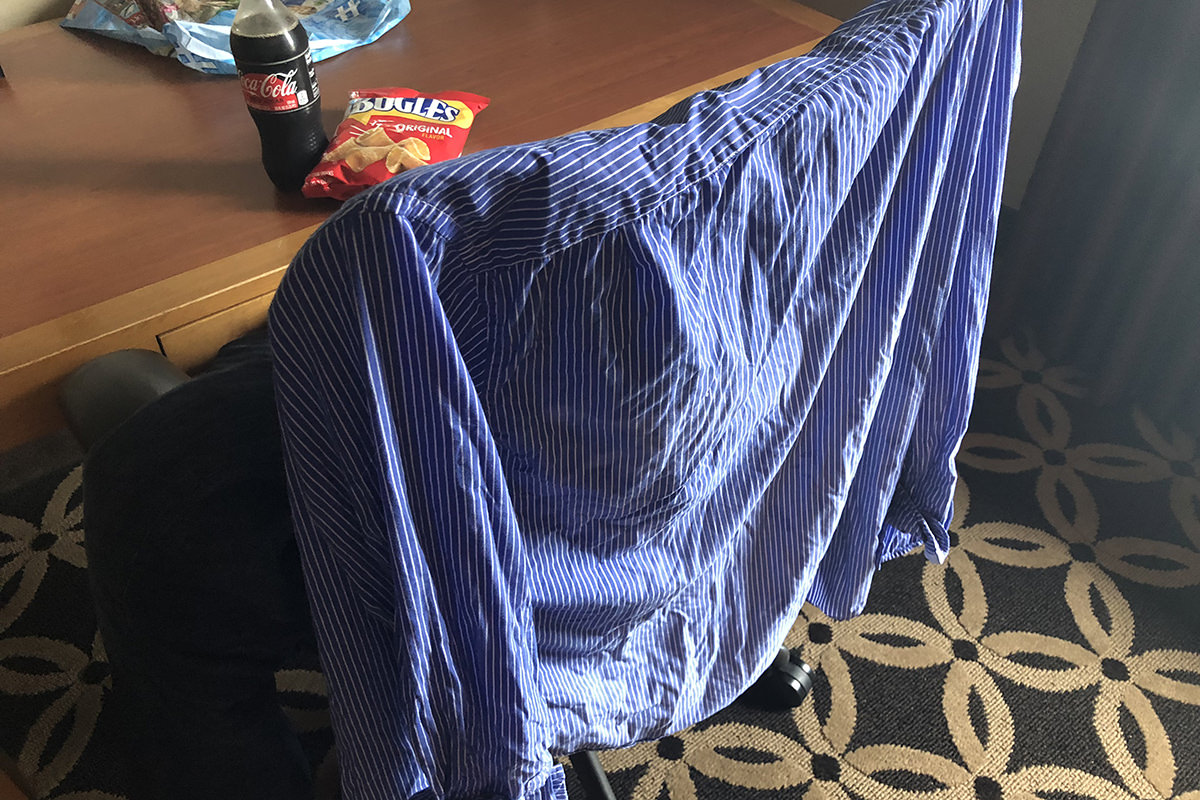 I guess dinner will be leftover pizza and a Coke Zero from the vending machine followed by Bugles for dessert, because I ain't going back out in this.
Posted on July 25th, 2018

It's 11:59pm and I've been on-site for a job for five hours. There's at least seven hours left to go... probably more... and my brain is starting to feel mooshy. If only I had taken a nap when I got into town instead of doing silly things like eat, unpack, check email, and spend time on Facebook. But, alas, it was my understanding that I would be finding out when work starts at 7:00 rather than actually starting work at 7:00, so my bad.
On the drive up to Maine, I stopped along the way to visit with an online friend I've never met in person before. He lives in a beautiful region of the state called Kittery Point, which is home to Fort McClary. The site is a bit confusing for a "fort" as there are no walls. Just a kind of hexagonal building overlooking the water...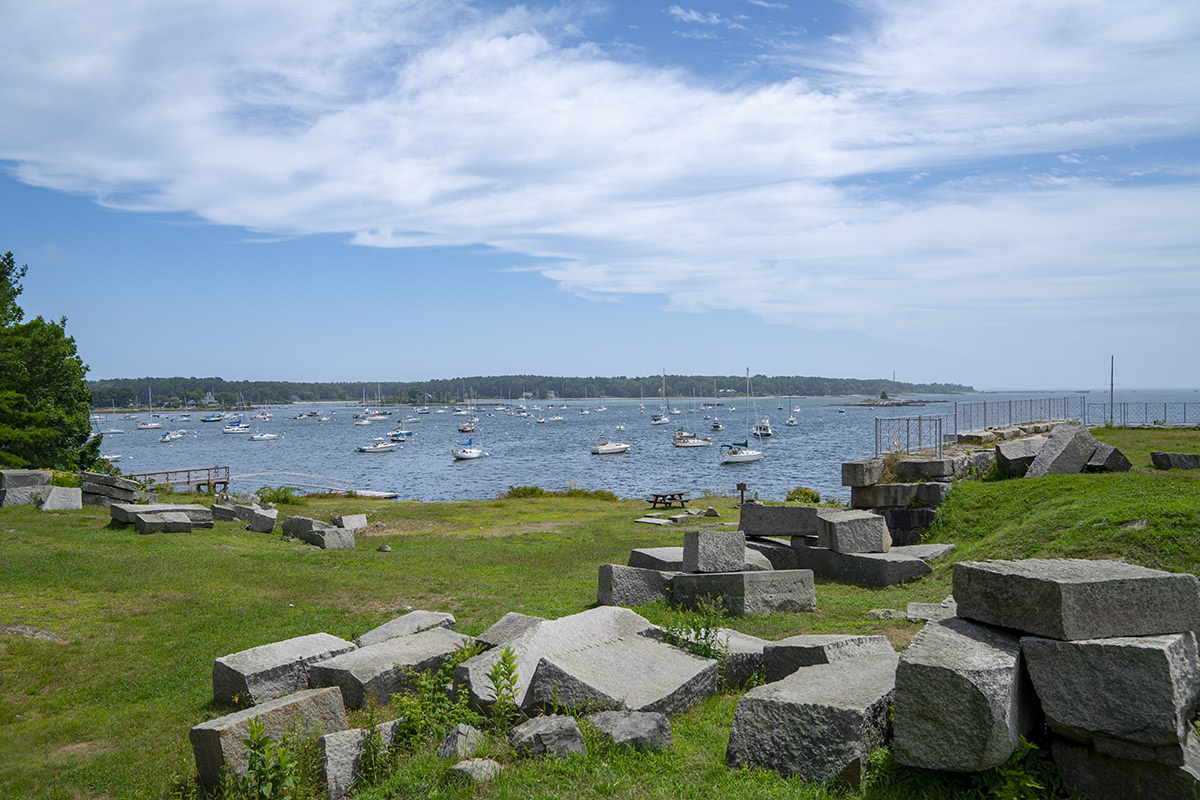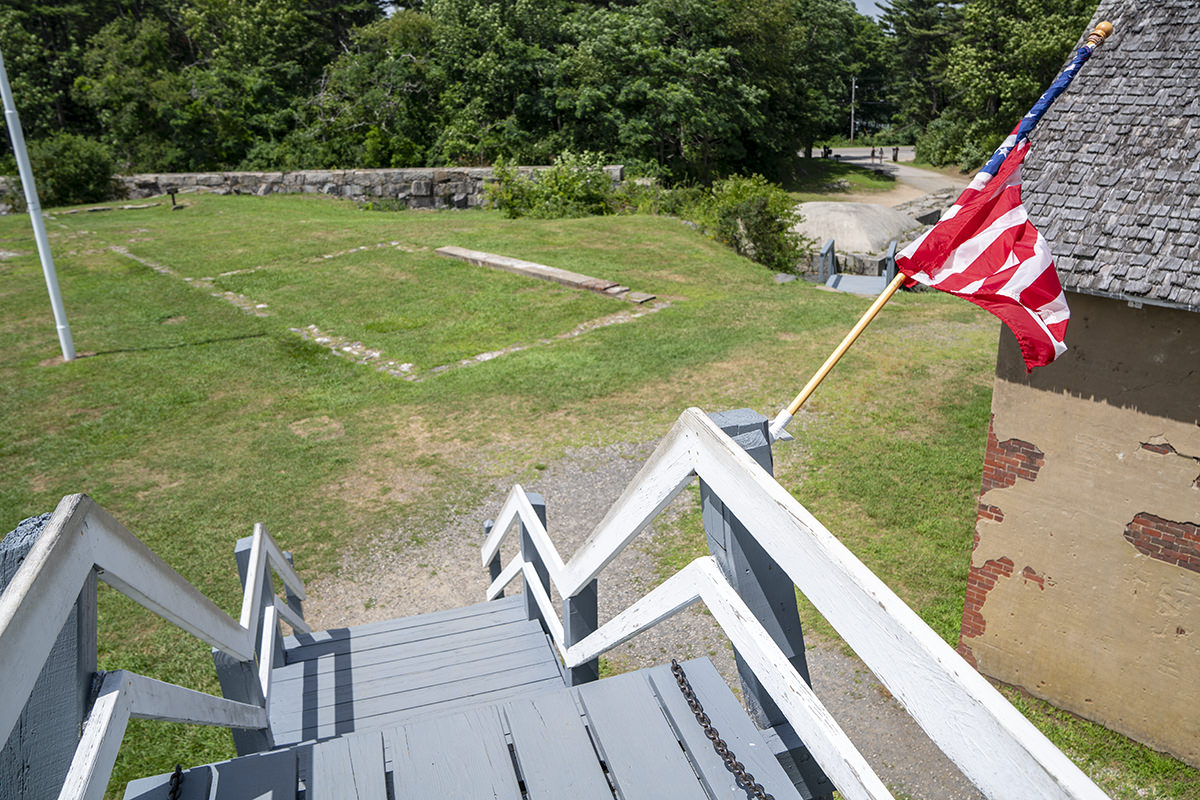 Once you get inside, however, all is made clear. There's a sign saying that the fort was never completed because an advancement in weaponry made it obsolete, and the granite blocks for constructing it were just left where they lay when work stopped...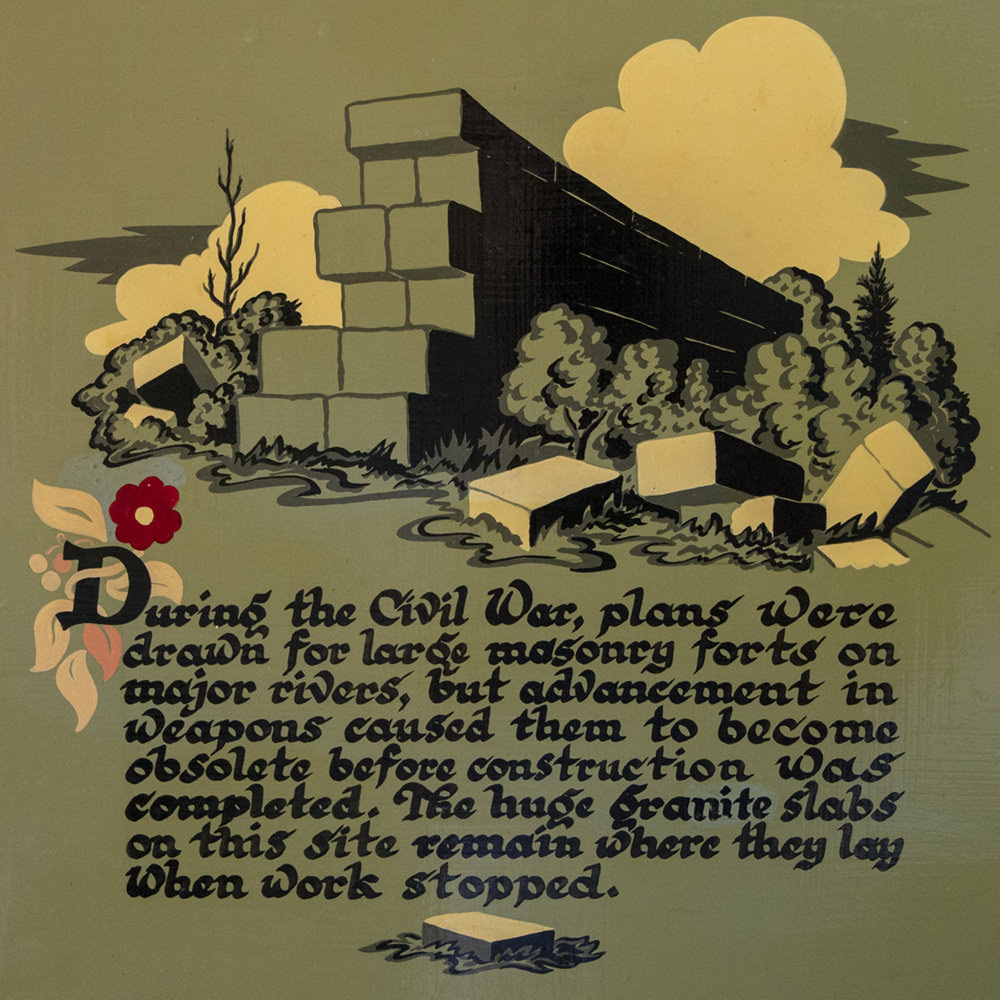 After meeting up with my friend, we walked with his dogs down to the waterfront on a beautiful Maine day...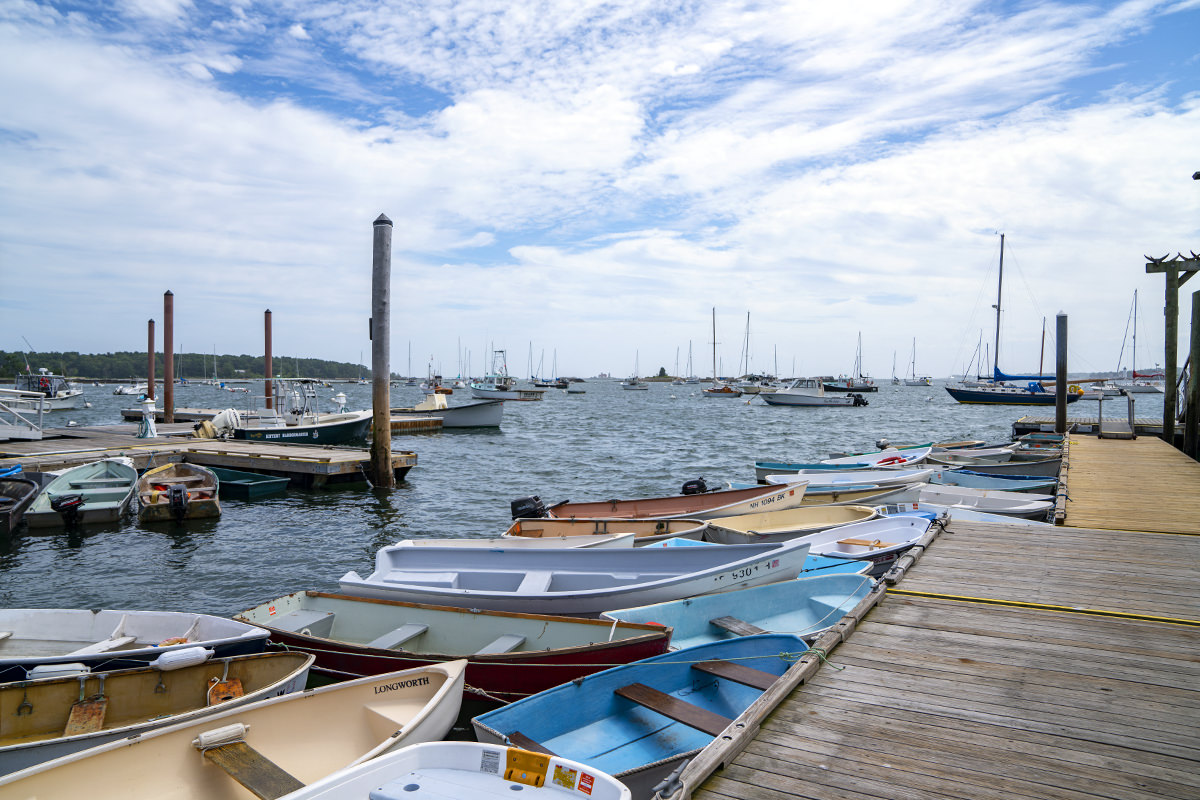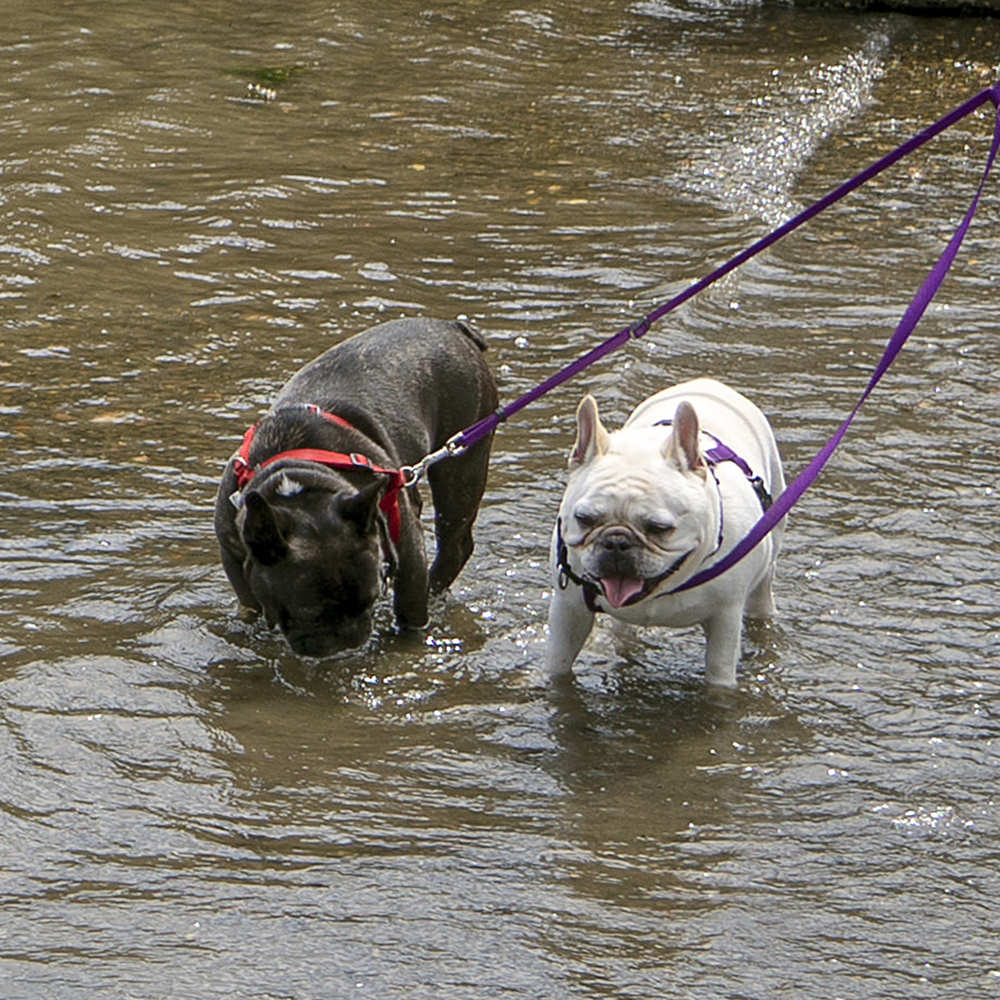 I always make time to stop in Portland for a glass of Allagash White (one of my favorite beers on earth) and whatever seasonal dessert is local. I always park across from the Old Customs House, but never thought to stick my camera out of the parking garage until this trip...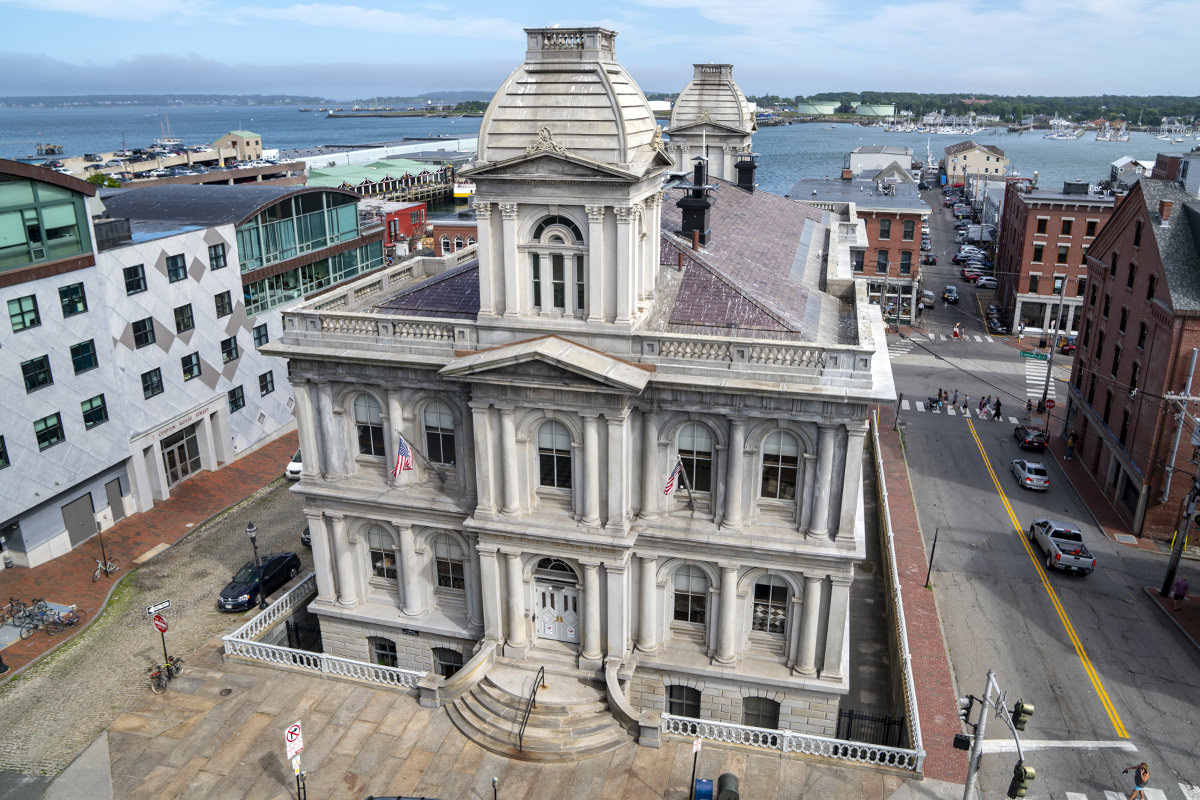 My favorite summertime deserts here are made with Maine blueberries (seriously nothing else like them), but this time I happened onto Maine raspberry season, which is so short that I'd never had them before. Delicious, as I knew they would be...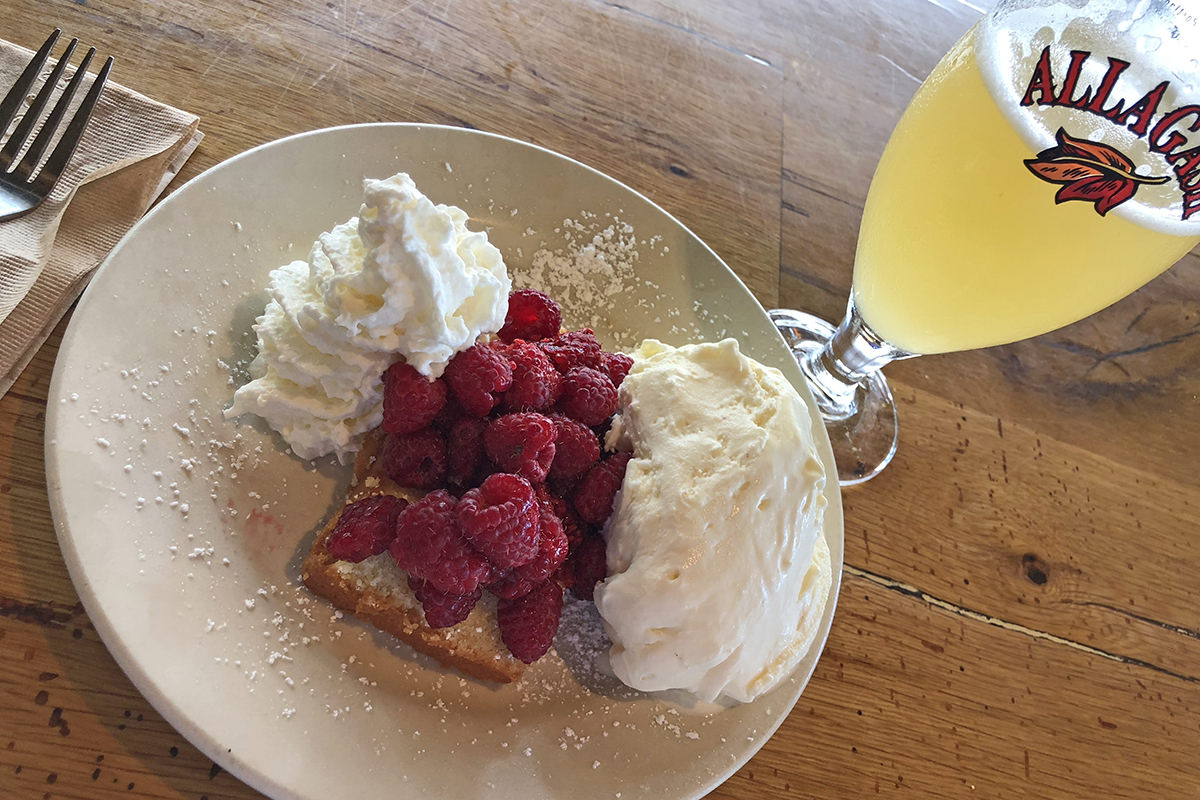 On the way to work, I saw that Maine was still in prime blooming season, even though it's just starting to end back home...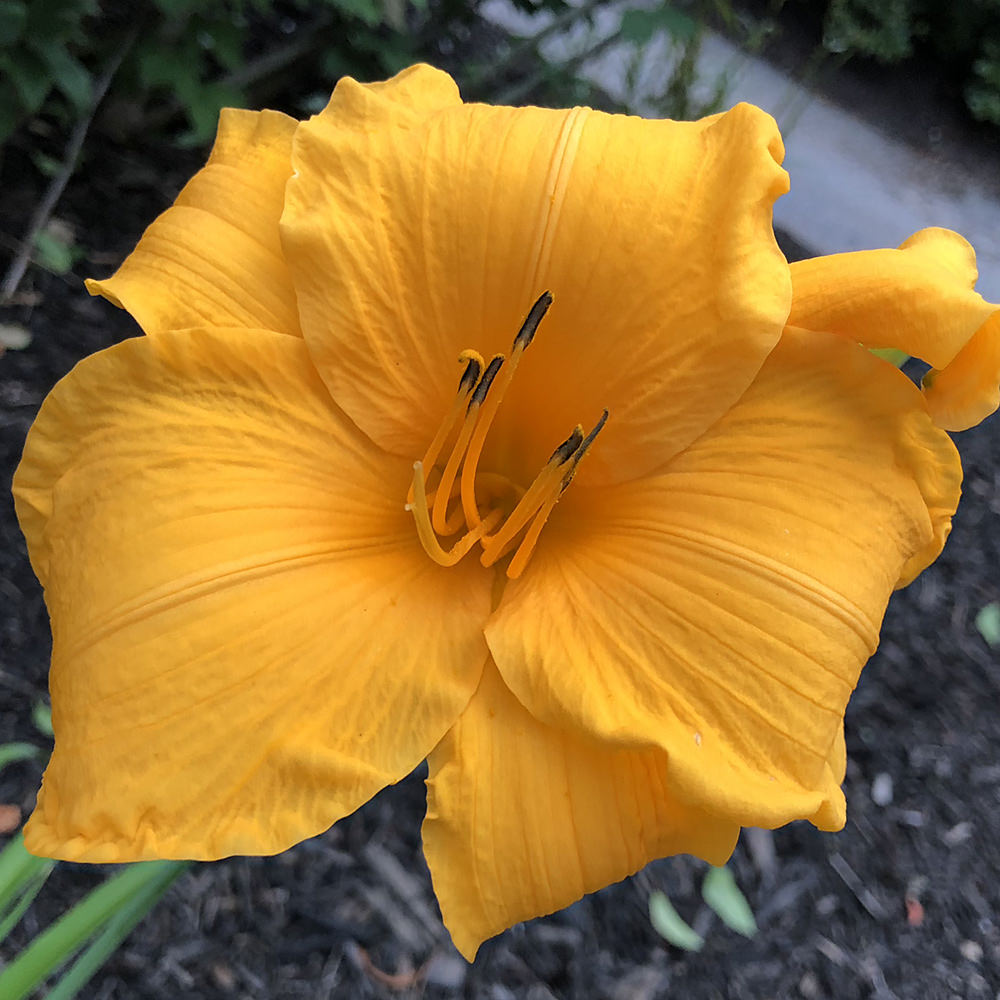 And now? Back to work I go...
Posted on July 24th, 2018

I've never much minded traveling for work. But I'm certainly looking forward to it less and less. Partly because there's so many things I'd rather spend my time on now... but mostly because because I've been doing it for decades and am just tired of it. The glamour of jet-set lifestyle has faded. Take a look at my day...
Drive to the airport (25 minutes).
Clear security and wait for my flight (90 minutes).
Fly into Seattle (45 minutes).
Have lunch and wait for my next flight (3 hours 15 minutes).
Fly into Boston after a delayed flight (5-1/2 hours).
Wait for luggage (15 minutes).
Wait for the bus (20 minutes).
Wait in line for a rental car (15 minutes).
Drive to an affordable hotel outside of Boston (30 minutes).
Send files I worked on while flying (20 minutes).
Read emails to figure out my schedule (15 minutes).
I'm exhausted and work hasn't even started yet!
But worst of all?
This is as close to my cats as I'm going to get for a little while...
At least Jake and Jenny aren't losing any sleep over my being gone.
Posted on July 15th, 2018

We're on fire again and smoke fills the air... but don't despair, because an all new Bullet Sunday starts now...

• M-S-G Can You Dig It? Absolutely fascinating...
I don't eat Chinese food hardly at all (it's not very good here, and choices for vegetarians are severely limited)... and yet I've heard the MSG myth forever.

• Monkey Business! In case everybody doesn't know... I put the first volume of Bad Monkey Comix up to read online for free. You can take a look by clicking on this image...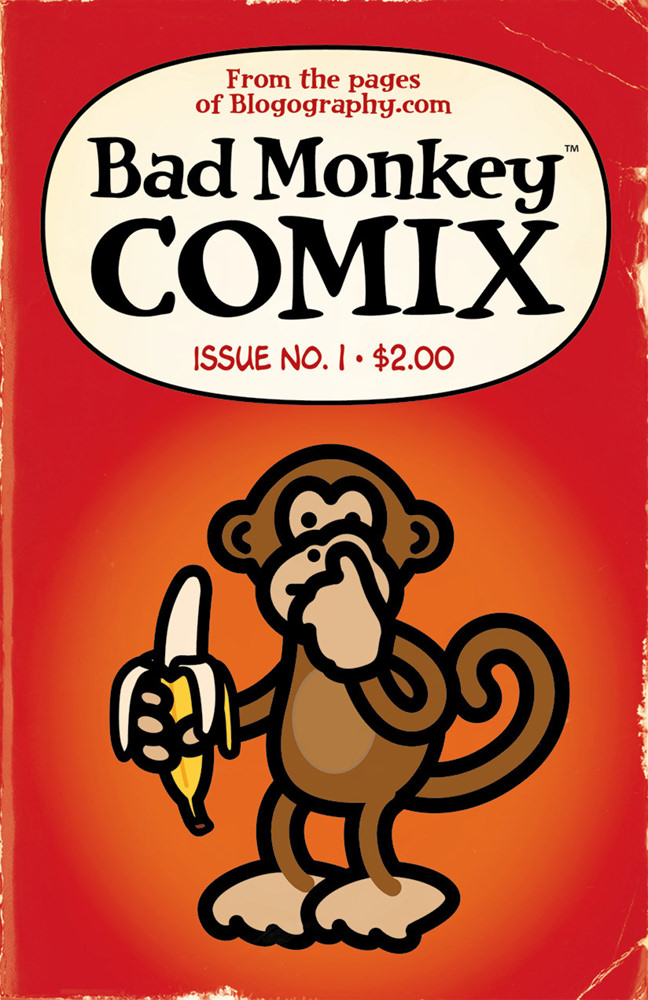 Or you can just click this link!

• New MacBooks! Apple's new "Pro" MacBooks once again lacking the ports that "pros" need to actually FUNCTION in their fucking JOBS. Such a crock of shit. DONGLES! DONGLES EVERYWHERE!!!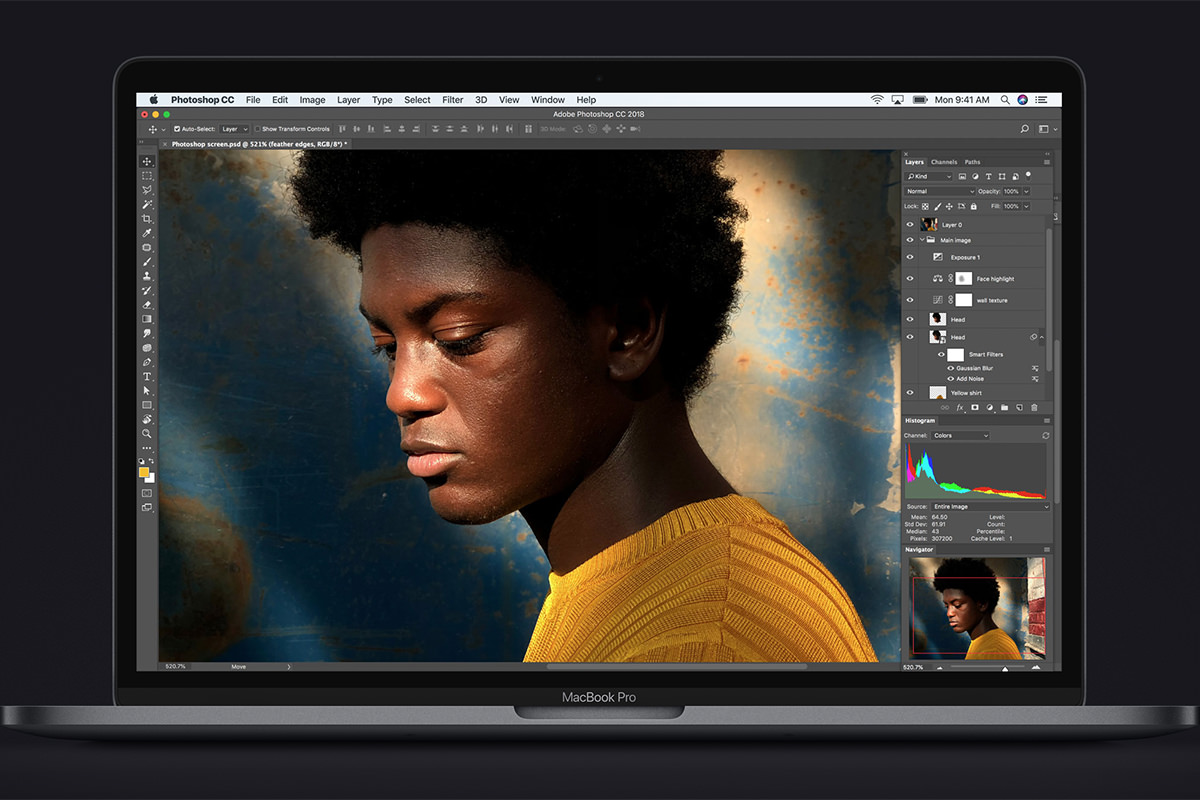 I thought that Apple was supposed to be working with pros to find out what they want in "pro" products? I don't think that's true. Otherwise they wouldn't be sticking with a shallow, shitty keyboard and no standard USB ports. At least you get more than one port now. Still no MagSafe, which sucks.

• Science Fact! Tom Bailey's new album, Science Fiction, is here! If you pre-ordered, it has probably arrived (my autographed copy of the deluxe set did!) but you can also listen to it on the usual streaming services. I'm saving my review for another entry, but here's a sneak preview: love it.

• Be You! Oh noes. Roll up on a woman, call her a slut because of what she is wearing, then think that you can then proceed to slut-shame her into submission? Not. This. Woman. Not today. My guess is not any day...
What absolutely kills me about this is how we rave about "American freedom"... but never seem to back that up. Whether it's telling a Muslim woman she's wearing too much... or telling this woman she's wearing too little... everybody is just DYING to tell OTHER PEOPLE HOW TO LIVE THEIR LIVES. Well fuck that. Live your truth. Be who you are. Defy those who would oppress YOUR FREEDOM by defining what it means for you to be free. So long as you're not endangering others, be free to be you.

• Incompetence. I have been trying very hard to keep politics off of Blogography because I don't want it degrading into a comedy of horrors that makes me want to slit my wrists every time I visit my own blog. But things are so bad right now. So bad. And people don't even seem to realize what's happening. The Trump Administration trade fiasco is probably going to damage this country more than anything so far. Companies are already laying off scores of workers because the reciprocal tariffs are making it impossible for them to operate. It's horrendous, and it's just the beginning. From Professor David Honig...
I'm going to get a little wonky and write about Donald Trump and negotiations. For those who don't know, I'm an adjunct professor at Indiana University - Robert H. McKinney School of Law and I teach negotiations. Okay, here goes.

Trump, as most of us know, is the credited author of The Art of the Deal, a book that was actually ghost written by a man named Tony Schwartz, who was given access to Trump and wrote based upon his observations. If you've read The Art of the Deal, or if you've followed Trump lately, you'll know, even if you didn't know the label, that he sees all dealmaking as what we call "distributive bargaining."

Distributive bargaining always has a winner and a loser. It happens when there is a fixed quantity of something and two sides are fighting over how it gets distributed. Think of it as a pie and you're fighting over who gets how many pieces. In Trump's world, the bargaining was for a building, or for construction work, or subcontractors. He perceives a successful bargain as one in which there is a winner and a loser, so if he pays less than the seller wants, he wins. The more he saves the more he wins.

The other type of bargaining is called integrative bargaining. In integrative bargaining the two sides don't have a complete conflict of interest, and it is possible to reach mutually beneficial agreements. Think of it, not a single pie to be divided by two hungry people, but as a baker and a caterer negotiating over how many pies will be baked at what prices, and the nature of their ongoing relationship after this one gig is over.

The problem with Trump is that he sees only distributive bargaining in an international world that requires integrative bargaining. He can raise tariffs, but so can other countries. He can't demand they not respond. There is no defined end to the negotiation and there is no simple winner and loser. There are always more pies to be baked. Further, negotiations aren't binary. China's choices aren't (a) buy soybeans from US farmers, or (b) don't buy soybeans. They can also (c) buy soybeans from Russia, or Argentina, or Brazil, or Canada, etc. That completely strips the distributive bargainer of his power to win or lose, to control the negotiation.

One of the risks of distributive bargaining is bad will. In a one-time distributive bargain, e.g. negotiating with the cabinet maker in your casino about whether you're going to pay his whole bill or demand a discount, you don't have to worry about your ongoing credibility or the next deal. If you do that to the cabinet maker, you can bet he won't agree to do the cabinets in your next casino, and you're going to have to find another cabinet maker.

There isn't another Canada.

So when you approach international negotiation, in a world as complex as ours, with integrated economies and multiple buyers and sellers, you simply must approach them through integrative bargaining. If you attempt distributive bargaining, success is impossible. And we see that already.

Trump has raised tariffs on China. China responded, in addition to raising tariffs on US goods, by dropping all its soybean orders from the US and buying them from Russia. The effect is not only to cause tremendous harm to US farmers, but also to increase Russian revenue, making Russia less susceptible to sanctions and boycotts, increasing its economic and political power in the world, and reducing ours. Trump saw steel and aluminum and thought it would be an easy win, BECAUSE HE SAW ONLY STEEL AND ALUMINUM - HE SEES EVERY NEGOTIATION AS DISTRIBUTIVE. China saw it as integrative, and integrated Russia and its soybean purchase orders into a far more complex negotiation ecosystem.

Trump has the same weakness politically. For every winner there must be a loser. And that's just not how politics works, not over the long run.

For people who study negotiations, this is incredibly basic stuff, negotiations 101, definitions you learn before you even start talking about styles and tactics. And here's another huge problem for us.

Trump is utterly convinced that his experience in a closely held real estate company has prepared him to run a nation, and therefore he rejects the advice of people who spent entire careers studying the nuances of international negotiations and diplomacy. But the leaders on the other side of the table have not eschewed expertise, they have embraced it. And that means they look at Trump and, given his very limited tool chest and his blindly distributive understanding of negotiation, they know exactly what he is going to do and exactly how to respond to it.

From a professional negotiation point of view, Trump isn't even bringing checkers to a chess match. He's bringing a quarter that he insists of flipping for heads or tails, while everybody else is studying the chess board to decide whether its better to open with Najdorf or Grünfeld.

— David Honig
This level of incompetence when it comes to trade is going to completely and totally fuck us. And make no mistake that we, as a country, are fucked. And this is just trade. We are equally fucked in many other areas. Which leads me to believe that President Trump thinks that the era where America was "great" is The Great Depression.
And don't think that just getting a new president in two years is going to fix the problem. The things that have been screwed up may very well take decades to correct. If they are correctable at all.

• Czech! Came home to see Stripes was on this past week. It was at the part where their unit has accidentally crossed the border into Czechoslovakia and so, naturally, they're all going to die. Amazing how international relations have changed within my lifetime. I've been to Czechoslovakia... and China... and Romania... and other countries it was assumed I would never be able to step foot in back in the day...
Of course... thanks to the ineptness of the Trump Administration, we may very well be going back to those times, so I guess I'm happy to have enjoyed it while it lasted. Pretty soon the only place that Americans may be able to travel is Russia and North Korea.

• Which Brings Us To... So... under President Obama we were the laughing stock of the world you say? What about now, you feckless ridiculous ignorant fuck?
The absurdity of where we are as a country keeps hitting new lows.

And, I think that's enough bullets for a smoke-filled Sunday. See you next week!
Tags:
Apple
,
Bullet Sunday
,
Davetoons
,
Dumbassery
,
Dumbfuckery
,
Music
,
Politics
,
President Trump
,
Travel
,
Trump's America
Categories:
Apple Stuff 2018
,
DaveToons 2018
,
Music 2018
,
News – Politics 2018
,
Travel 2018
—
Click To It:
Permalink
—
1 Comment: Click To Add Yours!
Posted on June 30th, 2018

When you've unloaded your life on the internet for fifteen years, it probably seems hypocritical to claim to be a "private person," but for me it's still true. Rarely does my blog touch on my personal life, my work, my family, or my offline friends. That's entirely by design, because there are some things I'd rather keep to myself. Not just for me, but out of respect for the privacy of everybody else connected to my life.
Long-time readers were probably surprised to find out that so many of my travels which have been documented here on Blogography were made with my mother, because I never mentioned her being with me at the time. The reason for this is long, complicated, and nobody's business... but... at the same time it really should be everybody's business. Partly because it may help others who are going through a similar trajectory, but mostly because there's a lot of inspiration to be found there.
And so...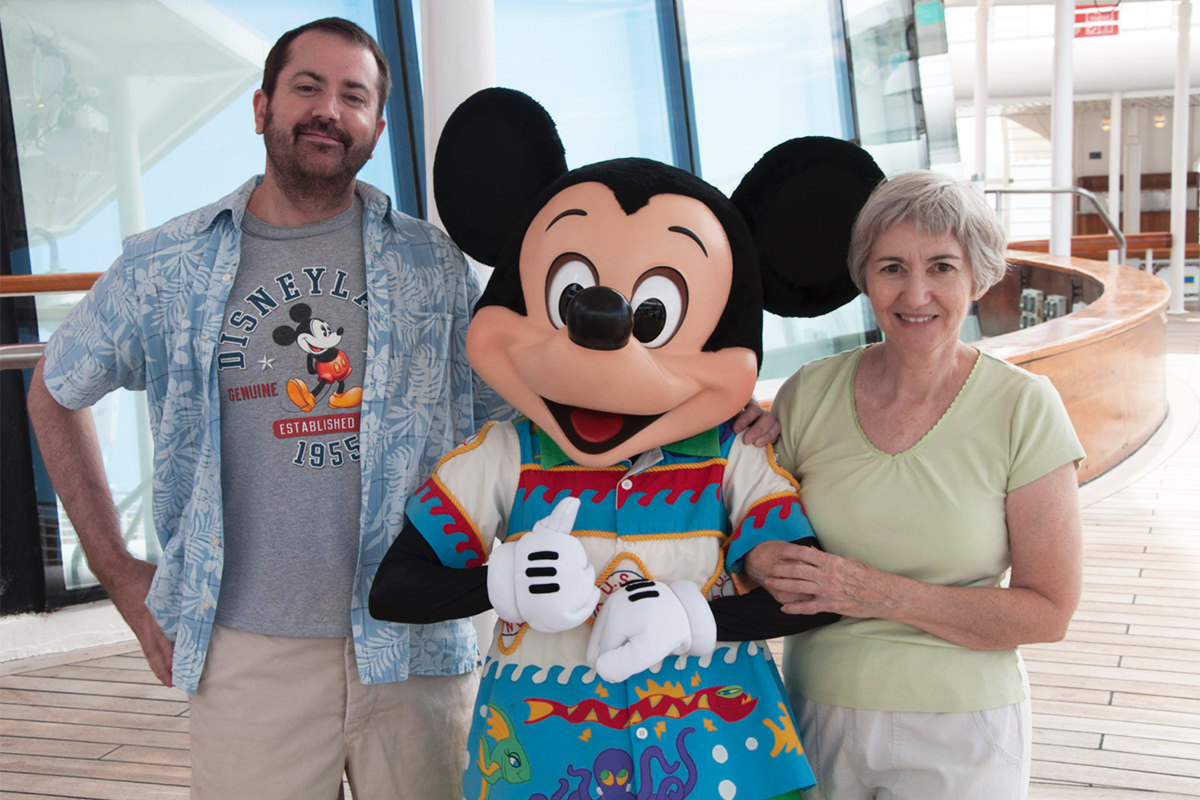 For all the time we've spent together over the years, my mom was never given to talking much about her life before I came along. I know practically nothing about her years growing up, and I honestly don't know why that is. What little insight I have is from old photos I've run across or out-of-the-blue comments that would pop up. Once while we were out for breakfast I ordered my eggs over-medium instead of scrambled like I usually do. Mom took that as an opportunity to mention that when she first got married and was cooking breakfast for my dad, she'd throw out eggs with broken yolks because she didn't want him to think she was a bad cook.
And so it went for as long as I knew her.
When things didn't work out between my mom and dad, she moved to a neighboring city. I ended up moving there with her because I was attending college there at the time. After a year of starting a new life for herself she spent most of her time with her boyfriend and was rarely around, making her the perfect roommate.
I spent way too long trying to figure out what to do for a career, but eventually found my way to graphic design. Once that had been decided, I took a job offer with a brand new company that was starting up in San Diego. It was sent my way via an ex-girlfriend who was living there, and seemed like an opportunity I couldn't pass up. The opening was seven months away because offices were still being built, so I asked my mom if she wanted to take a trip before I left. She had accompanied me on work-trips around the US from time to time, but this was to be a grand vacation in Europe... visiting London, Edinburgh, and Paris. We went. We had a great time. And I was happy to have some terrific memories before leaving home.
Not long after returning, it came to light that her boyfriend was a heinous, abusive, shit-stain on all humanity. And my mom's world fell apart. I'd say this "man" was garbage, but that would be an insult to the bag of cat shit I just tossed in my trash can. I maintain to this day that prison was too good a punishment for the atrocities he committed, and consider anal warts to be a higher form of life than him on his best day.
My mom never fully recovered.
She blamed herself for not seeing what he was... blamed herself for not knowing what he was hiding... blamed herself for everything and anything because that's all she had left. On the day she got a phone call from her now-ex piece of crap demanding she come bail him out of jail, I knew that San Diego would have to wait. First I had to try and get her the help she needed. This involved attempting to carry her down the stairs of her apartment, which I was not capable of doing. I essentially ended up dragging her down the stairs as she was sobbing uncontrollably. She couldn't walk. She could barely breathe. Days later I saw how badly she was bruised because I was not strong enough. It was the first time I felt as if I had completely and utterly failed her as a son. It would not be the last.
Months later as she was slowly... so painfully slowly... recovering from the trauma that life had thrown at her, she asked me if we might go on another vacation together one day.
You also now know why she was never mentioned as I documented our travels on my blog.
I didn't want her disgusting pig of an ex to know anything about her or what she was doing, even though deep down I loved the idea that he would know she recovered from his abuse and managed to live a great life without him in it. She had crawled out of the wreckage, picked up the pieces, and did the best she could to carry on. Sure all the fantastic places we traveled had helped, but make no mistake that it was her strength, determination, and drive that were ultimately responsible.
This was not the life she had hoped for, but it would be good enough.
At least for a while.
A decade after our European vacation, her memory started failing her. She would chalk it up to having "senior moments," but after a while it was becoming a problem. She would write herself notes constantly. More notes than anybody could ever read. She'd go through a pack of Post-It's in a week (eventually she'd go through a pack in a day). Then, three months before we were to leave for Africa, I woke up and found her wandering around in a daze. She was so confused that I thought she might have had a stroke, and rushed her to the hospital. But it wasn't a stroke.
The specialist was not entirely sure what had happened to have caused the "permanent brain injury" which my mom was now dealing with. He didn't think it was Alzheimer's, but couldn't know for sure. Subsequent sleep studies found that she would stop breathing for dangerously long periods in the middle of the night. Her doctor felt that oxygen deprivation was most likely responsible for her brain trauma. He immediately started her on a CPAP machine, but the damage had been done.
There was no reversing what had happened, and her slide into dementia had begun.
And now it was my turn to have my life fall apart.
First thing I had to do was get a note from her doctor so I could cancel our trip to Africa and get a refund from the insurance company. "Why would you want to do that?" he asked me. Well... probably because her brain was incapable to making new memories and it would be a horribly confusing ordeal for her. But her doctor thought canceling would be a mistake. Since her older memories would be preserved for a while, he thought she would be able to go and still have a good time. Sure she would remember absolutely none of it, but that wouldn't stop her from having fun at the moment.
And so we went.
It was bizarre, tragic, and beautiful all at the same time. Every morning we'd wake up and she wouldn't know where we were or how we got there, but then she'd see an elephant wander by our tent (or whatever), remember that we had been planning a trip to Africa, put two-and-two together... and, surprise, we must be in Africa.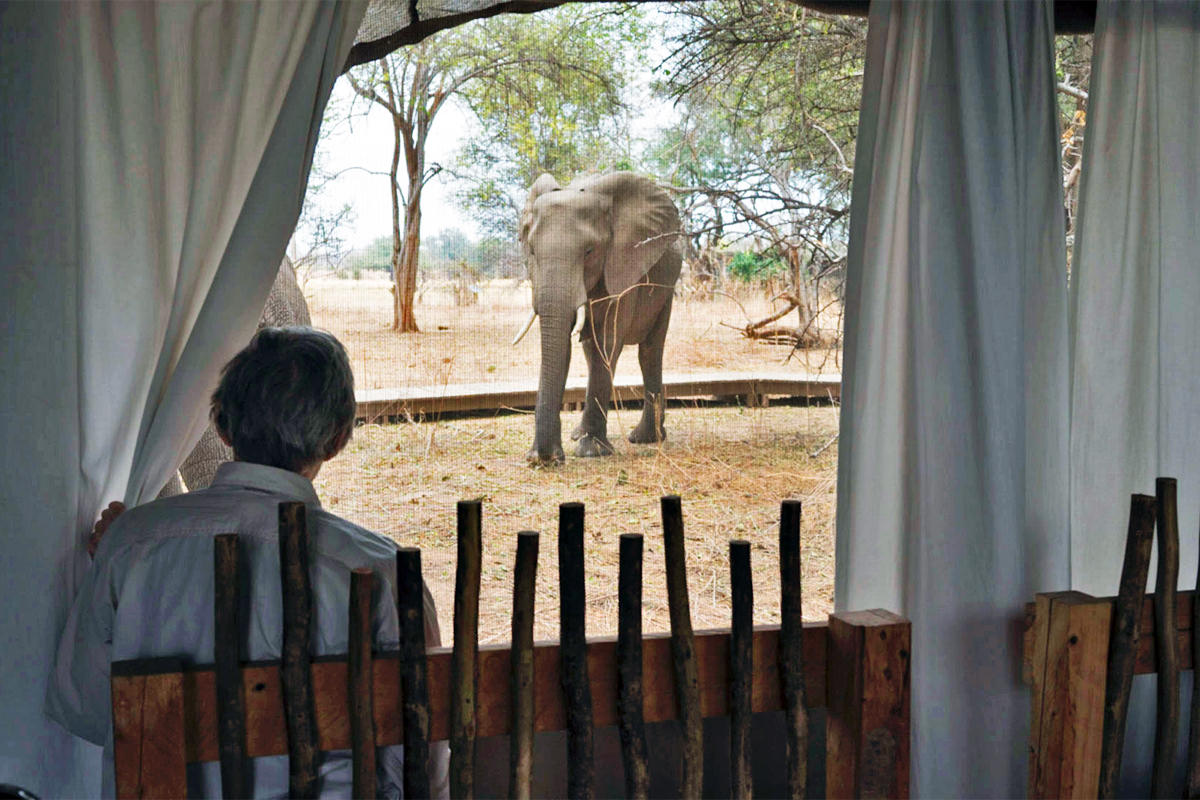 And, no, the irony of an animal that supposedly never forgets helping me come to terms with a mother who always forgets is not lost on me.
It's funny how things sometimes work out.
I am beyond grateful that we had taken that first trip to Europe, because that showed her she could have fun in life without her boyfriend in it... right before her boyfriend was carted off to prison.
I am even more grateful for her doctor encouraging me to take her to Africa despite her brain damage... because it showed me that her life was not done yet. Yes, things would continue to fall apart, but I didn't just writer her off after diagnosis like I probably would have if we hadn't gone to Africa.
Everything after returning home is a blur of heartbreak and tears as I struggled to figure out how to help my mom have the best life she could when life was throwing every possible obstacle in her path.
Eventually her apartment wasn't safe for her. Those same stairs I had dragged her down years before became a barrier to getting her in and out of the apartment. So I bought a home in the old neighborhood I grew up in where she could be in a familiar area (so that's why he bought a new home!). I had to install security cameras all over my home so I could keep an eye on her while I was at work (so that's why he has all those cameras!). My mom was scared and lonely when I wasn't there, so I decided to get some cats to keep her company (so that's why Jake and Jenny are there!). It goes on and on. Every day was a new challenge. But it's my mom and I love her, so what else was there to do?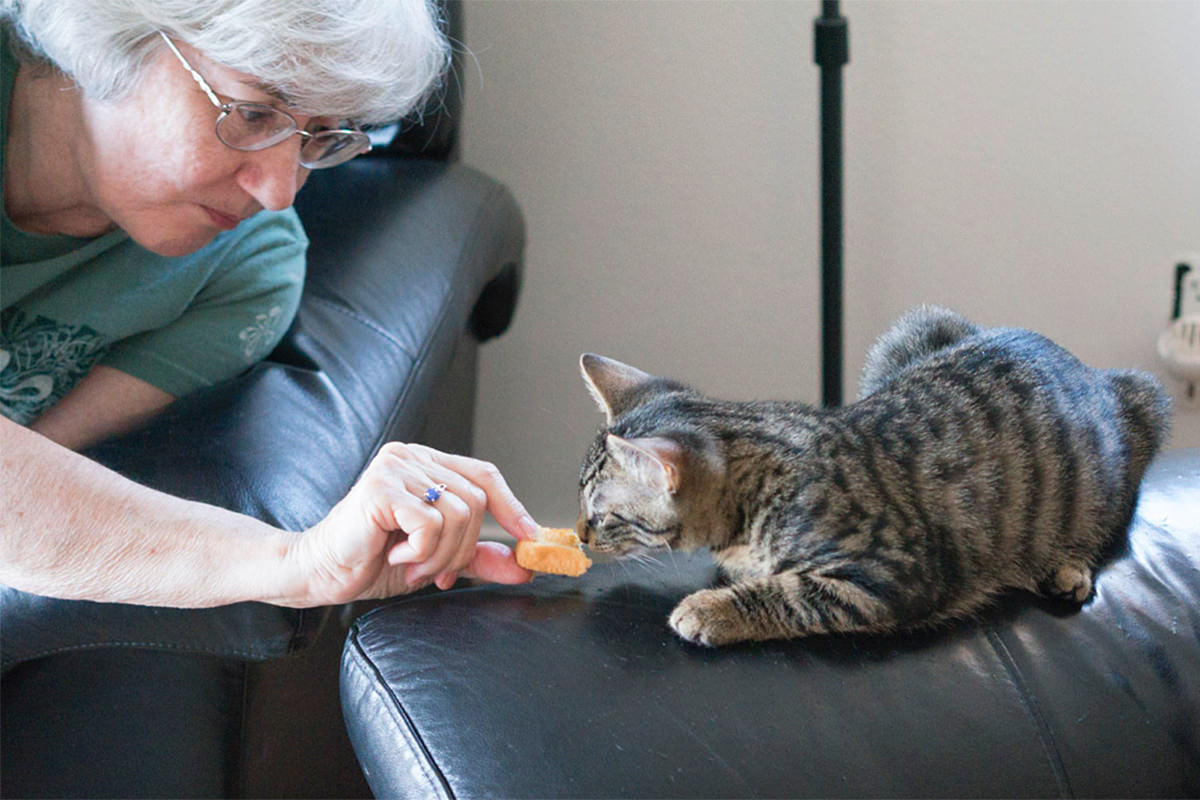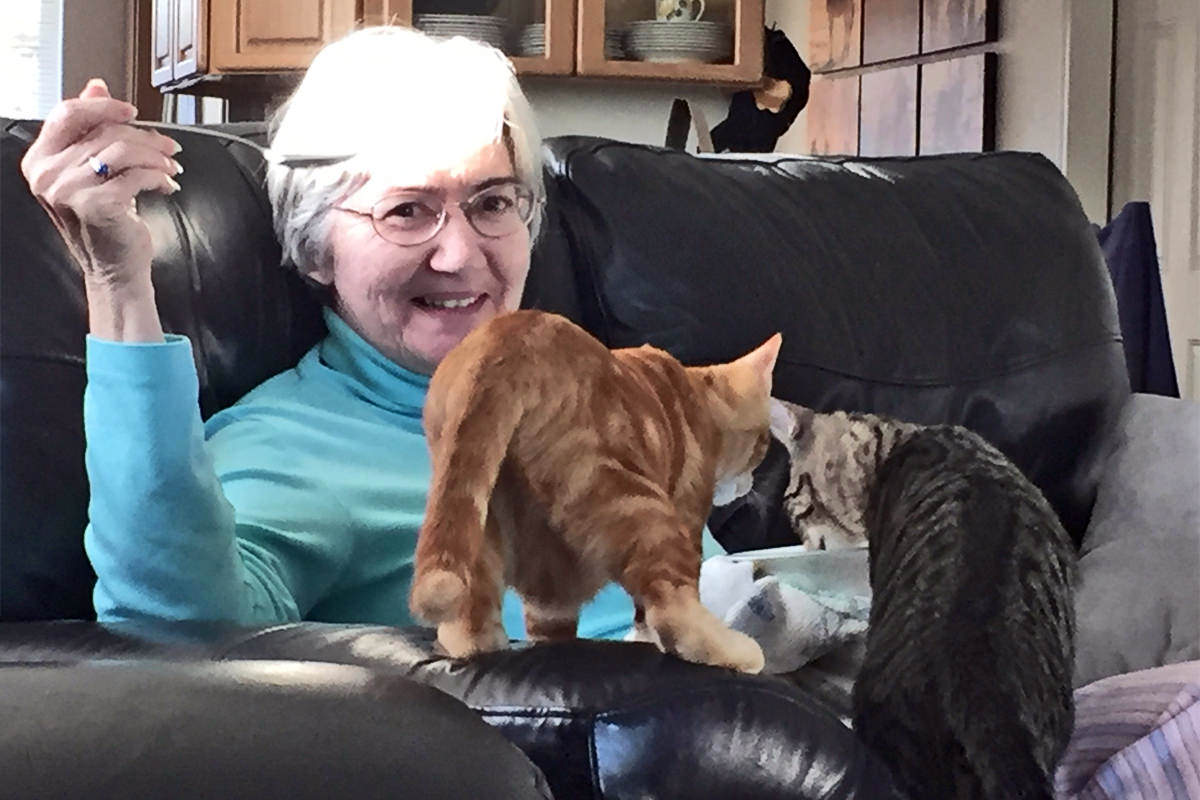 I'm not going to sugar-coat it, dealing with dementia is a horrendous ordeal, and just when you think you have a handle on it, things get worse. They always get worse. And then there comes a point where you don't think that your life will ever be anything but worse.
After six months in my new place, my mom was declining badly. She was on a host of drugs to help her with the depression and confusion, but they sometimes only worsened what they were supposed to be helping. Mom would become angry for no reason. She'd scream at me because a son shouldn't be kidnapping his mother. She'd pound on windows to try and escape. She'd start crying and couldn't stop.
One day she complained of chest pains. Thinking she was having a heart attack I ran her to the ER. It wasn't a heart attack, it was constant stress generated by never-ending confusion. Her doctor was very concerned.
But not for my mom.
He was concerned for me.
"What are you doing? You can't take care of her like this." And he was right. My entire life had become about trying to keep my mom from going off the edge, but I didn't realize she had already fallen off. And I was falling with her. It was then I knew that she should have been put somewhere that could help her months ago, but I would never admit it to myself because admitting it would feel like I was giving up on her.
After weeks of searching, I found a place I could live with where she could live.
Driving her across the mountains to her new home was about the hardest thing I've ever had to do. Maybe it is the hardest, I don't know. All I do know is that it felt worse than any heartbreak I've ever had and I spent a lot of time after wanting to die.
But it was just a warm-up for what was to come.
When it comes to dementia, things always get worse, remember?
There is nothing... and I mean nothing... that can prepare you for that moment where your own mother doesn't recognize you. You can read all the books that exist on dementia... you can think you are prepared and be able to accept it when that day comes. But you're wrong.
If you want to know what that's like, there just aren't words to describe it. There is no pain... no suffering... that will cut you quite like it. This video might give you the smallest inkling of how it goes. The whole thing is worth watching, but you can fast forward to 23 minutes in if you want to see what it looks like when somebody has been completely and utterly destroyed...
And that was me.
Sitting in the parking lot of my mother's memory care facility trying not to die of a broken heart.
They say that when it comes to dementia you say goodbye twice, and that's absolutely true. I said goodby to my mom when everything that I was to her was gone. I said it again last night when she died. The first time was a lot harder because it was the one that matters. Relatively speaking, the second time was easier because it was just saying goodbye to the body of who my mom used to be.
And so now you know.
The reason my blog stopped on June 4th, 2016 is because I had to find a home for my mom. The reason it didn't really start up again until October 31st, 2016 is because that's how long it took for me to recover from it. You can fill in the blanks on all the entries after that where I'm having a bad day or feeling depressed or didn't feel like blogging.
Tomorrow's Bullet Sunday will be bullets talking about what I have learned in dealing with dementia. Which is almost nothing, but it still might help somebody out there who is going through the same thing. I don't think it will be published tomorrow, but when it is published, that's what it will be.
To my family and friends who have helped me so much over these past years... sometimes without even knowing it... thank you. I could not have made it through without you.
To my mom's doctors, nurses, and all the people who work at The Cottages Memory Care in Mill Creek... thank you. I cannot fathom how you manage to do what you do with such compassion and grace, and am more grateful to you than you will ever know.
And to Jake and Jenny, who gave me a reason to get up in the morning after my mom had moved out (and almost certainly kept me from killing myself on more than one occasion)... thank you too. I mean, I know you're just cats, but you're still far better humans than a lot of people I know.
And so... until whenever I start feeling a little more like myself, take care of yourself and each other.
Posted on June 29th, 2018

A lot of people can tell their moms "I love you around the world and back," but in my case it's literally true. She's been traveling the globe with me for almost twenty years on an annual vacation we take together. And since it's her Mother's Day gift, she gets to pick where we go and what we're going to do once we get there. Riding a camel at the pyramids of Egypt? Done it. Trekking the rainforest of Costa Rica? Done it. Climbing a glacier in Alaska? Done it. Exploring temples in Cambodia? Done it. Taken a safari in Zimbabwe? Done it.
My mom's love of adventure has always been a never-ending source of joy in my life
And tonight I had to say goodbye to her.
Losing a parent is a soul-crushing, heartbreaking ordeal which creates a wound that will never heal. But as I sit here looking through hundreds of photos of all the places we've seen and all the things we've done... it's hard to stay sad. What time we had together on this earth was put to very good use, and you can't ask for much more than that.
The travel bug was something that bit her late in life. She ended up enduring a horrific tragedy that would crush most people, and her way of putting it behind her was to roam the planet. Mom wanted to see as much of the world as she could while she was on it, and would pour over travel magazines and TV shows for ideas all year long. And the things she would come up with for us were always interesting. I could write a book about it... maybe I should write a book about it... because the situations we often found ourselves in make for great stories.
But as many times as she would come up with something out of the blue (Vietnam?!?) she was not above wanting to return to old favorites. We ended up in Rome four times because she loved the city. Especially The Colosseum, for some reason, which we visited all four times. She also had this weird love of helicopters, and was always looking to see if there were helicopter rides available wherever we landed. I've lost count of how many times we'd end up lifting off into some incredible places with chopper blades whirring above. Maybe it was just being able to see the world from a different perspective? I dunno. I never thought to ask her about it.
About the only thing Mom didn't like about traveling was wrinkles. She was always up long before I was, ironing away on the day's clothing. When I finally bought her a travel steamer you'd think it was her own personal helicopter, because getting those pressed-in wrinkles out was just so much easier now. Anybody who knows me knows that I hate ironing and couldn't care less about wrinkled clothes, so that was the one thing I most definitely did not inherit from her.
But the wanderlust to roam the planet? That's all her.
Thanks for a lifetime of adventures, Mom. I'll love and miss you every day...

We had traveled to places like San Francisco, New York, Orlando, Los Angeles, and the like... but this was the first international trip we took. My mom had to get a passport, which she was very proud of.

My mom will rarely ask me to take a photo. Like... very rarely. This was one of those times. She really wanted a photo of her coming out of a phone box for some reason.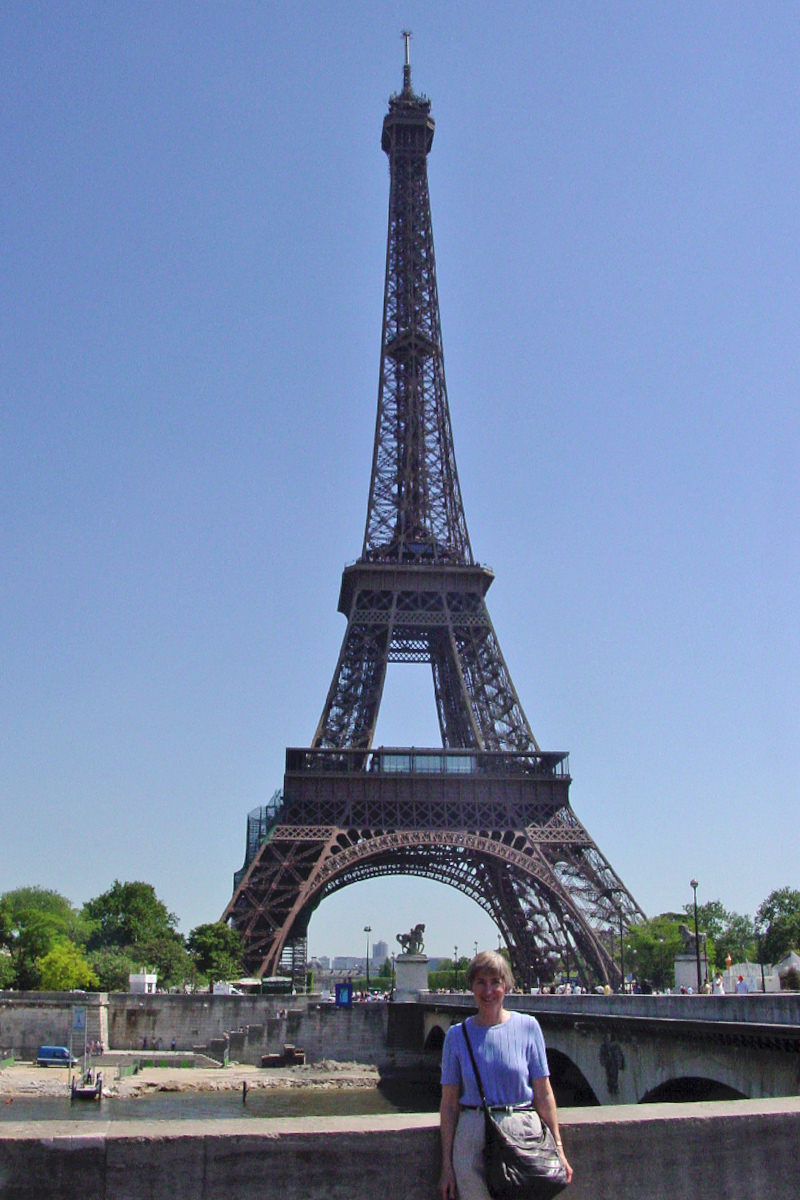 Obligatory Eiffel Tower shot. I knew that this is what mom's friends would most want to see when we got back, so I made her stand there for way too long so I could be sure I got a good shot.

My all-time favorite shot of my mom. Arizona was our first trip after a horrific ordeal she endured, and it was great to see her smiling and having fun again.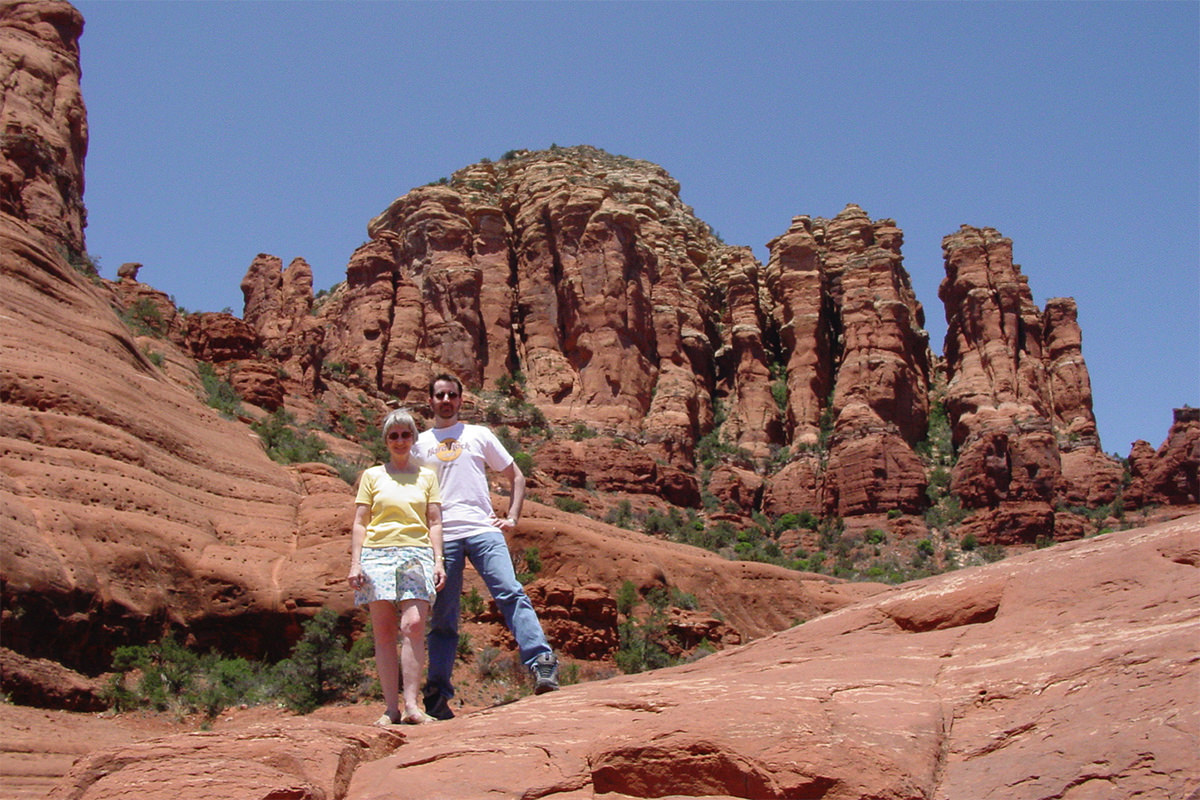 While in Sedona, we took a "Pink Jeep" tour out in the rocks. Mom asked our driver for this photo because she wanted to remember the time we took a trip together. Little did she know... it was just the beginning.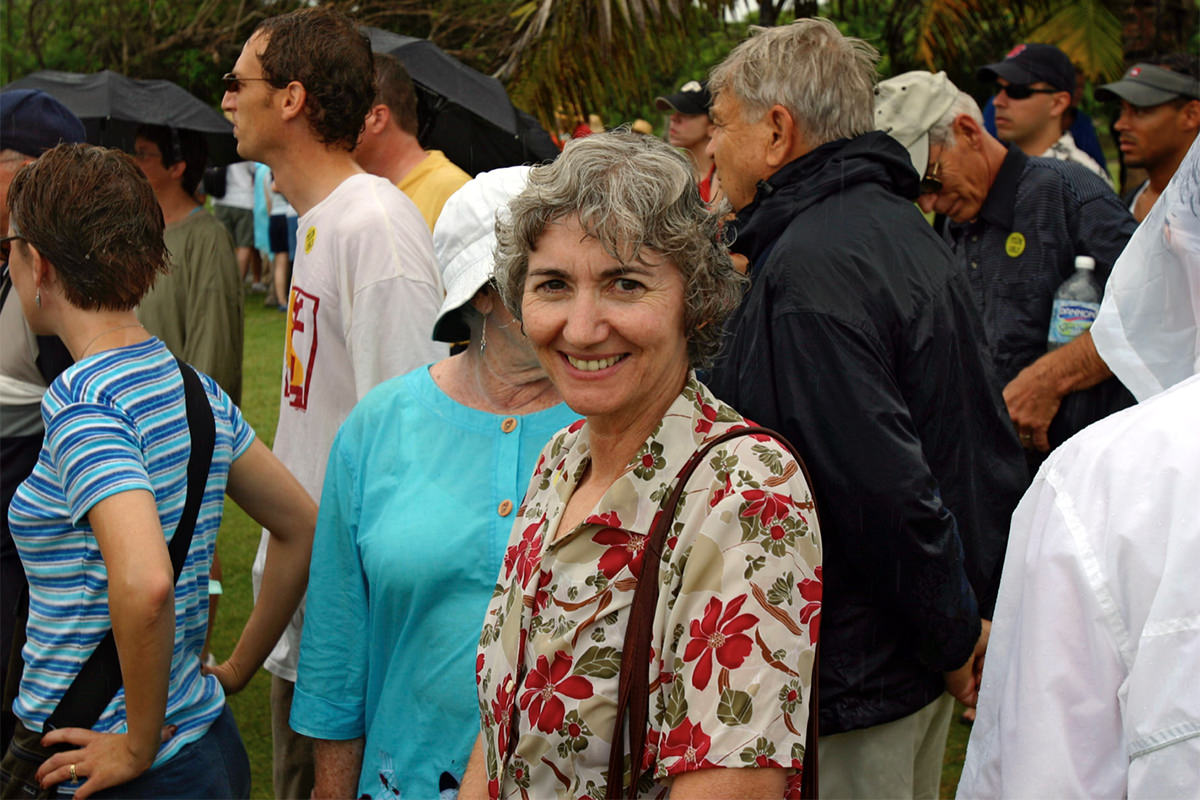 We're on a Caribbean cruise here at a stop in Tulum, Mexico as it rained and rained. We had a great time anyway. I am not a cruise person, but my mom loved them because you get to stop in a lot of different places without packing and unpacking.

Dunn's River Falls in Ocho Rios, Jamaica. Mom was terrified of slipping and falling on the climb up because she wasn't sure-footed. She made it just fine, I, however, slipped twice. This was a triumphant moment for her.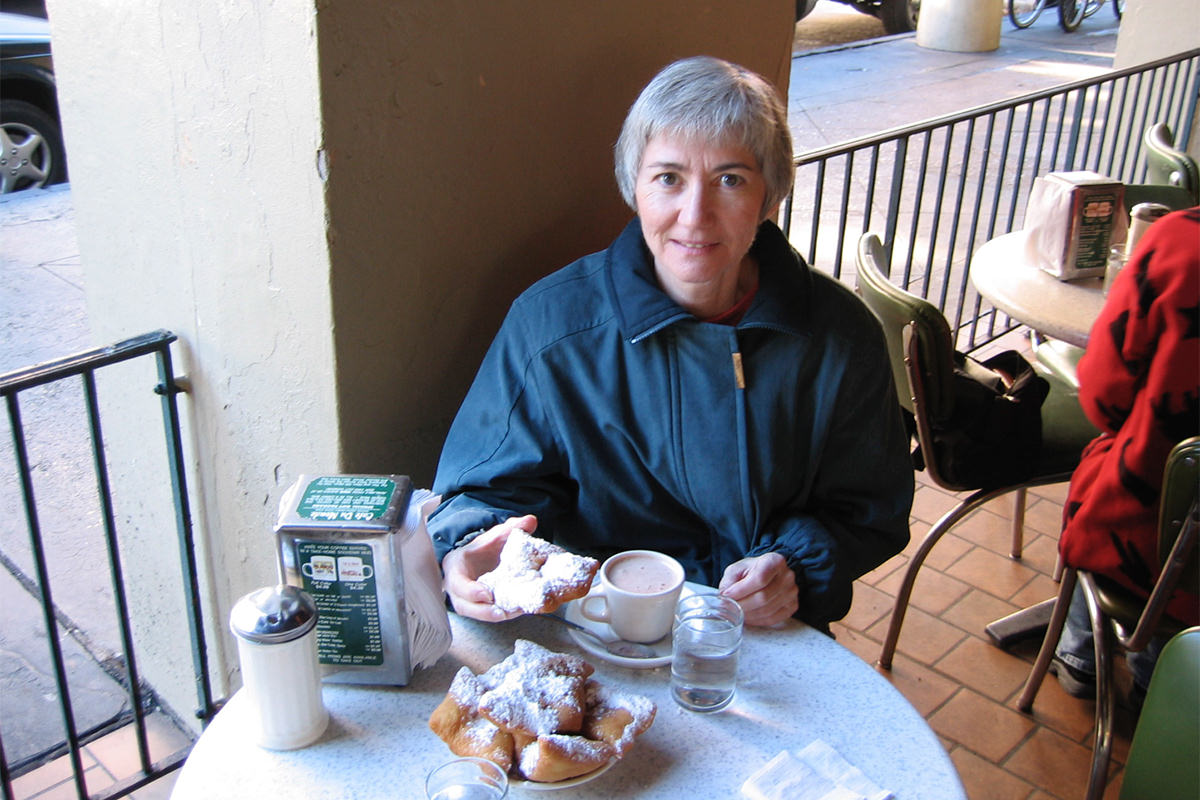 New Orleans is my favorite US city, so of course I had to take her for beignets at Cafe Du Monde!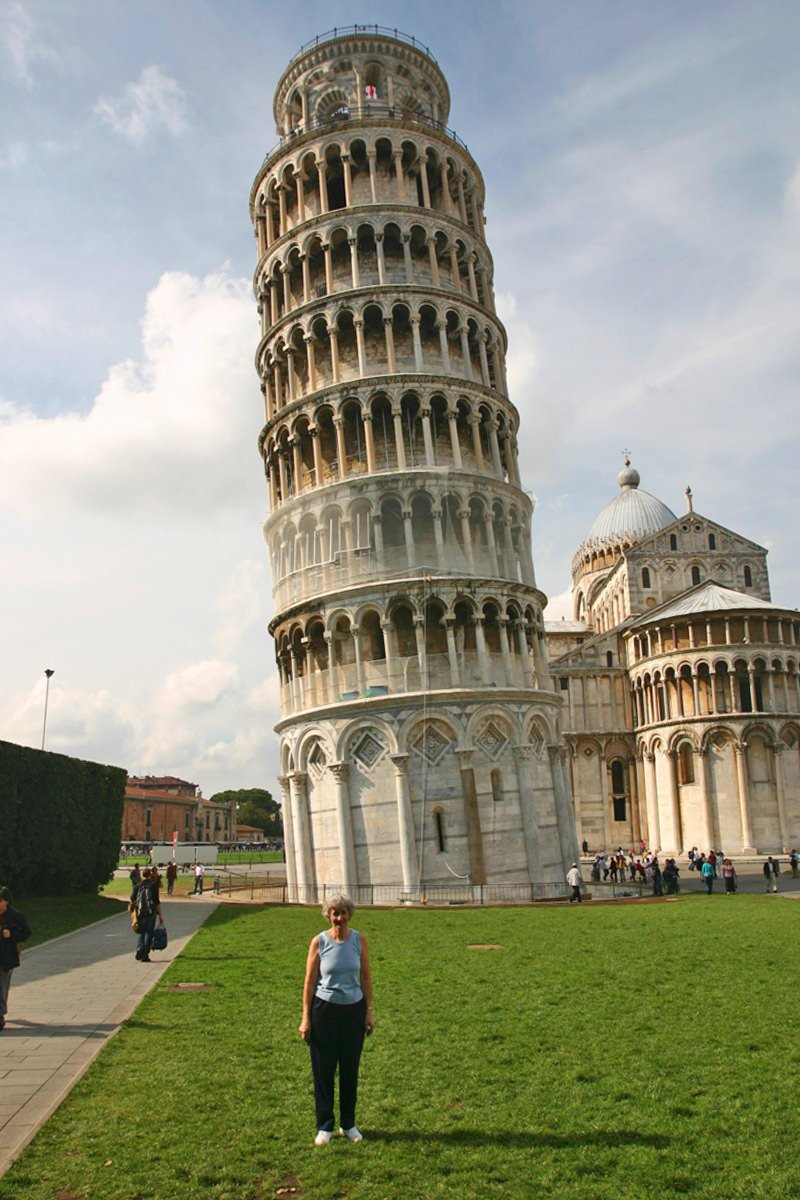 Obligatory Leaning Tower of Pisa shot on one of our five trips to Italy (which I think was my mom's favorite country to visit... it's certainly one of mine!).

Trevi Fountain in Rome. My mom threw in a coin and made a wish but wouldn't tell me what it was because she wanted it to come true. Years later when she saw this photo, she told me that she had wished for more vacations like this one. See, kids... wishes can come true!

A foggy day in Tuscany. Out of all our travels, this was probably the most disappointing stop. We really wanted to have our "Under the Tuscan Sun" moment, but rarely saw the sun the entire time we were there. Still had a fantastic time though... the food and history are incredible.

My mom wanted to go to Greece and bought a whole book to plan out the stuff she wanted to do... mostly centering around visiting the Greek islands. I said okay, and started planning. Then one day at work my mom calls me. She was looking at a map and "...noticed that Egypt is really close to Greece, so we should go there too!" I was going to explain that an inch on the map was actually hundreds of miles, but thought "Hey, I'd like to see Egypt too!" The logistics of such a trip were a little crazy, but about a week later I got a cruise brochure which included Greece, Egypt, and Turkey. So there you go.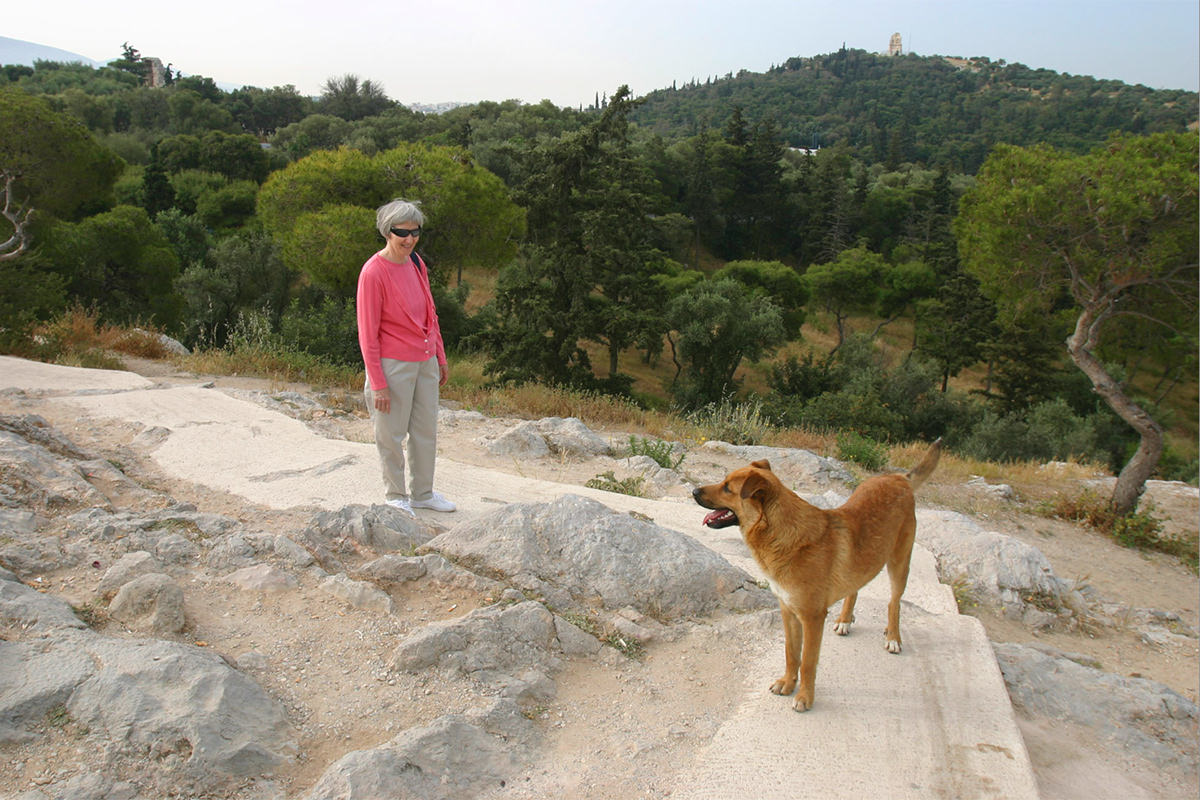 As we were making our way around the Acropolis area, this dog comes running up. Here is where I told my mom to stand still so the dog wouldn't feel threatened and possibly attack her. Then I took this picture for some reason. I was walking towards them when the dog ran up to my mom and she was petting him, so I missed that shot. She thought it was hilarious that I thought she was in imminent danger, but stopped to take a photo.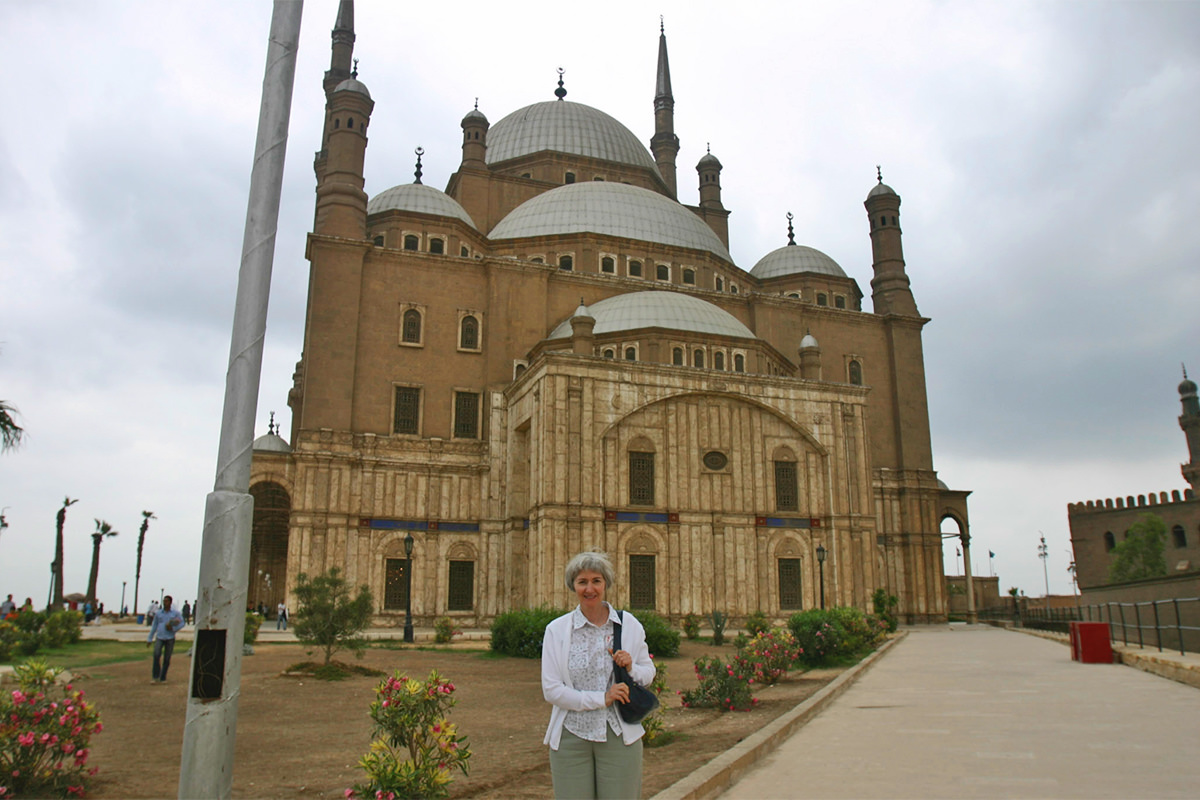 At the Mosque of Muhammad Ali in Cairo. Mom absolutely loved mosques because the interiors were always so gorgeous... and very different from all the churches she had seen. We visited quite a few over the years.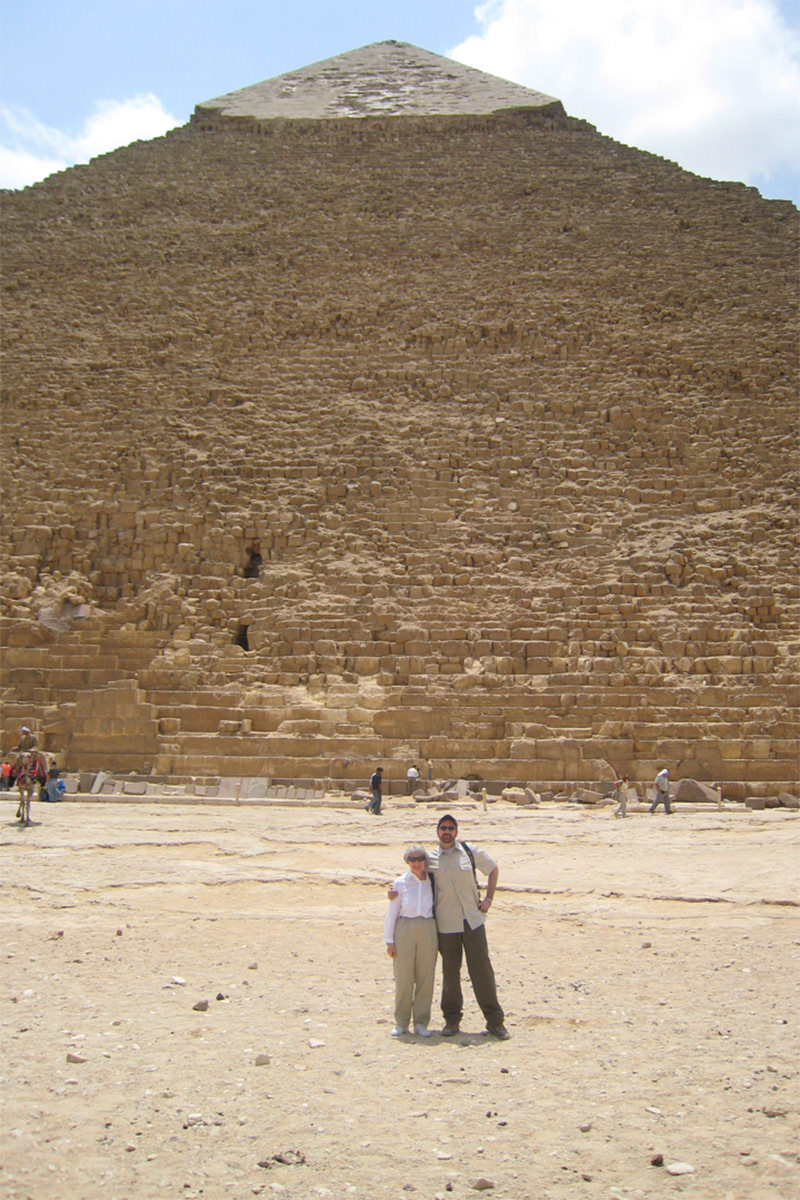 "I thought they would be taller!" said my mom... and most every other person that visits the pyramids.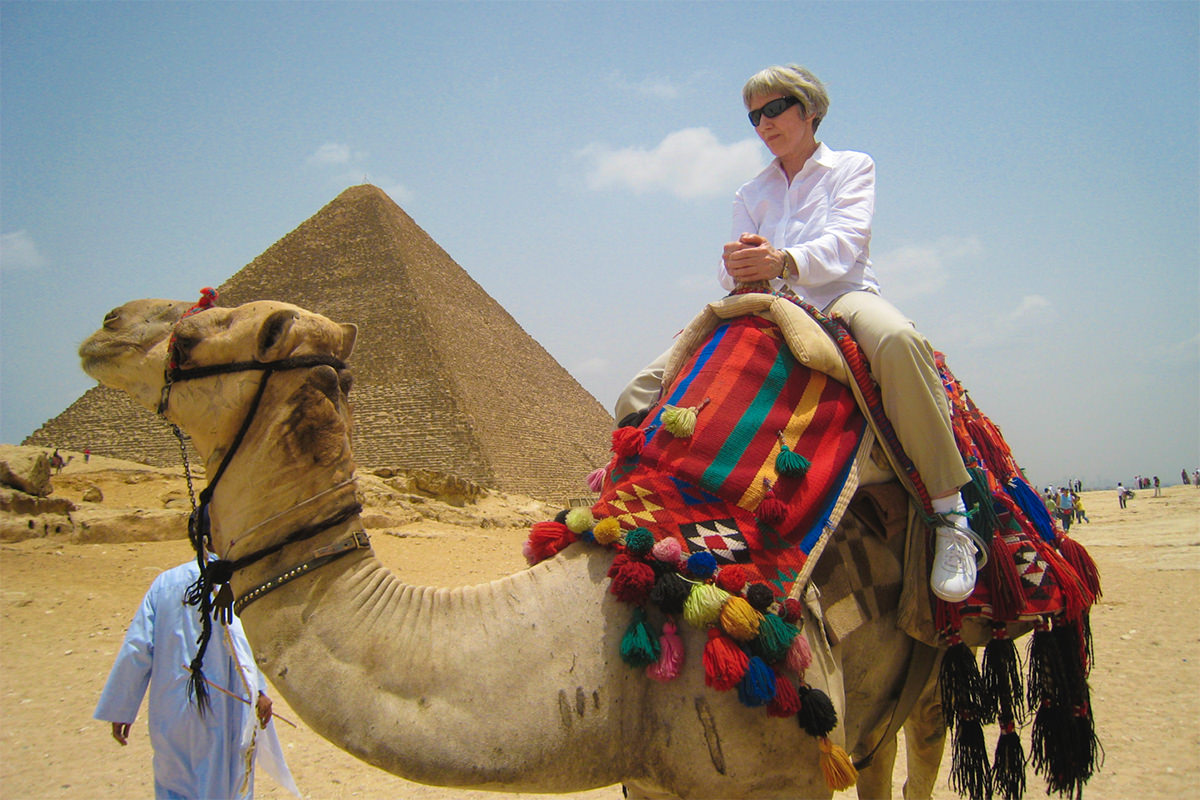 Be fore we leave on a trip, I always ask my mom if there's something special she wants to do so I can be sure to arrange it. Since she was obsessed with reading travel magazines and watching travel shows, I didn't want her to miss something that made her choose to go there in the first place. For Egypt the only thing she cared about was riding a camel at the pyramids. She later told me that it was the reason she wanted to go to Egypt because it looked like fun.

The camel's name was "Daisy." As mom was forgetting things and our travels were fading away, she rarely forgot Daisy. Even when she did, I'd remind her of Daisy and she could start pulling memories out of the experience. Thank heavens I asked about what she wanted to do, because this became one of her most enduring travel memories and I would be gutted if she had missed it.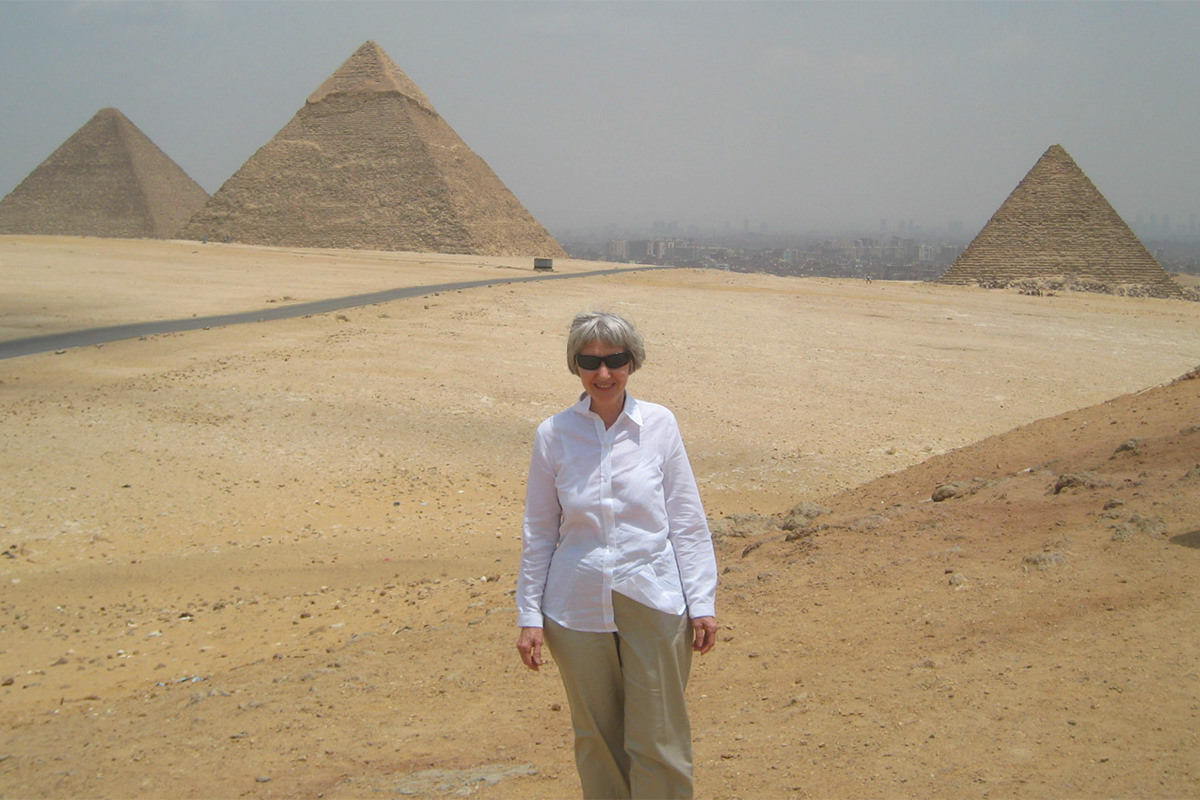 Mom was disappointed that Cairo was so close (it literally comes right up to the pyramids, which you can see if you look at Google Maps). She thought that they were out in the dessert somewhere and we'd be riding camels out to see them. We actually went inside of The Great Pyramid, which is a good story unto itself. I'll have to blog about it one day.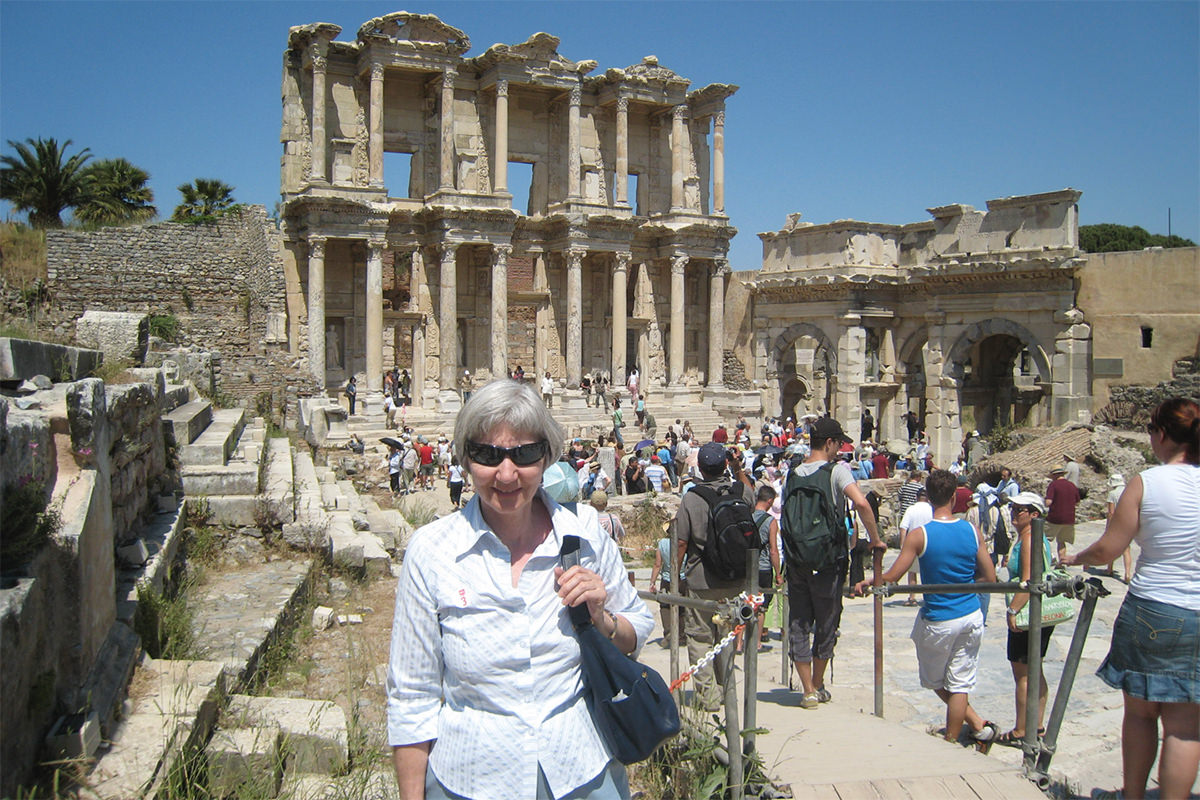 A stop at Ephesus in Turkey. The crowds were insane, and it took several attempts to find a spot where I could get a shot where people weren't walking in front of her. I thought it funny that she wanted to bring her purse for this excursion, but she did that a lot. No idea why. I had all the money. Guess she just liked to be prepared. She had everything in there.

Mykonos, I believe? Not the first time mom asked a total stranger to take our photo... with my pricey camera. I was always worried that somebody might run off with it one day, but it always worked out!

Gorgeous sunset in Maui, one of my favorite places on earth.

I had my mom bring a jacket and gloves to Hawaii because I knew we'd be going to the top of Mt. Haleakala and it's cold. She was upset she didn't bring a hat and scarf, so we improvised with a Bad Monkey cap and a beach towel that were in the trunk of our rental car. We looked ridiculous, which is why mom insisted on getting this photo.

I have been to Hawaii many, many times. I always hope for an eruption so I can see lava. This is as close as I ever got.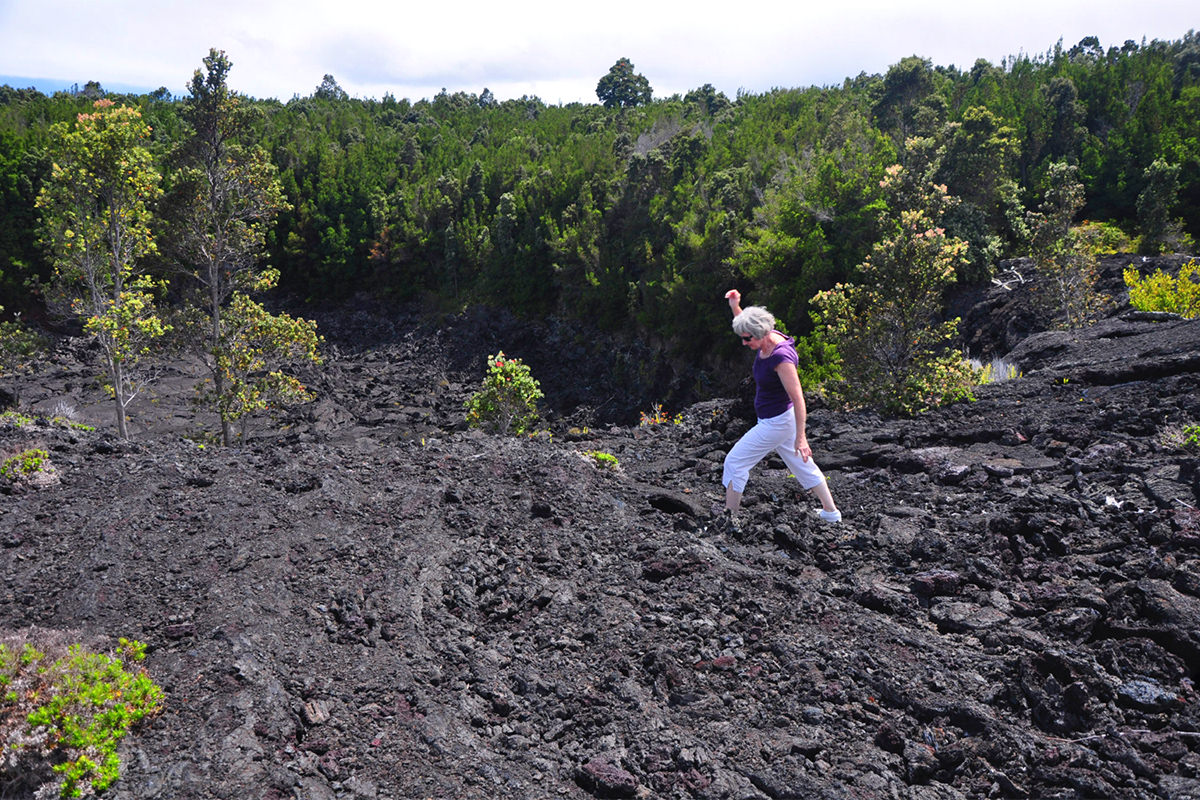 This photo is deceptive on a number of fronts. First of all, the volcanic rocks are sharp, and falling could cut you up good. Second of all, you can't tell here, but there is a massive drop off a rocky cliff behind my mom, and if she had slid on loose rocks, she'd probably go over the edge and end up dead. Or severely broken. I was distracted taking photos and the next thing I know... there she was... being a total daredevil and completely unaware of it. So naturally I took pictures.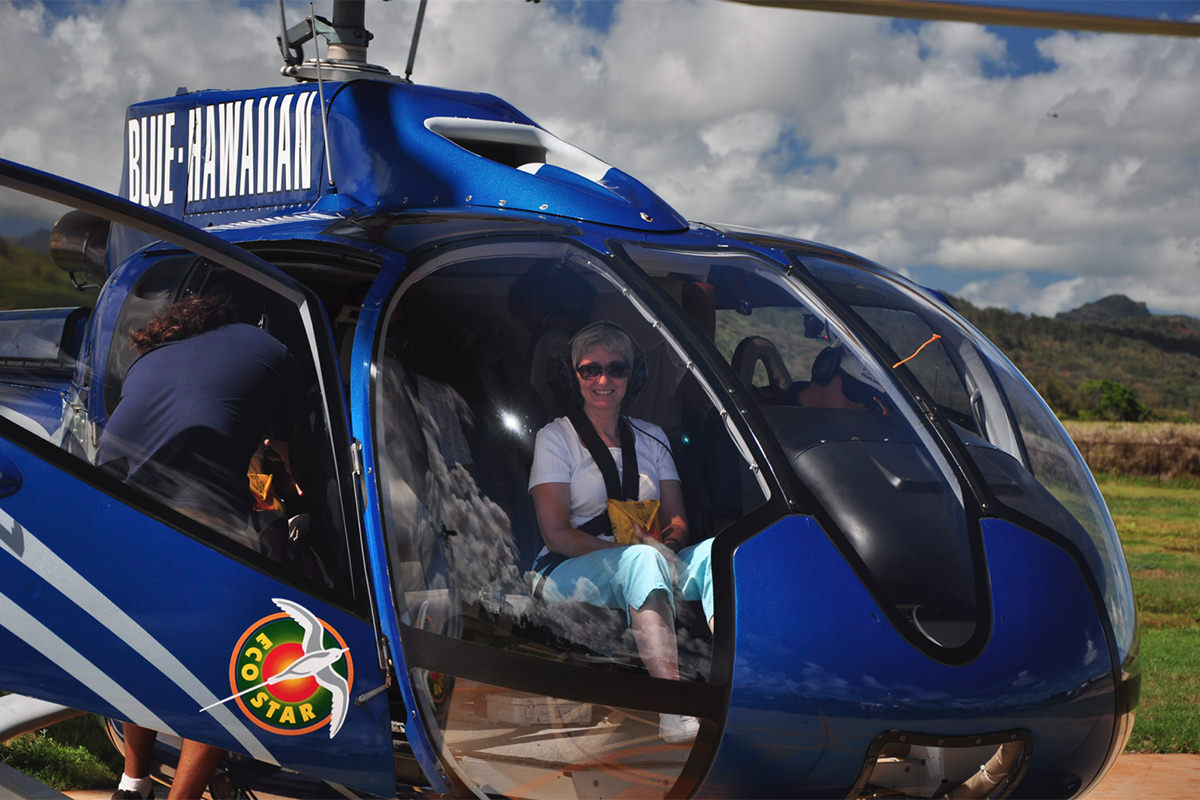 One of many, many helicopter rides we took. This time on Kauai. Mom loved helicopters to a crazy degree, so I always tried to get her a front seat. Sitting next to the pilot was her favorite thing.

"Do you think we can go down there?" Um, sure mom... we just need to rent a boat or hike miles and miles! From a previous trip to Kalalau Lookout, I knew that the it was mostly cloudy most of the time and that the saw-tooth ridge there photographs as a jagged black blob. And so I looked into HDR photography so I could pull some detail out of the shadows. This is the result.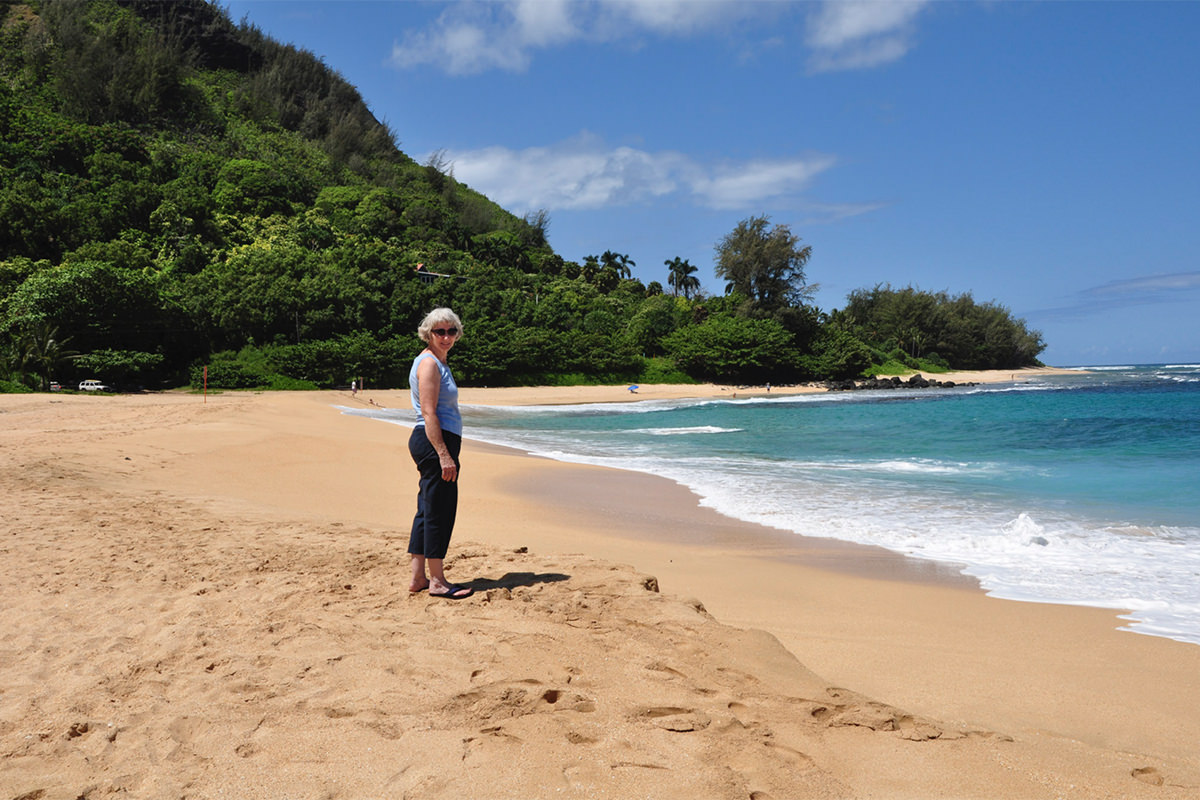 Neither one of us were beach people, but hanging out on a really nice beach was still a great way to spend time in Hawaii... especially when there was nobody else there!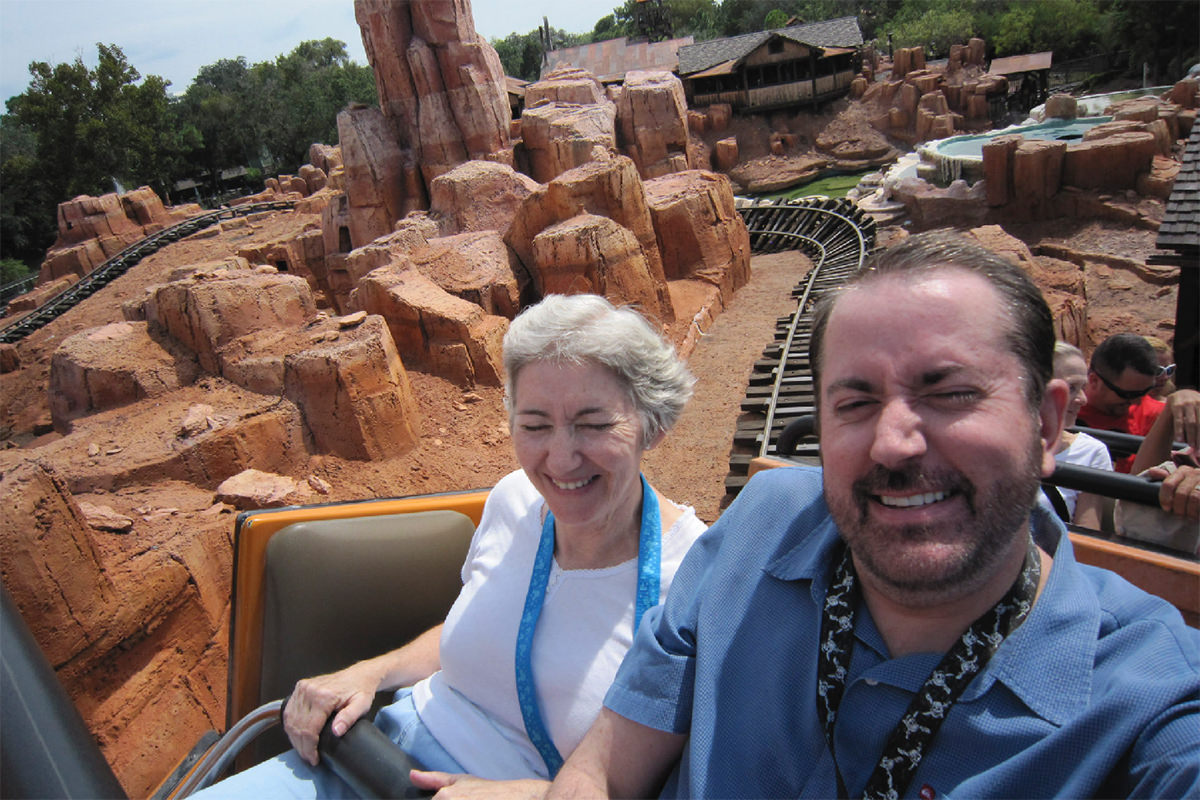 I had work in Orlando for many years... both for contract jobs with The Mouse and later for charity presentations. I'd often ask my mom if she wanted to tag along and we could stay an extra three or four days to play at Disney World. She never refused, as she loved to have something to do that wasn't work or sitting around the house.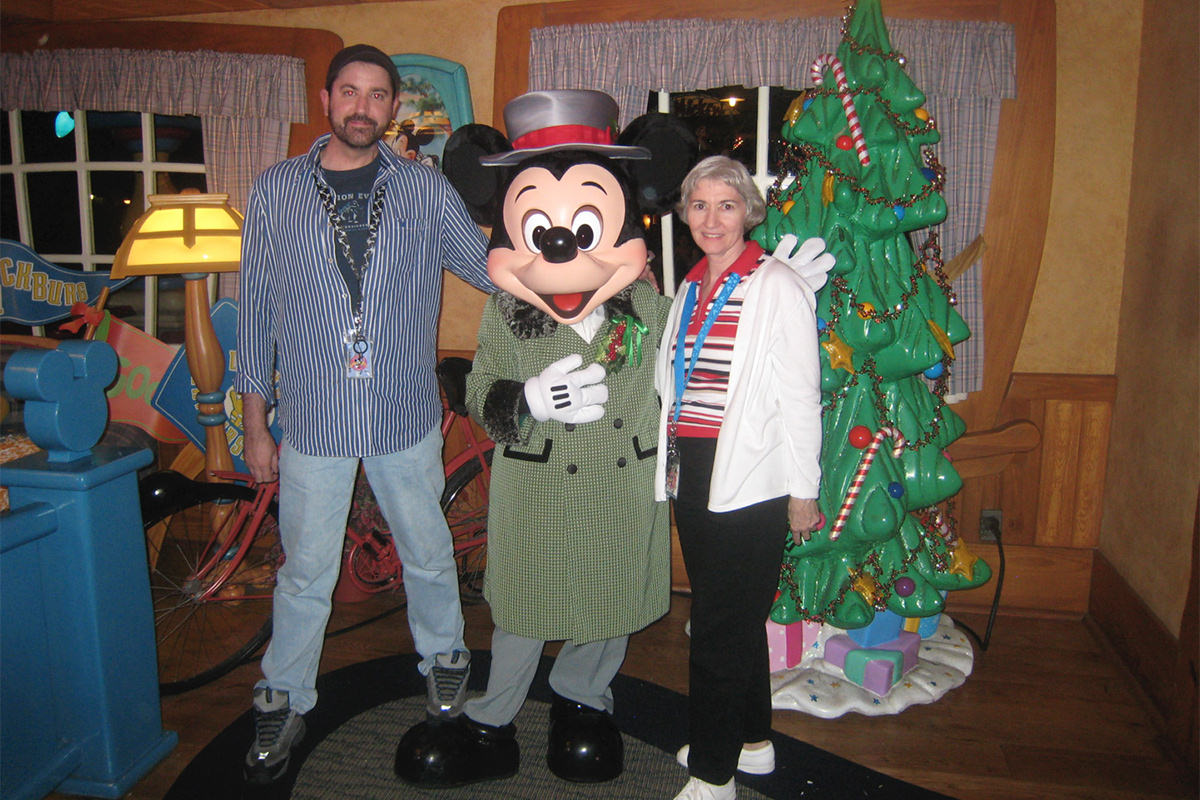 I love Mickey Mouse, and will gladly stand in line for a half hour to get a photo op with him. Mom always thought I was nuts, but would stand in line with me without complaining. And she had to do so many, many times.

Of the many helicopter trips we took, this was our hands-down favorite. A ride up the Mendenhall Glacier in Alaska. Amazing scenery and a fun hike on top!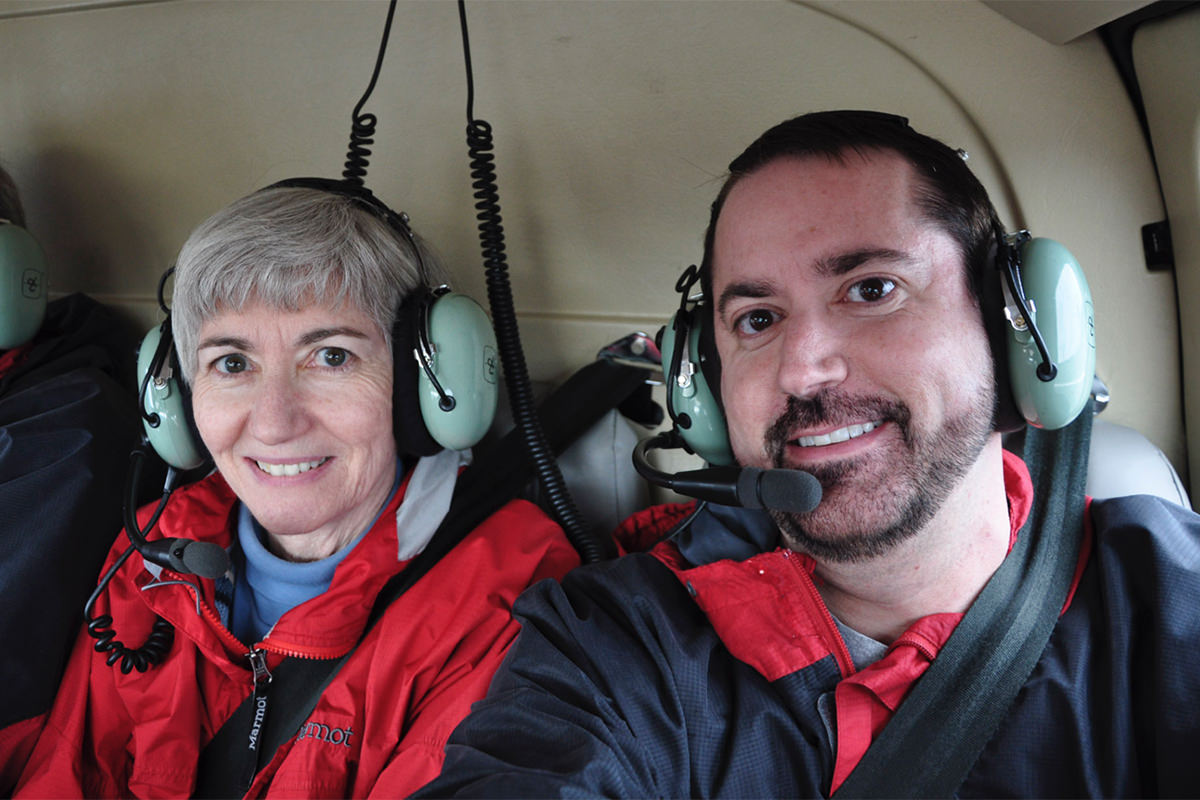 Mom had this photo on her dresser for years, but it got lost when we moved. I always meant to print out another one, but never got around to it. I try not to have regrets, but that's one of them.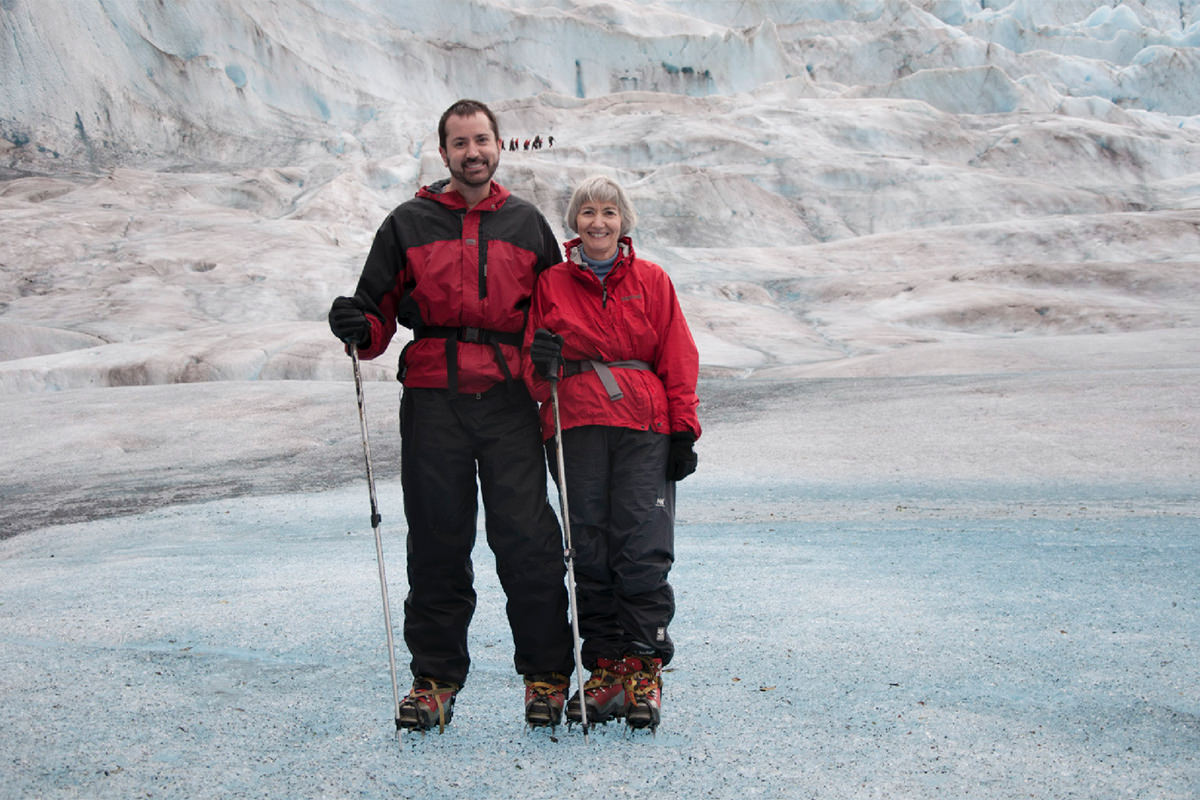 On top of the Mendenhall Glacier. If you look next to my ear, you'll see hikers scaling the glacier in the background. We actually got in trouble here. The guide told us to have fun wandering around but stay close. So we headed out. Then the guide yelled at us to come back because he wasn't done talking. We were both rolling our eyes at that one.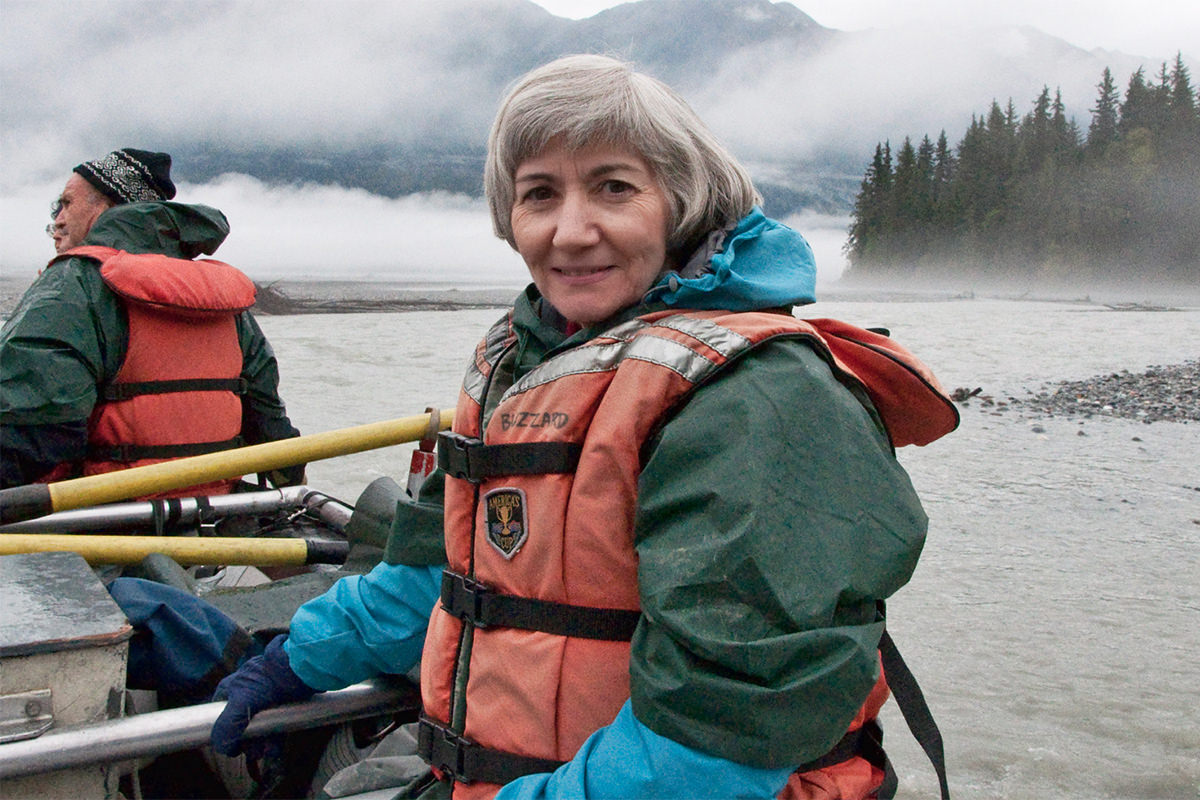 My mom fell in The Icicle River when she was a kid and nearly drowned. She has been terrified of moving water ever since (but joined the Navy!). When I booked this eagle-watching rafting trip in Alaska, my mom (who was usually fearless and up for anything) was constantly telling me how worried she was and saying she didn't want to do it. I told her "fine, you can ride with the trailer driver to the pick-up point and I'll meet you there. When we got to the drop off and told the guide our plan, he walked out into the river... which was around six-inches deep. "If you fall out, you can always just stand up... it's not much deeper than this the whole way." Mom was then all "Well I can do that!"

You can't see it here, but our vests have names written on them. Mine was "Digger" (or something like that) and my mom's was "Buzzard" (which you can kind of see in the previous photo). She absolutely loved it, and I had to call her "Buzzard" for the rest of the trip. I got a lot of Eagle shots, which was amazing. We loved this so much that mom said she would do it again.

We took a float plane to a fish hatchery for bear watching... and I got some fantastic black bear photos. Mom had to inform me that the plane ride was more fun than she thought it would be, but she'd still rather ride in a helicopter.

We had a day's layover in Atlanta before flying to Barcelona, so I took us to World of Coke. My mom was a serious fan of Coca-Cola, so it was kinda a no-brainer. She loved bears, so we had to stand in line so she could get a photo with this one.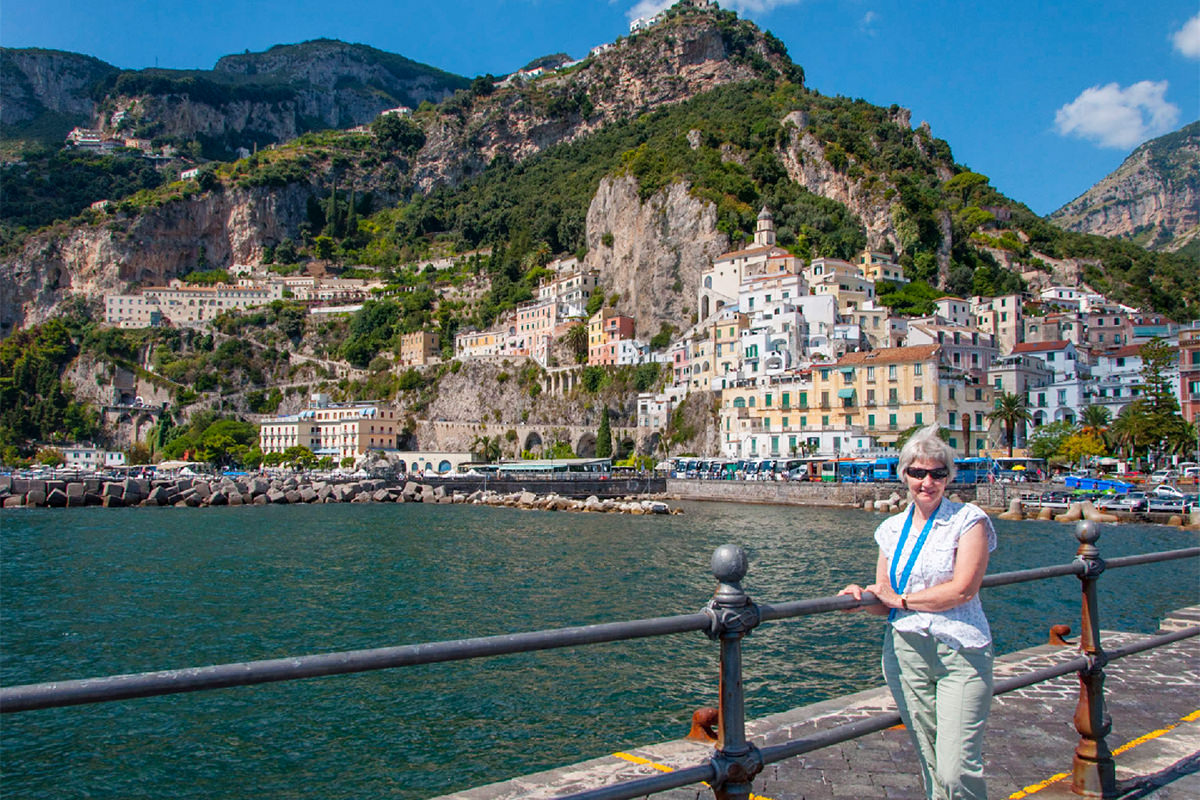 My mom decided she wanted to go back to Italy after watching the movie "Only You" starring real-life couple at the time Robert Downey Jr. and Marisa Tomei (decades before they would appear together in Spider-Man). In the film Fisher Stevens plays a roofer trying to find out what happened to his wife, so he calls the credit card company to find out where the charges on it were from. They tell him and he says "Positano? Where's That? It-lee? What's my wife doing in It-lee?" And, just like that, my mom decided that we needed to go to Positano on our next vacation. And so we did. This is actually Amalfi, but we went to Positano too.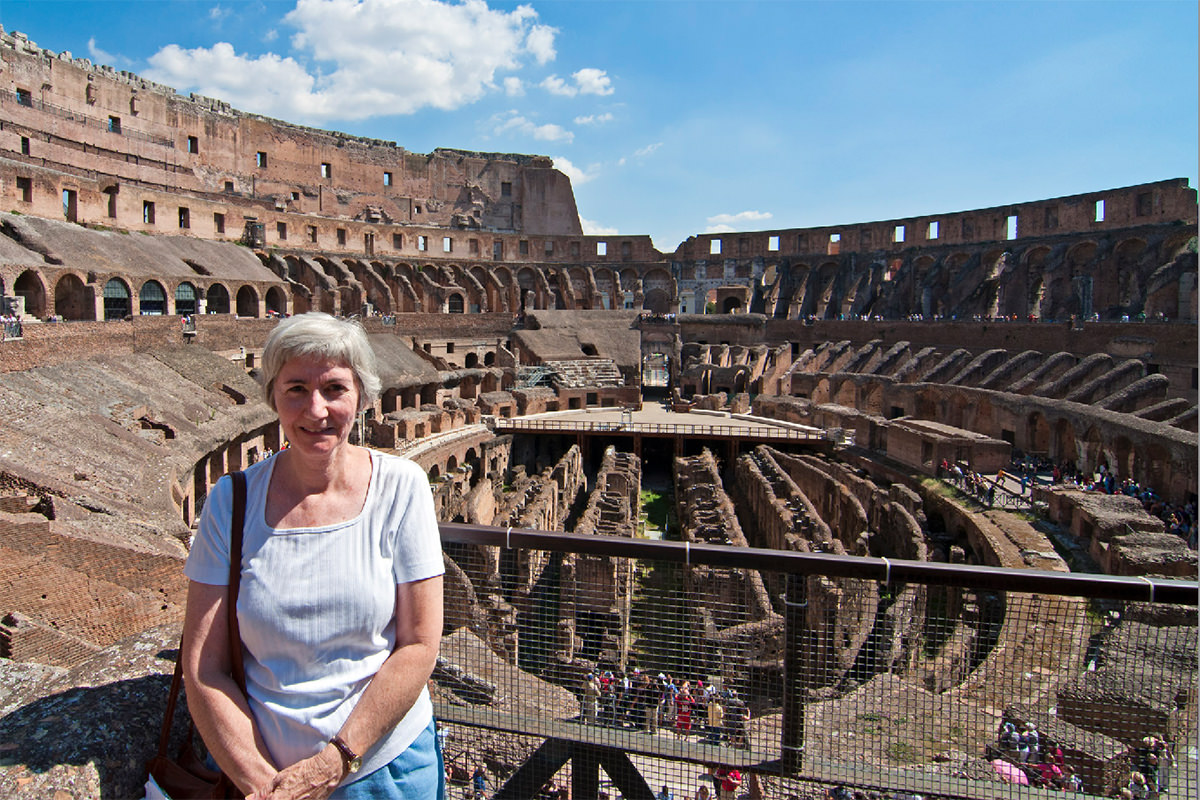 My mom told me on several occasions that The Colosseum was one of her favorite spots. And so we went back again and again. I'd ask her why she loved it so much and she'd say "I don't know... I just do." When I told her that maybe she was a gladiator in a previous life, she thought that was funny and started telling people that when showing this photo.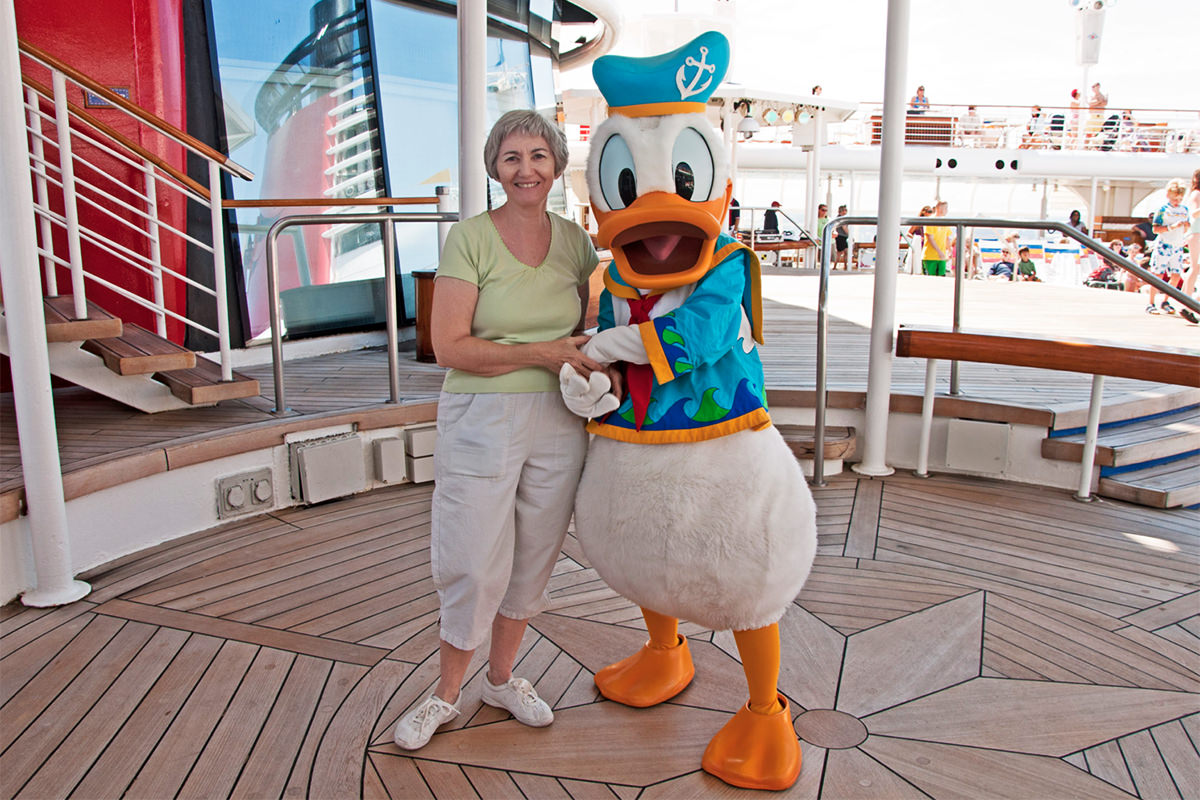 After standing in line for yet another Mickey Mouse photo with me on a Disney Cruise, mom saw a line for Donald Duck and said she wanted to get a picture with him. "Really? You like Donald?" I asked. "Sure! We were both in the Navy!" she replied. What you don't see here is that "The YMCA" by the Village People started playing and Donald grabbed my mom's hand to get her to dance it with her. So, yes, I totally have photos of my mom doing The YMCA with Donald Duck.

Eating Fettuccini Alfredo at the restaurant where it was invented... Alfredo alla Scrofa in Rome. It is my favorite restaurant on earth, and I never pass up a chance to eat there.

Santa Margarita Legure, I think? I was trying to gain weight in preparation for a medical ordeal where I'd always drop 12-16 pounds, so we ate a lot of gelato this trip. Like... gallons of gelato.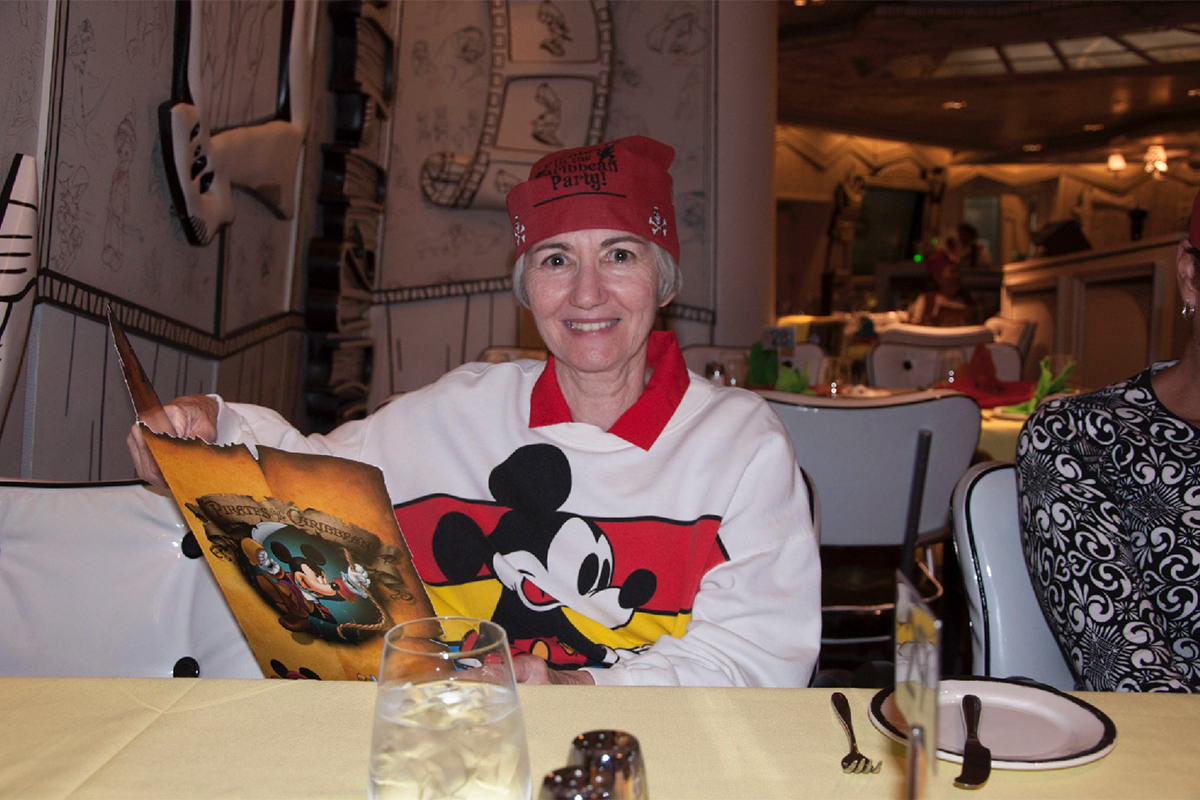 Pirate Night onboard the Disney Magic. Mom and I were totally up for the pirate bandanas they handed out. We were probably the only ones who kept them on for the whole dinner. We were goofy like that.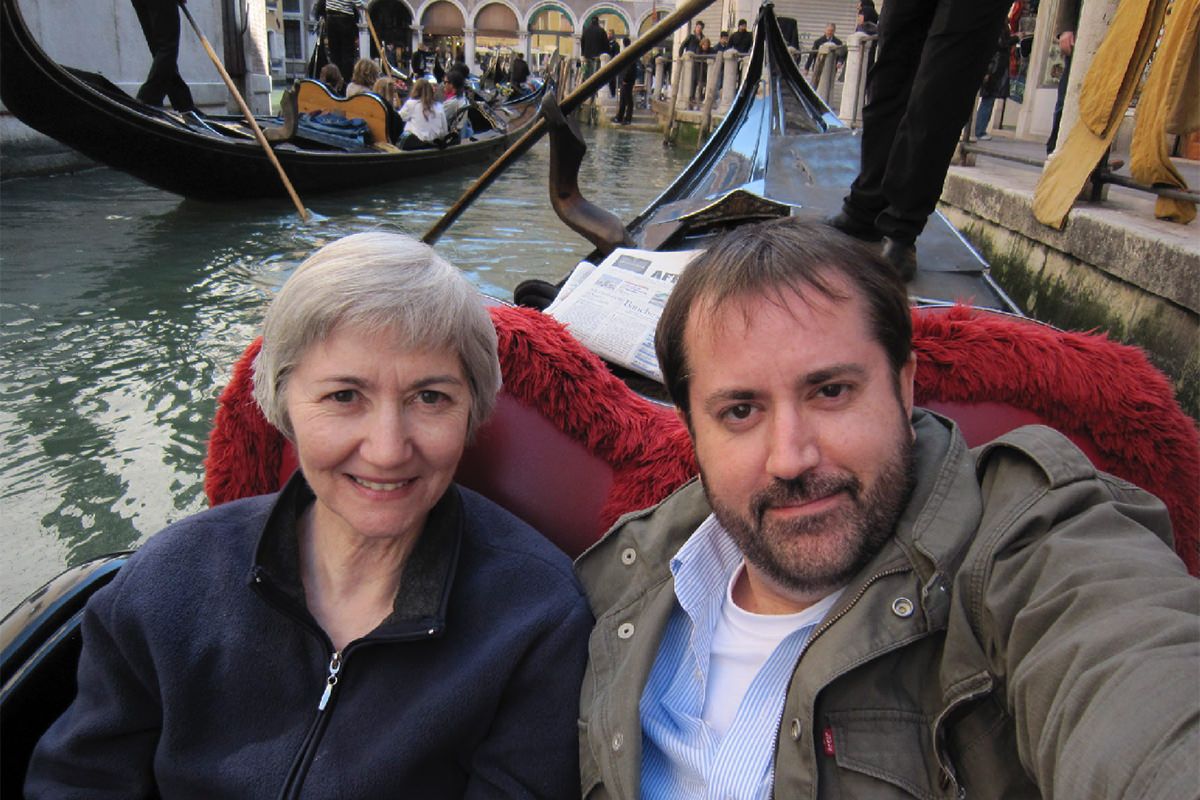 Okay... on our first trip to Venice, all mom wanted to do was take a gondola ride. But when we arrived in the city on a gorgeous day, I was not feeling well and asked if we could wait until tomorrow. So we did. And it rained every day afterwards. So she didn't get her gondola ride and I felt awful about it. So when I got free tickets to Europe anywhere British Airways flew, I asked her if she wanted to go back to Venice for that gondola ride. Of course she said yes. I was worried the entire flight that it would rain the whole time (again)... but the weather was absolutely gorgeous. We're in the shadow of a building here, but once we got out on the Grand Canal it was fantastic. It ended up being a really fun trip, so I was glad we went back.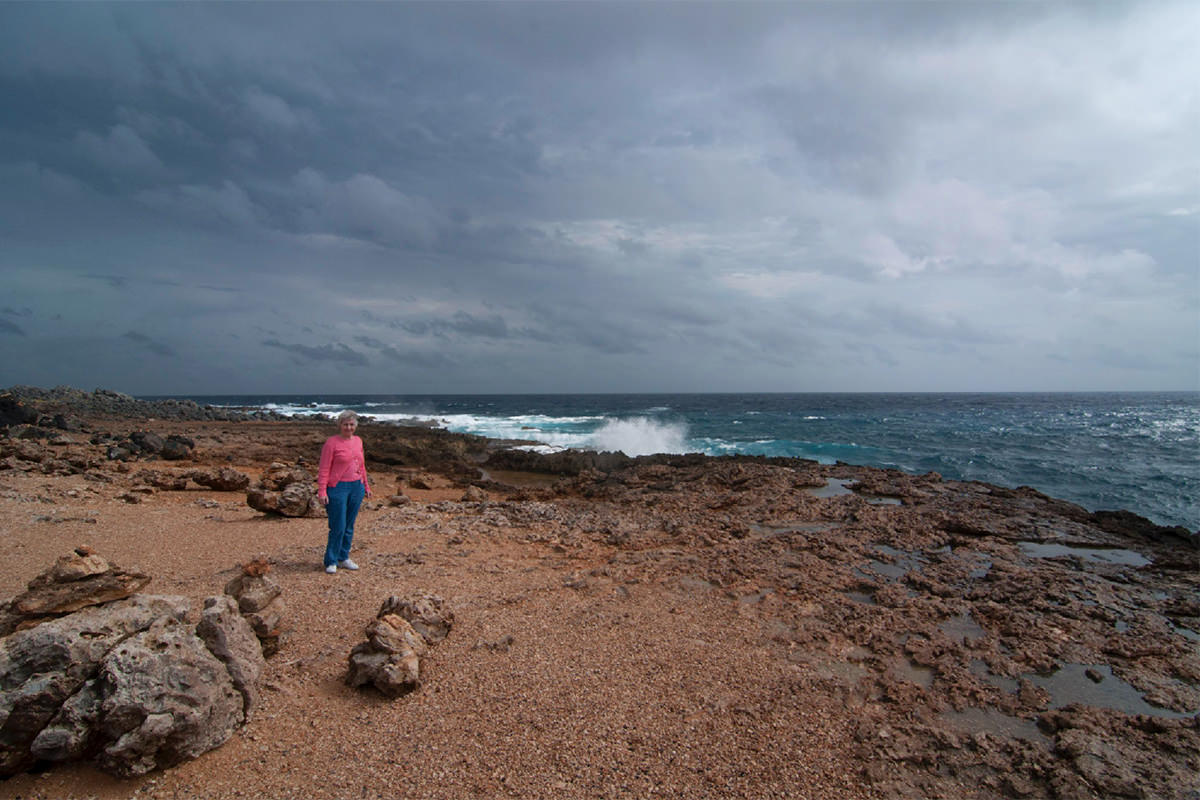 Aruba. I love taking pictures of storm clouds and was taking a lot of them when I looked over to see where my mom was. That's when I saw this, her pink sweater and blue jeans standing out against the gloom!

At a turtle farm in Grand Cayman. I asked mom if she wanted her photo taken with a turtle. She said "no" because she thought it would be mean to the turtle... but a guide there said they weren't bothered by it, so she relented. After we got home and she saw this photo she told me "I'll bet that guy was lying, that turtle doesn't look happy at all."

After a dozen trips to Disney World for work, I was tired of doing the same thing over and over and stopped going to the parks. This trip my mom came along, so I knew we'd be visiting them and so I was asking co-workers if there was anything new to do. I was asked if I had done the "Wilderness Trek" in Animal Kingdom, which I hadn't. It's a kind of "behind the scenes tour of the fake 'Africa' they had built. We both absolutely loved it. Here we are harnessed up and ready to go.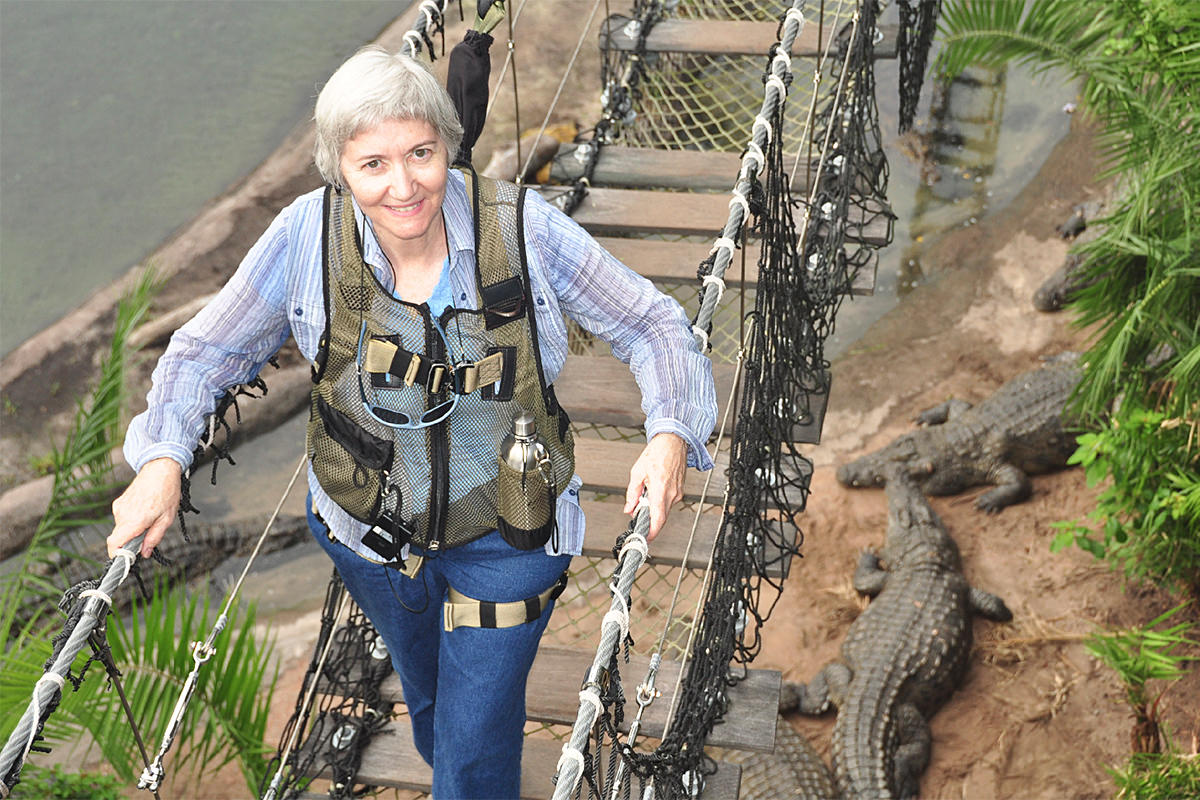 Mom climbing on a hanging bridge over gators (or crocodiles?). She thought this was an absolute riot. Me, being afraid of heights, was slightly less enthused. Disney went to great lengths to make the journey seem perilous... breaking boards on the bridge and having the netting fall away and stuff... but it was Disney, so 99% safe. But it looked dangerous and cool.

After we finished the "Wilderness Trek," my mom was gushing over how much she loved it. One of the cast members said that if she liked this, she'd love an "Adventured by Disney" vacation! You know... one of those hideously expensive vacations where everything is Disney-fied and the opposite of what I want on vacation? Mom, of course, loved the idea.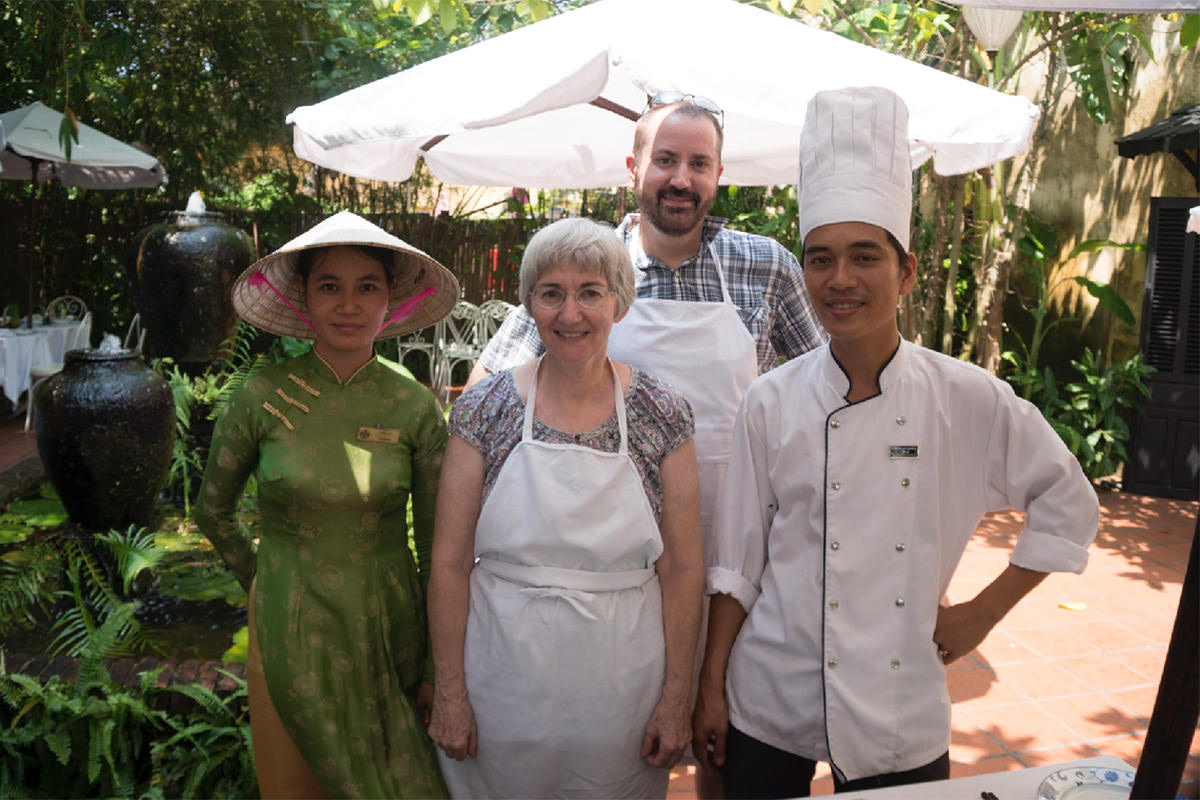 Mom got the Adventures by Disney brochure and declared that she wanted to go on the Africa trip. It was heinously expensive, but I thought "Hey, I've always wanted to go to Africa!" and so I called them up. Alas, the only times I could go were sold out, so I asked mom if we could do it next time and have her pick somewhere else. So here we are at a cooking class in Vietnam.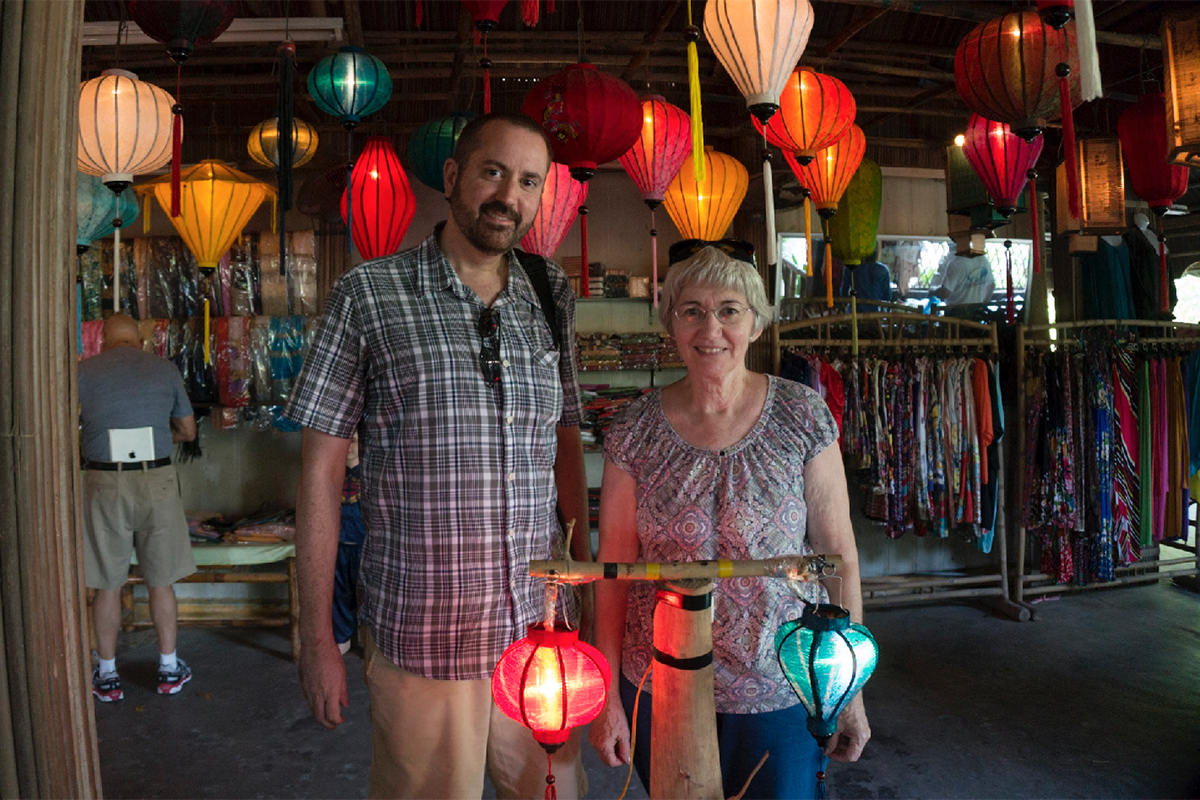 We made those lanterns! Adventures by Disney is geared towards families with kids, but they have trips which are "Adults Only." Needless to say, I booked the first "Adults only" trip because the last thing I want on my vacation is a bunch of screaming kids. But here's the thing... even though it's an "Adults" trip, the itinerary is the exact same as the "regular" version... so there are lots of activities geared towards kids that you get to do. Like lantern-making. We both loved it.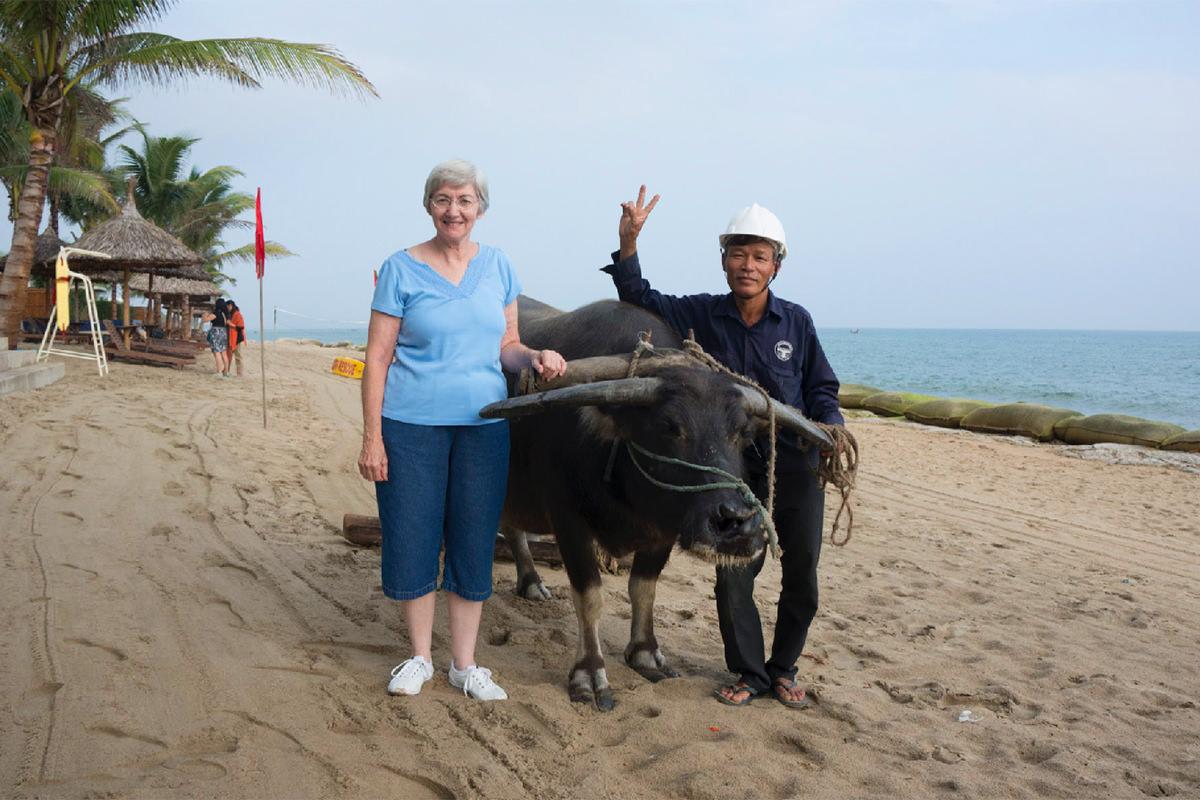 Mom loves animals and won't hesitate to get her picture taken with them. Our resort in Hoi An has an ox that rakes the beach smooth each morning. When my mom found out about it, she wanted to go meet him. And so here we are... up at some gawdawful time in the morning. Mom asked the guy what the ox did when he was done with work... "eat and sleep!" we were told.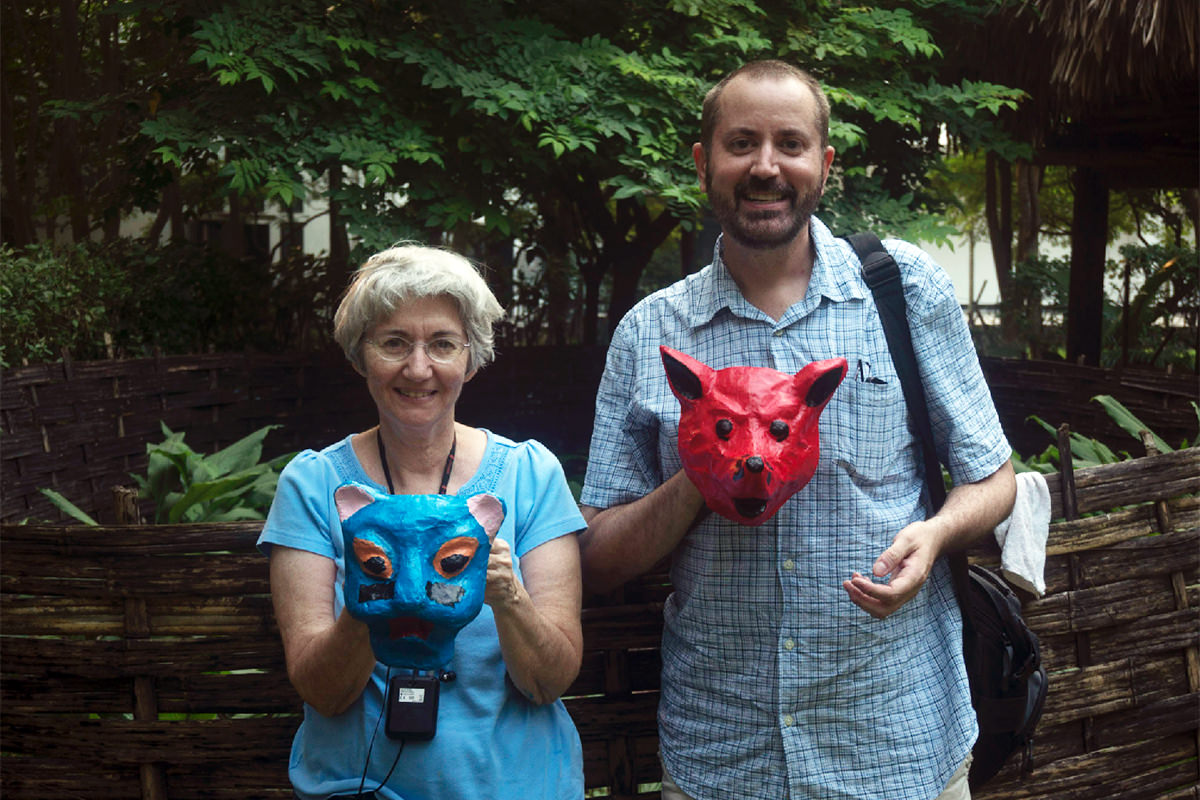 Another crafting project. This time we got to pick out a paper maché mask and paint it. Mom had them hanging in her room for a while, but I eventually took them down when she didn't know what they were any more.

Remember what I said about mom hating wrinkles? Here we are in our perfectly-pressed tai-chi exercise outfits, because mom was up ironing them at some ridiculously early hour. Oddly enough, it was while ironing these that I remember my mom having her first serious memory lapse. She was standing there with an iron in her hand and it was like she forgot where we were and what she was doing. It passed quickly, and so it was forgotten. Little did we know that it was just the start.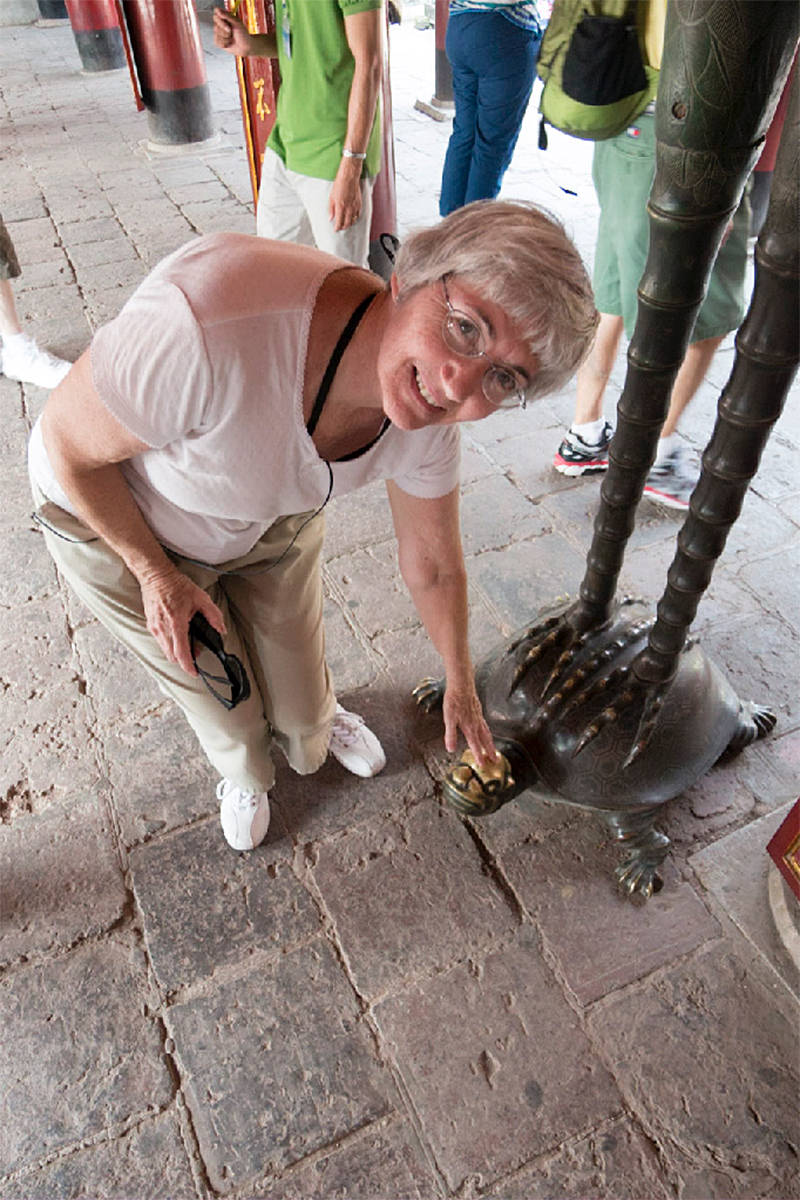 Mom rubbing a turtle's head for luck in Vietnam. She always thought the perspective on this photo was funny.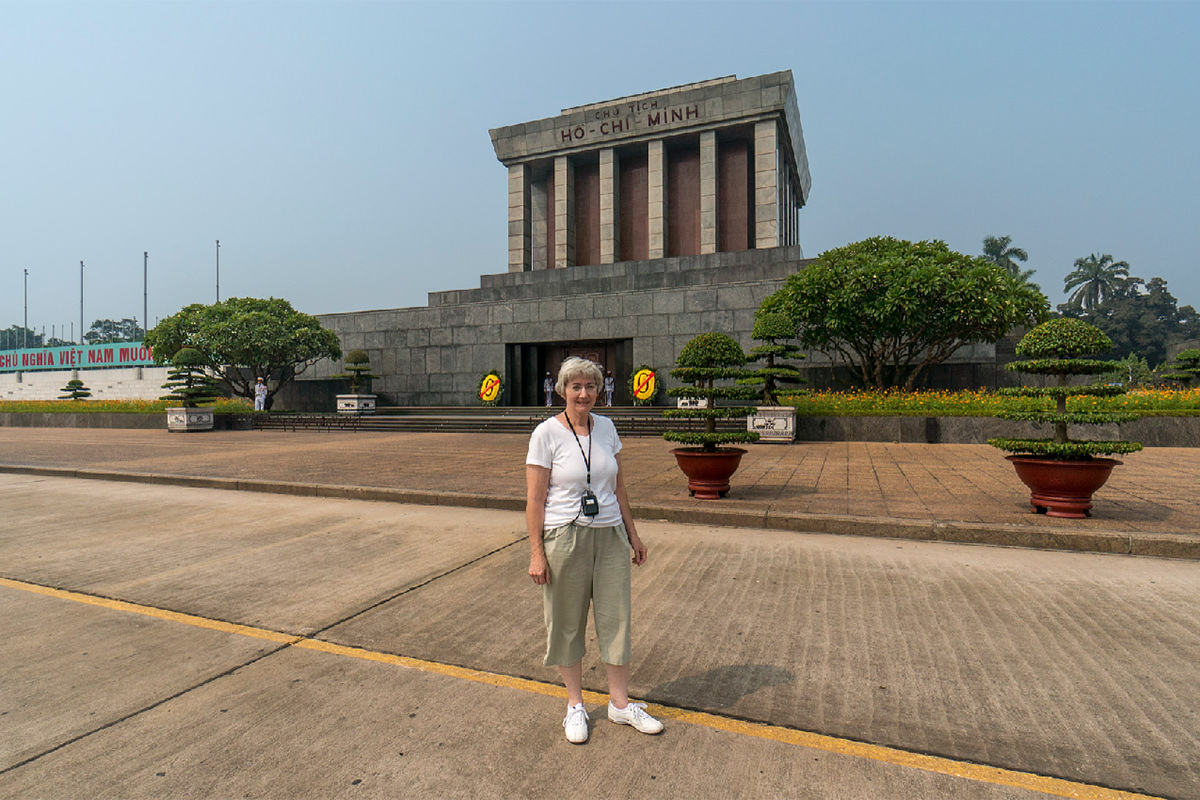 The mausoleum of Ho Chi Minh in Hanoi. Normally, you can get a ticket to view his preserved body inside, but "Uncle Ho" was out for his annual cleaning, so we didn't get to do that. Mom said "I don't know why, but I would have liked to have seen that."

Getting ready to offer Buddhist monks some rice as they make their morning processional to a nearby temple. Mom and I were totally into it... nobody else seemed to care. That happened a lot. We loved new and different things.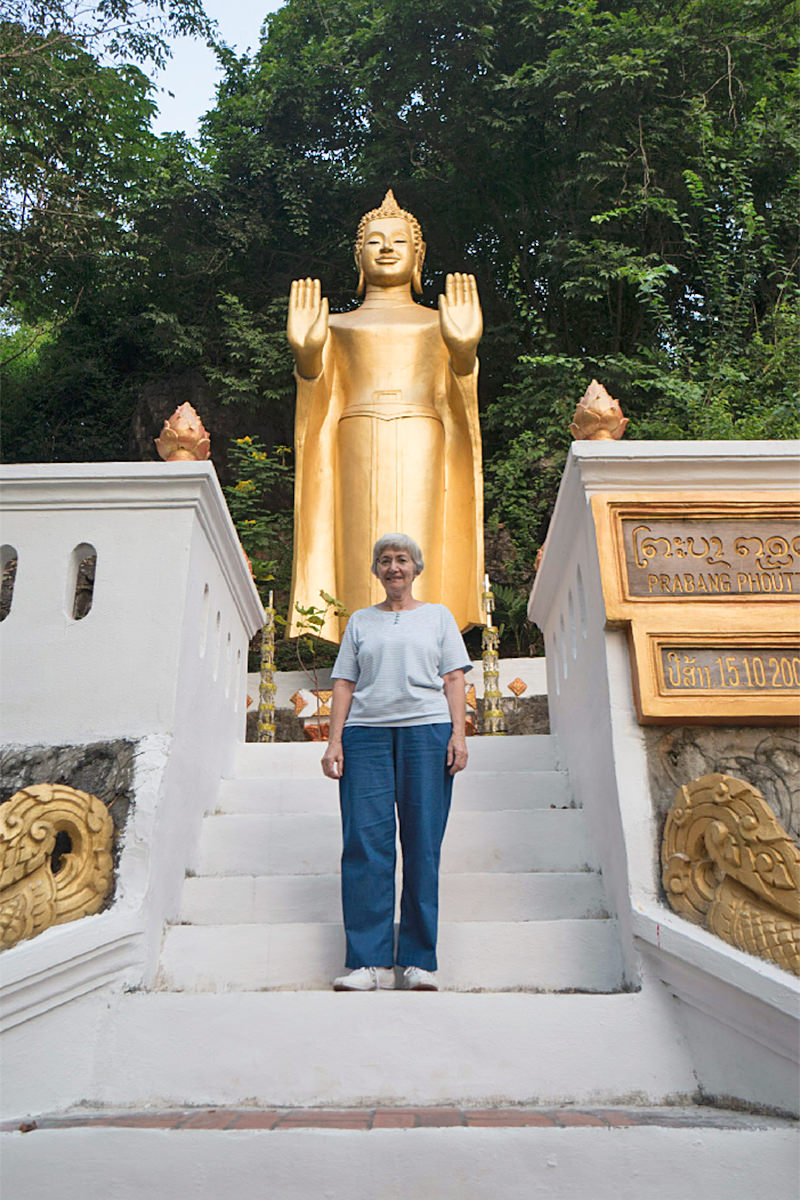 Many great photos as we climbed up to the temple. Here we are taking a break along the way.

Mom having big fun with an ox again. And once again she was concerned that the ox was working too hard and was asking if he got to have fun after he got off work. "Of course," the Adventures by Disney guide said.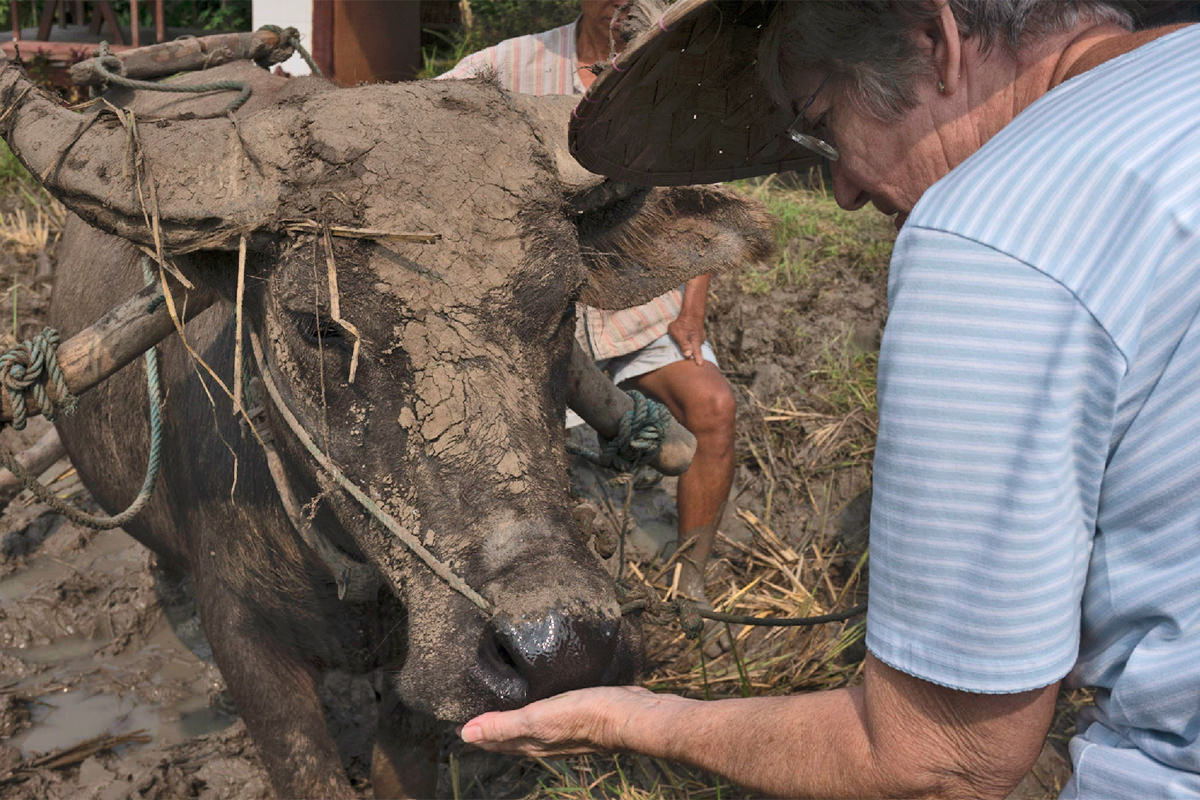 "Do you want to feed him?" they asked. "Sure!" mom said... "Do you have some soap and water so I can wash his face first? He can't have lunch with a dirty face!" Holy crap I loved traveling with my mom. If you ask me why, it was moments like this.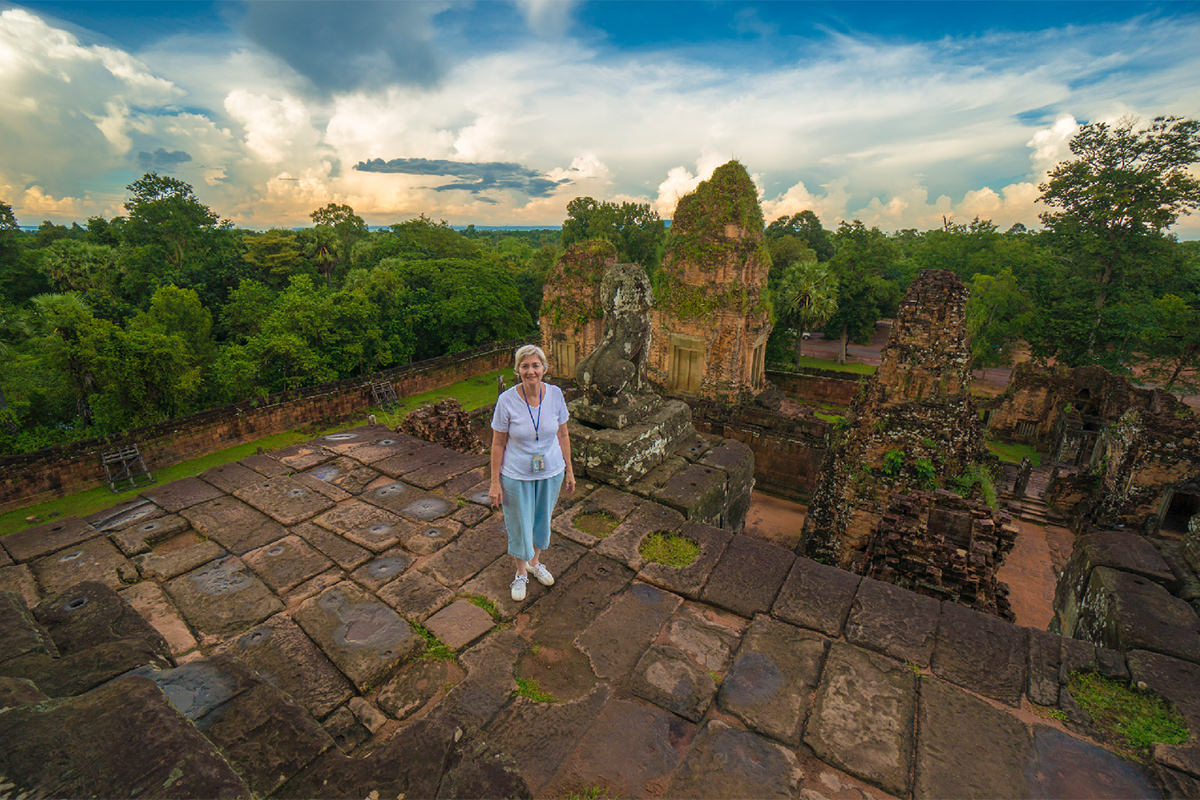 And here we are in Cambodia. As we went hiking around from temple to temple, I kept asking her if she was tired and wanted to go back to the hotel. "No. I want to see them all!"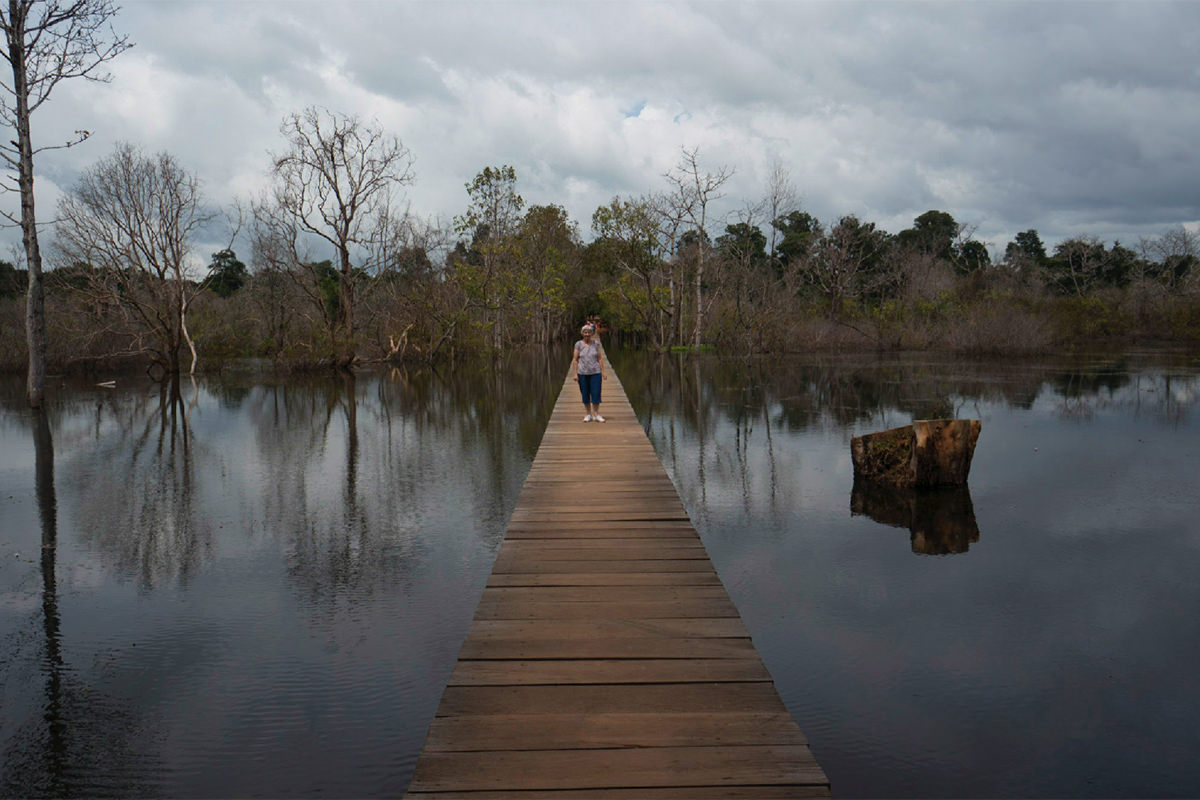 The next day, still trying to explore every temple in Cambodia.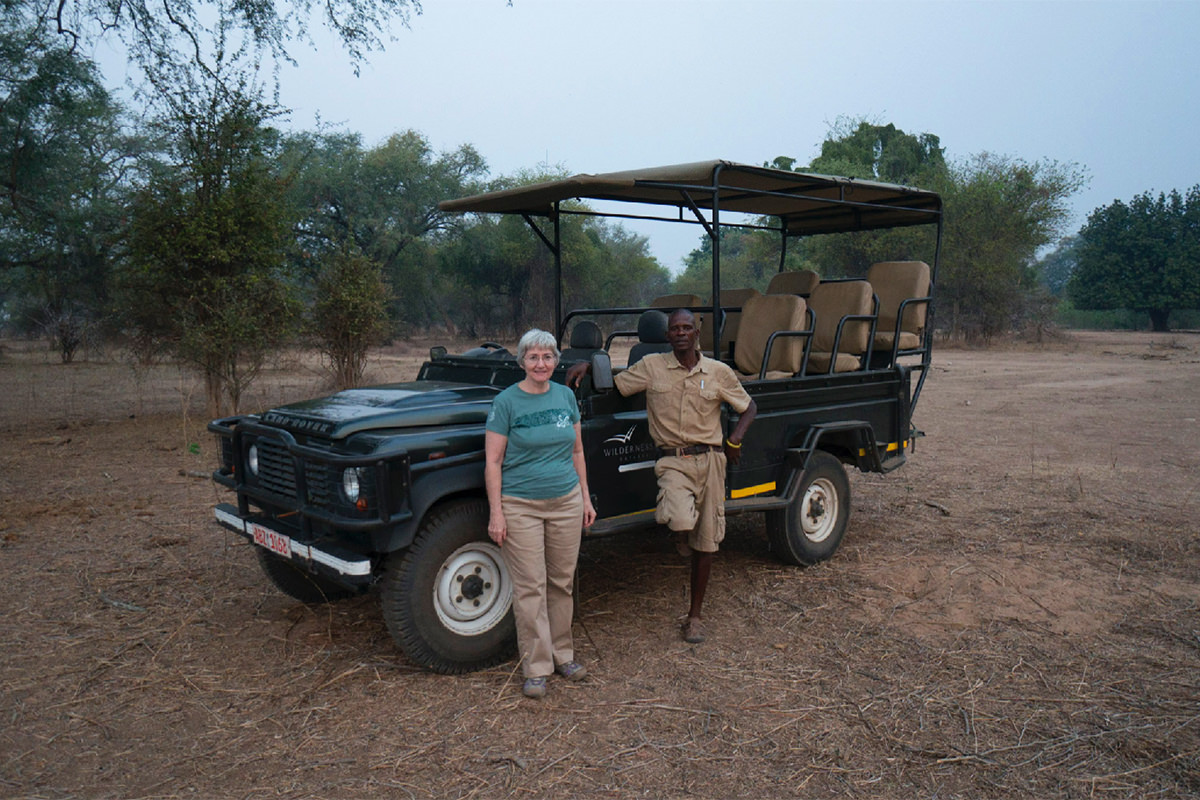 And... Africa (two years after mom had asked about going... we had a cruise around South & Central America and through the Panama Canal before this). At this point my mother couldn't make new memories. Our lovely guide was so wonderful about it, and never let on when my mom would introduce herself five times a day. Eventually he told me that one of his wives had the same condition, so he was used to it. Fate, as it turns out, is always the best guide.

Mornings in Africa were surprisingly cold. Fortunately, we were well-prepared. Because she got cold easily, I packed her different sweaters and jackets for layering. As it started getting warmer and warmer each day, our guide would say "Pat, aren't you getting hot? Can I take your jacket?" Mom, without missing a beat, would respond "I just put it on because I'm cold."

When you can't remember where you are or how you got there, seeing elephants outside your window is an amazing thing. Which means my mom was in a constant state of disbelief... "My goodness! There are elephants out there!"

The sunsets in Africa are some of the most beautiful I've ever seen. After this photo, my mom asked if we were going back to the house or if we were going out to eat, which I found really funny for some reason. "Well, we're in Africa and our house is thousands of miles away... but we might be able to find something to eat back at camp." "Oh. That would work too."

Hiking around Victoria Falls (or Mosi-oa-Tunya, as the non-colonizer locals call it). We also took a helicopter ride over the falls, of course. Her memory may be screwed up, but she totally loved it... as I knew she would.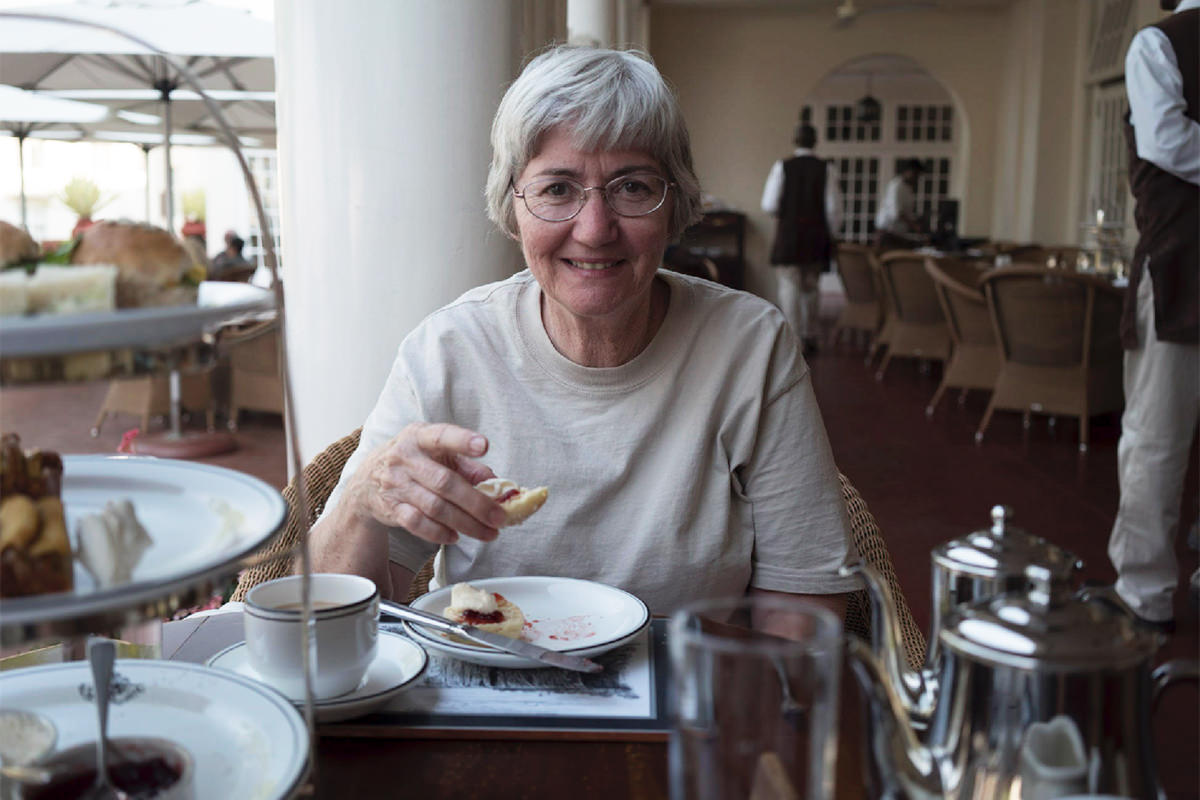 The end of our last trip together... high tea at The Victoria Falls Hotel in Zimbabwe where we were staying. It was a good run.
Our last vacation together was to Africa in 2014. When her health declined too much for trips like that, I tried to come up with something a little closer to home. I had booked us a trip to the Dakotas, since North Dakota is the one state I haven't yet been to, but it had to be canceled. In many ways I'm thankful for that. Africa is a heck of a place to go out on, and the memories made that final trip are some of the best travel memories I have.
Where my mom is at now, I don't know. Hopefully it's someplace at least as amazing as all the places we've been.