Posted on November 5th, 2019

The idea was simple, really... fly out tonight for a quick trip, then fly back home on Thursday morning.
And things started out totally great. Really they did. The weather was absolutely gorgeous for my drive over the mountains and I made it to Seattle Tacoma International Airport in record time. I then managed to find a parking spot at WallyPark in only 15 minutes (which sounds a lot easier than it is, even with a reservation). The TSA PreCheck line wasn't longer than the regular line (for once), so I even made it through security fairly quickly!
Score, right?
Eh...
The inbound flight was a little late, but they can "make it up in the air" so no harm no foul.
Then a valve wouldn't work that they need to pressurize the plane... or depressurize the plane... or something like that... so we headed back to the gate to wait for repairs.
My money was on it being the Fetzer valve. In which case I was hoping they had some ball bearings, 3-in-1 oil, gauze pads, and about ten quarts of anti-freeze (preferably Prestone) so we can get this show on the road...
So eventually they fixed the valve.
Then we went out onto the tarmac again.
Then the valve was still broken, so we went back to the gate again.
Then they decided it would be best to switch to an entirely different plane some hours later.
I was already going to be arriving pretty late, but now we were arriving four hours late on top of that. Which sounds bad until you think about how it's much better to have mechanical problems on the ground than in the air.
In a way... I'm disappointed at this missed opportunity I had here. I've seen many, many things in my decades of air travel. I've seen a fist-fight mid-flight. I've seen a fire in the galley while over the Pacific Ocean. I've been on a plane that's had to make an emergency landing... twice. I've had police board the plane to remove a drunk passenger. I've been detoured to some random city four or five times. I've missed connecting flights more times than I can count. I've been trapped in cities for days because no flights were going out. I've even been in a "crash landing" where the plane ran off the runway and we had to be driven to the terminal on a bus (no emergency slide, darn it!). But I have never been in a cabin depressurization where the masks drop from the ceiling! Apparently this valve malfunction we had would have meant they could not pressurize the cabin (or something to do with cabin pressure) and maybe I finally could have checked that one off my list!
Oh well. Maybe on the way back?
Posted on October 27th, 2019

A busy, busy week for me has ended but I'm just getting started, because an all new Bullet Sunday starts... now...

• Monster. I have been toning down the politics on Blogography because it's just so pointless. Unless you are living under a rock, you already know the horrific shit our president is doing, so there's really no need to repeat it here. But lately it's gotten so bad that my disbelief has escalated to a level I didn't even know I had in me. Fortunately John Oliver was back tonight to put one of the most tragically awful events into perspective...
Holy shit.
There really is no bottom. President Trump lives in a fantasy world where everything he does is perfect and everybody loves him for it. Somebody this detached from reality has no business running the country, and I hope that people are really, really scared about what damage could come next.

• Idiocity. And speaking of damage, I saw this headline on The Verge yesterday: Donald Trump wants the iPhone home button back. OH FUCK NO! With all due respect Mr. President, go back to using a flip-phone and leave technology advancements to those of us who know how to form complete sentences which people can actually make sense of.

• Good. When I was at Uluru (which the colonizers dubbed "Ayer's Rock") in Australia, there was a sign saying that it was a sacred place to the people who own it and they ask you not to climb it... despite there being a chain path to climb it. So I didn't climb it. There were also signs posted at a few points around Uluru asking you not to photograph it at that point because something sacred to people happened there. So I didn't photograph it there. I don't understand why it's so difficult to follow the wishes of the people whose land you are visiting. You're their guests, and should be grateful that they allow you to visit their home at all. I know I sure was...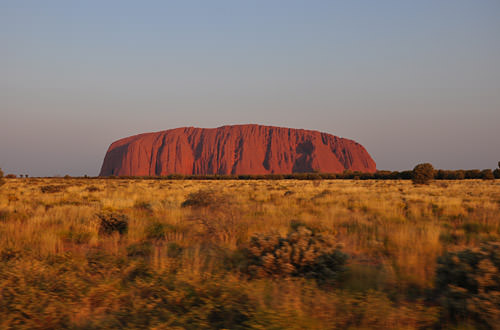 By banning people from climbing on it after the month is over, Australia is righting a great wrong. I hope people respect the new ban on climbing Uluru and adhere to the Anangu People's request. It literally is the least people can do.

• Kangaroo Cats. I ran across an interesting Facebook post this week which was talking about the "primordial pouch" which appears on some cats. I think it's genetic. Jake and Jenny both have big pouches. When they run, the skin flops back and forth... it's kinda hilarious, but doesn't seem to bother them at all. For the longest time I just assumed they were mutants. But apparently that's not the case...
Interesting stuff, that evolution!

• Rhinos! Will of Burrard-Lucas Photography is the reason I selected the Antarctica tour that I did. His wildlife photography is the most inspiring and beautiful I've ever seen, and getting a behind the scenes look at how he does what he does is about the coolest thing you'll see on YouTube this week...
Thanks to his BeetleCam invention, nobody does wildlife photos like Will Burrard-Lucas. He amazes me with each new book he publishes.

• Pepper. You really do learn something new all the time. My homemade pizza sauce recipe calls for green peppers. I don't normally eat them because I prefer the sweeter red peppers, but the recipe tastes so good that I do what is called for. On Tuesday I came home from work and was already too tired to cook... but then realized that I actually needed to clean my kitchen before I could cook. Double the horror. It's while cleaning that I notice something strange... WHAT HAPPENED TO MY GREEN PEPPER?!?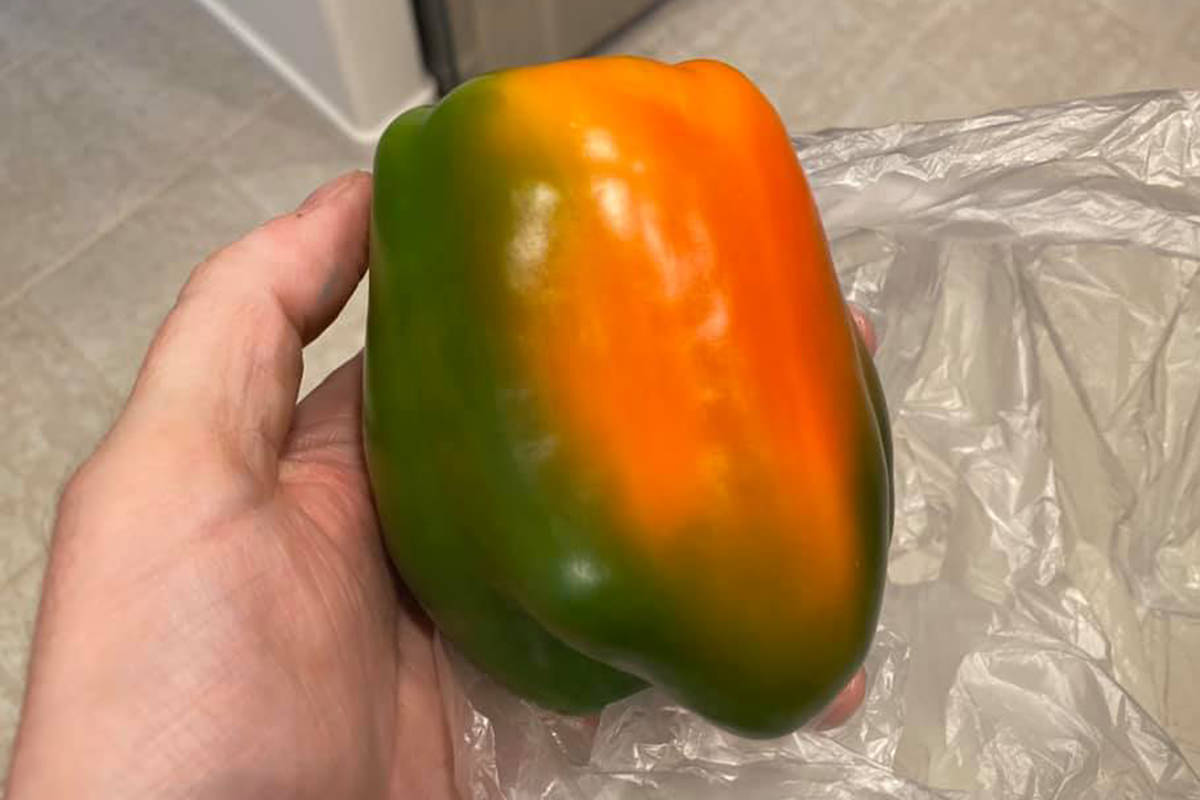 It's then that my Facebook friends had to inform me that green peppers aren't ripe and, like tomatoes, they will turn from green to orange to red as they ripen. I honestly had no idea. Until Tuesday, I truly thought that they were all different species of peppers.

• Hallmark Moment. As you can imagine, I am in full-on Hallmark Movie Mode now that their 10th Annual Countdown to Christmas is in effect. I almost never watch live, choosing instead to DVR the movies so I can jet past commercials. But the new movies for 2019 I have been watching live, and this commercial came up...
Well done. Somebody at World Market really knows their Hallmark audience. I don't understand why any company spending the huge amount of money required for a national ad doesn't put this kind of care into creating them. Most ads are just terrible and something you want to skip. Why would you waste money like that?

And now... time to wash underwear so I have something clean to wear to work tomorrow. You're welcome, my co-workers.
Tags:
Advertising
,
Africa
,
Bullet Sunday
,
Cats
,
Dumbassery
,
Food
,
Hallmark
,
Photography
,
President Trump
,
Television
,
Travel
Categories:
Bullet Sunday 2019
,
Cats 2019
,
Food 2019
,
News – Politics 2019
,
Photography 2019
,
Television 2019
,
Travel 2019
—
Click To It:
Permalink
—
0 Comments: Click To Add Yours!
Posted on October 9th, 2019

I had no work yesterday, but my choices were either a very early flight or an early evening flight. I probably should have taken the early one, but I would still be on Pacific Time after only one day in The Big Easy, so I made the easier decision.
Though, if I'm being honest, the real easier decision would be to add an extra day as vacation. But that would have been on my nickel, so there would be none of that.
As an up-side, it was a pretty sunset as we took off... and... there were sweeping views of the causeway which spans the entirety of Lake Pontchartrain!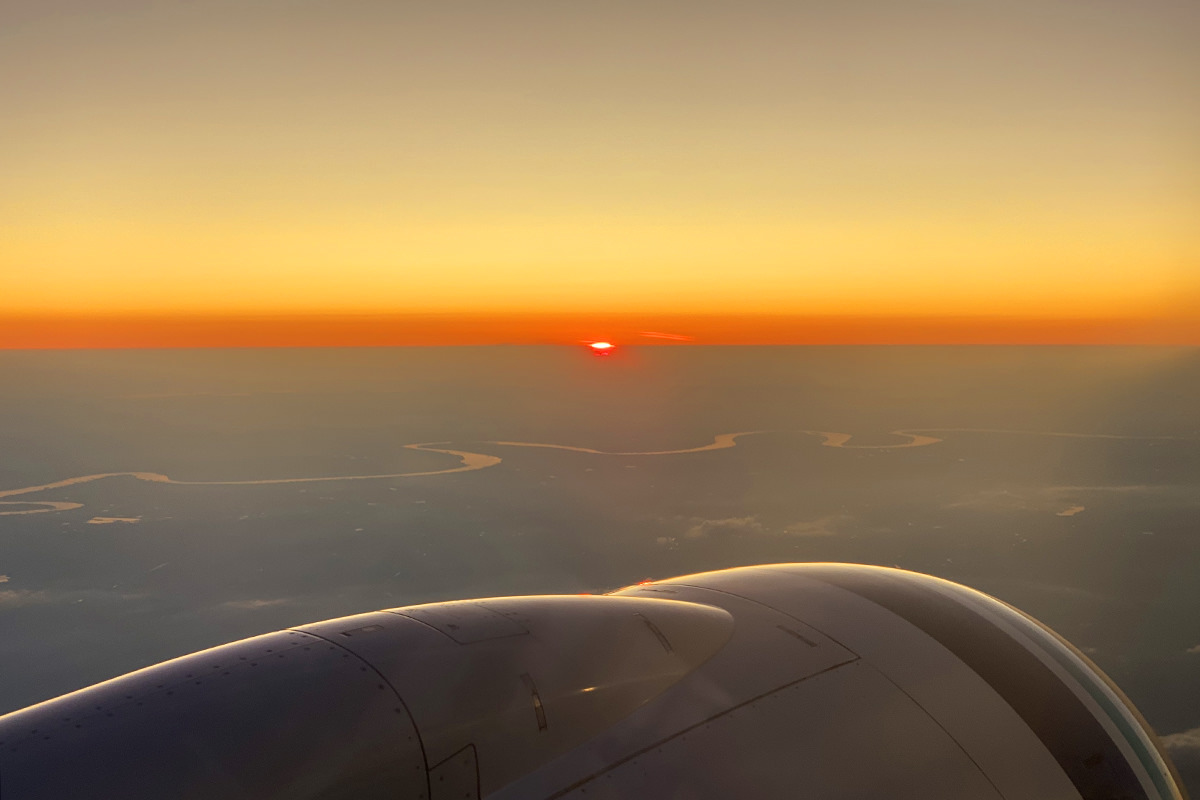 I've actually driven it once. It was nice. And buggy. My windshield was entirely covered with dead bugs by the time I got to the other side.
Before takeoff, the plane captain announced that the mountain passes were a mess, so anybody heading East (like me!) might want to check on things before leaving the airport. Well I did, and ultimately decided I'd rather handle the snow and ice in daylight, so I stayed on the westside last night.
Then, early this morning, it was time to brave the mountains.
Except... it wasn't a big deal at all. The roads were completely clear. Just pretty scenery, as usual, for this time of year.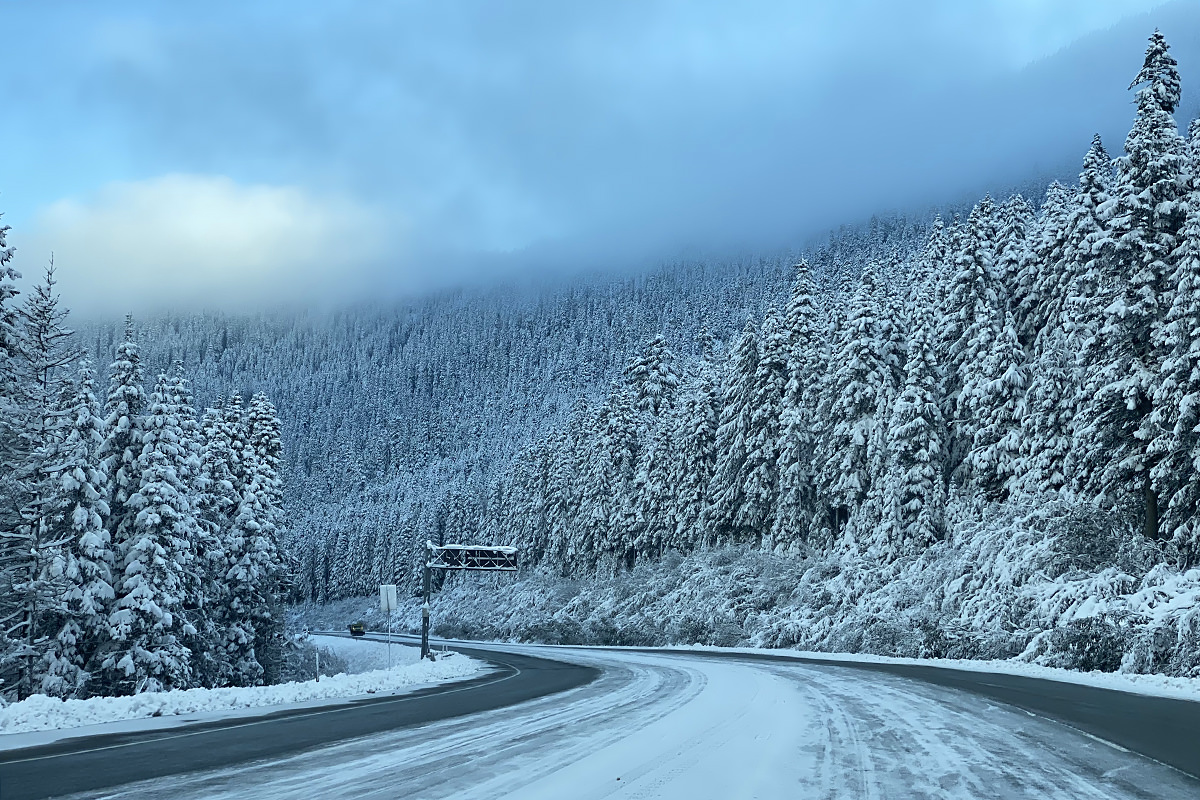 And now what I'd really like? Potato salad! Which is why I stopped off at the store to buy some luxury potatoes and sour cream.
My dinner is going to be better than your dinner.
Unless you're in New Orleans having beignets at Cafe du Monde. There's really no topping that, is there?
Posted on October 8th, 2019

Having been to The Crescent City many times, I know how crucial it is to pack minimum 2 changes of socks and underwear and 3 changes of shirt every day. When the heat and humidity makes you sweat like I do, anything less is just being irresponsible.
Work yesterday ran me pretty ragged and I had been eating all day long, so my ambitions for dinner were low. I made my run to Cafe du Monde and that was all I needed...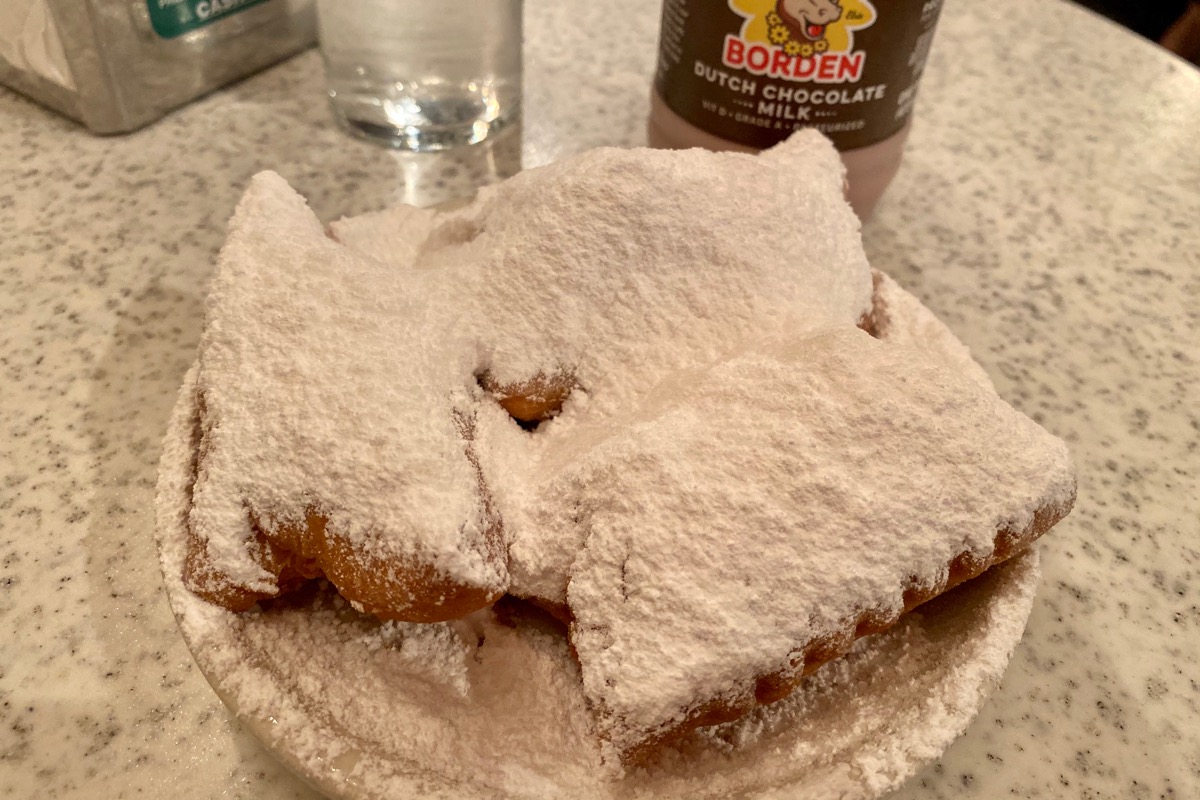 When I sat down to eat, I was overwhelmed with the feeling that something was wrong. Something had changed. After a minute I realized that the painting "It seemed like an ordinary day, until I had coffee with Jesus at the Cafe du Monde" which had been hanging on the green-stripes wall was missing. Just a blank spot there now...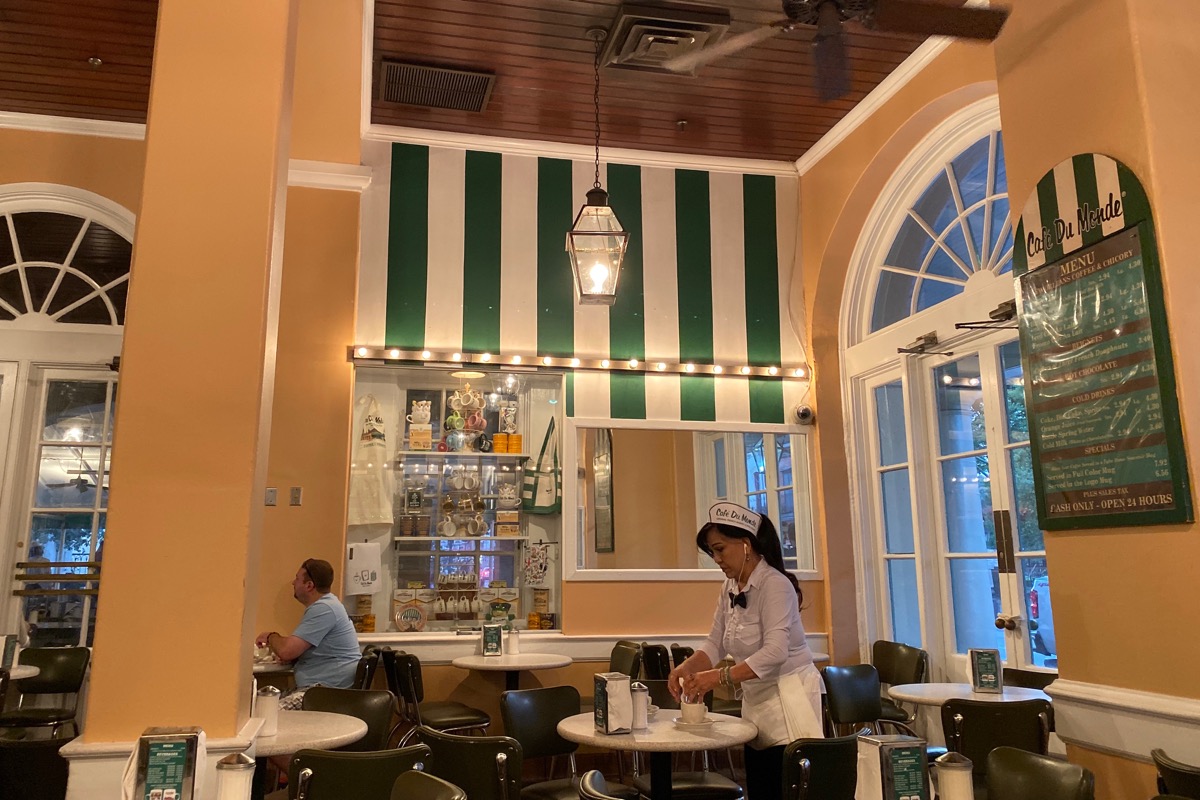 I've blogged about the painting and how much I like it two or three times now...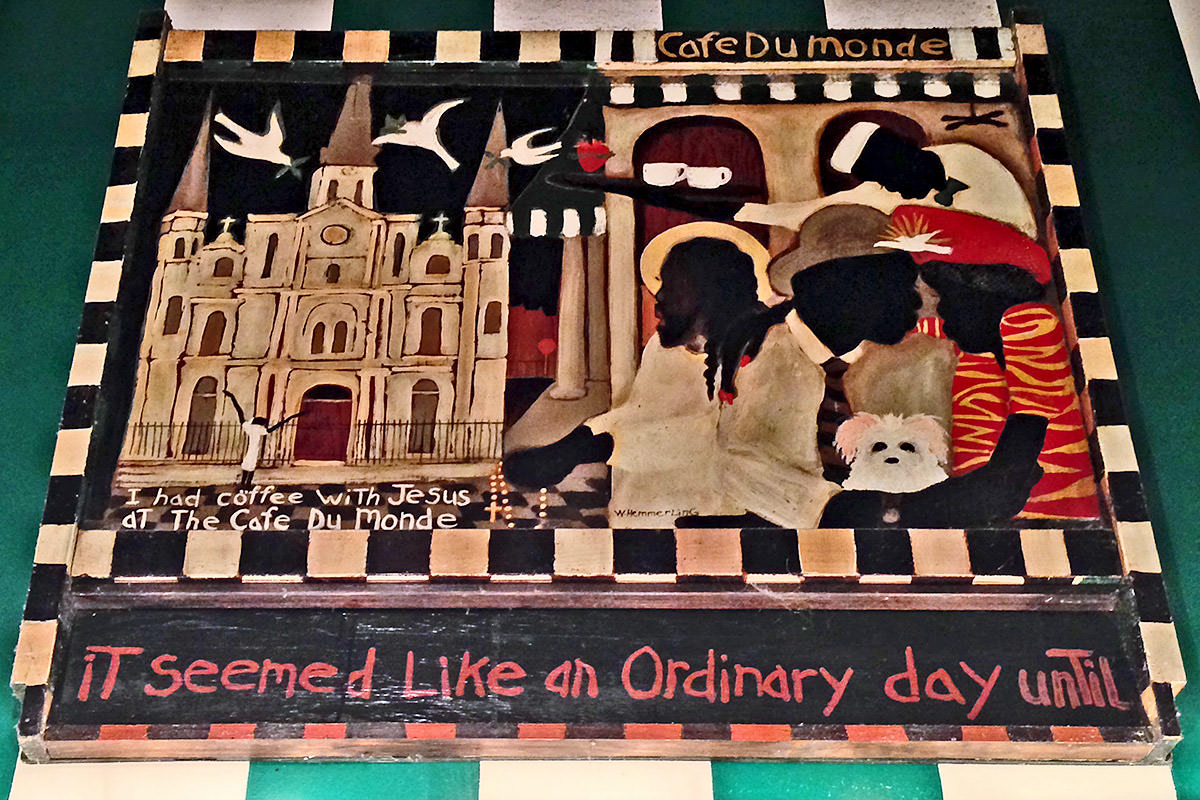 I asked at the counter and all they would say was that it had "been moved to a new location." I hope that's the case, because I will be sorely disappointed if some religious zealot asshole complained and they had to take it down.
Then I just wandered so I could take a few photos with my iPhone 11 Pro to see how it handles things when the light is fading. And to play around with that magnificent wide-angle lens, of course...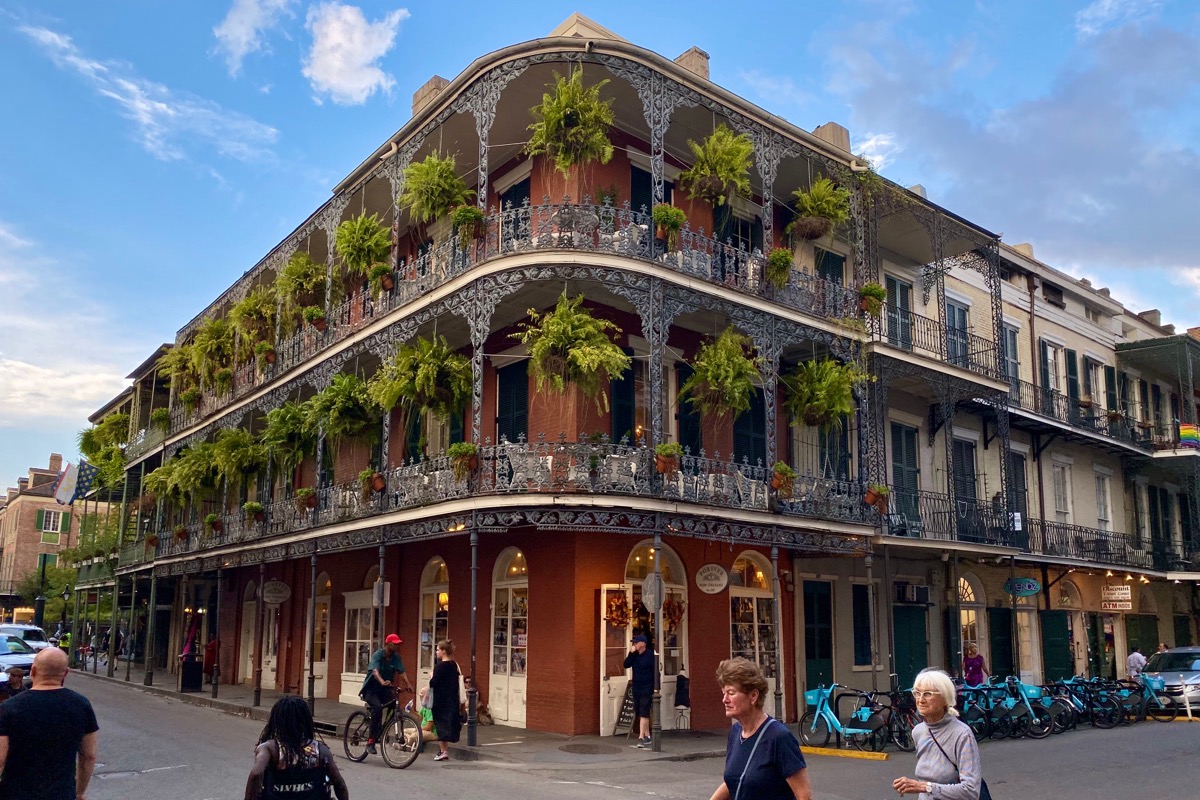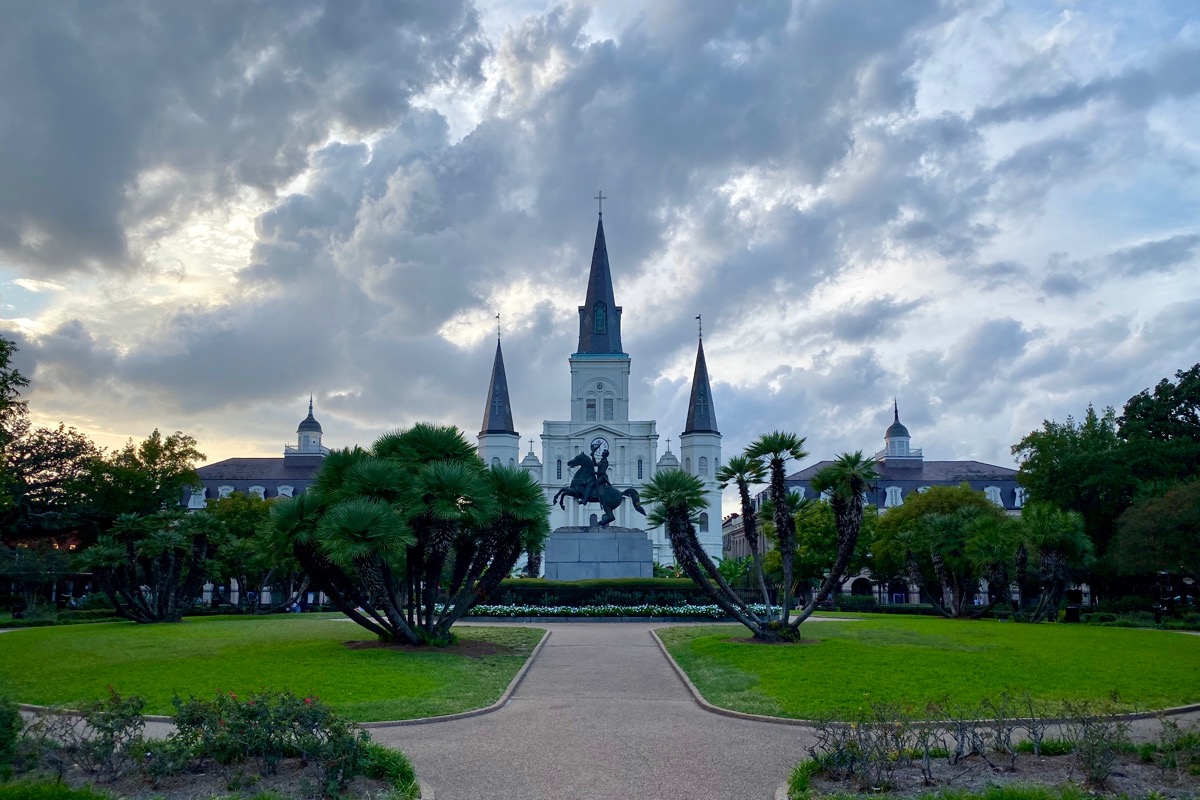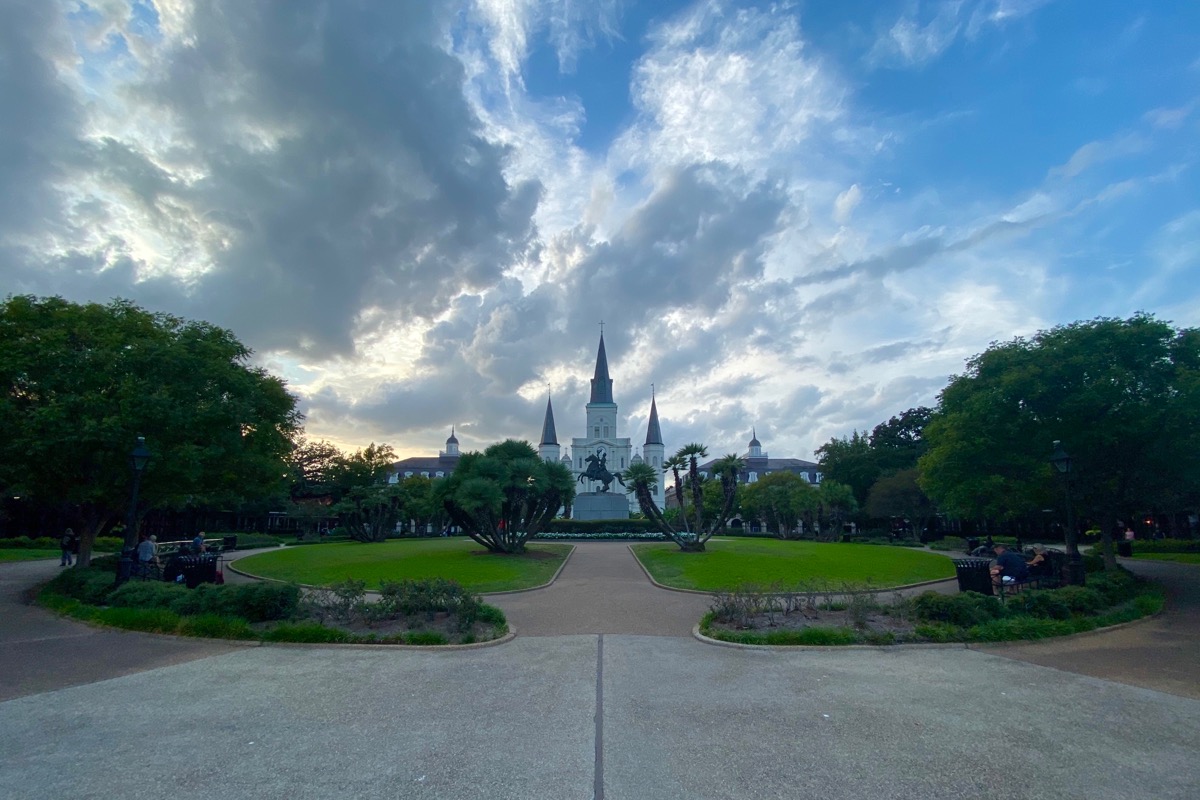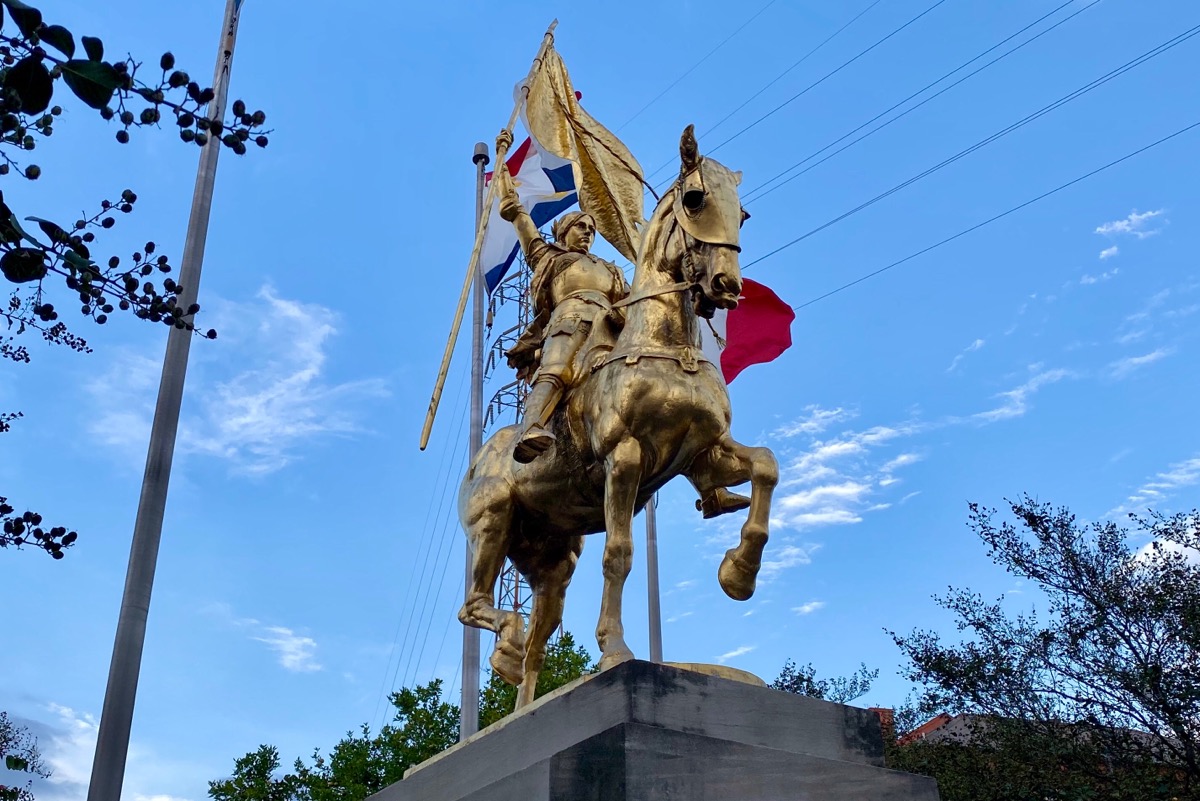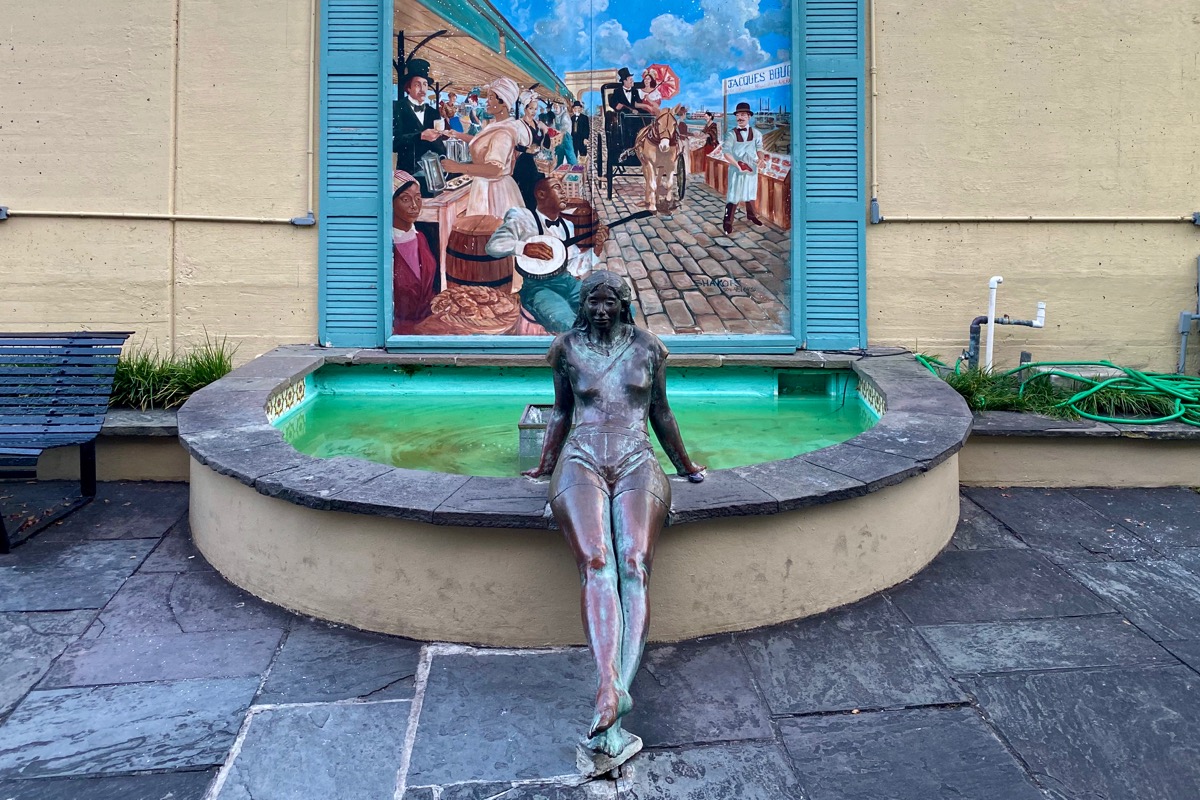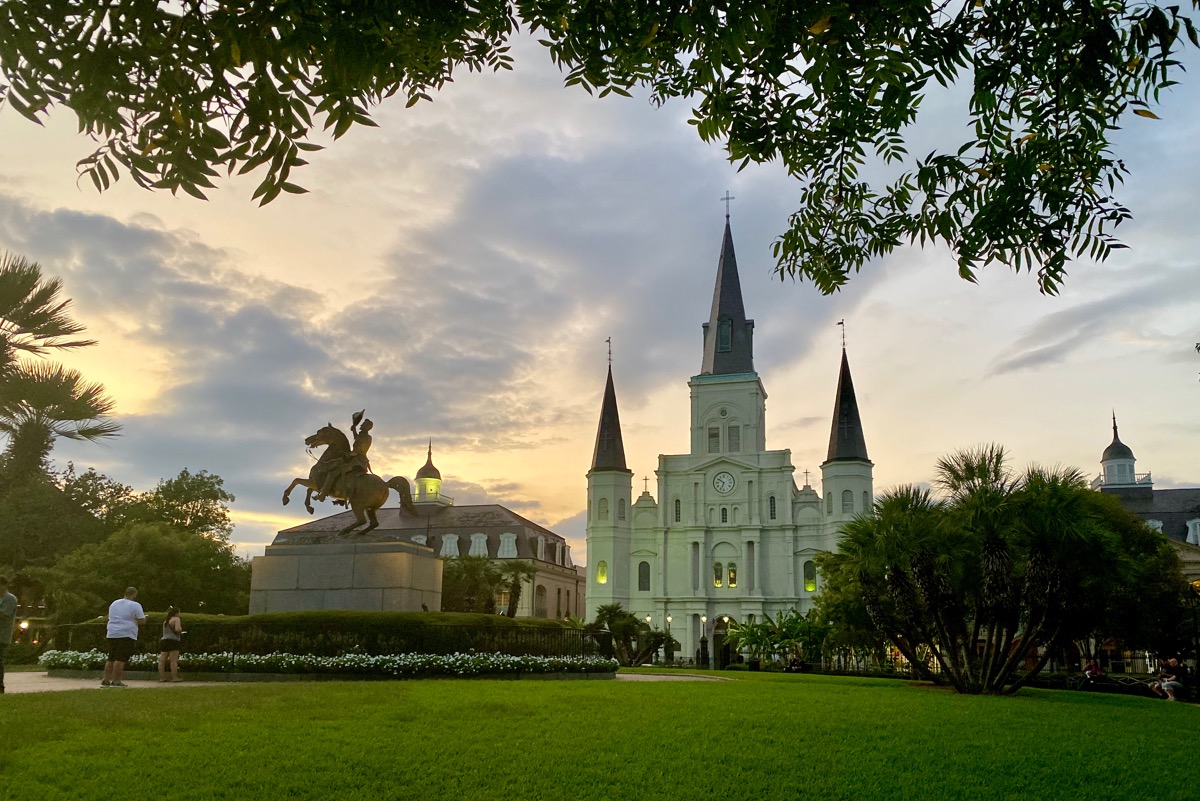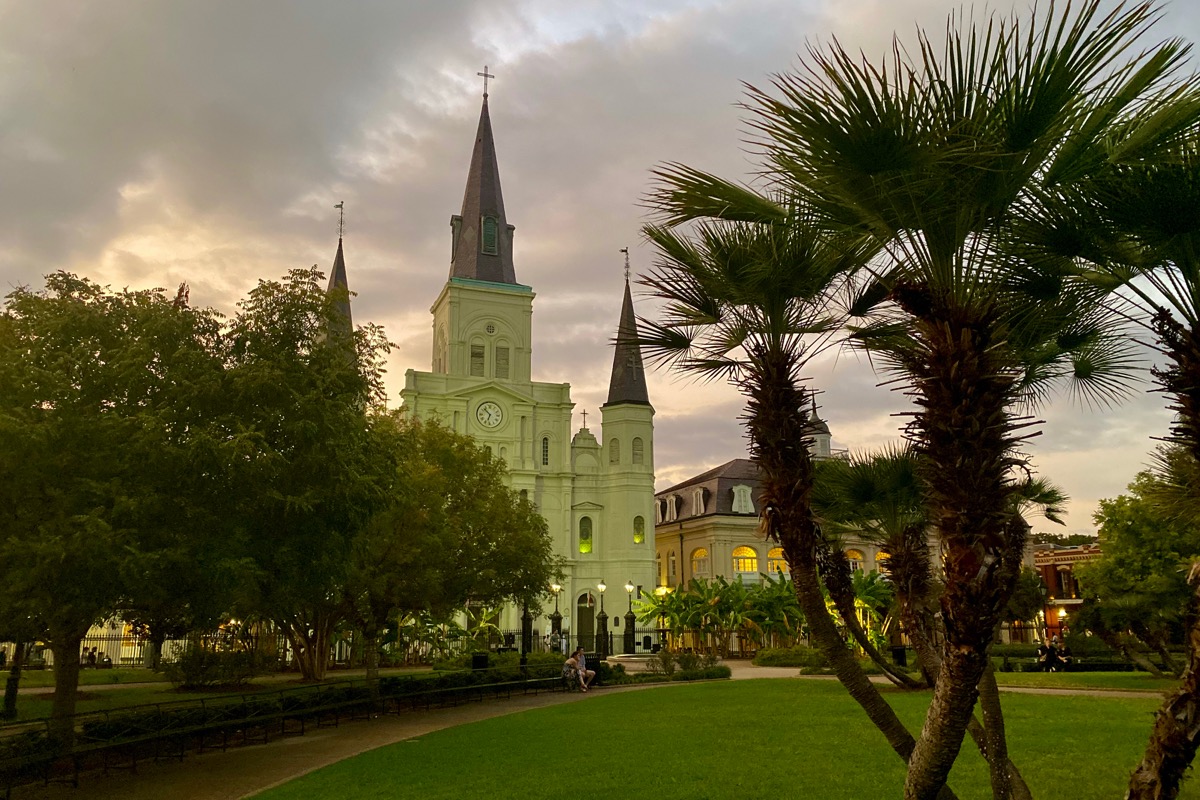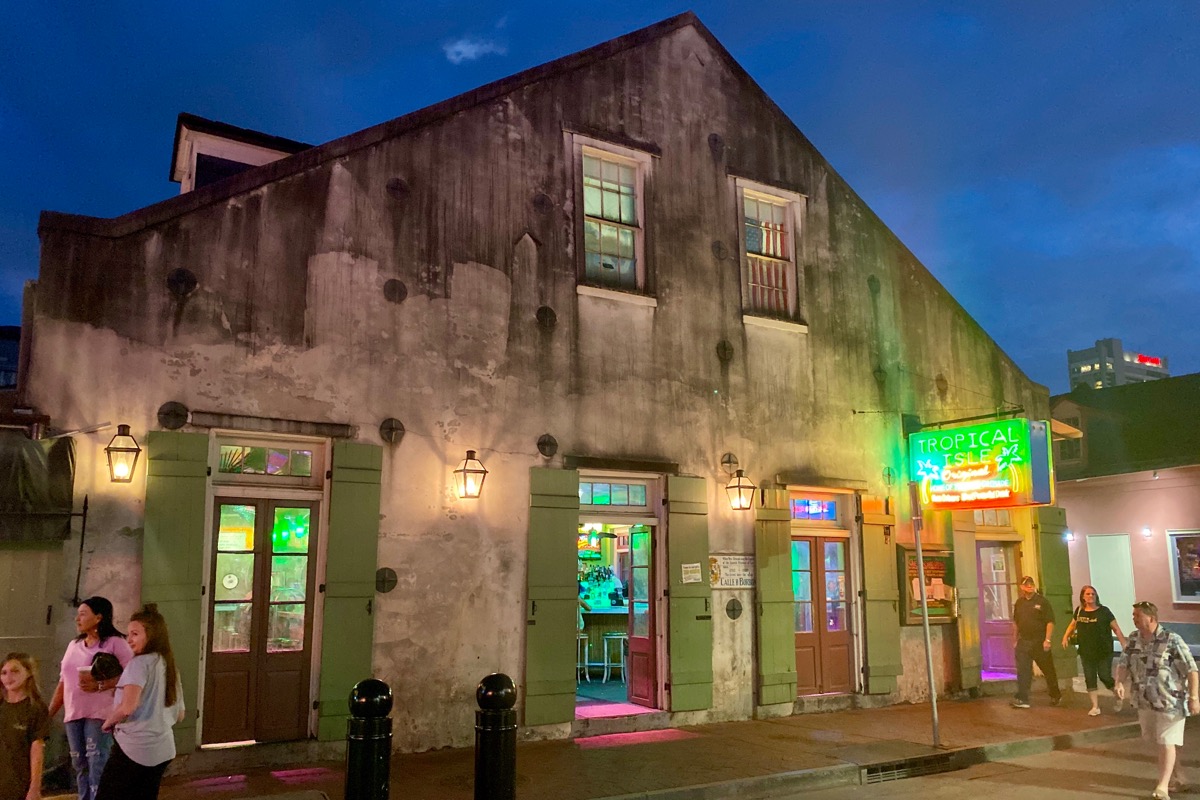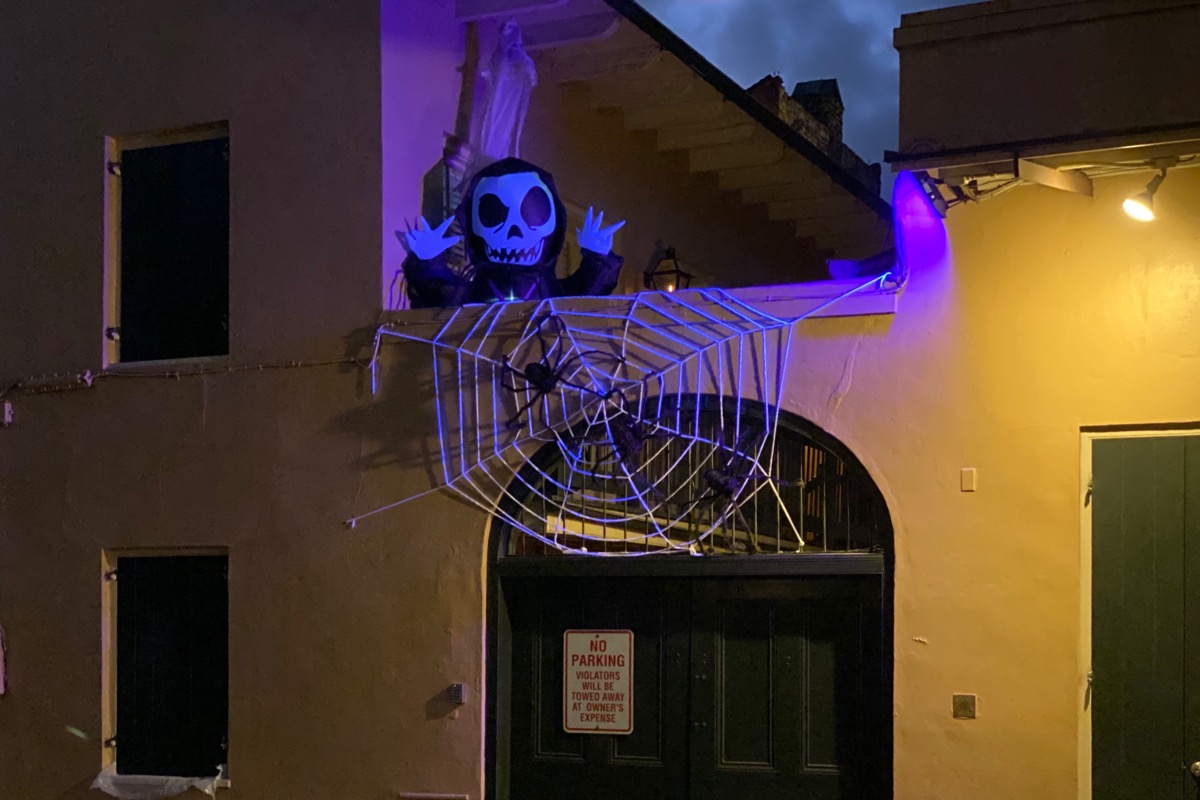 Alas, I'm old now, so I was headed to my hotel just before 9:00. I was past my limit of sweating for the day and didn't feel like drinking my way into a coma. Sure it was an early night, but I got a great sleep in, so it's all good.
This morning was spent in bed working. Not because I had to, but because I wanted to enjoy my air conditioned hotel room until they kicked me out. I am on my last pair of underwear and socks, so going out and having nothing to change into after sweating through my clothes was the last thing I wanted to do (you are welcome, people on the plane sitting next to me).
With three hours to kill, I decided to have a leisurely lunch at Attiki. They have a fantastic falafel wrap, which sounded all kinds of amazeballs. Then I couldn't resist one last stop at Cafe du Monde for dessert...
This time I had a guest...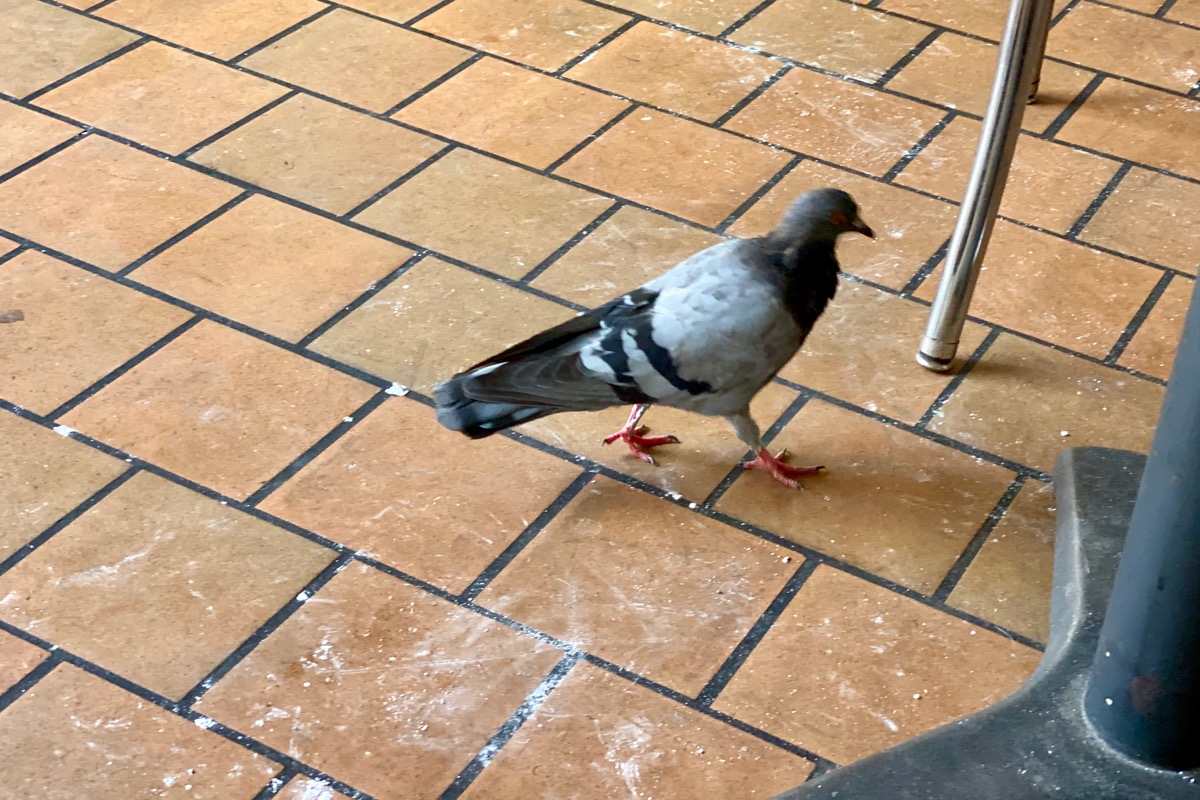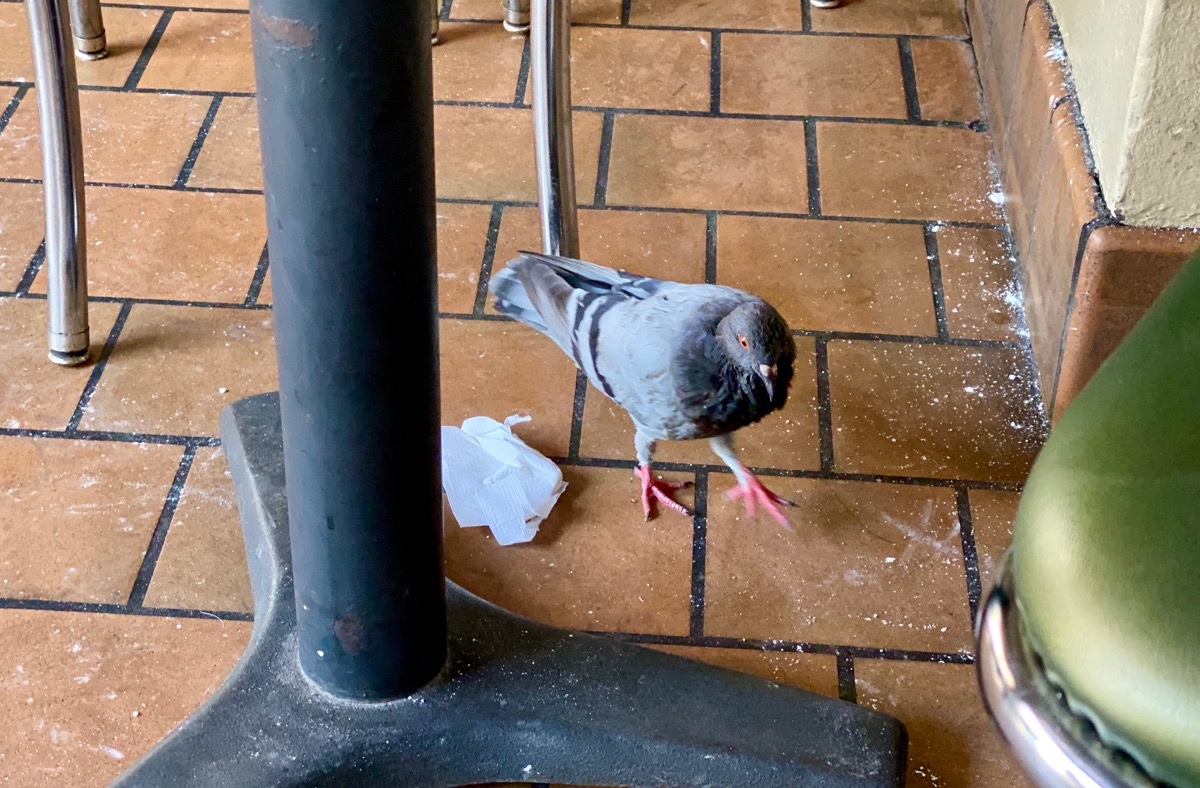 After second lunch, I stopped by the Hemmerling Gallery to ask about the painting that used to hang in the Cafe du Monde (which I mentioned above). They told me his painting was moved across the street to a general store owned by Cafe du Monde. They also told me that the painting was inspired from when Bill was sitting at the Cafe du Monde drinking a coffee and a man sat down at his table who looked like Jesus. This scared him, so he got up and moved to another table, finished his coffee, and left. As he was walking away, he started feeling bad about the way he had acted, so he went back to apologize. But the man was gone. As he was walking through the square, he saw the man again sitting on a park bench. He sat down and tapped the man on his shoulder and asked him if people tell him he looks like Jesus. When the man turned around, he had the most beautiful face Bill had ever seen. He went to his preacher and said he thought he met Jesus at the Café du Monde... then painted it.
So I walked back to the store and, here it is. So sad they moved it from its rightful place at Cafe du Monde! Mystery solved though...
And now I am waiting for my shuttle to the airport for my flight home. Hopefully we land in Seattle early, because I've still got a long drive ahead of me after the flight.
And there are cats at home waiting for me.
Posted on October 7th, 2019

New Orleans is my favorite American city...
...to visit. I don't think I could ever live here, because the heat and humidity would do me in. I dunno. Maybe I could eventually get used to it, but I do not handle sweating non-stop very well.
Yesterday on the plane I tried to count up how many times I've been to The Big Easy. My first trip was in 1983 for a DECA convention when I was between my junior and senior year in high school. It was my first trip outside of the state by myself. And I mean really by myself, because my chaperoning teacher couldn't make the trip. New Orleans is probably not the best place to be 17 years old and totally unsupervised, but I lived to tell the tale. And here I am on my 11th... or maybe 12th or 13th... trip to New Orleans. It's hard for me to remember all the trips I took before I started a record of my travels at Blogography (yet another reason to keep blogging, I suppose).
Dinner last night was at Coop's Place...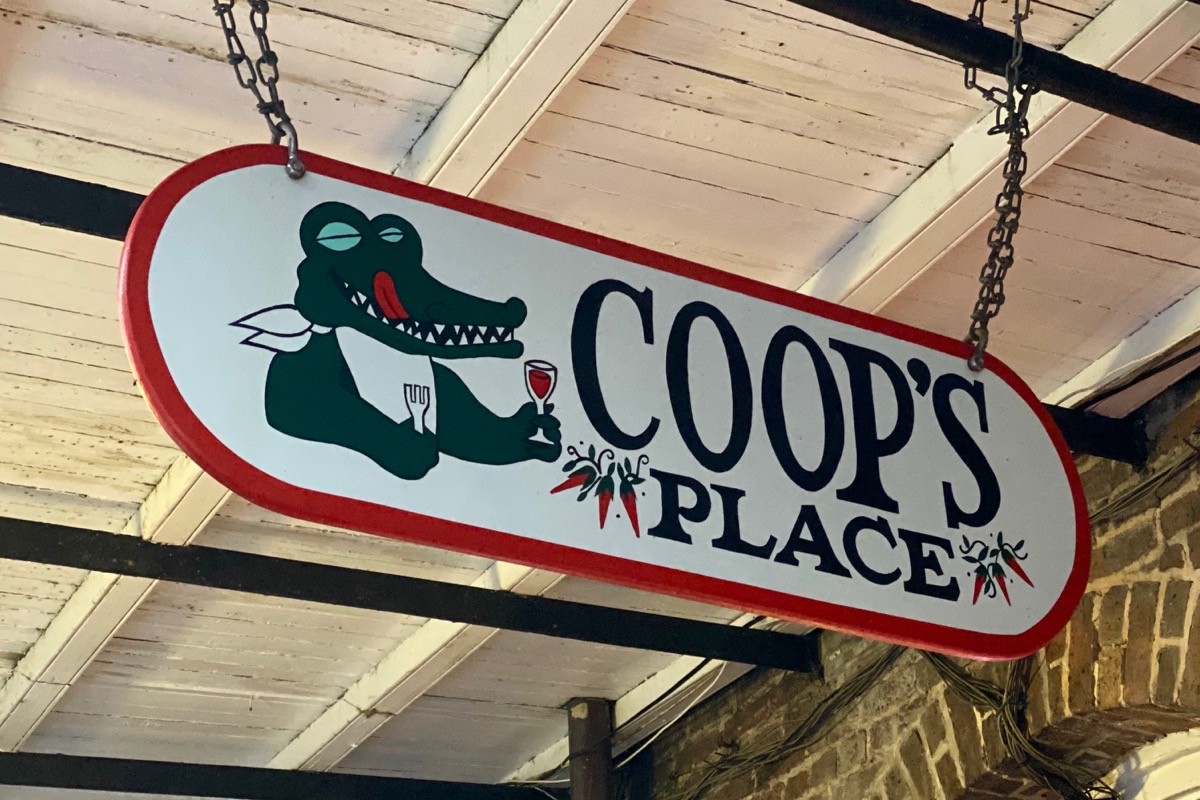 This is one of those dining establishments which makes me feel sorry for people eating here who don't know what to expect. The food is excellent, but everything else is a bit rough around the edges...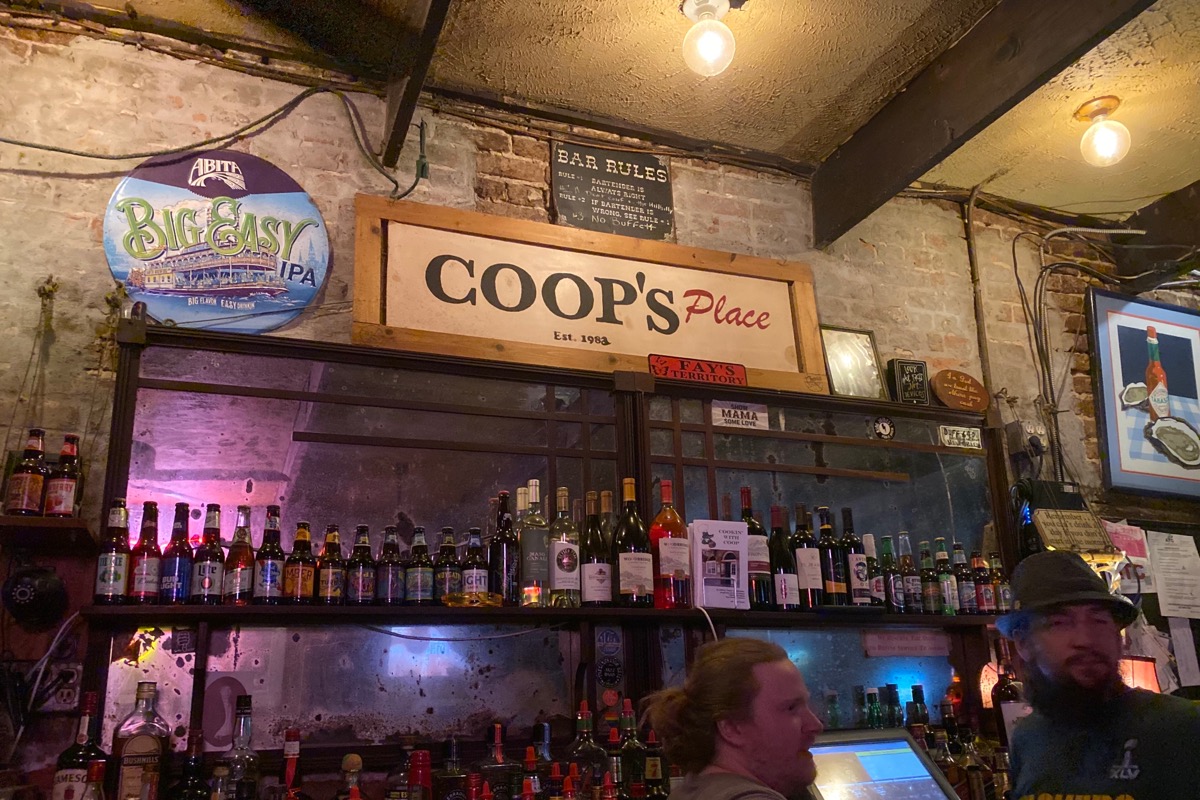 You'll be eating your veggie burger when all of a sudden a group will ask their server if they can split the check. Then you've got the server screaming "HEY! DO WE SPLIT CHECKS HERE?" And everybody in the establishment will then scream out "FUCK NO!" or just "NO!" If they're being nice about it. And you can expect the same treatment any time you ask for anything special or even think about hassling the staff. They are simply not here for it. Which is part of the fun, I guess. I was here to eat, drink too much, and watch The Saints game on Coop's battered old CRT television...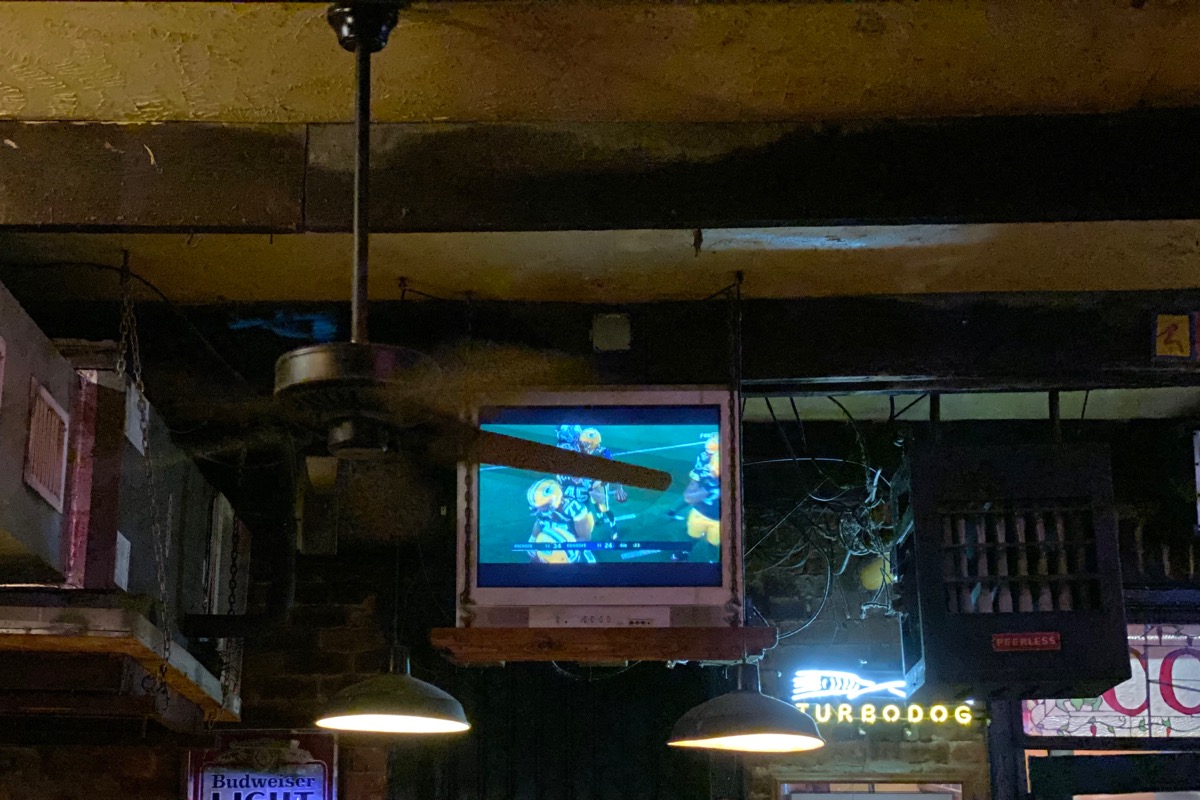 Every time I eat here, I am shocked that I don't end up with some kind of food poisoning from eating mayonnaise that's not refrigerated and has been sitting out in a warm bar all day, but I never have...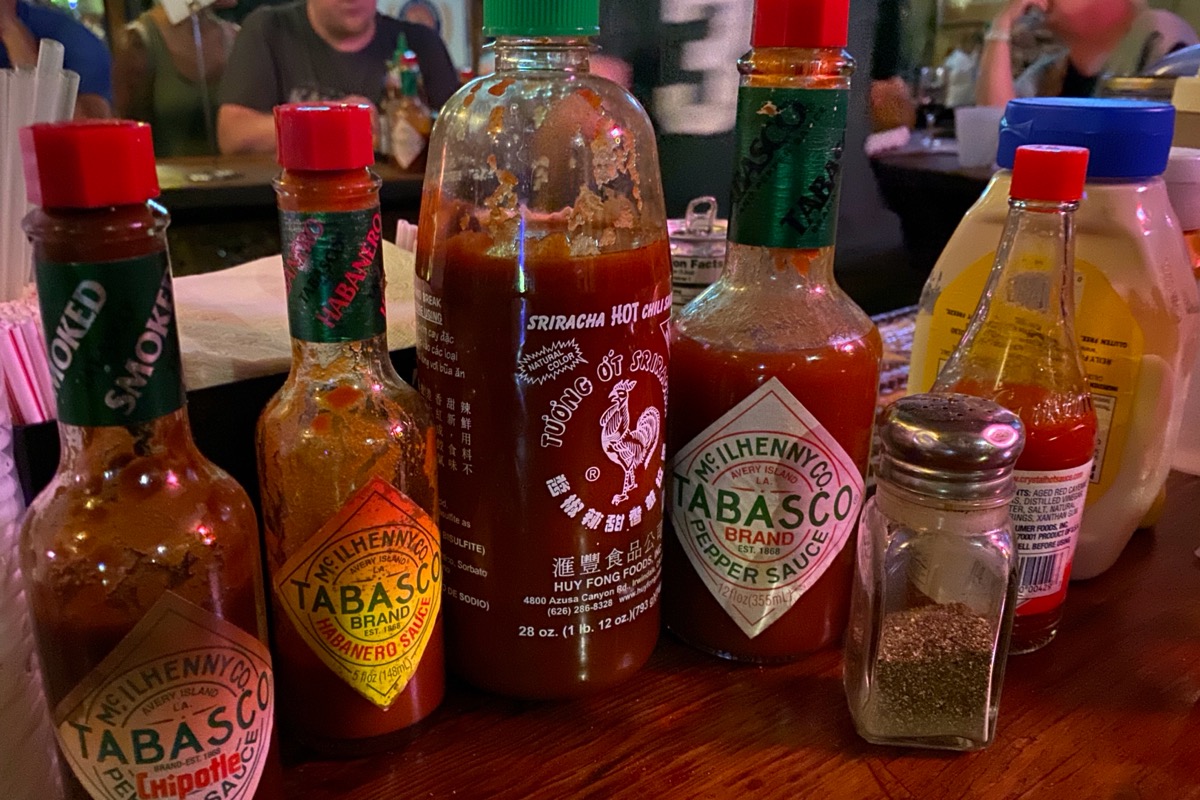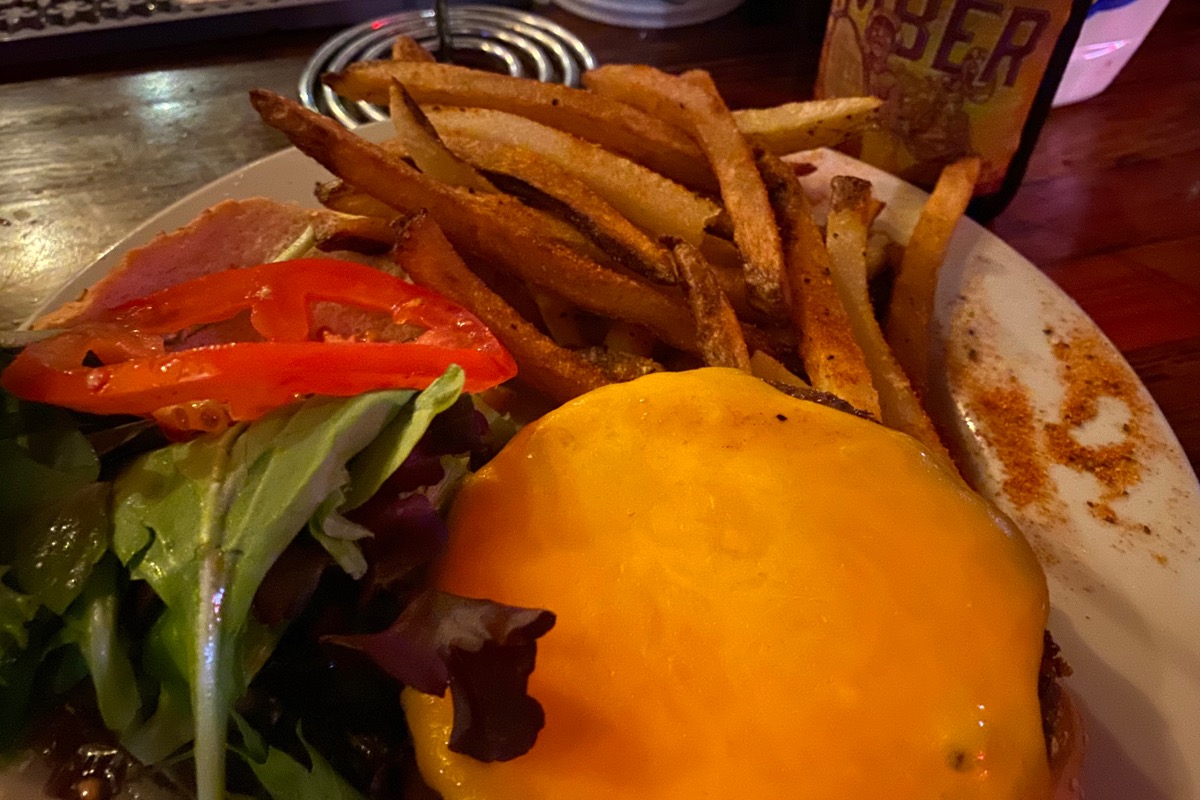 I ate and drank too much considering I had to work this morning, but that didn't stop me from walking down Bourbon Street as I made my way back to my hotel...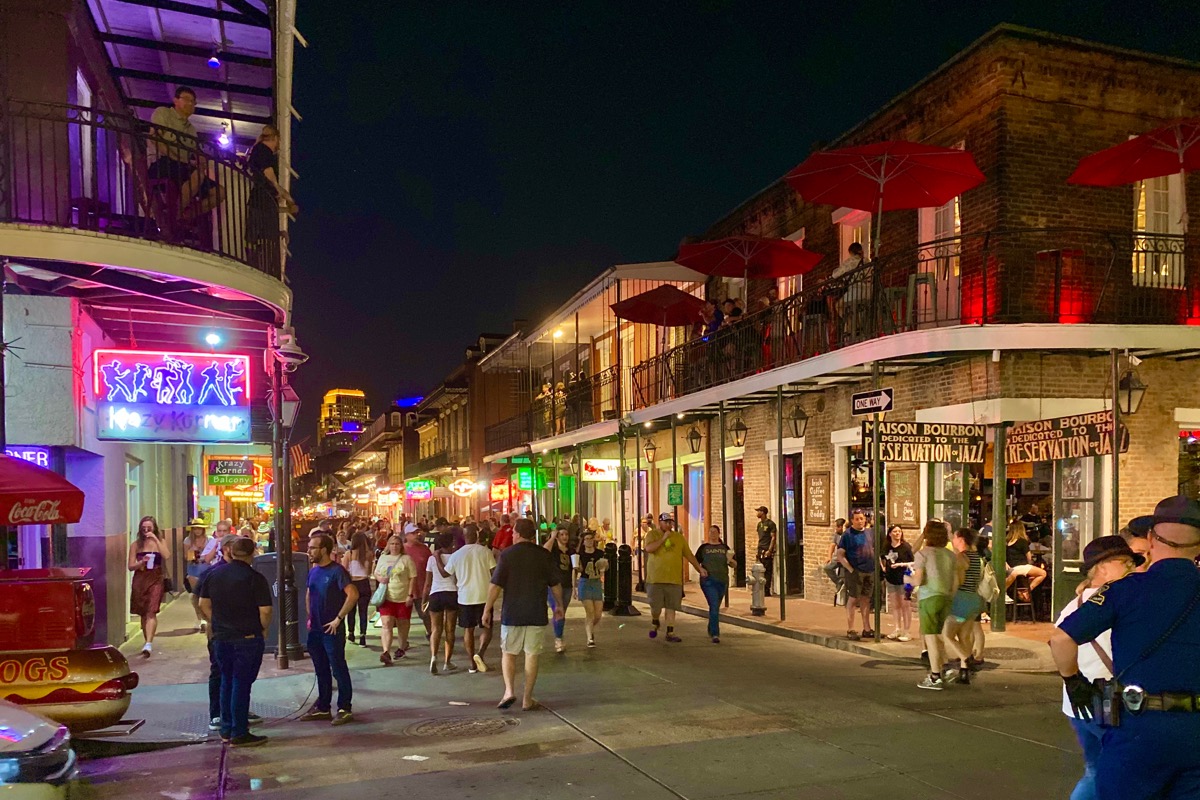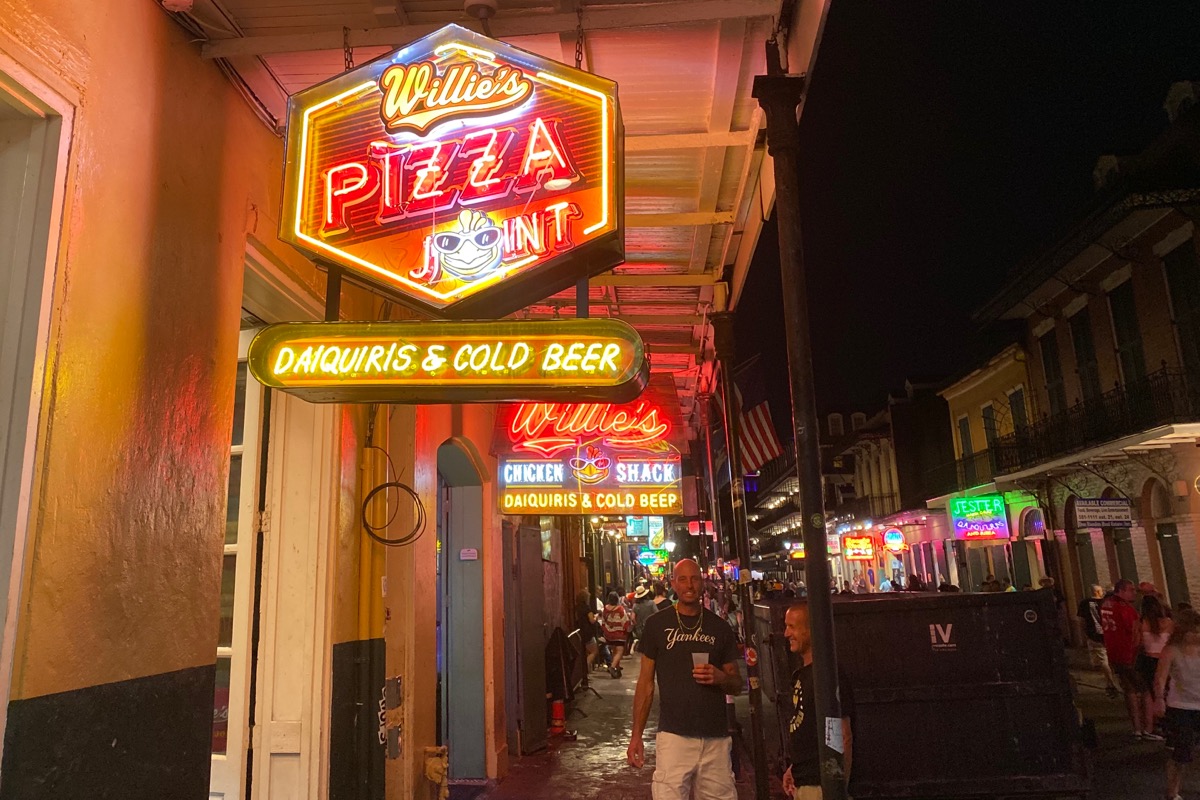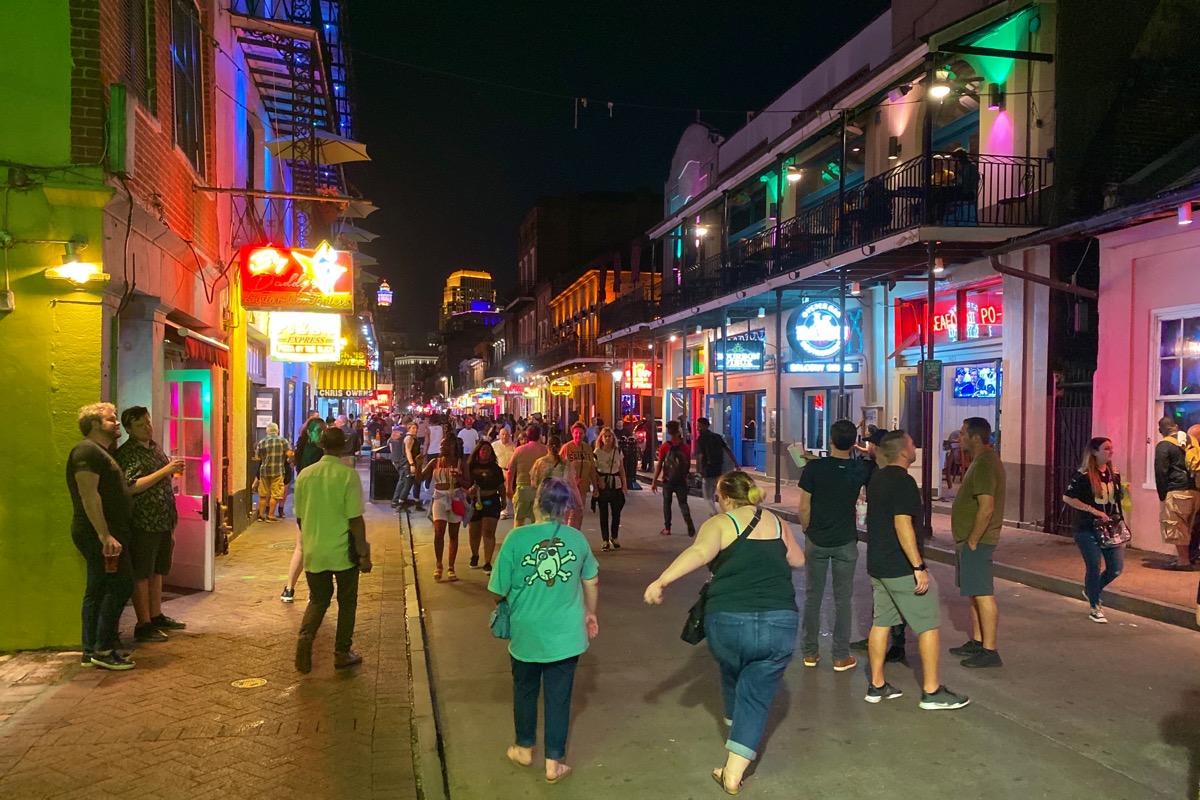 I then worked on my presentation materials until I fell asleep around midnight.
And today it was a brand new day. I had set my iPhone to wake me at 6:30am so I had time for breakfast before work. I was surprised that the alarm actually woke me until I realized I am still on Pacific Time, so it's 4:30am to me. Oh well. It was a glorious morning out, so I decided to take a stroll before eating. Jackson Square was beautiful as always...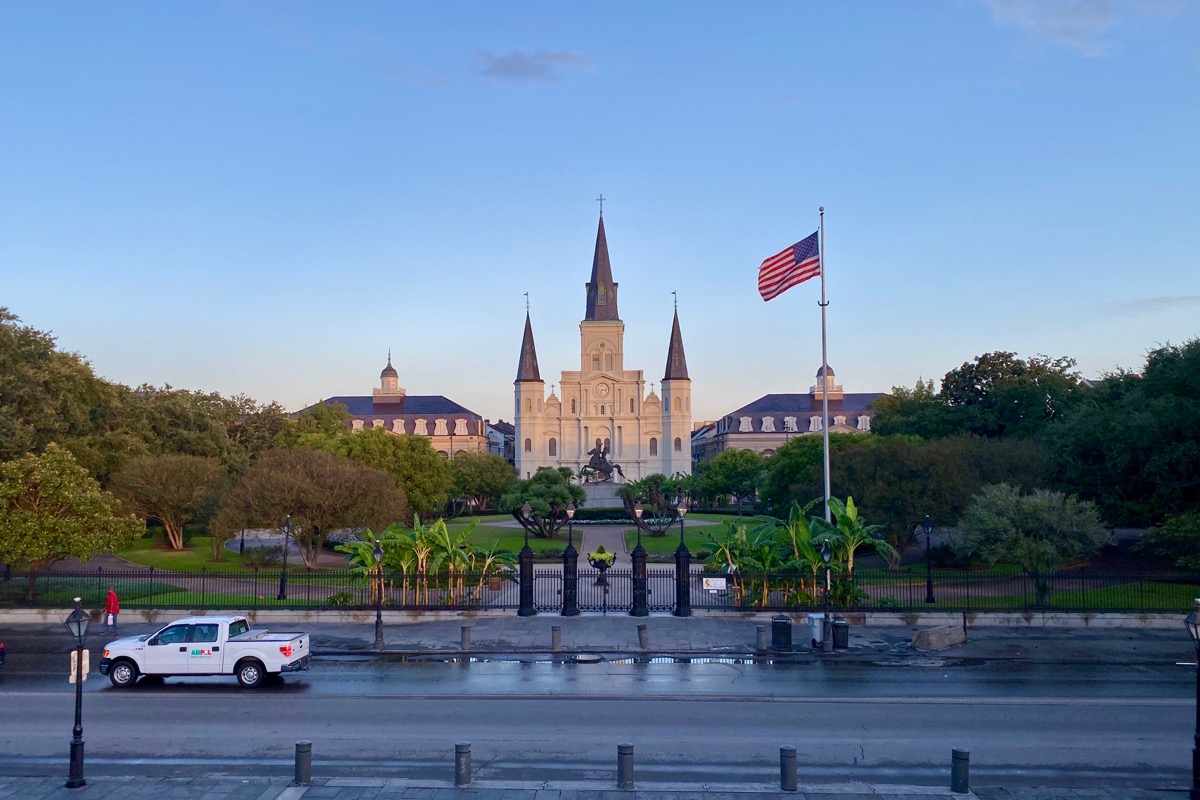 Zooming in with iPhone 11 Pro's telephoto lens to see the creamy morning light reflecting off St. Louis Cathedral...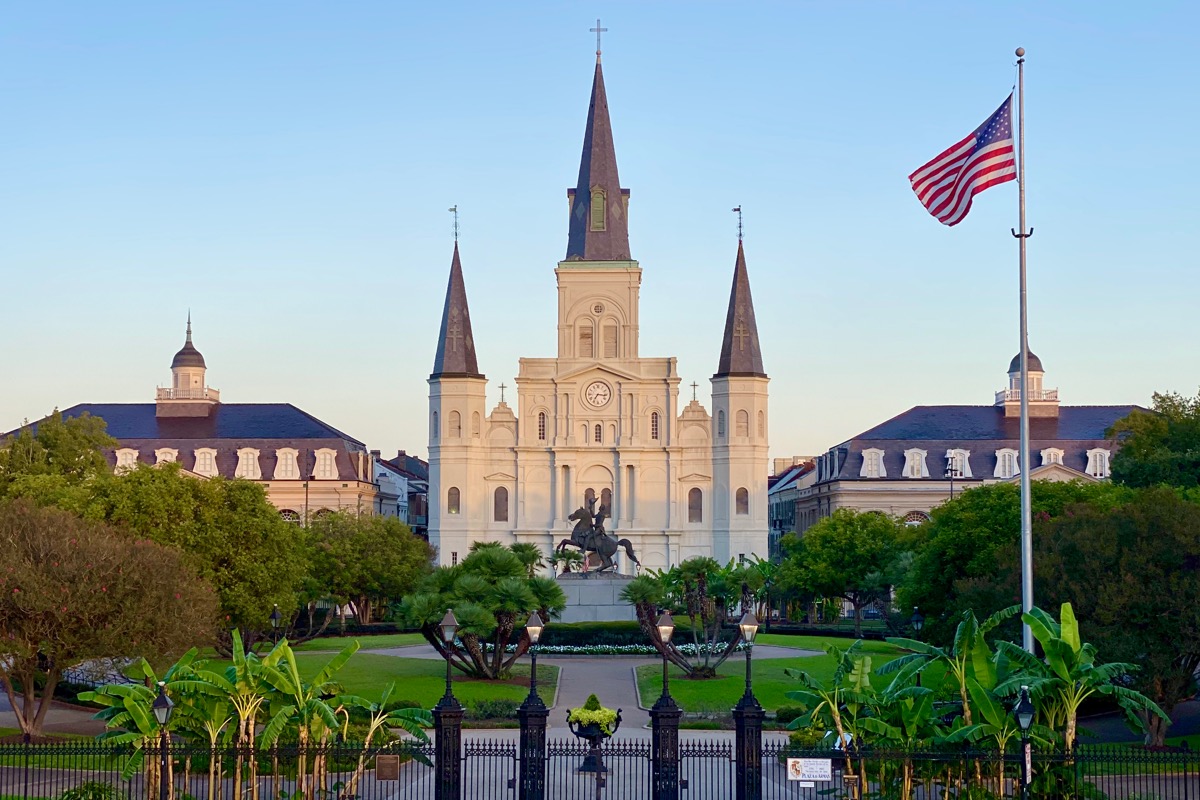 And here's using the amazing wide-angle lens...
That wide angle lens is just so nice when shooting in a city. Here are some comparisons between what I can capture without it vs. with it...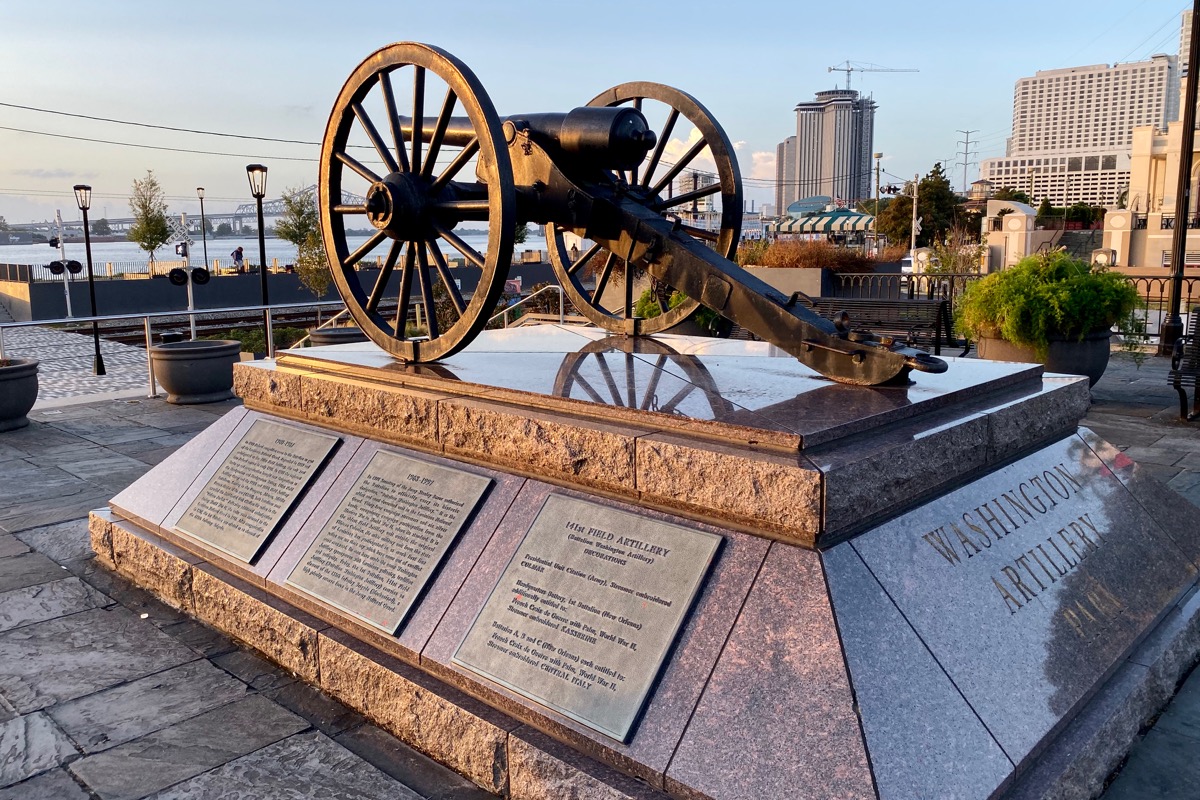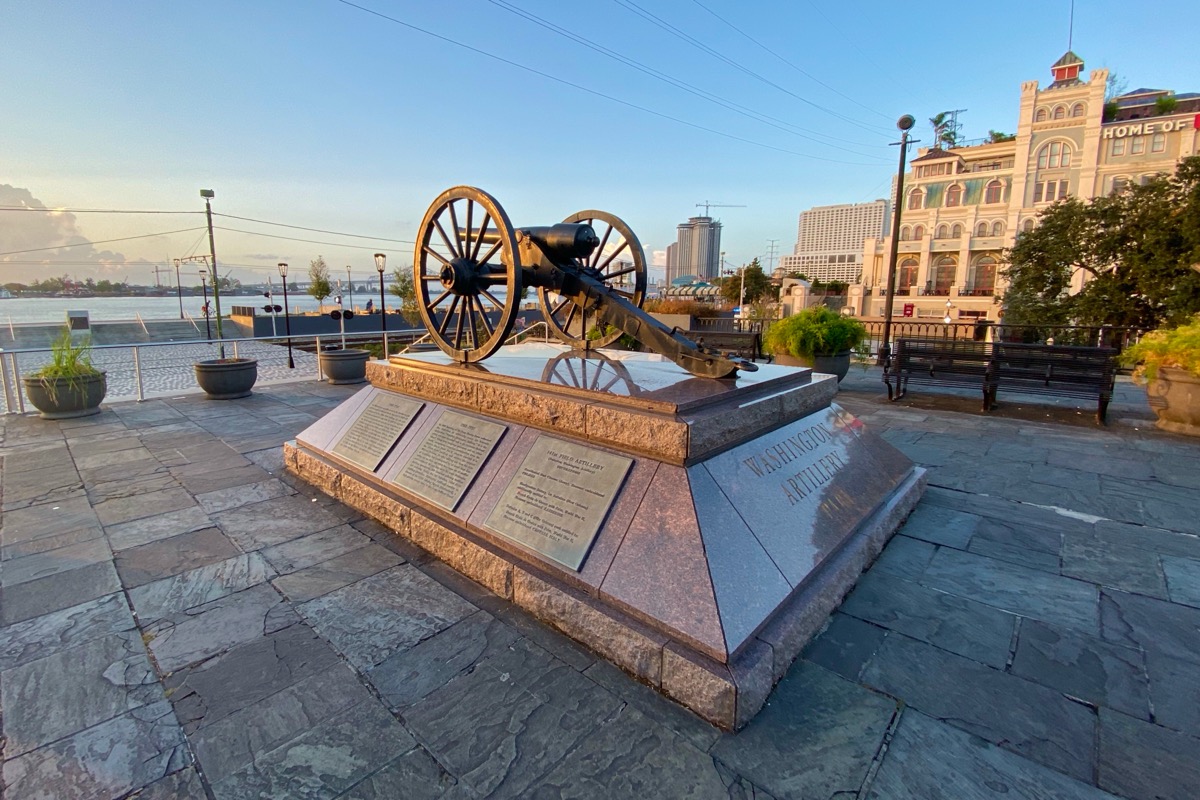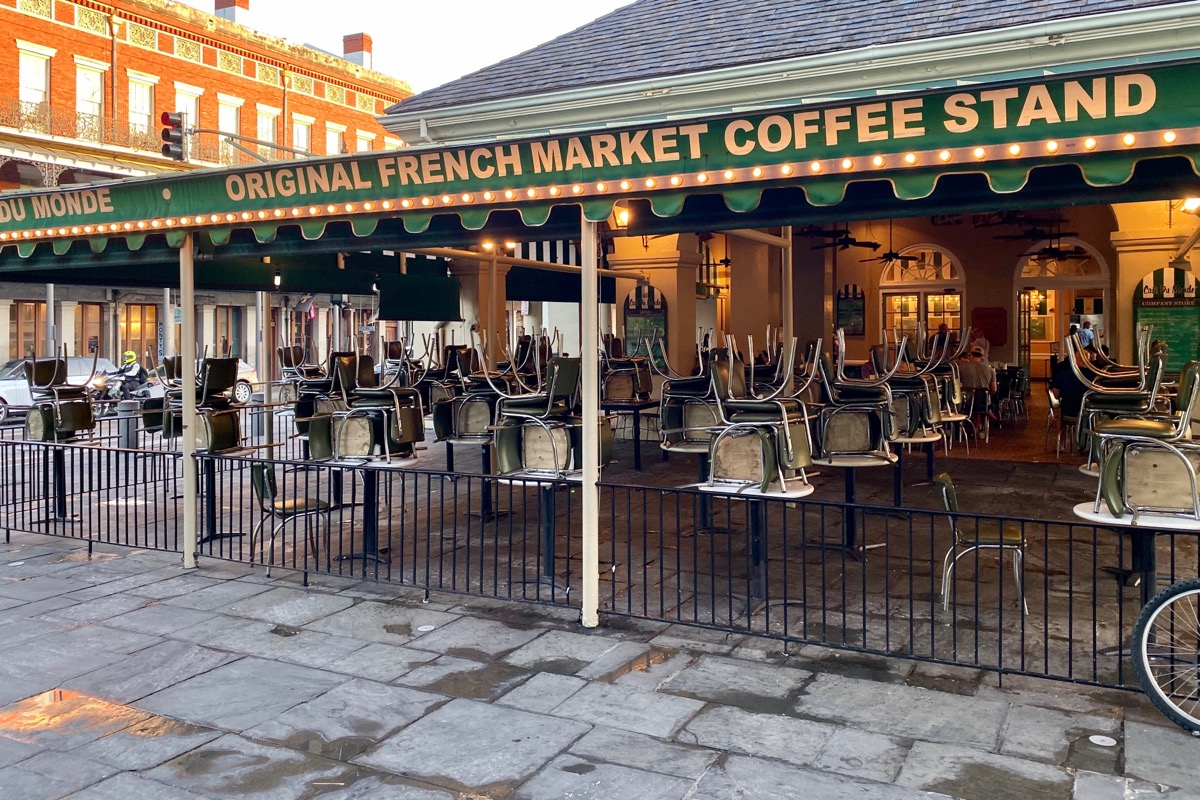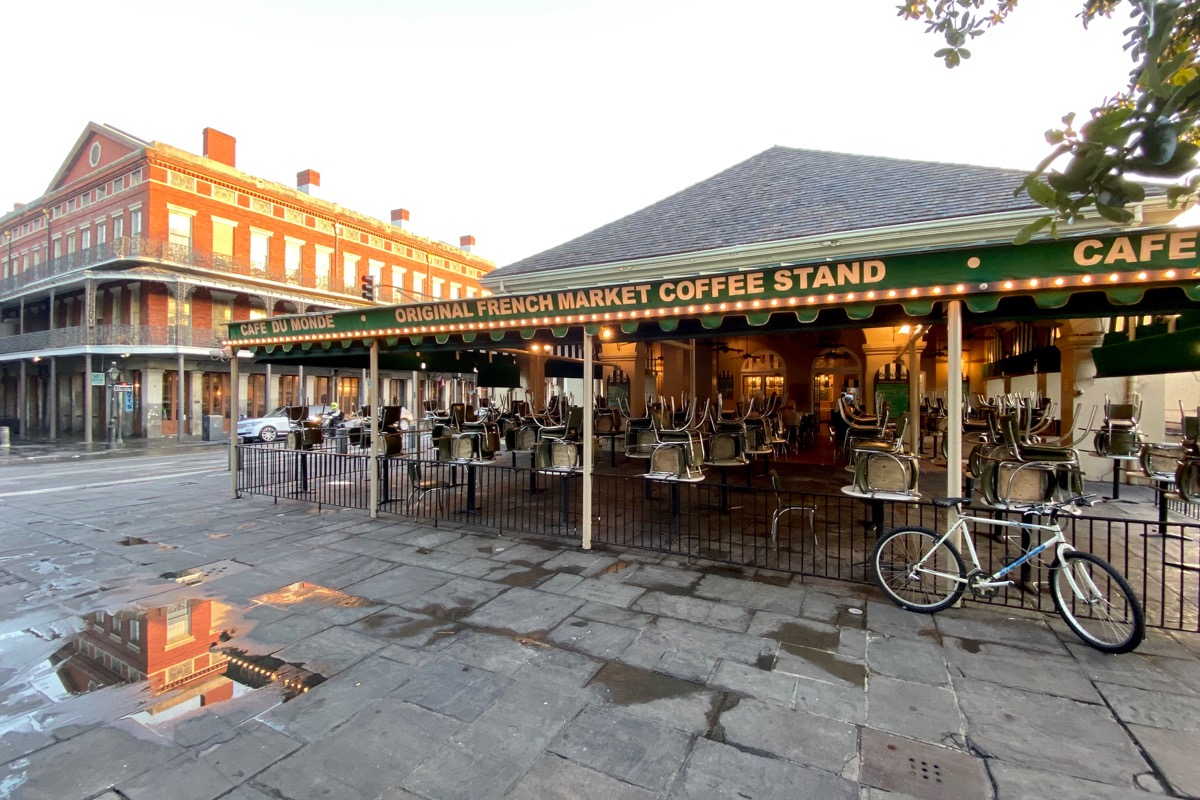 Interesting to note that new wide angle lens has prompted apple to add planar adjustments to the editor in Photos. It's very cool, assuming you have enough image to work with. Not so cool if you don't...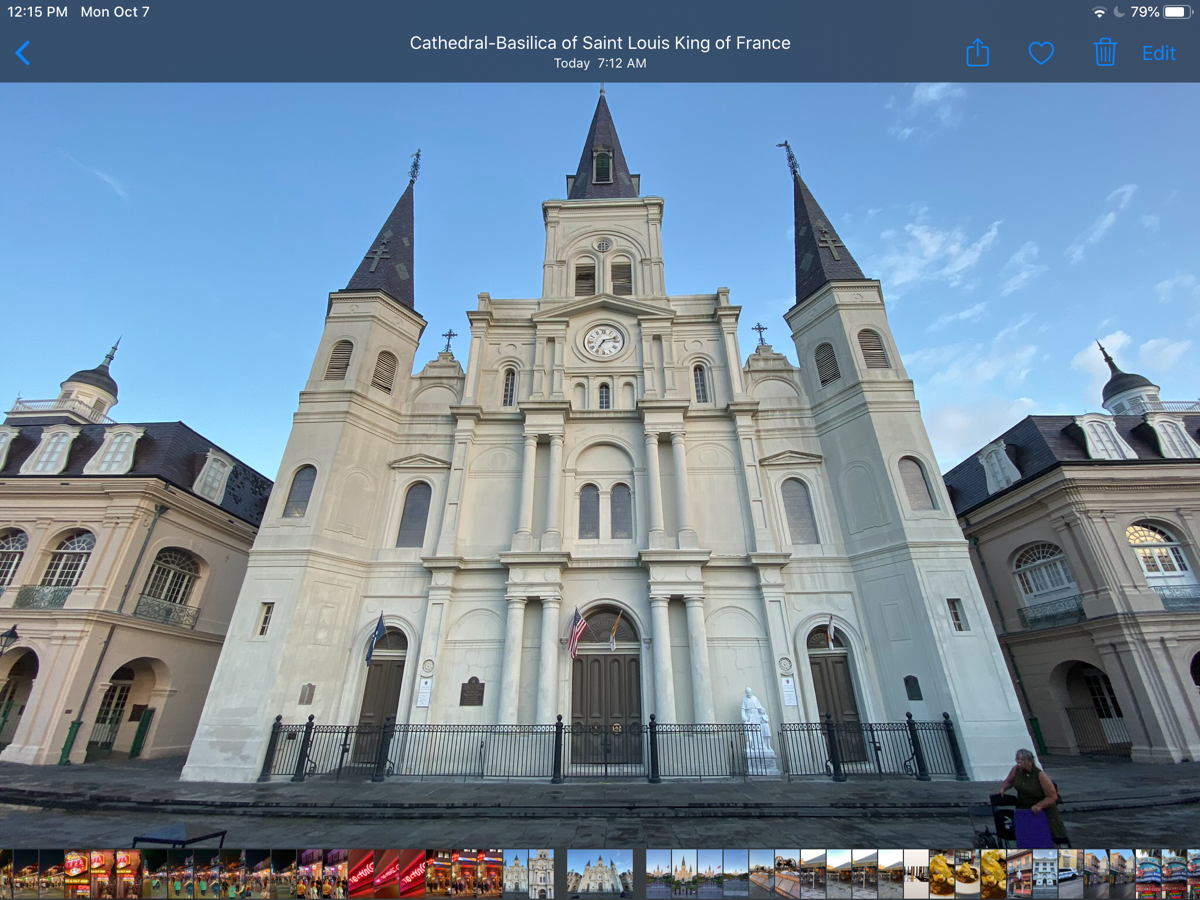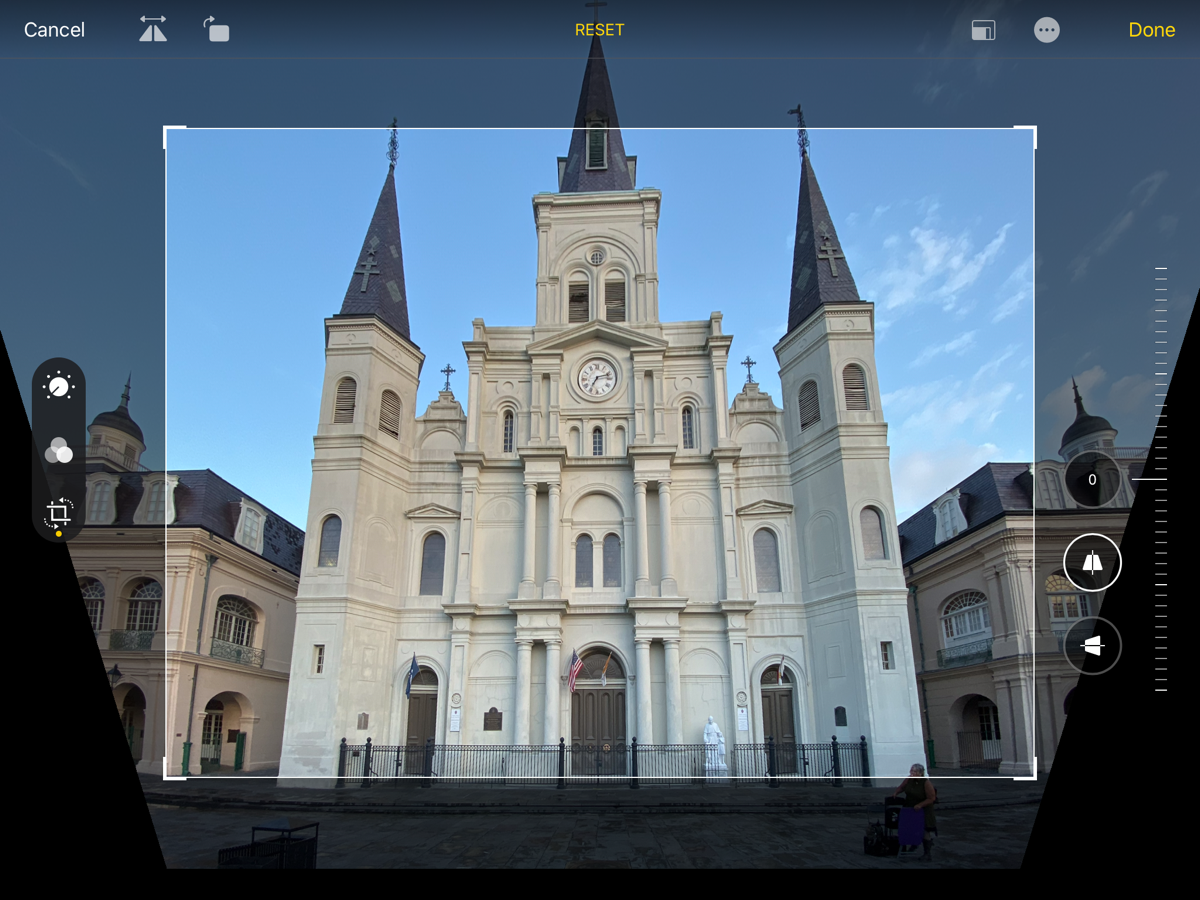 That could be fixed by switching to a square or vertical crop, however, so still... pretty darn cool.
After 20 minutes of exploring my New Orleans morning, I headed to Restaurant Stanley for my second-favorite Bananas Foster French Toast in the city, which was phenomenal, as expected...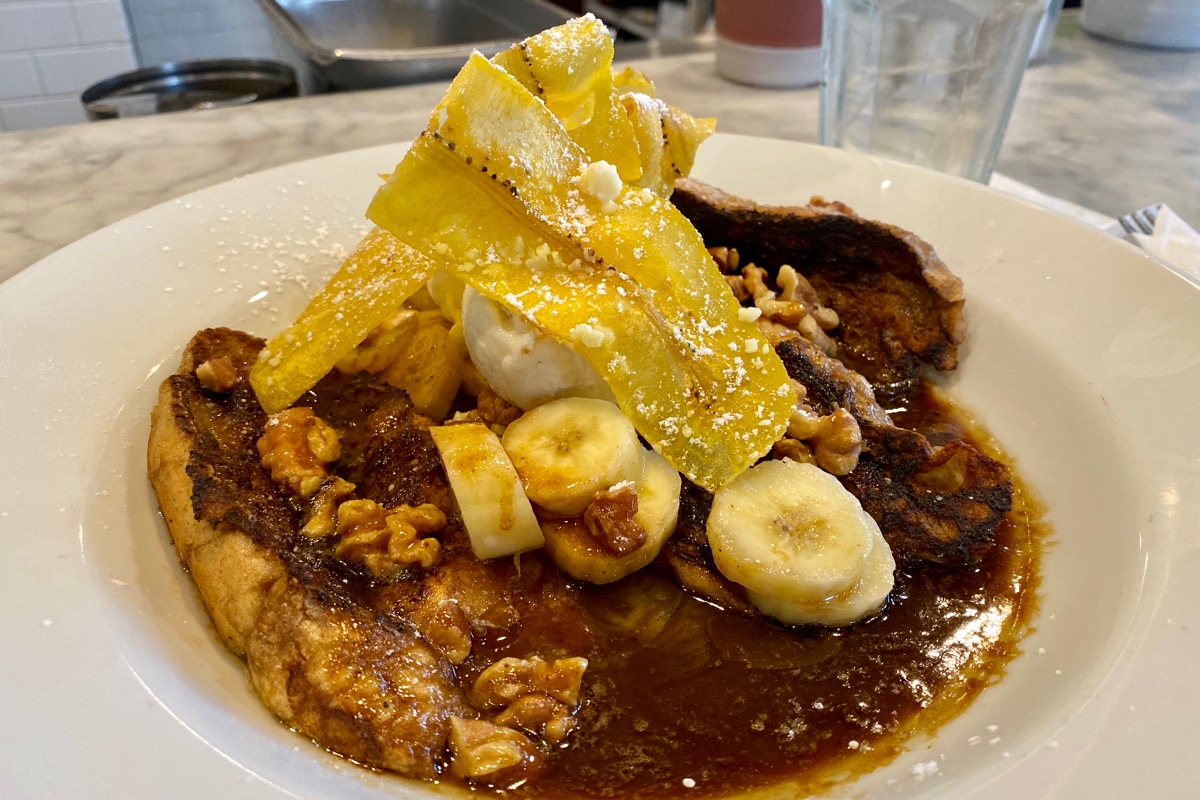 Alas, then it was time to head to work. But I got to walk down Bourbon Street on my way back, which is a very different scene in the daylight hours...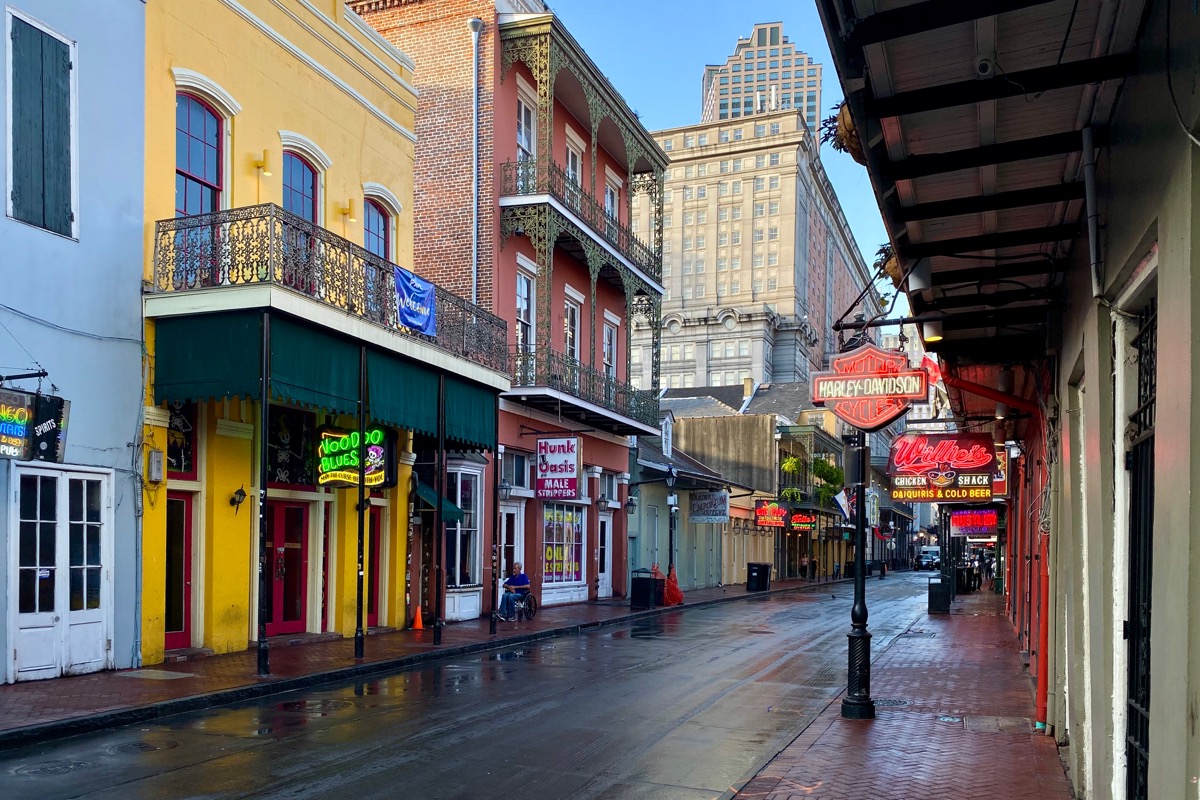 But it's nice to see some of the amazing signage there in good light...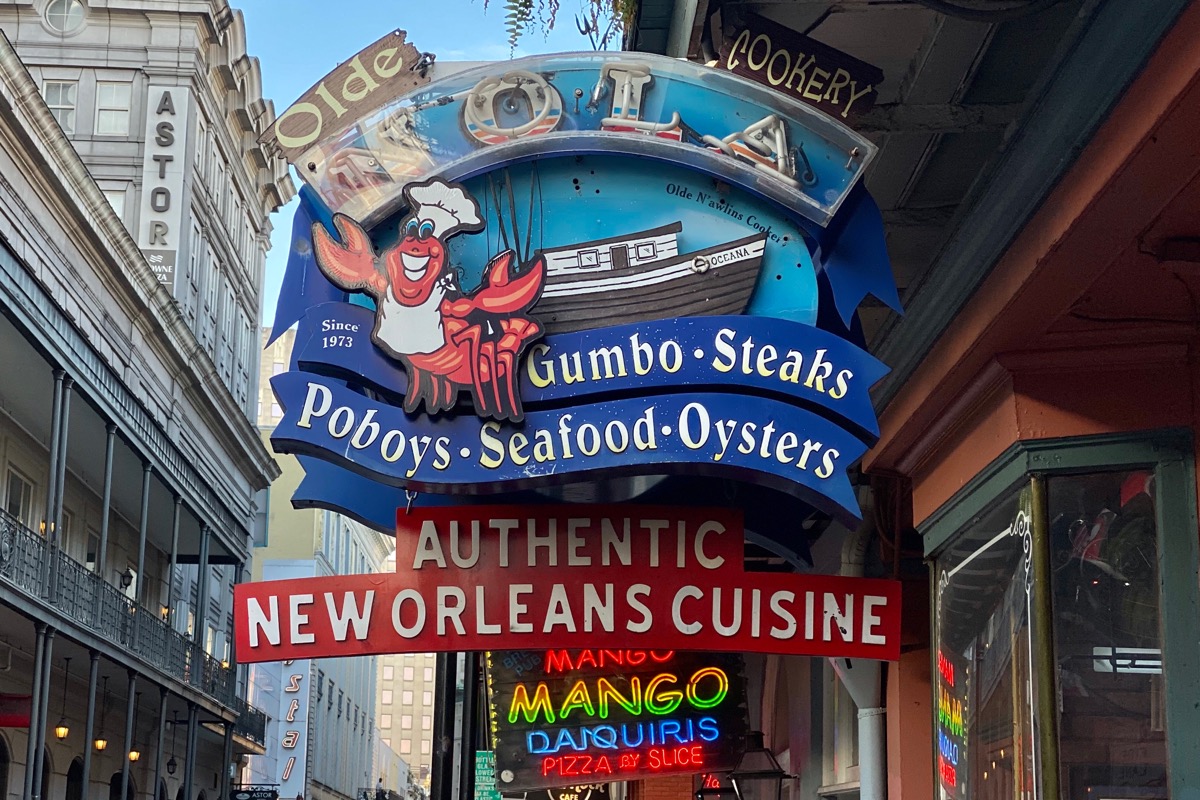 Then it was time for work.
And now I'm waiting on two work meet-ups this afternoon before this trip is officially a wrap!
See you on the West Coast next time, sports fans!
Posted on September 30th, 2019

When I drove over the mountains on Saturday the weather was pretty harsh. Snow was really coming down, and it was sticking to the road... in September! Guess it's a good thing I got new snow tires put on, though I would have been okay without them. The snow was evaporating as soon as you drove over it.
Coming back home today promised to be a much different experience because the weather had turned beautiful again...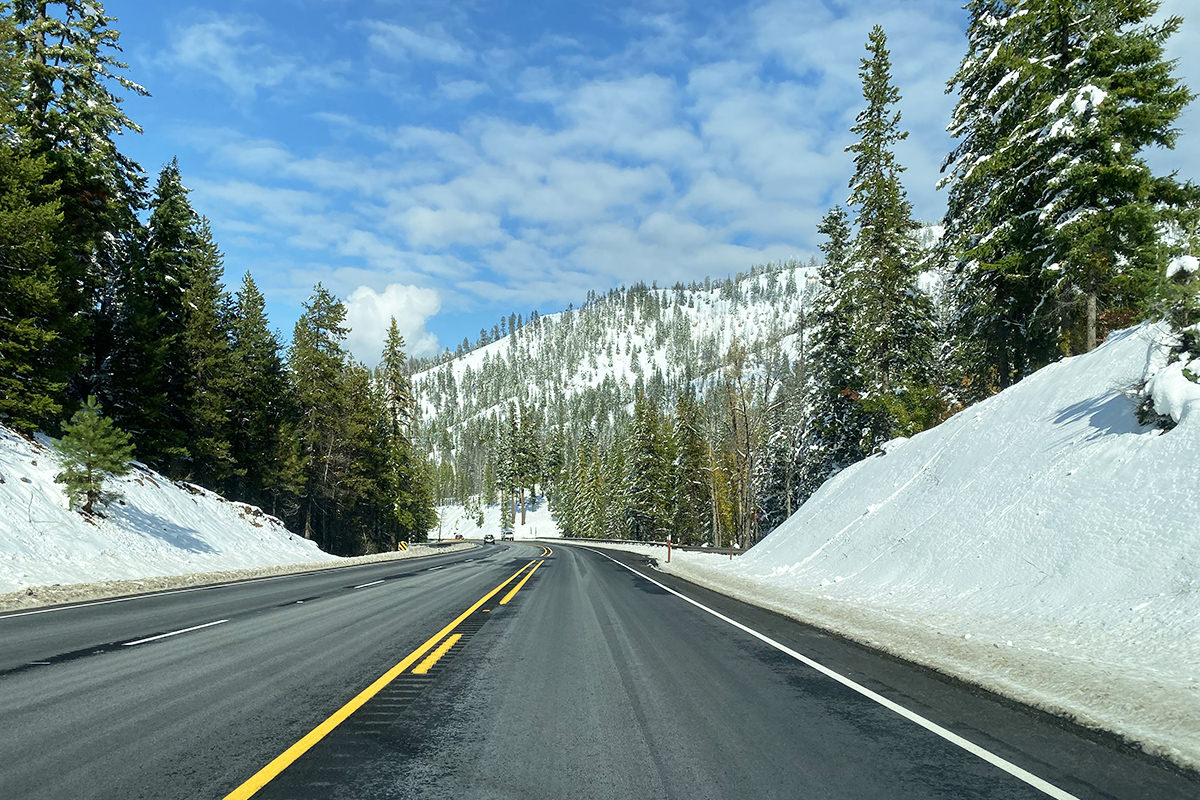 Oddly enough, Washington State doesn't require you to carry chains until November 1st. I've got mine in my trunk already, of course. Last year they ended up being required for a trip over in December, which was the first time in a decade I've had to use them. If this snow keeps up, I'll likely be using them again this year.
Such are the perils of living in a winter wonderland.
Posted on September 23rd, 2019

In one of those "I'm surprised but not that surprised" situations, I awoke to the news that Thomas Cook has shuttered operations. If you're in the US, you're probably thinking "You mean those little places at the airport where you can exchange money?" And the answer is... not really. I think money exchange places died over a decade ago when ATMs became universally available. No, the Thomas Cook in this case is the world's oldest travel company. They've been wracked with financial problems for years, hence my lack of surprise...

Well-known in Europe, I've actually used their services couple times, but I've never flown their airline. Sadly, a lot of people do, and they now have no way of getting home. Estimates are at 150,000 people stranded. If this sounds familiar, it's because WOW Airlines shut down back in March which stranded a bunch of people too. Or maybe you're thinking of Primera Air or Germania, both of which shuttered in 2018.
Surprisingly, I've never been in a situation like this.
Sure I've been temporarily stranded several times... mostly due to weather... but not once has the airline said "Sorry, we're closed for business, good luck getting home!"
As I watch the crazy number of reactions on social media... or the pandemonium videos that inevitably pop up from airports... I always try to put myself in the same situation to imagine how I would react.
The answer is inevitably... "Meh."
I'm single and nobody relies on me for anything. Even when my mom was still able to be left alone for a while at home, I could always call one of a half-dozen people to look in on her. Right now I've just got my cats. And so long as I could call a sitter and have them add food to their automated feeder, water to their fountain, and empty the Litter-Robot when it gets full, they're good. Sure work could be a challenge, but I could do most everything remotely for a while.
So, no, I would not be one of those people in the videos screaming "BUT IT'S MY HONEYMOON!" or "WHO WILL FEED MY BABIES?!?" or "I HAD BETTER NOT FUCKING MISS THE SEASON PREMIERE OF MAGNUM, P.I.!"
Well, okay, that last one could be me, because I love that show so much but, even then, so long as I have internet, I can just stream all my shows.
My "plan of action" would likely be to call up a hotel immediately so I had a place to stay, keep calling until I find a room, then head to the nearest bar and get completely shit-faced while I wait for the initial storm to blow over and I can make other travel arrangements. Yay, a vacation!
That being said, I really do sympathize with people who have pressing responsibilities back home... or no room on their credit card to book a hotel and new flights. That would be awful, especially if you're in a foreign country.
And if Magnum P.I. was premiering, which is does in four days on September 27th on CBS!
Posted on September 22nd, 2019

I can't believe the weekend is already gone! But all is not lost, because an all new Bullet Sunday starts... now...

• FAKE FOOD! Like many large cities, Tokyo has several districts which specialize in various goods. If you want to see electronics, head to Akihabara. If you want Western fashion and high-end restaurants, you need to go to Ginza. That kind of thing. One of my favorite places to look around is Kappabashi Street, which specializes in restaurant supplies. Pots, pans, dishes, utensils... and a staple of Japanese restaurants... fake food. Because most all restaurants have their windows filled with representations of the dishes they specialize in so people will get their mouths watering and want to come inside. Most of the plastic foods you can buy here in the US are crap, whereas in Japan it's a true artform...
Yes most of the stuff has a bit of a high-gloss sheen to it, but once it's wrapped in plastic to keep it from getting dusty it's pretty darn realistic. The above video is a fascinating look at how it's made.

• Goose. After a long time of reading about it being "released in early 2019," Untitled Goose Game is finally here! The object of the game is to be a complete asshole, which is something I can totally do...
I blazed through everything in just one morning, which is disappointing, but it's a pretty fun game otherwise. Nintendo's eShop has it on sale for Switch at 25% off for a limited time.

• Drugs are Bad, Mmkay? This commercial where the girl takes off her seatbelt and runs her car into a dumpster so she can get more Vicodin? More disturbing than any horror movie I've ever seen...

• X-Pan I had no desire... none at all... to see X-Men: Dark Phoenix. For one thing, it's the capper of a slew of shitty X-movies, after which Marvel will be bringing the X-Men to the MCU and completely rebooting it to (hopefully) something that doesn't suck. So it's essentially a wasted effort and makes no difference. And, if this hilarious "honest trailer" is anything to go by, it's a pile of shit anyway...
Maybe if it shows up on Hulu or HBO or Disney+ or something I'm already paying for, I'll invest my valuable time. But buying or renting it? Not even a little bit.

• Name. An interesting article: Names That Are Unfamiliar to You Aren't "Hard," They're "Unpracticed"
My first "real" international trip was to Japan in the late 80's for work. In Japanese, the "V" in my name doesn't exist as a sound. The closest they have is a "B." And yet they made an effort to say the "V" as best they could, even though it was a struggle and unnatural for them. That kindness has never left me, and I feel incredibly blessed that I learned how important a name can be so early in my travels. Which is why I try my very best to listen when I hear names and put my every best effort into pronouncing them correctly.
So many times I've had co-workers, friends, and people I meet who have "difficult for English speakers to pronounce" names who will say their name... then follow it with "But you can call me..." and give either a completely different "English" name... or some butchered version of their name. Whenever I can, I've asked about their actual name, worked with them to get an acceptable pronunciation, then ask if they mind that I use their real name. And the result is always the same appreciation that I felt that first trip to Japan so many years ago.
Your name... whether it's yours by birth or the name you've chosen for yourself... is key to your identity. Endeavoring to respect a person's name by listening, working to pronounce it, and saying it with your best effort, is such a small thing, really. But it means so much.

• Emmys. I do not watch the Emmys. The television I like is rarely represented, so I just don't bother. That being said, I do read the results the next day and have some thoughts...
DRAMA: The fact that Game of Thrones can take the big prize seems odd given what a pile of shit the final season ended up being, but okay.
SUPPORTING ACTOR, DRAMA: That being said, Peter Dinklage 100% earned that Emmy for his performance in the final season. He elevates any material to new levels, and this was no difference.
LEAD ACTOR, DRAMA: This was kind of an absurd category because winner Billy Porter from Pose was about the only one who I felt deserved it. Maybe Jason Bateman from Ozark, but Billy owned this and I'm glad he won.
COMEDY: I would have taken Fleabag, Barry, Russian Doll, or Schitt's Creek... but was secretly hoping for Schitt's Creek. Yet... not the least bit upset that Fleabag took the prize.
VARIETY: I am really torn here. Yes, Last Week Tonight with John Oliver deserves tons of recognition. But overlooking The Daily Show with Trevor Noah is really a tough pill to swallow. Trevor is killing it every night.
LIMITED: I would have liked if When They See Us won because A) It deserves awards, and B) It deserves attention. But Chernobyl was incredible. So good. I ended up watching it all the way through twice because it's such a powerful story.
DIRECTING: That being said, Ava DuVernay should have gotten the Emmy for best director when it came to When They See Us. Oh well.
COMPETITION: I was very happy to hear that RuPaul's Drag Race won this. It is, by far, the most entertaining of all the nominations.
LEAD ACTRESS, COMEDY: While I would love for Catherine O'Hara and Natasha Lyonne to get recognition for the incredible work they do, Phoebe Waller-Bridge earned this one for Fleabag.
LEAD ACTOR, COMEDY: I'm thrilled that Bill Hader took the Emmy for his work on Barry! The show is 100% bananas in the best possible way, and his work there is just above and beyond.
SUPPORTING ACTRESS, COMEDY: I simply do not get the appeal of The Marvelous Mrs. Maisel, as I find it neither funny nor entertaining. But Alex Borstein definitely does a fantastic job in the show, so I'm kinda torn on this one. I would have preferred that Kate McKinnon won for Saturday Night Live, however.

• SNUBBED! A few nominations that should have been made...
Ricky Gervais for acting and/or writing After Life. I am still a bit shocked he got no recognition at all for this one.
Tracy Morgan for The Last O.G.. That show is hilarious, and his performance is fantastic. For either to get some recognition is not out of left-field.
While I'm not sure The Good Place deserved all the nominations it got, I am sure that D'Arcy Carden should have gotten nominated for Supporting Actress, Comedy... AND WON IT. This is criminal.
And... I'm spent. See you in a week with more bullets.
Tags:
Bullet Sunday
,
Emmys
,
Movies
,
Television
,
Travel
,
Video Games
,
Videos
,
X-Men
Categories:
Bullet Sunday 2019
,
Movies 2019
,
Television 2019
,
Travel 2019
—
Click To It:
Permalink
—
0 Comments: Click To Add Yours!
Posted on September 9th, 2019

Back in the late 80s when my friend Doug and I were in Kauai, we looked at a map (yes, this was before Google Maps because I'm old) and saw a massive beach on the Western side of the island called "Barking Sands" and decided to go. Little did we know that Barking Sands Beach is a part of the Barking Sands Naval Base, home of the Pacific Missile Range Facility. We were (of course) halted at a fence and told to turn around and vacate the premises. Then were told that there was a public beach north of the facility if we wanted to go there. It was called "Polihale Beach" and we decided it was better than nothing after having driven all the way across the island.
If you look at it on a map, you can see what the deal was...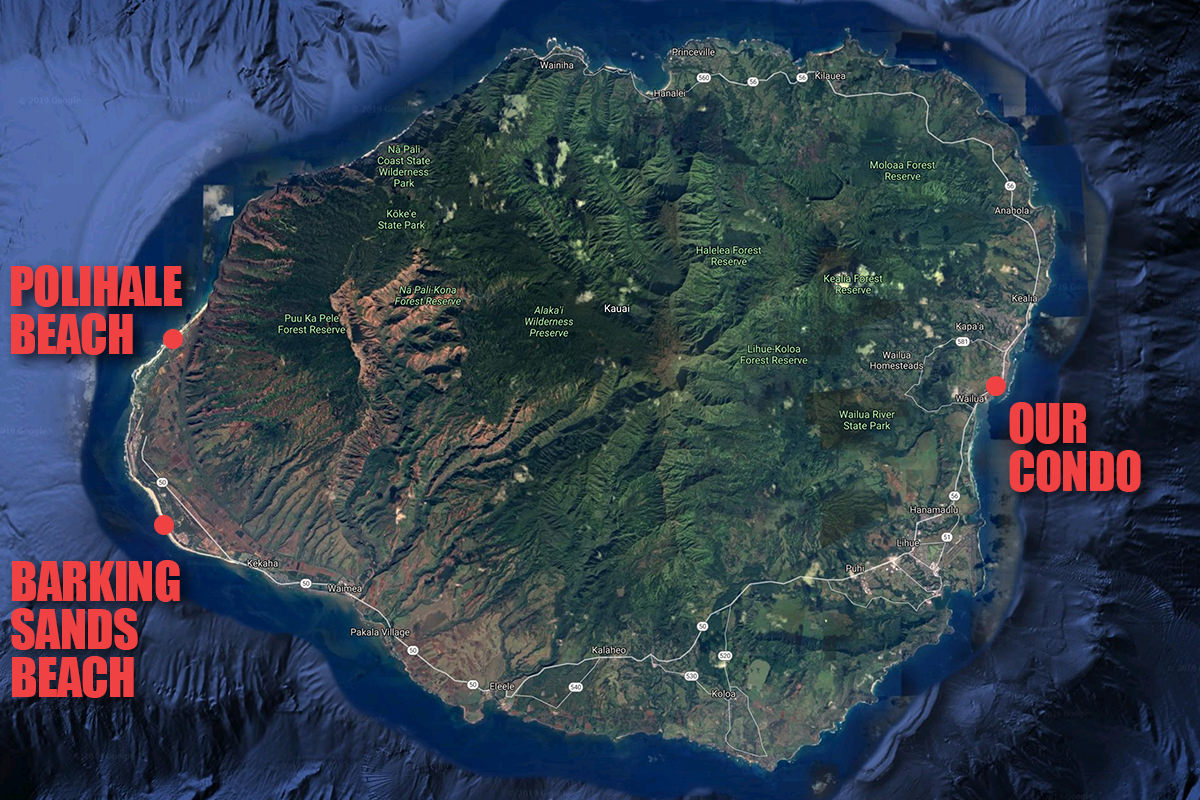 Map From Google Maps
Problem was... our map was pretty vague about the area. We ended up taking a very wrong turn and ended up headed inland. When we tried to turn around using a drive into a sugar cane field, we were met by a guy with a gun who told us to get the hell off his property.
And so we did. Quickly.
Just one of many bizarre misadventures we we got into on that trip.
Once we got back to the road we needed to be on, we eventually spotted a road that looked like it maybe kinda possibly wouldn't get us shot... so we headed to the beach. This was an undeveloped off-the-beaten-path situation, so once we saw water we just pulled off the road and parked in an area where it looked like we might be out of the way.
This Google Maps satellite image may or may not be where we actually ended up, but you can get an idea of what I'm talking about...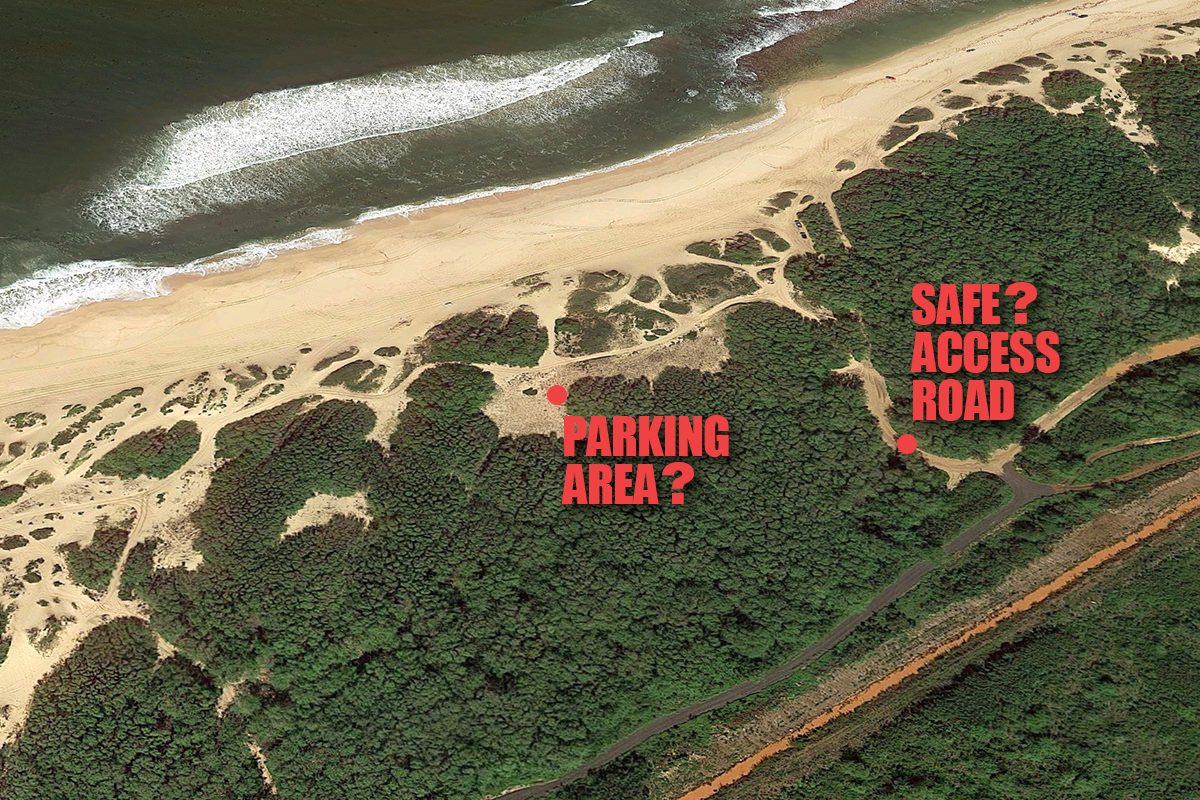 Map From Google Maps
After parking, we headed to the beach.
Just as we turned the corner, we ran across a couple who had attempted to drive their rental SUV ONTO THE BEACH.
Needless to say, they immediately became stuck. Then they made things worse by slamming down on the gas pedal, which only dug the car deeper into the sand...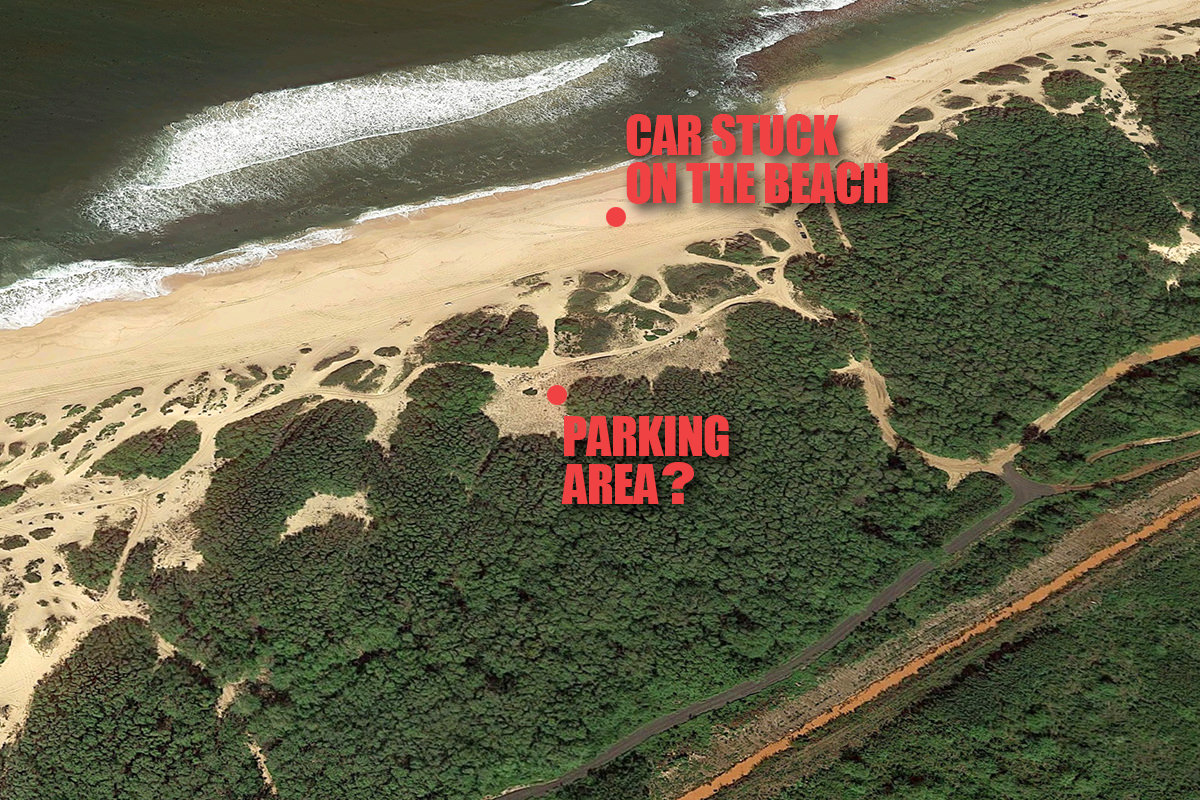 Map From Google Maps
Apparently they didn't get the memo on why you don't want to drive on sand with a vehicle not designed for that purpose.
As we approached we saw that a woman was seated in the passenger side of the SUV fuming. A man was attempting to dig it out with a frisbee. A futile effort if there ever was one, because the SUV was sunk up to the floorboards. The only way he was ever going to get off that beach would be if somebody parked off the beach with a winch and pulled him off of it.
As we passed, the guy looks up at us and says "Hell of a day, isn't it?" And Doug was all "Um. Yeah." Because the only thing going through both of our heads was how we were going to escape if this guy asked us to help him dig his car out. But he never did. So we walked up the beach, which was quite nice. Beautiful golden sand with turquoise waters and hardly any people...
One of the (many) things I love about Google Maps is that you can literally pinpoint where I took the above shot...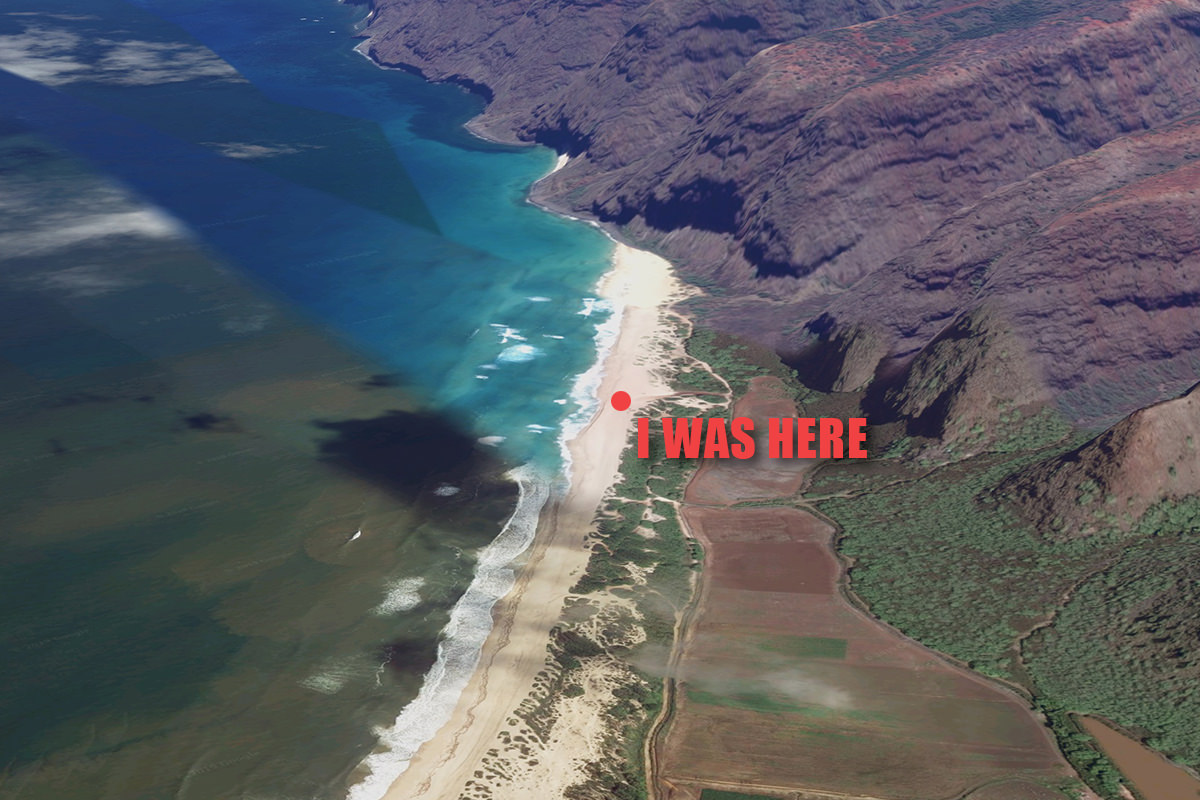 Satellite View From Google Maps
It's not a great beach for swimming thanks to the waves, which were rough, but pretty to look at otherwise...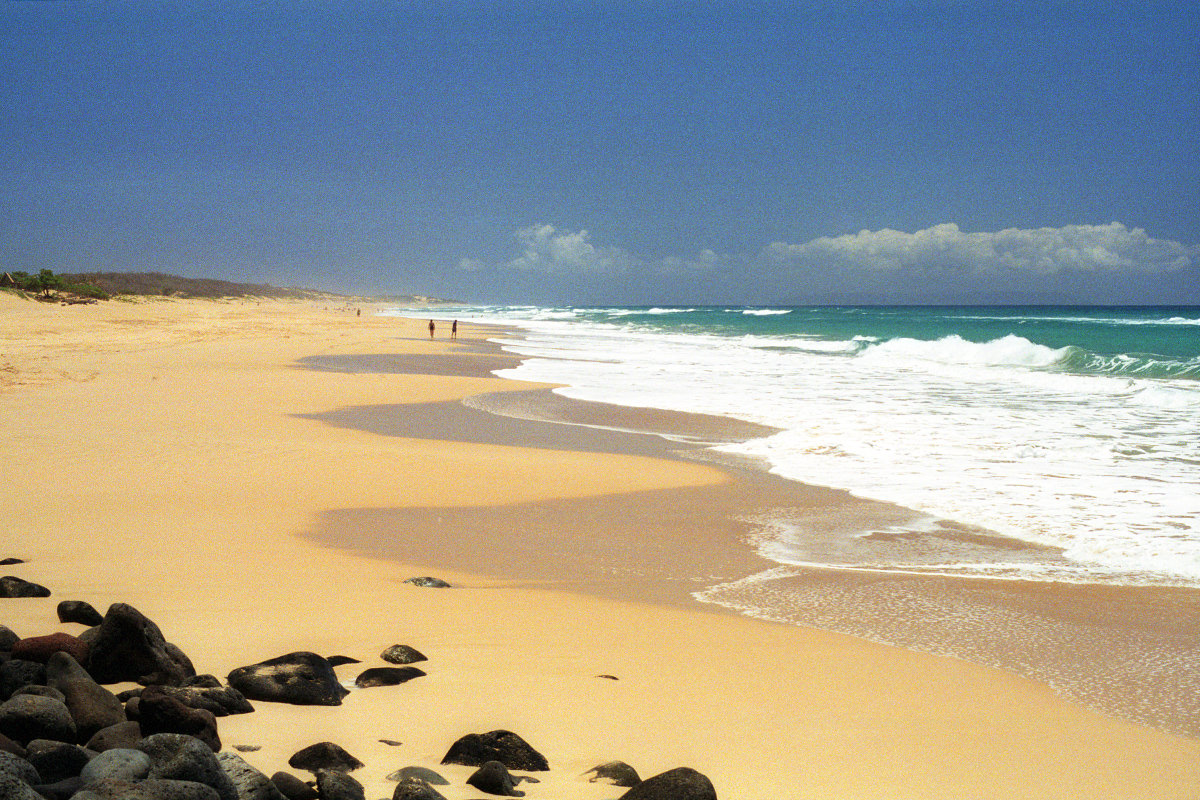 I did not take a photo of the guy digging his SUV out. This was before the days of being able to sneak a shot with a mobile phone, and I really didn't want him to get pissed at me for exploiting his misfortune if I were caught... so I restrained myself. In the shot above, he is just to the left out of frame.
Wow. These shots I took really are from the 80's. Just look at that film grain when I zoom in...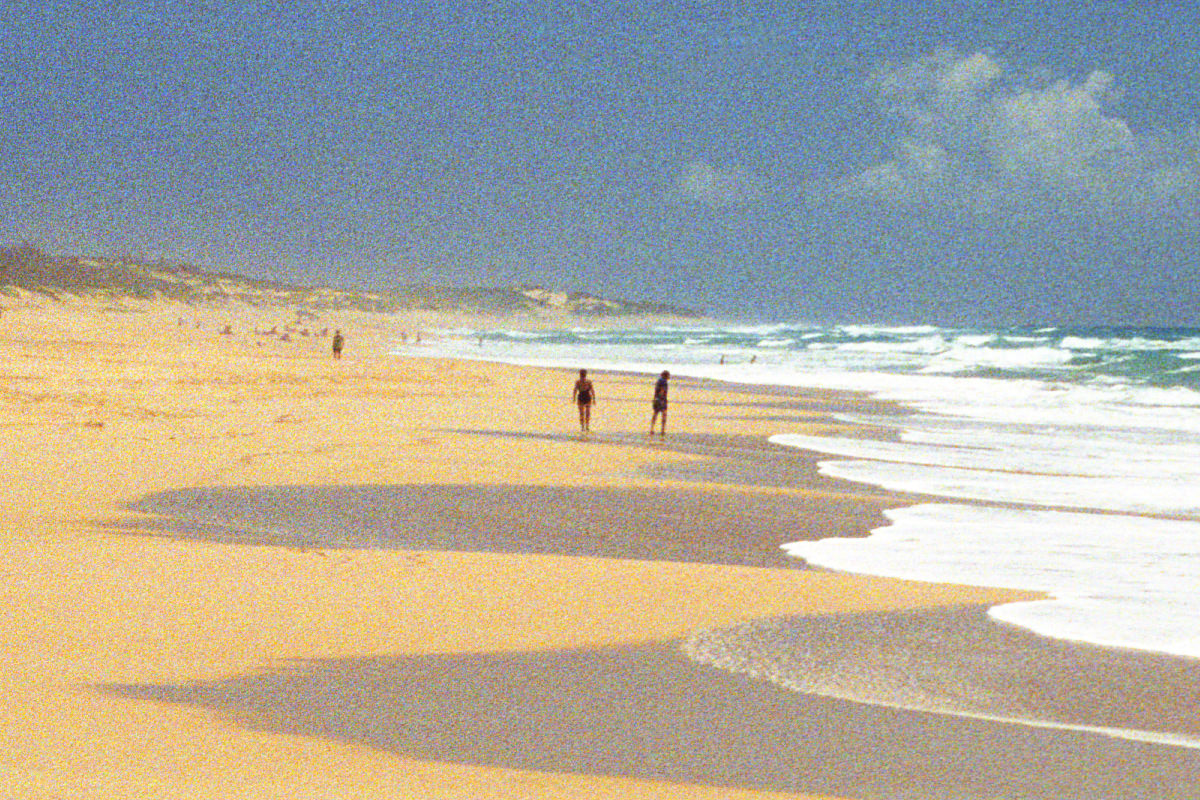 Anyway... After twenty minutes of bumming around, we walked back to our jeep. The guy was still there attempting to dig the SUV out. A part of me wanted to ask if we should call a tow truck for him when we got back to civilization, but I didn't want him getting more pissed than he already was. Instead we took a long loop around him. We were on vacation, after all. If he had shouted out to us as we walked by, we absolutely would have called AAA for him (or whatever) but, well, you know...
Once we made it back and climbed into the jeep, Doug turned to me and said "Hell of a day, isn't it?" And then we both laughed our asses off because we're mean that way. But, hey, at least we know better than to try and drive in sand, amirite?
Fast forward to a couple years later. The movie Total Recall had just come out. It featured a scene where Arnold Schwarzenegger wakes up in a cab being driven by a robot. After some confusion as to how he got there, the Johnny Cab robot says "Hell of a day, isn't it?"...
I don't know if Doug was with me in the theater when I saw Total Recall. I'd like to think that he was. He probably was. Or maybe he wasn't and I talked to him about it later after we had both seen it. I honestly don't remember. What I DO remember is laughing my ass off when Johnny Cab said "Hell of a day, isn't it?" Because that's exactly how the guy digging out his car said it. The people in the theater probably thought I was insane, but it was damn funny in a "You Had To Be There" kind of way.
Over the years, every once in a while when we saw each other, one of us would inevitably say "Hell of a day, isn't it?".
Last week I ran across a story about a car that had been driven out onto the beach, then abandoned in the face of Hurricane Dorian because it got stuck...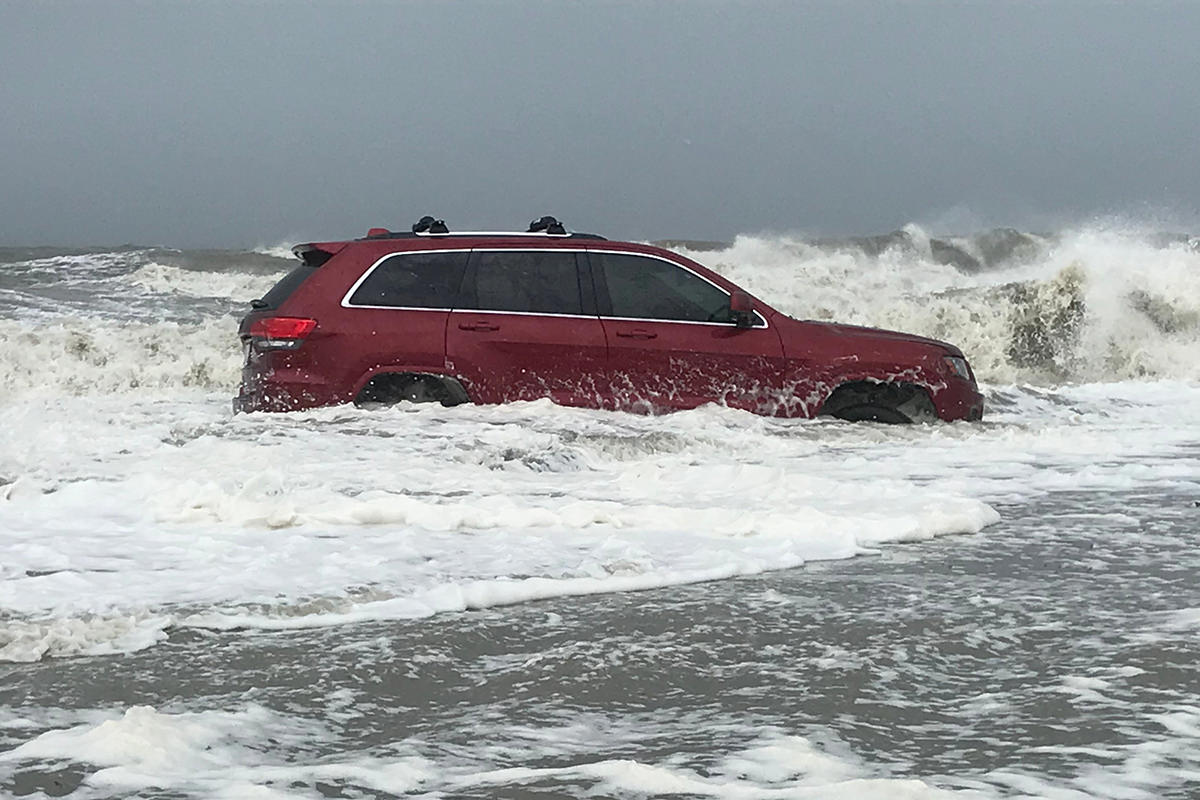 After it was discovered, social media happened. Because of course it did. Then #JeepWatch2019 took over. The meme was popping up everywhere...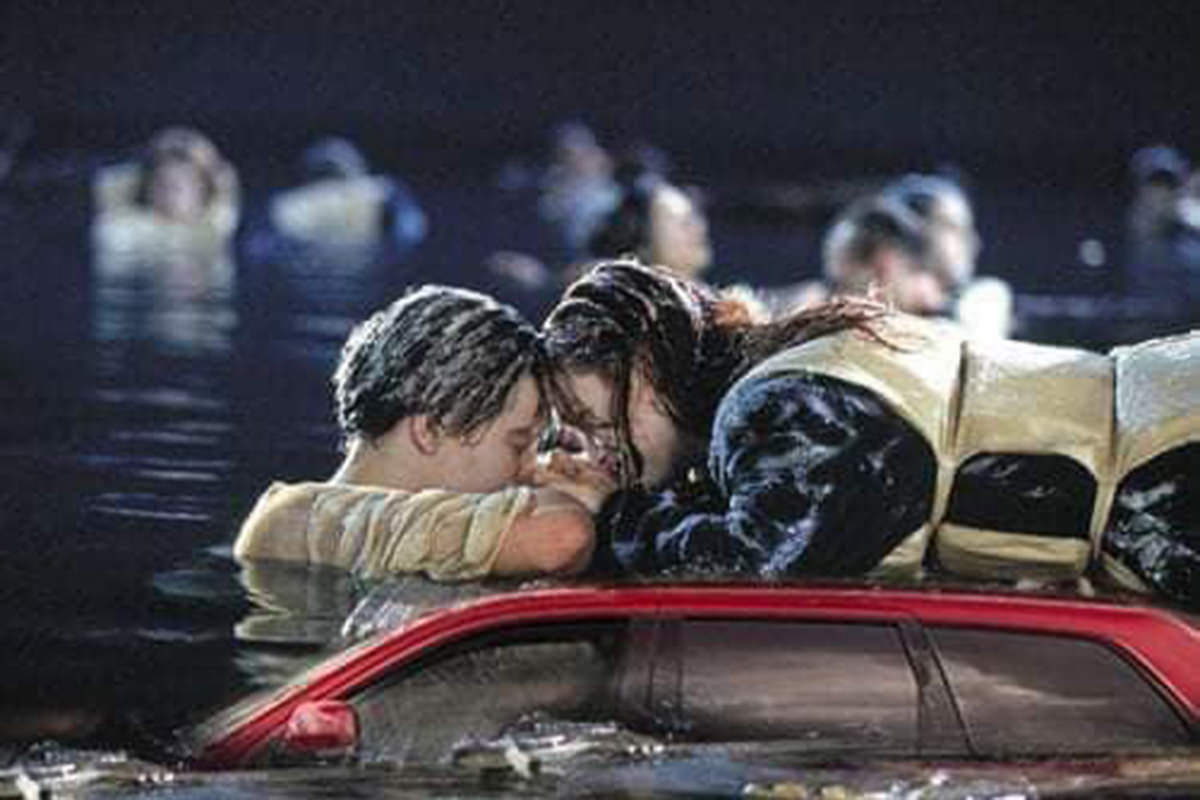 Now, as you can imagine, the minute I saw this my first instinct was to create my own meme and text it to Doug...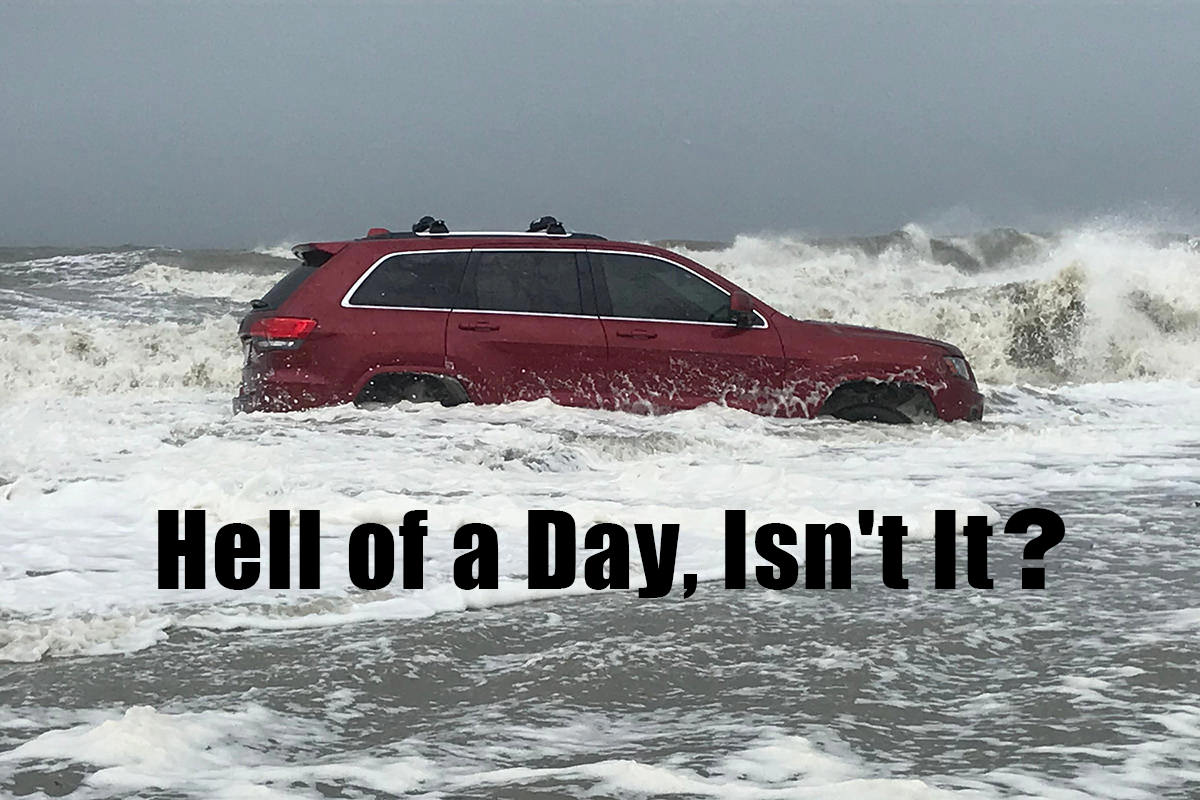 Except I couldn't.
It took me a minute to remember that Doug is gone.
That's one of the worst things there is, isn't it? Having a shared experience that only one other person on earth could possibly relate to... but for them to no longer be around to share it with? Not even the guy who was trying to dig his SUV out of the sand with a frisbee that day can possibly know what it that moment was to us. My writing this long-ass blog entry can explain what happened, but it's not the same as having lived through it. There was only the two of us.
And now there's just one of us.
And while it's a funny memory for me, knowing that I will never again have that one person to laugh about it with is a weight that came crashing down on my like a ton of bricks. And it's weird, isn't it? How I never heard about a car getting stuck on a beach when it could have meant something hilarious... but now that it can't, I'm probably going to be hearing about it happening all the time? Because isn't that the way these things go? Maybe it's just how The Universe likes to dick with us. Or maybe it's how our brains like to dick with us by noticing things only after they've become more hurtful than hilarious? Heaven only knows that a Google Image Seach for "Car Stuck on Beach" sure turns up a lot of photos of it happening.
Today I found out that they were finally able to rescue that SUV from the beach after the hurricane passed. I still have no idea how the guy at Polihale Beach, Kauai ever managed to get his SUV off the beach.
Hell of a day, isn't it?
Posted on August 22nd, 2019

I'm just going to put this out there... I had to think long and hard about getting the "Apple Card" credit card because the bank behind it, Goldman Sachs, is a fucking piece of shit. They have been plagued with scandal and are run by assholes. Why in the hell would Apple pick them to partner with? And why in the hell would I touch anything to do with Goldman Sachs?
Well, it's Apple. And the card has some compelling features I wanted to try out.
And I just wanted to have one of the things. There's no fees and it's laser-etched titanium, for heaven's sake...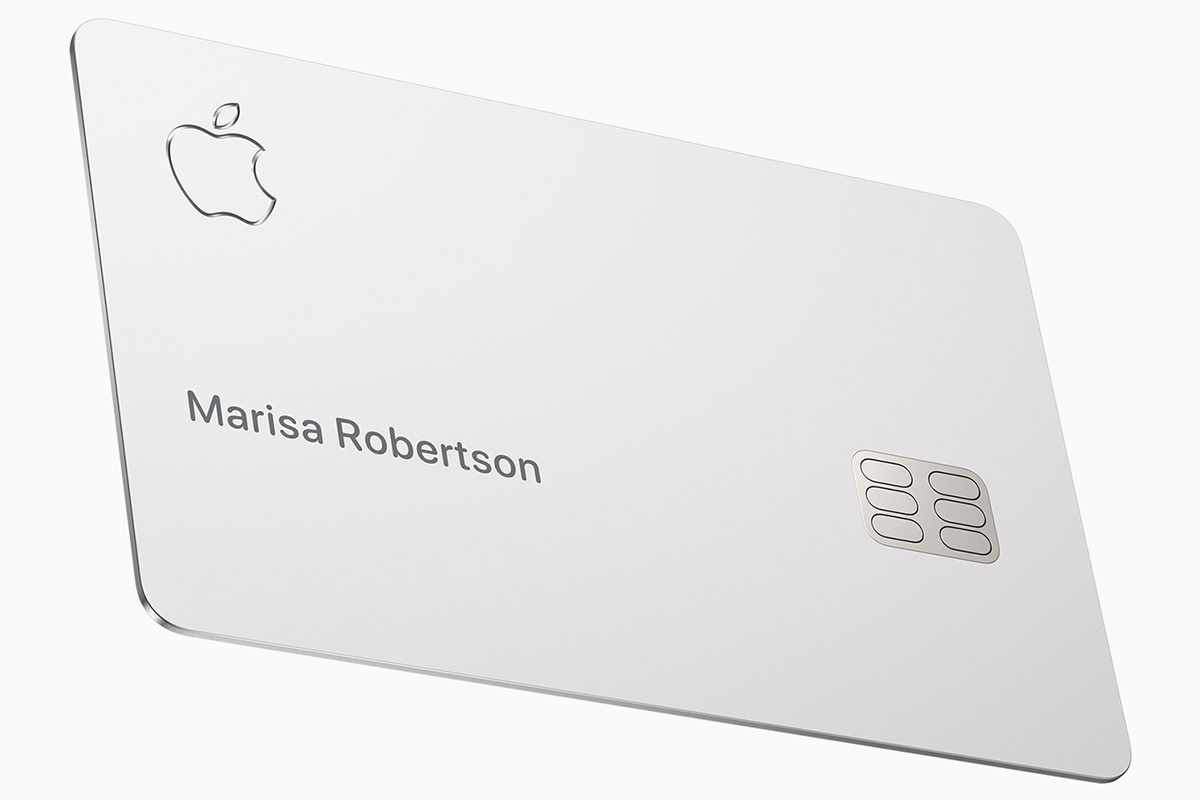 Except you can't really do much with it. Apple says it scratches easily and shouldn't be stored in anything leather or denim or it will discolor. YOU MEAN LIKE MY WALLET OR MY POCKET? WTF?!??
Not that it matters. You only get a pitiful 1% cash back when you use the physical card. If you buy something with your card via Apple Pay on your phone, you get 2% back. If you buy anything from Apple or Uber using Apple Pay on your phone, you get 3% back. Which is all so unimpressive. I'd rather use my WorldPerks Card or my Alaska Air Card because I earn airline miles, and that's more valuable to me.
There is a unique Apple benefit for the rewards though. Whatever money you get back is added to your Apple Cash daily... immediately after your payment clears! Nice! Most banks make you wait until the end of the month. Like Amazon. But with the Amazon Card I get a whopping 5% back on Amazon purchases, so I ain't complaining.
Applying for the card is a piece of cake. I did it right from my iPhone Wallet in minutes. Next thing I know, I've got a digital Apple Card that changes colors based on my purchase categories...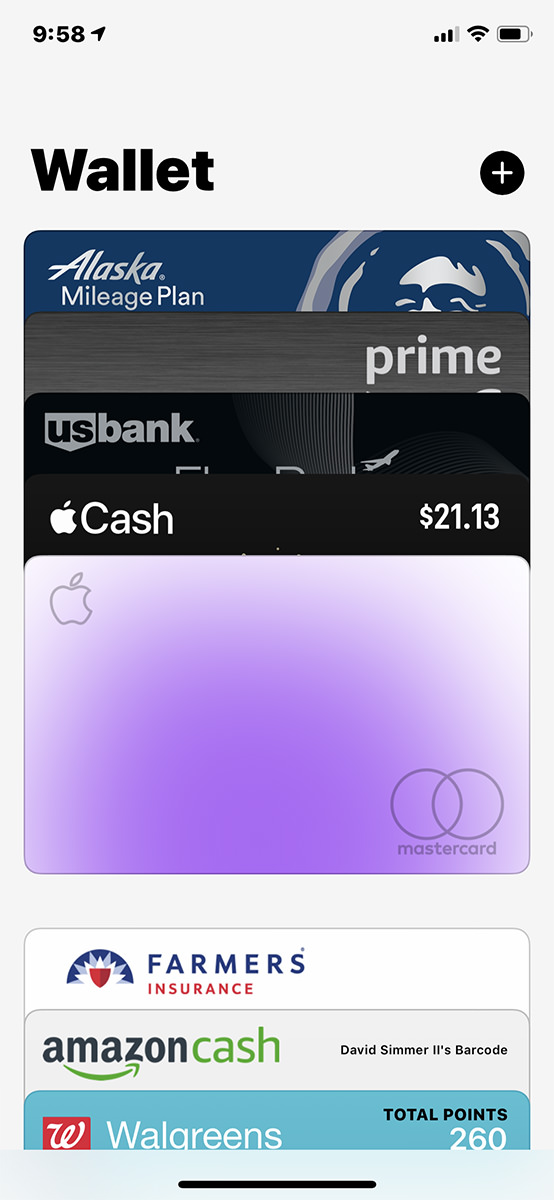 So... what did I buy to try it out?
Last night I decided to buy one of the gorgeous prints from The Night Sky. You pick a date, time, and place and they draw a constellation map of the sky at that moment...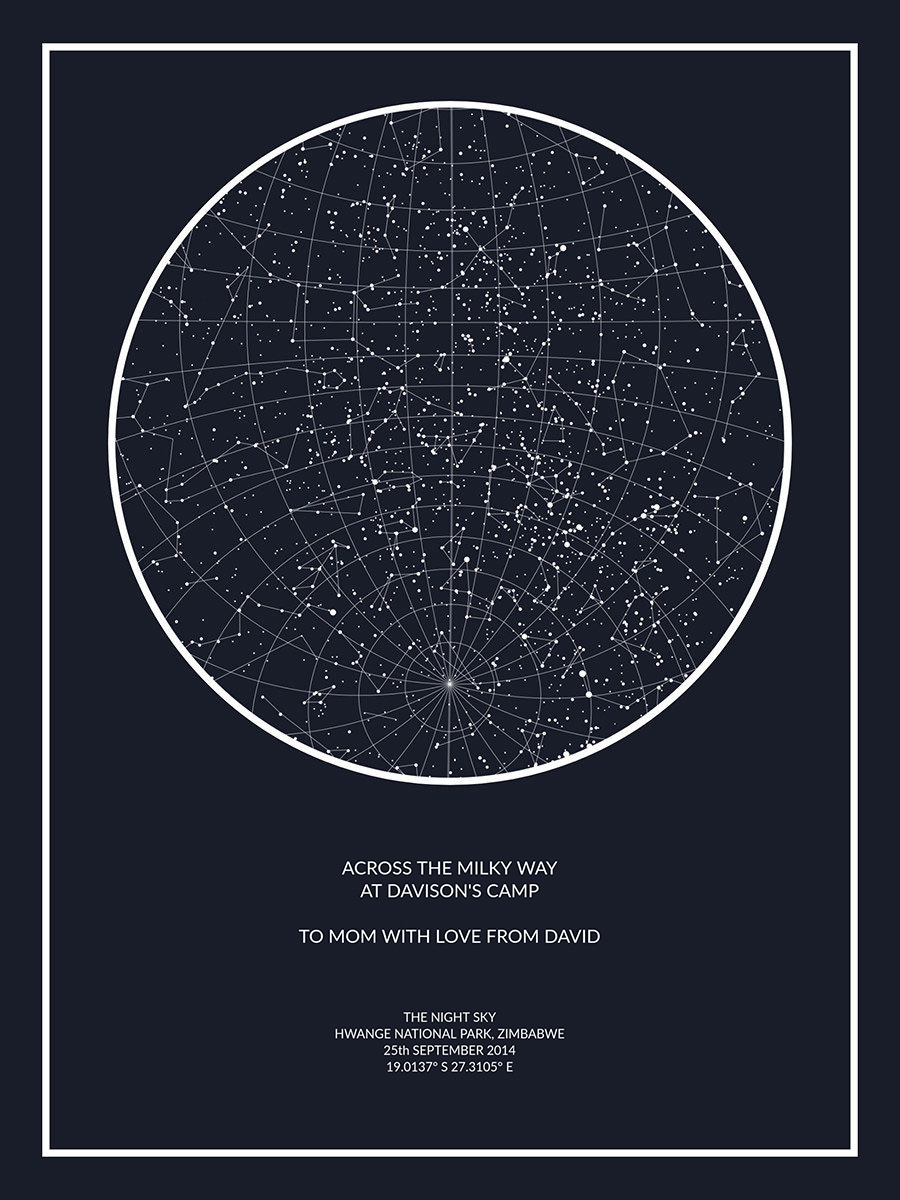 I picked the night my mom and I were looking at the Milky Way when we were in Zimbabwe, which is the last trip we took together...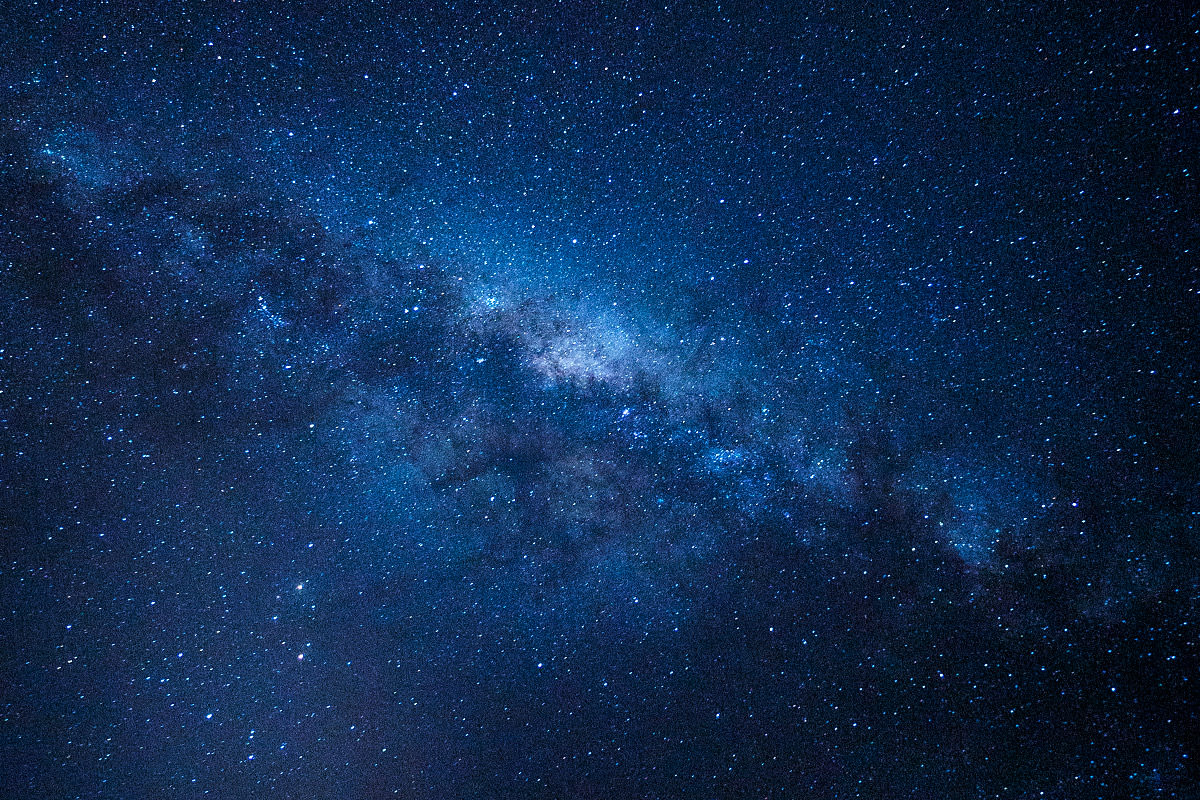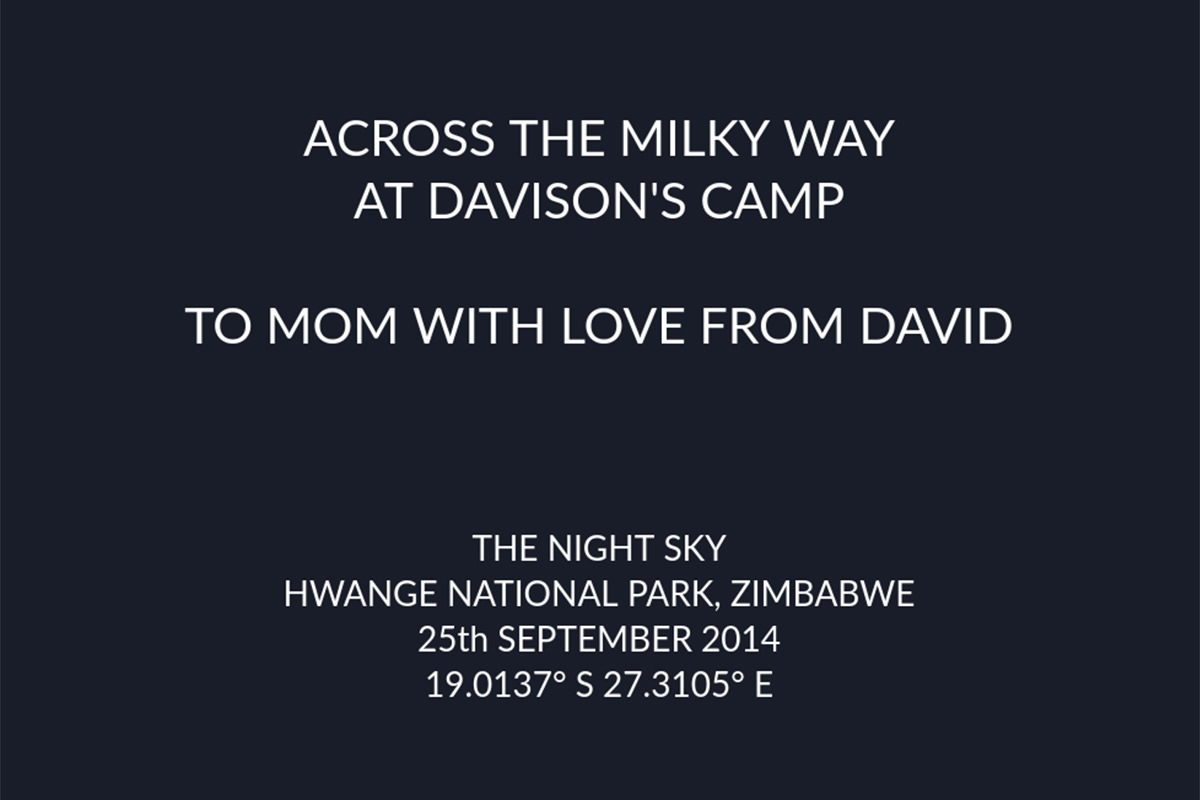 To Mom with Love from David was what I wrote in all the souvenir photo books I made for her after our trips, so I thought it was perfect for my print.
The Night Sky accepts Apple Pay via Apple's Safari browser, which means I get 2% cash back on my purchase. With that in mind, I ordered it framed. Sure it doubles the cost, but sometimes you just gotta spend money you don't have for something that will mean the world to you...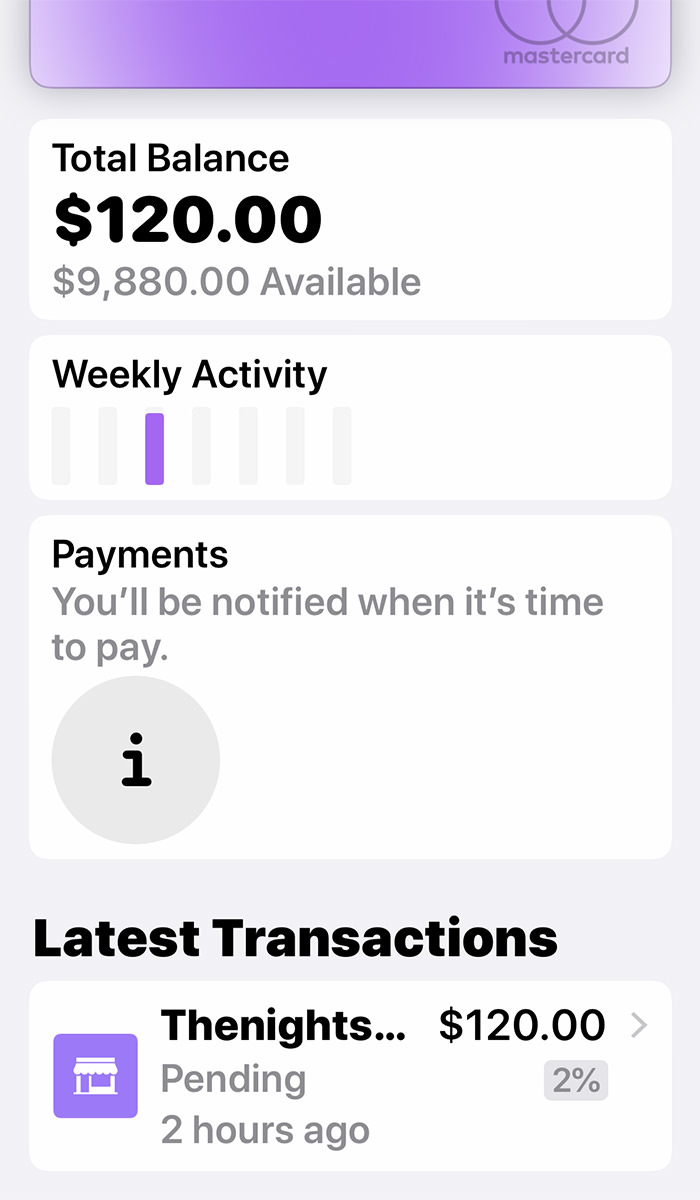 If you pay in full at the end of the month then you pay no interest. And here's the weird thing... Apple actually wants you to pay as little interest as possible. When you make a payment they have tools to show you how the amount you pay affects the interest you're charged. That's a very nice feature that seems insane considering every bank on earth is trying their best to gouge you for absurd interest charges.
Apple Card will send you a payment reminder notification, which is great, but I wanted to have my total balance automatically paid from my credit union checking account each month. I am not going back into credit card debt if I can help it. I also don't want to put any more money than I have to into Goldman Sachs' pockets. Fortunately, that's easy to set up...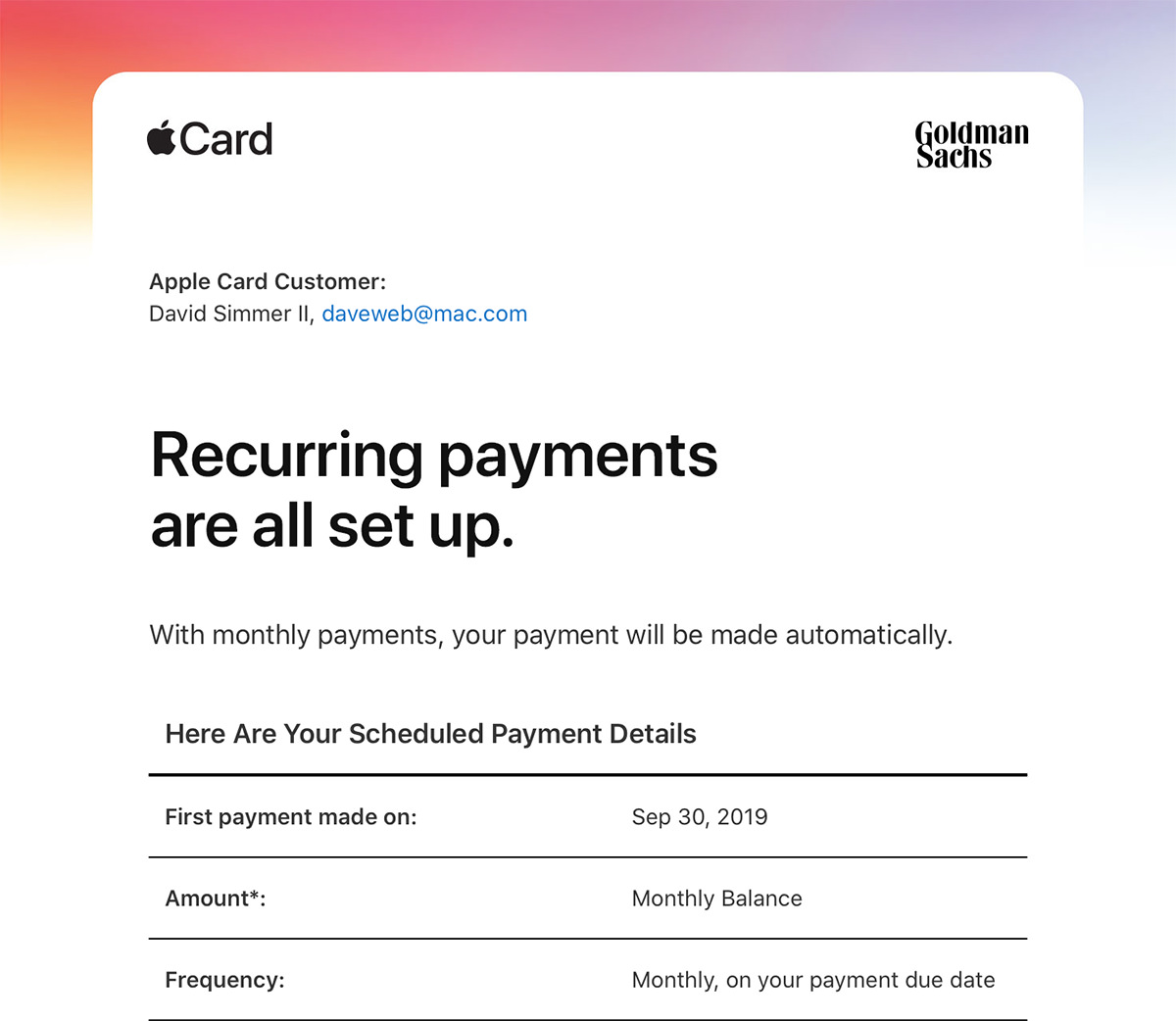 There are numerous tools on the iPhone app which help you to track your spending, assist you in figuring out where charges come from, report disputes, and get immediate assistance. They also have some smart security features to help minimize credit card theft and fraudulent charges. This is the future of credit cards and I am impressed with what Apple has done here. Very impressed.
The first thing I did when I got the card was click the "message us" link for customer service so I could reject the arbitration clause. Forced arbitration is an abhorrent condition of card ownership which is 100% evil... and obviously comes from the pig-fuckers at Goldman Sachs. I'm surprised that Apple would have a card attached to their name which has forced arbitration, but I guess it's easy enough to get rid of if you know you must get rid of it...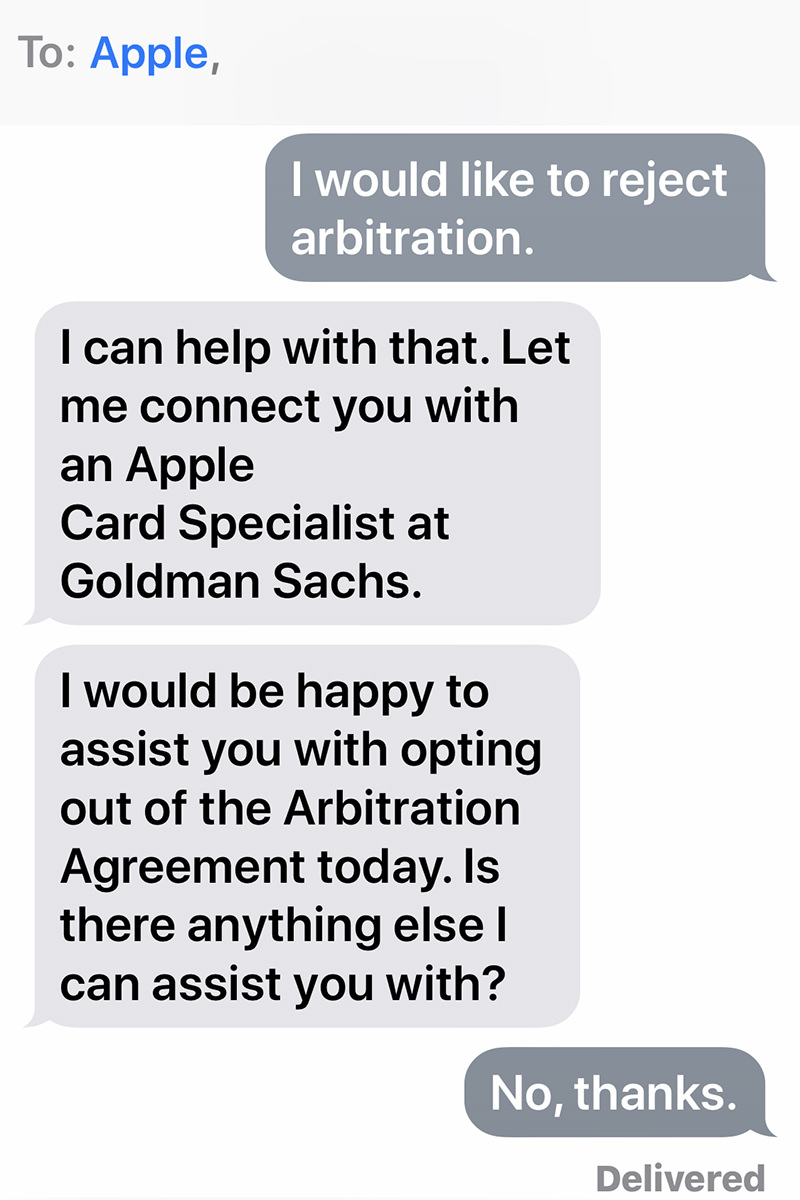 If you want to know how to reject arbitration on your Apple Card... and why you should absolutely do it... here's an article at The Verge for you. And don't forget to do it at your very first opportunity so the scum-sucking bottom-dwellers at Goldman Sachs can't fuck you over more than they have already fucked over this country and everybody in it.
So let's sum things up, shall we?
PROS:
Laser-etched titanium, baby!
No annual fees, no late fees, and no foreign transaction fees.
Really cool budget, finance, and security tools built-in.
Seamlessly integrated into iPhone and Apple Wallet.
Cash-back rewards paid daily.
Easy to apply for within Apple Wallet... approval in minutes.
Pay any time or easily set-up recurring payments.
Apple promises your data will never be sold (assuming you can trust Goldman Sachs).
Full MasterCard benefits, like free ShopRunner 2-Day shipping (where available).
CONS:
You're in bed with the detestable fucking bastards at Goldmen Sachs.
Pretty titanium card is easily damaged.
Only works optimally for merchants accepting Apple Pay
Cash-back rewards are pathetically anemic.
Forced arbitration as the default.
No option for cash advance.
No sign-up bonus of any kind.
Interest rate APR is not much better than other cards (12.99% to 23.99%).
Only available to iPhone users.
Ultimately while I love the idea of having an Apple Card, it likely won't get much use. The best reward you can get is 3%, and that's only with Apple & Uber. Everything else is 2% or a pitiful 1%. This is insane. I can get 5% back if I buy my Apple products from Amazon using my Amazon Card! Another reason I'm likely not going to use it is that I don't want to contribute wealth to the gaping asshole crooks at Goldman Sachs. They are a blight on humanity with their many scandals, and the significant part they played in the financial crisis is rage-inducing. I remain flabbergasted that this is the bank that Apple decided to partner with. It's just so utterly mind-boggling and shitty.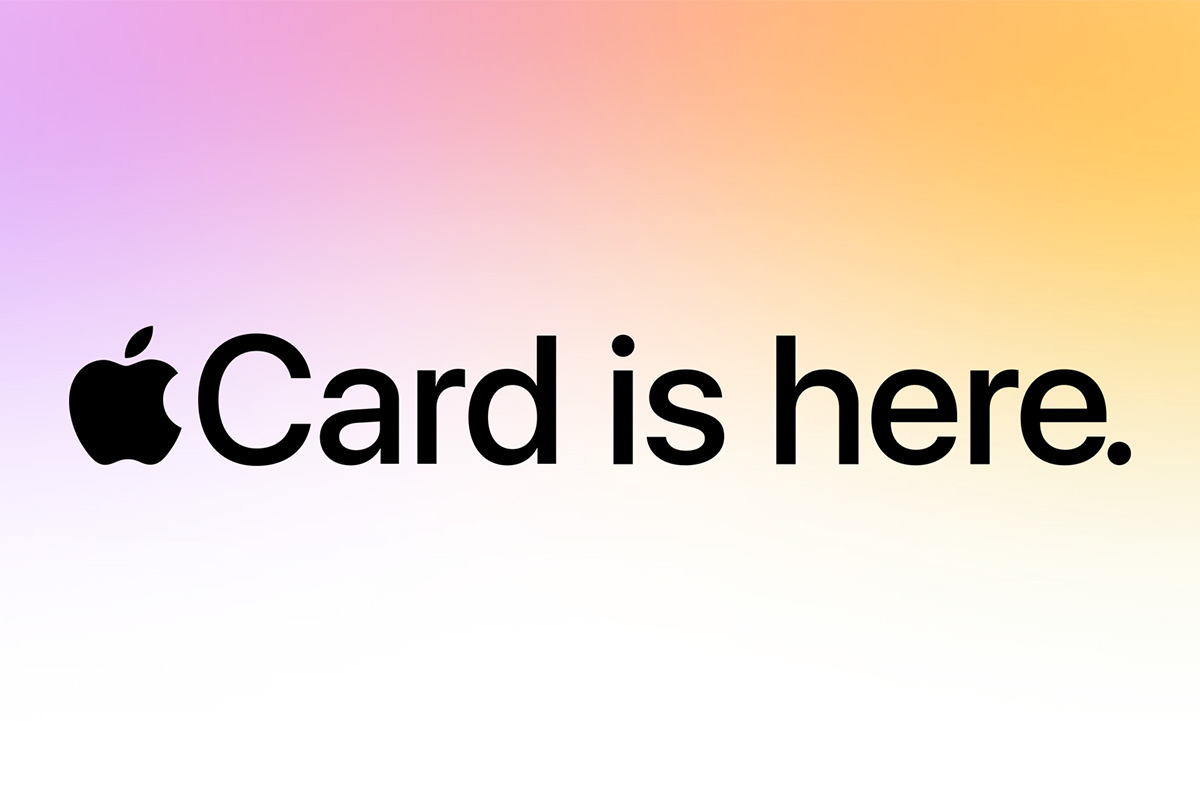 But how cool is laser-etched titanium?
UPDATE: I got a notice that my big $2.40 was deposited. Boy oh boy. Whatever will I spend it on?