Posted on December 9th, 2018

I may have been to Maine and back this week, but that just means I'm locked and loaded... because an all new Bullet Sunday starts now...

• Endings! Obviously the news of the week is that the Avengers 4 trailer finally dropped. It's everything it needed to be, with plenty to unpack. If you don't want to hear about it, best skip to the next bullet...
Okay, first of all, the name... Endgame is lame as shit. For months we've been told that the name was being kept secret because it revealed the plot and gave too much away. But does it really? No. Not even a little bit. LAME!
It's not much of a leap to figure that Ant-Man is going to be the key here. The Quantum Realm and its time-bending properties is an obvious way to undo what was done and bring back all those dusted characters so they can continue to print money for Marvel Studios (and Disney). I also wouldn't be surprised to find that Hawkeye (who looks like he's in his Ronin persona in the trailer) will have a major arc. Odds are his entire family was dusted and that's going to be the push to answer the question: "Why in the hell is he an Avenger?" No sign of Captain Marvel, but we know she's going to be kicking around...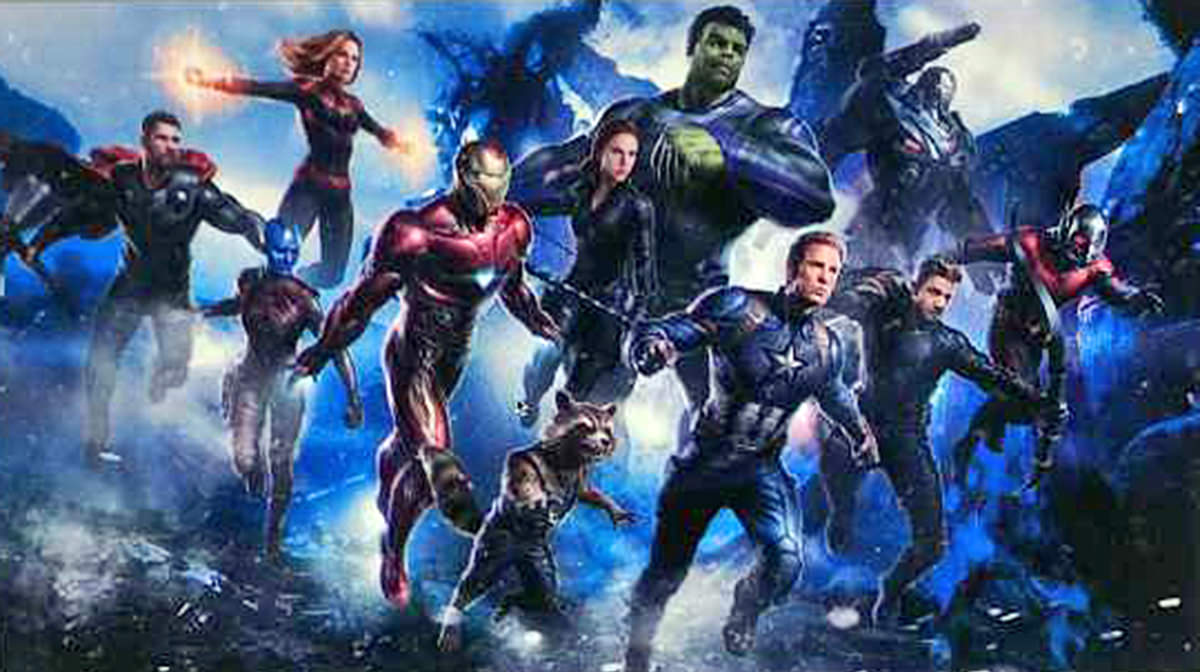 April seems a long, long ways away...

• Pet Shop Christmas! This week I received an email from The Pet Shop Boys wishing a Merry Christmas to their fans. Which is nice, I guess, but it's the way they did it that was so cool...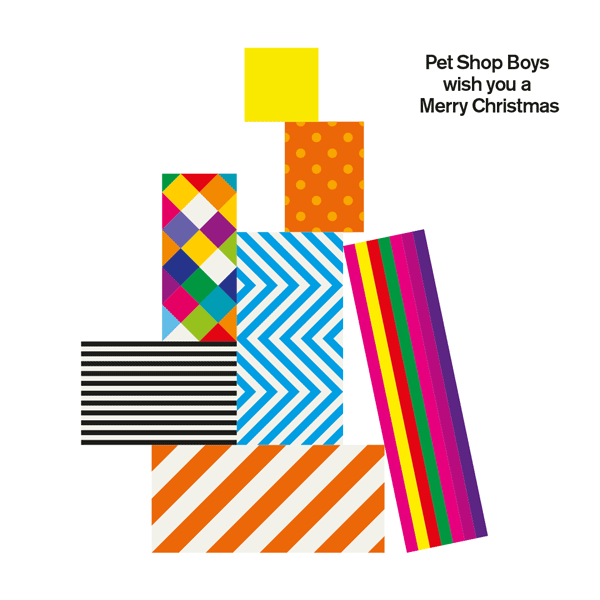 Now, if you're a fan, you'll immediately "get it." But if you're not... does this help?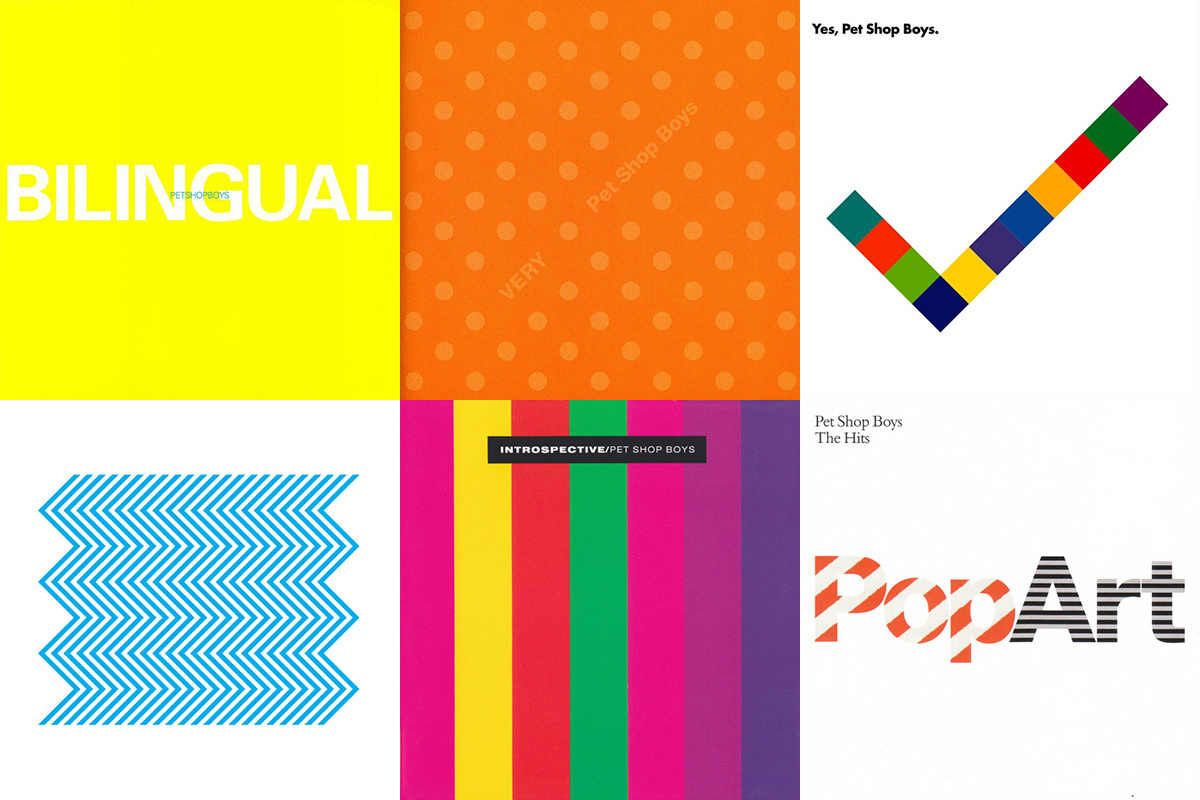 Seriously, how cool is that?

• MIB4! This week we finally learned the title of the fourth Men in Black movie... Men in Black International. It stars Chris Hemsworth as Agent H and Tessa Thompson as Agent M...
The spinoff film will not have Tommy Lee Jones (Agent K) or Will Smith (Agent J) in it, but it will have Emma Thompson reprising her role as Agent O.

• Outlook! As I prepare my home for winter, I ran across something interesting...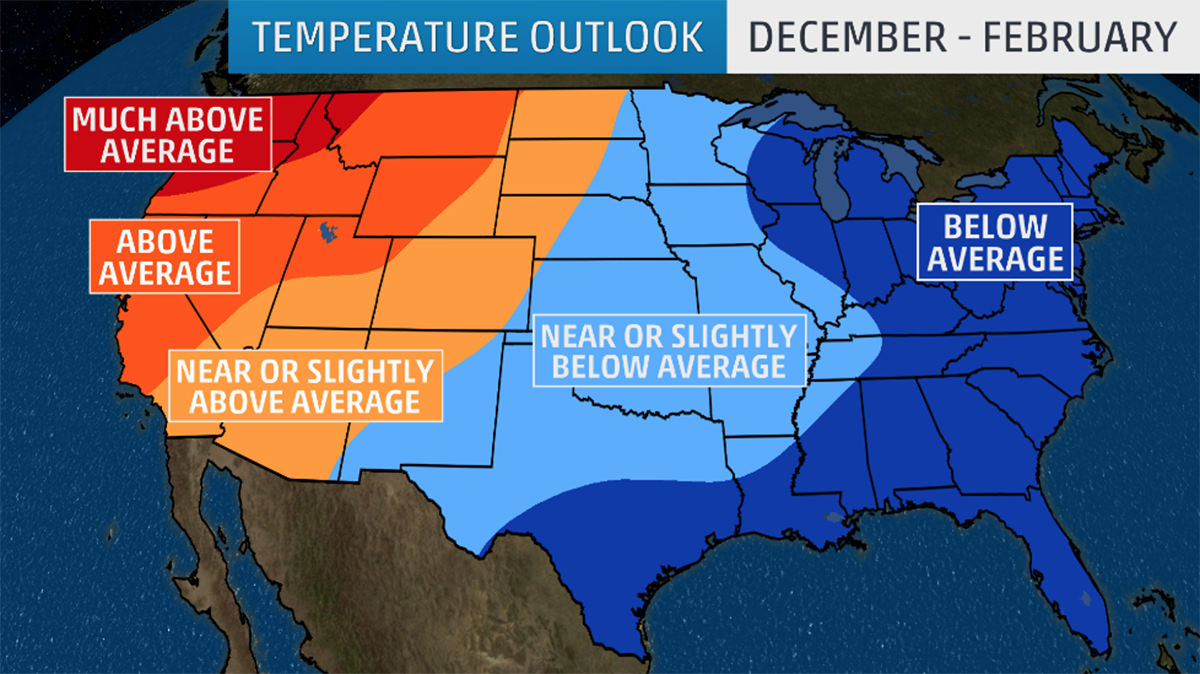 Apparently my region of the country will be "much above average" when it comes to temperature this winter. I'm not quite sure what to think about that, because the nighttime temperatures seem as though they're the same as they've been for years now (which is not as cold as it was a decade ago, I can tell you that). I took a look at weather averages for the past couple years and it reads similar to what's been recorded lately. And while we haven't had any snow yet, I'm guessing it will be on its way any day now? While I'm happy at the idea of saving on heating costs, we really need good snow pack in the mountains or else we'll end up in drought conditions in the Summer. That's something we absolutely do not want.

• NHL! Good news, everybody! Something I've been waiting for... for a very long time, actually... is Major League Hockey coming to Seattle! I became a hockey fan when I got into The Milwaukee Admirals while working in the Mid-West. From there it was a short hop to the Chicago Blackhawks, which has been my team ever since...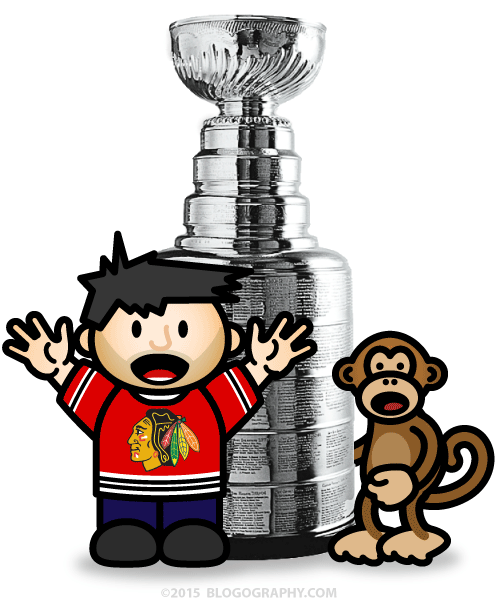 I've been to a couple local games here at home, but love the idea of escaping to an NHL game from time to time. Earlier this week they finally gave Seattle an expansion team, which will debut in 2021. But what will they be called? It's a big mystery. I was greatly amused to find that Bovada is running Vegas odds on it...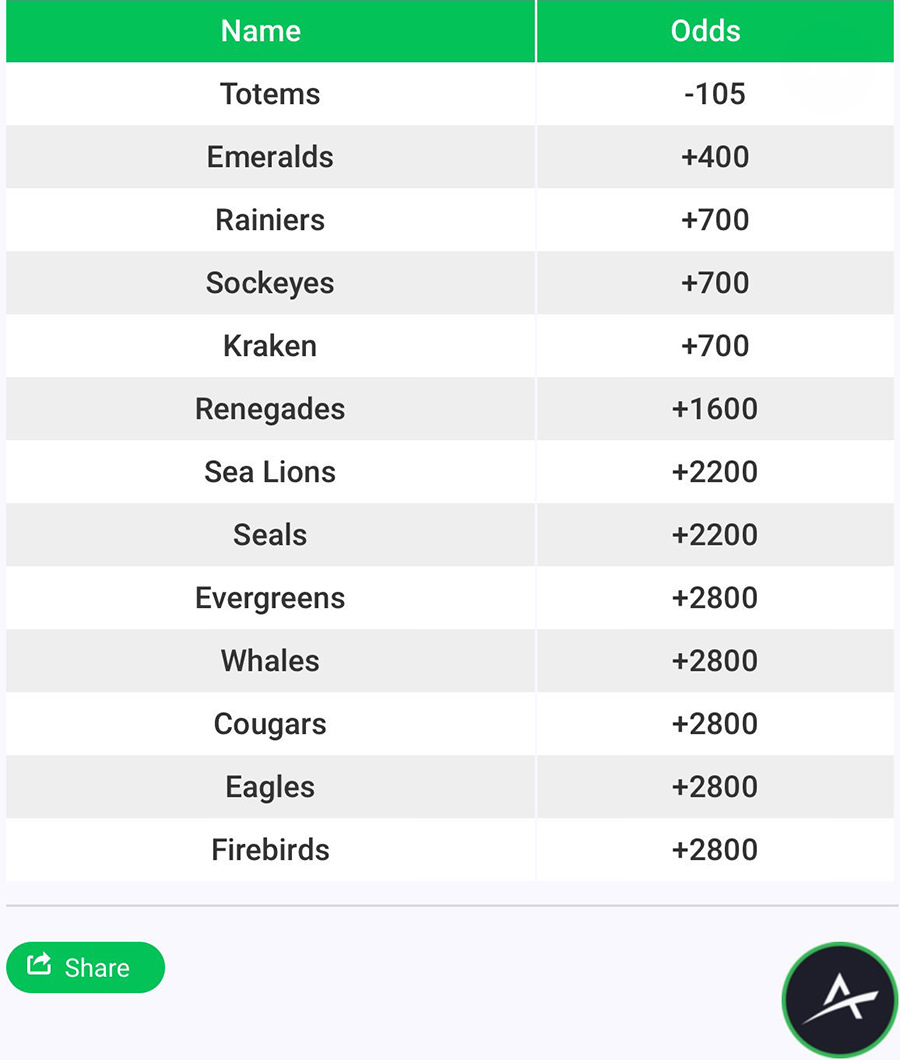 Oh dear Lord. The odds favorite is the Totems?!? Now, I get it... that's the historic name for the team. It's a name which has emotional appeal to those who have been fighting to get a team here for a very long time. BUT COME ON! Are we really going to go down the cultural appropriation route again? My team, the Blackhawks, was named in honor of Black Hawk, a real-life Illinois historical figure. The team has kinda gotten a pass on this because it's not an offensive stereotype (like "Redskins") but it is still mired in controversy...
In 2010, for instance, Joe Podlasek stated that, "The stance is very clear. We want the Chicago Blackhawks logo to change. For us, that's one of our grandfathers. Would you do that with your grandfather's picture? Take it and throw it on a rug? Walk on it and dance on it?" John Blackhawk, Chairman of the Winnebago Tribe of Nebraska, has suggested that the change in position for the American Indian Center may be connected to contributions the Blackhawks organization has recently begun making to the center: "We all do contributions, but we don't do it for the sake of wanting to be forgiven for something we've done that's offensive."
— Wikipedia
So can we please just not this time? Personally I'm really liking the Sockeyes. There's a lot of logo potential there, and it's a fish that has cultural significance to Seattle both past and presence. The Emeralds isn't bad, but what do you do with it for a logo? And tying the name to The Wizard of Oz is kinda silly. Rainiers is already tied to a crappy beer. Kraken might be fine, but it's too abstract since it's mythological and all. Renegades, Cougars, and Eagles are boring and done to death. Sea Lions, Seals, and Whales just sound silly. Evergreens would give us a frickin' TREE as a logo? I dunno. Might work in the right hands? Firebirds isn't bad, but it's within spitting distance of Totems for me.
So... can we just be the Sockeyes and be done with it? Please?

• So Long, Fuckers! I finally managed to transfer everything away from my previous web hosting company, Media Temple. After being a loyal customer for over a decade and putting up with their broken promises and bullshit, the last straw was the horrific way I was treated when I tried to get an issue resolved. No help, shitty service, and a bill for $38 that they wouldn't reverse. Seriously, what a bunch of assholes. If you're looking for a place to host your stuff, keep looking.

And that's the end of that. See you next week.
Tags:
Blackhawks
,
Bullet Sunday
,
Hockey
,
Movies
,
Music
,
Pet Shop Boys
,
Seattle
,
The Avengers
,
Weather
Categories:
Bullet Sunday 2018
,
Movies 2018
,
Music 2018
—
Click To It:
Permalink
—
3 Comments: Click To Add Yours!
Posted on August 20th, 2018

Since this is the last day of my re-reviewing all the Marvel Cinematic Universe movies until Ant-Man and The Wasp is released on home video, I thought I'd do something related to that.
Here's a list of Marvel Studios movies I'd like to see that are not sequels...
Black Widow. Come on already. This is a literal no-brainer. Natasha has been an anchor for the entire MCU for years, and it's insane that she hasn't been given a story of her own. And, let me tell you, she had better get some major guest stars to cameo.
Alpha Flight. Canada's version of The Avengers has long been one of my favorite Marvel teams. And it's a movie which could easily be taken into a supernatural direction, expanding the Marvel Cinematic Universe into a new area. Or just create a straightforward super-team and tie it heavily to Canada in order to keep it unique. Either way, it's a book with characters who would work great as a movie.
Fantastic Four. All three previous Non-Marvel-Studios Fantastic Four movies were total shit. First of all, not one of them got The Thing right, which is key. Second of all, the take has always been all wrong. The way to approach this franchise is to go with the idea of them being "Imaginauts" and the first family of adventure.
Namor. This is kinda a tricky property given that he is basically a cooler version of Aquaman. But given the right "launch" in a Fantastic Four film, he could easily fall out into a solo movie which would be incredible in the right hands.
Moon Knight. This is essentially Marvel's "Batman," and if he were handled right he could make for a very cool movie. Or a Netflix series.
Captain Britain & Excalibur. This is kinda a no-brainer, in that he's a popular character tied to a location that's not New York. And while Excalibur is essentially a team of X-Men-type characters, they wouldn't have to be.
Vision & Scarlet Witch. Seeing these two characters work so perfectly in Infinity War really had me thinking how amazing a film would be. Their powers are visually interesting which makes for very cool fight scene potential. Their romantic angle makes for an interesting story element. And their comic book history has a lot to draw from.
Wonder Man. Simon Williams as a character could make for a fun movie for a dozen different reasons... but if they were to capitalize on the time he was a Hollywood stuntman it would be an excellent setup for comedy gold.
Hawkeye. To be honest, I think this would be much better as a Netflix series. And yet, it could also work as a movie that's entirely different than anything that's come before. The direction that Matt Fraction and David Aja took Clint in the comics was sublime, and I think it's a story that needs to be told.
Nova. We've already gotten a look at The Nova Corps in Guardians of the Galaxy, so a Nova movie would already have a base to build from (assuming Xandar could be restored after getting destroyed by Thanos).
Longshot. This series had it all... a really fun character thrown into bizarre situations with a fantastic villain to keep things interesting. Could be total cinematic eye candy and highly entertaining if they stuck to the comic book roots.
Power Pack. Even though this was a comic book geared towards children, I found it to be highly entertaining. This could be one of those films that's made for children but can be appreciated by adults... like so many films that Disney has already made. This is the perfect franchise to turn into a movie.
Not included in my list, but obvious contenders, are The X-Men... which has been hopelessly fucked up in past films and deserves an official Marvel Studios treatment at last. From there it's just a short hop to Avengers vs. X-Men. Also? Ms. Marvel (Kamala Khan) needs to shake out of all this somehow... though I'm not exactly sure how. Despite being an amazing character, her powers are kinda goofy, and I'm not sure how they're going to A) depict them in a realistic way on the big screen and B) make sure there's no confusion between her and Captain Marvel.
Needless to say, I am hugely interested in where Marvel Studios will be going after Captain Marvel, Avengers 4, Spider-Man: Far from Home, and Guardians of the Galaxy: Volume 3 are in the can. My guess it we'll start hearing about some of it early next year.
---
Continuing on with my revisiting of every Marvel Studios movie...
MARVEL STUDIOS MOVIE OF THE DAY, No. 19: Avengers: Infinity War
Original Grade: A • Today's Grade: A+
The more times I watch this film, the more I love it... hence it jumping to a perfect A+ score. It seems impossible that a movie so epic in scope holds together this well. Still, it's a dense story, which is why I think it needs repeat viewings to be appreciated. I first reviewed this film just four months ago... all the things I love about it have grown stronger while the things I didn't seem to fall away. That's the mark of a great movie.

SCENE TO BEAT: Any moment where Doctor Strange's Cloak of Levitation is treated as a character. Making it sentient was total genius, and I absolutely love the way it interacted with Iron Man and Spider-Man on Ebony Maw's ship.

COULD HAVE BEEN BETTER: I still think that Peter Quill getting all emotional and being responsible for Thanos winning on Titan was stupid. I don't care how much he thinks he loves Gamora, it was just ridiculously out of character to have him check out and be an idiot. They could have fixed this by just having Thanos overpower the heroes and leave. End scene.

SIDENOTE: As of this film, the only one of The Nine Relms we haven't seen is Alfheim, home of the Light Elves. Maybe eventually?
Posted on August 14th, 2018

Today I headed over to Seattle to see Erasure with my long-time internet friends Matt and Scott. It was my third time seeing the band, and Andy and Vince were amazing as ever.
If I had a complaint, it was The Moore Theater Seattle has no air conditioning. I was in the front row and had (relatively) few people next to me and I was dying. Poor Andy Bell was dancing and singing his guts out and I thought he was literally going to die. But he was a total trooper...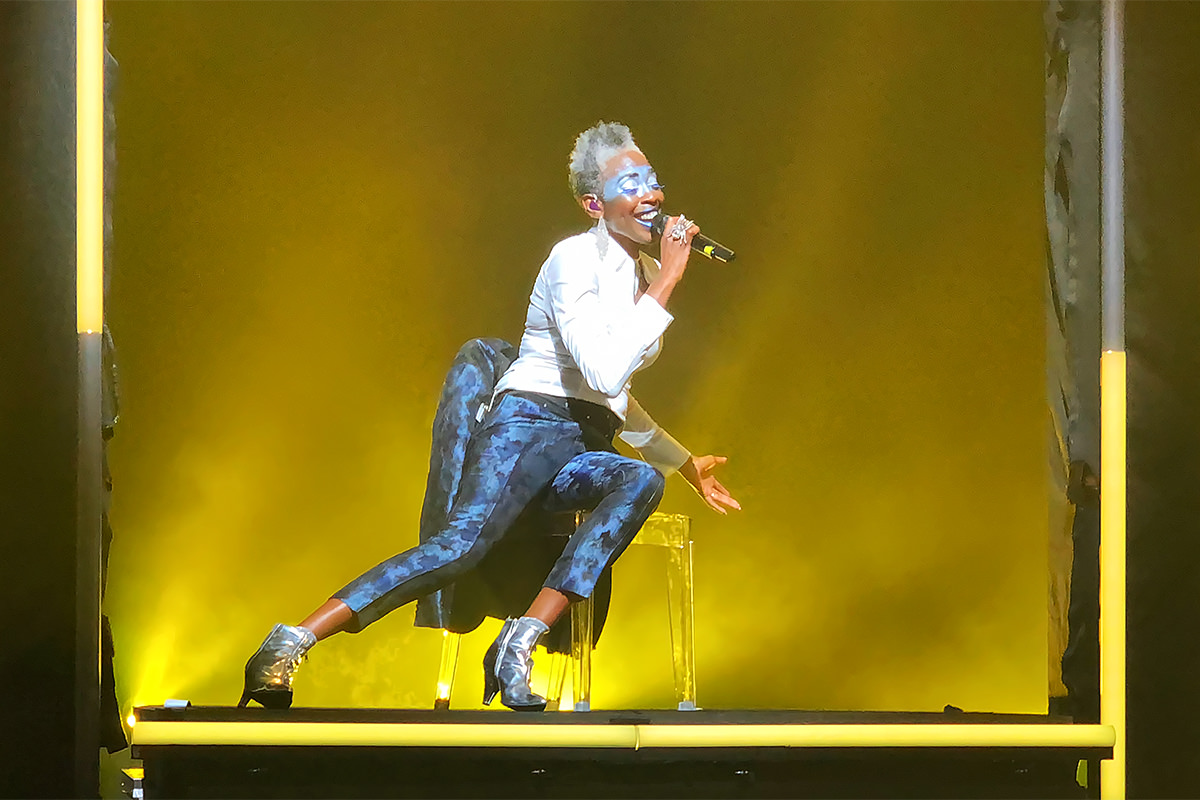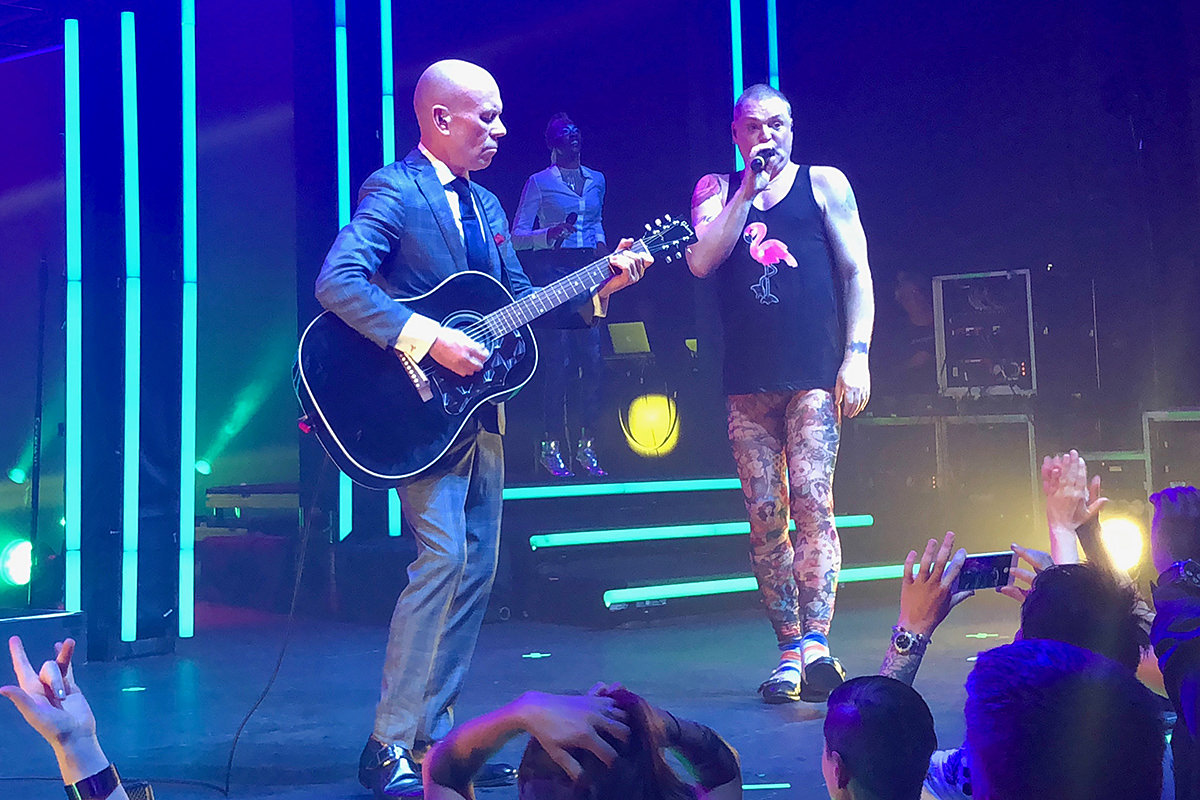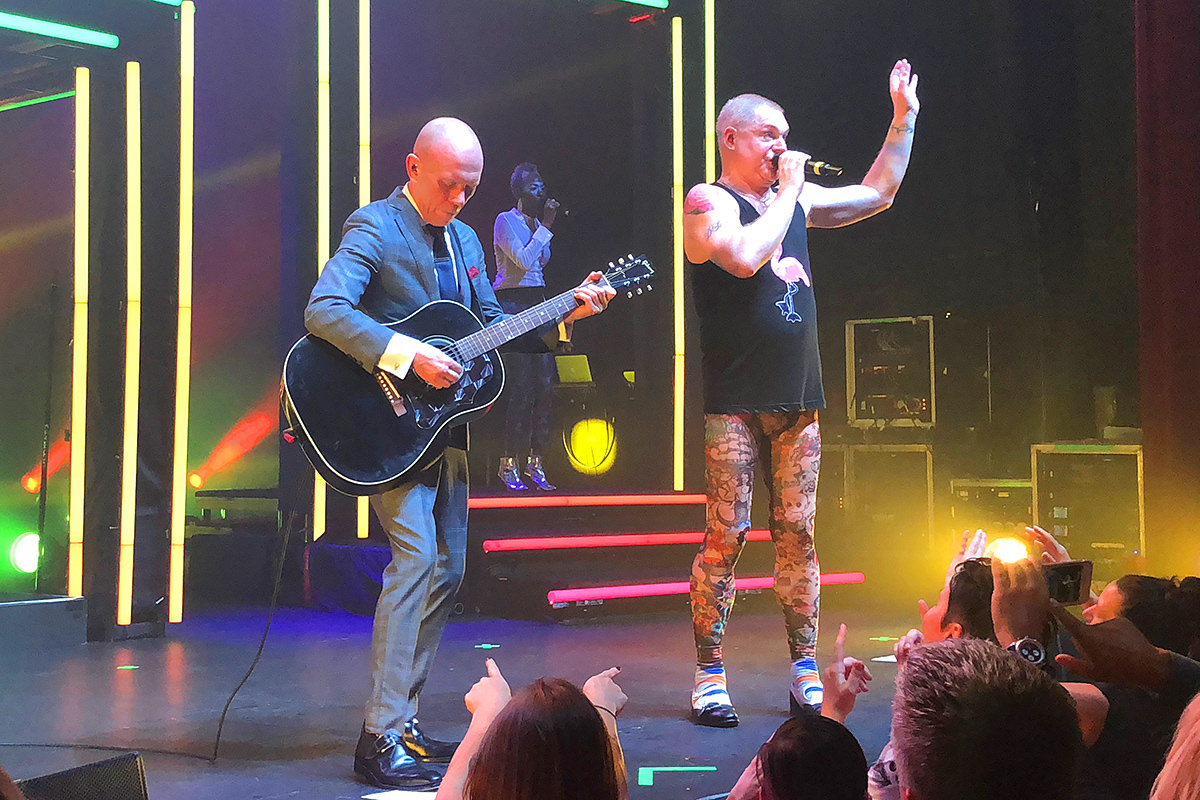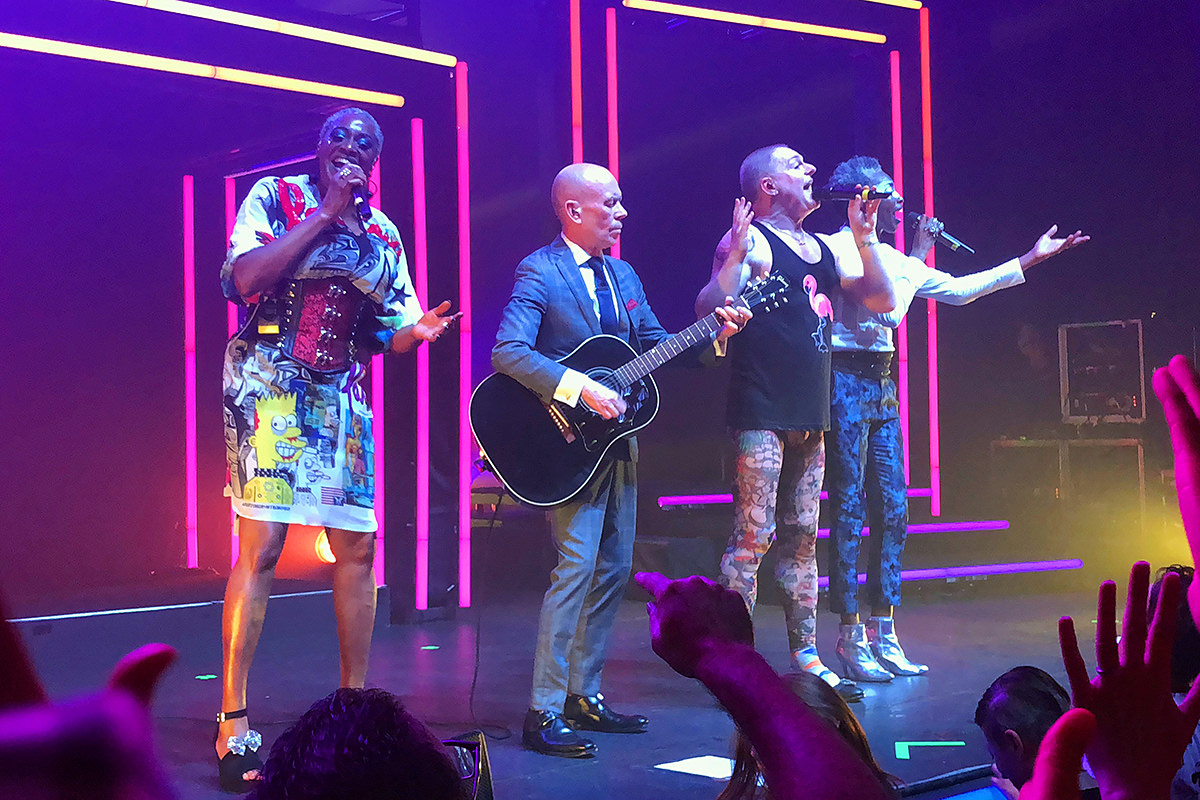 The set list was as follows...
Oh L'Amour (One of two tracks from Wonderland, their first album)
Ship of Fools (One of four tracks from The Innocents, their third and most popular album)
Breathe (One of my favorite songs from one of my favorite albums, Nightbird... their eleventh)
Just a Little Love (First of four tracks from their seventeenth and current album, World Be Gone)
Chains of Love (Second of four tracks from The Innocents, their third and most popular album)
Sweet Summer Loving (Second of four tracks from their seventeenth and current album, World Be Gone)
Victim of Love (One of two tracks from The Circus, their second album)
Phantom Bride (Third of four tracks from The Innocents, their third and most popular album)
World Be Gone (Third of four tracks from their seventeenth and current album, World Be Gone)
Who Needs Love Like That (Second of two tracks from Wonderland, their first album)
Atomic (a Blondie cover)
Love to Hate You (lone track from Chorus, their fifth album)
Blue Savannah Song (first of two tracks from Wild!, their fourth album)
Drama! (second of two tracks from Wild!, their fourth album)
Love You to the Sky (Fourth of four tracks from their seventeenth and current album, World Be Gone)
Sometimes (Second of two tracks from The Circus, their second album)
Always (lone track from I Say, I Say, I say, their sixth album)
Stop! (from the Crackers International EP... or album 3.5, I guess)
A Little Respect (Fourth of four tracks from The Innocents, their third and most popular album)
They skipped tracks from Erasure (their seventh album), Cowboy (their eighth, and probably my favorite, album), Loveboat (their ninth album), Other People's Songs (their tenth album), Union Street (their twelfth album), Light at the End of the World (their thirteenth album), Tomorrow's World (their fourteenth album), Snow Globe (their fifteenth... a Christmas album), and The Violet Flame (their sixteenth album).
Songs I would have liked to have heard? Heavenly Action, Weight of the World, just about anything from Cowboy plus Don't Say You Love Me, and I Broke It All in Two.
Not that I can really complain though... nineteen awesome songs was above and beyond!
If you ever have a chance to see them live, Erasure is worth the ticket of admission.
---
Continuing on with my revisiting of every Marvel Studios movie...
MARVEL STUDIOS MOVIE OF THE DAY, No. 13: Captain America: Civil War Original Grade: A+ • Today's Grade: A+ Holy crap... what if Robert Downey Jr. had said no? What would this movie have been then? Chris Evans has made no secret of the fact that he never really wanted to sign on for Captain America because he had his fill of super-hero movies with the two awful Fantastic Four flicks. But he was talked into it, and signed a contract for a set number of appearances as Cap. And that was smart. Get the big money while he could, then move on to the directing career he wanted which would pay a lot less. He later extended his contract to include Avengers 4 when Avengers: Infinity War was split, but it's assumed that's the end of it. What's so cool is that Evans is such a stand-up guy that he agreed to cameo appearances in Thor: The Dark World and Spider-Man: Homecoming outside of his contract. Marvel Studios, in its infinite wisdom, decided to make the most of the original Captain America while they had him, and essentially created another Avengers movie instead of a Cap solo film. Taking the general idea from the comic book event of the same name, Civil War was a way to tear everything apart before bringing it back together again. And they pulled out all the stops doing it. In addition to getting the first appearances of Spider-Man and Black Panther, we also get Iron Man, Winter Soldier, Black Widow, The Falcon, Agent 13, Ant-Man, War Machine, Hawkeye, The Vision, and Scarlet Witch. When you consider that this could have easily been a movie with Cap as its only hero battling some random villain, that's beyond incredible. It was, of course, just a warm-up. I don't know that this was a better film than Winter Soldier, but it was a comic book fan's ultimate dream movie at the time. It was certainly mine. Kinda still is.

SCENE TO BEAT: Wow does Marvel Studios have the whole de-aging thing down! Seeing young Robert Downey Jr. at the front-end of the film was so cool. And it wasn't just for kicks... it actually had real relevance to the story being told. But, of course, the scene to beat would have to be the airport battle. Finally. Finally! After spending most my life waiting for a live-action super-hero battle that wasn't a pile of shit (I'm looking at you, X-Men 3) we got it. It didn't hurt that Spider-Man and Black Panther were in the mix, and absolutely everybody was used to their full potential. Including... Giant Man!

COULD HAVE BEEN BETTER: Wanda accidentally blew up part of a building when she levitated an exploding Crossbones who was in the middle of exploding. Sure some people got killed because of her inexperience. But the alternative was a lot more people on the ground getting wiped out? Including Captain America? I don't get how that pertinent fact was never raised in the entirety of the film. It bothers me because it's the whole turning point for The Accords being enacted, and it doesn't really make much sense.

SIDENOTE: Still hilarious to see Robert Downey Jr. and Marisa Tomei in a movie together again (I'm a big fan of Only You). Red Wing, which was a real-live falcon pal to The Falcon in the comics was made a drone in the movies. Once again we have Marvel being faithful to the source material... just updating it in a way that makes perfect sense! The Incredible Hulk is a movie largely ignored from the Marvel Studios canon, even though it was firmly established to be a part of it. And every once in a while, they drag out General Thunderbolt Ross to remind people of that. This actually makes me happy, because though Mark Ruffalo is better-suited to the role, the hulk movie was not a bad film at all. I expected that there would be a good reason for Thor and The Hulk being left out of Civil War, I just didn't expect it to be as good a reason as we were handed in Thor: Ragnarok. Once again, Marvel Studios knows exactly what they are doing.
Posted on August 12th, 2018

Time to be cruel to be kind... because an all new Bullet Sunday starts now...

• Birdfeeding! I used to feed birds only in the winter, but started feeding them in the Summertime as entertainment for my cats. Problem is, when I hang the feeder in front of their window, the birds stay away... unlike in winter where food is scarce and they don't care. Apparently having predators staring at you while dining is unappetizing if you have other options. So I moved the feeder to the corner of the house where there are no windows so I could get rid of the feed I had bought. Problem is... I felt bad when there was no more food, so I kept on buying it because they kept hanging around. The little scroungers run through loads of the stuff, and I'm refilling it three times a week now...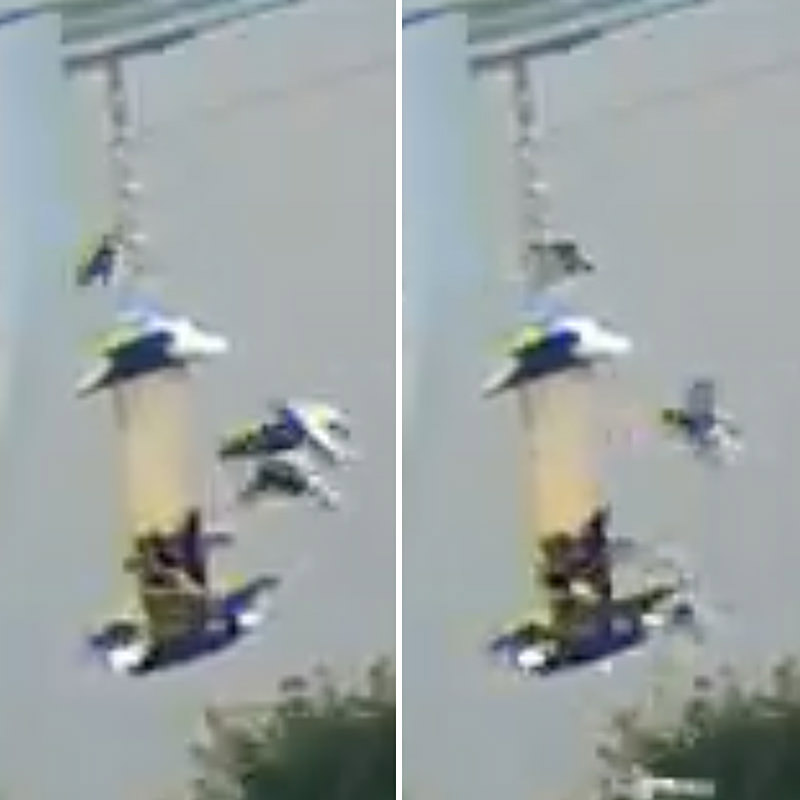 Probably wouldn't be so bad if they were content to eat the cheap seed... but their favorite is thistle seed, AKA nyjer seed. The stuff is crazy expensive. I've tried mixing it with the cheap seed, but they pick it out and drop it on the ground... along with loads of thistle seed shells. I can't seem to win when it comes to birds.

• Bears! So there I was... flipping through channels... when I ran across We Bare Bears, which is one of the best things I've ever seen...
It's in its fourth season. No idea how I've missed it for this long, but I'm kinda obsessed with it now.

• Bears Again! What makes me love We Bare Bears even more? A storyboard artist from the show created an animatic of Ice Bear punching a Neo Nazi...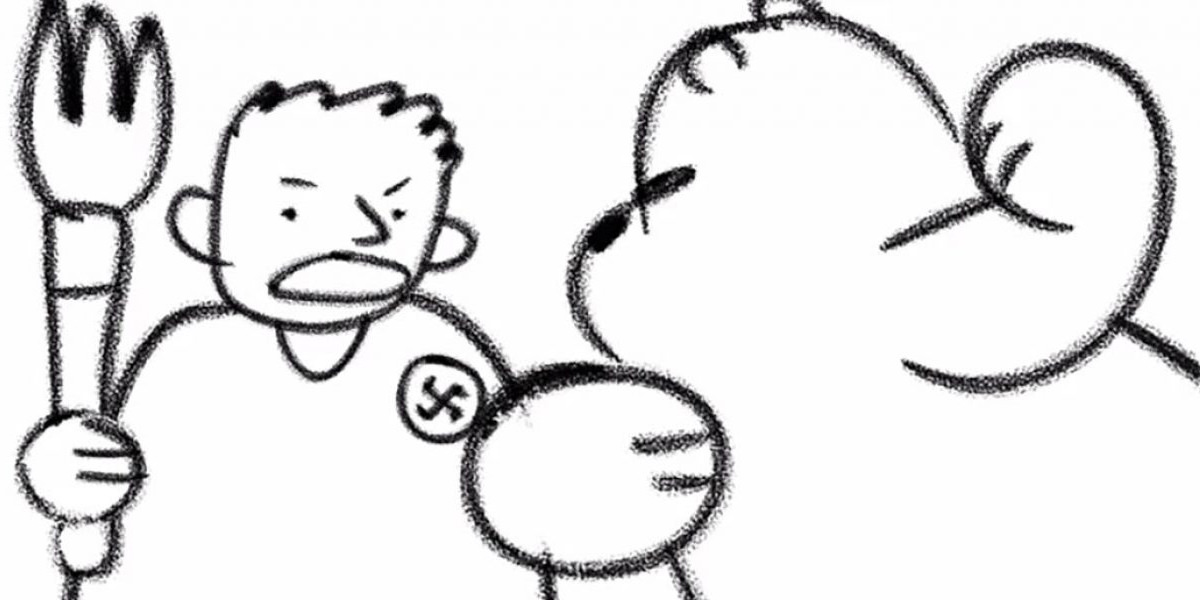 The tiki torch is a nice touch. You can see it over at Cartoon Brew.

• Unsatiable! When internet controversy was unleashed against the new Netflix series Insatiable, calling for it to be canceled before it even aired, I was intrigued. Rather than jump on the bandwagon I decided to take a look. It was funny as hell and, though it was pretty crude, I didn't understand what the fuss was about...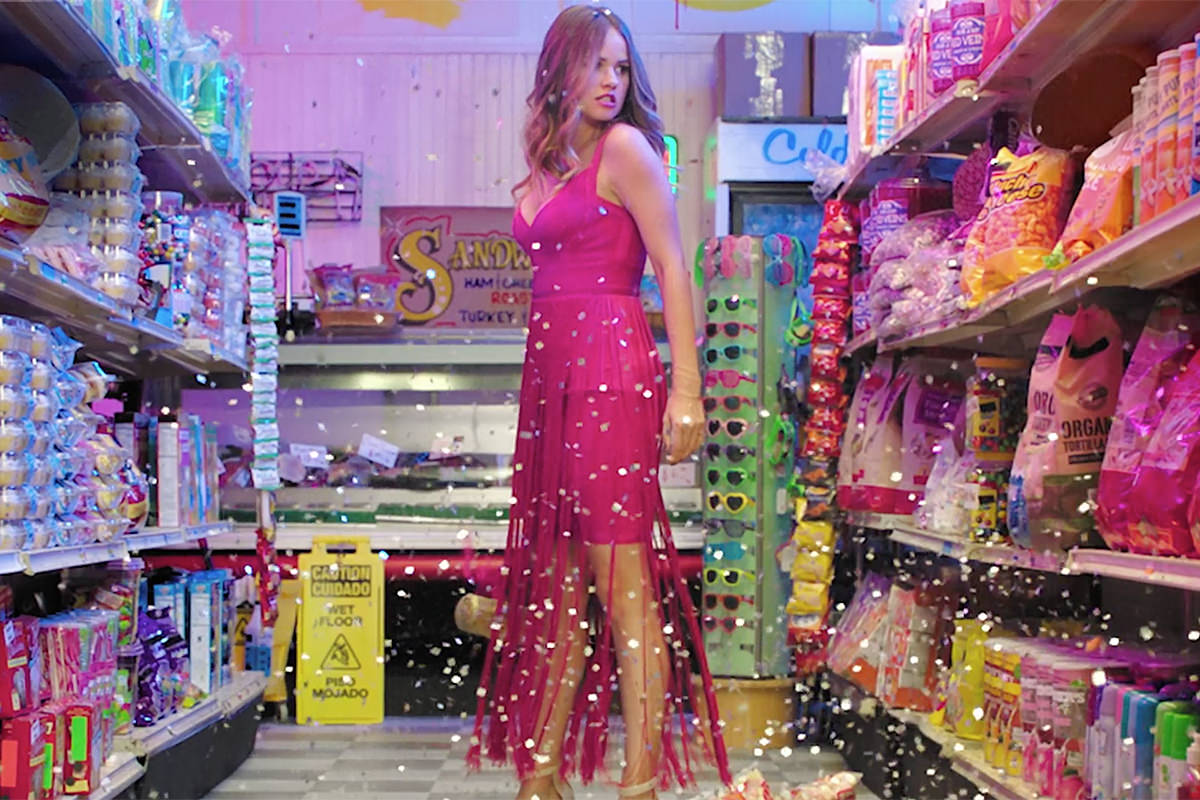 UNTIL THINGS TURNED TO SHIT IN THE TENTH EPISODE. Holy crap. I have never seen a show completely turn a corner like this. It's as if they had no idea what to do for an ending and just slapped some stupid crap together. EXCEPT THERE WASN'T AN ENDING! Blargh. The only way I was offended by this show was that Netflix greenlit it when IT HAD NO ENDING!

• Potato! Netflix kinda redeemed themselves after the disaster of Insatiable by recommending The Guernsey Literary and Potato Peel Pie Society. I don't go much for period films... and especially not period romance films... but this one has really beautiful atmosphere to it...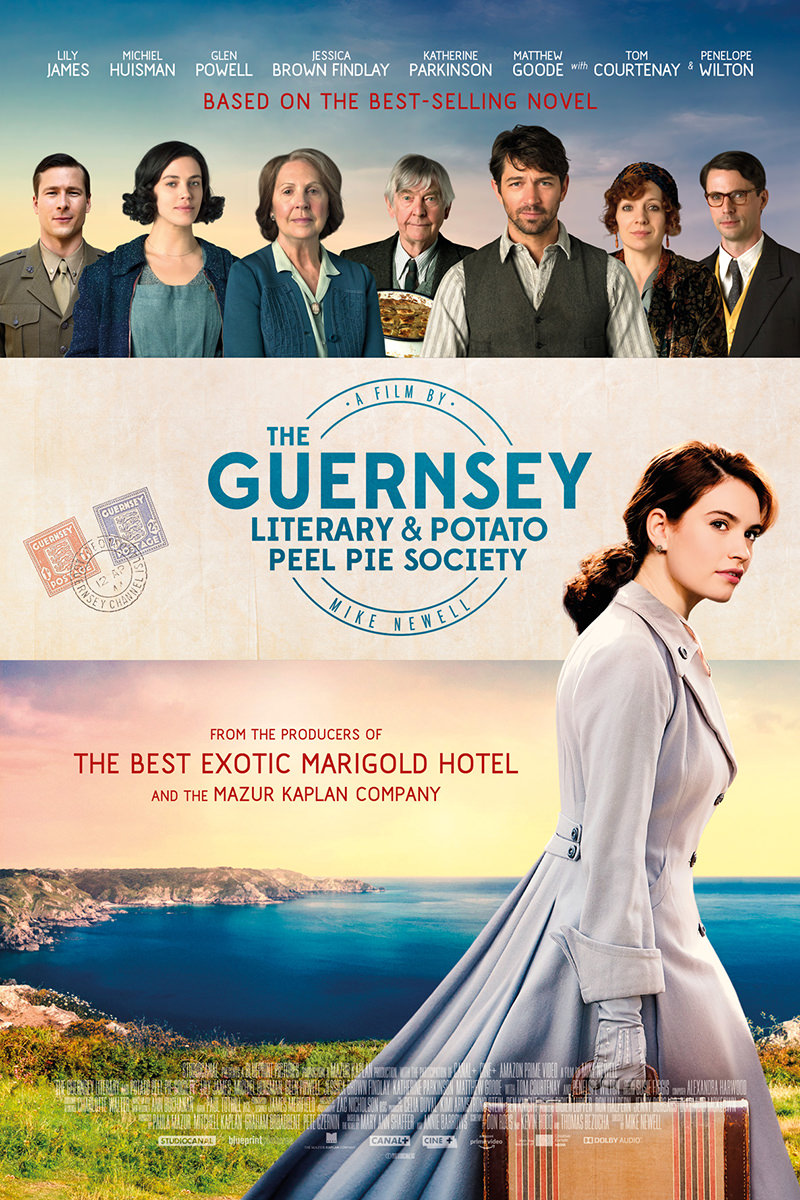 Taking place in the days after World War II, author Juliet Ashton receives a letter from Dawsey Adams of The Guernsey Literary and Potato Peel Pie Society, a reading club. Curious to know more about the society, Juliet writes back... and a story unfolds. It's a nice escape, if you're looking for that wort of thing.

• Agatha! I've read most of the Agatha Christie novels. My mom loved them, and they made for good reading. My favorite has always been Death on the Nile, followed by Five Little Pigs and probably And Then There Were None. Amazon Prime is now showing an adaption of Ordeal by Innocence, which is one I remember...
After having watched all three parts while I was working this morning, I was a bit taken aback that they had changed the story. Which is to say that they changed the murderer. I'm sure other details were altered as well, but I don't remember things well enough to list them. It seems strange to me that they would adapt a book and change it so significantly. If they didn't want to tell the story Agatha Christie had written, why wouldn't they have just written their own story? Setting all that aside, the series is pretty good and has a great cast lead by Bill Nighy. If you've got three hours to kill, there are worse things to watch. Like Insatiable, for example.

Time to regroup and reload. See you next Sunday.
---
Continuing on with my revisiting of every Marvel Studios movie...
MARVEL STUDIOS MOVIE OF THE DAY, No. 11: Avengers: Age of Ultron
Original Grade: A • Today's Grade: A-
I'm just going to get this out of the way... Ultron was not nearly as horrifying a villain as he should have been. The absurdity of it has me dropping Age of Ultron a half grade, just because it's even more jarring on repeat viewings. While casting James Spader as Ultron's voice was genius, he should have been an unstoppable, unhinged murder-bot instead of the philosophically-bent loon they made him into. That being said, it was great to see The Avengers back in action... even if this was a disjointed mess of a movie which wasted too much time on nonsensical diversions. Oh well. The fight scenes are amazing. The Vision has some serious design issues (WHY PUT DRIBBLE ON HIS CHIN?!?), but is as cool as you'd hope. Wanda's powers are all over the place, but it was great to get the Scarlet Witch onboard. Ultimately it's a heck of an entertaining film that still makes an A grade. It's just that this should have been an A+ movie and it wasn't.

SCENE TO BEAT: That opening attack on Baron von Strucker's fortress in Sokovia was pretty great. It was a fight that was very well balanced between our heroes so that nobody was left out. Oh... and I loved the scene when everybody was trying to lift Thor's hammer and Captain America nudged it a bit. The look on Thor's face? Priceless.

COULD HAVE BEEN BETTER: Ultron. Holy shit what a boring waste of what should have been a ruthlessly scary super-villain. And his design sucked too. Thor's sidequest was silly.

SIDENOTE: It's fairly obvious that Joss Whedon did not get to make exactly the movie he was wanting to make... and he has confirmed as much. If the studio knew that they were going to be dictating a bunch of crap to be worked into the movie, they should have known better than to force it on Joss Whedon who is at his best when he works alone and can fulfill his vision for the project. What's interesting is that Whedon said "never again" after the movie wrapped... but then ended up taking over for Zack Snyder on the abhorrent Justice League where he was even more at the mercy of the studio. I can only guess that Warner Bros. paid him a shit-ton of money.
Posted on August 7th, 2018

After fucking up just about every single Marvel film they've ever made, 20th Century Fox finally got it right when they unleashed Deadpool on an undeserving world back in 2016. It was shockingly good and easily slid into my third favorite film slot of the year.
Needless to say, my expectations were rather high for the sequel. My fear was that they would just take Ryan Reynolds off the leash, substitute jokes for story, go full-on stupid, and destroy everything that made the first film work so well.
Instead they did the exact opposite of that and I think I might actually like it better than the original...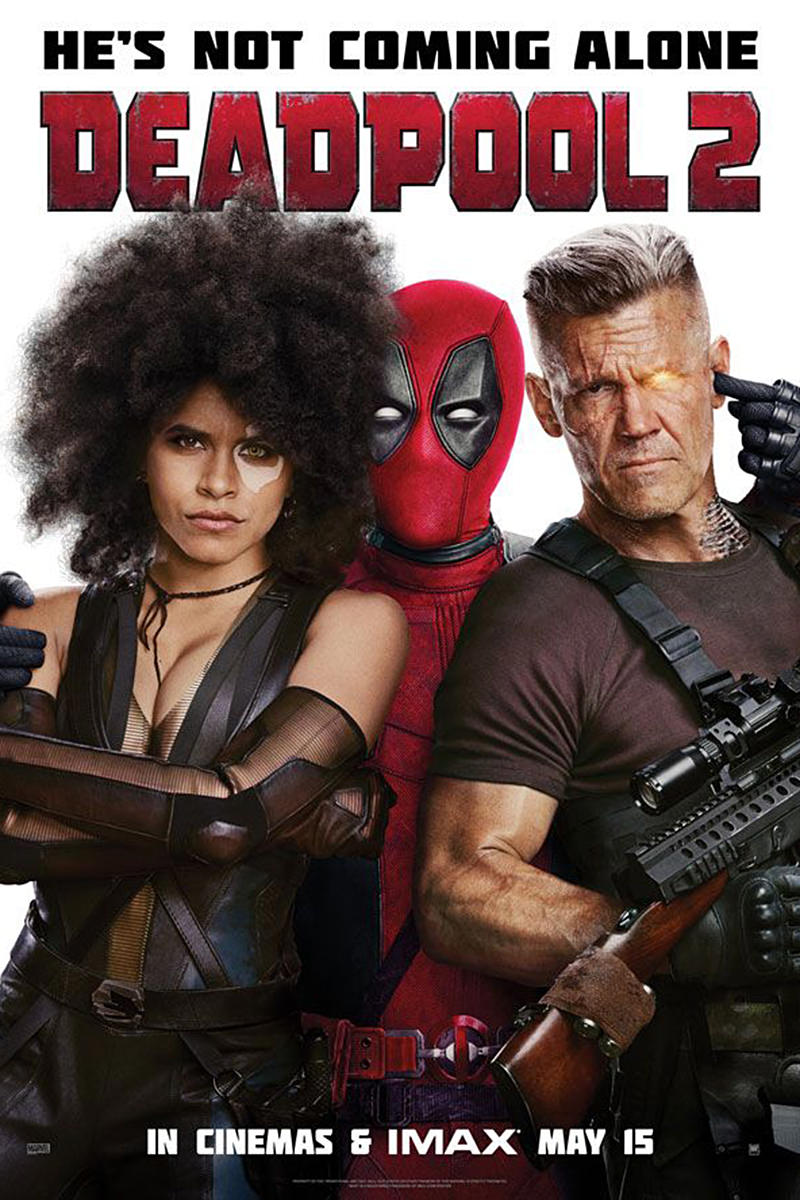 First of all, Deadpool is just as ruthlessly violent and hilariously funny as ever. This is the role Ryan Reynolds was born to play and he completely owns it in every possible way. But like the poster says, he doesn't come alone. Cable and Domino are with him, and Josh Brolin and Zazie Beetz are everything you could possibly hope for. Domino was particularly surprising, possessing a joy that lights up the screen. She comes dangerously close to stealing the entire show and an argument could be made that her scenes are the best in the film. Zazie could easily carry a solo film, and I hope somebody is seriously investigating it.
If there's a fault(?) in Deadpool 2 it's that the film is so dense with story and jokes that it demands repeat viewings to get it all. It was my intent to see it a second time in the theater but I didn't make it back to the multiplex in time. Now that it's been released on home video I can watch it as many times as I want.
And I will watch it a lot, I'm sure.
---
Continuing on with my revisiting of every Marvel Studios movie...
MARVEL STUDIOS MOVIE OF THE DAY, No. 5: The Avengers
Original Grade: A+ • Today's Grade: A+
And here is what we've been leading up to these past four movies. And it did not disappoint. The trick in team-up films like this is always going to be balancing screen time between multiple characters and balancing the power levels of everybody involved so heavy hitters like Thor don't obliterate weaker characters like Hawkeye. Joss Whedon did a superb job of that... and managed to make a witty, fun, and entertaining movie to boot. As if that wasn't achievement enough? The Battle of New York was eye-candy on a level yet unseen. But the best part? The groundwork has just been laid for the next 15 films.

MOMENT TO BEAT: Hulk smashing Loki.

COULD HAVE BEEN BETTER: The first ten minutes of the film are spent not with The Avengers but with SHIELD. And while I understand the need to set things up with Loki and The Tesseract, it seems a lot of time (relatively) to invest. I would rather have had half of that cinematic indulgence used elsewhere because a lot of time was spent with SHIELD as it is. There's also the matter of timing, where Captain America and Black Widow can get from New York to Germany in minutes. Other than that, I really hate what they did with Cap's uniform. The helmet is goofy-looking and the nonsensical metallic shoulder cuffs look stupid. And speaking of questionable design, whose idea was it to put the Subway sandwich logo on Stark Tower's helipad? But the thing that bothers me most is how nuking the alien mother ship somehow causes every last Chitauri warrior, transport, and ship to suddenly keel over dead. Talk about lazy writing.

SIDENOTE: In the tradition of comic books since the dawn of time, super-heroes end up fighting when they first meet. And the battle between Iron Man, Captain America, and Thor is a good one.
Posted on April 6th, 2015

I'd like to blog about... something... but the only thing I care about now-a-days is watching new trailers for
Avengers: Age of Ultron
.
Yeah, I'm pretty much checked-out on life for the next 25 days.
Posted on May 4th, 2012

HOLY CRAP WHAT A FRICKIN' AWESOME MOVIE!!
I don't want to spoil it for anybody, so I'm not going to give away anything. Except to say that The Avengers is a comic book lover's dream that even people who don't care for comic books will enjoy.
Which is not to say it's perfect. There are definitely some moments where it dragged a bit. But, unlike the crappy trio of original X-Men films which wimped out in every way possible, The Avengers attempted to show the brutal reality of what it would be like when a super-hero team come to life. And it totally worked...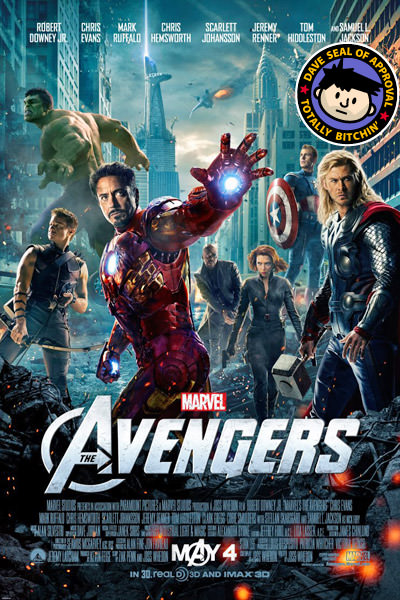 Writer/Director Joss Whedon just eclipsed every other comic book super-hero film ever made. And I loved, loved, loved it.
With one small exception.
Which I can't talk about without RUINING THE FILM FOR ANYBODY WHO HASN'T SEEN IT.
So absolutely DO NOT read the extended entry until you've seen the movie. Seriously, you just can't go any further if you haven't seen the film. Even if that's going to be on DVD two years from now. Which it shouldn't be, because this movie is screaming to be seen on the big screen.
But before we get to that, time to update my whole "Y2K Super-Hero Comic Book Renaissance" scorecard as follows...
The Avengers... A+
Batman Begins... A
Batman Dark Knight... A+
Blade... B
Blade 2... B
Blade Trinity... B-
Captain America... A+
Catwoman... F
Daredevil... B-
Daredevil (Director's Cut)... B+
Elektra... D
Fantastic Four... C
Fantastic Four: Rise of the Silver Surfer... D
Ghost Rider... C
Green Hornet... D
Green Lantern... C+
Hellboy... A
Hellboy 2: Golden Army... A
Hulk... C-
Incredible Hulk... B
The Incredibles... A+
Iron Man... A+
Iron Man 2... A
Jonah Hex... F
Kick-Ass... B+
Punisher... C+
Punisher War Zone... C
Spider-Man... B+
Spider-Man 2... A
Spider-Man 3... D-
Superman Returns... C+
Thor... B+
Watchmen... B
X-Men... C
X-Men 2: United... D
X-Men 3: Last Stand... F-
X-Men Origins: Wolverine... D
X-Men: First Class... B
→ Click here to continue reading this entry...