Posted on July 17th, 2018

I have long wanted a dash-cam to record all the crazy shit I see while driving. It's all so wacky that even I don't believe it sometimes, so it's good to have photographic evidence.
Since I didn't want to invest a ton of money in tech that was going to be obsolete in five minutes, I decided to buy the cheapest camera I could find until the newest generation of cameras with all the cool bells and whistles dropped in price. I ended up paying $28 on Amazon for a dash-cam that was usually $70 (I think it was on closeout?) and that would be good enough. Sure, the picture is crap and it doesn't have many features... but it would be better than the nothing I had at the time.
Three problems...
I keep forgetting to press the "save" button when something interesting happens, so the video gets overwritten.
So much of the crazy happens just outside of the range of the lens, despite it having a fairly wide angle.
Removing the tiny micro SD card to get the video off of it is a huge pain in the ass.
Last night while I was waiting for an email response, I ran out to the car and grabbed the card. Turns out I had four videos saved. Two of them were of my garage door when I installed the thing and kept accidentally pressing buttons. But the other two were from my last drive back over the mountains...
The first was of a guy peeing on the side of the road. Didn't bother to go in the bushes or nothin'... just whipped it out and was peeing. At least his back was turned, but still. Problem is... all the camera captured was his car. And since the video quality is crap, you can barely see that...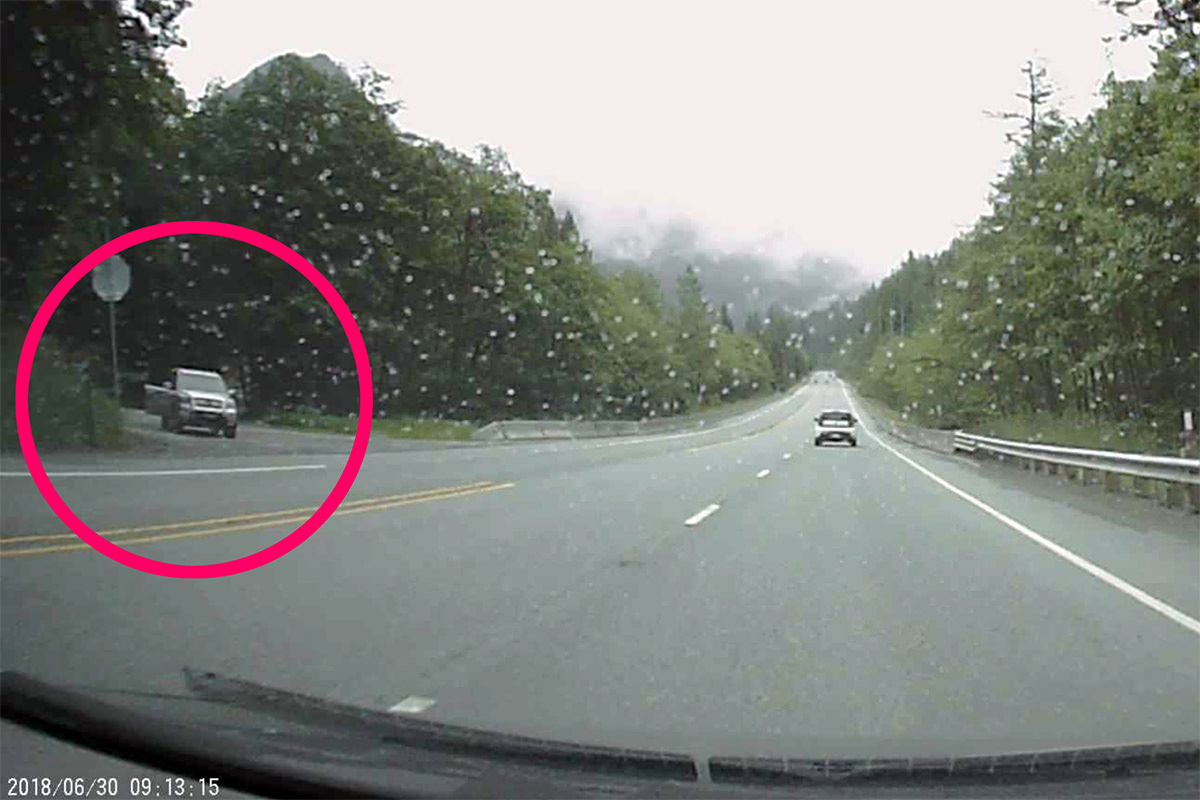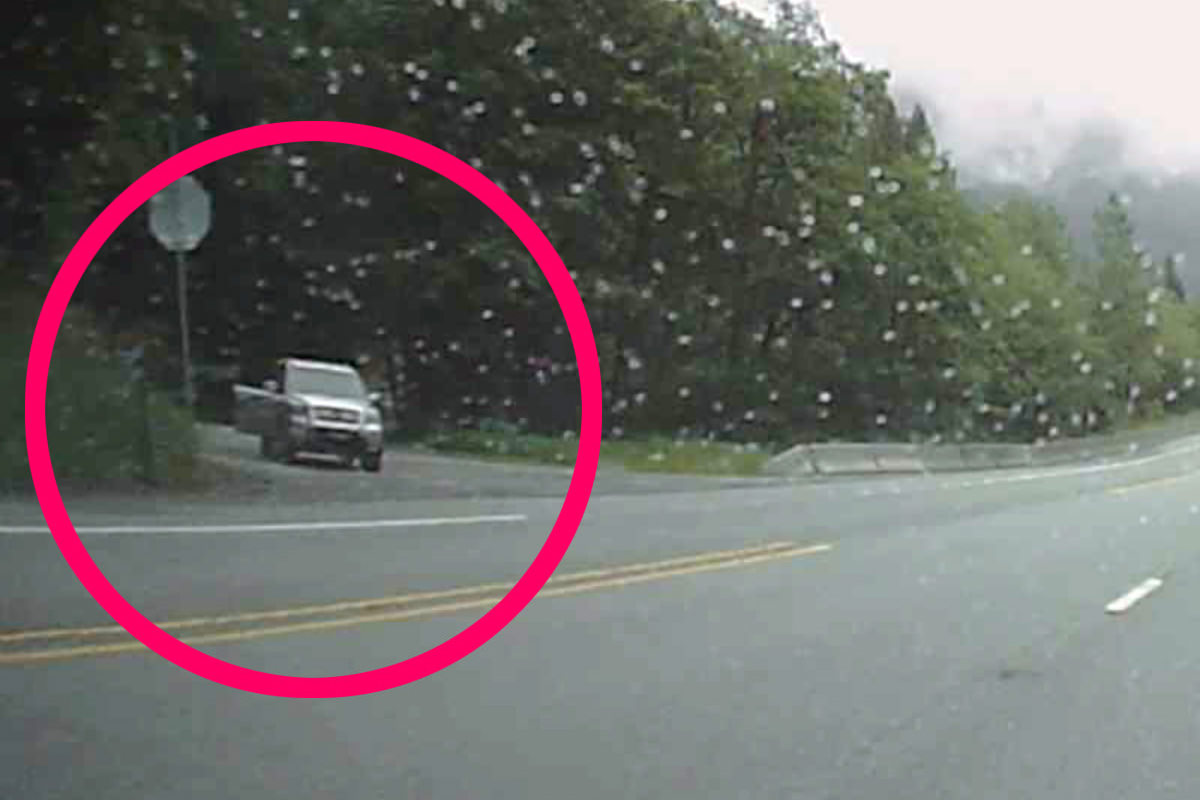 The next video I saved was a deer...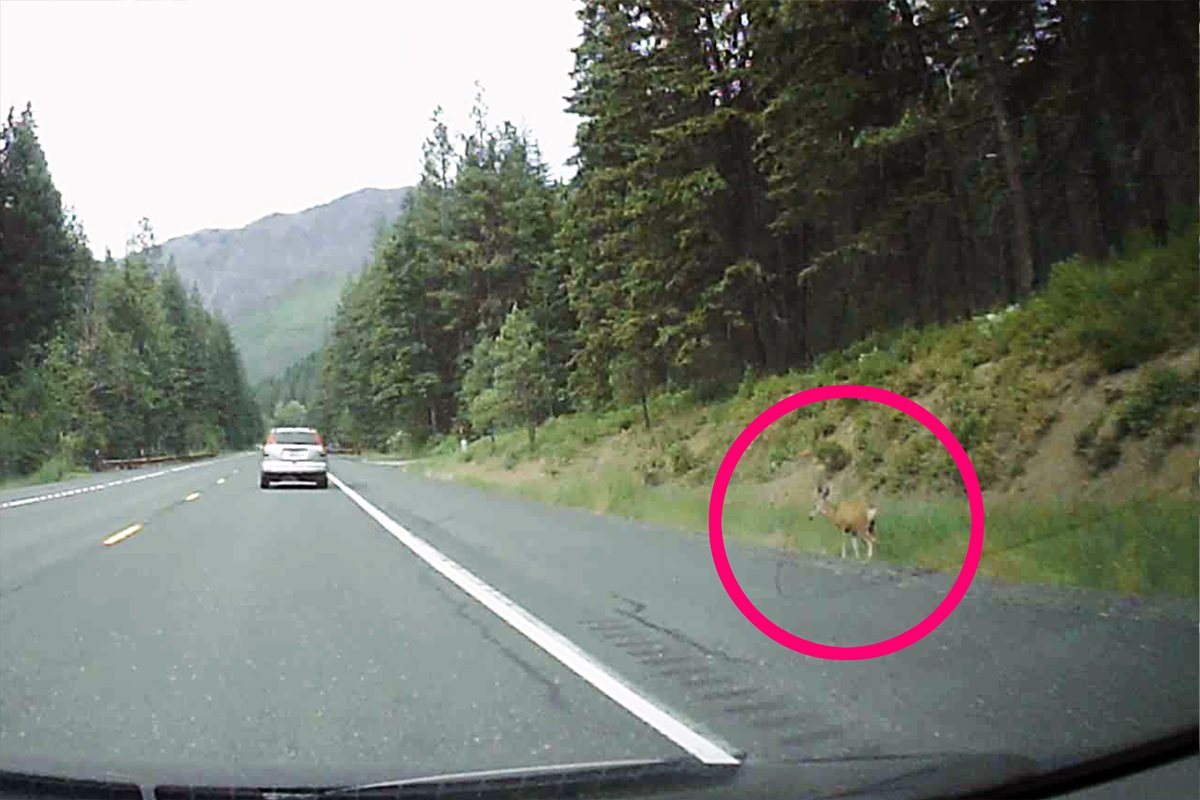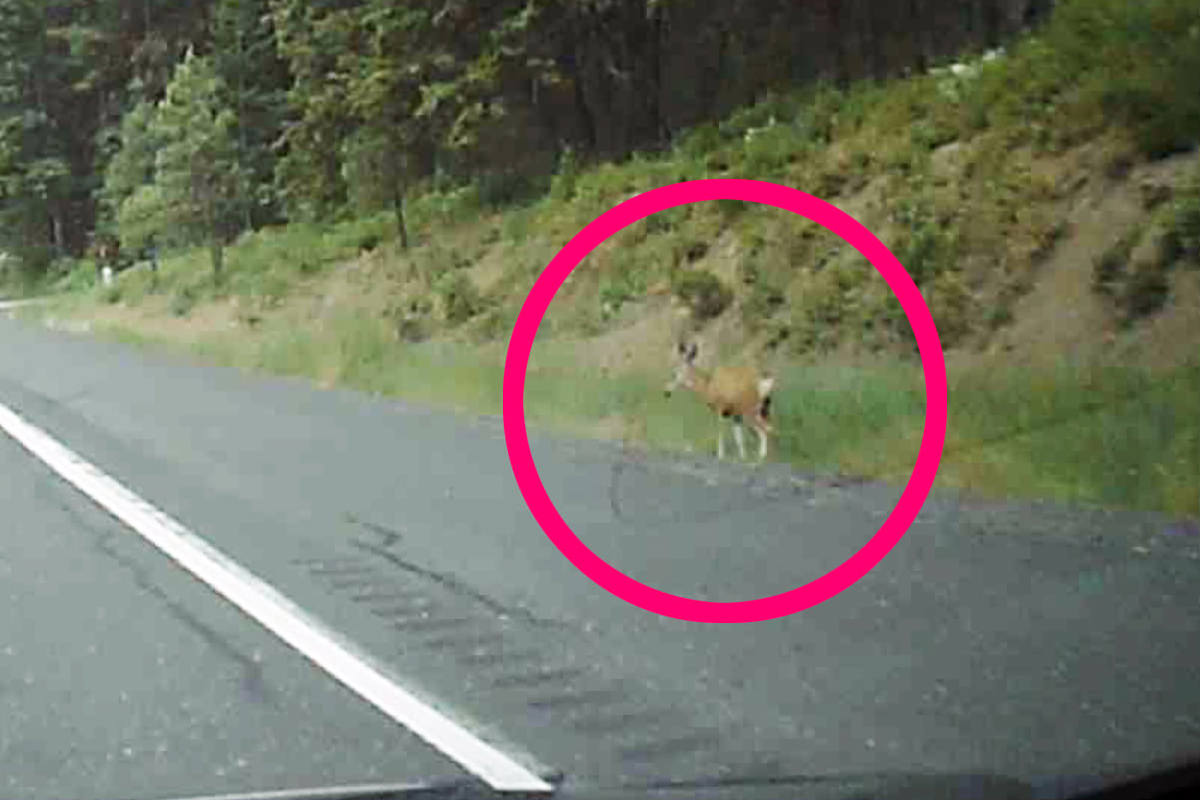 I was hoping that Amazon's Prime Day would have a massive discount on a camera with a GPS, voice-activated save, and wireless download... but it was not to be.
And speaking of Amazon Prime Day, it was a total bust. The only thing I really care about is gift cards at a discount but I can never snag one. I set my alarm... wait for the card I want to be offered... then click to purchase the second it shows up as available... but it's always, always, always sold out. I couldn't get Petco. I couldn't get Panera. I couldn't get American Eagle. The only card I managed to get was iTunes, which is great... but it's insane that Amazon doesn't offer enough cards to last more than 2 seconds.
The only real bargain I managed to find was a white SONOS One speaker for my bathroom. I had a $100 gift card that was gifted to me when I watched a friend's dog plus I had $65 in Amazon Credit Card points... so I only had to come up with $35 to buy it (except I didn't have it, so hello credit card). The Prime Day Special was the speaker bundled with a $50 gift card, which I could not pass up because SONOS rarely goes on sale, and this is as close as it gets.
Now all I need to complete my SONOS home experience is a SONOS BEAM for my bedroom and two SONOS One speakers (one for the guest room and another for the main-floor bathroom). Then there will be no corner of my home that can't be blanketed in sound... or that's not Alexa accessible. Gotta tell you... this SONOS stuff is addicting. It's just too amazing to have your television or music playing everywhere you want so you can move around the house for chores (or whatever) and not miss anything. If only they made some kind of a SONOS-style video device for my kitchen so I could keep up with television video as well as audio.
That way I won't have to miss a minute of Love It or List It when I am unloading the dishwasher or making dinner.
Posted on May 31st, 2018

I had to work across the mountains today which meant getting up at 4:30am so I could be on the road by 5am. Given how horrendously bad Seattle morning traffic is these days, there's really no other option. Gone are the days of leaving at 6am and arriving in plenty of time.
In another 5 years, I'll probably be leaving at 4:30am. It's getting
that
bad.
I wonder how quickly it will end up being faster for me to fly than drive, even when going through security and driving to the airport are factored in?
Whatever happened to the Star Trek future where we get to just beam ourselves to where we need to go?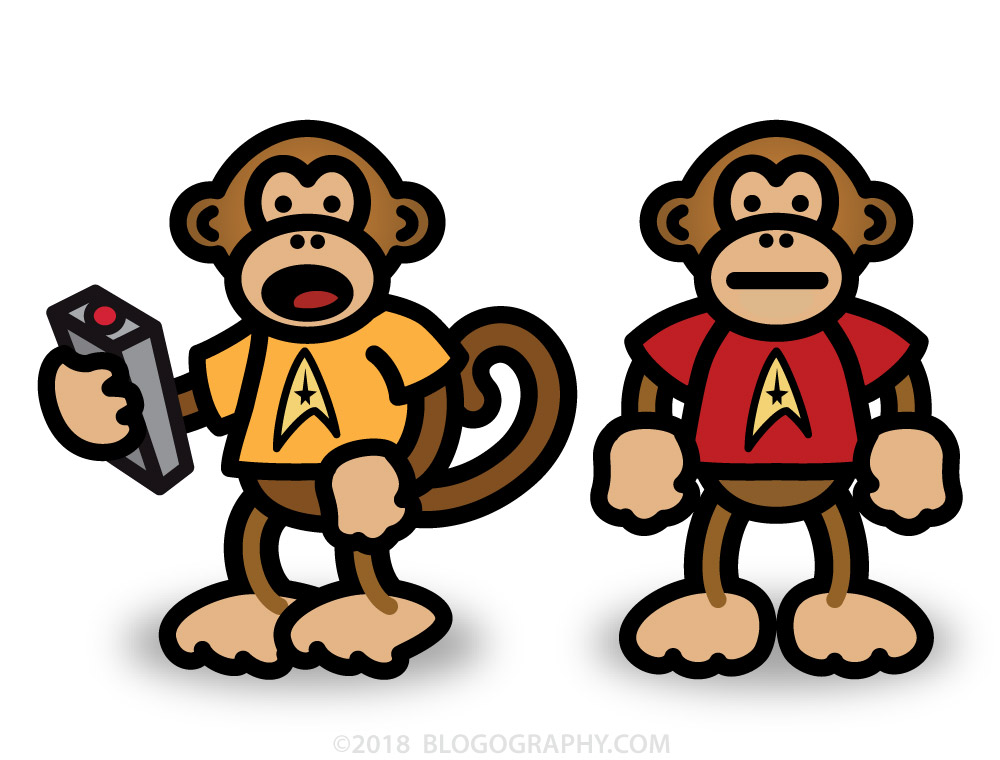 Probably languishing in some vault somewhere along with the cure for the common cold. Shelved because oil companies and airline companies would become irrelevant.
And don't get me started about flying cars...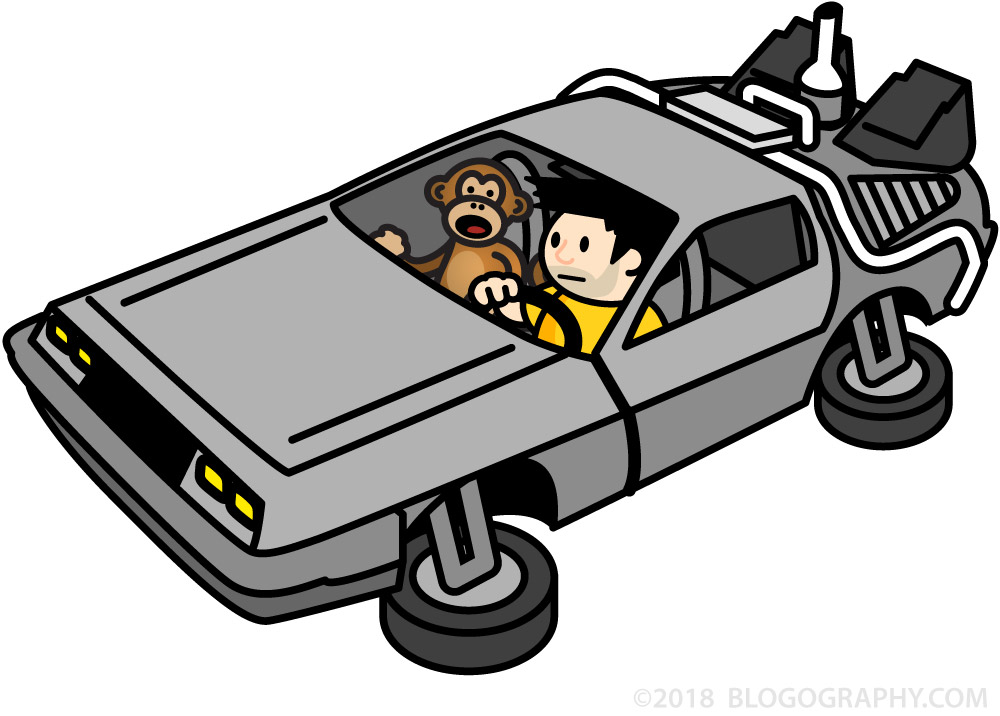 Posted on May 11th, 2018

Today I finally made the time to have my winter tires changed over to summer tires.
My plan was to arrive just when the tire store opened because you can usually get right in. Except there was an accident on the bridge into town so I was delayed 20 minutes. By the time I finally got there, the wait was up to an hour-and-a-half, and it would have been faster for me to change my own tires at home with my emergency car jack and a lug wrench.
It was a bummer, but it wasn't the wait that bothered me.
It was the reason for the wait.
As somebody at the tire store noted, there was no skidmarks on the bridge. Which means that the car (van?) which crashed into a car (which then crashed into another car) never made any attempt to stop. Which means they weren't paying attention. Which means they were probably texting or changing their baby's diaper or cooking a steak, or whatever the fuck it is that people do when not looking at the road like they're supposed to be.
Apparently the distracted driving "no-texting" law that Washington State passed has done nothing to solve a serious problem that's only going to get worse. Which begs the question... how many people have to die before this starts being taken seriously?
And speaking of dying...
As I've said many times before, I love McDonalds... despite constantly taking shit for liking McDonalds.
My favorite breakfast is a McDonald's Bacon, Egg, and Cheese Biscuit, no bacon, substitute round egg instead of spongey yellow powder egg. I could eat them every single day because it's just such a perfect breakfast food. The reason I don't eat them every day is that A) McDonald's is a 20 minute drive from my house, and B) they are expensive as hell. But right now McDonalds is running a special where you can get two of them for only four dollars! So, naturally, after getting my tires changed I did not pass GO, I did not collect $200, I went straight to McDonalds for a late breakfast.
It was, as expected, delicious.
Except I made the mistake of looking up the Nutrition Facts for my breakfast while I was eating it.
We'll set aside the 80 carbs in two Breakfast Biscuits and skip right to the 2100mg of sodium... 88% of the sodium that you're supposed to have in a day. And saturated fat? 11g which is 106% of the recommended daily ammount!
Holy shit!
I've never been so grateful that McDonalds is 20 minutes away and their McBiscuits are usually so damn expensive, because I'd be dead if they were next door and, you know, affordable and all.
Except they are on sale... and I am driving over the mountains tomorrow... so it looks like I may be courting death once again. Curse you McDonald's and your delicious breakfast!
Posted on May 10th, 2018

Before heading to the airport to turn in our rental car in St. Louis, we stopped for gas so we wouldn't have to pay the insane refueling fee that the rental car places charge.
As I was standing there waiting for the tank to fill, I saw this...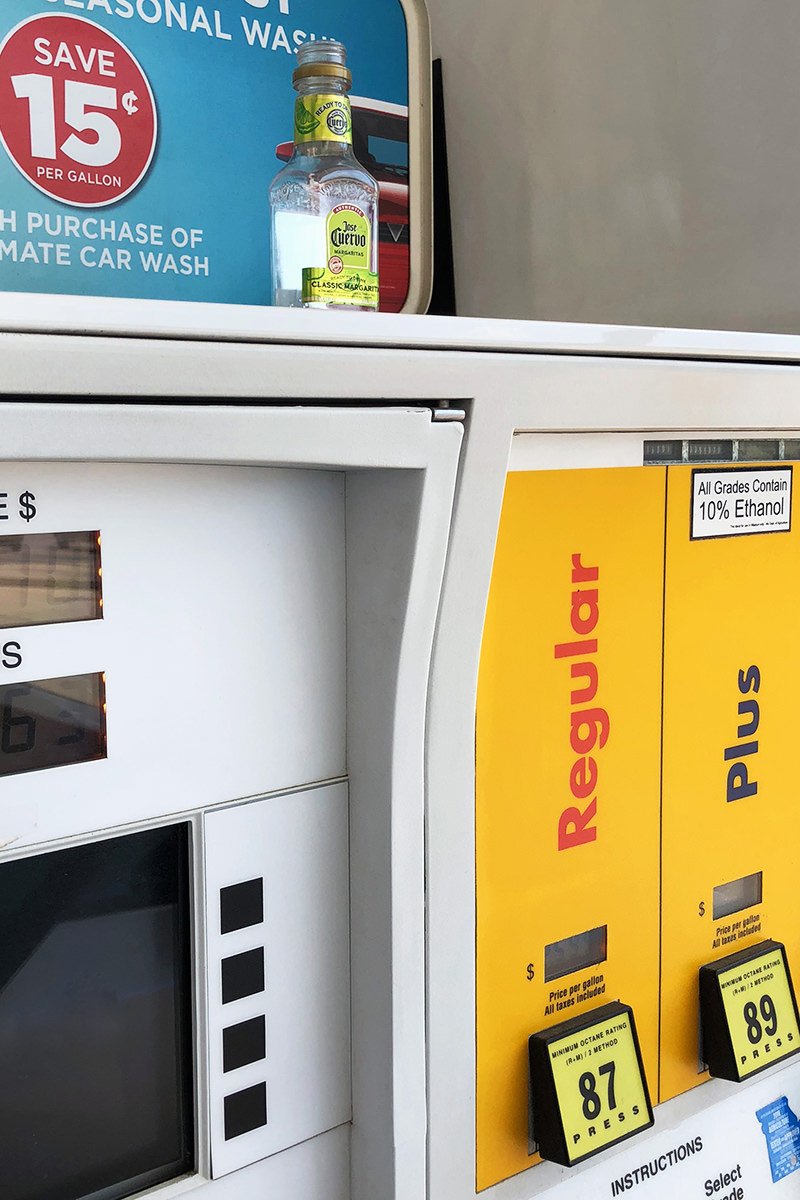 Here's hoping it wasn't the driver, but I'm guessing it was.
Given the non-stop trainwreck of horrors that has been drinking-and-driving, you'd think that people would learn something. How many more lives have to be destroyed before people learn something?
Posted on June 23rd, 2017

Despite not having to get up early (my flight wasn't until 11:55am), I couldn't seem to get back asleep after waking up at 4:00am.
Oh well. It gave me time to iron so I didn't have to fly home wrinkled.
In regards to my Leaving Las Vegas... I love McCarran airport. Unlike the majority of US airports, it's very efficient and has been optimized to move people in and out as quickly as possible. TSA PreCheck line backed up? THEY OPEN ANOTHER PRECHECK LANE! WHAT A CONCEPT! And... ZOFG... plenty of gate seating! For all other airports I arrive 2 hours early because even with PreCheck you never know. With McCarran I am perfectly comfortable arriving 45 minutes before flight time knowing I'll be at the gate 15 minutes later and, not uncommonly, walking into the plane ten minutes after. I wouldn't hate travel so much if this was the normal at airports.
The flight home was great.
The drive home, however, was brutal.
True to form, WSDOT can't concentrate their efforts into QUICKLY completing a single project... they have to sprinkle resources on several projects, which means they all drag on forever. On I-90 East, they have ripped out huge chunks of the highway and just left the holes there, meaning three lanes of traffic become one on a busy Friday where half of Seattle is headed over the mountains.
Which translated into 45 minutes added to my drive time home.
I'm guessing it's going to be left that way all weekend long. And I just don't get it. Light it up, double-shift that shit, and GET. IT. DONE!
How the hell is it that I am constantly seeing videos from other countries where they will replace an entire fucking bridge in two days... or replace an entire fucking intersection overnight that fell into a sinkhole... or rebuild a fucking washed out road in ten hours... WHEN EVERY DAMN PROJECT IN WASHINGTON STATE TAKES MONTHS TO YEARS TO COMPLETE?!?
It wouldn't be so bad if they would focus on one project and GET. IT. DONE! But they don't. New projects keep popping up all over the place while old projects sit incomplete. You don't stop for construction ONCE on your journey... you stop FOUR TIMES. I'm guessing I-90 is probably going to be fucked up for weeks... and apparently nobody at WSDOT gives a flying fuck that it's summer vacation season and NOW is when the roads need to be fully operational. Why would they? It would seem there are -zero- consequences to having everything torn to shit all the time.
And speaking of never-ending construction...
When I pull into my driveway, I notice that my new ultrasonic mole repeller isn't doing the job.
On the contrary, the mole seems to be taunting me by DIGGING NEW HOLES RIGHT AROUND THE ULTRASONIC STAKE!
Ugh. No idea what my next step will be there.
And... apparently there was a power outage while I was gone.
The horrible part about it is not that all the clocks have to be set... but that the Litter Robot DOES NOT COME BACK ON WHEN THE POWER IS RESTORED. How fucking useless! I mean, seriously. WHY? They sell a battery back-up, but I always assumed that it was so your Litter Robot would run while the power was out. I don't care about that... but I care quite a LOT that it just stays off permanently if there's a power interruption.
And so... the Litter Robot was filled. The two back-up litter boxes were also filled. So nasty. And I feel terrible. Especially for Jenny. She is pretty particular about wanting to poop in a clean box. She will hold it and hold it until she can't anymore, and is forced to use it. I can't believe that she didn't poop on the floor. I would have. And so now I have to buy a $40 battery just to make sure Litter Robot works after an outage. This is on top of the already outrageous price for the unit and the accessories I had to buy that should already have come with it.
I ordered the battery so this won't happen again... but, wow. Still feel terrible. I should have been checking the security cameras to make sure it was running.
And with that... time to catch up on all I missed. Good thing I have a weekend coming up...
Posted on May 30th, 2017

After an early two-and-a-half-hour drive over the mountains for work this morning, I came to the conclusion that the horrific condition of public transportation in this country (particularly on the West Coast) is something Americans should be terribly embarrassed over.
I mean, seriously. our options here are so bad they might as well not even exist. Which explains why our roads are so badly crowded... everybody is in their car, despite the high cost, because public transportation can't get them where they want to go. At least not easily.
Take for example my situation this morning.
If our train system was anything like what you'll find in European or Asian countries, I'd walk to a local train that would take me to the neighboring city of Wenatchee where I'd board a regional train to Seattle. I'd then find a local train that ran out of Downtown over to West Seattle. Done.
But, in reality, I can't catch a local train. The tracks run right thought town, but there are no local trains, thus no local stops. So I have to drive to Wenatchee and hop a train there. Except the ONE train that runs from the station each day boards at 5:35am and doesn't arrive Seattle until 10:25. That's nearly 5 hours for something I can drive in half the time. Even worse, there is no train from downtown to West Seattle. I'd have to find a bus, assuming one even exists.
And so I end up driving, because that's the only real option available to me.
There have, of course, been multiple attempts at adding high-speed rail systems to Washington State. Usually they focus on the Western corridor from Vancouver, BC to Seattle, WA to Portland, OR. But sometimes they study plans for a route that runs Spokane to Wenatchee to Seattle too. Whether or not these trains ever happen is anybody's guess. But it's just too good of an idea to pass up, so hopefully one day.
Spokane to Seattle in under two hours? Wenatchee to Seattle in under an hour?
Where do I sign up?
Posted on December 20th, 2016

And... I'm home.
Except I almost wasn't, because when my plane landed one of the mountain passes was a complete disaster with chains required and the other was closed. This would have meant adding 1 to 1-1/2 hours to my trip... except the pass miraculously opened up ten minutes before I reached the turn-off.
While there are many ways to get in and out of Redneckistan, there are only two that really make sense when heading to the coast are the two main mountain pass routes.
Stevens Pass (2-1/2 hours) is usually very well maintained in the winter because there's a big ski resort at the summit and they want people to be able to get to it. You're deposited quite a bit north of Seattle, but it's a quicker run so you can usually arrive in a similar time-frame. The major downer is that Highway 2 is a 2-lane affair with not a lot of opportunities to pass slower traffic. Get behind a truck driving 10 miles per hour under the speed limit and you'll be stuck for a while...

Blewett and Snoqualmie Passes (2-1/4 hours) create my preferred route to Seattle. Once over Blewett (a 2-lane highway), you merge onto I-90, which has a 4+ lanes of traffic and a speed limit of 70mph...

Quincy/Vantage/Snoqualmie (3-1/2 hours) is an alternate route you can take when Blewett Pass is closed (which happens surprisingly often). This was the route I was going to take today... until Blewett opened back up at the last minute...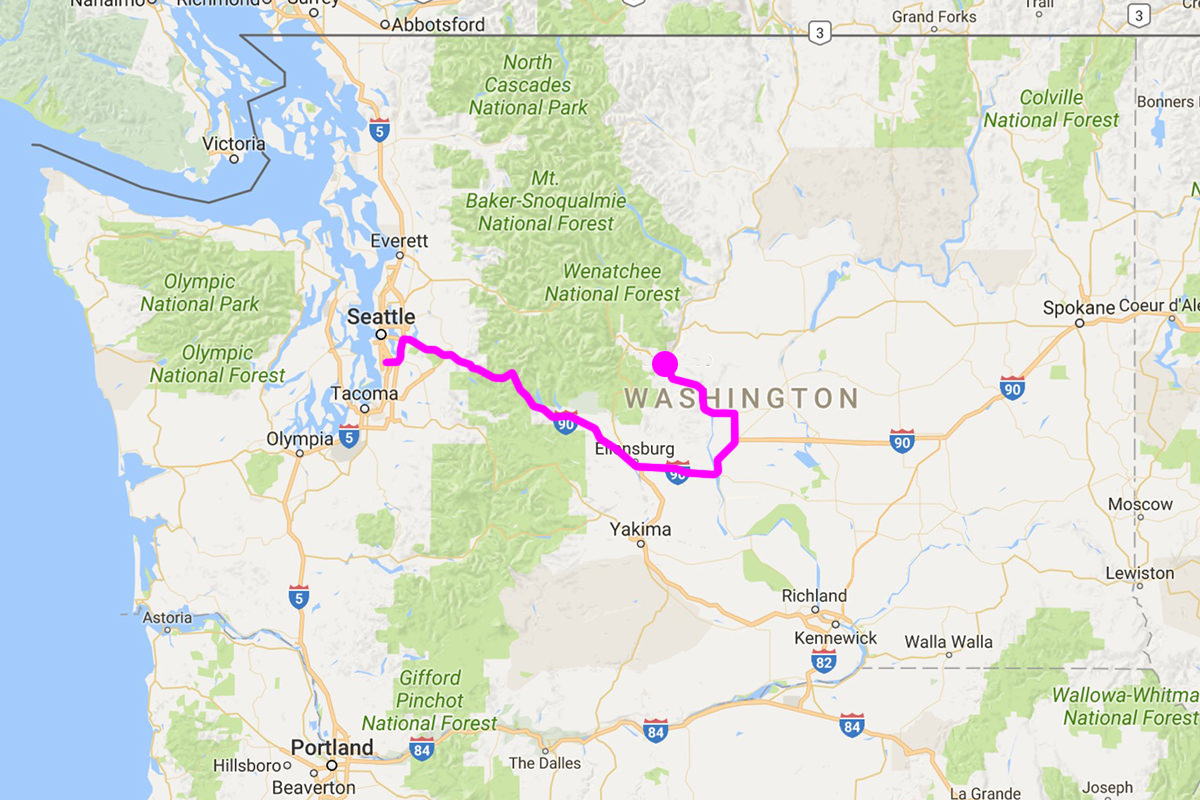 Portland/Central Basin (7-1/2 hours) is the grueling route you take when all hope of getting over the mountain passes is lost. Yes, there are White Pass (5-1/2 hours) and Crystal Mountain (4-1/2 hours) routes you can take, but the odds are very good they'll be either closed (or more trouble than it's worth) if the main passes are closed. I'd rather just bite the bullet and drive home free and clear if it seems that's a better option than waiting out the weather (you can read about one of my times traveling this route right here)...

You can, of course, always fly in/out of Wenatchee (assuming the airport isn't closed) if you don't mind having to abandon your car in Seattle until you can find a way back to it. I've done this at least twice, because sometimes not driving at all is the best option.
Posted on November 16th, 2016

When I woke up this morning I immediately grabbed my laptop so I could take a look at the weather in the mountains. Last night the forecast was for snow, and I didn't know if this would affect my trip over the mountain passes.
The top of the pass webcam was completely obliterated by snow...
Fortunately, the drive over wasn't bad at all. The roads were bare and wet and no trouble to drive on...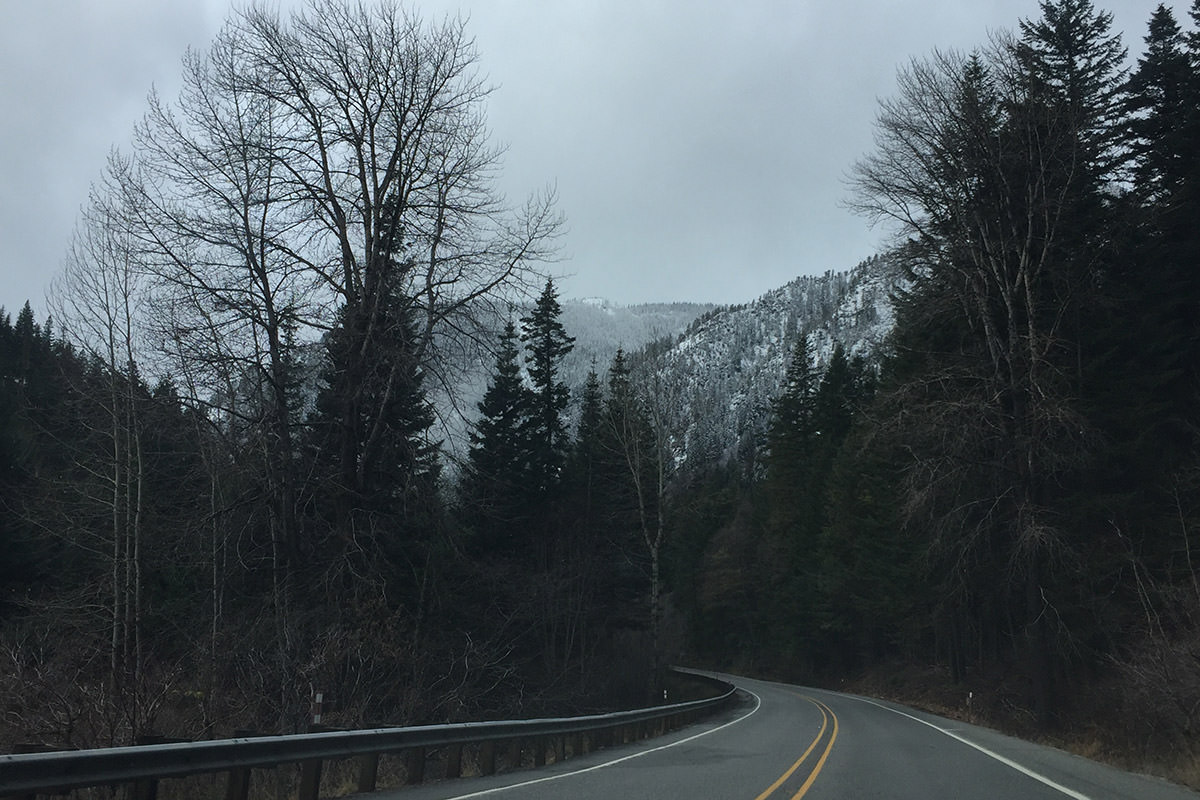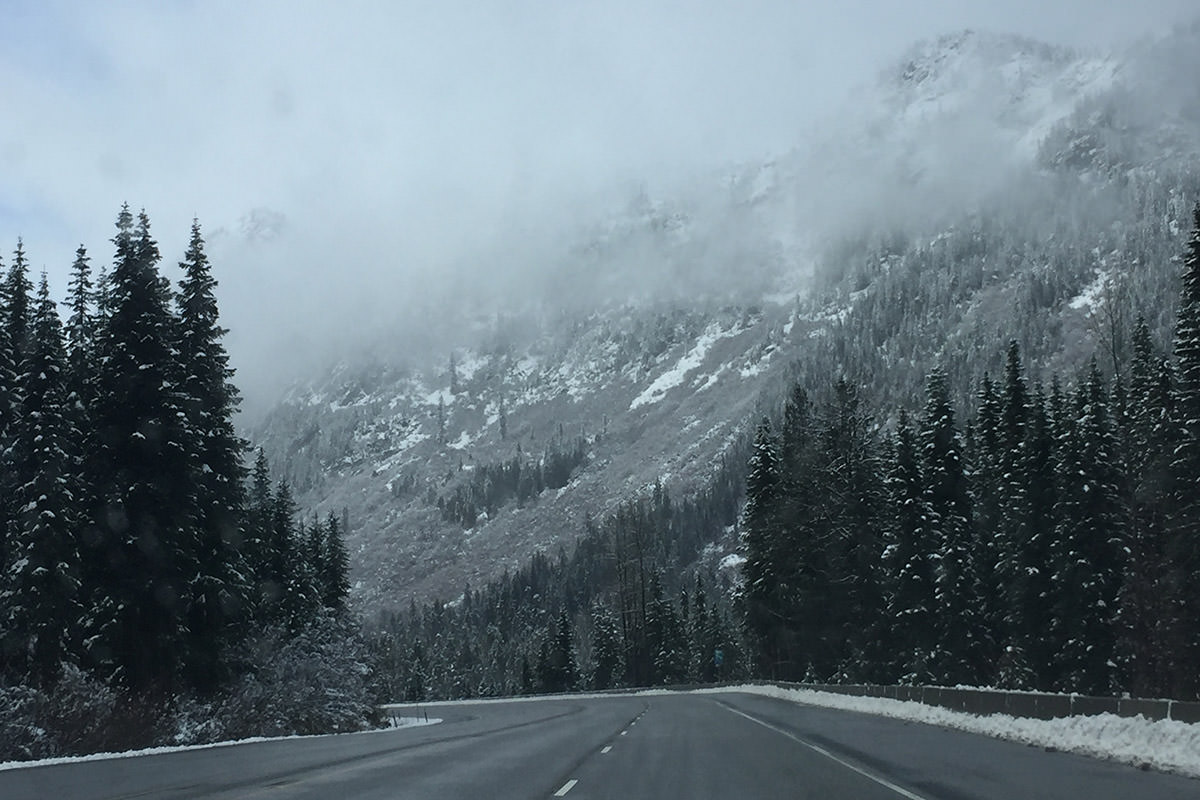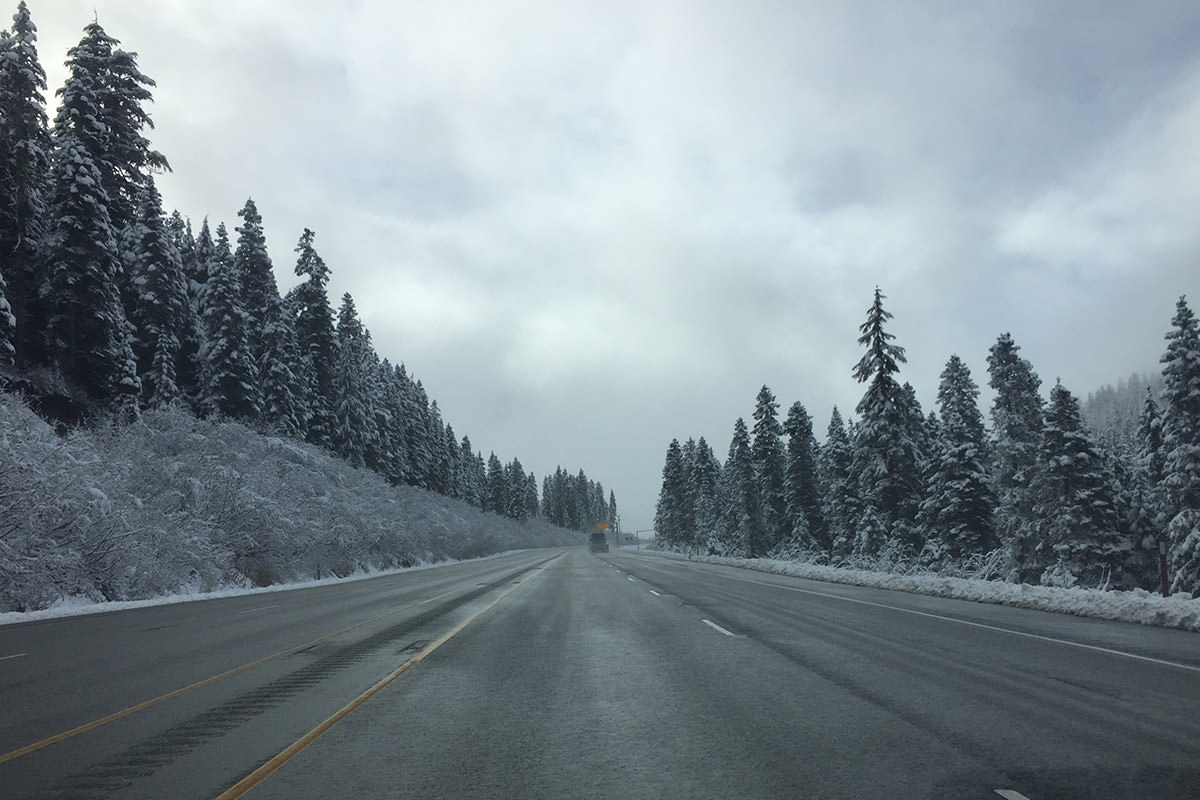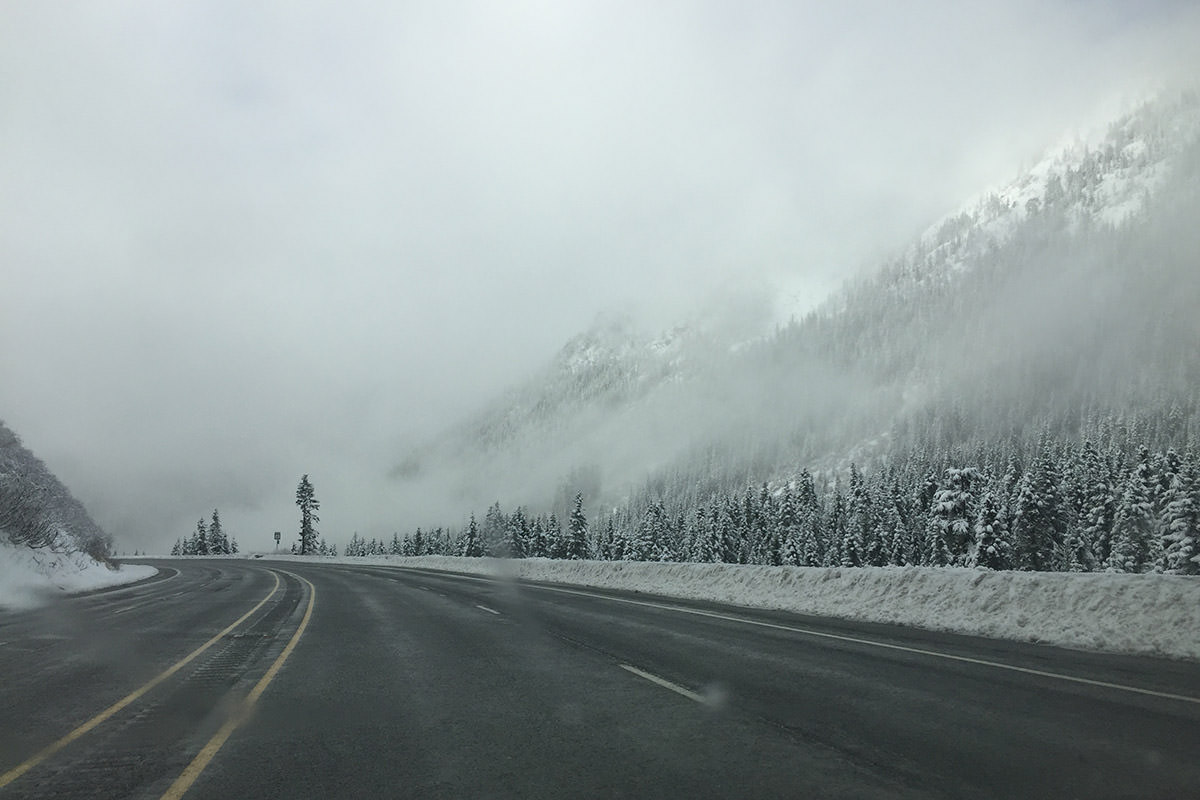 Here's hoping I have this kind of luck for the drive back.
Posted on April 19th, 2016

Despite complaining about bad drivers like... ALL THE TIME... and getting angry a lot at people who choose to focus on texting or eating or video games or anything except driving when on the road... I'm usually able to let it go.
Not today, baby...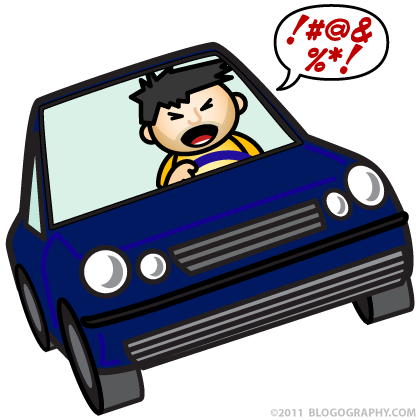 So there I was waiting to turn onto the street where my office is at. An old man was making his way across and I was waiting until he got all the way to the sidewalk so as not to scare him. And also... because it's the law! Any guesses as to what happened in this scenario?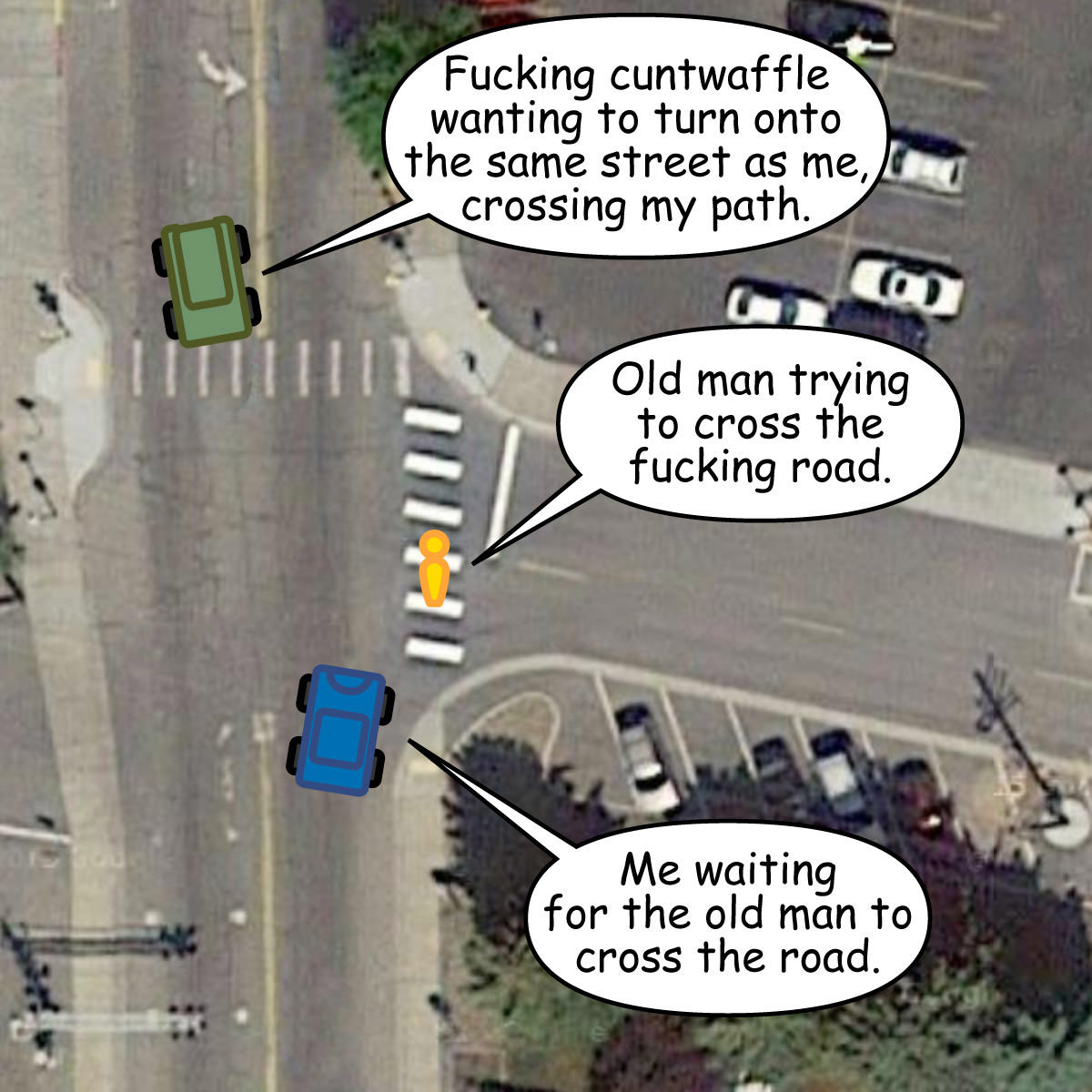 The fact that I used the "c-word" when I absolutely abhor the "c-word" should be your first clue...
Got your guess?
THAT'S RIGHT! The asshole decided to not wait until the old man reached the sidewalk... hell, she barely waited for him to clear the lane... instead she gunned it so she could cut in front of me (WHEN I HAVE THE RIGHT OF WAY, MIND YOU!), cutting me off and scaring the shit out of the old man.
What a fucking cuntwaffle.
Things like this? Impossible for me to let go.
If I had a gun and didn't believe in non-violence as a precept, I would have run her down and shot her in the face.
IN THE FACE!
And so, yeah... road rage. I get that. And, in this case, totally justifiable on my part, I think.
On a side-note... anybody have any guesses as to why the old man crossed the road?
Posted on July 26th, 2015

And... I have no internet. And... I'll be traveling for a week. So this very special HEAVILY DELAYED edition of Bullet Sunday starts... eventually...

• Sisko! I have been totally addicted to the feral rescue project from TinyKittens.com. They've taken in a young feral kitteh named Sisko whom is very, very pregnant. Feral kittehs are a particular challenge in that they have no trust in humans whatsoever and have to be handled delicately. When they're pregnant, it's doubly so. You can drop by and watch her live here. Or relive past videos like this one...
Not a very comfortable-looking momma, that's for sure.

• Asshole! Just in case you need lessons...
I meet at least a half-dozen professional asshole drivers every day!

• Biblical! A very interesting look at "Your Deeply Held Religious Beliefs."

• Electra Woman! This is really happening...
Flawless casting.

• Pointless. Can I be honest with you? When celebrities completely miss the point on something and go all sanctimonious with their bullshit, it drives me crazy...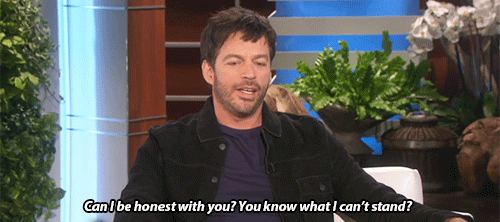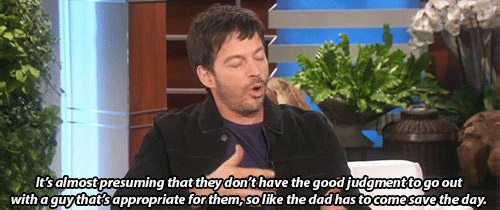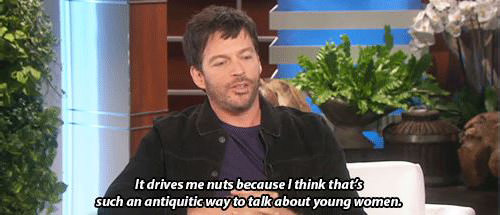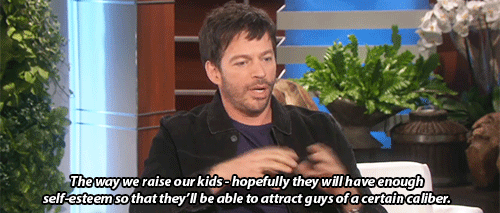 Listen, Harry Connick Jr., that's not what people are saying at all. When somebody says "better get a shotgun" because your daughter is of dating age... this has absolutely nothing to do with your daughter, her self-esteem, or her judgement. It has everything to do with the fact that horny teenage boys are going to be busting down your door trying to plan and scheme to date your daughter... or, more likely, have sex with your daughter. Your misunderstanding here is that only guys "of a certain caliber" are going to be attracted to her when, in fact, every heterosexual boy on earth is going to be attracted to her. Especially in today's highly-sexualized society. The metaphorical shotgun is so that you can fend off the bastards so your daughter has the opportunity to attract the guys of the caliber she deserves. So climb off your high horse and calm down before your inane rant makes you look like an idiot or something.

And, I'm out. Here's hoping this gets posted before next Bullet Sunday comes around...