Posted on January 6th, 2019

I know that having to skip a Bullet Sunday for my year-end wrap-up was tough, but don't despair... because an all new Bullet Sunday starts now...

• Bandersnatch! This past week all the internet buzz revolved around Black Mirror: Bandersnatch, Netflix's new "Choose Your Own Adventure" movie. As the movie played you would be presented with choices which determined how the rest of the movie would progress...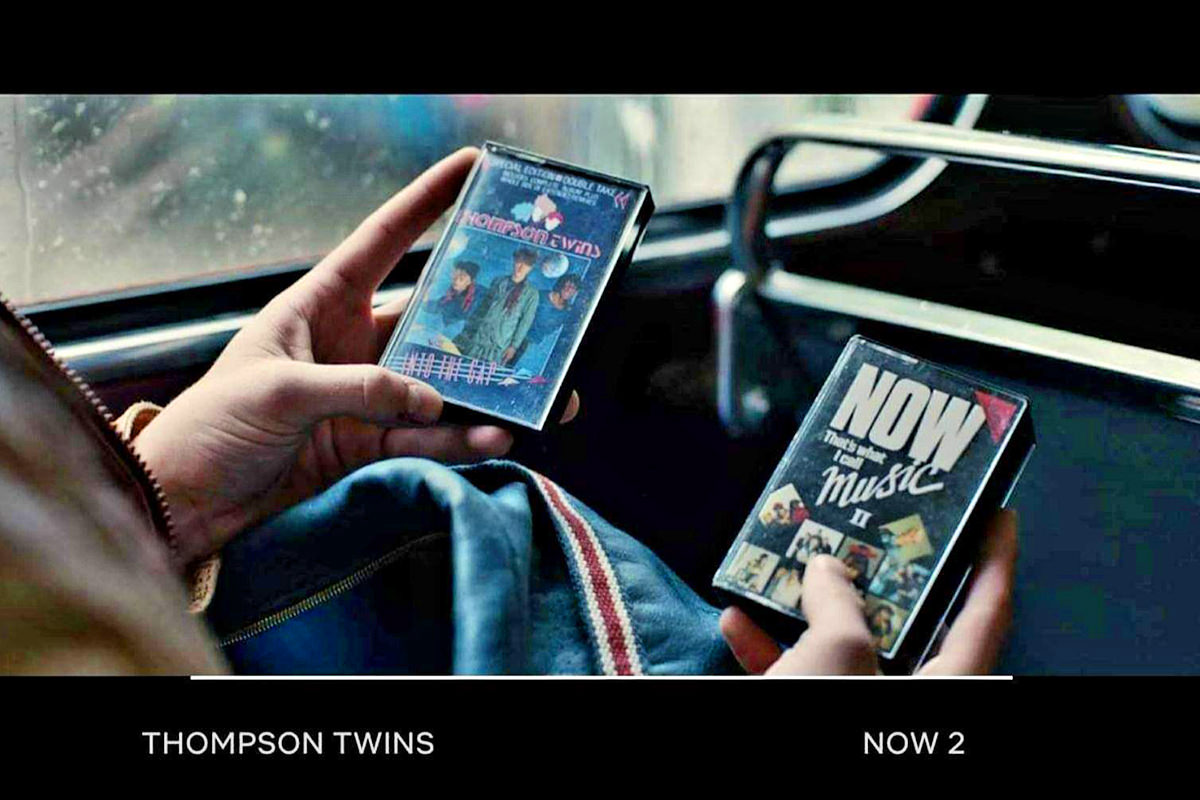 Any guesses as to which music I picked?
This novelty alone would be pretty lame. Unless the story was really terrific, why would you want to replay it over and over to see how your choices affect things? But this is Black Mirror, and they took their excellence to another level here. First of all, the story itself addressed the idea of free will vs. control... and completely breaks the fourth wall by going meta with the concept in some story branches. It was really well done, and I ended up playing through several different scenarios to see where the story would land. Once I had gotten through the major different branches, the differences became more and more subtle, so I ended it. I'm told there are some other stories that are more hidden, but time time required to find them was too much for me. Overall, I loved Bandersnatch! It took full advantage of the concept, the performances were great, and I was entertained throughout. My only criticism was that I could play on my AppleTV (which was incompatible) and ended up having to watch on my computer. Other than that? Well worth your time to check out!

• Magic! Every once in a while, Disney's magic extends to their advertising. That's definitely the case with this wonderful ad that was airing for Disneyland Paris...
And now I want to go to Disneyland.

• Good News! If you're a little depressed with how 2018 ended up (Lord only know I am), here's the link for you: I'm Honestly Fed Up With All The Bad News So I Illustrated The Best News Of 2018 (And Recent Years).
And for all those people buying into President Trump's claim that the Mueller Probe is wasting tax dollars, here's more good news: Mueller Probe Cost $25 Million So Far, Report Says. It's Pulled in $48 Million From Tax Cheats. It's paying for itself (and then some) as well as ripping into political corruption. What's not to like?

• Micropenis! I never suspected that Tucker Carlson has a tiny, minuscule, impotent, wee little penis... but here he is telling everybody about it. Study after study has shown that men who are threatened by women who make more money than them have tiny dicks... and who am I to question science?
What a pathetic, sexist, whiny, tragic, little pissant Tucker Carlson is. The amount of sublime ignorance as to how modern relationships work here is stunning. And yet, there are people believing this bullshit and faux science, so I'd imagine Tucker Carlson isn't going to be out of work any time soon.

• SCANDAL! Oooooh! Here it is! A SCANDALOUS video of Alexandria Ocasio Cortez was just released from her school years! I wonder what it is? Sex with animals? Doing drugs? DOING DRUGS WHILE HAVING SEX WITH ANIMALS? My gawd... what a totally reprehensible role model. SHE SHOULD RESIGN IN SHAME!!!
Seesh. From they way some conservatives are (over)reacting, you'd think that she grabbed somebody by the genitals without consent... or cheated on her spouse with a porn star and tried to cover it up... or was defending white nationalists... or hiding her tax returns. The hypocrisy is blinding.

• Roller Kingdom! There was a time I wanted to be addicted to roller skating instead of crack too. But times change...
Alas, the local roller rink was torn down ages ago here, so I guess crack it is!

• Portland! Trying to end on a happy note, this is painfully accurate... and funny...
I miss having work trips to Portland. It is really terrific city.

Stay frosty, everybody.
Posted on November 25th, 2018

Do you enjoy the ramblings of somebody with frozen feet? Then you're in for a treat... because Bullet Sunday starts now...

• Pooh! I was anxious to see the new Disney movie Christopher Robin, but it was never showing on any flight I was on, so I had to buy it from iTunes when it was released. It's a good (not great) film that I enjoyed quite a lot. Mostly because the CGI version of the animals are amazing. Jaw-dropping amazing. The way they are rendered and the way they move is remarkable. You can believe these stuffed animals are alive...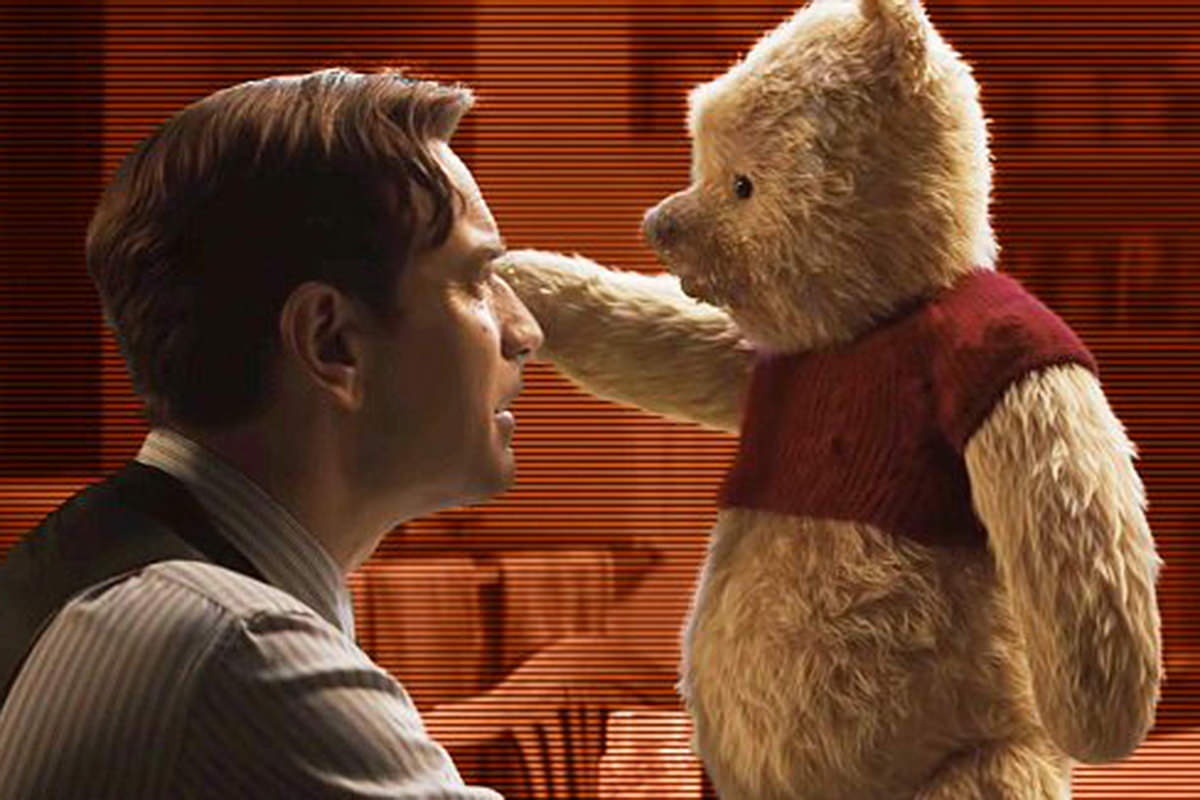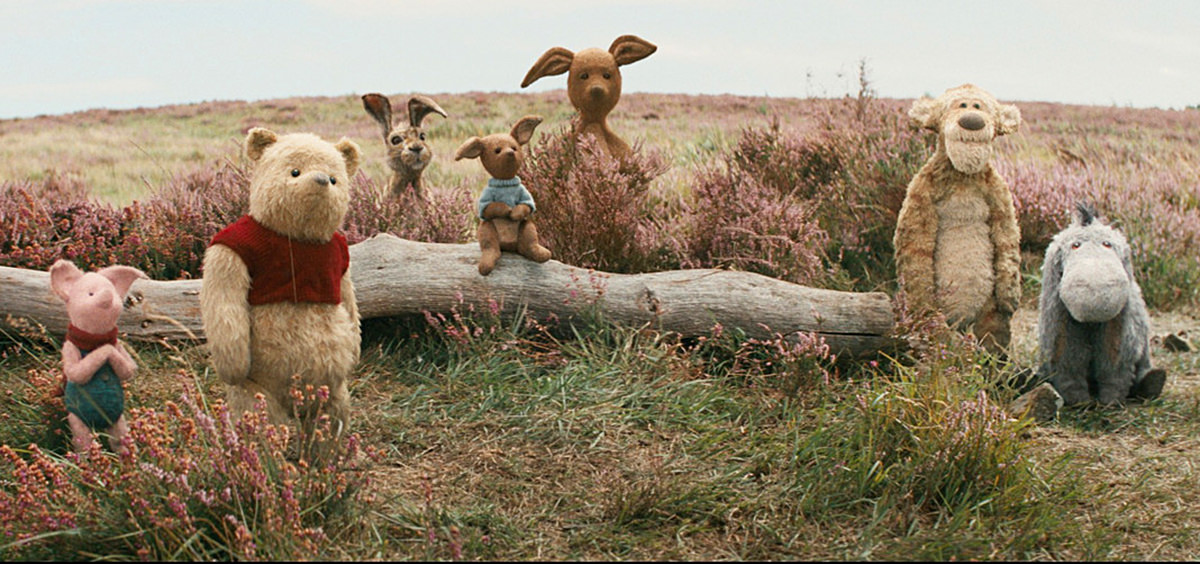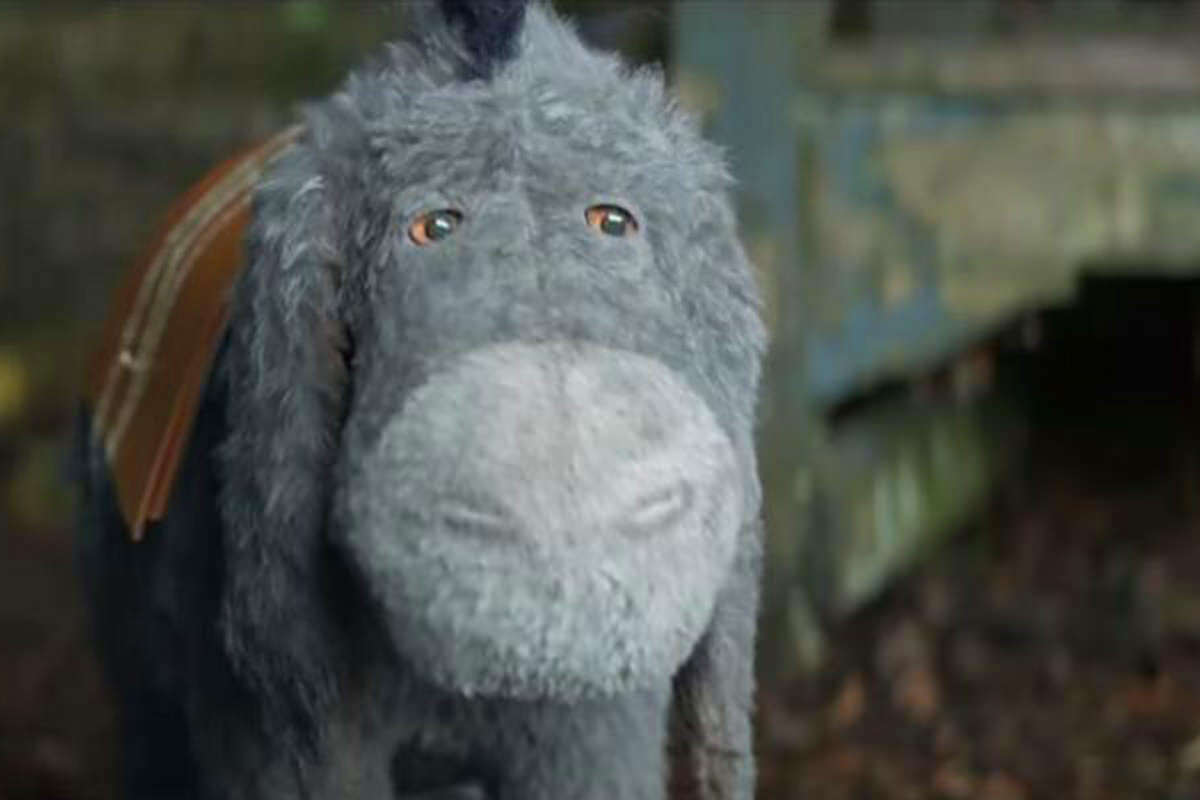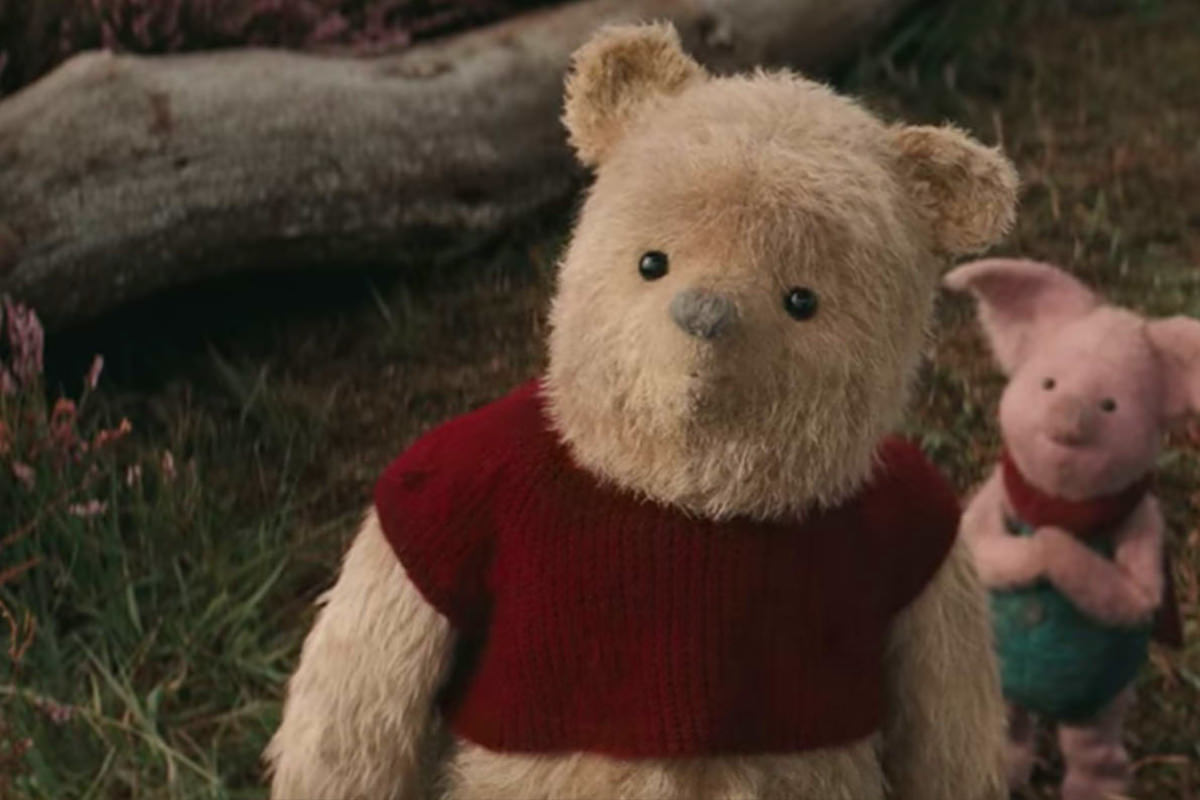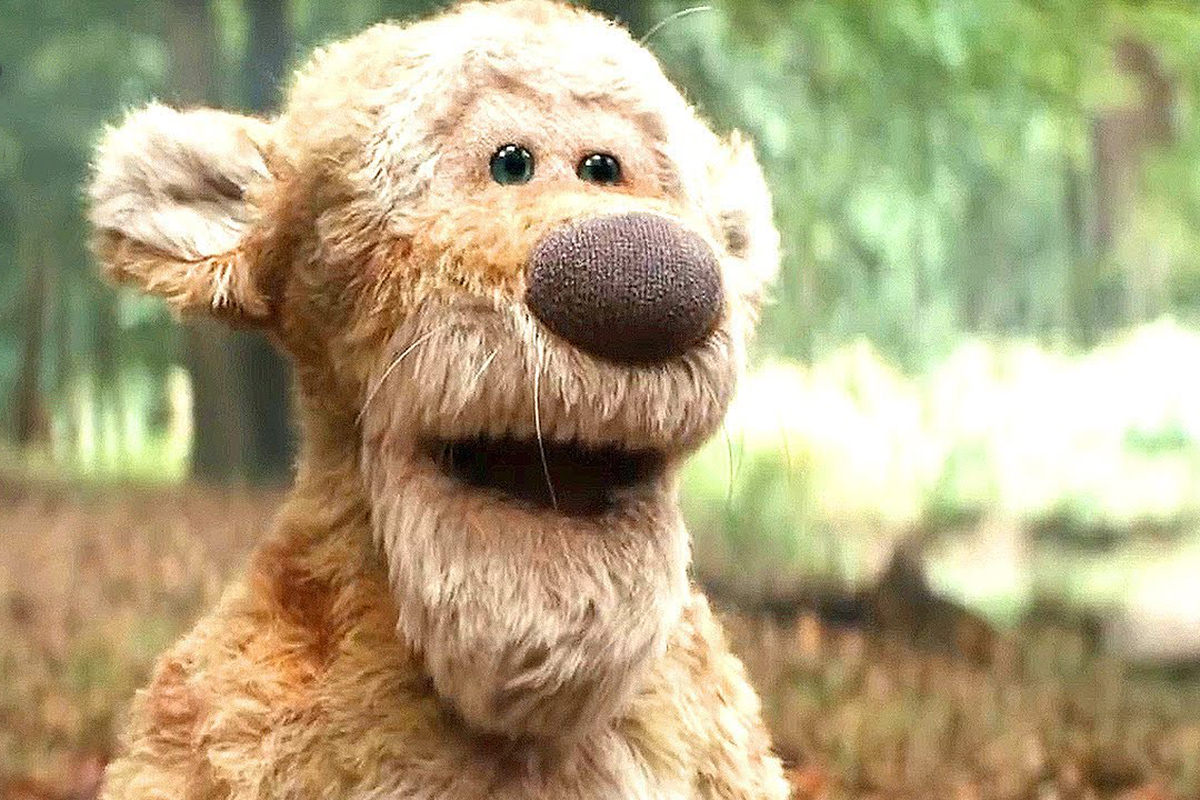 And here's the trailer...
I adore the wit and wisdom of Winnie the Pooh. All the Winnie the Pooh. I love the original A.A. Milne books, the Disney movies and book adaptations, and the Benjamin Hoff Tao of Pooh and Te of Piglet books too. If you are a Winnie the Pooh fan (and why wouldn't you be?) the movie is worth a look. Disney movie magic!

• Care! Hallmark has been airing some wonderful commercials for their #CareEnough campaign...
This last one reminded me of one of my all-time favorite ads...
Always amazed that people can create commercials I want to stop and watch!

• Proposal! This was my favorite thing on the internet this past week...
So sweet. And that reminded me of this...
The effort that must go into planning these things is mind-boggling.

• Winter is NEVER Coming!
"George R.R. Martin will be on Colbert to promote his new book..."
"WINDS OF WINTER IS FINISHED?!??"
"Of course not. He wasted his time on yet another Westeros history book. He still has no idea when Winds of Winter will be completed."
In all honesty, I don't think Martin will ever finish A Song of Ice and Fire. I don't think he gives a shit (regardless of how much he pretends to care). He's got the HBO money coming in. He's got a Nightflyers series coming up. He's got the Game of Thrones prequels coming up. He's got millions of dollars. And he has said repeatedly that writing the Song of Ice and Fire books is hard work, so why would he bother? The HBO series will wrap things up so he doesn't have to, and he can keep getting distracted with writing "easy books" that still make him tons of money. What incentive is there to finish up Westeros? It's all too easy to procrastinate until you die and leave your notes to another author so THEY can deal with it.
All that being said... how excited am I for April to get here so we can see the final season of Game of Thrones?

• Unpossible! Mission Impossible: Fallout (AKA MI6) is easily the best of the entire series. Everybody is brilliant in it, and Henry Cavill is exceptionally good. Which makes me all the happier that Paramount told Warner Bros. to go fuck themselves when they wanted Cavill to shave his mustache for reshoots as Superman on the abysmally shitty Justice League movie. Otherwise Cavill's continuity would be jeopardized and he may have had some of his part cut in a far, far better film...
Tom Cruise does the majority of his own stunts. And the dedication he has in delivering some really scary and dangerous scenes really pay off in Fallout. If you haven't seen it and like a good action flick, this is the movie for you.

• No NOAA! Now that winter is here, I wanted to see if I could re-code the program which controls the heat tapes on my roof. Right now they turn on when it's 33° or less. Which is better than having them on all the time, but also not ideal because they turn on whether there's snow on my roof or not. What I want to do is capture NOAA data to see if it's snowing and then turn on the heat tapes. If we have heavy snowfall with a lot of accumulation, then I'll switch to the old temperature-based program until it's melted.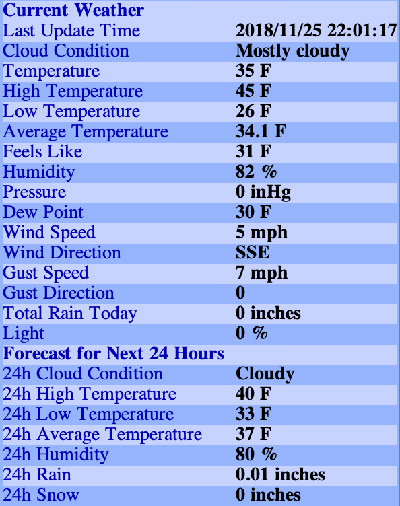 Problem is... the local NOAA (National Oceanic and Atmospheric Administration) station has closed. So now I'm having to pull data from 6 miles away. Which would be fine if I lived on a flat plain, but I'm in a valley. The weather 6 miles away will be similar, but different. And so... better than nothing, but now I don't know if trying to adapt for snow is going to be worth it since the data may not apply to me. Time to start my own weather station, I guess.

And there's your bullets this fine Sunday.
Tags:
Ads
,
Advertising
,
Books
,
Bullet Sunday
,
Disney
,
Movies
,
Television
Categories:
Books
,
Bullet Sunday 2018
,
Home Automation
,
Movies 2018
,
Television 2018
—
Click To It:
Permalink
—
1 Comment: Click To Add Yours!
Posted on November 6th, 2018

Washington State is 100% vote-by-mail, so I already voted last week.
When it comes to local races here, two of the biggest are too close to call. We won't know the outcome until the remaining mail-in votes are tallied on Friday. Frustrating, but it's a small price to pay for a system which allows you to vote in the privacy of your own home without standing in line. And now that we have automated voter registration for all of our eligible citizens, Washington State has one of the highest voter participation rates in the nation...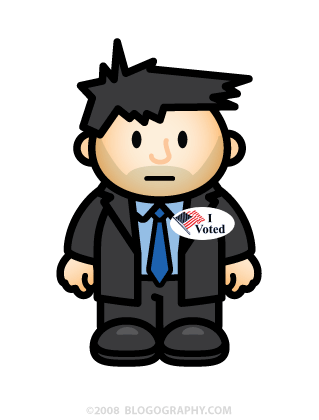 Now that Halloween has passed, the country is already preparing for Christmas.
Back when I had work in Orlando two and three times a year, I'd fly in for my conference then fly home the next day. I'd rarely go to Disney World (even though work would pay for it) because it got to be more of a chore than fun. I just can't handle the lines and crowds of people.
In December of 2007 I was working in Orlando when some work friends and I decided to go to Epcot for dinner in "Italy." After that we took the bus to Disney Studios to goof off for a bit. While I was there, my mom called to tell me something. "What's all that noise?" she asked.
"Oh, that's The Osborne Family Spectacle of Dancing Lights," I replied.
"What's that?"
"It's a show at Disney World where they have a bunch of Christmas lights flashing to music. I'll send you a picture..."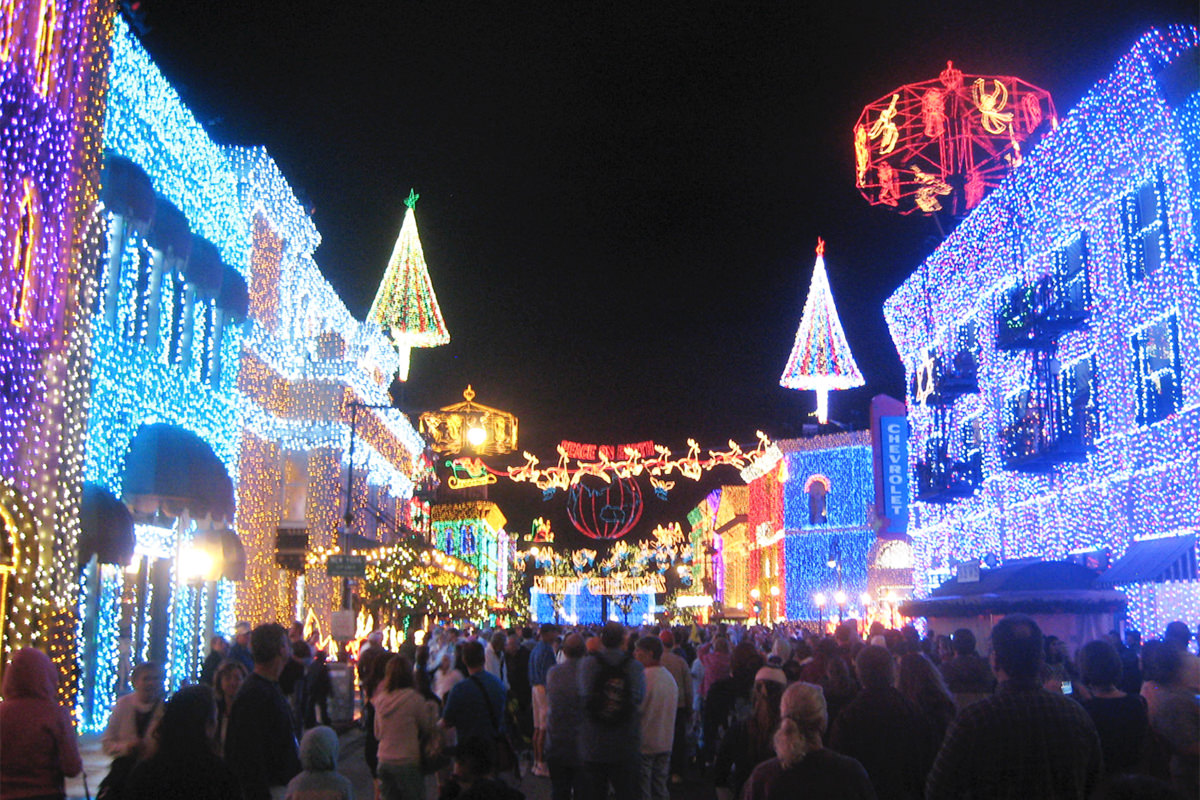 "That's pretty! I want to go to Disney World!"
"I've taken you to Disney World lots of times!"
"But not at Christmas! I want to go at Christmas!"
"Okay. Next year I'll bring you along then."
One year later I kept my promise, and here she is...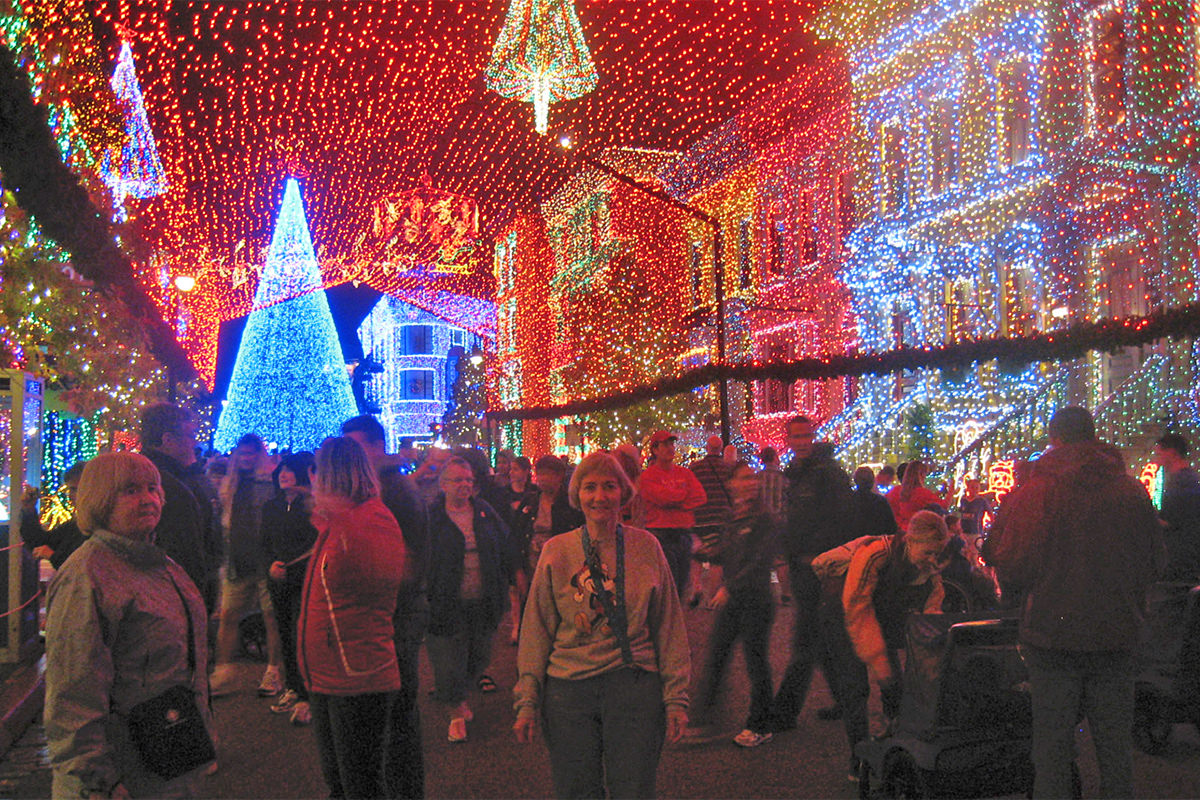 It immediately became her favorite thing. She loved it so much that I ended up taking her a couple more times. The last time was in 2012, I think, since that was the last year I had work in Orlando. They closed down The Osborne Family Spectacle of Dancing Lights in 2015.
This morning I was flipping through my newsfeed while waiting for work to start and saw this terrific video from Disney World showing how they transform The Magic Kingdom Park for the holidays with Christmas decorations...
Pretty cool!
A part of me is glad that I don't have work in Orlando any more. Especially over the holidays. It would be really tough to go there knowing what it meant to my mother. Perhaps it will be easier over time. But right now? I just can't fathom it.
It's that way for a lot of things though.
I miss my mom.
Posted on July 29th, 2018

Home again home again... and just in time too, because an all new Bullet Sunday starts now...

• Mutants! The news of the week? Disney's offer to buy out 21st Century Fox's movie properties was approved by the shareholders on both sides. They still have to get regulatory approval, but it's expected there won't be any issues. And so? The X-Men, The Fantastic Four, and Deadpool franchises will be headed to Marvel Studios. Which means we might finally get to see a good X-Men film... and we hopefully won't get more horrendously shitty Fantastic Four films. Deadpool was done right (twice!), but he lives outside of comic book reality, so he won't require a reboot. He'll just comment about his new universe and move on. In all honesty, I don't give too big a crap about the mutant teams showing up alongside The Avengers and so-on... but I am beyond excited to see The Fantastic Four popping up everywhere...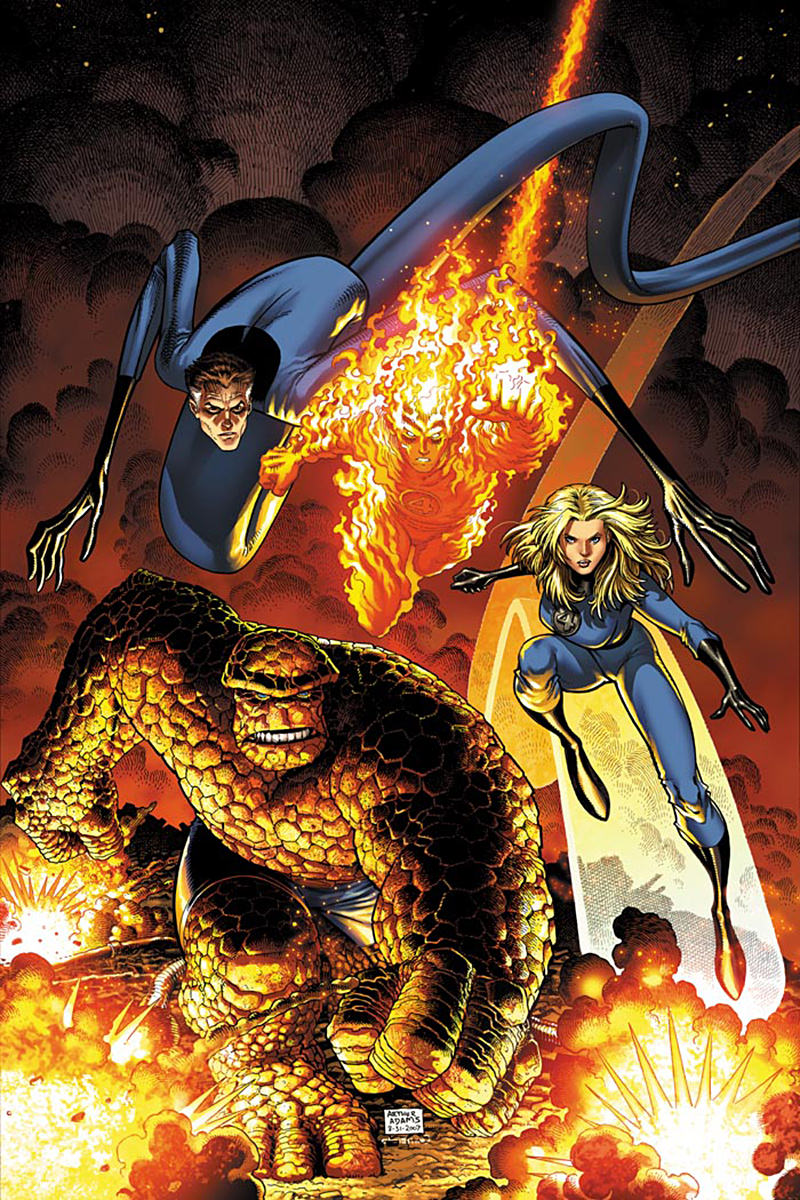 There is so much potential there.

• Big Gunn! And speaking of Marvel Studios... they've cut loose Guardians of the Galaxy writer/director James Gunn over offensive tweets he made almost a decade ago. I have mixed feelings over it all. On one hand he has repeatedly apologized for what he said, explained that it was a poor attempt at being provocative, he has moved on, and he tries hard to not be that person any more. On the other hand though... the jokes(?) were about things like pedophilia and rape and really don't qualify as "jokes" at all, assuming that was the intent. They certainly weren't funny. But... is that worth losing the third act of The Guardians of the Galaxy over? In the end I'd have to say "no." It would be a different matter entirely if he actually was a rapist and pedophile... but he's not. He was just entirely too stupid to understand he wasn't being provocative or funny... he was just being an asshole. And if we're going to start firing people in Hollywood for being stupid assholes, at least half of the industry would be gone.

• Printables! Downloadable guns? Well that sure took less time than I thought.

• Roasted! The Comedy Central Roast of Bruce Willis was on tonight. It was raunchy, horrible fun as always...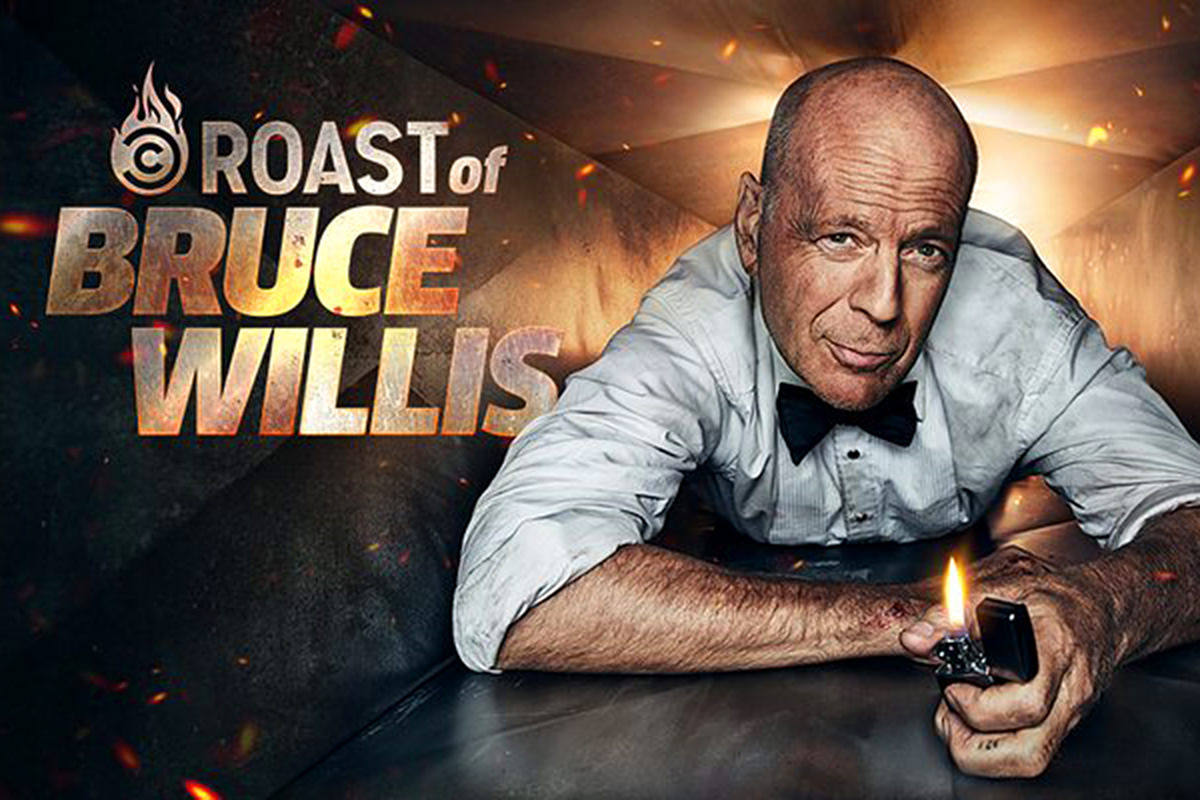 But every time one of these comes up, I cannot help but think back to one of the best roast lines ever said. Sandra Bernhard was preceding Jeffrey Ross at the roast of Jerry Stiller. Jeffrey stepped up and said "Yeesh, I wouldn't fuck you with Bea Arthur's dick!"... with Bea Arthur in attendance. I had always wondered if Bea Arthur ever reacted to it, so tonight I Googled it. Turns out Jeffrey Ross has a story about that.

• McWrong! Ever wonder what happens when McDonald's wraps your Egg & Cheese Biscuit Sandwich inside-out? Here you go...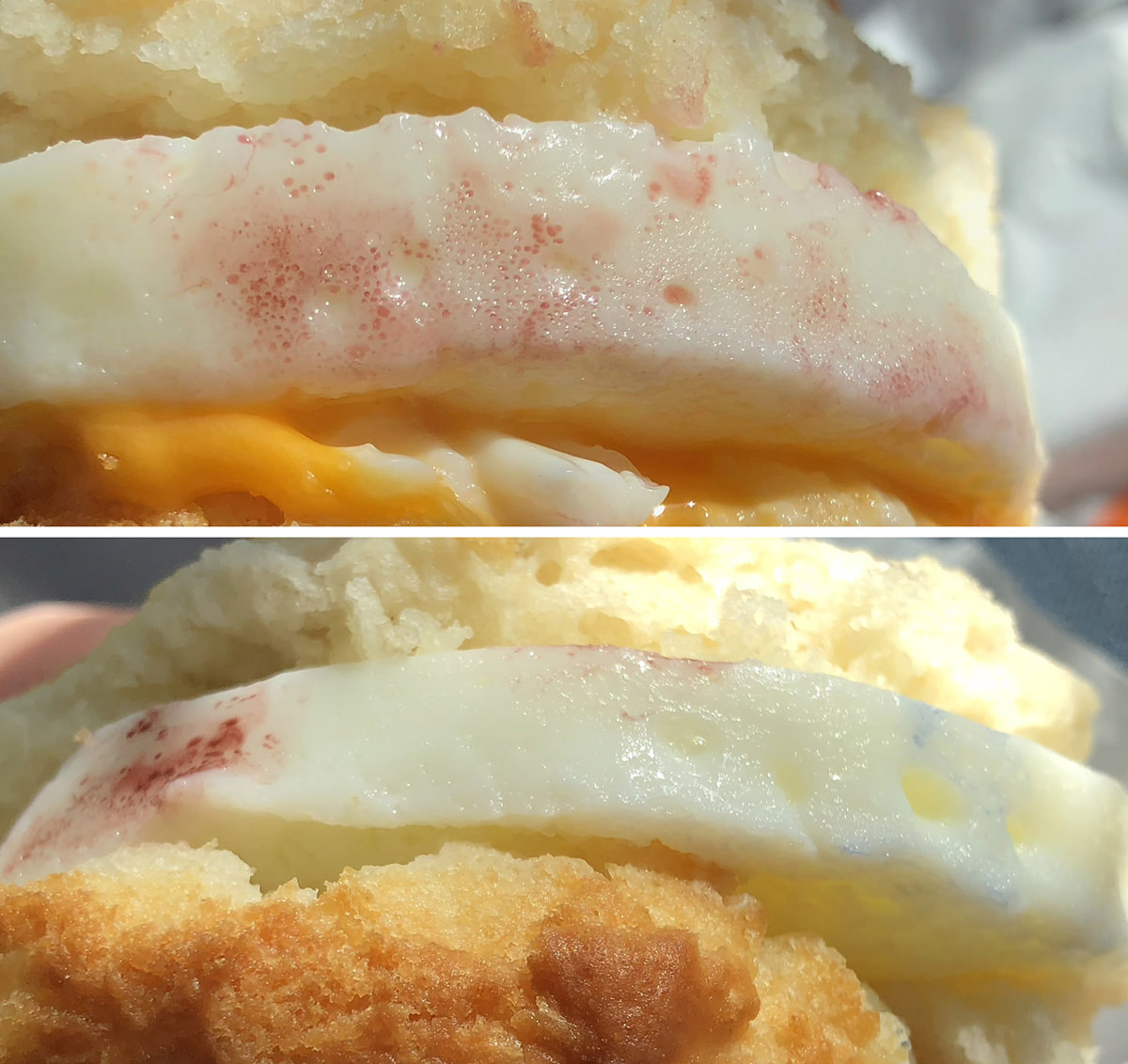 I was too hungry to throw it all out, so I tore off as much of the color as I could. Hopefully it's non-toxic in case I didn't get it all.

• Kurzge-wha?! And here's my new favorite thing of the moment on the internet the Kurzgesagt Channel on YouTube...
If you've got time to waste, here's the place to go.

And that's the end of that. See you next Sunday.
Posted on July 8th, 2018

Everything in the world seems to suck... but life goes on, because an all new Bullet Sunday starts now...

• Science Fiction! One of my all-time favorite bands is the Thompson Twins. I maintain that Quick Step and Side Kick, Into the Gap, and Here's to Future Days is one of the best trifecta of albums released. Not bad for a band that considered themselves to be a joke. Eventually lead singer and writer for the Twins resurfaced for a series of 80's flashback tours. He ended up having so much fun that he decided to write new material... sticking to the slick hooks and 80's vibe that made his work so popular. And now there's an album coming from Tom Bailey called Science Fiction. If the single What Kind of World is any indication, I'm going to love it...
Only have to wait five more days...

• Coaster! That Kayla is a lucky girl...
Who needs Disneyland?

• Gaston! And speaking of Disneyland... whomever hired this cast member struck gold...
The rides are cool and all that, but it's the people at Disney that make it theme park magic.

• Coaster! And speaking of theme park magic, take a look at this amazing video...
The riders are lucky that the camera and selfie-stick didn't fly out of his hand and kill somebody... but... very cool.

• MALKOVICH! How did I miss that Spike Jonze and Jordan Peele accepted a fan theory about a link between Being John Malkovich and Get Out? Then Peele confirmed that he now considers it to be true?
Bizarre! Which is what you'd expect when Being John Malkovich is involved.

• NOT MALKOVICH! Now, I hesitate to compare any film to Being John Malkovich, but this sure looks like a contender in the bizarre department...
So cool that there are people trying to do something different in movies... and that there are studios supporting them.

• Triple Header! I still have no idea how Luca Stricagnoli does what he does. You'd think that his brain would explode trying to do so many things at once...
Beautiful. Amazing how his interpretation just keeps getting better and more complex as time goes on.

And that's all she wrote for bullets this Sunday. See you again in a mere seven days.
Posted on October 29th, 2017

Don't fear the reaper, because an all new Bullet Sunday starts... now...

• Benson! Robert Guillaume passed away this last week and it got me to thinking about the various roles he's played in his long acting career. Primary of which, was "Benson" on Soap (and the subsequent spin-off), where his sarcastic wit was showcased to hilarious effect. My personal favorite role was Isaac Jaffe on Sports Night, a role which is surprisingly relevant today...
You, sir, will be sorely missed.

• Think! Cost to renew my nine Nest security camera "Nest Aware" subscriptions annually? $500. Cost to renew Amazon's new Cloud Cam security camera subscription plan annually for triple the storage time and up to ten cameras? $200. This means I could essentially buy three new Amazon cameras every year PLUS get a superior subscription service for the cost of my Nest subscription alone. Gee... let me think real hard about what I should do. What to do? What to do? It's a quandary, that's for sure...

• Balls! I made falafel for the first time!
My balls were totally delicious.

• Mickey Hotel! Disney just announced that Disneyland will be getting a brand new 700-room hotel which will open in 2021...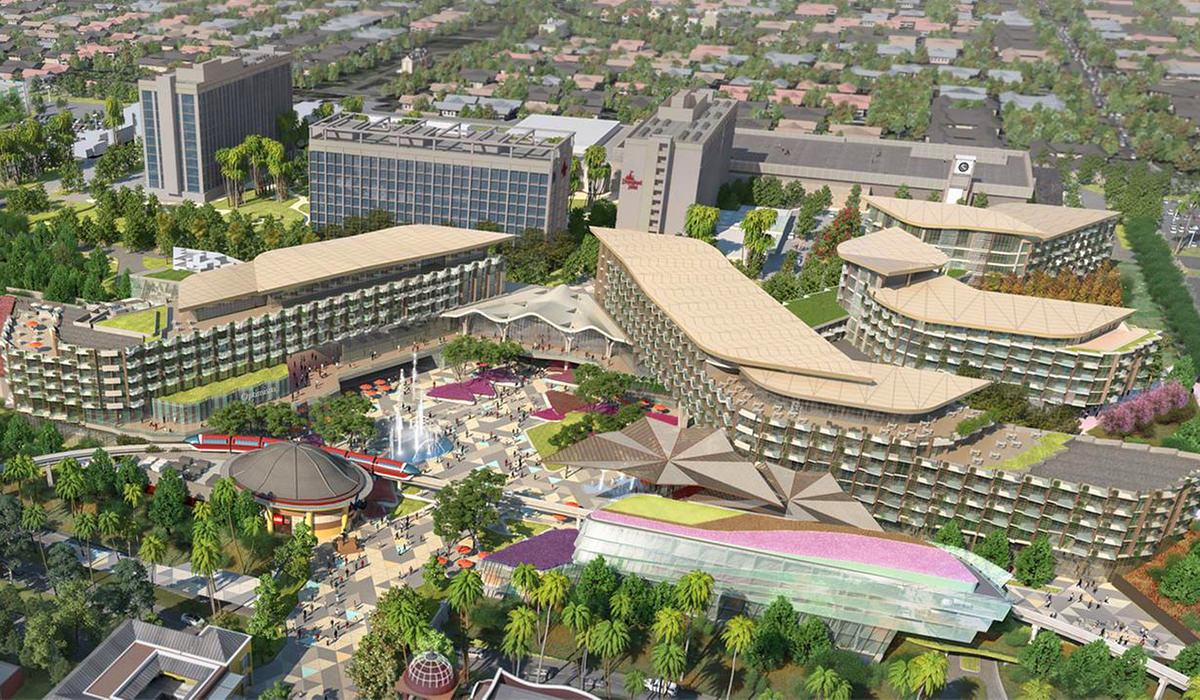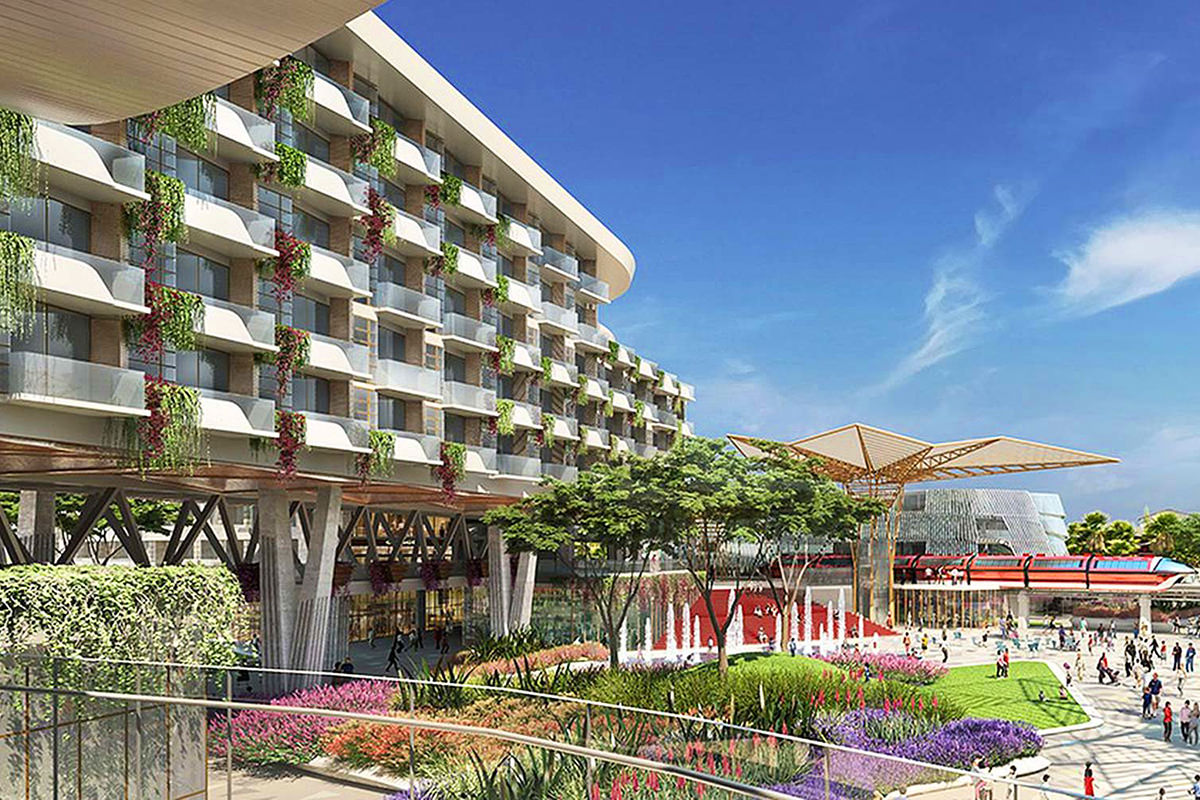 Compared to the amazing Grand Californian hotel across the way, it's kind of boring-looking. Not very "Disney-Special" to me.
The most interesting bit of information in the press release is not the hotel itself, but its location. In order to build the thing, Disney will be ripping out the West end of Downtown Disney. Which is currently occupied by ESPN Sports Zone, the AMC 12 theater, a Starbucks, The Rainforest Cafe and, ZOMFG... EARL OF SANDWICH! The LEGO Store is spared though...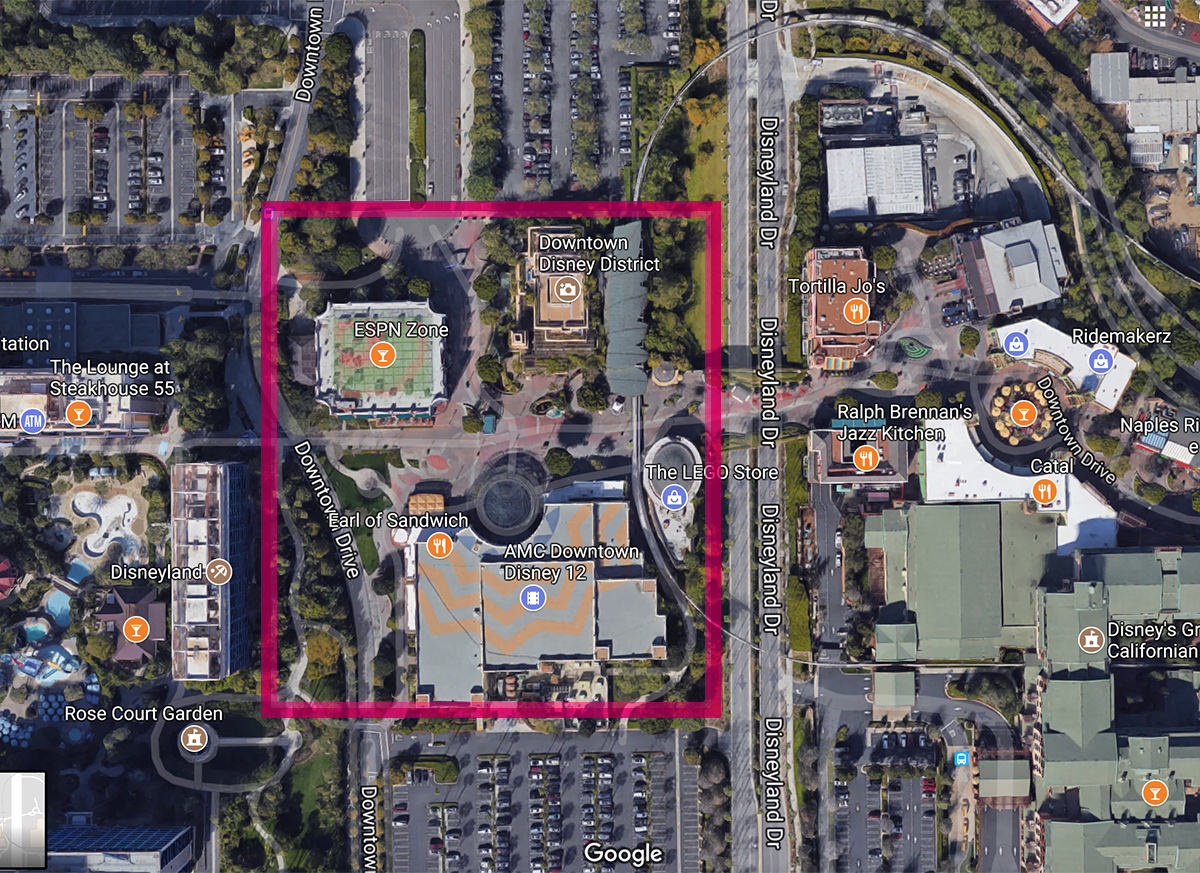 The money that a hotel generates is probably huge compared to the royalties from everything it's replacing. With this in mind, I don't know why A) They are only putting in 700 rooms when there looks like there's room for more, and B) they haven't expanded The Grand Californian (the "Redwood Creek Challenge Trail," cool as it may be, is hardly a critical part of California Adventure, so it seems a natural to rip it out and put in another 150 rooms).

• Payola! HEALDINE: Senate votes to kill new rule allowing class-action lawsuits against banks; Pence casts deciding vote. — FUCKING PIECES OF SHIT!!! No recourse now... NONE... when big banks fuck you over. You are forced to accept binding arbitration or small court settlements instead of having your day in court. And, of course, data breaches due to shitty bank security are now basically a crime without meaningful punishment. All because the fucking Trump Administration and their Republican lackeys have their mouths so deep on Big Finance cock for cash that they don't give a shit who it hurts... so long as the big paychecks keep coming their way. And OF COURSE they are re-framing this act of utter submission to bank payola as a "good move" for consumers because "frivolous lawsuit costs get passed on to consumers." All 100% bullshit of course. We STILL end up paying... just in a different way. Meanwhile, any and all protections are now ALL THEIRS. Looks like we've got ourselves a government by the wealthy, for the wealthy.

• Harrassment! Everywhere you look, it's the same damn thing. I do not know Robert Scoble personally. All I know is that he worked at Microsoft then got famous for conducting crappy "WHO ARE YOU?!?" videos with happening tech industry people. I also know that he went into rehab a couple years ago because he was accused of shitty and harassing behavior towards women when he was drunk and high.
I also know one of these women.
Now it's coming out that he didn't stop with his shitty harassment of women AFTER he was supposedly "cured" of the things he blamed his behavior on. Typical of these types of situations, people are defending him because he's married and supposedly a "good guy." Meanwhile... there's the women whom he's sexually harassed who are having to deal with the fallout of HIS crap.
I believe them. Scoble may be married with kids and be known as a "good guy" in certain circles, but obviously that does NOT exclude him from being a habitual sexual harasser.
On his Facebook profile, Scoble has the douchey description of himself as "Authority on what is next," even though he just talks about what OTHER PEOPLE are doing. I hope "what is next" for him is somebody pressing charges. The more times that shit like this results in public shaming and even more public punishment, the more these reprehensible fuckers will think twice before being assholes to their fellow human beings.

All our times have come, see you for more bullets next Sunday!
Tags:
Assholes
,
Bullet Sunday
,
Disney
,
Disneyland
,
Falafel
,
Food
,
Fucking Assholes
,
News
,
Politicians
,
Politics
,
Television
Categories:
Food 2017
,
News – Politics 2017
,
Television 2017
—
Click To It:
Permalink
—
0 Comments: Click To Add Yours!
Posted on July 20th, 2017

I generally fast-forward through commercials because most of them are total shit and not worth watching. This is easy to do because I watch almost all television from my DVR. The only time I let commercials play is when I'm watching TV live... or if I'm working (or otherwise distracted) and can't be bothered.
Like tonight.
There I was, working away with the television playing in the background when...
... a sound plays.
A familiar sound.
The sound of the announcement tone for Disney's Star Tours!
What the heck?
Turns out it's a commercial advertising the Main Street Electrical Parade, where a Disney cast member is walking through a giant warehouse filled with relics of Disneyland past. I must have freeze-framed a dozen times on my DVR trying to figure out what everything I was seeing could be. Reviewing it all was a nostalgia-laden walk down memory lane.
The commercial has been around for months, but this was my first time seeing it.
When I was Googling to see if Disney had posted it to YouTube, I found that there were a couple of videos calling out all the "Easter Eggs." Like these...
Now THIS is a cool commercial that is actually worth your time to watch!
Assuming you're as big a Disney geek as I am, that is.
Posted on March 5th, 2017

Pull out your Mickey Mouse ears, because a Very Special Disney-centric Bullet Sunday starts... now...

• I'm Going to Disneyland. Now that Disneyland has no "off-season" and is hellishly busy all-year-long, there's really only one piece of advice I can offer: Don't make your Disney vacation all about standing in lines. Stay multiple days... divide up the attractions you want to see so you're only standing in line for them part of every day... then get the hell out of the parks to have an actual vacation. Go see what else L.A. has to offer (which is a lot)... or just hang around the pool at your hotel. Spending the whole day in a massive crowd at Disneyland is just guaranteeing that you'll need a vacation from your vacation.

• Princess Vader. I honestly can't decide whether this is the coolest thing ever, or just pain wrong...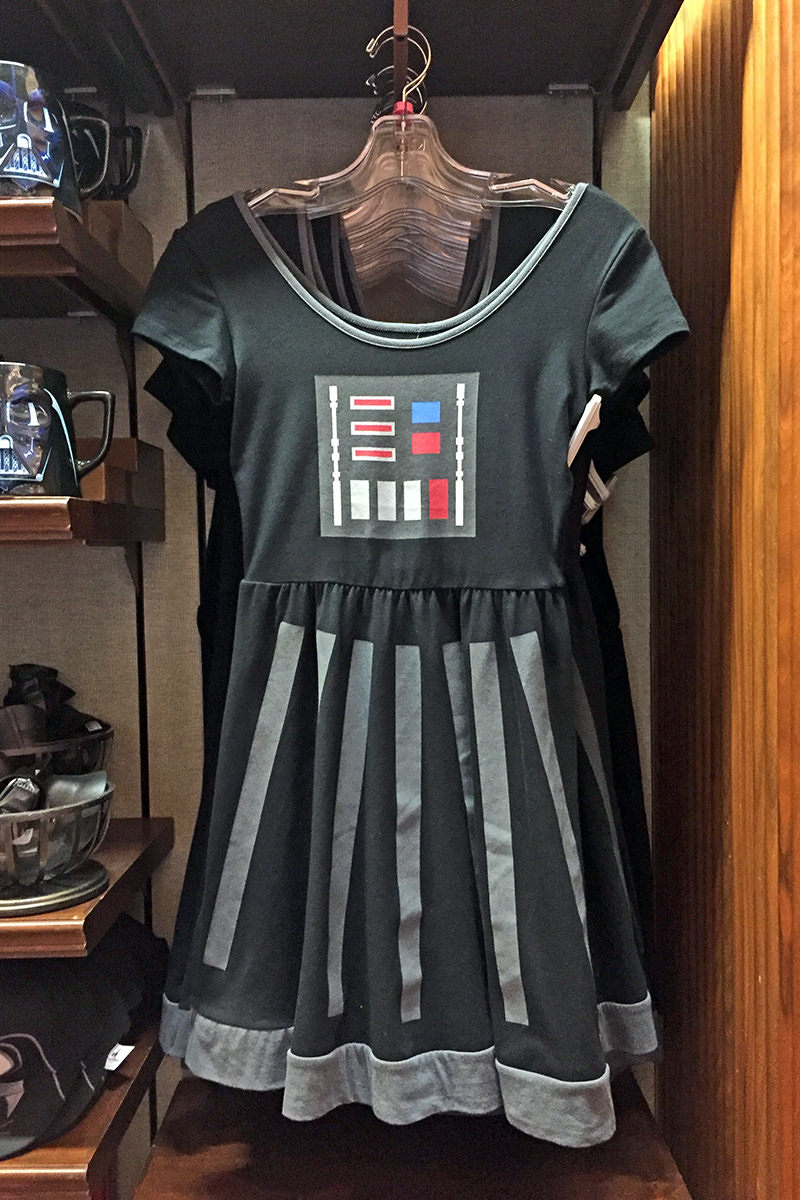 All I know is that Disney's marketing of Star Wars is way off the charts.

• Reimagineering. Earlier this week I brought up the new Star Wars Land additions coming to both Disney parks. This is on top of Disney World getting a Pandora: The World of AVATAR "land" in Animal Kingdom. New stuff at the Disney parks is always great... but I can't help but wonder when rides like Jungle Cruise and Haunted Mansion will get an upgrade. Surely there's a way of remaining true to the original concept while enhancing the attractions with today's technology? Otherwise I have to wonder how much longer they can last. The parks (particularly at Disneyland) do not have infinite space to expand, so the worry is that even "E-Ticket" attractions will eventually be eliminated in favor of something fresh to keep the crowds coming.

• Grey Stuff. Yesterday I mentioned that I checked-off one of my life goals at Disneyland... eating Grey Stuff Gâteau (which they spell "Gateâu") and Gaston's Brew. Nobody seems to know what that meant. Well... "Grey Stuff" is something served to Belle in Beauty and the Beast...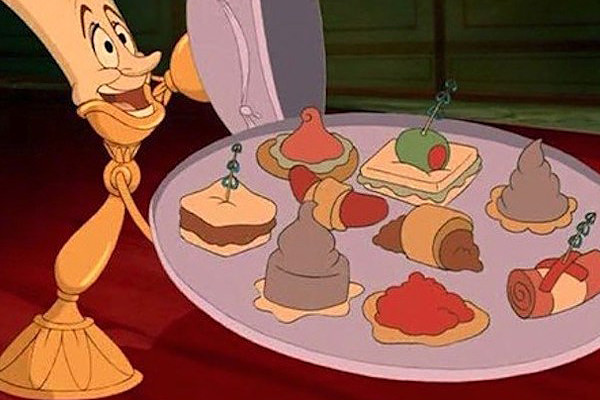 This is what the real-life version looks like from The Red Rose Taverne in Disneyland's Fantasyland (a temporary restaurant re-dress in celebration of the live-action Beauty and the Beast movie coming in March...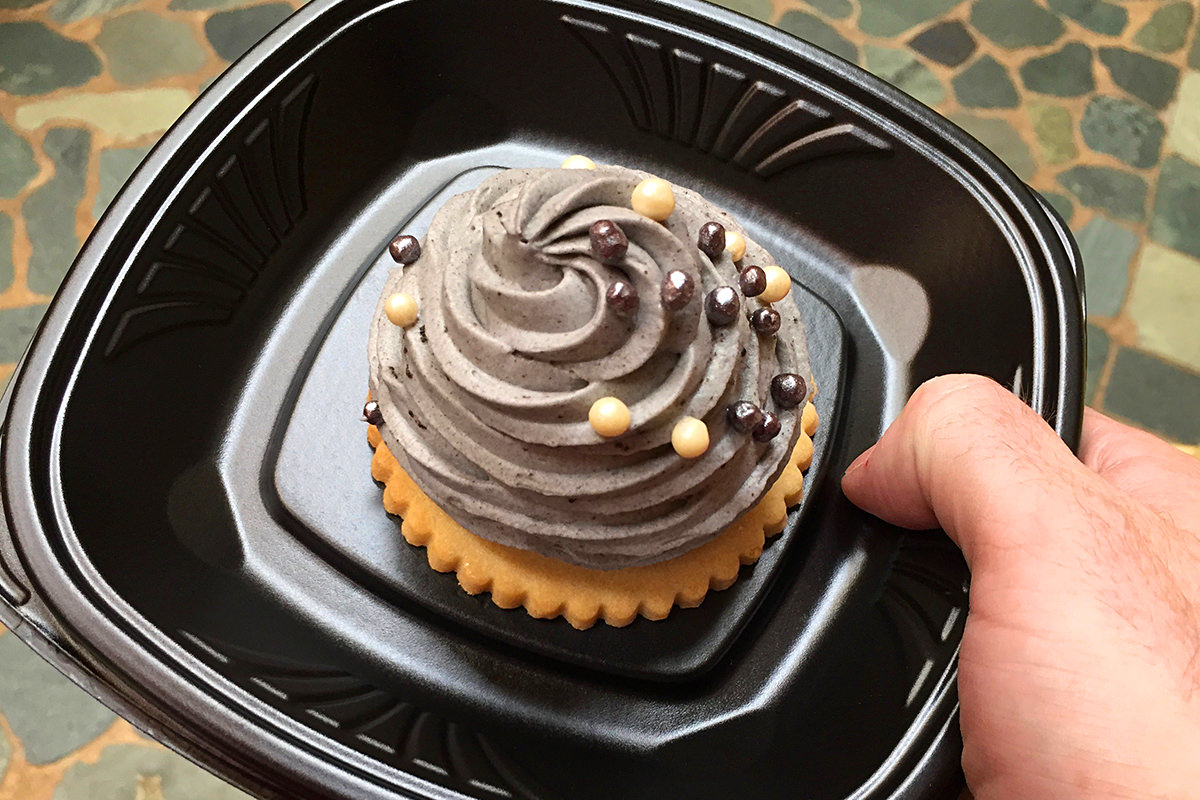 It's a white chocolate mousse that's been tinted grey then heaped on a small red velvet cake that has raspberry in it...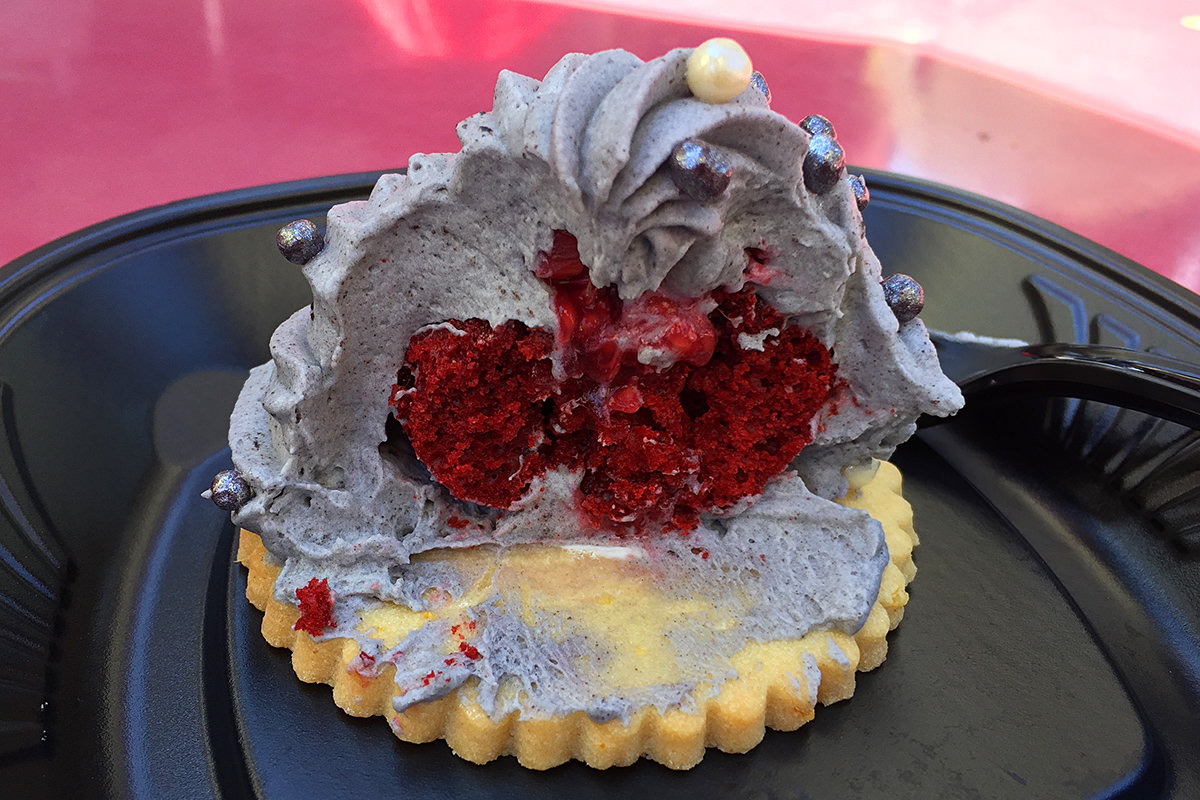 It comes piled on a shortbread cookie that seems to have a rose drawn on it?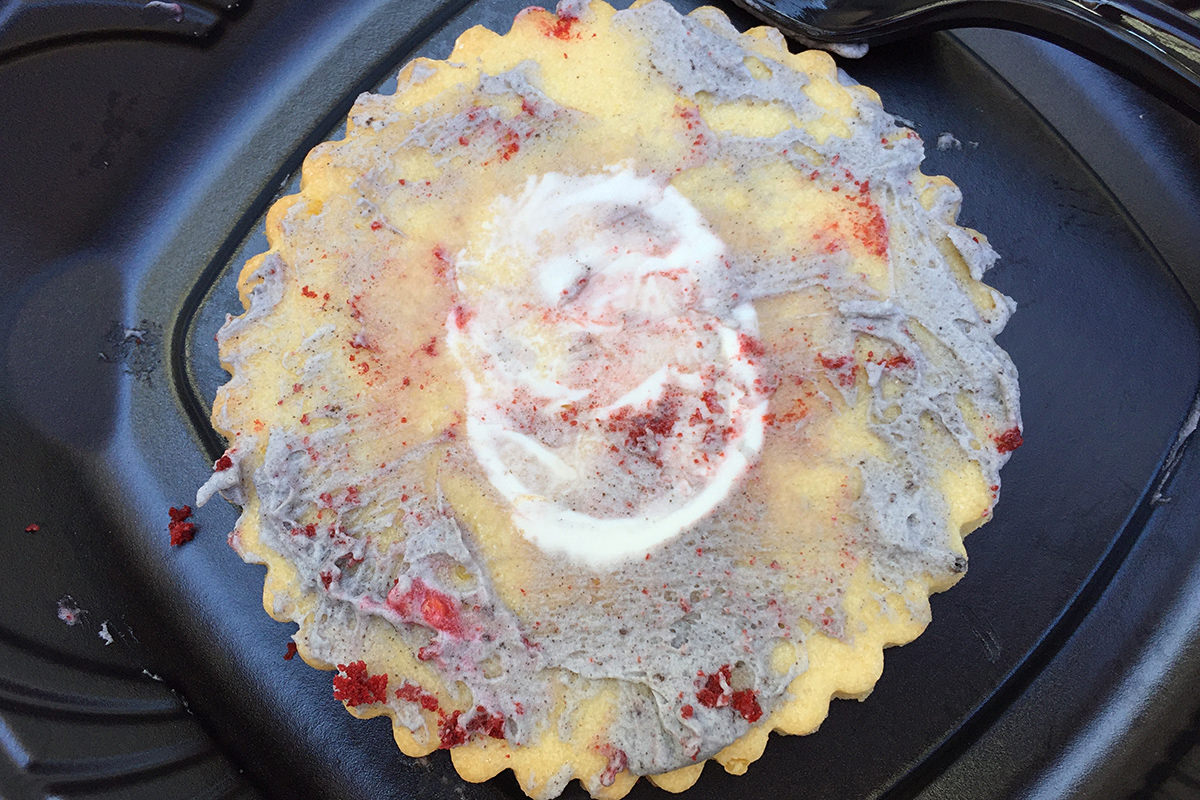 It's not too bad. The cookie is dense and bland rather than buttery and flakey... and the whole ordeal is too sweet for me... but it's totally edible. Gaston's Brew, on the other hand, is excellent. It's apple-mango juice that's topped with a passion fruit foam "head." Something I'm going to have to try and make at home.

• Magical Morning. One of the benefits of buying your ticket to Disneyland online is that you get a free "Magic Morning" on tickets for three days or more. "Magic Morning" means that you get into the park an hour before opening. In my case, that meant 9:00am instead of 10:00am. This used to be available only to registered hotel guests at one of the Disney hotel properties... but now anybody can get it. The problem being that now anybody can get it. Which means the park gets just as crowded just as quickly as it would without magic morning. Sure you might get one or two rides in at a reduced wait time, but it's hardly the deal it used to be. I got to ride Space Mountain in 20 minutes instead of 60... but after that the lines were right back to normal. Bummer. I'd be pretty pissed if I were a hotel guest counting on this perk.

• The Sign. I could spend hours just wandering around Disneyland looking at the beautiful signage that's displayed everywhere. It's not as fun as Big Thunder Mountain Railroad, but it certainly beats standing in lines all day. My favorite signs are in Adventureland. So many beautifully-carved pieces...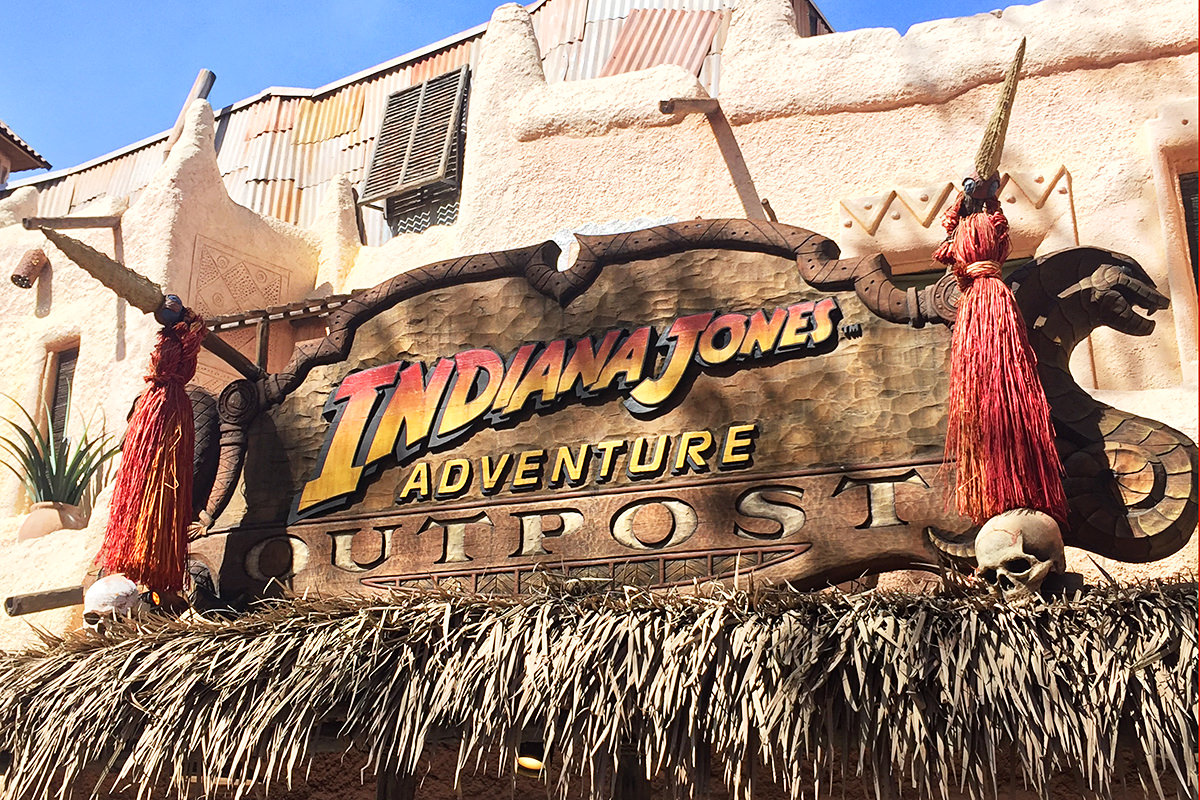 But it's not just the extravagant larger signs that are given such detail. Even small signs... like numbers on a door... are beautifully themed for the area they occupy...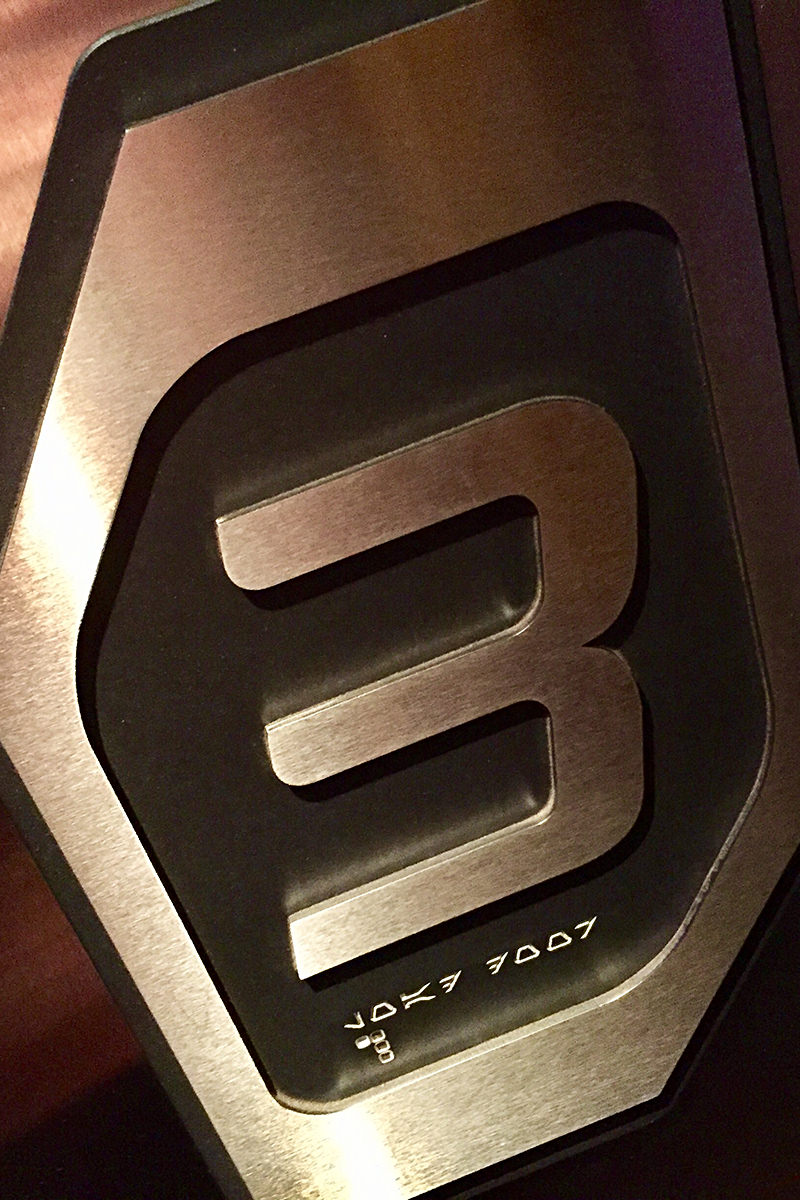 Even throw-away signs from an exit queue are painstakingly designed...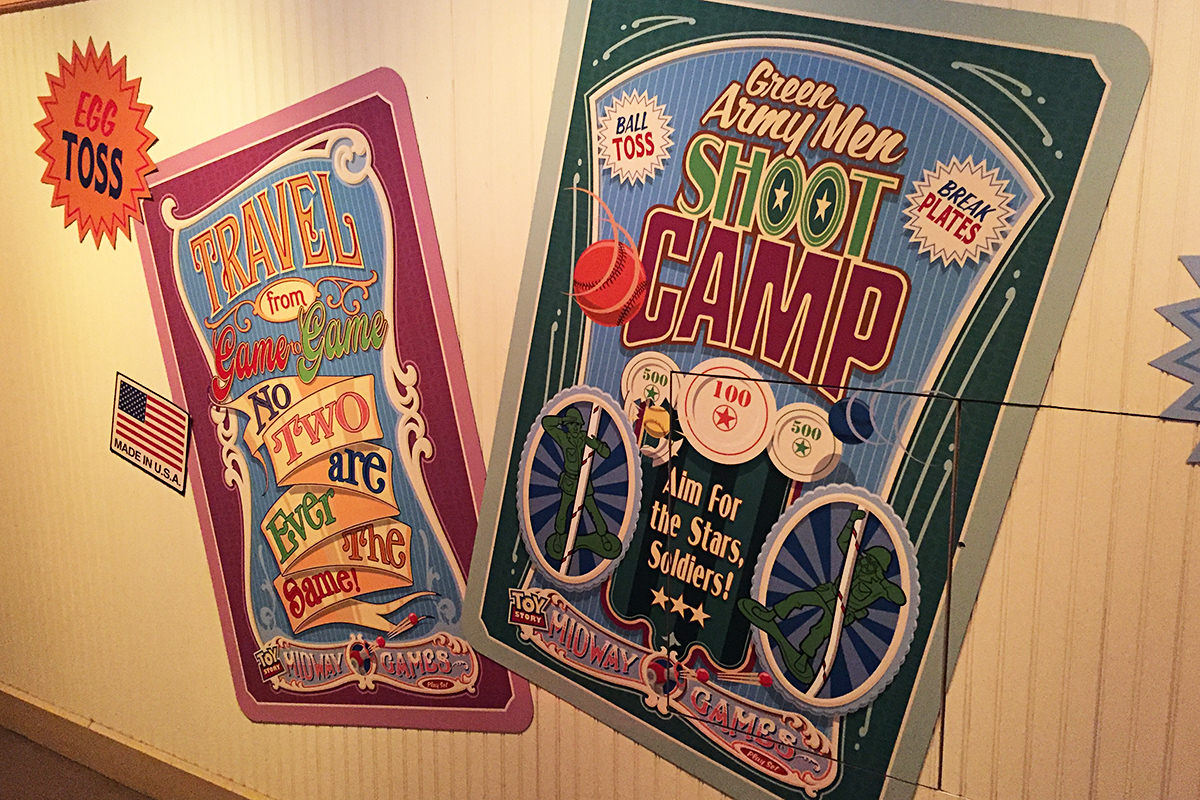 And every exterior sign is beautifully-crafted, of course...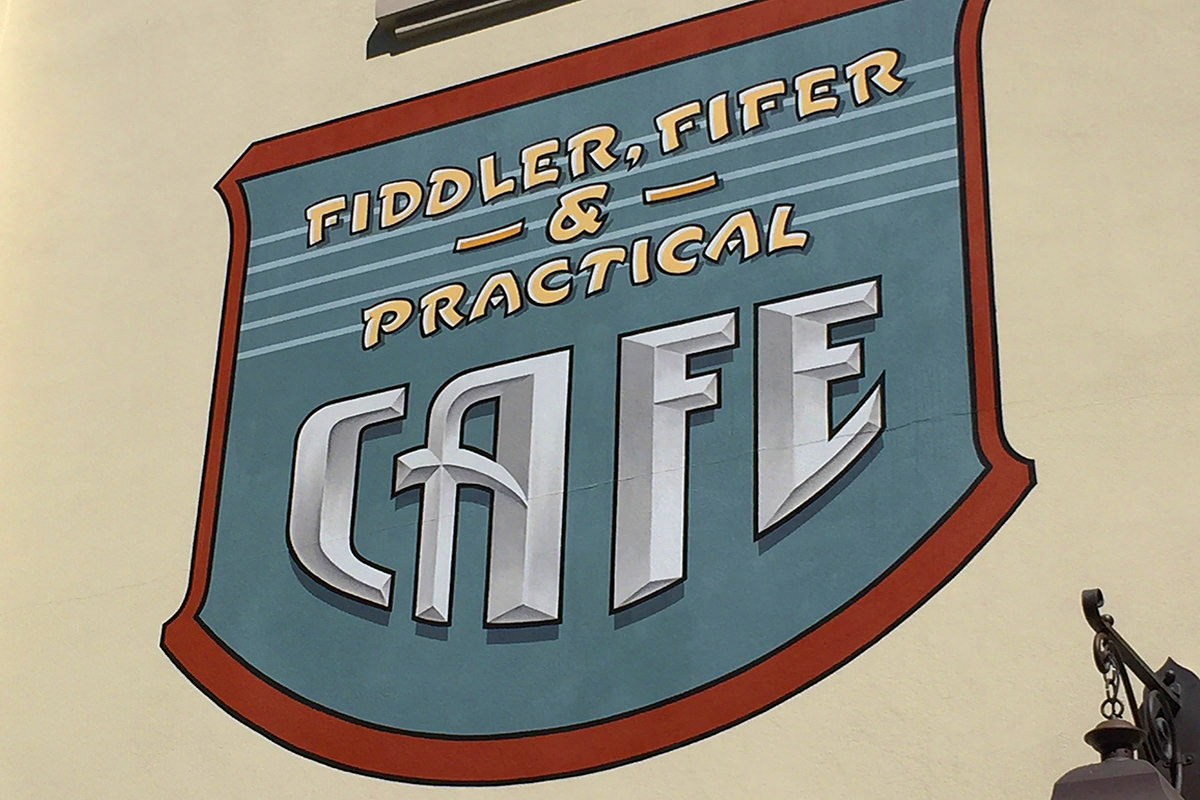 So... next time you're at one of the Disney theme parks, stop for a minute and look for the signs. They're an attraction all on their own.

And now? Heigh ho, heigh ho, it's off to work I go...
Posted on March 3rd, 2017

Last night at a wonderful early birthday dinner with friends, I had told them how proud I was that I finally managed to get Jake and Jenny trained to not jump on the kitchen counters. Yes, Jake still wanders into the kitchen from time to time but, thanks to sticky mats, his days of climbing over my kitchen counters was over.
And then... less than an hour after getting back to the hotel... I get a motion alert on my iPhone that there's movement in the kitchen. A quick check of the security cameras and, sure enough...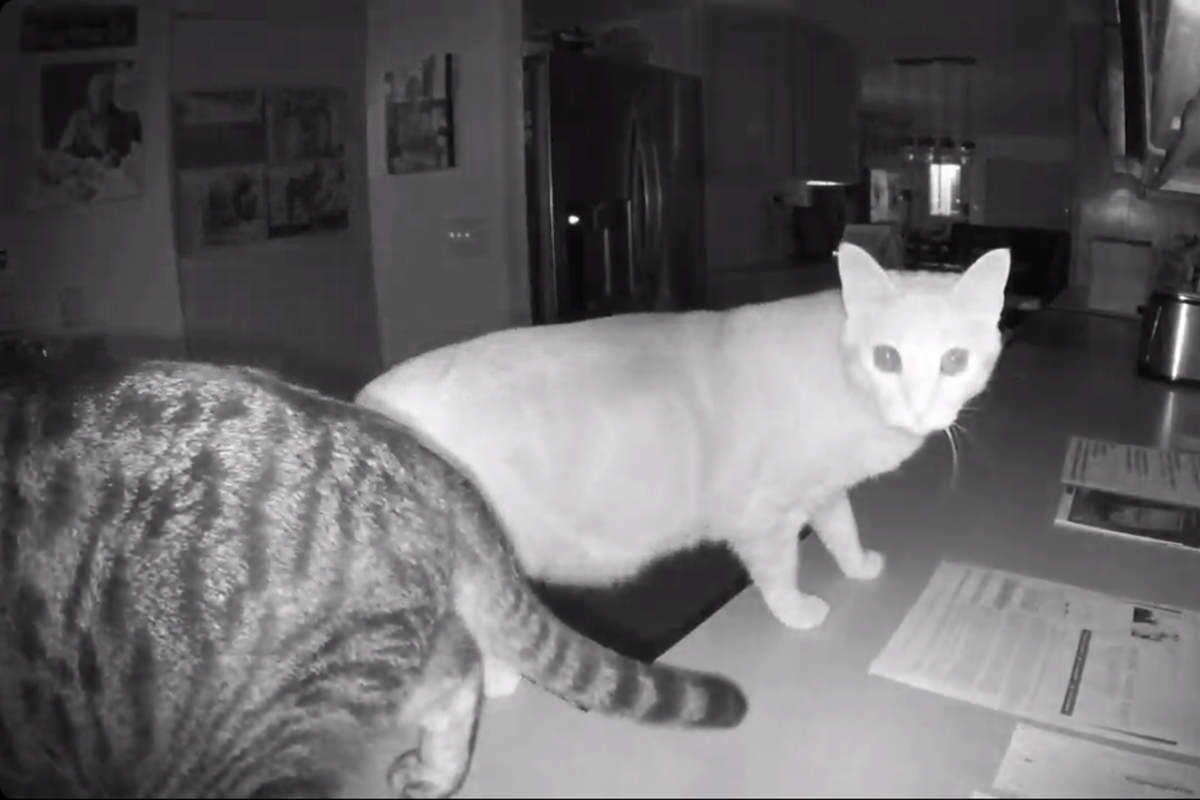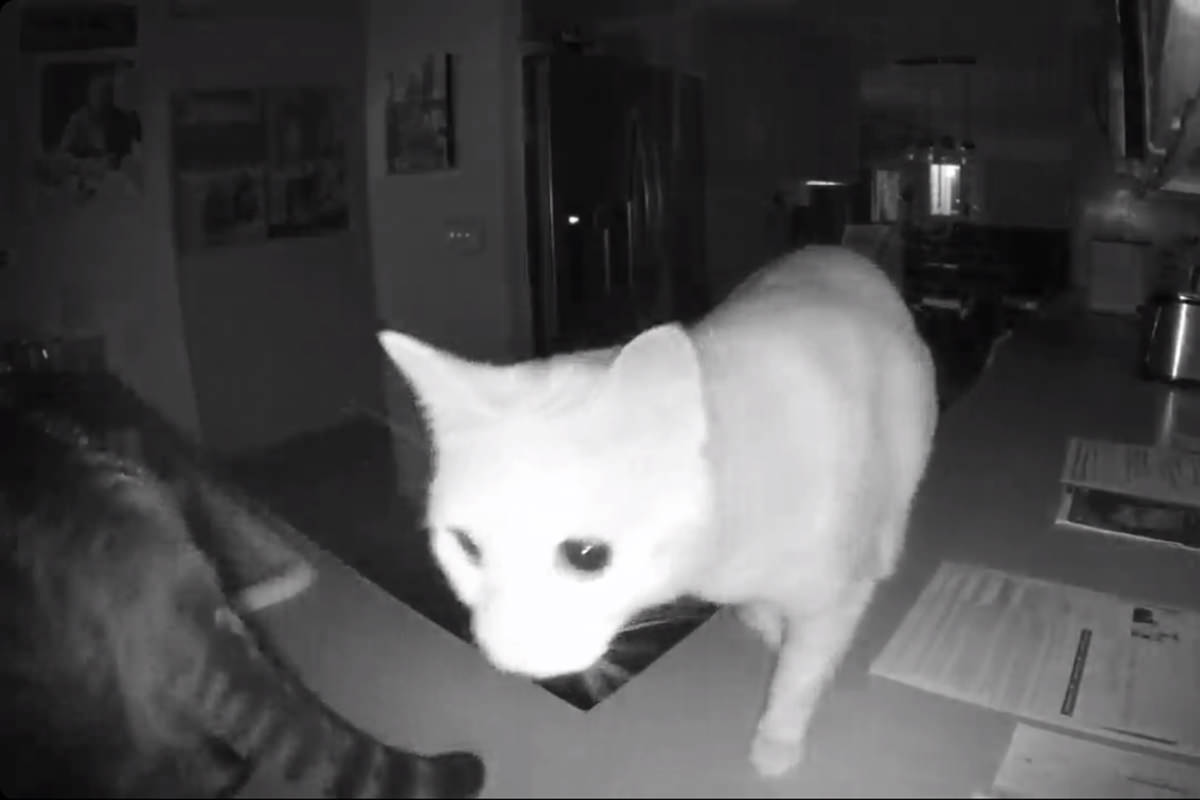 I rewound the footage to see what made Jake suddenly revolt, and was surprised to see that it was actually Jenny who was the instigator. You can see her beady little eyes reflecting in the dark on the refrigerator return before she makes a spectacular leap across to the kitchen counter...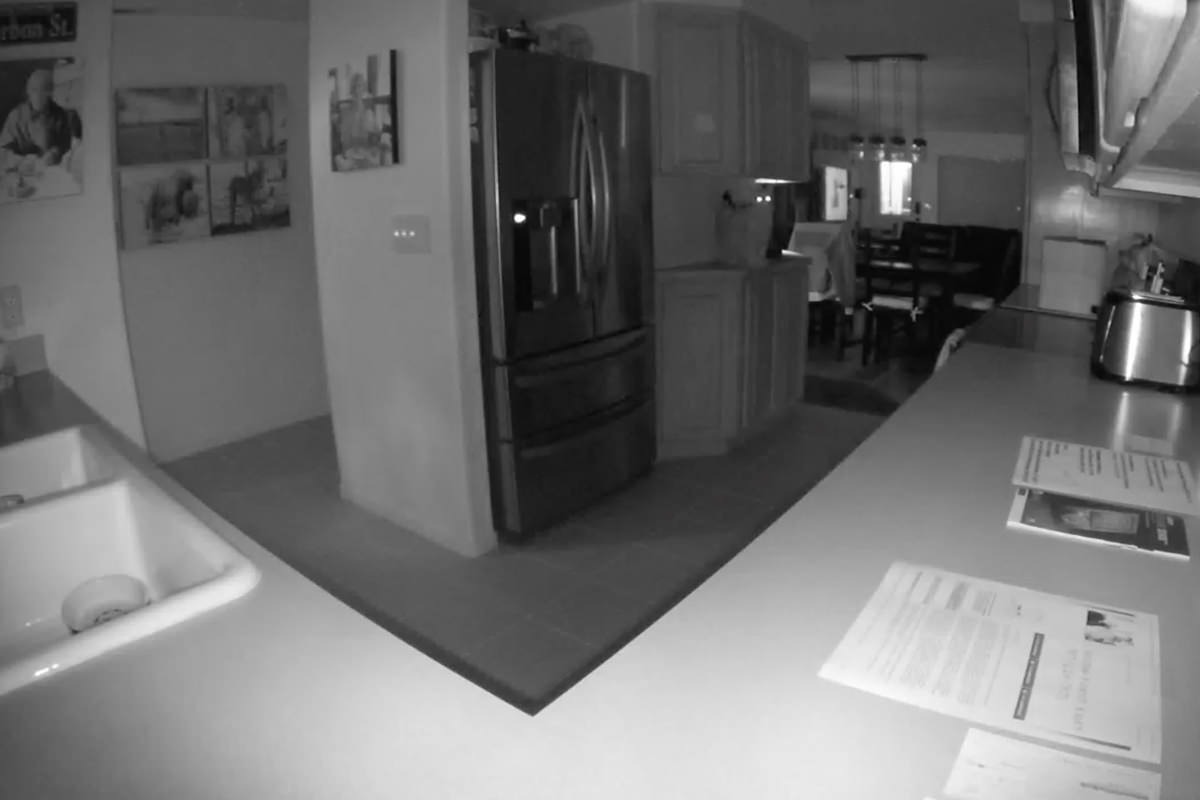 Jake hopped up a minute later...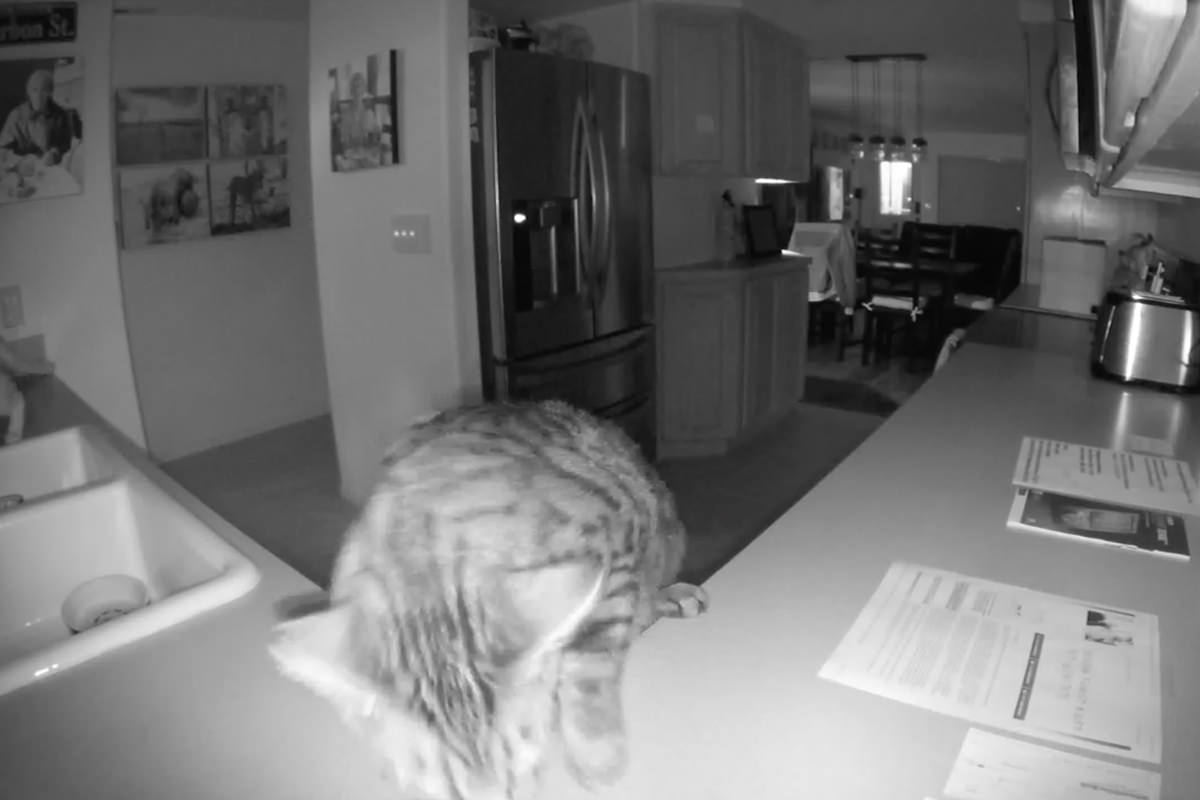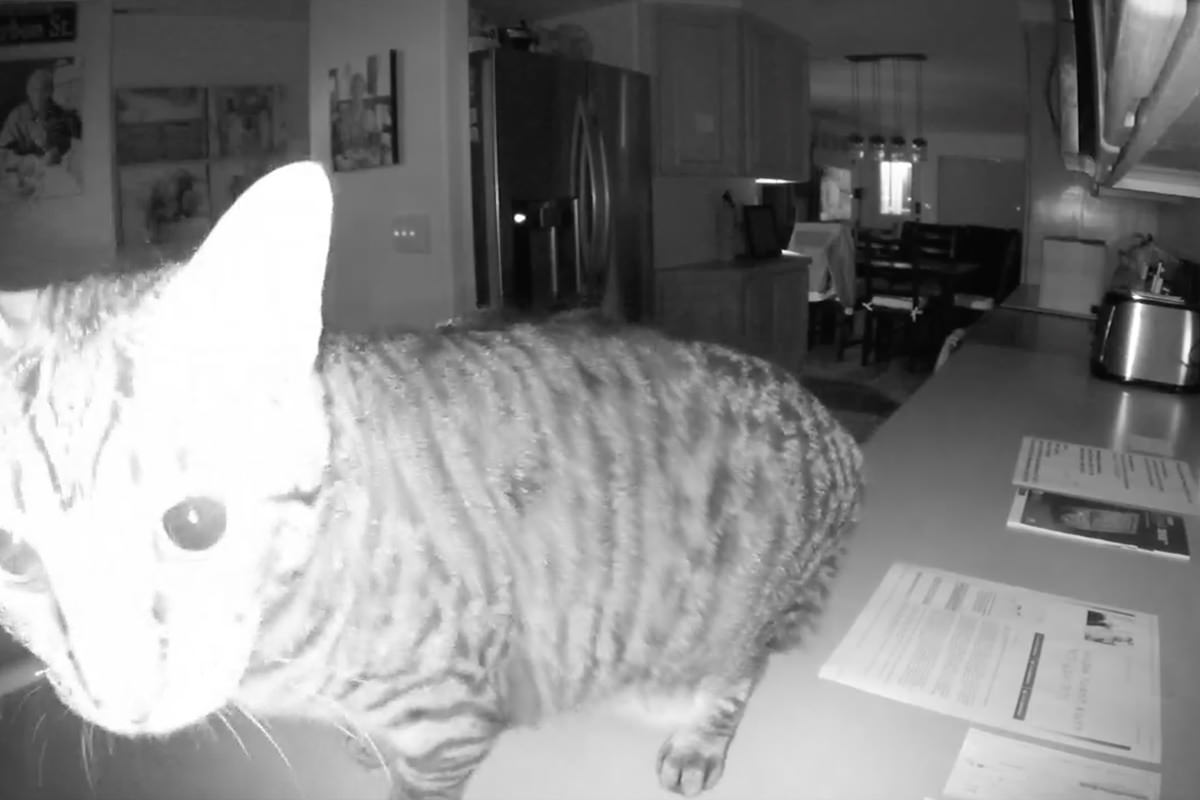 I thought Jenny had hopped back down, but nope... she was over digging in the sink...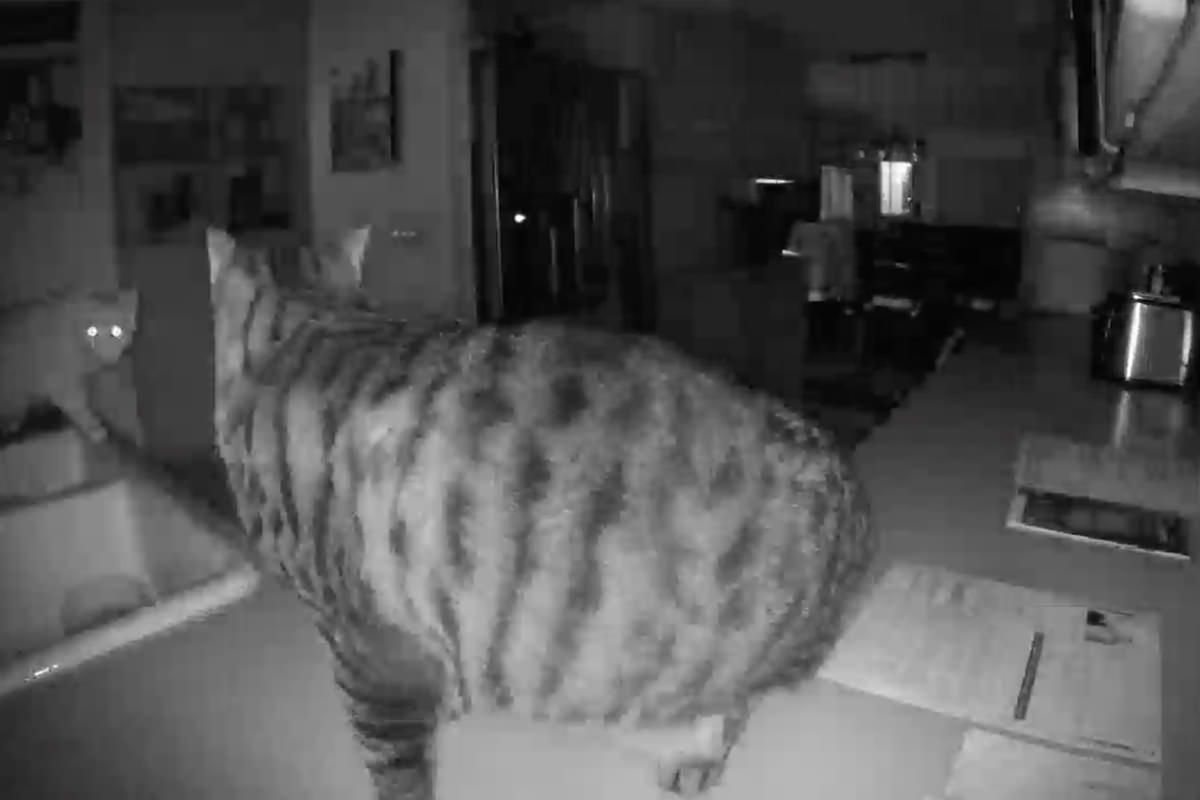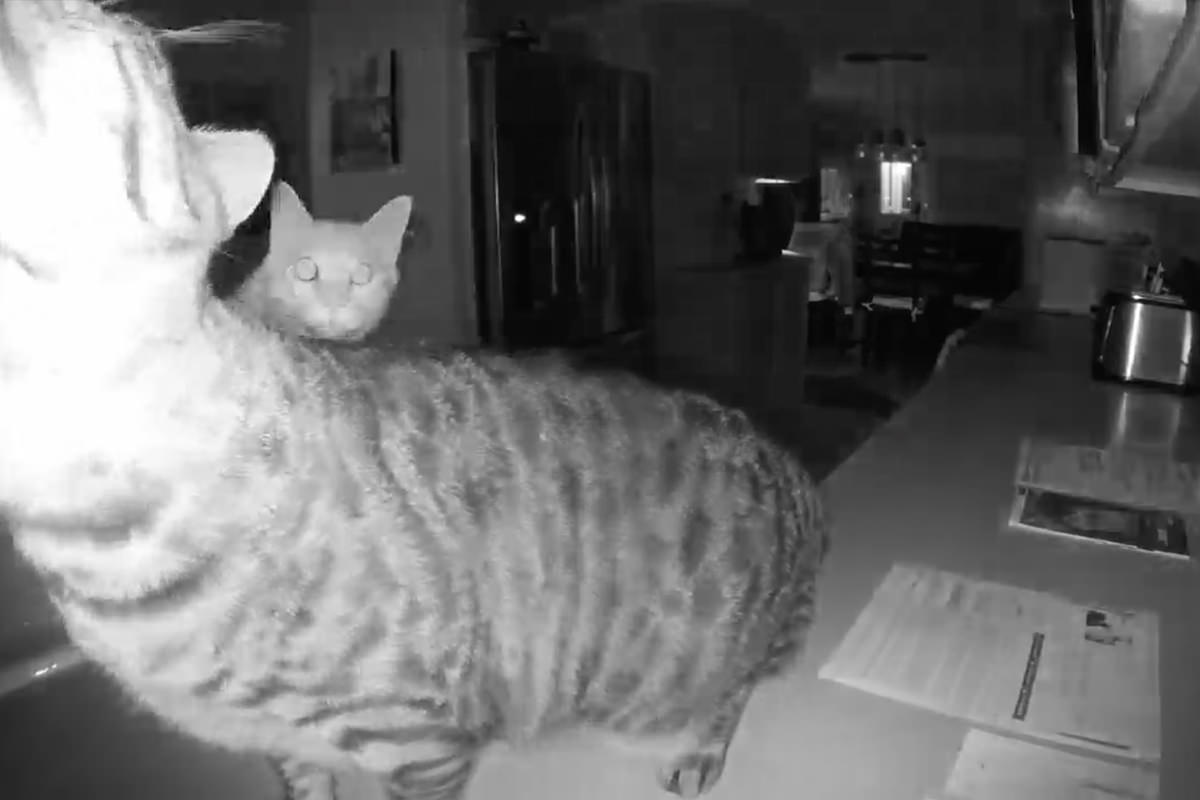 Eventually I started talking to them from the speaker on the security camera, which was all kinds of confusing for them as they started looking around trying to find out where I was. Jake seemed to think I was on the ceiling, but Jenny seemed to figure it out eventually...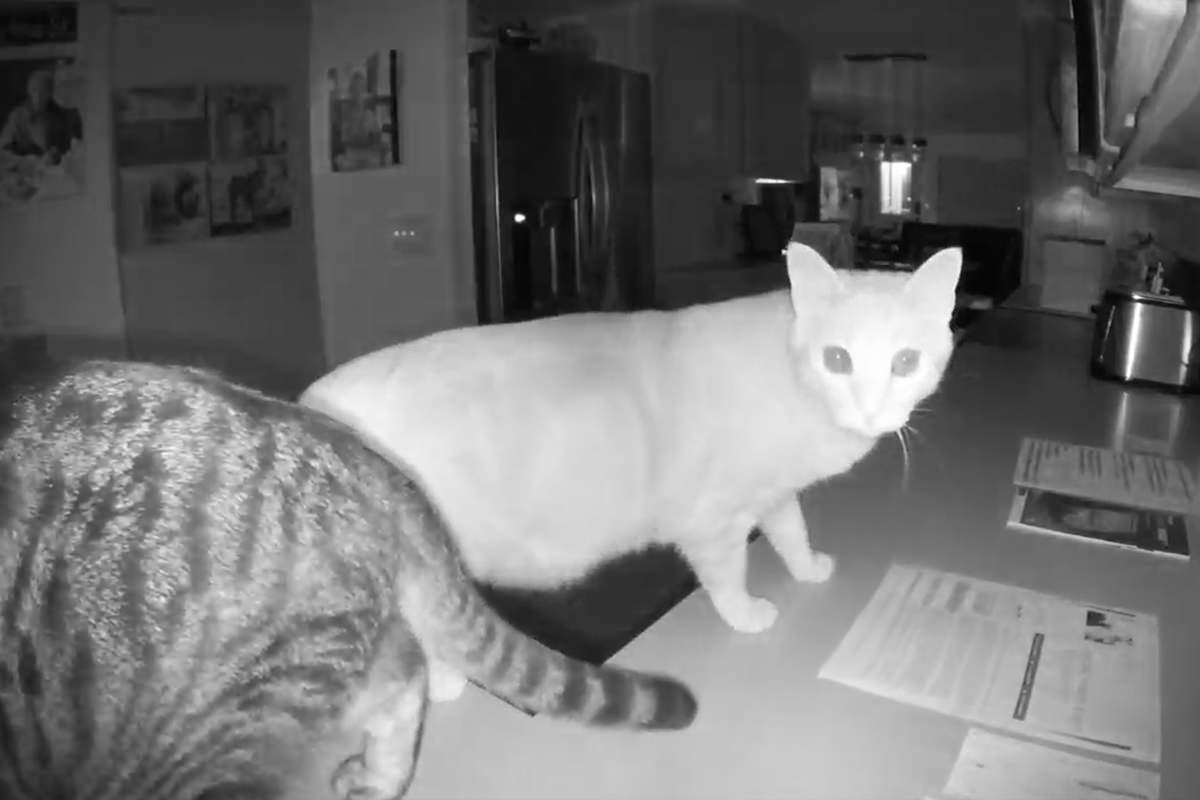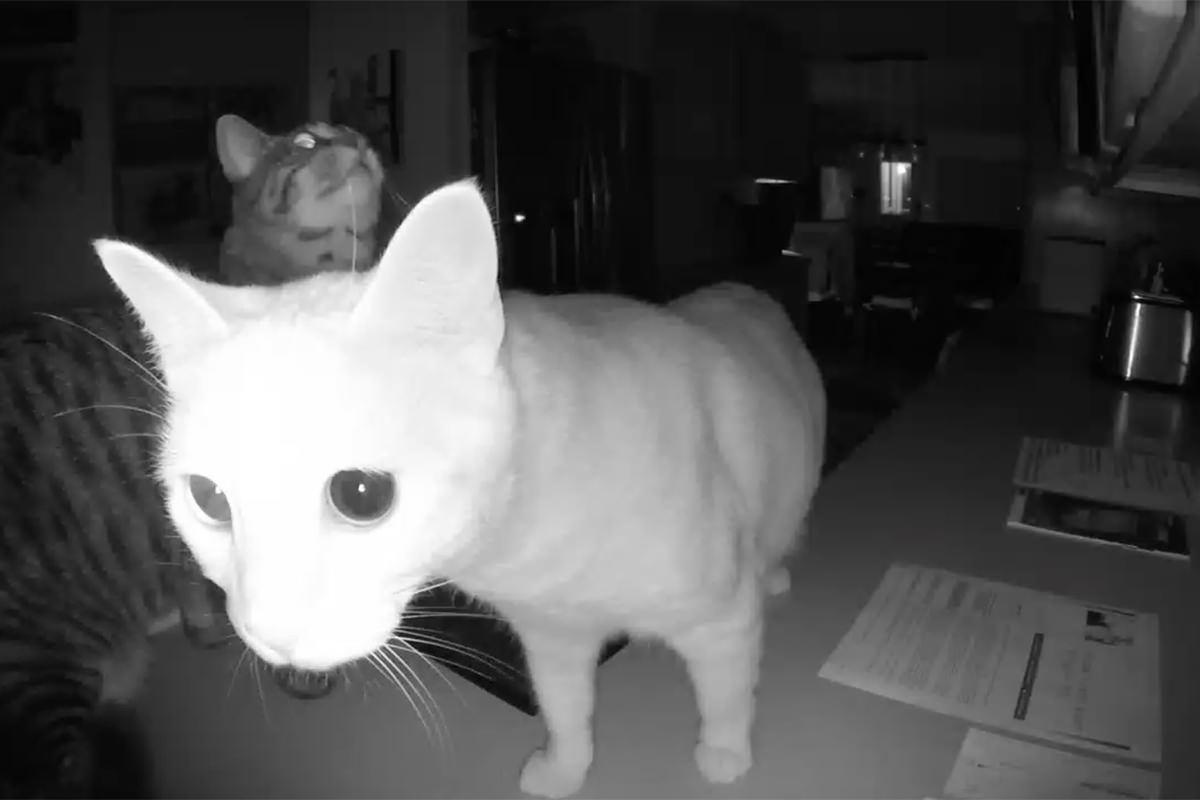 What's weird is that A) The motion alarm did go off, which usually scares them away, so apparently they are immune to that now, and B) My yelling at them to get off the counters through the camera speaker was equally ineffective. Eventually I rang the doorbell, which finally did the trick.
Guess I need to figure out how to tie the motion detectors to the doorbell when I get home.
It also looks like I will be disinfecting my kitchen counters when I get home.
Blargh.

I was pretty much Disney-ed out half-way through yesterday. But the hotel kicks me out in an hour... my ride to the airport isn't here until 3:30... and I have another day left on my park ticket... so I guess I'm going back to Disneyland again today. Oh well. There are certainly worse ways to spend an afternoon.
Still... vacation goals achieved...
Ate lunch at Earl of Sandwich daily. ✓
Ate a Dole Whip Float from the Tiki Juice Bar in Adventureland. ✓
Ate "The Grey Stuff" and Gaston's Brew at The Red Rose Taverne restaurant. ✓
Ate beignets at Jazz Kitchen Express in Downtown Disney. ✓
Didn't kill anybody. ✓
Rode all my favorite attractions (except Pirates and Tower, which were closed). ✓
Until next time, Disneyland.
Posted on March 2nd, 2017

My favorite theme park attraction of all time was Universal Studio's Back to the Future: The Ride. It was absolutely flawless in execution and felt like an essential part of the Back to the Future movie trilogy in a way that other movie tie-ins can only dream of. Alas, it was gutted so as to install a ride for The Simpsons which is only half as good... so if you never got to ride it, you're out of luck.
Many people find it surprising that my favorite didn't come out of Disney, since they are the company that popularized the entire concept of a theme park. No, they weren't first, but they came along and did it bigger and better than anybody else ever had... partly in thanks to having such an established brand with a multitude of characters and properties that translated perfectly into attractions.
That being said, I decided to rank my favorites from both Disneyland and Walt Disney World into a single list. Partly because I want to make sure I don't miss an attraction for my time here... but mostly because I don't feel like working tonight...
Time will tell if this list changes after the new Pandora: The World of AVATAR and Star Wars Land projects debut. I would certainly hope so.