Posted on August 24th, 2019

Every once in a while it strikes me just how different my cats are. Jake and Jenny have completely different personalities, but are equally sweet in their own way. Jenny is very smart and calculating. If you aren't petting her in the right spot, she moves so your hand lands where she wants to be petted. She will also complain if you pet her in a way he doesn't like or if you stop petting her too soon. This is the opposite of Jake, who just flops down when he wants to be petted and takes whatever you will give him.
And speaking of Jake...
A friend stopped by to drop something off, which meant Jake was "trapped" hiding out in the catio. After my friend left, I went to the window to tell him that it was safe for him to come back inside (you laugh, but it works). Jake was pissed. SO MAD. He can't meow, but he was acting like he was meowing me a new one. I have never seen him this angry! JUST LOOK AT HIM! (I am on the other side of the window talking to him)...
After this he calmed down and came running inside, but still!
The next morning Jake woke me up at 4:30am. This never happens. My cats simply do not bother me when I'm sleeping unless there's something terribly wrong. I petted him until he stopped whining and crying and fell asleep next to me...
He was still next to me when I woke up. I canceled the Alexa alarm for breakfast so he could sleep in. I thought he'd wake up when the kitty feeder cycled, but he didn't...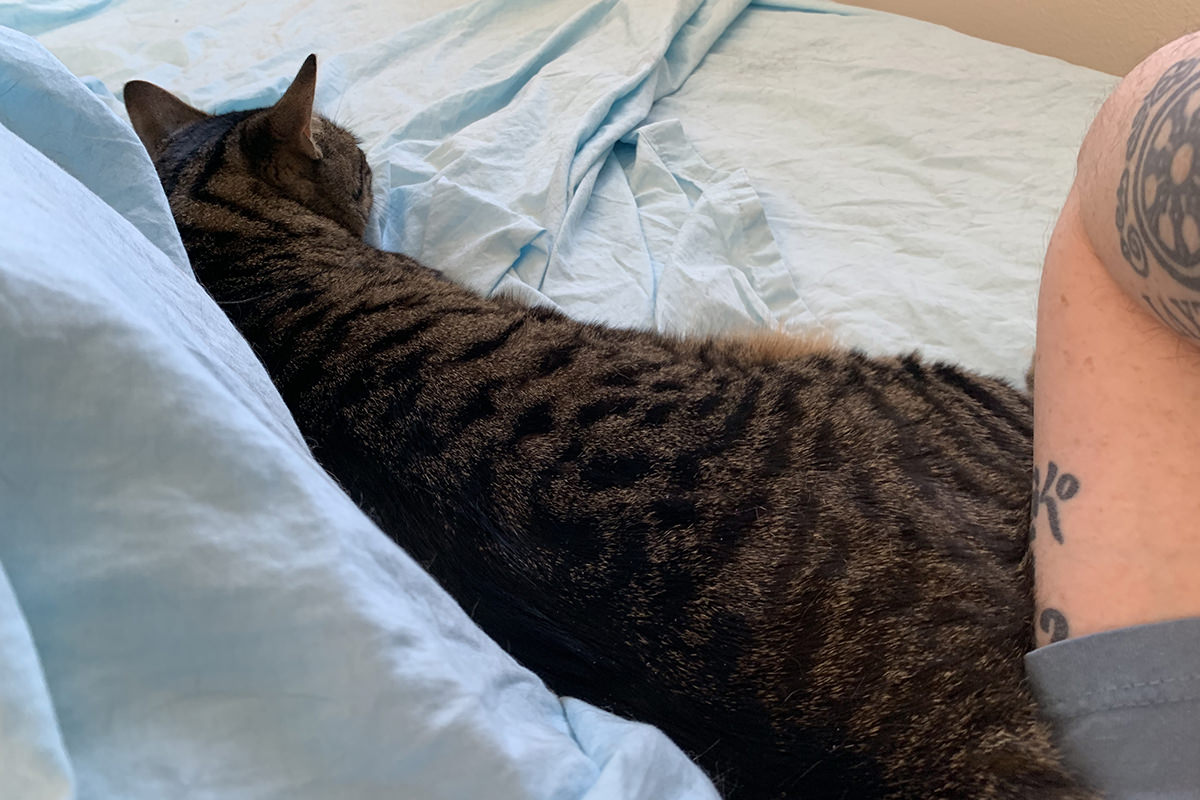 A little after 8:00, he woke up and must have realized that he missed breakfast, because he went tearing downstairs to eat.
And speaking of eating...
Both of my cats are always curious about what I eat. They usually come up and smell it, then wander off when they realize that it's "people food" and not something they want. Since I don't eat meat, the only thing Jake and Jenny want of mine is animal products I eat... like cheese, butter, and eggs. If I set down a plate after lunch and there's butter or mayonnaise or cheese on it? They will definitely lick it clean, so I try not to do that because I think dairy upsets Jake's stomach.
A while back I made chip dip, which is pretty much cream cheese, mayo, lemon juice, and garlic. When I got back from putting my clothes in the dryer, Jenny was very interested in it...
It must have been confusing. On one hand... cheese and mayonnaise. On the other hand... lemon juice and garlic. I didn't shoo her away, but instead sat and watched. I figured that if she wanted to give it a taste, I wouldn't stop her. The problem being that garlic is toxic to cats in quantity, so a taste was all she was going to get. But, after a marathon sniffing session, she walked away. Probably for the best.
And lastly today? The very definition of ape-shit... when a tiny mouse goes running by the catio while your cats are out enjoying the sunset...
There I was sitting watching television when they came running into the house, high-tailing it to the bedroom window. A minute later they were running all over the place like crazy cats. I had no idea what happened to get them so riled up... until I went to the security cameras and saw that a tiny little mouse had run by. I guess that's all it takes.
See you next Saturday.
Posted on August 17th, 2019

Another Caturday... already?
Nothing quite like looking up and seeing your cats staring at you.
This usually happens close to feeding time. I'll be working or reading or something, look up, and there they are...
But lately Jake has been staring at me just to stare at me...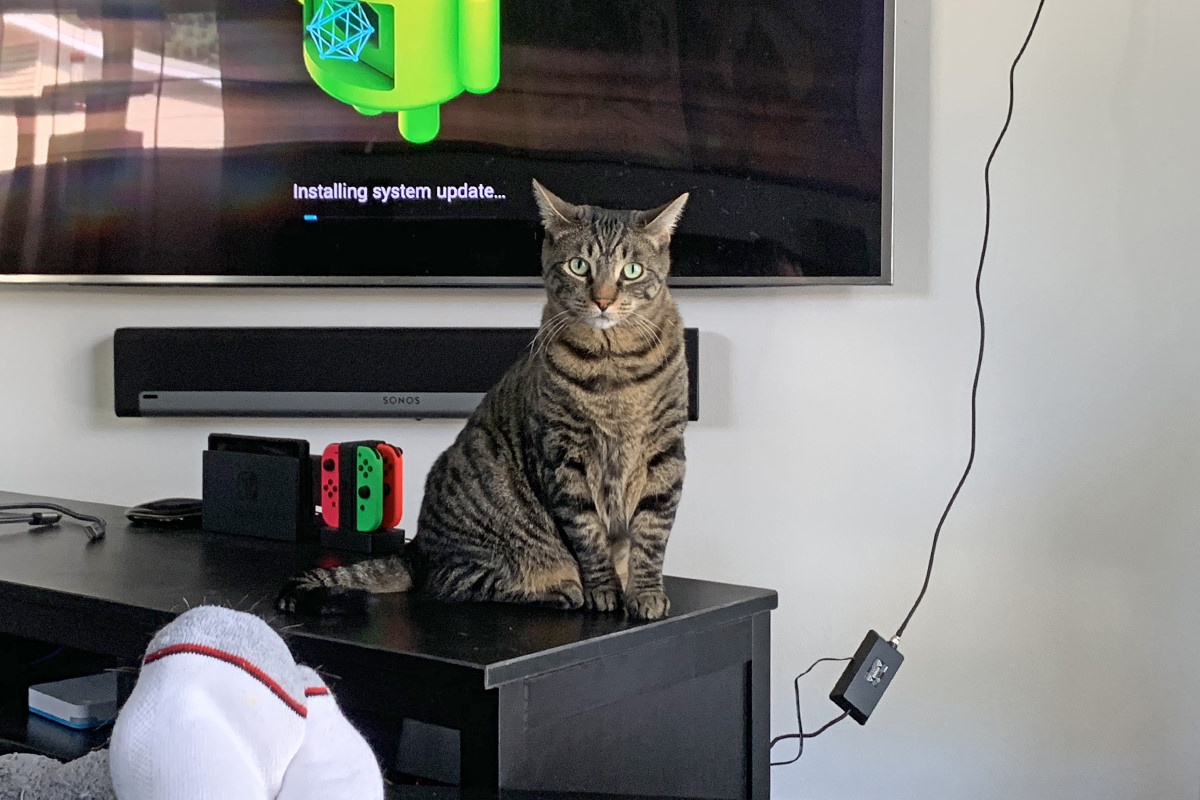 No big deal. I'm a fascinating person, even when I'm doing nothing.
But the other day he actually caught me by surprise. I was getting dressed for work, turned around, and he was... hiding in the cat tree staring at me...
This is a big deal.
My cats have never... not since I first got them as kittens... ever climbed in the little hidey-holes in the cat trees I bought for them. They do not like enclosed spaces and won't go inside of them. Why Jake has all of a sudden taken to hiding in them is a mystery.
In other news... my cats are getting lazy.
A couple days ago I caught Jenny scratching on the scratching post, which is nothing unusual. Except she was laying down while doing it...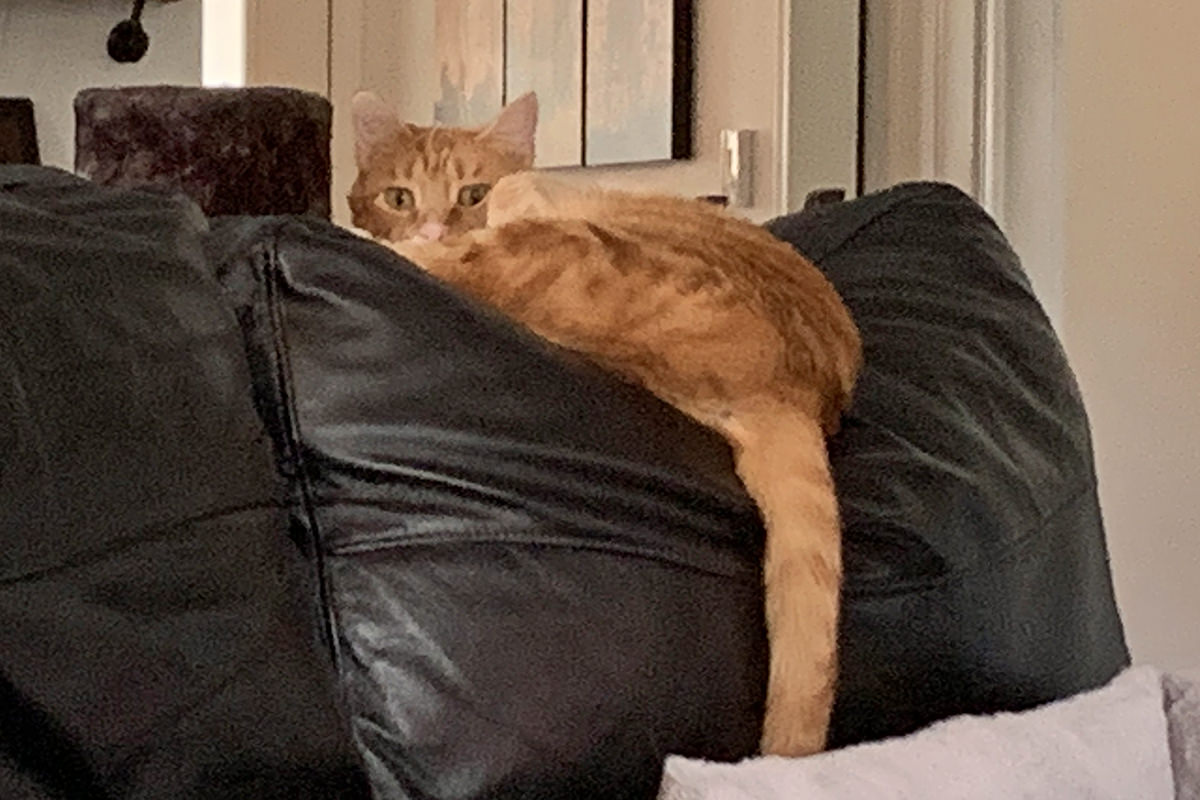 Jake is even lazier. He no longer comes up and rubs against me when he wants a belly rub. He jumps on the bed, shows his belly, then grunts until I rub it...
Jenny is a little more subtle but, then again, she always gets belly rubs when she wants one...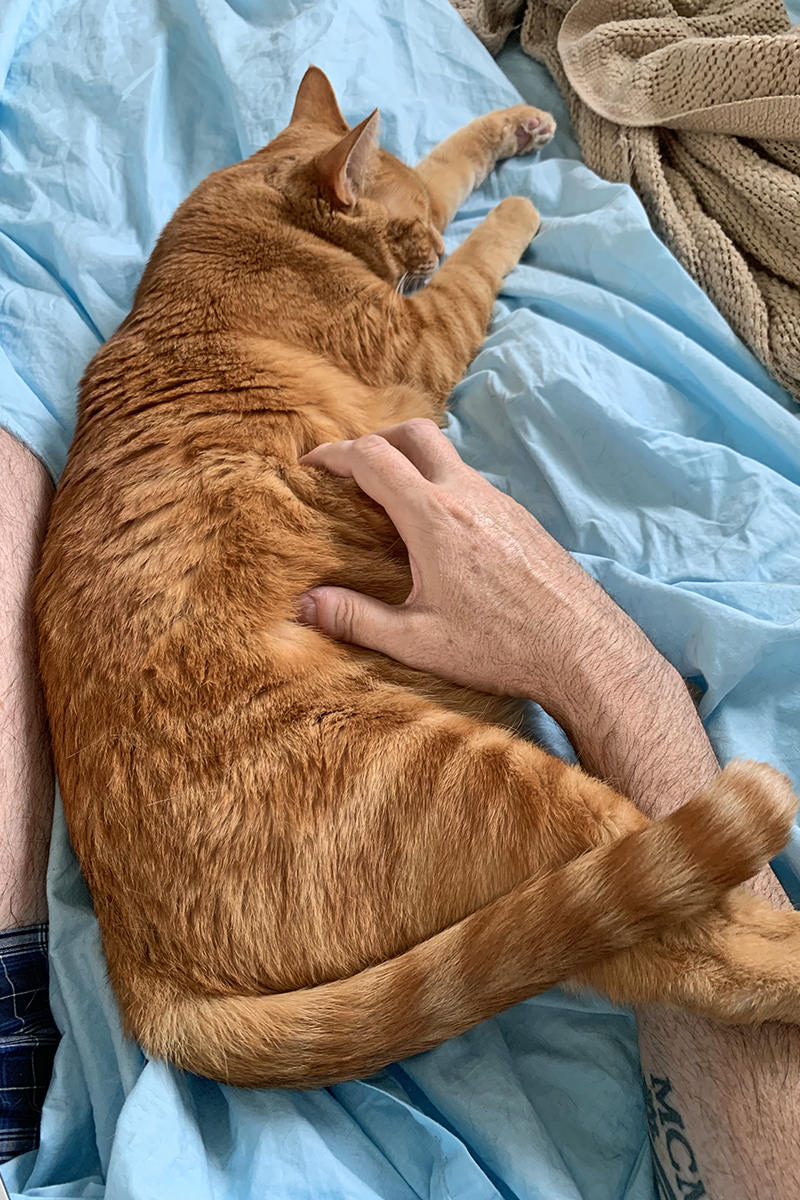 And speaking of Jenny... just to put to rest any doubt that she can handle herself when it comes to her brother... this showed up on my security camera yesterday...
Have a great weekend!
Posted on August 12th, 2019

This morning I checked the local security camera system and noted that one of the hard drives in the mirrored storage array was reporting a fault. I have a spare drive for just such an occasion, so I swapped it out, rebuilt the mirror, and everything was up and running again in just a few minutes. Easy. Just for kicks, I thought I'd pop the failing drive into my drive dock and see what was on it.
Turns out... quite a lot!
Both the local cameras and cloud cameras are disabled when my mobile phone connects to my home wifi, so there's never any interesting footage to look at... just my cats sleeping and goofing off when I'm not home. But before I moved into my new place, the cameras were running 24/7. And while most of the footage has been recorded over hundreds of times, there are some clips that haven't been. Clips of my house just after I bought it when it was completely empty. Clips of my house undergoing renovations. Clips of my house having appliances and flooring installed. Clips of my house in the middle of the night with all the lights left on (I didn't have a security system or automated lights installed yet!). That kind of thing...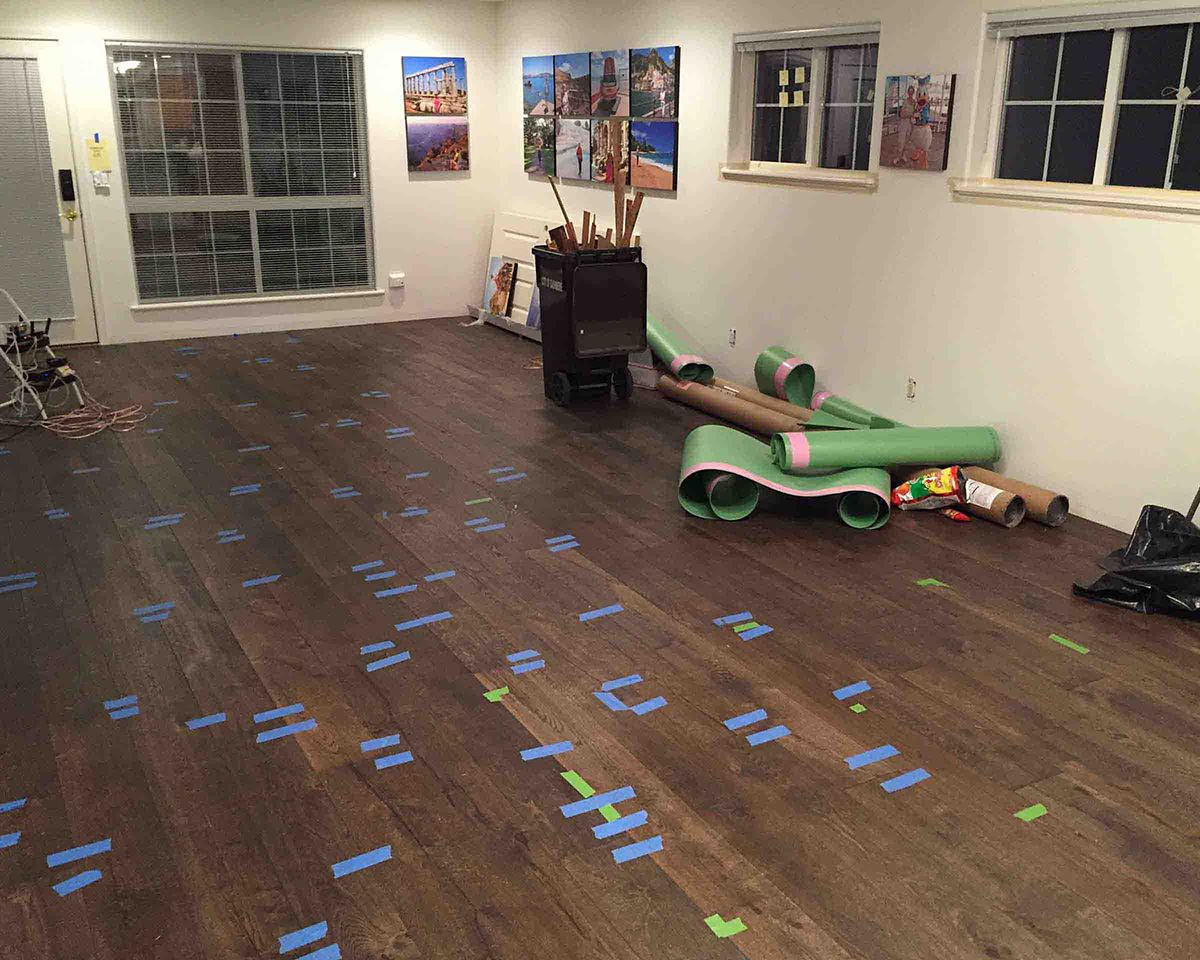 But the real surprise of the morning?
There was oodles of video footage I offloaded from my iPhone of Jake and Jenny when they were kittens! Stuff I had long since forgotten about... some of which I didn't even have backed up! No idea what that was about, but it's definitely backed up now!
Awww...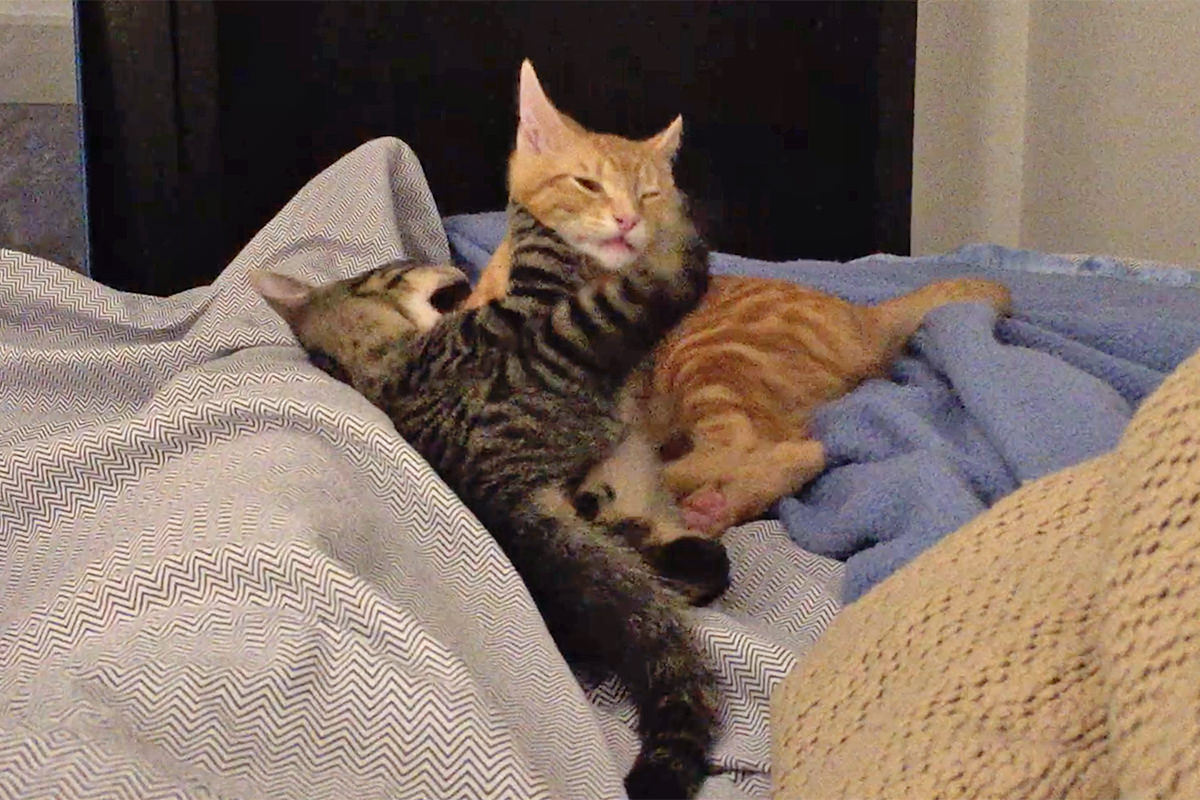 And here's the actual video...

And that's not all... there's lots more video clips waiting for me...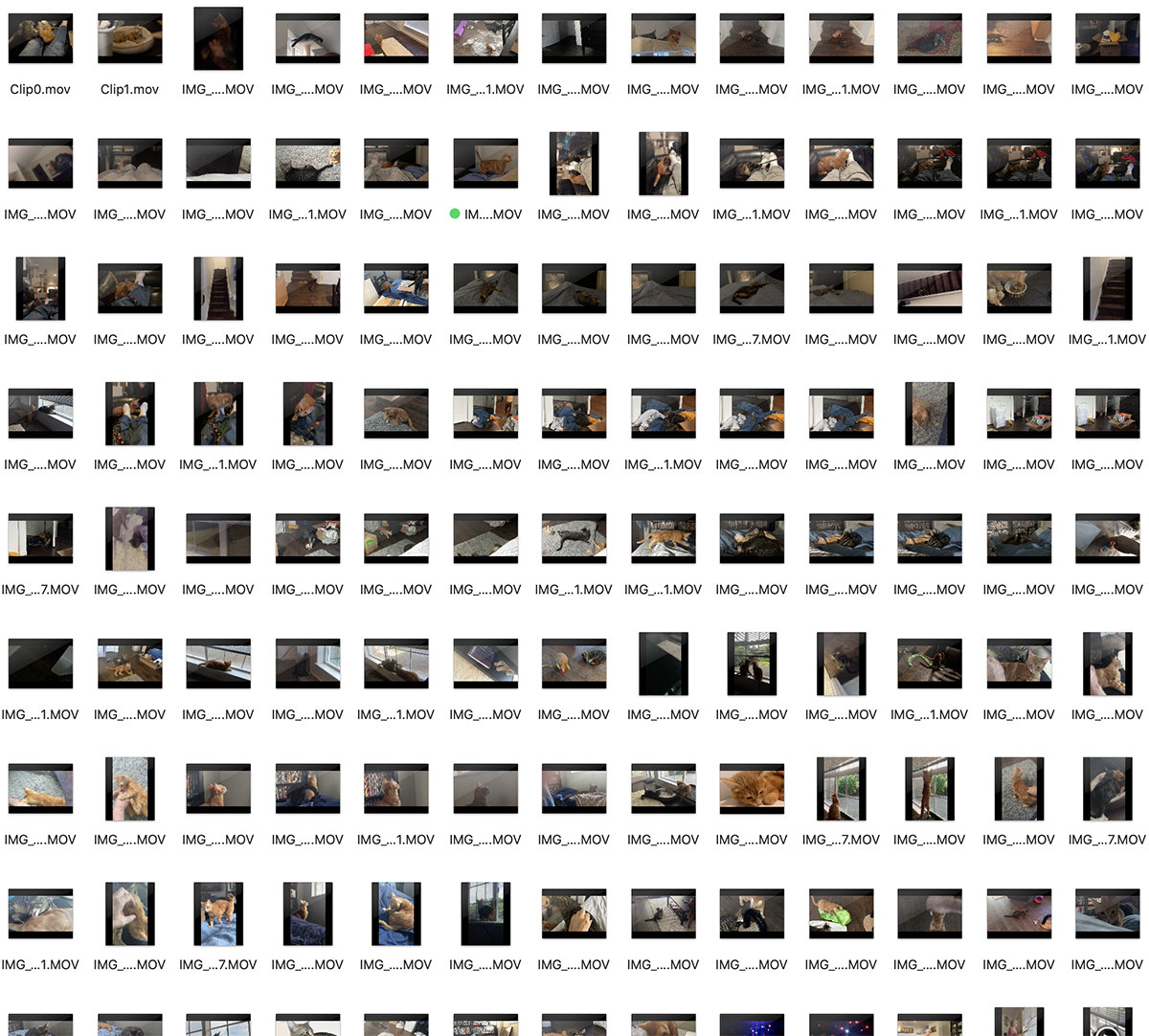 Guess I don't have to worry about having stuff for my Caturday posts for a while.
And now... time to pack a suitcase.
Posted on August 10th, 2019

I have never trimmed my cats' claws. I've never had a need to. There's plenty of stuff I've built and purchased for them to scratch on, so they've kept their claws in good condition without any intervention from me. They also groom their nails often, so they seem to be in good shape whenever I examine them. Of course, I have hardwood floors which means there's no carpet for them to snag on, so that probably helps. Perhaps when they get older and are less active I'll have to start trimming, but it's not been an issue so far...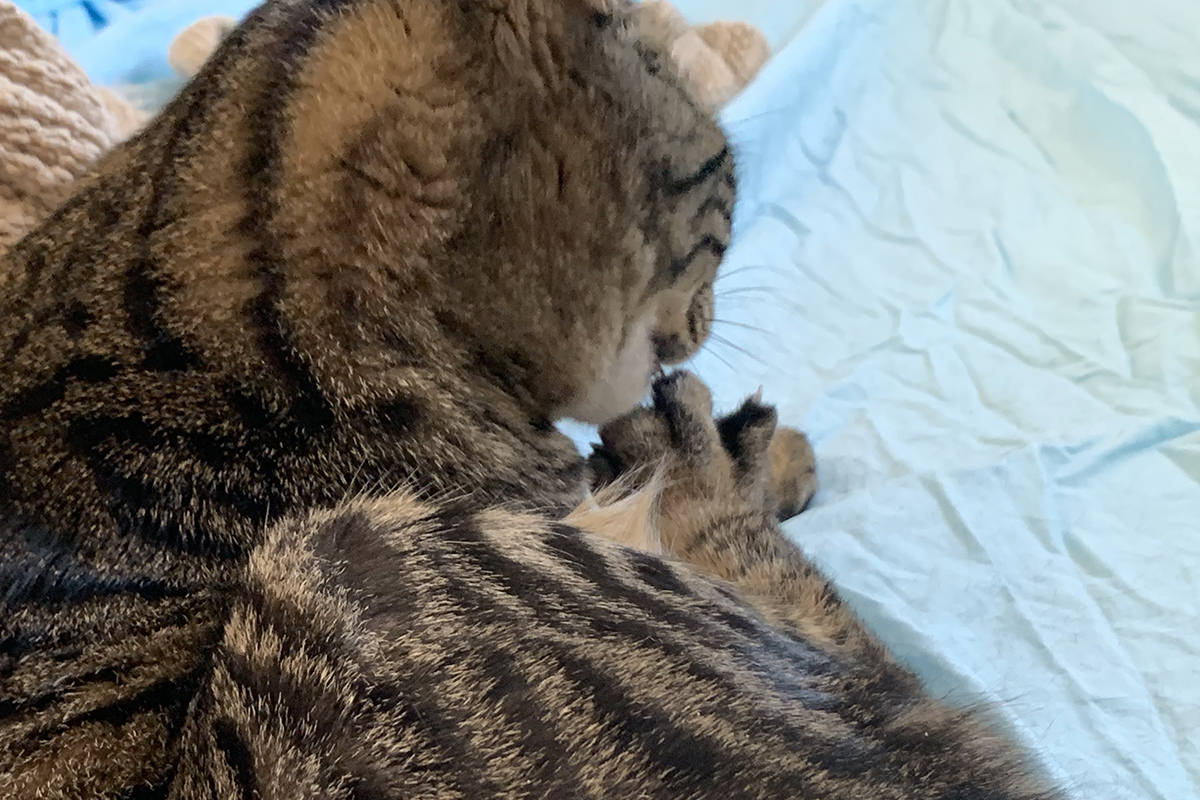 I've never bathed them either. On occasion I've had to wipe off something dirty they've laid on (usually out in the catio), but even that's rare because I try to keep their environment clean. And, again, they are very good about bathing themselves, they don't stink, and so I'll just let nature take its course until I need to intervene...
Cats have self-maintenance as a built-in feature. I plan on taking advantage of that for as long as I can.
This past Thursday was International Cat Day. Which is kinda silly, because EVERY DAY IS INTERNATIONAL CAT DAY in my house!
This is what I woke up to on the 8th, however...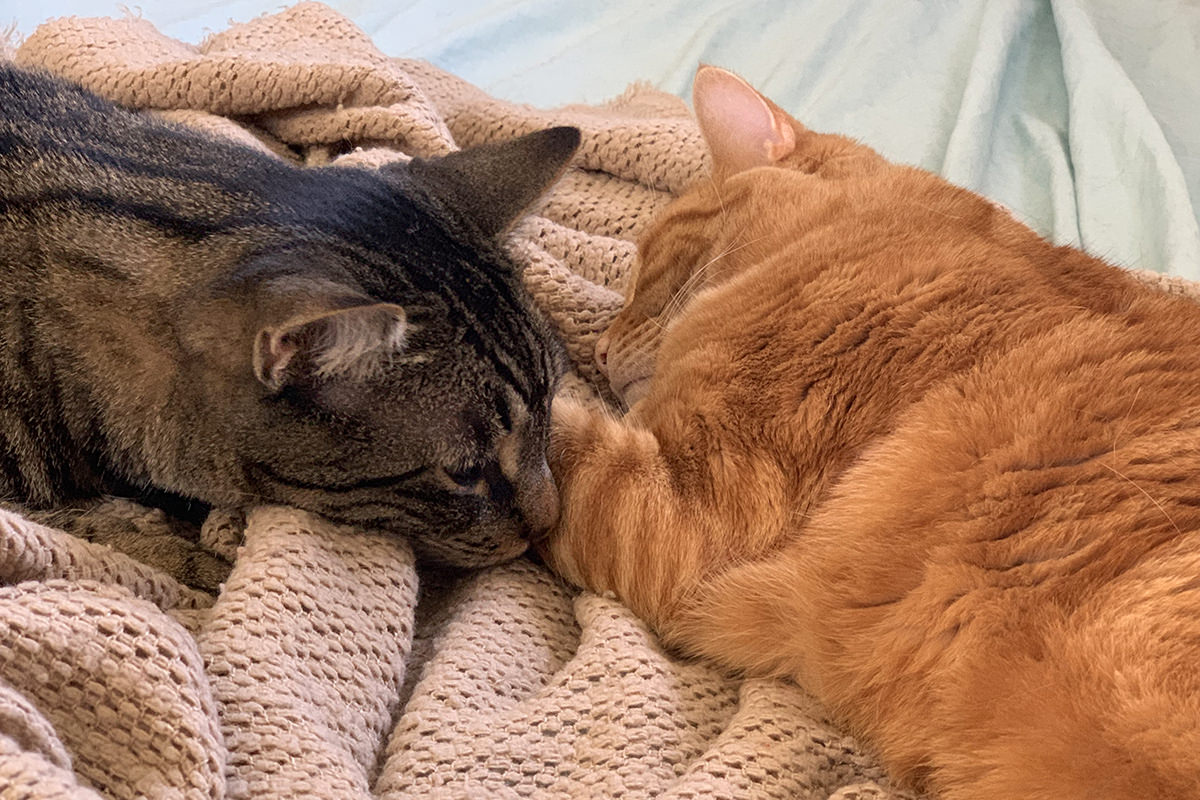 Not a bad start to International Cat Day.
Or any day, really.
See you next Saturday!
Posted on August 3rd, 2019

This past week I've been trying to recover from the work trip that badly messed up my sleep routine. I don't sleep much in the first place, but to basically have to stay awake for three day is not something you can easily bounce back from. My solution has been to just sleep when I'm tired and hope that eventually things go back to normal.
This makes my cats happy, because they just love to have a nap buddy. Especially Jake...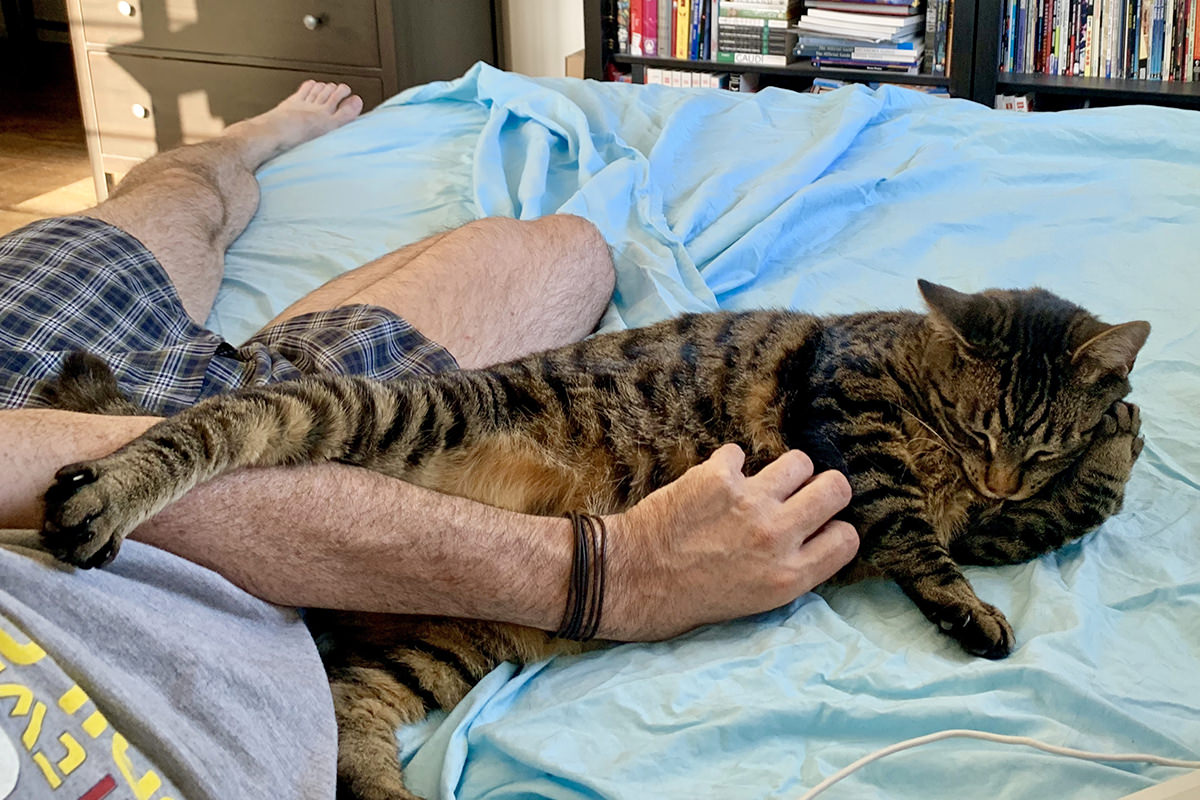 It wouldn't be so bad if he would share the bed instead of pushing me to the edge...
I put a cat bed on the couch so that Jenny could take a nap next to me when I nap...
All is well until I shift position and Jenny has to get all upset over it. Here she is doing her best "Might you have any Grey Poupon" look after I accidentally slid my leg under her bed...

For the past couple months, Jenny has been waiting on the small corner-ledge outside my bathroom so she can get petted after I take a shower. She knows that there's no way I can resist, but has taken to meowing to get my attention anyway. This past week I started recording her each morning...
This adds five to ten minutes to my morning routine each day, but it's worth it! Note the cat hair that goes flying everywhere. I can usually keep her shedding under control by brushing her with The Furminator, but she's been resisting it lately for some reason. Don't know if I accidentally brushed too hard or what, but we're taking a break from it for a while.
And don't worry about Jake getting his fair share of pets. He waits for me on top of the cat tower in my bedroom...
And now, since I've had my shower, I guess it's time for a nap!
But before I go...
Jake has discovered that if he pounces on the pet feeder he can knock loose any kibble that got stuck in the release tube...
I suppose it's only a matter of time before they figure out how to open the thing entirely.
At which point I might as well fill a trough with food when I'm gone and just let them eat until they explode. Silly cats.
=yawn= Have a great weekend!
Posted on August 2nd, 2019

This morning after I fed my cats Jenny started making "yummy noises" while she ate breakfast. It caught me off guard because I've never heard her do that before. It was so subtle I would have missed it if I hadn't leaned over to fill the water fountain... and so adorable that I very nearly fell over laughing.
Not sure what brought this on, but it made my day.
For a little while, anyway.
Because then I decided to have tacos for breakfast and was all "SUCK IT, HATERS... only God can judge me! Wooooooo!!"
About twenty minutes later I spent an hour in "intestinal distress." Apparently God's judgement hath cometh and it cometh for me.
Guess that's what I get for ignoring Fish Friday! Though if the point of Fish Friday is to abstain from eating meat, these were vegetarian-safe tacos, so no harm no foul (no beef no fowl?). Maybe this Wrath of God stuff would make more sense if I had paid more attention in Catholic Sunday school? I dunno. I never found anything about "Fish Friday" in the Bible, so I'm guessing this came from the Catholic Church, much like "purgatory.".
In other news... my measles antibody test came back as 203. Anything higher than 29 is positive for immunization. Which left me looking at the results like... HOLY SHIT, MOM! My antibodies are at 203?!? TWO-OH-THREE?!? EXACTLY HOW MANY TIMES DID YOU HAVE ME IMMUNIZED?!?
It's nice that I'm protected as well as I can be protected from the measles plague while traveling. One less thing to worry about. Now I can focus all my worry on the plane crashing where it belongs!
Just kidding. That's probably the last thing I worry about while traveling. The way the world is going right now, sometimes I think a plane crash is the best thing that could happen to me.
And the second-best thing? Freshly-baked bread for dessert...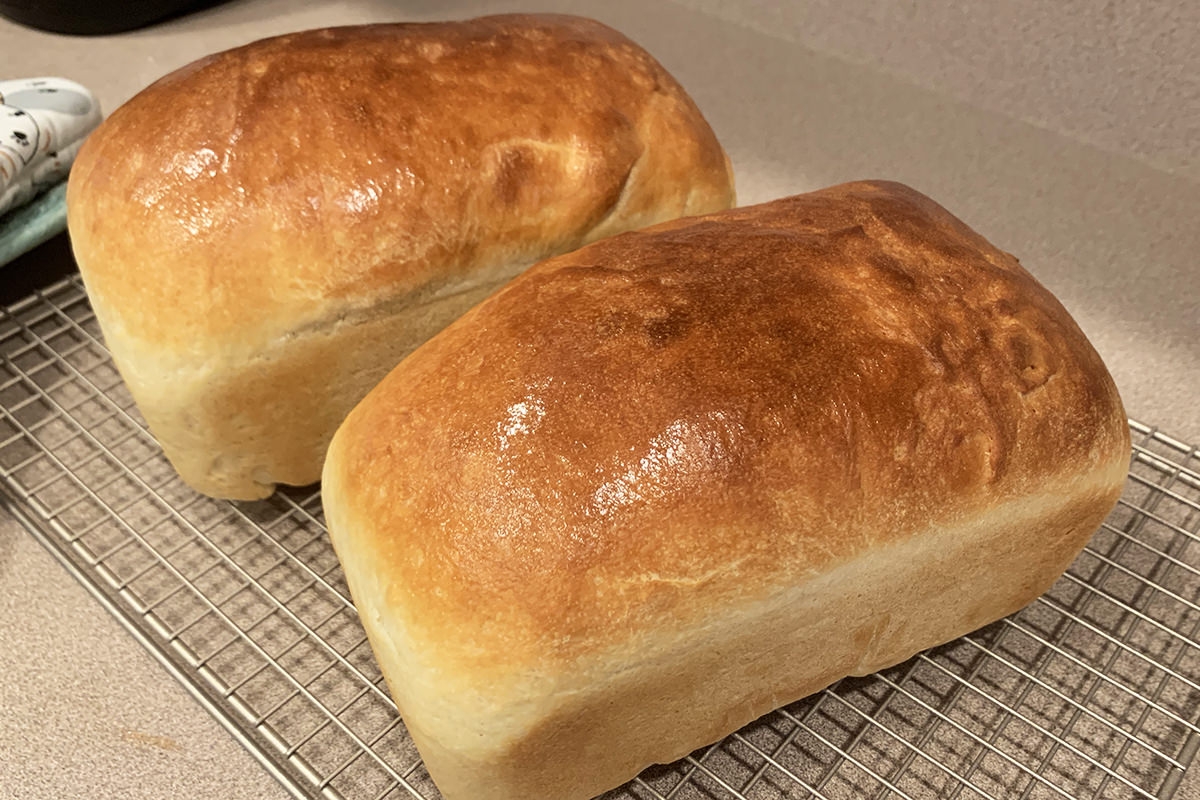 I'll take bread and butter over cake and ice cream any day of the week!
My turn to make yummy noises.
Posted on July 27th, 2019

So happy to be home.
And my cats seem happy to have me home. As usual when I get back from a trip, they don't want to leave the room I'm in. Unless they are running around chasing each other, because they gotta work off all that excitement somehow.
When I sat down to check email, there was Jenny making biscuits next to me...
When I turned in for the night, I thought they would be all over me, but they just plopped down on the floor next to the bed and that was the end of it. But this morning when I woke up and turned on the television? There's Jake, watching with me...
And after I took a shower and was getting dressed?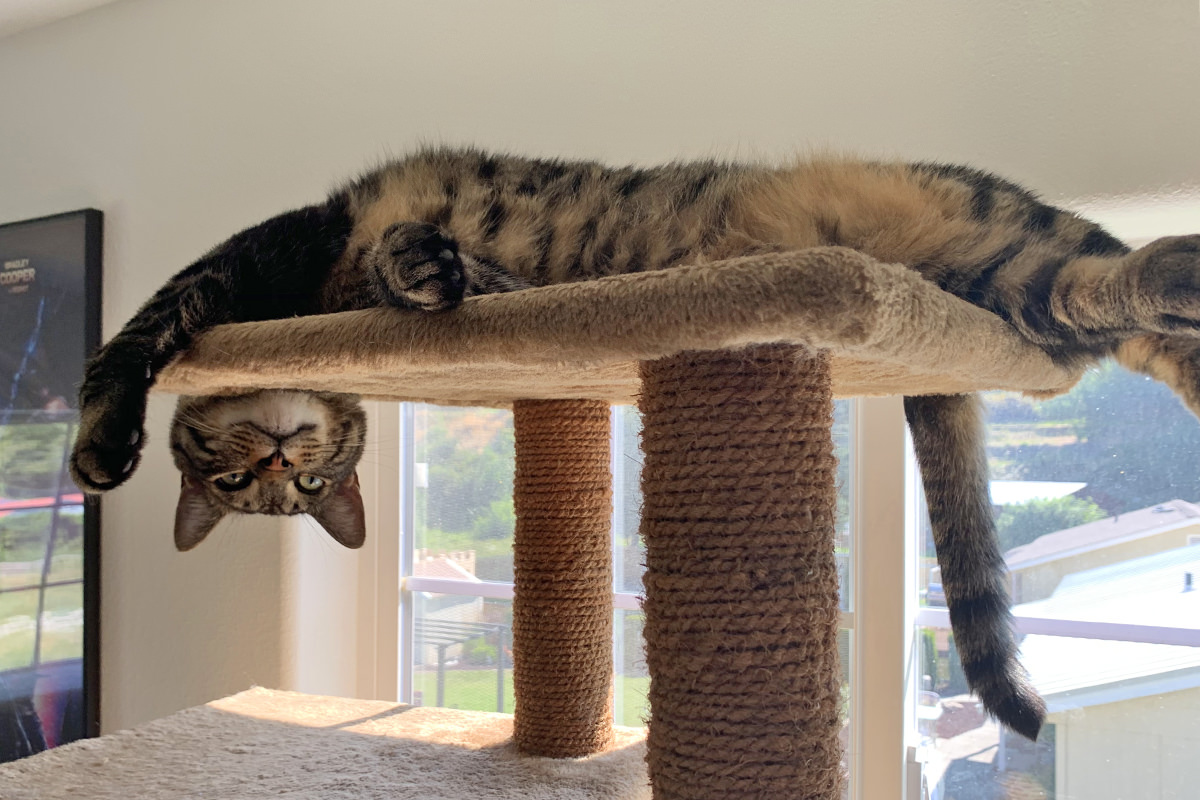 But it isn't all perfect.
I thoroughly cleaned my house before I left. My cats went nuts while I was gone and there's toys, cat hair, and kitty litter tracked everywhere.
And a few half-eaten bug?
WHY?!? Why are my cats bringing in bugs from the catio and eating them inside. WHYYYYY?!? IF YOU MUST EAT BUGS, JUST EAT THEM OUT IN THE CATIO!!!
And speaking of their catio...
Before I left I glanced out my window and thought for a moment that Jenny had murdered Jake...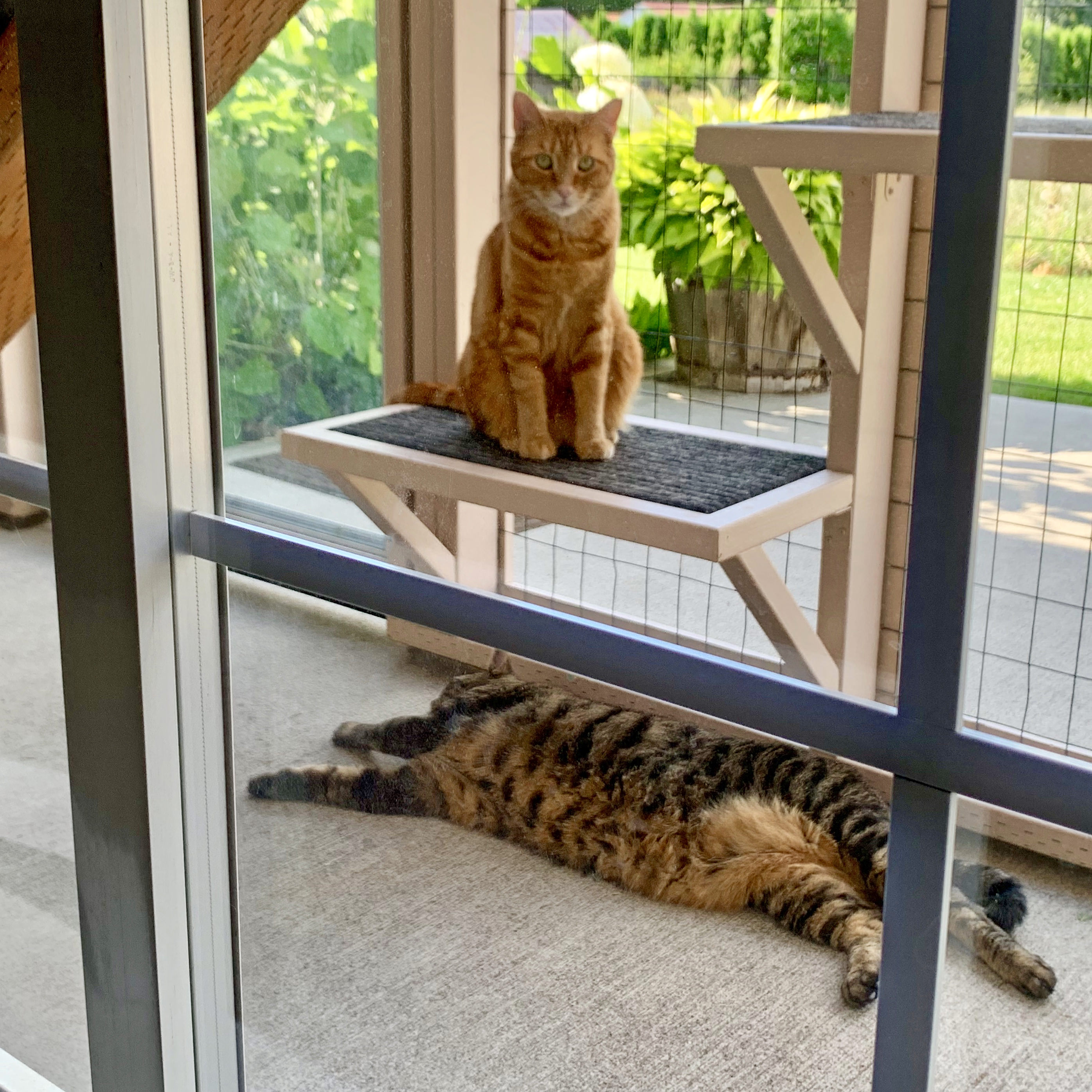 Fortunately, Jake was just sleeping.
And speaking of murder...
I am currently traveling to Maine twice a year for work... once in the winter when it's cold and miserable... and once in summer at the height of tourist season when it's crowded and miserable. I'd love to come in Spring or Fall when it's calmer, but it hasn't happened yet. That's a shame, because Maine is an amazing, amazing place. And I've only scratched the surface.
But at least this time I didn't have to make the drive from Boston to Maine on a weekend. It's a frickin' parking lot the entire way and, after hours of it, you definitely get in a murdery kinda headspace...
And speaking of a murdery headspace... Amazon's anxiously-awaited adaptation of The Boys, one of the most insane comic book series I've ever read, is on now... so... see you next Caturday!
Posted on July 20th, 2019

Tonight I went to see the 4:00 showing of Spider-Man: Far From Home. It was a darn entertaining flick, but it was TWO HOURS AND TEN MINUTES LONG! Which means I didn't get home until 45 minutes after their dinner time at 6:00.
They were not happy.
Jake wouldn't even let me get my shoes off before he was all over me... squawking and fretting and glaring at me for daring to delay his dinner...
Jenny was a bit nicer about it. She had the manners to sit on the kitchen table and meow from a distance.
After dinner, Jenny ran upstairs. I thought Jake might be up for some belly rubs, but he ran away from me and hid in his scratcher-lounger...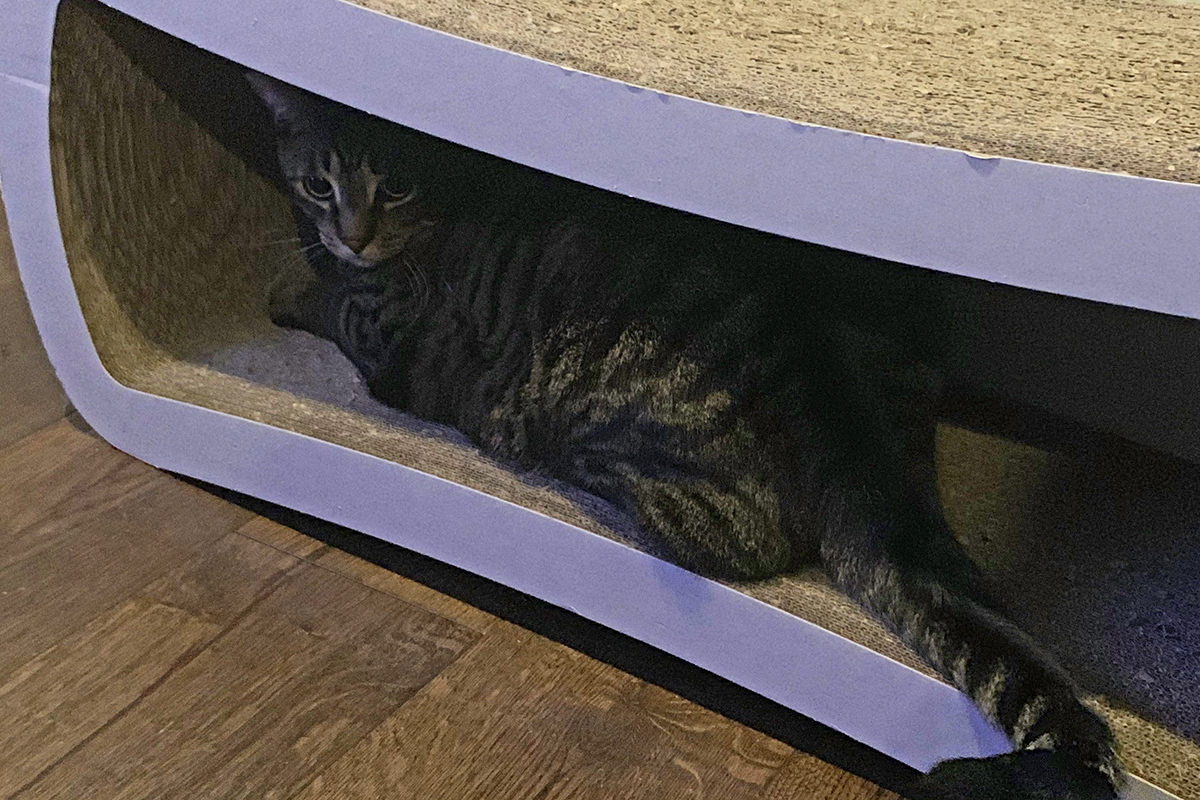 Guess I'm in the dog house for a while with my cats.
Which is the opposite from how it's been lately.
For one thing, both my cats want to be in the same room I'm in. Jenny comes after me every morning and every night to get petted and scratched...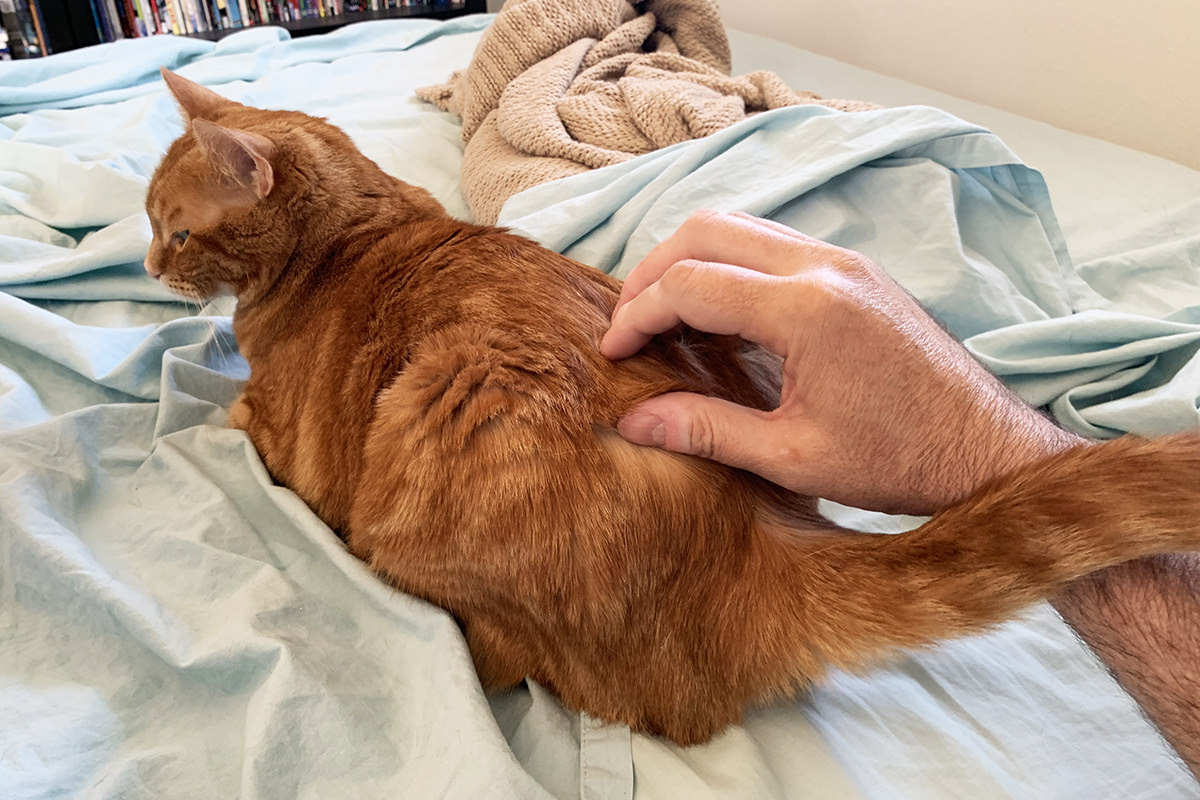 She really gets into it...
Jake is actually sleeping with me now. He likes to find space around my legs after I fall asleep and wedge himself in-between. Many times I wake up to find him there, which is odd because I'm not a still sleeper. I'm all over the place. Which means he adapts as I move around...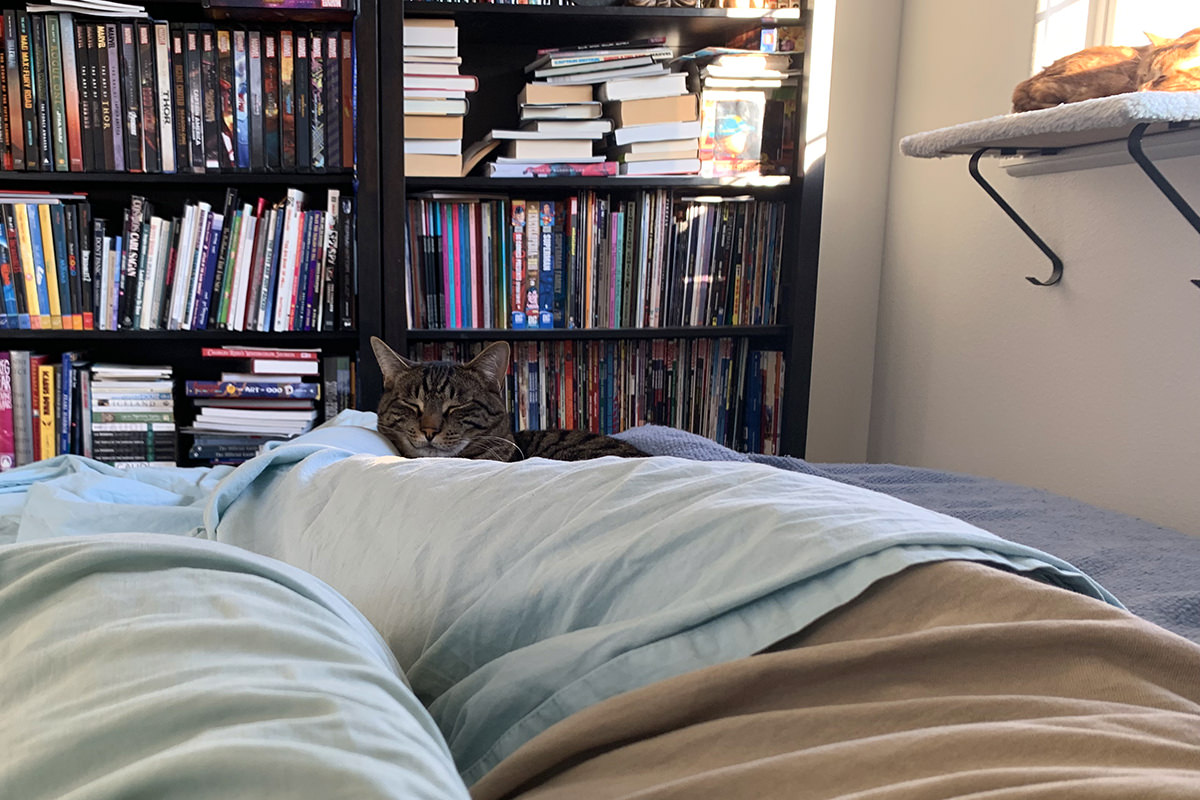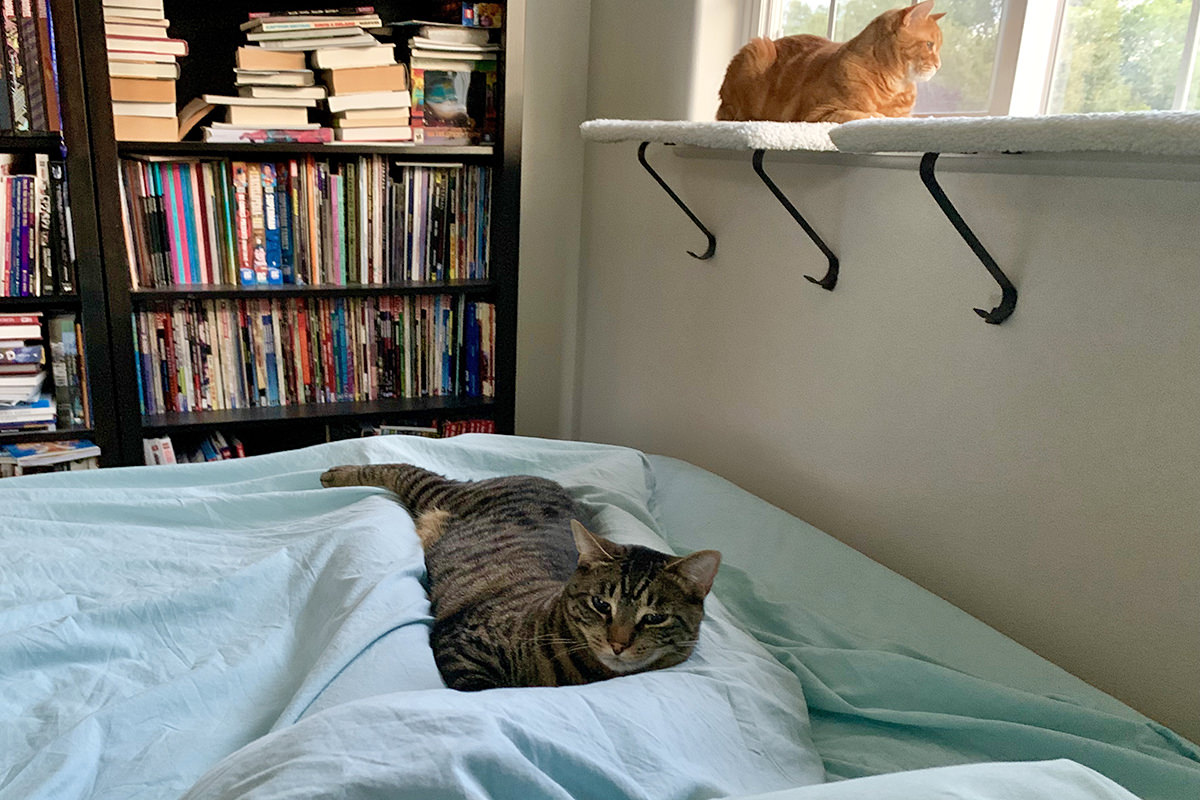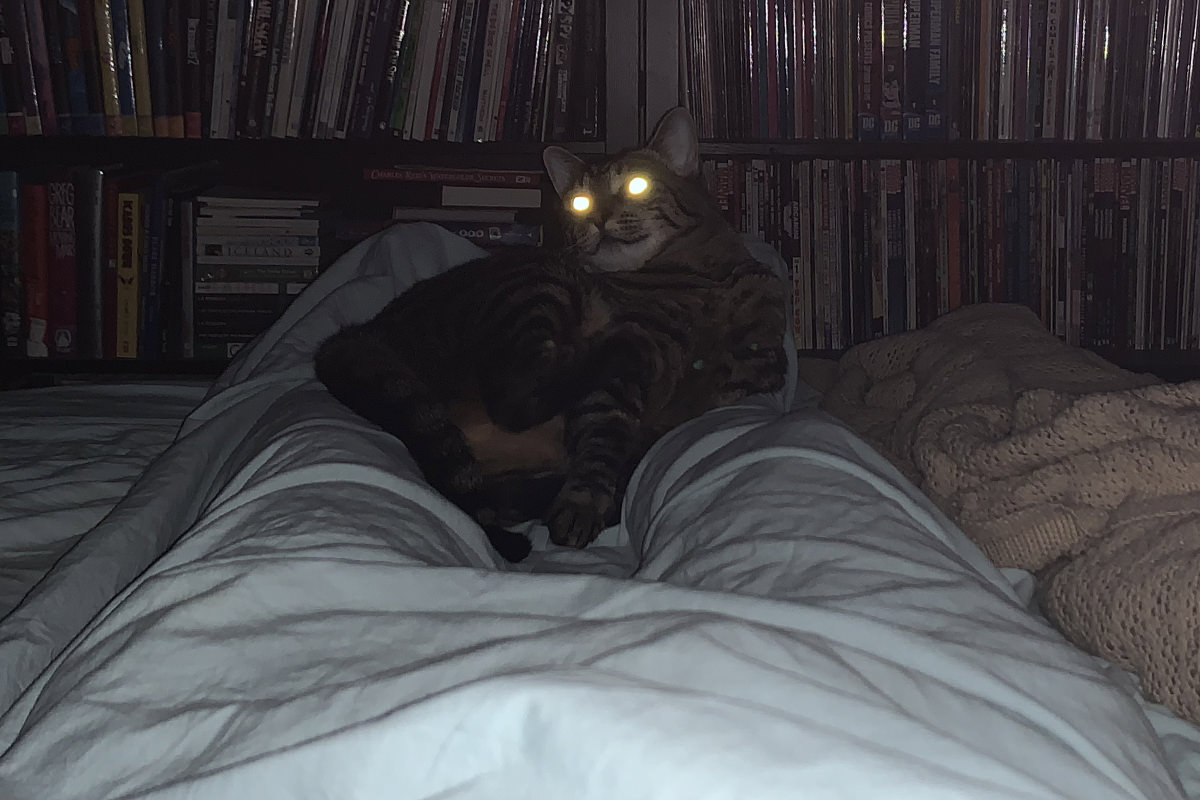 We'll see what tonight will bring. Hopefully he'll be over hating me by then.
Hope you had a good Caturday!
Posted on July 13th, 2019

I was only away for two nights, but my cats seemed more bothered than usual by my absence. This has me a bit concerned for my upcoming travel. Fortunately, I have security cameras everywhere to look in while I'm gone and can call a neighbor if they need help... but since they are so afraid of strangers, that would probably just add to their anxiety.
Which is the reason I don't hire a cat-sitter any more. Jake and Jenny just run and hide, so what difference does it make? Unless I'm going to be gone long enough that the Litter-Robot will need emptying, it's probably better to just let them be.
Heaven only knows I wouldn't want to interrupt their busy day of sleeping and lounging in the catio...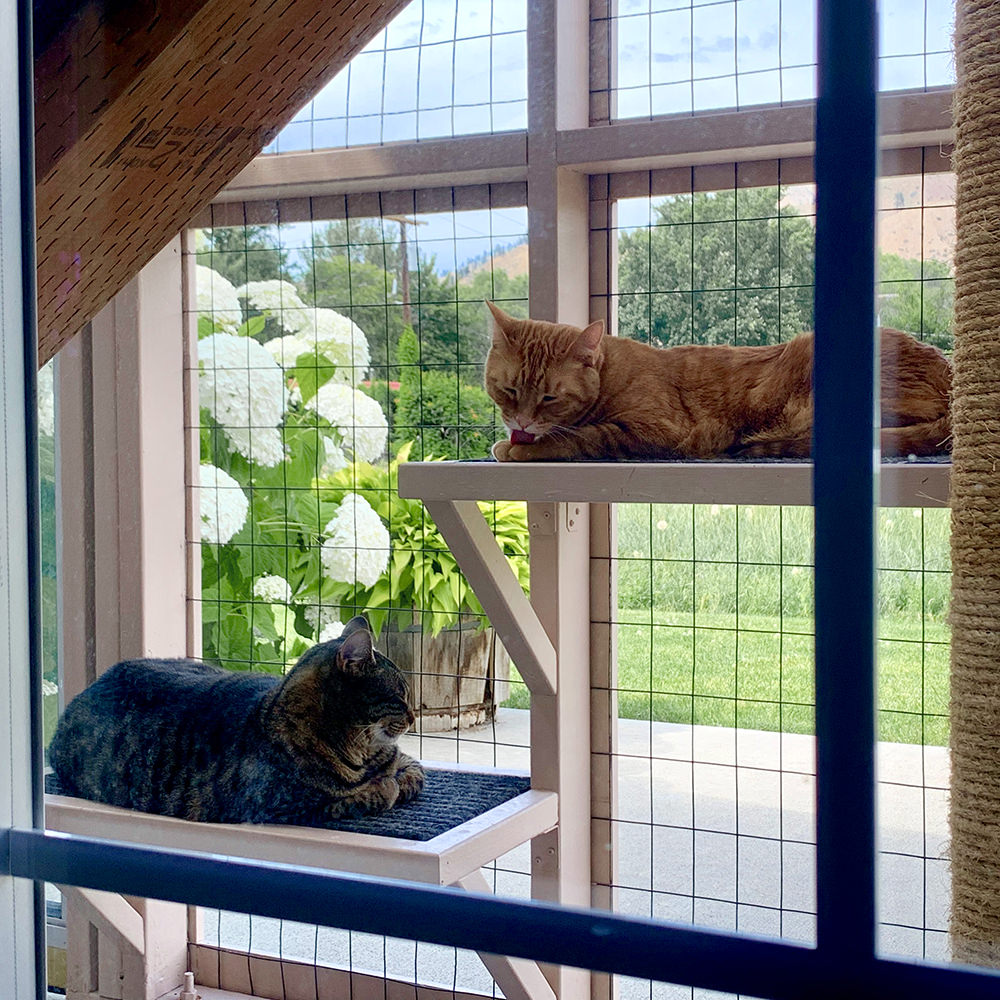 Surprisingly, despite how hot it's been out, bot my cats are still spending a lot of time in the catio. During the day, it's for napping and bird-watching...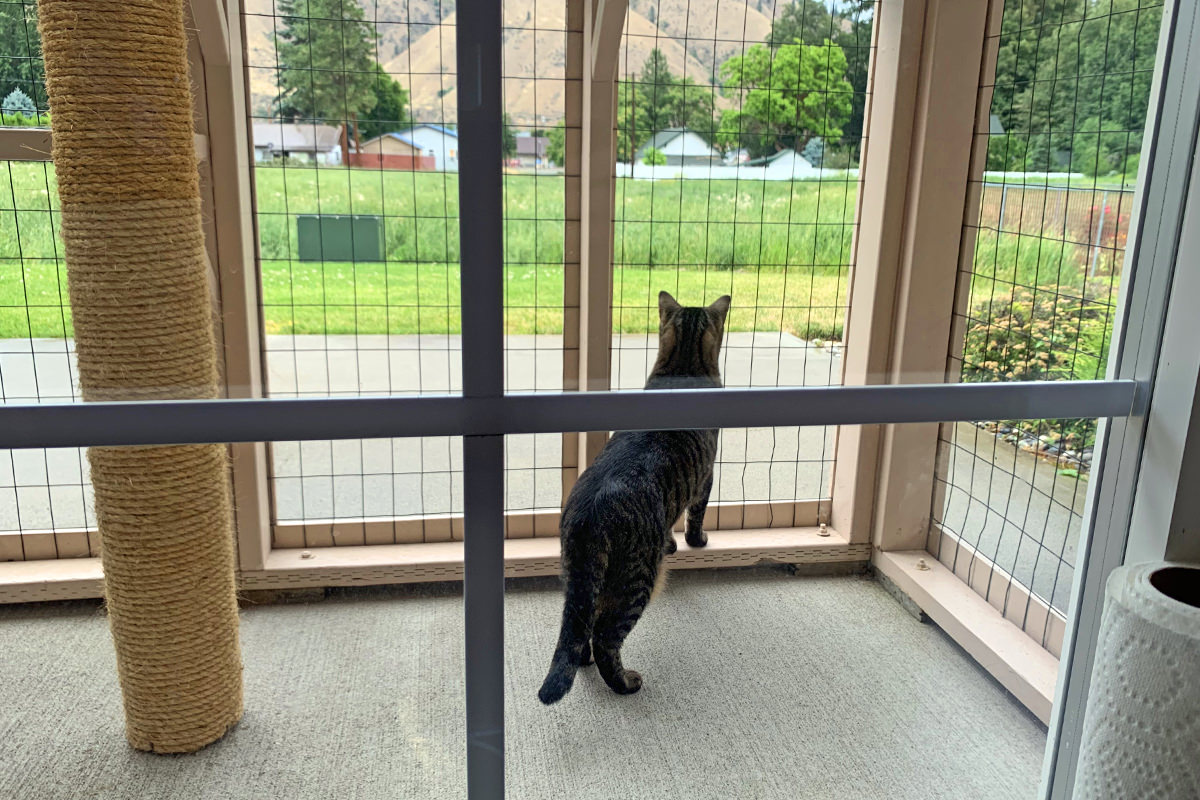 Or just watching me while I work...
As the sun sets, it becomes all about catching bugs (yuck) and eating bugs (double-yuck).
Here's Jenny observing a bug before Jake literally pushes her off the perch...
It's hard to tell from the camera angle... but I was watching it happen, and Jake absolutely put his paw around her and shoved her off while she was leaning over.
Jake seems to like poking and pushing Jenny for no reason other than his own amusement...
Fortunately, Jenny is not shy about poking back when she's had enough of Jake's crap. You can see in the above photo what she looks like juuuuuuust before she's about ready to snap.
Fortunately, my cats mostly get along, so the poking is kept to a minimum.
And so long as they're not poking me, it's all good.
Posted on July 6th, 2019

Apparently I had some motivation in me after all?
Today was so beautiful out that I ended up floating the river with friends instead of lounging around the house doing nothing.
Though laying on a floatie drinking booze and letting the river take you is pretty close to nothing...
At the end of our float, there was a couple with their too-cute dogs out enjoying the sun. One of the pups was tuckered out and decided to take a nap under a cap...
But this is Caturday and not Dogurday, so back to the usual feline madness that Saturday brings...
I ended up having to leave the post-float party early because I have ghosts...
Asking Jenny to go close the door had no effect.
Behind my house is a big field filled with dandelions that have gone to seed. So leaving the door open like that will guarantee that dandelion fluff will fill my living room if I don't take care of it, so off I went.

Whenever I have guests staying over, my cats cower upstairs in my storage closet until everybody goes to bed... then they come out and goof around until everybody wakes up and they hide upstairs again. This morning poor Jake was lounging in the catio and didn't make it upstairs before we were all awake. This is the look on his face when he realized he was "trapped" in the catio until we all left for the day...
He didn't have to wait long, but enjoyed staring at us from behind the safety of my massive pole...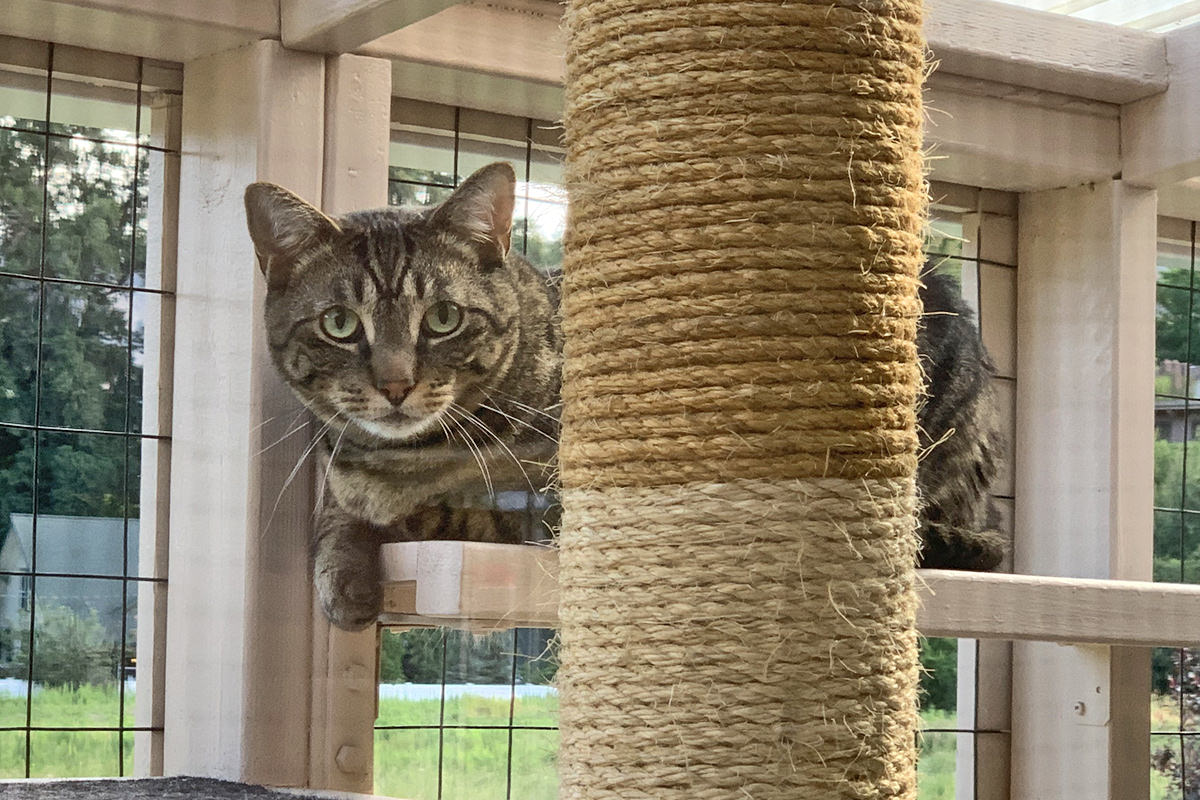 I have tried many, many times to get my cats so they are not afraid of people. It never works. After a few days Jake might come wandering out for a minute if it's quiet and calm, but he's completely scared and on edge the entire time. Jenny won't even think about it. This makes me terrified as to how my cats will manage if I'm in some kind of horrible accident. Will anybody want to adopt them if they are this frightened? Are there kind souls who are patient and caring with a feral rescue who's terrified of people? I sure hope so.
Of course, just getting ready for guests is an adventure unto itself. I try to get everything cleaned up and organized, but this is never easy. "Oh, you just made the bed? Here, let me get on that, even though I haven't been on the bed in weeks...

And now, as I retire on this fine Caturday, I leave you with this...
Oh. And this...
Cats are the best.