Posted on June 22nd, 2019

I always find it funny how Jake will barrel through the patio door when he spots an "enemy" cat wandering by outside and wants to quickly investigate... but when he just wants to go outside, he'll hem and haw at the door flap until he gingerly and reluctantly pushes his face through and ever-so-slowly oozes out.
A while back I was on the phone with a colleague and mentioned that my little trash panda was licking all the snack wrappers from my breakfast. She said "Why is the cat the trash panda... you're the one eating garbage for breakfast!" Touché...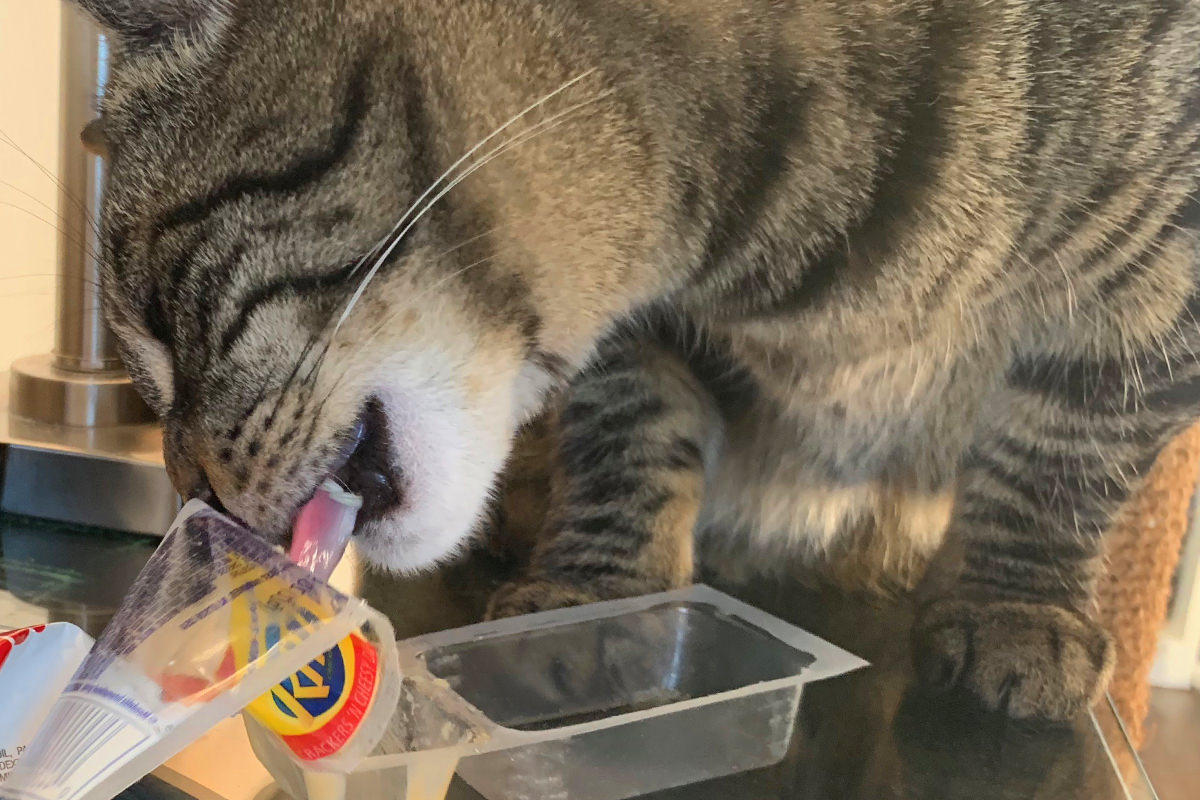 He's still adorable like a panda though...
Since my cats spend most of their day sleeping and most of their night out in the patio waiting for bugs to fly in, there's not much else to say this fine Caturday...
Except...
See you next Caturday.
Posted on June 20th, 2019
My morning walks to work are starting to become the best part of my day. When I'm not nearly getting run down in the sidewalks, I'm discovering all kinds of things that make life interesting.
Far and away my most favorite thing each morning is looking to see if the family of cats that live on my route is out. The kittens spark joy in my cold, dead heart, so it's always a good day when I can start it out with kittens. Today they were indeed lounging in the front yard, watching me warily as I approached like they always do...
Much to my dismay, the little puffball cat was not there again. That's the third time in a row, and I'm heartbroken at the thought that he was attacked or got run over or something...
The only thing keeping me from going crazy and adopting every kitten I see is space and money. I had better never win the lottery or else I will end up buying a big house and filling it with homeless cats. I think we all know that this never ends well.
UPDATE: Well would you look at that! The kitten is back! All three accounted for...
Interesting how the puffball sibling is always alone or hanging out with mom. It's never playing with the other two (who are forever wrestling around).

In other news... inside the "Little Library Box" this morning was a new book. A children's book made famous because it was written by Madonna. This one from her The English Roses series is called A Rose by Any Other Name...
I remember when Madonna released her first English Roses book and went on MTV(?) to read it to a group of kids. She was trying to read with an English accent but it wasn't working out so well.
I thought I might grab the book because I was intrigued about the offer for a free MyEnglishRoses.net access card... but the domain is dead now, so I guess it's not quite the bonus I was lead to believe.

Guess I'll spend the rest of my day wondering where that kitten ended up. I think I might choose to believe that he was adopted and is now living happily in a new forever home.
Sometimes the best ending we can hope for is the one we make up for ourselves.
Posted on June 19th, 2019

I didn't step foot in the office this past weekend. Not once. I'm thinking that's probably the first time that's happened this year. It was a good thing... a great thing, even... but I did end up going back into the office tonight and working until very late to do stuff I probably should have done over the weekend, so perhaps it wasn't my smartest move?
This morning when Alexa sounded the breakfast alarm for the cats, there were no cats to be found.
This is highly unusual. But it's also the second time this week. They did it on Monday as well.
85% of the time both cats are lounging around my bedroom waiting for the alarm to chime. 10% of the time one or both of them are not in my bedroom when the alarm chimes, but come running when they hear it. 5% of the time one of them sees something out in the catio and forgets about trying to guilt me into an early breakfast... but the other one is still in my room waiting for Alexa.
My first thought Monday morning was "Wow. What is a big enough event that both Jake and Jenny don't come running when the alarm sounds?" The only thing that entered my head was that a bird flew into the catio and they are out there playing with its corpse. AKA: my nightmare. Poor bird.
But that wasn't it at all. They were just too dang lazy to come running and were waiting for me to come to them at the bottom of the stairs...

Then again today. Well, okay. Fine.
But I draw the line at serving them breakfast in bed!
At least until they demand that I start serving them breakfast in bed, of course.
Posted on June 16th, 2019

Okay, the time for revolution wasn't then after all, it's now... maybe... because an all new Bullet Sunday starts... now...

• Too! As a huge Miley Cyrus fan, I was very much looking forward to her episode in the new Black Mirror mini-season (just three episodes). I was not disappointed. Not only was her episode hilarious in all the right ways, it was surprisingly upbeat. Usually Black Mirror is about as dystopian bleak as it gets, but Rachel, Jack and Ashley Too? Not so much...
Miley plays "Ashley O," a huge pop star who ends up with a robotic doll that her fans can buy...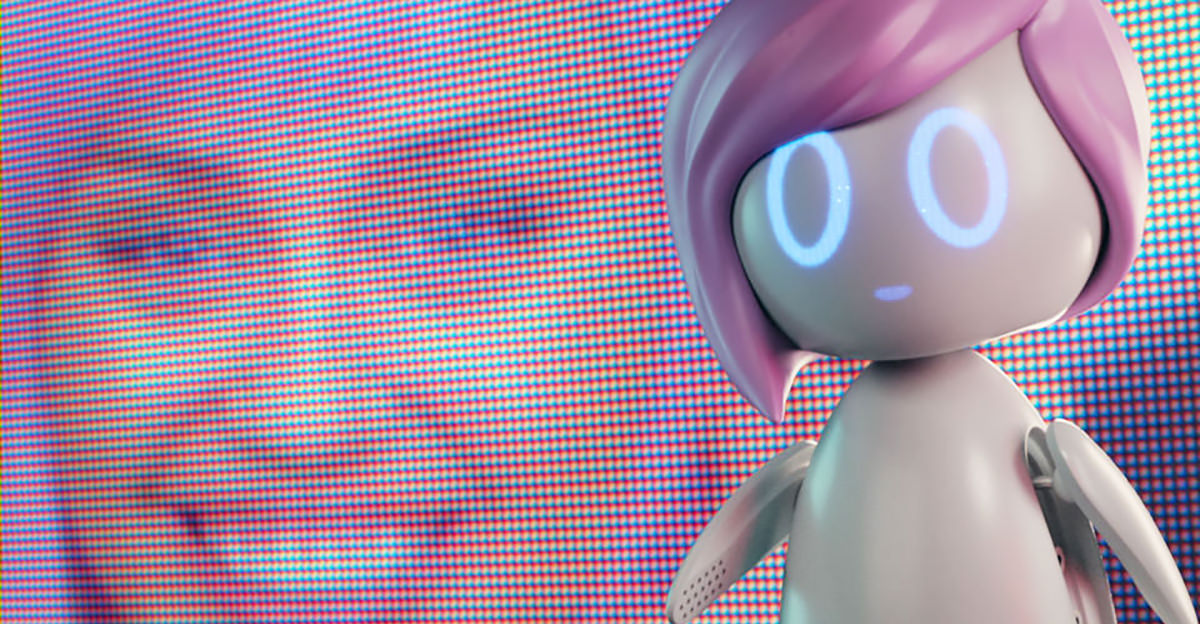 I don't know who was responsible for designing that robot, but it is the best thing ever. And it's tough to tell you exactly why that's the case without spoiling anything, so I will stay silent. Except to say that "Ashley O" has released a video for her awesome song On a Roll (a parody on Nine Inch Nails' Head Like a Hole)...
If you're a Black Mirror fan, you've probably already seen this. If not (and you have Netflix), this is the episode to watch. Especially the final third, which is genius.

• Jones! On the opposite end of the spectrum is the third (and final) season of Netflix's Jessica Jones, the last of their Marvel Studio tie-ins...
What can I say? It was 100% crap from start to finish. Instead of focusing on Jessica Jones, it got mired in endless bullshit centered around the supporting characters. NEWSFLASH: Nobody gives a shit about Hogarth, Trish, Malcolm, Zaya, Dorothy, Kith, Costa, or anybody else who isn't Jessica Jones. Especially when they are this boring. SUPPORTING CHARACTERS ARE SUPPOSED TO SUPPORT THE MAIN CHARACTER! The only supporting character who didn't irritate me because they actually had an interesting role that moved Jessica Jones' story forward was Erik Gelden. Surprisingly, they managed to retool the lame "Mind-Wave" from the comics and use him to good effect.
Originally I was sad that Netflix canceled all of their Marvel shows, but this lame-ass season (featuring a laughably absurd arc for Trish Walker) has me reconsidering. If this was what we were in for, maybe cancelation was for the best.

• Park! Welp, the new Jurassic Park LEGO sets are amazing...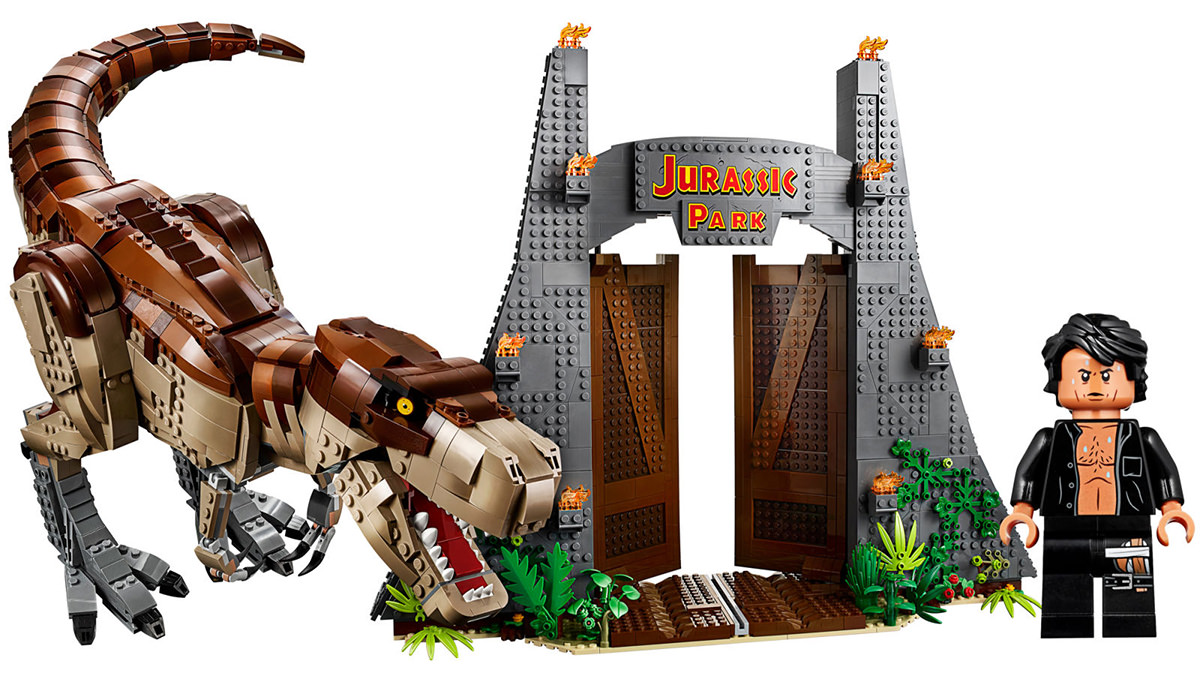 Another LEGO mining for Samuel L. Jackson!

• Memorial. I had never seen this before...
Remarkable.

• America by Gaslight! An essential read.

• Katzenjammers! And now I close out this Bullet Sunday with one of the weirdest things you'll see all week...
Cats don't need any help being weird, but this certainly shows it's possible to make them even weirder than they already are.

And, on that note of the utterly bizarre, I'll see you next Sunday.
Posted on June 15th, 2019

I loathe the constant barrage of senseless plastic pollution which permeates modern life in this country. Absolutely everything comes packed in it or protected by it. It's a plague that's destroying the planet, and only getting worse as more and more people like me do their shopping online.
Most of the pillow packs can be deflated and recycled. I don't think they can go in my recycle bin, but they can be saved and dropped into those shopping bag recycling receptacles at grocery stores.
But not before my cats get to play in them, which is one of their favorite things. Especially Jenny, who likes hiding in them...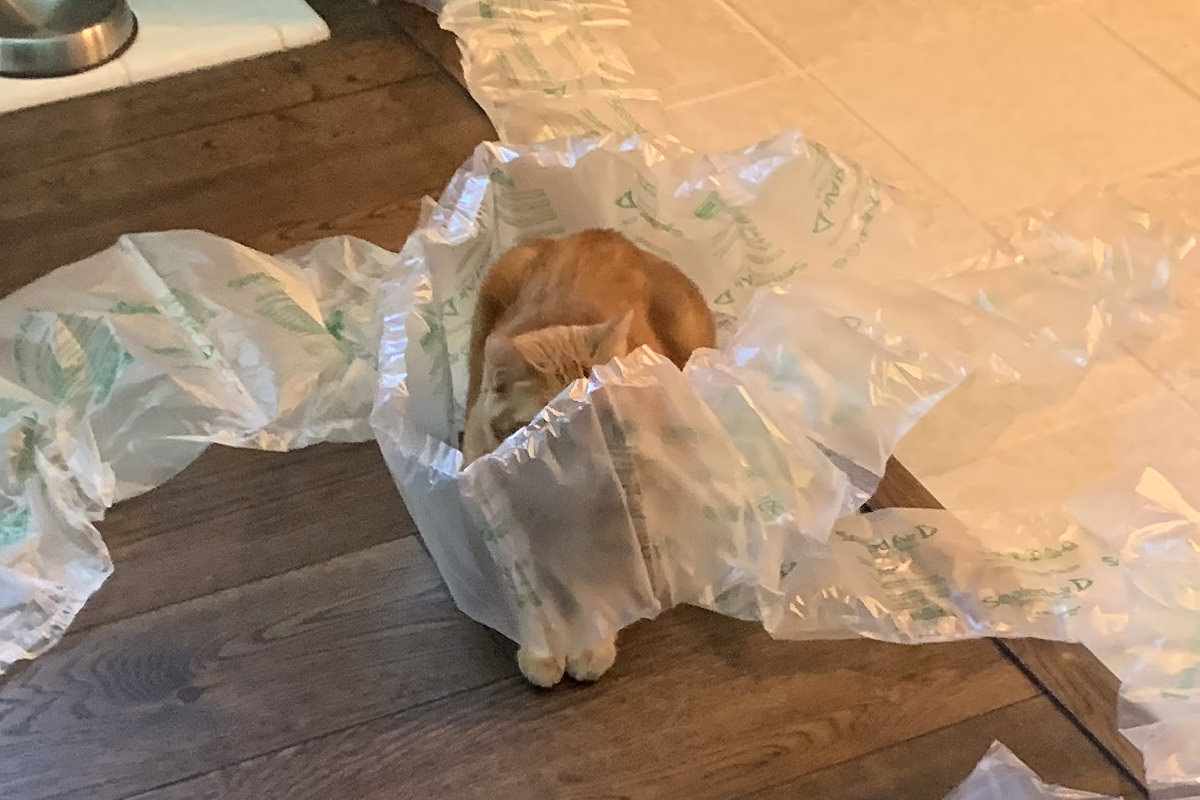 I like to hide toys under the pillow packs so that the cats can have fun playing in them as well...

Jenny is still sleeping on the jeans I put across the back of the couch to dry, so I've just been leaving them there. Sure I'm down two pair, but how can I say no to this?

And then there's Jake being Jake...
My cats are the best. Happy Saturday!
Posted on June 12th, 2019
My walk to the office each morning is something I look forward to. A nice chance to clear my head before diving into work for the day. And an opportunity to see cool stuff. This morning I saw the cat that appears from time to time... which would already make me happy. Except this time the cat was with... KITTENS?!??
I'm assuming that this is mom cat, who was content to watch over her kids while they were playing...
Upon closer inspection, I noticed that there's another adult cat in the porch...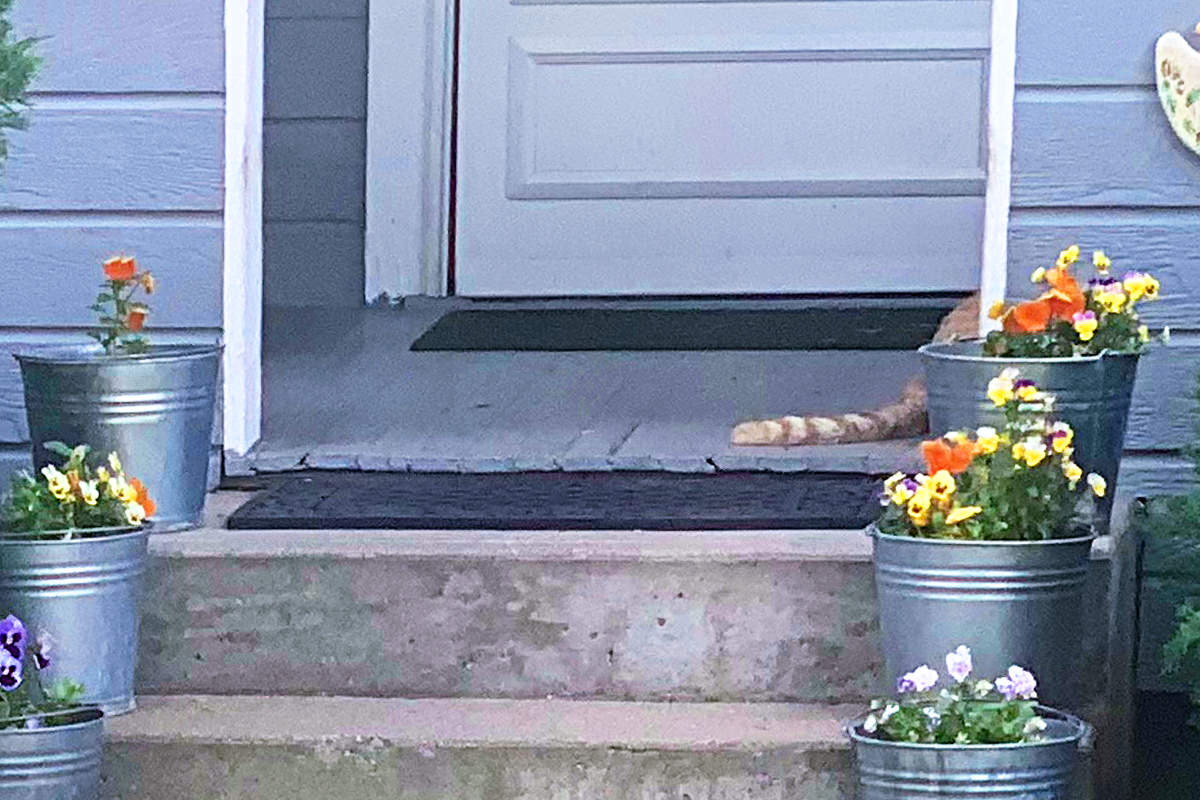 Is this where the cats live? Have they been spayed/neutered? They look well-fed, so they're obviously not suffering... I just hope that somebody is taking care of them outside of food.
This is a dangerous time of year for me. The local Humane Society shelter is overflowing with kittens, and it's all I can do to keep from running down and bringing a dozen of them home with me. But that's not really an option, and so I have to make do with seeing random kittens at times like this.
Which just makes me want more cats, of course.
Posted on June 8th, 2019

Today was a rare day when I didn't have to go into work. Instead I worked around the house which is, in so many ways, worse. Sitting at a desk all day doesn't strain my back, whereas painting garage doors, making bread, assembling shelving, and cleaning house definitely does!
Most of the chores I had set for myself were done by 1:30, so I spent the rest of the day hanging out with my cats...
Jake has continued being clingy and wanting attention after his accident. Poor thing. I think his new behavior might very well be permanent...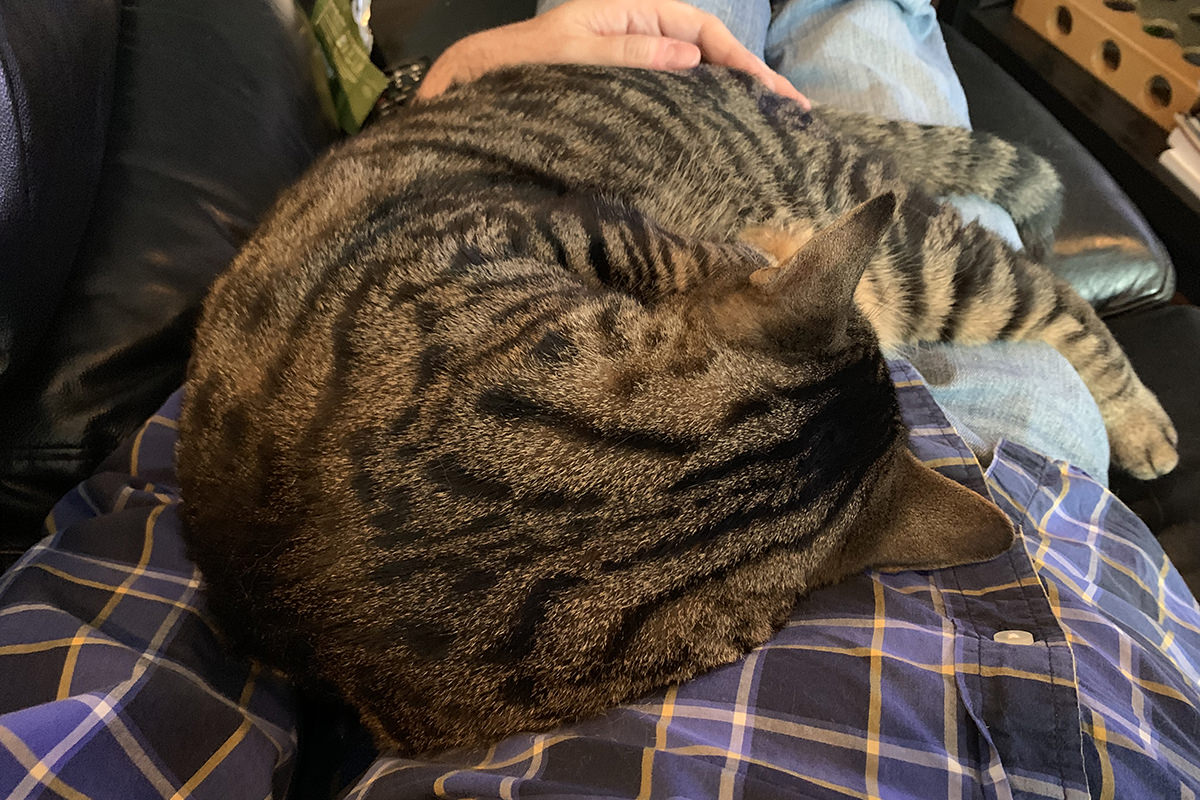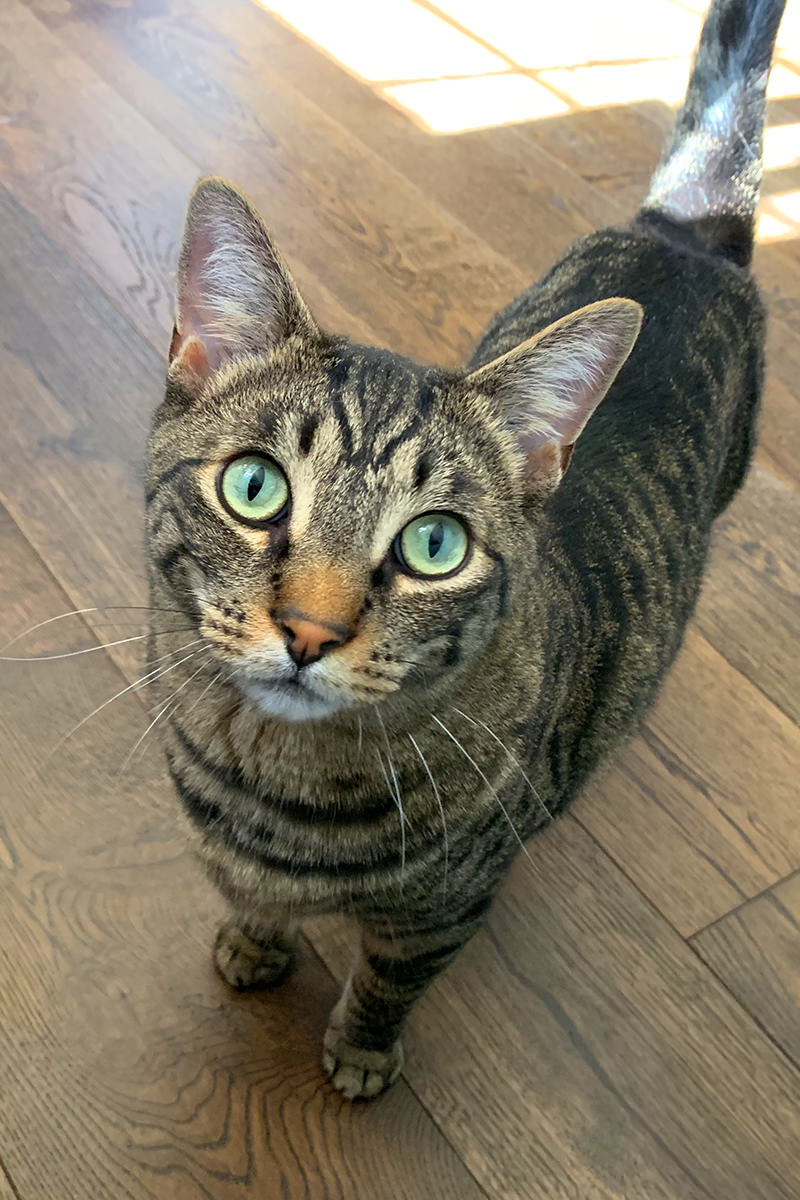 I always make time for my cats, and it's kinda nice to have Jakey Bear for company. Now that it's warmer, he doesn't snuggle up against me very often though, preferring to sleep in a way that's easier to cool off..
Jenny, on the other hand, will still snuggle up against me in any weather...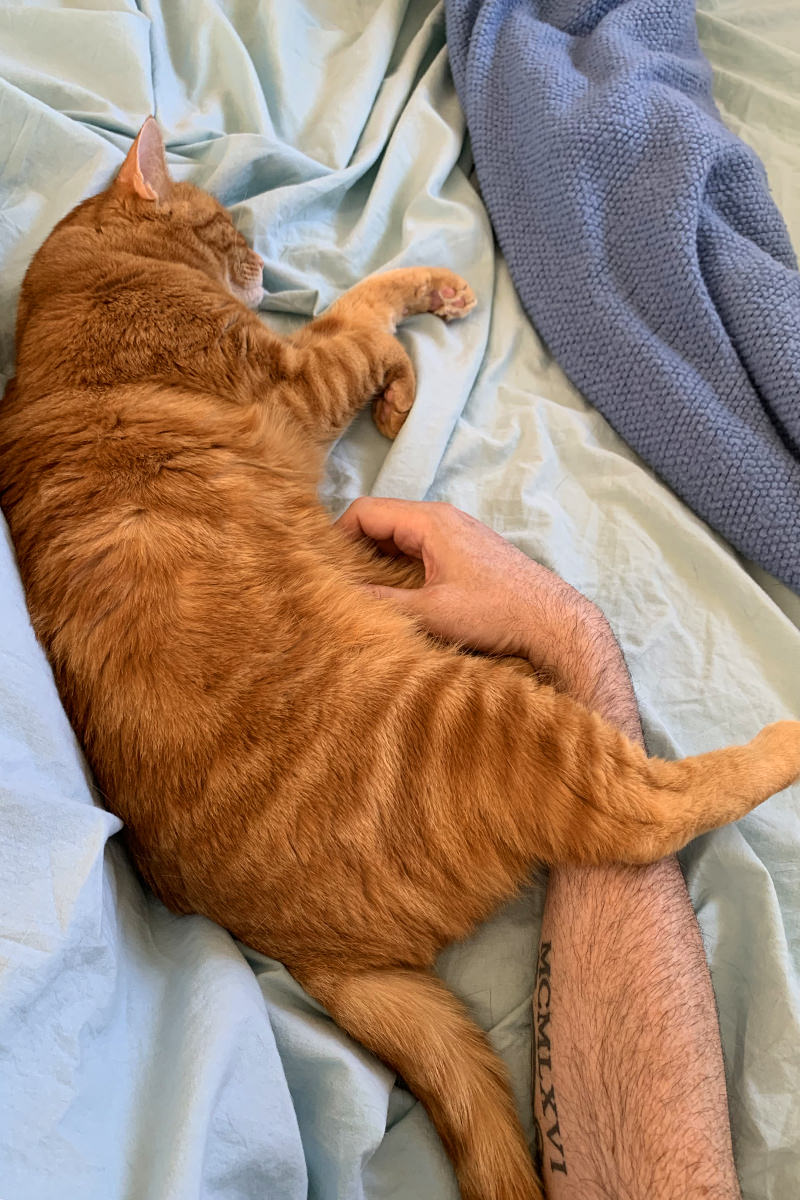 Speaking of Jenny, a while back I happened across a folder of old photos. I think this is when I first noticed that she has an adorable sour face...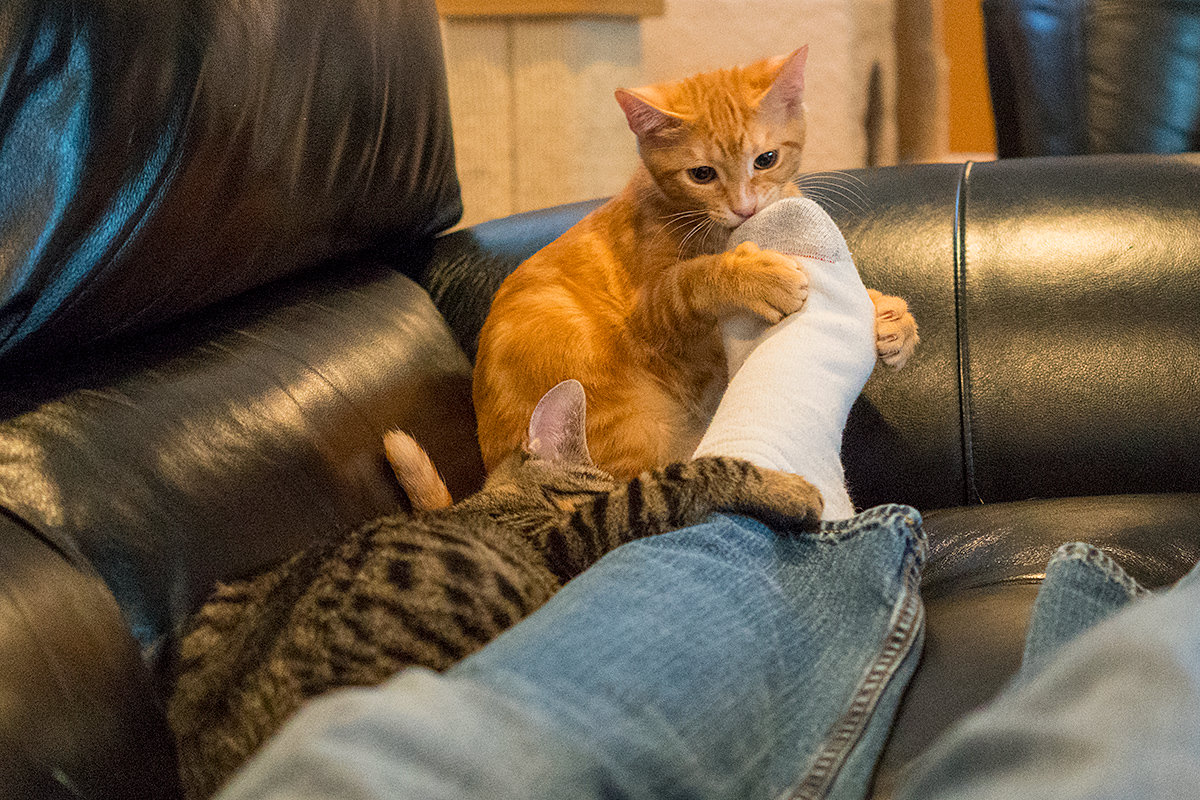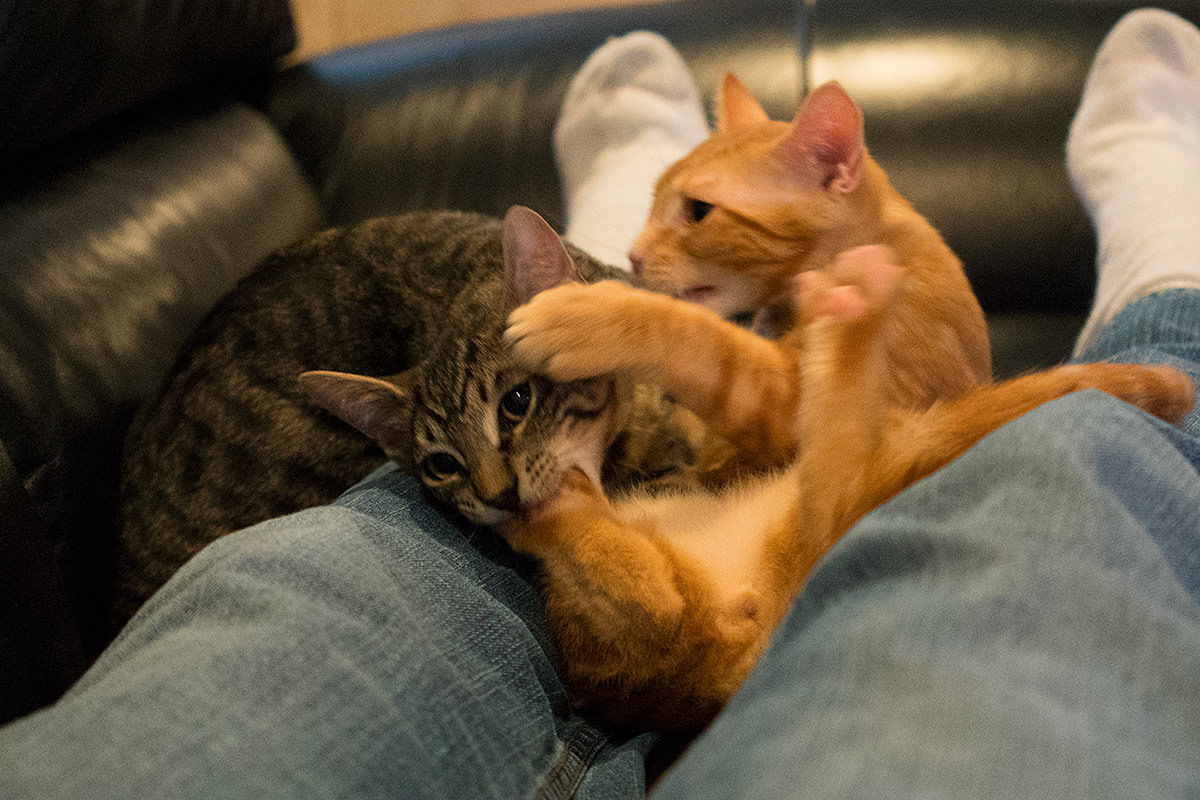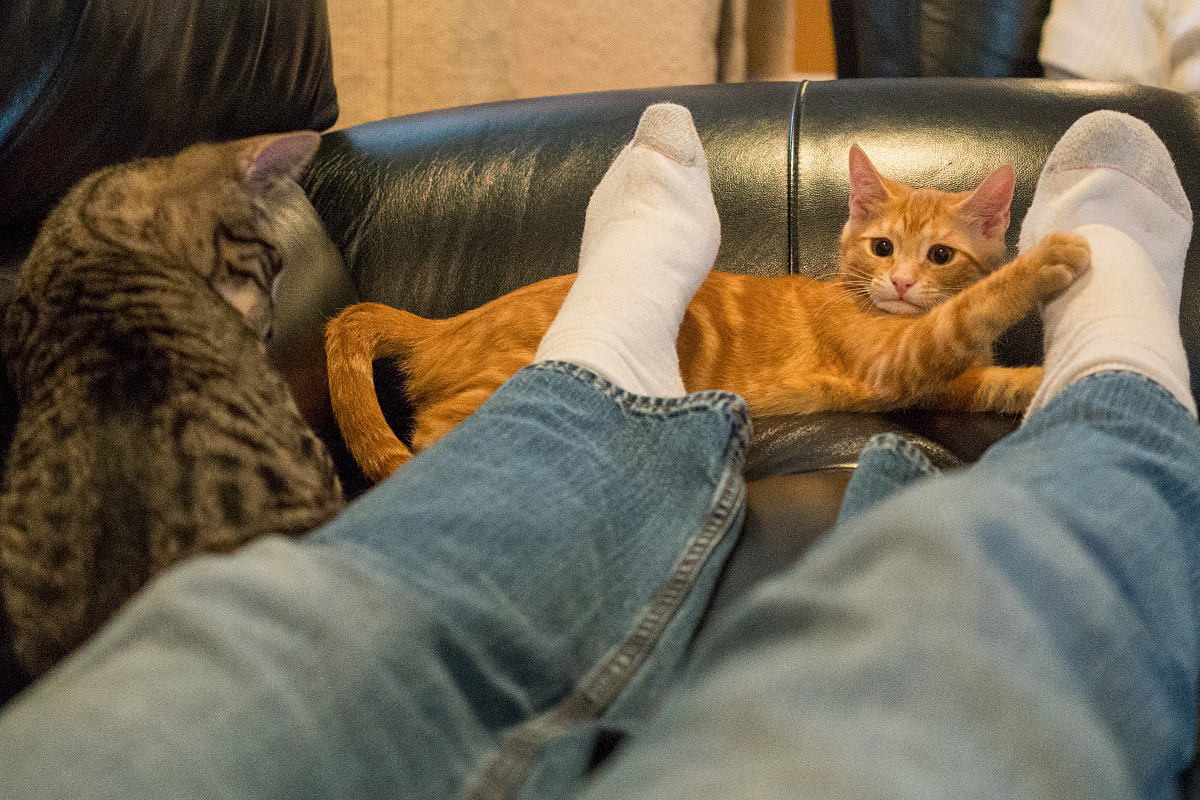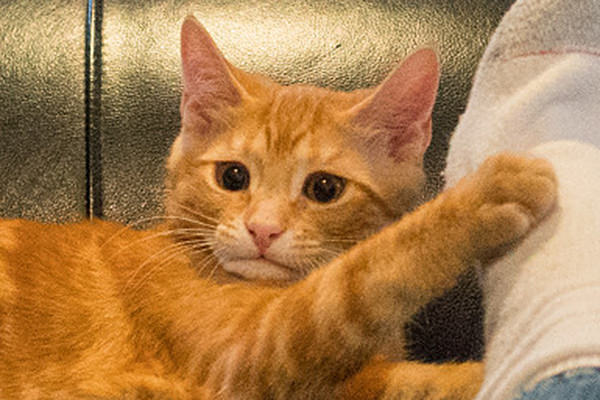 She's entirely too cute. I think her coloration and narrow face camouflages the way most cats have that "smile" where their mouth turns up... so she always looks like she's frowning. Just makes me love her even more!
And now? Time to make dinner, I suppose. Happy Caturday!
Posted on June 1st, 2019
My cats get along very well. Sure they chase each other around the house from top to bottom... but it's all in good fun.
This is not to say that they don't irritate each other from time to time. Jake seems difficult to ruffle, and it takes quite a lot before he will lash out. With Jenny, however, you never quite know what's going to set her off. Sometimes it's the littlest thing. Like her brother sniffing her butt.
Fortunately she has mad kung-fu skills to deal with that...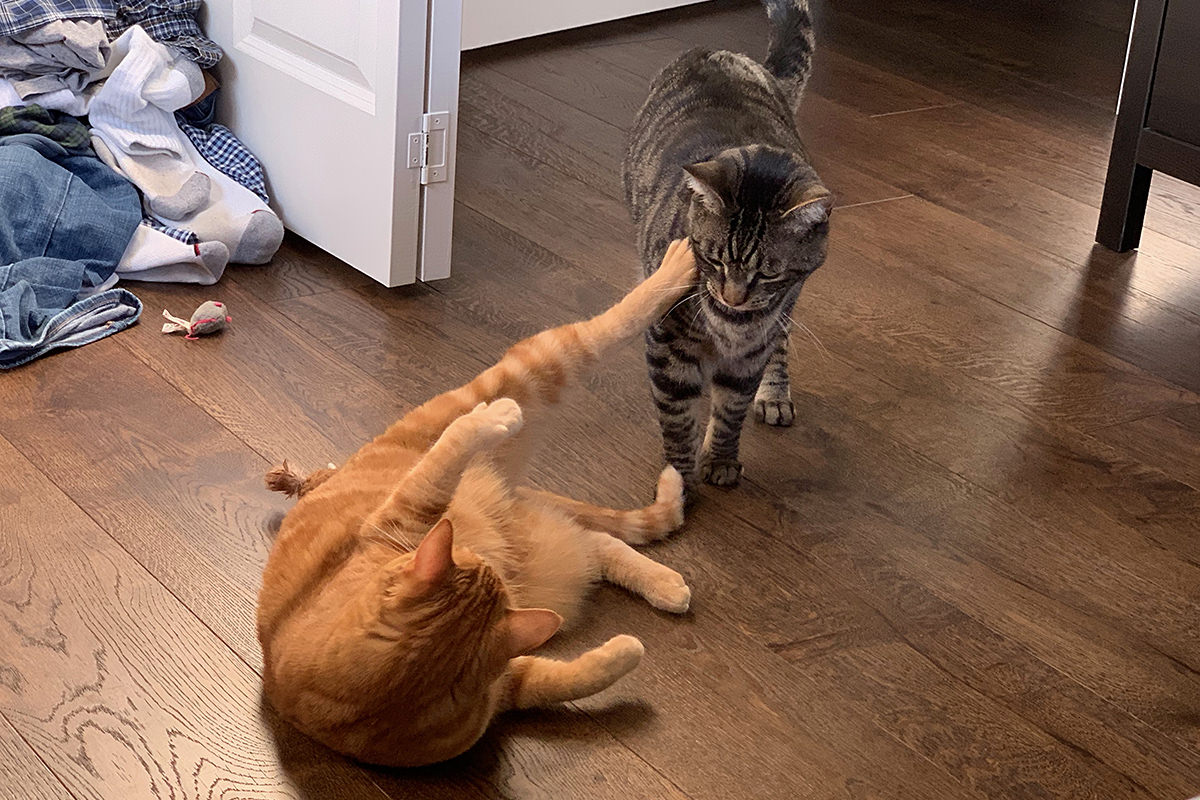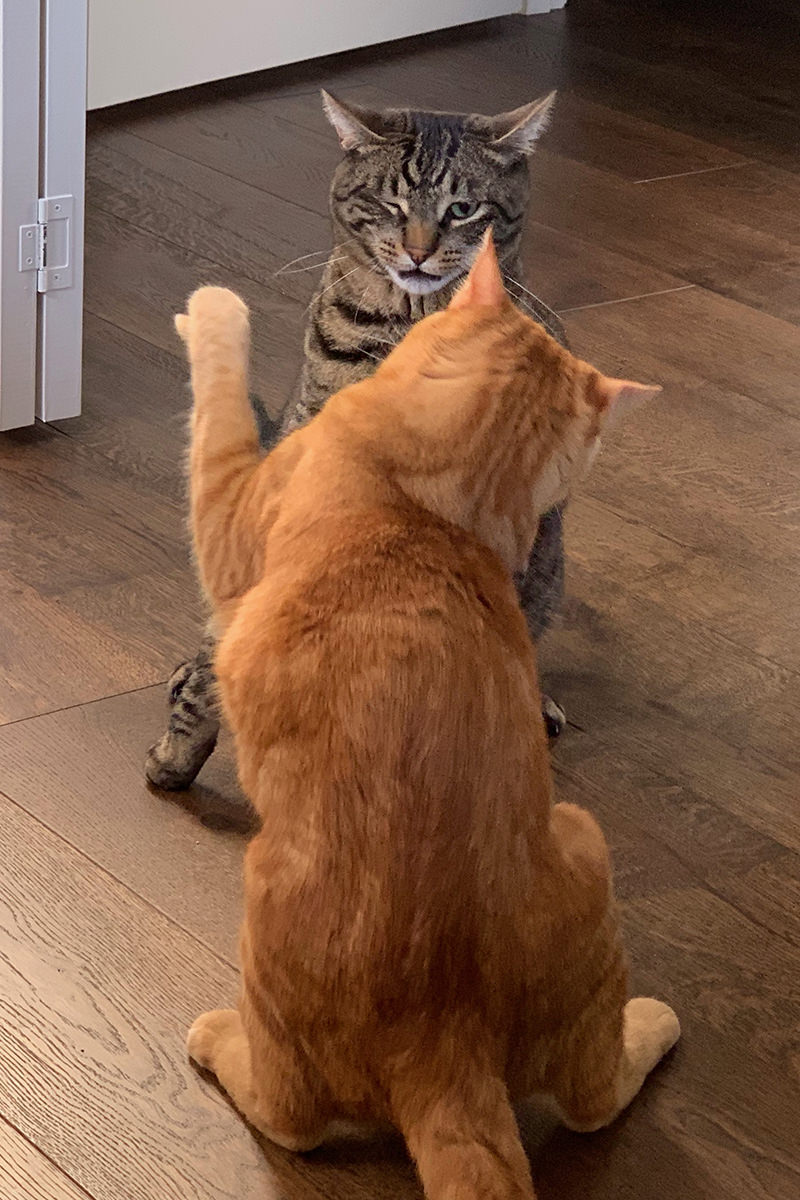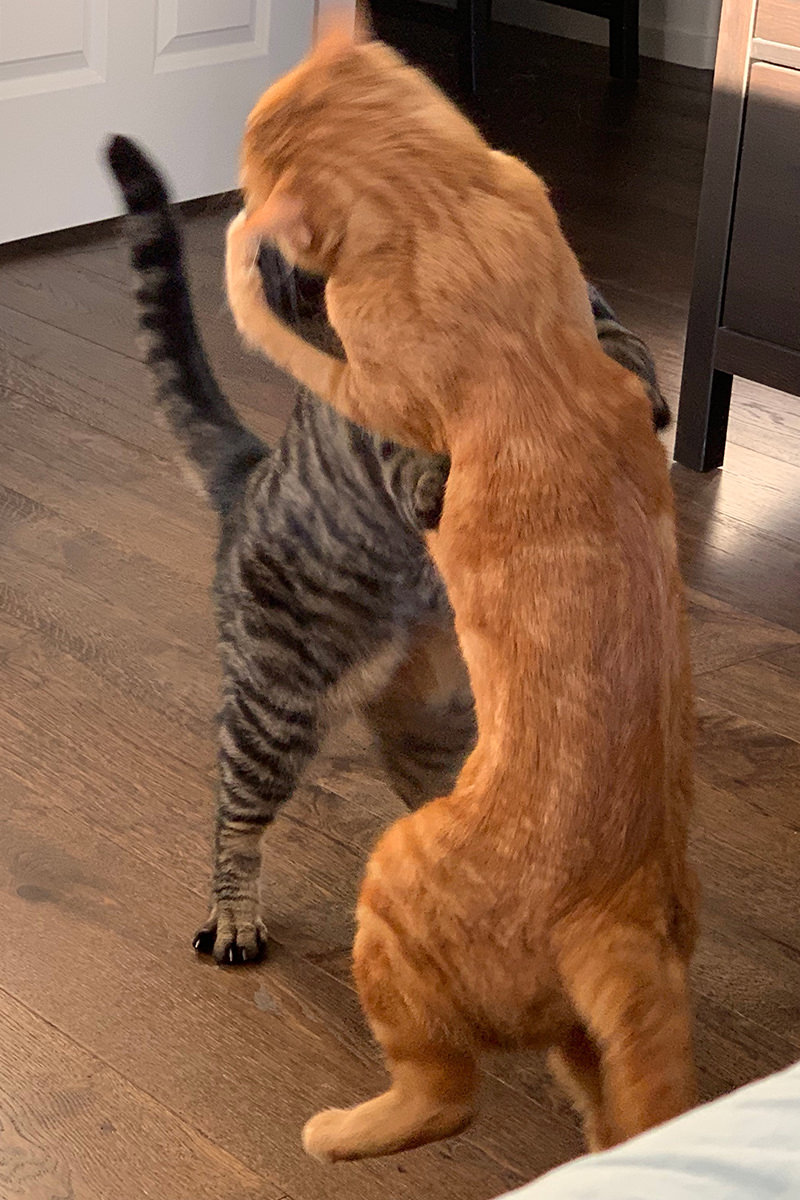 Five minutes later they were side-by-side looking out the window, so these little scuffles don't last long...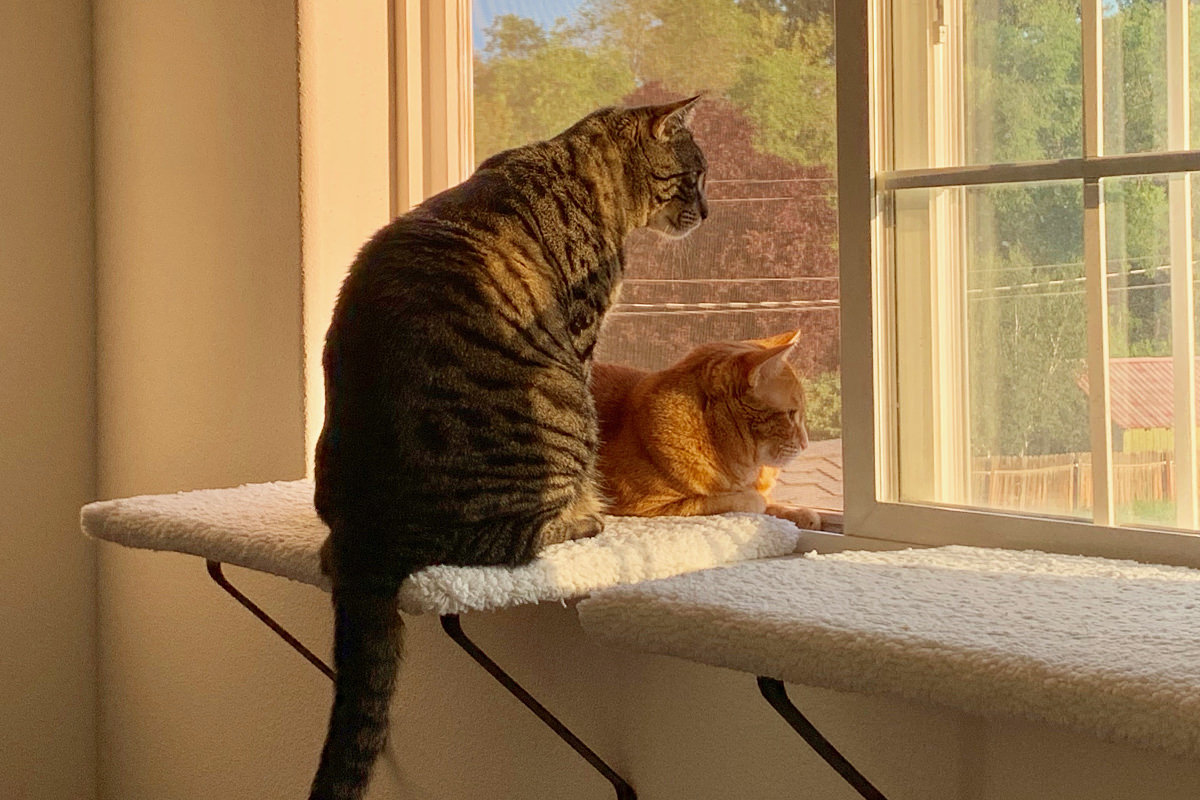 Wrapping up this fine Caturday I will leave you with this...
That would totally be my cats, which is why I won't be buying them a bell any time soon.
Posted on May 30th, 2019
The sunsets sure have been pretty this past week...

And the cats have been out in the catio enjoying them every night.
Posted on May 25th, 2019
Jake has taken up golfing!
Well, not really. But he has taken up playing with a golf ball I found by the railroad tracks (don't worry, I ran it with at least 10 loads of clothes in the washer to make sure it's safe to play with).
When I brought it home, neither he nor Jenny wasn't the least bit interested. Then early, early this morning I heard a golf bar drop and roll across my bedroom floor (it was dark, so I couldn't see it, but there's no mistaking the sound a golf ball rolling on a wood floor makes)...
Jake jumped on my bed right after letting it drop, so I knew it was him... but how?
Turns out he can fit an entire golf ball in his mouth...
I would have never thought it was possible, but there's the proof.
Just one more thing he can bring upstairs like he does every day. Though now he's putting it behind the bed, which is nice of him. Less to step on when I wake up in the morning...
In Jenny news... she can open doors now. Only doors that slide (for now) like pocket doors and closet doors, but she's figured out how to poke-poke-poke her little paw at the crack until she can work it open. Another thing I didn't think were possible until I sat here last night and watched her do it...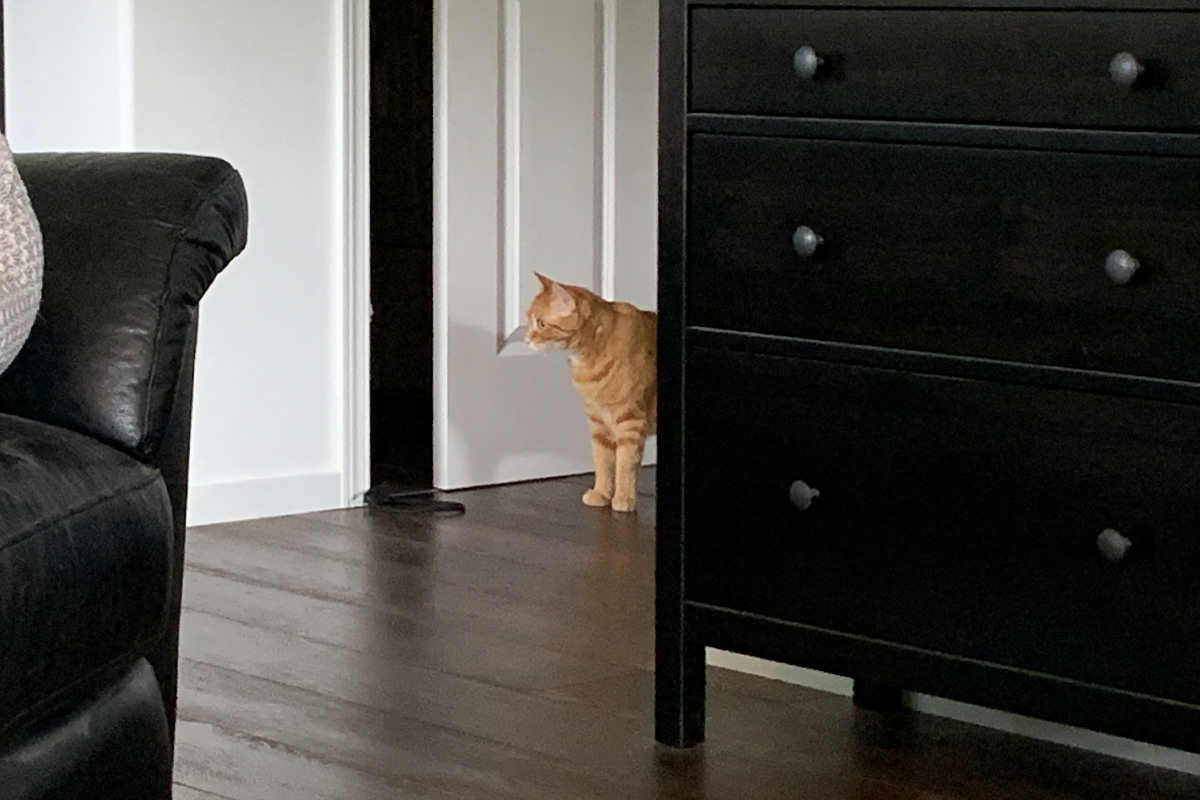 At least now I know that it's not me leaving all the doors open in this place.
Until next Caturday...