Posted on April 20th, 2019
I've read up on cat sprains... a lot.
Seems the absolute best thing you can do is force your cat to rest the injury. They recommend keeping your cat in a cage so they can't move around a lot and cause further injury. I think we all know what would happen if I tried to keep Jake locked up in a cage. He'd go absolutely nuts and probably sprain even more appendages.
Lucky for me, Jake is taking professional advice without me having to cage him. This is how he spends most of his time...
Unfortunately, he insists on walking around as well. He has a terrible limp, but doesn't seem to be pained by it. This is awful because the pain is what should be keeping him from using it. Friday night I was so worried that he'd try to follow me upstairs that I slept on the floor next to him all night...
Last night I just slept on the couch because my back couldn't take another night on the floor. Jake slept next to me on the cat-bed that's on the coffee table... or on top of me when he felt up to it...
As if worrying about Jake hasn't been difficult enough, I've had to worry about Jenny as well. Jake not smelling like Jake has really freaked her out. First of all she's not been eating. She spends most of her time avoiding Jake and hiding.
But today all that changed. Fake Jake was outside the catio, and suddenly both cats were rushing outside. I had to jump ahead and open the back door so Jake wouldn't hurt himself trying to get through the cat door. Both cats then hung out together while Fake Jake meowed for a while...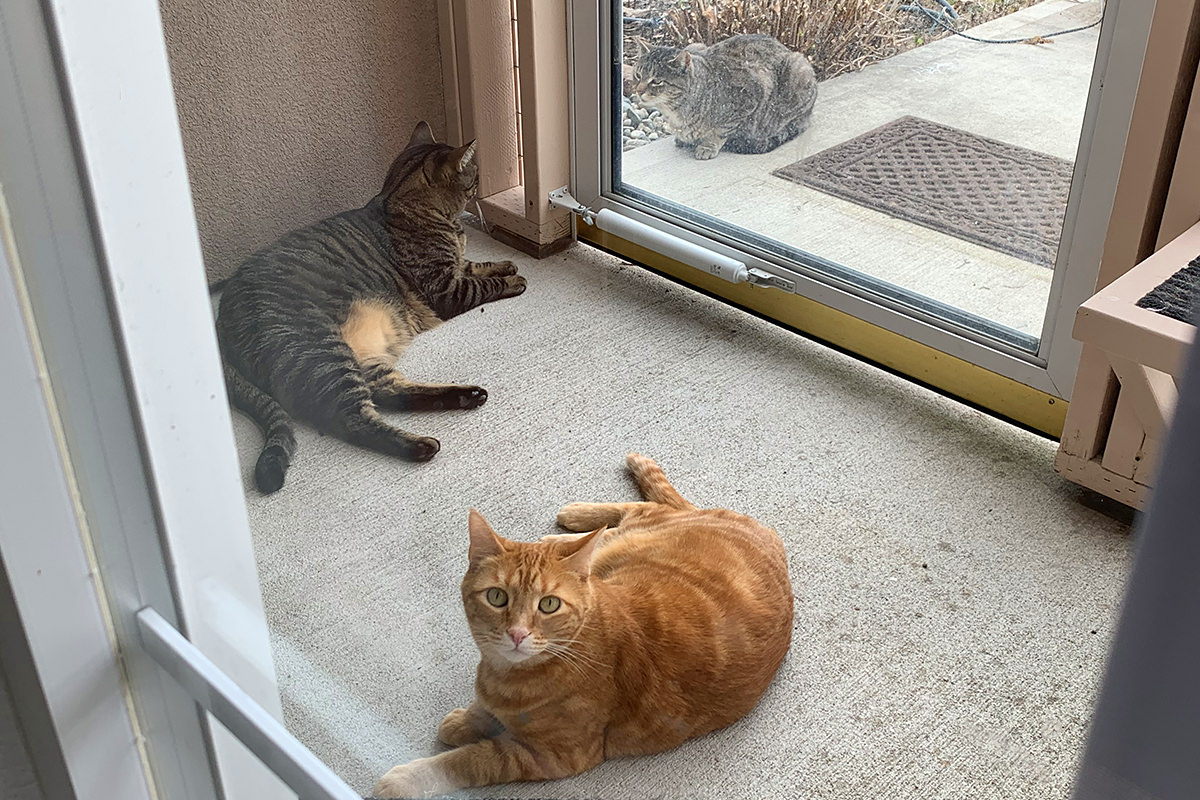 So... back to normal then?
Not quite.
But hopefully in a couple weeks everything will go back to the usual madness instead of whatever it is that I'm going through now.
Posted on April 19th, 2019
I am beyond exhausted. Taking care of Jake as he recovers from his fall is a full-time job. A big chunk of my day is spent trying to make sure he doesn't have to exert himself. Whenever I see him hobble up to something and look like he's going to jump up, I go running to lift him up instead.
Day and night.
When what I really need to be doing is working.
Though today I did end up taking time to make some greasy pub fries, which are my favorite thing to eat right now. Last week I documented my efforts so I could blog about it, but then travel happened and Jake happened, so I never got around to it.
Anyway...
I Love fries.
Problem is that here in the USA they usually suck. Either they're undercooked and not crispy... or they've been sitting for too long... or they have no flavor... or they're entirely too salty. Way too many things go wrong, and they usually do.
My favorite fries are from the Netherlands. They really know how to cook a potato! Most places in Europe do. And they're usually cooked-to-order, so they always taste their best.
But here? Not so much. And so... last Summer I started making my own fries. Here's what I've found makes the best fries after dozens of batches and months of trial and error...
Russet potatoes. Nothing cooks up like them. No other potato I've tried works as well. And I've tried a LOT of potatoes.
After slicing, a vigorous rinse in cold water is essential. Agitate them with your hands as the water runs over them.
Soak for three hours in ice water in the refrigerator. Most recipes say overnight. I found no benefit to that, and three hours is perfect...
Fry in small batches so the oil doesn't cool off too much when you add the potatoes.
When you pre-fry for 5 minutes at 300°, USE A THERMOMETER TO CONFIRM 300°! Any hotter and you will brown them, which is bad. After blanching, drain on brown paper bags (preferred because they don't sick as bad) or paper towels in an oven set no higher than 300°...
Increase temperature of the oil to minimum 375°. Though 400° is better if your fryer can go that high. Cook until desired golden brown. I prefer a dark golden because the flavor is better...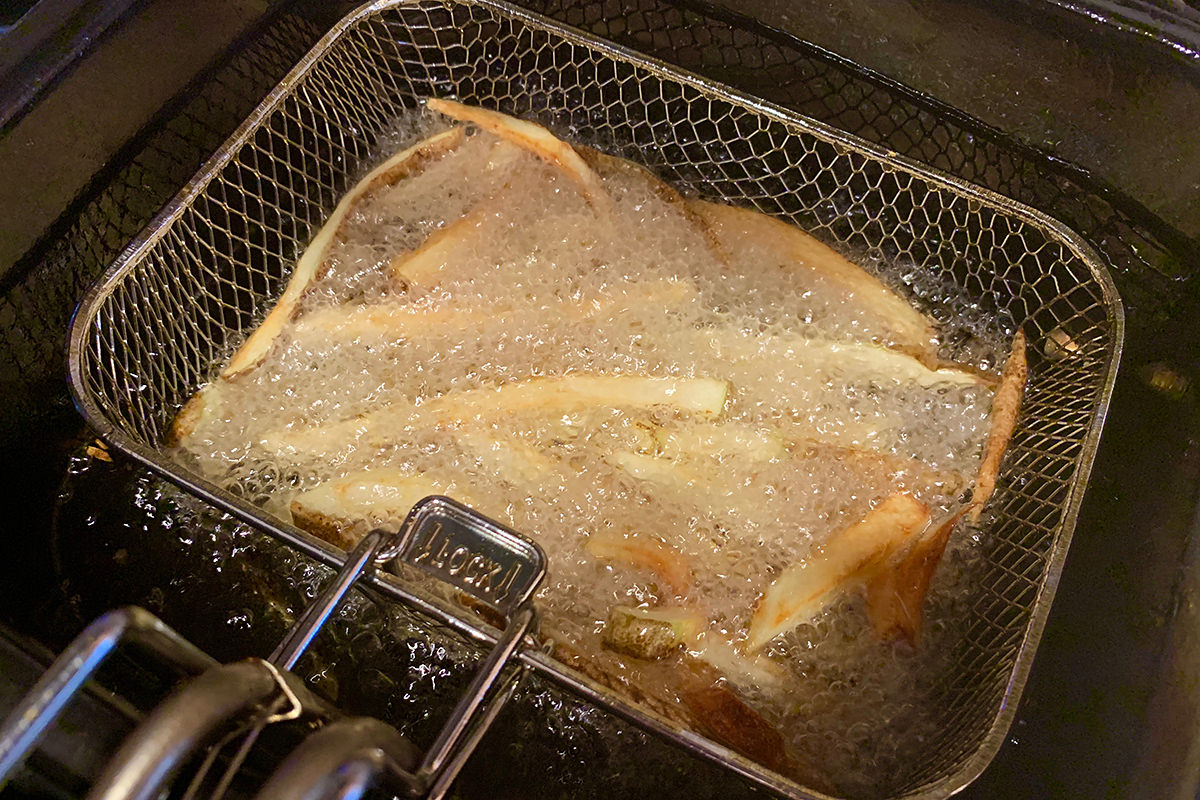 Salt and pepper are essential. A dash of paprika is nice. BUT DON'T OVER-SEASON! You don't want to kill the flavor of the potato! If you like a spicier fry, use seasoning salt or hot pepper salt. But, again, don't over-season! The potato flavor will be buried...
With the skins on, the flavor is so nice that you don't really need sauce... but mayo/ketchup is great!
You need more potatoes than you think. Two large russets per person. Or three if you are having me over to dinner.
Enjoy!
As for oil... I just use the cheapest vegetable oil I can find. I cook with it 3 or 4 times until the refuse accumulation is too high. They recommend that you dispose of the oil in a milk carton. I don't drink milk, so I let it cool completely, pour into a bowl, freeze, then scoop into the trash before I take it out.
And there you have it! Perfect fries you can make at home!
And now it's back to taking care of my poor cat.
Posted on April 18th, 2019
And so... to catch up with my cat drama...
On Monday, the day before I was due to fly out to L.A., Jake was hiding and unwilling (or unable) to move. This is exactly how he acted when he previously had a urinary blockage. Back then I didn't recognize the signs, didn't take Jake into the vet fast enough, and he ended up with a horrible infection that could have killed him. Not wanting to go through that again, I confirmed with the security cameras that he hadn't used the litter box, then immediately took Jake to the vet.
The vet found high white cell counts and high sugar counts in his urine so they started treating him for a "temporary urinary blockage" since he had peed in the kitty carrier while waiting to see the doctor. They decided it would be best to keep him while I was traveling to make sure he was okay.
And now I'm back.
This morning I went to pick Jake up from the vet. When I got home (after a traumatic drive back), the poor guy was limping so badly that he could barely walk... and he vomited twice. Did he get hurt at the vet? Did he get sick while he was in observation? Or was there a bigger problem here?
Let's go back to the security cameras even further and see if we can learn something, shall we?
Holy crap.
WARNING: This is not easy to watch...
The fear I've had since the day I brought my cats home came to pass. Jake slid off the banister and fell down the stairwell, injuring himself pretty bad. I'm not surprised. My cats are constantly climbing up there and it's a long drop...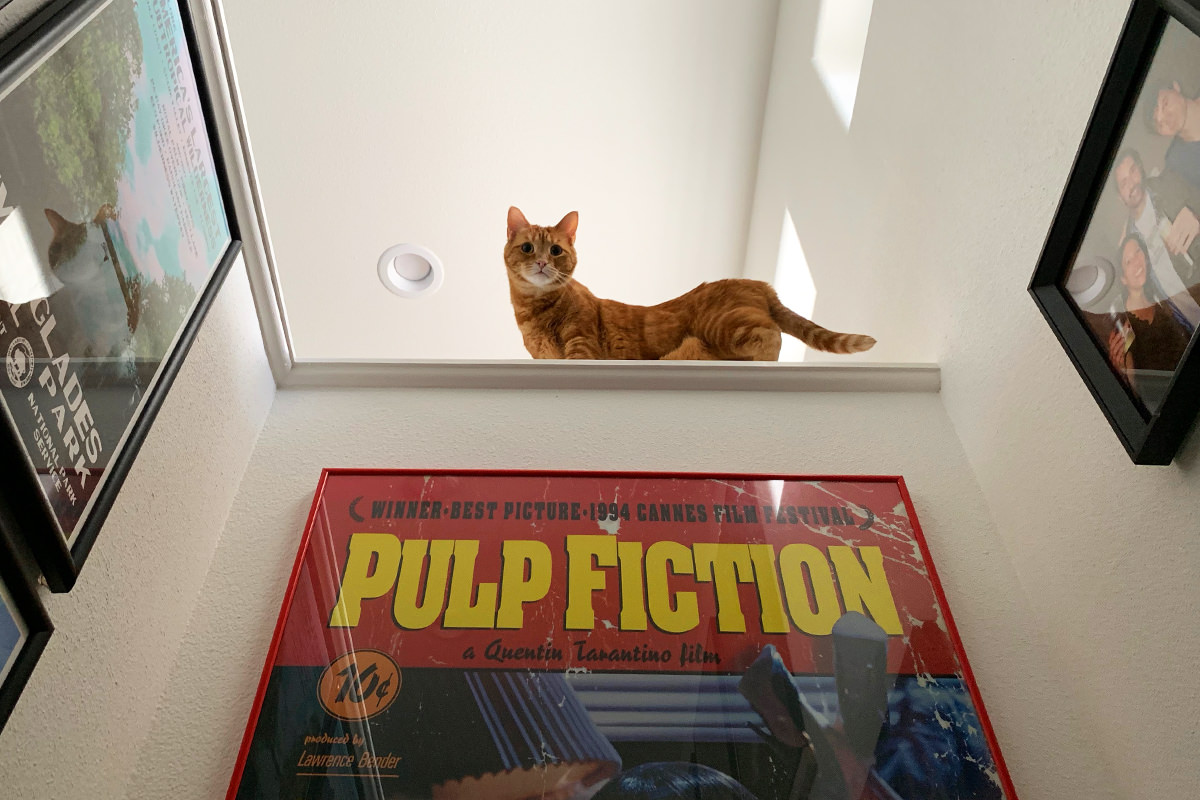 Jake managed to crawl his way under the guest room bed (where I found him the next morning). It took him nearly a half-hour to get there because he couldn't use his back leg. That's where I found him in the morning and freaked out because last time he couldn't move his hind-quarters it was because his bladder was enflamed. Off to the vet he went.
So... it wasn't that he couldn't pee because of a urinary blockage... it was because he couldn't get to the litter box. The reason nobody noticed his leg at the vet was because they had him on painkillers for his bladder and he wasn't limping because he couldn't feel it. The reason he started limping when he got back home was because they stopped the painkillers and the trip probably strained his leg again.
The good news? The expensive urinary care prescription food he eats is working.
The bad news? I didn't look back far enough on the security camera footage to understand what had really happened. I stopped when I saw he wasn't using the litter box. Which means I put Jake through the trauma of a trip to the vet for entirely the wrong reason.
The good news? Because he was chillin' at the vet and hopped up on painkillers, his leg had a chance to heal a bit. Also? He wasn't at home alone where he could have hurt himself much worse. So it definitely wasn't a wasted trip.
The bad news? Not only do I have the expense of a 3-day vet bill (thank heavens for insurance!) I also have the expense of building some kind of barrier to try and keep this from happening again.
And so now I know I need to make darn sure that I review all the camera footage to have a better idea what happens when one of my cats is sick.
I had to build a zero-entry litter box so poor Jake has a place he can get to. Don't know if he will actually use it, but he does know it's there...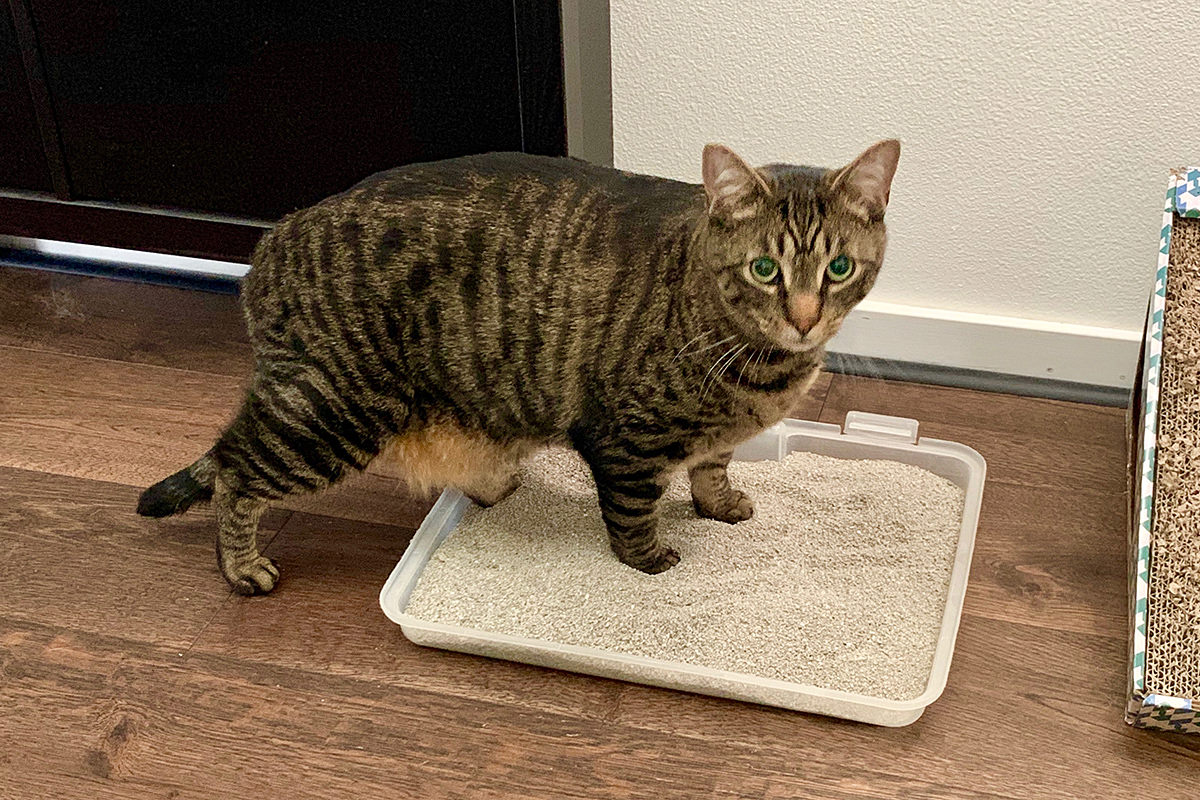 Just look at that sad, sad face!
Jenny is not happy about Jake smelling like the vet hospital. She sneaks up to snif around him, but ends up hissing and running away. No worries there though, she did that last time for a couple days. She'll come back around when he starts smelling "normal" again...

Jenny says... STRANGER DANGER!
I was forced to leave Jake alone to go grab my stuff from the office so I could work while I watch him. During that time, he managed to claw his way up the stairs and pull a blanket off the bed onto the floor where he could rest up...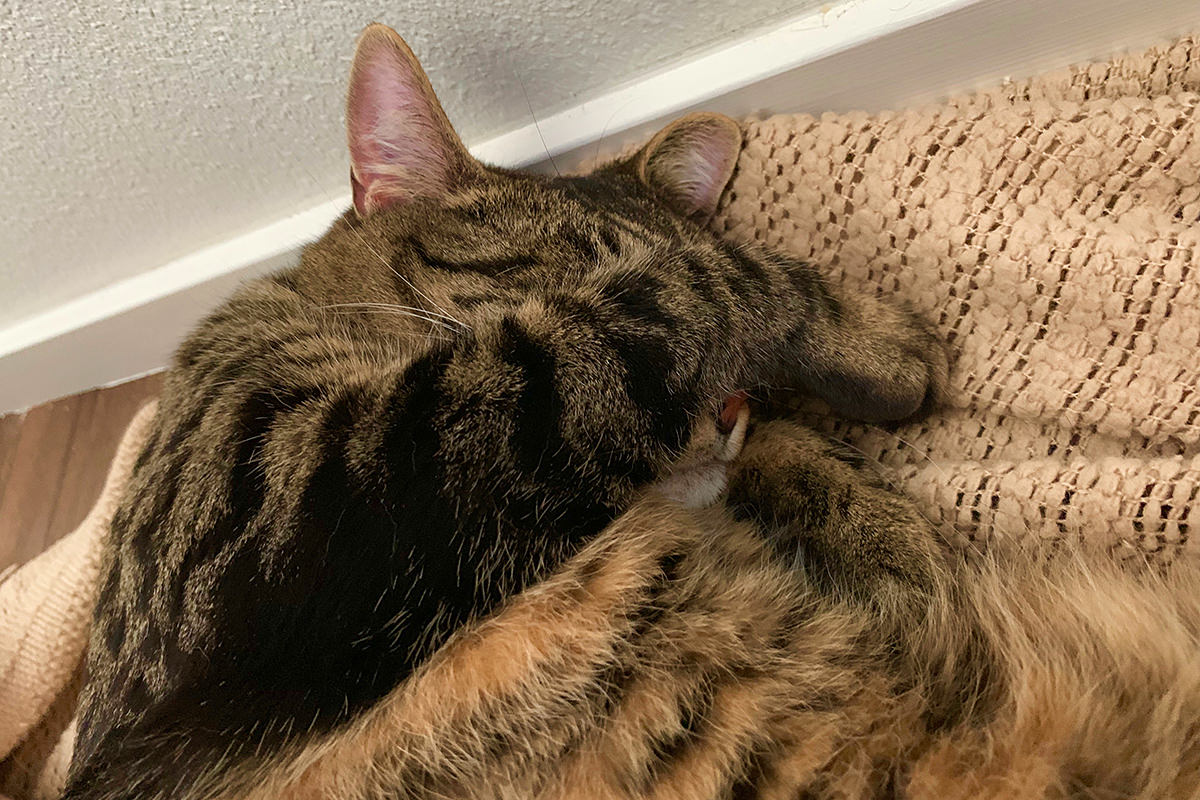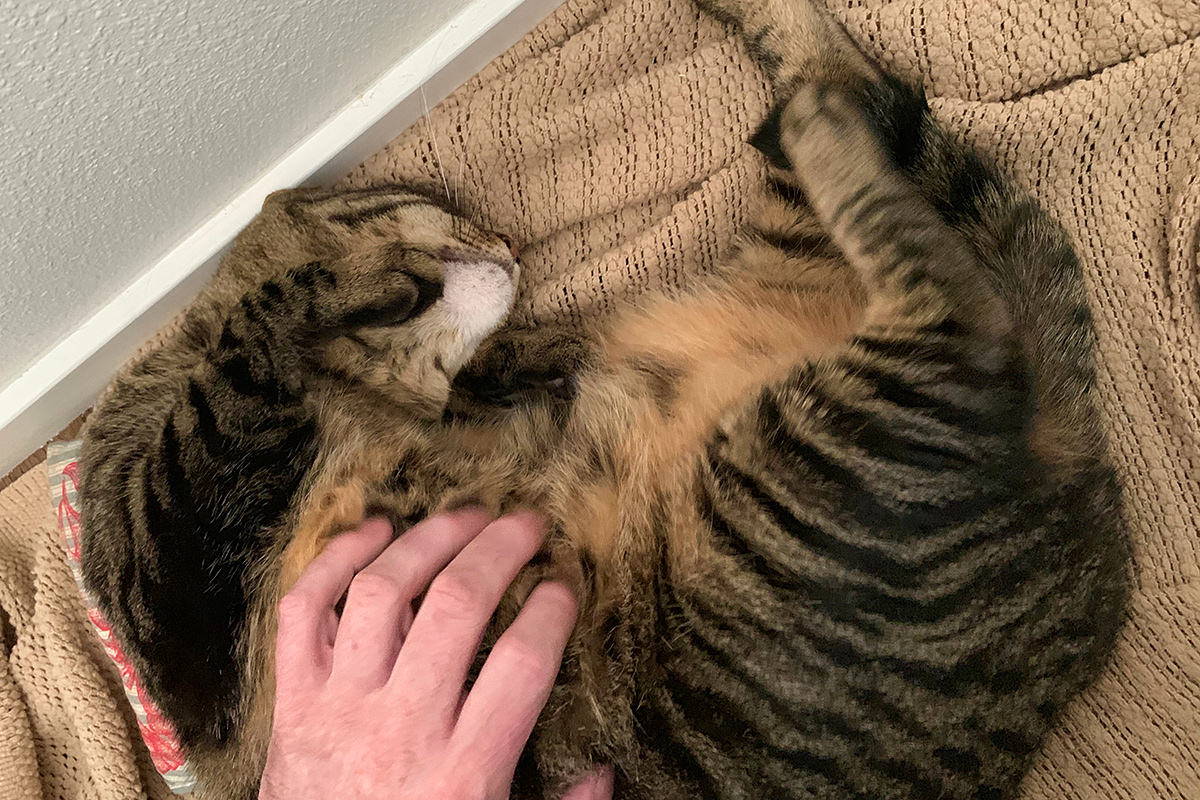 I was terrified that he would try to climb up on the bed or hurt himself trying to get back downstairs, so I decided to hang out with him until he was ready to leave. He spent most of the time sleeping...
But occasionally woke up and wanted belly rubs...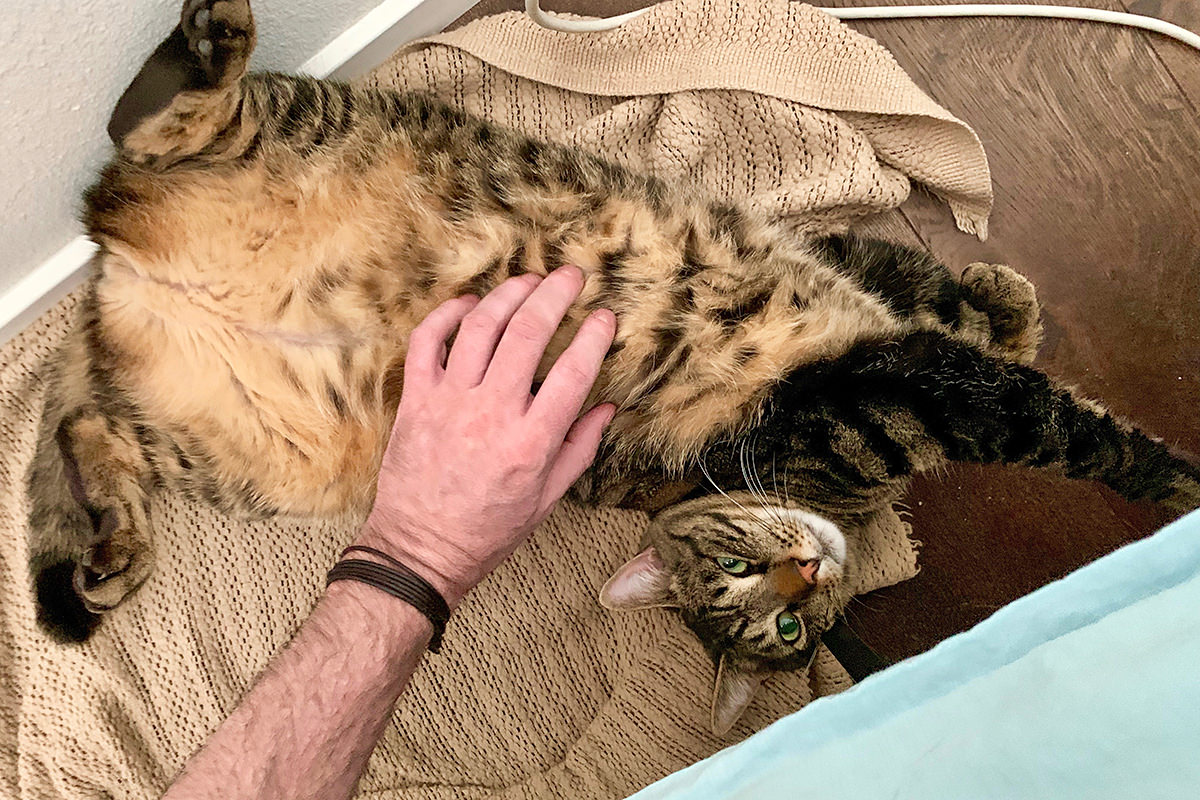 I tried to explain that he could just pee on the floor if he had to go, but I was the one who had to pee. So I accepted the fact that I might be peeing my pants before the day was over.
Eventually, through sheer force of will, Jake clawed his way up on the bed. I had to lift his butt up, but he made it...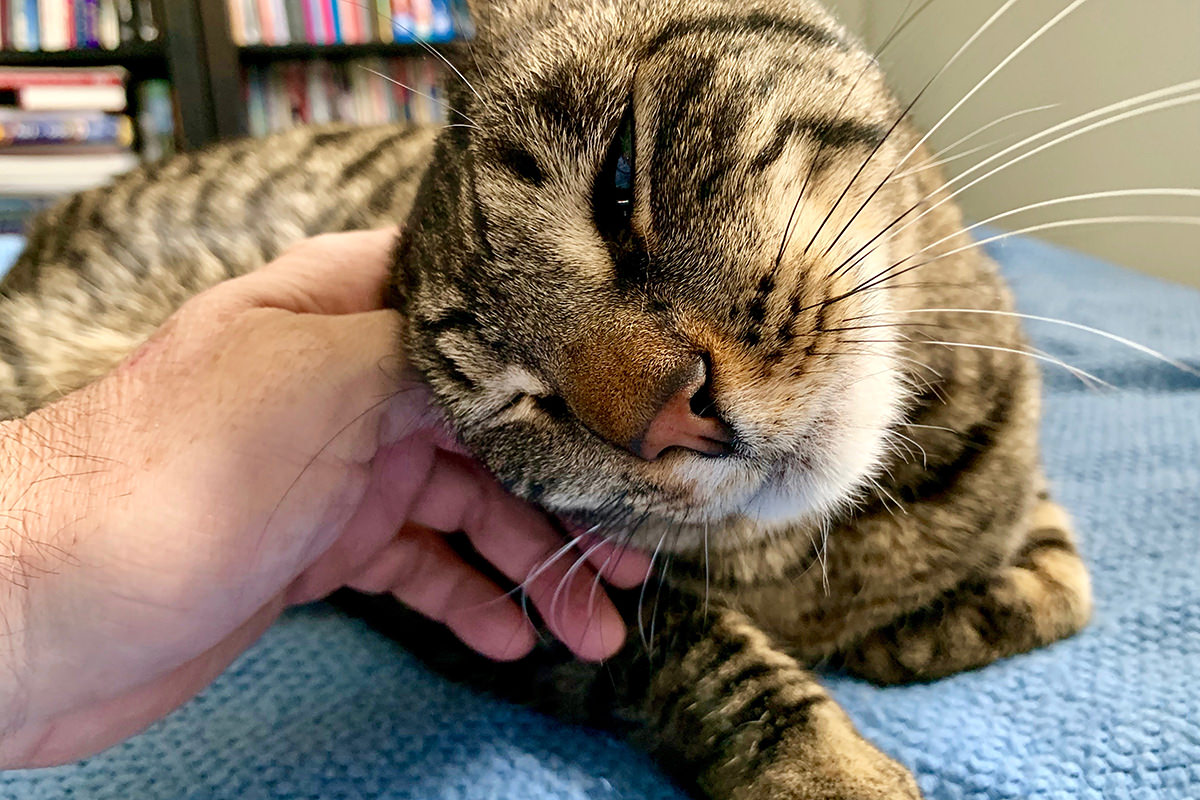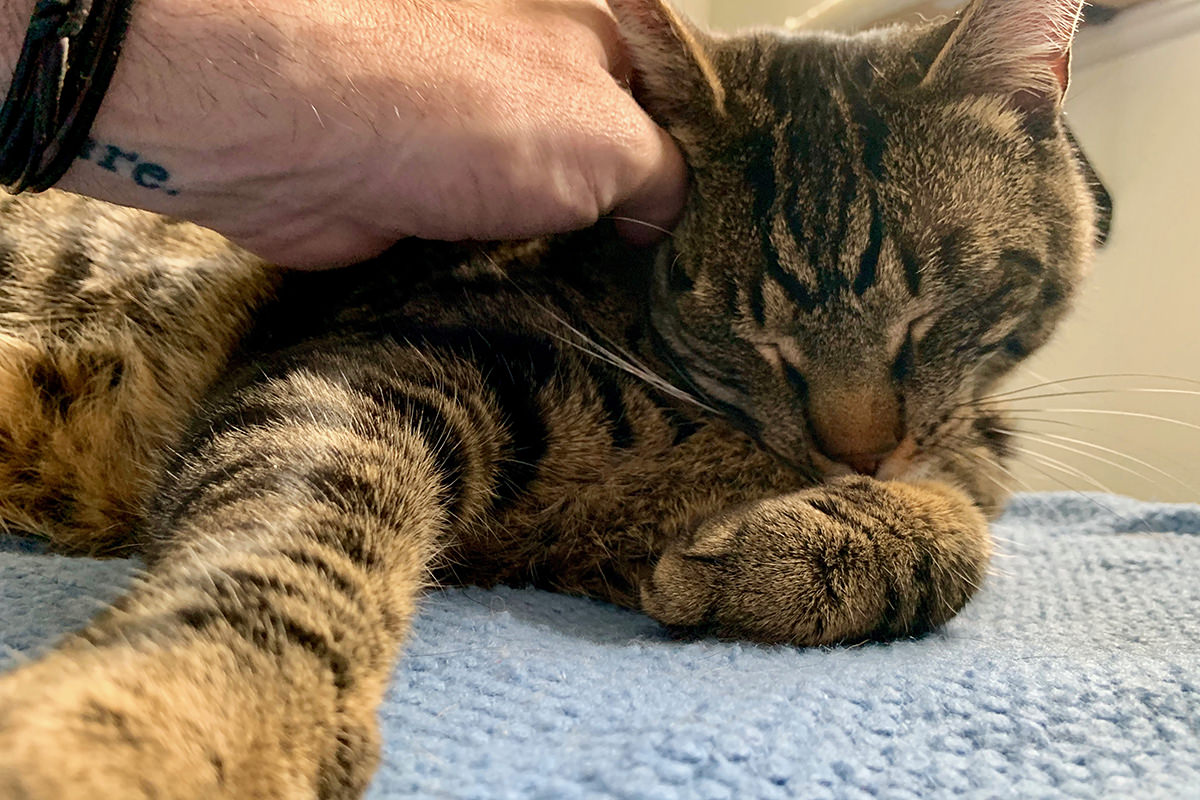 Such a sweet kitty.
After pulling himself around the bed for a bit, he decided to lean up against me for more sleep...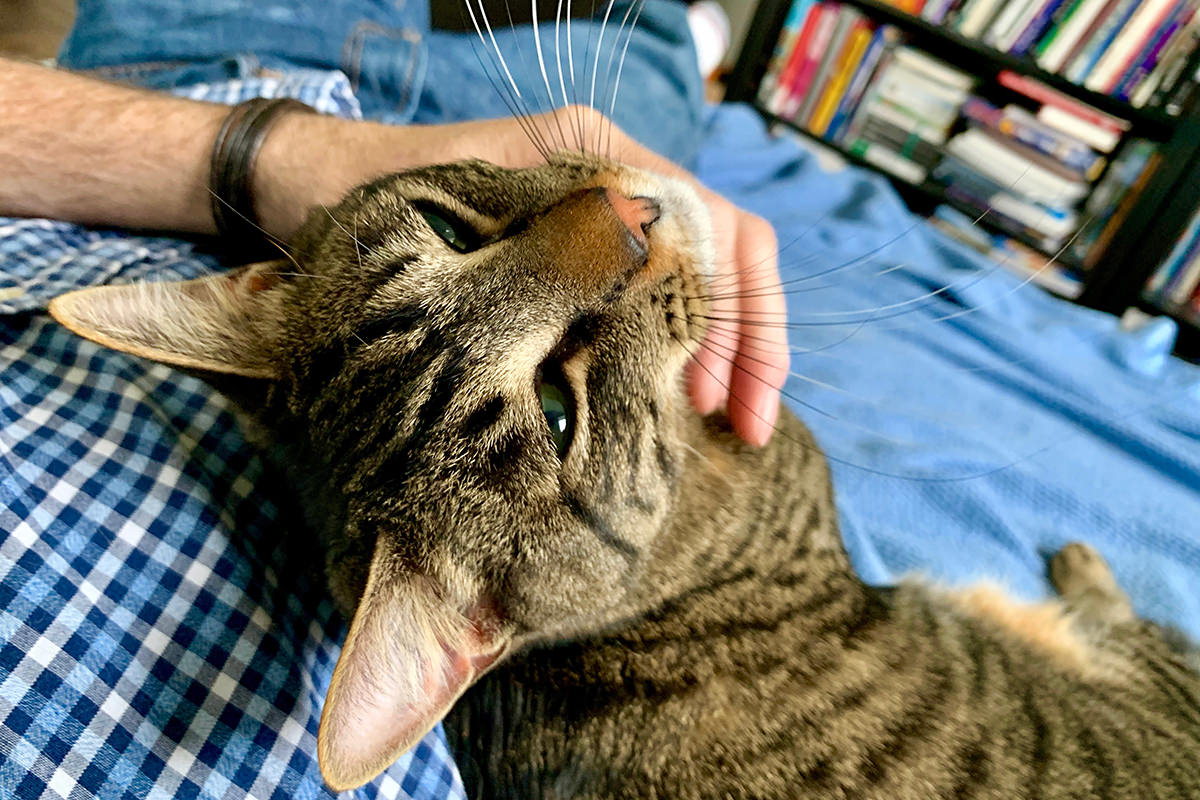 After we both fell asleep for 90 minutes or so, he woke me up as he tried to climb back across the bed. I decided to carry him downstairs because I knew the dinner alarm was going to chime in a half hour. Neither Jake nor Jenny likes to be carried, but he handled it like a champ.
And though Jake is still limping quite badly, he's getting around a bit better. More "howling" that "drawing" now.
He must also be feeling better, because he ate all of Jenny's wet food after he ate his own...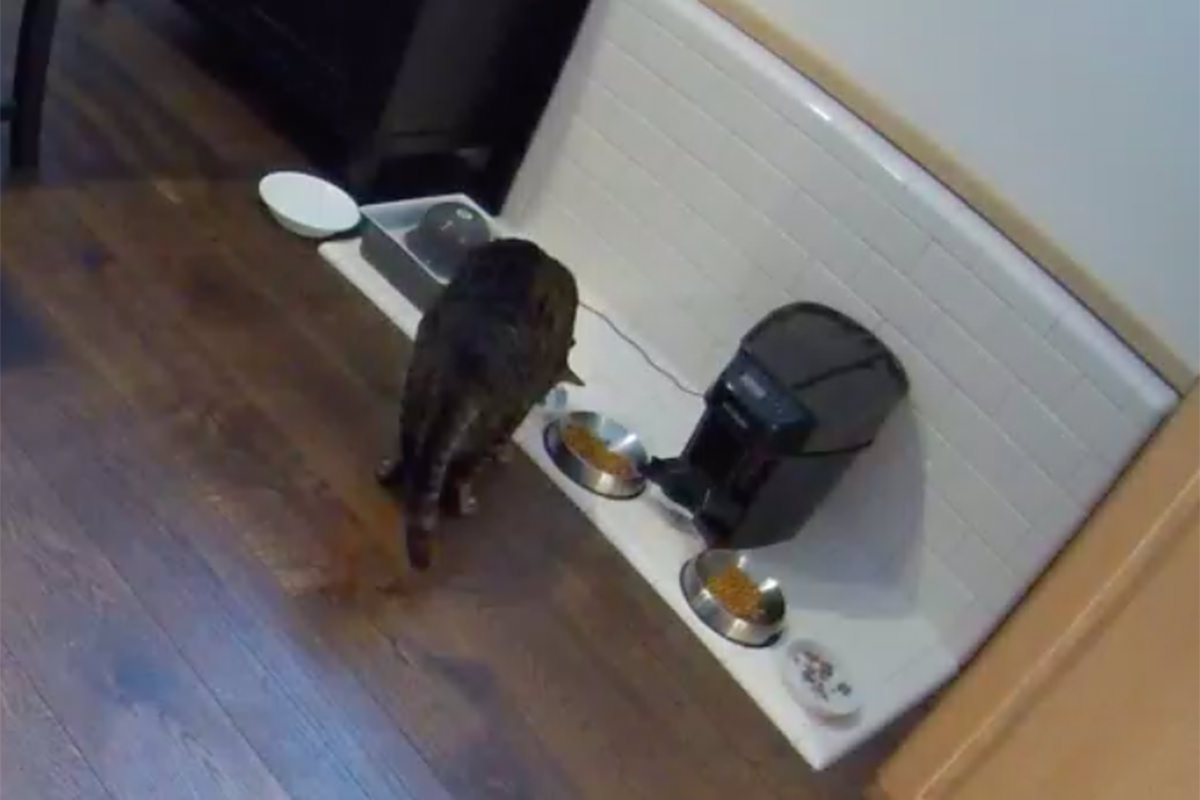 As for Jenny? Jake's butt must not be smelling quite right yet, because she wants nothing to do with him...
I'm really hoping that Jake recovers at home so I don't have to take him back to the vet. Because my next trip will be to take Jenny in for her shots. That's more than enough stress for the coming month.
Posted on April 16th, 2019
We did not have a great night.
I went to bed at 8:30pm with the hopes that I'd be able to get a bit of sleep before having to drive over the mountains at 3:30am. I took a Benadryl to help things along and fell asleep around 9:00.
Shortly after midnight I was awakened by Jenny going up and down the stairs crying for her brother. After a few minutes I couldn't take it any more and called for her. She ran into my bedroom and hopped on the bed like her tail was on fire. After ten minutes of belly rubs, she fell asleep...
As did I.
Then, around 1:30am, Jenny apparently realized she wasn't getting belly rubs and woke me up to complain about it. My cats never bother me when I'm sleeping, yet here was Jenny... standing on my chest and meowing her head off. After I woke up, she flopped right down for more belly rubs. She looked quite cross that I had dared to stop...
Next thing I know, it's 3:30am and Alexa is blaring an alarm to wake up. I'm already packed, so the only thing to do is give Jenny a handful of treats before heading out. I felt terrible that I had to leave because she was still walking around sniffing for a trace of her brother. As I walked out the door she just sat there like she didn't know what to do with herself. The poor thing looks so small...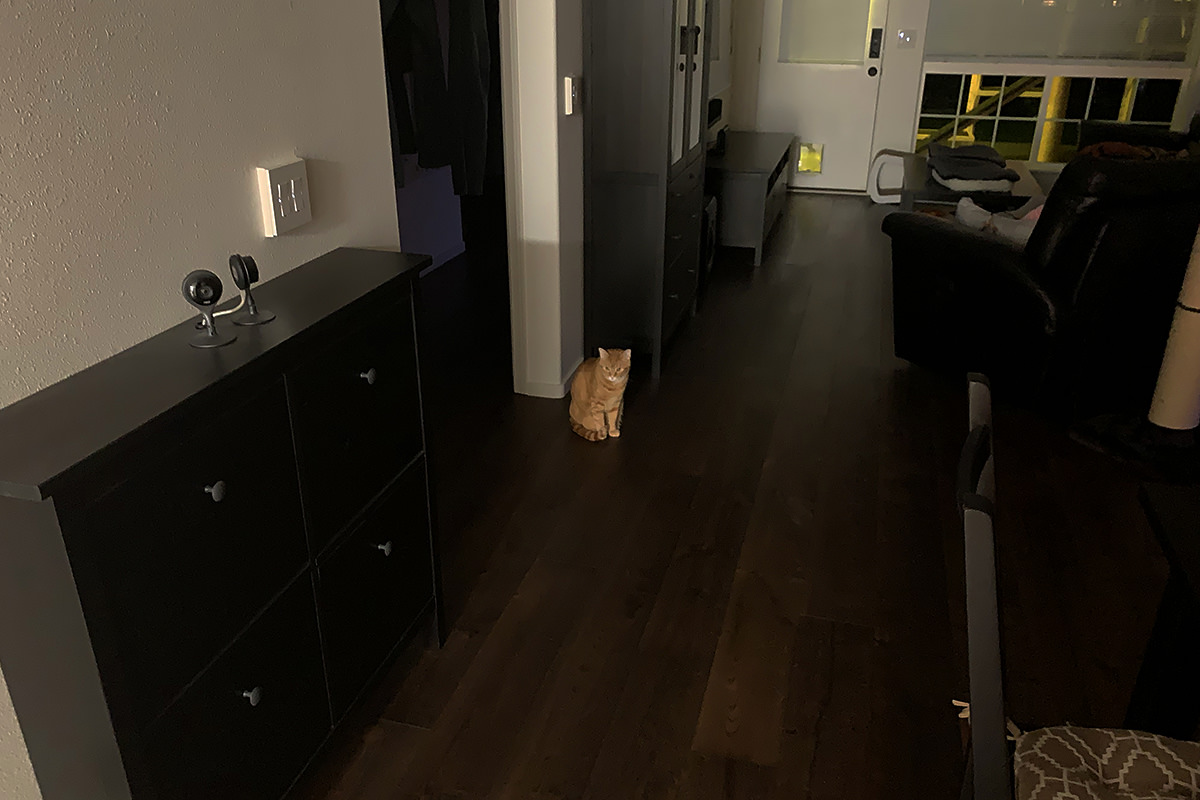 But there's a lot of love in that small package.
This is my first time flying out of Everett Paine Field*. I'm pretty excited about it because it's so much more convenient for me to get to than shitty SeaTac airport... 2-1/2 hours compared to 3+ hours, with far better traffic conditions.
You can still that they are still new to accommodating passengers, because things are not quite completed...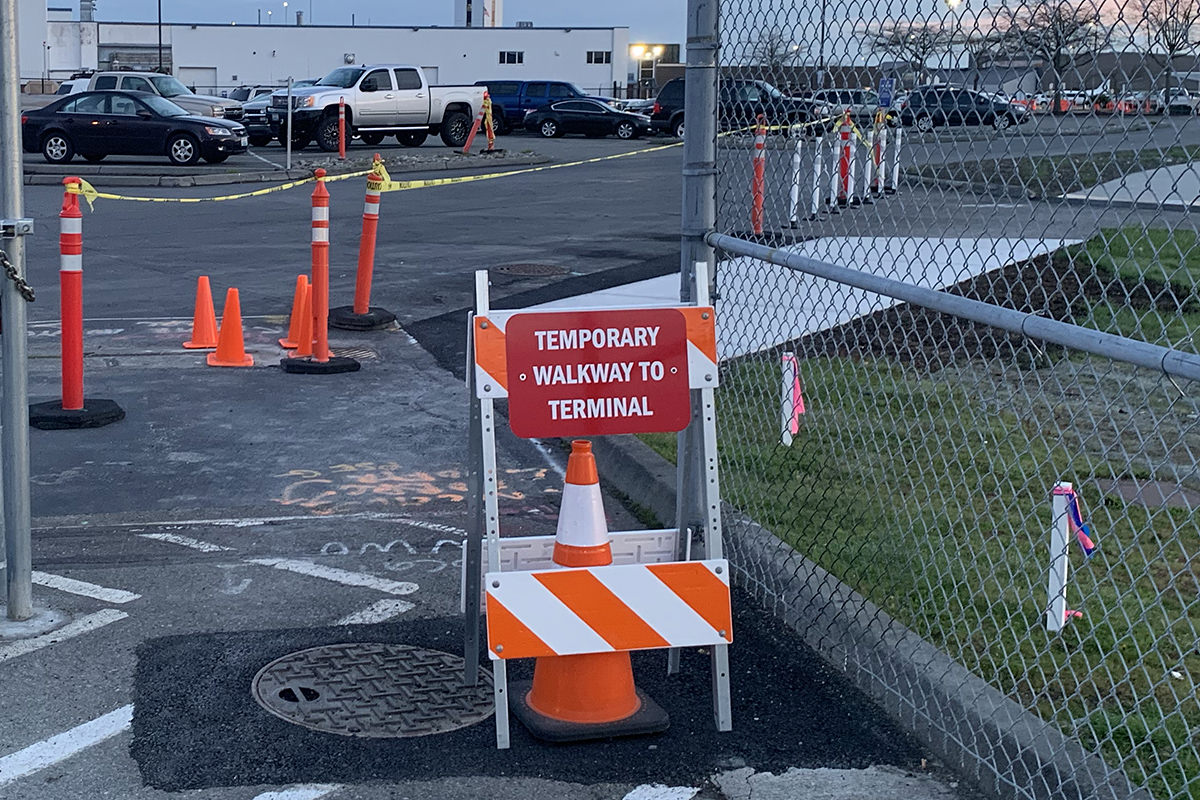 This used to be a private airfield for Boeing, so I'm not sure what kind of terminal was here previously. The new passenger terminal is pretty great...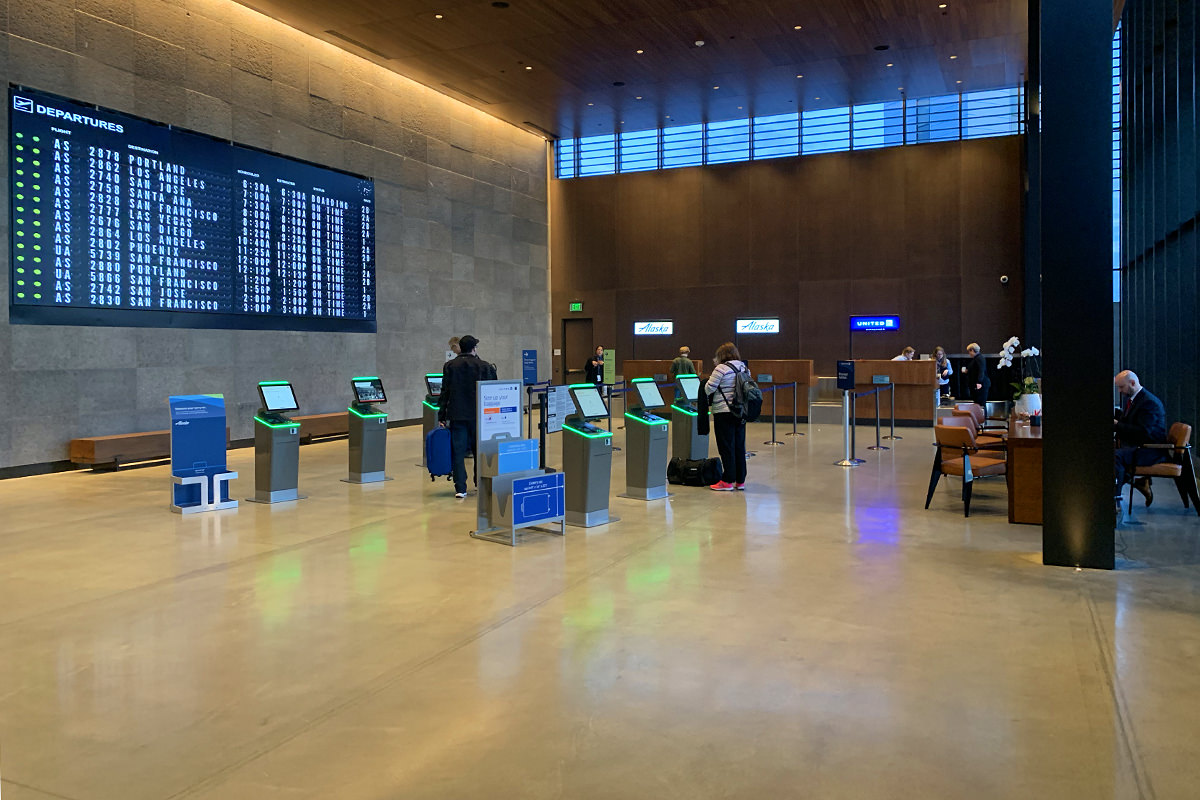 I don't have any checked luggage, but baggage claim looks painless...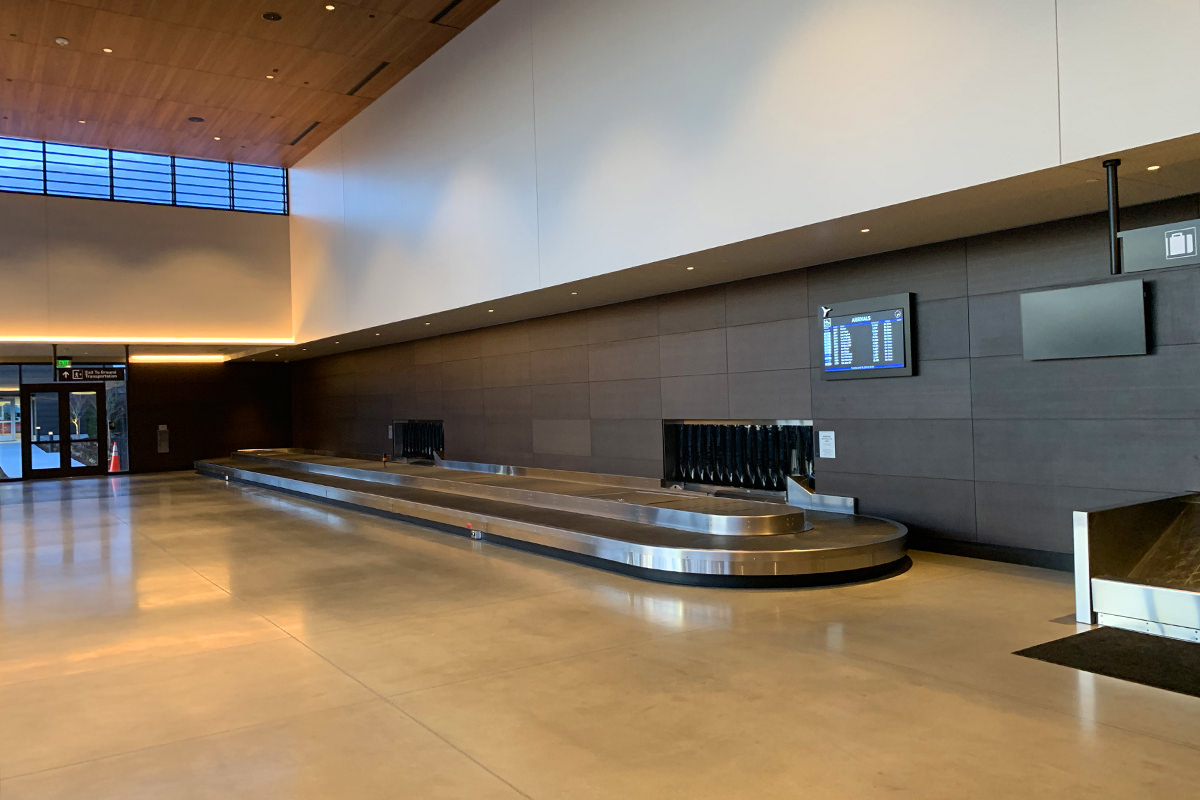 Being a small airport, security was tight, but getting through was a breeze.
The gate area is really nice. Unlike shitty SeaTac, there's enough seats for everybody to actually sit down! =gasp!= Imagine that!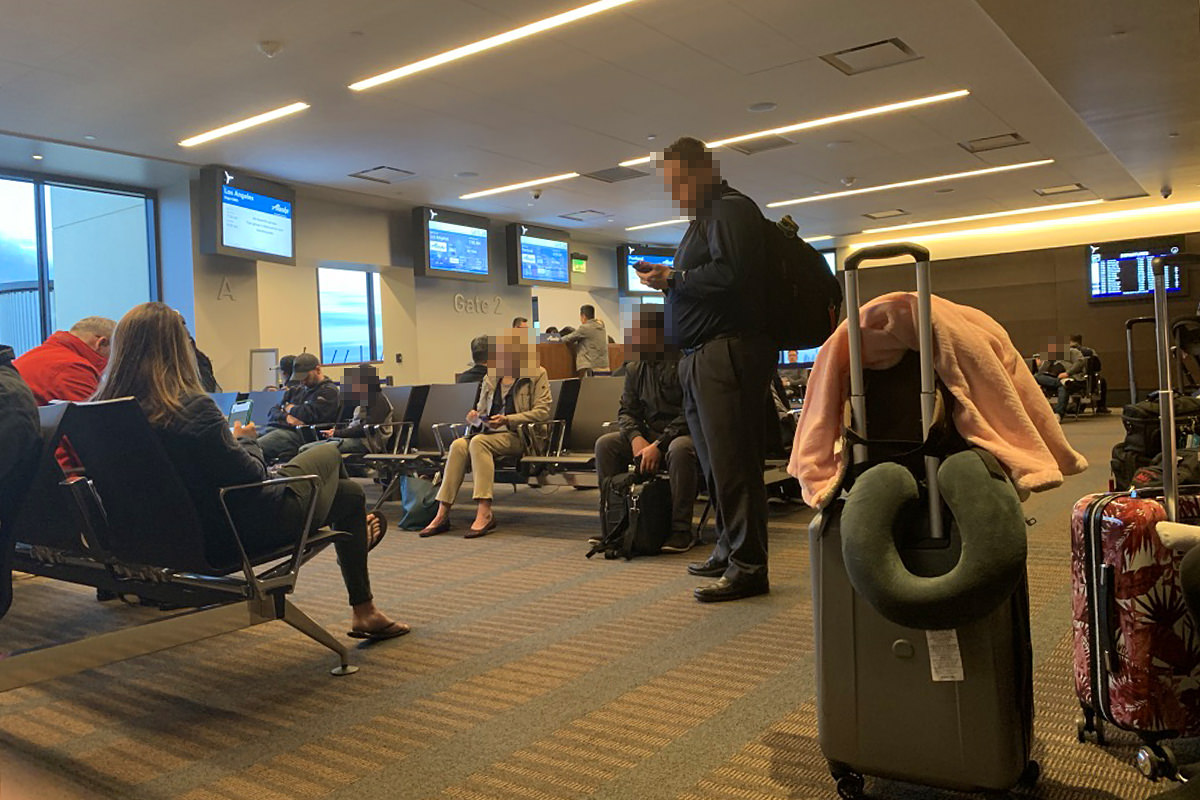 Adjacent to the gate waiting area is the passenger lounge, which is stellar...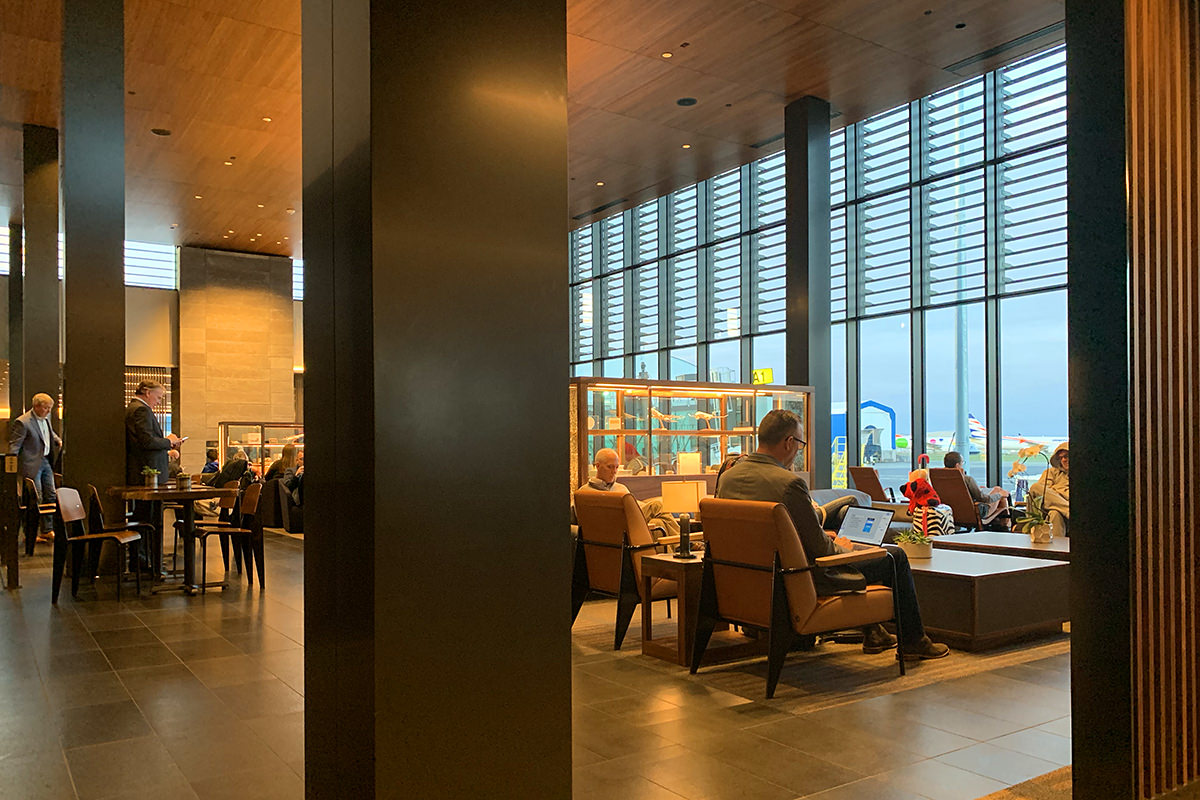 There's a nice bar...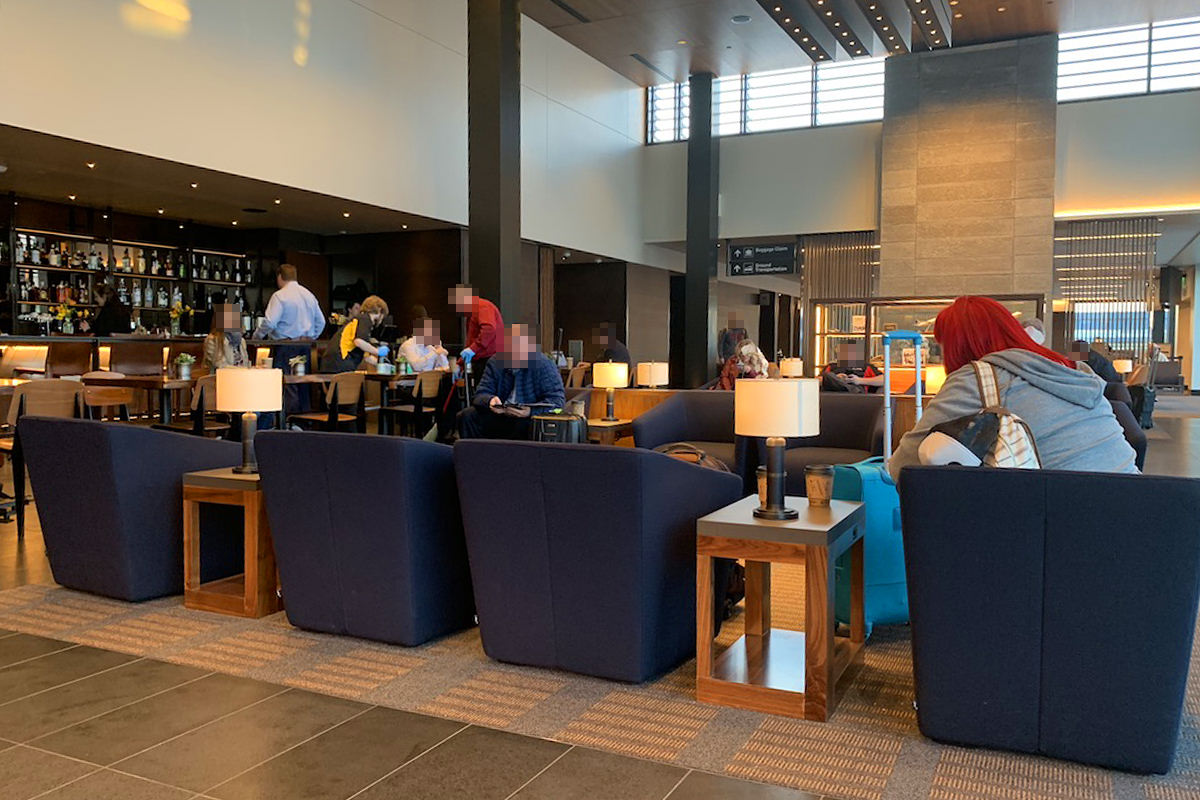 And nifty window seating...
And even a fireplace and table orchid across from my big comfy seat!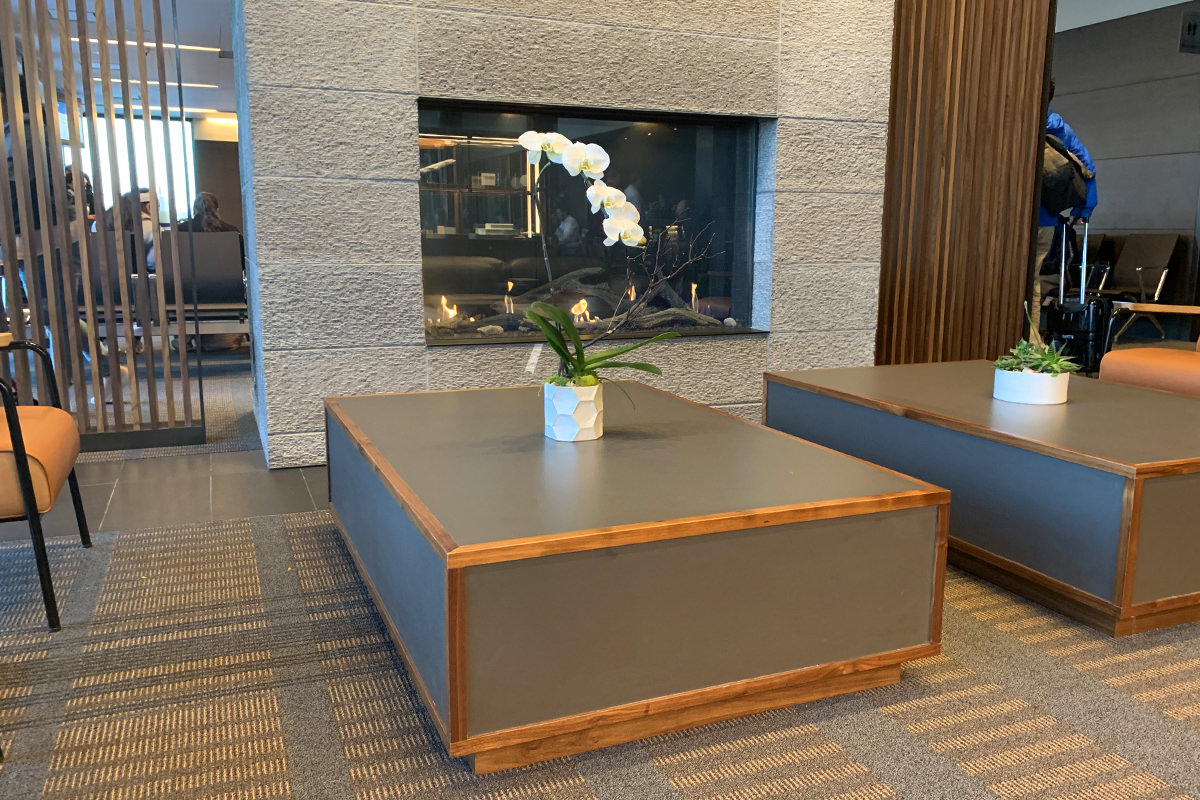 Overall, five stars from me! I'm glad to be able to make most of my West Coast flights from here. Hopefully they start up East Coast flights soon!
Interesting to note that my iPhone XS is reporting that I'm 5G here...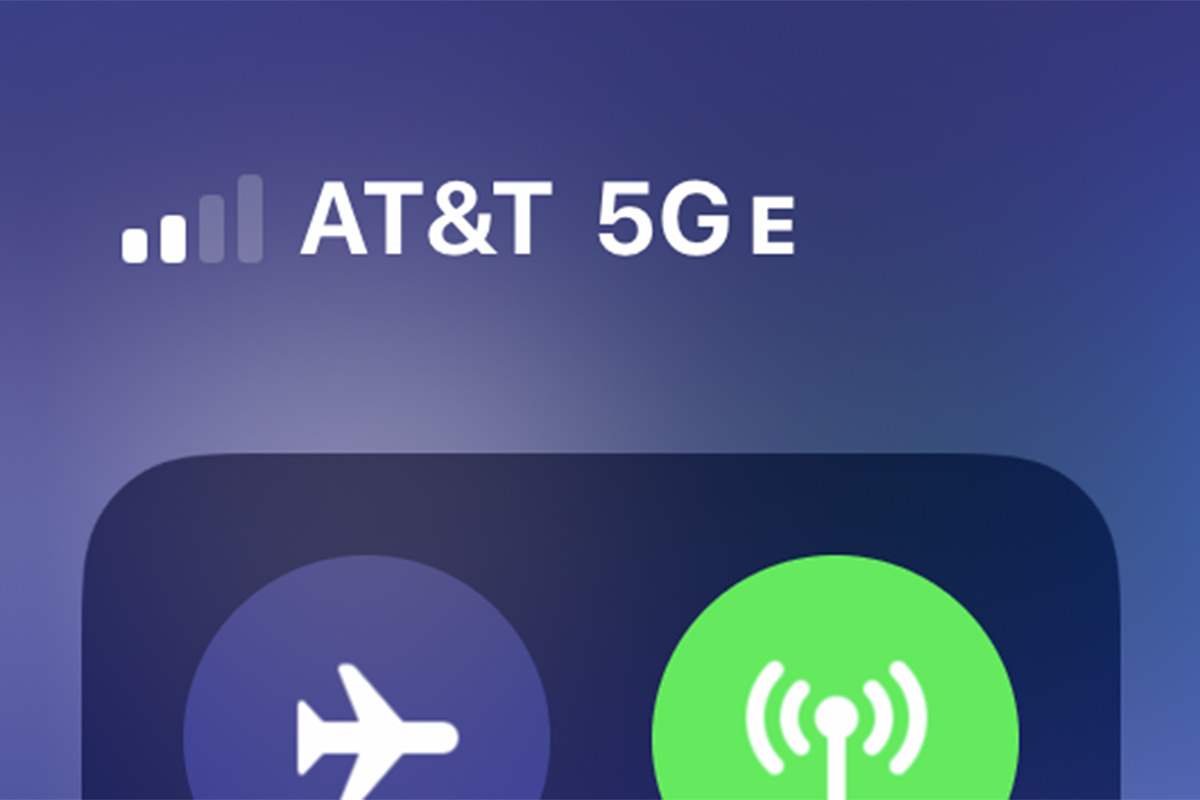 Except... not really. The radio in the iPhone XS is only capable of "Fast 4G" (Cat 16 Gigabit LTE) which is not 5G at all. I'm assuming that's why there's an "E" after "5G" there? Apple is stupidly lagging behind other handset manufacturers when it comes to next-gen cellular data networks. Typical.
My seat was upgraded (nice!) and the flight from Alaska Air was excellent as always. The movie I picked to watch was Mary Poppins Returns. I'm not much for musicals at all, but was curious to see what they did with it. It's a surprisingly good film with fantastic imagery and animation... though I did fast-forwarded through some of the musical numbers that were too groan-inducing for me to manage (the exception being A Cover Is Not the Book which was excellent)...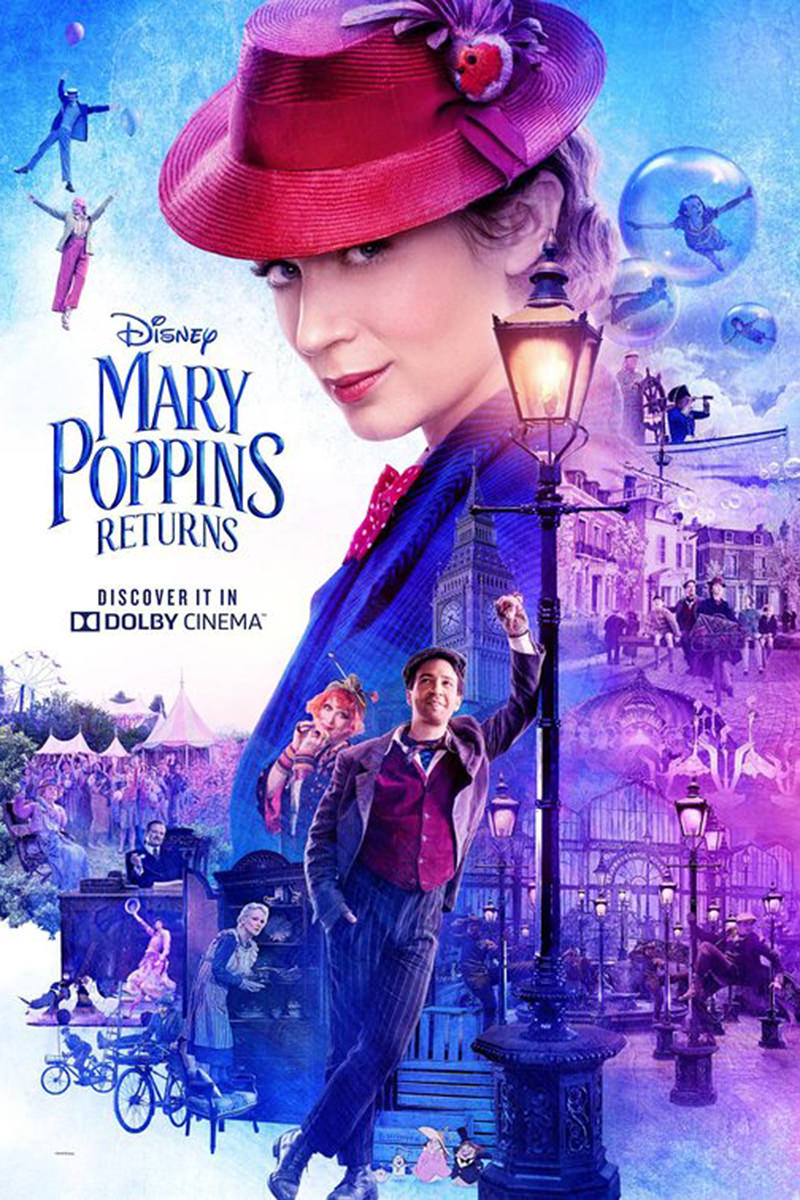 Casting was note perfect. Emily Blunt had just enough proper British disdain to make a terrific Mary Poppins, and Lin Manuel Miranda was as fantastic as you would expect (his rap in the middle of A Cover Is Not the Book is everything you could want from him). The children were scattershot... being exceptionally well-behaved one minute, then unbearably annoying the next. The biggest surprises came from some guest-casting that I won't spoil here. Suffice to say that there were a couple actors popping up that made the movie even better.
And then... hello Los Angeles.
First thing I did upon landing was make sure that Jenny got her breakfast, which she did...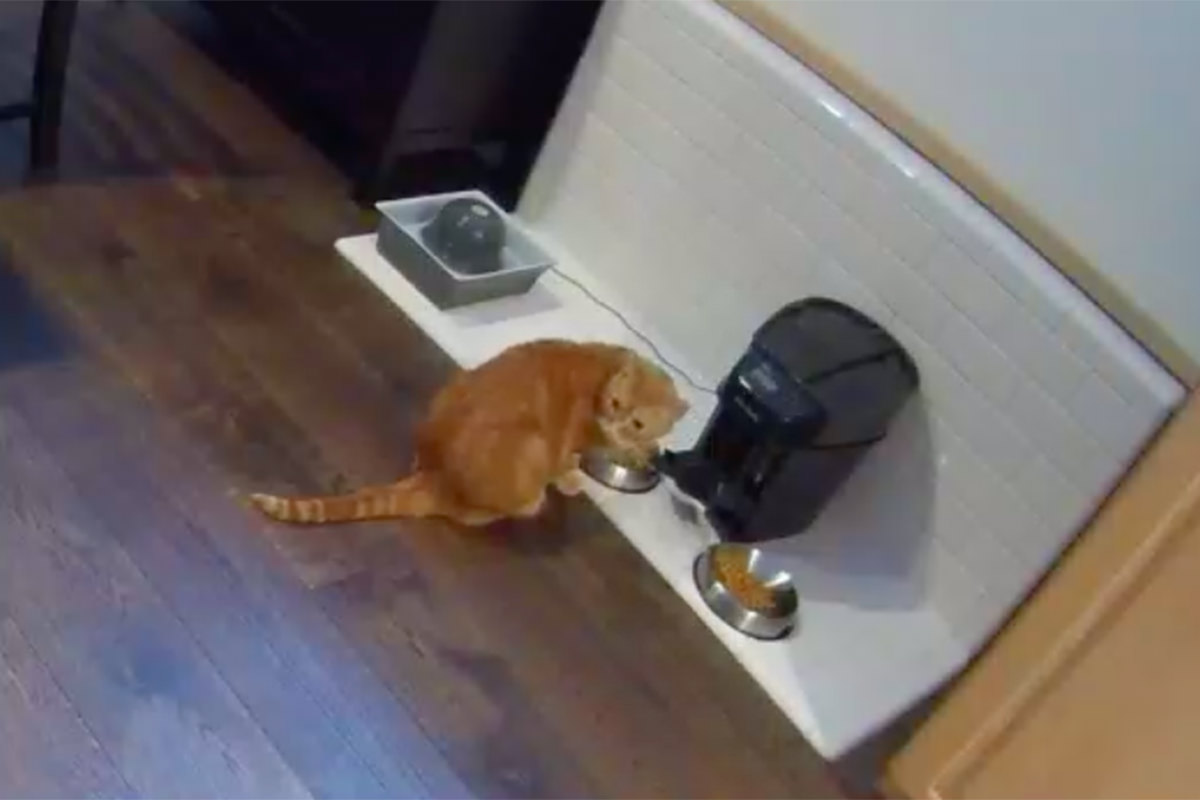 Except... oops... I didn't adjust the amount of food, so she's getting Jake's breakfast as well. She never ate from his bowl though, which was sweet. We'll see if she gets hungry enough later in the day to eat his portion as well!
My flight back isn't until tomorrow evening, but I would really like to pick up Jake tomorrow afternoon so Jenny doesn't have to spend an additional night alone. Unfortunately there is only one flight SNA->PAE per day at 5:50pm, but... I may be able to get a flight into SEA then Über back up to Paine Field in the morning? Something to look into when I'm done with work, I guess. Sometimes life on the road is a bitch, yo.
And, speaking of work, off I go...

*A few people have asked me why I no longer fly out of my small local airport. That's a bit of a long story, but suffice to say it has nothing to do with the airport itself (which is nice), the Alaska Air staff (which is exceptional), or the airport security personnel (which has always been great). No, the reason I avoid flying out of Wenatchee when at all possible is because they have partnered with the assholes at Republic to handle their parking. I fucking loathe them. They force you to pay in advance, even if you are a business traveler like me who is never quite sure when you'll be flying back home. So you have to pre-pay for the longest possible time you'll be gone. If you run past your guesstimate as to when you'll be back, you pay a fine. If things go well and you can come back early, Republic categorically refuses to refund money for the days you DIDN'T USE. And so... so long as the Port of Wenatchee chooses to use a bunch of fucking thieves for their parking contract, I'm not flying out of there so long as the mountain passes are open and I can safely drive to a better airport.
Posted on April 15th, 2019
Poor Jake. He just can't catch a break.
Yesterday Jake vomited, which is rare. I thought it might have been a hairball, except there was hardly any hair in it. Last night he became inactive and lethargic, which is a symptom I recognized from the last time he had problems. Then this morning he barely ate anything (WARNING!) and an hour later when I left for work I shook the treat bag and he didn't come (WARNING!). Had to look all over the house and found him cowering under the guest bed, unwilling (unable?) to move.
Uh oh.
The same signs he had last time there was a serious urinary blockage.
And so... I managed to grab him so I could take him to the vet immediately. You know how that goes...
Amazing how the little guy cannot meow until he's in distress. At which time he has no problem meowing at all.
Also amazing? How he manages to time his health problems to the day before I am due to fly out. Again! Last time he got sick I had to delay my trip to Hawaii, then fly immediately back home. This time I'm due to be flying out to L.A. for two days starting tomorrow morning.
Apparently I can't catch a break either.
When the doctor came out to talk with me, he said that Jake peed all over the carrier while he was in the exam room waiting to be seen. Like, a LOT of pee. He theorized that it may have been a temporary blockage, and the stress of being driven to the vet shook things loose.
So yay? I guess?
Last time this happened, I didn't understand the symptoms and waited a full two days before taking him to the vet. By that time the poor guy was so badly blocked that he ended up with an enlarged bladder with a nasty infection and had to be hospitalized. I will never make that mistake again. As soon as I see the signs, he's packed up and taken to the vet. And I honestly don't care if it turns out to be a false alarm. There's simply no way I'm risking him getting as sick as he was last time. I take absolutely no chances when it comes to my cats' health. I will pay any amount of money. I will cancel any trip. I will change any plans. I will miss work. I will do whatever I have to do. Because how could I not?
Anyway... six hours later...
Looks like I will be (once again) flying off while leaving poor Jakey-Bear in the hospital.
They are hesitant to release him and would like to keep him an additional day or two for observation... and also to keep him hydrated and medicate him for (possible) bladder problems. They don't think he's in pain, but will be medicating him for that too.
This time there are no crystals in his urine, which is good (the expensive prescription cat food I have to buy must be working!). But he does have high white and red blood cell counts showing up for reasons unknown. He also has high sugar levels in his urine, which would ordinarily be a sign for diabetes... but all his blood lab work came back perfect, so he's not diabetic. His doctor can't say for certain, but still believes he had a blockage of some kind, but managed to flush it out after I took him in. And so... even if he would have eventually passed it here at home, I am so glad I got him to the vet considering the other issues that they've found.
And then... three hours after that...
After spending the day at work, they allowed me to visit Jake after 5:30...
He's a trooper! They have him on anti-inflammatory drugs, pain relief drugs, anti-spasm drugs, and are monitoring his white blood cells and urinary sugar levels (which are still high). Surprisingly, the nurse told me that he's been highly affectionate with the whole crew. And since he's the only cat in the boarding area, he's been getting lots of attention which (apparently) he loves. I'm guessing it's the drugs...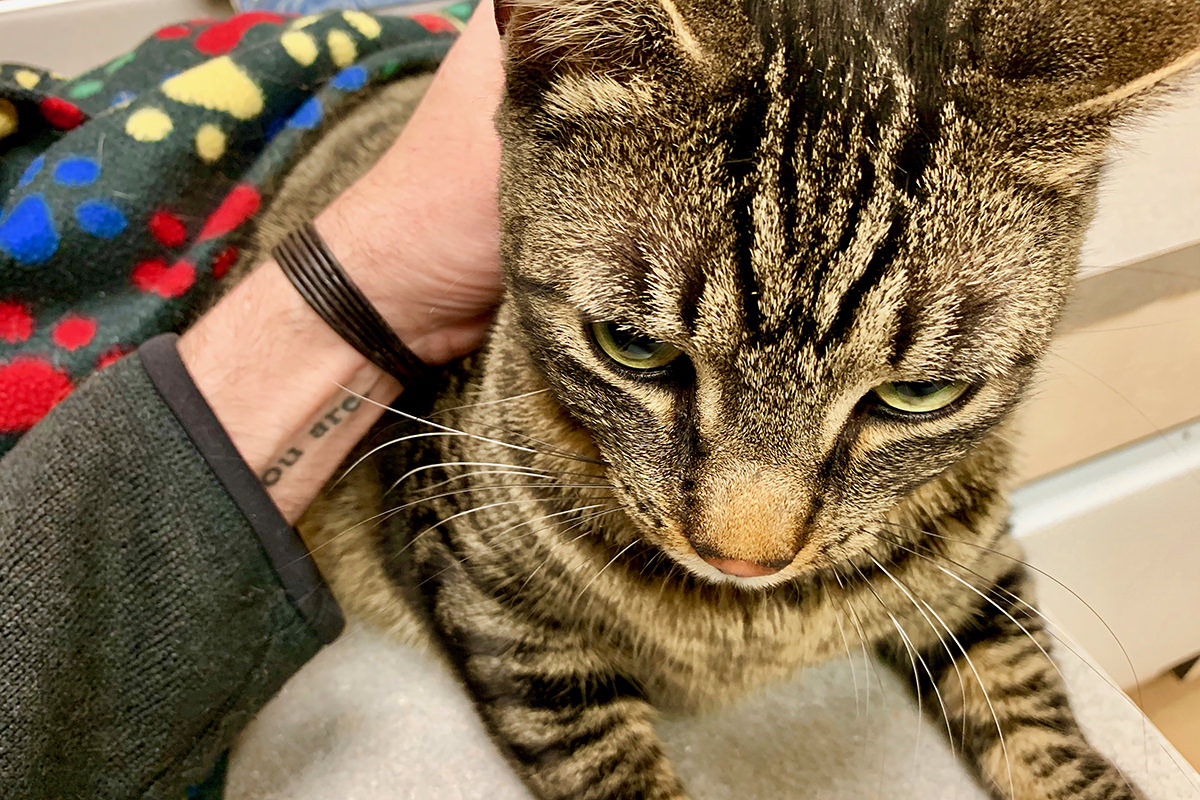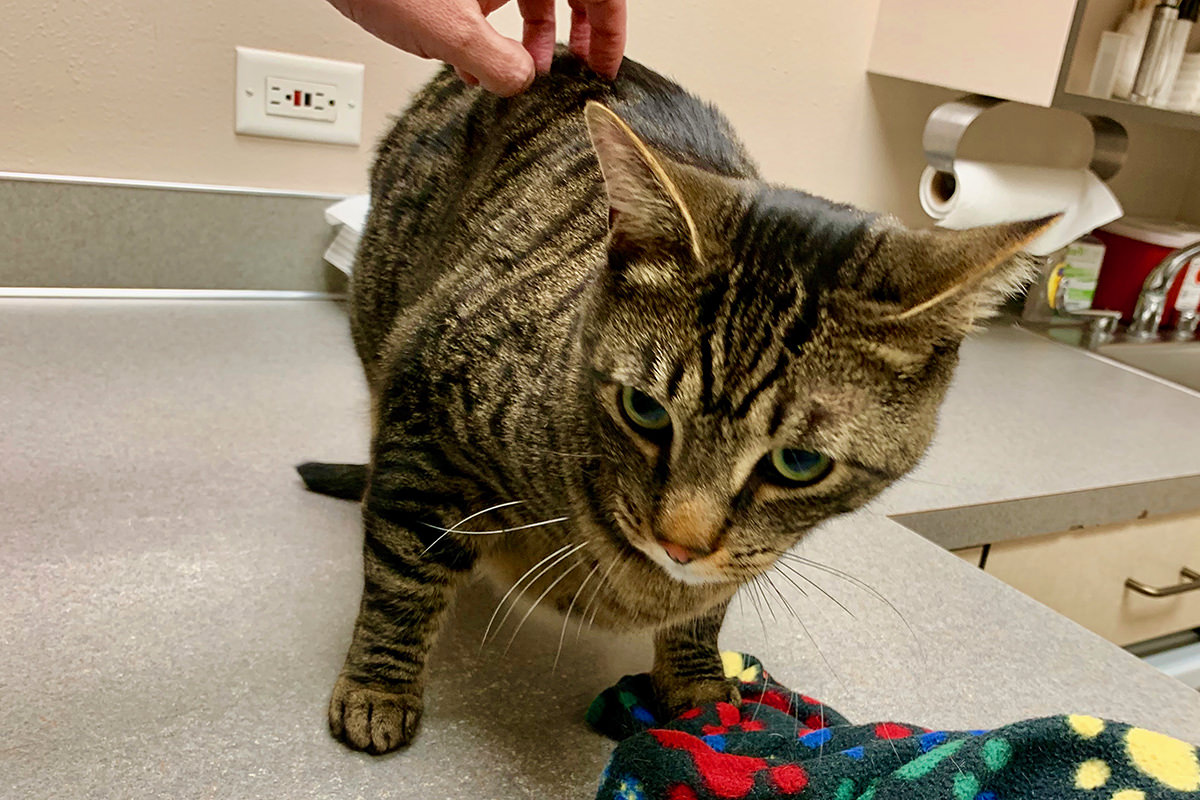 They removed his IV, which makes me feel a little better about having to leave. Such a drastically different experience from last time with the IV and the catheter and the cone of shame! So glad I brought him in right away this time and didn't wait until he had to go through all that again.
Hang tough, little buddy! I'll see you on Thursday!
And then... back home...
I hate to say it, but this time it seems as though Jenny isn't phased one bit by Jake having gone missing. She's wandering around like she owns the place (which, let's face it, she does... I only pay the bills). Without competition from Jake, she got all my attention. First she wanted to be brushed for a while. Then she wanted a snack. Then she decided to sit and watch television with me...
I have such great cats.
Tomorrow I head to the airport at 3:30am so I can fly out to L.A. for a couple days. Where I will undoubtedly worry... but also breathe easier knowing that Jake is under constant care while he recovers from whatever he had going on. Hopefully Jenny won't get too lonely all by herself. I can always say "hello" through the security system, after all.
I don't know why I worry though. Something tells me that my cats will do better than I will.
UPDATE: Well, I spoke too soon. Just like last time, Jenny has started walking from room to room crying as she looks for her brother. Last time she got over it pretty quickly, so fingers crossed.
Posted on April 13th, 2019
After some truly lovely weather, we've been getting quite a bit of rain lately. This has been wildly frustrating to the cats in the neighborhood. They want to go out to play and kill stuff, but they definitely do not want to get wet doing it. Today Fake Jake went wandering by my back window and he was soaked. I felt bad for him but, hey, it beats the alternative. As in snow.
I found this video from the dead of winter when Fake Jake thought he would go chasing after the chirping birds in the back field. He gave it a shot, but had a tough time trudging through the snow and had to nope back to where I had shoveled...
A little rain seems tame by comparison.
As for Jake and Jenny?
Still spending a lot of time out in the catio. Even when it's sprinkling, there's still plenty of action to be found. Like when Jake's buddy (whom I've named "Charm") comes to visit...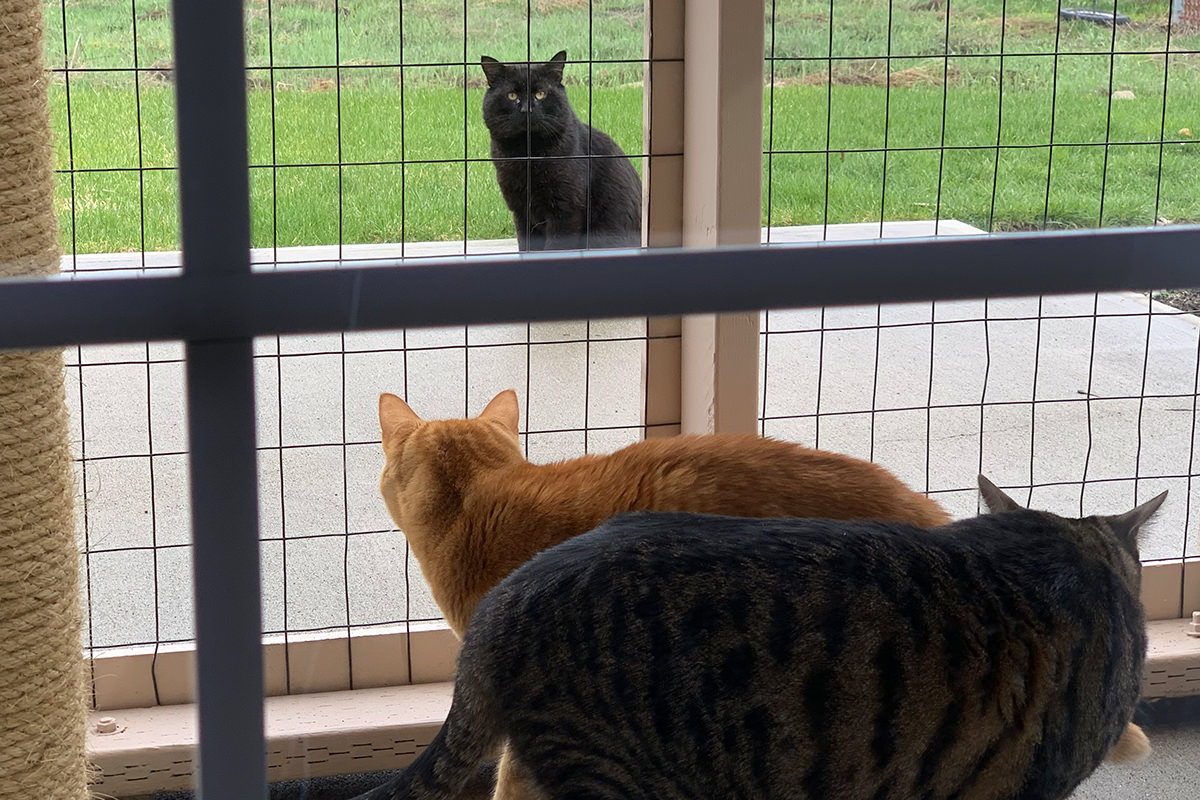 Though when it's particularly cold out, Jake is content to look out the window rather than go outside...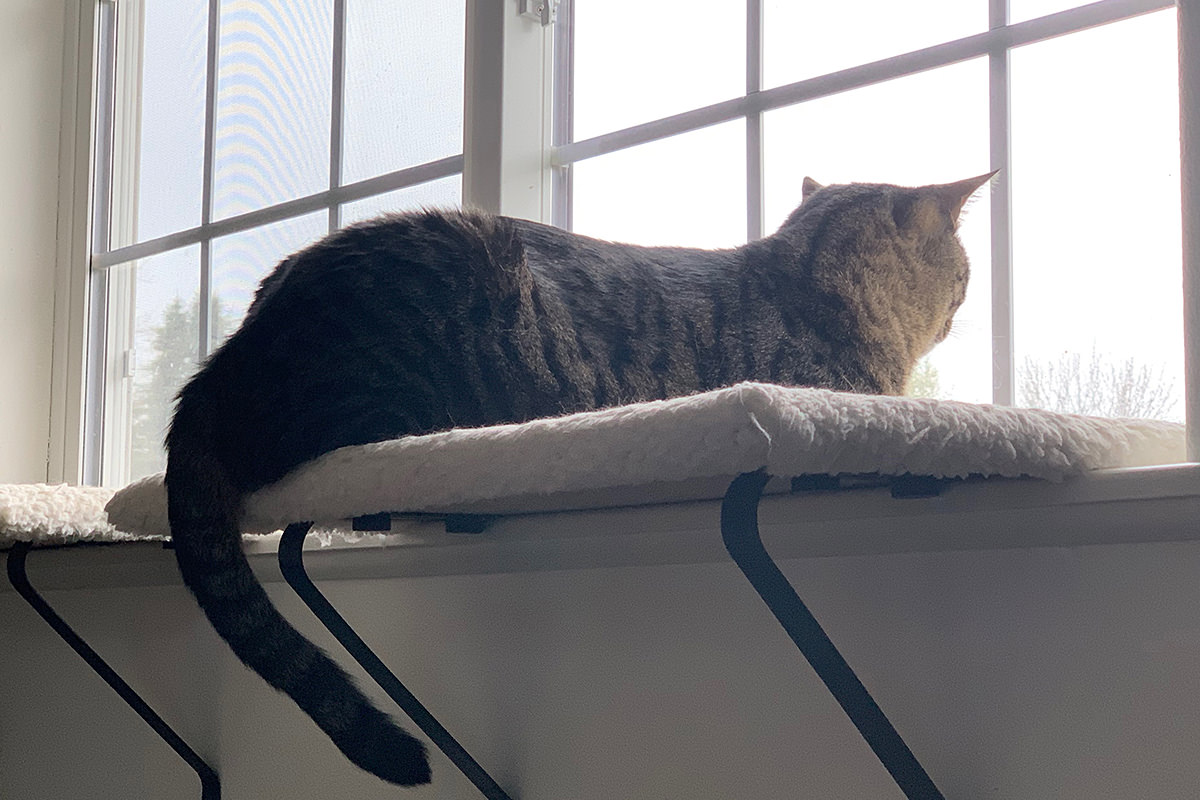 Jenny has no problem in the cold though. She still goes outside even on the coldest days.
Which is odd, because Jake is the one who has a little extra padding on him!
Posted on April 6th, 2019
This week I officially lost my cats to the catio.
It's been so warm out lately that they are spending most of their days laying around outside or watching all the bird activity that comes with Springtime. Jake and Jenny absolutely love it outside, which means the catio remains one of the best home improvement investments I've made...
What also comes with warm weather?
Cat hair. Cat hair everywhere.
For Jenny this is not much of an issue. She loves to be brushed with The Furminator. I try to brush two times a week, but sometimes Jenny will go running to the cabinet with The Furminator in it and start rubbing all around it and complaining until I start brushing. And she can't get enough of it. She'll roll from one position to the next, making it easy to get to every square inch of her fur.
Jake on the other hand?
He'd rather forgo the brushing and go straight to puking up hairballs.
I've started Furminating him while he eats. It isn't very efficient, but it's better than nothing.
Alas, the warm weather earlier in the week turned to colder weather and rain at the end of the week. This has irritated my cats on numerous fronts. The first of which is that I turned off the heat in March so it's been colder inside than they're used to. I keep seeing them snuggling up for warmth when the temperature dips...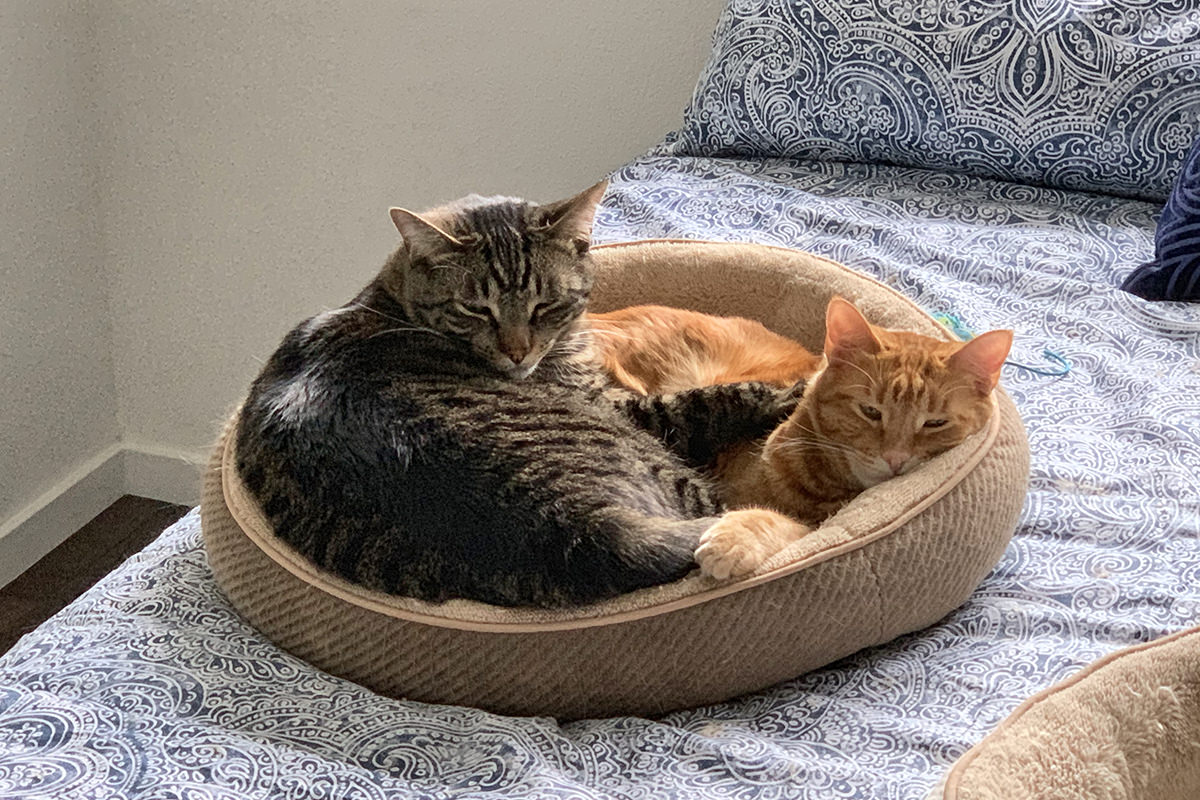 The babies.
It's not that cold.
And now? I suppose Jake and I should get back to watching The Jungle Book...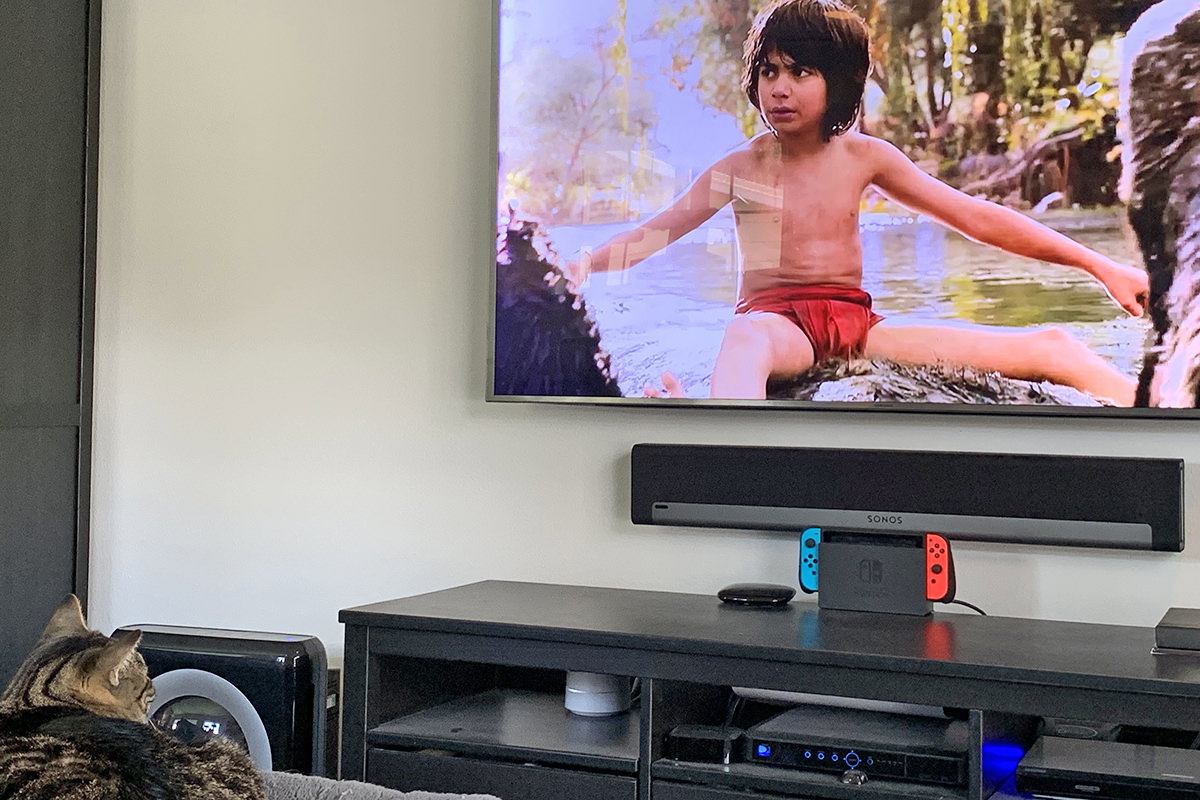 Seriously, Jake is totally into it.
Posted on April 4th, 2019
Sick and tired of being sick and tired.
So there I am exhausted but not sleeping because I am coughing my head off... when Jenny comes in to complain. And I'm like "Dude, I can't help it! I can't take more cough medicine for another hour"...
This does not phase her, so I try to ignore her by checking my phone.
First thing I see is an alert that the Litter-Robot is stuck. So I go downstairs and fix it so Jenny can go to the bathroom... then take more cough medicine even though it's too soon (hey, I'm already there)... then grab some crackers... then go back upstairs.
Jenny follows me the entire way... never going to the bathroom. THEN... FIFTEEN MINUTES LATER... I hear her using the UPSTAIRS Litter-Robot. Which means she got me out of bed to fix a Litter-Robot she had no intention of using? Or maybe she did, but changed her mind? Oh well. I'm not coughing anymore, so I guess we both got what we wanted in the end.
Posted on March 30th, 2019
This morning Alexa's alarm was chiming, letting everybody know that it was kitty feeding time. I went to say "Alexa, Stop" to turn it off... and... couldn't speak.
My voice was completely gone.
This raised two questions:
How can I be sick again, when I just got over being sick a couple weeks ago?
How in the heck can I tell Alexa to turn off an alarm if I can't speak?
I ended up just letting the alarm run itself out because I had no idea how to turn it off. I suppose I could have tried deleting the alarm from the Alexa app, but my cats were way too impatient for that nonsense.
I should have known this was coming. Yesterday I was feeling poorly so I cut out of work early to come home and take a nap. When I woke up, my butt felt warm. At first I thought that I might have filled up a hot water bottle and forgot about it, but when I reached back... it was Jake! His butt was snuggled up against mine...
My cats usually do not hang around me when I'm sleeping. But when I'm sick? They seem to want to congregate around me... taking turns throughout the day. Eventually it was Jenny's turn. Though I think she didn't care as much about me being sick as she did getting belly rubs...
She was asleep in no time, trapping my hand...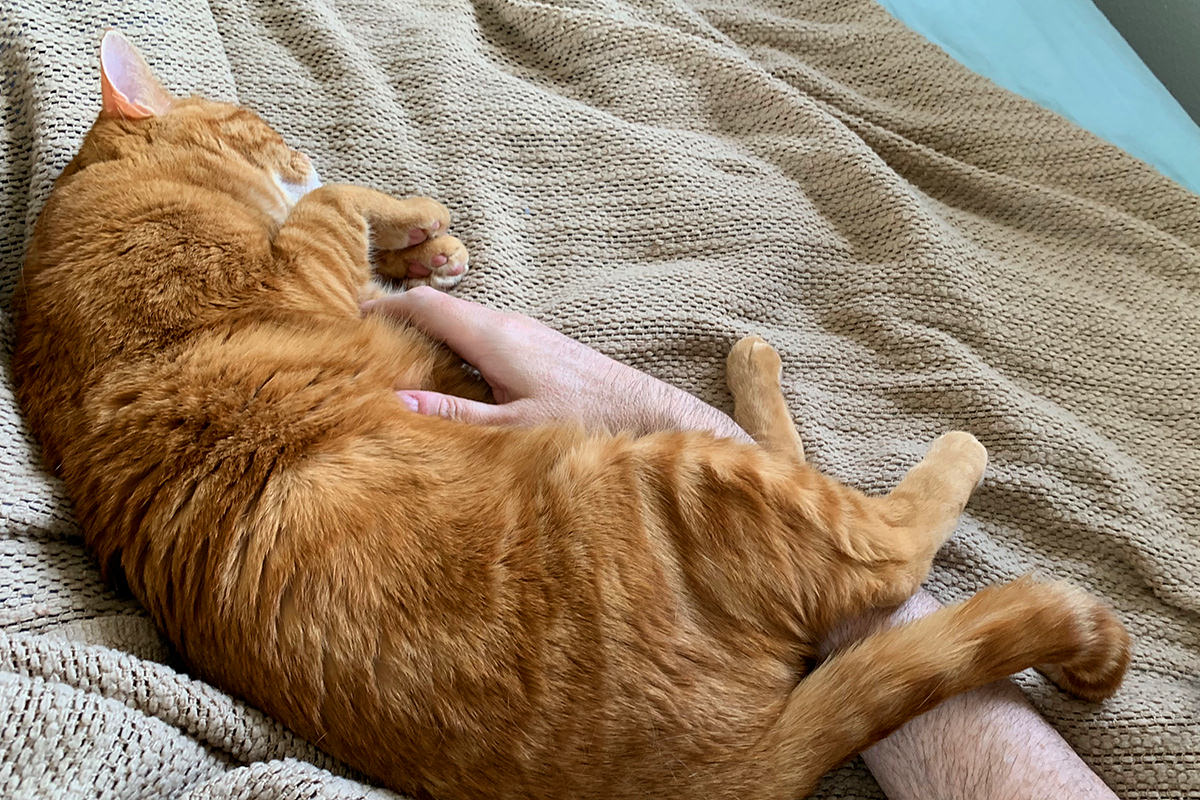 I tried to carefully remove some blankets because I was sweating, but that woke up Princess Floopy Whisker and she was not amused...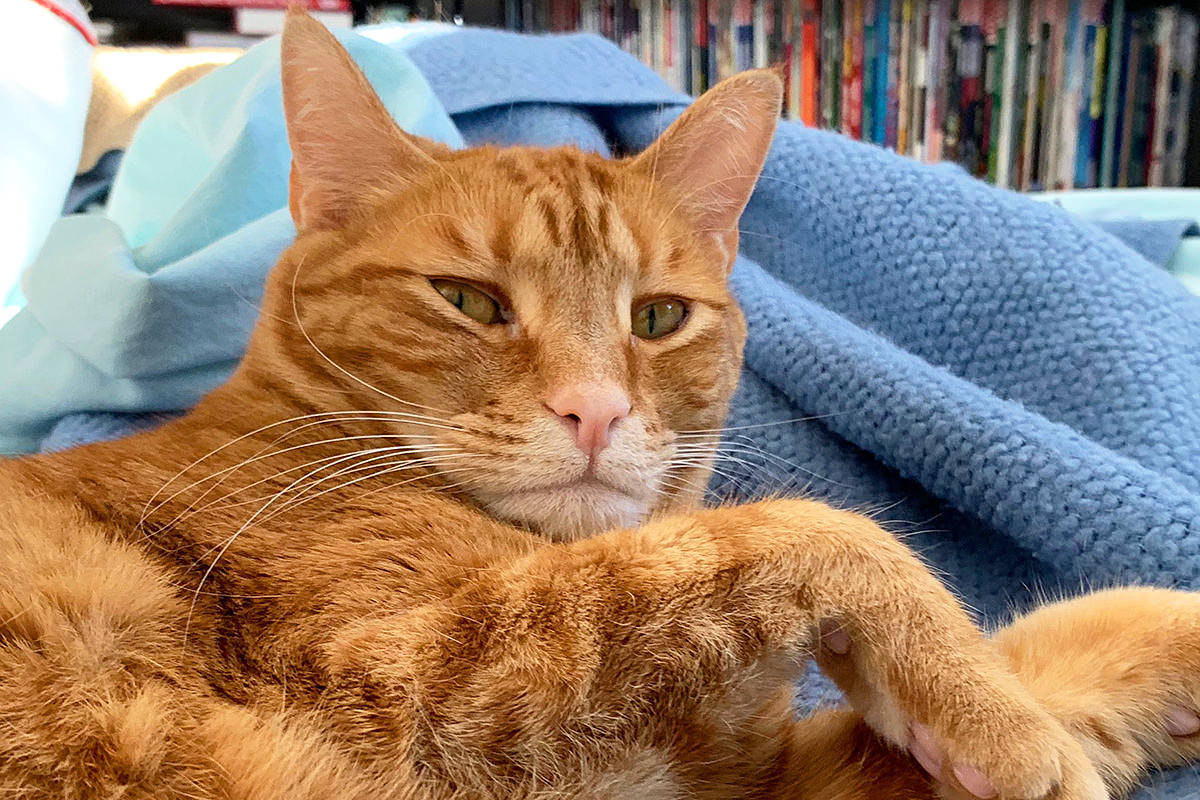 Nobody gives sour-face quite like Jenny. I think it just makes her look even more adorable.
Eventually it was just too hot in my bedroom. It's upstairs, so all the heat rises up. That's great in the winter, but can be a nuisance when the weather starts warming up. And you're sick.
It was plenty cool downstairs. At least it was until I had a warm kitty laying on top of me...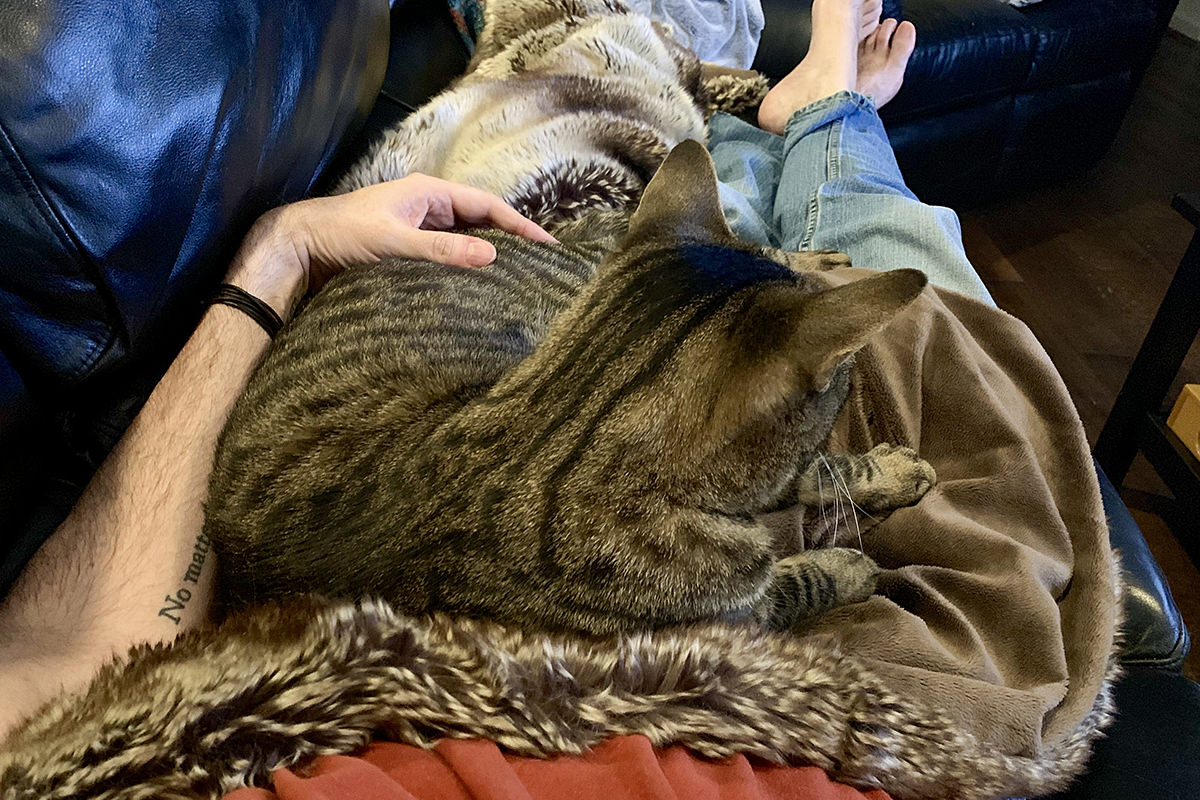 A couple days ago while I was working in bed, I heard a commotion in the cats' bedroom. Since there's always a commotion somewhere, I just ignored it. Then, when I got up to take a shower, I saw that Jake had been dragging all the toys he considers "his" onto the bed. Mufasa, Moose the Mule, Grey Mouse, Thing 2 Mouse, Blue Rag Mouse, Mr. Pretzel, and both Purple Squiggles. And he was still going...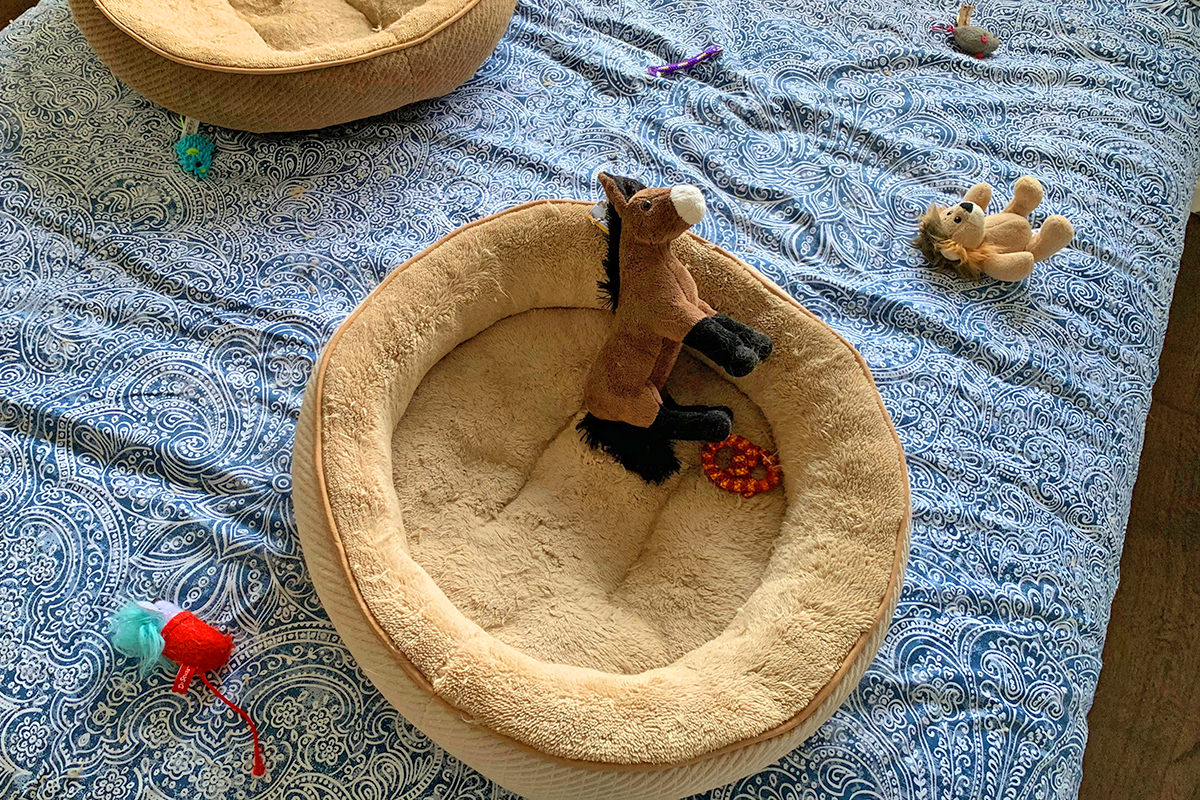 I honestly think that he feels he's hiding them from Jenny so she can't steal them. He's growing really tired of going to play with his toys only to find that Jenny has run off with them somewhere.
Not a very good hiding spot... on top of the bed... but hey, he's trying.
Posted on March 23rd, 2019

And lo Spring did sprung.
This is joyous time of year to be my cats because there's a lot of activity going on outside now that the snow is melting and critters are returning. Jake and Jenny are spending a lot of time looking out windows and being on high alert out in the catio...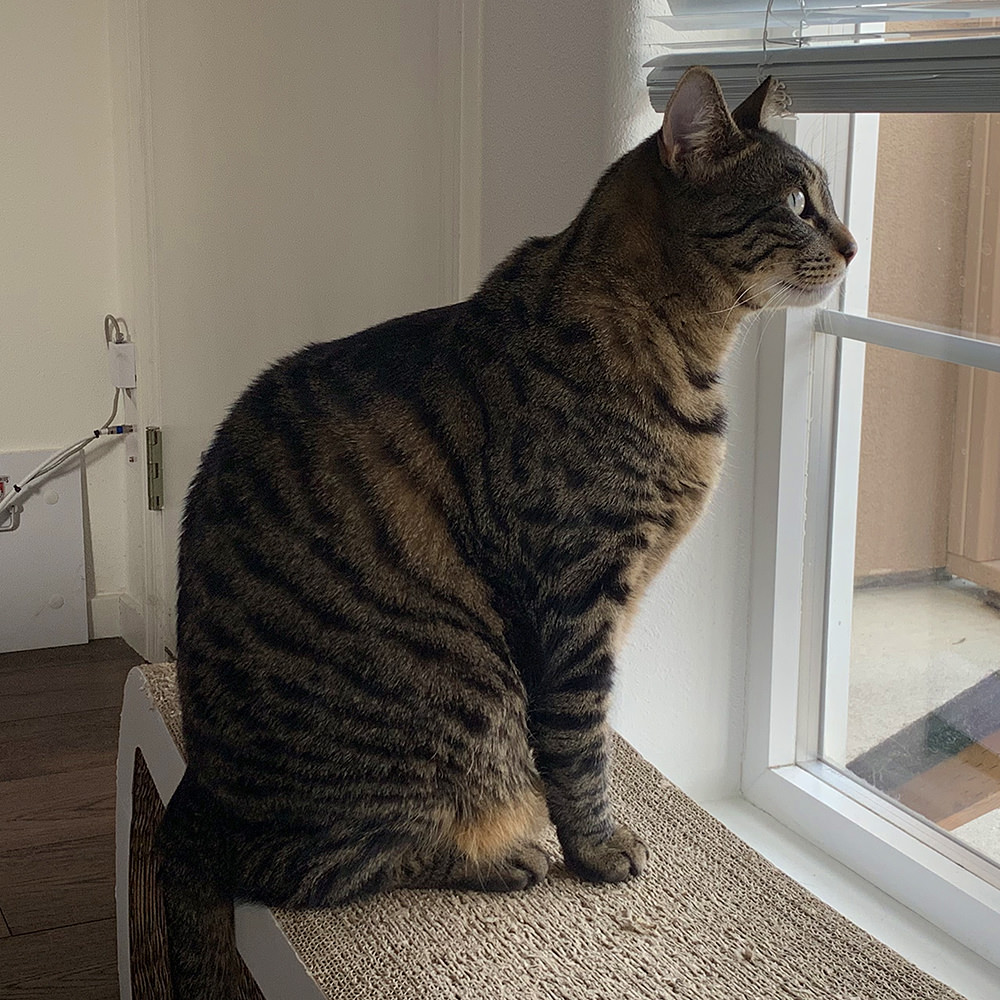 And it's melting so fast! This was the 19th...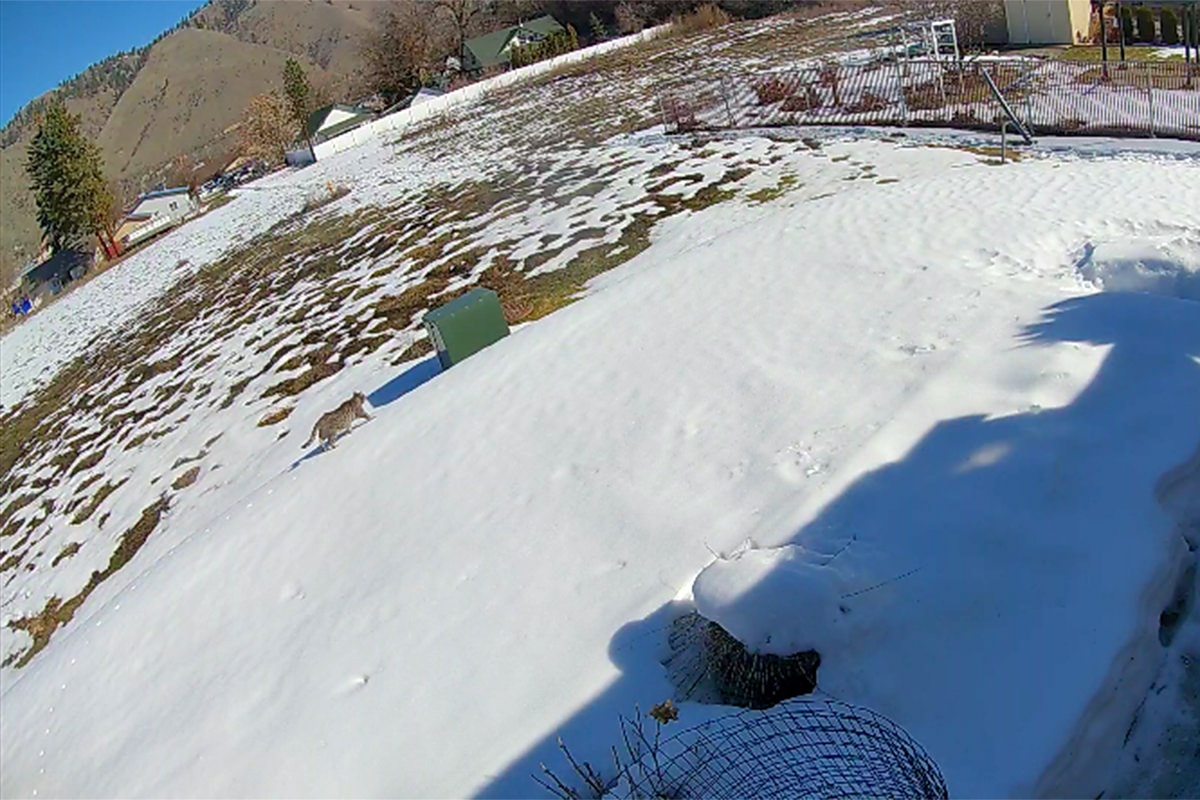 This was the 20th...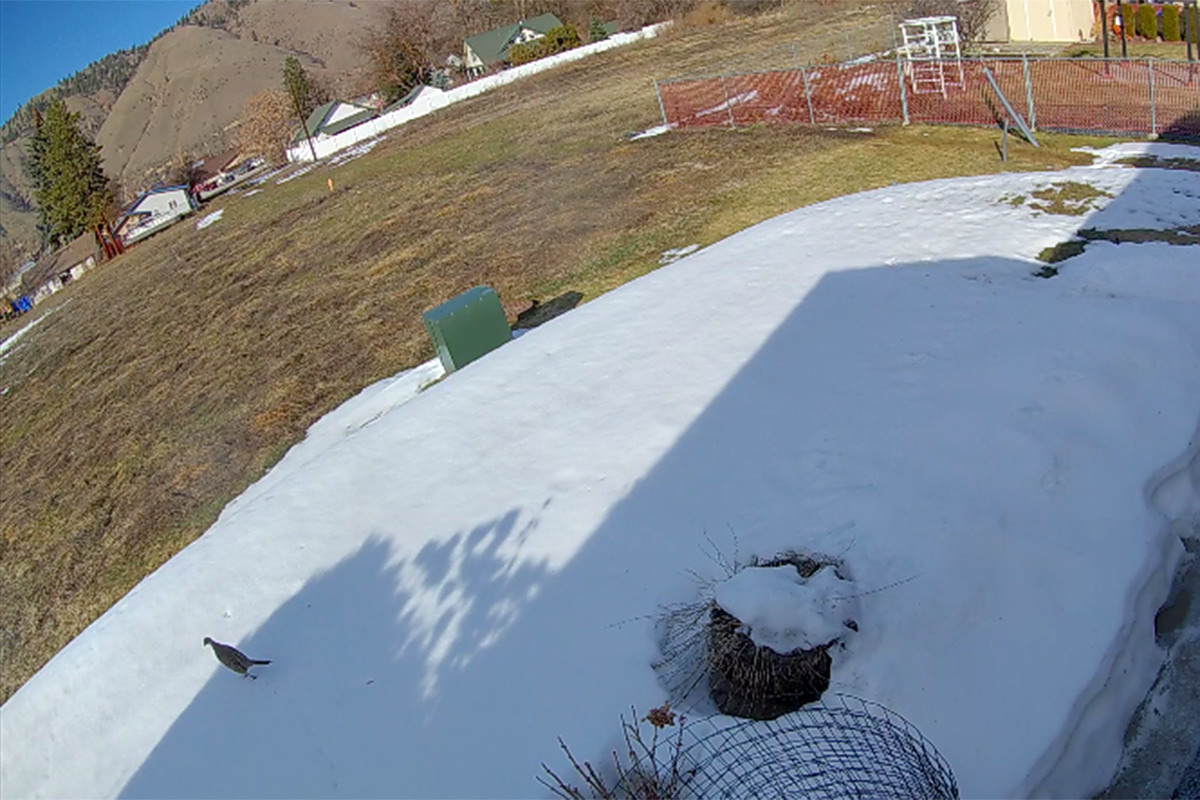 Ooh! Look! BIRD!!!
And here's this morning...
In front of the catio was a 5-inch-thick block of ice that formed from the roof run-off. It's now a tiny little piece. By the end of the day it will be gone.

As Spring arrives, the neighborhood cats are restless. Here's a list of what's roaming around (not their real names, these are just the names I call them)...

• Fake Jake. He's the cat everybody in my corner of the neighborhood has been caring for since his owners moved away and he didn't want to go with them. Last year I built a heated shelter for him when it got cold. This winter I put the heater back inside and he made it through just fine...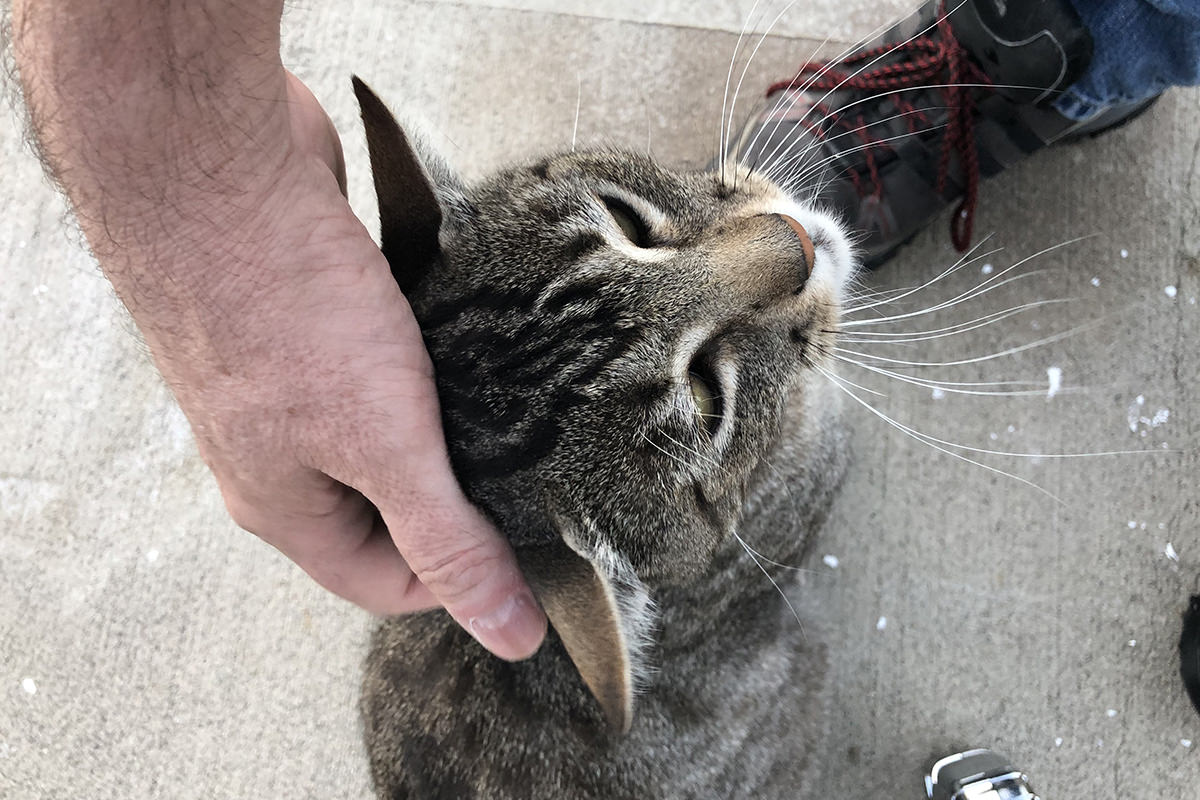 Now that it's warm out, he's spending less time in the cat shelter and more time sitting on people's cars... for a long while...

• Ghost. This is a small grey kitty that lives across the street. They seem to get along okay with Fake Jake, though sometimes he is not in the mood for company and will chase Ghost off. Any time I try to approach them, they run away...
Most of the time I see Ghost, they are following around Fake Jake...

• Charm. This is a big black cat that likes to wait outside the catio so he can visit with Jake. No idea where they live, but I'm thinking they definitely have a home. Seems sweet, but runs away when I try to pet them...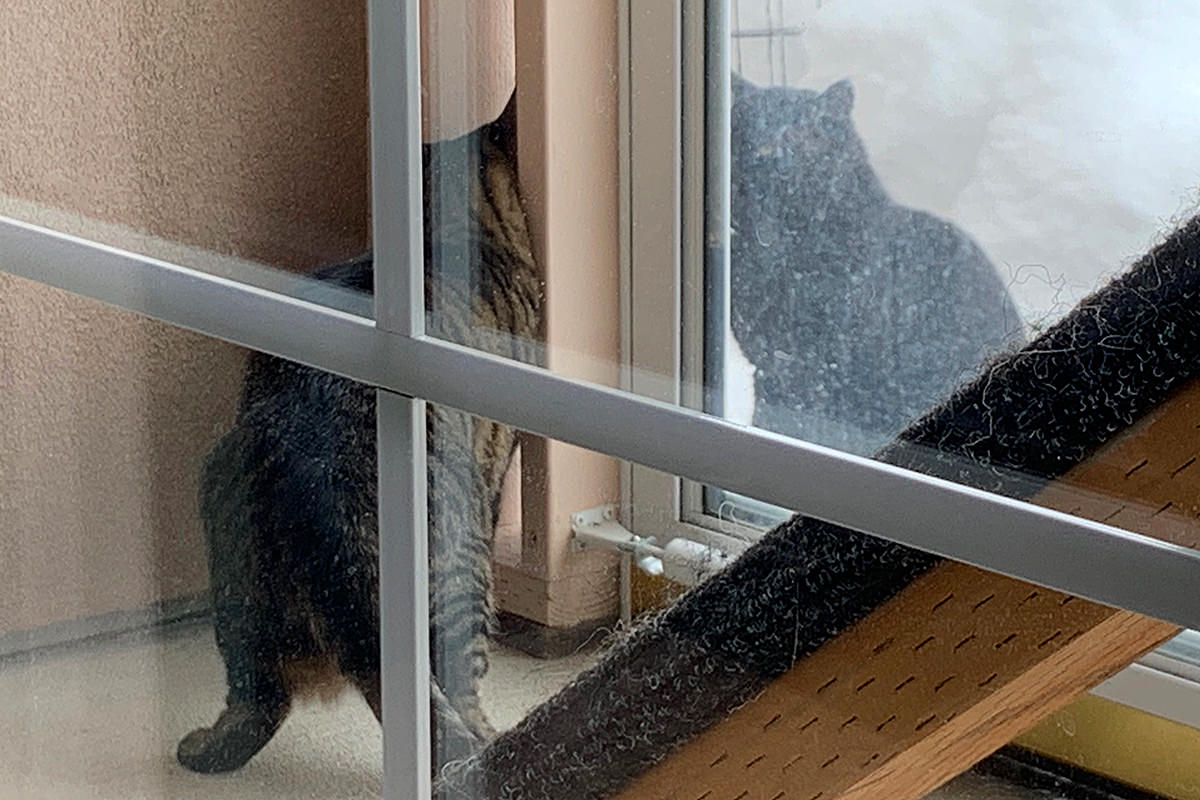 If Jake's not out in the catio, Charm will call for him to come out...

• Killer. This is a white and grey cat who is Fake Jake's mortal enemy. Doesn't come around much, but whenever they do, there's going to be a battle somewhere (turn up your volume on this one, because holy crap!)...
And here again...
I have never seen Killer in person. But in the videos you can see a collar tag glinting in the light, so they belong somewhere.

• Bongo. This is a big grey cat that doesn't want any trouble. They are happy to keep to themselves and walk away when another cat comes along. I rarely see him, because he avoids everything and everybody.

There are other cats around, but I don't see them often enough to know if they are just passing through or if they actually belong here. I'm just hoping that no more felines arrive. Fake Jake doesn't need the competition. I think he has his paws full as it is.