Posted on August 13th, 2018

Whenever a fire siren goes off in town, my heart stops for a second. When you live in a city as small as mine, there's a good chance that somebody you know has their home on fire. Not that it's any less sad when it's a stranger losing their home, but it does hit you harder.
Right now it's especially terrible when the siren sounds because a fire happening when there's wildfires all around us just seems cruel.
Today the smoke was so thick in the air that I could barely make out the nearby hills. If you look at this map...
...that huge red dot in the middle is just North of where I live. It's a wildfire that's currently 29,186 acres in size and only 5% contained. When the winds blow South, the smoke comes with it. For me that means a day of burning eyes and difficulty breathing.
But that's not the worst part.
The smoke is a constant reminder that hundreds... thousands... of animals are losing their homes and living in terror. And many of those may not survive it. Unlike people, they don't understand what's happening, and that has been weighing heavy on me.
Our local animal shelter has had to stop taking in owner surrenders because they just don't have room. They have to shelter animals from people under evacuation with what little space they have available. And this also weighs heavy on me. I try and think of how terrified Jake and Jenny would be in a shelter... trapped in a small cage with nowhere to hide from the noise and people. I can't imagine how traumatized they would be. I can't imagine that they would ever be the same. I just can't imagine. It's just too awful.
A part of me wants to run down and adopt another cat... do my part to free up some space. But I don't think that's for me. Jake and Jenny are perfect. Life with Jake and Jenny is perfect. We've adapted to each other very well and I think they are happy here. If introducing another element in any way disrupts that, it wouldn't be fair to Jake and Jenny. Or me.
And yet...
I cannot say that I won't give in and take a chance.
I really need to unsubscribe from the Human Society newsletter and Facebook feed. Too many animals need homes.
---
Continuing on with my revisiting of every Marvel Studios movie...
MARVEL STUDIOS MOVIE OF THE DAY, No. 12: Ant-Man
Original Grade: A • Today's Grade: A
I knew I would love this movie the minute that Paul Rudd was attached to star. Then they went and made it into a caper flick so it would stand out from the pack, which was about a brilliant a move as they could have made. I ended up really loving it. Still holds up today. I'm having to really restrain myself from bumping it up to an A+ here, because I have a tough time seeing how the first Ant-Man movie could have been much better than this.

SCENE TO BEAT: That opening scene where SHIELD's headquarters (as seen in Captain America: Winter Soldier (three movies ago) are just being built... and we get a de-aged Michael Douglas interacting with Peggy Carter and Howard Stark... thus immediately cementing Ant-Man into the Marvel Cinematic Universe before he even appears on screen! Genius! But... yeah... the fight in Cassie's bedroom was pretty great. They played with the size altering abilities in interesting ways, which was a lot of fun.

COULD HAVE BEEN BETTER: Once again... the villain has the same powers as the hero but is a little stronger. It gets so old. And yet... from a story perspective I get it. Yellow Jacket kinda fell out of Scott Lang's origin story, so it was a logical choice. Fortunately, we got Ghost in the sequel, which was something entirely different.

SIDENOTE: With every viewing I remember how upset I was before the movie came out when I heard that Scott Lang would be in the suit instead of the original Ant-Man from the comics. Hank Pym and Janet van Dyne were founding members of The Avengers, and it was a real slap in the face they were being side-stepped. And then I saw the movie and the way they so brilliantly integrated Hank Pym into the history of everything the MCU was building. It was a brilliant move and made perfect sense. It was at this point that I finally just stopped questioning what Marvel Studios was doing until I saw the full film. In most every case they end up nailing it, so why waste the energy?
Posted on August 11th, 2018

I fell asleep on the couch last night while watching the Marvel Studios movie for today. Not easy to do when it's Guardians of the Galaxy, which is one of my favorites of the bunch. Guess it just goes to show how exhausted I was.
I woke up again when I got an alert that the security camera in my driveway had gone down.
This is the email I got...
And... look closer...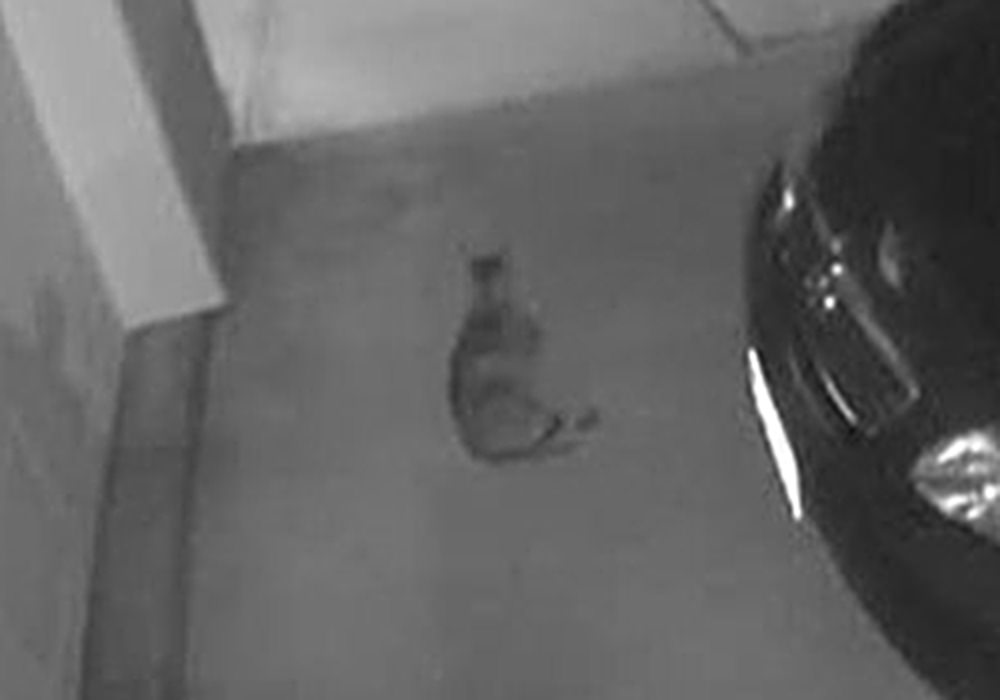 I'm thinking that Fake Jake might be behind my camera going down? The rascal.
I have two more cameras out front, so I was in no hurry to fix whatever it was that was wrong. Instead I finished up my movie and went to bed.
As for Real Jake? Just helping me open my mail this morning...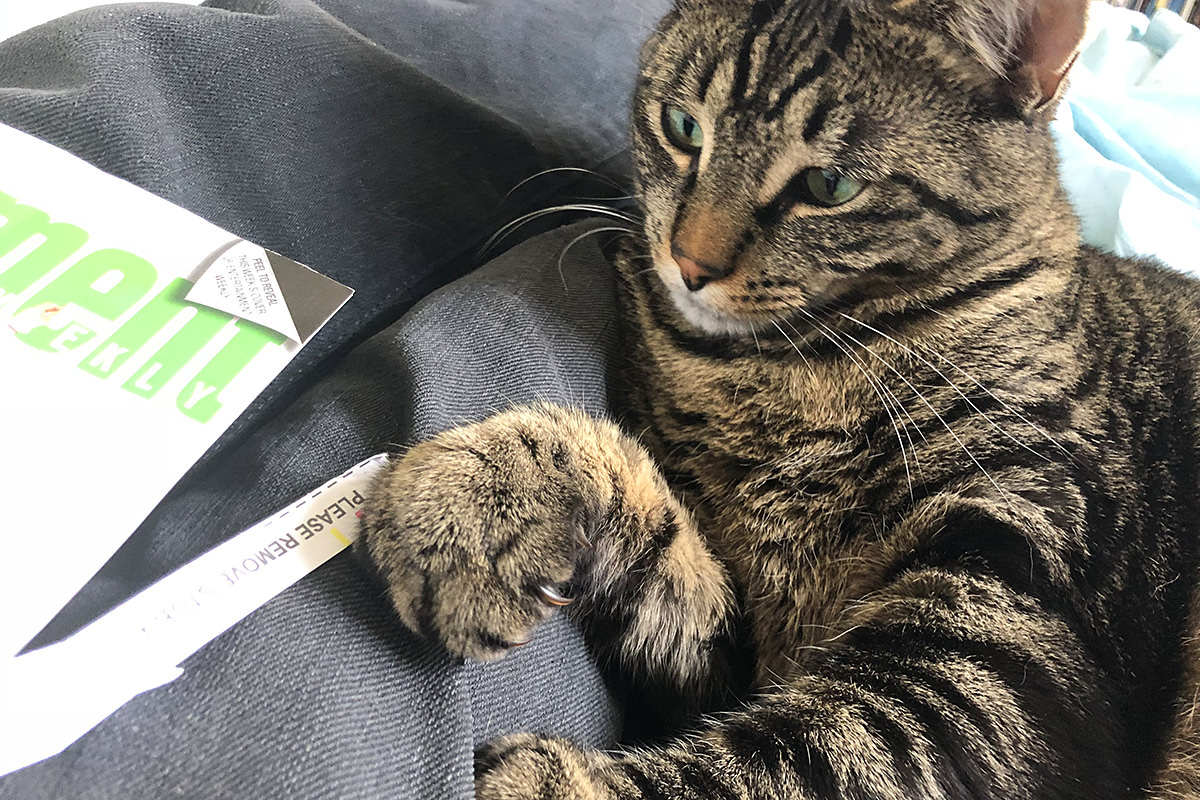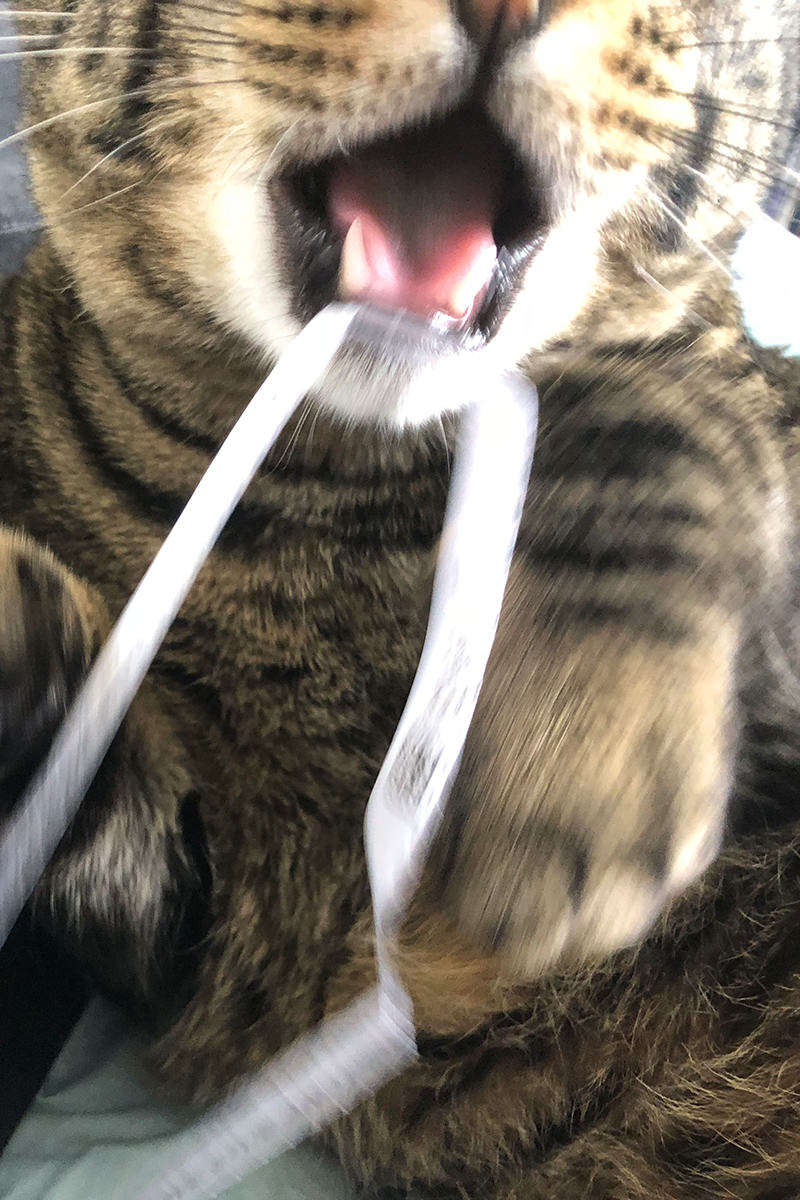 The rascal.
Jenny would rather lay on the floor for some reason...
When I went to Petco for kibble, I saw that the low-carb Tiki Cat dry food was on sale. This was cool... until I noticed that one of the flavors was marked as "clearance," which scares the hell out of me. I really, really hope that they aren't discontinuing this stuff. It's the most affordable food I've found that doesn't overload on carbs. In the meanwhile though, I snagged all eight bags and my cats are set for the rest of the year...
I can probably replace the dry with... something... I guess. But nobody makes the Tiki Cat Velvet Mousse that Jenny eats. And I seriously don't want to have to go back to blending my own. So gross.
Fingers crossed I won't have to.
---
Continuing on with my revisiting of every Marvel Studios movie...
MARVEL STUDIOS MOVIE OF THE DAY, No. 10: Guardians of the Galaxy
Original Grade: A+ • Today's Grade: A+
I re-watched this movie for the fifth?... sixth? time back in June, so I didn't really have to watch it again to jot down my thoughts. But I did it anyway. And I am hooked from the opening scene of Star-Lord dancing through a dead planet every time. If that doesn't sum up my feelings about Marvel's first "sci-fi" entry into the MCU, I don't know what will. The humor... the characters... the settings... the story... the music... all perfect. And perfectly executed, with amazing casting and brilliant special effects (which are so crucial to a film like this). I've admitted that I laughed when I first heard they were bringing this comic book to the big screen, because characters like Rocket and Groot were just an absurd thing to try and translate. But how wrong was I? And after watching Avengers: Infinity War, I'm even more impressed, because they were able to seamlessly mix Rocket and Groot with everybody else to amazing effect.

SCENE TO BEAT: Escape from the Kyln? Escape from Knowhere? The battle at Xandar maybe? I dunno. There are entirely too many good scenes to pick from. I can't even single it out to scenes with one character, because I love them all.

COULD HAVE BEEN BETTER: Ronan the Accuser is a powerful Kree warrior, but I don't get how he was able to wield the Power Stone. I understand that he only touched it for a few seconds, which is why he didn't die... but how was he able to command it after he smashed it into his Universal Weapon hammer? He's an important Kree but, in the end, he's just a Kree. Not a god or ancient being. Or, in Peter's case, the son of an ancient being. It's a puzzler. And I still think the whole "holding hands" at the end was kinda silly.

SIDENOTE: It's amazing how critical this film was to everything that came after it in the MCU. Thanos... Gamora... Nebula... The Collector... and, looking even further forward for next year's Captain Marvel, The Kree. This was also the first time we got a full explanation on The Infinity Stones as well. Doesn't seem possible that such important stuff was set up in what's essentially a comedy, but there's Marvel Studios being all brilliant again.
Posted on August 8th, 2018

Oh look... it's International Cat Day! As well it should be. I love my cats more than just about anything, so they should have their own day.
My cats decided to celebrate their holiday by eating and sleeping. Though they also decided to walk all over my kitchen counters, which means I have to scrub everything down now. Fun...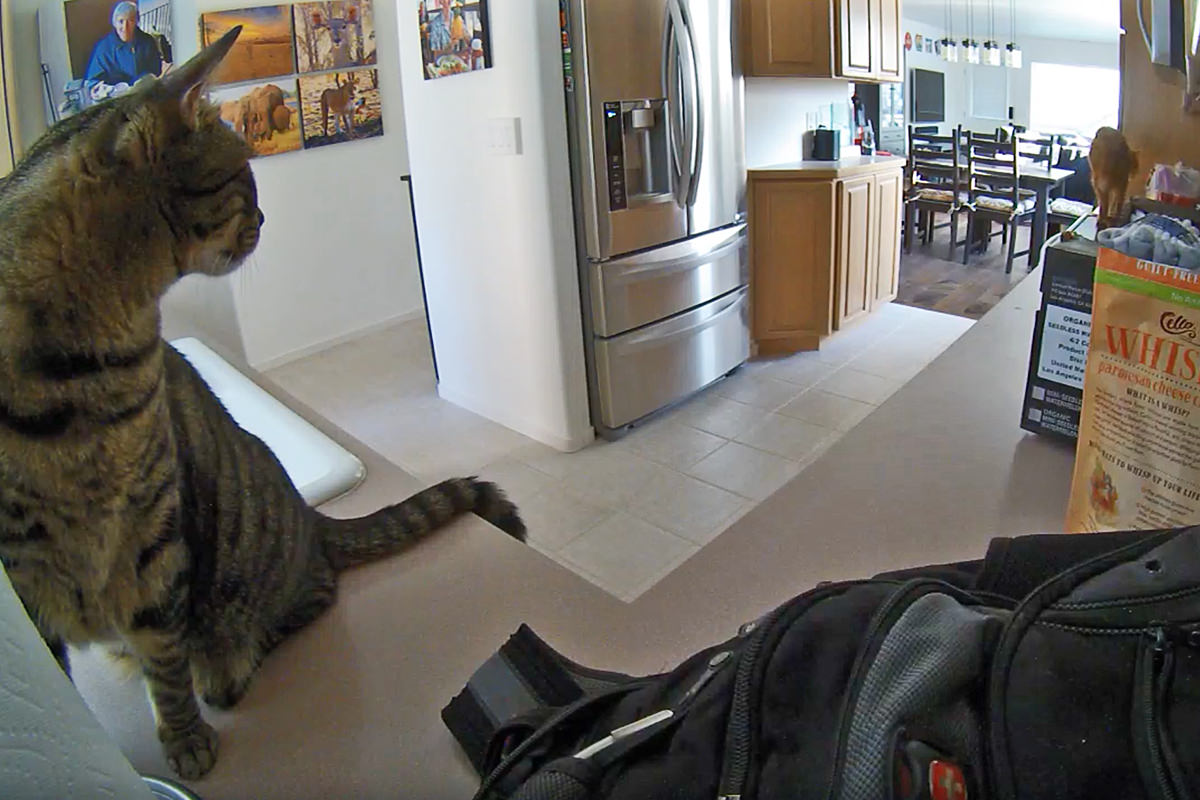 Oh... and they also put a nice big scratch in my coffee table. Fun...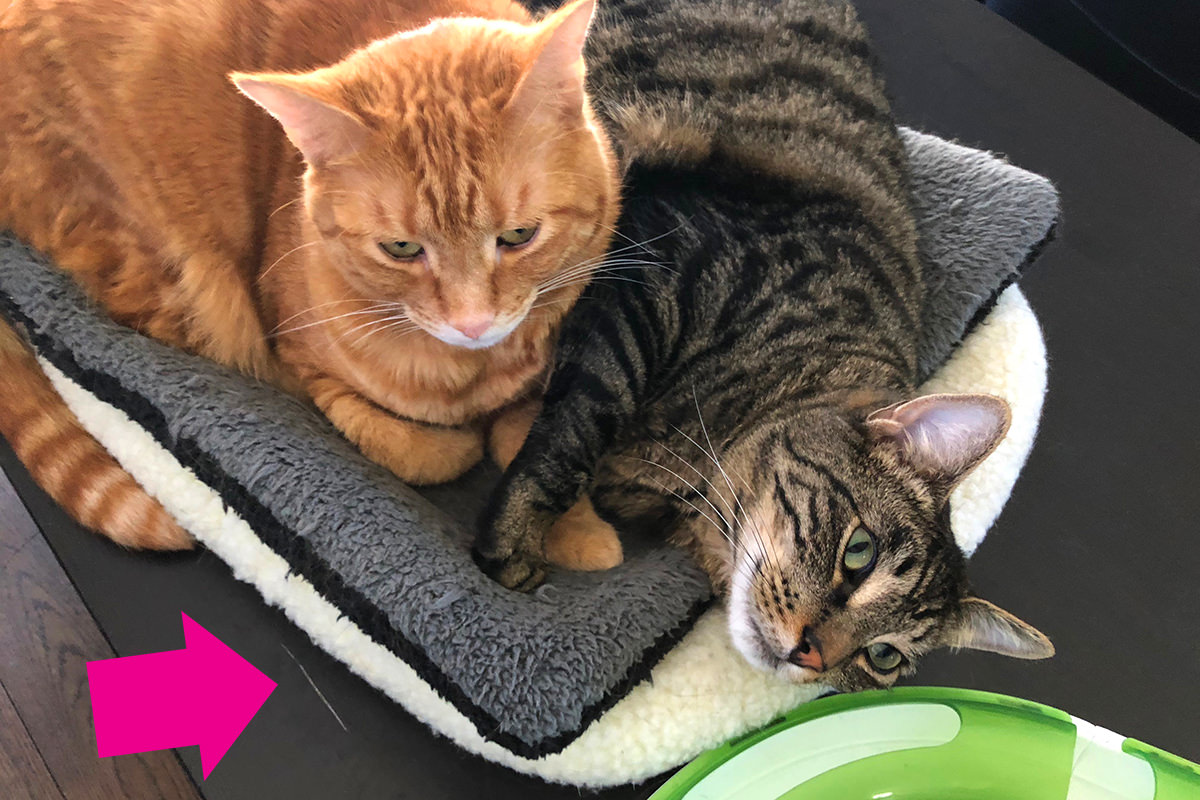 The fact that I didn't strangle them today should perfectly illustrate why every day is International Cat Day around my house.
Well, not my house, really. I just pay for everything... I'm pretty sure it's their house.
---
Continuing on with my revisiting of every Marvel Studios movie...
MARVEL STUDIOS MOVIE OF THE DAY, No. 7: Iron Man 3
Original Grade: A+ • Today's Grade: A
Being the one to helm the film which followed The Avengers must have been a daunting task. In their infinite wisdom Marvel decided to hire Shane Black to write and direct. This was an interesting move but not an altogether bad fit. As writer of the Lethal Weapon movies and the genius that was The Long Kiss Goodnight, he knows how to create an action beat. Many of Black's decisions were questionable. Retooling Iron Man's long-time villain, The Mandarin, as a Ben-Kingsley-enabled decoy for Aldrich Killian from AIM was a bit weak. The modular armor was fun, but was handled poorly (if the parts were 832 miles from Miami, how did they arrive in 10 minutes?)... not to mention that the suit, which has always been powered by the ARC reactor in Tony's chest, suddenly needs to be recharged with electricity? The whole Extremis angle was lifted from a famous reboot arc from the comics, but used entirely differently... not necessarily in a bad way, though it was certainly a step down. And yet... this was a highly entertaining film with fantastic special effects and an awesome finale (Iron Legion!) that makes for good repeat viewing. I love the movie almost as much as the original, though it kind of falls short in the grand scheme of things these five years later so it gets dropped a half-grade.

SCENE TO BEAT: I usually hate whiny child actors ruining films that aren't about children, but Ty Simpkins (who plays Harley Keener) is fantastic. IMDB says he's making a Marvel Cinematic Universe return with The Avengers 4 which is kinda cool. Anyway, despite some great action sequences, all the scenes between Tony and Harley are my favorite. With the possible exception of when Tony chops Killian's arm off and says "Yeah, you take a minute." I LOL every time.

COULD HAVE BEEN BETTER: Other than the villain being able to magically take over television sets, a trope I absolutely loathe? And the Oracle product placement that's not at all subtle? There are times that seemed as though Tony's dialogue was too scattered and improvised. It didn't come off as natural, and it felt as if Shane Black wasn't sure how to handle it.

SIDENOTE: Probably the last Iron Man movie with Robert Downey Jr. which is a darn shame. Seeing hom pop up in Captain America: Civil War and Spider-Man: Homecoming (not to mention Avengers: Infinity War) is better than nothing, but boy would I like to see another solo Iron Man flick.
Posted on August 4th, 2018

This morning I grabbed my phone and delayed Alexa's breakfast alarm because Jake was industriously cleaning his butt, and the last thing I wanted to do was interrupt that. Every once in a while he lets his butt-grooming go, so if he's paying that much attention to things I figure he must need it.
The Alexa alarms I have set for breakfast and dinner are always a great source of amusement. And a smart move on my part, because my cats have been trained to not bother me for food until they hear the alarm. When it gets close to 7:00am/6:00pm, Jake and Jenny will assemble and wait. Then they go nuts when the alarm goes off. I've recorded it these past couple mornings...
Butt first...
And now? My turn for breakfast.
---
Continuing on with my revisiting of every Marvel Studios movie...
MARVEL STUDIOS MOVIE OF THE DAY, No. 3: Iron Man 2
Original Grade: A- • Today's Grade: A-
I have never understood why this movie was so poorly received. Yeah, the story had some problems. Yeah, there were scenes that didn't hang together right. But it was still an enjoyable outing. The acting and visual effects were great. Sam Rockwell was perfect. And Mickey Rourke was not nearly the problem that critics made him to be. On top of all that? The debut of Scarlett Johansson as Black Widow! I enjoyed the film then. I enjoyed watching it again now. And the credits scene with Thor's hammer in the dessert still gives me chills.

SCENE TO BEAT: The opening where Iron Man jumps out of a plane and lands on the Stark Expo stage only to be robotically disassembled to reveal Tony Stark... being Tony Stark, courtesy of Robert Downey Jr. firing on all cylinders. The Iron Man dancers are just a bonus. A close second? Black Widow mowing through a bunch of security guards at Hammer Tech. Amazing.

COULD HAVE BEEN BETTER: Whiplash is just another guy in a suit, following Iron Monger in the last movie... a different guy in a suit. It's a missed opportunity trap that so many Marvel Studios movies would fall into.

SIDENOTE: One of the most famous Iron Man comic book arcs was the Demon in a Bottle storyline where Iron Man became an alcoholic. That they did a quick nod to it in this film at Tony's party was an interesting choice. I think it was a mistake, but... better a quick nod than an entire movie dedicated to alcoholic Iron Man.
Posted on August 2nd, 2018

When it comes to cats, I truly lucked out. Jake and Jenny are wonderful animals and rarely give me any trouble. They don't chew on my stuff. They don't scratch anything they're not supposed to. They rarely puke. They leave me alone when I sleep. They're affectionate but not too clingy. They don't meow constantly. They're just the greatest most perfect cats.
99.9% of the time.
Every once in a while though...
I've been bitten three times.
When I first got my cats, they came with hospital collars from having been fixed. My cats were absolutely terrified of me, so I couldn't get close enough to cut them off...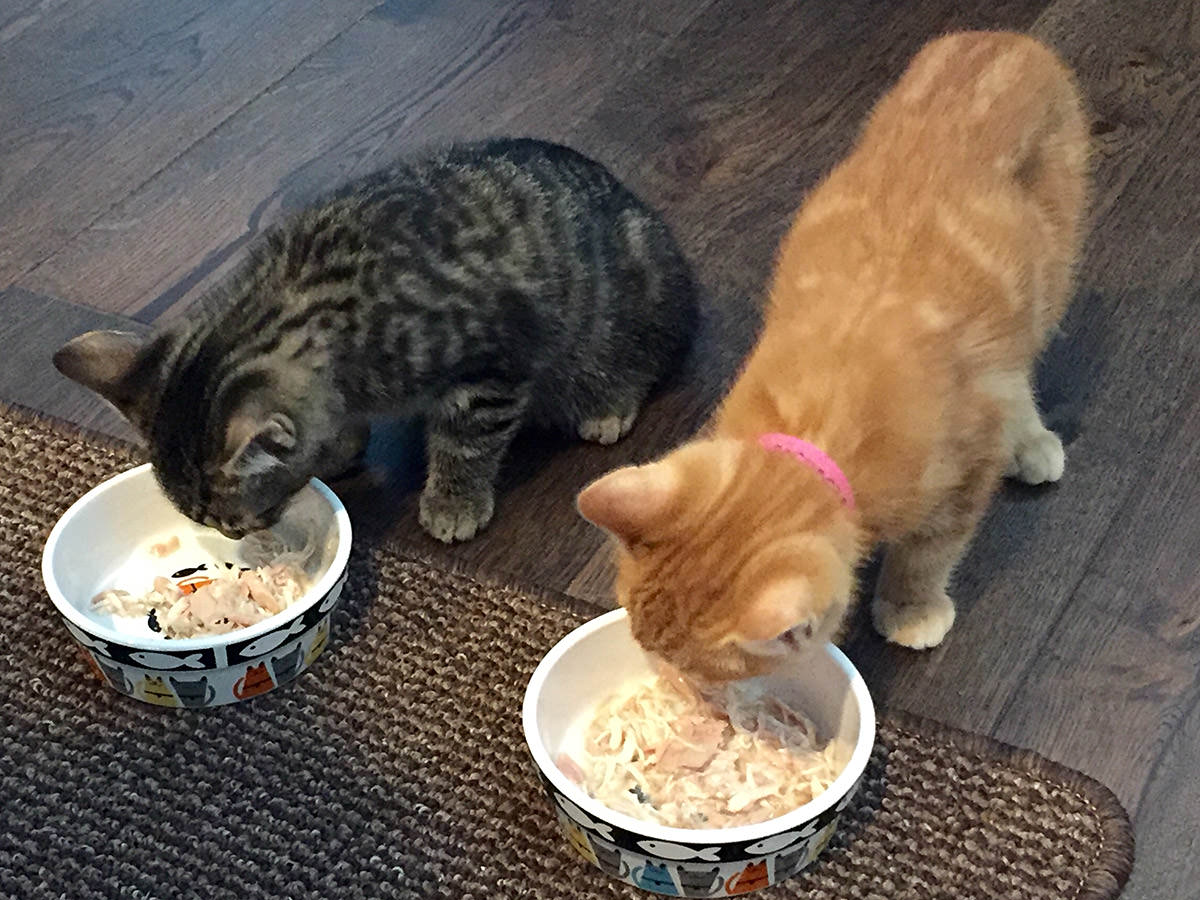 Calm Before the Storm.
After a few days, Jake would be distracted enough while eating that I was easily able to cut his off. Jenny though? Not on your life. And it was scaring me. They spent a lot of time hiding under stuff, and I was worried the collar would get caught and she'd hurt herself. Finally I managed to grab her and cut it... except she was not having it. She clawed my arm so badly I still have marks. And she bit my nose repeatedly, resulting in blood gushing down my face. Not fun for me... and Jenny hid under the couch for two days.
The second time I got bit was when Jake escaped from the catio. Eventually he made his way back to the door, but he wouldn't come inside. So I grabbed him...
Jake, who is usually a very mellow cat, went full-on psychotic. He was a Tasmanian devil of fury... biting my arm and clawing at my abdomen so deep that I thought my guts were going to spill out Hannibal Lecter style.
And the latest time I got bit? TODAY.
With the heat we've been having, my cats have been shedding their fur constantly. It's so bad that I've been brushing them with The Furminator every day. Jenny loves it. She rolls around while getting brushed and purrs like a diesel truck. Jake, however, merely tolerates it. Most times he doesn't mind so much, but there are other times you can tell he's annoyed. He'll "fake bite" me a couple times, but that's as far as it goes. Today was no different. He was irritated, he pretended to bite me a few times, I ignored him as I always do... and then he lashed out. With a real bite. It wasn't all that painful, but it was shocking.
And so...
Lesson learned. From now on when Jake acts perturbed while being brushed, I'll wait for one "fake bite" and then stop brushing.
Because I like having the greatest most perfect cats.
---
As I mentioned yesterday, watching the "Director's Roundtable" extra from the Avengers: Infinity War digital home video release made me want to watch all the Marvel Studios movies all over again. And so I am. Starting today...
MARVEL STUDIOS MOVIE OF THE DAY, No. 1: Iron Man
Original Grade: A+ • Today's Grade: A+

At the time it was released, it was impossible to comprehend just how revolutionary Iron Man would be, nor what it would lead to. In retrospect, it should not be as surprising as it is. All the elements were there. Robert Downey Jr. inhabiting Tony Stark in a way that was beyond flawless... painstaking faithfulness to the source material... exceedingly good special effects... a story that was highly entertaining, laced with humor, and had no wasted moments... and... did I mention Robert Downey Jr. being beyond flawless? As impressed as I was with this film back in 2008, I am doubly impressed today because it holds up so damn well. It was the perfect beginning to the Marvel Cinematic Universe, and I love it as much now as I did then. Of particular note is the raw mechanical nature of the suit, which literally had to be bolted around Tony. This was incredibly cool to see and, though the process was streamlined with each new appearance, it always maintained its awesome brute-force physically mechanical nature. Until Infinity War where the suit was "nanite enabled" which completely ruins what makes Iron Man be Iron Man. Bummer.

SCENE TO BEAT: So many. But when Tony first dons the finished Iron Man armor and takes out all the bad guys in Afghanistan... it's movie magic. And when he returns home and Pepper catches him doing "not the worst things she's caught him doing?"... it's LOL funny too.

COULD HAVE BEEN BETTER: While Jeff Bridges makes the perfect Obadiah Stane, I question why the villain always has to be a slightly more powerful duplicate of the hero in these films. Iron Man vs. Iron Monger? Sure. But it set a lame precident for too many Marvel Studios films which followed. So much so that they're only just now breaking free of of that trap.

SIDENOTE: Nick Fury showing up in the post-credits scene to discuss "The Avengers Initiative" is the icing on a very delicious cake. When I saw this movie in the theater, I was leaving during the credits when some guy started shouting to everybody "DON'T GO! THERE'S MORE AFTER THE CREDITS!" and so I stayed. I was already thrilled with the film. After that scene I was downright giddy leaving the theater.
Posted on July 30th, 2018

Tonight was when I was supposed to be traveling home from Maine... but I finished work two days early and got in yesterday early-morning instead. When I waltzed home at 1:00am, both my cats came running to greet me, which is always nice. But then Jenny kind of wandered off to do whatever it is Jenny does. Jake, on the other hand, stuck to me like glue...
I finally decided to turn in at 2:00am, but he was not deterred. He was rolling around for belly rubs and would not take no for an answer...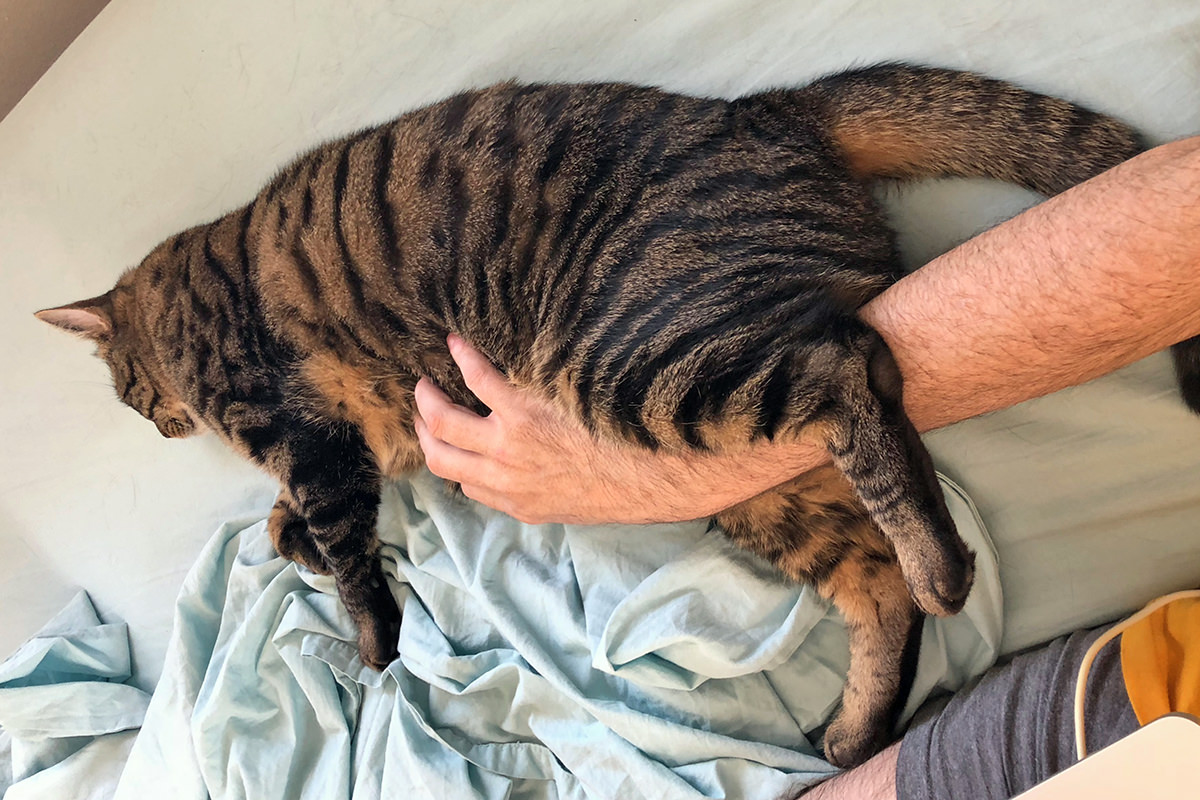 Jenny still checked in from time to time, but wandered off after she made sure I was still home...
In the morning I found that all kinds of toys had been left for me, and so I'm guessing the cats are happy I'm back home...
Last night things went back to normal... or as normal as things can get when you have cats... but I slept through the Alarm set for Jake & Jenny's 7:00am breakfast this morning, which made for an awkward awakening at 7:45, because both cats were just sitting there glaring at me when I dragged my ass out of bed. They have been conditioned to expect breakfast when that alarm goes off, and don't know what to do with themselves if I don't get on that immediately.
After breakfast I went back to bed to go through the piles of email I had built up. Jake decided to throw himself on the floor and sleep like Jake likes to do. Every once in a while I'd lean over and snap a photo, because he is all over the place while he's sleeping...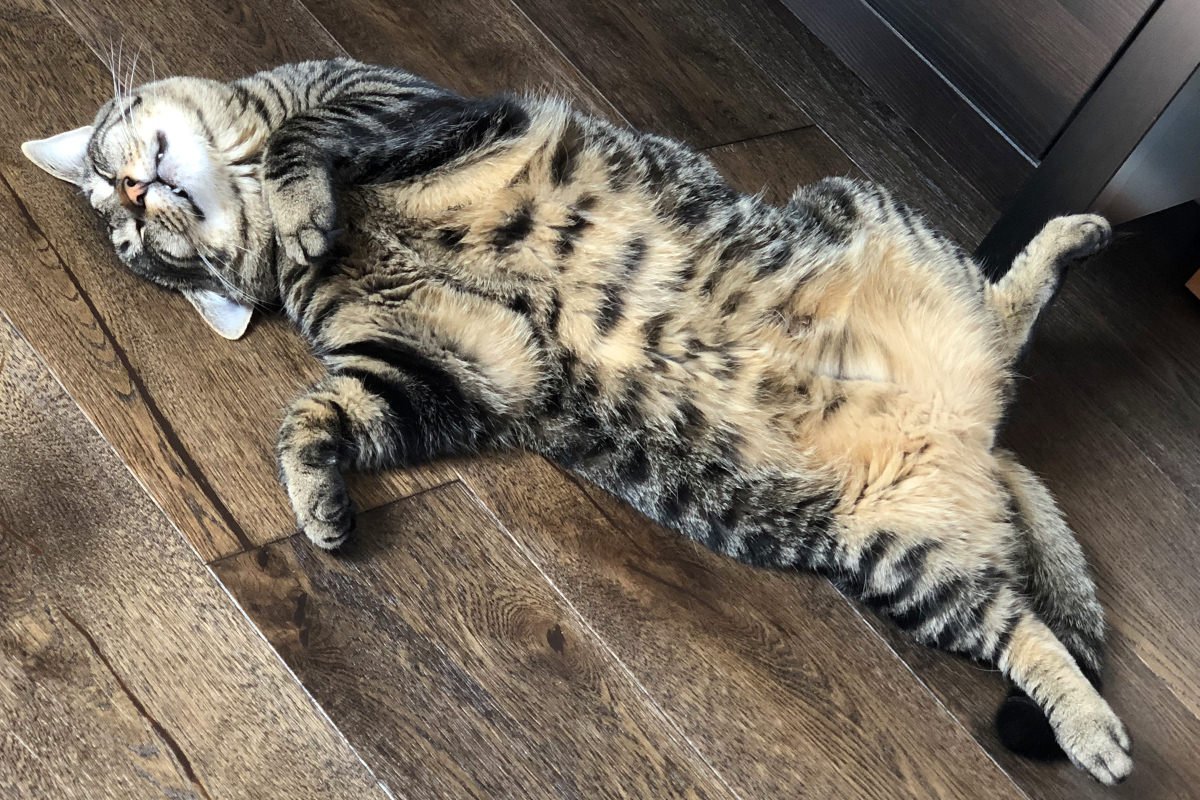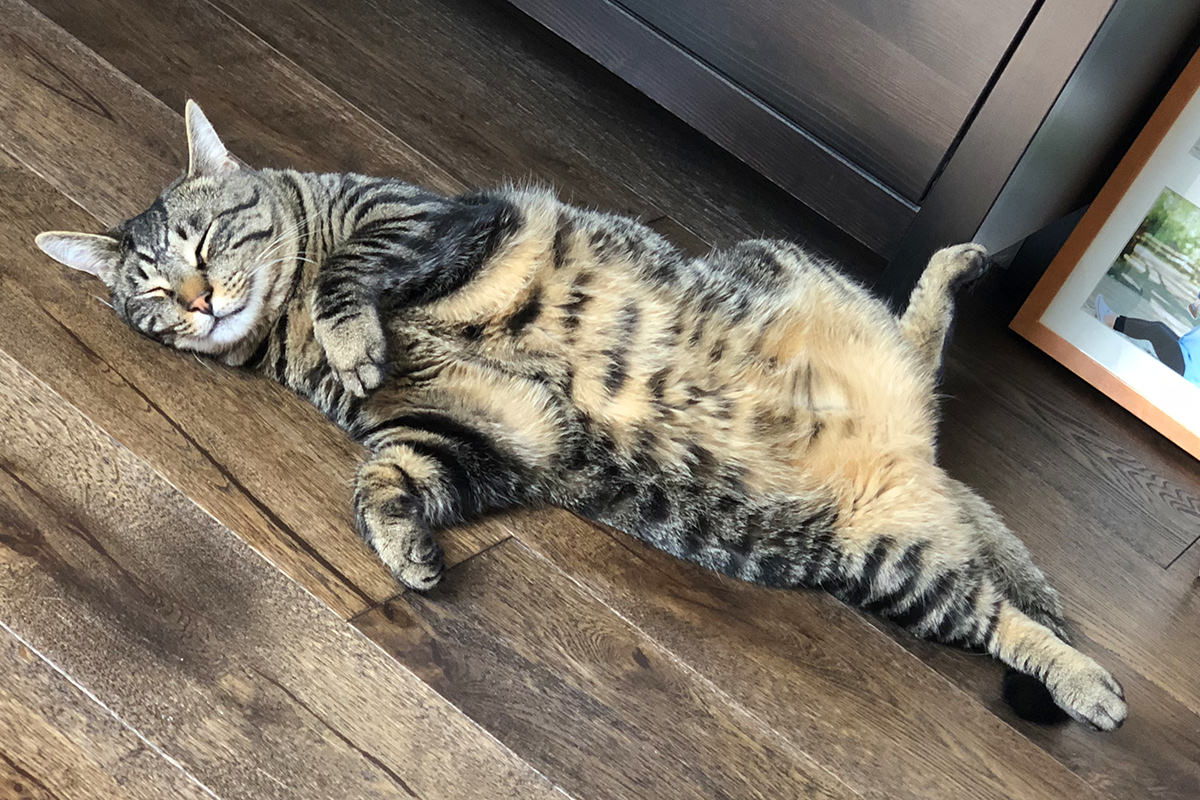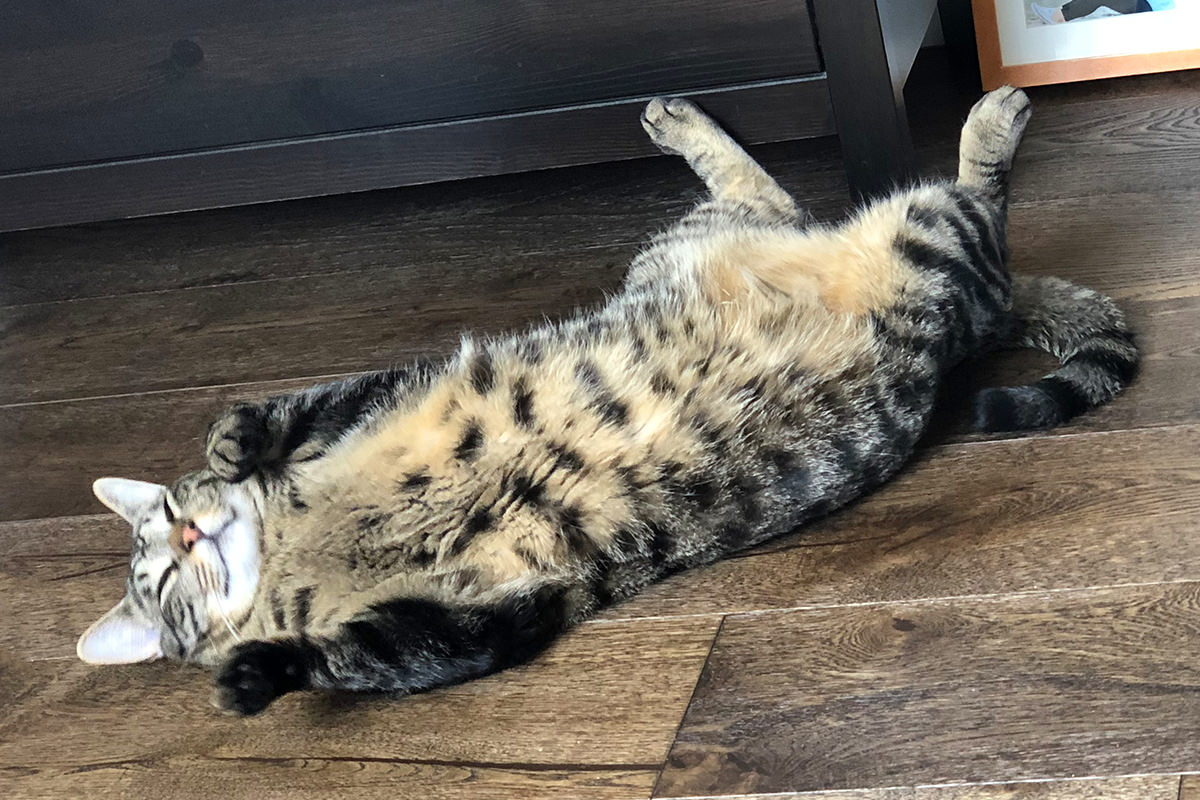 And now he's relocated to the window...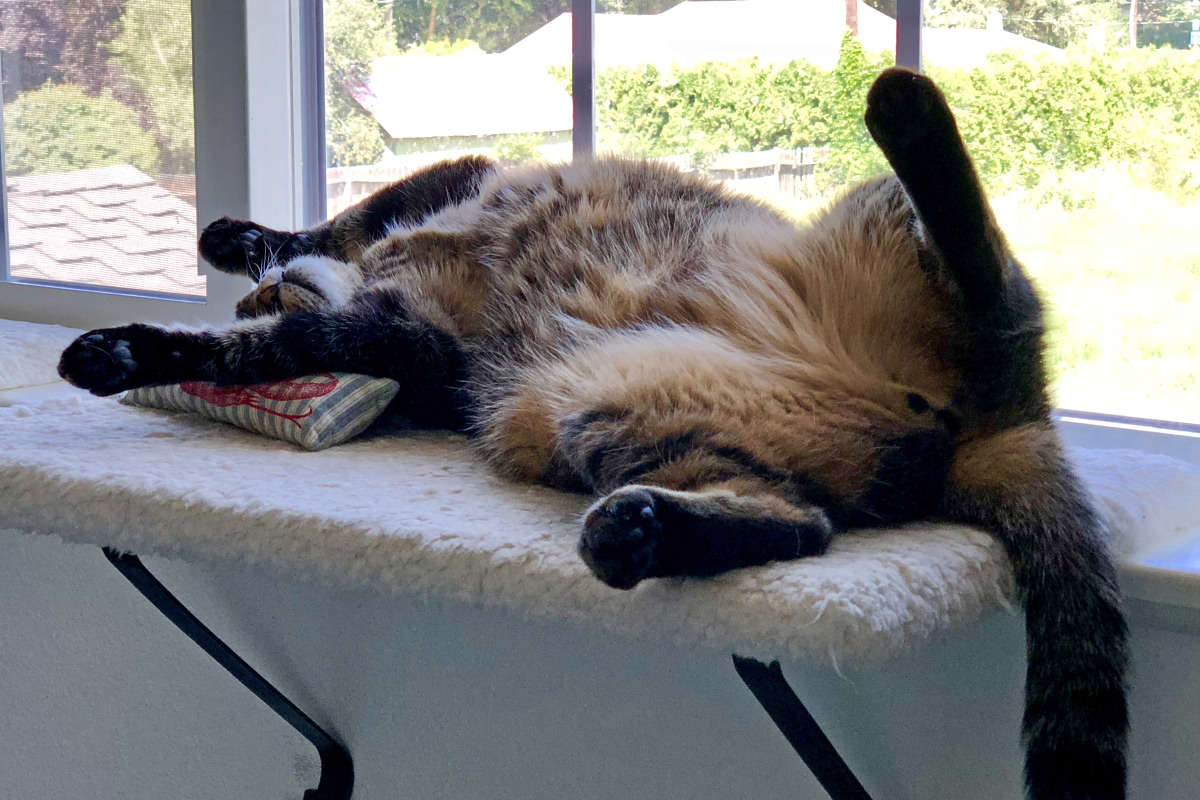 I wish I could fall asleep wherever whenever like that.
Seriously!!!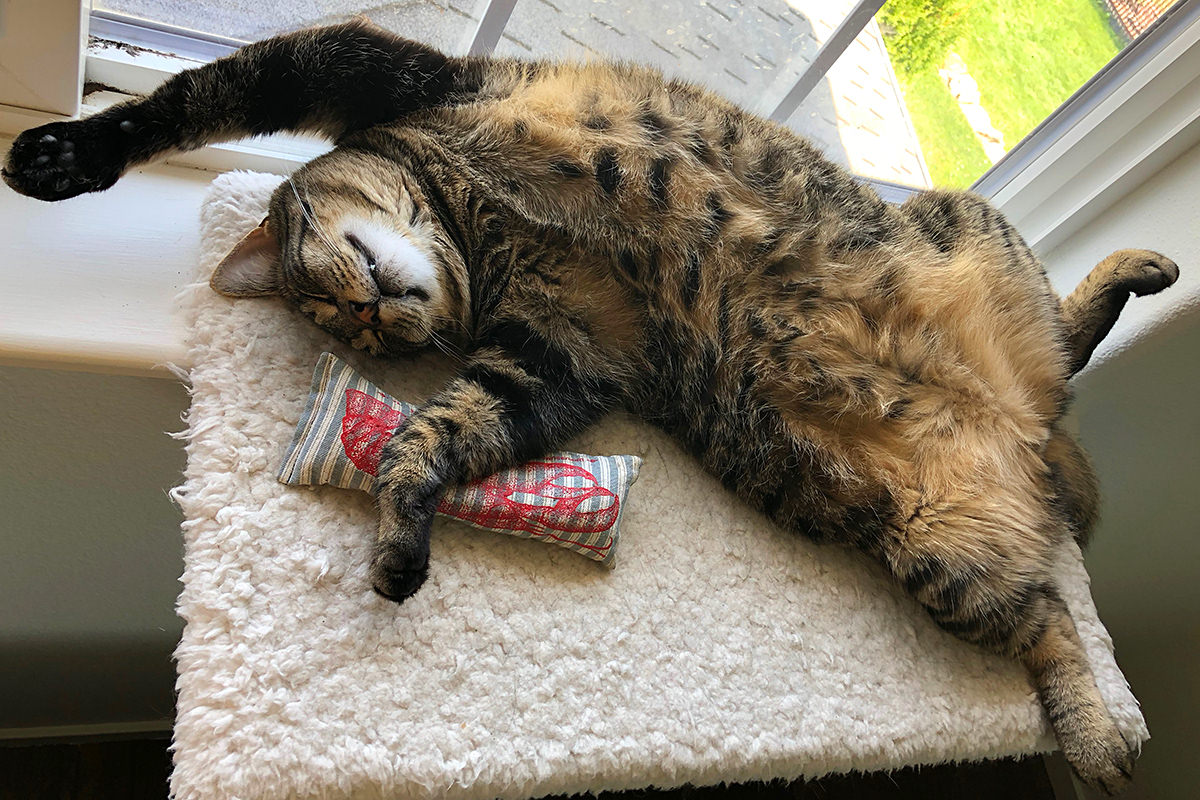 And why oh why oh why didn't I buy another catnip lobster toy when I was in Maine? Jake loves that thing...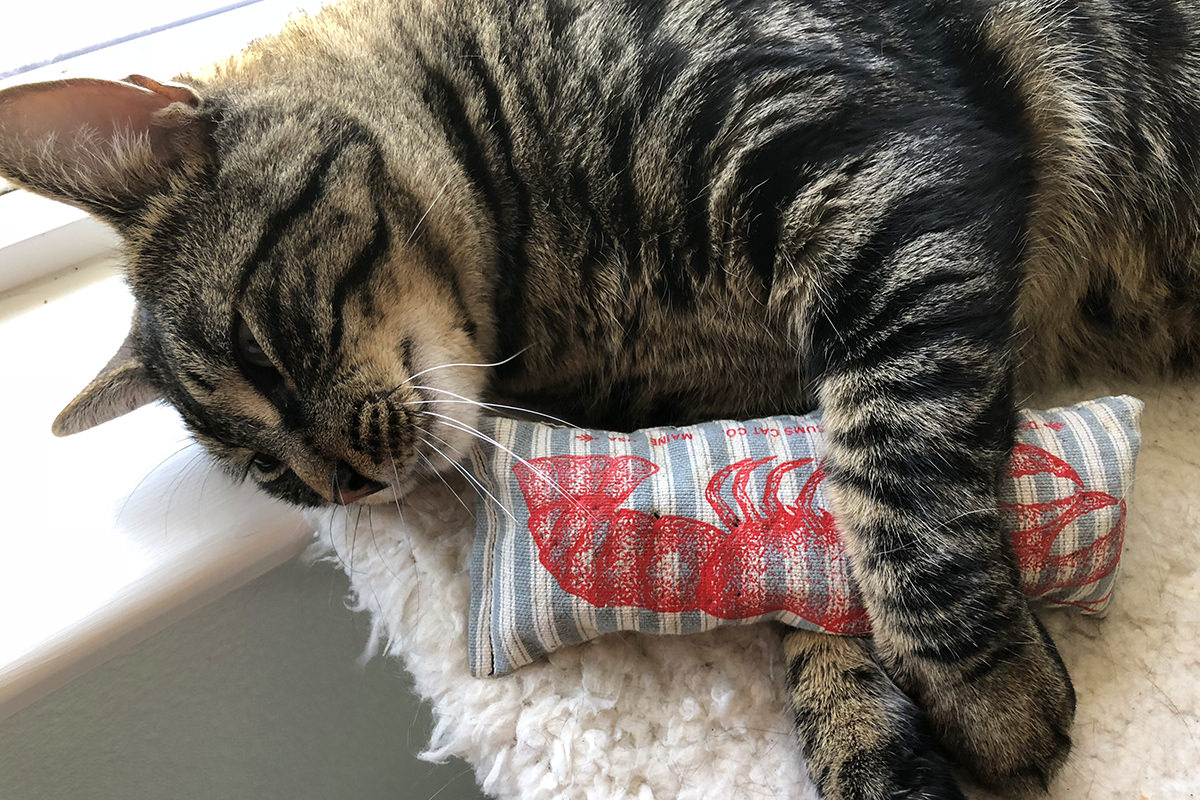 Back to real life...
Posted on July 28th, 2018

And so my work ended two days early. I can either...
A) Take two days off, get some much-needed down-time and disappear... or...
B) Get an earlier flight home so I can see my cats.
What to do? What to do? What to do?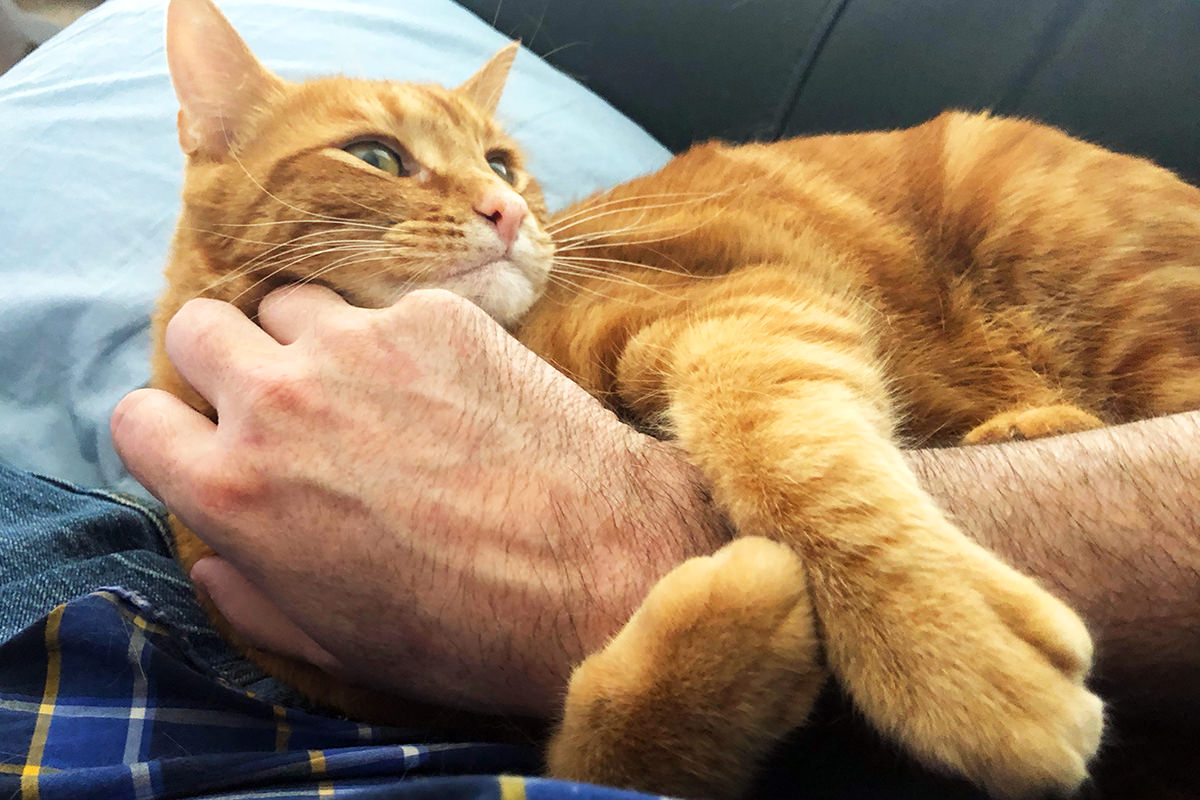 I'll have to think on that and get back to you...
Posted on July 24th, 2018

I've never much minded traveling for work. But I'm certainly looking forward to it less and less. Partly because there's so many things I'd rather spend my time on now... but mostly because because I've been doing it for decades and am just tired of it. The glamour of jet-set lifestyle has faded. Take a look at my day...
Drive to the airport (25 minutes).
Clear security and wait for my flight (90 minutes).
Fly into Seattle (45 minutes).
Have lunch and wait for my next flight (3 hours 15 minutes).
Fly into Boston after a delayed flight (5-1/2 hours).
Wait for luggage (15 minutes).
Wait for the bus (20 minutes).
Wait in line for a rental car (15 minutes).
Drive to an affordable hotel outside of Boston (30 minutes).
Send files I worked on while flying (20 minutes).
Read emails to figure out my schedule (15 minutes).
I'm exhausted and work hasn't even started yet!
But worst of all?
This is as close to my cats as I'm going to get for a little while...
At least Jake and Jenny aren't losing any sleep over my being gone.
Posted on July 23rd, 2018

Apparently "white" as a description is variable. In the case of the grout I bought for my cat feeding station, "white" was actually "light gray." Since this is entirely what I didn't want, I had to make yet another trip to Home Depot in order to try a different brand of "white."
Second time was a charm, because I ended up getting exactly what I wanted...
Since this will eventually match what I want for my kitchen remodel, it was important to get exactly what I wanted... a clean, sleek, simple look where the tile was more of a suggestion. That way it's not boring and flat, but also not something which calls too much attention to itself.
Anyway...
Overall, I'm very happy with how everything turned out. Sure there are some minor details I'd do differently now that I've learned so much... but that's the way it goes. My only other option is to never try to build anything, never learn anything, and never accomplish anything.
So next up?
I'd love to hop on my laundry room remodel right away. That would put one step closer to remodeling my kitchen... but I've got other projects I need to knock off my list first.
But eventually... one day...
Posted on July 22nd, 2018

I've been keeping busy designing and building... but no worries, because a Special Edition of Bullet Sunday starts now...

• Cat Feeding Station! When it came time to decide where I wanted my "designated cat areas to be," everything came together fairly easily. Their food would be in a corner of the dining room next to the kitchen... the litter box goes next to the cat tree... and so on. The problem is that I'm not happy with how things work. The litter box really needs to be moved to the garage, but I'd have to build a pass-through and a containment cage. That's a big project. A smaller project? Building a feeding station...
I feed my cats both wet and dry because there are benefits to both. Jenny won't eat wet, however, she'll only lick it. So I buy a "mousse" that I thin down with water and she loves it. Problem is, she is a very messy eater, splashing cat food on my walls and floors that's hard to clean up (I think her tongue must not work properly?).
When I am traveling and have the automated feeders out, Carl the RoboVac keeps chewing on the power cords and I need a way to keep them contained.
When I throw my back out, leaning down to deal with the cat dishes can be a big ordeal. I need something to lean on in order to make life easier when I'm hurting.
And so? This weekend was the weekend to build that feeding station!

• Planning! I always start with a sketch like this...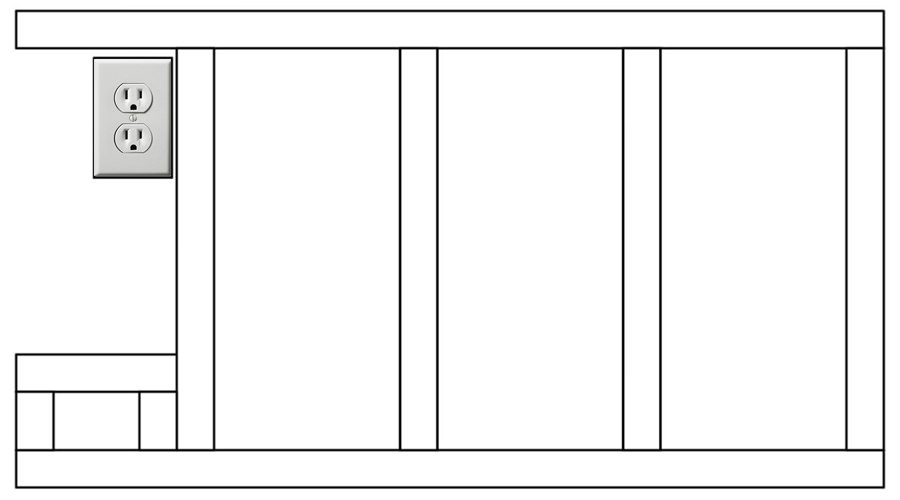 On the left there is the power outlet and an open space large enough to hold the power strip and all the cords for the water fountain and auto-feeders. All the posts in the framing seem like overkill, but since I'll be leaning on it I wanted it to be sturdy.

• More Planning I had a hundred bucks worth of subway tile in my garage that I bought to put a partial backsplash in my kitchen. I decided I wanted a full backsplash, so it's all been collecting dust. I decided to use it for the feeding station, but had to make sure I had enough of the stuff, so I laid it all out...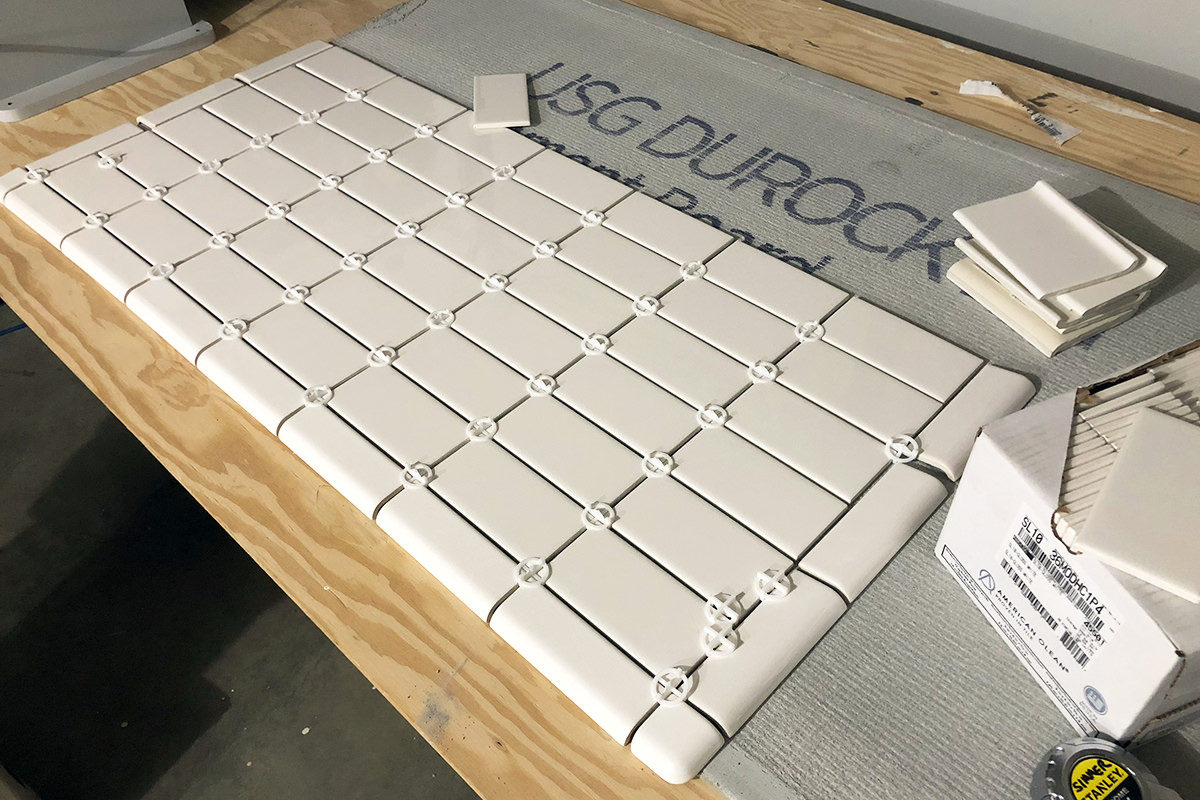 I also wanted to make sure that I had enough rows so a "bricklayer" pattern would alternate nicely between the edging.

• Even more planning! I am horrified at the thought of wasting material or having a project turn out wrong, so I am very careful when planning things out. It's not enough to calculate the dimensions... I also have to stack up the materials to verify the calculation... then I have to actually model things out to make sure that I am accommodating things like baseboards, plywood underlay, cement board, thinset thickness, tile spacing, and so on...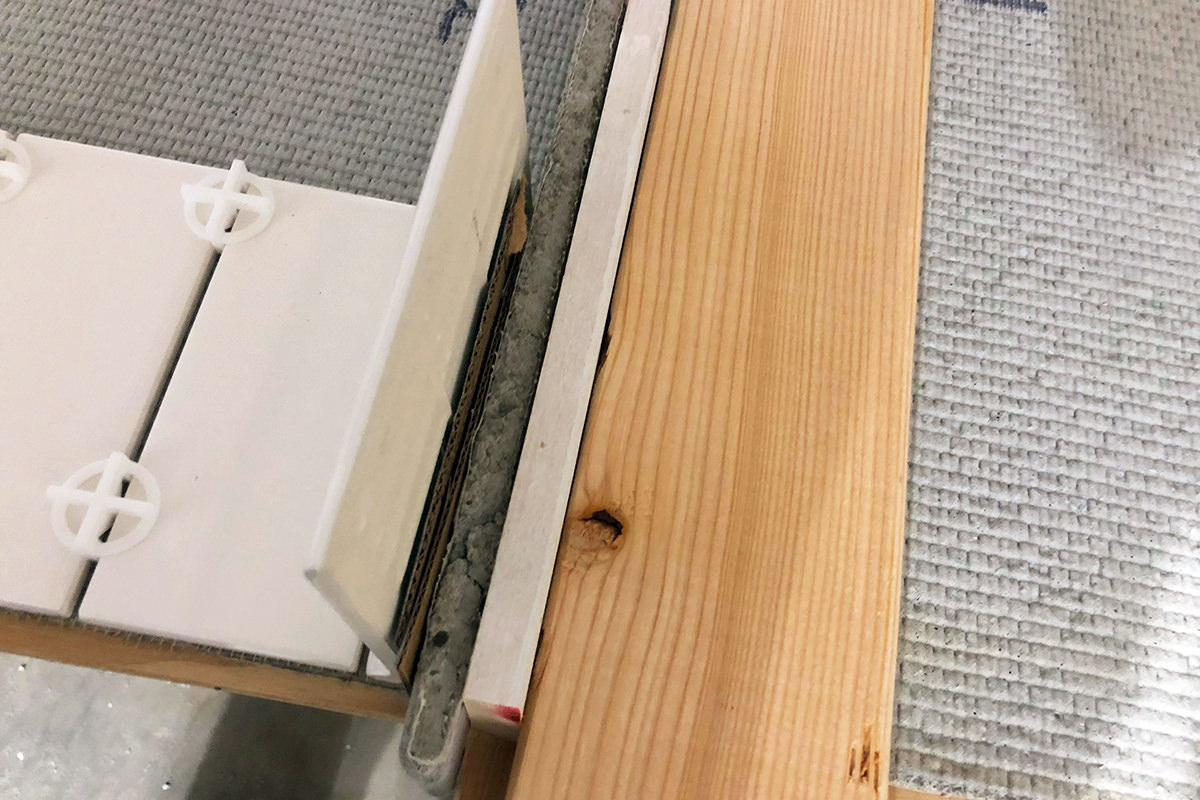 Sure it's a big time-waster, but at least I know that everything will turn out perfectly.

• Framing! Once I've figured out how big everything has to be, I cut some cement board for the floor and frame everything out...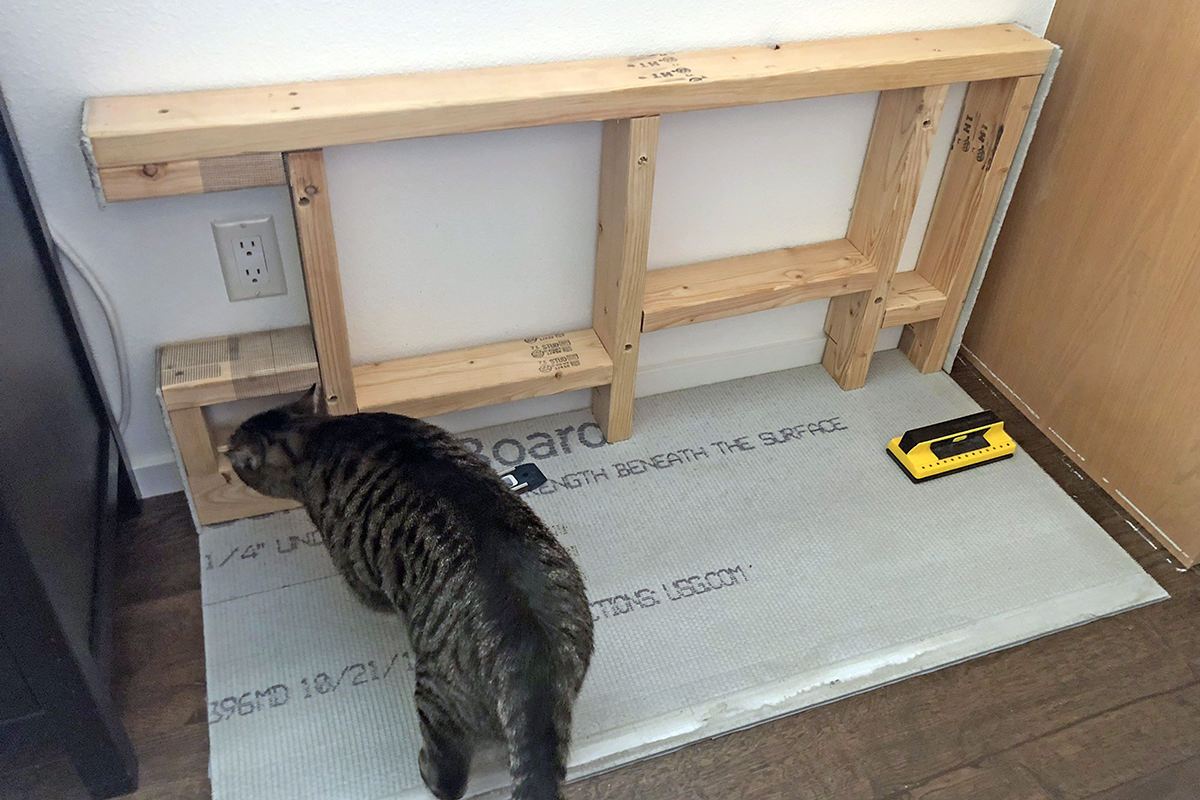 Because I'm leaning on this, I have to be sure I'm bolting it to the studs in the wall, hence the frame has to match them.

• Corded! I mocked up the space I would need for the power cords and such so I could make sure everything fit easily. Thanks to this advance planning, it did, even if the wall bolts had to be off-center a bit on that last stud...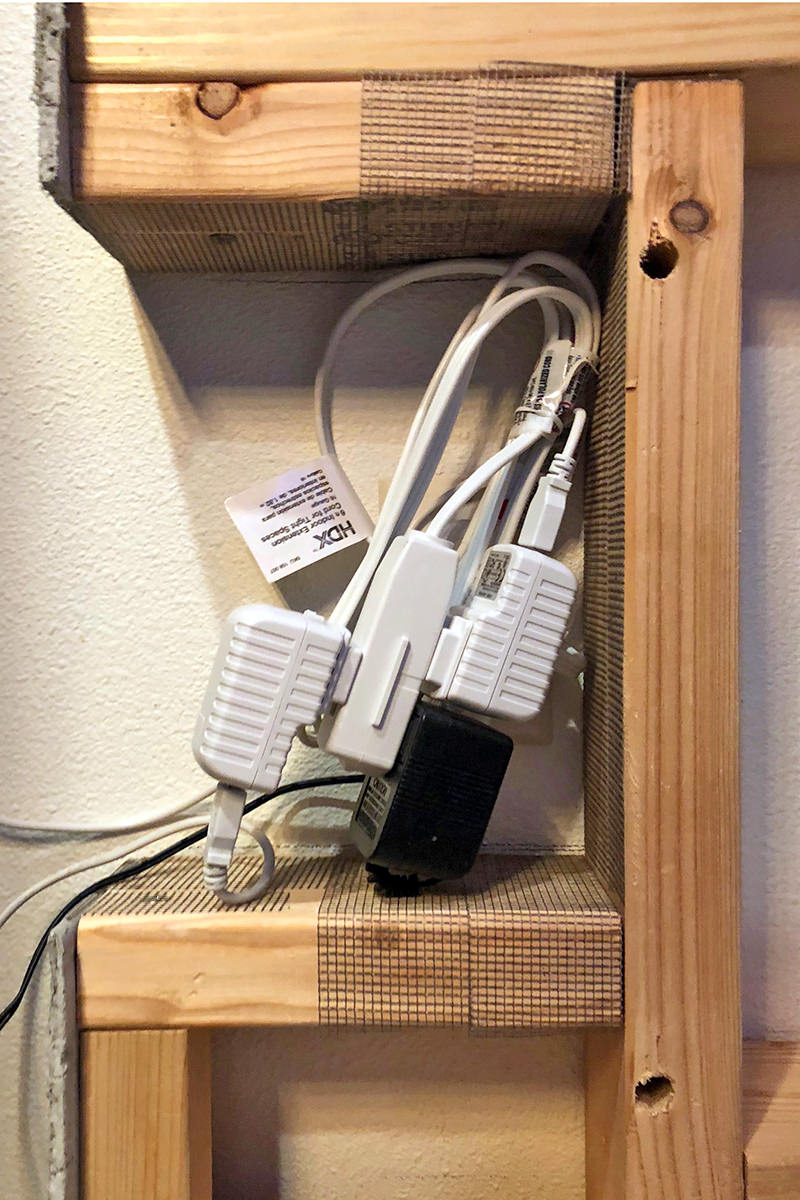 That's cords for two auto-feeders and a water fountain power adapter.

• Power Supplies! At the last minute I decided to add a conduit pass-through for power cords...
This way I can minimize the amount of cords hanging out everywhere.

• Underlay! And here's where everything gets covered up with plywood...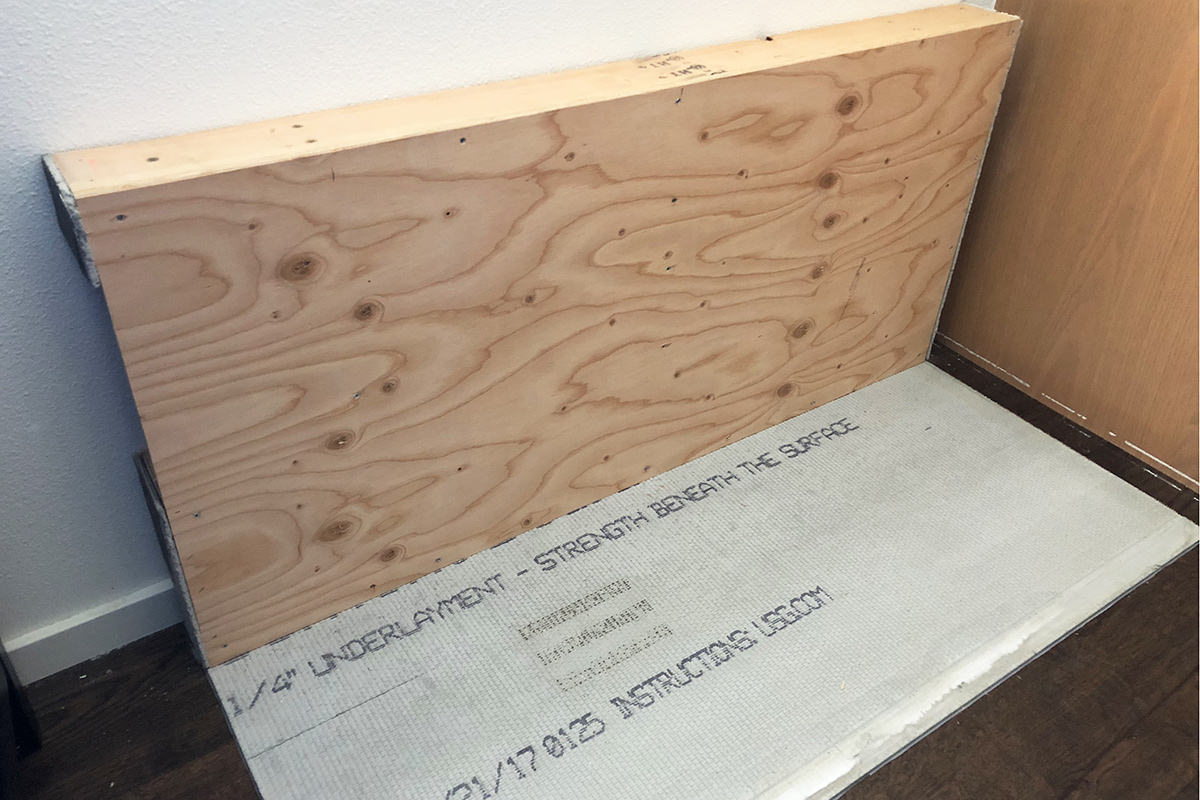 I went pretty thick for stability... I don't want the tiles popping off when I lean on it.

• Underlay Part Two! I don't like working with cement board at all, but it's a necessary precaution when you are working with a tiled surface that's going to get wet. That way if you do end up with a leak, everything won't swell and flex...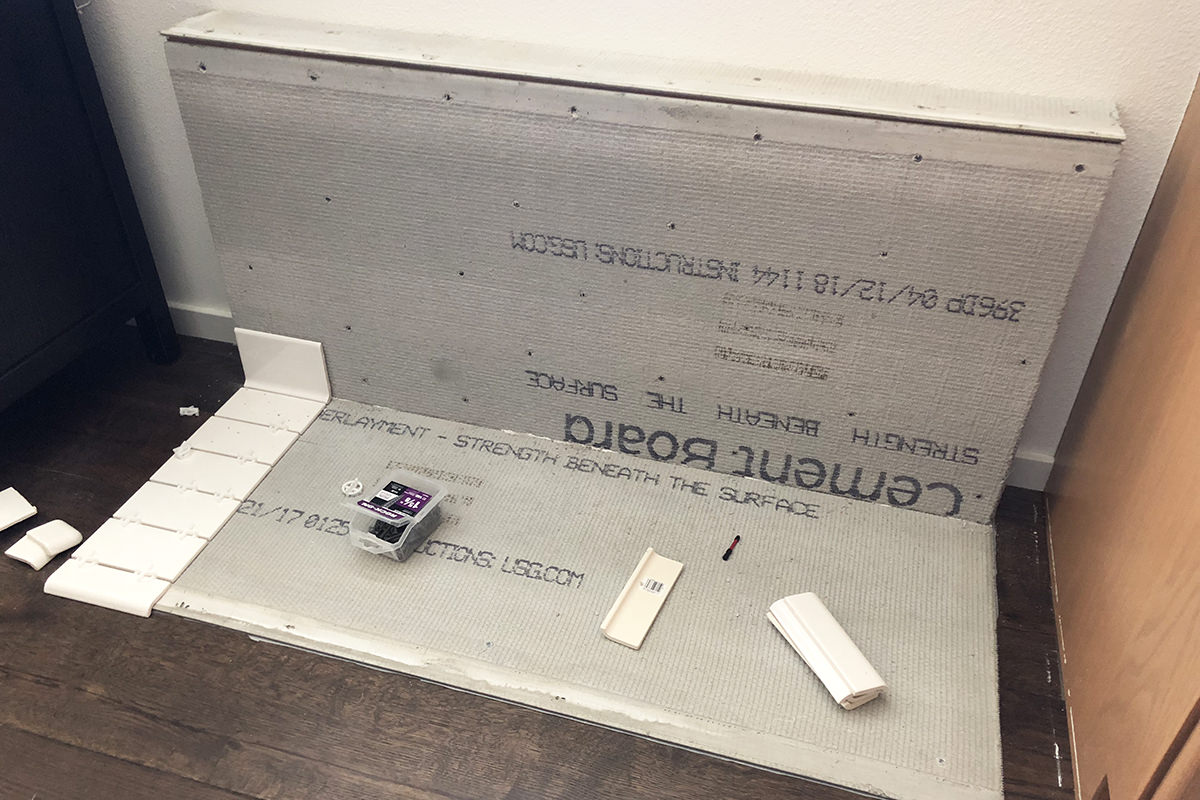 Note that careful advance planning resulted in a perfect fit for my tiles.

• Wet Cutting! I bought a "wet cutter" for chopping up tile, but had only used it once before on flat tile. I had no idea if curved (mud-cap) tile would be a problem. Thankfully, it wasn't...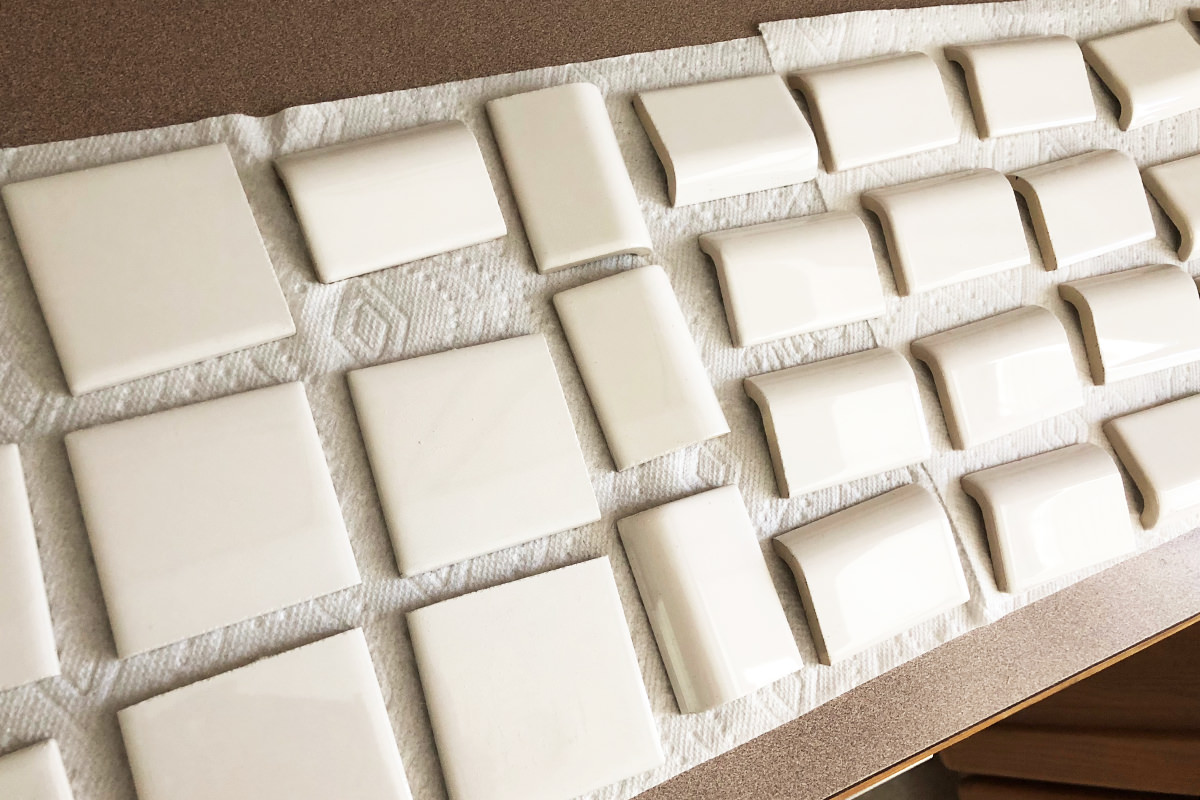 If you are doing a tile project I highly, highly recommend buying (or borrowing or renting) a wet cutter. I bought a cheap one for $80 that spits water everywhere and makes a heck of a mess... but it gets the job done (I just cut a piece of plastic to make a full bib when I use it!). I've tried the tile-score units, but they never do as nice a job and can result in busted, chipped tiles.

• Tile Up! This is my second tile project. If you look real close, you'll see that I'm not very good at it yet. But so long as you use a grout color that's not high contrast (like black for white tile) it will look just fine. How I learned this was watching Flip or Flop on HGTV. The one thing that Tarek seems to be capable of is laying tile. I figured if he could do it, I could certainly do it... because any time there is a close-up of his work, it looks pretty bad. Furthermore, any time I've hired a professional, it never looks perfectly set either, so I figured "what the heck" and dove in. Thanks to YouTube videos, you can learn how to do anything...
Note that on the floor I didn't set the edge tiles at the same time as the rest. The reason for this is that I am trying not to damage the flooring as much as possible. This means not getting thinset mortar on the hardwood. Instead I put a bead of clear silicone on the edge that touches the floor, then "butter" the backs of each piece so I can carefully drop it into position. Sure it's a lot of extra work, but ultimately worth it. Under the cement board is plastic sheeting to protect the floor even more. About the only damage I did was three screws to secure the board in place (and there was probably a little leakage on thinset that would have to be chiseled off). So now if I ever change my mind on the feeding station, I can tear it out with minimal restoration needed to the original structure.

• Busted! I use a Dremel tool with a ceramic cutting attachment to roughen the edges of the cove base tile (getting rid of the glaze so the grout will stick better). I figured if I was going to damage a tile, that would be the time. Fortunately, that wasn't the case. Unfortunately I ended up with a damaged tile anyway. One of the mud-cap pieces was cracked when I pulled it out of the box...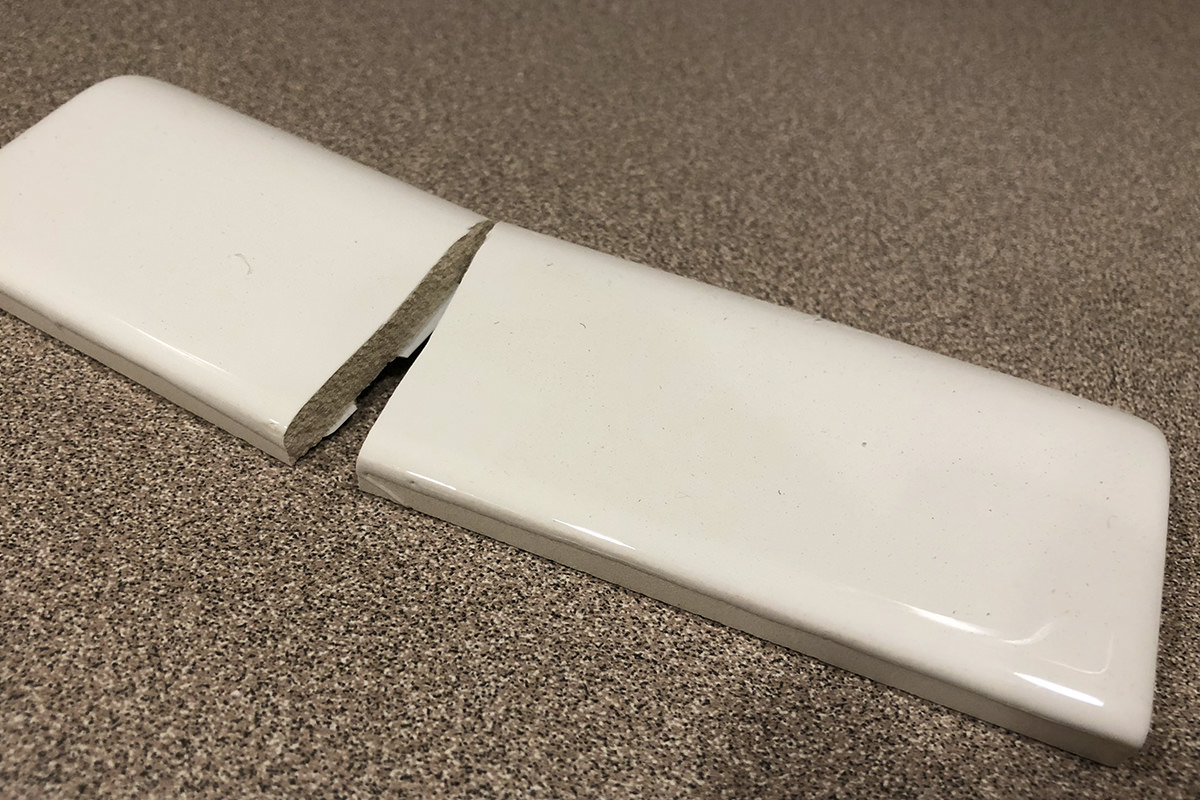 Since I had exactly the number of pieces I needed, I was in a panic. I bought the tile from Lowes at least a year ago... would a replacement tile match? Fortunately, the answer was yes.

• Finale! Tiling done! Now I just have to wait for the thinset to dry so I can grout it up!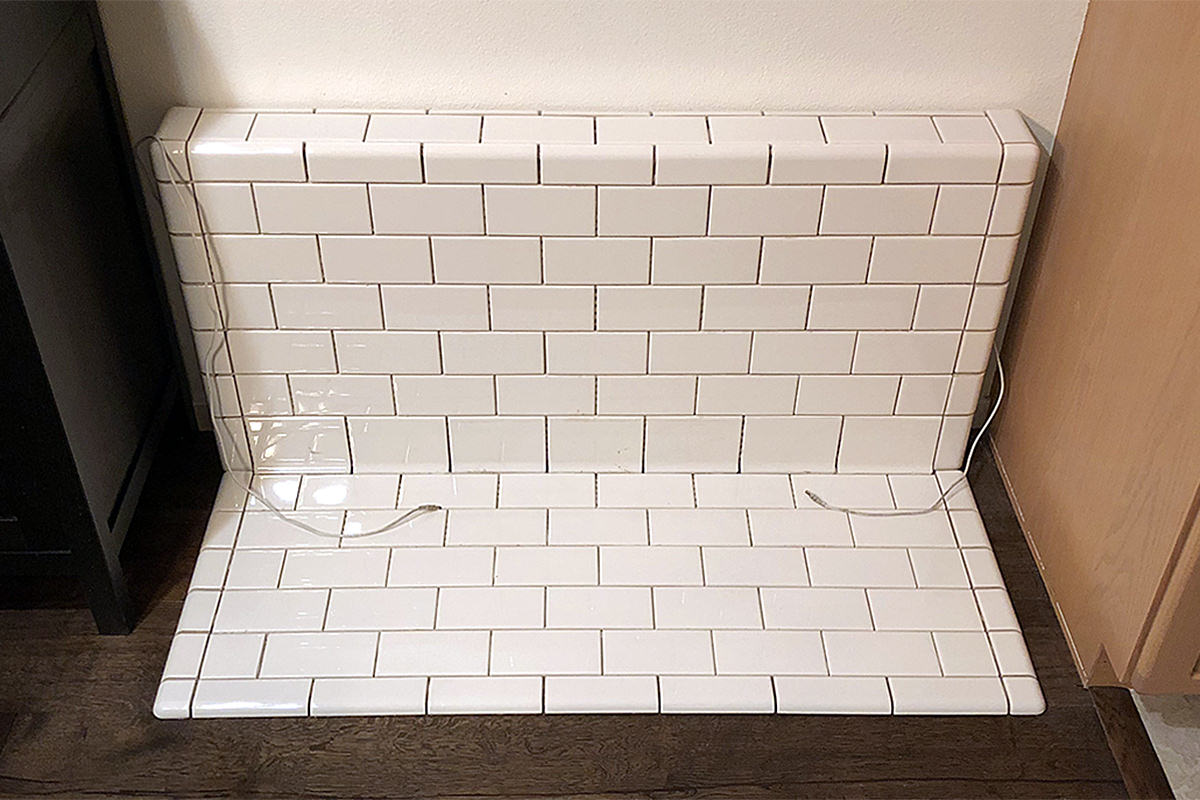 Note that I am so concerned about having the tile pattern be balanced and equal that I even put a thin line of pencil tile in the back so it begins and ends on a row of full tiles (I also made sure that the alternating pattern was maintained around the corners!).
And so... almost complete. Overall I'm quite happy with how it turned out. Jenny's messes can be cleaned up easily. The power strip and wad of cables is concealed. The power cords can be hidden when I'm not using the auto-feeders. And I have a really good support to lean against when setting down or picking up food bowls when my back is out! On top of that, it will match what I'm planning to do in my kitchen/laundry room remodel (and matches the square tile used in my bathrooms).
The nice thing about it being tile is that I can hang stuff on it with suction cups! I can label their bowls and even decorate for the holidays... assuming my cats would leave it all alone!

• Inside! Given how much I love to design and build things, I will probably be the one who ends up tearing this out to make something different. But, in case I'm not, I left a note for future owners if they decide they don't want a pet feeding station...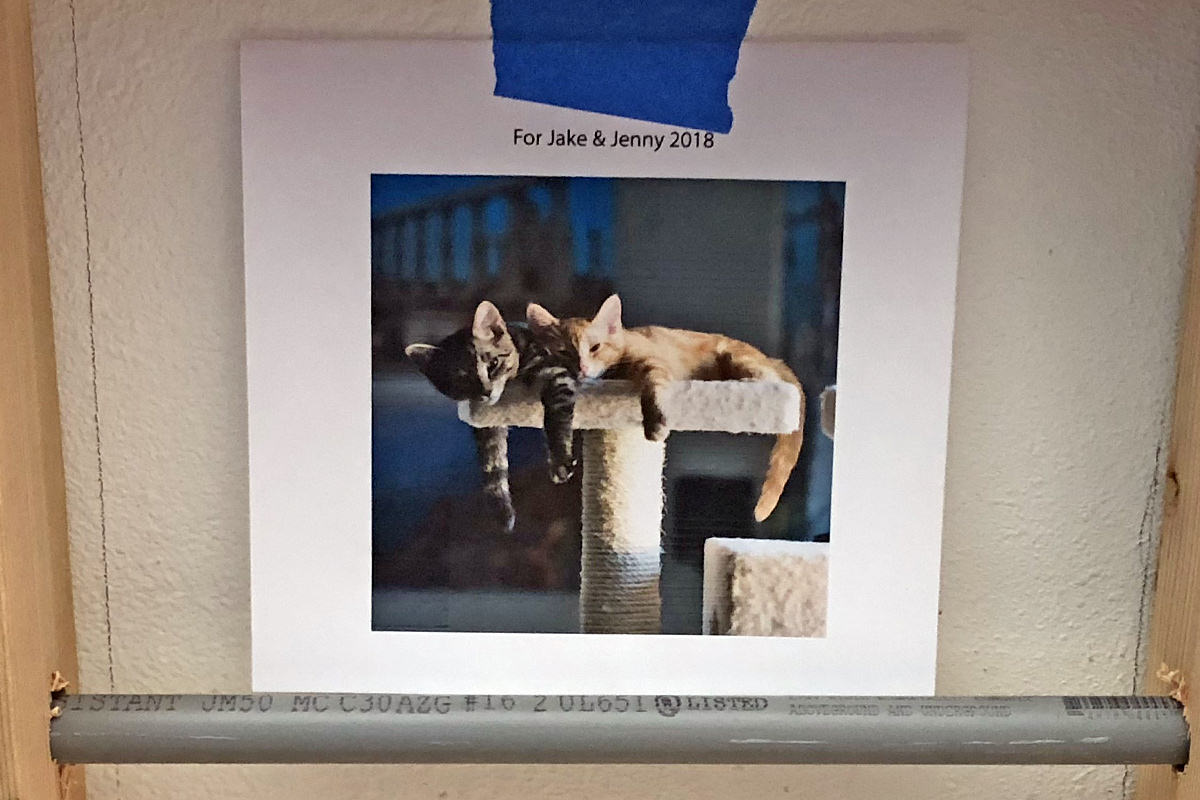 Now they know who to blame that there's this ceramic tile construct in their dining room!

And that's all she wrote... FOR TOMORROW WE GROUT!