Posted on October 16th, 2018

What was once "National Feral Cat Day" has become "Global Cat Day," which is kinda strange because we already have a "National Cat Day" which is October 29 and "International Cat Day" which was August 8. And then there's apparently a "National Black Cat Day" which is October 27? How many frickin' cat days do we need?
Not that it really matters. As anybody who has cats will tell you, EVERY DAY IS GLOBAL CAT DAY!
Regardless, Jake and Jenny were indeed feral rescues...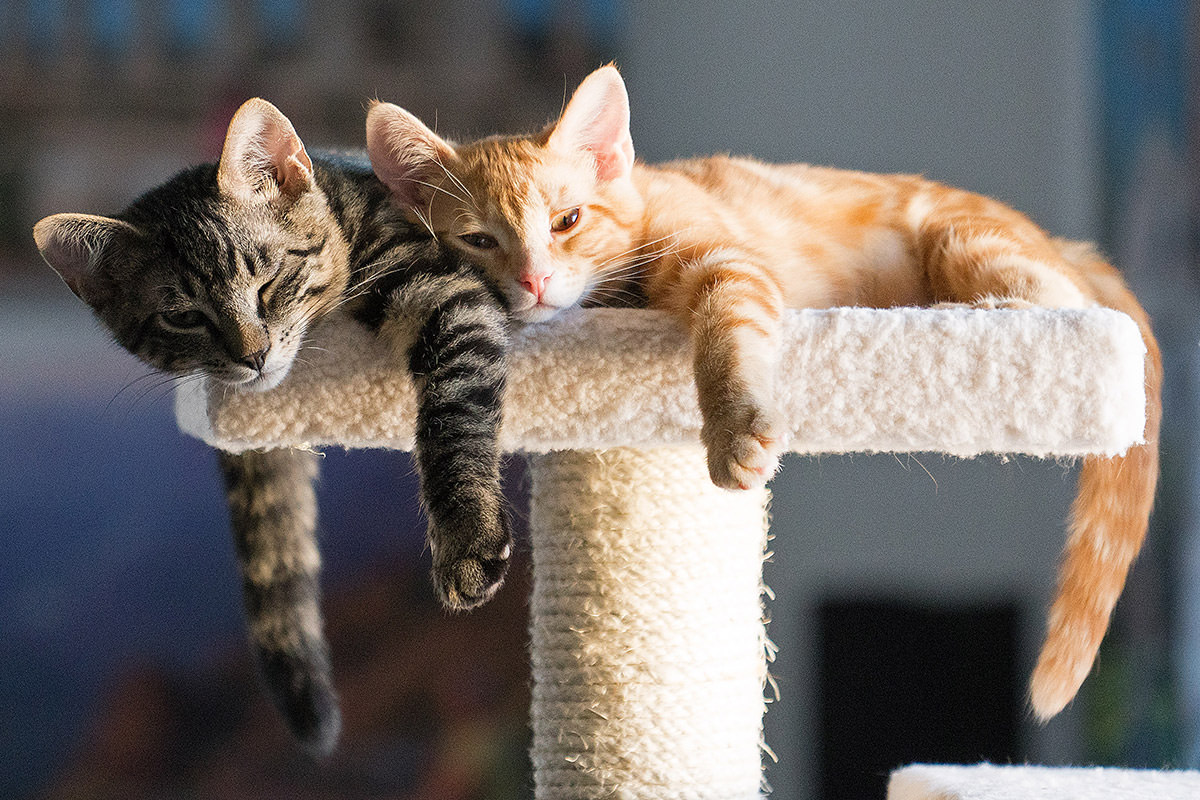 And not much has changed. Other than they're bigger...
Though not feral, neighborhood abandoned cat "Fake Jake" is still hanging around. Last year before I headed out to Antarctica, I was worried that he might freeze to death in the insulated shelter I made him, so I bought a new cat shelter that could hold an outdoor heating pad. I also built a berm out of pipe insulation to help keep any wind off of him. It worked great and he survived the winter just fine.
This year when I put the heating pad and berm back in for cold weather, I added a camera so I could get motion alerts and check in on him. He wasted no time making himself at home...
The camera has night vision so I can even see him sleeping in the dark...
And so... I guess Fake Jake is set for another cold winter.
As for me? I need to wash blankets. And get winter tires on my car. And hibernate.
Posted on October 14th, 2018

Spent my weekend getting ready for winter, but it hasn't been all bad... because an all new Bullet Sunday starts now...

• Jakespreading. My concern for Jake is either growing or easing depending on which minute of the day it is. On one hand, he is peeing regularly. On the other hand, it's too often... sometimes up to three times an hour. On one hand, he is pretty much back to normal. On the other hand, he has been increasingly clingy. Now he's sleeping with me every night. Which mostly looks like this...
He's sleeping next to me, using my leg as a pillow.
Except...
For the past two nights, sleeping beside me hasn't been good enough. He wants to sleep on top of me. Which is no biggie when I'm laying on my back but, given my recent back pains, I'm more comfortable on my side. He tries to climb on me but there's not enough room, so he falls off and starts getting upset. I fix the problem by leaning against a pillow. He falls asleep on the pillow (and against me), but is fooled to thinking he's sleeping on me. So it's all good, I suppose. But I think I'm going to start looking into some warm pads that might prove more tempting than a pillow. In the mornings when I come back from taking a shower, I always find him laying on the slats above the heating vent, so I'm guessing he might be in love with a warm place to lay just like his sister...
Tomorrow I'm going to place another call to his doctor so I can ask about the alarming number of times he's peeing... and to ask if I should be concerned that he's grooming his junk more often these past couple days. Call me paranoid, but I'd do just about anything to make sure he doesn't have another extended stay away from home.

• Who? First of all, I love Jodie Whittaker in the new season of Doctor Who. She is sublimely perfect in the role, and everything you could want for The Doctor she projects in spades. Quirky without being silly. Smart without being stuffy. Entertaining without being absurd. She IS Doctor Who...
Which is why my disappointment in her first episode being horribly boring was more upsetting than it usually would be. Things picked up a bit in the second episode that aired tonight (the new TARDIS is pretty great), but it still feels like a bit of a slog to get through. I really, really hope that things start picking up... giving both Whittaker and Doctor Who fans the show we deserve.

• Boca? When I was last at the grocery store, I noted that Boca Burgers have pretty new packaging. What surprised me is that the burgers inside are different. They are darker. And the taste is different. Not necessarily in a bad way... they're just... different. Still tasty...
What I cannot tell is what in the hell they are replacing. Used to be there was "Original Vegan" and "All-American Flame Grilled"... these are "Original All American," which I can only guess is taking the place of both? They ain't vegan (contains cheese like the All-American Flame Grilled) so maybe they are discontinuing those? Confusing.

• The Vote. LOLOLOL! Maria Cantwell just released a commercial saying that "drug companies are too powerful and prescription drugs cost too much money." Guess the blowback she got after accepting $75,000 from Big Pharma then voting against cheaper drug re-importation has her worried? Typical piece of shit politician... says whatever she feels she has to at the moment in order to get elected, and then she'll jettison it when she decides to suck Big Pharma dick for cash again. We get the politicians we settle for. We get what we deserve. Not that we're given much choice. My Washington State Voter's Pamphlet just arrived and there's only one candidate I actually want to vote for. The rest are just votes against Trump-enabling Republicans.

• Asshole. Vice President Pence would do best to just shut the hell up on all matters pertaining to anything because, odds are, his boss has tweeted something totally fucked up on the topic, which makes Pence come off as a hypocritical asshole. Like this...
Why the hell Pence pretends to give a shit about journalists when it's been made very clear that Trump's administration condemns journalists as an "enemy of the people" is beyond me. Disgusting and pathetic. Like most everything to do with President Trump.

• Groupon! Congratulations to Hasan Minhaj on becoming a father...
I can't wait for his show, Patriot Act, to debut on Netflix come October 28th! And, needless to say, if you have Netflix and haven't seen his incredible standup show, Homecoming King, you should do that immediately.

Annnnd... scene. See you next Sunday.
Tags:
Bullet Sunday
,
Cats
,
Dumbassery
,
Food
,
Fucking Assholes
,
Hasan Minhaj
,
Politics
,
President Trump
Categories:
Bullet Sunday 2018
,
Cats 2018
,
Food 2018
,
News – Politics 2018
,
Television 2018
—
Click To It:
Permalink
—
0 Comments: Click To Add Yours!
Posted on October 13th, 2018

Last night when I got home from work I decided to try a new frozen pizza brand I haven't had before. I don't know why I bother, because they all end up tasting like crap, but I keep holding out hope. The pizza was, as expected, truly awful.
In more ways that one, as it turns out.
While I was removing the wrapper, some of the cheese topping fell on the floor. Before I could grab a towel and get it picked up, Jake swooped in and chowed down. It was only a half-dozen small shreds... but that was all it took. Within five minutes he was puking his guts out. Poor guy.
I don't purposely feed my cats human food, but Jake has been getting into my food since I first got him, and it's never caused any problems. But now? Barf-time.
Which means I have to be more careful than ever that he doesn't eat anything except his heinously expensive prescribed specialty food.
Other than that, he's mostly back to normal. Except for the fact that he is still peeing far more often than usual (beats the alternative) and clings to me like glue everywhere I go. When I lay down on the couch to work, he'll immediately hop on top of me... only hopping off to pee, then he's right back on me...
Needless to say, any time I'm in bed, Jake is there too...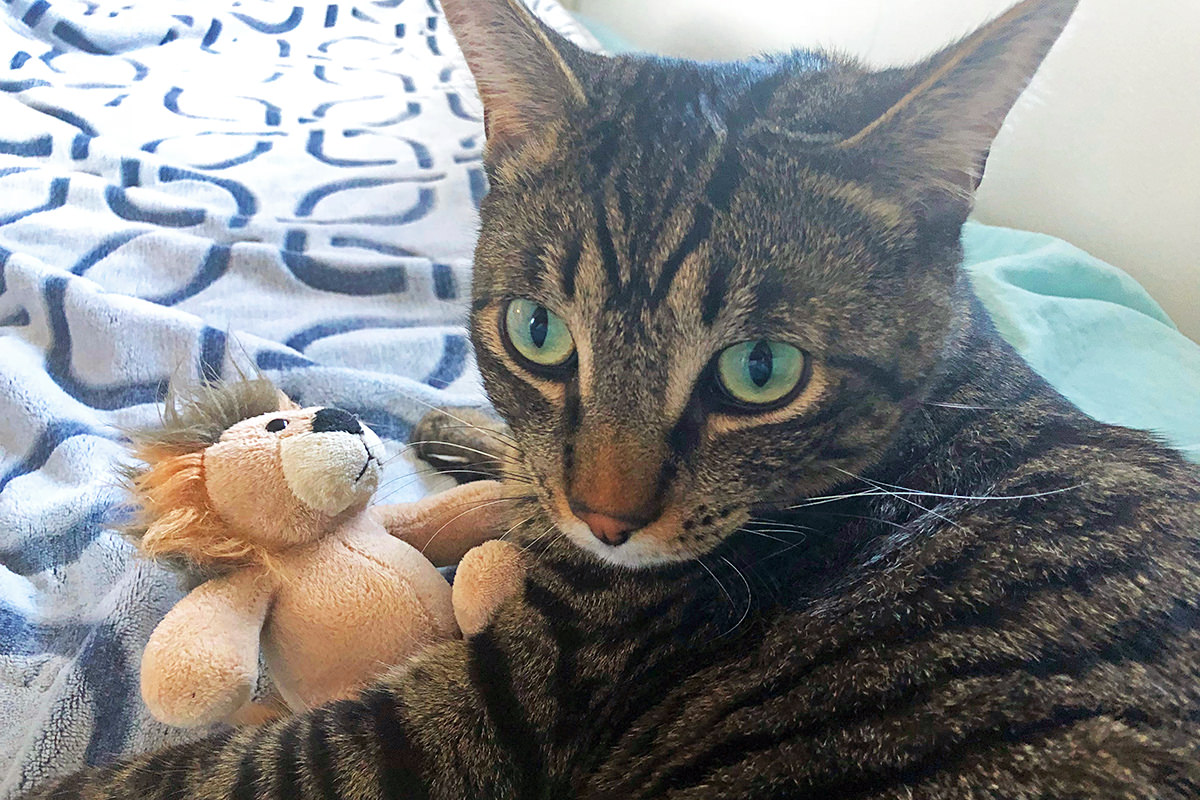 I'm still irrationally upset that his claws were trimmed. I wish I could get past that, because I know they'll grow back... but, still... upsetting...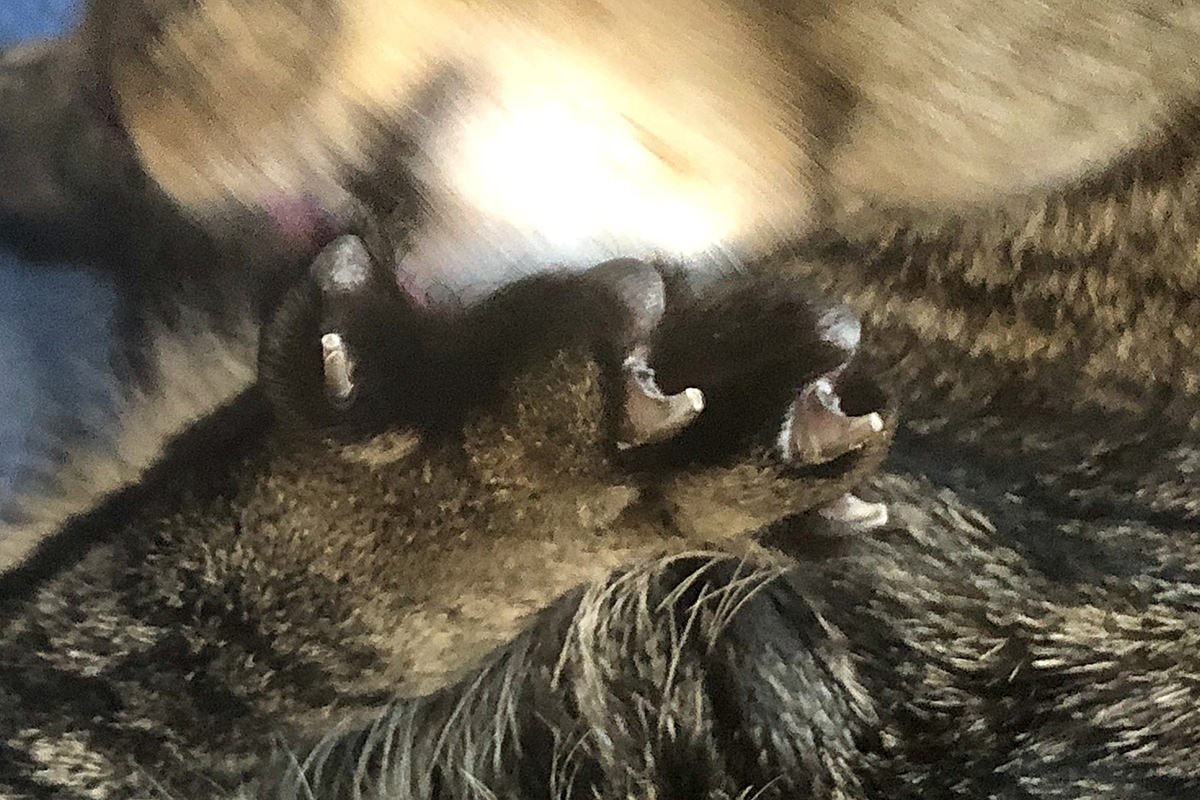 Poor Jenny spends most of her time being jealous that Jake is getting so much attention. For some reason they have an agreement that there can only be one cat in bed with me at a time, and since that's mostly Jake... well... let's just say we've been getting our share of irritated glances...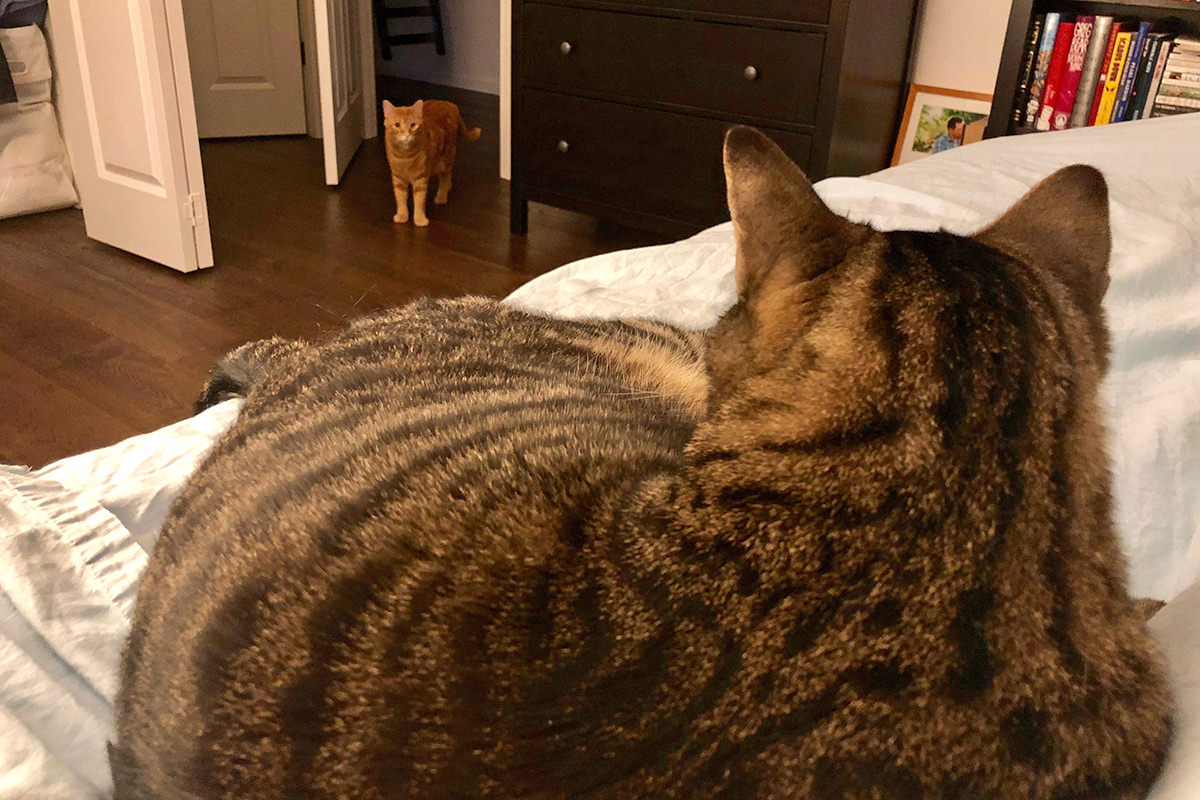 Not that Jenny is completely ignored. I make sure she gets some lap-time too...
This week has been a tough one. I am terrified that Jake's urinary problems are going to come back and they'll end up having to cut him open. Every time he uses the Litter-Robot (which is often) I run to make sure that he was able to pee. Every time he licks his junk, I'm worried it means he's having trouble going again. Next week I'm back to working full days and I won't be able to observe him as easily. I've put alerts on the security camera system for motion at the Litter-Robots, but that's not the same as being here.
Six weeks until my next trip. My hope is that everything will be fine by then and I won't have to change my plans. Again.
Posted on October 11th, 2018

Happy International Coming Out Day to my LGBTQ readers and friends!
Some of you walked through fire to get to where you are today. Some of you are dipping a toe into the flames before taking the plunge. Some of you bounded over the flames like a golden god. Some of you are happy to hang on to your fire extinguisher to keep the flames at bay a while longer. Many of you escaped the fire only to besieged with people lobbing more fire in your direction. But regardless of who you are... what your truth is... I am happy you're here, you wonderful fireproof warrior, you!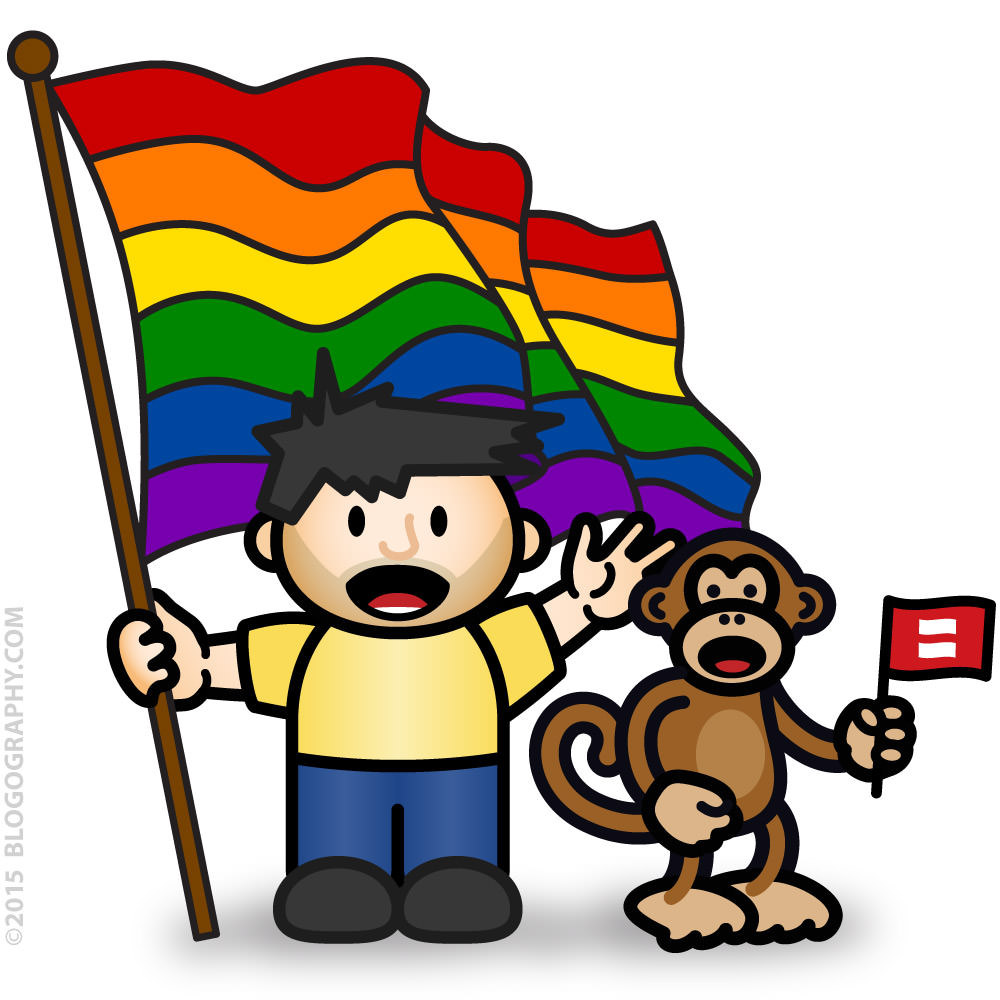 And now... time to clean up another round of cat puke. Poor Jake. I really thought he had turned a corner when he didn't throw up after yesterday morning. It was a lot less than last time though, so maybe he's nearing the light at the end of the tunnel?
Fingers crossed.
Posted on October 10th, 2018

Since I'm supposed to be on vacation this week, but ended up home with a sick cat instead, I've been working 10-2 half-days. Except today I ended up going in at 11-3 because Jake had other plans for my morning.
He hopped on the bed with me after he'd eaten his breakfast... then proceeded to puke all over me. And, let me tell you, it was an impressive amount of vomit. Kind of shocking he was even able to contain so much spew in such a tiny body. Fortunately, it was all contained on my blanket so all I had to do was stick it in the wash... four times (just to be sure).
Afterwards he hopped right back on the bed and fell asleep...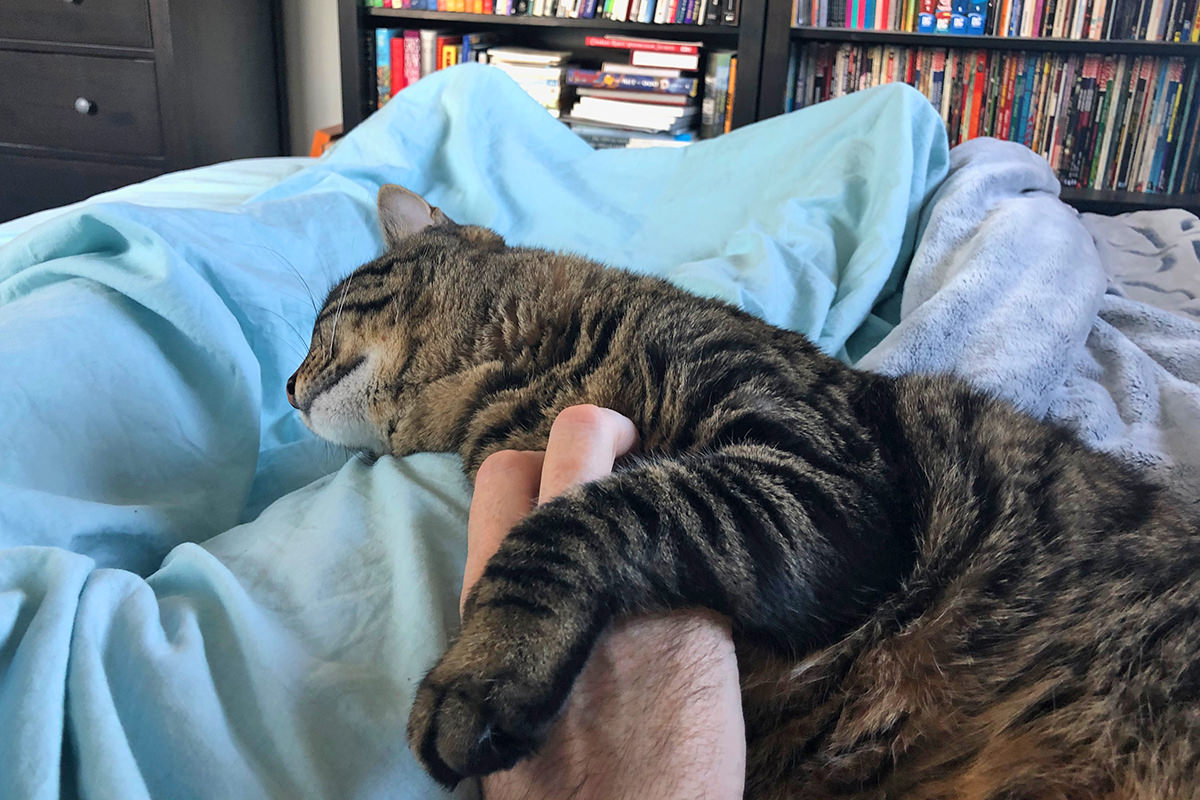 I wanted to keep an eye on him for a while, hence my being an hour late to work.
Before heading home to see if Jake had left any puke for me to find, I headed to the grocery store since my refrigerator and cupboards are bare. While there, I was excited that there was a new brand of mayo for me to try (Heinz!)... until I looked at the price tag...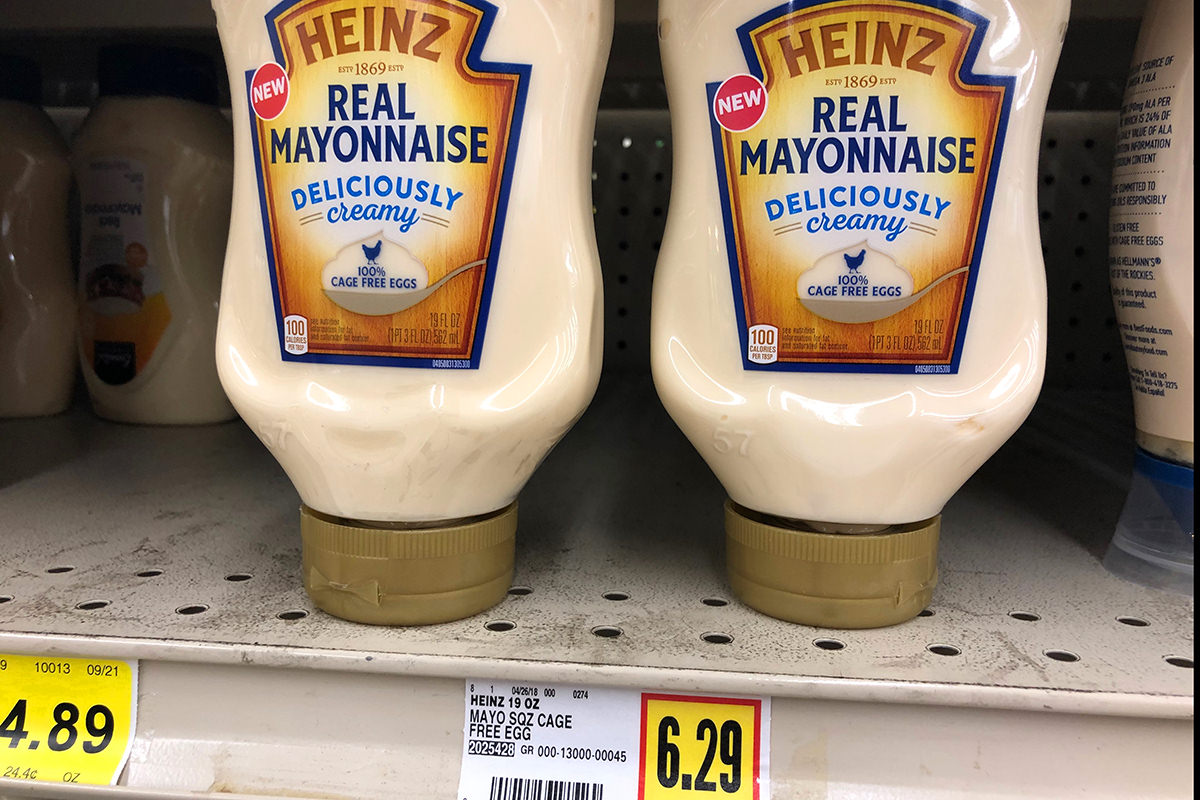 SIX DOLLARS AND TWENTY-NINE CENTS?!?? FOR MAYO?!? WTF?!? IS THERE GOLD IN IT? DOES IT COME WITH A FREE PONY? WHAT?!? Needless to say, no new mayo for me. Perhaps when I get to The Big City next I'll see if they have it for a reasonable price at the Safeway.
And... back to my home.
Which was pleasantly puke-free!
A quick look at the security cameras and I saw that Jake it still able to pee... many, many times... so I'm chalking this day up as a win.
After I run my blanket through the wash just one more time.
Posted on October 9th, 2018

Ever since I got back from my brief Hawaiian excursion, I've done very little except worry about Jake. He seems okay. He's still peeing in tiny amounts a dozen times a day, but he doesn't seem to be in pain or anything like that, so I'm not freaking out. Yet.
No, what worries me is that he appears to have some kind of PTSD.
I'm working half-days this week so I can keep an eye on him. He spends every minute I'm here hanging all over me. He's at my side constantly...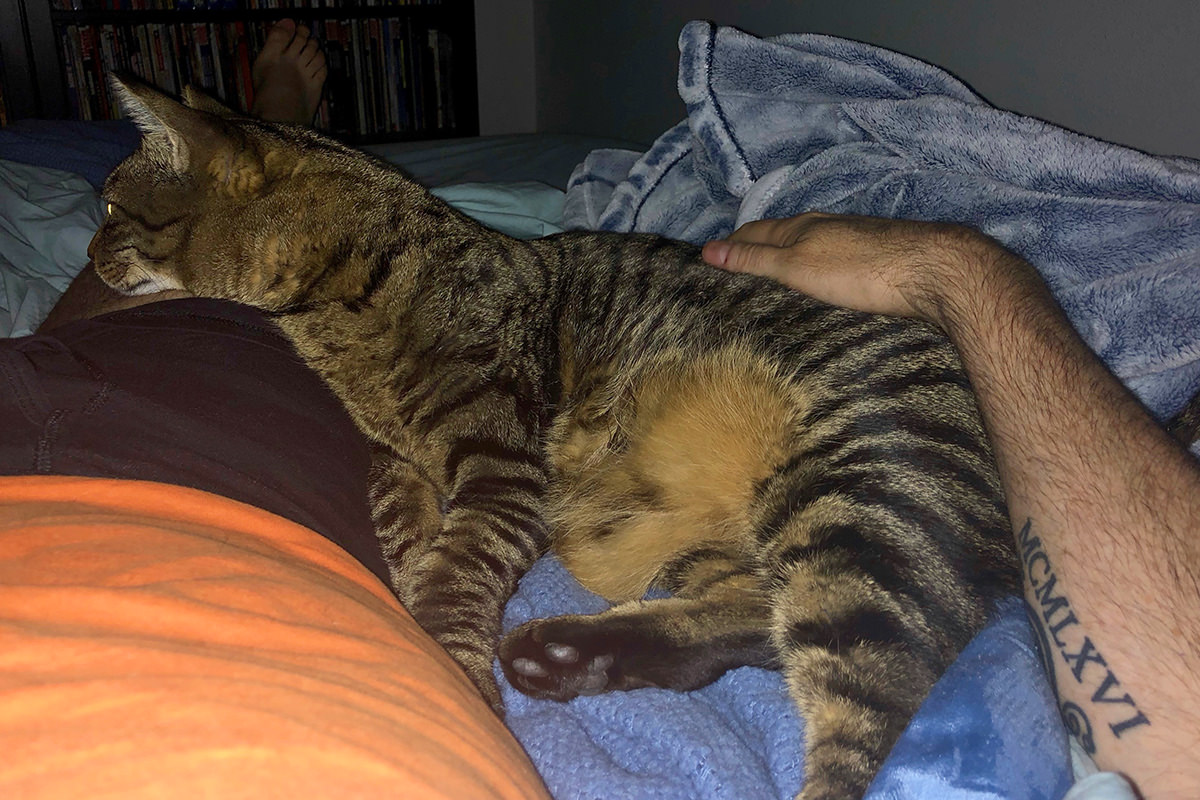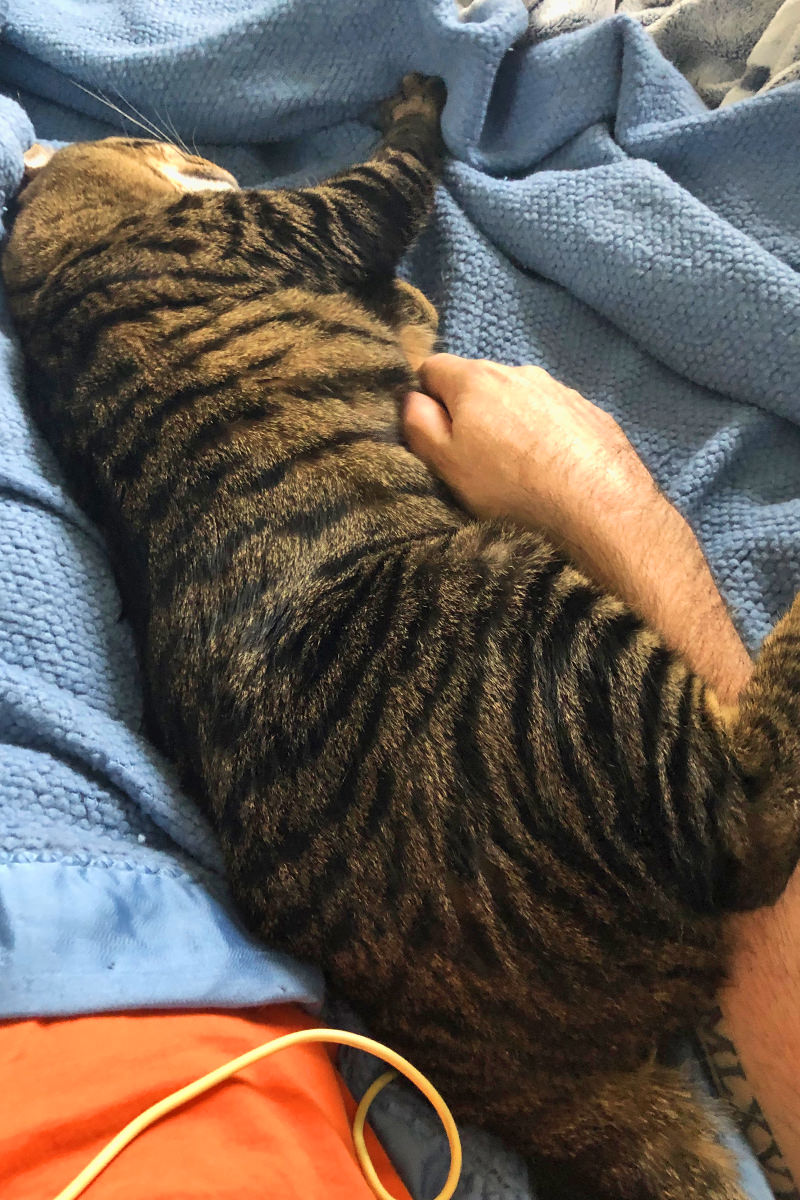 When I'm not home, however, Jake wanders around crying because he can't find me...

With the exception of the patch of fur they shaved off on his arm for an IV, he looks good physically...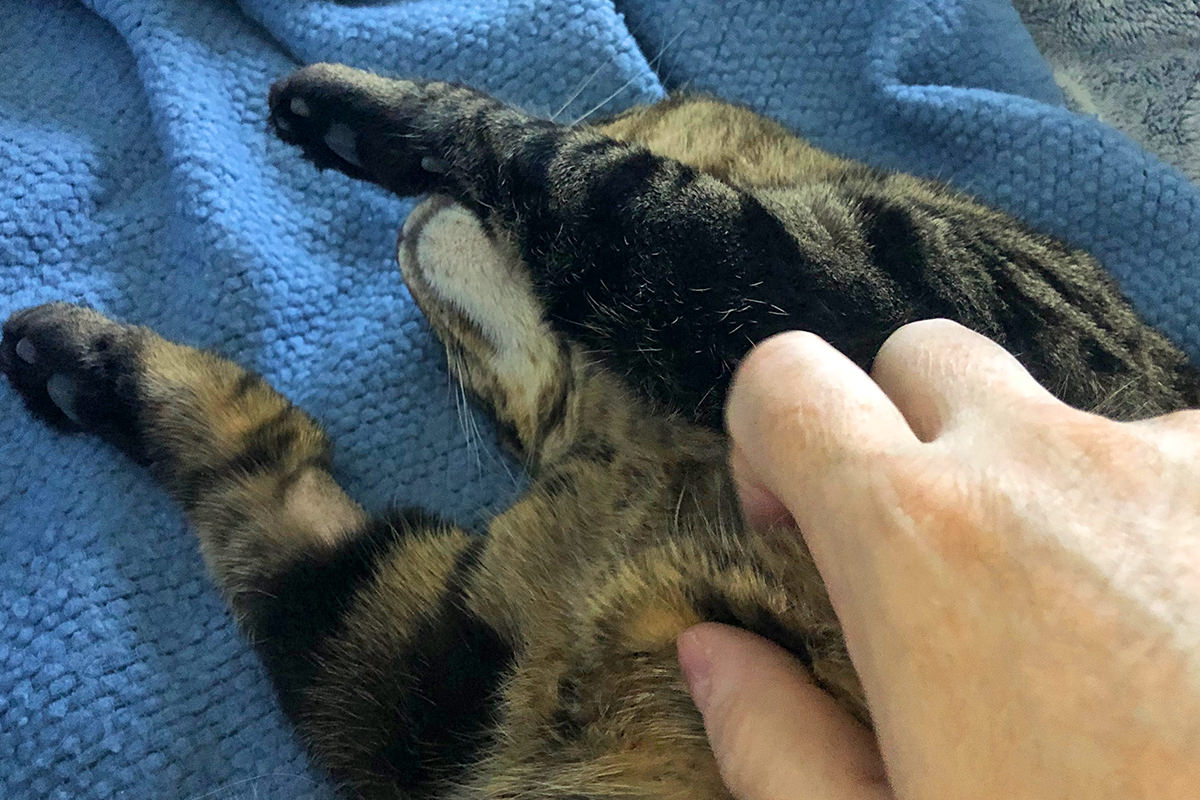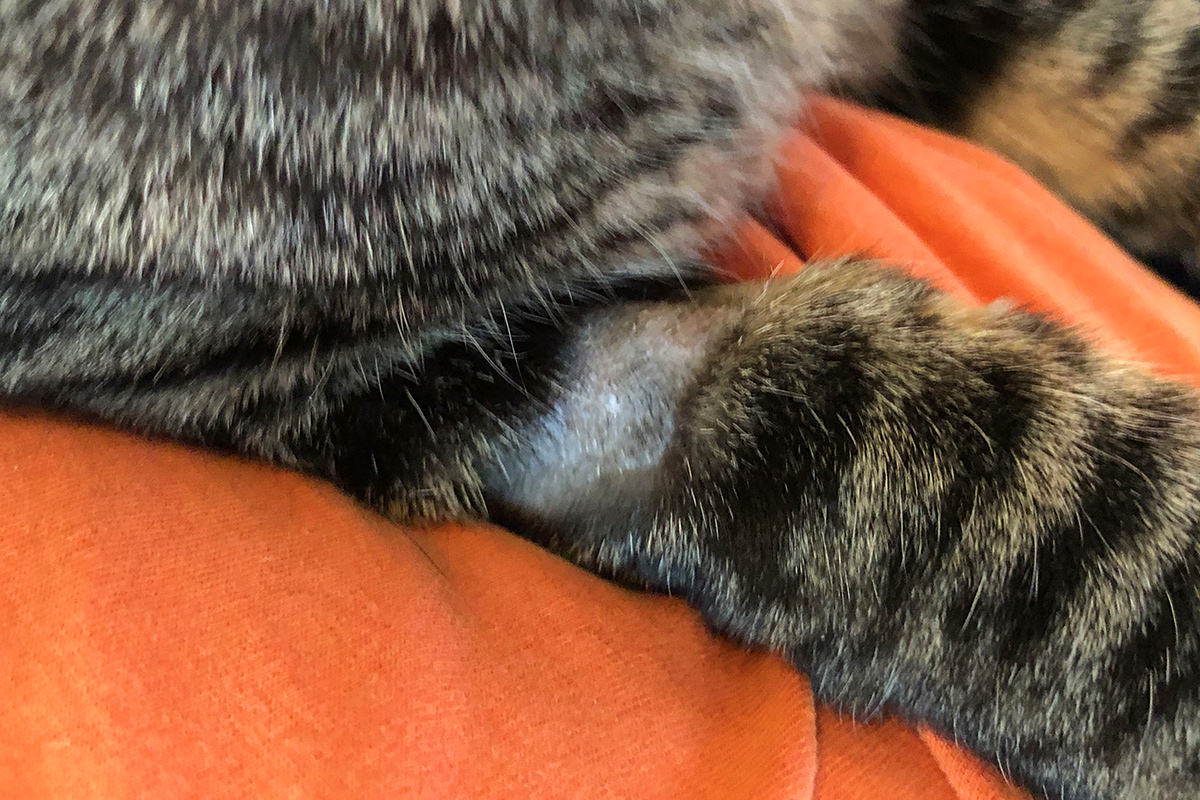 Well... not entirely..
Yesterday afternoon Jenny went climbing up my massive pole in the catio. I watched Jake try to follow her... and he couldn't. Turns out his claws are gone...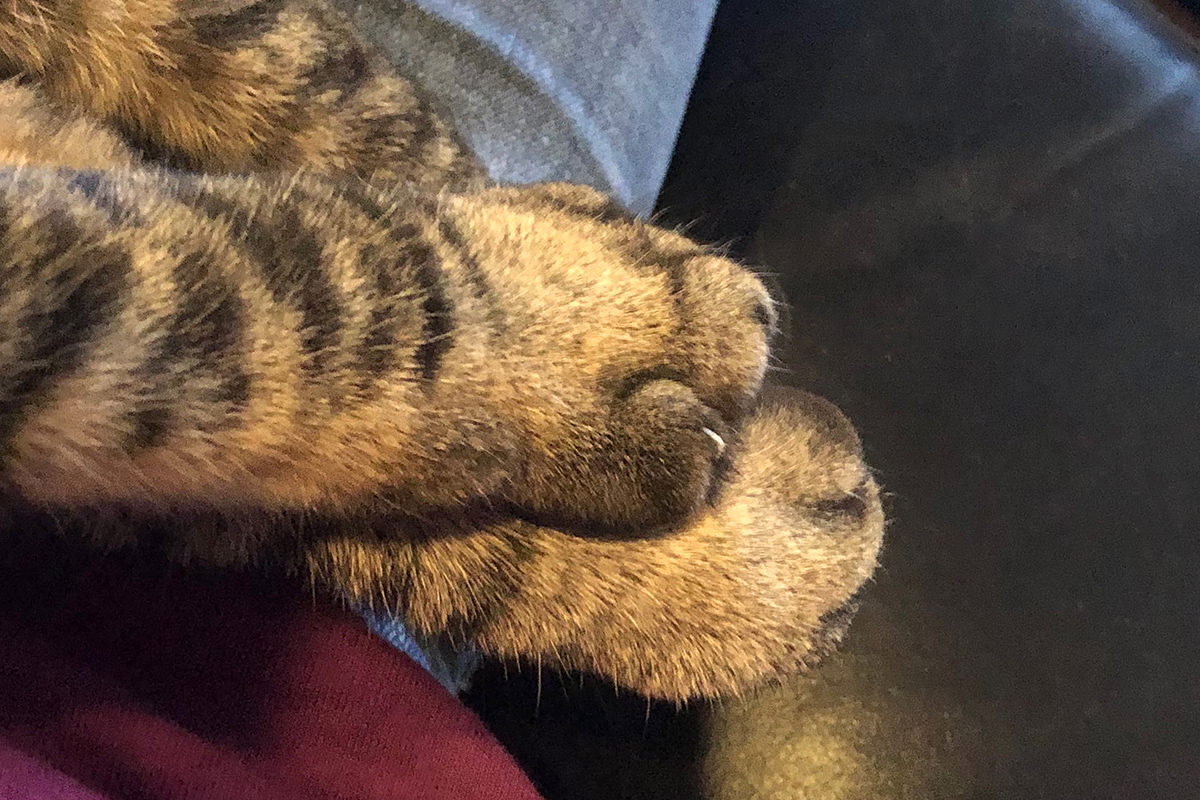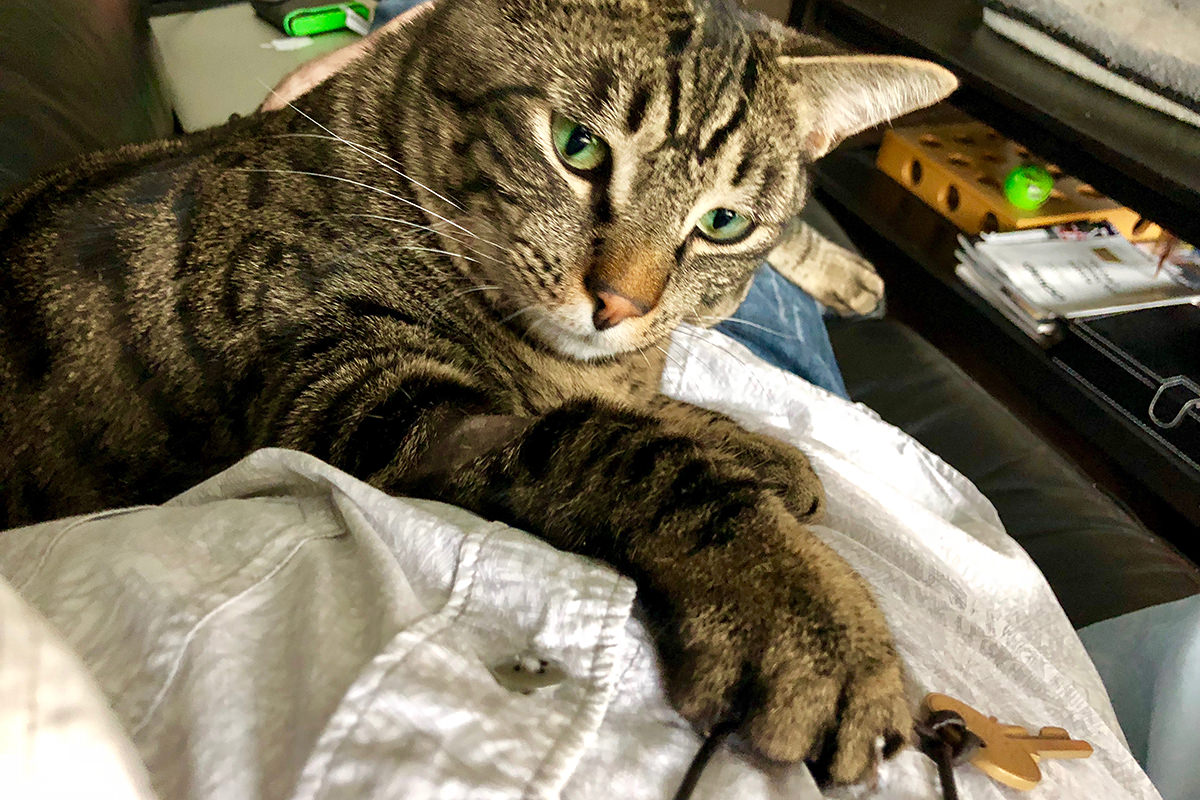 This upset me to an irrational degree.
I have never trimmed my cats' claws. When they were babies they scratched stuff they weren't supposed to... but after providing them lots of better things to scratch, they stopped scratching where they're not supposed to. Now they use only the poles and scratcher boards I've bought for them.
When the vet's office called for a check-in, I asked about his claws. They said they do it as a "courtesy' whenever cats are under anesthesia. Sometimes cats are violent and scratch at the staff. Since Jake is not violent I asked if I had the option of specifying that he and Jenny's claws not be trimmed if they are ever admitted. Turns out you can, so I did.

This morning I woke up to go to the bathroom and nearly bit it when I tripped on something. I turn on the light and my bedroom floor is covered in toys...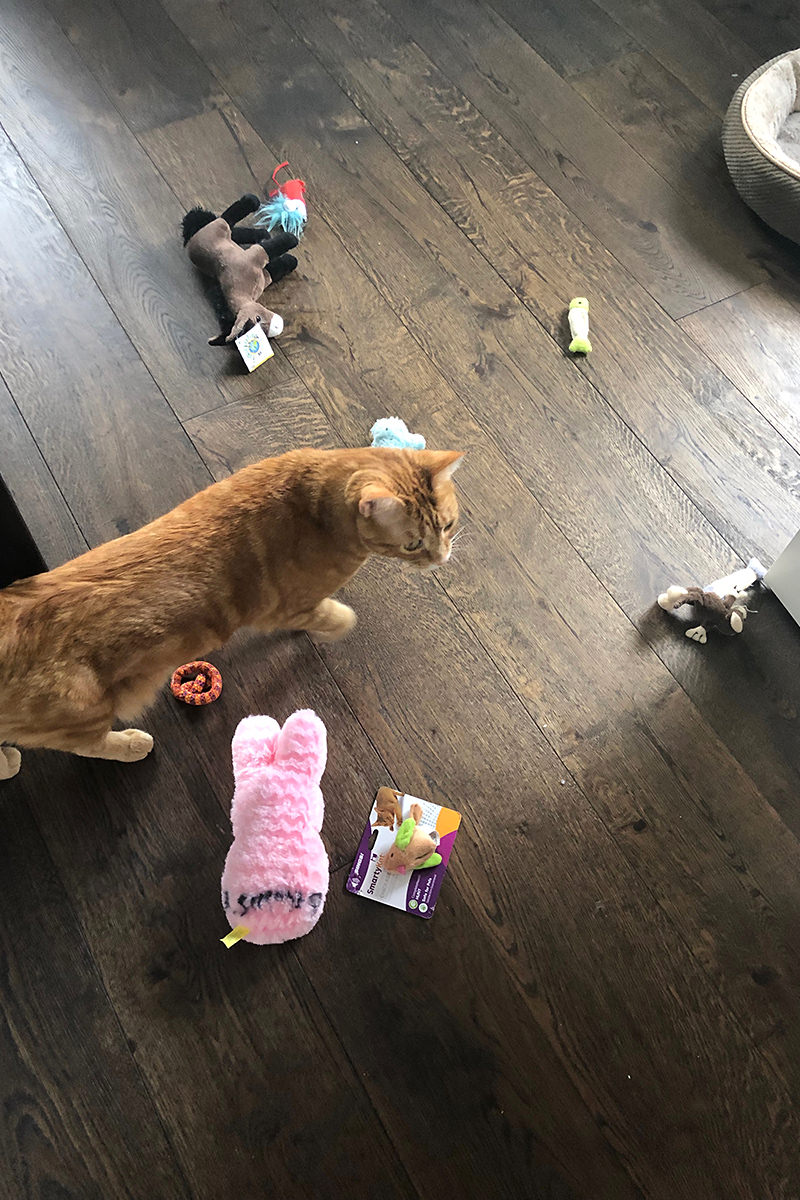 Apparently Jake is so happy to be home that he spent nearly two hours dragging all his toys up. Including his giant Peeps Bunny. He hasn't done anything like this in months...

Jake and Jenny seem to be getting along like they used to now. No hissing is involved. I wish they wouldn't get along on top of the dining room table (pet-safe disinfectant is expensive!)...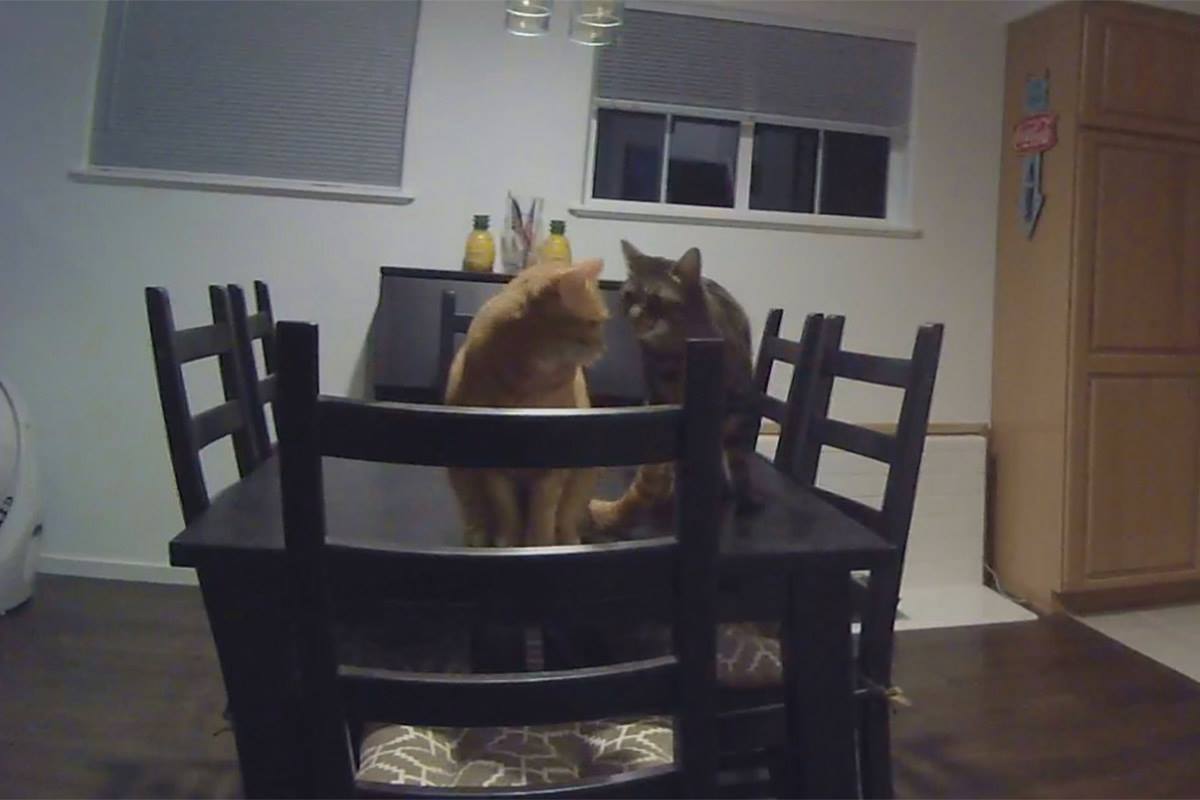 When they're not together, they're taking turns keeping me from work...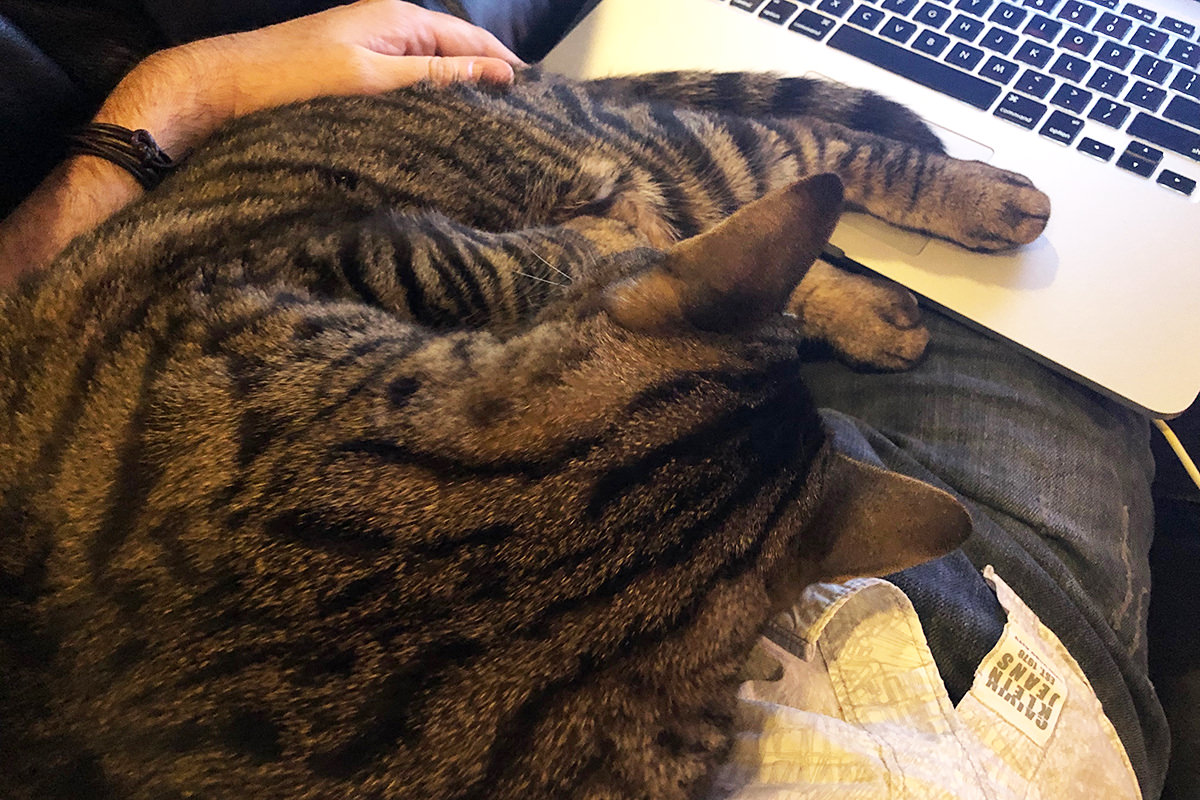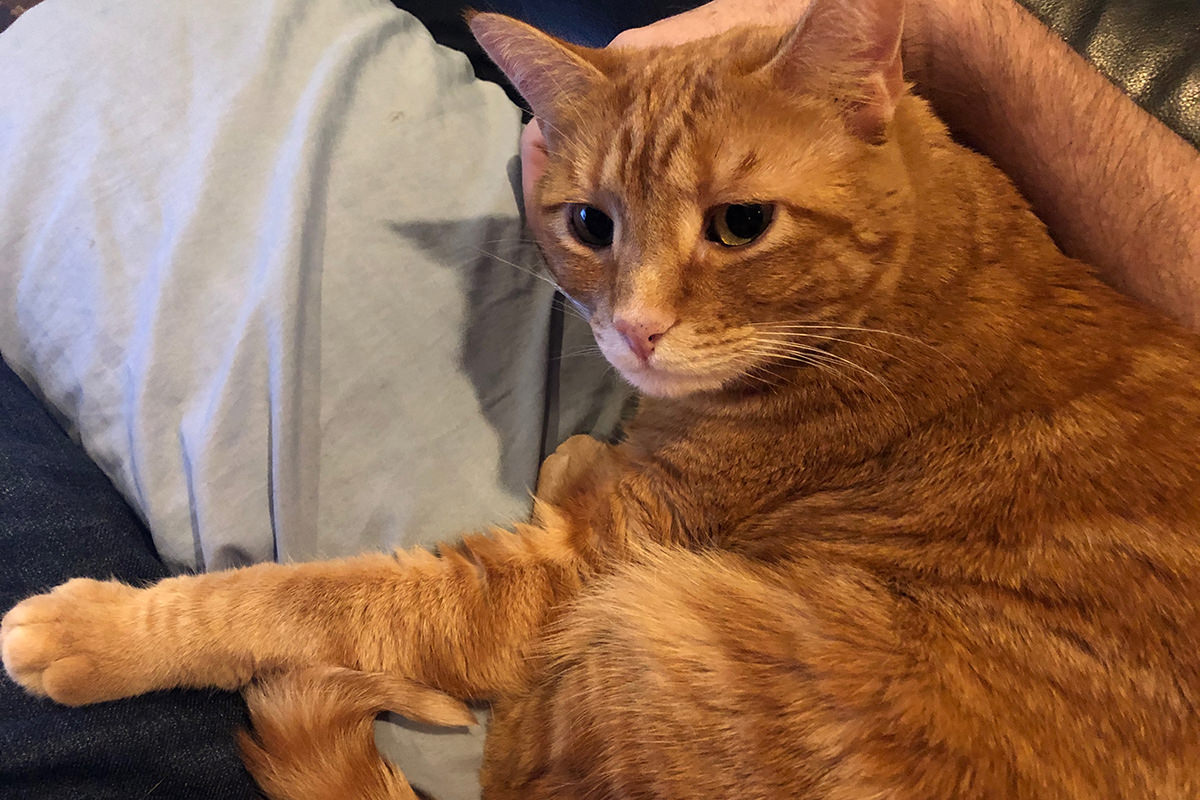 So... I guess we're back to normal then?
Here's hoping.
Posted on October 8th, 2018

The doctor who has been treating Jake doesn't start his shift until 11:00am, but he dropped by earlier in the morning to make sure Jake was able to go home. And so... at 9:00am I headed to The Big City to pick up my cat.
I honestly don't know what it's been like for him at the hospital. My guess is that he's been trapped in a cage the entire time... poked and prodded... having to listen to barking dogs and other strange sounds... no doubt it's been a traumatic time. I feel awful about it, but there wasn't much choice.
Hopefully he'll be back to normal in short order.
Because his car ride home was anything but normal. He can still meow now, like his sister, which should make life a bit more interesting...
I started talking to Jake to comfort him, but that just seemed to wind him up worse than he already was, so I didn't talk much on the way home. I did poke a finger through the carrier to scratch his face, which he loves.
After 20 minutes of listening to one angry, confused, and scared kitty, my next hurdle was awaiting me. How would Jenny react to having her brother home?
Not so great, actually.
I was warned that the vet smell on Jake would freak her out, and it sure did. She spent most of her day stalking him... running up and smelling him... and hissing, hissing, and hissing at him if he tried to get too close...
Or for no reason at all...
Jake was upset that he couldn't be buddy-buddy with her right away, but he was still thrilled to be home.
As day turned to night, they seemed to be getting along better. They were hanging out in the catio together for nearly an hour...
After dinner Jenny's hissing was at minimum and they seemed like they might be getting back to normal quicker than I had hoped...
And now for the bad news...
First of all, I have to crush Jake's pills, mix with water, then draw into a syringe so I can hold him down and squirt it in his mouth. He takes it like a champ, but is understandably irritated. Fortunately I only have to do this four times.
And also? Jake has to be on a special diet with special food. Which means Jenny is also on a special diet since Jake eats her leftovers. The bright spot in all this is that they both love the special food. The bad news is that the special food is massively expensive. As in maybe I'm having to discontinue satellite television expensive. But the worst news? I have nearly $240 in cat food I just bought on sale that's now going to be feeding Fake Jake...
It's expensive, low-carb, quality food-stuff... which is good news for Fake Jake, I guess.
And then there's my share of the massive vet bill... nearly $600! But, hey, it would be over $2000 if I didn't have insurance, so I can't be too upset about that.
Not that the money matters. Can you really put a price tag on this?
Jake is so sweet... such a great cat. I would be completely crushed if anything were to happen to him.
Anybody need a slightly-used spleen?
Posted on October 7th, 2018

Home again and all is well... because an all new Bullet Sunday starts now...

• Homeward. And, just like that, Hawaii is over for me. I would have liked to have stayed another couple days to hang out with my friends and relax but, alas, I've got a cat back home that is undoubtedly really, really anxious to get out of the hospital. I did get bumped to First Class, which is kinda like a vacation. A vacation with a bowl of warm nuts...
The last time I came to Hawaii for fun was when I managed to tack a few days on the back-side of a work trip in 2011. The four times since then were all work all the time. And while I wouldn't have missed this wedding in Oahu for anything, coming to photograph an event is still work!

• Salmon. I have been this close to flying Alaska Airlines' Salmon-Thirty-Salmon too many times to count. But I'm always a gate or two away. Like today...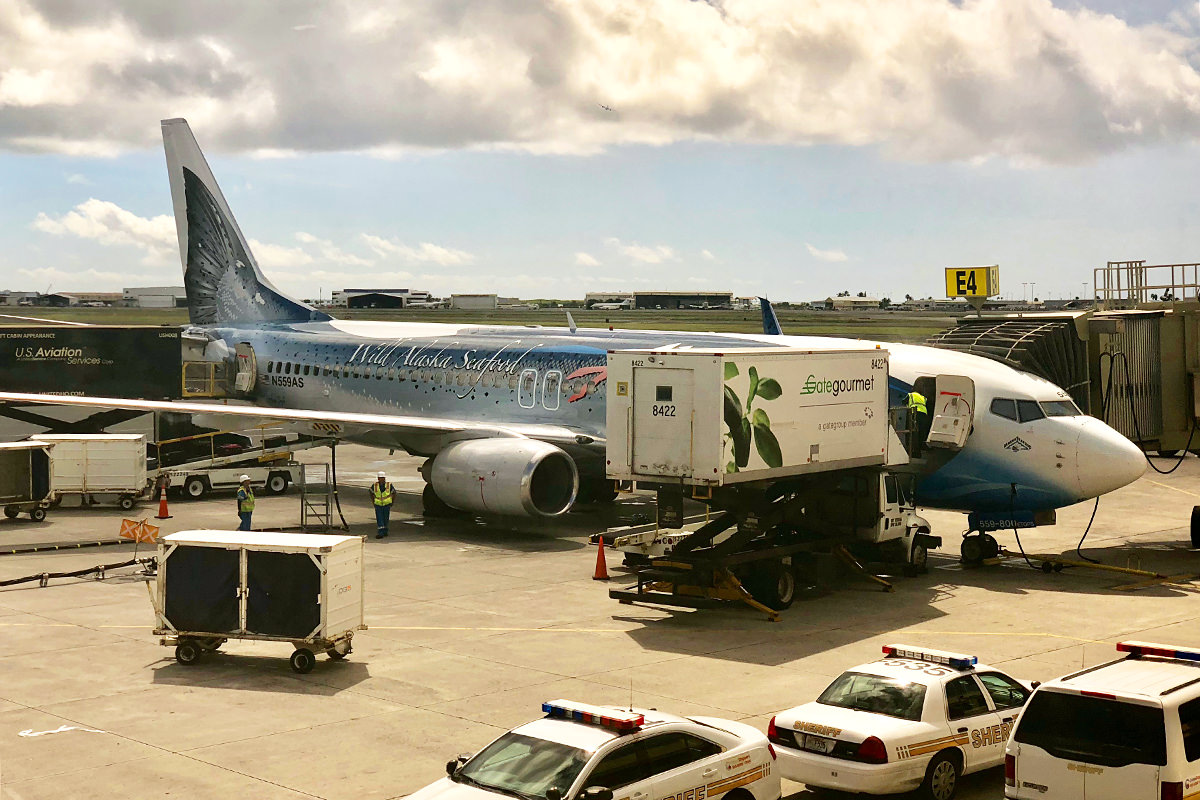 It's not every day you get to fly in a plane painted to look like a big fish... and, alas, today is not my day either.

• Simon. On my trip to Honolulu on Friday I saw the available movies I hadn't seen (Tomb Raider, yawn... Won't You Be My Neighbor, awesome... and Blockers, surprisingly watchable) and so on my trip back I watched movies I enjoyed that I've already seen... Deadpool 2 and The Disaster Artist... and also Love, Simon...
This movie is so amazingly good (despite a rough start to the third act) and has an ending that's ten tons of wonderful. I've seen it three times now, and one thing continues to stand out... the casting on this film is phenomenal. Not just the main characters, but supporting roles as well. In particular, Josh Duhamel and Jennifer Garner as Simon's parents. I knew Garner could pull off the emotional weight... but Josh Duhamel?!? And yet...
And that clip has been edited down from the original scene.
The first coming-of-age-love-story with a gay lead character from a major studio was going to be a landmark film regardless of how good it was. Or how terrible. The fact that Love, Simon turned out to be something great is just icing on the cake. One can only hope that more films like this entering mainstream culture becomes a step towards more acceptance and less bullying in our schools. Because isn't high school hard enough?

• Haerts. In addition to being one of the sweetest, most charming, funny, genuine films in recent memory, Love, Simon has a great soundtrack. It was especially awesome that Wings by Haerts got a snippet into the movie. It's such an amazing song...
And now I'm addicted to it all over again.

• Photography. It didn't actually rain on the wedding yesterday, which was nice. A lot easier to shoot photos when you're not soaking wet. The problem was my poor back, which was in spasm the entire day. I was eating muscle relaxers like candy in an attempt to keep being able to move. The good news is that the photos turned out pretty good. Not so much because of my talent as a photographer, but because the bride and groom are phenomenally good-looking... and patient.
And... despite my not being a professional photographer (and especially not a wedding photographer), this was my sixth wedding shoot. No idea how this keeps happening to me.

• Home. Jenny meowed when I walked through the door. Meowed after me when I rolled my bag in. Meowed after me when I went to the bathroom. Meowed after me when when I went upstairs. Meowed after me when got undressed. Meowed after me when I got in bed. She did not stop. "Sheesh. I am sorry I had to leave you all alone! Are you going to calm down if I can bring your brother home tomorrow?!?"
Such a sweetheart. I hope that Jake and Jenny's reunion goes well.

And... I turn into a pumpkin at midnight, so... much aloha.
Posted on October 4th, 2018

I have to leave for the airport at 4:00am. Needless to say, this has made for a hectic day today. Way too much to do and not enough time to do it. But there was no way I was going to miss out on visiting Jake in the pet hospital before I left, so that meant an afternoon trip into The Big City. Apparently I was way too excited about getting to see him, because I accidentally set off the alarm system as I was walking out of the house. One awkward call to the monitoring company later... and I was on my way.
Jake seemed in a little better spirits today. And I was told that he ate all his breakfast, so that's good news. Alas, there's still way too much blood in his urine, so that catheter isn't coming out any time soon...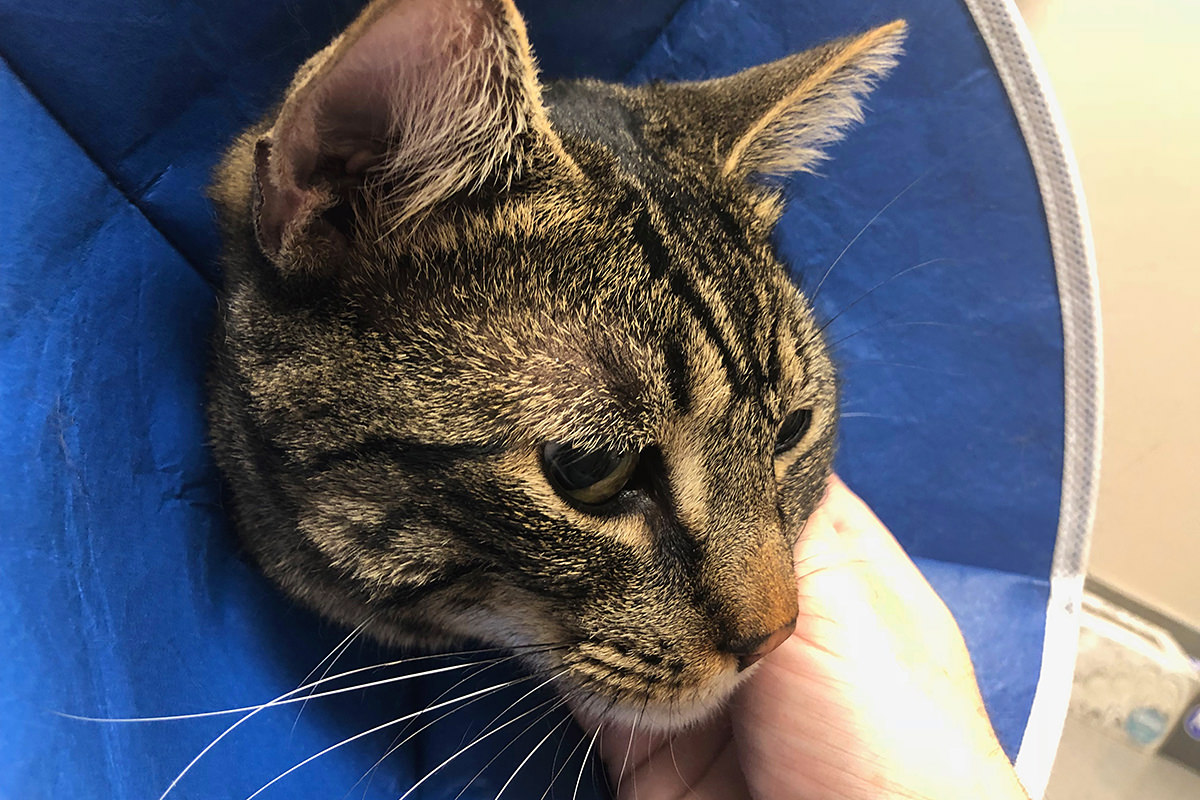 He ran right up and tried to rub his head on me, but the cone kept getting in the way, so I flipped it backwards to create a fashionable poncho...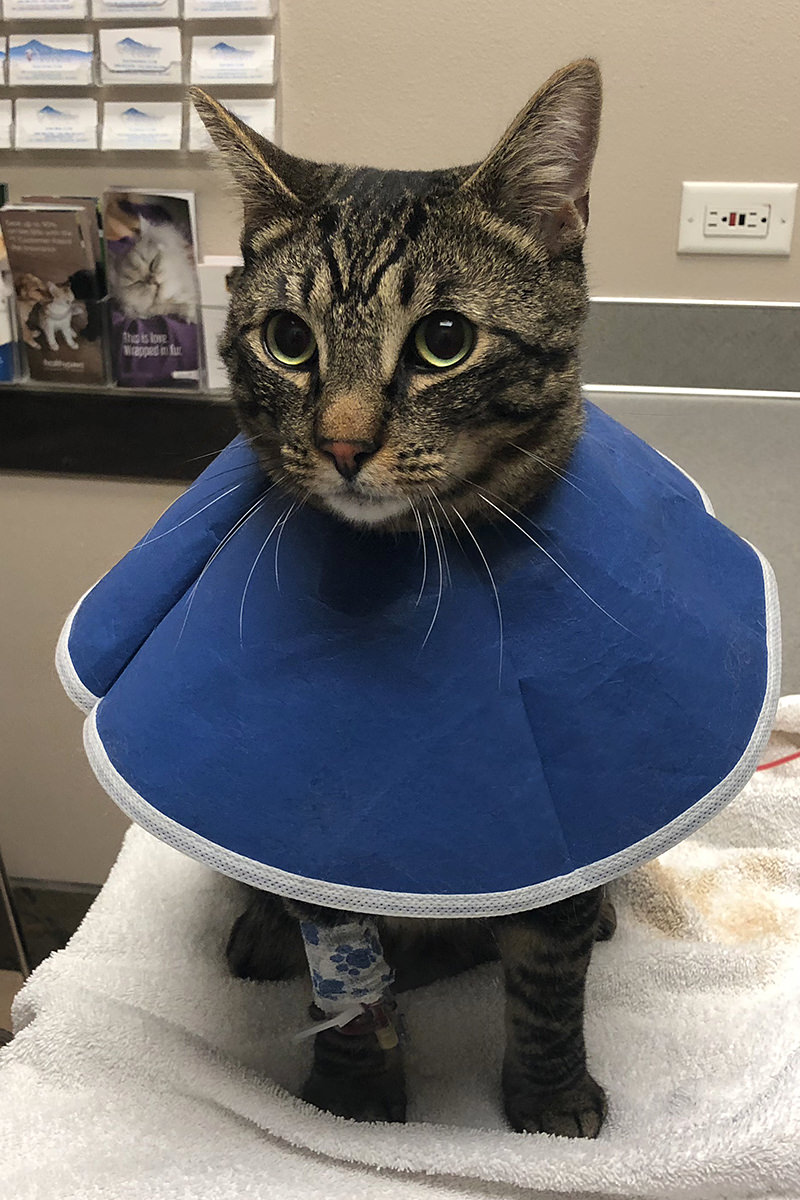 Then he could get in all the head-rubbing he wanted, which was a lot...
What he was happiest about was getting face and neck scratches. That cone makes it so he can't scratch himself, so once I got started he really didn't want me to stop...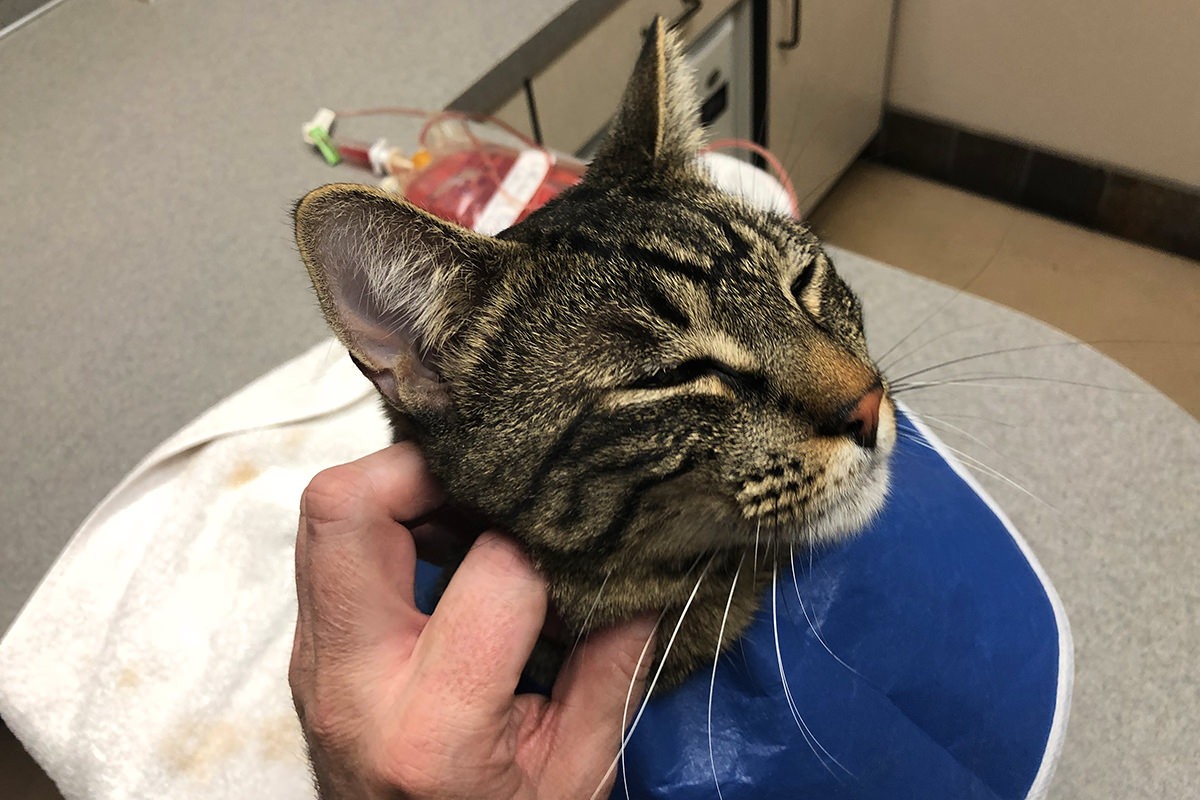 I stayed for 20 minutes so I could (hopefully) spend enough time with him that he will be set for affection while I'm gone. But all too soon it was time to go. I flipped his cone back in place and that was the end of that...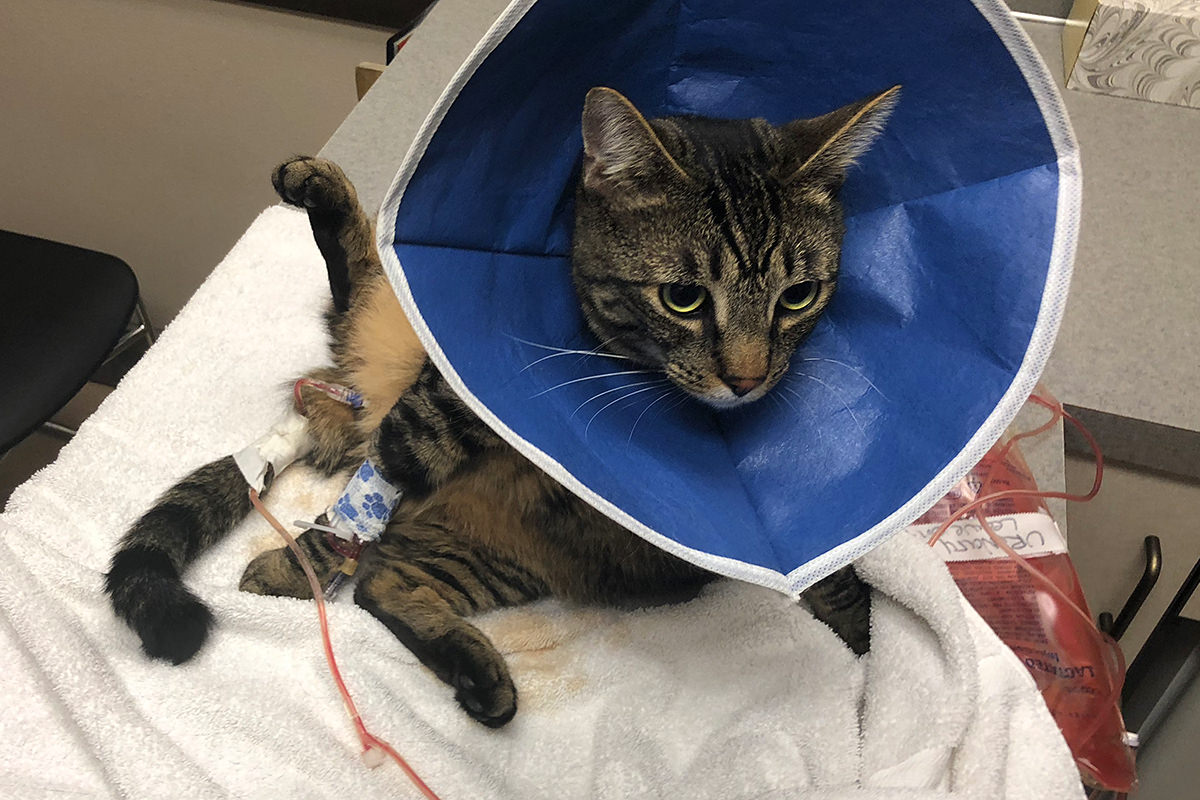 Really appreciate everybody's good wishes for Jake. He's such a sweet kitty that it's difficult to see him hurting.
And speaking of hurting...
Jenny is still not taking the absence of her brother well. She still wanders the house looking for him. She still cries when she can't find him. She still wants to spend most of her time hanging out next to me looking sad...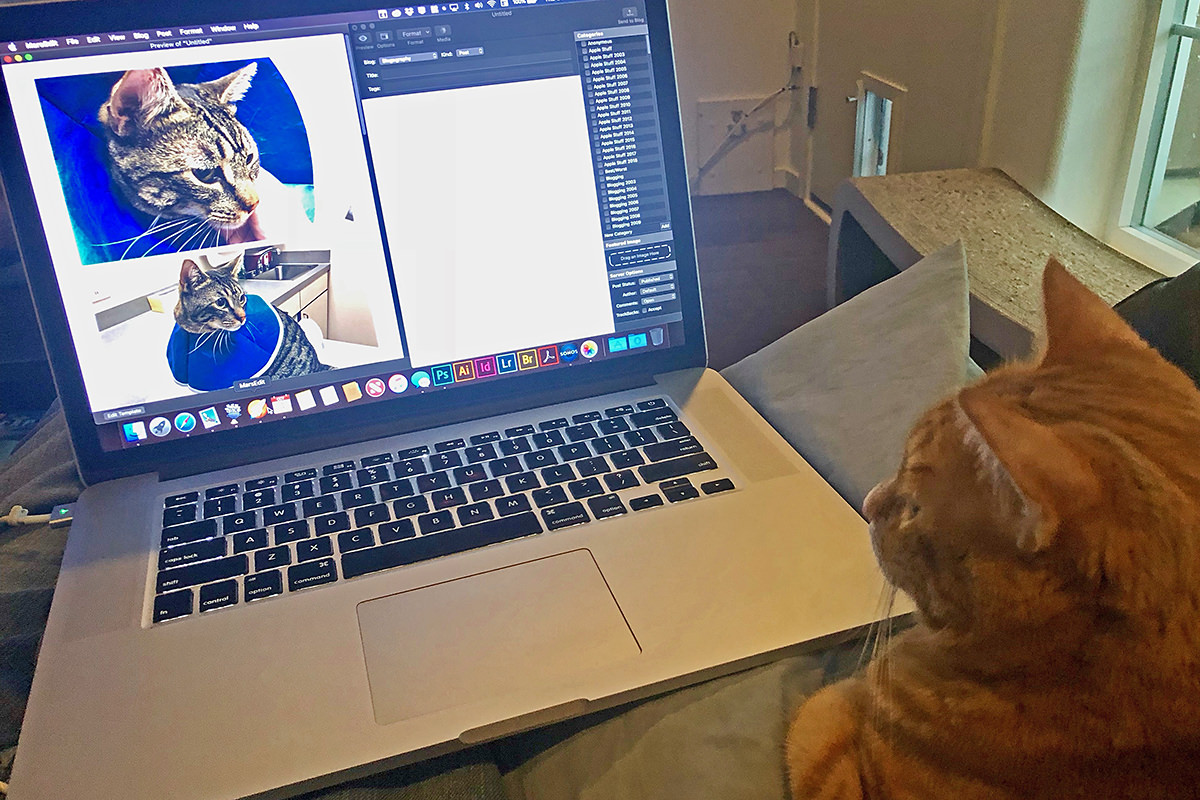 Hopefully her brother will be back in the house Monday morning... fingers crossed.
UPDATE: The minute I pressed "publish" Fake Jake decided to pay a visit and Jenny went screaming out into the catio. I don't know if she's confused and thinks it's Jake or what... but she did not run away when Fake Jake started climbing up the catio...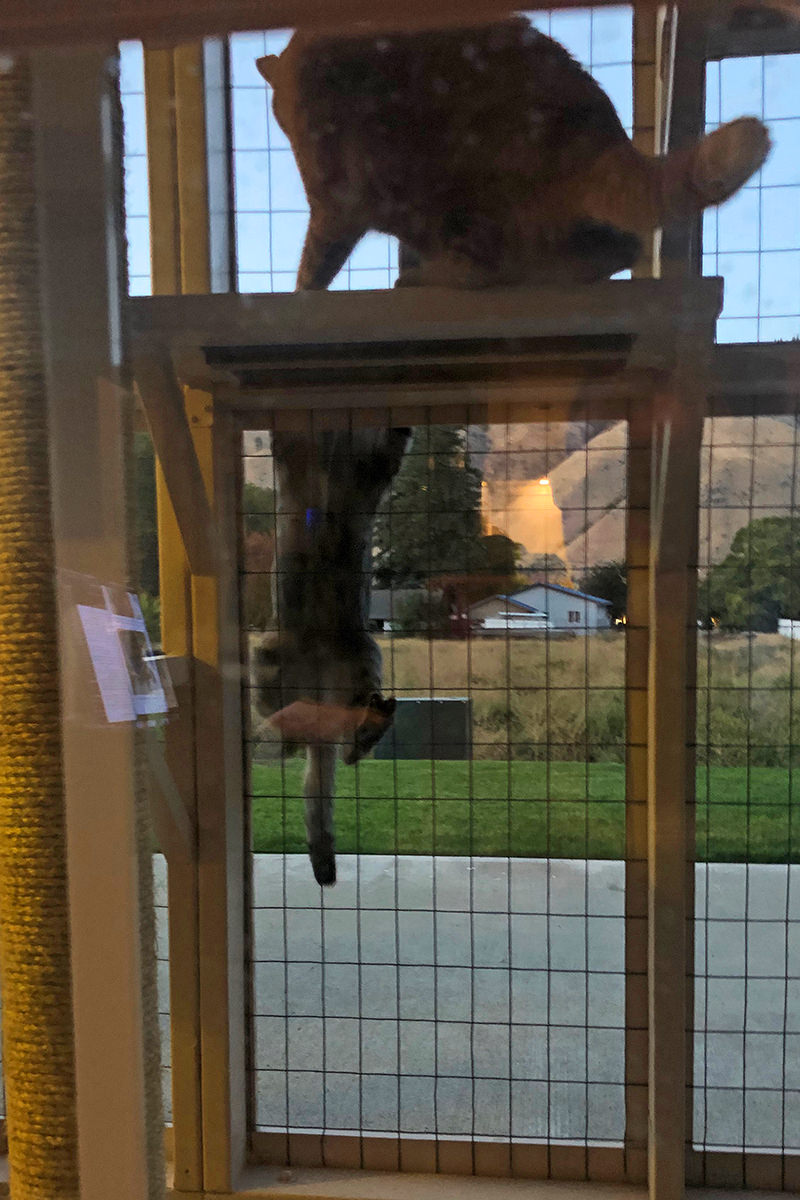 Usually, this kind of aggressive behavior would have her running into the house and hiding. Such a brave little girl. Something tells me she'll be fine on her own for a few days.
Posted on October 3rd, 2018

Things not going quite as well as we had hoped. Jake still has way too much blood in his urine, so no next steps can't be decided.
I got to visit him this afternoon. The poor little guy is so confused and scared. I've never been able to acclimate him to other people. There are people everywhere. He's terrified of other animals. There are animals everywhere. He's in a cone, which freaks him out because he can't see. He's tethered with a catheter and an IV, which is no fun at all. He's on drugs, which just heightens his confusion.
The good news is that I'm told he's usually sleepy and lethargic, so maybe he's not quite so bothered by it all. He was sure active when I was there though. He was rubbing up against me... probably wanting me to take him home...
So heartbreaking. It was all I could do to hold it together.
Things are not much better at home.
Last night Jenny was super excited when the dinner alarm rang. But when I put the food out, she wouldn't eat. Instead she wandered around... presumably looking for her brother. They have never not eaten together, so she was understandably upset. Eventually she just flopped on the floor of the guest room and nothing I could do would convince her to come eat.
After I left her alone for a while, she came back into the living room and lay next to me, but still wouldn't eat, even when I would hold the food in front of her...
She finally climbed onto the back of the couch and cried and cried and cried. Trying to console her just caused her to cry more, so I tried ignoring her instead...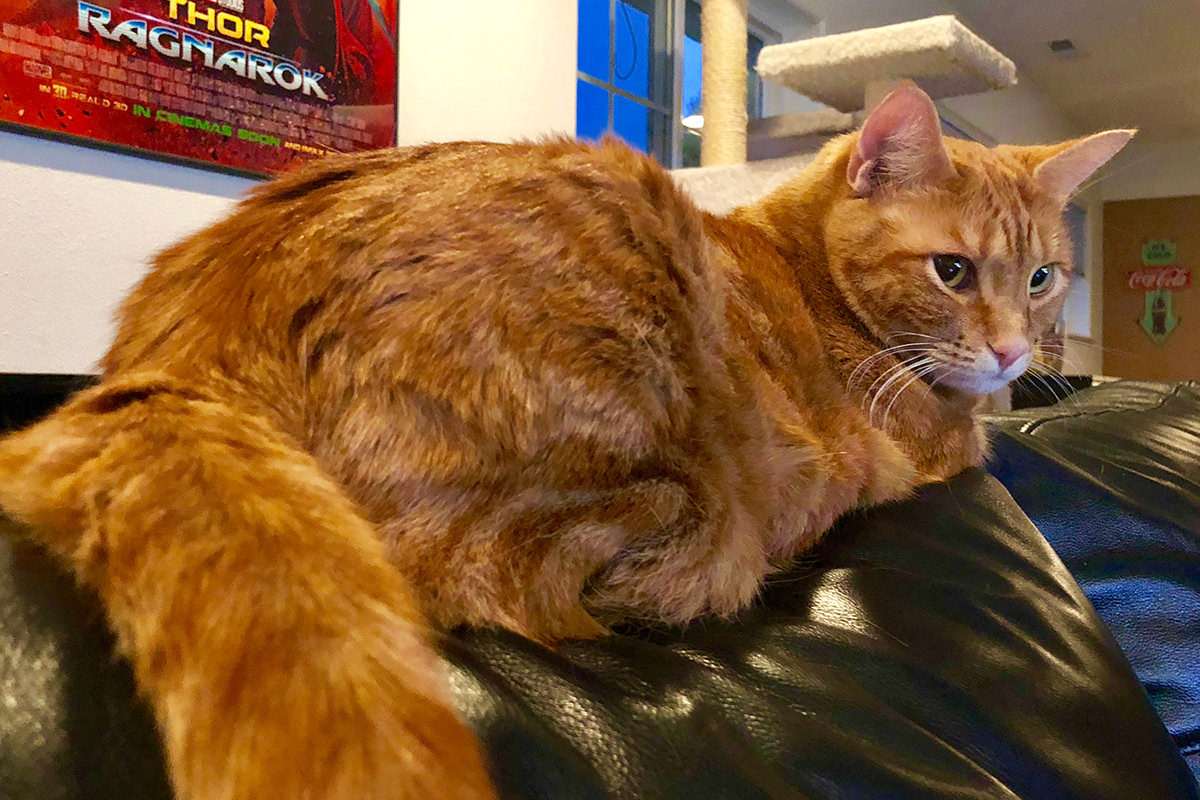 Eventually she gave up and went to sleep on the small couch. Still hadn't eaten. At one point I got excited because she woke up... but she just gave herself a pedicure and went back to sleep...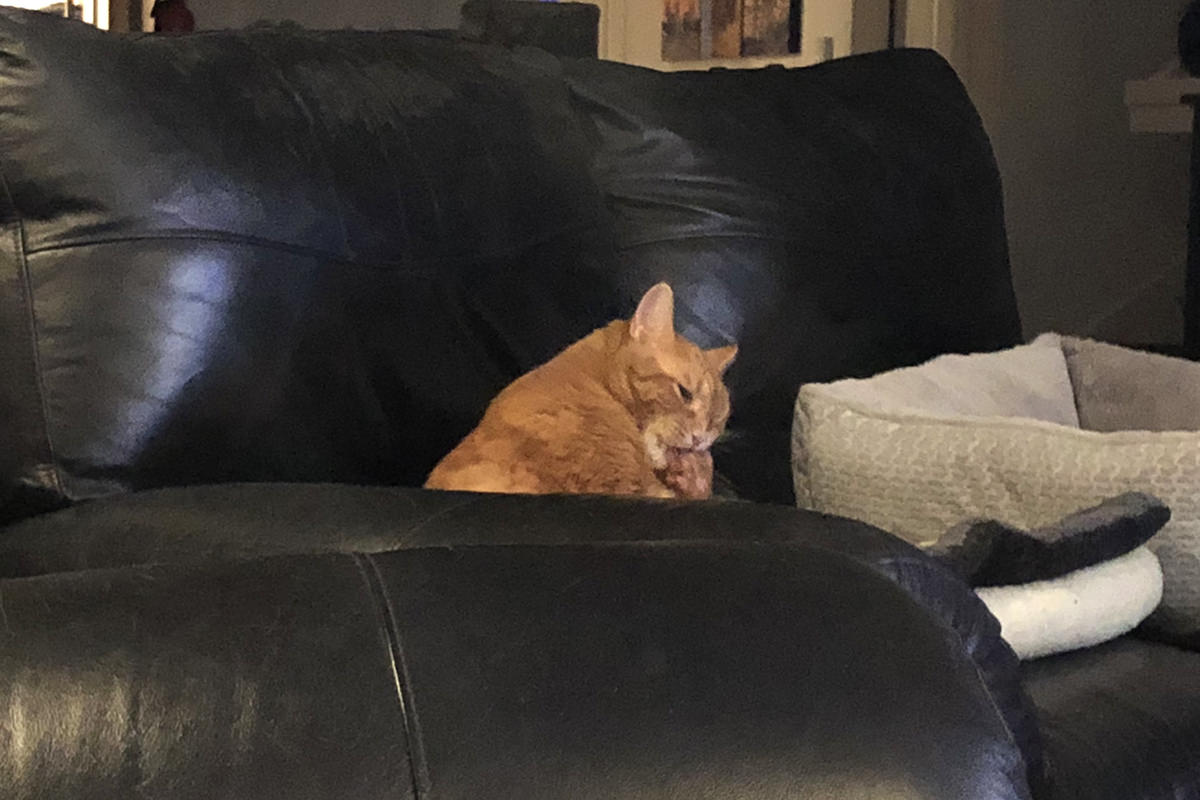 When I started turning everything off and packing up my stuff, she decided to go eat. At last...
After I turned in for the night, Jenny wandered in to fall asleep next to me.
I woke up to her meowing again around 5:00am. Still looking for her brother.
It was around this time that Jenny realized I was laying on a heating pad. She then flops down and uses her back to keep pushing me over until she's claimed the whole thing. I tried explaining that I need the heating pad for my back or I won't be able to bend over to feed her breakfast, but she did not care. Here's me trying to slide her over a little bit... note the foot kicking me away. She is NOT having it. Oh well. I didn't need a back anyway...
After taking a shower, she was still soaking up the residual heat from the pad (which I had turned off). Guess it's time to pull our "her" electric blanket...
Really, really hoping that Jake has improved when I visit him tomorrow. It would be so much easier to climb on a plane Friday morning if I knew he was getting better.
Not that climbing on a plane is going to be easy. Poor Jenny will be all by herself for the first time in her life for three days.