Posted on December 8th, 2018

The day before yesterday was Jake and Jenny's third birthday and it was a day-long celebration. For breakfast they got the horrific stinky sardines that they love so much. For dinner they got even stinkier fish stew plus kitty treats for dessert. I also gave them the two Maine catnip toy presents I bought while I was in Other Portland. So... not a bad day to be my cats.
Though, let's be honest, every day is a good day to be my spoiled kittehs!
Seems like just yesterday they invaded my home...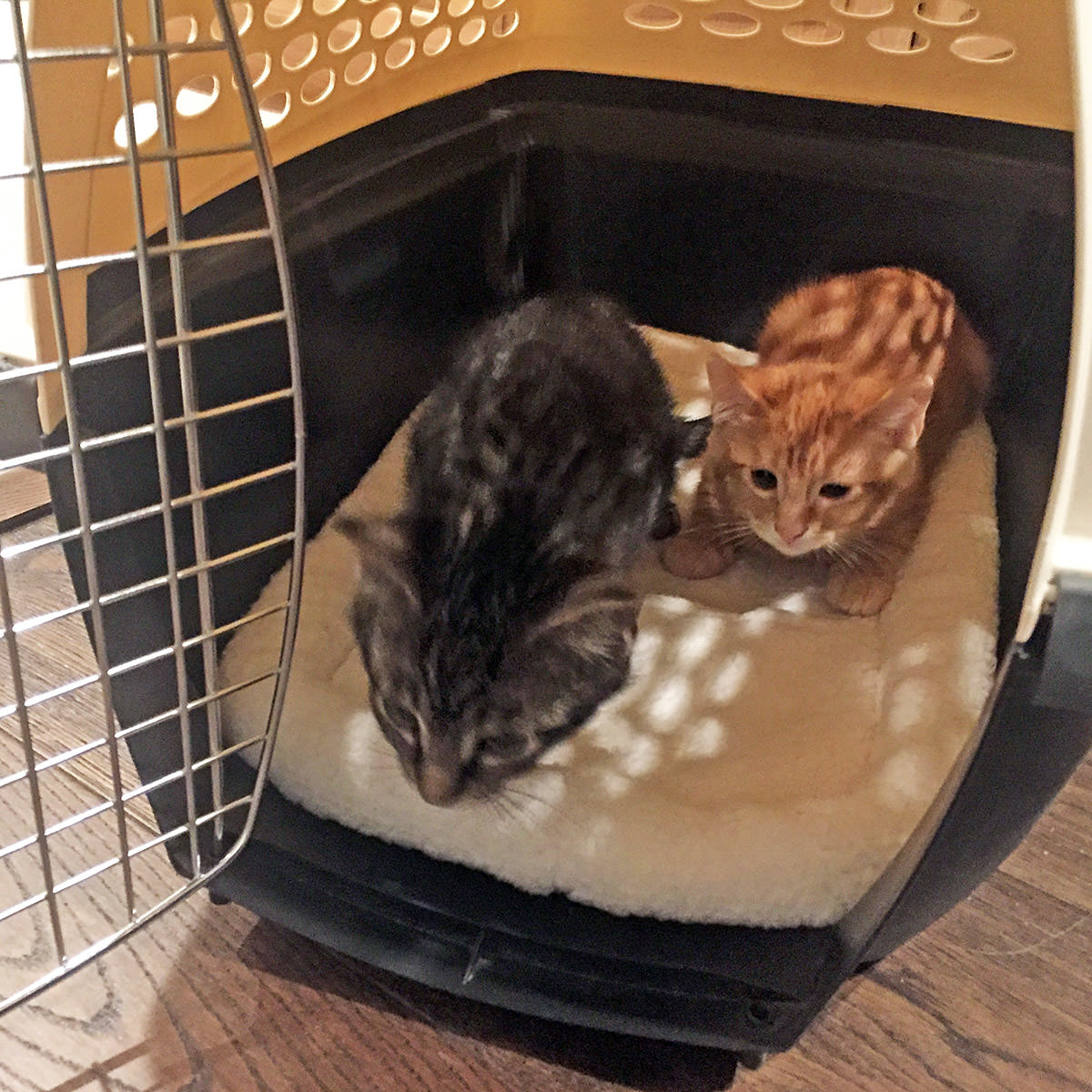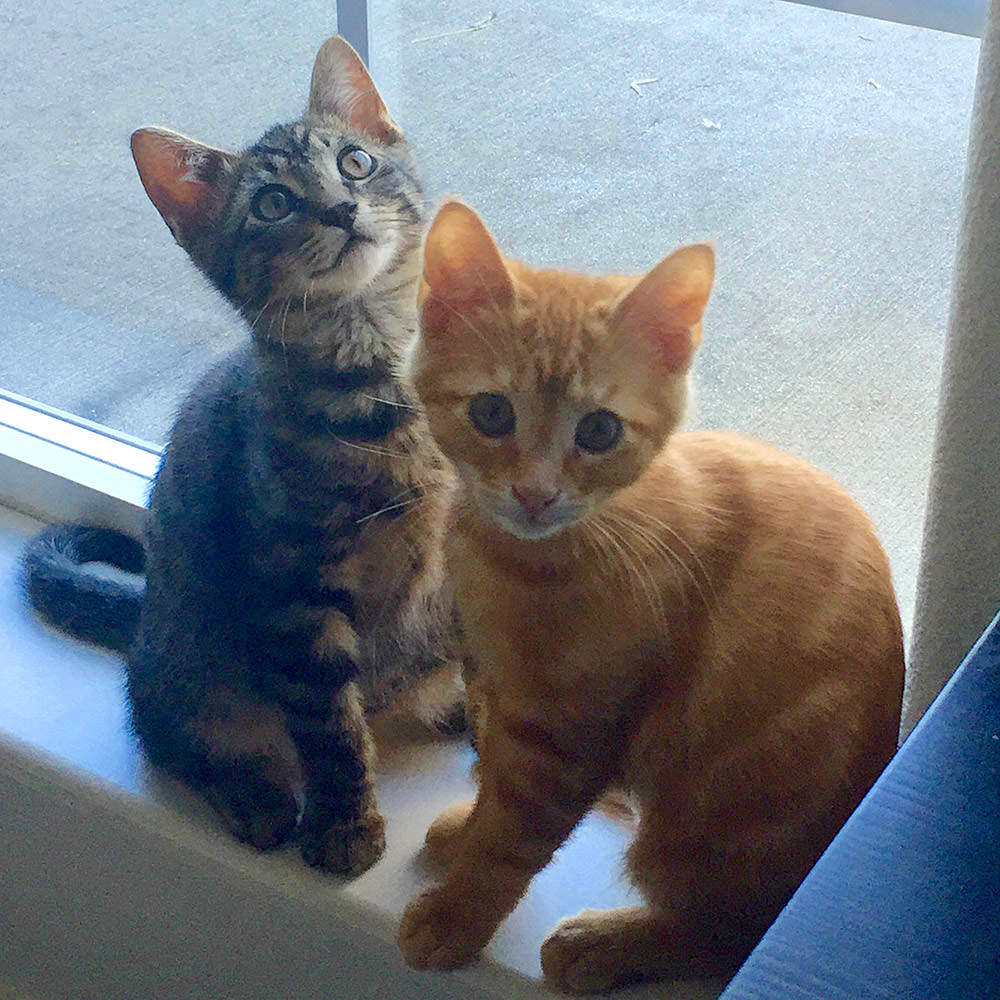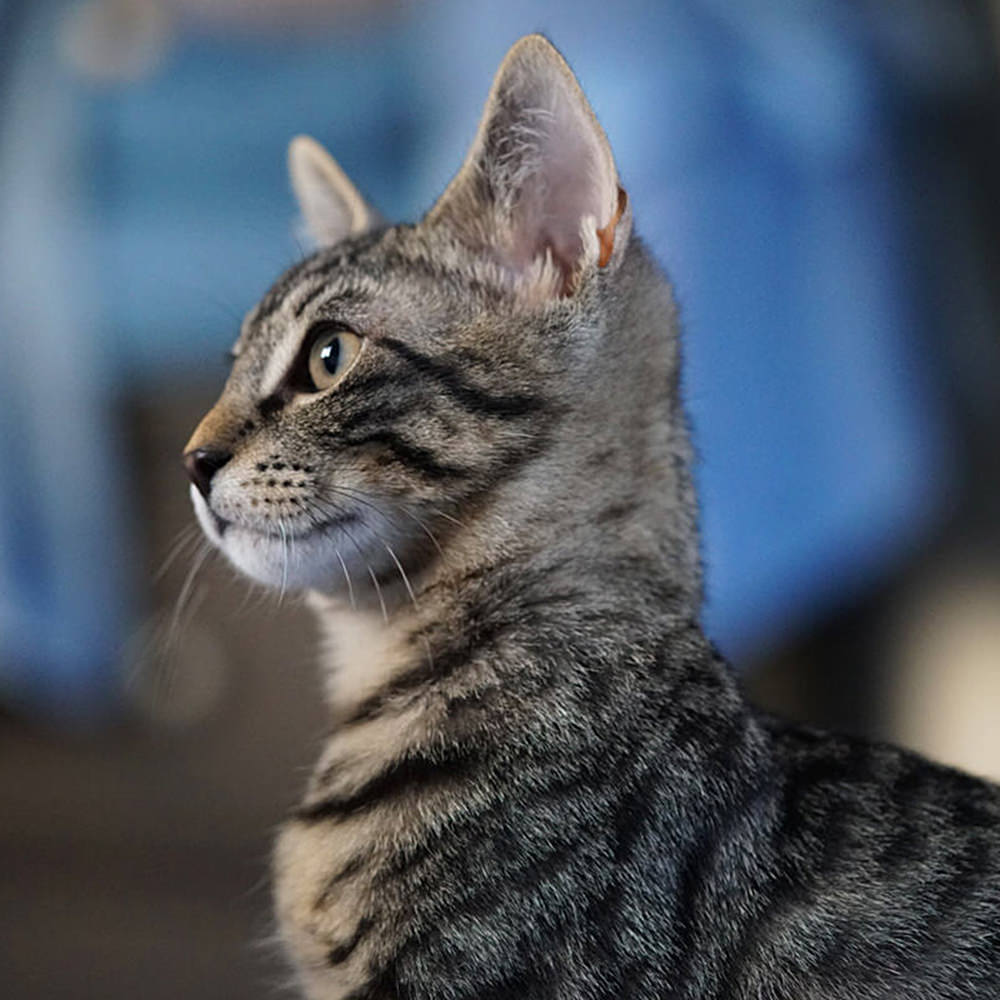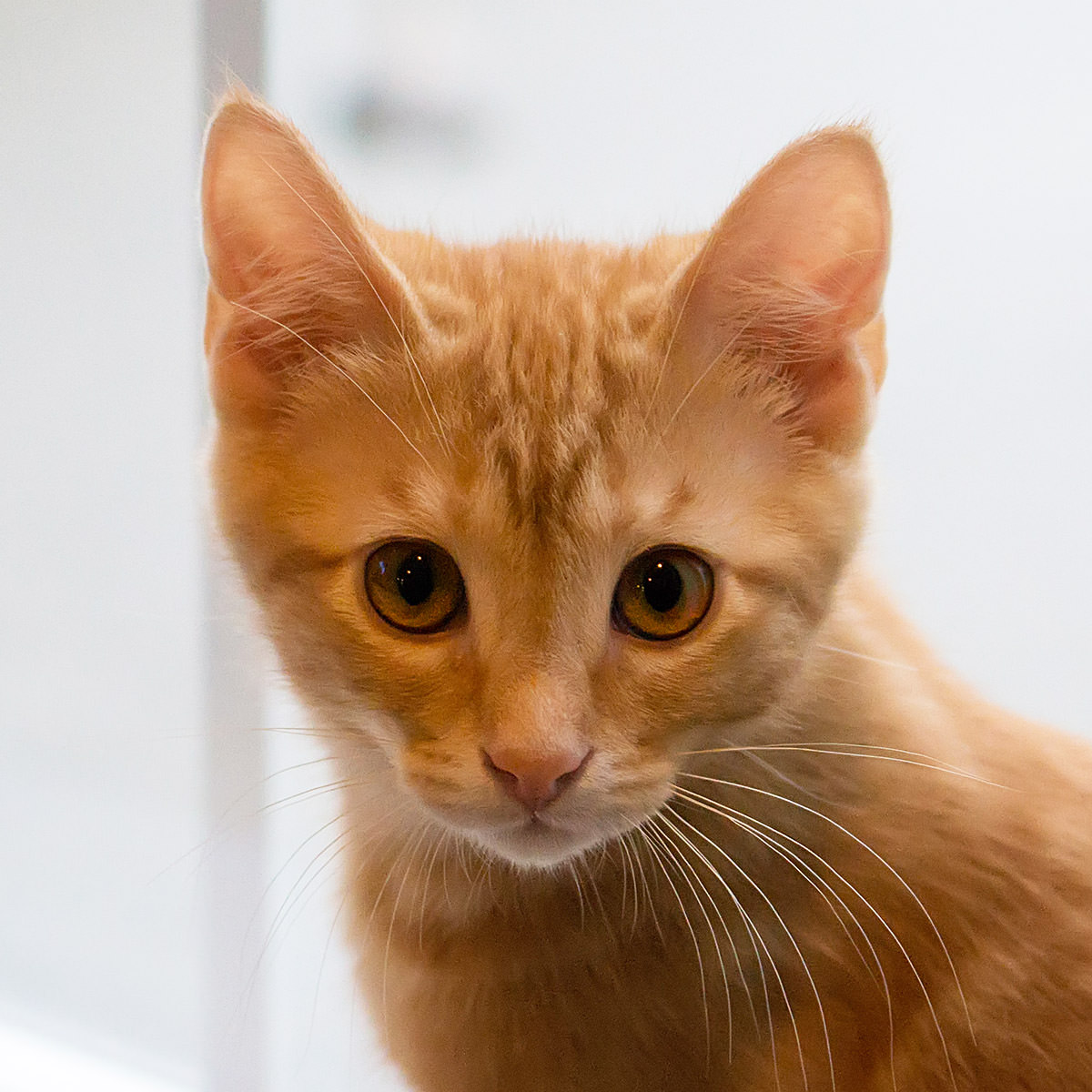 Which brings us to my favorite photo of Jake and Jenny ever...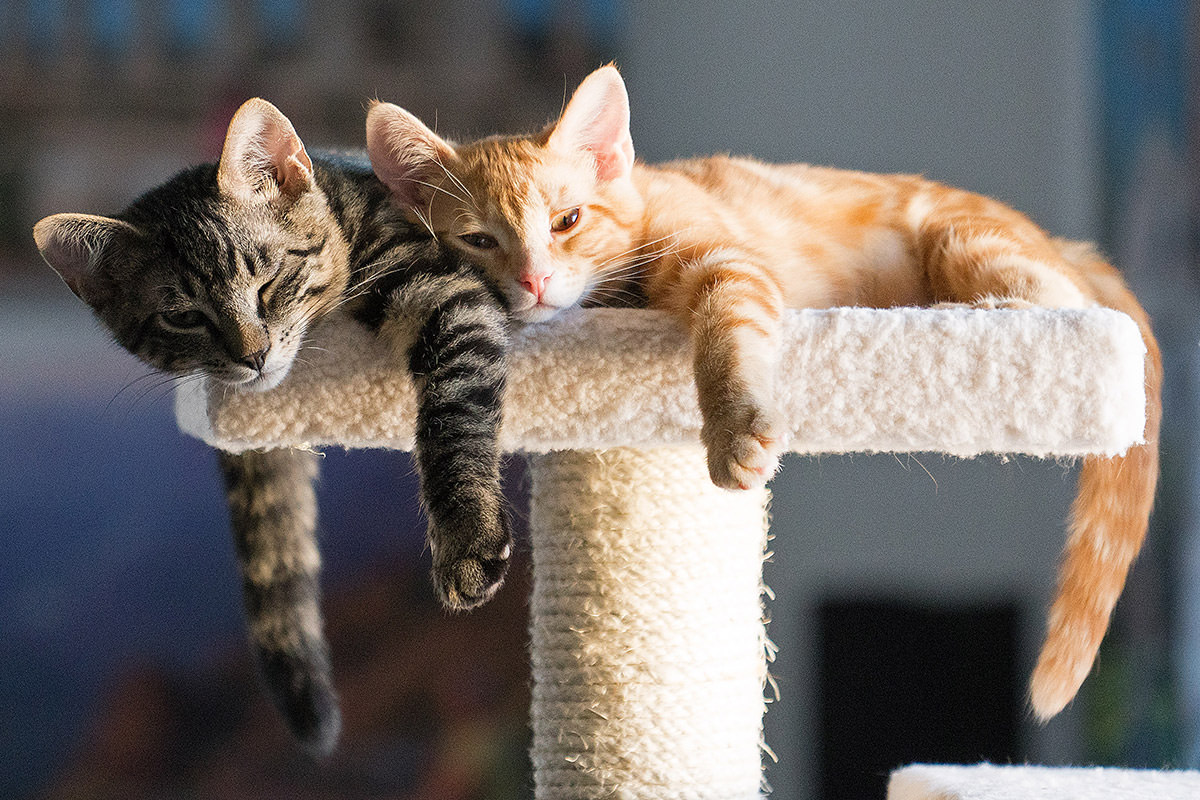 Adorable, aren't they?
They're just as adorable today... but a bit bigger...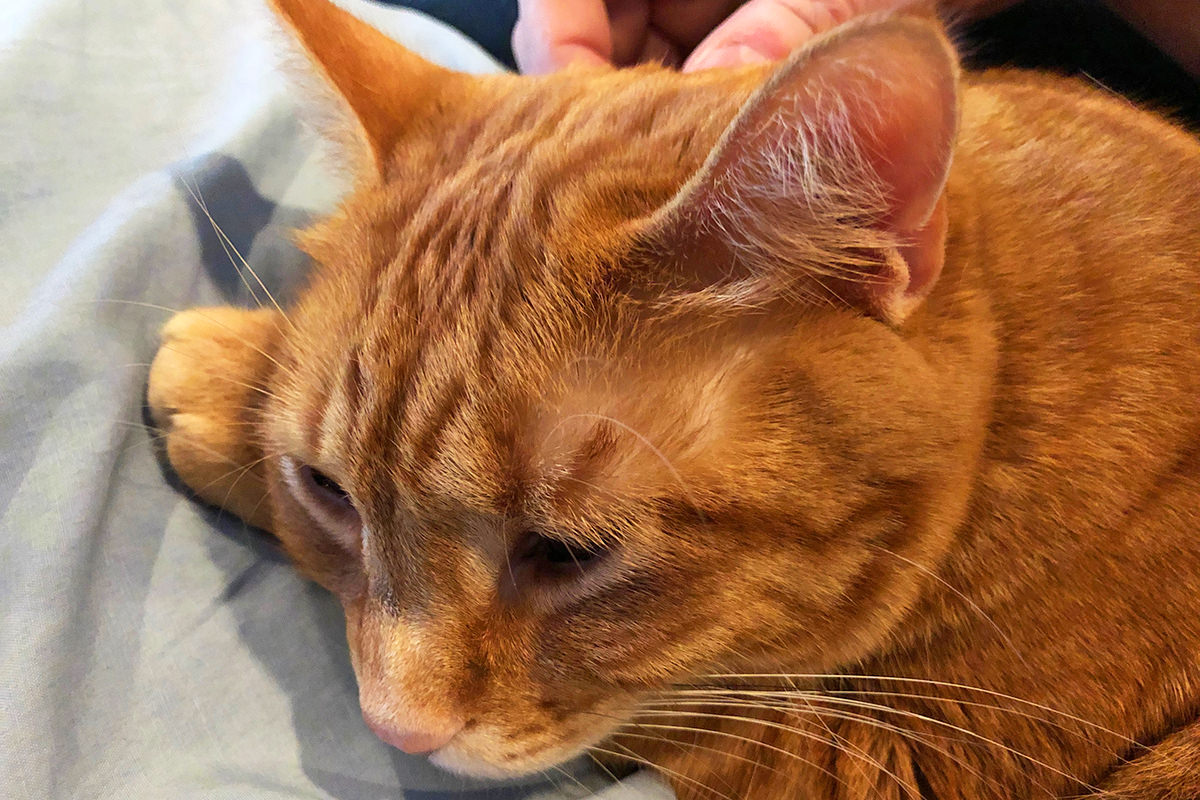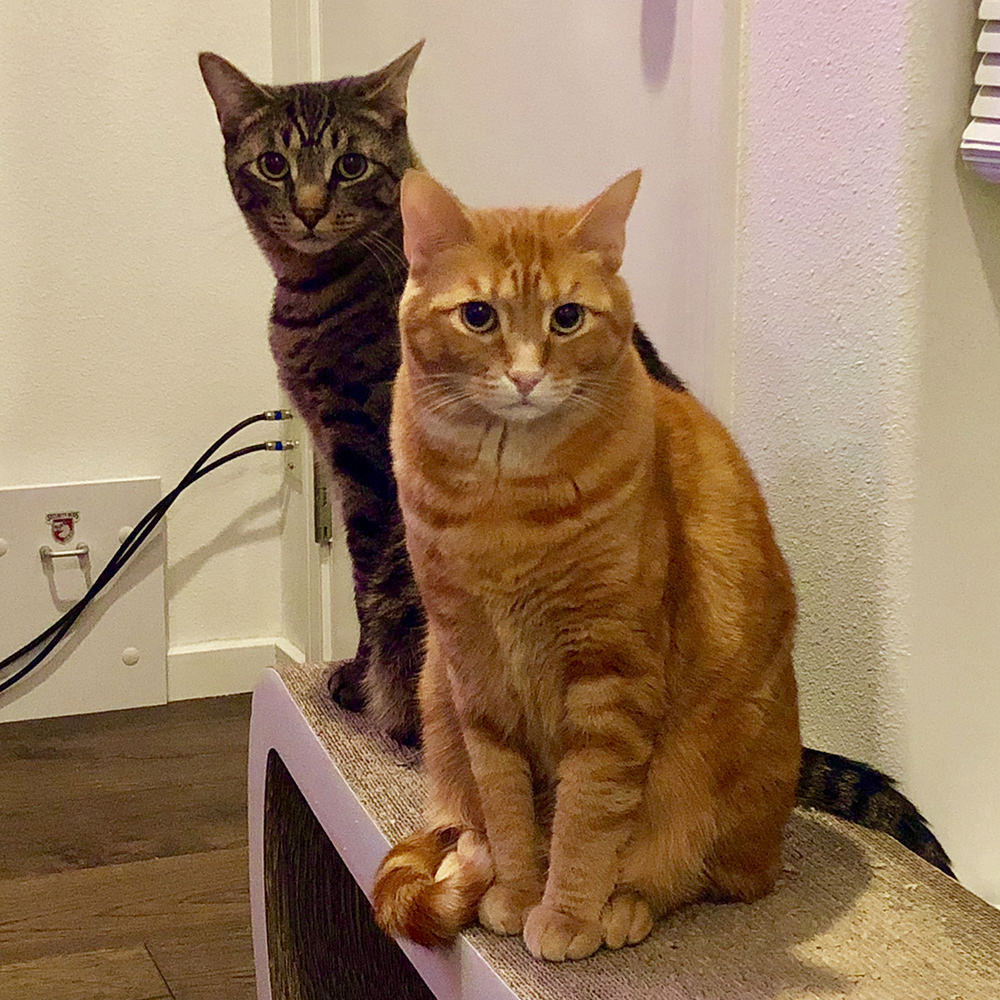 Way back in January I listed my nicknames for my cats. As I was reminiscing over the past three years, I thought to go back and revisit them. Surprisingly, they've changed quite a bit. Though Jake is still "Jakey Bear" 90% of the time, I still mix it up a bit for him. Jenny is almost always "Jenny" and I rarely use nicknames for her anymore. No idea why.
Nicknames for Jake:
Jakey Bear
Sweetie Bear
Pooh Bear
Poo
Poo Head
Poopie Butt
Pooper
Poopernoodle
Pooper Trooper
Super Pooper
Poopinator
My Little Vet Bill
The Six Million Dollar Cat
Thank God I Have Insurance
Nicknames for Jenny:
Jenny Bean
Sweetie Girl
Poo Two
And, on that note, it's their dinner time in three minutes, so I guess I'd better wrap this up. Heaven only knows I wouldn't want to keep them waiting!
Posted on December 6th, 2018

It's Jake and Jenny's birthday today! And, miracle of miracles, I'm actually here for once. Last year I was in Antarctica. The year before that I was flying to Maine. Today I was supposed to be in Maine, but got to fly home early.
Since Jake and Jenny were feral rescues, I'm not quite sure how the Human Society came up with their birth date. Maybe the person who found them saw when they were born? I dunno. But December 6th is what's on their adoption papers, so that's what it's been.
It doesn't seem like it's been three years.
But since 3 cat years is about 30 in human years, maybe it seems longer to them? Next year they'll be 35 human years old. At this rate they'll be older than me in 2023!
Jenny spent her birthday terrorizing her brother.
Jake spent his birthday chasing after his sister for terrorizing him.
Typical Jenny. She sneaks up behind Jake and waits...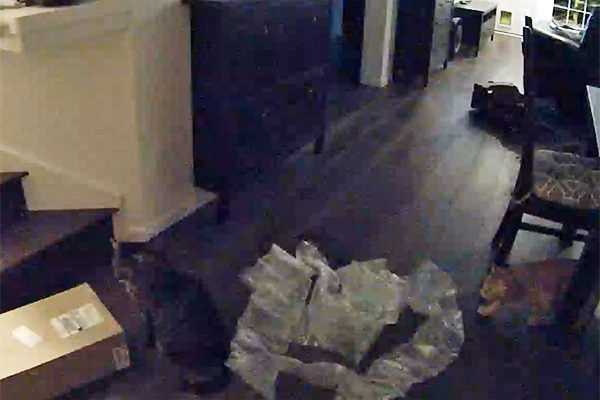 Then when she's sure he hasn't heard her, she pounces...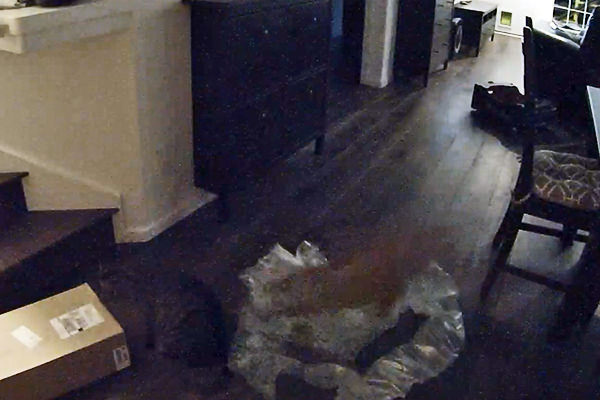 At which point Jake jumps four feet in the air...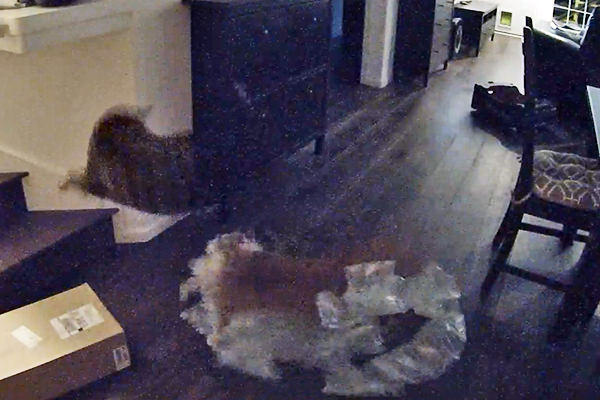 And a chase ensues.
You can watch the video below. It's pretty spectacular...
I don't know why Jenny feels the need to act this way toward her brother. Maybe it's because he's always invading her sleeping space? I dunno. Sometimes she seems happy to have the company...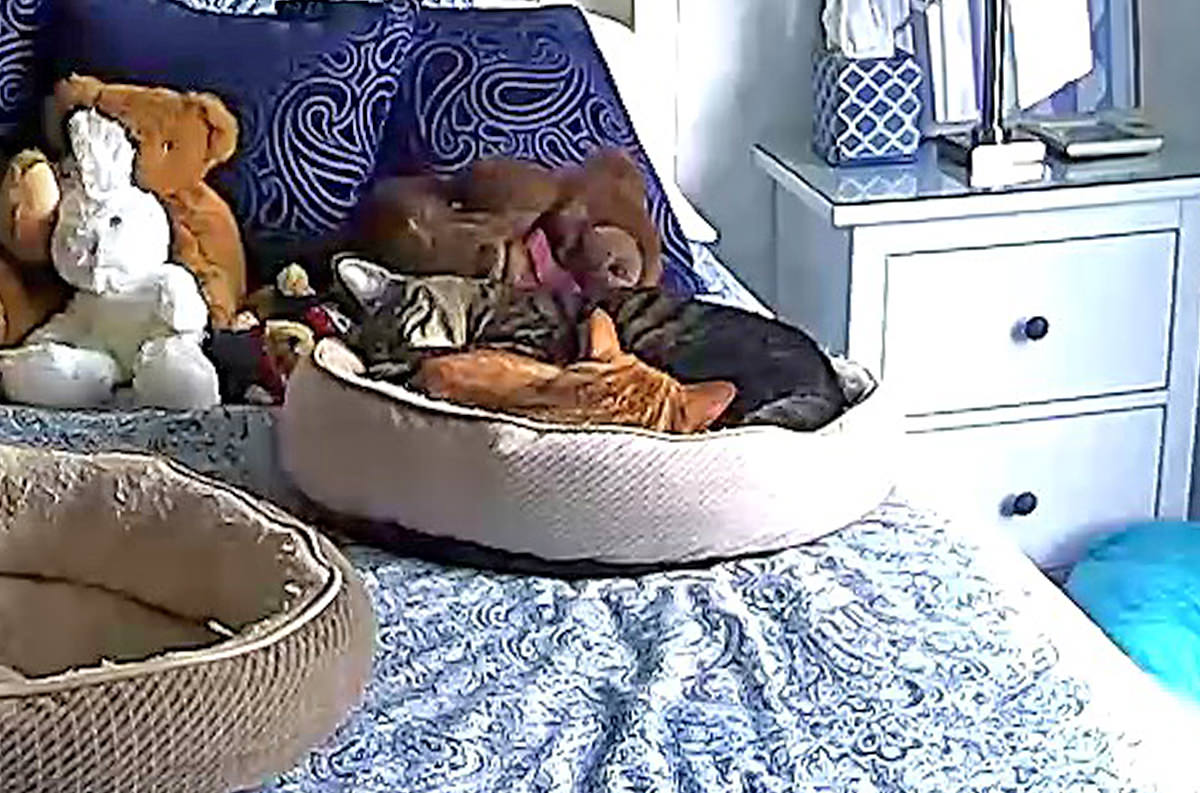 And so... happy birthday, cats!
Adopting you both is still one of the best decisions I've ever made!
Posted on December 4th, 2018

Originally I was to fly home on Thursday. This "buffer time" was in case weather caused me to arrive late or there was a problem at work that delayed my leaving by a day or two. Well, there were indeed problems at work (we started four hours late) but, fifteen hours later, I was free.
Exhausted to the point of feeling like my brain had melted. But free.
So instead of waiting until Thursday night to fly home, I rebooked my return trip for tonight. I lost my premium seat, but I'll take getting home two days early in a coach seat any day.
After two days without sleep, I managed to sneak in a four-hour nap at my hotel before they kicked me out. Then there was a 45-minute drive down to Portland for dessert for lunch...
Followed by shopping for new Dr. Pussum's Organic Maine Catnip toys that my cats go crazy for...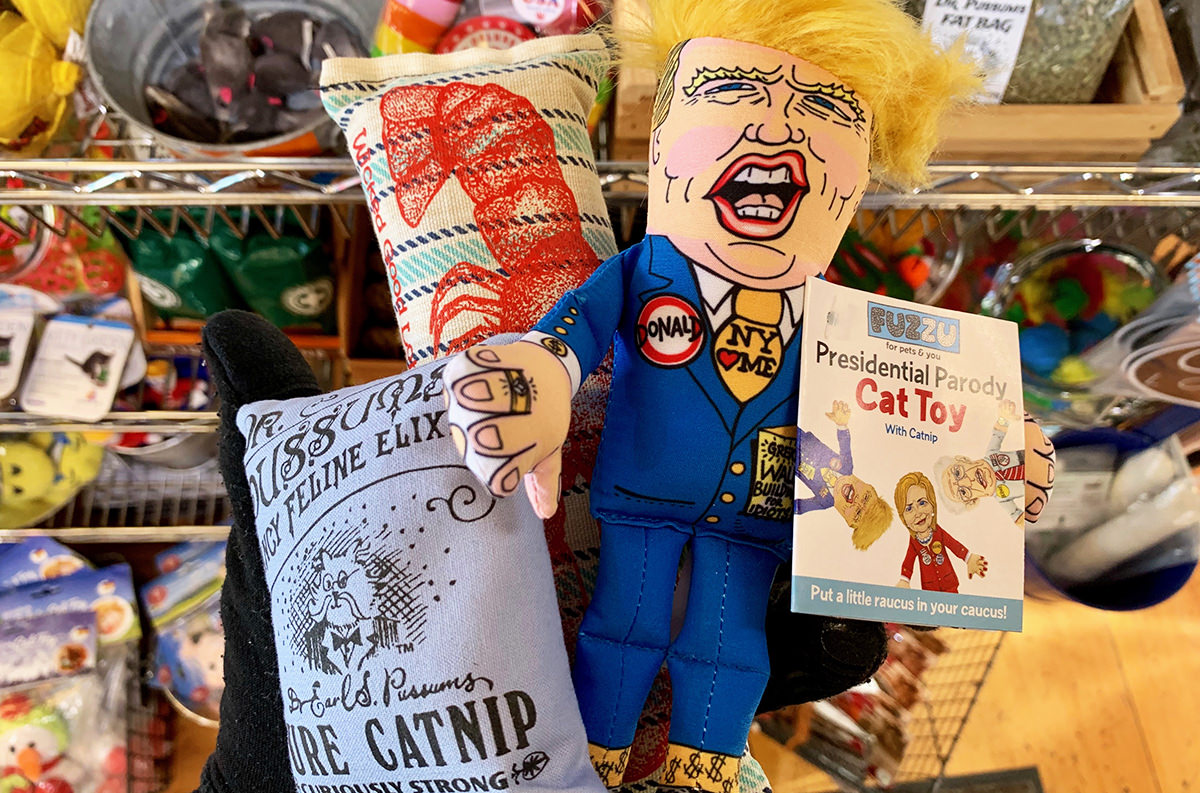 And, no, I decided against buying a President Trump toy. If Jake and Jenny want to play with something like that, they can dig in the litter box.
The remaining 100 miles to Boston Logan International Airport blew by in two hours and... viola... here I am flying home... TWO DAYS EARLY! Can you believe my luck?
Sure I'll get home after midnight and still have to go to work in the morning, but still... home.
Posted on December 2nd, 2018

December is here and you shopping days are numbered. But don't despair... because the greatest gift of all is here! Bullet Sunday starts now...

• Cap! I didn't think it was possible for me to want to see Captain Marvel more than I already did... but then this poster was released...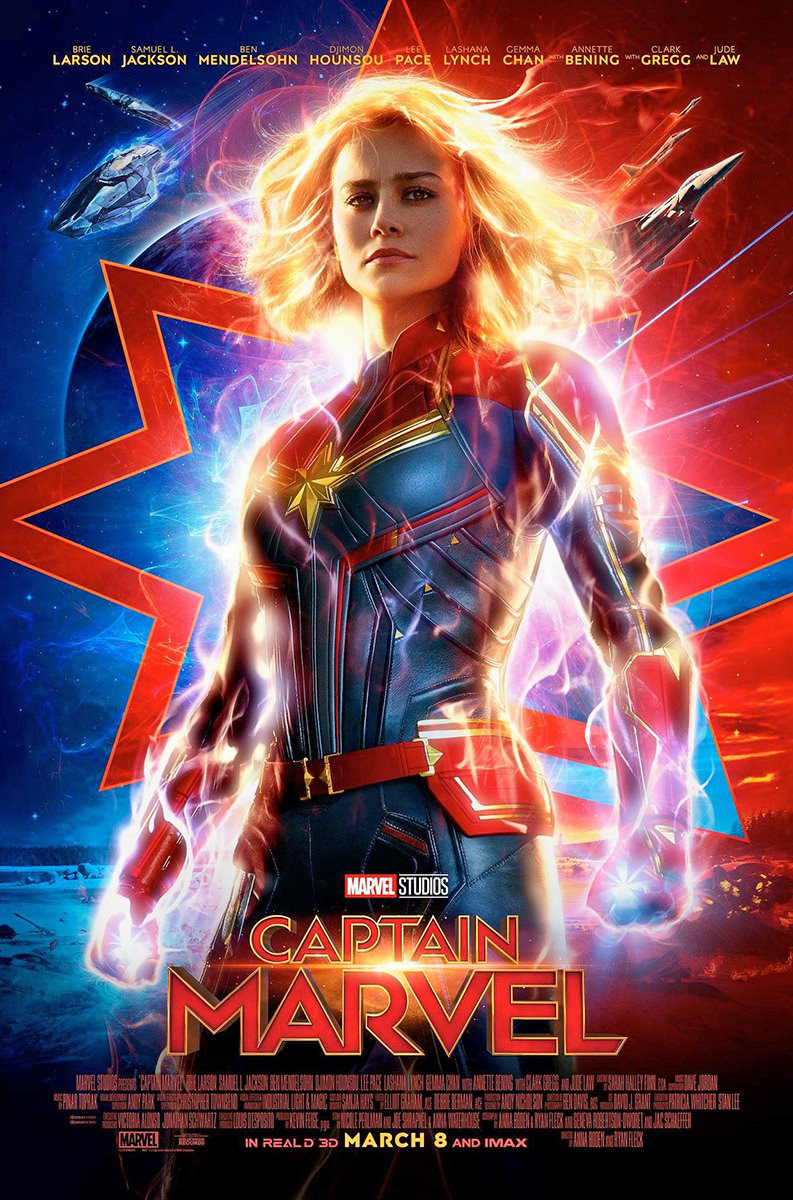 UPDATE: And then the second trailer was released...
And holy crap am I dying to see it now!

• SO CUTE! And now I want kittens! Again!
But... Jake and Jenny are plenty of cats in my house, so I'll just have to keep watching YouTube videos like this.

• A Catch! Speaking of cats and YouTube... my current obsession is watching cats catching fish videos...
Amazing. I don't know why I always thought that fish were an unnatural food for cats. Something that we humans got them addicted to. Maybe because most cats don't like water? But now that I've seen it? Makes perfect sense.

• Becoming! I purchased the audiobook of former First Lady Michelle Obama's Becoming because I wanted the experience of having her read it to me. I'm half-way through and it does not disappoint...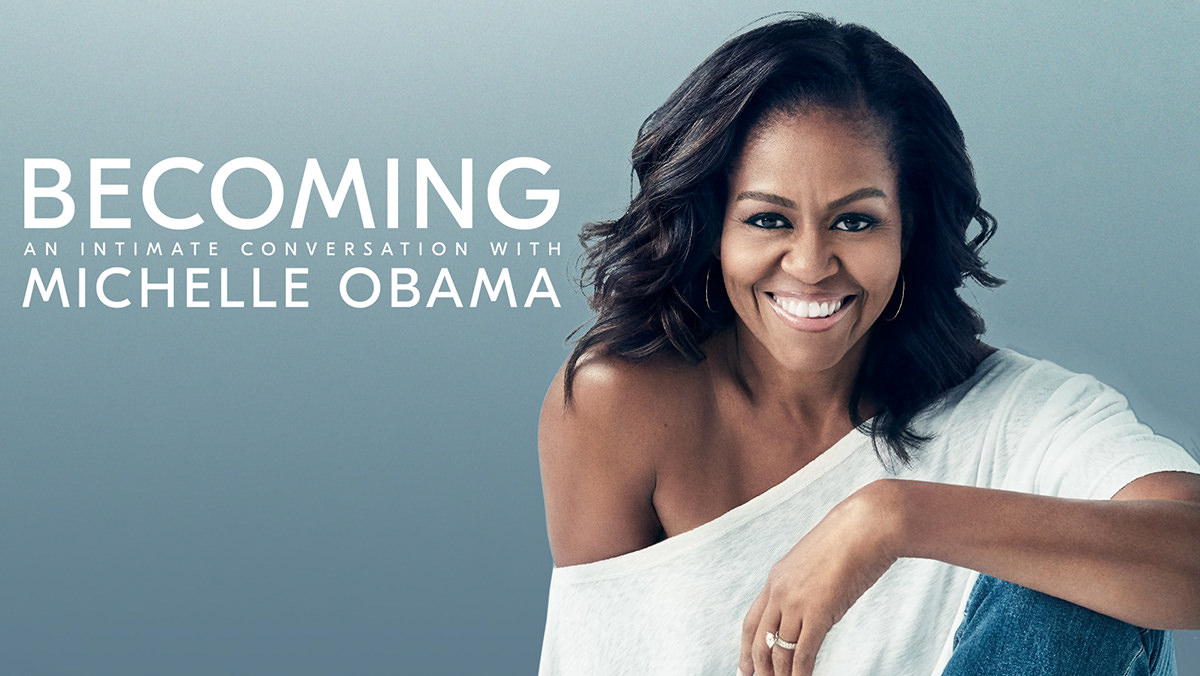 Of course Obama-haters were going to crap all over her no matter what she wrote... and people hoping for dirt will be better-served elsewhere... but I enjoyed going behind the scenes of her life from her own perspective. Mrs. Obama's ability to advocate for hope is inspiring, and I found her words was a welcome distraction.

• IN THE NEWS! "REPUBLICAN SENATORS WHO TRIED TO KILL YEMEN WAR RESOLUTION WERE PAID BY SAUDI LOBBYISTS" — We truly do have the best government money can buy. This is fucking disgraceful. For the life of me, I don't understand why Americans aren't rioting in the streets over this bullshit.

• A Man Called Ove! I've seen this remarkable Swedish film four times now. I think I love it more with each viewing...
I honestly don't know how to feel about Tom Hanks doing an American remake. Usually Americanizing a foreign film doesn't bode well, but... Tom Hanks. I want so badly for it to be good. If, for no other reason, that Americans who don't like watching films with subtitles will get to see this terrific story.

And that's the end of that. Fun times await me, as I'm flying out tonight.
Posted on December 1st, 2018

After Jake got back from his procedure to get his urinary tract unblocked, he was peeing a dozen times a day. You could tell he was frustrated and upset about his many, many trips to the litter box, but the medications we tried didn't do much to help. Rather than put him through even more torture of shoving medicine down his throat, I decided to be patient.
Two months after I first took him to the vet... and he's finally back to peeing normally. For the past week the Litter-Robots have been reporting 7-8 cycles per day. When dividing that between two cats, it's 3-4 times a day per cat, which is right where it had been before all this drama started.
To say I'm relieved is an understatement because I'm leaving for a short trip tomorrow. Yes, I've got a cat-sitter checking in and, yes, I've got a security system to keep them safe and cameras to look in on them... but it's not the same.
A part of my cat separation anxiety comes from feeding them. My original auto-feeder, the Feed-and-Go, was bricked and became non-functional when the monsters who made it shut down without warning anybody. Despite how it all ended, I liked the Feed-and-Go because it allowed me to remotely feed my cats if I noticed that Jake ate all of Jenny's food before she got to it or something. I've been looking into other internet-enabled feeders, but haven't found one I like. I bought a timed feeder ages ago as a backup, and decided to try that. I was going to order a second one, but apparently there's no way to sync their clocks which means you end up with one activating before the other. The solution was to buy a "splitter" that will feed two cats from the same feeder...
Problem is that the bowls are too close together, and sometimes Jake can block Jenny from getting to her meal. Also, the drop to the bowls is so high that food was bouncing out of the bowls and onto the floors. My solution for that was to build little chutes to transfer the food farther away...
All it took was cutting the drip well from a couple black plastic paint roller trays I found at Home Depot and taping them to the splitter. Not only does it allow the bowls to be farther apart, the change of angle slows the food pour so it ends up in the bowls instead of bouncing out onto the floor.
In other cat news, I noticed that Jenny has a floopy whisker that curls up. I think it might be due to her digging her face into the edge of the warming pad and laying there for hours. And she sleeping in the same position every day...
I've tried curling it back down, but it doesn't stay. She doesn't seem bothered about it so I guess it'll be that way until it falls out.
Jake, on the other hand, flops around every-which-way when sleeping, so he's floopy-whisker-free...
And so... guess I'd better be packing my suitcase.
Posted on November 27th, 2018

How could I ever be lonely?
I'm never left alone for very long in this house.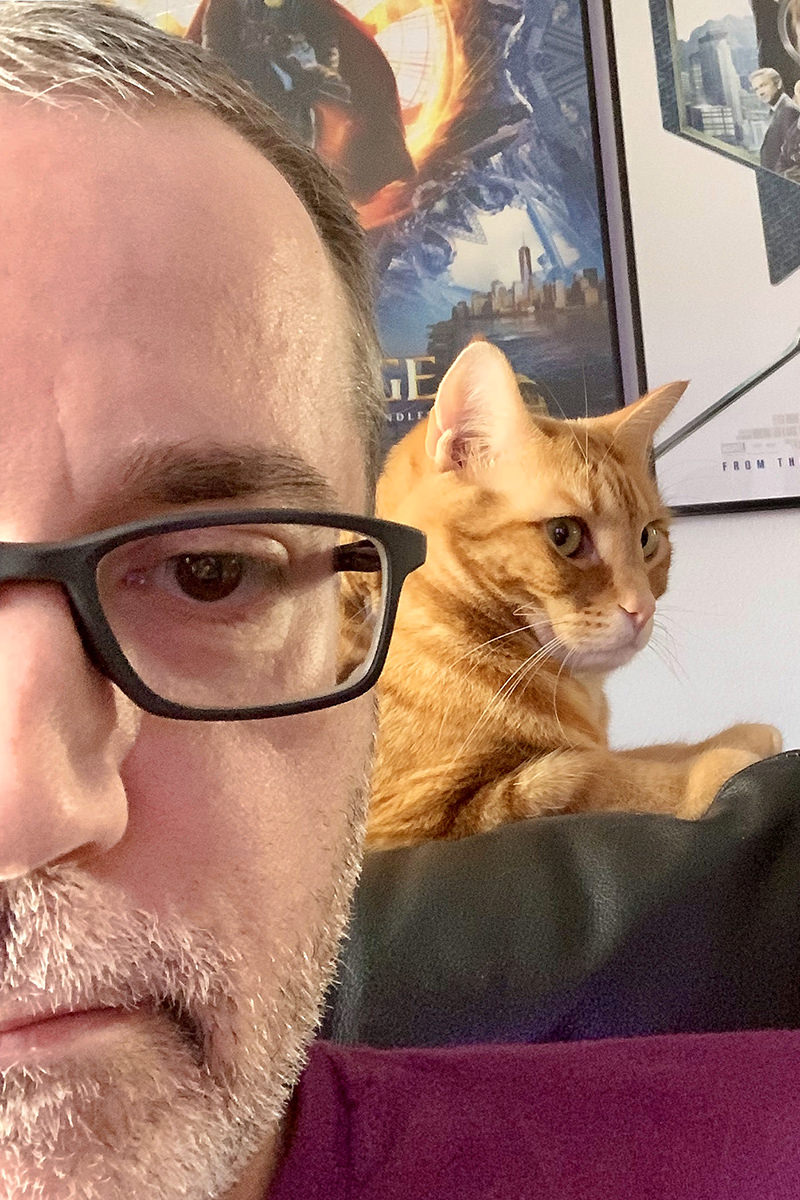 Posted on November 24th, 2018

This morning I woke up at my usual 5:30am. About ten minutes later I heard the = whirrrr crunch = of a car sliding on frosty roads and running into something. This happens a lot in early mornings this time of year.* It's slick enough to cause a problem if you're going too fast... but not so slick that they are sanding the roads because the frost melts as soon as the sun comes up.
The commotion got the attention of my cats, who decided to go bat-shit insane. They would haul ass from my bedroom window down to the catio and back again trying to see what was going on. Alas, nothing was visible, so there was nothing to see and the cats went back to staring at me in the hopes I'd serve breakfast early.
Today was the day I got the holiday lights from the HOA to hang them around the building. I don't celebrate Christmas, but they sure look pretty hanging outside my window...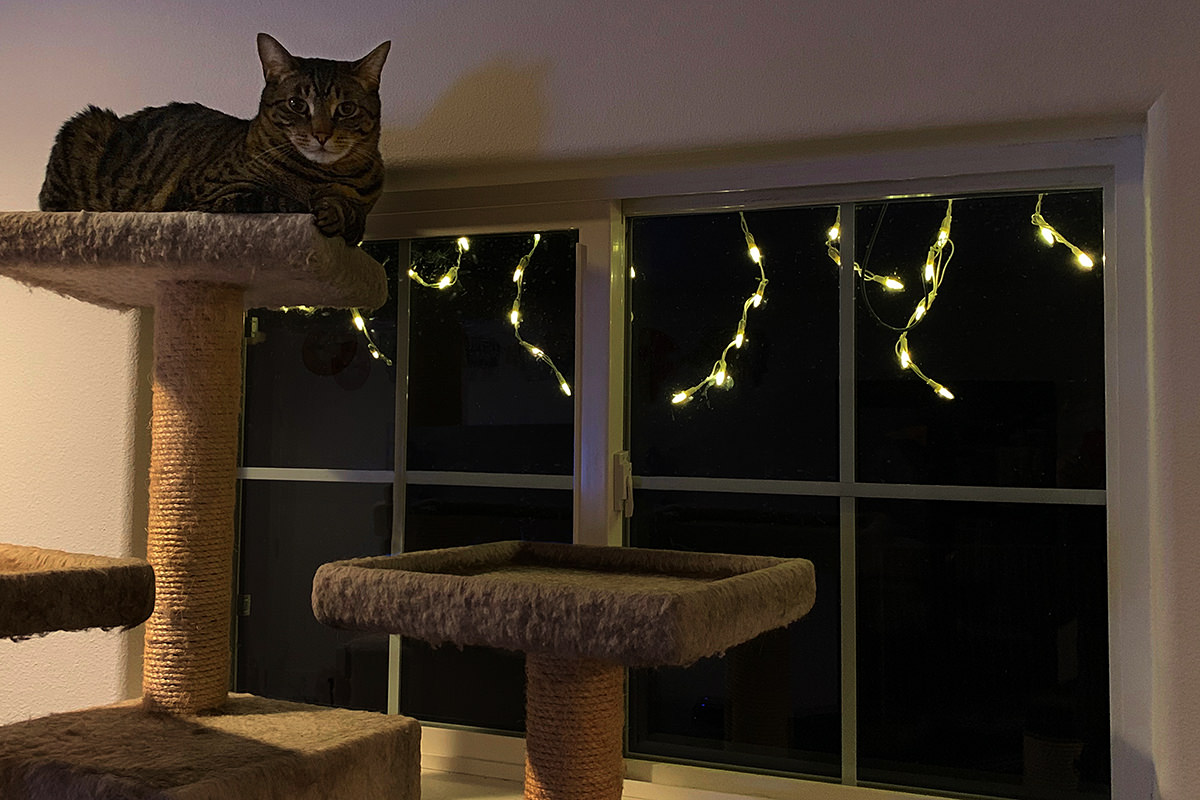 Jenny is not interested in the lights much, but she did hang with me for a while and watch cat videos...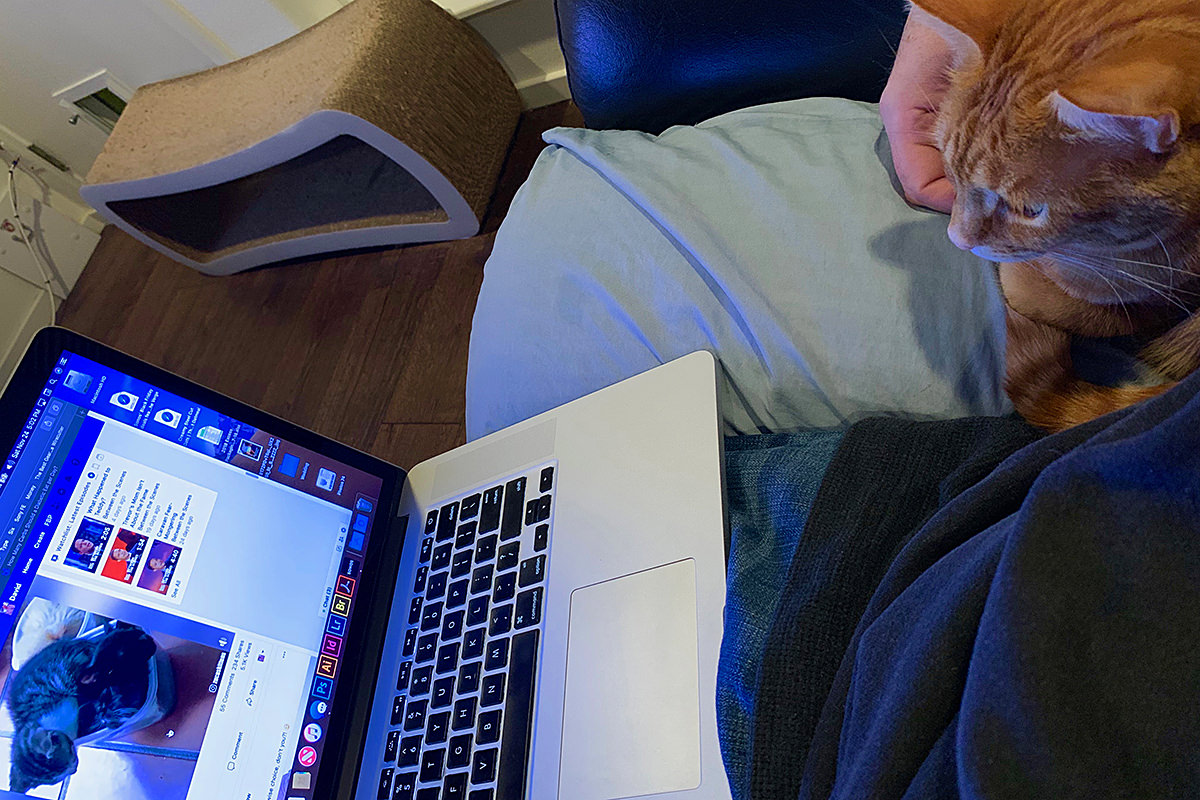 And now I guess I wait for snow.

---
*The most popular place to crash in town is a 90° bend in the road that's behind my house across the field. People are going too damn fast, can't make the turn, then plow into a rock wall. Sometimes they can back out of it and continue on their way. Sometimes a tow truck has to be called.
Posted on November 22nd, 2018

For the first Thanksgiving in my entire life, I have nowhere I have to be. No heading to grandma's house for a family dinner. Grandma is gone. No driving over the mountains to buy a turkey plate for my mom at Denny's. Mom is gone. And while I'm grateful that I have places I could be, I think not being anywhere is what's best for me right now.
Last night I took a handful of sleeping pills so I wouldn't have to think about Thanksgiving. My cats decided to have a party.
Jake tried to get into the new auto-feeder and knocked it away from the bowls... so food was EVERYWHERE this morning.**
Jenny stepped on the "All Lights On" button on the home remote which lit up the entire ground floor at 2:30am.
Jake brought all his toys upstairs.
Jenny chased Jake on top of the writing desk and knocked over my Tiffany vase* (which wasn't broken).
So I woke up and got to clean up cat food, turn off lights, pick up toys, and gather toys for my Thanksgiving. Perfect!
Then I got to answer emails while being visited by my cats...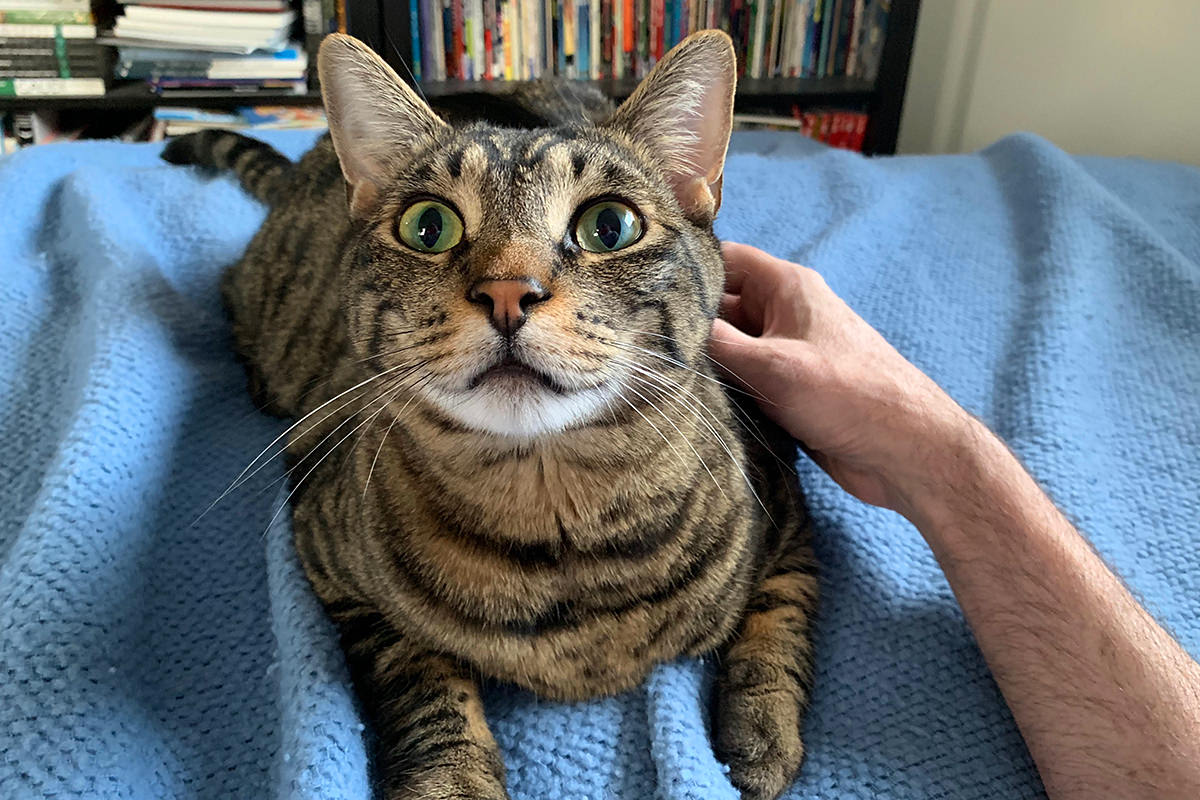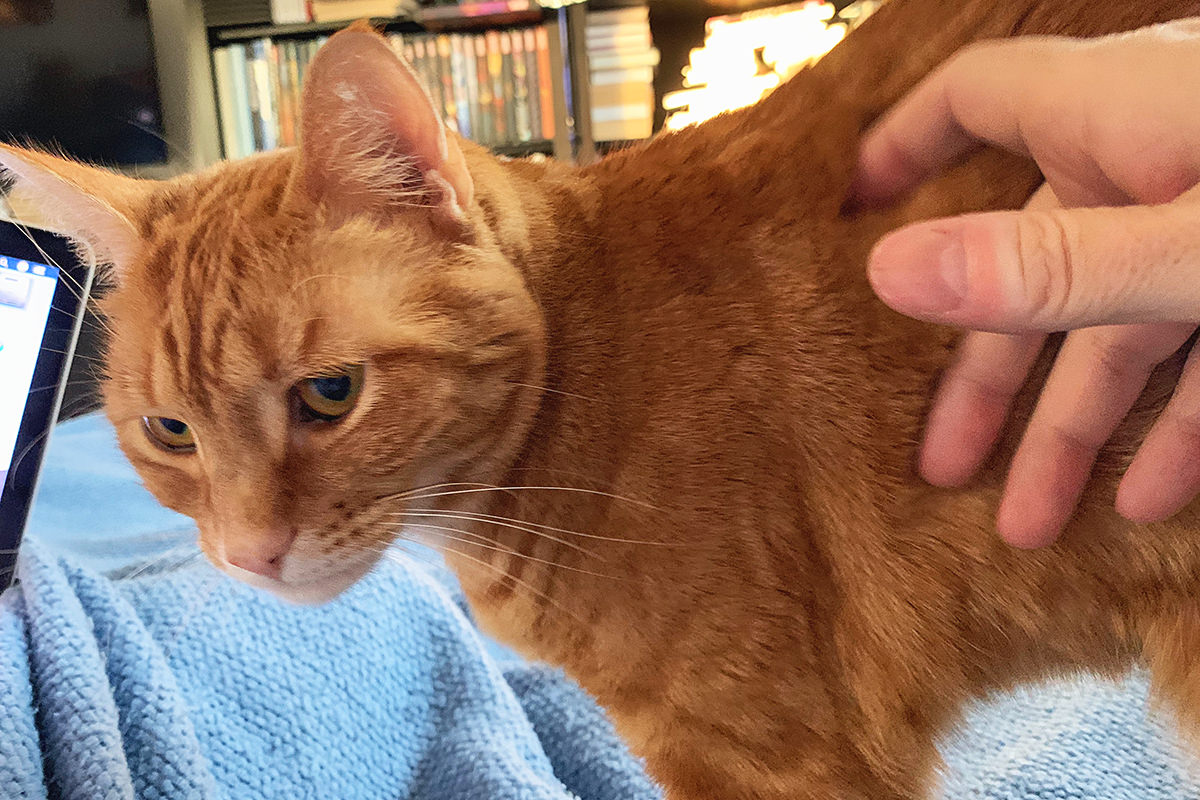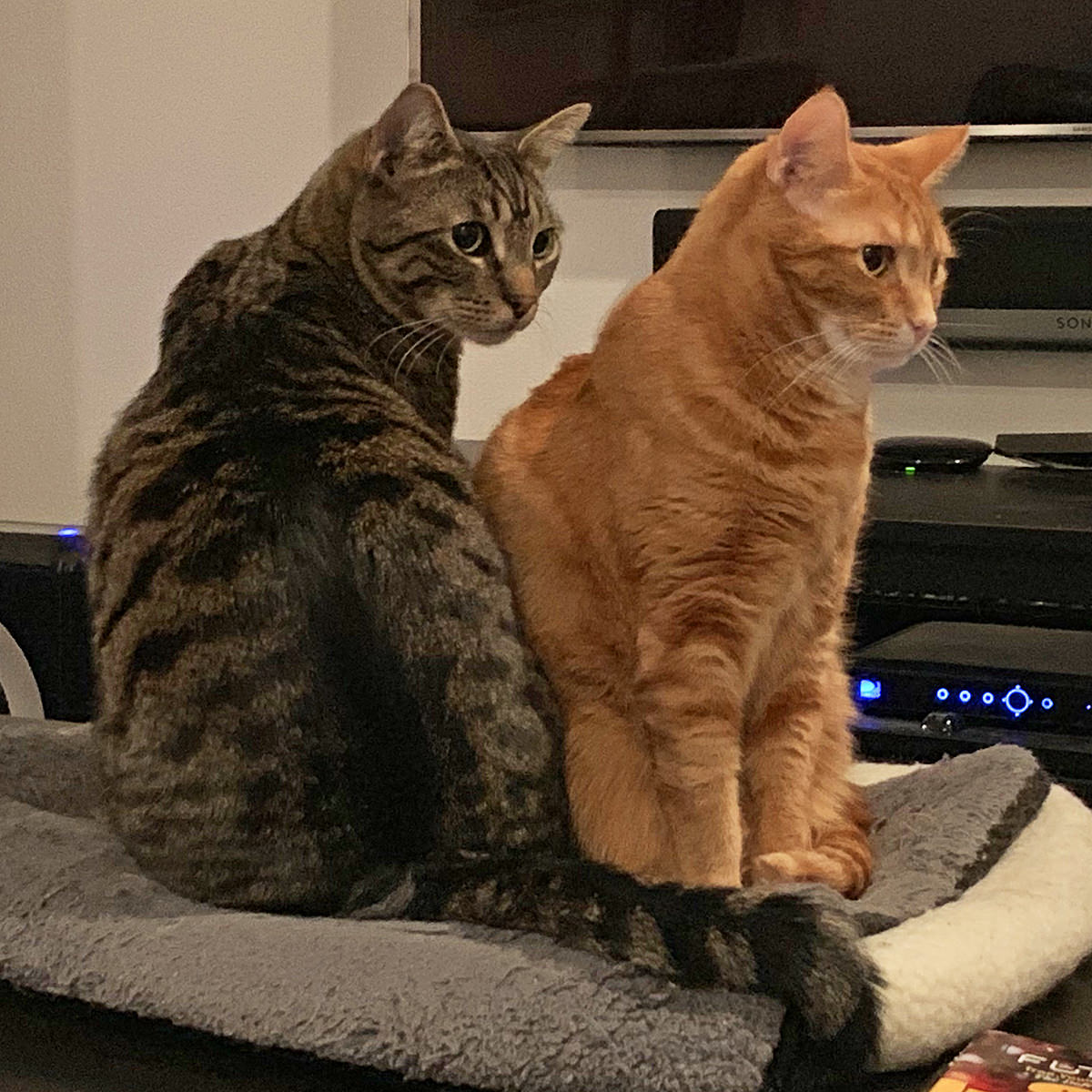 It was a great way to start my day.
Happy Thanksgiving, everybody!
---
*Back when Northwest Airlines was being merged with Delta, they sent out really nice Tiffany vases to their top-tier flyers as a "welcome gift" to Delta's SkyMiles frequent flyer program. Every once in a while I see them pop up on eBay (or other auction sites) for ridiculously low prices (usually around $40-$50).
**Guess I'm coming up with a way of securing the feeder so it can't move. Oh what fun...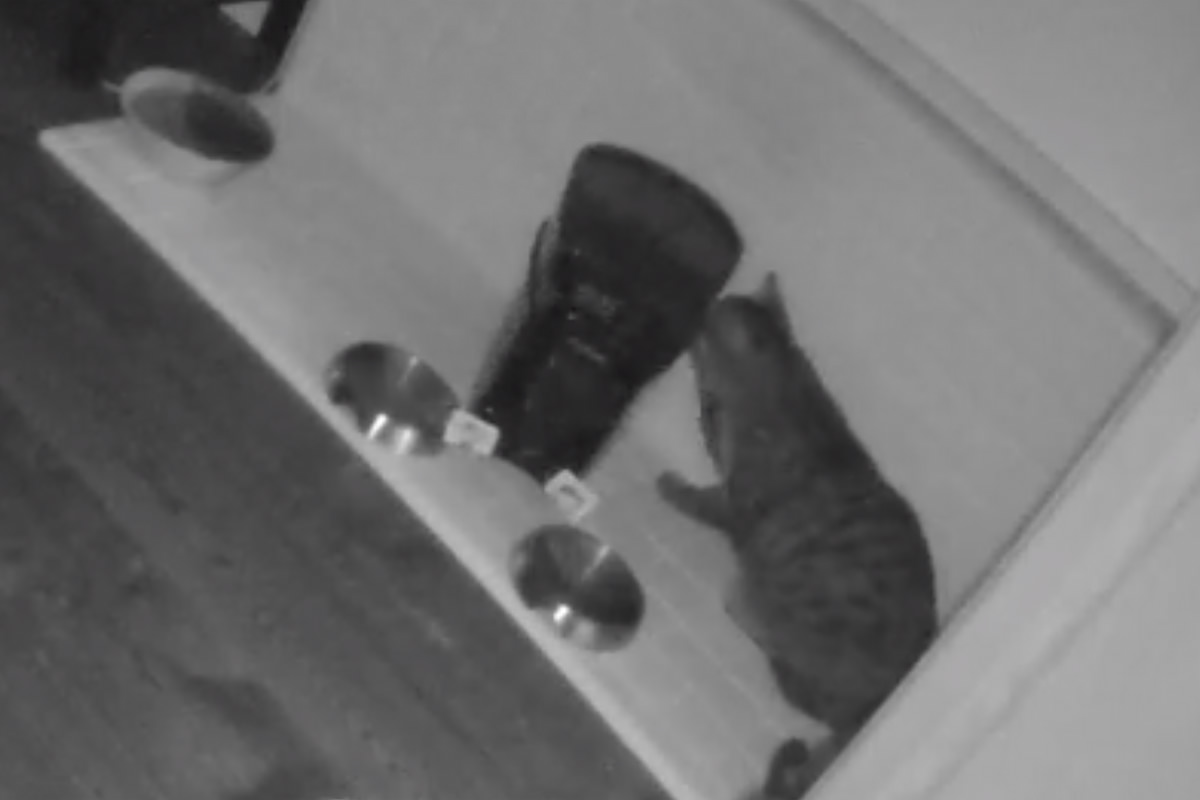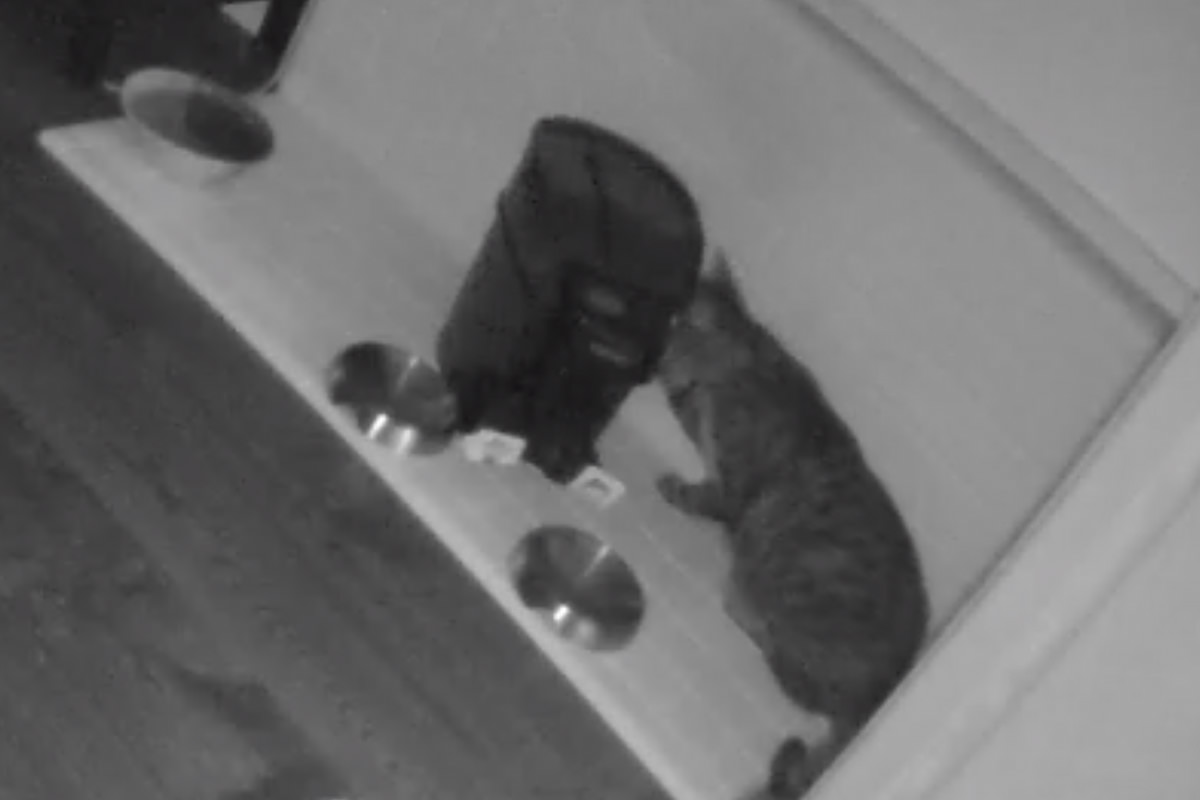 Posted on November 19th, 2018

When I first got Jake and Jenny I was unable to travel because I couldn't afford to pay a service to watch my mom. When I absolutely had to travel, I would bite the bullet and hire somebody. My cats would be terrified of them, but Jake and Jenny would sneak down to the feeders after the caregiver had filled them and walked away.
Once my mom had been moved to a facility, I wouldn't think anything about travel. I had cameras everywhere to look in on the cats. I have a kick-ass home security system to keep them safe. The automatic feeders and Litter-Robot would take care their needs. And they have each other to keep themselves company. If I was gone for more than two days, I'd hire a petsitter to visit every-other-day to make sure everything was tended to. Easy.
When I went to Antarctica and had no internet to check in on the kittehs, I was a little worried about leaving them... but not overly so. Why would I be? They're fine on their own.
But then Jake had his urinary blockage which, if left unattended, would have killed him in days. And now I am absolutely terrified to leave for more than two nights. Jake has been doing better and better over the last couple weeks, so my worries about leaving him have been lessening, but I still can't shake the idea that he's going to have another problem while I'm away.
And then there was tonight.
Several weeks ago, Jake ate two or three small shreds of cheese that fell on the floor when I was grating. A couple minutes later, he puked and puked and puked. Tonight while waiting for dinner, I had myself a snack of some cubed Velveeta. When I was done, there was no cheese left on the plate. So I didn't think anything of it when Jake jumped on the couch and started licking the plate. Sure enough... minutes later he started heaving. No puke, because there was no cheese for him to eat, but the smudges of residue were enough to trigger his stomach. So apparently any amount of dairy protein is enough to make the little guy sick. Which is strange. Because before his procedure to unblock his urinary tract, he would occasionally eat ACTUAL pieces of cheese off my plate with absolutely no problem. No idea what that's about, but I now know to keep anything dairy... no matter how small... away from him.
Hopefully no other allergies pop up.
Especially when I'm away.
I'll be sure to turn off Carl the Robovac just in case.
Posted on November 17th, 2018

I've been steeped in cat drama again this week. Jake and Jenny are still pissed off that the clocks had to change when Daylight Saving Time ended.
But instead of sitting in front of the television hating on me, they are climbing up the cat tree to hate on me from above...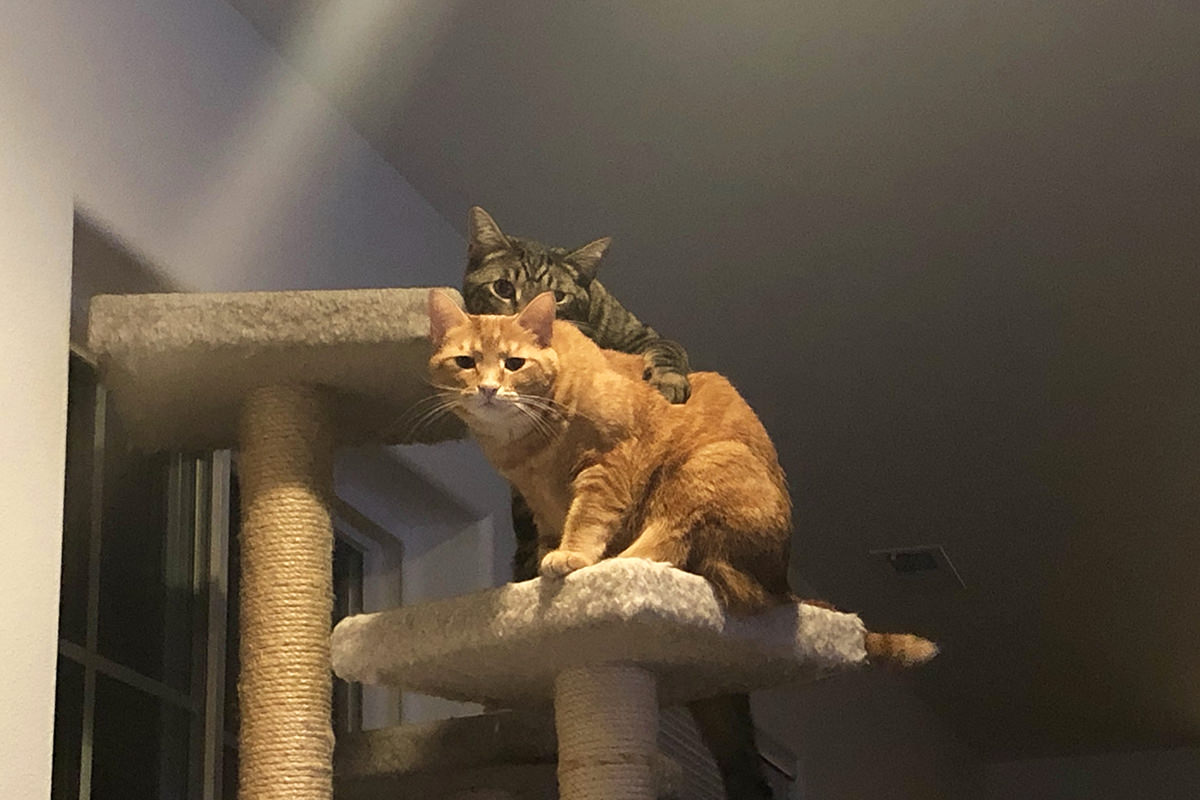 In other news, I finally decided to put one of my security cameras in the guest room (temporarily) so I could find out how Jake is getting up on top of the hutches...
I thought he found a way to grab onto something and pull himself up. It never occurred to me that he could jump this high!
The camera has also allowed me to see what else my cats are up to in there.
Now that the weather is cooler and it's colder in the house, Jenny has taken to sleeping in the little kitty bed I put in the guest room. It was a great plan, until... Jake decided that he wanted to sleep there. He'll watch her go in and get comfortable, then go in and squish her until she leaves...
Though sometimes he is more careful about climbing in with her, and they end up squished together...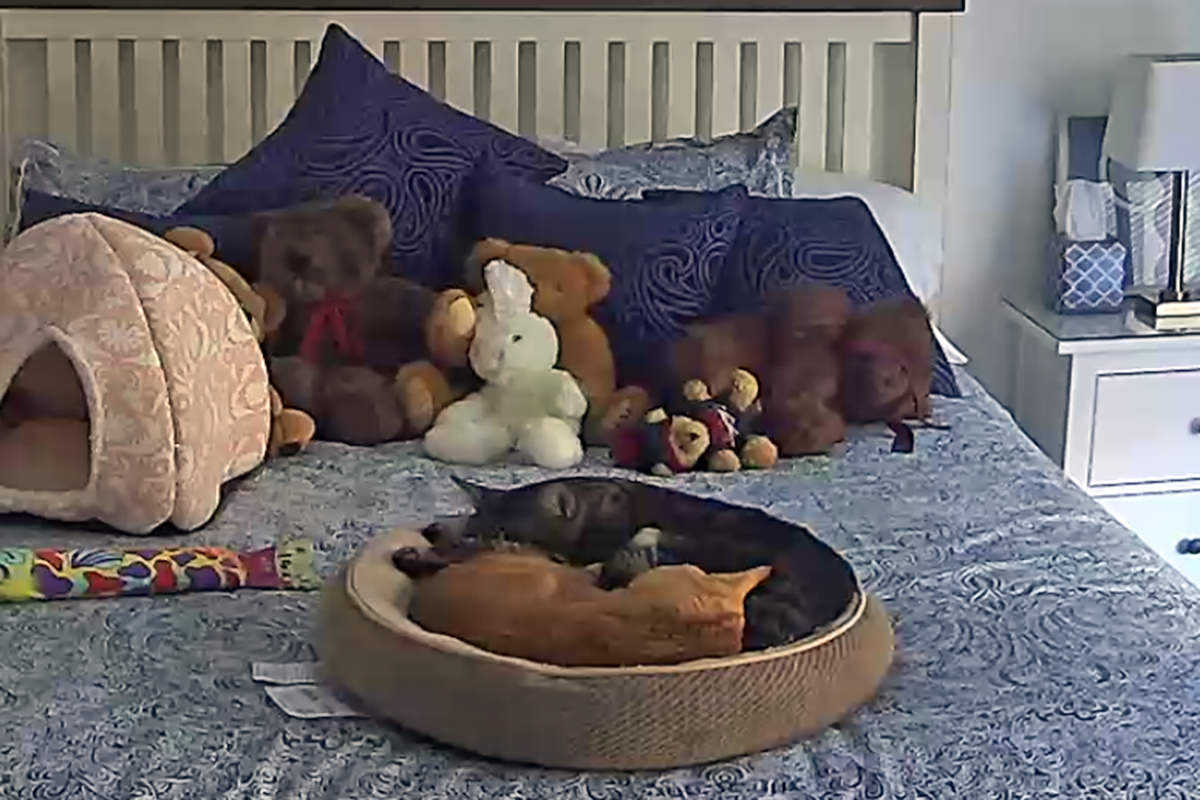 No idea how they are comfortable in there like that.
After seeing what was happening, I added a second bed...
Though sometimes they still end up in the same one...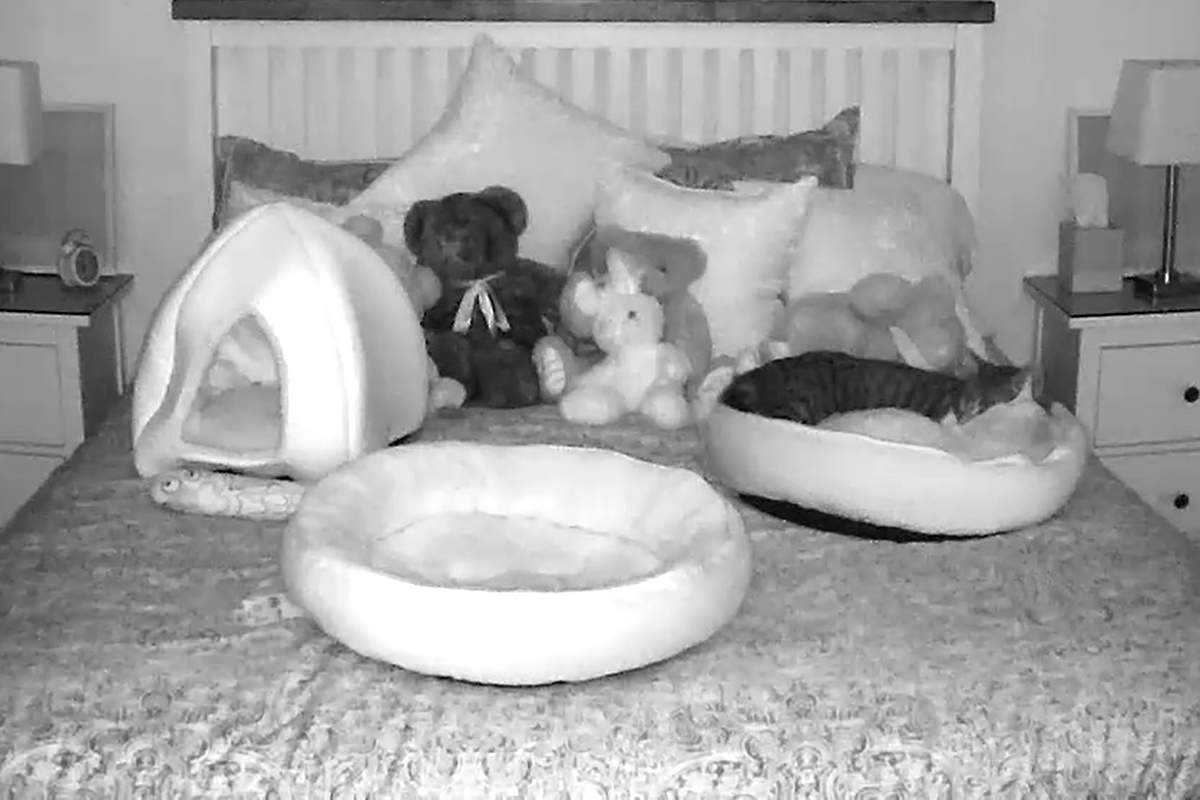 Jenny had a bad dream a couple days ago. It's the first time this has happened in several months (unlike when she was a kitten and had frequent nightmares). She's been a bit clingy after, which is usually just fine. Except when I am trying to do something and she gets in the way...
When the box she was in fell off the couch, Jenny retreated to the cat tree where she could keep a wary eye on it...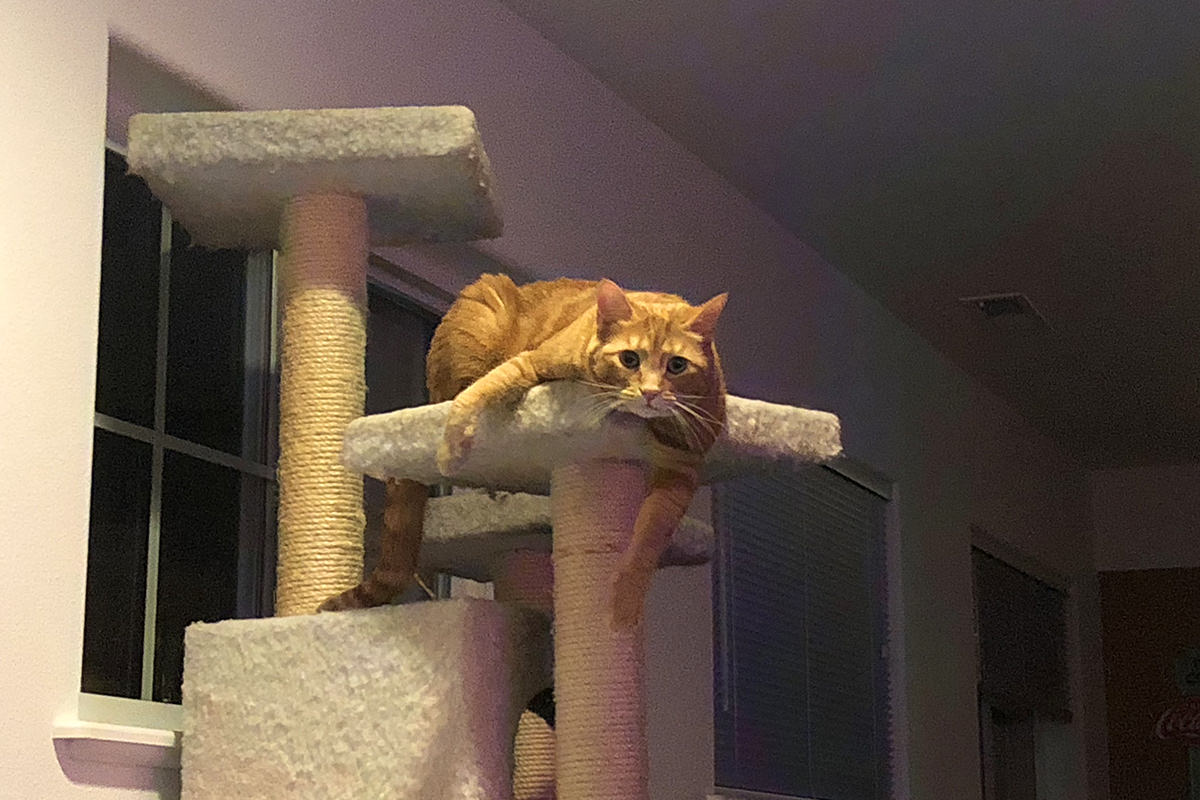 And now... time to clean the litter boxes. Yay.