Posted on January 31st, 2019

This morning before heading off to work I decided to dust off my entertainment center. It's a futile endeavor with two cats, because everything will go back to being covered in hair within seconds. As I was dodging in and out of the many crevasses with my Swiffer duster, I made my way to the fancy Blu-Ray player I had bought and couldn't recall the last time I used it. Probably to watch one of those rare movies I love that never made its way to digital.
This is more than a little depressing because the thing was top-of-the-line back in the day and cost me a small fortune. At the time it seemed like a wise investment because it could play both 3D and 4K Blu-ray discs. Little did I know that 3D would be a stupid feature because the special glasses eat batteries like crazy... and all the discs are glitchy.* As for 4K? Apple started releasing most new movies in 4K digitally (no Blu-Ray required) within months of my hooking up the player.
And so the pricey but useless piece of tech just sits there collecting more dust and hair until I want to watch Undercover Blues or True Lies or The Abyss or Strange Days again. WHICH JUST HAPPEN TO BE FOUR OF MY FAVORITE MOVIES OF ALL TIME...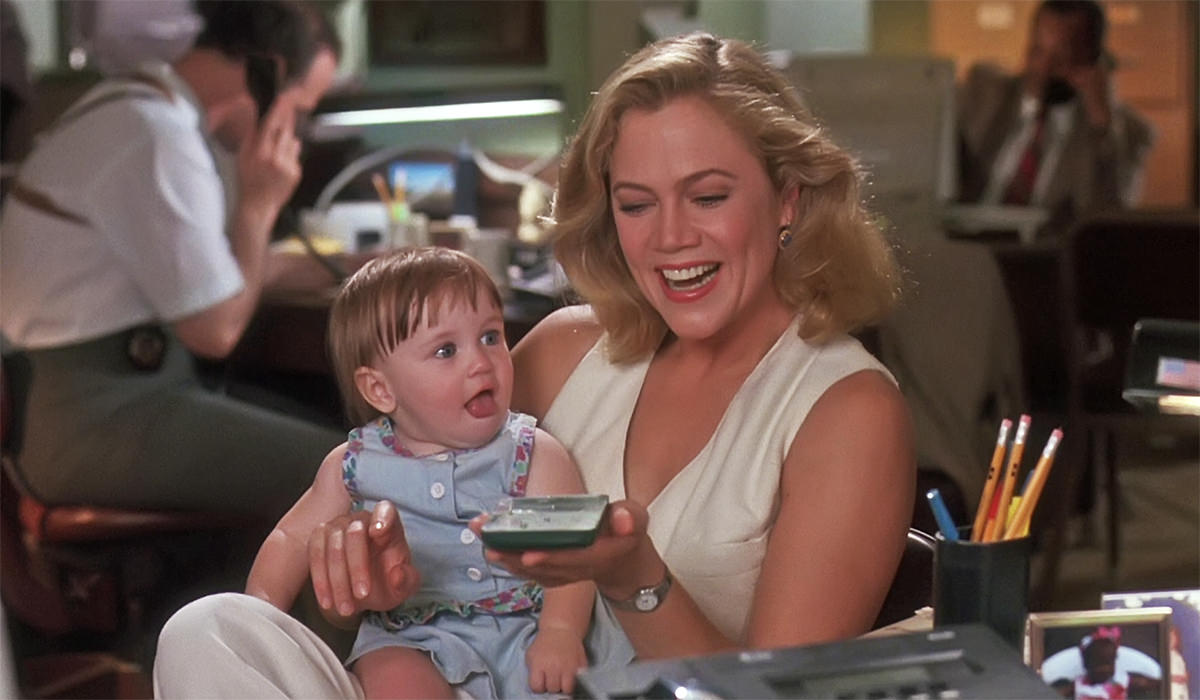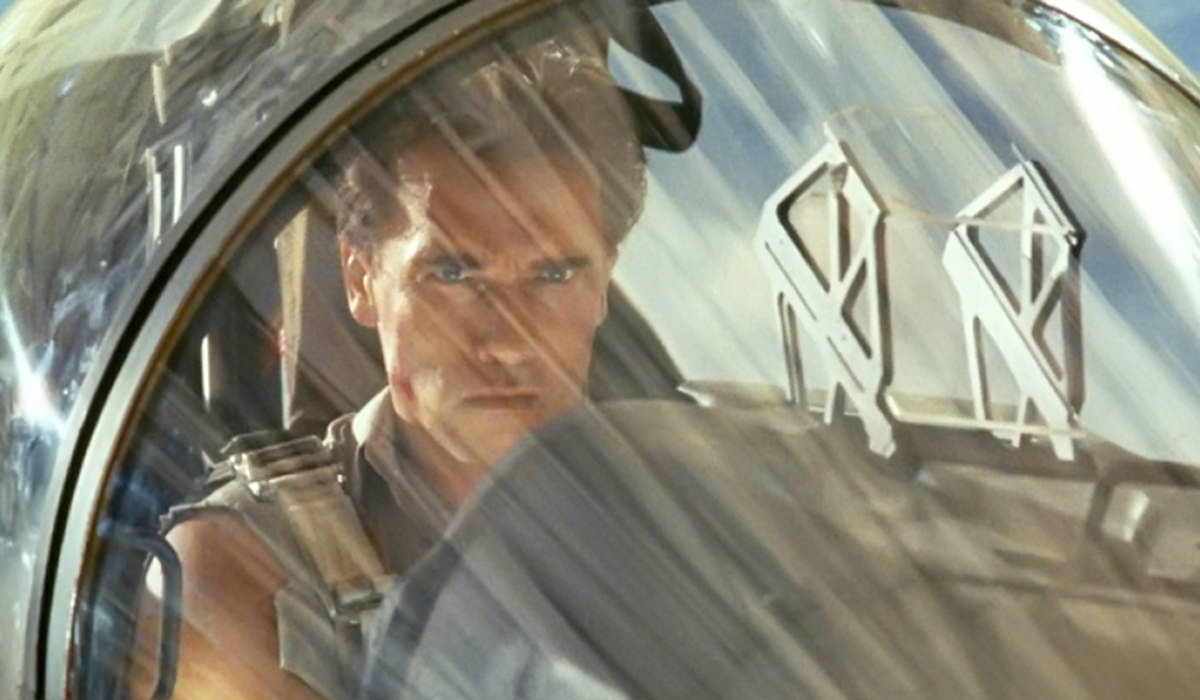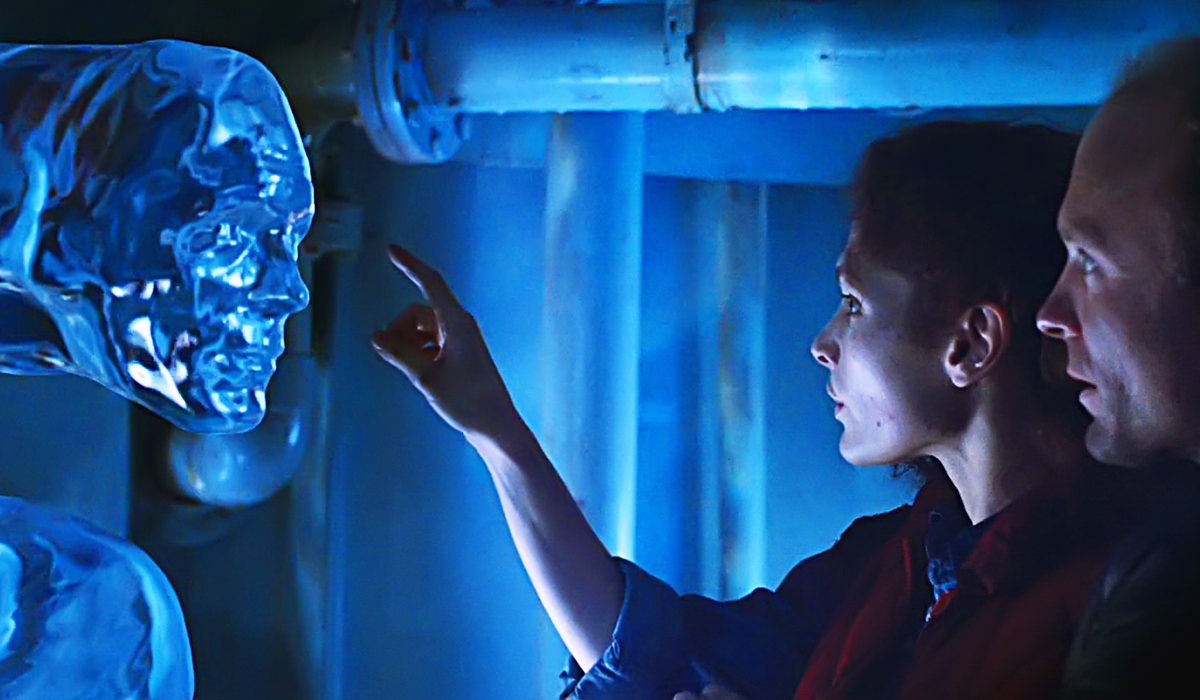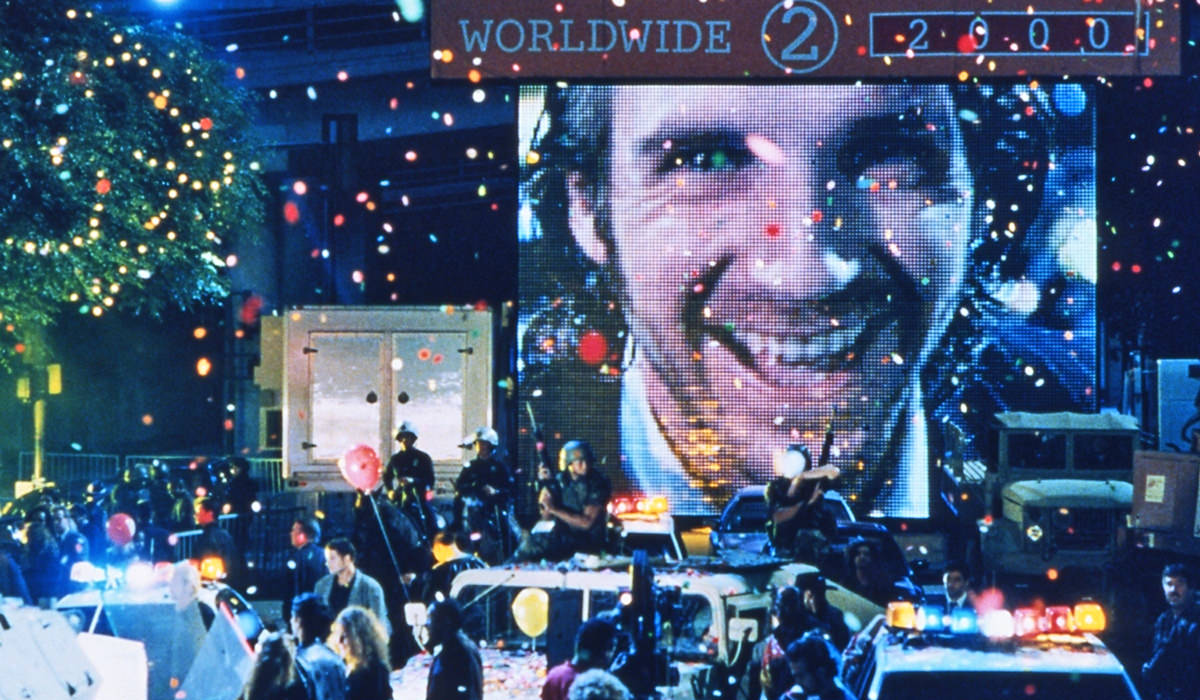 The rumor mill has been going on for years that James Cameron is working on bringing True Lies and The Abyss to Blu-Ray and (hopefully) digital. I have no idea what the holdup is with Kathryn Bigelow & James Cameron releasing Strange Days (which is oddly more relevant now than it was when it was released 20 years ago). And then there's Undercover Blues. This movie is 100% awesome, and it seems impossible that nobody has released it digitally since it actually has a Blu-Ray release (albeit not a great one).
So many television shows and movies that have been lost to time. It seems... weird... somehow, that everything released within the past 25 years isn't out there for digital purchase. Though I should count myself lucky. At least these movies have DVD releases. Entirely too many of my favorite television shows (like Jeremy Piven's Cupid and Alan Ball's Oh Grow Up!) do not.
Which has me wondering how long it will be before they won't be making DVD/Blu-Ray players any more. These things always seem to happen sooner than you think.

*Seriously, I have yet to find a 3D Blu-Ray which will play properly all the way through. Their quality is for shit.
Posted on October 19th, 2017

I am so sick of Apple's stupid shit I could just vomit.
NONE of my movie purchases will play through iTunes right now. NONE of them. I pay Apple a shit-ton of money to be able to watch movies I bought, and I can't stream them... can't even download them. And this is far from the first time. AppleTV is even worse than iTunes. And while I'm sure that Apple will blame me like they always do when something goes wrong now-a-days, I can say that I am having zero problems watching media from Amazon, CBS, Netflix, NBC, ABC, HGTV, HBO, Showtime, Starz, and even YouTube. Nope... as usual... it's just Apple.
The company has BILLIONS of dollars. Why in the hell can't they fix their media server shit so it works most of the time?
Spending it all on their new giant donut headquarters I guess.
I cannot decide if Apple's fall from grace is more sad or pathetic. And, to be honest, I don't give a shit. Just let me watch the movies I've paid for.
Posted on September 13th, 2017

Apple started off their September Event video with sweeping views of the brand new Apple Campus, otherwise known as "The Donut" or "The Spaceship" or "The Mothership." It is, of course, a structure of sublime beauty. Then, as The Beatles' All You Need is Love plays, we fly over to the equally sublime Steve Jobs Theater as attendees file in.
Then, in a moment that tore at my heart, the voice of my personal hero fills the theater that bears his name. And, just far a moment, it feels like he never left us. Then Tim Cook walks out with tribute to Jobs and the moment is gone. The Keynote begins.
Let's watch it together, shall we?
APPLE PARK
I could have watched an entire keynote devoted to Apple's new headquarters but, alas, all we get is a fleeting look. Happily, Tim announced that there will be a visitor's center! I will, of course, be paying a visit one of these days. An Apple Whore's life isn't complete until you've made a pilgrimage to The Mother Ship...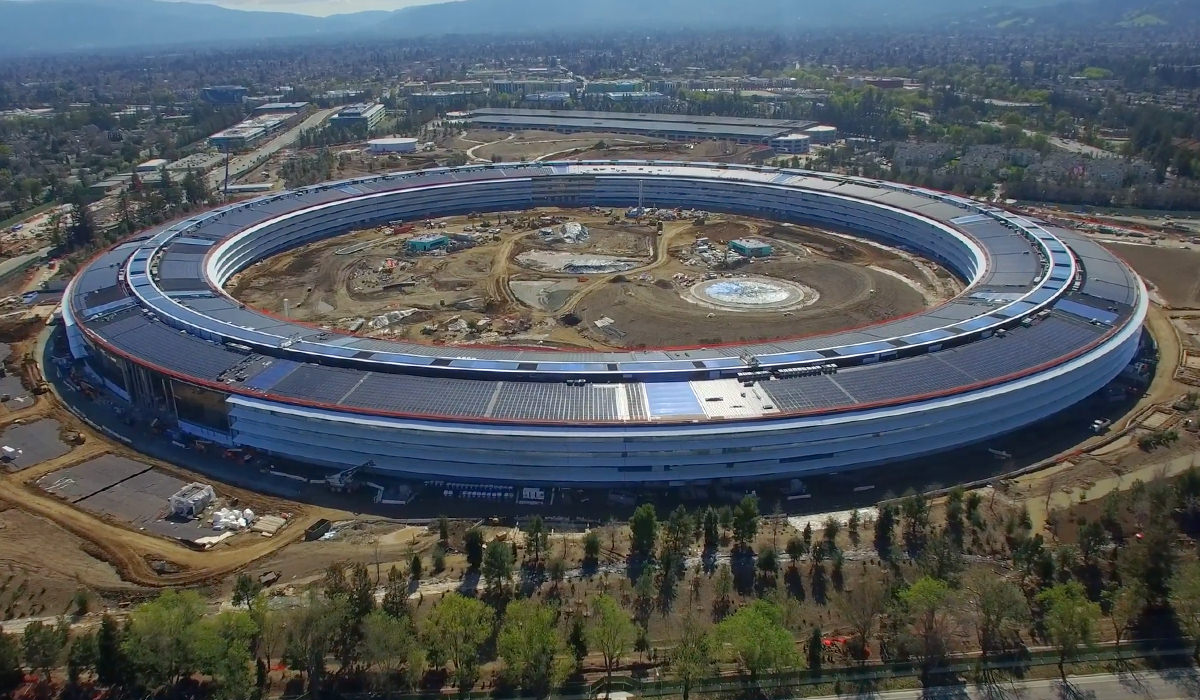 Aerial drone footage by Matthew Roberts

APPLE RETAIL
Oh gag me. Apple doesn't call their major stores "stores" any more... they are "town squares." I mean, yeah... they are beautiful spaces where people can gather but, come on. These are monuments to retail, not the cities they reside in.
There is no doubt that Apple "town squares" are beautiful inside and out... architectural marvels that capture my imagination like no other stores can. And the plans they announced for Paris and Milan are borderline destination-worthy, which is remarkable. These are STORES!

APPLE WATCH 3
Apple finally cracked the smart-watch after a stream of other companies tried and failed. And their efforts paid off... they now have the #1 watch in the world. What's interesting is how Apple has changed this space. Their smartwatch is more of a lifestyle piece than a tech toy, and they continue to push into fitness and health in a way that makes their wares a compelling purchase.
The big announcement from this segment is that the new Apple Watch 3 now has a cellular radio, so it doesn't require a phone to access the internet. Dick Tracy has just become real, y'all. You can make/answer calls... send texts... even stream Apple Music... all without a phone. On my AT&T plan, this functionality costs an additional $10 a month. I guess that's a fair price... though I don't picture using $10 worth of data every month, as my iPhone will still get the lion's share of my usage.
I would love an Apple Watch 3. It's a magnificent piece of tech and, given my elevated heart rate, would probably be a benefit to my health. And yet... I have small wrists. Even the small Apple Watch is a massive clunker on me. What I want... what I really really want... is an thinner Apple Watch. I'd sacrifice some features (like the cellular radio) just to have something I can actually wear comfortably.
The price of admission for Series 3 with cellular is $399. Given that the watch is "darn close to magic," this seems like a bargain. Available September 22.

APPLE TV 4K HDR
I have many frustrations with Apple. One of the biggest is Apple TV. The remote is shit. The user interface is shit. Streaming my Apple purchases (when I can even get it to work) has quality that is shit. And if my Apple TV struggles to stream HD content now, what hope is there that a massive 4K stream is going to get through? What's so frustrating is that the Apple TV apps FOR EVERY OTHER STREAMING SERVICE is fantastic. I never have a problem with Netflix, ABC, NBC, CBS, YouTube, Showtime, HBO, Starz... ANY of them. Just my Apple iTunes purchases. How messed up is that?
Assuming I could actually get the Apple TV 4K HDR to stream shit (I have a 4K HDR television), it seems like a great device. Mainly because Apple will automatically upgrade your HD purchases to 4K HDR at no charge. If only they would come up with a better remote.

iPHONE 8
My every day phone is an iPhone 6. It's a little slow to initiate with the newer OS and apps, but it works perfectly fine, and I didn't feel the need to upgrade to an iPhone 7. Yeah... 3D touch is cool and the nicer camera (especially on the 7+) would be great... but it wasn't worth the cost. Even once my battery started cutting out at 10%.
But it's time to upgrade, and the iPhone 8 looks like a great choice. FINALLY stereo speakers (in both orientations!). The A11 Bionic chip would be a quantum leap from the A8 chip in my current phone. The camera looks incredible, but I'm disappointed that the dual-lens model with "portrait mode" is only available in the giant iPhone again. I don't want to lug around a giant phone. And while I'm not a big "augmented reality" fan yet, I have to say, the AR star map app they showed off is right up my alley. Needless to say, wireless charging is a much-coveted feature. No more plugging/unplugging a power cord... just slap it on a charging mat. Kind of odd that Apple took so long to get here when other companies have had wireless charging for a while. Available September 22.

iPHONE X
Let me just start by saying ONE THOUSAND DOLLARS?!?? Boy, that's a lot of money for a phone. But is it worth it?
Maybe.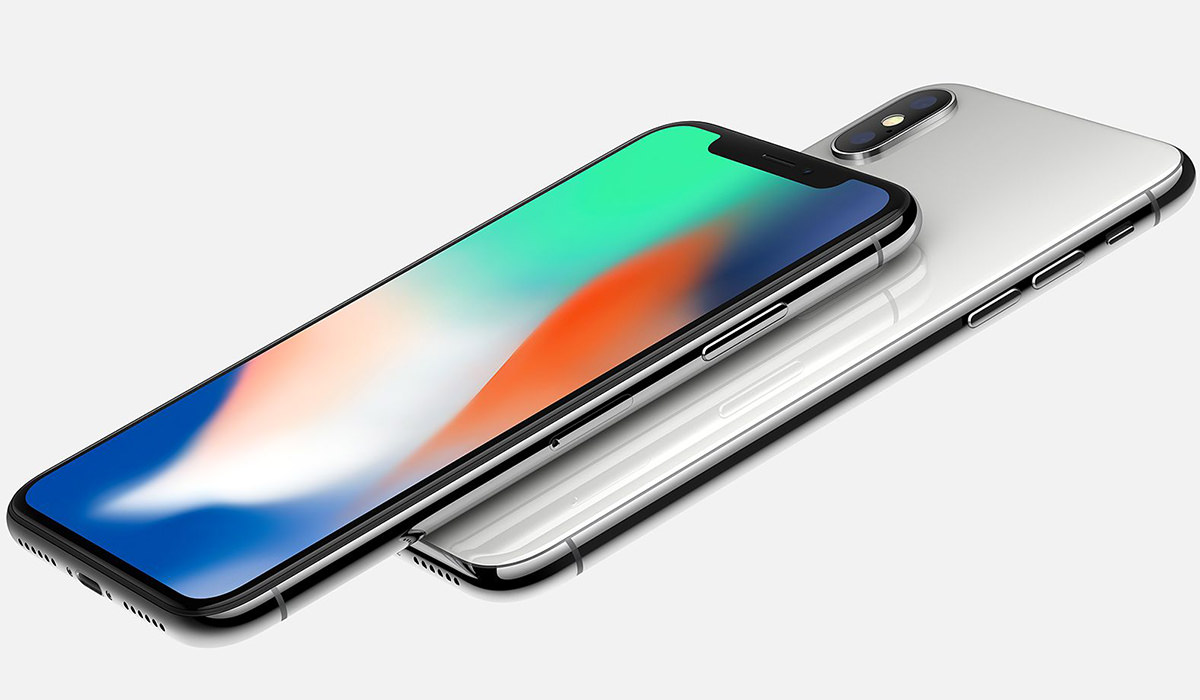 The bullet points...
Super Retina Display. Should be fantastic. The black levels and huge contrast ratio make for an amazing visual treat. Photos will look amazing.
No Home Button. A long time coming. Opens up the entire phone face for display and eliminates a physical fault-point.
Face ID. If it's reliable (the demo puts this in doubt), this is a much nicer experience than having to futz with your fingerprint and Touch ID. The technology behind this is insane, and will open up a whole new world of interface design.
Neural Engine. Welp. Skynet Step One is now in your pocket. An iPhone that has machine learning... what could possibly go wrong? "Siri, please stop telling the toaster to kill me!"
Animoji! Animated poop emoji? Okay... I'm sold. Give me an iPhone X.
Swipe. Am I the only one who thinks that the new swipe gestures are going to cause some thumb cramping? No? Okay.
Face ID Mask Tracking. This is a totally useless idea that will add an entirely new level to drunk FaceTime chatting.
Face ID Animoji. Craig Federighi as a poop emoji will never go away. The whole idea of communicating via animated emjoi is a cute selling feature... but, other than kids who can afford iPhone X, who is going to use this on a daily basis?
Camera X. Given the importance of camera quality on smartphones (I use my camera far more than any feature... like 100× more), it's a given that the camera on Apple's flagship phone is going to be incredible. Here is the dual-lens camera that I wish was in the regular-sized iPhone 8. But probably won't get there until... iPhone 9?
Selfie Sticht. If you just loooooove taking photos of yourself, then the selfie-camera (formerly the "front-facing camera") with portrait mode on the iPhone X is for you.
AirPower. The future is here. Slap down your iPhone, Apple Watch 3, and AirBuds (in wireless case) on the mat and charging is instant and automatic. Sadly, there doesn't look to be a charging option for Apple Pencil. I guess I'll still have to plug that one in.

I am not going to buy a new phone until I get back from Antarctica. Heaven only knows how I'd end up destroying the thing while on that trip. No, my new iPhone won't be coming until tax refund time next year. Whether I will end up spending $300 more for the iPhone X over the iPhone 8 is anybody's guess. I mean... ONE THOUSAND DOLLARS FOR A PHONE?!? But, then again, I've paid $300 for a pocket camera that's not as good as the camera in iPhone X, so that's something to take under consideration. In the end, I compare my iPhone to a mattress. With a mattress, it makes sense to buy the best one you can afford since a huge portion of your life is going to be spent sleeping on it. The iPhone is no different. It's easily the most-used piece technology I own. It's also the most valuable considering what I can do with it while not in front of a computer. Especially when traveling. Ideally, I'd like to spend no more than $400 on a phone. That seems a good price point to me, and what I'm comfortable forking over. But, given how important the iPhone has become in my life, I think I can get comfortable being uncomfortable.
As to how uncomfortable? Probably iPhone X uncomfortable. I mean, that camera...
Posted on October 25th, 2011

I'm kind of late to the AppleTV game. Unlike just about every other Apple product, I didn't jump in with AppleTV 1.0 because it was something I simply had to own. For one thing, there just wasn't much content available. For another, it was basically just a big hard drive with video output. Not very compelling considering hard drive space eventually fills up. Or, worst case scenario, the hard drive fails and you lose everything.
But then AppleTV 2.0 came along. It most decidedly wasn't a "hard drive with video output" because it didn't even have a hard drive. It streams everything from the internet, including any television shows you've purchased from the iTunes Store, streaming video from Netflix, Vimeo, and YouTube, streaming photos from Flickr, Podcasts, and even iTunes movie rentals. As if that weren't enough, you can use Apple's "AirPlay" technology to stream video, photos, and music from your computer, iPad, or iPhone.
All in a tiny, tiny little box...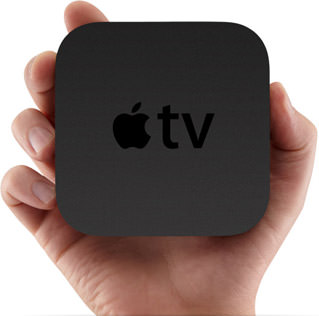 Thanks to Apple's new "iCloud" technology with "iTunes Match," AppleTV is becoming even more useful. Soon you'll be able to stream all your music not from your computer or iOS device, but from the internet. I am hopeful that eventually digital movies you purchase will also be able to be streamed.
What Steve Jobs once described as "just a hobby" is quickly becoming a core Apple device as it matures.
And, apparently, the game isn't over yet.
The internet is abuzz with juicy details coming from the Steve Jobs biography about his plans for an actual Apple Television. As told to biographer Walter Isaacson, Jobs said "I'd like to create an integrated television set that is completely easy to use. It would be seamlessly synced with all of your devices and with iCloud. It will have the simplest user interface you could imagine. I finally cracked it."
Just one look at Job's philosophy for remote design should explain exactly why this is such a tantilizing prospect...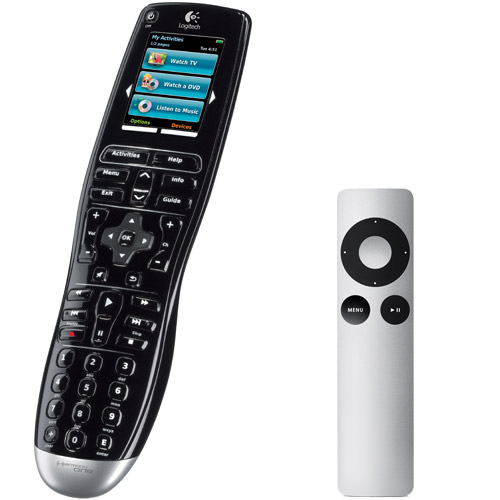 My Logitech "Harmony One" remote on the left, AppleTV remote on the right.

I, for one, welcome our new television overlords.
First of all, I'm excited about the idea of just paying for what I want to watch. Right now, if you have cable or satellite television, that's not an option. You purchase "bundles" of channels that includes crap you may never want to watch. For example, I have an "Expanded Basic" package bundle so I can watch Food TV, USA Network, and some other channels I enjoy from time to time. But that same package also includes stupid shit that I would NEVER want to watch (like FOX "News") but I pay for it anyway because I don't have an option to remove it from my bundle. The cable company controls where the money goes, not the consumer. If Apple's plans for television change this, I would be thrilled not having my hard-earned dollars going to support crap I hate.
Second of all, I really like the idea of not having to pay for shows when there's nothing new being produced. In other words, I don't want to pay to watch reruns. Now when you purchase a show via the iTunes Store, you can re-watch it as often as you want on any of your Apple devices at no charge. You've already paid for it, and you don't have to pay again.
Thirdly, I am really, really freaking out over a the business model which could arise from all this. Rather than advertisers paying networks to pay studios to pay for television content, you'd just pay the studios directly. Voilà, no more having your TV shows interrupted by annoying ads.
But the biggest bonus of all? Apple could take down the whole television network system.
Think about that for a second.
Let the ramifications of that really settle into your brain.
No longer will networks control what shows make it to air... which shows are renewed... which shows are canceled. Consumer purchases decide! Sure Apple is going to get a cut of the money that studios take in, but you're purchasing from the studios directly, so the majority of the purchase price goes to the people producing the content. All of a sudden, the fate of amazing shows like Veronica Mars aren't being sabotaged by network execs who require a massive profit margin so they can get paid to sit on their stupid asses and ruin television. The studio either gets enough money to produce the show and continue doing so... or they don't get enough money and the show is canceled. And I'd like to thank that it would be more profitable for them with only one middle-man in the mix (Apple) instead of the dozens of greedy assholes with their finger in the pie now. Suddenly, smaller shows and smaller studios actually have a chance at survival. Instead of competing against stupid reality show juggernauts and network money-makers for ad revenue, they instead compete for viewers directly.
This will require a radical shift in how television is produced, but I think it will be worth it. Perhaps television networks can reinvent themselves as television investors or something... I don't know. All I do know is that putting the consumer in control of the shows they want to watch and giving control of the content back to content producers is a very good thing.
Though there are many problems to address. How does a new show get noticed? Maybe by giving the first episode away for free? Perhaps Apple's "Genius" technology can be used to recommend shows you might like based on what you watch. And how are advertisers going sell their shit? Well, maybe through sponsorships. Choose to watch an ad, and maybe you get the television show for free for your trouble. Consumers get to decide how to spend their time and money. And when they do decide to watch an ad, they can get ads tailored to them so advertisers are getting the most for their money too. Win-Win.
Not that there won't be losers, but there are always losers.
So long as I win in the end, I'm okay with that. Ask consumers, and they'll probably agree.
But a part of me thinks there will be a lot of other winners if this plays out the way it should. Technology can not only be used to deliver a better experience for television viewers, but for advertisers and content providers as well.
I want my Apple Television! It's long overdue.