Posted on Monday, September 9th, 2019

Back in the late 80s when my friend Doug and I were in Kauai, we looked at a map (yes, this was before Google Maps because I'm old) and saw a massive beach on the Western side of the island called "Barking Sands" and decided to go. Little did we know that Barking Sands Beach is a part of the Barking Sands Naval Base, home of the Pacific Missile Range Facility. We were (of course) halted at a fence and told to turn around and vacate the premises. Then were told that there was a public beach north of the facility if we wanted to go there. It was called "Polihale Beach" and we decided it was better than nothing after having driven all the way across the island.
If you look at it on a map, you can see what the deal was...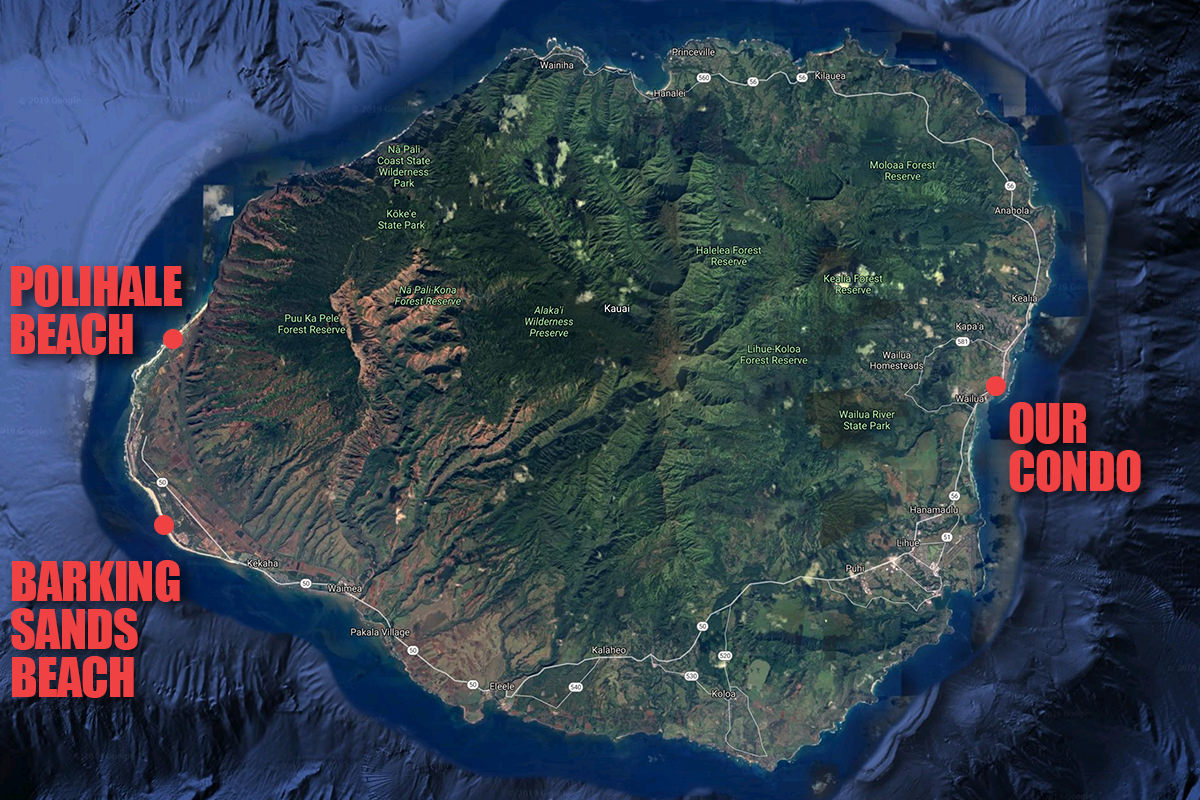 Map From Google Maps
Problem was... our map was pretty vague about the area. We ended up taking a very wrong turn and ended up headed inland. When we tried to turn around using a drive into a sugar cane field, we were met by a guy with a gun who told us to get the hell off his property.
And so we did. Quickly.
Just one of many bizarre misadventures we we got into on that trip.
Once we got back to the road we needed to be on, we eventually spotted a road that looked like it maybe kinda possibly wouldn't get us shot... so we headed to the beach. This was an undeveloped off-the-beaten-path situation, so once we saw water we just pulled off the road and parked in an area where it looked like we might be out of the way.
This Google Maps satellite image may or may not be where we actually ended up, but you can get an idea of what I'm talking about...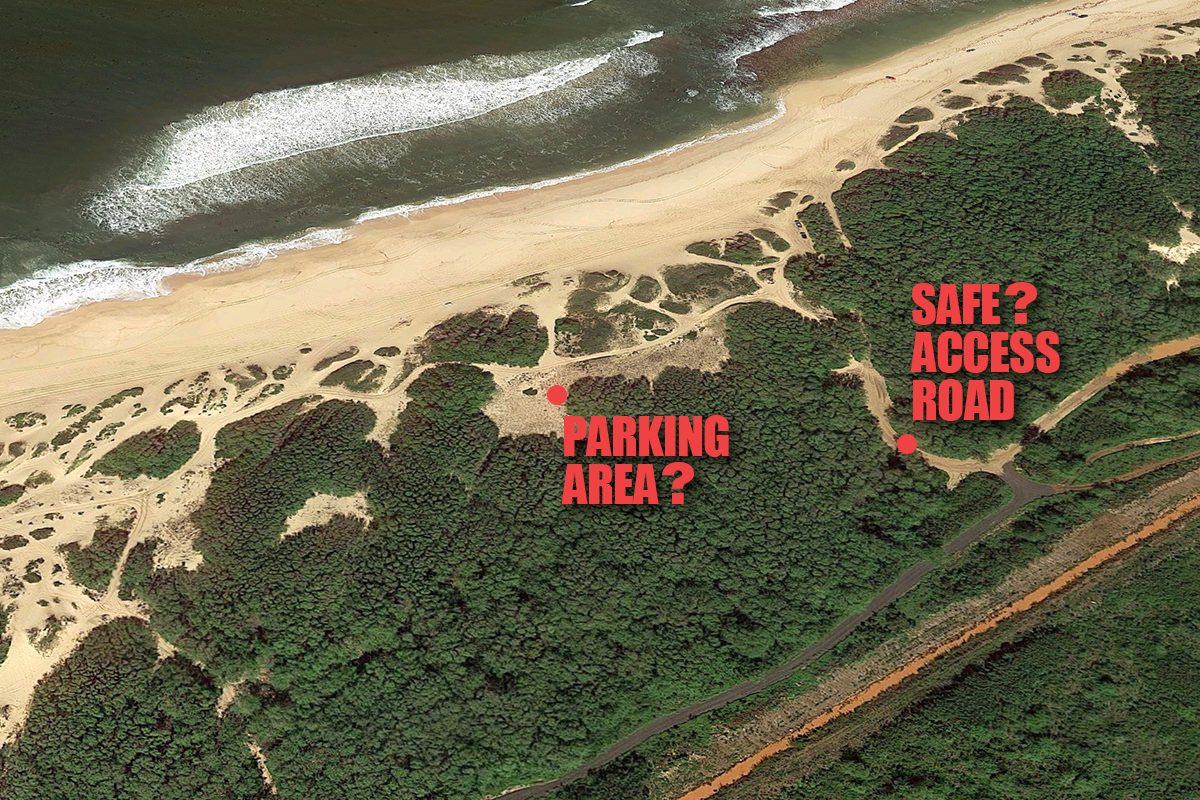 Map From Google Maps
After parking, we headed to the beach.
Just as we turned the corner, we ran across a couple who had attempted to drive their rental SUV ONTO THE BEACH.
Needless to say, they immediately became stuck. Then they made things worse by slamming down on the gas pedal, which only dug the car deeper into the sand...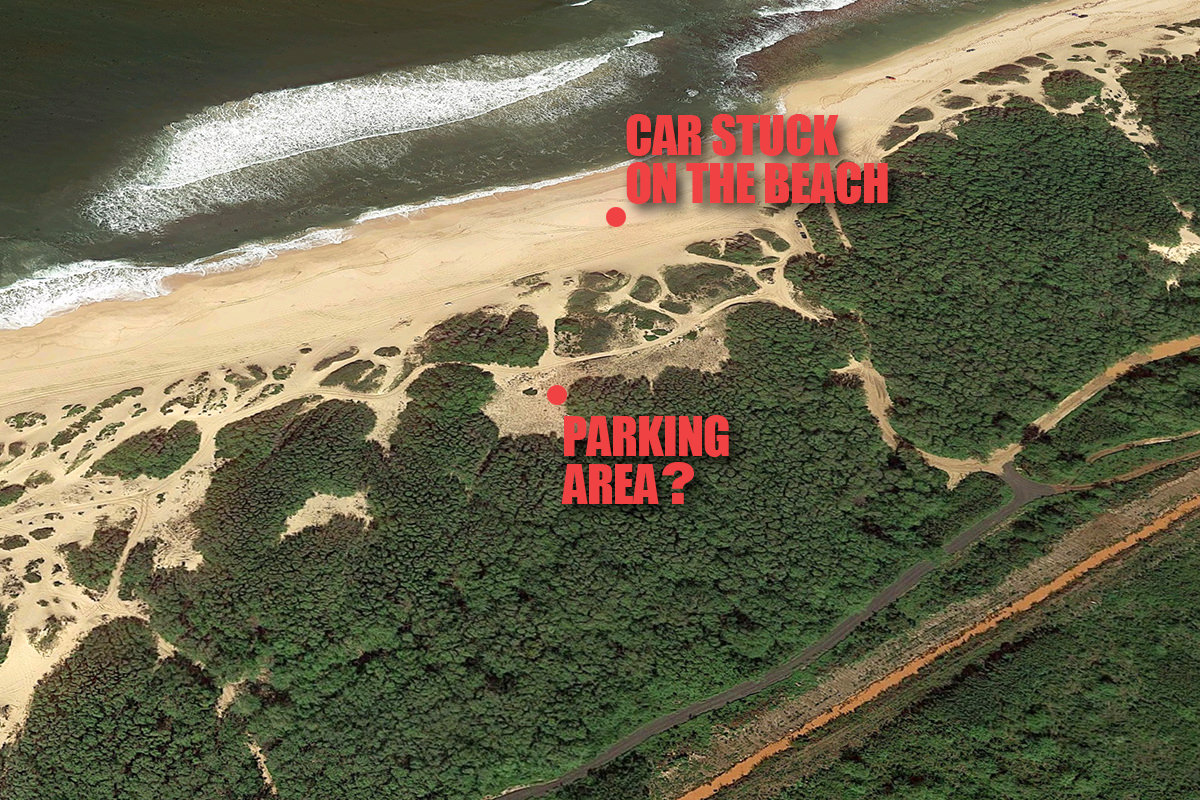 Map From Google Maps
Apparently they didn't get the memo on why you don't want to drive on sand with a vehicle not designed for that purpose.
As we approached we saw that a woman was seated in the passenger side of the SUV fuming. A man was attempting to dig it out with a frisbee. A futile effort if there ever was one, because the SUV was sunk up to the floorboards. The only way he was ever going to get off that beach would be if somebody parked off the beach with a winch and pulled him off of it.
As we passed, the guy looks up at us and says "Hell of a day, isn't it?" And Doug was all "Um. Yeah." Because the only thing going through both of our heads was how we were going to escape if this guy asked us to help him dig his car out. But he never did. So we walked up the beach, which was quite nice. Beautiful golden sand with turquoise waters and hardly any people...
One of the (many) things I love about Google Maps is that you can literally pinpoint where I took the above shot...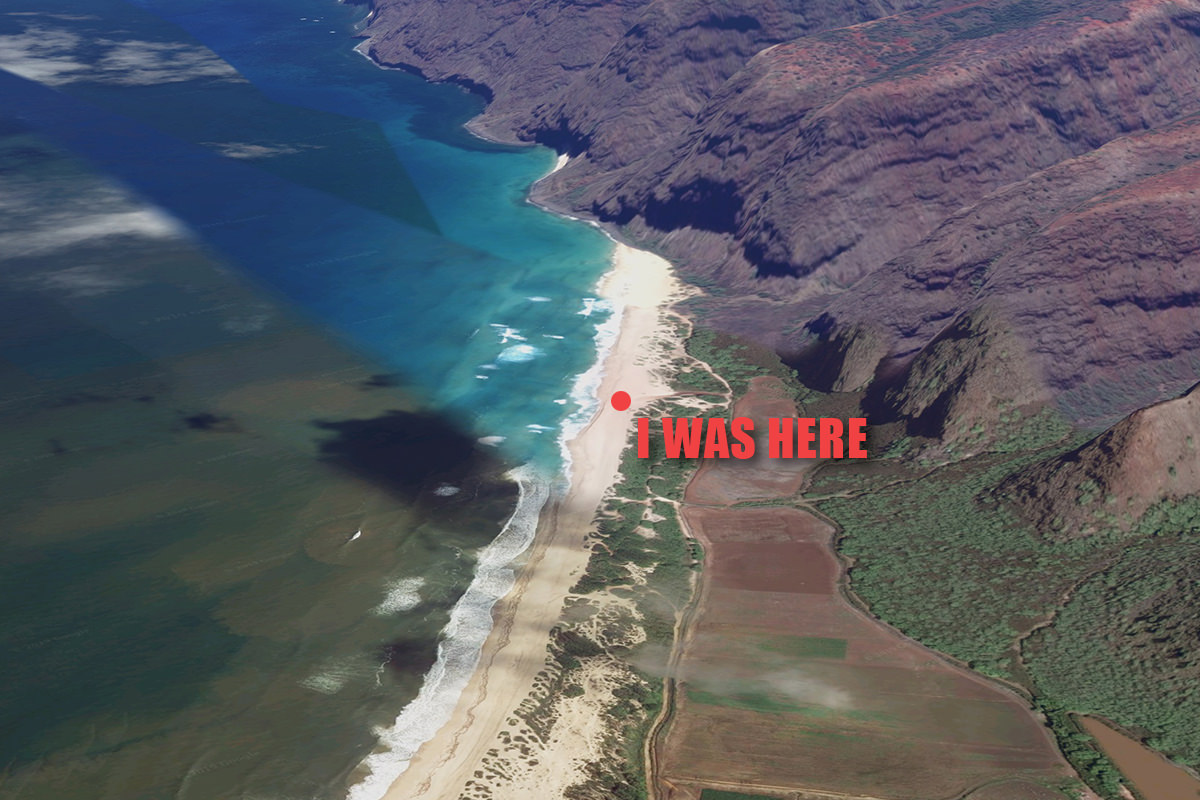 Satellite View From Google Maps
It's not a great beach for swimming thanks to the waves, which were rough, but pretty to look at otherwise...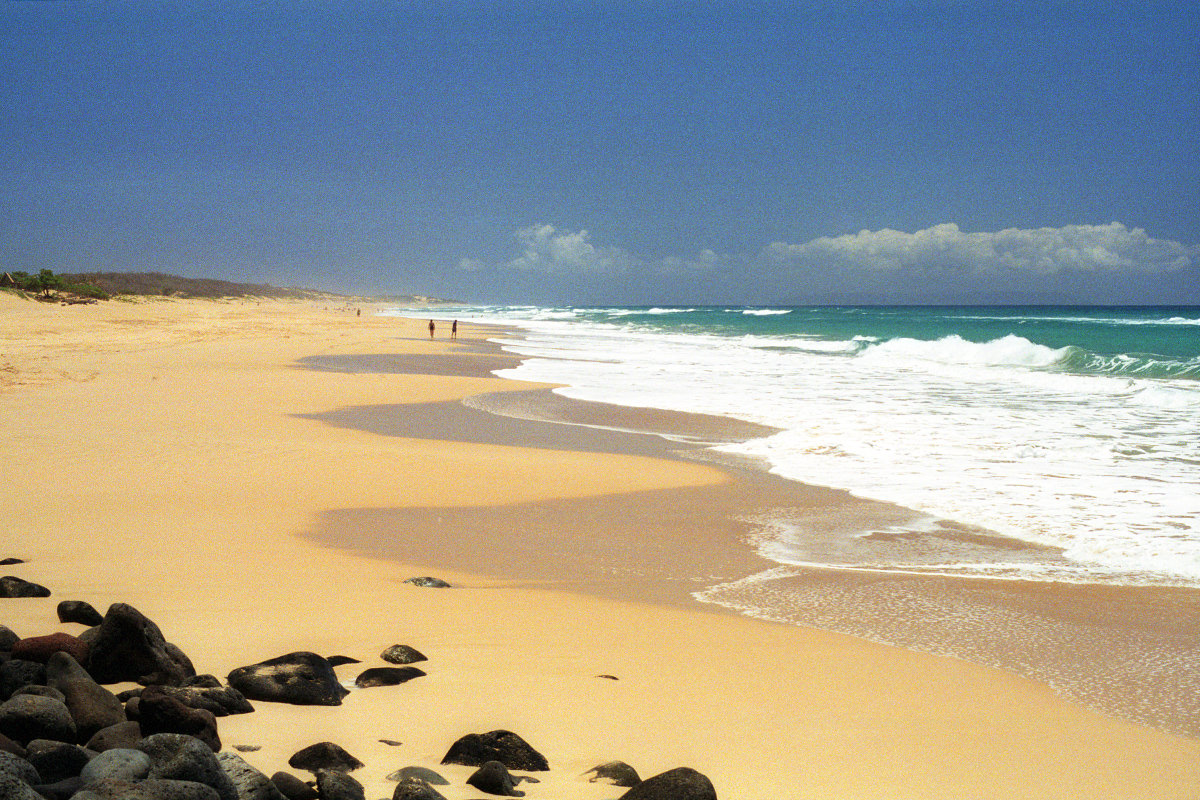 I did not take a photo of the guy digging his SUV out. This was before the days of being able to sneak a shot with a mobile phone, and I really didn't want him to get pissed at me for exploiting his misfortune if I were caught... so I restrained myself. In the shot above, he is just to the left out of frame.
Wow. These shots I took really are from the 80's. Just look at that film grain when I zoom in...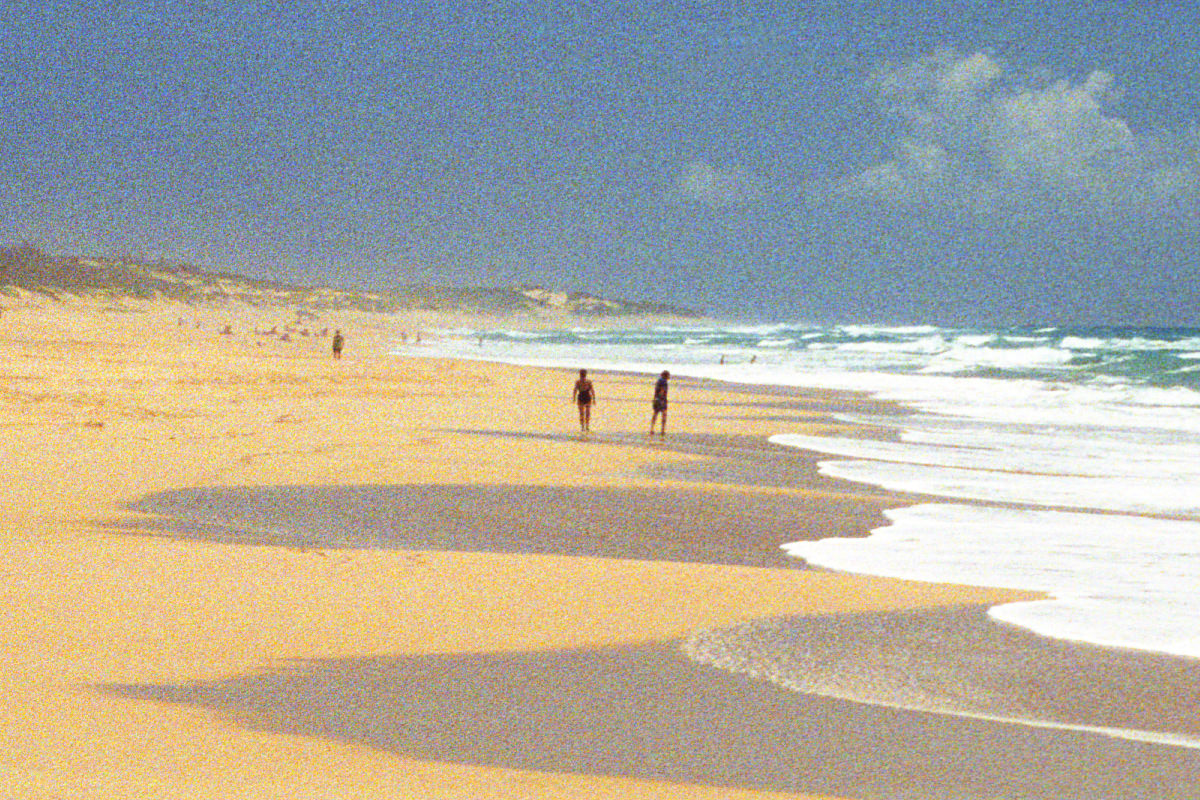 Anyway... After twenty minutes of bumming around, we walked back to our jeep. The guy was still there attempting to dig the SUV out. A part of me wanted to ask if we should call a tow truck for him when we got back to civilization, but I didn't want him getting more pissed than he already was. Instead we took a long loop around him. We were on vacation, after all. If he had shouted out to us as we walked by, we absolutely would have called AAA for him (or whatever) but, well, you know...
Once we made it back and climbed into the jeep, Doug turned to me and said "Hell of a day, isn't it?" And then we both laughed our asses off because we're mean that way. But, hey, at least we know better than to try and drive in sand, amirite?
Fast forward to a couple years later. The movie Total Recall had just come out. It featured a scene where Arnold Schwarzenegger wakes up in a cab being driven by a robot. After some confusion as to how he got there, the Johnny Cab robot says "Hell of a day, isn't it?"...
I don't know if Doug was with me in the theater when I saw Total Recall. I'd like to think that he was. He probably was. Or maybe he wasn't and I talked to him about it later after we had both seen it. I honestly don't remember. What I DO remember is laughing my ass off when Johnny Cab said "Hell of a day, isn't it?" Because that's exactly how the guy digging out his car said it. The people in the theater probably thought I was insane, but it was damn funny in a "You Had To Be There" kind of way.
Over the years, every once in a while when we saw each other, one of us would inevitably say "Hell of a day, isn't it?".
Last week I ran across a story about a car that had been driven out onto the beach, then abandoned in the face of Hurricane Dorian because it got stuck...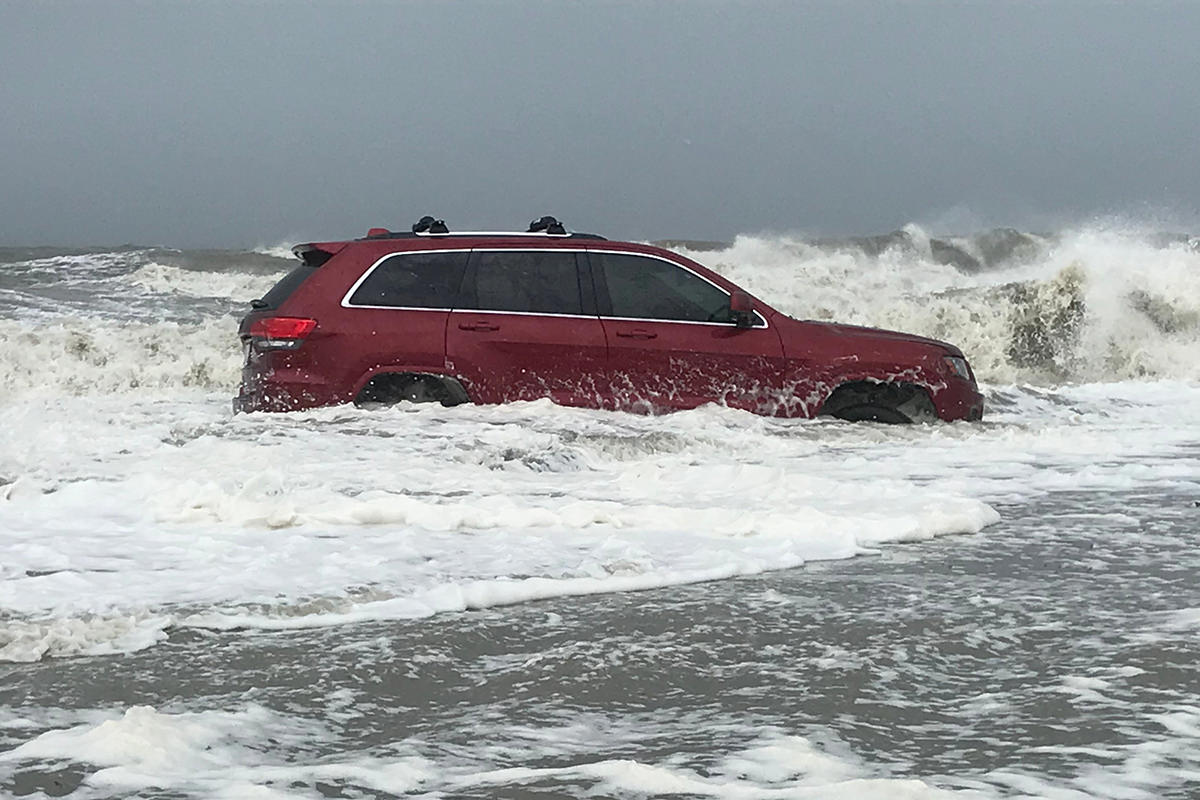 After it was discovered, social media happened. Because of course it did. Then #JeepWatch2019 took over. The meme was popping up everywhere...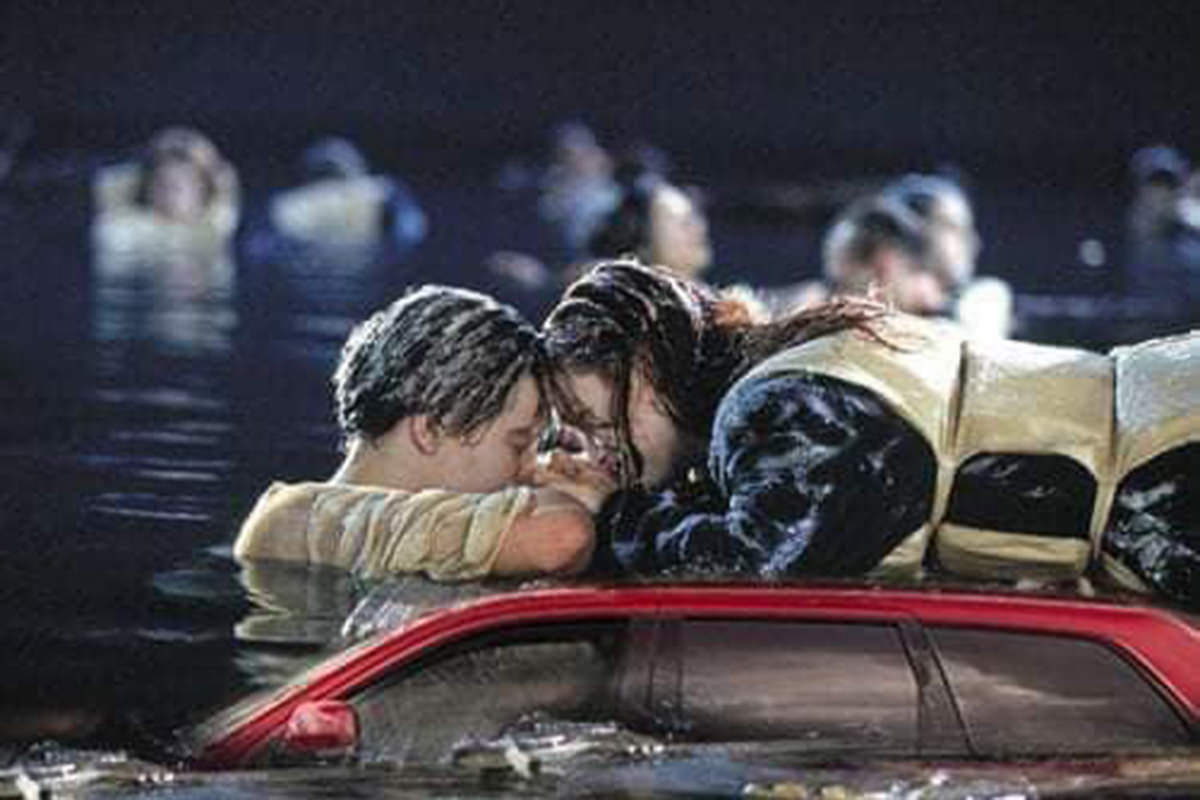 Now, as you can imagine, the minute I saw this my first instinct was to create my own meme and text it to Doug...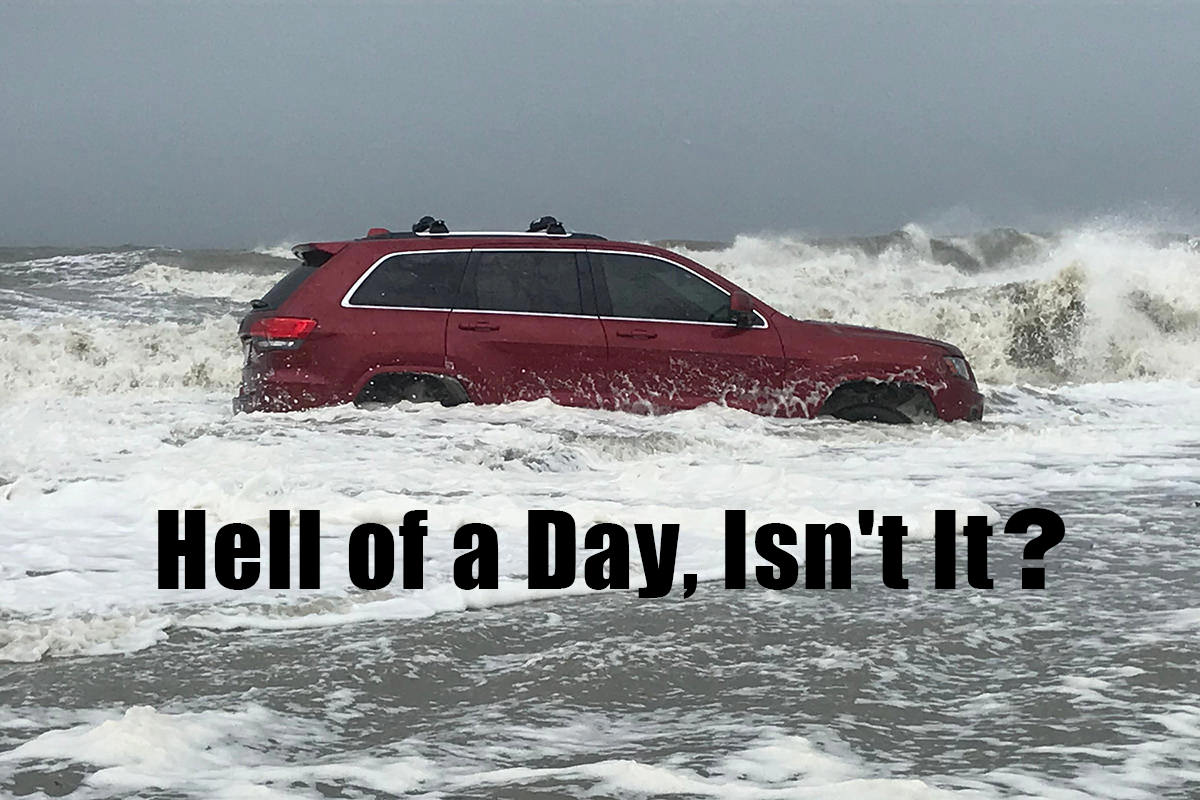 Except I couldn't.
It took me a minute to remember that Doug is gone.
That's one of the worst things there is, isn't it? Having a shared experience that only one other person on earth could possibly relate to... but for them to no longer be around to share it with? Not even the guy who was trying to dig his SUV out of the sand with a frisbee that day can possibly know what it that moment was to us. My writing this long-ass blog entry can explain what happened, but it's not the same as having lived through it. There was only the two of us.
And now there's just one of us.
And while it's a funny memory for me, knowing that I will never again have that one person to laugh about it with is a weight that came crashing down on my like a ton of bricks. And it's weird, isn't it? How I never heard about a car getting stuck on a beach when it could have meant something hilarious... but now that it can't, I'm probably going to be hearing about it happening all the time? Because isn't that the way these things go? Maybe it's just how The Universe likes to dick with us. Or maybe it's how our brains like to dick with us by noticing things only after they've become more hurtful than hilarious? Heaven only knows that a Google Image Seach for "Car Stuck on Beach" sure turns up a lot of photos of it happening.
Today I found out that they were finally able to rescue that SUV from the beach after the hurricane passed. I still have no idea how the guy at Polihale Beach, Kauai ever managed to get his SUV off the beach.
Hell of a day, isn't it?
Posted on Sunday, September 8th, 2019

Summer may be in its last gasp but the weather couldn't be better, because an all new Bullet Sunday starts... now...

• Thunder Rolls. Well, the weather couldn't be better now. Last night was an entirely different story. The thunder was shaking the entire house. The lightning was so bright that it was illuminating everything like it was daytime...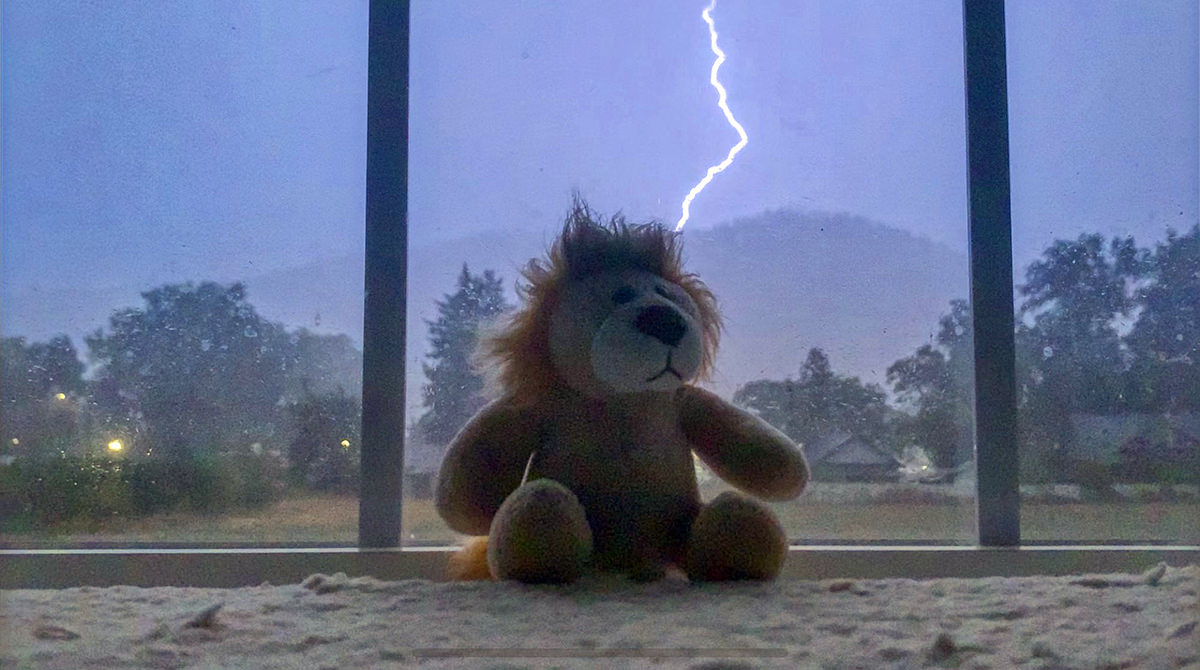 The cats were not happy. Jenny came in crying when all the ruckus started. Jake arrived ten minutes later, and I heard him whining all the way up the stairs. I pet them for a while before finally jumping to the window to take photos.
Then today... no clouds and flawless blue skies...
Enjoy it while it lasts, pretty girl. Winter is coming.

• Baked. September is my most favorite month of the year to bake stuff, and I do so often. Something about the combination of temperature and humidity creates the perfect storm for high-rising, wonderfully-textured bread. Today I made some beautiful bread and amazing hamburger buns...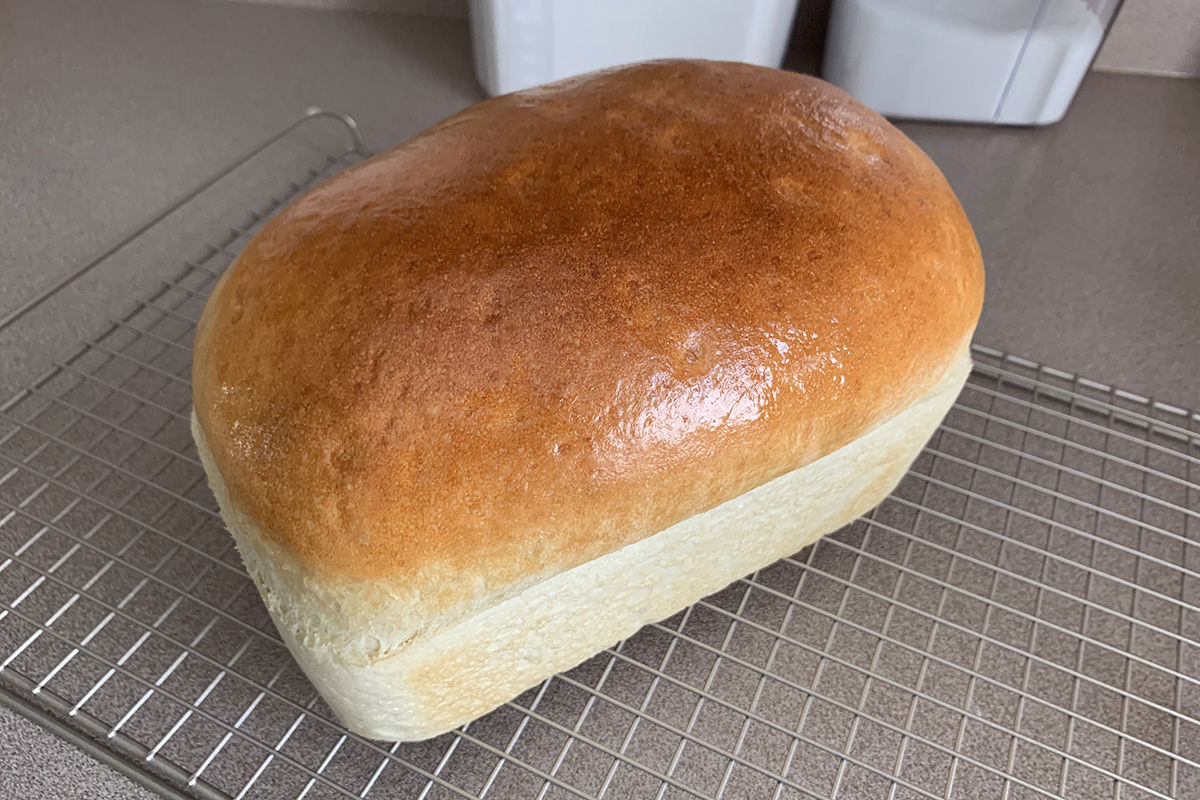 And, let me tell you... homemade hamburger buns are the best! Tonight's selection was a veggie burger with lemon garlic mayo, dijon mustard, thinly-sliced tomato, and pickle on homemade bun...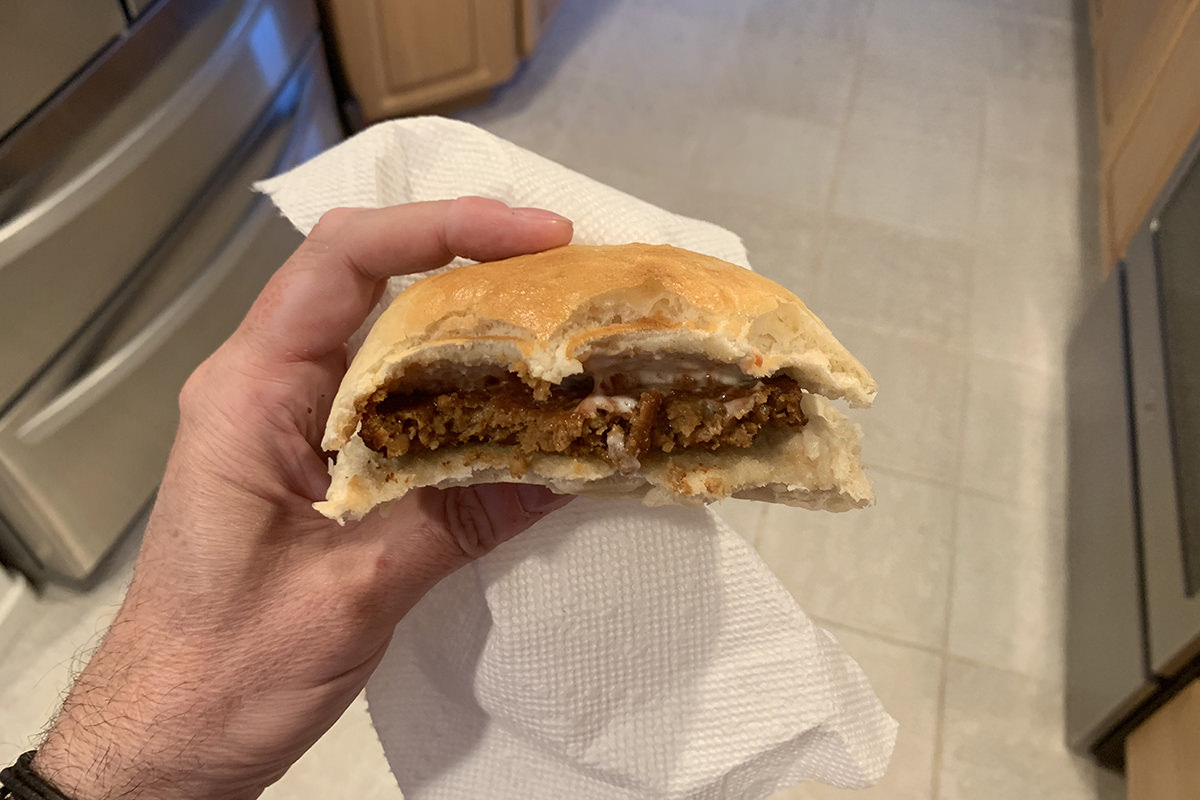 Pretty fantastic, if I do say so myself.

• Very Berry. On Thursday when I dropped by the market to pick up some flour, I saw that strawberry cartons were on sale 2 for $5. I bought them on a whim and have been stressing ever since. Fruit usually goes on sale when it doesn't have much life left, so I've been eating them non-stop so I don't waste my $5. I was eating strawberries morning, noon, and night for two days, but I finally managed to power through. I may be sick of strawberries now, but they were some beautiful berries...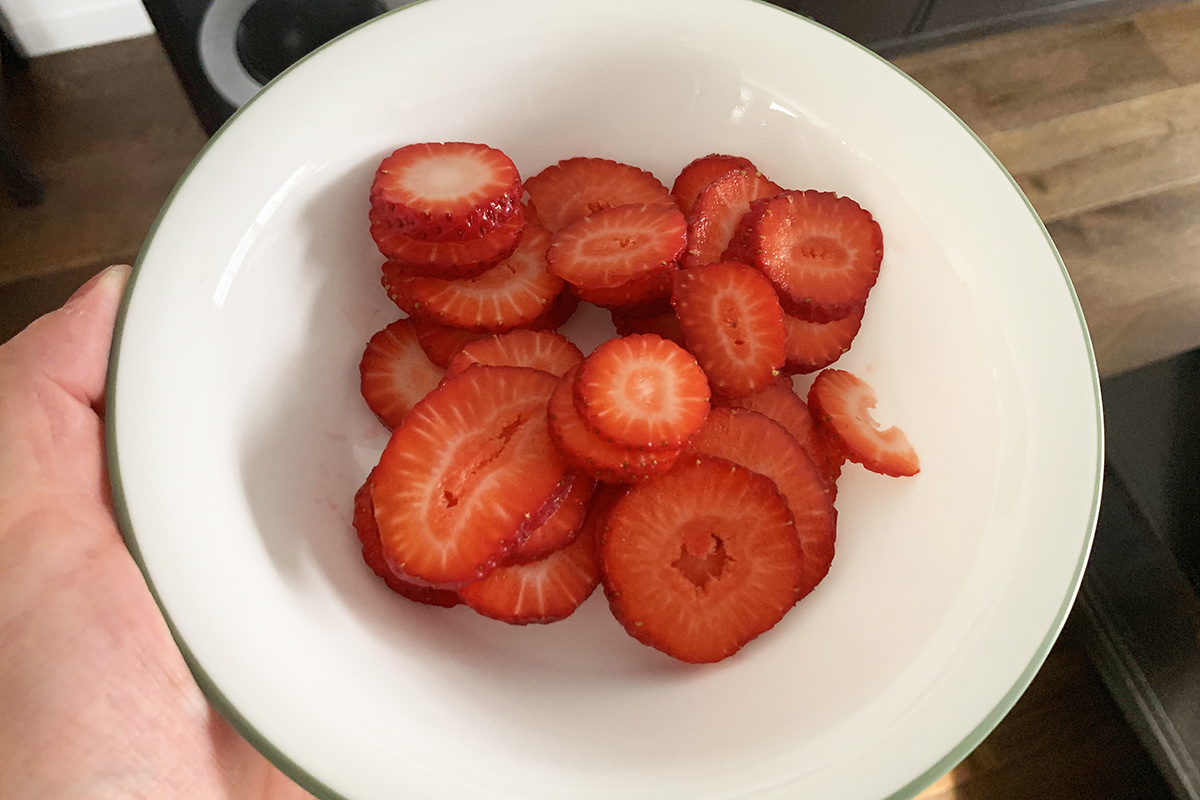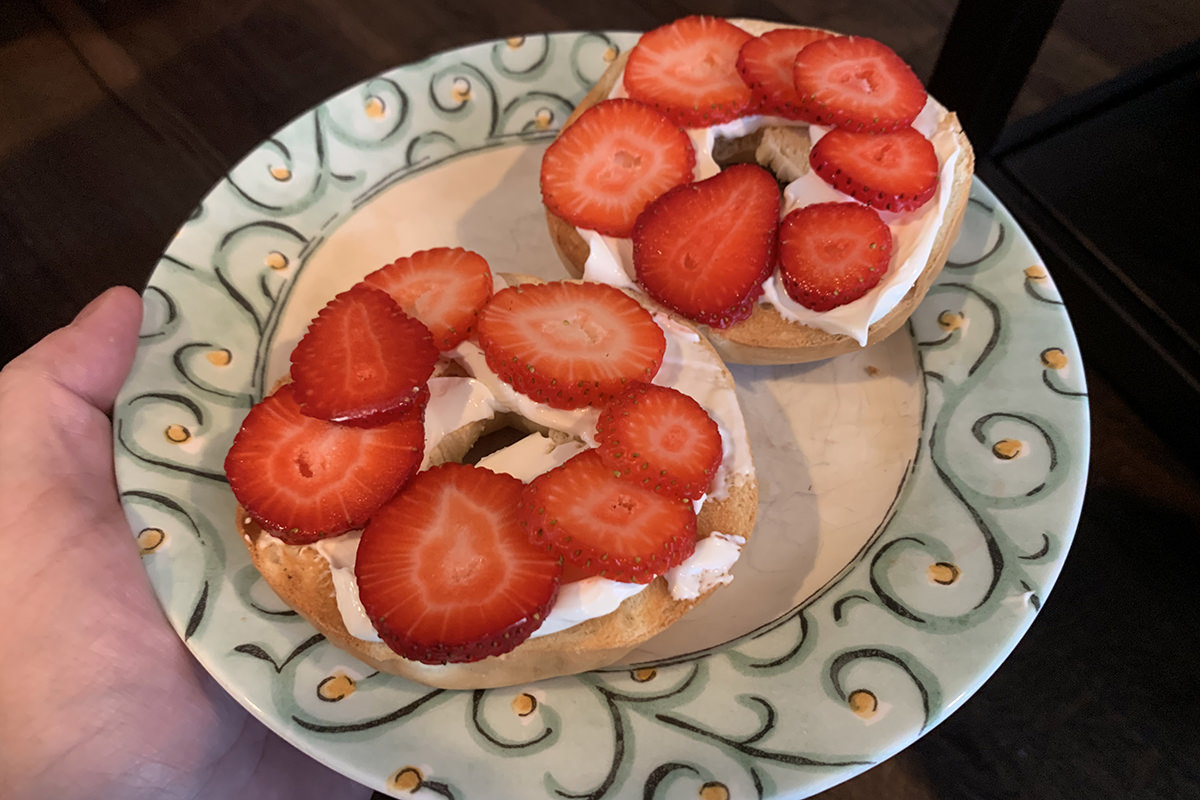 Boy does being single suck when it comes to grocery shopping. I always end up having to buy more than I can eat. The good news is that I'm done with strawberries for the year... just in time for the final summer crop to leave us!

• Scary Tech. The trailer for JEXI has been released. It's a comedy exploring what happens when the artificial intelligence on a guy's phone gets a little too smart. It's supposed to be a comedy. But when I watch this trailer I can't help but look at it as a near-future horror story...
I mean, seriously... isn't this the nightmare scenario that's entirely too plausible? Yeah, that's what I thought.

• Hellmark. Usually I don't give a crap about somebody's politics. I am easily able to separate an actor from their work, and do so all the time. Democrat? Republican? I'm neither, so I honestly don't care. But there's no way I'm supporting the career of somebody who is in bed with the toxic waste assholes at the Family Research Council like Dean Cain. Guess I'll have to be happy with watching all the Hallmark movies except the handful he appears in.
And speaking of Hallmark, Flip That Romance was finally repeated today...
This movie is genius. IT'S GENIUS! I've been anxiously waiting seeing Flip That Romance since the moment I found out it exists. The film combines two of my favorite things... home renovation shows and Hallmark movies. And it's good! Funny! Hallmark heaven, as it were.

• Nonstarter. You know... the more I use my Apple Card, the more I absolutely love it. It's just so absurdly easy and the features are crazy-good. So good. The only problem is that the benefits are total shit. 2% back? 3% on Apple products? So lame. I hope that other credit card companies take note of what Apple is doing and step up their game. Or Apple gets with the program and starts offering 5% back like a real card... even if it's just on Apple products (As it is, it's cheaper to buy Apple products on Amazon with my Amazon Card because I get 5% back on Amazon purchases... what sense does that make?). It will be interesting to see if Apple drives change in the industry like it has for so many other things. I would certainly hope so.

Hope your new week is a good one!
Posted on Saturday, September 7th, 2019

I know my cats like me. They greet me when I arrive home. When I'm around, they are always in whatever room I'm in. Heck, they're always waiting outside the door when I'm come out of the bathroom. Granted, their adoration is probably because I feed them, play with them, pet them, scratch them, and buy them stuff... but I'll take it.
This is not to say that it's non-stop adoration around here.
This morning I had to get started cleaning the house. I put it off so I wouldn't interrupt their post-breakfast nap. But when their post-breakfast nap turned into a pre-lunch nap, I finally bit the bullet and started with my weekly chores.
Jake was irritated.
Jenny was livid. She gave me a death-stare that came dangerously close to melting my skin off.
My sweet girl has had a bit of a sour face from the beginning...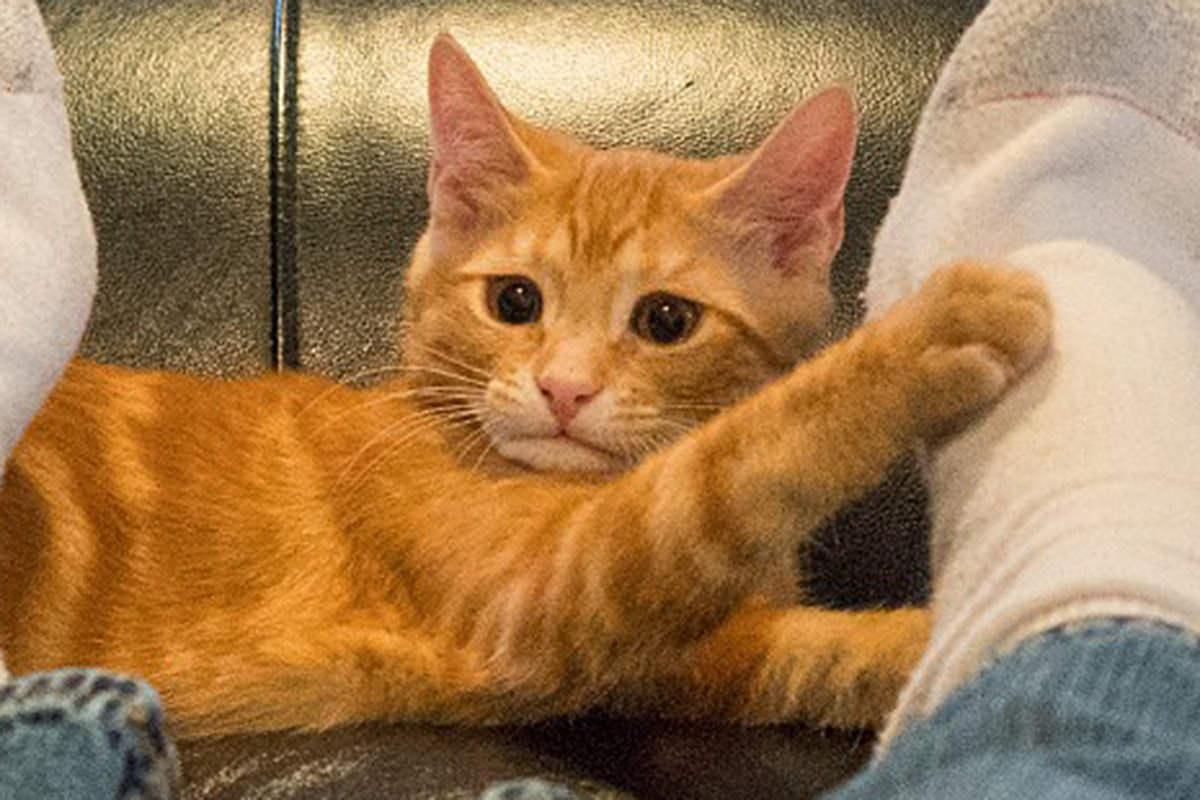 So when she's irritated, you definitely know it...
But even when she's grumpy and irritated one minute...
...the next minute she can be all adorable and melt your heart again...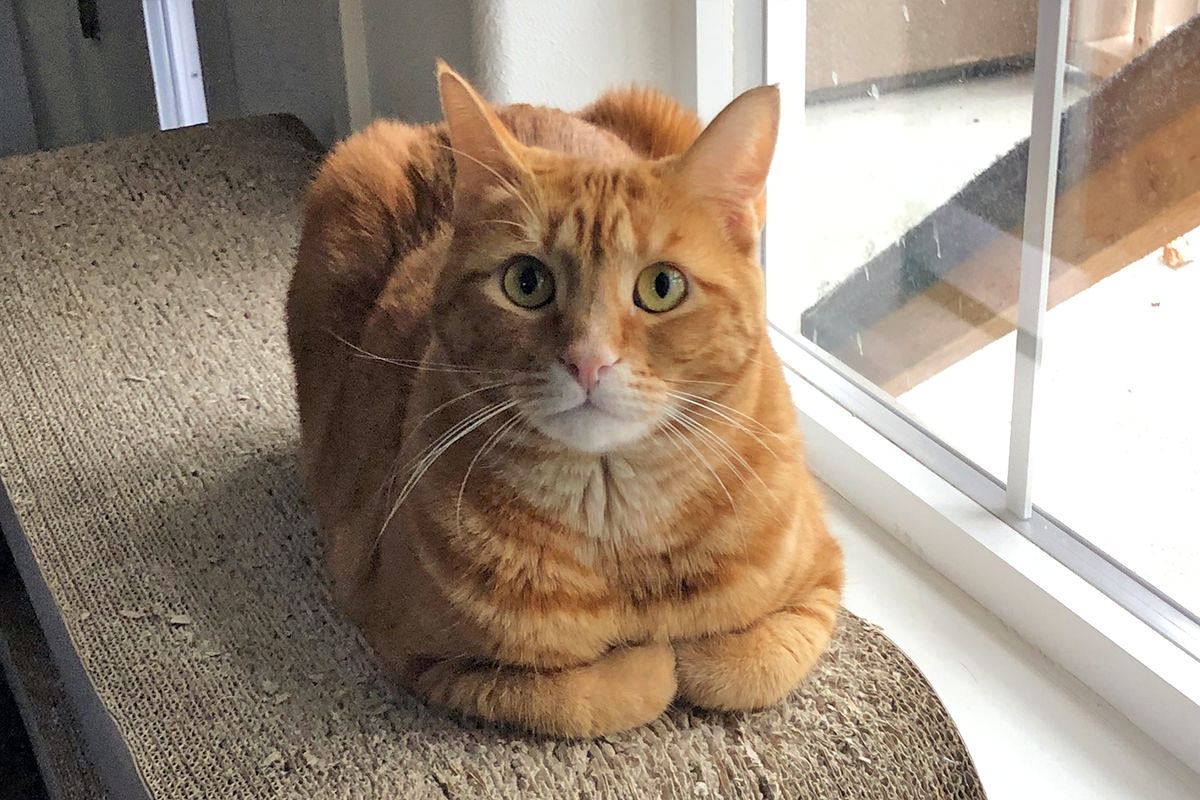 In other Caturday news, Jake and Jenny have been pretty buddy buddy lately. Usually they coexist without much interaction... but now they've been hanging out together quite a bit...
My guess is that it's getting cooler, so they're snuggling up for body warmth?
I hear that. We're supposed to be getting a thunderstorm tonight!
Posted on Friday, September 6th, 2019

This morning I woke up and felt, for the first time this year, that Summer is on its way out. Instead of the beautiful mornings that permeate the months of June, July, and August, things looked considerably less bright. More dreary and foreboding. The afternoons will still be sunny and warm for a while yet, but the mornings and evenings will be colder, dimmer, and less life affirming. Don't get me wrong... I love Fall... but the transition to get there is darn depressing. Not enough that I want to move south so I can avoid it, but enough that I don't want to get out of bed in the morning.
Especially early in the morning, like today.
Usually I am awake and working at 5:30am. Checking email, going through my to-do's, setting up things that need to be done when I get into the office... that kind of stuff. But I don't get out of bed until the Alexa alarm goes off at 7am and it's time to feed the cats. Then I work a little more before getting ready to go into the office at 9am. Most days this means I've put in two or three hours before I even go to work, but I'm okay with it because I'm not completely overwhelmed once I get there.
If I get out of bed earlier than 7am, it's almost always because I'm traveling. This morning it was because I had to shoot some video.
But Jake and Jenny don't know that. All they know is that their daily routine is being disrupted. In their mind, I'm going to be gone for days, which causes a major freak-out. Jenny's crying on the banister. Jake is running after me so he can rub up against my legs. It's like a Greek feline tragedy unfolding, and I always feel terrible about it. I try to explain that I'll be back this afternoon, but they're cats... so... well, you know...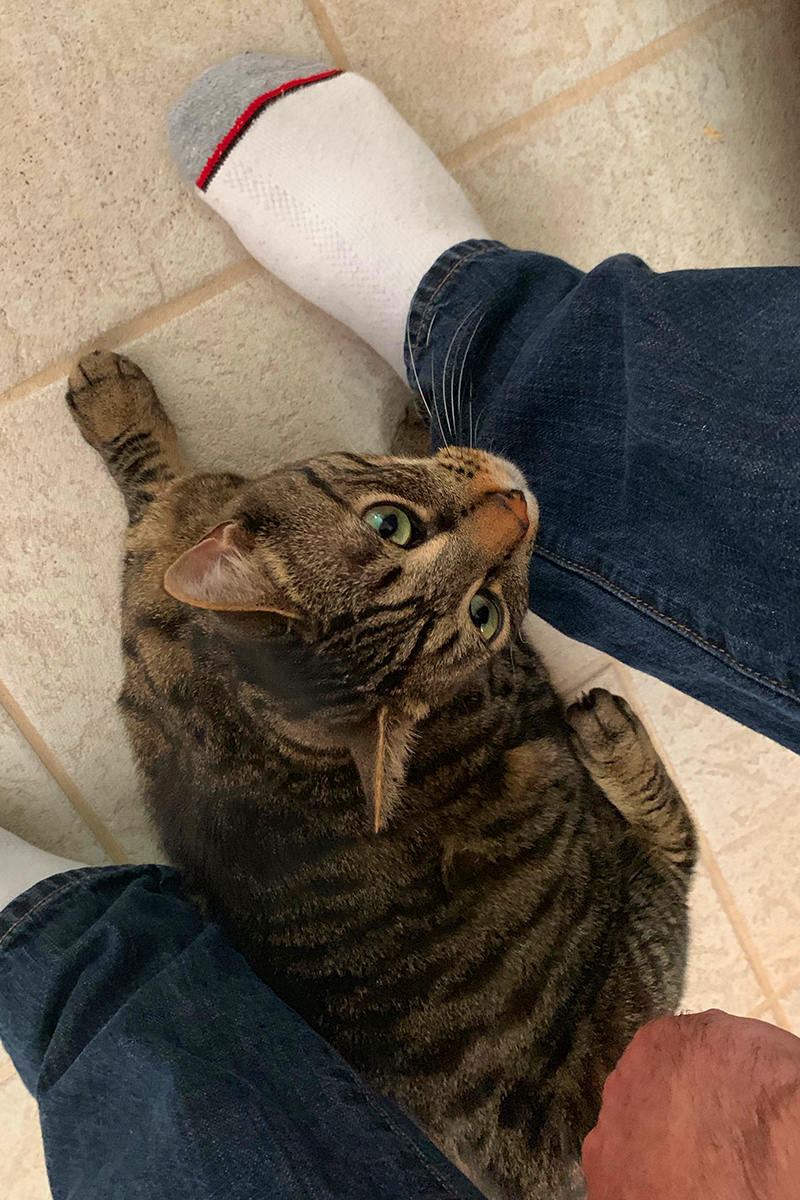 I wish for the ability to talk with my cats almost daily. Most of the time it's to ask them "Why did you just do that? What are you thinking here?" But times like this would be to tell them what's going on so they wouldn't be so upset.
Instead all I can do is distract them with cat treats while I sneak out the front door.
Then spend the rest of my day wondering how they're doing after the cat treats are gone.
Posted on Thursday, September 5th, 2019

Thanks to my two cats, my home will never be impeccably clean. Their fur is everywhere. Their toys are everywhere. Their kitty litter tracks everywhere. And their cat trees are pretty gross. And yet... I do what I can to keep my house as clean as possible. Partly because I don't want it looking like a disaster area when guests drop by unexpectedly. But mostly because I don't want bugs in my house, and I've found constant cleaning goes a long, long way towards keeping them out.
Carl the RoboVac runs every day to keep my floors mostly clean (I vacuum by hand when needed to get the rest). I steam-clean the cat feeding station every week (Jenny makes a bit of a mess when eating wet food because she licks it instead of bites it). I keep countertops clean and my kitchen mopped. I wipe up or vacuum food crumbs whenever I spot them. I scrub everything with a baking soda wash on a rotating schedule. I do whatever I can to keep my home as clean as possible so bugs don't show up. Yes, it's a lot of work, but it's worth it because it actually seems to help. I am lucky to see few insects in my house.
Except...
Lately my cats have been catching giant spiders out in the catio then bringing them inside to play with.
As you can imagine, this has me more than a little freaked out. Nothing quite like spotting something on the floor out of the corner of your eye... going to investigate... then seeing it's a spider that the cats tortured to death.
And here I thought that Jake and Jenny eating bugs out in the catio was the worst thing that could possibly happen. I love my cats more than I know how to adequately express, but this is driving me insane. But what can you do? I refuse to yell at my cats for being cats. When I adopted them to keep my mom company, I knew what I was getting into. Any problems that come out of that decision are my fault, not theirs.
And so... occasional spiders are in my future, I guess.
Meanwhile in TV Land...
Hallmark has finally confirmed their new Christmas movie schedule and I've updated my 2019 movie page so that all forty of them are in my winter television schedule. Hopefully at least half of them are worth a crap. It seems as they increase the number of movies year after year, the overall quality has been declining.
On the bright side, however, this year we're getting A Christmas Love Story starring KRISTIN CHENOWETH and Scott Wolf...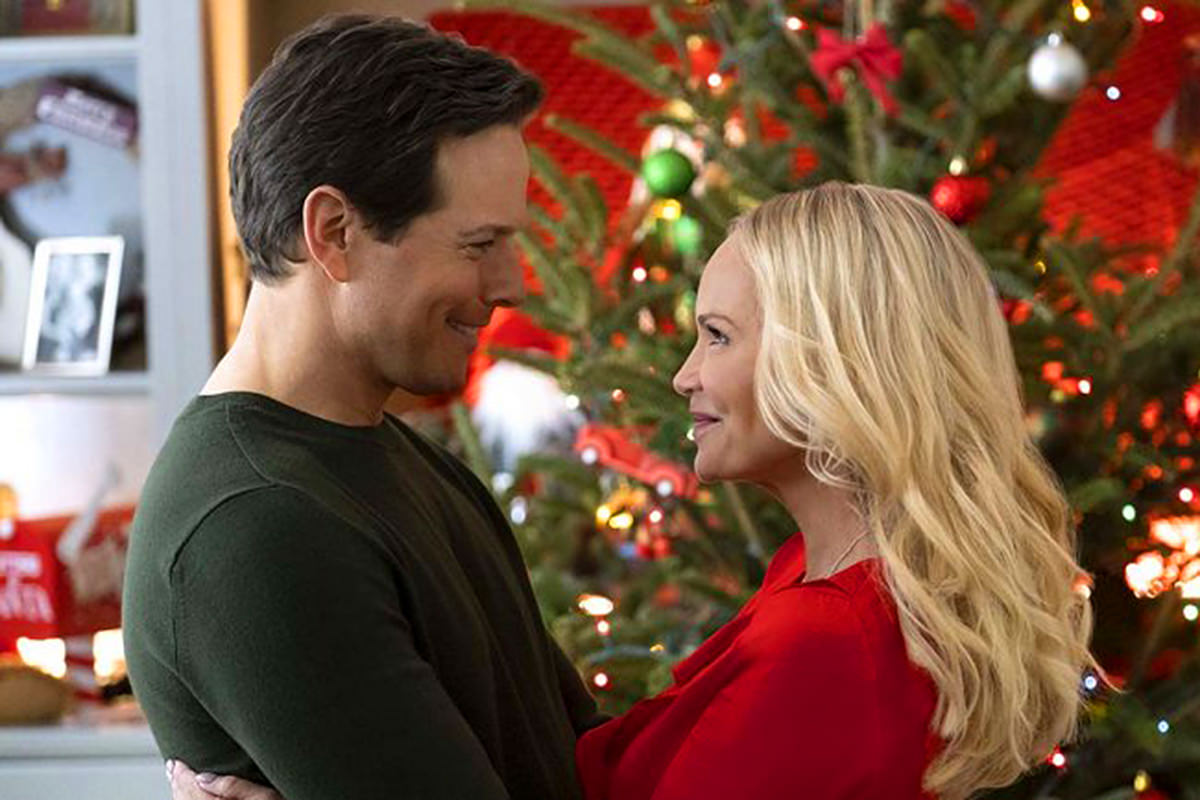 Just when you think that everything that could possibly be said about Christmas from Hallmark has been said... here comes Kristin! So at least one of the movies will be insanely chipper in the way that only Kristin Chenoweth can deliver!
Ho! Ho! Ho! 50 days to go until October 25th...
Posted on Wednesday, September 4th, 2019

Back in July I ditched my satellite television after yet another channel got blacked out (this time it was CBS). I was getting tired of paying for something that I wasn't getting, and was frustrated that cable and satellite companies never give a crap about compensating you... until you threaten to leave. Well, screw that, I was done.
I ended up going the the Sling "Blue" package with the "Lifestyle Extra" package (for Hallmark) and their "Enhanced Virtual DVR" which allows me to fast-forward through commercials.
So... how's that working out for you? you may be asking. Well, I'll tell you how it's been working out...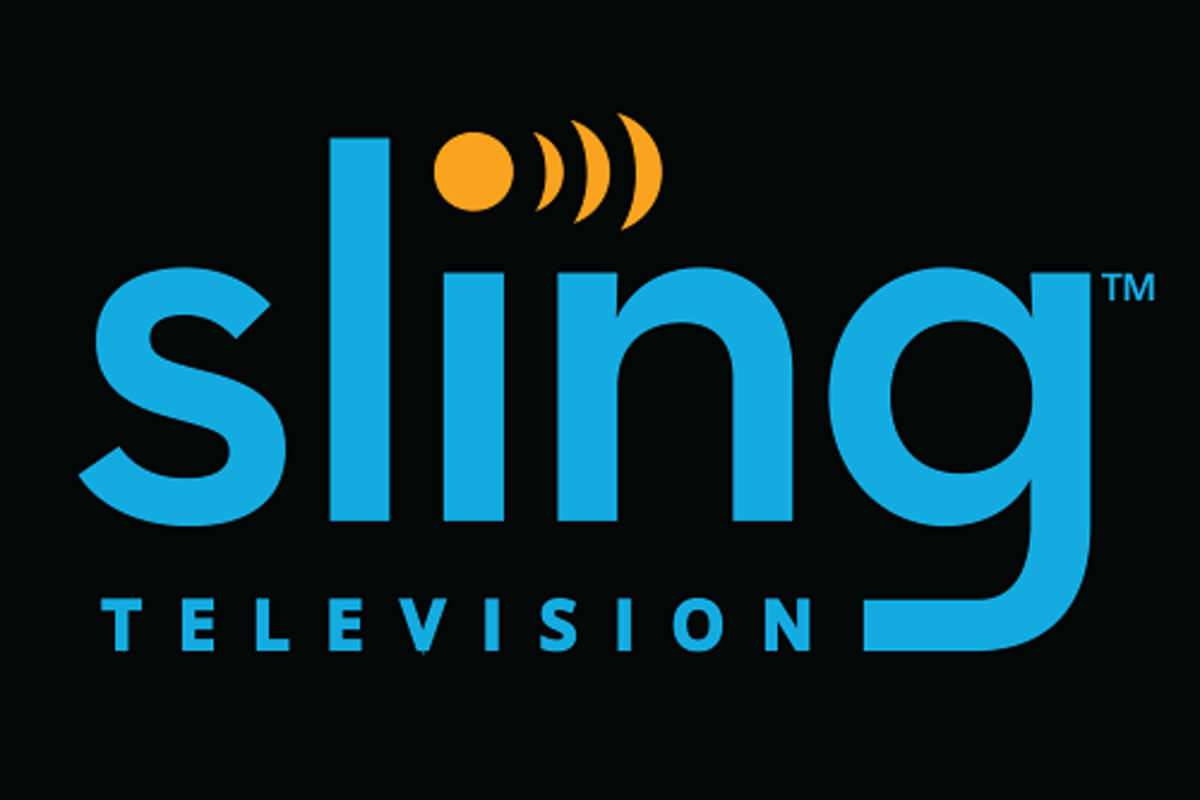 First of all, the Sling "Enhanced Virtual DVR" is pretty crappy. It's slow, it's clunky, and it even fails from time to time. I'll go to watch something I've recorded on Sling via my AppleTV, get a "Having Problems Streaming This Right Now, Try Later" error message, except it never becomes available. Sometimes I can get it started via their web browser interface, then switch back to AppleTV and get it going... but that's a pain in the ass and it doesn't always work. Even if it did, I still wouldn't be happy. If you delete a show off your DVR, it doesn't disappear immediately. It can take a while. This is confusing when watching a bunch of episodes of the same show you've got stacked up. As if all that wasn't bad enough, the "fast-forward" is complete bullshit. It's not actually "fast-forward," but instead a 30-second jump forward or a 10-second jump backwards. And it can stop working at any time, meaning you have to restart the app in order to get your fast forward back. The web version is even worse... letting you hover over the time bar to pick a spot to jump to... but half the time the time bar doesn't represent the actual show's timeline, so you're perpetually trapped in the first half-hour of a two-hour show and nothing you click gets you to where you want to be. It's incredibly frustrating and desperately needs to be fixed.
On the plus side, I love that I can transition from my downstairs AppleTV to my laptop to my upstairs AppleTV to my phone and pick up where I left off each time (though sometimes it doesn't remember exactly where you were for some reason). This is really convenient. Alas, you have to have a live internet connection and cannot download, but that's the way it goes.
I pre-paid three months of Sling Blue so I could get a free Over-The-Air antennae and control box for my local channels. Alas, I can't pick up a dang thing on it, so I have no local channels. Since Sling offers no other way to get them, you're out of luck unless you buy streaming packages directly from the network. This is unfortunate, but the price of Sling is so nice when compared to what I was paying for satellite that I will still come out way ahead if I pay CBS or ABC or NBC here and there to catch up on the shows I like that they have.
So... to summarize: Happy I got rid of satellite. Happy with Sling pricing. Not happy with Sling DVR (AT ALL). Okay with Sling as an alternative to cable/satellite which has gotten way, way too expensive.
When my three months pre-paid are up, I'm not sure if I will keep going with Sling or give something else a try. Hulu's "Hulu + Live TV" option is a no-go because they don't have Comedy Central or Hallmark. AT&T, Fubo, and YouTube are way too expensive. Philo might be a good option (it's even cheaper than Sling), so I'll definitely be giving them a try.
Or giving up television altogether.
One of those things.
Posted on Tuesday, September 3rd, 2019

The penultimate issue of Thrice Fiction Magazine has just been released. You can check it out on our website absolutely FREE! Our next issue... No. 27, coming in December... will be our last.
I'll be talking about all that later though. Right now I want to talk about the current issue, which is pretty darn cool if we do say so ourselves!
The cover image is something I originally created for the story Ode to Oceans in the interior. I really liked the story, and the minute I read about a cat being "a gingery thing" and belonging to the ruler of the universe who lives by the sea I knew exactly what I wanted to do. Take one of my photos of water, flip it so the sea was the sky and the sky was the sea, then have Jenny sitting on the sky as if it were ground. Because the ruler of the universe can do that. Problem was... it didn't end up fitting the story well. So I took the cat out, put the image right-side up, then used that instead. It was better for the story and had really good impact.
But I couldn't let go of the original image. It was just so cool. Cool enough for the cover...
The cat is my sweet Jenny. So that means both my cats have now appeared in the magazine (Jake appeared in Issue No. 22). And here's the image for the story Ode to Oceans by Elena Botts...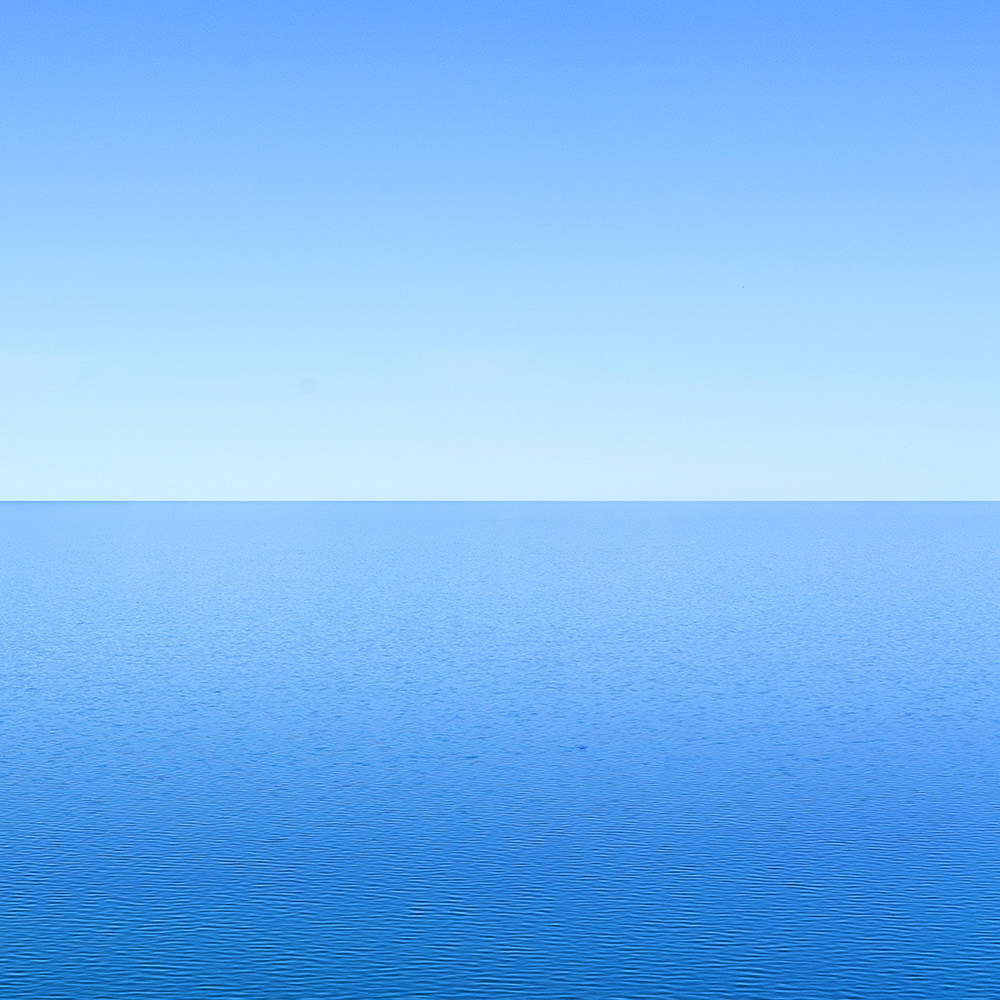 That's a real photo I took. I just cut out the middle section which had a shore and some trees... then glued the sky and sea together to create a kind of weird mirror.

The next piece I created was for the story Way Cross, Georgia, 1937 by James Lloyd Davis...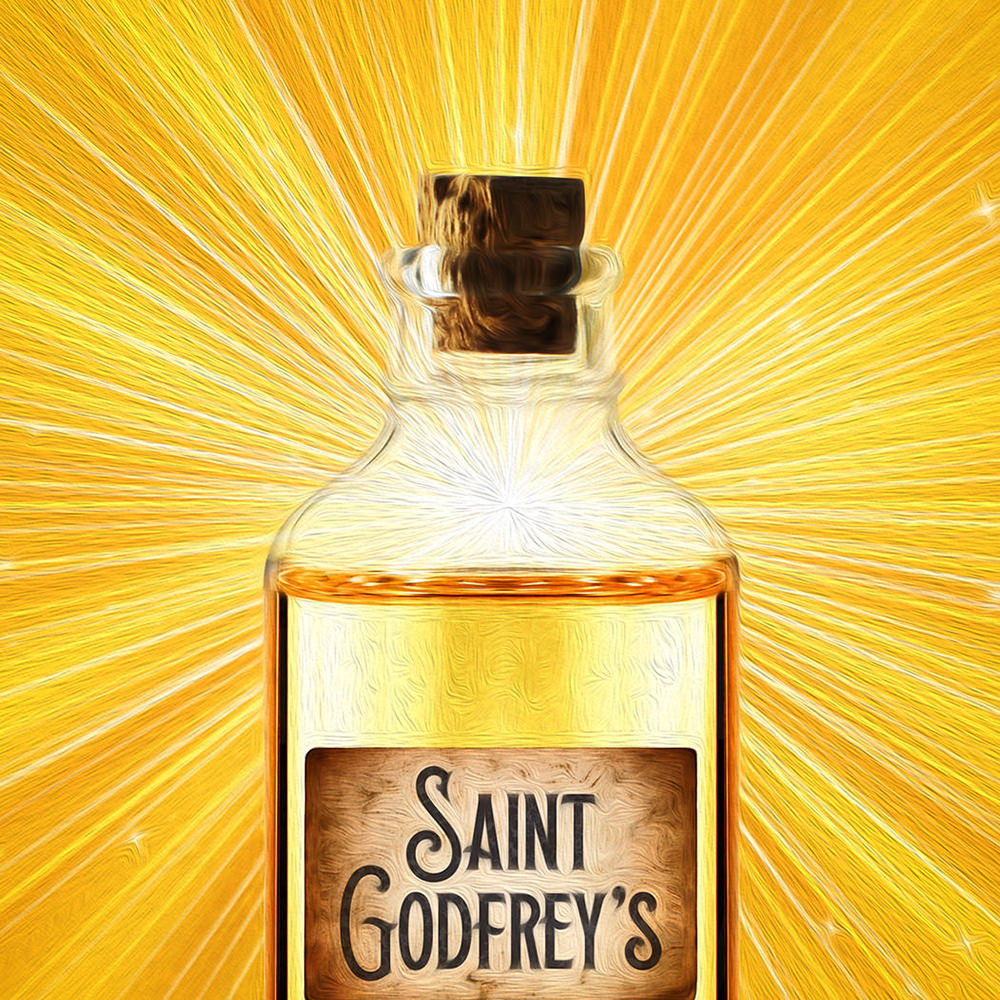 The story is one which has an emotional gut-punch and I wanted to have artwork to reflect that. But what I came up with originally didn't work for two reasons...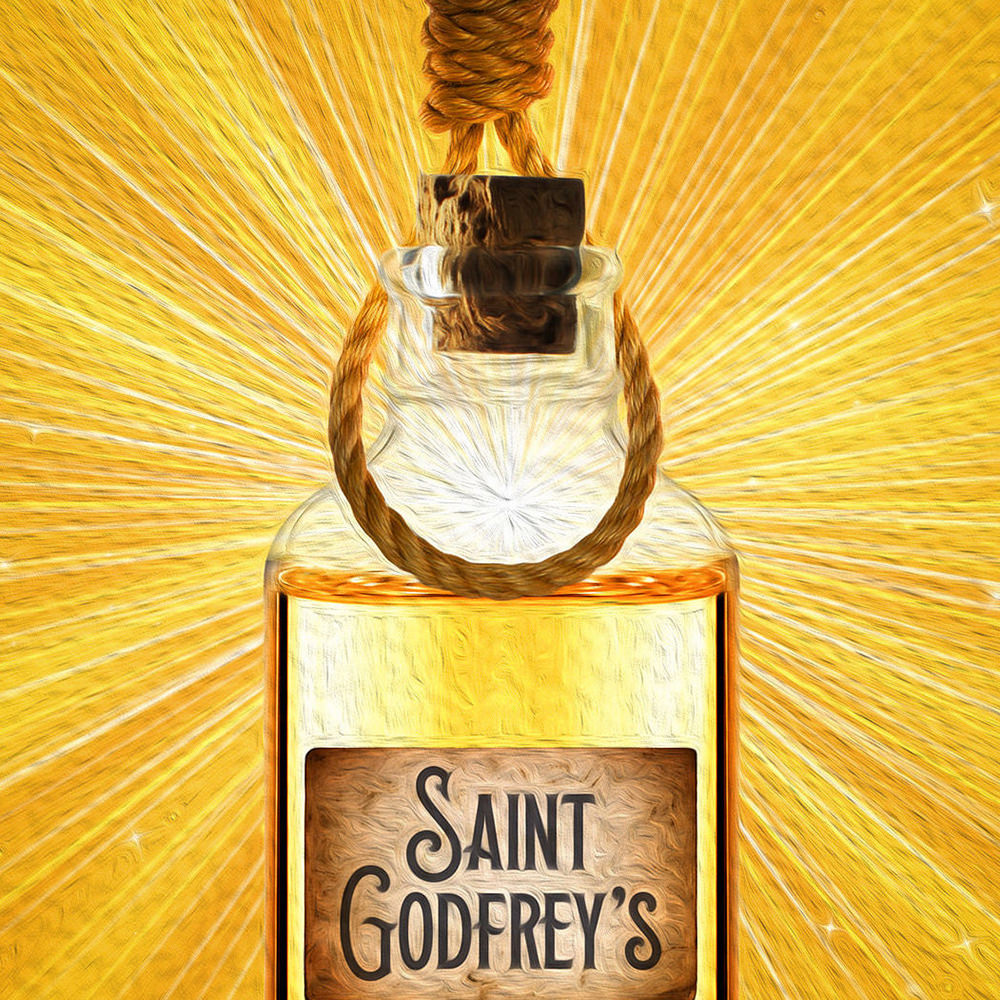 First of all... I had second thoughts on using a noose. It's a symbol of fear and hate and just seeing it can be hurtful to many people. I justified it because it's reflective of the story, yet I was still uneasy. But the reason I ultimately took the noose out was because it was a spoiler. The story has two distinct parts, and I was very careful to have a page break occur before the first section was over so the second part would be more impactful to the reader. But what good does that do if I give away the second part in the image?
And speaking of the image (a composite of four stock photos run through a paint filter)... the characters in the story are selling fake holy oil. I wanted to make it appear authentically holy by having a golden glow emanate from behind. It sure turned out pretty.

The last story I worked on was called Her Climb by George Hook...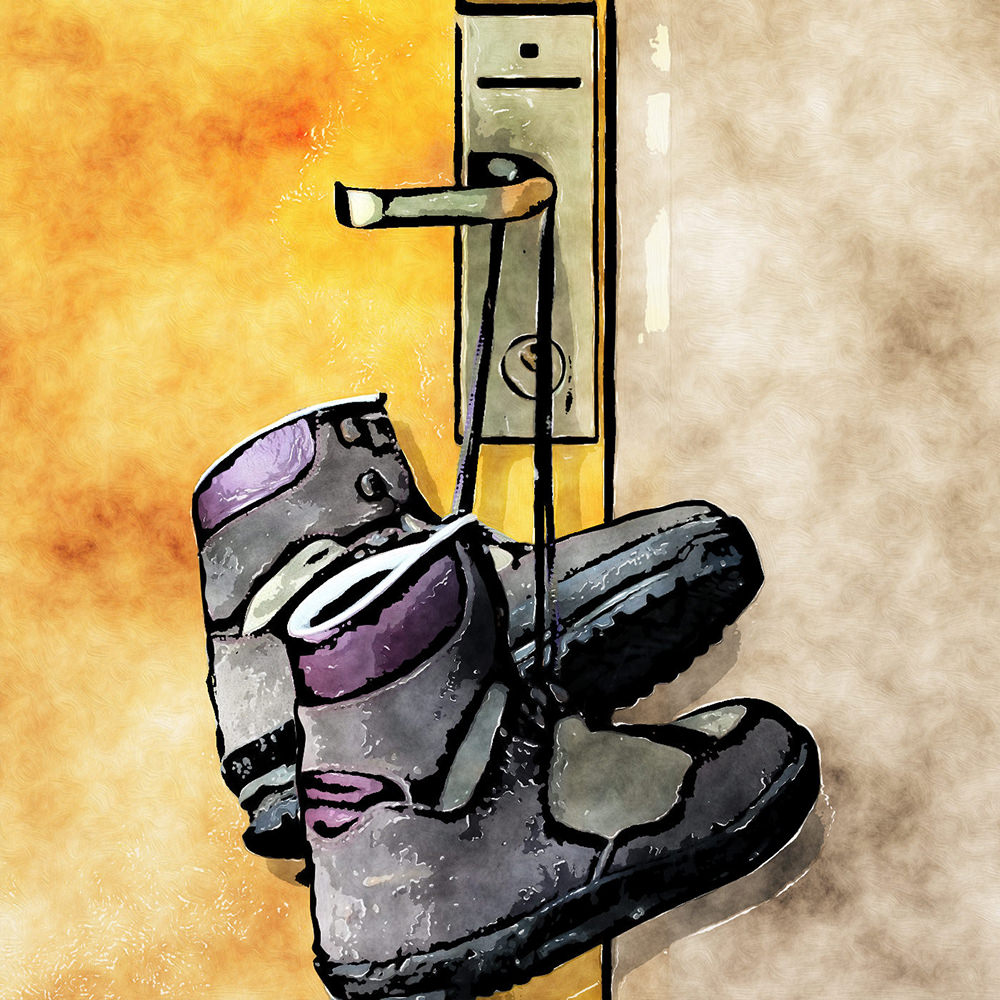 The story is the lament of a man pining after a Dutch girl who was climbing ahead of him. But, alas, the Dutch girl ended up with a French boy, and the man was left alone. He envisions the girl and boy from the climb in the room next to his being together (a climb of a different kind), which is even more painful to him.
I knew immediately what I wanted for the image. Since they were in the same building but different rooms, I imagined a hotel. And I imagined a pair of women's climbing boots handing off the door handle like a "Do Not Disturb" sign. My mom had a very nice pair of boots I bought her for our trip to Africa, but I couldn't find them to photograph them. I probably gave them to Goodwill or the Veteran's Exchange. So I ended up having to cut apart a bunch of stock images to create what I wanted... then drew around them with a heavy black outline. The resulting image was then run through a watercolor filter. I did several versions before I found one that would "read" for a small 2-1/4" square image.

The final two images I created for the magazine were a flower from the side of my house on the inside-front cover... and a shot of a toy riding horse I photographed in Malaga, Spain...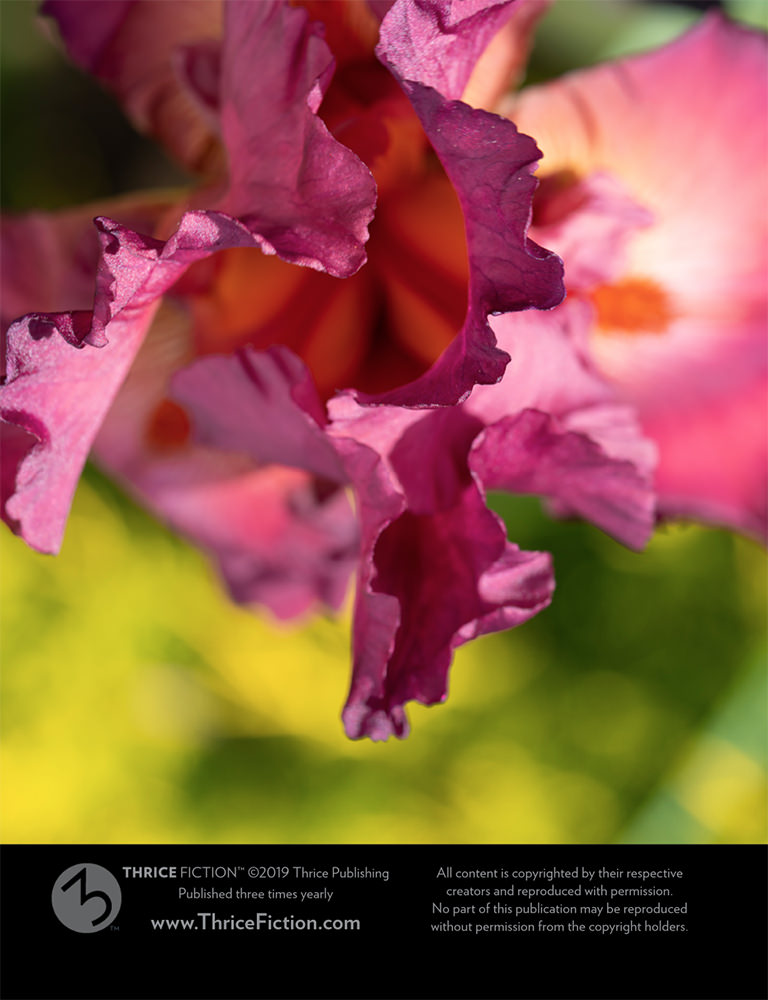 And that was the end of that issue! One more to go...
Posted on Monday, September 2nd, 2019

I worked late last night so I could work a half day today. For whatever reason I just wanted a small piece of my Labor Day holiday to have no work involved. The rest of my day was reading and watching the Hallmark Summer Movie Marathon in the hopes that there were movies I hadn't seen yet in the countdown.
But I'm getting ahead of myself.
My day started with Jake running into my bedroom, dropping Mufasa the Lion on the floor, squawking as loud as he could manage, then running back downstairs to run around with his sister until breakfast.
Since Jenny keeps taking Mufasa away from him and hiding it, I'm guessing that Jake wanted me to watch over his most prized posesstion for him...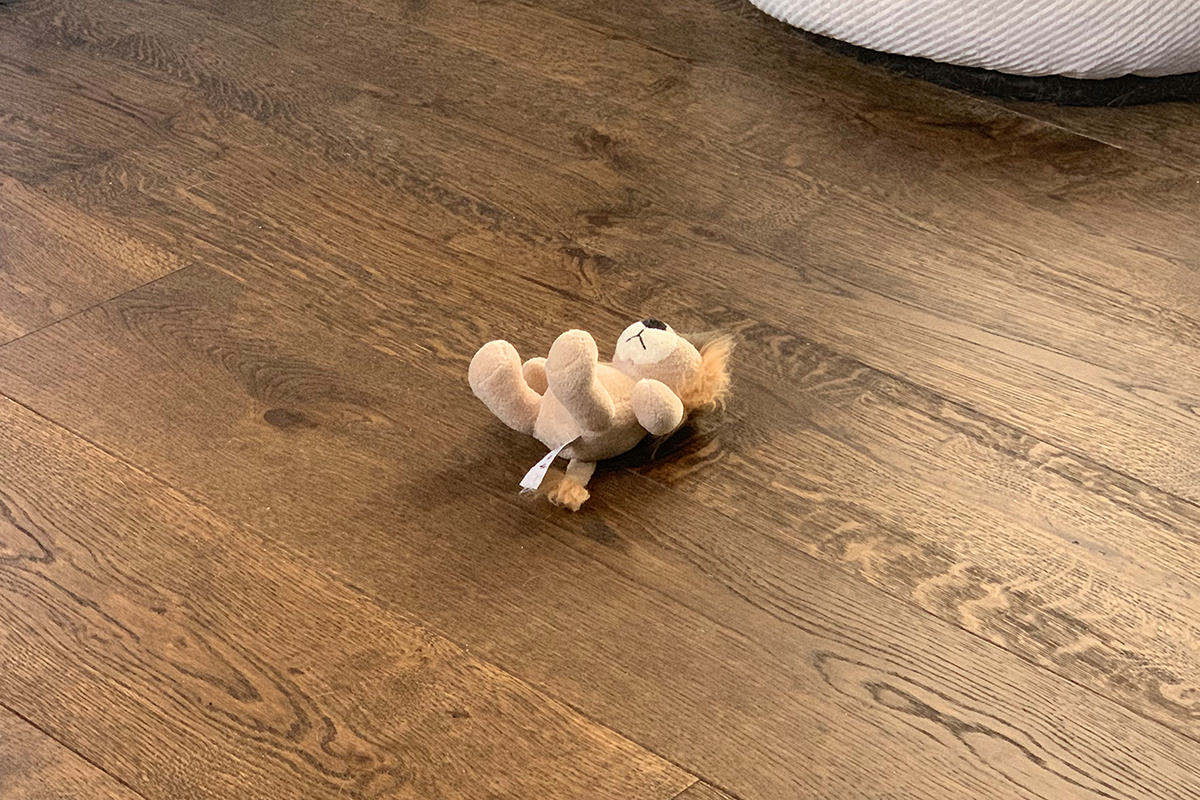 Jenny is way more crafty than I am, so that probably wasn't one of Jake's best ideas.
And, yes, I am still on my mission to watch all the Hallmark originals.
The good news is that I was able to check several that I missed off my list. Including my new favorites Love at the Shore and Summer Villa...

These two movies aren't just "good for a Hallmark movie," they're good for an actual movie. Well, assuming you like cheesy romance flicks.
And now it's just a matter of waiting for October 25th, which is when all the new Countdown to Christmas movies start up. As I mentioned, this year there are forty of them. FORTY!
Posted on Sunday, September 1st, 2019

Labor Day may be tomorrow but the party starts now, because an all new Bullet Sunday starts... now...

• Hurrican Dorian. The images coming out of the Bahamas have been terrifying. And now parts of the Georgia coast are under mandatory evacuation...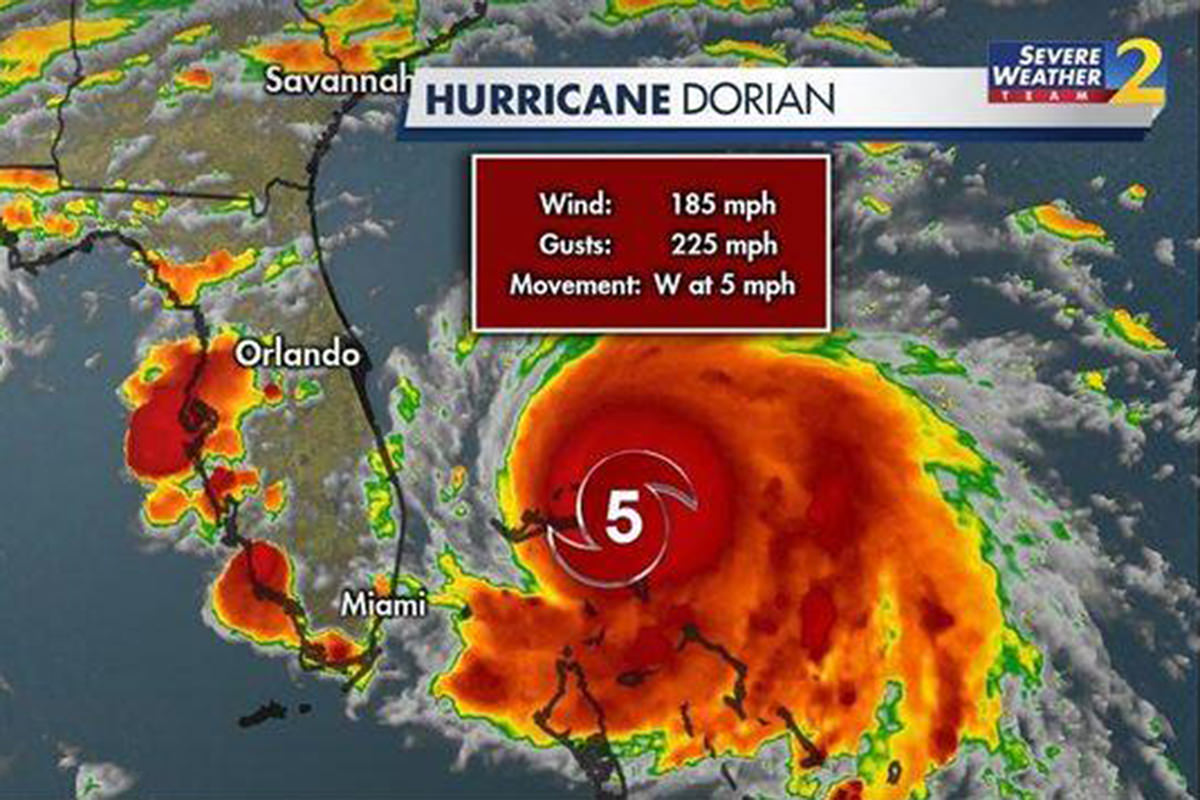 Map from The Atlanta Journal-Constitution.
Dorian is tied with a hurricane from 1935 for the highest wind speed at landfall... a staggering 185mph. I hope that's the only horrible record that ends up being broken.

• Lover! A lovely video for the very pretty title track off of Taylor Swift's latest album...
And I'm not the only fan of the song. Keith Urban did a beautiful cover while performing at the Washington State Fair...
I think 1989 is still my favorite T-Swifty album, but Lover is a close second. Tracks like this make it so. I know I'm late to the party here (1989 was the first time I had even heard of her), but I never cease to be impressed with her talent, wit, charm, and intelligence...
Such a remarkable person. Continued success to you, Miss Swift.

• Parade! A true leader celebrates all the people they represent. Canadian Prime Minister Justin Trudeau takes that to heart, as you can see from his taking part in this Pride parade...
Meanwhile, our leadership is doing everything they can to strip rights from our citizens. A depressing state of affairs for the so-called "Land of the Free."

• Rowl! Exceptional production values, gorgeous cinematography, beautiful costuming, and mind-blowing sets don't mean shit when your story is bloated and boring. It's like they took a 90 minute movie and stretched it out to 8 mind-numbing episodes. That's Carnival Row for you...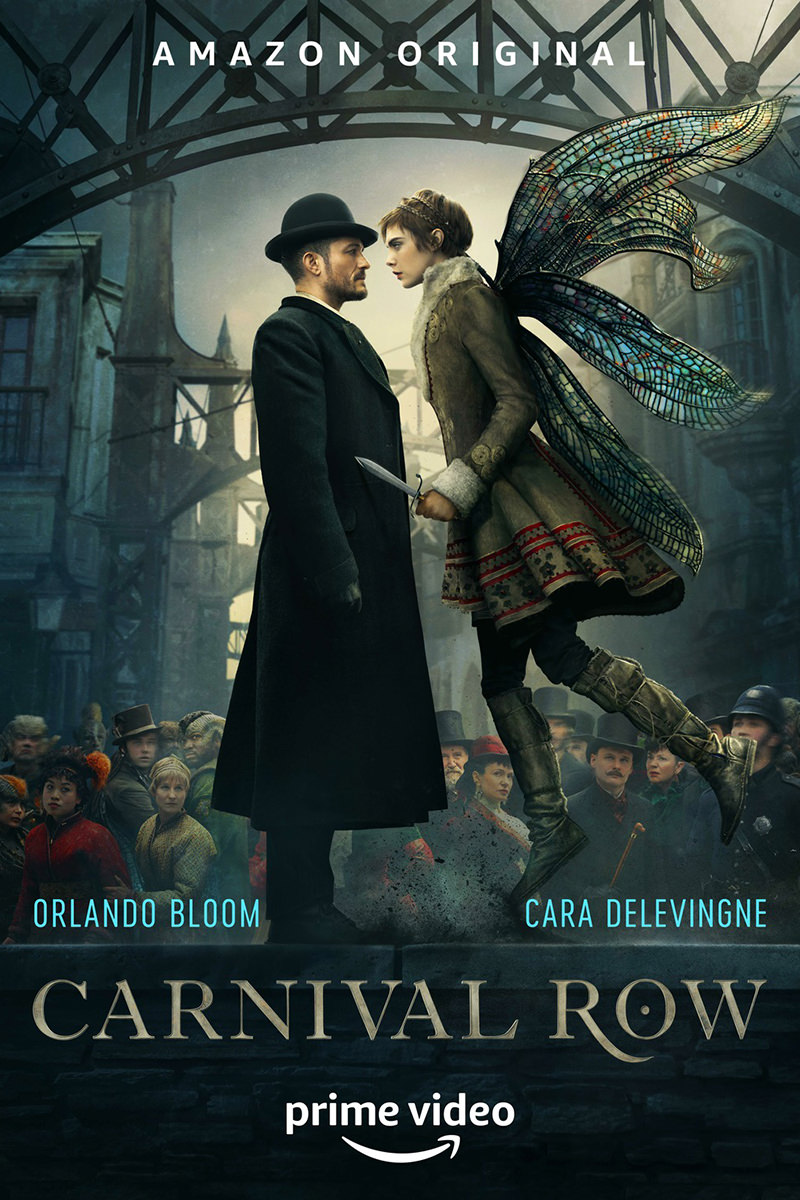 Guillermo del Toro, who was originally going to be working on Carnival Row, dropped out because of his movie obligations. Don't know if it would have made any difference, but his impeccable pacing and storytelling were much needed here. It's like they had the sets and all the costumes and such and wanted to get as much use of them as possible even though there wasn't enough story for that. Pity.

• Frexit! NOT AT ALL REDUNDANT! Unless France pulled a Frexit and is no longer a part of Europe?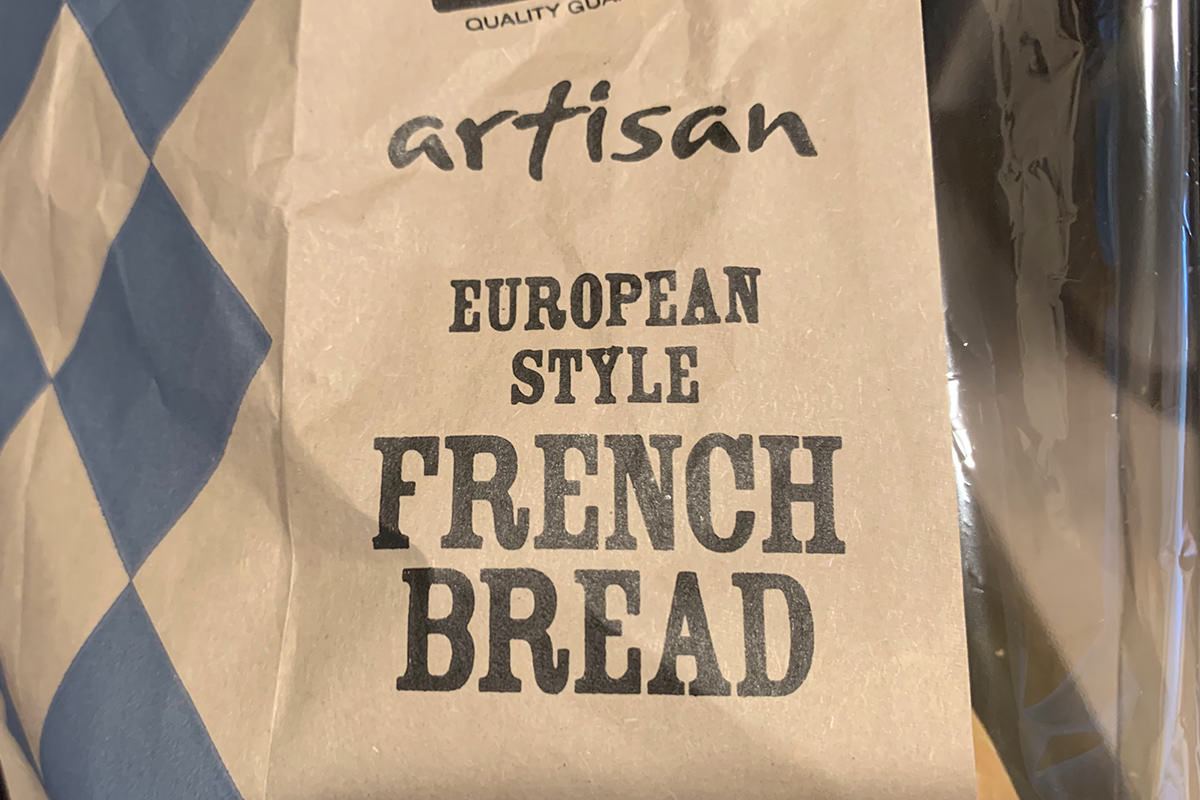 I have yet to try any of that Asian style French bread, but I'm sure it's delicious.

• All The Gs! The advent of 5G wireless is going to be a huge game changer once the mesh that's required to have it work seamlessly has been built. That's a long ways away, but it's still an intriguing technology in its infancy. If you don't know what that even is, here's a fantastic video from Marques Brownlee just for you...
Pretty amazing stuff. Imagine having blazing internet available everywhere for all things... and what will come from that.

• Another Day, Another Mass Shooting. My first thought used to be "How many people?" But now my response has evolved to "Where did it happen this time?" Once I realized that this was how my brain was wired to react, I was disappointed in myself. It feels dismissive and disrespectful to those who just lost their lives. I could excuse it by saying "There's already been so many people killed, does it really matter how many more are added to the list?" But the answer is "yes." Every fucking one of them matters. It's when we start viewing the deaths as statistics instead of people that we lose ourselves. Unfortunately for all of us, those who can actually do something are long lost already.
I remember when the NRA was for responsible gun ownership and wanted to make sure that guns didn't get into the hands of people who shouldn't have them. I also remember when President Reagan was an advocate for that ideal. This was before the NRA was overtaken by gun manufacturers with lobbyists who buy politicians and give them an agenda to encourage as many gun sales as possible... regardless of consequences.
I support the 2nd Amendment. I also support the right of people to go through life without getting randomly shot by some toxic asshole with a gun. Going back to the original mission of the NRA... gun safety and responsible gun ownership... would go a long way to help these two things coexist. Alas that ship has sailed. We don't even pretend that human lives are more important than gun manufacturer profits anymore. What's worse is that people don't even seem to care.

Only 23 days of summer left... make 'em count!
Tags:
Bullet Sunday
,
Food
,
Music
,
News
,
Politics
,
Taylor Swift
,
Television
Categories:
Bullet Sunday 2019
,
Food 2019
,
Music 2019
,
News – Politics 2019
,
Television 2019
—
Click To It:
Permalink
—
0 Comments: Click To Add Yours!
Posted on Saturday, August 31st, 2019

My cats are 3-1/2 years old. I just looked it up, and this is the equivalent of 30 in human years. Once I managed to work the lump out of my throat, I started thinking back to when I was 30. I think that's the time I started calming down and getting more serious about life. Who I am now was formed in my 30's. That was the time that my personality stopped changing... instead it just grew in intensity.
Uh oh.
If this works the same for cats, then I'm in for an interesting time of it.
Not from Jake, mind you. This is going to be Jake from here on out...

I'm The Dude, dude!
I mean, seriously... this was Jake this morning when I was ready to start my day...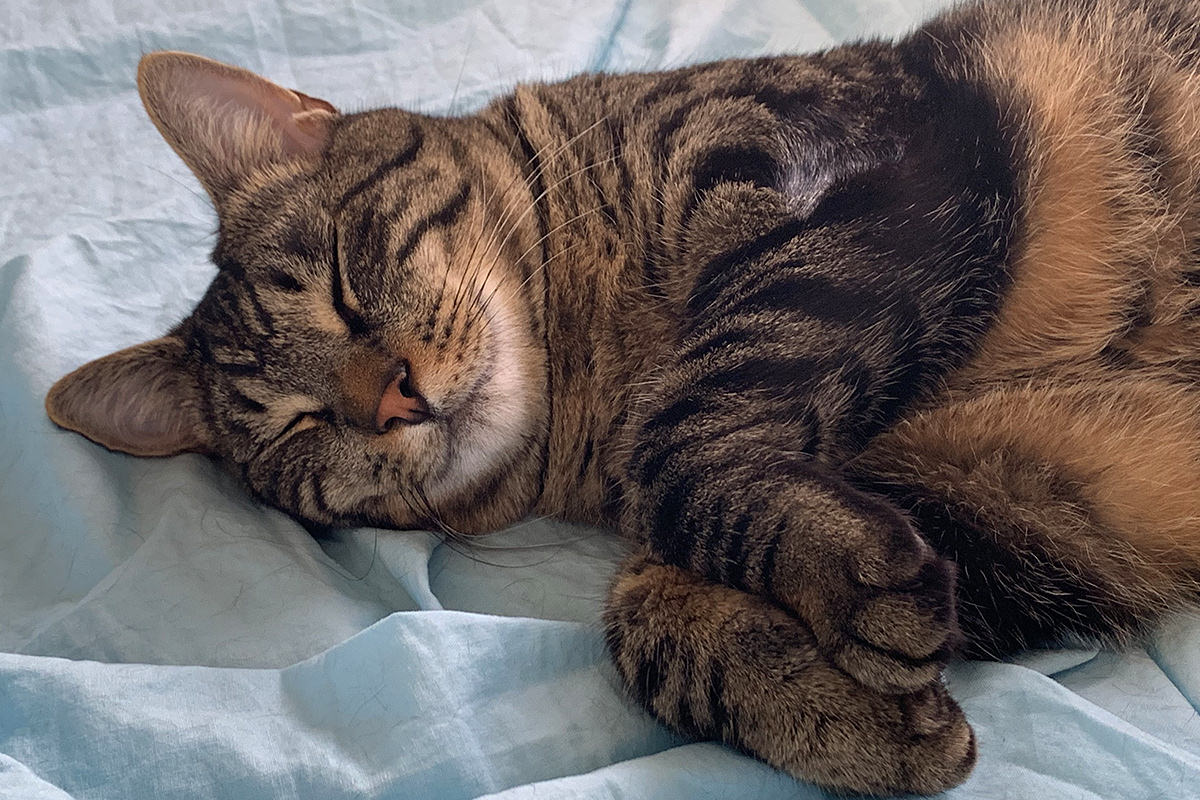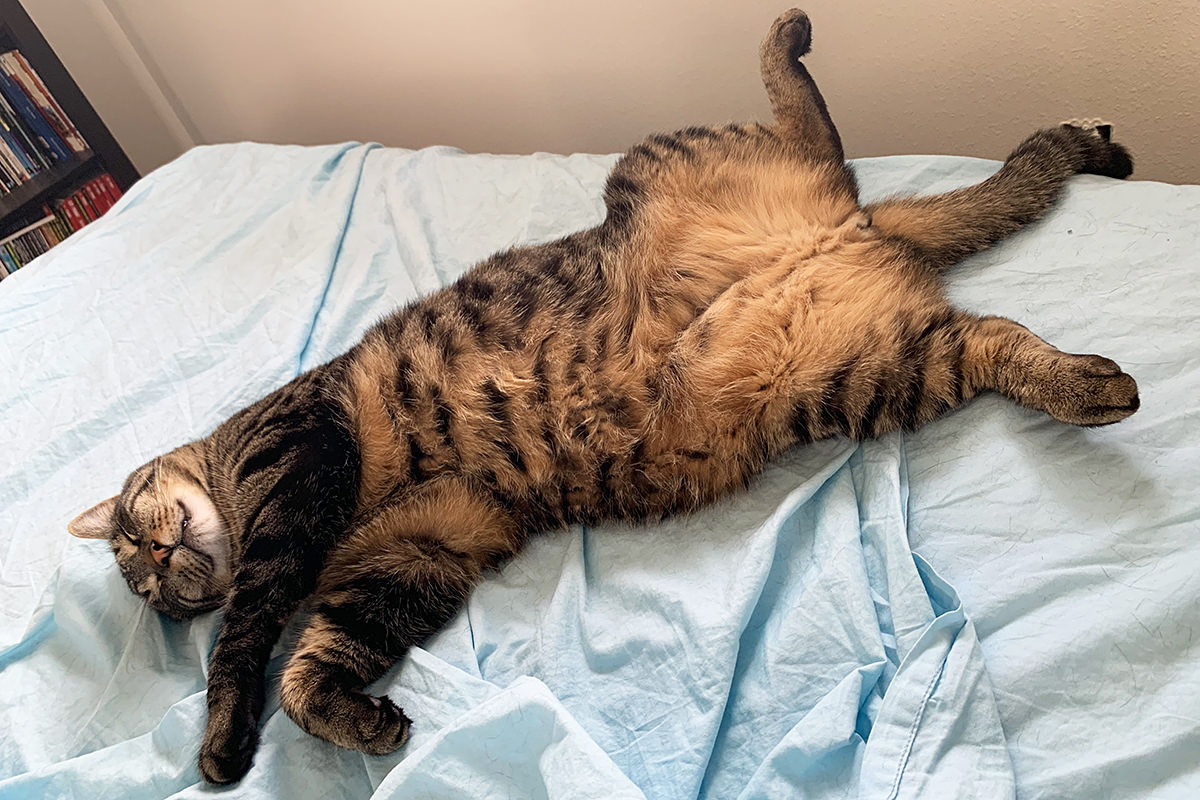 He is so laid back and chill. The only time he is even remotely anxious is when he's waiting for me to dish out his food. Any other time? Unfazed. He might squawk at me if I'm walking by and he wants to be petted, but that's the end of it.
Jenny on the other hand? Entirely different ballgame...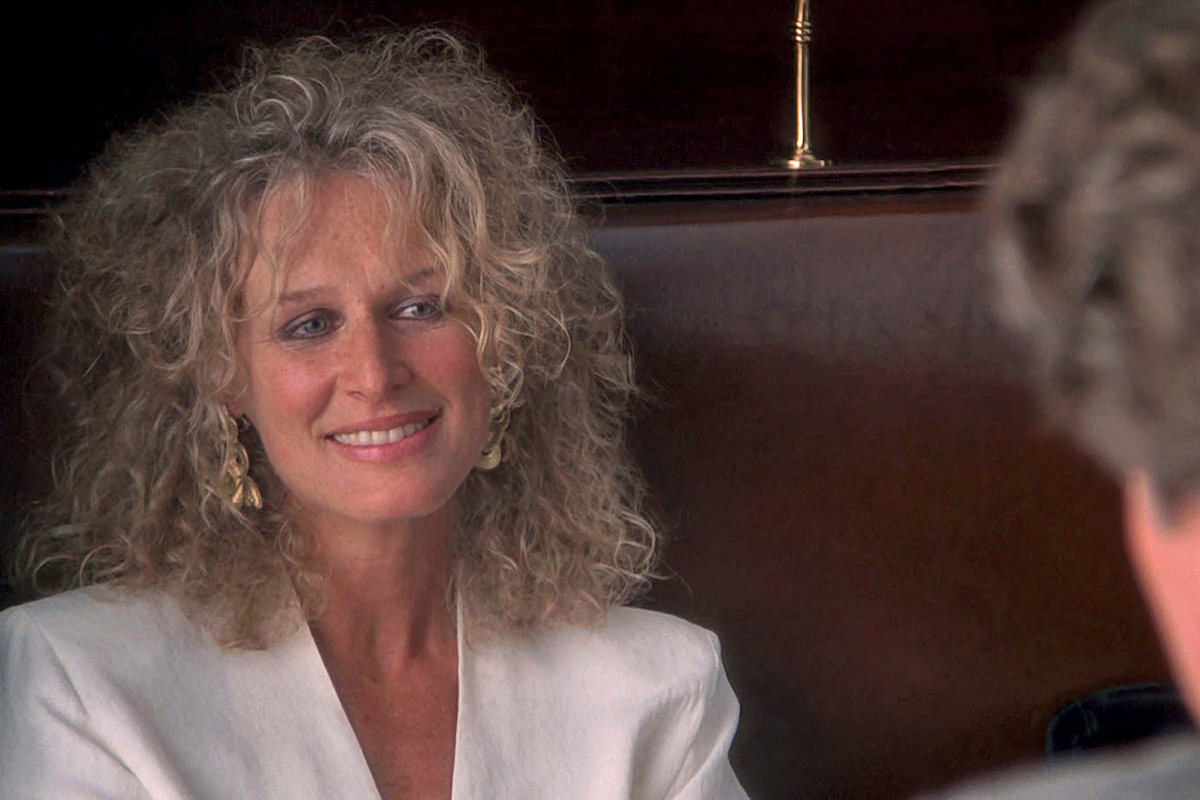 I'M NOT GOING TO BE IGNORED, DAVE!
As she enters into her thirties, Jenny's trajectory has her turning into a demanding, cranky old lady. Which is all kinds of adorable. If she wants to be petted, she will insist you drop whatever you're doing and take care of it. Pet her the wrong way and she has no problem letting you know that she's bitterly disappointed in you. She never used to meow much at all, now she will absolutely meow to get your attention.
Like she just now did after jumping up behind me wanting to be petted...
She's still an incredibly sweet cat, so you can't possibly get upset when she gets a bit demanding... on the contrary, it's just made me love her more... but it's remarkable just how far Jake and Jenny's personalities have diverged.
Jake hops on the coffee table for a nap, and I can slow blink with him for twenty minutes...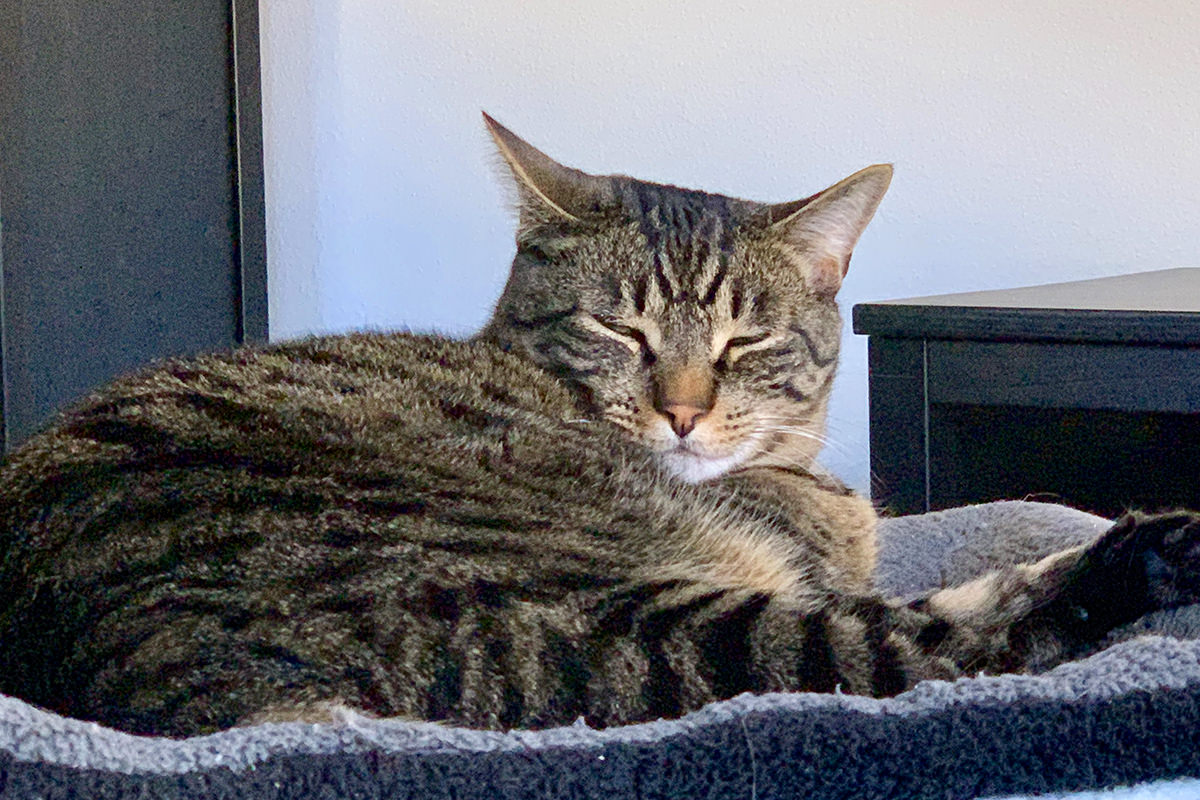 Try slow-blinking with Jenny that same night though?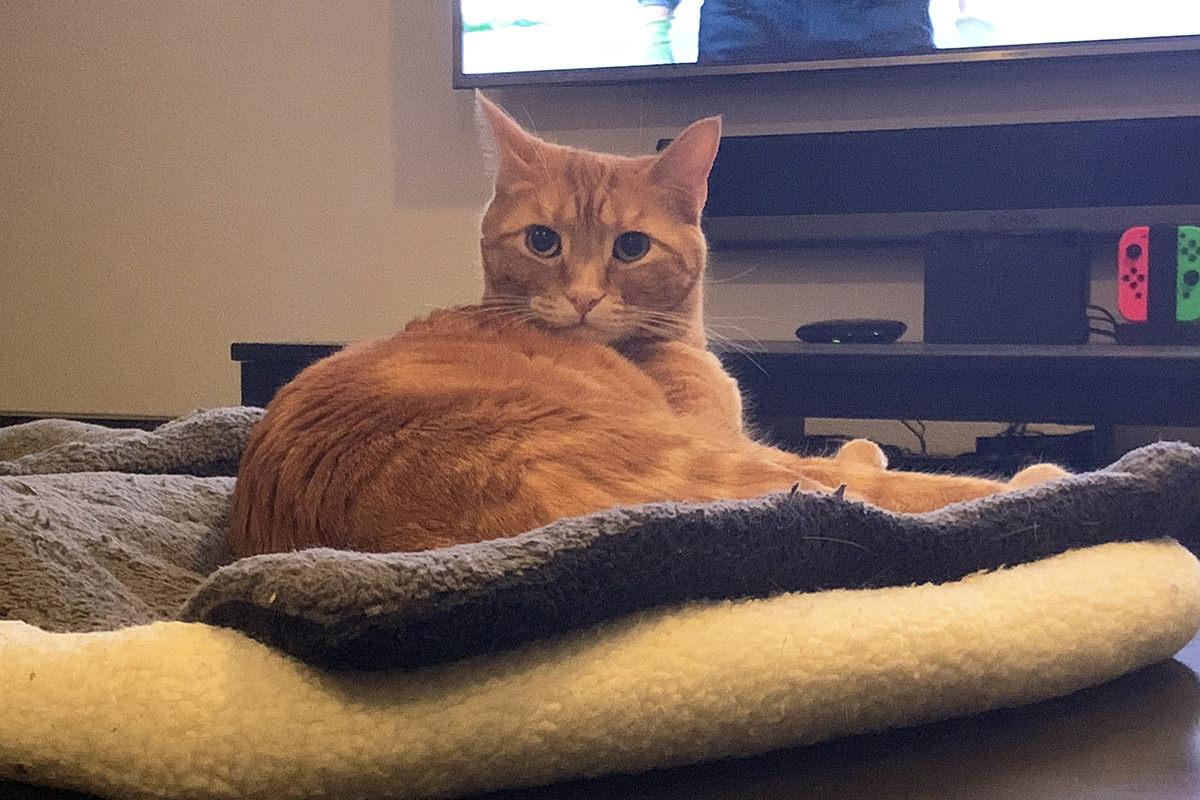 YOU WANT SOMETHING FROM ME, HUMAN?
In 2-1/2 years, my cats will be 40 human years old. They grow up so fast.