Posted on Monday, April 8th, 2019
People are always telling me I'm "funny." Even when I'm not trying to be funny which, depending on the situation, can end up being hurtful, awkward, scary, tragic, or (less often than you'd think) a pleasant surprise. Usually when somebody says "That's funny!" after I've said something I'm completely serious about, I try to replay it in my head to figure out where I went wrong... but I can never figure it out. Maybe it's just my face that makes things be funny? You got me.
This morning somebody I hadn't seen in a while asked me how I've been doing. "Oh. I've been sick with a cold or a flu or something awful, so it hasn't been a good time to be me lately. How have you been?" They laughed like I told them the funniest joke ever, said "You crack me up!," then went on to tell me about planting their vegetable garden. I replied with "I don't think I eat enough vegetables that I'd want to try growing them, but good luck with that." More laughter. Apparently not eating my vegetables is comedic gold.
I wish I could be that kind of effortless funny when I'm actually trying to be funny.
When I wrote something just in case I had to speak at my friend's memorial service (spoiler alert: I did), I wanted it to be at least a little funny so maybe everybody could remember him with a smile on their face... even for just a moment... at a time of total sadness. It was hard work. I had to edit and rewrite stuff and everything. But I think it made everybody happy and lots of people came up and told me they liked it or that I was a "funny guy" afterwards, so it was effort well-spent.
Even if I didn't know whether or not people would think it was funny when I wrote it.
But it's always been that way for me.
Years and years ago when I was working in L.A. for weeks at a time, I was encouraged to try open-mic stand-up comedy because the people I was working with thought I was a "funny guy." And so I did. I wish I could say that I totally killed it (I did not) or that I was booed off stage so I could get some sympathy (I was not), but the truth is that I was just average. People laughed, but not in a way that made me think "Holy crap! I should totally do this for a living!"
Probably for the best though. Trying to be funny on purpose is tough. Trying to be funny on purpose for a living must be excruciating.
One of these days I need to see if I can find the little Mead memo pad I bought to write jokes in. You'd think it would be a easy to find given that it's bright red like this...
The only difference being that my red Mead memo pad has "DAVE'S JOKES" written across the front in black ball-point pen. I think I even double-underlined "JOKES" so, if I lost it, anybody reading out of the thing wouldn't be left thinking "What is this crazy shit?" Well, it's jokes. It says so right on the front. Did you not see the underlines?
I can't remember what any of the jokes were, mind you. About all I do know that none of them were about L.A. traffic. That's because I decided I wanted to be "fresh" and not tell jokes that had already been done to death. Since most of my time in L.A. was spent sitting in traffic, I figured it had probably been covered already. How could I make that funny?
Unless...
"I'm from a small town in Washington State, so you can imagine how shocking it is for me to be in L.A. right now. Everything here is shocking to me. Like the traffic. We don't have traffic where I live. So after I looked at a map to figure out how I was going to get to work, I estimated it would take about 20 minutes to get there. It took me 90 minutes. Ninety minutes! When I showed up for work an hour late, everybody comes rushing up and says 'We were worried that you got lost!' I didn't want for everybody to think that I was an ignorant hayseed who didn't know how a big city works, so I decided to make up a lie to explain why I was late. So I told them that my condom had come off during sex and I had trouble finding a vet with an appointment available to retrieve it from the sheep."
Of course, that joke wouldn't work now-a-days when we have Google Maps and Waze to tell us how long it takes to drive places... but back then? Hilarious!
Posted on Sunday, April 7th, 2019
Time to celebrate because I think I'm finally over my cold/flu/whatever, but also... because an all new Special Movie Edition of Bullet Sunday starts... now...
Putting aside Marvel movies I'm already dying to see (Avengers: Endgame and Spider-Man: Far From Home), a new Star Wars movie I couldn't care less about (the still unnamed Star Wars: Episode IX), a new Hellboy that doesn't look to be bringing anything new to the table, a new Kingsman that may or may not be happening, and a couple of Disney live-action revamps that don't have me very excited (Aladdin and The Lion King)... here's the most interesting things headed to the cinemaplex in 2019...

• John Wick 3! The Keanu Reeves contract killer movies that have no reason to be as awesome as they are...
It seems impossible that they could write their way out of the corner they painted at the end of 2, but here we are. And we're getting Halle Berry and Anjelica Houston as well? Sign me up!

• Brightburn! The Superman legend rewritten as a horror flick. Alrighty...
It's a fantastic concept, and it looks like they might have nailed the implementation. Sign me up!

• Dark Phoenix! The shitty Bryan Singer X-Men movies were redeemed a bit when Matthew Vaughn took over for First Class, took a nosedive when Singer came back for Days of Future Past, and now look to be on the up-swing again with Simon Kinberg taking over...
My guess is that I will wait for the movie to come out on home-video. Perhaps if the reviews are amazing I might be tempted to drag myself to the theater. Only problem is that this film is going to make little difference no matter how good or bad it is. The absurd convoluted timeline antics of Singer's X-Men is going to be flushed down the toilet now that Marvel Studios will be able to reboot everything into something worth a shit.

• Men in Black International! This franchise has more downs than ups for me, but it ultimately finds a way of being entertaining enough even when it's at its worst. Now we're getting a soft-reboot that could be the best way forward...
Chris Hemsworth is hilarious when the material is right. And while Art Marcum and Matt Holloway did write the original Iron Man... they also wrote Transformers: The Last Knight which was a pile of shit... and so... this will be another "wait and see" films for me. If the reviews have them knocking it out of the park, fine. Otherwise? Home video for sure.

• Toy Story 4! If there's one franchise that hasn't had a misstep, this is it. And while the plot seems as though it will be a retread of what we've seen before, it also looks mesmerizing and charming in equal measure...
Unless people hate it, I'll probably sneak into a late theater showing to take a look. Pixar films always look beautiful on the big screen of a really good theater.

• Once Upon a Time in Hollywood! Hey, its Quentin Tarantino. He hasn't steered me wrong yet...
I truly hope that Tarantino doesn't follow through on his threat of retiring after his tenth movie, because this will be his ninth. I will absolutely be seeing this one in theaters.

• Shaft! Samuel L. Jackson is back as Shaft? Isn't that a kick in the pants...
What makes it too good to be true though? RICHARD ROUNDTREE is back too?!? With maybe a bit more to do this time around.

And now for a nap...
Posted on Saturday, April 6th, 2019
This week I officially lost my cats to the catio.
It's been so warm out lately that they are spending most of their days laying around outside or watching all the bird activity that comes with Springtime. Jake and Jenny absolutely love it outside, which means the catio remains one of the best home improvement investments I've made...
What also comes with warm weather?
Cat hair. Cat hair everywhere.
For Jenny this is not much of an issue. She loves to be brushed with The Furminator. I try to brush two times a week, but sometimes Jenny will go running to the cabinet with The Furminator in it and start rubbing all around it and complaining until I start brushing. And she can't get enough of it. She'll roll from one position to the next, making it easy to get to every square inch of her fur.
Jake on the other hand?
He'd rather forgo the brushing and go straight to puking up hairballs.
I've started Furminating him while he eats. It isn't very efficient, but it's better than nothing.
Alas, the warm weather earlier in the week turned to colder weather and rain at the end of the week. This has irritated my cats on numerous fronts. The first of which is that I turned off the heat in March so it's been colder inside than they're used to. I keep seeing them snuggling up for warmth when the temperature dips...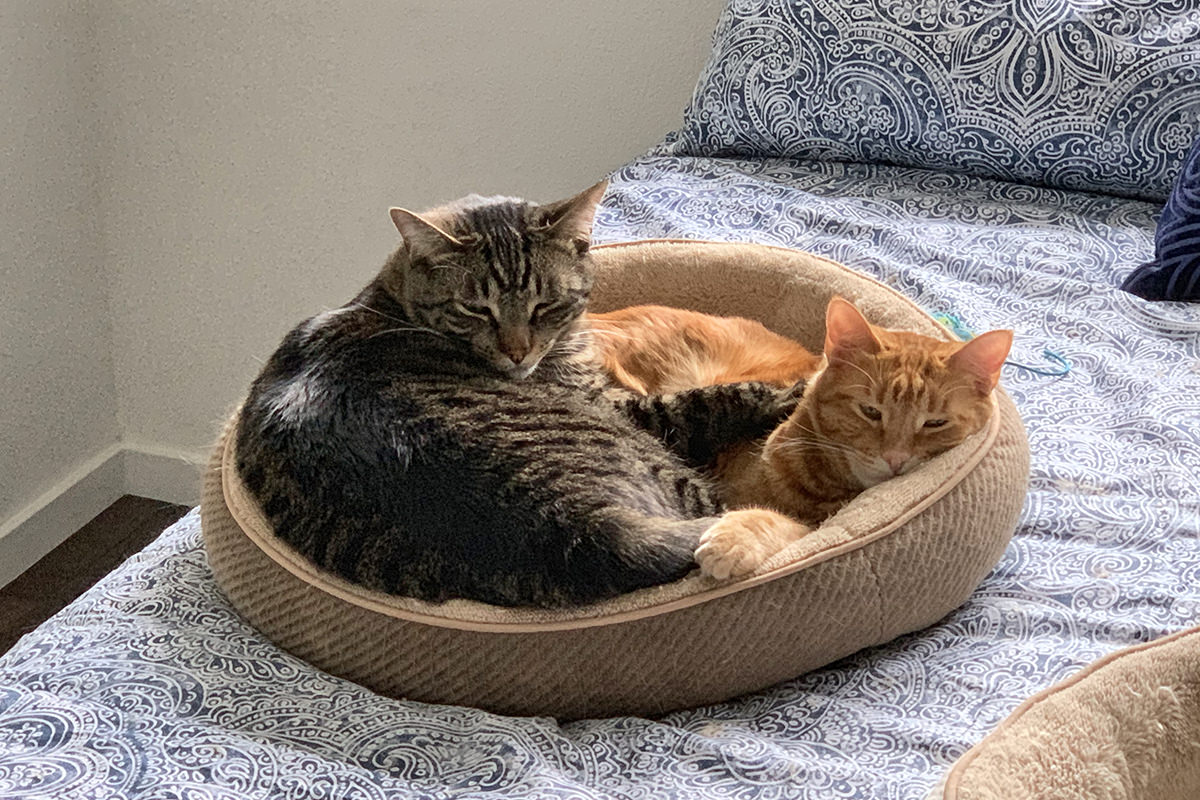 The babies.
It's not that cold.
And now? I suppose Jake and I should get back to watching The Jungle Book...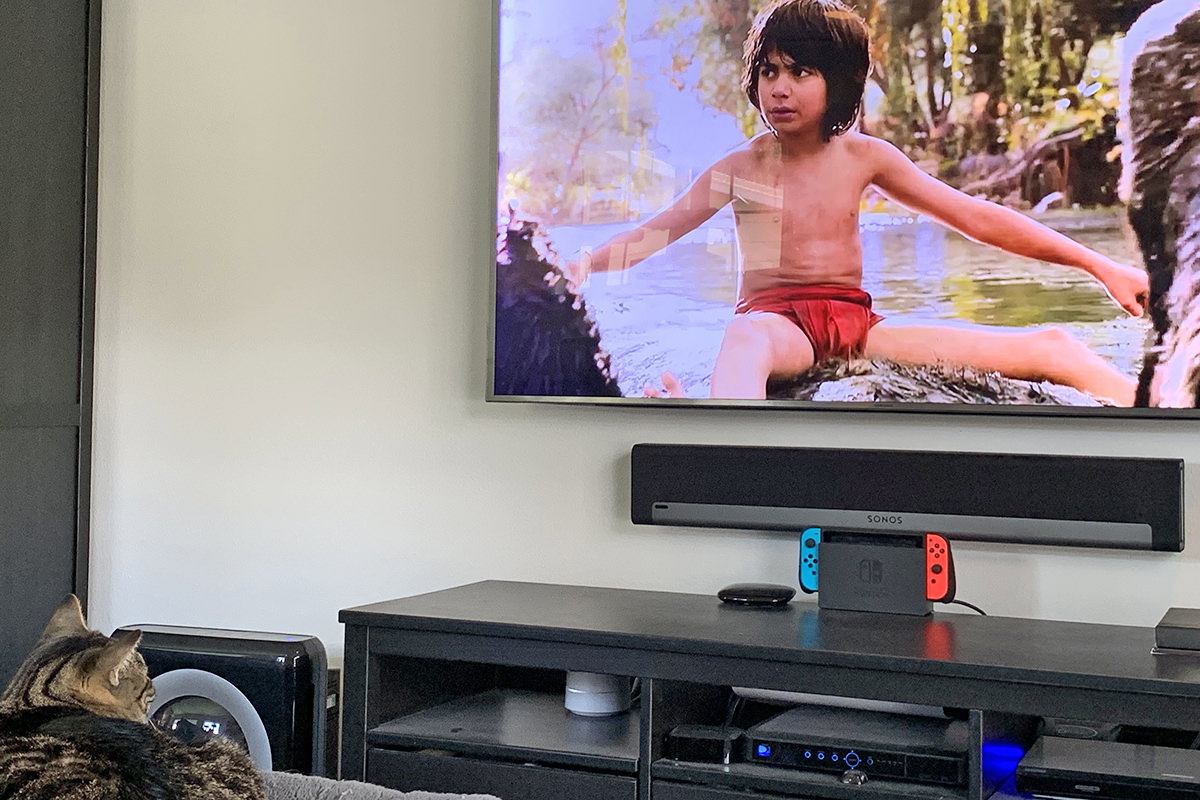 Seriously, Jake is totally into it.
Posted on Friday, April 5th, 2019
The night sky of ancient earth was different from what we see today. Mainly because people could actually see it. Thanks to ever-increasing light pollution, the true grandeur of the universe has become obscured to most humans. Even rural communities have enough light pollution to obstruct major features of the visible cosmos. It's a pity, really, because there are some spectacular sights to be seen.
While on safari in Zimbabwe, I got to experience what it's like to have little-to-no light pollution, and it's pretty spectacular...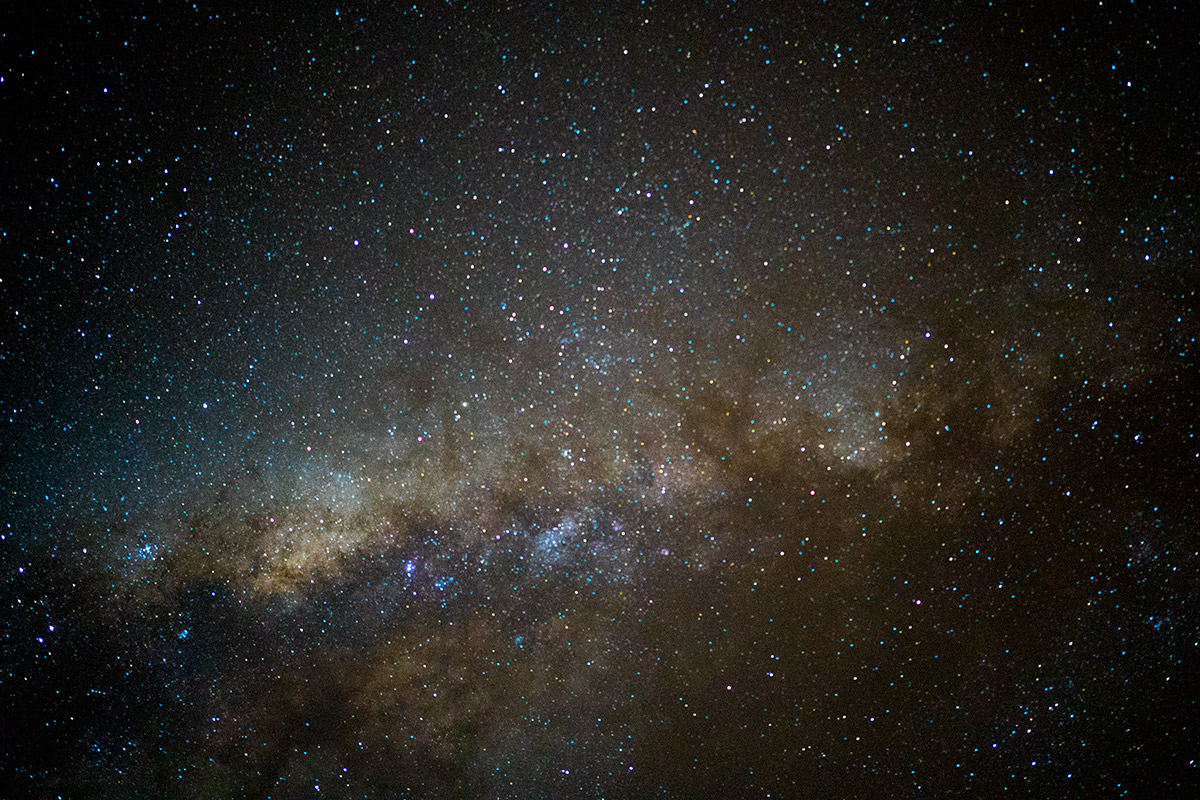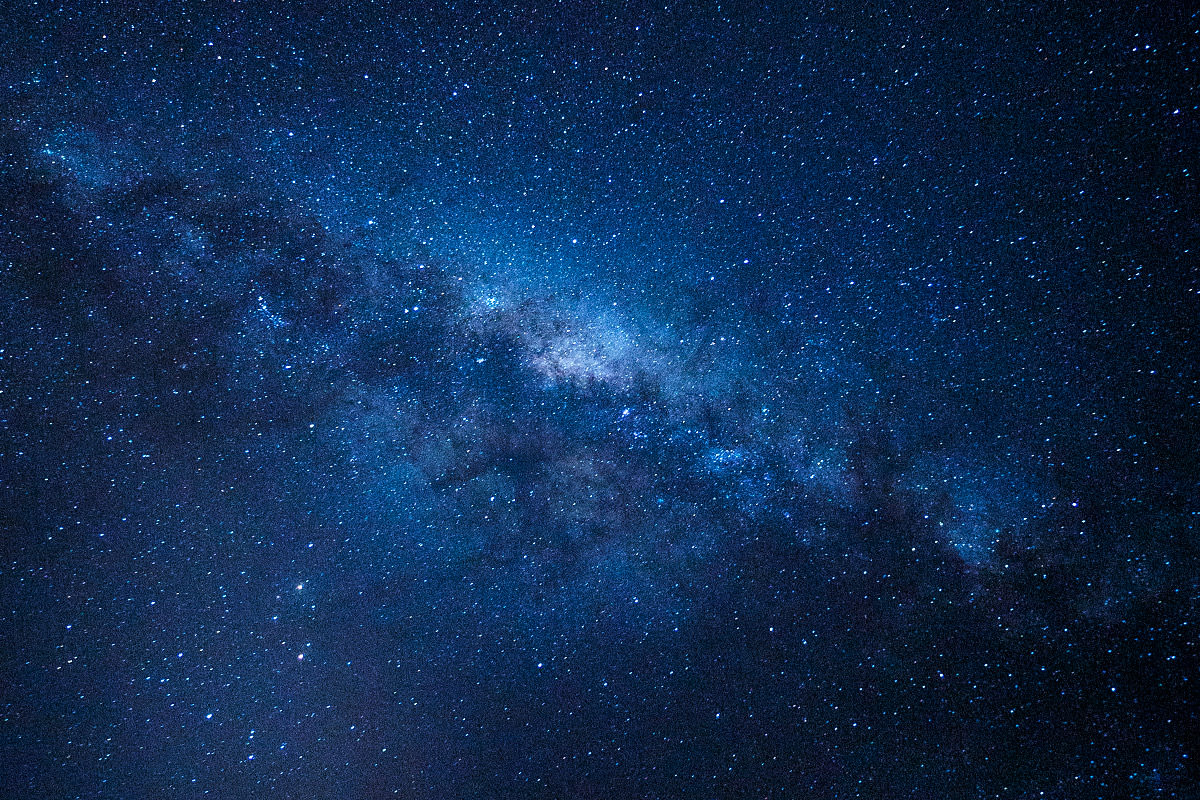 Ancient Greeks explained the milky band of light across the night sky thusly...
One legend explains how the Milky Way was created by Heracles when he was a baby. His father, Zeus, was fond of his son, who was born of the mortal woman Alcmene. He decided to let the infant Heracles suckle on his divine wife Hera's milk when she was asleep, an act which would endow the baby with godlike qualities. When Hera woke and realized that she was breastfeeding an unknown infant, she pushed him away and the spurting milk became the Milky Way.
The Wikipedia article I'm quoting above has all kinds of ancient myths for The Milky Way from numerous different peoples around the world. It's And yet... here in modern times entirely too many people will likely never see it. A concept that's easier to explain with the Bortle Scale, which measures light pollution from 1 (hardly any light) to 9 (lots-o-light)...
I had never heard of the "Bortle Scale of Light Pollution" before, though I'm not surprised it exists. If there's one universal truth, it's that scientists just looooove to create units of measure for everything.
Which brings us to this...
I am developing my own scale of measurement called the "Dave Scale of Giving a Shit." Before you scoff, I am compelled to remind you that I have experience with this kind of thing. Back in 2007 I developed the Dave Number, My new scale of measure is just a logical extension of that, and runs from 0 to 9, just like the Bortle Scale...
No shits given. This is so far below my ability to care about that I couldn't muster a half-a-fart, let alone a shit. This is reserved for things like Kim Kardashian or kale.
Shart. An accidental shit. Something I don't really care about, but somehow end up devoting a minutia of time to when forced. Like Eric Trump or The Bachelor.
Diarrhea. I am not able to muster an actual shit, just a sloppy approximation of one. I'd use this for embarrassments like Anne Coulter that don't deserve my attention but interrupts my calm from time to time.
Pebble Shit. When I don't want to give a shit, but I kinda have to because the object in question has consequences for things I care about. Like Pat Robertson, President Trump, or pineapple as a pizza topping.
Turdlette. I give a bit of a shit, but not enough that I'm able to muster a full turd. Works for things like most DC Comics movies, low-fat ice cream, or Diet Pepsi.
Poop. I totally care. But my attention can be easily diverted. Happens for things like Saturday Night Live or Taco Bell.
Crap. Here is where I start being devoted to something. Like cheese, New Orleans, or Elizabeth Hurley.
Full-On Shit. This is something that has my full attention. Like a woodworking project or an interview with RuPaul.
Colon-Busting Turd. This is something I care about enough to devote intense scrutiny. Music I'm passionate about comes to mind. Or maybe truly excellent television like Veronica Mars or Wonderfalls.
Total Bowel Destruction. Reserved exclusively for things that mean the entire world to me. Like my cats or Marvel movies.
So there you have it. And since my interest in writing more in my blog today is about a 2, I suppose I'm done for today.
Posted on Thursday, April 4th, 2019
Sick and tired of being sick and tired.
So there I am exhausted but not sleeping because I am coughing my head off... when Jenny comes in to complain. And I'm like "Dude, I can't help it! I can't take more cough medicine for another hour"...
This does not phase her, so I try to ignore her by checking my phone.
First thing I see is an alert that the Litter-Robot is stuck. So I go downstairs and fix it so Jenny can go to the bathroom... then take more cough medicine even though it's too soon (hey, I'm already there)... then grab some crackers... then go back upstairs.
Jenny follows me the entire way... never going to the bathroom. THEN... FIFTEEN MINUTES LATER... I hear her using the UPSTAIRS Litter-Robot. Which means she got me out of bed to fix a Litter-Robot she had no intention of using? Or maybe she did, but changed her mind? Oh well. I'm not coughing anymore, so I guess we both got what we wanted in the end.
Posted on Wednesday, April 3rd, 2019
I hate to be all "Woe is me" here...
...but woe is me.
This is Day Five of not having a voice. On Monday I could have sworn I was over being sick and just dealing with my allergies acting up. Then yesterday morning I woke up feeling worse than ever. Laryngitis (still). Sore throat. Constant hacking cough. Vomiting. Random aches and pains. Not a good time to be Dave2.
Then last night... something new.
My right eye started swelling for no apparent reason, then got infected (or maybe it was vice-versa). Lucky for me I've got plenty of antibiotic gel from multiple eye surgeries, so the infection disappeared overnight. This morning when I woke up there was a little swelling left, but nothing serious.
So... one thing going right.
And now I guess I'll go back to dying.
Woe. Woe. Woe.
Posted on Tuesday, April 2nd, 2019
The more I pay attention to current events, the more I am convinced that stupid is winning.
Which is why I'm going to stop paying attention to current events.
If you need me, I'll be in a cave somewhere waiting for humanity to either die out... or reboot itself somehow. What else is there?
Posted on Monday, April 1st, 2019
April is here at last.
This means I have to start traveling again. I get to start woodworking again. I need to start exercising again.
It also means that the final season of Game of Thrones is nigh...
The event I'm most looking forward to in April 2019 is Avengers: Endgame. A close second would be Game of Thrones Season 8. It could end any of a dozen different ways, and there's no telling who is going to end up sitting on The Iron Throne.
For the past three months I've been rewatching all the episodes so I'm ready to go come the 14th. Last night I finished the last one and found myself wishing I had timed it better. Now I've got two weeks to wait before I get more Thrones.
And then there's this...
I knew it had to be a prank... and yet... her reaction was so genuine!
The North Remembers. Or not.
Posted on Monday, April 1st, 2019

Don't let Springtime allergies get you down... because an all new Bullet Sunday starts... now...

• Nate! It's very rare to find a comedian who works clean (no swearing) that can make me laugh. Nat Bargatze is one of those comedians...
If you have Netflix, I give it my highest recommendation. But before you watch... you might want to first watch his segment on The Standups, which he references in the special. Once you've done that, then move on to The Tennessee Kid.

• Endgame! This past week Marvel Studis released the official character posters for the upcoming Avengers: Endgame...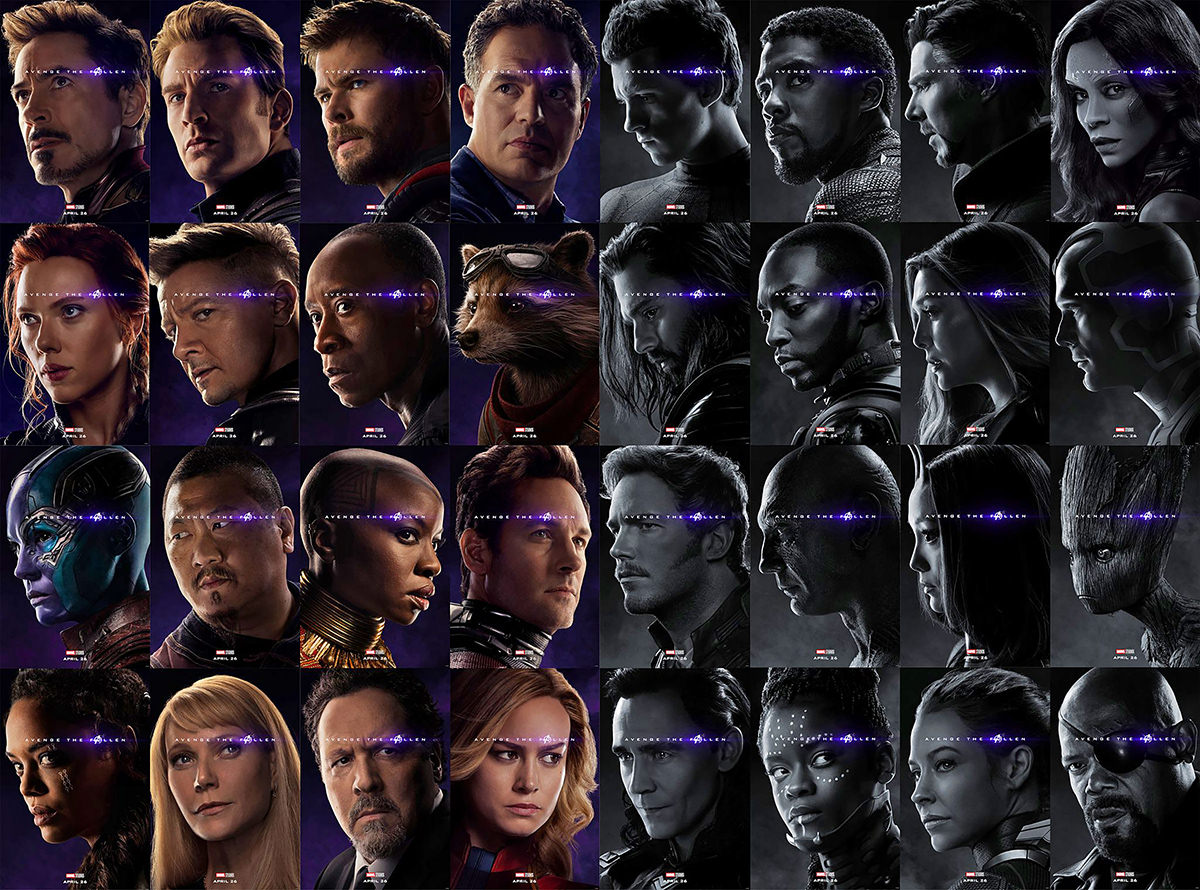 I was surprised to find that Shuri was one of the heroes who got snapped. Kind of a shame it happened off-screen, as she deserved her exit. Still no idea where the heck Nakia is for all this. Why bring back Valkyrie and not Nakia? And, oh yeah, kinda happy that Valkyrie is back. To what end is anybody's guess.

• Apollo! How utterly gorgeous are the new stamps commemorating the 50th anniversary of the Apollo 11 moon-landing mission?
Queue the fucking dumbass tin-foil hat wearing idiots who think that that moon landing was faked. If that's you, here's your sign...
Between stupid NASA conspiracy theory bullshit and the rash of flat earther morons making the news, I could vomit.

• The Card! Apple announced that they are partnering with the heinous assholes at Goldman Sachs to create their own credit card. Which, as you'd imagine, is a work of art etched in titanium...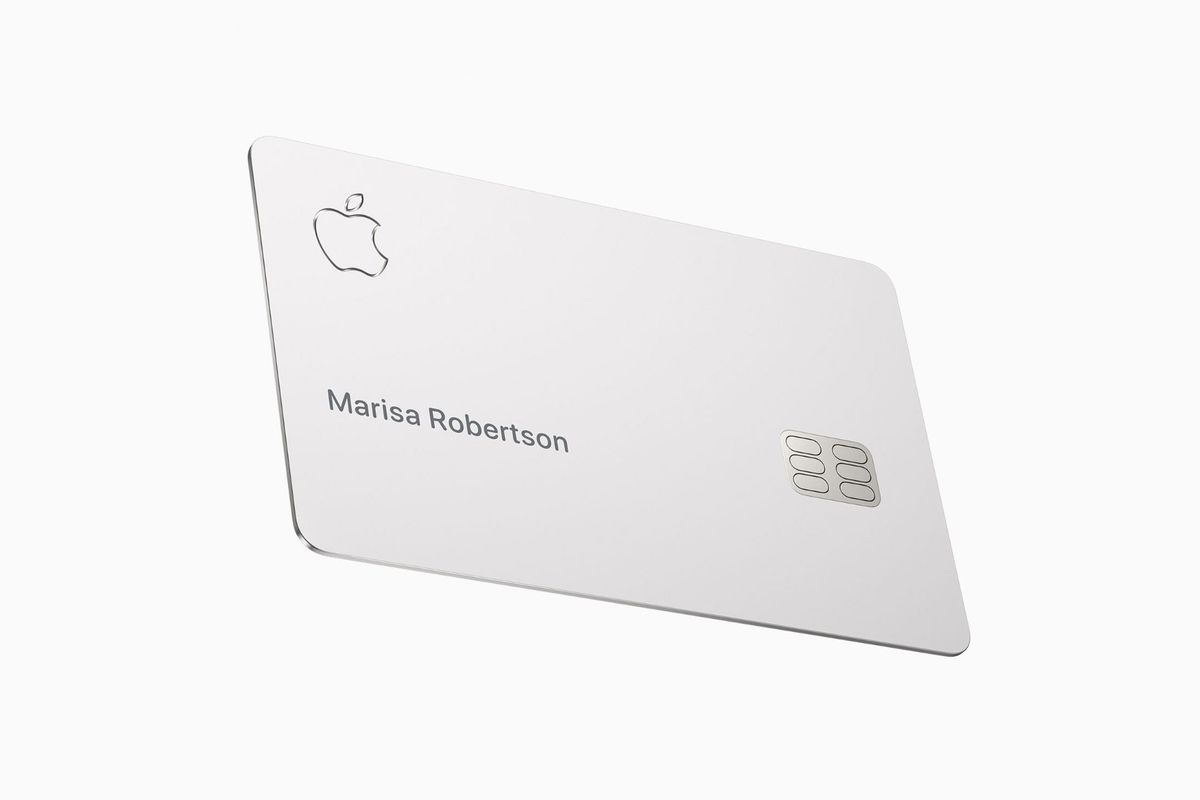 I had a lot of questions as to how the card is going to work. TechCrunch is on that with a great article. Needless to say, I want one. It won't be my primary card (travel point credit cards are more valuable to me), but the benefits for Apple purchases and its link to the amazing Apple Pay makes it a card worth having. Especially since there are no fees for having it. I really, really hope that other credit card companies start offering the features that Apple is going to offer.

• DOOM! The Grant Morrison and Richard Case run on Doom Patrol is one of my favorite comic book series ever. It was bizarre. It was smart. It was insanely entertaining. So you can imagine my interest was piqued when I heard that DC was creating a series around it...
The snippets they've released look very good. Except... what the hell is Cyborg doing there? He's a Teen Titan who somehow got dropped into Justice League who now got dropped into Doom Patrol. It's like DC keeps thinking "We need some diversity. Let's put Cyborg in it!" Completely ignoring the actual Black characters who have been in the Doom Patrol. Like Tempest (Joshua Clay), who does appear in the credits, but as "caretaker" to the "Original Doom Patrol?"
If his powers were too expensive to put on TV, then why not have Sam Reynolds and his son Lucius? They don't have any powers at all! And if that was too boring, why not give any of the other POC heroes a shot? Why does it always have to be Cyborg? Oh well. Once all the episodes have been released I might have to sign up for DC's streaming service to watch them all. The cast certainly looks entertaining.

• Stargirl! Speaking of DC Universe... in addition to Doom Patrol, we've also got Stargirl coming up...
Welp, if the costume is any indication, they nailed it. Also? Joel McHale is attached to play Starman, which has to be a good thing.

And, I guess that's all for my Sunday. If non-stop sneezing and coughing doesn't kill me, I'll be here in a week with more. I guess.
Posted on Saturday, March 30th, 2019
This morning Alexa's alarm was chiming, letting everybody know that it was kitty feeding time. I went to say "Alexa, Stop" to turn it off... and... couldn't speak.
My voice was completely gone.
This raised two questions:
How can I be sick again, when I just got over being sick a couple weeks ago?
How in the heck can I tell Alexa to turn off an alarm if I can't speak?
I ended up just letting the alarm run itself out because I had no idea how to turn it off. I suppose I could have tried deleting the alarm from the Alexa app, but my cats were way too impatient for that nonsense.
I should have known this was coming. Yesterday I was feeling poorly so I cut out of work early to come home and take a nap. When I woke up, my butt felt warm. At first I thought that I might have filled up a hot water bottle and forgot about it, but when I reached back... it was Jake! His butt was snuggled up against mine...
My cats usually do not hang around me when I'm sleeping. But when I'm sick? They seem to want to congregate around me... taking turns throughout the day. Eventually it was Jenny's turn. Though I think she didn't care as much about me being sick as she did getting belly rubs...
She was asleep in no time, trapping my hand...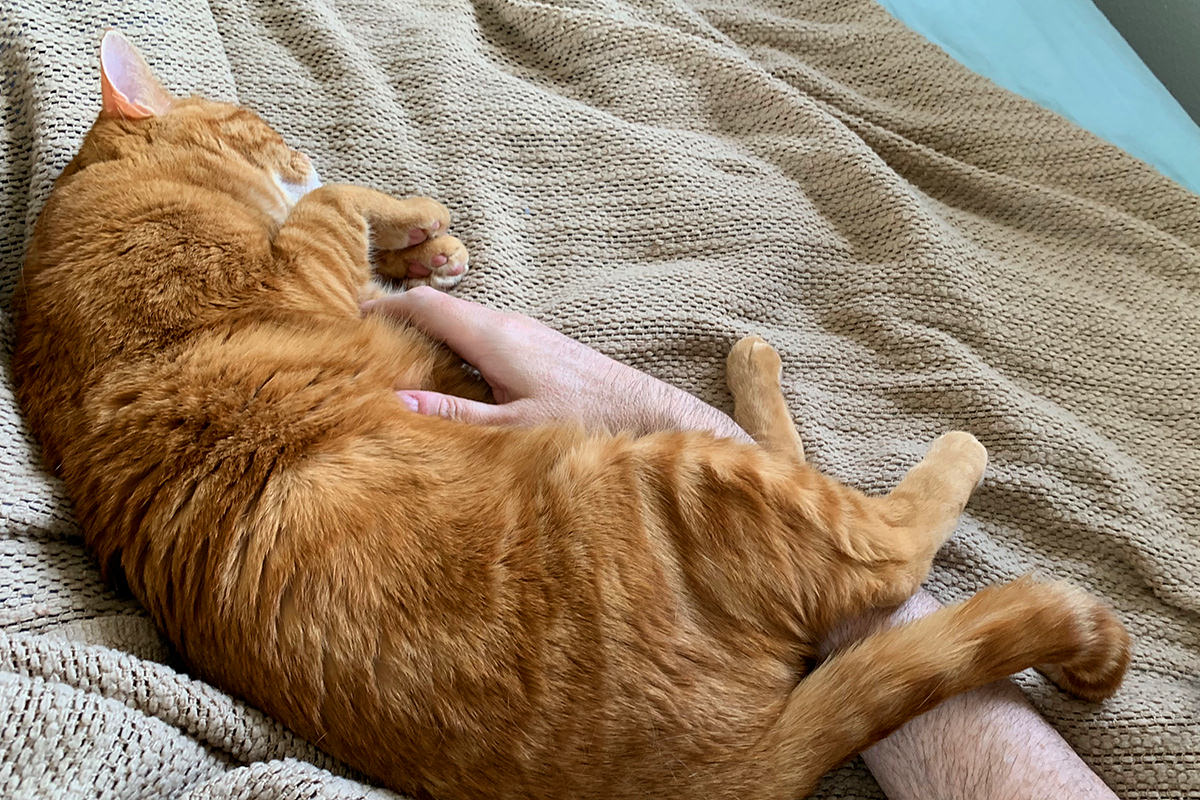 I tried to carefully remove some blankets because I was sweating, but that woke up Princess Floopy Whisker and she was not amused...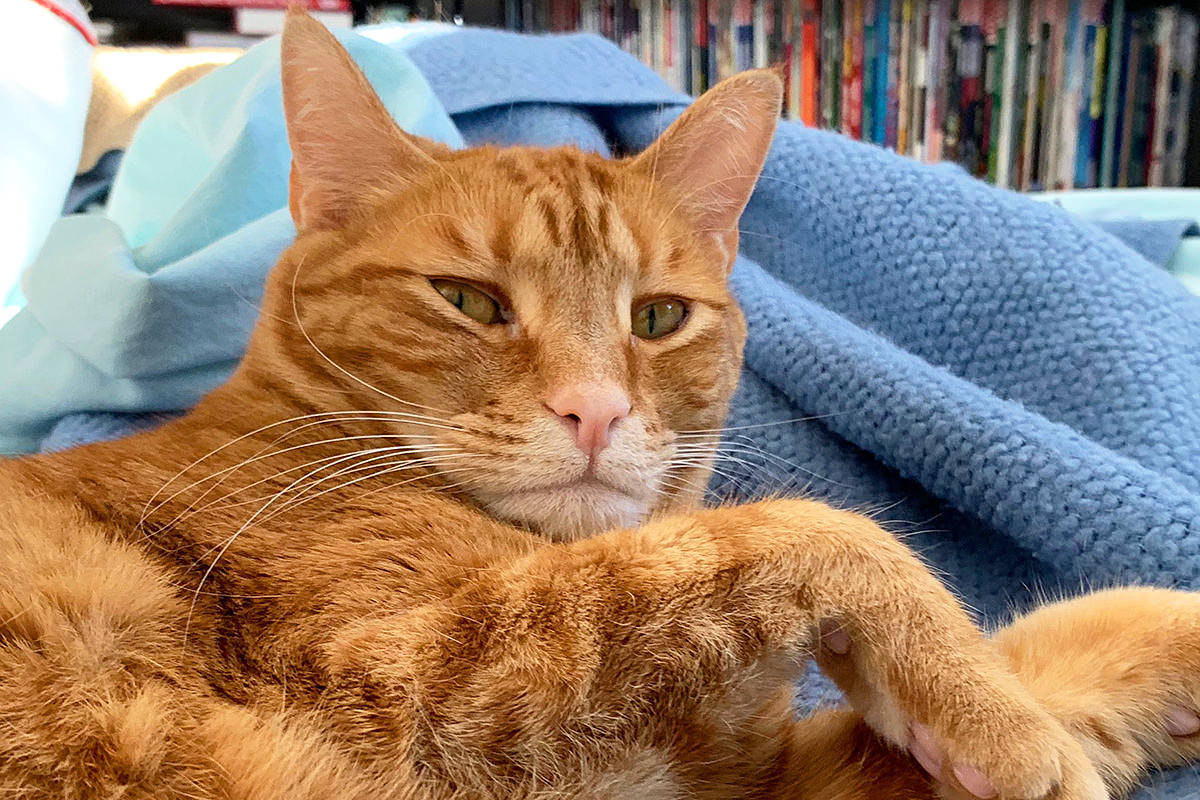 Nobody gives sour-face quite like Jenny. I think it just makes her look even more adorable.
Eventually it was just too hot in my bedroom. It's upstairs, so all the heat rises up. That's great in the winter, but can be a nuisance when the weather starts warming up. And you're sick.
It was plenty cool downstairs. At least it was until I had a warm kitty laying on top of me...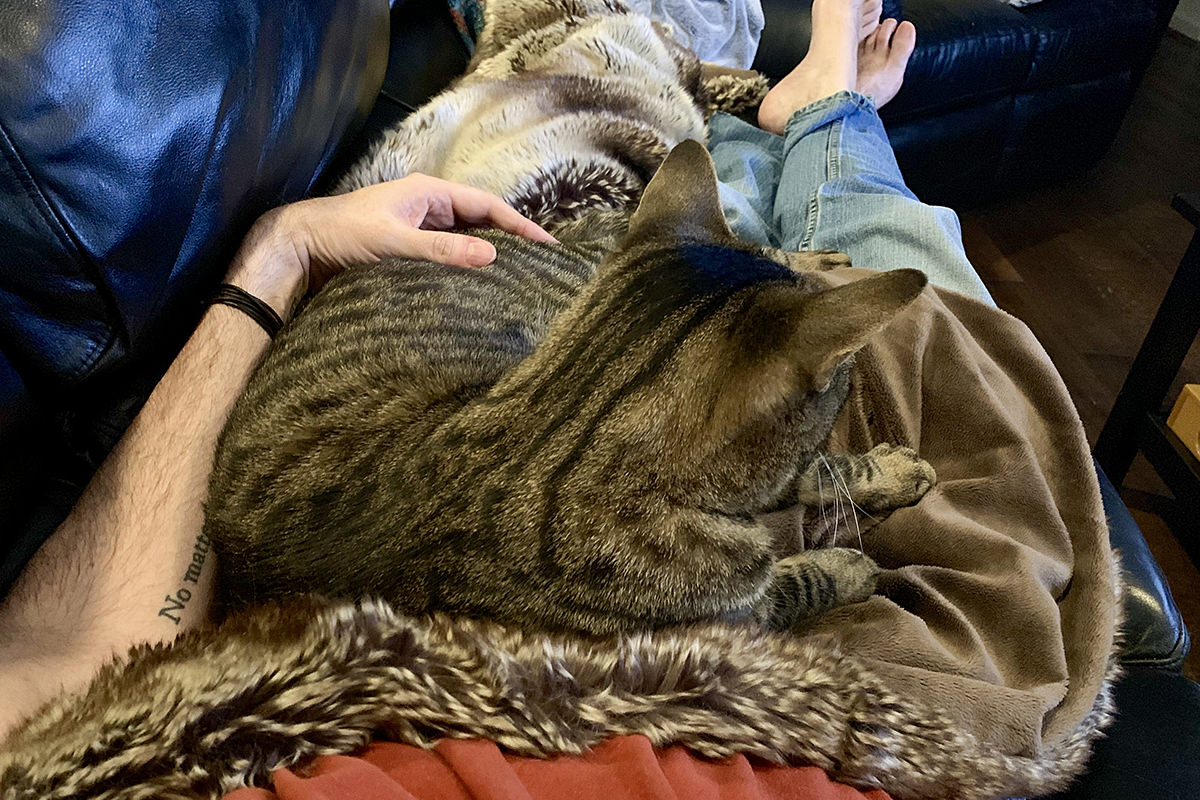 A couple days ago while I was working in bed, I heard a commotion in the cats' bedroom. Since there's always a commotion somewhere, I just ignored it. Then, when I got up to take a shower, I saw that Jake had been dragging all the toys he considers "his" onto the bed. Mufasa, Moose the Mule, Grey Mouse, Thing 2 Mouse, Blue Rag Mouse, Mr. Pretzel, and both Purple Squiggles. And he was still going...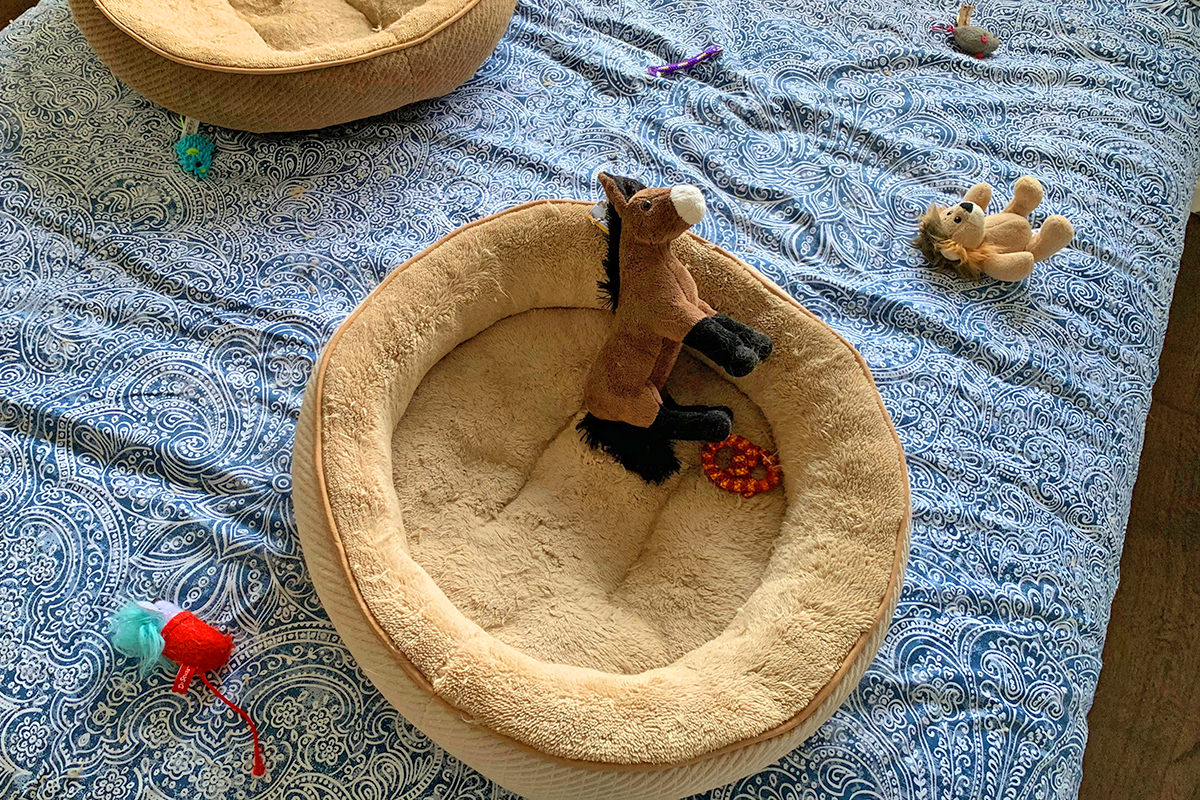 I honestly think that he feels he's hiding them from Jenny so she can't steal them. He's growing really tired of going to play with his toys only to find that Jenny has run off with them somewhere.
Not a very good hiding spot... on top of the bed... but hey, he's trying.