Posted on Friday, October 5th, 2018

After spending some quality time with Jenny, I said my goodbyes and walked out the door shortly before 4am. That's an hour earlier than I would usually leave, but it's almost impossible to find out what the hell is going on with road work... road closures... road detours... and other road-related crap, so better safe than sorry. Maybe one day our State will have current and accurate information available that's easy to get to... but that's not now.
Turns out my drive was completely without incident, which meant I arrived 3-1/2 hours early. Just as a different flight to Honolulu was boarding. They had room for me in Premium Class, and so...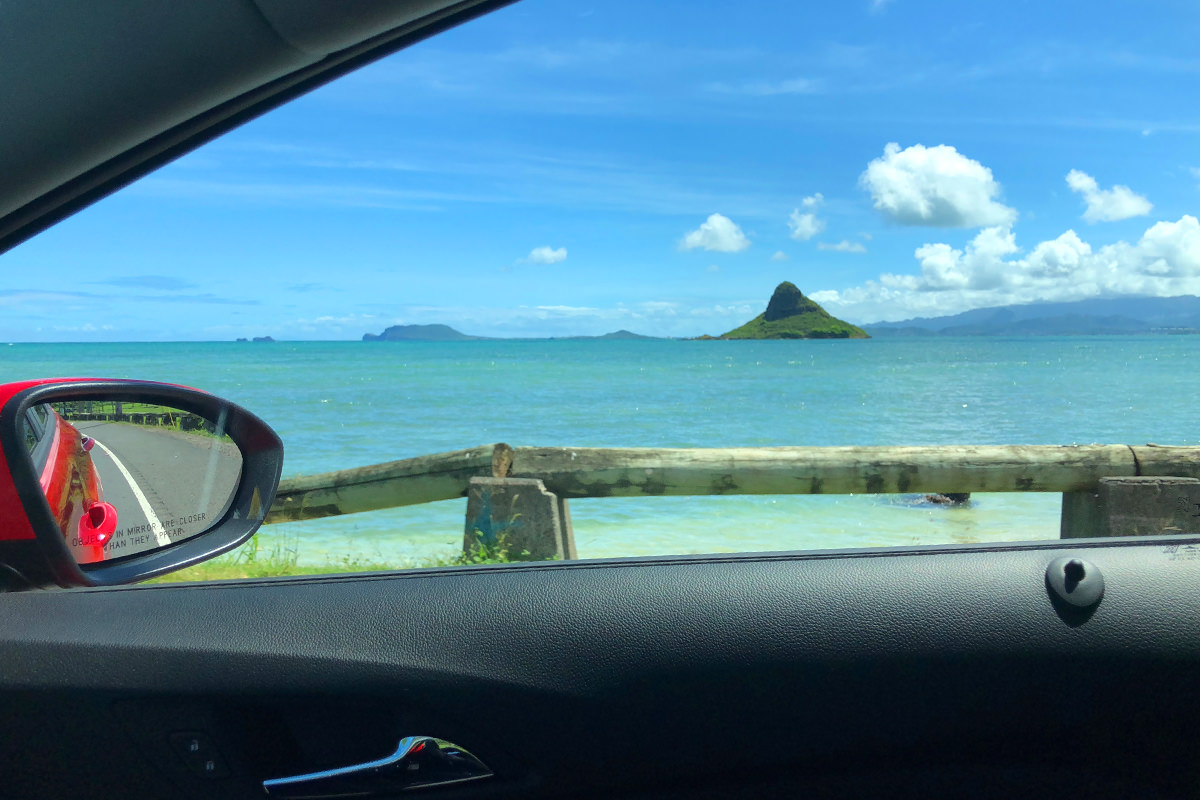 Oahu's beautiful North Shore awaits.
Posted on Thursday, October 4th, 2018

I have to leave for the airport at 4:00am. Needless to say, this has made for a hectic day today. Way too much to do and not enough time to do it. But there was no way I was going to miss out on visiting Jake in the pet hospital before I left, so that meant an afternoon trip into The Big City. Apparently I was way too excited about getting to see him, because I accidentally set off the alarm system as I was walking out of the house. One awkward call to the monitoring company later... and I was on my way.
Jake seemed in a little better spirits today. And I was told that he ate all his breakfast, so that's good news. Alas, there's still way too much blood in his urine, so that catheter isn't coming out any time soon...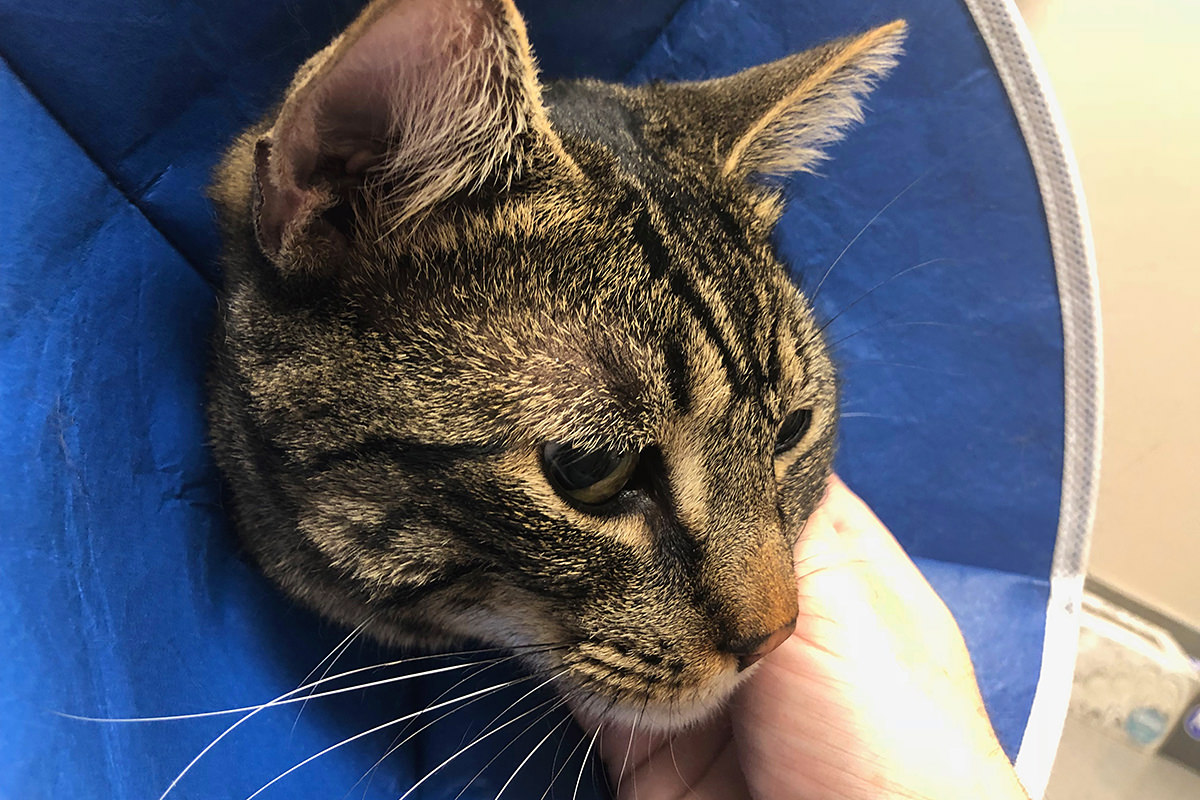 He ran right up and tried to rub his head on me, but the cone kept getting in the way, so I flipped it backwards to create a fashionable poncho...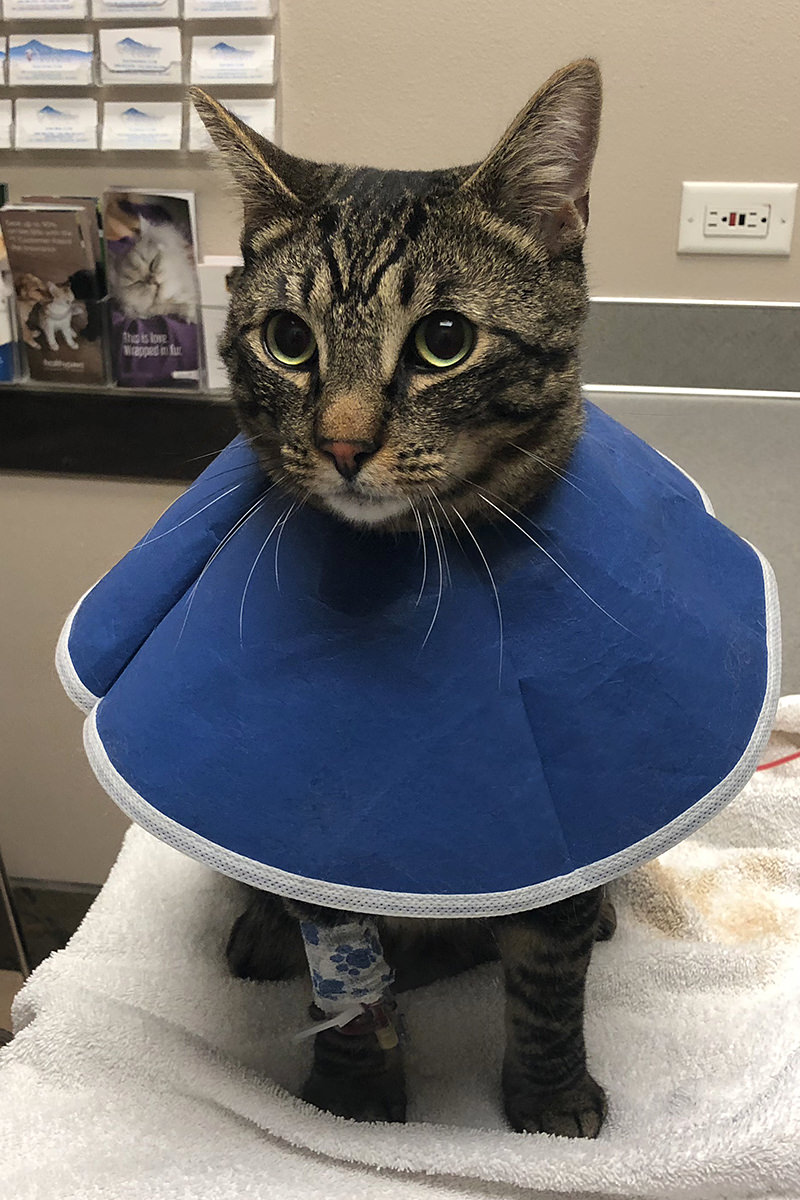 Then he could get in all the head-rubbing he wanted, which was a lot...
What he was happiest about was getting face and neck scratches. That cone makes it so he can't scratch himself, so once I got started he really didn't want me to stop...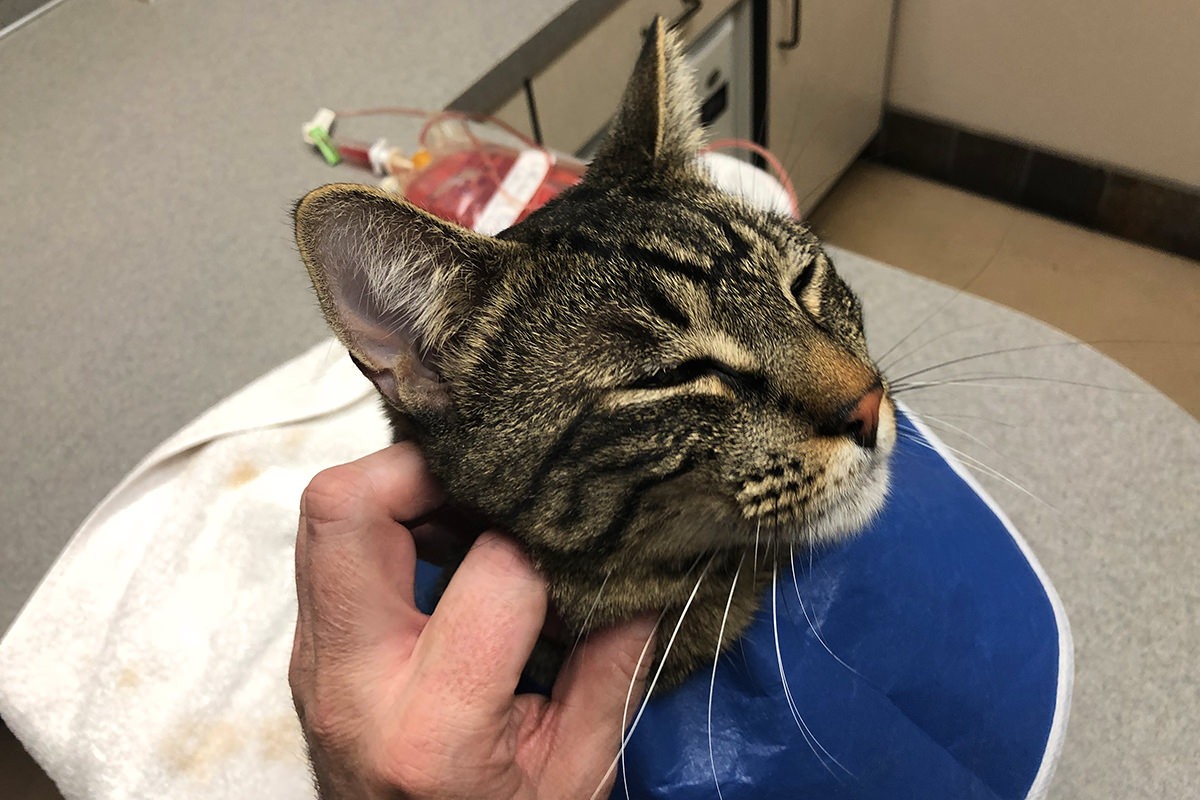 I stayed for 20 minutes so I could (hopefully) spend enough time with him that he will be set for affection while I'm gone. But all too soon it was time to go. I flipped his cone back in place and that was the end of that...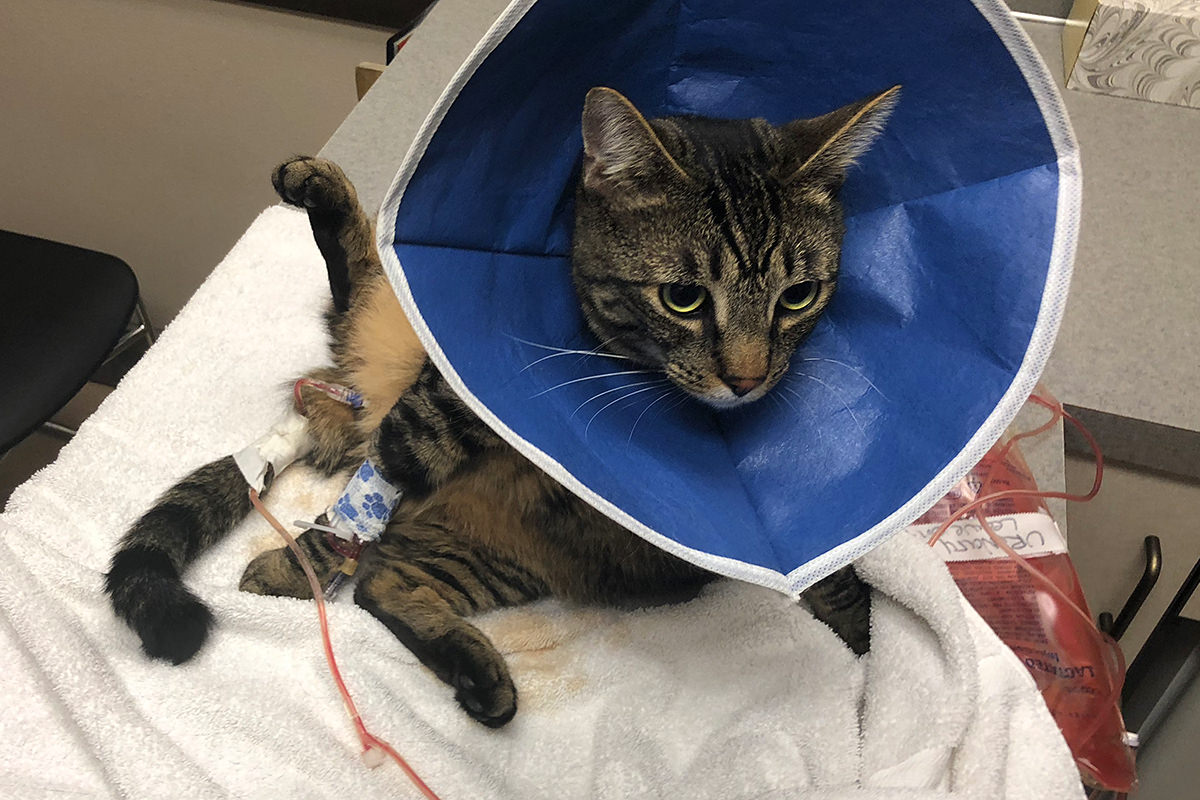 Really appreciate everybody's good wishes for Jake. He's such a sweet kitty that it's difficult to see him hurting.
And speaking of hurting...
Jenny is still not taking the absence of her brother well. She still wanders the house looking for him. She still cries when she can't find him. She still wants to spend most of her time hanging out next to me looking sad...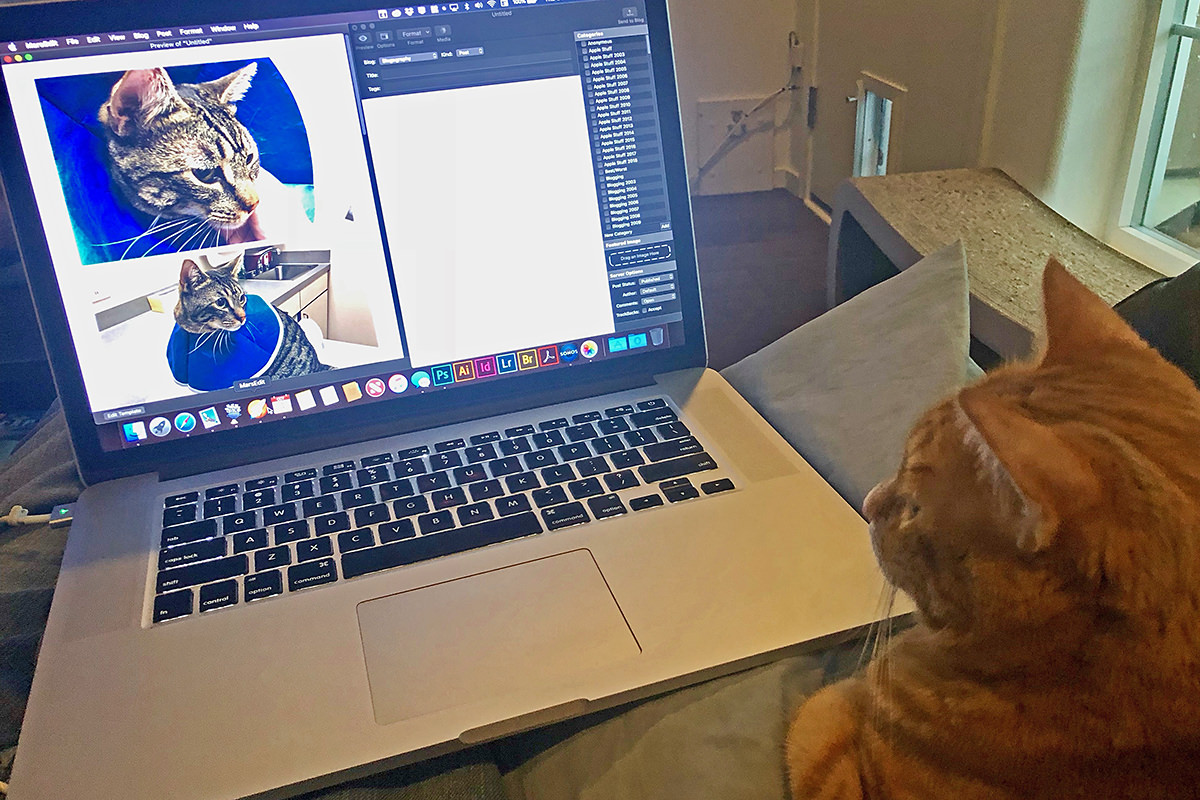 Hopefully her brother will be back in the house Monday morning... fingers crossed.
UPDATE: The minute I pressed "publish" Fake Jake decided to pay a visit and Jenny went screaming out into the catio. I don't know if she's confused and thinks it's Jake or what... but she did not run away when Fake Jake started climbing up the catio...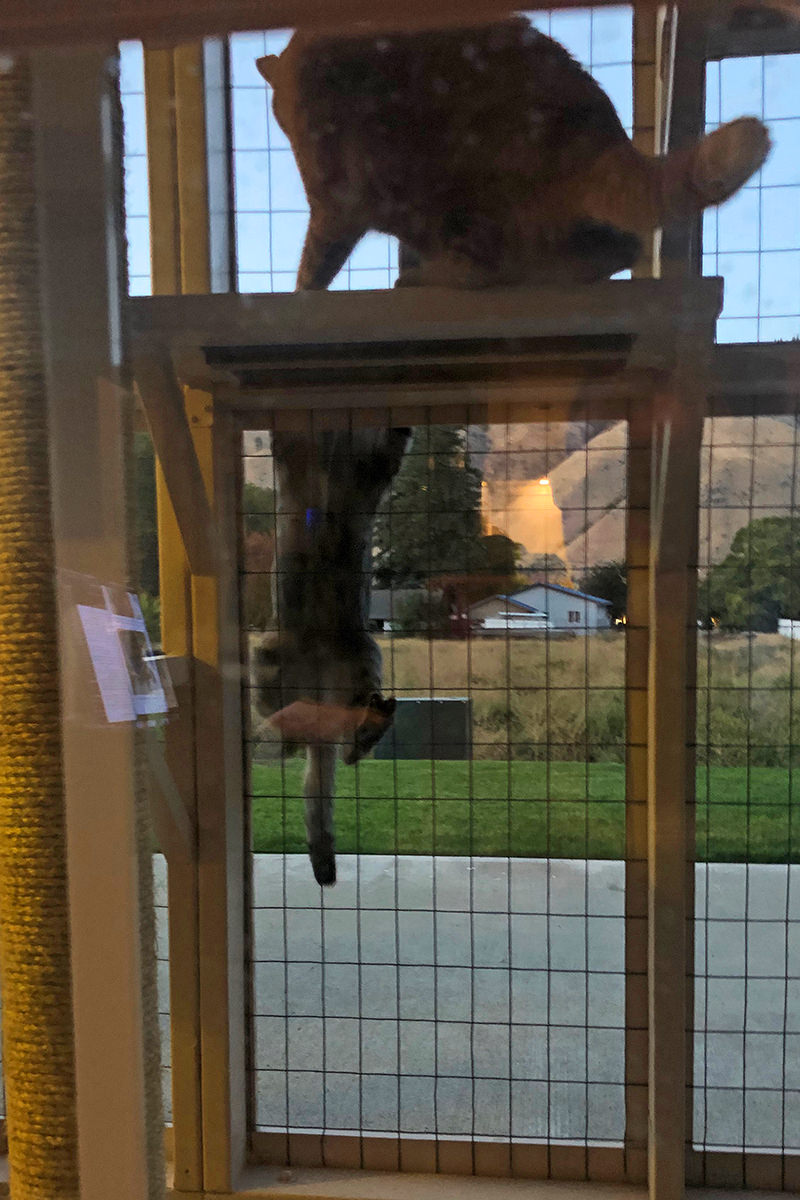 Usually, this kind of aggressive behavior would have her running into the house and hiding. Such a brave little girl. Something tells me she'll be fine on her own for a few days.
Posted on Wednesday, October 3rd, 2018

Things not going quite as well as we had hoped. Jake still has way too much blood in his urine, so no next steps can't be decided.
I got to visit him this afternoon. The poor little guy is so confused and scared. I've never been able to acclimate him to other people. There are people everywhere. He's terrified of other animals. There are animals everywhere. He's in a cone, which freaks him out because he can't see. He's tethered with a catheter and an IV, which is no fun at all. He's on drugs, which just heightens his confusion.
The good news is that I'm told he's usually sleepy and lethargic, so maybe he's not quite so bothered by it all. He was sure active when I was there though. He was rubbing up against me... probably wanting me to take him home...
So heartbreaking. It was all I could do to hold it together.
Things are not much better at home.
Last night Jenny was super excited when the dinner alarm rang. But when I put the food out, she wouldn't eat. Instead she wandered around... presumably looking for her brother. They have never not eaten together, so she was understandably upset. Eventually she just flopped on the floor of the guest room and nothing I could do would convince her to come eat.
After I left her alone for a while, she came back into the living room and lay next to me, but still wouldn't eat, even when I would hold the food in front of her...
She finally climbed onto the back of the couch and cried and cried and cried. Trying to console her just caused her to cry more, so I tried ignoring her instead...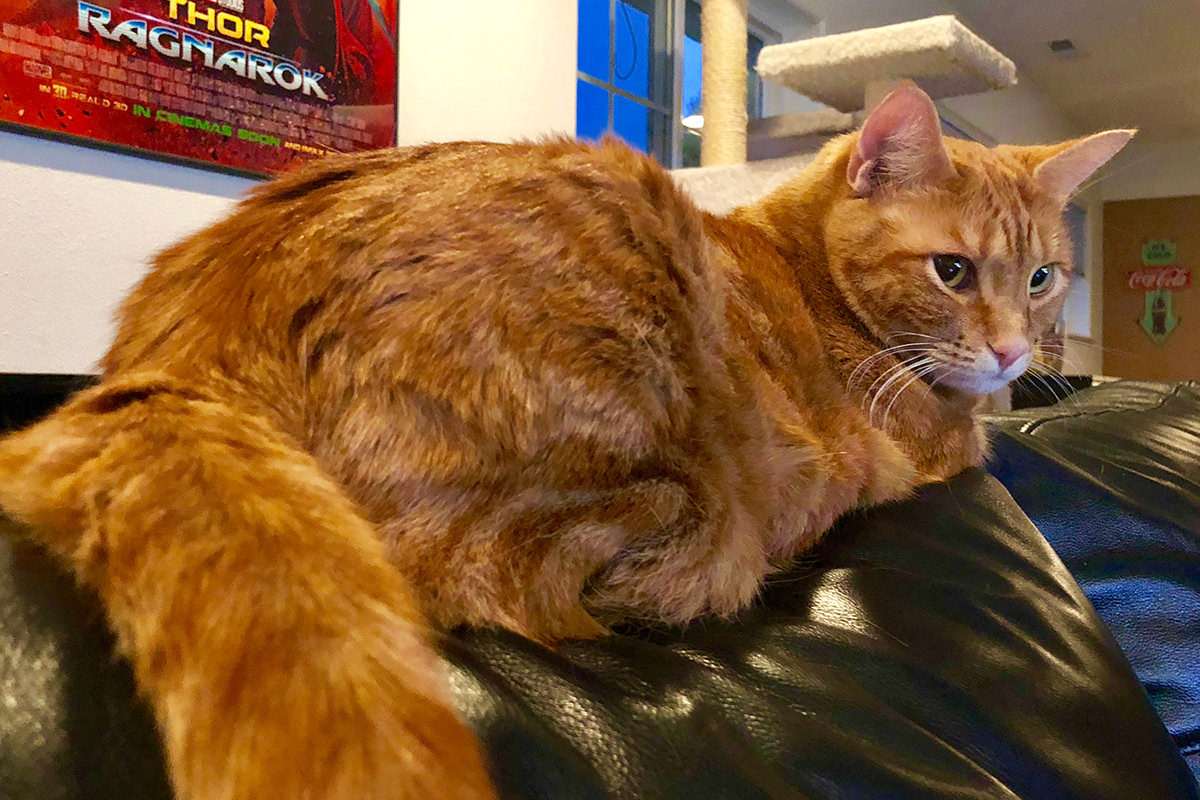 Eventually she gave up and went to sleep on the small couch. Still hadn't eaten. At one point I got excited because she woke up... but she just gave herself a pedicure and went back to sleep...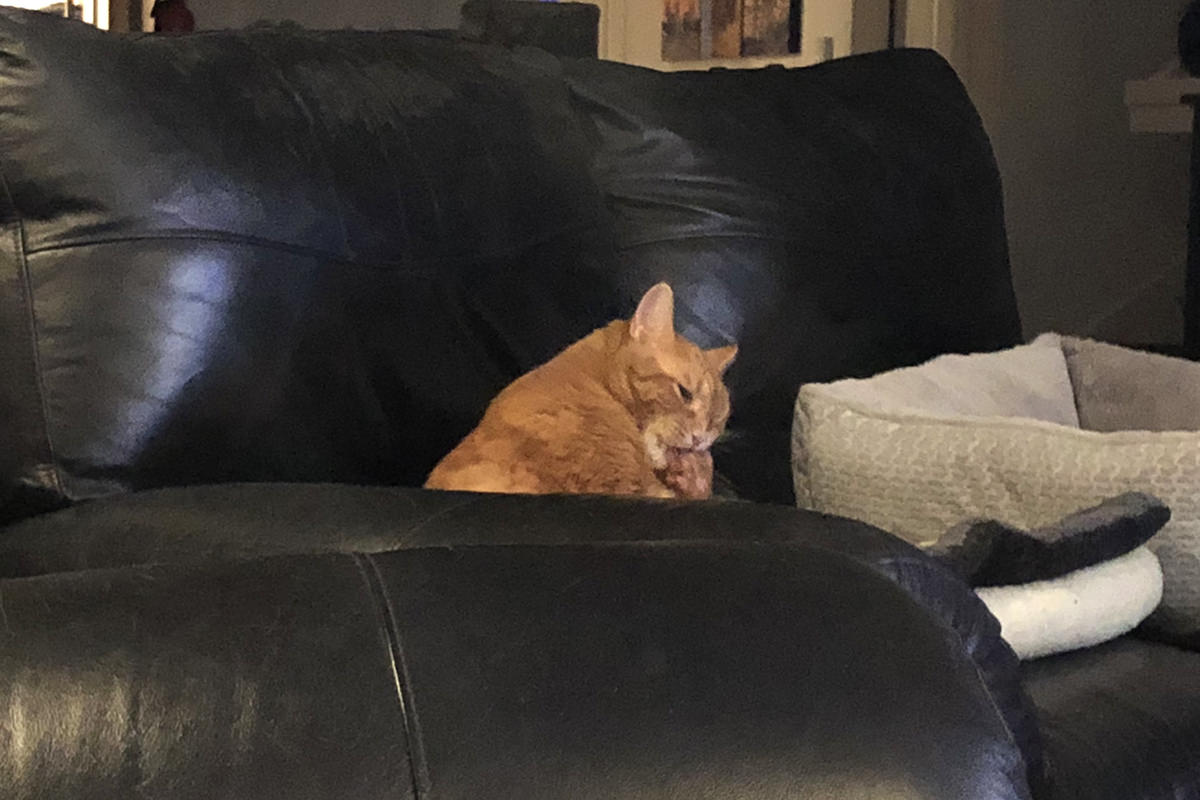 When I started turning everything off and packing up my stuff, she decided to go eat. At last...
After I turned in for the night, Jenny wandered in to fall asleep next to me.
I woke up to her meowing again around 5:00am. Still looking for her brother.
It was around this time that Jenny realized I was laying on a heating pad. She then flops down and uses her back to keep pushing me over until she's claimed the whole thing. I tried explaining that I need the heating pad for my back or I won't be able to bend over to feed her breakfast, but she did not care. Here's me trying to slide her over a little bit... note the foot kicking me away. She is NOT having it. Oh well. I didn't need a back anyway...
After taking a shower, she was still soaking up the residual heat from the pad (which I had turned off). Guess it's time to pull our "her" electric blanket...
Really, really hoping that Jake has improved when I visit him tomorrow. It would be so much easier to climb on a plane Friday morning if I knew he was getting better.
Not that climbing on a plane is going to be easy. Poor Jenny will be all by herself for the first time in her life for three days.
Posted on Tuesday, October 2nd, 2018

So... not a great day.
This morning poor Jake was sicker than ever, so it was off to the vet we go. From their annual checkups, I already knew that this was not going to go well. My cats hate being stuffed into the kitty carriers. At least this time I didn't have to trick Jake into one. He was too weak to put up a fight...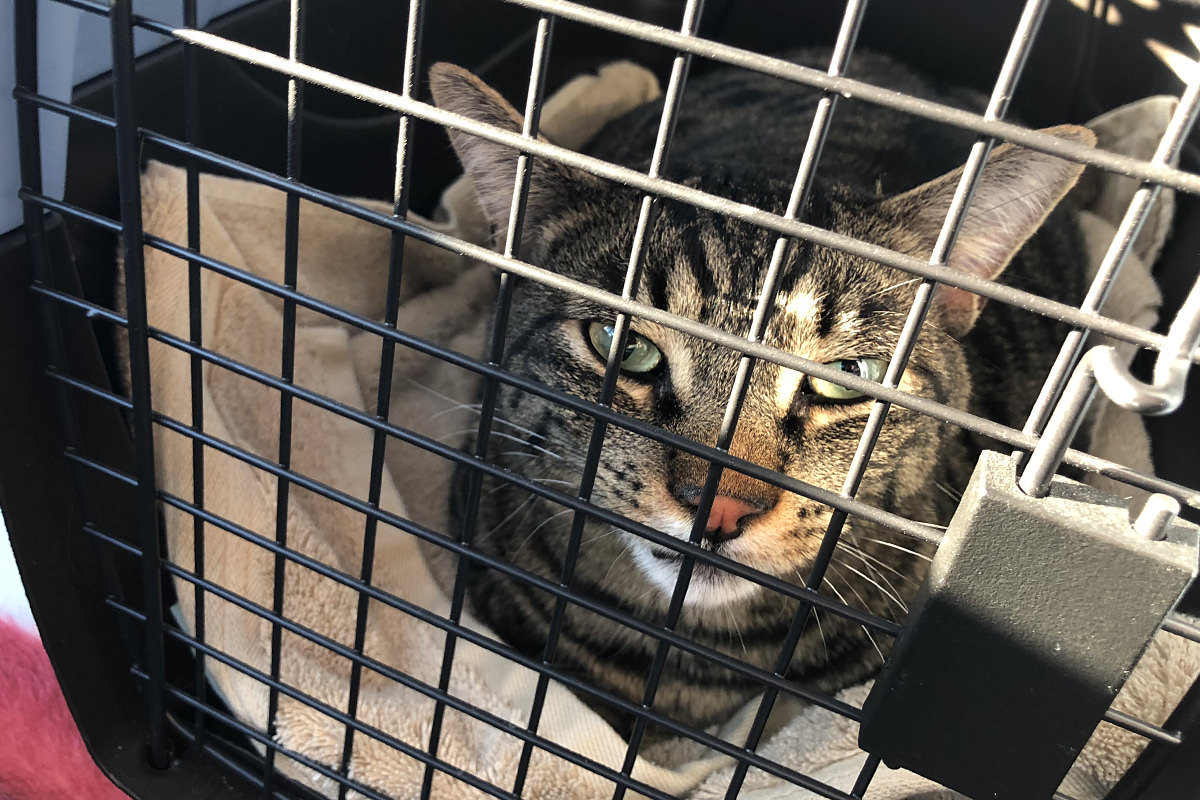 Definitely not a happy camper.
And here's where things get strange.
Jake can meow now.
He has never been able to meow in the nearly three years I've had him. Not once. When he thinks he's meowing, he will let out little squawks instead. Sometimes he kinda howls (as with previous vet visits) but no meows. And then on the way to the vet this morning...
Poor guy.
Turns out he's got some problems. The first of which is a blocked urinary tract, so they had to do surgery to unblock him. It was rougher than expected, but he managed to come through okay. They still don't know what else is involved, so he's not out of the woods yet. They need to watch him for a few days... make sure his infection clears up and he can pee okay. Then they will figure out what to do next.
And so... instead of flying out in the morning I've changed my flight and will fly out Friday instead. Then fly right back on Sunday so I can (hopefully) pick Jake up first thing Monday morning (assuming he's ready to be released).
If there's anything to be thankful for, it would be that all this happened before I left. If it had happened while I was gone, he probably wouldn't have survived.
UPDATE: The doctor called me at 6:00pm(!) to tell me that Jake was still doing okay. They're concerned that there's too much blood in his urine, but he's hoping it will start to clear up tomorrow. I get to visit him at 10:00am, so hopefully I'll know more then.
Posted on Monday, October 1st, 2018

It's my last day before vacation! Which would ordinarily be a good thing, but Jake is sick.
On Sunday things were fine, but he acted a little strange around dinner. Then this morning he was refusing to eat. I saw that he had thrown up last night, so I went back through security camera footage to see what was going on. He was walking into the Litter-Robot, but was walking out without covering anything up, which means he wasn't going to the bathroom. Eventually he did unleash a poop today, so I thought he was fine.
Except any time he'd drink water he would immediately vomit it back up. Then at dinner he was refusing to eat again.
And so... looks like it's a trip to the vet tomorrow morning.
Posted on Sunday, September 30th, 2018

Time to remember the past and move forward... because an all new Bullet Sunday starts now...

• Marker. My mom's marker finally arrived. I placed her remains on Thursday and the stone was set shortly thereafter...
Burial vaults used to be big cement things. Now they're tiny plastic! She barely fit! The guys at the cemetery helping me were incredibly kind a respectful, which was very much appreciated.
It still seems strange for her to be honored as a Vietnam veteran when she wasn't in combat, but the VA assures me that her service during wartime absolutely qualifies her for the honorarium. I think this means the American Legion will put a flag on her grave come Memorial Day? That would be nice.

• Obituary. After my mom was buried, I could finally send in her obituary. I was surprised that I was able to do the entire thing online. I didn't have to talk to anybody...
I picked a photo from our last trip together. She's sitting across from me at the five-star Victoria Falls Hotel Restaurant in Zimbabwe. Sure she's in a T-shirt, but what the heck. She was an adventurer. That's the kinda stuff she wore when tearing up the planet doing awesome shit.
A sidenote... The photo I used for my mother's obituary was taken exactly four years from the day I sent it in to the newspaper, and I didn't even know it until I saw the date stamp of the photo. Weird how things line up from time to time if you pay attention. Here's my blog entry from September 27th, 2014. Amazing how the universe works.
And so I guess that's it. The last thing to do in a long list of things to do so we can both move on. Or not...

• Memoriam. When I purchase a copy of our local paper today so I can see my mother's obituary in print, I will also be purchasing yet another opinion piece by the paper's publisher who previously compared rape to cheating at golf and smoking. Did he apologize for his flippant and tone deaf attitude? No. No he did not. He doubles down and says that men have nothing to be ashamed of... we were born this way, after all. Most of us are good guys, so the horrible way that women get treated is not our fault.
Then whose fault is it?
You're saying the toxic masculinity which permeates our society and is a constant and consistent threat to women is nothing to be ashamed of? Men can hold their heads high while women are harassed, humiliated, beaten, raped, and even killed? Are you serious?
The idea that men should just keep going on about their business while a society which endangers women is thriving is categorically absurd. Jeff Ackerman says we should just keep drinking from the milk carton, mowing the lawn, and ignoring rape culture because most of us are nice guys. It's nothing to do with us. Men should stick together against these evil women who want to be able to walk down the street at night without fearing for their life. Apparently that's what he considers "behaving like a man."
I call bullshit. Real men should be standing together with women to put an end to this. Real men should be actively dismantling toxic masculinity at every opportunity. Real men should be teaching their sons that being a man means being a partner to women, not dominating over them. Real men set an example by respecting women, cherishing women, valuing women, and supporting women. Real men work for a society where women are heard.
My mother was victimized by a man who professed to be her boyfriend... but she was never a victim. She picked herself up, pulled together the pieces of her life, then moved on the best she could. She loved her family. She served her country. She was kind to those she met. She worked hard. She traveled the world to understand it better. And her reward for having such courage? To be memorialized in a newspaper where the publisher says that what she went through is none of my concern because that's just the way men are.
My mom deserves better than that. I'm a better man that that. And society will be far better off when "old men" like Jeff Ackerman are gone.

• Love. And in yet another "Making History" segment... MIKE PENCE BECOMES FIRST VICE PRESIDENT TO ADDRESS ANTI-GAY SUMMIT — But I'm sure he was hating the homosexualizers with Christian Love® in Jesus® name... so it's all good. I mean... these "Christians" have branded their hate as "Christian Love®" so I'm assuming they've trademarked that. Oh... and Jesus® of course. Can't go having The Wrong People co-opting The Savior® can we? They might tell people to love everybody as He did instead of weaponizing His name to push an agenda. We can't be having THAT! Can you imagine? People coming together to love one another? Why, the notion! So silly! Christian Love® is reserved for those who believe EXACTLY LIKE PENCE DOES... and nobody else! Lord, what a piece of shit. Pence, Trump, and their entire administration is garbage. Way to represent all Americans.

• Political Climate. When given the choice from here on out, I am voting exclusively for progressive women candidates. I honestly do not give a single fuck's worth of thought to any of these old white men destroying this country. I'm voting all women, all persons of color, all LGBTQ, all ANYTHING but the status quo from here on out. These assholes had their chance. The future belongs to anybody but them. Because the only way we are going to get FAIR REPRESENTATION in government is to have ACTUAL REPRESENTATION IN GOVERNMENT.

And until next Sunday, when I'm sure there will be a whole new set of horrors to deal with, I bid you adieu.
Posted on Saturday, September 29th, 2018

I try really hard not to project human gender traits on my cats. First of all, they're cats. Second of all, they're cats. But it's hard not to. Jenny is a petite and refined little lady. Jake is a big bruiser of a boy. Jenny is complex, scheming, and opinionated. Jake is simple, straightforward, and easy-going. Not that those are necessarily gender-specific traits... but my cats seem to fall into the stereotypes of human society quite well.
And though their personalities are very different, that doesn't seem to matter at the end of the day.
When I first got them and they were scared little kittens, they clung to each other like their life depended on it. After a while, they drifted apart, not really choosing to hang out together. But lately that's been changing. They are back to bathing each other again, which is just too sweet...
A half-hour later...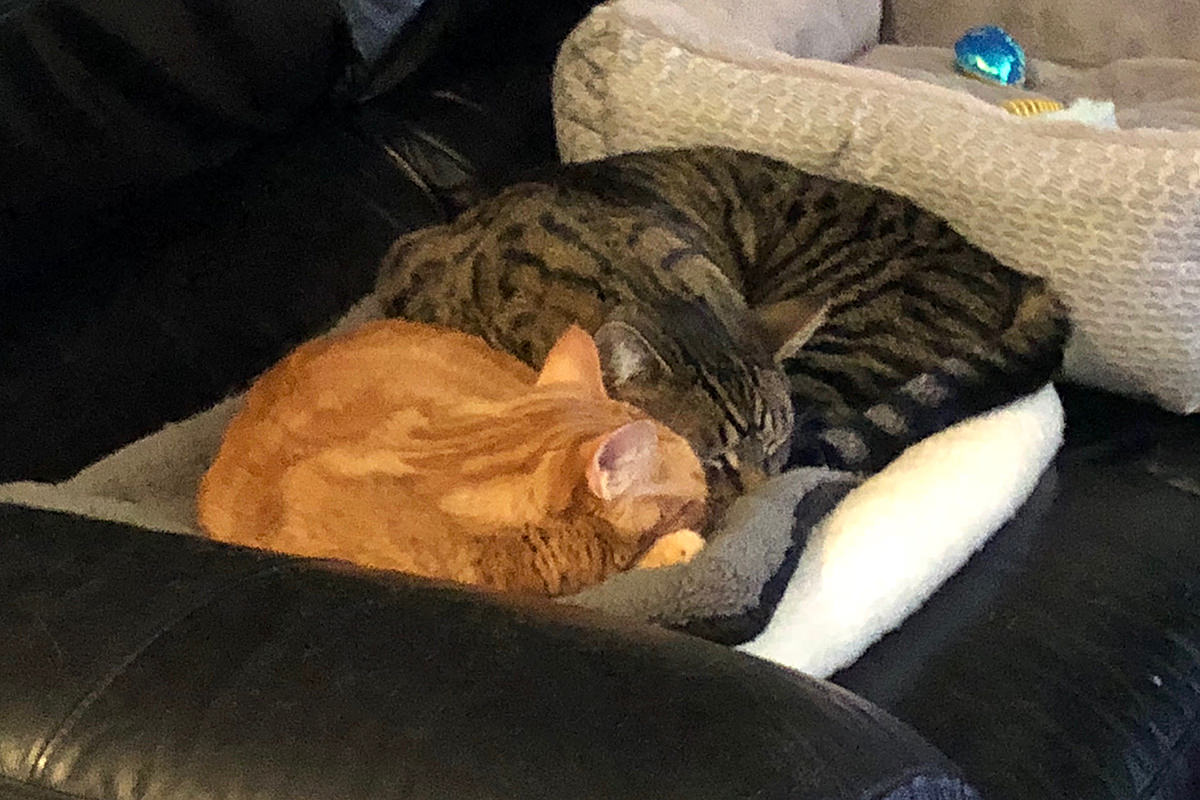 Note the large bed I bought them goes ignored. They would much rather snuggle up in a tiny little bed instead.
That's cats for you.
If only humans with all our different personalities could get along together this well.
Posted on Friday, September 28th, 2018

There were three bands that defined my love of 80's music. Thompson Twins, Pet Shop Boys, and Depeche Mode. Of the three, Pet Shop Boys has been my most enduring favorite (Thompson Twins quit long ago, though Tom Bailey has recently come back). As for Depeche Mode? Well... things happen from time to time that remind me why they were my favorite band for nearly 20 years, but it's been tough for me from Exciter onward.
Here's a ranking of their albums from love to loathe...
101 — Depeche Mode is at their best when performing live. Truth to tell, there are few bands which can compare to their live performances. And if one needs proof, you need look no further than 101 from their "Tour for the Masses." Not only did it include several songs off that incredible album, it included the best tracks from those that preceded it. Magic in a bottle. And still my favorite DM album.
Some Great Reward — A remarkable album from just about any angle, it was the inclusion of People are People, Blasphemous Rumors, and Master and Servant that had me completely absorbed. It was right here that Depeche Mode became my favorite band on earth for decades.
Black Celebration — I listened to this one nearly-continuously for a year after it was released. Decidedly dark in tone, it spoke to every corner of my soul as I headed into adulthood.
Music for the Masses — Up until this album I was a big fan of the band... but I was a big fan of a lot of bands. And yet once I saw the "Tour for the Masses" and finally got to experience Depeche Mode live for the first time (see 101 above)... I was a big obsessive fan of the band. It was the album which brought true fame to the band here in the States (at last) but bigger things were yet to come. Would probably rank higher if 101 (essentially the live version) didn't exist.
Songs of Faith and Devotion — The last truly great Depeche Mode album. I don't think it's a coincidence that it's also the last album to feature Alan Wilder. Mercy in You remains my favorite track by the band, but there was so much more to love on this album. There was a track-for-track re-release as a live album, and I think I actually like it better than the studio version.
Violator It took a while for DM to break the USA wide open. Thanks to standout tracks like Personal Jesus and Enjoy the Silence, this was the album to do it. I loved it, of course, but older albums were still the ones I was listening to most.
Construction Time Again — Some really great songs here as the band found its footing. Mostly thanks to the track Everything Counts, which went on to be a staple of their live shows.
Ultra — After Alan Wilder left, I really didn't think that the band would be the same. And they weren't. Still, they did manage to rally with Ultra which was different, but not necessarily in a bad way. Half the album was as good as ever. The other half was meandering and kind of fell flat for me.
Playing the Angel — When the first single, Precious, was released, I was flying high over the idea that just maybe the band had rebounded from the previous album (Exciter). And rebound they did. Sure the album version of Precious wasn't as good and there were a few tracks that never quite landed... I was still very happy with the album... and the tour.
Sounds of the Universe — The last album by the band that I truly enjoyed. Not all of it... but enough of it. And the tour was fantastic.
A Broken Frame — In their second album, things started coming together for the band. This was quite a feat given that their songwriter (Vince Clarke) had left.
Speak & Spell — The first Depeche Mode album (and the only album with original member Vince Clarke) was pretty raw. But there were some gems to be had.
Exciter — The first album by the band that truly disappointed me. A couple decent tracks, but nothing to write home about. They rebounded a bit, but never reached the heights we got from Songs of Faith and Devotion.
Delta Machine — I do not, for the life of me, understand how the band got to this point. Before release, I was actually excited about Delta Machine — because there was talk they had returned to their roots. Nothing could be further from the truth. It was yet another album filled with angels and redemption, but was a joyless mess. I went to the supporting tour, but was only interested in the tracks that weren't from Delta Machine.
Spirit — Hated every single song on it. Never bought it. Never saw the tour. Shocked that things could get worse than Delta Machine, but here we are.
Posted on Thursday, September 27th, 2018

When I first got into comic books, I was more a DC guy than a Marvel guy. The biggest reason for this was The Legion of Super-Heroes which gathered dozens of differently-powered individuals from different worlds in the far future. For a very long time, it was that one book I could count on no matter who the creative team behind it was. It was pretty good even when it was bad.
And when it was great? Holy cow was it great!
Eventually sales were such that they let Keith Giffen try something entirely new by taking them from hopeful super-powered teens in a bright future to hopeless super-powered adults in a dystopian nightmare. I absolutely loved it. The comic book I had loved forever had somehow changed completely yet was somehow even better. But then DC wanted to go back to the teen Legion and things started to slide. It was fine for a while... but then kept getting worse and worse until I just wasn't interested anymore. By then I had mostly moved on to Marvel anyway, but it was still a sad day.
For this ranking, I'm taking the Gold/Silver/Bronze age Legionnaires and figured out which I liked best... and which I liked least...
Mon-El/Valor — Easily my favorite Legionnaire. He started as a throw-away Superboy story element from the past that became far more interesting when he was transplanted into the future.
Brainiac 5 — His incredible intellect brought a lot to The Legion (the flight rings are all him) and writers seemed to have the easiest time making him interesting (his force-field belt was a terrific add-on). Heck, when they turned him insane, he became one of the best LOSH villains ever.
Ultra Boy — What I like best about Ultra Boy is how they took Superboy then made him interesting by limiting him to using one of his powers at a time. In the hands of a good writer, the character had to be clever to work... being both the most powerful and the weakest character from moment to moment.
Princess Projectra/Sensor Girl — I never really got a bead on the character or her powers until they gave her a medieval spin which made my head do a 180. From then on she was a favorite. But that wasn't all! She also got a turn as Sensor Girl, one of the more fascinating characters in the history of the team.
Dawnstar — A character who could navigate the depths of space unaided was a natural and brilliant fit for The Legion. The fact that she always seemed to be the smartest character in the room didn't hurt.
Timber Wolf — Basically a more interesting Wolverine character that isn't tied to a long, convoluted back-story that is never as interesting as writers seem to think it is.
Wildfire — An effort to do something truly different with the membership, and a successful one at that. His relationship with Dawnstar was one of his best qualities.
Saturn Girl — Her telepathy made her a naturally-interesting character, but it's what they did with her as a person — that made her crack my top-ten.
Chameleon Boy — He started out as an interesting alien diversion, but gained a crazy-level of depth when they tied him to the origin of the entire team in a very cool way.
Cosmic Boy — The boy scout of the Legion who had the worst possible costume for years. Even though he was pure vanilla for much of his super-powered career, he had enough interesting moments.
Supergirl — Superboy was marginally more interesting on his own than this the Legion. Supergirl was the complete opposite. I found her much more entertaining here than in her rather dull solo adventures. If only they had utilized her more often.
Superboy — A great character that was essentially show-horned into a crazy number of Legion stories... and not always for the better. Even so, he was the link that kept on giving, and always worked in the context of The Legion's future-tales.
Karate Kid — Buying into the Bruce Lee karate fad of the day wasn't enough, so they made him a master of martial arts from dozens of worlds and gave him the ability to find the inherent weakness in things. His wacky over-the-top costume was a weird diversion when he was in a group scenario.
Laurel Gand — I liked her well enough when she debuted... she was a distant relation of Mon-El that was used to interesting effect (hence her high placement on this list). Had I been able to consider her fascinating turn as Supergirl-replacement Andromeda from her Post-Crisis days, she would have ranked even higher.
Lightning Lad — Other than being a founding member of the team, the most interesting thing about him was that he was dead for a time. Not a ringing endorsement to be sure.
Invisible Kid II — His origin in the Legion annual he debuted was extremely well handled even if he was a bit boring afterward. Still, there's something to be said for him being a competent addition to the team rather than yet another bizarrely-powered oddity.
Dream Girl — Her powers were easy to underestimate, but she proved herself to be an invaluable part of the team many times.
Element Lad — Easily the most powerful Legionnaire going (well, depending on who was writing him) speculation about his sexuality by readers seemed to be more interesting than the actual character.
Phantom Girl — She was definitely given more interesting stories than many of her teammates... but her relationship with Ultra Boy was more defining than anything else, which was criminal given how interesting her powers were. Or rather, how interesting they could be.
Tyroc — A fascinating idea for a character that was woefully underutilized. Kinda a trippy Black Canary type. Maybe writers didn't know quite what to do with him?
Sun Boy — Definitely a middle-of-the-road character that had his moments to shine... but he just wasn't as interesting as similar energy-based characters.
Light Lass (Lightning Lass) — Starting out, she was a Lightning Lad clone (which makes sense, given that she's his sister. In an effort to make her less redundant, they changed her powers to make things super-light. This made her more interesting than Star Boy, but only just barely.
Duo Damsel (Triplicate Girl) — A somewhat dull character made worse when she lost a third of what made her interesting. Her relationship with Bouncing Boy was the thing that really had her stock dropping.
Shadow Lass — Another female character who was made interesting solely because of her love-life (with Mon-El). Kinda lame that her powers, which could actually be interesting, so often were not.
Star Boy — Used to be a Superboy clone. Eventually gained the ability to make things super-heavy. Another one-note Legionnaire who was rarely notable.
Colossal Boy — He could grow big. But most of the time he just ended up doing a lot of damage when he fell down and went boom.
Invisible Kid — He never really got a shot back in the day. Finally they performed a mercy-killing and had him join the ranks of dead Legionnaires.
Kid Quantum — A character that was never as good as his concept. The potential wasn't really fulfilled until his little sister took over the role.
Polar Boy — As a member of the loser-squad (Legion of Substitute Heroes) he didn't gain that much when
Shrinking Violet — Post-Crisis, they did a lot with the character. Pre-Crisis, however, she was incredibly, unforgivably boring.
White Witch — It's not that she's not an interesting character... it's just that she was never very interesting to me. Unless there was a magic-based adversary like Mordru around. Otherwise I rememeber her being more irritating than anything else.
Chemical King — Most notable for being mysteriously dead, then getting a bit of a moment before becoming dead-dead.
Blok — A direct copy of The Thing from Marvel's Fantastic Four — who never really went anywhere.
Magnetic Kid — Cosmic Boy's younger (more boring) brother. Nothing new here. Move along.
Matter-Eater Lad — He can eat anything. Woo-hoo. The only reason he's not dead-last on my list is that it was pretty awesome how Braniac 5 got him to consume The Miracle Machine, which caused him to go insane.
Ferro Lad — The most interesting thing about him was that he was the first dead Legionnaire. Happily, this was rectified in reboots, but it was fairly depressing in those early days.
Bouncing Boy — Good Lord. "Super bouncing" as a power was sublimely stupid in just about every possible way.
Tellus — Pointlessly bizarre character who, along with Quislet, was apparently an effort to get a larger non-human element in The Legion.
Quislet — Another pointless non-human who added practically nothing to the series. I rank him worst because he was so poorly defined and utilized.
I maintain that The Legion could make an excellent television series. We got a taste in the last season of Supergirl but there is still so many places they could go. Maybe one day.
Posted on Wednesday, September 26th, 2018

With the exception of the Cars trilogy, there aren't any Pixar films I actively dislike. For everything else, it's just a matter of degrees. Some of them are exceptionally brilliant... others are just really good animated features.
Here's my ranking from favorite to not-so-favorite...
Monsters Inc. In my mind, there's no more perfect Pixar film than this. Compelling story. Loads of humor. Amazing characters (including Sully, my favorite). Everything I love about Pixar in one movie.
The Incredibles The best Fantastic 4 film yet made. And, until Marvel Studios hit the scene four years later, one of the best super-hero films ever made. The architectural style of this film is over-the-top beautiful.
The Incredibles 2 More of the same. Which would usually be a bad thing... but they pushed it into another level of brilliance.
Toy Story 2 I was mortified when I heard there was a sequel happening to Toy Story because I was convinced most sequels were crap. Boy did I get proved wrong. A brilliant follow-up that actually improved on the first one.
Up Pixar has a way of putting a lot of heart into their projects. This is probably the film that tugged on the most heartstrings for me. And, as if that wasn't enough, they went and put Dug in there too.
Toy Story The film that started it all, and Pixar completely knocked it out of the park.
Toy Story 3 A lot of people put this at the top of their list. It's easy to see why, but it felt a little emotionally manipulative and deliberate to me. Still an amazing film.
Finding Nemo What I love about this film is how beautifully the story all came together. Sure it looked good. Sure the plot was clever. But it flowed so naturally from scene to scene... from moment to moment... from start to finish.
Coco One of the most beautiful movies ever made. If the story wasn't so overtly manipulative, I probably would have ranked it higher.
Wall-E I think my expectations were too high here. It was a wonderful film, but I had a tougher time buying into the story than I probably should have given that it was about robots. I can say that it had the best end-credits of a Pixar film.
Monsters University A terrific flick, but it seemed like a missed opportunity to go back in time for a prequel. Nobody could come up with a sequel idea worth working on? Even so, Sully remains my favorite Pixar character by a wide margin.
Brave A movie that's insanely gorgeous to look at, but kinda fell apart for me story-wise. Merida seems short-changed, which is a shame, because you can tell they were trying to push the idea of "Disney Princess" into a better direction.
Finding Dory I'm not entirely convinced this was a sequel worth telling. But, then again, it was still a really good movie.
Inside Out This is consistently one of the best-rated Pixar films... and I get that. It's a beautiful, heartfelt story, but it also has a level of detachment to it that made it tough for me to buy into.
Ratatouille Cute characters that are beautifully rendered. But the human characters, particularly the lead, dragged everything down for me.
A Bug's Life It would be easy to say that this movie hasn't held up well, which is why it's so low on my list. That's not entirely true. I think it's just as visually stunning as it ever was. The voice acting and story are entertaining. It's pretty fantastic so far as cartoon movies go. But when compared to all the other Pixar films? It's a weak link for me. Didn't dislike it, just didn't care for it as much as others.
Cars I couldn't get into the world they were building here. Anamorphic cars just did not work for me (surprising given my love of the Chevron cars), and I didn't care for the story much to boot.
The Good Dinosaur It's not that I hated the film... it certainly looked pretty... and it's way above other cartoon crap... it's just that it lacked the multi-level appeal that allows adults to find fun in a juvenile film.
Cars 3 So bad. I was bored, bored, bored. Repetitive and dull from start to finish. Can't believe this got a theatrical release.
Cars 2 So very bad. This was the movie that convinced me that Pixar's magic was in serious decline. The reason I place it dead-last is because of the stupid-as-shit "spy" plot-line. Fortunately, Pixar regrouped and got their crap together. But that didn't stop them from releasing Cars 2.
Next up is Toy Story 4. Not exactly sure that was a smart move given how nicely things got wrapped up in the last one, but I'm trying to keep an open mind.