Posted on Sunday, November 3rd, 2019

Worried you don't have time to watch all those new Apple TV shows? Well worry no more, because an all new Very Special Apple TV+ Edition of Bullet Sunday starts... now...

• Who Dis? And lo did Apple decree that some of their billions of dollars shall be put aside to create their own media, and it was done. And lo did Apple then decree that all new iPhone purchasers would get a year of Apple TV+ for free, and it was done. And since I had a bunch of work to tackle all day yesterday, I just let Apple TV+ shows run while I was working. There are hits and misses, but most of it is just a "why?" situation. There's nothing so revolutionary here that Apple just had to step up with a pile of money to make sure they were seen. It's pretty much just more of the same.

• The Morning Show. The opening shot of the first episode of this show is Mark Duplass answering his iPhone. The next shot is Steve Carell answering his iPhone. The next is Jennifer Aniston ignoring a call on her iPhone. Reese Witherspoon is too busy putting on eyeliner for me to see her phone, but the guy in back of her in the car has an iPhone. While not unrealistic that absolutely everybody on earth would all own iPhones, it does seem like a ridiculous abundance of product placement and left me wondering if the show was going to revolve around Apple products instead of stories and actors. Fortunately, that wasn't the case. But it was still jarring to see Apple absolutely everywhere when the real world doesn't work like that. And "the real world" is what they're trying to give us: When the co-host of a popular morning news show is fired for sexual misconduct, personal politics and interpersonal relationships are put to the test...
It may be only three episodes so far, but like this show. I like it quite a lot. It's deliciously twisty and appropriately ruthless without being overly-complex, stifling, or boring. The acting talent is impeccable. It's rumored that Aniston and Witherspoon are making TWO MILLION DOLLARS PER EPISODE. This seems wildly excessive. But when they make millions upon millions for movies, that's what it's going to cost to get that kind of talent on your TV show. I'm not saying they're necessarily worth that in the context of The Morning Show, but I will say that they elevate things to a level you probably wouldn't have gotten from many others. And don't discount Steve Carell... his character is equal parts horrifying and charisma, and he's great. Everybody is. That's what $15 million an episode gets you.

• See. "In the land of the blind, the one-eyed man is king." Or is he? Let's assume that I can put aside the complete lapse of logic which permeates this show. Let's further assume that I can overlook the ableist aspects of the concept behind the show. And let's finally assume that I can dismiss the obvious idea that Apple wanted their own Game of Thrones for launch, and See (featuring Khal Drago!) is that show. Assuming all that... and you can... I still couldn't get into this post-apocalyptic show about what happens when most of the population of earth is wiped out, those two million remaining are blinded, centuries afterwards everybody thinks that sight is a myth which is heresy to speak of, and evolution has brought us to a time when some are being born with the ability to... see...
Each episode costs $15 million. The same as being spent on The Morning Show. And yet... for the life of me I cannot figure out where all that money is going. It's just inconceivable to me that I'm looking at $15 million per installment. Maybe if $10 million an episode was going to Alfre Woodard that would explain things. I dunno. What I do know is that I was bored bored bored by the goofy lameness of it all. High concept needs to have high entertainment value. This just... doesn't. From bizarre crap like the queen's unorthodox method of "praying" to the whole "betrayal among us" trope being the entire crux of future hurdles... it's just so tired. I don't hate the show, I just don't know if I will make time to watch future episodes. Maybe if I'm bored and there's nothing else on?

• For All Mankind. This terrific alternate-history series is just so... pretty. Not just because of the money put into making it look great... but because nothing puts all of humanity into such vivid perspective as our quest to reach the stars. Yes, things start slowing down after the first episode, but it's still pretty good stuff.
I had read nothing about the series, ignored all the "first look" videos, and had no idea what the show was about until I watched. At the time I was anticipating Apple TV+ costing $12.95 a month, so why invest the time in something I won't see? Because of this, the extended opening which defines the entire series took me completely by surprise. In a good way. Hopefully nobody has spoiled it for you, because surprises this finely crafted don't come along that often! For this reason, I am NOT including the advertisement video here. It spoils everything! I'm hopeful this is headed somewhere interesting.

• Snoopy in Space. I actually liked the computer-rendered Peanuts movie. I found it beautifully rendered and fully faithful to both the comic strip and the animated specials. That being said, I was pleasantly surprised to find that Apple's first effort with the property was to be traditionally-animated. Though, from the looks of things, it's not so traditional. It's too fine and too clean and definitely looks digitally drawn. Not a good look...
But the real importance here would be the story. How does it live up to what Charles Shultz created? It doesn't. The plot is that Snoopy dreams of being an astronaut and breaks into NASA's astronaut training program so he can go into space. Since the Peanuts universe doesn't have adults you can understand, there's an absurd and annoyingly emotional computer standing in. What follows is mundane explorations into NASA, the ISS, the moon, and Mars. And it's so awful.
As a lover of the original Peanuts strips... a liker of the original Peanuts television specials... this show fell completely flat for me. It's like they took popular Peanuts elements that people would recognize and jammed them together into a NASA-sponsored docu-series. There's no real charm or genuine humor here and the story is both horrible and boring. Especially if you love Peanuts, in which case it's just insulting.

• Dickinson. Needless to say, a teen angst reinvention of Emily Dickinson's early life was not going to be my cup of tea. I don't give two shits about that kind of CW crap. And yet... I was genuinely curious to see where Apple would go with this. I'm a fan of Dickinson's poetry and writings, and their nature is ripe for interpreting her life...
Alas, what we got was a complete mess. It's a period piece injected with thumping modern music and familiar modern tropes, but not in a necessarily edgy, interesting, or clever way. Characters use phrases like "I'm pretty psyched about it!" and "Totally!" and "This is bullshit!" which is somehow supposed to be funny or something. What actually was funny was seeing Wiz Khalifa pop up as Death with his magical coach pulled by ghostly fire horses and Jane Krakowski gliding through her every scene as if she's a Jenna Maroney parody of Emily's mom. Everything else fails to hold together. One minute Emily is baking bread for her father as an apology for getting caught sitting in at an all-male lecture on volcanoes at Amherst... the next she's getting fingered by her brother's fiancé as some words from her poem I have never seen "Volcanoes" appear on screen and images of bread baking in a hot oven pop up. It's like they didn't even try. Just one silly, contrived situation after another ("Let's have an opium party so I can hallucinate dancing with a giant talking bee!"). I made it through four episodes... fast forwarded through the last half of the fifth... then skipped to the ninth and tenth just to be done with it. I'm sure there are people who will love this, but it's sure not me.

• The Elephant Queen. If you've ever seen the show Meerkat Manor which documents the life of meerkats struggling to survive their cruel world, The Elephant Queen will feel a bit familiar. This documentary follows Athena, an African elephant trying to save her heard once they are forced to leave their old watering hole in search of a new one...
Beautiful to look at and nicely narrated by Chiwetel Ejiofor, this is a wonderful but somewhat superficial film. Sure there's tragedy and death along the way. But no mention of poachers despite that being a serious threat and always topical... I mean, come on, even Disney World managed to add poaching into their Kilimanjaro Safari ride at Animal Kingdom. If there's a negative here, it would be the unnecessary addition of comical sound effects and some clueless music queues. Even so, it's a compelling film that's worth your valuable time.

• More to Come... Though Apple doesn't have much content, they seem intent of keeping it coming. Up next are a show by M. Night Shyamalan... a show by Rob McElhennrey and Charlie Day... a show with Octavia Spencer... a show with Chris Evans... more Amazing Stories... more Time Bandits... and, of particularly interest to me, a new series based on Isaac Asimov's Foundation novels. Among others. Odds are, they're going to be fairly watchable given the amount of money and talent Apple is dumping on them. We shall see.

And... not a bad start. The only complete misfire was Snoopy (what were they thinking?) and even that might have appeal to some. Whether or not I'll pay $5 a month to keep it going a year from now will entirely depend on what's playing at that time. Another series for The Morning Show would be enough for me to pay a couple months, but I'm guessing Apple will have a lot more in store than just that.
Posted on Saturday, November 2nd, 2019

I have made no secret of my apoplectic rage over the fact that we still mess with the clocks twice a year. It is a stupid, stupid, STUPID and outdated practice that only serves to screw up our lives. Washington State is working to get rid of the barbaric practice. Our House of Representatives voted overwhelmingly to go on permanent Daylight Saving Time. And now, once our Senate gets off their asses, I'm guessing they will approve it as well... BECAUSE NOBODY F#@&ING WANTS IT! Oregon and California are in accordance and will switch if we switch. Even British Columbia has stated that they would be interested in coordinating with us so the entire West Coast is on the same time because THEY DON'T F#@&ING WANT IT EITHER!
And because state's rights are a joke, passing the House and Senate doesn't men it's a done deal. Because then, once it passes there, we have to get PERMISSION from Congress to actually do it. Which, given the fact that Congress doesn't do jack shit unless it benefits their lazy, corrupt asses, means it could be years before anything happens.
Adding to my loathing of switching clocks? The way it affects my cats.
Their behavior changes when their schdule is altered. Even when I try my best to get them gradually adjusted to it by shifting the clock in only 15 minutes increments, they just aren't having it.
Jake is affected the worst when you delay his feeding. For the past week he's been asserting his dominance towards Jenny and, just like last year, it will likely last another week or so. He'll just randomly decide to climb on top and bite her neck...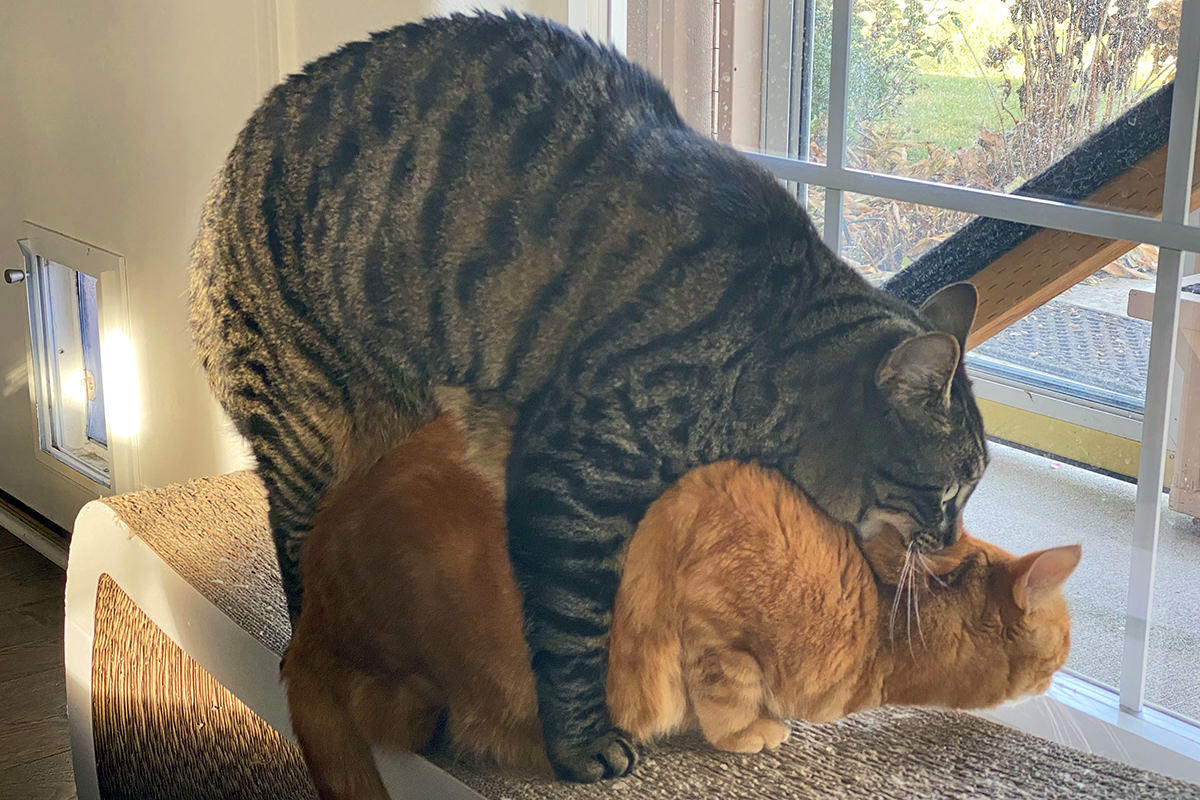 Oddly enough, Jenny doesn't seem to mind. She'll just keep looking around like "whatever" about it. Until she does mind, then she'll start hissing at him and smacking him until he gets off of her...
When this happened last year, I'd go up and pull Jake off of her. That was a mistake. Eventually I realized this made it traumatic for both of them, and it was better to just let Jenny take care of it, which she can do just fine...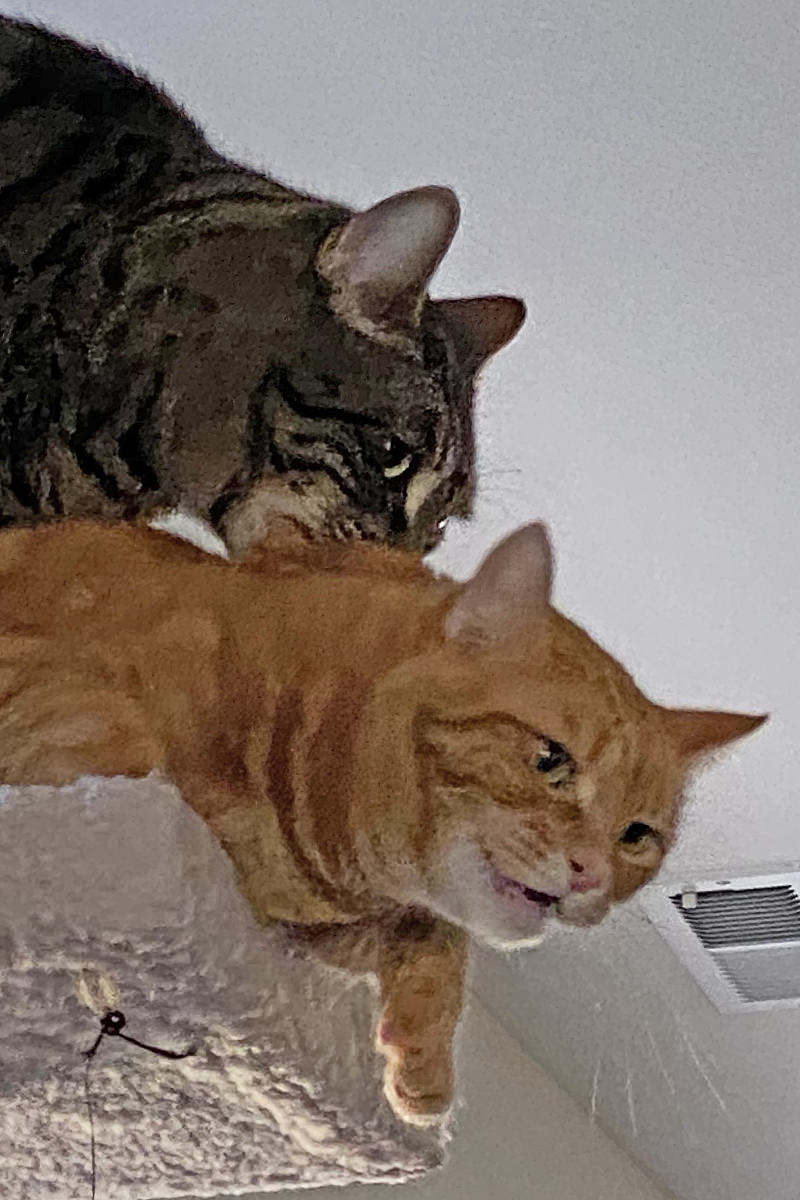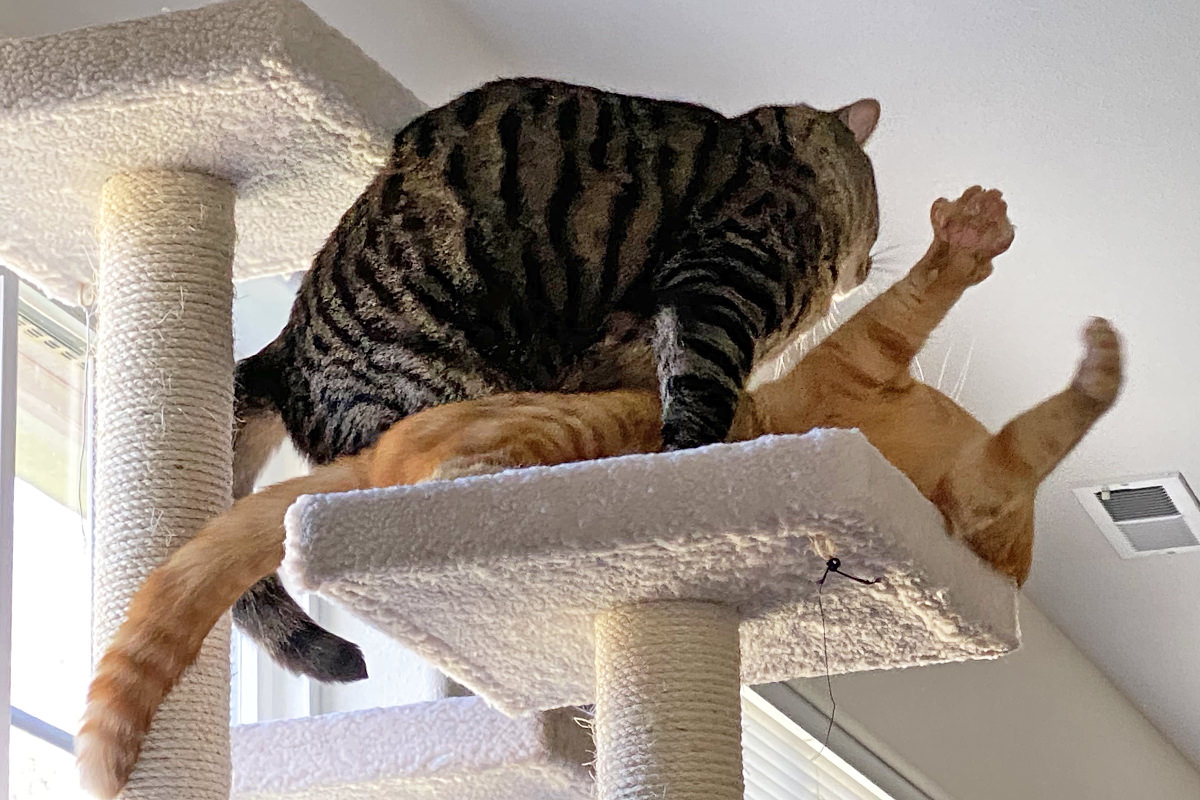 They still get along fine... but during the switch from Daylight Saving Time, we get an occasional show of dominance.
Fortunately it's quail season, which can take their minds off of the clocks changing and put it where it belongs... stalking birds from the catio...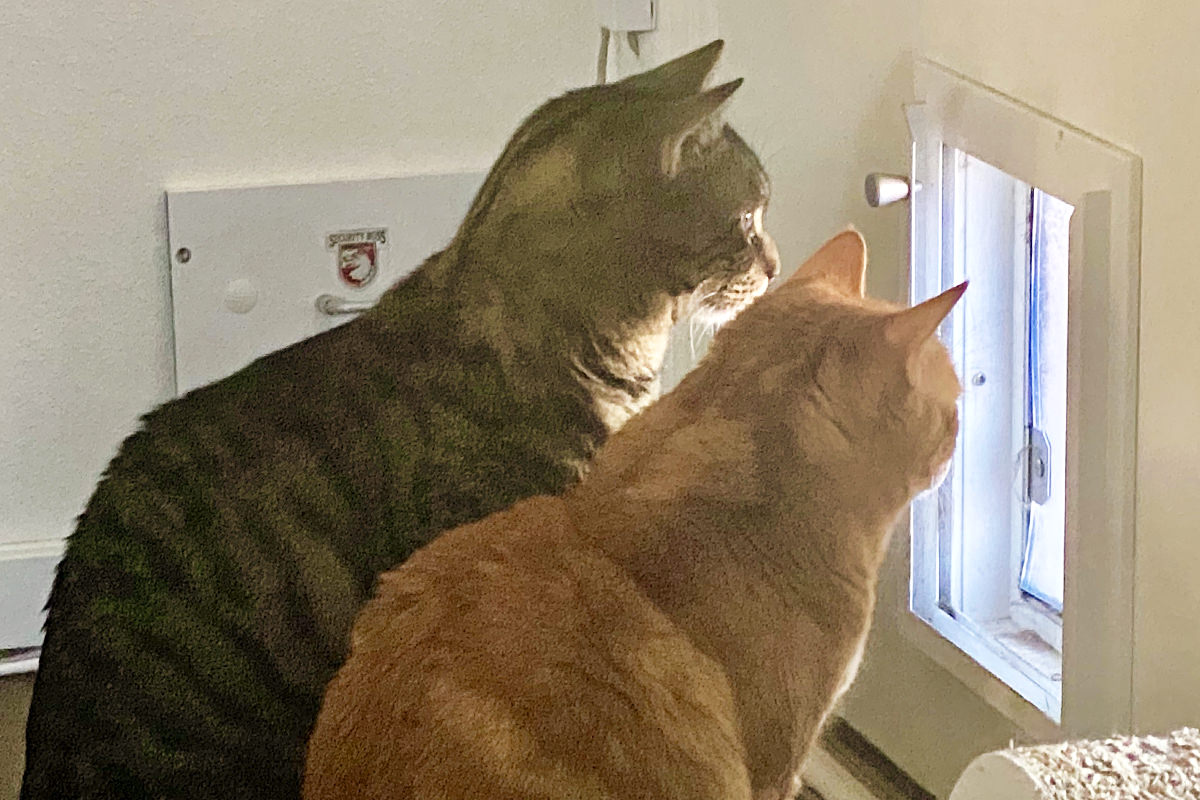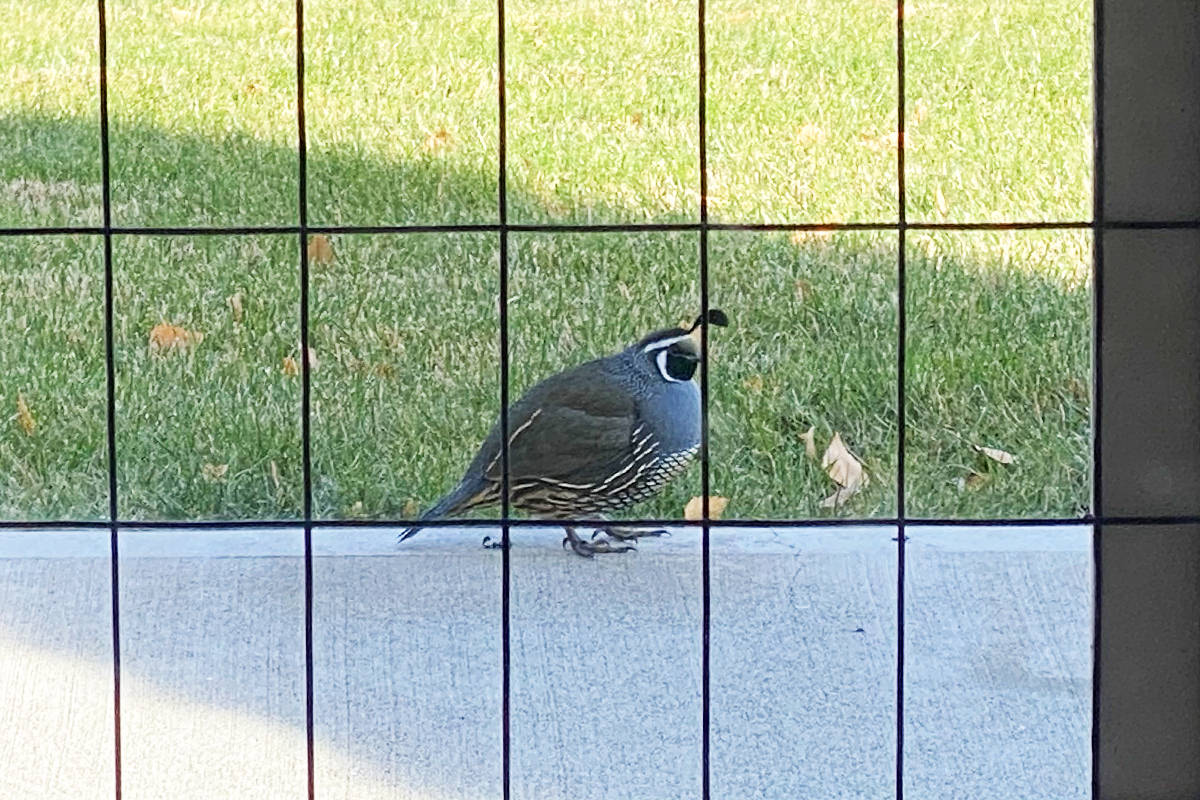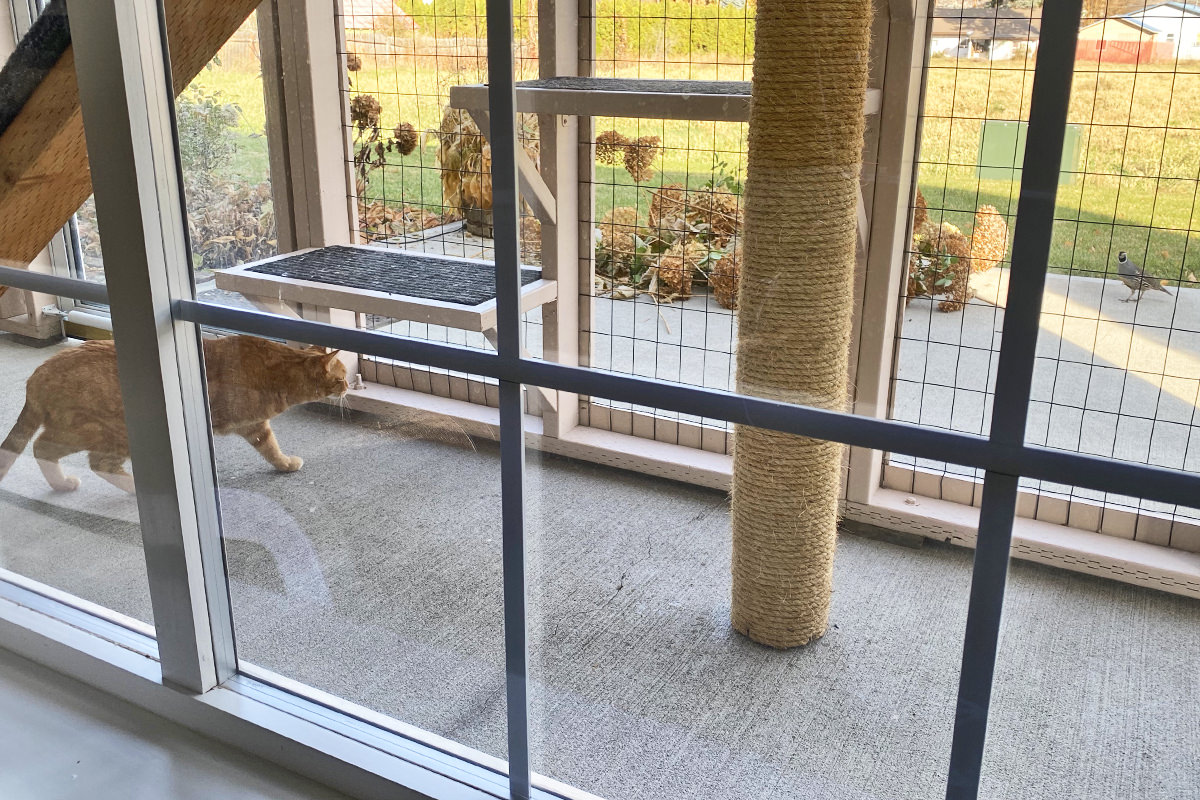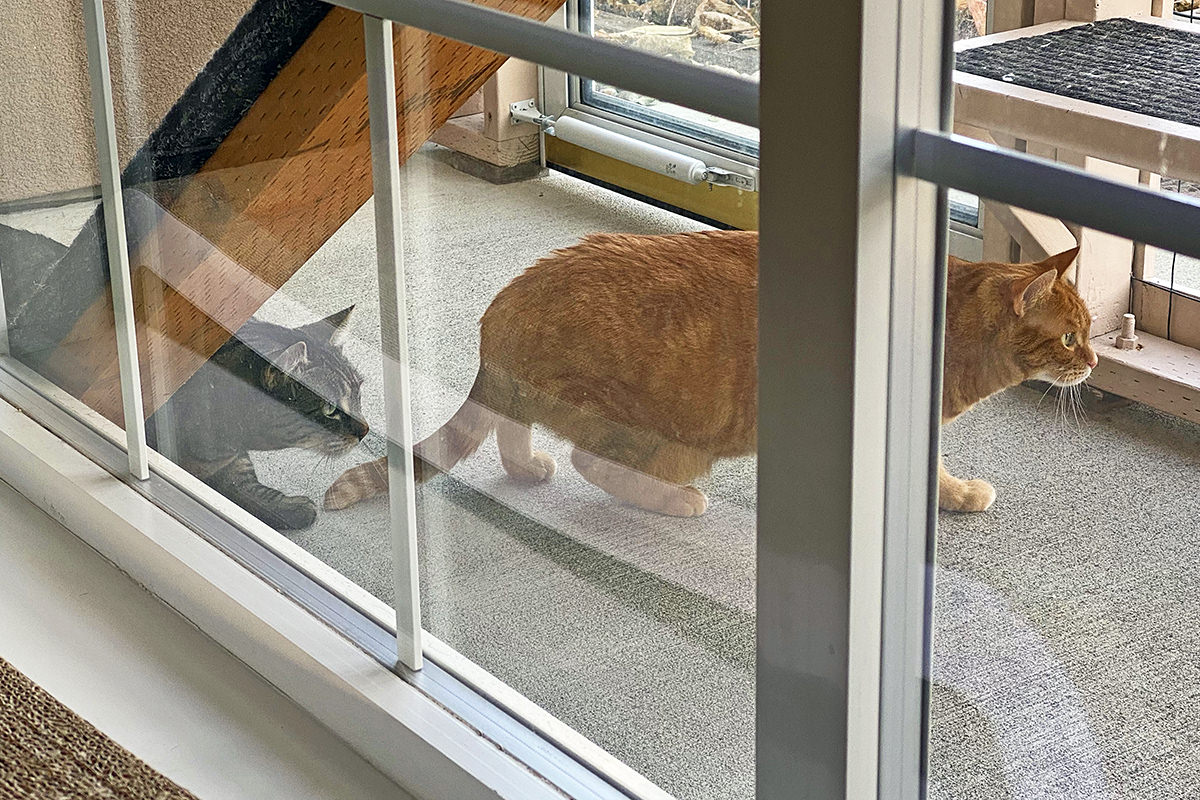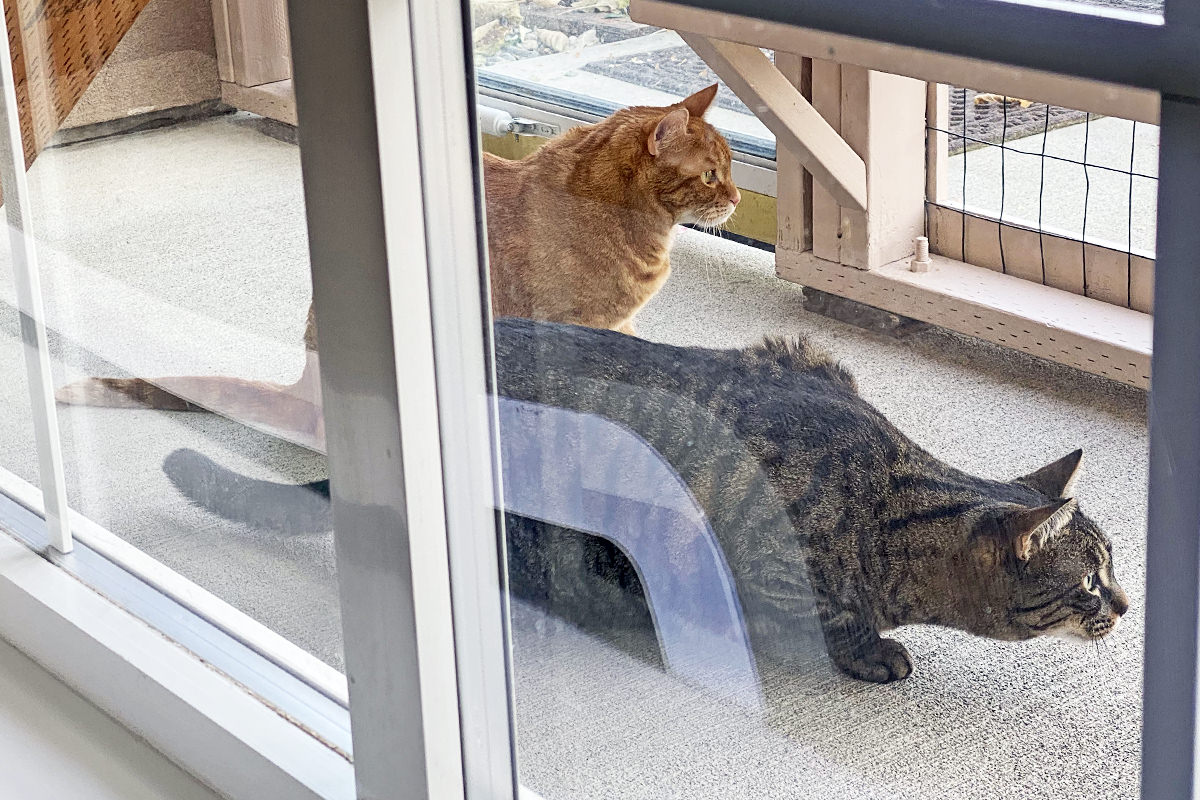 And now I have to get back to work. And hope that Jake can remain calm while I'm gone.
Posted on Friday, November 1st, 2019

The commercialization of a people's traditions and culture is a practice which fascinates me. Partly because those traditions are usually sanitized for those who would never make even the slightest effort to understand their origins. But mostly because it creates this disgusting mingling of cultural identity blending with people who loathe those behind the culture. The same people who proudly hate immigrants are the same people who love eating a burrito while chugging $5 margaritas at a bar on Cinco de Mayo. The same people who laugh at the plight of our neighbors to the South trying to escape horrific violence are the same people who get sugar skull tattoos and decorate their homes for the Day of the Dead.
Which is "Dia de los Muertos."
Which is today.
Kinda.
Generally speaking the Day of the Dead is actually a three-day holiday. It begins on All Hallows Eve (October 31) when altars are built to invite the spirits of dead children to visit. On All Saints Day (November 1) spirits of dead adults are invited to visit...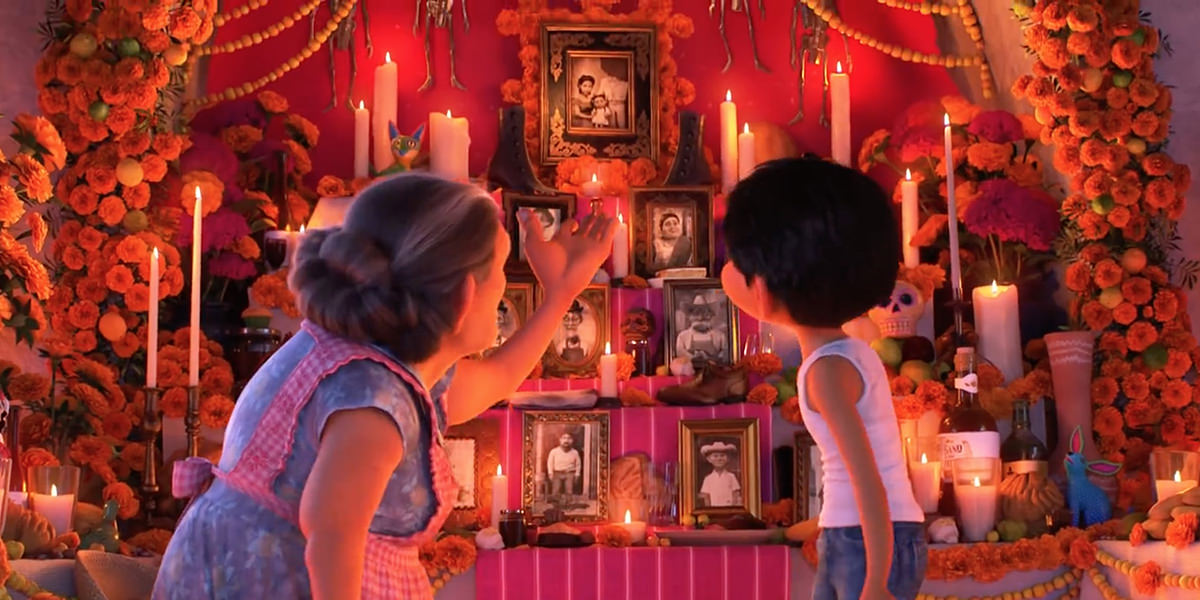 Then it all culminates on All-Souls Day (November 2) when the spirits of relatives are honored by visiting their gravesites to light incense and decorate them with marigolds, skeletons, calavera de azucar (sugar-skulls), and all kinds of other decorations and offerings... including the departed's favorite foods and drinks or, in the case of children, their favorite toys...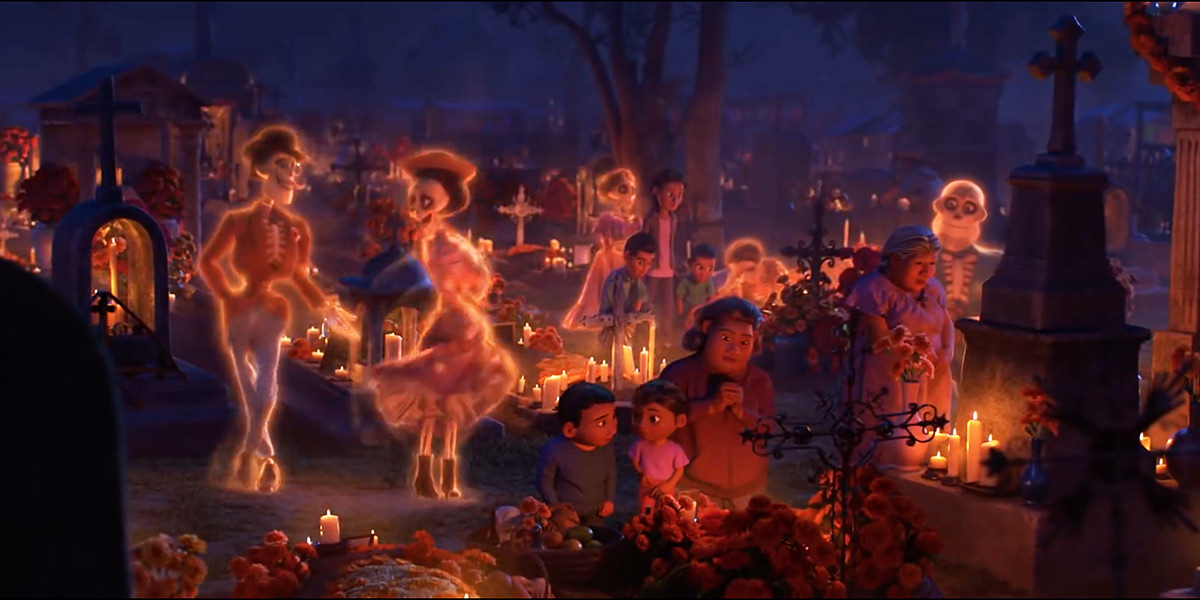 I say "general speaking" because Dia de los Muertos is celebrated in many different ways... even between regions of a single country like Mexico where it is a national holiday. Here in the USA there are, of course, traditional celebrations in our Hispanic communities. Everywhere else, Mexican and Latin American bars and restaurants use it as a way to promote their businesses. And, naturally, there are those who just think that sugar-skulls look cool so they display them on their dashboard or on their mantle for exotically fun decorations.
And then there are the cultural-appropriation-for-profit endeavors which actually do try to honor the traditions on which the original culture was built so they can enlighten and educate. Take for example the 2017 Pixar film Coco which is a beautifully animated movie that uses Dia de los Muertos as inspiration for both its story and visuals (it's where the stills above come from). This is a jaw-dropping, gorgeous film with a heartwarming message that works very hard to honor rather than exploit the culture which is responsible for it...
This is not to say that there are not those who would believe that Coco is a prime example of exploitation of a people by a mega-corporation that is appropriating their culture for money... and that's a valid assessment. But there are also those who see the film as a celebration of their culture, and are happy that their traditions are being represented and given visibility so beautifully. This piece on the reaction of indigenous peoples of Oaxaca watching Coco (many of whom had never been to a theater before) is wonderful to see.
As somebody who is not native to Dia de los Muertos, has never had it be a part of their culture, and knew almost nothing about it aside from seeing sugar skull tattoos on Ink Master, I was grateful to Disney/Pixar for educating me about the Day of the Dead. It's thanks to Coco that I took the time to read up on the holiday by those whose culture is responsible for it. And after educating myself I was able to truly appreciate what a beautiful celebration it is. Not necessarily for the dead... but for the living who keep their spirit and memory alive.
If you haven't seen Coco yet, this weekend would be the perfect time to remedy that. And if you have? It's a great time to watch it again. I know I will be!
Posted on Thursday, October 31st, 2019

Boo?
I headed home from work in daylight hours so I could put out Dead Jake and Dead Jenny, convert my HUE lighting to spooky purple and green, dump my candies in a bowl, then leafblower all the leafs in the front of my home so they won't blow in my house every time I open the door...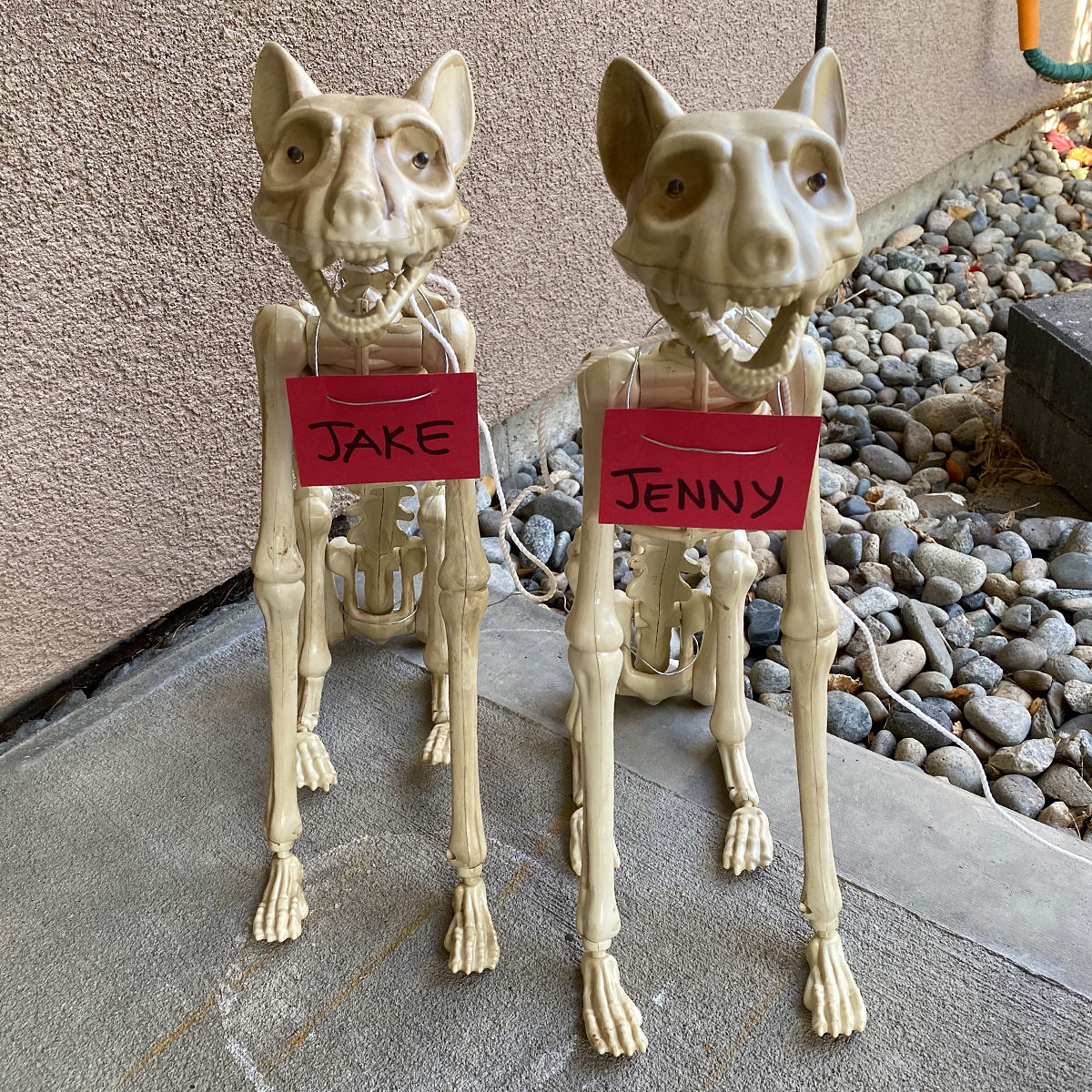 Rather than running to the front door and back to my living room all night long, I just stay in the kitchen and deep-clean everything while trick-or-treaters are coming. Which is a far, far better way of spending my evening than two years ago when I was doing a clean-out for my colonoscopy on Halloween. What a massive mistake THAT was. Trying to spend the entire night on a toilet while running to the door to pass out candy? Total nightmare.
And speaking of nightmares, Halloween is truly the scariest night of the year... for my poor cats. I have tried everything to get them used to people, but they just aren't having it. So having dozens of people ringing the doorbell and screaming "TRICK-OR-TREAT!" all night long is not their idea of a good time. Usually I feed them at 5:00 so they can hide before trick-or-treaters arrive, but this year kids were showing up before 5:00. Well, whatever. Maybe they are afraid of the dark or afraid of other kids and this is how they have to enjoy Halloween. But it sure would have been nice to be able to make a sandwich for dinner before people start arriving expecting a candy hand-out.
Alas, Trick-or-Treating is not the same as it was when I was young. Back then hundreds of kids would canvas the entire city and make a massive candy haul. And now? I get around 50 kids maximum. I guess it's too big an effort for too little reward? Maybe it's time better spent playing video games. And kids today have it easy thanks to global warming. Back in my day it snowed for a couple of my Halloweens!
I shouldn't complain though. More candy for me!
Plus... I've got a really clean kitchen now.
Posted on Wednesday, October 30th, 2019

Since I'm not really supposed to have candy (I save all my allowable carbs for bread and pasta), I try to buy my candy for Halloween as close to the date as possible. This year I didn't do a very good job, having purchased it two-and-a-half weeks ago. Even worse, I picked an assortment with Reese's Peanut Butter Cups in it, which is a lethal guarantee that I'll be digging into the bag almost immediately.
So when I opened it one hour after getting home from the store two-and-a-half weeks ago, I was dismayed to find that the candy I purchased wasn't "Fun-Size" like it normally is... it was more like "Bite-Sized." Today I went back to the store to get something more acceptable only to find that it's ALL "Bite-Sized" now. If they still make "Fun-Size" my store sure didn't have it. Oh well. I guess everybody showing up at my house will be getting two pieces.
Not two pieces of Reese's Peanut Butter Cups, of course. Those are long-since gone.
Posted on Tuesday, October 29th, 2019

Happy National Cat Day!
As it gets colder, bugs are looking for a warm place to hide. This has created a flurry of activity out in the catio as creepy crawlies pass through. This has, in turn, created a flurry of activity in my cats. They just love to chase bugs... eat bugs... and, much to my horror, occasionally bring bugs inside to play with.
Unless it's too cold out. Then my cats just watch the bugs through the window...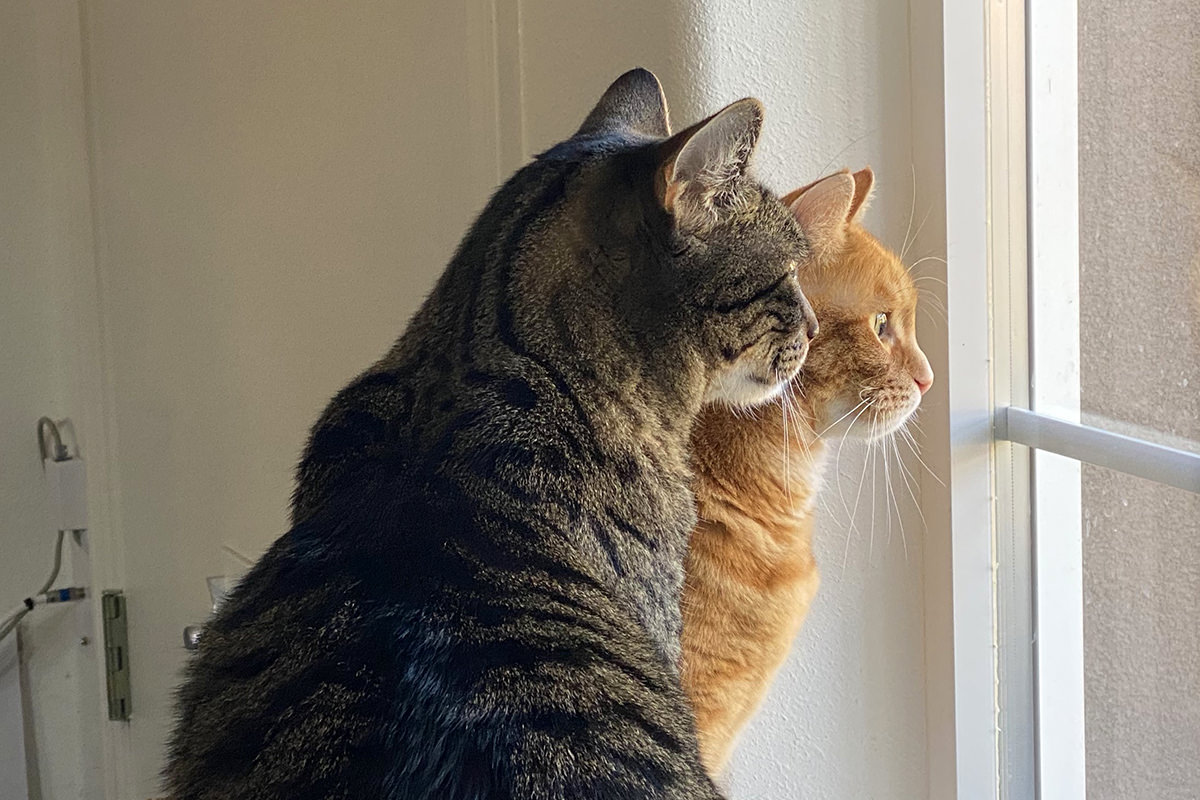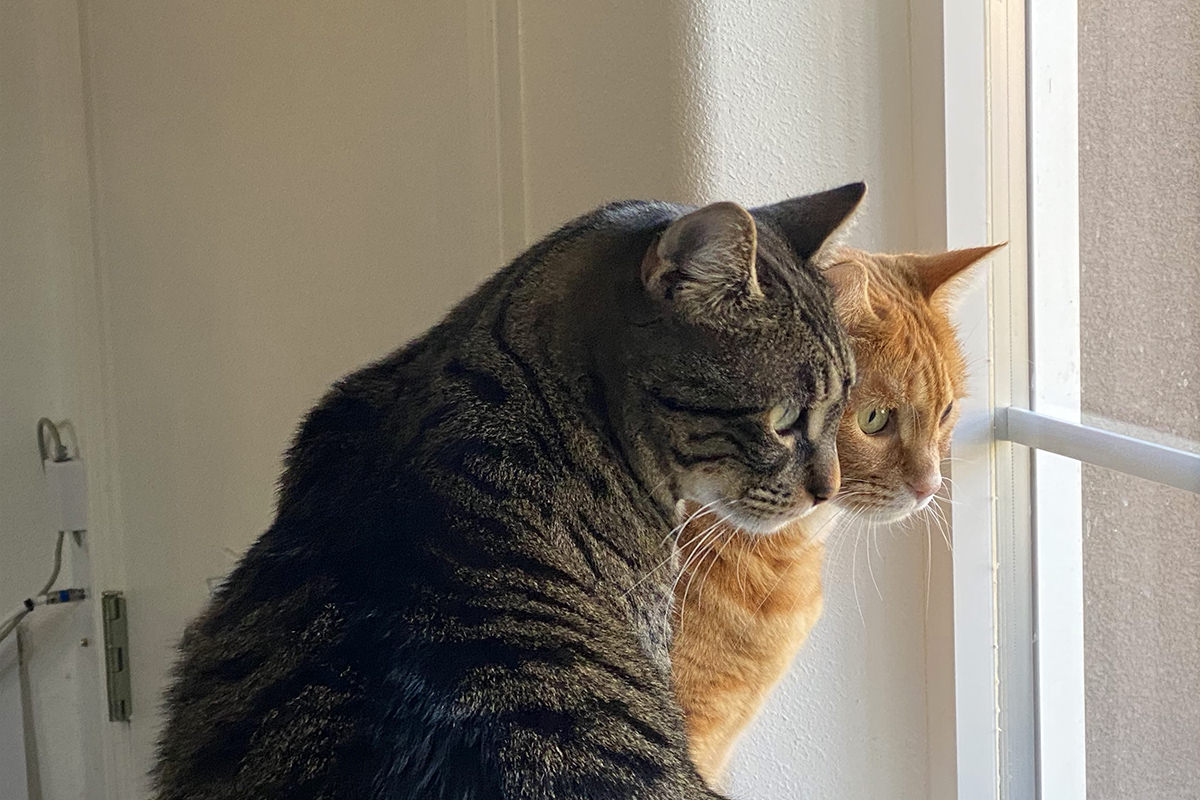 Once the bugs have gone, it'll be time to haul out the bird feeders. Bird Time Entertainment to follow.
Posted on Monday, October 28th, 2019

When I was a kid my favorite restaurant in the world was Gino's Pizza because they had a Pong game hooked up to a TV you could play. I don't remember the pizza at all, but I'm pretty sure I liked it. Eventually Gino's closed. Since I had video games at home thanks to the Atari 2600, I barely noticed.
That being said, my favorite pizza on earth came from Pizza Inn, which is where we ate after Gino's was gone.
The stuff was phenomenal. The crust was crisp like a cracker and had a unique flavor and texture that made it different than every other pizza I had ever had. The sauce was likewise delicious because it had a subtle sweetness and minimized the acid component so the tomato base really hit you. Also? The pepperoni was divine. It curled up like a cup and had these amazing crispy edges that you just didn't find anywhere else.
Whenever my family ate out, Pizza Inn was #1 on my list.
Sadly, they closed up shop. Then a decade ago they came back. Then closed up shop again. Then they came back yet again. Then closed up shop... and have stayed closed ever since. For a while they could only be found in Texas, but now I think they're currently all across The South.
Ever since the last closing in my neck of the woods, I've become obsessed with making Pizza Inn pizza myself. Thanks to the efforts by DKM at PizzaMaking.com, I've been able to play around with his recipe and finally come up with something that works for me.
This past weekend I decided to finally share it with some guests I had staying with me. They seemed to really like it too, so I'm pretty happy about that. Well, mostly.
My pizza stone is fairly small and I was cooking for six people, so I made the mistake of thinking that I'd just make us six individual small pizzas. I could cook two at a time and, since they only take minutes to bake, that would be the easiest way to make sure that everybody got the toppings they wanted. So on Sunday I left work at noon to go home and roll out the crusts. My arms were rubber after two. The remaining four felt like I had bench-pressed 500 pounds a thousand times. The cracker crust is tough. It's mostly flour with very little moisture, which makes it crumbly and hard to roll out. Even worse, I didn't have a little cutter pizza pan to cut the crust to size, so I ended molding around a small plate. It didn't look particularly pretty, but it sure tasted great...
I cannot overstate how tough it is to roll out the crust. It's like taking a rolling pin to a rock. But it bakes up so beautifully that it's all worth the effort. Thin and crispy with no sag. Amazing air bubbles that give you perfect cracker crunch...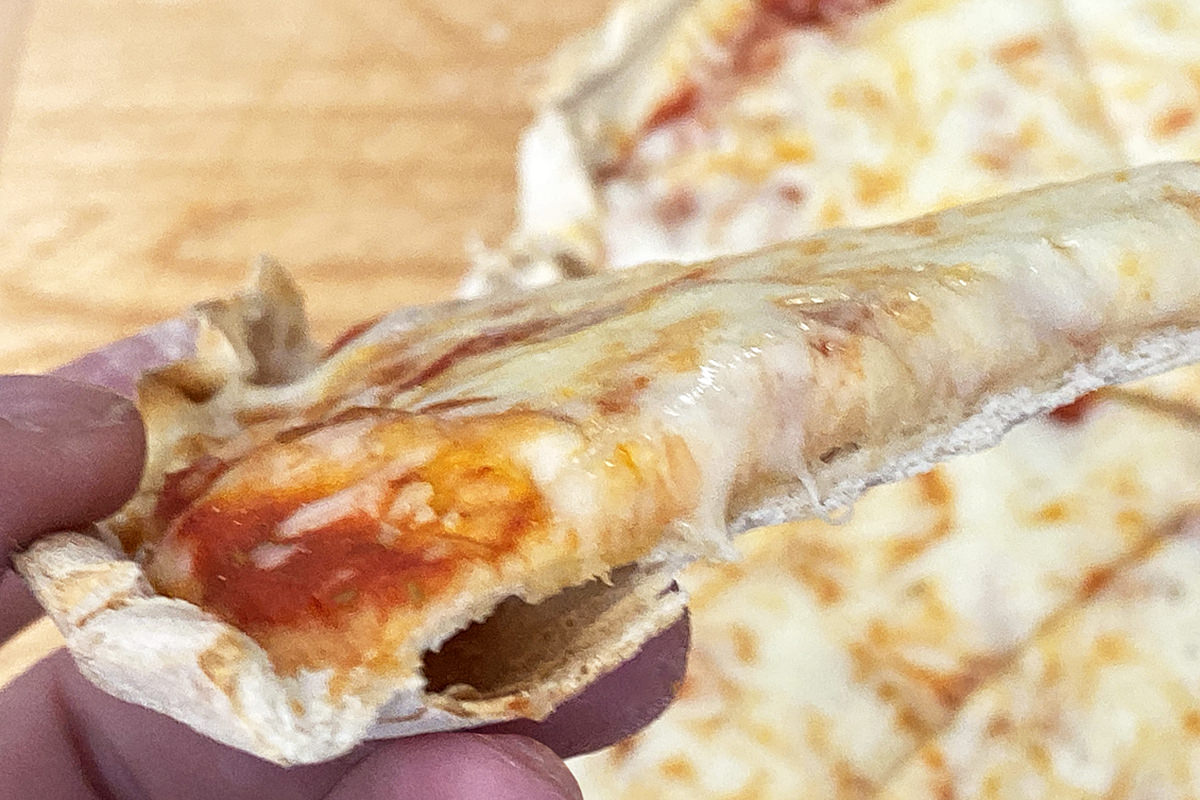 The right tomatoes for the sauce are essential. There are few brands I've found that have that hearty tomato flavor without the acidic bite (which I talk about ad-nauseam here).
As I was seeing my guests off, Jake hopped up on the table and decided to lick my last piece, so I guess it was a success for my entire household...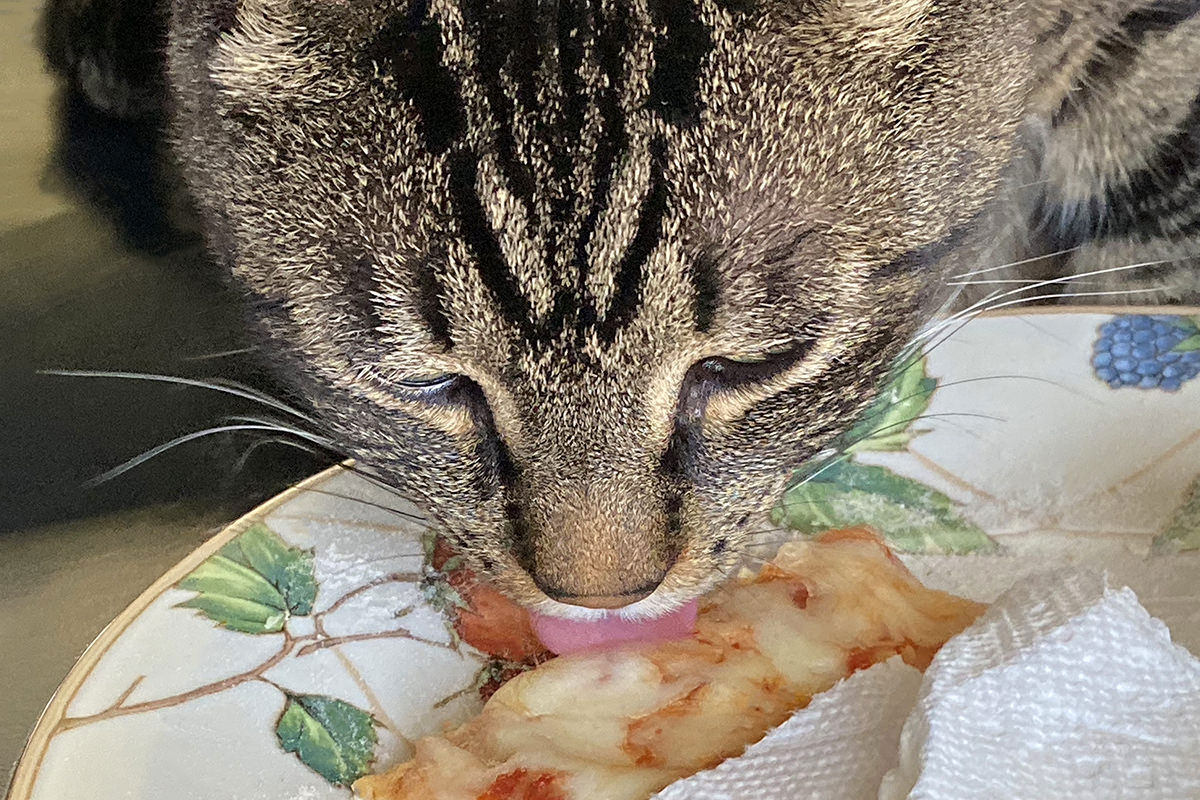 BAD KITTY!
Except I never yell at my cats no matter what they do (I refuse to punish my cats for being cats), so all I could do was wait until his tongue got tired so I could take it away.
I don't think I could do pizzas for a group again unless I buy a $5000 pizza dough sheeter that has the power to roll out very tough doughs (most I've seen under $2000 are not rated for anything less than 1 part liquid to 2 parts flour... this crust is far less than that).
Homemade pizza sauce has no preservatives and will spoil fairly soon (even when refrigerated), so I don't usually make a full 28oz. Can of tomatoes worth. I take 1/4 of it so I can experiment with making homemade ketchup. Because boy do I love homemade ketchup. "Regular" store-bought big-brand ketchup tastes like tomato water by comparison. There are a few "boutique" brands I like... Portland Ketchup Co. is great... but even they seem lacking when stacked up against homemade. Problem is that I still haven't formulated the perfect ketchup after nearly two years of experimenting.
Right now I am leaning towards a recipe with onion, garlic, cayenne, red pepper, brown sugar, white wine vinegar, ginger, allspice, celery seed, black pepper, salt, and nutmeg (in addition to tomato paste, canned tomatoes, and oil). I'm unsure about turmeric, Tabasco, bay leaf, and oregano. I've abandoned mustard seed powder, cinnamon, apple cider vinegar, cloves, maple syrup, and seasoning salt.
Maybe one day. In the meanwhile? I'm not going to complain about needing to experiment making ketchup. Even the worst ketchup I've made still tastes great!
Posted on Sunday, October 27th, 2019

A busy, busy week for me has ended but I'm just getting started, because an all new Bullet Sunday starts... now...

• Monster. I have been toning down the politics on Blogography because it's just so pointless. Unless you are living under a rock, you already know the horrific shit our president is doing, so there's really no need to repeat it here. But lately it's gotten so bad that my disbelief has escalated to a level I didn't even know I had in me. Fortunately John Oliver was back tonight to put one of the most tragically awful events into perspective...
Holy shit.
There really is no bottom. President Trump lives in a fantasy world where everything he does is perfect and everybody loves him for it. Somebody this detached from reality has no business running the country, and I hope that people are really, really scared about what damage could come next.

• Idiocity. And speaking of damage, I saw this headline on The Verge yesterday: Donald Trump wants the iPhone home button back. OH FUCK NO! With all due respect Mr. President, go back to using a flip-phone and leave technology advancements to those of us who know how to form complete sentences which people can actually make sense of.

• Good. When I was at Uluru (which the colonizers dubbed "Ayer's Rock") in Australia, there was a sign saying that it was a sacred place to the people who own it and they ask you not to climb it... despite there being a chain path to climb it. So I didn't climb it. There were also signs posted at a few points around Uluru asking you not to photograph it at that point because something sacred to people happened there. So I didn't photograph it there. I don't understand why it's so difficult to follow the wishes of the people whose land you are visiting. You're their guests, and should be grateful that they allow you to visit their home at all. I know I sure was...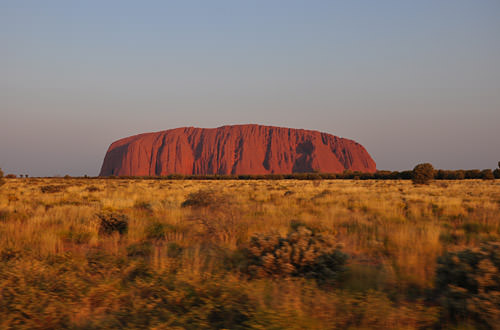 By banning people from climbing on it after the month is over, Australia is righting a great wrong. I hope people respect the new ban on climbing Uluru and adhere to the Anangu People's request. It literally is the least people can do.

• Kangaroo Cats. I ran across an interesting Facebook post this week which was talking about the "primordial pouch" which appears on some cats. I think it's genetic. Jake and Jenny both have big pouches. When they run, the skin flops back and forth... it's kinda hilarious, but doesn't seem to bother them at all. For the longest time I just assumed they were mutants. But apparently that's not the case...
Interesting stuff, that evolution!

• Rhinos! Will of Burrard-Lucas Photography is the reason I selected the Antarctica tour that I did. His wildlife photography is the most inspiring and beautiful I've ever seen, and getting a behind the scenes look at how he does what he does is about the coolest thing you'll see on YouTube this week...
Thanks to his BeetleCam invention, nobody does wildlife photos like Will Burrard-Lucas. He amazes me with each new book he publishes.

• Pepper. You really do learn something new all the time. My homemade pizza sauce recipe calls for green peppers. I don't normally eat them because I prefer the sweeter red peppers, but the recipe tastes so good that I do what is called for. On Tuesday I came home from work and was already too tired to cook... but then realized that I actually needed to clean my kitchen before I could cook. Double the horror. It's while cleaning that I notice something strange... WHAT HAPPENED TO MY GREEN PEPPER?!?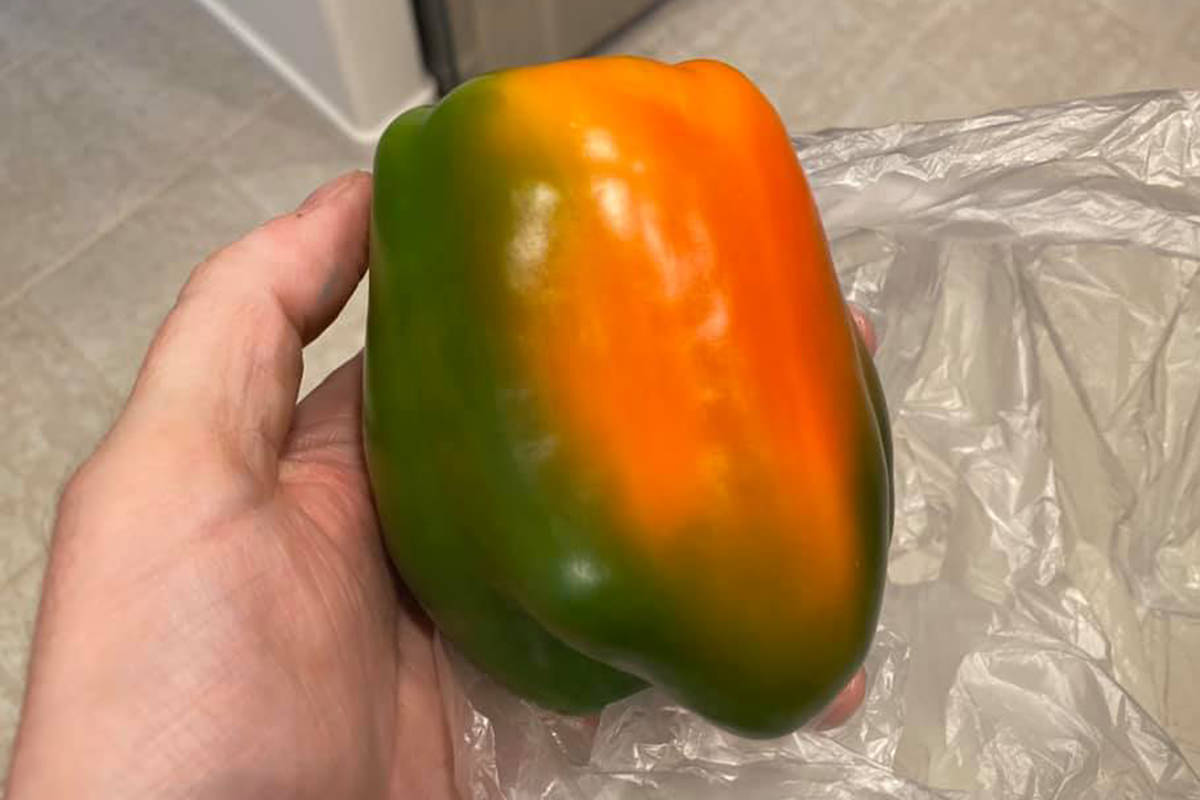 It's then that my Facebook friends had to inform me that green peppers aren't ripe and, like tomatoes, they will turn from green to orange to red as they ripen. I honestly had no idea. Until Tuesday, I truly thought that they were all different species of peppers.

• Hallmark Moment. As you can imagine, I am in full-on Hallmark Movie Mode now that their 10th Annual Countdown to Christmas is in effect. I almost never watch live, choosing instead to DVR the movies so I can jet past commercials. But the new movies for 2019 I have been watching live, and this commercial came up...
Well done. Somebody at World Market really knows their Hallmark audience. I don't understand why any company spending the huge amount of money required for a national ad doesn't put this kind of care into creating them. Most ads are just terrible and something you want to skip. Why would you waste money like that?

And now... time to wash underwear so I have something clean to wear to work tomorrow. You're welcome, my co-workers.
Tags:
Advertising
,
Africa
,
Bullet Sunday
,
Cats
,
Dumbassery
,
Food
,
Hallmark
,
Photography
,
President Trump
,
Television
,
Travel
Categories:
Bullet Sunday 2019
,
Cats 2019
,
Food 2019
,
News – Politics 2019
,
Photography 2019
,
Television 2019
,
Travel 2019
—
Click To It:
Permalink
—
0 Comments: Click To Add Yours!
Posted on Saturday, October 26th, 2019

Both my cats are pretty smart, but Jenny seems to be getting smarter than smart. She learns things.
At 7am the alarm rings on Alexa for me to feed my cats. Both cats are well aware of this and are conditioned to wait for it to sound. This is handy because they don't bother me for breakfast in the morning. The alarm sounds, we go downstairs, they get fed. I also have them trained to expect a treat before I leave each day. I did this so I can leave the house knowing they're both okay and I don't worry (as much) over being gone.
Used to be that any time I went back downstairs after feeding they would both run to me expecting a treat. Jake still does. But this past week Jenny stopped doing that. She knows that I don't really leave the house until I've taken a shower. So now she doesn't get excited about a treat until after she heard the shower running. I know this because I tested it, of course. I can go up and down the stairs a half-dozen times and she won't move unless she's heard the shower run first.
She's just that smart...
Jake, bless his heart, will come running all six times.
Speaking of Jake... have I mentioned that he likes living on the edge?
When he hopped in the cat bed, it slid. So he made the best of the situation. I got nervous about him falling, so I couldn't take looking at this and had to give him a ride back to safety...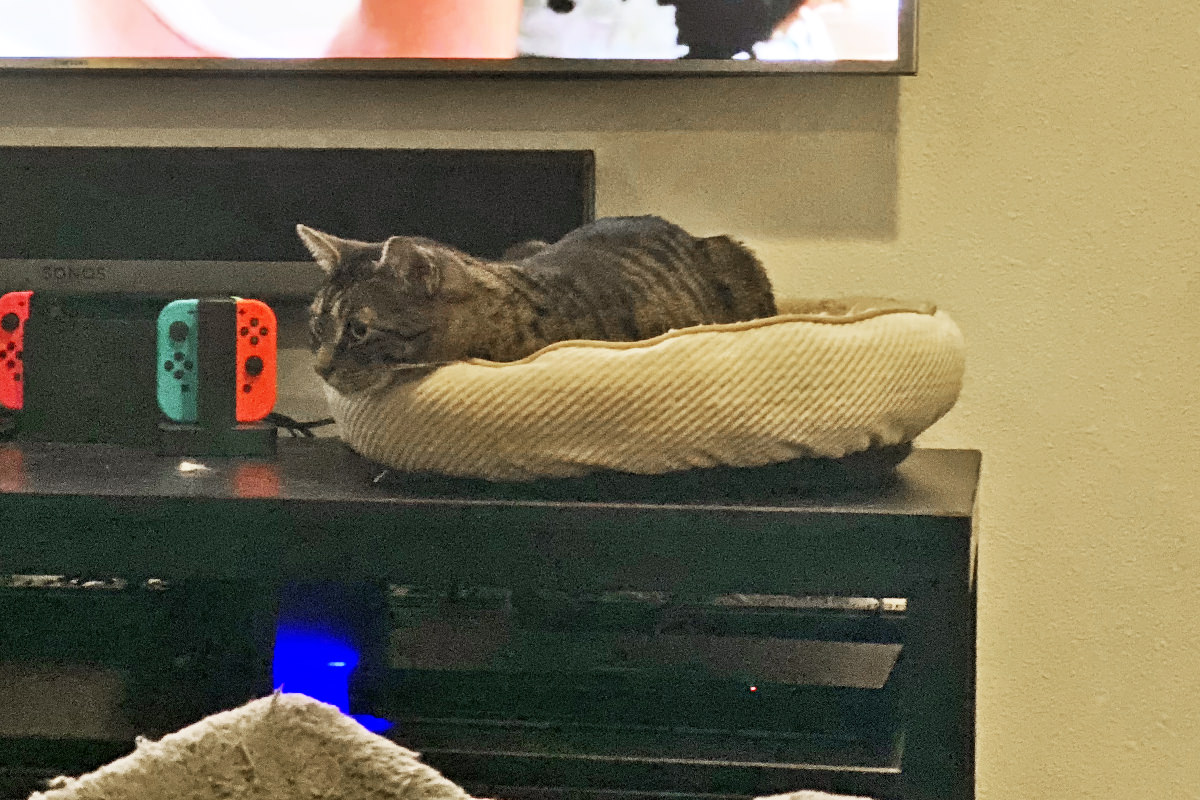 Now that the weather is getting colder, the cats have been taking turns sleeping next to me in bed so they can take advantage of the heated blanket. This is mostly Jake while I'm sleeping and Jenny if I'm awake and watching TV or working in bed...
Whenever they are not on the electric blanket, they're in a kitty bed or sleeping on one of the self-heating pads. Though their method of sleeping varies a bit between them. Jenny must be situated in the absolute center...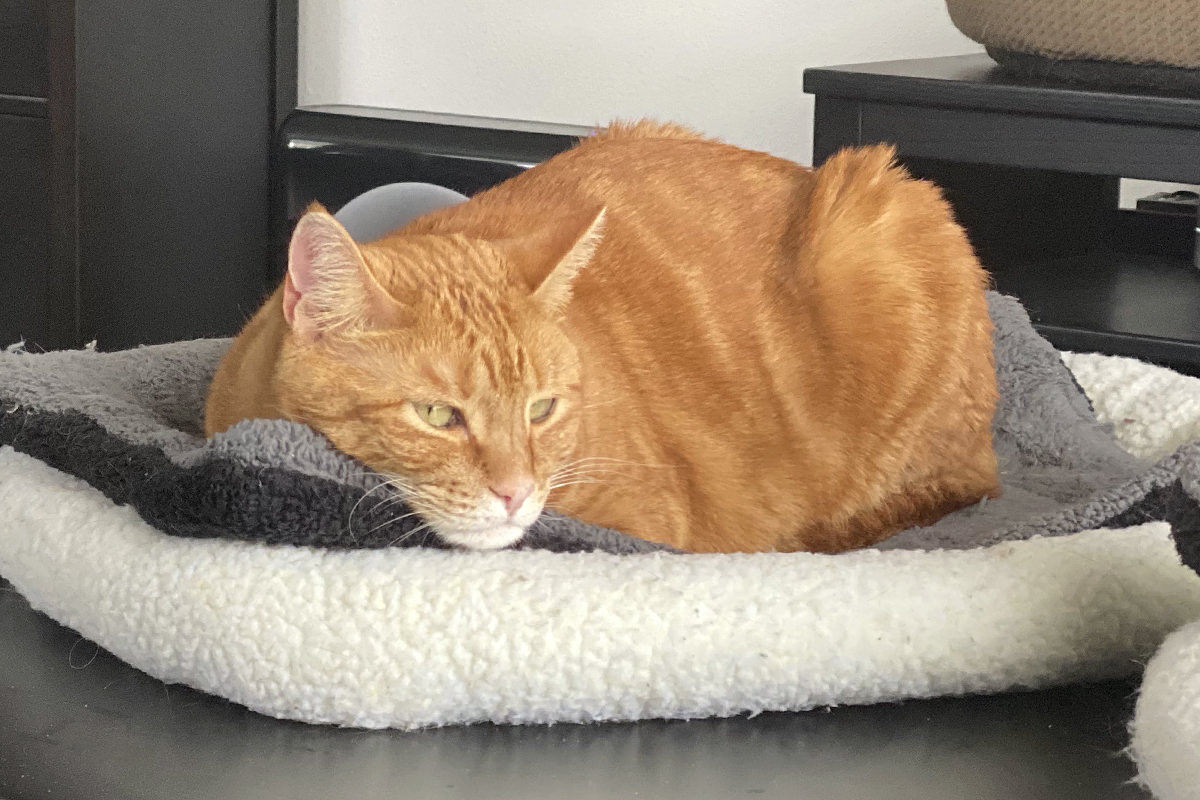 Jake is all over the place. Sometimes he's half-in, half-out. Or with his head or arm sticking out...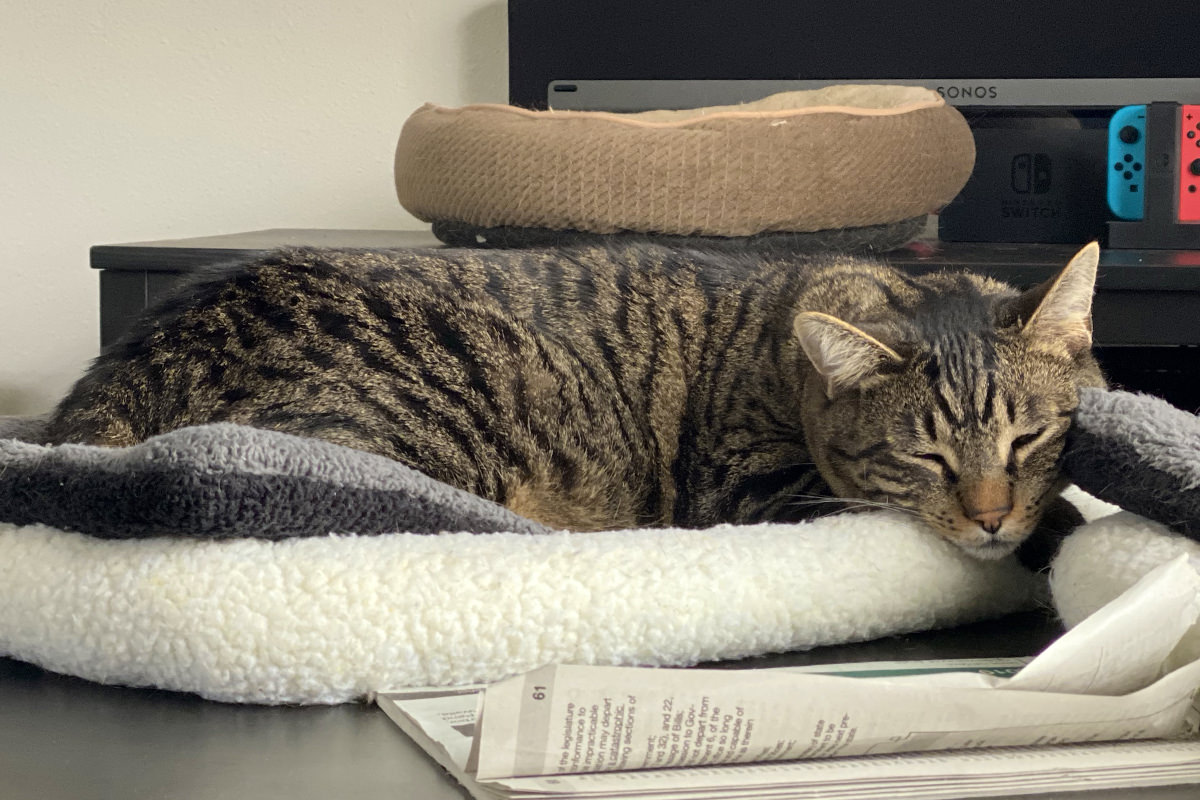 Such is life when you're a bit "fluffier" than the rest.
Jenny has long been a bit particular about appearances, even when sleeping. Or just lounging around looking sexy...
In preparation for Daylight Saving Time (which I HATE HATE HATE!), I've been moving the Alexa alarm for feeding back 15 minutes every few days leading up to it so that there's not a shock when the time change happens. After the first couple days, Jenny expected that I could be convinced to move the alarm back again, so she sat staring at me for a half-hour...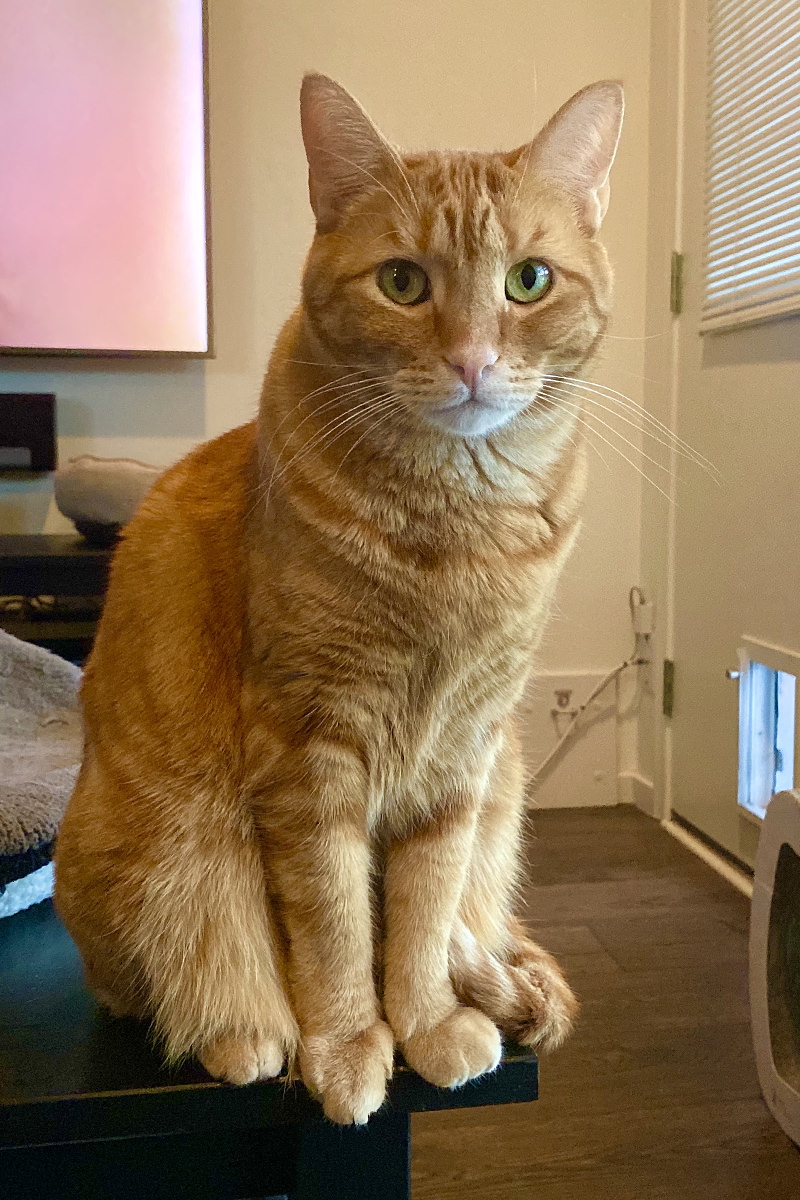 This is something they did all the time before I got them trained on the Alexa alarms for feeding. Now most times they ignore me. Until now. Apparently Jenny seems to know that something's up.
Told you she was smart.
Posted on Friday, October 25th, 2019


Well, this was a crappy week.