Posted on Tuesday, January 7th, 2020

I really need a vacation.
Not a work trip. Not a staycation. Not a trip for a party or wedding or any other occasion. A real, honest-to-goodness vacation where I can go somewhere new, do interesting stuff, and just relax. Since the days have been cold, dreary, wet, and largely dark (given the early sunsets), I'd prefer going somewhere that's the opposite of all that.
Also adding to my desire to get the fuck out of dodge? These amazing, amazing travel journals by José Naranja. He sells reproductions that are impeccably crafted which I would love to own, but the two volumes cost $320 and $360 each...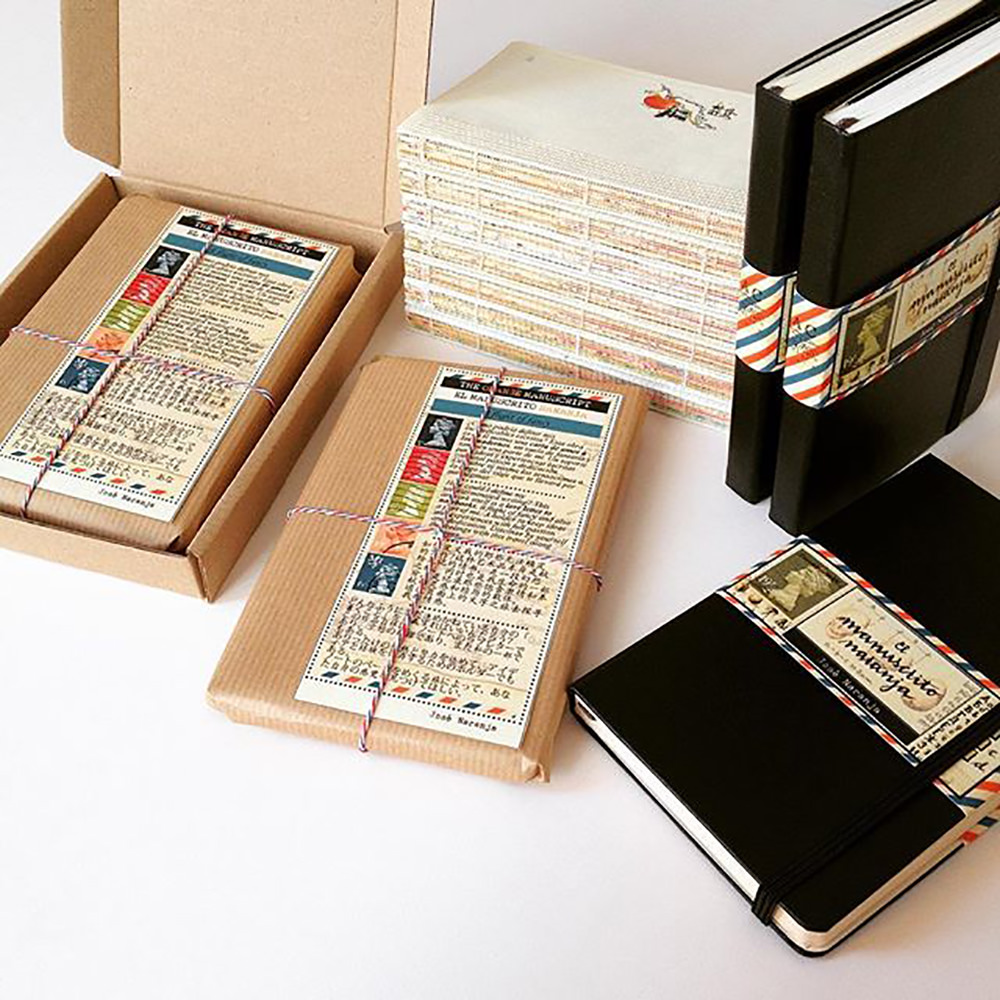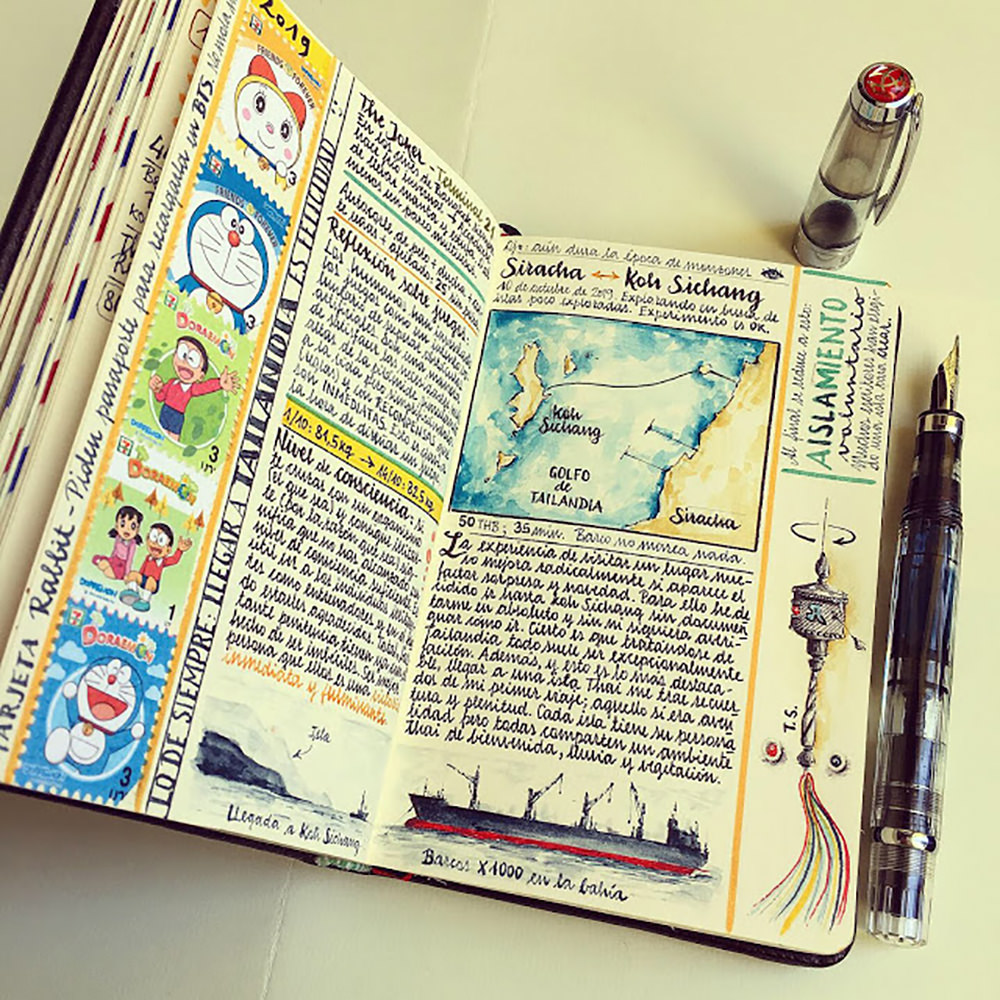 He also sells posters of some of his most popular interior page spreads, but they ain't cheap either. A single print costs $45...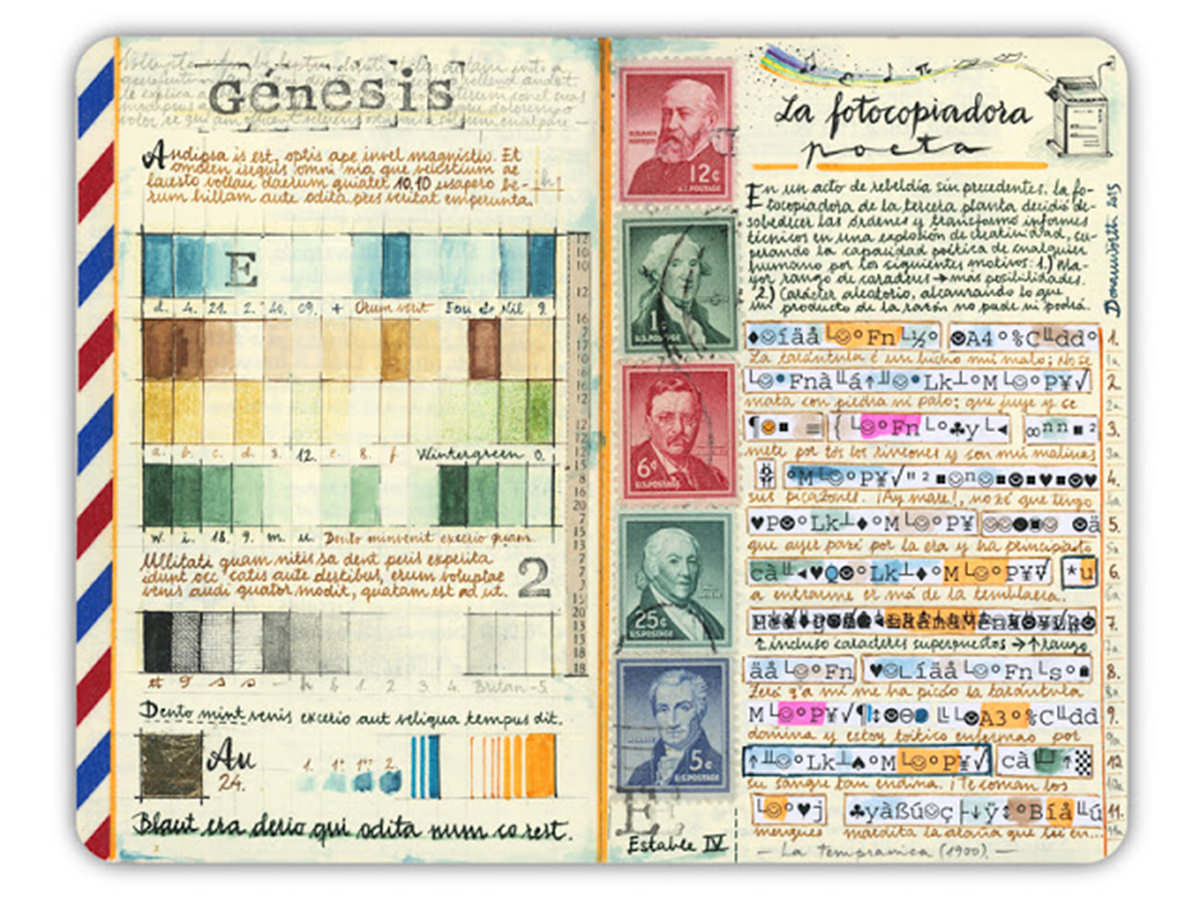 Gorgeous. Every page is a work of art.
It makes me want to drag out my hand-drawn travel maps. When I first started traveling, I drew them for each of the places I went. My favorite was a map of Japan with all the sights I saw plus all the Hard Rock Cafes I visited marked on it. It's pretty good size... probably 12 x 20... on Bristol board rendered in colored pencil, inks, and watercolor. Took me a month of most nights and some weekends to complete. No idea where it is, but it's likely rolled up with old posters somewhere.
Assuming that I could come up with the money or time to go on a vacation, I'm note sure where I would go. I still want to get to India and Peru one of these days, so maybe one of those.
But since I don't have the money or time, I guess I'll just go to work tomorrow.
Posted on Monday, January 6th, 2020

The news out of Australia is so heartbreaking that I am having trouble sleeping at night.
With 30,000 square miles having been burned, it's estimated that a half-billion animals have perished in the flames with a half-billion more affected. The video of confused and frightened koalas clinging to trees as fire approaches... animals running as their homes burn... not to mention the thousands of people who have been evacuated or made homeless... it's a catastrophic situation that is really tough to wrap your head around. The stories of people with kind hearts helping the animals is a small consolation, but I always wonder what happens to the animals after the photos have been taken...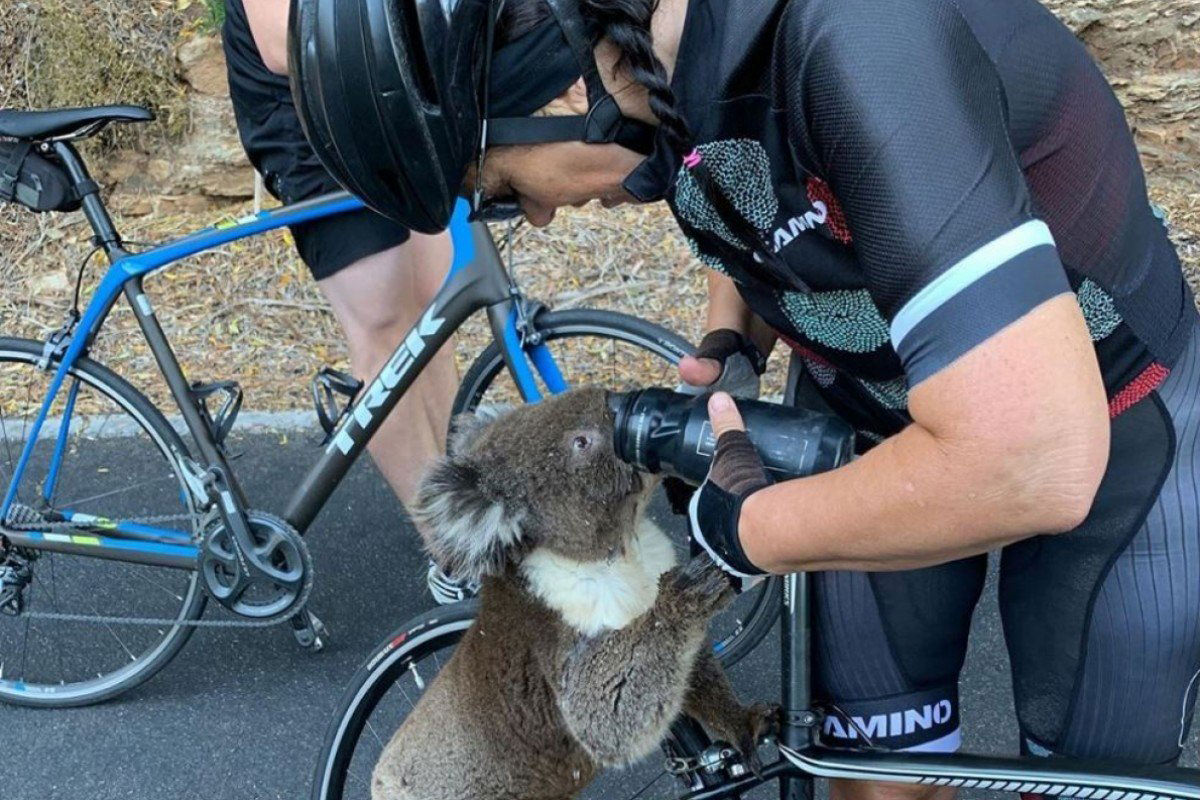 Photo from Anna Heusler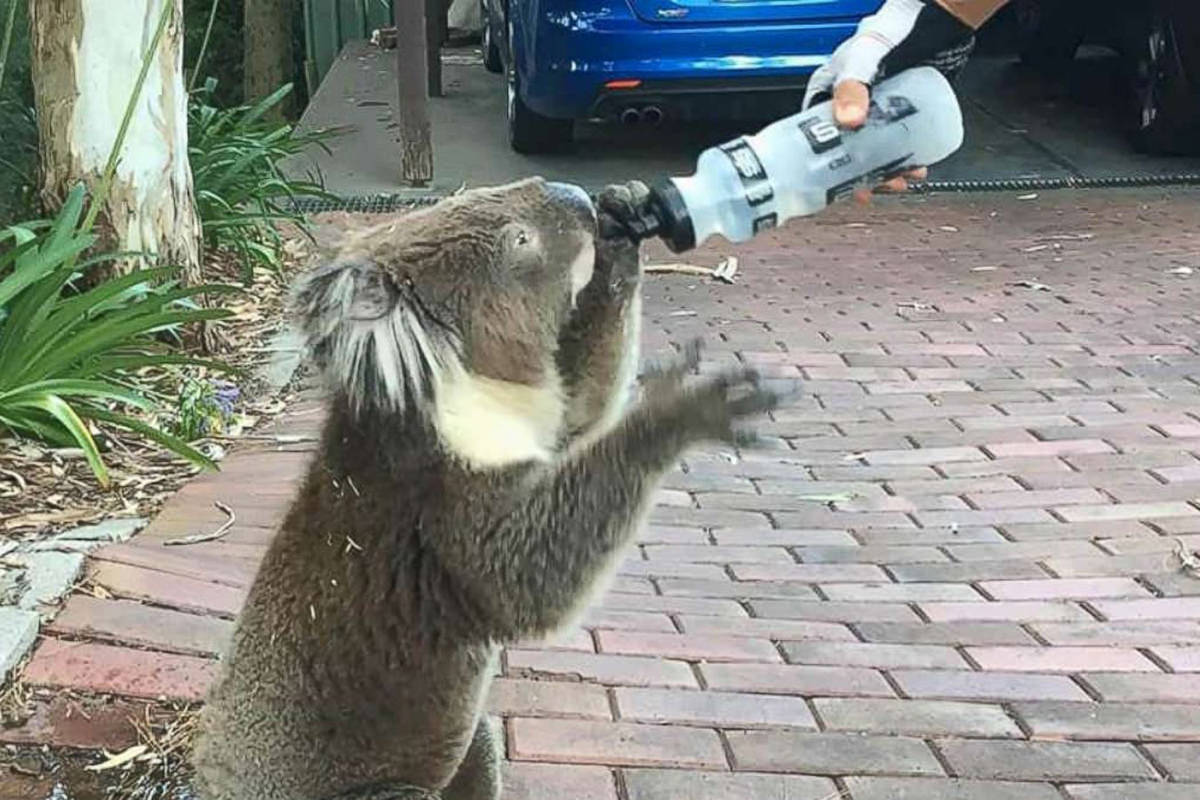 Photo from Photo from Matt Sully
No home. No food. No water. The situation for these already endangered creatures is dire. I can't fathom what it's going to take to save them. Could be that koalas in the wild will be rare and all we're going to get will be those made safe in captivity. And while koalas get all the press because they're so cute, the populations of other less-cute animals, lizards, snakes, insects, and the rest are perishing too.
I know that animals have been suffering around the world for as long as the world has existed, but it doesn't make it any easier to process. Unlike humans, animals can't be made to understand what's happening or told to evacuate or instructed what they should do. All they know is that the world is on fire.
Alas, it's not just the flames they have to worry about. There are other ways to burn down the world, and humans are doing a fine job of that, if Twitter is any indication. Soon wildfires may be the very least of their problems. Maybe this realization is why I can't sleep at night? I dunno. I'm too exhausted to figure it out.
Posted on Sunday, January 5th, 2020

We may be on the verge of World War III as a reckless, clueless president is intent on starting a war to distract from his impeachment, but all is not lost because an all new Bullet Sunday starts... now...

• Oh Deer. So there I was falling asleep last night when the security system alarm goes off on my phone telling me that there was a person on the side of my house and in my back yard. I thought it might be a cat trying to get into the catio again, but Jake and Jenny were in bed with me. Nope... definitely not a cat... it was A FAMILY OF DEER! A couple others came along after this video...
Apparently with the warmer weather they are looking for something to eat, because they spent some time in my shrubs before moving on...
I feel horrible that somebody may harm them as they try to survive by heading into suburbia.

• RIP Syd Mead. It's unbelievable how so much of how we envision the future was defined by one guy... Syd Mead. He has created a tremendous volume of incredible work, and I was saddened to hear of his passing.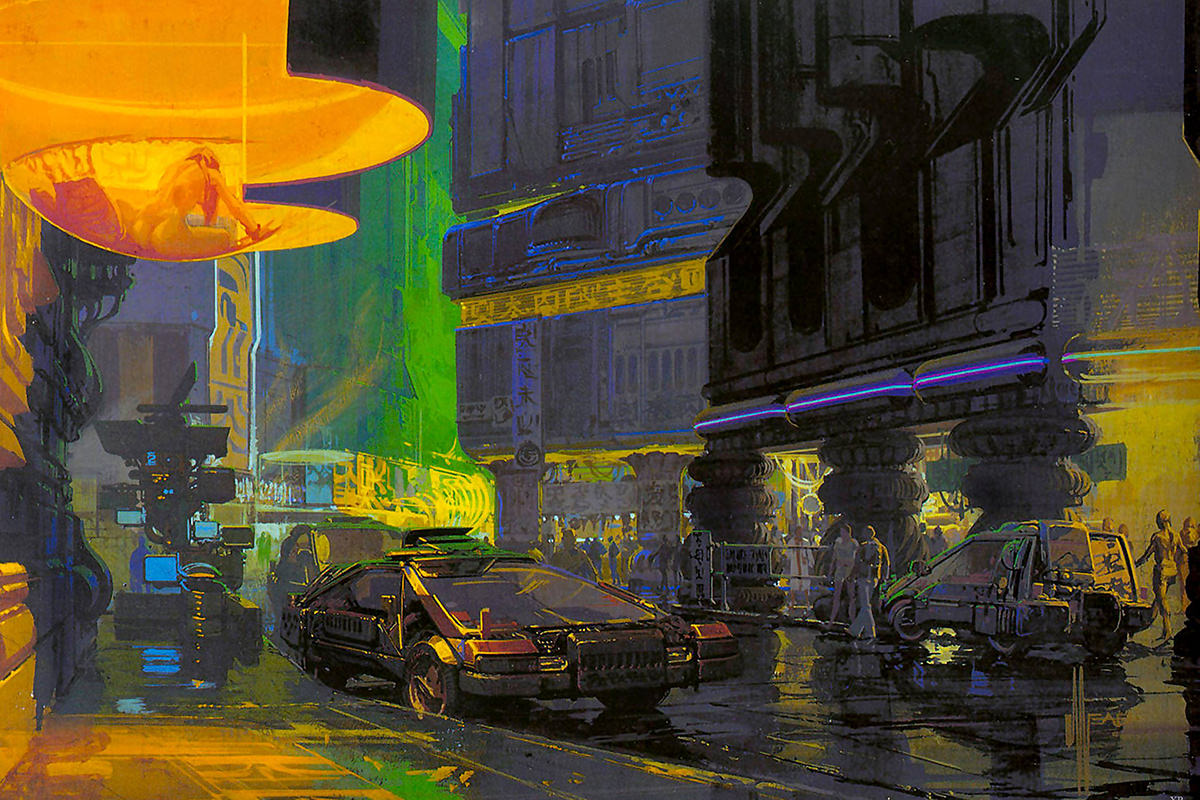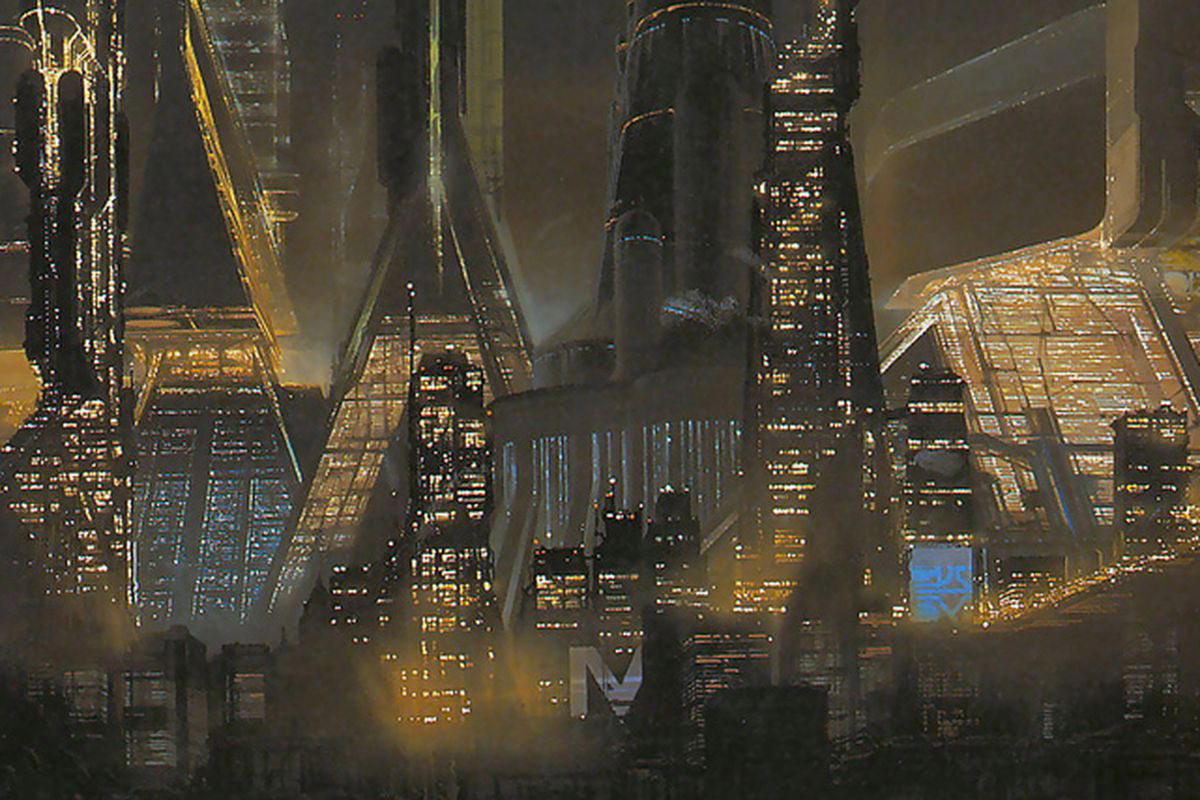 2010, him. Aliens, him. Blade Runner, him. Blade Runner 2049, him. Star Trek the Motion Picture, him. Tron, him. You will be missed, sir.

• Poop. I loathe coffee. I have never liked it despite my proximity to Coffee Central (AKA Seattle). On those occasions where it's the only thing to drink, I will try it (again) and want to barf (again) so I've just stopped trying. Finally, finally I've found a video which encapsulates how I feel about the entire situation...
Smart kitty.

• Persevere. And speaking of cats... for all the challenges you meet in 2020... take courage from this cat who perseveres over whatever life throws at them!
Way to go, buddy!

• Squishy. HOLD UP A MINUTE... how many butternut squashes were y'all going to let me buy, peel, and cube before telling me that they make LUXURY BUTTERNUT SQUASH that comes pre-peeled, pre-cubed, and frozen for my convenience?
Y'all are on my list now. — I think I was dangerously close to breaking down crying in the supermarket when I saw it in the freezer case. This changes so much!

• Fly Someone. And lastly, I missed this adorable Christmas commercial from Heathrow Airport. Well worth your time to watch...
What a nice way to end Bullet Sunday! Have a good one, everybody.

Stay safe and be kind, everybody...
Posted on Saturday, January 4th, 2020

I've heard a number of scary stories about people who have had to leave their cats only to come back and find their shoes pooped in... their clothes shredded... their furniture chewed up. Basically, the cats get their revenge for being abandoned. For whatever reason, I am blessed with two cats who are not vindictive like this at all. When I come back, they are incredibly happy to see me and then hang around me constantly. Whatever room I'm in, they're in regardless of time of day.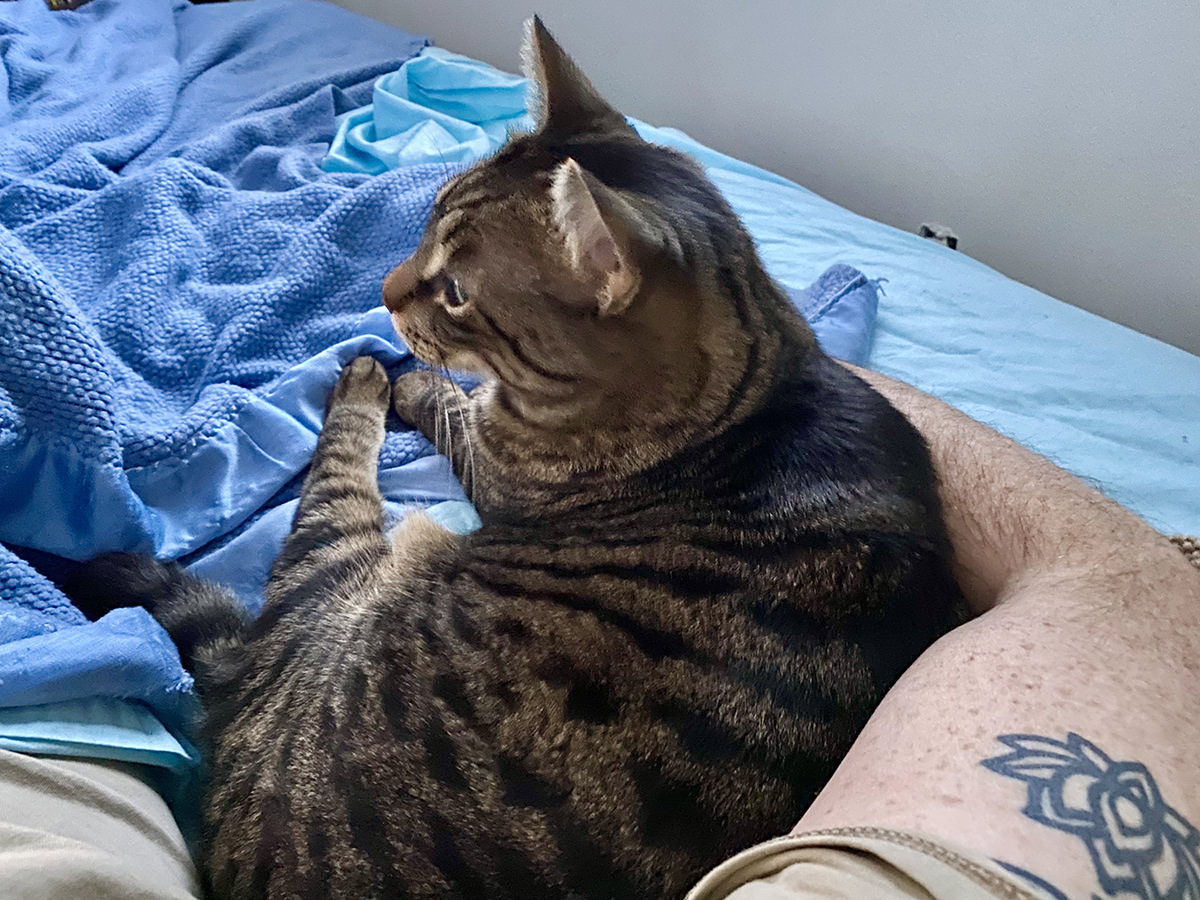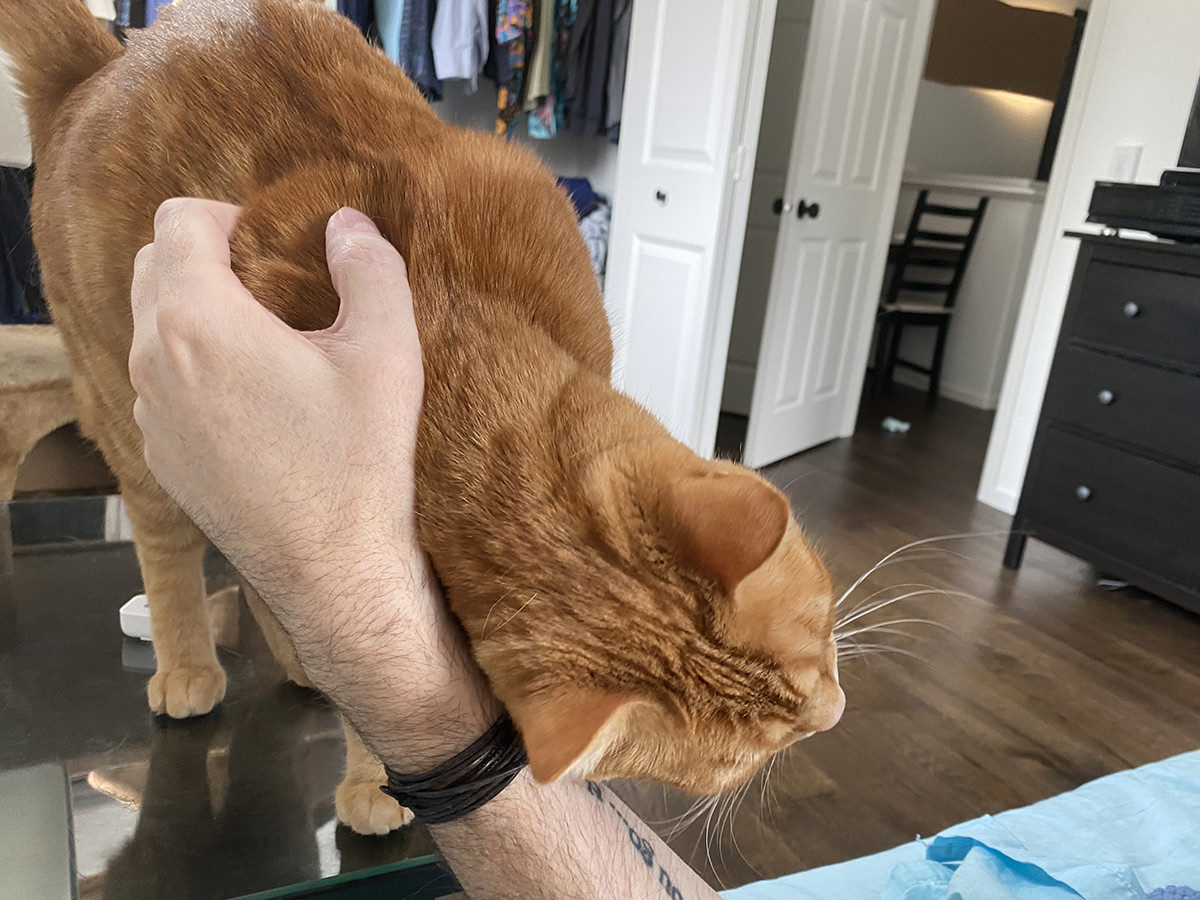 But they will leave me if there's something exciting outside. Like Fake Jake stopping by for a visit...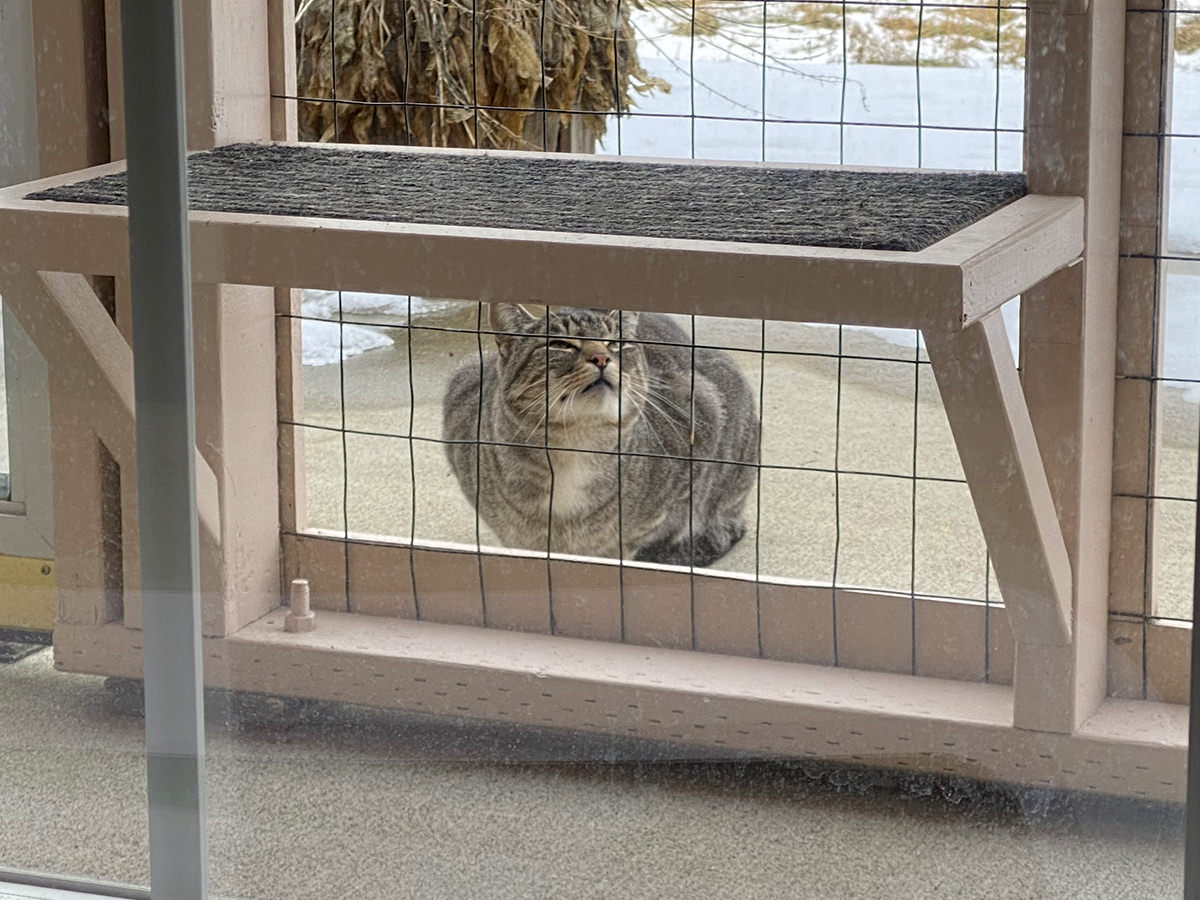 They will abandon me instantly for that...
And now it's time for the second-most dreaded time of year... making an appointment for Jake and Jenny's annual checkup at the vet. Because the most dreaded day of the year... their annual checkup at the vet in February.
Posted on Friday, January 3rd, 2020

Somehow, someway I managed to seriously injure my right shoulder. I think the muscle in it is torn or something. No clue whatsoever how it happened, but it's been a couple months. Probably slept on it wrong, because that's a thing that happens after you turn the-big-five-oh.
Anyway...
Since I am not a pro athlete or even remotely physical in any way, this is not a big deal. It doesn't bother me at all during the day because, let's face it, there's not a lot of shoulder action that comes from typing on a keyboard, clicking on a mouse, or watching television. The only time it bothers me is when I am trying to fall asleep* and I end up laying on it funny. Then... ouchies. But, no big deal, I just load up on some Ibuprofen and take a couple Bendryl, problem solved.
Except when it isn't.
Which was last night.
As I mentioned a couple times now, Jake reeeeeally likes to snuggle with me at night now. Lord knows why with all the tossing and turning I do, but he apparently likes a wild ride while trying to sleep. Or he's just terrified I'm going to leave him for a week like I did over the holidays (=insert sad emoji=). On those nights when he wants to sleep on top of me, it's especially awkward because I'm a side-sleeper. So in order for this to work, I have to grab a pillow or two and build a "shelf" beside me that he can lay on. Because, you know, laying beside me might result in him getting crushed and he won't do it. It looks something like this...
When Jake hopped up last night and waited (im)patiently for me to build his sleeping shelf, I had to reach behind me to grab a pillow. Unfortunately I did that with my bad shoulder and twisted in such a way that I let out a yelp. Jake did not have any sympathy at all. He promptly hopped on top of me and fell asleep.
Then, at 3:00 in the morning, I could not get to sleep and simply couldn't take the agony any more. I gently lowered Jake to the bed (much to his annoyance) then escaped from under the covers so I could go drug up on an Ibuprofen and Benadryl cocktail.
And go to the bathroom... again... something else that happens after you turn the-big-five-oh.
When I got back to my bed, he had decided to lay down RIGHT IN THE MIDDLE OF IT, which meant I had to kinda work my way around him. Eventually he curled up BETWEEN MY LEGS... SO COMFORTABLE... and I passed out 20 minutes later thanks to over-the-counter drugs I was abusing.
When I woke up to the 7:00am cat feeding alarm blaring, Jake was sniffing my face... probably wondering if I was dead. Because if I wasn't dead, why wasn't I rushing downstairs to feed him his breakfast?!?
And so my day was spent attempting to get caught up on work while in a sleep-deprived stupor... occasionally wincing with pain.
How about you?
Though, if you're under 50 years-old without cats, I probably don't want to know.

*I lie. I found out while traveling last week that it hurts my shoulder a great deal if I offer to get a suitcase full of bowling balls down from the plane's overhead bin for a young woman who is 90-lbs. soaking wet if she's a day** and would probably be crushed in the attempt.
**Or however the fuck that metaphor goes. I am from the Pacific Northwest where we don't do that.
Posted on Thursday, January 2nd, 2020

I have come to the conclusion that once you pass 50 it takes two days to recover for every day you go without a bare minimum of sleep. I went three days without sleep, so it's going to take six days before I recover. Which, for me, will be sometime Saturday.
It was not always like this. Used to be I would operate on a few hours sleep for weeks and suffer no ill-effects. Sometime in my mid-30's this changed and I needed a couple hours extra sleep to recover from a week of insanity. Then I hit 40 and suddenly I needed a day for every day of missed sleep to recover. That was at least manageable. But two days per day? How do I schedule for something like that? Being able to operate at only half-speed is killing me.
Last night I went to bed much earlier than I usually do (around 11:00pm instead of 1:30am) in an attempt to make up for lost rest. Jake, who usually sleeps with me most nights now, fell asleep in the downstairs guest room so I wouldn't be bothered by him. This left Jenny, whom will hop off the bed and go sleep in the other guest room the minute I fall asleep.
But not last night.
Oh no. I fell asleep while petting her and she was very upset about it.
VERY.
I woke up to the sound of her walking around my room howling because I dared to fall asleep before she was done with being petted. When she gets upset or wants attention, she will meow from time to time... but this was howling. Keep in mind that this camera is downstairs, so what you're hearing is one floor and three rooms away from the microphone. That's how unbelievably loud she was...
I love how she is so loud that Jake wakes up and is all WTF?!? and goes walking upstairs to see what Jenny is on about.
And so... I pet her for another twenty minutes until she was satisfied, then eventually fell asleep and hour-or-so later. Not quite getting the sleep I was hoping for, but... well... cats... you know.
Speaking of cats...
One of my favorite things on YouTube is Super Easy, Barely An Inconvenience, a series of "pitch meetings" for popular films by Ryan George for Screen Rant. The guy does the same thing every time and yet it is hilarious every time. The most recent pitch meeting is for the Cats movie, and it's one of the best yet...
And so now I'm binge-re-watching all of the episodes of Super Easy, Barely An Inconvenience while I work, which is a fantastic use of my time. Better than most stuff on television if I'm being honest.
And here's hoping that Jenny gets all her required petting in before I fall asleep so I can maybe... possibly... perhaps... kinda get some sleep tonight?
Well, she's a cat, so I'm not holding my breath. But maybe I should hold my breath. Can a cat howling in your bedroom wake you up if you've passed out from holding your breath?
Posted on Wednesday, January 1st, 2020

And so here we are in 2020. I am siding with The US Naval Observatory that says a new decade begins a year from now in 2021 and runs through 2030. But it's only natural to see a zero at the end of a year and think back to what's happened in the past decade. Fortunately, I have a blog that goes back to 2003, so I know exactly what I was doing a decade ago in 2010.
From a blogging standpoint, everything has changed. As in... ten years ago blogging was still a thing. Now, of course, blogging has been shoved aside in favor of Facebook and other social media. No idea why I stick with it. I am inclined to think it's just a habit I can't break. What I may do is rethink daily blogging and just blog when I feel like it. Problem is that once I start skipping days, I may not start again. I guess I'll cross that bridge when I get to it. If I get to it?
Personally I don't know what to think. A decade ago my mom was here and I had grandparents, now they're all gone. I was in a bad relationship, now I'm happy to be single with cats. I was much better off financially, but now I have a house and mortgage. I know I was happier a decade ago, yet I'm pretty happy with my life now too. I was a lot less healthy, but now I'm over fifty and closer to death. All things considered, I'd go back to 2010 in a heartbeat. But would I do anything differently to justify living all those years over again? Probably, if I knew what I know now.
When it comes to 2020 things are very much up in the air. Many things in my life are in strange places so it's tough to make plans. For once I think I'd be happy if things were to just stand still for a year. I do know that I will try to be grateful for every day that I have family, friends, cats, work, something to eat, and a roof over my head. Do I really need anything more?
And speaking of 2020, here is my favorite thing about it this year so far...
And to you, dear readers, here's hoping your New Year is a good one.
Posted on Tuesday, December 31st, 2019

For those who only read one of my posts each year... or anybody wanting a recap of the past year here at Blogography... this post is for you! As customary, I've jettisoned loads of the usual junk so this entry is "mostly crap" instead of the "total crap" they usually are.
Last year losing my mom was the worst year of my life. This year couldn't help but be better by comparison. But I lost one of my oldest, dearest friends right off the bat, so now I'm horrified at what 2020 may have in store. I guess I've reached the stage of my life where it's all tragedy and loss from here on out? Lord, I hope not.
---
JANUARY
• Took a look at Schitt's Creek, one of the best TV shows ever...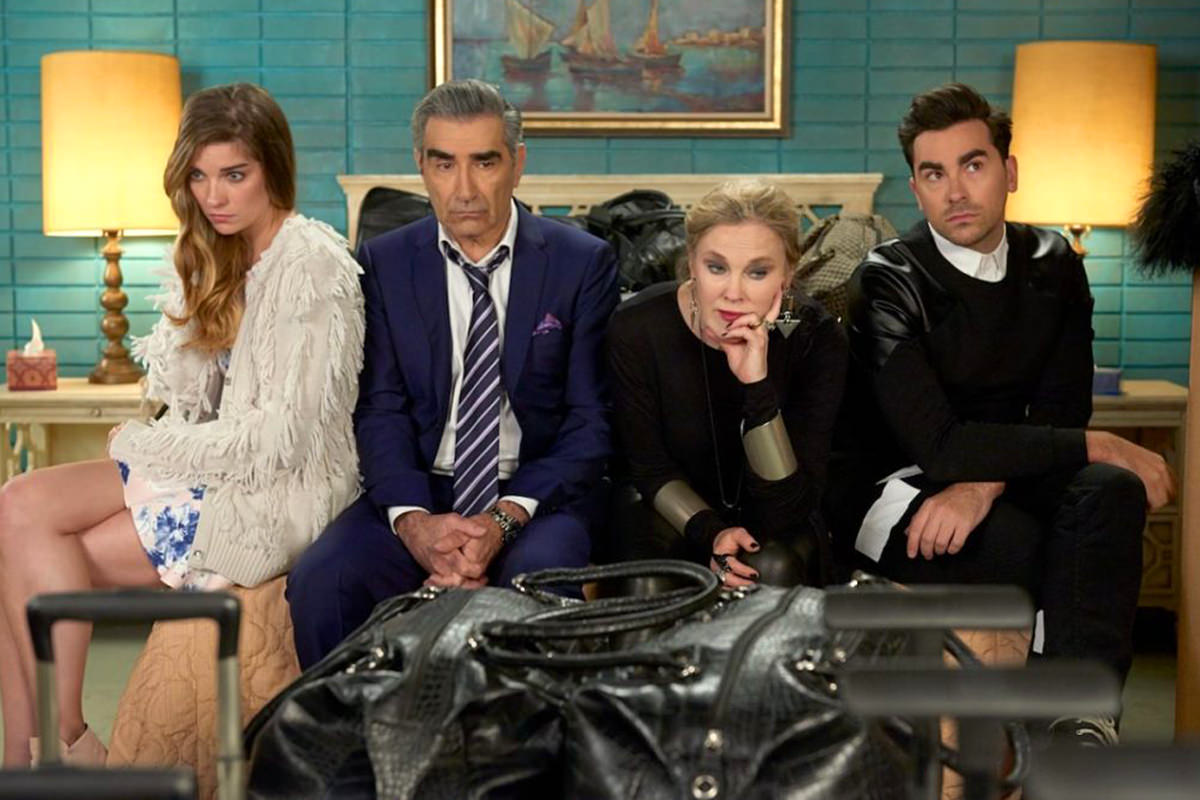 Took a look at the Seattle Tunnel... and the horrible design of the new spaces it will allow.

• Built a magnificent photo wall in my stairwell...

• Experienced Poster Raising with the Amish...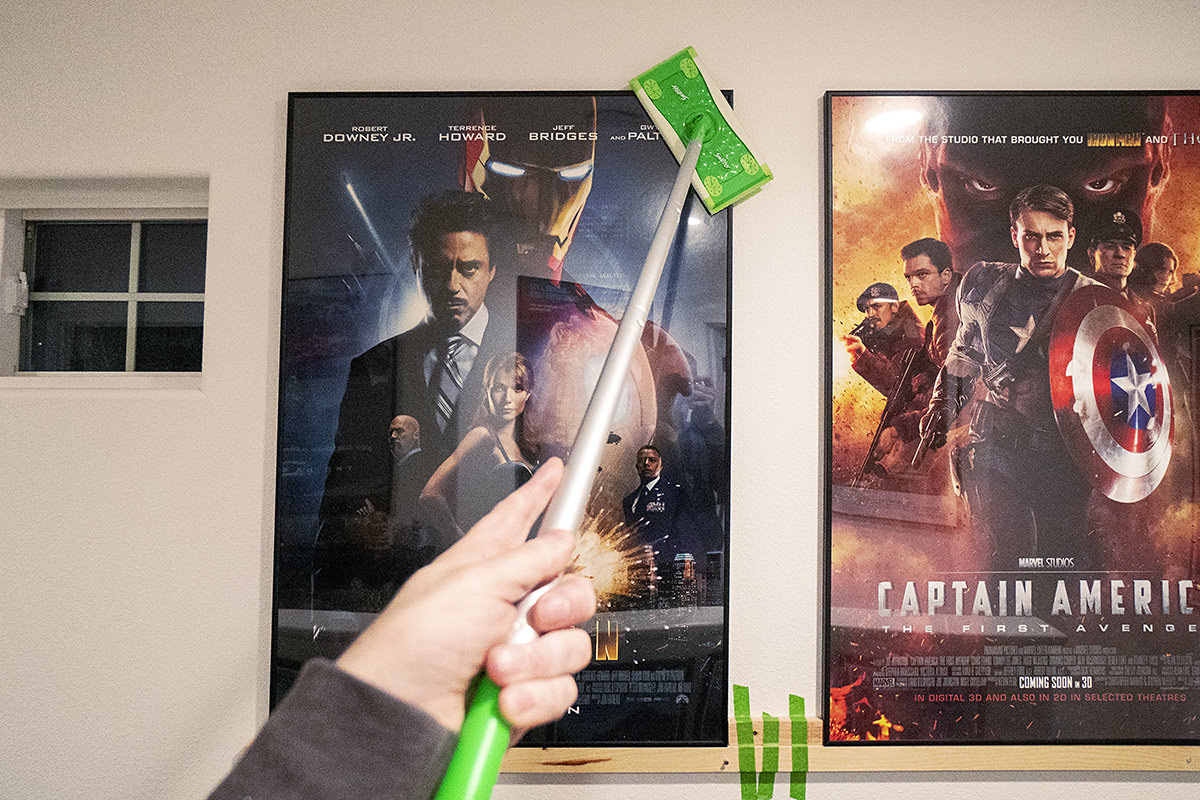 ---
FEBRUARY
• Converted another batch more DVDs and Blu-Rays to digital... and explained how you can do it too.

• Wished Jarrod Saltalamacchia, one of my favorite ball players, a happy retirement...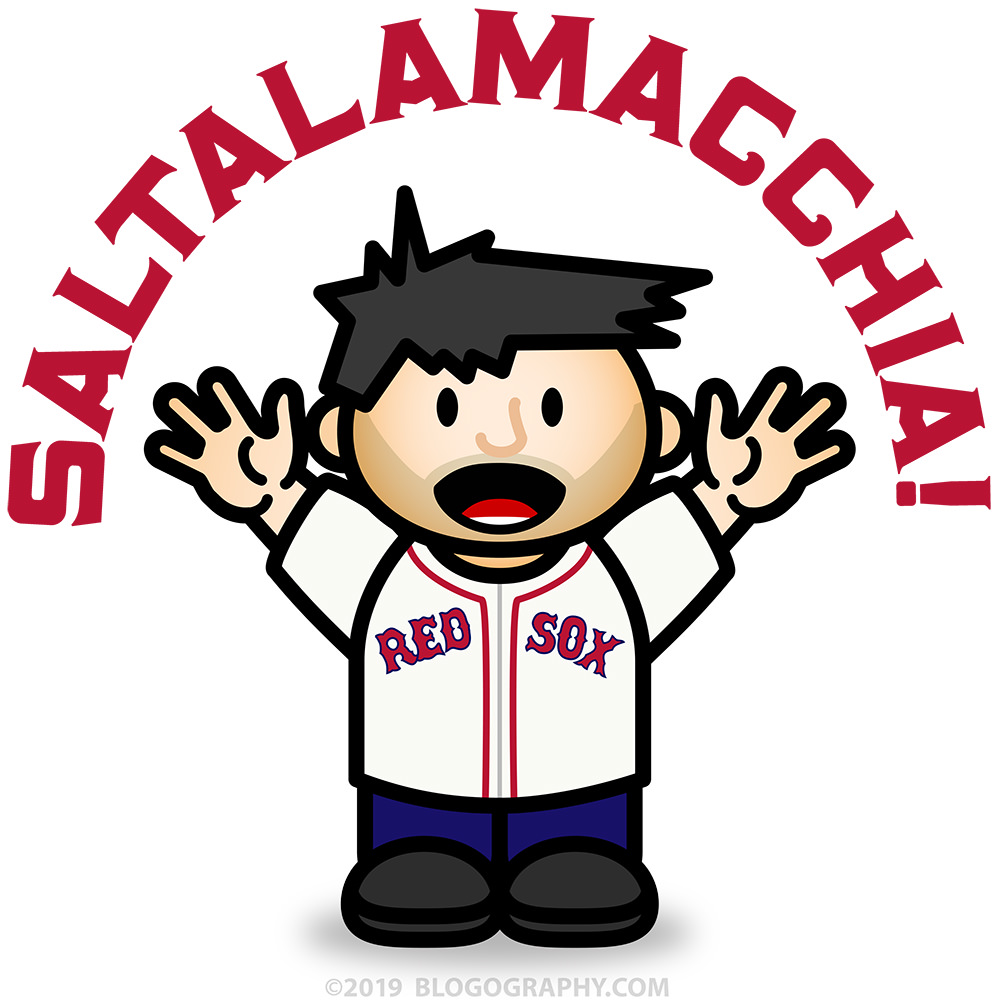 • Dedicated a post to Mufasa, Jake's toy lion, his favorite thing in the universe...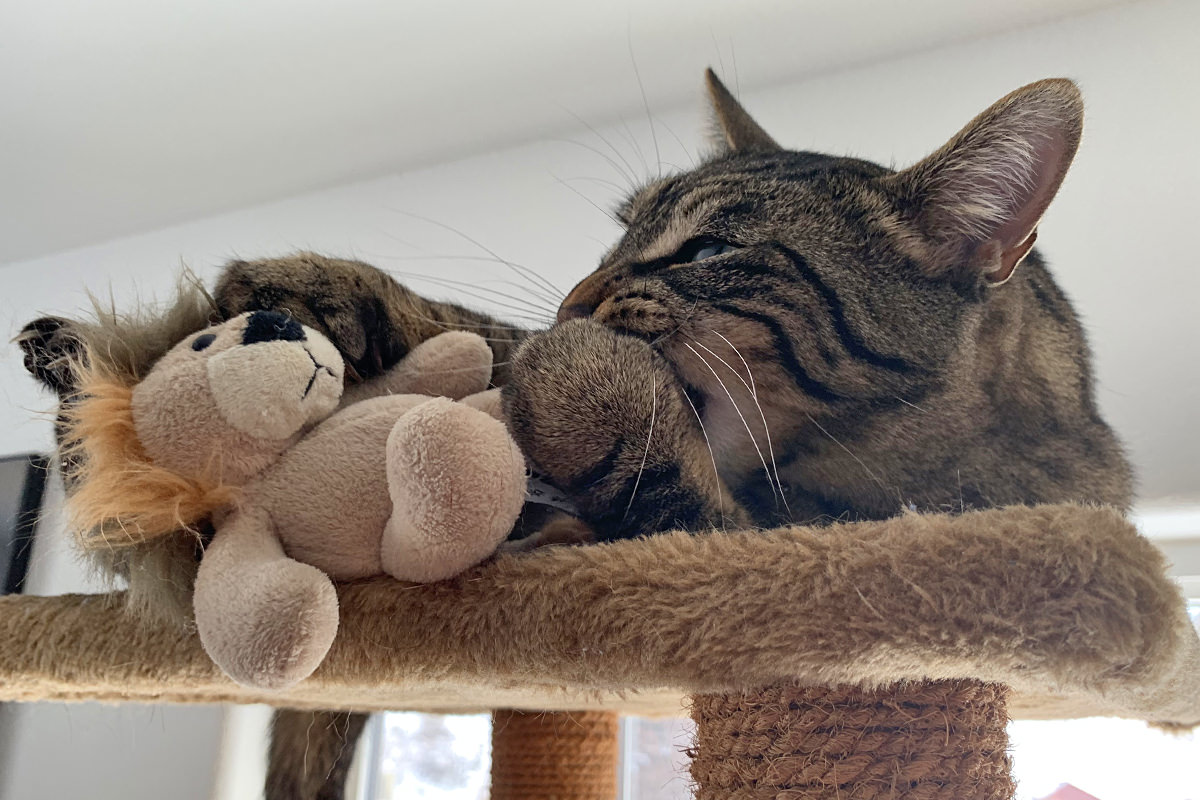 • Lamented the fact that SeaTac International Airport is still a shitpile of fail, even when they build something new.
---
MARCH
• Said good bye to one of my oldest and dearest friends...

• Watched as my home keeps getting invaded by trash pandas.

• Spent my 101st Caturday taking inventory of the cats in my neighborhood...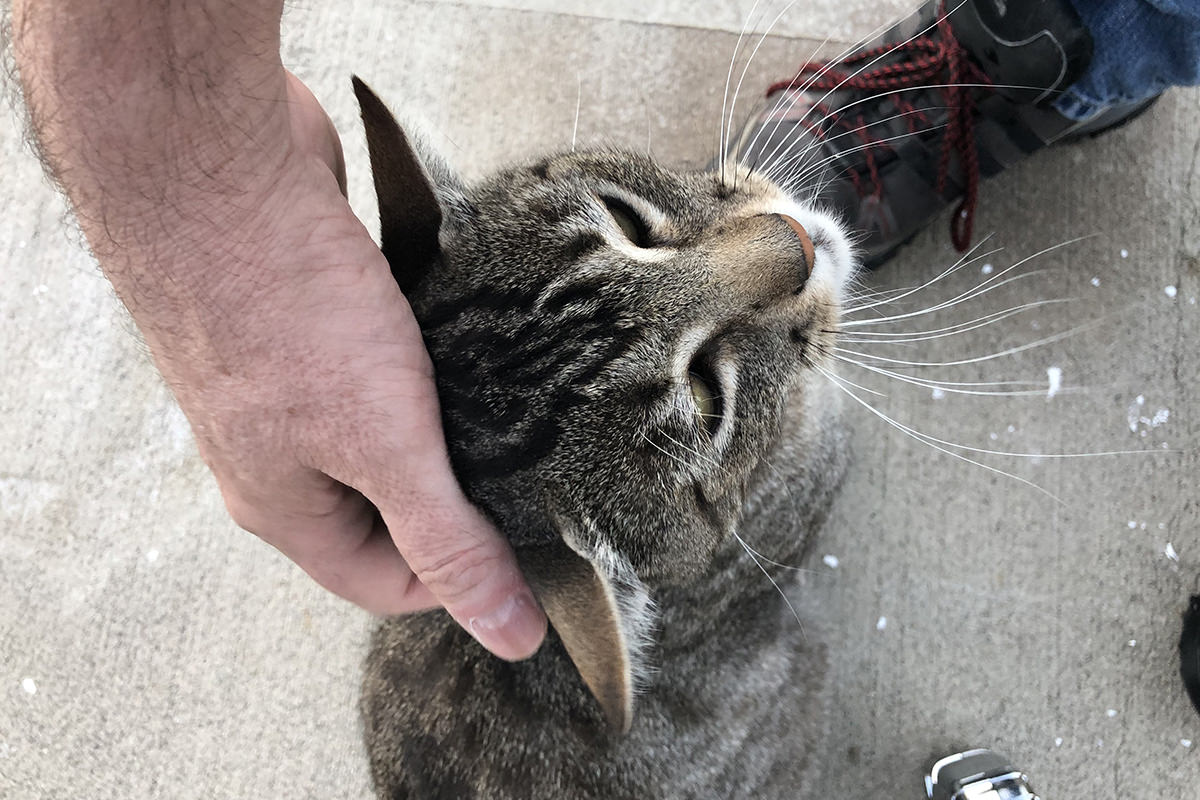 ---
APRIL
• Watched the funniest stand-up of the year with Nate Bargatze's The Tennessee Kid (highest possible recommendation if you have Netflix)...

• Took Jake back to the vet after he ended up sick again. Still amazed that the little guy can't meow ever... EXCEPT when he is in distress...

• Found out the reason Jake was sick was because he fell off the stairwell banister. Absolutely heartbreaking (and more than a little scary), but he recovered like a champ...

• Built a bannister ledge tray to keep my cats from falling down the stairwell again...
---
MAY

• Talked about the series of travel books I made for my mom to commemorate each of the trips we took together...

• Shared my thoughts on the fucking disaster that was the Game of Thrones final season...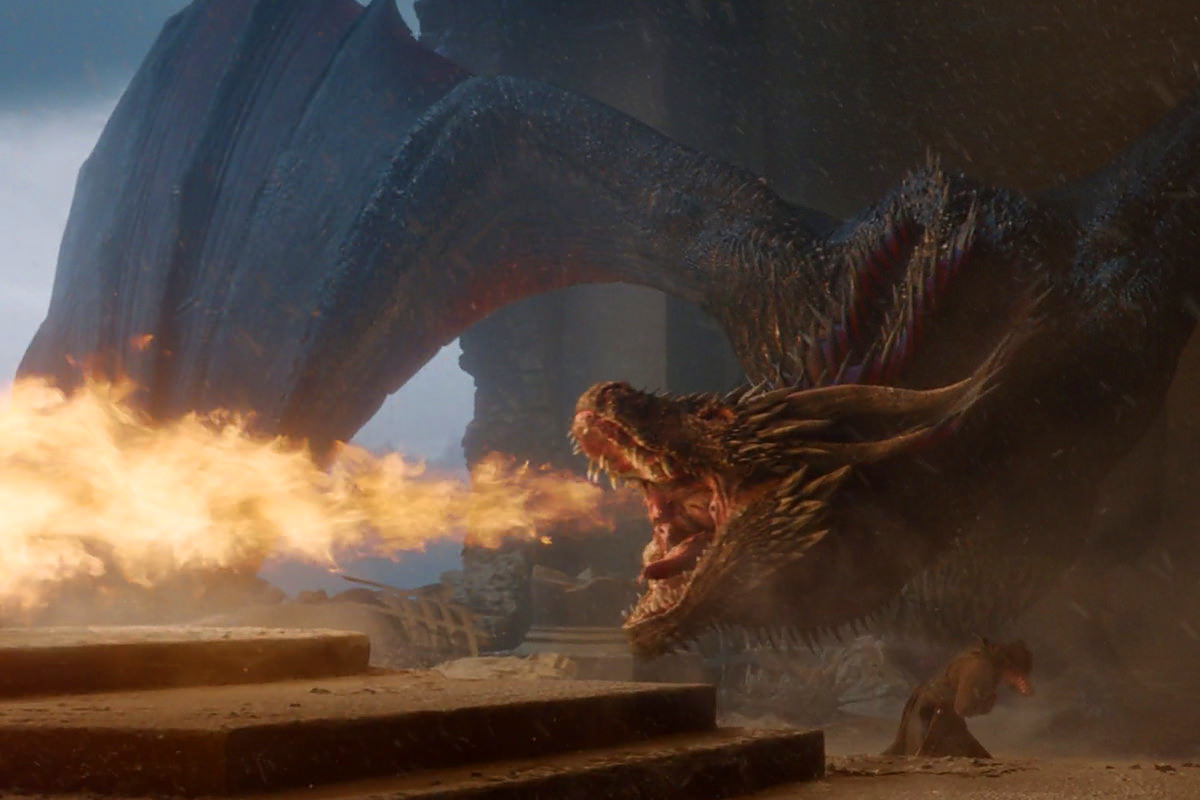 ---
JUNE
• Once again shared a video on how tax brackets work because I am sick and tired of people believing the bullshit lies that are being propagated. I honestly don't know if this is the best way, but if we're going to discuss tax brackets let's at least be informed as to what they are. And with that in mind, here we go again...

• Said goodbye to Grant, an internet friend who will be sorely missed.

• A visit to the Chihuly Garden of Glass, a magical place crafted by one of my favorite living artists...

• One year on without my mom...
---
JULY
• Spent my lazy summer days floating down a river...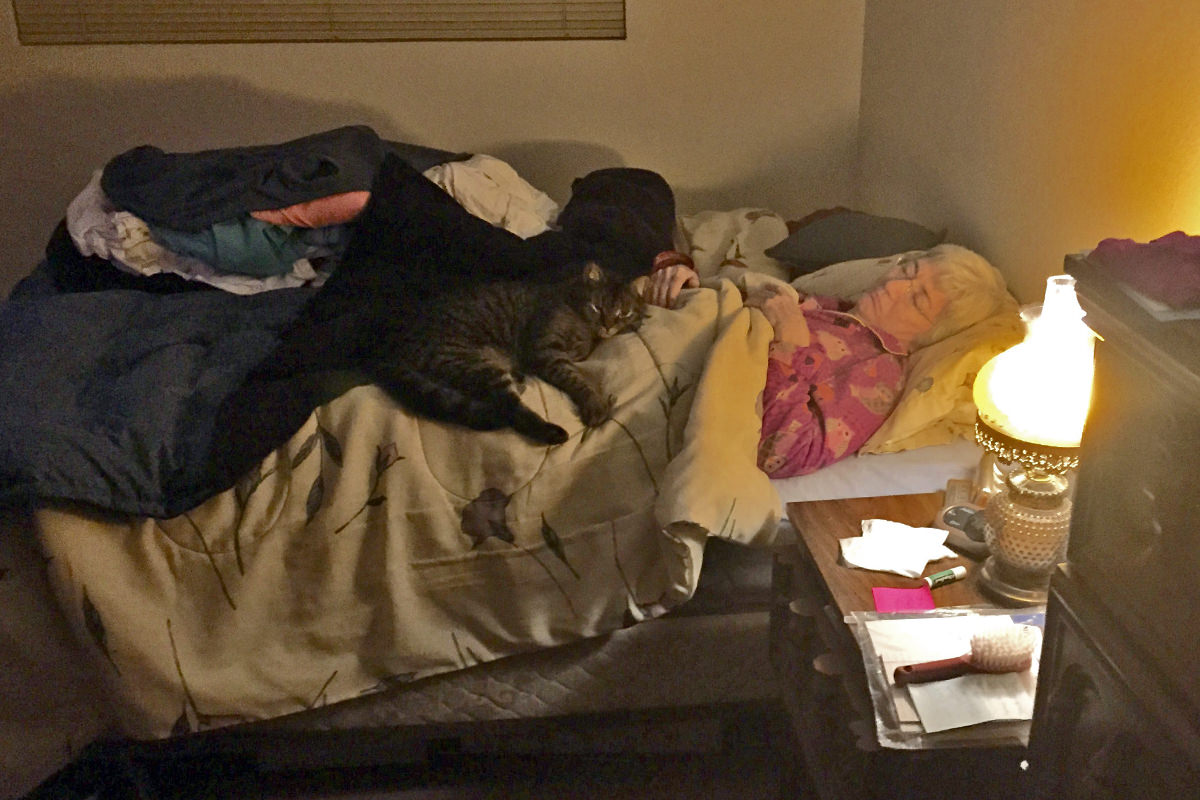 • Finally cut the cord and got rid of the toxic mess that my satellite television had become.

• Ooh... Upgrades (a process that is ongoing, by the way!).
---
AUGUST

• I have opinions. And they get me in trouble by all sides.

• Back in Vegas for the third? Fourth? time in 2019 and decided to take stock of my one-time Planet Hollywood obsession...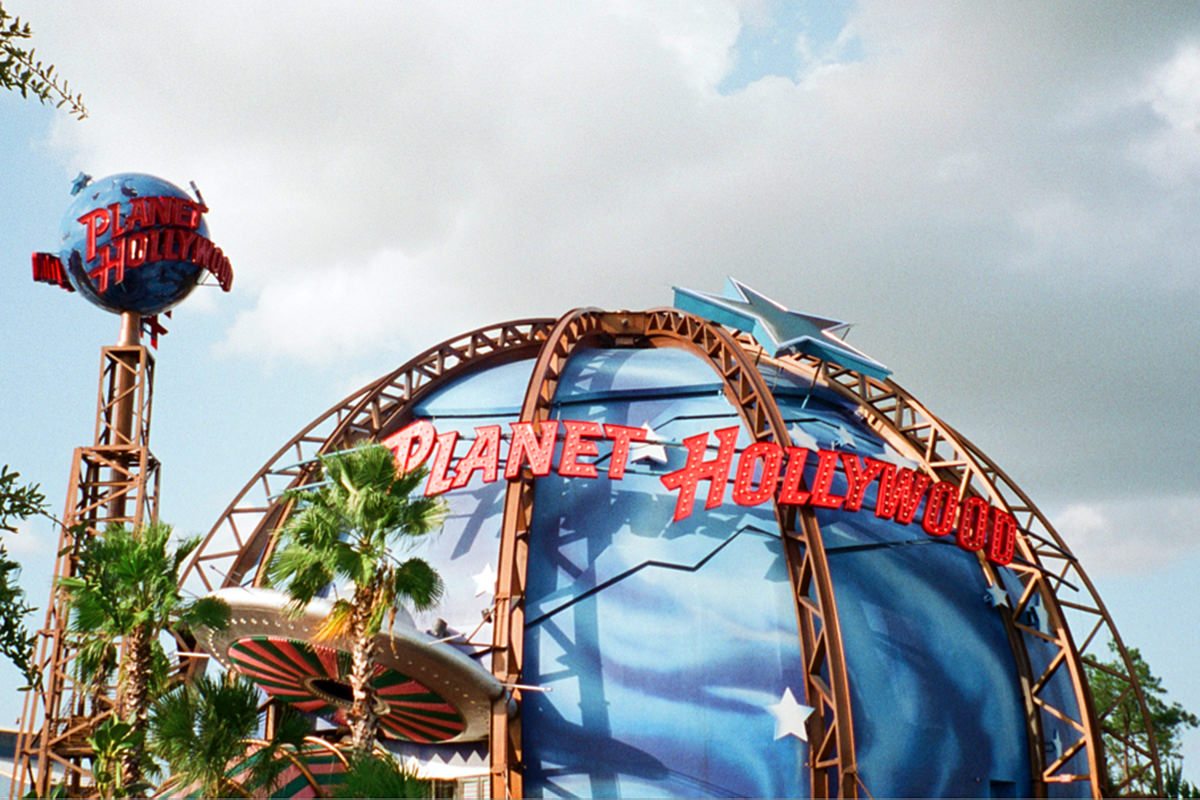 • Got to see Janet, Miss Jackson if you're nasty...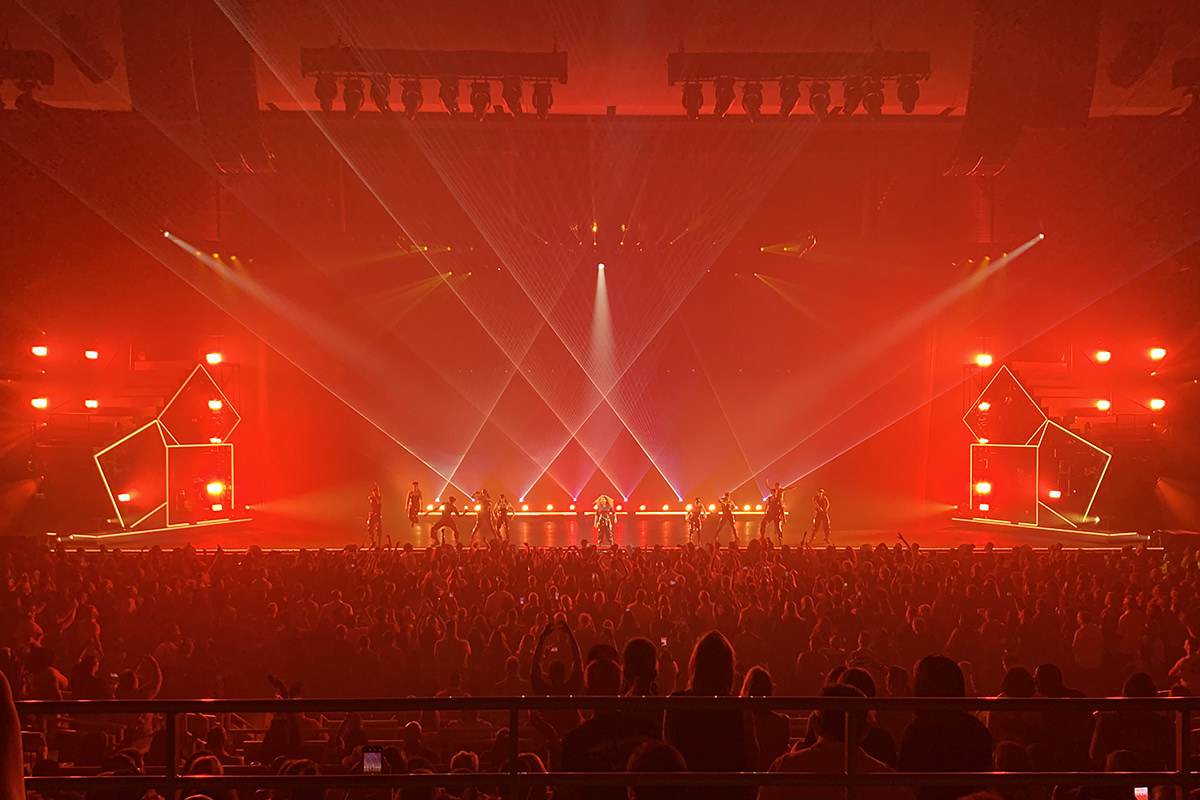 • Discovered the total magic of my favorite new thing... THE IMPOSSIBLE WHOPPER at Burger King...

• Got myself an Apple Card... an interesting beast to be sure.

• My obligatory Apple Card unboxing entry...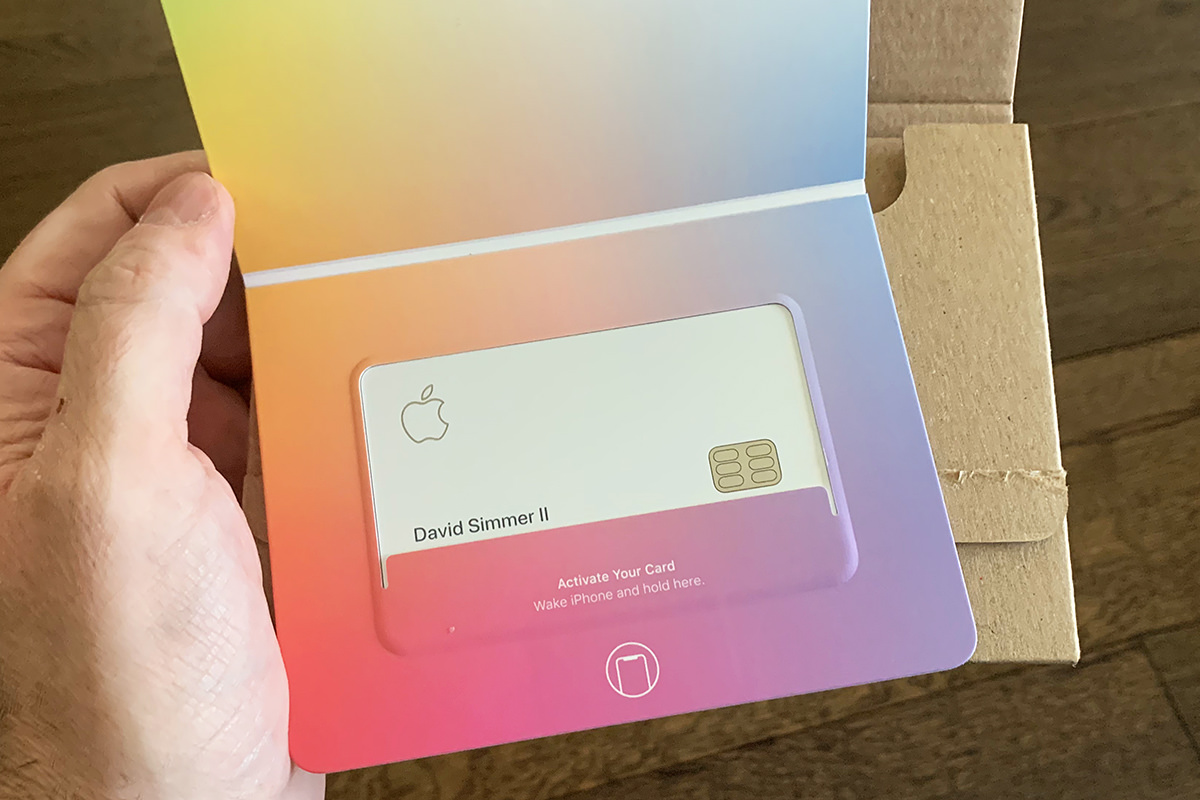 • Total outrage that Hallmark can't seem to ever get the details right.

• Jake and Jenny's cat personality analysis...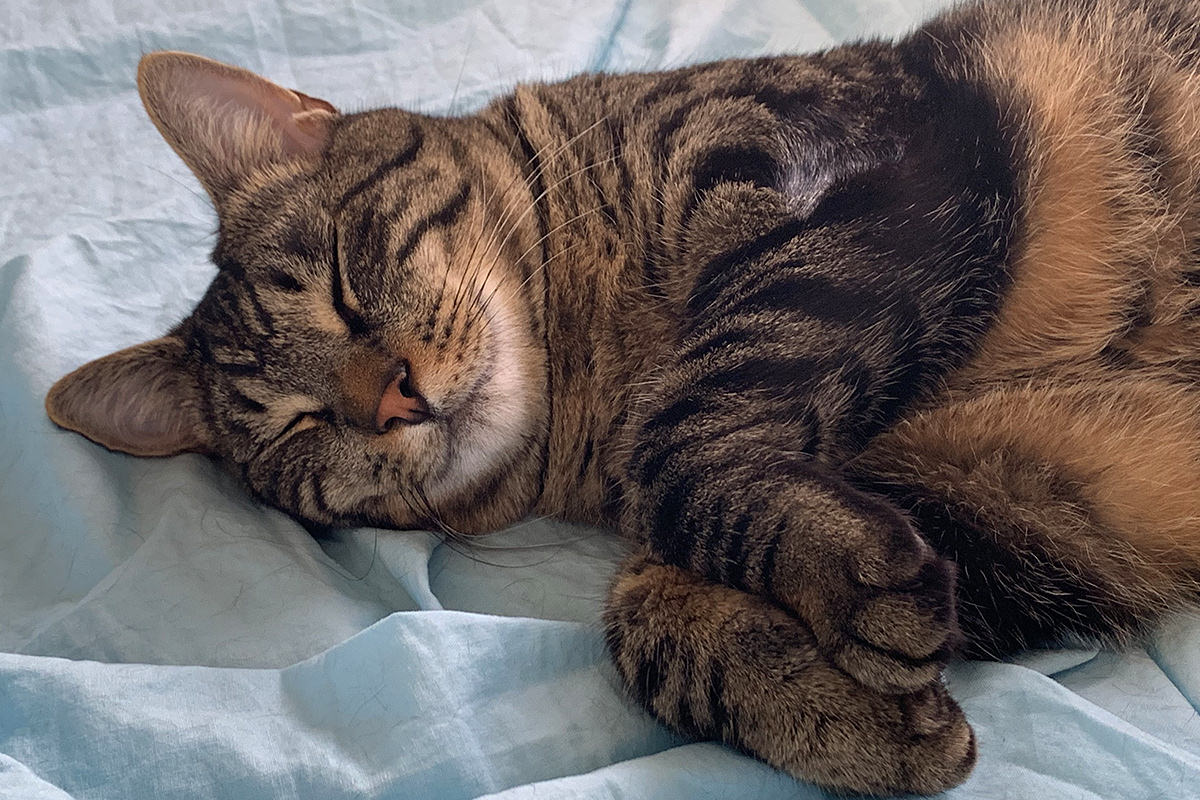 ---
SEPTEMBER
• Jenny's perpetually adorable resting cranky face...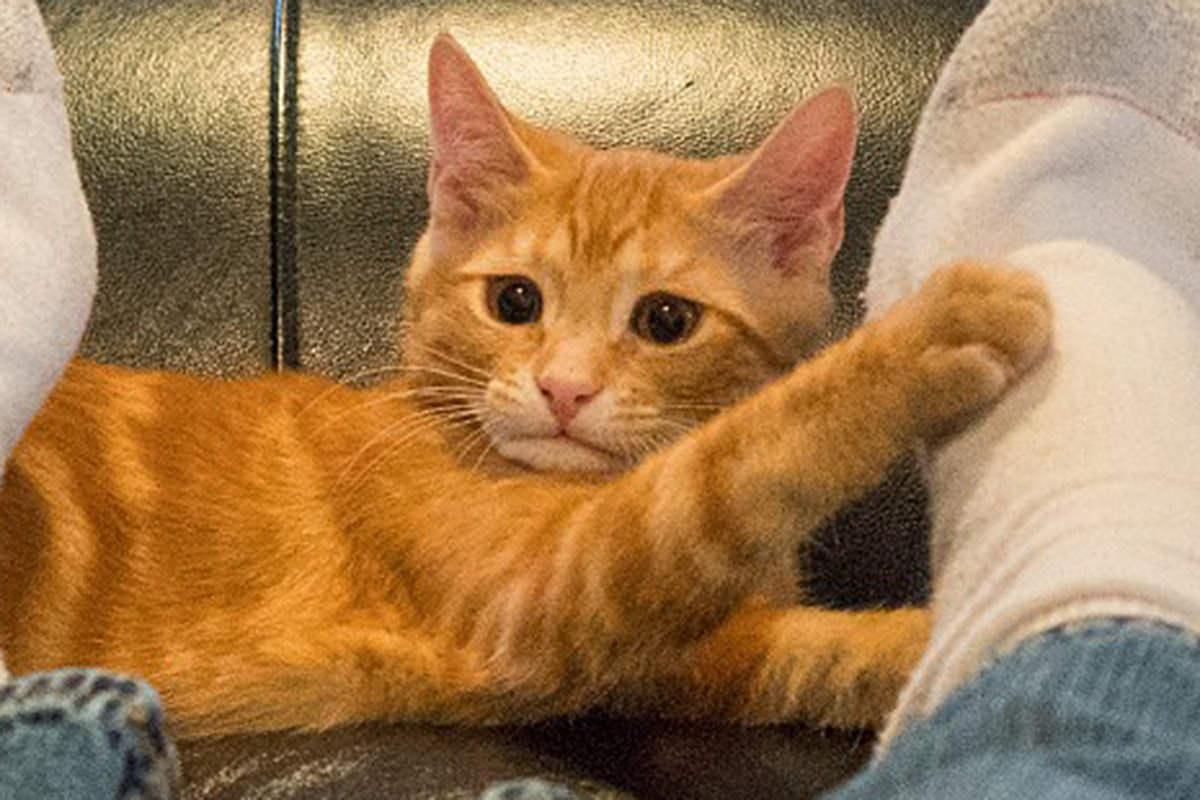 • Hell of a Day, Isn't It? Talked about what happens when you lose that person you share an inside joke with.

• Impressed the internet when I joined in on the SHOW US A PHOTO OF YOUR KITCHEN CABINET meme...

• Shared my brief attempt at being a home designer.
---
OCTOBER
• Put my iPhone 11 Pro through it's paces... and shared my thoughts in it's incredible camera capabilities...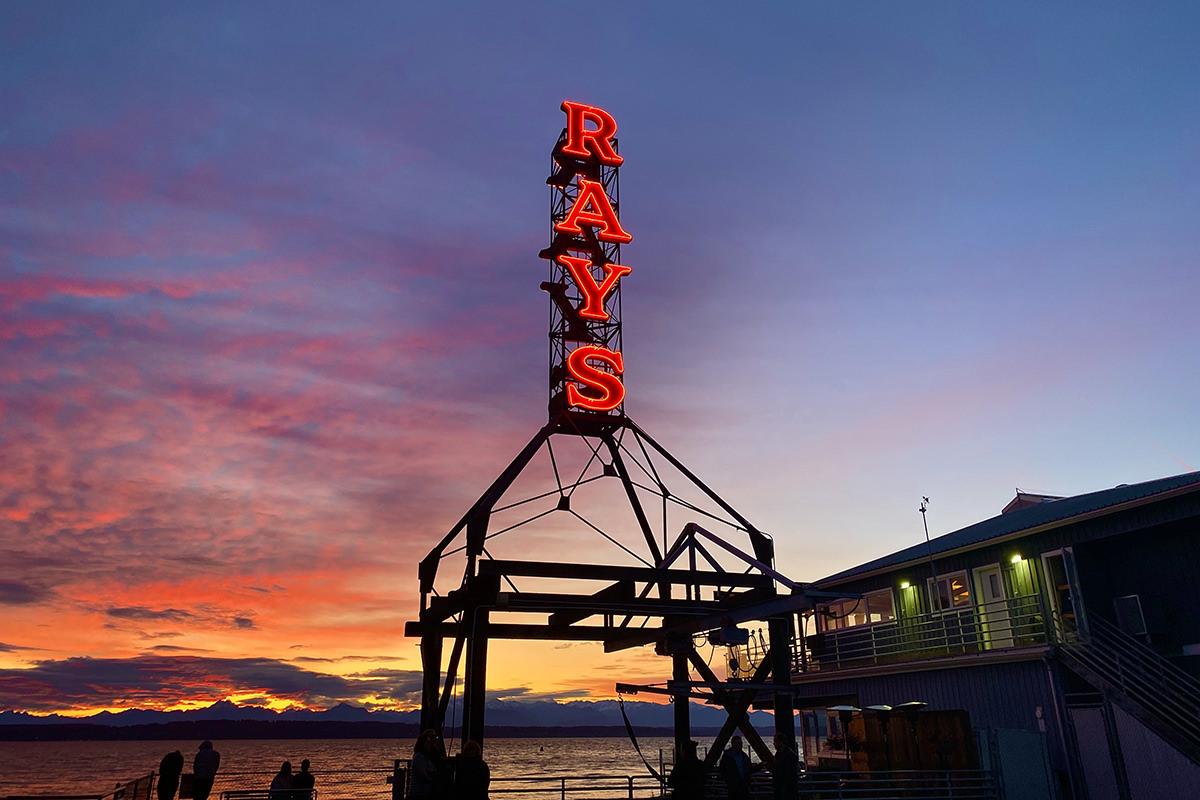 • Took my iPhone 11 Pro camera for a spin in my favorite American city.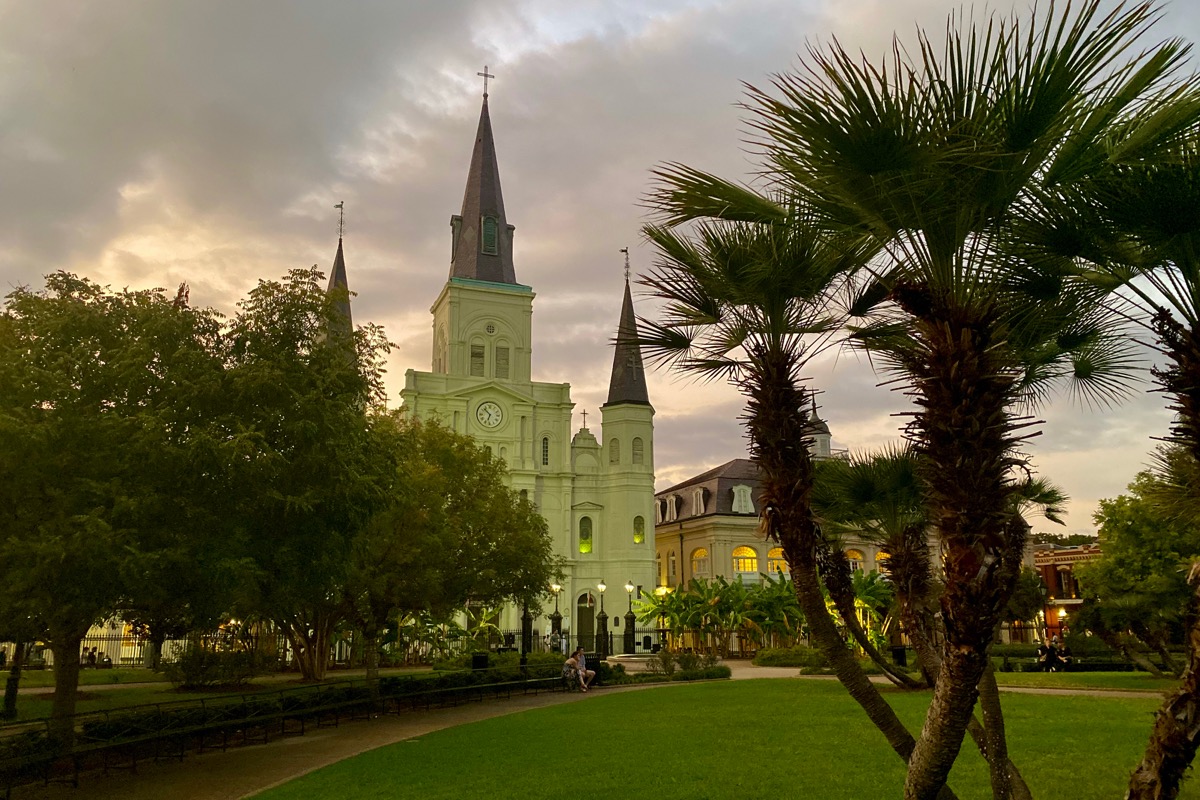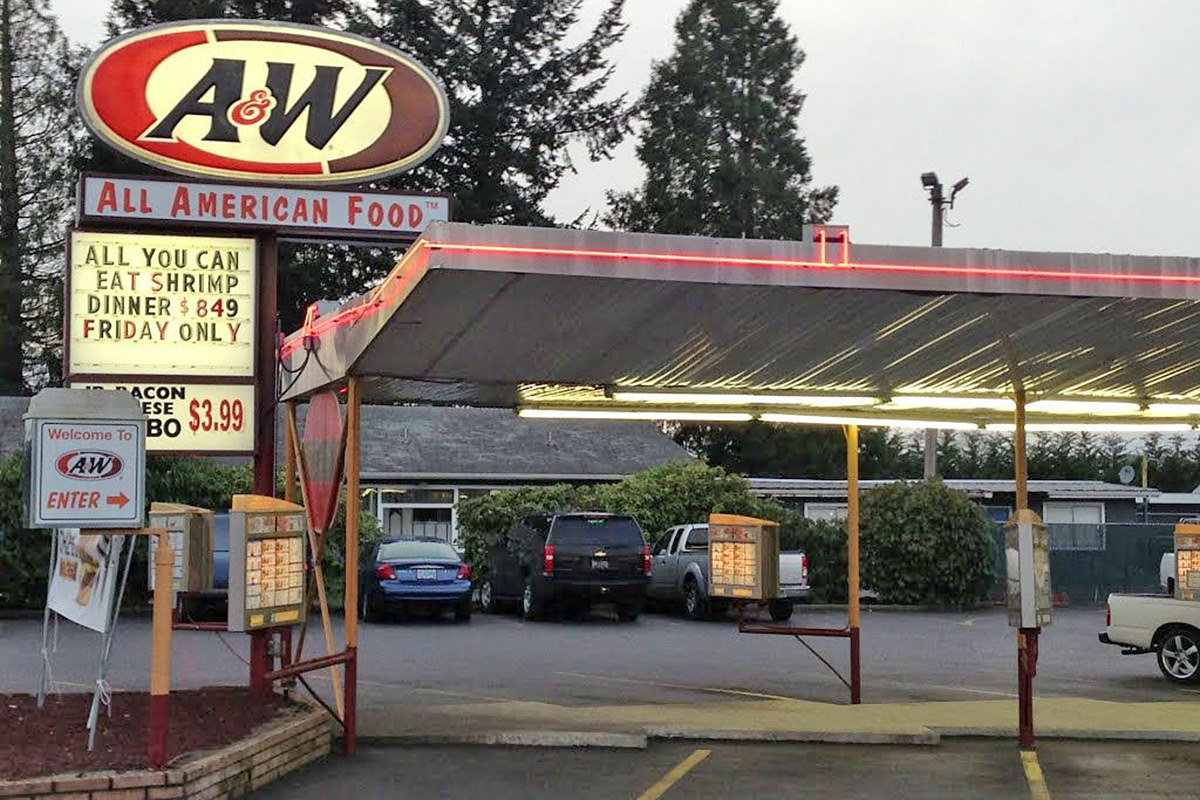 • Your Heart Disease, Courtesy of Big Beef.
---
NOVEMBER
• Ranting against changing the clocks because it fucks up my cats like nothing else... and the quail are back...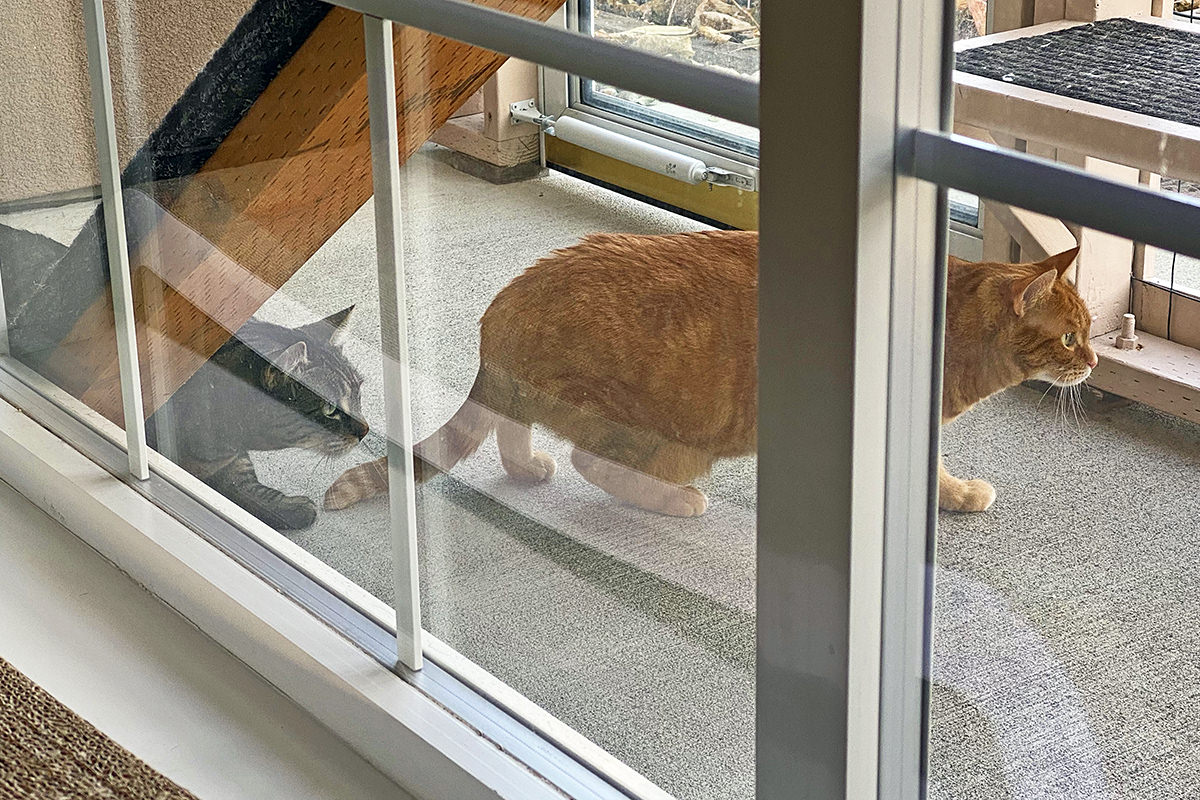 • Flew to Minneapolis so I could experience Avengers: Damage Control in real-live kinda virtual reality...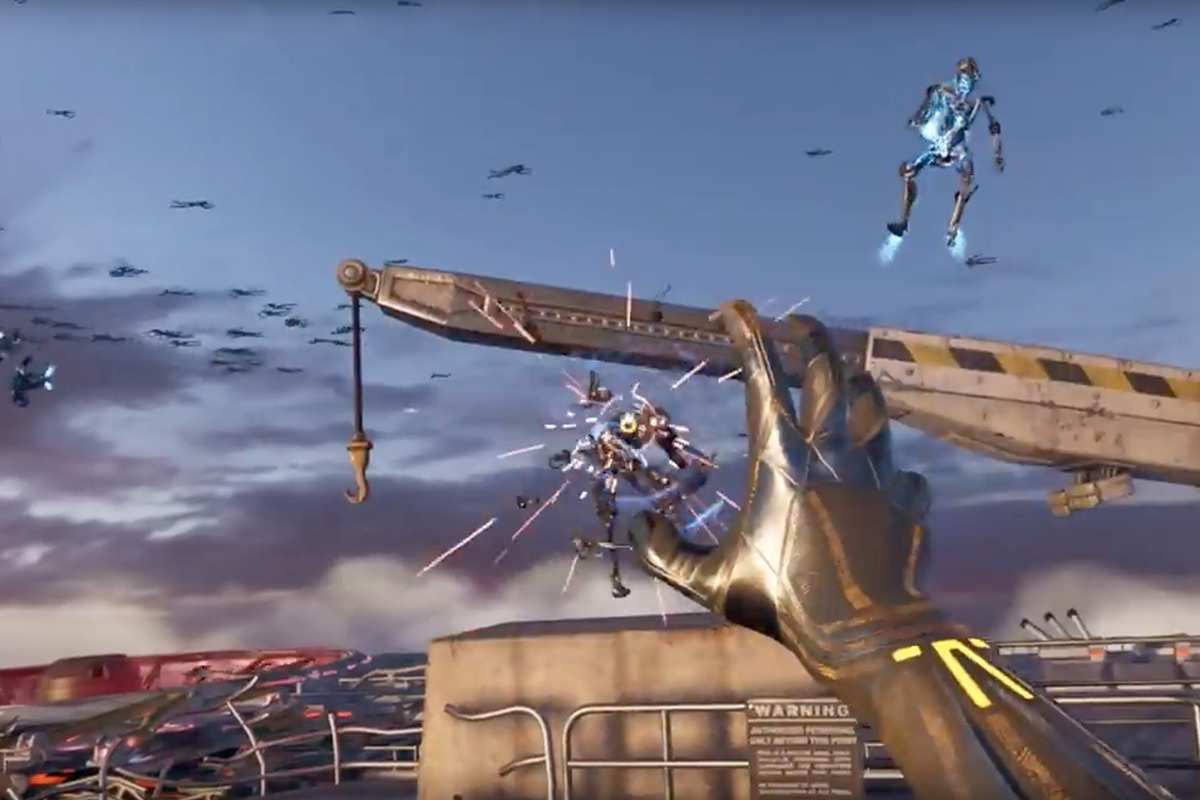 • Caring for somebody with dementia involves telling lies and making decisions.

• Disney+ finally debuted with a slew of watchable stuff to occupy time I don't have.

• Thirty Dollars for Fish Entertainment...

• Get Angry, Then Laugh... same as it ever was... same as it ever was.
---
DECEMBER
• Happy Birthday, Jake and Jenny!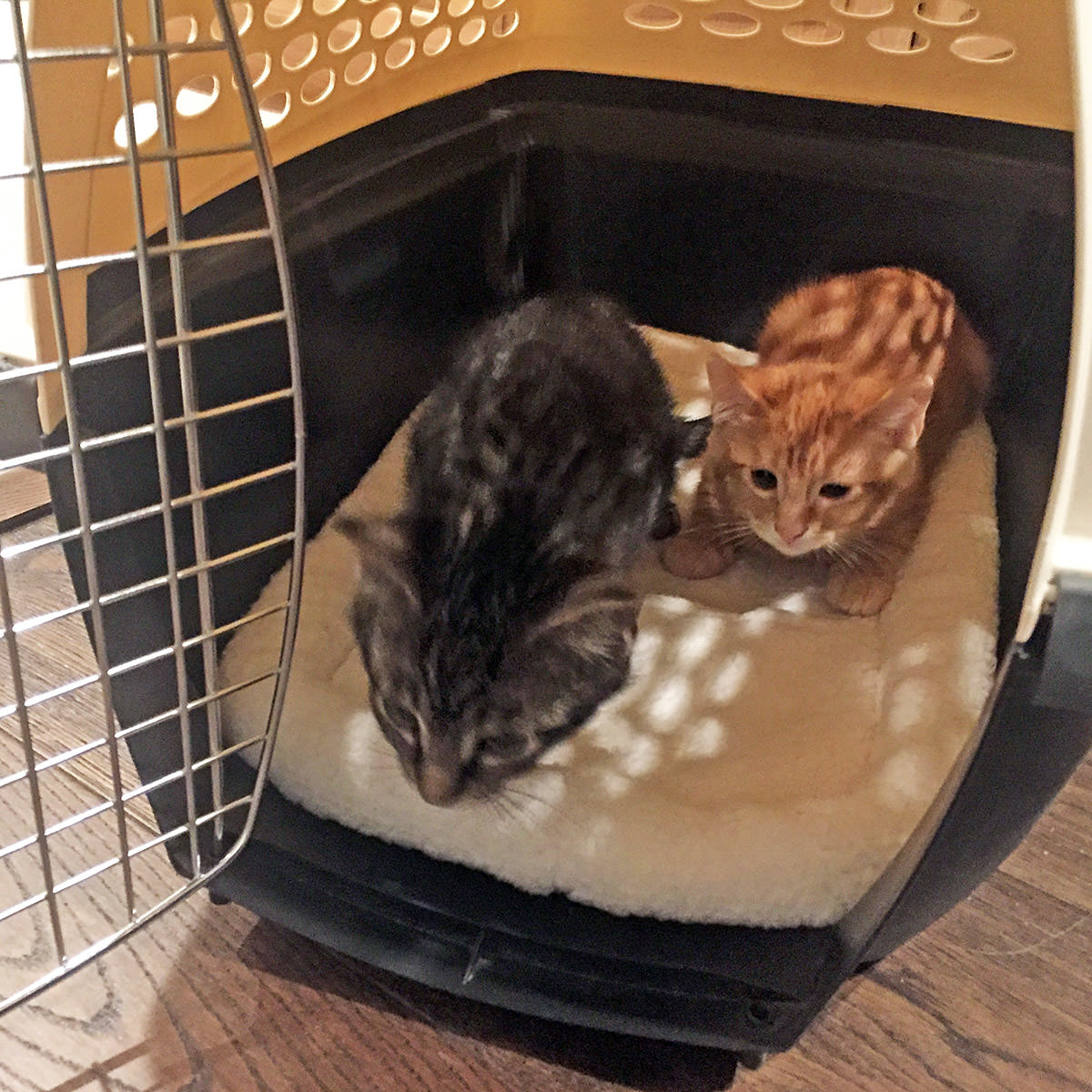 • And, oh yeah, I joined the Instant Pot cult!

• Finally replaced my dying MacBook Pro... with a MacBook Pro...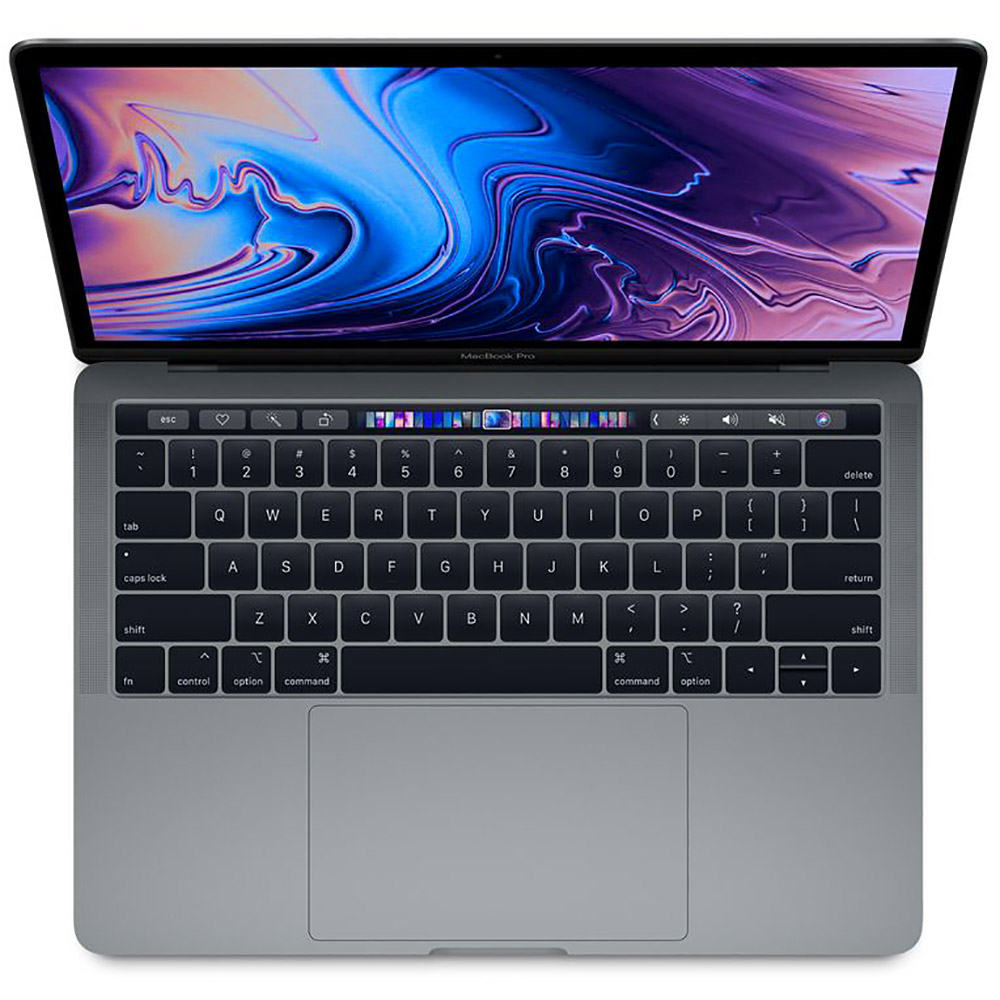 • Let's take a Very Special edition of Caturday to talk about how technology helps Fake Jake survives the winter!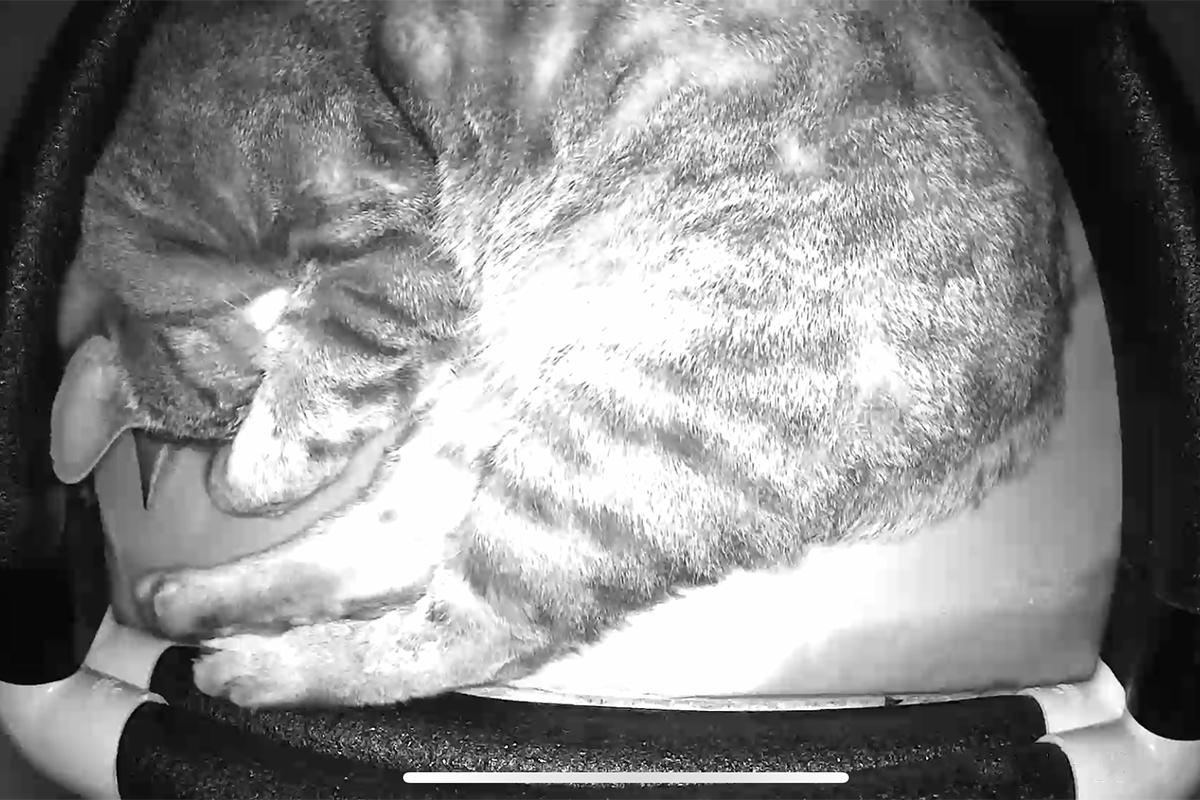 • It's the little things which happen day-today that keep destroying me...
And there you have it... my 2019 year in review.
Thanks once again to my cats, family, and friends for making life bearable through even the worst of times.
Here's to a good 2020, everybody.
Tags:
Apple
,
Blogging
,
Cats
,
DaveLife
,
Food
,
Photography
,
Television
,
Travel
Categories:
Apple Stuff 2019
,
Blogging 2019
,
Cats 2019
,
DaveLife 2019
,
Food 2019
,
Photography 2019
,
Television 2019
,
Travel 2019
—
Click To It:
Permalink
—
0 Comments: Click To Add Yours!
Posted on Monday, December 30th, 2019

And it's time once again for my annual wrap-up of TV shows that came out this year.
Or, more accurately, a "wrap-up of TV shows I saw that came out this year." As always, there's a bunch of shows I never got around to watching that might have ended up on my list. And here we go...
THE EIGHTEEN BEST...
These are my favorite television shows from this year that I actually saw.
#1 Watchmen (HBO)
Wonderfully faithful to the comic book in a way that the movie adaptation wasn't, Damon Lindelof's "Don't-Call-It-A-Sequel" sequel is sublimely complex and worthwhile. Absolutely everything comes together at the end like a puzzle which has defined a complete story instead of something incomplete because it's setting up pointless sequels. Which is how all television should be handled. Story? Perfect. Cast? Perfect. Cinematography? Perfect. Special effects? Perfect. Music (by Trent Reznor and Atticus Ross)? Perfect. Television doesn't get much better than this. But, then again, this isn't television... it's HBO.
#2 The Mandalorian (Disney+)
The best thing to happen to Star Wars since Rogue One, this was a launch title for Disney+, and the only excuse you need to subscribe to the service. Taking a member of the elite corps that spawned Boba Fest, pairing him with a "Baby Yoda" and other interesting characters, then treating the whole thing like a lone gunman Western in space is sheer genius... and I am esthetic that Disney let Jon Favreau play in their sandbox like this because it absolutely paid off... especially at the end. Here's hoping Season 2 is just as good.
#3 Barry (HBO)
I liked the first season of Bill Hader's dark comedy about an assassin trying to go straight... but I loved the second season. So many delicious moments, and a cast that knows exactly what to do with them. This show is absolutely nuts and willing to take risks that other shows wouldn't touch. The ronny/lily episode was entirely too good and could only happen here.
#4 Bob (Hearts) Abishola (CBS)
I had absolutely no hope for this show. I am not a fan of Billy Gardell and the idea of Chuck Lorre being adept enough to handle a comedy featuring cultural differences between the US and Nigeria was dicey at best. But... it has Christine Ebersole in it and had Gina Yashere writing (and appearing) for the show to add some authenticity... so I gave it a shot. Surprisingly, it all works really well. It's funny, smart, and doesn't rely on stereotypes for the bulk of its comedy. Folake Olowofoyeku as Abishola completely owns the role and it feels more authentic than half the crap on television. Go figure.
#5 Magnum P.I. (CBS)
This is just a fun show with a great cast telling (usually) entertaining stories in a pretty location. I was hugely resistant to the show when it debuted, but warmed up to it pretty quickly given the dynamic between Magnum and Higgins... and the critical role of Detective Katsumoto. Toss in Amy Hill and I'm all in. The second season is not as tight as the first, saddling us with truly terrible "theme" episodes foe Halloween and Christmas that absolutely did not work, but most of the episodes so far have been darn good and something I look forward to week after week.
#6 After Life (Netflix)
Ricky Gervais is an incredibly polarizing talent (currently involved in some social media conflict which does not look good on him at all) and I can pretty much take or leave his entire body of work. But then along comes After Life which manages to be funny, sad, heartwarming, and life affirming all at the same time... all the while exploring what it means to be alive with an interesting bunch of characters. Easily my favorite thing by Gervais, I hope for even more good things out of Season 2.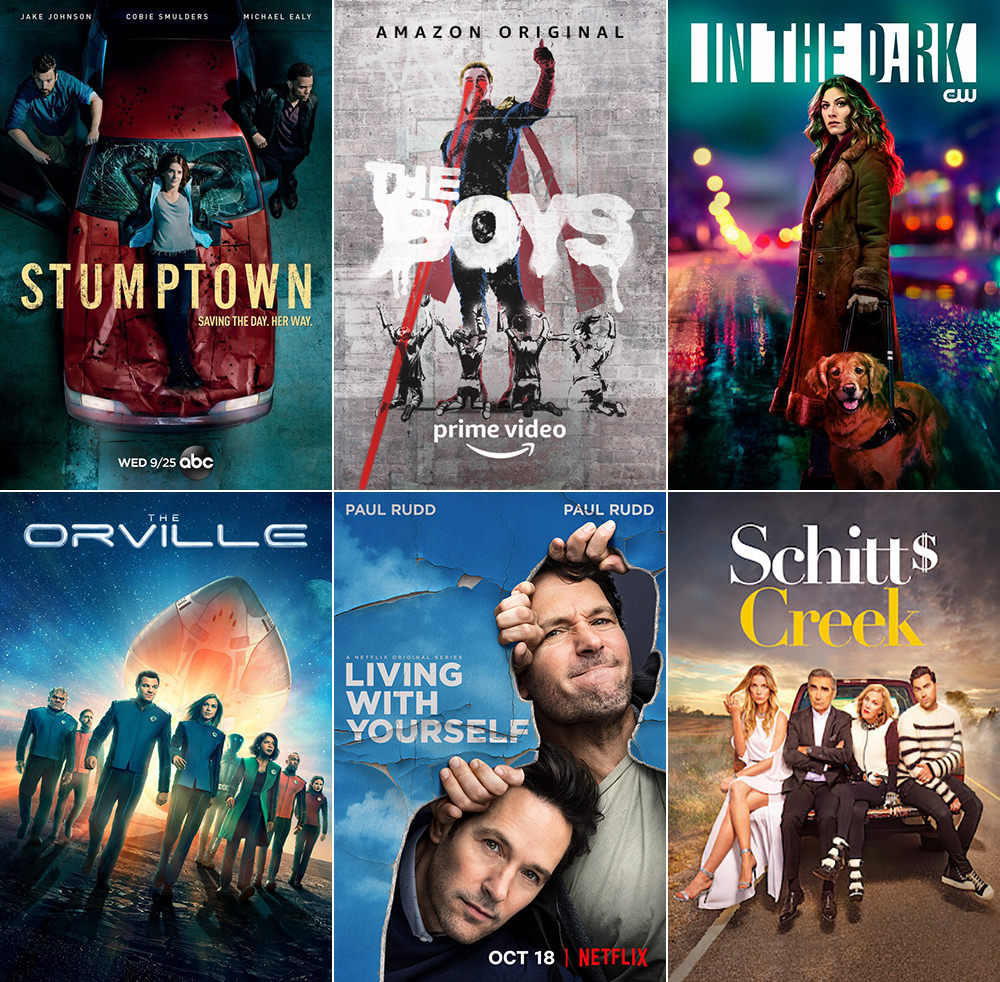 #7 Stumptown (ABC)
After one of the strongest series opener I've ever seen, there was an adjustment period where things dropped several stories in my opinion of the show. Now I'm comfortably settled and enjoying it for what it is... an opportunity for Cobie Smulders to be one of the biggest badasses on television in stories that are generally a lot of fun to watch. And while usually I like over-reaching show arcs that let each show build to an interesting finale, that isn't really working here and I'm not sure why. It's almost like it's distracting from the "story-of-the-week" in a way that sabotages them both. It's likely that the writers are still trying to find a balance, and they just need time to get it right. A second season should help with that immensely.
#8 The Boys (Amazon)
The hyper-violent comic book world of The Boys seems like something that would be impossible to adapt. But Amazon went ahead and gave it a shot and was mostly successful. Some of the changes from the source material were smart moves... some of them were just plain weird... and their idea for closing out the first season was something I'm not entirely sure worked all that well. And yet... I was thoroughly entertained from start to finish and anxious to see how they forge into new territory when it debuts next year.
#9 In The Dark (The CW)
I did not see this show when it first aired since I had been ignoring The CW once I ditched all their DC Heroes shows. But eventually Netflix picked it up and the show landed on my radar pretty quick. A blind woman who stays intentionally distant from people manages to make friends with a young drug-dealer who saved her life. Everything else is just a blur of one-night stands and alcohol abuse. Until her young friend is murdered and she makes it her mission in life to track down his killer. It's compelling, compelling stuff that's brilliantly realized right up until the end. I have no idea how they are going to approach a second season, but I will absolutely be tuning in to find out (even if I end up having to buy it to watch).
#10 The Orville (FOX/Hulu)
This remains nothing more than a classy reimagining of Star Trek: The Next Generation with jokes, but it's done really, really well. The second season wasn't as strong as the first, but still had some really good stories to tell. Next year the show switches from FOX to Hulu which is likely its death-knell. I hope that Seth MacFarlane realizes this and goes for broke... because that is a show I'd like to see.
#11 Living with Yourself (Netflix)
Despite my love of all things Paul Rudd, I did not go rushing to watch this one. I honestly thought it would be yet another clone effort that relied more on special effects than story. And... I was 100% wrong. This was a smart and insightful show that took full advantage of Paul Rudd's talents to turn in a really good show. Wisely, they didn't go full-on crackpot and ruin things... choosing instead to go more of an Arnold Schwarzenegger's The 6th Day route, but with less guns. It totally works and might have ranked higher on my list if they had edited it to be more moment-to-moment for the perspective flashbacks instead of episode-to-episode which got a bit tiring after the first time.
#12 Schitt's Creek (Pop TV)
I don't have access to Pop TV, so I always miss getting Schitt's Creek on my list. This time I ended up buying the series so I could watch in real-time with the rest of the world. Sadly, the fourth season was a pretty big step down from the third... but still wholly entertaining. As we head towards the fifth and final season, I can't help but wonder if they will mire the characters in the same-old same-old... or if they will really take a chance and try to do something new and interesting. We've seen what the same-old got us last season, so here's hoping for the latter.
#13 Young Sheldon (CBS)
I loved the first season, was tired of it all the second, but have fallen in love with it again this third season. It's like they decided to take real advantage of the times that Sheldon and his family are living so they have a unique take on the stories they can tell... instead of just deciding to make Young Sheldon do all the same stuff they had Original Sheldon do when he was on the Big Bang Theory. This makes for a far stronger show, and allows Zoe Perry to have more interesting places to goo with her character than yet another "I'm exasperated because Sheldon is so trying" episode.
#14 The Umbrella Academy (Netflix)
As an adaptation of the comic book, I wasn't entirely thrilled with how The Umbrella Academy turned out. As an entertaining show in its own right, however? I think they did a really good job with it all. Smartly cast and written, there are a few too many wasted moments that make for an uneven first season, but I was entertained for most of it. You certainly can't say that about most television now-a-days.
#15 The Righteous Gemstones (HBO)
The series went out of its way to show that hypocrisy and corruption by churches ultimately ends with punishment, so why are so many Christians going bonkers over it? Unless they feel their church is hypocritical and corrupt and they don't like being called out on it? You got me. All I know is that John Goodman and crew made an entertaining show with some truly hilarious and priceless moments to savor.
#16 The Imagineering Story (Disney+)
As a kid, I was far more fascinated with how Disneyland works more than anything else. The magic of the place for me was not in the characters and the stories but in the miraculous way that Disney made it all work. And here comes a series which celebrates exactly that! My only complaint? It didn't last long enough. While they did a fine job of presenting a scattershot view of a number of things, so many avenues were glossed over or ignored entirely. I have no idea if Disney is planning on another set of episodes, but they really should. For people such as myself, that's the magic.
#17 Star Trek: Discovery (CBS All Access)
The first series of the past-future Star Trek series was fantastic. The story was shocking, smart, and superbly handled. There were some confusing aspects to how this fit in with the continuity of the bigger picture, but it was so good I didn't ask too many questions. Then the second season comes along and tries to answer those questions and all of a sudden we're shitting the bed with a massively convoluted storyline that had me lose interest in the show. Except... we also got an appearance by Spock, Pike, and the gang from the original Enterprise which was sublime. So good that it covered for a multitude of sins that made me dislike everything else so strongly. And now I really, really want a new Star Trek featuring the Enterprise crew... even more than I want a third season of Discovery. Here's hoping that Michelle Yeoh's spin-off is more interesting that what we had here.
#18 The Conners (ABC)
If you had asked me if Rosanne could continue on without Rosanne, I'd have said "no." But then it arrived and worked just fine. Then a second season came and seemed to be even better. Now I'm convinced that what we're seeing is better than the rebooted series ever was. If there's a flaw, it's focusing way too much on Harris and her annoying problems. Yes, I know she's supposed to be the payback for Darlene being Darlene back in the original series... but Sara Gilbert always managed to play her character with a sense of heart and honesty that made her endearing. Harris is just overt awfulness and a drag on absolutely everything else being done so well. My hope is that she will either mellow the hell out or disappear entirely, because I'd love to enjoy another season.

MUST SEE COMEDY...

#1 Nate Bargatze: The Tennessee Kid (Netflix)
The fact that Nate Bargatze is this dang funny is remarkable. The fact that he manages to be that funny without using any swear words is bordering on a miracle. Trading on expectations for The South, this is a far, far smarter and funnier than anything you'll see come from Larry the Cable Guy. Or, dare I say, Jeff Foxworthy. Not only my favorite standup special of 2019, probably my favorite in years.
#2 Ellen Degeneres: Relatable (Netflix)
Thank heavens for Netflix backing up a dumptruck full of cash to Ellen's house so she'd bless us with yet another hilarious bit of standup. It's been far too long, and seeing this just makes me regret that her daytime talk show occupies such a major portion of her time. Ellen really needs to be doing more standup, and all the reasons why are right here.
#3 Anthony Jeselnik: Fire in the Maternity Ward (Netflix)
Look, not everybody is going to "get" Anthony's comedy. He works overtime to be offensive, owns that he's offensive, and builds his entire routine around being offensive. This time he's bringing it just as hard as he always does, but I have to admit it's getting a little tired. But I will gladly keep watching everything he does because I know I'm sick enough to find it hilarious.
#4 Ramy Youssef: Feelings (HBO)
Ramy, AKA "That Muslim comedian that's not Hasan Minhaj" has a show on Hulu that's darn good. But I had never heard any of his stand-up until Feelings. As expected, it's darn good. Really smart, blisteringly funny, and wonderfully relatable. The ever expanding diversity of voices which make us laugh is no small thing. Our humanity is what binds us together despite our differences. What's more human than to laugh? And feel how you want to feel about it, but his final thought in his special is the most powerful thing to happen on your television this year.
#5 Wanda Sykes: Not Normal (Netflix)
Wanda's earliest specials were like dynamite and quickly propelled her to one of my favorite comedians working. I bought every special she released and laughed over them again and again. As time has marched on she hasn't gotten any less funny, but I am not as enamored with her material. Motherhood and marriage are just not as funny to me. And yet there's a whole lot of hilarity to be found in Not Normal.
#6 Dave Chappelle: Sticks & Stones (Netflix)
Yeah, I put it on my list. No, it's not as smart or insightful as his previous works. Yeah, a lot of people were offended. No, I don't think the material was as horrific as people were saying. Yeah, I respect people's opinion and 100% believe in their right to express their opinion. No, I still found it funny.

TELEVISION HONORABLE MENTION...

Russian Doll (Netflix)
Natasha Lyonne? I had no idea. She is positively brilliant in this show which has time travel and alternate realities but isn't about being hardcore sci-fi. I do think that they were a little too obtuse on some points, which is probably by design... but the show took a hit because of it for me.
Taco Chronicles (Netflix)
The history a lives around six different types of tacos in Mexico. It's fascinating, entertaining, educational, and really good television.
New Amsterdam. (NBC)
This started out as the most laughable, ridiculous show. Then quickly became good television. Now in its second season, it's better than ever as it comes up with interesting stories and great ways of telling them.
When They See Us. (Netflix)
I was pulling really hard for Ava DuVernay when A Wrinkle in Time came out. She's a truly talented filmmaker and I'd love for her to have mainstream success with a Disney movie. That didn't work out. At all. But here she is with a show that is brilliant and powerful and I am absolutely not surprised. Detailing the lives around the "Central Park Five" who were wrongly accused of rape in 1989, you will either see this and be upset... then outraged. Or you won't. But I have to say that if you're not, that's on you.
Chernobyl (HBO)
This was disturbing in a way that most fictional television programs can't approach. Based (for the most part) on real life events Retelling the events of the 1986 Chernobyl disaster and the cleanup efforts that followed.
Good Omens (Amazon)
After a demon and an angel have become happy with their lives on earth, they decide to prevent Armageddon and the end of the world so they don't have to leave. This is a darn good adaptation of the Terry Pratchett and Neil Gaiman novel (probably because Gaiman adapted it) which actually adds to the story in ways that are important and entertaining.
Grand Hotel (ABC)
This American adaptation of a Spanish drama had a lot of twists and turns and was always introducing something new to keep things interesting... right up until the end when it was canceled on a cliffhanger. Why oh why don't shows wrap up their storylines when they don't know if they are getting another season?

DISAPPOINTMENT...

The Good Place (NBC)
What the fork happened? This final season has been so absurdly boring and uninteresting that I honestly don't care if it's all leading to something. I stopped watching half-way through, and will just tune in to the final episode to see how it all ends.
Reef Break (ABC)
Started out okay... got real good... then became tedious and uninteresting.
The Rookie (ABC)
Completely lost its way after the departure of Afton Williamson... which is not surprising considering why she left.
God Friended Me (CBS)
If I have to hear lazy writers making characters say "THE GOD ACCOUNT" one more fucking time I will absolutely lose it. I really liked this story in the earlier episodes of the first season, but they had completely gone off the rails by the end of the series and there was no way I was giving the show any more of my valuable time in a second series.

SHITTING THE BED...

Game of Thrones (HBO)
Absolutely humiliating final season for HBO. One of the most beloved series of all times goes steadily downhill until this final season which was rushed to completion by writers who didn't give a fuck and just wanted it all to end. I feel mortified for the cast who devoted nearly a decade of their life to a show that went out so badly.

GONE BUT NOT FORGOTTEN...

Wrecked (TBS)
For the life of me I don't understand how this wasn't one of the most popular shows on television. Funny, dark, and 100% entertaining in a way that so many shows are afraid to try. I will really miss this series.
Whiskey Cavalier (ABC)
The cast made this show absolutely unmissable, and the stories they had were never terrible but didn't quite achieve greatness either. I honestly think that everything would have come together beautifully in a second season but, alas, it was not to be.
And, on that note, here's to all the crap shows that will end up replacing good shows in the new year.
Posted on Sunday, December 29th, 2019

While I'm sure there's plenty of new music that I didn't find in 2019, I wasn't really looking for it. More and more I find myself retreating to old favorites rather than seeking out new stuff to enjoy. 80's pop, classic old-school rap, and 80's metal were all reminders of easier times, and that was where my refuge lay. So here is what's sure to be a very thin list, but it's what I managed to think of when asking myself what my favorites of 2019 were.

#1 Lover by Taylor Swift
I tend to ignore Taylor Swift, only becoming aware when one of her songs grabs me while listening to internet radio or something. But then Taylor performed the song ME! At the Billboard Music Awards with Brendon Urie, and she instantly became impossible to ignore. Not only was it a great pop song, but the spectacle which accompanied it was fantastic. Then she released You Need to Calm Down, along with a star-studded video that completely delivered as a follow-up. Taylor's reign over 2019 was sealed. Filled with pop songs that kept me asking Alexa to play the album over and over again, this was my favorite of 2019 and I make no apologies for it.

#2 Work by Holy Ghost!
The self-titled debut album from Holy Ghost! Was almost too good to be true. It came along at the right moment with the right pop sensibilities and struck a chord that has infused the album on my psyche. I thought for sure the second album would be a disaster because isn't that the way it always goes? But it wasn't. I loved it just as much. And here we are with album number three... and it's a darn good effort too. The duo have found their groove and seem to be content to stay there, which is not the bad thing you'd think it should be. Yeah, all three albums could have been released at the same time and don't really show us anything new, but at a time where I was grasping for something older and familiar, Work fit the bill perfectly.

#3 Dedicated by Carly Rae Jepsen
It's premature to say that she peaked with her previous album, E•MO•TION, but Carly Rae Jepsen's latest effort fell slightly short of my lofty expectations (seriously, E•MO•TION is a phenomenal pop album!). Sure, some of the tracks are what I had been missing in my life, but some of them kinda fall kinda flat for me too (I detest Everything He Needs with its repetitive hook and wacky synth bends). If I had to analyze things, I'd say that she's gone with a slightly more mellow/weird vibe on those songs? Even so, I had this album playing an awful lot throughout Summer 2019 and since it has 15(!) tracks, it's still got a heck of a lot of terrific music to offer.

#4 Saves the World by MUNA
I played MUNA's debut album to death. So to say that I was looking forward to their follow-up is an epic understatement. And while I was happy to have more from the band, they took a bit of a departure that kept me from loving the entirety of Saves the World. Maybe it's a touch too introspective and brutal for my tastes? I dunno. Still, the band proves that they're not fading away any time soon. They know how to craft lyrics, marry them to a beat like nobody's business, and keep me coming back. I just wish it was back to this album more than the first, which is still the one I am playing all the time.

#5 Father of the Bride by Vampire Weekend
Many a time I'll find myself thinking "What the heck ever happened to Ezra Koenig?" 2019 finally answered that question after a six year gap from the previous album. It's filled with all the things you could want from Vampire Weekend including that one track that you have to skip every time the album plays (ironically, this time it's the title track and first song). In some respects, this is my favorite of four albums Koenig has blessed us with... though it could be I've just been so starved for them for so long.

#6 Fine Line by Harry Styles
While former One Direction boy-banders Liam Payne and Harry Styles both released an album in 2019, Liam's kind of went off the rails (he needs a stronger producer to figure out where he's going)... whereas Harry's had actual direction that was shaped to fit his talents perfectly. While his is not my favorite type of music, I did greatly appreciate what came out of Fine Line and found myself listening to it more than I ever thought I would. That surprise is why this ranks so high on my list. I just wasn't expecting this... not from Harry Styles (the redundant awfulness of the title track excepted, because holy crap is that bad).

#7 Hurts 2B Human by P!NK
I like P!NK best when she embraces pop music and unleashes the songs that play to that genre. Unfortunately she is "maturing" and these last two albums seem more interested in having something angsty and dramatic to say instead of being the big poppy fun I love her for. This time around we get a lot of duets, which is fine but, unlike her collaborations with Nate Ruess and Lily Allen, her tracks with Wrabel and Khalid bored me (holy crap, the angst!). Precious few tracks stand out from her oeuvre in any meaningful way, but when you're talking about P!NK, that's not a tragedy. She still knows how to craft a really good song.

#8 Inflorescent by Friendly Fires
Ask me to name a song by Friendly Fires, and the only one I can guarantee will enter my head is Skeleton Boy from their debut album. Everything after that is a blur, including this album, and it's perfectly fine. I'm in the mood for their brand of mellow pop sensibility far more often than I feel is healthy.

#9 Thank U, Next by Ariana Grande
Theoretically speaking, I should love Ariana Grande's music a lot more than I do. Alas, while I've liked all her albums just fine, they never quite take me where I need to go to "stick" with me. Thank U, Next does a better job than most, however. Her voice is as good as ever and the lyrics are well-crafted. As if that wasn't enough, her video for the title track is nicely self-aware, parodying Clueless, Bring it On, and Legally Blonde, to flawless effect.

#10 Cause and Effect by Keane
What's funny is that when I happened upon Cause and Effect, my excitement was over the moon at the idea that the BAND Cause and Effect had released new music! I love their stuff, but we haven't heard from them in nearly a decade. But anyway... this was a new album by Keane, which has been a band that I lose enthusiasm for with each passing album. They peaked with songs off of Hopes and Fears and there hasn't been another Somewhere Only We Know or Everybody's Changing since. Not that I want them to keep repeating themselves, but none of their later stuff seems to grab me (and yet I will happily listen to their first effort over and over). This, their fifth studio album, I enjoyed more than the previous two, but it still feels like they are relying on soaring vocals to sell the songs instead of catchy hooks and interesting melodies. I dunno. Maybe in time I'll appreciate Cause and Effect more, but for now it's a happy distraction from time to time instead of the obsession it should be.

FAVORITE VIDEO OF 2019 • Thinkin' Bout You by Ciara
Not only is the song fantastic, Ciara's video for it really makes it memorable for obvious (and not so obvious) reasons.

FAVORITE MISSING IN ACTION OF 2019 • Chasing Stars by Postiljonen
Apparently this song was released in late 2018, but I never heard it until early 2019. I fully expected it would be followed by a new album this year, but it was not to be. I have no idea if this is a leftover song or what, but a new album from one of my favorite bands can't get here soon enough.

FAVORITE ANTICIPATION FOR 2020 • Hotspot by Pet Shop Boys
One of my all-time favorite bands seem to churn out albums every three years like clockwork (give or take). Since Super dropped in 2016, it was only natural to expect that we'd see another hit in 2019. Instead it's coming next month, which is more-or-less on schedule. Problem is... I haven't been able to fully embrace a Pet Shop Boys album since Yes (which is likely my second favorite after Please). It seems like I have been able to take half the songs off of one album (like Elysium) and combine it with half from the follow-up (like Electric) to get a full album's worth of songs I love. Since Super was essentially in the same boat, I'm guessing I'll be loving half of Hotspot as well. Still, even the worst tracks from Neil and Chris are going to be leagues above most songs released in 2020, so I'm understandably excited about it.

Here's hoping I find a renewed passion for new music in 2020.