Posted on Tuesday, December 4th, 2018

Originally I was to fly home on Thursday. This "buffer time" was in case weather caused me to arrive late or there was a problem at work that delayed my leaving by a day or two. Well, there were indeed problems at work (we started four hours late) but, fifteen hours later, I was free.
Exhausted to the point of feeling like my brain had melted. But free.
So instead of waiting until Thursday night to fly home, I rebooked my return trip for tonight. I lost my premium seat, but I'll take getting home two days early in a coach seat any day.
After two days without sleep, I managed to sneak in a four-hour nap at my hotel before they kicked me out. Then there was a 45-minute drive down to Portland for dessert for lunch...
Followed by shopping for new Dr. Pussum's Organic Maine Catnip toys that my cats go crazy for...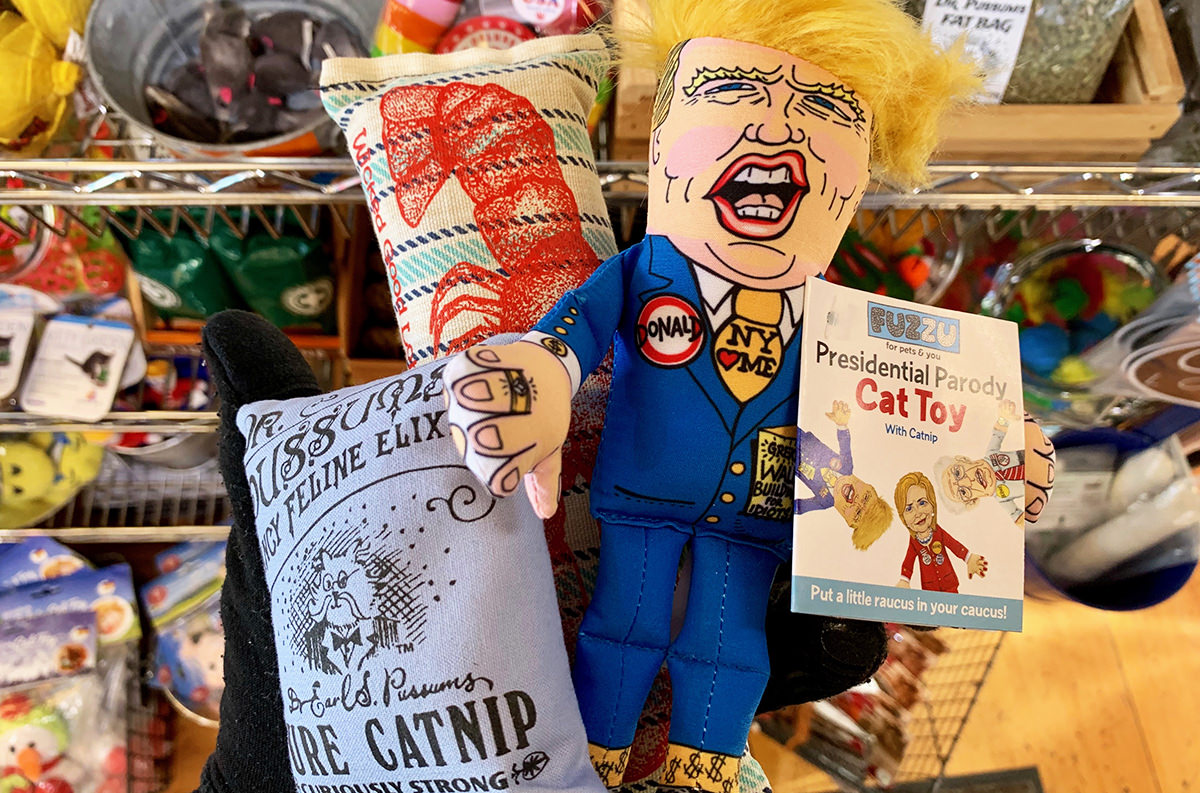 And, no, I decided against buying a President Trump toy. If Jake and Jenny want to play with something like that, they can dig in the litter box.
The remaining 100 miles to Boston Logan International Airport blew by in two hours and... viola... here I am flying home... TWO DAYS EARLY! Can you believe my luck?
Sure I'll get home after midnight and still have to go to work in the morning, but still... home.
Posted on Monday, December 3rd, 2018

When traveling in the winter... especially a place with the possibility of a notorious winter like Maine... I always add a day before and after my work dates so I can be sure I'll still make my start-time if there's a weather delay. This time I got my start-date too late to have much choice in my flights. This means there was no getting here a day early. If a problem pops up then I'm probably screwed.
So of course air traffic into Seattle last night was slowed down, which meant I'd be landing late and might miss my connecting flight to Boston. Then they moved up the flight to Boston, which made it even more likely I'd miss it.
Lucky for me, my arrival gate was right next to my departure gate and I managed to make it onboard ten minutes before they closed the door. Thankfully I didn't have to check any luggage.
After landing at Boston Logan International Airport, I retrieved my rental car so I could drive 2-1/2 north to the job site. But first? Breakfast.
Usually I just stop at McDonald's for an egg & cheese biscuit. They aren't great, but they are edible (unlike Burger King's shitty Croissan'wich). My biggest problem in eating at McDonalds is that most of them don't know how to ring up an egg & cheese biscuit. They ring up a bacon, egg, & cheese biscuit and remove the bacon. This is hardly fair because I end up paying for meat I don't eat.
But here in New England, Panera Bread restaurants are plentiful. This means I don't have to eat at McDonald's and can get one of Panera's "Egg Over Easy with Cheddar on a Brioche Bun"...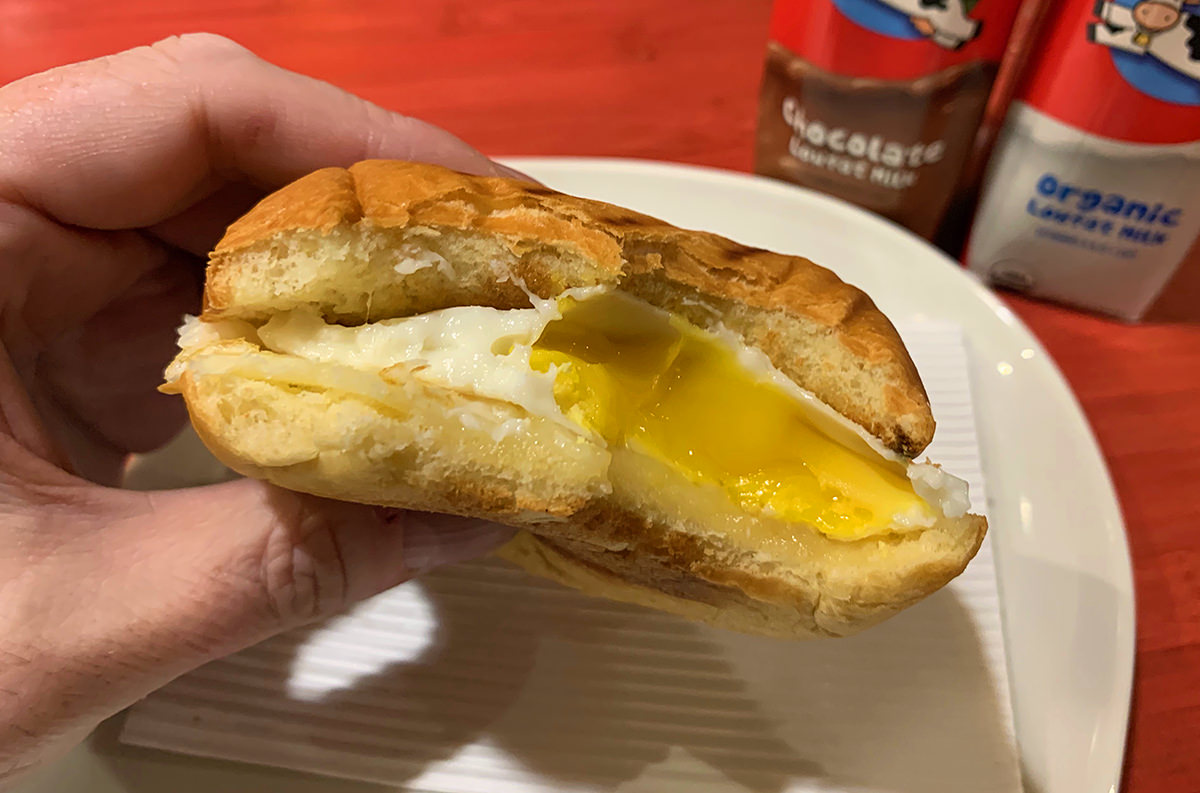 So far as breakfast sandwiches go, I've found nothing better...
The brioche bun is incredible. Light, airy, and holds up as you eat it. Unlike the McDonald's biscuit which falls apart easily, gets gummy when the moisture from the egg hits it, and sits like a brick in your stomach.
The over-easy egg is gooey and creamy and has fantastic flavor. Unlike the McDonald's eggs which are reconstituted powder that taste spongey. You can substitute a better "round egg" at McDonald's (which is an actual egg), but it's hard-cooked and rubbery.
The white cheddar that Panera uses is a bit sharp so it has a nice "bite" to it. Pairs wonderfully with the egg and isn't the least bit waxy. McDonald's, on the other hand, uses a lower-quality American cheese which is kinda bland and waggy. It doesn't add much to the flavor profile and, if the egg is overcooked (which happens all the time), it actually makes things worse because it's so flimsy.
All-in-all, my highest possible recommendation if you're near a Panera and are hungry for breakfast!
I had a few hours before work started, so I took a nap. Or, more accurately, I tried to take a nap. It was one of those bizarre situations where I was so exhausted that I was having trouble sleeping. No idea how that works, but it's incredibly frustrating.
And now... I'm at work.
Where the internet is broken, which means that this will have to be posted when I get back home.
Five hours down, eleven hours to go...
Posted on Sunday, December 2nd, 2018

December is here and you shopping days are numbered. But don't despair... because the greatest gift of all is here! Bullet Sunday starts now...

• Cap! I didn't think it was possible for me to want to see Captain Marvel more than I already did... but then this poster was released...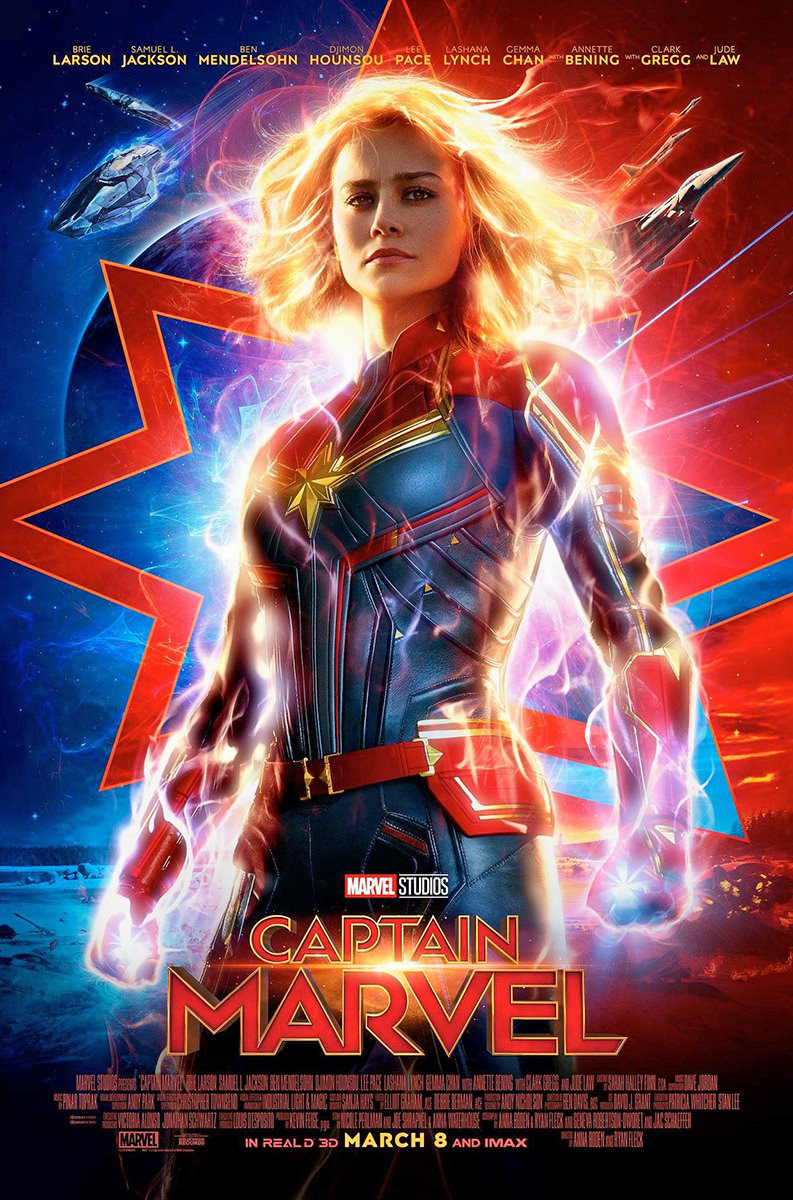 UPDATE: And then the second trailer was released...
And holy crap am I dying to see it now!

• SO CUTE! And now I want kittens! Again!
But... Jake and Jenny are plenty of cats in my house, so I'll just have to keep watching YouTube videos like this.

• A Catch! Speaking of cats and YouTube... my current obsession is watching cats catching fish videos...
Amazing. I don't know why I always thought that fish were an unnatural food for cats. Something that we humans got them addicted to. Maybe because most cats don't like water? But now that I've seen it? Makes perfect sense.

• Becoming! I purchased the audiobook of former First Lady Michelle Obama's Becoming because I wanted the experience of having her read it to me. I'm half-way through and it does not disappoint...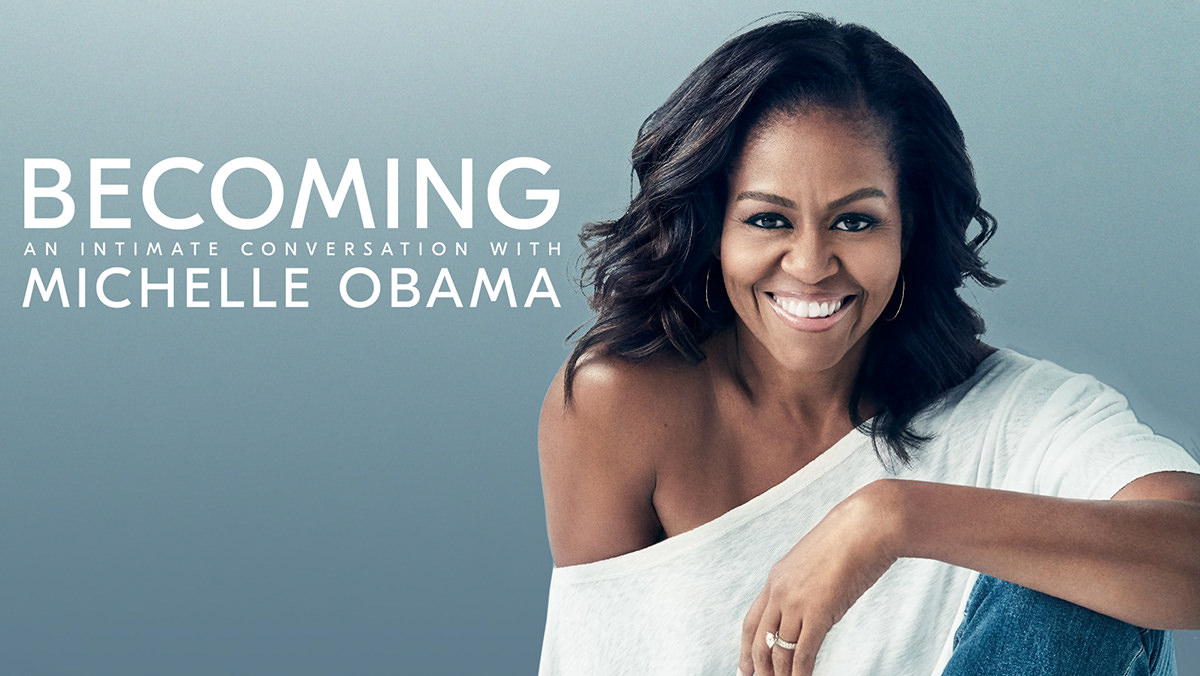 Of course Obama-haters were going to crap all over her no matter what she wrote... and people hoping for dirt will be better-served elsewhere... but I enjoyed going behind the scenes of her life from her own perspective. Mrs. Obama's ability to advocate for hope is inspiring, and I found her words was a welcome distraction.

• IN THE NEWS! "REPUBLICAN SENATORS WHO TRIED TO KILL YEMEN WAR RESOLUTION WERE PAID BY SAUDI LOBBYISTS" — We truly do have the best government money can buy. This is fucking disgraceful. For the life of me, I don't understand why Americans aren't rioting in the streets over this bullshit.

• A Man Called Ove! I've seen this remarkable Swedish film four times now. I think I love it more with each viewing...
I honestly don't know how to feel about Tom Hanks doing an American remake. Usually Americanizing a foreign film doesn't bode well, but... Tom Hanks. I want so badly for it to be good. If, for no other reason, that Americans who don't like watching films with subtitles will get to see this terrific story.

And that's the end of that. Fun times await me, as I'm flying out tonight.
Posted on Saturday, December 1st, 2018

After Jake got back from his procedure to get his urinary tract unblocked, he was peeing a dozen times a day. You could tell he was frustrated and upset about his many, many trips to the litter box, but the medications we tried didn't do much to help. Rather than put him through even more torture of shoving medicine down his throat, I decided to be patient.
Two months after I first took him to the vet... and he's finally back to peeing normally. For the past week the Litter-Robots have been reporting 7-8 cycles per day. When dividing that between two cats, it's 3-4 times a day per cat, which is right where it had been before all this drama started.
To say I'm relieved is an understatement because I'm leaving for a short trip tomorrow. Yes, I've got a cat-sitter checking in and, yes, I've got a security system to keep them safe and cameras to look in on them... but it's not the same.
A part of my cat separation anxiety comes from feeding them. My original auto-feeder, the Feed-and-Go, was bricked and became non-functional when the monsters who made it shut down without warning anybody. Despite how it all ended, I liked the Feed-and-Go because it allowed me to remotely feed my cats if I noticed that Jake ate all of Jenny's food before she got to it or something. I've been looking into other internet-enabled feeders, but haven't found one I like. I bought a timed feeder ages ago as a backup, and decided to try that. I was going to order a second one, but apparently there's no way to sync their clocks which means you end up with one activating before the other. The solution was to buy a "splitter" that will feed two cats from the same feeder...
Problem is that the bowls are too close together, and sometimes Jake can block Jenny from getting to her meal. Also, the drop to the bowls is so high that food was bouncing out of the bowls and onto the floors. My solution for that was to build little chutes to transfer the food farther away...
All it took was cutting the drip well from a couple black plastic paint roller trays I found at Home Depot and taping them to the splitter. Not only does it allow the bowls to be farther apart, the change of angle slows the food pour so it ends up in the bowls instead of bouncing out onto the floor.
In other cat news, I noticed that Jenny has a floopy whisker that curls up. I think it might be due to her digging her face into the edge of the warming pad and laying there for hours. And she sleeping in the same position every day...
I've tried curling it back down, but it doesn't stay. She doesn't seem bothered about it so I guess it'll be that way until it falls out.
Jake, on the other hand, flops around every-which-way when sleeping, so he's floopy-whisker-free...
And so... guess I'd better be packing my suitcase.
Posted on Friday, November 30th, 2018

When it comes to working on my home, painting is easily the chore I loathe the most. But I don't really have much choice. I had to put a second coat of paint on the wall I repaired two days ago, and decided to take the opportunity to do some touch-up throughout the house. I had some nail holes to fill, a scrape to repair, and a small tomato sauce stain on my kitchen wall to cover up. Oh... and one more thing as well.
When I put up the cat trees in front of two of my windows, I didn't want the cats getting caught up in the blinds, so I removed them. It was then I discovered that the painters didn't bother to take them down when they painted. Which means the only window insets that got fully painted were the ones upstairs (because I removed those). All of them downstairs window insets were left in place. Which makes absolutely no sense at all. But that's pretty much par for the course with the contractor I hired, so I'm not surprised.
When it comes to painting, there is one rule that is absolute...
If you spend the time to mask and cover everything, you won't spill a drop and won't accidentally get paint where you shouldn't. If you don't spend the time to mask and cover, you will get paint on all the things you don't want paint to get on.
Every time I risk not masking, I regret it. This time I masked everything except the wall with the scrape behind my front door. Sure enough, I splattered paint all over my baseboard and my floor.
Will I ever learn?
Probably not.
Which is why loathe painting so much.
Posted on Thursday, November 29th, 2018

I have been incredibly fortunate to have visited many places on this earth. I made travel a priority in my life and, for better or worse, that's where much of my money, energy, times, and thought has been devoted. Despite missing out on some things I would have liked to have done with my resources, I have no regrets.
A year ago today I petted my cats goodbye and drove to Seattle for the night. The next morning I would head to the airport where I hopped a flight to Atlanta, then changed planes to Buenos Aires. It was the beginning of my trip to Antarctica, a journey I had been dreaming of for decades.
So far as vacations go, it was all I could have hoped for...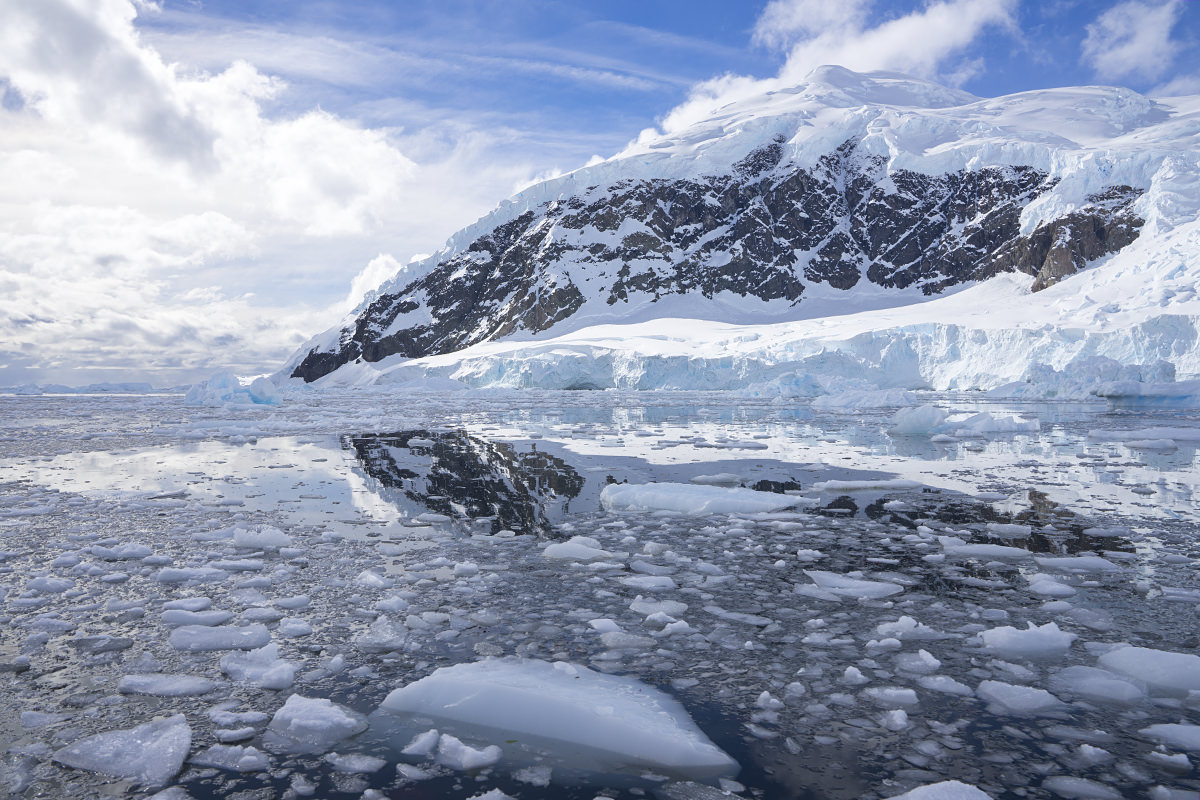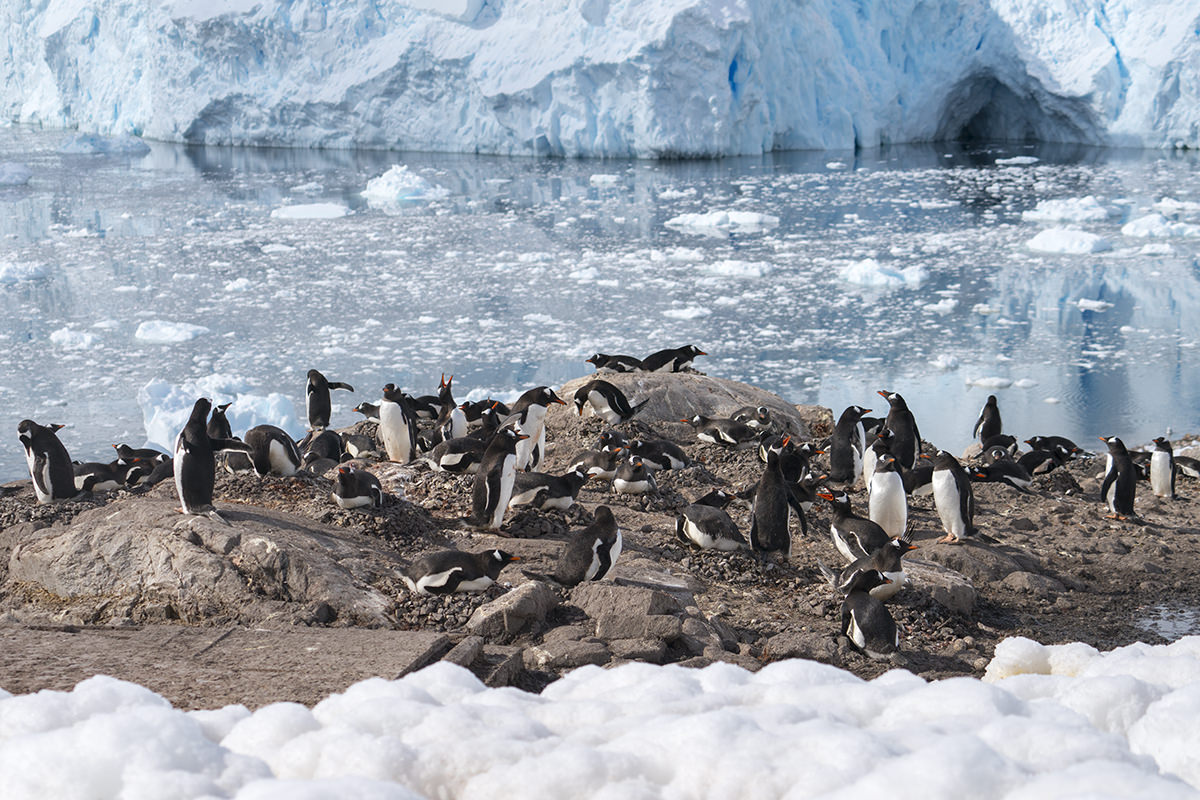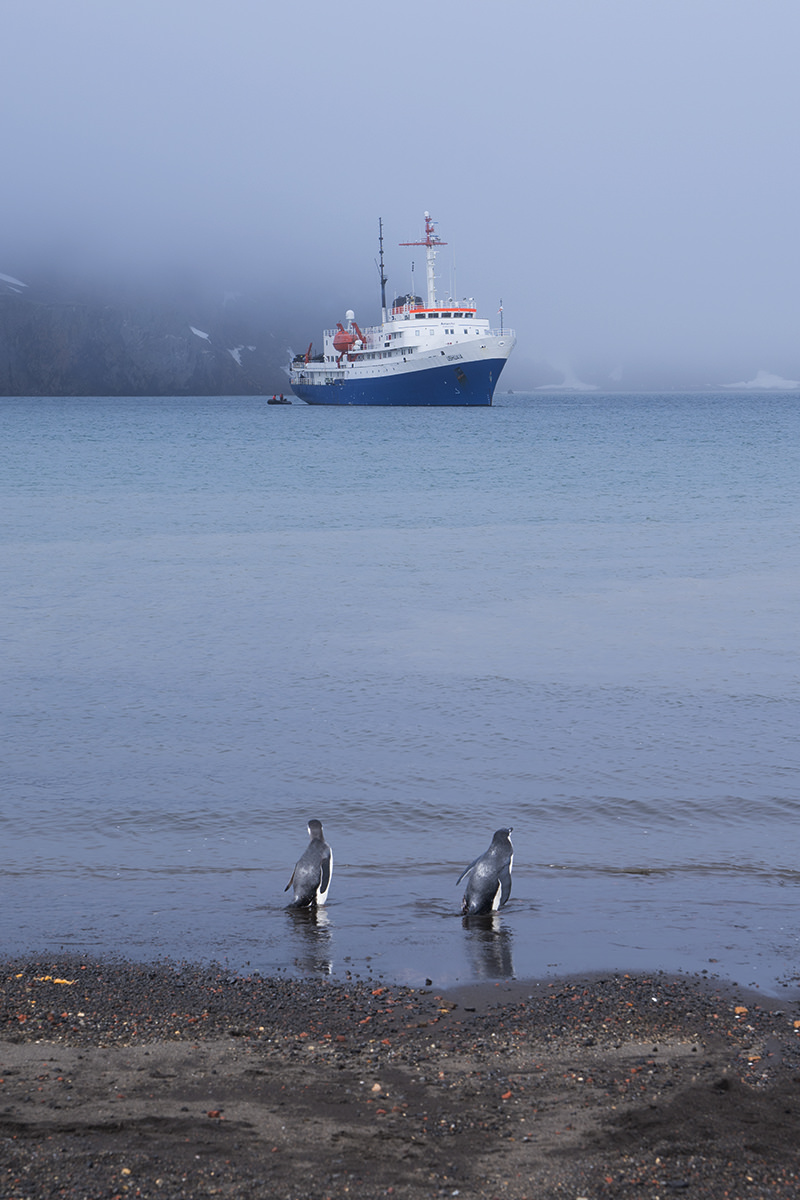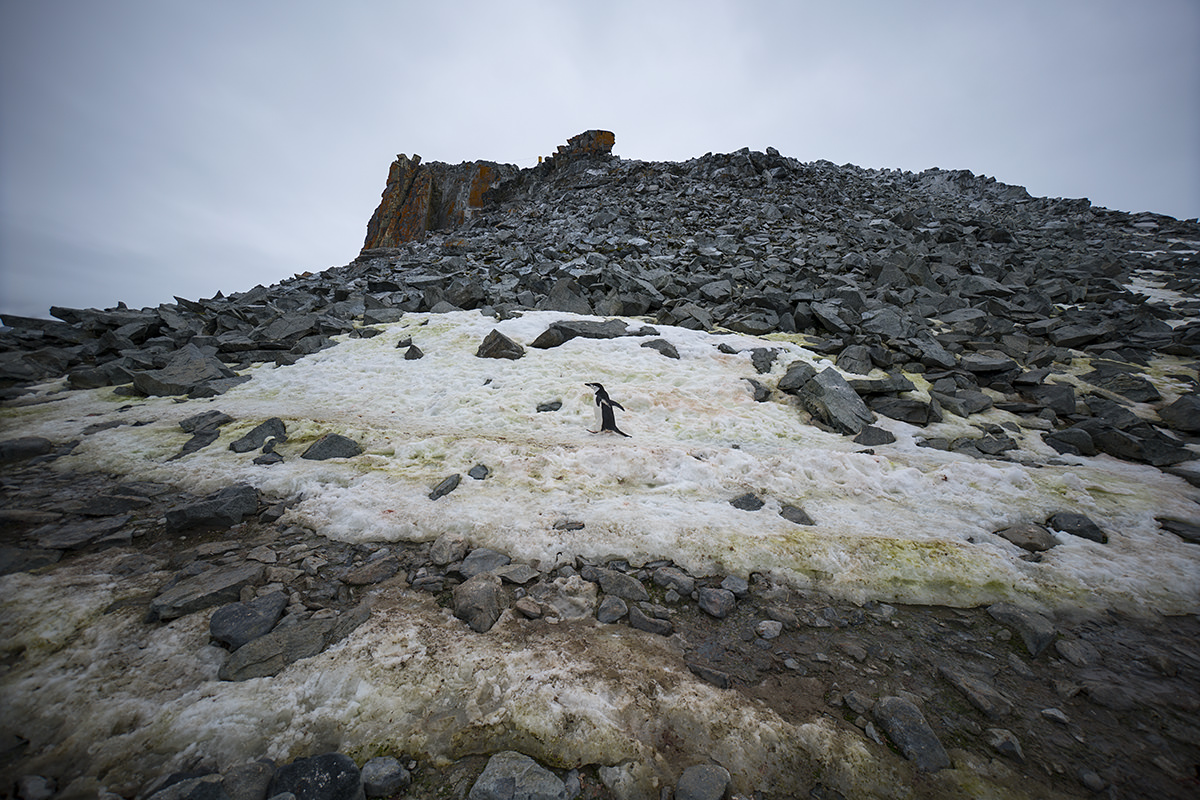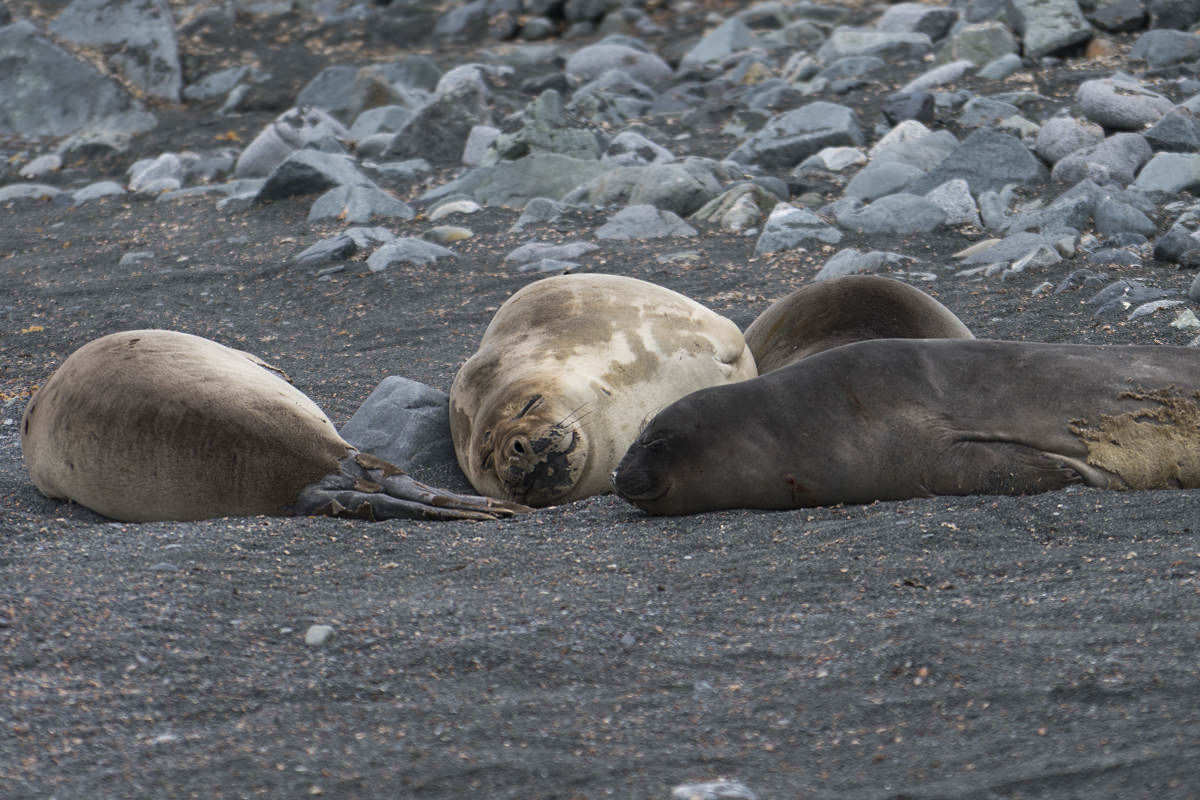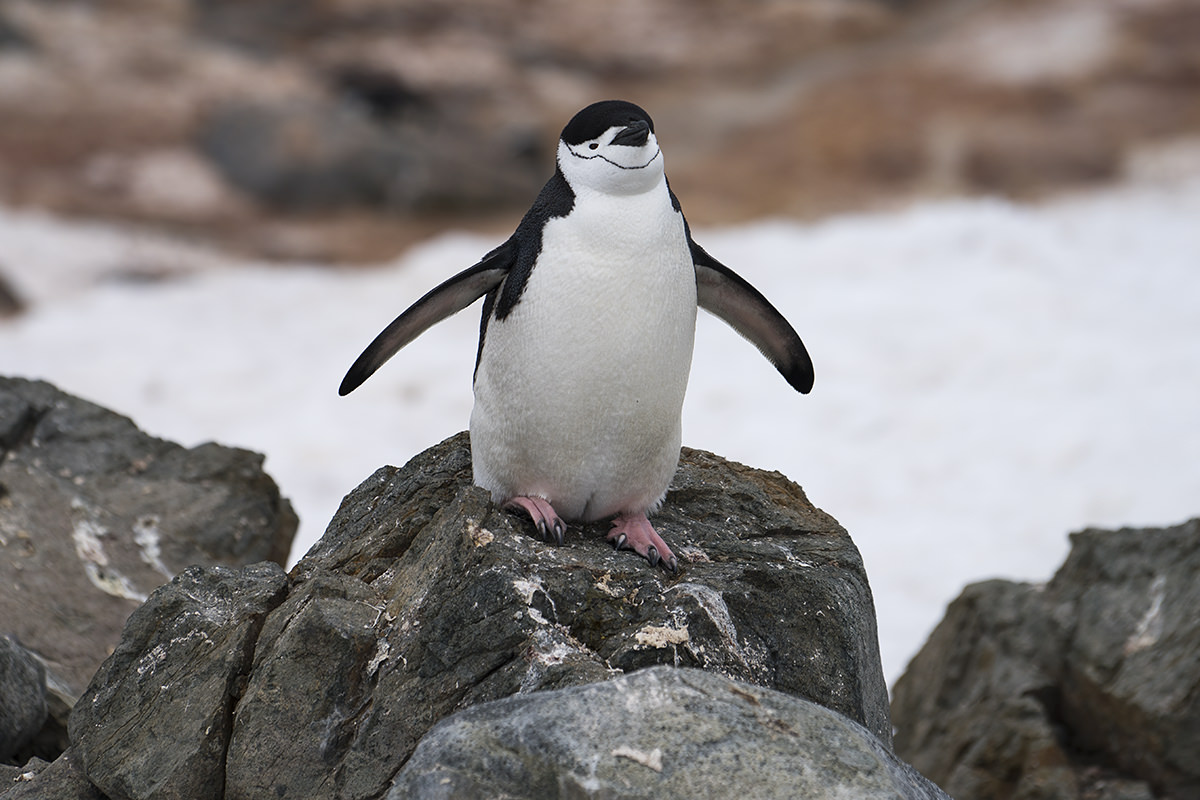 There are many, many places left on the planet I would like to visit. Earlier this year I finally made it to Budapest and Vienna, which have been on my bucket list for ages.
But where to next?
I look at my travel map and think about that question often. The Big Three left are India, New Zealand, and Peru/Galápagos. I'd also like to visit Jordan/Israel, the Brazilian Rainforest, Russia (particularly St. Petersburg), Nepal, and the Norwegian Fjords. And I'd really like to go back to Africa to see gorillas in Uganda.
Except...
Now I have a mortgage. And while I could sell my home, find a place to rent, and use the money to check off the rest of my travel dream list... that's not where my head is at. Right now I'm perfectly happy staying home, doing my woodworking projects, hanging out with my cats, and leaving those big trips behind. I still have to travel for work, and that's more than enough. I can always add a few days to those trips here and there to explore new places.
Maybe one day I will change my mind and finally get to those two weeks in India. Maybe that day is tomorrow. I don't know.
But if that day never comes, Antarctica was certainly a fantastic trip to go out on.
Posted on Wednesday, November 28th, 2018

When I bought my home, there was a lot of remodeling that needed to be done so that my mom would be safe living here. She couldn't walk on carpet very well, so I had to replace all the flooring with hardwood. She couldn't use the showers because there was a lip she'd trip over, so I had to put in a zero-entry pan. I had to remodel the stairwell railing so she wouldn't fall down the stairs. It went on and on. And that's not even touching on some of the cosmetic things I wanted to change (the sponge-painted accent walls had to go).
When it came time to hire a contractor, I had to be sure they were available ASAP and would do high-quality work. I ended up going with one of the most expensive options, but I felt I'd get what I paid for. My mom's safety was worth more than money.
After the work was completed, I was fairly happy with everything. I ended up being more expensive than quoted... took longer than quoted... and was one of the most frustrating things I've ever done... but it's all good.
Then I started living with it and noticing things.
Fixtures were crooked. Workmanship was shoddy. Paint bled onto my floors. And these were not isolated incidents... they were everywhere. I paid a premium price for shitty work.
Which meant I had to remodel my remodel. I started with the horrific job they did on my "California corners" on my baseboards. Instead of being sanded smooth, they just painted over their shitty mis-matched bullshit...
Then back in August I saw that the paint was sagging off the wall of my guest bathroom...
Upon inspection I noticed that the texture which was still stuck to the wall was applied badly. They didn't bother to sand down the patchwork they applied after ripping the mirror off the wall...
Not only that, but they didn't bother to match the texture that was already on the wall. There are no less than six texture patterns across the whole bathroom along with ugly smooth spots where they didn't apply texture at all...
This is infuriating.
Everything is so messed up that the only realistic way to fix it is to scrape everything off, sand it all smooth, then start over from scratch.
I don't have time for that right now, so I started removing the texture that was sagging. The reason it was sagging is that they didn't sand off the paint from the previous texture, so the new texture couldn't stick to it...
And then something horrible started happening. The patch material that they used where the mirror used to be (and didn't sand down) was starting to turn to power. The texture would peel off the wall with the slightest scrape of my putty knife...
Even worse? As you can see, chunks of the patchwork was falling out of the wall as well.
What a fucking joke. My contractor's team did the shittiest job possible and apparently didn't give a crap that it would fall apart within two years. Some of the repairs were so badly applied that I had to cut them out of the wall so it would flatten out.
After scraping practically the entire wall and sanding around the area that fell off, I was ready to tape off everything and re-texture...
Despite coming from a can, the new texture went up easy. I dare say that my effort matched the walls better than the various textures my contractor used...
After painting, the wall looked far from perfect... but at least it wasn't sagging and flaking any more...
Maybe next Summer I'll be able to take a week off work, pull out the fixtures and furniture, strip everything down, then do a proper repair. In the meanwhile, this will have to do.
I remain dumbfounded that people don't seem to take pride in their workmanship or build anything to last anymore. The only way to make sure of anything now is to do it yourself.
Posted on Tuesday, November 27th, 2018

How could I ever be lonely?
I'm never left alone for very long in this house.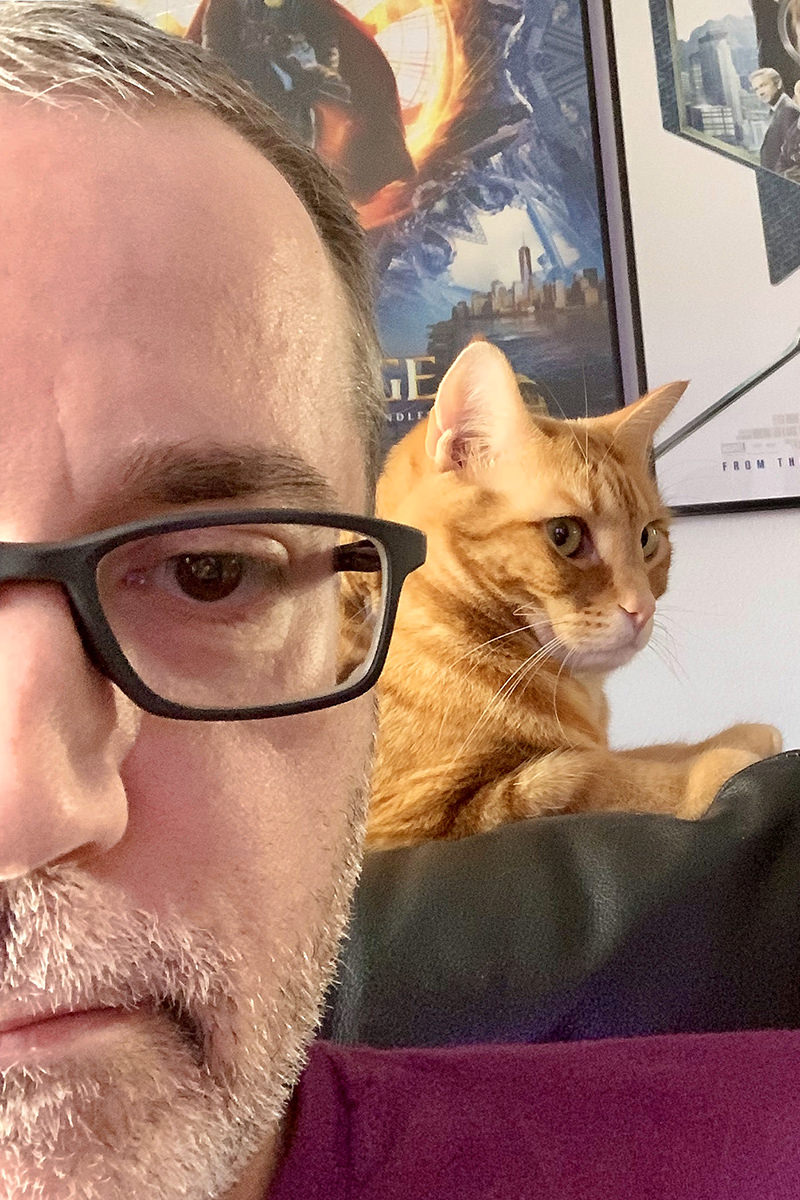 Posted on Monday, November 26th, 2018

I was upset with myself for going into credit card debt to buy the Sonos SUB (subwoofer) to complete my Dolby 5.1 setup... but couldn't pass up the $100 Black Friday savings. The thing is SEVEN HUNDRED DOLLARS and knocking a Benjamin off the price was just too good to be true. Even if it means that I've spent my tax refund before I've even seen it.
Now that I have it installed though? Amazing. Absolutely amazing. No regrets. Totally worth the three months' worth of groceries this thing cost me.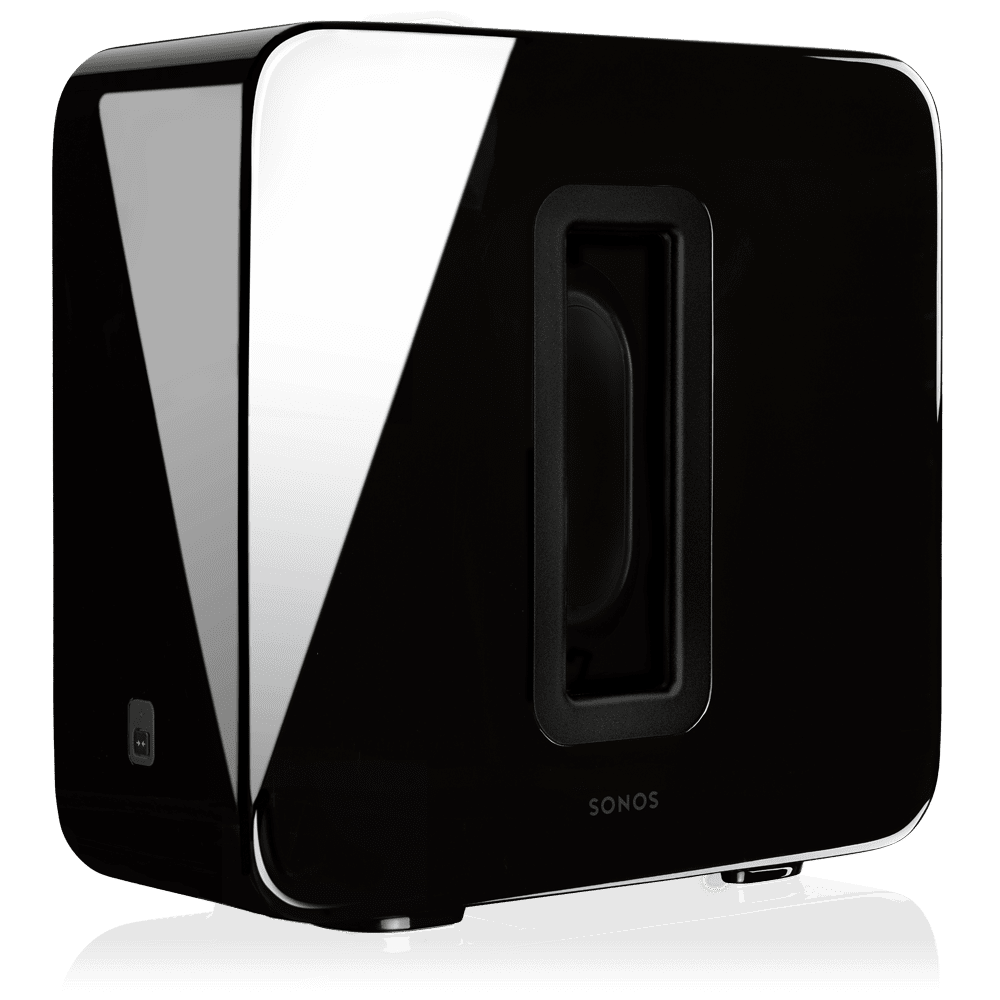 I knew that adding a subwoofer would give me better bass. I had one with my old audio system, so I knew what to expect. What I didn't expect is that Sonos would take the bass load off my front and rear channels so they can focus on producing bright, crisp midtones. Movie dialogue is phenomenal. My music is more alive. The room sounds bigger, fuller, and sound fills the space better. Acoustics with the SUB enabled are drastically improved.
As expected from Sonos, the build quality is excellent. The SUB weighs 36 pounds so you know the thing is capable of pushing serious air volume. The face-to-face drivers cancel cabinet vibration, which means it can be placed upright or lay flat. Sonos had mentioned you could put it under your couch if you wanted, so I attached the felt pads to a face, placed it on its side, then shoved it underneath mine (where the cats can't get to it). This has the side benefit of adding a nice punch under your butt when the bass is firing!
Setup is dead simple. You just open the Sonos app, tell it you want to add a SUB speaker, press a button on the unit, and everything happens automatically. You can then balance the sound by sitting where you'll be listening from and having the phone app "listen" to the room acoustics. Then you can use Sonos Trueplay tuning to walk around the room while the app "listens" to the space and adjusts to best fill it. The app makes the entire process fairly painless.
The first thing I did once I was all set up was to play Postiljonen's Plastic Panorama which is a beautiful piece of music that has soft, haunting vocals that can be overwhelmed by the punchy bass-line on a bad stereo. My Sonos system with the SUB added played the track beautifully. I've never heard the song sound so good...
Halsey's Without Me is particularly good with the SUB in play...
I then proceeded to play a wide variety of different music from every style and genre I could think of. Sonos took everything I threw at it and performed flawlessly. I then ran some movies with excellent sound design through the Sonos Dolby 5.1 separation and was consistently thrilled by what I was hearing (Blade Runner 2049 is incredible). I thought my stereo system sounded good before... and it did... but now it's next level. I turn the SUB off and on while listening and the difference is not subtle. This is one piece of equipment that will not be returned to the manufacturer because I don't want to live without it! I spend a huge chunk of my time listening to music and watching television or movies. It deserves to be the best experience it can be in my life. Even if I had to go into debt to do it.
I was worried about the cats adjusting to the increased bass, but they have completely ignored it. Don't ask me how they can sleep while music is playing, but they've never had a problem. There are quiet places they can retreat to but they don't. With that in mind, I try not to get too loud so as not to damage their sensitive ears.
So... to sum up...
If you've got a Sonos audio setup... especially if you've got a PLAYBAR with rear speakers for your home theater... the SUB is a fantastic addition. Perhaps even a necessary addition if you spend a lot of time watching movies at home like I do. Without it, you're kinda missing out.
The problem, of course, is the price tag. $700 is insanity. The $600 I paid on sale was still absurd. This is a $500 piece of audio equipment, tops. And yet... it sounds like a million bucks, so go figure.
Posted on Sunday, November 25th, 2018

Do you enjoy the ramblings of somebody with frozen feet? Then you're in for a treat... because Bullet Sunday starts now...

• Pooh! I was anxious to see the new Disney movie Christopher Robin, but it was never showing on any flight I was on, so I had to buy it from iTunes when it was released. It's a good (not great) film that I enjoyed quite a lot. Mostly because the CGI version of the animals are amazing. Jaw-dropping amazing. The way they are rendered and the way they move is remarkable. You can believe these stuffed animals are alive...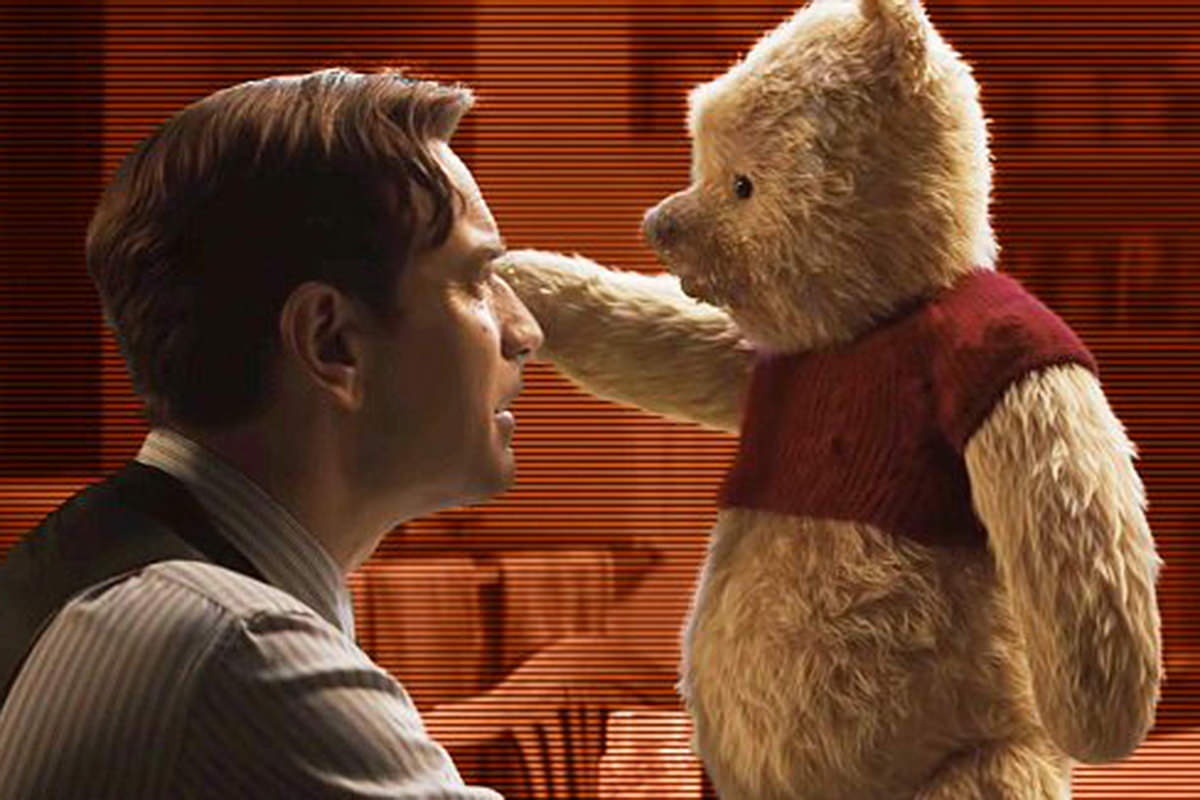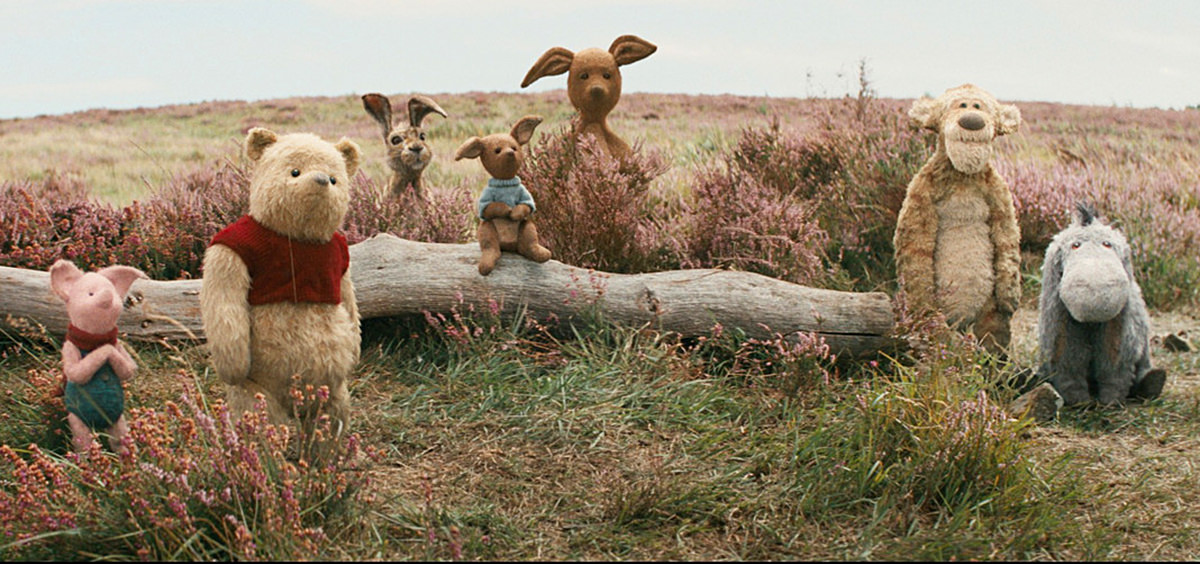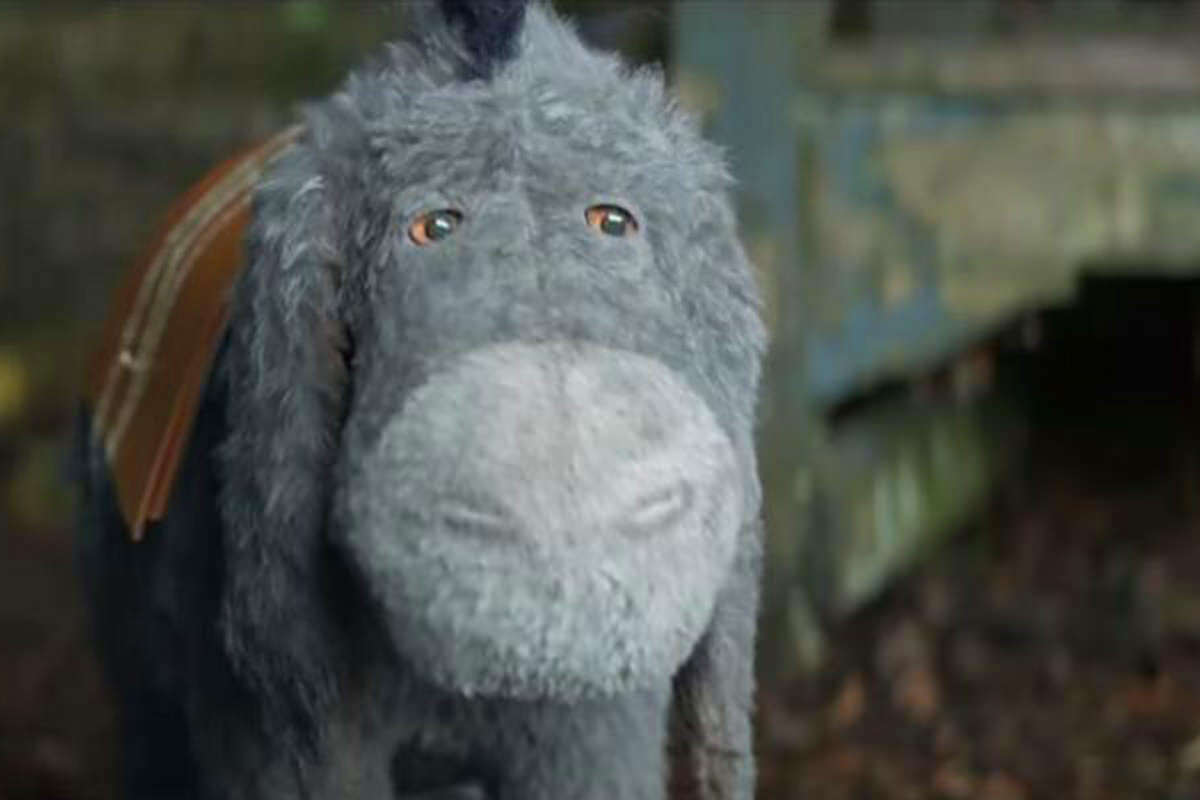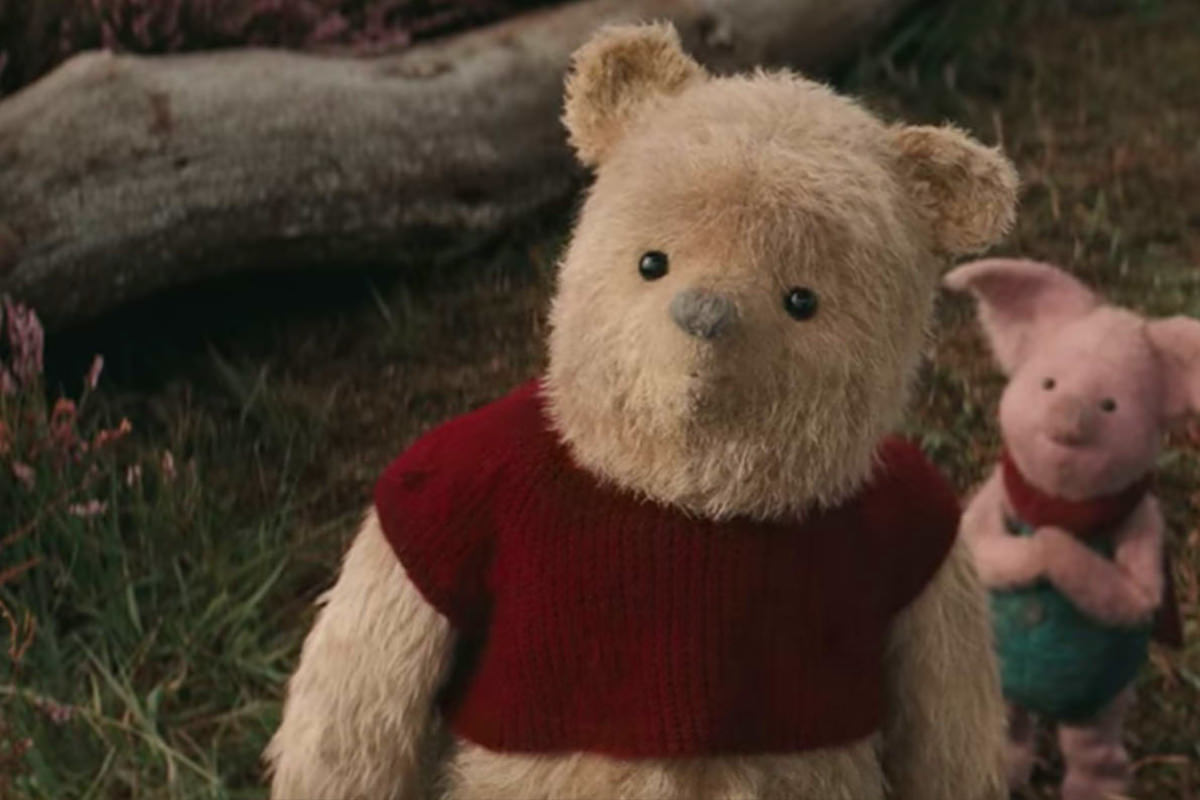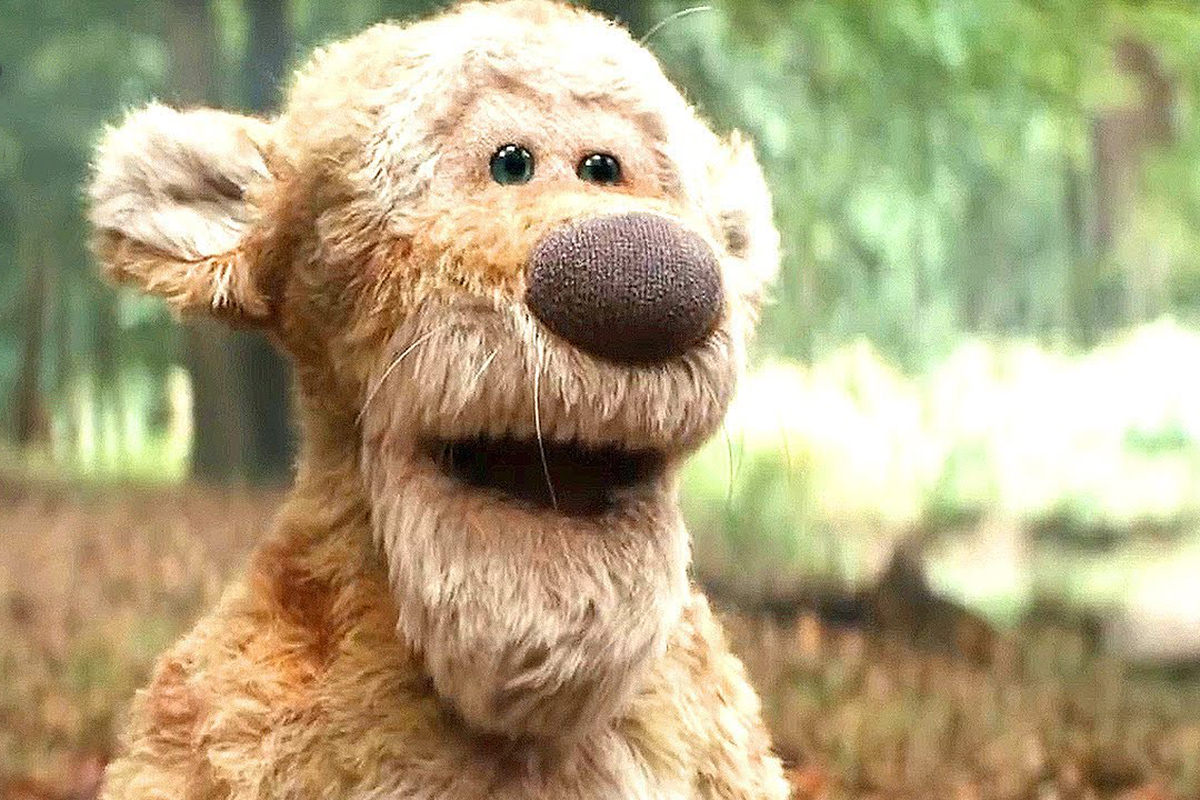 And here's the trailer...
I adore the wit and wisdom of Winnie the Pooh. All the Winnie the Pooh. I love the original A.A. Milne books, the Disney movies and book adaptations, and the Benjamin Hoff Tao of Pooh and Te of Piglet books too. If you are a Winnie the Pooh fan (and why wouldn't you be?) the movie is worth a look. Disney movie magic!

• Care! Hallmark has been airing some wonderful commercials for their #CareEnough campaign...
This last one reminded me of one of my all-time favorite ads...
Always amazed that people can create commercials I want to stop and watch!

• Proposal! This was my favorite thing on the internet this past week...
So sweet. And that reminded me of this...
The effort that must go into planning these things is mind-boggling.

• Winter is NEVER Coming!
"George R.R. Martin will be on Colbert to promote his new book..."
"WINDS OF WINTER IS FINISHED?!??"
"Of course not. He wasted his time on yet another Westeros history book. He still has no idea when Winds of Winter will be completed."
In all honesty, I don't think Martin will ever finish A Song of Ice and Fire. I don't think he gives a shit (regardless of how much he pretends to care). He's got the HBO money coming in. He's got a Nightflyers series coming up. He's got the Game of Thrones prequels coming up. He's got millions of dollars. And he has said repeatedly that writing the Song of Ice and Fire books is hard work, so why would he bother? The HBO series will wrap things up so he doesn't have to, and he can keep getting distracted with writing "easy books" that still make him tons of money. What incentive is there to finish up Westeros? It's all too easy to procrastinate until you die and leave your notes to another author so THEY can deal with it.
All that being said... how excited am I for April to get here so we can see the final season of Game of Thrones?

• Unpossible! Mission Impossible: Fallout (AKA MI6) is easily the best of the entire series. Everybody is brilliant in it, and Henry Cavill is exceptionally good. Which makes me all the happier that Paramount told Warner Bros. to go fuck themselves when they wanted Cavill to shave his mustache for reshoots as Superman on the abysmally shitty Justice League movie. Otherwise Cavill's continuity would be jeopardized and he may have had some of his part cut in a far, far better film...
Tom Cruise does the majority of his own stunts. And the dedication he has in delivering some really scary and dangerous scenes really pay off in Fallout. If you haven't seen it and like a good action flick, this is the movie for you.

• No NOAA! Now that winter is here, I wanted to see if I could re-code the program which controls the heat tapes on my roof. Right now they turn on when it's 33° or less. Which is better than having them on all the time, but also not ideal because they turn on whether there's snow on my roof or not. What I want to do is capture NOAA data to see if it's snowing and then turn on the heat tapes. If we have heavy snowfall with a lot of accumulation, then I'll switch to the old temperature-based program until it's melted.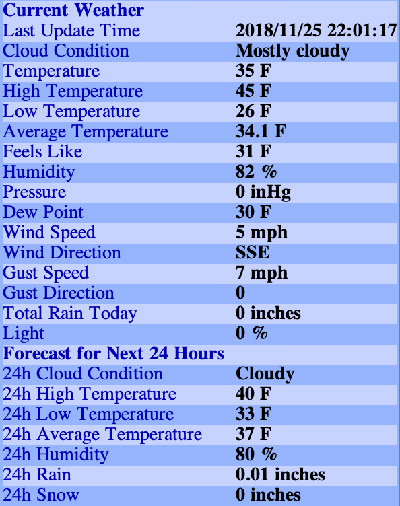 Problem is... the local NOAA (National Oceanic and Atmospheric Administration) station has closed. So now I'm having to pull data from 6 miles away. Which would be fine if I lived on a flat plain, but I'm in a valley. The weather 6 miles away will be similar, but different. And so... better than nothing, but now I don't know if trying to adapt for snow is going to be worth it since the data may not apply to me. Time to start my own weather station, I guess.

And there's your bullets this fine Sunday.
Tags:
Ads
,
Advertising
,
Books
,
Bullet Sunday
,
Disney
,
Movies
,
Television
Categories:
Books
,
Bullet Sunday 2018
,
Home Automation
,
Movies 2018
,
Television 2018
—
Click To It:
Permalink
—
1 Comment: Click To Add Yours!