Posted on May 1st, 2019

I had to wake up fairly early this morning to check into work. Once I had some things handled, I had time for a leisurely shower and... surprise surprise... breakfast!
Beside myself with joy at the prospect of being able to actually have breakfast for once, I tried to think of what I wanted to eat. All that came into my head was the Fatburger I had when I arrived on Monday night. It was everything I could want in a meal. I thought I would look up Fatburger's hours to see if there was time to stop on my way to the airport.
Imagine my surprise when I found out that not only is Fatburger open 24/7... they are serving burgers all hours of the day and night!
Fatburger Veggie Burger for breakfast it was...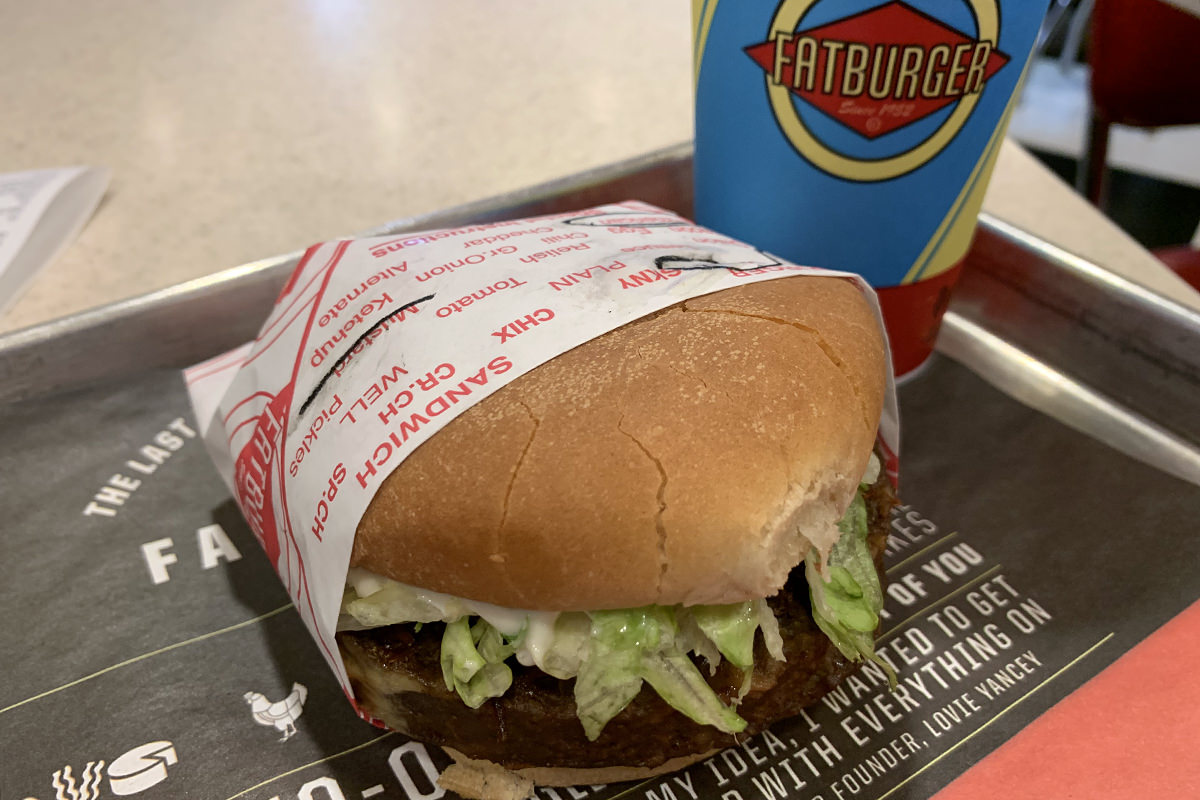 It was everything I dreamed it would be.
The weather has been really nice these past couple days. Warm and breezy, but not hot enough to be uncomfortable. It's almost enough to make me want to stay a couple more days. Almost.
This time around I'm staying at New York New York because it's where my friends were staying. It's also close enough to my work that I could walk instead of taking pricey taxis. It's a pretty nice hotel, even if the rooms are fairly basic. It certainly has my favorite skyline of all the Vegas Strip hotels...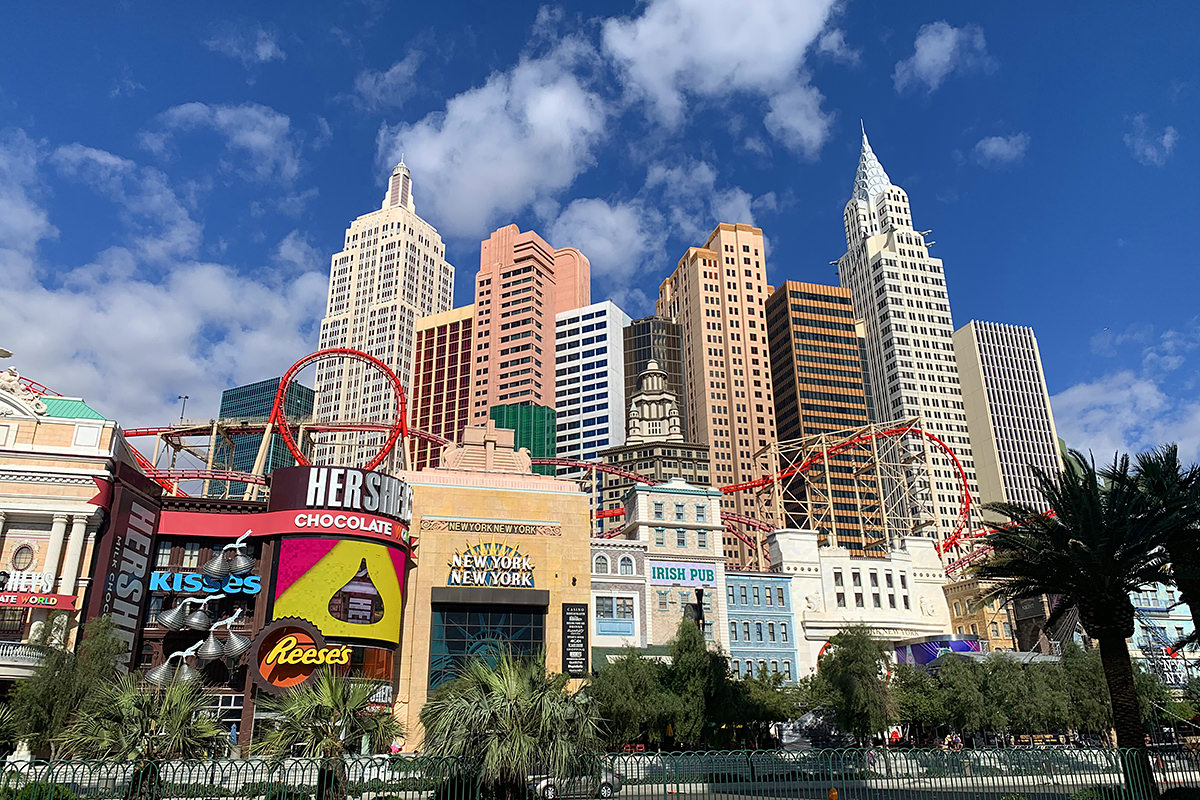 My room was in that light orange tower, fourth from the right. I was actually on the North side facing The Park... something I didn't know until I finally looked out the window this morning...
Two things...
1) I kept hearing "wooshing" sounds and assumed it was the wind. Turns out it's the roller coaster. The occasional sounds of people screaming were not people whooping it up on The Strip... but people riding said coaster.
2) The Park MGM hotel used to be The Monte Carlo. At the very top there is a "hotel within a hotel" with luxury suites that used to be called "Hotel32." I note that now the "hotel within a hotel" has been renamed "NoMad." I've actually been up there when it was Hotel32 and it was pretty spectacular (seriously, Google for photos of it). I can't imagine what it must look like after the remodel.

And now I'm at the airport waiting to fly home. As if that wasn't good enough news, I was upgraded to First Class for the flight home (which is pretty cool considering I was upgraded to First on the way down too...

And now it's time to head home so I can drive home!
Posted on April 28th, 2019

I don't mind my allergies splitting my head apart thanks to everything in the valley blooming at the same time... because an all new Bullet Sunday starts... now...

• Thrones! I may be in the minority here, but I felt that the majority of the latest episode, The Battle of Winterfell, was embarrassingly bad. Everything was filmed so dark that it was almost impossible to see what was happening. Even worse, much of the action was shot way too close, so even if you could see what was happening, you couldn't tell what was going on anyway. They literally could have just skipped most of the episode, had somebody summarize what happened in two minutes, and the result would have been practically the same for me. Disappointing. Though I'll be the first to say that the ending was exactly what I wanted to see. w00t!

• Trek V2. The CGI effect upgrades they gave to old Star Trek episodes back in 2006 are pretty great. Definitely helps then to hold up for modern audiences. Recently I was watching Tomorrow is Yesterday for the hundredth time and found myself forgetting what the old effects looked like. So I looked it up on YouTube and found this...
Right off the bat I found something surprising...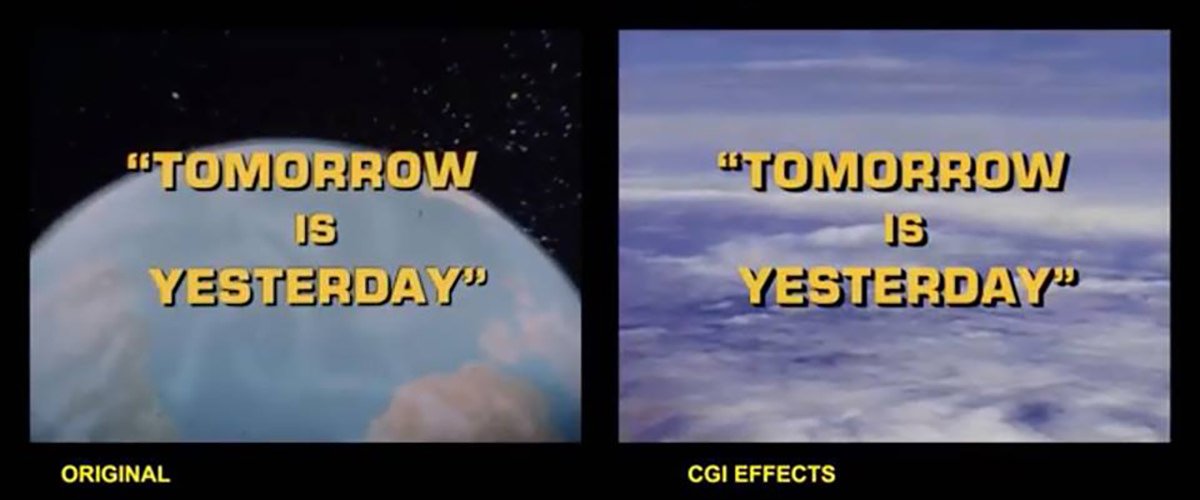 ZOMG! PLEASE NOTE THAT THEY REVISED THEIR VIEW OF THE PLANET BECAUSE IN THE FUTURE THEY KNOW THAT THE EARTH IS FLAT!!!
Funneh.

• Vegetarianism Fail. When I first became a vegetarian back in 1986, eating out was a challenge. Pretty much all you could do was ask for a grilled cheese or try to find a salad without meat on it. Now-a-days it's so much easier. Except at my local "V.I.P." theater. Their big "thing" is wraps. They've got quit an assortment of them. Every last one of them with meat on it. Even the "Veggie Extreme" is SO EXTREME that it has chicken on it! Baller!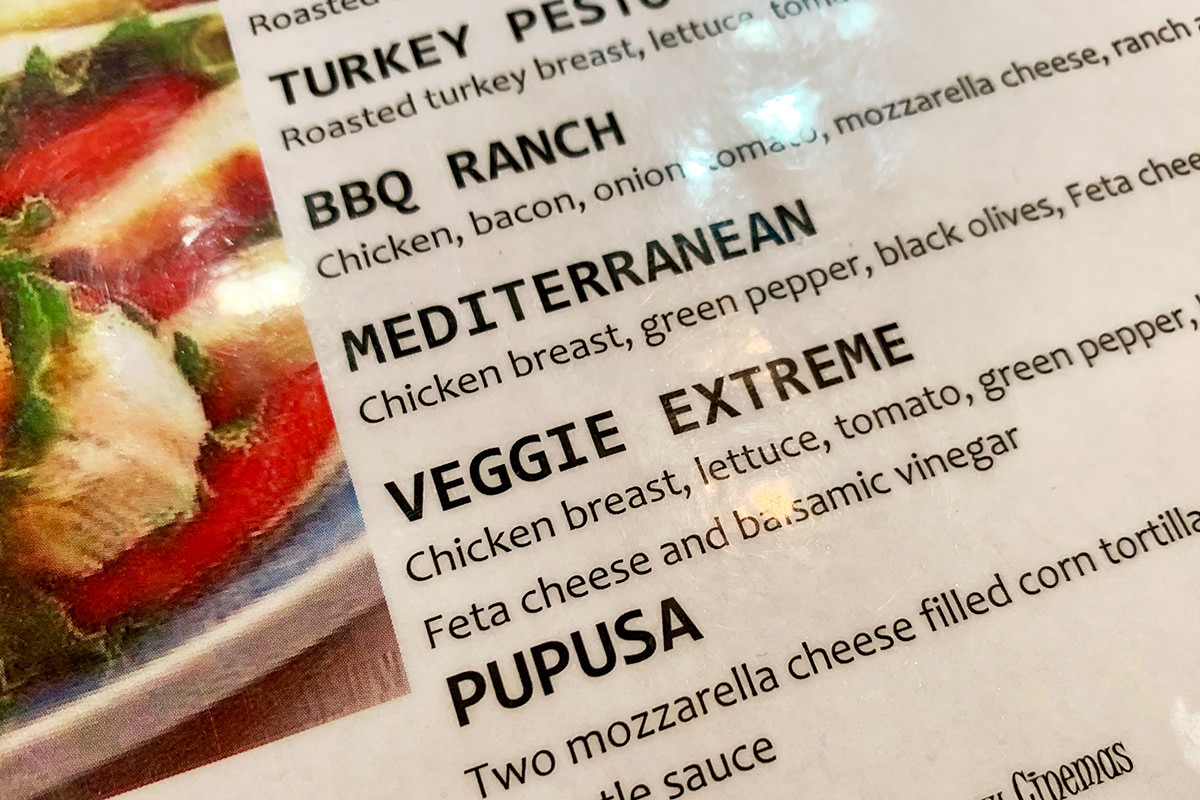 Since they didn't have a vegetarian option, I asked if they can substitute avocado for the chicken. Nope! But they can leave the chicken off and charge me $1.25 for avocado though! Fuckers. If you're not going to have a vegetarian-friendly option, at least allow a reasonable substitution!
And so... French fries it is. Except... it literally took them THREE TRIES to deliver my fries. They'd walk in the theater. Wander up and down the aisle. Then leave. Then come back. And then... it was only because I FLAGGED THEM DOWN that they managed to find me, even though I had to give them my row number when I ordered! Needless to say, my fries were cold... not "unwarm" BUT FUCKING COLD... by the time I got them. Pathetic. Some "V.I.P." experience.

• You Spin Me! Most of the time I scan the episodes of Fallon, Myers, Corden, and Kimmel on my DVR for the guest, then delete as many as I can. The only reason I watch is if there's a guest I want to see. Like Paul Rudd. And his appearance on Fallon did not disappoint. Paul and Jimmy remade Dead or Alive's You Spin Me Round...
For comparison's sake, here's the shot-for-shot next to the original...
Epic!

• Let Them Implode. Long ago, back before I started weaving Buddhist precepts into my Path of Life and gave up weapons of violence, I was proud to be a member of the National Rifle Association. This was back when they were dedicated to promoting gun safety and advocated for reasonable restrictions when it came to allowing people access to firearms ALONG WITH defending Second Amendment rights. Now that they are a corrupt organization in the pocket of gun manufacturers who prey on people with nothing but fear and lies, I fucking detest the NRA and everything they stand for. Nothing would make me happier than to have the entire organization be flushed down the toilet like the fucking pieces of shit that they are. And take NRA cheerleader Dana Loesch with you. She's fucking garbage too. Bring back the NRA whose principles were rooted in responsible, safe gun ownership. If we can't have that, then please let the whole fucking thing implode.

• Wall Chowder. Every time I have to listen to bullshit about President Trump's MASSIVELY EXPENSIVE WALL... all I can think of is how drones powerful enough and large enough TO CARRY A PERSON OVER THE WALL ARE CURRENTLY USED FOR CONSTRUCTION! And, like everything tech-related, they are just going to get cheaper and cheaper and cheaper. Somebody in Mexico could buy a couple and earn a fortune FLYING PEOPLE OVER THE WALL. Make no mistake... Trump's wall is a stupid, STUPID, STUPID, FUCKING STUPID waste of money. Within 5 years it could be rendered obsolete. Or be obsolete within 10 minutes, considering tunneling under the fucking thing IS AS EASY AS DIGGING A FUCKING TUNNEL. And now I'm filled with rage. Again. Forget the horrendous damage to the environment and migrating species that will be severely impacted... WE CAN'T FUCKING AFFORD IT NOW THAT ALL OUR TAX REVENUE IS GOING TOWARDS TAX CUTS FOR THE WEALTHY! Exactly how big of a fucking deficit do we need?

See you on the flip-side, bullet fans.
Posted on June 2nd, 2017

Back when I went vegetarian on Earth Day in 1988... some 29 years ago... it was not a terribly difficult decision. The girl I was dating was a vegetarian. I didn't like much meat anyway (outside of burgers, bacon, and pepperoni pizza), and there were some great "fake meats" hitting the market that I was able to substitute with little effort.
But there are times...
Back when we had a Burger King in town, I'd drive by the place while smelling the flame-cooked burgers filling the air, and give serious consideration to abandoning vegetarianism. Or I'd go to a breakfast buffet and see a big ol' plate of bacon and be transfixed... and be trying to resist shoving my face into the plate. Pepperoni was the worst. Pepperoni pizza. REAL pepperoni crisps up on the edges and forms little cups filled with meat oil that makes them about the most delicious thing you'll ever put in your mouth. And, unlike veggie burgers and veggie bacon that's "okay"... there is no acceptable pepperoni substitute that tastes anywhere close to the original.
If I ever fall off the vegetarian bandwagon, I can pretty much guarantee it will be over a pepperoni pizza.
What it won't be over is jerky.
Because there are some very good jerky substitutes out there, and I decided to take a look at some of the most highly-rated...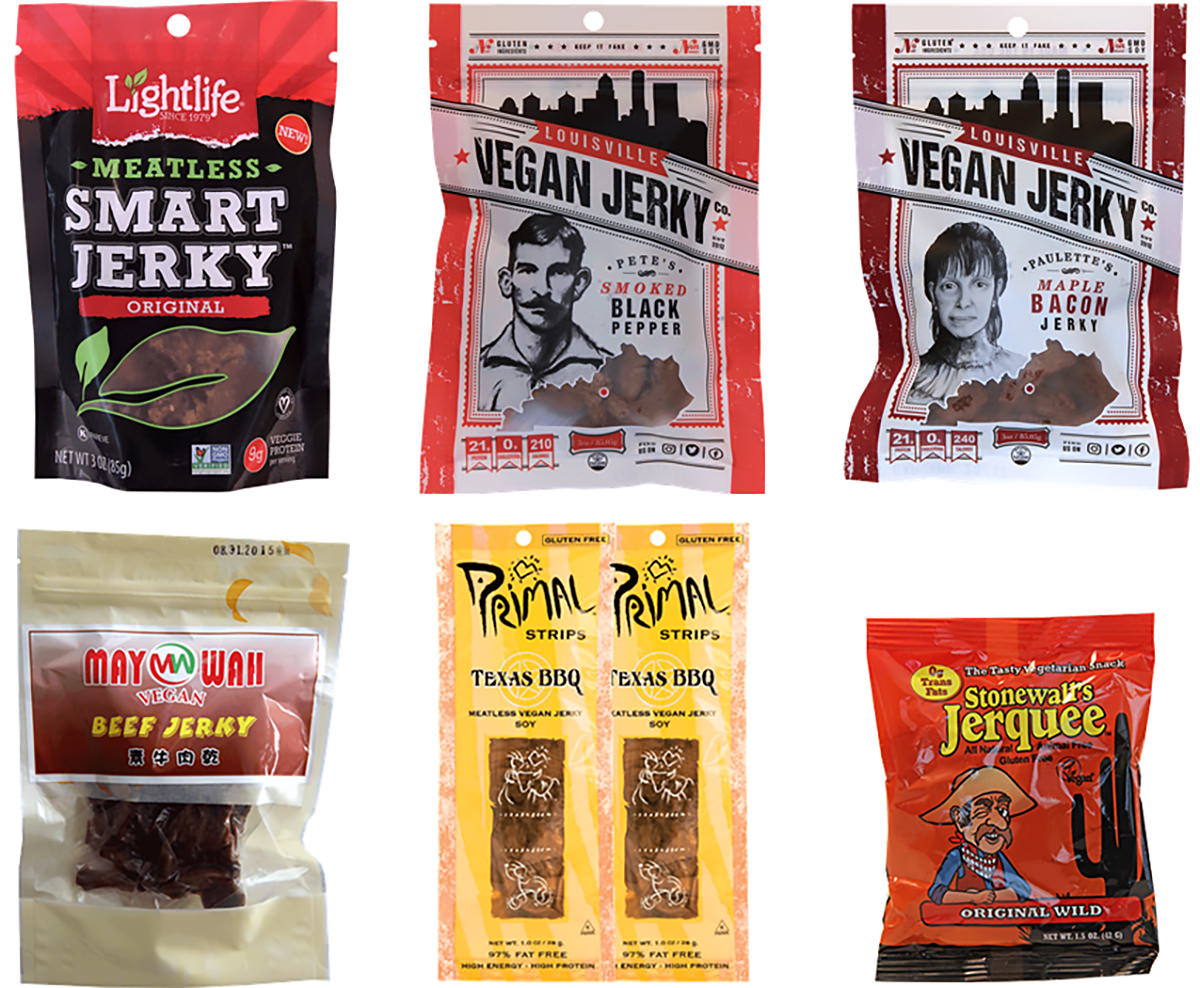 Photos taken from FakeMeats.com

Lightlife Meatless Smart Jerky: Original
Hands-down my favorite of the bunch. It's got a fantastic texture that retains a bit of the toughness that "real" jerky has, but won't rip your teeth out. The shreds are compressed into square-isa pieces, which also makes them easy to eat. Unlike so many fake jerky products, the flavor is subtle. They aren't trying to blast through your tastebuds to conceal the fact that you're not eating meat. This is a mild jerky that counts on subtle notes of a sweet and smoky barbecue sauce for flavor instead of piling on the heat to obliterate it. If it weren't for the 480mg sodium per ounce, you could eat it all day! (though high sodium is typical for these products).
TASTE: ★★★★★ • TEXTURE: ★★★★★
Louisville Vegan Jerky Co.: Maple Bacon
Despite my not tasting much maple or bacon flavor in the maple bacon variety, this is a very good brand of jerky. Perhaps a touch sweeter than I'd like, but nothing horrible. I do get a slight soy flavor lingering on my palette, but not offensively so... it's certainly better that than an over-flavored jerky! The texture is pleasing... not too tough, not too soft. Pieces are randomly shaped into strips that are meant to resemble actual jerky, so if you're transitioning, this might be a good brand to start. Sodium is a typical 480mg per ounce.
TASTE: ★★★★☆ • TEXTURE: ★★★★☆
Louisville Vegan Jerky Co.: Smoked Black Pepper
Despite being the same brand as above, the texture is softer/spongier for some reason, and I'm not getting as great a "jerky experience." It's like the jerky is soggy or something. The smoke and black pepper elements are there, as promised, but most of what I'm tasting here is salt. It's only 20mg more than the Maple Bacon (500mg vs. 480mg) but after eating it for a while, that's all I can taste. Would be a better jerky if they could toughen up the texture (like Maple Bacon) and take out salt while adding a touch more black pepper.
TASTE: ★★★☆☆ • TEXTURE: ★★☆☆☆
May Wah Vegan Beef Jerky
This Chinese jerky has an interesting texture that's more "shredded" than other brands. I like it... but it also gets stuck in my teeth. The flavor is... odd... not really barbecue or smoke, though I get a hint of something similar. It's got a definite mustard element floating in there... and it's going in more of a sweet than spicy direction. Overall I don't dislike it... it's definitely different and tasty... it just isn't hitting my "jerky button" the way I'd like.
TASTE: ★★☆☆☆ • TEXTURE: ★★★☆☆
Stonewall's Jerquee: Original Mild
Stonewall's was my first vegetarian jerky. I had never tasted anything like it, and was buying it by the case at my local health food store. Then... after a year or so... something changed with the flavors. The "Original Mild" ended up with a horribly bitter flavor that left a nasty soy aftertaste. And while the texture is weird and spongy, I always ignored it because I liked the flavor so much. Now, after a decade of avoiding the stuff, I decided to try it again. Same thing. Same spongy texture. Same bitter flavor and soy aftertaste.
TASTE: ★☆☆☆☆ • TEXTURE: ★★☆☆☆
Stonewall's Jerquee: Original Wild
Same as above, except they pile on peppers and spices to add some heat. The heat does quash the bitter notes a bit, but I really don't like the end result.
TASTE: ★☆☆☆☆ • TEXTURE: ★★☆☆☆
Stonewall's Jerquee: Peppy Pepperoni
Back in the day, I thought the "pepperoni" flavor was pretty good. But now it's added to the same bitterness that has taken over the rest of the Stonewall's line and, even worse, has been made scorching spicy hot. So hot that any "pepperoni" notes are obliterated. If I wanted this flavor, I'd just drink a smokey hot sauce directly from the bottle.
TASTE: ☆☆☆☆☆ • TEXTURE: ★★☆☆☆
Primal Strips: Texas BBQ
This stuff is tough, like real jerky, but they inexplicably soak it in sauce, so it ends up being more like a tough strip of meat in marinade than actual jerky. Your teeth will slide over the wet before you can get a bite, and even then you may not be able to bite all the way through on the first chomp. The flavor is not bad at all... it's definitely a sweet barbecue variety flavor... but once you get past the sugary-sweetness it's a little bland, having very little smoke elements.
TASTE: ★☆☆☆☆ • TEXTURE: ☆☆☆☆☆

That's it for this round. As I discover more great vegetarian jerky options, I'll update the list.
And if you're looking to purchase any of these products, you can get them all via one-stop-shopping from the good people at FakeMeats.com!
Posted on April 12th, 2017

Living in the wilds of Reneckistan as I do, there are certain pros and cons that one has to accept. In the "pros" column are things like "no traffic" and "breathable air." In the "cons" list are things like "NO TRADER JOE'S FOR YOU!"
I love awesome grocery stores. Stores like Wegman's... Mariano's... and (more logical for my area) Trader Joe's. Mostly because awesome grocery stores have a terrific selection of interesting vegetarian foods that your typical grocery chain does not. In the case of Trader Joe's, it's things like their amazing black bean and jack cheese burrito... or their frozen pizzas... or their frozen tamales... or their veggie chili... or their soy chorizo... or their veggie spring rolls... or their veggie wraps... or their toasted almond slivers... or their... well, you get the picture.
A considerably better selection of great foods I can eat than what I have access to now.
But, alas, the nearest Trader Joe's is 2-1/2 hours away.
Which is why I regularly send store requests like this one to corporate...
I'm tired of having to drive 2-1/2 hours to shop at Trader Joe's! Is the reason you don't have a store in Wenatchee because our locations have too much parking available?
I suppose I should explain about the parking thing.
Trader Joe's are smaller stores. They carry a fraction of the products that a "regular" store does. Because of this, they are often built in smaller spaces. And, given their popularity, there's never enough parking spots.
Never.
At least for the half-dozen stores I've been to.
Anyway...
I was just sitting here watching the latest episode of The Talk, craving something from Trader Joe's, and felt you should feel my pain.
You're welcome.
Posted on May 15th, 2014

Travel costs, which have always been kinda expensive... but not prohibitively so... have been skyrocketing at a steady clip. Every time I turn around, the price for a trip goes up. Airfare keeps rising. Meals keep rising. Local transportation keeps rising. And hotels? Hotels are absolutely nuts. Even if you use Priceline and Hotwire to save money, lodging in most major cities is insanely pricey if you want to stay at a nice property in a decent location.
For my trip to Chicago today, I started adding things up and nearly passed out. Compared to six years ago, this trip will be almost double the cost. You read that right, double. Even the little things... like a bottle of Coke at the 7-11 (99¢ to $1.79) have gotten out of hand, and it all adds up...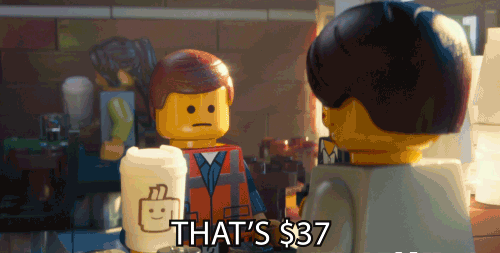 I'm seriously starting to wonder if traveling for work is even worth it any more. If a huge chunk of the money you earn is pissed away on flights, hotels, and food... it seems a lot of effort for very little return.
And so I consider settling down and traveling less.
But then I happen upon the best fucking veggie burger I have ever had tonight, and begin to think that maybe it's worth it after all. I'd never be able to get something like this back home.
Or maybe I just need to move to Chicago.
Inflation, it's a bitch, yo.
Posted on April 22nd, 2013

This morning when I woke up I had an awesome idea for a blog post, but have since forgotten what it was. I can only guess I was going to talk about the perils of not writing things down after you turn 40, but who can say for sure?
Fortunately it's Earth Day today, so there's that to talk about.
Uhhhh... yeah... be kind to the earth... or whatever.
Well that didn't go very far now did it?
Except... Earth Day is also the anniversary of my becoming a vegetarian. I gave up meat on this date back in 1988. Which means it's been 25 years since I've had a hamburger.
A quarter-century since I've had a chicken nugget.
And 9131 days since I've eaten bacon.

No. I don't know how I've survived this long either.
Posted on November 13th, 2011

Wah. I have a stomach ache this Bullet Sunday.

• Treat? I realize I'm probably late to the party on this one, but I am just now hearing about Pox Pops. Apparently, some parents are so opposed to vaccinating their kids against chicken pox that they are going to extreme measures to purposely infect them. They do this by having the parents of pox-ridden kids lick a lollipop and mail it to them... SO THEY CAN HAVE THEIR KID SUCK THE POX OFF OF IT! The idea being that once you get chicken pox, you're immune for the rest of your life...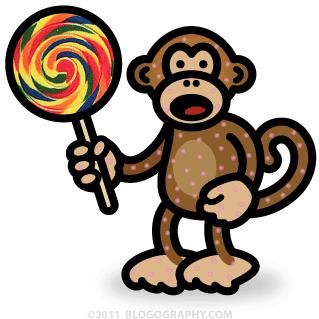 I don't pretend to know about the benefits/dangers of vaccinating children (because I don't have any)... but this sounds pretty fucked up to me. Gawd only knows what was sucking on that pop before your kids get their hands on it.

• Leat? I can't adequately summarize the horrors of this story I just read about growing laboratory meat (leat?), so you'll just have to go read it for yourself...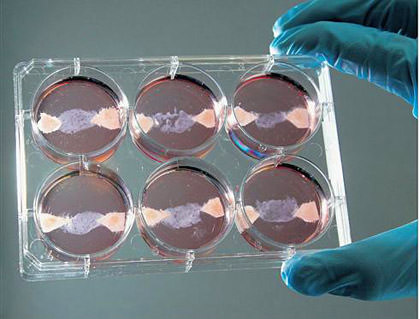 Photo by Francois Lenoir of Reuters
As a vegetarian, I honestly can't say which disgusts me more... dead animal flesh... or this abomination of nature. Holy crap. Is a soy burger really that awful an alternative?

• Sweet! After his surprisingly brilliant appearances on Saturday Night Live, I've become a bit of a Justin Timberlake fan. He's incredibly talented and funny as hell. But it's good to know that he's a nice guy on top of it all. Earlier this year, he received a public video invitation from Corporal Kelsey DeSantis to attend the Marine Corps Ball...
Much to everybody's surprise, he agreed to go...
And then... he actually went! And if there were any doubters out there thinking that he was going as some kind of publicity stunt, he wrote a really nice recap of the experience on his blog they should read...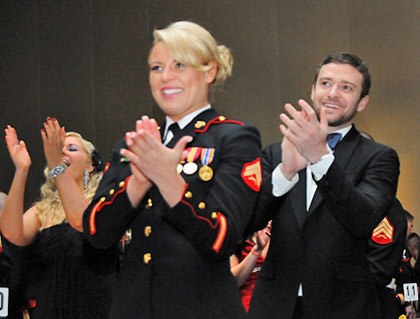 The lucky bastard! Justin ended up with a sexy Marine that can kick his ass. Talk about your dream date! Semper Fi, Marine. Semper Fi.

On that happy note, my stomach demands I call it a night. :-(