Posted on June 14th, 2019

As touristy as Pike Place Market is, it's still one of my favorite spots in the city. Along with Pioneer Square it pretty much defines what I love about Seattle.
This afternoon I had a chance to visit again, which is something I really don't do enough.
Beware of flying fish...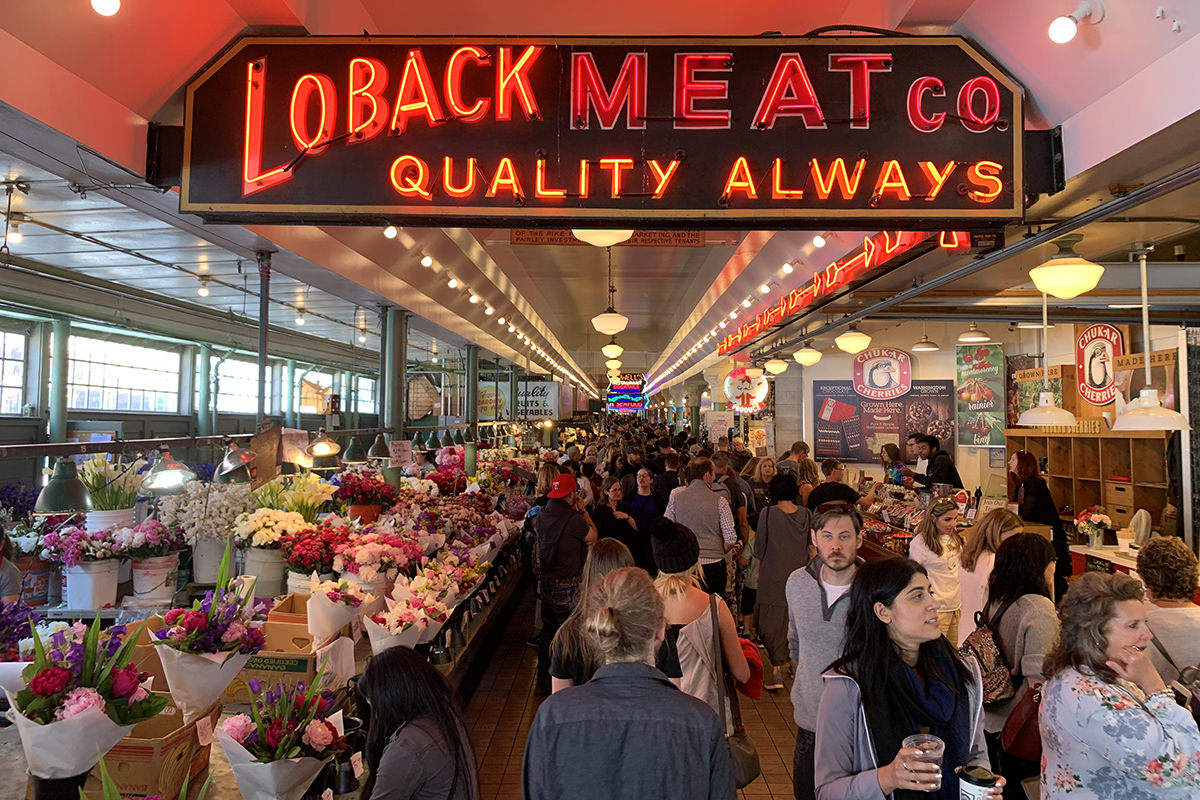 Good bye, Seattle.
Posted on June 14th, 2019

I've been a massively huge fan of Dale Chihuly's glassworks for many years.
He used to be the subject a PBS specials where he would donate works to people who pledged a certain dollar amount in support of the Seattle station. Of course I was dying to own one of his glass concept paintings or an actual glasswork, but they were way out of my price range as a student in the 80's. Now that his popularity has skyrocketed, those same works are worth thousands... even tens of thousands... of dollars, so now I really can't afford it.
But I have made a point of visiting his many exhibits and installations around the world over the years, including his permanent exhibit at The Seattle Center, Chihuly Garden and Glass.
Today one of my friends from the early blogging days, Copasetic Beth, was in town and so I got to visit again...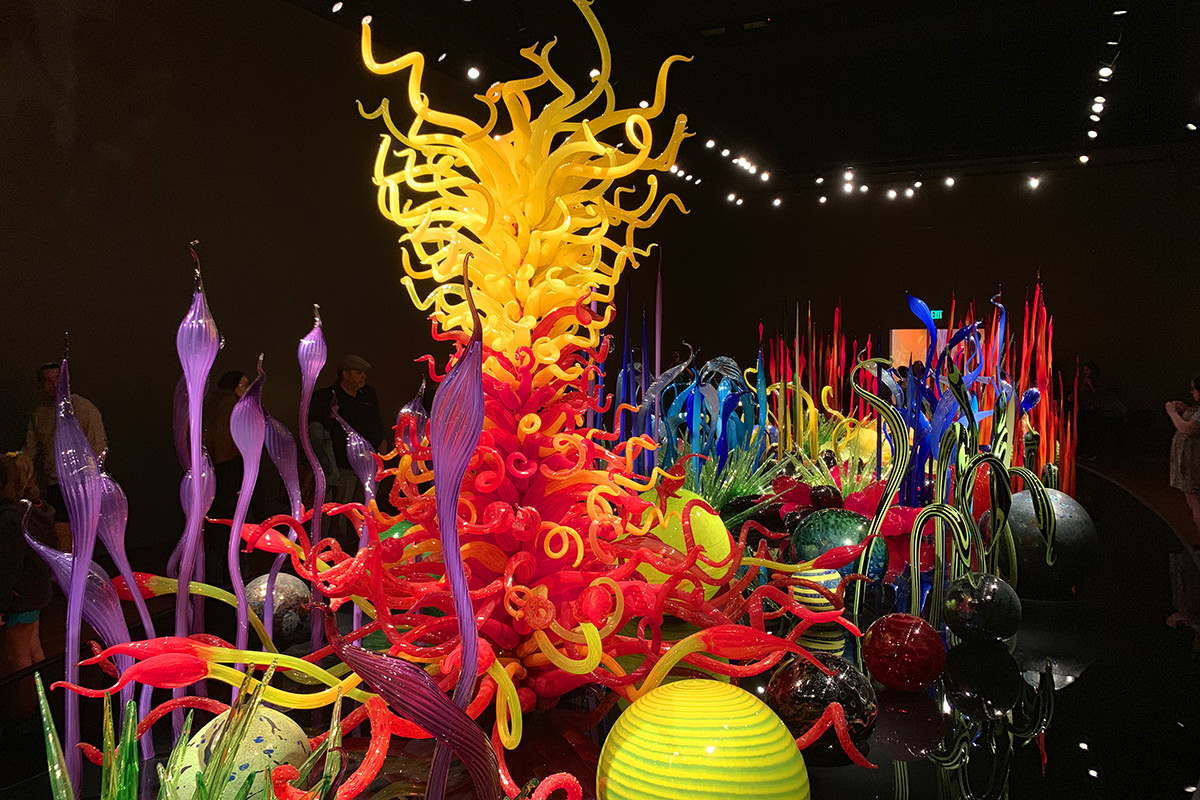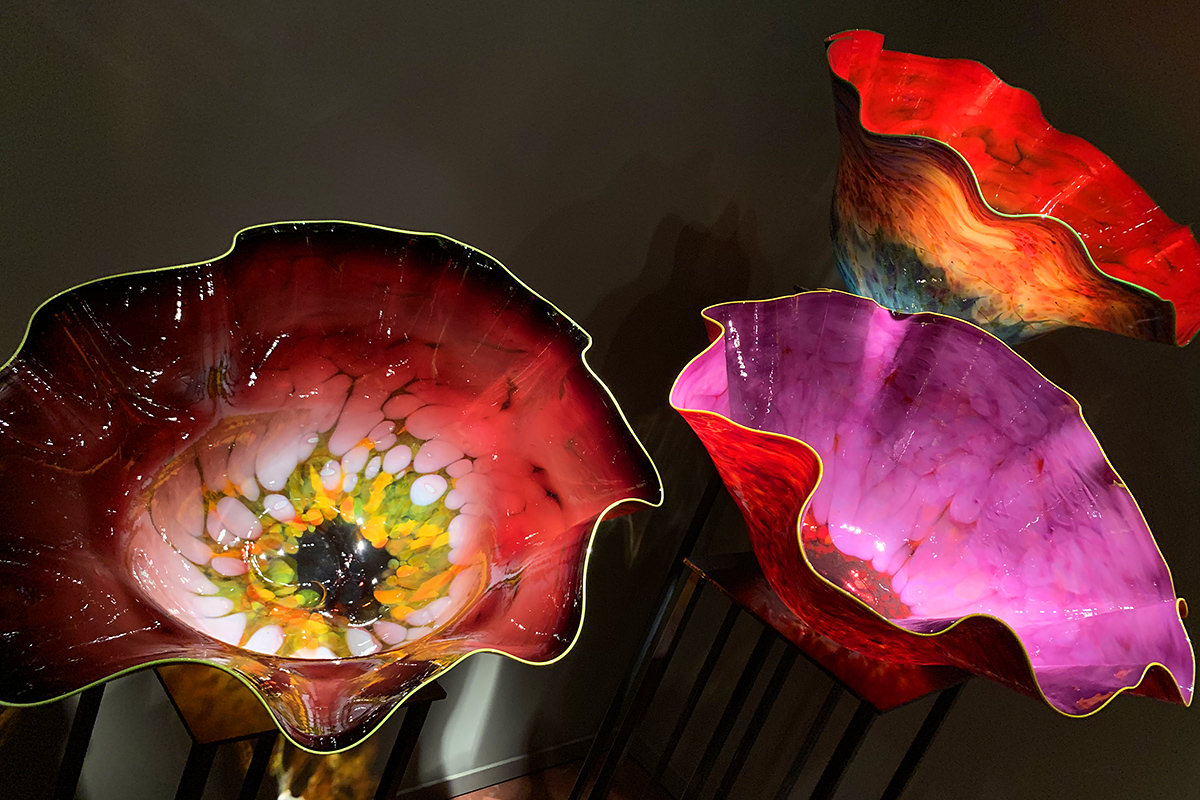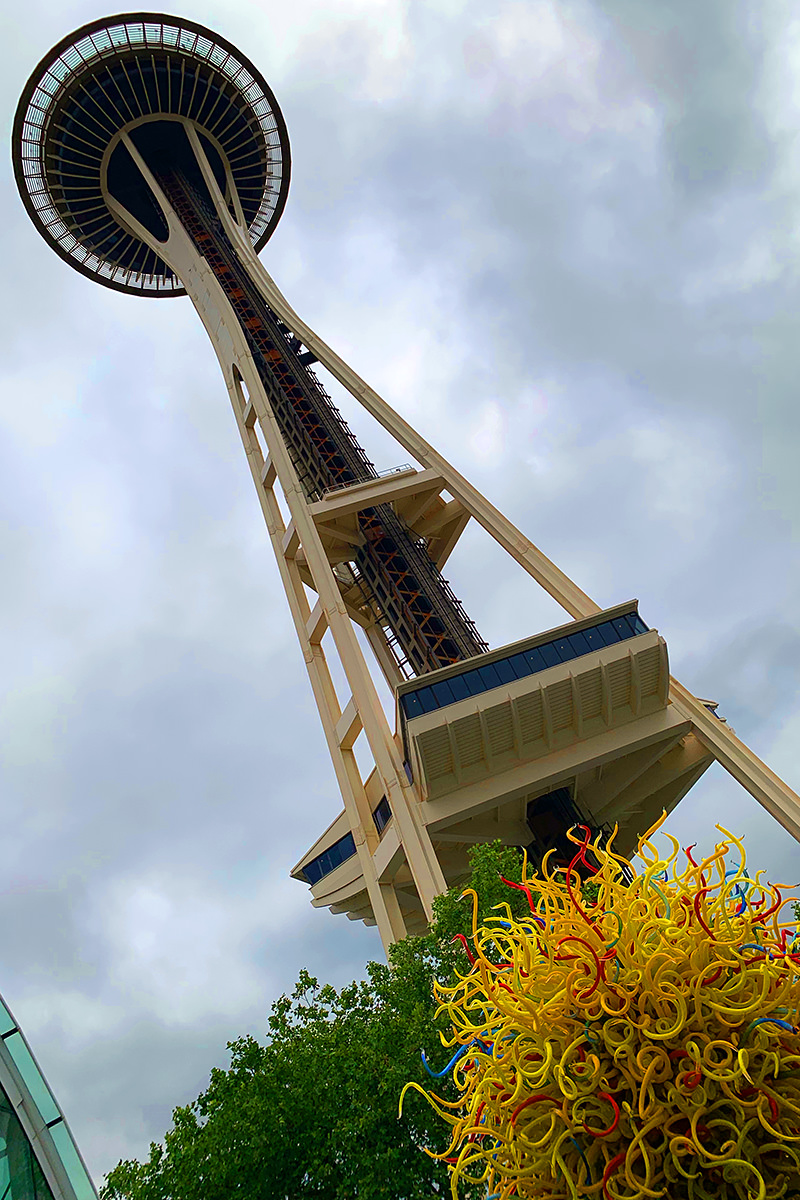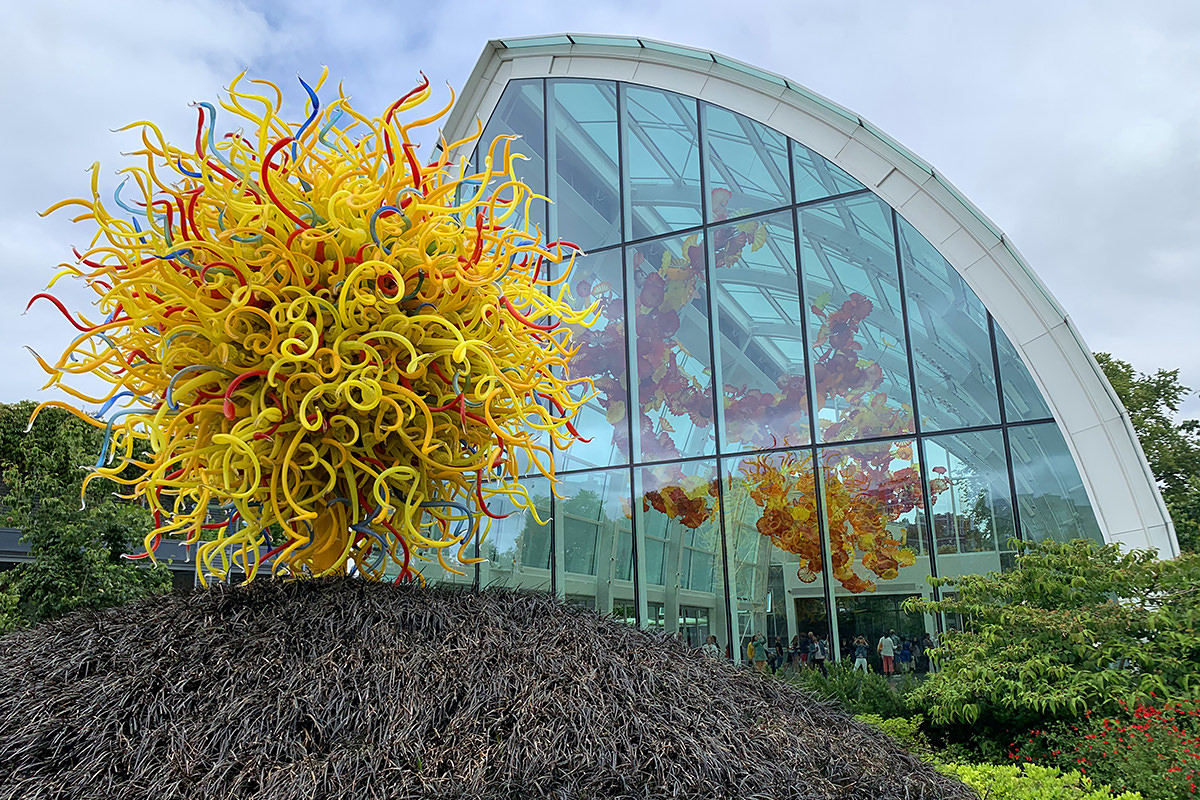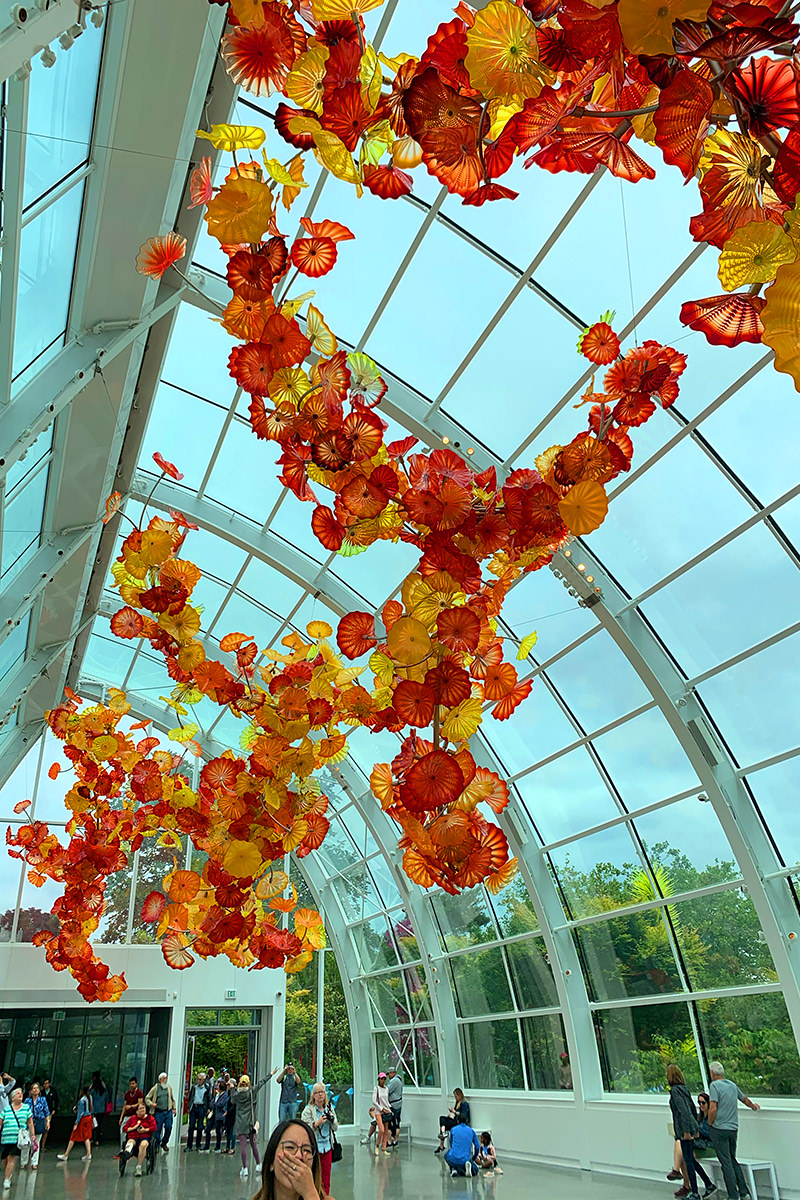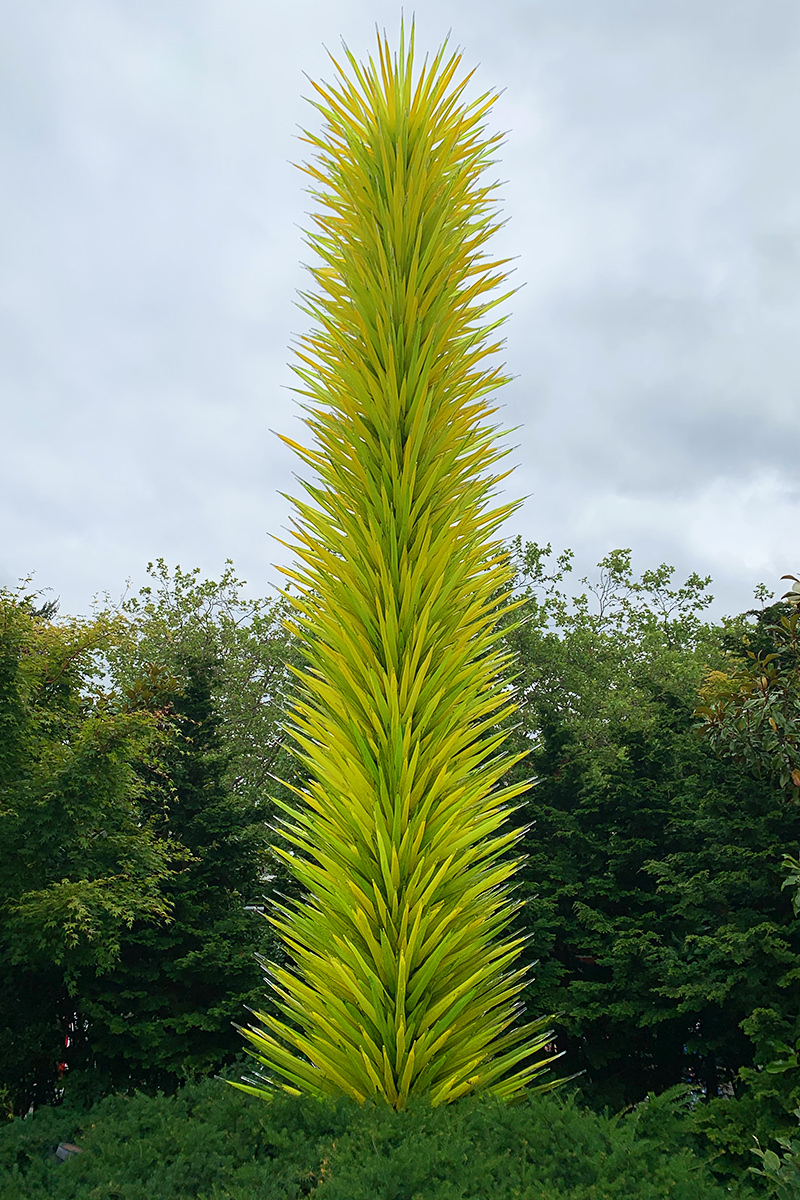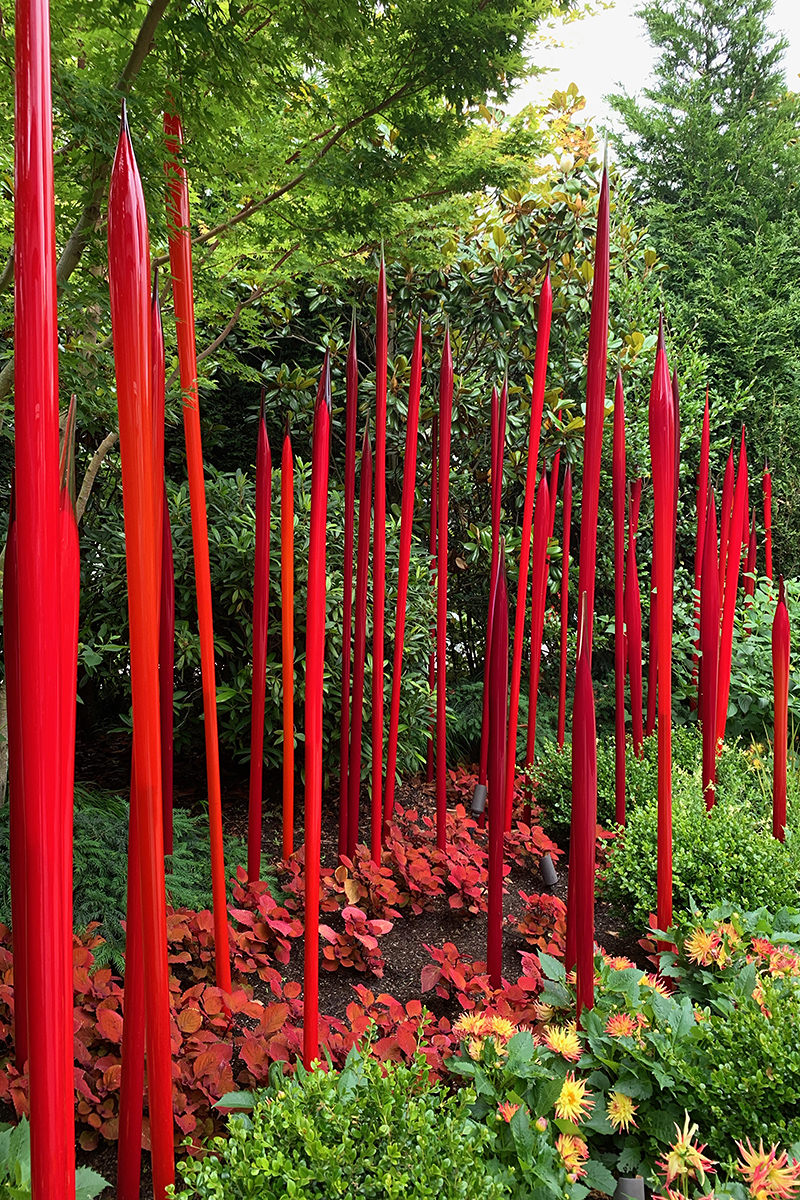 Well worth a visit if you're ever in Seattle!
Posted on May 22nd, 2019

Landed at 1:30 yesterday, was done with work by 3:30, and in my San Diego hotel room chillin' by 4:00. Usually I would just fly back the same day, but since I started bypassing the toxic waste dump that is SeaTac International Airport and flying out of Everett Paine Field, my flight back doesn't leave until tomorrow at 2:20pm (unless I wanted to fly home at 7:45am, which I did not).
With time to kill, I met up with San Diego friends for dinner. Which was awesome.
Then we went out for dessert at Extraordinary Desserts. Which was extraordinary...
I had the "Shangri-La" cake, which was described like this: "White chocolate mousse along with guava mousse and fresh strawberries are layered in between whipped cream and Kirsch infused vanilla cakes. Every girl loves this cake." And yet... I was secure enough in my masculinity to order it because I really wanted something strawberry. It's pretty enough to eat...
Delicious. And that's 24K gold leaf on the strawberry, which is great because I've always wanted my poop to be gold-plated.
As I've mentioned a few times, Jake has been really clingy after his accident, and this is the first time I've left him overnight since it happened. I checked in on him several times to make sure he's doing okay. After spending most of the morning looking for me, he took a long nap right in the middle of my messy bed...
Poor guy.
Before I knew it, time had flown and it was time for me to be flown home...
My trip back over the mountains was much less eventful than the drive over, thankfully.
And that was the end of that.
My cats were happy to have me home... especially Jake, who wouldn't leave my side, which was kinda sweet at 10pm...
But kinda scary at 1am...
Probably not great that I decided to take his picture with the flash on. Because, damn. If looks could kill...
And on that ominous note, enough work for the day... time for bed.
Posted on May 21st, 2019
Today is my final charity trip of the Spring!
Thanks to the Trump Government Shutdown, nobody from our group was allowed to make travel plans for the first three months of the year. The concern was that we might end up trapped away from home (and our paying jobs). So instead of having seven trips over twenty weeks, I ended up having to make up for lost time and cram five trips into eight weeks. This was more difficult than I anticipated, but you do what you gotta do.
San Diego travel is almost always a "day trip" for me where I essentially fly down for a critical one hour meeting, then just fly back home. But first I actually have to get to San Diego.
I left home at 6am so I could make my way over the mountains, which are packed with deer on the roads this time of year...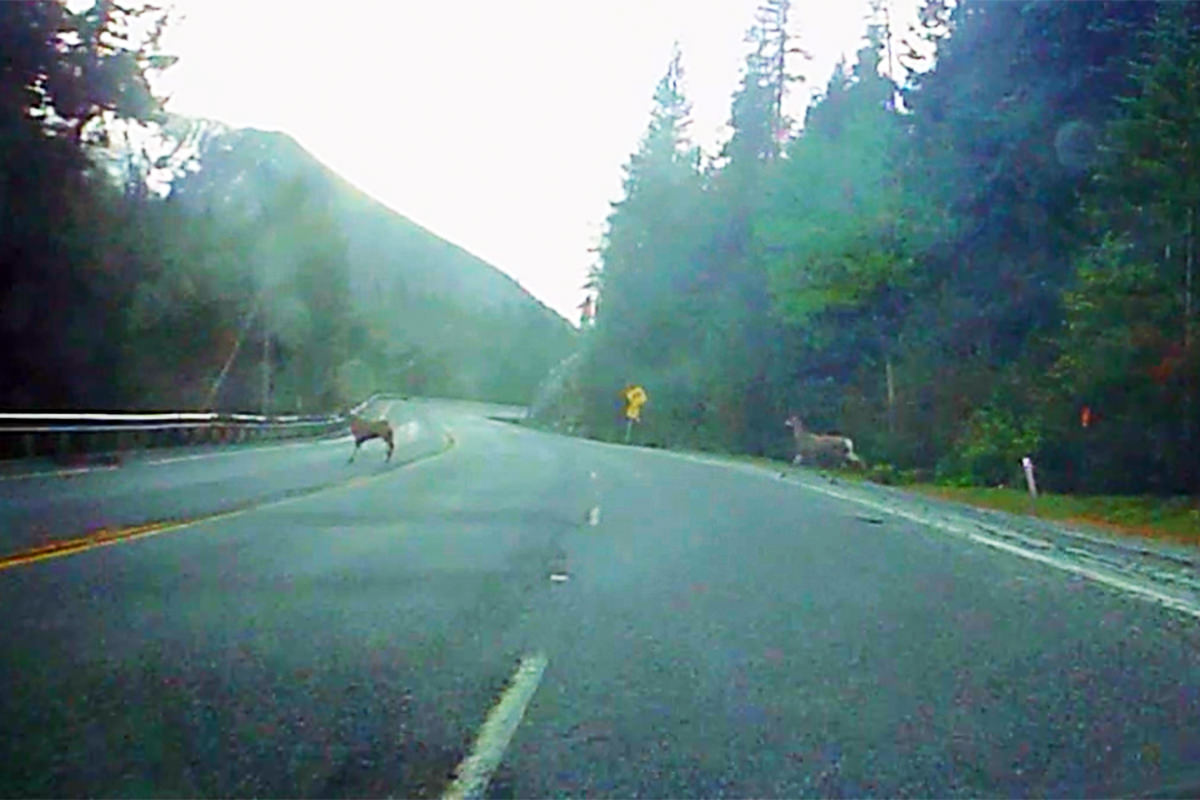 It's not a big deal if you are careful with your speed and stay alert*, but there are always assholes who do neither. When I slowed to let the deer in the above photo cross, a truck behind me had to slam on the brakes to avoid smashing into my rear end. If he had trouble seeing a big blue car, a small brown deer probably would have been roadkill.
I counted nine deer on my way over, which means there were at least that many that I missed.
By far the most dangerous thing on the road this trip was not a deer, but a motorcycle.
Having been a motorcyclist, I can tell you that riding on the highway is pretty much taking your life in your own hands. You have to be on high alert every single minute, because drivers don't pay attention. With this in mind, I was a very cautious rider and still almost ended up plowed into on several occasions.
And then there are riders who decide that highways aren't nearly dangerous enough, and decide to ride stupid.
As I was approaching the left-lane exit for I-5, a rider weaving in and out of traffic cut me off twice. And here he is directly after my close call cutting in front of other drivers... one of whom was just trying to get the hell out of the maniac's way, even though they needed to be in the left lane to exit...
This is phenomenally stupid. Not only did I almost hit him, but two other cars nearly did the same. Which begs the question... what was so damn urgent and important that this rider decided to risk an accident (and possibly his life) to get to?
I probably don't want to know, because it was likely something stupid... like making it to work with enough time for a Starbucks.
Despite this guy's best efforts, I'm here at the airport awaiting my flight, so I guess I'll just count my blessings that nobody died and hope the rest of my trip goes better than this.
*As in stay seriously alert. Sometimes the deer are really difficult to spot, and can dash out onto the road at any moment...
If you are traveling in the mountains (especially this time of year), might want to drive like a deer's life depended on it.
Posted on May 12th, 2019
2019 has been surprisingly accommodating considering the milestones it's been racking up for me.
First year without my mom. First Valentine's Day with nobody to buy flowers for. First Birthday Weekend celebration without my friend of 33 years. And now, as advertising will not stop reminding me, first Mother's Day with no mother.
I will be the first to admit, that last one is proving to be tough.
For thirteen years my gift to my mom on Mother's Day was a new vacation. We traveled the globe, visited all kinds of amazing places, and had fun doing it. Recently I was going through all the travel books I made for her as a souvenir. Starting with our 2002 trip to Europe right up through our 2014 safari in Zimbabwe.
Initially I created books for her at Apple Books. They were nice enough, but I eventually switched to professional printing because I was unhappy with the photo reproduction. On our first trips, I didn't take many photos though. Just a few snapshots here and there. I took so few photos that I was able to combine the first four Apple Book trips into a single professional book (I used the colors of the cloth covers on the original books as borders)*...
The look of the book was nothing groundbreaking, but the graphic designer in me tried to create stylish introductions at least...
Photo presentation was pretty basic though...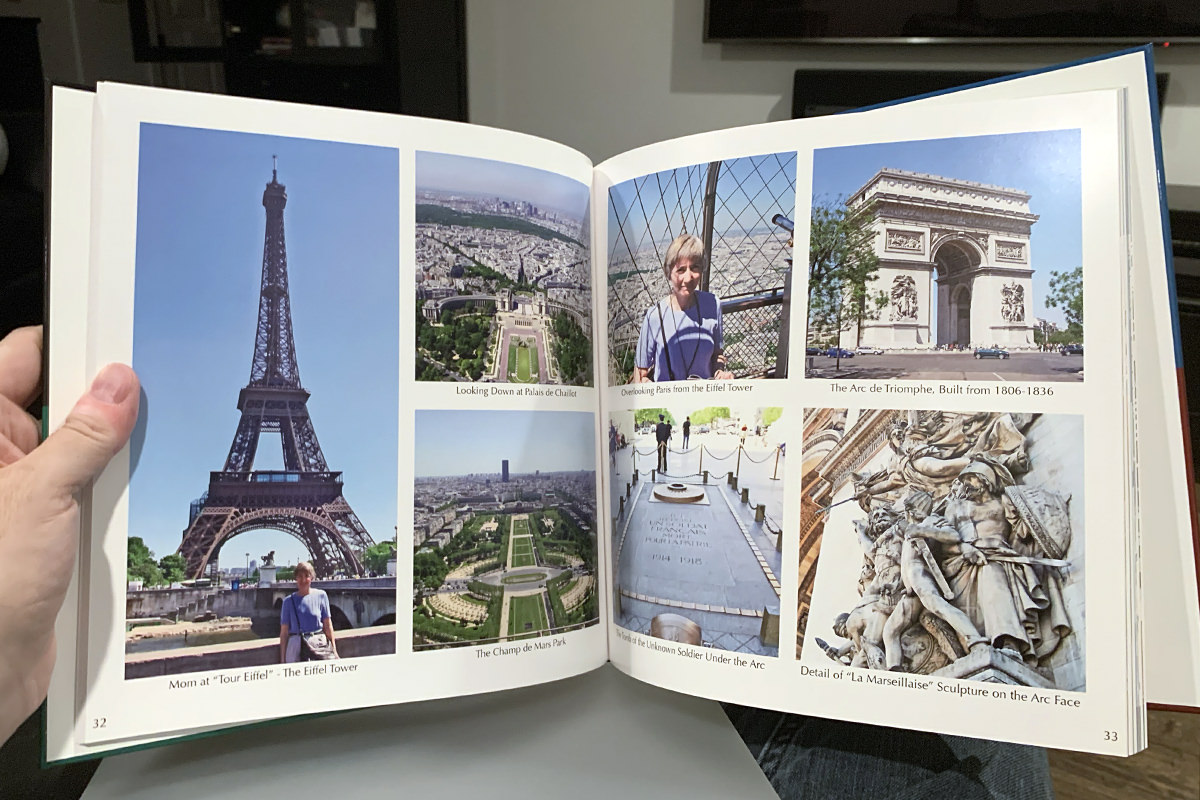 As the years went on, I got a little more ambitious. I was designing nicer, more elaborate looking covers, for one thing...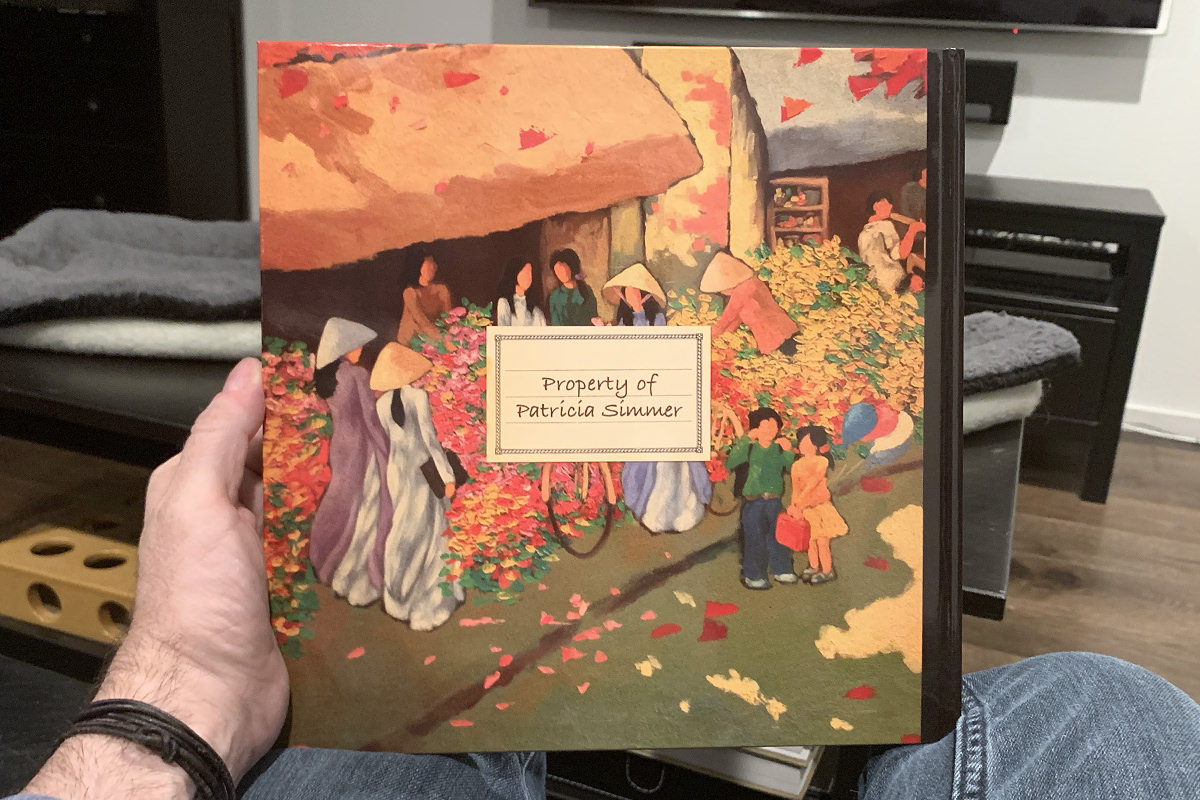 And adding maps, travel routes, and such...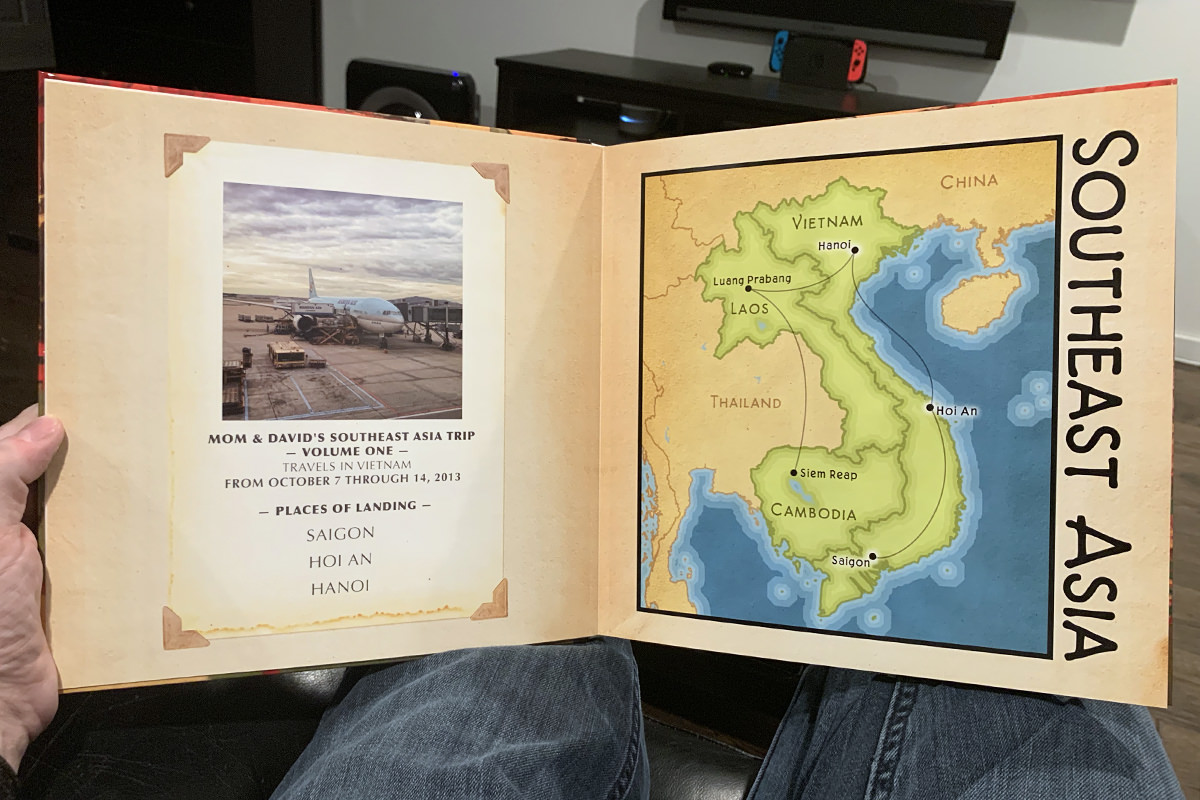 On later trips I was taking a lot of photos and putting considerably more thought into the the images I was capturing. With this in mind, I started buying "lay-flat" books and adjusting my layouts so photos could be as large as possible. I also tried to tell a story to make the content more interesting...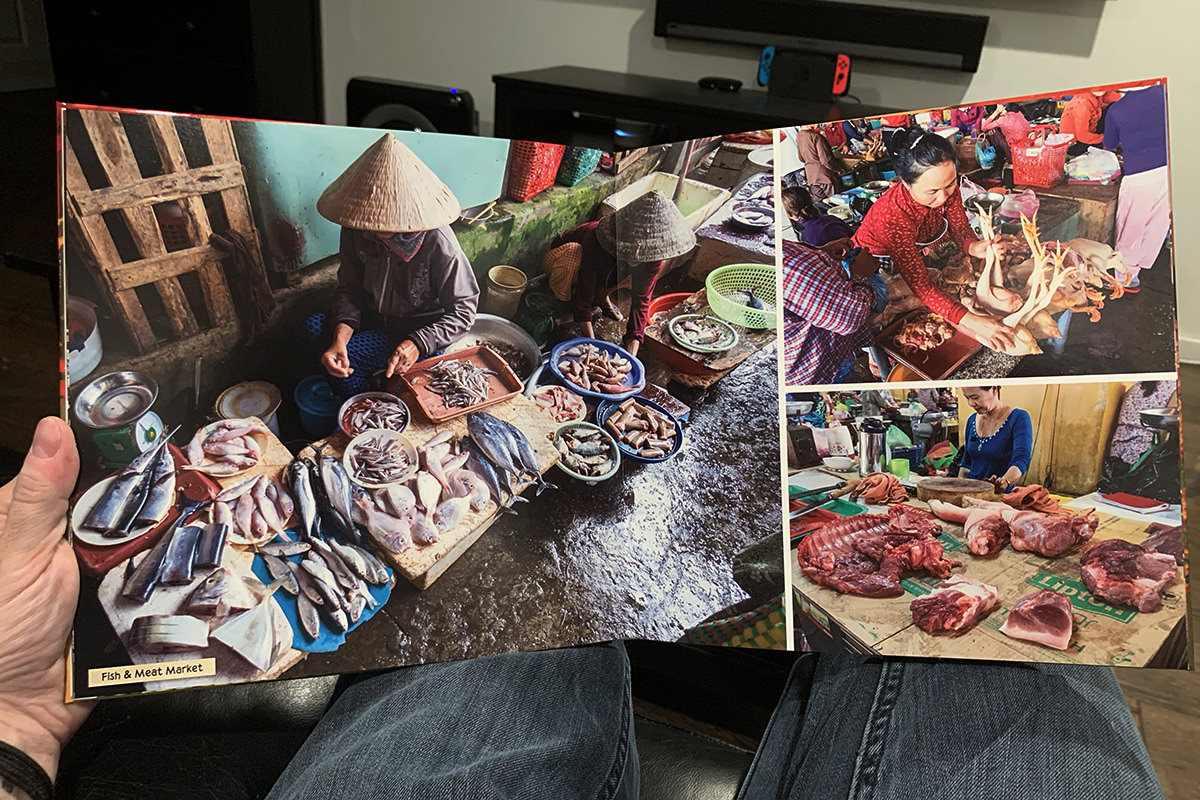 The final book is my favorite for so many reasons...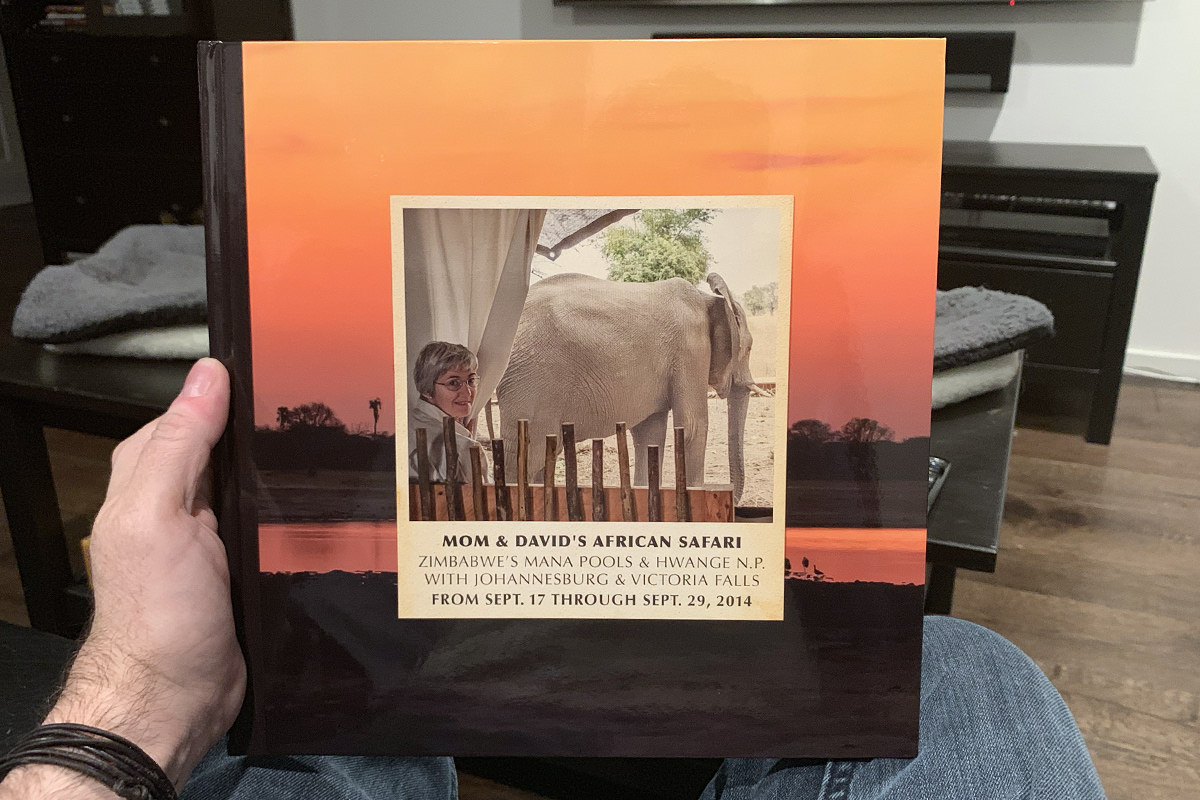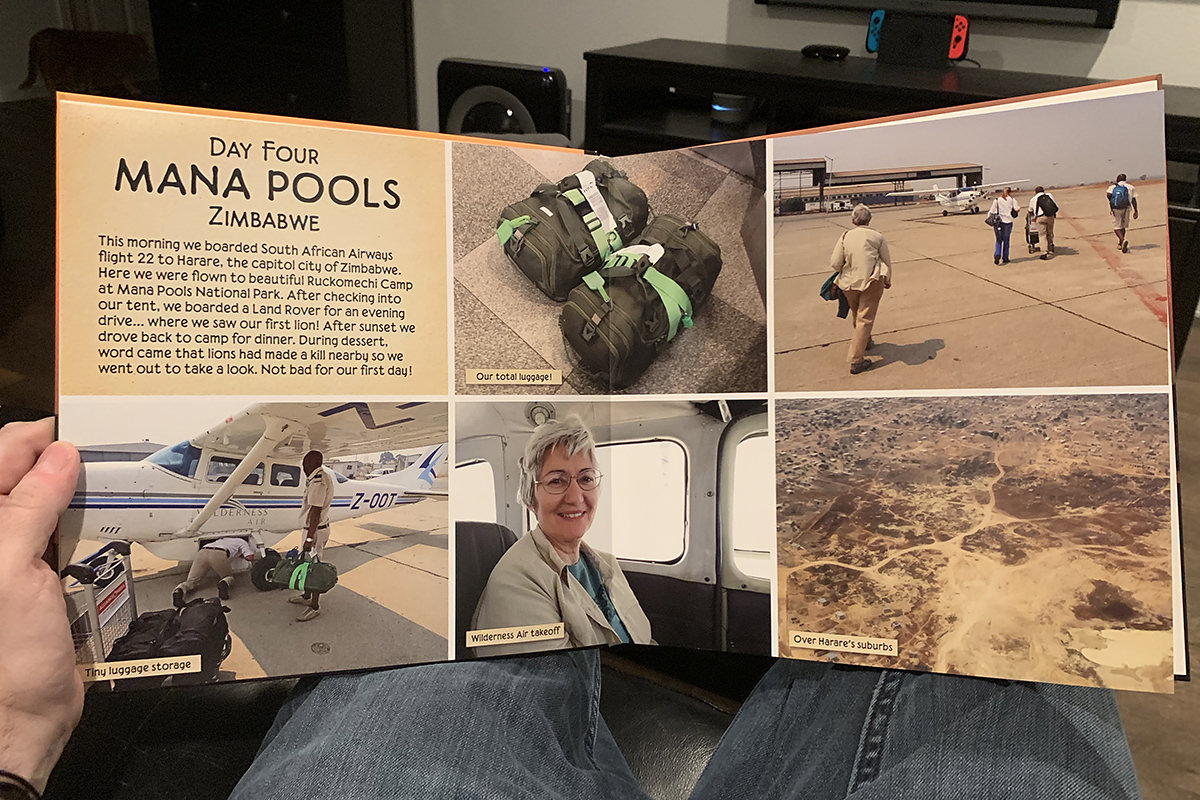 Every book was always ended with a photo of the both of us...
For 2015 we were going to take a cruise along the fjords of Norway. 2016 was going to be Machu Picchu and the Galapagos Islands. But those trips weren't to be. I thought she might be well enough in 2015 to take a Spring trip that was less ambitious. I booked flights to South Dakota so I could finally see Mount Rushmore and check the only state I haven't been to off my list (North Dakota). But a couple months before we were to leave I realized there was no way that she would be able to travel. Her confusion was far too great and it wouldn't have been a fun time for either of us. And so that was that.
Mother's Day isn't sad to me because I don't have anybody to buy a card and flowers for... after we started traveling, she never wanted me to spend money on that stuff anyway. It's now a reminder that I've lost a friend who explored the world with me. And while the books, photos, and memories are nice, ain't nothin' going to take the place of that.

*Apple Books was a part of the original iPhoto. You could select photos that you had stored there, then have the program automatically build a book for you. For the time, it was actually pretty cool. They had durable fabric covers with a nifty label stuck on the front...
There were issues though. In addition to the print quality, which was fine but not great, the books were kinda small and the layouts had a lot of wasted space and the pages were all one-sided...
By having my books professionally printed, I paid way, way, way more money... but I got to control the layouts, get superior print quality, and print both sides of the pages.
Posted on May 10th, 2019
The Laser Dome at Pacific Science Center (next to the Space Needle) is the largest and longest operating laser dome in the world. It began as the "Spacerium" theater which was built for the 1962 Seattle World's Fair.
It's been many years since I've seen a show at the Laser Dome (I've been to Laser FLOYD, Laser BOWIE, and Laser BEATLES). But there was no way I was going to miss their latest show... Laser PRINCE!
The first thing I noticed that the show was fuller and more colorful than I remember. After a quick check, I found out that they did an upgrade to their system last January and now have nine lasers. This is "the most full color lasers permanently installed in any Laser Dome in America." It would have been nice if they upgraded the sound as well. While it's not terrible, it's far from great.
The setlist was pretty much what you'd expect. All his most popular singalong hits plus a surprise appearance by Sometimes It Snows In April. All I wanted was my favorite Prince track, Raspberry Beret, which was (fortunately) included. So far as laser shows go, this one was pretty good and we had a great time...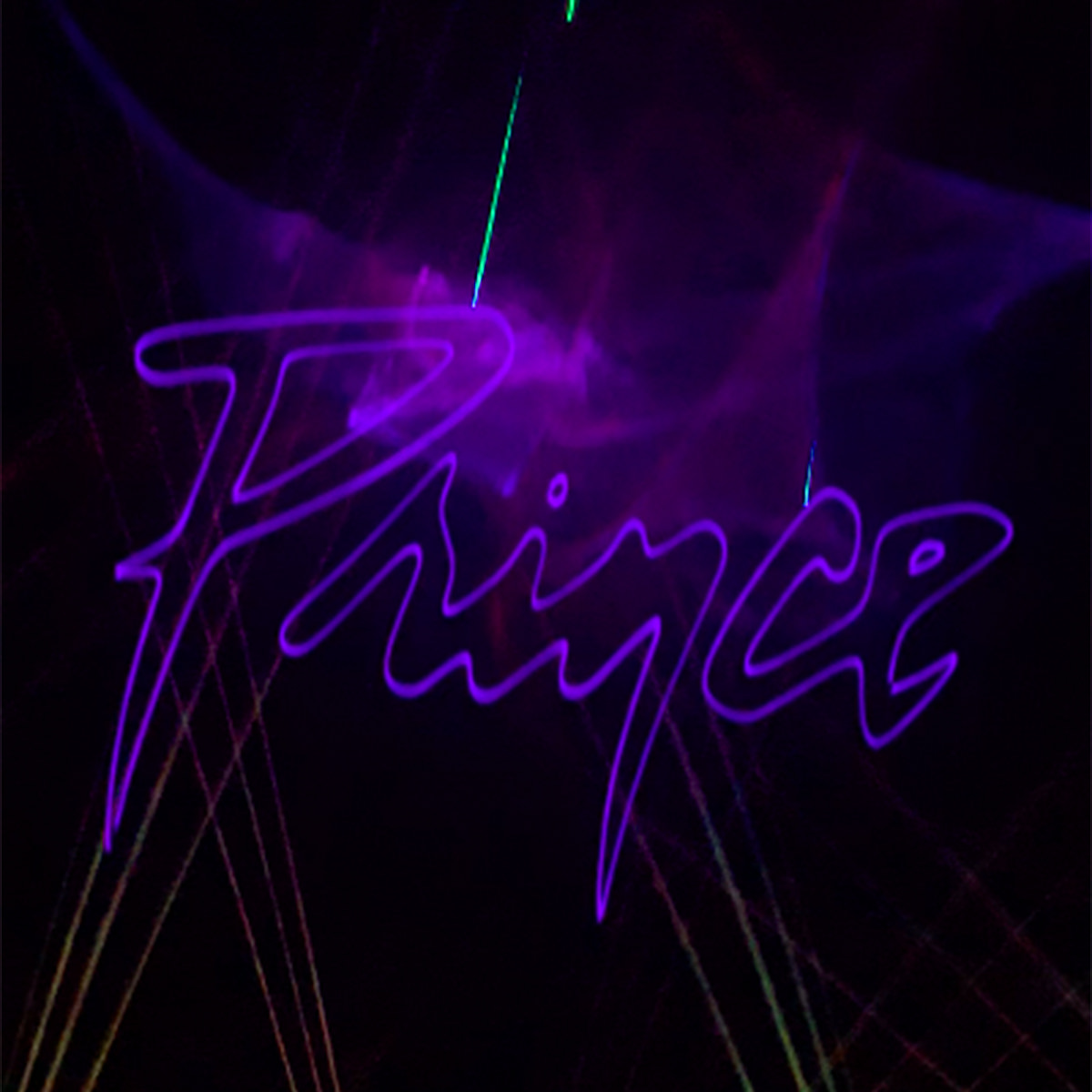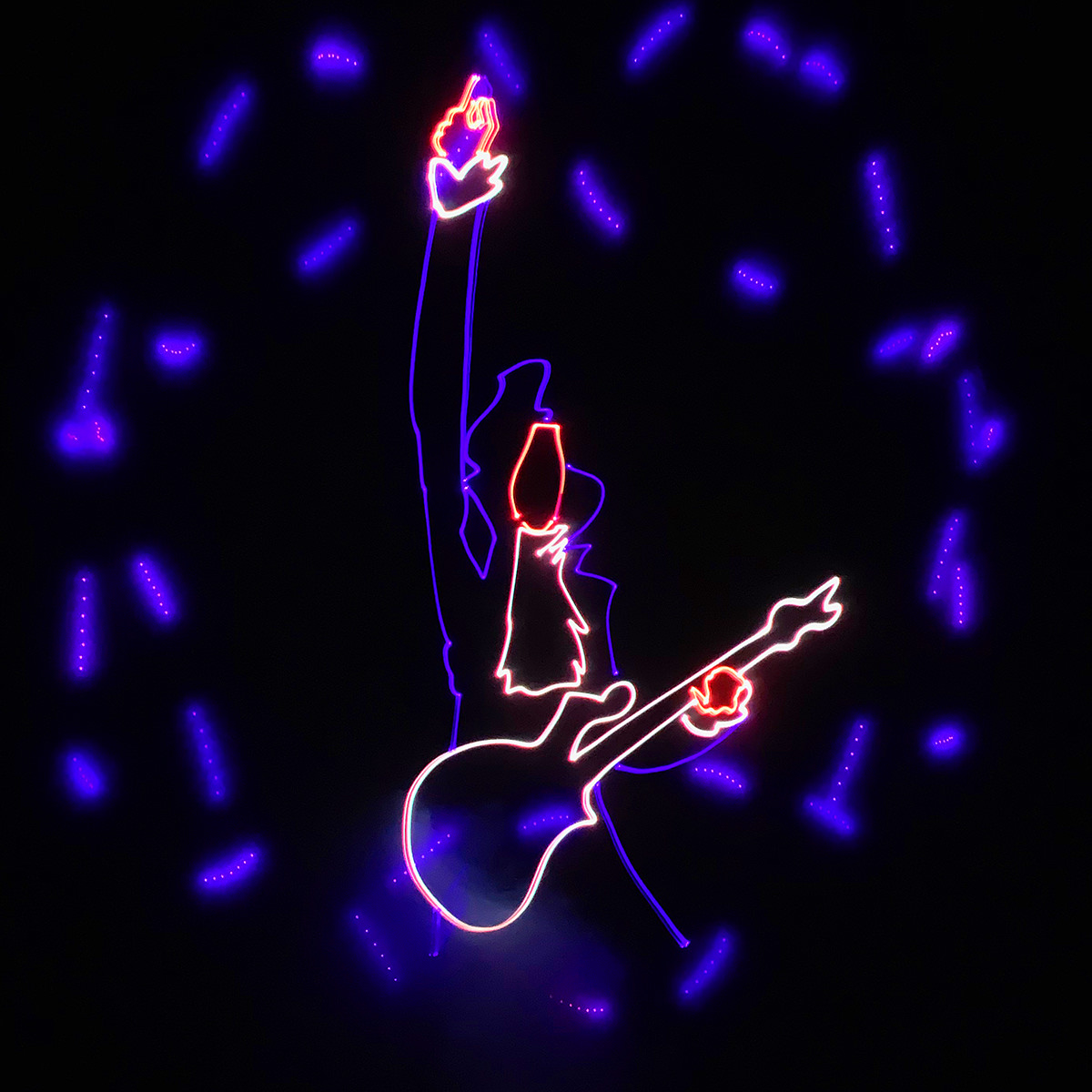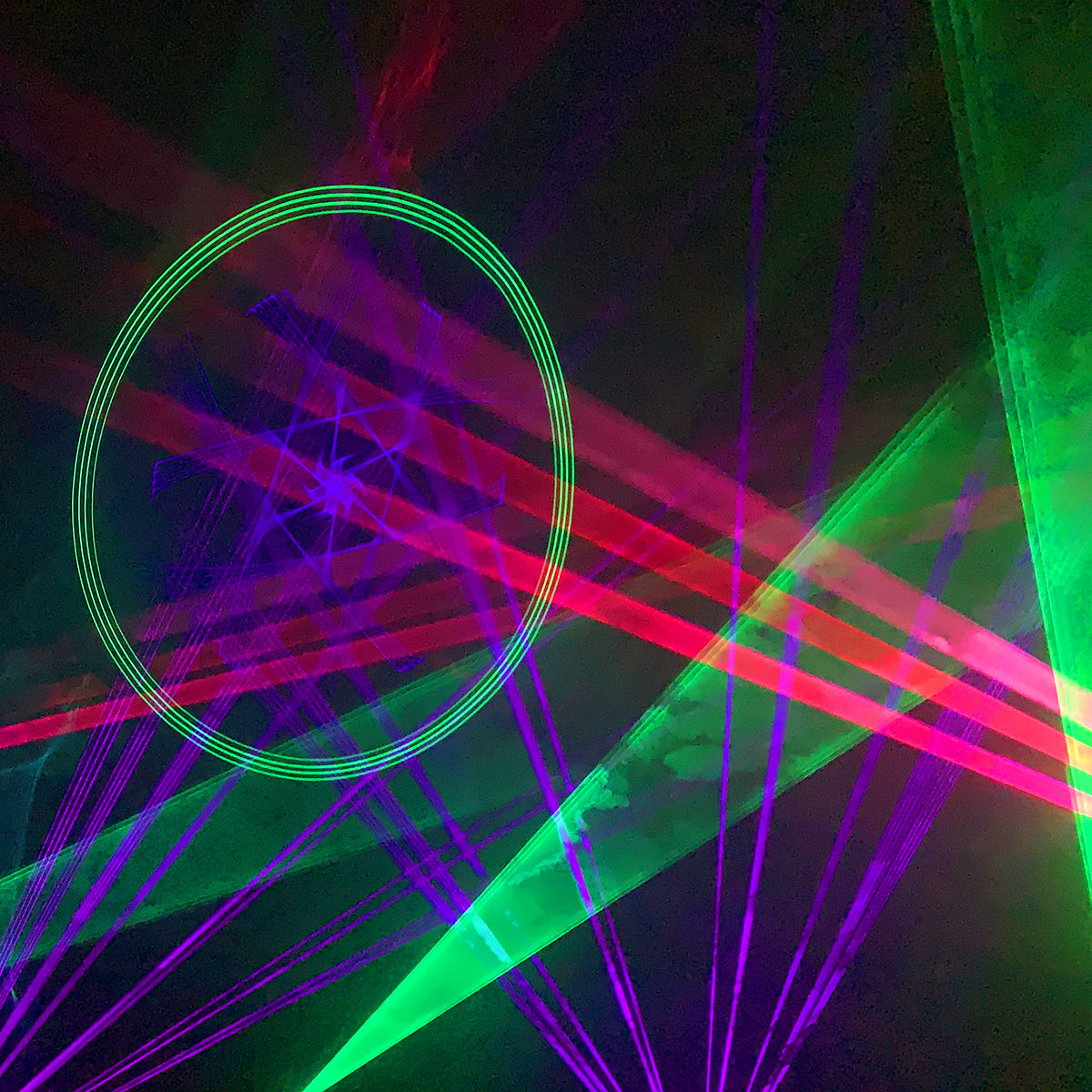 Naturally there was a lot of purple lasers used throughout, until the show closed with Purple Rain. Unfortunately YouTube won't let me embed the audio... but if you've got a browser that can play direct video, you might try this crappy low-quality movie that has the sound still attached...
If you have the opportunity to see Laser PRINCE, and are even a little bit of a fan of his music, I would absolutely go while it's playing. Tickets are $14 now (it was only $10 when I went last!)
After you can go up the Space Needle if you want...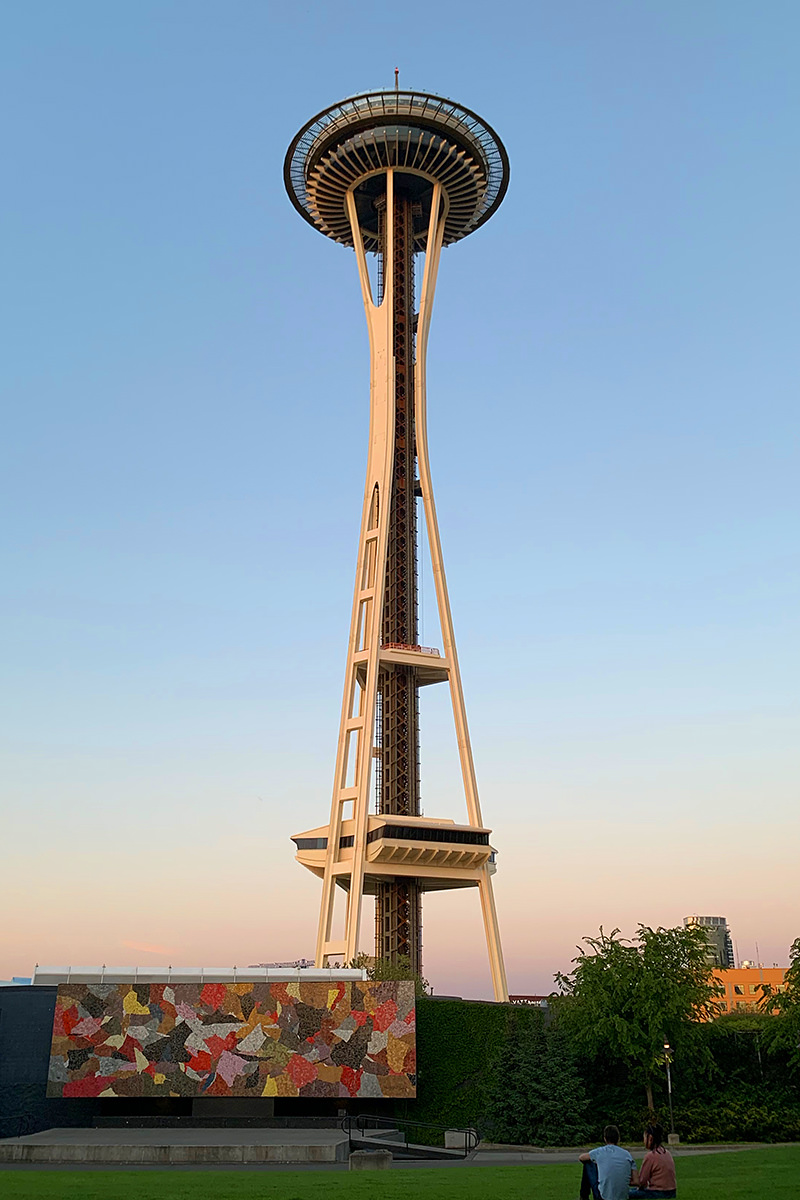 As we'd been up it many, many times, we elected to skip it this time.
And that's all for Laser PRINCE.
Hoping to get Laser PET SHOP BOYS some day.
Posted on May 1st, 2019
I had to wake up fairly early this morning to check into work. Once I had some things handled, I had time for a leisurely shower and... surprise surprise... breakfast!
Beside myself with joy at the prospect of being able to actually have breakfast for once, I tried to think of what I wanted to eat. All that came into my head was the Fatburger I had when I arrived on Monday night. It was everything I could want in a meal. I thought I would look up Fatburger's hours to see if there was time to stop on my way to the airport.
Imagine my surprise when I found out that not only is Fatburger open 24/7... they are serving burgers all hours of the day and night!
Fatburger Veggie Burger for breakfast it was...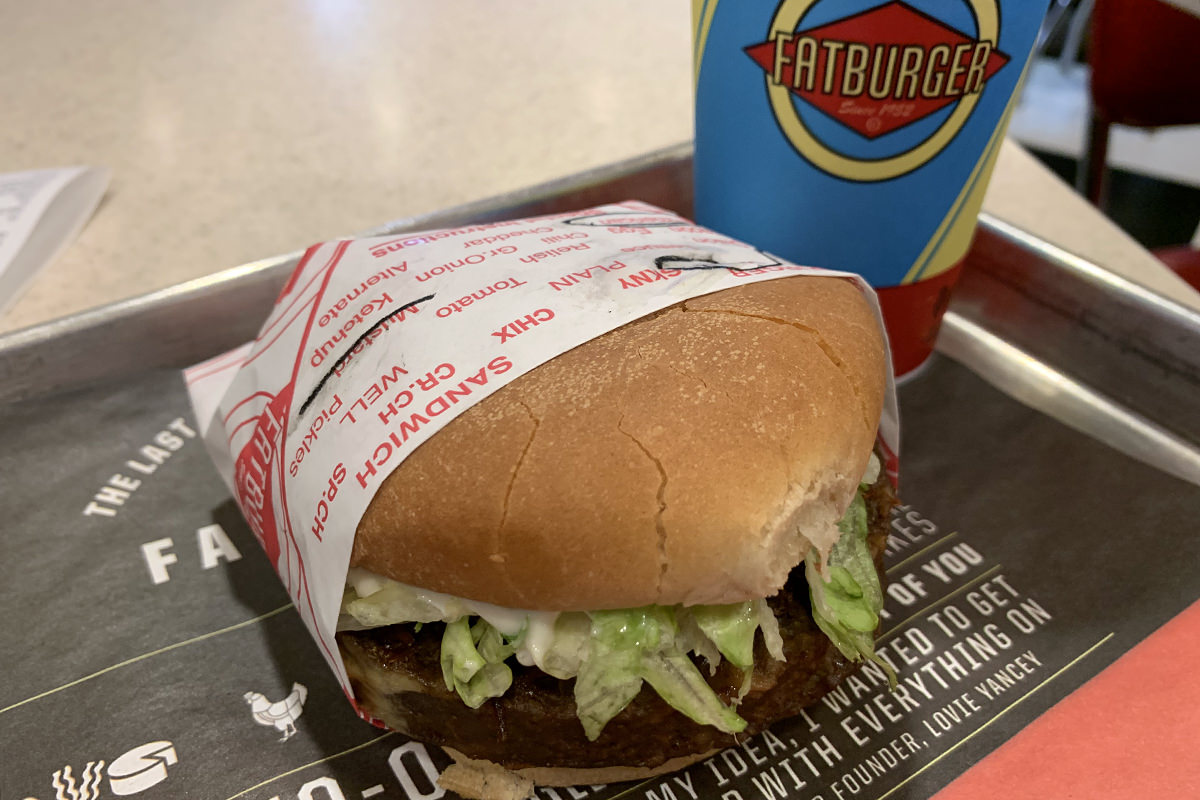 It was everything I dreamed it would be.
The weather has been really nice these past couple days. Warm and breezy, but not hot enough to be uncomfortable. It's almost enough to make me want to stay a couple more days. Almost.
This time around I'm staying at New York New York because it's where my friends were staying. It's also close enough to my work that I could walk instead of taking pricey taxis. It's a pretty nice hotel, even if the rooms are fairly basic. It certainly has my favorite skyline of all the Vegas Strip hotels...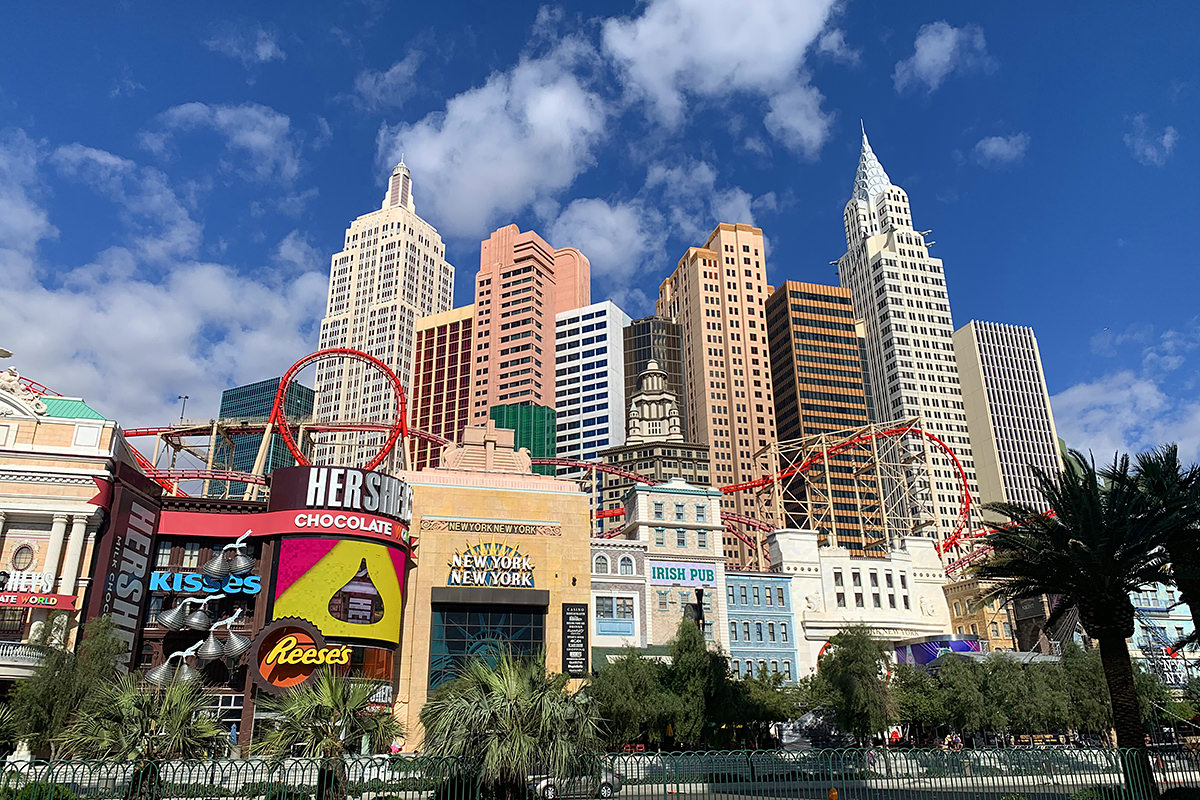 My room was in that light orange tower, fourth from the right. I was actually on the North side facing The Park... something I didn't know until I finally looked out the window this morning...
Two things...
1) I kept hearing "wooshing" sounds and assumed it was the wind. Turns out it's the roller coaster. The occasional sounds of people screaming were not people whooping it up on The Strip... but people riding said coaster.
2) The Park MGM hotel used to be The Monte Carlo. At the very top there is a "hotel within a hotel" with luxury suites that used to be called "Hotel32." I note that now the "hotel within a hotel" has been renamed "NoMad." I've actually been up there when it was Hotel32 and it was pretty spectacular (seriously, Google for photos of it). I can't imagine what it must look like after the remodel.

And now I'm at the airport waiting to fly home. As if that wasn't good enough news, I was upgraded to First Class for the flight home (which is pretty cool considering I was upgraded to First on the way down too...

And now it's time to head home so I can drive home!
Posted on April 30th, 2019
Last night I took care of work, then met up with friends on their last night in Vegas so we could go out to a late dinner. We ended up walking to Fatburger, which was fine by me because they not only have a great Veggie Burger (Boca Burger patty) they are now selling Impossible Burgers too! Can you imagine? Not one, but two vegetarian choices? At a burger chain? It's like they think vegetarians are real people or something!
Today was all work all the time, but I did manage to get away for a late lunch at my beloved Nacho Daddy (complete with a Long Island because I just can't help myself)...
I prefer the location in Old Town at the end of Fremont, but The Strip location is also pretty great.
After that it was back to work. I thought I'd grab a quick cup of fray from Pinkberry at Crystal Shops but was shocked to find that it was CLOSED! When I asked about it, I was told that all three of the Pinkberry locations in Vegas are now gone, including the one at The Tropicana...
Well that blows. I wonder if Pinkberry is in serious financial trouble or they just couldn't make a go of it in Vegas?
It was probably for the best, because I had dinner lined up with long-time blogging friend KC at Il Fornaio. Lucky me, they had the butternut squash ravioli at this location just like they do at the downtown Seattle restaurant...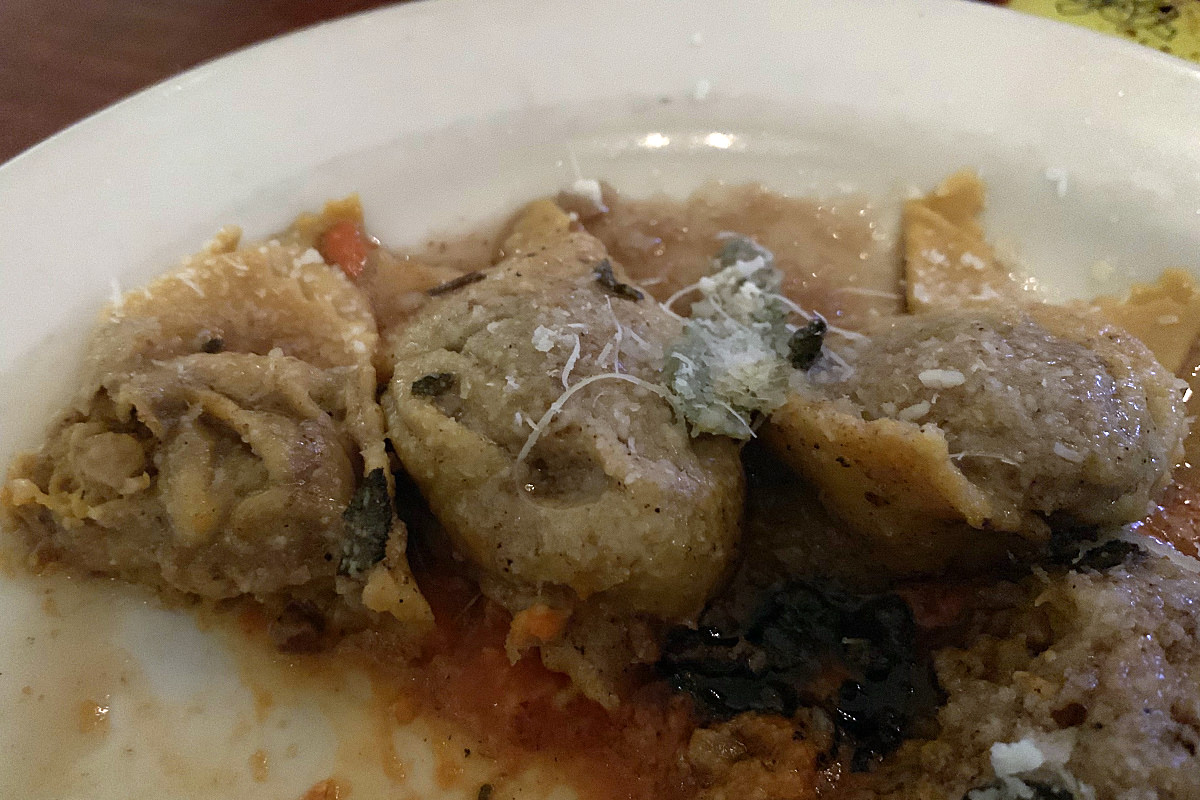 The walnuts inside were chunkier than what I'm used to, but it was still a pretty fantastic dinner.
After saying goodbye to KC, I decided to walk next door to the Park MGM so I could see the $550 million worth of renovations that got sunk into the hotel and casino from when they took over The Monte Carlo. It's nice, but not overly-extravagant. The lobby has a very cool wood structure in the ceiling that is supposed to look like tree roots or something. I'm not quite sure how they managed to cut-and-paste things together so seamlessly, but it's pretty nifty to look at...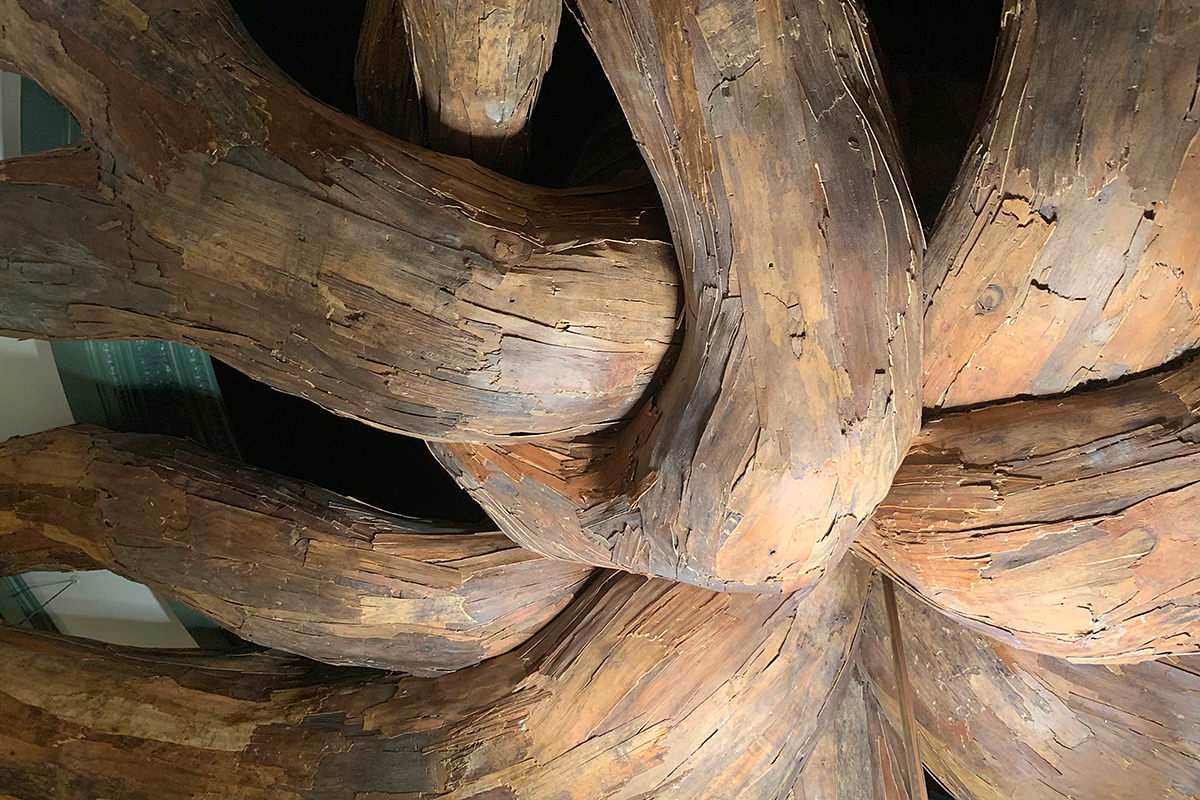 The Monte Carlo was always kinda an enigma to me. They advertised as a luxury brand, but the hotel and casino never much lived up to it. Sure there was marble on the floors, high-end fixtures, and such, but it always felt dated to me. When I stayed there a couple years ago I didn't think the rooms were very luxurious, that's for sure. Now that the Park MGM has taken over, it seems as though things are back on track. It's a nice-looking property in the public spaces anyway.
I had read somewhere that Britney Spears was setting up residence in the Park MGM, but she was nowhere to be found. Instead, Bruno Mars was playing a show in their theater. No idea what that's about. Now that I think about it, I haven't heard much of anything about Britney for a while now.
And there's my last night in Vegas. Tomorrow morning I'm back at work until 10:30am, then off to the airport so I can fly out and drive back home to my cats in the afternoon. It's always tough to watch them wandering from room to room looking for me and coming up empty. Especially since Jake still has a bit of a limp yet.
Crossing my fingers for an easy day of travel...
Posted on April 29th, 2019
I'm so exhausted I can barely function.
Which means it must be time to clean house, pack a suitcase, drive over the mountains, and fly off to destination unknown for work, right?
Well, it's not really unknown... it's Las Vegas... but what I'm going to be doing once I get there is mostly unknown. Right now the majority of my time will be spent sitting around waiting for the phone to ring so I can leap into action.
Or, more likely, fall out of bed into action.
I'm just that tired.
I flew out of Paine Field in Everett again, because I absolutely love having an alternative to shitty SeaTac...
Since this is actually "Boeing Field" there is a cool lineup of what I'm guessing is Boeing customers as you taxi out to the runway...
And now... time for dinner with friends.I hear everybody is doing that now-a-days.
Posted on April 17th, 2019
Last night I headed to South Coast Plaza to bask in all the things I will never be able to afford to buy. It always amazes me how some of these high-end stores have like... a mere fifty items for sale... yet manage to pay the obscene money that the rent must cost. Until I realize that selling just two $8000 purses a week means that a store would clear $64,000 a month. Then it all suddenly makes sense.
Easter is a big to-do at the mall. They decorated up an entire wing to be Springtime fantasy town in America...
Where you can get your kid's photo taken with a creepy robotic Easter bunny...
For the adults? Pieces by the late, great Alexander McQueen were on display...
So... fun for all ages then!
The first thing I did was buy two-and-one-quarter glorious pounds of something I could afford... California Crunch at See's...
"Would you like them wrapped?
"Please! Lord, yes! If you don't wrap them, they'll never make it home."
The second thing I did was head to The Apple Store.
=sigh=
I desperately need a new laptop. It's literally the only tool I need in order to work while I travel. I went to the Apple Store to once again take a look at their MacBook Pro, thinking maybe I was being too critical in my previous assessments. So I start typing on one. Again. Which I find almost impossible... it's so uncomfortable, and I'm making more spelling errors than I'm spelling words correctly. So I ask the Apple sales guy "Do you ever get used to the keyboard? Does it ever start feeling normal?" His response? "I don't know that you ever really get used to it... it's more like you adapt to it..."
And so I walked out buying nothing.
There was a time that I was such an Apple whore that I bought shit just because it had the Apple logo on it. Now I have grown to loathe the company and their shitty products so much that I don't even know what to do with my rage. The Apple Developers Conference is coming up. If they are going to announce a new MacBook Pro, that will be the time. Will it have a keyboard you can actually type on? Who knows? If not, I guess I see if I can repair my SEVEN YEAR OLD MACBOOK, which is far superior to anything Apple currently has for sale.
Oh well.
The third thing I did was meet up with Jordan Ninja, Atomic Bombshell, and family, for dinner at Din Tai Fung. This is an amazing dumpling restaurant that has all kinds of amazing dishes on the menu. It also has a statue of Bao in the lobby!
If you don't know Bao, it's an amazing Pixar Short cartoon...
Needless to say, I ate entirely too much.
And because I never learn my lesson, I decided to eat entirely too much at lunch today as well.
At the recommendation of Jordan Ninja and Atomic Bombshell, I decided I wanted to visit France while in Orange County because I am a fanatic over French pastries. 15 minutes walk from my hotel is a French cafe called Moulin, which has a beautiful display of pastries to drool over...
This place is pretty amazing. I am a sucker for a good cream puff, so I ordered a "St. Honoré." Apparently my pronunciation was accurate enough that the woman behind the counter assumed I spoke French. Everything tastes eerily authentic. Down to the taste of the flour and the way the cream reacts when you cut through it. And, because I am a glutton for punishment, I got a croissant as well...
And now... I'm close to exploding.
Good thing I'm on my way home before I can do any further culinary damage.