Posted on June 18th, 2018

Everybody is laughing at the idea of spending billions of dollars we don't have on a "space force." But you won't be laughing when the alien invasion comes and we are DOMINATINNNNNNG SPAAAAACE!!!
Oh... you say aliens that are capable of interstellar travel will have technology that makes any "space force" we come up with about as threatening as a BB gun? Well... well... WE CAN STILL KEEP THE MEXICANS FROM INVADING THE MOON! HA!! CHECKMATE, HATERS!!!
=ahem=
Space exploration has always resulted in amazing technologies that eventually filter downward and make everybody's life better. I 100% support my tax dollars going towards organizations like NASA, who do a lot more than just push the boundaries of human knowledge... they also invest in technologies which keep us safe and help us to have a better understanding of the world we inhabit and (at least until the current administration) the dangers we face from the destruction we're causing to it.
Likewise, I also 100% support my tax dollars being spent on defense. Sure, I think it's insane that we have such a massive military complex when so many of the current threats we face can't be remedied that way... and it seems crazy that we have weapons enough to destroy the world a hundred times over and are told we still need more... but I want our military to always have access to cutting-edge technology which keeps them (and us) safe. So yeah, budget for that. Not military parades and golf trips on Air Force One, but that.
And now we're getting a space force?
We've got homeless vets, a stupid-ass 100% completely ineffectual wall to build, and legions of other problems that could use our tax dollars... but pew! pew! pew! pew!
Tags:
Dumbassery
,
Dumbasses
,
Dumbfuckery
,
Fuck This Shit
,
Fucking Assholes
,
Fucking Scumbags
,
Fucktards
,
Liberal Redneck
,
Pig-Fucking Assholes
,
Stupidity
,
Trae Crowder
,
Truly Stupid People
,
Trump's America
Categories:
News – Politics 2018
—
Click To It:
Permalink
—
1 Comment: Click To Add Yours!
Posted on January 19th, 2018

I thought it would be fun for me and the cats to try the Tide Pod Challenge this weekend. Does anybody know which flavor tastes best? There's five different ones.
At first I was going to try Coral Blast Tide Pods because I love the ocean... but then I worried it might have fish in it and not be vegetarian-safe. The Downey April Fresh Tide Pods sound delicious, but this is January, and I don't know if I want to eat something from nine months ago... I prefer fresh-fresh. The Febreze Tide Pods might be the way to go if it will make Jake's poops smell better, but the Oxi Clean Tide Pods would get our intestines all shiny clean. I dunno. Maybe I should just go with the original flavor?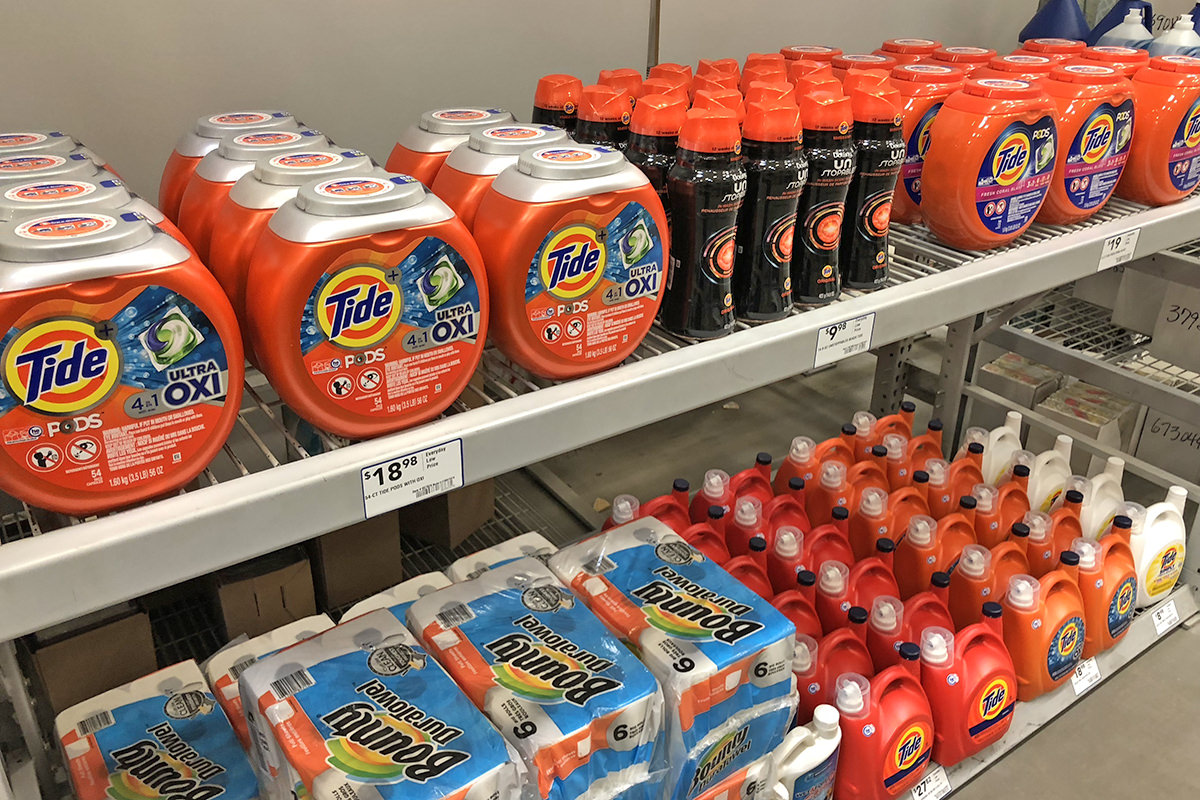 The Tide Pods aisle at Lowes is confusing.
So hard to choose. Couldn't they just make cheese-flavored so I'd know which to buy?
Guess we'll never know.
Oh... and if you're thinking of joining in on the Tide Pods Challenge, here's some things your should know.
Posted on January 1st, 2018

I never get mad at my cats.
It doesn't matter what they do that's "bad," I can never bring myself to get upset at a cat for being a cat. My cats make that pretty easy. They're well-behaved, for the most part, and don't get into to much trouble. Now that they're grown, they never scratch at the furniture or pee on stuff or anything like that (so far, anyway)...
On occasion there are problems. One of them will get to a place they're not supposed to be and break something, for example. But... how can that be their fault? More likely my fault for not anticipating the problem and preventing it. If I'm mad at anybody, it should be me.
It occurred to me a while back that if I can't get mad at my cats, shouldn't I be able to translate that passivity to people?
The Trump presidency has caused a lot of anger in me this past year. His dangerous ignorance, utter stupidity, and inhuman ability to not give a crap about people he is supposed to be representing as president... it grates on me like nothing else ever has. I find myself consumed with rage on a near-daily basis because every day it's just more of the same horrendous shit raining down on the world from The White House. Or, more likely, whatever golf course President Trump is occupying this week.
As somebody who honestly believes that anger is more destructive on the person who has it rather than those it's directed at, I know this it not healthy. Not for me. Not for the people I care about. Not for my cats.
And so, after completely unplugging from the world for two weeks in Antarctica and becoming accustomed to not being angry every waking moment, I made myself a promise to try and be more pragmatic, caring, and less angry in the new year. To attempt to let my anger go and focus on positive things so that I can help be a solution instead of being part of the static that divides us.
And then... just as I was making my mind up, it happens. A tweet President Trump unleashed finds its way into my news cycle...
And see... here is why my "letting go" of my anger is so tough. When it comes to my new commitment to setting aside hatred, I've already failed the test. Because stupid-ass shit like this just reinforces how utterly brain-dead and dangerous this fucking asshole actually is for this country and the world, and I can't help but be angry about that.
He has no clue... none... what climate change entails, nor does he care. And yet he speaks as if he's an authority on the matter. This is the same idiot who thought that hairspray quality today isn't as good as it used to be because ozone-depleting CFCs have been banned from aerosols... the same CFCs that he said could never affect the ozone layer because his apartment is "all sealed."
And yet... here we are. And here I am. Right back to where I was in 2017.
There's more stupid-ass tweets to come, I'm sure. There always are. And that's not even the start of it. I'm sure he'll find a way to keep assaulting all the Americans he loathes in short order... the non-Christian Americans, the unhealthy Americans, the Mexican Americans, the gay Americans, the poor Americans... whatever... the list is never-ending. And that doesn't even touch crap like his assault on net-neutrality, something that I am beyond passionate about.
And so... what?
What to do with the torrents of overwhelming Trump-initiated anger that very nearly destroyed me in 2017?
I honestly don't know. I wish I could argue against his fucked-up agenda without getting so enraged about it, but that's something I'm apparently incapable of doing. President Trump is an affront to everything I care about.
And yet I have to try.
I have to do better in 2018.
I could never ignore what's going on in the world in order to make myself be happier. Ignorance just allows ignorance to propagate. But the same could be said for hate.
And so... a plan.
I will try my best to accept the negative for what it is rather than what I make it into.
I will educate myself on the negative in order to better understand it from an objective viewpoint rather than an emotional one.
I will act upon the negative in a positive manner from a positive mindset in the hopes of bringing about positive change in myself and others.
I will attempt to detach myself from the negative (Buddhist-style) in order to accomplish all of the above.
Easier said than done to be sure. But, as I said, I'm going to try. Finding more positive inspirations in my life that encourage me to make the jump will probably help...
And here we go...
Tags:
Anger
,
Blogging
,
DaveLife
,
Dumbassery
,
News
,
Politics
,
Stupidity
,
Truly Stupid People
,
Trump's America
Categories:
Blogging 2018
,
DaveLife 2018
,
News – Politics 2018
—
Click To It:
Permalink
—
1 Comment: Click To Add Yours!
Posted on May 11th, 2017

I'm going to prove how bigly smart I am by picking a fight with the FBI.
You know... the guys who know where all the bodies are buried. Literally.
Posted on February 3rd, 2017

It's going to be a long four years.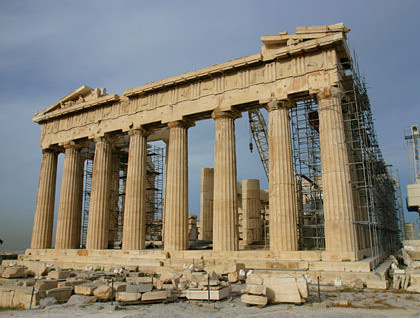 Posted on February 2nd, 2017

It's going to be a long four years.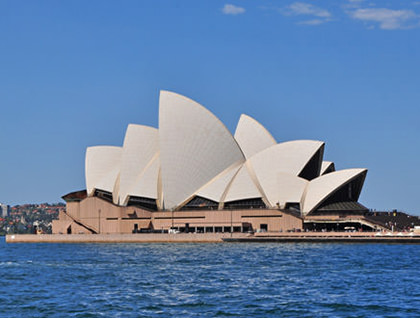 Posted on February 1st, 2017

It's going to be a long four years.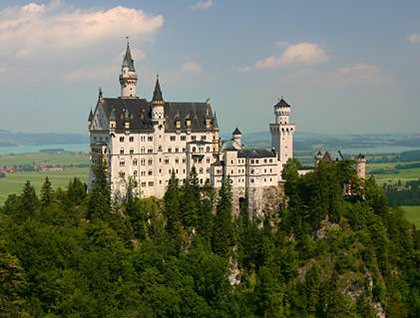 Posted on January 31st, 2017

It's going to be a long four years.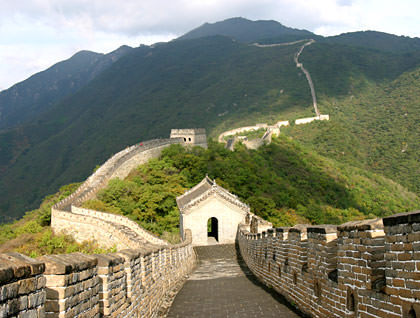 Posted on January 30th, 2017

It's going to be a long four years.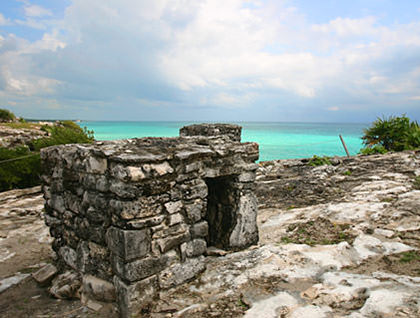 Posted on January 16th, 2017

This morning I started out the same way I begin every Martin Luther King Jr. Day... by listening to his beautiful I Have a Dream speech in its entirety.
As always, those words have proven relevant and timely in oh so many ways.
A couple days ago Representative John Lewis says he feels that President Elect Trump is an illegitimate president and that he won't be attending the inauguration.
Trump fired back, responding to Lewis by saying he's "All talk, talk, talk - no action or results."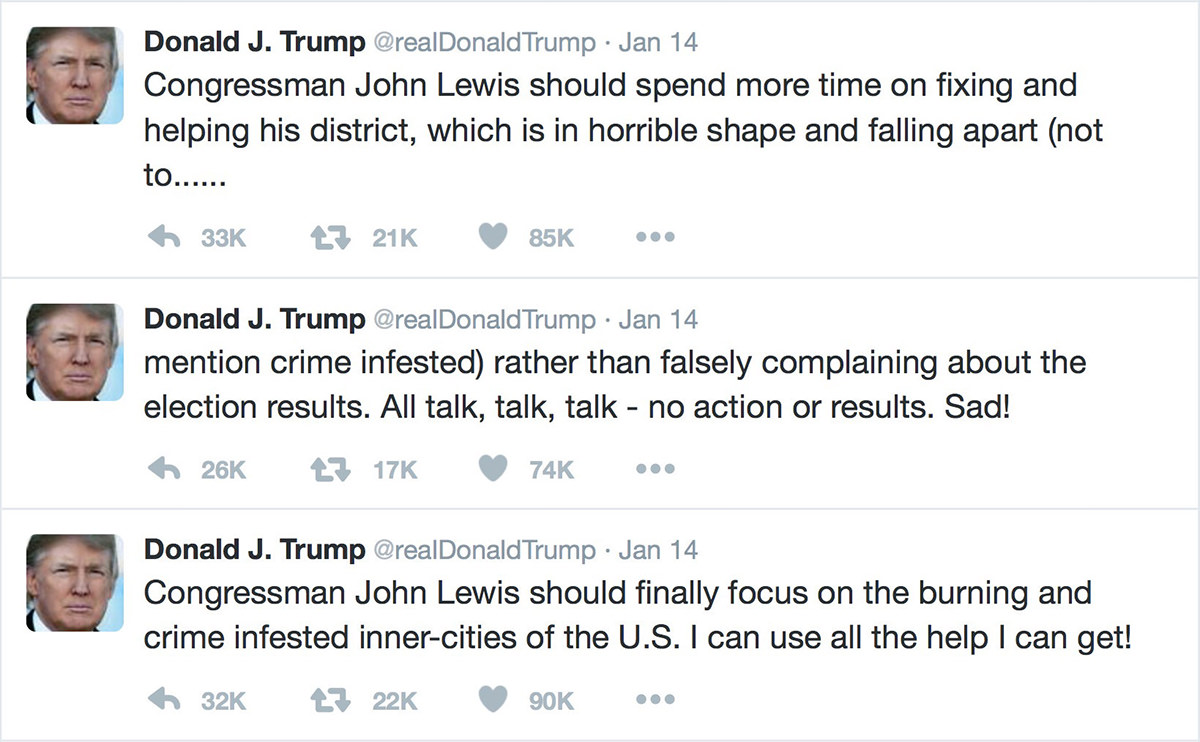 Now, say what you like about Representative Lewis's remarks. You can agree with him. You can disagree with him. Whatever. But to attack somebody who has been at the forefront of The Civil Rights Movement... who marched with Dr. King and was one of The Big Six... who has fought tirelessly for human rights... who has been beaten, jailed, and paid for his activism in blood... to say such a man is "All talk, talk, talk - no action or results"... is the height of ignorance.
Not that ignorance is unknown to Trump, but still...
What's even more disturbing than the President Elect being this stupid is that 74,000+ people "loved" his Twitter dumbassery.
If you're one of them, may I suggest you get yourself a copy of Volumes 1-3 of Representative Lewis's wonderful March graphic novels, which tells the story of the U.S. Civil Rights Movement from his perspective. Which is a fairly important perspective since, you know, HE LIVED IT...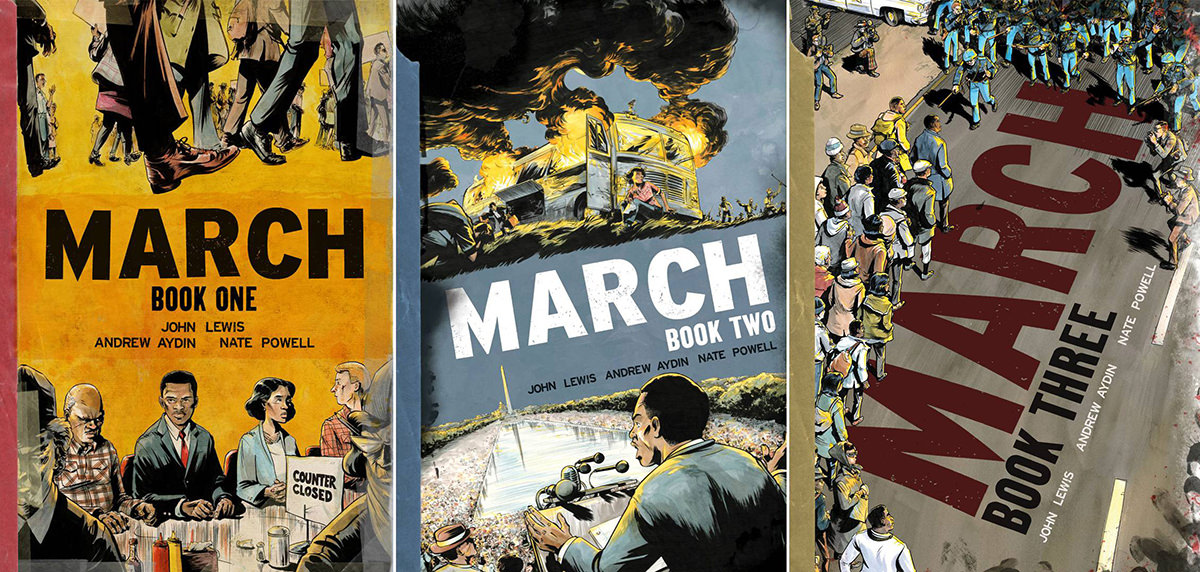 And, while you're at it, perhaps you could buy an extra set and send them off to "comedian" Rob Schneider, who felt the need to explain Martin Luther King Day to Representative Lewis...
I don't know if starring in such films as Deuce Bigalow: Male Gigolo and The Hot Chick could be considered a benefit to humanity... so perhaps Rob Schneider has done him part... but still...
You can get the entire March trilogy at Amazon by following this link.