Posted on August 14th, 2014

I loathe shopping.
I've never enjoyed it. If given the choice between going to the mall or getting water-boarded, I'd probably take the water-boarding. Especially during the holidays (at least the first time... as I've read that being water-boarded is seriously no fun at all). Now-a-days I rarely go to a mall or physical store to shop, I buy everything on the internet. And while I still loathe shopping, at least with online shopping I don't have to put pants on.
But that's not the only difference.
The biggest difference to me is that online shopping comes with customer reviews. When shopping at Amazon (my online store of choice) I have immediate access to the opinions of other people who have purchased the item I'm looking at. This can be a big plus. Except sometimes the reviews are paid or planted to make a product sound better than it is, in which case it's a huge detriment. They can also be sabotaged by people with nothing better to do than trash perfectly good products for petty reasons. But, overall, I trust reviews to even out and paint an accurate picture of what you'll be getting.
And, for the most part, this trust is not misplaced.
But what happens when it does?
I really like my current camera bag, a Tamrac Velocity 7x, but it's now too small to hold all my equipment and it screams "I'M A CAMERA BAG!!!" which probably acts like a beacon to thieves looking for an easy score. So I decided to buy something new. Which isn't an easy feat because no photographer I know has found the perfect bag. But this doesn't stop them from battling to the death in promoting the bag they prefer while brutally cutting up bags they don't. As you can imagine, this makes researching which bag to buy incredibly difficult. But I put in the time anyway and eventually landed on one which looked perfect for me.
Enter "The Brixton" by Ona Bags...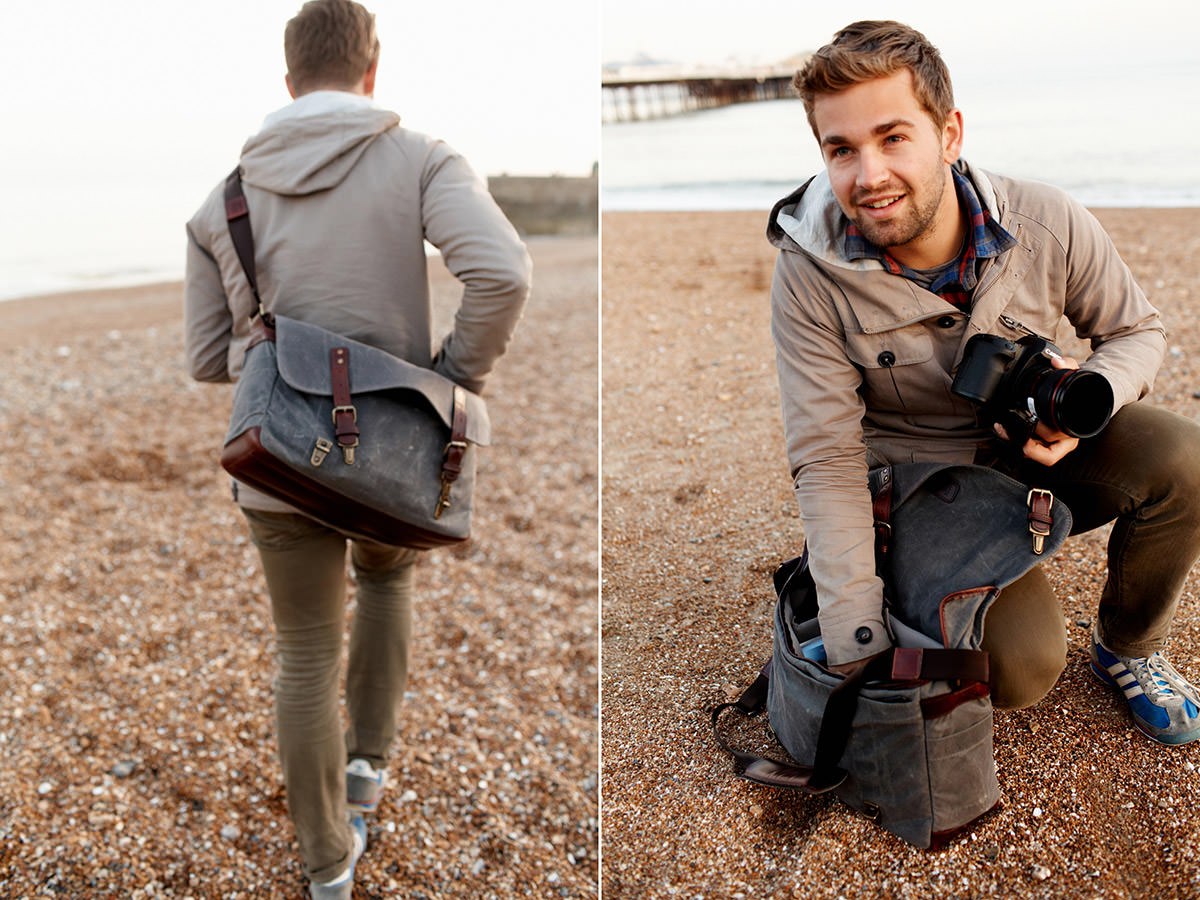 Photo from Ona Bags featuring photographer Colin Hughes
First of all, it's one of the best-looking camera bags I've ever seen. It looks like a high-end messenger bag and doesn't say "I'm a camera bag" at all. Sure, for the sake of the cows that died to make it, I wish it didn't have leather accents, but at least those poor animals can rest in peace knowing that their hide was used to make something so beautiful.
But, when it comes to baggage, I'll take functionality over beauty any day, so how well does it work as a camera bag?
Well, according to all the reviews I read, it was the most amazing thing since sliced bread. Honestly, I had a hard time finding anything bad that was said about it. Photographers loved the thing. So I did my best to ignore the TWO HUNDRED AND SEVENTY-NINE DOLLAR PRICE TAG, and placed my order with B&H Photo.
I was so thrilled to have finally found the most perfect camera bag ever made that I was walking on air for days.
And then it arrived.
Yes, it is indeed beautiful... but holy shit is it a cluster-fuck of disasters...
The wax coating on the canvas scratches very easily. Just removing my bag from the box resulted in some hefty crease marks on every surface. This isn't necessarily a deal-breaker for me... I'm sure eventually it will have an old weathered look I'll like... but, seriously, why couldn't they just use a standard spray coating? The thing looks beat to shit and I've had it for two days. Two days of doing practically nothing! Heaven only know what it will look like after two weeks of travel!
The Brixton has an unremovable strap(!) with very little padding on a shoulder piece that slides all over. It doesn't even have a rubberized coating to keep it from sliding on YOU. This is pathetic and unforgivable for a bag that costs TWO HUNDRED AND SEVENTY-NINE DOLLARS!
The handle on top is off-center and off-balance, making it uncomfortable and pretty useless. Why they couldn't have gone dual-handle to make it carry well is a mystery.
There is a pocket in the back that's kept closed by magnets, which is nifty. What's not so nifty is that it has no cover-flap and doesn't seal tight, which means water and dust are just going to pour into the thing when you're trekking into nature's wild abandon. The smart thing to do would be to seal it shut with silicone... but... well, it's a pocket. I do love my pockets. There are also two wide-open, unprotected pockets on each side. =sigh=
There are two pockets in the front right under the bag's cover flap. They are roomy and deep, which is great... BUT THAT'S ALL THE INTERNAL POCKETS YOU GET?!? Absolutely no provision whatsoever for organizing all the tiny crap that photographers seem to accumulate. This is a horrible problem. My Tamrac spoiled the crap out of me with all the useful little places to organize things. This is awful. I mean, holy crap... NOT EVEN A PENCIL POCKET?!?
There is a divider inside so that you can slide in a small (13-inch or less) laptop. This is a welcome addition, but it's attached FLAT with velcro so it's more of a slot than a pocket. That's great for a very thin computer (like the MacBook Air) but just plain wacky for anything else because it distorts the back wall of the main compartment. Why not at least attempt to add some depth there... especially if the whole thing is removable if the customer doesn't want it taking up space! And would it kill Ona to put a piece of rigid plastic at the back of the bag to keep your computer from bending in half as it bends around your body?
The internal dividers are way too short. Sure you can stick them higher in the bag, but then small lenses and other items aren't contained as they should be.
The brass latches Ona uses to keep the bag closed are kind of a hassle. They slide latched so easily sometimes, but require multiple tries to latch other times. I don't know why... maybe it's because you have to have them lined up perfectly straight? Regardless, anything this finicky has NO place on a camera bag, and they really should have used an alternative.
The adjustable buckles on the closure straps are UP-SIDE DOWN and probably the stupidest fucking design flaw I've seen on any piece of luggage. Ever.
That last bullet requires some explanation...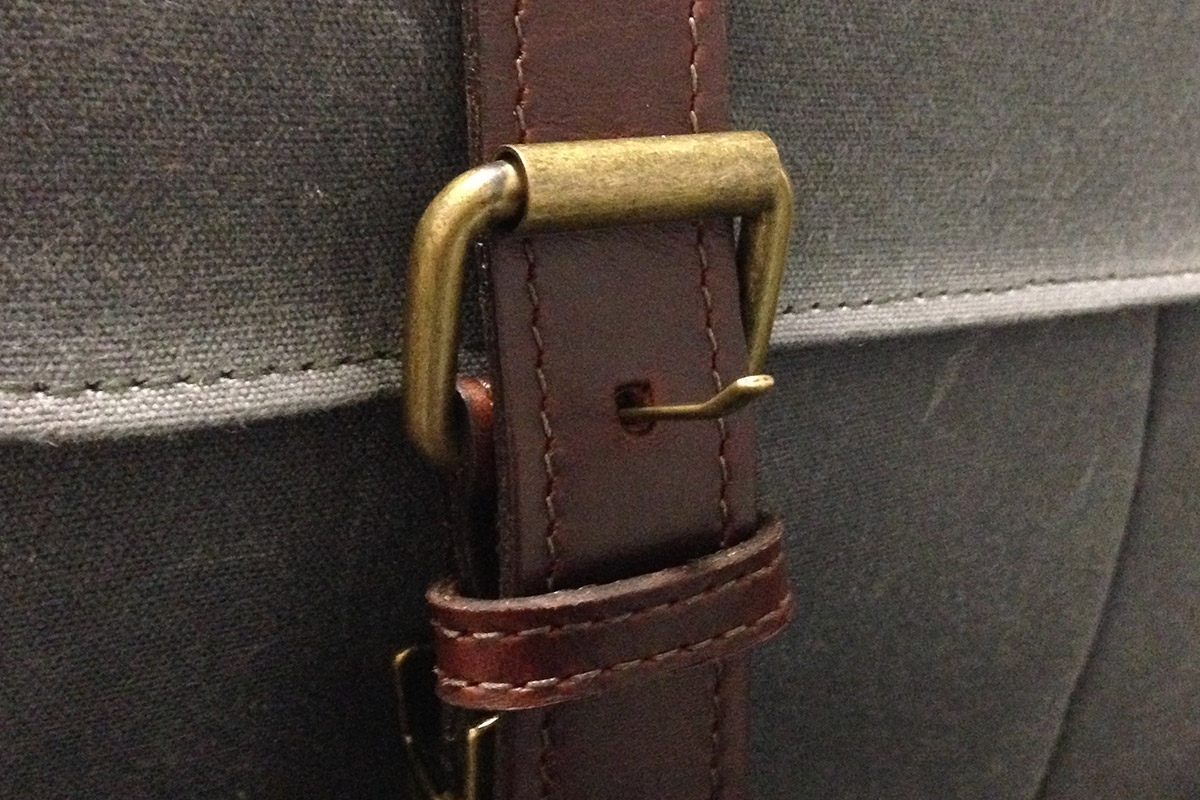 As you can see, instead of pointing down, the buckle prong faces upwards. This means the damn thing is pointing out ALL THE TIME! The first time I noticed this, it was because I squeezed by a $1000 wood filing cabinet only to see that The Brixton left an ugly gash in the finish. The next time I noticed it, I dropped my arm to my side where the bag was resting and got punctured (no blood, but it left a mark and hurt like a m#th@f#c%er).
This is a huge, major, massive design flaw.
BUT IT WAS NOT MENTIONED ONCE IN ANY REVIEW I READ! NOT ONCE! What the fuck?!?
Did I perhaps get a defective product or something? I jumped to Ona's own website to see if I could find out. Sure enough, right there in their own marketing photos, the little buckle prong is sticking out all over the place!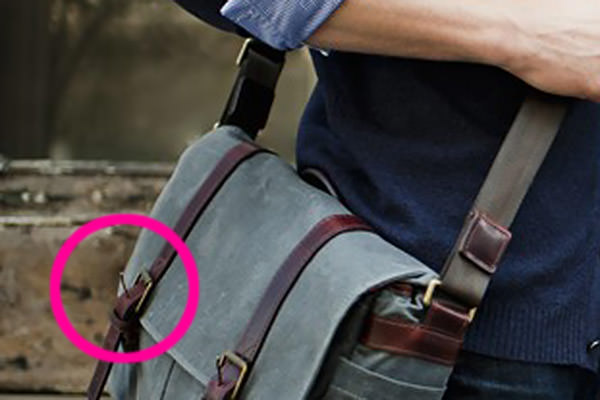 Photo from Ona Bags
Did nobody at any point during product testing notice this problem? Nobody?! I'm the only one who has been poked and left gashes in furniture? Seriously?!
I just don't get it.
There's a lot of things to like about this bag, but it's so deeply flawed that I just can't comprehend the universal praise it's getting. In order to make it work for me, I'm going to have to...
Use some shrink-tubing over the buckles so they're not poking people and fucking up the furniture. This will also (hopefully) dampen the "CLACK! CLACK! CLACK!" you hear when you're walking along with the bag unlatched.
Use some kind of small plastic box with dividers for all the small stuff so there's a way to keep it organized and not just sitting in the bottom of a deep pocket in a lump.
Pull the velcro dividers out of my other camera bags so I have useable-height dividers in the Ona bag.
Wrap anything kept in exterior pockets in plastic bags to keep them clean and dry.
Cut off the shoulder strap and replace it with something that's worth a shit.
Consider adding a rigid piece of plastic with a felt cover to the back of the bag to better protect my MacBook Air from bending.
My regret is not that I have to modify this bag so that I can use it effectively. That's bound to happen with something as varied and subjective as photography gear. It's that I paid TWO HUNDRED AND SEVENTY-NINE DOLLARS for something that didn't have a lot of thought put into it. Or maybe it did, and the designers made bad choices. I dunno. It's just maddening that no reviewer mentioned any of the shortcomings that come with owning Ona's "The Brixton."
Oh well. Eventually, with modification, it should be a good bag for me. I sure like the way it looks. And it could have been worse.
I could have paid $430 for the all-leather version.
I hate shopping.
Posted on December 15th, 2013

Oh my stars and garters! Hold on to your shorts... because Bullet Sunday starts... now...

• Pass. This Saturday & Sunday was declared "SteetPass Weekend" by Nintendo. "StreetPass" allows you to have limited interaction with other Nintendo 3DS users you happen to pass on the street when you both have your 3DS sleeping in your pocket. But you can also interact with users via "StreetPass Relay Points." Visit a Relay Point (at places like McDonalds and Starbucks) and you can have limited interaction with the last six users to have been there. However... during "Street Pass Weekend" the six users you interact with are randomly pulled from Relay Points around the world! This is kind of nifty, because you'll get the chance to meet Mii characters you'd likely otherwise never meet. Very cool, and I tried my best to make the most of it. Sadly, countries in South America (plus Mexico!) I got don't have maps in my 3DS, which is kind of crappy. Why is that? I'll have to see if there's a way to download them.

• Theft? My first stop on a dreaded shopping run today was at Costco to pick up some things for my grandmother. Once I had unloaded her purchases into my trunk, I wheeled my cart across the parking lot to return it. As I was walking back to my car... I SAW A WOMAN TRYING TO BUMP MY TRUNK OPEN! It took me a second to process what I was seeing, but I finally managed to say "HEY! GET THE FUCK AWAY FROM MY CAR BEFORE YOU GET FUCKING SHOT!" (it's an easy threat to make here in Redneckistan, because most people are packing). She said "Oh! I thought this was my car!" and awkwardly scrambled off. Which was so, so stupid. It was painfully obvious that she watched me load my trunk, then tried to break in and steal stuff the minute I walked away. I'm not shocked that there are people out there breaking into cars... it's just how brazen they are about it. I was right there!

• Mickey Dees. I stopped at McDonalds for "StreetPass Weekend" and to get some fries and a Hi-C Orange Drink. After I got my food and was headed to a table, I ran across a group of people talking in the aisle, completely blocking it. I said "excuse me" and tried to get by, only to have them completely ignore me... THEN MOVE TO BLOCK ME FURTHER. Which was apparently high-larious to them. Rather than unleash a string of expletives in the middle of a kid-friendly restaurant, I decided to backtrack and go around them. What IS it with people? These were not some punk kids... these were adults! Adults still living in high school, apparently. I weep for the future.

• Starbucks. Another "StreetPass Weekend" stop... and this time I decided to order up some yummy peppermint cocoa, since I don't drink coffee. I ordered a "medium" and got a "grande" which looks like it's actually a large? What I apparently wanted was a "tall" which is a step up from a "small" and two steps down from a "venti." But since the "small" is not actually on the menu, everything shifts up a size. Starbucks is confusing. I think they up-size their sizes so they can trick unsuspecting people into paying big money for more beverage than they need. My cocoa cost FOUR DOLLARS!! Which is crazy. I can get blown for that kind of money! I guess now I know why Starbucks racks up billions in profits every year. I would have been happier with a 20¢ packet of Swiss Miss and a cup of boiling water from my microwave.

• StarBIGbucks. SERIOUSLY?!? FOUR DOLLARS for a cup of cocoa?

• Home Despot. Before I left for Wenatchee, I checked the hours of all the stores I needed to visit so I could form a plan of attack. Home Depot had the latest closing time of 8:00, so I put it last on my list because I have to return an item. I arrived in plenty of time, walking up to their front doors at 6:05pm. Only to find it wouldn't open. I doubled-checked the hours on the door and, sure enough, they don't close until 8:00. So I try pushing on the door to see if it will open... it refused to budge. So I triple-check the hours. And then... then... I happen to notice another sign all the way across the door from the hours...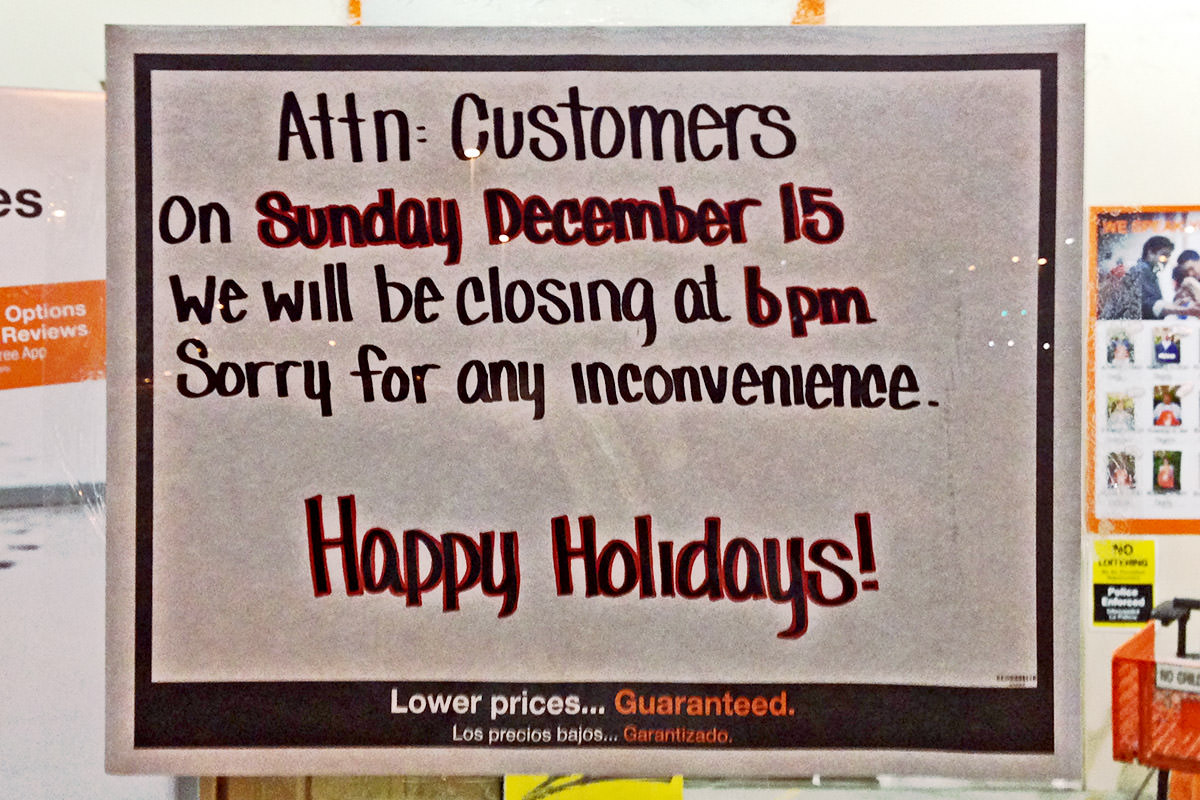 This one says "Fuck you... but we're closing at 6:00 today! Sorry for the inconvenience! Oh... and Happy Holidays, SUCKER!" Except, no, they're not really sorry or else they would have put it on their website so their customers wouldn't waste their time. As I was taking the above photos, a woman came up to the door and I had to tell her the bad news. "But... I came all the way from Quincy!" Yikes. That's a 45-minute drive. If I had traveled all that way, I would have burned the mutha down. I can only hope that the reason they closed early was for something important... and not some kind of lame company Christmas party or something.

• Ten. The latest meme? "10 Books That Have Stayed with You." Not the "best books you've ever read'... but instead books that have stuck with you for one reason or another. Interesting. That's a very different thing then, isn't it? My picks...
Jonathan Livingston Seagull by Richard Bach (life... In 127 pages)
Illusions by Richard Bach (living... in 192 pages)
Noble House by James Clavell (how fictional history should be written)
Hitchhiker's Guide to the Galaxy by Douglas Adams (funny sci-fi classic)
Last Chance to See by Douglas Adams (endangered animals funny? yes)
A Princess of Mars by Edgar Rice Burroughs (ultimate sci-fi yarn)
Son of Tarzan by Edgar Rice Burroughs (ultimate adventure yarn)
Dune by Frank Herbert (flawless science fiction world-building)
Lightning by Dean Koontz (one of the quickest reads I've ever had)
Watchmen by Moore & Gibbons (visual storytelling at its best)
Bah! Just as I finished this list, a dozen more books popped into my head. I guess I love books way too much.

• MIKE HUCKABEE: AGENT OF SATAN!!! And so there I was, running through my Facebook timeline, enjoying all the funtime activities of my friends, when I run across an ad for Governor Mike Huckabee's FREE Bible Story Cartoons DVD! I love Bible stories! I love cartoons! I even love DVDs (even though I buy everything digital now-a-days)! So I was absolutely going to claim my freebie! And then, just as I was going to comment my appreciation to the Governor, I saw that the number of comments left before me was 666... THE MARK OF THE BEAST!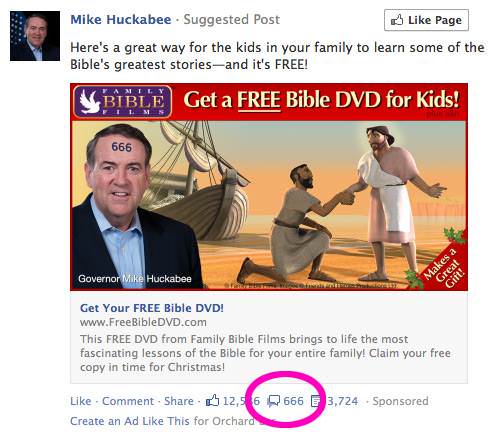 ZOMG! CLEARLY THIS IS A SIGN FROM GOD WARNING ME THAT MIKE HUCKABEE IS AN AGENT OF SATAN! S-A-T-A-N-!!! Mike Huckabee must be indoctrinating children into the devil's army with these DVDs! And clearly he is an agent of SATAN since he charges $5 shipping and handling for this "free" DVD... and, as if that weren't proof enough of his allegiance to Hell, anybody ordering the "free" DVD is automatically enrolled in a subscription for even more devil-indocrinating DVDs... at $12 plus $5 shipping and handling! Praise be that I saw the sign that God provided me and was able to steer clear of this evil, EVIL minion of The Dark Lord!
Oh... wait a second... I've actually READ THE BIBLE! And The Bible clearly states that interpreting something as a "sign from God" is AN ABOMINATION TO THE LORD! It says so right there in Deuteronomy! And Leviticus! And a dozen other places in scripture! What was I thinking? I guess I must just get caught up in all these evil sorcerers like PAT ROBERTSON and MICHELE BACHMANN who are constantly seeing "signs from God" that support their evil, godless plans to tempt people into the service of SATAN!
So, my apologies, Governor. Turns out you're just an unscrupulous businessman who tricks people into buying your shitty DVDs. You're not an agent of SATAN after all! OR ARE YOU?!? Using "free" DVDs to scam people into buying your crap certainly SOUNDS like something the devil would orchestrate... hmmm?

Annnnd... I'm shootin' blanks. Until next week!
Posted on May 1st, 2013

Our local Sears store is closing.
I am not entirely surprised by the news, but I am a bit saddened. For the longest time during my childhood, Sears was the place to shop in our valley. There wasn't much competition, and the internet wasn't a Thing yet, so you went to Sears. My first computer, an Atari 800, was bought at that Sears. All the software I saved my allowance to buy came from Sears (mostly INFOCOM games like Zork). Appliances and tools all came from Sears. Clothing came from Sears too. And if there was something Sears didn't have that you needed, you could order it from their catalog.
So yeah, I have fond memories of Sears and it seems strange to think about it closing.
I haven't shopped there in years, of course.
The last thing I bought at Sears was a Kenmore washer and dryer... or maybe it was some Craftsman tools... but that was at least a decade ago. I feel bad about that, but they just don't have anything I want to buy. Not any more...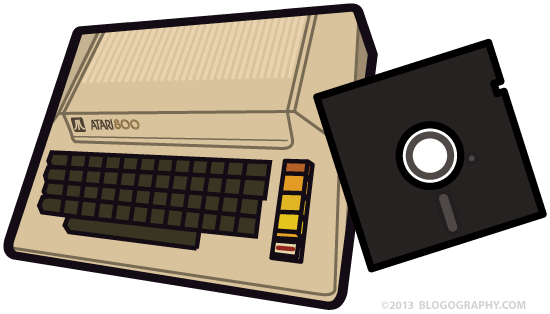 I drew this Atari 800 for the cover of Kevin Savetz's terrific book, Terrible Nerd!

And now I think I'll have a beer and reminisce about the good ol' days when I was a kid and the Sears Christmas Catalog was my world.
Much like Apple.com is now.
Posted on April 2nd, 2013

I am not much of a shopper. Most of the shopping I do is under protest because there are few activities I loathe more than having to drag myself through a mall. I don't like the crowds. I usually don't like the salespeople. I don't like the prices. And, most of the time, I don't even like the products. It's for this reason that most all of the things I buy are purchased online. No crowds. No salespeople. Good prices. And every product you can imagine.
But, for things like clothes, online is not always the best option when all things are considered.
So most times when I need new threads, I brave a trip to the mall.
Where, if I find something I like, I buy several copies so I can put off my next trip as long as possible. If I find a great shirt? I'll buy a half-dozen. Find a good deal on jeans? I'll buy ten. Find a pair of shoes I like? I'll buy out their entire stock on-hand. Etc. Etc.
And it's all good.
Until my supply runs out.
Last year I finally had to retire the last pair (of four pairs) of Nike trainers that I had purchased five years earlier. It was a solemn occasion filled with all kinds of grief. Not only because I was having to trash a pair of shoes that I really liked... but because it meant I would have to go shoe shopping again. It was such a tragic event that it made me wish I had a time machine. Not so I could go back and kill Hitler or anything worthwhile like that... but so that I could go back and buy all four pairs from "Athletic Attic" PLUS have them order another ten pair. That way I wouldn't have to go shoe shopping until at least the year 2022.
Fast forward to today, and I had to toss out the last of the six Eddie Bauer Henleys I purchased nearly thirteen years ago. This really sucked, because I don't like the newer Eddie Bauer Henleys. Which means I'm going to have to eventually go out to a (=shudder=) mall so I can find a suitable replacement.
When I'd rather go have some teeth pulled.
Oh well, at least I'll have something to blog about.
Posted on June 2nd, 2012

When I shop for home furnishings, clothing, or luggage now-a-days, my first stop is JC Penney. I support companies which embrace equality and fairness for everybody, and JC Penney is leading the way when it comes to being inclusive.
And they're not being subtle about it. Their recent advertising campaigns celebrate diversity in a very obvious way. Which is causing no end of drama with bigoted organizations like "One Million Moms" who seems to think that showing "non-traditional families" in an ad is the end of the world.
Sorry, but I don't see the end of the world.
I see a happy family with a couple of kids that are lucky to have two dads who love them...

Father's Day ad from JC Penney • First Pals... What makes Dad so cool?
He's the swim coach, tent maker, best friend, bike fixer and hug giver—all rolled into one.
Or two. Real-life dads Todd Koch and Cooper Smith with their children Claire and Mason.

And somewhere out there, a gay kid who is being ruthlessly persecuted day-in and day-out for something he has no control over, will see this ad and realize that he has a future. That the hurt and despair he's feeling is temporary and he has a shot at happiness just like everybody else. That even though he's labeled as "different," he can have a normal life if he just hangs in there long enough. That the world is changing and there's a place for him in it where he will be valued and embraced for who he is.
And maybe this will be the light he needs to keep from doing something tragic in a world that has more than enough tragedy in it already.
And I seriously don't give a fuck if a million bigoted bitches have their panties in a bunch just because they don't want to talk to their kids...
"It doesn't have any effect on your life. What do you care? People try to talk about it like it's a social issue. Like when you see someone stand up on a talk show and say "How am I supposed to explain to my child that two men are getting married? I dunno, it's your shitty kid, you fucking tell them. Why is that anyone else's problem? Two guys are in love but they can't get married because you don't want to talk to your ugly child for fucking five minutes?"
— The ever brilliant Louis CK
JC Penney is setting an example with their advertising that is helping to make this country a better place. And not just for gay kids... for everybody. They aren't sitting on the sidelines of this so-called "culture war," they're in the game fighting the good fight.
And I'm supporting them with my business whenever I can because it's a fight that needs to be won.
Posted on June 22nd, 2011

Yesterday evening I managed to find some falafel at Costco, so I needed to drop by Safeway and get some pita bread. For whatever reason, Costco doesn't carry pita bread, which is probably for the best since I didn't need 150 pieces of the stuff.
So there I am walking to the bread section when some asshole comes whipping around the corner pushing a shopping cart without looking. I literally had to jump out of the way to avoid getting nailed. Of course I didn't get an apology... I barely got an acknowledgment... but whatever. That's modern society for you.
After finding the pita bread, I headed to the check-out counter where the guy ahead of me was unloading his shopping. The last item he put on the belt was a sack of limes...
CLERK: How many limes you got here? Do you know?
DUDE: Six. There's six.
CLERK: (holding up a big bag of limes) This looks like a lot more than six.
DUDE: THERE'S SIX!
CLERK: (counting out limes) No... there's thirteen!
DUDE: Yes, that's what I said... thirteen!
Uh huh.
Now, in his defense, he might not have been a dumbass scammer... he could have very well been incapable of counting to thirteen and was embarrassed about it. But, whatever the case, it was a little bit awkward for me to be standing there watching it all go down. Then it was my turn, and here's what actually happened...
CLERK: Is this everything for you?
DAVE 2: Yes, ma'am, thanks.
CLERK: That'll be $2.99. Do you want to make a donation to fight prostate cancer?
But this is what happened in my head...
CLERK: Is this everything for you?
DAVE 2: Well, that and the twelve other packages of pita bread I've got shoved down my pants.
CLERK: (chuckles) Ooh... sorry, but I can't give you Safeway Club Card Points for that!
DAVE 2: Not even if I whip it out?
CLERK: Depends on whether I get dinner first.
DAVE 2: You just made yourself a date!
CLERK: (swoons) I get off at 7:00.
And this is what probably would have happened had I actually pulled a stunt like that...
CLERK: Is this everything for you?
DAVE 2: Well, that and the twelve other packages of pita bread I've got shoved down my pants.
CLERK: Security... SECURITY!!!!
Because life isn't like the letter columns in Penthouse Forum, much as we might all wish otherwise...