Posted on November 4th, 2018

Don't lose your mind because stupid Daylight Saving Time has ended and it's pitch black at 5:30pm... because an all new Bullet Sunday starts now...

• Streaming. The time when I will be ditching satellite television for content subscriptions is rapidly approaching. The turning point may be when Disney's streaming service is unleashed... not because I'm dying to watch Mickey Mouse cartoons, but because Disney owns Marvel, and the rumors are flying fast and furious as to what that might mean. First it was a Scarlet Witch mini-series. Then a Loki mini-series. And now the rumor-mill is pushing a Falcon & Winter Soldier mini-series...
Needless to say, I want to see absolutely all of that. And whatever else Marvel wants to release (a Hawkeye series please! A Fantastic Four series please! A Rocket & Groot series please!). And then there's returning shows like The Good Fight and Star Trek: Discovery which are on CBS's streaming service. Pretty soon Apple is going to have a streaming service. And that's on top of Netflix and HBO which I already have. I can't afford all that. And so... I'll cancel DirecTV and subscribe to the individual services with shows I want to watch, then rotate between them as new stuff I want to see is released. It's either that or become a pirate, and I'm no thief.

• Religion of Love. Pearls Before Swine has absolutely nailed it here...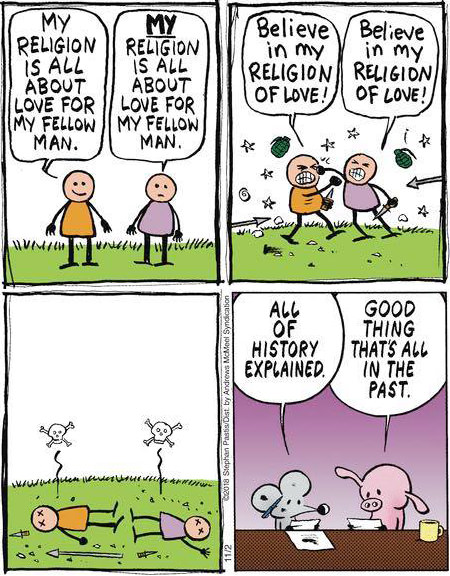 Though so much of the time these so-called "religions of love" seem more like "religions of hate" given what they are able to support. Or, more likely, what they are able to ignore to support.

• Cinnabunderful. I could have sworn that I mentioned this... but I can't find anything. So here it is... IF YOU LIKE CINNABON, THEN RUN TO PIZZA HUT AND ORDER UP A TRAY OF MINI ROLLS! I ordered them on a lark thinking that they would be crappy pizza dough with cinnamon and sugar on them... but, no... it's the real deal and they are amazing...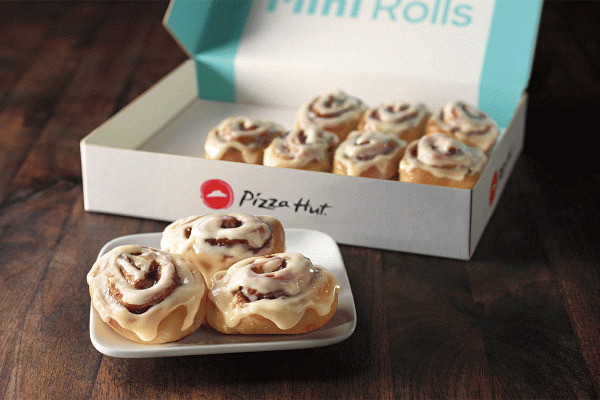 This is a terrible, terrible turn of events for somebody who is supposed to be watching their carb consumption!

• Baker. Back when I decided to make garlic bread for the neighborhood potluck by hand, I discovered a secret to my oven. It has a reservoir at the bottom where you can pour water. The water steams as you bake the bread, which allows the crust to get crispy without getting dry. It is absolutely magical. Apparently even if your oven doesn't have a reservoir, you can put a pan of water on the bottom shelf and get the same effect. I don't know why I had never heard of this until recently... but now there is is no way I can make bread without it. If this is something you haven't tried, amazing bread awaits you.

• Anniversary. Brussels Airlines recreated a commercial from 2002 using the same actors to celebrate their 15 year anniversary...
How cool is that? I do like me a good television ad!

• Chihuly. As a huge, huge, massively huge Dale Chihuly fan, my entire week was made when I saw this Halloween costume...
For anybody who doesn't get it, here's a Chihuly blown glass sculpture I saw in Columbus, Ohio...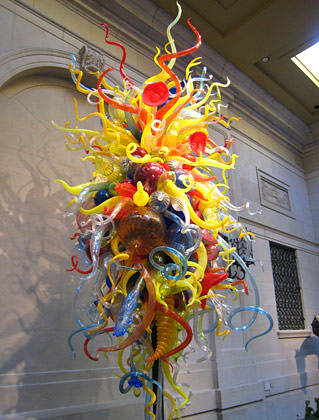 And here's one I saw in The Bahamas...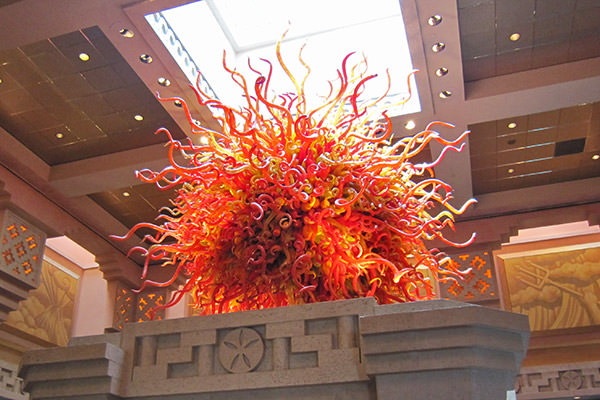 The fact that the mom dressed up as Chihuly himself (complete with eyepatch!) is just icing on the cake.

And... that's enough joy for this Sunday. See you next week.
Posted on April 25th, 2012

We were hit by a deluge this afternoon, with the rain falling so hard that leaves were being ripped from the trees. This made it really difficult to drive on the highway because the water was piling up faster than it could run off the road. Some cars started hydroplaning and losing control, so everybody slowed down to a more appropriate speed and everything was fine.
Until some dumbass came ripping down the highway at top speed, skidding through the water while weaving in and out of traffic. As he attempted to pass me, he slid so close to my car that I thought I would lose my side-mirror, but I managed to turn and brake quickly enough that I didn't get hit. That I nearly ended up in the ditch didn't mean anything to the asshole, and he sped off to even more dangerous encounters as horns were blaring around him.
The hospital was in the opposite direction, so I have no idea why he was in such a hurry, but I wouldn't be surprised if he eventually ended up killing somebody.
Oh, excuse me, murdering somebody.
Because driving like a psychopath in such bad weather conditions is an intentional bid to kill someone... there would be no "accident" here. And yet, even such a reckless regard for safety (including his own) didn't seem to register as he was skidding all over the road.
Which makes me think about the old "If you could go back in time and kill Hitler, would you do it?" question. No, this asshole driver probably isn't going to end up responsible for killing millions of people... but do the numbers really matter when murdering even one person is a tragedy? Everybody is important to somebody.
And so there I am behind the wheel watching in horror as some dumbass is skidding all over the place while other drivers try their best to avoid him. And it occurs to me that I don't have to go back in time to kill this asshole and save lives... I could follow him home and kill him right now!
Not that I would actually do it, of course. But what about the person that would? Like me, they come to the whole "kill Hitler" quandary and then, unlike me, decide to do society a favor and eliminate the bastard driver. What about them?
So drive safe everybody. It's not just an accident that can kill you.
And speaking of something that can kill you...
Pizza Hut in the Middle East has introduced "Crown Crust Carnival Pizza" where cheeseburgers or chicken nuggets are baked into the crust!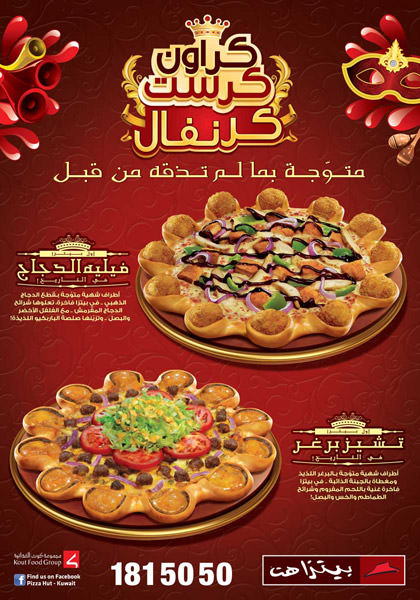 GENIUS! It almost makes me wish I wasn't a vegetarian. And I lived in Kuwait. And I had a deathwish.
It's only a matter of time before they start putting chocolate cake in the crust so you can have pizza and dessert at the same time. I can't tell you how happy I am to be alive during an era of such magical culinary innovation. But it's pretty happy.
Posted on December 7th, 2011

Dear Pizza Hut,
I love Pizza Hut breadsticks.
When I travel, I often times go from Pizza Hut to Pizza Hut so I can have your delicious breadsticks with their oh-so-crusty buttery tops covered in parmesan cheese that I love to dip in that rich, thick, sweetly flavorful red sauce. It's deliciousness I can count on no matter where I go... from London to Sydney to Tokyo to locations all over the good ol' USA. I write songs with Pizza Hut breadsticks in them. Most days I can honestly say that I'd rather have an order of Pizza Hut breadsticks than chocolate cake...
I wish I had Pizza Hut delivery in my small city, but I don't. My local Pizza Hut is thirty-five minutes away. I don't eat there very often because it's inconveniently located and usually requires a special trip. But tonight I was craving breadsticks, so I made a detour to get some.
Let me start out by saying that my server was excellent. She didn't just make me feel good about eating at Pizza Hut... she made me feel good about life. She was capable, friendly, helpful, energetic, enthusiastic, and knew exactly how to provide flawless, attentive service without being smothering. It was delightful.
But then the breadsticks came and I noticed something was wrong.
The sauce wasn't that luscious rich red color. It was kind of brownish-orangeish-red. It looked sad.
Then I went to dip a breadstick in it, and saw that it was thin and watery... not thick at all. This had the disastrous effect of turning my crispy breadstick soggy in the middle no matter how fast I took a bite after dipping.
And then I tasted it. Bland, uninspired, boring.
What happened?
Are you now serving regular-old pizza sauce with your sticks instead of that sweet, succulent, scrumptiously zesty red sauce I know and love? Is that what's happening?
I sure hope not.
I hope this was just some terrible, terrible mistake. A temporary lapse of judgement, perhaps.
In this world gone mad, there's very few things people can count on. Delicious Pizza Hut breadsticks with red sauce is one of them. If that's no longer the case, then shame on you for taking a little happiness out of the universe at a time when we so desperately need it.
Right now all I can think about is my next visit to Pizza Hut and whether or not my beloved breadsticks will come with that wonderful sauce that makes life a little more bearable. I'm actually scared to go to Pizza Hut again in case it doesn't.

In happier news, there was a wonderful Google Doodle tribute to one of my all-time favorite artists, Diego Rivera, today...

If only I could Google up some real Pizza Hut breadsticks. Instead I'll just have to dream about them.