Posted on June 10th, 2018

It's been yet another week full of hypocrisy and evil, but it's all good, because an all-new Bullet Sunday starts now...

• Two! I loved everything about the first LEGO Movie... except the ending. When they dropped into "The Real World," everything fell apart for me. With this in mind, I have mixed feelings about the sequel...
Yes, I'm excited to see it. But can we please just stick in the world of LEGO and let Chris Pratt be hilarious? That would be great, thanks.

• No Reservations. There wasn't much I didn't like about Anthony Bourdain. He was responsible for some highly entertaining television. He was a world traveler and advocate for better understanding and acceptance between cultures. He used his celebrity to advocate for worthwhile causes and draw attention to injustices. He was an incredible guest on any talk show he dropped by. He was somebody I liked and admired, which is why his death has hit me so hard. You will be missed, sir.

• Darkness and Light! I was never a fan of the Cloak & Dagger comic books. They all had the same story. Cloak & Dagger hunt down drug dealers. Cloak goes a little crazy because he's hungry. Dagger feeds him a light sandwich. Lather, rinse, repeat. On occasion they team up with other heroes, but their baggage is always the same. And now Freeform TV has created a Cloak & Dagger television show...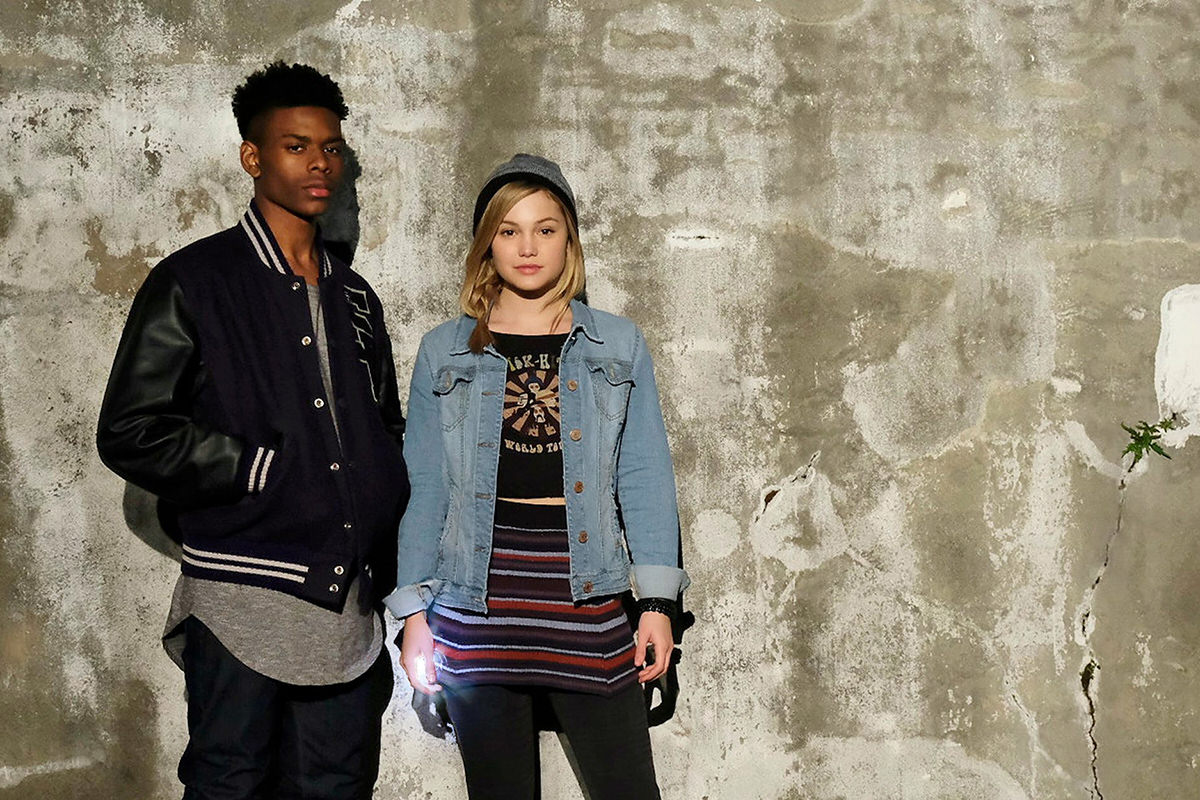 Now, I'm not saying that every super-hero show has to be packed with super-power fights... but there has to be something to make it interesting... otherwise it's just another boring TV drama I don't care about. And if the first two episodes of Cloak & Dagger are any indication, here's yet another boring TV drama I don't care about. Which is a shame, because the actors are very good.

• You! Other than an occasional song here and there, I haven't given much thought to Maroon 5 in years. But now they've dropped a new video for their song Girls Like You that's packed with more guest-stars than you can shake a stick at.
Not a bad song at all. And if you're having trouble putting a name to all the faces, here's a link for you. And, as much as I like it, this is not going to displace my favorite Maroon 5 video...
And if that's not enough Maroon 5 for you... here they are covering Bob Marley's Three Little Birds...
'Cause every little thing gonna be alright.

• NEWS: With deal to close this week, Bayer to retire Monsanto name
Well of course they are retiring the Monsanto name! Monsanto is fucking evil incarnate, and people were finally waking up to it. But now? Bayer is just the aspirin people! Evil + Evil = Bigger Evil.

• A Red Letter Day! As my final bullet of the day, I leave you with one of my favorite Pet Shop Boys songs that's woefully under-appreciated... and highly relevant to my life as of late...
Doesn't get much more Pet Shop Boys than that.

So long until next Bullet Sunday!
Tags:
Bullet Sunday
,
Comic Books
,
LEGO
,
Movies
,
Music
,
Pet Shop Boys
,
Television
,
Travel
Categories:
Bullet Sunday 2018
,
Movies 2018
,
Music 2018
,
Television 2018
—
Click To It:
Permalink
—
2 Comments: Click To Add Yours!
Posted on January 29th, 2018

My favorite musician/band changes regularly depending on what mood I'm in. Sometimes I'm in the mood for classic rock and it's The Beatles, sometimes I need rap and it's Run The Jewels, sometimes I just want metal and it's Slayer, sometimes I want a catchy beat and it's Matt & Kim. The list goes on and on.
But most of the time it's 80's synth-pop bands and I make no apologies for it.
For the longest time, my favorite band was Thompson Twins, and this was well before their breakout success with Into The Gap. Once the band broke up, I gravitated to another long-time favorite, Depeche Mode. I obsessed over the band for decades. Then they changed their sound a bit when Alan Wilder left and my enthusiasm dwindled through the next four albums, then left altogether for their two latest. During that time, my longtime appreciation for The Pet Shop Boys took hold, and they're probably the band I listen to more than any other... and are my favorite band most days now...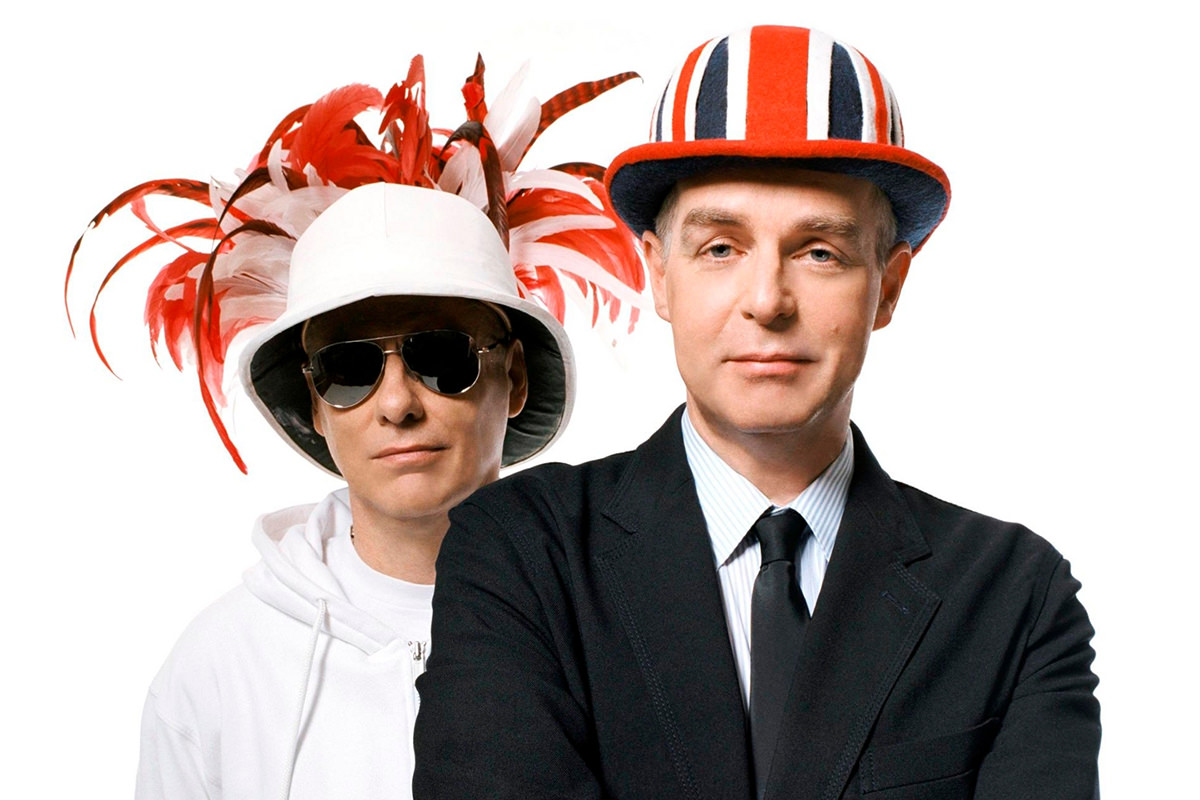 Given the massive catalog of music produced by the band, ranking favorite songs is almost impossible. And believe me, I've tried. I've made spreadsheets, listened through every song, shifted them back-and-forth... but then I'll look at it a couple days later and need to start over because I've changed my mind. If forced to choose a favorite, I'd have to pick The way it used to be off of the album Yes. It's everything you want in a PSB song... great beats, clever synths, and amazing lyrics. One of the most beautiful songs I've heard. Sadly, they never released it as a single or made a video for it, so all I can offer is this...
Of course, if you ask me another day, it could be Memory of the Future or even West End Girls that's my favorite, so who knows?

For Pet Shop Boys fans, there's a lot more to love about the band than their fantastic songs. They are highly creative in so many places, as the amazing retrospective book which encompasses the art, print, and media built around their music...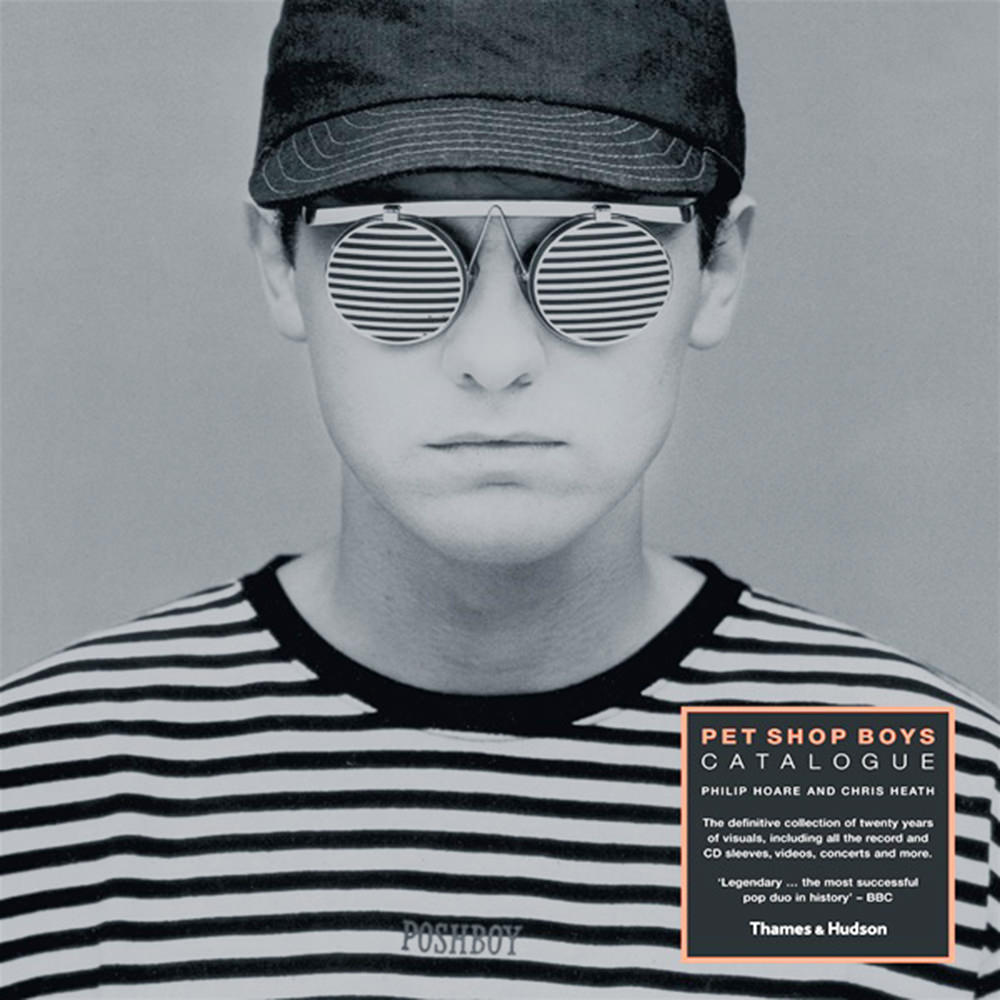 And, of course, there's the videos. Neil and Chris only work with the best, more imaginative artists, and their videos are a mixed bag because of it. But when they hit, they really hit. Once of my favorites being the video for yet another favorite track of mine, Flamboyant...

Needless to say, their live shows are amazing (I've been lucky enough to see them twice, and meet-and-greet them as well). When they were awarded at The Brits, they pulled out all the stops and were very Pet Shop about it...
No. Your eyes are not deceiving you. That's Lady Gaga filling in for Dusty Springfield. Watching this awards show would be the first time I had even heard of her.

As if all that wasn't enough, the band are forever collaborating with other artists. They've made albums and songs with everybody from David Bowie, Tina Turner, and Liza Minelli to Robbie Williams, Blur, and Madonna. Their music has been cited as inspiration from bands including U2, Coldplay, The Killers, Keane, Guns n' Roses, and many others. A true testament to just how good the Pet Shop Boys are and how well they're regarded.
When it comes to their own works, Pet Shop Boys never seem to be content. There are countless demos along with hundreds of remixes... both by them and others. Collecting them all is a bit of a nightmare for true fans because the sheer volume is overwhelming. For the past several years, the band has been making it a bit easier with their "Further Listening" CD sets, which have remasters of the original album along with discs filled with the various demos, remixes, B-sides, and other releases of the time period the album was created...
Please (Further Listening 1984-1986) — June 2001 / March 2018 Remaster
Actually (Further Listening 1987-1988) — June 2001 / March 2018 Remaster
Introspective (Further Listening 1988-1989) — June 2001 / March 2018 Remaster
Behavior (Further Listening 1990-1991) — June 2001 / ??? 2018 Remaster
Very (Further Listening 1992-1994) — June 2001 / ??? 2018 Remaster
Bilingual (Further Listening 1995-1997) — June 2001 / ??? 2018 Remaster
Nightlife (Further Listening 1996-2000) — July 2017
Release (Further Listening 2001-2004) — July 2017
Fundamental (Further Listening 2005-2007) — July 2017
Yes (Further Listening 2008-2010) — October 2017
Elysium (Further Listening 2011-2012) — October 2017
I never bought any of the original 2001 sets (I didn't have the money back then and they are insanely expensive now), but I've been buying all the 2017/2018 remasters and will pick up the March releases and the remainder when they are released later this year (even though I still don't have the money!).
As with so many remasters, I'm of a mixed opinion when it comes to artists messing with their older albums. When remastering is done badly, it's just increasing the volume so you can compete with modern albums that are mastered so loud that any subtlety is lost (casualties of the aptly named "Loudness War"). When it's done well, it can improve on the original tracks by bringing out details that were lost (especially when we made the transition to digital music). The "Mastered for iTunes" program, for example, attempts to compensate for sound compression and unwanted distortion that can leave iTunes purchases sounding much worse than their CD counterparts. For the most part, I've been pleased with the results. Very pleased. It's a fascinating process which makes for equally fascinating reading thanks to this article over at Ars Technica. The results can be pretty staggering, depending on the song (though I'm sure there are those who disagree, as this is highly subjective). I liked Bon Jovi's Slippery When Wet better when it was Mastered for iTunes. Metallica's Master of Puppets I did not. Will an iTunes file replace an uncompressed FLAC file ripped directly from a CD? No. But, in so many cases, it's closer to the Real Thing than you'd get out of an MP3 file.
Back to the Pet Shop Boys...
The albums for sale by Apple were not "Mastered for iTunes" when remastered, and I dearly wish they had been. Since they were not, I ended up buying the CD releases and ripping them into iTunes for iTunes Match. The benefit in doing this is that you get the little booklets that come with each set which discusses the music (they are not included with the iTunes as booklets, for some strange reason). The bad news is that you end up having to deal with Apple's shitty, shitty iTunes app to try and get the music sorted. I had to rip Release THREE TIMES before I could get it to show up right, under one cover folio, in order, all while being labeled correctly. After ripping, CDs within the set would be inconsistently labeled, which is not Apple's fault since they are using a third-party service, but the music would then disappear when I merged the CDs into a single folio and labeled it correctly. What an infuriating waste of time. Eventually I figured out that you had to shut down iTunes then restart iTunes after every import/re-label in order for it to "stick" and be added to your catalog. Even then, I could never get some songs on the third disc of Release to be matched in iTunes Match, which means I can't access them on all my devices unless I download it*. How the fuck Apple can't get simple shit like this figured out is just beyond me. They have literally billions of dollars in the bank. They can't spend a minuscule portion of that to fix a bug-ridden pile of shit that their users are having to suffer with every damn day?
Back to the Pet Shop Boys again...
I've enjoyed the "Further Listening" albums I've bought so far (Nightlife through Elysium) quite a lot. Some of the material I already had, but a good chunk of it I did not. I was never as obsessive about collecting all the various parts and pieces for Pet Shop Boys as I was the Thompson Twins and Depeche Mode for some reason. In any event, there's certainly enough here to justify repurchasing the albums again (especially from the Yes era, which is responsible for some of my most favorite tracks.
Of everything I've heard on the "Further Listening" albums that completely escaped my notice, the song Always (a B-side for Home and Dry off of Release) is my favorite. A total treasure...
Beautiful. And I never even knew it existed.

As for the remastering? Overall I'd have to give them two thumbs up. Yes, they are louder than the originals, but not so much that subtle details are getting lost. Some albums benefit from the remastering more than others. You can tell with Fundamental that they made a real effort to pull out Johnny Marr's guitar work, which was appreciated. Most fans absolutely hate the original 2001 remastering of Behavior (featuring two tracks with Johnny Marr!) which I don't have, so hopefully the 2018 remastering will do a better job of it.
So... for the hard-core fan, the "Further Listening" sets are essential album collections to own. For the casual fan, probably not so much.
Though how anybody could be merely a casual fan of the Pet Shop Boys is a mystery to me.

*UPDATE: Eventually I was able to get the third album of Release into iTunes Match, but don't ask me how. I did delete the songs and re-rip them for a fourth time... though that didn't seem to be what did it, as I got a shitload of "duplicates" and "unmatched" icons, at which point I gave up. The next day the icons were still there, but when I restarted iTunes, everything was fine again(?). Well, whatever.
Posted on January 22nd, 2016

Ooh!
New Pet Shop Boys in April!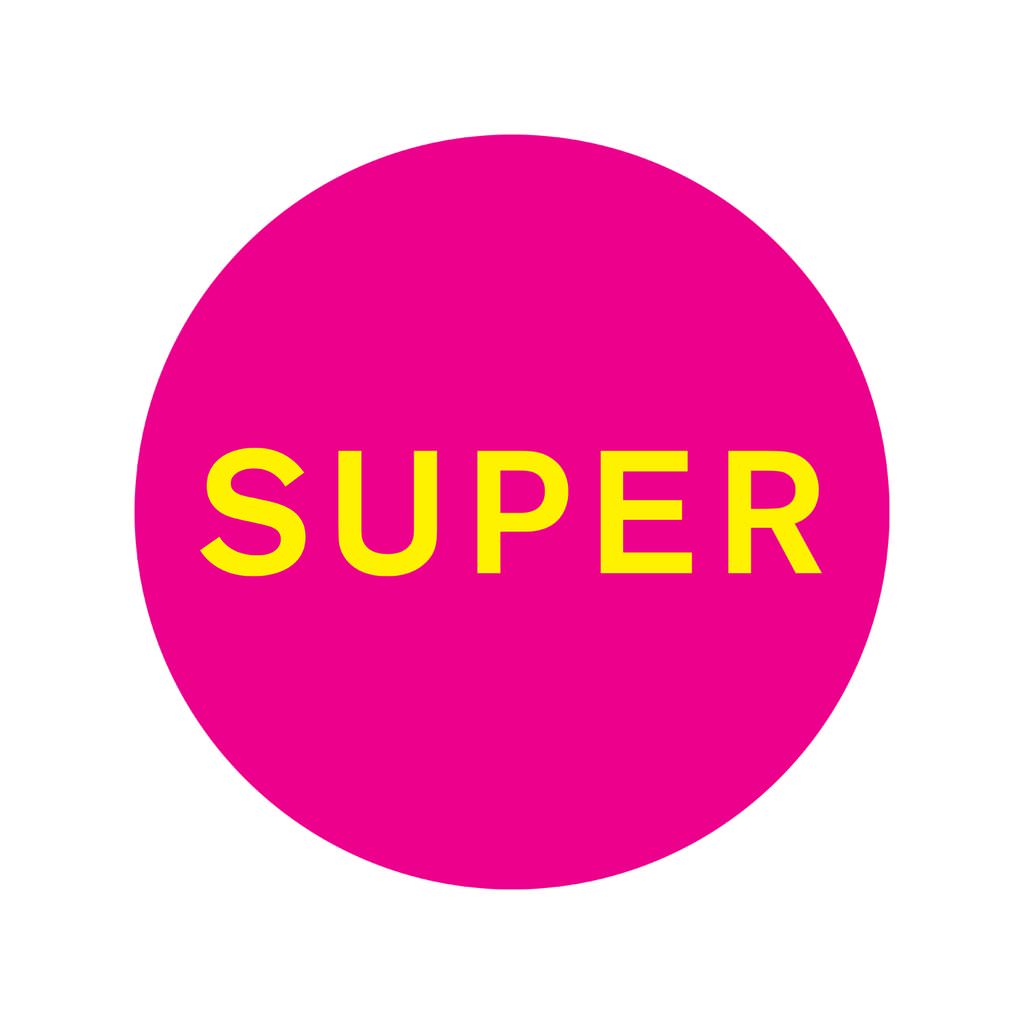 It's pretty amazing how quick the albumas have been coming...
Yes - 2009
Elysium - 2012
Electric - 2013
Super - 2016
That's four albums in eight years. Super!
Posted on September 22nd, 2013

When I found out that one of my all-time favorite bands, The Pet Shop Boys, would once again be swinging through Seattle on their Electric tour, I was ecstatic. This would be three-for-three in seeing all their Seattle performances. Except... the date was one day before I leave for vacation. And there was no way I could make that work.
But there was also no way I was going to miss the show, so I found they were playing Philadelphia on a weekend, and my solution was clear.... I would be cashing in a pile of airline miles and hotel points and heading back to the East Coast (after Depeche Mode in Tampa last weekend).
It was totally worth the effort.
Mostly because the concert was mind-bogglingly excellent, as usual. But also because my ticket came in a "meet and greet" package where I actually got to shake hands and chat with the band! And get my lanyard and program signed...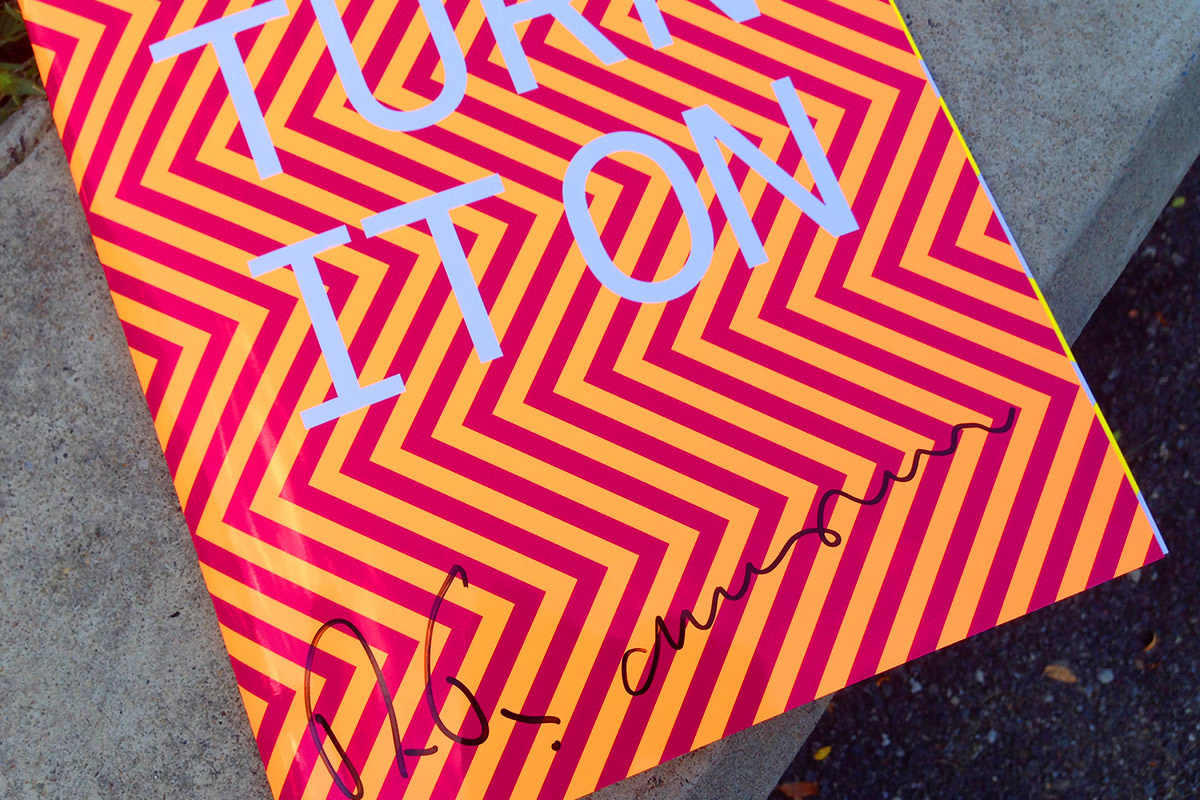 Not really knowing what to say, I thanked them profusely for coming to Seattle at long last and then returning again with their previous Pandemonium tour. It was then that Neil said "Wait... we're going to be in Seattle again this tour... what are you doing here in Philadelphia?" At which time I explained my situation, and Chris was kind enough to say that they really enjoy playing Seattle and that it's part of their schedule now (replacing Texas, apparently). Both "Boys" were incredibly warm and friendly, and seemed genuinely appreciative of their fans. It was a complete thrill to have met them, and I'm still a bit starstruck from the experience.
As I had said, the show was beyond amazing. Very imaginative and technically impressive. Beautifully staged. Incredibly entertaining. And then there was the music... which is one of my favorite things on earth. They played a brilliant assortment of songs new and old, and the crowd was on their feet the whole time.
AND I GOT TO SEE IT ALL FROM THE SECOND ROW!!!
When I bought my ticket, I had thought that I was in the 28th, because my row was "BB." In an Excel spreadsheet, columns go from A to Z, then go AA, BB, CC, etc. But it turns out that the "Mann Center for the Performing Arts" has BB as the second row of the orchestra pit. I was so close to the stage that it was almost like getting to meet them all over again!

ME! RIGHT THERE AT THE STAGE!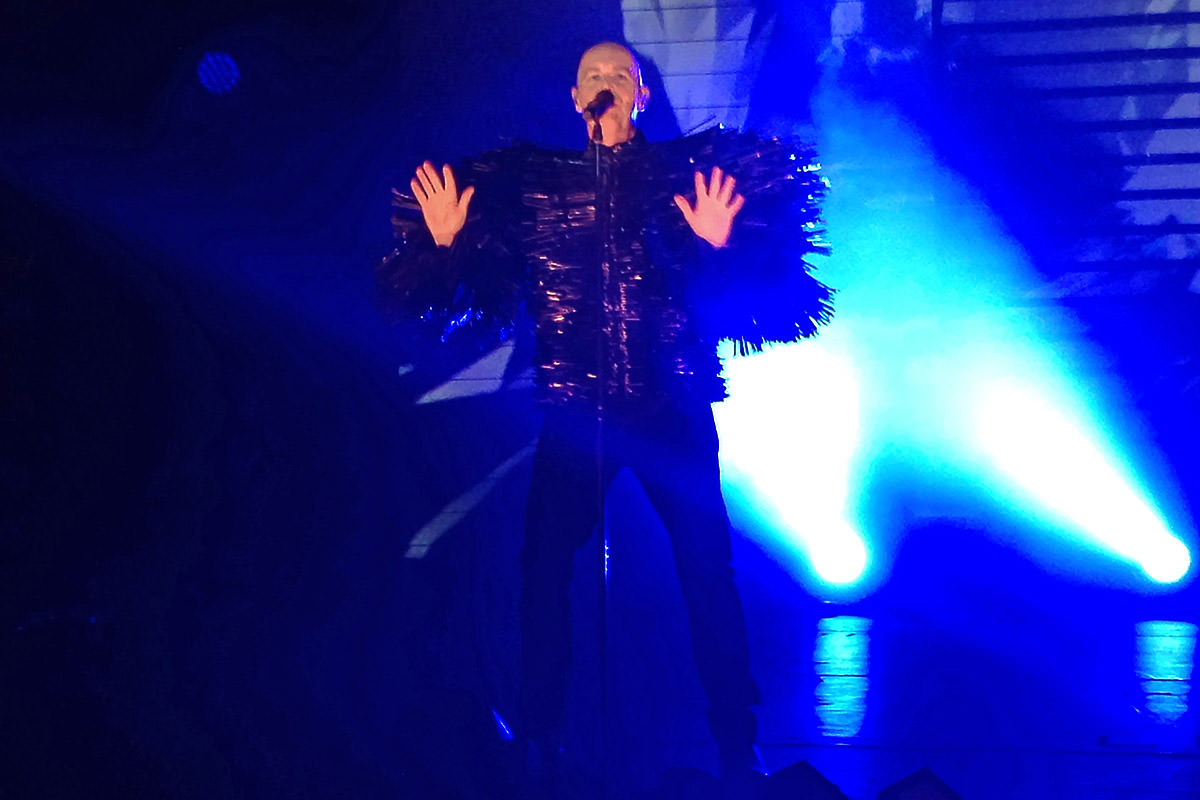 Their first costumes were scary spikey shirts. They did not look at all comfortable.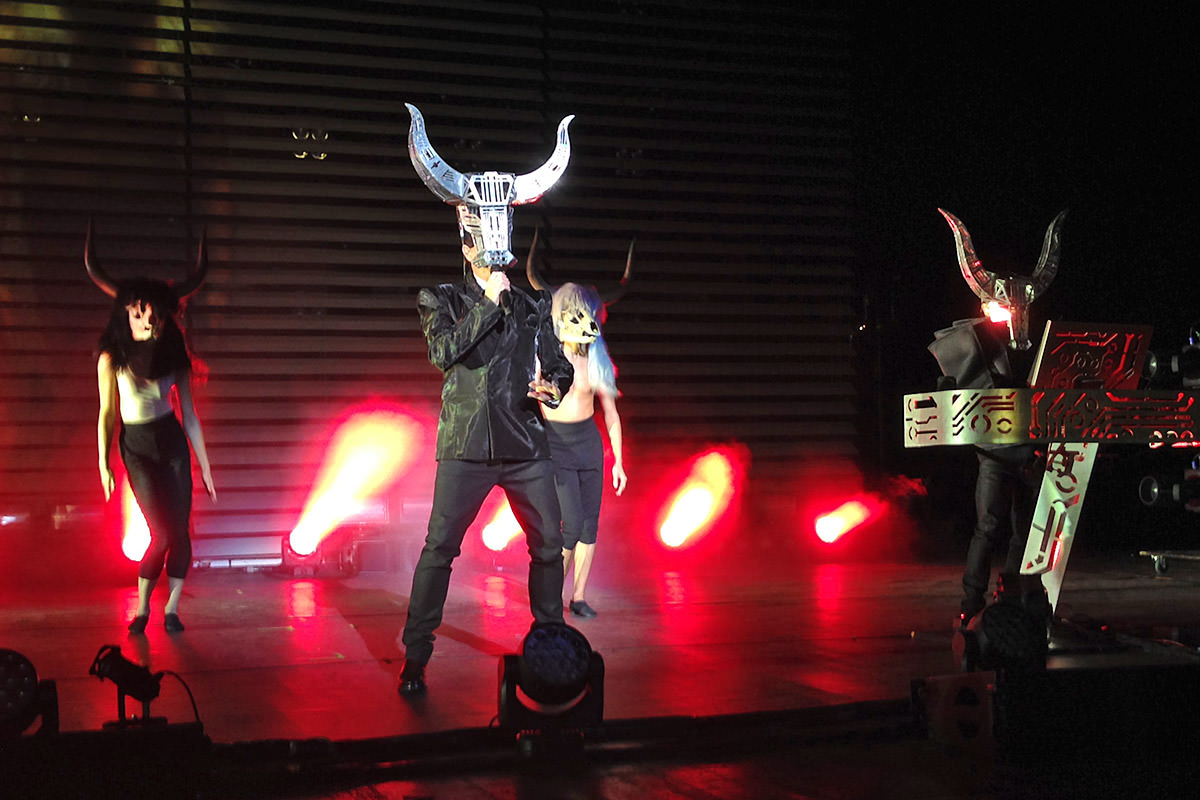 Then it was time for... BULL HEADS!!!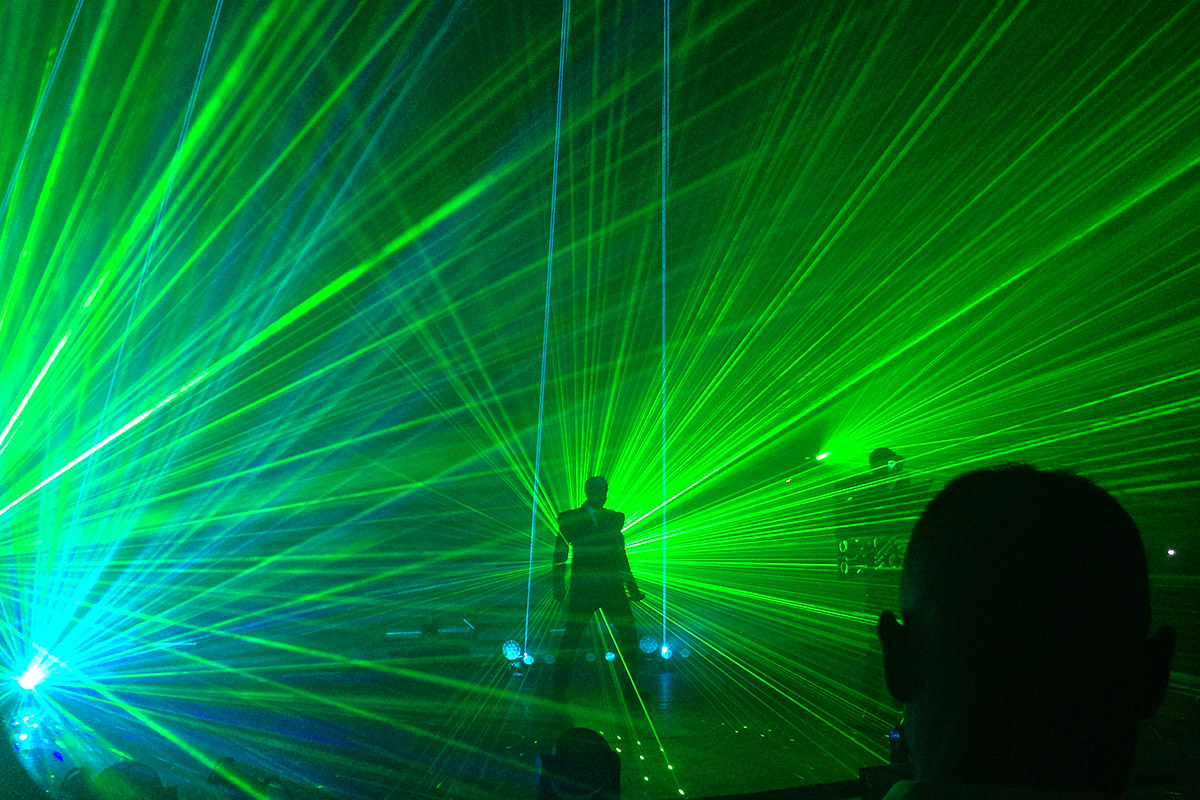 The sheer volume of lasers present would have vaporized lesser men!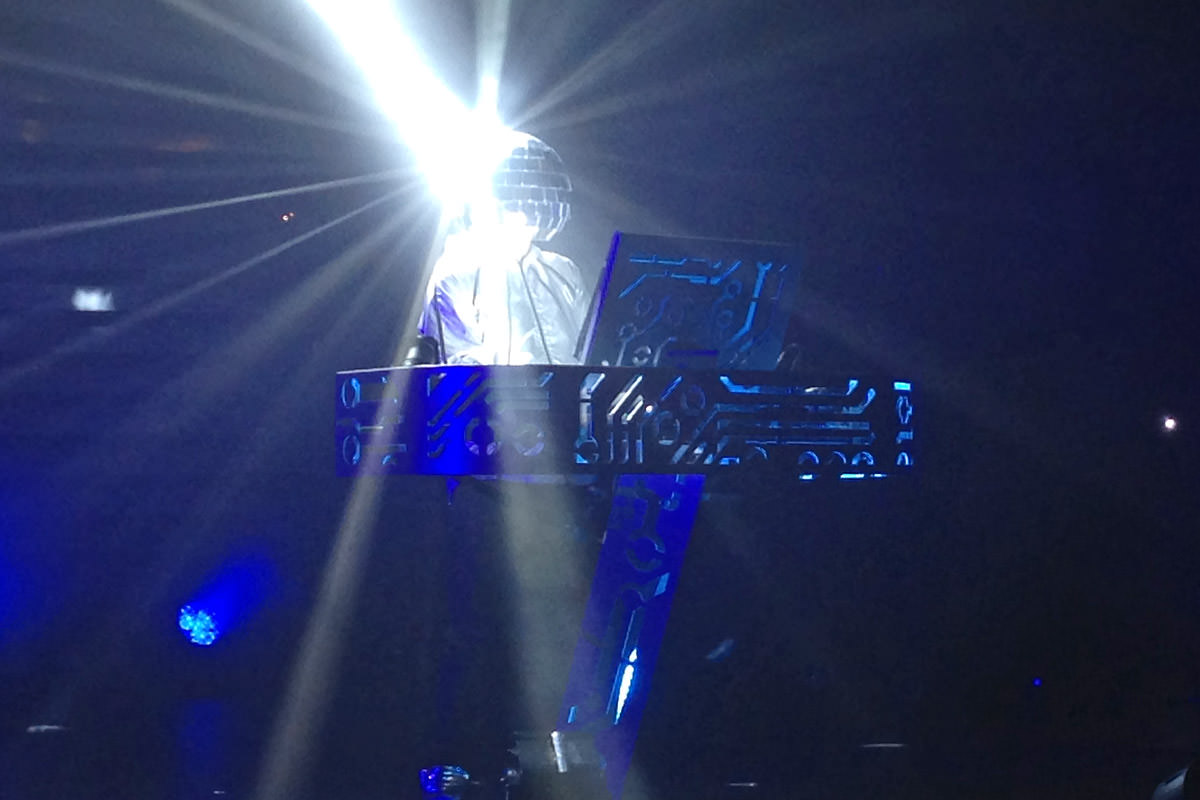 Chris is wearing a disco ball on his head. And why wouldn't he?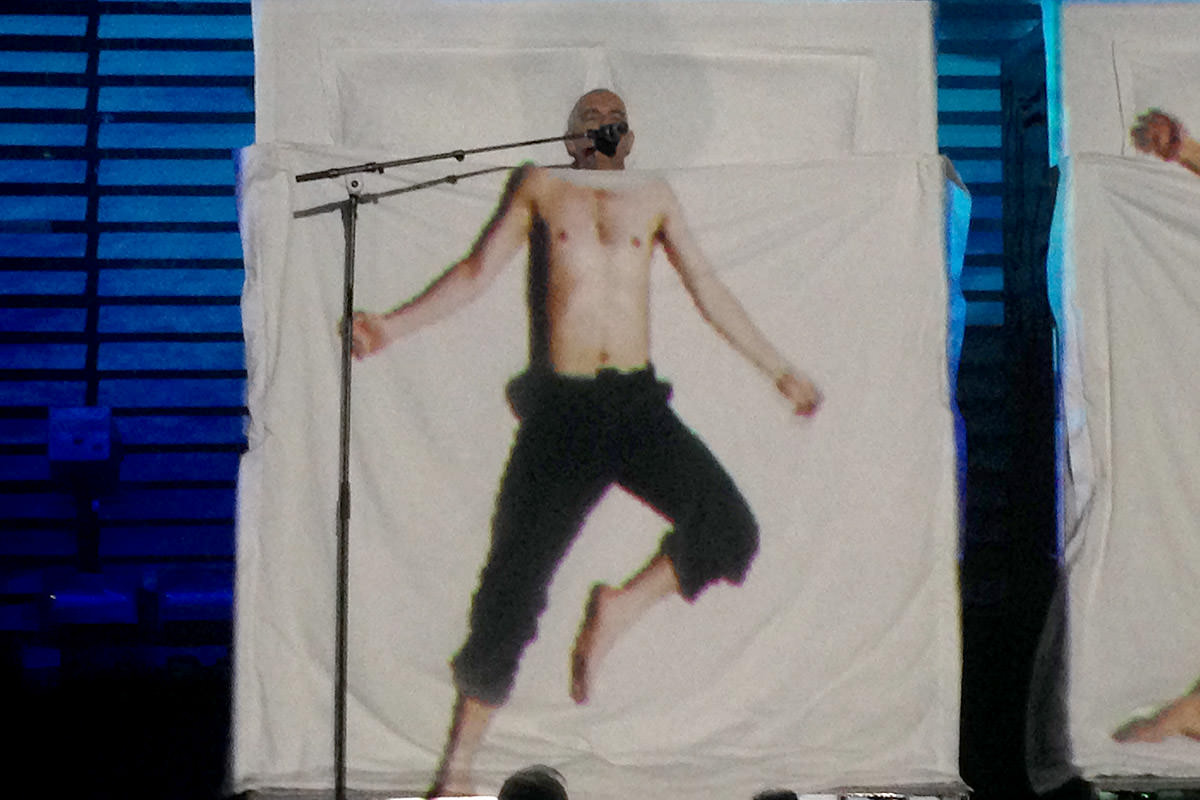 The Pet Shop Boys were strapped to beds, then had other bodies projected on to them!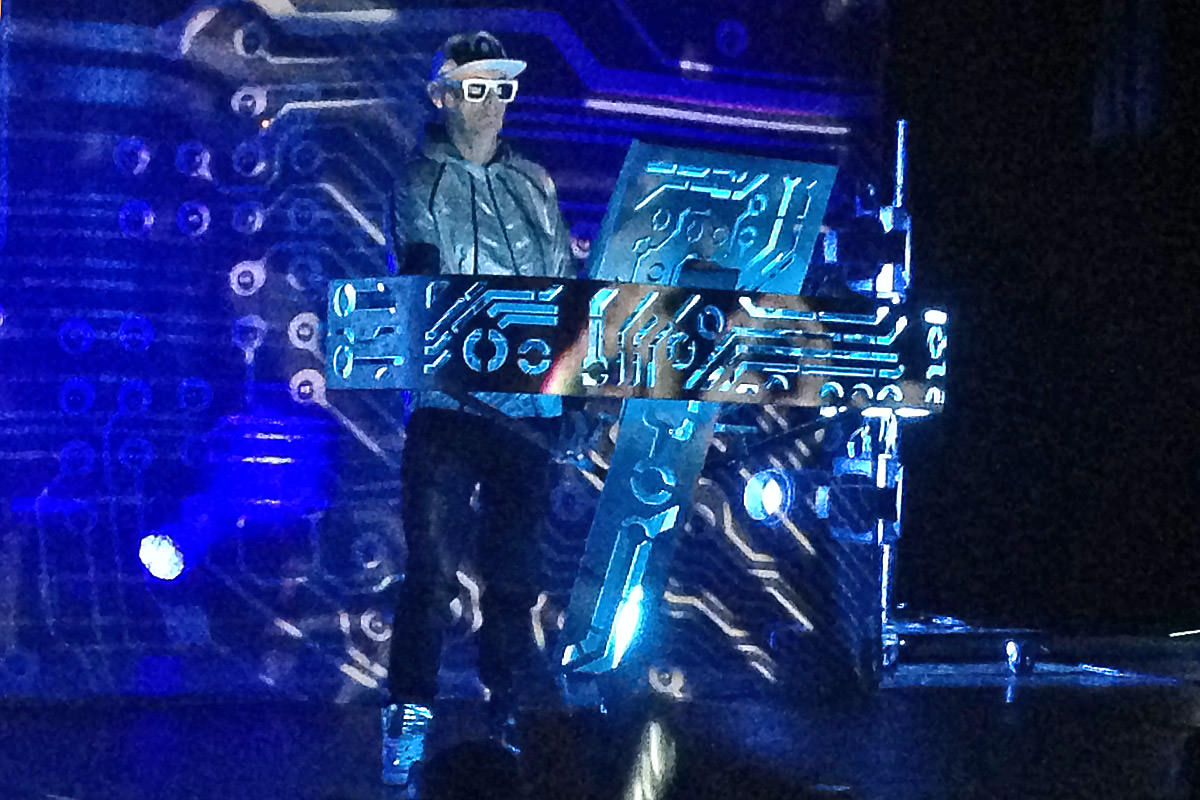 Chris's keyboard station was beautiful and... ELECTRIC!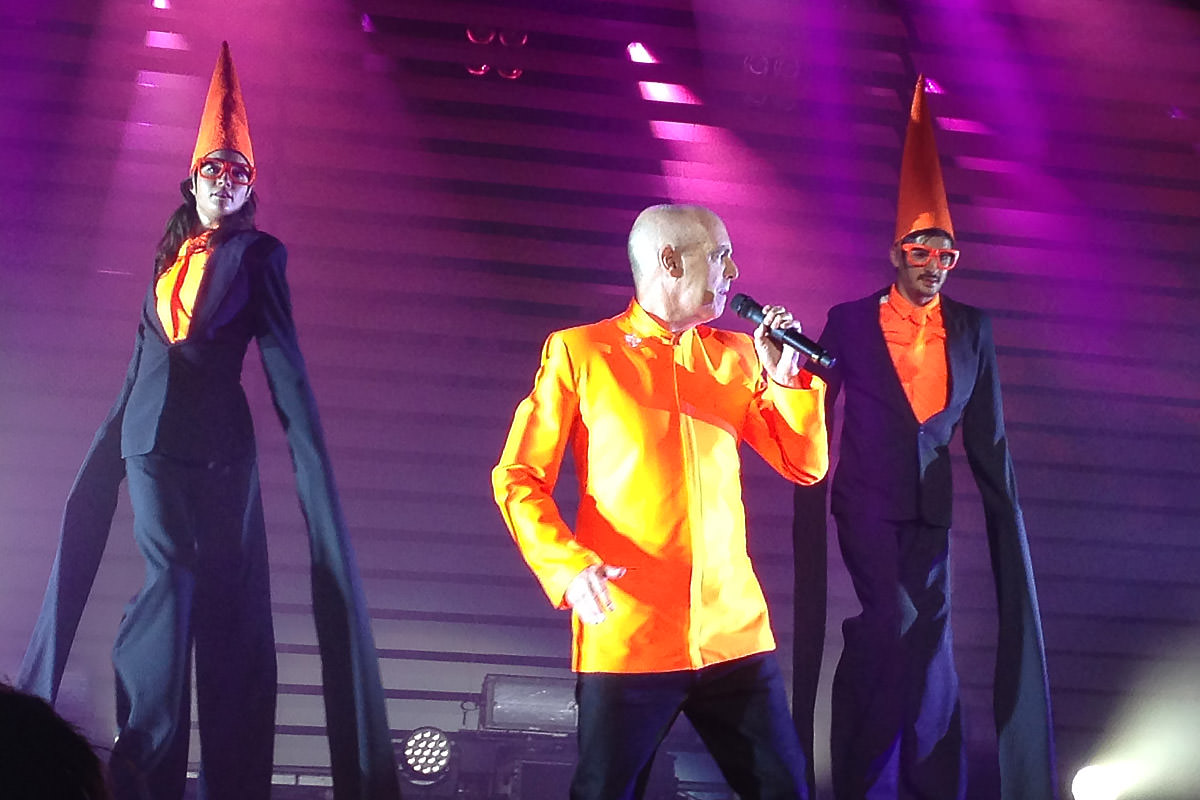 And... it was time for a final couple of songs and the end to a great show!
Incredible. Just incredible.
No joke... if you are even a tiny bit of a fan of The Pet Shop Boys, GO SEE THIS SHOW! Tour dates are here.
And then...
This is one incredibly small world. I went from having no idea how I was getting home from the concert to getting a ride from the guy sitting next to me from Philadelphia who is a colleague of a friend I know who lives in London when I am from Seattle. I noticed it completely by accident when he put on a sweatshirt with a company logo I recognized. And this follows my running into my friend from London when I was in Boston back in June.
Everything's connected... you just have to stop and look for it!
And speaking of connections... seeing The Pet Shop Boys was not the only great thing to happen today... I got to go to lunch with blogging buddies BubbleWench, LibraGirl, and ChrissyRub! They were incredibly kind enough to take time out of their busy Sundays to come hang out with me and I couldn't have been happier. Having met such amazing people over the years from this blog continues to be a payoff that never ends.
After a fun couple hours, the ladies were nice enough to kill time with me before the concert by offering to take me to see Ft. Mifflin. Once they told me it was haunted, I was totally onboard! It's actually quite a pretty area...

Though the insides are kinda dead. I totally understand why ghosts would want to hang around here...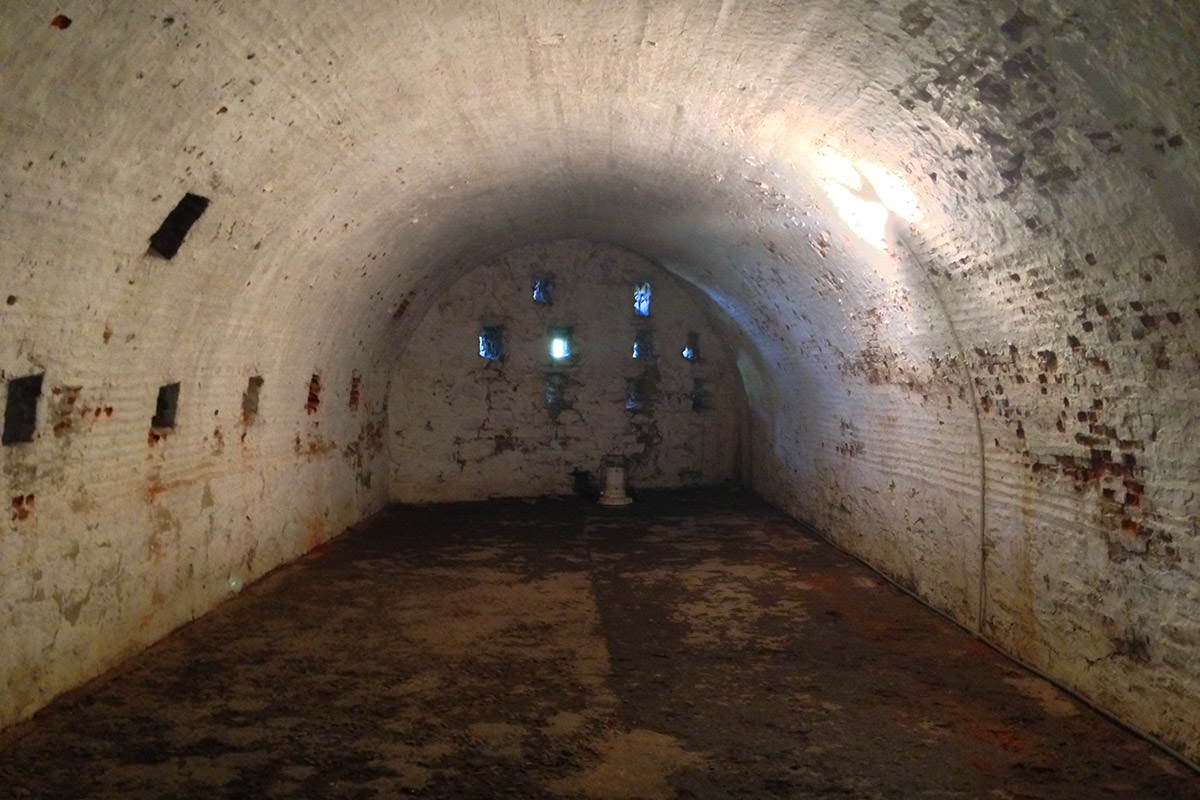 The most interesting thing about Ft. Mifflin today, however, is its proximity to the airport. Every 5 minutes, a plane screams overhead. And the planes get really close...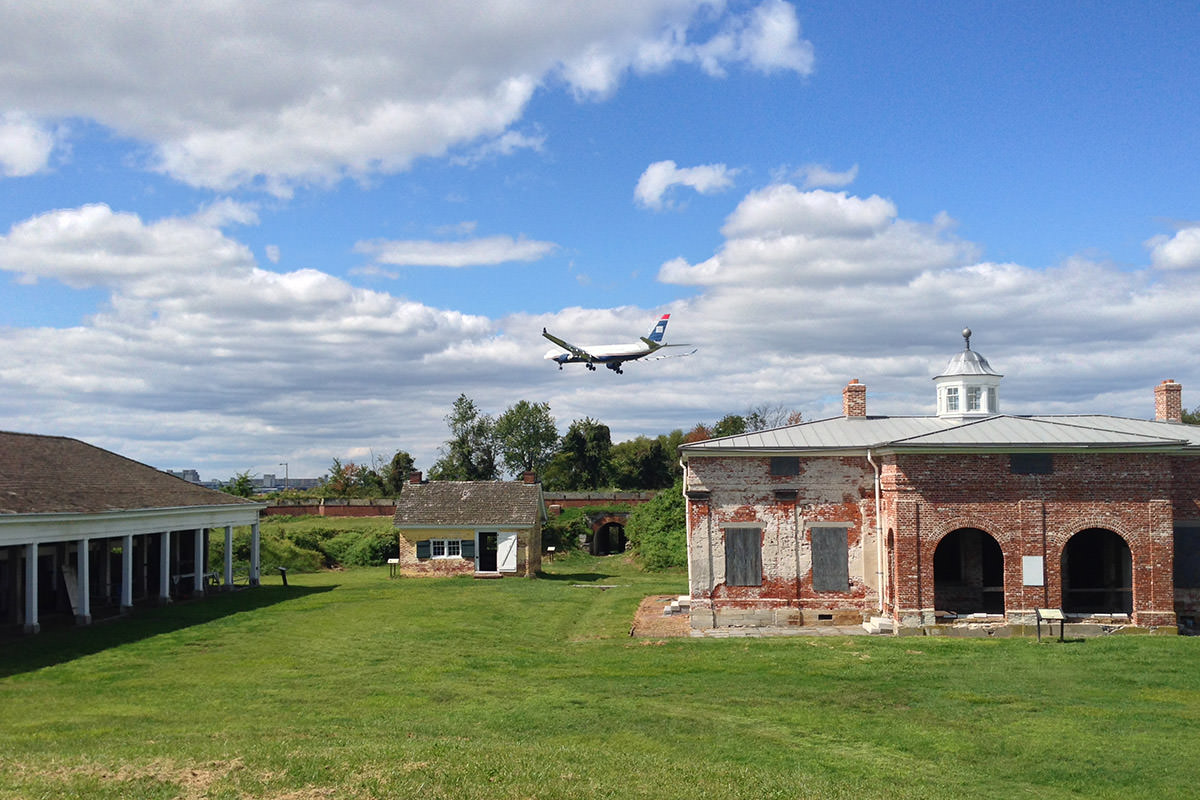 No, seriously, the planes get really, really close...
I swear at some point I could see people inside...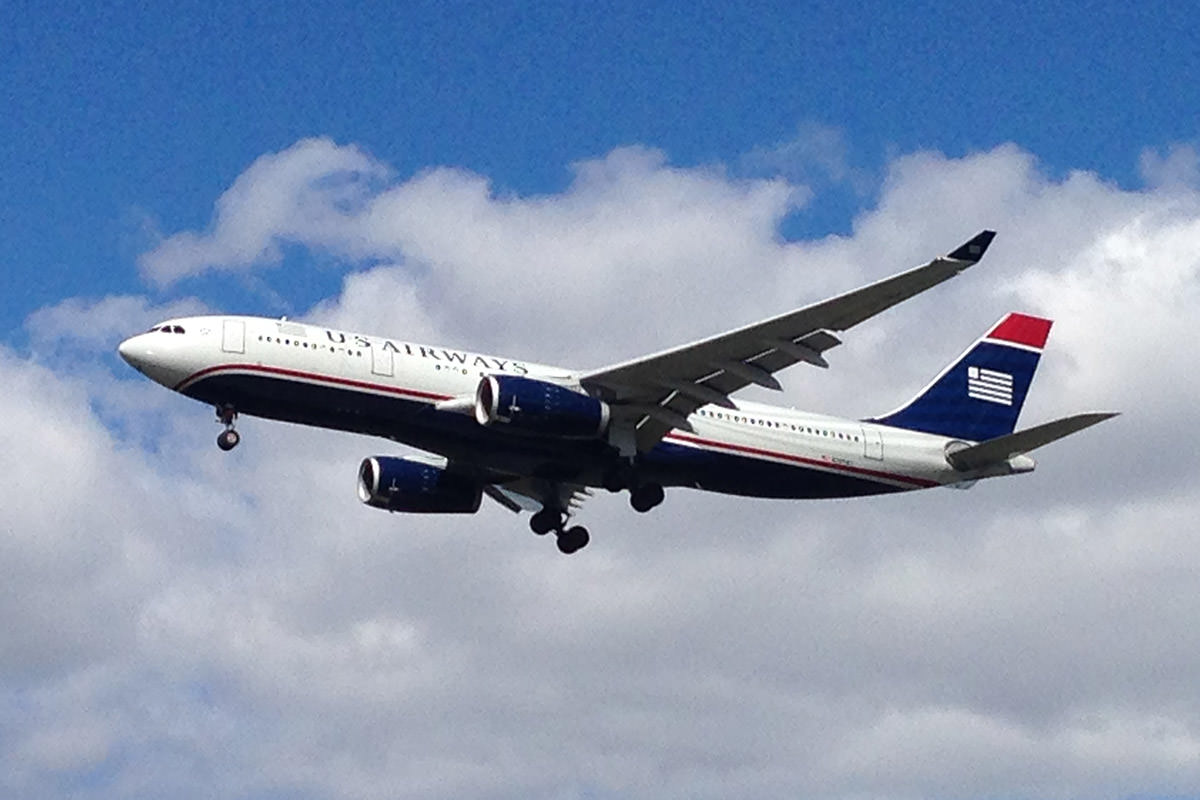 Pretty cool! Thanks again ladies!
And... then it was off to the concert, which LibraGirl was kind enough to drive me to.
And... it was incredible. Just incredible.
But I think I mentioned that already.
Posted on September 20th, 2009

Last week I skipped Bullet Sunday because I was traveling but, lucky for me, Hilly-Sue was kind enough to pick up my slack! This week the bullets are back in Seattle, and so am I...
• Finale! Now that it's all over, I have to say that the cruise to Alaska was pretty darn special. Despite some dreary weather in spots, things couldn't have gone better, and the shore excursions were all beyond amazing experiences. If you're looking for a little adventure in your life, you could do a lot worse than exploring the Inside Passage. I booked through Jester's new company, Cruise Avenue, and am grateful for all his advice in getting me the perfect vacation. Might want to see those glaciers now while you still can...
• Pandemonium! Just got back from the Pet Shop Boys' "Pandemonium" tour stop in Seattle. It seems like it was just yesterday I went to their first-ever concert here in the city, and now they're back for round two! As expected, the show was amazing. I really like their new album, Yes, and they did a good job of mixing the new material with their classic hits...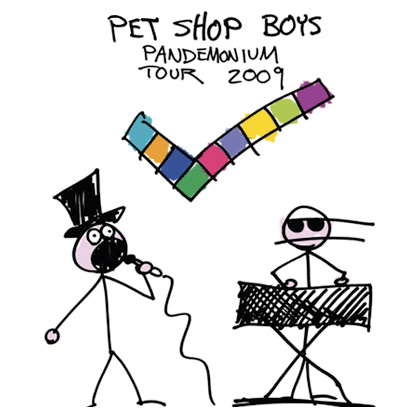 For my fellow Pet Shop fans, the set-list went something like this... Heart, Did You See Me Coming?, Pandemonium/Can You Forgive Her?, Love Etc., Integral/Building a Wall, Go West, Two Divided By Zero/Why Don't We Live Together?, Always On My Mind, New York City Boy, Closer to heaven/Left to my Own Devices, Do I Have To?, King's Cross, The Way It Used To Be, Jealousy, Suburbia, All Over The World, Se A Vida É (That's The Way Life Is), Discoteca/Domino Dancing/Viva La Vida (COLDPLAY?!?), It's A Sin, Being Boring (encore), West End Girls (encore). A pretty sweet set... despite the sound at The Moore Theater being really uneven, and the sound-mix for the show being pretty bad in parts (Neil's vocals during King's Cross were obliterated). Still... well worth attending!
• Pet Shop Pics! I was too busy enjoying the show to be much of a photographer, but still managed to grab a few shots when I thought of it. From the looks of things, Neil and Chris have taken the "Cubism" theme of their previous tour and amped it up to the n-th degree, appearing as cube-heads with cube-head dancers and backup singers. As always, it was a pretty impressive production... even when restrained to the small stage of The Moore...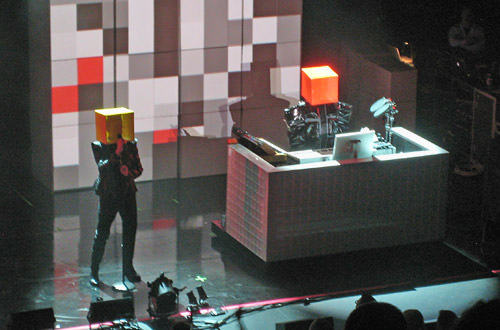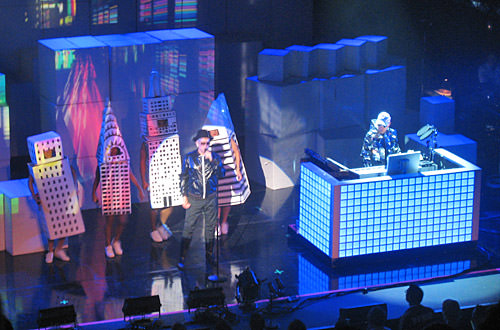 • Dee-Jay? I have been to clubs where very talented individuals have crafted amazing mixes of a wide variety of music in clever and interesting ways. These DJ's deserve their title, and work hard to craft an exciting experience for their audience. On the OTHER end of the spectrum, you have people who just take a string of dance remixes with the EXACT SAME throbbing disco beat... smash them together one after another... and call themselves a DJ. Now, it's probably me... I'm just somebody who doesn't "get" it... but who the fuck cares? Apparently, the Pet Shop Boys do, because THAT'S who they had as their opening act... a disco DJ with one throbbing beat after another. I honestly couldn't tell where one song starts and the other begins. It's just a blur of bass and synthesizers (but mostly bass). Yeah, I'm sure this "music" is just awesome to somebody who can appreciate it (or is high on crystal meth)... but I thought it sucked copious amounts of ass. After 45 minutes of this redundant shit, I was ready to jump off the balcony. The only thing I can think of to explain it is that the Pet Shop Boys wanted to bore the shit out of people before they take the stage so they appear that much better. Which is crazy. They don't need it. Things don't get much better than the Pet Shop Boys live.
• Progress? They keep plugging away at Seattle's Hard Rock Cafe. Now they've got actual signs up to let people know what's coming (but who knows when?)...
• Blue! Man, what a beautiful day in Seattle I came back to from rainy Alaska!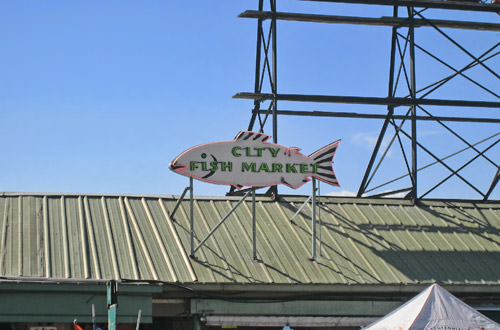 And thus ends my week of vacation big happy fun time. Back to the daily grind...