Posted on February 6th, 2020

I haven't had a chance to play video games in months.
I bought Untitled Goose Game the day it was released on Friday, September 20th, played it through the weekend, then never picked up my Nintendo Switch again. The brand new LEGO Jurassic World game I bought for Black Friday hasn't even been taken out of the wrapper. That's a darn shame, because it looks like big fun...
Monday when I got home I had to tear apart my media center to diagnose why I had no internet. I discovered pretty quickly that one of the cats was underneath and hit the fiber box so it dropped and came unplugged (found a toy there and the security cameras showed Jenny was the culprit). Since I had it pulled out, I unhooked everything and started re-wiring everything from scratch. Since I had gotten rid of cable internet and satellite TV and wired speakers and such, I was able to rip out a bunch of junk that was adding clutter for no reason.
I was seriously considering not plugging my Nintendo Switch back in and tossing it in the drawer with my PlayStation 3, Xbox One, and Wii-U. Why bother to have it out when I'm not playing it?
On one hand, this is pretty sad. I love video games and would dearly love to have more time to play them. On the other hand, I have hobbies like woodworking and drawing/painting that I'd much rather be doing over playing video games.
Which has lead me to the conclusion that the Nintendo Switch will likely be the last video gaming console I buy. And boy does that make me feel old. I mean, ME, NOT PLAY VIDEO GAMES? Insanity.
Not wanting to be this old this quickly, I plugged the Switch back into my media center. Who knows if I'll ever have time to play it, but at least it fends off my impending decrepitness for a while.
Posted on April 3rd, 2016

Put down that leftover Easter Egg Salad Sandwich, because Bullet Sunday starts... now...

• Peanuts! As a long-time Peanuts fan, I was not especially looking forward to seeing Schultz's strip and classic cartoons butchered for modern audiences, as is so often the case (see Teenage Mutant Ninja Turtles, Jem, and and just about every other cartoon translation). Turns out I needn't have worried. The Peanuts Movie was pretty amazing...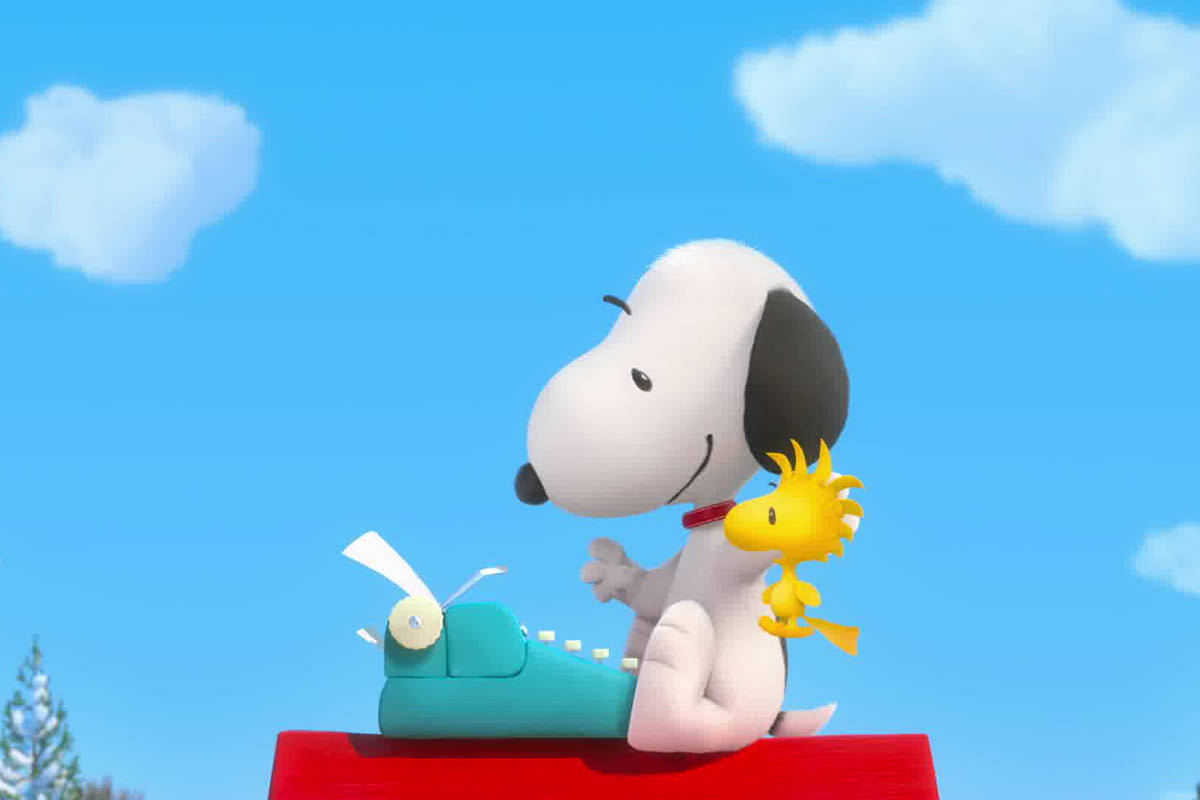 Very faithful to the source material and lots of hidden gems for Peanuts fans to find. And it was just beautiful. It LOOKED like "Peanuts" and had plenty of nods to the classic Schultz style that was the hallmark of both the strip and the animation. Loved it. Purchased it immediately on iTunes so I can watch it many times.

• Yes. Oh yes...
Heckling a good comic is about the stupidest thing you can do.

• Entitlement. An iPhone app developer announced a new app they had just released. I wish I hadn't read the comments, because they pretty much went like this...
$2.99 WTF?!?
Better be good for $2.99!
Should be free.
The entitlement generation makes me want to put my head in the microwave. Assholes will spend $5 for a cup of fucking coffee without thinking twice... but doesn't believe an app developer deserves $3 for their efforts? How in the hell do you make a living from free?

• Miitomo. And so Nintendo released their long-awaited iPhone app called Miitomo. It's a senseless time-waster, like most of these things... but it does allow you to get creatively absurd with your wardrobe, so there's that...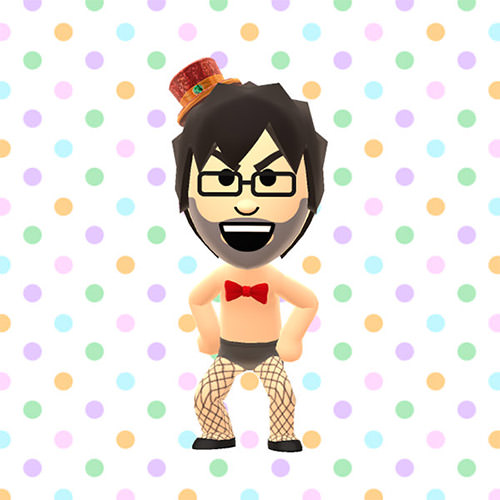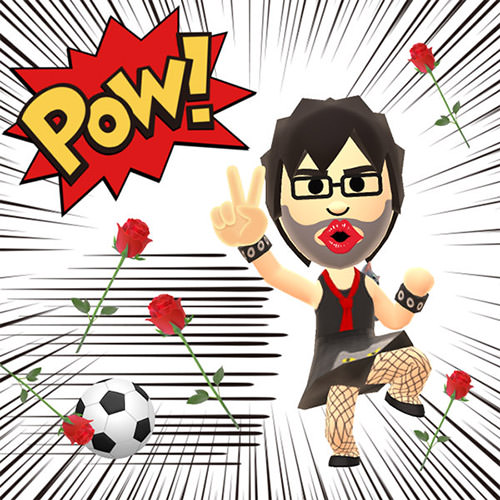 Those fishnet tights are the gift that keep on giving. Davetomo FTW!

• Youth. I was entirely too adorable as a child...
You can tell I'm old because, unlike today's fruit, watermelon had seeds when I was a kid.

And... that's it for bullets this week. See you in seven days!
Posted on August 21st, 2015

Yesterday I mentioned how I've had a Nintendo Wii U sitting in my closet for over two years. Last night I pre-ordered all the LEGO Dimensions sets for it, which seemed incentive enough for me to finally unbox my Wii U and get it hooked up.
And so I did. And I've been goofing around with it ever since.
THE HARDWARE
When compared to the PS4 and the XBOX One, the Wii U comes up short. The processing power... the graphics... all the specs, really... everything is a step down. A noticeable step down. But that's par for the course for Nintendo, who has always put the gaming experience above specs... doing far more than the competition with less. Even so, while you're never going to mistake a PS4 game for the Wii U equivalent, that's not saying Nintendo's graphics are ugly or the games are slow and dated... far from it. Everything I've looked at has been beautiful and fluid on the Wii U. Nintendo's programmers are absolutely getting the most out of what they have to work with.
So... if the Wii U can't compete with modern gaming consoles on specs, what does the hardware offer that's worth investing in?
Just like the Wii before it, the Wii U breaks some new ground in gameplay with its controllers. This time with their "Game Pad," which is a massive tablet-esque controller with standard game controls around the edges...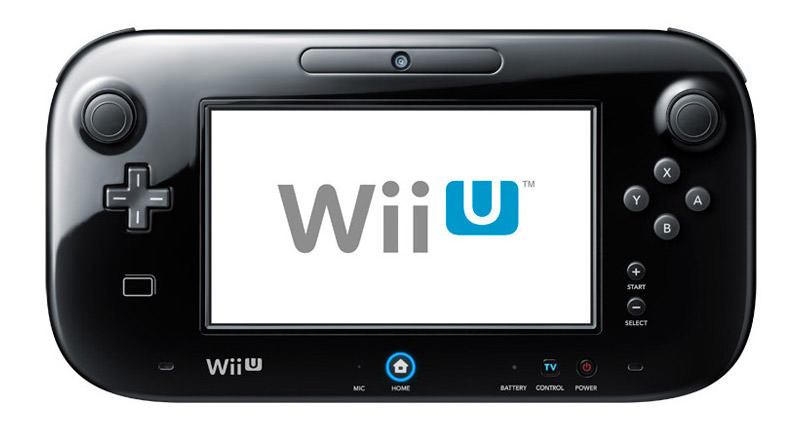 At approximately 5.25 x 1 x 10.25 inches, it's even bigger than I remember it being.
And yet... not entirely uncomfortable for me to hold (don't know about kids). Its lightweight, the buttons and sticks are well-placed, and the on-board touch-screen actually seems useful. The only big negatives are A) poor battery life is 3 hours max, and B) the screen is fairly low-resolution. After becoming accustomed to the Retina Display on my iPhone and iPad, it's almost painful to look at. Otherwise, pretty cool... assuming the game you're playing takes advantage of it.
Which it can in two ways. The first is that it can display supplemental information or additional controls past what you see on screen. The second is that most games actually let you transfer the display from your television to the Game Pad so you can play games while somebody else watches the television. This is nice... but only half as cool as it could be when you realize you have to stay in the same room and fairly close to the console in order for the Game Pad to maintain its connection. Bummer. I want to Wii U from bed.
The weird thing about the Game Pad is that you can't connect more than one to the system. Players 2-5 have to use Wii wand controllers or Wii nunchuck controllers or Wii U Pro Controllers (none of which are included). I guess I get it... streaming live video takes processing power and the console doesn't have a lot to spare, but still... I can't believe that you can't connect at least two Game Pads to a Wii U so that you can go head-to-head with somebody using the same controls.
Oh... one last word on the Game Pad... you can use it to control your television. Namely, use it to turn the thing off and on plus select the video source, meaning you don't have to go scrambling for the TV remote to play. Nice.
The system I got was the "pro" version that comes with a pathetic 32GB of storage... only 25GB of which is available. Which means I am almost out of space and all I have is two games and a demo onboard. I have no clue how those with the "non-pro" 8GB version manage at all. The solution is to purchase an external USB hard disk or thumb drive or something. There's an SD card slot, but that seems to be exclusively for backwards compatibility with Wii games, as I've found no way to access it from the Wii U side.
When it comes to actually navigating the system, I find it surprisingly similar to the Nintendo 3DS. You can run one application/game at a time, and that application/game goes into suspension so you can access system controls mid-game. It's not as elegant as the XBOX One and PS4 menuing system, but it's perfectly serviceable. About the only negative I've found so far? No universal in-game chat system, which is a pretty big oversight in modern gaming. For multiplayer online games, you just have to hope that the game has its own chat system built-in or else there will be no in-game chat for you.

SOFTWARE
I'm just going to get this out of the way... NINTENDO-DEVELOPED WII U GAMES DO NOT COME WITH INSTRUCTION BOOKLETS! Not even a single-page pamphlet to give you an overview of the controls! Nope, everything is done with the online help system, which works okay, but is pretty lame. Nothing like having to pause the game so you can look up something that should have been shared on a hardcopy.
Obviously I haven't had a chance to play with a lot of games yet, but here's a quick sampling of what I've been up to so far...
LEGO City Undercover... The game that made me purchase the Nintendo Wii U in the first place, this is one of the best LEGO minifig games to date. As police officer Chase McCain, you scour LEGO City for criminals using brilliant disguises that endow you with new abilities. In many ways, this is the LEGO version of Grand Theft Auto but in reverse. I absolutely love it, of course... despite some agonizingly long load times and no ability for multi-player (which is kind of a staple with these games). The sandbox you're in seems vast and affords a lot of freedom, but is ultimately part of a fairly linear gaming experience. Since the Wii U seems to be picking up steam, I'm hopeful we may get a sequel one day. I've barely begun playing, but already know I'm going to be wanting more.
Super Mario 3D World... As with all Nintendo gaming systems, I figure that the biggest development effort is always going to go into their signature Mario title, so I always buy it and have never been disappointed. Like Super Mario 3D Land and Super Mario Galaxy before it, the title is exceptionally imaginative and fun to play. In the few hours I've been playing it, I've seen all kinds of cool things... including Mario putting on a cat outfit so he has cat powers to play with. Epic.
LEGO Batman 3: Beyond Gotham... I had already started this game on XBOX 360, but it was so cheap I decided to grab it for Wii U so I can have a consistent experience when LEGO Dimensions arrives in September. So far, it feels exactly the same. I think the XBOX 360 controller is a bit better for this title than Nintendo's Game Pad, but I'm not having any trouble. The game itself is amazing... though it doesn't reach the heights that LEGO Batman 2 did... feeling more confined and less open despite taking place on multiple planets in space. Still... LEGO Batman. UPDATE: Went to purchase some of the cool downloadable content for this game only to find out it isn't available for the Wii U... WTF Warner Interactive? Guess I go back to the XBOX 360.
Bayonetta 2... I bought this game for the specific purpose of seeing what a non-cutesy Nintendo and non-cutesy LEGO game would be like on the Wii U, and this one was the highest rated I could find. And for very good reason... it's utterly amazing. Far from being over-hyped, you just can't believe how beautiful, fluid, and fun it is to play. I had a really tough time putting it down long enough to write this blog entry. Basically, you play a witch with lethal fighting abilities... plus guns. She's kind of like Neo from The Matrix in that she can slow time and gain a distinct advantage over her enemies. As this is a Nintendo Wii U exclusive title, it's almost worth buying the system just to play it. Yes... it's that good.
I have to say... if these four titles are indicative of the quality that goes into Wii U titles, it's very easy to see how the system is one to be reckoned with. No, the visuals are not as tight as what you'll find on XBOX One or PS4, but Wii U excels in entertainment value, which is all that really matter, isn't it?
And that's the Wii U as I know it right now.
Kind of regretting that I waited two years to discover it.
Posted on August 20th, 2015

As anybody who has been reading Blogography for any length of time already knows, I am addicted to LEGO video games. It started with LEGO Star Wars, forged ahead into the massive triumph that was LEGO Batman, then wandered into amazing places with LEGO Indiana Jones, LEGO Pirates of the Caribbean, LEGO Harry Potter, LEGO Lord of the Rungs, plus many more. And I've purchased every game that's been published.
Until the game came along I couldn't purchase... LEGO City Undercover...
The reason I couldn't buy it? The game was exclusive to the Nintendo Wii U gaming system, which I did not own. The closest I could get was the "prequel" to the game which was released for the Nintendo 3DS (and was awesome)...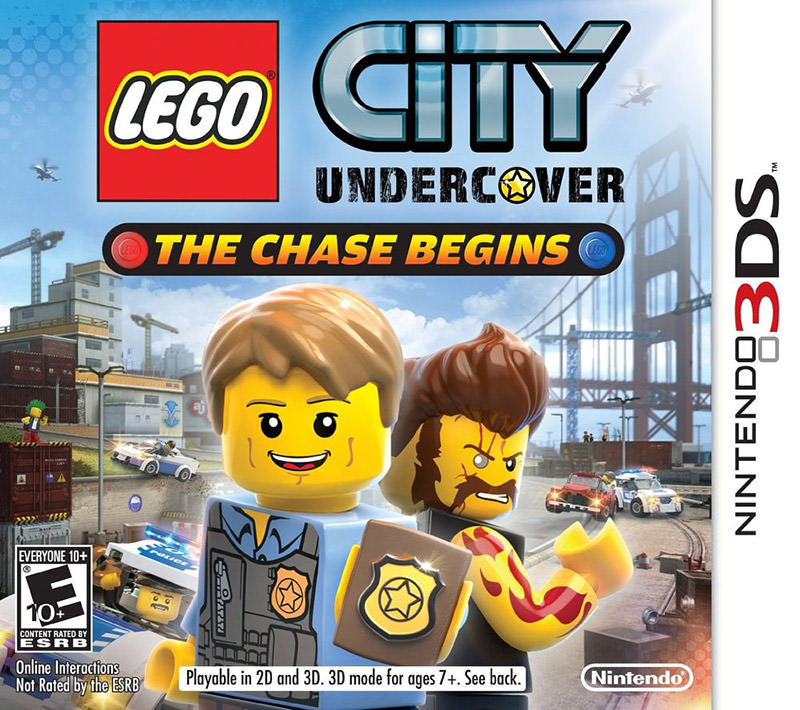 While I owned a Wii and liked it quite a lot, the Wii U didn't seem to offer much additional that I considered investing in the system. So I bemoaned the fact that LEGO City Undercover would be the first LEGO game I'd not be able to play, then moved on with my life.
Fast forward a couple months... and, while visiting friends in Pittsburgh, I got to play with the Wii U up-close-and-personal. Much to my surprise, I found out I had grossly underestimated it. The system built upon the Wii with some intriguing upgrades in game play (and in graphics, which finally caught up to the competition with HD quality)...
After playing the majesty that is LEGO City Undercover for fifteen minutes, I knew I had to have it.
So when I got home, I called up a buddy that could hook me up with a Wii U and ordered LEGO City Undercover. They both arrived the following week... when I promptly stuffed them in a closet and forgot about them. Turns out I don't have much time for playing video games.
That was over two years ago.
Then LEGO Dimensions... which looks like it may very well be the greatest video game in the history of video games... became available for pre-order...
Of course I must have it.
But which system should I order it for? It's available for almost all of them.
Ultimately I decided to pre-order the Wii U version so that it would encourage me to get my console out and get some use out of it.
And so today was the day.
But I'll get to that... tomorrow.
Posted on December 15th, 2013

Oh my stars and garters! Hold on to your shorts... because Bullet Sunday starts... now...

• Pass. This Saturday & Sunday was declared "SteetPass Weekend" by Nintendo. "StreetPass" allows you to have limited interaction with other Nintendo 3DS users you happen to pass on the street when you both have your 3DS sleeping in your pocket. But you can also interact with users via "StreetPass Relay Points." Visit a Relay Point (at places like McDonalds and Starbucks) and you can have limited interaction with the last six users to have been there. However... during "Street Pass Weekend" the six users you interact with are randomly pulled from Relay Points around the world! This is kind of nifty, because you'll get the chance to meet Mii characters you'd likely otherwise never meet. Very cool, and I tried my best to make the most of it. Sadly, countries in South America (plus Mexico!) I got don't have maps in my 3DS, which is kind of crappy. Why is that? I'll have to see if there's a way to download them.

• Theft? My first stop on a dreaded shopping run today was at Costco to pick up some things for my grandmother. Once I had unloaded her purchases into my trunk, I wheeled my cart across the parking lot to return it. As I was walking back to my car... I SAW A WOMAN TRYING TO BUMP MY TRUNK OPEN! It took me a second to process what I was seeing, but I finally managed to say "HEY! GET THE FUCK AWAY FROM MY CAR BEFORE YOU GET FUCKING SHOT!" (it's an easy threat to make here in Redneckistan, because most people are packing). She said "Oh! I thought this was my car!" and awkwardly scrambled off. Which was so, so stupid. It was painfully obvious that she watched me load my trunk, then tried to break in and steal stuff the minute I walked away. I'm not shocked that there are people out there breaking into cars... it's just how brazen they are about it. I was right there!

• Mickey Dees. I stopped at McDonalds for "StreetPass Weekend" and to get some fries and a Hi-C Orange Drink. After I got my food and was headed to a table, I ran across a group of people talking in the aisle, completely blocking it. I said "excuse me" and tried to get by, only to have them completely ignore me... THEN MOVE TO BLOCK ME FURTHER. Which was apparently high-larious to them. Rather than unleash a string of expletives in the middle of a kid-friendly restaurant, I decided to backtrack and go around them. What IS it with people? These were not some punk kids... these were adults! Adults still living in high school, apparently. I weep for the future.

• Starbucks. Another "StreetPass Weekend" stop... and this time I decided to order up some yummy peppermint cocoa, since I don't drink coffee. I ordered a "medium" and got a "grande" which looks like it's actually a large? What I apparently wanted was a "tall" which is a step up from a "small" and two steps down from a "venti." But since the "small" is not actually on the menu, everything shifts up a size. Starbucks is confusing. I think they up-size their sizes so they can trick unsuspecting people into paying big money for more beverage than they need. My cocoa cost FOUR DOLLARS!! Which is crazy. I can get blown for that kind of money! I guess now I know why Starbucks racks up billions in profits every year. I would have been happier with a 20¢ packet of Swiss Miss and a cup of boiling water from my microwave.

• StarBIGbucks. SERIOUSLY?!? FOUR DOLLARS for a cup of cocoa?

• Home Despot. Before I left for Wenatchee, I checked the hours of all the stores I needed to visit so I could form a plan of attack. Home Depot had the latest closing time of 8:00, so I put it last on my list because I have to return an item. I arrived in plenty of time, walking up to their front doors at 6:05pm. Only to find it wouldn't open. I doubled-checked the hours on the door and, sure enough, they don't close until 8:00. So I try pushing on the door to see if it will open... it refused to budge. So I triple-check the hours. And then... then... I happen to notice another sign all the way across the door from the hours...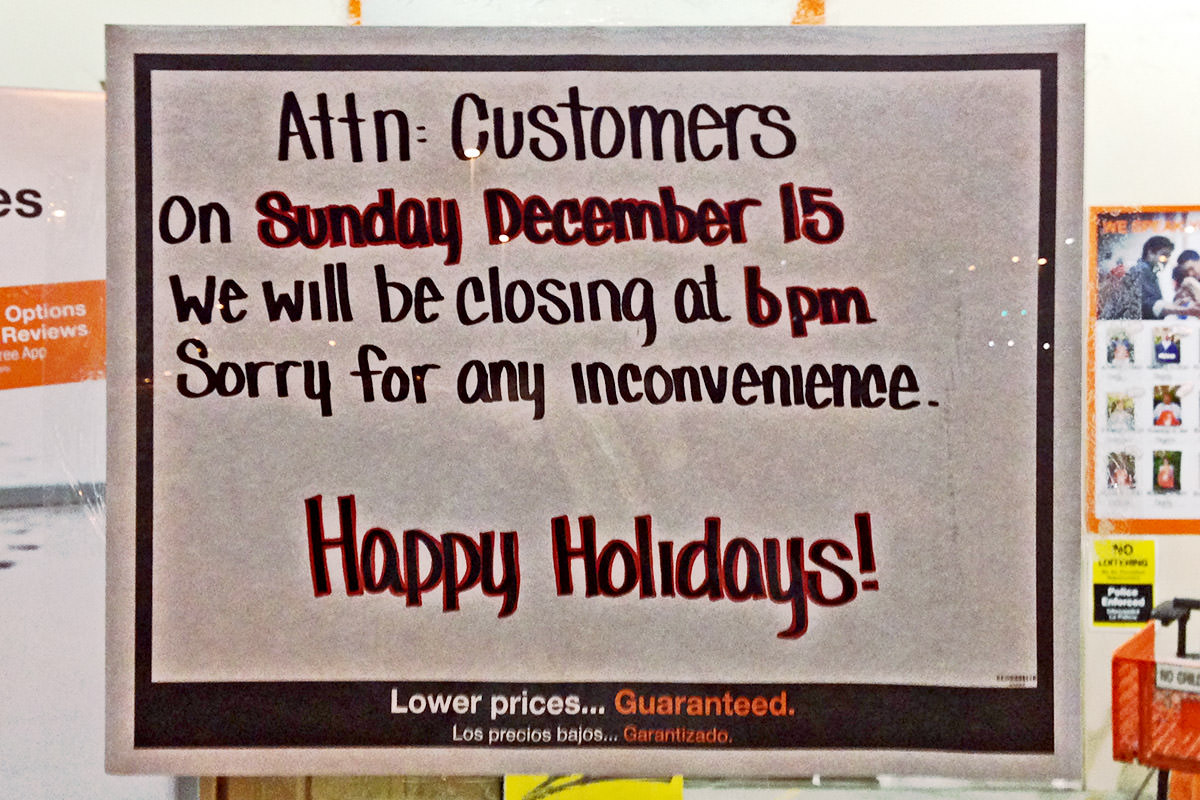 This one says "Fuck you... but we're closing at 6:00 today! Sorry for the inconvenience! Oh... and Happy Holidays, SUCKER!" Except, no, they're not really sorry or else they would have put it on their website so their customers wouldn't waste their time. As I was taking the above photos, a woman came up to the door and I had to tell her the bad news. "But... I came all the way from Quincy!" Yikes. That's a 45-minute drive. If I had traveled all that way, I would have burned the mutha down. I can only hope that the reason they closed early was for something important... and not some kind of lame company Christmas party or something.

• Ten. The latest meme? "10 Books That Have Stayed with You." Not the "best books you've ever read'... but instead books that have stuck with you for one reason or another. Interesting. That's a very different thing then, isn't it? My picks...
Jonathan Livingston Seagull by Richard Bach (life... In 127 pages)
Illusions by Richard Bach (living... in 192 pages)
Noble House by James Clavell (how fictional history should be written)
Hitchhiker's Guide to the Galaxy by Douglas Adams (funny sci-fi classic)
Last Chance to See by Douglas Adams (endangered animals funny? yes)
A Princess of Mars by Edgar Rice Burroughs (ultimate sci-fi yarn)
Son of Tarzan by Edgar Rice Burroughs (ultimate adventure yarn)
Dune by Frank Herbert (flawless science fiction world-building)
Lightning by Dean Koontz (one of the quickest reads I've ever had)
Watchmen by Moore & Gibbons (visual storytelling at its best)
Bah! Just as I finished this list, a dozen more books popped into my head. I guess I love books way too much.

• MIKE HUCKABEE: AGENT OF SATAN!!! And so there I was, running through my Facebook timeline, enjoying all the funtime activities of my friends, when I run across an ad for Governor Mike Huckabee's FREE Bible Story Cartoons DVD! I love Bible stories! I love cartoons! I even love DVDs (even though I buy everything digital now-a-days)! So I was absolutely going to claim my freebie! And then, just as I was going to comment my appreciation to the Governor, I saw that the number of comments left before me was 666... THE MARK OF THE BEAST!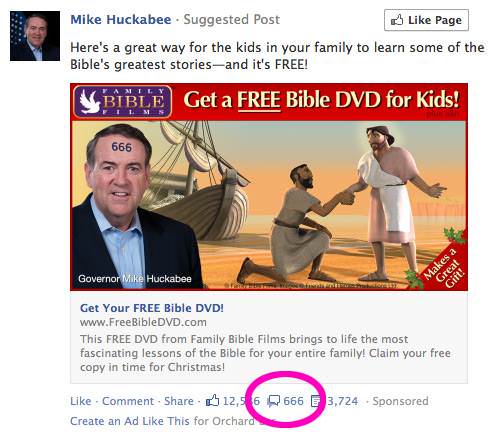 ZOMG! CLEARLY THIS IS A SIGN FROM GOD WARNING ME THAT MIKE HUCKABEE IS AN AGENT OF SATAN! S-A-T-A-N-!!! Mike Huckabee must be indoctrinating children into the devil's army with these DVDs! And clearly he is an agent of SATAN since he charges $5 shipping and handling for this "free" DVD... and, as if that weren't proof enough of his allegiance to Hell, anybody ordering the "free" DVD is automatically enrolled in a subscription for even more devil-indocrinating DVDs... at $12 plus $5 shipping and handling! Praise be that I saw the sign that God provided me and was able to steer clear of this evil, EVIL minion of The Dark Lord!
Oh... wait a second... I've actually READ THE BIBLE! And The Bible clearly states that interpreting something as a "sign from God" is AN ABOMINATION TO THE LORD! It says so right there in Deuteronomy! And Leviticus! And a dozen other places in scripture! What was I thinking? I guess I must just get caught up in all these evil sorcerers like PAT ROBERTSON and MICHELE BACHMANN who are constantly seeing "signs from God" that support their evil, godless plans to tempt people into the service of SATAN!
So, my apologies, Governor. Turns out you're just an unscrupulous businessman who tricks people into buying your shitty DVDs. You're not an agent of SATAN after all! OR ARE YOU?!? Using "free" DVDs to scam people into buying your crap certainly SOUNDS like something the devil would orchestrate... hmmm?

Annnnd... I'm shootin' blanks. Until next week!
Posted on December 8th, 2012

I'm a bit of a video game whore, even though I rarely have time to play them. But that hasn't stopped me from acquiring a plethora of gaming hardware over the years, including the Atari 2600, Microvision, Nintendo NES, ColecoVision, Atari 7800, Nintendo GameBoy, Atari Lynx & Lynx II, Sony PlayStation, Nintendo GameBoy Color, Nintendo GameBoy Advance, Nintendo GameCube, Microsoft Xbox, Nintendo DS, Nintendo DS Lite, Microsoft Xbox 360, Nintendo Wii, and the Sony PlayStation 3.
And, of course, there were a bunch of computers capable of playing games tossed in there (most notably by Atari and Apple) plus a bunch of dedicated handhelds like Mattel Electronic Football and Electronic Poker. Oh... and my iPhone/iPad, which has all kinds of games on them.
And, for a while there, it looked as though my gaming future was going to be the iPhone/iPad.
But the lack of a dedicated control pad make for a crappy experience. And the lack of LEGO titles meant that the games I most wanted to play weren't available.
Enter the Nintendo 3DS XL...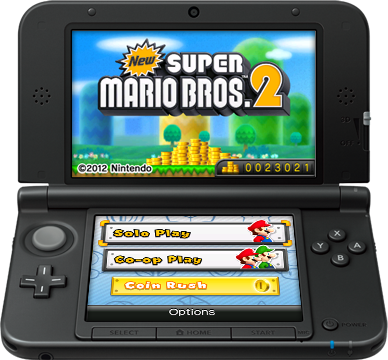 I had played around with the original 3DS, but the 3D screen gave me a headache. I had read that the new "90% bigger screens" of the XL version was easier to view properly, so I decided to give it a shot.
And it's pretty awesome.
The 3D really looks great and, on the larger screen, is much easier to see... though the resolution is kinda low and chunky. The only problem with the glasses-free 3D technology is that you have to hold the hardware a specific distance from your face and look at it straight-on for the best effect. Start looking at the screen at more than a couple degrees off-angle and the screen will darken and eventually go all blurry. At first, this was a problem for me, but now I seem to instinctually hold it properly, so it's not a problem at all.
Having dedicated controls is what makes a hand-held video game superior than a mobile phone for gaming, and Nintendo has quite an assortment. The buttons on the shoulders and right-hand side are pretty standard. As is the D-pad on the left. But above the D-pad is the "Circle Pad." It is glorious. So smooth and precise that gameplay is much improved. A lot of people complained that Nintendo should have put another Circle Pad on the right-hand side (rather than doing so with a clunky add-on) and I have to agree. That would make shooter games a dream to play on the 3DS XL. Oh well.
Both of Nintendo's 3D units have a lot of features outside of gaming... most of them kind of lame, overly-complex, and unnecessary, to be honest. There's "Spot-Pass" and "Street-Pass" for exchanging data with Nintendo, your friends, and even random strangers you pass on the street. There's Mii creation functionality taken from the Wii to make an avatar of yourself. There's an e-shop for buying games and apps. There's internet connectivity and friend codes for playing games with friends over the web. There's a sound editor of some kind. It goes on and on. I will probably use very little of this stuff. I just want to play games.
There's also a crappy, grainy, low-res 3D camera on the back (plus an equally shitty front-facing 2D camera) which can read QR codes. I can't show you what the photos look like without having you look at the 3DS's full-color 3D screen, but I can have Photoshop break out the MPO 3D image file into a cheesy red/blue 3D thing for your to look at...

Get out your 3D glasses! Note how the further back you go, the more the image skews to create the 3D effect.
The camera also saves out a non-3D JPEG image that you can look at on any computer or other device capable of displaying JPEGs. But the quality is so bad, why would you want to?
I guess if you needed a camera in an emergency and your phone wasn't handy, this would be better than nothing. But not by much. Since Nintendo saves the photos to a standard SD memory card they are easy to transfer, so I guess there's that.
I'll probably review the 3D games I bought later on, once I've had time to play them a little more... but I am compelled to mention that my main reason for buying this handheld in the first place was the abundance of LEGO games available...
LEGO Star Wars III: Clone Wars - It's little LEGO characters with light sabers... guaranteed fun.
LEGO Batman 2 - It's LEGO. It's Batman. Therefor it's awesome.
LEGO Pirates of the Caribbean - Brilliant LEGO pirate game even includes Johnny Depp swagger!
LEGO Harry Potter: Years 5-7 - Magic-oriented puzzles are fun and different.
LEGO Lord of the Rings - Really cool to look at, kind of a mess to play.
Sure, they're not very challenging. But they are a lot of fun. Except for the Lord of the Rings game. The battle system is really flawed, which makes playing it more of a chore than fun. Especially for casual, on-the-go pick-up gaming. Unfortunately the 3DS LEGO games don't have all the features of their console counterparts, which means there's less to do. But, on the other hand, you can take it with you.
Nintendo being Nintendo, there's a bunch of great Nintendo-themed games featuring popular characters and properties like Mario, Professor Layton, Link, Nintendogs, Pilotwings, Mario Kart, and the like. No Kirby or Pokemon yet though, which is kind of alarming. Still, a library plenty packed with quality games that people want to play.
Overall, I'm fairly impressed. More than anything else, the Nintendo 3DS Xl is fun, which is kind of the point of video games. If you have the original 3DS, it's probably debatable whether it's worth the $200 price tag to upgrade so quickly (though the bigger screens are SO nice). But if you own any other previous-generation handheld, the 3DS XL is worth checking out.