Posted on August 13th, 2018

Whenever a fire siren goes off in town, my heart stops for a second. When you live in a city as small as mine, there's a good chance that somebody you know has their home on fire. Not that it's any less sad when it's a stranger losing their home, but it does hit you harder.
Right now it's especially terrible when the siren sounds because a fire happening when there's wildfires all around us just seems cruel.
Today the smoke was so thick in the air that I could barely make out the nearby hills. If you look at this map...
...that huge red dot in the middle is just North of where I live. It's a wildfire that's currently 29,186 acres in size and only 5% contained. When the winds blow South, the smoke comes with it. For me that means a day of burning eyes and difficulty breathing.
But that's not the worst part.
The smoke is a constant reminder that hundreds... thousands... of animals are losing their homes and living in terror. And many of those may not survive it. Unlike people, they don't understand what's happening, and that has been weighing heavy on me.
Our local animal shelter has had to stop taking in owner surrenders because they just don't have room. They have to shelter animals from people under evacuation with what little space they have available. And this also weighs heavy on me. I try and think of how terrified Jake and Jenny would be in a shelter... trapped in a small cage with nowhere to hide from the noise and people. I can't imagine how traumatized they would be. I can't imagine that they would ever be the same. I just can't imagine. It's just too awful.
A part of me wants to run down and adopt another cat... do my part to free up some space. But I don't think that's for me. Jake and Jenny are perfect. Life with Jake and Jenny is perfect. We've adapted to each other very well and I think they are happy here. If introducing another element in any way disrupts that, it wouldn't be fair to Jake and Jenny. Or me.
And yet...
I cannot say that I won't give in and take a chance.
I really need to unsubscribe from the Human Society newsletter and Facebook feed. Too many animals need homes.
---
Continuing on with my revisiting of every Marvel Studios movie...
MARVEL STUDIOS MOVIE OF THE DAY, No. 12: Ant-Man
Original Grade: A • Today's Grade: A
I knew I would love this movie the minute that Paul Rudd was attached to star. Then they went and made it into a caper flick so it would stand out from the pack, which was about a brilliant a move as they could have made. I ended up really loving it. Still holds up today. I'm having to really restrain myself from bumping it up to an A+ here, because I have a tough time seeing how the first Ant-Man movie could have been much better than this.

SCENE TO BEAT: That opening scene where SHIELD's headquarters (as seen in Captain America: Winter Soldier (three movies ago) are just being built... and we get a de-aged Michael Douglas interacting with Peggy Carter and Howard Stark... thus immediately cementing Ant-Man into the Marvel Cinematic Universe before he even appears on screen! Genius! But... yeah... the fight in Cassie's bedroom was pretty great. They played with the size altering abilities in interesting ways, which was a lot of fun.

COULD HAVE BEEN BETTER: Once again... the villain has the same powers as the hero but is a little stronger. It gets so old. And yet... from a story perspective I get it. Yellow Jacket kinda fell out of Scott Lang's origin story, so it was a logical choice. Fortunately, we got Ghost in the sequel, which was something entirely different.

SIDENOTE: With every viewing I remember how upset I was before the movie came out when I heard that Scott Lang would be in the suit instead of the original Ant-Man from the comics. Hank Pym and Janet van Dyne were founding members of The Avengers, and it was a real slap in the face they were being side-stepped. And then I saw the movie and the way they so brilliantly integrated Hank Pym into the history of everything the MCU was building. It was a brilliant move and made perfect sense. It was at this point that I finally just stopped questioning what Marvel Studios was doing until I saw the full film. In most every case they end up nailing it, so why waste the energy?
Posted on August 5th, 2018

This Sunday is 17% more lethal than usual... because an all new Bullet Sunday starts now...

• Vote! Voting in the August Primary was fairly easy for me. If you're a Republican, I Google to see how hard you've worked to disavow President Trump and his entire cesspool of an Administration. If you haven't... or, heaven forbid, you support the assholes... you get no vote from me. I then look at all the Democrats and research who is in a best position to defeat the Trump-enabling Republican running. Because right now? That's all I give a shit about. Making sure that every last fucking Republican who isn't whole-heartedly disavowing Trump goes down in fucking flames. I don't want Republicans to LOSE in the upcoming election... I want them to be UTTERLY DECIMATED AND DESTROYED. I used to vote with no regard to party affiliation and ended up with both Republicans and Democrats on my ballot. Not any more. After Trump, Republican politicians don't deserve air to breathe, let alone my fucking vote...

Has there ever been so petty a piece of shit president in this country? LeBron has done more for education by opening up ONE SCHOOL than Trump, DeVos, and their entire administration has ever done.

• Shit! Late-night television is really something else. SexToys followed by Larry King? Seems about right...
And after that? More shit, along with some other program before it...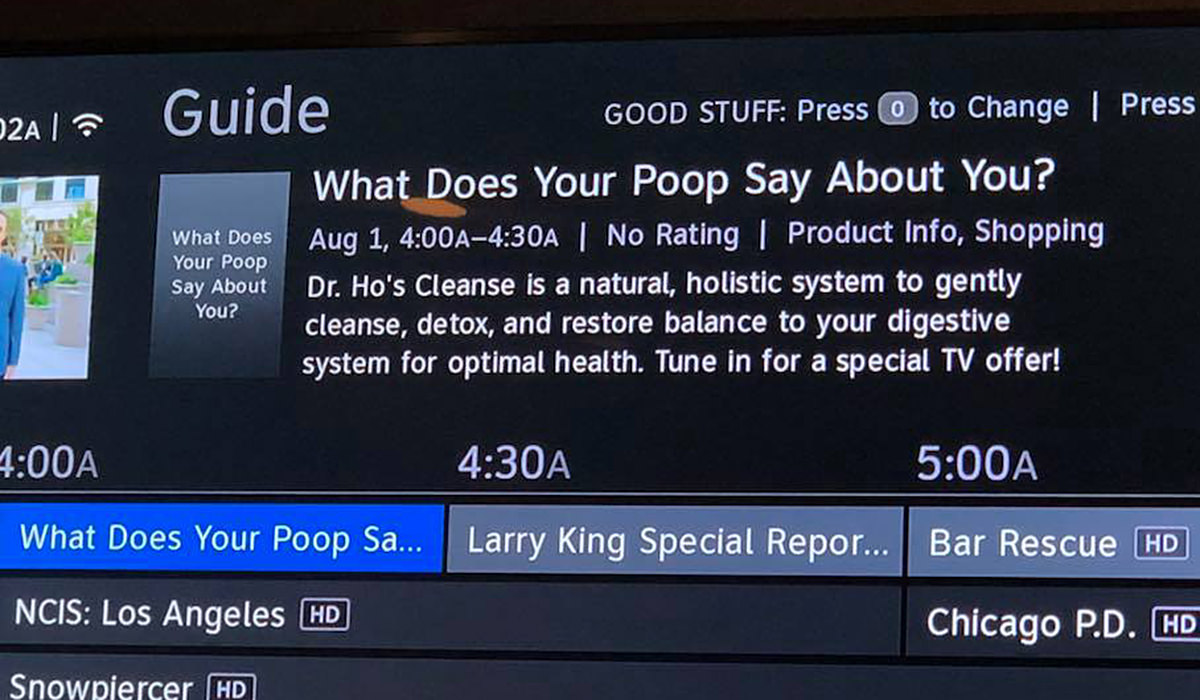 Larry King is one of those people who I can't for the life of me understand how they got famous. He has to be one of the worst interviewers of all time. He has no fucking clue what he's talking about and always seems woefully unprepared and completely ignorant as to the person he's interviewing. At least now he's putting is "talent" to appropriate use by hawking senseless shit in infomercials.

• Cool! This week I took the "What I have in my refrigerator" challenge...
Coke Zero, Sprite Zero, original Coke (for guests).
Various sugar-free sodas (which I don't like).
Leftover Vitamin Water (from the plane).
Atkins shakes (for high blood sugar days).
Pickles.
Emergency water jug.
Six kinds of cheese.
Sugar-free jellies (strawberry & blackberry).
Ketchup, mustard, pizza sauce.
Spreadable butter.
Trader Joe's slivered almonds.
Four kinds of mayo.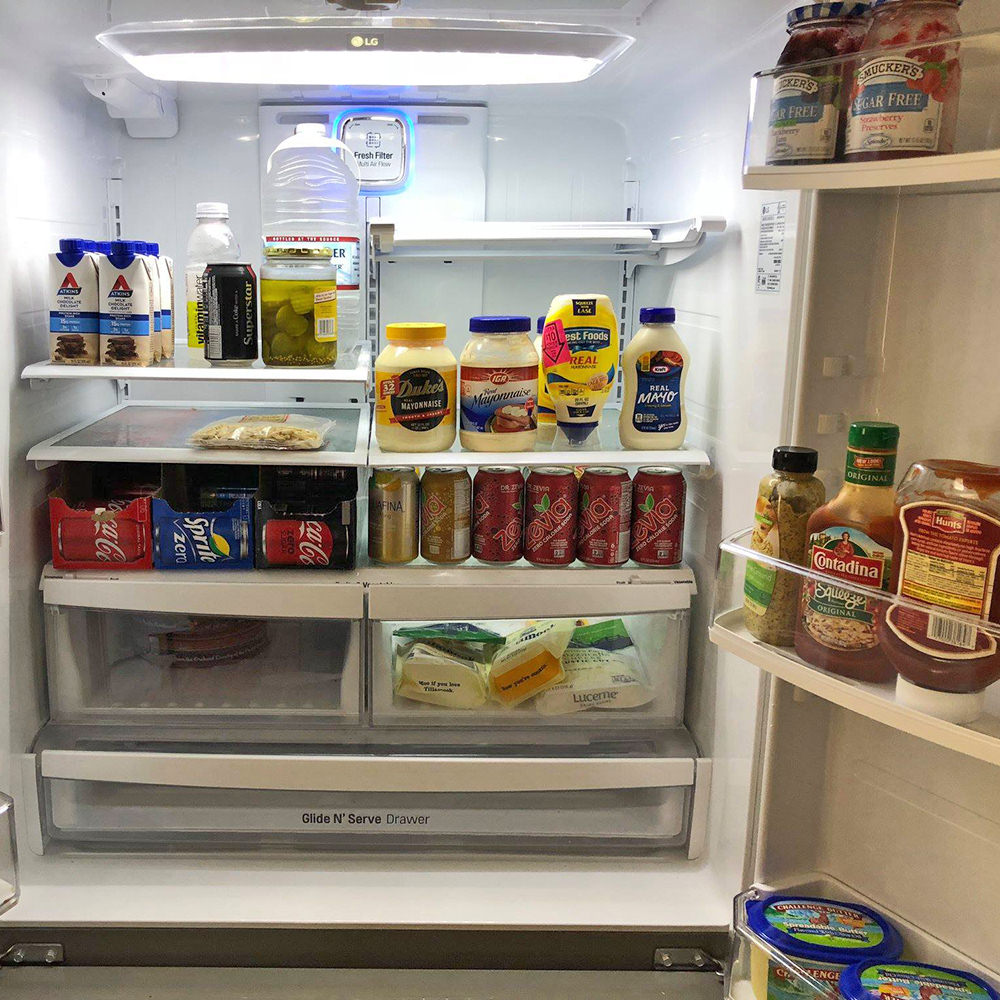 YES! FOUR KINDS OF MAYO!!! I use the cheap stuff for salads, Best Foods for burgers, Kraft for egg salad, and Dukes for fries (I use it when I'm out of Dutch mayo, like now). If I had to give them all up, I'd eat only Dutch mayo.

• Big Gunn Two! Another take on where we are now...
Twitter... memories that never really go away...

• Failure to Launch! Johnny Rockets, where I first discovered Boca Burger patties years ago in Santa Monica, has now replaced them with a Black bean patty. Which is stupid as fucking hell. People go to Johnny Rockets for a BURGER. Even vegetarians go there for a BURGER. They just don't want to kill a cow to get one. And what's really stupid? THEY'RE ALL FUCKING FROZEN! They could have had both of they wanted a black bean burger so badly. And so... after decades of visiting Johnny Rockets around the globe... no more Rockets, bitches. No more Rockets for me.

• Liberty! And, lastly, here it is for those eating paste right from the jar...

NEWS: Attorney General Jeff Sessions announces "Religious Liberty Task Force."
This is the most insane, fucked-up bullshit yet. We now need a task force to protect Christianity?!? Because it should be painfully obvious that they are NOT doing this to protect Muslims, Buddhists, Jews, Hindus, Sikhs, or any other NON-CHRISTIAN religions. Since when are Christians a minority in need of protection? Last time I checked, they weren't fucking BURNING CHRISTIANS IN THE STREETS. Last time I checked, you could still go in a fucking UNITED STATES GOVERNMENT POST OFFICE AND BUY NATIVITY STAMPS FOR CHRISTMAS. Last time I checked, CHRISTIANITY WAS THE LARGEST RELIGIOUS GROUP IN THE COUNTRY. Make no mistake... NO MISTAKE... this is nothing more than a full-on attack on gay, lesbian, and transgender persons... and any other American who doesn't fit into the mold that these fucked-up assholes feel is acceptable. Disgusting. Task force? Horse shit. Nothing like your own government spreading fear and persecution to keep their power. I wonder if they'll be required to wear uniforms? Brown shirts, perhaps? No... probably more like white hoods...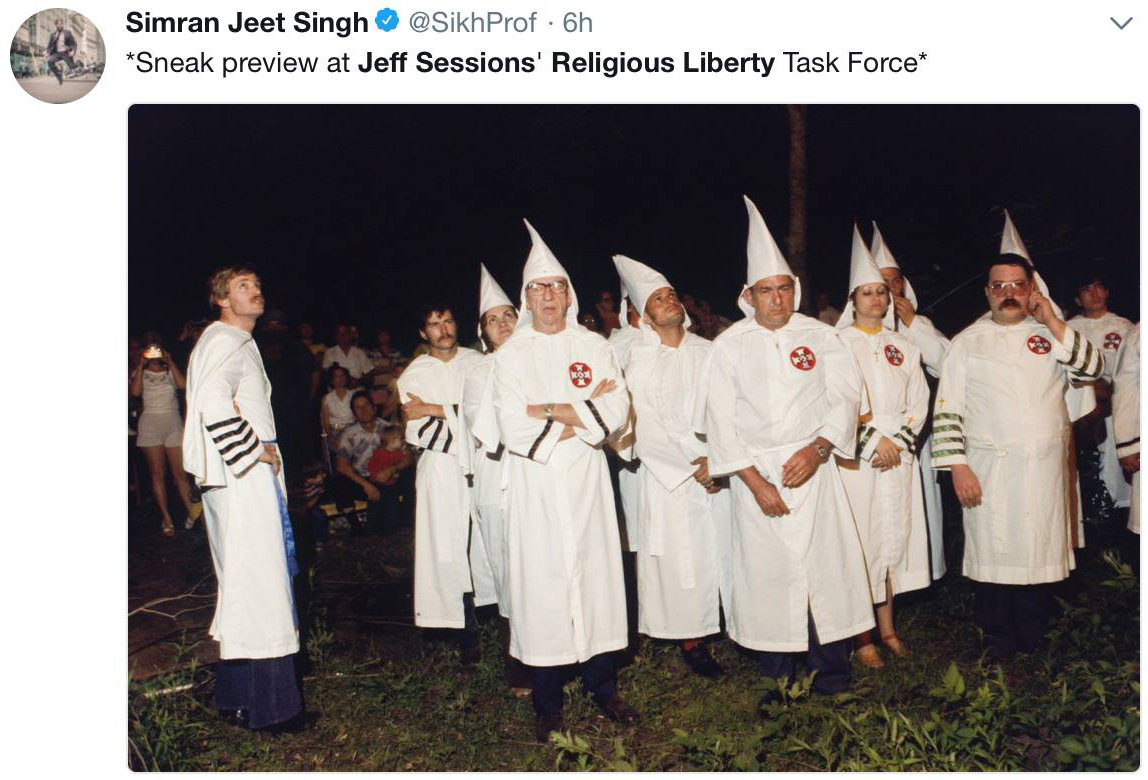 Until next Sunday then...
---
Continuing on with my revisiting of every Marvel Studios movie...
MARVEL STUDIOS MOVIE OF THE DAY, No. 4: Thor
Original Grade: B+ • Today's Grade: B+
I was never a huge fan of the Thor comic books. Sure I read them off-and-on... sure I loved what Walt Simonson did with the character in his run... but he never got to the level of Doctor Strange or Black Panther or Fantastic Four or Iron Man for me. But then this movie dropped and I became a pretty huge Thor fan. Partly because the movie was done so well... but mostly because I could see just how Thor would work as another piece of the Marvel Cinematic Universe. A lot of the credit can be given to Kenneth Branagh for bringing a majesty to the character and to Asgard that the film needed to sell the story. Asgard was epic in scope and beautifully designed. Silly concepts like Bifröst, a "rainbow bridge," were given perfectly believable representations that worked. And though his full potential wouldn't be seen until Ragnarok, how frickin' perfect is Chris Hemsworth in the role? Not anybody else was a slouch in the acting department. Anthony Hopkins is about the best possible Odin we could have hoped for. Tom Hiddleston brought so much energy to playing Loki that the character has been as much a lynchpin for the MCU as its heroes. Idris Elba, Natalie Portman, Renee Russo, Stellan Skarsgård, Kat Dennings... anybody and everybody was so wonderfully, thoughtfully cast. And a standing ovation to Patrick Doyle for the score. Soaring and beautiful, it was a tangible presence throughout the film. Overall, Thor was a crucial step on the road to Avengers that could have been a disaster. Instead it's a worthy addition that totally holds up.

SCENE TO BEAT: The frost giant battle puts a pin in what makes Thor be Thor.

COULD HAVE BEEN BETTER: There are two problems with this film that I have a tough time getting past. 1) The entire span of the film happens over like... what... two... three days? Yes I love the movie, but if you stop a minute and think about how insane the timetable is, things get a little ridiculous. 2) They bleached Hemsworth's eyebrows and it looks crazy distracting. Thankfully they gave up on this absurdity in future movies.

SIDENOTE: When they decided to do away with the whole secret identity nonsense in Iron Man, I honestly thought that would be the end of it. But then along comes Thor, and Dr. Donald Blake was brought up, then dropped like a hot potato. It was a fantastic decision which has been carried forward (more or less) with each new movie. So smart. Given the rather short runtime of a major motion picture, there's just not time to waste on the whole idea, so why bother? It was cute in the original Superman movies, got tired in the Batman films, and is downright silly now. Sure special effects are so economical and amazing that we can show Superman doing all kinds of crazy awesome stuff... but let's blow precious screen-time having Clark Kent investigate a story. And while Hawkeye is the butt of a lot of jokes when it comes to the Marvel Studios films, I have to say they gave him a really good cameo here as we ramped up for Avengers.
Tags:
Bullet Sunday
,
Dumbasses
,
Dumbfuckery
,
Idiots
,
Marvel Studios
,
Movies
,
News
,
Politcs
,
President Trump
,
Thor
Categories:
Bullet Sunday 2018
,
Food 2018
,
News – Politics 2018
,
Television 2018
—
Click To It:
Permalink
—
1 Comment: Click To Add Yours!
Posted on July 19th, 2018

The current host of The Daily Show is Trevor Noah, a South African native who was tasked with the impossible job of filling Jon Stewart's shoes after he left the desk.
For the most part, he's done an amazing job. He is incredibly funny, whip-smart, and has a delivery that makes every joke land with a lethal precision that makes so many other comedians feel like a blunt instrument.
The Right tends to dismiss him as a progressive mouthpiece, but that's a gross simplification. It makes him sound like he's a Left-Wing Tomi Lahren who just stupidly parrots talking points without actually contributing anything to the conversation. That's not even remotely true. Trevor has a viewpoint that's uniquely his own, which is on full display on his "Between the Scenes" YouTube Channel where he is totally off-script and just talking to the audience.
Anyway...
On the occasion of Nelson Mandela's 100th birthday, Trevor... who is in a unique position to offer commentary... paid tribute on tonight's show. I have watched this segment three times now, and won't be deleting it from my DVR. If you've ever listened to anything I've had to say here, trust me and take a look at the following 8 minutes...
Only Trevor Noah. If you haven't listened to his audiobook for Born a Crime, you owe it to yourself to do that.
Listening to Mandela telling how he received his "Christian name" is fascinating to me. And profoundly sad. The idea that your name is unacceptable because other people have a problem with it seems... inhumane.
But inhumane treatment was nothing new to Rolihlahla Mandela.
Posted on July 16th, 2018

Holy shit.
I missed half of this crap. It's just so unreal.
Which is saying something given the nature of our current reality...
Didn't know that Ireland wasn't a part of the UK?!? It just keeps getting worse and worse and worse.
Within the span of a 45 minute press conference! This is a perfect snapshot of the bigger picture and how there' no bottom to hit when it comes to our president.
Posted on June 1st, 2018

Happy Pride Month, everybody!
But especially to my hetero-challenge friends who mean more to me than butter.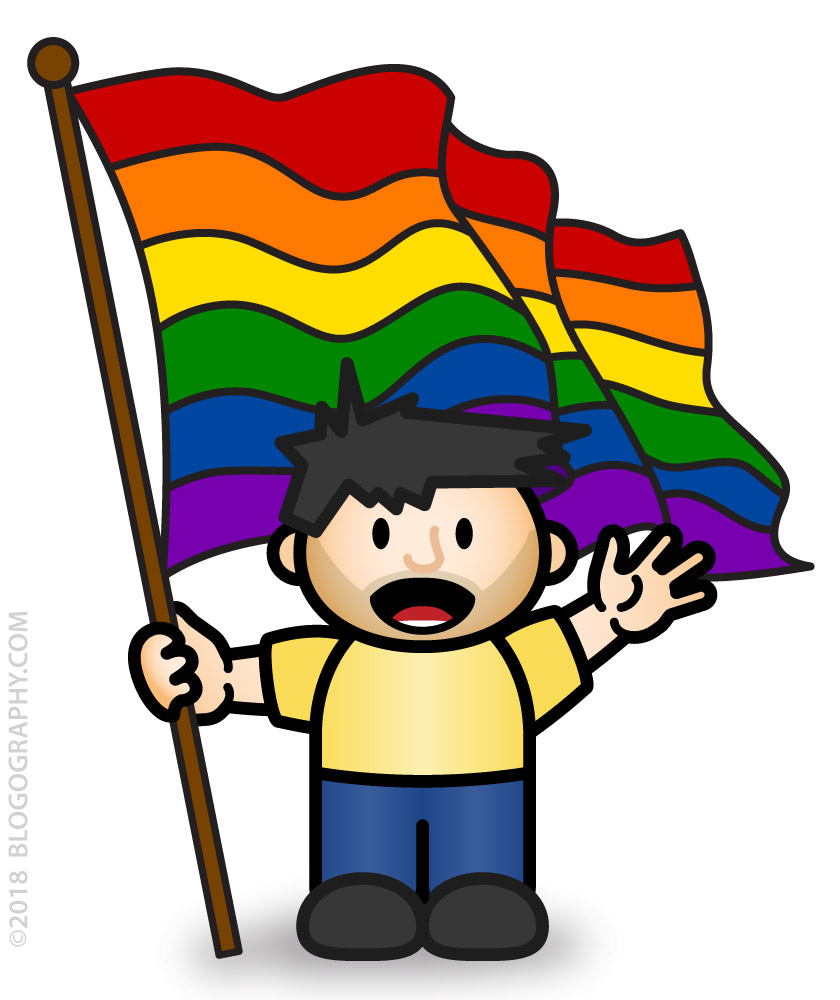 And if this isn't the perfect thing to post for the start of Pride, I don't know what is...
Be happy out there, people.
Posted on May 24th, 2018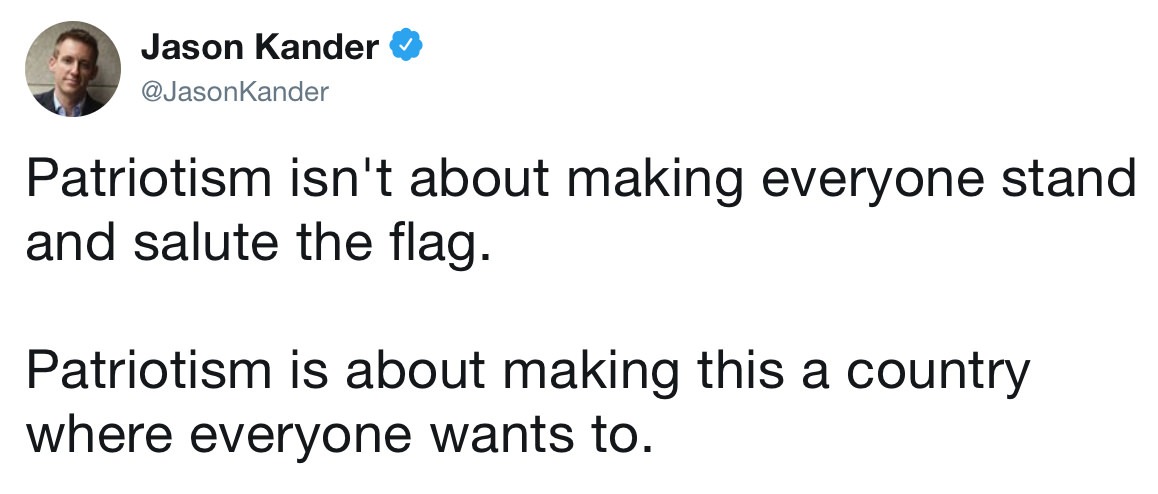 Posted on May 20th, 2018

Put on your Sunday's best... because an all new Bullet Sunday starts... now...

• Mo Carbs! Hey everybody... IT'S CARB AWARENESS DAY! I'm not supposed to eat many carbs anymore, but you can bet I'll be celebrating! Bread, pasta, and sugar for everyone!

• Twins Redux! And here it is... the first single from Thompson Twins' Tom Bailey's forthcoming album: Feels Like Love to Me...
Needless to say, it's a huge relief that this has a true Thompson Twins vibe to it... which is exactly what I want in a new album from Tom Bailey. It feels a bit more mature than Into The Gap, but doesn't sound as different as Big Trash or Close to the Bone did at the time... which is to say that it fits nicely between the end of the Thompson Twins and the beginning of Babel. At least from this one song it does.

• I Smell Bullshit! Fraganzia... because Febreze and every other product name worth a shit has been taken...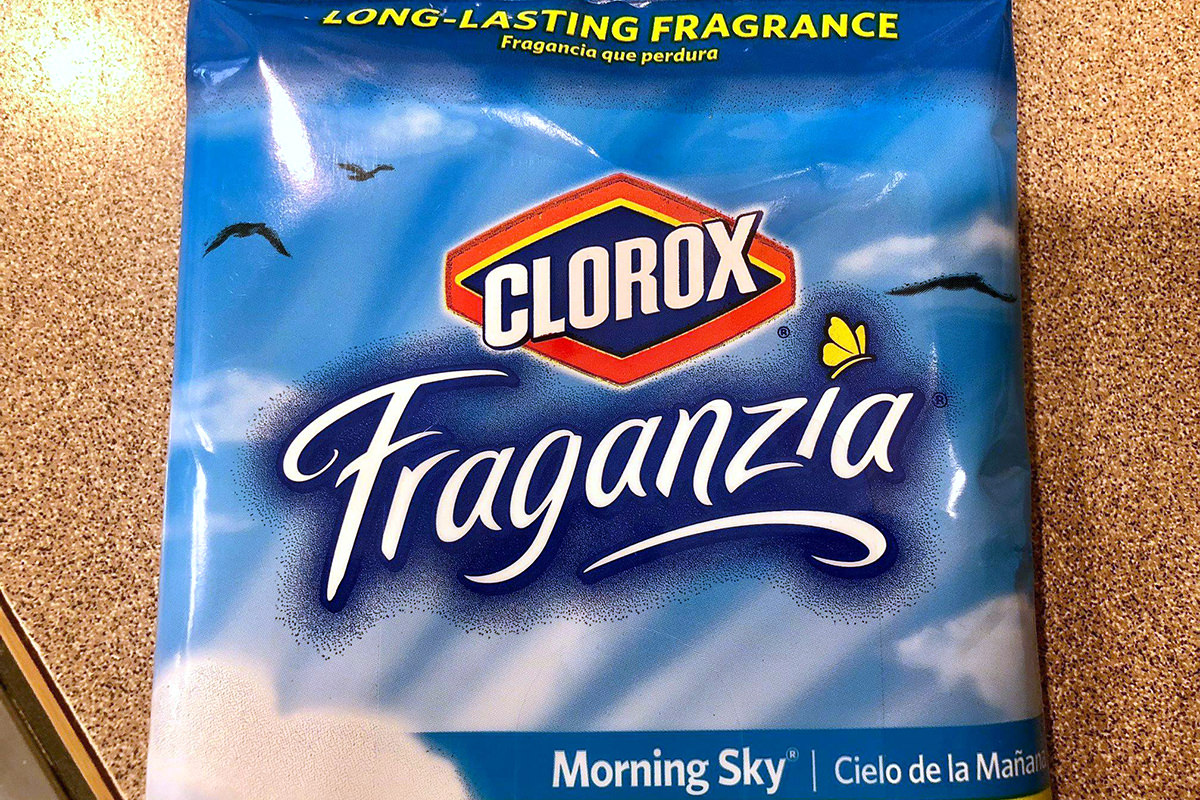 =sigh= Product marketing is officially running out of ideas.

• NEWS: Oklahoma governor signs law allowing adoption agencies to ban same-sex couples.
Holy shit... it's not a day ending in "Y" unless Mary Fallin is stirring up more bigoted shit. Such a fucking asshole. KIDS NEED LOVING HOMES. It has been shown over and over and over and over that same-sex parents DO AS WELL OR BETTER at churning out happy, healthy, well-adjusted children as opposite-sex parents. And in 2018 kids don't care... THEY SHOULDN'T CARE... because the ONLY things that matter is that they have a home to call their own. That they are fed and provided for. That they are loved and cherished. Who gives a fuck if that comes from two dads or two moms? Apparently Mary Fallin does, which means she is in no danger of spoiling her track record at being one of the shittiest human beings on the planet. Congrats, Mary, you repugnant pile of garbage. Are you going to take in all the kids being denied homes by your bigotry? =crickets=

• NEWS: GOP House candidate live streams herself challenging transgender woman for using women's restroom.
A women's bathroom has
STALLS
. Nobody is seeing
ANYTHING
. So it begs the question... exactly
how
is this candidate using public restrooms that a trans person entering is such a huge issue? Does she get naked and run around in there before she goes into a stall? Does she just hang around in there with her vag hanging out? What does she think people are going to see?
What is it?
You use a public bathroom to go to the bathroom, then (hopefully) wash your hands, then leave. Admittedly, I've never gone into a woman's bathroom before... so maybe I am completely unaware of what goes on in there... but this just seems extraordinarily stupid. If public bathrooms bother you this much,
then don't use a public bathroom
.

• Adventure Redux! Last Bullet Sunday I had mentioned the very first graphical adventure video game... Adventure! As a formative part of my childhood, it's a game that fascinates me in a hundred different directions. Mostly because it shouldn't have even been possible given the technological limitations of the time. In a stroke of randomness, I ran across an interview with Adventure creator Warren Robinett earlier this week! It's pretty great...
Needless to say, I am thrilled at the prospect of reading The Annotated Adventure book mentioned in the talk, but the last mention of it was in 2016, so I'm guessing it's been put on indefinite hold or outright cancelled by now.

And on that note... DeeTwo out.
Posted on April 20th, 2018

I've never been a "Superman guy."
Not that I didn't like the character... on the contrary, I own hundreds and hundreds of Superman comic books. My problem is that Superman, as a character, never made much sense to me. And I never really knew why. I always assumed that it was because I was more of a "Batman guy," having put more stock into the idea that a rich guy wanting to fight crime to avenge his parents made more sense than an alien with god-like powers wanting to be a newspaper reporter.
Then I saw Quentin Tarantino's Kill Bill...

And there it was...
"Clark Kent is Superman's critique on the whole human race."
It wasn't that Superman wanted to be a newspaper reporter... it was that Superman wanted to be human at all. The excuse has always been that he slums with humans as a way to not lose touch with the humanity he found while being raised by the Kents. That's all well and good... but it still doesn't make much sense. He's an adult man. If he's still worried about losing his humanity by now, he might as well give up. "Fake it until you make it" may be a valid course of action for a job... but for being human?
And considering he can toss planets around with his bare hands, how human could he ever really be? I don't get it.
But apparently a lot of people do, because Superman is in a comic book that just hit 1000 issues...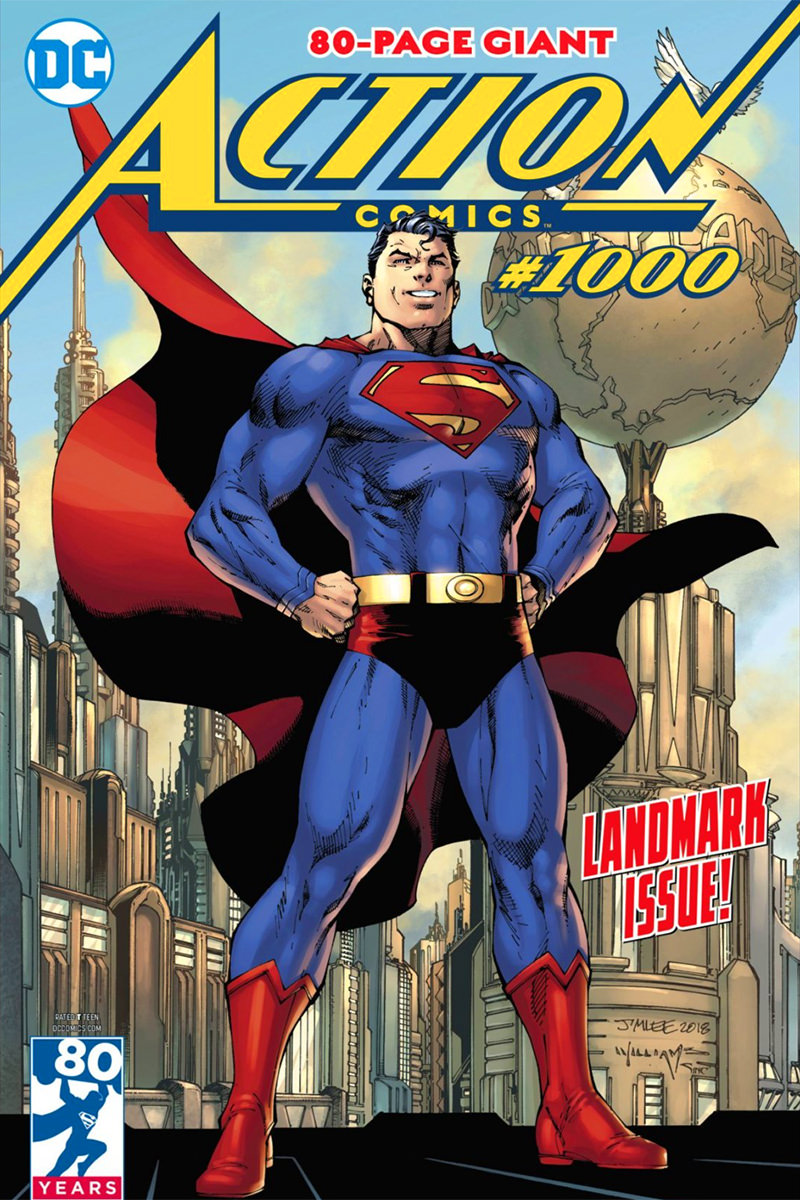 The best Superman stories are always those which come up with a way of finding something new while maintaining the continuity which came before. The best of the best being Alan Moore's For the Man Who Has Everything and Whatever Happened to the Man of Tomorrow? and Grant Morrison's All-Star Superman. There have been others I've enjoyed, but they usually involve some kind of smart take on why Superman is the way he is... not stories that come up with somebody bigger and stronger to pound on Superman for a few issues.
And don't get me started on the current cinematic take on Superman with Man of Steel, Batman vs. Superman, and Justice League, which just plain suck because they are exactly what make a bad Superman story.
But anyway... back to Action Comics #1000...
I haven't been following the character since George Pérez jumped ship after the New 52 reboot years ago. I am aware that there was yet another reboot called "Rebirth" last year, but I haven't read any of it. So you can imagine my surprise when I find that Superman is married to Lois Lane and has a son named Jon that is Superboy. Not that this really affects what's happening in Action Comics #1000, but it's still something that permeates the issue.
The bulk of the issue is a love-letter to Superman by a chunk of very talented writers and artists and it's mostly wonderful. Many of the things you would hope to find in a landmark issue like this are there. And then there's the money-story... Brian Michael Bendis starting his run on the character with artwork by Jim Lee!
And what we get is... meh.
Because here we go again, somebody bigger and stronger to pound on Superman for a few issues. There's a twist, of course, but its one that's of little consequence in the grand scheme of things. In general, I like the stuff that Bendis does, but I'll not be tuning in for this. I'm just not a big enough Superman fan to get involved... especially when DC is probably going to reboot the Rebirth reboot to the New 52 reboot to the Flashpoint reboot to the Infinite Crisis reboot to the Zero Hour reboot to the Crisis on Infinite Earths reboot.
Maybe I'll have a change of heart in the reboot after that. You never know.
Posted on March 30th, 2018

Never let it be said that nobody saw this shit-show coming.
Most people with any brains in their head saw it coming from a mile away.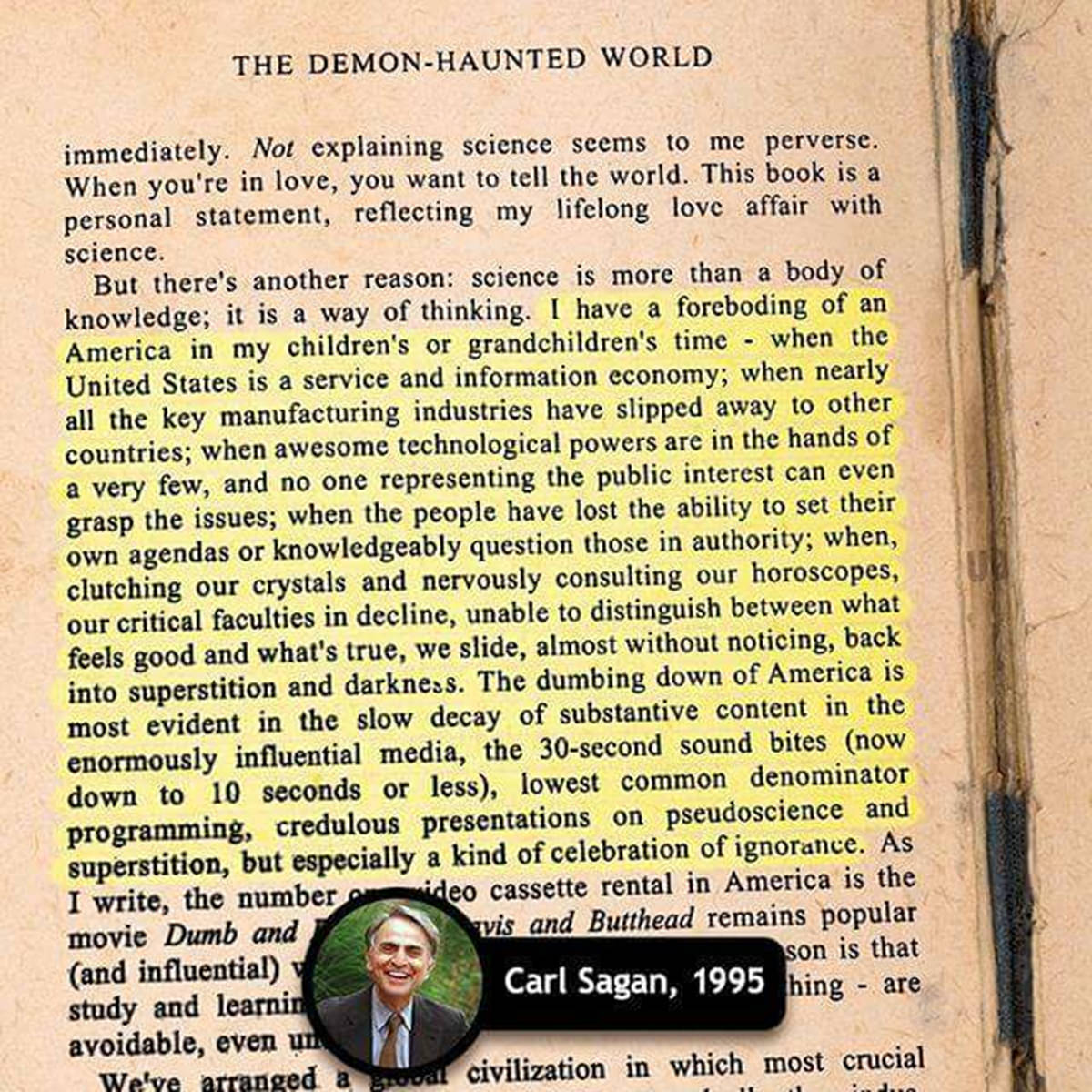 Well, maybe not a mile... but however far away 1995 was.
Posted on March 23rd, 2018

There is no arguing this.
This is where we are.
If the Austin bomber was a Muslim, he would be portrayed as a representative of all Muslims. But he's a Christian Conservative, so that logic does not apply. No white Christian Conservatives will be persecuted because of what happened in Austin. And yet look at the persecution Muslims continue to endure over the actions of individuals professing to be of that faith.
I am sickened to my core that our society, built on a foundation of liberty and freedom, continues to enslave us by defining narratives that protect white Conservative Christians at all costs.
And those costs are always paid by persons of color and other faiths.
Always always always always.