Posted on September 30th, 2018

Time to remember the past and move forward... because an all new Bullet Sunday starts now...

• Marker. My mom's marker finally arrived. I placed her remains on Thursday and the stone was set shortly thereafter...
Burial vaults used to be big cement things. Now they're tiny plastic! She barely fit! The guys at the cemetery helping me were incredibly kind a respectful, which was very much appreciated.
It still seems strange for her to be honored as a Vietnam veteran when she wasn't in combat, but the VA assures me that her service during wartime absolutely qualifies her for the honorarium. I think this means the American Legion will put a flag on her grave come Memorial Day? That would be nice.

• Obituary. After my mom was buried, I could finally send in her obituary. I was surprised that I was able to do the entire thing online. I didn't have to talk to anybody...
I picked a photo from our last trip together. She's sitting across from me at the five-star Victoria Falls Hotel Restaurant in Zimbabwe. Sure she's in a T-shirt, but what the heck. She was an adventurer. That's the kinda stuff she wore when tearing up the planet doing awesome shit.
A sidenote... The photo I used for my mother's obituary was taken exactly four years from the day I sent it in to the newspaper, and I didn't even know it until I saw the date stamp of the photo. Weird how things line up from time to time if you pay attention. Here's my blog entry from September 27th, 2014. Amazing how the universe works.
And so I guess that's it. The last thing to do in a long list of things to do so we can both move on. Or not...

• Memoriam. When I purchase a copy of our local paper today so I can see my mother's obituary in print, I will also be purchasing yet another opinion piece by the paper's publisher who previously compared rape to cheating at golf and smoking. Did he apologize for his flippant and tone deaf attitude? No. No he did not. He doubles down and says that men have nothing to be ashamed of... we were born this way, after all. Most of us are good guys, so the horrible way that women get treated is not our fault.
Then whose fault is it?
You're saying the toxic masculinity which permeates our society and is a constant and consistent threat to women is nothing to be ashamed of? Men can hold their heads high while women are harassed, humiliated, beaten, raped, and even killed? Are you serious?
The idea that men should just keep going on about their business while a society which endangers women is thriving is categorically absurd. Jeff Ackerman says we should just keep drinking from the milk carton, mowing the lawn, and ignoring rape culture because most of us are nice guys. It's nothing to do with us. Men should stick together against these evil women who want to be able to walk down the street at night without fearing for their life. Apparently that's what he considers "behaving like a man."
I call bullshit. Real men should be standing together with women to put an end to this. Real men should be actively dismantling toxic masculinity at every opportunity. Real men should be teaching their sons that being a man means being a partner to women, not dominating over them. Real men set an example by respecting women, cherishing women, valuing women, and supporting women. Real men work for a society where women are heard.
My mother was victimized by a man who professed to be her boyfriend... but she was never a victim. She picked herself up, pulled together the pieces of her life, then moved on the best she could. She loved her family. She served her country. She was kind to those she met. She worked hard. She traveled the world to understand it better. And her reward for having such courage? To be memorialized in a newspaper where the publisher says that what she went through is none of my concern because that's just the way men are.
My mom deserves better than that. I'm a better man that that. And society will be far better off when "old men" like Jeff Ackerman are gone.

• Love. And in yet another "Making History" segment... MIKE PENCE BECOMES FIRST VICE PRESIDENT TO ADDRESS ANTI-GAY SUMMIT — But I'm sure he was hating the homosexualizers with Christian Love® in Jesus® name... so it's all good. I mean... these "Christians" have branded their hate as "Christian Love®" so I'm assuming they've trademarked that. Oh... and Jesus® of course. Can't go having The Wrong People co-opting The Savior® can we? They might tell people to love everybody as He did instead of weaponizing His name to push an agenda. We can't be having THAT! Can you imagine? People coming together to love one another? Why, the notion! So silly! Christian Love® is reserved for those who believe EXACTLY LIKE PENCE DOES... and nobody else! Lord, what a piece of shit. Pence, Trump, and their entire administration is garbage. Way to represent all Americans.

• Political Climate. When given the choice from here on out, I am voting exclusively for progressive women candidates. I honestly do not give a single fuck's worth of thought to any of these old white men destroying this country. I'm voting all women, all persons of color, all LGBTQ, all ANYTHING but the status quo from here on out. These assholes had their chance. The future belongs to anybody but them. Because the only way we are going to get FAIR REPRESENTATION in government is to have ACTUAL REPRESENTATION IN GOVERNMENT.

And until next Sunday, when I'm sure there will be a whole new set of horrors to deal with, I bid you adieu.
Posted on September 23rd, 2018

Pull up on that pumpkin spice latte... because an all new Bullet Sunday starts now...

• Boston! My beloved Red Sox are American League East champions for the third year in a row...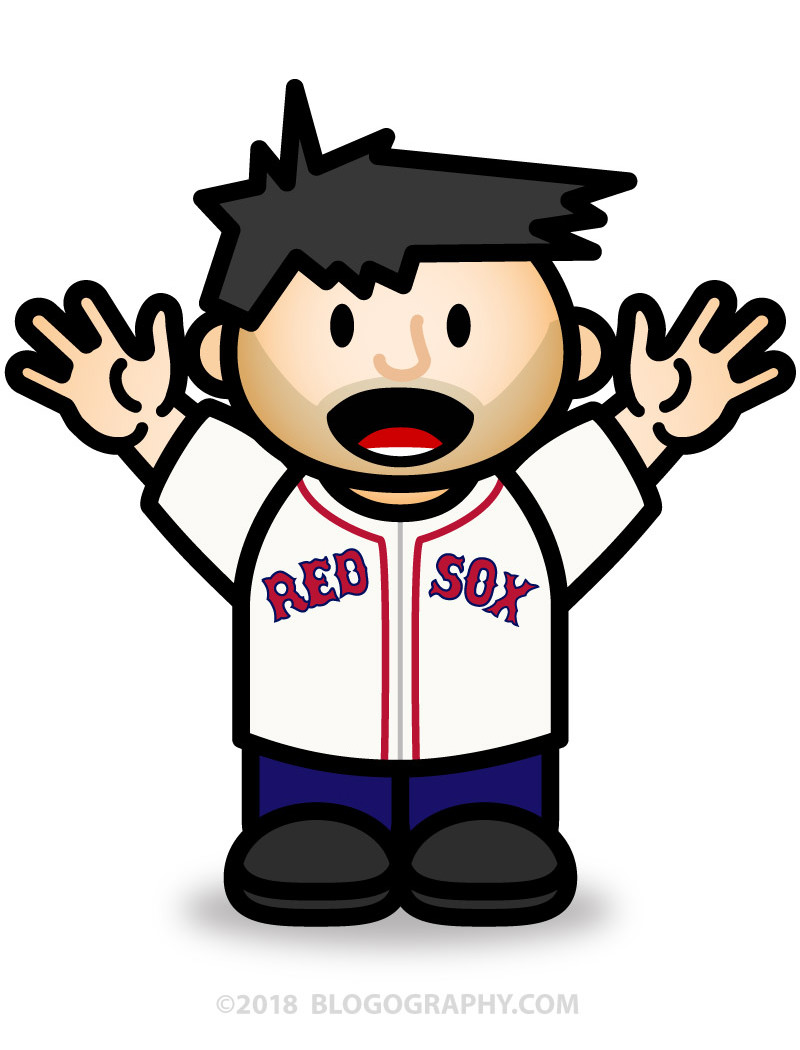 LET'S GO, BOSTON!

• The Last O.G.! I was watching... something... on TBS and saw a commercial for Tracy Morgan in The Last O.G.. As a huge, huge, mega-huge fan of Tracy, I was excited to see it. Only to find out that it had already aired this past Spring...
It is phenomenal. Funny as hell. But touching too. I loved every episode and am relieved to find out that it has already been renewed for a second season. Highest possible recommendation. If you haven't seen it, please do yourself a favor and take a look.

• Believer! The last thing I would ever want to do is convict an innocent person for a crime they did not commit. That being said, Brett Kavanaugh is up for a lifetime appointment to the Supreme Court. There is no walking this back. And since it makes no sense whatsoever that Dr. Christine Blasey Ford would invite a felony by lying to the FBI (or invite death threats towards her and her family), I think it's critical that an investigation be done. Especially now that more women have come forward. Anybody who thinks otherwise is either an asshole or wanting to serve a personal agenda over the good of this country...
I believe women. I believe in due process. I believe in innocence until proven guilty. I believe in justice. And I seriously question those who would sidestep any of that. Like the fucking piece of shit publisher of our local newspaper who equates rape to cheating at golf and smoking (you only think I'm joking). I don't expect people appointed to the Supreme Court to be perfect. They're human, after all. But I do expect them to not be rapists. Because no, not all boys do it, and rewarding this heinous behavior only propagates the rape culture that keeps creating new generations of rapists. It's got to finally end sometime. That time is now. Because time's up.

• Family! To all the single parents... to all the double dads... to all the double moms... to everyone who is trying to raise the best kid they can while listening to people scream "EVERY CHILD NEEDS A MOM AND A DAD!" over and over and over... know that you are exactly enough. Love alone makes a family. It always has...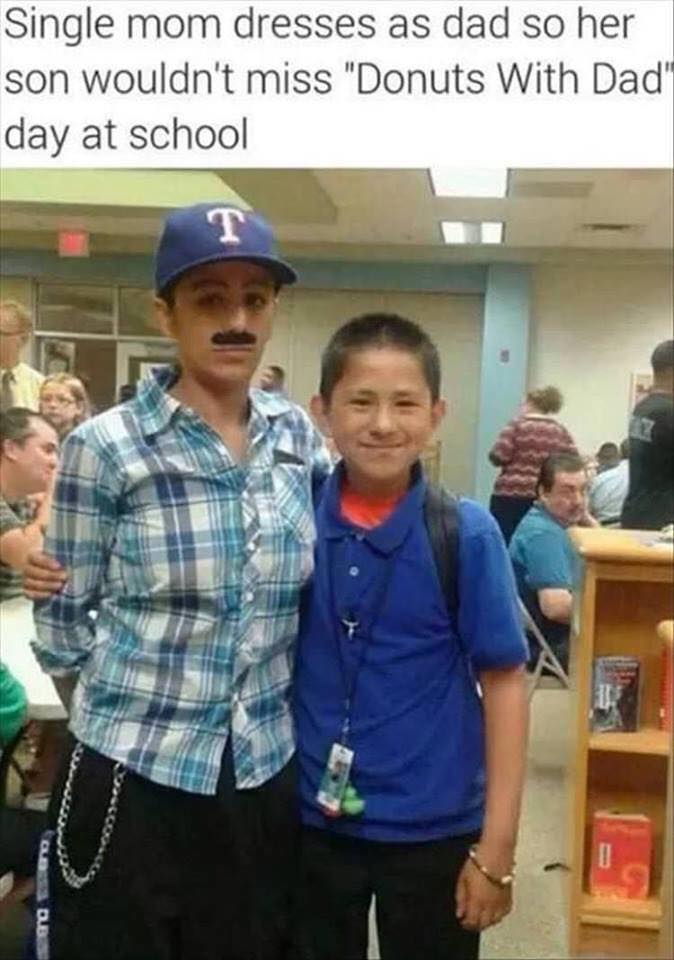 I saw this meme floating through my Facebook feed and was reminded for the hundredth time that the people who think it's their business to stick their nose into other people's business are the ones most likely guilty of whatever it is they are professing to hate. So you do you. Everybody else is just doing the best they can with the cards they were dealt and don't deserve your stupid-ass judgement.

• Cold! This has got to be the most insane political commercial I've seen yet...
What kind of piece of shit do you have to be to have all your siblings not only not vote for you... but take out a devastating opposition ad to boot? Cold!

• Chewie! It's the little things that add up to make a good thing great. Nobody is more aware of this than Marvel Studios. In their new movie poster for Captain Marvel, people have been noticing a cat walking off-frame in the shadows. I took a look in there with Photoshop and, sure enough, there's a cat there...
This is undoubtedly meant to be Carol Danvers' cat, Chewie! Who is not actually a cat, but an alien species called "Flerken" which resemble and earth cat. He's a rather large part of the Captain Marvel comic books, having made several appearances...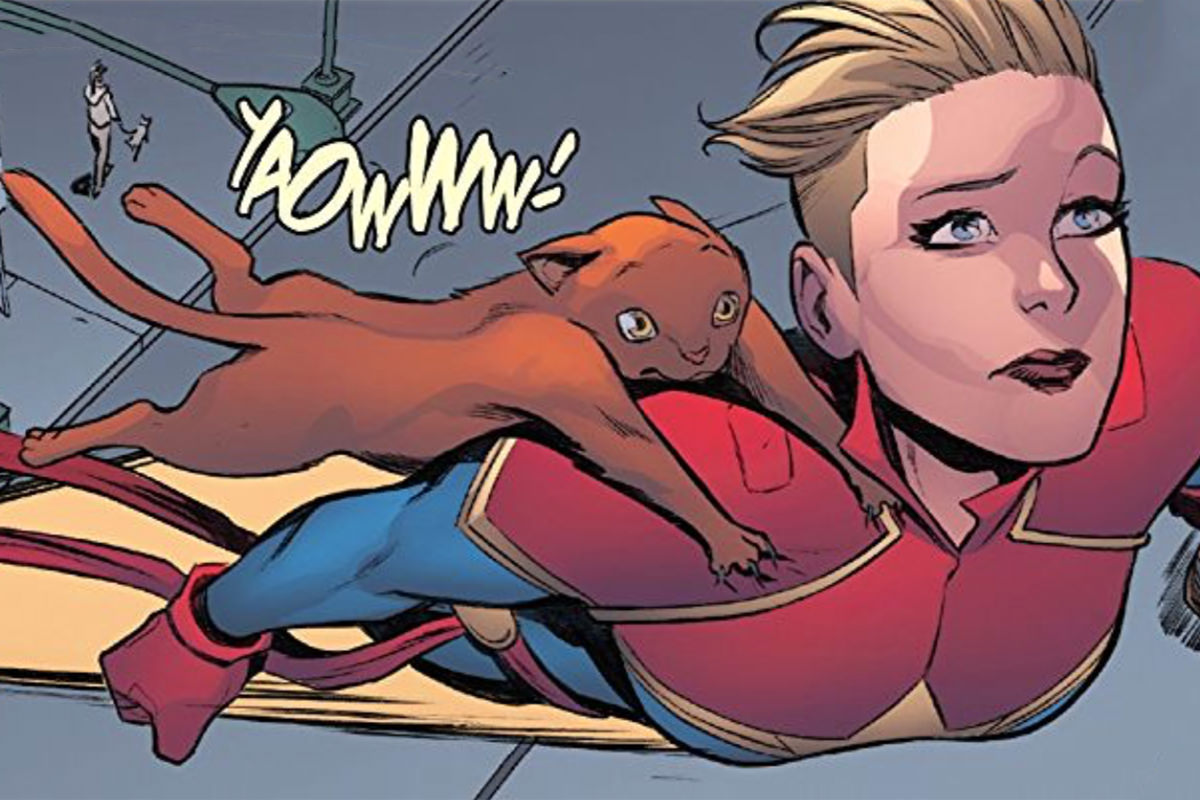 Holy crap does Marvel know how to handle their characters. And now it's been confirmed that Kevin Feige will be overseeing The X-Men and The Fantastic Four in addition to the rest of the Marvel Cinematic Universe. As it should have been all along! So long, FOX, your shitty, shitty, unbelievably shitty super-hero movies will not be missed.
And that's not all in Marvel news... rumor has it that Loki and The Scarlet Witch may be getting their own TV series on Disney's new streaming service. That will be fantastic, if it happens. But if I'm being honest? The character I most want to get a TV show is Hawkeye. If they were to base it on the Matt Fraction and David Aja comic book run, it would be absolutely amazing.

And... I'm done with bullets for the day. I got things to do.
Tags:
Bullet Sunday
,
Captain Marvel
,
Marvel
,
Marvel Studios
,
Movies
,
News
,
Politics
,
Red Sox
,
Television
Categories:
Bullet Sunday 2018
,
Movies 2018
,
News – Politics 2018
,
Television 2018
—
Click To It:
Permalink
—
2 Comments: Click To Add Yours!
Posted on September 20th, 2018

I remember the AIDS crisis very well.
The first time I was exposed to it was when a guy a few years behind me in school was rumored to have the disease. Eventually he just... disappeared. No news. No nothing. I have no idea what ever became of him. I do know that his younger brother deflected it by telling unfunny gay and AIDS jokes.* I guess he was intent on making sure nobody thought he was gay too. At the time, I didn't know much about AIDS (there wasn't much to know) but it still seemed incredibly sad. If the guy did have AIDS, then even his family was ridiculing him as he was struggling.
I grew up in rural America where homosexuality was so deep in the closet that it was virtually unheard of outside of gay jokes and people like Boy George becoming famous. I'm sure gay people existed here in the 80's when the AIDS epidemic was beginning, but they were invisible in our community so far as I knew. Probably out of necessity. I heard more than one story of people being run out of town (or, more likely, being threatened with being run out of town) for whatever reason (like having the wrong color skin, for example). So if you were gay and still wanted to live here knowing how some of the natives are, you probably didn't talk about your sexuality openly.
Heck, I had a hard enough time growing up here when people just thought I was gay.** I'm not the most masculine of guys, and apparently that's enough. Never mind that I've only ever dated women and am not sexually attracted to men,*** it's what people think that matters.
Anyway... where was I? Oh yeah.
And then I graduated high school in 1984 and found my way to the real world.
At this time people didn't know much about HIV and AIDS. It was still very much thought of as a "gay disease" even though it had spread far beyond that. I remember seeing protests on the news because people didn't want to send their kids to school if another student had AIDS. Ignorance and fear were rampant and there was a huge amount of misinformation about how you get the disease. Everybody was in a panic, and our government seemed uninterested in helping matters. Despite this horrific failure by President Reagan and our elected officials, people had become better-educated by the time I was finishing up community college in 1986-87. But the stigma was still there. As were the deaths.
My occupation in graphic design is a highly creative field. For whatever reason, creative jobs attract a higher-than-average number of gay persons to their ranks. Which meant I had to set aside my sheltered upbringing and go from barely knowing homosexuality exists... to working with gay people on a regular basis. Luckily my parents provided an atmosphere of tolerance growing up which made this an easy adjustment. What was not easy was living from day to day wondering if any of my friends and colleagues were going to end up missing due to an AIDS-related illness. I'd call to speak with somebody I had been working with just the week before... only to be told that they were no longer there. They were too sick to work. You knew it was coming. They would tell you it was coming. But it was never an easy thing to hear. Sometimes I was able to make it to Seattle or Portland or San Francisco to visit them. Sometimes I wasn't. Sometimes I made it to their funeral.
After a while it became difficult to get through the week without AIDS being a part of the picture. If it wasn't news about somebody you knew, it was somebody known by somebody you knew. As we reached the 90's you'd find yourself becoming numb to it. You had to. It was the only way to stay sane. Usually hearing that somebody died is like a bomb being dropped. Even if you didn't know them very well. But now it was worked into passive conversation. You'd find out someone was gone while eating dinner. It would be "Can you pass the guacamole? Oh... did I mention Bryan died last week?"
It's almost impossible to describe what it was like if you weren't there.
And I'm straight.
I'm filled with despair trying to wrap my head around what it was like for the gay community. I had friends who told me that they spent years in hospitals. Years. Not because they were sick, but because everybody they knew was sick or dying. I am aghast if I have to attend a funeral once a year. If you were an integral part of a large gay community, you might end up at a funeral every month.
Due to the AIDS epidemic, the 80's and early 90's were a tragic time of sadness and loss for a great many people.
As I said, I remember it very well. Too well.
Which is why reading this morning that President Trump's administration has removed $260 million from cancer research, HIV/AID prevention, and other programs is hard to take. AIDS hasn't gone away. AIDS is still here. I know people living with AIDS right now. There still is no cure for AIDS. And the minute we lose vigilance, it could explode all over again. Sure, AIDS is survivable now... it's not a guaranteed death sentence as it once was... but it's still a horrible disease which can have dire consequences. And we want to take money away from making sure it doesn't become a massive health crisis all over again? I don't get it. And if people aren't completely outraged, they don't get it either.
Towleroad published an article yesterday called Wasn't That Long Ago which collects tweets by Tucker Shaw about what it was like to lose somebody back in the day. And here it is in case you didn't know or have forgotten...
I overheard a young man on the train on the way home today, talking to another young man. Holding hands. In college, I guessed. About that age anyway. Much younger than I am. He was talking about AIDS, in a scholarly way. About how it had galvanized the gay community. How it had spurred change. Paved the way to make things better, in the long run.

The long run.

Maybe he's right. I don't know. It's not the first time I've heard the theory. He spoke with clarity and with confidence. Youthful, full of conviction. But. Remember how terrible it was, not that long ago, during the worst times. How many beautiful friends died. One after the other. Brutally. Restlessly. Brittle and damp. In cold rooms with hot lights. Remember? Some nights, you'd sneak in to that hospital downtown after visiting hours, just to see who was around. It wasn't hard. You'd bring a boom box. Fresh gossip. Trashy magazines and cheap paperbacks. Hash brownies. Anything. Nothing. You'd get kicked out, but you'd sneak back in. Kicked out again. Back in again. Sometimes you'd recognize a friend. Sometimes you wouldn't.

Other nights, you'd go out to dance and drink. A different distraction. You'd see a face in the dark, in the back of the bar. Is it you? Old friend! No. Not him. Just a ghost. At work, you'd find an umbrella, one you'd borrowed a few rainstorms ago from a coworker. I should return it, you'd think. No. No need. He's gone. It's yours now. Season after season. Year after year.

One day you'd get lucky and meet someone lovely. You'd feel happy, optimistic. You'd make plans. Together, you'd keep a list of names in a notebook you bought for thirty cents in Chinatown so you could remember who was still here and who wasn't, because it was so easy to forget. But there were so many names to write down. Too many names. Names you didn't want to write down. When he finally had to go too, you got rid of the notebook. No more names.

Your friends would come over with takeout and wine and you'd see how hard they tried not to ask when he was coming home because they knew he wasn't coming home. No one came home. You'd turn 24. When he'd been gone long enough and it was time to get rid of his stuff, they'd say so. It's time. And you'd do it, you'd give away the shirts, sweaters, jackets. Everything. Except those shoes. You remember the ones. He loved those shoes, you'd say. We loved those shoes. I'll keep those shoes under the bed.

You'd move to a new neighborhood. You'd unpack the first night, take a shower, make the bed because it'd be bedtime. You'd think of the shoes. For the first time, you'd put them on. Look at those shoes. What great shoes. Air. You'd need air. You'd walk outside in the shoes, just to the stoop. You'd sit. A breeze. A neighbor steps past. "Great shoes," she'd say. But the shoes are too big for you. You'd sit for a while, maybe an hour, maybe more. Then you'd unlace the shoes, set them by the trash on the curb. You'd go back upstairs in your socks. The phone is ringing. More news.

The long run. Wasn't that long ago.

No. No it wasn't that long ago.
To me it seems like it was only yesterday.
How long must it seem to the people running this country?
*The only joke I remember hearing him tell had something to do with a ferry rear-ending a sailboat in Puget Sound and now they both have AIDS. Yeah, hilarious.
**Many people still do, I'm sure.
***Though, if I'm being honest, I think I have better relationships with men. I'm not sexually attracted to men. I've never had sex with a man. But building a healthy relationship with women is apparently not something I'm built for because they never last. Even when the sex is great. Which is why I'm guessing I'm still single. Meanwhile, I've had non-sexual relationships with men whom I love on a near-spiritual level that have lasted decades. So... never say never, I guess. I've had sex with women whom I wasn't sexually attracted to, so maybe one day I'll meet the right guy and everything will change! If it happens, dear reader, you'll be the first to know.
Posted on September 19th, 2018

Uhhh... okayyyyyy...
Posted on September 12th, 2018

More hurricanes.
And whether you believe that climate change is man-made (spoiler alert: very likely) and question whether it is responsible for the increase in hurricane activity (spoiler alter: very likely) everybody can agree that the death and destruction caused by these monster storms is a tragedy that never seems to end...
But no worries... a crazy old racist bigot piece of shit is on the case!
Hey, nobody hopes that he's right more than me.
After what another crazy old racist bigot piece of shit has done, the aftermath of a catastrophic storm is something we simply are not able to deal with.
To everybody in the path of these storms, be safe. Evacuate if you can.
UPDATE: Jesus...
Just when you thought that Hurricane Florence was the worst thing happening to this country right now.
Posted on September 11th, 2018

As I said last year, pretty much all I have left to say on the subject of 9/11 can be found here. Now that my mom is gone, that's even more true since it's her story too. And so I'll just be linking to that entry from here on out when it comes time to remember the tragedy of the terrorist attacks.
Except...
When I was going through my mom's stuff last month I found this...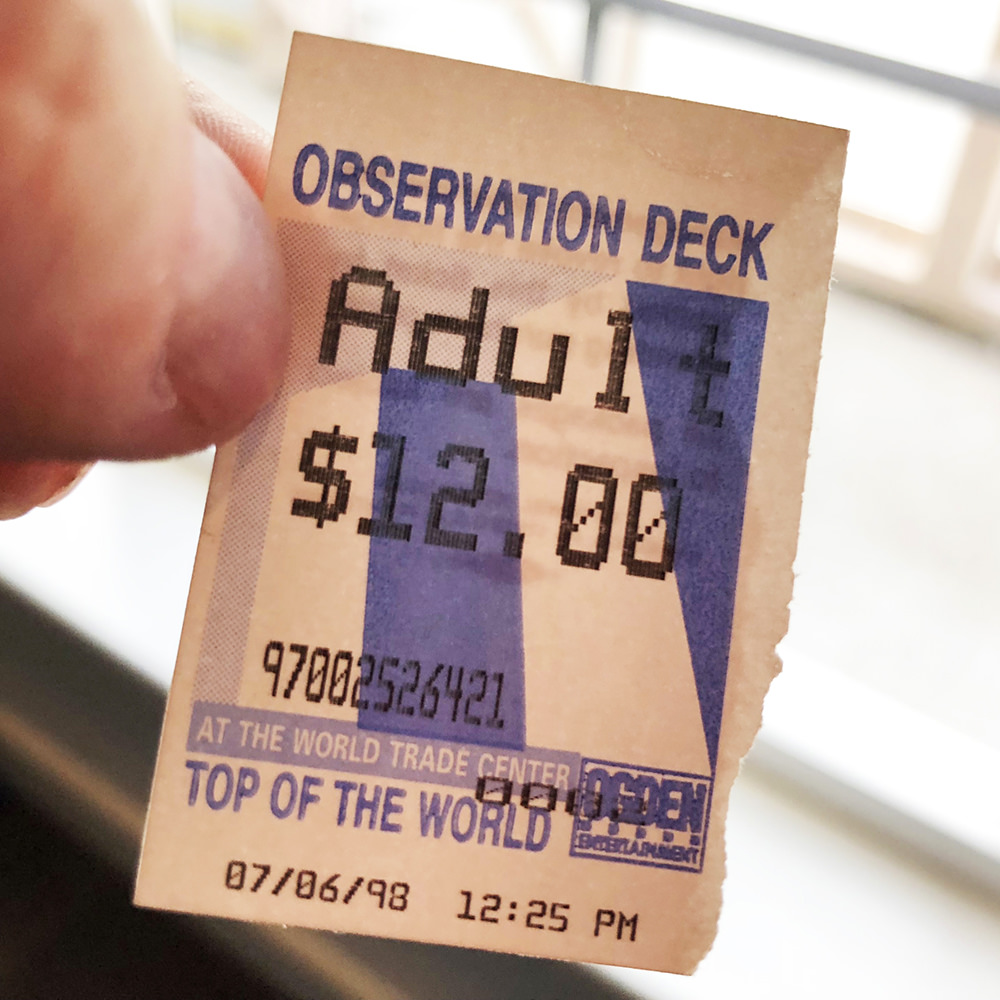 She saved her ticket stub from when I took her up the "Top of the World" at The World Trade Center on that day.
Mom saved a lot of stuff from our travels. Tons of stuff. I'm finding things like matchbooks and coasters from restaurants to brochures and pamphlets of activities we did to receipts and ticket stubs like this one. I had asked her why she'd want to save all this kind of stuff and she'd explain that it was just souvenirs. One day she thought she'd want to look back and remember all the things we did when she was too old to travel any more.
It's sad that she never got that chance. But kinda cool that she was so busy visiting new places that she never had time to look back on old travels while she was alive. Well, except for the photo books I made her. She'd look at those often. Many times while showing them to other people. Where the first words out of her mouth would be "Are your hands clean?"
Funny how I didn't start out as much of a picture-taker, but the books kept getting thicker and thicker as I was taking more and more photos. There's no book for 2006 because I helped her buy a car instead of taking her on vacation that year. I think I ended up taking her with me on a work trip to San Francisco or something, but it wasn't the same.
One of these days I really need to look at these again. And create a book for all the miscellaneous trips we took from 1994 to 2001 that I never got around to. Most of these I haven't opened in years. And one of them I can't find. Her book from Cambodia and Laos (Southeast Asia Vol. 2) has gone missing.
Even if I don't find it, I'm sure there's a matchbook from Cambodia around here somewhere.
Posted on September 10th, 2018

Today I walked to work because my foot was stiff after having elevated it all weekend. I also chopped off a chunk of my damaged toenail because it was itching UNDER the nail. That hurt. It probably would have hurt less if I managed to keep my eyes open the whole time I was performing home surgery, but the blood was freaking me out. After coating it with antibiotics and bandaging it, I felt much, much better.
Until I walked to work. By the time I got there my foot was on fire and I felt like I was going to pass out.
But I'm still glad that I walked. I should do that more often.
Also? On the walk back home I saw this rock next to the railroad tracks...
Awwww. I'm guessing this means I'm lucky now?
I could use some luck!
And so could the East Coast of these United States of America...
Yikes. Scary. What does God have against The Outer Banks? Or maybe it's because North Carolina voted for Trump. Because that's the way it works, right?
Posted on September 9th, 2018

Meh. I liked Sunday a lot better when it was being followed by a holiday. But don't think that this Sunday isn't going to be great... because an all new Bullet Sunday starts now...

• TED! Even if Nyle DiMarco wasn't the most super-humanly beautiful person on the planet, he would still be a beautiful human being...
Love who you are.

• Canadians! A lot of truth to be found in humor...
And sometimes the truth hurts.

• Elvin! What kind of completely bankrupt society do we live in that somebody working hard to earn an honest living is shamed? Like THIS is the guy from The Cosby Show that deserves to be shamed...
Seeing as how he had to quit his job at Trader Joe's, I'm glad he's got new work on Tyler Perry's upcoming show.

• FUCKING GAY CUPCAKES! What's so hilarious is how dumbfucks like Santorum actually believe the shit they are saying...
I have literally seen signs which say "If you don't believe in Jesus, don't shop here" while driving through Mississippi. There are documented incidents of gay couples who dare to hold hands in a shop or business getting kicked out! And what about all these YouTube videos which show discrimination against Persons of Color when trying to shop... or dine... OR EXIST in a racist business? THIS IS TOTALLY HAPPENING NOW, AND IF YOU SAY IT ISN'T THEN YOU ARE A FUCKING MORON. Not that being a fucking moron is anything new where Santorum is considered.

• Just Burn It! There it is...
Though these parodies would be a lot funnier if they weren't so damn accurate.

• Just Exploit It! Nike is a highly profitable business. They know their customer base. As with everything they do, their Colin Kaepernik commercial was a business decision. If they thought that supporting peaceful protest and Colin Kaepernick taking a knee would hurt their bottom line, they wouldn't be doing it. All these ridiculous shoe burnings and threats of boycott are just free publicity for Nike to appeal even more to the bulk of the people who are buying their stuff in the first place...
The simple fact is that Nike is a multi-national company whose profits aren't tied solely to the USA. Even if their sales were cut in half here, they're still going to be an immensely profitable brand around the globe. But yeah... go ahead and burn those sneakers. Nike already has your money. They don't give a shit. Or... why not donate your Nike gear to homeless vets if you don't want it any more?

• Iron Fist 2! Well, wow. I hated the first season of Iron Fist. I couldn't stand that the character dragged down The Defenders. But the second season is pretty good! First of all... DAUGHTERS OF THE DRAGON, BABY! YEEEAH!
Finn Jones is much better this time around. He acts more like a human than a frickin' Keanu Reeves impersonating robot... though I still maintain he's the wrong guy to play Iron Fist. He isn't as fluid and fun as the comics, and it's such a missed opportunity.
As is usual for the Marvel Netflix shows, the first half of the season is slow to the point of tedium with an occasional fight scene tossed in... then the back-end slaps you in the face and makes it all worthwhile. In the case of Iron Fist, the last episode is great, and what we should have been getting all along. What we also should have been getting all along? That trademark yellow mask, which finally makes an appearance...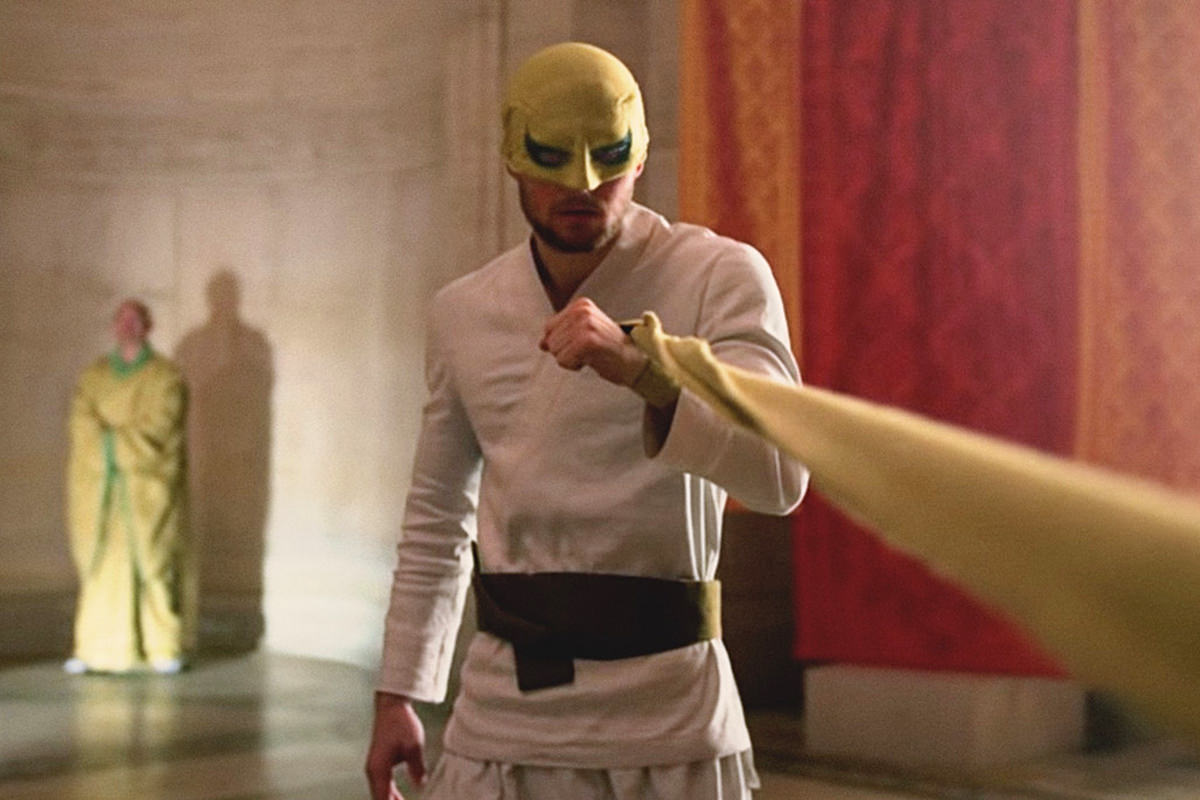 This season starts off with Danny Rand fulfilling his promise to Daredevil to defend Hell's Kitchen... BY SETTING UP SHOP IN CHINATOWN?!?? Hell's Kitchen is west of Midtown. Chinatown is way south from there! But whatevs. The story revolves around Davos (aka Steel Serpent), the Iron Fist who wasn't, seeking revenge on Dany Rand for taking the mantle he believes is rightfully his. The guy is legit nuts, which could have been silly if not for Sacha Dhawan being so compelling in the role. Along the way we get Joy Meecham and "Mary" (aka Typhoid Mary) as supporting villains. Mary started off unbearably irritating with her personality shifts being far less entertaining than if they had made her a straight-up villain from the start, but it ended up paying off at the very end.
In lieu of The Hand this time, we get forgettable syndicate villains in the form of rival triad gangs Golden Tigers and Hatchets. On one hand, I understand the need to provide legions of bad guys for Iron Fist to plow through, but it's just so tired to have triads floating through all the Netflix shows solely as disposable Asian cannon fodder. Come up with something new.
Like I said... this new season is pretty good. Mostly because of the ending. It could lead the show in a much better direction. Also helping? The fact that they cut it down to ten episodes. Which has me wondering if it would have been an even better season if they had streamlined things even further and cut it to six. Jettisoning all the Meecham sibling crap would have been a good start, and that alone would have made things so much better. They made everything grind to a halt every time they are injected into the story.

And... bullets spent. See you next Sunday.
Posted on August 31st, 2018

Every once in a while I need a reminder of why I love my country. Well, if I'm being honest, now-a-days I need a reminder almost daily... but you know what I mean.
Everything I think The United States of America should be about can be found right here...
I sure hope that Texans vote for this guy over heinous piece of shit Ted Cruz.
But don't take my advice about Ted Cruz... here's what our president thinks of Lyin' Ted...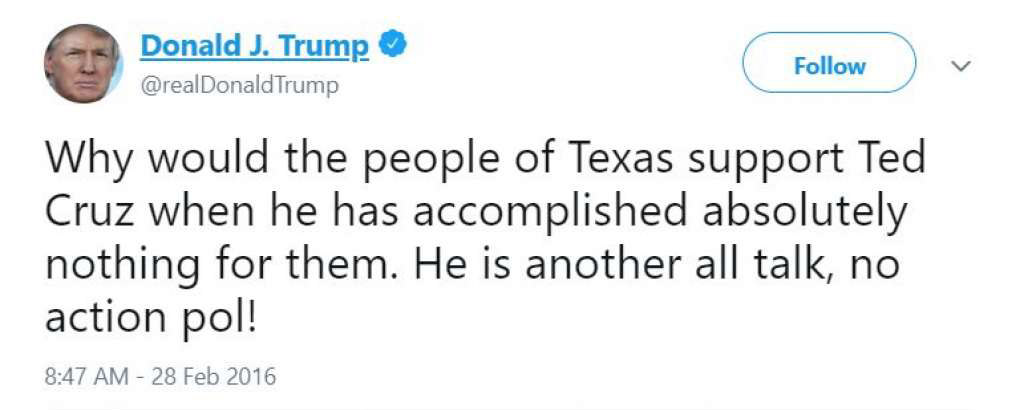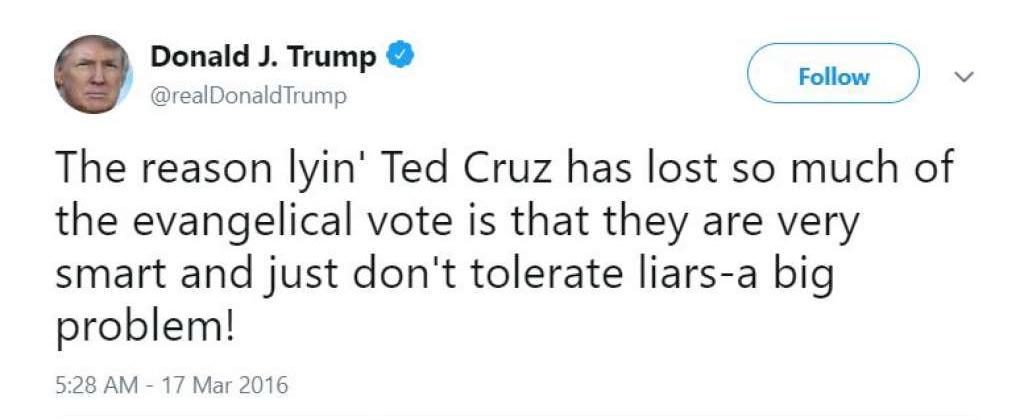 I don't always agree with President Trump, but boy did he hit the nail on the head here!
Posted on August 21st, 2018

Love? Love is not forever. Love dies every day.
Diamonds? Diamonds aren't forever. They're tough, but can be crushed and even burned.
Tweets though? Tweets are here for all eternity. We see the ramifications of it constantly. Tweets come back to haunt people on an almost daily basis.
Take for example...
I don't use Twitter much.
I've got a blog to come back and haunt me forever.