Posted on August 12th, 2018

Time to be cruel to be kind... because an all new Bullet Sunday starts now...

• Birdfeeding! I used to feed birds only in the winter, but started feeding them in the Summertime as entertainment for my cats. Problem is, when I hang the feeder in front of their window, the birds stay away... unlike in winter where food is scarce and they don't care. Apparently having predators staring at you while dining is unappetizing if you have other options. So I moved the feeder to the corner of the house where there are no windows so I could get rid of the feed I had bought. Problem is... I felt bad when there was no more food, so I kept on buying it because they kept hanging around. The little scroungers run through loads of the stuff, and I'm refilling it three times a week now...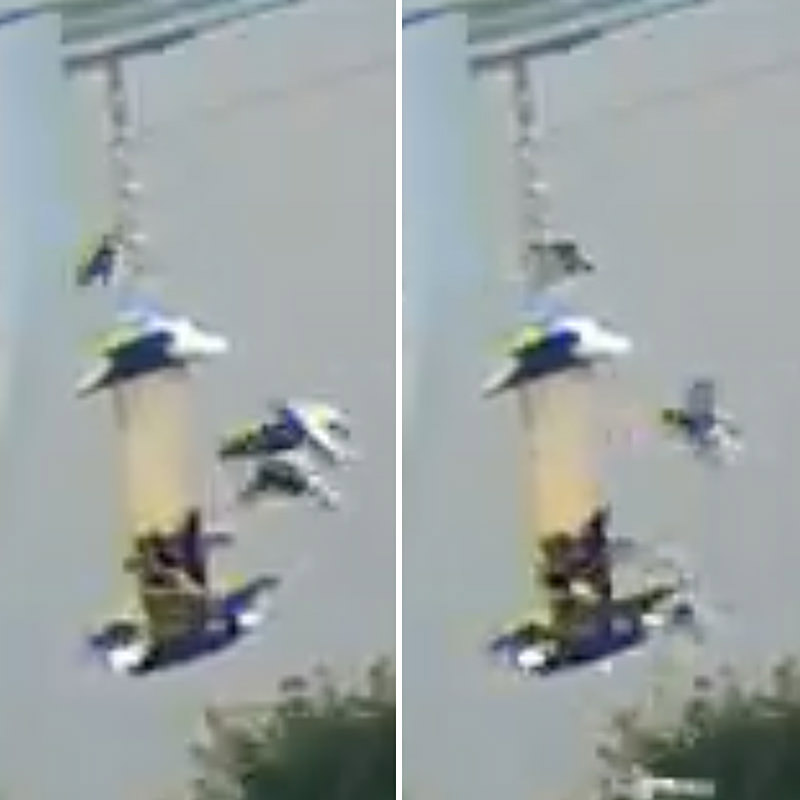 Probably wouldn't be so bad if they were content to eat the cheap seed... but their favorite is thistle seed, AKA nyjer seed. The stuff is crazy expensive. I've tried mixing it with the cheap seed, but they pick it out and drop it on the ground... along with loads of thistle seed shells. I can't seem to win when it comes to birds.

• Bears! So there I was... flipping through channels... when I ran across We Bare Bears, which is one of the best things I've ever seen...
It's in its fourth season. No idea how I've missed it for this long, but I'm kinda obsessed with it now.

• Bears Again! What makes me love We Bare Bears even more? A storyboard artist from the show created an animatic of Ice Bear punching a Neo Nazi...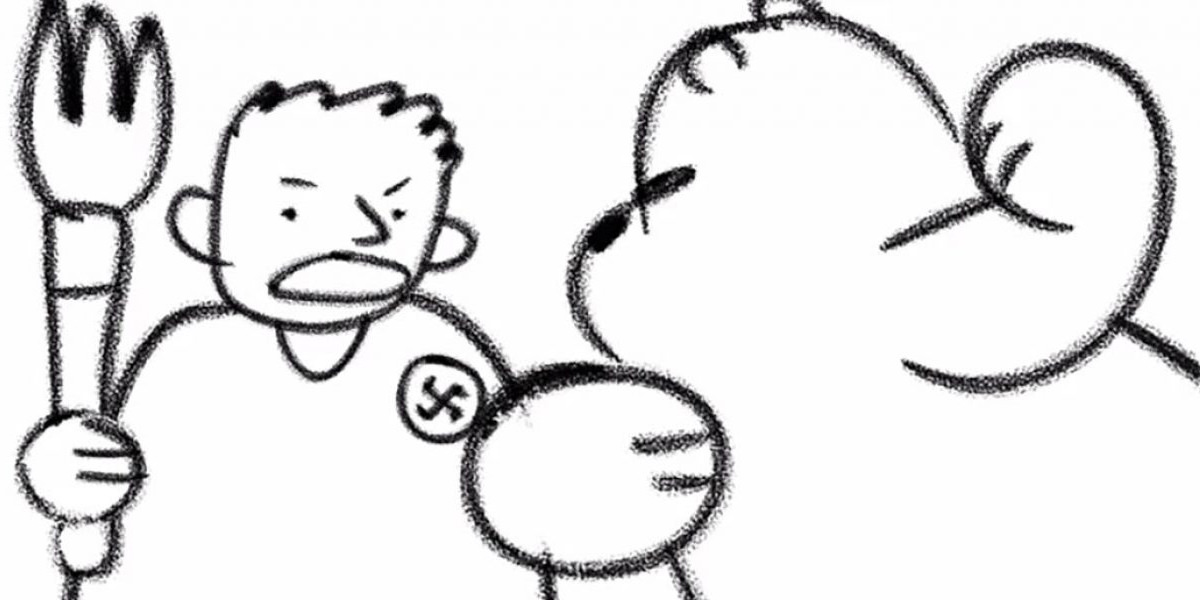 The tiki torch is a nice touch. You can see it over at Cartoon Brew.

• Unsatiable! When internet controversy was unleashed against the new Netflix series Insatiable, calling for it to be canceled before it even aired, I was intrigued. Rather than jump on the bandwagon I decided to take a look. It was funny as hell and, though it was pretty crude, I didn't understand what the fuss was about...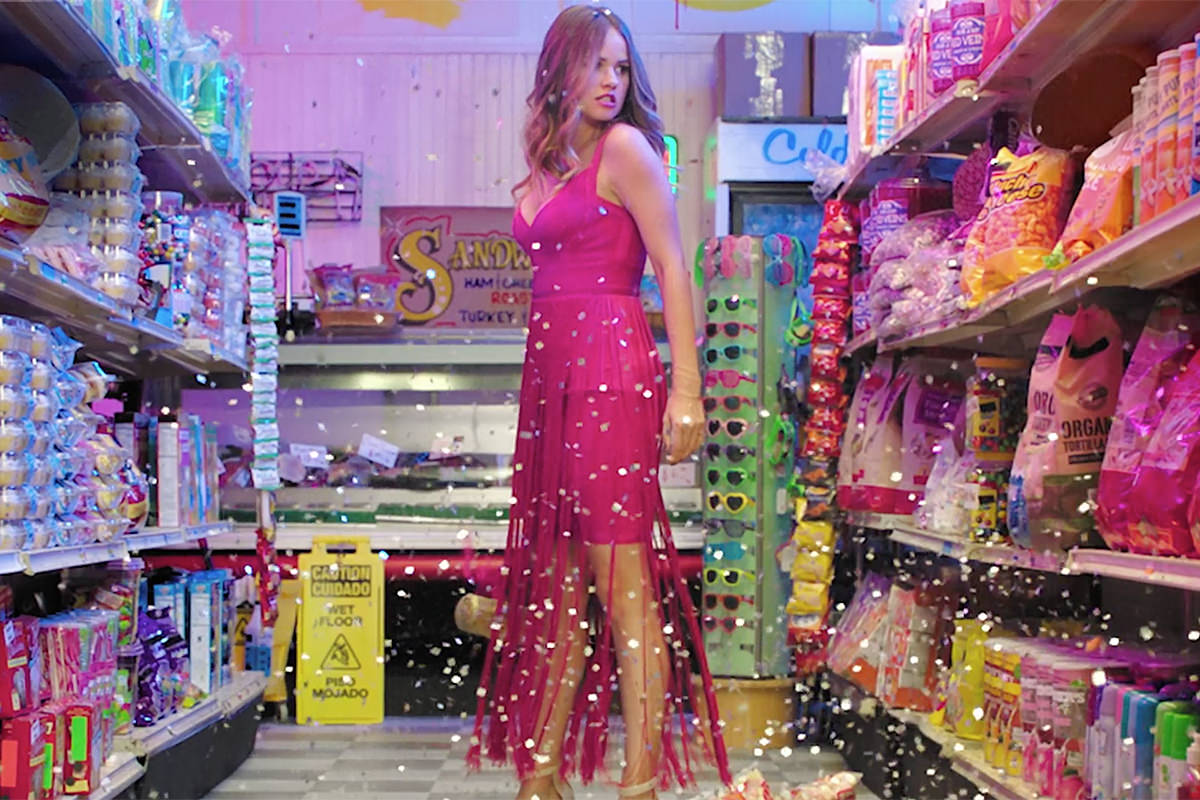 UNTIL THINGS TURNED TO SHIT IN THE TENTH EPISODE. Holy crap. I have never seen a show completely turn a corner like this. It's as if they had no idea what to do for an ending and just slapped some stupid crap together. EXCEPT THERE WASN'T AN ENDING! Blargh. The only way I was offended by this show was that Netflix greenlit it when IT HAD NO ENDING!

• Potato! Netflix kinda redeemed themselves after the disaster of Insatiable by recommending The Guernsey Literary and Potato Peel Pie Society. I don't go much for period films... and especially not period romance films... but this one has really beautiful atmosphere to it...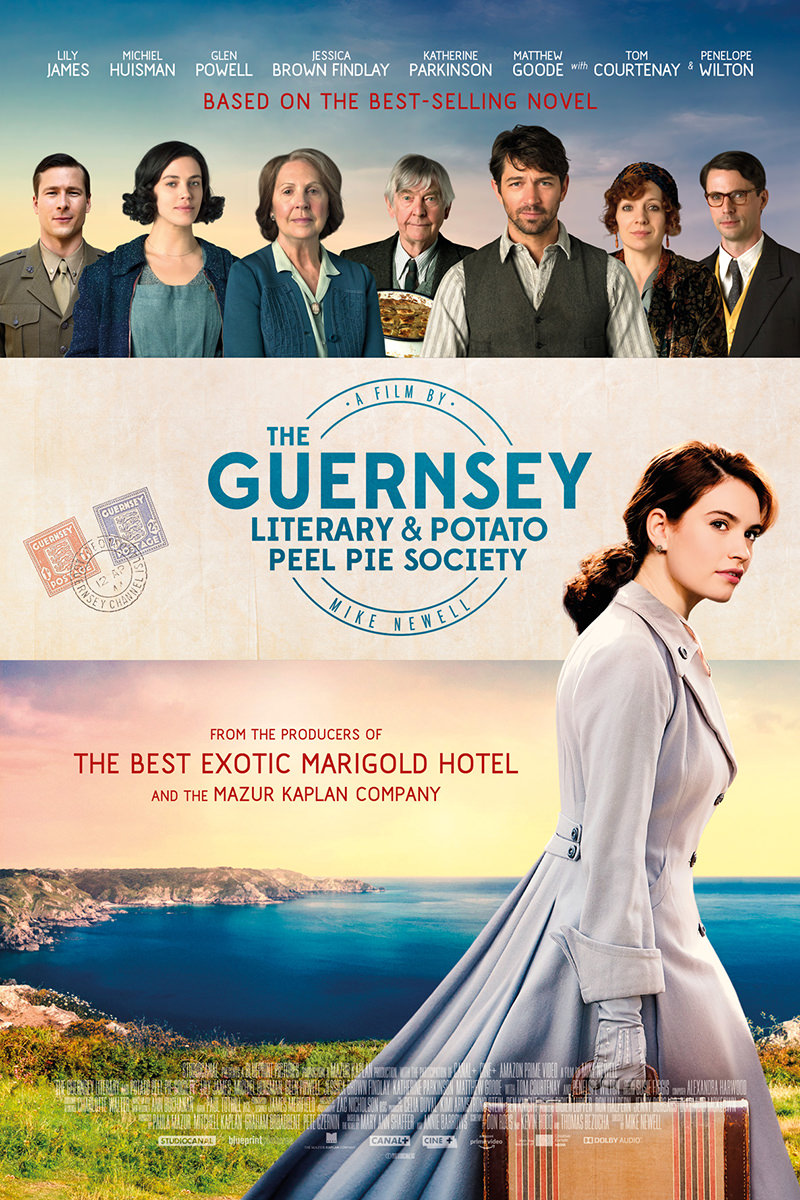 Taking place in the days after World War II, author Juliet Ashton receives a letter from Dawsey Adams of The Guernsey Literary and Potato Peel Pie Society, a reading club. Curious to know more about the society, Juliet writes back... and a story unfolds. It's a nice escape, if you're looking for that wort of thing.

• Agatha! I've read most of the Agatha Christie novels. My mom loved them, and they made for good reading. My favorite has always been Death on the Nile, followed by Five Little Pigs and probably And Then There Were None. Amazon Prime is now showing an adaption of Ordeal by Innocence, which is one I remember...
After having watched all three parts while I was working this morning, I was a bit taken aback that they had changed the story. Which is to say that they changed the murderer. I'm sure other details were altered as well, but I don't remember things well enough to list them. It seems strange to me that they would adapt a book and change it so significantly. If they didn't want to tell the story Agatha Christie had written, why wouldn't they have just written their own story? Setting all that aside, the series is pretty good and has a great cast lead by Bill Nighy. If you've got three hours to kill, there are worse things to watch. Like Insatiable, for example.

Time to regroup and reload. See you next Sunday.
---
Continuing on with my revisiting of every Marvel Studios movie...
MARVEL STUDIOS MOVIE OF THE DAY, No. 11: Avengers: Age of Ultron
Original Grade: A • Today's Grade: A-
I'm just going to get this out of the way... Ultron was not nearly as horrifying a villain as he should have been. The absurdity of it has me dropping Age of Ultron a half grade, just because it's even more jarring on repeat viewings. While casting James Spader as Ultron's voice was genius, he should have been an unstoppable, unhinged murder-bot instead of the philosophically-bent loon they made him into. That being said, it was great to see The Avengers back in action... even if this was a disjointed mess of a movie which wasted too much time on nonsensical diversions. Oh well. The fight scenes are amazing. The Vision has some serious design issues (WHY PUT DRIBBLE ON HIS CHIN?!?), but is as cool as you'd hope. Wanda's powers are all over the place, but it was great to get the Scarlet Witch onboard. Ultimately it's a heck of an entertaining film that still makes an A grade. It's just that this should have been an A+ movie and it wasn't.

SCENE TO BEAT: That opening attack on Baron von Strucker's fortress in Sokovia was pretty great. It was a fight that was very well balanced between our heroes so that nobody was left out. Oh... and I loved the scene when everybody was trying to lift Thor's hammer and Captain America nudged it a bit. The look on Thor's face? Priceless.

COULD HAVE BEEN BETTER: Ultron. Holy shit what a boring waste of what should have been a ruthlessly scary super-villain. And his design sucked too. Thor's sidequest was silly.

SIDENOTE: It's fairly obvious that Joss Whedon did not get to make exactly the movie he was wanting to make... and he has confirmed as much. If the studio knew that they were going to be dictating a bunch of crap to be worked into the movie, they should have known better than to force it on Joss Whedon who is at his best when he works alone and can fulfill his vision for the project. What's interesting is that Whedon said "never again" after the movie wrapped... but then ended up taking over for Zack Snyder on the abhorrent Justice League where he was even more at the mercy of the studio. I can only guess that Warner Bros. paid him a shit-ton of money.
Posted on August 11th, 2018

I fell asleep on the couch last night while watching the Marvel Studios movie for today. Not easy to do when it's Guardians of the Galaxy, which is one of my favorites of the bunch. Guess it just goes to show how exhausted I was.
I woke up again when I got an alert that the security camera in my driveway had gone down.
This is the email I got...
And... look closer...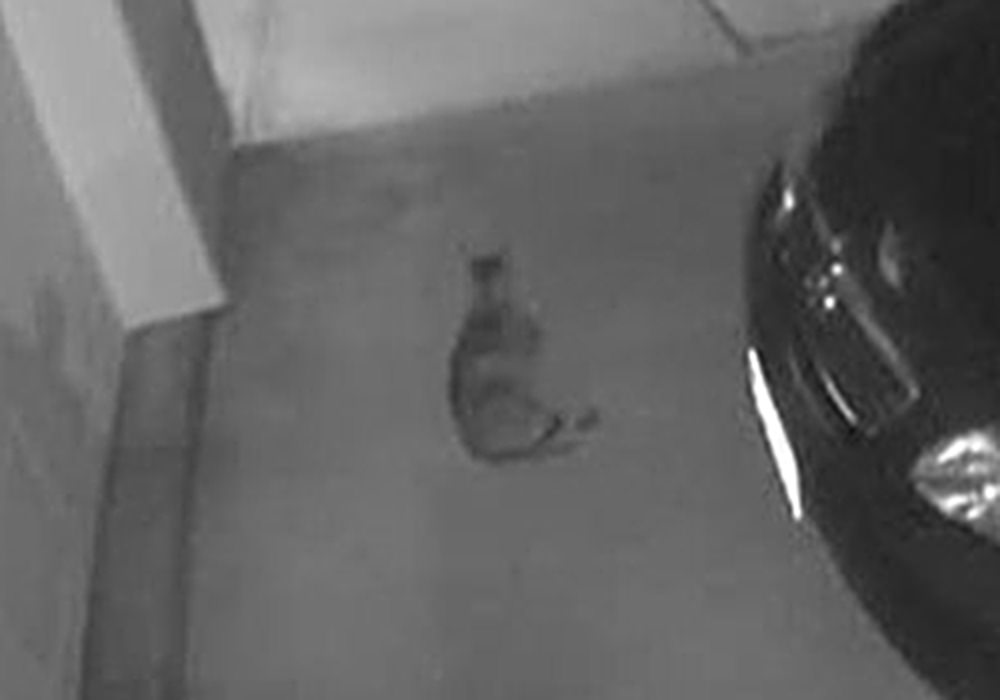 I'm thinking that Fake Jake might be behind my camera going down? The rascal.
I have two more cameras out front, so I was in no hurry to fix whatever it was that was wrong. Instead I finished up my movie and went to bed.
As for Real Jake? Just helping me open my mail this morning...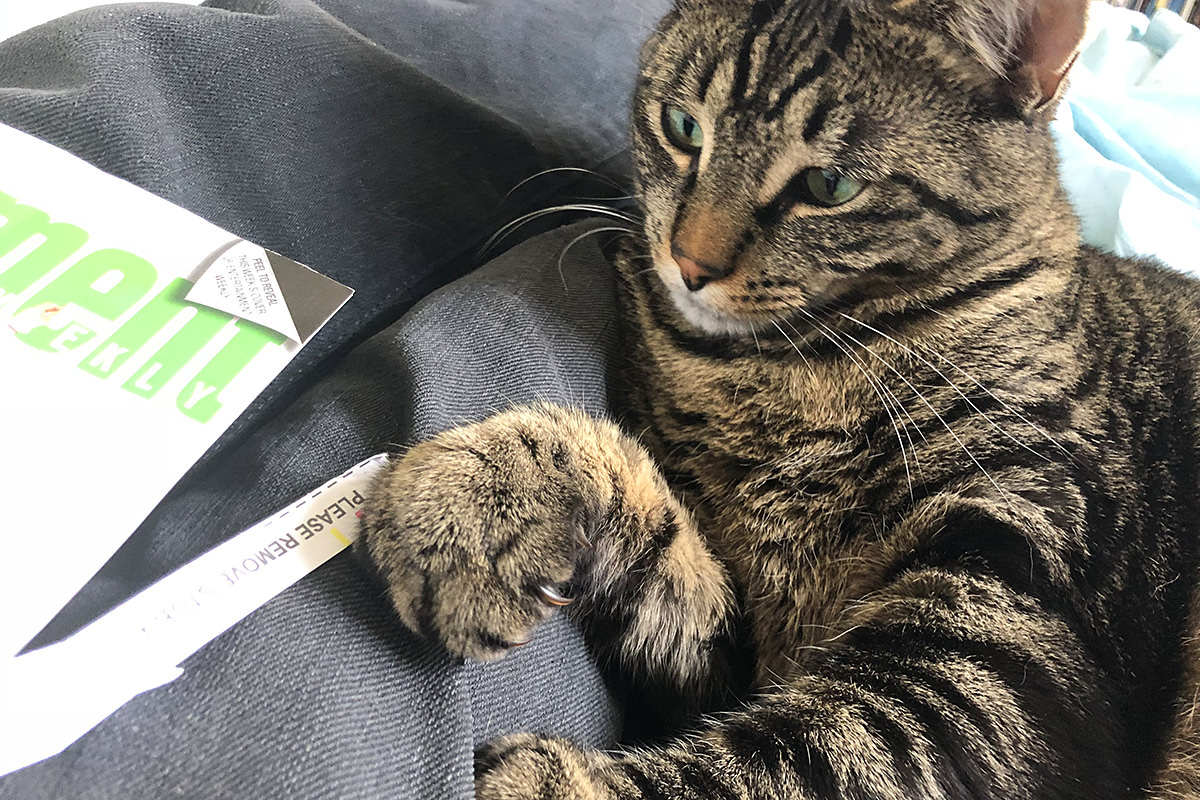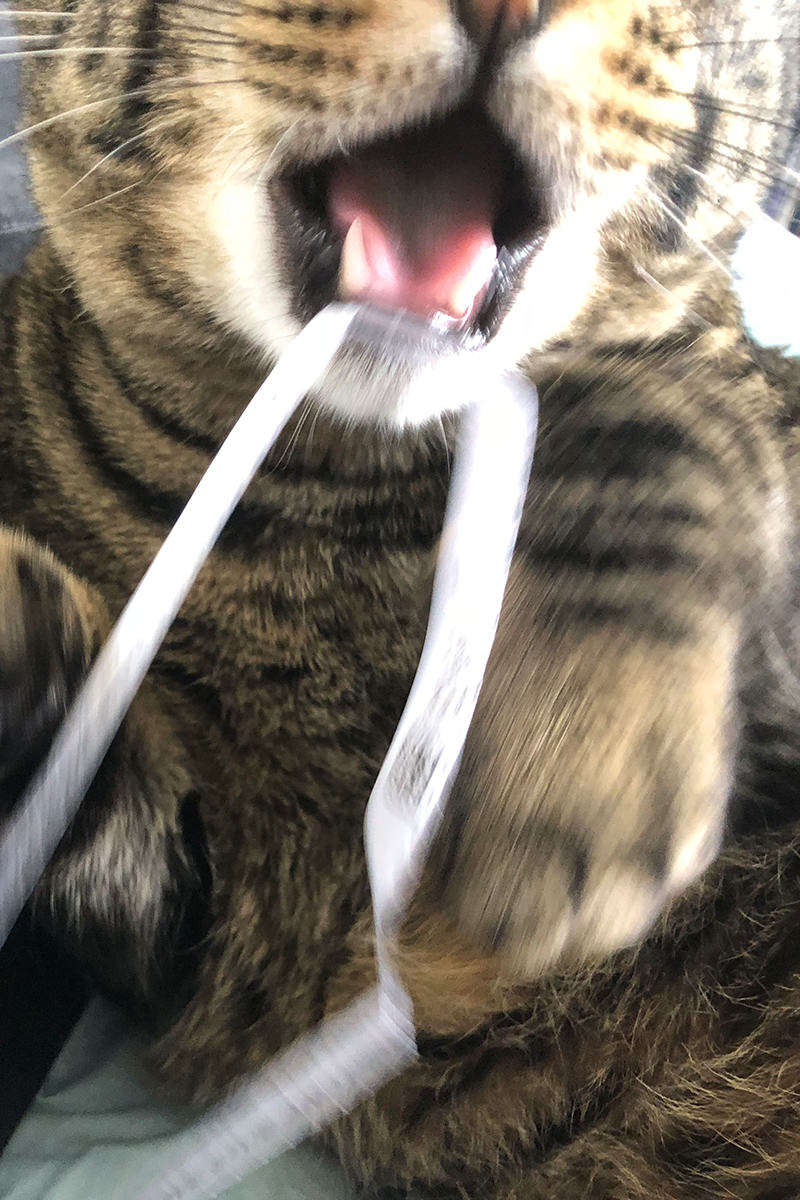 The rascal.
Jenny would rather lay on the floor for some reason...
When I went to Petco for kibble, I saw that the low-carb Tiki Cat dry food was on sale. This was cool... until I noticed that one of the flavors was marked as "clearance," which scares the hell out of me. I really, really hope that they aren't discontinuing this stuff. It's the most affordable food I've found that doesn't overload on carbs. In the meanwhile though, I snagged all eight bags and my cats are set for the rest of the year...
I can probably replace the dry with... something... I guess. But nobody makes the Tiki Cat Velvet Mousse that Jenny eats. And I seriously don't want to have to go back to blending my own. So gross.
Fingers crossed I won't have to.
---
Continuing on with my revisiting of every Marvel Studios movie...
MARVEL STUDIOS MOVIE OF THE DAY, No. 10: Guardians of the Galaxy
Original Grade: A+ • Today's Grade: A+
I re-watched this movie for the fifth?... sixth? time back in June, so I didn't really have to watch it again to jot down my thoughts. But I did it anyway. And I am hooked from the opening scene of Star-Lord dancing through a dead planet every time. If that doesn't sum up my feelings about Marvel's first "sci-fi" entry into the MCU, I don't know what will. The humor... the characters... the settings... the story... the music... all perfect. And perfectly executed, with amazing casting and brilliant special effects (which are so crucial to a film like this). I've admitted that I laughed when I first heard they were bringing this comic book to the big screen, because characters like Rocket and Groot were just an absurd thing to try and translate. But how wrong was I? And after watching Avengers: Infinity War, I'm even more impressed, because they were able to seamlessly mix Rocket and Groot with everybody else to amazing effect.

SCENE TO BEAT: Escape from the Kyln? Escape from Knowhere? The battle at Xandar maybe? I dunno. There are entirely too many good scenes to pick from. I can't even single it out to scenes with one character, because I love them all.

COULD HAVE BEEN BETTER: Ronan the Accuser is a powerful Kree warrior, but I don't get how he was able to wield the Power Stone. I understand that he only touched it for a few seconds, which is why he didn't die... but how was he able to command it after he smashed it into his Universal Weapon hammer? He's an important Kree but, in the end, he's just a Kree. Not a god or ancient being. Or, in Peter's case, the son of an ancient being. It's a puzzler. And I still think the whole "holding hands" at the end was kinda silly.

SIDENOTE: It's amazing how critical this film was to everything that came after it in the MCU. Thanos... Gamora... Nebula... The Collector... and, looking even further forward for next year's Captain Marvel, The Kree. This was also the first time we got a full explanation on The Infinity Stones as well. Doesn't seem possible that such important stuff was set up in what's essentially a comedy, but there's Marvel Studios being all brilliant again.
Posted on August 10th, 2018

This was one of those days.
I compensated by hiding in my bedroom and reading through all the of "Art of the Movie" books from the first eight Marvel Studios films. Except... it's actually nine books because I bought the art book for the Peggy Carter series that was on ABC, which I love (there's also books for the Agents of SHIELD series, but I don't love that show even a little bit). It made me want to watch Agent Carter all over again, but that will have to wait...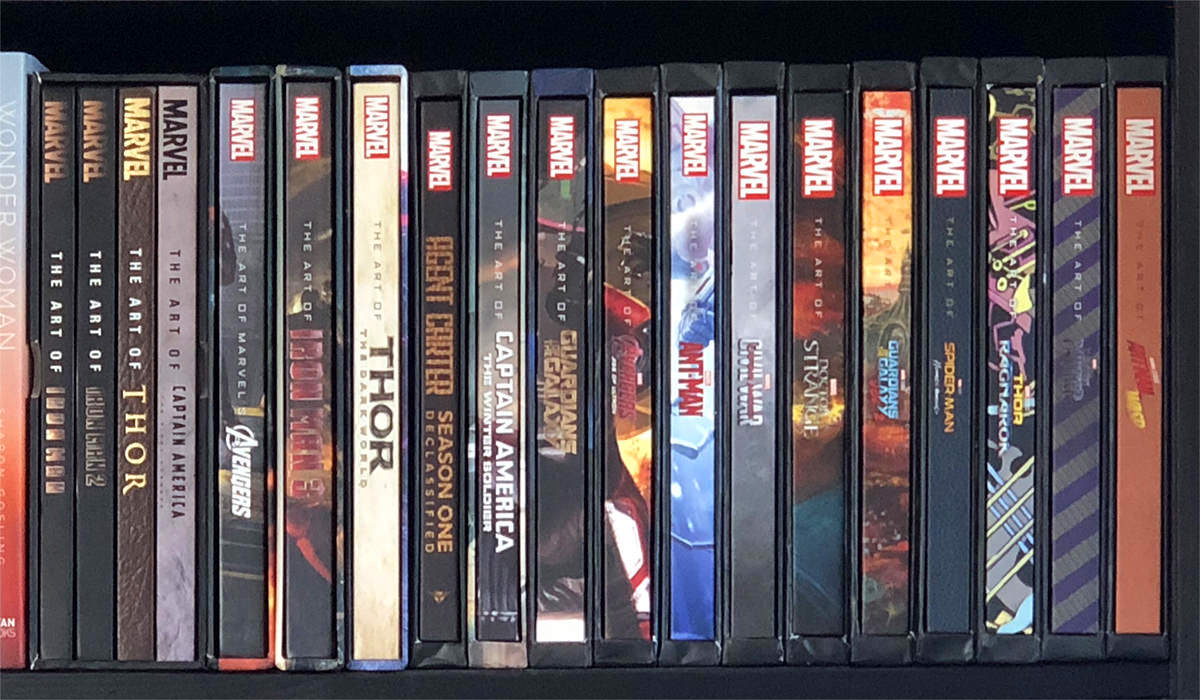 The only book I'm missing is the one for Agent Carter: Season Two, which was an okay-not-great-series, but I'd still like to have it because the production design was fantastic for it. But... $48. Yeesh. That's a chunk of money considering I wasn't a big fan of the show.
And now It's time to re-watch one of the best movies ever so I can finish up this entry!
---
Continuing on with my revisiting of every Marvel Studios movie...
MARVEL STUDIOS MOVIE OF THE DAY, No. 9: Captain America: Winter Soldier
Original Grade: A+ • Today's Grade: A+
There's a part of me that wants to call this my favorite Marvel Studios film. It gives us a flawless portrayal of Captain America, Black Widow, Winter Soldier, Nick Fury, Agent 13, and also? Robert Redford(!) as Alexander Pierce! But the real beauty of this movie is that it defines Captain America in a way that makes his 1940's mentality painfully relevant to the modern world, and positions him as the definitive conscience of the entire MCU. And speaking of relevant... how cool is it that a film set in 2014 managed to continue story elements of the first movie set in 1942 so amazingly well. Bucky, Zola, and Hydra were old ideas made fresh. And not in a way that rang hollow or was contrived. Even Cap's original uniform (which is far superior to what he got in The Avengers) was dusted off and came back. Genius.

SCENE TO BEAT: Pick one. There are no wasted moments in this entire film. The action sequences are all brilliant. But that scene where Steve goes to visit a dying Peggy Carter... yargh... a lump in my throat every time.

COULD HAVE BEEN BETTER: Not a damn thing. If a perfect comic book movie exists, this is a contender.

SIDENOTE: The way they updated Falcon is, as with everything else in this movie, perfect. By the way... that's Jenny Agutter as the lone woman on The World Security Council and the one that Black Widow impersonates to infiltrate SHIELD. Many Americans probably won't know who she is, but anybody familiar with British Television knows that this is just as cool casting as Robert Redford!
Posted on August 9th, 2018

Ooh! Strawberries and blueberries were on sale!
I've been eating them morning noon and night in an effort to get through them all before they rot. Because the only thing worse than having berries be absurdly expensive is having affordable berries that you end up throwing away...
Now I'm on the hunt for marionberries, blackberries, or (if I've very lucky) boysenberries on sale.
Thought it's probably better if I don't find them, because those suckers would end up going in a pie, and I don't need that kind of carb load this late in my life!
---
Continuing on with my revisiting of every Marvel Studios movie...
MARVEL STUDIOS MOVIE OF THE DAY, No. 8: Thor: The Dark World
Original Grade: B • Today's Grade: B+
Often seen as a weak link in the Marvel Cinematic Universe canon, I actually liked this film very much. Not necessarily for the story, which feels slapped together and disjointed... nor the villain, since Malekith looks more silly than threatening... but for all the parts that work so well. Hemsworth and Hiddleston are totally on their game as Thor and Loki. Natalie Portman, Stellan Skarsgård, and Kat Dennings are perfectly inhabiting the roles of Jane, Selvig, and Darcy that they created. But my favorite part is marveling over the sheer adventure of it all. The battle at Vanaheim... the Dark Elves attack... the escape from Asgard... every minute on Svartalfheim... Thor's hammer finally acting exactly like Thor's hammer should... so many cool comic book moments. Marry all that to lush visuals, stunning production design, and epic special effects, and it was a much better movie than some critics made it out to be. This is one of the Marvel Studios films I've only seen a couple times and I hadn't watched it in years. I ended up enjoying it more than I thought I would so I'm bumping it up a half grade.

SCENE TO BEAT: Loki becoming Captain America. Bless Chris Evans for being such a good sport and making appearances like this!

COULD HAVE BEEN BETTER: Malekith and the Dark Elves were just awful as antagonists. And it drives me bonkers how Jane and Selvig could "science" their way out of a situation they have practically zero knowledge to combat. The result being Jane's "science box" which inexplicably transports exactly the stuff needed for the story? And Selvig's "science poles" which save the day in the most deus ex machina way possible? Beyond lame.

SIDENOTE: "The Aether" MacGuffin actually being the Reality Stone in liquid form was just one more step to Avengers: Infinity War... and giving it to The Collector in the mid-credits scene beautifully set up Guardians of the Galaxy. Loki becoming Odin seemed like such a tired decision at the time, but was so wonderfully wrapped up in the third Thor movie, Ragnarok, that it turned out to be a great twist.
Posted on August 8th, 2018

Oh look... it's International Cat Day! As well it should be. I love my cats more than just about anything, so they should have their own day.
My cats decided to celebrate their holiday by eating and sleeping. Though they also decided to walk all over my kitchen counters, which means I have to scrub everything down now. Fun...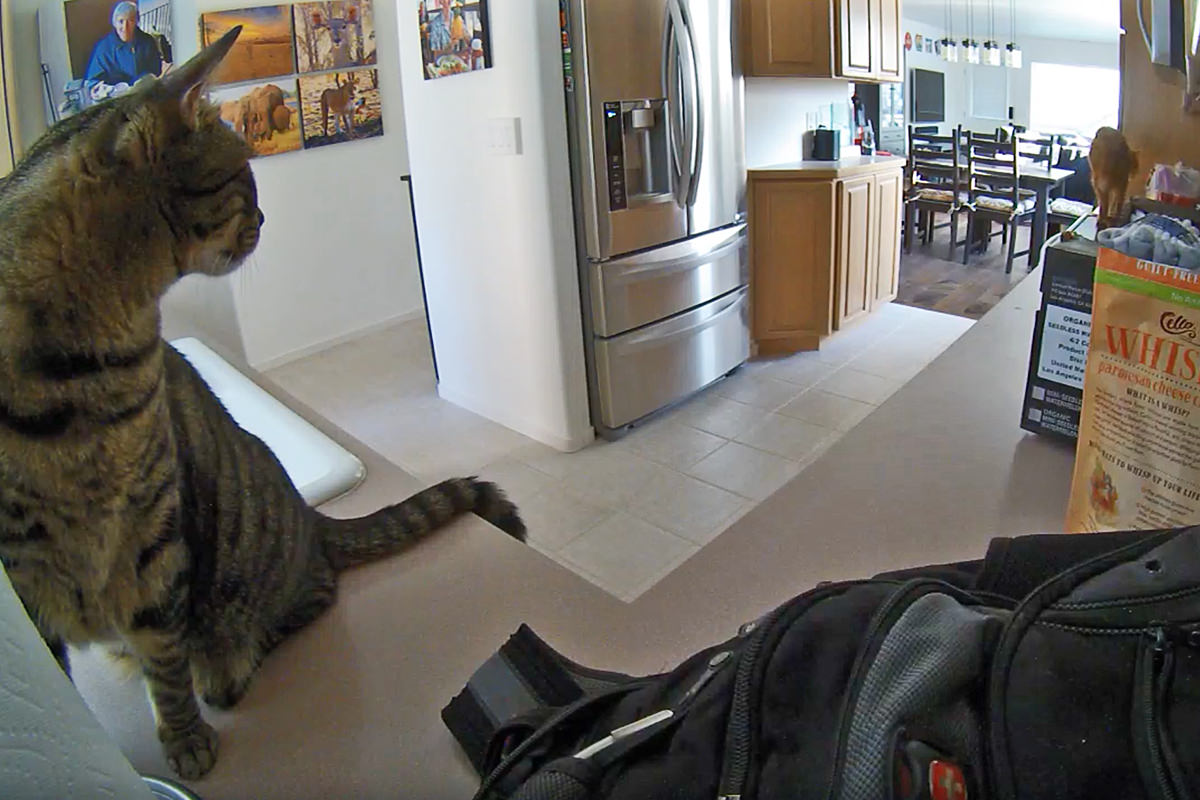 Oh... and they also put a nice big scratch in my coffee table. Fun...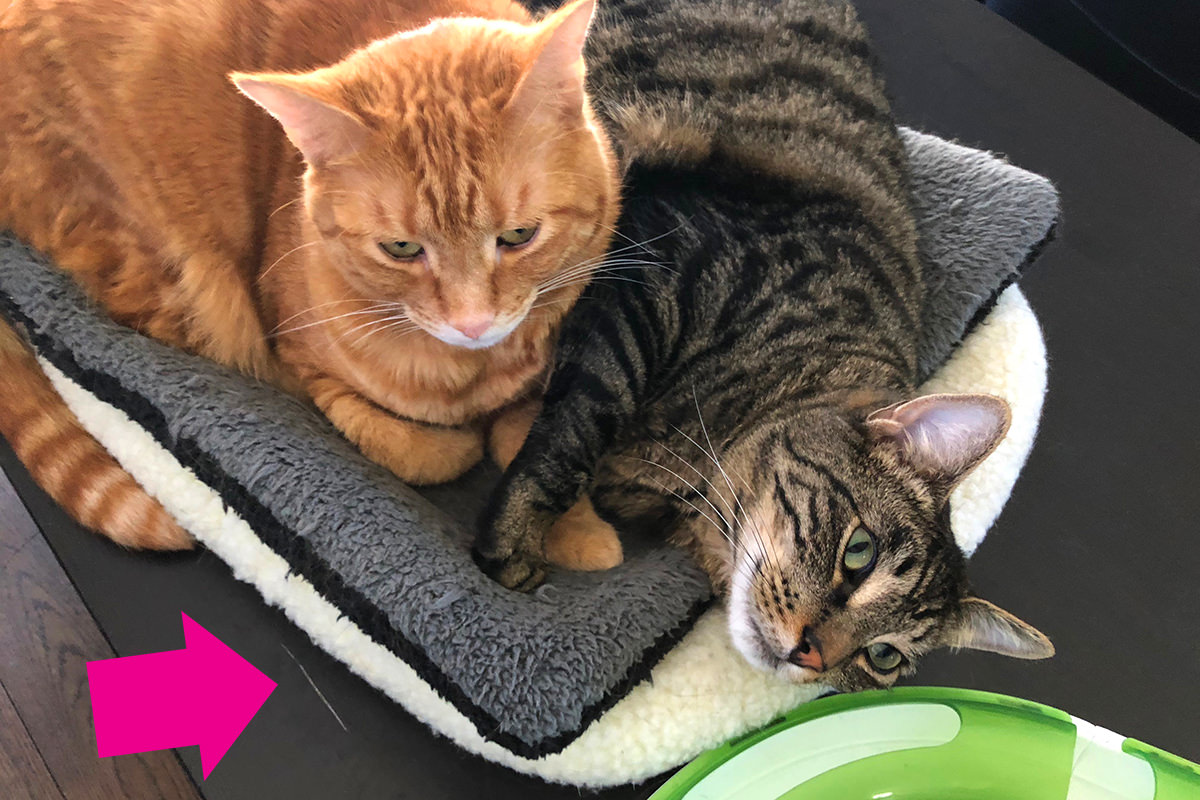 The fact that I didn't strangle them today should perfectly illustrate why every day is International Cat Day around my house.
Well, not my house, really. I just pay for everything... I'm pretty sure it's their house.
---
Continuing on with my revisiting of every Marvel Studios movie...
MARVEL STUDIOS MOVIE OF THE DAY, No. 7: Iron Man 3
Original Grade: A+ • Today's Grade: A
Being the one to helm the film which followed The Avengers must have been a daunting task. In their infinite wisdom Marvel decided to hire Shane Black to write and direct. This was an interesting move but not an altogether bad fit. As writer of the Lethal Weapon movies and the genius that was The Long Kiss Goodnight, he knows how to create an action beat. Many of Black's decisions were questionable. Retooling Iron Man's long-time villain, The Mandarin, as a Ben-Kingsley-enabled decoy for Aldrich Killian from AIM was a bit weak. The modular armor was fun, but was handled poorly (if the parts were 832 miles from Miami, how did they arrive in 10 minutes?)... not to mention that the suit, which has always been powered by the ARC reactor in Tony's chest, suddenly needs to be recharged with electricity? The whole Extremis angle was lifted from a famous reboot arc from the comics, but used entirely differently... not necessarily in a bad way, though it was certainly a step down. And yet... this was a highly entertaining film with fantastic special effects and an awesome finale (Iron Legion!) that makes for good repeat viewing. I love the movie almost as much as the original, though it kind of falls short in the grand scheme of things these five years later so it gets dropped a half-grade.

SCENE TO BEAT: I usually hate whiny child actors ruining films that aren't about children, but Ty Simpkins (who plays Harley Keener) is fantastic. IMDB says he's making a Marvel Cinematic Universe return with The Avengers 4 which is kinda cool. Anyway, despite some great action sequences, all the scenes between Tony and Harley are my favorite. With the possible exception of when Tony chops Killian's arm off and says "Yeah, you take a minute." I LOL every time.

COULD HAVE BEEN BETTER: Other than the villain being able to magically take over television sets, a trope I absolutely loathe? And the Oracle product placement that's not at all subtle? There are times that seemed as though Tony's dialogue was too scattered and improvised. It didn't come off as natural, and it felt as if Shane Black wasn't sure how to handle it.

SIDENOTE: Probably the last Iron Man movie with Robert Downey Jr. which is a darn shame. Seeing hom pop up in Captain America: Civil War and Spider-Man: Homecoming (not to mention Avengers: Infinity War) is better than nothing, but boy would I like to see another solo Iron Man flick.
Posted on August 7th, 2018

After fucking up just about every single Marvel film they've ever made, 20th Century Fox finally got it right when they unleashed Deadpool on an undeserving world back in 2016. It was shockingly good and easily slid into my third favorite film slot of the year.
Needless to say, my expectations were rather high for the sequel. My fear was that they would just take Ryan Reynolds off the leash, substitute jokes for story, go full-on stupid, and destroy everything that made the first film work so well.
Instead they did the exact opposite of that and I think I might actually like it better than the original...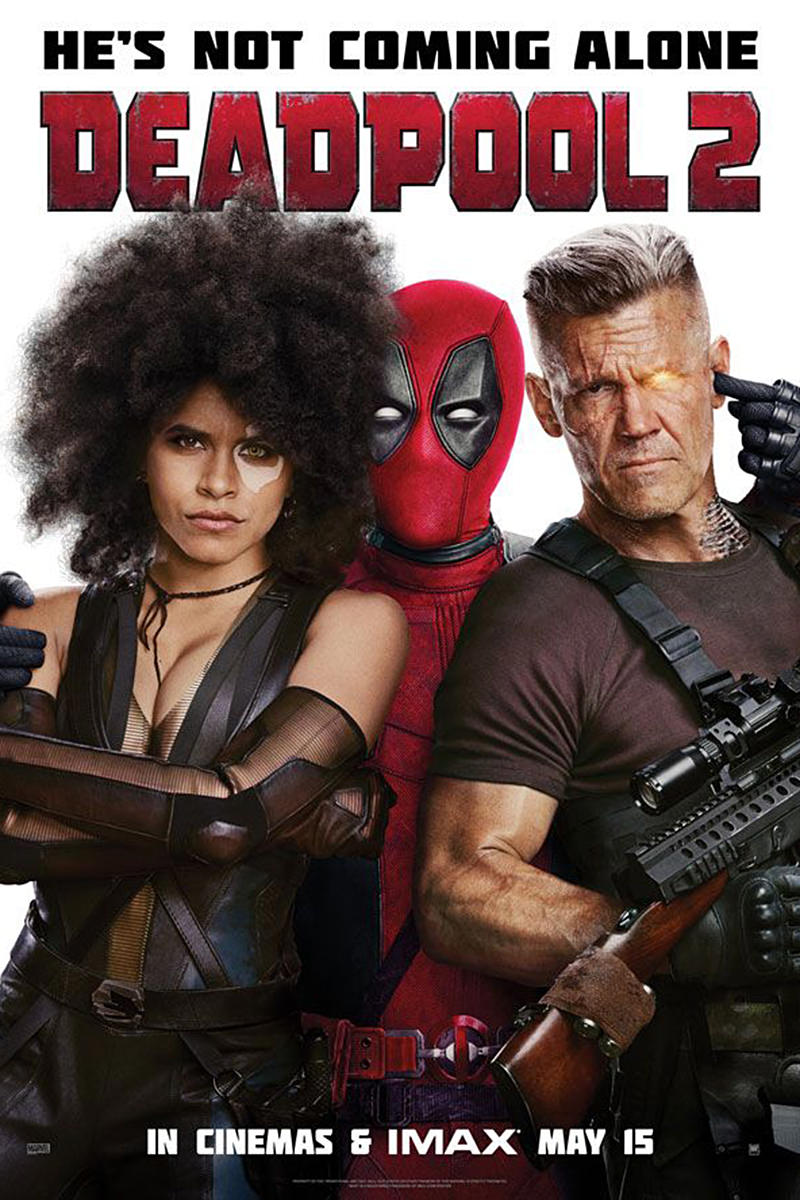 First of all, Deadpool is just as ruthlessly violent and hilariously funny as ever. This is the role Ryan Reynolds was born to play and he completely owns it in every possible way. But like the poster says, he doesn't come alone. Cable and Domino are with him, and Josh Brolin and Zazie Beetz are everything you could possibly hope for. Domino was particularly surprising, possessing a joy that lights up the screen. She comes dangerously close to stealing the entire show and an argument could be made that her scenes are the best in the film. Zazie could easily carry a solo film, and I hope somebody is seriously investigating it.
If there's a fault(?) in Deadpool 2 it's that the film is so dense with story and jokes that it demands repeat viewings to get it all. It was my intent to see it a second time in the theater but I didn't make it back to the multiplex in time. Now that it's been released on home video I can watch it as many times as I want.
And I will watch it a lot, I'm sure.
---
Continuing on with my revisiting of every Marvel Studios movie...
MARVEL STUDIOS MOVIE OF THE DAY, No. 5: The Avengers
Original Grade: A+ • Today's Grade: A+
And here is what we've been leading up to these past four movies. And it did not disappoint. The trick in team-up films like this is always going to be balancing screen time between multiple characters and balancing the power levels of everybody involved so heavy hitters like Thor don't obliterate weaker characters like Hawkeye. Joss Whedon did a superb job of that... and managed to make a witty, fun, and entertaining movie to boot. As if that wasn't achievement enough? The Battle of New York was eye-candy on a level yet unseen. But the best part? The groundwork has just been laid for the next 15 films.

MOMENT TO BEAT: Hulk smashing Loki.

COULD HAVE BEEN BETTER: The first ten minutes of the film are spent not with The Avengers but with SHIELD. And while I understand the need to set things up with Loki and The Tesseract, it seems a lot of time (relatively) to invest. I would rather have had half of that cinematic indulgence used elsewhere because a lot of time was spent with SHIELD as it is. There's also the matter of timing, where Captain America and Black Widow can get from New York to Germany in minutes. Other than that, I really hate what they did with Cap's uniform. The helmet is goofy-looking and the nonsensical metallic shoulder cuffs look stupid. And speaking of questionable design, whose idea was it to put the Subway sandwich logo on Stark Tower's helipad? But the thing that bothers me most is how nuking the alien mother ship somehow causes every last Chitauri warrior, transport, and ship to suddenly keel over dead. Talk about lazy writing.

SIDENOTE: In the tradition of comic books since the dawn of time, super-heroes end up fighting when they first meet. And the battle between Iron Man, Captain America, and Thor is a good one.
Posted on August 6th, 2018

I've been in two fires.
The first one was at a friend's house. He asked for help packing up he and his family's stuff because they were in the path of a wildfire that was out of control and advancing too quickly for them to evacuate on their own. I drove a rental truck up to their place, helped them pack it up, then drove it to his parent's house. By the time I had retrieved my car and headed back, they were told to leave and had evacuated. They ended up losing their garage and a chunk of their roof.
The second fire was at my home (well, the one before last) and it was terrifying. I spent eleven hours on the roof of my apartment building keeping the roof wet and putting out so many small fires that I lost count. Once I climbed down to go to the bathroom because I couldn't hold it any more. When I finally got back on the roof everything had caught fire. Fire on the bushes. Fire on the lawn. Fire on the shed. Fire on the roof. From then on I peed off the roof. Not that it mattered... everybody else had left. When the police came to force me to evacuate, both buildings to the side of me had caught fire. I had no idea if I would ever see my home again as I left.
Luckily, thanks to an amazing group of firefighters, my home was spared while everything around my apartment was burned to the ground or badly damaged. I was told that it was because I stayed behind when everybody else had left that the firefighters decided to hold the line at my building and save it. I was... and still am... incredibly grateful. Everything I owned was in there except the clothes on my back, my car, my hard drive, and the two photo albums I managed to grab as I evacuated.
The price being that I still wake up from time to time in a blind panic because I think I smell smoke.
And on days like today where there are wildfires burning and I smell actual smoke, I have a tough time of it. Apparently that's all it can take to send my head back to the roof of my old apartment when the whole world was burning around me.
The difference being that if I were caught in another fire, I wouldn't worry about losing everything I own as much as I used to. All my photos are stored in the cloud and backed up on a hard drive I keep at work. Everything else is just "stuff" and can (mostly) be replaced.
All I need out of life is underwear and my cats.
And the underwear are optional, as always.
---
Continuing on with my revisiting of every Marvel Studios movie...
MARVEL STUDIOS MOVIE OF THE DAY, No. 5: Captain America: The Last Avenger
Original Grade: A+ • Today's Grade: A+
Even as Marvel Studios was pulling all the pieces together to assemble The Avengers I had no idea how Captain America was going to fit into it. Developed in 1940 as a pro-America response to the rise of the Nazis, Cap was kept relevant in the comic books by constantly reinventing him in the face of modern times. But that's in comics. How would they translate a star-spangled antique to the movies and not have him look ridiculous? Well, this movie is how. An origin film through and through The First Avenger stripped away decades of jingoistic baggage to create an every-man hero who wanted to fight for the little guy by standing up to the bullies of the world. Taking place almost entirely during World War II, the story was everything you could hope for in a super-hero movie, and there were zero missteps in how it was laid out. Steve Rogers desperately wants to save people by joining the war effort but he's physically incapable of doing so, and branded 4F for service. But his heart and courage land him in the US Super Soldier Program where science turns him into the most celebrated hero of the war. Along the way he battles classic Cap villain The Red Skull, and absolutely everything about it was flawless.

SCENE TO BEAT: When Cap is leading back all the soldiers he rescued after his first outing, you get to see exactly who he is and how he will work in the MCU.

COULD HAVE BEEN BETTER: Seriously. Nothing. There's nothing that could have made this a more perfect introduction of Captain Rogers to the Marvel Cinematic Universe.

SIDENOTE: At the end of the movie Cap sacrifices himself to save New York and ends up frozen in the Arctic ice shelf. Fast forward to modern times and he's dug up from the ice to become a founding member of The Avengers and one of the most famous comic book super-heroes of all time. That tracks pretty closely to what we got in the comics, and the movie is painstakingly faithful to the source material. What's interesting is just how closely the events of this film lead into The Avengers. Black Widow came from Iron Man 2, Loki and Hawkeye came from Thor, and The Tesseract came from Captain America: The First Avenger. Everything up until now has been moving the football forward, all in preparation for the home run which was to come. The patience and planning it took to have such a plan in place is absolutely mind-boggling, and Marvel producer Kevin Feige was: The One in charge of keeping it all together. That he's still in charge just goes to show how successful he's been at his job.
Posted on August 5th, 2018

This Sunday is 17% more lethal than usual... because an all new Bullet Sunday starts now...

• Vote! Voting in the August Primary was fairly easy for me. If you're a Republican, I Google to see how hard you've worked to disavow President Trump and his entire cesspool of an Administration. If you haven't... or, heaven forbid, you support the assholes... you get no vote from me. I then look at all the Democrats and research who is in a best position to defeat the Trump-enabling Republican running. Because right now? That's all I give a shit about. Making sure that every last fucking Republican who isn't whole-heartedly disavowing Trump goes down in fucking flames. I don't want Republicans to LOSE in the upcoming election... I want them to be UTTERLY DECIMATED AND DESTROYED. I used to vote with no regard to party affiliation and ended up with both Republicans and Democrats on my ballot. Not any more. After Trump, Republican politicians don't deserve air to breathe, let alone my fucking vote...

Has there ever been so petty a piece of shit president in this country? LeBron has done more for education by opening up ONE SCHOOL than Trump, DeVos, and their entire administration has ever done.

• Shit! Late-night television is really something else. SexToys followed by Larry King? Seems about right...
And after that? More shit, along with some other program before it...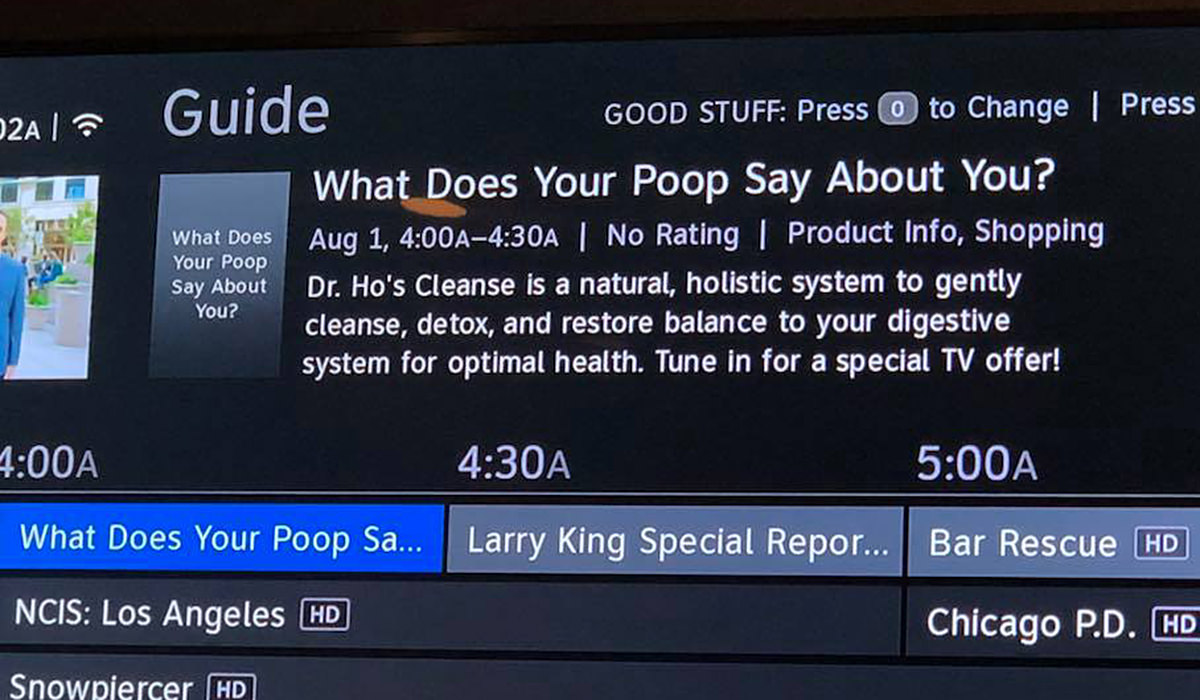 Larry King is one of those people who I can't for the life of me understand how they got famous. He has to be one of the worst interviewers of all time. He has no fucking clue what he's talking about and always seems woefully unprepared and completely ignorant as to the person he's interviewing. At least now he's putting is "talent" to appropriate use by hawking senseless shit in infomercials.

• Cool! This week I took the "What I have in my refrigerator" challenge...
Coke Zero, Sprite Zero, original Coke (for guests).
Various sugar-free sodas (which I don't like).
Leftover Vitamin Water (from the plane).
Atkins shakes (for high blood sugar days).
Pickles.
Emergency water jug.
Six kinds of cheese.
Sugar-free jellies (strawberry & blackberry).
Ketchup, mustard, pizza sauce.
Spreadable butter.
Trader Joe's slivered almonds.
Four kinds of mayo.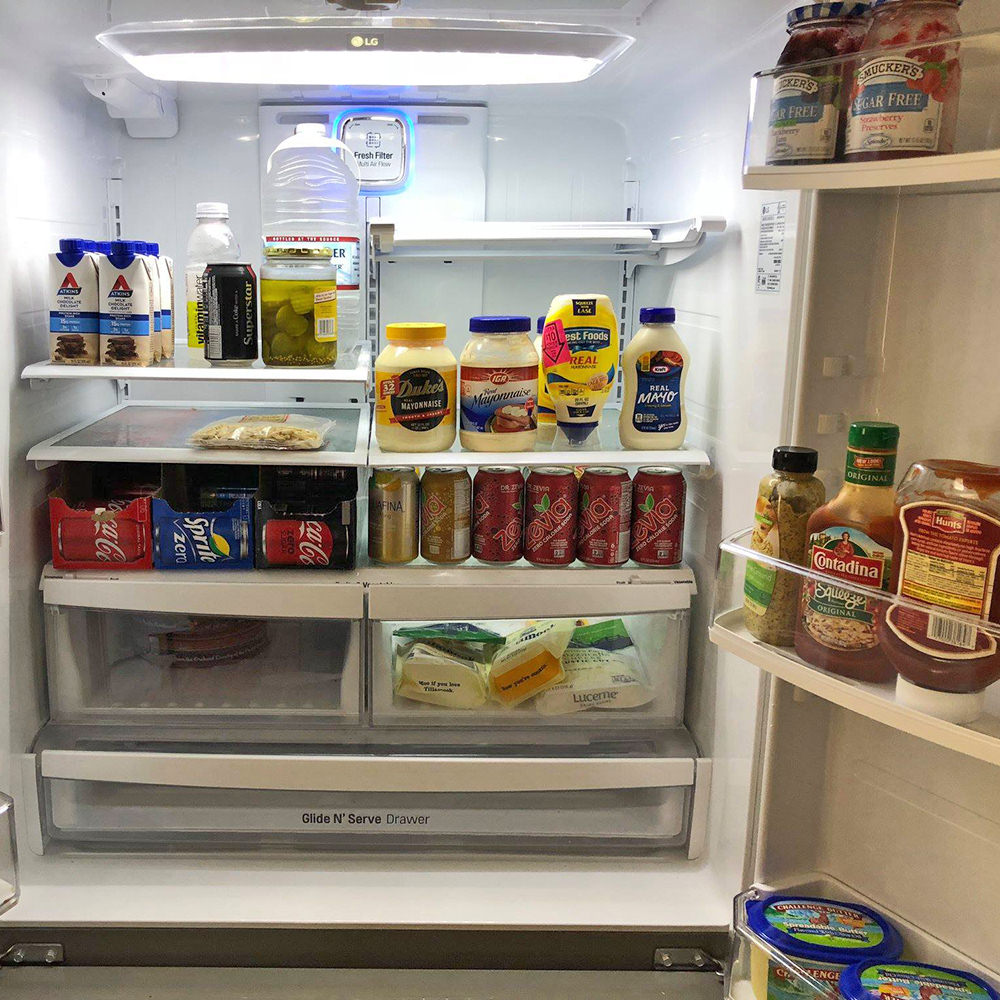 YES! FOUR KINDS OF MAYO!!! I use the cheap stuff for salads, Best Foods for burgers, Kraft for egg salad, and Dukes for fries (I use it when I'm out of Dutch mayo, like now). If I had to give them all up, I'd eat only Dutch mayo.

• Big Gunn Two! Another take on where we are now...
Twitter... memories that never really go away...

• Failure to Launch! Johnny Rockets, where I first discovered Boca Burger patties years ago in Santa Monica, has now replaced them with a Black bean patty. Which is stupid as fucking hell. People go to Johnny Rockets for a BURGER. Even vegetarians go there for a BURGER. They just don't want to kill a cow to get one. And what's really stupid? THEY'RE ALL FUCKING FROZEN! They could have had both of they wanted a black bean burger so badly. And so... after decades of visiting Johnny Rockets around the globe... no more Rockets, bitches. No more Rockets for me.

• Liberty! And, lastly, here it is for those eating paste right from the jar...

NEWS: Attorney General Jeff Sessions announces "Religious Liberty Task Force."
This is the most insane, fucked-up bullshit yet. We now need a task force to protect Christianity?!? Because it should be painfully obvious that they are NOT doing this to protect Muslims, Buddhists, Jews, Hindus, Sikhs, or any other NON-CHRISTIAN religions. Since when are Christians a minority in need of protection? Last time I checked, they weren't fucking BURNING CHRISTIANS IN THE STREETS. Last time I checked, you could still go in a fucking UNITED STATES GOVERNMENT POST OFFICE AND BUY NATIVITY STAMPS FOR CHRISTMAS. Last time I checked, CHRISTIANITY WAS THE LARGEST RELIGIOUS GROUP IN THE COUNTRY. Make no mistake... NO MISTAKE... this is nothing more than a full-on attack on gay, lesbian, and transgender persons... and any other American who doesn't fit into the mold that these fucked-up assholes feel is acceptable. Disgusting. Task force? Horse shit. Nothing like your own government spreading fear and persecution to keep their power. I wonder if they'll be required to wear uniforms? Brown shirts, perhaps? No... probably more like white hoods...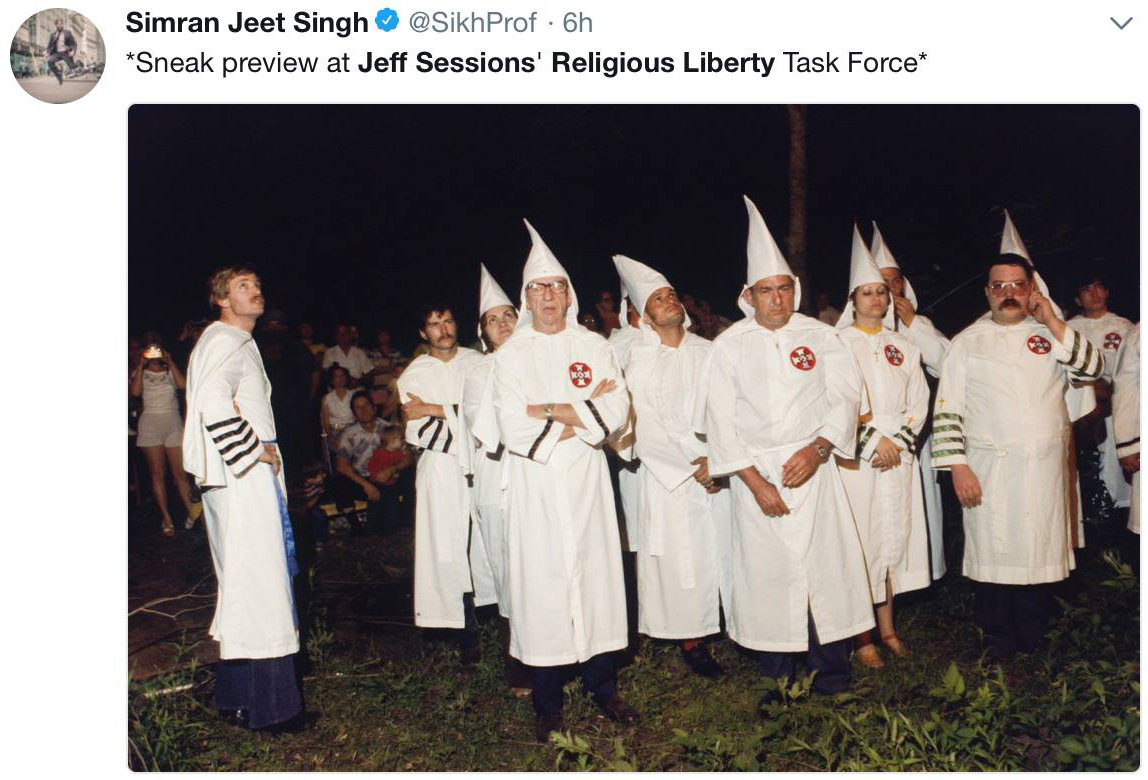 Until next Sunday then...
---
Continuing on with my revisiting of every Marvel Studios movie...
MARVEL STUDIOS MOVIE OF THE DAY, No. 4: Thor
Original Grade: B+ • Today's Grade: B+
I was never a huge fan of the Thor comic books. Sure I read them off-and-on... sure I loved what Walt Simonson did with the character in his run... but he never got to the level of Doctor Strange or Black Panther or Fantastic Four or Iron Man for me. But then this movie dropped and I became a pretty huge Thor fan. Partly because the movie was done so well... but mostly because I could see just how Thor would work as another piece of the Marvel Cinematic Universe. A lot of the credit can be given to Kenneth Branagh for bringing a majesty to the character and to Asgard that the film needed to sell the story. Asgard was epic in scope and beautifully designed. Silly concepts like Bifröst, a "rainbow bridge," were given perfectly believable representations that worked. And though his full potential wouldn't be seen until Ragnarok, how frickin' perfect is Chris Hemsworth in the role? Not anybody else was a slouch in the acting department. Anthony Hopkins is about the best possible Odin we could have hoped for. Tom Hiddleston brought so much energy to playing Loki that the character has been as much a lynchpin for the MCU as its heroes. Idris Elba, Natalie Portman, Renee Russo, Stellan Skarsgård, Kat Dennings... anybody and everybody was so wonderfully, thoughtfully cast. And a standing ovation to Patrick Doyle for the score. Soaring and beautiful, it was a tangible presence throughout the film. Overall, Thor was a crucial step on the road to Avengers that could have been a disaster. Instead it's a worthy addition that totally holds up.

SCENE TO BEAT: The frost giant battle puts a pin in what makes Thor be Thor.

COULD HAVE BEEN BETTER: There are two problems with this film that I have a tough time getting past. 1) The entire span of the film happens over like... what... two... three days? Yes I love the movie, but if you stop a minute and think about how insane the timetable is, things get a little ridiculous. 2) They bleached Hemsworth's eyebrows and it looks crazy distracting. Thankfully they gave up on this absurdity in future movies.

SIDENOTE: When they decided to do away with the whole secret identity nonsense in Iron Man, I honestly thought that would be the end of it. But then along comes Thor, and Dr. Donald Blake was brought up, then dropped like a hot potato. It was a fantastic decision which has been carried forward (more or less) with each new movie. So smart. Given the rather short runtime of a major motion picture, there's just not time to waste on the whole idea, so why bother? It was cute in the original Superman movies, got tired in the Batman films, and is downright silly now. Sure special effects are so economical and amazing that we can show Superman doing all kinds of crazy awesome stuff... but let's blow precious screen-time having Clark Kent investigate a story. And while Hawkeye is the butt of a lot of jokes when it comes to the Marvel Studios films, I have to say they gave him a really good cameo here as we ramped up for Avengers.
Tags:
Bullet Sunday
,
Dumbasses
,
Dumbfuckery
,
Idiots
,
Marvel Studios
,
Movies
,
News
,
Politcs
,
President Trump
,
Thor
Categories:
Bullet Sunday 2018
,
Food 2018
,
News – Politics 2018
,
Television 2018
—
Click To It:
Permalink
—
1 Comment: Click To Add Yours!
Posted on August 4th, 2018

This morning I grabbed my phone and delayed Alexa's breakfast alarm because Jake was industriously cleaning his butt, and the last thing I wanted to do was interrupt that. Every once in a while he lets his butt-grooming go, so if he's paying that much attention to things I figure he must need it.
The Alexa alarms I have set for breakfast and dinner are always a great source of amusement. And a smart move on my part, because my cats have been trained to not bother me for food until they hear the alarm. When it gets close to 7:00am/6:00pm, Jake and Jenny will assemble and wait. Then they go nuts when the alarm goes off. I've recorded it these past couple mornings...
Butt first...
And now? My turn for breakfast.
---
Continuing on with my revisiting of every Marvel Studios movie...
MARVEL STUDIOS MOVIE OF THE DAY, No. 3: Iron Man 2
Original Grade: A- • Today's Grade: A-
I have never understood why this movie was so poorly received. Yeah, the story had some problems. Yeah, there were scenes that didn't hang together right. But it was still an enjoyable outing. The acting and visual effects were great. Sam Rockwell was perfect. And Mickey Rourke was not nearly the problem that critics made him to be. On top of all that? The debut of Scarlett Johansson as Black Widow! I enjoyed the film then. I enjoyed watching it again now. And the credits scene with Thor's hammer in the dessert still gives me chills.

SCENE TO BEAT: The opening where Iron Man jumps out of a plane and lands on the Stark Expo stage only to be robotically disassembled to reveal Tony Stark... being Tony Stark, courtesy of Robert Downey Jr. firing on all cylinders. The Iron Man dancers are just a bonus. A close second? Black Widow mowing through a bunch of security guards at Hammer Tech. Amazing.

COULD HAVE BEEN BETTER: Whiplash is just another guy in a suit, following Iron Monger in the last movie... a different guy in a suit. It's a missed opportunity trap that so many Marvel Studios movies would fall into.

SIDENOTE: One of the most famous Iron Man comic book arcs was the Demon in a Bottle storyline where Iron Man became an alcoholic. That they did a quick nod to it in this film at Tony's party was an interesting choice. I think it was a mistake, but... better a quick nod than an entire movie dedicated to alcoholic Iron Man.
Posted on August 3rd, 2018

I've never been a really big dessert person. My vice has always been chocolate pudding, but once I had to start limiting carbs and go sugar-free, it got scratched from my list (sugar-free chocolate pudding is heinous). I like an occasional chocolate cupcake, but those had to be dropped too. So now I have an occasional cookie and call it good.
Except...
I have a real tough time passing up on berries.
My favorite berries are Maine blueberries. There's really nothing like them. They are smaller than the blueberries I can get here and the flavor is unreal. I will gladly chow down on Maine blueberries on any occasion I can get them. But any berry will do, really. I love strawberries, raspberries, blueberries, Marionberries, boysenberries, blackberries, huckleberries... so many berries to eat.
But... berries have sugar... and so I try not to eat them too often. The fact that berries are so insanely expensive makes this easy. I bought a tiny container of fresh blueberries and raspberries for $8 to eat at breakfast with some poundcake. I managed to get three servings for my money...
And yet my $8 will buy me 8 shitty burritos at Taco Bell or 8 shitty hamburgers at McDonalds off their dollar menus. Fresh, healthy foods are out of reach for so many people, but crappy unhealthy food is abundant and cheap. Crazy.
But typical of what government lobbyists can achieve when they put their mind and money towards something.
---
Continuing on with my revisiting of every Marvel Studios movie...
MARVEL STUDIOS MOVIE OF THE DAY, No. 2: The Incredible Hulk
Original Grade: B • Today's Grade: B-
Coming out a mere month after the summer blockbuster that was Iron Man, the second movie in Marvel's lineup falls short when you you drop it in the mix. Still... this is not a bad movie, and if you judge it on its own merits instead of comparing it to the rest of the Marvel Universe of films, it fares far better. Unfortunately, I can't do that, so it just doesn't hold up for me. The special effects are good for the day. The story is good enough. The acting is better than good. But it doesn't feel like a Marvel Studios film and I mostly forget about it. Especially after all the amazing stuff that followed. With that considered, I have to drop it a point.

SCENE TO BEAT: Can I say the pre-credits scene where Tony Stark walks in the bar to talk to General Ross, thus starting the long trend of all the movies being stitched together? No? I can't? Okay. Well, The Hulk tearing apart anything and everything is worth watching... but I love the scene where General Ross is in the gunship chasing down The Abomination over rooftops at sunset and The Hulk grabs hold. The aerial battle and subsequent crash is a visual and audio treat.

COULD HAVE BEEN BETTER: General "Thunderbolt" Ross's near maniacal obsession with tracking down The Hulk borders on ridiculous and William Hurt badly overplays it. Doesn't help that he's so damn stupid. Leave The Hulk alone and nobody gets hurt. Fuck with Banner and The Hulk destroys everything. So why not just let him be? And while I really like Edward Norton's body of work and appreciate what he brought to this film, it's tough to overlook just how much better suited Mark Ruffalo is for this particular role. He has an easy charm about him that Bruce Banner needs in order to play against the non-stop angst he lives day to day. Without it, things are just too serious and bleak.

SIDENOTE: Is Betty Ross ever mentioned again? Like ever? I know they eventually paired up Banner with Black Widow, but it still seems odd.