Posted on June 18th, 2017

Happiest of Father's Days to all the dads out there, including mine! Your special day is about to get a whole lot specialer, because an all-new Bullet Sunday starts... now...

• Buck/Mac! It's tough to say whether I'm a bigger fan of "Classroom Instruments" on Fallon or "Carpool Karaoke" on Corden because I love them both. But when Lindsey Buckingham and Christine McVie are the ones performing on "Classroom Instruments," it's kinda a no-brainer. My Fleetwood Mac love is strong with them...
Also on Jimmy this week... a terrific installment of "Google Translate Songs" with Miley Cyrus!
I sure wish they'd make a new Hannah Montana movie!

• Batman! And now from the "Senseless Crap I want Because I Just Can't Help Myself" department... BOB ROSS FUNKO POP!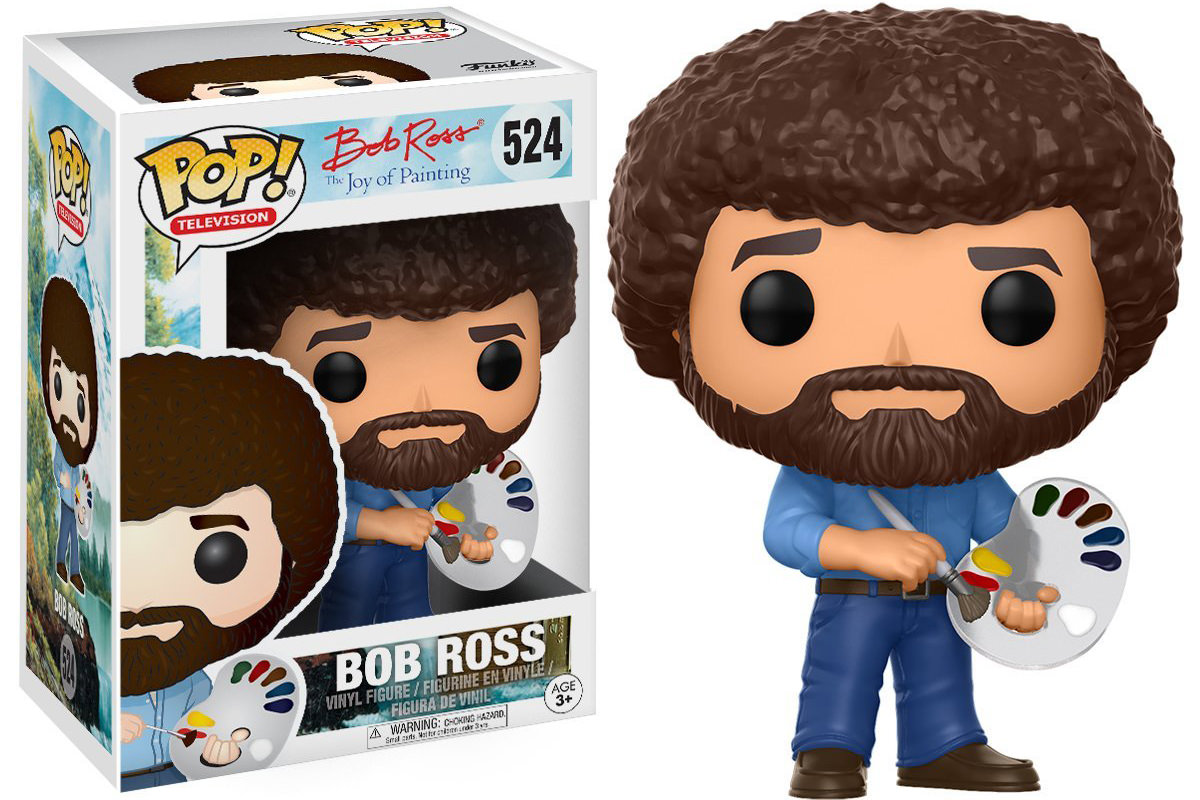 I mean, come on. Bob Ross is an inspiration to all of us! How cool is this?

• Magic Wand! ZOMG! TOTAL MAGIC FOR CLEANING TOILETS!

When my toilet brush died, I went shopping and found this thing on sale. I didn't like the idea of it being wasteful with the disposable scrubber pads, but it's not like I scrub my toilet every single day, so I pulled the trigger. If nothing else, it's a lot more sanitary. Holy crap! So easy! And powerful! I use one pad on both toilets and it works better than any amount of scrubbing with my old brush. If you haven't tried this, and like bathroom cleaning chores to be dead-simple, it's worth a look!

• A.I.! In news that should surprise absolutely nobody, an Artificial Intelligence developed its own non-human language after being programmed by Facebook to negotiate like people. Because of course bots observing Facebook would have to develop their own language! I mean, come on, mere human words can't describe the horrors you'll find on Facebook. I wonder how they say "ALL HUMANS MUST DIE!" in their language? Because I know that this would be my first conclusion after having looked at Facebook for my entire existence.

• Bargain! Whoa! The new 15-Gauge Milwaukee cordless nail gun I just got for 40% off at Home Depot (Reg. $400, Sale $240) came with $155 worth of stuff! Which means I got an awesome nail gun for $85! How is this even possible? Sweet!
M18 & M12 Rapid Charger ($80)
M18 Battery ($50)
Milwaukee Tool Bag ($25)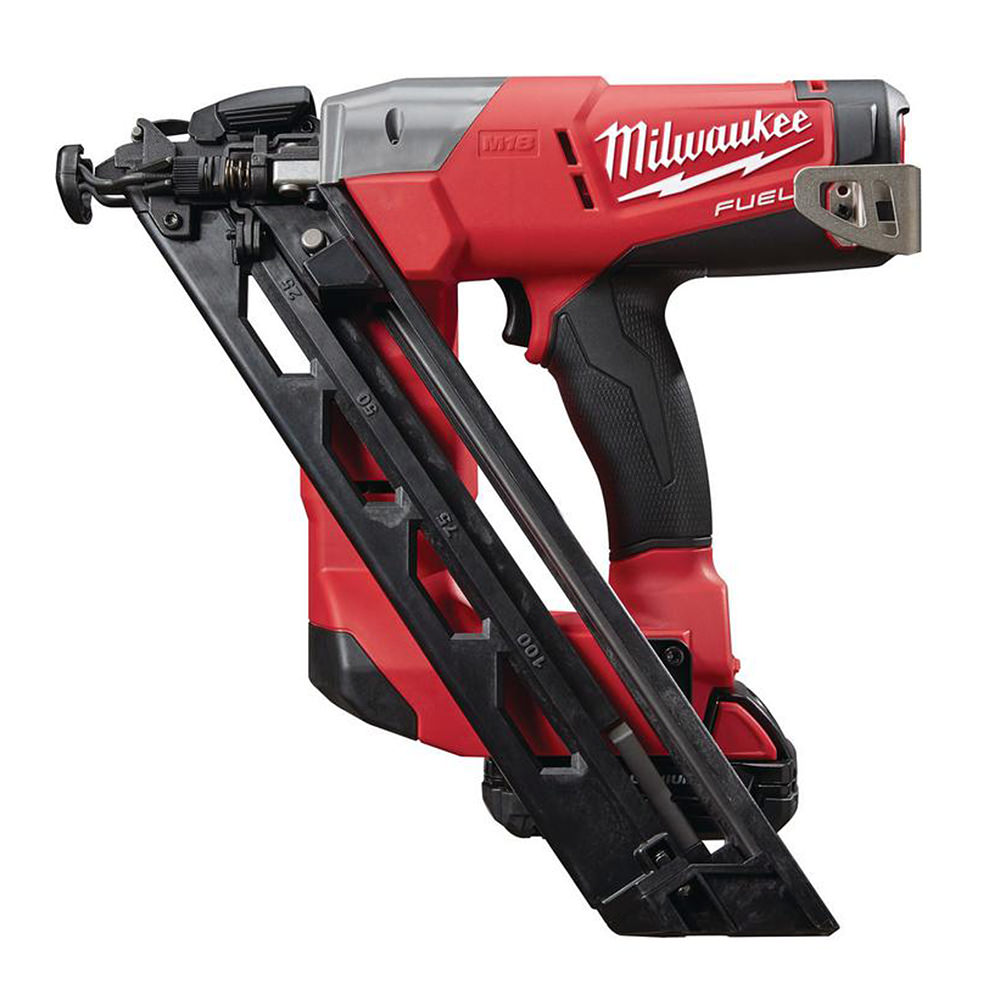 So glad I didn't pass up this deal, even though I couldn't afford it and am now sitting in some credit card debt. If you would also like to go into debt, the sale is going on through the 21st of this month (that's Wednesday).

• Bye, Aisha! Ending on a sad note, Aisha Tyler is leaving The Talk after this season. Needless to say, I'm gutted. Usually with talk shows I look at who the guest is and only watch if it's somebody I like. Not so with The Talk. I watch every episode. It's the first thing to spool off my DVR when I get home. I love the show and, while all the ladies are wonderful, it was Aisha Tyler that got me to start watching...
I am excited for the many opportunities she has, but sad to see that she will no longer be waiting for me when I get off work. I have nothing but the very best wishes for all her future endeavors. Thank you. Thank you. Thank you.

And there's bullets for you.
Posted on May 30th, 2015

Say what you like about Miley Cyrus and her dipshit antics, but the girl can definitely sing.
And she's generous. She created the Happy Hippie Foundation to raise funds and awareness for homeless youth. To support the organization, she's had some fairly impressive guest stars join her for a series of "Backyard Sessions" to drum up publicity for the organization.
The latest, a cover of Neil Finn's Don't Dream It's Over by Crowded House... featuring Miley and Ariana Grande... is just beautiful. It's been my jam all week...
Sadly, it's not for sale anywhere I can find.
So in case you too decide to "acquire" it off YouTube and need some cover art for your MP3, here you go...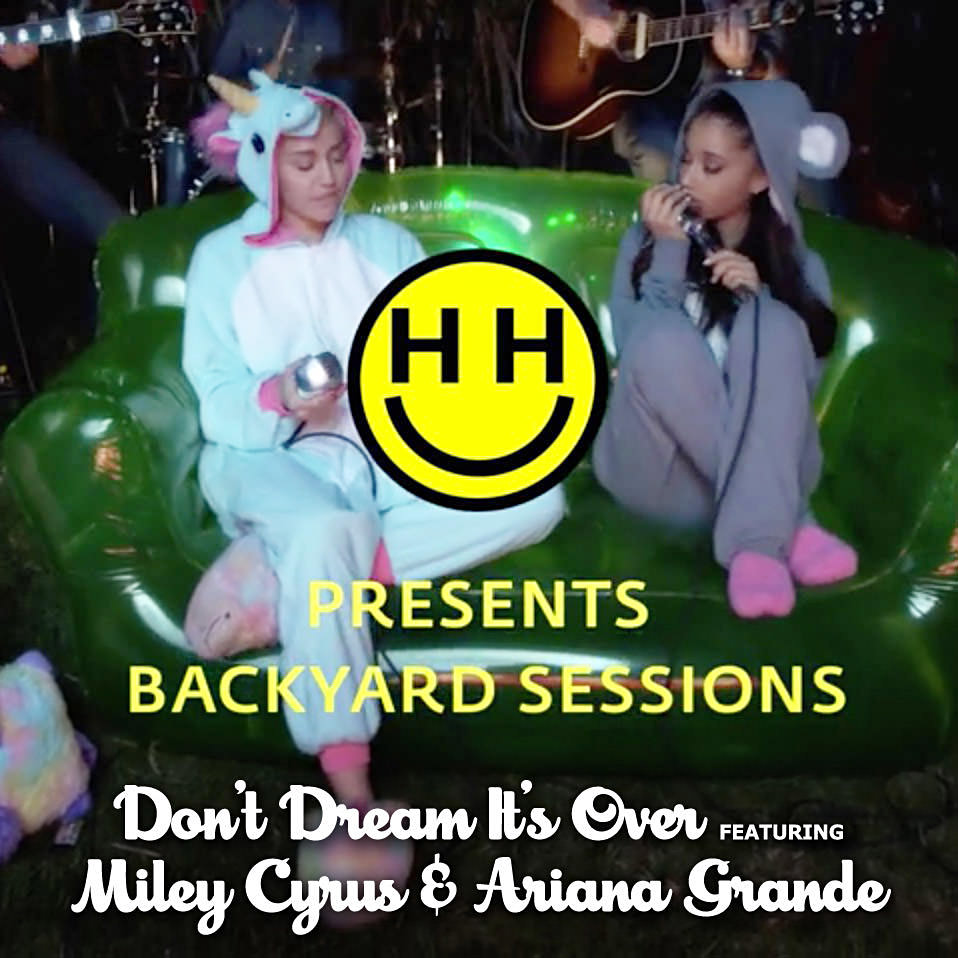 And if you want to kick a few buck to Happy Hippies to support the very worthwhile work they do, that would be good too.
Posted on February 5th, 2012

Blogography is locked and loaded, so Bullet Sunday starts... now...

• Buzz! When my hair gets so long that I have to blow-dry it, something has to be done. But since I spent all my money on new Gingher shears yesterday, I couldn't afford to get a haircut. Fortunately, a Google search convinced me that this was something I could do myself.
And, because I'm me, I live-Tweeted the whole thing...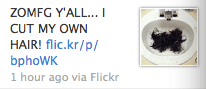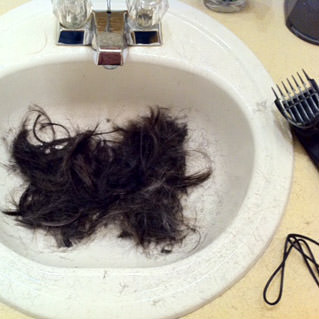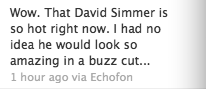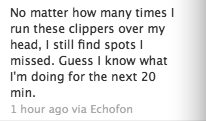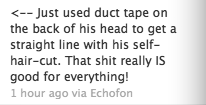 And this is how it all turned out...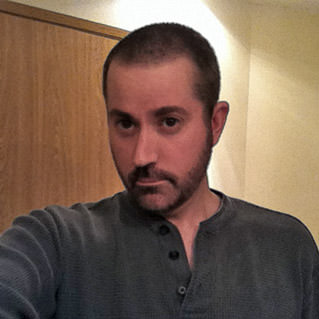 Not bad for free! I should totally give myself my own medical advice now.

• LEGO! The more I see of the LEGO Lord of the Rings MiniFigs, the more I realize that my life will not be complete until I possess them all. I mean, come on! Has there ever been a LEGO MiniFig cuter than LEGO Hobbits?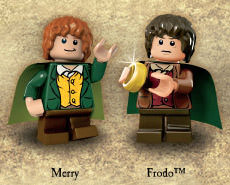 And has there ever been a LGO MiniFig scarier than LEGO Gollum?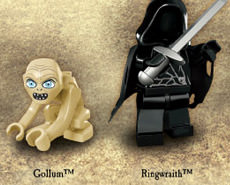 I mean, seriously...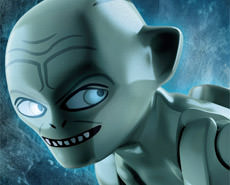 SERIOUSLY!!...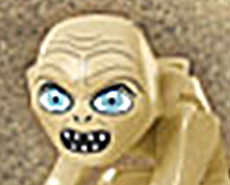 I can't wait for The Preciousses to be mine!

• Miley! Yes, as I've said a number of times now, I'm a fan of Miley Cyrus. She was funny as hell in Hannah Montana, and she's had some good songs come out of her music career. But the thing that fascinates me most is how she's unapologetically taken on a role in leading her generation towards acceptance and equality...
"We all should be tolerant of one another and embrace our differences. My dad, who is a real man's man, lives on the farm and is as Southern and straight as they come. He loves my gay friends and even supports same-sex marriage. If my father can do it, anyone can. This is America, the nation of dreams. We're so proud of that. And yet certain people are excluded. It's just not right."
—Miley Cyrus, Glamour Magazine
This is what scares the shit out of the backwards, crazy-ass, hard-core anti-equality crowd... the future is coming, and their antiquated bigotry is not a part of it. Game over. It's only a matter of time.

• Sweet! I swear, at a time when our horrible society has me convinced that we all deserve to be extinct, something like this comes along to restore my faith in humanity. I love it...

• Network! Today I dug out an old "Airport Express" unit for my new computer at work. Since the iMac only has one ethernet port, I thought perhaps I could use WiFi for my second network connection. Ten minutes later, I found out I could. Apple has a "Bridge Mode" which allows you to put a WiFi interface on an ethernet connection. Simple!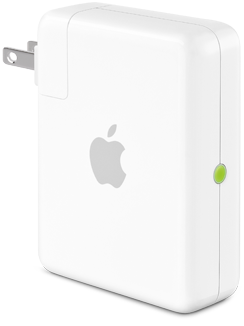 Since this is an older model, it can only do 802.11g. If I want the speed increase of 802.11n, I'll have to shell out $99 for a newer model. But the IEEE just released a draft of the even faster 802.11ac standard back in November, so maybe I'll wait for that.
Even though iMac won't be able to take advantage of it, who wants to buy old technology?
Of course, all technology is old technology when you think about it.

• Avengers! Holy crap. Seriously, HOLY CRAP...
A super-hero team movie done right is the dream of every comic book fanboy. Given what I've seen so far, my expectations are impossibly high for this film. May 4th cannot get here soon enough.

And now... PUPPY BOWL!!!
Posted on July 31st, 2011

BLAAAAAAAAAHHHHHHHRRRRRRRGG!
I'm irritable this Bullet Sunday. But that's not surprising, I've been irritable all week. I really need to plan a vacation soon.

• Debt! As I type this, President Obama has announced an agreement has been reached on a deficit deal. It hasn't been approved by the three-ring-circus clown show we call the US Congress, but, well... formalities and all. Personally, I don't pretend to comprehend the political strategy of a president folding like a wet tissue yet again with an election coming up, but, well... politics and all.

• Runway! I am not a "reality television" fan. So many of them are nothing more than spoiled assholes acting like douchebags which I don't find entertaining at all. I still watch "the original" reality show, Survivor because the challenges are creative and fun... but "Housebitches of Beverly Hills," "Jersey Whores," (or whatever) and the rest are just garbage I have no interest in. And yet there are exceptions, as I kind of like the creativity to be found in Project Runway and Top Chef. Usually, these are kind of throw-away shows that I half-watch while working, but sometimes they surprise me.
And the new season of Project Runway has a big surprise... former Miss Trinidad and Tobago from the Miss Universe Pageant, Anya Ayoung-Chee, is competing!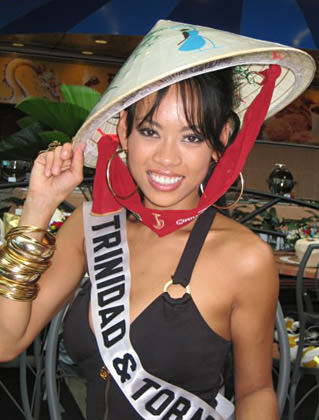 Photo by Ian M.S. Royer (public domain)
It's surprising for a few reasons... 1) She only learned to sew four months ago, and yet is easily one of the most talented contestants. 2) She's rocking a mohawk and yet still looks brutally hot. 3) There's a sex tape floating around online.
Oh... and some of the other contestants are interesting too. And Tim Gunn is still there.

• Plus? I am a very casual Netflix customer. I rent maybe one DVD plus two or three Instant Watch shows a month... if that... which averages out to around $3 a rental ($9.99 a month), which is fine. But now the same plan is going to cost me $15.98 a month, or $5 a rental, which is absurd. Which is why I'll be "downgrading" to their "limited" plan which allows one or two DVDs a month and two hours of Instant Watch for $4.99. Problem is that a measly two hours of Instant Watch isn't going to cut it when I'm traveling and want to watch a couple movies. So I decided to test-drive Hulu Plus (also $4.99 a month) with a free trial membership to see if I can supplement my Netflix plan to get where I want to be.
Um. Yeah. Hulu is a steaming (streaming?) pile of shit.
First of all, they CONTINUE TO FORCE YOU TO WATCH ADS, EVEN THOUGH YOU'RE NOW PAYING THEM FOR THEIR SHIT! Ads to finance a FREE service, I get. But paying for ads? I don't think so. What's so high-larious is that Hulu has the balls to position their shitty ads as entertainment. Every time I clicked on "NO" when they asked "is this ad relevant to you?" (because no ad EVER WILL BE), they say "Thanks! We'll use your input to improve your ad experience." Shyeah. Right. "Experience." Though I guess getting kicked in the balls is an "experience," so whatever.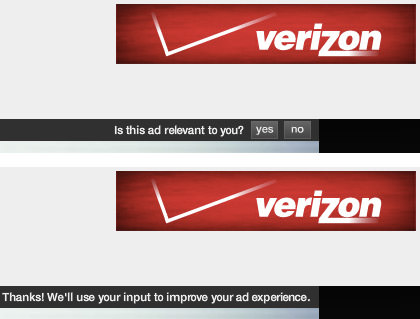 Isn't the giant Verizon ad intrusive enough without being forced to watch a video ad too?
Guess I'm going with iTunes video rentals. Non-HD movies are $2.99 ($3.99 for new releases) and TV shows are 99¢ which seems about right. And since I pay only for what I watch, I may end up saving money. Nice.
Netflix could have saved my business entirely by offering an option for $1 per hour streaming past their $4.90 plan. Now half the money (or more) I used to give them is going to Apple. Genius economic business plan, Netflix. Truly genius.

• Miley! It's no secret that I am a big Miley Cyrus fan (probably because I am such a huge Hannah Montana fan). Some of her songs are pop gold (The Time of Our Lives and Liberty Walk are beyond gold!). But here's the thing. The thing is this. Miley isn't just big poppy fun. She's also smart, compassionate, respectful, and open-minded.
On Twitter the other day, she tweeted about getting a marriage equality tattoo on her finger. One of her fans tossed up Bible verse to say that Miley was wrong about gay marriage. Miley replied that only God can judge people, and love was love. This (naturally) caused Miley's fans to attack the Bible quoting fan (who calls themselves "@MileyCyrusLuver"). To which Miley replied thusly...
Dude everyone lay off @MileyCyrusLuver Love u! Everyone is entitled 2 opinions! 'if u don't stand 4 something you'll fall for anything.' :)
I mean, seriously. Miley Cyrus has a better head on her shoulders than most adults.
With each passing day I grow more horrified at the polarization of this country. People don't respectfully debate any more... they just hate. And it just keeps getting worse and worse. Then here comes Miley who, with a single tweet, completely restores my faith in the future of humanity...
Could not possibly be a bigger fan right now.
Though, given my luck with celebrities, she'll be arrested for burning down a church while high on meth after kicking a puppy in front of the paparazzi, so there's that.

And, on that happy note, I get to go back to work!
Posted on March 6th, 2011

After the sheer awesomeness of my Saturday, I did the best I could to get through Bullet Sunday.
Meh.

• She's a Wonder. And so the most perfect woman on earth, Elizabeth Hurley, has been tapped for a role in David E. Kelly's Wonder Woman project. Apparently she'll be playing Wonder Woman's far more beautiful and classy arch-nemesis, Veronica Cale. I, of course, think she would be perfect as Wonder Woman herself, hard as it will be for anyone to fill Linda Carter's red boots. She was Wonder Woman. Even with Elizabeth Hurley, I have to say I am still very, very nervous about the show. If David E. Kelly can resist the urge to add his stupid-ass Allie McBeal craziness to the mix, it might have a chance...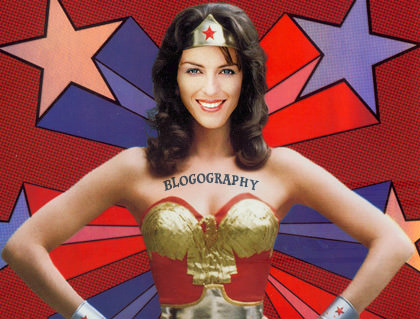 • Pretty Cool. Gotta hand it to Miley Cyrus, she handled her guest-hosting on Saturday Night Live like a champ last night. She not only managed to get in a few digs on Lindsay Lohan, but spent a lot of time poking fun at herself as well. Of course, what every SNL fan was waiting for was seeing if she would make an appearance on Vanessa Bayer's ongoing "Miley Cyrus Show" skit. Surprisingly, she did... as Justin Bieber!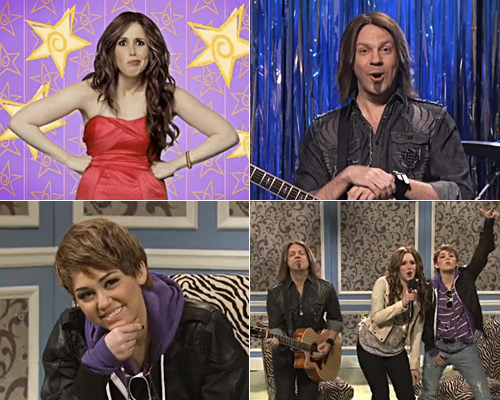 I was secretly hoping that Billy Ray Cyrus would make an appearance as himself here, but Jason Sudeikis did his usual hysterical impersonation. A couple sketches fell flat for me (The Sound of Music, really?)... but overall it was a pretty funny episode and Miley did a great job. I still miss Hannah Montana.

• Upgrade. Microsoft has an entire website devoted to killing off their piece of shit web browser, Internet Explorer 6...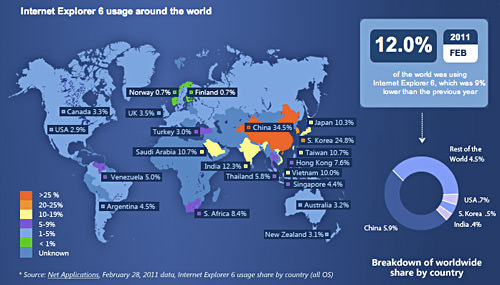 Their suggestion is to have you upgrade to Internet Explorer 8.
If I may be so bold, a suggestion: bypass Internet Explorer 8 and upgrade directly to an even better browser...
Or, don't stop upgrading there... get rid of Windows and step up to Macintosh! It's so much nicer up here!

• Downgrade. Meeee-ow! My review of the latest "upgrade" to Twitter for iPhone...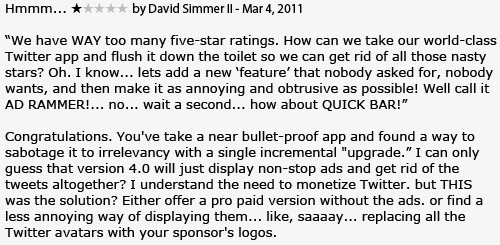 Developers always seem to play the victim by saying things like "Well, nobody wants to pay for apps anymore, so we use ads. SOMEBODY has to pay, so cut us a break!" — And that's a very good point... except you can't expect people to be happy when the app's functionality is impaired by the ads. Either find a way to insert ads in a way that's not going to shit all over your app, or just charge for the damn thing.

• Go for the Gold. One last thing before I go... this morning I discovered Rold Gold "Everything Bagel" Pretzels. Deeeelicious. They kind of reminds me of Chex Mix, but more subtle and without the fishy Worcestershire sauce to mess things up. Still really good flavor though. This is a great find because it's really tough to find the Snyders of Hanover flavors I like around here...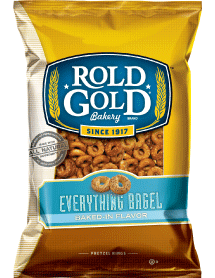 And there's Bullet Sunday for you. Until next week... stay classy, blogosphere.
Posted on March 18th, 2010

Tomorrow I'm on vacation for ten days so, naturally, today was packed full of last-minute work projects and a non-stop parade of drama. Work I can handle... but the drama?
Well, the drama has nothing to do with me. Yet people somehow think that it should.
So I'm ignoring the outside world for a while, and focusing on more important things. Like Miley Cyrus using her entire sixteen years of life experience to advise kids as to how they should live their lives...
"I'm telling kids, don't go on the internet. It's dangerous, it's not fun, it wastes your life, and you should be outside playing sports or something. I just think it's kind of lame. I feel like I hang out with my friends and they're so busy taking pictures of what they're doing and putting them on Facebook that they're not really enjoying what they're doing. You're going to look back and have a million pictures, but you're not going to be in any of them. Because you're not having fun, you're too busy clicking away. So I think just enjoy the moment you're in, and stop telling people about it. Just enjoy it."
Wow. Where was this sage advice seven years ago when I started blogging?
The thing that's so odd is that kids pretty much live online now. American teenagers now-a-days haven't really known of a world without the internet. And, thanks to devices like the iPhone, they're beginning to not know of a world without constant access to the internet. They're online Twittering and Facebooking constantly, and when they're not doing that, they're texting each other non-stop. Sure it's excessive, but these are the times we live in, and that's the way society seems to want to interact. So, while I applaud Miley for encouraging kids to step away from the computer once in a while, I think it's unrealistic to tell them "Don't go on the internet." Ever. That's who they are now.
Besides, it would be pretty hard for them to buy tickets at Ticketmaster.com for Miley's concerts... or spend their time hanging around her two websites MileyCyrus.com and MileyWorld.com... or sign up for her email newsletter... or visit her official YouTube Channel... or shop at her official Amazon Shop... or connect with her on her official Facebook fan page... or view her musical endeavors on her official iLike Artist Page... or buy her music from her page at the iTunes Music Store... or even become a friend at her official MySpace Page.
So, basically, Miley tells her fans not to do the internet drug, but then pushes them all kinds of internet crack to feed their habit.
Maybe her millions of dollars puts her in a class above being a hypocritical douchebag, but this is still a disappointment.
Especially to a huge Hannah Montana fan like me...
Isn't it terrible when our media heroes turn out to be sanctimonious wankers after all?