Posted on June 7th, 2018

And so American Chopper is back. Which is more than a little surprising considering how the show ended... with the team of Paul Sr. and Paul Jr. split apart and very much not on speaking terms.
I used to love the show, and watched it religiously. It was creative fun and had motorcycles in it... what's not to like?
And then I saw this...
Which lead to this...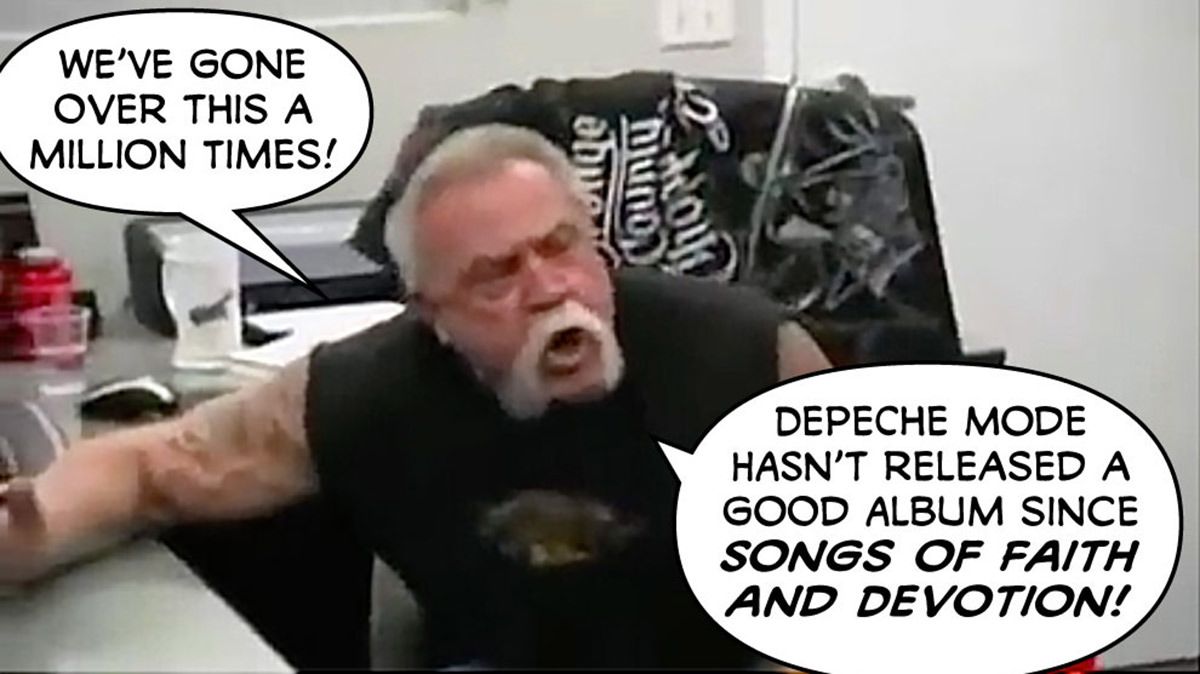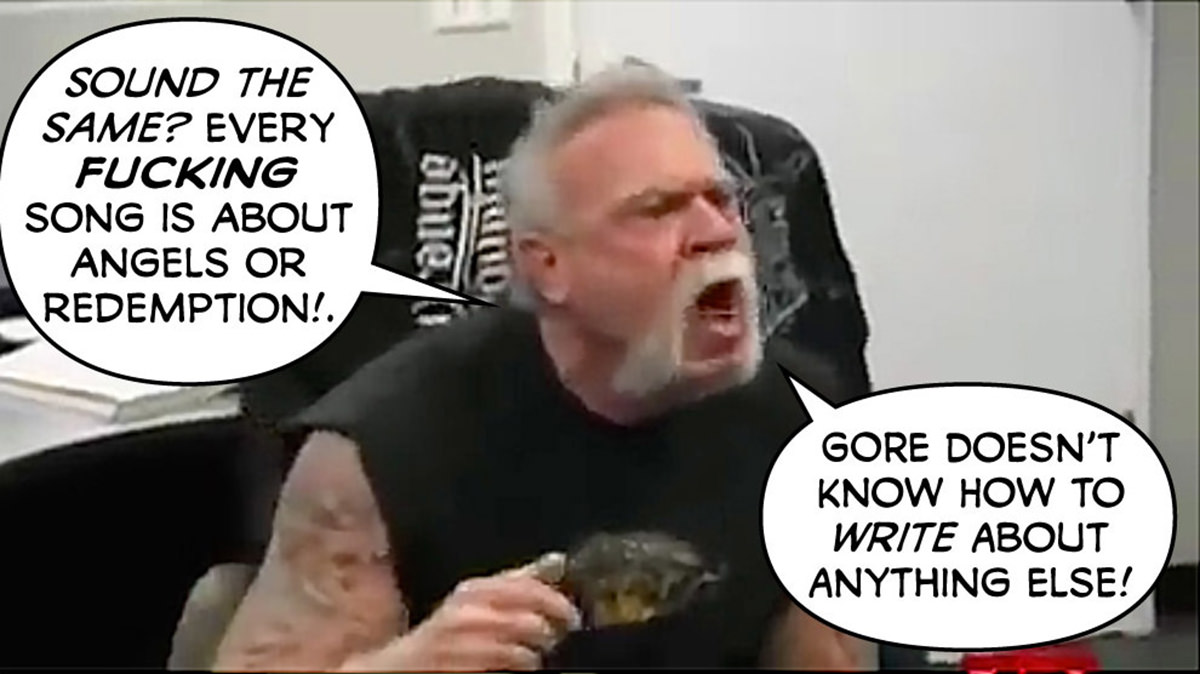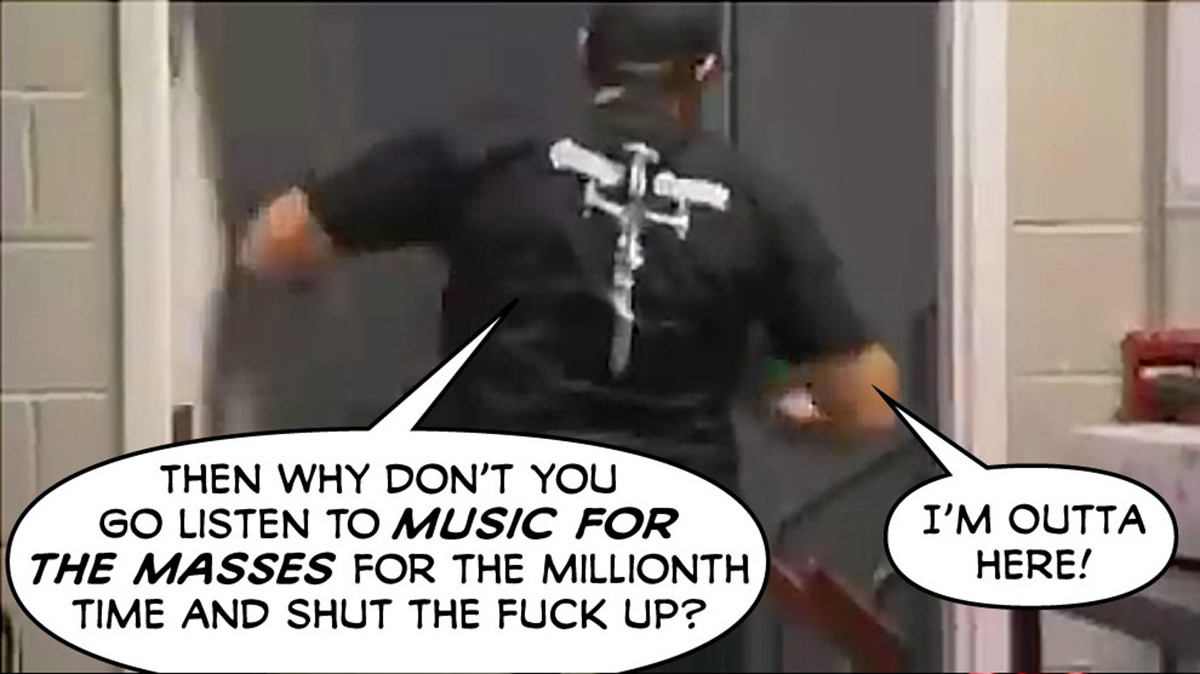 Memes crack me up.
Posted on November 22nd, 2015

Don't dream it's over...
...because a Very Special All-Random-Questions Bullet Sunday starts... now...
Your ex's car is on the side of the road, on fire. What do you do? Depends on the ex. For most of them I would absolutely stop and help out. I'd be an asshole not to, regardless of how it ended. For one of them though? Probably throw gasoline on it.
Your best friend tells you she is pregnant. What is your reaction? Uhhh... congratulations?
When is the last time you wanted to punch someone in the face? Yesterday afternoon. It was a stranger. She was being an ass without cause.
What is the last thing you spent money on? Bathroom fixtures at Home Depot. All my money goes to Home Depot now, it seems.
Do you think you gained or lost weight this past month? Lost.
Crunchy or Puffy Cheetos? Puffy.
The first person on your friends list just called you a bitch. What do you do? Move them to the bottom of my friends list. If I actually was being a bitch, then I would still move them to the bottom of my friend's list... I'd just feel a little bad about it.
Congratulations! You just had a son. What's his name? Jake
Congratulations! You just had a daughter. What's her name? Olivia
What are you craving right now? A Qdoba burrito.
What was the last thing you cried about? Something I shouldn't have.
When you buy something and your change is 2 cents, do you keep it or tell the cashier to keep it? If it's being handed to me, I take it and see if there's a penny tray to dump it in. Under no circumstances would I say "keep it" for that tiny of an amount.
What color is your tissue box? Blue and grey.
Do you have a ceiling fan in your bedroom, and if so, is there dust on that fan? I do not, but I really wish I did.
What was the last voicemail you received about? Somebody confirming a meeting for next year.
Have you ever blocked someone on Facebook? Oh hell yes.
Scariest thing you've experienced in the last year? Nearly running into a car that was stopped in the middle of a pitch-black highway while driving from Portland, ME to Boston, MA. I still have flashbacks that terrify me.
Do you wear a name tag at work? Nope.
What kind of car do you want? Porsche Convertible. Or a Corvette. The right Corvette.
What do you order when you go to Burger King? Seeing as how I loathe their food and swore years ago I would never step foot in another one? N-o-t-h-i-n-g-! Maybe a lemonade. Fries, if I'm desperate... even though they can't hold a candle to McFries.
Have you ever had a garage sale? Nope.
What color is your cell phone? Black in a blue case
What is the last alcoholic beverage you had? A beer.
Are you happy right now? Not as much as I'd like to be... but it's okay.
Who came over to your house last? A friend of a friend.
Do you drink beer? Yes. Not so much in the winter, but I love it in the summer.
Have your brothers or sisters ever told you that you were adopted? No.
What is your favorite key on your key chain? One I should have discarded long ago, but can't for some reason.
What was the last movie you watched at home? Ant-Man. Still love it.
What is in your pocket? A key. A quarter.
Who introduced you to your bf/gf/husband/wife? My last one? I introduced myself.
Where do you hurt? All over. Seriously
Has someone ever made you a build a bear? No, but I've made one for somebody else.
What's something fun you did today? Painted a wall.
What is your favorite aisle at Target? Video games.
When is your birthday? March 24.
Is there anything hanging from your rear view mirror? Nope.
How many states in the US have you been to? All but one
What kind of milk do you drink? Not-Fat... or perhap almond milk.
What are you going to do after this? Go to bed.

And now? Jonesin' for more Jessica Jones!
Posted on September 7th, 2015

Oooh! It's Labor Day, which is "No Labor Day" to most people, but definitely a Day of Labor to me.
Must be time for a meme!
Top 3 ice cream flavors. Chocolate-Almond, Vanilla Bean, Stracciatella (Gelato).
Top 3 Disney Movies. Lilo & Stitch, Aladdin, The Lion King.
Top 3 vacation destinations. Maui, Bali, New Orleans.
Top 3 places to shop. Los Angeles, Rome, Tokyo.
Top 3 subjects of study/classes to take. Geometry, History, Art.
Top 3 make up products. Stila Waterproof Eyeliner, Bobbi Brown Face Touchup Stick, Aveda Botanical Kinetics Hydrating Lotion.
Top 3 music artists. The 1975, Pet Shop Boys, P!NK.
Top 3 spices/herbs. Rosemary, Black Pepper, Sage.
Top 3 drinks. Coke, Lemonade, Jägermester.
Top 3 apps to use. Tripit, Facebook, Camera.
Top 3 months of the year. March, September, October.
Top 3 clothing items. Lucky Brand Blue Jeans, Hard Rock Cafe Classic Logo Shirt, Boston Red Sox Ball Cap.
Top 3 binge perfect tv shows. Veronica Mars, Friends, Buffy the Vampire Slayer.
Top 3 romantic dates. Movies, Beach Restaurant, Maui.
Top 3 kinds of flower. Crocus, California Poppy, Daisy.
Top 3 christmas movies. Love Actually, The Nightmare Before Christmas, Home Alone.
Top 3 OTPs. Veronica & Logan, Spock & Uhura, Rory & Amy.
Top 3 quotes to describe your life. "No matter where you go... there you are."; "Argue for your limitations, and sure enough they're yours."; "Don't eat yellow snow."
Top 3 characteristics you love about yourself. Honest, Loyal, Adventurous.
Top 3 kinds of candy. UNO Bar, Almond M&M's, Skor Bar.
Top 3 ways to exercise/ be active. Walk a city, ride a bike, run for a plane.
Top 3 spirit animals. Bat, Monkey, Cat.
Top 3 petnames. Button, Kitten, Baby.
Top 3 books read outside of school. Noble House by James Clavell, Jonathan Livingston Seagull by Richard Bach, A Princess of Mars by Edgar Rice Burroughs.
Top 3 most used websites. Google, Facebook, Tumblr.
Top 3 people you last texted. James, Audrey, Jennifer.
Top 3 hashtags you use. #SorryNotSorry, #LifeIsTooShort, #NotAboutYouCouldBeYou.
Top 3 instagram accounts you follow. Dadcation, Jestertunes, MackintoshBraun.
Top 3 guilty pleasures. Television, Blogs, Facebook.
Top 3 summer activities. Travel, Work, Nothing.
Top 3 things to draw/doodle. Monkeys, Flowers, Bats.
Top 3 aesthetics. Simplicity, Zen, Modern.
Top 3 things you'd buy if you gained three million dollars. Home, Airline Tickets, Donation.
Top 3 ways to treat yourself. Vacation, Travel, Sleep.
Top 3 celebrity crushes. Elizabeth Hurley, Danai Gurira, Betty White.
Top 3 books from your childhood. Curious George and the Hospital, The Secret Seven, Half Magic.
Top 3 accents to hear. English, Irish, Scottish.
Top 3 scents. Apple Pie, Vanilla, Cinnamon.
Top 3 "Friends" quotes. "I'm not so good with giving advice... can I interest you in a sarcastic comment?"; "And this from the cry-for-help department: Are you wearing makeup?"; "WE WERE ON A BREAK!"
Top 3 cupcake flavors. Kate, Lemon, Vanilla Cream.
Top 3 fruits. Apple, Banana, Pear.
Top 3 places you've had amazing pizza from. David's in Spokane, WA; Pizza N' More in Wenatchee, WA; Just about anywhere in New York City.
Top 3 sports teams to watch. Boston Red Sox, Chicago Blackhawks, Gonzaga Bulldogs.
Top 3 crayola colors. Periwinkle, Scarlet, Black.
Top 3 things you hope to accomplish in college. Uhhhhh...
Top 3 fanfictions you've read. Uhhhhh...
Top 3 people you miss right now. Howard, Erin, Pat.
Top 3 fears. Clowns, Heights, Not Being There.
Top 3 favorite literary devices. Irony, Epithet, Paradox.
Top 3 pet peeves. Chewing with mouth open, Clipping fingernails in public, Gum-smacking whores.
Top 3 physical things you find attractive. Eyes, Height, Hair.
Top 3 bad habits. Coke, Sugar, Coke.
Top 3 pets you've had/wish to have. Cat, Dog, Fish... Monkey, Ferret, Lizard.
Top 3 types of foreign food. Falafel, Bharta, Nan.
Top 3 things you want to say to someone in your lifetime. "I'm not sorry," "You are a decent human being," "KNEEL BEFORE ZOD!"
Top 3 dog breeds. German Shepard, Collie, Lab.
Top 3 cheesy romance movies. Doc Hollywood, Sweet Home Alabama, Notting Hill.
Top 3 languages you speak/wish to speak. Japanese, Spanish, Italian.
Top 3 series (book, movie, television). James Clavell's "The Asian Saga," Star Trek, Veronica Mars.
Top 3 pizza toppings. Cheese, Pesto, Feta.
Top 3 youtubers you're subscribed to. Daily Grace, SupDaily06, Jenna Marbles.
Top 3 tattoo / piercing ideas. Curious George puzzle piece, Batman logo from bats, computer icons.
Top 3 awards you want to win. Nobel Peace Prize, Congressional Medal of Honor, Medal of Valor.
Top 3 emojis. Poop, Squint, Monkey.
Top 3 cars you dream of owning. Porsche Convertible, BMW Roadster,
Top 3 authors. James Clavell, Richard Back, Edgar Rice Burroughs.
Top 3 historical figures. Steve Jobs, Neil Armstrong, Blaise Pascal.
Top 3 baby names. Ellis, Jake, Ella.
Top 3 DIYs. Cutting Board, Shelving Unit, Shoe Rack.
Top 3 smoothie combos/flavors. Strawberry Banana, Pineapple Orange Guava, Apple Pear.
Top 3 songs of this month. The City, Settle Down, Girls.
Top 3 questions of this post you want to be asked. Uhhhhh...
Top 3 villains. Scar, Ursula, Jaffar.
Top 3 Cities you want to see. Jaipur, Agra, Marrakech.
Top 3 recipes you want to try. Pop-Over Sweet Rolls, Stracciatella Gelato, Almond Bark.
Top 3 dream jobs. Translator, Astronaut, Batman.
Top 3 lucky items. Penny, Underwear, LEGO Keychain.
Top 3 traditions you have. Travel someplace new each year. Drink a new beer each year. Eat a new Pop-Tart flavor each year.
Top 3 things you miss about being a kid. Irresponsibility, Fiscal Indifference, Innocence.
Top 3 harry potter characters. Uhhhhh...
Top 3 lies you were told. Santa, Easter Bunny, You Can Trust the Government.
Top 3 pictures in your camera roll right now. Pizza, Truck Stop, Sunrise.
Top 3 turn ons. Honesty. Adventurous. Exotic.
Top 3 turn offs. Lies. Slothfulness. Hypocrisy.
Top 3 magazines/news papers/journals to read. Thrice Fiction Magazine, Jupiter's Legacy, Sunset.
Top 3 things you wish you had known earlier. Politicians only care about themselves, Guacamole is food of the gods, if you don't love you, nobody else can.
Top 3 spongebob episodes. Dying For Pie, Rock Bottom, Band Geeks.
Top 3 places to be in the world. Edinburgh, Scotland; New Orleans, LA; New York, NY.
Top 3 things you'd do differently. Break up with her months earlier, Take the job, Say how much I really cared.
Top 3 TV shows from your childhood. Emergency, Wonder Woman, Star Trek.
Top 3 meals you love. Fettuccine Alfredo from Alfredo's alla Scrofa, Rome; Banana Macadamia French Toast from Kihei Caffe, Maui; Pasta Salvi from Salvi's Bistro, Columbus, OH.
Top 3 kinds of tea. Black, Oolong, Sleepytime.
Top 3 embarrassing moments. Forgetting dress shoes that one time. Losing those files that one time. Being wrong that one time.
Top 3 holidays to celebrate. Holi, Bodhi Day, Halloween.
Top 3 things to do in the rain. Sleep, Draw, Write.
Top 3 things to do in the snow. Sleep, Draw, Write.
Top 3 items you can't leave the house w/o. iPhone, Red Sox ball cap, Keys.
Top 3 movies you'd like to see. Star Wars: The Force Awakens, Captain America: Civil War, The Martian.
Top 3 art mediums. Watercolor, Acrylic, Collage.
Top 3 museums you've been to. The Vatican Museum, The Louvre, Metropolitan Museum of Art.
Top 3 school memories. Lunch, Recess, Mrs. Jones.
Top 3 things you don't/Won't miss. Liars, Hypocrites, Morons.
Top 3 pick up lines. Uhhhhh...
Top 3 sports to watch. Red Sox Baseball, Pittsburgh Pirates Baseball, Chicago Blackhawks Hockey.
Top 3 taylor swift songs. Uhhhhh...
Posted on May 20th, 2015

Oog.
Another meme. It's like 2004 all over again up in here.
Talk about the first time you watched your favorite movie. When I first watched Field of Dreams I remember being haunted by it for days. The film came completely out of left field (heh heh) and I couldn't stop thinking about how weird and wonderful it was. It didn't hurt that it had epic performances by James Earl Jones, Kevin Costner, and Amy Madigan.
Talk about your first kiss. Her hair smelled like green apple shampoo. Her lips were covered in strawberry-flavored Lip Smackers. We were eating lunch outside and the air smelled like the banana she was eating. I was having my first kiss in the middle of a fruit salad.
Talk about the person you've had the most intense romantic feelings for. She liked being adventurous and creative and I couldn't get enough of her. I didn't need or desire anything outside the world we created for ourselves. I was consumed by her fire and felt alive in a way I didn't think possible. It ended badly. Something that intense couldn't have ended any other way.
Talk about the thing you regret most so far. Any time I lashed out in anger... regardless of whether it was deserved or not. Giving in to hatred never improves things for anybody... especially yourself.
Talk about the best birthday you've had. My 30th. It was so good that I haven't felt the need to celebrate my birthday ever since.
Talk about the worst birthday you've had. The one where I was told one of my closest friends had died.
Talk about your biggest insecurity. Trust. Once you've been screwed over... badly... it's really difficult to trust people again.
Talk about the thing you are most proud of. Being a hard worker who gives 110% to everything I take on.
Talk about little things on your body that you like the most. My tattoos. I regret that I didn't start getting inked much earlier in life.
Talk about the biggest fight you've ever had. Nothing comes to mind. I guess big fights are not my thing.
Talk about the best dream you've ever had. I don't dream. I don't know that I ever have.
Talk about the worst dream you've ever had. It's not that I dream and forget that I had been dreaming, it's that I don't dream. At least not like I understand everybody else experiences dreaming.
Talk about the first time you had sex/how you imagine your first time. I was in New Orleans... seventeen years old and completely unsupervised. A lot of first times happened that trip. She picked me up in the bar of my hotel after I acted all cool and bought her a drink late in the evening. She was at least five years older than me... perhaps ten years older than me... but that didn't stop me from chatting her up. To this day I think she was a working girl who felt sorry for me being alone in a strange city. She couldn't get a client and had nothing better to do so she did me. Or maybe her place was being fumigated and she couldn't afford a hotel room of her own. Her name (working name?) was Cyndi. She said I could call her Cyn. The irony is not lost on me.
Talk about a vacation. I do that a lot on this blog. I don't know what I might ad. Except to say I am dying to vacation in India. After visiting India and Antarctica, I can probably die happy.
Talk about the time you were most content in life. The fact that I am never content is what keeps me going.
Talk about the best party you've ever been to. Any party my sister throws. Always fun and she invites the best people.
Talk about someone you want to be friends with. Jimmy Fallon seems like he'd be an entertaining friend to have on your quick-dial list. He's always doing something interesting.
Talk about something that happened in elementary school. I loved my elementary school teachers, and they had a big influence on my formative years. Mrs. Beck in kindergarten was sweet and kind in a way that only somebody with infinite patience dealing with a kindergarten class can be. My first grade teacher, Mrs. Jones, has to be one of the most dedicated teachers I've ever encountered. She spent massive amounts of time outside of class (not to mention loads of personal money) caring for her students, and became a good family friend for many years. Mrs. Green, my second-grade teacher was fanatical about learning and pushed students to their limits. Despite a bit of dyslexia, I was an avid reader, and I remember very well Mrs. Green giving me book after book to push my reading comprehension and vocabulary. Mrs. Cummings in third grade... Mrs. Kenoyer in 4th grade... both amazing as well. I was very lucky.
Talk about something that happened in middle school. I was not a fan of middle school because I was incredibly bored throughout. I remember almost nothing from this time of my life.
Talk about something that happened in high school. High school was both the best of times and the worst of times. I liked my classes and teachers okay. I had plenty of friends. I was fortunate that my school provided access to early personal computers, which would change my life. I remember many good times. But it felt as though every day was spent wanting to get the hell out and I'm not quite sure why. I just didn't want to be there, felt out of place, and longed for graduation even though I had no clue as to what I wanted to do afterwards. For whatever reason, high school was something I didn't enjoy, but endured, even though I really have no reason to feel that way.
Talk about a time you had to turn someone down. I have turned down more than one job because it conflicted with my personal convictions or didn't seem compatible with where I was at in life. The biggest was turning down a job at Microsoft. Which sounds like sheer stupidity, but it didn't feel right at all and actually ended up being a good thing since the project I would have been joining went on to be a massive failure.
Talk about your worst fear. That I won't be around when somebody I care about most needs me. It's a common fear for people who travel a lot, I'm told.
Talk about a time someone turned you down. I asked somebody I was seeing if she wanted to go to Cabo with me. She turned me down... but only after she initially agreed and I had bought tickets. This was back at a time where I most definitely didn't have money to be tossing away like that, and the thought of going on a romantic vacation by myself was too big a waste. I ended up selling the tickets to a friend, but still lost money because I had to pay a reticketing fee. I still haven't been to Cabo, despite there being a Hard Rock there for many years, because I never got over being burned.
Talk about something someone told you that meant a lot. I maintain the most romantic gesture I've ever known was my girlfriend showing up at the airport before my flight so she could tell me goodbye for a second time that day... and to give me a new pair of shoelaces. She had noticed mine were looking a bit worn and ragged. By paying attention to such small details in my life, she made me feel as if she really cared about me.
Talk about an ex-best friend. Not that they were a "best" friend... but a close friend I trusted ended up being complete fiction and not at all who they made themselves out to be. It was horrible to have been lied to, lied about, and betrayed by somebody you considered a "friend," and the experience has made me very wary about trusting people ever since.
Talk about things you do when you're sick. Stay in bed as long and often as possible. And take every over-the-counter drug I can find in the hopes they'll fix whatever is wrong with me.
Talk about your favorite part of someone else's body. I am a sucker for a beautiful smile. And dark hair.
Talk about your fetishes. I had many, but that's all in the past. Mostly.
Talk about what turns you on. Honesty and hard work.
Talk about what turns you off. Lying and slothfulness.
Talk about what you think death is like. The beginning of something much stranger.
Talk about a place you remember from your childhood. My entire childhood felt like it was leading up to a vacation at Disneyland. And I remember a great deal about being there once we finally got there, despite it being a long, long time ago. Disneyland was still using the A-B-C-D-E ticket concept, for heavens sake! The rides, while fairly tame by today's standards, were absolute magic at the time... even though so many of the ones that left the biggest impression are long gone... Adventures Through Inner Space with that big eyeball at the end... America Sings with that massive cast of animatronic characters... CircleVision Theater... Skyway between Tomorrowland and Fantasyland... I remember them all.
Talk about what you do when you are sad. Watch the last ten minutes of the movie Millions or listen to music I like.
Talk about the worst physical pain you've endured. Having kidney stones is about the most painful thing you can endure outside of childbirth... or so I'm told.
Talk about things you wish you could stop doing. Buying things I won't ever use.
Talk about your guilty pleasures. The 80's... in music, movies, and culture. I'm truly a child of that era, and slipping back to the things that made it such a great time to be alive is about the best guilty pleasure I could have.
Talk about someone you thought you were in love with. She ended up screwing me over in the worst possible way, but it was a beautiful train wreck that I don't entirely regret. I've certainly never felt that "high" in love again, so I guess the agony of thinking I was in love with her was worth it? I honestly don't know. Upon reflection, it wasn't "real" love at all. Probably more like lust wrapped in a blanket of desperation.
Talk about songs that remind you of certain people. Hmmm... People are People, by Depeche Mode seems the obvious choice.
Talk about things you wish you'd known earlier. I wish I had stopped giving a shit about other people's opinions of me much, much earlier in life. I also wish I had known that fear is a shackle that's avoidable once you realize that worrying about something is rarely worth it. If you worry about something happening and it doesn't, you worried for nothing. If you worry about something happening and it does happen, then your worrying did nothing to stop it. It takes years of practice to get over worrying, but it's time well spent, and will change your life.
Talk about the end of something in your life. Well, this is the end of this meme that's gone on for way too long now...
Posted on May 13th, 2015

This is the meme I was GOING to do yesterday... before I found out I couldn't get my blog editor to work after updating WordPress. Again.
It asks the same questions multiple times, but what're you gonna do?
Grab the book nearest to you, turn to page 18, and find line 4. "Ship now entering the plane of the ecliptic of the third planet." (Fourth non-sound-effect word balloon on page 18 of "Thor by Walter Simonson Omnibus."
Stretch your left arm out as far as you can, What can you touch? My Apple Time Capsule.
Before you started this survey, what were you doing? Eating a sandwich.
What is the last thing you watched on TV? "The Nightly Show with Larry Wilmore" (from DVR).
Without looking, guess what time it is 11:30pm.
Now look at the clock. What is the actual time? 11:22pm.
With the exception of the computer, what can you hear? The television. Rain.
When did you last step outside? What were you doing? 7-1/2 hours ago. Returning home from work.
Did you dream last night? No.
Do you remember your dreams? I don't really dream.
When did you last laugh? Earlier today.
Do you remember why / at what? Watching "The Daily Show."
What is on the walls of the room you are in? Diego Rivera posters.
Seen anything weird lately? Every day.
What do you think of this quiz? So far, so good.
What is the last film you saw? "The Avengers: Age of Ultron."
If you could live anywhere in the world, where would you live? Maui or Edinburgh.
If you became a multi-millionaire overnight, what would you buy? A house.
Tell me something about you that most people don't know. I could eat Amy's Mexican Casserole Bowls for breakfast, lunch, and dinner every day and probably never tire of them.
If you could change one thing about the world, regardless of guilt or politics, what would you do? Eliminate guilt and politics.
Do you like to dance? Not even a little bit.
Would you ever consider living abroad? Oh yes.
Does your name make any interesting anagrams? My favorite is "Advise Dim Mr."
Who made the last incoming call on your phone? A co-worker.
What is the last thing you downloaded onto your computer? A PDF with technical specifications for an upcoming job.
Last time you swam in a pool? Years.
Type of music you like most? Synth-Pop.
Type of music you dislike most? Country.
Are you listening to music right now? No.
What color is your bedroom carpet? Ugly brown murk.
If you could change something about your home, without worry about expense or mess, what would you do? Move to a new one.
What was the last thing you bought? "Avegners: Age of Ultron, Art of the Film."
Have you ever ridden on a motorbike? I used to own one, so yeah... lots.
Would you go bungee jumping or sky diving? I've already done both.
Do you have a garden? No.
Do you really know all the words to your national anthem? Yes.
What is the first thing you think of when you wake up in the morning? What new hell is waiting me THIS time?
If you could eat lunch with one famous person, who would it be? Alive? Morgan Freeman Dead? Steve Jobs.
Who sent the last text message you received? A co-worker.
Which store would you choose to max out your credit card? Restoration Hardware.
What time is bed time? Midnight-ish.
Have you ever been in a beauty pageant? Lord, no.
How many tattoos do you have? Six.
If you don't have any, have you ever thought of getting one? Always.
What did you do for your last birthday? Went to Memphis.
Do you carry a donor card? It's on my license, I think.
Who was the last person you ate dinner with? Myself.
Is the glass half empty or half full? Depends on the day. Today half-full.
What's the farthest-away place you've been? Australia perhaps?
When's the last time you ate a homegrown tomato? Last summer.
Have you ever won a trophy? Yes.
Are you a good cook? Not so much any more.
Do you know how to pump your own gas? Uh, yeah.
If you could meet any one person (from history or currently alive), who would it be? Steve Jobs.
Have you ever had to wear a uniform to school? Nope
Do you touch-type? Yes.
What's under your bed? Travel souvenirs.
Do you believe in love at first sight? Oh yes.
Think fast, what do you like right now? The dream of leaving.
Where were you on Valentine's day? Work. Home.
What time do you get up? 4:30am.
What was the name of your first pet? Midnight the Cat.
Who is the second to last person to call you? A client.
Is there anything going on this weekend? Work. Work. More work.
How are you feeling right now? Meh.
What do you think about the most? Escape.
What time do you get up in the morning? 4:30am, sheesh.
If you had A Big Win in the Lottery, how long would you wait to tell people? 0.6 seconds.
Who would you tell first? The internet.
What is the last movie that you saw at the cinema? "Avengers: Age of Ultron." Are you paying attention to these questions you're asking here?
Do you sing in the shower? Not really.
Which store would you choose to max out your credit card? RESTORATION HARDWARE... STILL.
What do you do most when you are bored? Draw.
What do you do for a living? Draw.
Do you love your job? I love parts of my job.
What did you want to be when you grew up? Astronaut.
If you could have any job, what would you want to do/be? Carpenter.
Which came first the chicken or the egg? Egg. Chicken. EGG!
How many keys on your key ring? Seven.
Where would you retire to? Edinburgh or Maui.
What kind of car do you drive? Piece of shit Saturn.
What are your best physical features? My brain.
What are your best characteristics? Honesty and hard work.
If you could go anywhere in the world on vacation where would you go? Today? India.
What kind of books do you like to read? Science Fiction.
Where would you want to retire to? YOU JUST ASKED THIS SIX QUESTIONS AGO!
What is your favorite time of the day? Dusk.
Where did you grow up? Central Washington.
How far away from your birthplace do you live now? About 1,200 miles.
What are you reading now? Thor by Walter Simonson Omnibus.
Are you a morning person or a night owl? Night.
Can you touch your nose with your tongue? No.
Can you close your eyes and raise your eyebrows? Kinda. I guess.
Do you have pets? I'm not allowed to have pets.
How many rings before you answer the phone? Two.
What is your best childhood memory? Summers at the lake.
What are some of the different jobs that you have had in your life? Janitor, Sales Clerk, Shipping Clerk, Waiter.
Any new and exciting things that you would like to share? Nothing comes to mind.
What is most important in life? Friends and family.
What Inspires You? Hard work.
Posted on April 14th, 2015

Huh.
I had a great idea for a post today, but had forgotten what it was by the time I sat down to actually write it.
If that's not an excuse for a meme, I don't know what is...
What's your favorite candle scent? Vanilla.
What female celebrity do you wish was your sister? Sigourney Weaver.
What male celebrity do you wish was your brother? Samuel L. Jackson.
How old do you think you'll be when you get married? One billion.
Do you know a hoarder? Nope.
Can you do a split? Oh hell no.
How old were you when you learned how to ride a bike? I have no idea, but it was fairly young.
How many oceans have you swam in? Pacific, Atlantic, and Indian oceans... so, three I guess.
How many countries have you been to? Fifty-One... including this one.
Is anyone in your family in the army? No.
What would you name your daughter if you had one? Olive.
What would you name your son if you had one? Jake.
What's the worst grade you got on a test? F.
What was your favorite TV show when you were a child? Oooh... that's a toughie. Knight Rider? Or perhaps The Six Million Dollar Man? Oh... I know... MANIMAL! Heh.
What did you dress up as on Halloween when you were eight? No clue. Probably a robot or something.
Have you read any of the Harry Potter, Hunger Games or Twilight series? I tried but couldn't really get into Harry Potter or Hunger Games. And no, I haven't touched the Twilight crap.
Would you rather have an American accent or a British accent? British!
Did your mother go to college? No. She went to the Navy.
Are your grandparents still married? I only have one grandmother left, so... no.
Have you ever taken karate lessons? No.
Do you know who Kermit the frog is? WTF? Of course I do.
What's the first amusement park you've been to? Disneyland.
What language, besides your native language, would you like to be fluent in? Japanese (again) or Italian.
Do you spell the color as grey or gray? I prefer "grey" but switch it up from time to time.
Is your father bald? Completely? No.
Do you know triplets? No.
Do you prefer Titanic or The Notebook? Oh gawd... Titanic, I guess.
Have you ever had Indian food? Many, many times. I love the stuff.
What's the name of your favorite restaurant? Alfredo alla Scrofa in Rome.
Have you ever been to Olive Garden? Yes.
Do you belong to any warehouse stores (Costco, BJ's, etc.)? Just Costco.
What would your parents have named you if you were the opposite gender? I have no idea.
If you have a nickname, what is it? Don't have one.
Who's your favorite person in the world? I couldn't choose between my family and friends, so I'll say Betty White.
Would you rather live in a rural area or in the suburbs? Neither... give me the city.
Can you whistle? No.
Do you sleep with a nightlight? No.
Do you eat breakfast every morning? No. Practically never.
Do you take any pills or medication daily? No.
What medical conditions do you have? That's a bit complicated... though it could best be described as a side-effect to the cure for a side-effect that I got from taking a prescribed drug when I was younger.
How many times have you been to the hospital? For myself? Once that I know of (outside of being born in one). As a vistor? Dozens.
Have you ever seen Finding Nemo? Of course.
Where do you buy your jeans? Online.
What's the last compliment you got? I honestly don't know.
Do you usually remember your dreams in the morning? I don't dream. At least not how I understand other people dream.
What flavor tea do you enjoy? Sleepy-Time Tea.
How many pairs of shoes do you currently own? Eight.
What religion will you raise your children to practice? If I were to ever have kids? None. They can grow up and decide for themselves what religion works for them... if any.
How old were you when you found out that Santa wasn't real? HOLY SHIT! SANTA ISN'T REAL?!?
Why do you have a tumblr? I have no idea. It's not like I ever use it.
Posted on April 9th, 2015

Not much going on but work.
Guess it's meme time...
Do you ever doubt the existence of others than you? All the time.
On a scale of 1-5, how afraid of the dark are you? 2.
The person you would never want to meet? Any piece of shit politician who makes bigoted legislation their life mission.
What is your favorite word? Upgrade.
If you were a type of tree, what would you be? Apple.
When you looked in the mirror this morning what was the first thing you thought? I could use another four hours sleep.
What shirt are you wearing? A Hard Rock Cafe Paris T-shirt.
What do you label yourself as? I don't.
Bright room or dark room? Depends on what I'm doing. I'd prefer a bright room for most things.
What were you doing at midnight last night? Working.
Favorite age you've been so far? 30.
Who told you they loved you last? My grandma.
Your worst enemy? Anger.
What is your current desktop picture? The four desktops on all three of my Macs are the various Apple Yosemite images that came with OS X Yosemite. They are so beautiful that I can't bring myself to change them out... even though I usually always do something custom from my own photos.
Do you like someone? I like many people.
The last song you listened to? Goodbye by Who is Fancy... it was on my DVR from Fallon the other night.
You can press a button that will make any one person explode. Who would you blow up? Sarah Palin. I don't ever want to hear another stupid word from her idiot mouth.
Who would you really like to just punch in the face? Rush Limbaugh.
If anyone could be your slave for a day, who would it be and what would they have to do? Really? This is a question?
What is your best physical attribute? (showing said attribute is optional) My brain.
If you were the opposite sex for one day, what would you look like and what would you do? Elizabeth Hurley. Stare at myself naked in the mirror all day.
Do you have a secret talent? If yes, what is it? Not really.
What is one unique thing you're afraid of? Don't know how unique they are, but clowns and heights.
You can only have one kind of sandwich. Every sandwich ingredient known to humankind is at your disposal. Falafel with hummus, lettuce, tomato, feta cheese, onion, and tzatziki sauce in a wrap.
You just found $100! How are you going to spend it? Buying new bed sheets.
You just got a free plane ticket to anywhere in the world, but you have to leave immediately. Where are you going to go? Maui. Or maybe Krakow, if I'm feeling frisky.
An angel appears out of Heaven and offers you a lifetime supply of the alcoholic beverage of your choice. "Be brand-specific" it says. Man! What are you gonna say about that? Even if you don't drink booze there's something you can figure out... so what's it gonna be? Jägermeister.
You discover a beautiful island upon which you may build your own society. You make the rules. What is the first rule you put into place? THOU SHALT HAVE NO OTHER GODS BEFORE ME!
What is your favorite expletive? Shit.
Your house is on fire! You have just enough time to run in there and grab ONE inanimate object. Don't worry, your loved ones and pets have already made it out safely. So what's the one thing you're going to save from that blazing inferno? Since all my photos are backed up outside my home, I guess my copy of The Hitchhiker's Guide to the Galaxy, anniversary edition, signed by Douglas Adams.
You can erase any horrible experience from your past. What will it be? Something I am not divulging on a blog.
You got kicked out of the country for being a time-traveling heathen who sleeps with celebrities and has super-powers. But check this out... you can move to anywhere else in the world! Edinburgh, Scotland.
The Celestial Gates Of Beyond have opened, much to your surprise because you didn't think such a thing existed. Death appears. As it turns out, Death is actually a pretty cool entity, and happens to be in a fantastic mood. Death offers to return the friend/family-member/person/etc. of your choice to the living world. Who will you bring back? Steve Jobs.
What was your last dream about? I don't really dream. At least not like I understand most people dream.
Are you a good....[ SWIMMER ]? No. And I really wish I was.
Have you ever been admitted to the hospital? Yes. I had my adenoids out when I was a kid.
Have you ever built a snowman? Yes.
What is the color of your socks? White.
What type of music do you like? 80's Synth-Pop.
Do you prefer sunrises or sunsets? Sunsets.
What is your favorite milkshake flavor? Chocolate.
What football team do you support? Could not possibly care less.
Do you have any scars? There's one on my thumb where I cut through it with a hacksaw because I don't feel pain in my hands very well.
What do you want to be when you graduate? ??? Errr... an astronaut?
If you could change one thing about yourself, what would it be? My insomnia.
Are you reliable? I certainly hope so.
If you could ask your future self one question, what would it be? Should I go for this or am I making a huge mistake?
Do you hold grudges? Despite my best efforts... yes. Yes I very much do.
If you could breed two animals together to defy the laws of nature, what new animal would you create? PuppyCat!
What is the most unusual conversation you've ever had? Probably one of the times I've talked to self-proclaimed hardcore Christians who know less about The Bible than I do.
Are you a good liar? Not really.
How long could you go without talking? Forever. Verbal communication is not my favorite. Especially on the telephone which I hate hate hate.
What has been you worst haircut/style? All of them. My hair is terrible.
Have you ever baked your own cake? Sure. I love cake.
Can you do any accents other than your own? I like to think I can.
What do you like on your toast? Loads of butter and seedless strawberry jam.
What is the last thing you drew a picture of? A robot.
What would be you dream car? Porsche 911 Carrera 4S Cabriolet. Or a Corvette Stingray Convertible 3LT with Z51 Performance Package. Latest models.
Do you sing in the shower? Or do anything unusual in the shower? Explain. Nope, not really.
Do you believe in aliens? Yes.
Do you often read your horoscope? Hardly ever.
What is your favorite letter of the alphabet? D.
Which is cooler: dinosaurs or dragons? Dinosaurs.
What do you think about babies? They're okay. But I don't think I'd want one at this point in my life.
Freebie! Ask anything interesting you can think of. How much longer until I've done every meme in existence?
Posted on January 10th, 2015

When Blogography broke down (again) on Monday, I was half-way tempted to just leave it broken.
This was just the excuse I needed to hang up blogging once and for all, as lately it seems more like a chore I have to do rather than an activity I want to do. But I've gone through rough patches like this before and have always cone around, so I thought it best to get things running again. If I'm going to quit, it should be a decision I make instead of a decision I'm forced into.
So here I am.
Still.
Guess there's no better reason to do a meme than that...
There's something about you. What is it? A sense of adventure.
You know the way you do that thing? What is it? It's all in the wrist.
What grey areas of your life scare you the most? None of them. I accepted long ago that things are rarely black & white, and am perfectly content with that.
What is something that you wish you knew the answer to, but would never try to find out? What it feels like to free-solo climb Half Dome in Yosemite.
Everyone has that 'thing'. Their 'it'. What is yours? Not being afraid to step outside my comfort zone.
What is that one thing you just can't seem to put your finger on? How people can hate something so vehemently that they have made no effort to understand.
If you could leave this world discovering one thing, what would it be? Extraterrestrial intelligence.
Why do you love them? They earned it.
Why do they love you? I earned it.
This time of the year makes you... Bored.
The way to your heart is... which way? By showing kindness to others.
It gets under your skin when...? People behave badly or stupidly or rudely in public. By clipping your toenails in a restaurant or letting your kids run ape-shit in a grocery store or talking on your phone during a movie or whatever... you're infringing on other people's peace and making it hard for everybody to just get along.
Why did you leave? It wasn't my choice. I was forced out.
What is something you stopped believing in? American justice.
What is something you'll never give up on? Humanity's ability to eventually sort itself out... as unlikely as that may seem.
You forgot what they said, you forgot what they did, but what feelings do you remember? Rage.
Open up. About anything. I have no desire...none whatsoever... to be in another romantic relationship. Ever. I have been so much happier since I've stopped trying. Friends, family, and occasional kindness of strangers are all I need to feel complete.
Whenever you smell it, what does it remind you of? Maui.
Close your eyes and smile. What memory did you think of? Africa.
You'll never understand why... There are people who have absolutely no regard for others. And usually they are politicians who are supposed to be doing exactly that.
What was the moment when 'it' hit you? Bangkok, Thailand, 1998.
What's keeping you from moving on? Responsibilities.
No one likes to dwell, but if you could go back, what would you change? I would not have wasted my precious time on those who ended up undeserving of it.
If you could predict your future, you'd want it to look like...? Like Back to the Future II... THE FUTURE IS NOW, BITCHES!
If the eyes are the windows to the soul, if I looked in yours, I'd see...? Hope.
See you tomorrow, I guess.
Posted on December 18th, 2014

Ooh! Thursday is Memesday!
This particular set of questions is running through Tumblr, so I thought I'd steal it for my blog since there's not much going on with me today.
If you could have chosen your own birth name, what would it be? My favorite name for a boy is Ellis. But "Ellis Simmer" runs together oddly, so I'd probably go with Jake.
Do you have a piece of jewelry you wear every single day? My MIA/POW bracelet.
Do you collect anything? If so, what? If not, what would you collect if you had the money/resources? I used to collect comic books and still have them despite buying all new comics digitally for the past three years... so I guess I'd have to say "comic books." If I had the money to collect exotic sports cars, that would be my jam.
What's your favorite video game console and your favorite game for that console? Wii. And my favorite game for it would be just about any LEGO game... but probably LEGO Batman 2, if forced to choose.
Yogurt or pudding? Pudding. Duh.
If you could get one tattoo without any pain for free, would you? What would you get and where on your body? Depends on who was doing the tattooing. If it was a good artists, then I'd absolutely get something new and piratey on my left arm. Though I never seem to feel pain when getting tattooed, so that's not a big deal.
Do you still talk to the friends you had when you were a child? Not really.
If you could take over a country, what country would it be? Either my beloved Scotland... or Friesland, since I'm the rightful heir to that country anyway.
Do you prefer your Ramen as a pasta with less broth, or more like a soup with more broth? Less broth. And only if it's vegetarian.
Do you have an accent? If so, what kind? To more easily communicate with people whose native language is not English in my work, I speak with as little accent as possible and enunciate my words as clearly as possible. I'm told that this makes me sound like I have some kind of European accent, but I don't hear it.
How do you pronounce pecan? Peh-Khan.
Did you have a blankie or stuffed animal you carried everywhere as a toddler? Both. The blanket was an old raggedy mint-green thing. The stuffed animal varied. I remembered having a duck and a frog, among others.
Sunrise or sunset? Sunset.
Are you good at card games? Better than some, not as good as most.
Favorite kind of Poptarts? Strawberry.
Rainy weather, snowy weather, or sunny weather? Mostly sunny. Sometimes rainy. Never snowy.
Are/were you in any after school activities in school? If so, what one(s)? 4-H for a while.
At what age did you develop your first crush? Share a story about it if you wish. I have no idea. I was pretty young when I remember having a serious crush on Lynda Carter (Wonder Woman). A little older when I had a serious crush on Lindsay Wagner (The Bionic Woman). And a little older still when I had a serious crush on Erin Gray (Wilma Deering from Buck Rogers).
McDonalds or Burger King? McDonalds. I positively loathe Burger King. Though, being a vegetarian, I'm probably not the best to judge.
White chocolate, milk chocolate, or dark chocolate? MILK CHOCOLATE IS THE ONLY TRUE CHOCOLATE.
Coffee or tea and what kind? English Breakfast Tea (black tea) with milk and sugar. I despise coffee.
Favorite memory from a sleepover with your best friend? While I know I had sleepovers with friends, I have no memory of it.
Favorite brand of chips? (i.e. Doritos, Lays, Tostidos). Bugles. Followed by Chili-Cheese Fritos.
Favorite scented candle fragrance? Vanilla.
What's your favorite place to eat out at? Johnny Rockets.
When you go to the mall, where's the first place you always seem to go to? Uhhhh... I avoid the mall whenever possible, but I'm guessing it would be an art supply store of some kind? Maybe a candy store or a game store? Probably a Johnny Rockets.
Do you enjoy mosh pits? I did at one time. Can't fathom enjoying one of them now.
Favorite sound track from any video game or movie? Probably the movie soundtrack for About a Boy.
Do you prefer to drink out of plastic or glass cups? GLASS! OH HOW I HATE DRINKING FROM PLASTIC!!!
Do you prefer minty gum or fruity gum? What's your favorite brand? Fruity gum. I like Juicy Fruit best... good flavor without being overpowering.
And... I'm spent.
Posted on November 15th, 2014

Back in the olden days there was an activity called blogging. This was where people wanting to share their experiences, knowledge, and observations would create a website and, using a content management system, would post such experiences, knowledge, and observations for all the world to see.
Blogging was not always easy. Especially if you were a blogger that blogged every day. Because, unless you're an astronaut or Hugh Hefner, eventually you run out of blog-worthy things to blog about.
Enter memes.
In order to generate ideas for blog content, bloggers started developing quizzes, challenges, questionnaires, and all kinds of other idea-generating material to blog about. Not everybody appreciated memes... many people downright abhorred them... but when it's 11:55pm and you're desperate for something to blog about, memes could be your best friend.
One of the most popular meme generators on the internet back in the day was The Friday 5. Every Friday they would post five questions for you to answer in a blog post, which was an easy way to get it over with and move on to your weekend. Unfortunately The Friday Five was eventually discontinued, and there were many sad pandas across the blogosphere.
And so I decided to do something about it.
I created a new Friday meme generator and called it FridayQ.
It ran a little over a year from June 4th, 2004 until I got tired of doing it and shut it down on July 22, 2005.
For years after it died, the FridayQ lived on as hand-coded pages here at Blogography. I never deleted them because I had a lot of blog posts that referenced FridayQ and I didn't want to go back and have to change 52+ entries. Alas, when I converted my blog to WordPress back in February all the FridayQ pages were lost and, for reasons unknown, were never backed up. After 8 years, 6 months, and 22 days, the FridayQ was finally dead for good.
Until...
Yesterday I was updating the web code for my blog stats and noticed that somebody was trying to reach FridayQ. This got me curious as to how many other searches it was getting, so I checked. Turns out there were dozens of them throughout the year. Mostly from my own blog, but there were other surviving blogs out there still linking to the site as well.
Maybe I should look into restoring FridayQ then?
And so this morning I did just that.
I visited the Internet Archive Wayback Machine to see what I could recover. None of the graphics were there, but all of the pages had been saved. Sure, the archives were out of date by a few months, but that was an easy fix. All I had to do was go through my Blogography archives and copy the original questions. Easy.
But what about the missing graphics?
Time to pull all my old hard drives out of storage.
Surprisingly, every drive I tried actually worked. And I found a backup of the FridayQ images on my fifth drive...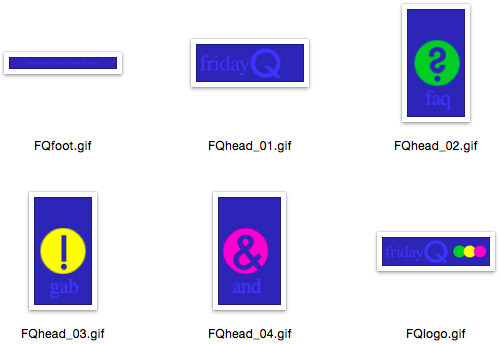 Good thing I'm a packrat who doesn't throw old tech away, huh?
I uploaded the pages to Blogography, updated all the links, and voilà... FridayQ is served!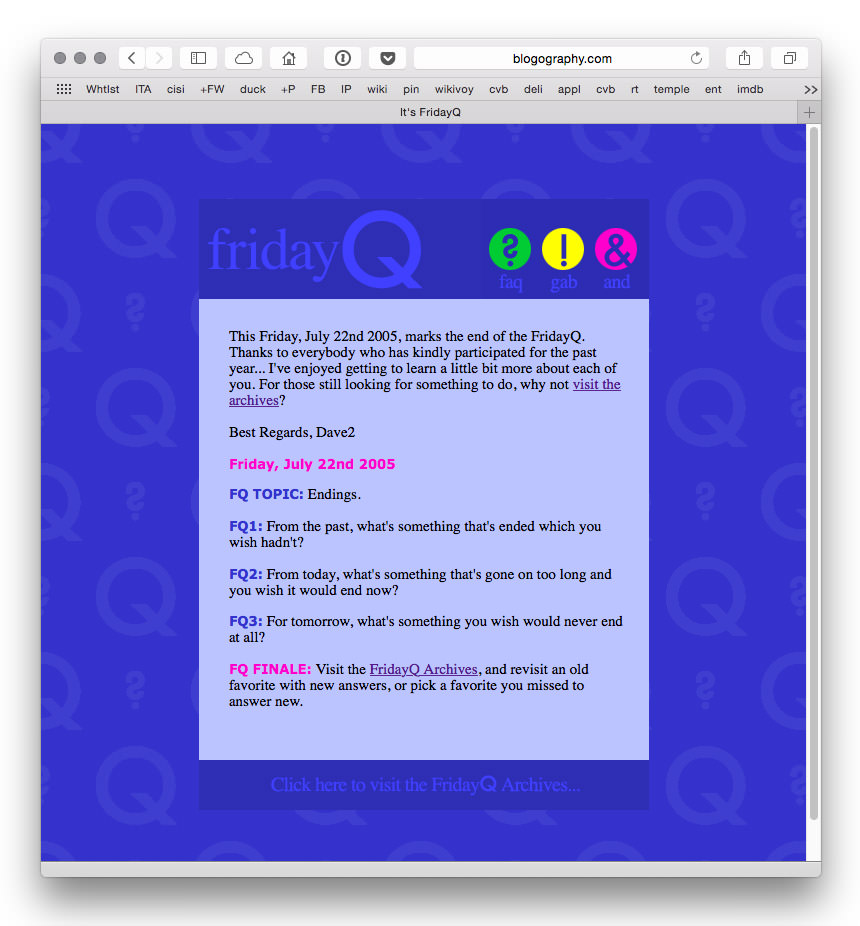 You can visit them for yourself by clicking here.
If you want to read all my crazy answers, you can check out my "meme" archive for 2004 and 2005. They're solid gold, people. Solid gold.
And now I just need to decide what to do with this box of old hard drives. They're probably not going to stay working forever. Hell, half of them require a FireWire port which doesn't even exist anymore (thankfully I have a FireWire to Thunderbolt converter!). Two of them are SCSI drives that would require pulling one of my old Macs with a SCSI interface out of storage to read. Hmmm... perhaps I should back them up to the cloud or transfer them to modern hard drives or something? They're all ridiculously small by today's storage standards... I could probably fit all of them on a single terabyte external drive no problem.
Blergh. One more thing added to my list that I don't have time for.
Like blogging every day. =sigh=