Posted on February 17th, 2019

Five hundred days of bullets and counting... because Bullet Sunday live from Las Vegas starts now...

• Fremont! I'm not much of a gambler, but if I'm going to do so, my preferred place to throw away my money would be "Old Town Vegas" AKA Fremont Street. It's a little more laid back, the slots are looser, and it doesn't take 20 minutes to walk between casinos. And then there's the giant canopy which helps protect you from the rain... like what was coming down last night in sprinkles. Also? It's pretty...

• Alaska! I've never had an "Alaskan Waffle" before. I've never even heard of the term. Essentially, it's a waffle with ice cream, which is genius. Needless to say, I had to try it...
Way. Way. Way too sweet for me. I could only eat half of it. But I give it a 9 out of 10... would order again.

• Venice! Most of the big theme hotels on the Vegas Strip are beautiful and well done. But The Venetian is probably my favorite. When we passed through for dinner, they had a fantastic Chinese New Year display up...
As you might guess, It's "The Year of the Pig." And this little piggy was huge. And gold.

• Dessert! One of the many restaurants in The Palazzo (at The Venetian) is Mott 32, a high-end Chinese affair. We went there for dessert after dinner at The Factory, because they're just so amazing. "I had The Bamboo Green Forest"...
Pretty phenomenal. The base is a scoop of yogurt lime sorbet floating in heavy yuzu cream. On top is shredded matcha sponge cake surrounded by crispy yoghrt crumbs and topped with white chocolate bamboo spears and crumbles.

• Wonder! Finally got a chance to play Wonder Woman slots...
I'd seen it before, of course, but never had a chance to give it a shot. Princess Diana was not kind to me. Ended up walking away with 10¢ after spending $20.

Until next week when I'll be back home. I think...
Posted on February 16th, 2019

I end up in Las Vegas for work a lot. Four to six times a year. On those trips, it's not my favorite place. Because when you're here for work, it can be the loneliest city on earth. It's not like most cities where you can wander to a small corner cafe, soak up the atmosphere, and feel a part of something real. Partly because there are no small corner cafes (at least not on The Strip or in Old Town), but mostly because nothing in Las Vegas is real.
But when you're here with friends?
Las Vegas is one of the most exciting cities on earth.
Tonight we wandered around and ended up at the fountains at the Bellagio, which is always nice...
From there, some of us went to Brilliant, which is a light show at the Neon Museum "boneyard" where to play popular songs associated to Vegas while signs light up and videos play. I've seen it before, and it was actually quite nice...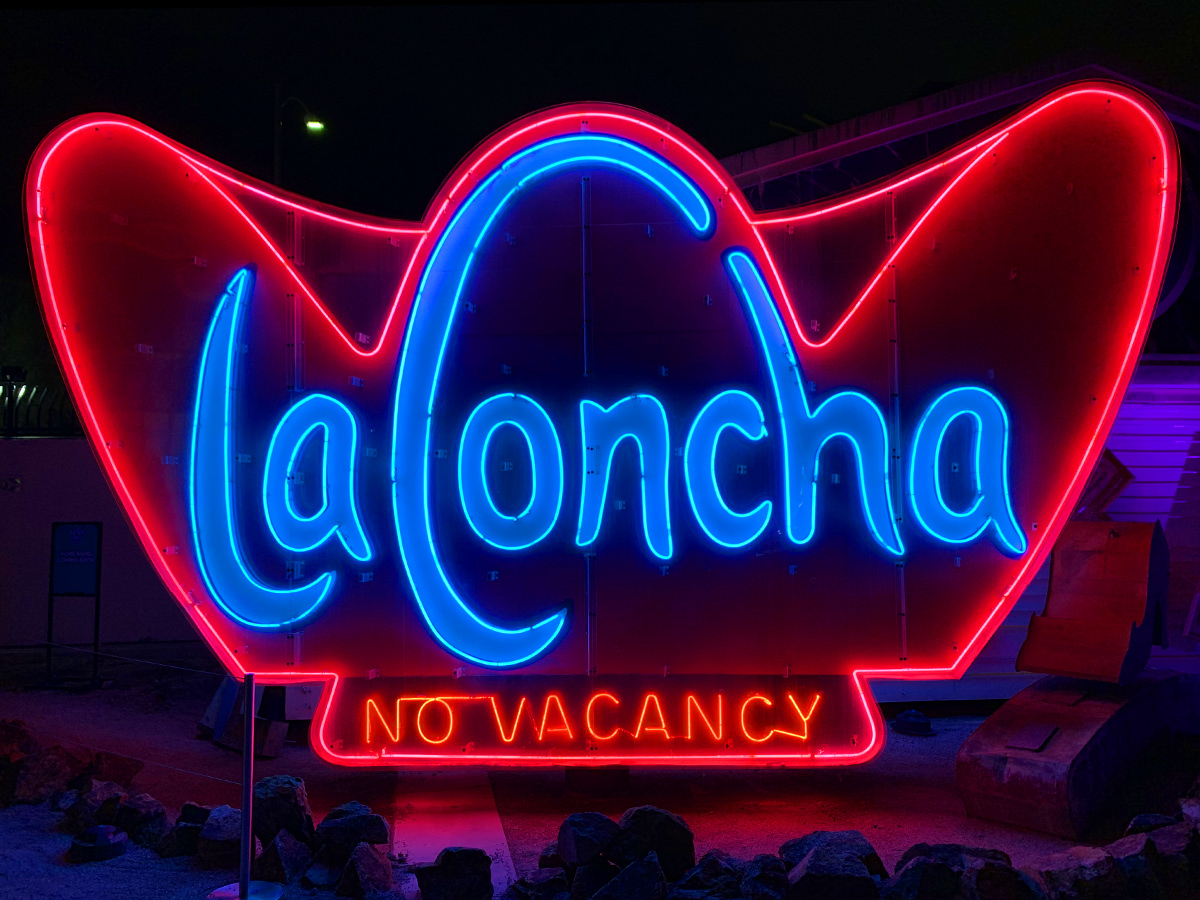 Except...
As you can tell from that bottom photo where everybody is bundled up an shivering, this time is was bitter cold. As in "I'm wearing my winter coat but still freezing my ass off" cold. And thank heavens I had my winter coat, because I would have been a wreck without it. I rarely travel to Vegas in the dead of winter, so I had no idea this was what was awaiting me. Fortunately, I had dressed for the weather back home to get to the airport, so I was (somewhat) prepared.
At the end of the day, I was up $36 thanks to a lucky pull at a slot machine in the Paris hotel. If I play my cards right (or, better still, don't play cards at all) I just might go home with my shirt on my back.
Given the weather both here and back home, that's actually my best-case scenario.
Posted on February 15th, 2019

I woke up not knowing whether or not I'd be on my way to Las Vegas today.
The forecast for this week was "partly cloudy" but it ended up being "Snowmageddon Part 2: The Snowpocalypse" and flights were being canceled left and right. I don't think I single flight left my local airport yesterday. Driving over the mountain passes was out of the question because they keep closing.
But because this is one of those rare trip to Vegas for fun with friends where I don't have a deadline... all my flights were fine. Better than fine, actually, thanks to a First Class upgrade...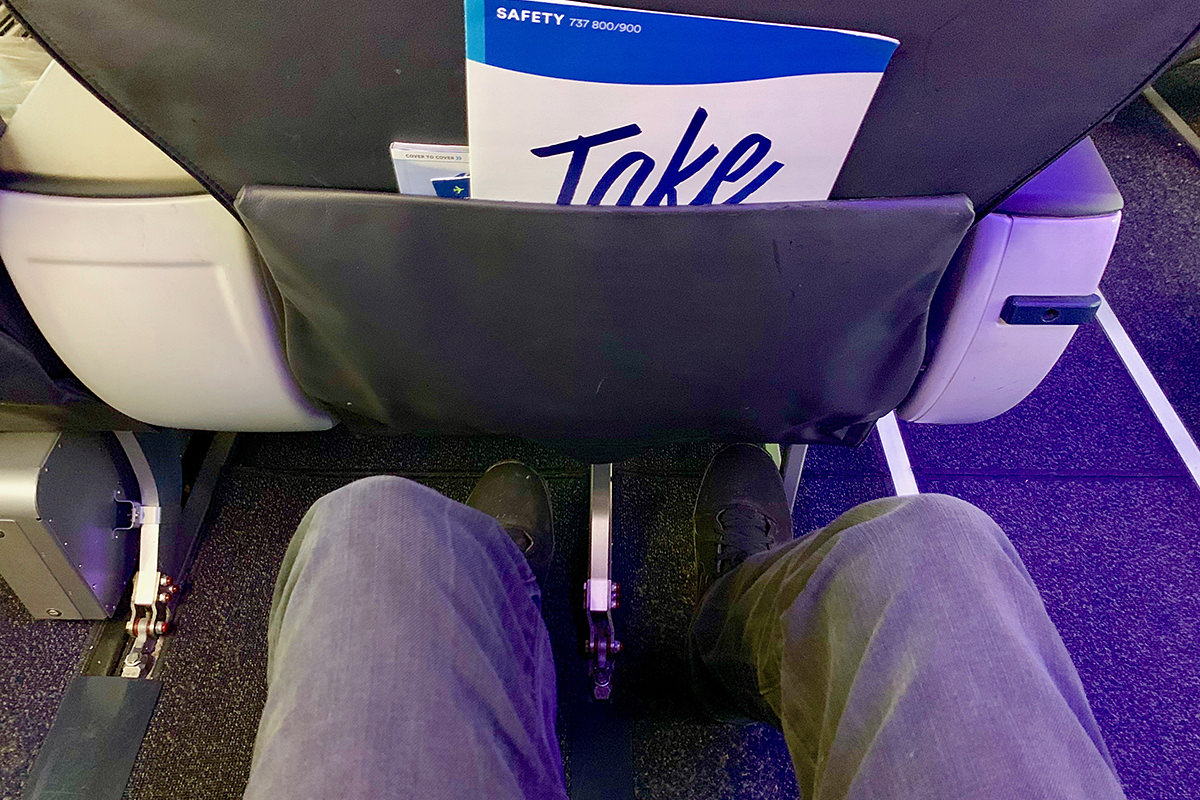 It's only when I have to be at a critical meeting at a precise time that all my flights are delayed, canceled, or otherwise screwed up.
And so...
Glitter Gulch awaits.
Posted on June 22nd, 2017

Today ended up being a longer work day than expected, which means I didn't have time for the nap I wanted needed. Oh well. Vegas, and all that.
One of the reasons that swapping assignments from July to June worked so well is that Perry, my partner for Hard Rock Run Europe 2004, was in town! I hadn't seen him since 2009's Davedon Event, so it was nice to catch up. We met up with some Hard Rock Cafe pin collectors at Gordon Biersch which was featuring imported German Kölsche, one of my favorite beers...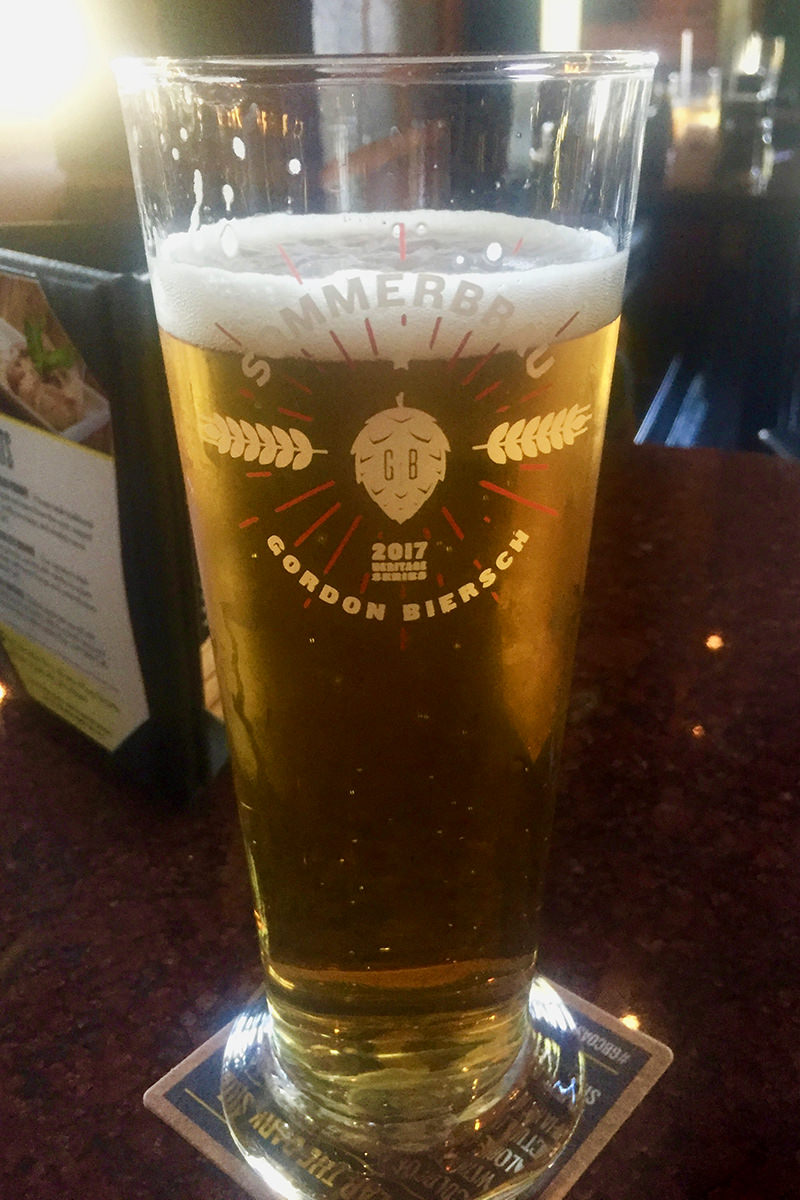 After saying goodbye to Perry and his lovely girlfriend, I wandered on The Strip a bit until it was time to head to Old Town Vegas for a ride down the zipline at Slotzilla!
Yes. Yes. I just did this back in March.
But not really.
And let me tell you why.
When I finally made it to the top of Slotzilla for my zipline experience three months ago, I was told I had to take my glasses off unless I bought a strap. Which took me completely by surprise, because nobody had mentioned it to me when I bought my ticket. There I was. Handing over my credit card. While wearing glasses. And nobody said shit about getting a strap.
So I ended up flying down Fremont Street at 35 miles an hour with everything being blurry. Pretty. But blurry.
I loved it, so I swore the next time I was in Vegas I would do it again. But this time I would bring my contact lenses with me so everything would be in focus. And so I did. And it was great.
Though... it's debatable whether it was better than my first time. I'm going to go out on a limb and say it wasn't. It was so much more surreal and beautiful when it was a blur!
Oh well. It's an amazing experience no matter how you see it...
Video from Emilio!!!!! on YouTube
Highly recommended if you find yourself in Las Vegas.
After my midnight flight, I headed back to my hotel on The Strip so I could get some sleep before leaving in the morning. When I left for dinner, something big appeared to be going on at T-Mobile Arena, but it was vacant by the time I got back...
And... that's all she wrote. See ya 'round, Vegas...
Posted on June 21st, 2017

Since I didn't have work until 10:00 this morning, I decided to sleep in. At least that was the plan. Ultimately I decided to study my work notes and make sure I was 100% comfortable with the material. Sure it's kind of a lame use of time when in Vegas, but there's not much else for me to do. In order to save money for my vacation, I've vowed not to gamble, not to see any shows, and definitely not to eat at expensive restaurants (which is my Vegas Kryptonite).
And yet...
My colleagues wanted to eat in Paris, so there goes my vow not to eat at expensive restaurants...
I gotta say... as somebody who has been to France-Paris many times, American-Paris is clearly the superior Paris. Not once in France-Paris did I see scantily-clad ladies walking around offering free cocktails. Not once! Also... American-Paris is air conditioned. BONUS: No people speaking weird French as you are wont to find in France-Paris and lesser parts of Canada. Except... the signage is still all in French, so most of it is just incomprehensible gibberish to me...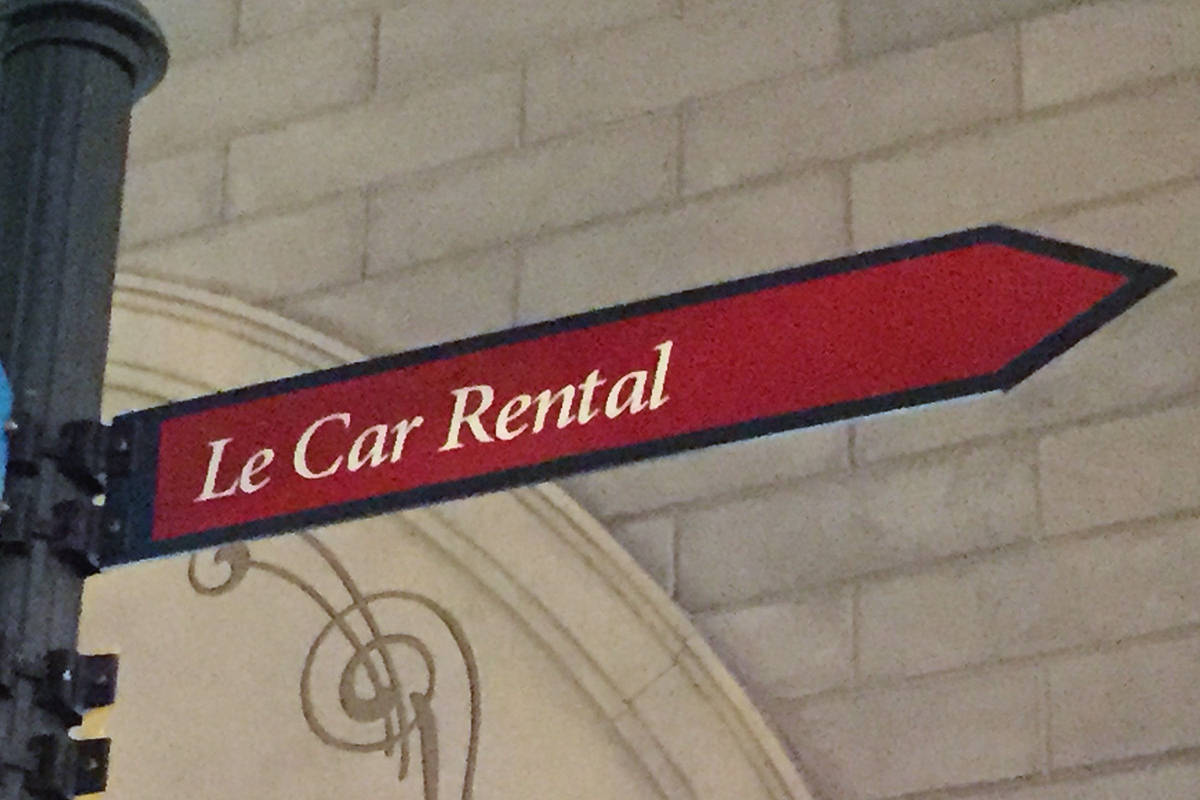 After lunch I was walking back to my hotel and spotted BETTY WHITE SLOTS as I was walking through the casino!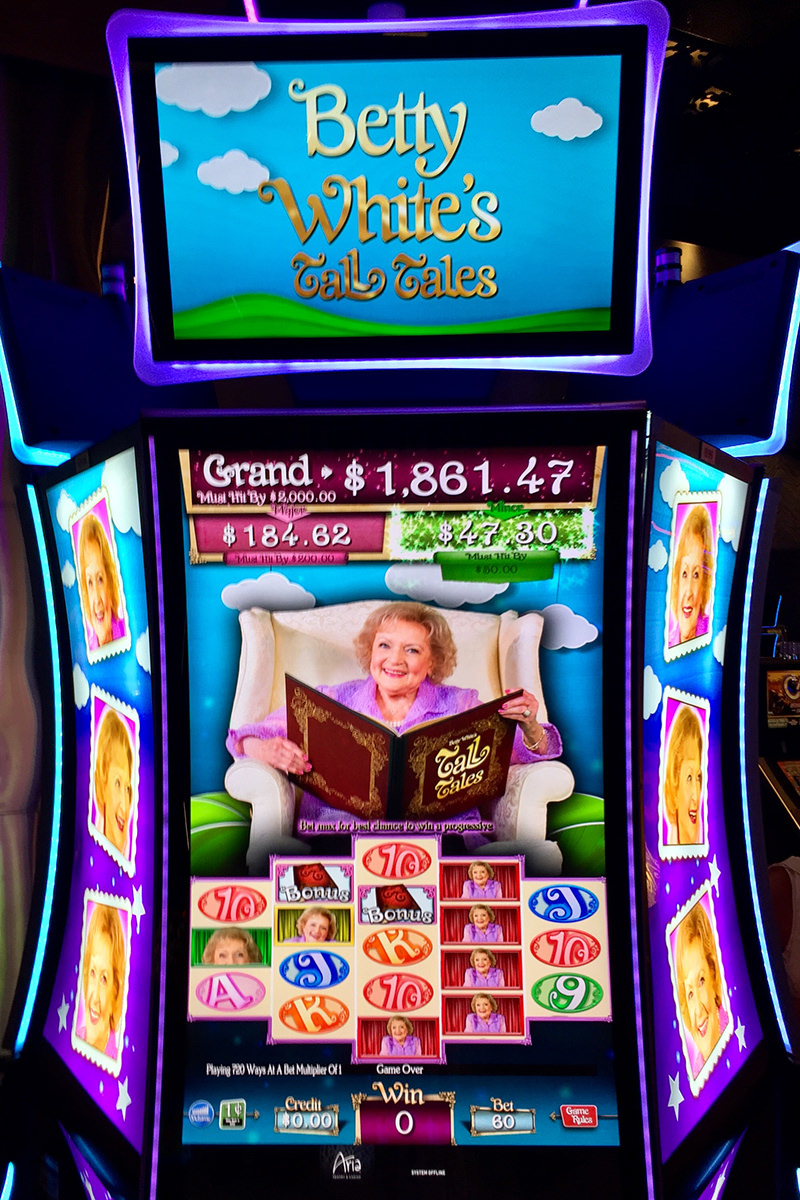 Holy cats! I'm guessing I'll eventually be breaking my vow not to gamble. How can I resist not giving Betty White a spin? We shall see.
I had time to kill before dinner, so I wandered over to M&M's World so I could try the new CARAMEL M&M's that have been advertised. And, oh, there's that M&M's race car I keep seeing...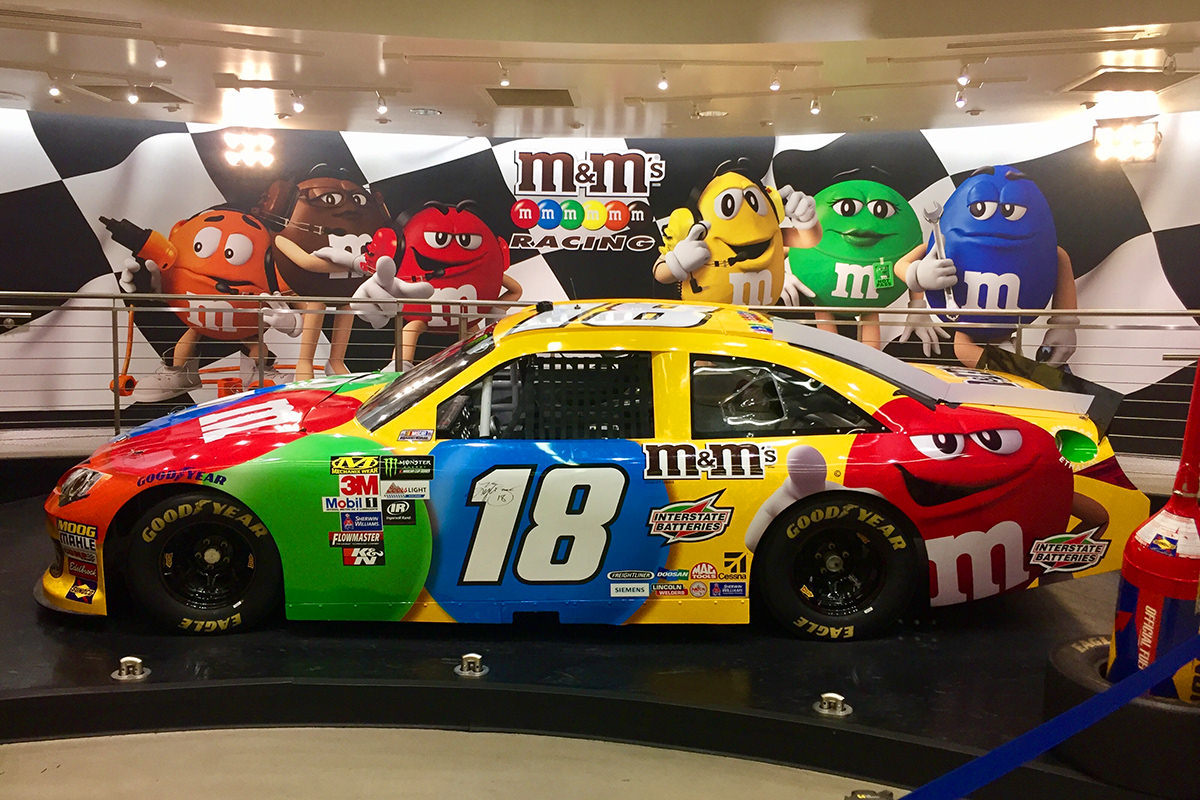 The Caramel versions are okay. From the advertising, I had thought the caramel would be more liquid, but it's actually firm and chewy...
Across the street in New York New York is Hershey's World. Not as much fun as the M&M's, but still kinda cool. Especially for Reese's and Twizzlers fans!
And, of course, there's Chocolate Liberty...
I was pleasantly surprised to see that they completed The Park adjacent to New York New York. It's pretty nice!
And... other than some hotel hopping for dinner, that's all she wrote on Vegas today.
Posted on June 20th, 2017

And so I'm off to Las Vegas again. This time for work.
The drive over the mountains was blissfully uneventful. Many times, I was the only person on the road. Which is kind of a weird feeling. Like every other human on earth had vanished or something.
My flight was delayed three times, which is getting to be the new normal. The exact same thing happened with my last flight to Denver. This wouldn't be so bad... I mean, I've had it a lot worse than an hour... except the delay happened at the Seattle-Tacoma International Airport, which is one of the shittiest airports on earth. Not only is everything broken all the time, but they prioritize shopping kiosks and storefronts over passengers needing a place to sit down. Thus most every gate has grossly deficient seating, leaving everybody standing or sitting on the floor. It would be great if the Port of Seattle would one day remodel the airport so it's not total shit and at least attempts to provide for customer comfort... but, alas...
This trip I'm staying on The Strip. This means there's a lot more options for dining I like, but I've seen all the hotels many times over so I am quickly coming to prefer staying in Old Town. Oh well. I get to add another hotel to my checklist of "Strip Hotels I've Stayed At," which is now at half...
Aria
Bellagio
Caesars Palace
Excalibur
Luxor
Mandalay Bay/Delano
Mandarin Oriental
MGM Grand
Monte Carlo
New York New York
Sarahara (now SLS/The W)
Venetian/Palazzo
Wynn/Encore
The thirteen left to go...
Bally's
Circus Circus
Cosmopolitan
Flamingo
Harrah's
Linq
Mirage
Paris
Planet Hollywood
Stratosphere
Treasure Island
Tropicana
Vdara
I've stayed at off-strip hotels in Vegas as well... most notably The Hard Rock Hotel and the Hilton, which is no longer a Hilton and has since changed its name to "Westgate."
INTERESTING ASIDE: Google Maps has secretly(?) preserved the memory of the Hilton as it used to be. When you use StreetView within the Hilton Circle, the images are as they used to be...

The old Hilton sign (which was at one point the largest freestanding sign on earth... maybe still is!).
Images ©Google Maps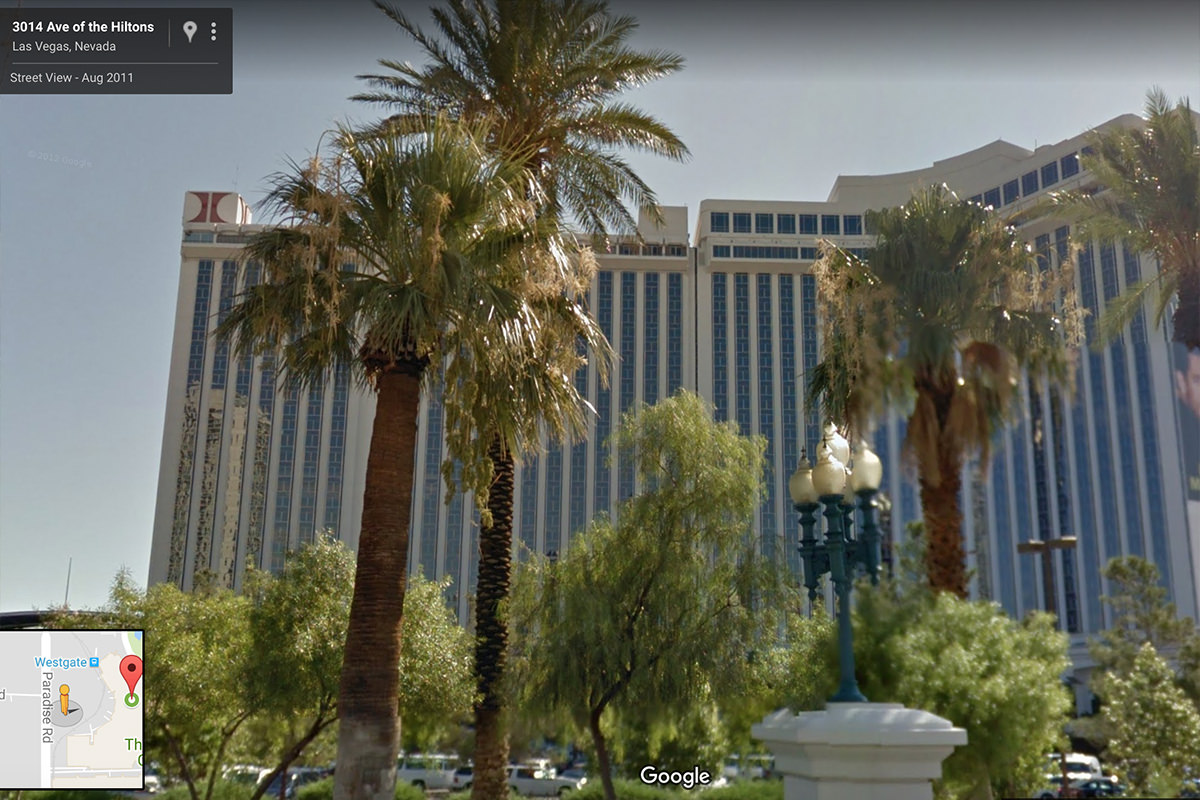 You can still see the Hilton logo-mark in the upper left on the actual hotel there.
Images ©Google Maps

And yet, if you take one step out of the circle, you get an updated view of both sign and hotel...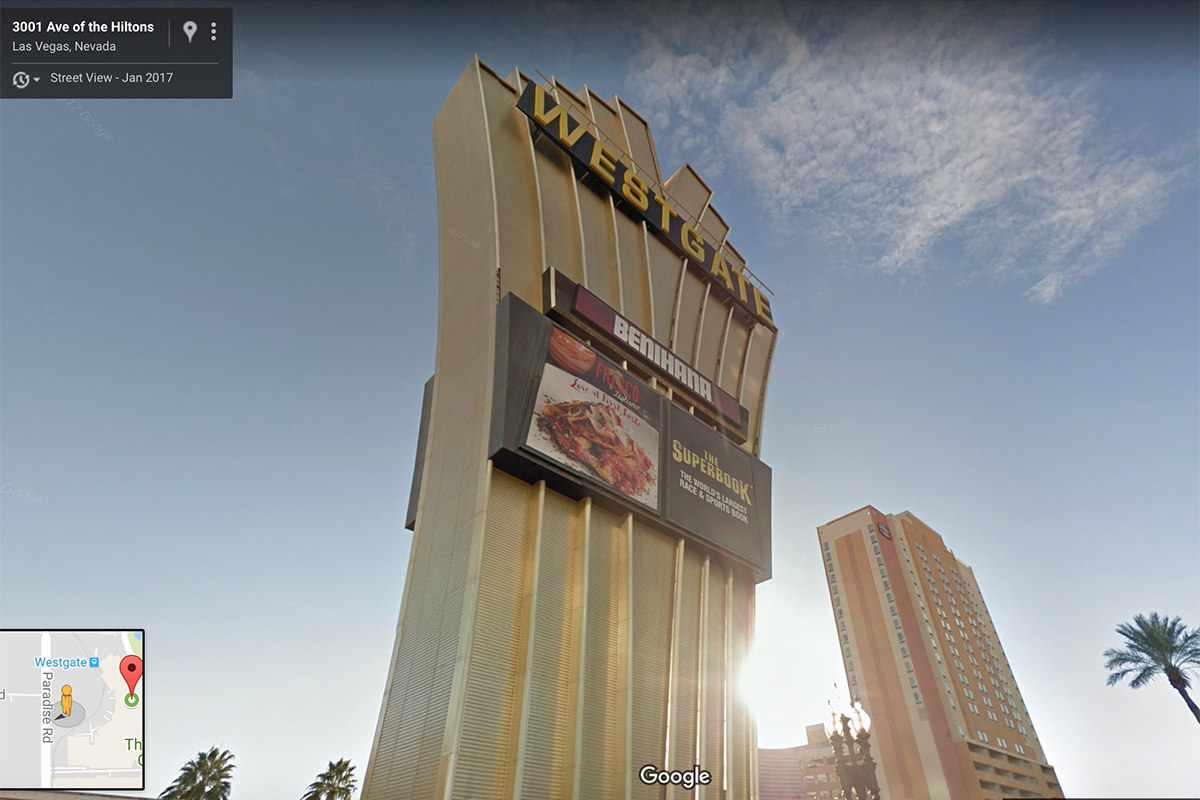 The revised sign, now Westgate. Still home of Benihana's though!
Images ©Google Maps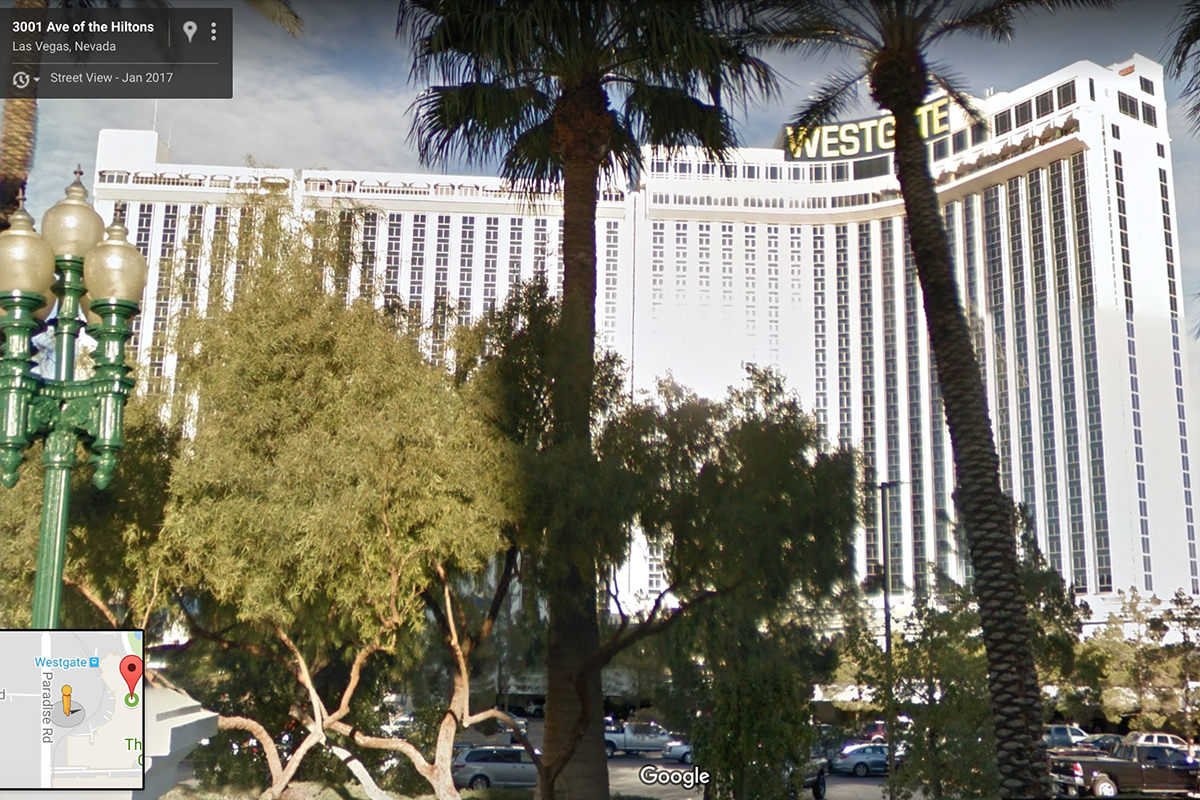 The revised branding on the hotel itself has also been updated.
Images ©Google Maps

Time for cheap eats!
My last trip, I was eating daily at Nacho Daddy off Fremont. I was happy to see that there's another Nacho Daddy on The Strip around the corner from Planet Hollywood. Thus, dinner has been secured...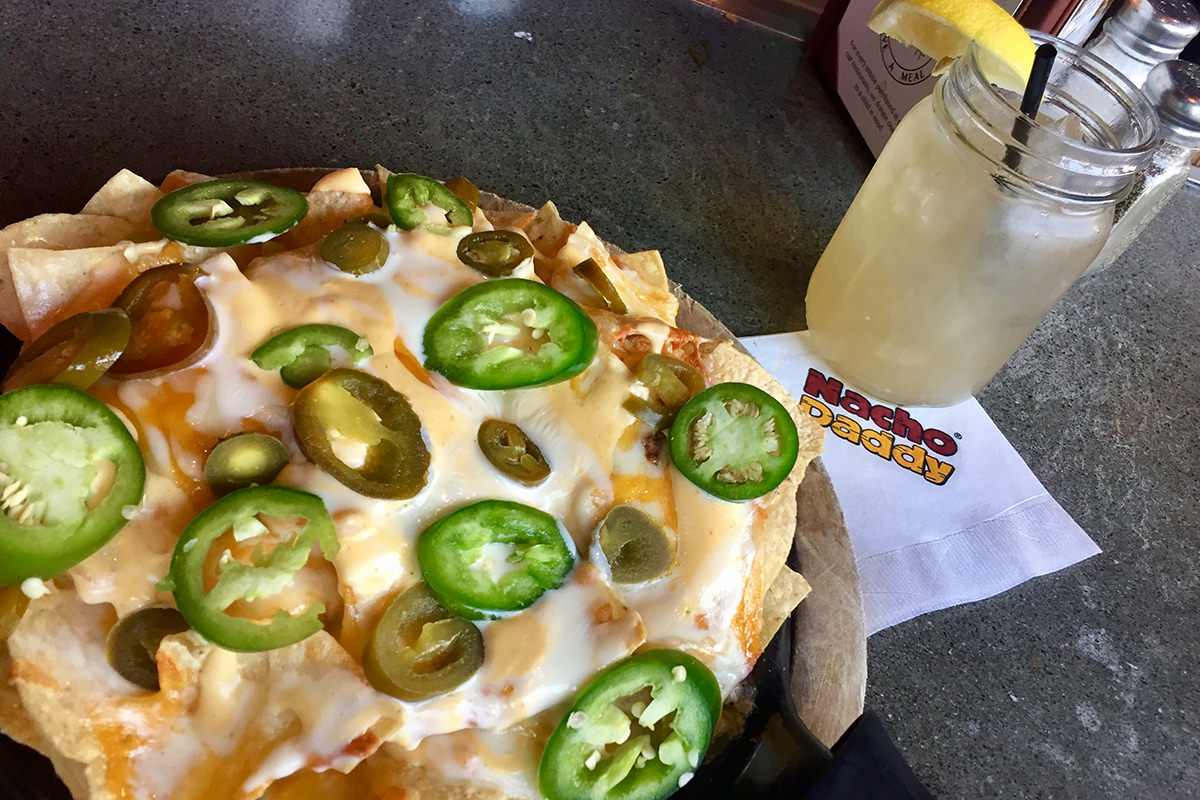 Well, I did my best to try and go with cheap eats. Unfortunately I had four Long Island ice teas, which ended up being $36 added to my $8.50 in nachos. Dooming myself to be poor, I guess.
After Jake's escape from the catio Sunday night, I'm understandably freaked out that my cats will find another way to escape my house... this time while I'm over 800 miles away and can do nothing. So I have been checking in on them at least once an hour. Jake has grown frustrated with the catio since his escape route was blocked and is sleeping inside. Jenny, on the other hand, is out there catching bugs and eating them. So... business as usual, then...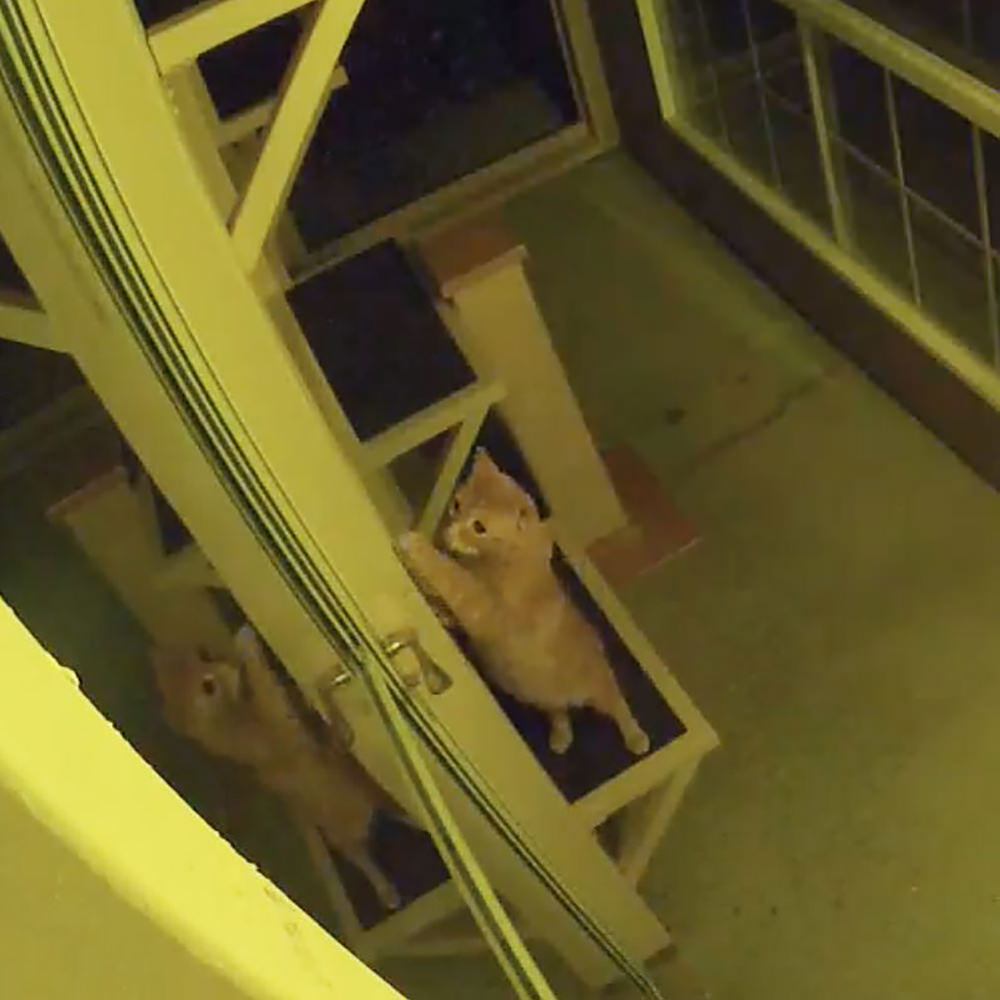 And that's Vegas for you. Now I should probably get some work done or something.
Posted on March 21st, 2017

Long Island Iced Teas Drank: 4
Gambling Tally: Down $82
Time To Bed: 1:30am
Another day, another couple rounds of Long Islands at Nacho Daddy...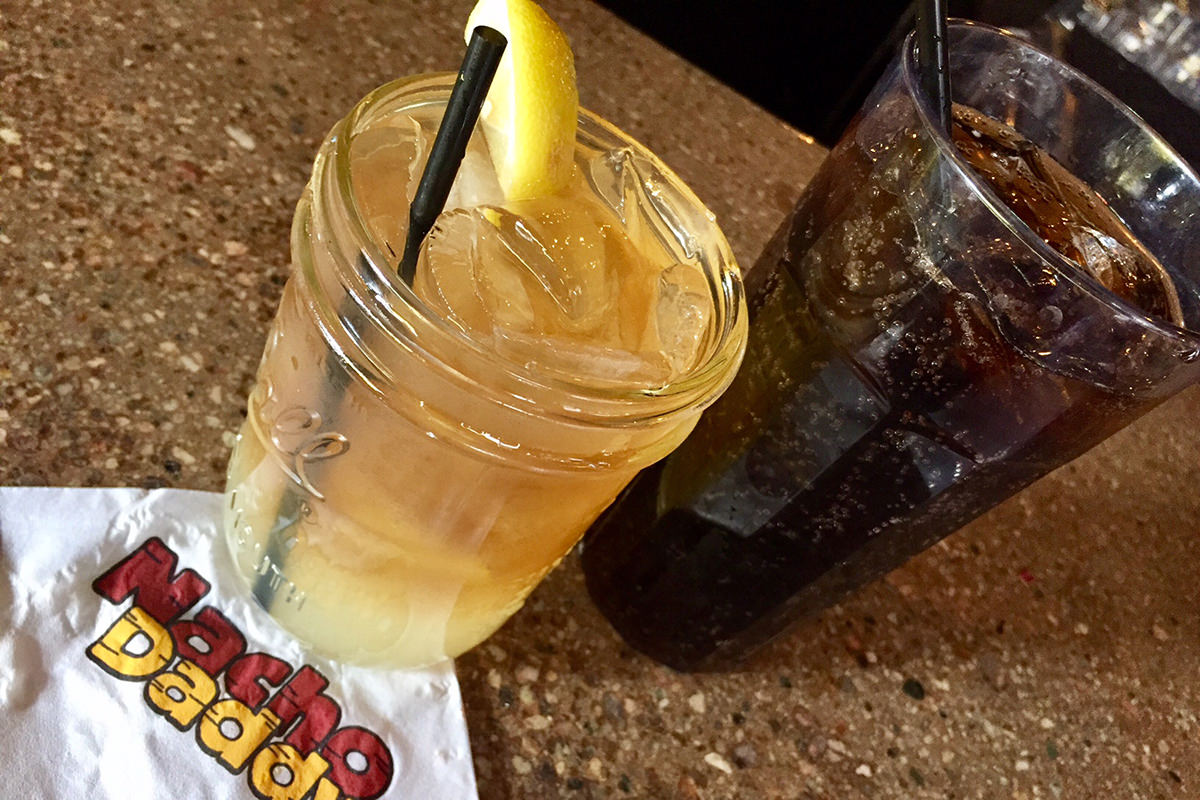 Today's plan was to relax, and so I did.
Until it came time to zipline down Fremont on Slotzilla.
In case you don't know what that means, somebody documented the experience for you...
Since I've been skydiving, bungee jumping, and zip-lining before, this was a piece of cake. But I admit that my heart skipped a beat when that door dropped from eleven stories to reveal what you're about to do!
A very cool experience for $45 that I would gladly do again.
And... another trip to Las Vegas is over.
Posted on March 20th, 2017

Long Island Iced Teas Drank: 6
Gambling Tally: Up $108
Time To Bed: 2:30am
I was awakened around 9am by a security alert on my phone, which turned out to be Jake wandering around the kitchen. I yelled at him through the camera speaker to get out, but this ended up backfiring in the worst possible way. Both cats came tearing into the kitchen when they heard my voice... assumably because they thought I was there. Yeah, I felt pretty terrible for the rest of the day.
I ended up loving Nacho Daddy so much yesterday that I headed there for lunch again today. Since it had just turned noon, I was just in time to start in on the Long Islands for the day...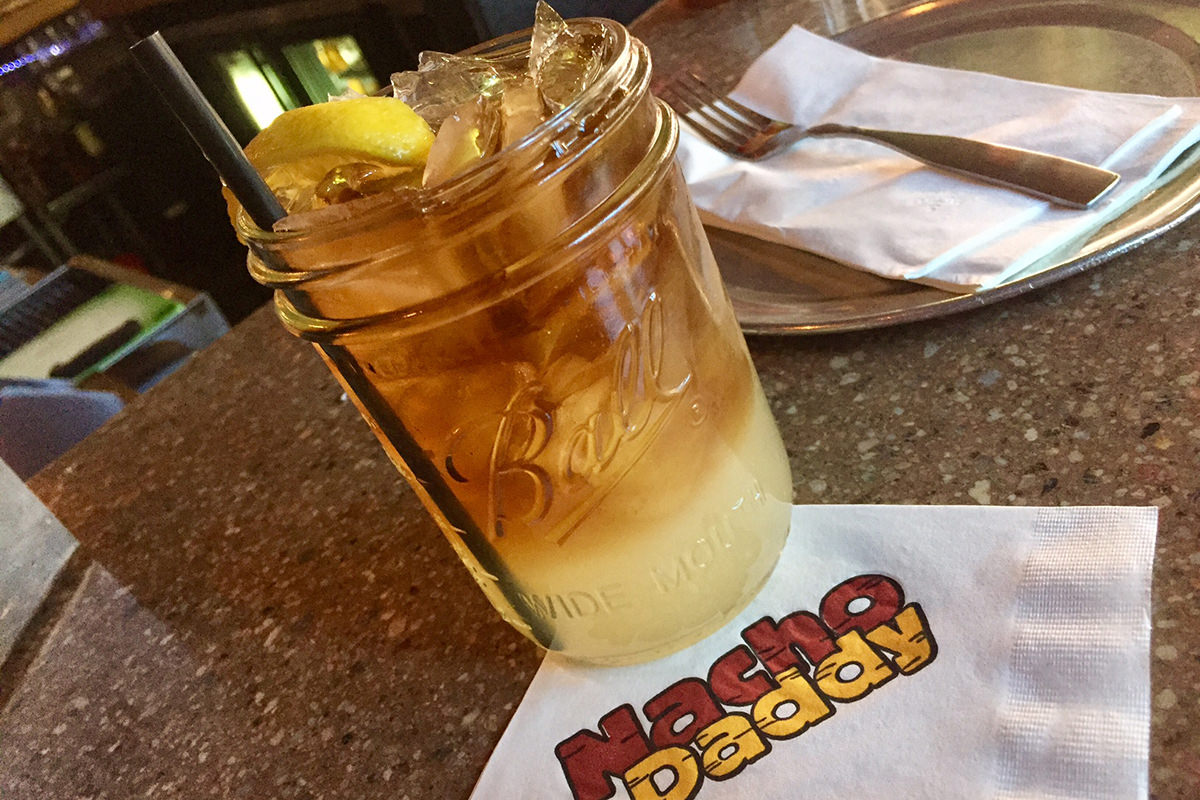 Dinner was at Margaritaville on The Strip, after which we headed over to The Luxor for one of my favorite shows, Blue Man Group, which I've seen in various places five times previously. They added a bit of new material since the last time I saw them (in Orlando, I think) which is always nice. Heck of an entertaining show (as always) and I highly recommend checking them out if you have the opportunity...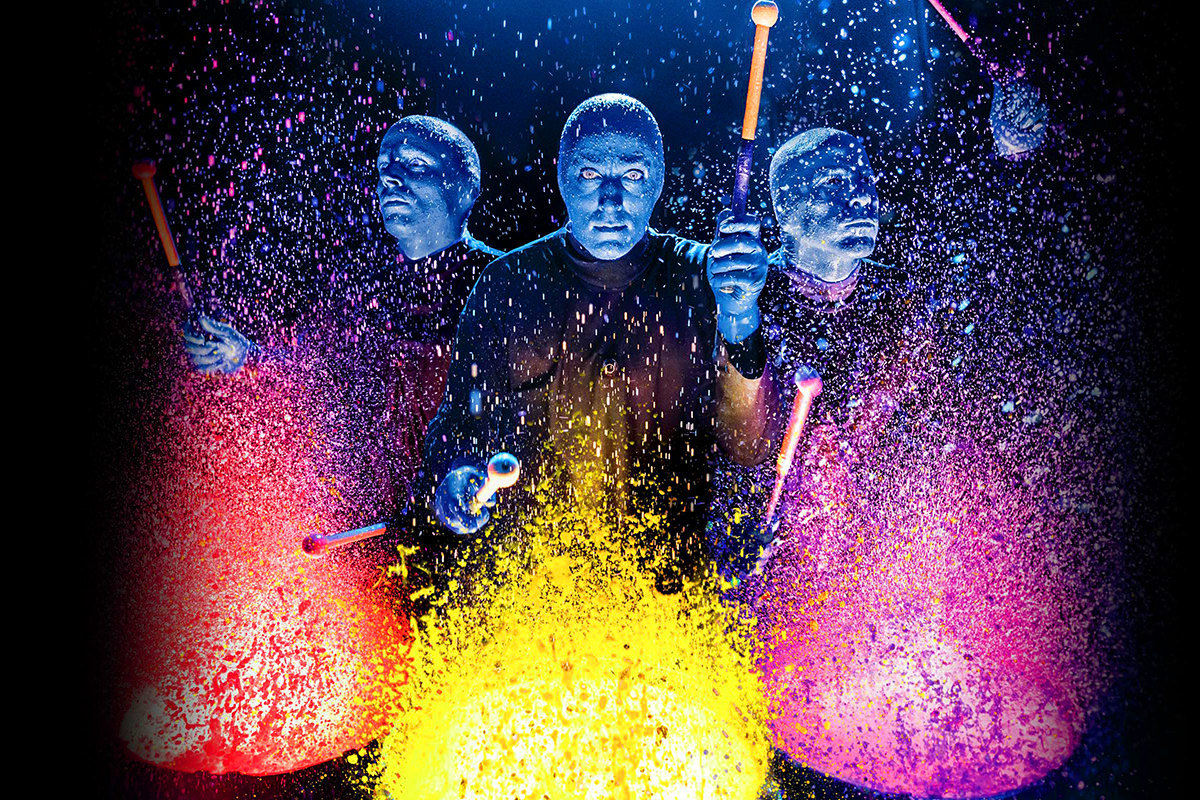 After the show, we headed back to Fremont to finish out gambling for the day. And to visit Nacho Daddy for my last Long Island of the day...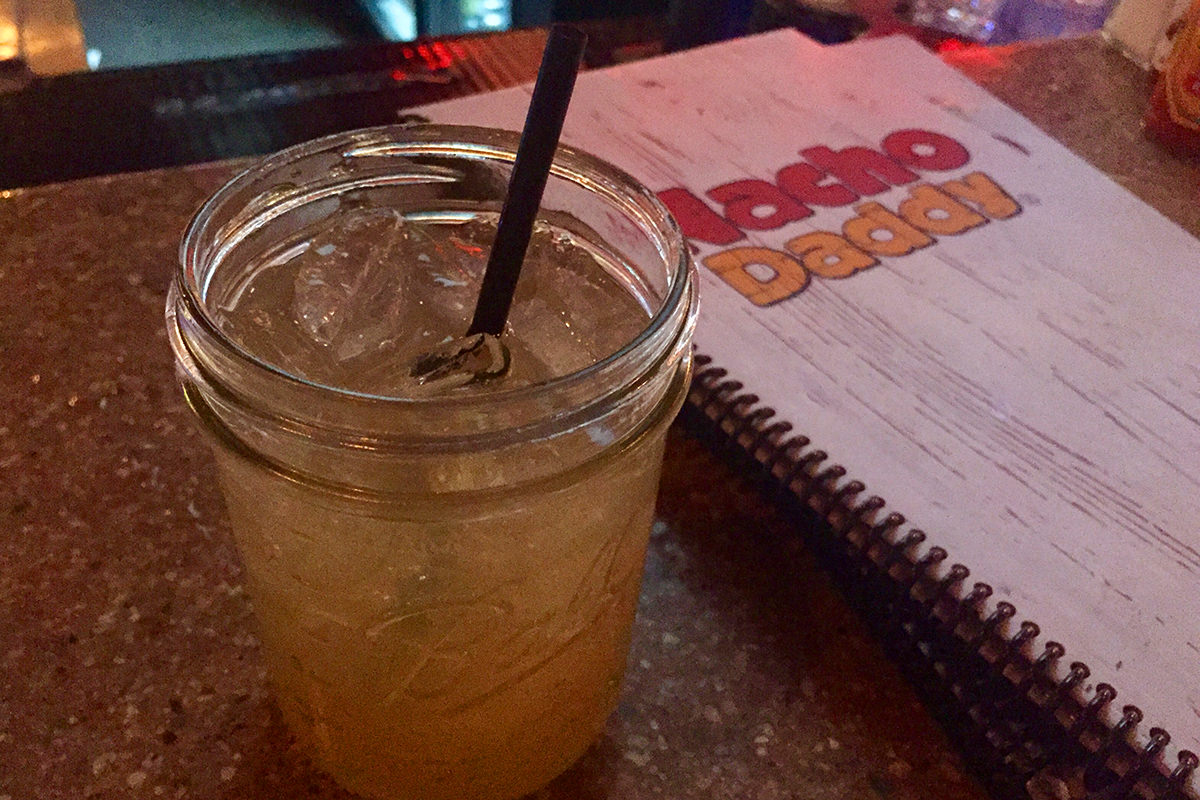 And now... a missive on The Golden Nugget Hotel & Casino Las Vegas...
This is my third time staying here, the last time being in 2009. I had zero complaints my previous visits. The Old Town location is great. The staff is great. The rooms are clean. What more could you want?
Well...
Turns out it's quite a bit.
Like not having to evacuate the hotel twice in one day.
Yesterday while I was relaxing before dinner, the hotel speaker system started screaming for people to evacuate the building. I waited to see if it were a false alarm, but eventually made my way down the stairwell to the outside of the building as the alarm continued. Where a bunch of us waited. And waited. And waited. Eventually I asked a passing security guard what was wrong and how long it would be before we could go back to our rooms. "DIDN'T YOU HEAR THE ALL-CLEAR?!? Uh. No. No we did not. There are no speakers outside to hear it. I then asked what happened "Somebody vaping on the 7th floor. Happens all the time."
Which turned out to be true. Because it happened again at 2:00am.
And I found out it had happened earlier before we even arrived as well.
Just a thought... if vaping sets off your building evacuation alarm three times a day at all hours, perhaps it would be prudent to alert people to this fact when they check in so vapers aren't constantly causing the evacuation the hotel. When I checked in, nobody told me vaping wasn't allowed inside. Nothing on my welcome card mentioned it either. I don't vape, so no harm no foul on me. But for others? Seriously... this is some outlandishly stupid shit.
And speaking of outlandishly stupid shit at The Golden Nugget...
This being Vegas, you have to pay $30 a day in "resort fees." This gets you...
Two bottles of water daily. But not really, because my water was never replenished.
Internet access. But not really, because neither my laptop or iPhone could ever connect.
Use of the gym and pool. But not really, because the famous waterslide at the pool was broken and the pool isn't 24 hours. Hell, the frickin' hot tub isn't even 24 hours.
Complimentary airline boarding passes printing via the Front Desk or Box Office. But not really, because this is a non-feature... who the fuck prints their boarding pass in 2017?
Complimentary newspapers. But not really, because they are not delivered to your room... you have to go down to the lobby to read them. And who the fuck reads a physical newspaper in 2017?
Discount coupons. But not really, because most of them are 2-for-1 deals, which are useless if you're in Vegas as a single. Unless you care to pay for an all-you-can-eat buffet twice just because the second one is free?
So essentially I was forced to pay $30 a day and got jack-shit for it. I already hate "resort fees" with a passion... and the hotels who rip you off with them... but The Golden Nugget is just beyond a shithole for not delivering any value with theirs. Will not be staying there again.
And I don't know about gambling there again either. Over half of their automated cash-out/ATM machines were broken...
Looks like you're standing in line forever at the understaffed cashier window.
Oh... and the fee for withdrawing money from their ATM when you find a working one? SIX FUCKING DOLLARS. Thanks, Golden Nugget... you pile of crap.
Posted on March 19th, 2017

Long Island Iced Teas Drank: 3
Gambling Tally: Down $22
Time To Bed: 3:00am
My friends and I arrived in Las Vegas at 1:30pm after a quick 2-hour flight from Seattle.
We had a late lunch at my new favorite restaurant in the Fremont area... Nacho Daddy, which is amazing from top to bottom. Great service, great music, great atmosphere, really great nachos, and incredible drinks...
I decided that my drink of the trip would be the Long Island Ice Tea, due to the high alcohol content. The last thing I was to do is be sober in Las Vegas.
Most of my friends went to "O" the water show by Cirque du Soleil. Since I am completely baffled by the appeal of Cirque, I took a pass and met up with some other friends who were in town.
After that there was much drinking and gambling until the wee hours of the morning.
Which sounds uneventful enough, sure. Except... the hotel had to be evacuated twice. Both times because somebody was vaping in their room. Apparently the smoke detectors in The Golden Nugget cannot distinguish between smoke and vapor, so this "happens all the time." At least according to the security guard on the sidewalk.
If vaping sets off your building evacuation alarm three times a day at all hours, perhaps it would be prudent to alert people to this fact when they check in so vapers aren't constantly evacuating the hotel. Just a thought. Because... seriously... this is some outlandishly stupid shit.
In better news... WONDER WOMAN SLOTS!!!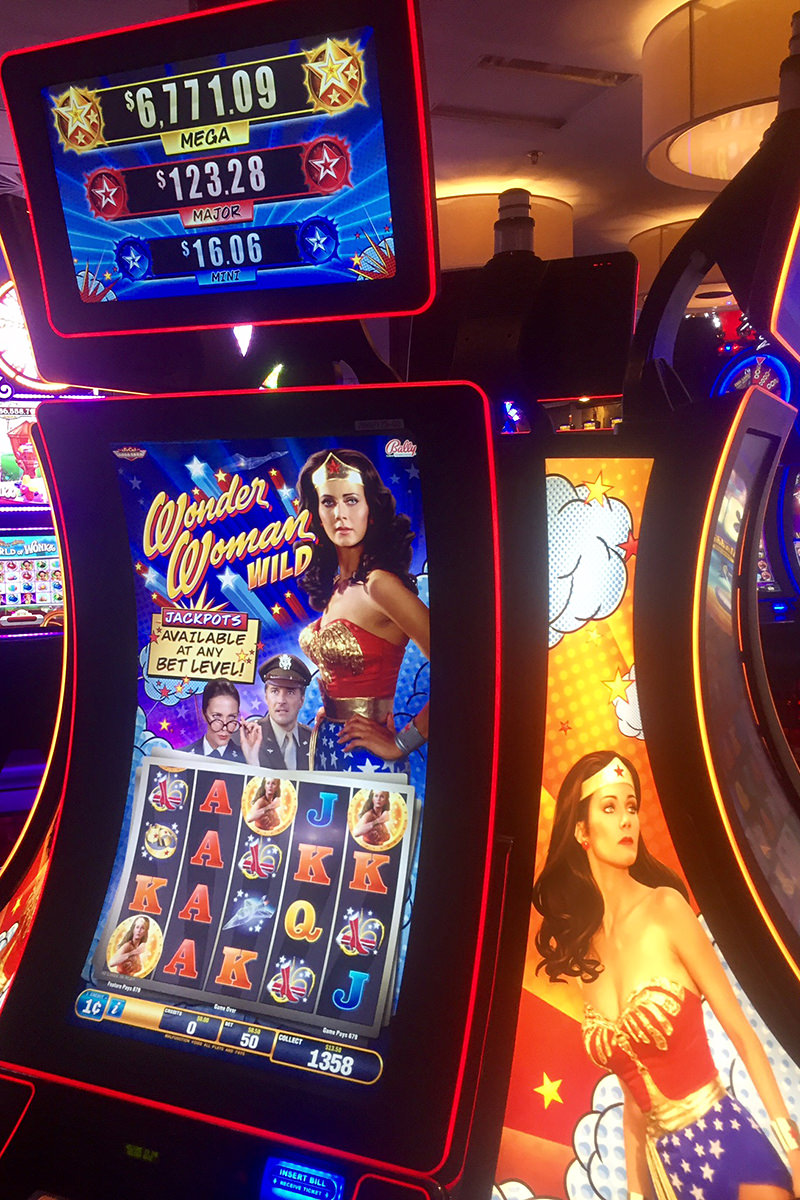 And just to prove that they can make a slots game out of anything... HOUSE OF CARDS SLOTS!!!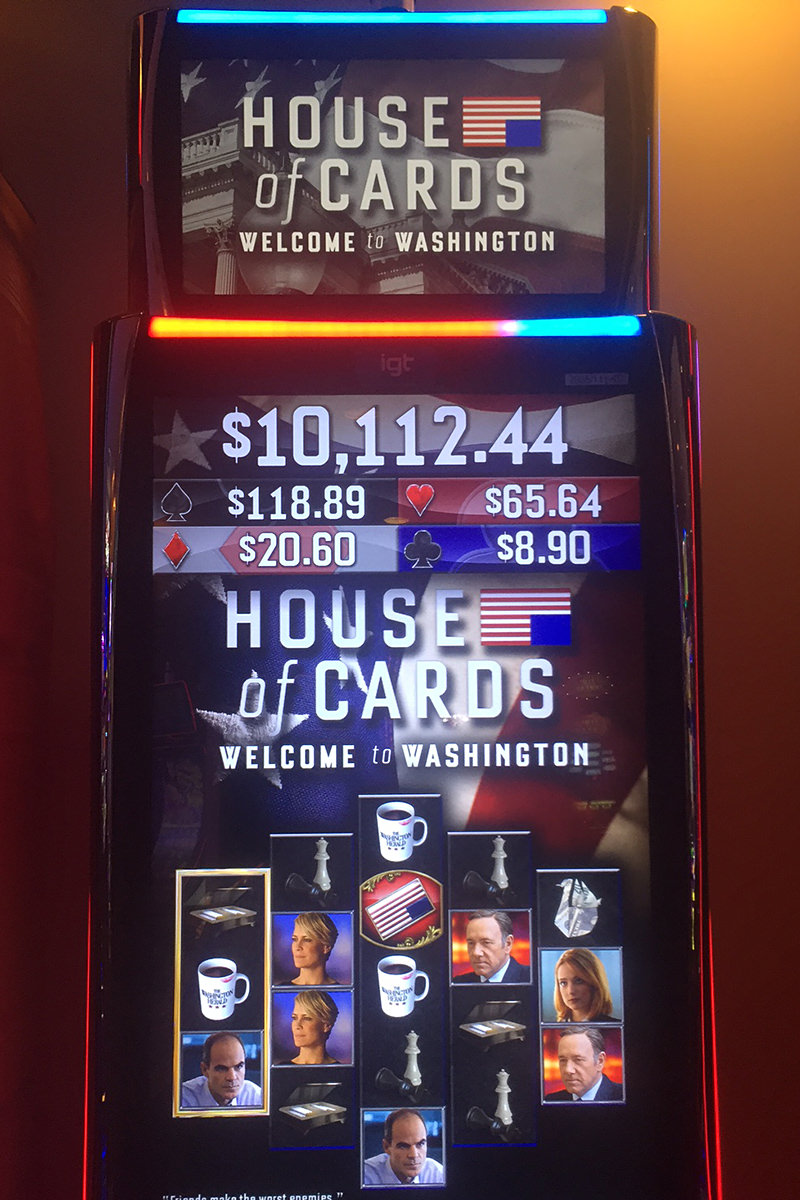 Though, I have to say... Orange is the new Black slots would be m favorite of the night. Who knew?
Posted on August 11th, 2013

Everybody place your bets... because Bullet Sunday starts now...

• Welcome! What always fascinates me about Las Vegas, Nevada is this: What people think of when they think of Las Vegas is not actually Las Vegas at all. Unless you are thinking of "Old Las Vegas" and Fairmont Street... or perhaps The Stratosphere Hotel and Casino... both of which actually are in Las Vegas. But most everything else... including all the big popular casino hotels on "The Strip" south of Sahara Avenue, are actually in Paradise, Nevada (unincorporated). Indeed, even McCarran International Airport is not in Las Vegas, despite what the sign says when you arrive there...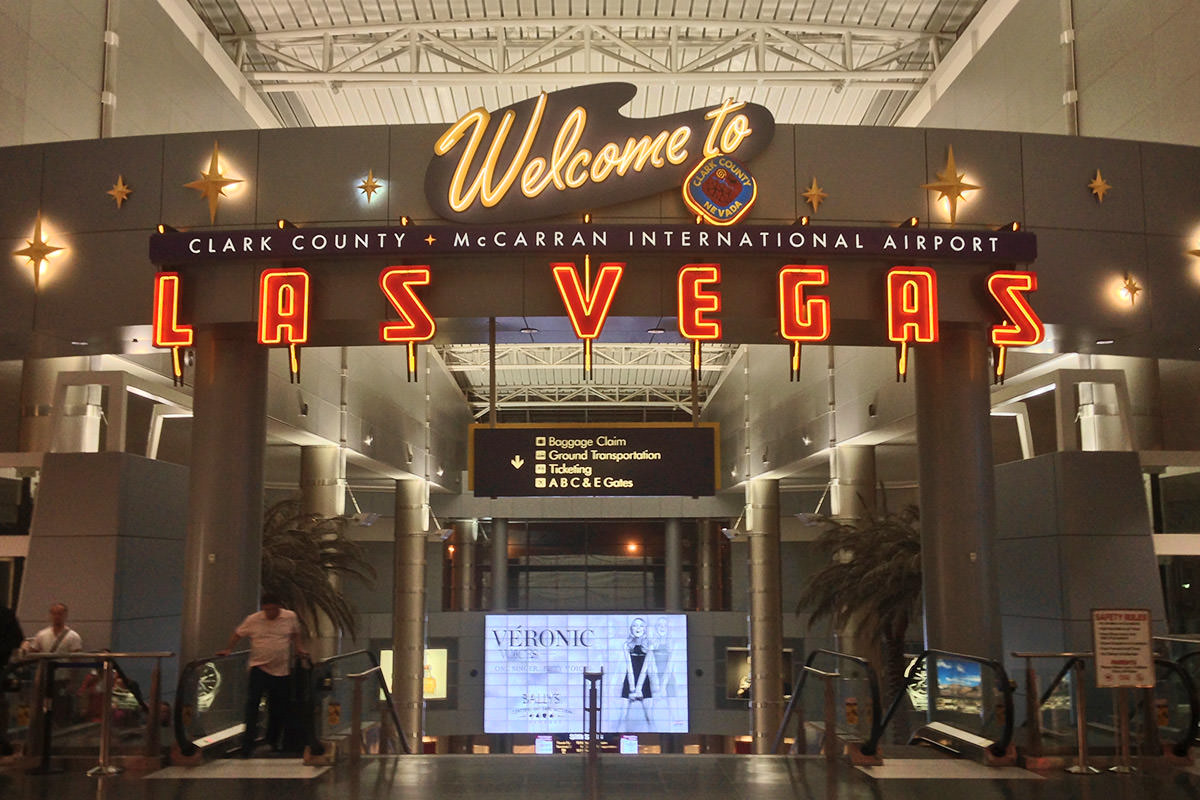 But I suppose it's easier to just lump everything together under the name "Las Vegas" that everybody knows... which, apparently, is what the US Postal Service does anyway.

• Service! One of the worst things about visiting "Las Vegas" if you are an AT&T mobile customer is that your cellular service is for shit. Even if you turn off LTE...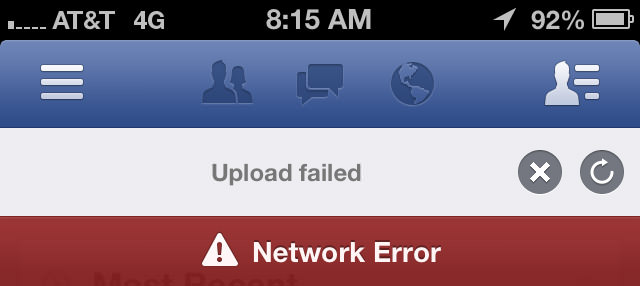 Actually, it's worse than shit, because a lot of the time there's no service at all. And I'm not talking about when you're buried in a casino somewhere... I'm talking about when you're walking around outside...

It has been like this for as long as I've been with AT&T and visiting Las Vegas. Even when you can start a call, odds are it will drop off before you can complete it. And I just don't get it. Yes, I'm sure putting up cellular towers is no easy process with the regulations and permits and all that... but this has been going on for years. Is AT&T EVER going to get their shit together in this city?

• Goo! If ever there was a reminder of why I won't be visiting porn theaters in this lifetime, this would be it...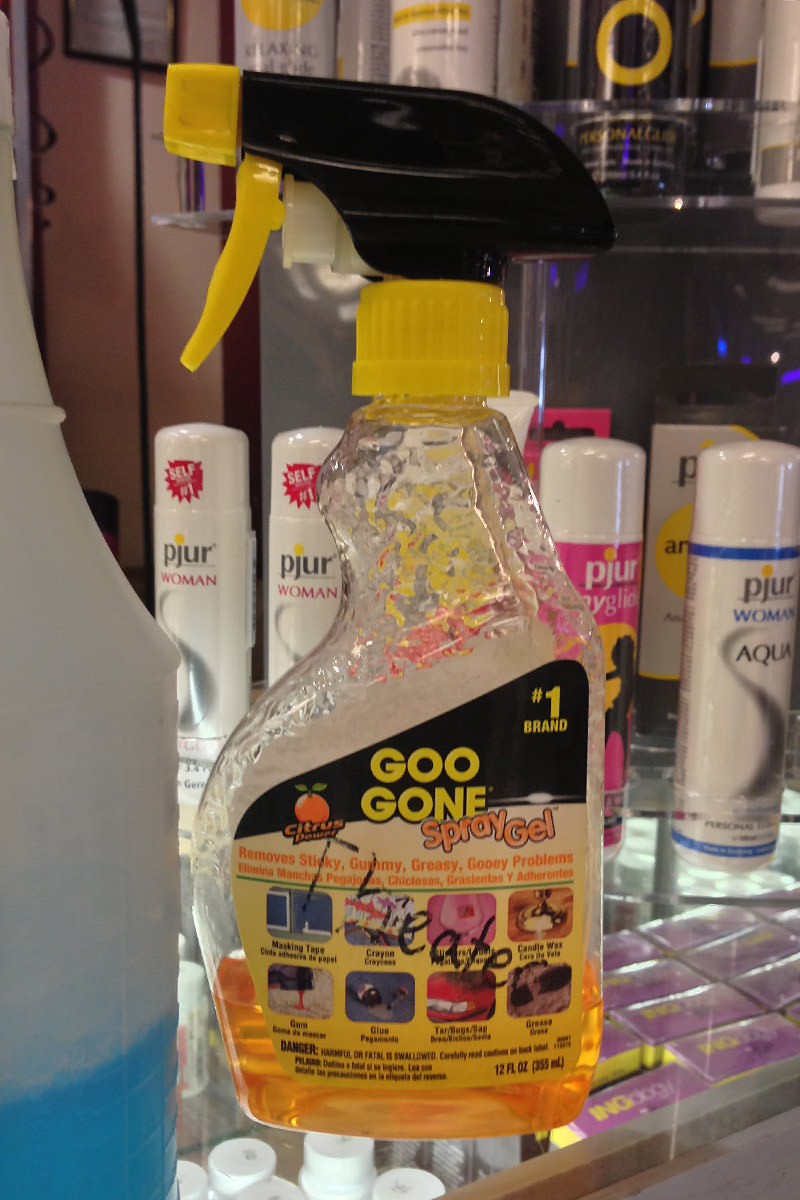 A Goo Gone bottle, almost empty, with "Theater" written across it? Sign me up.

• Venice! Las Vegas is much like Walt Disney World's EPCOT in that they try to recreate exotic locations from around the world so Americans not wanting to leave the country can leave the country.
But not really.
The truth is that you can't visit Venice without actually visiting Venice. Try as they might, these fabrications can't even give you a taste of what the real thing is like. And yet, not everybody is lucky enough to be able to fly off to Venice, so this is as close as they're going to get. And, in that respect, I suppose something is better than nothing...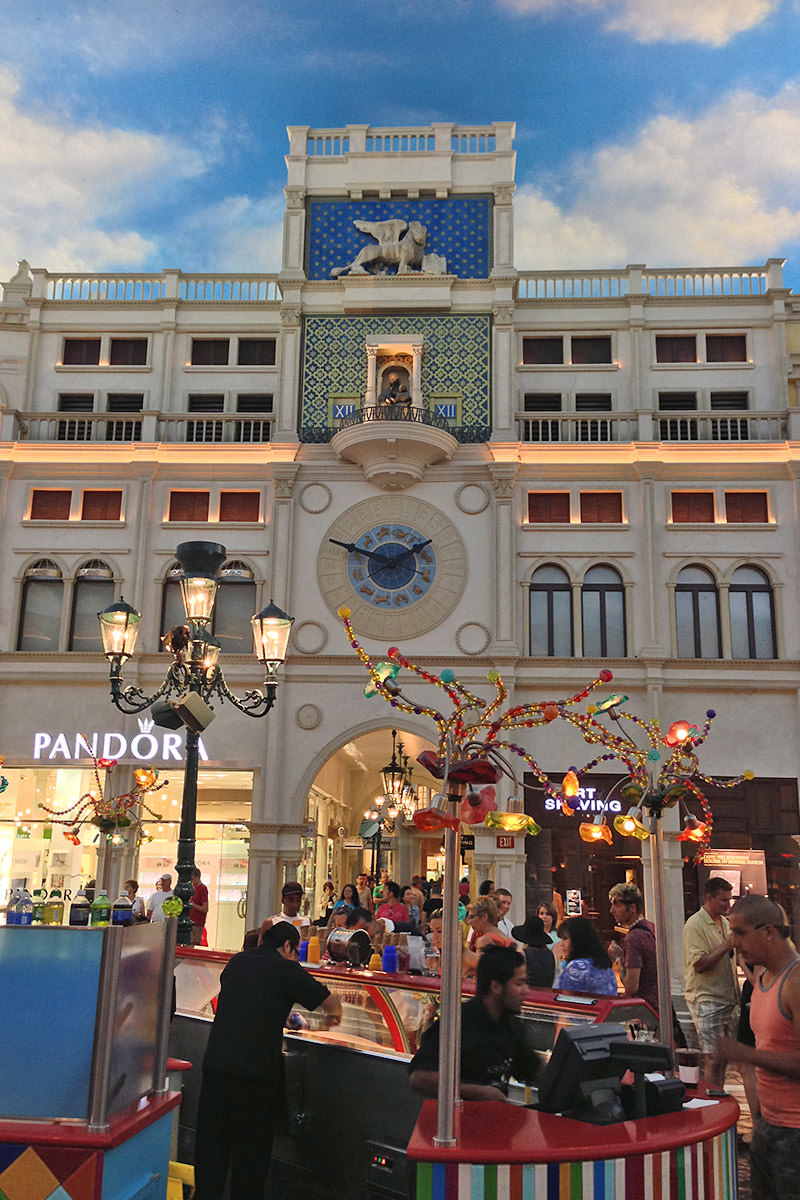 Could be better than the real St. Mark's Square... which is always covered in scaffolding and pigeons.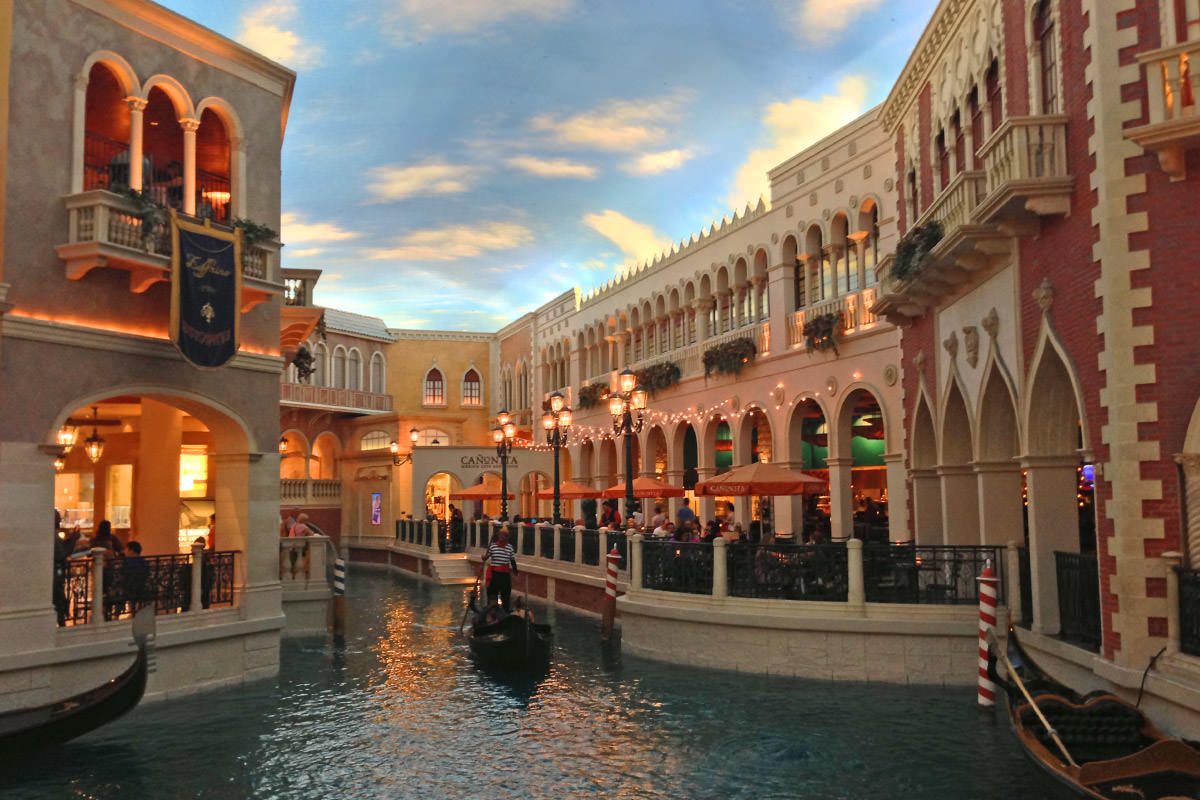 Gondola rides in Vegas are much, much, much cheaper than in Venice.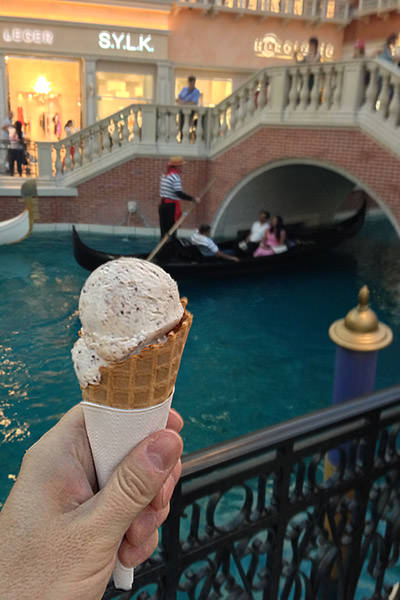 What's a visit to Italy without some stracciatella gelato?
My hope is that anybody intrigued by fake Venice or fake Paris or fake Oslo or fake anywhere would want to save their pennies to visit the real thing. But there's usually no slot machines filling every available bit of floor space, so maybe that's asking too much.

• &! Something I have always wanted to do on my many trips to Las Vegas was to see Penn & Teller's show at the Rio. Thanks to a kind act of generosity, I finally managed it this trip...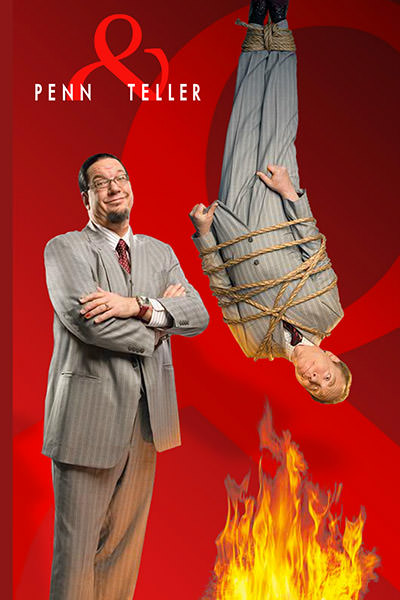 It was absolutely great. I wish there was a little more magic and a little less politics... but I guess that wouldn't be Penn & Teller, would it? Still... worth seeing if you're in the neighborhood.

Back to reality...