Posted on July 19th, 2014

Because travel is so heinously expensive now-a-days, I am costing out every single job to make sure that I don't end up losing money. So, for example, if an offer comes up in Tokyo that I can squeeze into my schedule, I don't immediately say "yes" as I used to. I say "maybe" then start researching expenses. Especially with a city like Tokyo which tends to be massively pricey anyway.
First stop is my email confirmations from past trips for hotels, transportation, and such to get a general idea of what I've paid before. Which, in this case, ended up being a waste of time. Turns out the last time I was in Tokyo was in 2003, and I didn't start archiving confirmation emails until 2004. This was more than a little shocking, because I could have sworn I was in Tokyo sooner than that... five years, tops.
Naturally, I can barely remember details from a trip that happened over a decade ago, so questions begin to pop up. "What was the name of that hotel I always stay at?" Hell if I know. I think my co-workers called it "Pajama Hotel" because it had pink and white stripes like pajamas. But Googling that doesn't seem to produce a name.
But it does get me a photo from Flickr...

Photo © Jean-Michel Volat, from his Flickr stream.
Yep. That's the place. Time to play detective.
The photo is tagged with a location of Kojimachi 1 Chome. But the minute I call up that neighborhood in Google Maps, I know it's wrong...
The hotel was nowhere near the Tokyo Inner Loop, and I know the train stop wasn't Hanzomon. On top of that, I knew there were a pair of small streets across from the hotel where I'd go to eat, and they weren't there.
Thinking the GPS was off, I zoom out a bit and... BINGO! The name "Akasaka Hotel Tokyu" sounds really familiar...
Jumping to Google Street View so I can wander around and... there it is...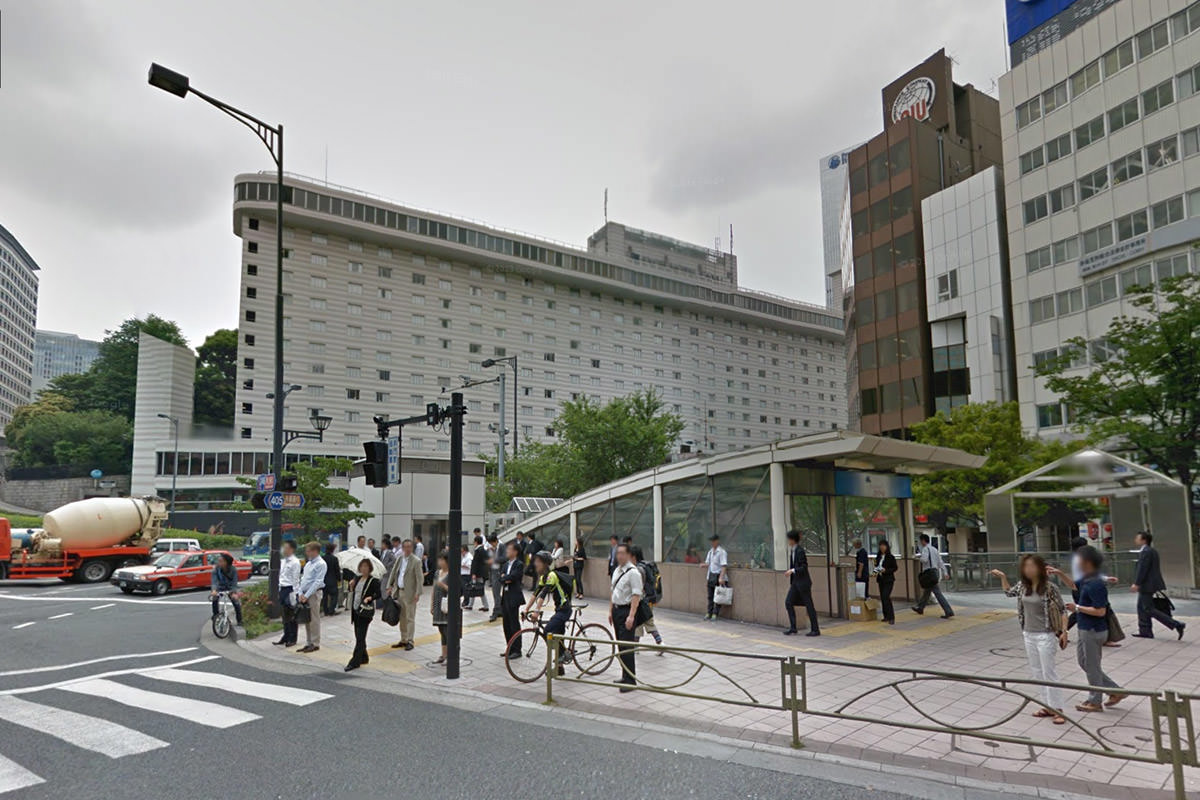 Five minutes to find the answer to a rather strange question. Thank you, internet.
Much to my surprise, the hotel I like is reasonably priced. Unfortunately, the airfare is absurd. Crazy absurd. So I have no idea if I'll be going to Tokyo or not.
Oh well. I've got a pile of clothes I should probably wash instad of jetting across the Pacific Ocean anyway.
Posted on April 28th, 2012

Years ago I was wandering around a residential neighborhood in Osaka, Japan looking for a restaurant that was recommended to me. Far away from places that tourists might frequent, the natives were shocked and dismayed at this tall foreigner in their midst. I had been to Japan often enough that the double-takes, stares, and whispers didn't bother me anymore, but the feeling of "not belonging" was always there.
As I tried my best to navigate Japan's bizarre address system and find the building I was looking for, I ran across a young boy standing outside a small group of people. Not wanting to alarm anybody, I smiled at him and picked up my pace a bit so I could pass by. But escape wasn't so easy. Mouth agape, the boy asked if I was a "gai-jin" ("foreign person") as I approached.
All conversation by the group of people stopped immediately as they turned and looked at us. A couple of them had faces frozen in horror, as if I were going to eat the kid or something.
"Yes," I replied. "But I'm a friendly monster, so it's okay."
Hearing a foreigner speaking Japanese is usually cause for confusion. But once that wore off, a few smiles and guffaws escaped the crowd. Then a 20-something man piped up in his wonderful Japanese directness and asked "Why are you here?"
"I am looking for a restaurant," I said, as I held out a slip of paper with the address written on it.
After a quick look, the man replied "It's there!" and pointed across the street, one block down.
I thanked him for his help, retrieved the address with a slight bow, then started to walk down the street... only to have the man walk alongside. Apparently he decided to accompany me to my destination and make sure I arrived safely. But that wasn't all. When I glanced behind me, I noticed that the entire group was following us. Albeit slowly... and at a distance.
It was a surprisingly uncomfortable situation but, fortunately, it didn't last long. A few minutes later we arrived, so I thanked the man again and said goodbye. Across the street, the group of people were waving at me, so I waved back with a quick bow and escaped into the restaurant.
After dinner I poked my head out to see if they had waited for me, but they were gone.
I guess even friendly monsters end up alone eventually.