Posted on November 21st, 2018

When the iPhone X was released last year, I wanted one. Badly. For one reason and one reason only... the camera. The dual-lens dream had abilities far better than the camera on my old iPhone 6 from 2014. And since I use my phone far more for photography than actual phone calls, it's nice to have a great camera on it. Problem was I couldn't afford it. I had a trip to Antarctica coming up that took every spare dollar in my possession (and then some). Except... along with the X, Apple also released something which put their latest and greatest within my reach: The iPhone Upgrade Program.
This interesting financing option is essentially a loan from Citizens One which amortizes the cost of the phone, plus AppleCare, plus interest over a 24 month period. That, in itself, is not all that "interesting," but I'll tell you what is interesting... after 12 payments you can trade your iPhone in for the latest model. You also have the option of paying off all 24 payments and owning the phone, but what fun is that? *
I didn't want to get the new phone before my trip to the bottom of the world (I probably would have dropped it into the ocean or smashed it on an iceberg or something) so I waited until I got back and ordered my iPhone X on December 20th. It's a great phone. I love the camera. And all was good in the world.
And then...
This past Monday night I received an email from Apple with the good news... my twelfth payment had processed and I was now eligible for an upgrade to the iPhone Xs! Guess my Monday wasn't as crappy as I had thought!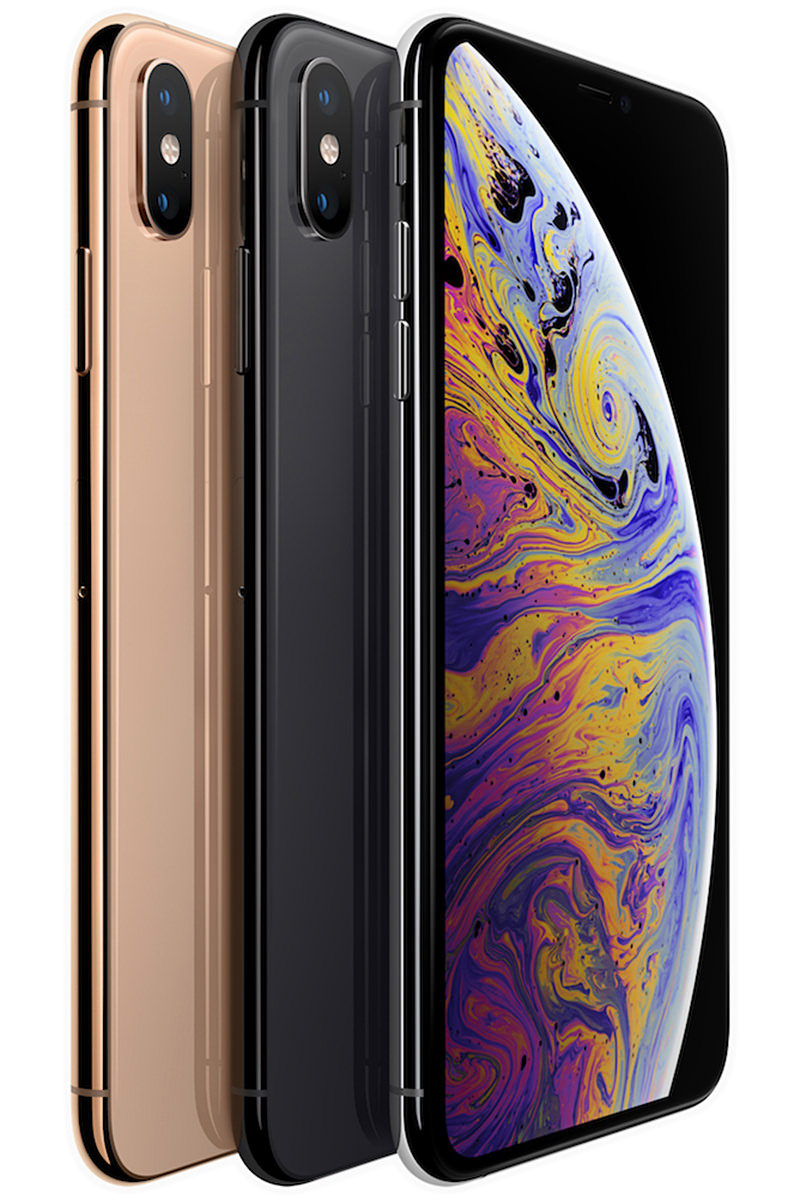 My first instinct was to wait three weeks and get a little life from the $56.16 payment I had just made. If I ordered the Xs right away, I'd have to pay that payment again (first month is in advance), which seems financially reckless. But then I remembered that I had a credit of $42 from a return I made, so I decided "What the heck?" And ordered anyway.
It arrived today.
I'm returning it on Monday (UPDATE: No I'm not... see below).
But before we get to that...
The new camera is even better than the X with a wider lens, 30% larger sensor, higher dynamic range, and machine learning image processing which does all kinds of magic so casual users get much better shots...
For professional photographers (and professional wannabes like myself) you'll need to get a camera app that shoots RAW and can put the power of the new camera within reach. Like the $6 Halide app (the developers of which wrote a great article on what the new Xs camera is capable of). I haven't done much shooting yet, but I'm pretty impressed with what I'm getting so far.
In the day I've had to play with the iPhone Xs, there's a lot to love about it beyond the new camera...
So Much Faster. The new "A12 Bionic" chip is frighteningly smart and fast. Everything seems snappier and scrolling, in particular, is noticeably smoother. Lag is minimal in places that I definitely noticed before. If you never hear from me again, it's probably because my new phone has murdered me and is joining with other iPhones to enslave all mankind.
Tougher Construction. My iPhone X is pristine after a year because I keep it in a case and have a glass cover on the screen to protect it. And yet I worry, because dropping your phone can have bad consequences if it breaks. Especially if you're far from home. Early tests are showing that the Xs is really tough, and that's a good thing.
Dual SIM cards. Right now I have to carry two phones with me on days that I have to be accessible for my charity work. But hopefully not for much longer. The Xs has a "regular" SIM card slot... plus an eSim which will (eventually) allow you to have two separate cellular plans in a single handset. But there's more! Once eSIM becomes widely available, I look forward to using cheap data plans when traveling internationally instead of being price-gouged by AT&T's international roaming rates. Both of these things are a big deal to me.
Faster Face ID This is one of those features that I didn't think much of... until I started using it. This unlock feature (which uses your face as the key) was so fast that I barely noticed it on my X... now it's practically instantaneous.
Superior Display. The display on the X was very nice. This one is stunning. The color fidelity is unreal... or more real... depending on how you choose to look at it. I definitely notice a difference side-by-side with the X.
Better Battery Life. I have yet to run out the battery on my X... but there have been times I've come close. Having a little extra battery is a handy thing to have.
Gigabit LTE. Needless to say, rural America isn't getting the faster new data standard any time soon, but it will be nice to have faster internet when visiting a Big City that has it. Still not sure why Apple is calling it "Gigabit-Class LTE" instead of just "Gigabit LTE" but any time internet is faster is good. At least until 5G gets here, which will be insanely fast.
And now for the bad news...
As you can tell, I'm fairly pleased with the iPhone XS. It really is better in every way from the X that I got just one year ago. Except... even though it's essentially the exact same form as my old iPhone, the camera bump on the back is slightly larger at the bottom, so my old iPhone X case is a bit "off" on the new model. The pig-fuckers at Apple are expecting me to shell out $40 for a new silicone case, which is the cheapest case they make! I've never trusted third-party cases, so that was really my only option here.
Or so Apple wants you to believe!
Instead I took an X-ACTO blade and carved a bigger hole. Works just fine and saved me $40.
I positively loathe stupid, money-grabbing bullshit like this. Since the Xs was likely waaaayyyy down the road in development when Apple released the X, they probably knew they should have made the phone hole on the cases larger, but didn't. Because... well... $40 per case times millions of users equals serious money, yo.
And now for the WORST news...
The speakers on my X were fantastic. The Xs is supposed to have even better speakers. NOT THAT I WOULD KNOW THIS, BECAUSE MY UPPER SPEAKER IS DEFECTIVE AND I'M GOING TO HAVE TO RETURN MY BRAND NEW PHONE AND GET A NEW ONE. There's an annoying crackling plus audible distortion which plagues all sound coming from it. Whether it's a phone call or playing music, it's there. And it doesn't matter what volume it's at. Louder, softer, whatever.
UPDATE: Today when I answered a call, it was garbled as usual. I set my phone down to look for a paper, picked it back up, and suddenly it was sounding better? So I looked closely at the phone speaker and saw a tiny piece of film was pushed down into it, but had come out half-way. I pulled it out all the way and, just like that, PERFECT SOUND! No idea if the film came off the protective plastic you pull off or what, but I am so so so so happy that I don't have to exchange my new iPhone!
Anyway...
I was supposed to get a kit to return my old phone. It wasn't with my initial shipment, but Apple sent me an email telling me it will arrive soon. I hope so, because if I don't get the phone returned within 14 days, I'm billed for it.
In conclusion...
If it weren't for my being on the iPhone Upgrade Program, I would not have upgraded to the Xs from the X. Yes, it's a better phone... but not that much better. Because I am on the program I decided to go for it even though I have to return my old phone and lose the money I've put towards it. Since I donate my old phones, this isn't an issue for me, but if you sell your old phones you might was to go the full 24 months and pay it off so you own it.
With my iPhoneX I bought the 256GB model. I barely used any of that memory. So this time I just went with the cheaper 64GB model. Even with everything I had installed, I still have 18GB free. Such is the beauty of having a phone that can upload my hi-res original images to iCloud so the thousands of photos I've taken aren't filling up my phone. Even so? I wish Apple had a 128GB model so I could split the difference in cost and have a bit more memory to play with. Might save me from swapping apps in and out of memory.
Unlike last time, this time Apple offered me two options for my AppleCare. The original AppleCare+... and a new "AppleCare+ with Theft and Loss Protection" for about $5 extra per month. I leapt at it. Sure this essentially eradicates the money I saved by getting a phone with less memory, but the peace of mind over not being on the hook for 100% of my $1000 phone if something happens? Worth it. Here's the deets: "Your coverage includes up to two incidents of accidental damage, theft, or loss. Each incident is subject to a deductible of $29 for screen damage, $99 for all other accidental damage, or $269 for a theft or loss claim." I'm not sure how this works. If I have my screen repaired twice at $29, then my iPhone gets stolen, am I completely screwed? Hopefully it's two incidents each, but who knows? Something I need to check into, I guess.
Ultimately I'd be happy with my iPhone Xs if Apple's quality control had ensured I got one with a working speaker. Here's hoping my next one doesn't have to be returned as well.
---
*I used to always keep my old phone in case I lose or break the new one, then donate my old-old-phone from before that to the National Coalition Against Domestic Violence. Sure I won't be able to donate any more if I choose to upgrade, but Apple gives millions upon millions to charities with their money, so at least I know some of the money Apple makes off the program is going to good causes.
Posted on September 13th, 2017

Apple started off their September Event video with sweeping views of the brand new Apple Campus, otherwise known as "The Donut" or "The Spaceship" or "The Mothership." It is, of course, a structure of sublime beauty. Then, as The Beatles' All You Need is Love plays, we fly over to the equally sublime Steve Jobs Theater as attendees file in.
Then, in a moment that tore at my heart, the voice of my personal hero fills the theater that bears his name. And, just far a moment, it feels like he never left us. Then Tim Cook walks out with tribute to Jobs and the moment is gone. The Keynote begins.
Let's watch it together, shall we?
APPLE PARK
I could have watched an entire keynote devoted to Apple's new headquarters but, alas, all we get is a fleeting look. Happily, Tim announced that there will be a visitor's center! I will, of course, be paying a visit one of these days. An Apple Whore's life isn't complete until you've made a pilgrimage to The Mother Ship...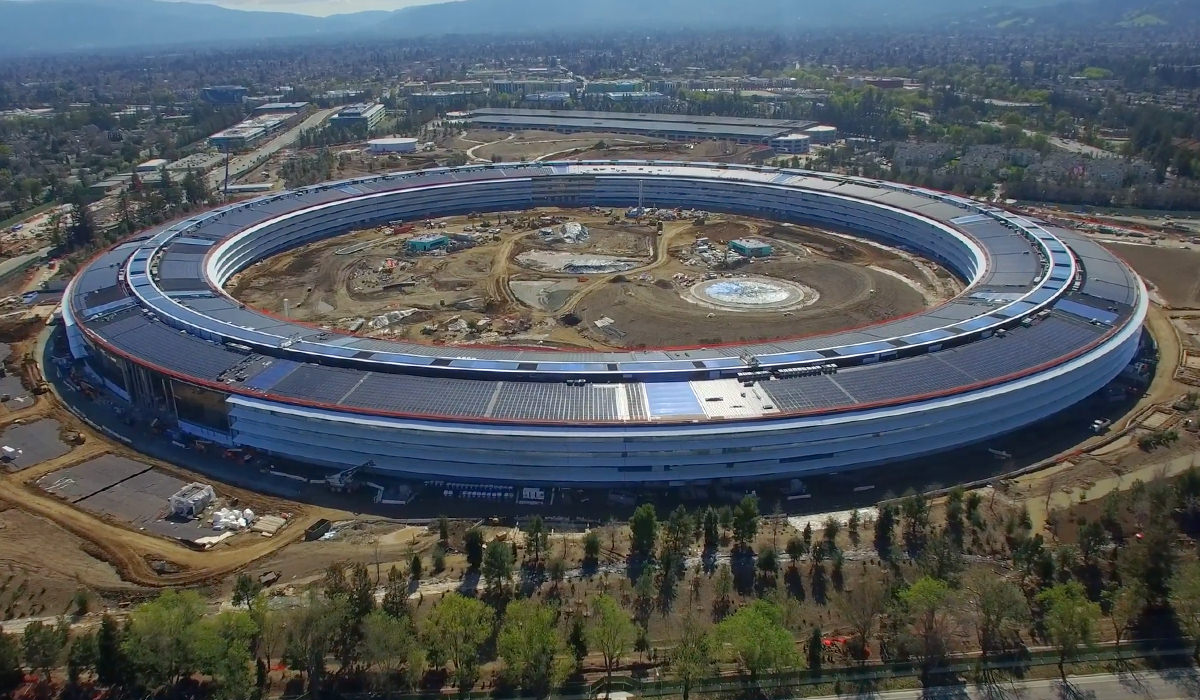 Aerial drone footage by Matthew Roberts

APPLE RETAIL
Oh gag me. Apple doesn't call their major stores "stores" any more... they are "town squares." I mean, yeah... they are beautiful spaces where people can gather but, come on. These are monuments to retail, not the cities they reside in.
There is no doubt that Apple "town squares" are beautiful inside and out... architectural marvels that capture my imagination like no other stores can. And the plans they announced for Paris and Milan are borderline destination-worthy, which is remarkable. These are STORES!

APPLE WATCH 3
Apple finally cracked the smart-watch after a stream of other companies tried and failed. And their efforts paid off... they now have the #1 watch in the world. What's interesting is how Apple has changed this space. Their smartwatch is more of a lifestyle piece than a tech toy, and they continue to push into fitness and health in a way that makes their wares a compelling purchase.
The big announcement from this segment is that the new Apple Watch 3 now has a cellular radio, so it doesn't require a phone to access the internet. Dick Tracy has just become real, y'all. You can make/answer calls... send texts... even stream Apple Music... all without a phone. On my AT&T plan, this functionality costs an additional $10 a month. I guess that's a fair price... though I don't picture using $10 worth of data every month, as my iPhone will still get the lion's share of my usage.
I would love an Apple Watch 3. It's a magnificent piece of tech and, given my elevated heart rate, would probably be a benefit to my health. And yet... I have small wrists. Even the small Apple Watch is a massive clunker on me. What I want... what I really really want... is an thinner Apple Watch. I'd sacrifice some features (like the cellular radio) just to have something I can actually wear comfortably.
The price of admission for Series 3 with cellular is $399. Given that the watch is "darn close to magic," this seems like a bargain. Available September 22.

APPLE TV 4K HDR
I have many frustrations with Apple. One of the biggest is Apple TV. The remote is shit. The user interface is shit. Streaming my Apple purchases (when I can even get it to work) has quality that is shit. And if my Apple TV struggles to stream HD content now, what hope is there that a massive 4K stream is going to get through? What's so frustrating is that the Apple TV apps FOR EVERY OTHER STREAMING SERVICE is fantastic. I never have a problem with Netflix, ABC, NBC, CBS, YouTube, Showtime, HBO, Starz... ANY of them. Just my Apple iTunes purchases. How messed up is that?
Assuming I could actually get the Apple TV 4K HDR to stream shit (I have a 4K HDR television), it seems like a great device. Mainly because Apple will automatically upgrade your HD purchases to 4K HDR at no charge. If only they would come up with a better remote.

iPHONE 8
My every day phone is an iPhone 6. It's a little slow to initiate with the newer OS and apps, but it works perfectly fine, and I didn't feel the need to upgrade to an iPhone 7. Yeah... 3D touch is cool and the nicer camera (especially on the 7+) would be great... but it wasn't worth the cost. Even once my battery started cutting out at 10%.
But it's time to upgrade, and the iPhone 8 looks like a great choice. FINALLY stereo speakers (in both orientations!). The A11 Bionic chip would be a quantum leap from the A8 chip in my current phone. The camera looks incredible, but I'm disappointed that the dual-lens model with "portrait mode" is only available in the giant iPhone again. I don't want to lug around a giant phone. And while I'm not a big "augmented reality" fan yet, I have to say, the AR star map app they showed off is right up my alley. Needless to say, wireless charging is a much-coveted feature. No more plugging/unplugging a power cord... just slap it on a charging mat. Kind of odd that Apple took so long to get here when other companies have had wireless charging for a while. Available September 22.

iPHONE X
Let me just start by saying ONE THOUSAND DOLLARS?!?? Boy, that's a lot of money for a phone. But is it worth it?
Maybe.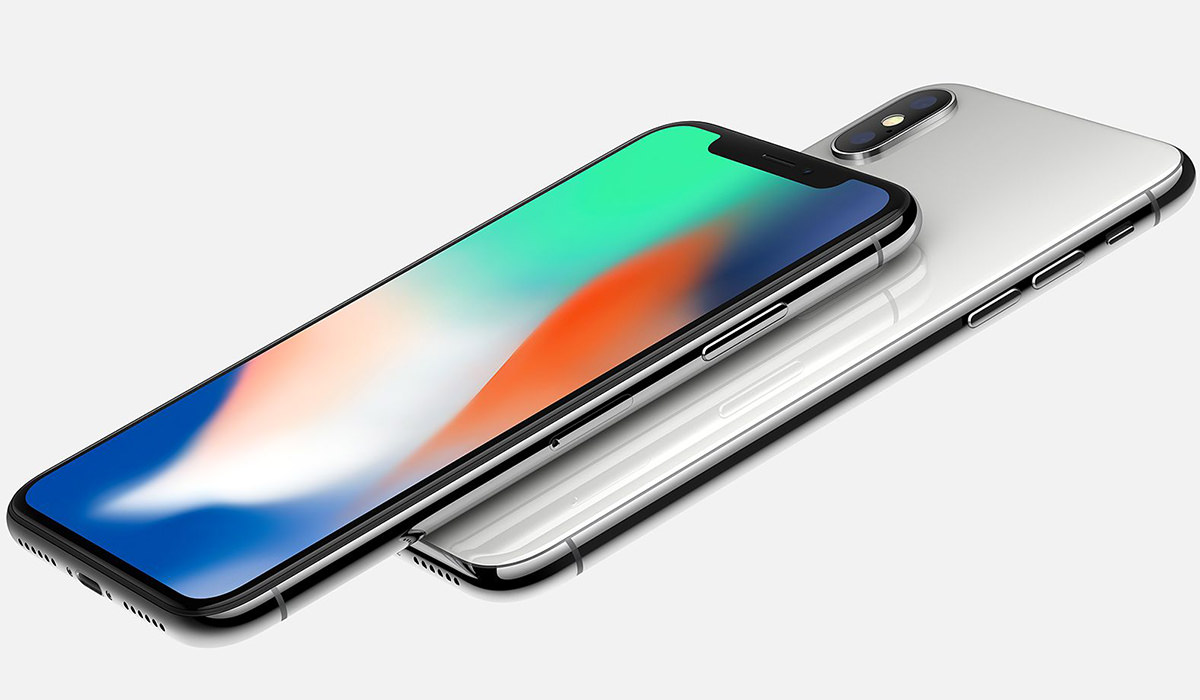 The bullet points...
Super Retina Display. Should be fantastic. The black levels and huge contrast ratio make for an amazing visual treat. Photos will look amazing.
No Home Button. A long time coming. Opens up the entire phone face for display and eliminates a physical fault-point.
Face ID. If it's reliable (the demo puts this in doubt), this is a much nicer experience than having to futz with your fingerprint and Touch ID. The technology behind this is insane, and will open up a whole new world of interface design.
Neural Engine. Welp. Skynet Step One is now in your pocket. An iPhone that has machine learning... what could possibly go wrong? "Siri, please stop telling the toaster to kill me!"
Animoji! Animated poop emoji? Okay... I'm sold. Give me an iPhone X.
Swipe. Am I the only one who thinks that the new swipe gestures are going to cause some thumb cramping? No? Okay.
Face ID Mask Tracking. This is a totally useless idea that will add an entirely new level to drunk FaceTime chatting.
Face ID Animoji. Craig Federighi as a poop emoji will never go away. The whole idea of communicating via animated emjoi is a cute selling feature... but, other than kids who can afford iPhone X, who is going to use this on a daily basis?
Camera X. Given the importance of camera quality on smartphones (I use my camera far more than any feature... like 100× more), it's a given that the camera on Apple's flagship phone is going to be incredible. Here is the dual-lens camera that I wish was in the regular-sized iPhone 8. But probably won't get there until... iPhone 9?
Selfie Sticht. If you just loooooove taking photos of yourself, then the selfie-camera (formerly the "front-facing camera") with portrait mode on the iPhone X is for you.
AirPower. The future is here. Slap down your iPhone, Apple Watch 3, and AirBuds (in wireless case) on the mat and charging is instant and automatic. Sadly, there doesn't look to be a charging option for Apple Pencil. I guess I'll still have to plug that one in.

I am not going to buy a new phone until I get back from Antarctica. Heaven only knows how I'd end up destroying the thing while on that trip. No, my new iPhone won't be coming until tax refund time next year. Whether I will end up spending $300 more for the iPhone X over the iPhone 8 is anybody's guess. I mean... ONE THOUSAND DOLLARS FOR A PHONE?!? But, then again, I've paid $300 for a pocket camera that's not as good as the camera in iPhone X, so that's something to take under consideration. In the end, I compare my iPhone to a mattress. With a mattress, it makes sense to buy the best one you can afford since a huge portion of your life is going to be spent sleeping on it. The iPhone is no different. It's easily the most-used piece technology I own. It's also the most valuable considering what I can do with it while not in front of a computer. Especially when traveling. Ideally, I'd like to spend no more than $400 on a phone. That seems a good price point to me, and what I'm comfortable forking over. But, given how important the iPhone has become in my life, I think I can get comfortable being uncomfortable.
As to how uncomfortable? Probably iPhone X uncomfortable. I mean, that camera...
Posted on June 5th, 2017

And so it's time once again to tune into the Apple World Wide Developer Conference keynote to find out what everybody's favorite fruit-based tech company has up their sleeves for second quarter 2017.
I have to admit, I no longer get ramped up for these Apple things like I used to. In the past, I would take a frickin' vacation day when the WWDC keynote was unspooling just so I could unpack all the Apple goodness that had been unleashed. I'd pour over every minute and blog epic breakdowns of everything that was announced.
Now?
Well, I'm still excited over Apple's stuff... they're an exciting company. But the way they keep screwing up has me less enthused than I once was. I bought into their HomeKit home automation tech, only to find out that it is a total load of crap. They keep making "pro" equipment that isn't for "pros." The reliability of their products is in the toilet, and the way they address their lack in quality is bullshit. Meanwhile Microsoft is killing it with their Surface line, easily picking up the pro design market that Apple is abandoning.
But I digress.
Rather than have to watch hours of keynote like I did, here's a 19 minute recap that tells you everything you need to know (assuming you haven't seen it already)...
And here are my reactions...
Amazon on Apple TV. It's about frickin' time. I mean, I know this was probably more an Amazon issue than an Apple issue, but the wait has just been silly. A pity that the Apple content delivery is so shitty. I still can't get reliable streaming of my Apple video purchases despite every other streaming service in existence working perfectly fine... even on my AppleTV.
watchOS 4 Some nifty features. It's interesting how Apple has cracked the nut here that so many companies have failed with. Problem is that the watches are still too thick and clunky to be comfortable on me.
MacOS High Sierra. As the self-proclaimed "Heart and Soul of Apple," the company sure doesn't seem to be putting the Mac on the same level as their phone/watch/tablet products. This update to the MacOS offers some interesting features... in particular the new file system that's been a long time coming... but most of it is fluff. Where is the groundbreaking innovation that's going to keep the Mac platform moving forward? Certainly not at this keynote.
VRkit. Mass adoption of Virtual Reality isn't going to happen until it's much cheaper... and a hell of a lot less cumbersome and uncomfortable. When Apple releases VR that's accessed with a pair of glasses instead of some janky headset, maybe I will get excited. But now? Interesting and entertaining for early adopters, but it's got a long, long way to go before it's an essential technology.
iMac Pro. Why the fuck can't Apple get it through their heads that all this "pro" equipment they are releasing is not what pros are wanting? Your "pro" Mac option is now a fucking iMac? An iMac? A $5000 computer you can't expand or self-service? Oh... but it comes in fucking "Space Gray," so that makes up for everything! Give me a fucking break. Yes, it's an awesome computer... a powerfully awesome computer that looks great... but it is NOT WHAT PROS ARE LOOKING FOR!
iOS 11. Messages syncing is great, Personal Apple Pay is wonderful. Upgraded Siri is awesome... especially the translation feature! Siri learning and persistence is cool. Photo upgrades are welcome. New Control Center is overdue. Do Not Disturb while driving is critical to help keep dumbasses from being dangerous on the road. ARkit augmented reality is sweet, but kind of gimmicky.
iPad Pro. Wishing this was my iPad. The upgraded display is phenomenal, and looks like it will make using Apple Pencil even more remarkable. But the best part is the new size. The move from 9.7" to 10.5" feels like the perfect move... just a little bit more room to be more productive, but not to the cumbersome degree of the 12.9" model. I don't know that these new iPads are the ideal answer to Microsoft's Surface, but it's definitely a step in the right direction. But at a price.
iOS for iPad. If Apple keeps bringing desktop features to iPad, pretty soon they won't need to sell desktops. Which is probably the ultimate goal here. File management is finally here and, while not as feature-rich as I had hoped, it's still very much a step in the right direction.
HomePod. I'll buy one. Absolutely. This is the perfect device for playing music in my bedroom... perhaps even in my living room. But when it comes to home automation, it's too little too late. WAY too little because it relies on Apple's shitty HomeKit technology that I've abandoned. WAY too late because Amazon's Alexa does so much more in every arena, and already controls my home automation perfectly. To me, this is competition to SONOS, not Alexa. Maybe one day that will change, but Apple is going to have to integrate with other systems like Amazon has done in order to make any headway.
All in all... some nice upgrades in the OS and software departments, but more of the same bullshit for pro design users. A market Apple used to own, but is throwing away with gleeful abandon. Leaving me to wonder if my next computer will be running Windows. My license for Adobe's Creative Cloud Suite works for Mac or Windows, and they function the same on both systems. Food for thought.
Tags:
Apple
,
Apple TV
,
Apple Watch
,
iMac
,
iPad
,
iPhone
,
iPhone Photography
,
Mac
,
Mac OS X
,
WWDC
Categories:
Apple Stuff 2017
,
News – Politics 2017
—
Click To It:
Permalink
—
3 Comments: Click To Add Yours!
Posted on March 1st, 2015

Don't let the drone surveillance get you down... because Bullet Sunday on Monday starts... now...

• Vaccinate! Classic...
And yet... the measles epidemic rages on. Thanks, Jenny McCarthy!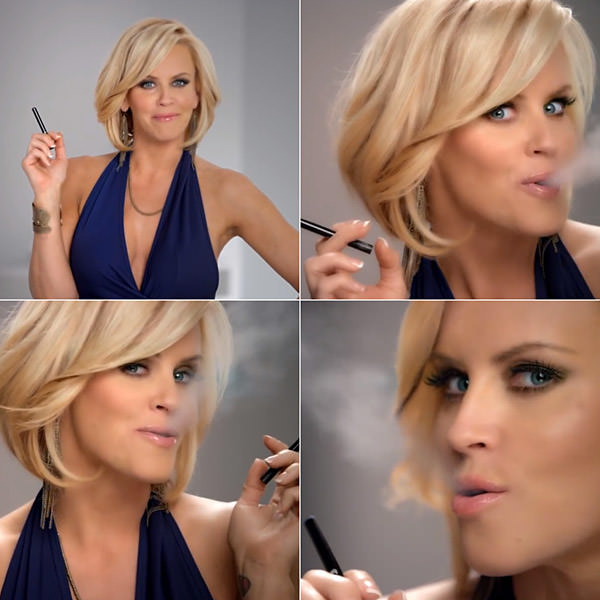 You're a horrible, horrible person.

• MURICA! Because nothing says "freedom" better than being able to scream "YOU'RE FIRED, FAGGOT!" when you find out that one of your employees is gay, and being 100% within the law... Arkansas has passed an anti-non-discrimination bill SB 202...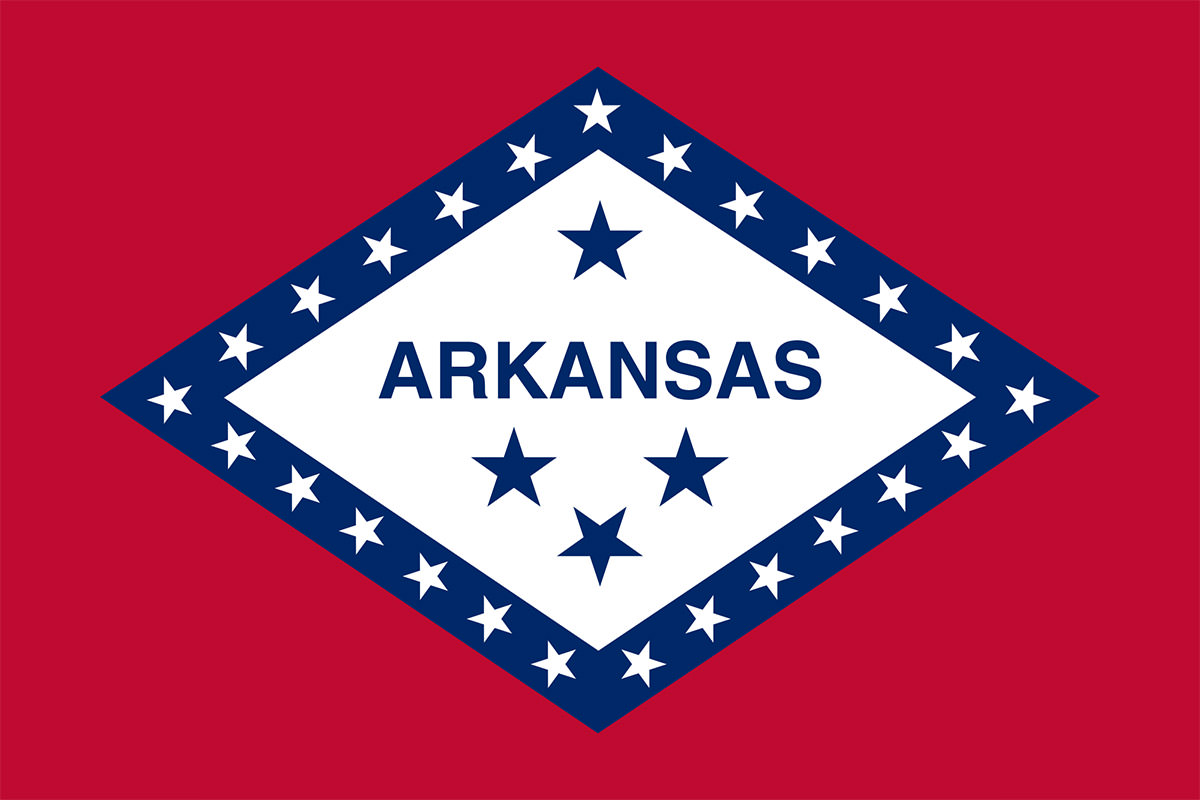 I've heard of legislating morality... but legislating immorality? Way to go, Arkansas. There's some terrific things about your state, but this is a fucking embarrassment. Shame on everyone who had a hand in dragging "The Natural State" back to less enlightened times.

• Widow! The hype machine for Avengers: Age of Ultron is really amping up, with individual character posters being released this week. Could not possibly be more excited to see this film come May...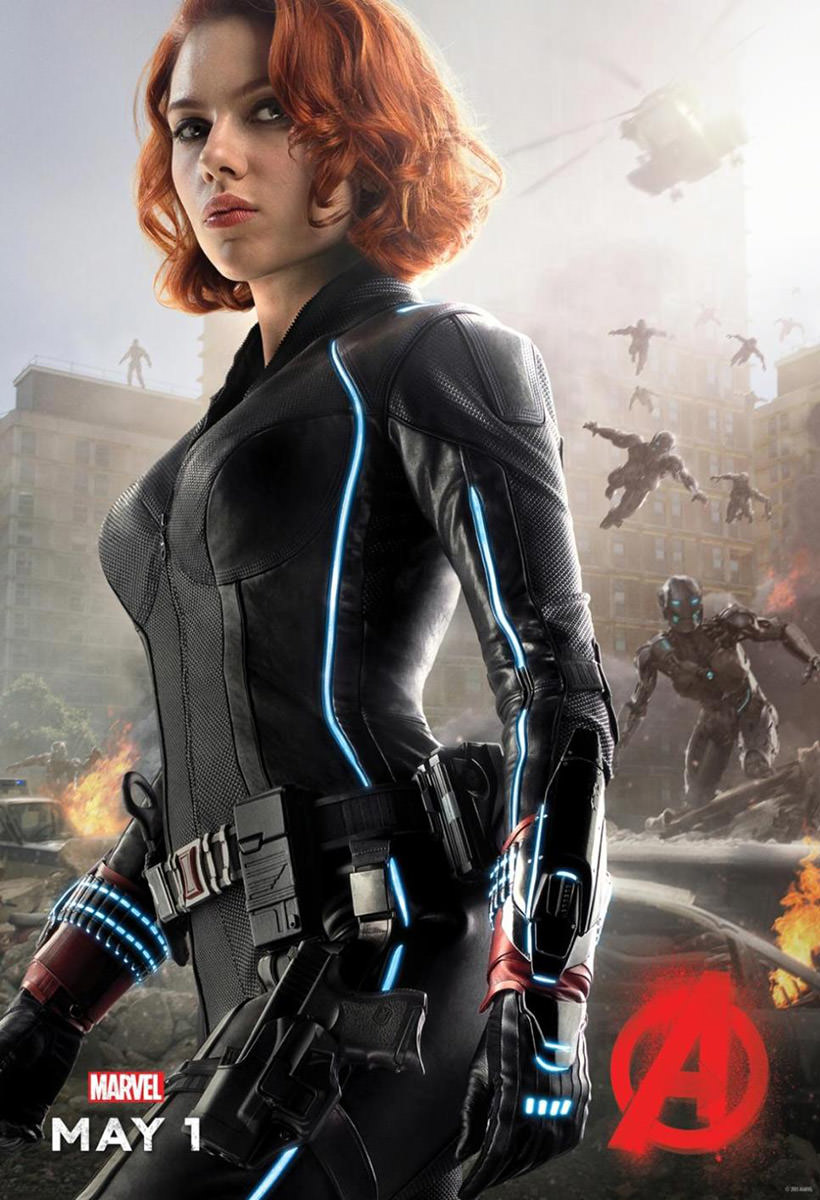 Looks like Black Widow may finally... finally be getting some tech that ups her game. They showed her using a built-in taser in the last Avengers film, but that's a far cry from the "Widow's Bite" blasters she sports in the comics. I certainly hope it comes to pass, because it seems completely illogical that Tony Stark wouldn't give her some advanced weaponry to make her a stronger part of the team.

• Laugh? The Matthew Perry version of The Odd Couple finally debuted and it's far, far worse than I imagined. Mostly because they're using a frickin' laugh track. This idiotic and antiquated method of attempting to make unfunny crap seem hilarious is just pathetic, and only serves to underline how funny something is not to modern audiences...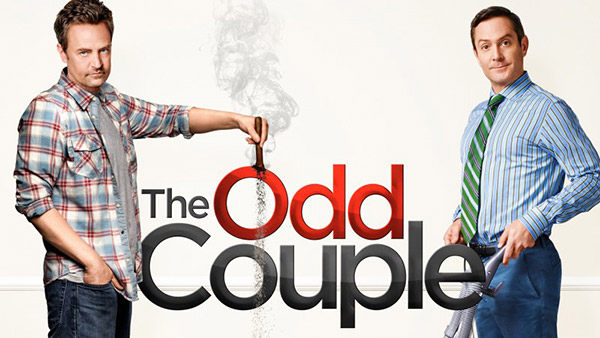 What kills me is how Matthew Perry can't seem to find a lead role in a vehicle that's worth his talent lately. He was essential viewing in Friends, he was a revelation as Joe Quincy on The West Wing, he was bordering on genius on Studio 60, and he was terrific on The Good Wife... I even liked his movies okay. But when it comes to finding a new show, he's been rolling in shit. Mr. Sunshine was abysmal. Go On was horrific. And now there's this hot mess? Sad. Just sad.

• MARCIA MARCIA MARCIA! Hot on the heels of Snicker's awesome Brady Bunch/Danny Trejo mashup comes this epic art installation...
I love it when companies create ad campaigns you actually want to see. In case you missed the original commercial, here you go...
The teaser ad was equally filled with awesome...
Yep. That's advertising done right, right there.

• Photographic! I used to carry a pocket camera with me everywhere I went to capture those unexpected moments that are begging for a picture to be taken. Then the iPhone 4 came along with its terrific built-in camera, and I started leaving my pocket camera at home more often than not. Why bother when I can get shots like this...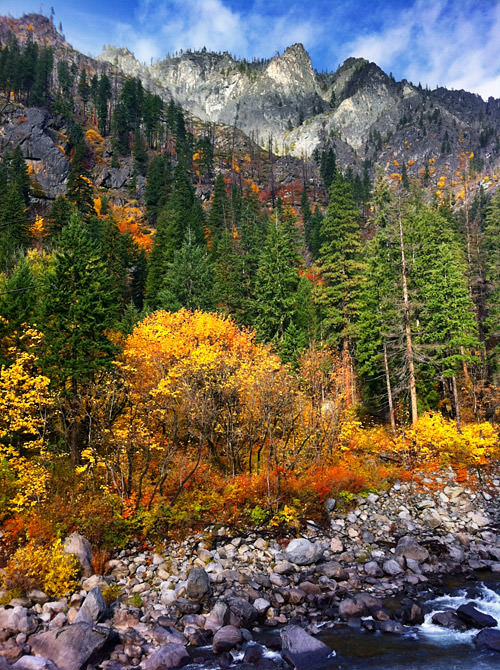 Then the iPhone 5 was released with an even better camera, and suddenly I found myself ditching the pocket camera completely. Now that I've got an iPhone 6 with its amazing camera, I've been doing something I never thought I'd do... go on some of my travels without taking my DSLR with me. It's a mind-boggling prospect, but the shots I can get out of a frickin' camera phone are so good that it's not a much of a sacrifice at all.
This week Apple finally realized what most of us already know... the iPhone is a really good camera. And they've started a nifty ad campaign to let everybody else know it too. They've also added an amazing "World Gallery" to their website...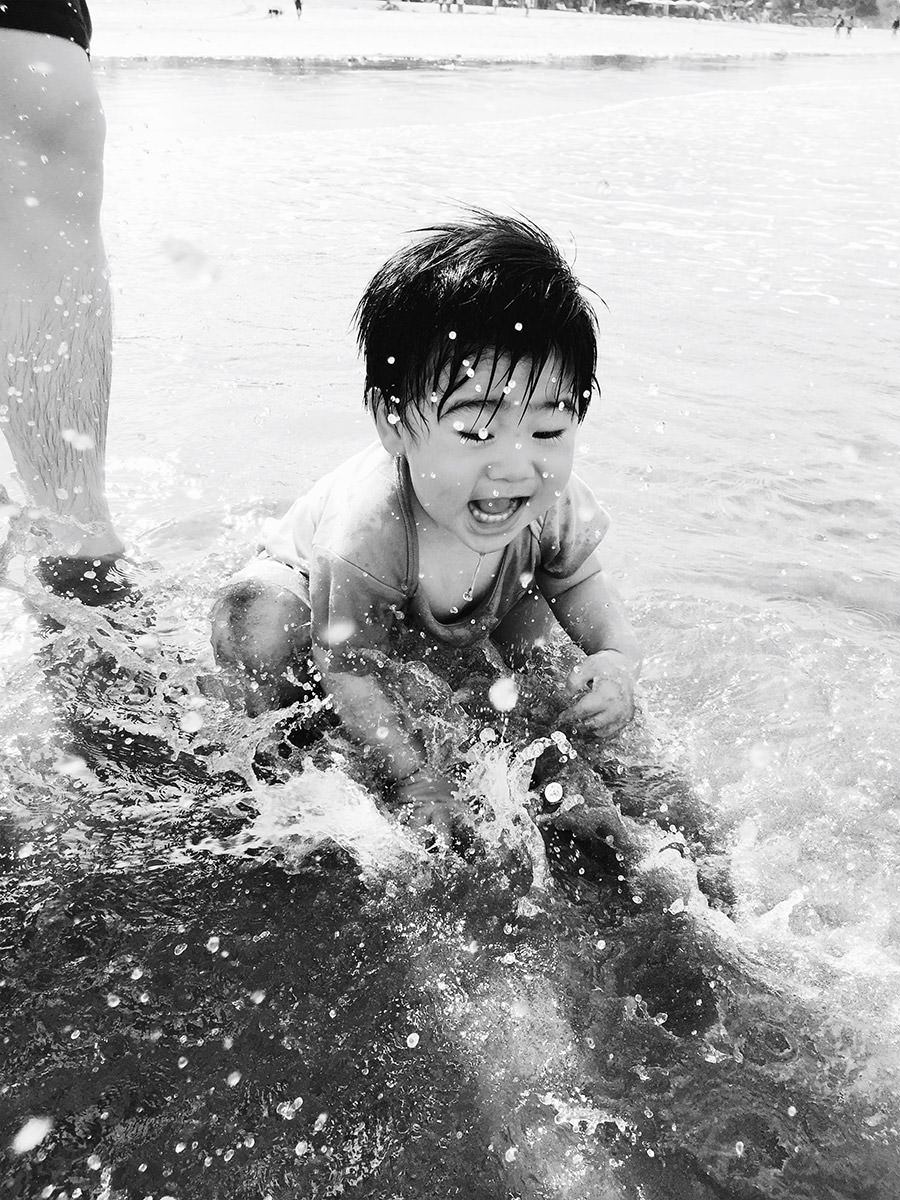 Shot by Silke W. in Bali, Indonesia
A lot of people are carrying smart phone with them everywhere they go now-a-days. Which means a lot of people have a camera on them all the times. Which means a lot of photo opportunities that were once missed are being captured. It's an amazing time we live in.

And... I'm wrecked. See you next Sunday.
Tags:
Advertising
,
Avengers
,
Bullet Sunday
,
Comic Books
,
Dumbassery
,
Dumbfuckery
,
Hate
,
iPhone
,
iPhone Photography
,
Movies
,
Photography
,
Stupidity
,
Television
Categories:
Apple Stuff 2015
,
Bullet Sunday 2015
,
iPhone + iPad
,
Movies 2015
,
News – Politics 2015
,
Photography 2015
,
Television 2015
—
Click To It:
Permalink
—
2 Comments: Click To Add Yours!
Posted on July 31st, 2014

And... time to head home.
But not before I see one last lighthouse... and perhaps the most famous in Maine due to its proximity to Portland... Portland Head Light State Park.
All things considered, it's a nice lighthouse. Albeit a little more crowded than the others I visited this trip...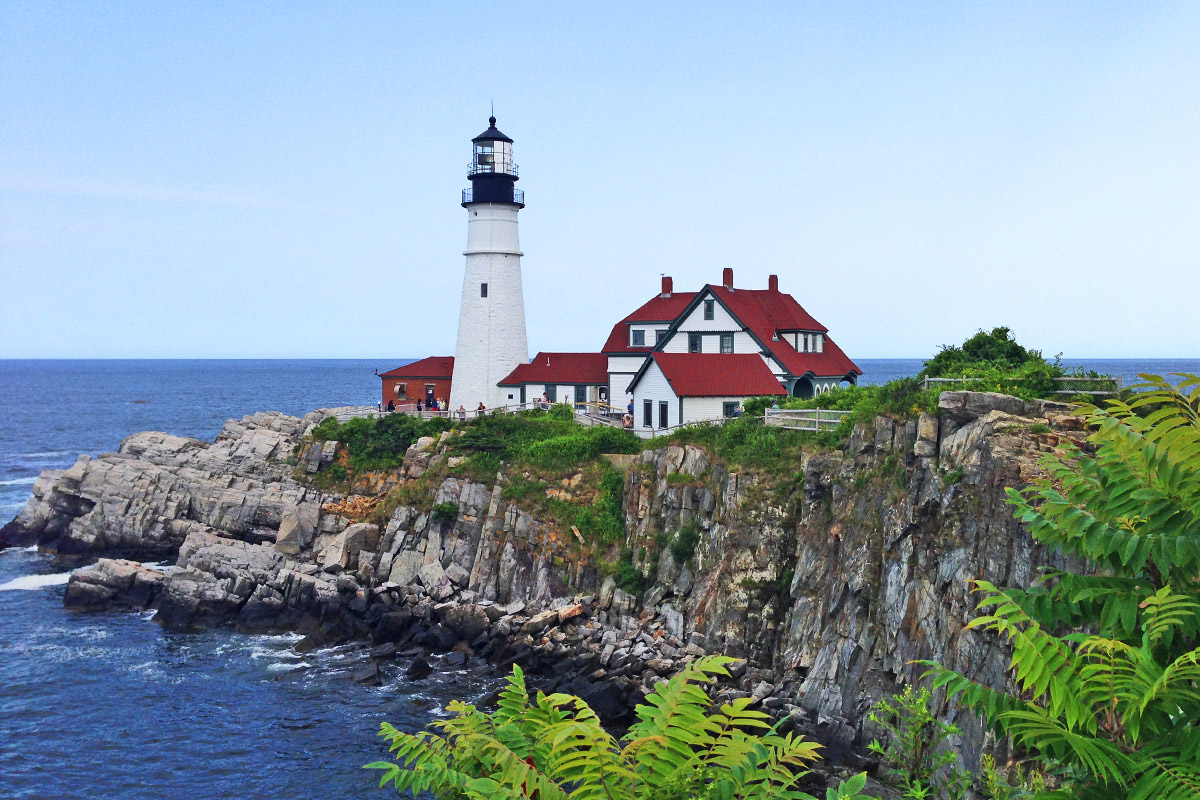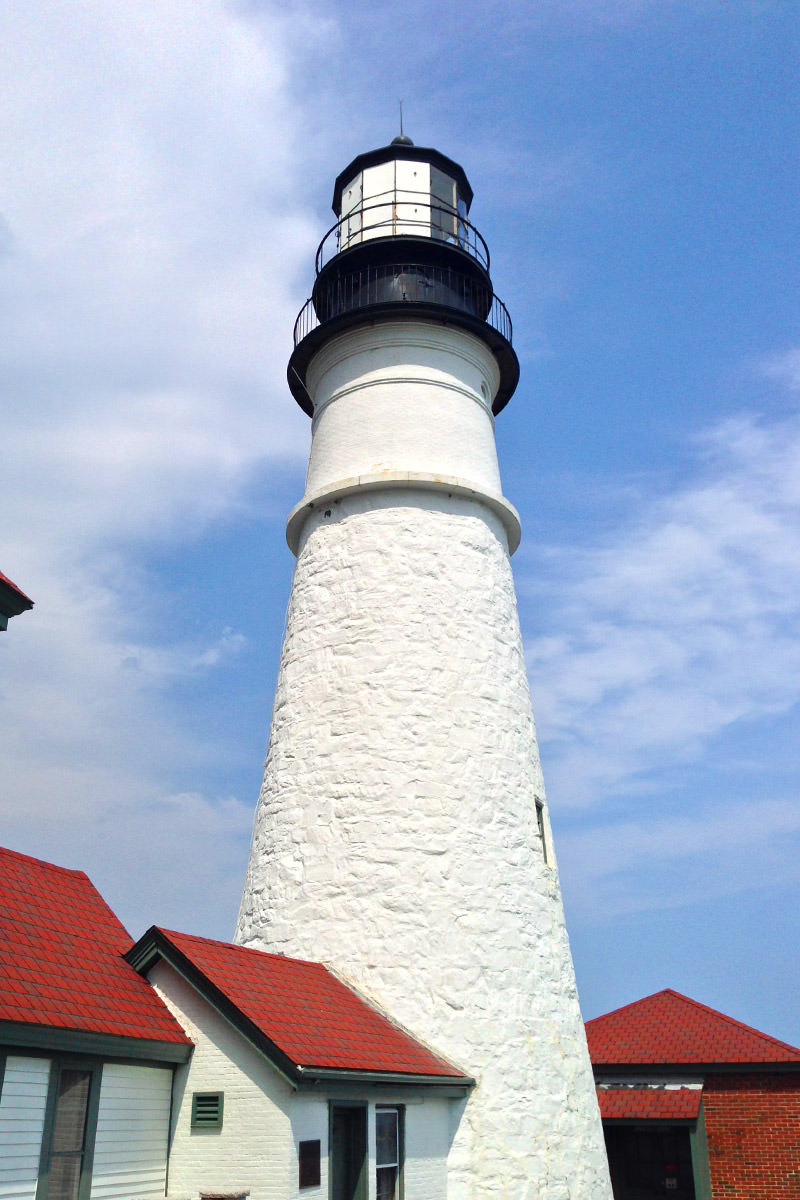 I was once again astounded at the photo quality I was getting from my iPhone... and it's a 5, not even the 5S. The detail it manages to pull out of a scene is nothing short of amazing considering it's coming out of a frickin' phone...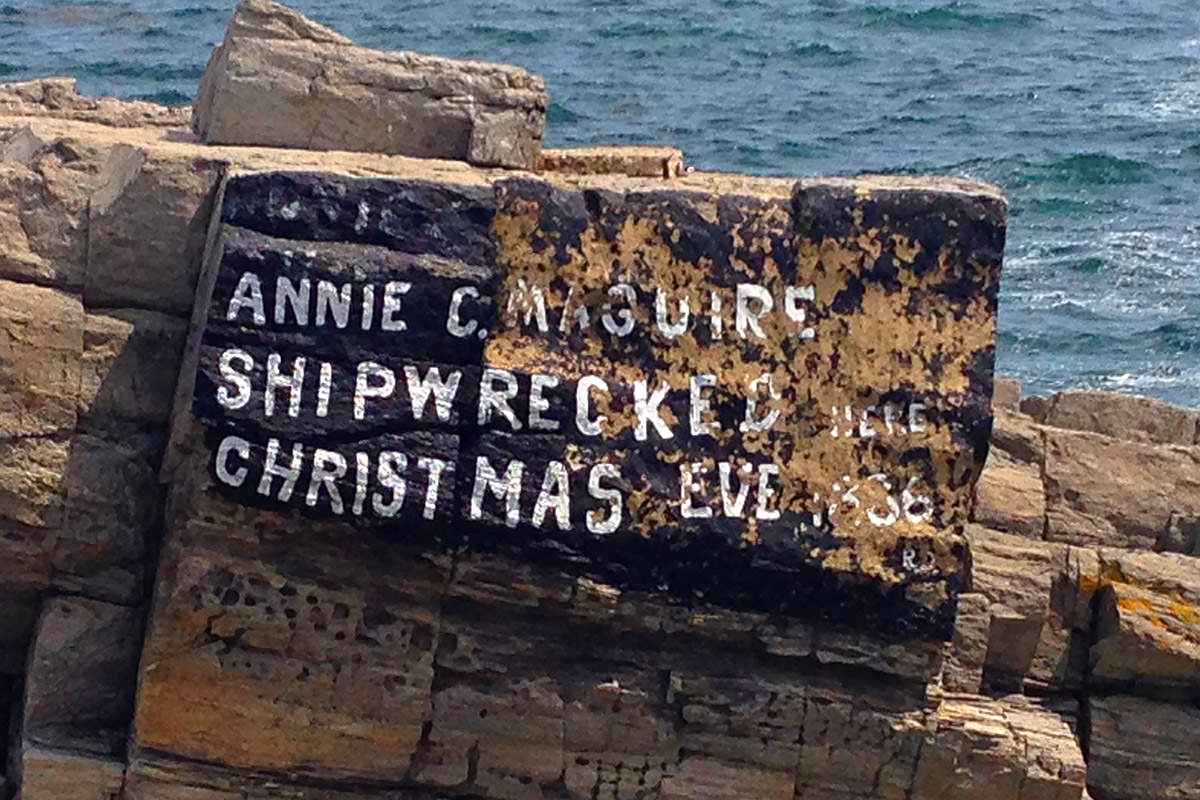 Inside there's a small museum ($2 entry) that has an interesting look at the history of the lighthouse. And how it works...
Time for a mad dash to the airport jetport so I can make my flight. While waiting for my plane to board, I noticed there were displays of Maine's famous products on display... some of which I never associated with the state. Well, except "Tom's of Maine" which I kinda had figured out...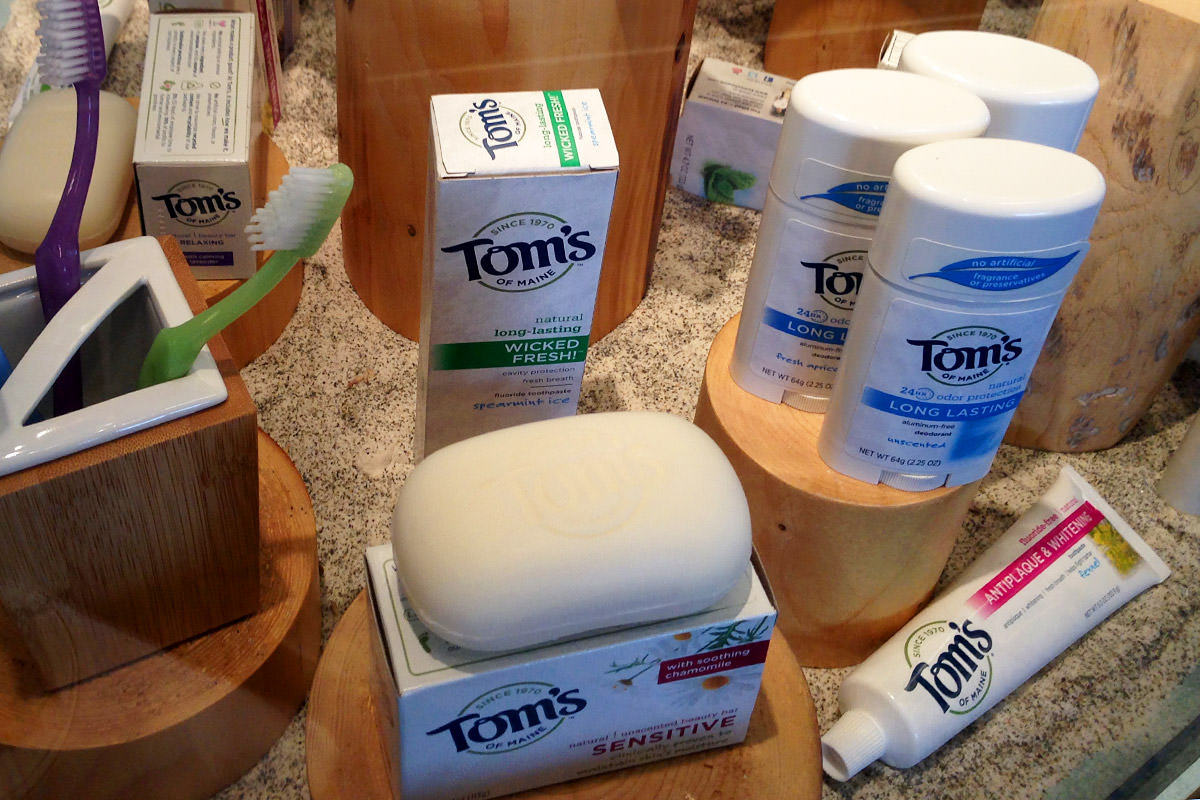 And away I go...
Posted on July 29th, 2014

I had a scary amount of work piled up today, so exploring Maine wasn't really in the cards.
I did take a quick run out to Popham Beach State Park after lunch to clear my head, however. I had wanted to visit yesterday, but the unrelenting rain made that a dreary proposition.
Luckily today was a different story...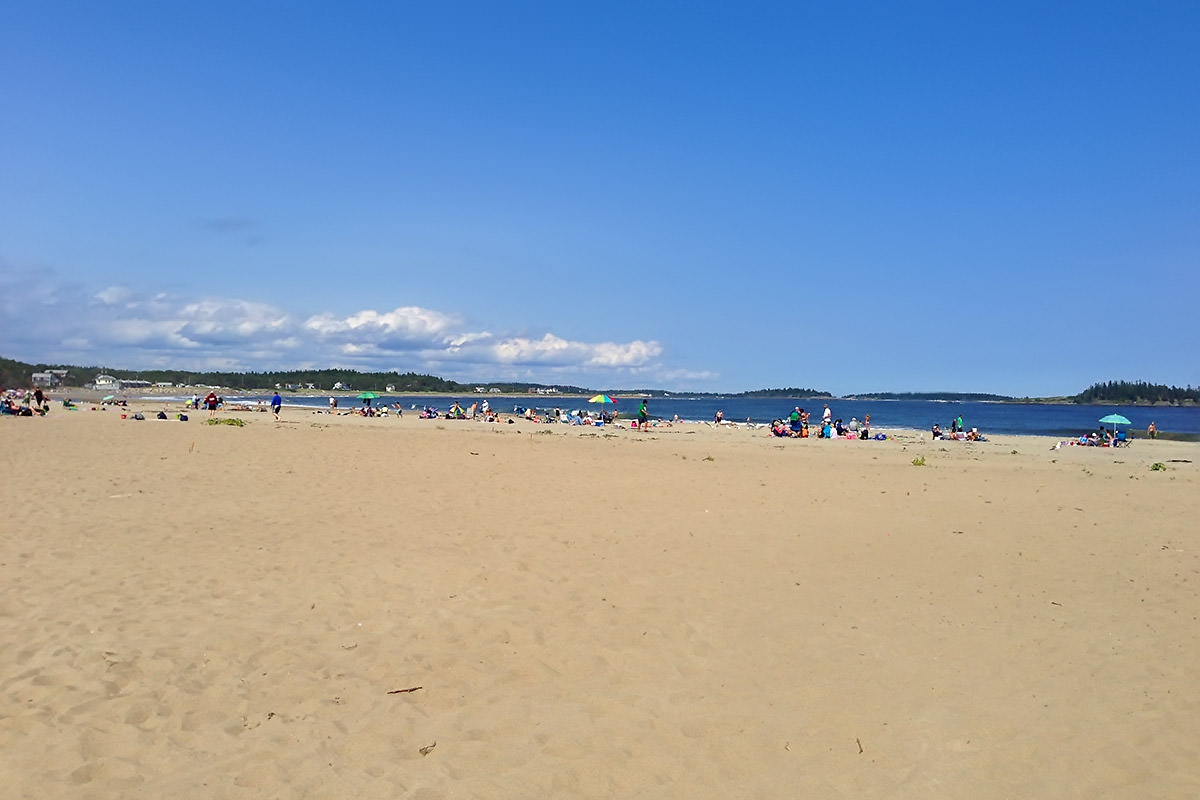 The southern section of the beach is a beachcomber's delight...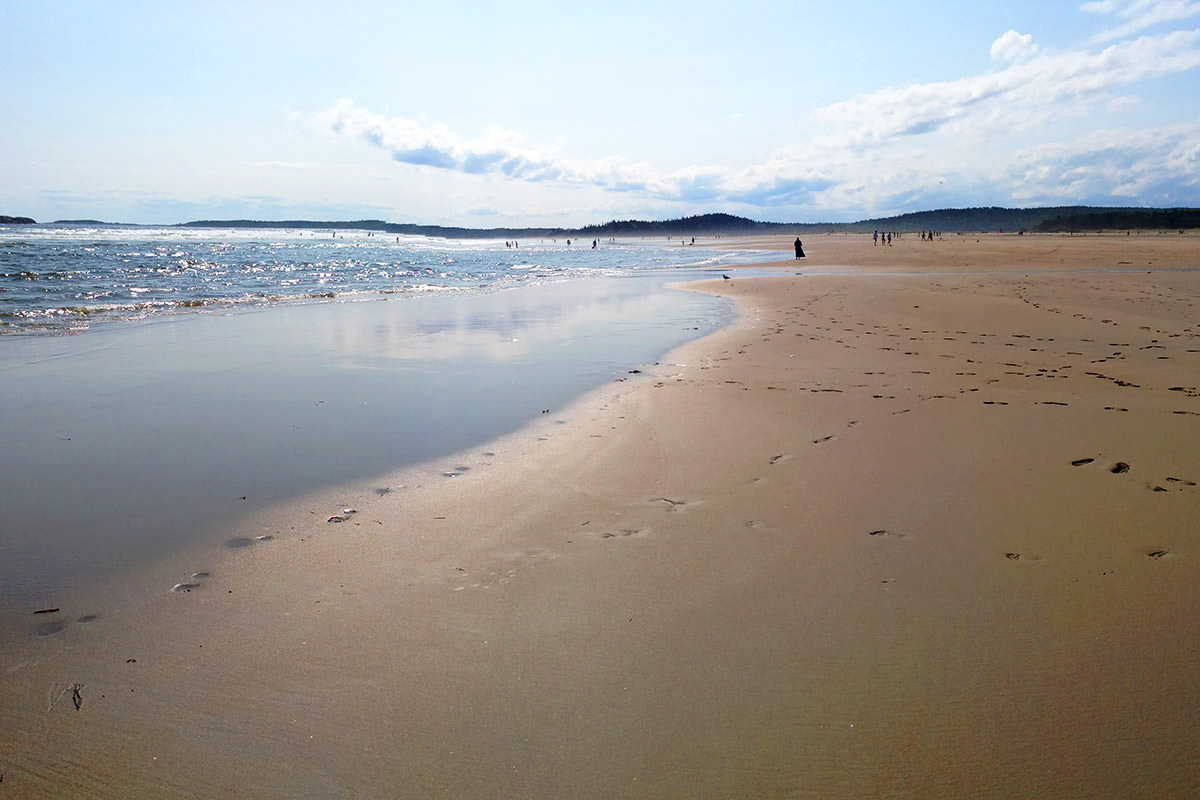 Click image to embiggen.
One of the cool things about Popham Beach is that there are islands off the coast which you can walk to during low tide...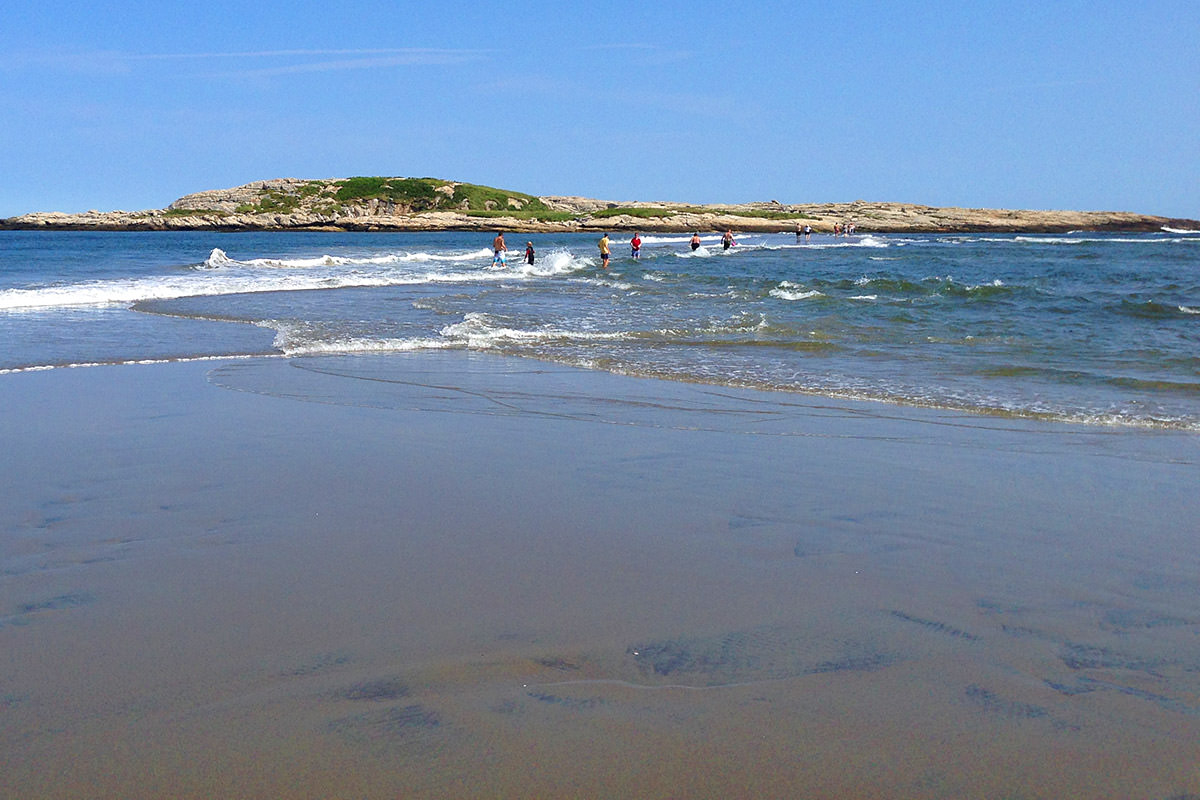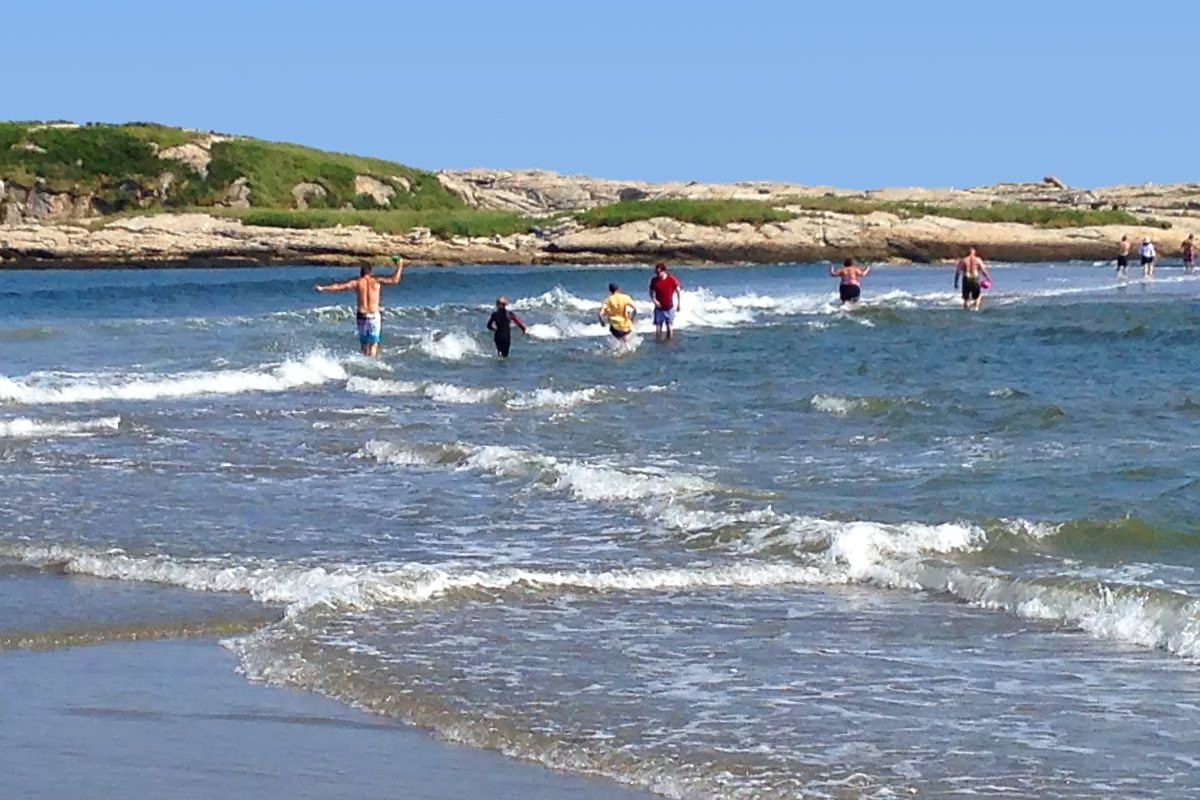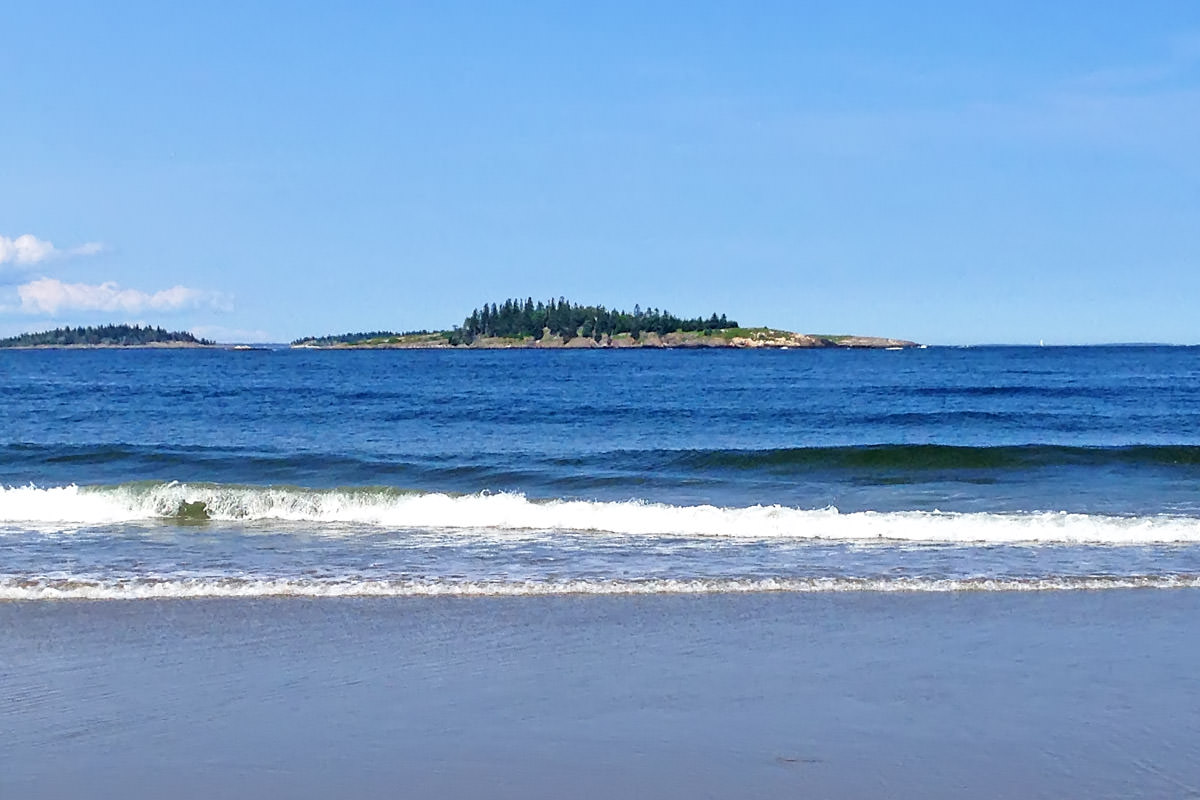 And now it's time to gear up for a 30-hour work day.
Posted on July 28th, 2014

I've been to Maine before. But not really. I crossed the border back in 2005 just so I could say that I've been here, but a quick hop to Kittery doesn't really qualify me to say that "I've seen Maine." So when my travel plans went as scheduled and I ended up with a free day, I figured I might as well jot out to the coast to see a few lighthouses and stuff.
Except I awoke to find that all of Maine was pouring rain and fog. I scoured the internet for lighthouse webcams, but all of them pretty much looked like this...
The radar weather map looked a bit cleaner up north, so I started combing every webcam I could find up the Maine coast to see if there was anywhere with decent weather. After a long time of having no luck, I happened across a camera for "Pemaquid Point Light" (they don't call them "lighthouses" here). It was rainy, but not overly foggy. It was an hour-and-a-half drive through a torrential downpour, but oh well. Off I went.
The entire trip was pouring rain... right up until I got to the road that led down to the lighthouse...
But then... a miracle. As I was turning into the park, the rain just stopped. Still a bit overcast, but kinda clear. No need to wear a garbage bag after all!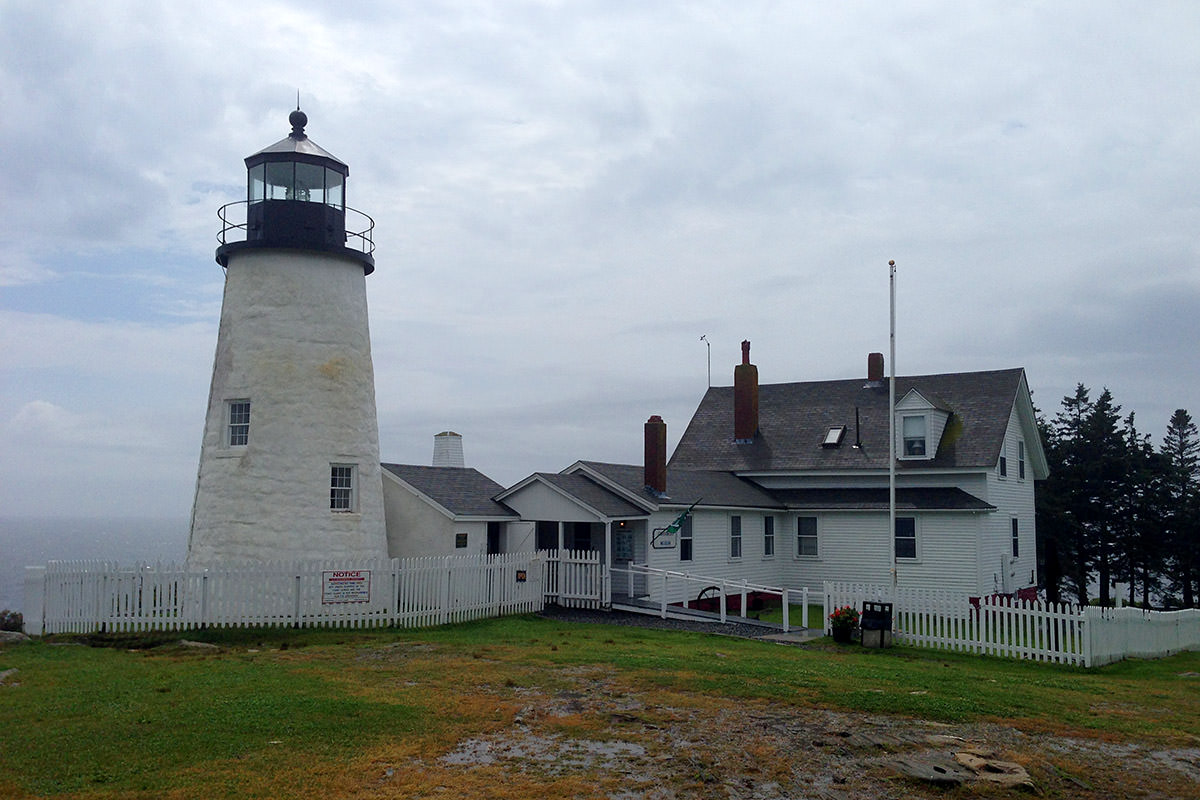 Behind the lighthouse is a cool rock formation that funnels out to the ocean...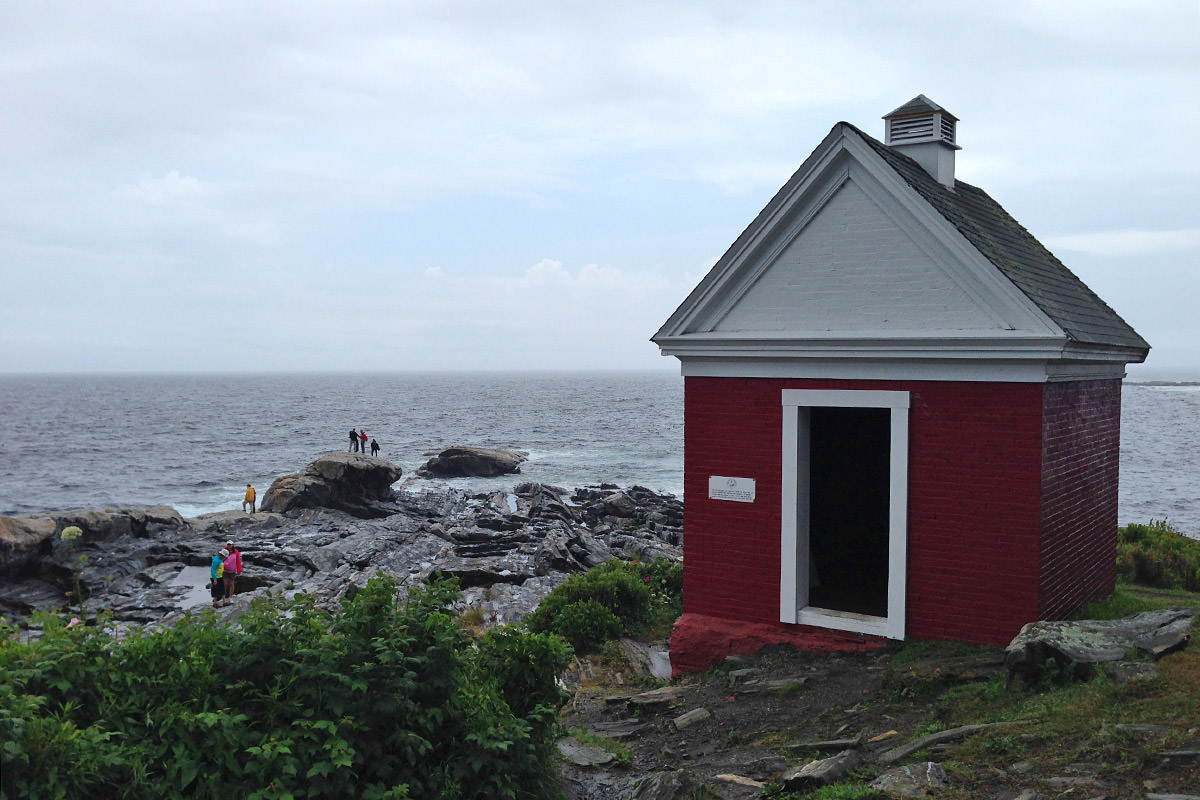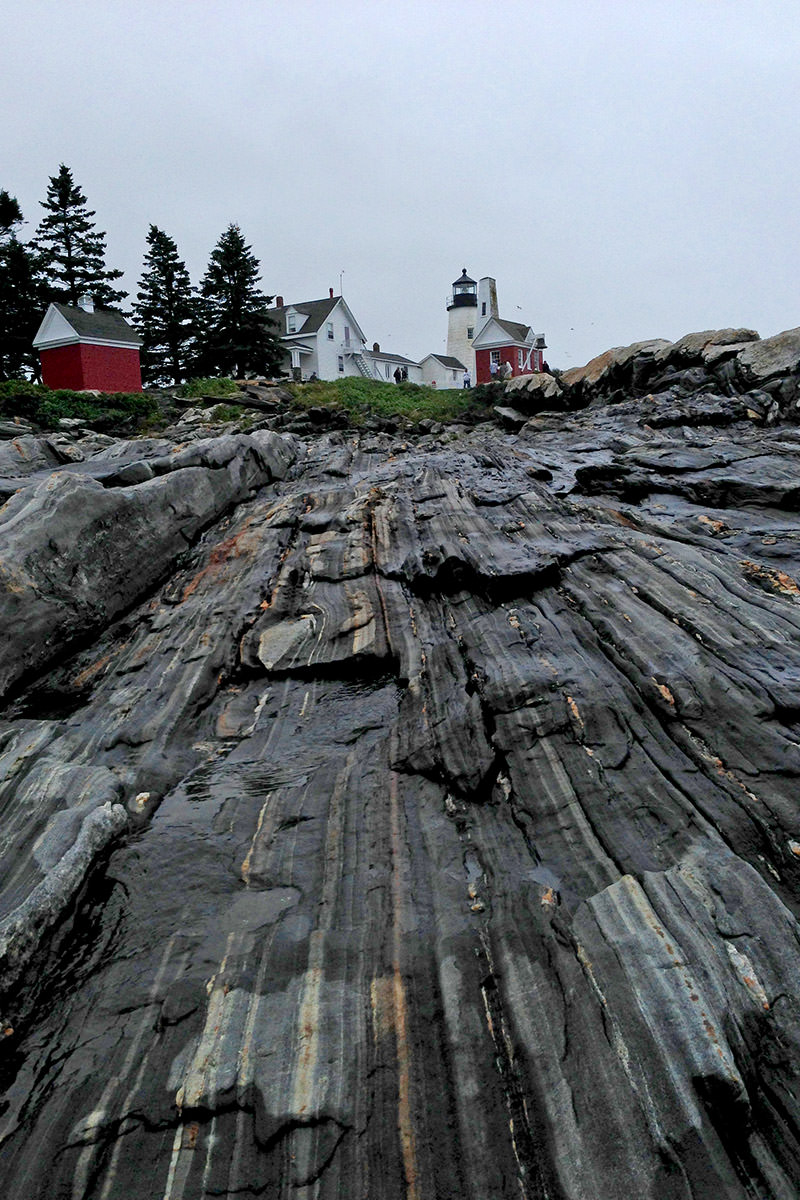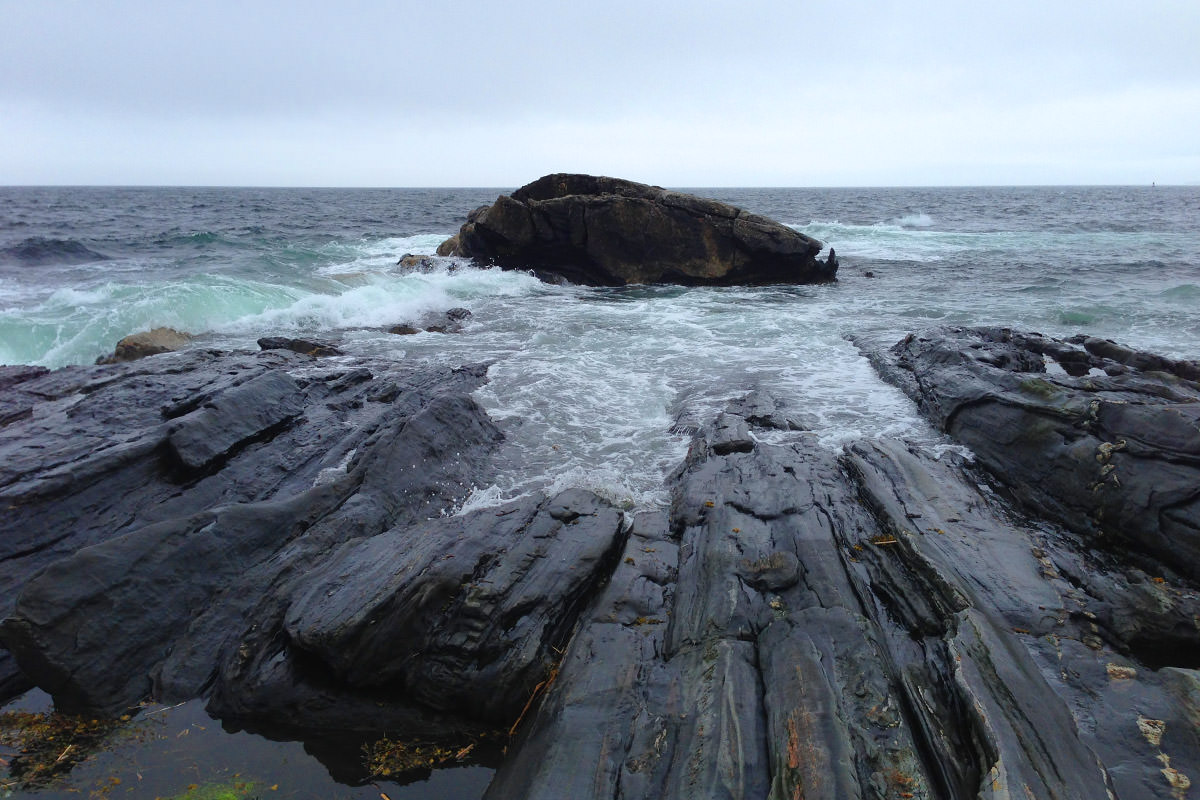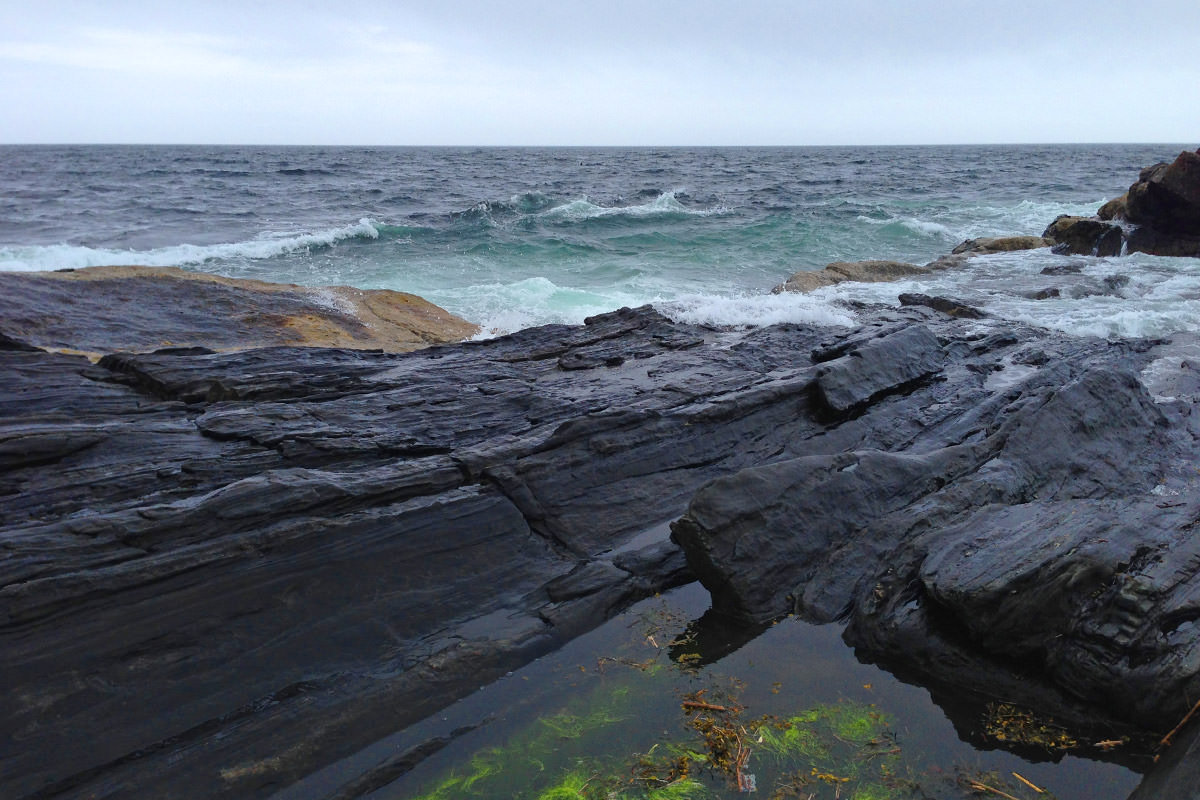 What's cool about this particular lighthouse is that you can climb up in it...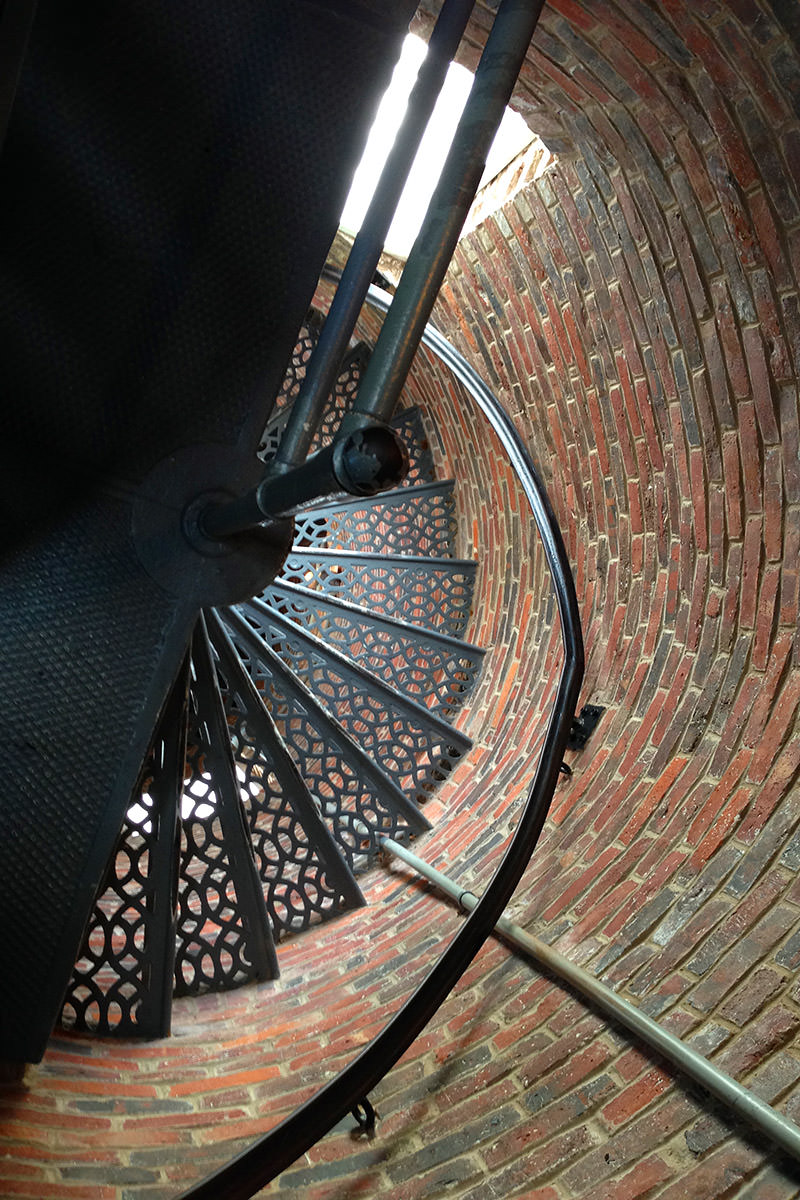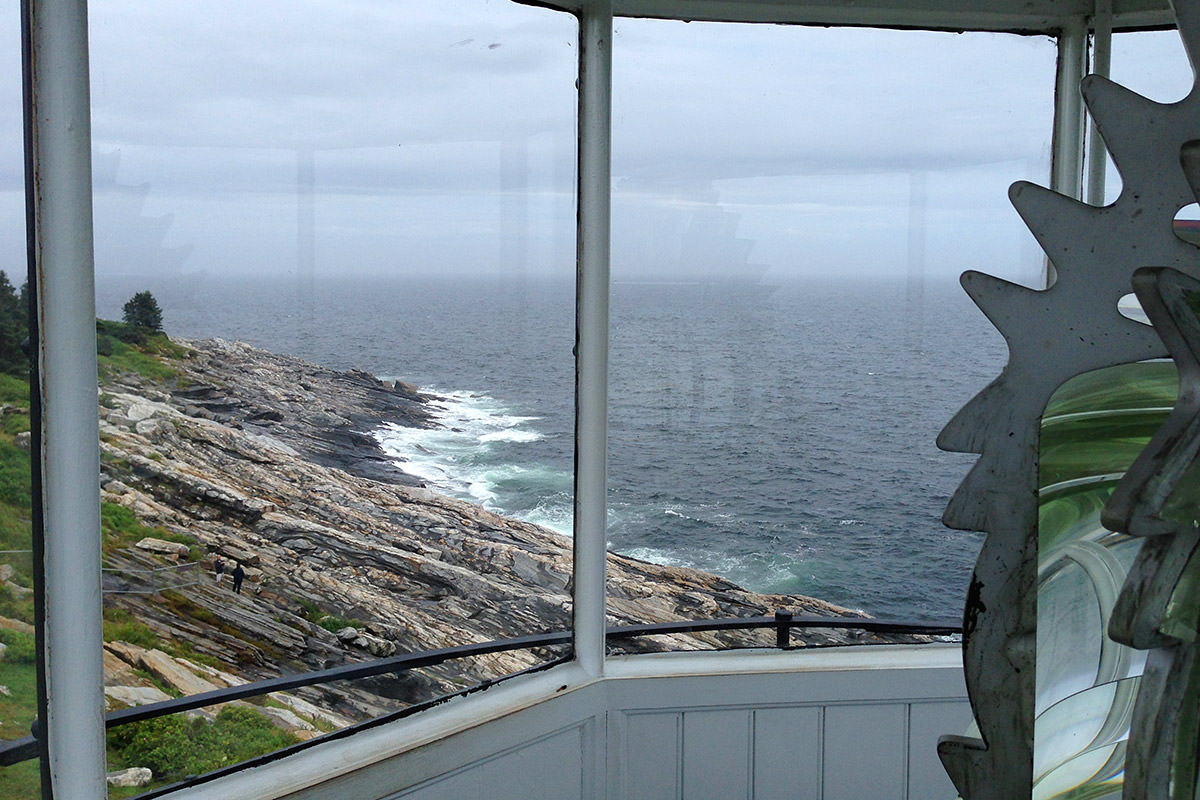 Inside the lightkeeper's house is a small museum...
By the time I was ready to leave, blue skies were starting to appear...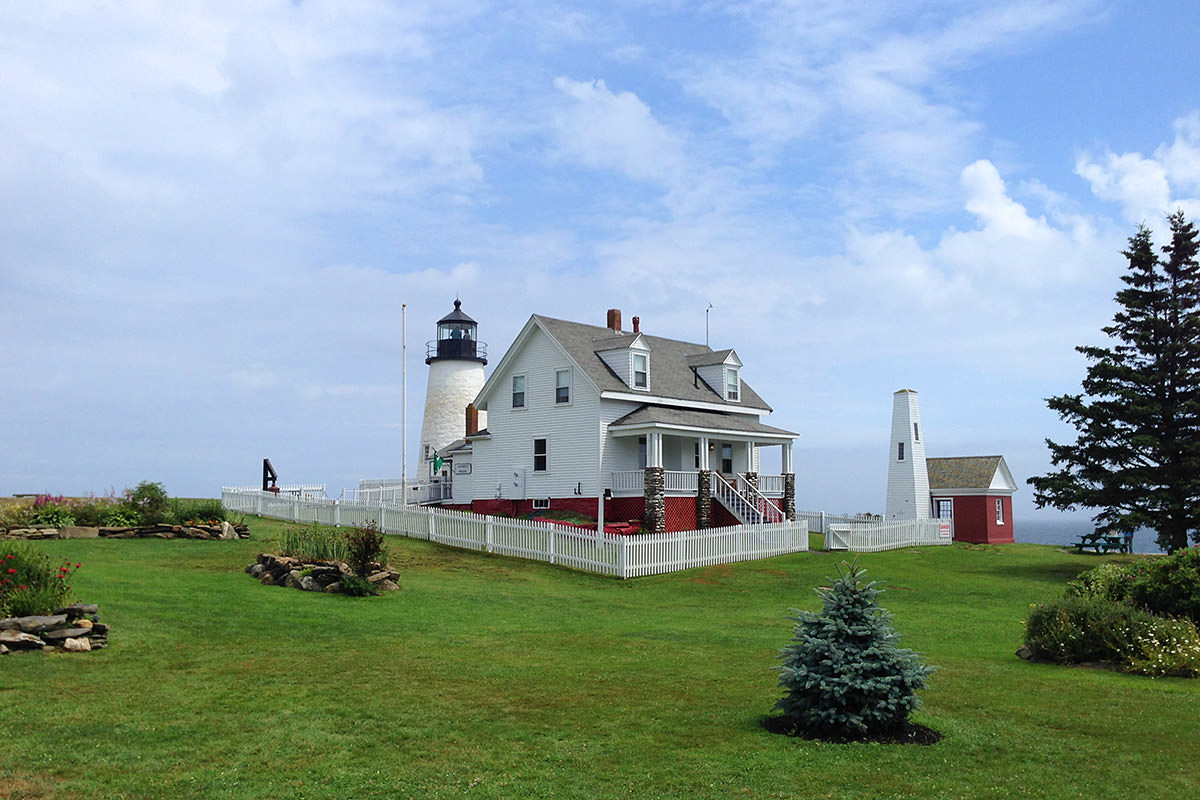 After asking for some advice as to another lighthouse I might try, I was told that a lot of people seem to head off to Marshall Point Light from here, so off I went. Surprise surprise, it started to rain again...
It took a lot longer than I thought (Pemaquid Point and Marshall Point look so close on the map!), but it was a nice drive. Lucky me... the rain started to let up just as I pulled into the parking lot. Again...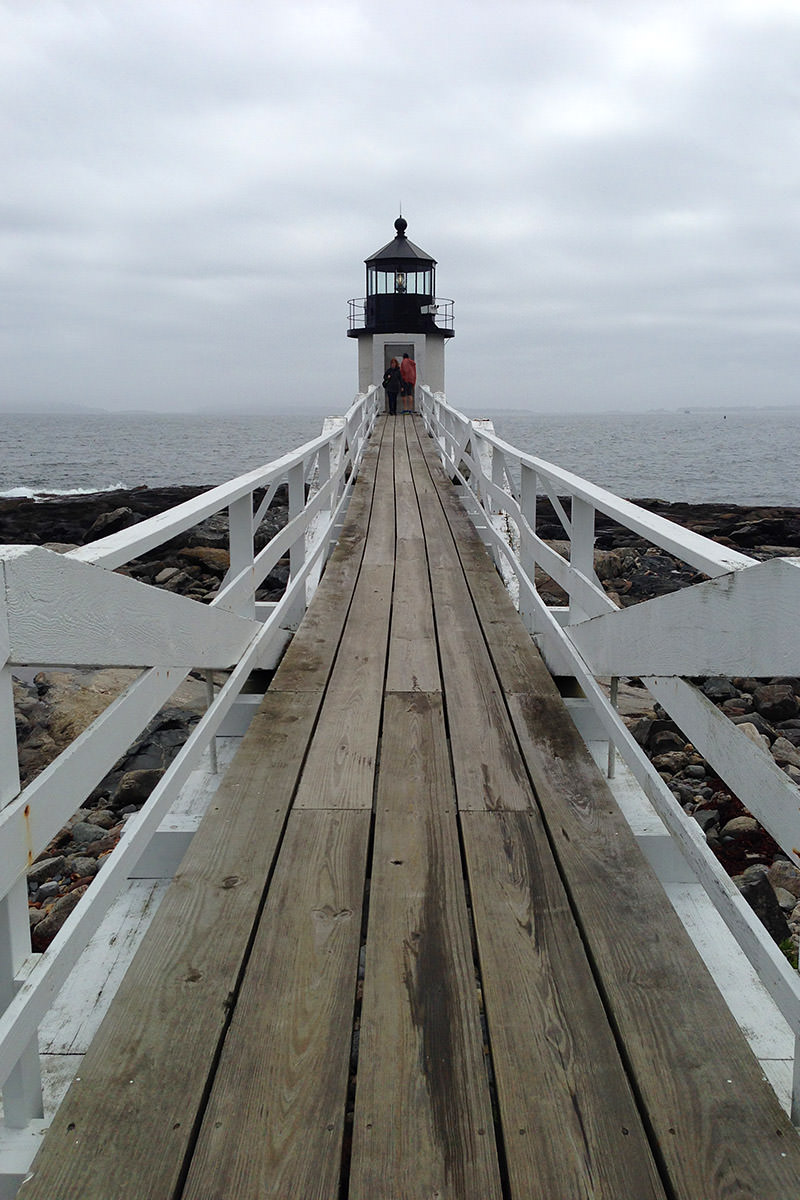 Wanting to buy a post card, I stepped into the gift shop for a minute. When I went back outside, the blue skies had followed me!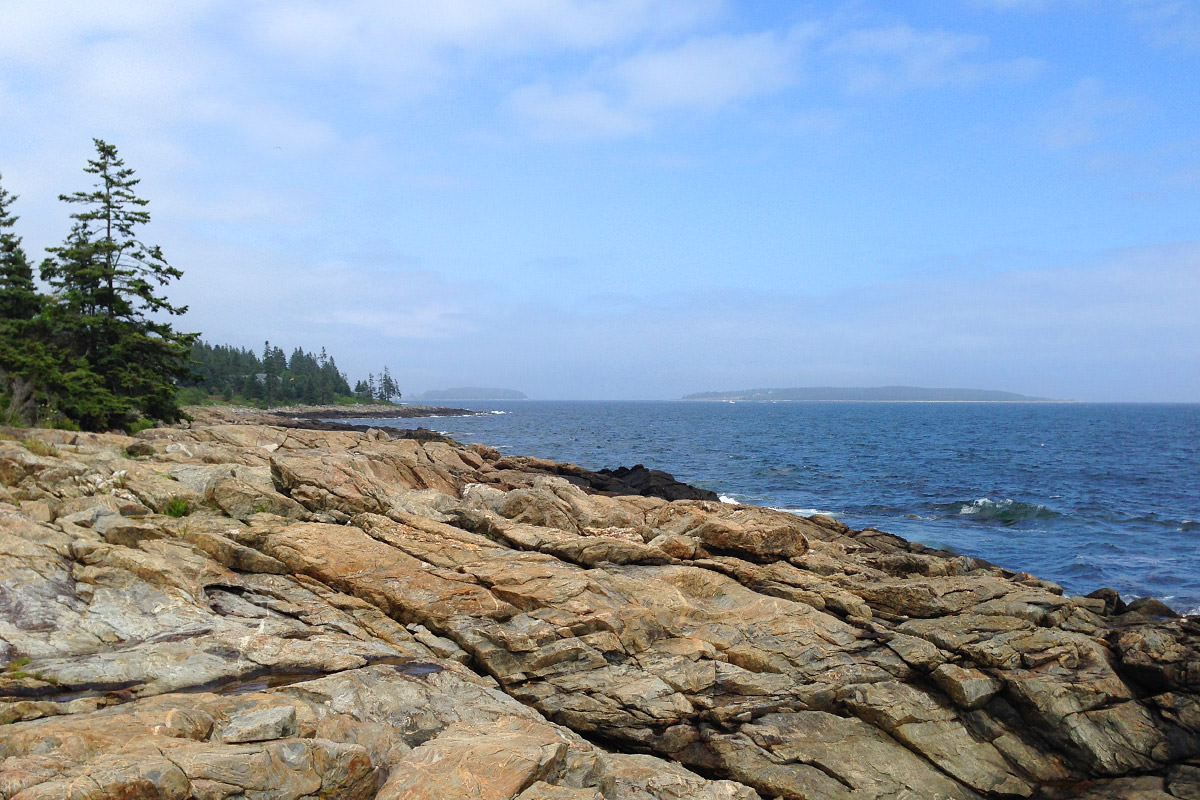 The rocks here are really cool to look at...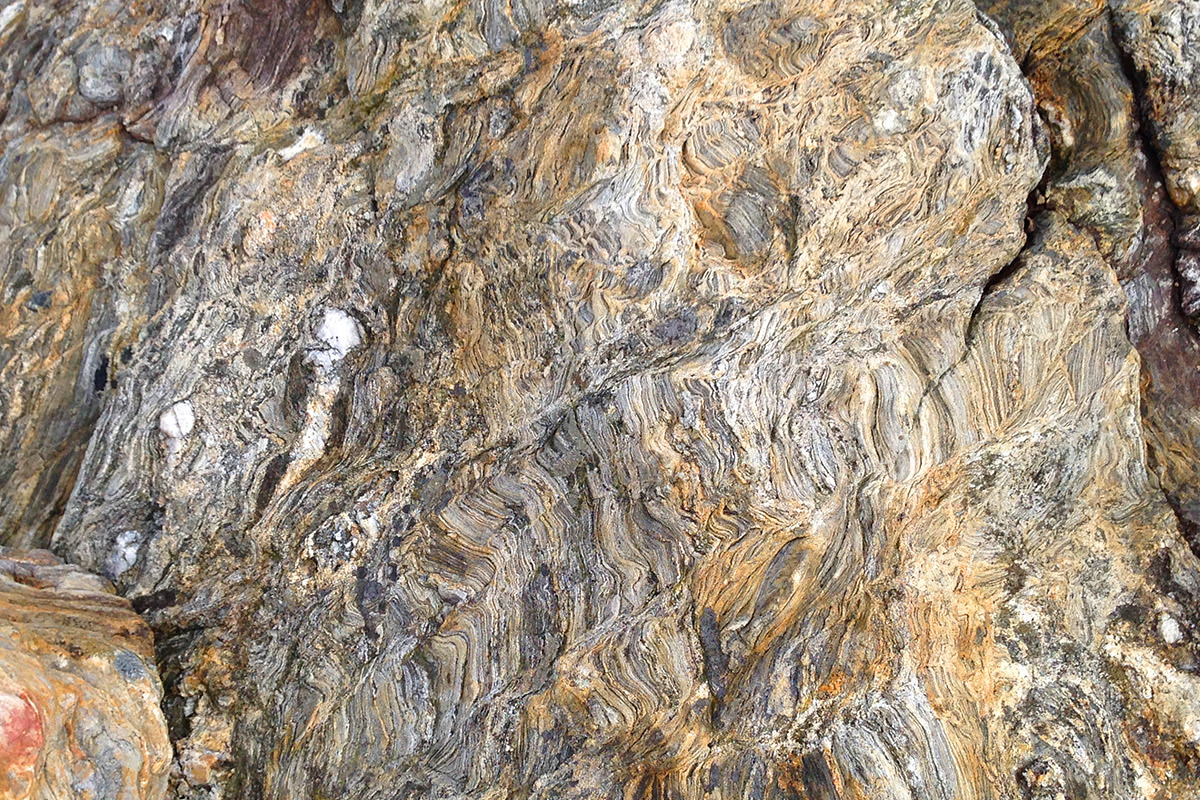 Overall, a very nice lighthouse with some beautiful scenery surrounding...

Click the panorama to enbiggen.
While in the gift shop, I saw a map that showed another lighthouse that's publicly accessible not too far away. So off I went to Owl's Head Lighthouse... this drive in much nicer weather...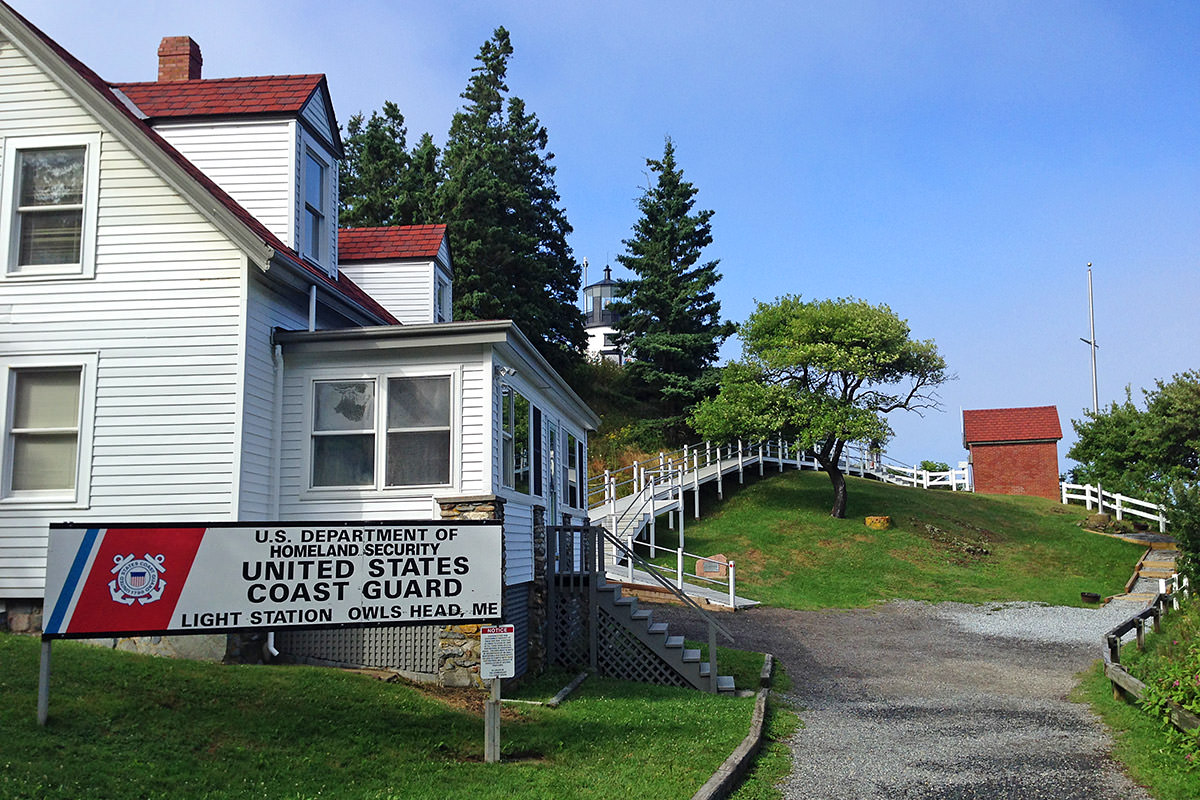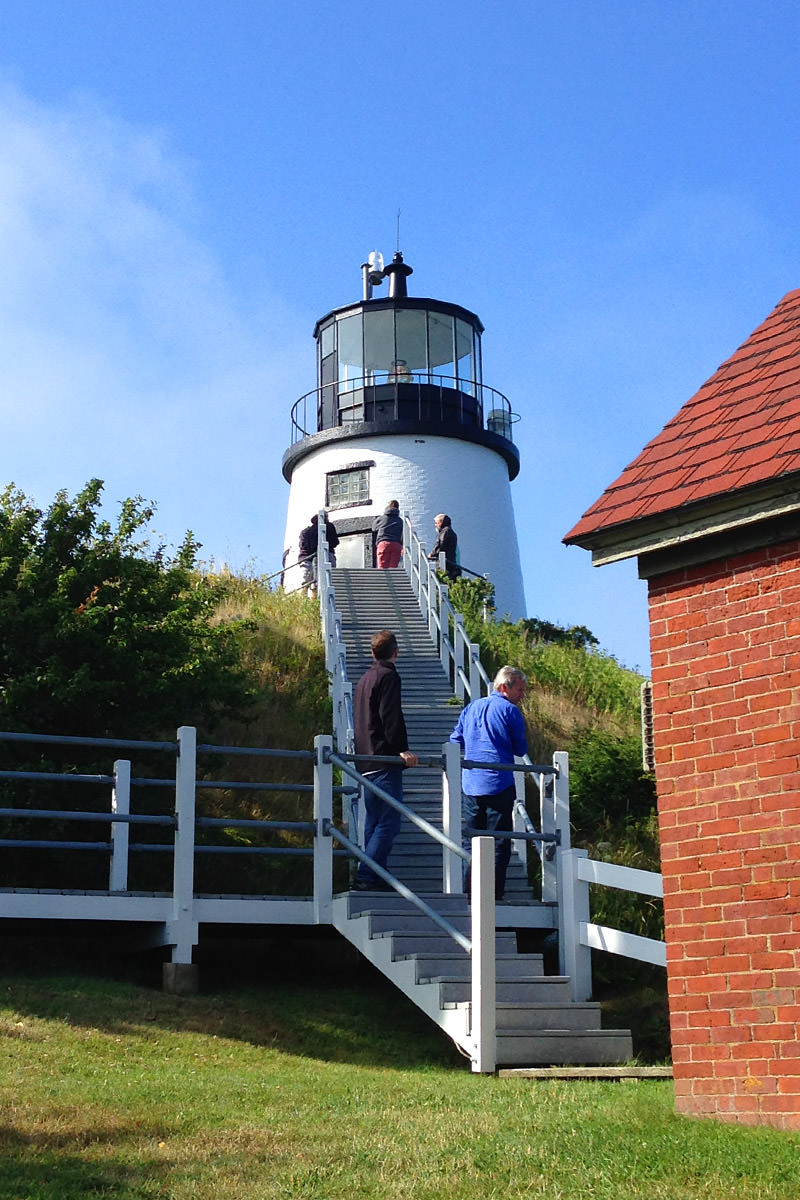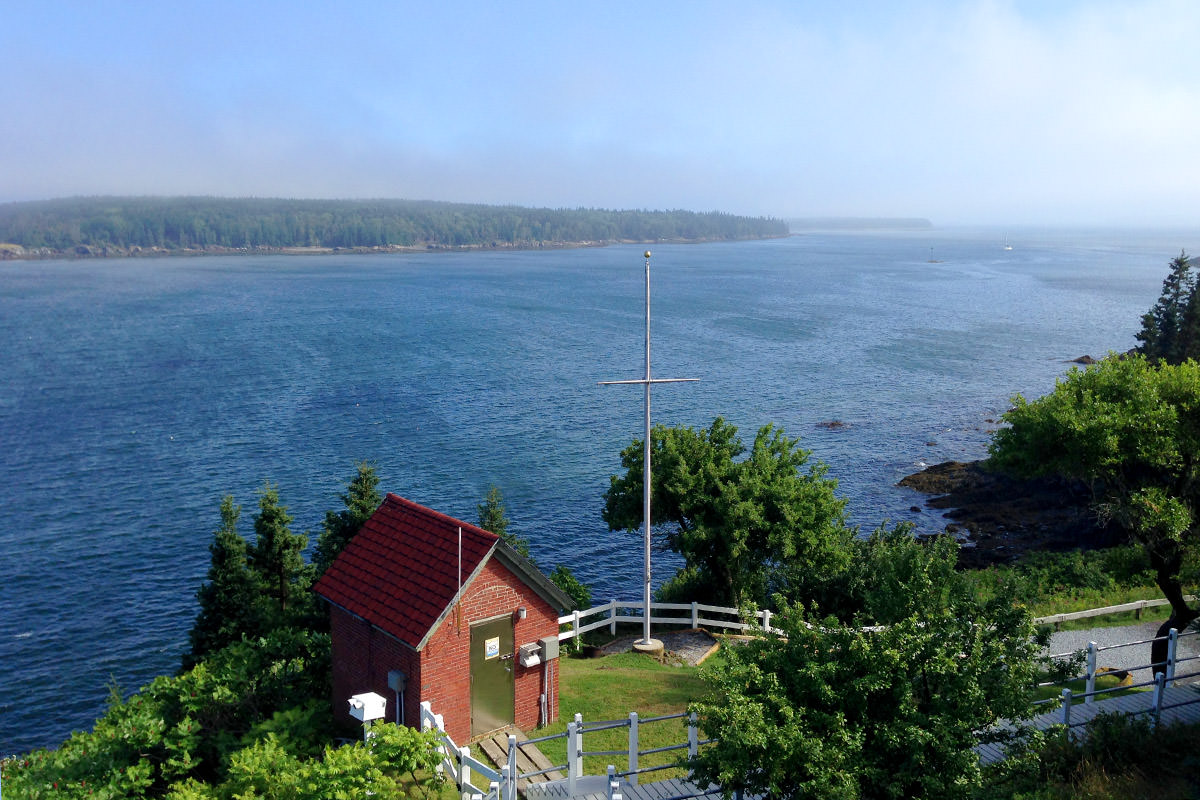 Poor Spot!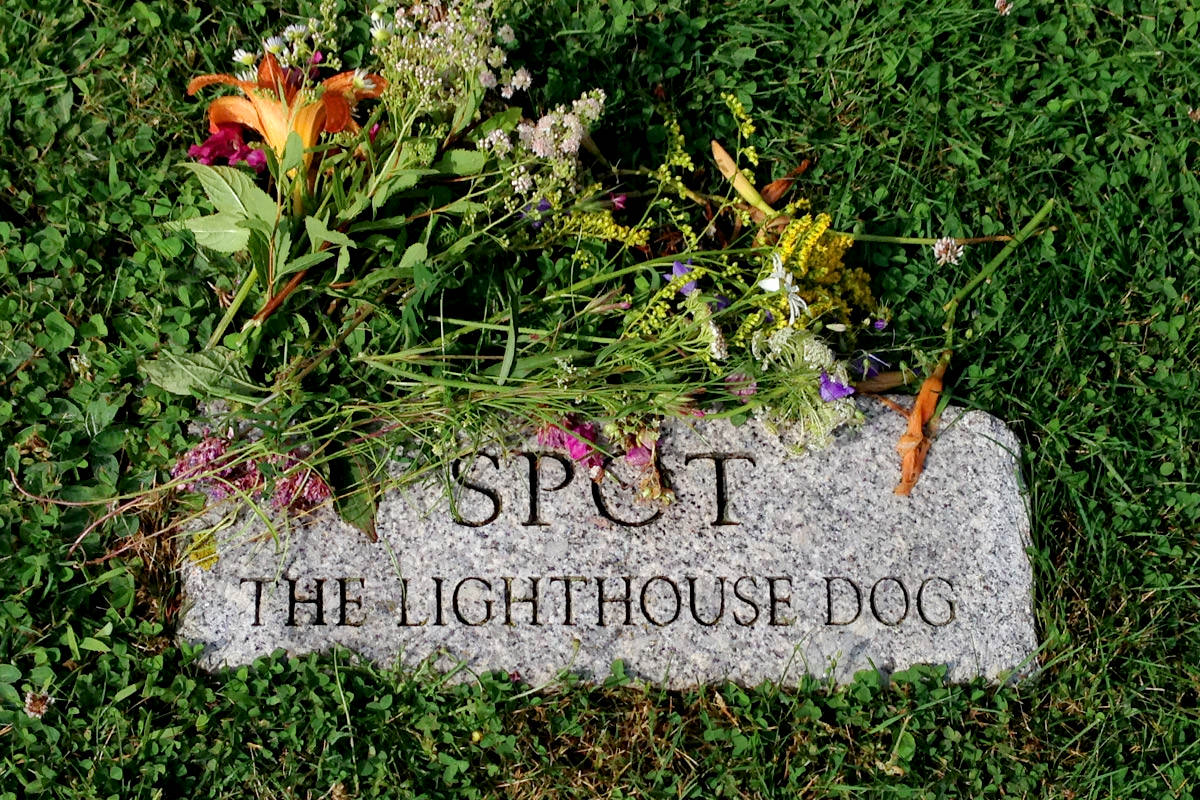 And thus ended my exploration of Maine's coastal roads and lighthouses.
Interesting to note that the geography here makes everything much farther away than you'd think. Pemaquid Point and Marshall Point are not very far away from each other as the crow flies (about 13 miles). But to navigate there in a car is just over 50 miles and a 1 hour, 15 minute drive...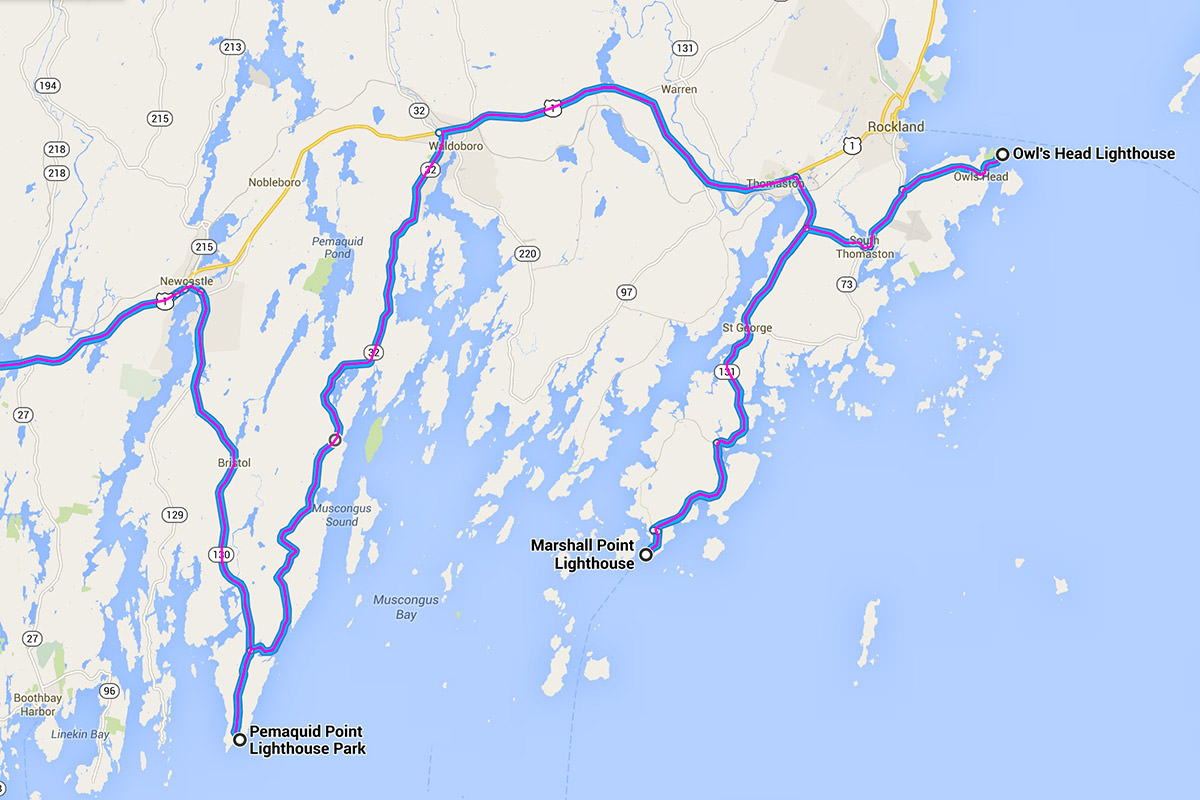 Map courtesy of... who else... Google Maps!
Dinner was back in Portland at Flatbread Company, because I just couldn't help myself. The blueberry desserts are just too incredible. This time? Blueberry-Topped Poundcake...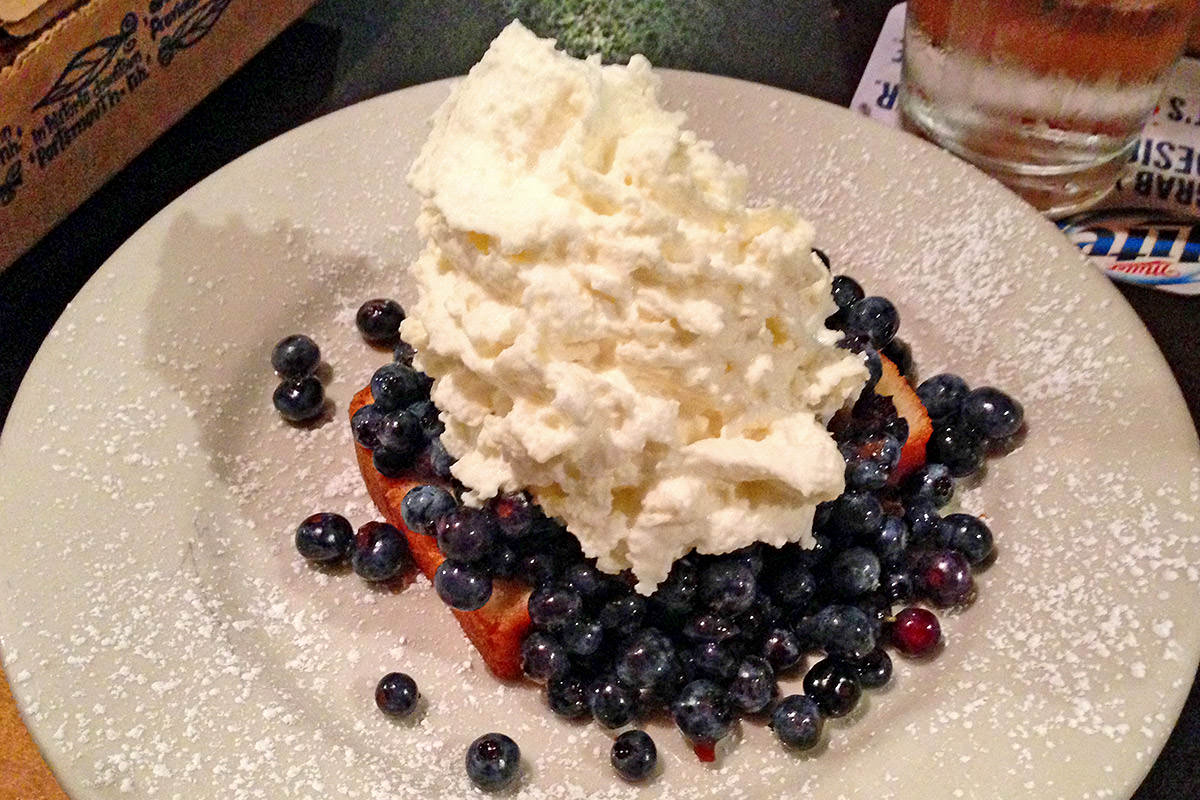 Hopefully tomorrow I'll get the chance to explore a bit more... but it's a work day, so fingers crossed.
Posted on June 24th, 2009

As the train wreck that is Governor Sanford unfolded in the media today, I made a few smart-assed remarks on Twitter because I just love it when hypocritical assholes get burned. Especially hypocritical assholes who pushed for impeaching Clinton when it was his dick that ended up where it shouldn't have been. And when you consider that Sanford not only used taxpayer money to get himself a mistress, but he is also an opponent of same-sex marriage because he apparently feels it defiles traditional marriage... well, it's a trifecta of schadenfreude bliss when he goes on television and admits to having an extramarital affair.
The Twitter stuff was nothing too outrageous, just snippy comments like...
"Because when you want to bring morality to America, it applies to EVERYBODY ELSE. Anxiously awaiting news that Sanford's affair was with a dude."
"Color me three shades of shocked... Not... One more nail in the "sanctity of traditional marriage" argument..."
"I should certainly hope that Jenny Sanford stands by her man! According to "Doctor" Laura, it was all her fault anyway."
"How do you solve a problem like Maria? A hike along the Appalachian Trail, apparently..."
Not a big deal, but it was enough to compel somebody on Twitter to send me a Direct Message telling me that my "attacks" were far worse than anything Sanford has done.
Whatever.
The big difference being that I don't go around condemning people for how they live their lives, then turn around and do that same shit. So, while I certainly sympathize with Sanford's family, that doesn't make the Governor any less a hypocritical asshole.
In similar news... suck it Perez Hilton. It's not that I am advocating violence, but when you make a living writing hateful things about people all day long... well, you reap what you sow.
In completely different news... I finally found time to unbox my new iPhone 3GS. To be honest, I don't consider it to be a critical hardware upgrade from the iPhone 3G. But I decided to go for it anyway because I find myself using the camera feature far more often than I ever thought I would, and the 2G/3G camera sucks major ass. Fortunately, the 3GS camera is far, far better. For one thing, it can do macro (close-up) photography very well...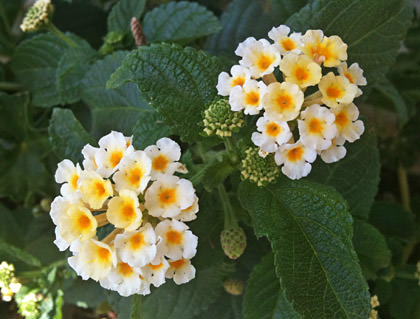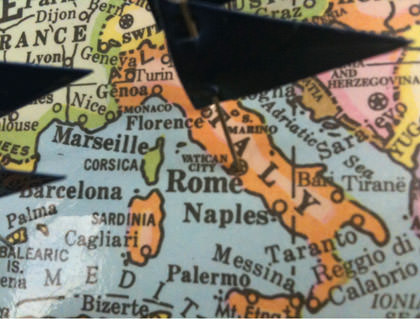 Compare that to the total shit that you get from the 2G/3G camera...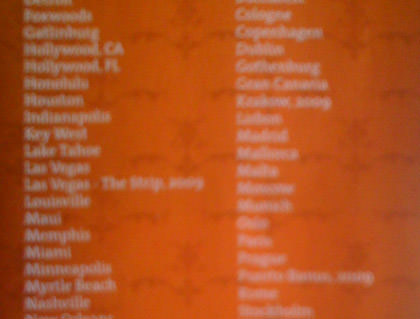 But the thing I love most about the new 3GS camera is that you not only get selective one-tap focus... you can also choose where the camera meters the exposure. This is a massively huge improvement because it makes the camera is actually useful now.
In this scene, I tapped the bright white sign as the focus/exposure point to force a darker shot...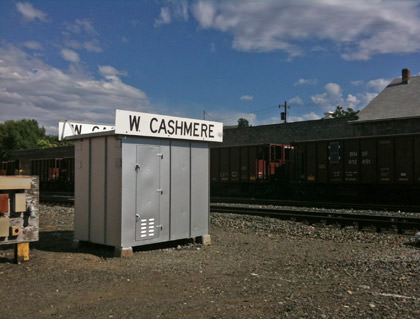 This time, I tapped the train in the background as the focus/exposure point to force a brighter shot...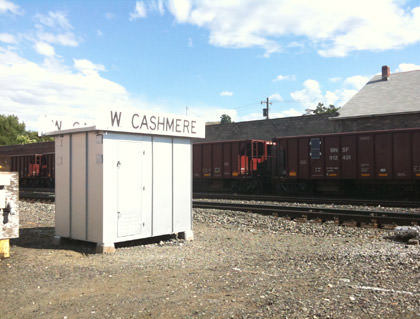 By tapping around the scene for a medium value, I could get exactly the exposure I want. This is a far cry from the shitty 2G/3G camera which consistently shoots everything as murky and dark unless the lighting is perfect.
Finally, FINALLY, I have a viable camera with me at all times that I can rely on for decent photos! In addition, you can shoot and edit video with the 3GS... a nice bonus that I probably won't use much. There are also a few other new features, but unless you are wanting a better camera like I did, I don't know that it's worth the cost to upgrade.
Unless you're a government official and can pay for the upgrade using taxpayer money. An upgrade is always worth it when somebody else is paying.