Posted on April 19th, 2018

For the money, the most versatile piece of furniture I've found has been HEMNES Shoe cabinets from IKEA. At just $99 each, The four-drawer version is nicely shallow... just 8-5/8" deep... and since it mounts directly to the wall and there's no rear legs to push it away from the molding, there's no wasted space. On top of that, the drawers themselves are deep and spacious so they are actually useful. Not just for shoes (though they are great for storing shoes) but for all kinds of things (the one in my kitchen holds placemats and napkins!).
Once I found out that I wouldn't be able to wall-mount my SONOS One speakers as I originally planned, my first thought was to purchase a couple of HEMNES units, drill holes in the top, then hide the SONOS cords behind them. They're the perfect height, allowing the speakers to rise just above my couch...
Since the table-top on these extends from the ends of the cabinet, I had to modify them slightly so I could get the two units to sit flush against each other, but they turned out great. Even more importantly, they work perfectly for giving me excellent surround sound.
And, as a bonus, my LaserDisc collection now has a home. A perfect home, actually, since they are stored vertically, but pull down at an angle so I can read the spines easily...
It's kind of weird that I now have seven of these shoe cabinets in my home considering I don't own many shoes, but they're just so versatile and functional. The shallow depth also means they can go just about anywhere. Yes, quality control at IKEA is shitty and you may get a defective part that will need replacing, but if you've got a tight spot you're looking to fill, these are definitely worth a look.
Something tells me I haven't purchased my last Hemnes shoe cabinet.
Posted on April 18th, 2018
After a week of rushing around Europe trying to condense fourteen days into seven, I was looking forward to heading home where I could have a vacation from my vacation... by returning to work! After my first relaxing morning since I got here, the DutchBitch took me to the airport and off I went.
Well, kinda.
The flight was delayed because the PA system was down. Apparently the part they needed to fix it was not on-site, which meant we were 90 minutes late taking off. Ironically, the PA system went down again just before landing in Seattle, so apparently it wasn't as repaired as they thought it would be.
And speaking of things not being fixed...
The replacement part from IKEA for their defective wood staining never arrived, and all attempts to get a tracking number failed. Their promise of "7 to 10 days" for delivery has now ballooned to 23 days, with no end in sight. I'm sick-and-tired of having half-finished IKEA sitting on my kitchen table, so I decided to brave rush-hour traffic to pick up the damn thing in person. It was all I could do to contain my rage that I was having to add 30 to 40 minutes delay to my already-delayed drive home because IKEA customer service sucks, but what other option did I have?
I finally arrived at my driveway shortly after 9:00pm, which doesn't sound bad until you take into consideration that I had been up for nearly 20 hours straight.
Perhaps one of these years I'll finally figure out how to sleep on a plane, but that was not today.

UPDATE: And of course IKEA finally sends me the damn part... one day after I already went and picked it up...


How very typical.
Oh well. I managed to get my shelving customized and assembled this morning, so at least I won't have it mucking up my weekend like I would have if I had waited.
Posted on November 11th, 2017

Happy Veterans Day, everybody! Thanks to all the men and women who have served or are serving now.
I've been over the mountains since Thursday, letting my robots take care of my cats. For the most part it's an arrangement that works well. Sure my cats miss me, but not enough to keep out of trouble. Like climbing on the kitchen counters so I have to clean and disinfect them when I get home...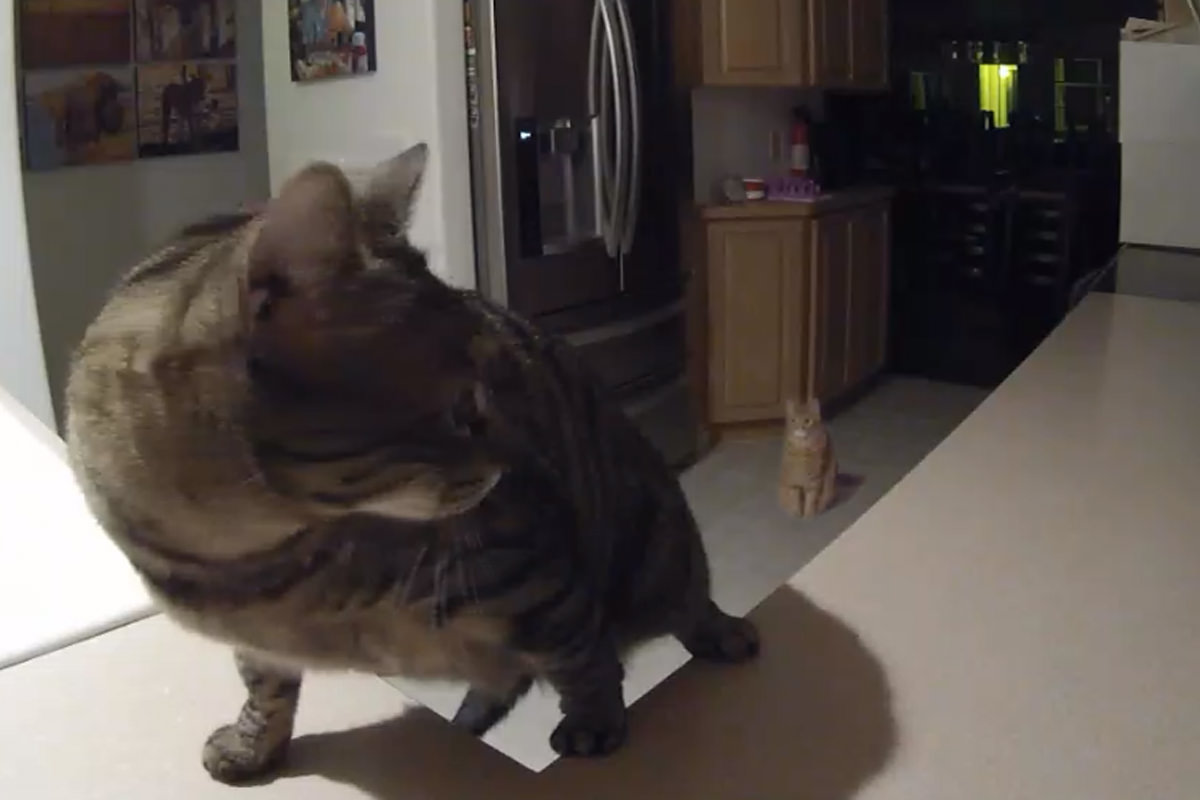 Since the kitchen counters are now the only place the cats are not allowed, it's where they seem to rebel the hardest when I'm gone.
Speaking of not being home...
Jake kept going missing from the security cameras when I checked in. I thought he found a new place to crash in the guest bedroom, but it turns out that wasn't the case at all.
Before I left, I washed a rug and set it across the downstairs bathroom vanity to dry. Jake must have walked across it and sunk it into the sink. Making the perfect place to sleep...
Whenever Jake isn't sleeping on my lap, now he's sleeping in the sink.
I guess I have to buy a new rug since Jake's claimed this one.
Which won't get any complaints from me. Lately Jenny likes to sleep on my arm so I am trapped...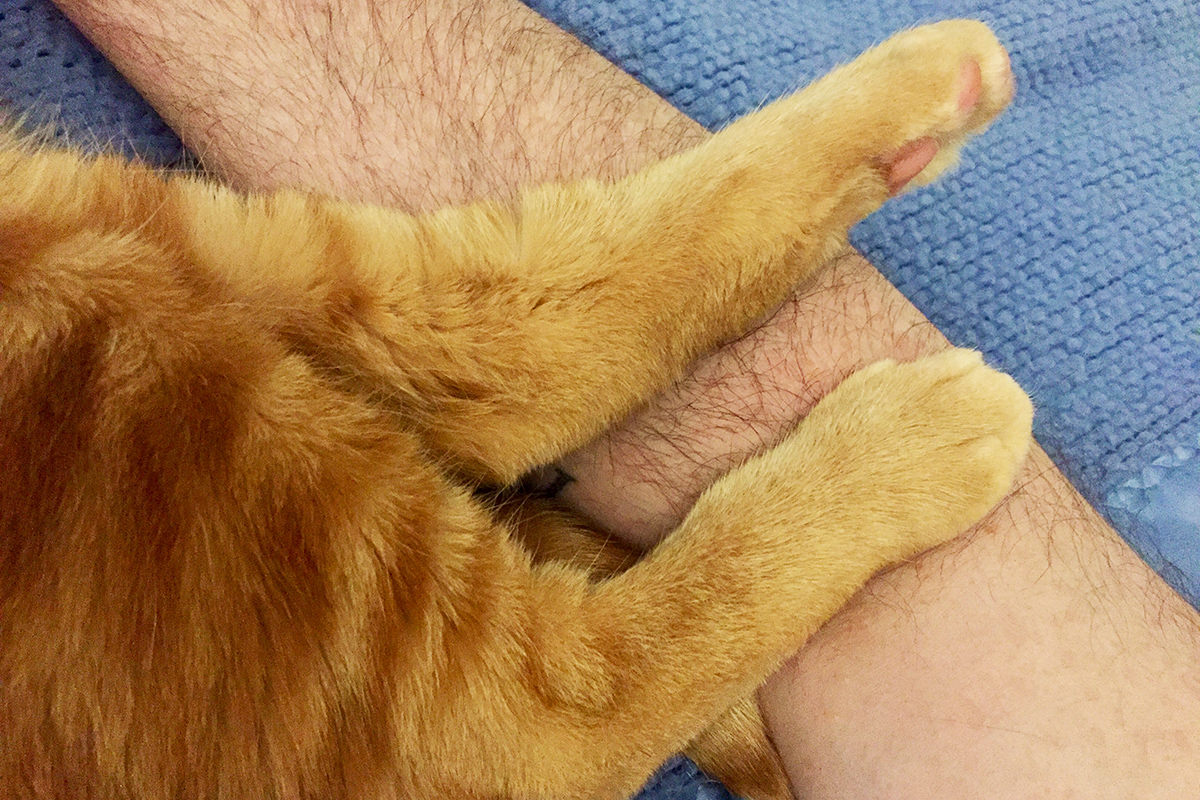 But you can't be upset when you have a cat this adorable...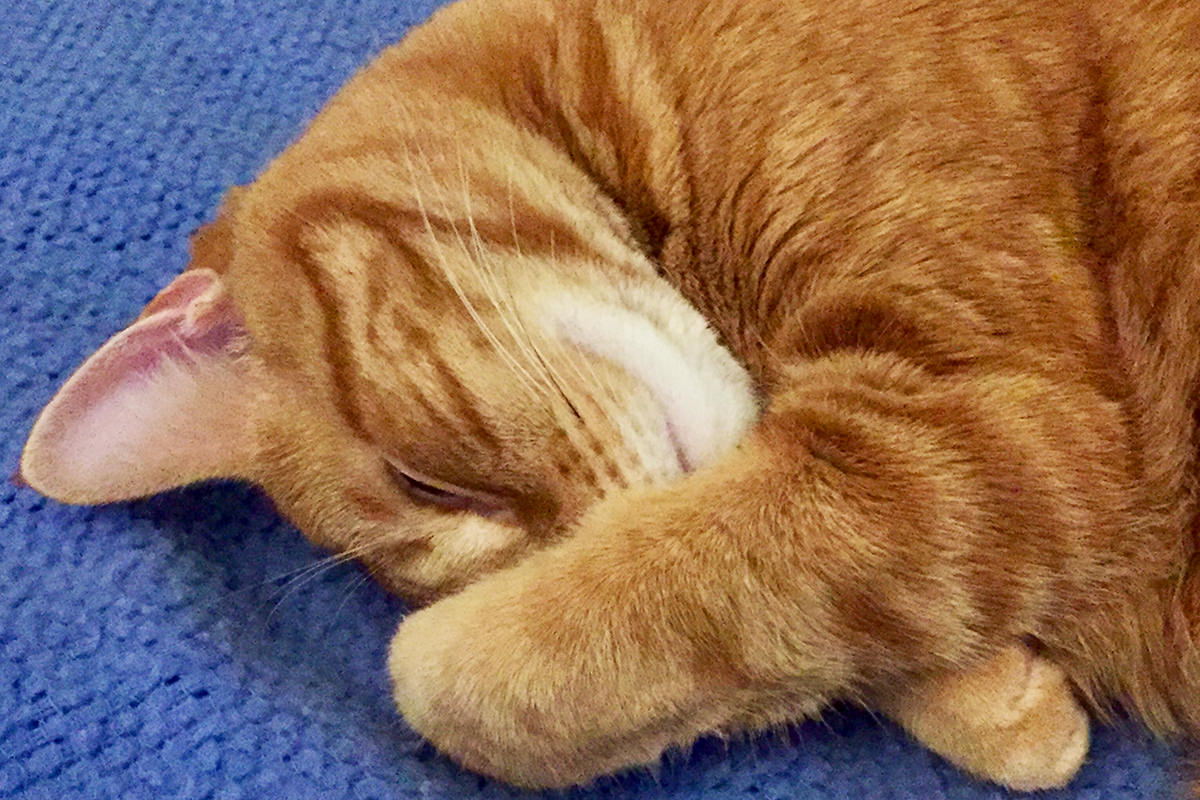 The drive back across the mountains was uneventful and snow-free (though I had my snow tires put on just in case). Exactly what you want a trip to be when winter has come.
The first thing I did when I got home was to put together a new IKEA wall-cabinet I bought so I have somewhere to put my keys and stuff next to the front door. My cats decided to help...
Good thing they're so cute. They're completely worthless when it comes to assembling furniture.
Until next Caturday then...
Posted on January 3rd, 2017

IF YOU READ ONE THING IN MY BLOG THIS YEAR, LET IT BE THIS ENTRY!
A video is making the rounds that you need to see if you have furniture in your home...
Horrible. That kiddo is lucky he didn't end up severely hurt or dead.
Furniture topples like this are a very common problem. It's so common that IKEA has an awareness campaign about it. And it's not just kids getting squashed by unsecured furniture... it's pets and adults as well. When I bought my new IKEA furniture, every dresser and shelf unit came with an anchoring kit and instructions to get others for FREE if you had older IKEA furniture that didn't come with a kit. For any non-IKEA furniture, anchoring kits are available at many hardware stores for a nominal fee.
I took them seriously and secured every unit in my home. I do not want a curious kitty getting squished!
And if you're thinking "Well, yeah... of course cheap, lightweight IKEA crap is going to fall over... I bought real furniture so that won't happen to me!" then you need to know you're wrong. Enough weight in a drawer (like a child!) can tip any unit... because leverage. In fact, heavy furniture is just more weight to land on somebody and cause more damage. And if you live in an earthquake zone, then you should know that your unsecured furniture could be toppled by even mild tremors... regardless of how heavy it is.
So... if you're into New Year resolutions, make one to secure your furniture so this doesn't happen to you... your kid... your pets... or anybody who enters your home!
Be safe, everybody!
Posted on February 29th, 2016

FURNITURE, ASSEMBLE! Because a Very Special IKEA Review Edition of Bullet Sunday starts... now...

• IKEA! IKEA furniture has a lot of fans. IKEA furniture has a lot of detractors. I'm kinda in the middle. What I love most about IKEA is the prices. And the Swedish Fish. And those Illeana Douglas shorts, of course. But mostly the prices. When I moved into my new place, I needed to buy pretty much everything, as my old furniture was trashed. I couldn't afford real furniture, thus... IKEA. I figure I'll buy IKEA for now and get new furniture as I can afford it. And, mission accomplished... I bought stuff for practically every room in the house for a grand total that was about the cost of just a frickin' dining room table I liked at another furniture store. By Grabthar's hammer... what a savings! Even if I did have to buy it all sight-unseen.
All images stolen from IKEA's website...

• LACK SHELVES! The thing about wall shelves is that they are supported by ugly-ass shelving supports. But LACK shelves are different. They're FLOATING shelves. Which means there's no supports. Which also means they look awesome, but you can't put heavy stuff on them...
Installing the shelves is no easy task. Mostly because they don't come with anything to attach the shelf to the wall. I ended up having to go to Home Depot for a combination of "lag bolts" (where I had wall studs) and "drywall anchors" (where I had none). Since I bought 43" shelves, it was easy to find a couple wall studs to bolt them to, but they didn't always end up in places I felt would secure the shelf very well, so sometimes the drywall anchors were added on the ends as well. Installation involves fixing a metal frame to the wall, then sliding the shelf on it, then screwing it in place. Easy. Mostly. Unless you are trying to line up a bunch of shelves like me, because they inexplicably don't always line up... even when you've been very careful to align the frames to each other. Still, they do look very nice and, so long as you're not putting anything heavy on them, work well.
PRICE: $6.99-$19.00 (depending on size) • DAVEKEA SCORE: B

• HEMNES BOOKSHELVES AND GLASS DOOR CABINET! Most cheap furniture is made from sawdust that has been mixed with glue then pressed into boards. I hate that crap, so I was happy to learn that IKEA has a line of furniture called HEMNES that's made (mostly) of real wood. Sure it costs a little more, but at least it has a chance of holding together for a while. I needed a couple of bookshelves for my bedroom and a cabinet for my dining room (preferably with drawers for placemats and stuff). Luckily, there are many variations of the HEMNES bookcases when it comes to doors and drawers, so I was able to find exactly what I needed...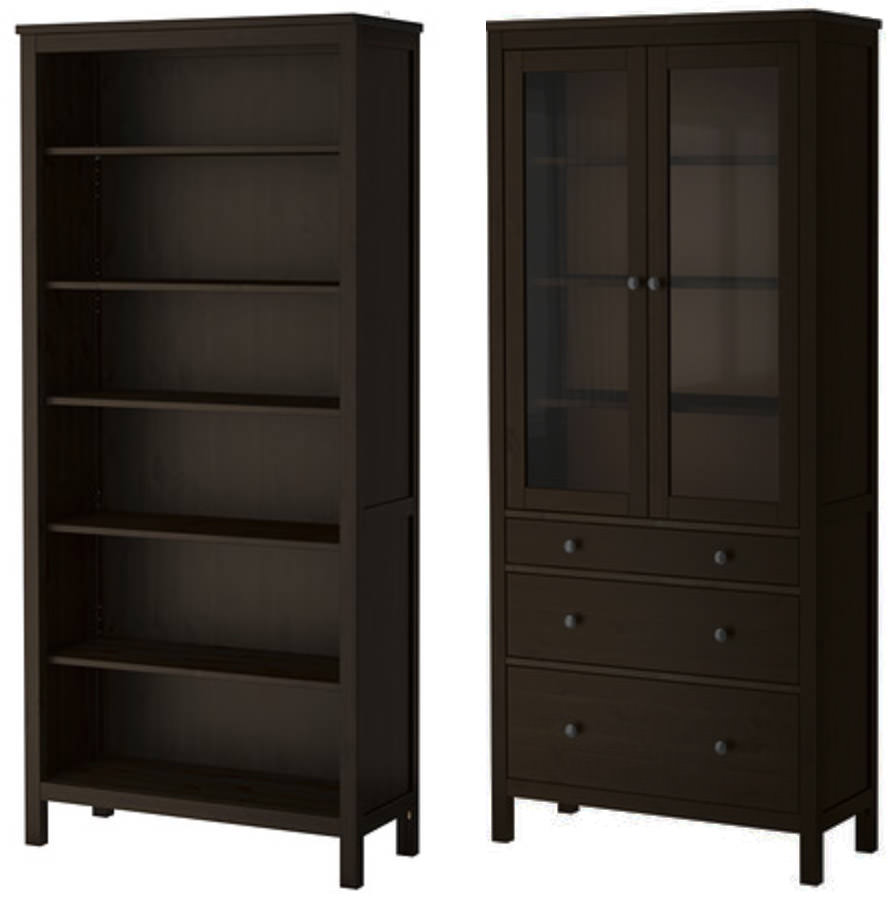 The bookshelves were fairly simple to assemble, even if the top board didn't line up properly on one of them and had to be hammered into place. Surprisingly, they were very easy to level and match up side-by-side thanks to the screw-adjust feet. I did have a quality control problem where one of the backing board pieces had a dinged corner that made an obvious divot in the back of my shelves, but I colored it with some stain and put books in front of it, so you'd never know. They seem fairly sturdy and are currently holding a lot of books without issue, but I admit to hammering nails through the sides to make sure the shelves wouldn't fall off the support knobs once I determined where they should go (recommended, as I hear the shelves can pop out easily). The cabinet version adds glass-panel doors and three drawers to the bookshelf for an additional $230, which doesn't seem like a lot... but really is when you consider the bookshelves alone are just $330. Like all IKEA drawers, these are cheap as hell, and won't support much weight. I will probably end up reinforcing them with another board, eventually, as it seems the sawdust board they use will eventually warp and fall out. I glued everything in place, so hopefully that will buy me some time? The glass-panel doors are cheap and clunky and have weird-ass hinges that were a pain in the ass to install, but boy do they look nice. Actually, both the bookshelves and the cabinet look very nice. They certainly don't look cheap... until you open a drawer or door. HINT:You absolutely want to follow IKEA's advice and affix these to a wall so they don't fall over.
PRICE: $160 (bookshelf) or $330 (cabinet) • DAVEKEA SCORE: B+
UPDATE 5/14/16: DAVEKEA SCORE: F Just as other people have experienced, my shelves collapsed because they're not deep enough and somehow work their way loose from the pegs (which are too short, I guess). Looks like I'll be screwing all the shelves directly to the unit so they're not falling out and scaring the shit out of me in the middle of the night. EPIC FAIL!

• HEMNES COFFEE TABLE! There are two different coffee tables in the HEMNES line, and I went for the rectangular one over the square one. It assembled very easily, seems sturdy, and is nice enough to look at...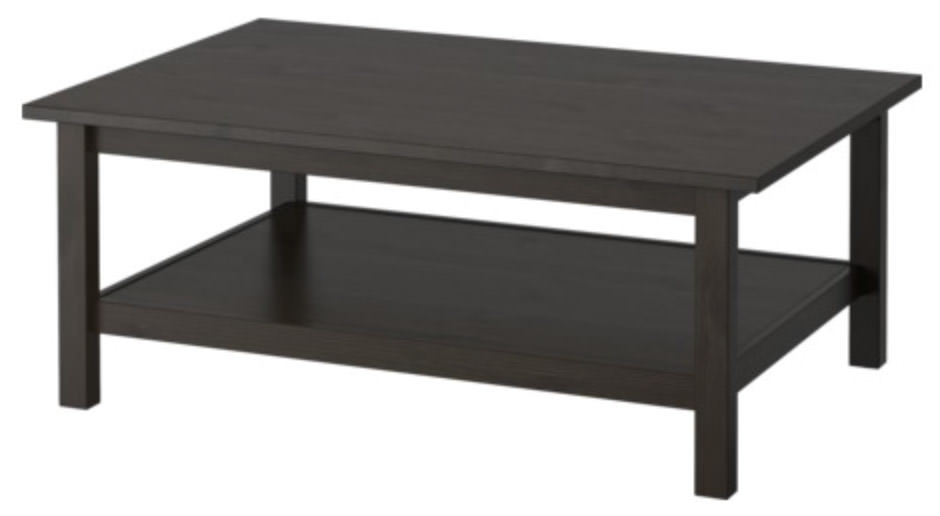 The only problem is that the table-top finish is uneven. It's dull in some spots, glossy in others (usually over the knots in the wood) and doesn't look that great. Given how cheap it was, it's tough to complain too hard... but it does look like I've spilt something on it or damaged it somehow, which is a bit of a bummer.
PRICE: $140 • DAVEKEA SCORE: C

• HEMNES BENCH! My living room is rather modest in size, which means my furniture arrangement has to be fairly rigid to make any use of the space I've got. This meant that the HEMNES end-table was out of the question, and I ended up buying "benches" to use as end-tables. They work perfectly... coming in at the right shape and height...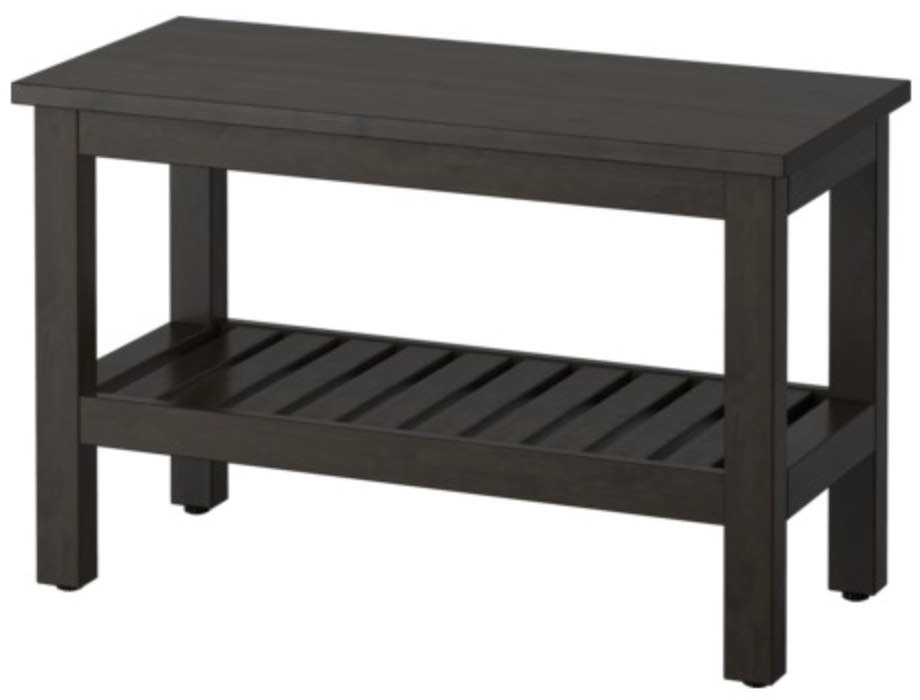 For all I know, they make great benches as well. Probably the easiest assembly of all the stuff I bought, which was icing on the cake.
PRICE: $80 • DAVEKEA SCORE: A

• HEMNES TV UNIT! If there was one thing I regret purchasing, this would be it. The HEMNES TV Unit is complete shit anyway you look at it. It's meant to act as a media center, and yet basic stereo components don't fit in it (my mid-size receiver has to sit on top). It was a complete bitch to assemble (NOTHING lined up properly, the shitty little screw-discs kept breaking, and the first shelf-bay has a shelf that doesn't match the support holes... no matter which of the three shelves I put there)...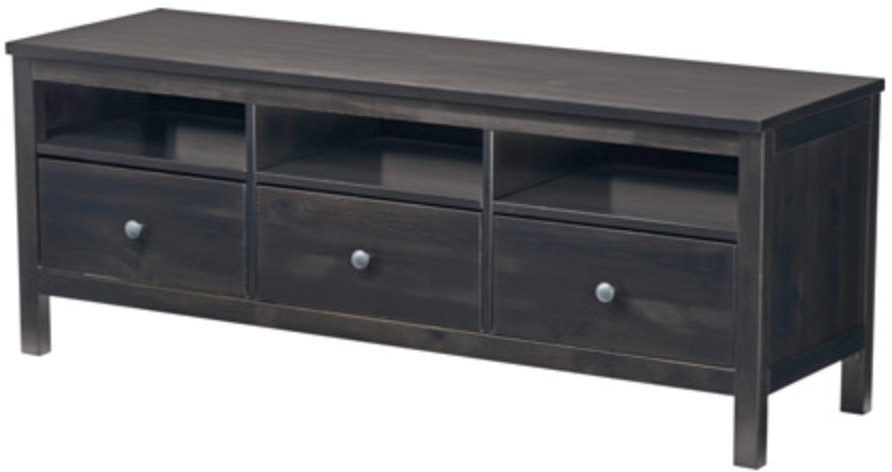 This is a complete disaster, and I pretty much hate it. Will probably be the first thing I replace when I can afford it. Helpful hint to IKEA... I dunno if stereo components are smaller in Europe, and I really don't give a crap. If you're selling a media center here in the USA, you'd better make something that our shit can fit into. Having all the shelves fit properly into the holes you drilled would also be a big help.
PRICE: $200 • DAVEKEA SCORE: D

• HEMNES DRAWERS! As I mentioned above, IKEA drawers are pretty cheap and, apparently, people have problems with the drawer bottoms warping and falling out all the time. Even so, I needed cheap drawers for my bedrooms, so this is where I landed. I did glue all the drawer parts together in the hopes that will keep them from falling apart. And I'm trying my best not to overload them, so hopefully that will help. But, eventually, if I don't end up replacing these soon, I know I'll have to reinforce the drawer bottoms with some kind of actual wood, which kind of sucks...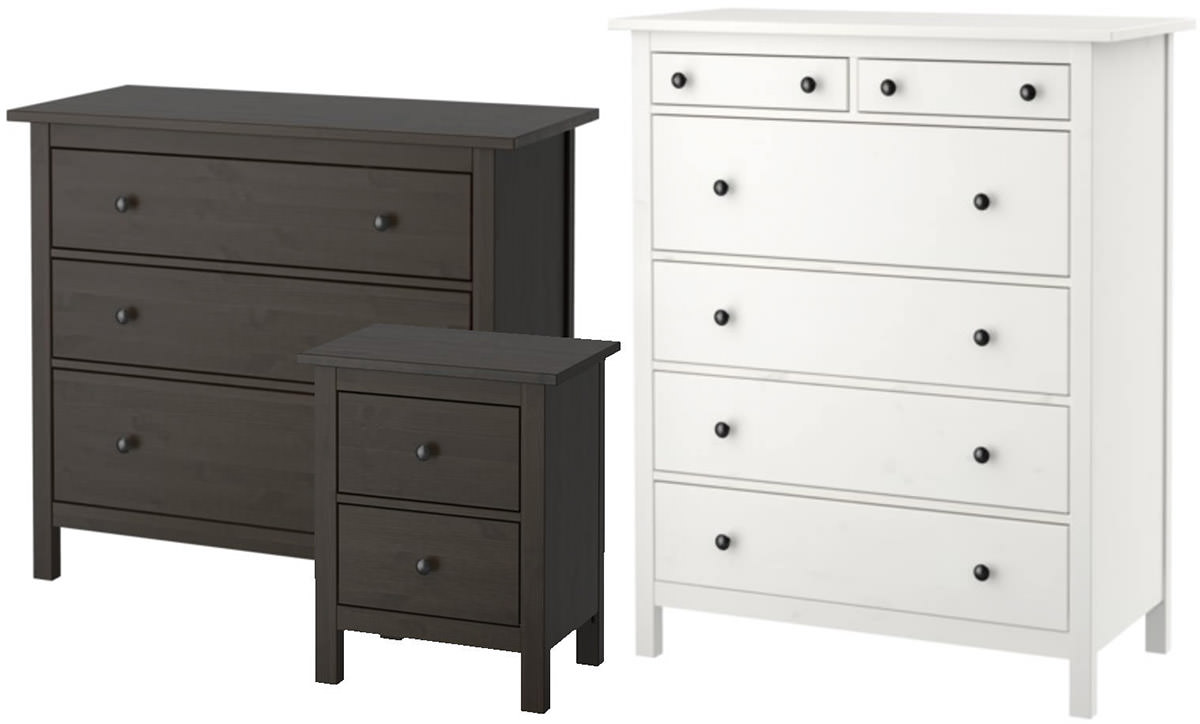 For my bedroom, I bought the three-drawer version and a 2-drawer unit to use as a nightstand. For the guest room, I bought the six-drawer version and a couple 2-drawers for nightstands... but the guest room stuff is in "white stain" instead of the brown-black I bought for everything else. Since the wood is a cheap pine, the whitewash effect is less attractive than it would be with a prettier wood, but I guess it's okay. I probably would have stuck with the brown-black if I had seen it first. Ultimately, these drawer units look okay... but they "feel" cheap, were not so easy to assemble, and don't seem built to last.
PRICE: $100 (2-Drawer), $150 (3-Drawer), $200 (6-Drawer) • DAVEKEA SCORE: C

• STORNÄS TABLE! Easily my favorite IKEA purchase from the bunch. It's a beautiful, sturdy table that doesn't look or feel cheap at all. Yes, it arrived with a small damage mark in the table-top, but it's still a wonderful purchase at a shockingly low price. I bought the version with one extra leaf, but there's also a version with two extra leaves if you have room for a long table in your dining room...
Assembly was easy as pie and I couldn't be happier with its elegant simplicity. I wish that IKEA made other items in the STORNÄS series, as it's clearly top-of-the line at a bargain cost...
Recommended!
PRICE: $330 • DAVEKEA SCORE: A

• KAUSTBY CHAIRS! There were a few options for chairs to go with my STORNÄS table, and I waffled between the KAUSTBY and INGOLF models, as they both looked like they'd accompany it perfectly. Ultimately I thought the KAUSTBY slot-back chairs looked a bit more contemporary, and decided to go that route... even if they were $10 more a piece...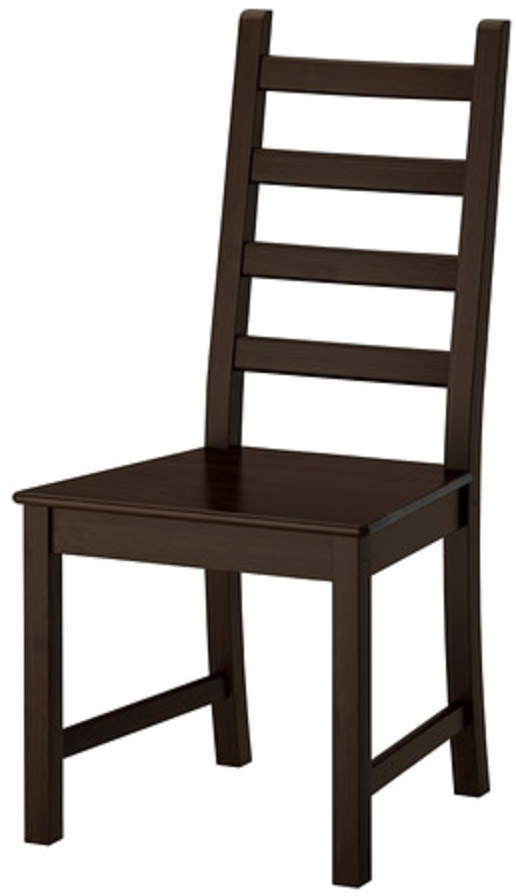 Overall, they are quite nice chairs for the price. Plenty wide. Maybe a little too wide, as the standard cushions I bought don't seem big enough to cover them. Assembly is not overly difficult, but could have been better. For one thing, they don't pre-drill the holes that attach the seat to the frame (with small, cheap, plastic fixtures), so it's up to you to make sure you've got it centered. But the worst part is that the chairs are not perfectly level, and I didn't know how to adjust them so they'd sit flat. Adding FIXA felt floor protectors helped a little bit... and it's by no means a massive problem, as the legs are off by only a small amount... but it is a bit frustrating. Then again, you get what you pay for, and I'm willing to bet this could be a problem with chairs costing a lot more.
PRICE: $50 • DAVEKEA SCORE: B-

And there you have it. All in all, I'm happy with my IKEA purchases. Less than $3000 to fill my living room, dining room, bedroom, and guest room is pretty nifty. And shipping was a cheap $165 for the 26 pieces of furniture I bought, which is awesome. What's not awesome is that there's no way to track your order progress, so any updates have to be requested via email to customer service. But, then again, IKEA ended up delivering everything on exactly the day they said they would when I checked out, so I really have no cause to complain. If you're on a budget and looking for furniture... IKEA is worth a look. And I do mean look, as buying sight-unseen like I did is a little crazy.
Posted on December 10th, 2012

I don't know what this world is coming to.
I'm horrified that monkeys are now being jailed for wanting to do a little holiday shopping at the local IKEA. I mean, what the heck? Humans aren't the only ones who want to buy a BOOMFLARG bookcase for their den... or to give POOFENVOOG glassware for Christmas gifts!
And it doesn't even matter if they're wearing a fancy-ass coat!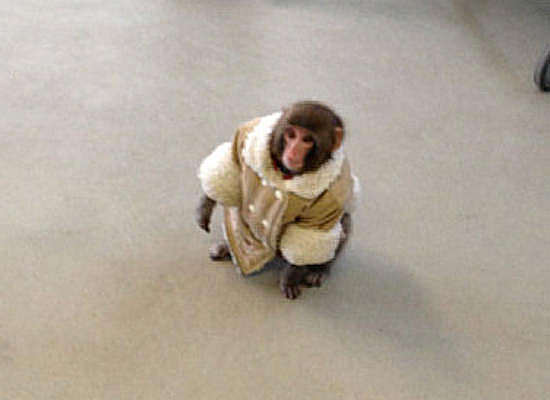 Needless to say, Bad Monkey is livid.
He seems intent on putting on his little shearling coat and taking a trip to IKEA so he can dare somebody to say he isn't allowed to shop there...

I think he must have at least one gun in that coat. Probably two.
Posted on July 20th, 2010

At some point, I lost the ability to swallow pills.
Don't ask me when, how, or why it happened... all I know is that in the past week I've ended up with a pill stuck in my throat every time I've attempted to swallow one. I then spend the next several hours eating bread and drinking water in a feeble attempt at forcing it down as it slowly disolves... leaving a godawful taste in the back of my mouth. I suppose my next step is to smash them up and mix them with apple sauce... or, better yet, vodka... to hopefully fool my body into not rejecting them.
Which pretty much regresses me to a small child.
Or a dog.
Perhaps I should hide the pill in peanut butter and put it on the end of my nose so I can lick it off. Dogs seem to love that.
I can only imagine that an inability to control when I poop will be next. Which is fine. They make diapers in adult sizes now, and I'm tired of having to get up and go to the bathroom anyway. All I need to do is find somebody to change me from time to time, and I'm good to go.
In other news nobody cares about, I unpacked my new desk lamp today! The springs in my old one had rendered it a floppy, useless mess, so I finally remembered to pick up a new one when I was at IKEA buying Swedish Fish candy last week. I went with good ol' TERTIAL because HUSVIK was too expensive and ANTIFONI was too small. The one I really wanted was MÖRKER, just because it had the coolest IKEA name ever, but it wasn't a swing lamp. I think I'll call my lamp "MÖRKER" anyway, just because I like the name. Now I wants me a GRÖNÖ to go with it.
Most of my evening was spent dutifully packing four separate bags for my FIVE upcoming back-to-back trips. I tried to get one night at home in-between all that, but the closest I could get was Seattle. So now I'll be flying back to the airport for an overnighter just long enough to swap luggage. How I'm going to manage criss-crossing the country for the next two weeks and still keep my sanity is a mystery at this point. I'm just too tired to fight it.
There's probably a pill for that, but I couldn't swallow it since I'm out of apple sauce and vodka.
Posted on June 28th, 2009

Another week. Another Bullet Sunday. And this one seems to be inspired by how the vast information available on the internet seems to cause a chain of events from one thing to another.
• LEGO Chain. This started with me getting the latest LEGO catalog in the mail and seeing that they've come up with a third series of Space Police sets. I've been a fan of LEGO since I was very young, but it was when they released the original Space Police that I became insane over those little plastic bricks. What's so amazing is how LEGO keeps innovating and improving on the concept. This time around they've put a real effort into making the minifigs drive the series. The little alien criminals have to be the cutest LEGOs ever...

Clockwise: Frenzy, Kranxx, Skull Twin, and Squidman.
Photos taken from the awesome shots at No Onion's Flickr Set
Space Police then led to video games when I saw that the catalog also featured an advertisement for their latest effort, LEGO Battles. It seems to be a Real-Time Strategy game that's geared for a younger gamer. Or a gamer like me who loves LEGO video games so much that they'll buy anything that comes out...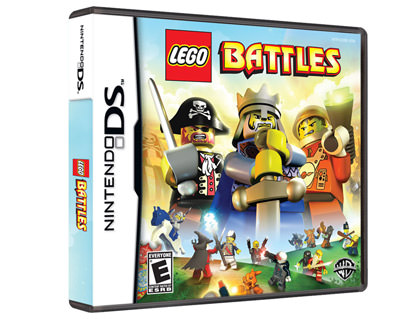 I don't know anything about the game play, but the trailer makes me want to buy it immediately...
LEGO Battles led to me remember that I had bought LEGO Indiana Jones and LEGO Batman games for my Wii months ago, but had never even opened the boxes! The last game I had played was LEGO Star Wars, which was ten shades of awesome, so I decided to rip them open and give them a try. As expected, they were absolutely amazing and a lot of fun. Sadly, I don't have time for games, or I could have spent all day playing...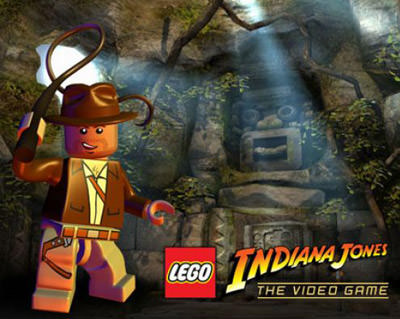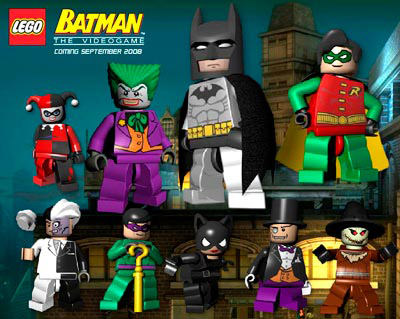 As a major Batman fan, LEGO Batman is a huge favorite. The puzzles are really good, and some of them quite challenging as you attempt to find all the game's secrets. But they don't stop there... not only do you get to play as all the Bat Heroes (including Batgirl!) you can then replay the levels from the villain's perspective! Sweet! A pity the iPhone version isn't nearly as good.
This then led me to wonder which LEGO property would be getting a video game next. Spider-Man? Superman? Nope. Turns out it's LEGO Harry Potter, Years 1-4 coming in 2010. I don't even like Harry Potter, but the trailer has me wanting it...
This led me to wish that they would expand the games outside of licensed properties and explore some of the LEGO favorites like LEGO Pirates and LEGO Space Police... how awesome would that be? Guess I'll have to settle for LEGO Rock Band...
• Hollywood Chain. This all started with a tweet by Kevin Smith...

Since Kevin Smith interviews and Kevin Smith talks are about as entertaining as it gets, this immediately grabbed my attention. I didn't even know Kevin Pollak had an internet chat show.
Which led to Kevin Pollak's site. Where I noticed his previous guest was ILLEANA DOUGLAS!! I love Illeana Douglas! She always manages to pop up just when I least expect it, and usually ends up stealing the show. My favorite character of hers would have to be child star turned prostitute turned Hollywood movie executive Wendy Ward in Action! but she's great in everything...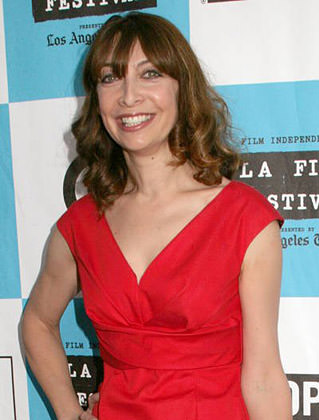 Her interview wsa very interesting (and very long!) but led me to her latest project which, believe it or not, is a series of shorts for IKEA called Easy to Assemble starring Illeana as "herself"... trying to leave Hollywood behind and lead a "normal life" by working at IKEA...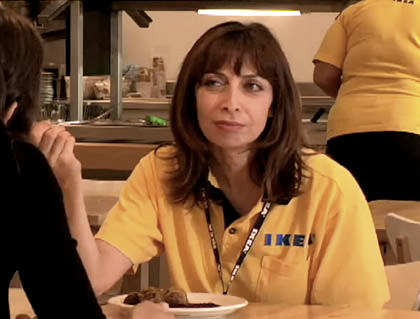 This led me to visiting the IKEA site so I could see if they started making those DVD shelves I like again, but they aren't on the site. This is a major bummer, because I can't even remember the IKEA name of the unit so I can call and ask if the store in Seattle has it. Best. DVD. Shelf. Ever. And I need more.
This led me to wondering when Watchmen was coming out on DVD. Turns out the Blu-Ray Director's Cut will hit on July 25th...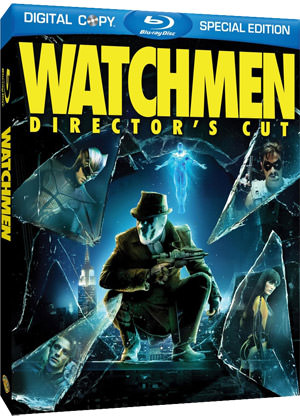 This led me to remember that the Blog-Her conference is on July 25th in Chicago. This led me to wonder if Chicago television show My Boys had been renewed for a fourth season (according to The Futon Critic it hasn't yet). Which led me to wonder if they had at least released the second season of My Boys on DVD (they haven't). Which led me to wanting my IKEA shelves all over again.
• Bloggign Chain. This morning I learned that OBNOXIOUSLY LOUD TV PITCH-MAN BILLY MAYS HAD DIED. This led me to look back at my blog entry about him from back in 2007...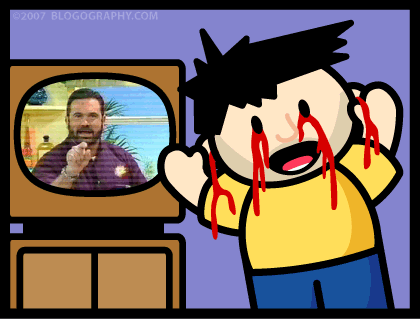 This led me to remember that it was Bullet Sunday, and I should probably write my entry for the day. So here I am. REST IN PEACE BILLY MAYS!!!