The lady who owned my home before me loved flowers. She had them planted everywhere. Particularly impressive is the flower bed in the back yard, which is filled with roses and other beautiful stuff. She also had a bunch of flower pots in the front yard, but I removed them one-by-one as they died off because I'm not home to water them when I have to travel.
The flowers in the back yard continue to flourish because there's a water line that's connected to the sprinkler system. My front yard flower bed is just a bunch of river rock. I've always felt bad about this, because everybody else in the neighborhood has flowers out.
Last Fall as I was cleaning up leaves, I noticed that there was a water line poking up from under the river rocks. Turns out that there was automated watering there all along but it wasn't used for some reason. So I decided that this year I would plant some stuff so my home fits in with everybody else.
And yesterday was the day...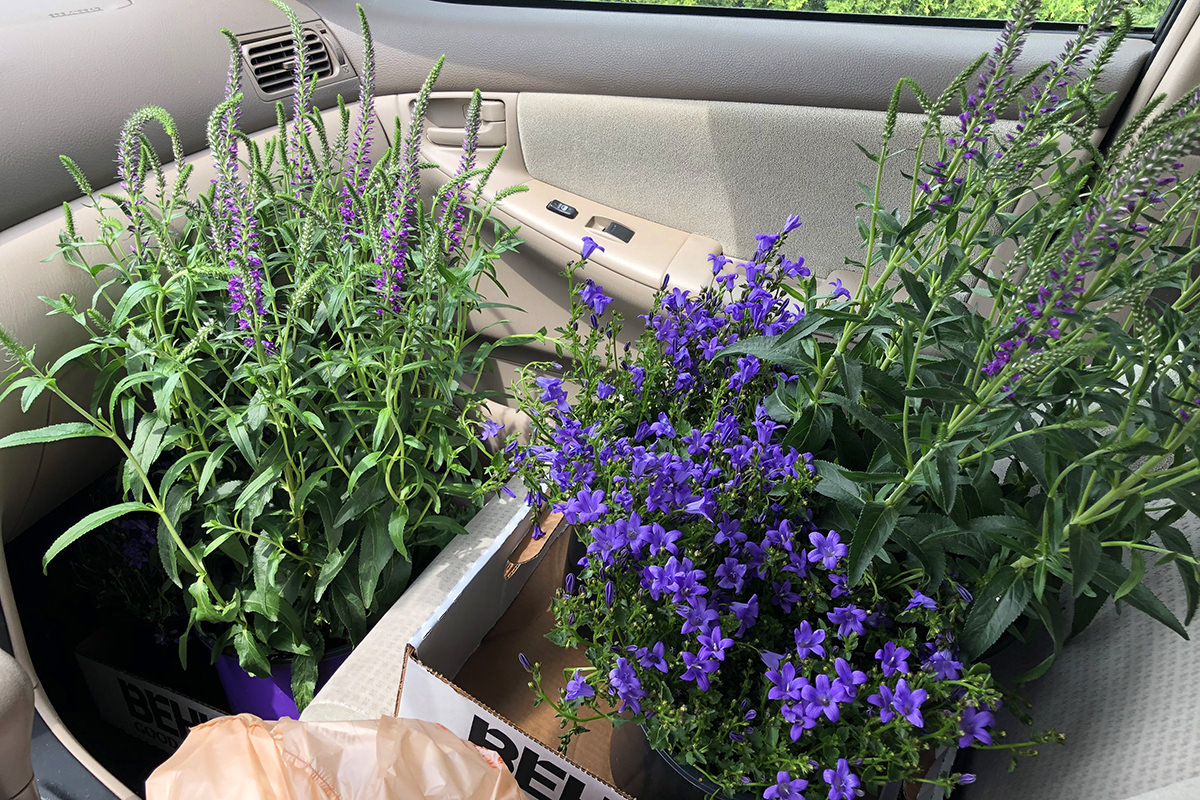 I didn't want to completely fill the front flower bed because that would cost a fortune... and I really didn't want stuff growing up next to the house where bugs could breed, so I decided to clear out a space in the river rock for my new flower bed. I found some nice grey brick to keep the rock from intruding. I finished building just as the sun was setting and it started raining...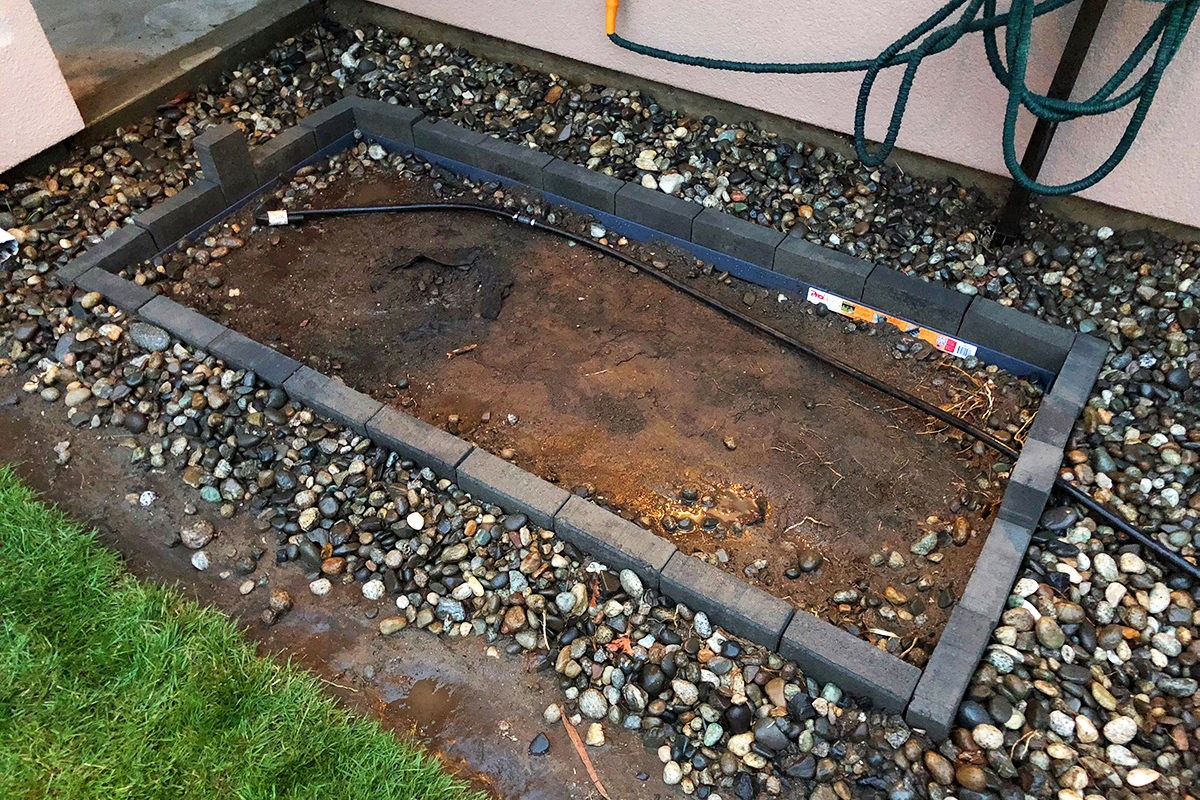 This morning I woke up early to start planting stuff. After setting things up I realized that I didn't have the parts I needed to tap off of the water line, so I had to run to the hardware store... where I picked up another couple plants. I didn't notice that one of the of the purple things I bought was badly damaged, but decided to plant it anyway...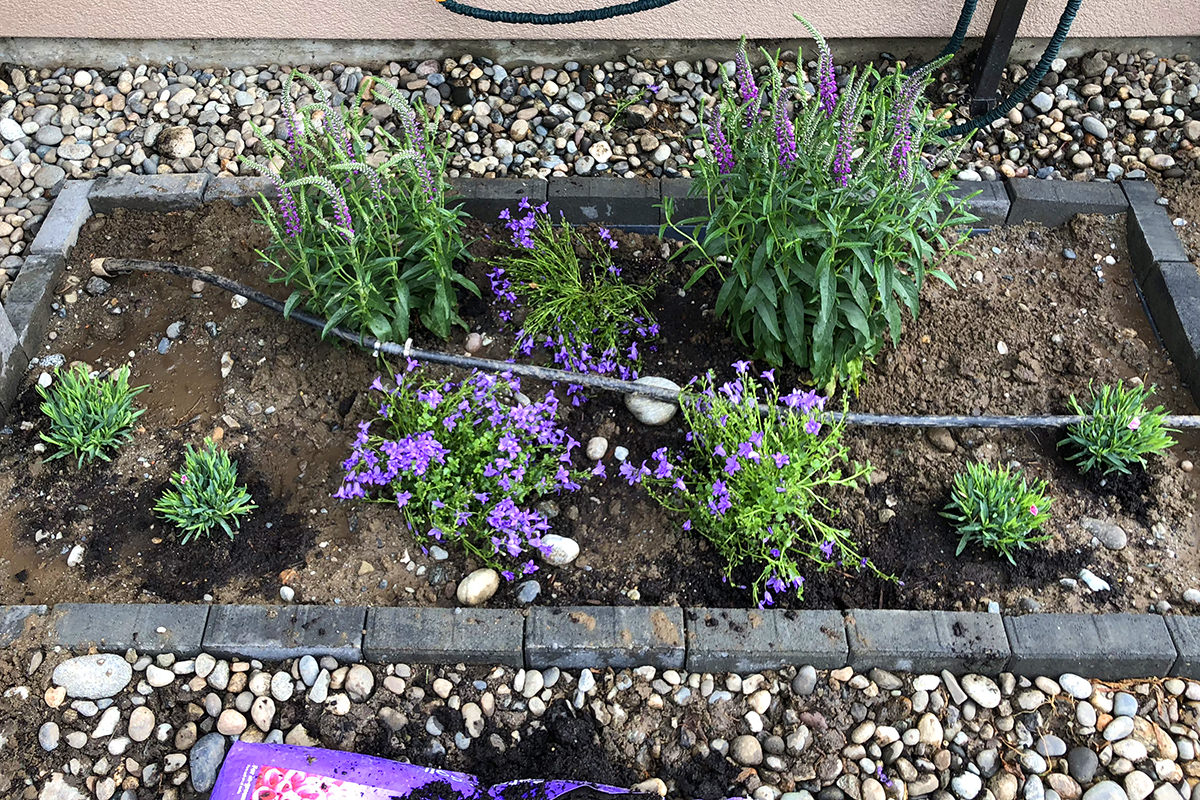 Everything turned out quite nice. I threw away the tags with the names of all the plants, but here is what I got...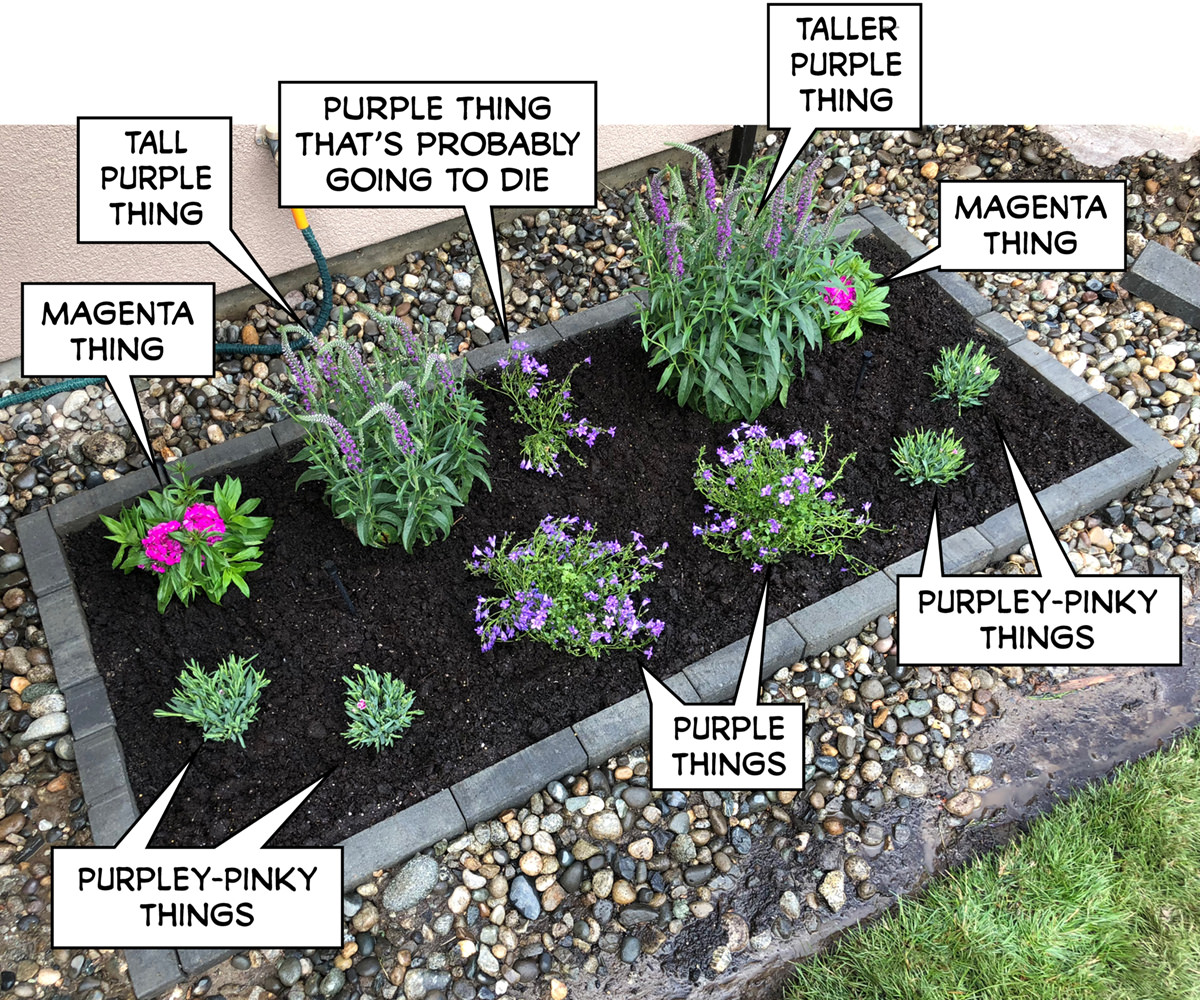 Because I'm old, all that crawling around in the dirt left me pretty sore and I decided to call it a day and watch television.
So there I was... lounging around watching Ask This Old House when it occurs to me THAT I DIDN'T TEST MY NEW SPRINKLERS BEFORE I BURIED THEM! It would be just my luck that I screwed up the install and kinked a line or something, so I managed to get up off the couch (I am SO old), tell Alexa to turn on the water, then waddle out to see if they work. I am soooooo lucky...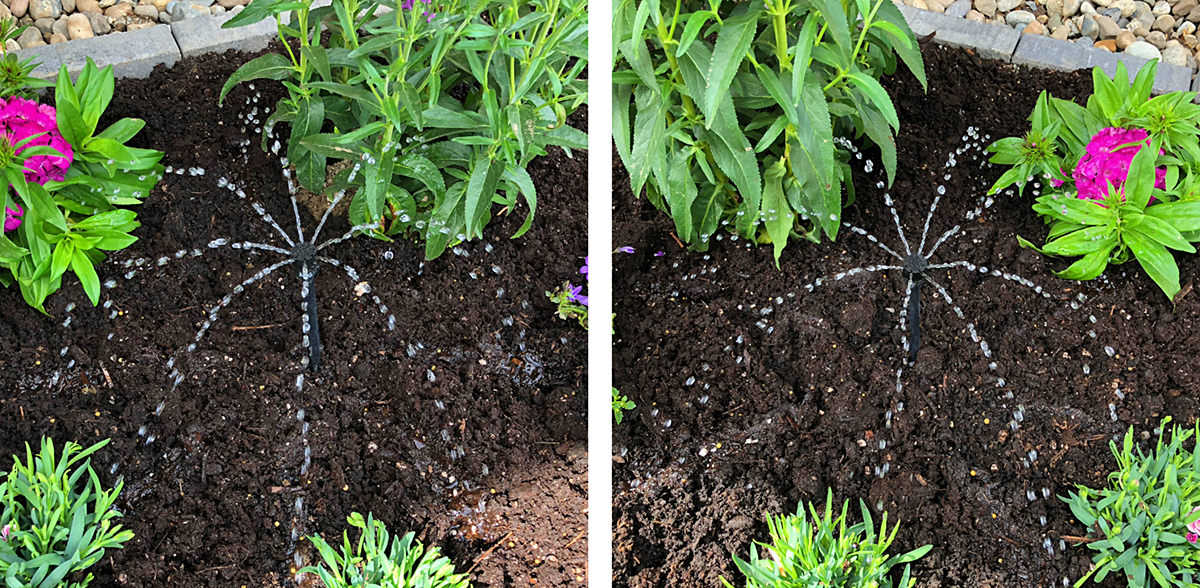 And that's that. Now my house will be pretty just like everybody else's. And since all the flowers I bought are perennials, they'll be back year after year.
Assuming I don't end up killing them.

Flowers are out everywhere, which means my allergies are exploding, which means I'm drugged up on Flonase, Zyrtec, and Allegra all the time. This is better than the old days when I had to be drugged up on Benadryl all the time. Benadryl makes me so drowsy that I can barely stay awake to work. All I wanted to do was sleep.
If there's a bright spot to be found, it's taking pictures of it all with my iPhone. It's shocking how good the camera is on the X, and it kinda freaks me out that I get better photos from it than I do the last pocket camera I bought...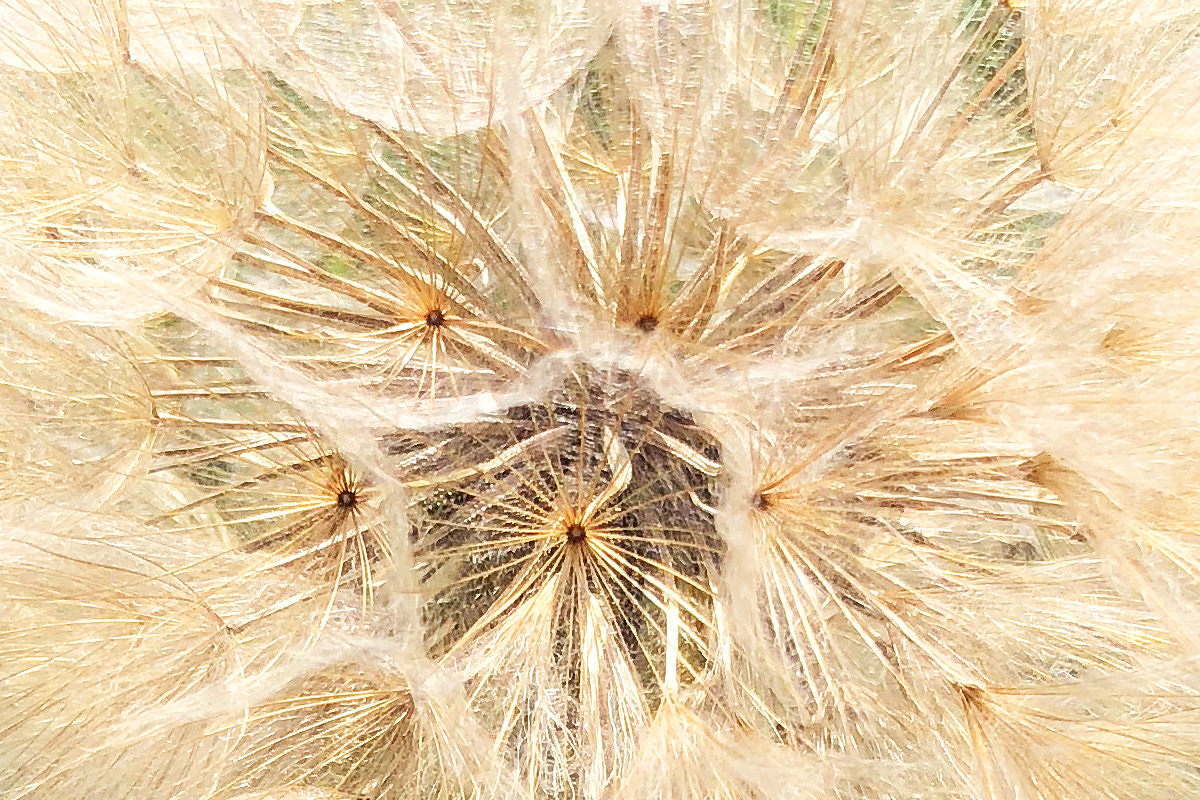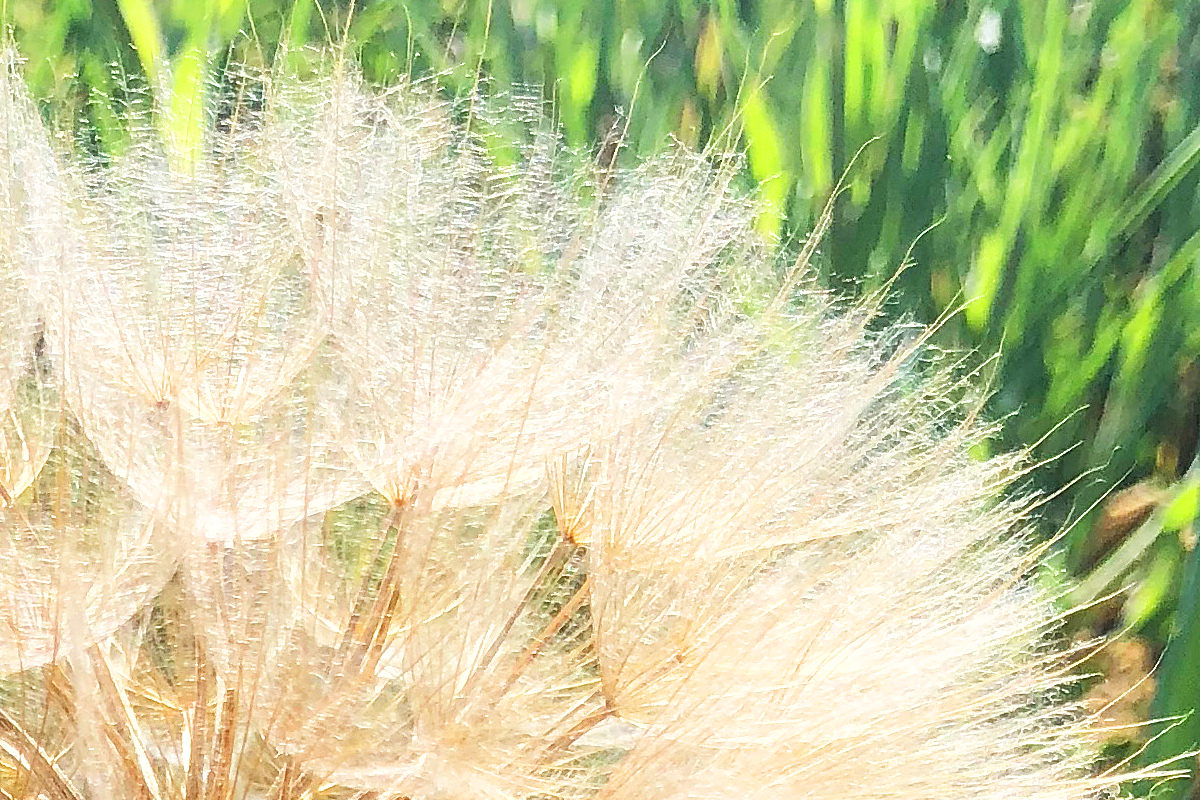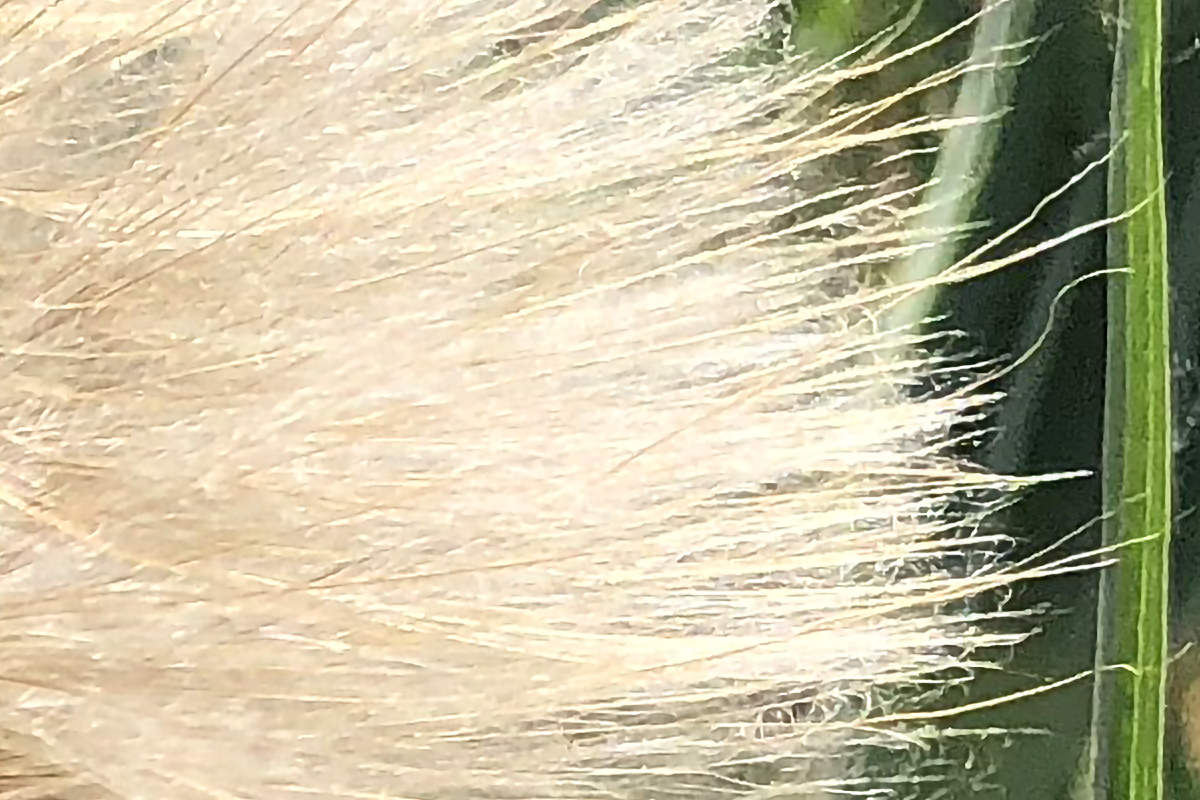 When I moved into my new home, the woman who owned it previously planted loads of pretty flowers in my back yard. Including the hydrangeas I butchered which have miraculously come back. Much to my surprise, it looks like I'm going to have flowers again. Don't ask me how. This thing was razed to the ground a month ago...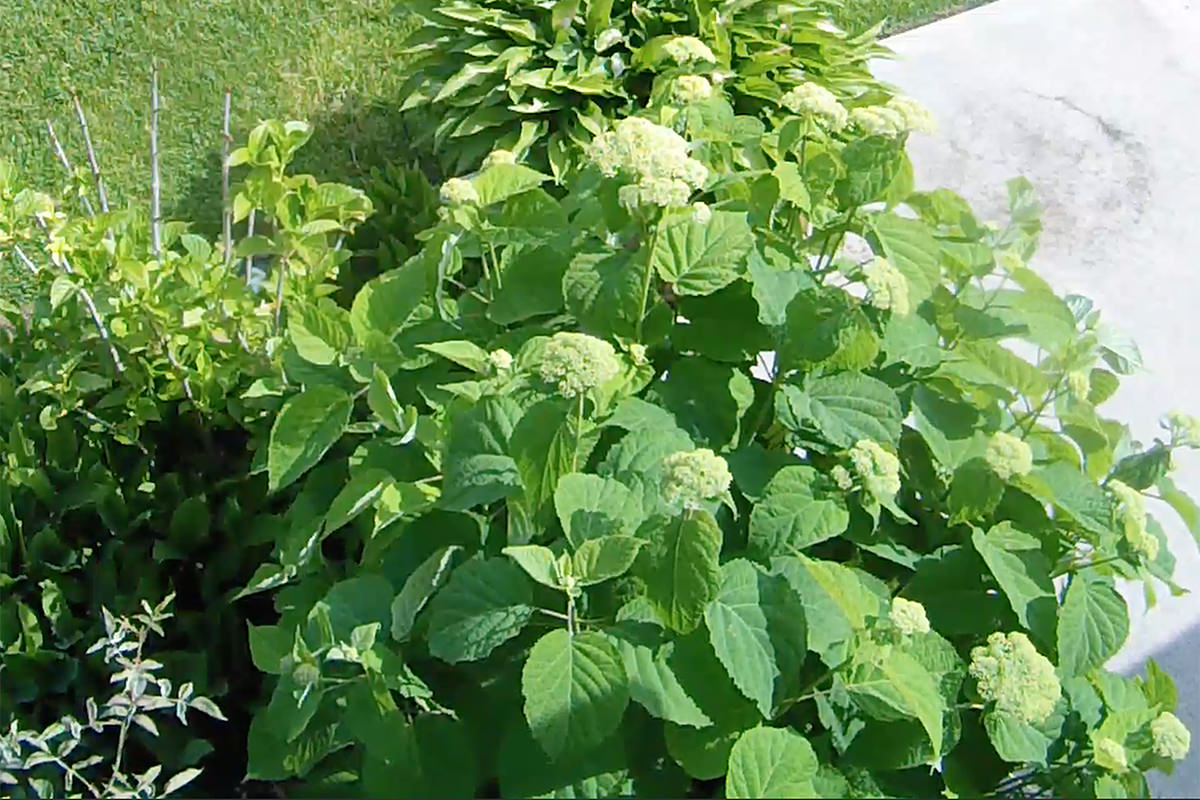 I had irises on the side of my house, which is nice, but they always fall over and last for only five minutes, so I don't understand the point. What I'd like to do is pull them out and replace them with more stuff like this...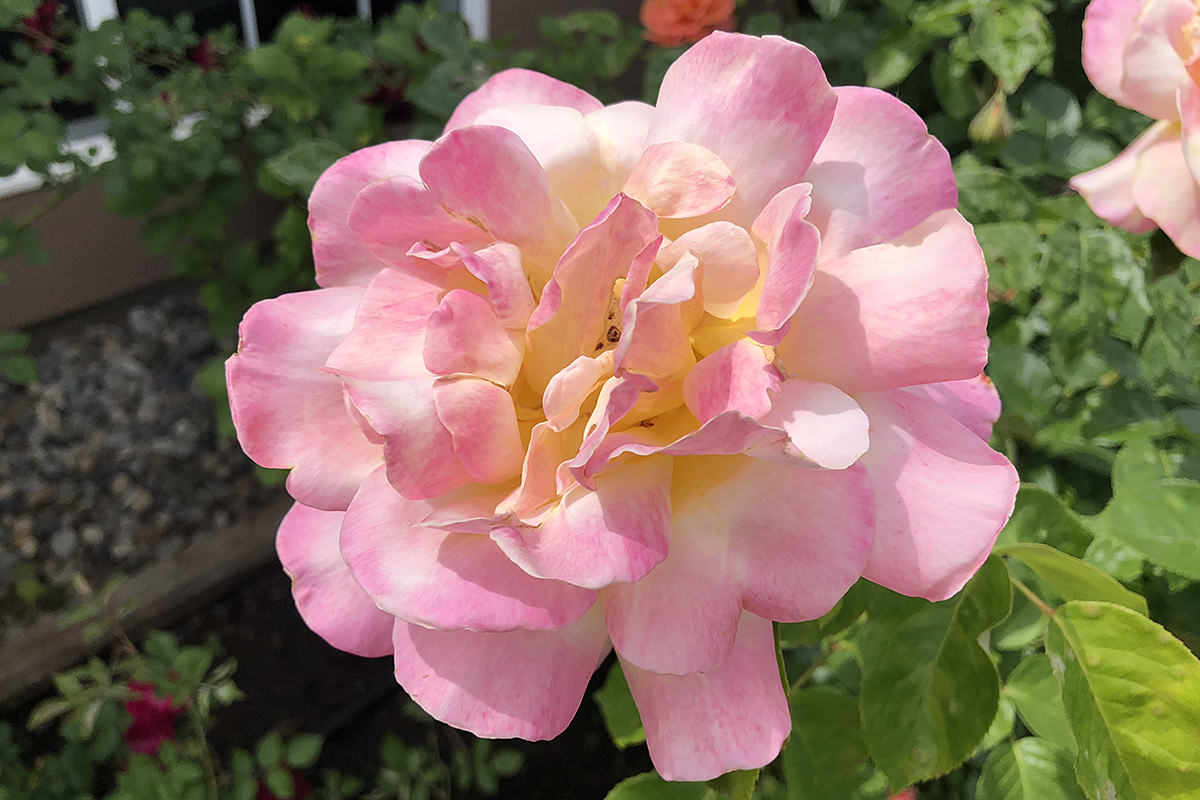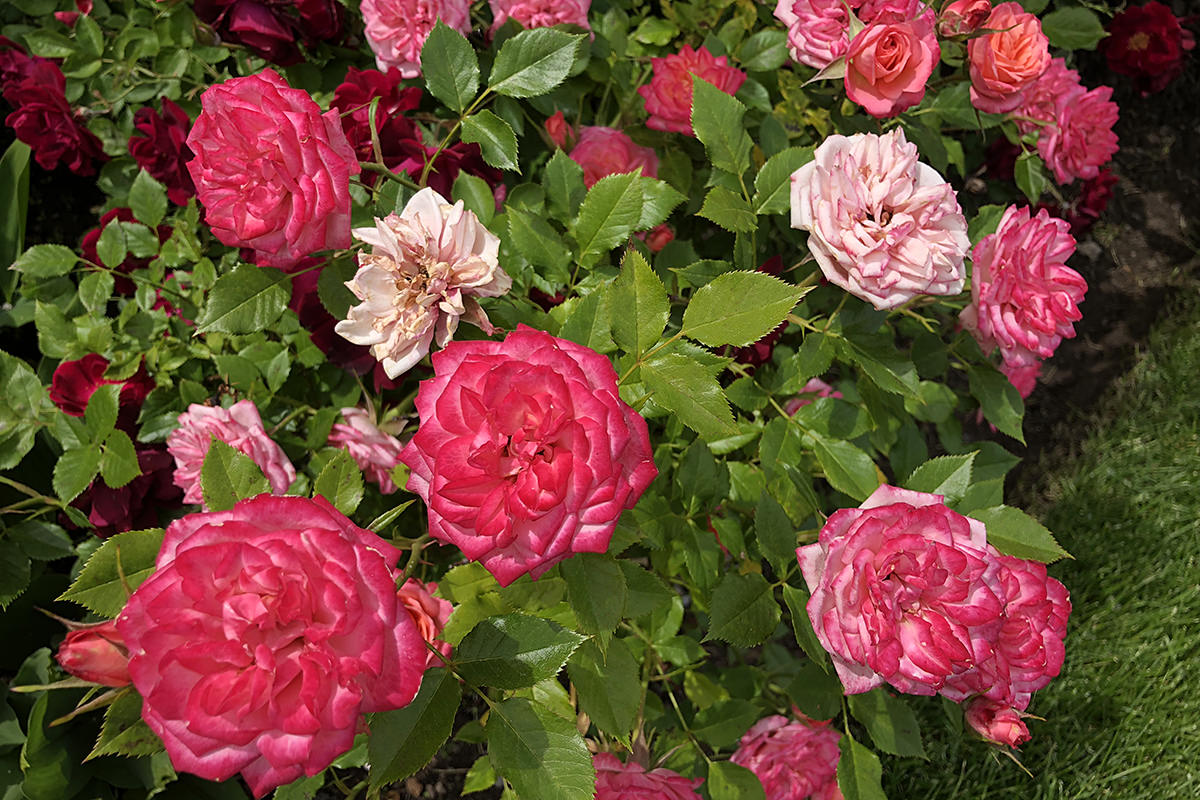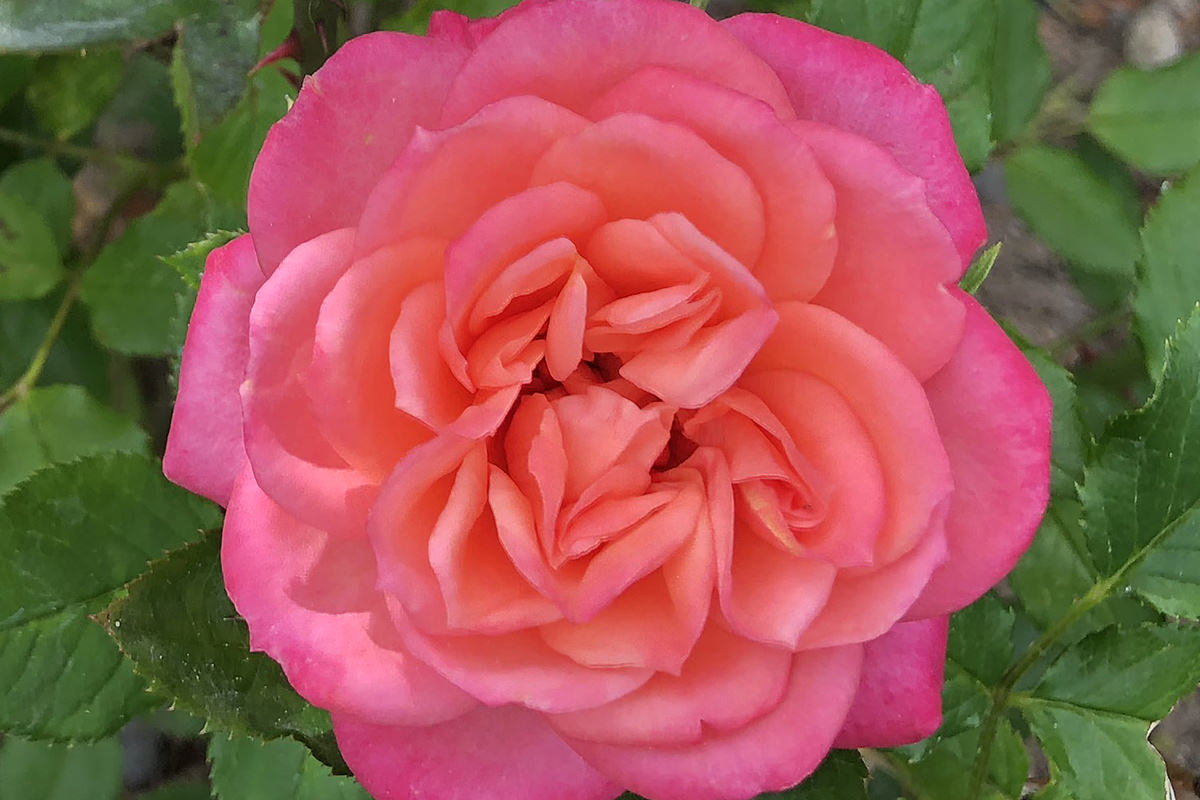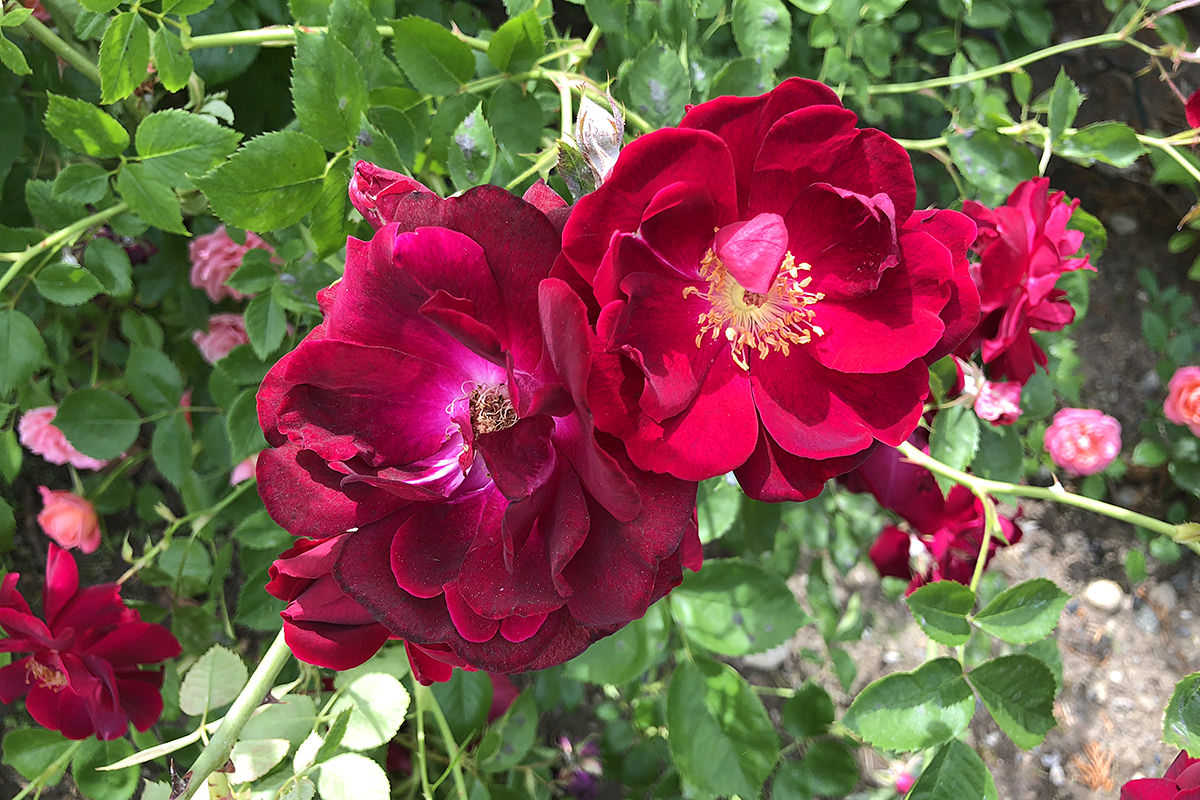 Pretty.
Even though it's making my life an allergy-induced haze.
My favorite flowers are crocuses and California poppies. Perhaps this weekend I'll look into getting some of those. It would be nice if the front of my house looks as good as the boack does.

Internet-enabled security cameras are all the rage even though there are inherent risks to having them. Hackers are exploiting webcams with increasing regularity, which means that your privacy could be violated if you're not careful. Personally, I'm okay with the risks. Being able to remotely view my cameras from wherever I am in the world is the whole point of getting them in the first place. I want to be able to see what my cats are up to and check on possible security problems, and this is the easiest way to do it. But I don't put them in private areas (like bathrooms or bedrooms), I change the default passwords, and I have all interior cameras turn off when I walk in the door, so... if somebody wants to look at my kitchen while I'm away, have at it.
I actually have two sets of cameras. One is all local storage only with battery back-ups in case the power or internet goes down, the other is my webcam system that records to the cloud. After buying four different brands that were rated "the best" so I could test them out, Nest is the one I liked most and bought into...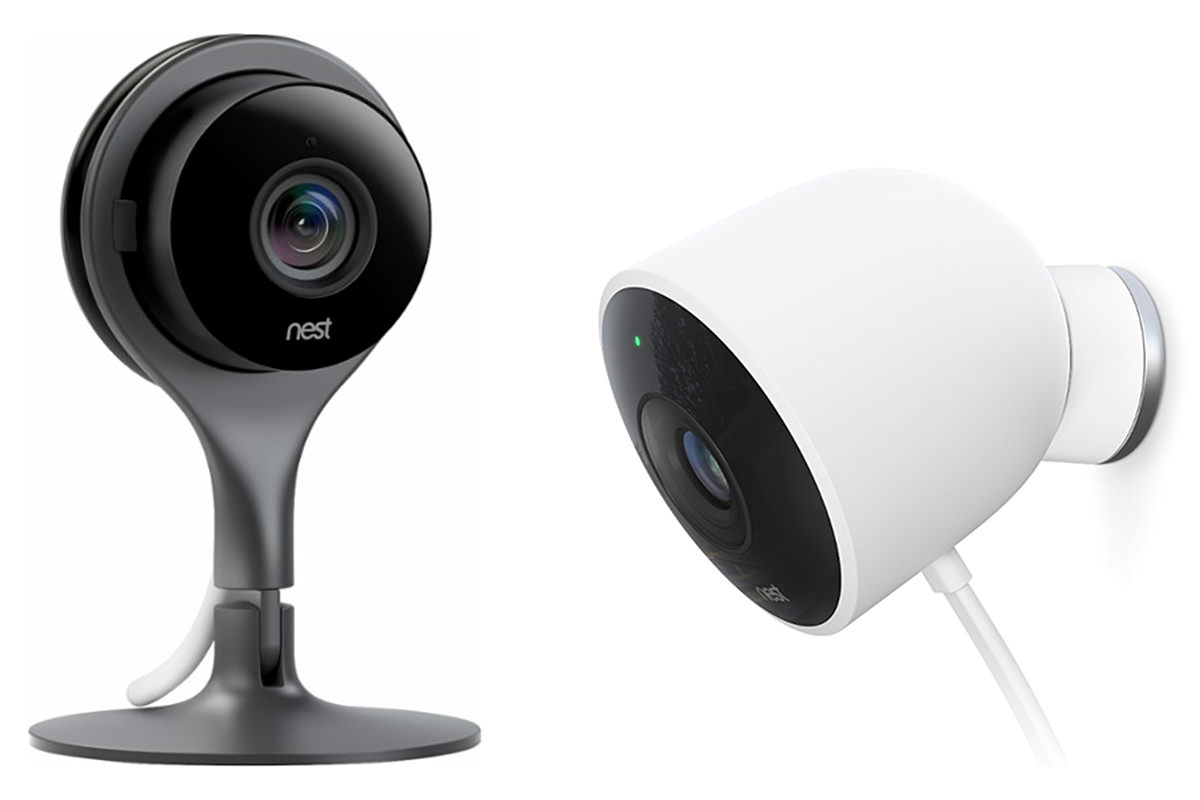 Like anything in life, it's a mixed bag. There are good things and bad things to the deal.
THE NEST CAMS...
Despite my many issues with Nest, the quality of their cameras is absolutely not one of them. Indeed, the only thing that keeps me a customer is that the cameras are just so nice. Dead simple to set up. Beautifully designed. 1080p resolution with a generous wide-angle view. Excellent night-vision. When it comes to security cameras, they are the total package. You pay for it, of course. An indoor Nest Cam is a whopping $199 (around $169 street) and the outdoor Nest Cam is also $199 (around $179 street). I don't know that they are worth the price tag... $129 seems a more reasonable cost (especially considering you have to pay an additional fee for all the features)... but I've found nothing out there that compares at any price.
NEST AWARE...
Where things go off the rails with Nest Cams is the necessity of paying for their Nest Aware cloud service. Yes, your cameras work perfectly fine without it, but all the best features of Nest Cam are unavailable unless you pay. And it ain't cheap...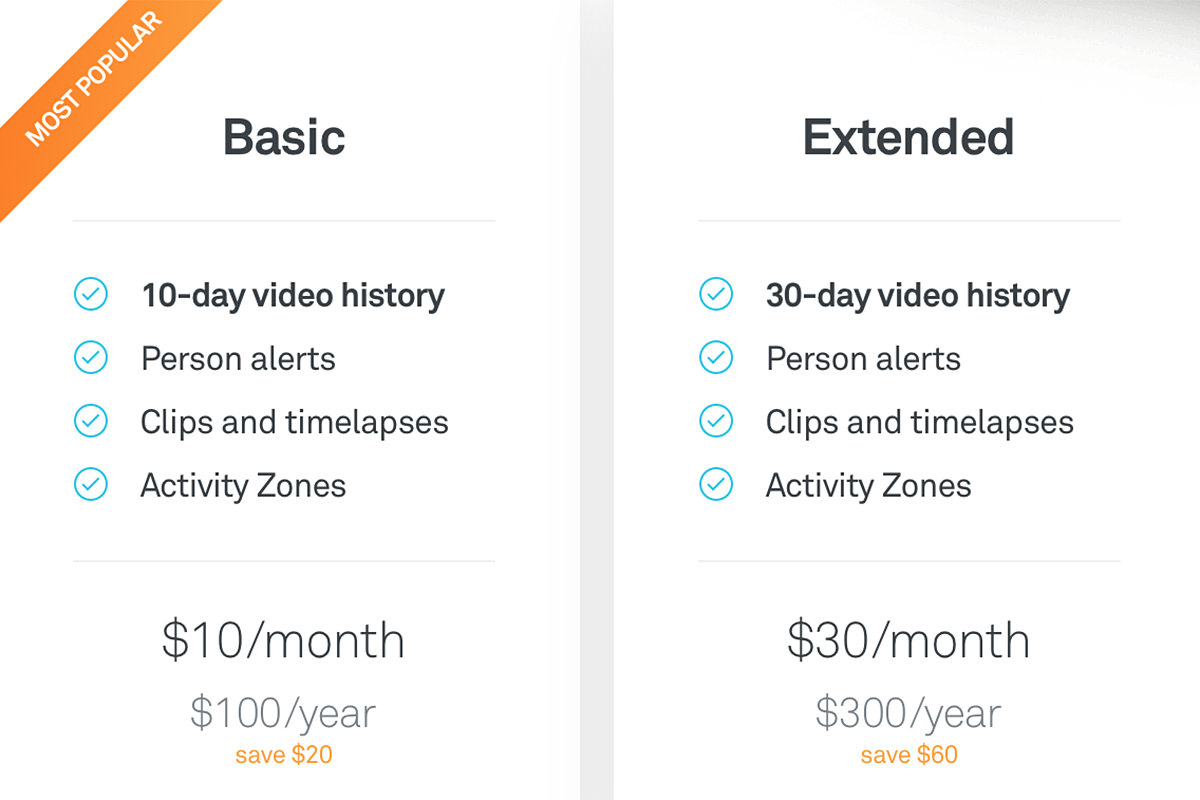 The least expensive program gets you 10 days of video history at $100 for the first camera (annually), then $50 for each additional camera. I have ten cameras. If all of them were on Nest Aware, that would be an insane $550 a year. I can't afford that, so I only have some of my cameras using the service. What you get when you subscribe to Nest Aware is the afore-mentioned video history retrieval (with the ability to create downloadable clips or time-lapse videos) plus the ability to define "activity zones" so you can choose which locations in the camera's view will trigger an alert. Without Nest Aware, you can tune into a live view any time you want... and you can get a "motion snapshot" history for the past 3 hours (but only on your phone, not from a web browser). I wish they had a 2 day history option for $20 per camera so all my Nest Cams could be Nest Aware... or even have a 1 day history freebie so all Nest Cams could be Nest Aware. But, alas...
UPDATE: Nest has added a 5-Day video history option which is much more affordable. I was contemplating ditching Nest because the Aware features are just too expensive, but $50 a year for the first camera plus $25 a year for each additional is perfect for me.
UPDATE: Well, that was fast. I thought that $25 was a reasonable price, so I changed my plans to dump Nest in favor of Amazon and bought some new Nest cameras. Just now I went to add Nest Aware to one of the cameras only to find that they raised the price to $30... after just five months. This company is nothing but dick moves. I will never trust them again.
NEST AWARE ACCESS...
The Nest Aware service can be accessed from an app on your phone or a web browser. Both have an easy-to-use interface that's beautifully designed. A while back Nest added a "spaces" overview of all your cameras, which is what you see when you login. The only problem is that if you have Nest Protect smoke/carbon monoxide detectors, they bundle them together for some stupid reason, ruining the perfect grid of cameras. I've blurred the feeds so you can't see how messy my house is...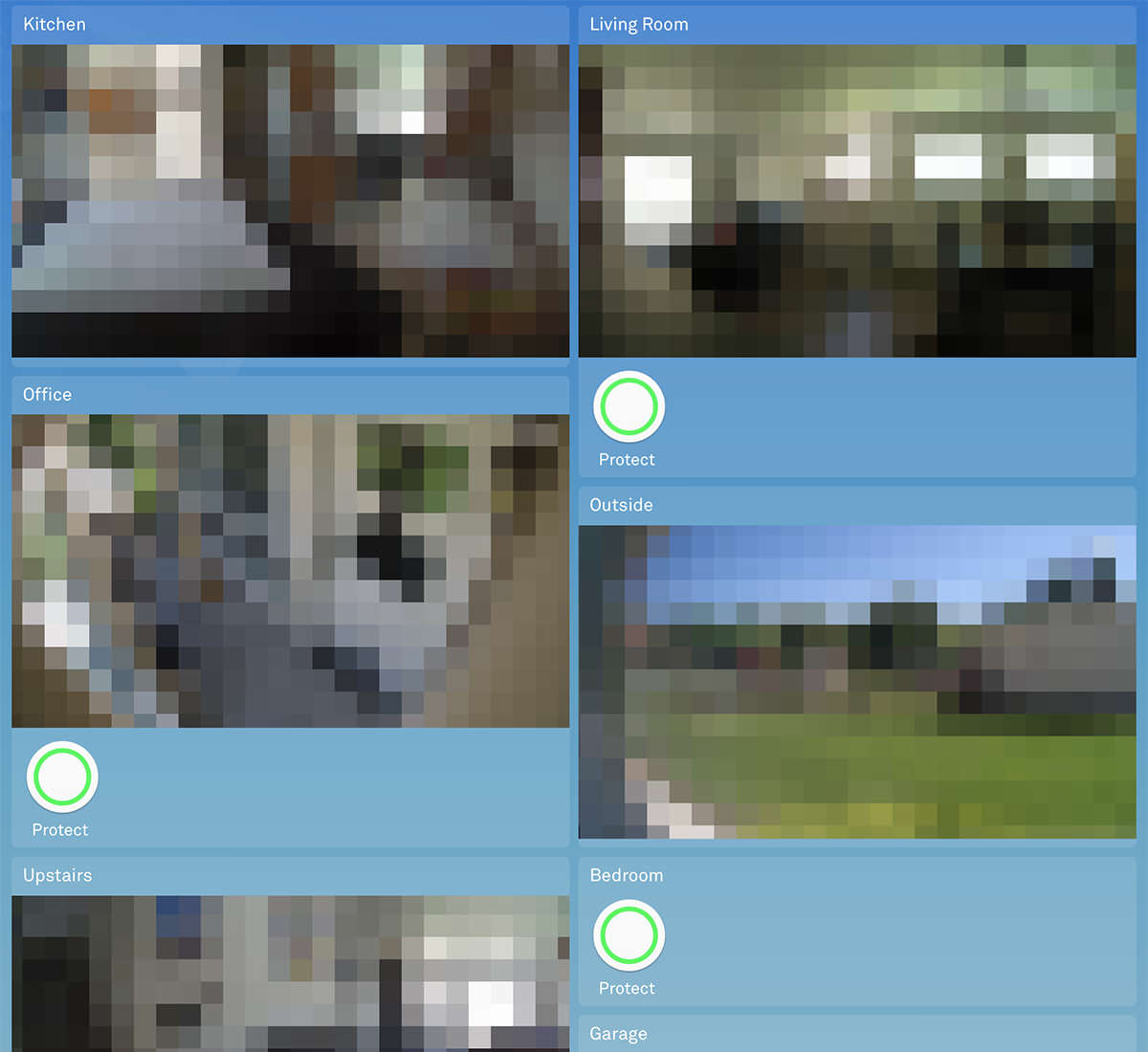 No clue why they do this, but it's incredibly annoying and I haven't found a setting to "unbundle" them. Hell, I can't figure out any reason why you would want them bundled in the first place.
NEST AWARE INSANITY...
Recently I have been having major problems with the video stalling on the screen when I view it on a web browser. Things have been working great for a year now (assuming I had a good internet connection), so what's the deal? I chatted with Nest support, telling them that the video is definitely getting to Nest Aware because I can download a clip as a Quicktime movie and the motion is there... I can even view it in motion on my iPhone... but 9 times out of 10 on my browser, the image doesn't move. Whether I am trying to watch the video live or review my video history, the image is static. So obviously there's something wrong with the Nest Aware streaming service for browsers, right? WRONG! First they blame the browser (that's tech support 101). But stalled video happens regardless of which browser and which computer I am using. Then I'm told not just once... but multiple times... that the problem is probably my router because the Nest Aware Service is "fine." This, of course, is insane. If the problem were my router, then motion video wouldn't be getting to Nest Aware. Except it is. My router doesn't even enter into the equation when it comes to getting video OUT of Nest Aware, only into it...

Long story short... the problem fixes itself when I use shitty "Flash" instead of "HTML 5" video to connect to Nest Aware. I thought of relaying this back to Nest but, given their fixation on my router, they probably wouldn't believe me.
NEST AWARE ZONES & PEOPLE DETECTION...
My favorite feature of Nest Aware is being able to define "zones" where I want motion reported. In my front yard, for example, I want to know if somebody is on my driveway or walk... or trying to steal my garden hose. I don't care about the people cutting across my yard or the tree moving when the wind blows. Defining a zone where I'll get alerted is a piece of cake (shown below in orange)...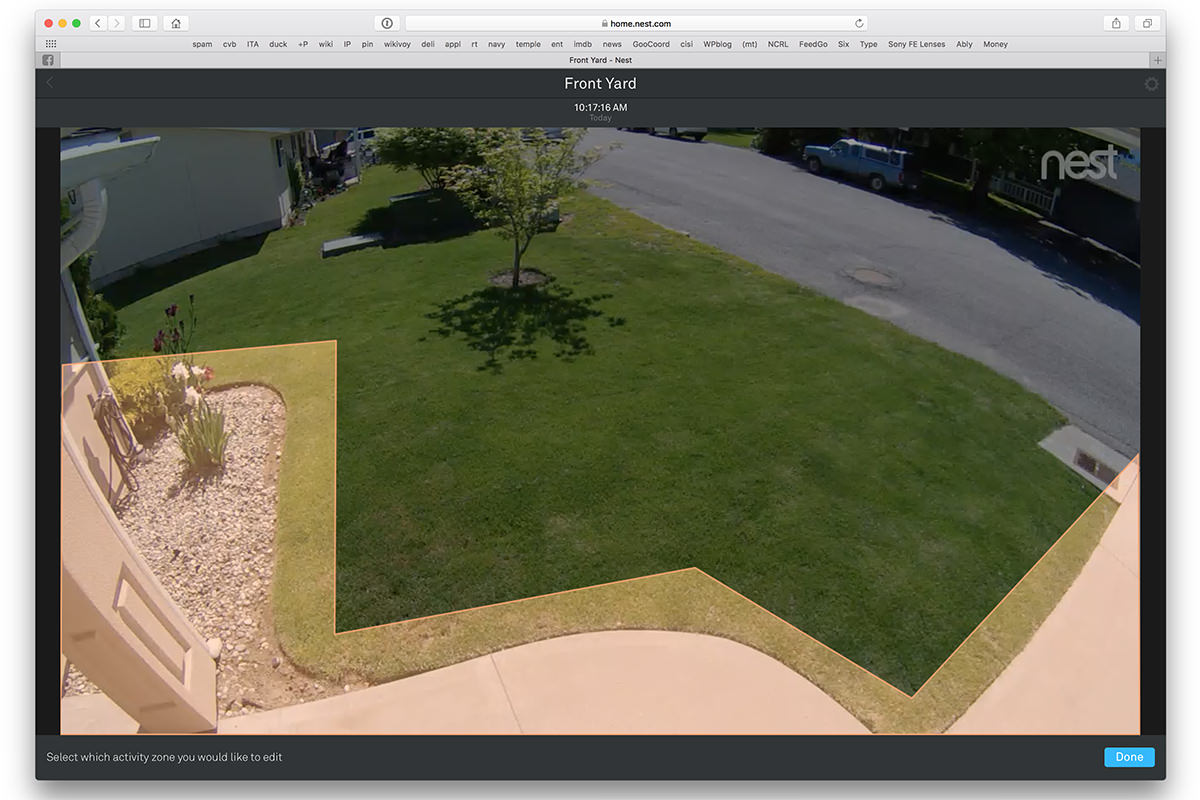 The system works really well. Alerts are messaged to my iPhone quickly and, unlike other cameras I tried, motion outside the zone is actually ignored (this turned out to be a bigger problem than you'd think). An additional feature of Nest Aware is their claim to be able to send you "People Alerts" when your camera "thinks it spotted a person"...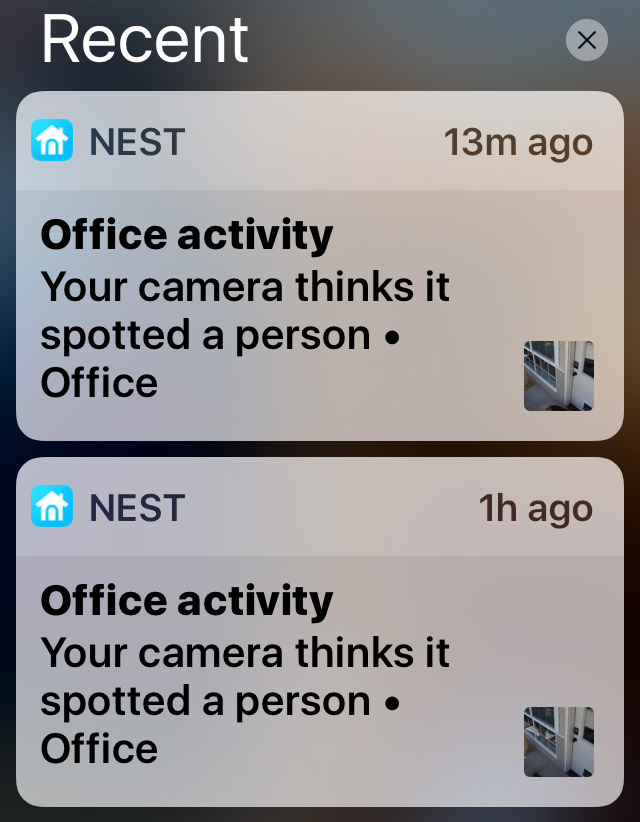 Nest's website claims that its system is so smart that it can distinguish a person from a thing or a pet. Except... not so much. Their accuracy rate, so far as I can recall, is 0%. A team of landscapers arrive to mow and trim and not one "people alert" is ever sent. The only people alerts I get always turn out to be my cats. The alerts above, for example, were Jake and Jenny wrestling in the catio...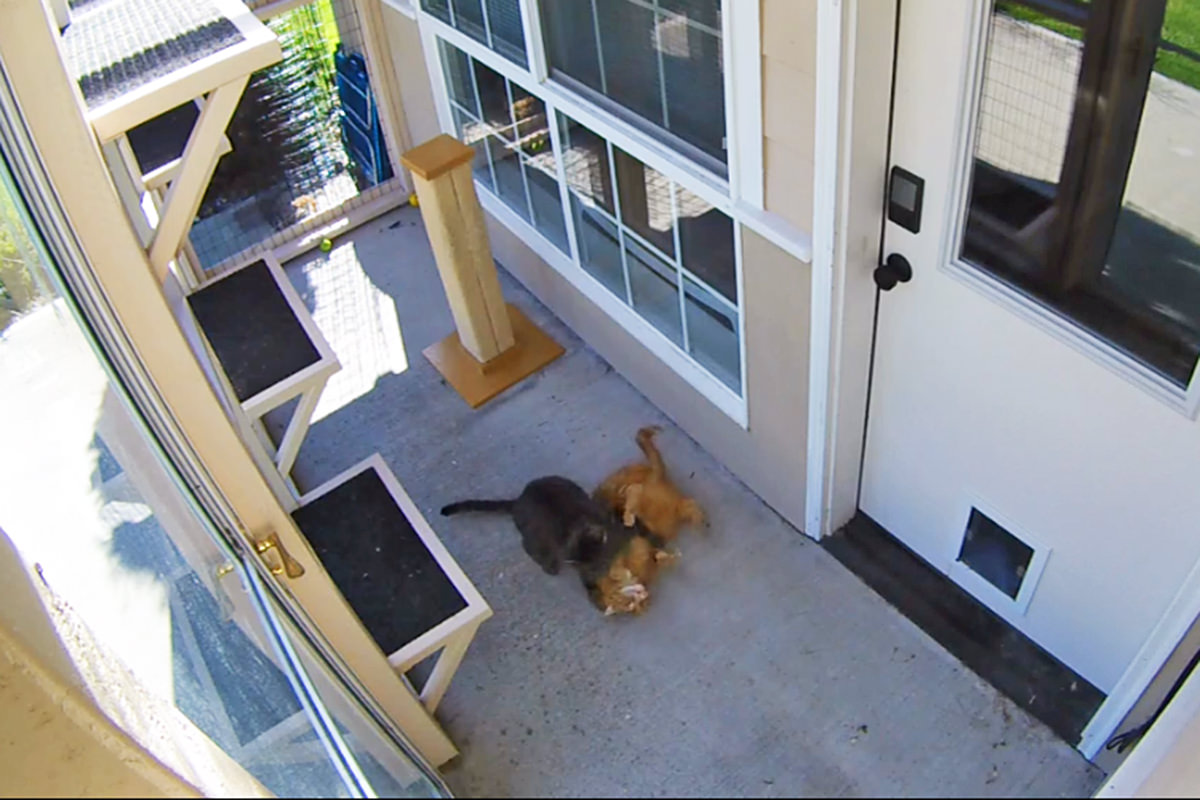 So... if your sole reason for buying into Nest is the "people alerts," then you might want to keep looking.
UPDATE: While still far from perfect (my cats are still registering as people from time to time)... actual people are now being recognized correctly most of the time. Guess a benefit of having a cloud-based service is that it's easy for the supplier to update the tools available.
NEST AWARE SETTINGS...
The settings available for Nest Cams are fairly standard, but organized really well. Some settings can switch automatically based on whether or not I am home (the system uses the Nest App on my iPhone to figure that out). As an example, I have all the interior cameras automatically turn off when I am home, then turn back on again when I am gone. If you don't want your location reported to Nest, you can always set home/away manually by clicking on the big toggle button that shows up at login...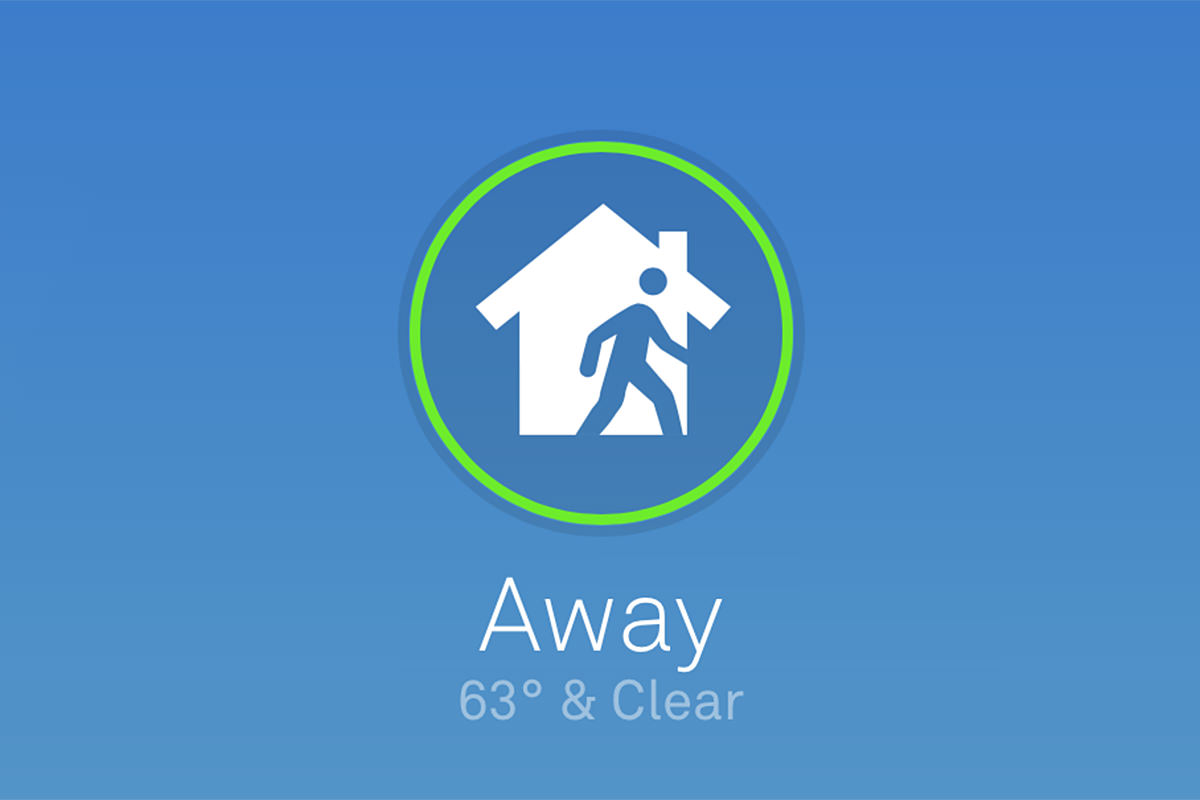 If that's still too much information for you, there's also the ability to set a schedule for your cameras to follow. The rest of the settings allow you to decide whether or not you want to have the microphone on, what kind of alerts you want, what kind of image quality you're sending, whether or not to use night vision... that kind of stuff...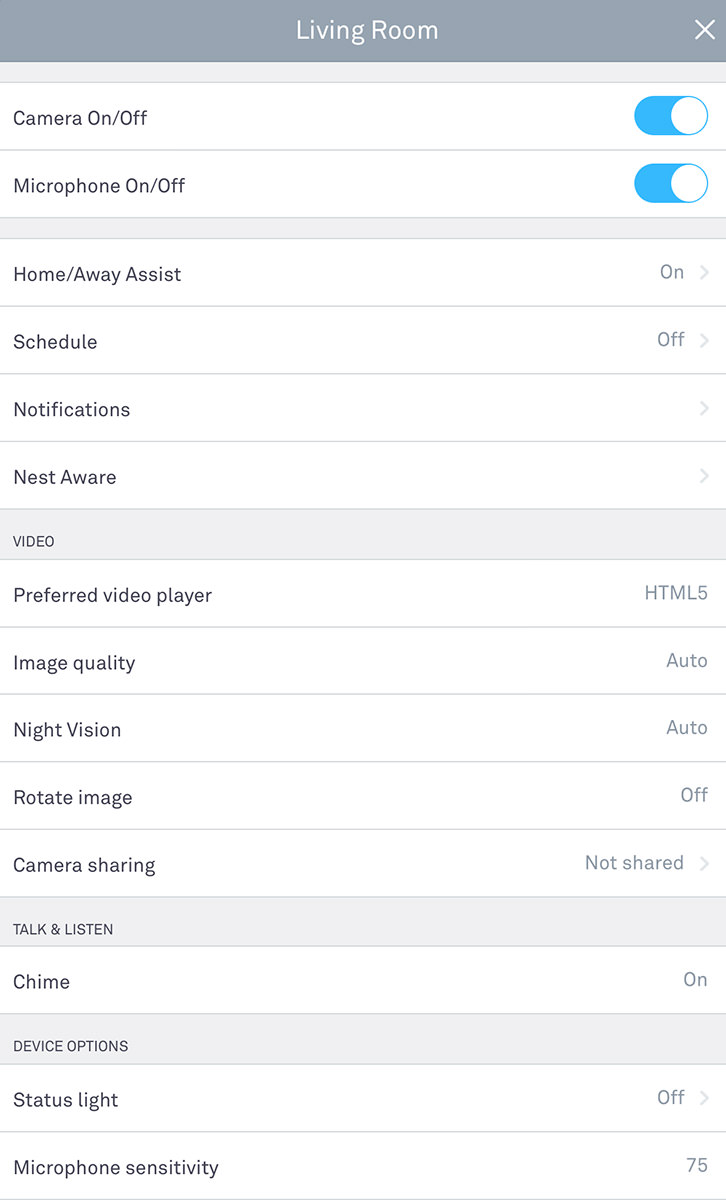 A feature I wish were available is setting the video quality based on whether I am home or away. When I'm home, I'm using the internet for all kinds of things and would prefer the cameras send low-res video so they're not hogging my bandwidth. When I'm away, I don't care how much bandwidth the cameras are hogging, and want them to automatically switch to maximum resolution. Don't know if this is possible, but boy would that be handy.
NEST AWARE PAYMENT...
If there were one thing that could be a complete and total deal-breaker for me when it comes to Nest, it's the disastrous billing system that they have in place for Nest Aware. It's insanely stupid. Beyond insanely stupid. First of all... if, like me, you bought your Nest Cams six months apart so you could split the annual Nest Aware payment into two parts so the financial hit isn't so terrible... Nest would like to kindly ask you to go f#@% yourself. They don't allow it. If you already have cameras on Nest Aware and want to add more of them six months later, they pro-rate the annual fee for the new cameras so the billing cycle is in-sync with the original purchase. There is absolutely no way to do otherwise unless you have multiple Nest Aware accounts, and I don't even know how that would work. I'm guessing you have to set up guest access to your own damn cameras on the new accounts? I'm sure Nest thinks they are doing you a huge favor with the pro-rated billing, but it should at least be the customer's choice as to whether this is allowed.
And, oh yeah... about that pro-rated account syncing bullshit...
It's horrendous. The system billed me twice... with wrong amounts... but not really. At least according to Nest. I spent months trying to reconcile the statements I received with what was actually charged to my credit card and simply could not do it. And neither could Nest. They ultimately told me that I would just have to trust them that everything was billed the way it's supposed to be, even though nothing they could produce would back that up. To this day I have no clue if I was billed correctly.
And that's not all.
Not by a long shot.
Because of the absolute nightmare I had when I added my second batch of cameras, I thought I would be smart and add my third batch after my Nest Aware expired. Since Nest is forcing me to pay for everything all at the same time, I might as well make sure that they don't screw things up again by taking matters into my own hands.
Except you cannot tell Nest Aware not to automatically renew.
Thinking I could outsmart the system, I decided to remove my credit card so they couldn't automatically renew.
Except Nest doesn't allow you to remove your credit card information from their system.
Yes. You read that right. Once Nest has your personal information, it belongs to them! Something I verified after spending a crazy amount of time in chat with Nest Support. Apparently the only way to remove your personal information and credit card from the system is to cancel your entire service... even if it's pre-paid in an annual payment!
SUPPORT: Here is how to cancel the Nest Aware subscription:

ME: Again... I know how to cancel the subscription. That is not what I am asking.
ME: I want to cancel THE AUTO RENEWAL.

SUPPORT: I understand. Currently the only way to cancel Auto Renewal is to cancel the subscription for the Nest Camera, itself.

ME: And you cannot remove my credit car so that it won't auto-renew that way?

SUPPORT: I definitely cannot remove your credit card but I am checking on the steps you can use to get that done.

ME: Wow.
ME: Okay.

SUPPORT: Thank you for waiting. After you go to the "Nest Aware" part of the app, you will see the type of subscription and be able to change your payment information. Please know that as long as you have an active subscription, at least one credit card will need to be in this account.

ME: Sorry I remain so incredulous as to how Nest chooses to treat their customers, but this is the wackiest thing I have ever encountered for somebody providing me a service. 1) You get double invoices with different numbers for every transaction. 2) Nest is not able to offer any explanation as to how the billings work or even tell you how things were billed. 3) You are forced to have your service plans pro-rated so everything syncs up on a renewal date... even if you can't afford to renew everything at once, which is why you staggered the purchase of your cameras in the first place. 4) You are forced to auto-renew Nest Aware, even if that's not what you want. 5) You have no control over your credit card information and cannot remove such private information from your account. 6) Nobody at Nest finds anything odd about all of the above. I mean... wow... just wow.
This is some seriously sketchy shit.
Nest Aware is like the f#@%ing mafia.
And yet nobody at Nest thinks there's anything strange about the way they conduct business. Nor do they appear to have any interest whatsoever in updating their system so it's not so abusive and stupid. It's for this reason that I hesitate to recommend anybody buy Nest's shit. Yes, they have incredible products, but is dealing with their absurd billing practices worth it? If I weren't already invested in the system, I'd probably say "no." But since I am, I guess I'm stuck here unless somebody comes up with a "jailbreak" for the cameras that allows you to pair them to your own "cloud server" for storage and access.
But anywho...
As I mentioned, I have ten Nest Cams. In order to get the coverage I want, I really need one more. And if the cameras end up going on sale one of these days, I'll probably get it. Despite having to be chained to Nest Aware's high cost... despite the stupid billing system... despite my running out of bandwidth. Because even when all that's taken into consideration, it's still the best security camera system I've found.
For now anyway.

Yesterday afternoon we had freezing rain.
Yesterday evening I had water pouring down from my kitchen ceiling.
I knew it most likely wasn't the roof. It's been inspected three times in four years as a part of people moving into the condos. All three times we were told it's in great shape. And so my guess was that the freezing rain was pooling in a valley on my roof, getting trapped behind some ice, then flowing back up under the shingles. These condos are some of those modern-looking structures with complex and idiotic roof designs that encourages this kind of thing... despite the fact that we're living in an area with harsh winters where simple roof designs are far smarter.
Oh well.
This morning I thought I'd head up into the crawlspace and see what the damage was. But, not surprisingly, the complex and idiotic roof design means that it's impossible to get anywhere near my kitchen. There's a construction plane completely blocking it off.
So my only option was to remove the recessed lighting can in my kitchen so I could investigate that way. And while it's not easy trying to access an entire ceiling through little holes, I did manage to clean out the water that had pooled there and find out it wasn't too bad. The only thing I have to worry about is mildew and mold forming, so I've elevated the insulation with slats to help things dry out.
If that doesn't work, I'll have to pull the insulation out.
If that doesn't work, I'll have to hire somebody to cut out my kitchen ceiling and repair things that way.
Yay.
I'm trying to think of just how much is left that could possibly go wrong with my house where I've lived just under a year. The obvious answer is the HVAC furnace/air conditioning... but something tells me it will be something more subtle than that. I've already had two electrician calls... but maybe third time's a charm? I've already had two plumber calls, so ditto for that. Hot water heater, perhaps? I dunno. Last year I had to come up with $2000 for the HOA's stucco repairs, this year it's $2500 for paint. Next year it will probably be thousands more for a roof.
In the meanwhile I guess I need to buy some heating cables so that I'm not up on a ladder in the middle of the night chipping ice off the roof. On the bright side, at least I was smart enough to buy myself a ladder for just such an occasion.
Welcome to home ownership.
Bring your wallet.