Posted on October 19th, 2018

A couple days ago when I was at the grocery store I decided to grab a couple frozen bean & cheese burritos. They're handy for when I need a quick dinner or lunch and don't want to cook. But when I went to pull one out of the freezer case, I was shocked to see that they were THREE DOLLARS AND FIFTY-FIVE CENTS EACH! They were just 99¢ a minute ago! What happened?
That's when I decided to make my own dang frozen burritos. I started with white rice, black beans, and some cheese. They turned out great. So great that I decided to make another batch... but this time use Mexican rice, seasoned beans, add some onions and green chilis for some flavor...
They are perfection!
So easy to make. So much better than the frozen ones I have been buying. And so cheap! Instead of $3.55 each, these are around $1 each, which is what I was looking for in the first place.
Just in case you might want to try making your own freezable burritos, here's my recipe...
Box of Mexican-Style Rice (I use Farmhouse).
1/2 Medium Onion, Diced.
2 Tbs. to 1/2 can of Diced Green Chilis.
Ground Black Pepper to taste (I use 1/2 tsp.).
1 Can of Black Beans (I use Bush's Seasoned Recipe).
Shredded Cheese (I use a Cheddar/Asadero Blend)
8 Burrito-Size Flour Tortillas (half a package).
Cook up a box of Mexican-style rice (or any rice you prefer). While that's going, dice one-half a medium onion and soften in a skillet with a little oil over low heat. Once it begins to turn translucent, stir in a couple tablespoons of diced green chilis. Add some ground pepper to taste. Drain a can of black beans and stir into the onion mixture. Once the rice has finished cooking, stir it into the rest. Remove from heat and set aside.
In a large pan, soften burrito-sized flour tortillas over low heat for 10-15 seconds each side. Add two heaping spoonfuls of the bean/rice mixture to the tortilla, then sprinkle with as much cheese as you like (I use a lot!). Fold-up burrito-style. Wrap in foil and heat in an oven until cheese is melted and inside is hot (in my oven it's 350 degree heat for 17 minutes). I eat them with sour cream and guacamole. I get 8 burritos per batch, but you may get less if you fill them really full (or more if you skimp on filling).
IF YOU ARE GOING TO FREEZE THEM...
If you'll reheat them by microwaving, there's no need to wrap in foil. Just stick in a plastic baggie and get the air out before zipping them closed. If you'll reheat them in an oven, then wrap in foil before placing in plastic bags.
TO REHEAT FROM FROZEN IN THE MICROWAVE...
Open plastic bag and zap for a minute. Remove burrito from plastic bag, put on a plate, then massage the burrito to break up frozen bits. Transfer to a plate and microwave for another minute. I then massage again to make sure there are no frozen parts. Then I let sit for a minute and zap for another 20 seconds or so... which has them come out perfect in my microwave (kinda low-powered). Your microwave may vary.

But before I go...
I am gravely concerned about rising food costs. It's been bad in the past, but it's insane now. Some of that probably has to do with my small town grocery store having higher prices... but it's been a growing trend for quite a while even when I shop at a chain store in The Big City. Used to be $100 would fill the entire back seat of my car. Now I'm lucky to get three bags out of it. If this keeps up, how are people going to afford to eat? Something tells me that food ain't going to be getting any cheaper any time soon.
Posted on October 18th, 2018

If there's one thing that I'll never run out of, it's mayonnaise. This is by far my favorite condiment, and I eat it at a crazy pace. I love it on fries, sandwiches, grilled cheese, salads, dressings... a lot of things, really.
Not long ago when I was cleaning out my refrigerator, I had six bottles/jars of the stuff... with at least another six in the pantry...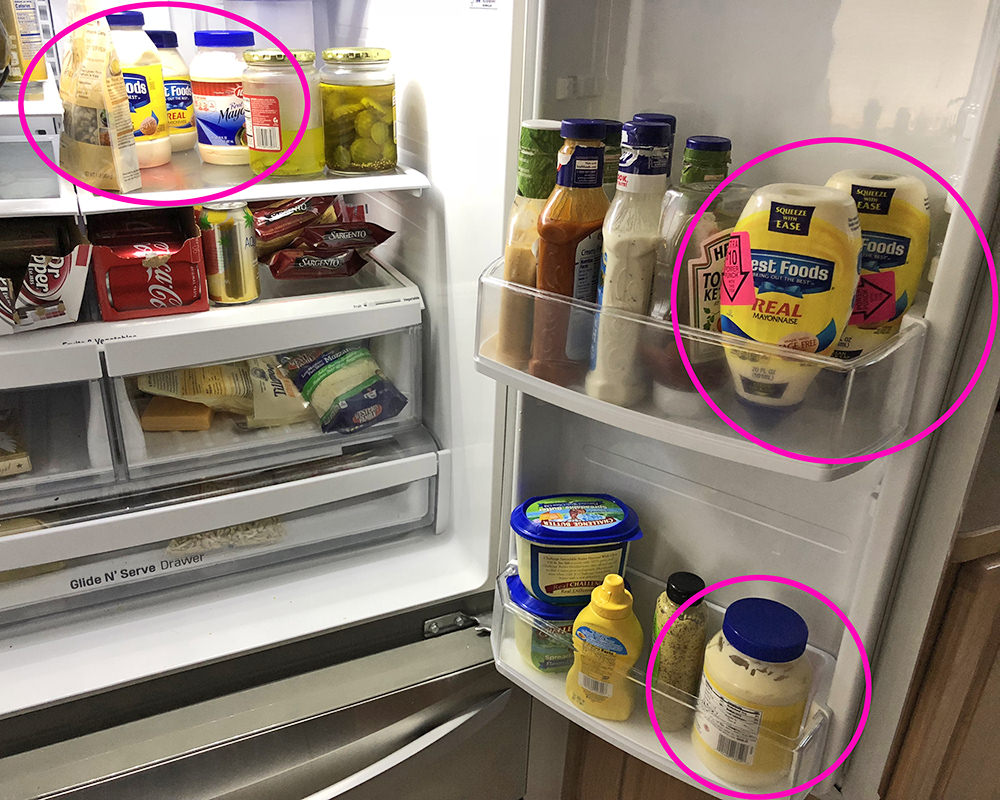 My favorite mayo is Dutch mayo for its delicious flavor and oh-so-creamy texture. But it's pretty expensive since it has to be imported. The easiest-to-find mayo that I buy most regularly is Best Foods (Hellmann's to some areas of the country). I like Duke's but it has to be bought via mail order because they don't sell it here.
I loathe "light mayonnaise." It tastes just awful... and usually has a harsh lemony taste to compensate for whatever it is they suck out of it to make it "light." I would really like to go vegan so poor chickens don't have to be exploited to make real mayonnaise... but there's no vegan stuff I've tried that I really want to eat (I've added a small section on that to the end of this post).
But anyway...
---
REAL MAYONNAISE
You have to be careful here, because some people want to group mayo-like dressings and sauces in with actual mayo (like Miracle Whip). Well, newsflash, MIRACLE WHIP IS NOT MAYO! Not to say I don't like it, because I do (especially on grilled cheese and in macaroni salad... at least until they made it water-based instead of oil-based), but when I need mayo it's not going to cut it. Here is what does...
Remia Mayonaise
Flavor: creamy dreamy • Texture: creamy • Score: 10
Here it is... the mayo to beat all mayo. Unlike American mayo, Dutch mayo is so creamy and velvety without any kind of gross gelatinous gloppiness to it. And when it comes to flavor, it's sublime because it doesn't have this overwhelmingly eggy taste... but still tastes like mayo. Great on sandwiches. Great in salad dressing. No need to mix with ketchup for your fries, it's flawless straight out of the bottle. My favorite over any American mayo by a mile.
Calvé Mayonaise
Flavor: creamy dreamy • Texture: creamy • Score: 9.5
When tasting this Dutch miracle side-by-side with Remia, they're very close. And I'd take either one over any American mayo any day of the week and twice on Sunday. I think I give Remia the edge because that's the one that's easiest for me to find. Remia also has a slightly cleaner taste to me.
Duke's Real Mayonnaise
Flavor: tangy great • Texture: gelatinous but creamy • Score: 8
If somebody is going to battle me to the death over my Best Foods (Hellmann's) addiction, this is the mayo they're willing to fall on their sword for. The texture is definitely a little oily but mostly creamy... even a little creamier than Best Foods... but what I like about it is that it's all zip and doesn't have a sweet taste to it. For that reason, this is the American mayo I prefer for fries. But not sandwiches, where it can easily take too much away from other toppings. When it comes to salad dressing, this one is in a toss-up with Best Foods. If I have sweet toppings on my salad (like dried cranberries or candied walnuts) I'll go with Best Foods because it compliments better. If it's just veggies, give me Dukes, where that added tang is appreciated.
Best Foods (Hellmann's) Real Mayonnaise
Flavor: baseline great • Texture: gelatinous glop from hell • Score: 7.5
This is essentially the "baseline" mayo for me. It's what my great grandmother used. It's what my grandmother used. It's what my mother used. It's what I use most times. The flavor profile is eggy but clean with a hint of sweetness. Where it falls way, way short is the texture, which manages to be creamy when spread, but a gelatinous glob when you spoon it out. For this reason I like it on sandwiches and burgers quite a lot... salad dressing okay... and fries not at all. I might have put Best Foods (Hellmann's) above Duke's for sheer nostalgia's sake, but they went and changed the recipe in the early 2000's. And not for the better. I don't know that I taste a heck of a lot of difference from what I remember (I'm probably romanticizing it) but it doesn't seem the same.
Kewpie Mayonaise
Flavor: savory eggy bliss • Texture: creamy • Score: 7
Japanese mayonnaise is equal parts Dutch mayo, American mayo, and Miracle Whip... but not in a bad way. And while I don't know that I would want to eat this all the time because it has a bitter note to it, I very much like having it in my mayo arsenal. Good on fries. Fantastic on sandwiches. Amazing on vegetables and salads. I really like dipping grilled cheese in it. The secret? MSG. Ah yes. That much-maligned savory additive that freaks Americans the fuck out for no good reason. So much so that when Kewpie decided to start selling direct to the American market they dropped the MSG! I haven't tried the MSG-free version, I have no plans to do so. There is absolutely nothing wrong with MSG, and the bullshit myth that's propagated through the USA is pretty stupid. And, according to Anthony Bourdain, racist. Find out more right here. NOTE: The primary ingredients for Kewpie are oil, egg yolks, rice wine vinegar, salt, and MSG. But there are also "spice" and "natural flavors" in the ingredients. Whether or not one of those "natural ingredients" is fish-derived, I do not know. Being as this comes from Japan I wouldn't doubt it. As a vegetarian, this bothers me somewhat but, since I eat it only on rare occasions, I just pretend there isn't.
Kraft Real Mayo
Flavor: sweet and serviceable • Texture: gelatinous • Score: 6.5
If you were to look up "generic mayo" in the dictionary, a photo of Kraft Real Mayo would be sitting there. It's not bad... but not particularly great either. Mostly due to it's sweet taste, which is kind of bizarre in a sandwich. Not good for fries by itself, but when mixed with relish and ketchup it can work.
Heinz Mayonnaise
Flavor: weird • Texture: gelatinous • Score: 5.5
This is the new kid on the block and one I was quite anxious to try because they claim to be the creamiest mayo out there. Could it be as creamy as Dutch mayo? Only one way to find out... so I ordered a couple bottles. First of all... LIES! It's the same gelatinous texture you'll find in most American mayo. The first thing I did when I got the bottle was to squeeze out a bit then shake the bottle. If it were truly creamy, it would have some "flow" to it. But it most certainly does not. It "breaks" in the bottle and hangs together in a gloppy mass. Even worse, the flavor is "off" in a way I can't quite describe. Not necessarily from the ingredients, but because of the way they process it maybe? Not heinous, but not something I plan on buying again either.
Sir Kensington's Mayonnaise
Flavor: weird • Texture: gelatinous • Score: 5
Everybody was raving about Sir Kensington's Fabanaise vegan mayo, so when I ordered some to try I ordered a jar of their "real" mayo as well. I don't exactly hate it... but it's got a weird taste to it. Kind of a lemony toxic waste flavor that lingers in an odd way. It's almost bordering on Miracle Whip, but not really. Might be okay in a potato salad? Wouldn't buy again.
Bama Mayonnaise
Flavor: sweet on the back-end • Texture: gelatinous • Score: 5
Despite coming from Alabama, I actually bought this when I was passing through Mississippi. This is another Miracle Whip wannabe masquerading as mayonnaise. I liked it on a grilled cheese sandwich, but almost nowhere else. It was pretty abysmal on fries.
Blue Plate Mayonnaise
Flavor: sweet vinaigrette • Texture: gelatinous glop • Score: 5
A New Orleans staple, I was crushed that I didn't know to pick up a jar in my many visits to the city, so I had a blog reader send this to me to try. My initial thought is that it's trying to imitate Duke's, but is doing a bad job of it. If I was having this plain on a salad it might be okay... but there's this strong vinegar taste that is fighting a weird sweetness that comes off all wrong to me.
Whole Foods 365 Mayonnaise
Flavor: overly eggy • Texture: gelatinous glop • Score: 4.5
This tastes more like light mayo than traditional mayo to me... saturated in weird lemon overtones in an effort to be tangy. Like they ran out of vinegar and just decided to dump extra lemon juice in there to compensate. Absolutely terrible on fries, even when mixed with ketchup... but not entirely terrible in an egg-salad sandwich (which is the only place I used this stuff until it expired and had to be thrown out). If there's a redeeming quality to this it's that it's not as heinous as the Whole Foods vegan mayo, which is foul.
Safeway Organics Mayonnaise
Flavor: grotesque • Texture: gelatinous • Score: 4
This is the skunk weed of mayo. It has a bizarre taste (dirt?) that lingers on your tongue and kills your palate. The texture is okay for an American mayo, but I'll only use this when there's nothing else available. If I have this on fries, it has to be mixed with a lot of ketchup.
---
VEGAN MAYONNAISE
Look, the stuff is not mayonnaise. It's just not. So stop trying to make vegan mayo happen. Sure, some are more tolerable than others, but I just don't care for it. The stuff will never take the place of authentic real mayonnaise.
Sir Kensington's Fabanaise
Anybody saying that this is "just as good as regular mayonnaise" is seriously deluded. That being said, this would be my go-to mayo if I decided to go vegan. It lacks the density of a good traditional mayo, but has a decent substitute flavor profile that isn't awful.
Best Foods (Hellmann's) Vegan Mayo
No, it's not the same as Best Foods... not even close... but it's at least serviceable as a sandwich condiment, even if it doesn't really taste like mayo to me.
Follow Your Heart Vegenaise
This is the very first vegan mayo I tried (it may be the very first ever made) and I found it gag-inducing. Threw out the jaw after trying just once. But... that was a very long time ago. I may be more tolerable of it if I tried it now knowing what I know about vegan mayo substitutes.
Hampton Creek Just Mayo
How the fuck can you call this "just mayo" when there's no eggs in it? It takes like whipped oil. Greasy and flavorless. You could probably use it to lubricate door hinges, but I wouldn't eat the stuff.
Whole Foods 365 Organic Vegan Mayo
So gross. Offensively gross. I would rather go without mayo than eat this slop.
---
And that's that.
At least until the next jar I find to try.
Posted on October 17th, 2018

You know how you can take two breakfast cereals you like, mix them together, and end up liking the result even more than the individual cereals? Magic! I experiment with food mix-ups like that a lot. I do it with a lot of different foods, but cereals have always been my favorite. I made Reese's Peanut Butter Cup Cereal by mixing Cocoa Puffs with Cap'n Crunch Peanut Butter before actual Reese's Peanut Butter Cup Cereal existed.
The best food mix-ups always seem to be accidents.
Like tonight.
I was eating some freeze-dried apples and remembered that I had bought some Apple Pie OREOs that I hadn't cracked open yet. So I grabbed a few cookies and found them to be surprisingly good but not great.
As I ate the last cookie I had in my hand, I picked up the bad of freeze-dried apples and noticed there were some crumbs in the bottom, so I poured them in my mouth and...
...magic!
No, it's not apple pie. But it's a lot closer in flavor than the OREOs on their own. And it's darn tasty.
And so now I'm completely addicted to Apple Pie OREOs mixed with freeze-dried apples.
Until the next mix-up comes along.
Posted on October 14th, 2018

Spent my weekend getting ready for winter, but it hasn't been all bad... because an all new Bullet Sunday starts now...

• Jakespreading. My concern for Jake is either growing or easing depending on which minute of the day it is. On one hand, he is peeing regularly. On the other hand, it's too often... sometimes up to three times an hour. On one hand, he is pretty much back to normal. On the other hand, he has been increasingly clingy. Now he's sleeping with me every night. Which mostly looks like this...
He's sleeping next to me, using my leg as a pillow.
Except...
For the past two nights, sleeping beside me hasn't been good enough. He wants to sleep on top of me. Which is no biggie when I'm laying on my back but, given my recent back pains, I'm more comfortable on my side. He tries to climb on me but there's not enough room, so he falls off and starts getting upset. I fix the problem by leaning against a pillow. He falls asleep on the pillow (and against me), but is fooled to thinking he's sleeping on me. So it's all good, I suppose. But I think I'm going to start looking into some warm pads that might prove more tempting than a pillow. In the mornings when I come back from taking a shower, I always find him laying on the slats above the heating vent, so I'm guessing he might be in love with a warm place to lay just like his sister...
Tomorrow I'm going to place another call to his doctor so I can ask about the alarming number of times he's peeing... and to ask if I should be concerned that he's grooming his junk more often these past couple days. Call me paranoid, but I'd do just about anything to make sure he doesn't have another extended stay away from home.

• Who? First of all, I love Jodie Whittaker in the new season of Doctor Who. She is sublimely perfect in the role, and everything you could want for The Doctor she projects in spades. Quirky without being silly. Smart without being stuffy. Entertaining without being absurd. She IS Doctor Who...
Which is why my disappointment in her first episode being horribly boring was more upsetting than it usually would be. Things picked up a bit in the second episode that aired tonight (the new TARDIS is pretty great), but it still feels like a bit of a slog to get through. I really, really hope that things start picking up... giving both Whittaker and Doctor Who fans the show we deserve.

• Boca? When I was last at the grocery store, I noted that Boca Burgers have pretty new packaging. What surprised me is that the burgers inside are different. They are darker. And the taste is different. Not necessarily in a bad way... they're just... different. Still tasty...
What I cannot tell is what in the hell they are replacing. Used to be there was "Original Vegan" and "All-American Flame Grilled"... these are "Original All American," which I can only guess is taking the place of both? They ain't vegan (contains cheese like the All-American Flame Grilled) so maybe they are discontinuing those? Confusing.

• The Vote. LOLOLOL! Maria Cantwell just released a commercial saying that "drug companies are too powerful and prescription drugs cost too much money." Guess the blowback she got after accepting $75,000 from Big Pharma then voting against cheaper drug re-importation has her worried? Typical piece of shit politician... says whatever she feels she has to at the moment in order to get elected, and then she'll jettison it when she decides to suck Big Pharma dick for cash again. We get the politicians we settle for. We get what we deserve. Not that we're given much choice. My Washington State Voter's Pamphlet just arrived and there's only one candidate I actually want to vote for. The rest are just votes against Trump-enabling Republicans.

• Asshole. Vice President Pence would do best to just shut the hell up on all matters pertaining to anything because, odds are, his boss has tweeted something totally fucked up on the topic, which makes Pence come off as a hypocritical asshole. Like this...
Why the hell Pence pretends to give a shit about journalists when it's been made very clear that Trump's administration condemns journalists as an "enemy of the people" is beyond me. Disgusting and pathetic. Like most everything to do with President Trump.

• Groupon! Congratulations to Hasan Minhaj on becoming a father...
I can't wait for his show, Patriot Act, to debut on Netflix come October 28th! And, needless to say, if you have Netflix and haven't seen his incredible standup show, Homecoming King, you should do that immediately.

Annnnd... scene. See you next Sunday.
Tags:
Bullet Sunday
,
Cats
,
Dumbassery
,
Food
,
Fucking Assholes
,
Hasan Minhaj
,
Politics
,
President Trump
Categories:
Bullet Sunday 2018
,
Cats 2018
,
Food 2018
,
News – Politics 2018
,
Television 2018
—
Click To It:
Permalink
—
0 Comments: Click To Add Yours!
Posted on October 10th, 2018

Since I'm supposed to be on vacation this week, but ended up home with a sick cat instead, I've been working 10-2 half-days. Except today I ended up going in at 11-3 because Jake had other plans for my morning.
He hopped on the bed with me after he'd eaten his breakfast... then proceeded to puke all over me. And, let me tell you, it was an impressive amount of vomit. Kind of shocking he was even able to contain so much spew in such a tiny body. Fortunately, it was all contained on my blanket so all I had to do was stick it in the wash... four times (just to be sure).
Afterwards he hopped right back on the bed and fell asleep...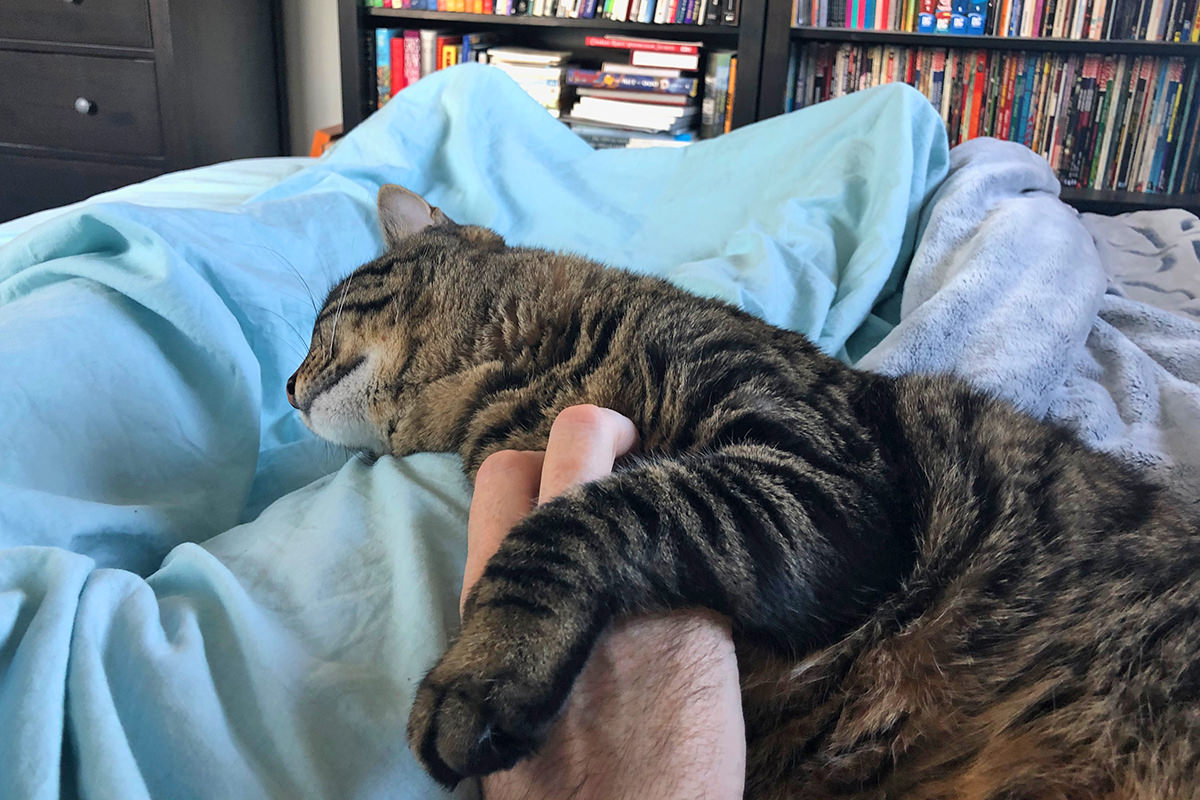 I wanted to keep an eye on him for a while, hence my being an hour late to work.
Before heading home to see if Jake had left any puke for me to find, I headed to the grocery store since my refrigerator and cupboards are bare. While there, I was excited that there was a new brand of mayo for me to try (Heinz!)... until I looked at the price tag...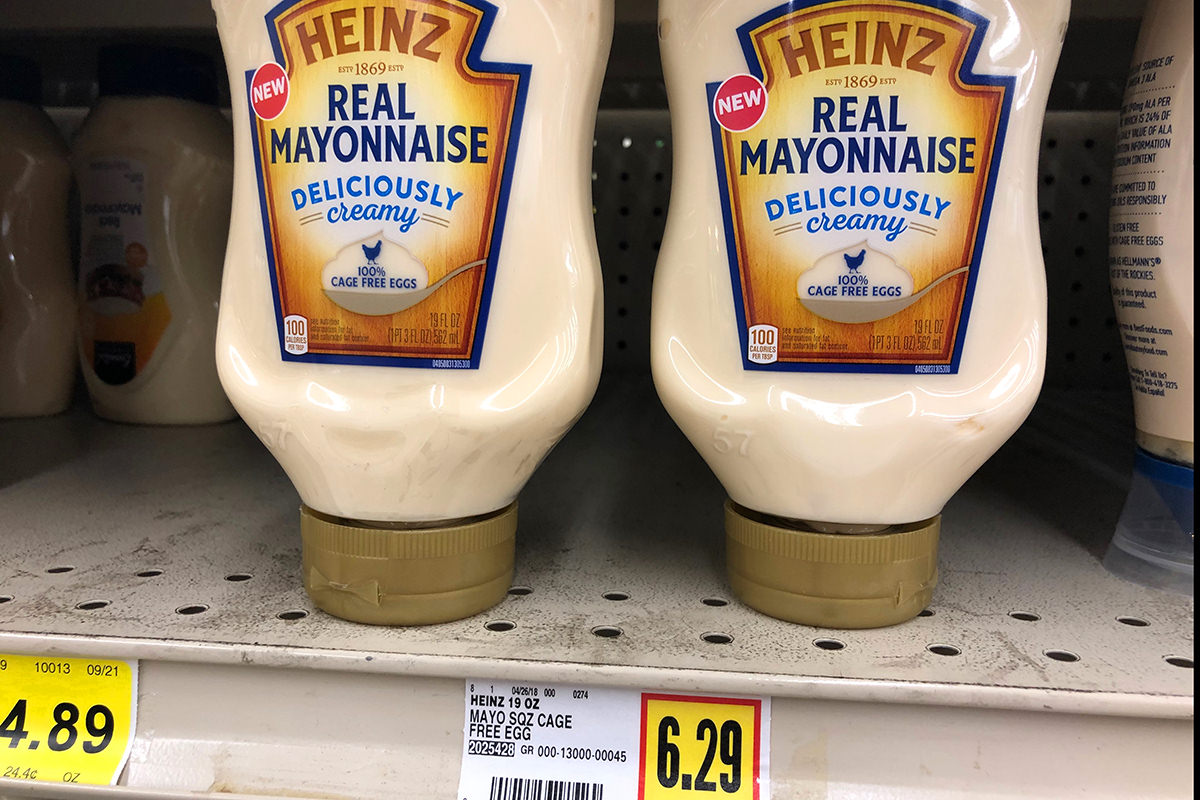 SIX DOLLARS AND TWENTY-NINE CENTS?!?? FOR MAYO?!? WTF?!? IS THERE GOLD IN IT? DOES IT COME WITH A FREE PONY? WHAT?!? Needless to say, no new mayo for me. Perhaps when I get to The Big City next I'll see if they have it for a reasonable price at the Safeway.
And... back to my home.
Which was pleasantly puke-free!
A quick look at the security cameras and I saw that Jake it still able to pee... many, many times... so I'm chalking this day up as a win.
After I run my blanket through the wash just one more time.
Posted on August 9th, 2018

Ooh! Strawberries and blueberries were on sale!
I've been eating them morning noon and night in an effort to get through them all before they rot. Because the only thing worse than having berries be absurdly expensive is having affordable berries that you end up throwing away...
Now I'm on the hunt for marionberries, blackberries, or (if I've very lucky) boysenberries on sale.
Thought it's probably better if I don't find them, because those suckers would end up going in a pie, and I don't need that kind of carb load this late in my life!
---
Continuing on with my revisiting of every Marvel Studios movie...
MARVEL STUDIOS MOVIE OF THE DAY, No. 8: Thor: The Dark World
Original Grade: B • Today's Grade: B+
Often seen as a weak link in the Marvel Cinematic Universe canon, I actually liked this film very much. Not necessarily for the story, which feels slapped together and disjointed... nor the villain, since Malekith looks more silly than threatening... but for all the parts that work so well. Hemsworth and Hiddleston are totally on their game as Thor and Loki. Natalie Portman, Stellan Skarsgård, and Kat Dennings are perfectly inhabiting the roles of Jane, Selvig, and Darcy that they created. But my favorite part is marveling over the sheer adventure of it all. The battle at Vanaheim... the Dark Elves attack... the escape from Asgard... every minute on Svartalfheim... Thor's hammer finally acting exactly like Thor's hammer should... so many cool comic book moments. Marry all that to lush visuals, stunning production design, and epic special effects, and it was a much better movie than some critics made it out to be. This is one of the Marvel Studios films I've only seen a couple times and I hadn't watched it in years. I ended up enjoying it more than I thought I would so I'm bumping it up a half grade.

SCENE TO BEAT: Loki becoming Captain America. Bless Chris Evans for being such a good sport and making appearances like this!

COULD HAVE BEEN BETTER: Malekith and the Dark Elves were just awful as antagonists. And it drives me bonkers how Jane and Selvig could "science" their way out of a situation they have practically zero knowledge to combat. The result being Jane's "science box" which inexplicably transports exactly the stuff needed for the story? And Selvig's "science poles" which save the day in the most deus ex machina way possible? Beyond lame.

SIDENOTE: "The Aether" MacGuffin actually being the Reality Stone in liquid form was just one more step to Avengers: Infinity War... and giving it to The Collector in the mid-credits scene beautifully set up Guardians of the Galaxy. Loki becoming Odin seemed like such a tired decision at the time, but was so wonderfully wrapped up in the third Thor movie, Ragnarok, that it turned out to be a great twist.
Posted on August 3rd, 2018

I've never been a really big dessert person. My vice has always been chocolate pudding, but once I had to start limiting carbs and go sugar-free, it got scratched from my list (sugar-free chocolate pudding is heinous). I like an occasional chocolate cupcake, but those had to be dropped too. So now I have an occasional cookie and call it good.
Except...
I have a real tough time passing up on berries.
My favorite berries are Maine blueberries. There's really nothing like them. They are smaller than the blueberries I can get here and the flavor is unreal. I will gladly chow down on Maine blueberries on any occasion I can get them. But any berry will do, really. I love strawberries, raspberries, blueberries, Marionberries, boysenberries, blackberries, huckleberries... so many berries to eat.
But... berries have sugar... and so I try not to eat them too often. The fact that berries are so insanely expensive makes this easy. I bought a tiny container of fresh blueberries and raspberries for $8 to eat at breakfast with some poundcake. I managed to get three servings for my money...
And yet my $8 will buy me 8 shitty burritos at Taco Bell or 8 shitty hamburgers at McDonalds off their dollar menus. Fresh, healthy foods are out of reach for so many people, but crappy unhealthy food is abundant and cheap. Crazy.
But typical of what government lobbyists can achieve when they put their mind and money towards something.
---
Continuing on with my revisiting of every Marvel Studios movie...
MARVEL STUDIOS MOVIE OF THE DAY, No. 2: The Incredible Hulk
Original Grade: B • Today's Grade: B-
Coming out a mere month after the summer blockbuster that was Iron Man, the second movie in Marvel's lineup falls short when you you drop it in the mix. Still... this is not a bad movie, and if you judge it on its own merits instead of comparing it to the rest of the Marvel Universe of films, it fares far better. Unfortunately, I can't do that, so it just doesn't hold up for me. The special effects are good for the day. The story is good enough. The acting is better than good. But it doesn't feel like a Marvel Studios film and I mostly forget about it. Especially after all the amazing stuff that followed. With that considered, I have to drop it a point.

SCENE TO BEAT: Can I say the pre-credits scene where Tony Stark walks in the bar to talk to General Ross, thus starting the long trend of all the movies being stitched together? No? I can't? Okay. Well, The Hulk tearing apart anything and everything is worth watching... but I love the scene where General Ross is in the gunship chasing down The Abomination over rooftops at sunset and The Hulk grabs hold. The aerial battle and subsequent crash is a visual and audio treat.

COULD HAVE BEEN BETTER: General "Thunderbolt" Ross's near maniacal obsession with tracking down The Hulk borders on ridiculous and William Hurt badly overplays it. Doesn't help that he's so damn stupid. Leave The Hulk alone and nobody gets hurt. Fuck with Banner and The Hulk destroys everything. So why not just let him be? And while I really like Edward Norton's body of work and appreciate what he brought to this film, it's tough to overlook just how much better suited Mark Ruffalo is for this particular role. He has an easy charm about him that Bruce Banner needs in order to play against the non-stop angst he lives day to day. Without it, things are just too serious and bleak.

SIDENOTE: Is Betty Ross ever mentioned again? Like ever? I know they eventually paired up Banner with Black Widow, but it still seems odd.
Posted on July 26th, 2018

When I finished work at around 8:30am (which made it a 13-1/2 hour shift) I went straight back to the hotel so I could try and get some sleep after 23 hours of being awake. I was hoping for more than six hours, but I'll take what I can get.
And what I wanted to get at that point? Food.
When I went to bed, it had just started to sprinkle. When I went down to the lobby to drive somewhere to eat though? Rainageddon. My first clue was when the hotel staff was furiously attempting to clean up the gallons of water that had poured into the building...
I was then told that many roads were closed because they were flooded... and the rain was so bad that part of the roof of the local hospital had collapsed. And so... I decided to walk to a local eatery rather than risk being out on the roads. Problem is, I didn't have a raincoat.
And so I made one by clipping a plastic bag into a long-sleeve shirt...
That coupled with my faithful Boston Red Sox hat didn't do much to keep me from getting soaked, but it was better than nothing. Totally worth it... because pizza and beer...
By the time I had finished eating, it was still raining... but not nearly as much. And yet the damage had been done. My clothes were completely soaked...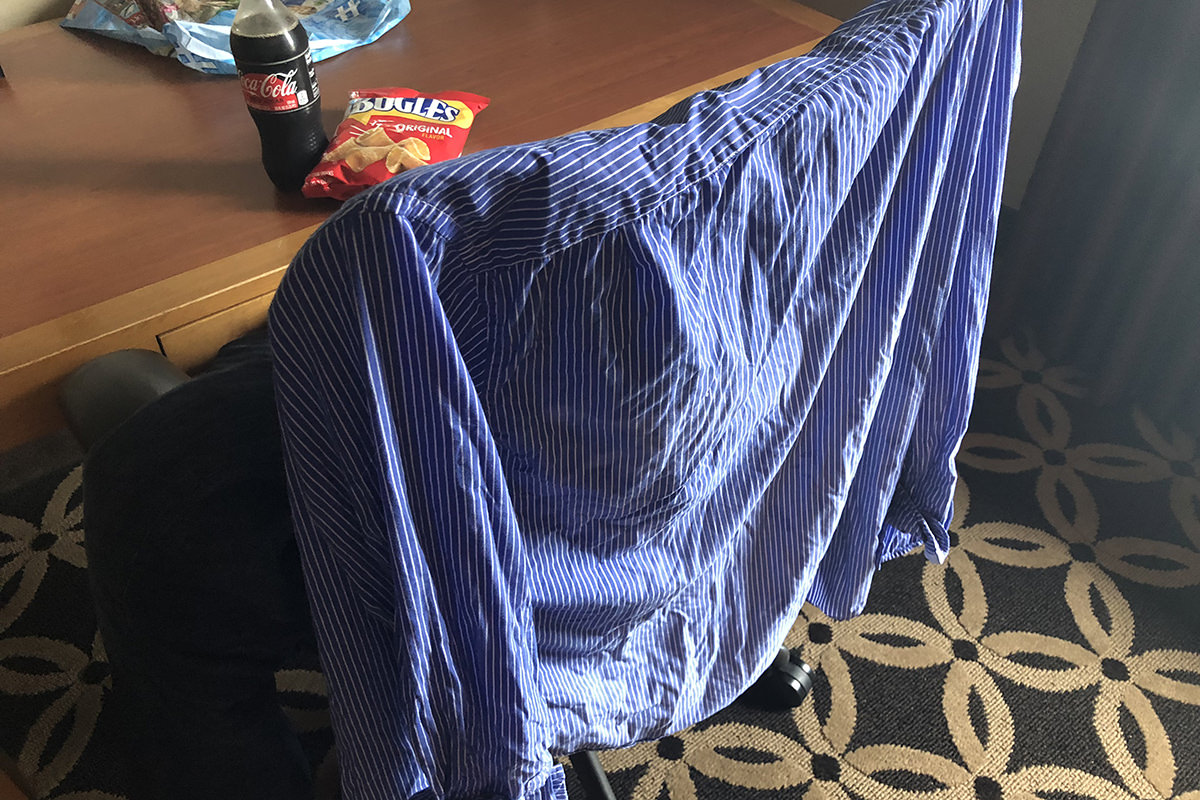 I guess dinner will be leftover pizza and a Coke Zero from the vending machine followed by Bugles for dessert, because I ain't going back out in this.
Posted on July 25th, 2018

It's 11:59pm and I've been on-site for a job for five hours. There's at least seven hours left to go... probably more... and my brain is starting to feel mooshy. If only I had taken a nap when I got into town instead of doing silly things like eat, unpack, check email, and spend time on Facebook. But, alas, it was my understanding that I would be finding out when work starts at 7:00 rather than actually starting work at 7:00, so my bad.
On the drive up to Maine, I stopped along the way to visit with an online friend I've never met in person before. He lives in a beautiful region of the state called Kittery Point, which is home to Fort McClary. The site is a bit confusing for a "fort" as there are no walls. Just a kind of hexagonal building overlooking the water...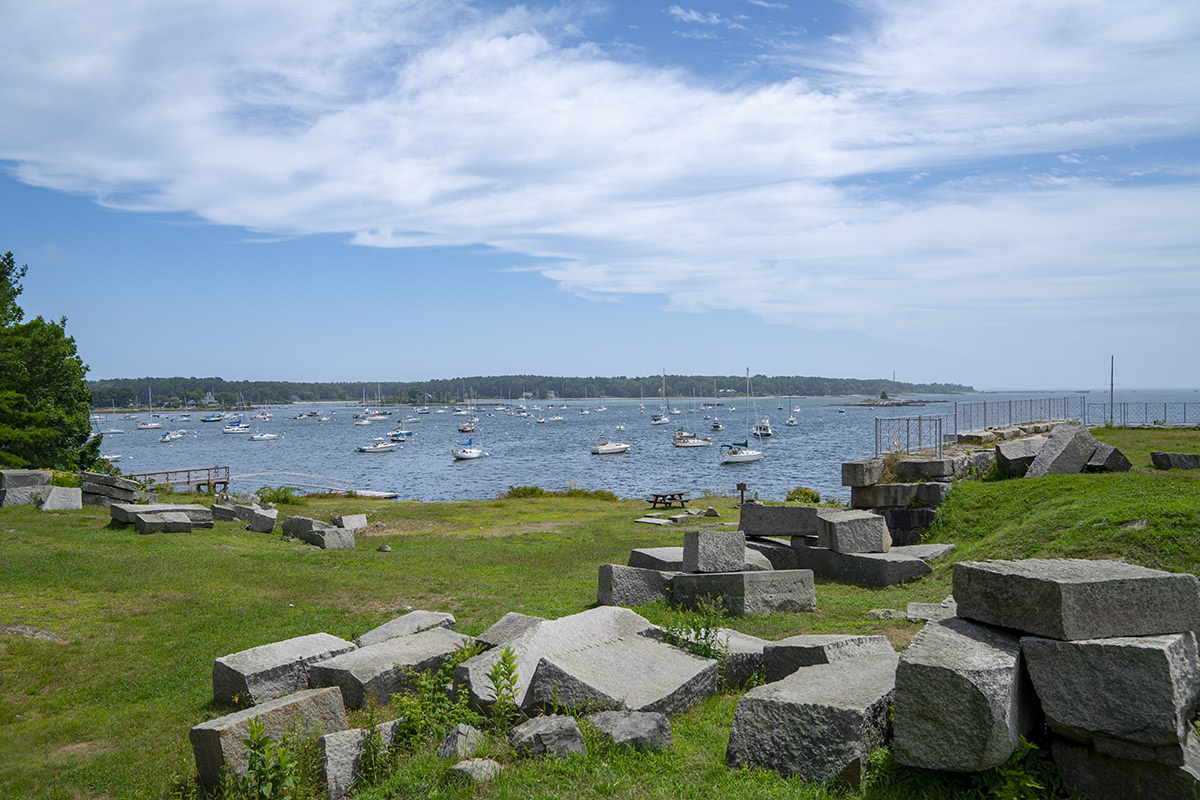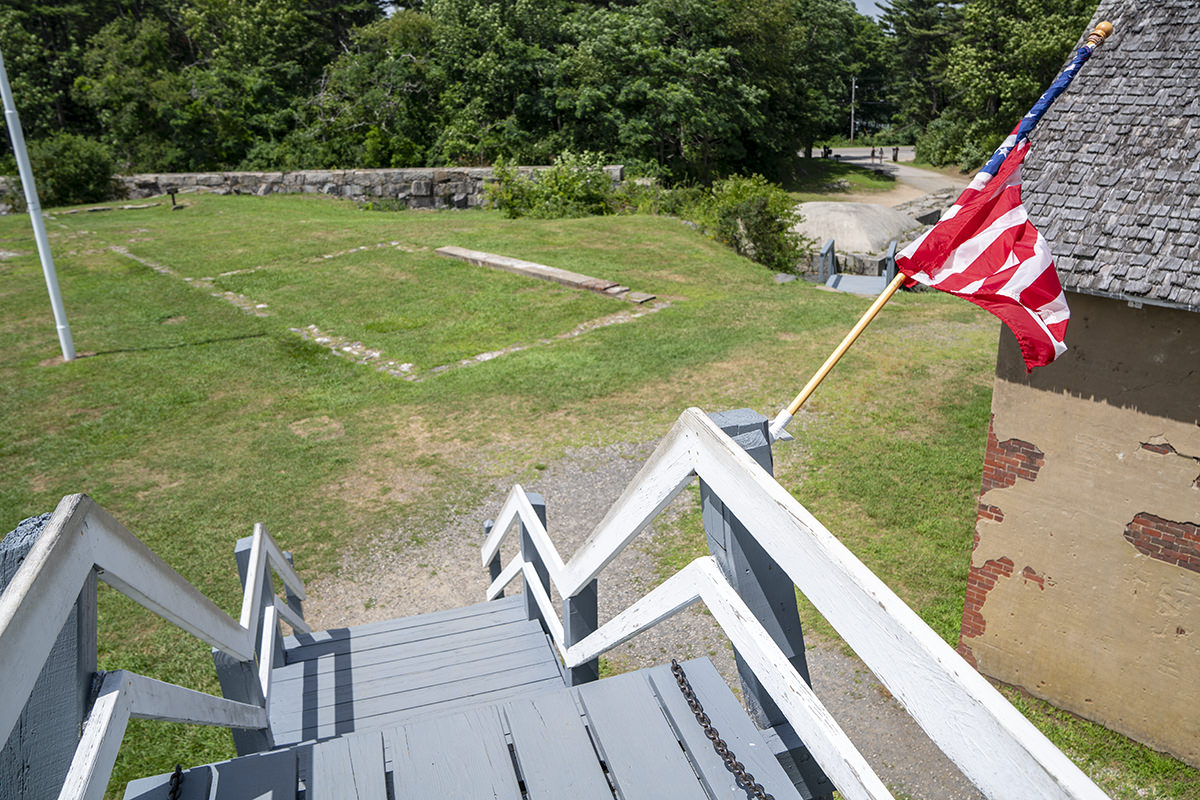 Once you get inside, however, all is made clear. There's a sign saying that the fort was never completed because an advancement in weaponry made it obsolete, and the granite blocks for constructing it were just left where they lay when work stopped...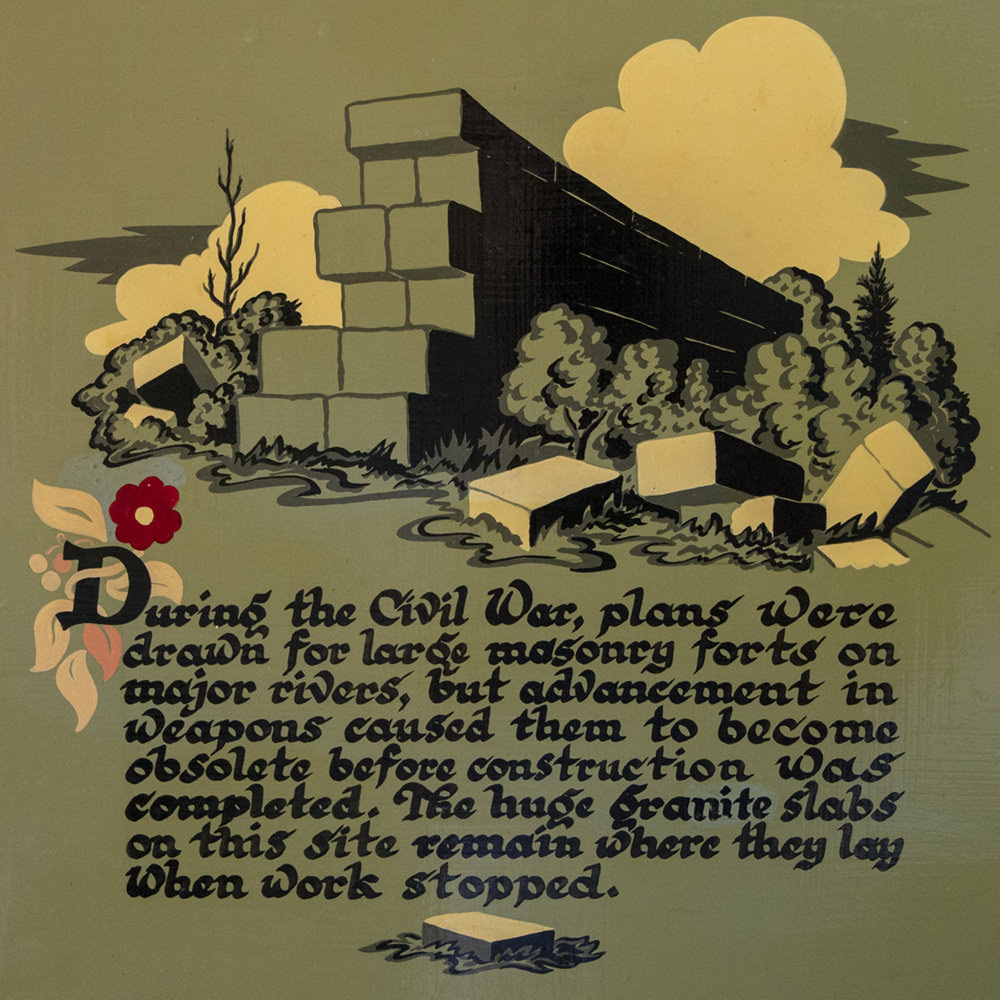 After meeting up with my friend, we walked with his dogs down to the waterfront on a beautiful Maine day...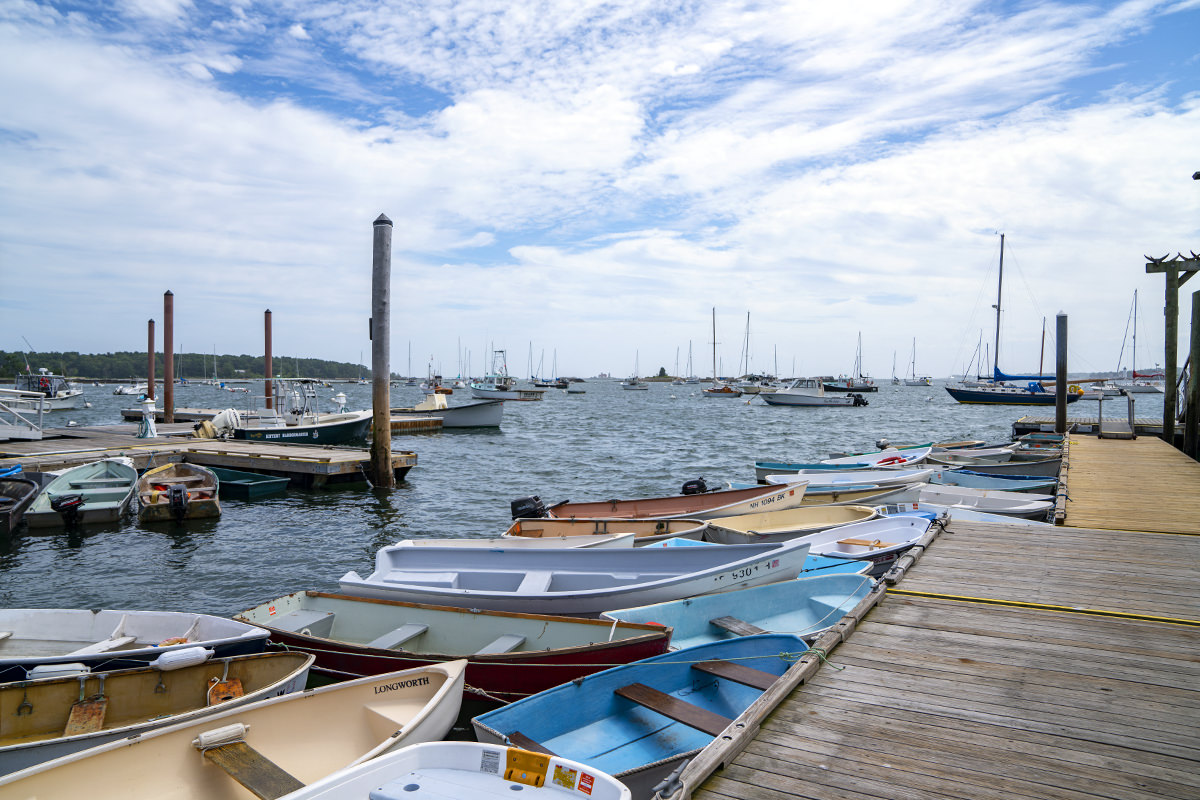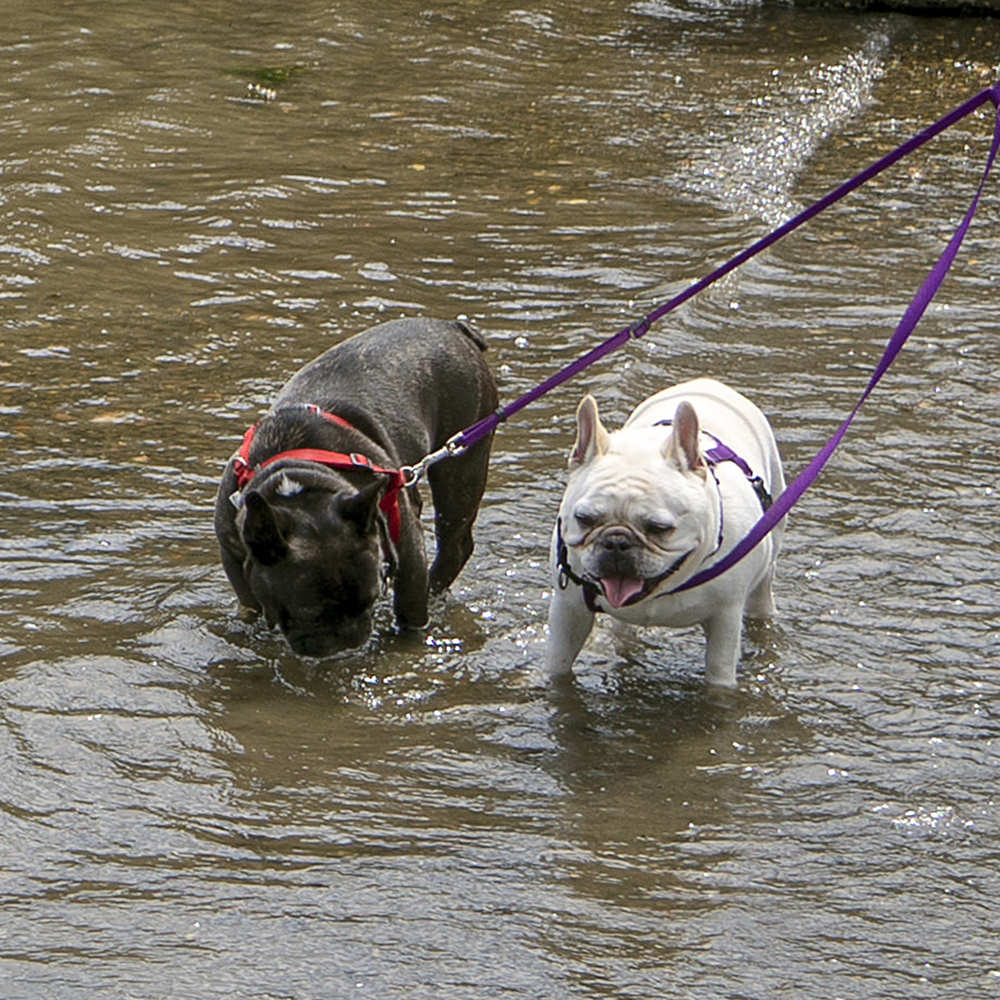 I always make time to stop in Portland for a glass of Allagash White (one of my favorite beers on earth) and whatever seasonal dessert is local. I always park across from the Old Customs House, but never thought to stick my camera out of the parking garage until this trip...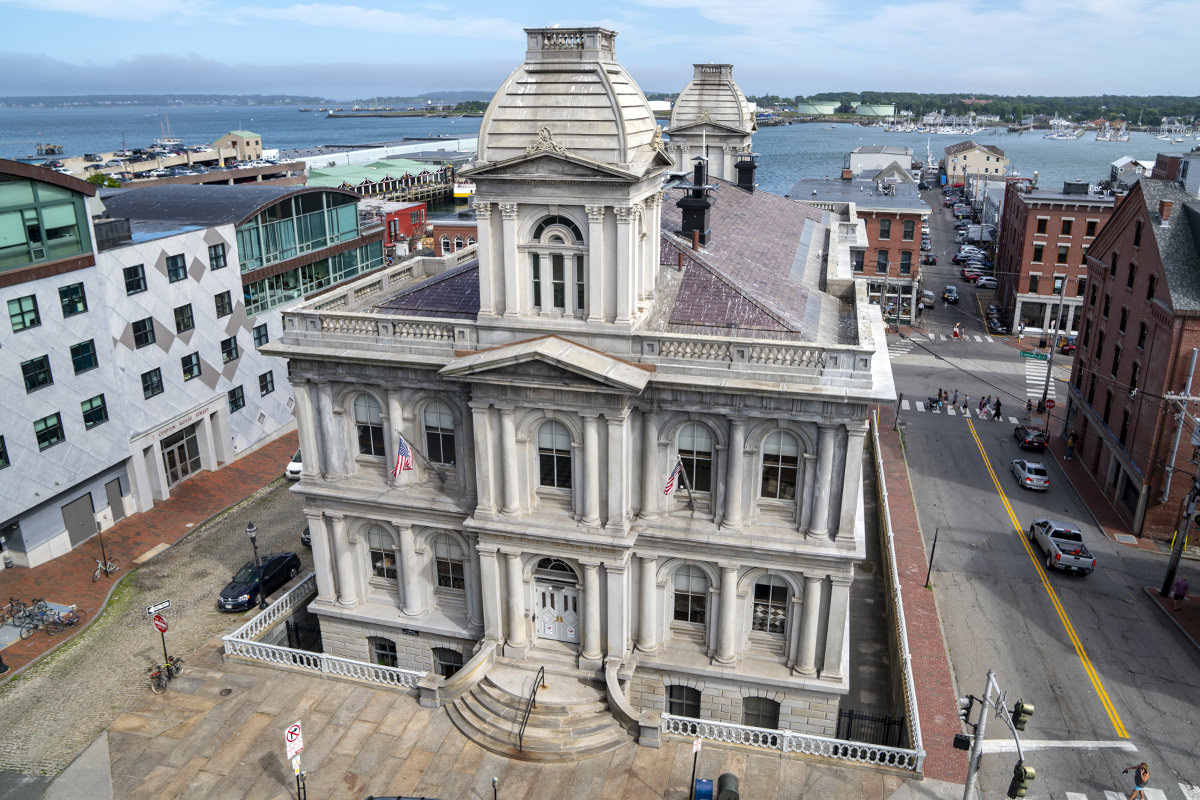 My favorite summertime deserts here are made with Maine blueberries (seriously nothing else like them), but this time I happened onto Maine raspberry season, which is so short that I'd never had them before. Delicious, as I knew they would be...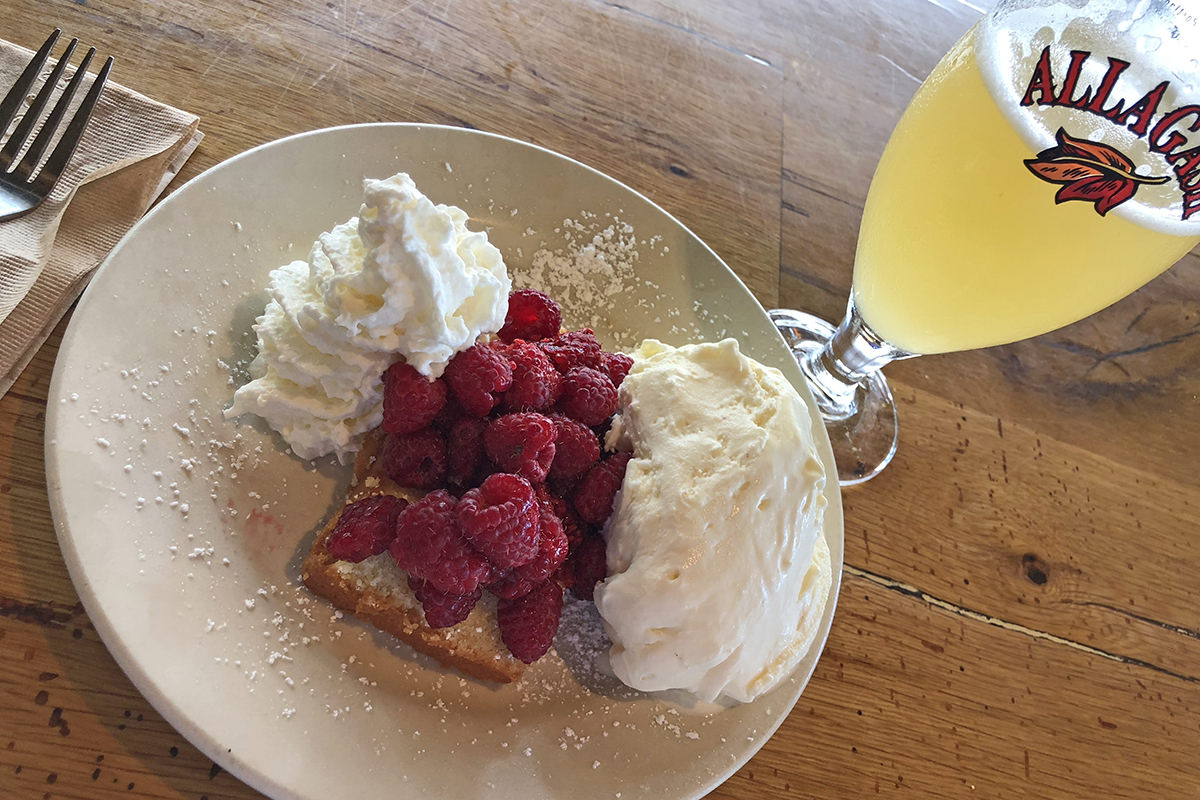 On the way to work, I saw that Maine was still in prime blooming season, even though it's just starting to end back home...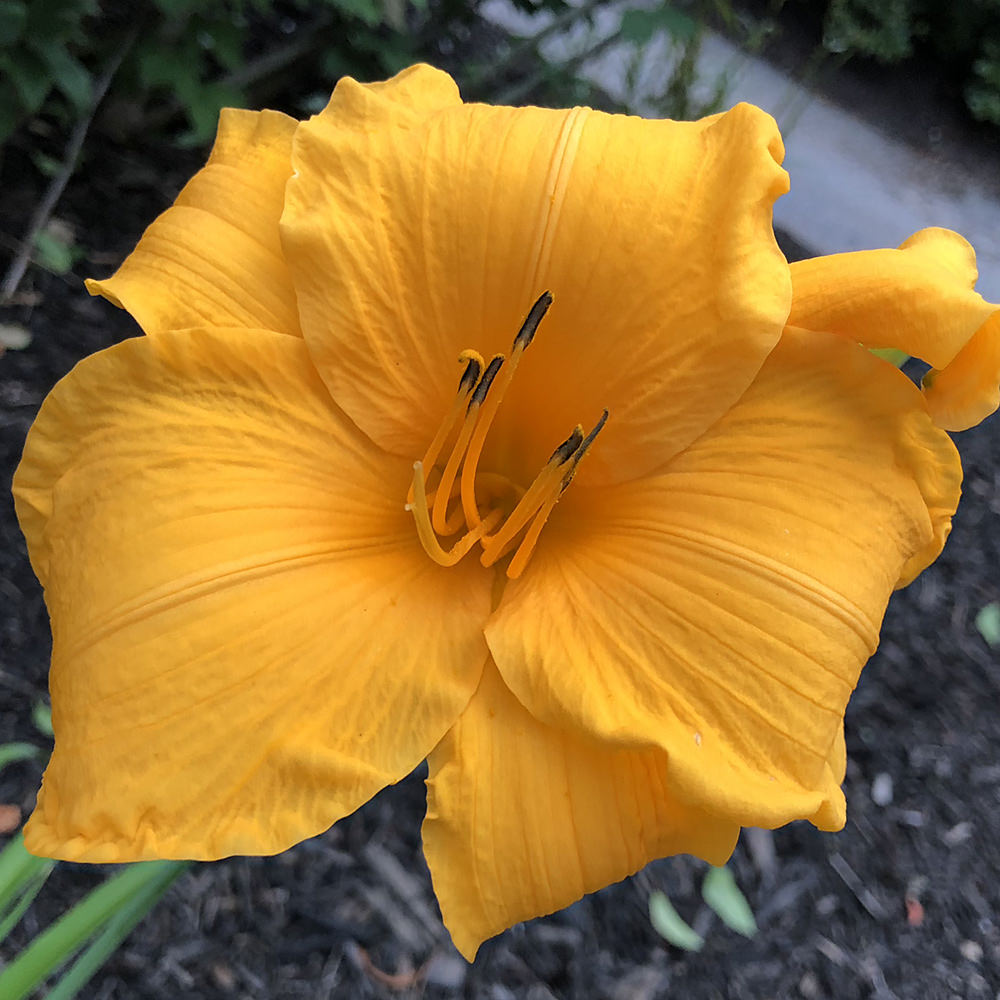 And now? Back to work I go...
Posted on June 4th, 2018

Happy National Cheese Day, everybody! I don't know about you, but I have been celebrating all day.
Cheese has been one of my favorite foods since I could eat solid foods. My most-loved cheeses are cheddar, parmesan, feta, American, and pepper-jack. My favorite time to eat cheese is "always." My favorite things made with cheese are sandwiches, pizza, and pasta.
I blog a lot about cheese, as you can tell when you Google Search my blog for it...
My menu for the day has been...
BREAKFAST: Cheddar Cheese Cubes, Scrambled Eggs and Cheese on Toast.
SNACK: Cream Cheese Bagel.
LUNCH: Veggie Cheeseburger, Colby-Pepper-Jack Cheese Stick.
SNACK: Grilled Cheese with Veggie Bacon Sandwich.
DINNER: Cheese Enchiladas with Yogurt Crème Fraiche, Nacho Cheese Bread.

It don't get much better than that.
Enjoy the celebration, y'all.