Posted on March 12th, 2019

Back in September I went through my mom's recipes with the intent of throwing them all away. I ended up keeping seven of them... which was five more than I had anticipated. Most recipes are either meat-based entrées or sugar-based desserts, neither of which I eat.
What I wanted to find was her Applesauce & Walnut Bread and Spanish Rice recipes. What I actually found was these...
Applesauce & Walnut Bread. It was originally from an old "Spices of the World" book, but my mom revised it several times (the most important revision being the first one where she eliminated the stupid raisins). It's pretty amazing stuff with really good flavor.
Danish Puff. A very good pastry recipe that I'll likely never make because it's all sugar. But I like having it on hand in case I ever need to take a homemade dessert somewhere.
Pewter Pot Apple Pinwheels. A local restaurant in town (long since closed) had a sublime dessert that I loved. My mom got the recipe and made it for me a few times.
Fraternal Grandmother's Marshmallow Rolls. Absolutely sublime rolls with dough wrapped around a big marshmallow that melts when it cooks, leaving a hollow rolls filled with gooey-sweet deliciousness. These are way too carb-heavy to eat with any regularity... and I'd have to track down vegetarian marshmallows... but I will certainly make them one of these days.
Fraternal Grandmother's Enchiladas. I came up with my own vegetarian version by altering her recipe over the years, but hadn't made her originals decades. I finally did so back in December. They are very good... and very different from mine... which is a nice change of pace.
Maternal Grandmothers' Apple Crisp. It's probably the same or similar to hundreds of other apple crisp recipes you can find, but it's the only one I would ever make.
Maternal Grandmothers' Pie Crust & Apple Pie. The best pie I have eaten. Anywhere. Ever.
The apple pie is one of the few recipes that I have experience making with the originator. My grandmother let me help her make her signature dessert numerous times. Everybody who tasted it fell in love with it. I tried to encourage her to enter it into an apple pie contest, but she never would. So one year I tricked her into making me a pie "for a bake sale" and entered it into a contest for her.
She won first prize, as I knew she would.
Making a seriously good apple pie is more of an art than the science of following a recipe because the apples are always different. Sometimes they are sweeter... sometimes they are more tart... sometimes they are small... sometimes they are big. And sometimes the variety of apple you want isn't available so you have to use something entirely different and make it work. My grandmother always tasted the apples before deciding how she wanted to proceed. Sometimes she uses extra sugar, sometimes less. Sometimes she added lemon juice. Sometimes she altered the spices too. Decades of making apple pies taught her just what she needed to do to get a consistently amazing pie. And she tasted and re-tasted every step of the way.
In order to develop the skills my grandmother had, I would have to make a pie a week for five years. Maybe even a decade. It's a lot of trial and error, and she's not here to offer advice on dealing with the crazy-huge number of variables.
Which is why I haven't made a single pie since she stopped baking them.
I thought I might give it a try after she passed, but I just haven't been able to bring myself to do it. And every apple pie I've ever eaten that's not hers falls short by comparison, so I stopped eating apple pie.
What I eat instead? Pepperidge Farm apple turnovers...
These things are better than they have a right to be. And, since they are frozen, I can cook up just one as a treat when I have some room for carbs available. Easy and delicious.
But one of these days... one of these days... I will make my grandmother's apple pie again. Or try to.
Because "Pepperidge Farm Remembers," but so do I. And what I remember is how amazing my grandmother's apple pies were.
Posted on March 10th, 2019

Stop worrying your pretty little head over whether Spring is here or not here... because an all new Bullet Sunday starts... now...

• Free! As I've mentioned more than a few times on this blog, I'm a huge fan of Alex Honnold. He's a world-famous free solo rock climber who recently rocketed into the limelight because of the Oscar-winning documentary film Free Solo (sadly, I didn't get to see it in IMAX like I wanted to, and ended up renting it). I first heard of the guy in 2007 or 2008 after he free soloed Yosemite. At first I thought he was a lunatic with a death-wish, but after reading numerous interviews over the years, I found him to be one of the most philosophical, funny, genuine people on the face of the planet. And the most talented athlete on earth...
If you haven't seen free Solo yet, it's absolutely worth your time. It's an amazing film that changed my perception of Honnold yet again. But if you want to see Alex being the Alex that I became obsessed over the past decade, here he is (watch to the end, because it gets better as it goes on)...
It used to be that every year on Christmas as a part of my "End-of-Year Checklist" I would Google Alex to see if he was still alive. Now that he's so incredibly famous, I don't have to. If something were to happen to him I'm sure the entire world would know.

• Zero Stars! When I had to start eliminating carbs, the transition from "regular" to "sugar-free" sodas was a tough leap to make. What made it easier was Coke Zero, which is far and away my favorite carb-free pop (followed by Diet Dr. Pepper, Diet A&W Root Beer, and Sunkist Orange). One of my favorite sodas, Stewart's Orange Cream, has no diet equivalent... which is why I was thrilled to see "Coke Zero Orange Vanilla" at my local Safeway...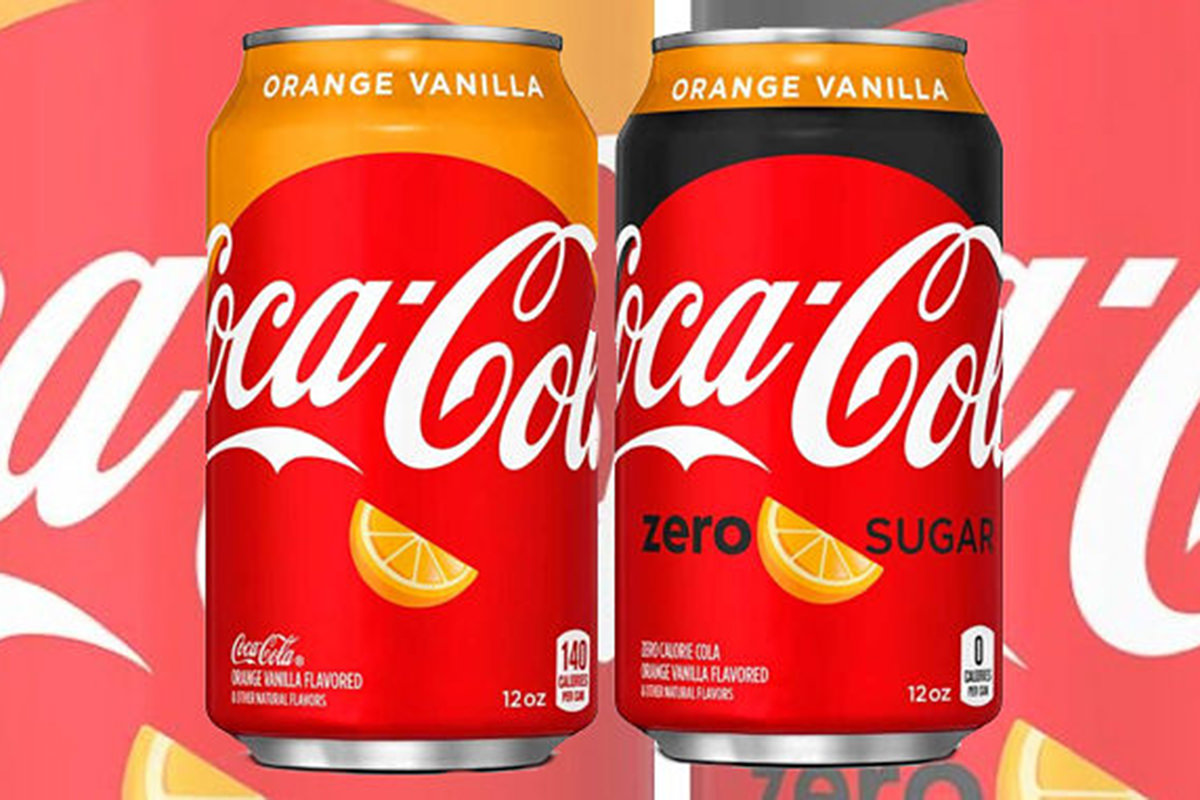 Holy shit what a horrendous load of toxic sludge! It tastes nothing like an orange cream soda, but instead tastes like an extremely artificial vanilla cola with a weird orange aftertaste. Really gross, which is why I am mad I bought an entire 12-pack. Looks like I need to investigate adding a hint of vanilla to Sunkist Diet Orange Soda to see if I can get what I'm looking for.

• Life! Ricky Gervais is one of the most brilliant minds in entertainment, and I'm always looking forward to what he's doing next. Turns out it's the Netflix series After Life, and it's one of my favorite things he's done thus far...
The show has a rocky start because his character is pretty awful. But the 6-episode series is a journey that ends in a very different place, and it's a worthwhile trip to take. With all the horrors I've been facing these past couple years, it's nice to run across something that is saying exactly what I need to hear. Highly recommended.

• Stick! One of my favorite kitchen brands is OXO Good Grips. I ended up replacing almost all my bakeware with their stuff and was happy with that... at first. Then I found out that my "non-stick pizza pan" can't even cook biscuits without them sticking like cement...
Even worse? The bread pans and jelly roll pan are rusting under the folded edges. And so... I guess OXO Good Grips is no longer my favorite kitchen brand. Really sad that I wasted my money on this garbage.

• Billions and Billions! Wealth inequality is something that I don't really think about because there's nothing I can do about it. Obscenely wealthy people own this country and get to decide how things are going to be. The fact that what they decide inevitably benefits only them (and their pocketbook) regardless of how it screws the rest of us... or the environment... or whatever else is in their way, is just our sad reality. Which is why shit like this is so unsurprising...
Thinking that these horrible people will ever have to pay for the lives they've destroyed is laughable.

And, on that note, I guess we're out of bullets...
Posted on January 30th, 2019

Lay's potato chips were on sale at the grocery store so I bought a couple bags. And while I love them plain right out of the bag, I was craving the chip dip that my mom used to make. It was the same dip that my grandmother used to make. I think she got the recipe from the mother of one of my mom's friends. Since both my mom and grandma are gone now, I guess I'll never know for sure where it came from. One of a million things I should have asked about but never did.
Here's the base recipe...
8oz. cream cheese brick, softened.
Two heaping tablespoons of mayonnaise.
Splash of lemon juice.
Garlic powder to taste.
It's good just like that, but there are optional add-ins if you're wanting something more exciting...
Splash of Worcestershire sauce (for non-vegetarians).
Two heaping tablespoons of sour cream.
Ground pepper to taste.
Cayenne pepper to taste.
Minced garlic to taste.
Dash of hot sauce.
Chopped scallions (or chives) and paprika as a topper.

Tonight I just made the base recipe with a little cayenne. It was exactly what I needed.
And everything I didn't.
It's been seven months since my mom died and there's always something there to remind me that she's gone. If it's not the pictures of her on the wall or cream cheese dip, it's something else.
Everything else.
There doesn't have to be a ghost for you to be haunted. All it took for me was a bag of chips.
Posted on January 7th, 2019

I can pinpoint when my love affair with bread began... Elementary School. The cafeteria had these amazing rolls that defy description. But I'll try for you. They were dense without being heavy. They were drenched in butter for fantastic flavor. They were everything I love about bread. You used to be able to buy extras for a quarter. I bought a ridiculous amount of them. I even took them home for my mom because they were just that good.
Then I graduated to Middle School and that was the end of it. I never had them again, though I would often think back to those heady days of breaded bliss.
I'd eat a lot more bread over the years, of course, but none of it quite compared.
Then one day at a family holiday dinner, my sister-friend's mother-in-law brought homemade garlic bread. And there is was... the bread I had been missing for decades was on my plate.
Naturally I was immediately obsessed. Turns out it's a sourdough hybrid that uses both sourdough starter and yeast to rise. This means you can get good flour density without being heavy like a brick. And it wasn't sour despite having sourdough in it. I ended up taking a jar of sourdough starter home with me so I could make my own. For years I rarely bought bread, I made my own.
Then tragedy struck.
When I moved to my new place, I accidentally left my starter out in my car for a week. I thought it would be fine since it was winter, but when I finally remembered it, the poor thing was in pretty bad shape. I could never get it to rebound, and eventually it developed a reddish-pinkish hue and had to be thrown out.
My life was in turmoil back then, so it was easier to just buy bread, and I forgot about making it.
But then it was served at Christmas dinner last month and I fell in love all over again. I was given another jar of starter and have been making my own bread again ever since...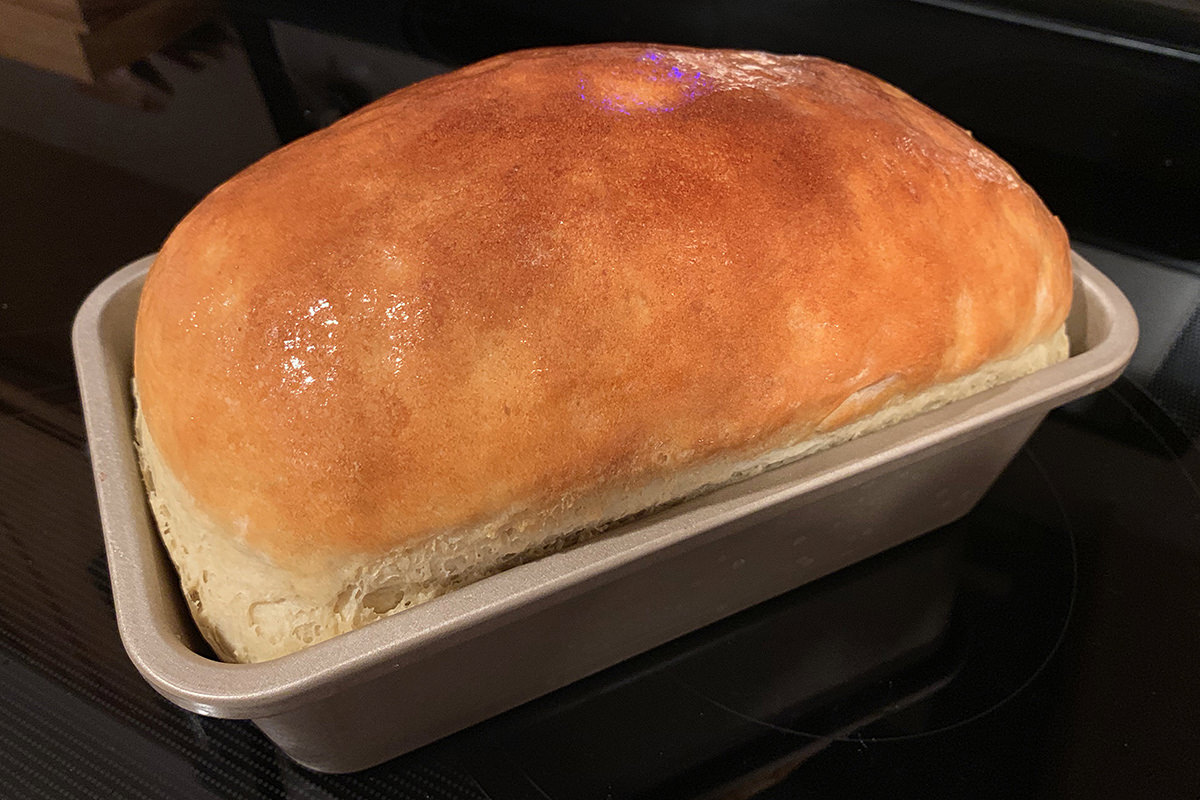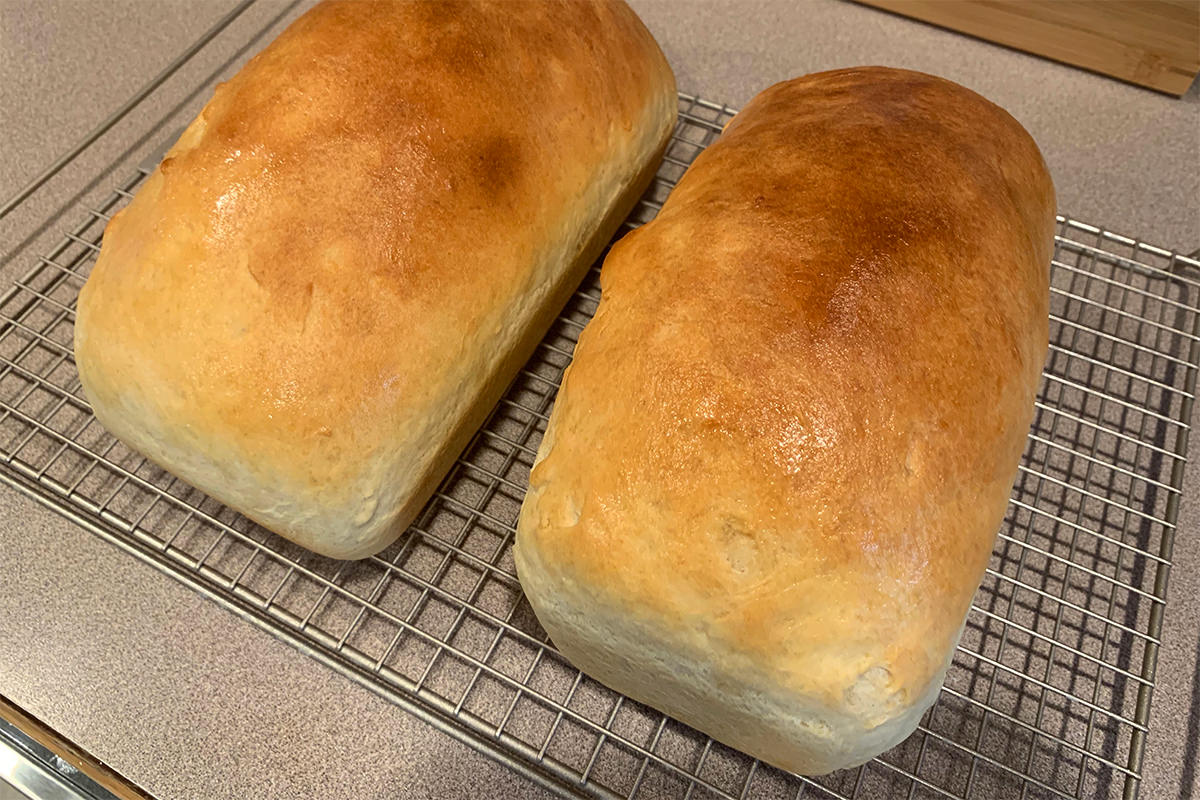 So good.
Lately I've been experimenting with the amount of flour I add. More flour results in denser bread that's not too dry, if you don't overdo it. Less flour results in a higher rise, when you want flakier bread or use it to make cinnamon rolls.
And this time I promise to take good care of my starter so he won't ever go pink again.
Posted on December 21st, 2018

When I was a kid I wanted to be a chef (also a fireman, airline pilot, doctor, and astronaut). I loved cooking and would goof around in the kitchen whenever the mood struck me. But that was decades ago. With the exception of an occasional falafel, I haven't done any serious cooking in a very long time. But recently all that's been changing.
It all started when I saw the frozen burritos I used to buy for $1 were costing me $3 to $4, which is absurd. And so I started making my own. They ended up tasting far better than the frozen burritos I had been buying (and were far cheaper), so I started wondering what else I might be able to cook better for less money.
Bread was the easy answer. Before I moved, I was flirting with different kinds of bread-making, and found it tedious fun. But to start saving money, I'd have to branch out and start making my own hamburger buns and sandwich rolls too. That will take some research, because I'll want the same light-and-fluffy buns I get in the store and the same crusty rolls I get from the bakery.
Next up is pizza. I loathe every frozen pizza I have ever purchased, so coming up with my own recipe for the perfect crust, sauce, and seasoning is something I'm anxious to try.
Then there's pasta. This is one area where it would undoubtedly taste better, but I'm doubtful it will save any money.
Last up? Baked sweets. I'm not supposed to have them any more, but I do like an occasional cupcake, cinnamon roll, or sticky bun. This type of baking isn't that difficult once you find a recipe you like.
The trick is finding a recipe you like.
A Facebook friend sent me this video...
And so... sticky buns it is then!
I watched the complete video, wrote out the recipe, then I was off to the races. It was all fairly easy. Except for patting the dough out into a 15 x 18 rectangle. The stuff was springy and kept snapping back. Eventually I kinda managed it by scraping the flour from the edges so it would stick a little bit. Then it was time to rise...
They looked pretty great out of the oven...
And on the plate...
I cut the amount of pecans in half because I didn't want too much crunch intruding on the fluffy texture. It was perfect. I wouldn't want any more than half the nuts.
The flavor was really good. Not orgasmically good like they lead you to believe... but incredibly tasty. What lead me to try the recipe was the light, airy texture (I don't like dense sweet breads), and on that front it totally delivers.
Not sure how they'll freeze, but I'll be testing that out. There's no way I can (or should) eat an entire pan of these before they start to turn stale.
And... next up? I'm thinking hamburger buns.
Posted on December 4th, 2018

Originally I was to fly home on Thursday. This "buffer time" was in case weather caused me to arrive late or there was a problem at work that delayed my leaving by a day or two. Well, there were indeed problems at work (we started four hours late) but, fifteen hours later, I was free.
Exhausted to the point of feeling like my brain had melted. But free.
So instead of waiting until Thursday night to fly home, I rebooked my return trip for tonight. I lost my premium seat, but I'll take getting home two days early in a coach seat any day.
After two days without sleep, I managed to sneak in a four-hour nap at my hotel before they kicked me out. Then there was a 45-minute drive down to Portland for dessert for lunch...
Followed by shopping for new Dr. Pussum's Organic Maine Catnip toys that my cats go crazy for...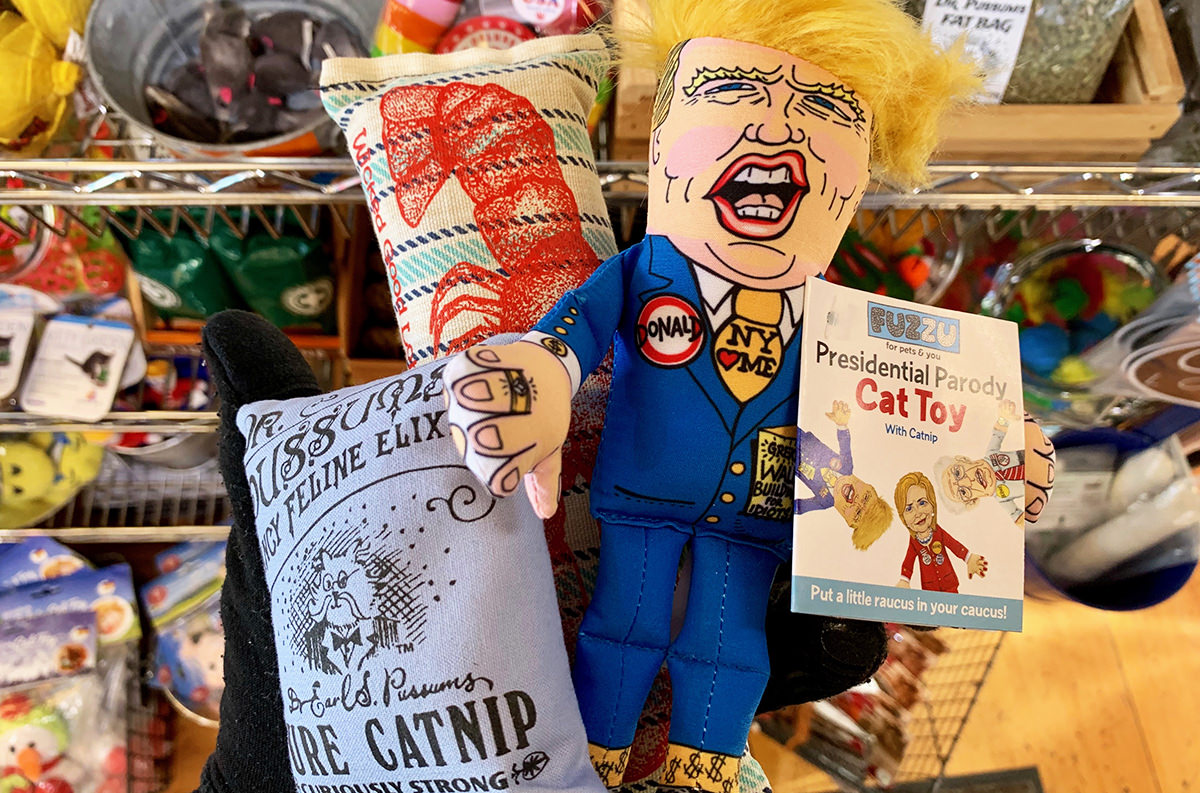 And, no, I decided against buying a President Trump toy. If Jake and Jenny want to play with something like that, they can dig in the litter box.
The remaining 100 miles to Boston Logan International Airport blew by in two hours and... viola... here I am flying home... TWO DAYS EARLY! Can you believe my luck?
Sure I'll get home after midnight and still have to go to work in the morning, but still... home.
Posted on December 3rd, 2018

When traveling in the winter... especially a place with the possibility of a notorious winter like Maine... I always add a day before and after my work dates so I can be sure I'll still make my start-time if there's a weather delay. This time I got my start-date too late to have much choice in my flights. This means there was no getting here a day early. If a problem pops up then I'm probably screwed.
So of course air traffic into Seattle last night was slowed down, which meant I'd be landing late and might miss my connecting flight to Boston. Then they moved up the flight to Boston, which made it even more likely I'd miss it.
Lucky for me, my arrival gate was right next to my departure gate and I managed to make it onboard ten minutes before they closed the door. Thankfully I didn't have to check any luggage.
After landing at Boston Logan International Airport, I retrieved my rental car so I could drive 2-1/2 north to the job site. But first? Breakfast.
Usually I just stop at McDonald's for an egg & cheese biscuit. They aren't great, but they are edible (unlike Burger King's shitty Croissan'wich). My biggest problem in eating at McDonalds is that most of them don't know how to ring up an egg & cheese biscuit. They ring up a bacon, egg, & cheese biscuit and remove the bacon. This is hardly fair because I end up paying for meat I don't eat.
But here in New England, Panera Bread restaurants are plentiful. This means I don't have to eat at McDonald's and can get one of Panera's "Egg Over Easy with Cheddar on a Brioche Bun"...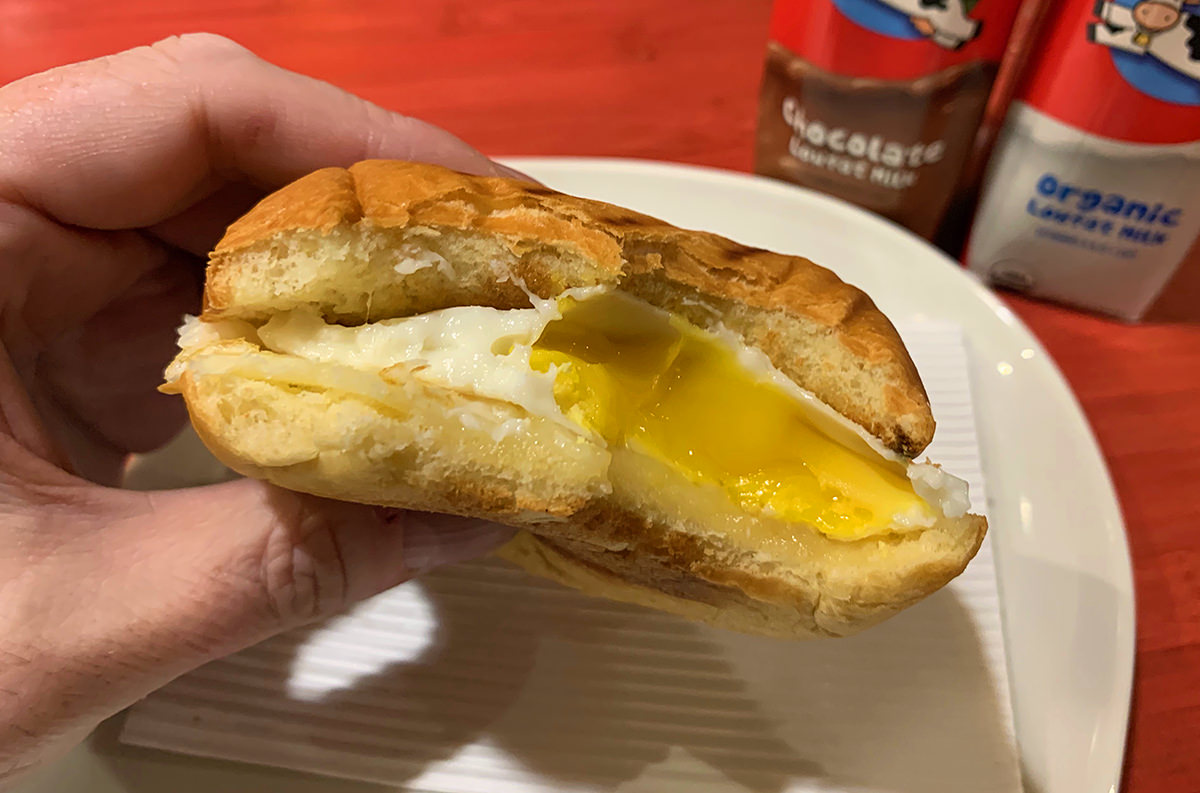 So far as breakfast sandwiches go, I've found nothing better...
The brioche bun is incredible. Light, airy, and holds up as you eat it. Unlike the McDonald's biscuit which falls apart easily, gets gummy when the moisture from the egg hits it, and sits like a brick in your stomach.
The over-easy egg is gooey and creamy and has fantastic flavor. Unlike the McDonald's eggs which are reconstituted powder that taste spongey. You can substitute a better "round egg" at McDonald's (which is an actual egg), but it's hard-cooked and rubbery.
The white cheddar that Panera uses is a bit sharp so it has a nice "bite" to it. Pairs wonderfully with the egg and isn't the least bit waxy. McDonald's, on the other hand, uses a lower-quality American cheese which is kinda bland and waggy. It doesn't add much to the flavor profile and, if the egg is overcooked (which happens all the time), it actually makes things worse because it's so flimsy.
All-in-all, my highest possible recommendation if you're near a Panera and are hungry for breakfast!
I had a few hours before work started, so I took a nap. Or, more accurately, I tried to take a nap. It was one of those bizarre situations where I was so exhausted that I was having trouble sleeping. No idea how that works, but it's incredibly frustrating.
And now... I'm at work.
Where the internet is broken, which means that this will have to be posted when I get back home.
Five hours down, eleven hours to go...
Posted on November 5th, 2018

I have work in Spokane early tomorrow morning, so I'm heading across the basin today rather than have to leave at some ungodly hour tomorrow. I really, really don't want to be away from Jake while he's sick, even for just one night, but duty calls (disappointing though that may be).
This was far from the only disappointment today.
Things went off the rails early this morning because my cats are not thrilled about Daylight Saving Time ending. As in seriously not thrilled. They were anxious at 6:00am (their 7:00am feeding time, as far as they know). Concerned at 6:10am. Upset at 6:20am. And absolutely livid by the time I went to feed them at 6:30 (I am slowly adjusting them to the hour time difference, whatever good that does). Jenny was pacing the room and meowing her head off. Jake was pawing at my face while squawking. It's exactly how you want to start a Monday.
And then...
I pulled their "Feed-and-Go" automated internet feeders out of storage so I could get them set up and filled. Except... I couldn't get them set up. The company that makes them went out of business last month. Bad enough that they had to close and shut down their cloud servers, rendering their $200 feeders useless. But it's reprehensible that they didn't bother to notify their customers... or keep their website up with a message to warn their customers... or push out an app update which warns their customers. Because otherwise there is NO WAY TO KNOW that the cloud service has been shuttered. The blue network light on the units still glows blue! Luckily I test the units every time I haul them out, otherwise my cats wouldn't have been fed. And had I been gone longer? They wouldn't have been fed FOR THREE DAYS. With the Feed-and-Go website down, I had to find out the news via a cached Google search...
Feed and Go is sad to say, it's closed it's doors.
We're extremely sad and sorry to say that Feed and Go has closed its doors. We had an amazing time helping thousands of pets eat healthier and on schedule. The time has unfortunately come to close the operation of our web app, and mobile app services. This will mean that unfortunately your Feed and Go's will no longer work as an automated feeder, and will not connect to our servers. We want to take this opportunity to thank you for being a part of our mission and wish you and your pet many happy moments ahead.
What a bunch of pig-fucking monsters. They are perfectly content to LET YOUR PET STARVE rather than contact you so you know that their product no longer works. I can only hope that whomever responsible will be roasting in hell soon. I also hope that some genius electronics expert out there will come up with a circuit board replacement that will allow the feeder to be programmed directly, instead of relying on a cloud service that's not there any more.
I had a couple other automated feeders from back when I was feeding Spanky, but they needed D batteries and I didn't have time to go get some. So instead I filled bowls with way too much food so Jake and Jenny can graze 'til their hearts' content. And hopefully not over-eat and puke everywhere.
And then...
I noticed that the motor on the drinking fountain had burned out. It's less that a year old. Guess I'm putting out a bowl of water next to the heaping bowls of food...
And then...
Since I was coming to Spokane, I decided to get the passenger airbag replaced in my car. Toyota has been sending dozens of notices telling me that there was a recall, but I would rather die than go to the asshole who owns the local Toyota dealership. Since Spokane was where it was purchased, it made sense to go there.
After dropping off the car, I decided to get a falafel wrap at The Pita Pit. Only to find that they had gone out of business, just like Feed-and-Go...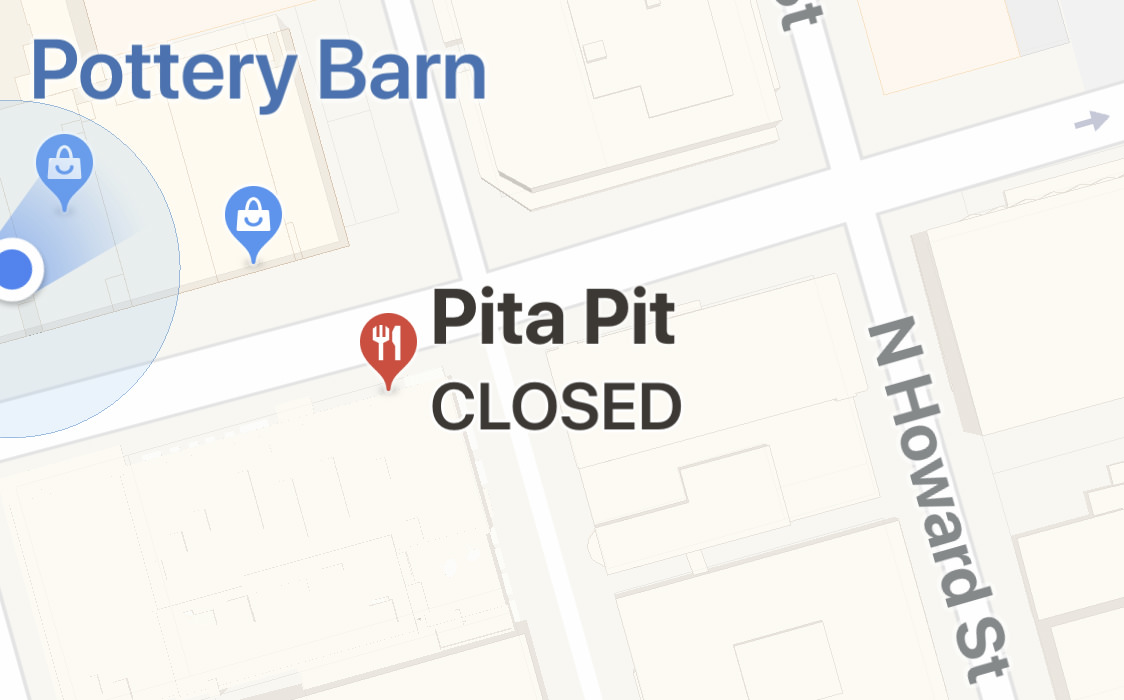 No problem, I walked a couple blocks to a cafe with good sandwiches... only to find out they closed at 10:00 this morning for "maintenance."
And then...
Rather than wander around aimlessly, I decided to just go to Red Robin. They no longer have Boca Burgers (inexplicably replacing them with a veggie burger that's so gag-inducing awful I'd rather eat meat). I ended up eating their guacamole, salsa and chips, which wouldn't have been bad except the chips were stale. For dessert I wanted some of their cinnamon sugar mini donuts with caramel sauce. Except they came plain with no cinnamon sugar and instead of caramel, I got raspberry sauce. As if that wasn't enough, the donuts were overcooked.
And then...
The Apple iPhone Upgrade Program I've got allows me to replace my iPhone with the newest model every year. Since my replace-date is coming up, I thought I would drop by the Apple Store and take a look. I also wanted to look at the newest MacBook Pro models, as I'm sure I'll have to be replacing my 2012 model sometime soon. When I asked the Apple sales guy if there was a MacBook Pro that had an SD card slot and a USB and Thunderbolt port... you know, LIKE ACTUAL FUCKING PRO MACHINES WOULD HAVE... I was told no. "Everything has moved to USB-C, because that's the new industry standard." Alrighty then. We're back to Apple being clueless fucking assholes as to knowing what professionals need, but whatevs. So I moved on to the iPhone XS. I thought to ask if the charging cable that came with it had USB-C so I could charge it from the new MacBook Pro. The sales guy told me "No, it comes with the older USB-A and I would have to buy a $20 dongle." And so... I guess USB-C is not quite the "industry standard" I was just told it was since Apple itself isn't using it on their most popular product (by far).
Which begs the question... "Does Tim Cook, Jonathan Ivy, or absolutely anybody at all at Apple know what the fuck they are doing?" Because it honestly doesn't seem that way.
In the past their products were overpriced, but at least I knew I'd be getting something that provided value for the money and would be cutting edge when it came to features. But now? That's not even close to being the truth. Less features with less power and with less flexibility... all while being grotesquely overpriced. It's as if Apple has been working overtime to become the cliché they've always been painted as.
And then...
As I was leaving The Apple Store, I was very nearly run down by a group of amish(?!?) women on motorized scooters. They were driving on a busy sidewalk way too fast and seemed as if they were barely in control of the things. At least I think they were amish because they had those little hair covers on their heads and were wearing dresses. But I thought the amish didn't use technology... and since you have to have a mobile phone app to rent the things, maybe they weren't amish after all?
In any event, these stupid fucking scooters are littering the sidewalks everywhere downtown, so apparently the latest episode of South Park isn't just hype...
At the very least, they should be illegal to drive on the sidewalk. Given how fast they travel, somebody could get seriously hurt. And if somebody ever runs into me with one of them, I'm going to pick up the scooter and beat them to death with it.
And then...
After walking eight blocks in surprisingly cold weather, I picked up my car and headed to my hotel. They asked if I had a room preference, so I told them top floor and as far away from the elevator as possible so it would be less noisy and I could get some sleep. They put me on the top floor... but right across from the elevator. And next to a room with a woman coughing her head off. Which makes me even more thrilled that I wasn't able to stay home tonight.
And then...
If there's a bright side to having to drive three hours to Spokane, it's that some of my favorite pizza on earth is here... David's Pizza. Their DaVinci pizza (with tomato, pesto, and feta) is seriously delicious...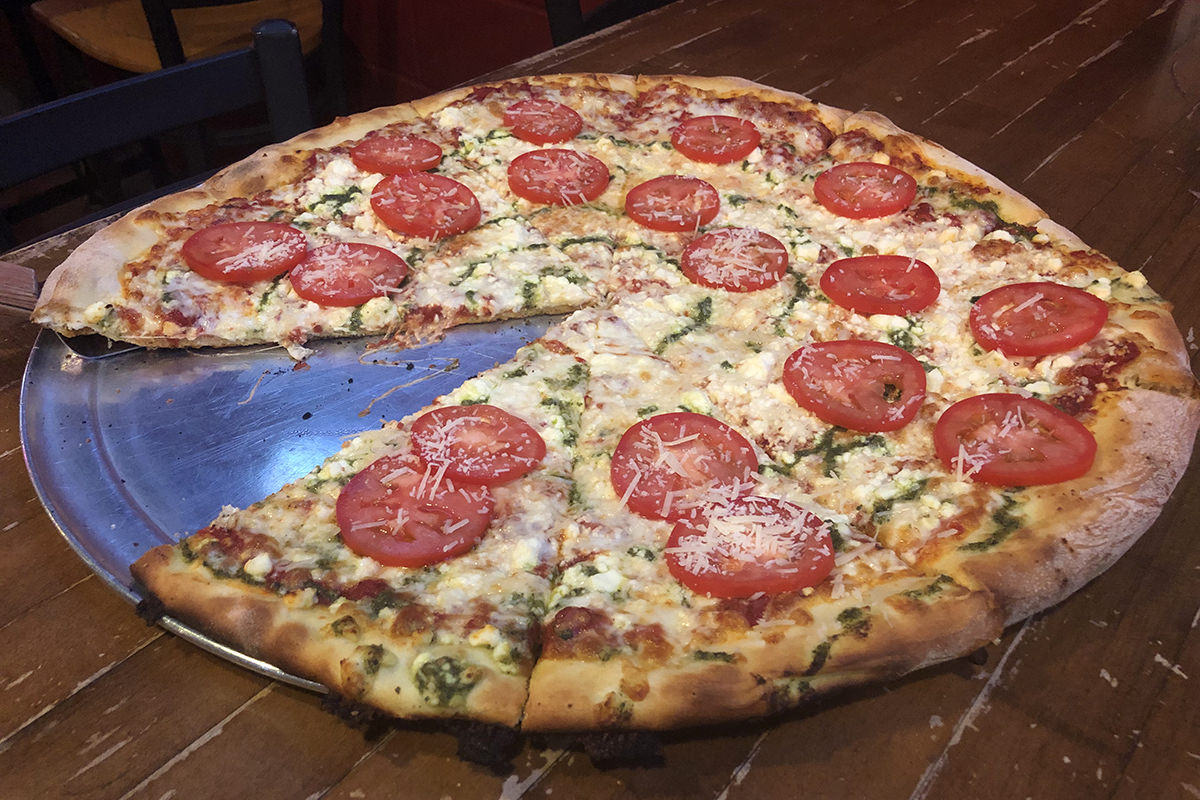 Unfortunately I had the grave misfortune to arrive on "Let Your Screaming Kids Run Apeshit Through The Restaurant Night." A whole team of the little fuckers were running around screaming and screaming and screaming and screaming... while the parents were in some kind of group meeting in the next room not giving a fuck that people were trying to eat in peace. By the time I left I had such a splitting headache that any enjoyment I got from my pizza was destroyed.
And then...
I decided to end this entry at 8:00pm tonight because I'm worried that continuing on any longer is just inviting more disappointment. Hopefully work will go smoothly so I can head home as soon as possible in the morning and be done with all this nonsense.
Until the next time, of course.
UPDATE: There it is! MobiLinc (the internet connect platform I use to control a good chunk of my home automation, has gone down...
It's been up and running 24/7 perfectly for months... so of course it goes down when I'm away from home and really need it. No idea what's wrong, as the cameras, alarms, and all the non-MobiLic devices are connected to the internet just fine. Perhaps it's time for me to go to bed and turn off the world.
Posted on October 19th, 2018

A couple days ago when I was at the grocery store I decided to grab a couple frozen bean & cheese burritos. They're handy for when I need a quick dinner or lunch and don't want to cook. But when I went to pull one out of the freezer case, I was shocked to see that they were THREE DOLLARS AND FIFTY-FIVE CENTS EACH! They were just 99¢ a minute ago! What happened?
That's when I decided to make my own dang frozen burritos. I started with white rice, black beans, and some cheese. They turned out great. So great that I decided to make another batch... but this time use Mexican rice, seasoned beans, add some onions and green chilis for some flavor...
They are perfection!
So easy to make. So much better than the frozen ones I have been buying. And so cheap! Instead of $3.55 each, these are around $1 each, which is what I was looking for in the first place.
Just in case you might want to try making your own freezable burritos, here's my recipe...
Box of Mexican-Style Rice (I use Farmhouse).
1/2 Medium Onion, Diced.
2 Tbs. to 1/2 can of Diced Green Chilis.
Ground Black Pepper to taste (I use 1/2 tsp.).
1 Can of Black Beans (I use Bush's Seasoned Recipe).
Shredded Cheese (I use a Cheddar/Asadero Blend)
8 Burrito-Size Flour Tortillas (half a package).
Cook up a box of Mexican-style rice (or any rice you prefer). While that's going, dice one-half a medium onion and soften in a skillet with a little oil over low heat. Once it begins to turn translucent, stir in a couple tablespoons of diced green chilis. Add some ground pepper to taste. Drain a can of black beans and stir into the onion mixture. Once the rice has finished cooking, stir it into the rest. Remove from heat and set aside.
In a large pan, soften burrito-sized flour tortillas over low heat for 10-15 seconds each side. Add two heaping spoonfuls of the bean/rice mixture to the tortilla, then sprinkle with as much cheese as you like (I use a lot!). Fold-up burrito-style. Wrap in foil and heat in an oven until cheese is melted and inside is hot (in my oven it's 350 degree heat for 17 minutes). I eat them with sour cream and guacamole. I get 8 burritos per batch, but you may get less if you fill them really full (or more if you skimp on filling).
IF YOU ARE GOING TO FREEZE THEM...
If you'll reheat them by microwaving, there's no need to wrap in foil. Just stick in a plastic baggie and get the air out before zipping them closed. If you'll reheat them in an oven, then wrap in foil before placing in plastic bags.
TO REHEAT FROM FROZEN IN THE MICROWAVE...
Open plastic bag and zap for a minute. Remove burrito from plastic bag, put on a plate, then massage the burrito to break up frozen bits. Transfer to a plate and microwave for another minute. I then massage again to make sure there are no frozen parts. Then I let sit for a minute and zap for another 20 seconds or so... which has them come out perfect in my microwave (kinda low-powered). Your microwave may vary.

But before I go...
I am gravely concerned about rising food costs. It's been bad in the past, but it's insane now. Some of that probably has to do with my small town grocery store having higher prices... but it's been a growing trend for quite a while even when I shop at a chain store in The Big City. Used to be $100 would fill the entire back seat of my car. Now I'm lucky to get three bags out of it. If this keeps up, how are people going to afford to eat? Something tells me that food ain't going to be getting any cheaper any time soon.
Posted on October 18th, 2018

If there's one thing that I'll never run out of, it's mayonnaise. This is by far my favorite condiment, and I eat it at a crazy pace. I love it on fries, sandwiches, grilled cheese, salads, dressings... a lot of things, really.
Not long ago when I was cleaning out my refrigerator, I had six bottles/jars of the stuff... with at least another six in the pantry...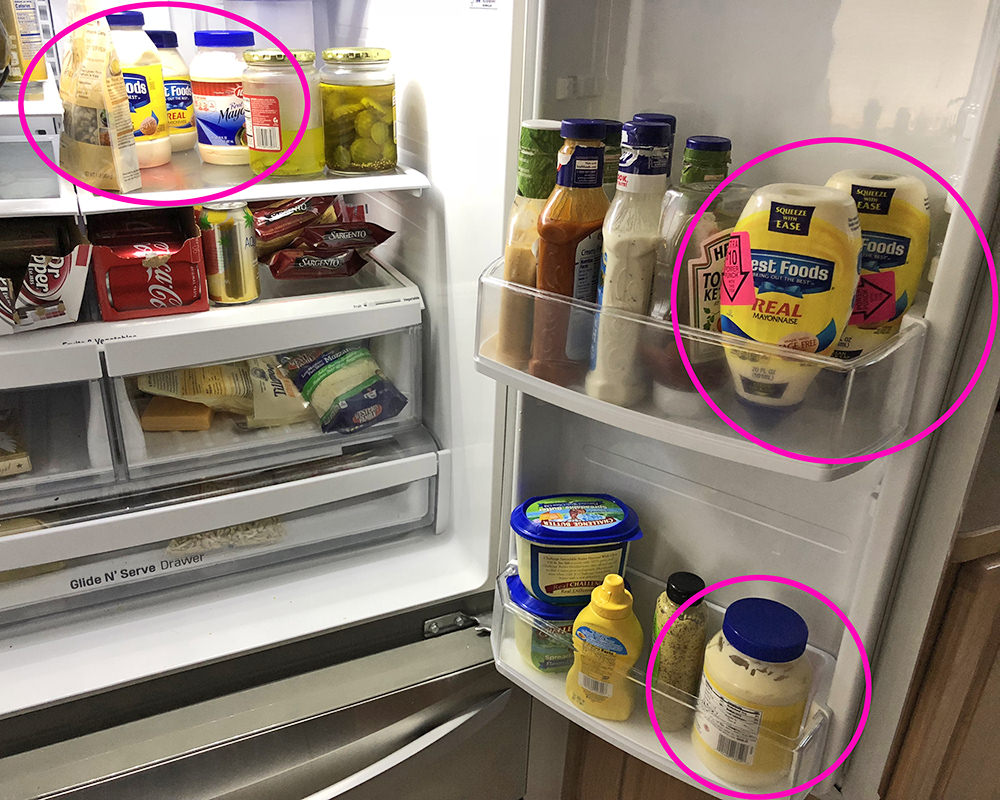 My favorite mayo is Dutch mayo for its delicious flavor and oh-so-creamy texture. But it's pretty expensive since it has to be imported. The easiest-to-find mayo that I buy most regularly is Best Foods (Hellmann's to some areas of the country). I like Duke's but it has to be bought via mail order because they don't sell it here.
I loathe "light mayonnaise." It tastes just awful... and usually has a harsh lemony taste to compensate for whatever it is they suck out of it to make it "light." I would really like to go vegan so poor chickens don't have to be exploited to make real mayonnaise... but there's no vegan stuff I've tried that I really want to eat (I've added a small section on that to the end of this post).
But anyway...
---
REAL MAYONNAISE
You have to be careful here, because some people want to group mayo-like dressings and sauces in with actual mayo (like Miracle Whip). Well, newsflash, MIRACLE WHIP IS NOT MAYO! Not to say I don't like it, because I do (especially on grilled cheese and in macaroni salad... at least until they made it water-based instead of oil-based), but when I need mayo it's not going to cut it. Here is what does...
Remia Mayonaise
Flavor: creamy dreamy • Texture: creamy • Score: 10
Here it is... the mayo to beat all mayo. Unlike American mayo, Dutch mayo is so creamy and velvety without any kind of gross gelatinous gloppiness to it. And when it comes to flavor, it's sublime because it doesn't have this overwhelmingly eggy taste... but still tastes like mayo. Great on sandwiches. Great in salad dressing. No need to mix with ketchup for your fries, it's flawless straight out of the bottle. My favorite over any American mayo by a mile.
Calvé Mayonaise
Flavor: creamy dreamy • Texture: creamy • Score: 9.5
When tasting this Dutch miracle side-by-side with Remia, they're very close. And I'd take either one over any American mayo any day of the week and twice on Sunday. I think I give Remia the edge because that's the one that's easiest for me to find. Remia also has a slightly cleaner taste to me.
Duke's Real Mayonnaise
Flavor: tangy great • Texture: gelatinous but creamy • Score: 8
If somebody is going to battle me to the death over my Best Foods (Hellmann's) addiction, this is the mayo they're willing to fall on their sword for. The texture is definitely a little oily but mostly creamy... even a little creamier than Best Foods... but what I like about it is that it's all zip and doesn't have a sweet taste to it. For that reason, this is the American mayo I prefer for fries. But not sandwiches, where it can easily take too much away from other toppings. When it comes to salad dressing, this one is in a toss-up with Best Foods. If I have sweet toppings on my salad (like dried cranberries or candied walnuts) I'll go with Best Foods because it compliments better. If it's just veggies, give me Dukes, where that added tang is appreciated.
Best Foods (Hellmann's) Real Mayonnaise
Flavor: baseline great • Texture: gelatinous glop from hell • Score: 7.5
This is essentially the "baseline" mayo for me. It's what my great grandmother used. It's what my grandmother used. It's what my mother used. It's what I use most times. The flavor profile is eggy but clean with a hint of sweetness. Where it falls way, way short is the texture, which manages to be creamy when spread, but a gelatinous glob when you spoon it out. For this reason I like it on sandwiches and burgers quite a lot... salad dressing okay... and fries not at all. I might have put Best Foods (Hellmann's) above Duke's for sheer nostalgia's sake, but they went and changed the recipe in the early 2000's. And not for the better. I don't know that I taste a heck of a lot of difference from what I remember (I'm probably romanticizing it) but it doesn't seem the same.
Kewpie Mayonaise
Flavor: savory eggy bliss • Texture: creamy • Score: 7
Japanese mayonnaise is equal parts Dutch mayo, American mayo, and Miracle Whip... but not in a bad way. And while I don't know that I would want to eat this all the time because it has a bitter note to it, I very much like having it in my mayo arsenal. Good on fries. Fantastic on sandwiches. Amazing on vegetables and salads. I really like dipping grilled cheese in it. The secret? MSG. Ah yes. That much-maligned savory additive that freaks Americans the fuck out for no good reason. So much so that when Kewpie decided to start selling direct to the American market they dropped the MSG! I haven't tried the MSG-free version, I have no plans to do so. There is absolutely nothing wrong with MSG, and the bullshit myth that's propagated through the USA is pretty stupid. And, according to Anthony Bourdain, racist. Find out more right here. NOTE: The primary ingredients for Kewpie are oil, egg yolks, rice wine vinegar, salt, and MSG. But there are also "spice" and "natural flavors" in the ingredients. Whether or not one of those "natural ingredients" is fish-derived, I do not know. Being as this comes from Japan I wouldn't doubt it. As a vegetarian, this bothers me somewhat but, since I eat it only on rare occasions, I just pretend there isn't.
Kraft Real Mayo
Flavor: sweet and serviceable • Texture: gelatinous • Score: 6.5
If you were to look up "generic mayo" in the dictionary, a photo of Kraft Real Mayo would be sitting there. It's not bad... but not particularly great either. Mostly due to it's sweet taste, which is kind of bizarre in a sandwich. Not good for fries by itself, but when mixed with relish and ketchup it can work.
Heinz Mayonnaise
Flavor: weird • Texture: gelatinous • Score: 5.5
This is the new kid on the block and one I was quite anxious to try because they claim to be the creamiest mayo out there. Could it be as creamy as Dutch mayo? Only one way to find out... so I ordered a couple bottles. First of all... LIES! It's the same gelatinous texture you'll find in most American mayo. The first thing I did when I got the bottle was to squeeze out a bit then shake the bottle. If it were truly creamy, it would have some "flow" to it. But it most certainly does not. It "breaks" in the bottle and hangs together in a gloppy mass. Even worse, the flavor is "off" in a way I can't quite describe. Not necessarily from the ingredients, but because of the way they process it maybe? Not heinous, but not something I plan on buying again either.
Sir Kensington's Mayonnaise
Flavor: weird • Texture: gelatinous • Score: 5
Everybody was raving about Sir Kensington's Fabanaise vegan mayo, so when I ordered some to try I ordered a jar of their "real" mayo as well. I don't exactly hate it... but it's got a weird taste to it. Kind of a lemony toxic waste flavor that lingers in an odd way. It's almost bordering on Miracle Whip, but not really. Might be okay in a potato salad? Wouldn't buy again.
Bama Mayonnaise
Flavor: sweet on the back-end • Texture: gelatinous • Score: 5
Despite coming from Alabama, I actually bought this when I was passing through Mississippi. This is another Miracle Whip wannabe masquerading as mayonnaise. I liked it on a grilled cheese sandwich, but almost nowhere else. It was pretty abysmal on fries.
Blue Plate Mayonnaise
Flavor: sweet vinaigrette • Texture: gelatinous glop • Score: 5
A New Orleans staple, I was crushed that I didn't know to pick up a jar in my many visits to the city, so I had a blog reader send this to me to try. My initial thought is that it's trying to imitate Duke's, but is doing a bad job of it. If I was having this plain on a salad it might be okay... but there's this strong vinegar taste that is fighting a weird sweetness that comes off all wrong to me.
Whole Foods 365 Mayonnaise
Flavor: overly eggy • Texture: gelatinous glop • Score: 4.5
This tastes more like light mayo than traditional mayo to me... saturated in weird lemon overtones in an effort to be tangy. Like they ran out of vinegar and just decided to dump extra lemon juice in there to compensate. Absolutely terrible on fries, even when mixed with ketchup... but not entirely terrible in an egg-salad sandwich (which is the only place I used this stuff until it expired and had to be thrown out). If there's a redeeming quality to this it's that it's not as heinous as the Whole Foods vegan mayo, which is foul.
Safeway Organics Mayonnaise
Flavor: grotesque • Texture: gelatinous • Score: 4
This is the skunk weed of mayo. It has a bizarre taste (dirt?) that lingers on your tongue and kills your palate. The texture is okay for an American mayo, but I'll only use this when there's nothing else available. If I have this on fries, it has to be mixed with a lot of ketchup.
---
VEGAN MAYONNAISE
Look, the stuff is not mayonnaise. It's just not. So stop trying to make vegan mayo happen. Sure, some are more tolerable than others, but I just don't care for it. The stuff will never take the place of authentic real mayonnaise.
Sir Kensington's Fabanaise
Anybody saying that this is "just as good as regular mayonnaise" is seriously deluded. That being said, this would be my go-to mayo if I decided to go vegan. It lacks the density of a good traditional mayo, but has a decent substitute flavor profile that isn't awful.
Best Foods (Hellmann's) Vegan Mayo
No, it's not the same as Best Foods... not even close... but it's at least serviceable as a sandwich condiment, even if it doesn't really taste like mayo to me.
Follow Your Heart Vegenaise
This is the very first vegan mayo I tried (it may be the very first ever made) and I found it gag-inducing. Threw out the jaw after trying just once. But... that was a very long time ago. I may be more tolerable of it if I tried it now knowing what I know about vegan mayo substitutes.
Hampton Creek Just Mayo
How the fuck can you call this "just mayo" when there's no eggs in it? It takes like whipped oil. Greasy and flavorless. You could probably use it to lubricate door hinges, but I wouldn't eat the stuff.
Whole Foods 365 Organic Vegan Mayo
So gross. Offensively gross. I would rather go without mayo than eat this slop.
---
And that's that.
At least until the next jar I find to try.