Posted on October 7th, 2019

New Orleans is my favorite American city...
...to visit. I don't think I could ever live here, because the heat and humidity would do me in. I dunno. Maybe I could eventually get used to it, but I do not handle sweating non-stop very well.
Yesterday on the plane I tried to count up how many times I've been to The Big Easy. My first trip was in 1983 for a DECA convention when I was between my junior and senior year in high school. It was my first trip outside of the state by myself. And I mean really by myself, because my chaperoning teacher couldn't make the trip. New Orleans is probably not the best place to be 17 years old and totally unsupervised, but I lived to tell the tale. And here I am on my 11th... or maybe 12th or 13th... trip to New Orleans. It's hard for me to remember all the trips I took before I started a record of my travels at Blogography (yet another reason to keep blogging, I suppose).
Dinner last night was at Coop's Place...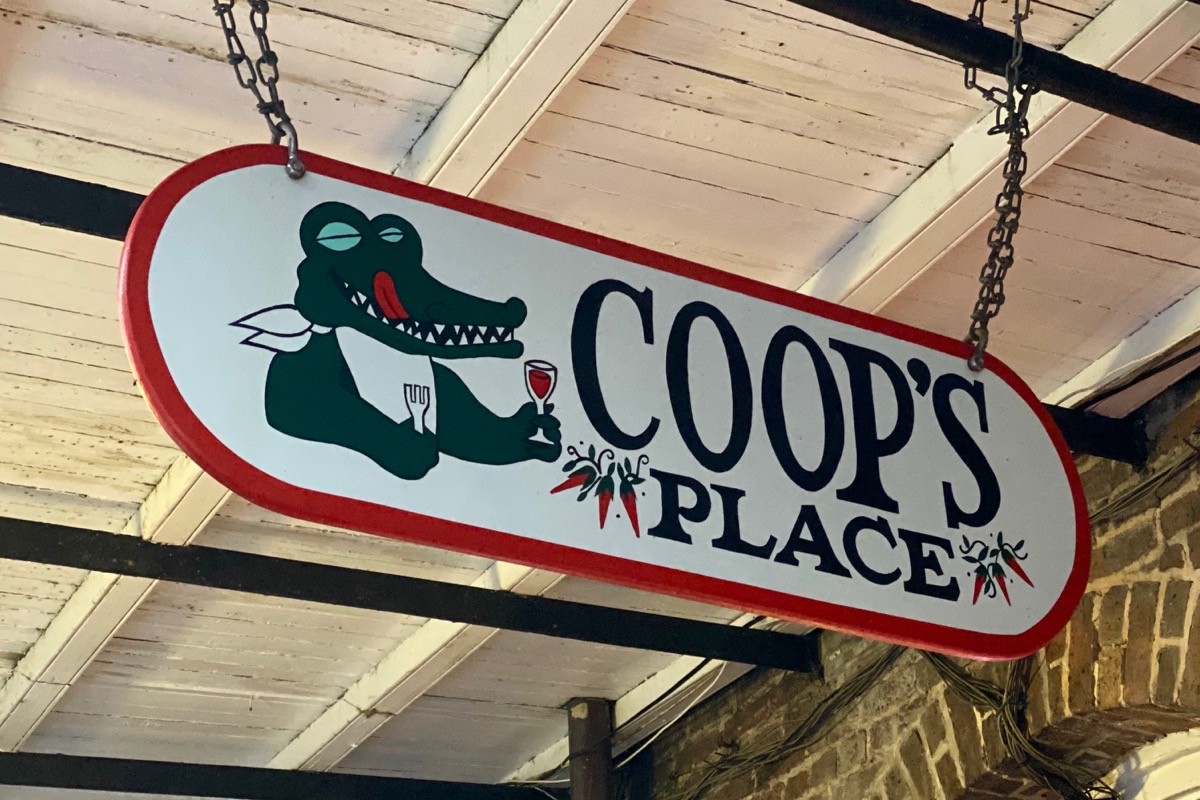 This is one of those dining establishments which makes me feel sorry for people eating here who don't know what to expect. The food is excellent, but everything else is a bit rough around the edges...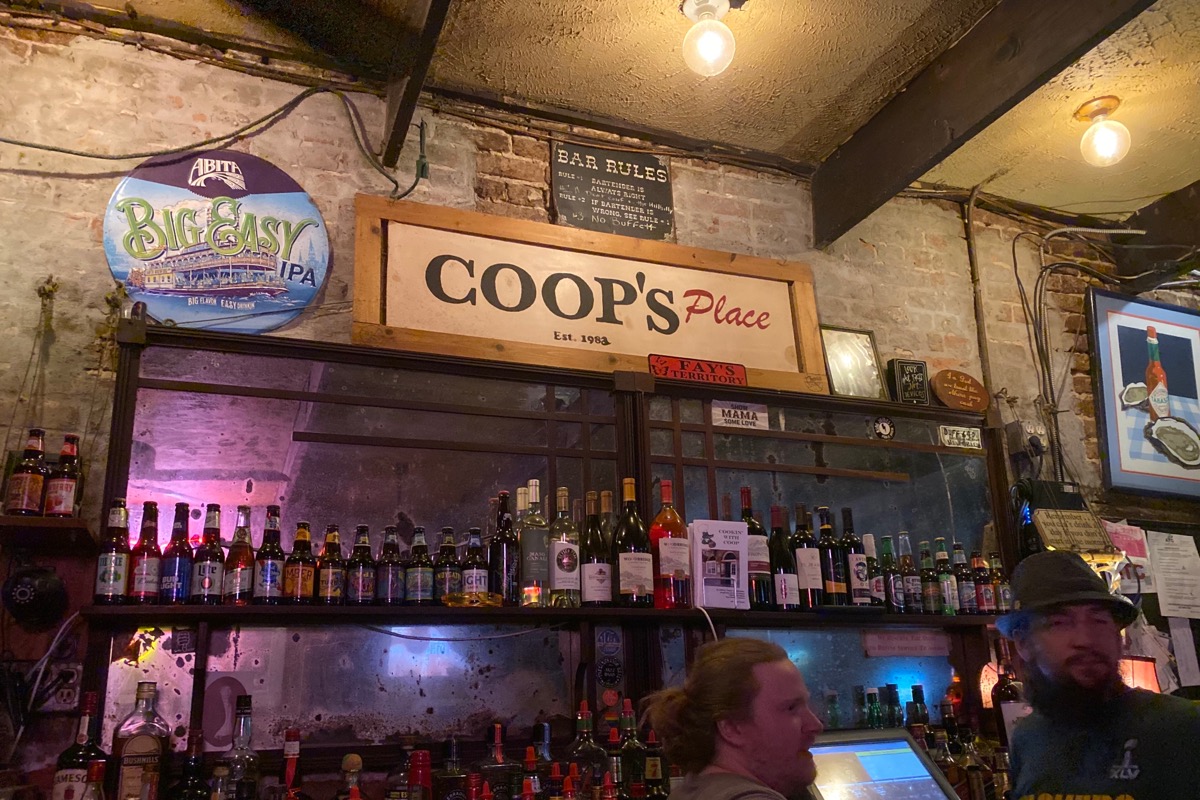 You'll be eating your veggie burger when all of a sudden a group will ask their server if they can split the check. Then you've got the server screaming "HEY! DO WE SPLIT CHECKS HERE?" And everybody in the establishment will then scream out "FUCK NO!" or just "NO!" If they're being nice about it. And you can expect the same treatment any time you ask for anything special or even think about hassling the staff. They are simply not here for it. Which is part of the fun, I guess. I was here to eat, drink too much, and watch The Saints game on Coop's battered old CRT television...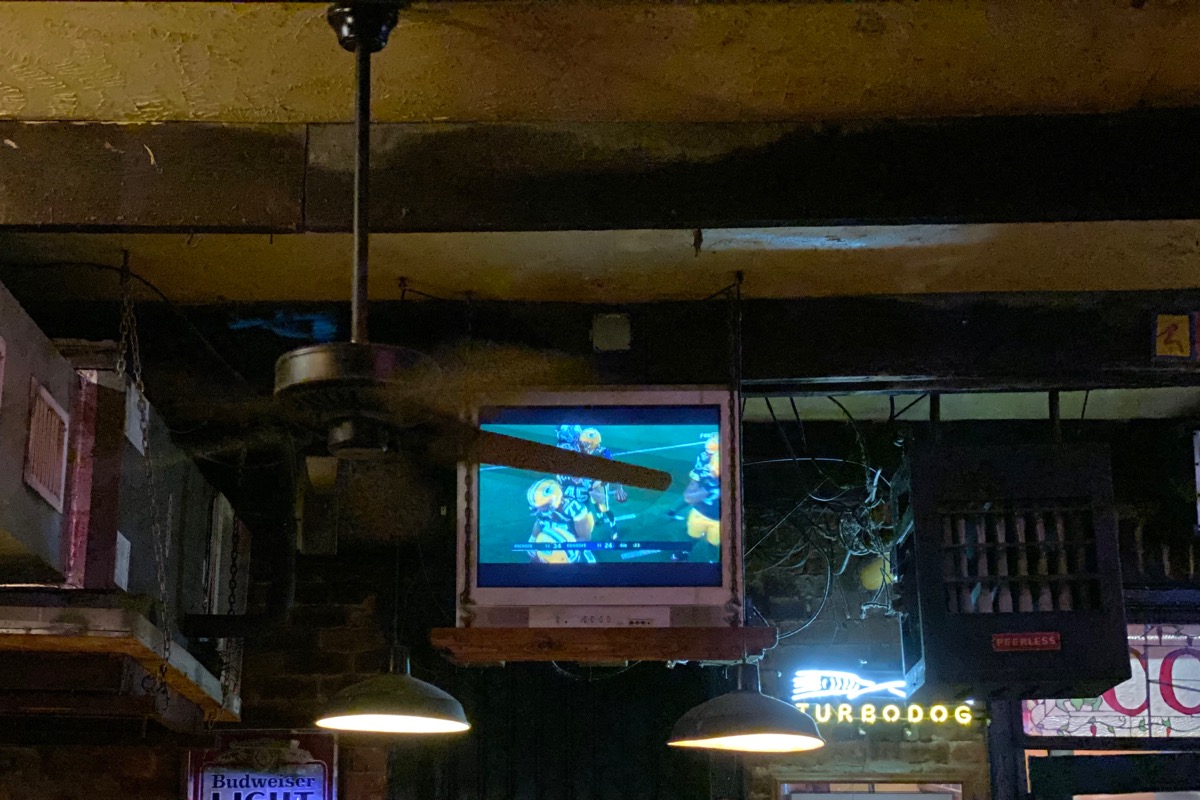 Every time I eat here, I am shocked that I don't end up with some kind of food poisoning from eating mayonnaise that's not refrigerated and has been sitting out in a warm bar all day, but I never have...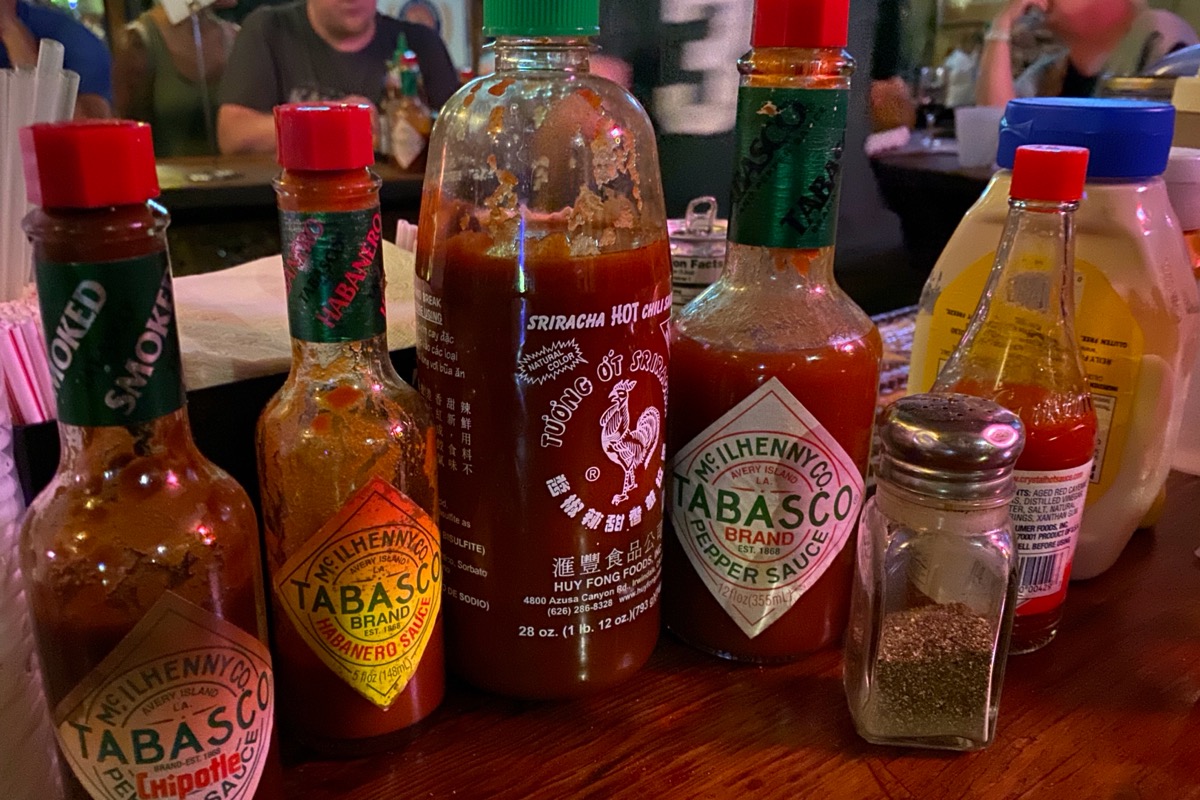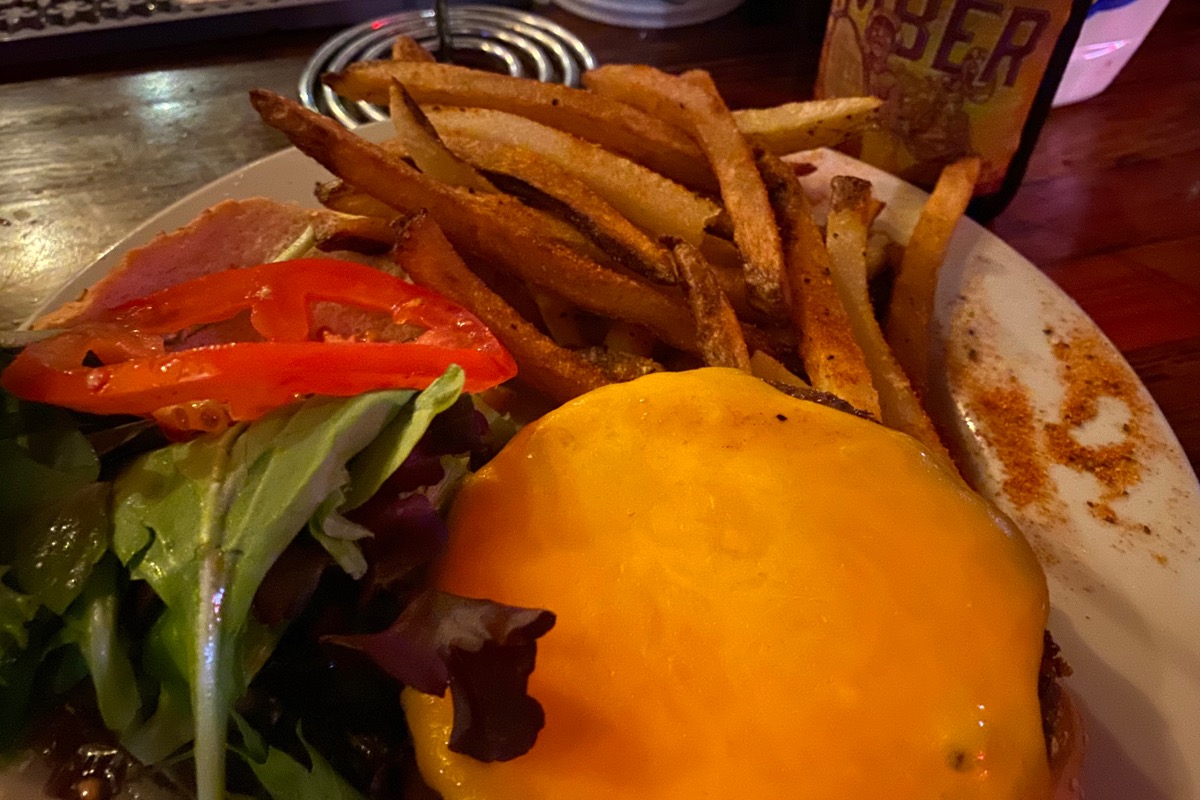 I ate and drank too much considering I had to work this morning, but that didn't stop me from walking down Bourbon Street as I made my way back to my hotel...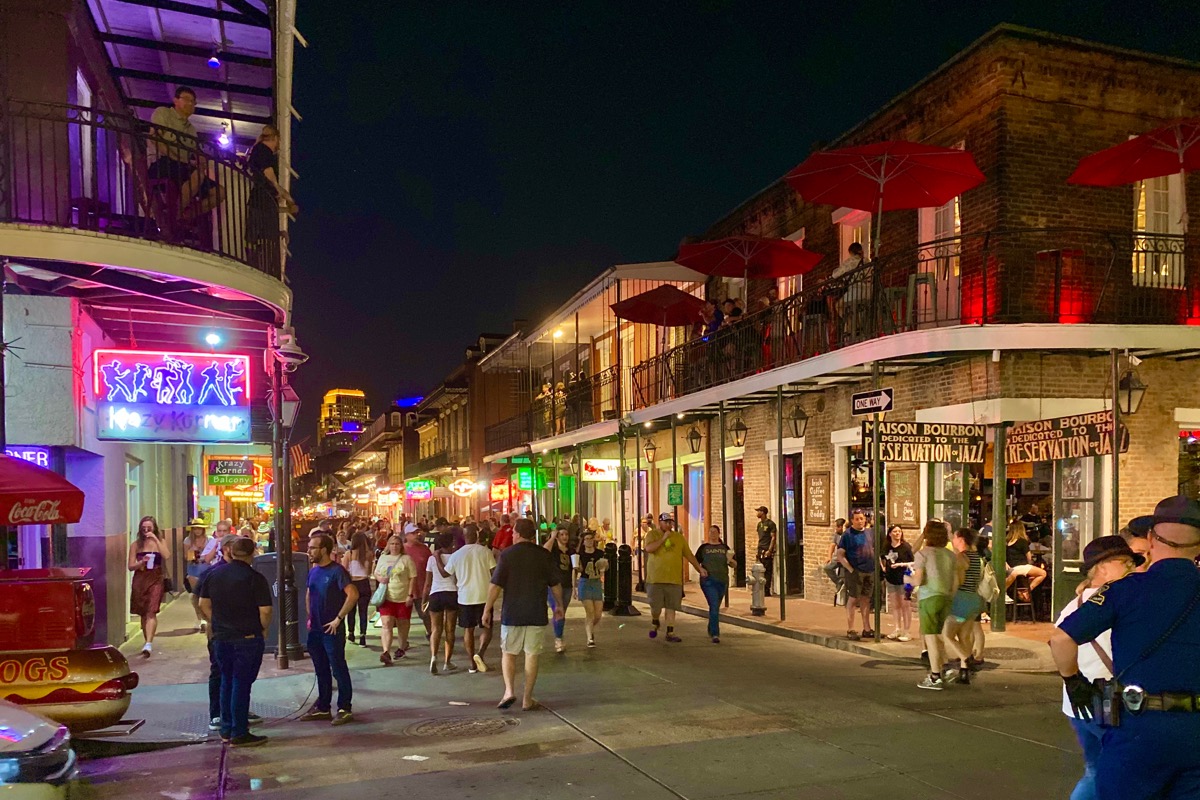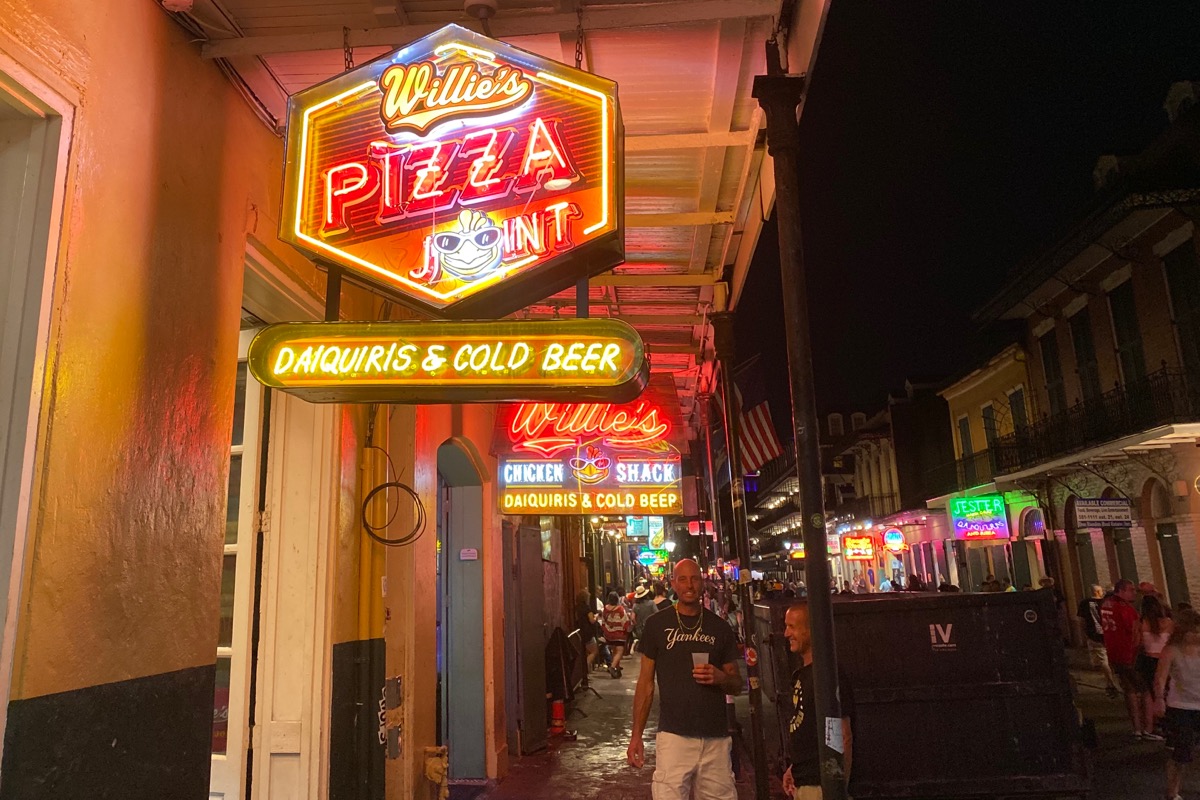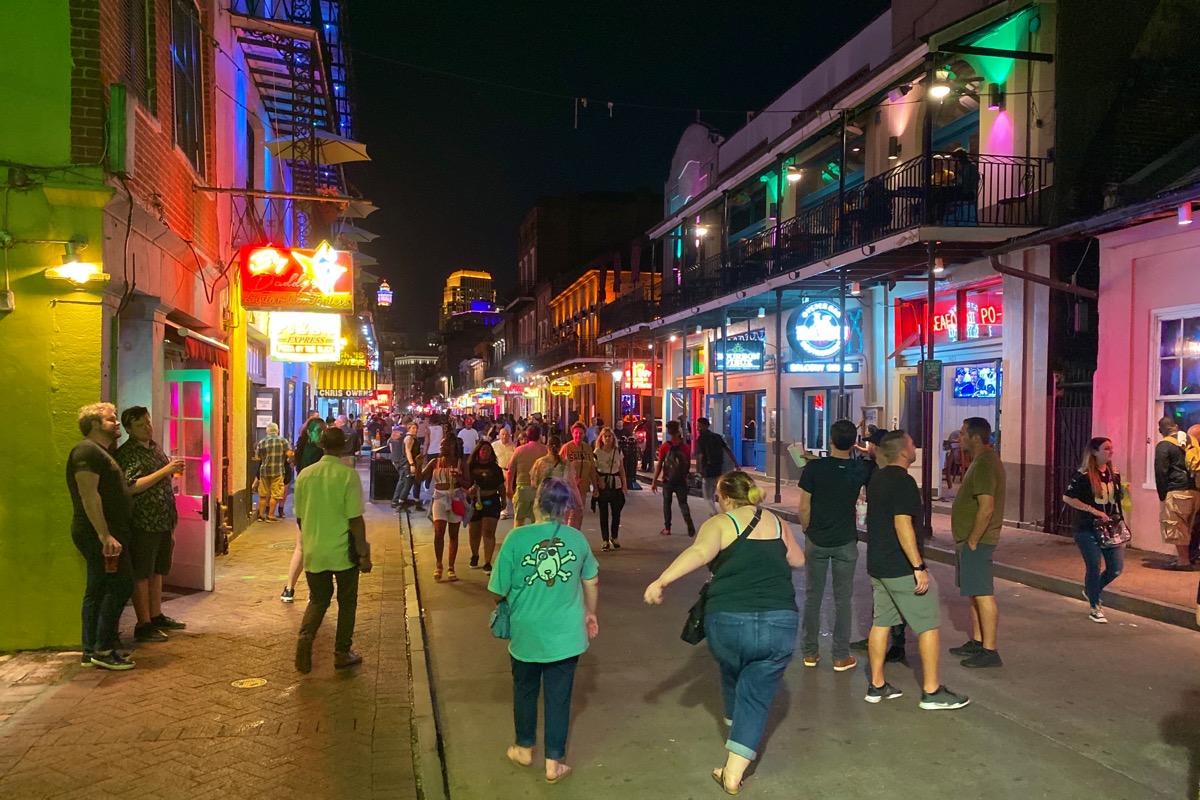 I then worked on my presentation materials until I fell asleep around midnight.
And today it was a brand new day. I had set my iPhone to wake me at 6:30am so I had time for breakfast before work. I was surprised that the alarm actually woke me until I realized I am still on Pacific Time, so it's 4:30am to me. Oh well. It was a glorious morning out, so I decided to take a stroll before eating. Jackson Square was beautiful as always...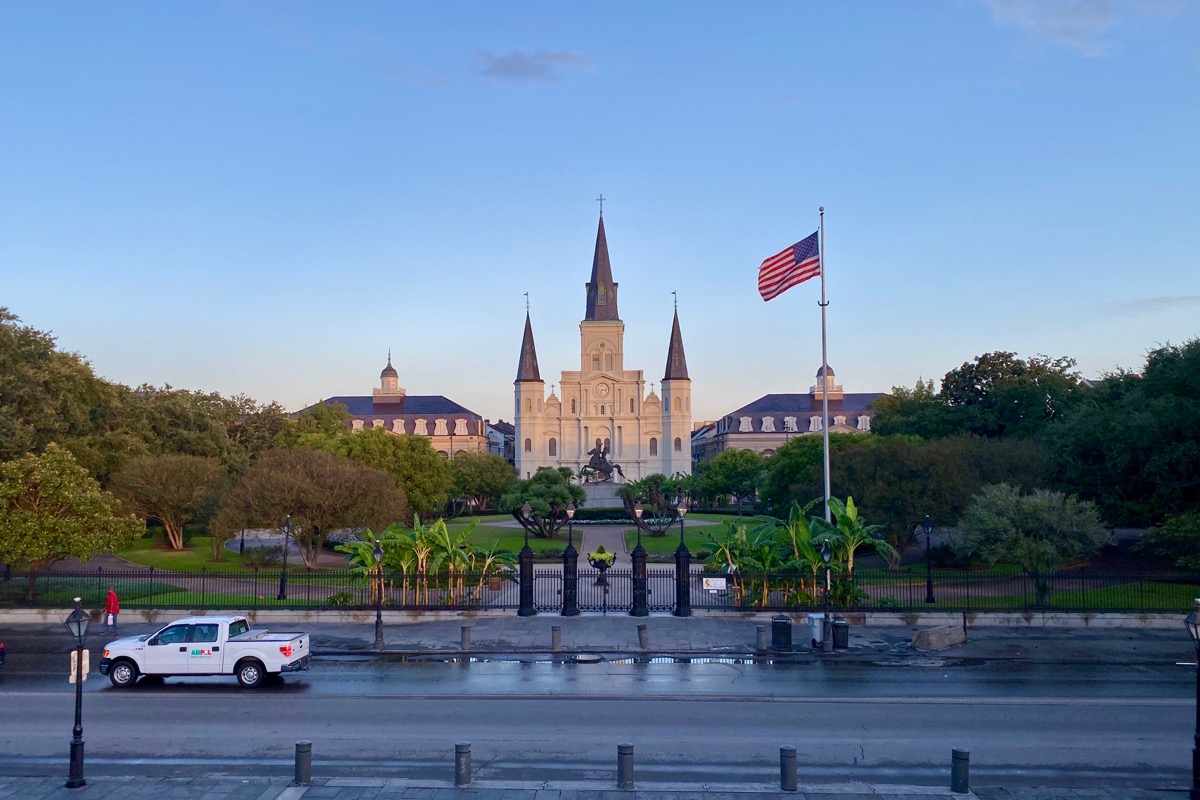 Zooming in with iPhone 11 Pro's telephoto lens to see the creamy morning light reflecting off St. Louis Cathedral...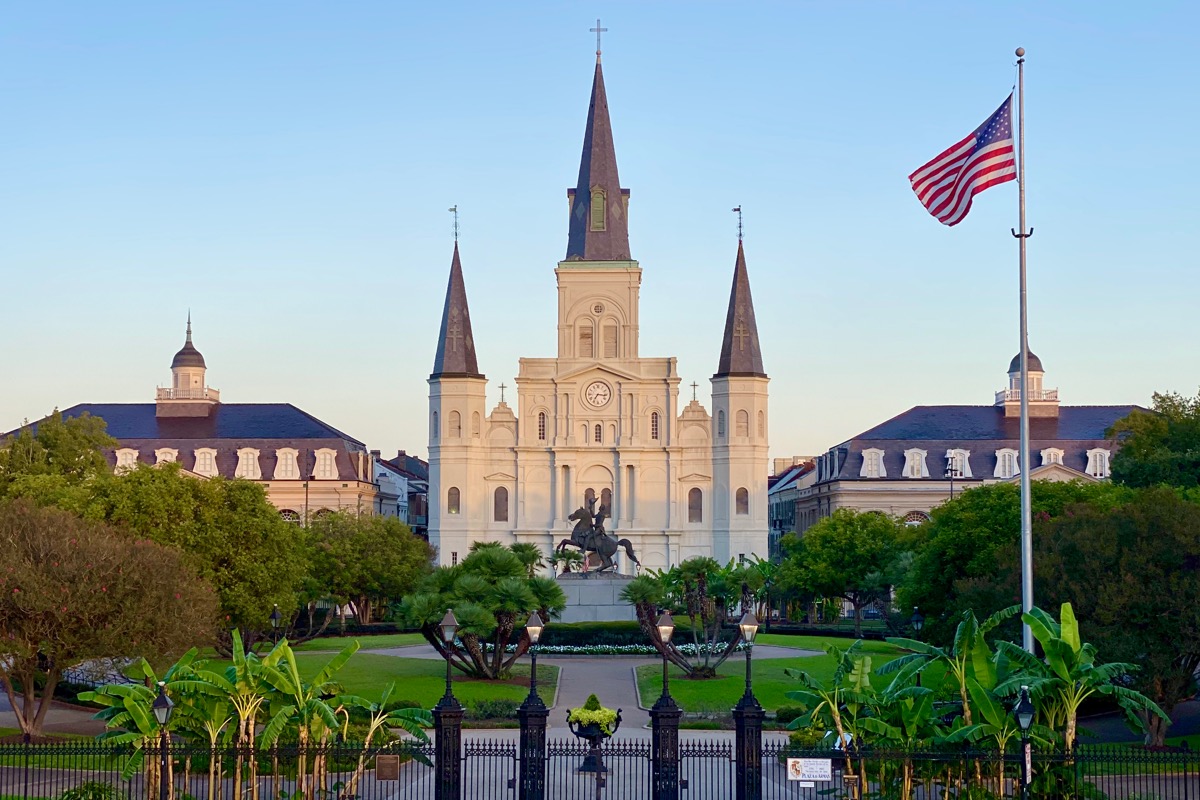 And here's using the amazing wide-angle lens...
That wide angle lens is just so nice when shooting in a city. Here are some comparisons between what I can capture without it vs. with it...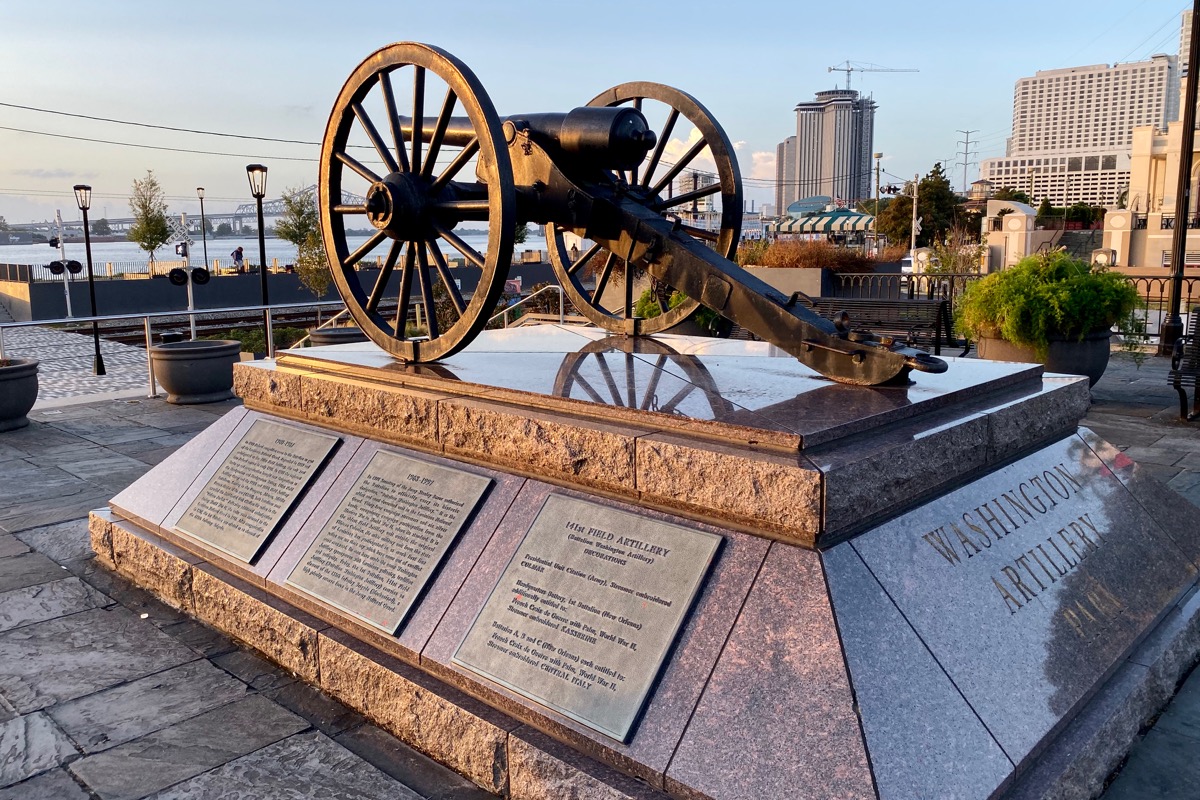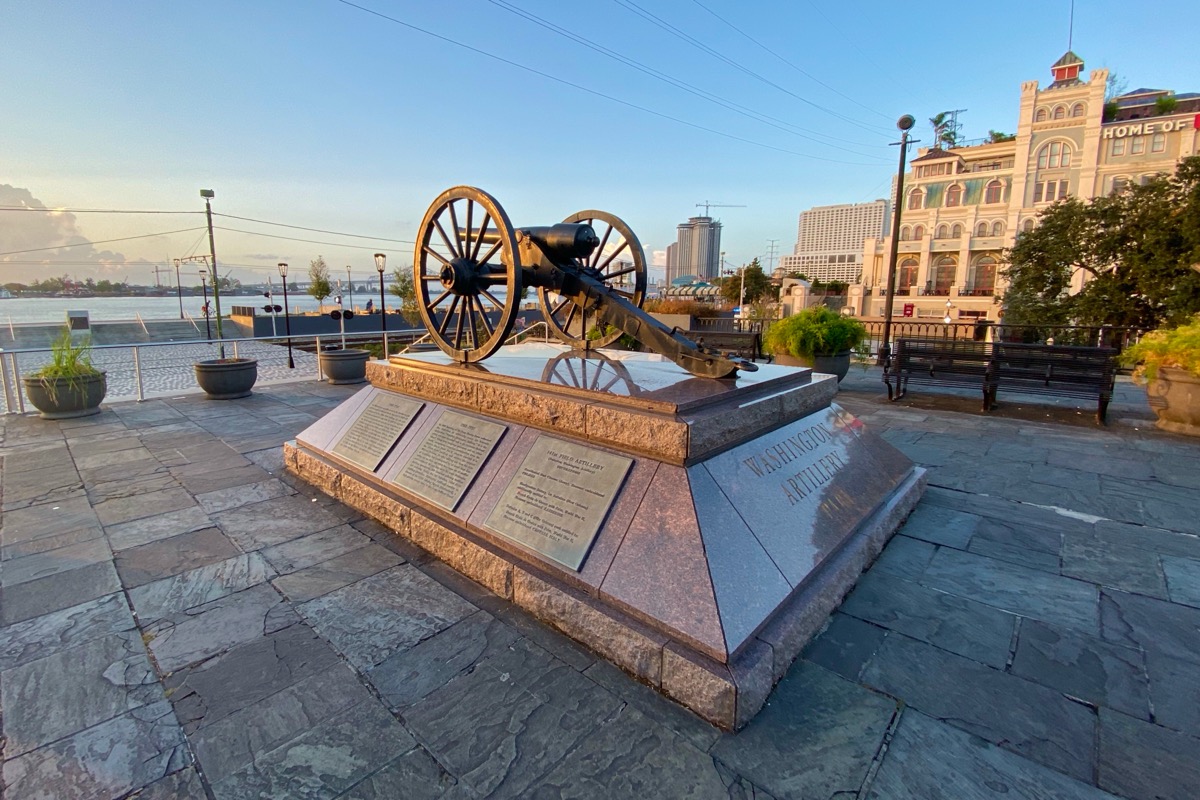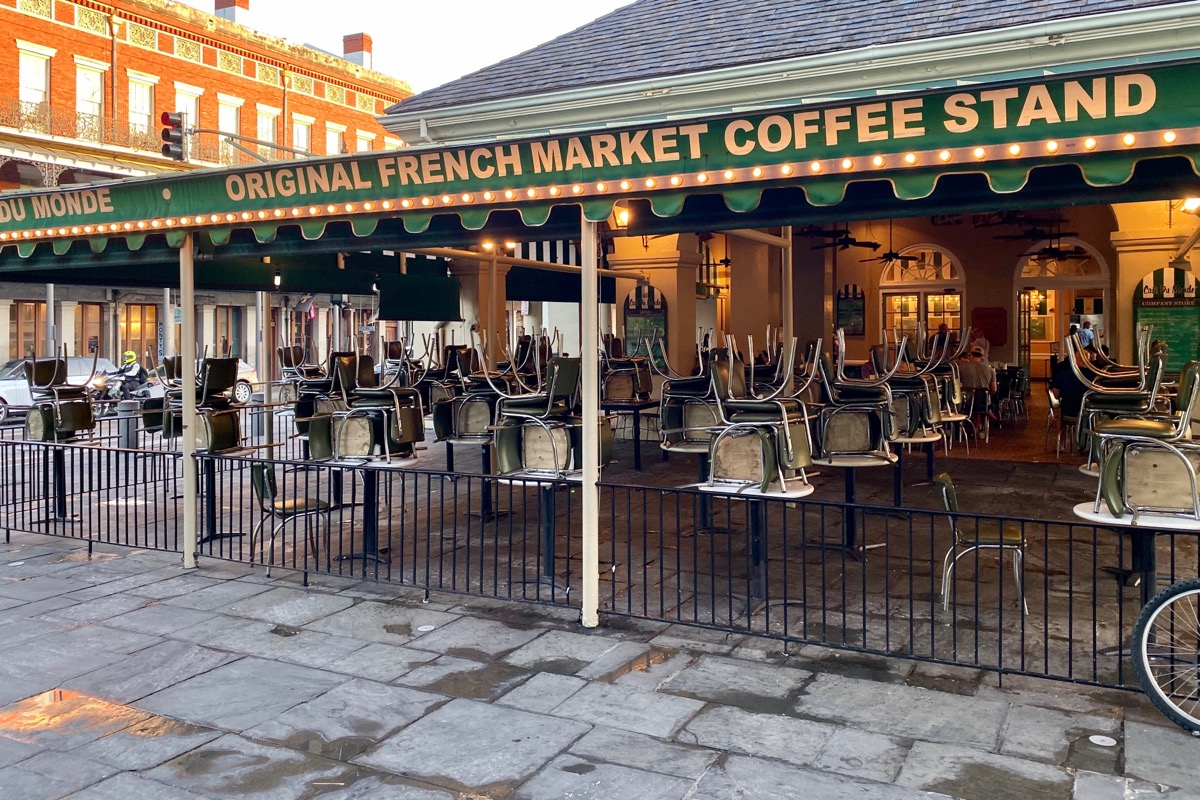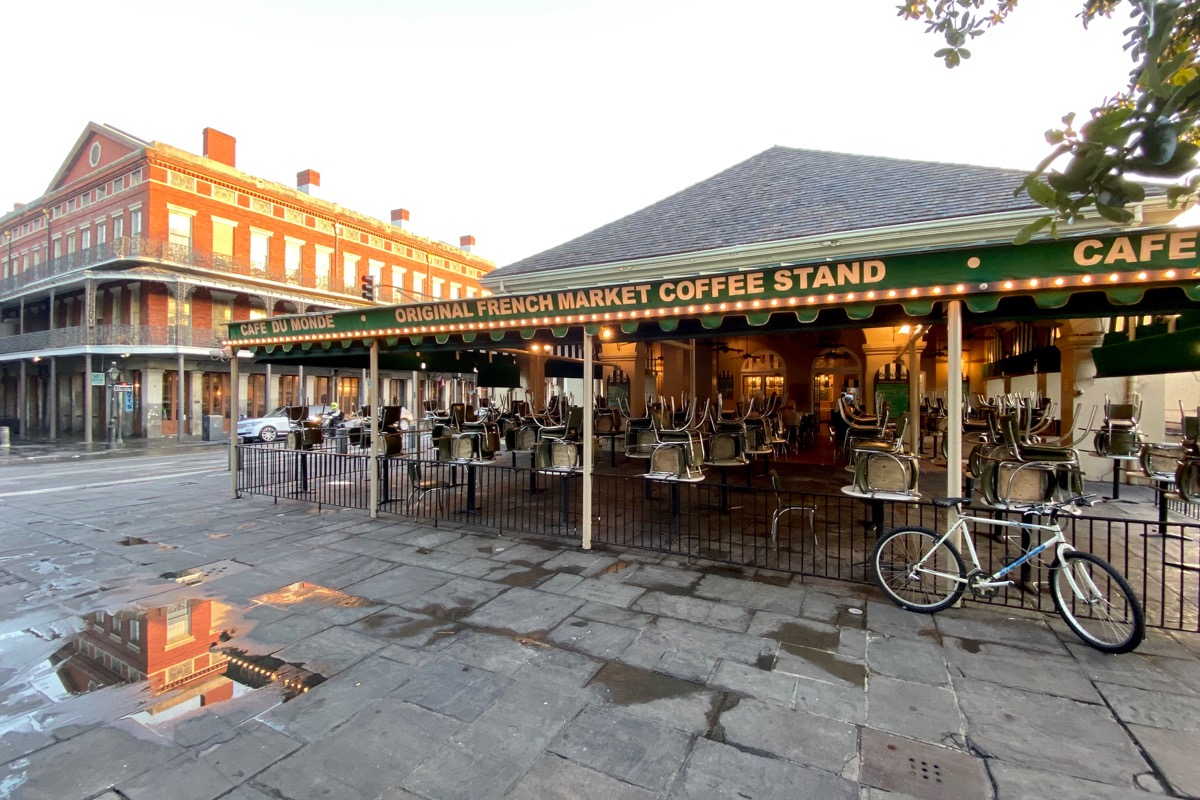 Interesting to note that new wide angle lens has prompted apple to add planar adjustments to the editor in Photos. It's very cool, assuming you have enough image to work with. Not so cool if you don't...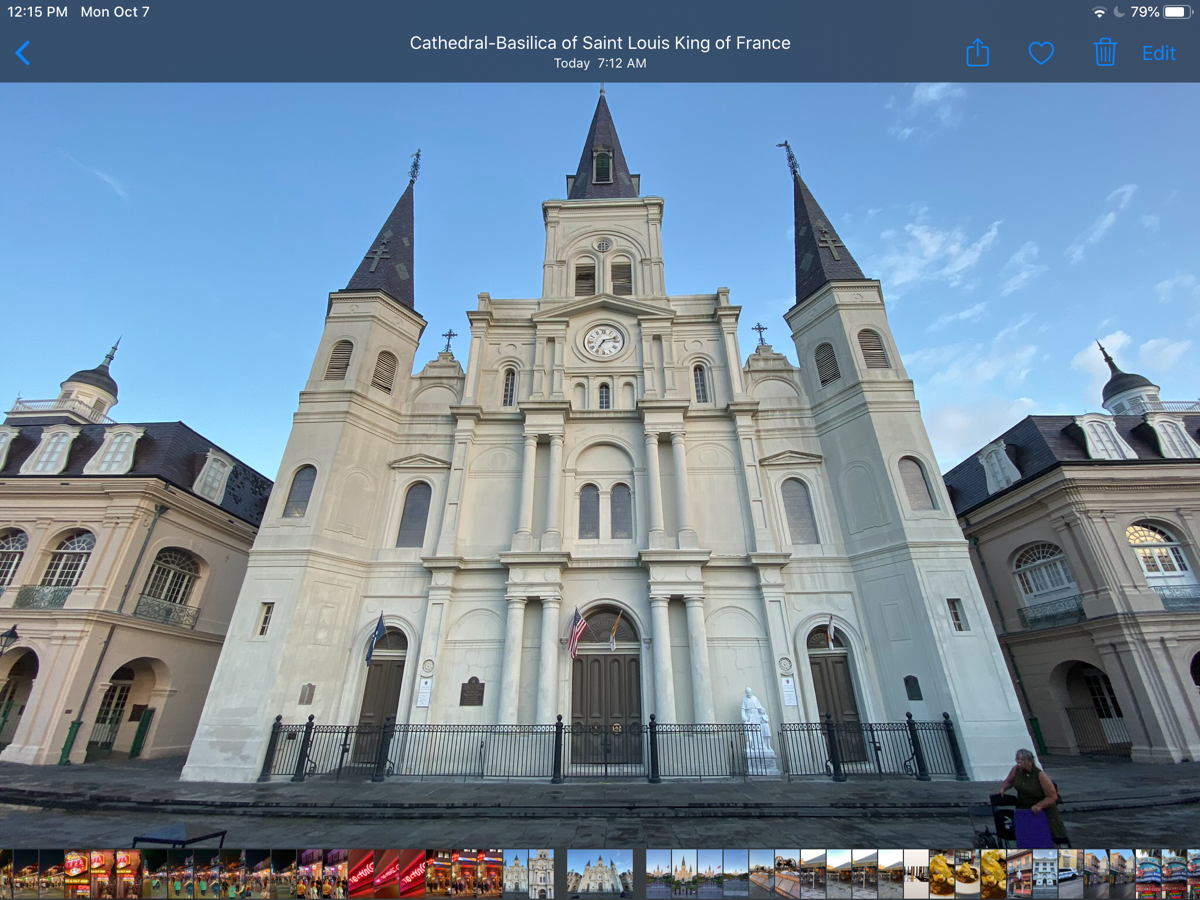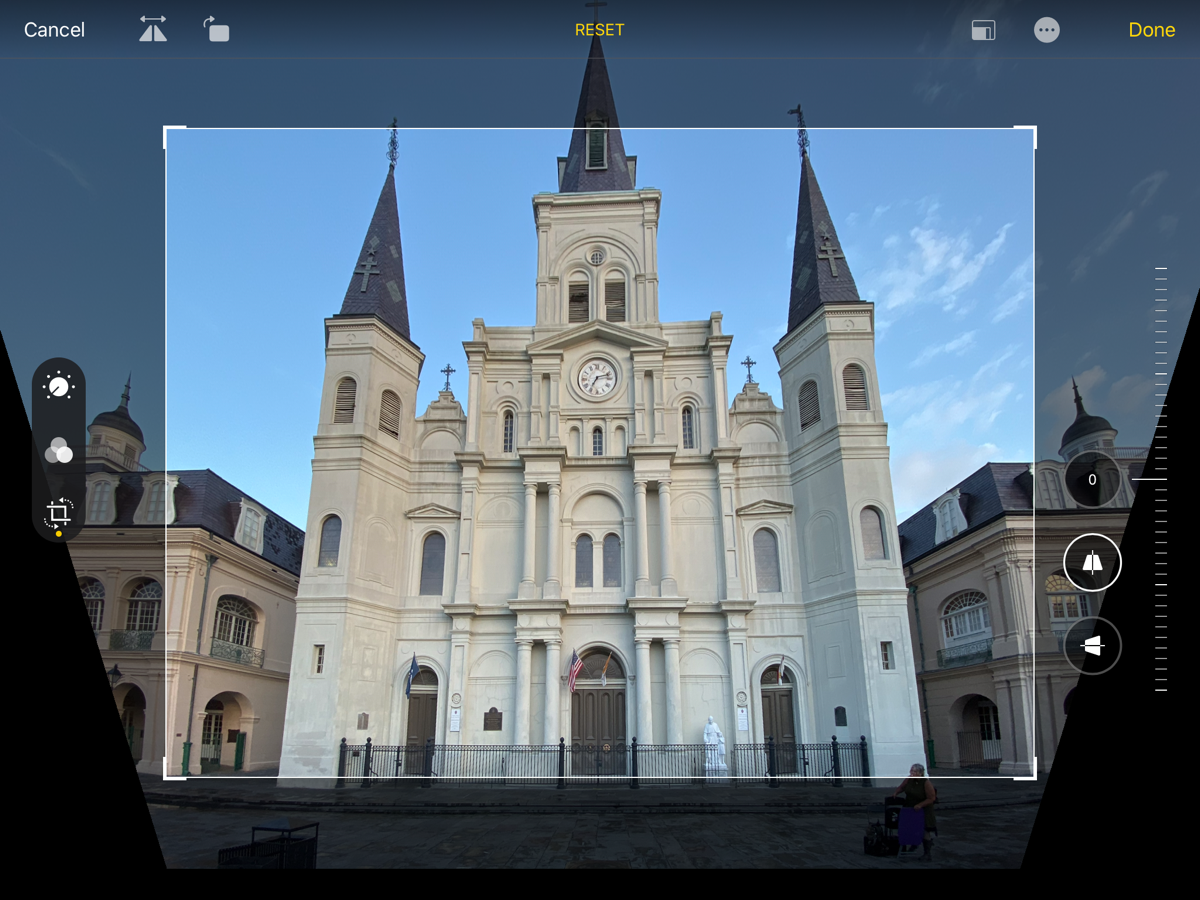 That could be fixed by switching to a square or vertical crop, however, so still... pretty darn cool.
After 20 minutes of exploring my New Orleans morning, I headed to Restaurant Stanley for my second-favorite Bananas Foster French Toast in the city, which was phenomenal, as expected...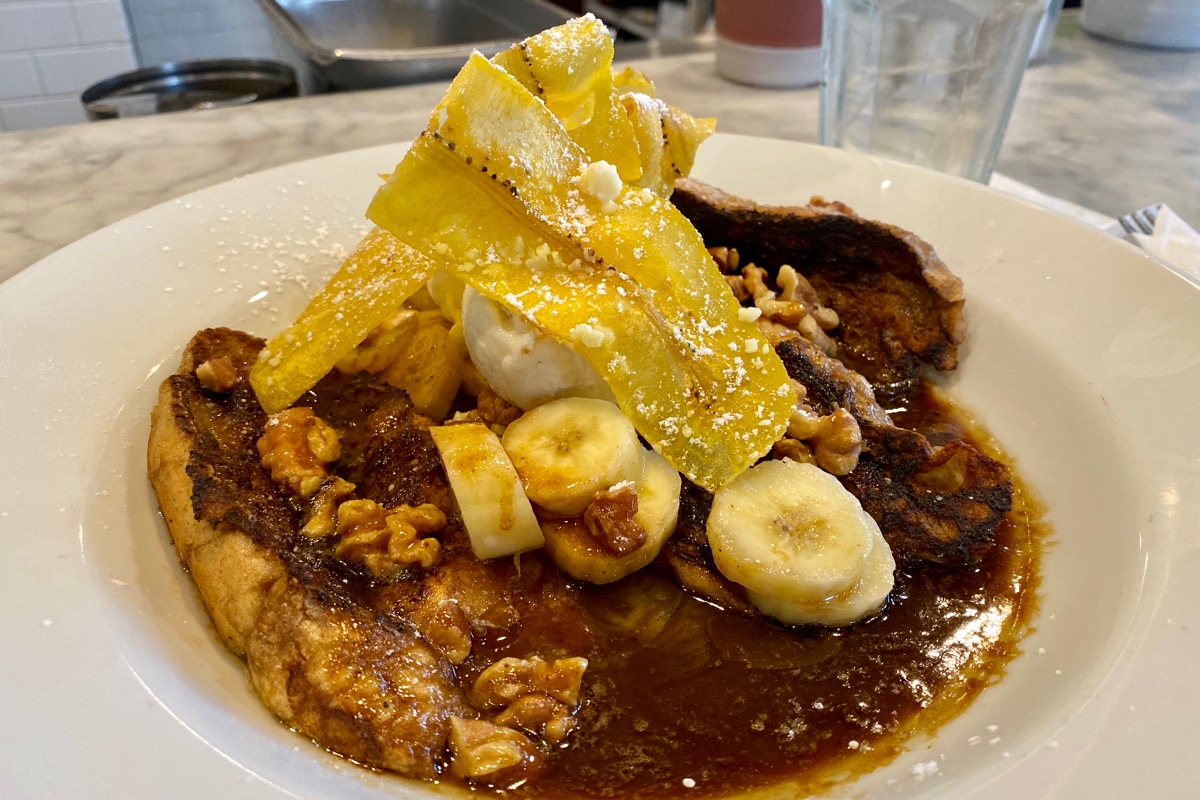 Alas, then it was time to head to work. But I got to walk down Bourbon Street on my way back, which is a very different scene in the daylight hours...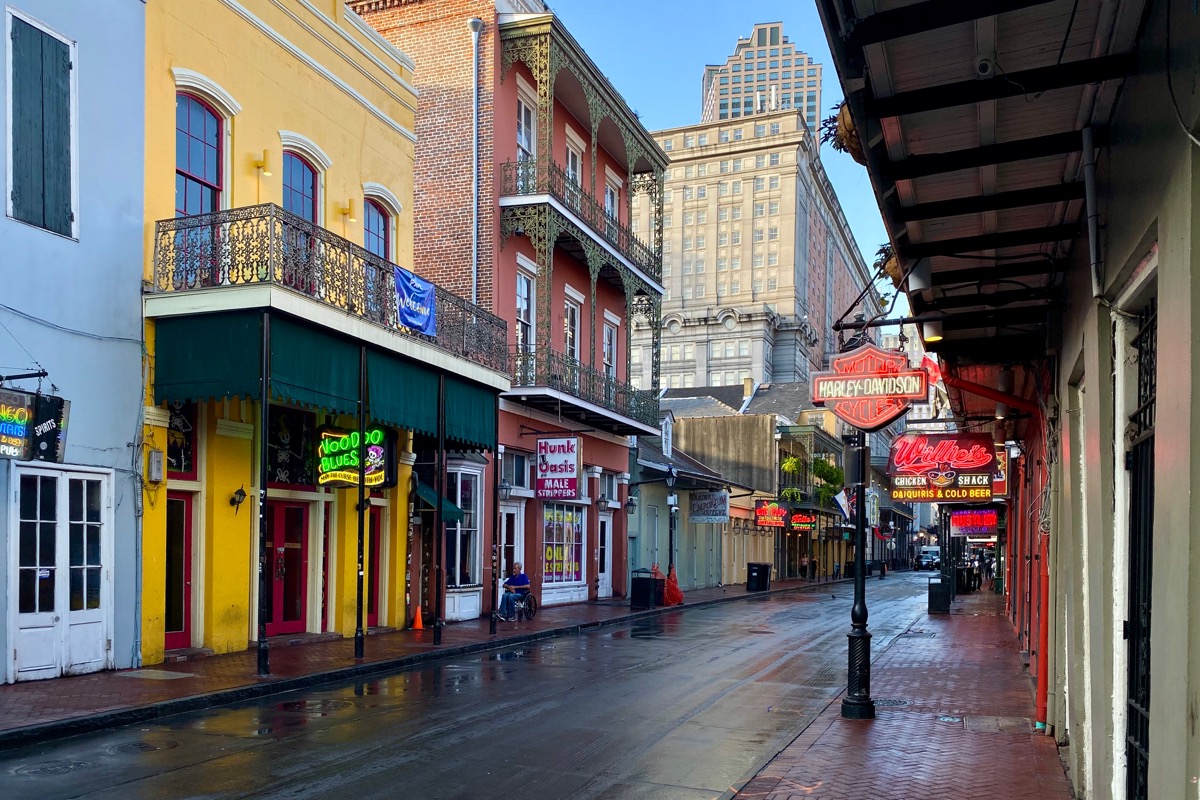 But it's nice to see some of the amazing signage there in good light...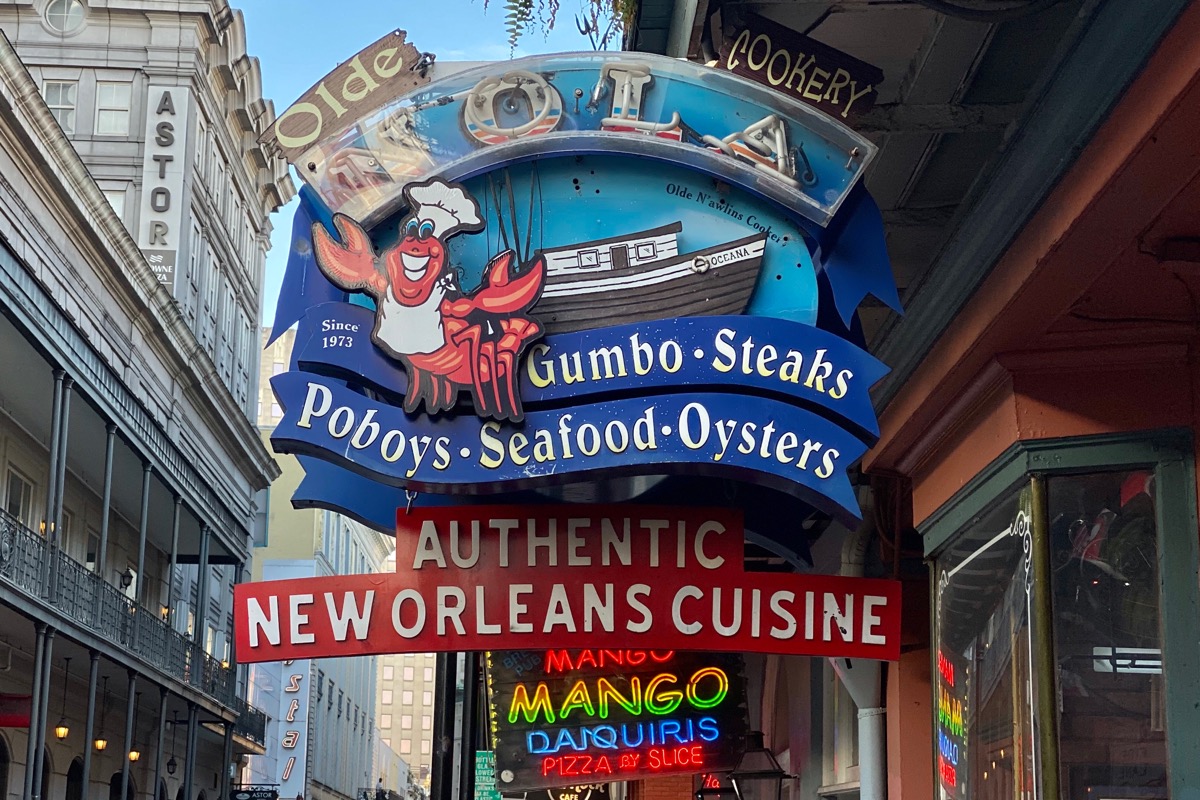 Then it was time for work.
And now I'm waiting on two work meet-ups this afternoon before this trip is officially a wrap!
See you on the West Coast next time, sports fans!
Posted on October 3rd, 2019

It is easier to set my Alexa alarm to 7:04am than to reset the clock on the cat auto-feeder which has been gaining time and drifting a little bit later and later every day. So that's what I did last night. There's no sense messing around with the feeder until stupid Daylight Saving Time ends on November 3rd.
This morning Jenny was NOT having it.
At 7am ON THE DOT she was on my bed meowing her head off wanting breakfast and was very cross indeed that Alexa hadn't chimed in on that. Can you imagine what my life will be like in November when I have to set the clocks back and she has to wait ONE HOUR?!? No extra hour in bed for me... I can guarantee that. Actually it will be two weeks of no sleeping in, because I change their clock in 15 minute increments over time until they are off DST. Apparently it helps them adjust easier...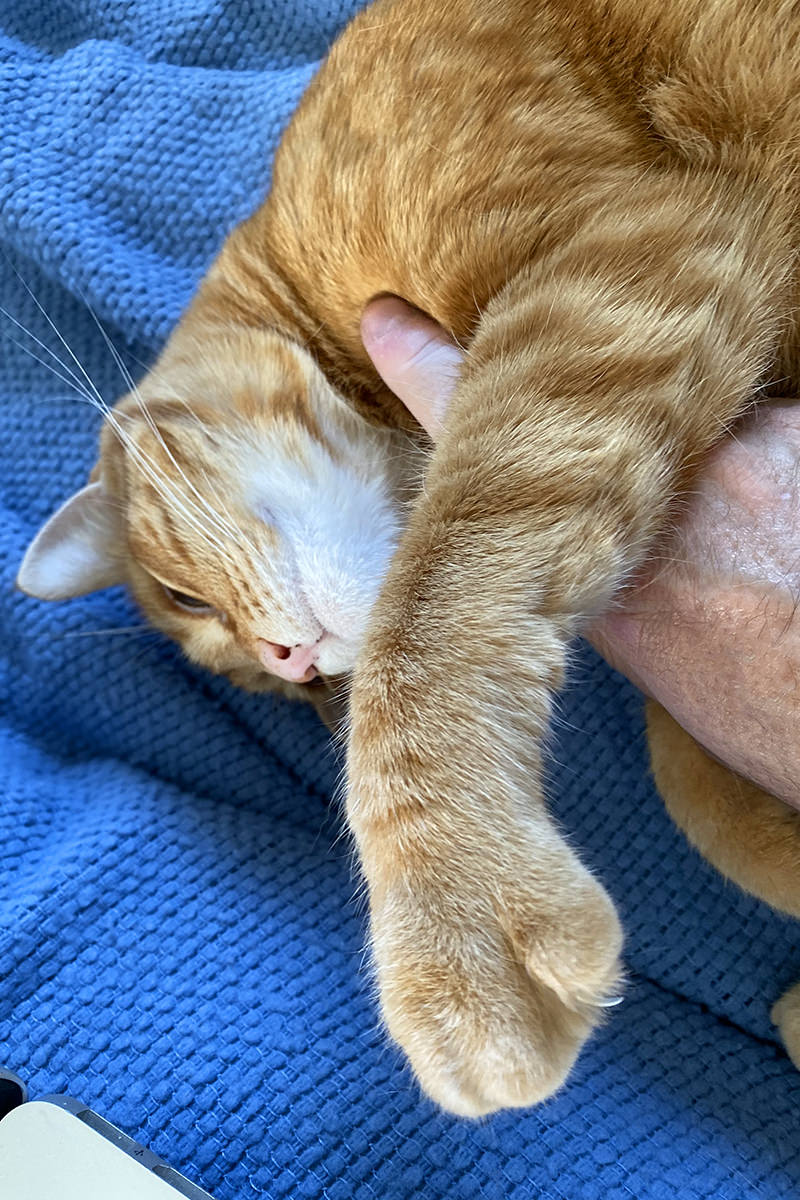 In other news... I was very nervous testing my blood sugar this morning. After all the potato salad I ate last night... and the huge bowl I had just before bed at 1am... I was sure it would hit 300. But nope! My spleen totally had my back and was a chipper 117 this morning. IT'S A POTATO SALAD MIRACLE!
Not a bad way to start my Thursday.
I am celebrating by having a bowl of potato salad for breakfast.
Posted on October 2nd, 2019

This afternoon I had to leave the office early so I could run home and wait for the people to come clean out the dryer vent so my home doesn't burn down in a lint-related disaster. It is a lot of noise as a metal wire with a brush on the end reams out the pipe leading to the vent (which is all the way across my home). Jake and Jenny were not happy about this intrusion on their nap time. At all.
After that was over, I boiled eggs and cooked Simply Potatoes so I could make potato salad. I then proceeded to eat potato salad for the rest of the evening because, let's face it, I make pretty dope potato salad.
But let's back this up for a second.
If you are not aware of Simply Potatoes, they are pre-peeled, pre-diced potatoes that cost ten times what regular whole potatoes cost. I refer to them as "luxury potatoes." Usually I don't have the money to be throwing away on such conveniences, but they were on sale for only five times what regular whole potatoes cost, so how could I say no to not having to peel and dice them?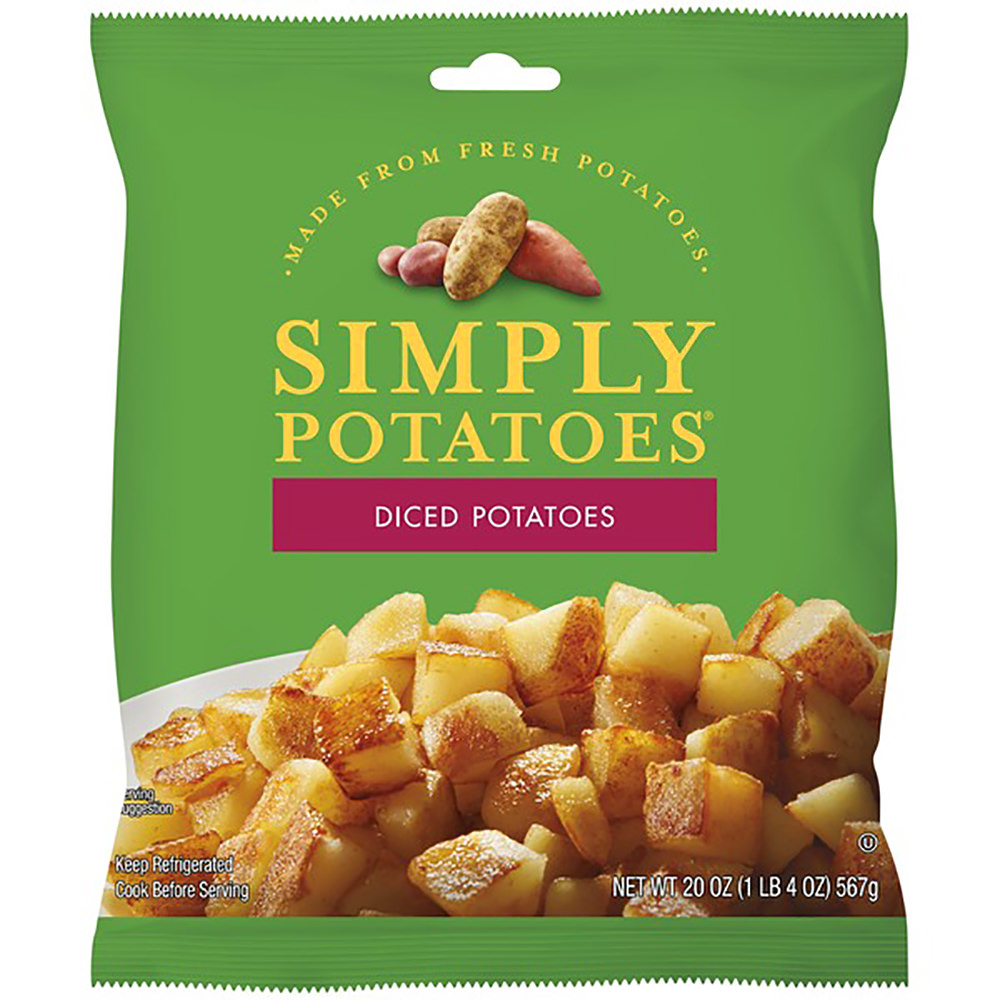 I could not.
Hence the unnecessary expenditure and the loads of potato salad I've been eating...

Dave's Potato Salad Recipe
Cook one bag of Simply Potatoes Dices in a 2-1/2 quart covered dish for 10 minutes, 20 seconds with 1/2 cup of water in the microwave on high. Microwaves vary so you will need to adjust the cook time accordingly, as you do not want tough, gummy potatoes.
Peel 4 hard-boiled eggs, then slice into small cubes in a large-ish bowl... then blend together the dressing ingredients in a separate small bowl...
1/2 cup Mayonnaise
1/2 cup Sour Cream
1/2 tbsp. Yellow Mustard
1/2 cup Dill Pickles (diced small)
1/2 cup Purple Onion (diced small)
3/4 tsp. Ground Black Pepper
1/4 tps. Salt
1/4 tsp. Celery Seed
1 or 2 tsp. White Wine Vinegar (to taste)
Add cooled potatoes to the bowl with the eggs, then gently fold in the dressing until everything is evenly coated. Garnish with paprika and diced scallions (green onions) or chives.
NOTE: Some people who have tried my recipe like less onion or... God help us... prefer something totally gross like celery instead. Or they want no crunch and leave the onions out entirely so they can use onion salt and garlic powder for flavor. Some people prefer dill weed instead of celery seed. Some people prefer sweet pickles instead of dill pickles. You do you, of course, but this it the recipe I've developed after trying countless others and I loves it just like it is!
Hmmm... now that I think of it, I really should have bought Luxury Eggs instead of fresh eggs. Pre-hard-boiled and pre-peeled, and only double the cost of boiling them yourself!
Or I suppose you could just skip making potato salad entirely and buy pre-made at the grocery store. Except... I don't know about where you live... but pre-made potato salad where I live is a grotesquely bland excuse for food which I avoid at all costs. I mean, sometimes they put celery in there! Yes, abhorrent celery... IN POTATO SALAD!
If your potato salad has celery in it? Then YOU, dear reader, are what's wrong with this country!
Posted on September 19th, 2019

I get it. Most of my readers don't even bother to look at other sites. Blogography gives you everything you need to survive, so it's pointless to go anywhere else. Which is why I feel it's important for me to review stuff that may be an essential piece to your well-being. Like the latest food monstrosity from Pizza Hut... CHEEZ-IT Pizza!
And I have to admit... I was looking forward to this experience. I love pizza. I love CHEEZ-ITs. And Pizza Hut is okay in my book.
So I dropped by to pick up an order of the cheese-stuffed version (they also have pepperoni) just to see if combining some of my favorite stuff was magic... or tragedy.
My first impression was good. The box is a beautiful flaming red. I spent a minute holding it up to the light just so you can get an idea how pretty it is...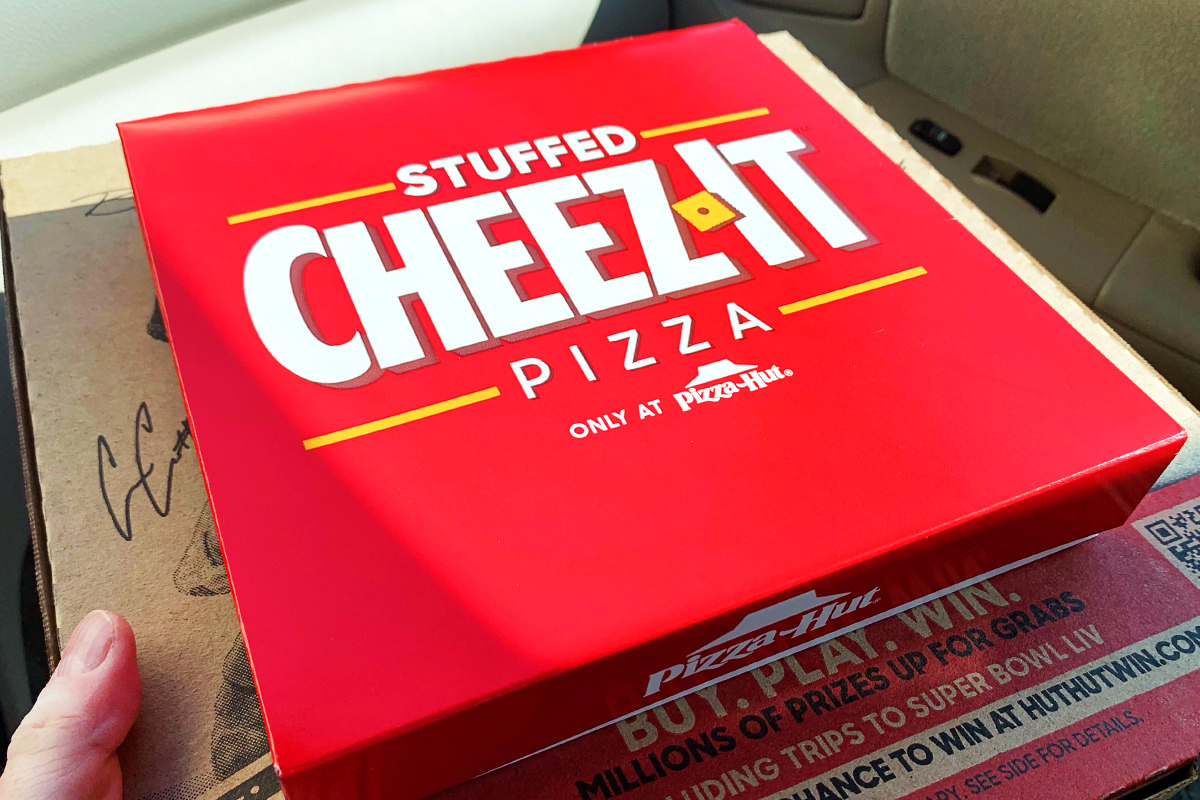 Inside you get four massive squares that look somewhat like inflated CHEEZ-ITs. You also get a tub of Pizza Hut marinara sauce...
Now... here's where things start going terribly wrong. I was anticipating that these would be crunchy like a CHEEZ-IT cracker. They most definitely are not. They are more like a pastry than a cracker. Kinda flakey... but not necessarily in a good way because the texture becomes a bit gummy when you chew it. Like flour paste...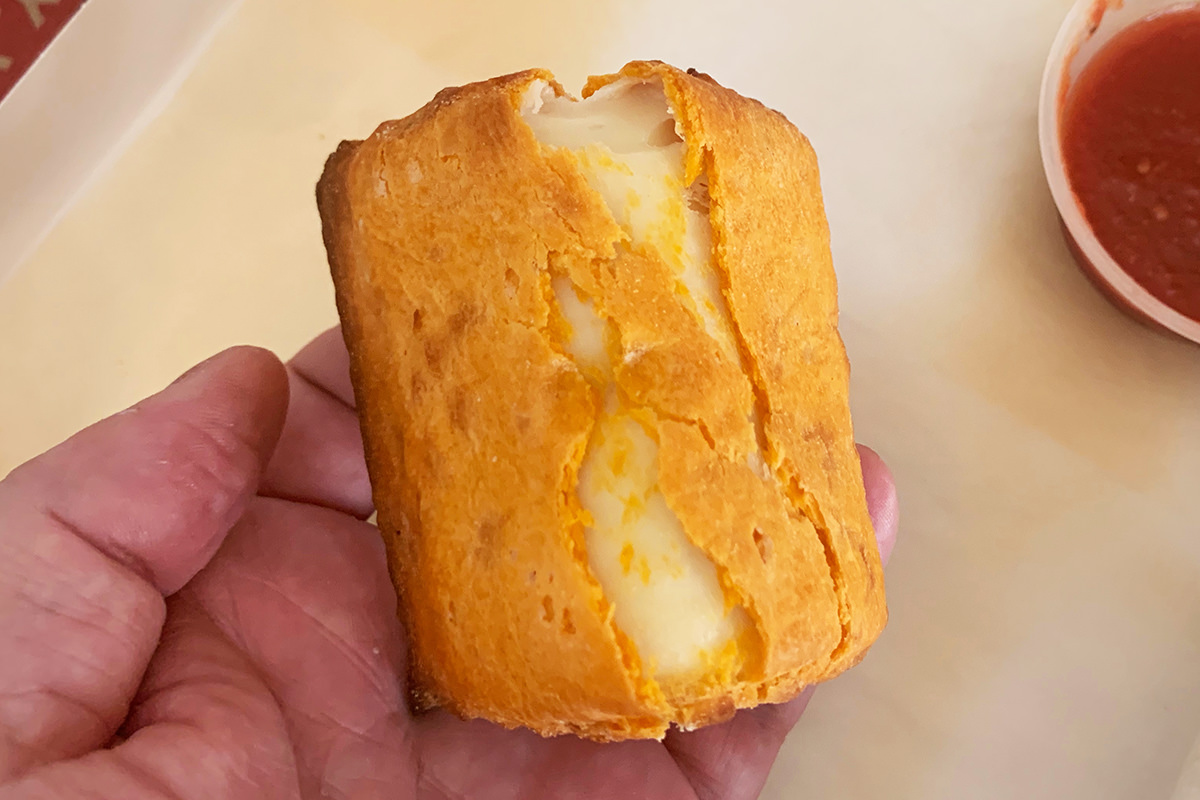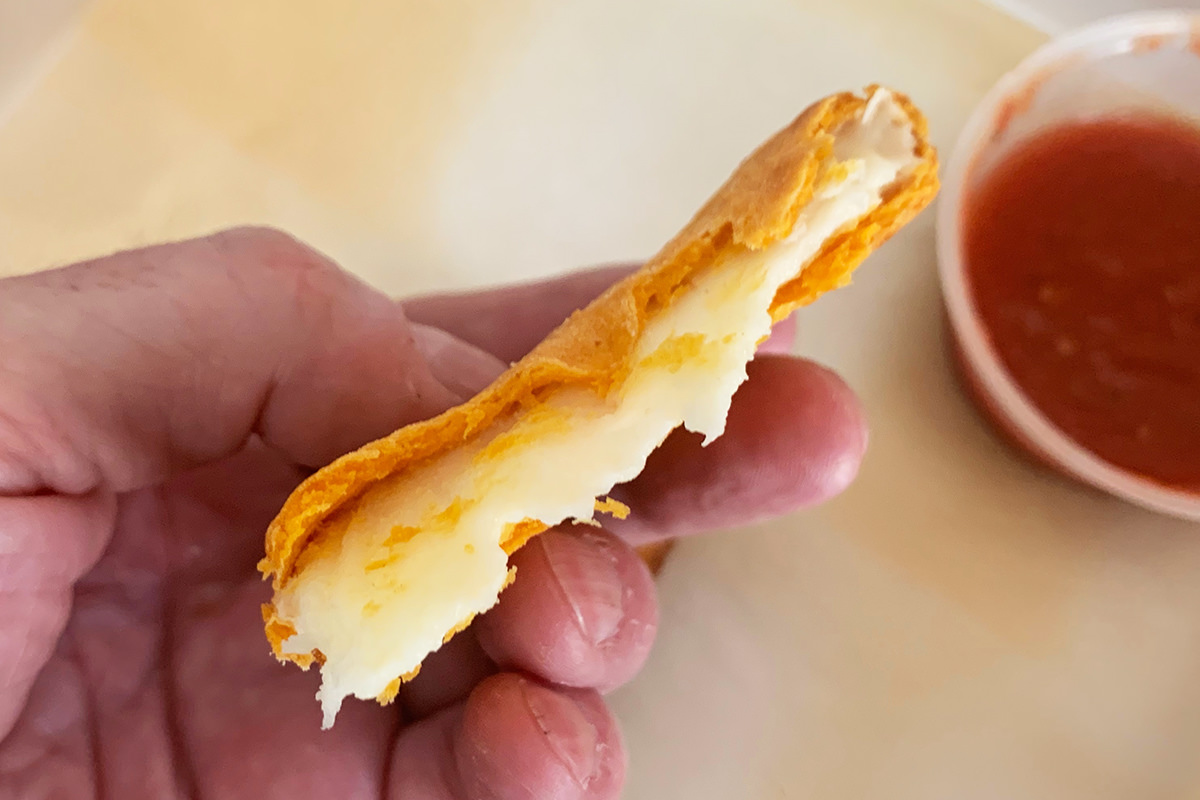 A few thoughts...
The CHEEZ-IT "cracker" is supposed to be a sharp cheddar. I wasn't getting that at all. There was a vague cheddar flavor, but mostly it tasted like flour.
The cheese inside is greasy. No real flavor... just greasy.
Eaten hot out of the box, they at least have a pleasant ooze to them. The second they start to cool, however, they are just a congealed mass.
Didn't Pizza Hut used to warm their marinara sauce? I thought I remember them ladling it out of a crock-pot like warmer. The stuff I got was cold. Not cool, but cold. Makes a bad experience even worse.
The price of $7.50 is outrageously expensive for how cheap these things are.
Overall I found Pizza Hut CHEEZ-IT Pizza to be a bit gross. I'd certainly never buy them again.
If I'm being honest, this was a bit shocking to me. After the amazing Cinnabon product launch they had, I was expecting something at least passably good. But this was a complete misfire on all fronts, and it has me questioning why Pizza Hut would risk serving up something like this. I was expecting another Doritos Locos Taco mashup that Taco Bell gave us... instead I got something that shouldn't have ever been sold in the first place.
Dave2 rating for CHEEZ-IT Pizza —







(7 bombs out of 5 stars)
If you want my advice, just go buy a brick of decent-quality sharp cheddar and a box of giant CHEEZ-IT crackers. It'll cost you less while giving you a much better eating experience.
Posted on September 8th, 2019

Summer may be in its last gasp but the weather couldn't be better, because an all new Bullet Sunday starts... now...

• Thunder Rolls. Well, the weather couldn't be better now. Last night was an entirely different story. The thunder was shaking the entire house. The lightning was so bright that it was illuminating everything like it was daytime...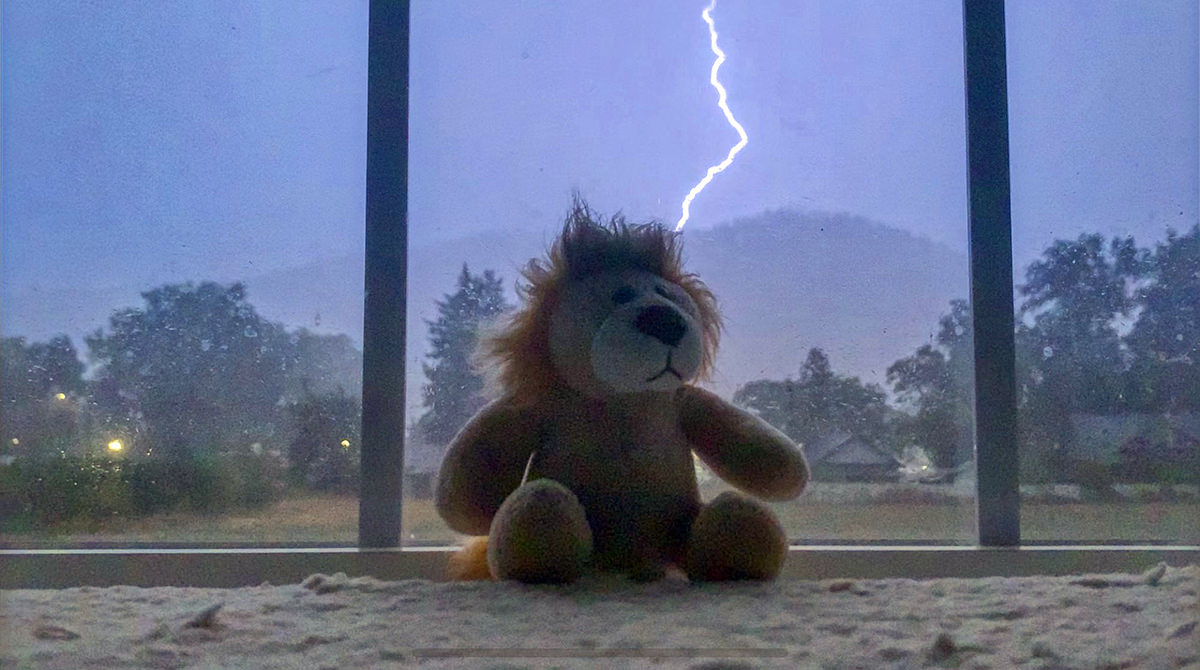 The cats were not happy. Jenny came in crying when all the ruckus started. Jake arrived ten minutes later, and I heard him whining all the way up the stairs. I pet them for a while before finally jumping to the window to take photos.
Then today... no clouds and flawless blue skies...
Enjoy it while it lasts, pretty girl. Winter is coming.

• Baked. September is my most favorite month of the year to bake stuff, and I do so often. Something about the combination of temperature and humidity creates the perfect storm for high-rising, wonderfully-textured bread. Today I made some beautiful bread and amazing hamburger buns...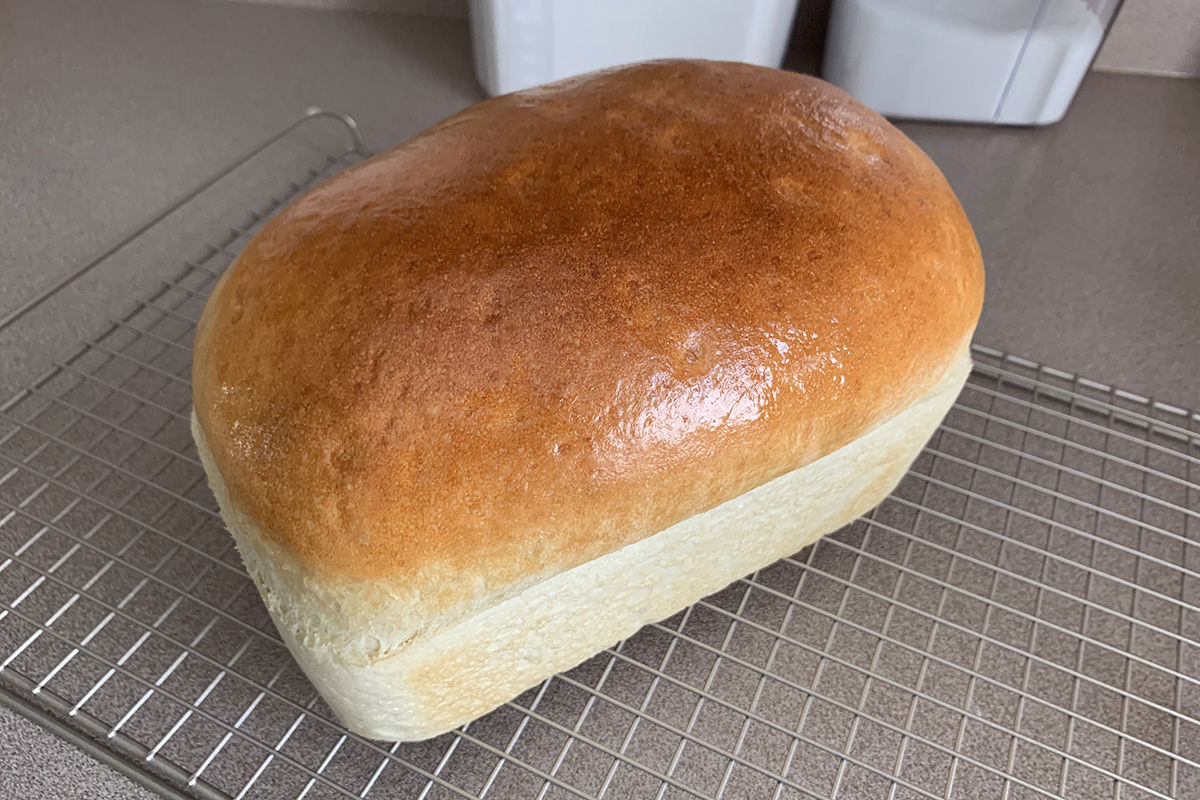 And, let me tell you... homemade hamburger buns are the best! Tonight's selection was a veggie burger with lemon garlic mayo, dijon mustard, thinly-sliced tomato, and pickle on homemade bun...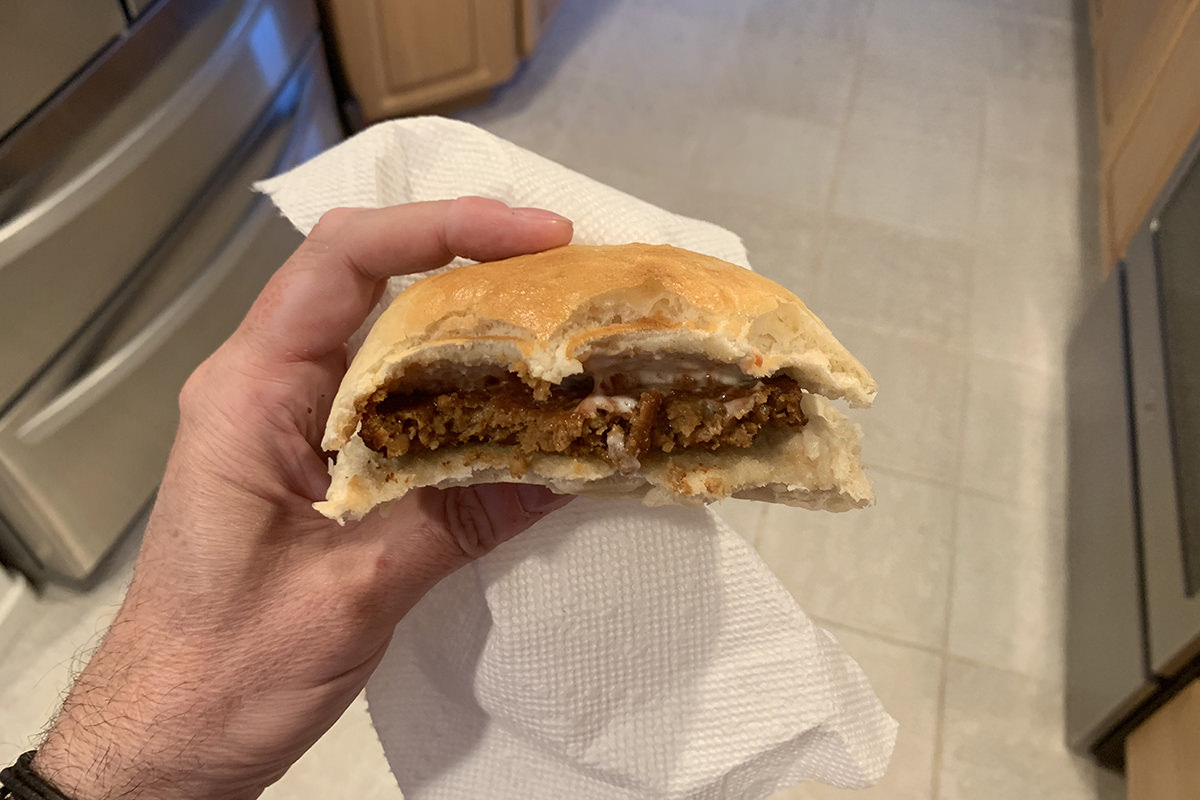 Pretty fantastic, if I do say so myself.

• Very Berry. On Thursday when I dropped by the market to pick up some flour, I saw that strawberry cartons were on sale 2 for $5. I bought them on a whim and have been stressing ever since. Fruit usually goes on sale when it doesn't have much life left, so I've been eating them non-stop so I don't waste my $5. I was eating strawberries morning, noon, and night for two days, but I finally managed to power through. I may be sick of strawberries now, but they were some beautiful berries...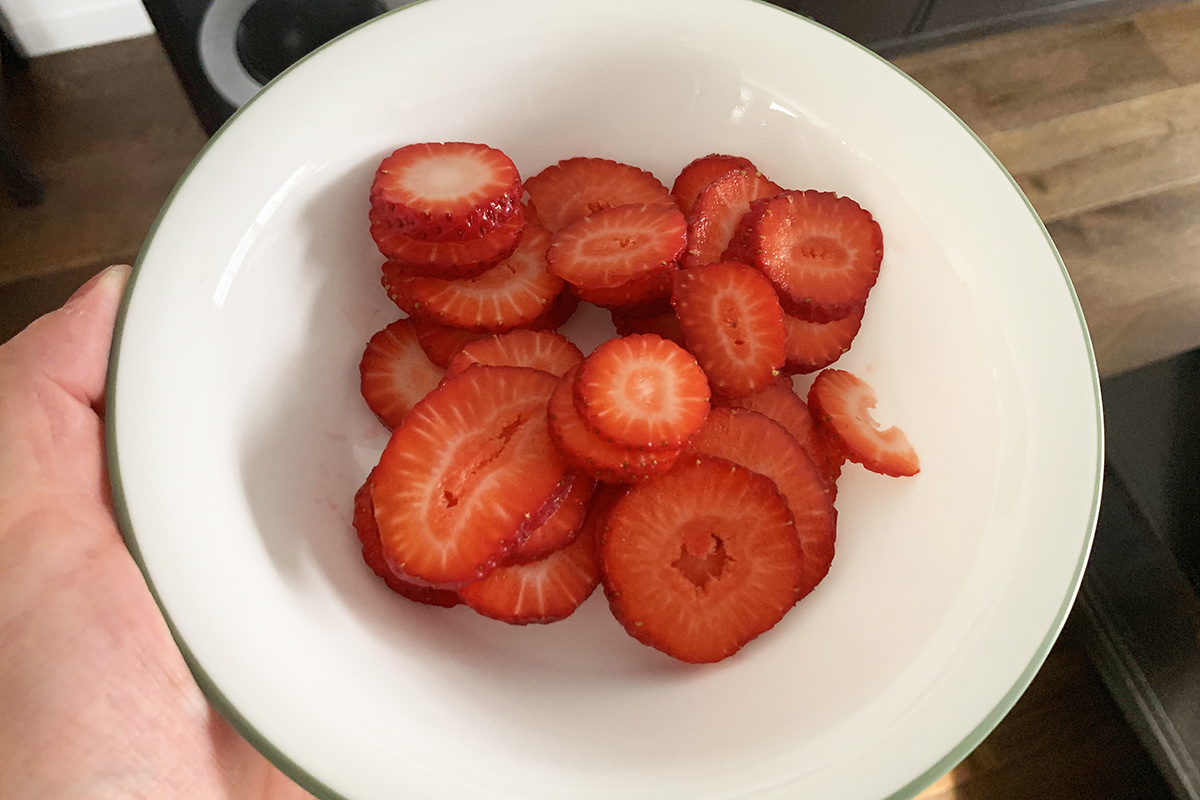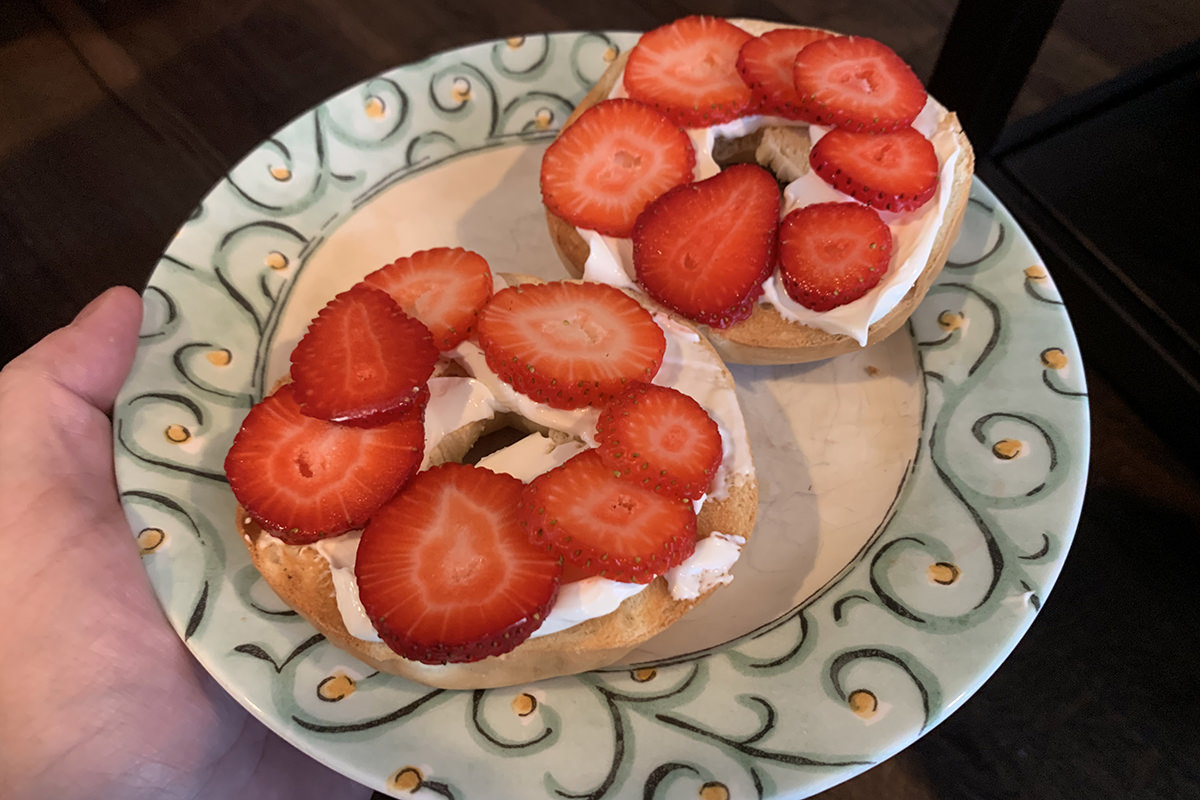 Boy does being single suck when it comes to grocery shopping. I always end up having to buy more than I can eat. The good news is that I'm done with strawberries for the year... just in time for the final summer crop to leave us!

• Scary Tech. The trailer for JEXI has been released. It's a comedy exploring what happens when the artificial intelligence on a guy's phone gets a little too smart. It's supposed to be a comedy. But when I watch this trailer I can't help but look at it as a near-future horror story...
I mean, seriously... isn't this the nightmare scenario that's entirely too plausible? Yeah, that's what I thought.

• Hellmark. Usually I don't give a crap about somebody's politics. I am easily able to separate an actor from their work, and do so all the time. Democrat? Republican? I'm neither, so I honestly don't care. But there's no way I'm supporting the career of somebody who is in bed with the toxic waste assholes at the Family Research Council like Dean Cain. Guess I'll have to be happy with watching all the Hallmark movies except the handful he appears in.
And speaking of Hallmark, Flip That Romance was finally repeated today...
This movie is genius. IT'S GENIUS! I've been anxiously waiting seeing Flip That Romance since the moment I found out it exists. The film combines two of my favorite things... home renovation shows and Hallmark movies. And it's good! Funny! Hallmark heaven, as it were.

• Nonstarter. You know... the more I use my Apple Card, the more I absolutely love it. It's just so absurdly easy and the features are crazy-good. So good. The only problem is that the benefits are total shit. 2% back? 3% on Apple products? So lame. I hope that other credit card companies take note of what Apple is doing and step up their game. Or Apple gets with the program and starts offering 5% back like a real card... even if it's just on Apple products (As it is, it's cheaper to buy Apple products on Amazon with my Amazon Card because I get 5% back on Amazon purchases... what sense does that make?). It will be interesting to see if Apple drives change in the industry like it has for so many other things. I would certainly hope so.

Hope your new week is a good one!
Posted on September 1st, 2019

Labor Day may be tomorrow but the party starts now, because an all new Bullet Sunday starts... now...

• Hurrican Dorian. The images coming out of the Bahamas have been terrifying. And now parts of the Georgia coast are under mandatory evacuation...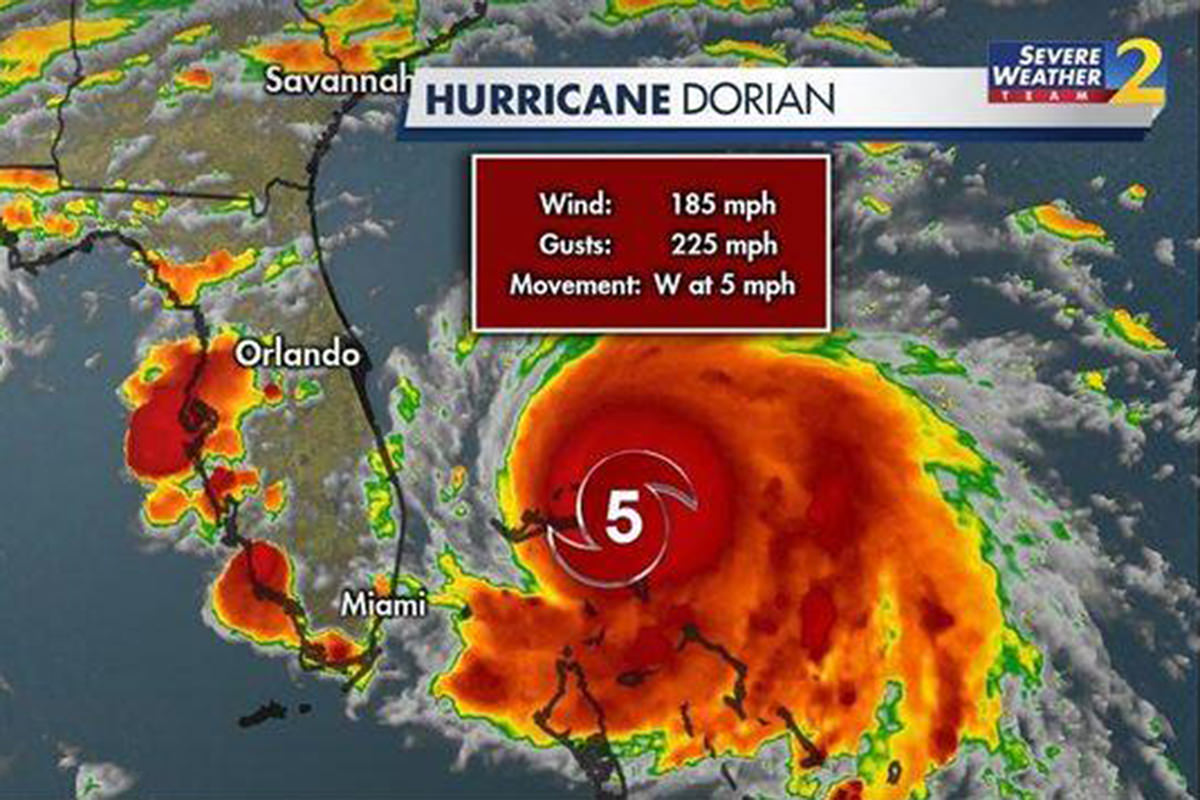 Map from The Atlanta Journal-Constitution.
Dorian is tied with a hurricane from 1935 for the highest wind speed at landfall... a staggering 185mph. I hope that's the only horrible record that ends up being broken.

• Lover! A lovely video for the very pretty title track off of Taylor Swift's latest album...
And I'm not the only fan of the song. Keith Urban did a beautiful cover while performing at the Washington State Fair...
I think 1989 is still my favorite T-Swifty album, but Lover is a close second. Tracks like this make it so. I know I'm late to the party here (1989 was the first time I had even heard of her), but I never cease to be impressed with her talent, wit, charm, and intelligence...
Such a remarkable person. Continued success to you, Miss Swift.

• Parade! A true leader celebrates all the people they represent. Canadian Prime Minister Justin Trudeau takes that to heart, as you can see from his taking part in this Pride parade...
Meanwhile, our leadership is doing everything they can to strip rights from our citizens. A depressing state of affairs for the so-called "Land of the Free."

• Rowl! Exceptional production values, gorgeous cinematography, beautiful costuming, and mind-blowing sets don't mean shit when your story is bloated and boring. It's like they took a 90 minute movie and stretched it out to 8 mind-numbing episodes. That's Carnival Row for you...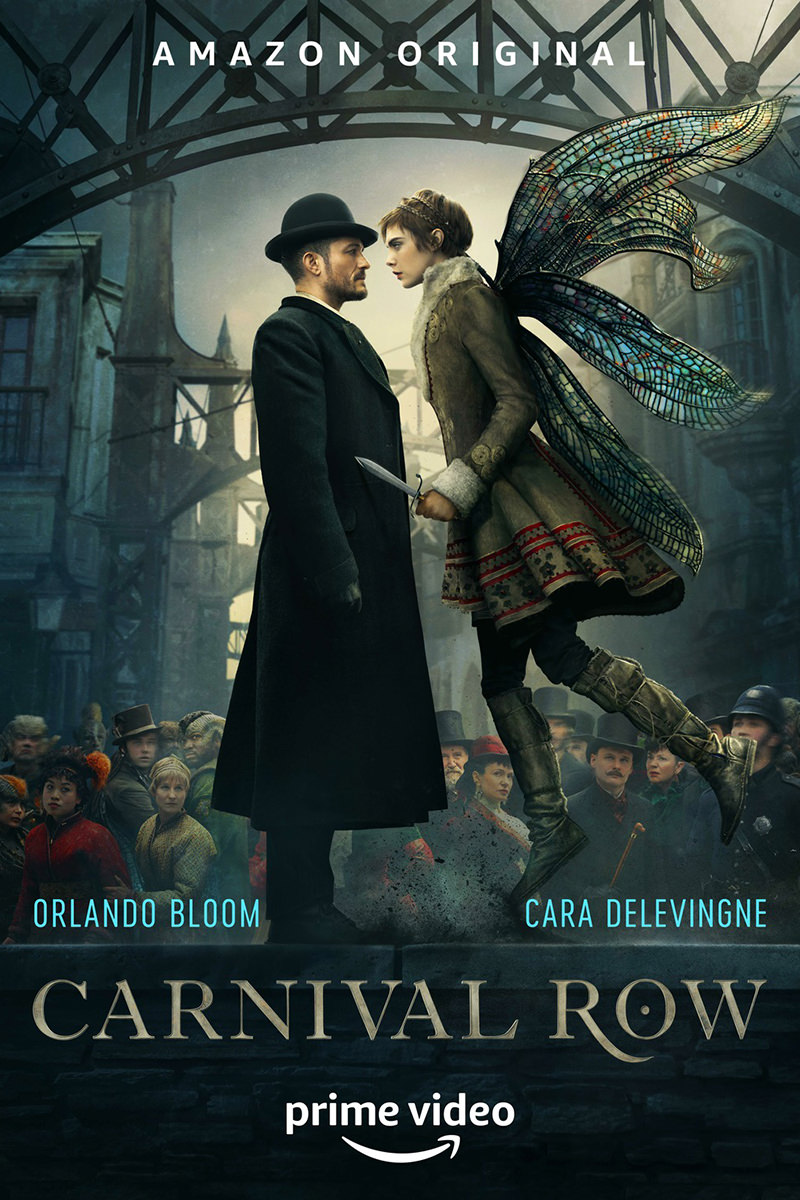 Guillermo del Toro, who was originally going to be working on Carnival Row, dropped out because of his movie obligations. Don't know if it would have made any difference, but his impeccable pacing and storytelling were much needed here. It's like they had the sets and all the costumes and such and wanted to get as much use of them as possible even though there wasn't enough story for that. Pity.

• Frexit! NOT AT ALL REDUNDANT! Unless France pulled a Frexit and is no longer a part of Europe?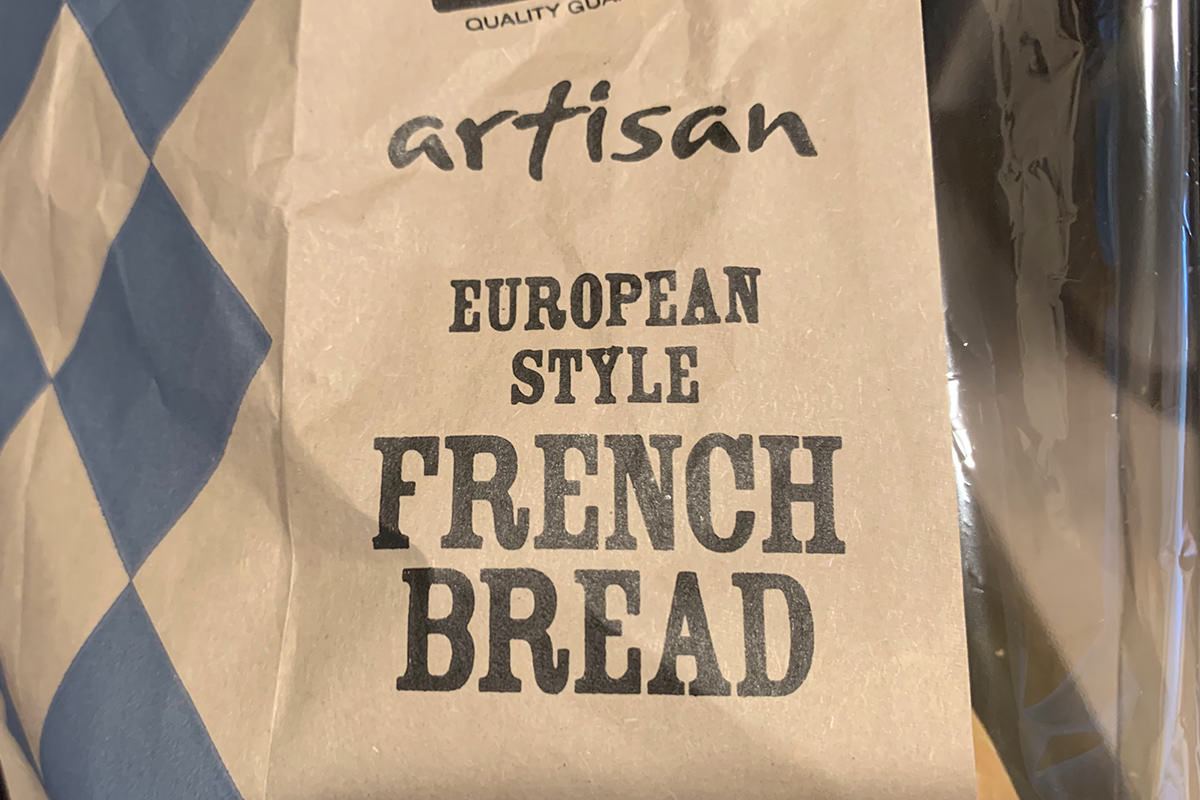 I have yet to try any of that Asian style French bread, but I'm sure it's delicious.

• All The Gs! The advent of 5G wireless is going to be a huge game changer once the mesh that's required to have it work seamlessly has been built. That's a long ways away, but it's still an intriguing technology in its infancy. If you don't know what that even is, here's a fantastic video from Marques Brownlee just for you...
Pretty amazing stuff. Imagine having blazing internet available everywhere for all things... and what will come from that.

• Another Day, Another Mass Shooting. My first thought used to be "How many people?" But now my response has evolved to "Where did it happen this time?" Once I realized that this was how my brain was wired to react, I was disappointed in myself. It feels dismissive and disrespectful to those who just lost their lives. I could excuse it by saying "There's already been so many people killed, does it really matter how many more are added to the list?" But the answer is "yes." Every fucking one of them matters. It's when we start viewing the deaths as statistics instead of people that we lose ourselves. Unfortunately for all of us, those who can actually do something are long lost already.
I remember when the NRA was for responsible gun ownership and wanted to make sure that guns didn't get into the hands of people who shouldn't have them. I also remember when President Reagan was an advocate for that ideal. This was before the NRA was overtaken by gun manufacturers with lobbyists who buy politicians and give them an agenda to encourage as many gun sales as possible... regardless of consequences.
I support the 2nd Amendment. I also support the right of people to go through life without getting randomly shot by some toxic asshole with a gun. Going back to the original mission of the NRA... gun safety and responsible gun ownership... would go a long way to help these two things coexist. Alas that ship has sailed. We don't even pretend that human lives are more important than gun manufacturer profits anymore. What's worse is that people don't even seem to care.

Only 23 days of summer left... make 'em count!
Tags:
Bullet Sunday
,
Food
,
Music
,
News
,
Politics
,
Taylor Swift
,
Television
Categories:
Bullet Sunday 2019
,
Food 2019
,
Music 2019
,
News – Politics 2019
,
Television 2019
—
Click To It:
Permalink
—
0 Comments: Click To Add Yours!
Posted on August 27th, 2019

I worked so hard for so long to make relationships work, but eventually came to realize that being in a relationship isn't for me. That was a tough realization to come to after spending my entire life convinced I couldn't be complete without somebody else in my life. But I've made my peace with it. Relationships make me happy in the short run, but being single has made me happier in the long run.
Except when grocery shopping.
After my dentist appointment today I went to Petco for kitty litter... to Burger King for an Impossible Whopper... and to Safeway for food.
The problem with shopping for food while single is that it's more expensive than shopping for food with a family (per person). As an example? I need hamburger buns to go with my veggie burgers. Unless I eat veggie burgers every day, I can eat maybe four buns before they go stale. They come in packages of eight. Which means I have to freeze four and they never taste as good after being frozen. Cost for eight buns? $3.49. Or on sale at two for $5. Some stores will let you buy one for $2.50, but most won't. So do I spend an extra $1.50 for a bunch of buns I'll just have to freeze? That's the question I face every time I go shopping. At least buns can be frozen if I decide to go that route... some things cannot.
Like buns for veggie burgers, cream cheese for bagels is another thing that drives me nuts. They are never on sale at the same time. Fortunately cream cheese usually has an expiry date for 6 months, so I can stock up and wait for bagel prices to drop.
But it's not all bad news.
Because of the way my blood sugar spikes, I need to limit carbs. That's tough for a vegetarian, but I do my best and try to plan around it. It's just making choices. Do I want to spread my carbs throughout the day so I can have bread and fruit? Or do I want to splurge on carbs at one meal and go low-carb the rest of the day? If I have pasta for an early dinner (must be eaten before 6 so I have time to burn it off before bed), that means I am having eggs for breakfast and cheese sticks with hummus and veggies for lunch. It's not science, but it works. My doctor is please with my A1C levels, and that's all I need to know.
And while I have gotten rid of a lot of sugar in my diet, I can still enjoy sweets a couple times a week. My favorite is cake, but if I were to make or buy a cake, it would perish long before I got around to eating even a fraction of it.
Fortunately, there are several companies making microwavable "desserts for one" and they're pretty great (also great are break-and-bake cookies, but I wrote about them last week).
And even more fortunately, Safeway had a bunch of them on sale and on closeout...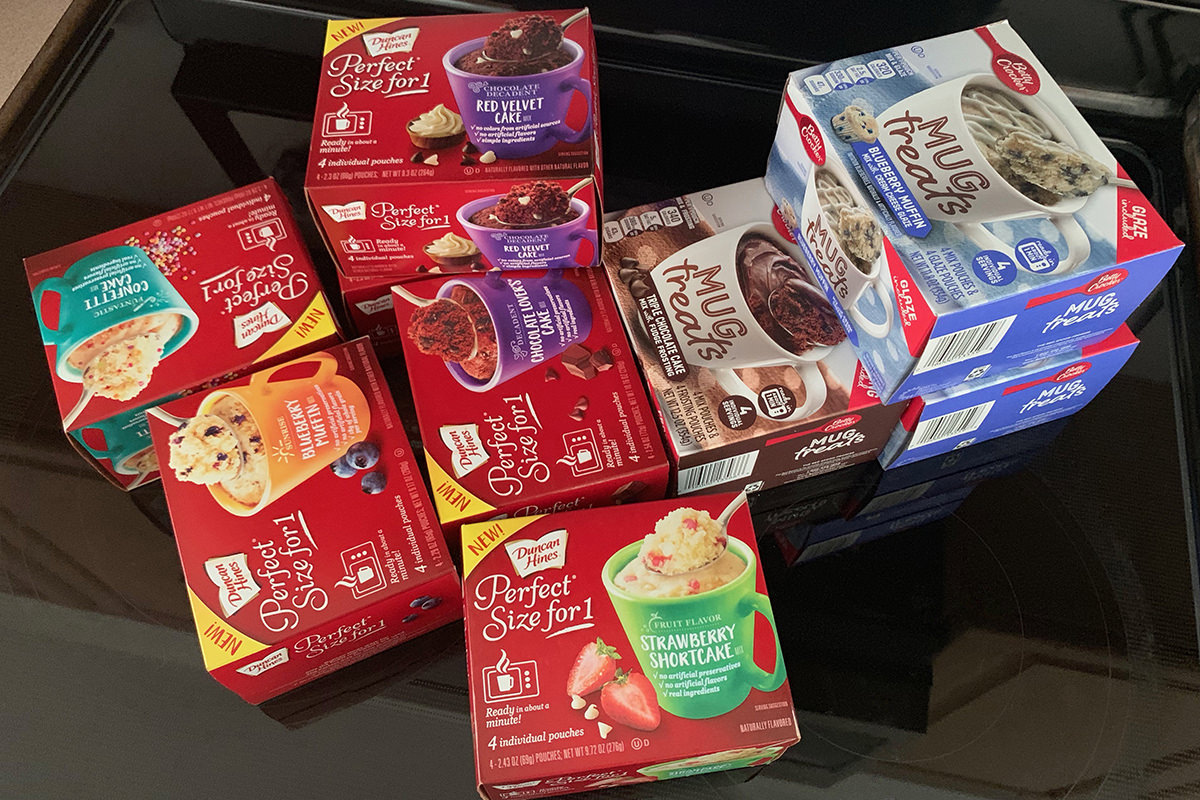 That's enough to last me for the rest of the year (there's 4 per box), and most of them were under $3.00! I prefer the Duncan Hines treats (in the red boxes) because they don't have icing. The Betty Crocker "Mug Treats" do have icing, but I always have to toss it out to save carbs.
No, they're not as fantastic as a real oven-baked cake or muffin, but not having to worry about food waste goes a long way for me.
How sweet.
And another thing that's pretty sweet? The upcoming Disney+ streaming service I've been writing about for weeks!
I don't know if this will help anybody out there, but... if you are planning on signing up for Disney+ and don't care about a bundle with ESPN and Hulu, there's a deal to be had by pre-ordering a membership NOW for when it begins in November.
Disney's official fan club is D23.com and basic membership is free. There are higher tiers with more benefits, but they are not necessary to get this offer. So if you are NOT a member, go sign up for a free membership. If you ARE a member, login and go to the My Account drop-down and choose "View My Account." There you will have the option to buy a 3-year Disney+ membership for $140. That's 33% off the "regular" price...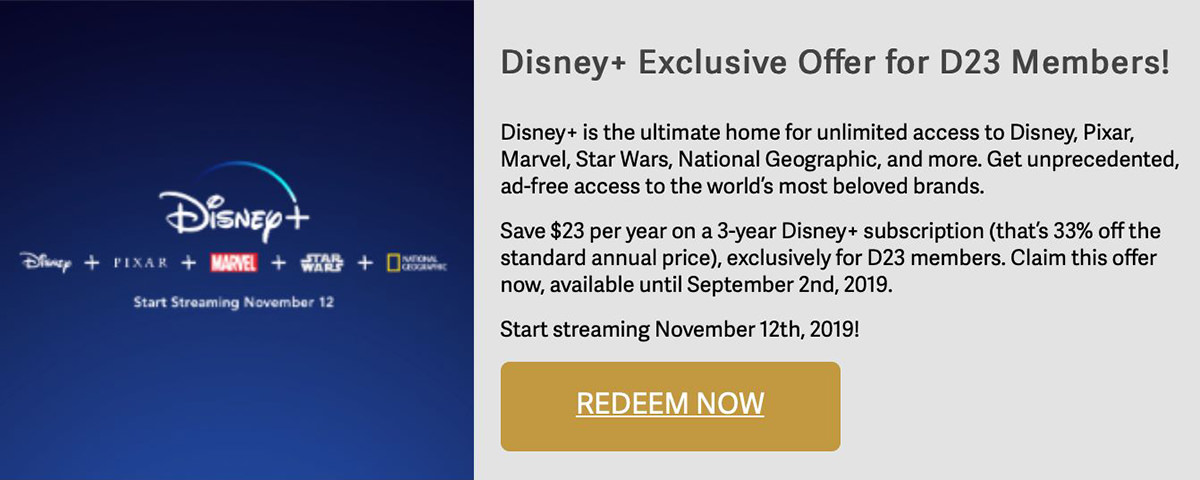 I know three years is a big commitment but, for me, it was a no-brainer. Considering there's exclusive Marvel Studios, Star Wars, Disney, Pixar, and National Geographic content... all of which I love... I was all over it. Sure I don't have $140 to be spending just now, but the offer expires after the weekend and I wasn't going to miss it (that's less than $4 a month!). Hello credit card debt, it's been a long time!
Despite having a bill to pay off, it's nice knowing that I don't have to worry about paying for Disney+ until November of 2022!
Tags:
DaveLife
,
Disney
,
Disney+
,
Food
,
Marvel Studios
,
Pixar
,
Relationships
,
Star Wars
,
Television
Categories:
DaveLife 2019
,
Food 2019
,
Television 2019
—
Click To It:
Permalink
—
4 Comments: Click To Add Yours!
Posted on August 18th, 2019

Prepare to be launched into a Galaxy far, far away... because an all new Bullet Sunday starts... now...

• Falcon Maps! It's interesting how the advent of Google Maps' "Aerial View" has forced Disney to change the way they build their theme parks. Originally, construction was treated like a movie set, where everything is just a big facade. The only thing that was themed is what people see. The best way to explain this is Main Street, where the dozens of little buildings you see on the ground are revealed to essentially be two giant buildings...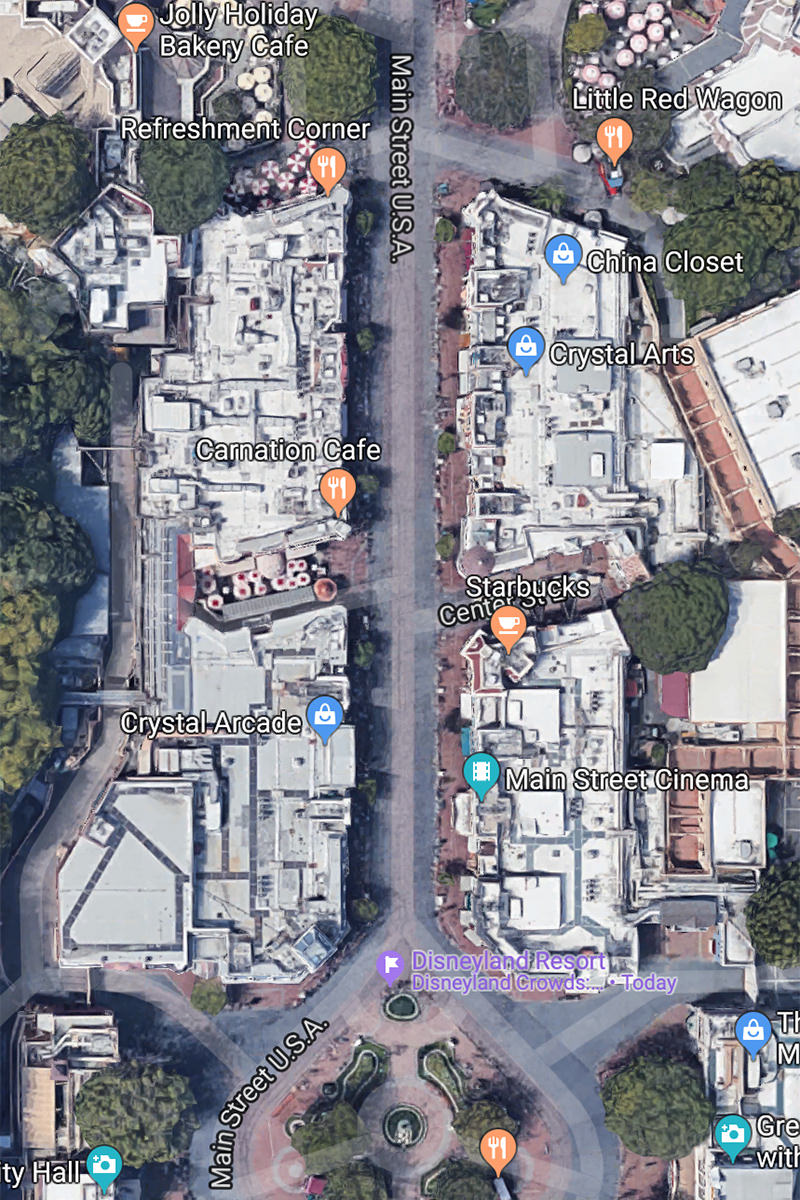 They didn't build fake roofs over each building because they didn't have to. Unless somebody chartered a helicopter, nobody was ever going to see it in 1955. But now there's Google Maps that anybody can call up on their phone, so they are more careful that the illusion is complete...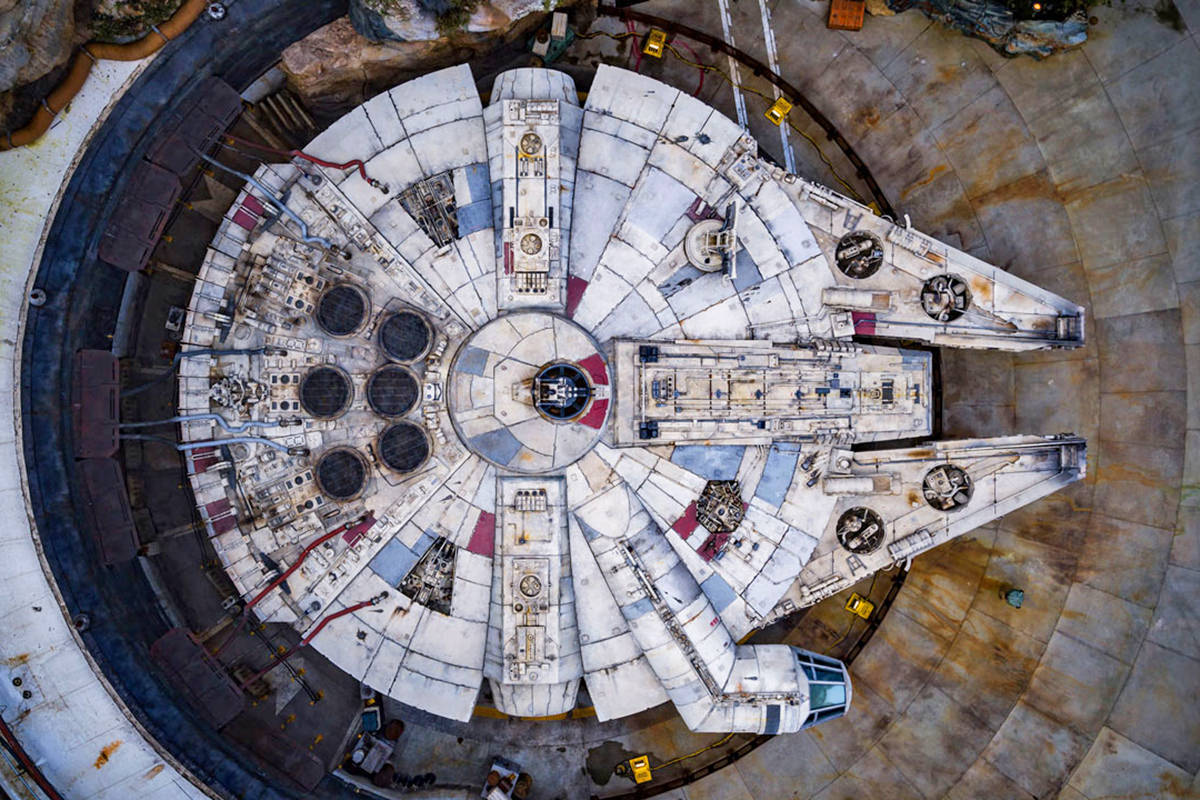 Had this been built in 1955, the fine detailing would likely have been ignored. The only thing they would bother theming would be what you could see from the ground. Personally, I think this is fantastically cool. You can literally see the Millennium Falcon parked at Disneyland, and that's no small thing.
An interesting aside here... apparently Star Wars: Galaxy's Edge has been a bit of a flop. People are complaining that there's only one ride and the rest of the place is just a giant shopping mall where you can buy overpriced souvenirs and food. That's it. Eventually a second ride will open but, again, that seems pretty lame. Perhaps Disney will add more stuff to make it more worth visiting, but right now it just seems like a cash grab. Another problem? Disney didn't recreate an authentic place from the movies. You're not walking around Tatooine or even shitty Jakku, you're at "Black Spire Outpost" which, let's face it, who cares? This seems like a major misstep, and I just don't get it. When Disney made an Avatar-themed land, they built Pandora from the movies so when you go there it's like stepping into the film. That's what people want to see, and anything less is inviting a tepid reaction. And that's exactly what Disney got.

• ZIM!!! One of the most impossibly brilliant animated series to ever grace our television sets was Invader Zim. In addition to being so brilliantly written, the look of the show was was blew my mind. It's just so beautiful. As if that weren't enough, it has GIR, Zim's robot companion, and one of my favorite characters of all-time...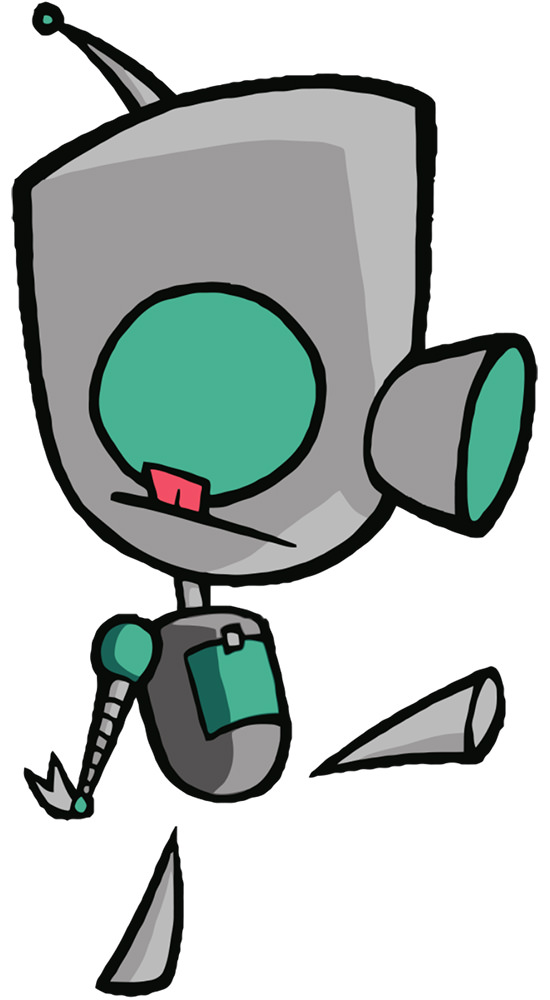 Despite unprecedented critical acclaim, the series was uncerimoniously canceled by Nickelodeon because network executives are stupid. But now Netflix has revived the show for a new feature called Invader Zim: Enter the Florpus...
The movie has everything that Zim fans could want and, while it kinda-sorta wraps up the series, it also leaves things wide open for more. And I want quite badly for there to be more. Because can you ever truly have enough Zim in your life?

• Passport! I am not even going to spoil this. Just trust me when I tell you to click this link. Genius. Every last one of them is genius.

• Shazam? Ninety-one percent? Shazam got NINETY-ONE PERCENT on Rotten Tomatoes? Really? One minute it's childish and stupid as shit... the next minute there's a demon is biting somebody's head off. So exactly who was this movie made for? Psychotic children?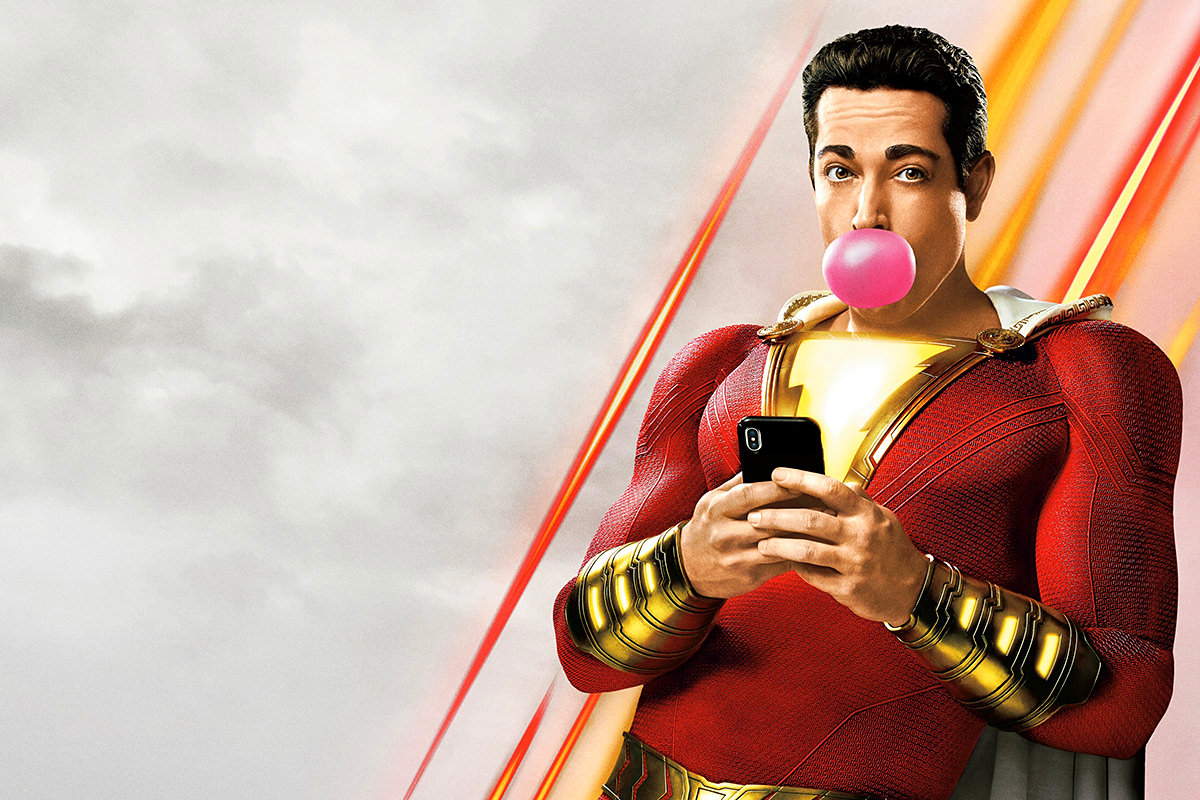 Even if you ignore the stupid glowing lightning-bolt-that-looks-more-like-a-triangle on his uniform, Shazam was awful. WHAT HAPPENED TO HAVING THE WISDOM OF SOLOMON? THIS SHAZAM IS A FUCKING IDIOT! About the only thing I enjoyed was Mark Strong as Sivana, despite the fact that he was a complete departure from the comic book's Dr. Sivana (and not in a good way, of course). I cannot fathom how this managed to rate 91%. I just don't get it. The only thing that kept it from total disaster for me is that they didn't have any burp or fart jokes. At least I think the movie didn't... I fast forwarded through the foster home stuff because all the kids were just so annoying. GRADE: D+

• Days of Meat! On my blog entry for "The Impossible Whopper" I mentioned that it has been 33 years, 3 months, and 24 days since I last ate meat. A friend messaged me and asked how I could possibly remember the last day I ate meat. It's actually pretty easy. It was Earth Day, 1986. I remember it because my girlfriend at the time was a vegan and didn't want to kiss me because I "smelled like meat." I had a hamburger for lunch and she got mad because I "couldn't even go meat-free on Earth Day." And so I gave up eating meat right then and there. We broke up a month-and-a-half later, so I was going to go back to eating meat... except I was feeling better than I had ever felt. The allergies which had plagued me since adolescence were gone, so I stuck with a vegetarian diet. I've since learned that many people are allergic to the antibiotics they inject into animals, which probably explains why I was in such poor health my first 20 years.

• Cook Cook Cooking! Yesterday I spent a big chunk of my day in the kitchen making up meals to refrigerate and freeze. I made burritos. I made rolls. I made Mac & Cheese, I made quiche... and I made my grandmother's enchiladas recipe. While not rocket science, enchiladas make a lot of dirty dishes and a big mess (especially when you make the sauce from scratch). It's also time consuming to put them all together. And even though I started three hours before dinner-time, my cats were all excited because they thought they were getting fed. So it went something like this...
THE ENCHILADA WALTZ
Remove tortilla from the frying oil.
Put fresh tortilla in the frying oil.
"No, kitties, it's not dinner time yet."
Put the filling in the tortilla.
Put the cheese in the tortilla.
Flip the tortilla that's in the frying oil.
Fold up the enchilada and add it to the pan.
"No, kitties, it's not dinner time yet."
Repeat.
After a full day and two loads in the dishwasher, I flopped down on the couch exhausted. But then it really was dinner time for the cats and I had to get up again. I really wish that ten million dollars would fall into my lap so I could hire somebody to come in and cook for me.

• Visitations! For the first time ever, the number of people visiting my blog on a mobile phone has eclipsed desktop users. Guess I'd better work on a new "responsive" template sooner rather than later. Blogography looks okay on a mobile phone, but it could be friendlier on smaller screens...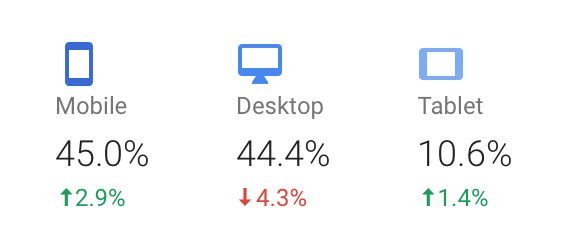 The problem is finding time to actually code a new template. The tags and expected behaviors have changed so much since I made the current template that I would have to re-learn Wordpress in order to even begin! That seems like a lot of work.

And I guess that's all the bullets I have for this week.
Posted on August 16th, 2019

Yesterday on my way back across the mountains I stopped at the grocery store. Braving the crowds while food shopping was pretty much the last thing I wanted to do after five hours of travel, but I didn't have much choice. My cupboards, refrigerator, and freezer were all bare.
Before I went to Maine back in July, I made sure to eat all the food that could spoil so none of it would be wasted. Then I got called to Las Vegas, still didn't want to buy any new food that would go bad, so I just kept eating absolutely everything I already had. The night before my flight, I shit you not, I had pickles and saltine crackers for dinner. Not something I was interested in repeating any time soon. And so... a stop at the grocery store it was.
My shopping strategy is simple. Never buy anything unless it's on sale.
I am not terribly picky about what I eat, so this makes it easy to buy ingredients or prepared meals only when they are cheap. Except... groceries are never cheap any more, so I guess I should say "cheaper than normal." Fortunately my local grocery store has an iPhone app with all their coupons, specials, and discounts, so I also save money by making my list ahead of time and only buying what's on the list. I never "browse" at a store because then I'll just end up buying stuff I want instead of what I need.
And so... I made my list on the plane and was ready to go when I got back home. This time I scored big because a lot of key ingredients I needed were on sale. Flour so I can make bread. Tomato sauce and tortillas so I can make enchiladas. Veggie dogs so I can make veggie dogs. That kind of thing.
Another reason I like a list? It keeps me from buying things I should not be eating.
There I was at the store looking for "Sargento Balanced Breaks" healthy snack packs (on sale plus I had a 75¢ off coupon for club members!) when I saw a package of "break and bake" raw cookie dough. Something I absolutely, positively, should NOT be eating. Usually it's easy to resist cookies... I just avoid that aisle in the grocery store, and am not terribly fond of cookies any more anyway... BUT FRESH-OUT-OF-THE-OVEN COOKIES?!? How could I NOT buy that? They weren't on sale, but the generic brand was so much cheaper than the name-brand version that they were practically on sale! Close enough! And since they are crappy generic, they probably taste awful and I'll just end up throwing them in the garbage anyway, right? Sold!
Tonight I gave them a try. Not so appetizing out of the bag...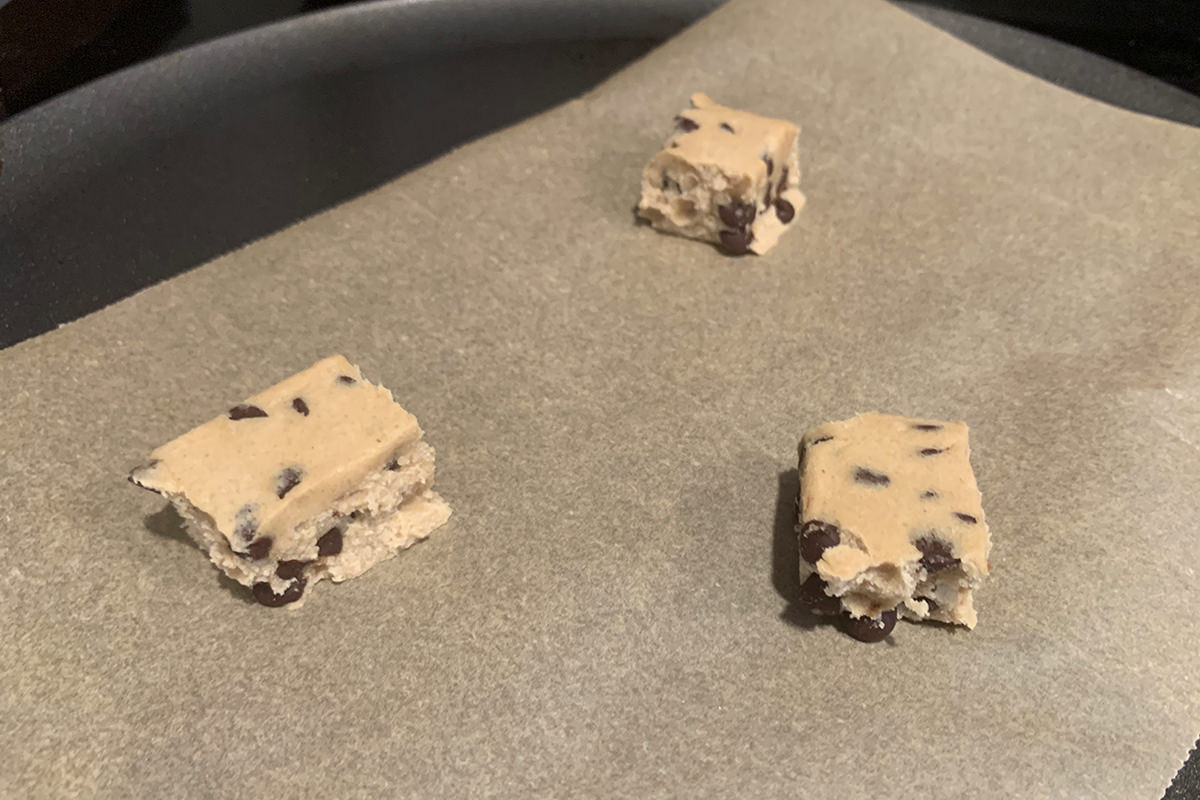 But then? OH HELL NO! THESE THINGS ARE FRICKIN' MAGIC!!!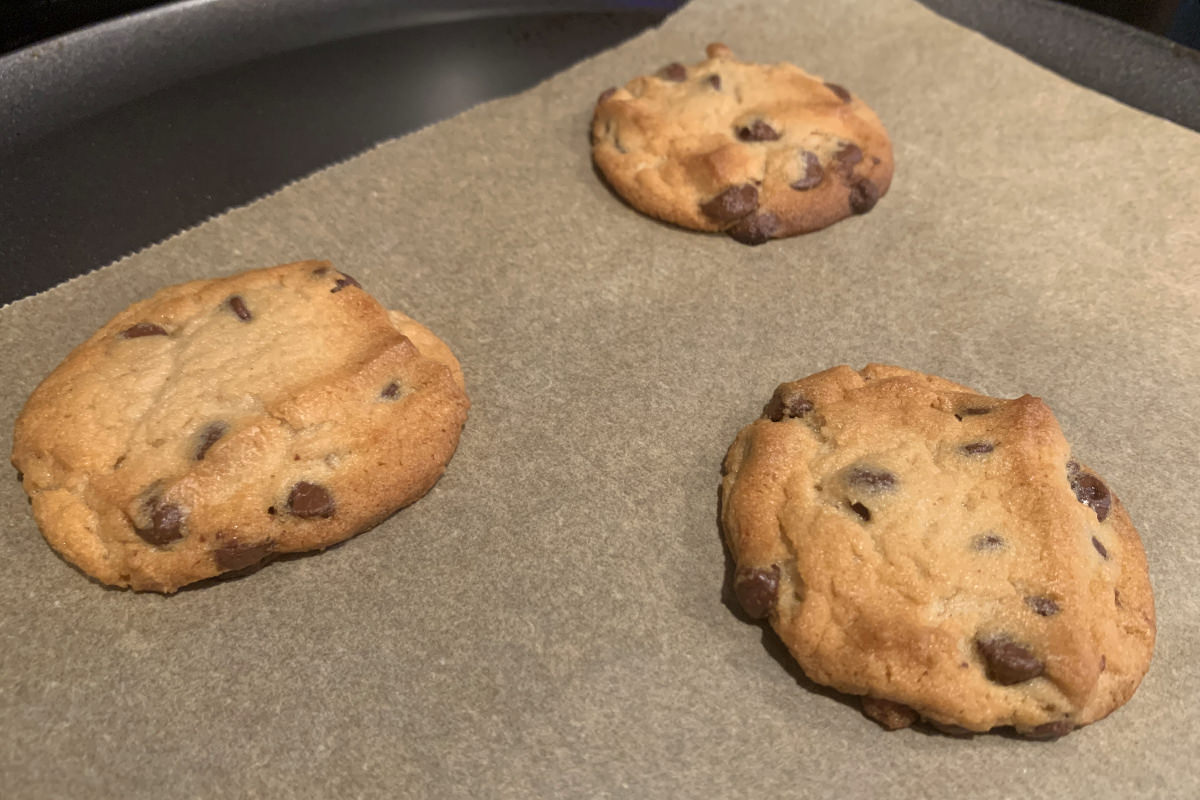 I'm not joking. These things are phenomenal. Probably because I haven't had a fresh out-of-the-oven cookie in a decade or more.
This is terrible.
I'm thinking I can restrain myself by baking no more than three at a time... and only baking them when I already have the oven heated from cooking something else. The loophole being that I can cook up a second batch of cookies because the oven will still be warm from cooking the first batch of three cookies.
At least I think that's how that works.
And now it's time for the new Invader Zim movie on Netflix! I am so psyched I can't even stand it.
Posted on August 15th, 2019

With work and Janet Jackson complete, it was time to fly back home. Yeah, it might have been nice to add a couple days vacation and relax by the pool or something, but Vegas is very different when you're alone as opposed to when you're hanging out with friends, and I'd rather just go back home to my cats (no offense, Vegas).
When I landed on Tuesday, my work hadn't gotten a hotel arranged for me yet. This is not entirely unusual for Vegas where pricing changes based on occupancy. Charities try to save money wherever possible, so waiting to see if there's a deal on a mid-week stay is just being responsible. Since I couldn't leave the airport until I knew where I was going, I decided I might as well have lunch. Burger King was right there, so I decided to see if they had the "Impossible Whopper" available. This plant-based burger is apparently the closest thing to a real burger. I dunno about that (I haven't eaten meat in 33 years, 3 months, and 24 days) all I know is that I do enjoy a good veggie burger.
Funnily enough, the wrapper says "100% BEEF" on it, so they kindly put a sticker on it to let you know that they didn't accidentally give you a meat patty...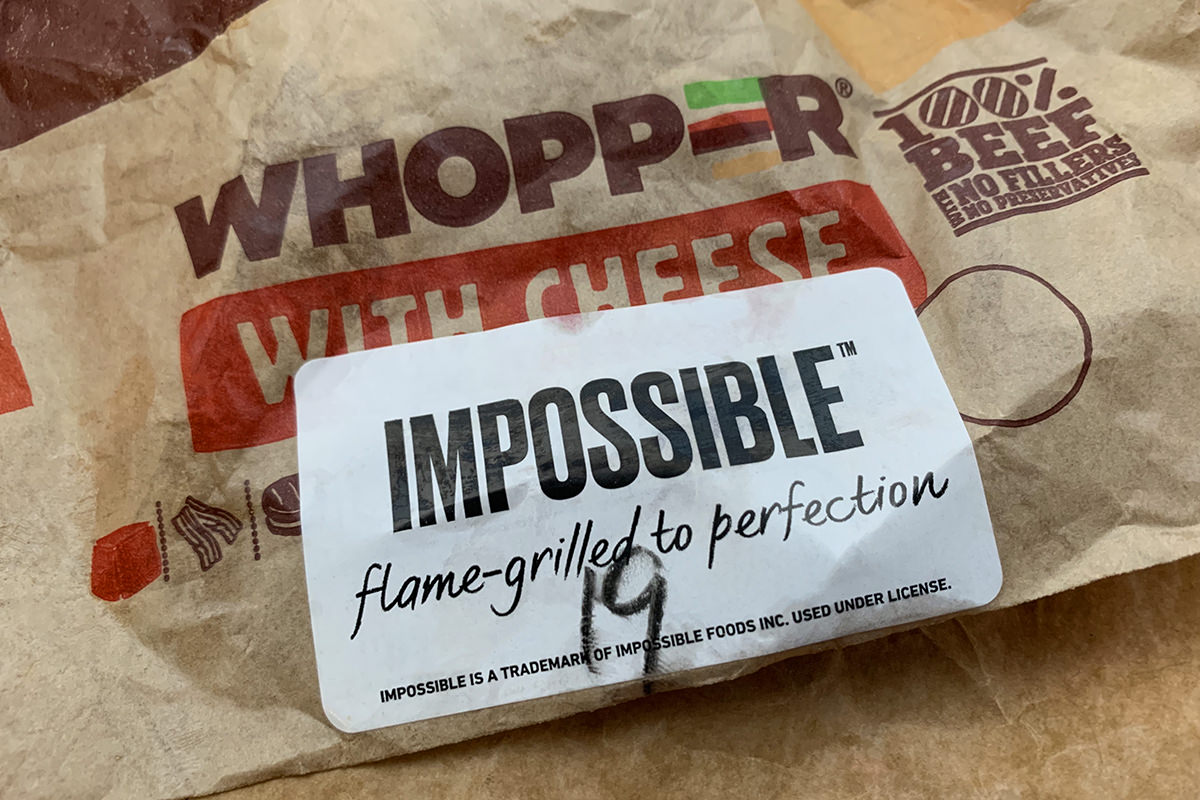 Sure enough, it looks exactly like a Whopper...
The taste is fantastic. Not sure it's worth $7.89, but I liked it a lot and would gladly order it again.
When I ordered, the lady at the register asked if I was "vegan" because apparently they cook the Impossible Burgers on the same flame grill that they cook their meat burgers. I guess if this bothers you they can microwave it or something? All I care about is that a cow wasn't slaughtered on my behalf, so I had no objections.
After loving the burger, I researched how it was made.
The original was wheat-based. The new "2.0" version is soy-based (making them gluten-free, if that's your thing). This is nothing special, as there are plenty of burgers that are soy-based. What makes Impossible Burger so good is that they use "heme" as an ingredient. From what I understand, "heme" is the red-red component of blood that captures oxygen and is responsible for giving meat its meaty flavor. Obviously they can't use blood in a veggie burger, so they are manufacturing their own Franken-Heme in a laboratory by genetically engineering yeast to have a soy hemoglobin. They then extract the plant-based "heme" from the yeast and that's why their burgers are impossibly good.
So... if you're hardcore non-GMO, then this is not the burger for you.
It totally IS the burger for me, however, which is why I had another one before I flew home, this time with cheese...

And that's that. My plane leaves in and hour and then it's good bye Las Vegas.
But before I go, a look at what makes Vegas so totally Vegas...

My hotel room? $30. The stupid-ass "resort fee?" $35. Why the fuck they don't just be honest and charge you $75 for a room is assholery at its finest. Especially since the "resort fee" is just a scam. It includes access to the fitness center (who the fuck cares?), phone calls (doesn't everybody have a mobile phone now?), and internet access (which I could get for free by tethering to my phone). So, basically, we're paying $35 for nothing. But that's Vegas for you.
Until next time, Sin City.