Posted on February 9th, 2020

It's Oscar Sunday but I just don't care, because an all new Bullet Sunday starts... now...

• Crapple! Given my longstanding rant against Apple being complete and total assholes by sticking their customers with shitty butterfly keyboards for years before they FINALLY thought to replace them with something not-quite-so-horrible, this one's for you. It's at the 2-minute mark...
People think this is funny... but, but I'm the biggest Apple Whore I know, and even I was seriously shopping for PCs before the 16-inch MacBook Pro was released. I hope Apple is fucking embarrassed at this, because they should be.

• Gold! I used to do a big thing on the Oscars, but I stopped giving a shit when they kept rewarding the same old crap. This year it looks like things are on a better track. Here's my list...
Best Picture:

Should Have Won

—Jojo Rabbit,

Won

—Parasite. Not the least bit disappointed. Parasite was a remarkable film.
Lead Actor:

Should Have Won

—Jonathan Pryce,

Won

—Joaquin Phoenix. I have no desire to see Joker. It's not the comic book character and I don't care how many accolades it gets.
Lead Actress:

Should Have Won

—Renee Zellweger,

Won

—Renee Zellweger. That was a pretty darn impressive performance, even if I was kinda meh on Judy.
Supporting Actor:

Should Have Won

—Brad Pitt,

Won

—Brad Pitt. It's surprising that Brad Pitt actually lives up to the hype. I've been a fan since 12 Monkeys, and he should have won for Tarantino's Inglourious Basterds AND Once Upon a Time in Hollywood.
Supporting Actress:

Should Have Won

—Scarlett Johannson,

Won

—Laura Dern. Dern is a fine actor, I just hate hate HATE the film Marriage Story. Complete crap. Jojo Rabbit, on the other hand, is genius.
Director:

Should Have Won

—Bong Joon Ho,

Won

—Bong Joon Ho. As a diehard Tarantino fan, Once Upon a Time in Hollywood should have ben a shoe-in. And he was, until I saw Parasite.
Animated Feature Film:

Should Have Won

—Toy Story 4,

Won

—Toy Story 4. I don't think this was as good a finale for the series as Toy Story 3 was, but it was a good story with mind-blowing animation by Pixar.
Animated Short:

Should Have Won

—Hair Love,

Won

—Hair Love. I liked all the nominees... and Kitbull was such a great short. But Hair Love feels new and timely in a way that made a huge impression on me.
Adapted Screenplay:

Should Have Won

—Taika Waititi,

Won

—Taika Waititi. This was the no-brainer of the night.
Original Screenplay:

Should Have Won

—Bong Joon-ho and Jin Won Han,

Won

—Bong Joon-ho and Jin Won Han. This was a tight race for me. I loved Rian Johnson's Knives Out, 1917, and Once Upon a Time in Hollywood... but Parasite felt truly original. Don't ask me why Marriage Story is here though. It's just people yelling at each other.
Cinematography:

Should Have Won

—Roger Deakins,

Won

—Roger Deakins. Despite not liking The Irishman even a little bit, I think the cinematography was great. And Once Upon a Time in Hollywood was gloriously shot. But 1917 was next-level, and I regret deeply not seeing it in theaters.
The love for Parasite, which would usually be thrown in the "Best Foreign Language Film" category (it still was and won there too), was a breath of fresh air. I didn't see it until last week or else it surely would have been one of my favorite movies of 2019.

• Mythical! If you haven't been watching Mythic Quest: Raven's Banquet on Apple TV+, it's worth a look. Especially if you love video games. Apparently Rob McElhenney (who is at his most Rob McElhenneyist here) and Charlie Day consulted heavily with Ubisoft to get some semblance of accuracy even though this is a comedy about what goes on behind the scenes at a video game company. It shows. The show is absolute gold, and will easily make my list of favorites for 2020. It's not quite The Office or The IT Crowd, but it kinda draws from both...
The jokes come fast and most of them land well. I cannot believe that they got F. Murray Abraham. He has the perfect amount of gravitas for his part. But this is Rob McElhenney from start to finish and he's absolutely perfect.

• Starch! Wow. How come nobody told me that adding corn starch to scrambled eggs makes them taste like they've been slow-cooking for 30 minutes? This is reeeeeally nice. So creamy and rich. If you haven't tried it, these are pretty great. Also works wonders with omelettes. I will never cook scrambled eggs without it.

• NEWS: Antarctica logs hottest temperature on record with a reading of 18.3°C. That's 65°F, people. When I visited, there were many times I took off my jacket because Antarctica was too warm to have it on. I worry for the wildlife which calls this continent home. How is this going to disrupt their habitat and can they survive it?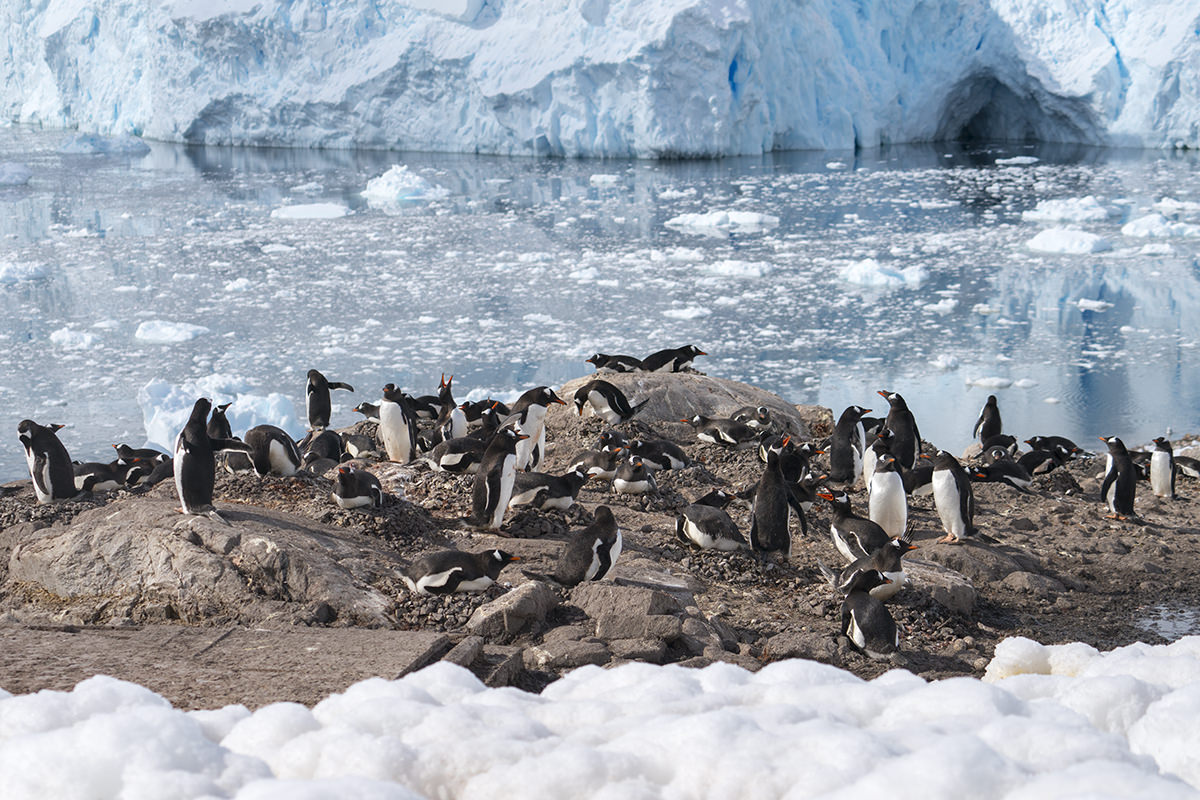 Penguins are already having a tough time of it, and things look to be getting worse. And then there's polar bears starving in the Arctic. Troubling times for our planet.

• trAIn! Apple has put Artificial Intelligence "Machine Learning" in their iPhone and are making good use of it (especially with the camera). As time goes on, it's just going to be surreal how it changes our lives. Take for example this footage from Denis Shiryaev, which upscaled the video to 4K with machine learning and resounded it... Arrival of a Train at La Ciotat, by Auguste and Louis Lumière, 1896...
Looks old, but almost new. Here's the original footage...
We are really close to the unreal easily being mistake for the real, if we're not there already.

• Netflix Fix! And, lastly, apparently there is a God... you can finally tell Netflix to STOP AUTO-PLAYING FUCKING PREVIEWS WHILE YOU ARE TRYING TO SEARCH FOR SOMETHING TO WATCH! People have been complaining about this bullshit FOR YEARS and Netflix did nothing. Apparently somebody finally figured that customers were worth listening to... or maybe it's because many other streaming services are treating customers with a lot more respect by not irritating the ever-loving-shit out of them...
Apparently you set it once in your preferences and it goes into effect everywhere. I haven't yet verified this, but I sure hope it's true.

And that's a wrap, little golden statue dude!
Tags:
Apple TV+
,
Bullet Sunday
,
Food
,
Movies
,
Netflix
,
Television
,
Travel
Categories:
Apple Stuff 2020
,
Bullet Sunday 2020
,
Food 2020
,
Movies 2020
,
Television 2020
,
Travel 2020
—
Click To It:
Permalink
—
4 Comments: Click To Add Yours!
Posted on January 30th, 2020

I've tried a number of different "meal services"... some of them send a recipe with the ingredients you need... some of them send complete meals that you microwave. I prefer the stuff you assemble from ingredients by a wide, wide margin... things just taste better and fresher.
The problem with these meal services is that I'm vegetarian and most of them put mushrooms in everything vegetarian. Since mushrooms trigger a reaction which can cut off my air supply and kill me, I have to substitute something or just leave them out. Since these meal plans are expensive, I don't like the idea of paying for recipes that are incomplete, so I generally get frustrated and quit. There's rarely many vegetarian options so it's not like they give me much choice.
Then I found Martha Stewart & Marley Spoon and all that changed. Martha always has a good assortment of vegetarian selections and none of the stuff I've selected have had mushrooms in them. NONE! How refreshing!
But the best part? I really like the stuff I've been sent!
Ingredients are (mostly) fresh and good quality. Recipes are good. Some are very good. None of them are overly-complicated or difficult to prepare, though Marley Spoon's recipes are a bit more involved than others I've tried.
Like all of these services, each "meal" is supposed to be two servings for two people. Since I'm alone, and like big dinners, I'm usually just eating both portions. Any leftovers get tossed in the fridge for lunch the following day.
There are a few downsides, however.
First of all, you have to actually cook. I'm more of a take-something-out-of-the-freezer-and-microwave-it kinda guy. Second of all, since the recipes are a bit involved, there are a number of steps which make a lot of dirty dishes...
Thirdly, and this is a big one, the meals are expensive, yo. Each week you get two meals which are, in Marley Spoon's opinion, four servings. The cost is $41.00 plus $9.00 shipping. So... FIFTY DOLLARS for two dinners and two leftover lunches (most times). Now, $20 dinners and $5 lunches may not seem like an extravagant amount of money if you eat out all the time. But I don't because I have other places my money needs to go and $25 a day is outside my budget. That being said, I do consider the Martha Stewart meals to be a fairly good value (and a great value if you eat the meals with meat in them). Especially when you consider that I get to keep the recipes and will absolutely be making some of these meals again. After my "promotional discount ends" I will likely be skipping most weeks since I can't afford them, but I will still buy an occasional box that sounds too good to pass up when I can afford it so I can get new recipes.
And, lastly, because I'm in a rural area, my boxes are hit-or-miss as to whether they arrive on time. It's running about 50/50. This wouldn't be terrible, except the vegetables start to age so they can end up yucky and need replacing. Another bummer? They do not seal the boxes very well. A single piece of thin tape, and it sometimes comes open during shipment. Since this is food, they should really be using WIDE security-printed tape so you know if your box has been tampered with.
And now for the recipes I've tried so far...

01. Tortelloni & Butternut Squash with Harissa Butter & Roasted Almonds
My very first meal was my favorite. And it's so simple that I can easily make it myself. Essentially you cube up a bunch of butternut squash, chop up an onion, then sauté with harissa spice until soft. Mix that with cooked cheese tortelloni, butter, and top with chopped almonds. Done. I had never heard of "harissa spice" before and immediately fell in love with the stuff. It wasn't at my local market and we don't have a Middle-Eastern market, so I ordered from Amazon. Fantastic stuff. Odds of me making this again? 500%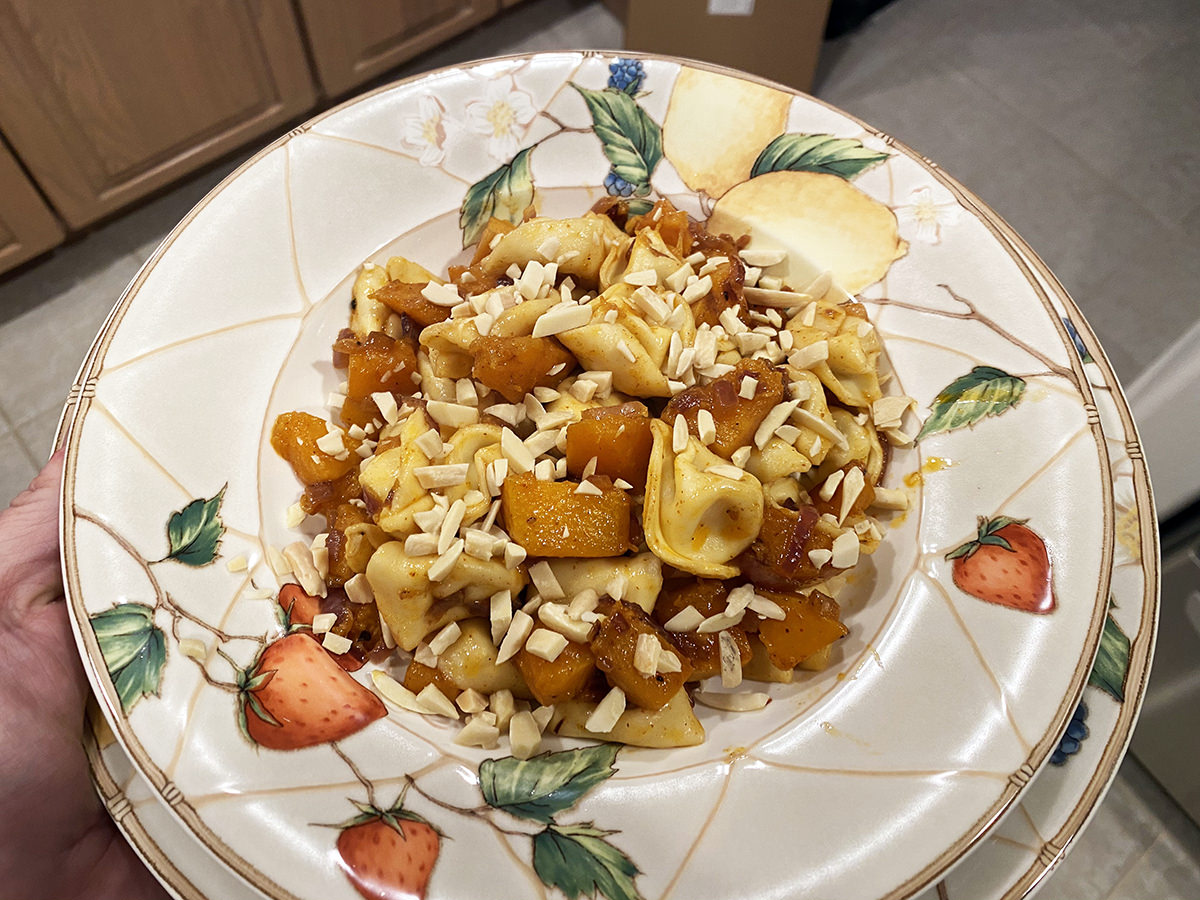 02. Cheesy Black Bean Chili with Warm Tortillas & Quick Salsa
The beans were canned, but everything else was fresh and had to be prepared (which involved a lot of chopping). I've never made chili from scratch before and was surprised at how easy it was. And how much better it tastes than canned. The only hiccup was with the tortillas, which they ask you to brush with oil and heat on a flame. Well, my oven is electric not gas, so I'm guessing they wanted me to light my kitchen on fire or something. Instead I broiled them. Not the same, but good enough. Odds of me making this again? 100%

03. Southwestern Veggie Flatbread with Pico de Gallo & Crema
This was my first problem with ingredients I received. My poblano was starting to turn brown, so I had to lose a chunk of it. There was still enough left to make the recipe though, so I guess it's all good. The flatbreads are crisped, topped with sautéed onion and poblano, then baked with sharp cheddar cheese and garlic. You top that with crema and cilantro and serve with a salad made from halved cherry tomatoes, onion, garlic, fesh-squeezed lime juice, and cilantro. This salad would have been much better with some feta, so that's how I'll make it when I do it. Odds of me making this again? 75%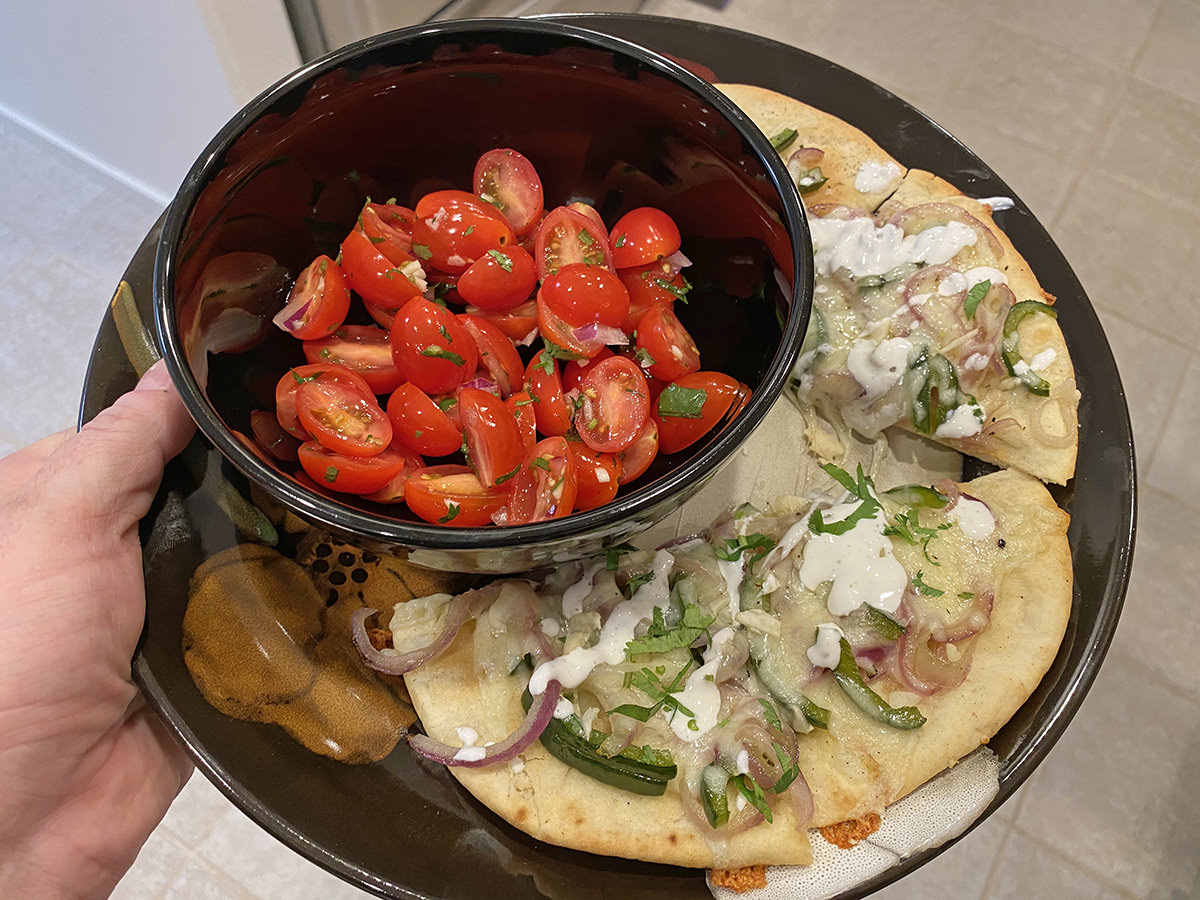 04. Veggie Bolognese Alla Norma with Eggplant & Pappardelle
Roasted eggplant, carrots, onion, and celery mixed with chopped tomatoes, basil, and garlic and dumped over pasta sheets that's been cut into 1-inch strips. While this wasn't bad, I could make a superior pasta dish on my own... and it wouldn't include celery, which is a water-logged waste. This was the first dish that I found boring and cheap. Not nearly as imaginative and delicious as the previous three dinners. I made toast and added garlic butter. Odds of me making this again? 0%

05. Fresh Pappardelle with Walnut Cream Sauce & Arugula Salad
Martha Stewart... my queen... my goddess... my master of culinary delights... you slayed it with the pasta in my dinner tonight! I LICKED THE BOWL! — MY CAT LICKED THE BOWL! — And it was everything I could do not to eat the remainder for dessert because it's supposed to be my lunch tomorrow. Amazing! 1-inch strips of pasta are cooked with mascarpone, shallots, crushed walnuts, butter, and parmesan with a bit of pumpkin spice. The salad was a bit meh though. I am not a fan of arugula. To me it tastes like bitterness and sadness. But it was made edible thanks to the dried sweet cherries, so I guess that's something. Odds of me making this again? 1000%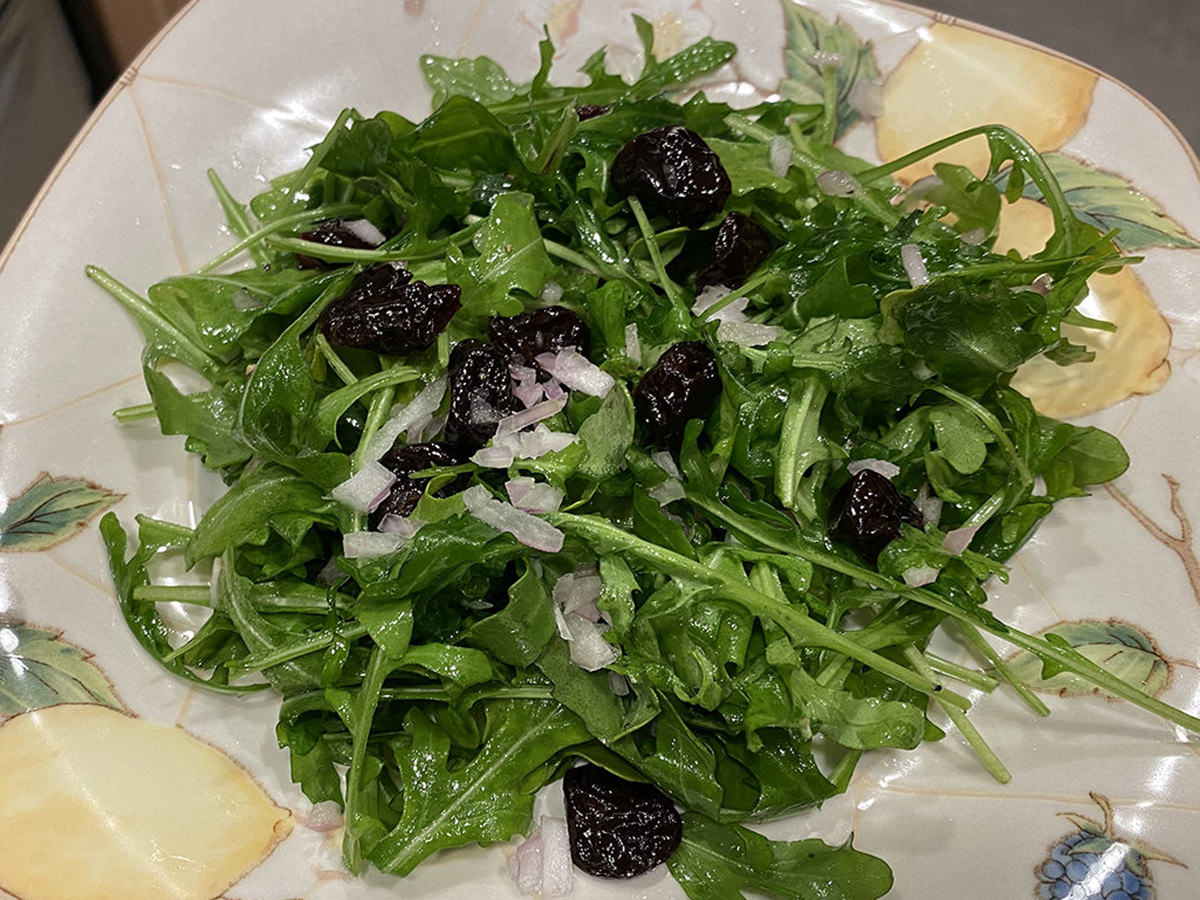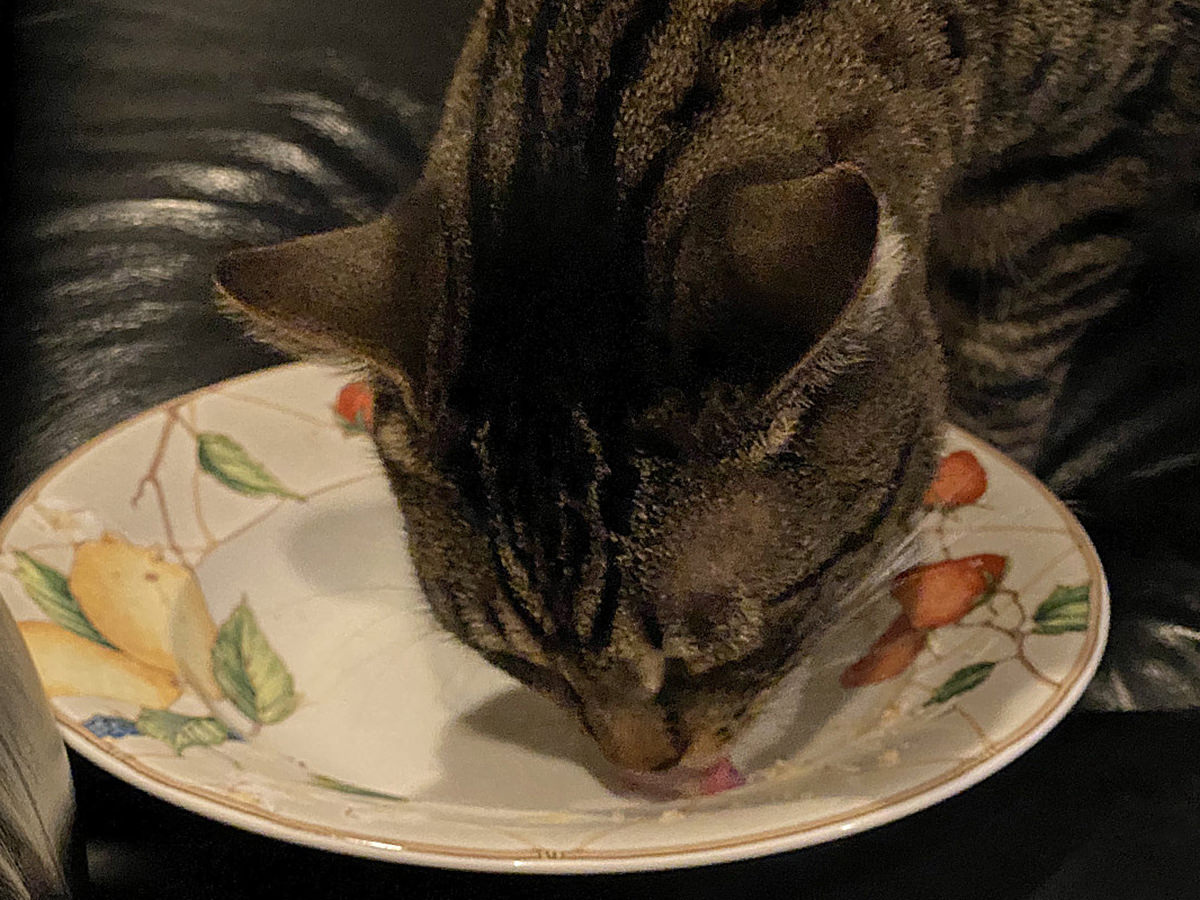 06. Chickpea & Carrot Falafel with Tzatziki & Spinach Salad
I was really looking forward to this one (I love falafel), so imagine my surprise when I open my VEGETARIAN ingredients bag and find BEEF JUICE and WORCESTERSHIRE SAUCE in it! So gross. My recipe doesn't mention any of this, so I go back to the bag and see that I was sent ingredients for MEATLOAF...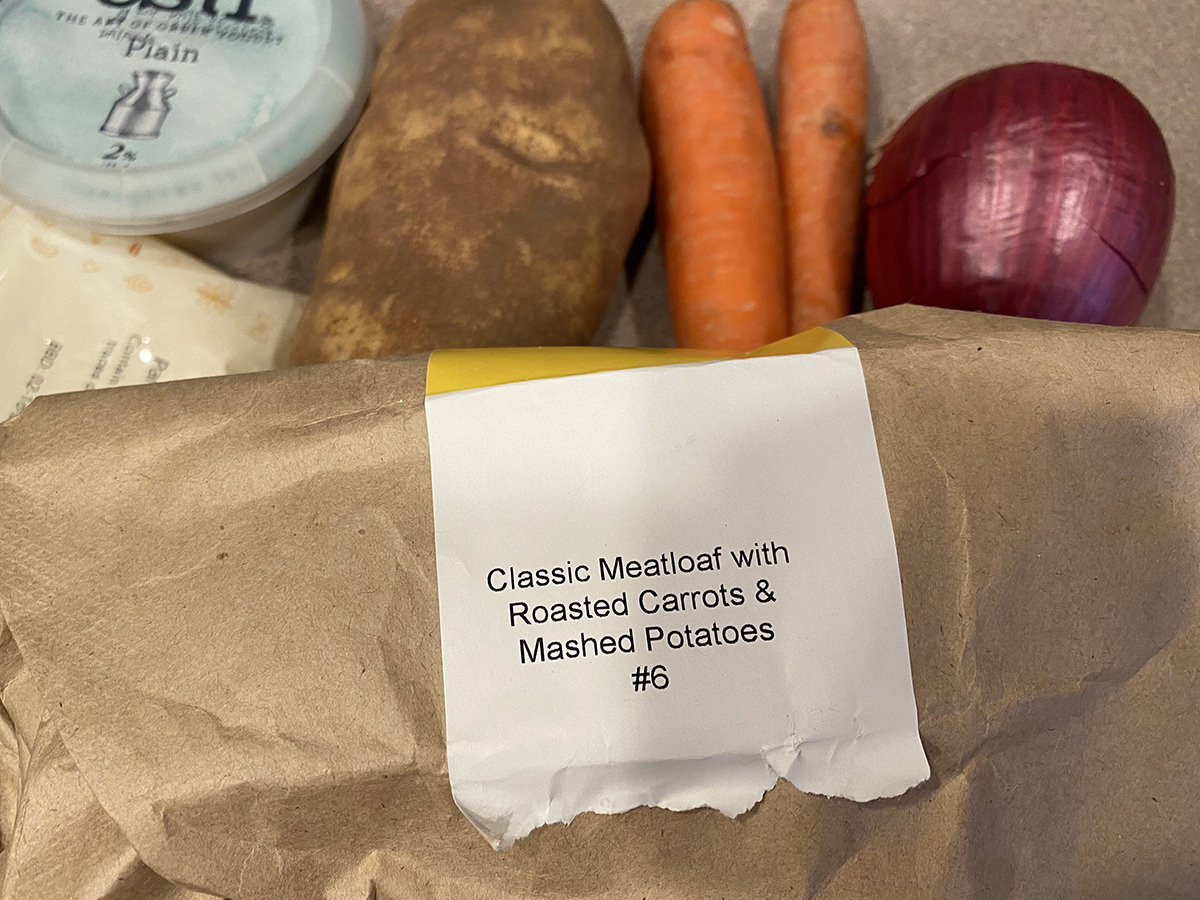 BOOOOOO!

07. Oven-Fried Veggie Chimichangas with Avocado Crema & Salsa
When you're reducing the can of black beans they tell you to bring to a boil and cook until most of the liquid has evaporated... 3 minutes. That's crazy. Try 13 minutes minimum. Another issue was that they give you four tortillas and you're to divide the filling and cheese between them. If you do that, they are so full that it's tough to get them rolled. There really should have been 5 or 6 tortillas. Also? The filling cooks down quite a bit, so even though I rolled them so tight they were about to split apart, they were still kinda hollow. Which means Martha HAD to have spooned in more filling when she took the recipe card photo. I like the sour cream and guacamole sauce, but the "salsa" was just greasy vinegar tomatoes. Hysterically enough, they toss the tomatoes in a sack with the can of beans which means my tomatoes were beat to hell. That's just sloppy. Odds of me making this again? 75% (without greasy tomato salsa)

08. Cheese Ravioli & Brown Butter Sauce with Roasted Squash & Toasted Walnuts
This is a rehash of my all-time favorite Martha dish (and the first one I tried: Tortelloni & Butternut Squash with Harissa Butter & Roasted Almonds)... except the pasta is ravioli and it's walnuts not almonds. Instead of harissa spice they rely on fresh thyme for flavor and, though I prefer the hairssa by a wide margin, this was a nice change. Where the recipe fails is that they have you dump in a bunch of arugula and the bitter flavor obliterates the subtle thyme and brown butter notes. When I make this again I will leave out the arugula completely. Still... yummy stuff. Odds of me making this again? 100%

09. Coconut-Peanut Rice Noodles with Blistered Zucchini & Green Beans
Phenomenal. Most of the time I take a pass on the Asian cuisine selections because it has mushrooms (which I can't eat) or broccoli (which I loathe). This time the Asian selection had neither. If I change anything when I make this again (AND I WILL ABSOLUTELY MAKE IT AGAIN!) I will halve the amount of Sriracha. It wasn't too hot... I like the heat... but I love love love love charred vegetables, and much of the char flavor was obliterated by the spice. Even so... I can't wait for my leftovers lunch tomorrow! Odds of me making this again? 100%

10. Brown Butter & Sage Gnocchi with Sweet Potatoes & Pecans
I nearly passed on this one because I detest kale and they have a kale salad as a side. And yet... I love toasted sage and the mix of gnocchi and sweet potato sounded fantastic. And, shocker, it totally was. I ended up adding a dash of my beloved harissa spice. Not enough to overwhelm the sage, but enough to add a little extra flavor... and it was even better. Odds of me making this again? 100%
Jake wandered over and licked the bowl clean, so I guess he liked the sauce too...
The kale salad with greasy green apple dressing wasn't great... but at least it wasn't arugula. I HATE HATE HATE HATE HATE HATE HATE ARUGULA! IT'S JUST BITTER AND SAD! STOP TRYING TO MAKE ARUGULA HAPPEN, MARTHA!!!

And there you have it.. my first ten meals with Martha & Marley Spoon.
I dearly wish I could afford to get these meals every week. They so rarely disappoint. On the contrary, most of the time they are amazing, awesome, and delicious in every way. I am discovering wonderful foods and great cooking methods that will last far longer than any one meal. But, alas, I have reduced my Martha with Marley Spoon meals to every-other-week (or less, if the recipes are not different from what I've already tried). It's still more money than I should be spending, but I can't give it up. I make the recipes again and again, so the value is far beyond the cost of the food. It's like getting food PLUS creating a recipe book with only the most incredible meals I've found. Who wouldn't pay top dollar for that?
And now, not to end this on a sour note, but I really have to...
In my last shipment, Marley Spoon announced that they will no longer be including recipe cards. You have to view them online or download them and print them yourself...
We wanted to tell you about an important change to your upcoming Martha & Marley Spoon deliveries. In an effort to reduce our product's environmental footprint in 2020, we are replacing the paper recipe cards in your box with downloadable recipe cards on our app and website. We believe that every green step we take is important. We hope you agree.
They are not including recipe cards to save the environment? Horse shit. They just don't want to spend the money. So I do NOT agree. People having to print the recipe cards instead of Marley Spoon printing them is not saving the environment. And you really need to print them because who wants to get their computer all greasy and covered in food while cooking? You could literally ruin your computer doing that. So much for convenience! Furthermore, most people are going to save the cards so they can make the recipes again, so it's not a waste. I know I sure do.
But the biggest reason I call bullshit on this?
If Marley Spoon was truly interested in "saving the environment" they would shut down. Because the carbon footprint to deliver their boxes... not to mention all the packaging they use which just gets tossed in a landfill... is far, FAR more damaging than a couple recipe cards. I mean just LOOK at this crap... TWO ICE PACKS AND A GIANT FOAM-LINED PLASTIC BAG TO SHIP TWO TINY, TINY PIECES OF CHEESE!
"Saving the environment" my ass. I may love the meals I get from Martha & Marley Spoon, but this is about as lame an excuse as it gets.
But setting that aside... still so happy I discovered Martha's meal service. Some of the best food I've ever cooked. Which isn't saying much considering I usually microwave frozen meals... but still... good stuff.
Posted on January 19th, 2020

I'm still sick and dying, but the show must go on, because an all new Bullet Sunday starts... now...

• HDR. I've had a 4K AppleTV since the day it was released. The 4K part isn't a massive improvement over 1080 because my television isn't big enough (or rather I'm not sitting close enough) for it to make a big difference. When I get up close, fine details do look also nice... especially fine lines like strands of hair and the like. And so I just left the settings to the default of 4K because my TV can do that. Sometimes if it's a really beautiful movie that's being displayed in 4K I'll pull up a chair so I can see all the incredible detail up close. In discussing this, I was told that the default 4K is in Standard Dynamic Range and I should check to see if my television can display High Dynamic Range. A quick look at the specs and... my television CAN display HDR. I thought my AppleTV was already set to HDR, but I went into my AppleTV settings and, sure enough, it was set to SDR instead. So I made a quick comparison by switching back and forth while watching Captain Marvel. SUCH A HUGE DIFFERENCE!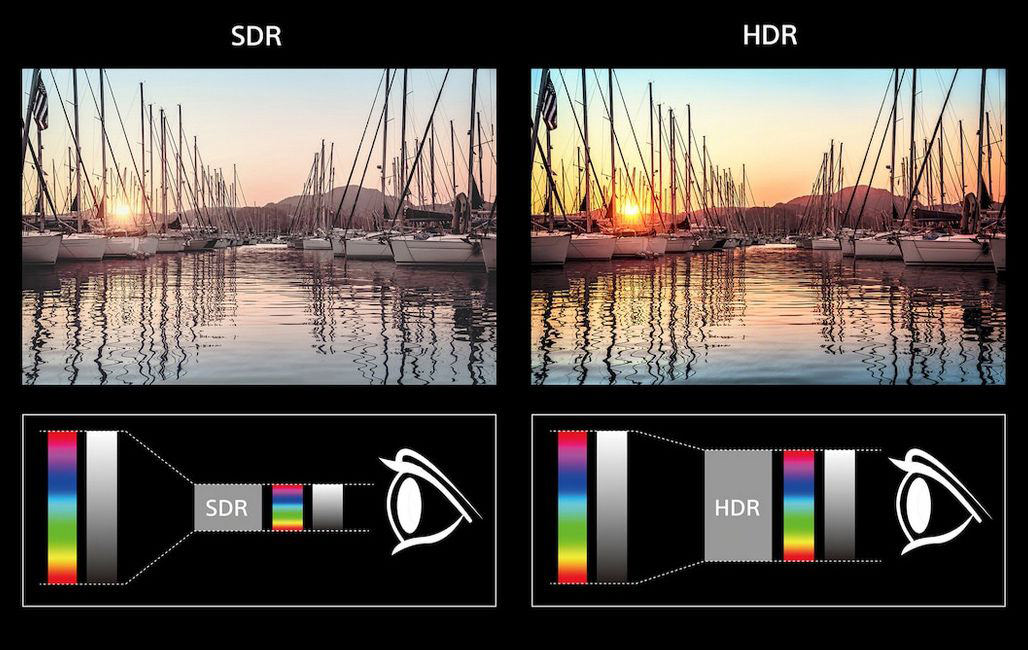 The glow when Captain Marvel uses her powers alone is worth the switch. But where it really makes a difference is in the black levels. Any time people are in shadow you can see much more subtlety in their presence. Even more important, Agent Fury and Maria Rambeau's gorgeous skin tone is far better defined and doesn't get lost when they're in shadow. Just watch the scene where Fury and Carol are washing dishes and you'll see what a difference it makes... far more of a difference than going from 1080 to 4K. Another movie that just luxuriates in HDR? Blade Runner 2049. If you've got a television that can display HDR, then that's the most important setting you can make.
NOTE: The Marvel movies are not... I repeat NOT... in 4K or HDR if you purchase them on iTunes. You have to watch via a different app which has them in Ultra-High-Def HDR. If you purchased with MoviesAnywhere, you're good. The Disney+ app looks like it's HDR, but I haven't done a lot of testing.
NOTE: The "Movies" app on AppleTV stupidly does not seem to tell you when movies are encoded in HDR. You have to look them up on the shitty AppleTV desktop app on a computer to know that. So lame.
NOTE: Just to say... I've been running through the movie purchases I have which are in HDR and the picture quality is stunning. Even movies like Crazy Rich Asians which don't seem like they would be affected have a delicious richness to them. Seriously, wow.
NOTE: After watching a while, I am relatively confident that the AppleTV app for Disney+ is showing 4K HDR. Yay! So even if you only own the crappier iTunes versions, you can still watch in HDR with Disney+, I guess. Boy is Thor: Ragnarok disappointing. I thought once they got to Sakaar the color would be off the hook. Alas, not as often as you'd think, just in certain scenes. But the lightsaber fight in Star Wars: The Force Awakens nice.

• Reprisal. I suspended Netflix a couple weeks back, now I've also suspended Hulu so I can reactivate CBS All Access for ten weeks to watch Picard (unless CBS is a total dick and skip weeks like they've done with Discovery, the assholes). For the two days left I've got Hulu I've been watching it non-stop to get my money's worth. The last show I had on my list to watch was Reprisal...
A cross between all those revenge movies and Sons of Anarchy, this show is one of the most drawn-out, uneventful, dull, and overall boring series you'll ever see. Long stretches where absolutely nothing happens. Characters that have loads of screen time yet are somehow one-dimensional. There's also moments of real stupid which pad runtime just because there were ten episodes to fill. And yet... it was a fascinating, stylish, twisty, interesting ride that accelerated to the finish line. And had some great moments. I don't regret watching it. I do regret that I spent so much time watching it. So if you've got time to kill, here's a show to check out. You'll need to tough it out those first five episodes though.

• Kindness. It's not that difficult, really. If you can't be supportive of people living their best life at zero cost to you, you can at least be kind. So be kind. Offer kindness to those who are being treated unkindly. Stand against those who are treating others unkindly. As a fellow human, it's the very least we can do.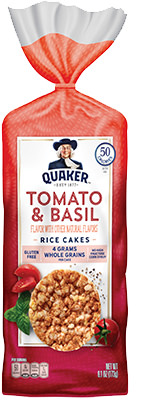 • Dietary Sadness. Quaker rice cakes are a staple of my diet. I love them. They are high in carbs (7g to 11g ea.), but it's a far better option for dessert than say... three Chips Ahoy cookies (22g) or your average cupcake (40g). I have a Plain or White Cheddar or Popcorn cake with my lunch and a flavored cake with my dinner for dessert. My favorite for dessert, by a wide margin, is Caramel Chocolate Chip. Except you can't get them any more. You have to choose either Caramel or Chocolate. Caramel Chocolate Chip has been replaced by Tomato Basil.
I decided to try them and I can't make up mystery mind. The first bite and I'm like "Tastes like crackers in tomato soup!" The second and I'm like "Tastes like pizza sauce!" Then things start to go wrong. The flavor powder accumulates on your taste buds and suddenly it's awful for some reason. I am so very, very sad that my Caramel Chocolate Chip rice cakes are gone.

• Pantone. There is beauty to be found in diversity. And this is amazing.

• Help. And before I go... I read this week that there's now a hotline specifically for caregivers... "Depression. Exhaustion. Burnout. Stress. Those are just some of the words people are using to describe their experiences as caregivers. Helping care for a family member or loved one can be hard work. People don't often talk about the emotional toll it can take on the actual caregiver. Now the Caregiver Action Network is trying to provide help by launching a hotline specifically for caregivers." — Had this existed, there were days I would have totally called this number.

And now... probably time for a nap considering I'm about to pass out anyway.
Posted on January 17th, 2020

Happy birthday to one of my favorite people on earth: BETTY WHITE! 98 years young! I've been a fan long before The Golden Girls... mostly thanks to appearances on The Tonight Show and reruns of The Mary Tyler Moore Show.
Anyway...
Today I finally finished a project I've been working on all year long (ha!), so I decided to leave a couple hours early so I could bake bread and do some cooking.
Namely, trying to figure out the perfect egg bite recipe.
There are dozens of recipes on the internet, possibly even hundreds. I've gone through a lot of them and have cooked many of them. Eventually I started experimenting on my own, combining recipes and adding my own ingredients.
Some things I've learned...
Green onions, purple onions, sweet onions, any kind of onions make the entire egg bite taste like onions. If that's your thing, go right ahead. I avoid avoid avoid.
Cottage cheese makes them more fall-apart, so I avoid it.
Most cheeses are too mild to have much impact. I eventually solved this by using SHARP Cheddar Cheese and spicy Queso Blanco (Totino's brand, which sucks for chips, works really well).
Bland egg bites are yuck, and most of my experimenting was trying to find a way to spice them up while still getting a good balance of flavor. Again, Queso Blanco was my solution.
Many of the recipes I found call for Greek yogurt (anywhere from two tablespoons to a quarter-cup). I didn't find it made a lot of difference, especially after I started going down the Queso Blanco route.
Which brings us to...
Dave's Spicy Egg Bites.
Start by dumping all this in a blender...
3 Large Eggs (or 4 Egg Whites)
1/4 cup Queso Blanco (plus 1-2 Tbs. extra, if you like added spice)
1/2 cup Sharp Cheddar Cheese
1 Tbs. Sour Cream
1/4 tsp. Ground Black Pepper
1 Tbs. Crumbled Feta Cheese (optional)
1/8 tsp. Tabasco (optional)
Blend on medium speed until well-mixed. Then add...
1/4 cup Red Peppers, diced into small pieces then heated in a microwave-safe bowl until they just start to brown. I cook for 1-1/2 minutes, stir, then cook for another 1-1/2 minutes. Your microwave may vary. Don't let them burn!
If you want ham or bacon in them, dump in a 1/4 to 1/2 cup of whatever. Be forewarned that a lot of extra stuff will cause the egg bites to fall apart easier.
Pulse-blend on slow just until mixed, don't pulverize the peppers!
Spray silicone egg cups with cooking spray (I know they say you don't have to, but they always stick if I don't). Evenly divide egg mixture amongst cups. Place a cup of water into the bottom of your instant pot then lower the silicone bite tray into the pot with the wire steam rack. Most recipes say to put a circle of foil on top of the egg tray so condensation doesn't drop onto the eggs. I don't bother.
I have an 8-quart Instant Pot. I have no idea if this makes a difference if you have the 6-quart, but I often have to increase cooking times from recipes I find. There are two ways I've tried to cook these things. There doesn't seem to be a big difference. I prefer to steam because they seem softer, but I am including the pressure-cook version which also works...
STEAM: Cook on STEAM-HIGH for 15 minutes. Quick-release. Cool/deflate for 5 minutes, then gently pop or scoop out of the cups.
PRESSURE COOK: Cook on PRESSURE-LOW for 10 minutes. Natural-release for 5 minutes, then quick-release. Cool/deflate for 5 minutes, then gently pop or scoop out of the cups.
If you don't eat all of them, you can put them back in the silicone egg cups and use the provided plastic lid to store them in the refrigerator for a few days. I just pop them on a microwave-safe plate, cut in half, then cook for 30 seconds to warm them.
If you're not going keto you can chop them up and eat them on toast, which is my most favorite way to eat them. Also delicious? Chop up, mix with crispy hash brown potatoes and more cheese, put in a steamed flour tortilla with salsa.
These are pretty good stuff, if I do say so myself, and it's the Queso Blanco which ended up being the key. I didn't find it on any recipe I dug up, which is strange. Adding it seems obvious, it was the other factors that took a lot of time to figure out (I wasted many a batch with different onions and cottage cheese until I got rid of them completely).
I'll keep experimenting and post any changes if I find out they work better.
Posted on January 15th, 2020

The plan was to meet a friend for dinner in nearby big city 20 minutes away. But it was pretty dark at 4:30 and snowing like crazy so I called to cancel. Turns out my friend had forgotten all about meeting up, so it was no harm no foul. Instead my dinner consisted of veggie hot dogs. Which was lame, but better than the bag of potato chips I had for lunch.
Though it's tough to feel too sorry for myself after I saw this video this morning...
Animals around the globe are having such a tough time of it... and people are not doing enough to help. Indeed, it seems so many of the problems animals face are due to humans in the first place. This kind of shortsightedness is incredibly depressing, and I can't help but wonder how close we are to catastrophic failure of our ecosystem.
Then we humans will be the ones having a very tough time of it.
And it will be fully deserved.
Posted on January 14th, 2020

Yesterday I ran to the grocery store to throw some money away on food. It never ceases to amaze me the cost of food nowadays. Every time I go shopping it seems like the prices have gone up. Ten items... $45, please.
One of the items I purchased was a bottle of spicy brown mustard.
To eat it.
Which, if you have known me for any length of time, is a surprising turn of events given that I spent the majority of my life hating mustard. Sure I've always got a bottle of that yellow stuff in my refrigerator for friends who come over for barbecue, but the only time I use it is as an ingredient for potato salad.
But then last month I had a Market Fresh Sandwich at Arby's and everything changed.
Let me back up a second there.
I don't usually buy Market Fresh Sandwiches at Arby's because I don't like having to pay for something I'm not eating. They don't have a cheese sandwich at Arby's, so I have to order the Roast Turkey & Swiss Market Fresh Sandwich and have them hold the turkey... AND DEFINITELY HOLD THE MUSTARD.
Except last month when I ordered I forgot to tell them to hold the mustard because it had been four or five months since I last had one.
The sandwich was incredible.
And it took me a minute to realize that the reason it was incredible was because there was mustard on it. I was dying to know what kind of mustard it was, so I went up to the counter and asked for an extra packet. But I didn't put it on my sandwich. I took it home so I could add it to my shopping list.
And so here we are.
Except the store didn't have spicy brown honey mustard like they use at Arby's so I had to buy regular spicy brown mustard and mix a touch of honey in.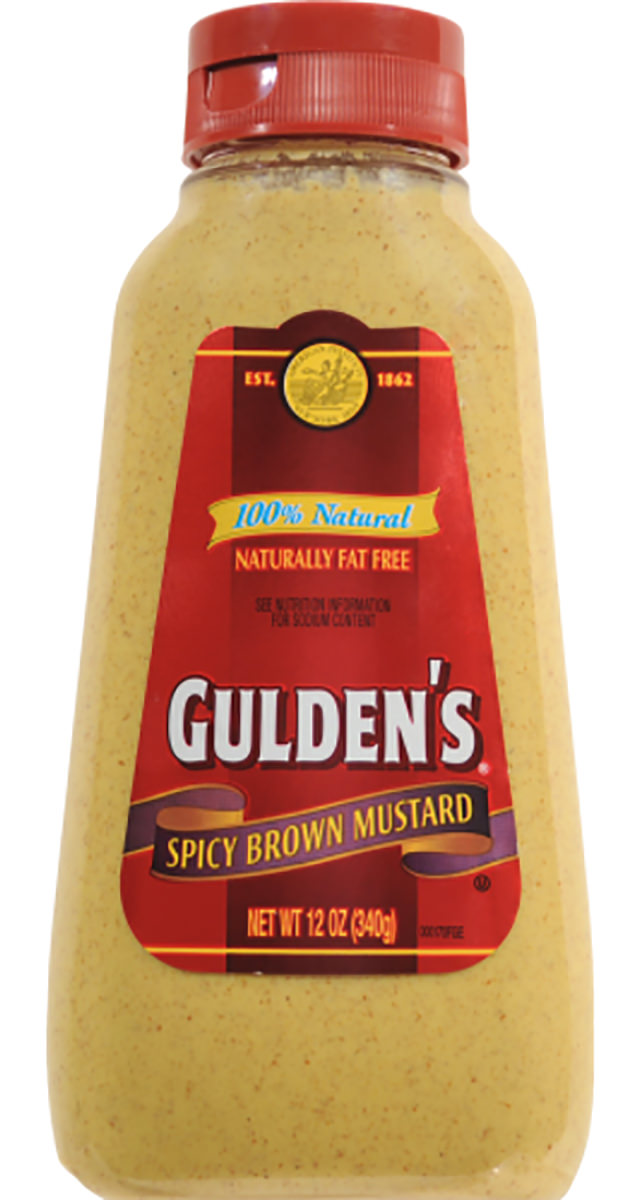 Tonight for dinner I had a Swiss cheese sandwich with lettuce, tomato, mayo, onion, and the spicy brown mustard with honey. It was delicious, as I knew it would be. And now I am wondering what other things in life I need to try that I decided I don't like because they might be something that I actually like. Well, except cauliflower and broccoli. I know that shit hasn't gotten any better since childhood.
Posted on January 5th, 2020

We may be on the verge of World War III as a reckless, clueless president is intent on starting a war to distract from his impeachment, but all is not lost because an all new Bullet Sunday starts... now...

• Oh Deer. So there I was falling asleep last night when the security system alarm goes off on my phone telling me that there was a person on the side of my house and in my back yard. I thought it might be a cat trying to get into the catio again, but Jake and Jenny were in bed with me. Nope... definitely not a cat... it was A FAMILY OF DEER! A couple others came along after this video...
Apparently with the warmer weather they are looking for something to eat, because they spent some time in my shrubs before moving on...
I feel horrible that somebody may harm them as they try to survive by heading into suburbia.

• RIP Syd Mead. It's unbelievable how so much of how we envision the future was defined by one guy... Syd Mead. He has created a tremendous volume of incredible work, and I was saddened to hear of his passing.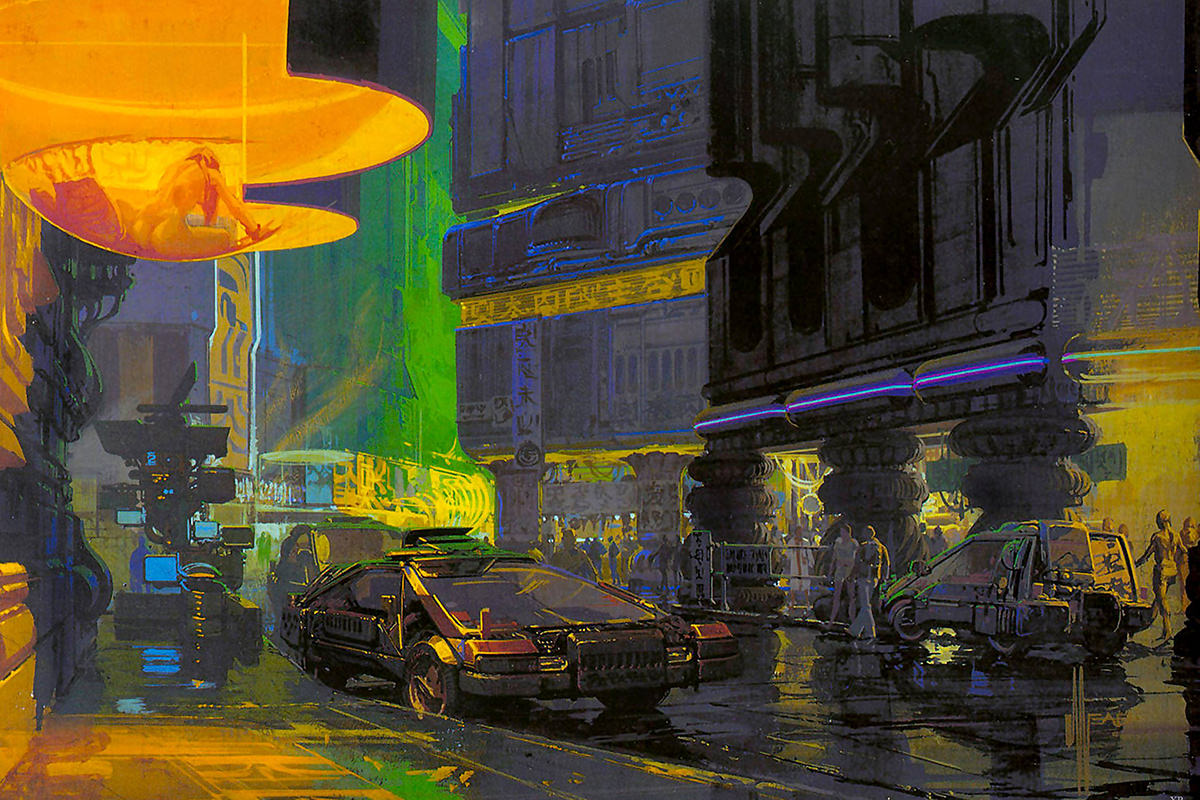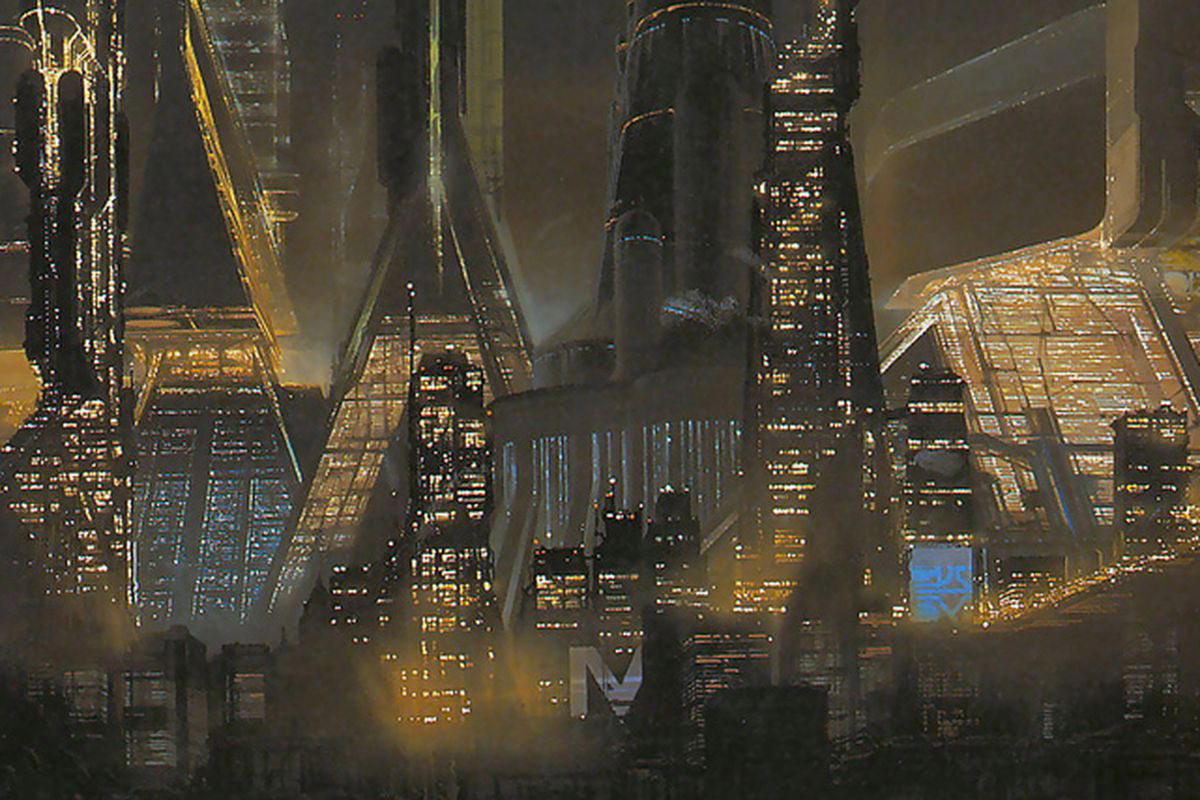 2010, him. Aliens, him. Blade Runner, him. Blade Runner 2049, him. Star Trek the Motion Picture, him. Tron, him. You will be missed, sir.

• Poop. I loathe coffee. I have never liked it despite my proximity to Coffee Central (AKA Seattle). On those occasions where it's the only thing to drink, I will try it (again) and want to barf (again) so I've just stopped trying. Finally, finally I've found a video which encapsulates how I feel about the entire situation...
Smart kitty.

• Persevere. And speaking of cats... for all the challenges you meet in 2020... take courage from this cat who perseveres over whatever life throws at them!
Way to go, buddy!

• Squishy. HOLD UP A MINUTE... how many butternut squashes were y'all going to let me buy, peel, and cube before telling me that they make LUXURY BUTTERNUT SQUASH that comes pre-peeled, pre-cubed, and frozen for my convenience?
Y'all are on my list now. — I think I was dangerously close to breaking down crying in the supermarket when I saw it in the freezer case. This changes so much!

• Fly Someone. And lastly, I missed this adorable Christmas commercial from Heathrow Airport. Well worth your time to watch...
What a nice way to end Bullet Sunday! Have a good one, everybody.

Stay safe and be kind, everybody...
Posted on December 31st, 2019

For those who only read one of my posts each year... or anybody wanting a recap of the past year here at Blogography... this post is for you! As customary, I've jettisoned loads of the usual junk so this entry is "mostly crap" instead of the "total crap" they usually are.
Last year losing my mom was the worst year of my life. This year couldn't help but be better by comparison. But I lost one of my oldest, dearest friends right off the bat, so now I'm horrified at what 2020 may have in store. I guess I've reached the stage of my life where it's all tragedy and loss from here on out? Lord, I hope not.
---
JANUARY
• Took a look at Schitt's Creek, one of the best TV shows ever...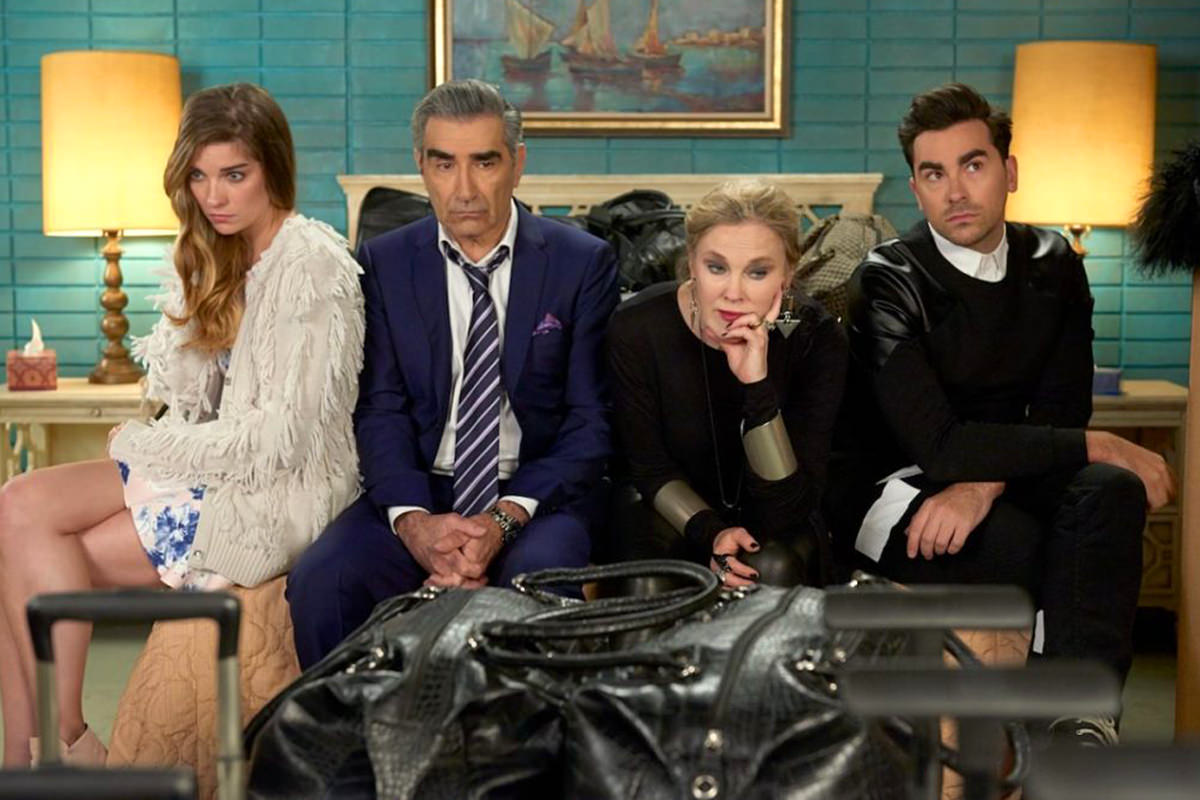 Took a look at the Seattle Tunnel... and the horrible design of the new spaces it will allow.

• Built a magnificent photo wall in my stairwell...

• Experienced Poster Raising with the Amish...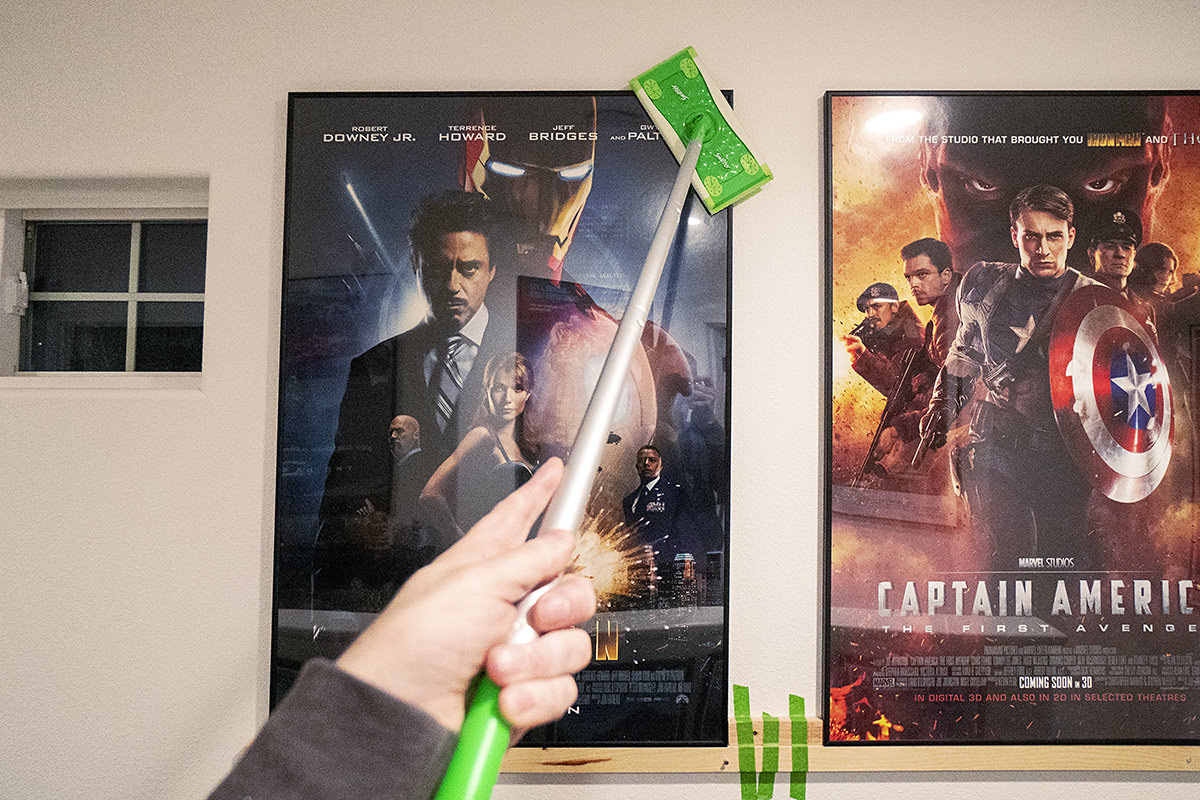 ---
FEBRUARY
• Converted another batch more DVDs and Blu-Rays to digital... and explained how you can do it too.

• Wished Jarrod Saltalamacchia, one of my favorite ball players, a happy retirement...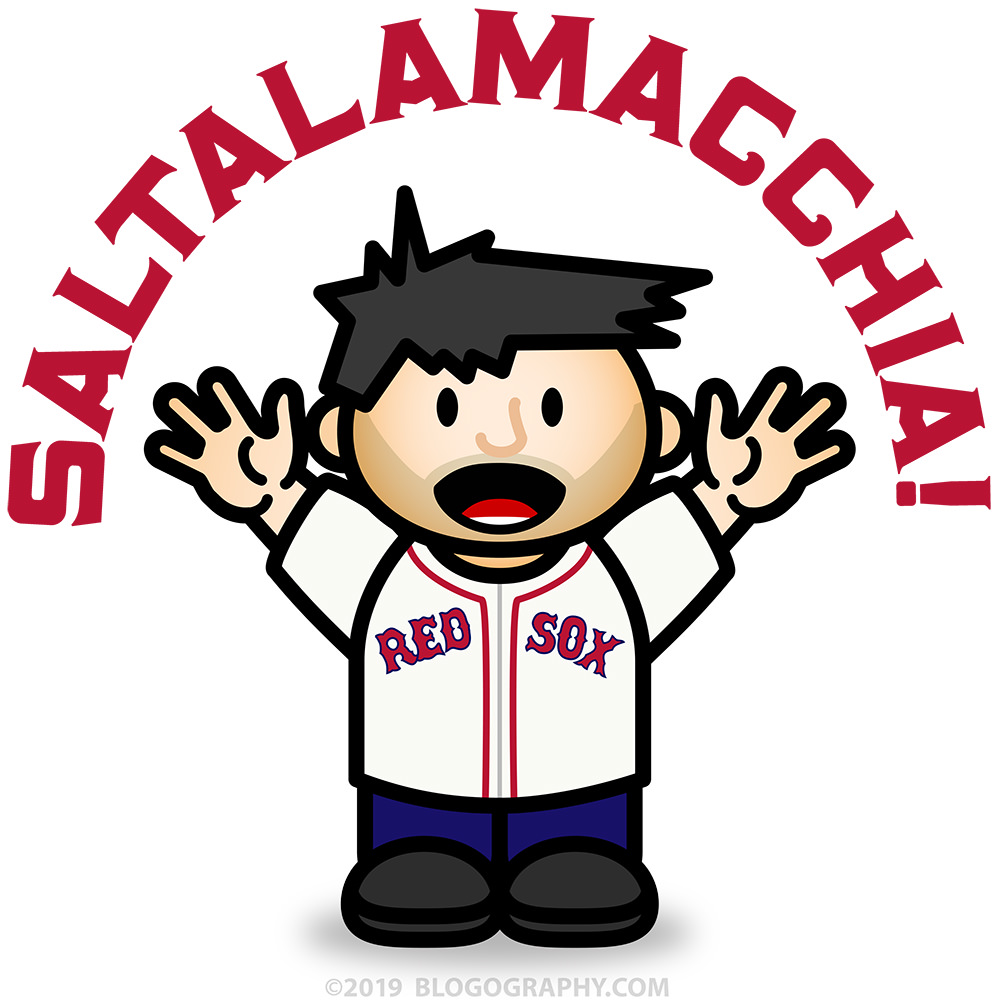 • Dedicated a post to Mufasa, Jake's toy lion, his favorite thing in the universe...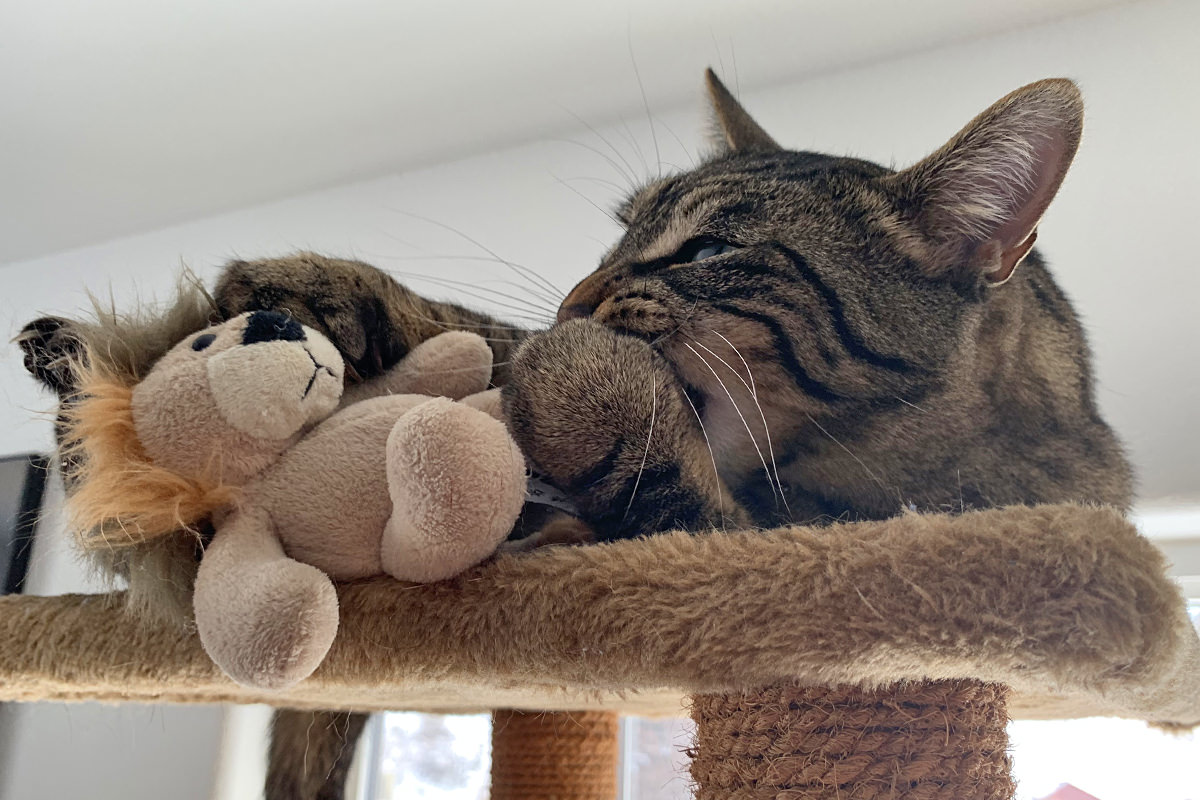 • Lamented the fact that SeaTac International Airport is still a shitpile of fail, even when they build something new.
---
MARCH
• Said good bye to one of my oldest and dearest friends...

• Watched as my home keeps getting invaded by trash pandas.

• Spent my 101st Caturday taking inventory of the cats in my neighborhood...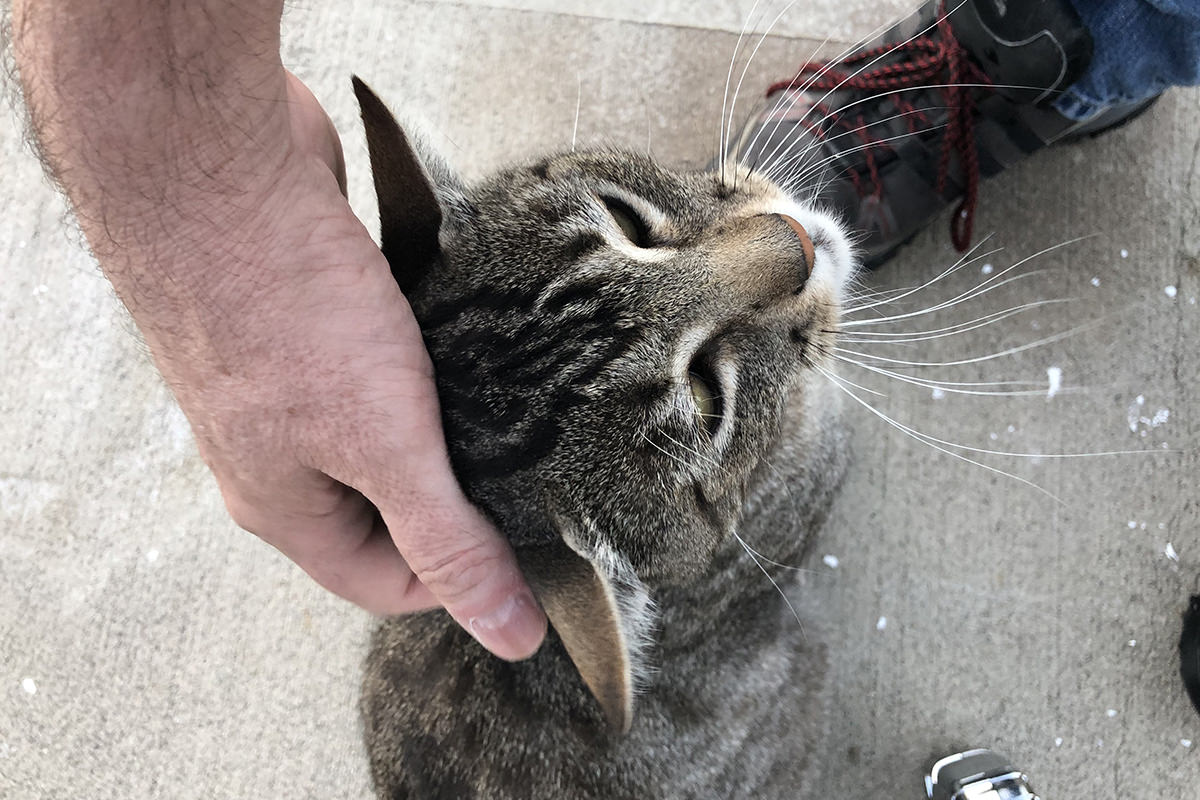 ---
APRIL
• Watched the funniest stand-up of the year with Nate Bargatze's The Tennessee Kid (highest possible recommendation if you have Netflix)...

• Took Jake back to the vet after he ended up sick again. Still amazed that the little guy can't meow ever... EXCEPT when he is in distress...

• Found out the reason Jake was sick was because he fell off the stairwell banister. Absolutely heartbreaking (and more than a little scary), but he recovered like a champ...

• Built a bannister ledge tray to keep my cats from falling down the stairwell again...
---
MAY

• Talked about the series of travel books I made for my mom to commemorate each of the trips we took together...

• Shared my thoughts on the fucking disaster that was the Game of Thrones final season...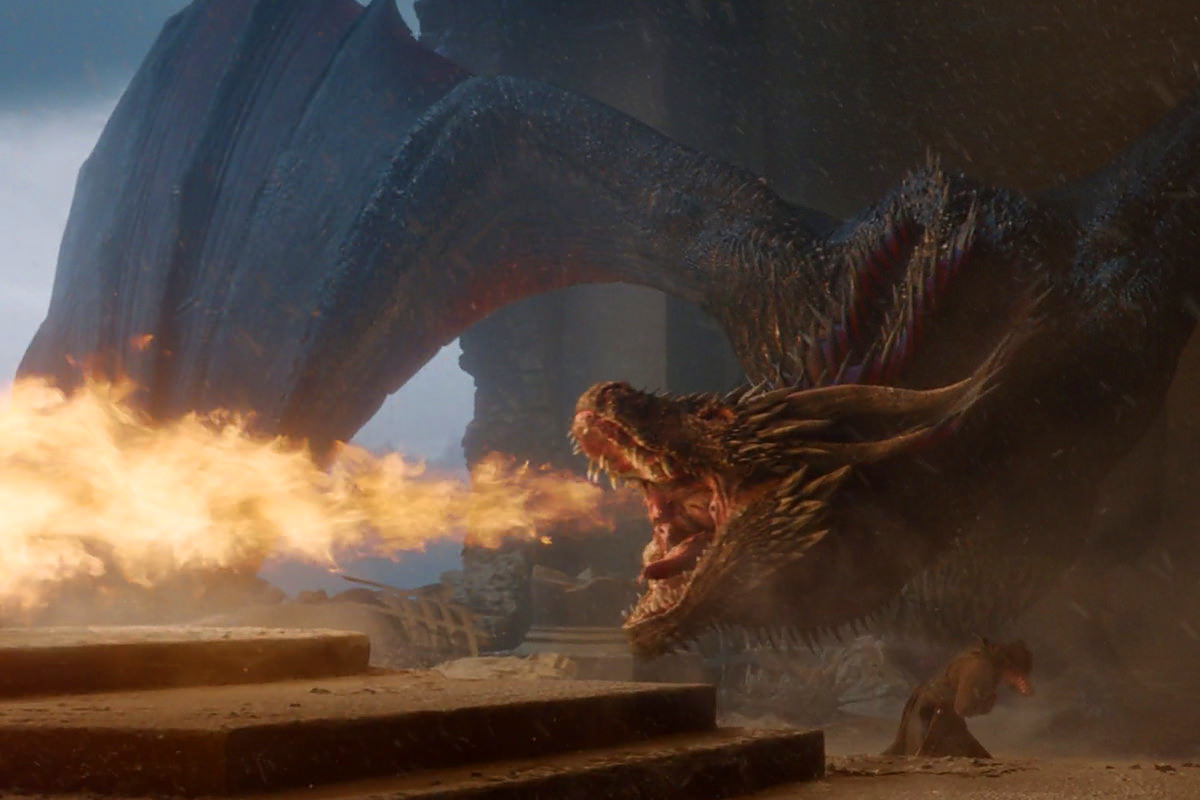 ---
JUNE
• Once again shared a video on how tax brackets work because I am sick and tired of people believing the bullshit lies that are being propagated. I honestly don't know if this is the best way, but if we're going to discuss tax brackets let's at least be informed as to what they are. And with that in mind, here we go again...

• Said goodbye to Grant, an internet friend who will be sorely missed.

• A visit to the Chihuly Garden of Glass, a magical place crafted by one of my favorite living artists...

• One year on without my mom...
---
JULY
• Spent my lazy summer days floating down a river...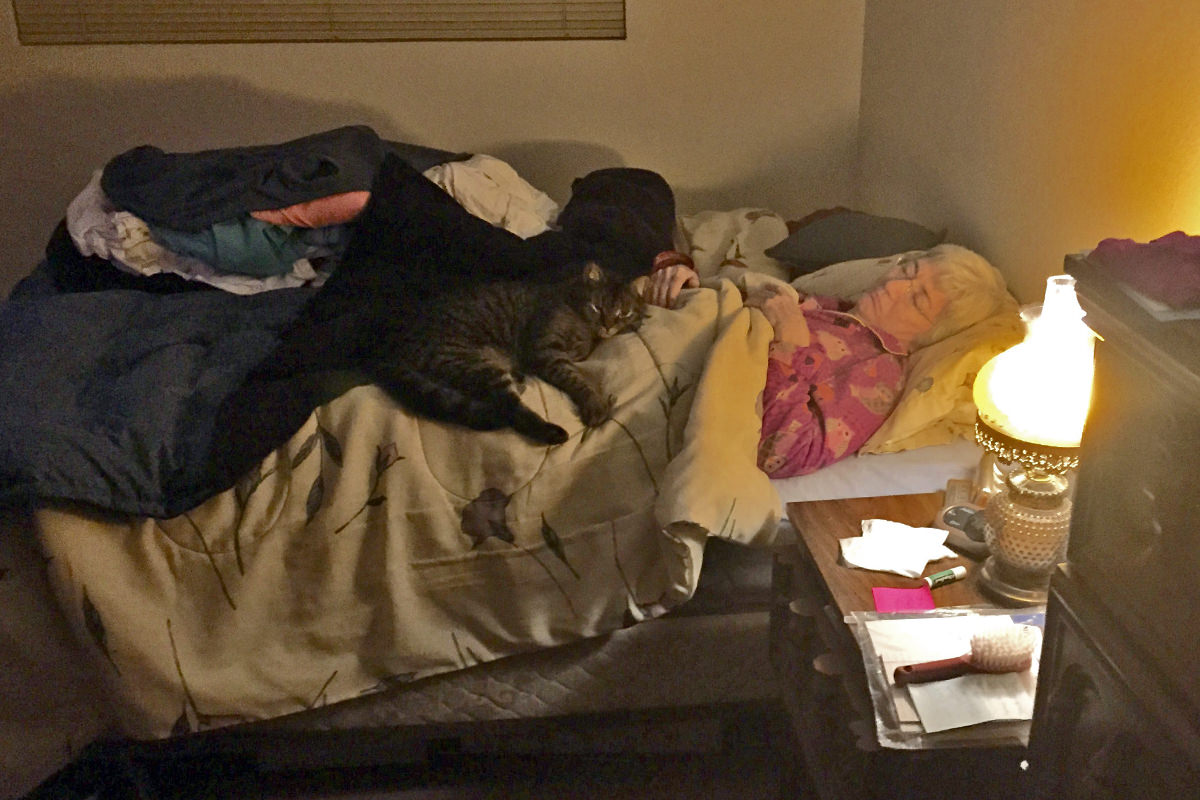 • Finally cut the cord and got rid of the toxic mess that my satellite television had become.

• Ooh... Upgrades (a process that is ongoing, by the way!).
---
AUGUST

• I have opinions. And they get me in trouble by all sides.

• Back in Vegas for the third? Fourth? time in 2019 and decided to take stock of my one-time Planet Hollywood obsession...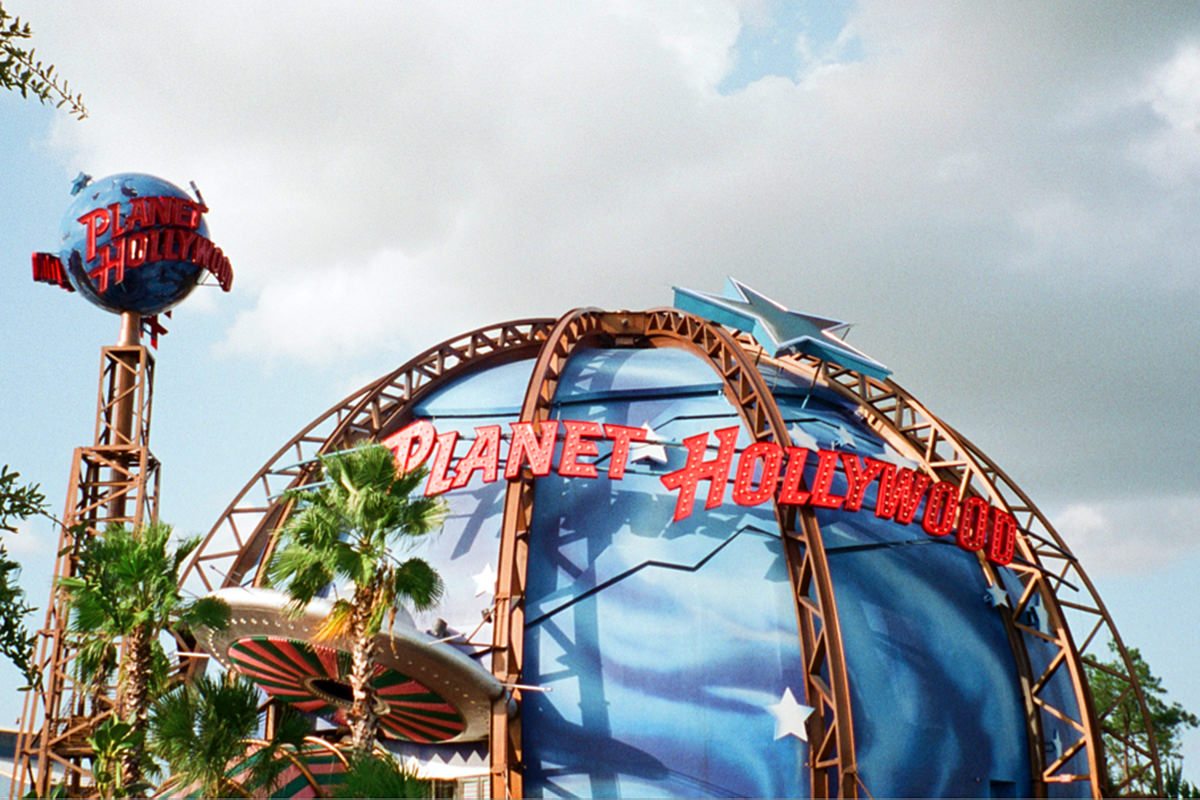 • Got to see Janet, Miss Jackson if you're nasty...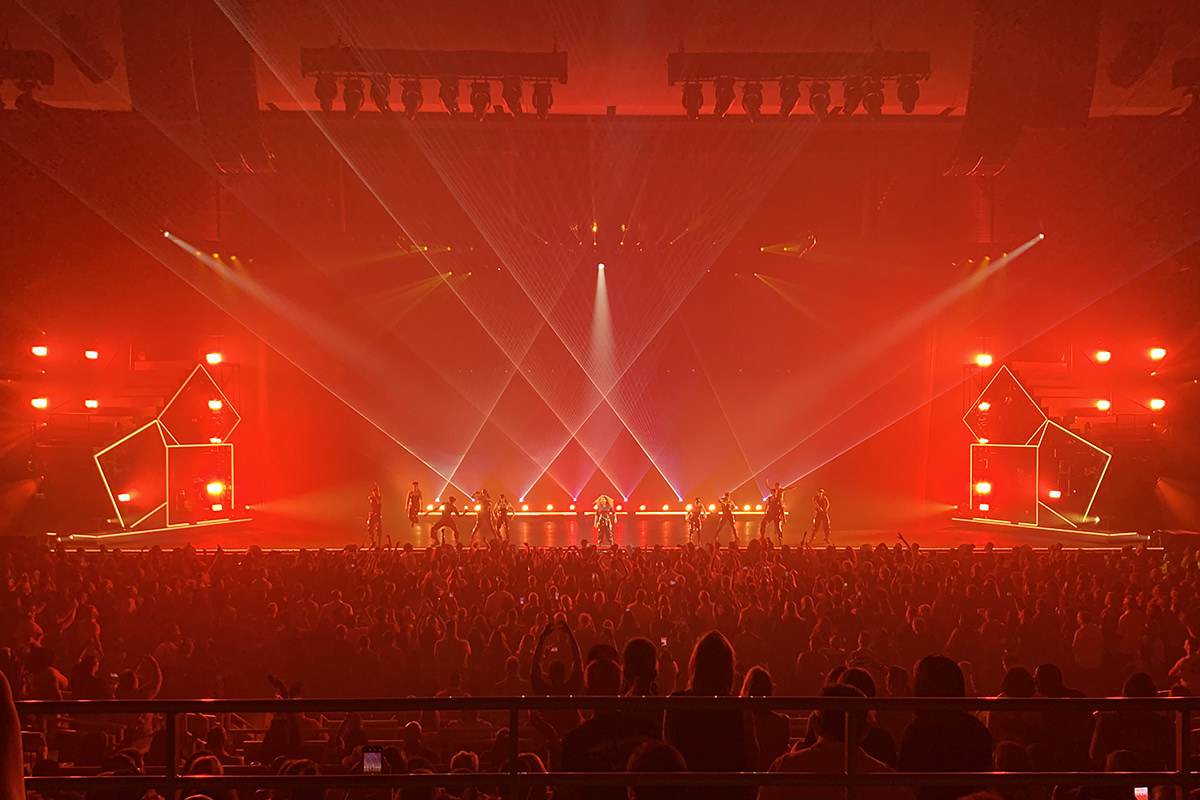 • Discovered the total magic of my favorite new thing... THE IMPOSSIBLE WHOPPER at Burger King...

• Got myself an Apple Card... an interesting beast to be sure.

• My obligatory Apple Card unboxing entry...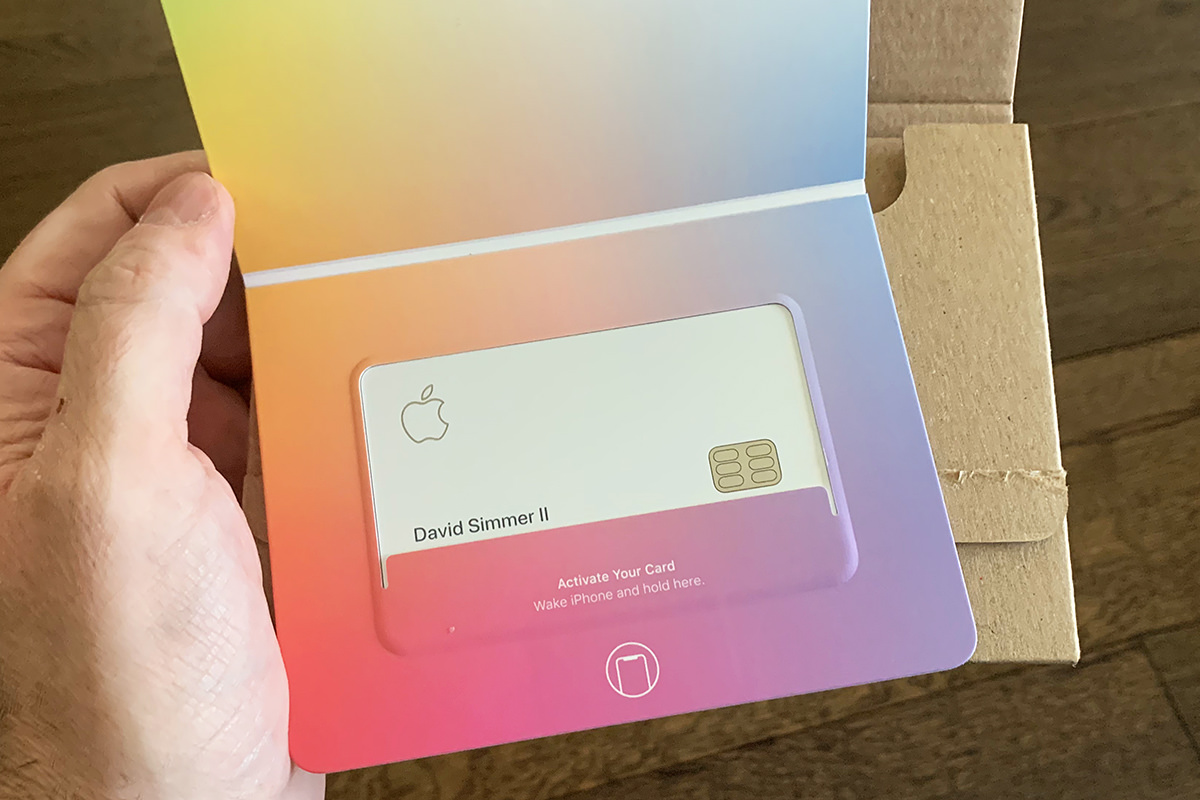 • Total outrage that Hallmark can't seem to ever get the details right.

• Jake and Jenny's cat personality analysis...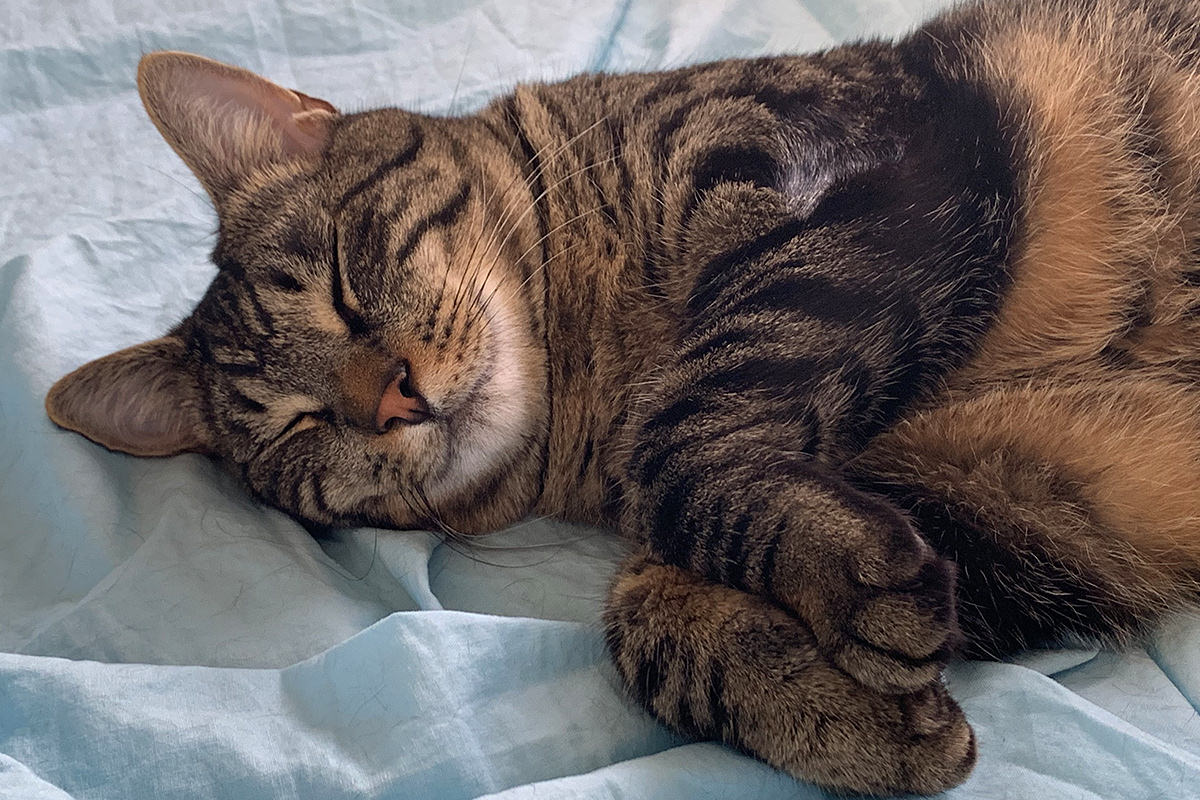 ---
SEPTEMBER
• Jenny's perpetually adorable resting cranky face...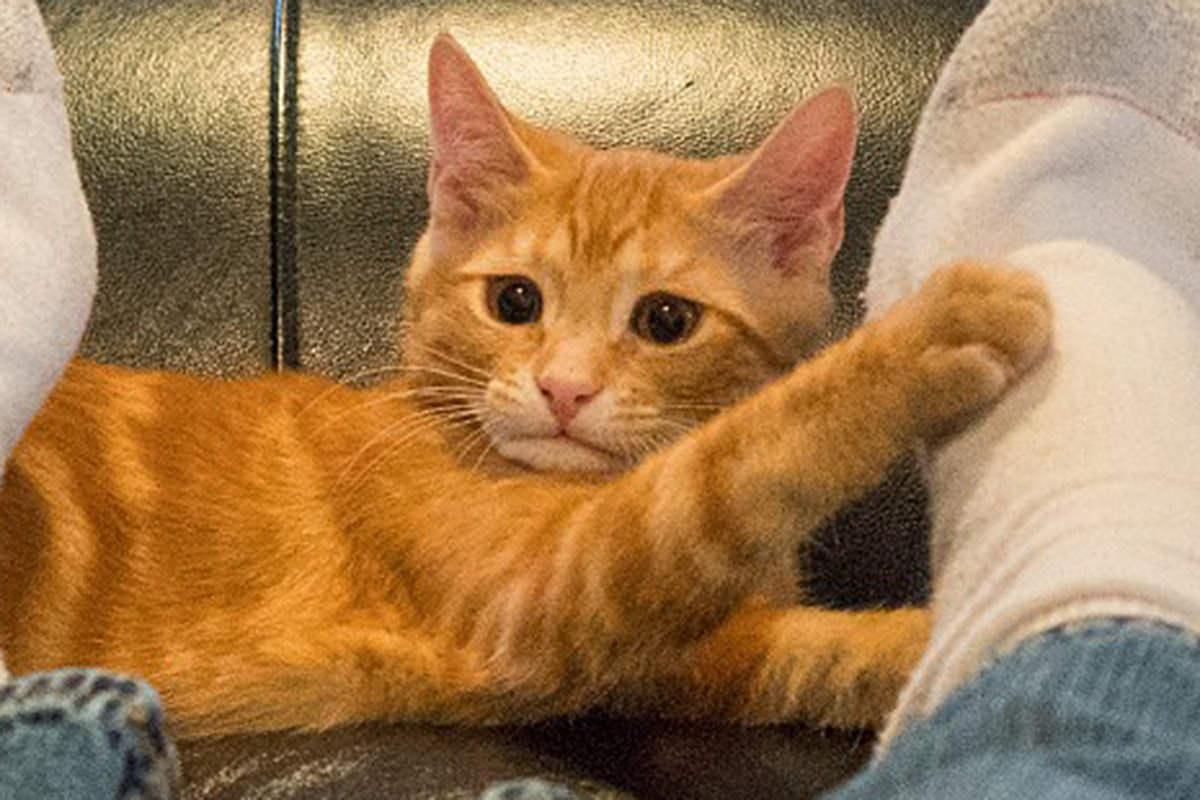 • Hell of a Day, Isn't It? Talked about what happens when you lose that person you share an inside joke with.

• Impressed the internet when I joined in on the SHOW US A PHOTO OF YOUR KITCHEN CABINET meme...

• Shared my brief attempt at being a home designer.
---
OCTOBER
• Put my iPhone 11 Pro through it's paces... and shared my thoughts in it's incredible camera capabilities...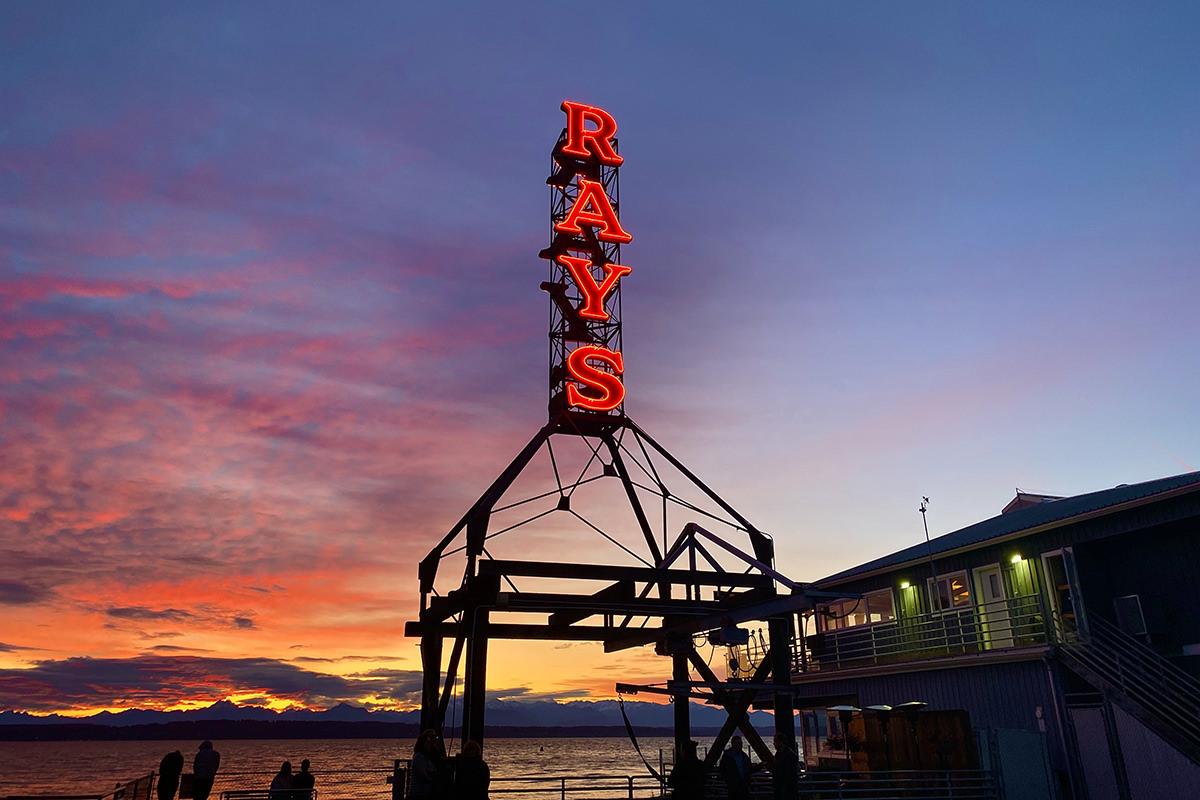 • Took my iPhone 11 Pro camera for a spin in my favorite American city.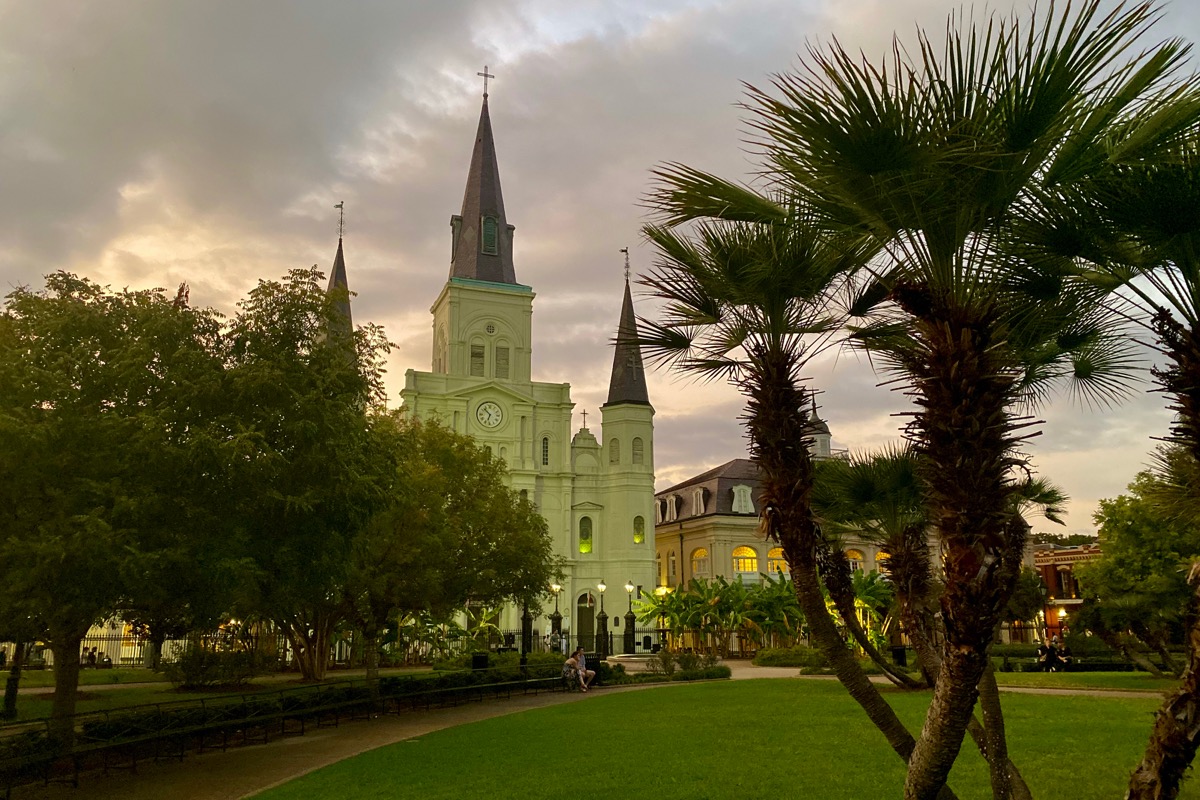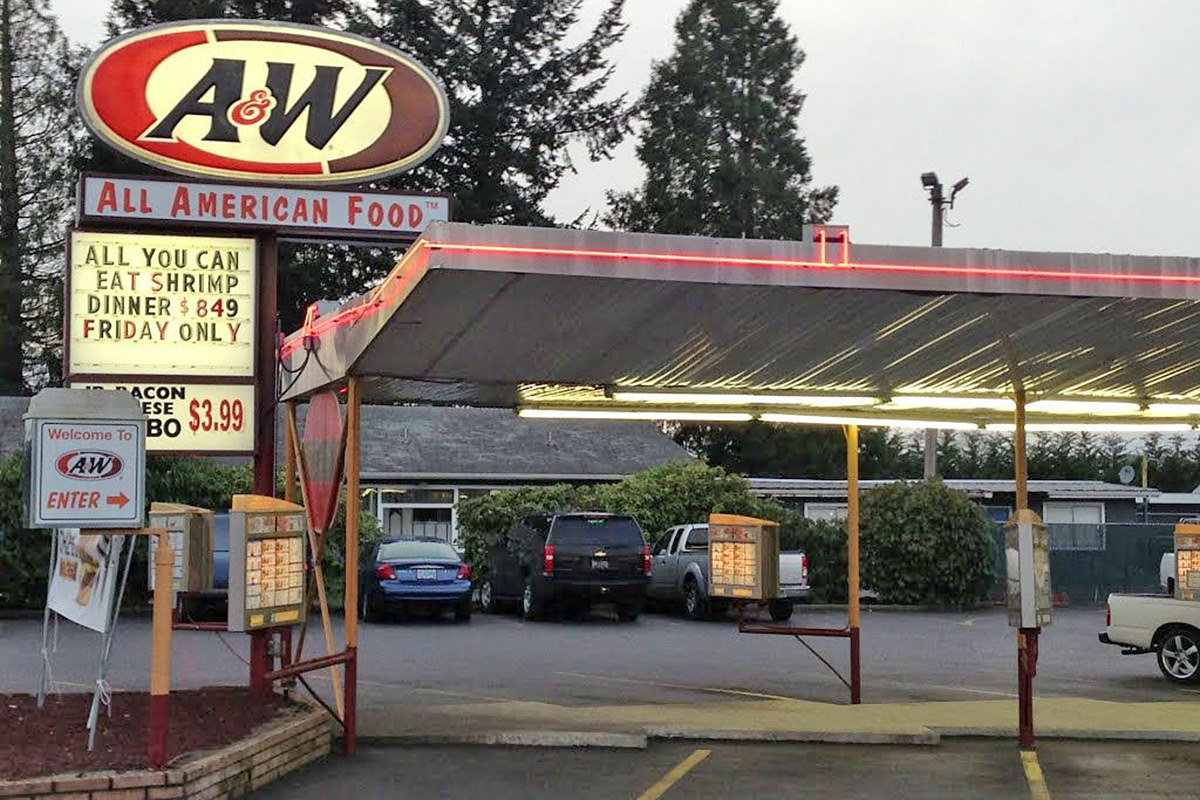 • Your Heart Disease, Courtesy of Big Beef.
---
NOVEMBER
• Ranting against changing the clocks because it fucks up my cats like nothing else... and the quail are back...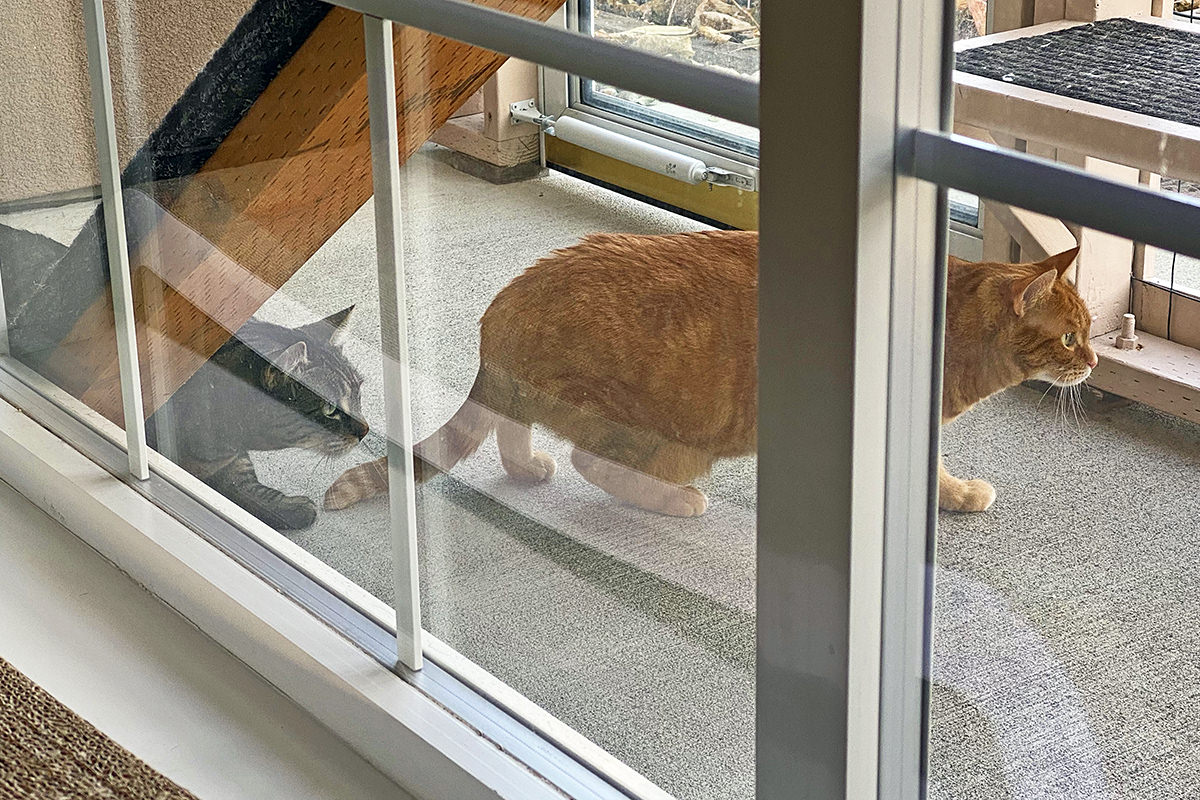 • Flew to Minneapolis so I could experience Avengers: Damage Control in real-live kinda virtual reality...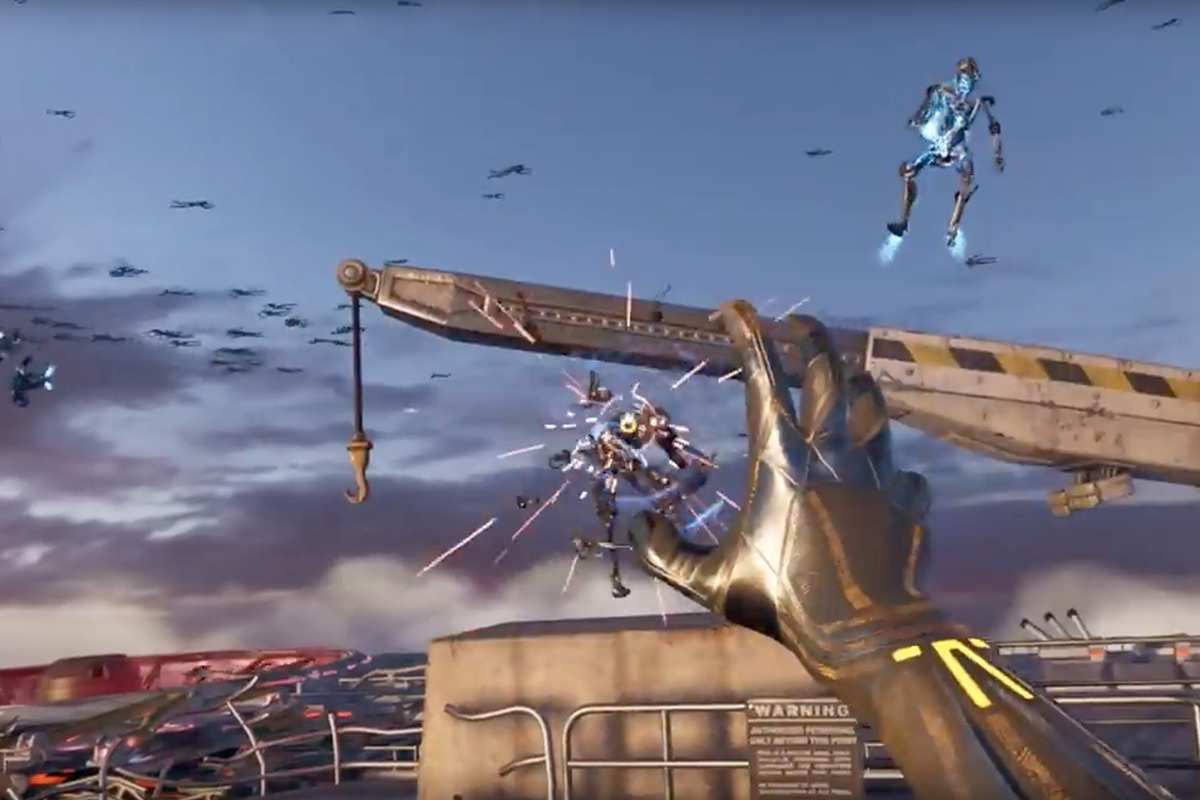 • Caring for somebody with dementia involves telling lies and making decisions.

• Disney+ finally debuted with a slew of watchable stuff to occupy time I don't have.

• Thirty Dollars for Fish Entertainment...

• Get Angry, Then Laugh... same as it ever was... same as it ever was.
---
DECEMBER
• Happy Birthday, Jake and Jenny!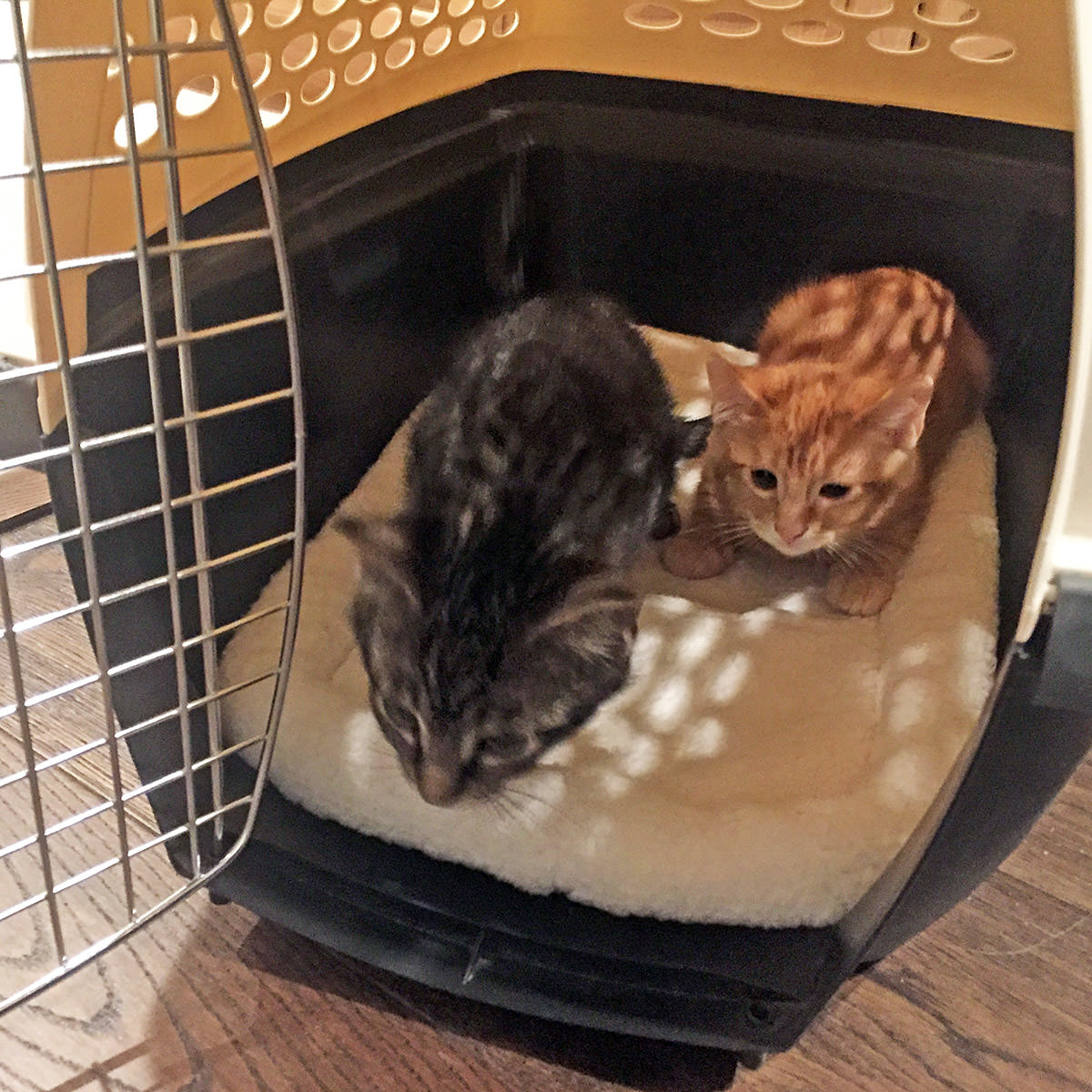 • And, oh yeah, I joined the Instant Pot cult!

• Finally replaced my dying MacBook Pro... with a MacBook Pro...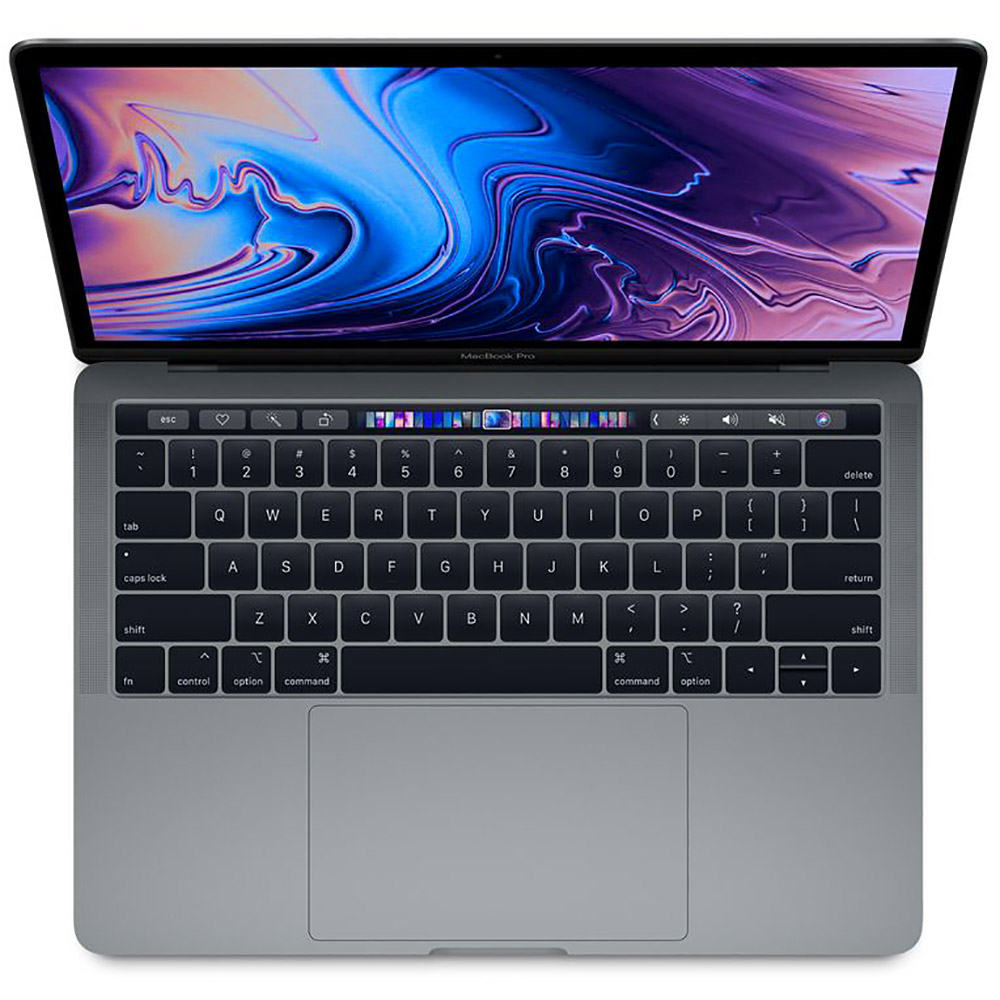 • Let's take a Very Special edition of Caturday to talk about how technology helps Fake Jake survives the winter!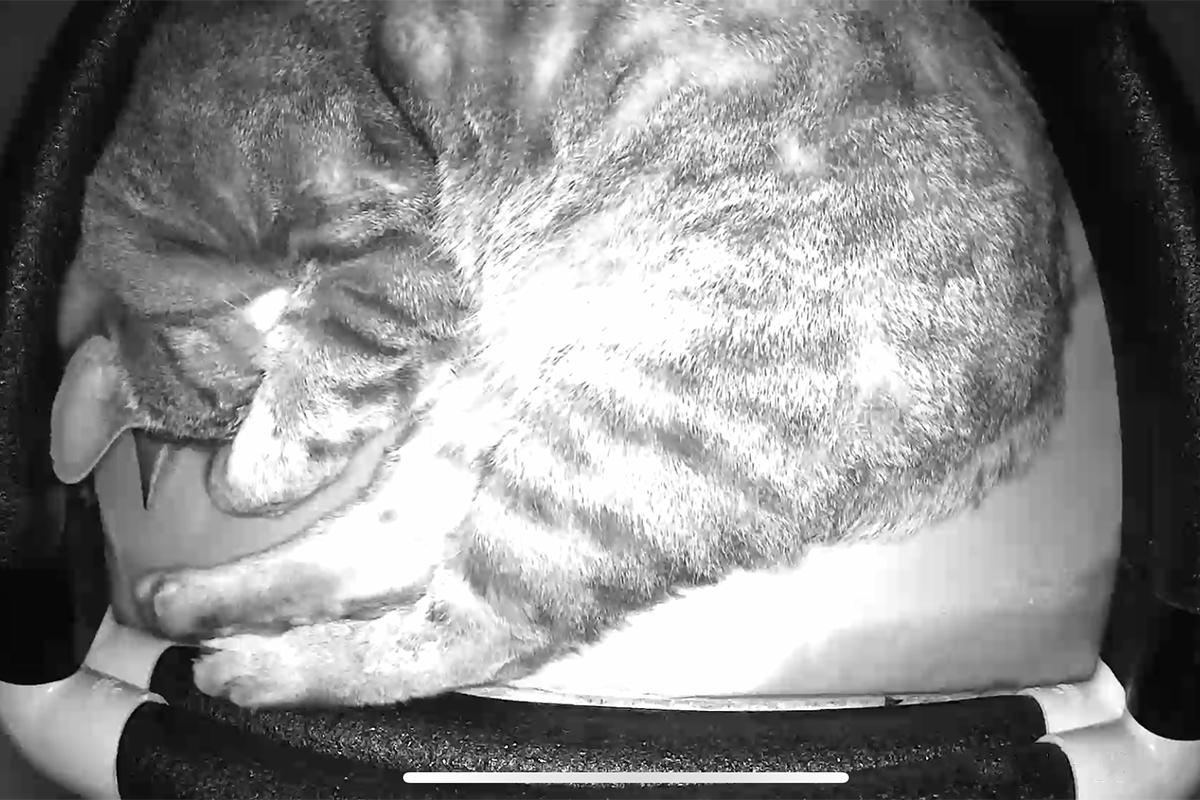 • It's the little things which happen day-today that keep destroying me...
And there you have it... my 2019 year in review.
Thanks once again to my cats, family, and friends for making life bearable through even the worst of times.
Here's to a good 2020, everybody.
Tags:
Apple
,
Blogging
,
Cats
,
DaveLife
,
Food
,
Photography
,
Television
,
Travel
Categories:
Apple Stuff 2019
,
Blogging 2019
,
Cats 2019
,
DaveLife 2019
,
Food 2019
,
Photography 2019
,
Television 2019
,
Travel 2019
—
Click To It:
Permalink
—
0 Comments: Click To Add Yours!
Posted on December 10th, 2019

A while ago I was at the store and saw that the University of Washington Tree Fruit Program's hotly anticipated new apple, the Cosmic Crisp, was available! How exciting! And then... the price tag... THREE DOLLARS AND FORTY-NINE CENTS A POUND?!? This was so outrageous a cost for an apple that I was looking to see if it came with a free gold brick or something. But nope! THREE DOLLARS AND FORTY-NINE CENTS A POUND!
Too rich for my blood. I think 88¢ a pound for apples is extravagant. I took a pass.
But when I went to the store yesterday, they were "only" $2.99 a pound. Which is insane. But I bought one... a single apple at a $1.52 cost... just to give them a try.
As I was walking out to the parking lot it occured to me that they probably released them at a crazy $3.49 a pound so that everybody would think that $2.99 a pound was sane by comparison and buy them. Genius. It sure worked on me.
Here is what the Cosmic Crisp looks like, from a glamorshot photo on the University of Washington website...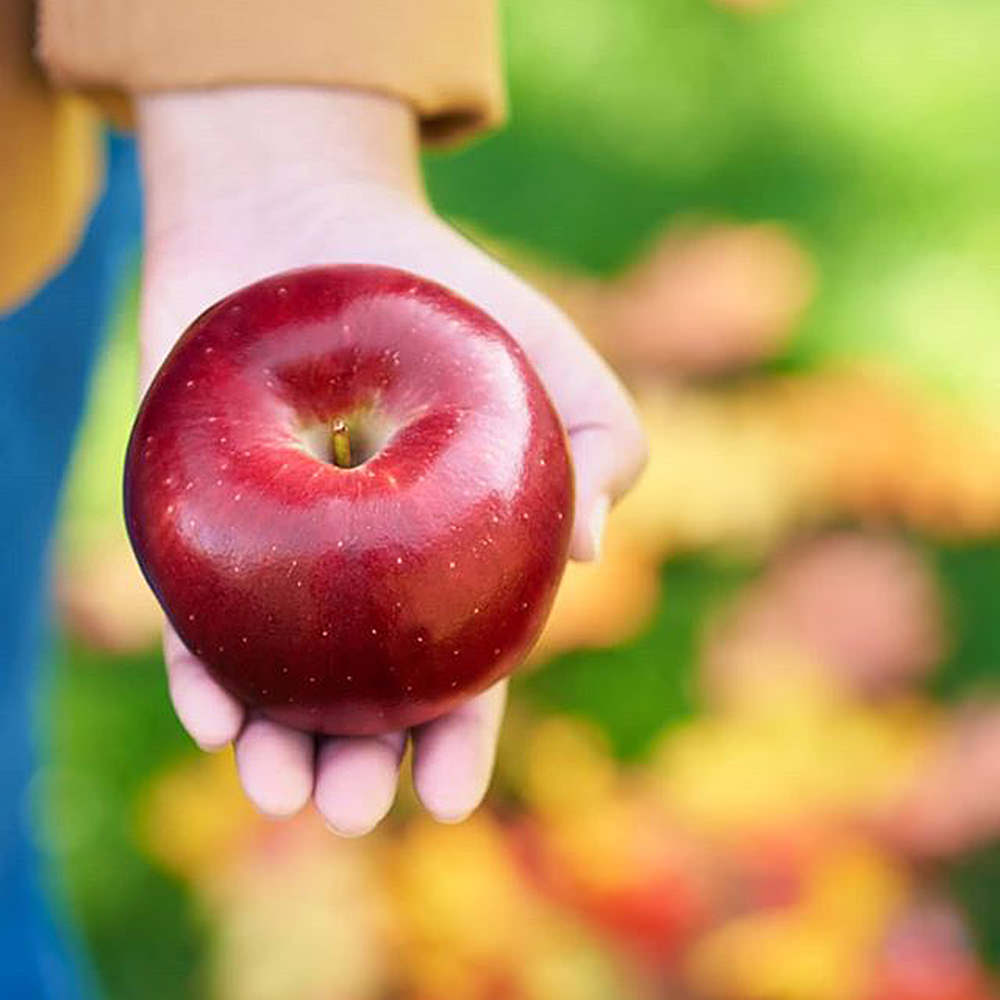 It's pretty. A deep red, but not so deep it doesn't register as red.
There are a few things I've learned about the apple...
The University of Washington has strict controls in place as to who can grow a Cosmic Crisp. Namely, only orchards located in Washington State. For now, I'd imagine.
This is a Franken-apple hybrid between Honeycrisp and Enterprise varieties. Honeycrisp is a delicious, popular multi-use apple that's flavorful and nicely crispy but is expensive and difficult to grow, tough to store and ship, and damages easily thanks to its delicate thin skin. Enterprise is the opposite of all that. Cosmic Crisp is supposed to have the taste of a Honeycrisp but the toughness and ease of growing of an Enterprise.
The apple was so impressive to orchardists that 12 million trees were bought and planted at a rapid pace.
One of the reasons that the apple is so impressive is that it can stay fresh for a year in storage. It also browns slower than most.
But whatever. How does my $1.52 apple taste?
Pretty good. Though I don't get Honeycrisp out of it. It has more of a Winesap slant. Tart with a bit of sweetness... with a really crispy snap to it. For snacking I don't like it as well as the Pink Lady (AKA Cripps Pink, an Australian import) or Honeycrisp, but it's a shit-ton better than crappy Red Delicious apples, which are not so delicious (I'd argue they're mostly tasteless).
I have no idea how Cosmic Crisp cooks up. I can't afford to make a $10.50 apple pie. I'd guess they're fine. For pies I prefer Pink Lady (when they are on sale) or Granny Smith. For apple crisp I prefer Braeburn. For applesauce I like Golden Delicious or Gravenstein. Yet I almost always end up with Fuji because they are generally the apple that's on sale. And that's fine. Fuji are good for snacking and make decent pies and dessert.
I won't buy Red Delicious for 5¢ a pound. I have no clue why they are still grown.
And I sure as heck won't buy Cosmic Crisp until the price drops way, way lower than it is now.
Posted on December 7th, 2019

My houseguests bought me an Instant Pot Duo Crisp!
While we were talking on the phone last week, I mentioned that I had an imitation Instant Pot so we could have mashed potatoes when they came. They said that they had the new Instant Pot DUO CRISP which also air-fries and bakes (as well as pressure cooks) and they love it. Apparently they thought I needed one too, so they got me one. You just switch lids depending on how you want to cook...
How sweet is that? In the span of a week I've gone from having no Instant Pot to having two?
I already know what pressure cooking does. I was interested in the air fryer. So I chopped up a Yukon Gold potato; rinshed vigorously; soaked for 15 minutes; then tossed with a little oil, some fresh-ground pepper, and seasoning salt...
...dumped them in the cooker...
...air fry for 22 minutes at 360° (stirring after 11 minutes) and there you go...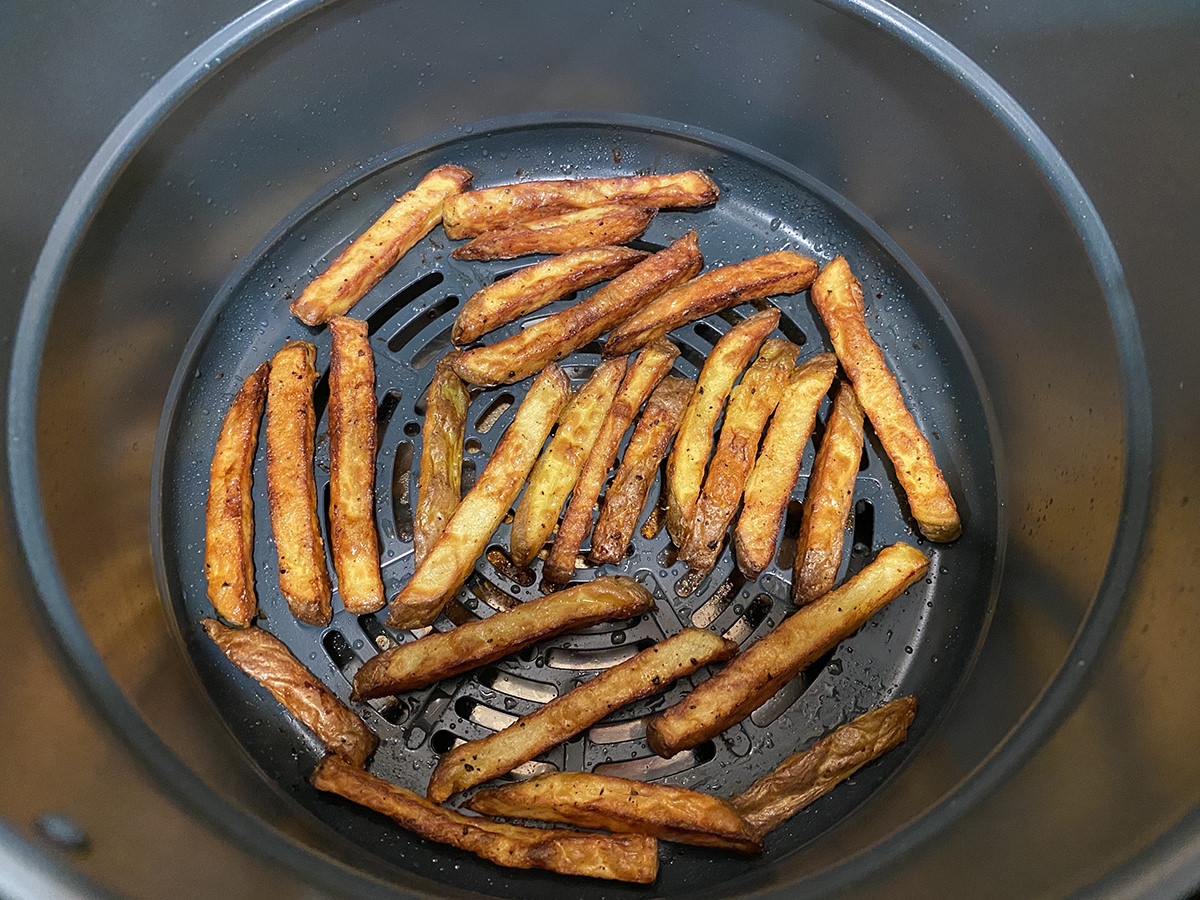 I was amazed that they tasted as good as they did. They're beautiful too...
Fantastic! I mean, they're not going to take the place of deep-fried, but they were still excellent. Easier to make, faster to cook, far less clean-up, and they are different enough from the deep-fried version that they are one more option for me when planning my meals.
Next up? I want to try cooking up an apple crisp. Thanks to the air-fryer/baking lid, I wouldn't have to transfer from the pressure cooker to a baking dish in order to get the top of the crisp... errr... crisp!
And I also need to get some lemon juice so I can try dehydrating some fruit. I prefer freeze-dried, but a freeze-dryer costs thousands, so dehydrated will have to do. In any case, it will be a deliciously healthy snack to take to work.
Guess I need to start looking for recipes.