Posted on March 26th, 2018

One of the best benefits of having a "smart home"... other than being able to tell Alexa to control everything... is being able to have a better handle on how your home works. One of my obsessions this year has been to lower my energy bill. This was actually an easy expense to tackle, because the majority of my power goes towards my furnace. During the colder months of November through February, it accounts for 55% of my bill. No other expense comes close (the second largest energy consumption is from my water heater at 7%). So it's easy to see that reducing the heat will reduce my bill at the most expensive time of year...
In January of 2017, my utility bill was around $93 for electricity...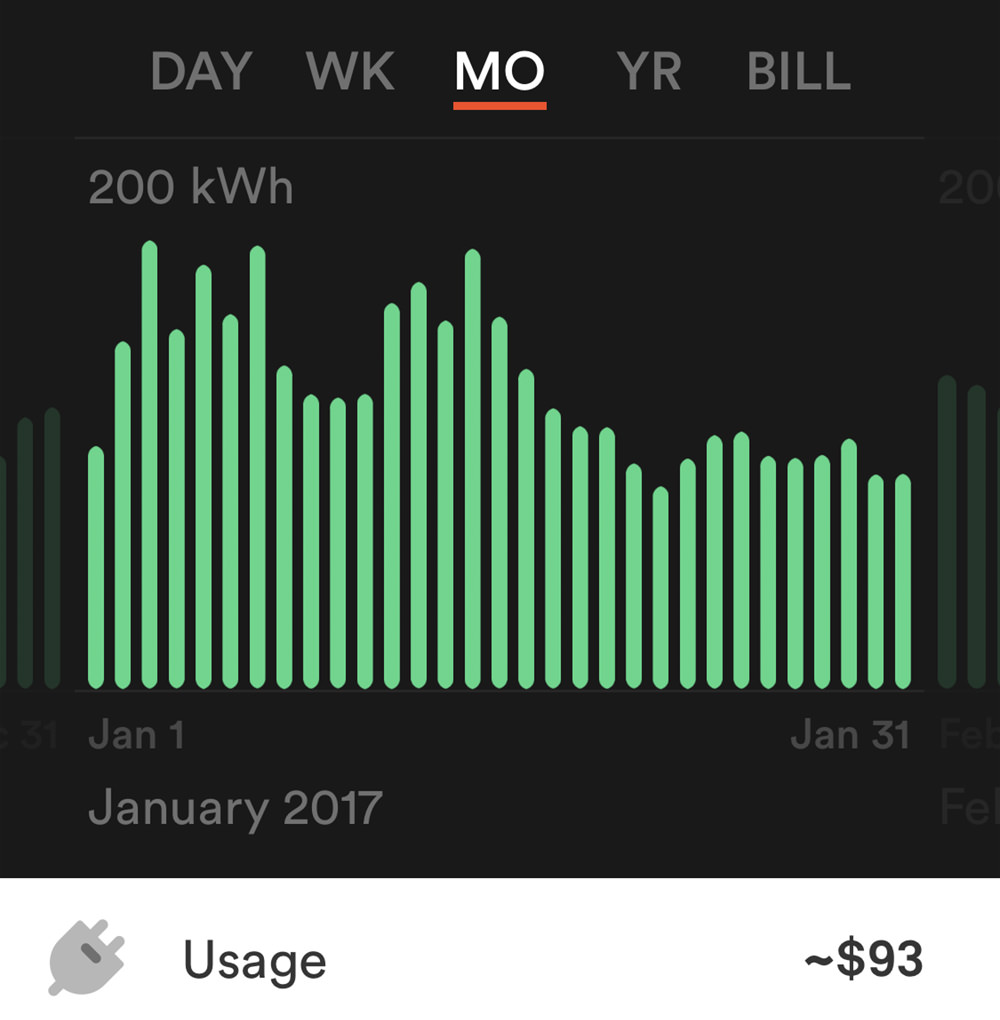 So I made some changes to my thermostat program. Last year my temperature was set at 72° when I was awake and 68° when I was sleeping or away at work. A lot of this was an attempt to keep my cats comfortable, which was kind of silly once I realized my cats were perfectly happy hanging out in the catio in 34° weather.
This year I set my temperature at 68° when I was awake, 64° when I was sleeping, and 62° when I was away at work. And just in case my cats wanted some warmth while I was gone, I had low-energy heating pads, self-warming pads, and my stereo receiver for them to lay on. The result on my power bill was pretty dramatic. Instead of my graph topping out at 4,000kWh, it now topped at only 3,000kWh...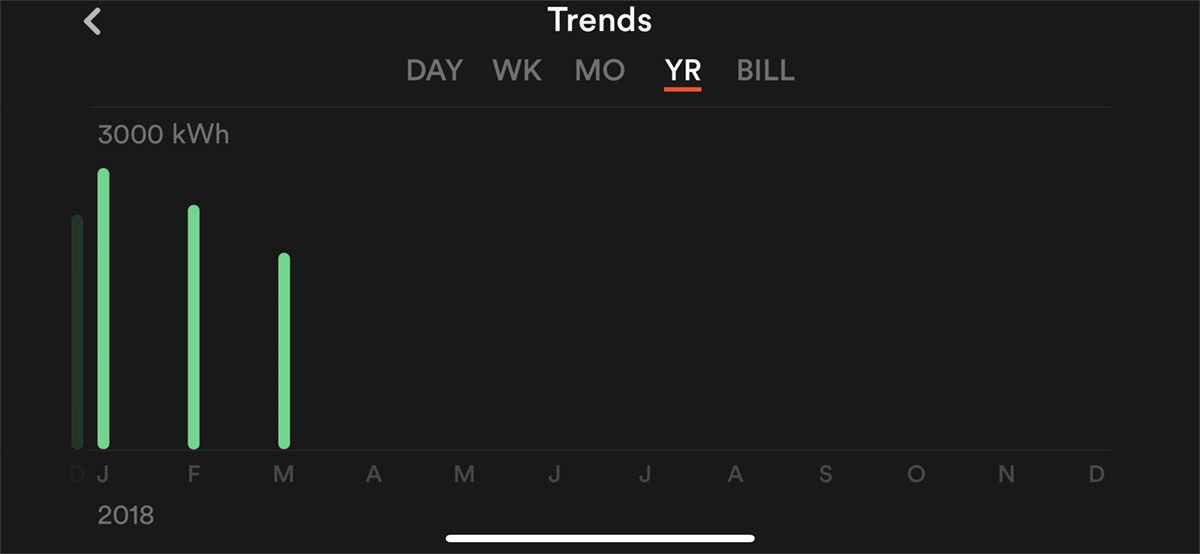 In January of 2018, my utility bill dropped to around $67 for electricity...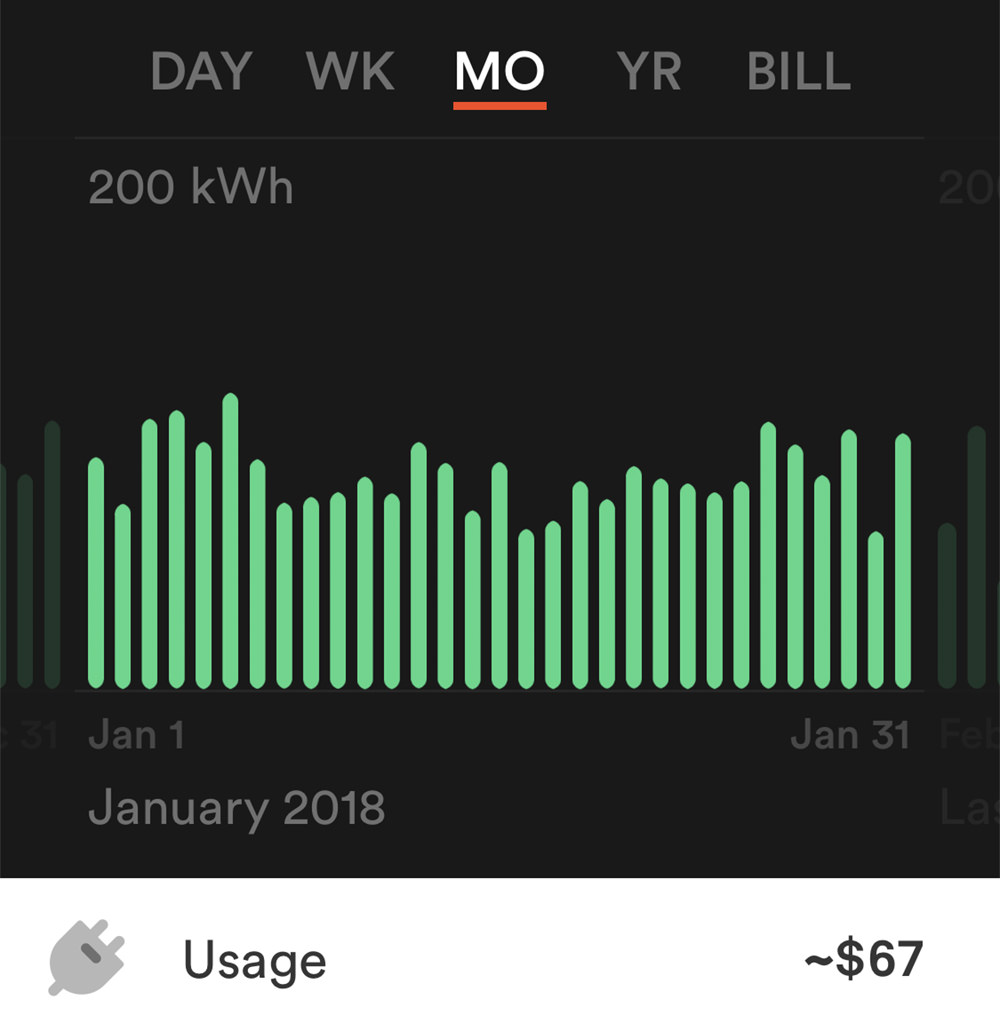 That's a 28% savings. Granted, $26 doesn't seem like a lot... I'm lucky that power is fairly inexpensive where I live... but I'll take it. If I lived in a region where power was expensive, 28% would be a huge amount.
Over the course of the winter I've saved nearly $85, which is real money. My goal for the year is to save $150 over 2017. Once April arrives, I'll be turning the heat off and coasting on $17 power bills until June or July, then I'll adjust my air conditioner temperature a bit and see what happens.
Two years of this and my energy monitor will have paid for itself! Score!
Posted on November 23rd, 2016

I should have known better. I really should have.
Did I leave the television on? Has my dryer finished running? How much electricity am I using to heat my home? Good questions all.
These are things I'd like to know, so when I saw there was a new device was coming out called "Sense" that could answer these energy questions... and more... I was intrigued. And once I watched the promo video, I was completely onboard...
After a long wait my Sense ($250) finally arrived and I hired an electrician to install it ($120). Turns out I could have easily installed it myself, but the Sense instructions said I had to go online to get info if I didn't have a breaker free... then provided absolutely nothing online... so I took their suggestion to get a professional to do it.
Unfortunately, since my electrical panel was embedded in the wall and not surface-mounted, the electrician had to add a break-out box for the antennae. Not a big deal, but not exactly elegant. Would have been nicer if the antennae could have been inside the box, but I wasn't sure it could get signal there...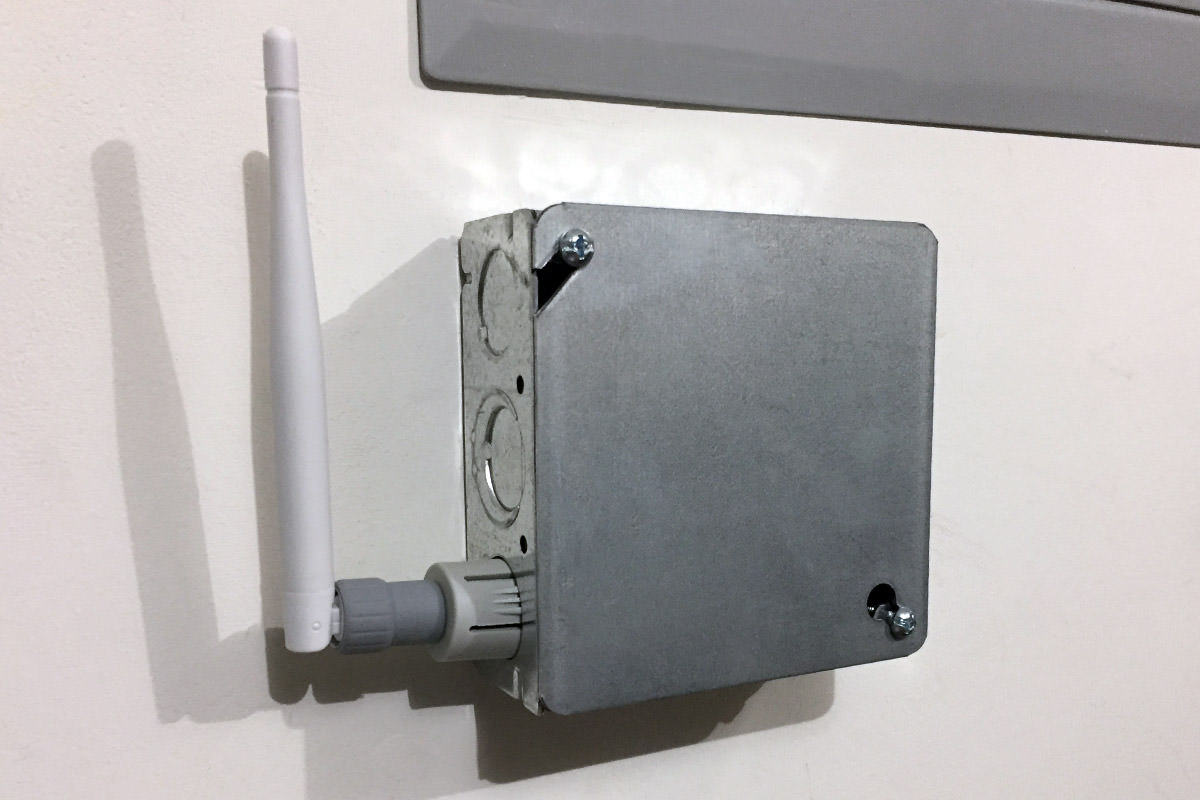 And so... all that was left to do after sinking $370 into this project was to download the Sense app which, fortunately, was free. And, oh yeah, there's one more thing you have to do... you have to wait. The idea is that Sense will "listen" to your electricity usage and eventually learn to recognize your various electrical devices by their "signature." The process takes days to weeks depending on whether Sense has your particular signatures on file.
After a week, my Sense was recognizing absolutely nothing, so I wrote to Sense Support to find out what was wrong. I was told I had to be patient. Eventually it will start to "get it" and devices will pop into place. Until then, I get to stare at two "usage bubbles" for "Always On" stuff (things like clocks and devices in "standby mode") and "Unknown" stuff (things that Sense doesn't yet recognize)...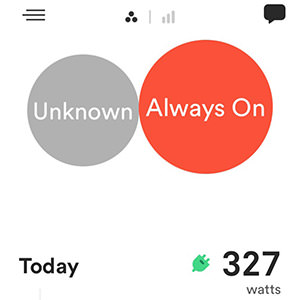 With nothing else I can do, I decided to be patient.
A month passes.
Now my Sense recognizes exactly three things: my microwave, my garage door opener, and my water heater. It thinks it recognizes other things, but it calls all of them "Unnamed Heat" even though none of them are my heater. I try to figure out what they actually are so I can inform Sense, but I can't for the life of me figure it out, even though Sense tells me what time they turned on and off...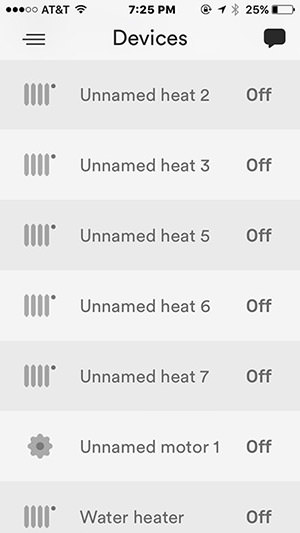 What's so fucking stupid here is that my ACTUAL HEATER should be dead-simple for Sense to figure out. It's the only thing in my home that causes the "Unknown" bubble to blow up like this...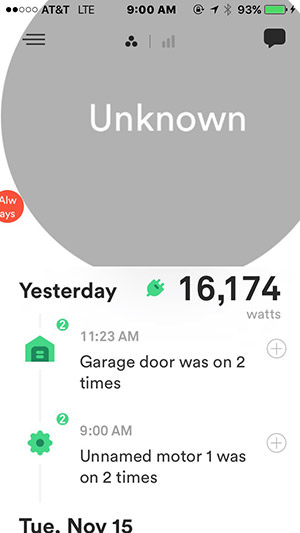 But no joy. It's the most obvious thing using electricity in my house, but Sense hasn't a fucking clue.
Needless to say, I'm pissed off. Partly because this is not what I was promised, and certainly not what I paid $370 for. But mostly because Sense is stupid as a box of rocks... and there's no way to train it to be smarter about what it's sensing.
Take this morning, for example.
I turn on the garbage disposal. On the Sense app, I can see that it has the same "signature" every time you turn it on. It's right there on the screen...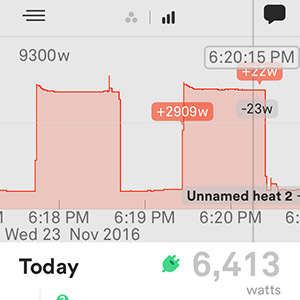 You would think that I could tap those spikes and tell Sense "Hey, that's my garbage disposal!" but you can't do that. All I can do is scream "IT'S MY FUCKING GARBAGE DISPOSAL, YOU PIECE OF SHIT!!!" at my iPhone because Sense has the garbage disposal lumped in with all the "Unknown" crap and there's no way to tell Sense anything about the "Unknown" crap. But what about those "Unknown Heat" devices?
I turn stuff off and on in an attempt to see which "Unknown Heat" it might be... but that doesn't help. My television? Lumped in with "Unknown." My oven? Lumped in with "Unknown." My washer and dryer? Lumped in with "Unknown." My stereo? Lumped in with "Unknown." My iron? Lumped in with "Unknown." My Litter Robot? Lumped in with "Unknown." Everything I could possibly want to know about is lumped in with "Unknown" which means it's useless.
And so... for now anyways... Sense is junk.
Unless I want to know if I left my microwave or garage door running.
And I really should have known better.
Just like the Kickstarter crap I've bought which turned out to be garbage, I should have waited for Sense reviews to come out before investing in it... even though I saved $50 by pre-ordering. Turns out the Sense I really needed was Common Sense. Typical.
Posted on February 6th, 2015

In what easily signifies the end of an era, Radio Shack has announced that they are filing for bankruptcy and shuttering the majority of their stores (franchise locations can keep operating, if they want to).
This hardly comes as a surprise... I haven't stepped foot in one of their stores for well over a decade.
But back in the 80's and 90's?
Radio Shack was like dreamland for a tech geek like me.
I built many an electronic project with Radio Shack parts. I bought every wire... every battery... every blank cassette tape from Radio Shack. I was an Atari computer fan and ignored their TSR-80 PC, but all my floppy disks and cables came from Radio Shack. My first mobile phone, the Motorola StarTAC, was purchased at Radio Shack.
But then geek culture shifted, and Radio Shack became less and less relevant.
They tried to reinvent themselves not so long ago, but it never really took hold... despite the awesome, awesome commercial they came up with to promote their new focus on mobile phone and finished electronic goods...
Yeah. Not difficult to see why that didn't work out.
Still... sad.
"The Shack" was an important part of my life for a dozen years or so. Now that it's gone, I feel as though an entire culture I loved is gone as well.
I feel as though I need to go solder something.
Which is no problem... I still have my Radio Shack soldering iron along with a spool of Radio Shack solder sitting in a drawer somewhere.
Posted on July 5th, 2014

When my television died a couple years ago, I didn't want to buy a new one because it was rumored that Apple was coming out with an iTV. So I borrowed a television from my brother until iTV was released. Needless to say, I'm still waiting. And then my brother's television blew up in a cloud of smoke (literally) earlier this week, leaving me television-less with no iTV to replace it. Time to buy a new TV, I guess.
I don't have hours to be researching televisions, so I went to Amazon, put in the specs I wanted (1080/60p, 33-43", Wi-Fi internet connectivity, web apps for Netflix and Amazon streaming, 2014 model) and got one result... the Sony KDL40W600B. I've had excellent luck with Sony gear in the past and the price was under my $500 budget, so I bought it...
Design & Construction
The screen size is 40' (diagonal) which is a good size for a smaller room like mine. Being Sony, the design is predictably clean and minimalistic. The narrow plastic bezel around the display is just under 5/8" wide, which is nice because the total set size is kept small... but it would be nice if it were a bit thicker as to minimize distraction around the screen while you watch. The metal stand stand is a little clunky-looking (reminds me of a cheap folding table) and a tad wobbly, but it gets the job done. The construction is... average... is the word I guess I'm looking for. It seems a bit cheap, plasticy, and of underwhelming quality for a Sony. Yet given the under $500 price tag it could have been much worse so I'm happy with it. Appearance-wise it doesn't look too cheap, so I guess it's not a big deal. The up-side of the minimal plastic construction is that the entire unit weighs a mere 15 pounds. Amazing, really. The lightweight build makes it ideal for hanging on a wall (and basic mounting hardware is included). SCORE: B-
User Interface & Remote
Proving for the millionth time that Apple is the only company who knows how to build a decent user interface and simplify a remote... Sony's KDL40W600B is pretty crappy in both arenas. The on-screen menus are poorly designed, inconsistent, laggy, and frustrating. Couple that with a shitty remote and using this TV is a near-painful experience. Once you get used to the baffling idiosyncrasies of the menu system they're serviceable, I guess, but the same cannot be said about the remote control. It fails in most every department. It's uncomfortable to hold. The Volume and Channel buttons are inexplicably at the very bottom, so you get thumb-sprain trying to reach them. For some stupid reason, the number keys (which are rarely used) are given a primo spot under the navigation keys. As if that wren't bad enough, the navigation keys are surrounded by six "function" buttons that are all-too-easy to press by accident when moving around the crappy menus. What a piece of shit. SCORE: D+
Inputs & Internet
The television comes with four... four... HDMI ports, which is pretty sweet. The down-side is that you only get one component video input. If you have a lot of pre-HDMI gear, that's probably a deal-breaker. Things are rounded out by a single composite video input (for that one piece of old, old gear you've got hanging around). On the audio side, you get a couple analog ports, a sub-woofer port, a headphone port, and a digital audio port). And lastly, for handling audio and video media, you also get two USB ports (v2, alas). Internet connectivity can be via the ethernet port or my must-have feature: WiFi. The WiFi set-up is dead simple because is can be automatically configured via your wireless router's WPS button (my Apple "Time Capsule" doesn't have a WPS button, but the "Connect Wireless Printer" option in the AirPort Utility worked perfectly). SCORE: A
Video
Ultimately, the only thing I really care about is the picture quality. Fortunately, this is where the KDL40W600B's LED LCD panel shines. The display is evenly lit, super-sharp, and gorgeous. The blacks are nice and dark which makes for beautiful contrast in the image. With some tweaking of the manual controls, I got the color just how I want it, and I couldn't be happier with the fidelity. I've seen some LED-based televisions that looked terrible when there was quick motion on the screen, but this Sony model has none of that thanks to a host of proprietary technologies onboard. The only down-side to having such terrific video is that non-HD content looks a bit crappy, but you can't fault Sony for that. I wanted very much to not get a 120hz (or higher) set, because I hate the artificial "look" of it. I thought that would be impossible, but this set was 60hz which was a huge plus for me. SCORE: A-
Audio
Given how thin and compact this set is, there's no room for a good set of speakers. This is just bizarre to me, because it seems like it would be a no-brainer to add 3 or 4 inches to the bottom of the set for a proper audio experience... but, alas, no. And it's not just Sony. A quick glance at other sets shows that they are the same way. It's as if all the manufacturers just decided to put shitty speakers in their televisions so they can sell you a separate soundbar to get the sound you want. And you will want it, because this is pretty pathetic. Overall sound is kind of tinny and weak. Even knowing this going in, I thought I'd be okay because my living room is fairly small. I was wrong. The audio is borderline unpleasant to listen to, so I'll end up getting add-on speakers when I can afford it. SCORE: D
Apps
I already have Apple TV, which I like a lot. But it doesn't have Amazon Prime Streaming, which sucks. There's stuff on there I want to watch while I work. So one of the requirements for my new television was that it be able to stream from Amazon, which the KDL40W600B can. It also streams from Netflix and a few other services. This is great and all, but they feel slow to navigate and a bit klutzy compared to how Apple does things (does Netflix REALLY have to ask me to choose "Netflix" or "Kids" EVERY DAMN TIME I OPEN IT? Put "Kids" in a separate app or something, because I don't give a shit about it and am tired of dealing with it). Apps are on the "Opera Browser" platform, which wouldn't be too bad except it's horribly slow and every time you dump out of them, you get an Opera TV Store advertisement. Check the weather? Opera ad. Look at Instagram? Opera ad. It's stupid and I got so sick of it that I stopped giving a crap about apps after my second day. For a set made in 2014, I'd expect much faster performance, much quicker load times, and a much better interface. Oh well. I can at least watch Amazon Prime Streaming, which is nice. SCORE: C
UltraViolet
Without a doubt one of the shittiest internet services ever created, UltraViolet is a studio-owned digital movie distributor. I fucking hate UltraViolet. It's never worked properly for me no matter what I've tried. Even so, I've got movie content in there... including five movies I got for free when I bought this television. But here's the thing... so far as I can tell, there is NO way to play UltraViolet on the KDL40W600B! They don't have an UltraViolet app. They don't have a CinemaNow app. They don't have a Vudu app. The do have a Flixster app, but I couldn't find a way to access my UltraViolet library from it. This is hilarious, given that Sony is a major player in the shitty UltraViolet consortium. So... if you've got a massive UltraViolet library, I hope you have a secondary device to watch them. SCORE: F- (if you give a crap)
Extras
There are a lot of extras on this set that I either don't understand or have no interest in using. The KDL40W600B is a "PlayStation Now" device, which means you can plug in a DuoShock controller and download games from the PlayStation library to play. It sounds like a cool idea, but I've read that the games are crazy-expensive to play, so I'll take a pass. One feature I thought I might use is that "Social View" overlay. It's supposed to be able to display stuff from your Twitter feed... except mine never did, no matter how many times I verified my Twitter account. Oh well. As for the rest? Meh. I'm sure there's some things that some people will find interesting, but I'm not really interested. SCORE: C

SONY KDL40W600B CONCLUSION
If you're looking for a (relatively) inexpensive television backed by Sony quality with terrific image quality, this may be it. Video is beautiful. Audio is pretty bad. Design is a bit on the cheap side, but looks pretty good. The remote is total shit. The user interface is almost as bad. Apps are painfully slow for a 2014 model television, but at least it can stream Netflix, Hulu Plus, and Amazon without issue. There's a lot of extras and crap, but the ones I was interested in using seemed more trouble than they're worth. My reason for buying this set was to watch TV and streaming services, for which it's perfect, so I'm quite happy with my purchase.
If you're wanting more info, here's a link to the Sony KDL40W600B on Amazon.
Posted on November 5th, 2013

Back in the "good ol' days" of computing... before USB... before FireWire... before Thunderbolt... the way you hooked up peripherals like hard drives, scanners, and such was with a SCSI port. Which most everybody called a "scuzzy port."
The Small Computer System Interface was pretty much shit. You just never knew which magical combination of device IDs, cables, and chain termination would result in a working system. And once you figured it all out, there was no guarantee that it would stay working the next time you booted up your computer. In which case you'd have to start all over again. And heaven help you if you added a second peripheral to the chain. That only doubled the amount of work you had to do to keep things running. It was horrible.
Thank heavens those days are over, right?
Except...
I just spent three hours trying to get my new cable modem to work.
In the end, I can't even tell you how I got it running. Some magical combination of resets for the modem, my Time Capsule router, and my MacBook. I just kept resetting and turning things off and on until... BLAM! My cable modem was connecting. Then I kept resetting and turning things off an on until... BLAM! My Time Capsule would connect to the modem. Then I kept resetting and turning things off an on until... BLAM! My Time Capsule could reach the internet. Then I kept resetting and turning things off an on until... BLAM! My MacBook was connecting to the Time Capsule. Then I kept resetting and turning things off an on until... BLAM! My MacBook was able to reach the internet through the Time Capsule.
Three hours of that bullshit.
It was SCSI all over again.
And now, just like in times of yore, I dread the inevitable horror of having everything randomly fail so I have to start all over.
I'm just dumbfounded that tech companies can't figure this shit out. The nonsensical problems never go away. Not really. They just change to a new generation of interfaces.
Which is why I'm sure that when my brain implant appliance is trying to send video to my holographic cornea display from my sub-etha internet connection sometime in the future... I'll be resetting and turning things off an on over and over and over again to get the crap running.
It's just the way technology works.
Or doesn't.
And I'm sure it always will.
Posted on November 4th, 2013

This past weekend I got into a forum discussion about purchases we regretted having made. Popular choices included the Apple Newton (I loved mine!), Sony MiniDisc (which was awesome!), and Microsoft Windows Vista (okay, I totally get that one). Stuff like that. Initially I started out with little things that I had purchased recently... like the Pebble Smart Watch. But once the ball got rolling, I came up with all kinds of things I regretted spending my hard-earned cash on. So did everybody else. Thus it was decided we would each make a list of the "Top Five" worst offenders. And this morning I did just that. And since I don't have anything better to blog about, I'm going to post it right here...
#5 - PowerComputing PowerCenter Pro
Looking to save money on my next Macintosh purchase, I bypassed Apple's offerings for one of the new "Mac Clones" from Power Computing. I was suckered in by the fact that they had a faster machine with more powerful hardware for less money. Sold! Except... it wasn't up to Apple quality standards. At least not the one I got. Mine had issues with the video, which required numerous calls and two failed attempts at replacing the video card. Eventually, I ended up having to ship the machine back to Power. When I got it back, it was not the same machine (different serial number) and had less onboard RAM than the original machine I purchased. This required another half-dozen calls to get sorted. Eventually I got a working machine and was happy enough with it... but the amount of time it took to get there made me regret the purchase quite a lot.
#4 - Panasonic ANYTHING (but mostly their Recording DVD Player)
I have never had good luck with any Panasonic product. Televisions? Crap. Phones? Crap. VCRs? Crap. Everything I've ever purchased has been total crap. But then Kevin Smith was in an advertisement for the new Panasonic RECORDING DVD player! And how awesome would it be to record your own DVDs? Sweet! So I ignored all past experience and placed my order. Only to find that it would not record a DVD... no matter what I did. And every time I called Panasonic, it was my fault. I didn't buy Panasonic brand recordable DVDs. So I bought Panasonic brand recordable DVDs and it still didn't work. I didn't have the right quality cable. So I bought a new cable. I was overheating the unit by not giving it enough air space. So I moved it to its own table. The list went on and on and on. Finally, they agreed that there was something probably wrong with it... BUT I WAS EXPECTED TO PAY TO SHIP IT TO THEM FOR REPAIR! That's right, PANASONIC sells a DOA DVD player, but I have to pay to get it serviced! So I paid the shipping. Finally, a month later, I got it back and nothing had changed. Then when I called back, Panasonic refused to believe me... literally called me a liar... and said that the unit worked perfectly when it left their shop so I must have broke it. So I fucking smashed the pricey piece of shit non-recording DVD Player/Recorder and threw it in the garbage. Then vowed to never buy another Panasonic piece of shit product ever again. And I haven't. I fucking HATE the company. That should be enough agony but, unfortunately, there's one company I loathe even more. Hello, Hewlett-Packard...
#3 - Hewlett-Packard Photosmart B9180 Printer
Even though the Macintosh drivers were crap, I really liked this printer. Partly because the print quality was so nice... but mostly because HP had a "satin-matte" paper which you could peel from the backing and glue to different surfaces. And it was glorious. The pigment inks didn't crack when you folded it... the paper held color well... and it looked like a million bucks. But then the printer started failing within three months of having bought it. The printhead would randomly start scraping against the page, ruining your print. The head would randomly get "stuck" and refuse to finish a job, ruining your print. The printer would randomly decide to skip a color, ruining your print. As time went on, I was getting more ruined prints than good prints, which was a huge expense. That special paper and pigment ink cost a fortune. But that's not even the worst part. HP support was atrocious. They never had answers and said it must be my computer because the many problems were not reproducible. They promised to send me replacement ink and paper, but it never came. They promised to get back to me with answers, but they never did. At one point I was on the phone with HP and the customer service rep actually laughed at me. Eventually I ended up buying a second B9180 because I had a supply of paper and ink that I couldn't afford to throw out. Thinking I just had a lemon, I was optimistic the replacement I bought would be better. But it wasn't. This time it was the print head cartridges that kept failing AND the prints would be scraped up at random. To add insult to injury, they discontinued the special paper that convinced me to buy the stupid thing in the first place (twice!). Eventually the paper came back, but it wasn't the same, and refused to release from the backing. Now completely frustrated and hating HP with the fury of a thousand suns, I bought an Epson. I have never bought another HP product since.
#2 - 1999 Saturn SC2
When my old car was totaled while saving my life (it was between my office and a runaway heavy-duty work truck from the railroad), I didn't have time to shop for a new one. Then I saw a television commercial that explained how you could order a new Saturn online, so I fired up my laptop... picked the car I wanted... added way too many expensive features... and, just like that, my new car was ordered. Sight unseen. No test-drive taken. While on a trip to New York I got a call telling me that my car was ready to pick up, so on a layover in Seattle a salesman came and got me. Almost immediately I hated the car. The turning radius was huge. The visors were badly designed. The window controls were stupid. The dome light seemed to work at random. It was not much fun to drive. It wasn't even that comfortable. Ultimately, it was a terrible purchase and I fully intended on taking Saturn up on their 30-Day Return Policy. Except I was traveling the entire duration and never made it back to the dealership. So I've been stuck with the pile of crap for fourteen years. And things continue to go wrong. Despite ONLY having it serviced at Saturn, the "Check Engine" light has been coming on (even when reset) since 2009. The front license plate holder has fallen off, and it's a bitch to get back on. It's burning oil and doesn't even have 100,000 miles on it. And that damn turning radius... you never get used to having to make three and four point turns all the time. I hate the car. I really, really do. But since Saturn went under and my SC2 is pretty much worthless, I'm going to drive it until it explodes. Or I light it on fire and push it off a cliff.
#1 - Radius VideoVision Studio
Back in the good ol' days when I was doing video editing, I'd have to rent out a pricey studio whenever I got work. The problem being that video editing suites were incredibly expensive, the nearest shop was three hours away, and I never had the money to rent studio time to truly learn the system. Add it all together, and I often-times lost money on projects. The good news is that this lead me to create my own scores for videos so I could save cash by not hiring a "real" musician. Ultimately I ended up making a lot more money on the music than the video stuff, so it ended up being a blessing in disguise. But then VideoVision Studio came out and promised pro video editing on your Mac at home for the fraction of the price of renting a studio! Never mind that I had to spend thousands of dollars on tape decks, mixing boards, and VideoVision itself... I could have my own video editing studio and get rich! Except VideoVision never worked like it was supposed to. Even after I spent thousands more dollars on a faster Mac to run it better. Audio dropped or was out of sync. Video capture was glitchy. Output was marred by noise. It was a disaster. I never completed a single project on it, and ended up having to work two jobs to pay for all the useless crap I bought. All in all, this was the most expensive mistake I've ever made... even after I managed to sell some of the equipment I bought. For that reason alone it takes the top spot in my Most Regretted Purchases List. But somehow my regret goes much deeper than money. A career I was really interested in was completely destroyed, as I had to give up my dream to pay for its failure.

And there you have it... my most regretted purchases of all time.
Though, now that I think about it, I should have gone for a "Top Ten" because there's certainly been a lot of other purchases I've regretted. I'M LOOKING AT YOU, VANILLA MILKSHAKE POP-TARTS!