Posted on November 6th, 2018

Washington State is 100% vote-by-mail, so I already voted last week.
When it comes to local races here, two of the biggest are too close to call. We won't know the outcome until the remaining mail-in votes are tallied on Friday. Frustrating, but it's a small price to pay for a system which allows you to vote in the privacy of your own home without standing in line. And now that we have automated voter registration for all of our eligible citizens, Washington State has one of the highest voter participation rates in the nation...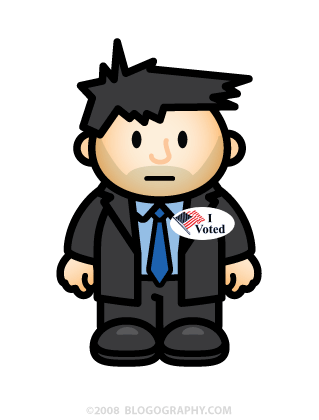 Now that Halloween has passed, the country is already preparing for Christmas.
Back when I had work in Orlando two and three times a year, I'd fly in for my conference then fly home the next day. I'd rarely go to Disney World (even though work would pay for it) because it got to be more of a chore than fun. I just can't handle the lines and crowds of people.
In December of 2007 I was working in Orlando when some work friends and I decided to go to Epcot for dinner in "Italy." After that we took the bus to Disney Studios to goof off for a bit. While I was there, my mom called to tell me something. "What's all that noise?" she asked.
"Oh, that's The Osborne Family Spectacle of Dancing Lights," I replied.
"What's that?"
"It's a show at Disney World where they have a bunch of Christmas lights flashing to music. I'll send you a picture..."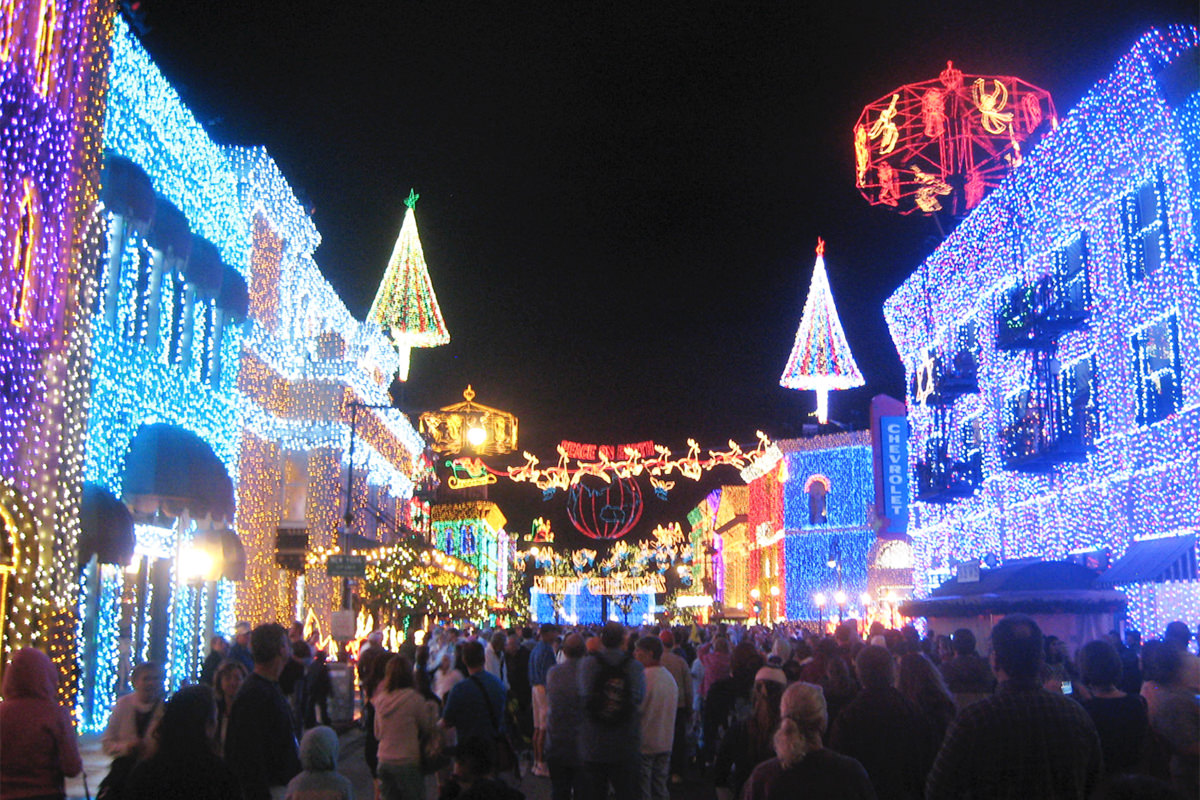 "That's pretty! I want to go to Disney World!"
"I've taken you to Disney World lots of times!"
"But not at Christmas! I want to go at Christmas!"
"Okay. Next year I'll bring you along then."
One year later I kept my promise, and here she is...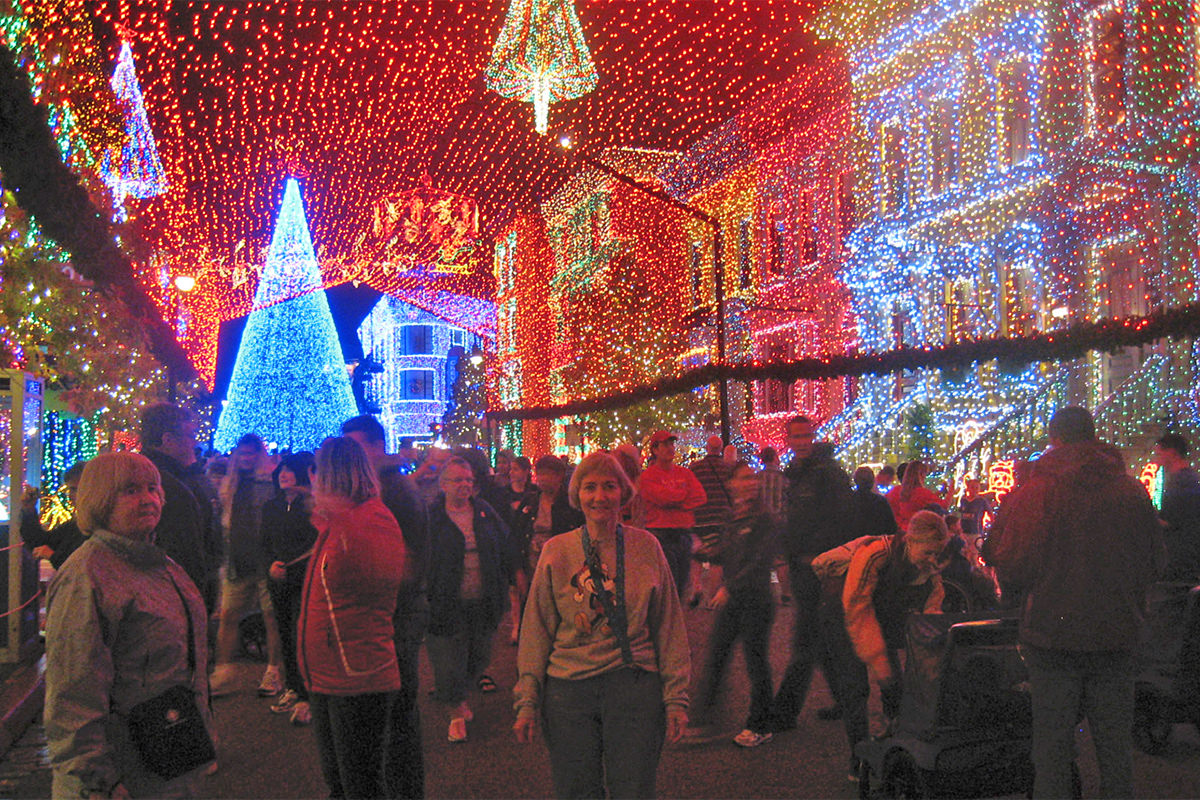 It immediately became her favorite thing. She loved it so much that I ended up taking her a couple more times. The last time was in 2012, I think, since that was the last year I had work in Orlando. They closed down The Osborne Family Spectacle of Dancing Lights in 2015.
This morning I was flipping through my newsfeed while waiting for work to start and saw this terrific video from Disney World showing how they transform The Magic Kingdom Park for the holidays with Christmas decorations...
Pretty cool!
A part of me is glad that I don't have work in Orlando any more. Especially over the holidays. It would be really tough to go there knowing what it meant to my mother. Perhaps it will be easier over time. But right now? I just can't fathom it.
It's that way for a lot of things though.
I miss my mom.
Posted on March 5th, 2017

Pull out your Mickey Mouse ears, because a Very Special Disney-centric Bullet Sunday starts... now...

• I'm Going to Disneyland. Now that Disneyland has no "off-season" and is hellishly busy all-year-long, there's really only one piece of advice I can offer: Don't make your Disney vacation all about standing in lines. Stay multiple days... divide up the attractions you want to see so you're only standing in line for them part of every day... then get the hell out of the parks to have an actual vacation. Go see what else L.A. has to offer (which is a lot)... or just hang around the pool at your hotel. Spending the whole day in a massive crowd at Disneyland is just guaranteeing that you'll need a vacation from your vacation.

• Princess Vader. I honestly can't decide whether this is the coolest thing ever, or just pain wrong...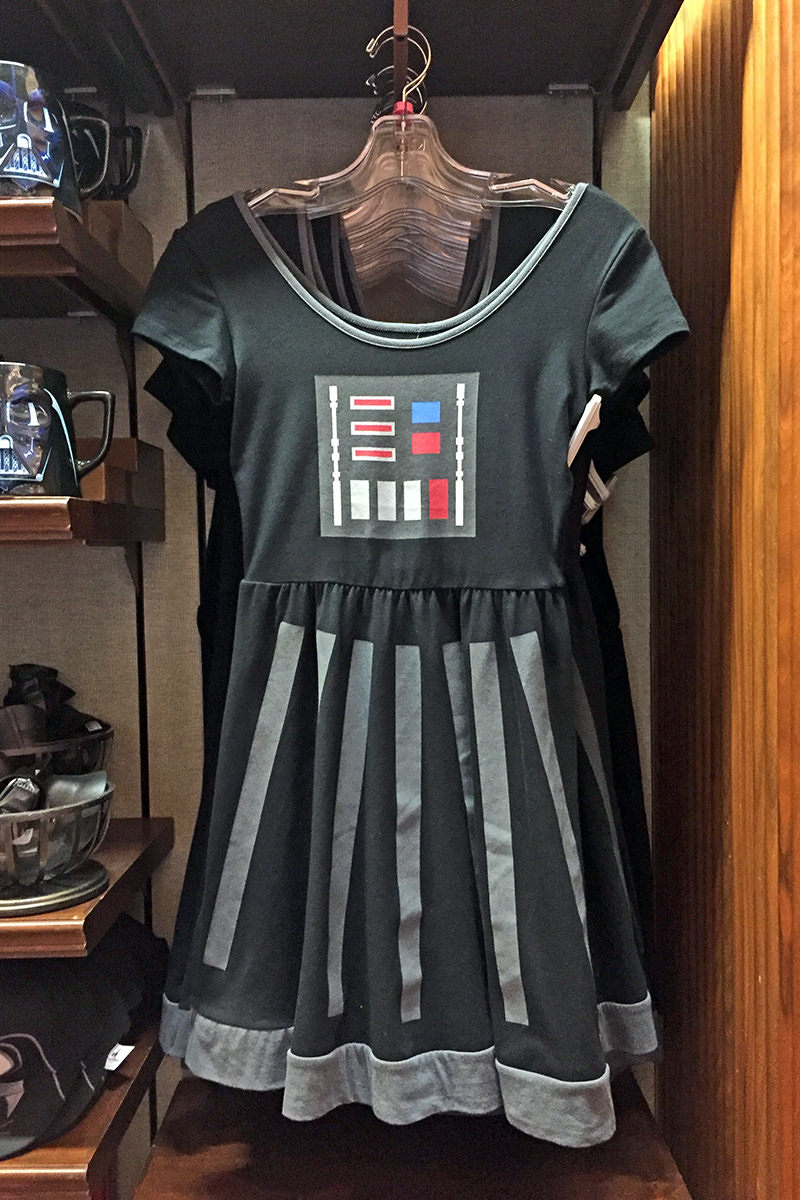 All I know is that Disney's marketing of Star Wars is way off the charts.

• Reimagineering. Earlier this week I brought up the new Star Wars Land additions coming to both Disney parks. This is on top of Disney World getting a Pandora: The World of AVATAR "land" in Animal Kingdom. New stuff at the Disney parks is always great... but I can't help but wonder when rides like Jungle Cruise and Haunted Mansion will get an upgrade. Surely there's a way of remaining true to the original concept while enhancing the attractions with today's technology? Otherwise I have to wonder how much longer they can last. The parks (particularly at Disneyland) do not have infinite space to expand, so the worry is that even "E-Ticket" attractions will eventually be eliminated in favor of something fresh to keep the crowds coming.

• Grey Stuff. Yesterday I mentioned that I checked-off one of my life goals at Disneyland... eating Grey Stuff Gâteau (which they spell "Gateâu") and Gaston's Brew. Nobody seems to know what that meant. Well... "Grey Stuff" is something served to Belle in Beauty and the Beast...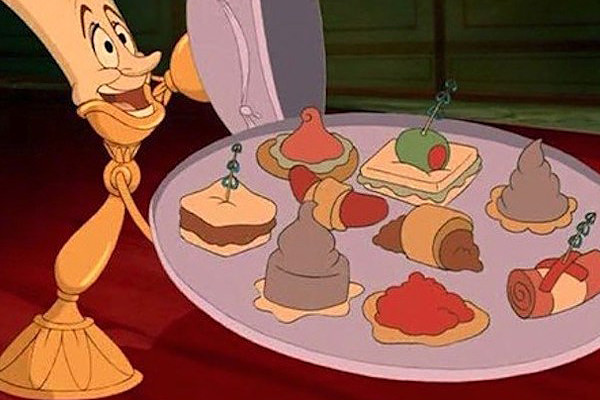 This is what the real-life version looks like from The Red Rose Taverne in Disneyland's Fantasyland (a temporary restaurant re-dress in celebration of the live-action Beauty and the Beast movie coming in March...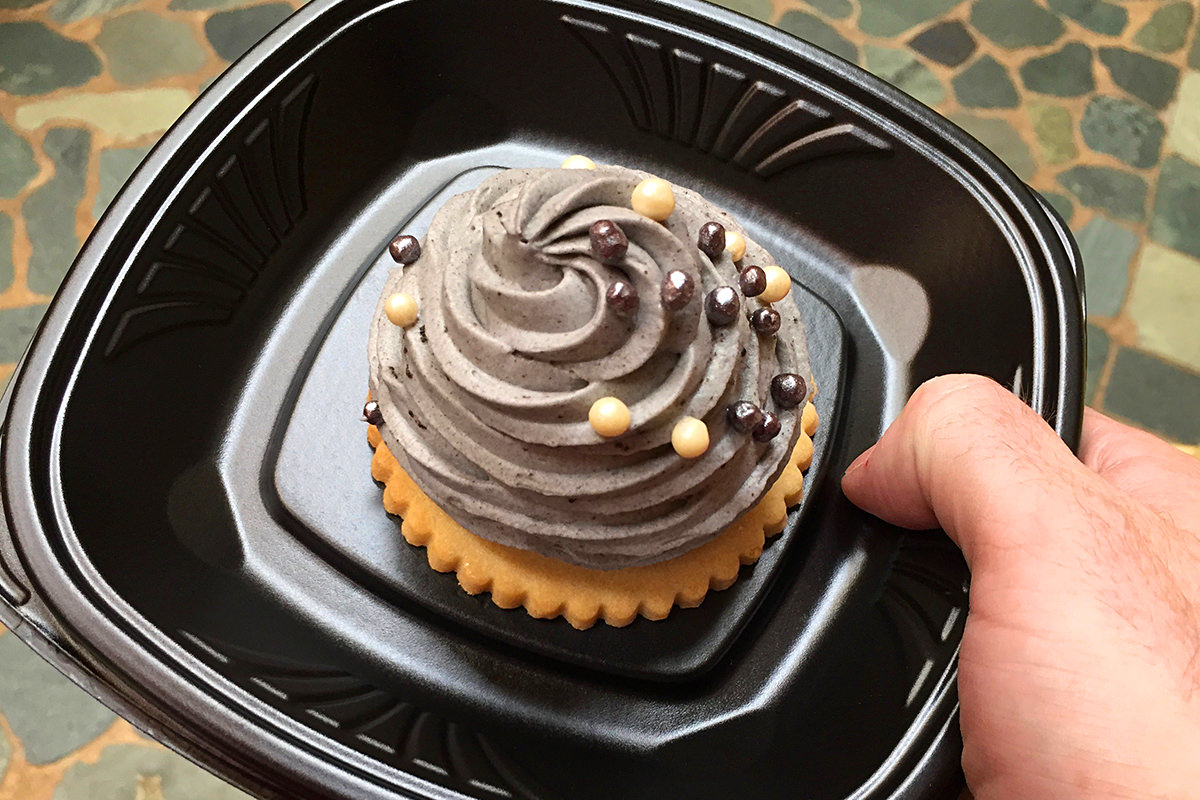 It's a white chocolate mousse that's been tinted grey then heaped on a small red velvet cake that has raspberry in it...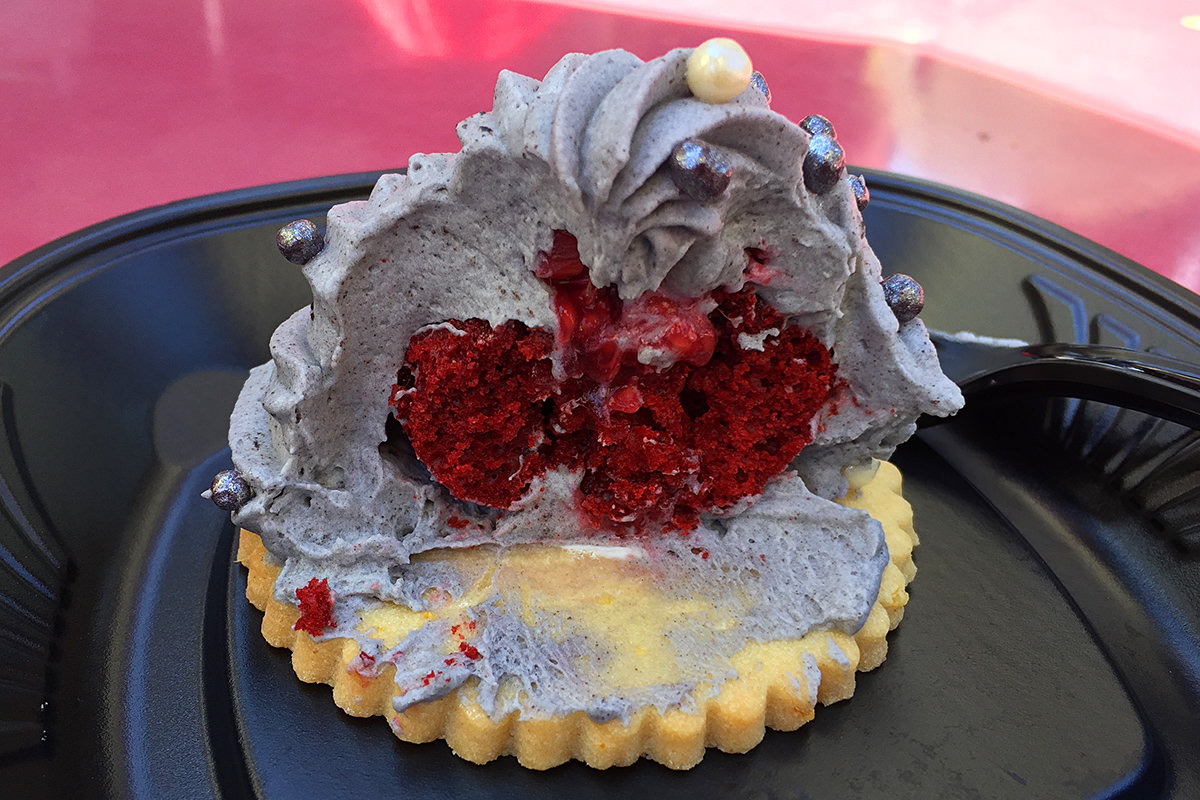 It comes piled on a shortbread cookie that seems to have a rose drawn on it?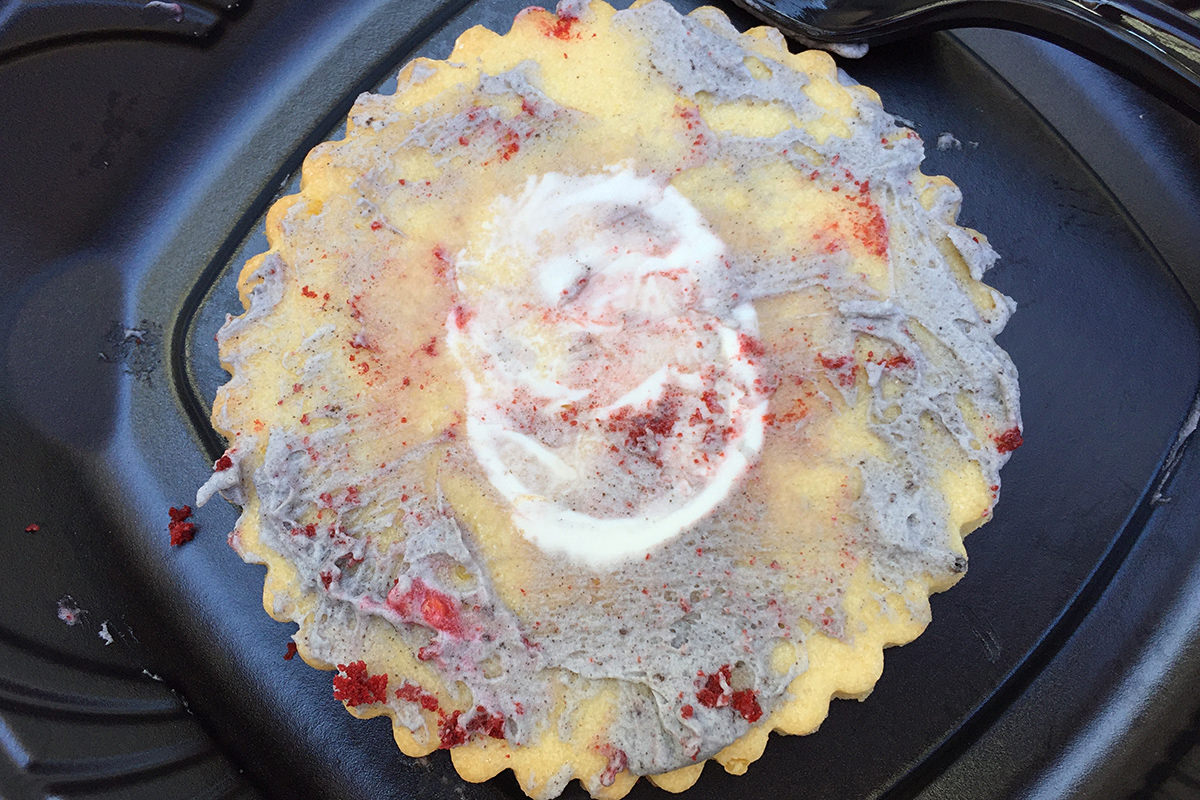 It's not too bad. The cookie is dense and bland rather than buttery and flakey... and the whole ordeal is too sweet for me... but it's totally edible. Gaston's Brew, on the other hand, is excellent. It's apple-mango juice that's topped with a passion fruit foam "head." Something I'm going to have to try and make at home.

• Magical Morning. One of the benefits of buying your ticket to Disneyland online is that you get a free "Magic Morning" on tickets for three days or more. "Magic Morning" means that you get into the park an hour before opening. In my case, that meant 9:00am instead of 10:00am. This used to be available only to registered hotel guests at one of the Disney hotel properties... but now anybody can get it. The problem being that now anybody can get it. Which means the park gets just as crowded just as quickly as it would without magic morning. Sure you might get one or two rides in at a reduced wait time, but it's hardly the deal it used to be. I got to ride Space Mountain in 20 minutes instead of 60... but after that the lines were right back to normal. Bummer. I'd be pretty pissed if I were a hotel guest counting on this perk.

• The Sign. I could spend hours just wandering around Disneyland looking at the beautiful signage that's displayed everywhere. It's not as fun as Big Thunder Mountain Railroad, but it certainly beats standing in lines all day. My favorite signs are in Adventureland. So many beautifully-carved pieces...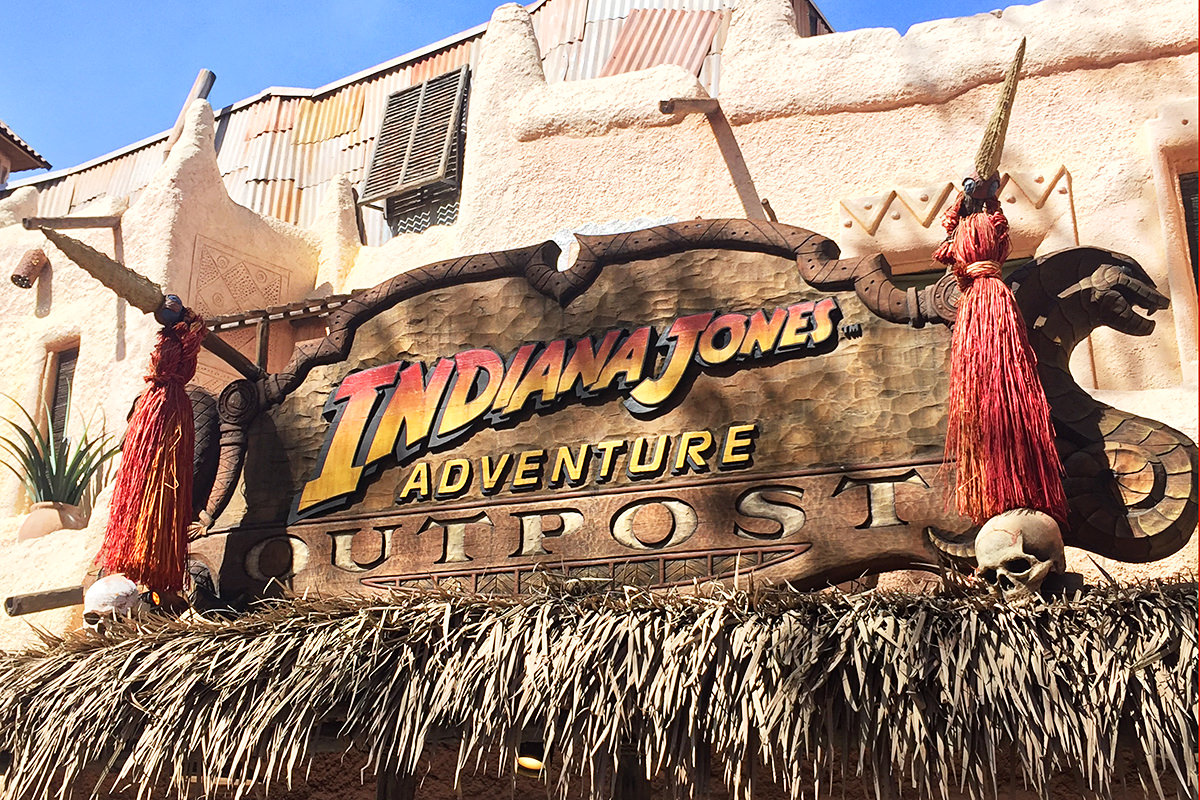 But it's not just the extravagant larger signs that are given such detail. Even small signs... like numbers on a door... are beautifully themed for the area they occupy...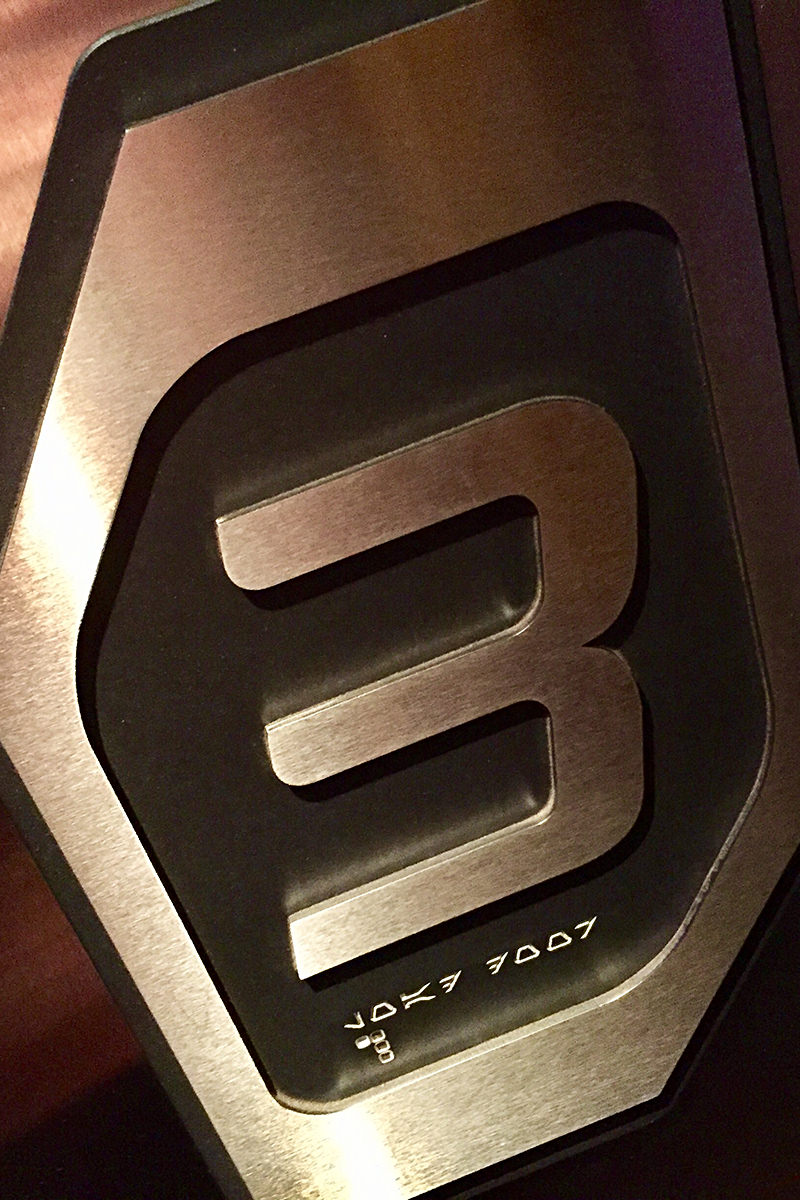 Even throw-away signs from an exit queue are painstakingly designed...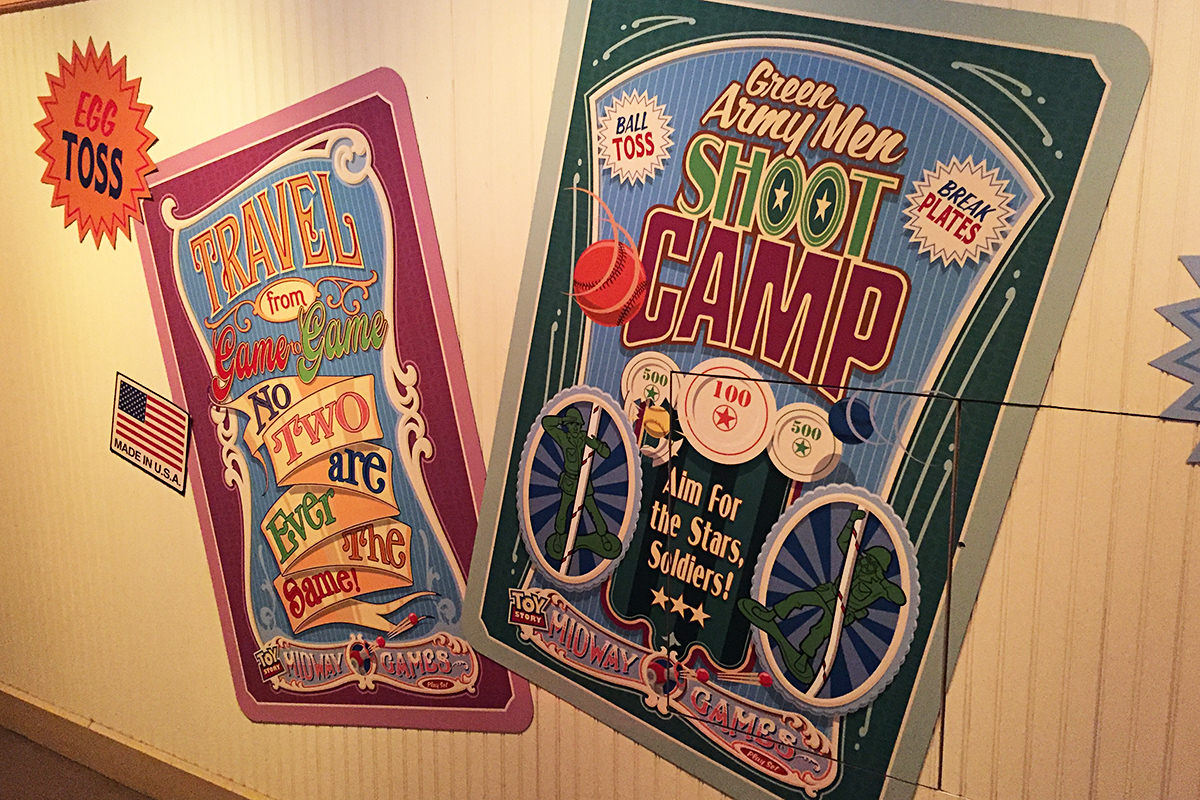 And every exterior sign is beautifully-crafted, of course...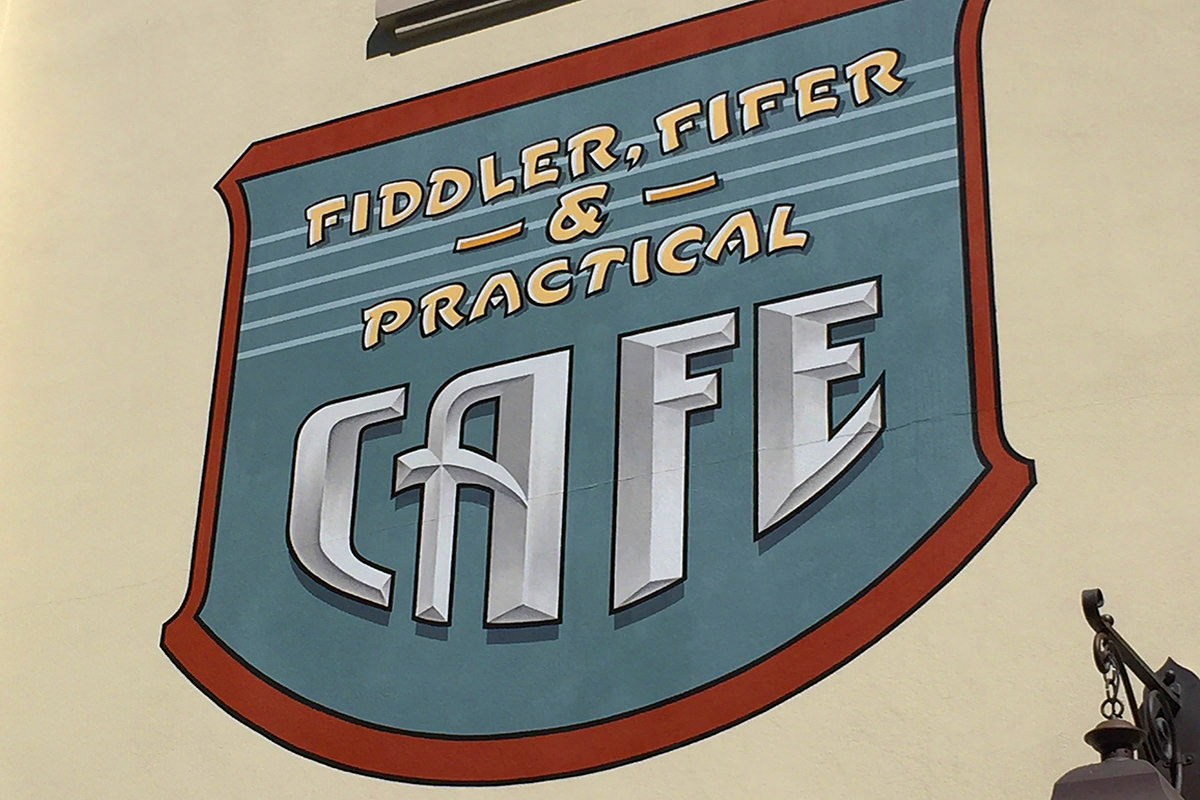 So... next time you're at one of the Disney theme parks, stop for a minute and look for the signs. They're an attraction all on their own.

And now? Heigh ho, heigh ho, it's off to work I go...
Posted on March 2nd, 2017

My favorite theme park attraction of all time was Universal Studio's Back to the Future: The Ride. It was absolutely flawless in execution and felt like an essential part of the Back to the Future movie trilogy in a way that other movie tie-ins can only dream of. Alas, it was gutted so as to install a ride for The Simpsons which is only half as good... so if you never got to ride it, you're out of luck.
Many people find it surprising that my favorite didn't come out of Disney, since they are the company that popularized the entire concept of a theme park. No, they weren't first, but they came along and did it bigger and better than anybody else ever had... partly in thanks to having such an established brand with a multitude of characters and properties that translated perfectly into attractions.
That being said, I decided to rank my favorites from both Disneyland and Walt Disney World into a single list. Partly because I want to make sure I don't miss an attraction for my time here... but mostly because I don't feel like working tonight...
Time will tell if this list changes after the new Pandora: The World of AVATAR and Star Wars Land projects debut. I would certainly hope so.
Posted on September 30th, 2012

Be sure all loose items are securely stored under your seat and remember there's no flash photography, because Bullet Sunday starts... now...

• Halloween! 'Tis the season for "Mickey's Not-So-Scary Halloween Party" once again. Taking place after the normal park hours, the party has a special parade "Boo to You!" and a really nice fireworks show in addition to trick-or-treating throughout the Magic Kingdom park...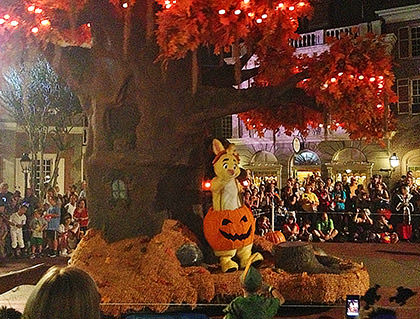 It seemed a lot more crowded than the last time I did Mickey's Halloween, with the trick-or-treat lines being absurdly long. So totally not worth waiting 15-20 minutes for a handful of the cheap candy they're handing out.

• Star Tours! The last time I was in Orlando I didn't have time to do the whole Disney thang, so I missed seeing the "new and improved" Star Tours ride. Much to my surprise, it actually is "new and improved!"...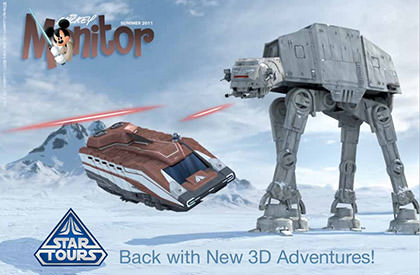 You get a completely randomized experience every time you ride. Two different openings (Darth Vader and Millennium Falcon), three different adventures (Kashyyyk, Hoth, and Tatooine), and three different endings (Coruscant, Naboo, and Death Star 2)... which makes 54 different possible combinations. I kept riding until I saw all the pieces I wanted to see. The only two I didn't experience were the pod race on Tatooine and the Trade Federation battle on Naboo (since I don't give a flying fuck about the shitty Star Wars prequels. Overall, very well done and a lot of fun!

• Safari! Even though I went on the much more extensive and interesting "Wild Africa Trek" through the Animal Kingdom savanna, I still managed to get in a ride on the canned "Kilimanjaro Safari" they offer. Much to my surprise, the "ride" has changed. No longer is there a story element about chasing poachers and rescuing a baby elephant... that's all gone! Instead, it's "just a safari" where you may (or may not) see many interesting animals. The poaching story was kind of lame, so this is probably a smart move... but it was still kind of shocking that the ride wasn't the way I remembered it.

• Beignets! No trip to Walt Disney World would be complete without a trip to Disney's Port Orleans' Resort for breakfast beignets!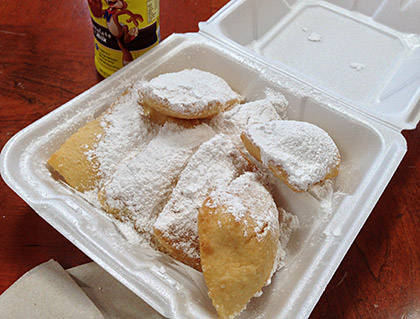 • Dining! This trip I was sure to eat at two of my favorite Disney restaurants... both located in their Hollywood Studios park, both of which I highly recommend (assuming you can get reservations or manage to get in without them... they're really popular). First up is the Sci-Fi Dine-In Theater restaurant, which simulates an old-time drive-in theater playing crappy old sci-fi movies and tables shaped like cars...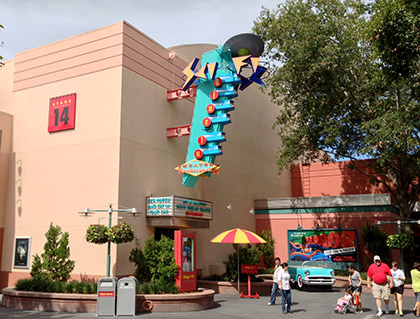 Next up is the 50's Prime Time Cafe, which is set up to look like a house from the 1950's, complete with sassy waitresses bringing out "mom's food" and reminding you to "KEEP YOUR ELBOWS OFF THE TABLE!"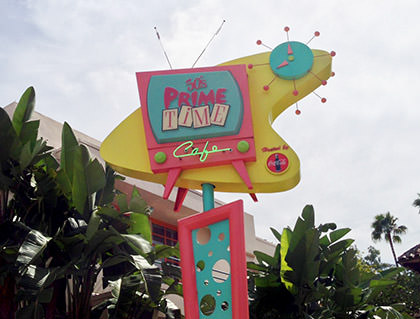 A new restaurant to me this time was "Via Napoli" with authentic Naples pizza. Their White Pizza was amazing, and I will definitely be back...
And, of course, there's always Earl of Sandwich in Downtown Disney, which makes the best sandwich you will ever eat...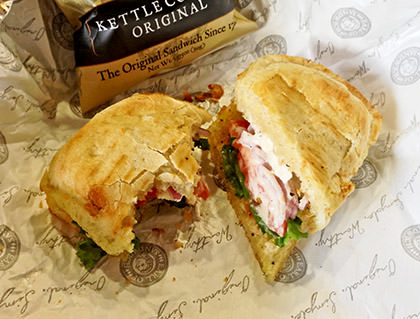 It's surprising that I don't gain 50 pounds every time I come here. I spend most of my time eating.

• Hunter. One of the best shows nobody ever saw was called Oh Grow Up! which was a short-lived comedy by Alan Ball (of American Beauty, True Blood, and Six Feet Under fame). I was a huge, huge fan, which is why I was very sad to just now learn that Oh Grow Up! lead actor Stephen Dunham died back on September 18th. His character of Hunter Franklin was not an easy role to pull off... but Dunham managed it flawlessly...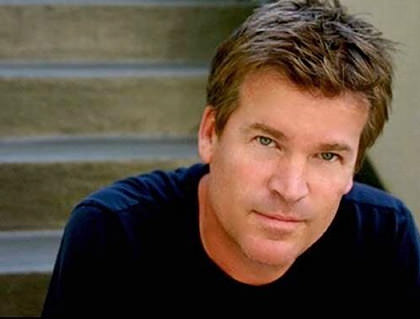 Oh how I wish they would honor Dunham by releasing Oh Grow Up! on DVD or even iTunes download!

Annnnd... I could probably shoot off another dozen bullets here, but I've got to be able to get caught up on sleep sometime!
Posted on September 29th, 2012

This trip to Orlando I ended up staying at Disney's Animal Kingdom Lodge... a pricey but very nice hotel that's located directly on the Walt Disney World Resort property.
Meant to compliment Disney's Animal Kingdom theme park, the lodge is an African-inspired masterpiece that has something you won't find in most any other hotel... animals wandering around outside your balcony. Depending on which savanna your room overlooks, you can see giraffes, zebras, okapi, antelope, gazelles, eland, ostrich, and more!
My room in the main lodge (Jambo House) overlooked the "Sunset Savanna" (the other two being "Arusha Savanna" and "Uzima Savanna"). Throughout the day I managed to see all kinds of animals...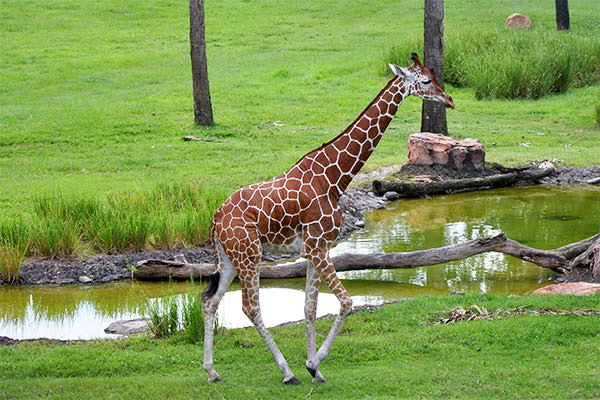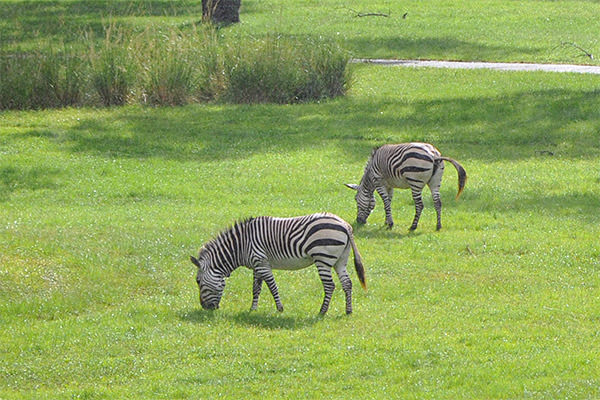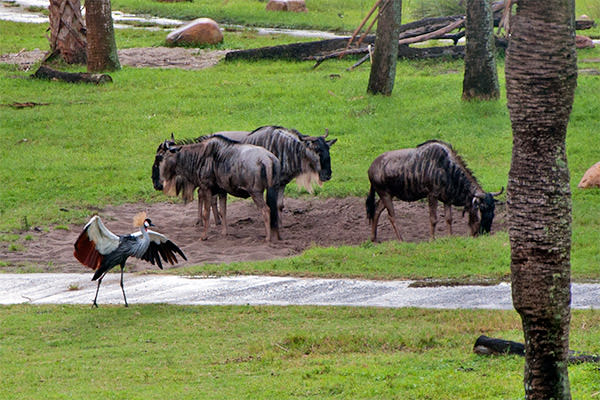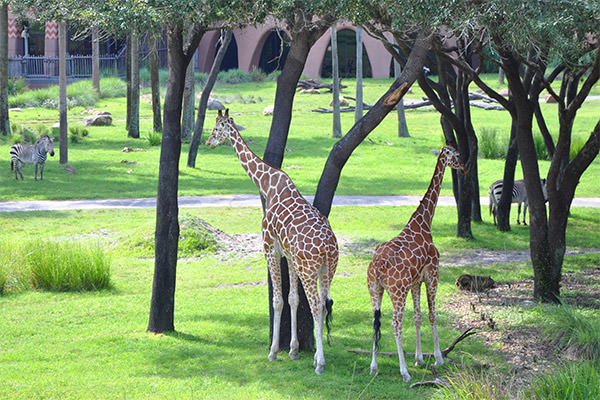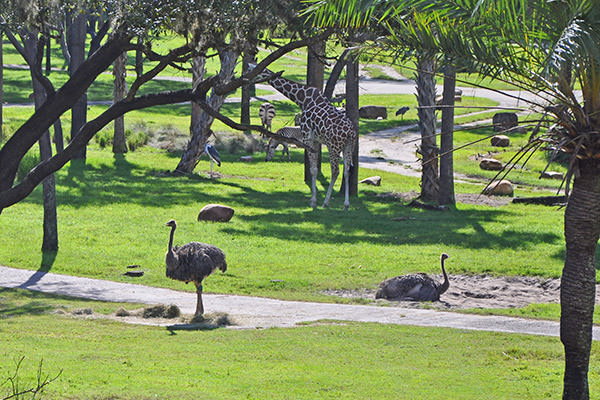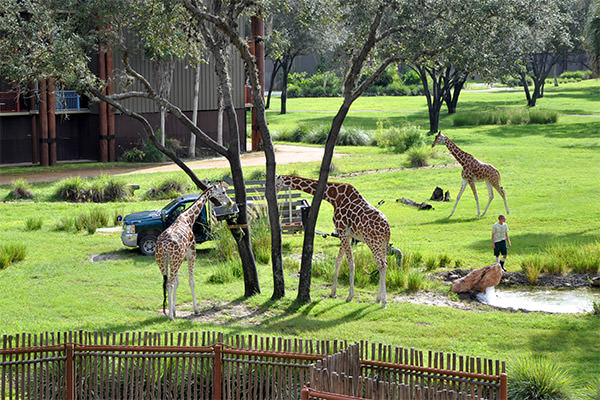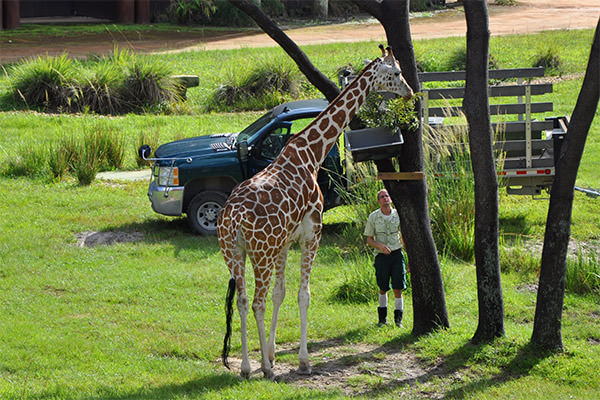 The hotel itself is pretty amazing... which is no surprise since it was designed by Peter Dominick, who also designed the Wilderness Lodge. The showpiece of the hotel being the lobby, which is a towering four+ stories...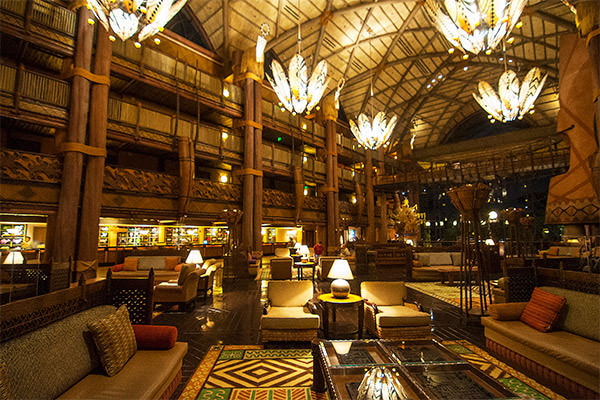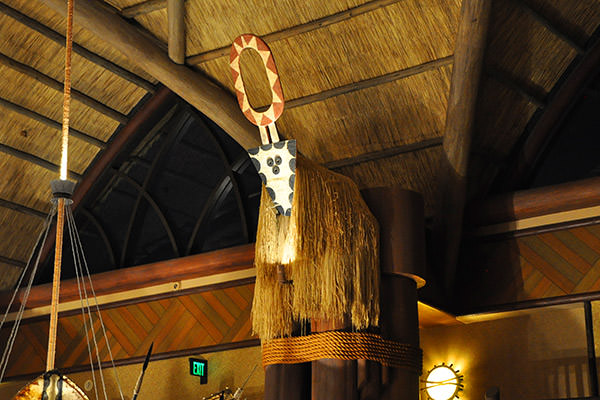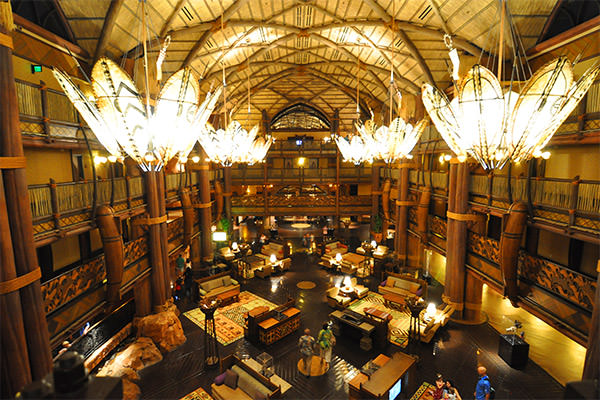 The standard rooms are not overly-spacious, but they are nicely appointed and comfortable...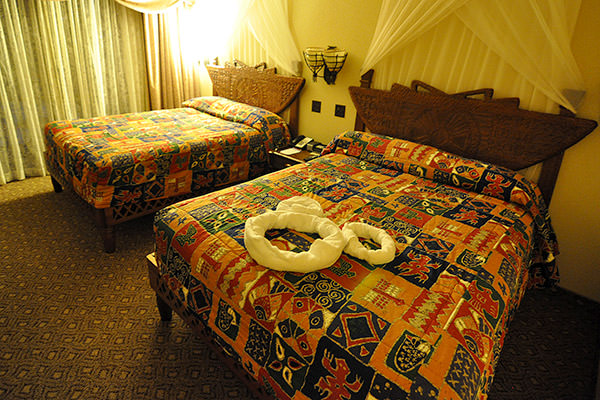 ANIMAL KINGDOM LODGE PROS:
It's Disney. You simply cannot go wrong staying at any of the Disney hotels. From the cheapest "budget" resorts... all the way up to the most expensive "deluxe" resorts... you are assured of clean, comfortable, safe rooms. Not only that, but you get really great perks for staying at the Walt Disney World Resort (extra hours in the parks, free transportation, charging purchases to your room, free room delivery of purchases, and more!).
It's Beautiful. I still like the design of Disney's Wilderness Lodge best... but the Animal Kingdom Lodge is magnificent. The lobby is a sight to behold with its vaulted ceiling and African theming, and everywhere you look there are fantastic little details that make staying here something special.
Free WiFi. The Animal Kingdom Lodge offered up FREE(!) WiFi. Sure it wasn't that great... and I was constantly having to connect/disconnect/connect because it stopped working... but it's FREE (just the way God intended) so I can't much complain.
Savanna Views. Just like you see in the ads, you really do get to look out and see giraffes, zebras, and other animals wandering outside your balcony. It's much cooler than I thought it would be, and you never get tired of watching the wildlife. It's the one thing that puts this hotel in a league of its own amongst the Disney properties.
Nuts. The "Roasted Nuts with African Spices" they serve at the Victoria Falls Lounge are frickin' amazing. And a total bargain at only $5 a bowl! Could not stop eating them.
Restaurants. There are two really nice restaurants with excellent Africa-inspired menus... plus a quick-serve restaurant WITH A FALAFEL PITA SANDWICH!! Great choices for vegetarians, or anybody, really.
Staff. As with all Disney properties, the Animal Kingdom Lodge has been filled with staff that are trained to deliver exceptional service. You really are made to feel welcome and special anytime you interact with them.
ANIMAL KINGDOM LODGE CONS:
Heinously Expensive. Especially if you want a "Savannah View" to look at animals outside your window. And since that's the entire frickin' point of staying here, it would be silly to purchase a "pool view" or "parking lot view" which you can get at any other hotel for a lot less money.
Bathroom. I know they are trying to accommodate families by having the double-sink and double mirror OUTSIDE the bathroom... but it's such a pain in the ass. Would it kill them to put ONE of those sinks/mirrors in the bathroom? That's the way a lot of hotels (including the Hard Rock Hotel Orlando) are designed, and it's much better.
Drums. I am so sick of listening to fucking drums that just the sound of one makes me want to start killing people. You walk up to the hotel and there's somebody teaching kids how to bang on a fucking drum before you even enter the hotel. Once inside, there's a professional fucking drum performance in the lobby... which would be fantastic, except they invite kids to bang on the fucking drums in-between songs. Trying to have a drink at the bar? A fucking drum parade marches through. Want to go to dinner at one of the amazing restaurants? You guessed it... they give fucking drums to the kids to keep them occupied while they wait for a table... which means you get to listen to fucking drums being played badly as you eat. There are fucking drums being banged in all public spaces at all hours of the day and night. Which means that even if you love drum music (as I used to) you will be so fucking sick and tired of fucking drums that you never want to hear them again.
Location. The Animal Kingdom Lodge is about as far away from everything Disney as you can possibly get. With the exception of the Animal Kingdom park, which is kinda next door, everything is miles away. You can easily spend 40 minutes (or more) just in travel time to get anywhere... that's NOT including the time you spend waiting for the damn bus.
The Damn Bus. For whatever reason (but probably the remote location) bus service to/from the Animal Kingdom Lodge is much more erratic and unreliable than other Disney hotels. You'll be standing in 95° heat watching bus after bus go by that's not the bus you need. Want to go to Disney Hollywood Studios? Sorry... there goes the fourth bus to Epcot, but no Hollywood Studios for you. Want to go back to your hotel? Sorry... there's the third bus for Disney's Pop Century Resort, but none for Animal Kingdom Lodge. This happened all the fucking time. And if you're at the "main" lodge, Jambo House, you may get bypassed altogether because the bus was filled up at the "vacation club annex" lodge, Kudani Village, which is the first stop. This is a serious problem that I haven't experienced to this horrible extreme at any of the other Disney hotels.
SUMMARY:
While it isn't going to dethrone Disney's Wilderness Lodge as my favorite Walt Disney World resort property, it comes very, very close. The Animal Kingdom Lodge with its cool Savannah views offers a unique experience that I really enjoyed, and would be happy to experience again (despite some of the cons that go along with staying here). Highly recommended if you don't mind spending huge sums of money.
Posted on October 21st, 2009

Today Hilly-Sue and I went to Walt Disney World's Epcot and World Showcase. It was a lot of fun.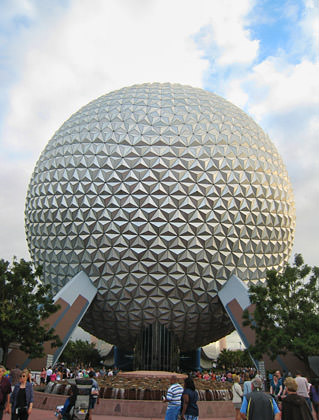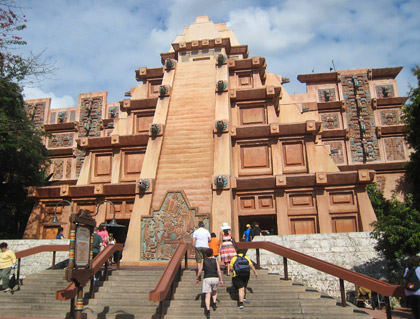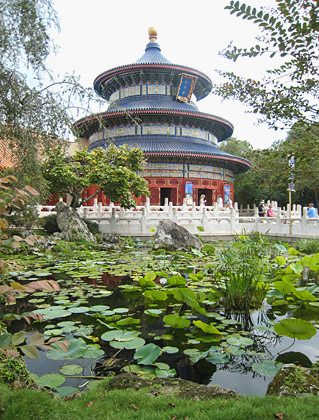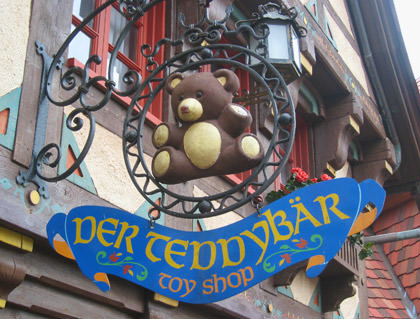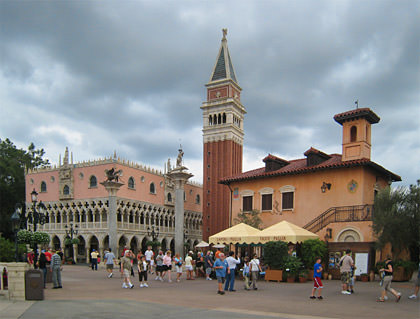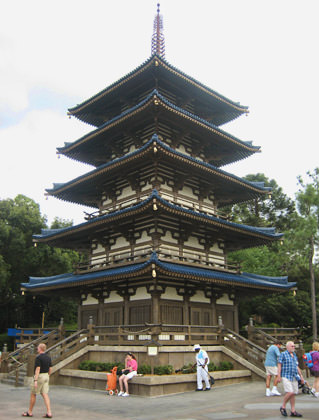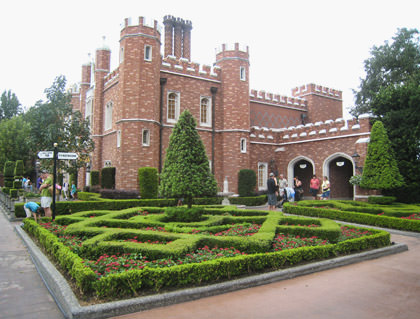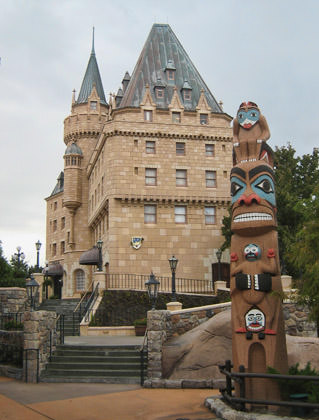 And lastly... if only I had $32 burning a hole in my pocket to buy this vintage "Original Mickey" T-Shirt, which I find to be very cool...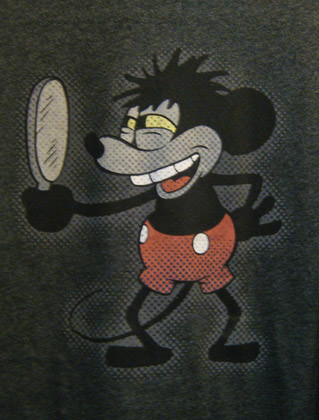 Thus ends our three days in The Happiest Place On Earth: East Coast Edition.
Posted on October 20th, 2009

Today Hilly-Sue and I went to Walt Disney World's Magic Kingdom and Mickey's Not-So-Scary Halloween Party. It was a lot of fun.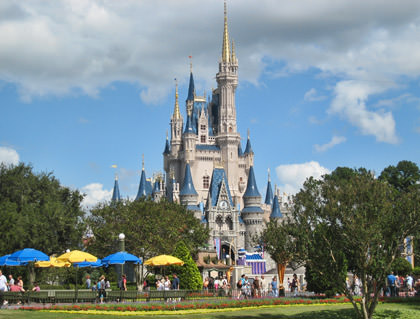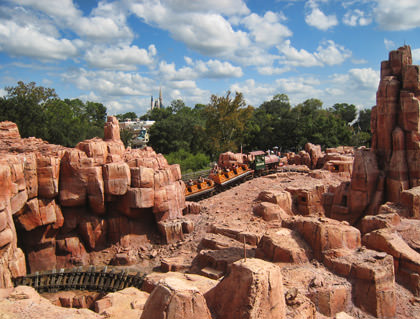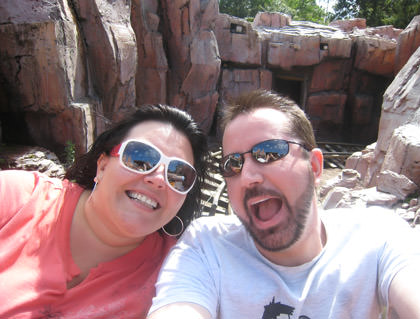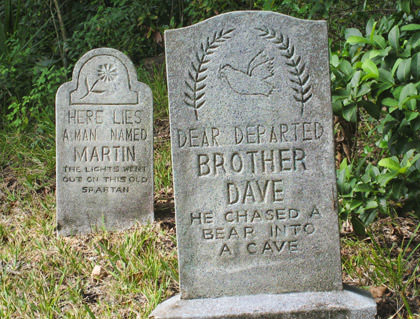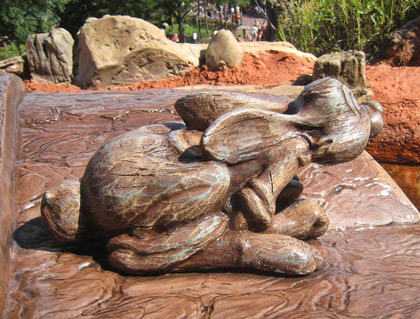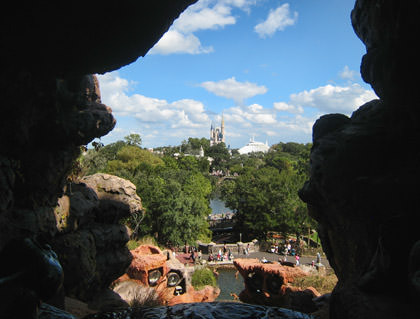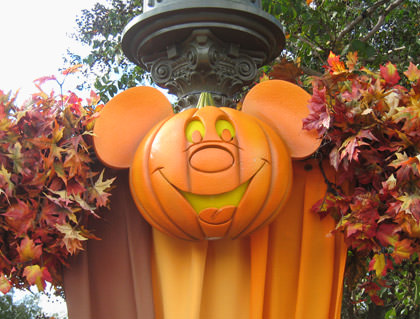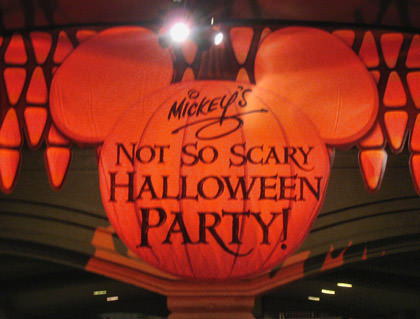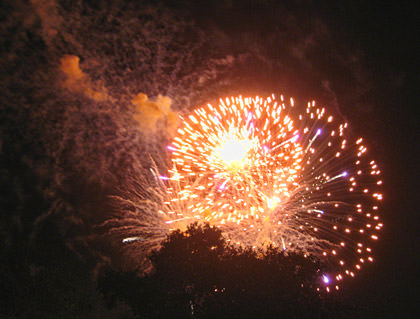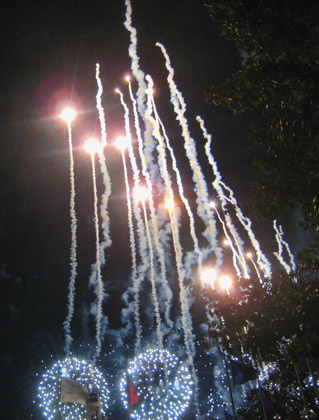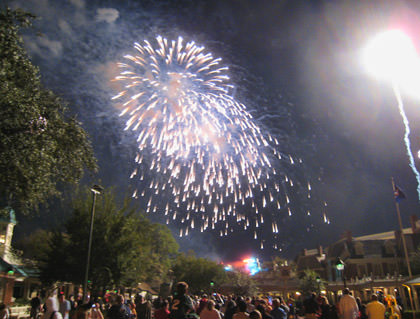 And now, breaking back into reality for a minute... this video is from Maine, but its message applies equally well to my fellow Washington State voters...
It still boggles my mind that I am afforded rights in this country that some of my friends are not. It is even more inexplicable how in the year 2009 there could ever be legislation in place to take even more of their rights away. These are people... people... the same as everybody else who are just trying to make their way through life the best way they know how, find happiness where they can, and enjoy the freedoms this country is supposed to be about. Nobody has the right to tell two consenting adults that their relationship is any less valid or special than anybody else's, no matter what they believe. It's unfair. It's un-American. It's inhuman.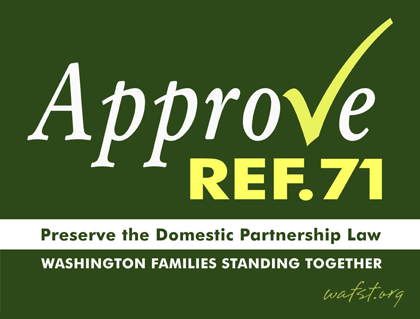 Related entries at Blogography...
Happiness
Henry
Wrong
NOH8
Posted on October 19th, 2009

Today Hilly-Sue and I went to Walt Disney World's Animal Kingdom and Hollywood Studios. It was a lot of fun.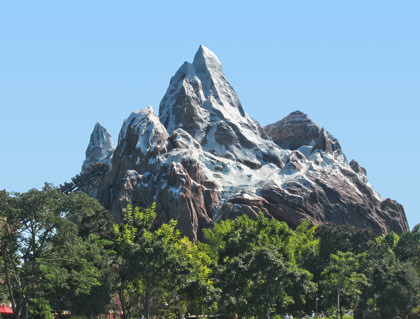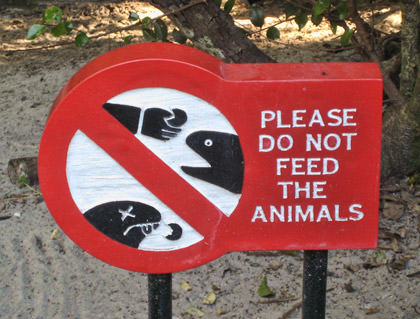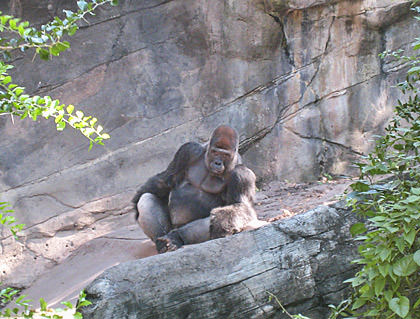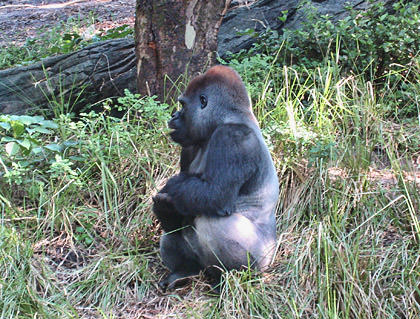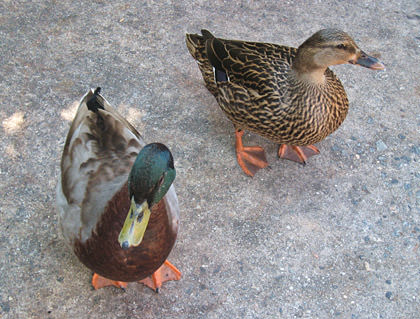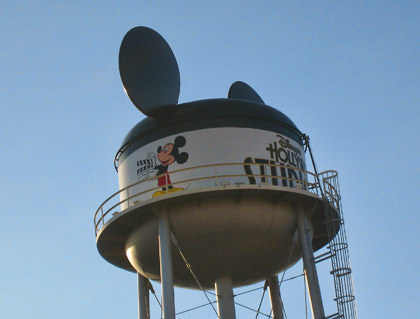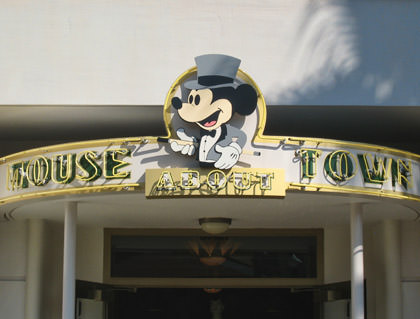 And what adventures will tomorrow bring?