Posted on October 10th, 2018

Since I'm supposed to be on vacation this week, but ended up home with a sick cat instead, I've been working 10-2 half-days. Except today I ended up going in at 11-3 because Jake had other plans for my morning.
He hopped on the bed with me after he'd eaten his breakfast... then proceeded to puke all over me. And, let me tell you, it was an impressive amount of vomit. Kind of shocking he was even able to contain so much spew in such a tiny body. Fortunately, it was all contained on my blanket so all I had to do was stick it in the wash... four times (just to be sure).
Afterwards he hopped right back on the bed and fell asleep...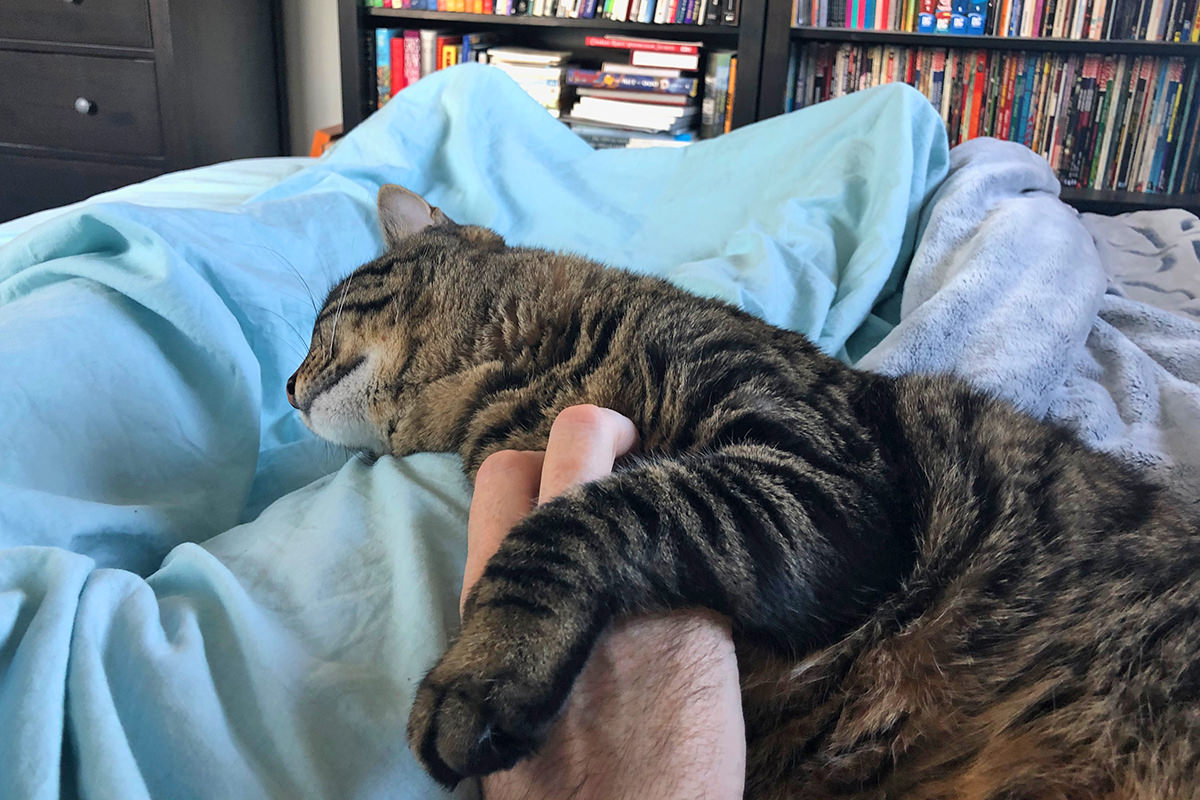 I wanted to keep an eye on him for a while, hence my being an hour late to work.
Before heading home to see if Jake had left any puke for me to find, I headed to the grocery store since my refrigerator and cupboards are bare. While there, I was excited that there was a new brand of mayo for me to try (Heinz!)... until I looked at the price tag...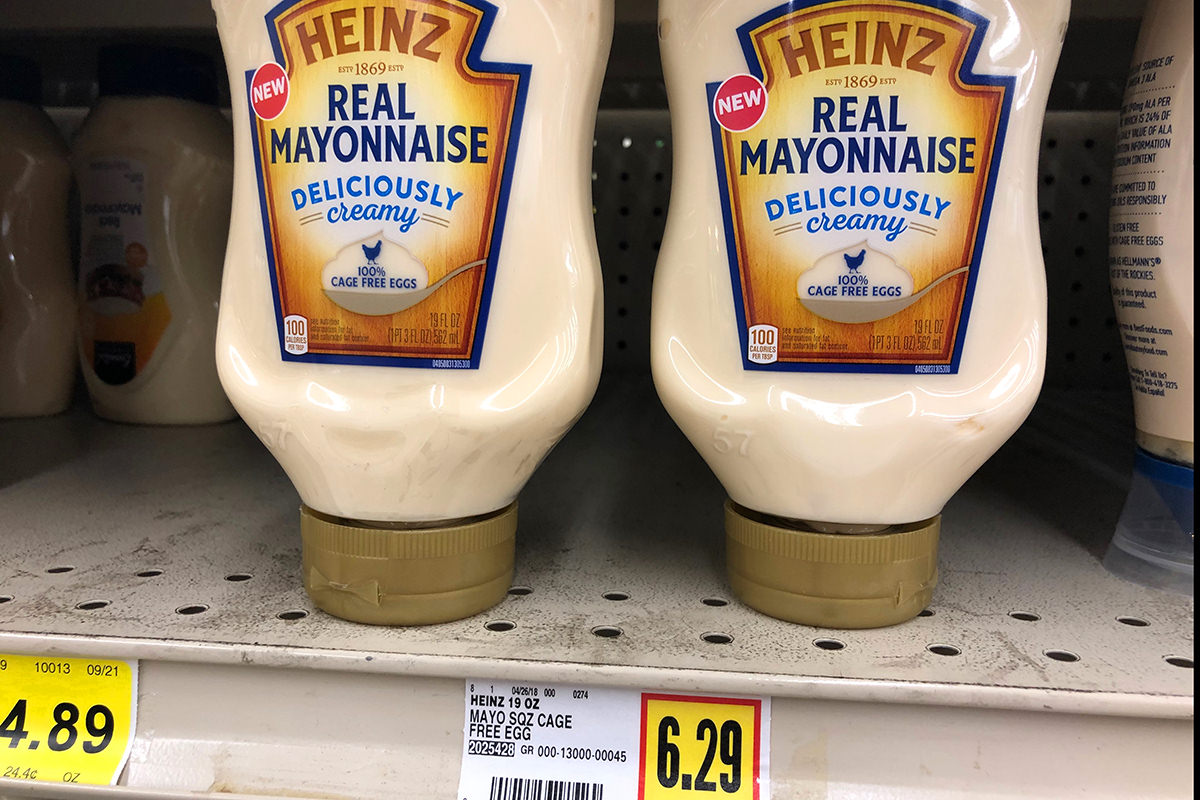 SIX DOLLARS AND TWENTY-NINE CENTS?!?? FOR MAYO?!? WTF?!? IS THERE GOLD IN IT? DOES IT COME WITH A FREE PONY? WHAT?!? Needless to say, no new mayo for me. Perhaps when I get to The Big City next I'll see if they have it for a reasonable price at the Safeway.
And... back to my home.
Which was pleasantly puke-free!
A quick look at the security cameras and I saw that Jake it still able to pee... many, many times... so I'm chalking this day up as a win.
After I run my blanket through the wash just one more time.
Posted on October 3rd, 2018

Things not going quite as well as we had hoped. Jake still has way too much blood in his urine, so no next steps can't be decided.
I got to visit him this afternoon. The poor little guy is so confused and scared. I've never been able to acclimate him to other people. There are people everywhere. He's terrified of other animals. There are animals everywhere. He's in a cone, which freaks him out because he can't see. He's tethered with a catheter and an IV, which is no fun at all. He's on drugs, which just heightens his confusion.
The good news is that I'm told he's usually sleepy and lethargic, so maybe he's not quite so bothered by it all. He was sure active when I was there though. He was rubbing up against me... probably wanting me to take him home...
So heartbreaking. It was all I could do to hold it together.
Things are not much better at home.
Last night Jenny was super excited when the dinner alarm rang. But when I put the food out, she wouldn't eat. Instead she wandered around... presumably looking for her brother. They have never not eaten together, so she was understandably upset. Eventually she just flopped on the floor of the guest room and nothing I could do would convince her to come eat.
After I left her alone for a while, she came back into the living room and lay next to me, but still wouldn't eat, even when I would hold the food in front of her...
She finally climbed onto the back of the couch and cried and cried and cried. Trying to console her just caused her to cry more, so I tried ignoring her instead...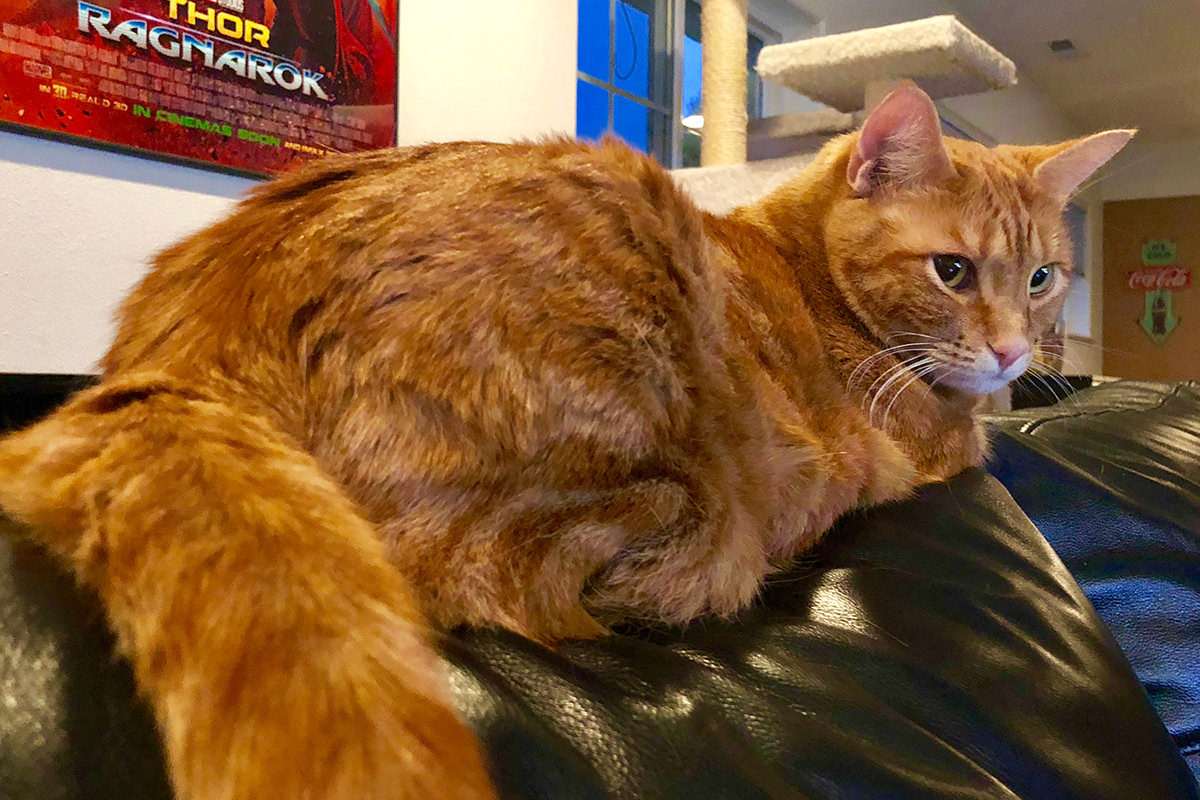 Eventually she gave up and went to sleep on the small couch. Still hadn't eaten. At one point I got excited because she woke up... but she just gave herself a pedicure and went back to sleep...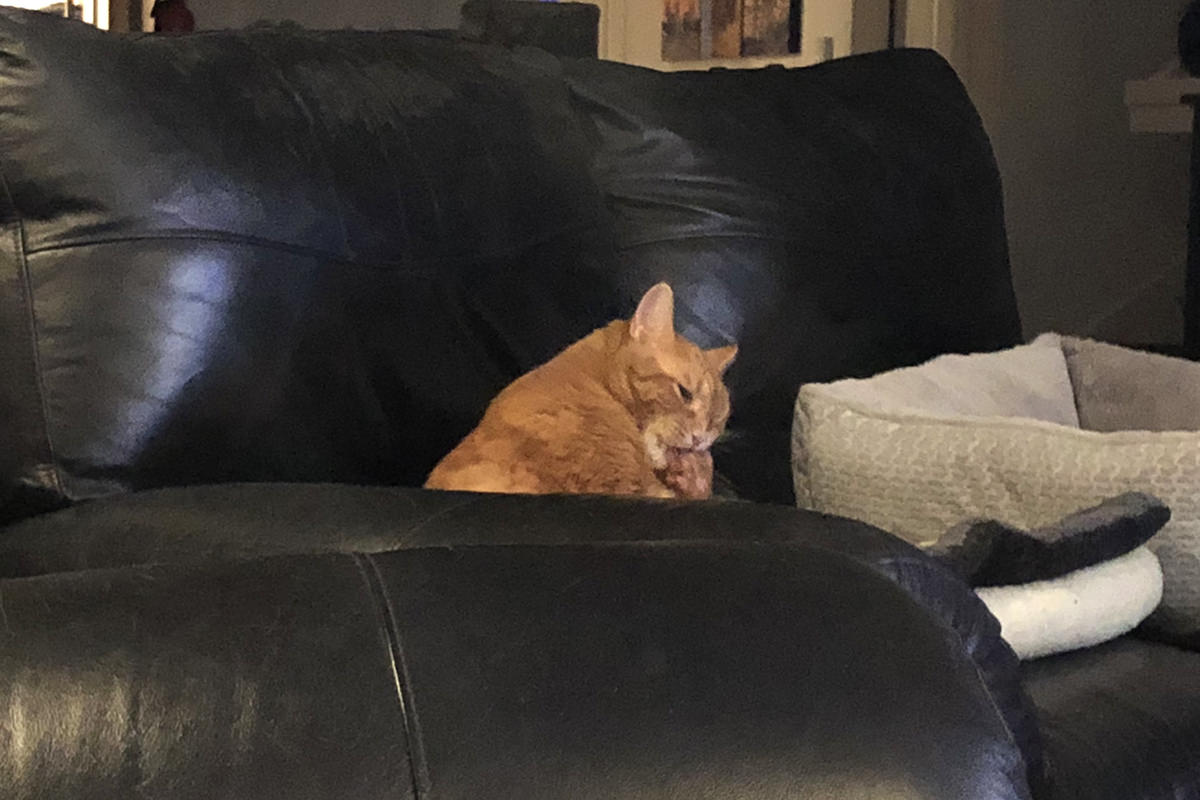 When I started turning everything off and packing up my stuff, she decided to go eat. At last...
After I turned in for the night, Jenny wandered in to fall asleep next to me.
I woke up to her meowing again around 5:00am. Still looking for her brother.
It was around this time that Jenny realized I was laying on a heating pad. She then flops down and uses her back to keep pushing me over until she's claimed the whole thing. I tried explaining that I need the heating pad for my back or I won't be able to bend over to feed her breakfast, but she did not care. Here's me trying to slide her over a little bit... note the foot kicking me away. She is NOT having it. Oh well. I didn't need a back anyway...
After taking a shower, she was still soaking up the residual heat from the pad (which I had turned off). Guess it's time to pull our "her" electric blanket...
Really, really hoping that Jake has improved when I visit him tomorrow. It would be so much easier to climb on a plane Friday morning if I knew he was getting better.
Not that climbing on a plane is going to be easy. Poor Jenny will be all by herself for the first time in her life for three days.
Posted on September 30th, 2018

Time to remember the past and move forward... because an all new Bullet Sunday starts now...

• Marker. My mom's marker finally arrived. I placed her remains on Thursday and the stone was set shortly thereafter...
Burial vaults used to be big cement things. Now they're tiny plastic! She barely fit! The guys at the cemetery helping me were incredibly kind a respectful, which was very much appreciated.
It still seems strange for her to be honored as a Vietnam veteran when she wasn't in combat, but the VA assures me that her service during wartime absolutely qualifies her for the honorarium. I think this means the American Legion will put a flag on her grave come Memorial Day? That would be nice.

• Obituary. After my mom was buried, I could finally send in her obituary. I was surprised that I was able to do the entire thing online. I didn't have to talk to anybody...
I picked a photo from our last trip together. She's sitting across from me at the five-star Victoria Falls Hotel Restaurant in Zimbabwe. Sure she's in a T-shirt, but what the heck. She was an adventurer. That's the kinda stuff she wore when tearing up the planet doing awesome shit.
A sidenote... The photo I used for my mother's obituary was taken exactly four years from the day I sent it in to the newspaper, and I didn't even know it until I saw the date stamp of the photo. Weird how things line up from time to time if you pay attention. Here's my blog entry from September 27th, 2014. Amazing how the universe works.
And so I guess that's it. The last thing to do in a long list of things to do so we can both move on. Or not...

• Memoriam. When I purchase a copy of our local paper today so I can see my mother's obituary in print, I will also be purchasing yet another opinion piece by the paper's publisher who previously compared rape to cheating at golf and smoking. Did he apologize for his flippant and tone deaf attitude? No. No he did not. He doubles down and says that men have nothing to be ashamed of... we were born this way, after all. Most of us are good guys, so the horrible way that women get treated is not our fault.
Then whose fault is it?
You're saying the toxic masculinity which permeates our society and is a constant and consistent threat to women is nothing to be ashamed of? Men can hold their heads high while women are harassed, humiliated, beaten, raped, and even killed? Are you serious?
The idea that men should just keep going on about their business while a society which endangers women is thriving is categorically absurd. Jeff Ackerman says we should just keep drinking from the milk carton, mowing the lawn, and ignoring rape culture because most of us are nice guys. It's nothing to do with us. Men should stick together against these evil women who want to be able to walk down the street at night without fearing for their life. Apparently that's what he considers "behaving like a man."
I call bullshit. Real men should be standing together with women to put an end to this. Real men should be actively dismantling toxic masculinity at every opportunity. Real men should be teaching their sons that being a man means being a partner to women, not dominating over them. Real men set an example by respecting women, cherishing women, valuing women, and supporting women. Real men work for a society where women are heard.
My mother was victimized by a man who professed to be her boyfriend... but she was never a victim. She picked herself up, pulled together the pieces of her life, then moved on the best she could. She loved her family. She served her country. She was kind to those she met. She worked hard. She traveled the world to understand it better. And her reward for having such courage? To be memorialized in a newspaper where the publisher says that what she went through is none of my concern because that's just the way men are.
My mom deserves better than that. I'm a better man that that. And society will be far better off when "old men" like Jeff Ackerman are gone.

• Love. And in yet another "Making History" segment... MIKE PENCE BECOMES FIRST VICE PRESIDENT TO ADDRESS ANTI-GAY SUMMIT — But I'm sure he was hating the homosexualizers with Christian Love® in Jesus® name... so it's all good. I mean... these "Christians" have branded their hate as "Christian Love®" so I'm assuming they've trademarked that. Oh... and Jesus® of course. Can't go having The Wrong People co-opting The Savior® can we? They might tell people to love everybody as He did instead of weaponizing His name to push an agenda. We can't be having THAT! Can you imagine? People coming together to love one another? Why, the notion! So silly! Christian Love® is reserved for those who believe EXACTLY LIKE PENCE DOES... and nobody else! Lord, what a piece of shit. Pence, Trump, and their entire administration is garbage. Way to represent all Americans.

• Political Climate. When given the choice from here on out, I am voting exclusively for progressive women candidates. I honestly do not give a single fuck's worth of thought to any of these old white men destroying this country. I'm voting all women, all persons of color, all LGBTQ, all ANYTHING but the status quo from here on out. These assholes had their chance. The future belongs to anybody but them. Because the only way we are going to get FAIR REPRESENTATION in government is to have ACTUAL REPRESENTATION IN GOVERNMENT.

And until next Sunday, when I'm sure there will be a whole new set of horrors to deal with, I bid you adieu.
Posted on September 25th, 2018

As any long-time reader of this blog already knows, I am hopelessly addicted to the LEGO video games. They are mostly (fairly) simple puzzle games which involve looking for various objects and trying to figure out how to combine them to complete a task needed to advance in the game. Most all of the titles are really funny, even with the source material can be rather gory (I'm looking at you Jurassic World!). And that's the appeal. LEGO games are a mindless distraction from all the horrors of the world that I like to escape into from time to time...
And so... here's my ranking of all the console LEGO games I've played (I haven't played the latest LEGO online game, LEGO Worlds yet because I am hesitant to buy into an online game that could be set down like LEGO Universe was).
LEGO Batman 3: Beyond Gotham — Where do I even start? Dozens of awesome DC characters on amazing adventures that are far, far more entertaining than and DC movies hitting the screen. This is the Justice League people deserve to see, and it's a fun, hilarious, entertaining ride from start to finish.
LEGO Star Wars: The Complete Saga — What's so fantastic about LEGO games like this is that they follow the general narrative of the movies... but add so much more. The "Complete Saga" has games covering everything from the original trilogy (mind-bogglingly good) to the crappy prequels (which are so much more fun in LEGO than the actual movies). Like most LEGO games, the vehicles are a mess to control and I don't have much fun on the spaceship missions, but everything outside of that is gold.
LEGO City Undercover — When this game was first released, it was a Wii U exclusive. I didn't have a Wii U, so I just held tight and thought I would wait until it got released on other systems. Then I got to actually play the game at a friend's house. I was so absorbed into the massive city and all the clever missions that I had to have it. So I bought a Wii U just to play it. Expensive way to play a game, but worth it. The integration of the Wii U controller into the game was great, the levels are hilarious, and some of the challenges were more difficult than in other LEGO games. A winner all the way around.
LEGO Dimensions — Blending so many licensed properties in a single game was a fantastic concept that worked exceedingly well. You start out with LEGO Batman, Gandalf (from The Lord of the Rings, and Wildstyle (from The LEGO Movie)... but you can add any other character you want from any other franchise to any Free Play mission you want. Want to team up The Wicked Witch of the West with Bart Simpson and Beetlejuice? Have at it. I loved LEGO Dimensions and bought every single set that LEGO released for it. Needless to say, I was gutted when they discontinued LEGO Dimensions. But I guess it's okay because I still have a ton of stuff left to explore on all the expansion packs I bought. Hopefully they won't shut down the servers before I have a chance to complete everything.
LEGO Marvel Super Heroes — This is a fantastic game which feels inspired by the Marvel Studios movies, but encompasses all the Marvel characters. It's also massive. It feels like the entire city of New York has been recreated in LEGO form and there's just so much to see and do. With each new release the LEGO games just keep getting bigger and better. I can't imagine what LEGO: The Incredibles and LEGO DC Super-Villains are going to be like!
LEGO Batman 2: DC Super-Heroes — Well, here we go. I had no idea how they were going to put powerful characters like Superman and Wonder Woman into a game and have it work (they are invulnerable and can literally fly anywhere, go anywhere), but they obviously put a lot of thought into that dilemma, because everything works flawlessly. I got this game on a Friday, then ended up playing all weekend and taking a vacation day at work on Monday because I was so absorbed in unlocking all the secrets hidden around Gotham City. Fantastic follow-up to the original game.
LEGO Star Wars: The Force Awakens — I wasn't going to buy this one... I was going to wait until all of the new trilogy games were collected in a single game... but I couldn't resist. Hearing that all the characters were voiced by the original actors was compelling enough to make me buy in. I did not regret it. This is a hilarious parody with improved game-play from the earlier Star Wars games. As if that wasn't enough, it has levels that link Return of the Jedi to The Force Awakens which makes this a must-have game not just for LEGO fans, but for any Star Wars fan as well.
LEGO Marvel's Avengers — A direct lift of Marvel Studios films of the day (Avengers: Age of Ultron, Captain America: Winter Soldier, etc.), this game doesn't feel as "open" as later games, but is still a heck of a lot of fun. All the characters are Marvel Cinematic Universe versions, which makes for a slightly different mindset than other games which are more tied to the comic books. That just made me love it even more, and I had a blast playing it.
LEGO Ninjago Movie — I'm only half-way through this one, but I'm really enjoying it. I'm only barely familiar with the Ninjago franchise (I've never seen the movie but I have all the characters from the LEGO Dimensions game... but, fortunately, familiarity isn't required to play. Experiencing the game makes me really want to see the movie, so I guess that's as big an endorsement as you can get.
LEGO Harry Potter (Years 1-4 and 5-7) — I am not a fan of the Harry Potter movies or books. I honestly don't get their popularity, because they seem like derivative works that rely on deus ex machine to tie up the endings of each story. That being said, the LEGO games are awesome. They seem a bit more "puzzley" than other games, and that worked to keep me interested through the entire series. I do think the game would have been enhanced if I had seen the films, but I was okay without it.
LEGO Batman: The Videogame — I am a huge Batman fan and a huge LEGO fan, so I bought this game not knowing anything except it combined two of my favorite things. Before this, I had been playing the LEGO Star Wars games and liked them, but here is where I became obsessed. They got a lot right with the Batman franchise from the very start and everything that followed was gravy.
LEGO Indiana Jones (Volume I and II) — The Indy Trilogy films were born to become LEGO games, and the result did not disappoint. I had a lot of fun roaming from adventure to adventure... so much so that I bought this game twice! Once on my Xbox 360 and once on my Nintendo DS handheld (which was surprisingly different than the console version). Released in two parts, I thought the second half was lacking compared to the first, but still enjoyed the whole game.
Pirates of the Caribbean — This title felt way too much like "more of same" that we had been getting, but lacked the variety of games which preceded it. Despite all that, it was a lot of fun to play and looked beautiful. I lost interest in the movies after the first two, but this game kept me interested all the way through.
LEGO Jurassic World — Putting Jurassic Park in a LEGO game is kinda a no brainer (the LEGO Dimensions pack was fantastic). What made this game shine was having the original actors voice all the characters. The game would have ranked higher on my list if there were more dinosaurs used as playable characters... otherwise it's just regular human after regular human. Sure they have unique skills, but still. If I have a serious complaint, it's the annoying as hell Compsognathus dino attacks which beseige you far too often to stay entertaining. By the end of the game I was thinking "Holy crap, did anybody beta test this?"
LEGO Lord of the Rings — As a big fan of Tolkien's books and somebody who really enjoyed the Peter Jackson movie adaptations, I could not wait for this game to be released. And it was definitely worth the wait. Except... it kinda fell short when compared to the other LEGO games being released at the time (namely, LEGO Batman 2 and LEGO Marvel Super-Heroes). Even so, it was highly entertaining and had me absorbed from start to finish.
LEGO The Hobbit — I thought that Perter Jacksons' absurdly drawn-out movie adaptation of the beautiful and simple story that's The Hobbit was way overboard. This should have been one movie... not three! That being said, if you're going to do a video game movie adaptation, you'd better finish what you started. In this case, they did not. The final Hobbit film (The Battle of the Five Armies) was supposed to be released as a downloadable content pack, but wasn't. How lame is that? The game didn't have a lot of variety in characters, but made up for it in other ways, which was nice... but lack of a finale kept the game from ranking high on my list. As it is, there's only two games left which disappointed me more.
The LEGO Movie Videogame — I have no idea what went wrong, but this is one of the few LEGO games I was unable to complete. It was glitchy as hell, which was hugely disappointing given that this was a LEGO game about a LEGO movie and had so much promise. It's kind the height of irony that this is the game that failed so badly. In the LEGO games there are always little glitches that pop up... but none that kept me from enjoying the game like this one did.
LEGO Universe — What a mess. I signed up to be an early beta tester because they were developing a MacOS X version of this MMPORG (Massive Multiplayer Online Role-Playing Game). Apparently it was running under emulation, so it was slow and glitchy in spots. Especially when a lot of characters were on-screen. Even so, I loved playing the cool missions and seeing what new insanity they would add to the game next. Until they stopped adding. And then shut down the servers so you couldn't play anymore. I mean, I know that each game has a shelf-life, but LEGO Dimensions felt as though it was shut down way before its time, and I'm still pretty raw about it.
That's a lot of LEGO games. And it doesn't even include the versions I've bought for my iPhone, iPad, Gameboy, and Nintendo DS! And next up? LEGO: The Incredibles! How awesome is that?
Posted on September 17th, 2018

Going through my mom's stuff has been an awful ordeal. No matter how much I sort through, there's still so much left to go. I thought that waiting would make it easier, but two-and-a-half months later and it's far more difficult. It feels as though the more time that passes the more I realize that I'm never going to see her again, and the more the weight of it crushes me.
This weekend I sorted through some clothes I had forgotten about. It was a bundle that I didn't want to send with her to the memory care facility because it was special stuff... like all the B. Kliban Cats T-shirts she had collected. They're so cool that I was worried they would be stolen and some stranger would be wearing them. Now I'm donating them to Goodwill where strangers will be wearing them after all. Had I sent them with her, she might have at least got to enjoy them once or twice. It's the stuff like this that is so damn hard. It doesn't matter how much I did right, it's mistakes like this that my mind wants to focus on.
After that trauma, I decided to go through all of her recipes and cookbooks. When I was a kid, mom cooked all the time. Later in life she barely cooked at all. Most of her recipes are ones that I won't eat (meat) or shouldn't eat (sweets) and got tossed. Jenny was a big help in sorting things out...
Some of the recipes she was happy to rip out of a binder for me...
Recipes she really didn't like got chewed on and shredded...
There were two recipes I was hoping to find. The first was her Applesauce & Walnut Bread, which is sublime (found it). The second was her Spanish Rice, which was very different than what I've had in restaurants (never found it, dammit).
What I was surprised to find was the recipe for my grandma's enchiladas (from my dad's mom). I have refined her recipe over decades in order to come up with my own vegetarian version. They're awesome. But they're not the same. Now I am very interested in going back to her original recipe and substituting Beyond Meat crumbles for hamburger to see if they're the same as I remember. Wouldn't that be a treat? And speaking of treats... grandma made a marshmallow popover roll that was divine. You roll a marshmallow in melted butter, shake it in a cinnamon & sugar mixture, wrap dough around it, then bake. The marshmallow melts, which causes this amazing gooey mess in the middle that ends up being the kind of thing I'd imagine they serve in heaven. I can't fathom what the carb load must be for something like that. I'm sure it's substantial. But what a way to go!
I have great memories of my grandmother and her many pets, but my favorite memories are of her cooking. She skinned tomatoes by sticking them on a knife and holding it over the flame on a gas-top stove. She opened enchilada sauce cans by chopping into them with a cleaver. She laughed a lot while trying to teach me how to make the food I loved so much. She called me "her little politician" because I liked to talk so much when I was a baby. I didn't get to see her very often because she lived in California and I live in Washington, but I remember an awful lot about those moments.
I also found recipe's from my other grandma (my mom's mom). Including her award-winning apple pie. I've had the recipe for ages... but it's not the same when I make it. Grandma would taste the apple then decide what it needed to make a great pie. More sugar. Less sugar. More lemon juice. Less lemon juice. How much spice got added. It wasn't just a recipe... it was a complex negotiation between ingredients until grandma's apple pie became grandma's apple pie.
My grandpa's pickles can't be duplicated either. He used a measuring cup, but it was never a level measure. He always seemed to over-pour on everything. His specialty was dill pickles and hot pepper dill pickles, but he also made sweet pickles because my grandmother wanted them for her macaroni salad. I remember him measuring out the sugar and watching it spill out over the measuring cup for what seemed like forever. The recipe says "one cup sugar" but there was a lot more than one cup in that brine. It's what made grandpa's sweet pickles become grandpa's sweet pickles.
I suppose I shouldn't even attempt to duplicate foods where the best thing about them was the people who made them. It's an endeavor that's certain to be met with failure.
Today I started putting away my wood shop so I can park my car in the garage now that it's getting frosty in the mornings. I'll still be working whenever I can... at least until the snow comes... but The Big Projects are done for the year. Really hoping that next year I have more time in the shop.
Among the things in the garage that need to be put away are all the photos I had canvased for my mom. I made them when we moved into my new house so she'd understand it was where she lived when she saw pictures of herself... and it was a fantastic investment that actually worked. They worked so ell that I took them with her when she had to leave. After she died I brought them all back home with me so I could hang them... somewhere.
Ultimately I decided they should go in Jake and Jenny's bedroom. When I relocated the guest bedroom to the main floor, I ended up with blank walls, so it was the perfect spot. And just like Jenny "helped" me out with the recipes, Jake decided to "help" me decide how the photos should be arranged...
He did a pretty good job...

TOP ROW: Trevi Fountain in Rome, Mendenhall Glacier in Alaska, The Grand Canyon, Temple of Poseidon in Greece, Beach at Natural Bridge in Aruba. BOTTOM ROW: Amalfi Coast in Italy, Southmost Point Key West in Florida, The Colosseum in Rome, Mykonos in Greece, Angkor in Cambodia.

LEFT: Kauai Beach in Hawaii, Oak Alley Plantation in Louisiana. MIDDLE: Neets Bay Float Plane in Alaska, Chilkat River rafting outside of Haines in Alaska. RIGHT: The Great Pyramid in Egypt. The Sphynx in Egypt.

LEFT: Wild Africa Trek in Walt Disney World Florida. RIGHT: Phone booth in London, England.
One of these days I really need to put together the bed I bought so this could become a second guest room if I ever needed it. There's always One. More. Thing. isn't there?
I had two canvases left over, so I moved the photos of Mom with Donald and Me & Mom with Micky to my bedroom next to the Mickey patent reproduction hanging on my door...
And then...
Remember when I was lamenting that I didn't know much about my mom when she was younger? Well, she just delivered! I found over a hundred letters she wrote to my grandparents when she left home. Guess there's stuff to know if I ever want it...
I honestly thought that this small suitcase was filled with sewing stuff! Of course I never looked inside when she was here... I just put it in her closet for her. Then when she left, I put it into storage with the rest of her stuff. I was getting ready to throw it out but, of course, I had to open it first to make sure it was just sewing junk. Guess it's a good thing I did.
And that was enough fun for a Monday. More than enough.
Now I get to hammer out a guard for the feeding station so Carl the Robovac will stop ramming into the water fountain and pushing food dishes all around the house. Not the best pick for the last project I create before putting away my wood shop for the year, but a necessary one!
Posted on September 10th, 2018

Today I walked to work because my foot was stiff after having elevated it all weekend. I also chopped off a chunk of my damaged toenail because it was itching UNDER the nail. That hurt. It probably would have hurt less if I managed to keep my eyes open the whole time I was performing home surgery, but the blood was freaking me out. After coating it with antibiotics and bandaging it, I felt much, much better.
Until I walked to work. By the time I got there my foot was on fire and I felt like I was going to pass out.
But I'm still glad that I walked. I should do that more often.
Also? On the walk back home I saw this rock next to the railroad tracks...
Awwww. I'm guessing this means I'm lucky now?
I could use some luck!
And so could the East Coast of these United States of America...
Yikes. Scary. What does God have against The Outer Banks? Or maybe it's because North Carolina voted for Trump. Because that's the way it works, right?
Posted on September 6th, 2018

The bird feeder is not depleting as quickly as it once was so I'm guessing the smaller birds are starting to head south? Still going through a lot of seed though. And Jake and Jenny still spend hours watching them out the window too.
This morning when I went out to refill the feeder (again) I saw a small gold bird sitting on the rocks around my flower bed. Usually birds take off the second I open the door, so this was puzzling to me. Thinking he might be hurt or stunned, I thought I'd fill a shallow dish with water and put it next to him. Alas he hopped away every time I tried, so there wasn't much I could do except grab my camera...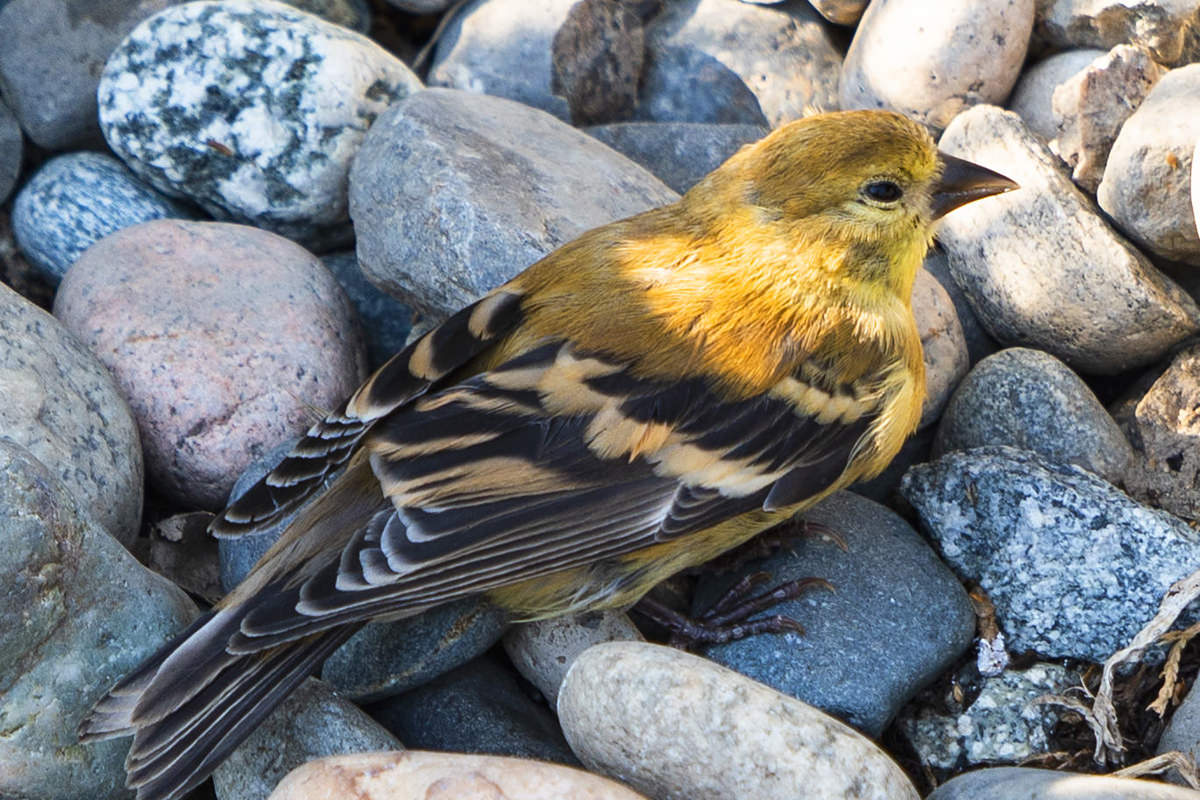 Fake Jake would pounce on him in a second, so I did my best to shoo him under a shrub so at least he could rest up in a spot that didn't make him an easy target. Most cats just kill birds for fun. Fake Jake will actually eat them. Which doesn't make me any happier about it (he has food, he doesn't need to hunt!) but at least the poor things aren't being killed for sport.
When I was downloading that bird photo off my camera, I noticed the photo before it was this one...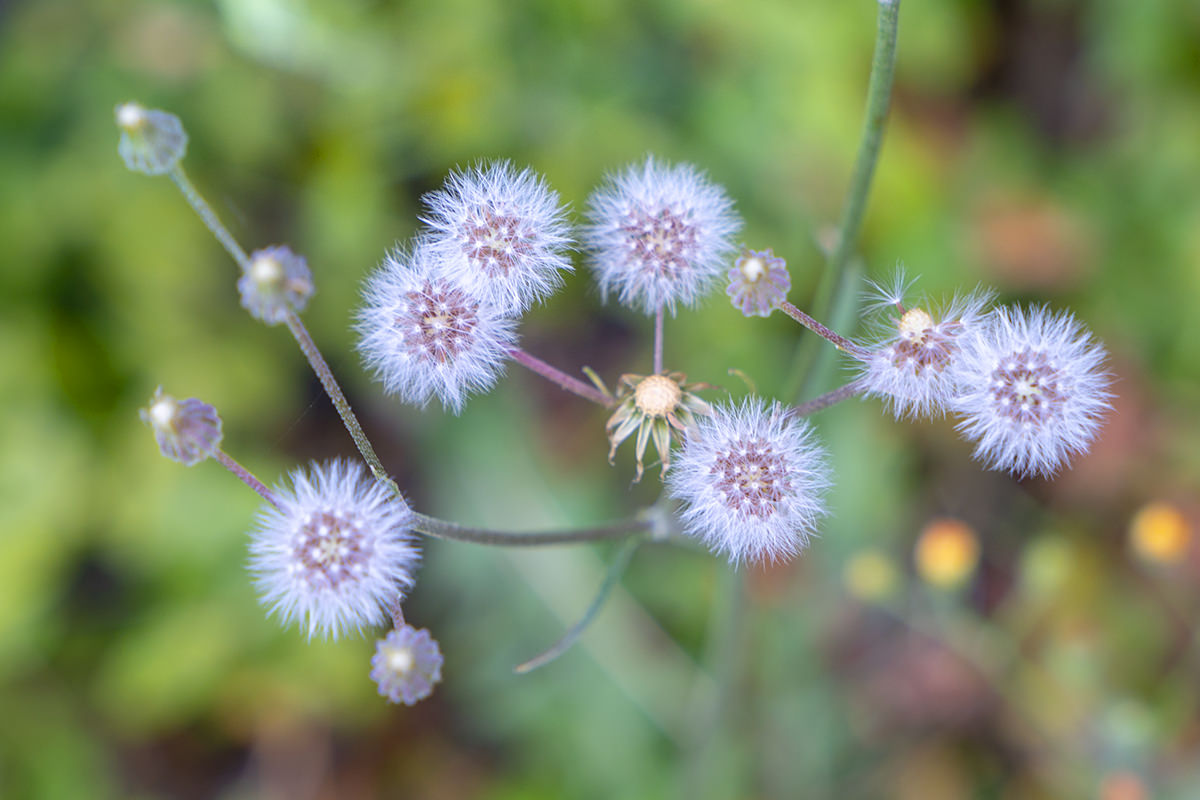 No idea where I took it. On the date that was time-stamped on the image I wasn't traveling anywhere, so I'm guessing I shot it somewhere close to home, but I have no memory of it. Boy does it suck getting old. I wonder how long until I forget how to wipe my ass?
Hopefully before I forget how to pay somebody to wipe my ass for me!
Posted on September 4th, 2018

Yesterday was Labor Day in the USA, a holiday meant to honor American workers and give most of us a day off work. Or something like that. Other countries have Labor Day too (or, as some spell it, Labour Day) but I don't know much about that.
What I do know? I had to work over Labor Day holiday weekend.
But once I was done? I decided to take Fall seriously and get my Fall-looking wreath hung on my door. I usually wait until October to put my Halloween pirate skeleton in the middle, but... eh...
It doesn't seem like Summer could possibly be over... didn't we just start Summer a few minutes ago? But it has been getting noticeably chilly out in the mornings, so I guess Fall is really here.
My cats will be thrilled.
Posted on August 30th, 2018

It's been two months since my mom died. It seems like it was years ago. It seems like it was yesterday. Sometimes it seems like it was just a bad dream.
Most days I come through it just fine. Her mind was gone long before she passed, she's no longer suffering, and I have so much to be grateful for in the time I got to spend with her. Whenever a wave of despair comes crashing down on me because I don't have a mom any more, I remember this and manage to keep from being overwhelmed. It doesn't mean I miss her any less, however. My heart still aches and that's something that's never going away. But my life seems less and less defined by her passing as time goes on, so I guess I'm going to survive this.
What's been going on with all that over these past months...

ASHES.
Funeral planning was pretty easy. My mom wanted to be cremated and buried in the plot next to her parents which they gifted her many years ago. I had bought her a funeral insurance policy, so most everything was set. Two weeks ago I drove over the mountains to pick up her ashes, which were kindly placed in an urn I bought to match the one I got for my grandma back in 2015. My mom said that a graveside service was all she wanted, but I decided against it. The last thing I needed was her piece-of-shit ex to show up. I figured mom would be okay if I didn't end up going to prison for murder over a service she didn't even care about, so that was that. The next time there's a family reunion, I'll show up with all my mom's travel books and that will be a better way to remember her anyway.

MARKER.
Because my mom was a veteran, I was able to get the VA to provide a memorial marker for free. When you order the marker, you get to select a "symbol of belief" to put on it. Since the Catholic Church didn't seem to give a fuck about providing her last rites, I was not going to put a Catholic cross on her marker. I thought I might compromise and choose a Catholic Celtic cross, since she absolutely loved the cemeteries in Ireland we visited, but I didn't feel comfortable with that either...

I briefly toyed with the idea of putting the Hammer of Thor on it, but I don't know that mom would find that particularly funny so I decided to leave it blank...

Then I noticed that the form said you could go online and find an updated list of emblems. So I visited the site and saw that they had added a heart to the options...

How perfect.
Interesting to note... my mom served in the Navy during the Vietnam War. When I filled out the paperwork, you can check a box for wartime service if the person qualifies. I checked the box and didn't think anything of it... until a week later when it popped into my head and triggered a panic attack. Should I have checked that box? So I called the VA and asked if it was disrespectful to veterans who fought in the war to be having her war service added to her marker since she was a state-side doing paperwork. Turns out that it's not. All parts of a war effort get recognized, and he encouraged me to leave it on her marker order. So I did.
And so now I wait for the marker to arrive so I can bury her ashes under it on the day they cement it in.

NOTICE.
I decided to not post a notice in the newspaper until after mom's been buried. I have, however, written her obituary already. I wrote it the night she died.

TIMING.
My mom died with only one day left in the month of June. I did not realize how significant this timing was until I started dealing with the paperwork. Since there was just the one day, everybody is content to just write it off. No repaying of benefits. No weird requests for pro-rated reimbursement of coverage. No letters to cancel stuff. Pretty much no anything. I closed her bank account the next day and everything else just took its course. Insurance companies could just be ignored and, after a month of pestering, they went away on their own because there was no money in it for them. Ditto for her various memberships and such. Given time... they just... disappeared. This is a massive change from the nightmare I faced when my grandmother died. She passed with a little over a week left in the month and that drama went on for months. So... note to self: when it's time to go, be sure to die on the last day of the month. It's easier for everybody. I mean, it really shouldn't be... but it is.

MAIL.
I don't get much physical mail. All my bills are paid online and the vast majority of what shows up is junk mail. Once I had to start checking my mom's post office box to get her mail, I changed my address to the same box so I'd only have one spot to worry about. Now that she's passed, I've switched my address to my house and will close down the post office box when it runs out in December. In the meanwhile I have the key to the box around my neck so I don't forget to check it. This morning when I woke up the key was gone from my nightstand and could not be found, even when I moved everything to search for it. When I went to feed the cats, I saw that the key was laying on the stairs. Sure enough, checking the security cameras revealed that Jake had hauled it off at 2am. And he was so stealthy about it that I didn't even wake up.

KITCHENWARE.
My mom was not a foodie, nor was she overly-fond of cooking. She cooked when she had to, but most of the meals we preferred were ready-made canned or frozen that got microwaved. I took her out to eat as often as I could because it offered a bit more variety over the soups and peanut butter sandwiches she would usually end up eating. I would love to eat out every day myself, but A) I don't want to drive 20 minutes into The Big City just for myself, and restaurant options in my small town are minimal... and B) I can't really afford to eat out very often anyway. So I cook a lot. Which is difficult given that all my mom's kitchenwares are so old that they're falling apart or worn so badly that they're tough to cook with. And so... I've been slowly buying all new stuff. Muffin tins... cookie sheets... bread pans... that kind of thing. My latest acquisition? Mixing bowls! I splurged and bought stainless steel bowls with non-skid bottoms and lids. They are so much nicer than the beat-up old warped plastic bowls I've been living with. And while I would much rather spend my money on new power tools, my next purchase will be a nice set of new pots and pans. Really looking forward to that.

PHOTOGRAPH.
As I mentioned previously, I bought loads of photos of my mom and her travels to put up around the house so she would understand that she lived there even if she didn't recognize the place. It worked so well that I transferred them to her memory care facility when she moved out. Once she died, I ended up getting them all back. Some of them I've got hanging in my kitchen and hallway. All the rest I've decided to hang in Jake & Jenny's bedroom... which I may end up turning into a combo cat bedroom /slash/ second guest bedroom. They are some awesome travel photos, so they would make for a nice decoration for a houseguest to look at.

BELONGINGS.
After I had to move my mom out of my house, I managed to slowly work my way through most of her belongings... tossing or gifting or donating them as appropriate. After a while it got to be too hard to keep going through her stuff, so I packed it all up into cardboard boxes and shoved it in the closet that's in Jake and Jenny's bedroom. My plan was to go through them this weekend. But now I've changed my mind. I'm just not ready. Maybe in another two months. Maybe never.

MEMENTO.
I had already given mom's best clothing (jackets, sweaters, and stuff) to family. Anything that was left got donated. When she died, the memory care facility said I could leave anything I didn't want and they would go through it all... giving anything worth saving to residents in need. Which leaves two items hanging in my closet. 1) Her high school sweater, and 2) A Mickey Mouse sweatshirt I bought decades ago that she loved so much that she wore it only for special occasions to keep it in good shape. I think I might build a shadow box for the sweater. Like what they do at Hard Rock Cafes for their memorabilia clothing. That would be kind of cool. I'm not sure about the Mickey sweatshirt. I might just leave it hanging in my closet. Maybe I'll build a box for it as well one day. It's strange to be so indecisive about "stuff." This goes against the Buddhist concept of detachment that I strive for, and I'm not sure how I should feel about it. Maybe I shouldn't feel about it at all? About the only thing I'm certain of is that I don't want to part with it. At least not yet.

I wish I had something insightful to say in order to wrap up this post, but I don't.
I just really miss my mom.
Posted on August 24th, 2018

As a kid, I was obsessed with magic. I saw all those David Copperfield specials on TV and dreamed of being a magician just like him. Whether he was walking through the Great Wall of China or making a Learjet disappear or vanishing the Statue of Liberty, he made the magic of magic entirely too cool.
My attempts at becoming a magician were not terribly successful (as you probably guessed). My parents were really supportive about it... ordering magic sets from the Sears & Roebuck catalog for Christmases and birthdays... but all of the mass-produced toy crap in the world wasn't going to turn me into a master magician.
Don't tell that to me at the time though.
I was convinced that all I really needed to be successful was the latest and greatest magic set. It all culminated with "The Magic Hat," which was a fairly expensive toy that I was certain would get me my own television special when I saw it in the catalog...

Photo Credit: thargoids/eBay UK
But when it arrived, it was pretty shitty. The "hat" was hard plastic... and heavy. There was no way you could ever actually wear it. The tricks were crap as well. There was a hidden compartment for a wand in the sides that was obvious... a hidden swing-door compartment in the bottom that wouldn't fool anybody who bothered to look at it... and it had a tank in it so you could pour in a glass of water which would "disappear" that you could then pump out with a hidden bladder under the band. Awful, awful stuff.
Eventually I graduated to more professional tricks. Most of which were purchased from a magic shop hidden away in Seattle's Pike Place Market. Well, I say they were professional, but they were pretty much crap as well. You'd get a plastic baggy with some kind of prop inside that came with instructions mimeographed on colored paper. Perhaps tons of practice would make the investment pay off down the road, but I guess I wasn't patient enough.
Eventually my obsession with performing magic died out (as most obsessions do) and I went on to whatever was next. I still enjoyed watching magic though.
At least I did until Breaking the Magician's Code: Magic's Biggest Secrets Finally Revealed started airing in 1997. It revealed how all the most famous tricks were done and all the magic kind of died after that.
But magic was always in the back of my mind. Whether it was seeing a Penn & Teller show in Las Vegas or seeing their television show Fool Us... or watching shows like Deception (now canceled) which had magic at its core... there was always something magical going on somewhere.
The latest is a Netflix show from Justin Willman called Magic for Humans which is pretty great...
Another show on Netflix that approaches magic from an entirely different angle? Magicians: Life in the Impossible. It's actually a bit depressing, but interesting as well...
What I really need right now is not magic... it's some kind of miracle to save us from all this smoke. Two weeks of feeling sick and not being able to sleep is more than enough.