Posted on July 3rd, 2019

I think I've finally taken care of all the donations from my friend Grant's estate. Medical supplies dropped at a shelter. Bandages and medical tape put in storage so I can add them into AnySoldier.com care packages. And some of Grant's stuff that was going to his friends has been shipped.
My inheritance from Grant consisted of three 2-liter bottles of Coke Zero (since drank) and a cash box (cash not included). Grant's executor was kind enough to give me the box so I could store my foreign currency collection in it... and it works great! Much nicer than the cardboard box I was keeping it in!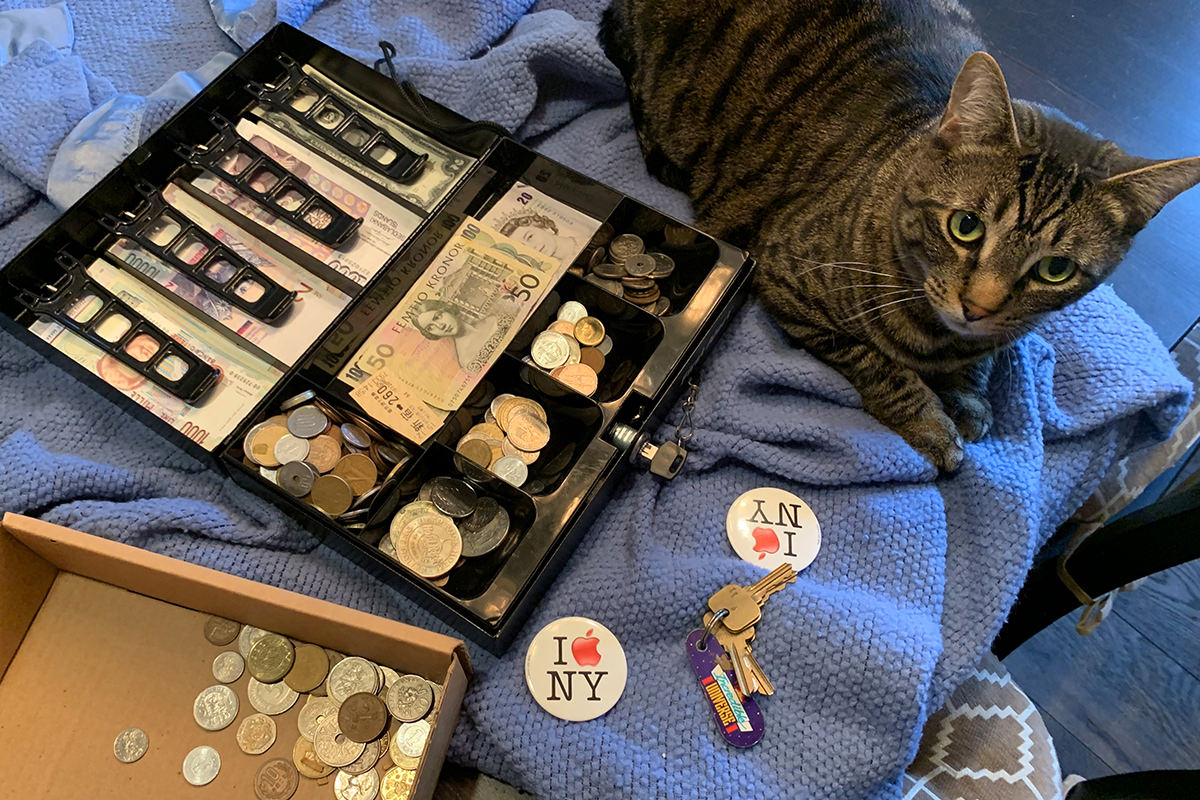 So thank you for the box, sir. I still miss you muchly.
Interesting to note that inside that cardboard box was something I was not expecting to find...
My very first earring!
Back in the 80's I wanted my ear pierced in the worst possible way, but my parents wouldn't endorse it... AT ALL. So I waited until I went skydiving. I figured they would be so happy that I survived that they wouldn't mind that I had an earring! Not so much. But they were pretty good about ignoring it for the seven(?) years I had it.
This replaced the stud you get when they shoot your ear with that piercing gun (something I would never use again, now that I am smarter about piercing). Little golden hoops were what the style was at the time (circa 1986 I think?) so that's what I got. This was a cheap-o hoop that came in a set of two for $5 or something. I didn't want to spend a lot of money because I didn't know how long I'd want my ear pierced.
I wore it for probably a year... maybe a year-and-a-half... until I replaced it with a better quality hoop. By then I figured that I'd have my ear pierced forever, so why not invest in something that wouldn't turn my ear green?
Eventually the tiny little hoops went out of style. Which means I probably wore it for another 3 years after that.
Then one day I woke up, decided I was done with it, and threw my earring in the trash.
I've toyed with the idea of getting my ear(s) pierced again just for the hell of it. But I think I'm good. After I started getting tattoos, it just felt like it would be redundant.
That's okay though. I'm undoubtedly too old for this kind of stuff anyway.
Tags:
DaveLife
Categories:
Uncategorized —
Click To It:
Permalink
—
0 Comments: Click To Add Yours!
Posted on July 2nd, 2019

I've been consumed with work for the past week and will continue to be consumed by it until the holiday. It's just that time of year.
This is tough for a number of reasons, but mostly because I have no life outside of work for the month of June. About all I get to do is occasionally look through my Facebook feed and see how the other half live.
Today as I was waiting for a project to render so I could move on to the next project, I was scrolling through Facebook and happened across a photo of David Farrier and a cat...

Photo by David Farrier on Facebook
Somehow this awesome cat staring back at me was just what I needed after yet another very bad day. It also inspired me to revisit David Farrier's Netflix show: Dark Tourist.
I mentioned a while ago that Dark Tourist has my favorite opening credits of all time...
If you're interested in the show (and you should be!), here's a trailer...
At least now I have something to watch as I work through the night tonight.
Posted on July 1st, 2019

Okay... you've all seen my refrigerator.
There's nothing in it except soda, beer, salad dressings, condiments, and tons of cheese. I don't have a lot of food-stuffs in there because there's only myself and my cats in the house, and I usually end up freezing stuff instead so it doesn't go to waste. If I refrigerate something, it just sits there until it eventually spoils, because there's only so much food I can eat...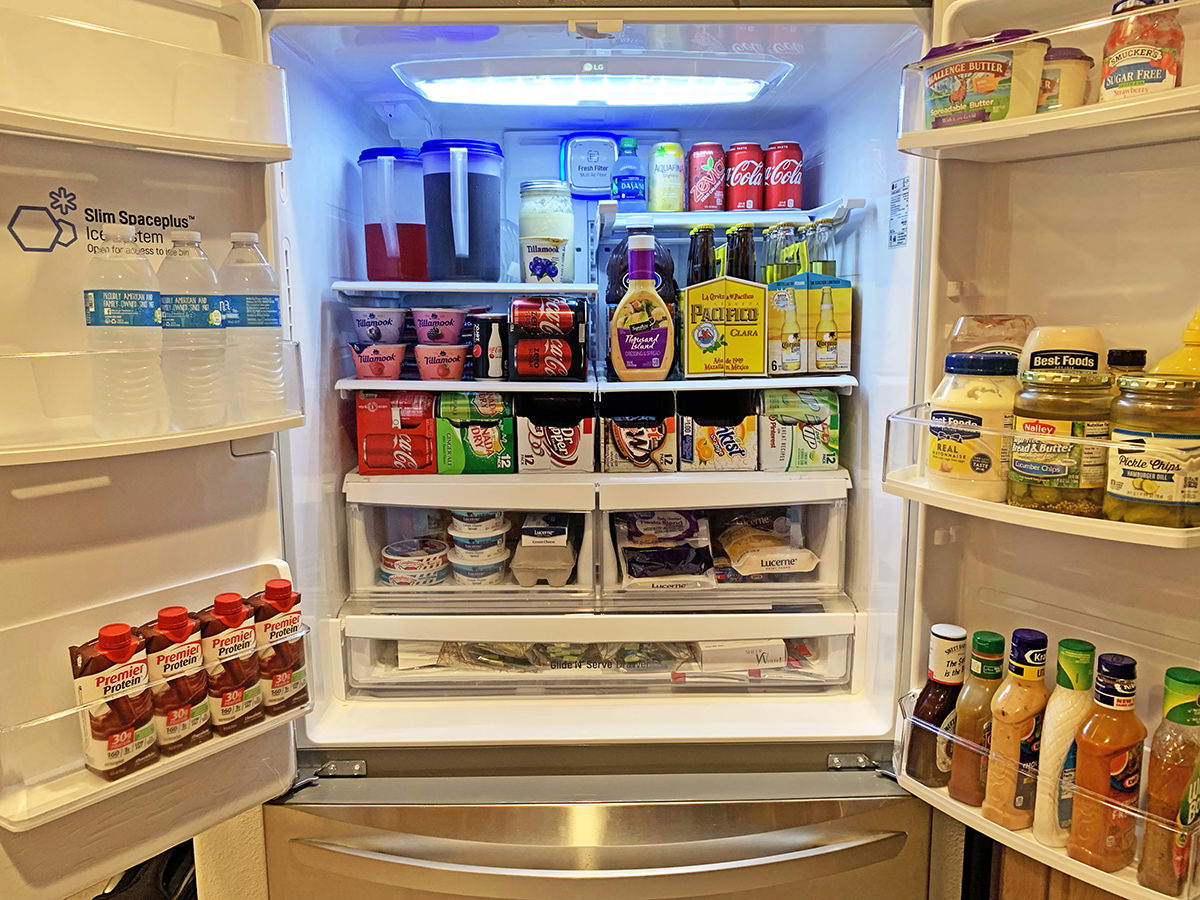 And yet... when I opened it this morning it smelled like a fish had died in it. Which is odd, because I don't eat fish. Tonight when I got home it was STILL reeking like low tide. And so I took absolutely everything out and did a smell test. Perhaps one of my cream cheeses went bad? But no. Everything smelled fine. UNTIL I GOT TO THE BAKING SODA! YOU KNOW, THE STUFF YOU PUT IN THE REFRIGERATOR TO KEEP IT FROM SMELLING?!? HOLY CRAP! Arm & Hammer are on my list now, buddy!
It's weird how this could happen because I buy baking soda in bulk (it's useful for SO many things) and my house reminds me to change the baking soda in my refrigerator every four months!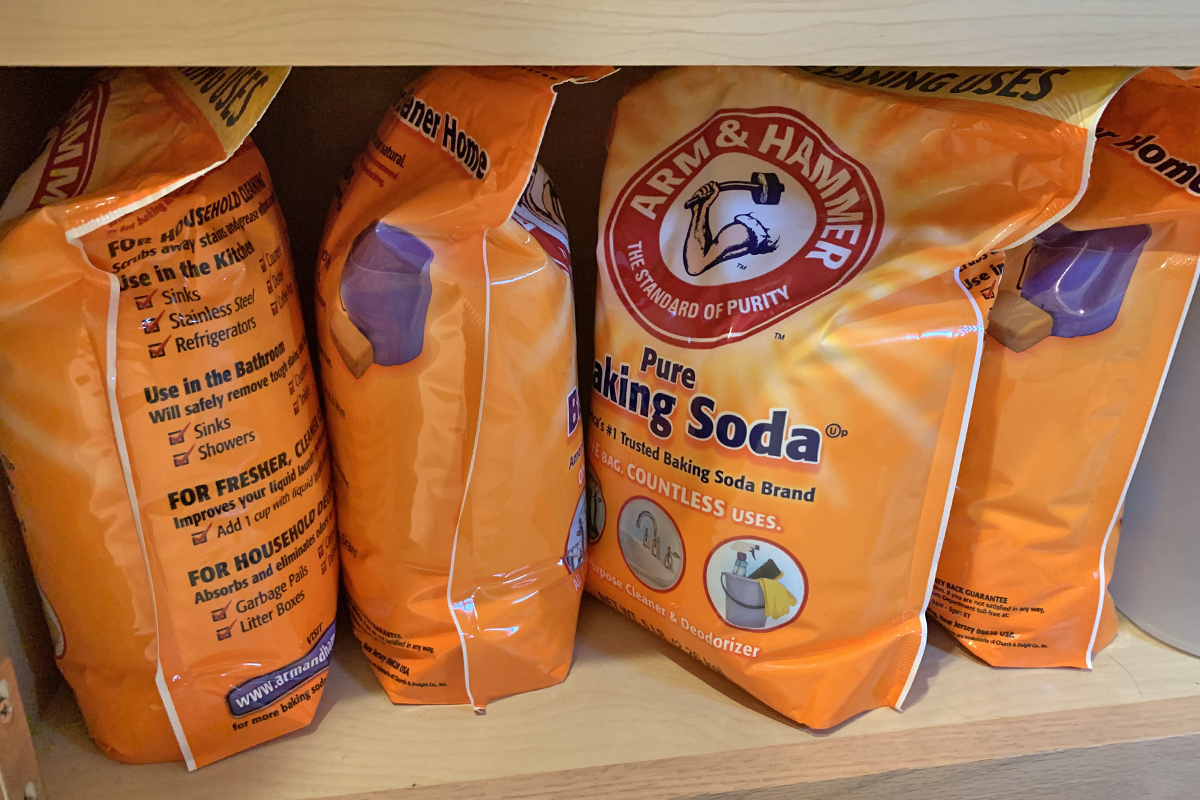 The stuff that started smelling awful was just under 3 months old!
Which begs the question... can baking soda go bad?
I changed out the Arm & Hammer in my refrigerator, so I guess we'll find out.
Posted on June 28th, 2019

I am writing this at near-midnight on Friday knowing that by the time I finish my post it will be tomorrow... and the one-year anniversary of my mom's death. Of course I still miss her. If anything I miss her more than I did a year ago. I think it's because the memories of her declining health are becoming dimmer while my happier memories are becoming brighter. Happier, but also more painful, because they are a constant reminder of what I've lost.
Mentally I still have a lot of work to do, as I can't stop bouncing between extremes.
One minute I'm jealous... even angry... that other people have moms living into their 80's and 90's who are still living active, happy lives. It's not fair. Then the next minute I'm gutted because I hear that somebody's mom died in their 40's and they didn't get the time I had. That's not fair either. Cursed because my mom started sliding into dementia at 70 years old. Blessed because somebody else's mom was just diagnosed with dementia at 52 years old. Unlucky that my mom died before we could get to all of our travel plans. So very lucky that we got to see as much of the world together as we did. Happy that we were so close. Devastated that we were so close... because would it hurt this bad if we weren't?
It goes on and on.
I think the thing that hurts the most is knowing that I would give absolutely anything for just five minutes to talk with her again. The mom she was before she got sick. Just to tell her I love her. To tell her how much she means to me. But also to ask her if the deicions I had to make were okay so she could assure me that they were and she knows I did the best I could. Because of course she would say that even if she hated what I did. She's my mother, after all.
I know it doesn't make sense that I would want to ask my mom a question when I already know how she would answer, but I can't help it. The unthinkable choices I had to make won't stop haunting me. It's pointless to second-guess something I cannot change. And probably wouldn't change. My whole heart was invested in every decision, so what would I have done differently? I honestly don't know. But probably nothing.
It's now 12:11am on Saturday, June 29th.
Since it's unlikely that I will get much sleep... or any sleep... tonight, I suppose I will look through all of the travel books I made for my mom. It will probably just make me miss her more than I already do, but what's another drop of heartache to an ocean of grief?
Nothing. And everything, I suppose.
Posted on June 20th, 2019
My morning walks to work are starting to become the best part of my day. When I'm not nearly getting run down in the sidewalks, I'm discovering all kinds of things that make life interesting.
Far and away my most favorite thing each morning is looking to see if the family of cats that live on my route is out. The kittens spark joy in my cold, dead heart, so it's always a good day when I can start it out with kittens. Today they were indeed lounging in the front yard, watching me warily as I approached like they always do...
Much to my dismay, the little puffball cat was not there again. That's the third time in a row, and I'm heartbroken at the thought that he was attacked or got run over or something...
The only thing keeping me from going crazy and adopting every kitten I see is space and money. I had better never win the lottery or else I will end up buying a big house and filling it with homeless cats. I think we all know that this never ends well.
UPDATE: Well would you look at that! The kitten is back! All three accounted for...
Interesting how the puffball sibling is always alone or hanging out with mom. It's never playing with the other two (who are forever wrestling around).

In other news... inside the "Little Library Box" this morning was a new book. A children's book made famous because it was written by Madonna. This one from her The English Roses series is called A Rose by Any Other Name...
I remember when Madonna released her first English Roses book and went on MTV(?) to read it to a group of kids. She was trying to read with an English accent but it wasn't working out so well.
I thought I might grab the book because I was intrigued about the offer for a free MyEnglishRoses.net access card... but the domain is dead now, so I guess it's not quite the bonus I was lead to believe.

Guess I'll spend the rest of my day wondering where that kitten ended up. I think I might choose to believe that he was adopted and is now living happily in a new forever home.
Sometimes the best ending we can hope for is the one we make up for ourselves.
Posted on June 14th, 2019

I've been a massively huge fan of Dale Chihuly's glassworks for many years.
He used to be the subject a PBS specials where he would donate works to people who pledged a certain dollar amount in support of the Seattle station. Of course I was dying to own one of his glass concept paintings or an actual glasswork, but they were way out of my price range as a student in the 80's. Now that his popularity has skyrocketed, those same works are worth thousands... even tens of thousands... of dollars, so now I really can't afford it.
But I have made a point of visiting his many exhibits and installations around the world over the years, including his permanent exhibit at The Seattle Center, Chihuly Garden and Glass.
Today one of my friends from the early blogging days, Copasetic Beth, was in town and so I got to visit again...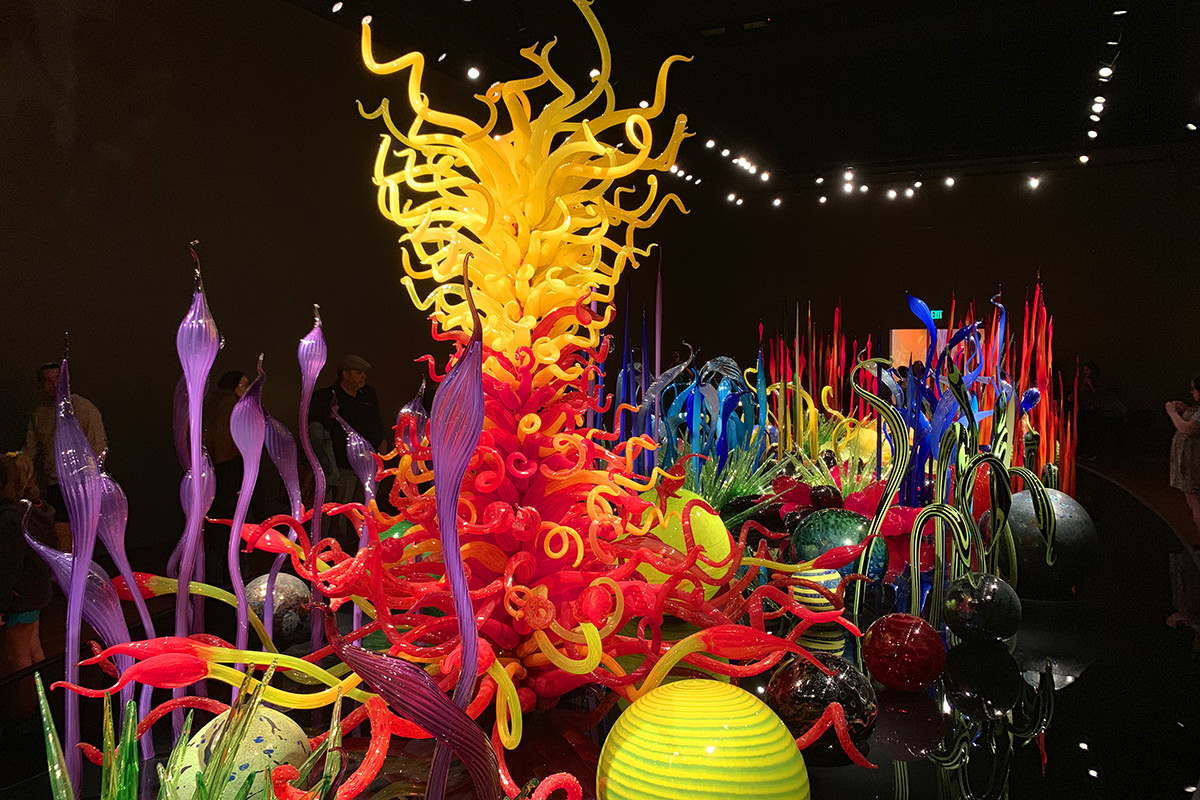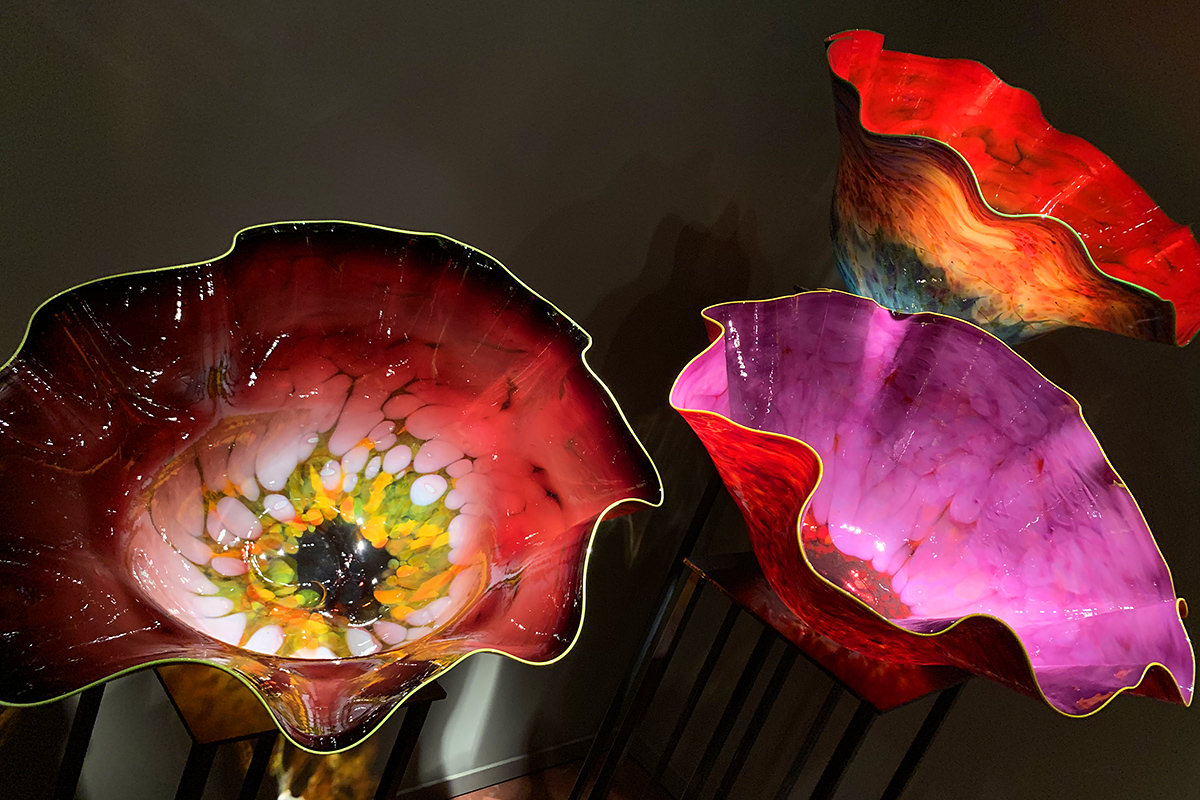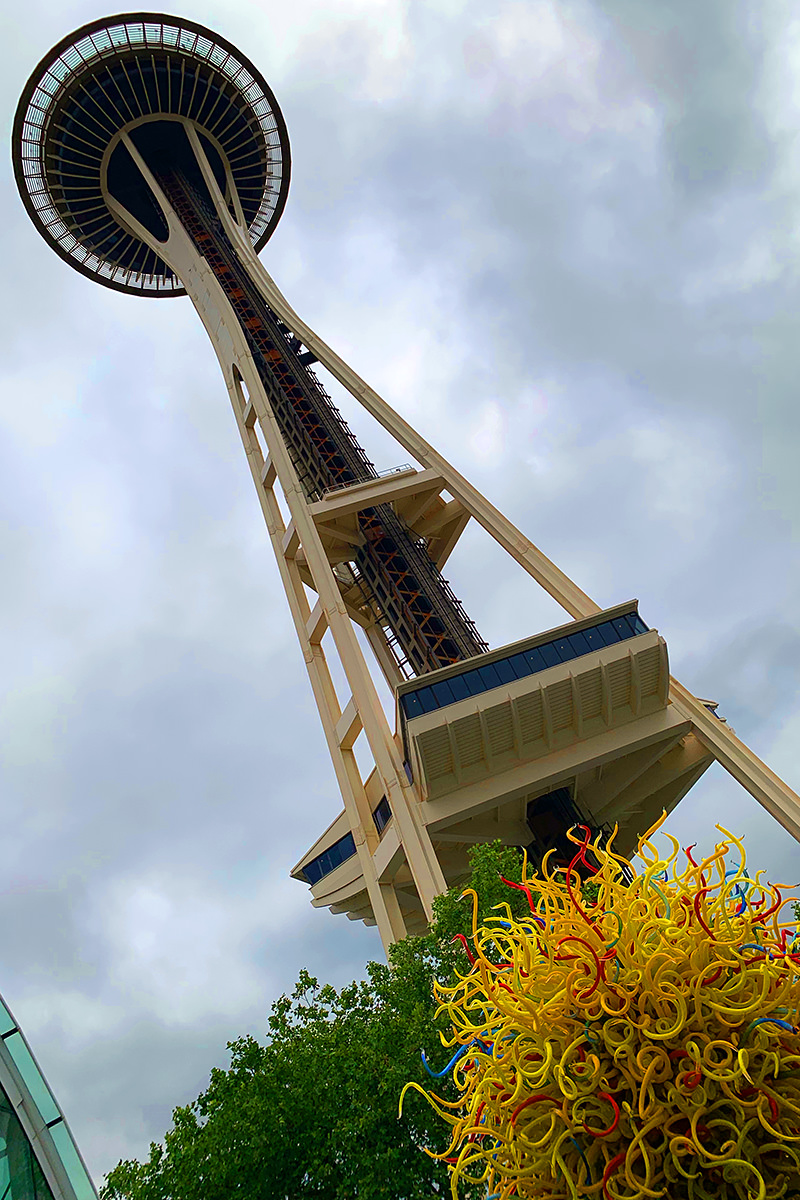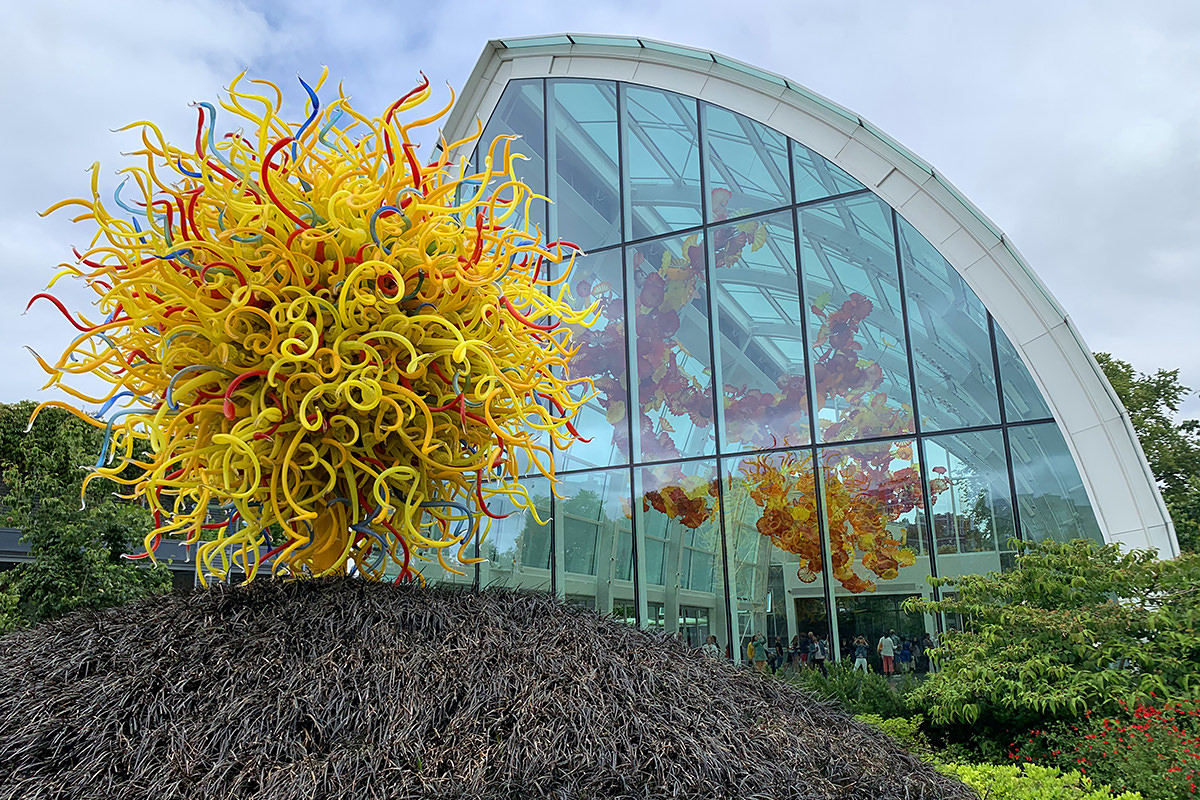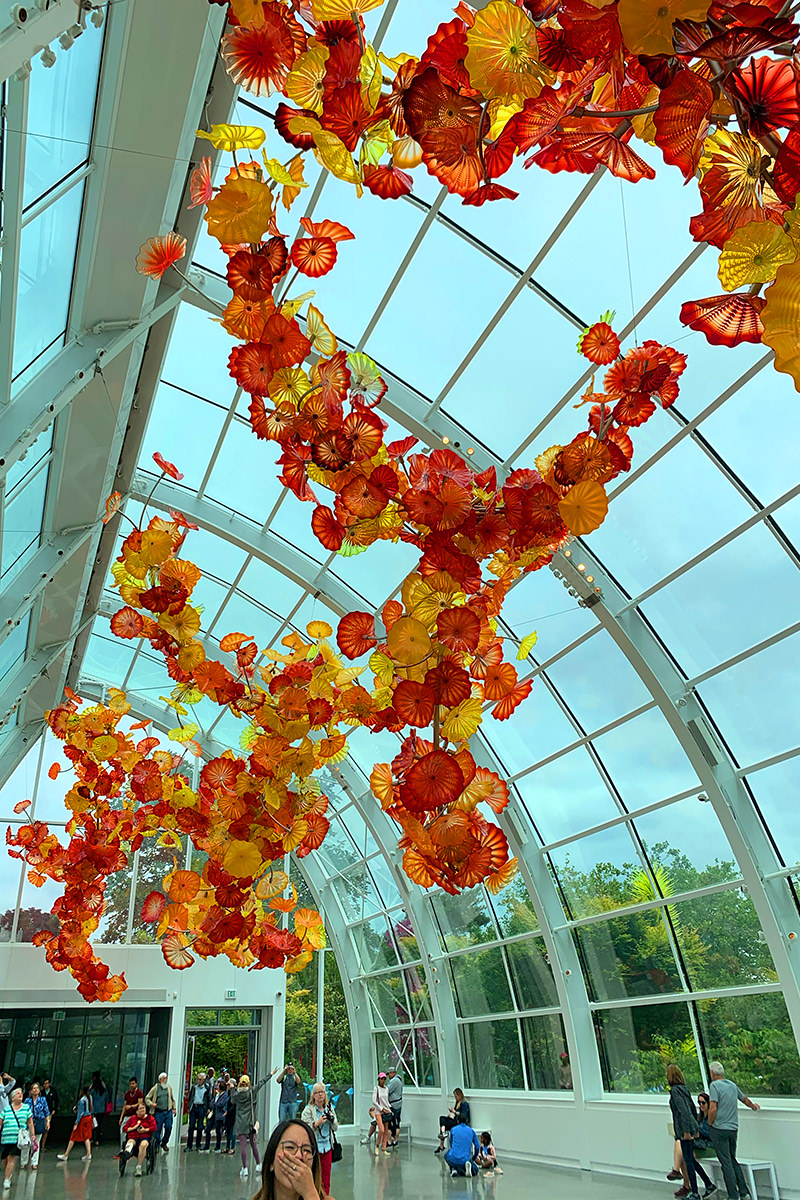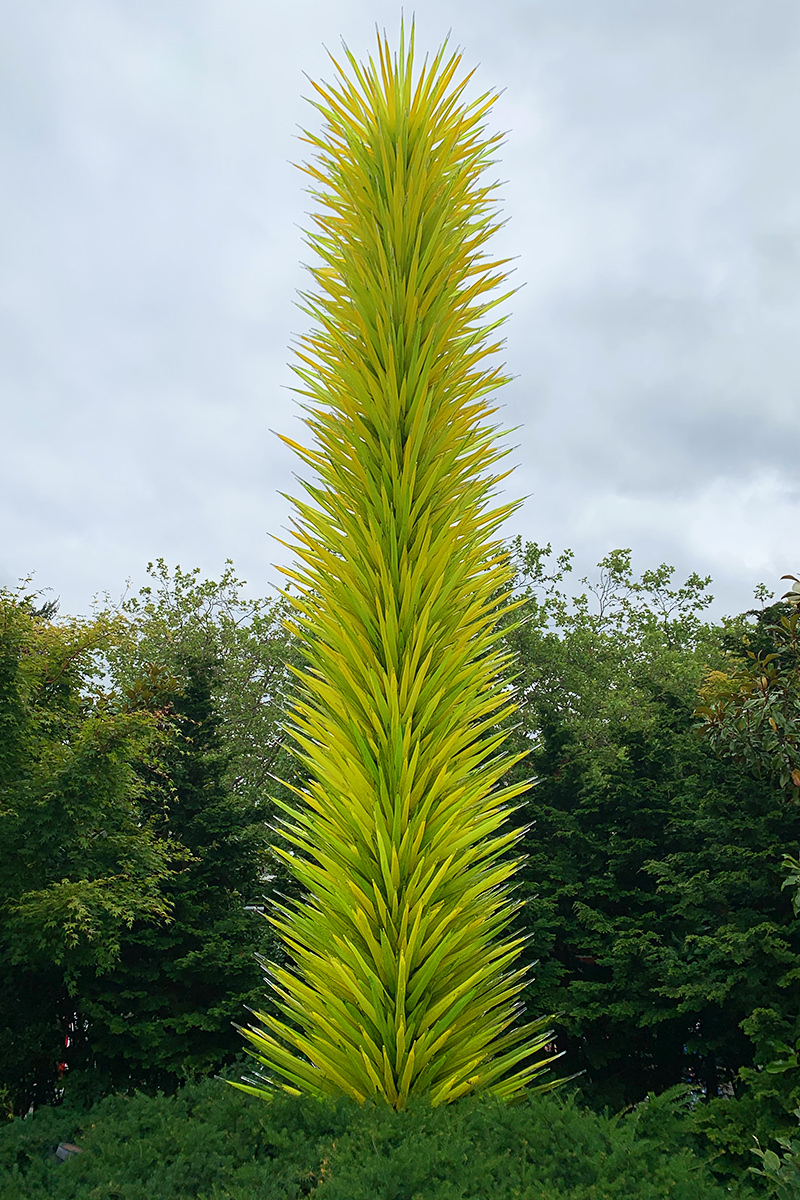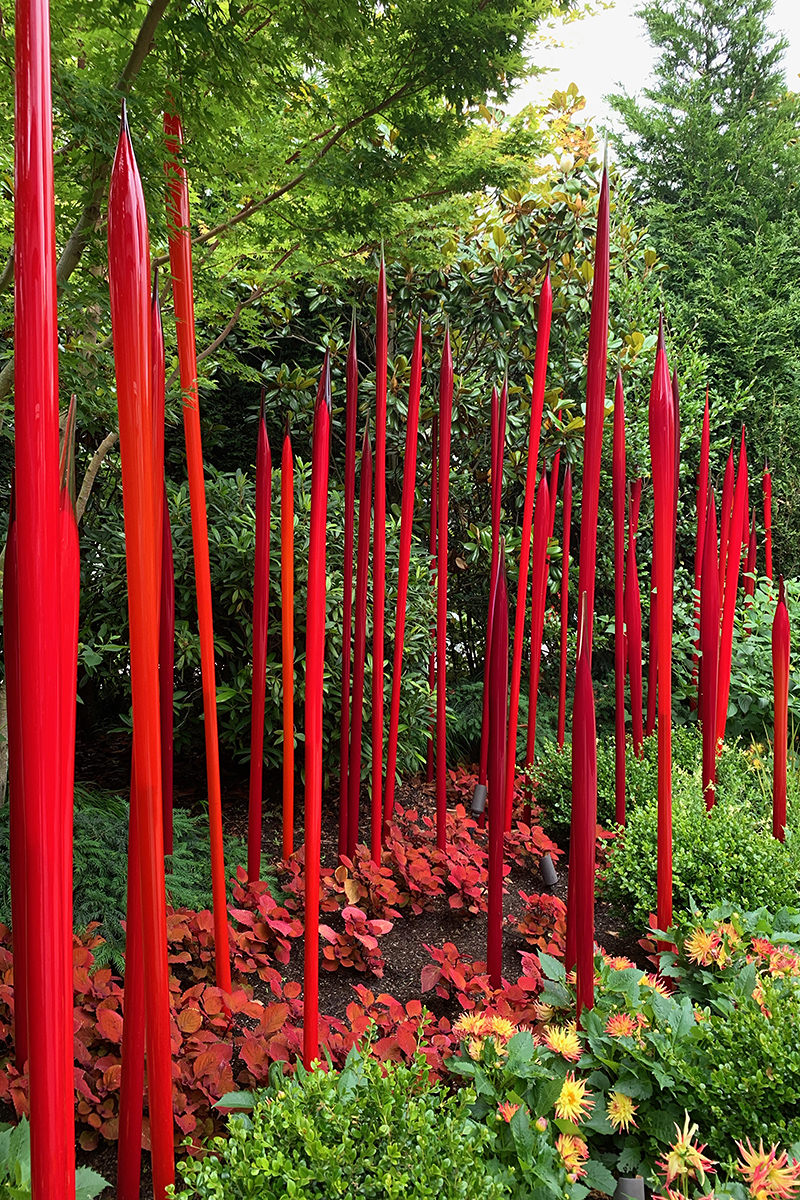 Well worth a visit if you're ever in Seattle!
Posted on June 13th, 2019

Another trip over the mountains.
Another friend gone... the third in four months.
Another day remembering how we all seemed immortal not so long ago.
Another ending when all I'm hoping for is a fresh beginning.
Posted on June 12th, 2019
My walk to the office each morning is something I look forward to. A nice chance to clear my head before diving into work for the day. And an opportunity to see cool stuff. This morning I saw the cat that appears from time to time... which would already make me happy. Except this time the cat was with... KITTENS?!??
I'm assuming that this is mom cat, who was content to watch over her kids while they were playing...
Upon closer inspection, I noticed that there's another adult cat in the porch...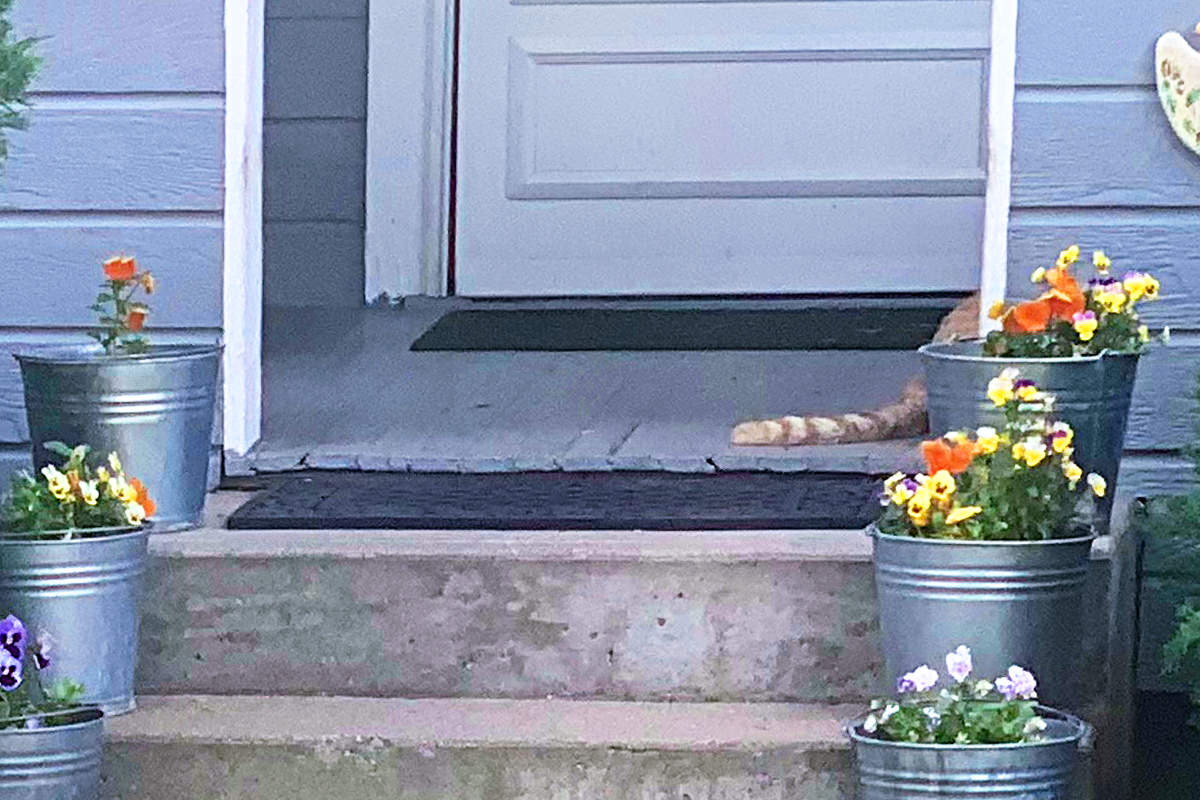 Is this where the cats live? Have they been spayed/neutered? They look well-fed, so they're obviously not suffering... I just hope that somebody is taking care of them outside of food.
This is a dangerous time of year for me. The local Humane Society shelter is overflowing with kittens, and it's all I can do to keep from running down and bringing a dozen of them home with me. But that's not really an option, and so I have to make do with seeing random kittens at times like this.
Which just makes me want more cats, of course.
Posted on June 11th, 2019

As I've probably mentioned numerous times, I was a massively huge comic book fan for many years. Now-a-days I purchase everything digitally and don't buy many titles, but I've got an entire storage room filled with the physical comics from my past.
Back when I first started collecting, I hated subscribing to comics from the comic book companies because they would arrive in a brown wrapper with no protection and often came damaged. Instead I'd go to the two local drug stores and hope that the comics I wanted were stocked. Popular titles like Batman could always be found. Less popular titles may not be. I'd show up on the day they arrived whenever I could so I could get a mint copy instead of one that had been mangled on the rack.
When the comics I wanted weren't available at the drug store, I'd have to beg my mom to take me to The Big City so I could visit the News Agency there. The Agency was a wholesale distributor of magazines and newspapers to businesses. But they also had a retail store. The general public had to pay full price, but they usually had a copy of everything available.
What I remember most about the News Agency was the smell when you walked in.
All that paper. Like a book store, but fresher and less musty. I loved it there.
Jack, the guy who owned the place, sold it in 1995. By that time I was actually living in The Big City and buying my comics at the local comic book shop that had opened a decade earlier. I think the News Agency maybe lasted another five years before shutting down. I have no idea where local businesses get their magazines now.
The News Agency isn't all fond memories though. Three or four years ago I read an article about an apparent unsolved murder of one of the News Agency employees back in the 70's. His car was found abandoned in a hotel parking lot and he was never seen again. The article was about his family wanting the cold case re-opened to see if anything new could be discovered.
I was thinking about all this on my walk to work this morning.
How even the things that build our happiest memories can be tainted by tragedy.
And I'm pretty sure it relates back to how David Ortiz, one of my favorite baseball players to ever play the game, was shot in the back on Sunday. I can't get it out of my head. The Boston Red Socks, something which has given me so many happy memories, has been tainted by tragedy.
The news is reporting that Big Papi is resting and in good condition after a second surgery, so here's hoping the tragedy ends with him being shot.
Leave it to The Universe to ruin comic books and baseball for me.
What's next? Ice cream?
Posted on June 5th, 2019
Lost yet another friend today... an internet friend I had grown quite fond of. He had been in poor health for quite a while but I never thought of him dying, so it still caught me off guard. Grant was a good guy who served his country and would help people out whenever he could. He was also damn funny. He will be missed.
Nine years ago or so, I remembered drawing a Davetoon of Lil' Dave as a "Bunny" for Grant's birthday. Probably not the kind of manga he was hoping for, but you have to draw what you know...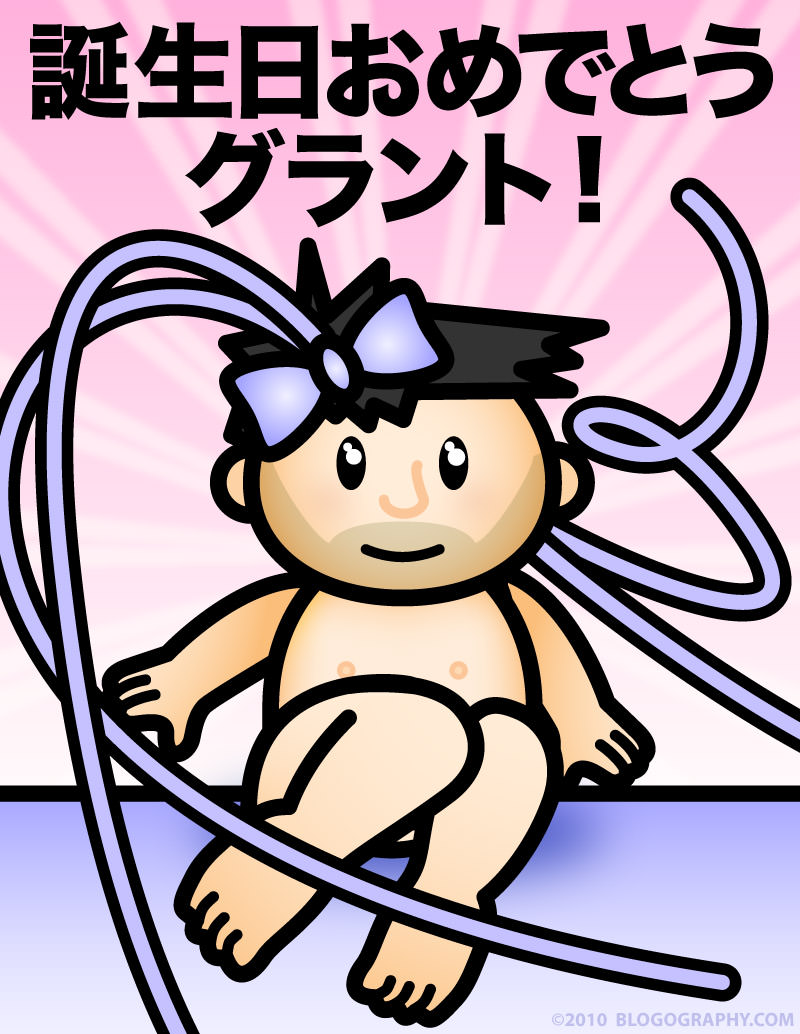 Grant at work during his younger days...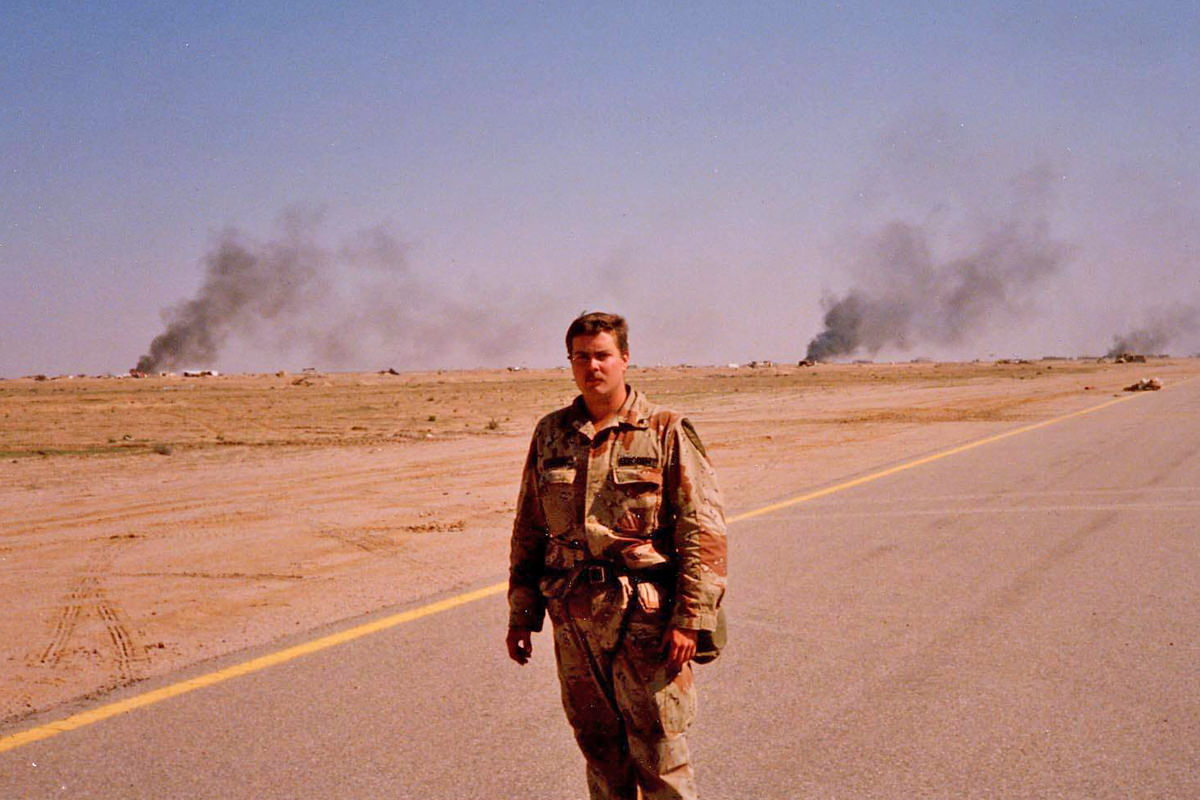 Thank you for your service, sir! I wish the government would have taken better care of you after you risked your life for their decisions.
2019 is not shaping up to be much of an improvement over 2018, the worst year of my life. I guess that point where everybody you know starts departing this earthly plane is coming earlier for me than it does for everybody else?
Doesn't seem fair, but it does feel typical.