Posted on April 10th, 2019
After spending a week being sick I was ready to start feeling myself again. Alas, it was not to be, because now Spring allergies have hit me like a truck. There goes the next two months of my life. It's all sinus pressure, post-nasal drip, and coughing from here on out.
When I was younger I had allergy shots to keep me from being a complete mess. Eventually I outgrew my allergies and the shots stopped. Then, without warning, my mid-forties arrived and Spring allergies along with them. I've tried dozens of drugs... both prescription and over-the-counter... and have found only two things that help: 1) Flonase which, unfortunately, causes nose bleeds... and 2) Benadryl which, unfortunately, causes me to become useless and fall asleep. Obviously I can't go to work while falling into a coma, so I have to suffer through every day and drug myself to oblivion every night.
Such is my life.
As I mentioned a while back, every year on January 1st I convert the maximum-allowable 100 of my DVDs to digital. Sure it's $200 down the drain, but I then have access to all those movies anywhere I have internet. So much more convenient than having to dig through hundreds of DVDs to find something to watch.
Dozens of these movies I haven't seen in decades, and it's been well-worth the $2 conversion fee. I just finished Secondhand Lions which is a fantastic film I didn't even remember existed. Surprising to me that it wasn't a much bigger hit than it ended up being...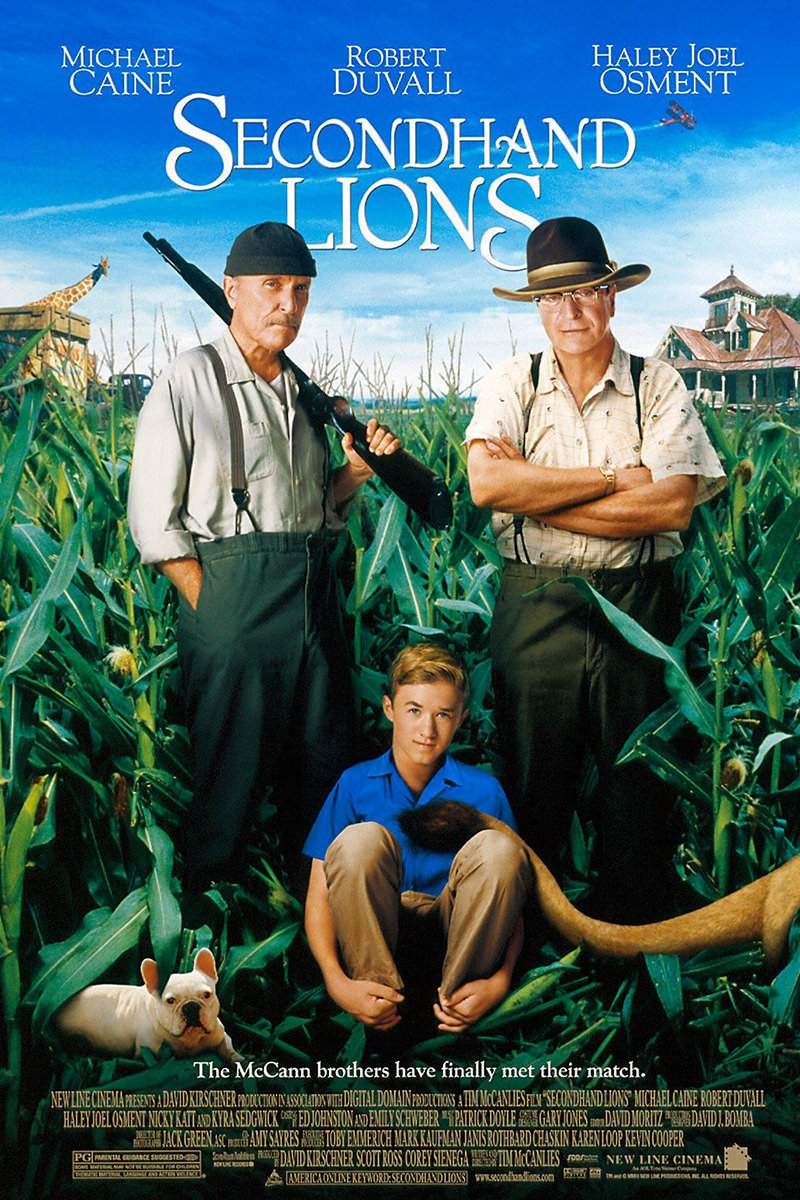 A few things...
Haley Joel Osment deserved a lot more films as he grew up. He's spectacular in Secondhand Lions, and it's a shame that he wasn't getting more work after he was no longer that adorable "Sixth Sense" kid.
Kyra Sedgwick can play literally anything. Her role in this film was unlike anything else I've seen her do... and yet it was still her.
Casting Robert Duvall and Michael Caine as two cantankerous old farts with a rather exotic and interesting past was total genius.
Christian Kane and Kevin Haberer could not possibly have been more convincing action stars for their roles. They managed to be younger versions of Robert Duvall and Michael Caine without being enslaved to the idea of becoming Robert Duvall and Michael Caine.
Few movies which switch between the past and the present do so in a way that "clicks" this beautifully. There are subtle echos going both ways that are wonderfully crafted.
Whomever trained the dogs used in this movie should have been given some kind of award. The canines have small, but critical roles to the story.
It is fucking criminal that Secondhand Lions only has a 59% fresh rating on Rotten Tomatoes. The bad reviews are completely vexing to me. I read the criticisms and can't help but wonder if they watched a different film than I did.
"What Every Boy Needs to Know About Being a Man" is one of the most inspired speeches in cinema (even though you only get to hear a part of it). Not because of what it says, but because of how they wrap it up with a disclaimer that it may not be true but you should believe in it anyway.
If you don't feel for what Walter is going through (thanks to Haley Joel Osment's inspired performance) you don't have a heart. I'll say it again... it is a tragedy that Osment didn't get put into more movies when he was at this age. He's a sublime actor, and could have brought everything to "coming of age" movies of the day.
I'd give just about anything to see all the comic strips and artwork that Berkeley Breathed created for the movie. Some of it pops up online, but I'm sure there's pages and pages of stuff that we've never seen.
Needless to say, if you like movies and haven't seen this one... you should probably get on that.
Posted on April 9th, 2019
The other day after I attempted to rip a paper towel off a brand new roll, I became infuriated because the towel wouldn't tear completely off. The perforation isn't weak enough to get a clean edge. Instead I end up either losing a chunk of the towel I'm tearing... or losing a chunk of the next towel on the roll.
"Who the hell designed these shitty paper towels?" I said out loud to nobody but my cats.
And then I noticed that the answer was staring me in the face...
Bounty! Bounty is the shitty paper towels that won't tear properly! Thank you for conveniently stamping your name on every sheet so I know which brand not to buy.
I used to buy Brawny paper towels until I was told that the heinous fucking piece of shit Koch Brothers own the brand. And so I switched. Looks like I'll be switching again.
Fortunately I didn't have to switch from Koch Brothers' Angel Soft toilet paper to Charmin, because I already use Charmin (or Cottonelle, whichever is on sale). Then this morning I noticed that Charmin stamps their name on their toilet paper just like Bounty...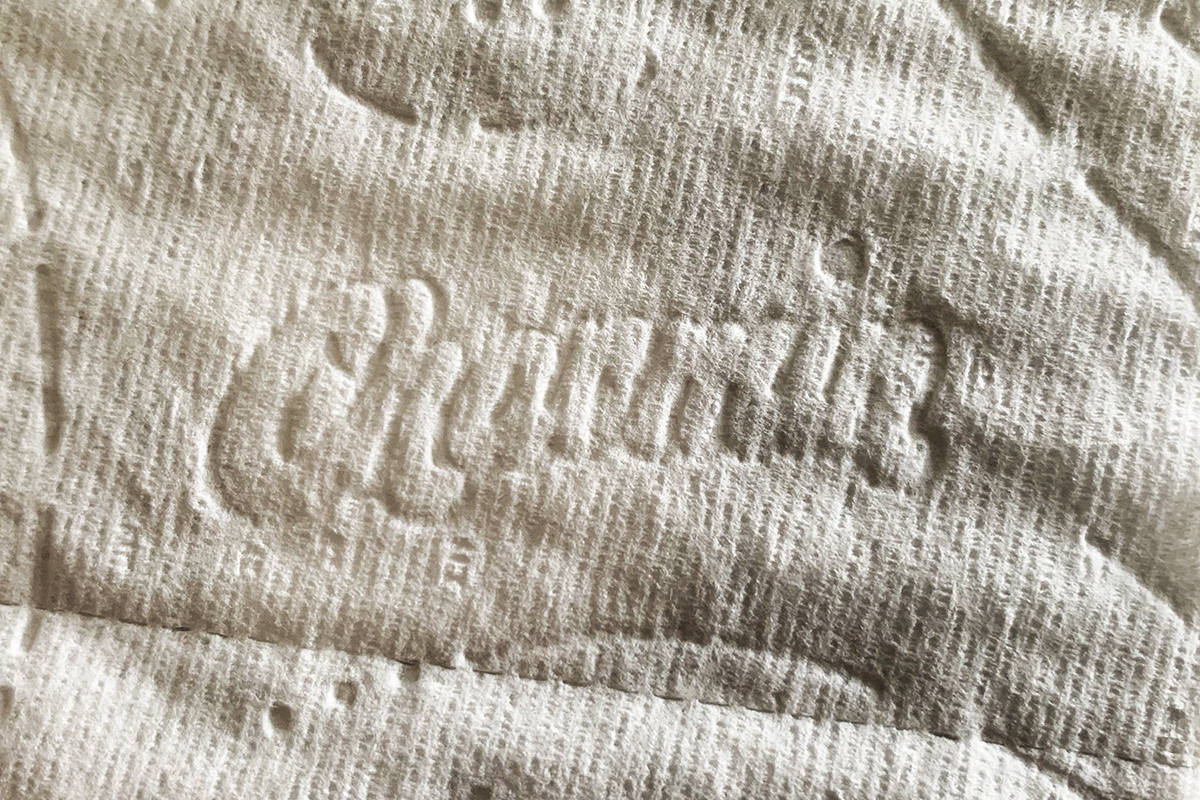 I cannot for the life of me understand why this is a trend.
Does Charmin think that one of my houseguests is going to be all "HOLY FUCK! THIS TOILET PAPER IS AMAZING! IT'S LIKE WIPING MY ASS WITH VELVET! WHO IN THE HECK MAKES THIS LIFE-CHANGING BUTT-WIPE?" And then they look down at the toilet paper that they are gently caressing between their fingers and exclaim "WOW! IT'S CHARMIN BRAND! I AM TOTALLY DITCHING MY SHITTY TOILET PAPER AND SWITCHING TO CHARMIN!"
That's just silly. If my houseguests want to know what glorious toilet paper they have been wiping their ass with, they can bring it up at the dinner table like a normal person would!

Here's hoping that Scott paper towels are perforated properly, as I think that's the brand I'll be trying next.
Posted on April 8th, 2019
People are always telling me I'm "funny." Even when I'm not trying to be funny which, depending on the situation, can end up being hurtful, awkward, scary, tragic, or (less often than you'd think) a pleasant surprise. Usually when somebody says "That's funny!" after I've said something I'm completely serious about, I try to replay it in my head to figure out where I went wrong... but I can never figure it out. Maybe it's just my face that makes things be funny? You got me.
This morning somebody I hadn't seen in a while asked me how I've been doing. "Oh. I've been sick with a cold or a flu or something awful, so it hasn't been a good time to be me lately. How have you been?" They laughed like I told them the funniest joke ever, said "You crack me up!," then went on to tell me about planting their vegetable garden. I replied with "I don't think I eat enough vegetables that I'd want to try growing them, but good luck with that." More laughter. Apparently not eating my vegetables is comedic gold.
I wish I could be that kind of effortless funny when I'm actually trying to be funny.
When I wrote something just in case I had to speak at my friend's memorial service (spoiler alert: I did), I wanted it to be at least a little funny so maybe everybody could remember him with a smile on their face... even for just a moment... at a time of total sadness. It was hard work. I had to edit and rewrite stuff and everything. But I think it made everybody happy and lots of people came up and told me they liked it or that I was a "funny guy" afterwards, so it was effort well-spent.
Even if I didn't know whether or not people would think it was funny when I wrote it.
But it's always been that way for me.
Years and years ago when I was working in L.A. for weeks at a time, I was encouraged to try open-mic stand-up comedy because the people I was working with thought I was a "funny guy." And so I did. I wish I could say that I totally killed it (I did not) or that I was booed off stage so I could get some sympathy (I was not), but the truth is that I was just average. People laughed, but not in a way that made me think "Holy crap! I should totally do this for a living!"
Probably for the best though. Trying to be funny on purpose is tough. Trying to be funny on purpose for a living must be excruciating.
One of these days I need to see if I can find the little Mead memo pad I bought to write jokes in. You'd think it would be a easy to find given that it's bright red like this...
The only difference being that my red Mead memo pad has "DAVE'S JOKES" written across the front in black ball-point pen. I think I even double-underlined "JOKES" so, if I lost it, anybody reading out of the thing wouldn't be left thinking "What is this crazy shit?" Well, it's jokes. It says so right on the front. Did you not see the underlines?
I can't remember what any of the jokes were, mind you. About all I do know that none of them were about L.A. traffic. That's because I decided I wanted to be "fresh" and not tell jokes that had already been done to death. Since most of my time in L.A. was spent sitting in traffic, I figured it had probably been covered already. How could I make that funny?
Unless...
"I'm from a small town in Washington State, so you can imagine how shocking it is for me to be in L.A. right now. Everything here is shocking to me. Like the traffic. We don't have traffic where I live. So after I looked at a map to figure out how I was going to get to work, I estimated it would take about 20 minutes to get there. It took me 90 minutes. Ninety minutes! When I showed up for work an hour late, everybody comes rushing up and says 'We were worried that you got lost!' I didn't want for everybody to think that I was an ignorant hayseed who didn't know how a big city works, so I decided to make up a lie to explain why I was late. So I told them that my condom had come off during sex and I had trouble finding a vet with an appointment available to retrieve it from the sheep."
Of course, that joke wouldn't work now-a-days when we have Google Maps and Waze to tell us how long it takes to drive places... but back then? Hilarious!
Posted on April 5th, 2019
The night sky of ancient earth was different from what we see today. Mainly because people could actually see it. Thanks to ever-increasing light pollution, the true grandeur of the universe has become obscured to most humans. Even rural communities have enough light pollution to obstruct major features of the visible cosmos. It's a pity, really, because there are some spectacular sights to be seen.
While on safari in Zimbabwe, I got to experience what it's like to have little-to-no light pollution, and it's pretty spectacular...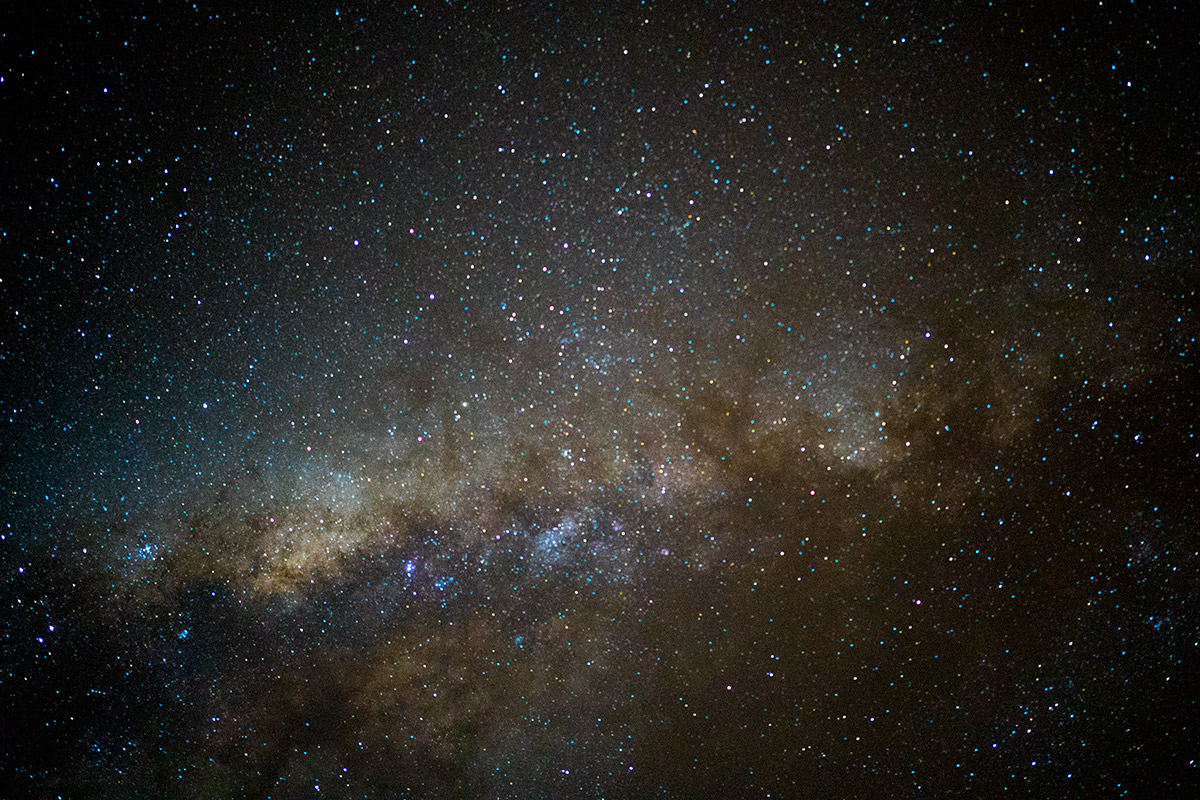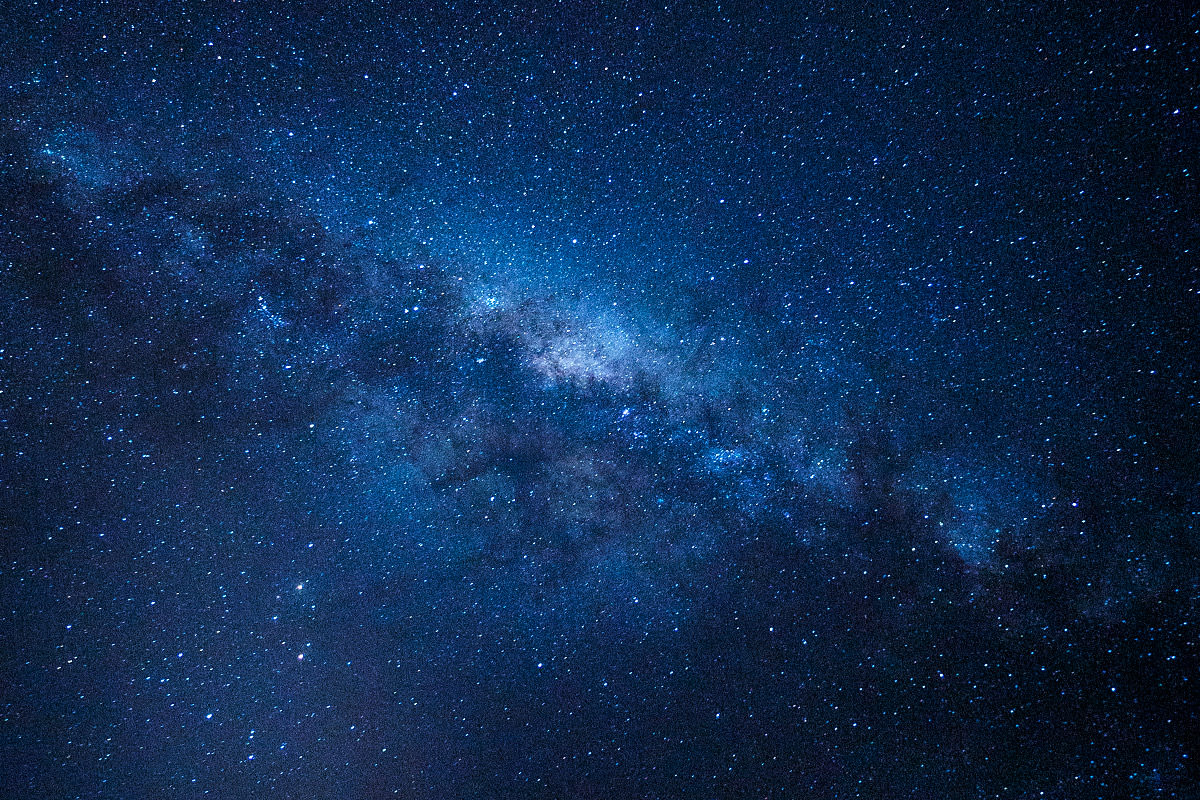 Ancient Greeks explained the milky band of light across the night sky thusly...
One legend explains how the Milky Way was created by Heracles when he was a baby. His father, Zeus, was fond of his son, who was born of the mortal woman Alcmene. He decided to let the infant Heracles suckle on his divine wife Hera's milk when she was asleep, an act which would endow the baby with godlike qualities. When Hera woke and realized that she was breastfeeding an unknown infant, she pushed him away and the spurting milk became the Milky Way.
The Wikipedia article I'm quoting above has all kinds of ancient myths for The Milky Way from numerous different peoples around the world. It's And yet... here in modern times entirely too many people will likely never see it. A concept that's easier to explain with the Bortle Scale, which measures light pollution from 1 (hardly any light) to 9 (lots-o-light)...
I had never heard of the "Bortle Scale of Light Pollution" before, though I'm not surprised it exists. If there's one universal truth, it's that scientists just looooove to create units of measure for everything.
Which brings us to this...
I am developing my own scale of measurement called the "Dave Scale of Giving a Shit." Before you scoff, I am compelled to remind you that I have experience with this kind of thing. Back in 2007 I developed the Dave Number, My new scale of measure is just a logical extension of that, and runs from 0 to 9, just like the Bortle Scale...
No shits given. This is so far below my ability to care about that I couldn't muster a half-a-fart, let alone a shit. This is reserved for things like Kim Kardashian or kale.
Shart. An accidental shit. Something I don't really care about, but somehow end up devoting a minutia of time to when forced. Like Eric Trump or The Bachelor.
Diarrhea. I am not able to muster an actual shit, just a sloppy approximation of one. I'd use this for embarrassments like Anne Coulter that don't deserve my attention but interrupts my calm from time to time.
Pebble Shit. When I don't want to give a shit, but I kinda have to because the object in question has consequences for things I care about. Like Pat Robertson, President Trump, or pineapple as a pizza topping.
Turdlette. I give a bit of a shit, but not enough that I'm able to muster a full turd. Works for things like most DC Comics movies, low-fat ice cream, or Diet Pepsi.
Poop. I totally care. But my attention can be easily diverted. Happens for things like Saturday Night Live or Taco Bell.
Crap. Here is where I start being devoted to something. Like cheese, New Orleans, or Elizabeth Hurley.
Full-On Shit. This is something that has my full attention. Like a woodworking project or an interview with RuPaul.
Colon-Busting Turd. This is something I care about enough to devote intense scrutiny. Music I'm passionate about comes to mind. Or maybe truly excellent television like Veronica Mars or Wonderfalls.
Total Bowel Destruction. Reserved exclusively for things that mean the entire world to me. Like my cats or Marvel movies.
So there you have it. And since my interest in writing more in my blog today is about a 2, I suppose I'm done for today.
Posted on April 4th, 2019
Sick and tired of being sick and tired.
So there I am exhausted but not sleeping because I am coughing my head off... when Jenny comes in to complain. And I'm like "Dude, I can't help it! I can't take more cough medicine for another hour"...
This does not phase her, so I try to ignore her by checking my phone.
First thing I see is an alert that the Litter-Robot is stuck. So I go downstairs and fix it so Jenny can go to the bathroom... then take more cough medicine even though it's too soon (hey, I'm already there)... then grab some crackers... then go back upstairs.
Jenny follows me the entire way... never going to the bathroom. THEN... FIFTEEN MINUTES LATER... I hear her using the UPSTAIRS Litter-Robot. Which means she got me out of bed to fix a Litter-Robot she had no intention of using? Or maybe she did, but changed her mind? Oh well. I'm not coughing anymore, so I guess we both got what we wanted in the end.
Posted on April 3rd, 2019
I hate to be all "Woe is me" here...
...but woe is me.
This is Day Five of not having a voice. On Monday I could have sworn I was over being sick and just dealing with my allergies acting up. Then yesterday morning I woke up feeling worse than ever. Laryngitis (still). Sore throat. Constant hacking cough. Vomiting. Random aches and pains. Not a good time to be Dave2.
Then last night... something new.
My right eye started swelling for no apparent reason, then got infected (or maybe it was vice-versa). Lucky for me I've got plenty of antibiotic gel from multiple eye surgeries, so the infection disappeared overnight. This morning when I woke up there was a little swelling left, but nothing serious.
So... one thing going right.
And now I guess I'll go back to dying.
Woe. Woe. Woe.
Posted on April 2nd, 2019
The more I pay attention to current events, the more I am convinced that stupid is winning.
Which is why I'm going to stop paying attention to current events.
If you need me, I'll be in a cave somewhere waiting for humanity to either die out... or reboot itself somehow. What else is there?
Posted on March 29th, 2019
I've always tried to be conscious of my environmental impact. I recycle whatever I can. I reuse as much as possible. I repair instead of replace. But after reading stories about whales dying from ingesting massive amounts of plastic (among other plastic horrors), I've redoubled my efforts to use as little of it as possible.
Problem is? Trying to cut the amount of plastic we use is pretty much impossible. The junk is everywhere. Even if you stop buying stuff that's made from plastic, you can't seem to avoid buying stuff packaged in plastic. But the story gets worse. Now we're quickly getting to the point that you won't be able to recycle plastics any more.
So what to do?
Well... people are going to have to change how they buy stuff. Companies are going to have to change how they make stuff and package stuff. Everything is going to have to change.
The other day I was at the grocery store when I noticed that the dishwashing detergent I like best, Cascade Complete, was on sale. I was running out but knew I had a full container in the garage, so I was going to pass. But the price was so good. Too good to pass up. Since I have storage space for it, I decided to buy two of them.
When I got home, something funny happened though.
I lifted up the older detergent container to put the new containers under it (gotta rotate your inventory!). That's when I noticed that the old one weighed considerably less. I flip over the bucket and I see why. The new ones are lighter because there's less in them...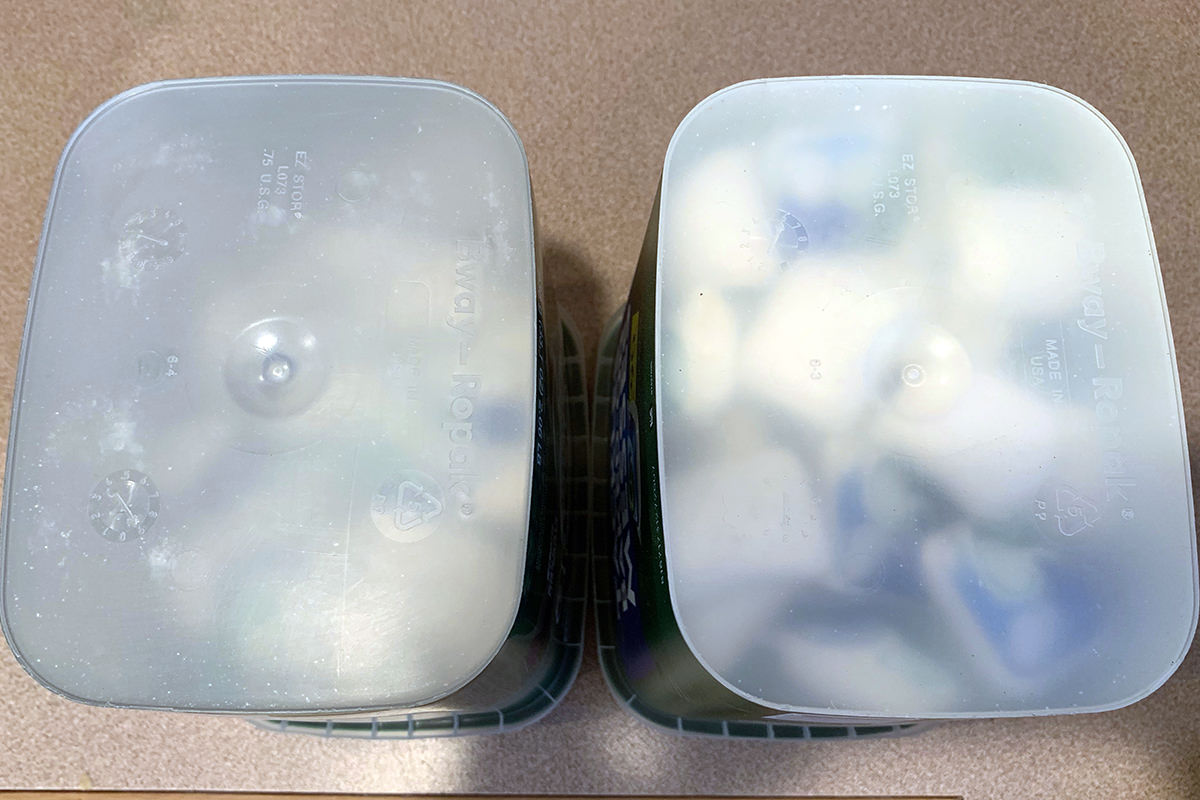 Was there a mistake at the factory? Did the machine that fills the buckets malfunction? Because just look at this crap...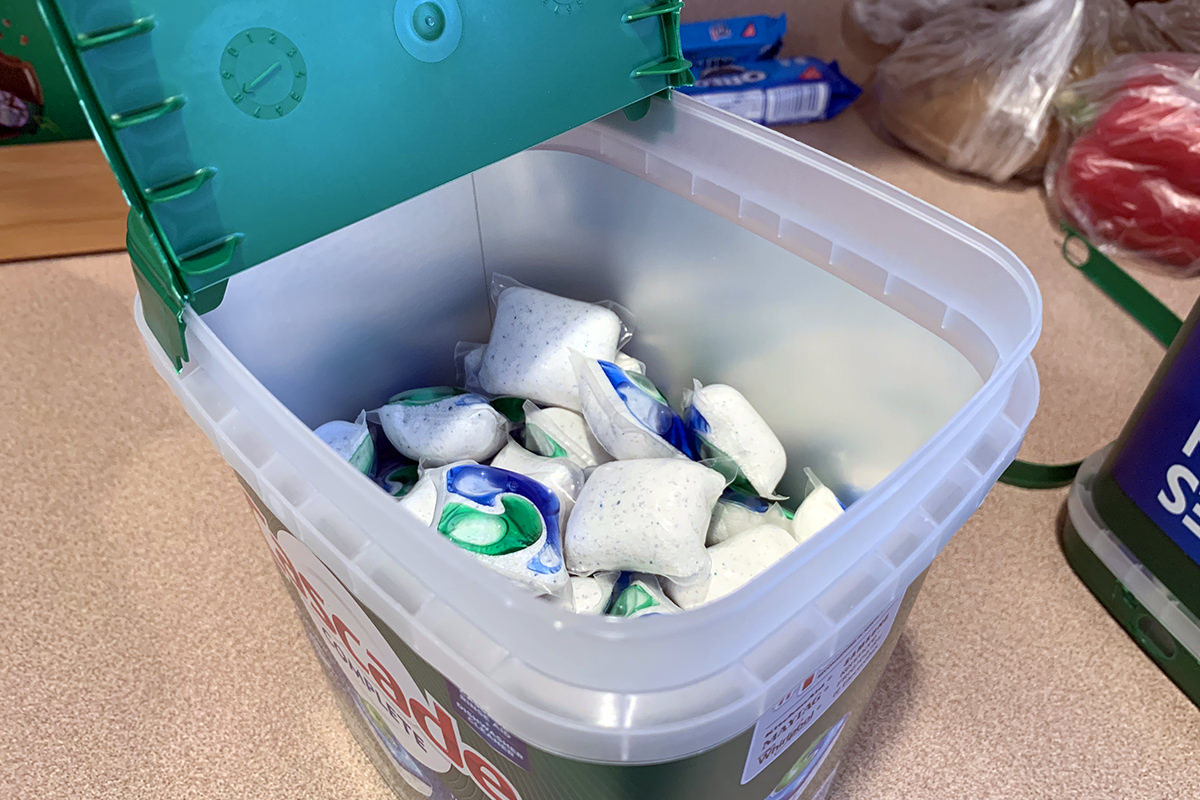 One-third of the container looks empty! I look at the package and see that the reason it looks one-third empty is because there's a third less product in it!
Old container: 90 pods. New Container: 63 pods.
At least now I know why it was so damn cheap compared to last time I bought the shit. What's weird is that the container for less product actually looks bigger, doesn't it?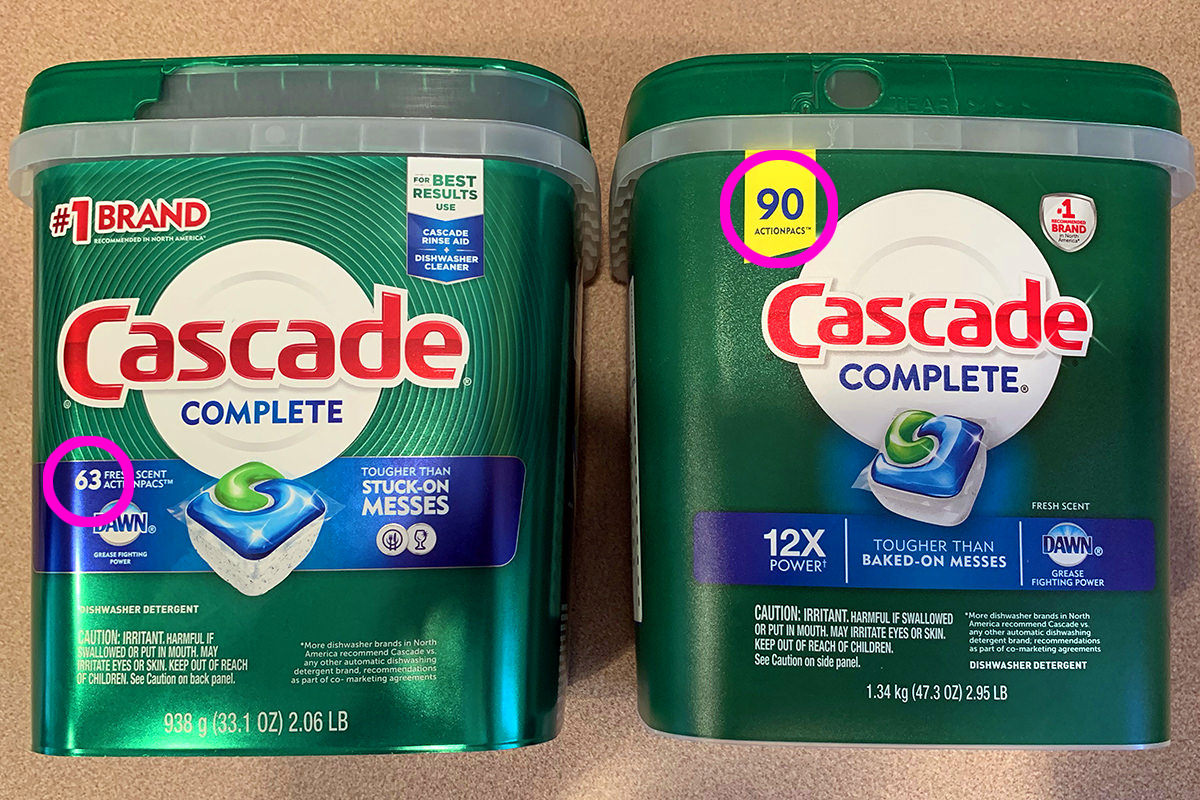 I go to Amazon to see what the "regular" price is for Cascade Complete. But when I get there, I find the story gets even stranger. The same size container has 78 pods in it...
What the actual hell?
Apparently Cascade fills the container based on the price a retailer wants to sell. Safeway wants to have a huge sale at a tiny price-point? Put 63 pods in there. Amazon with their tiny margins wants to have a price-per-unit value price? Put 78 pods in there. Target wants to have a higher dollar-ring? Put 90 pods in there.
Now, I'm not ripping exclusively on Cascade here. All companies do this. If you want to sell at a retailer, you make them the product they want to sell. But most companies don't use the same massive package for 63 pieces vs. 78 pieces vs. 63 pieces... do they?
I feel grossly misled here. I thought I was buying the same "Cascade Complete" that I had purchased before... not a container which had one-third less product! Guess that when something is too good to be true, it's really too good to be true.
States like California have packaging laws that punish companies who use excess packaging. But it's not a fair law. Massive companies want the bigger shelf facing to get their product noticed. Because they have money, they just pay the fine. Smaller companies can't afford to pay the fine, so they have to put a similar product in smaller packaging which makes it look like you get less product. Or... big companies can afford to have two packages... one for California which is smaller, and another for other states which is larger. That's even more unfair, because smaller companies can't afford to produce two different-sized packages.
And so it goes.
Cascade ain't going to change the way they do business until they are forced to change.
The only thing that is going to force them to change is their bottom line.
Because they don't give a crap about the environment, they care about profits.
I love Cascade Complete. It works better than any other dishwashing detergent I've tried... and it rinses away cleaner so there's no residue or smell clinging to my dishes. I am happy to pay a little more for it because it's worth the money. But is it worth polluting the planet with one-third more plastic than it needs to? Oh hell no. And so I won't buy the stuff ever again unless the number of pods in the container are filling the container.
Or maybe I need to see if they sell Cascade Complete in a box that you pour out... which would be cardboard instead of plastic? Do they even make that any more? I suppose I'll be looking into it.
That seems the very least I can do, doesn't it?
Or maybe I wash my dishes by hand? Except "green" dishwashers like mine use less water than washing by hand, so maybe that's a step too far. Especially since liquid soap comes in heavy plastic containers.
How are scientists coming along with that plastic-eating bacteria?
Posted on March 26th, 2019
The first thing I did when I bought my house was to rip out the door locks so my keychain would be two keys lighter. My new locks are opened via keypads or via an app on my phone... no key required.
In case you haven't guessed, I am not a fan of keys. They are (literally) ancient technology that isn't necessary in this day and age. And yet I have loads of them. Most of my keys are at home in my safe. The only two I lug around with me are my car key and my office key. To carry them around more easily, I bought a minfig keychain at The LEGO Store. It looks like Greedo from Star Wars, but it's actually an ambassador from Greedo's planet named Onaconda Farr.
That was years ago.
After a while Onaconda Farr's face and clothes rubbed off. His antennae and ears also wore down. And, last week, one of his legs fell off(!).
So I found a replacement on eBay for $5 and ordered it last week. And now he has arrived...
So cool. Almost makes me not dislike keys so much.
And, oh yeah... today I drove back over the mountains from my Birthday Weekend celebration with my friends.
I was happy to see that there's still plenty of snow in the mountains. Perhaps it's enough that we don't have to worry about drought this summer? I certainly hope so...
And now back to Real Life.
Such as it is.
Posted on March 25th, 2019
I'm not much of a gambler despite being luckier at gambling than most.
Sure it has some entertainment value, which is why I'll throw some money on the table or drop some in a slot machine when I'm out with friends. But gambling is not something I seek out, nor do I use it as a cure for boredom when I'm working in a place like Las Vegas. The odds are just too stacked against the player for me to find much joy in it.
For this birthday weekend with my friends at the Tulalip Casino Resort, I decided to set a gambling budget of $100. I ended up spending $0 of it because I was awarded "free play" money by the casino for staying at the hotel on my birthday. It was $50 in credit which I ran up to $78 in real money which I then used to gamble with (and ultimately lose). Perfect. Hours of entertainment that cost me nothing. That's a kind of "gambling" that I understand.
What I don't understand is people who gamble away more money than they can afford to lose. And yet it happens all the time. People have the expectation that they're going to win, when they really should have is the expectation that they are going to lose. Winning is just a happy accident... if it even ever happens.
While I was getting my $100 out of the ATM yesterday (that I didn't end up spending) there was a guy on his phone screaming at his bank because they "took his money." Except they didn't take his money... he had probably been gambling all morning and kept taking more and more out of his account. Before he knew what had happened, it all added up, and his money was gone.
Oh well. Hopefully he had enough left for rent. But, if his screaming was any indication, probably not.
The $78 in "real money" I got was won playing a slot machine called "Mega Meltdown." As I started to lose it all, I switched to a machine called "Miss Kitty Gold"...
I never truly understand how multi-line slot machines pay out... stuff flashes and you win or stuff doesn't flash and you lose. But it had cats on it, so I figured it was an entertaining way to finish off the last of my "free money" winnings.
Next thing I know, my screen is filling up with flashing pink cats and I'm up to $60 again.
It was at this point I heard a kerfuffle going on behind me and saw some woman stomping off. I must have looked puzzled because a guy standing there said "She was mad because she was going to play that machine." Now I was really confused. "There was nobody here when I started playing." And there really wasn't. "I wouldn't worry about it. If you had really stolen the machine from her there are cameras everywhere and she'd be asking for security.
Alrighty then.
One more reason to take a pass on gambling, I guess.
Well, that... and the fact that I still have my $100.