Posted on July 19th, 2019

As I previously mentioned, the organization I work with keeps insisting that I have my measles vaccination verified. Given the way the disease has come roaring back, they don't want us volunteers ending up with it while we're out trying to do good. Since I very much don't want to get measles at this stage of my life, I'm all for it.
So I got my childhood health records together and asked my doctor if I needed to worry. He suggested a measles titer test which will check for antibodies in my blood. Cool.
Yesterday afternoon I dropped by the clinic to get a cost for the test in case my insurance won't cover it (I was told by the charity it may be as high as $60). After I make my request they have to run and get billing codes (5 minutes) then I have to take a seat while they figure out how to bill it out (10 minutes). They then hand me the quote and it's THREE HUNDRED AND SEVENTY-FIVE FUCKING DOLLARS!
So I call my insurance and ask how much of that will be covered. They won't even speak to me unless I have a "diagnosis code" and an "NPI code." So while I'm waiting for my tires to be changed, I go online to see if there's a testing lab nearby that might be cheaper. Google presents an ad for a $12.95 test...


So when I message my doctor and ask for the two codes my insurance is wanting... I also ask if he thinks that a $13 online test would be accurate. He said "The online tests are accurate and if you can get that done for $13 I'd do that."
And so I did.
There's an $8 blood draw fee I have to pay... and there's no draw center near me. But there's one near the airport in Seattle for when I fly out next week, so no big deal...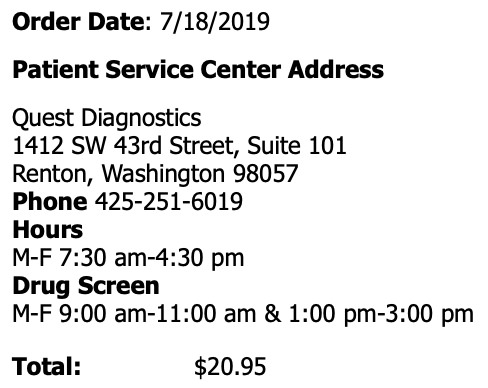 And there you have it. The test is going to cost me $20.95, which means that the actual cost of the test is probably around $10 or less. Which means that my local clinic has a minimum $365.56 markup on it. And I believe this calculates out to a THREE THOUSAND SEVEN HUNDRED AND FIFTY-FIVE PERCENT MARKUP!
And it's shit like this that makes my blood boil when it comes to the American "health care" system.
Our health... our very lives... are not in the hands of doctors any more. They're in the hands of insurance companies. Hospitals have to charge insanely high prices to cover the shitload of costs involved in getting their money out of insurance companies... and then add cost on top of that because they know that insurance companies are so powerful that they'll never agree to pay for the full amount it costs the hospital. If hospitals don't charge a shit-ton of money, they'll end up losing money.
Health insurance companies are massively, massively profitable. They are so profitable that they are able to spend billions buying off our politicians to keep our "health care" in the incredibly broken state it's in now... and has been in for a very long time.
So if you're saying to yourself... "Wow. Sounds like if we'd just eliminate health insurance companies and have hospitals bill patients directly for the actual fucking cost of what they do, we'd all be better off! And that's a fair assessment. Except if you end up with a health crisis that's so incredibly expensive that even fair direct pricing is more than you can afford. Hence insurance can be a good thing.
And yet...
The U.S. spends more on healthcare than any other country — but not with better health outcomes.
And it's the fucking monsters at our insurance companies that took us there.
In the case of my measles antibodies test, I am grateful that I have options. Far, far, far more affordable options. But my next health-related expense likely won't have many options. Possibly even zero options. And, even though I have health insurance now, I could still end up bankrupted if the problem was serious enough. Because health insurance company profits must be protected at all costs, after all.
And what if I end up losing my health insurance one day? What then?
It's questions like this which have me advocating for a single-payer health care system. Despite the lies we're told, it works well for many other countries. Countries which have health care rated better than ours. And I am done buying the lies of politicians who would tell us otherwise when their asses are bought and paid for by insurance company lobbyists...
Australia
Austria
Bahrain
Belgium
Brunei
Canada
Cyprus
Denmark
Finland
France
Germany
Greece
Hong Kong
Iceland
Ireland
Israel
Italy
Japan
Kuwait
Luxembourg
Netherlands
New Zealand
Norway
Portugal
Singapore
Solvenia
South Korea
Spain
Sweden
Switzerland
United Arab Emirates
United Kingdom
Our health care system IS shit. And getting worse. But we don't seem to want it fixed badly enough to do anything about it, so we get what we deserve.
And for some of us... that's a preventable death because we aren't profitable enough to live.
UPDATE: Oh here we go. This is from the UK side of the issue, but it has a scathing commentary on the lies which are being forced on Americans. Thanks to Jan for the video link...
Posted on July 18th, 2019

It's the little things that tear you apart, you know?
Last night I headed to bed around 10:00pm. That's earlier than usual, but I'm on the Left Coast trying to adjust to Eastern Daylight Time before I head to the Right Coast.
My plans were thwarted as I was falling asleep around 11:00pm because I noticed there was no glow coming from my comic book storage closet*. This is where Jake and Jenny like to hide out, so I wanted to make sure that I replaced the nightlight before I fell asleep and forgot. Otherwise it's pitch black in there, and even cats with their awesome eyesight need some light to function.
So I headed downstairs to the hutch drawer where I keep the batteries and small lightbulbs to see if I had something.
I did.
Right next to the pile of lightbulbs I bought for my mom's nightstand lamp.
As she started sliding deeper and deeper into dementia, trying to keep everything exactly the same from day to day became a full-time job. But it's something I had to do because even small changes could result in confusion that would spiral out of control. One minute her blanket isn't on her bed where she expected it to be... the next minute she's in a full-blown panic thinking that she "left it at the lake" (wherever or whatever that was).
One of the worst nights came when the bulb for her weird nightstand light burned out. It was weird because it was meant to look like an oil lamp with a chimney, but it had a second light in the base where the "oil" was supposed to go. Depending on how many times you rotated the switch, it would illuminate the upper light, the lower light, or both lights.
When things first started to go wrong she began insisting that the upper light always be on while she's sleeping. I think she felt safer that way. You can see her lamp in this great photo I took of Spanky laying on top of her while she slept...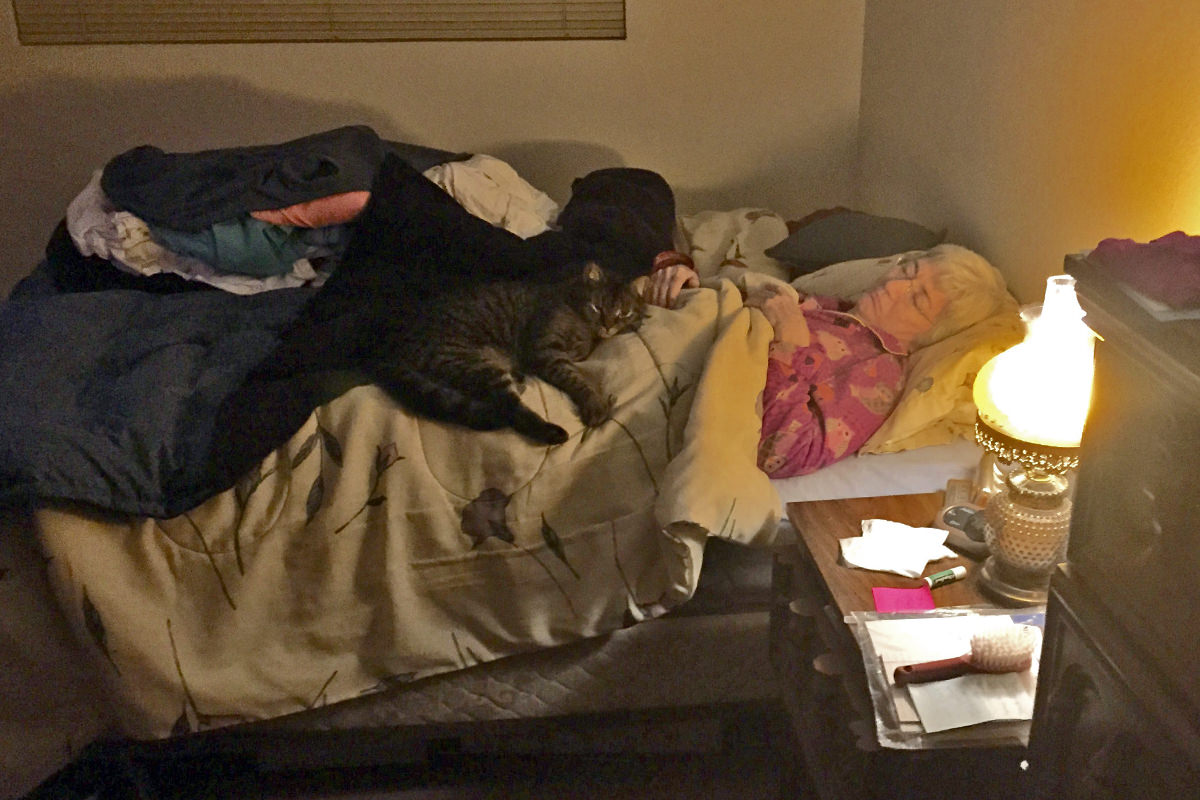 The lamp was small, top-heavy, and prone to being knocked over. I spent a lot of time worrying that she would knock it off her nightstand and break it. The fallout from that disaster would have been catastrophic. I'm not sure where she got the thing, but probably from her mom, and so I'm sure she would notice if it went missing.
One night as I was getting mom ready for bed, I went to turn on the upper lamp and it wouldn't turn on. The weaker bottom light wasn't acceptable, so I had her get dressed so we could go to the grocery store for a replacement bulb. Unfortunately they didn't have the right bulb (it was small and round and weird... just like the lamp itself). Once we got back home I tried explaining that we would have to wait until morning to get a new bulb.
Complete and total meltdown.
She thought somebody broke into her room and stole her lightbulb. This made her inconsolable because she thought they were going to come back and kidnap her. Then she wanted to go to her parent's house (long since gone) because she was convinced that people were going to break into her room and kill her. She was screaming for the police. It... was... awful. Eventually I took her out to the living room and had her watch television until she fell asleep.
The next morning before work I packed her up and took her to Home Depot for a new bulb. They had one left. Not wanting to go through this ever again, I went home and ordered four more from Amazon.
Then something weird started happening. Bulbs that were lasting years were suddenly lasting just a couple months. Not knowing what was going on, I ordered three more bulbs from Amazon. Better safe than sorry.
Eventually I caught her taking the bulb out of the lamp, smacking it repeatedly on the nightstand, then putting it back in. At that point she started having trouble using a fork, so I have no idea how in the heck she managed to disassemble the lamp (which had multiple pieces to it)... let alone put it back together again. Like so many things at the time, it made no sense.
When I asked her what she was doing, she told me that she was "fixing it" because the bulb was too bright and hurting her eyes.
Well, crap.
The weaker bottom light still wasn't bright enough for her, so I ordered a bunch of different bulbs in the hopes that one of them would be a little less luminous...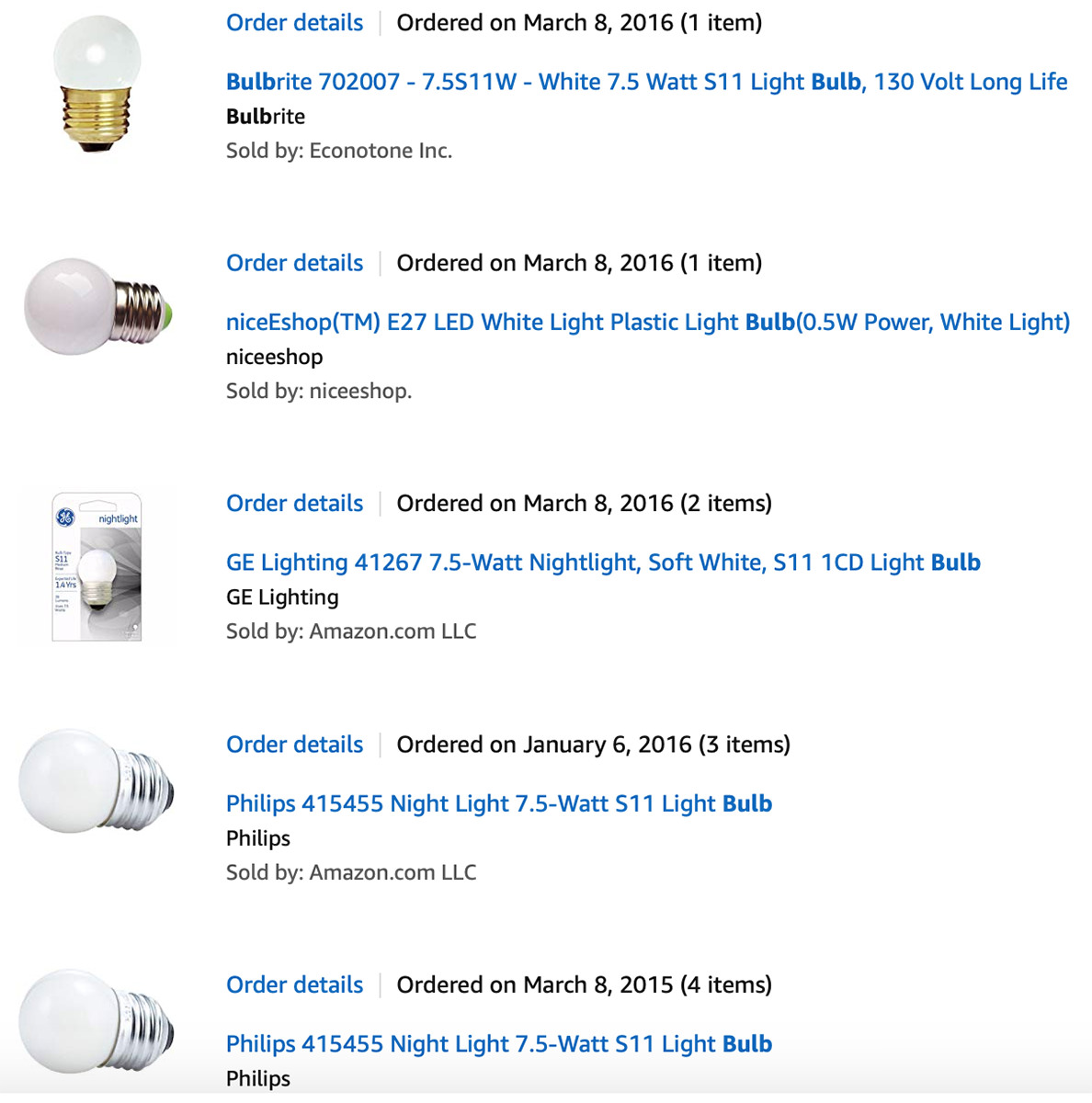 Turns out it was these weird plastic bulbs from Korea that she wanted, so I ordered a pile of them.
• • •
Once I had moved my mom to a memory care facility over the mountains and was able to accept that she was never coming home, I started getting rid of everything in her bedroom. I hired a junk hauler to take away her dresser, her chest-of-drawers, her nightstand, her shelves, her bed, her mattress... everything. I didn't want the reminder. I didn't want to spend weeks trying to sell or donate it. I just wanted it gone.
As for that stupid lamp?
I threw it in the trash and smashed it to pieces with a hammer.
The lamp had become a symbol of all the horrors my mom had to endure way too soon in life, and I thought it would be therapeutic if I were to take out my anger and frustration over her fate by destroying it. This didn't end up making me me feel better about anything, of course. And it would be just my luck that it was some kind of heirloom worth thousands of dollars. But I didn't care then. I don't care now.
Apparently I never threw out all those bulbs I bought though.
And so here they are haunting me.
Like all the things in my life that remind me of her.
Which is pretty much everything, I think.
• • •

*My house is strange. It essentially has two master bedrooms. The one on the main floor was for my mom and is now a guest room. It's big, has a massive picture window, a bigger closet, and a changing area. Upstairs there's a small bedroom (which my cats have claimed) with a regular closet... and a larger bedroom (mine) with a regular closet and a large storage closet behind the regular closet. That's where I keep my worthless comic book collection in case I ever want to read them again one day...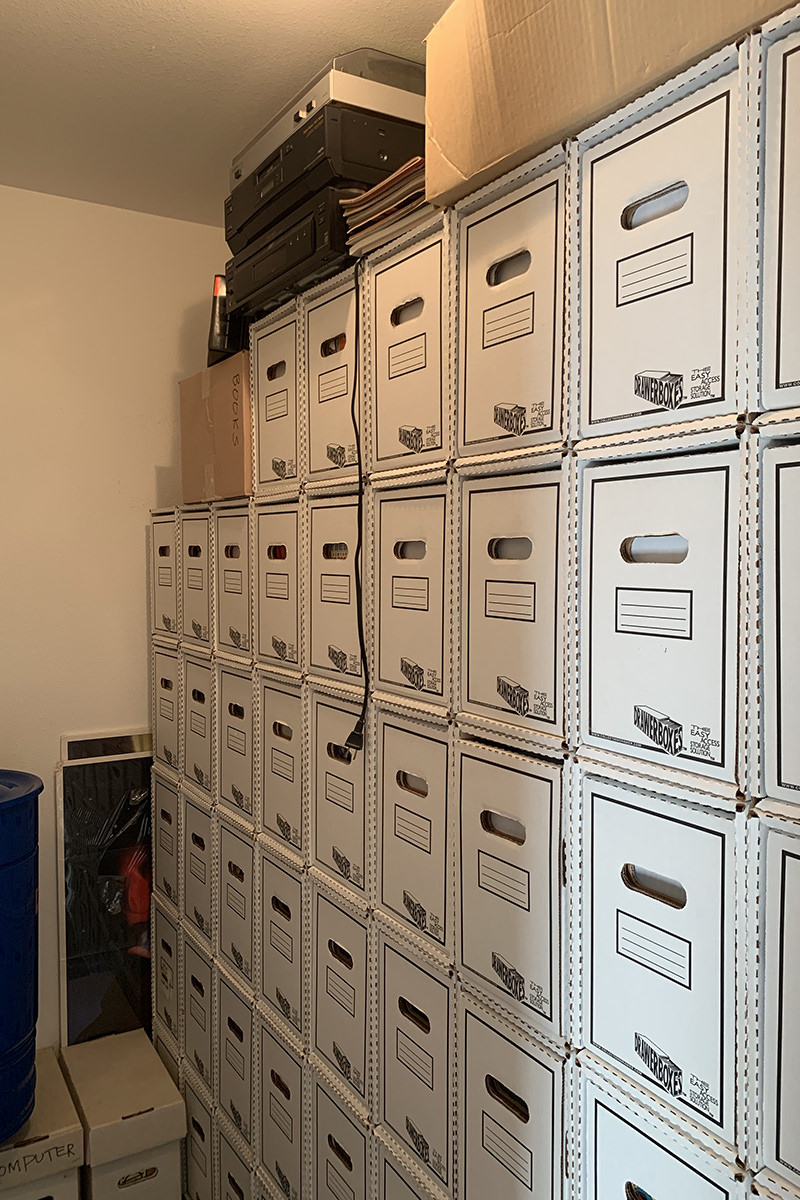 When my kittens were brave enough to come out from underneath the couch after a few weeks, I tried to keep them from going upstairs by blocking off the stairwell. I was not successful. Eventually they had explored every nook and cranny in my home, including the comic book closet (which I keep open all the time because I don't want the paper smell to accumulate).
This quickly became their favorite hiding spot, and remains so to this day. Whenever I have company over, this is where Jake and Jenny are at.
They hop on the vacuum canister, then leap up onto the stacks at the end, then hide behind all the stuff I've got stacked up on the very top (my stereo and old photography stuff). They love it there, even though it gets way too warm in the summer.
I should probably start calling it "the cat closet" instead of the comic book closet.
Posted on July 17th, 2019

I've taken to blogging in the early mornings before I go to work instead of late evenings when I'm done with work. It's not been working out for me. How am I to comment on my day's events when I have barely started the day? And so... I will probably go back to late-night blogging, even though I'm usually so tired that all I want to blog about is how tired I am.
In the meanwhile though? Here was my yesterday!
Last year when I learned I needed to keep my blood sugars intact, I started walking to work so I can still eat bread and pasta. It's a short walk... 7 to 9 minutes... and I've come to really enjoy it. It's a chance to plug and clear my head, which is something that's kinda rare these days. The good news is that switching to Coke Zero and walking has been working for me. I had a great checkup with my doctor, and everything is going well. And so... more bread and pasta.
On yesterday's walk I was assaulted by a rose that was reaching outside its garden fence...
You don't get nice surprises like that driving a car.
But the bigger surprise was later that evening when I made guacamole for the first time. It was Taco Tuesday and a nice chunky guac as a topper was exactly what I needed...
It was phenomenal. And perfectly chunky enough for tacos (and chips!). And easy.
But not as pain-free as I was expecting.
In order to eliminate waste, I've been making a lot of changes in my house. Instead of buying single-use products like plastic wrap, I've been using something more sustainable or learning to live without it. I have one roll of Saran Wrap left and, at the slower rate I'm using the stuff, it should last me the rest of my life. And I've not stopped there. I've bought my last box of plastic straws. I've switched to reusable grocery bags. I'm transitioning from poly to paper wherever I can.
And I've eliminated single-use latex gloves from everywhere except my emergency kits.
The latex gloves I used to wear while chopping jalapeño peppers.
I (foolishly) thought that if I just washed my hands after cutting the peppers for my guac that everything would be fine.
As I found out later that night while falling asleep watching television, things did not turn out fine.
I reached up to rub my eyes and... ZOMG! THE BURNING!!! From the level of pain I was experiencing, you'd have thought that I squeezed a full jalapeño in my face. I can safely say that now I know what it feels like to be doused in pepper spray. It hurt a little bit when my eyes were closed... it was excruciating when my eyes were open. I have no idea why washing my hands didn't prevent this, but now I know better. I had tried some reusable kitchen gloves but they were too thick to work easily, so I guess next time I'll use a towel or a piece of wax paper or something.
Because... yowie.
One other thing that happened yesterday? The 2019 Emmys nominations were announced. For some inexplicable reason Game of Thrones, on its worst season ever, managed to rack up 32. As you can probably tell from the wrap-up I wrote, I totally don't get it. Seven seasons of brilliant set-up that was rushed to a shitty, mind-bogglingly bad conclusion deserves 32 nominations? INCLUDING BEST WRITING?!? Um. No. About the only category I think they should win is Best Supporting Actor in a Drama Series, because Peter Dinklage was still exceptional. He was making all the stupid be entertaining right up until the very end. He won last year, so I'm not sure he'll get it, but I sure hope so.
There was a pleasant surprise, however. Schitt's Creek, long one of the best shows on television, was nominated for Best Comedy Series. And the awesome Catherine O'Hara and Eugene Levy were nominated for respective Best Actress and Best Actor in a Comedy Series. Of course I think they should win, even though this season was not as good as the previous two seasons (when they really should have been winning all the awards). Alas, Emmy voters will probably give it to Fleabag (which probably deserves it) or Veep (because it's the final season) or The Marvelous Mrs. Maisel (which I don't like at all). If Schitt's Creek can't win it, I'd hope for Barry or Russian Doll, but those seem like longshots too.
I was happy to see My Dinner with Herve got nominated for Best Television Movie, even if Peter Dinklage wasn't nominated for Lead Actor in it (which he deserves).
If anybody is interested, I've put my picks for the major awards in an extended entry. If you're not interested, I'll see you tomorrow. Probably tomorrow evening.
→ Click here to continue reading this entry...
Posted on July 15th, 2019

Growing up I was plagued with allergies and ended up sick constantly because of it. If there was even a hint of a cold going around, I'd catch it. I had horrible growing pains that were so bad I could end up incapacitated. I was always battling some kind of infection, and ended up having my adenoids cut out twice. I was on allergy shots for years. It was a non-stop parade of awful, and I sometimes wonder how my parents managed to deal with it all.
I'm pretty sure if I were my kid, I'd have abandoned myself.
Then one day, as if by magic, all my health problems started to disappear. Before I knew it I no longer needed allergy shots and had a fairly healthy life (Accutane side-effects aside).
Fast forward to today...
Given the rise of nasty preventable diseases (like measles) which have come roaring back thanks to all the anti-vax idiocy, the charity I work with is requiring those of us of a certain age (ahem) who travel for the organization to get re-vaccinated. Fortunately my mom kept detailed records of all my various health-related issues from childhood so I have a reference point to discuss things with my doctor...
Reading through all the crap I had to endure as a kid is a sobering experience.
Partly because I was so accustomed to being sick from allergies that I didn't truly realize how negatively they impacted my life. Partly because I'm so incredibly lucky to have outgrown all the health problems that plagued my youth. But mostly because I'm so grateful that my family had insurance and could afford to care for me. More and more it seems that this is increasingly rare as US healthcare continues to deteriorate into a pile of shit.
But hey, billionaires got tax cuts that are bankrupting the country, so at least we're focusing on what's important.
Posted on July 12th, 2019

And so there was an earthquake near me early, early this morning. I was semi-awake at the time and thought that somebody had dropped something heavy in the kitchen above me. I didn't really think much of it until I woke up and saw the news.
The epicenter of the 4.6 magnitude quake was at Three Lakes, which is about 15 miles from where I'm staying...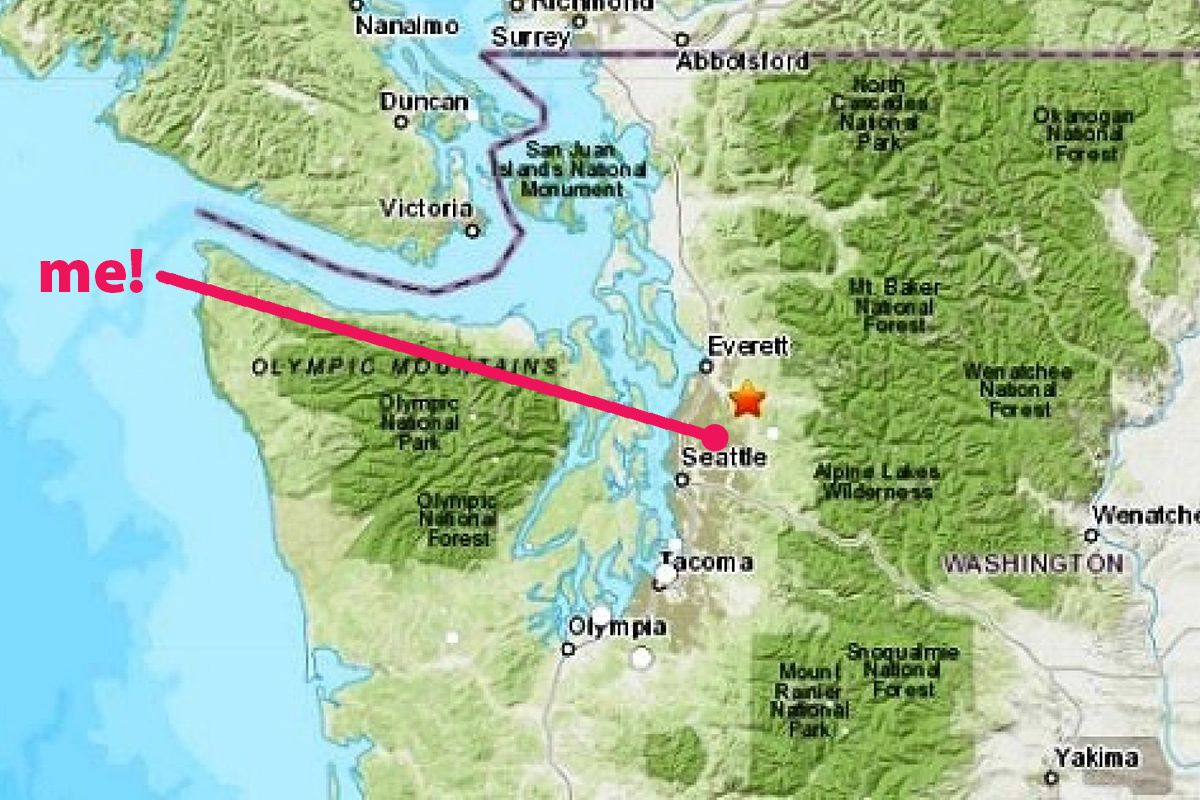 Earthquake Map by the USGS
This should probably be cause for concern, given the earthquakes that have been hitting California lately. Maybe the Pacific Ring of Fire is getting ready to blow? I guess we're all doomed.
Of course I checked on my cats to see if they noticed.
I don't know if they were able to sense it, but they were definitely active. At the time of the quake, Jake went running to the stairwell and started staring up there...
A couple minutes later, Jake left and Jenny ran downstairs...
After that they just kinda wandered around until sunrise. This is fairly odd, because usually they're sleeping...
But no worries. I'm sure they will make up for it by sleeping all day.
Unfortunately the West Coast is not alone in natural disasters. I've been gutted seeing the photos of the flooding that has hit New Orleans due to Tropical Storm Barry. My favorite American city can't seem to catch a break.
And neither can I. I'm Heading back home a day early to get to an appointment I had to make yesterday. For my next vacation I'm hoping to be air-dropped into a place with no internet and no mobile phone service.
No people would be icing on the cake.
Posted on July 11th, 2019

Today was the first day I've felt like I'm actually on vacation. I mean, sure I answered a few work emails and made a few work calls... but I didn't do any actual "work" the entire day. That's exceedingly rare.
One of the things I did do was accompany my grand-nephew to Everett's Imagine Interactive Children's Museum. Sometimes these things end up being pretty janky, but this one was actually very cool. Plenty of imaginative exhibits to keep kids entertained for hours. Like an air-tube exhibit where you can see how air-flow can be used to push a scarf through some clear pipes...
Young kids won't get the air pressure science that's being demonstrated... but they sure have fun chasing down those scarves! Pretty slick. Though I guess nobody at the museum has ever heard of a fart before...
It's a museum built for kids, but no worries... the adults were able to have fun as well...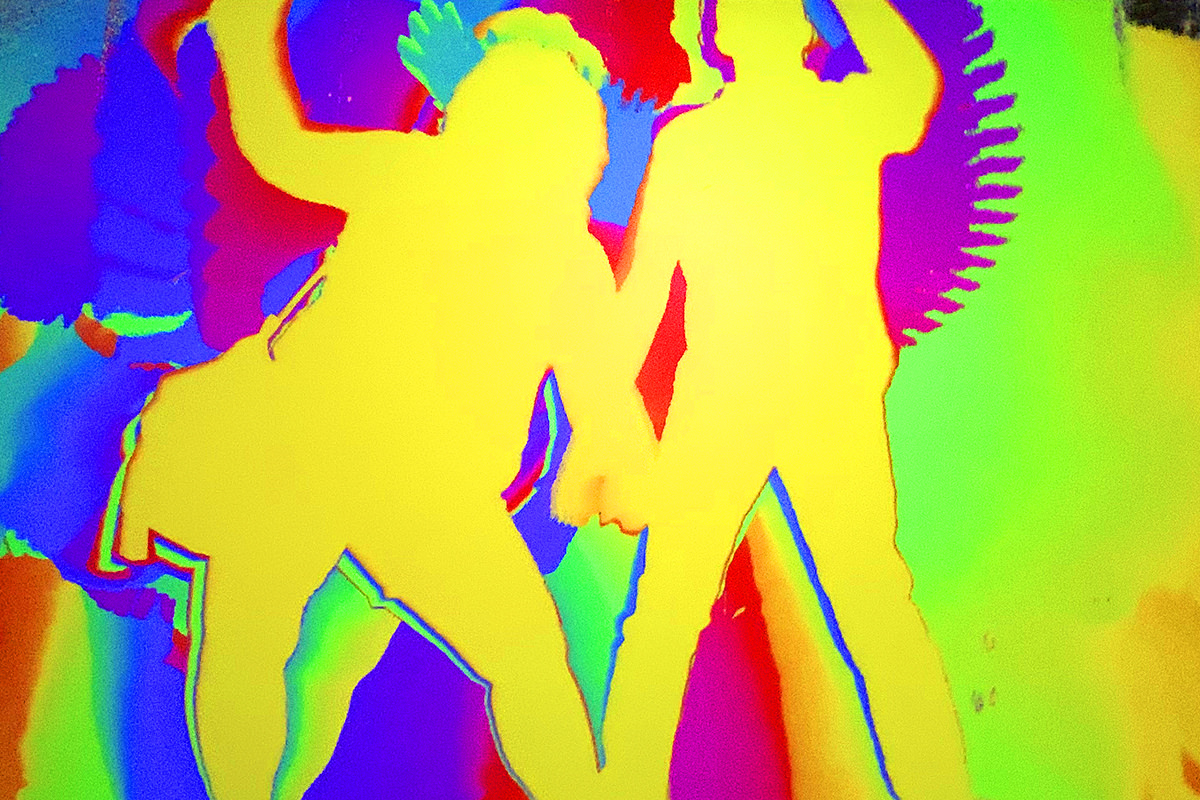 I got to be a chef with plastic food...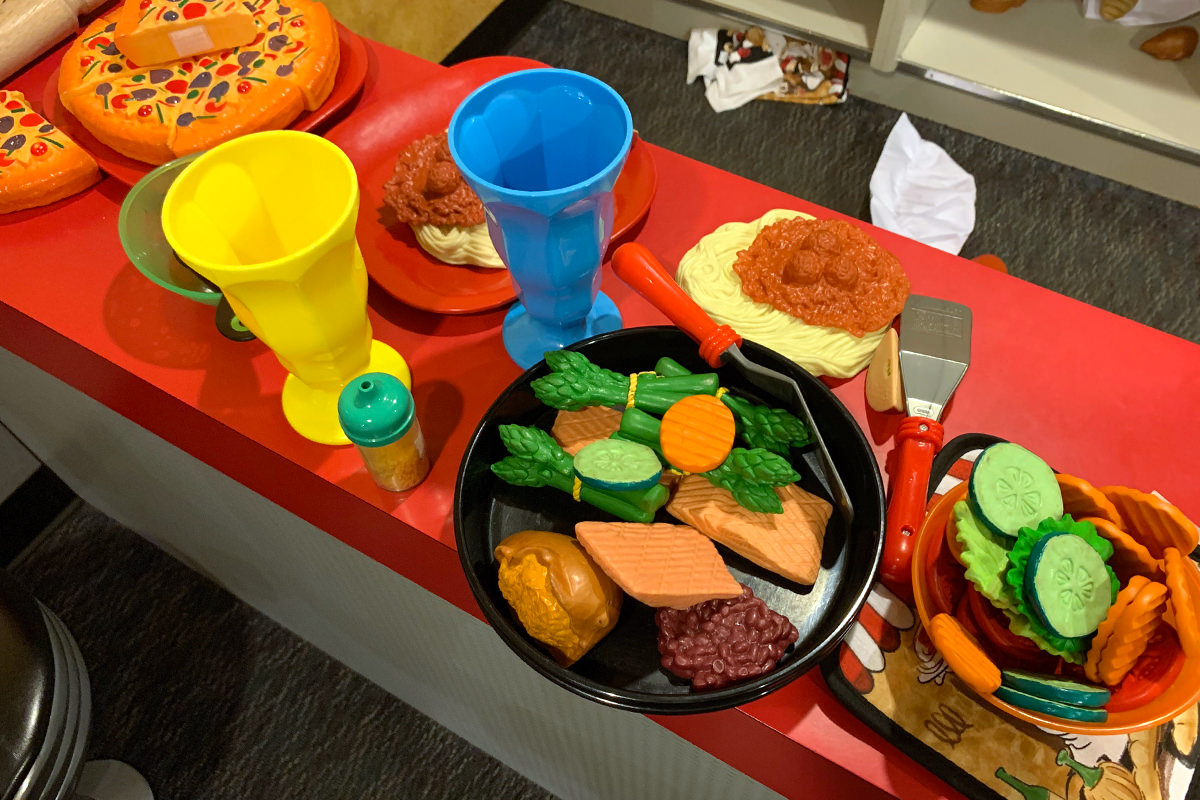 I got to play with glow-in-the-dark puzzle pieces...
I got to milk a giant plastic cow...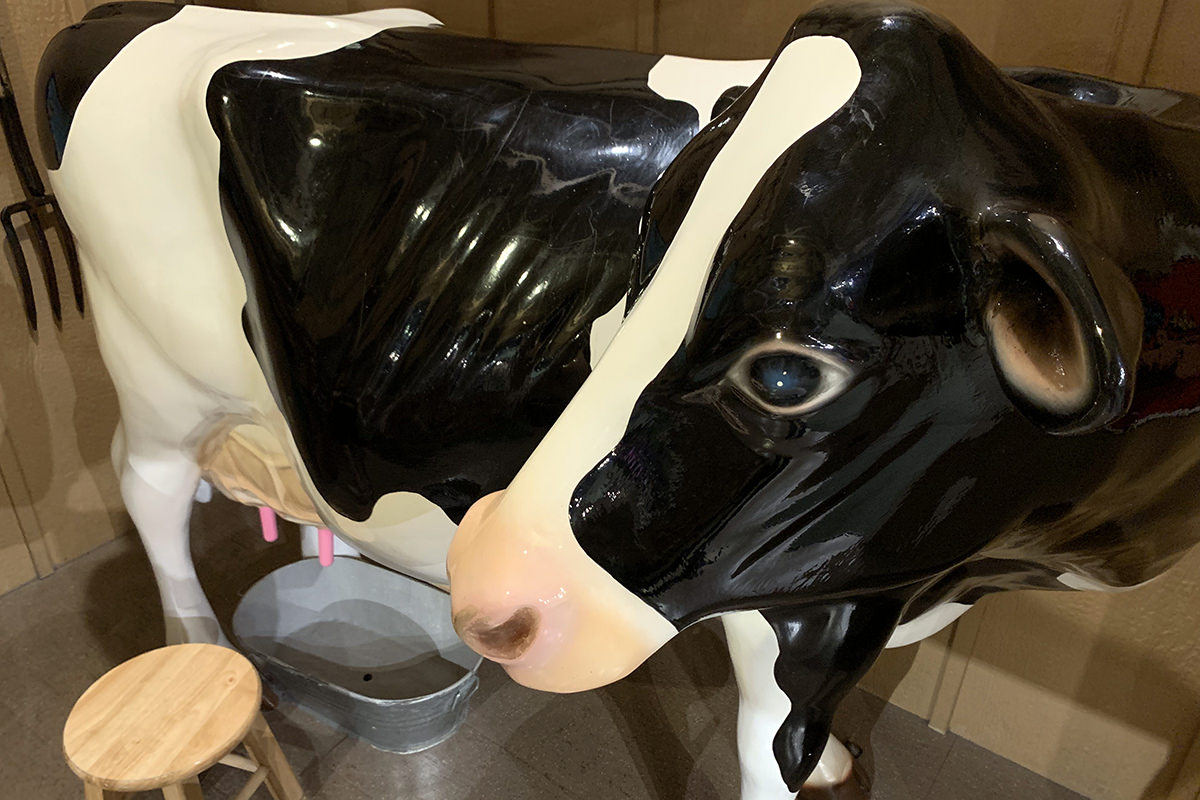 I got to shoot water-guns at balls...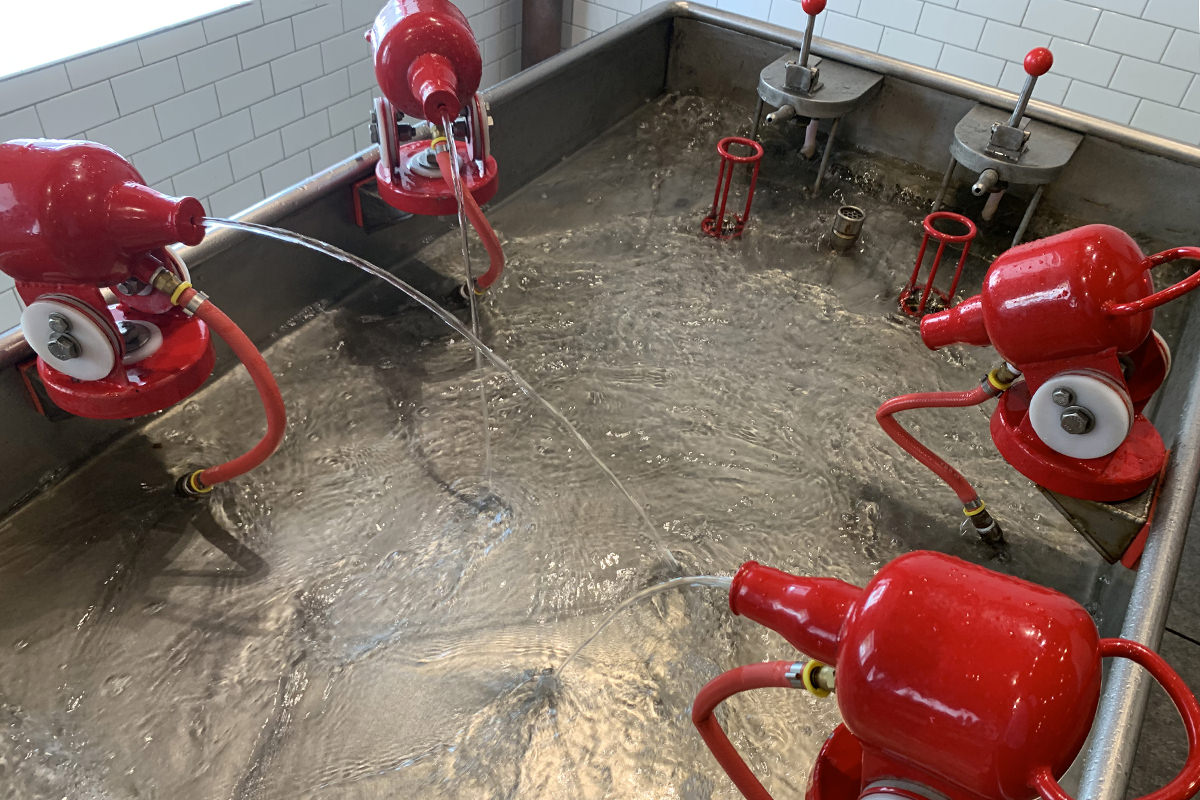 I got to play with wooden monkeys...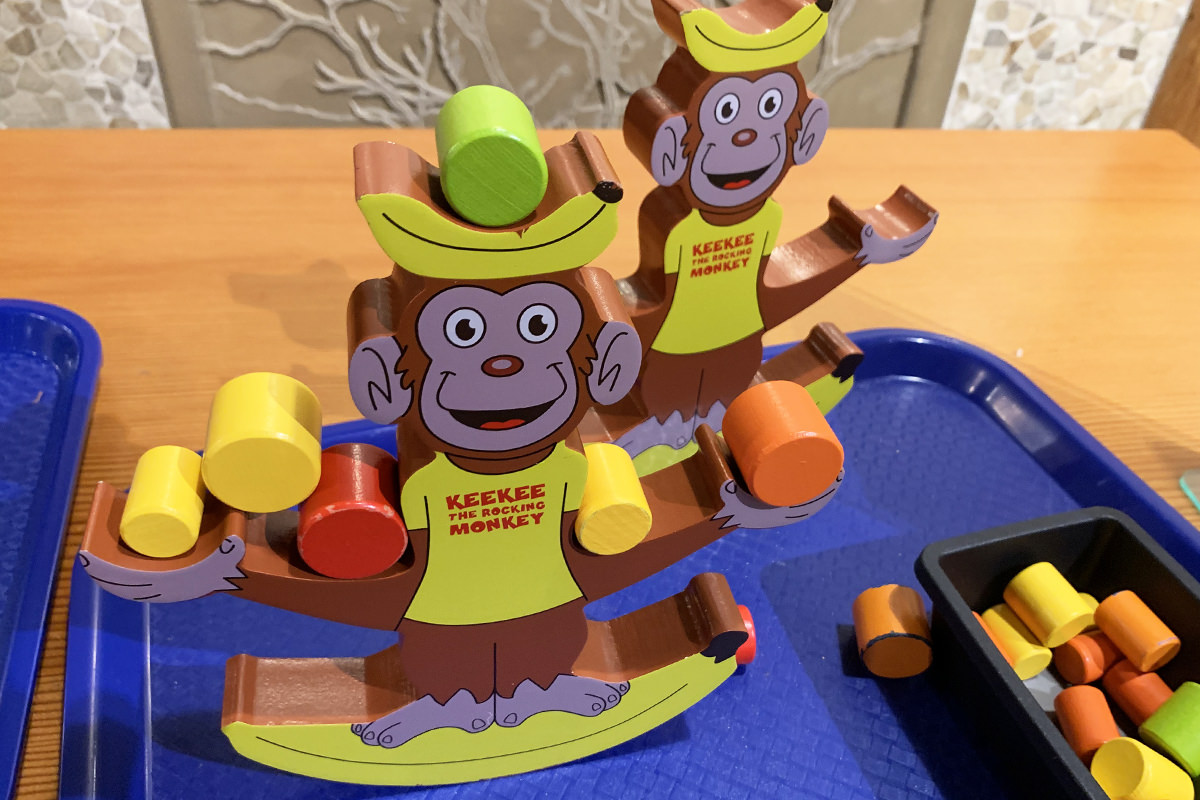 I got to build some interesting architectural structures...
And I also got to watch kids go nuts at the rooftop play-space, which is pretty great...
They even have a dinosaur dig!
Kids absolutely love this place and, if you've got young ones and are in the Snohomish County region, it's worth a visit.
An aside here... I was surprised that they allow you to take photos inside the place. I was careful not to get kids in my shots and, for those photos where kids were in them, to never photograph their faces. I'm pretty sure most people who were snapping away with their mobile phones were not so careful, and this raises some privacy concerns. Yes in this day and age you can pretty much be photographed anywhere at any time but, in a space that's exclusively meant for children, you'd think that it would be in everybody's best interest if photography was not allowed? I dunno. Perhaps I'm just overly paranoid.
Though the paranoia may not be entirely my fault.
There are statues with creepy eyes right out in front, so the museum kinda puts you in a paranoid state before you even step inside the place...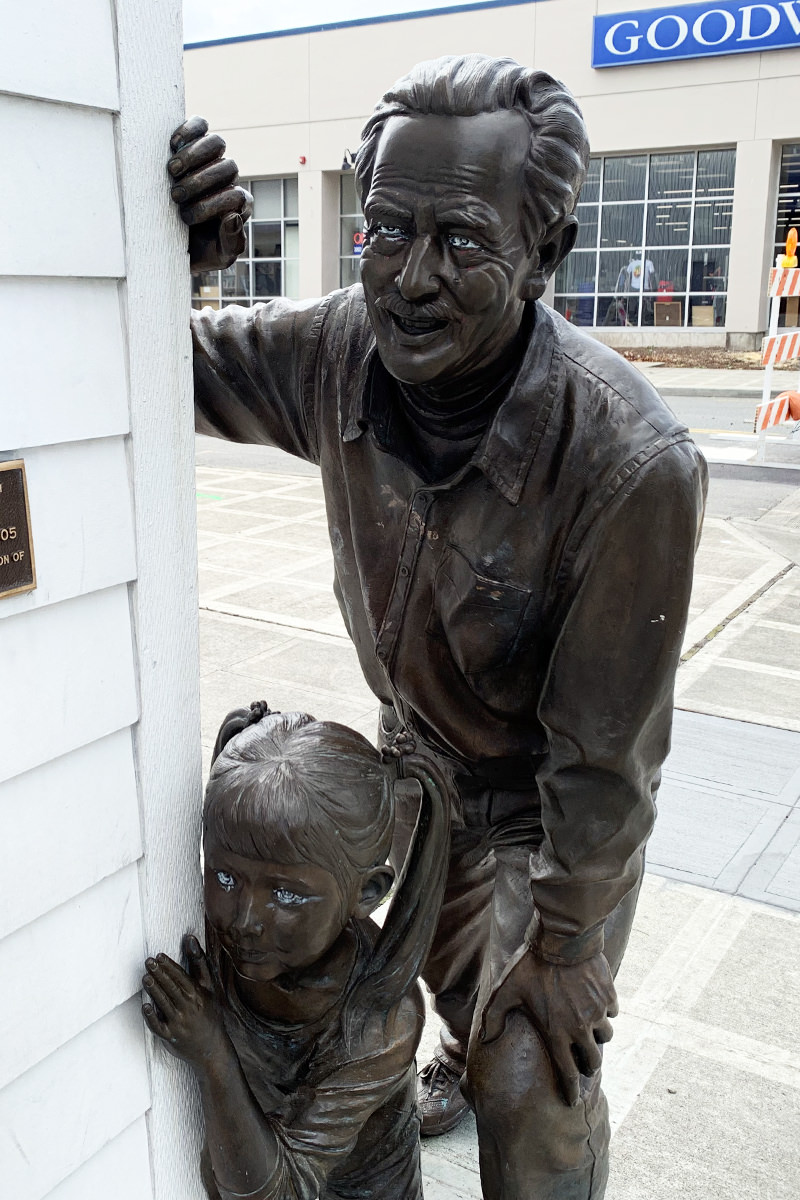 It's a nice enough artwork, but the white eyes make grandpa look like a pervy child predator or something. And is it just me, or does the little girl look like she's possessed by demons?
Probably just the paranoia again. I should probably look into that.
Posted on July 10th, 2019

I cannot seem to catch a break on this vacation thing. This morning a full city maintenance crew started working in front of my house AT SIX FORTY IN THE FUCKING A.M.! At the time I have no clue what in the hell they are doing, but it's so noisy that the cats wouldn't even come out to eat breakfast.
Why do I even bother taking a vacation if I can't sleep in and have to go to work all the time?
After me and my houseguest got up to start our day, we quckly figured out why The City was making so much noise so early in the morning.
The water was out.
Oh.
Yes, please feel free to make noise at any time of the day or night to restore water service. I am perfectly okay with that!
Especially since I had a doctor's appointment today. I spent yesterday afternoon in a pool and would prefer not to smell like chlorine, sweat, and laziness while I'm being examined by a doctor who deserves much better than that.
Lucky me, the water was restored in time for me to take a shower, wash some clothes, and get on with my life.
And now? A drive over the mountains so my real vacation can start...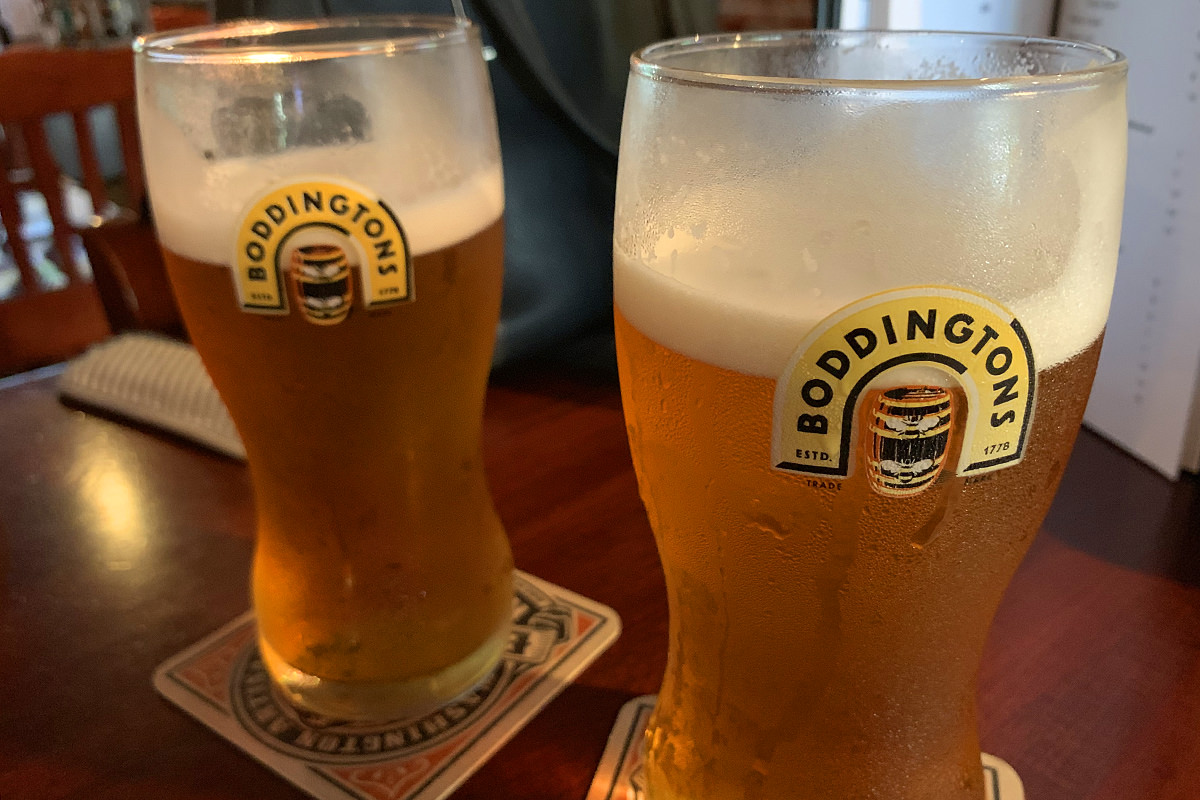 Happy hump-day, everybody!
Posted on July 9th, 2019

Yesterday morning I spent my vacation working.
Clearly I am doing my vacation all wrong and need to change things up.
So yesterday afternoon I spent my vacation drinking blueberry margaritas...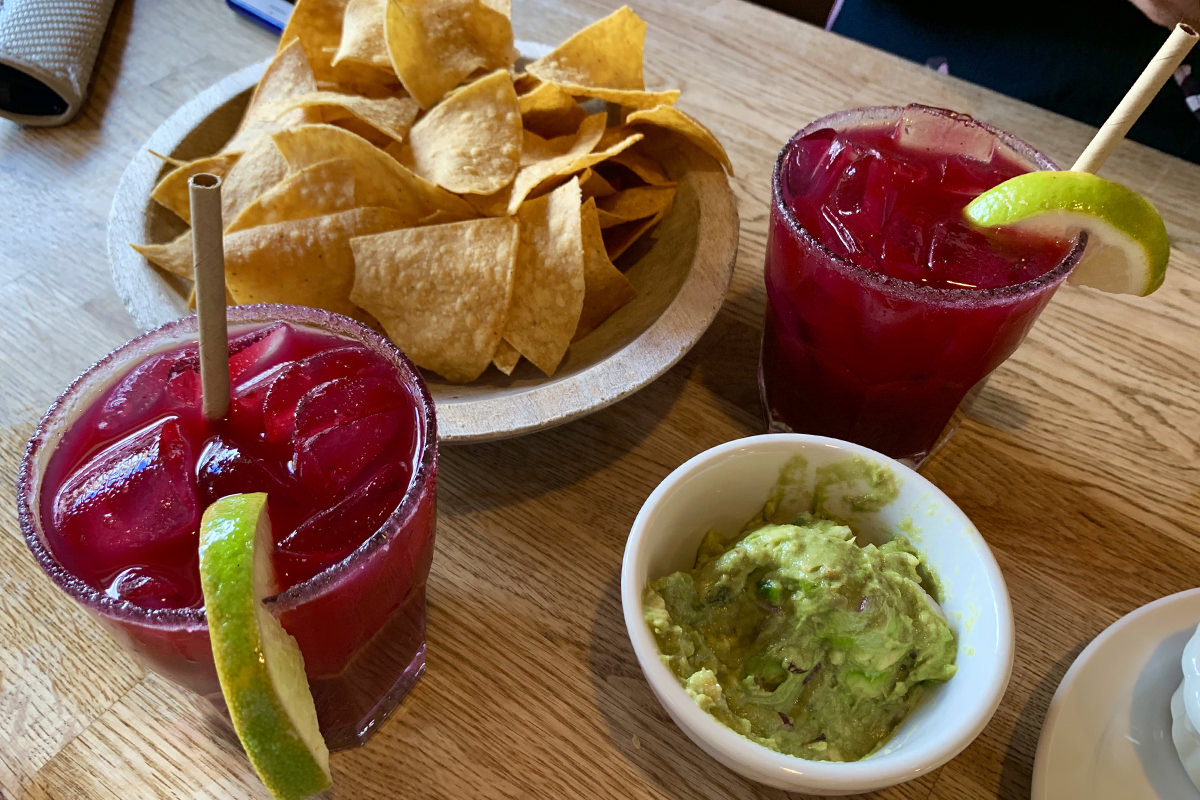 ...then making an impulse decision to go floating down the river with friends again. It's just such a relaxing way to spend a lazy summer day...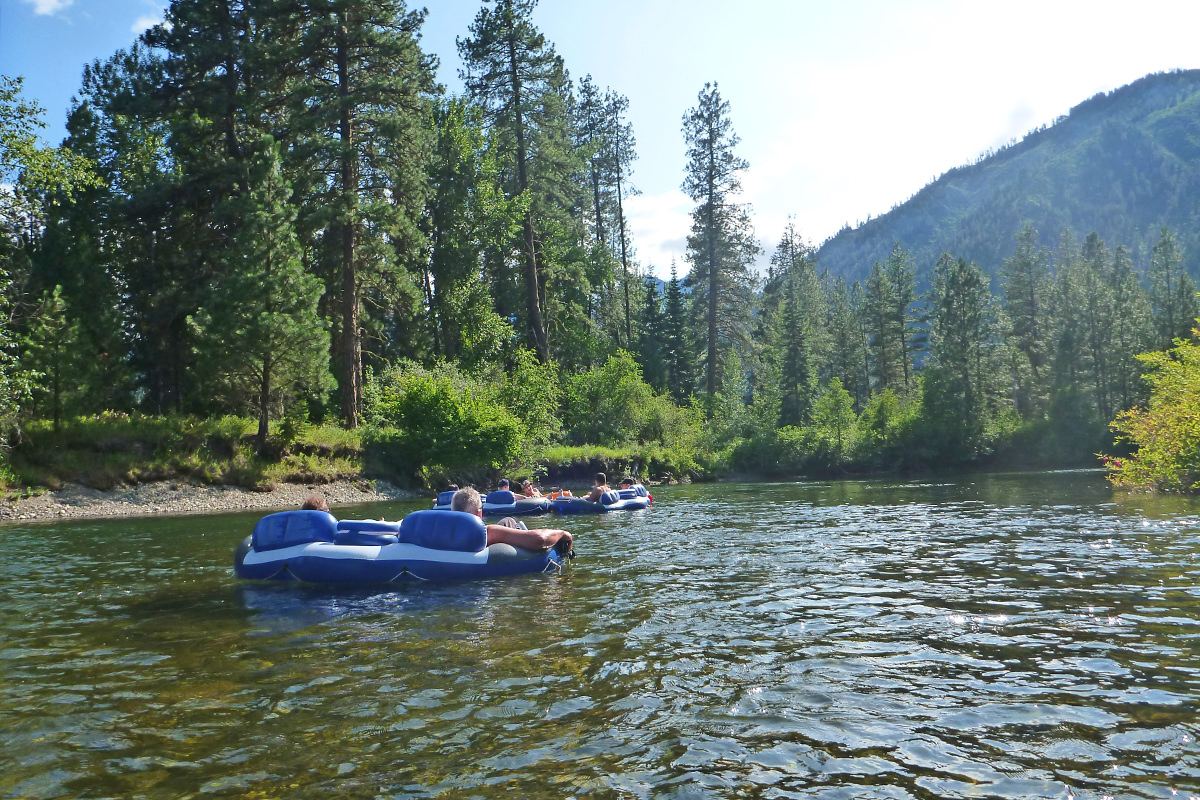 The river is getting really low in spots, so I spent a good chunk of my time lifting my butt so I wasn't dragging on the riverbed...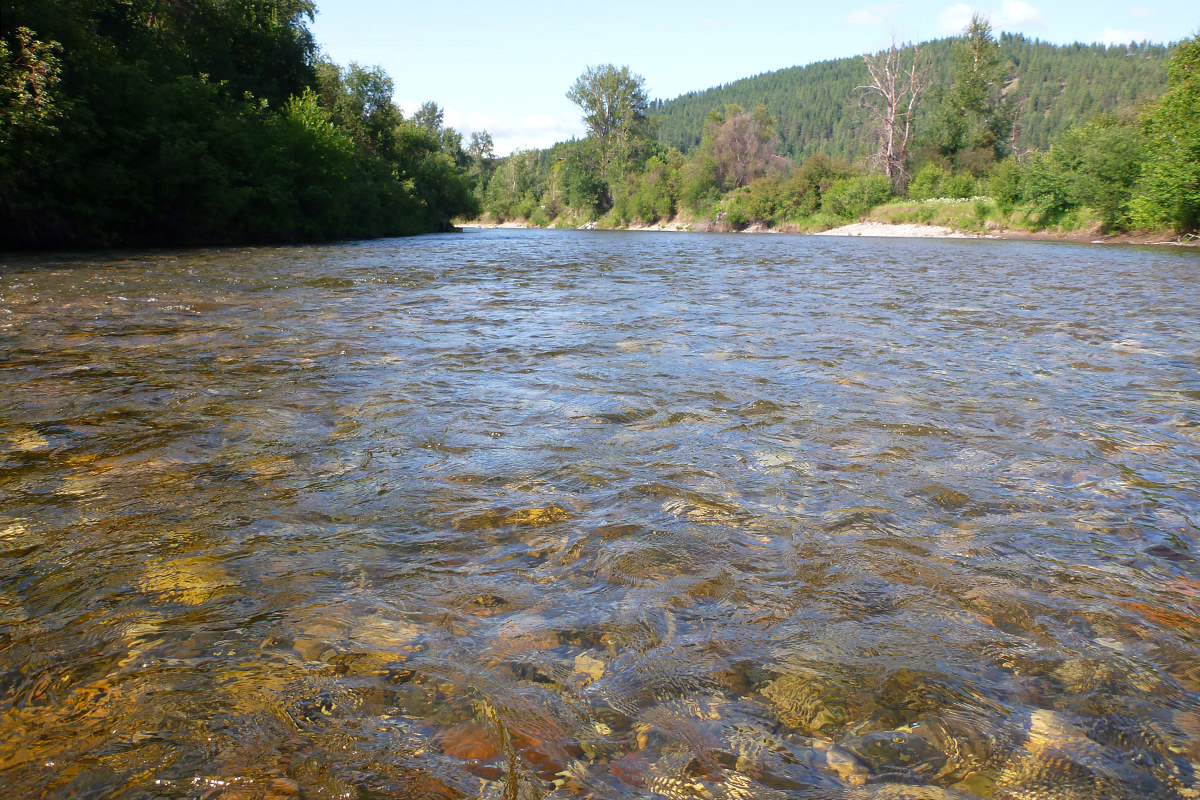 It was a nice day, and ducks were out everywhere...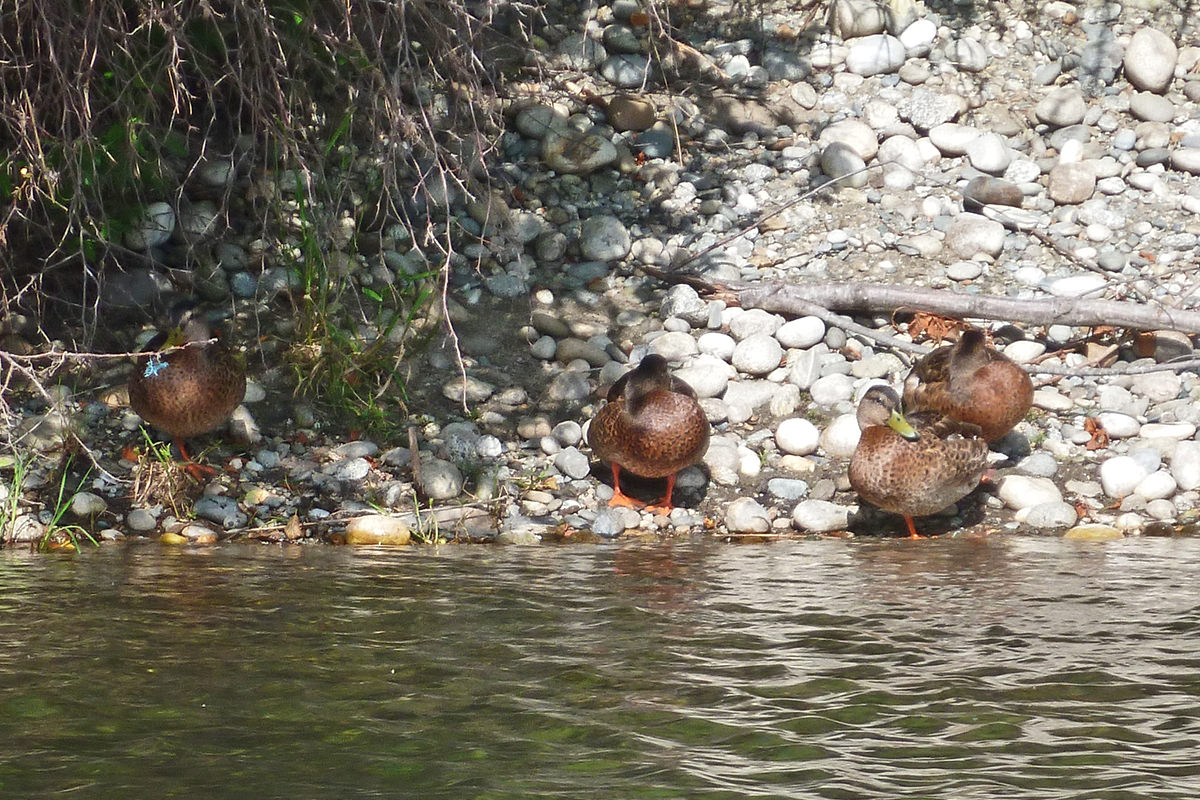 As the sun started falling, it got to be pretty shivery. Having your butt in cold water with cool breezes is fine when the sun is warming you... not so fine when it's not. By the time we made landfall, I was a popsicle.
And then my cold, dead heart was warmed watching a momma duck with her four babies...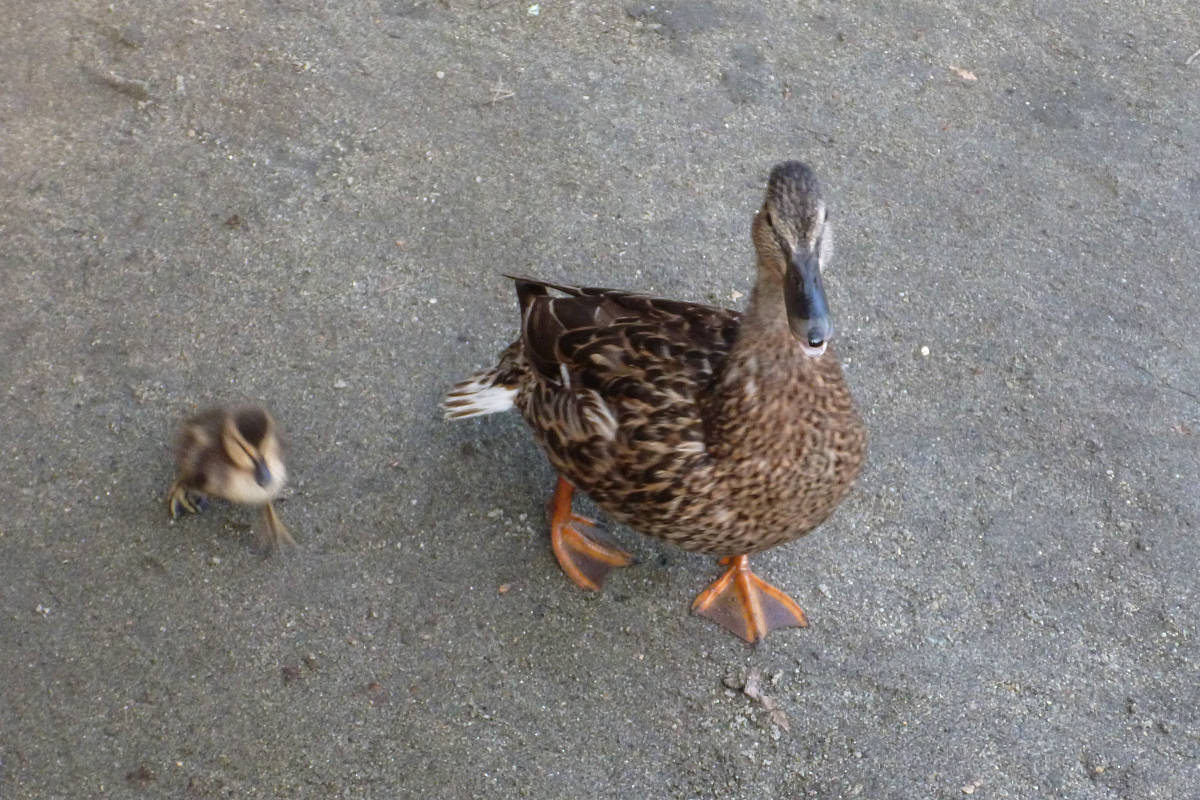 The little ones move so fast they were almost impossible to photograph...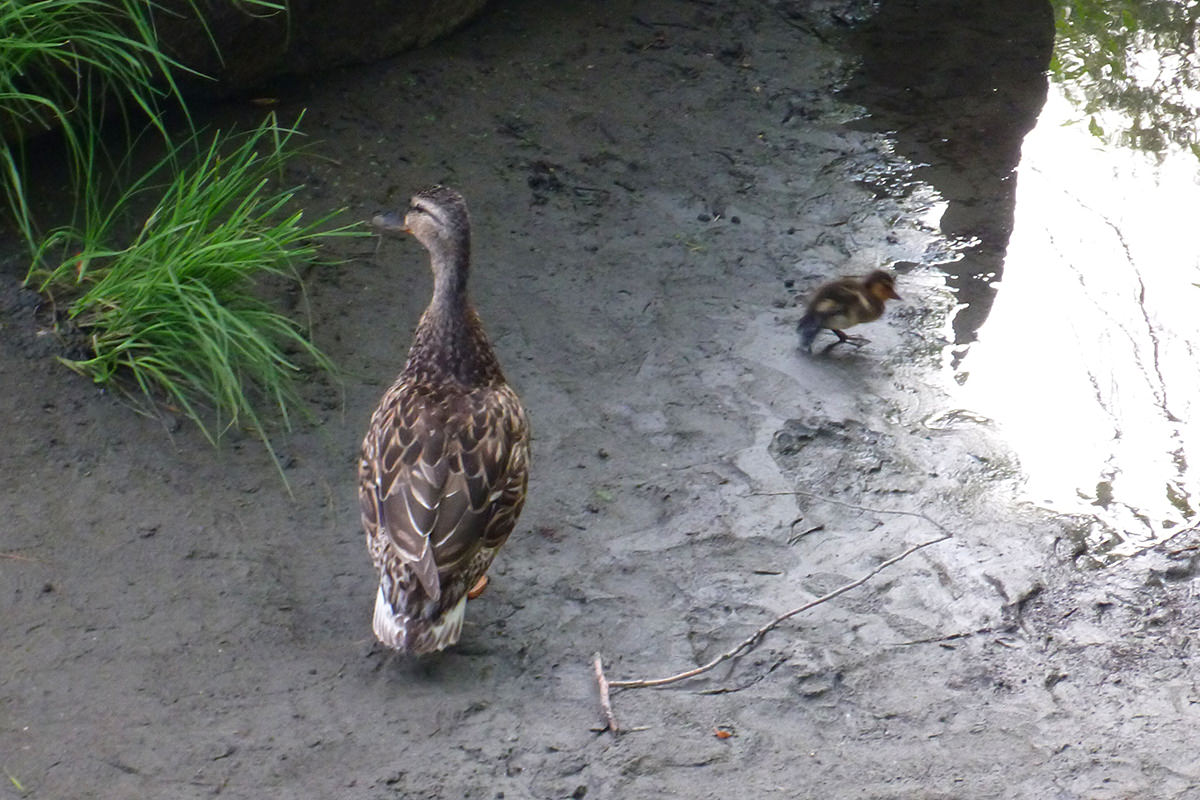 That poor mom had her wings full, I tell you. Two of her babies would go one way... two would go another way... then she'd have to run back and forth until she had them all corralled. It's a tough job. But she was up to the task.
That's pretty good vacationing, isn't it?
Which is why I didn't feel quite so bad that today I spent half the day working, then cut my hair, cleaned my house, and paid my bills.
I did go swimming in the late afternoon though, so I guess it's all good.
Posted on July 6th, 2019

Apparently I had some motivation in me after all?
Today was so beautiful out that I ended up floating the river with friends instead of lounging around the house doing nothing.
Though laying on a floatie drinking booze and letting the river take you is pretty close to nothing...
At the end of our float, there was a couple with their too-cute dogs out enjoying the sun. One of the pups was tuckered out and decided to take a nap under a cap...
But this is Caturday and not Dogurday, so back to the usual feline madness that Saturday brings...
I ended up having to leave the post-float party early because I have ghosts...
Asking Jenny to go close the door had no effect.
Behind my house is a big field filled with dandelions that have gone to seed. So leaving the door open like that will guarantee that dandelion fluff will fill my living room if I don't take care of it, so off I went.

Whenever I have guests staying over, my cats cower upstairs in my storage closet until everybody goes to bed... then they come out and goof around until everybody wakes up and they hide upstairs again. This morning poor Jake was lounging in the catio and didn't make it upstairs before we were all awake. This is the look on his face when he realized he was "trapped" in the catio until we all left for the day...
He didn't have to wait long, but enjoyed staring at us from behind the safety of my massive pole...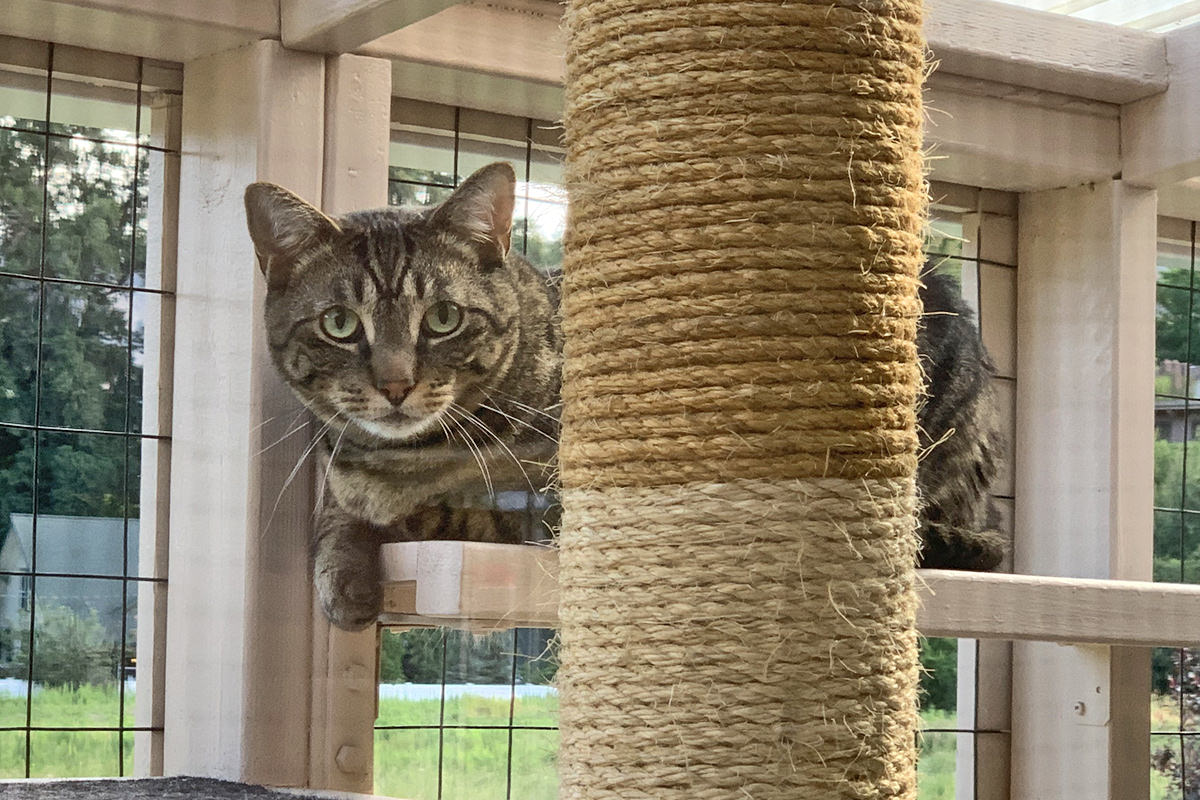 I have tried many, many times to get my cats so they are not afraid of people. It never works. After a few days Jake might come wandering out for a minute if it's quiet and calm, but he's completely scared and on edge the entire time. Jenny won't even think about it. This makes me terrified as to how my cats will manage if I'm in some kind of horrible accident. Will anybody want to adopt them if they are this frightened? Are there kind souls who are patient and caring with a feral rescue who's terrified of people? I sure hope so.
Of course, just getting ready for guests is an adventure unto itself. I try to get everything cleaned up and organized, but this is never easy. "Oh, you just made the bed? Here, let me get on that, even though I haven't been on the bed in weeks...

And now, as I retire on this fine Caturday, I leave you with this...
Oh. And this...
Cats are the best.
Posted on July 5th, 2019

I just finished a big project at work that's been consuming my every waking moment for weeks. A part of me is anxious to move on and start on something new (heaven only knows there's enough to be done), but there's a part of me that wants so badly to do nothing at all. Just for a little while.
Good thing I'm on vacation for a week...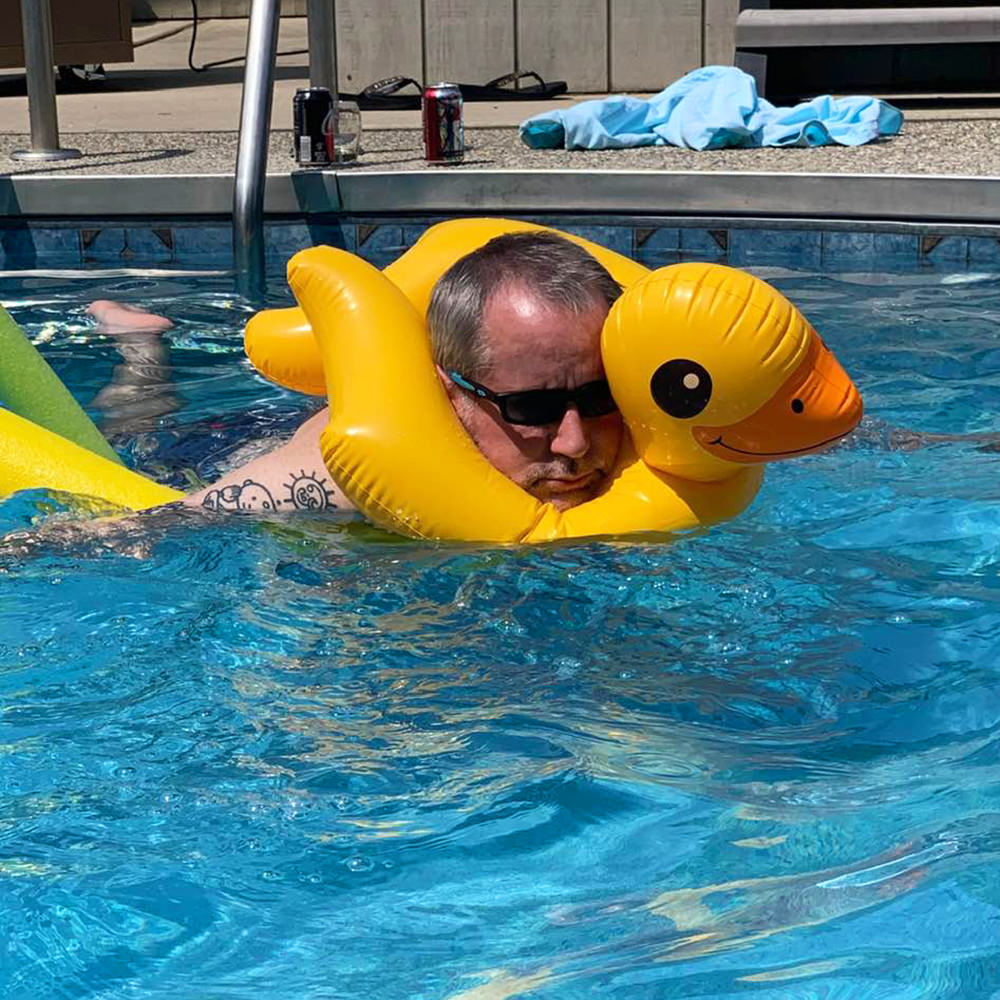 Maybe if I wasn't so exhausted I'd be motivated to do something, but I'm really just not.