Posted on December 21st, 2018

When I was a kid I wanted to be a chef (also a fireman, airline pilot, doctor, and astronaut). I loved cooking and would goof around in the kitchen whenever the mood struck me. But that was decades ago. With the exception of an occasional falafel, I haven't done any serious cooking in a very long time. But recently all that's been changing.
It all started when I saw the frozen burritos I used to buy for $1 were costing me $3 to $4, which is absurd. And so I started making my own. They ended up tasting far better than the frozen burritos I had been buying (and were far cheaper), so I started wondering what else I might be able to cook better for less money.
Bread was the easy answer. Before I moved, I was flirting with different kinds of bread-making, and found it tedious fun. But to start saving money, I'd have to branch out and start making my own hamburger buns and sandwich rolls too. That will take some research, because I'll want the same light-and-fluffy buns I get in the store and the same crusty rolls I get from the bakery.
Next up is pizza. I loathe every frozen pizza I have ever purchased, so coming up with my own recipe for the perfect crust, sauce, and seasoning is something I'm anxious to try.
Then there's pasta. This is one area where it would undoubtedly taste better, but I'm doubtful it will save any money.
Last up? Baked sweets. I'm not supposed to have them any more, but I do like an occasional cupcake, cinnamon roll, or sticky bun. This type of baking isn't that difficult once you find a recipe you like.
The trick is finding a recipe you like.
A Facebook friend sent me this video...
And so... sticky buns it is then!
I watched the complete video, wrote out the recipe, then I was off to the races. It was all fairly easy. Except for patting the dough out into a 15 x 18 rectangle. The stuff was springy and kept snapping back. Eventually I kinda managed it by scraping the flour from the edges so it would stick a little bit. Then it was time to rise...
They looked pretty great out of the oven...
And on the plate...
I cut the amount of pecans in half because I didn't want too much crunch intruding on the fluffy texture. It was perfect. I wouldn't want any more than half the nuts.
The flavor was really good. Not orgasmically good like they lead you to believe... but incredibly tasty. What lead me to try the recipe was the light, airy texture (I don't like dense sweet breads), and on that front it totally delivers.
Not sure how they'll freeze, but I'll be testing that out. There's no way I can (or should) eat an entire pan of these before they start to turn stale.
And... next up? I'm thinking hamburger buns.
Posted on December 22nd, 2016

I've been thinking a lot about cooking lately.
Partly because it seems like a good creative outlet now that my woodworking has been suspended for the season... but mostly because I want to eat stuff that I can't buy the way I want it made.
For example... I bought a frozen apple crisp last week. It was terrible. Way too much spice and the apples were cut too large. I also didn't like the topping, which seemed more spongey than crispy. And so I've been researching recipes online, which is a bottomless pit of confusion. Apparently there are literally hundreds of ways to make the stuff, and everybody has an opinion as to what makes a perfect apple crisp. The only thing that makes it a little easier is that I can automatically discard the recipes which include raisins (WTF?!?).
My concern with trying to make stuff myself is that I always end up with more than what I can eat because recipes seem to feed a dozen people, on average... also the ingredients are usually expensive... and the actual cooking never seems to go as well as I hoped.
Like the time I tried to make potato salad...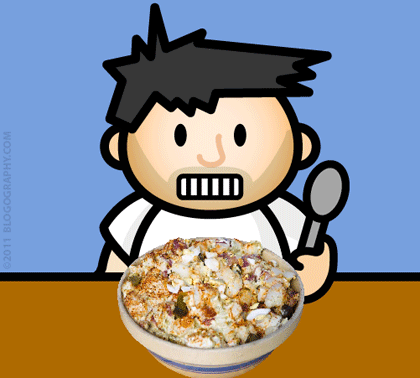 And yet...
I suppose I'll give it a shot after the holidays.
I'm thinking I'll cut the ingredients in half and hope that it won't affect the cooking time. I don't think I've ever burnt anything before, but there's always a first time.
Now, if you'll excuse me, I've narrowed my recipe choice down to eleven options and I've got to decide on nuts or no nuts in order to get to the next elimination round.
Posted on May 9th, 2016

Okay then... finished my home cooking for the month.
Because nothing tastes as amazing as a freshly-baked biscuits... and it's one of the few things I can make that always turns out great no matter how badly I try and screw it up...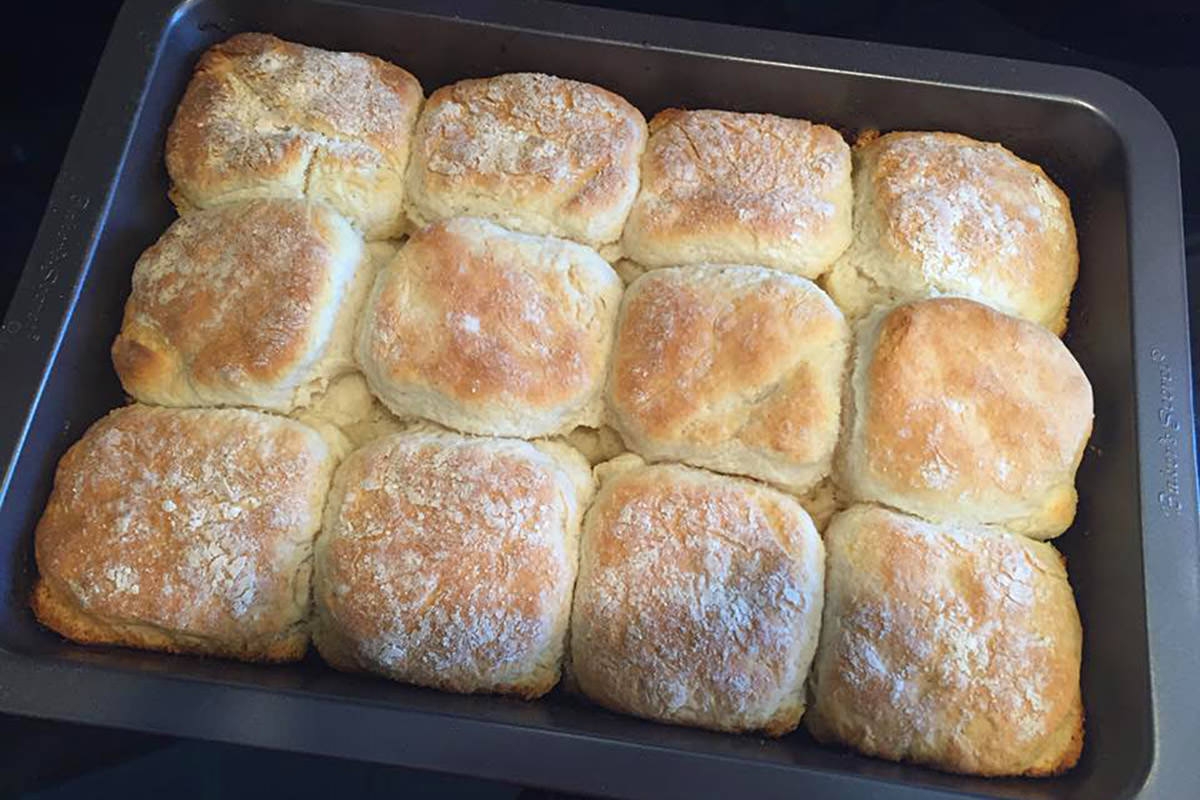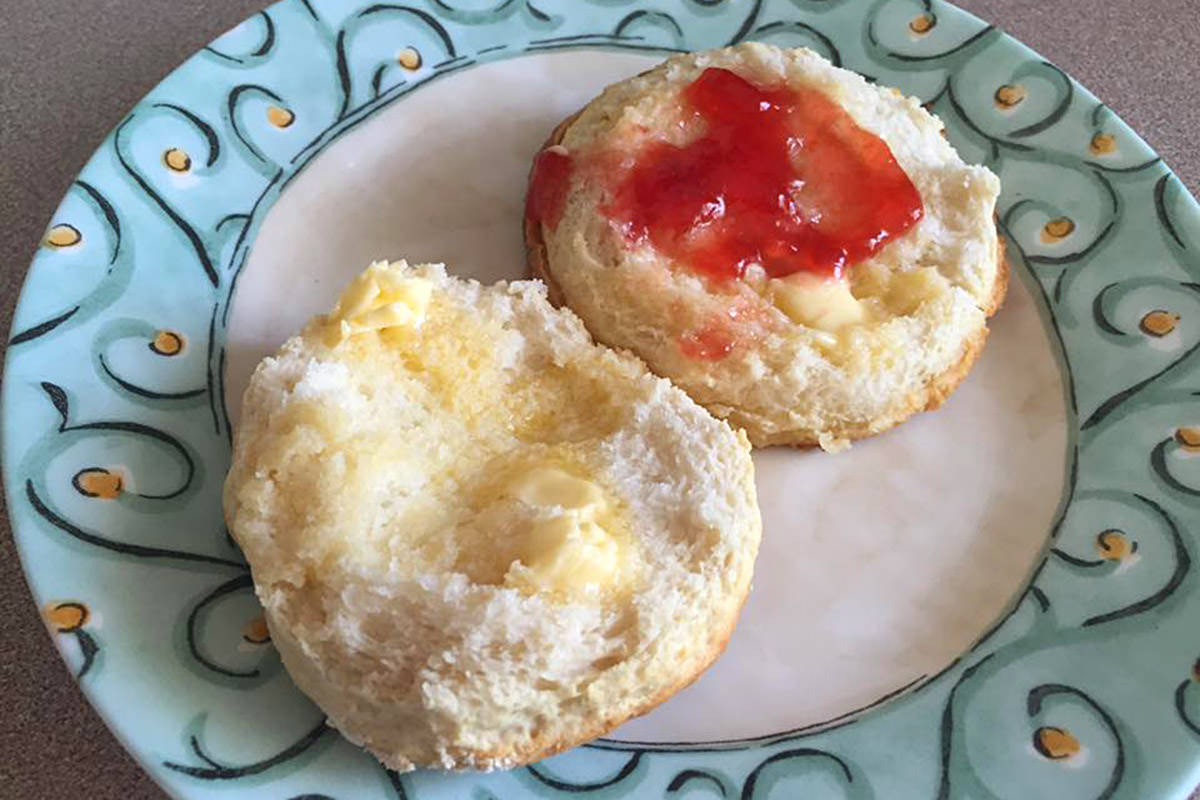 The recipe was given to me in a travel forum, so I have no idea who came up with this bit of genius...
4 cups Bisquick
1 cup sour cream
1 cup 7-Up
1/2 cup melted butter
Mix Bisquick, sour cream, and 7-Up. Dough will be very, very soft, but don't worry. Knead and fold dough until well-mixed (I spoon on some extra Bisquick after mixing until it's not quite so sticky). Pat dough out on Bisquick-covered board and cut biscuits using a round biscuit cutter (or cookie cutter). Melt butter in bottom of cookie sheet pan or 9x13 casserole dish. Place biscuits on top of melted butter and bake at 425&deg for 12-15 minutes or until brown.
Now, if you'll excuse me, biscuits, butter, and jam await me.
Posted on March 11th, 2015

So I had the brilliant idea of making tacos for dinner tonight.
All the fixin's had been unloaded from the refrigerator. The rice was cooking in the microwave. The cheese and lettuce were grated. All I had to do was fry the taco shells and I was golden. So I fire up the burner and wait for the oil to heat up.
Then I made the mistake of turning on the range hood ventilation.
Something lurched in the fan and came loose. Which caused the vent screen to fall...
...into the hot oil.
Which splashed everywhere.
Including the burner where I had water boiling for potatoes.
Before I knew it, the range-top was engulfed in flames.
I immediately grabbed the box of Arm & Hammer from the refrigerator and doused the fire.
But the damage was done. Smoke was everywhere. Smoke detectors were screaming. Soot coated the entire vicinity of the stove. It smelled like the entire kitchen had burned down.
And so my evening was spent not eating delicious tacos... but airing out every room and scrubbing oil smoke from the kitchen walls.
Typical.
Posted on April 26th, 2011

When I was younger, I loved to cook. I loved to bake. I loved experimenting in the kitchen to come up with something new. But, as the years went by, I had less and less time available for messing around with food. Home-baked bread was replaced by bread-machine bread. And when that got to be too much trouble, I went back to store-bought bread. Things I used to make from scratch were soon replaced by mixes. And when that got to be too much trouble, I just started buying pre-made stuff in the freezer section. It's not as good for me. It's certainly not as fun. But I just don't have the time any more.
But then I got addicted to cooking sites like Foodiddy and baking sites like Joy The Baker, and was assaulted with goodies so amazing-looking that I simply HAD to start baking again. Last night I brought a shit-load of work home with me, but then I happened upon a recipe for Cinnamon-Sugar Pull-Apart Bread from Joy The Baker. It looked too delicious to ignore, so I dropped everything and baked a loaf.
So there I was, eating mind-blowingly delicious Cinnamon-Sugar Pull-Apart Bread while Star Trek II: The Wrath of Khan was on... all while my pile of work sat there unfinished. And as I thought about how much trouble I was in, I began wondering how many other lives have been ruined by people getting all distracted because of blogs like Foodiddy and Joy The Baker...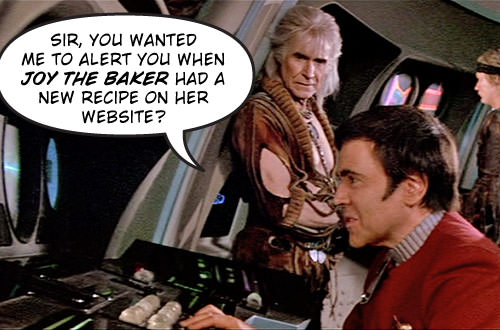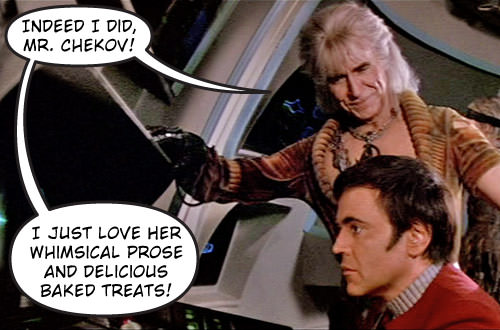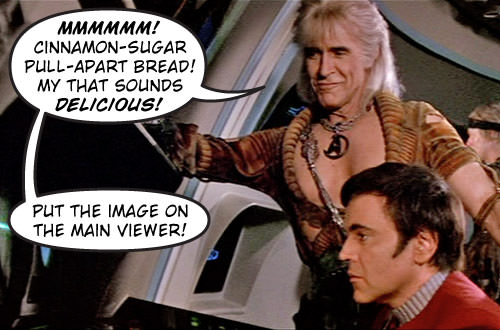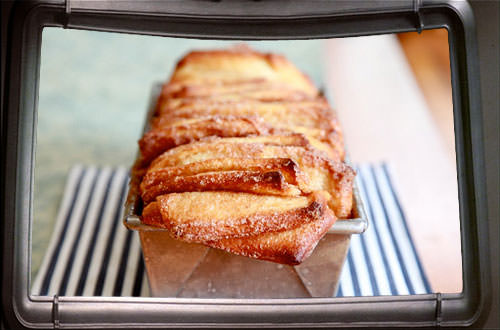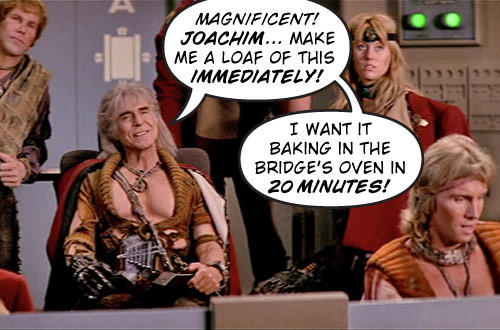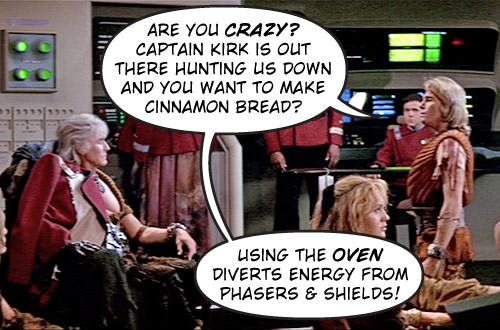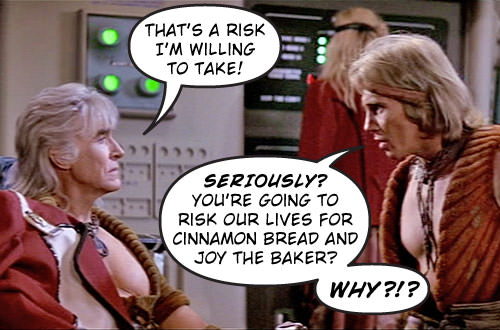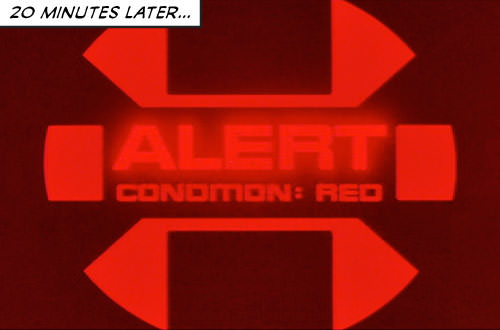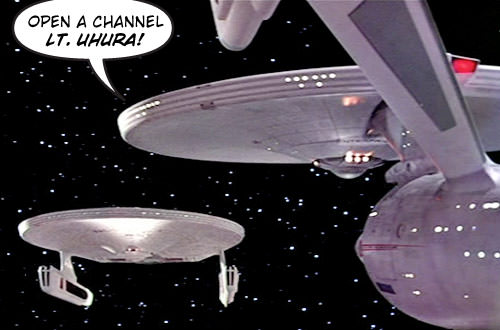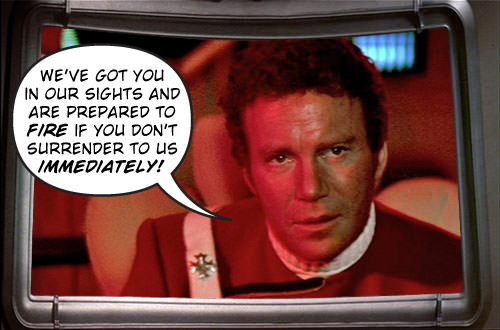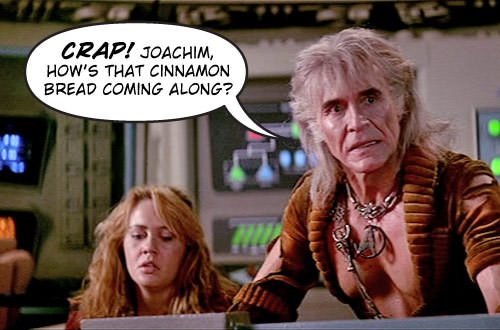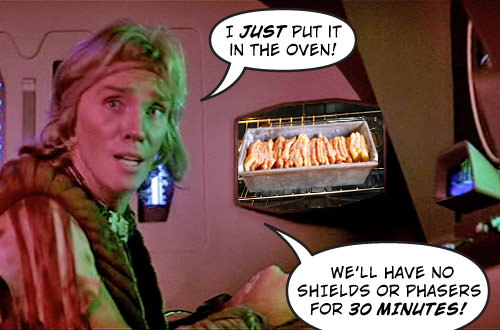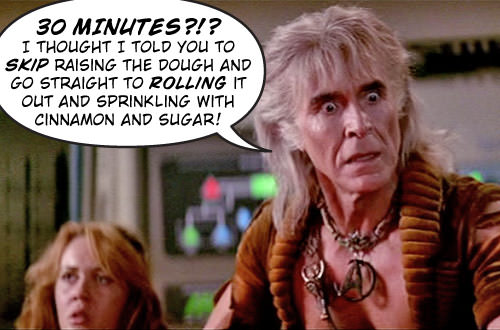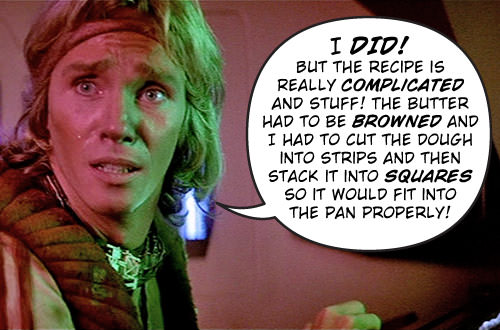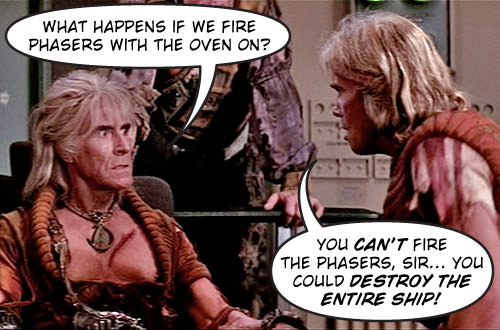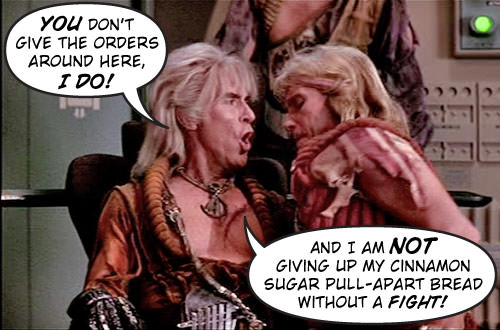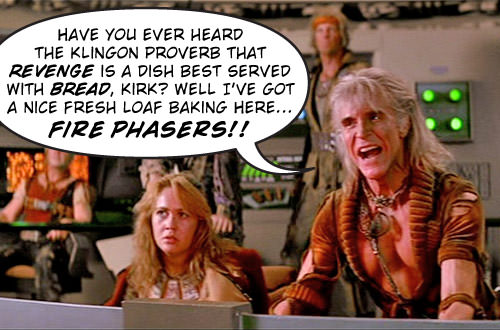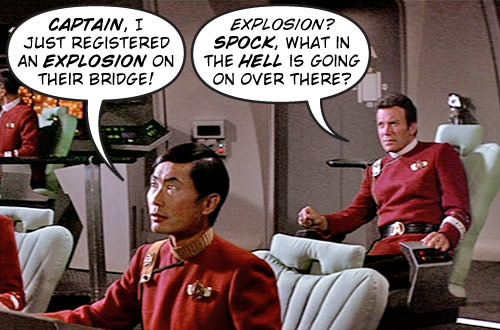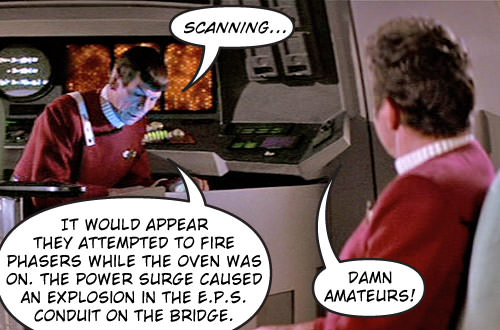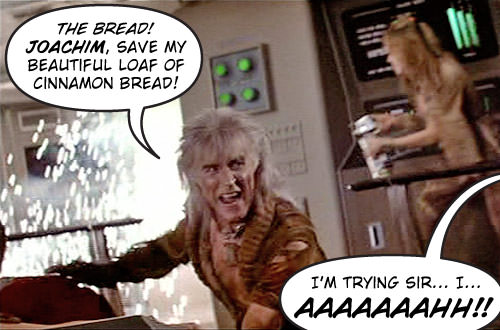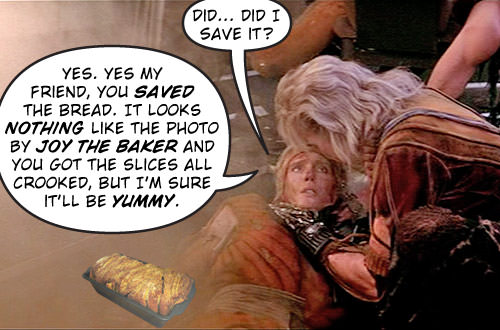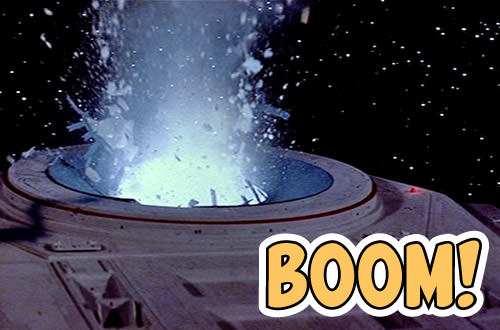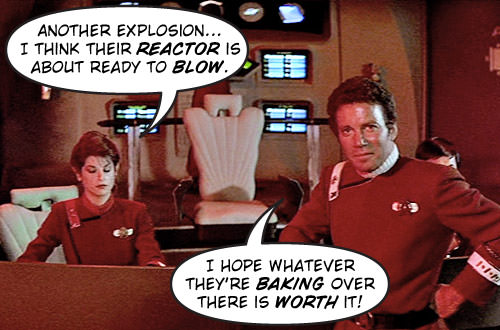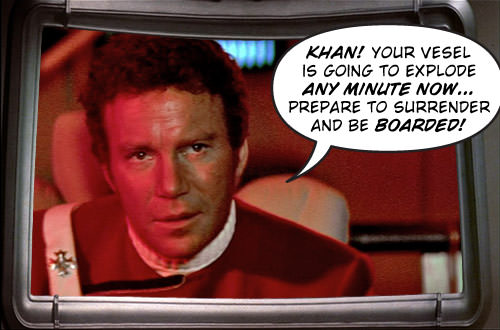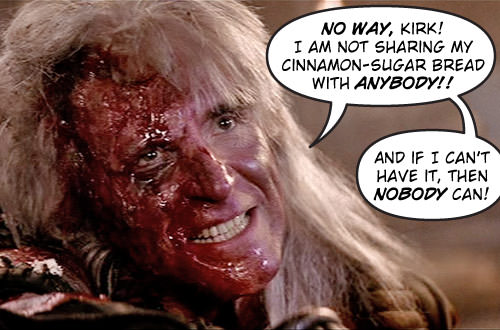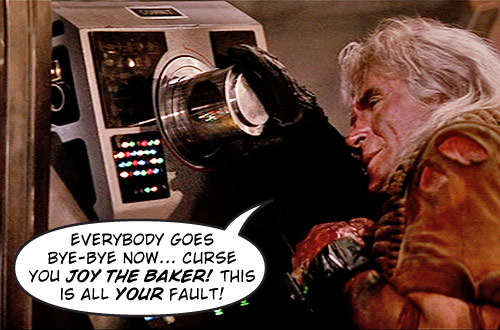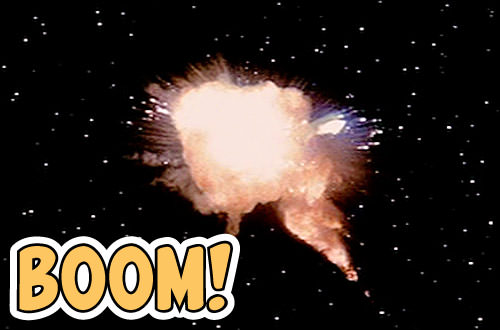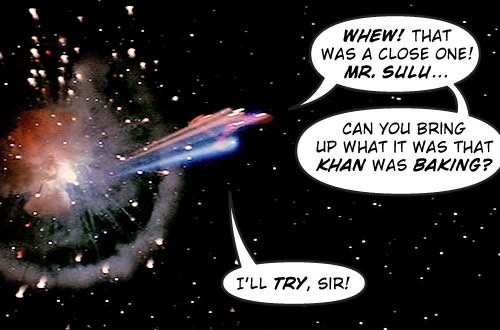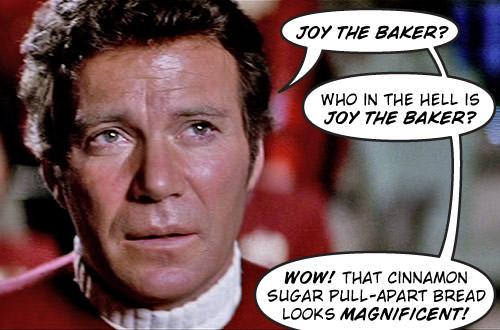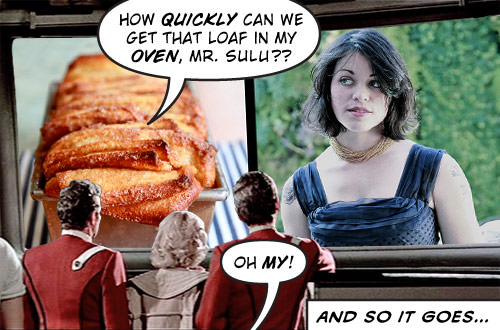 If you would like to ruin your life too, you can visit the most excellent cooking blog Foodiddy here. And if that's not enough of a distraction, Joy The Baker can be found here. And you can go here if you want to make that stupidly-awesome Cinnamon-Sugar Pull-Apart Bread.
You're welcome!