Posted on December 6th, 2019

Yeah, yeah... I know it's Friday. But I have to run with Caturday a day early because it's Jake and Jenny's 4th birthday today!
I was away working for their first three birthdays so this is kinda a big deal for me. This morning I fed them their breakfast, had them completely ignore the new toys I bought for them, then watched as they ran out to the catio because they heard something interesting outside.
So... not quite the exciting birthday I had planned. But... cats. What can you do?
Tonight they will get stinky mashed up sardines in fish gravy for dinner, their favorite treat. It's also a rare treat because I gag while prepping it every time. It's SO gross. But if I don't mash it up then Jenny will just lick the chunks and Jake will pull the chunks outside of the bowl to eat them (getting fish sauce on my floor).
=sigh=
The things I do for love.
It seems like only yesterday I brought them home. But it wasn't yesterday it was February 16th, 2016...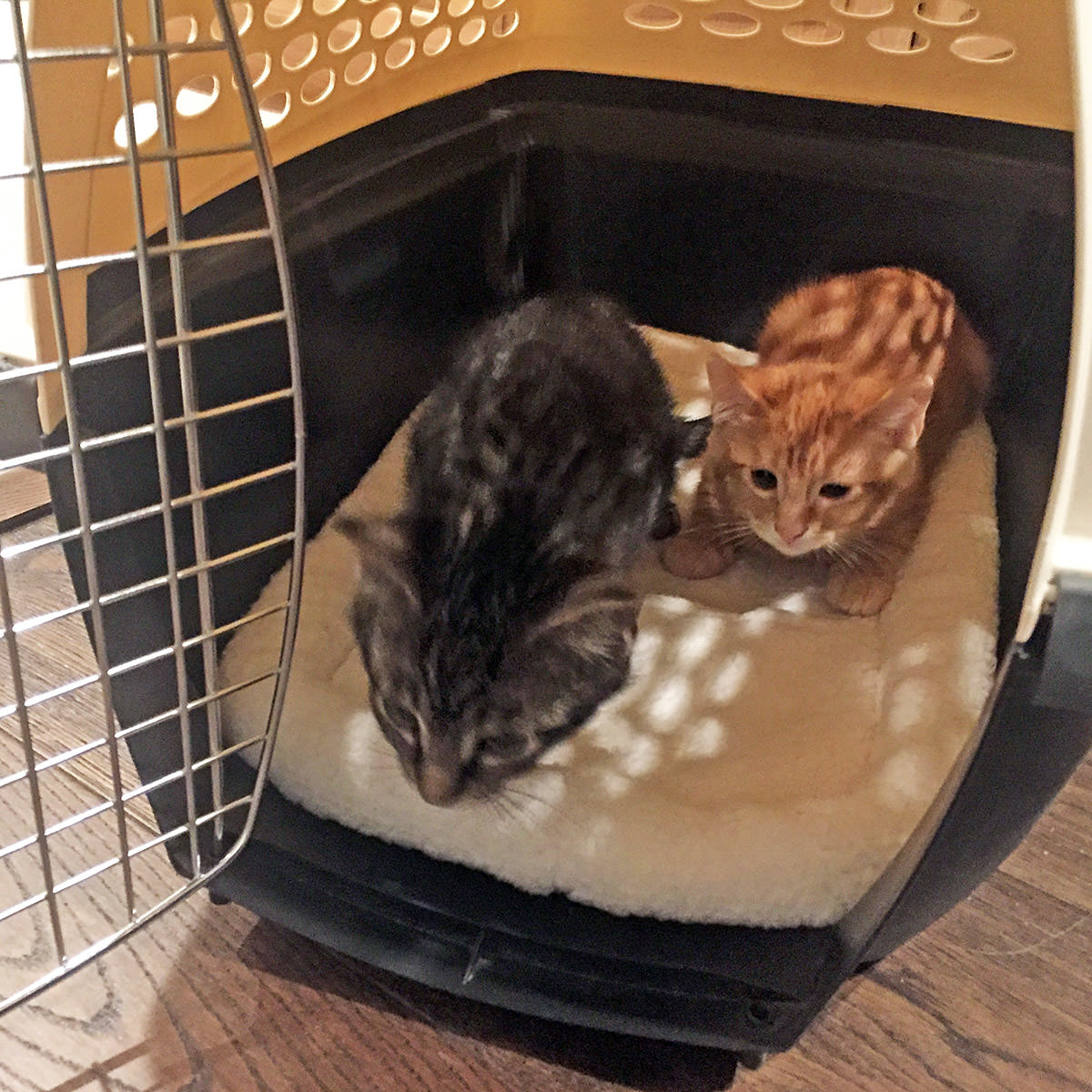 It was a tough time for me. I had just moved into my new home because my mom's apartment was no longer safe for her. The dementia was getting worse by the day and I was completely lost trying to cope with it all. Originally I was going bring Spanky the Cat with us (the stray cat I had been caring for at mom's place) but he had run off just a couple weeks before moving day. And so... I waited for cats to become available at the local shelter so my mom would have some company while I was off working. She loved hanging out with Spanky so it seemed the perfect solution.
Alas, Jake and Jenny were feral rescues and not very sociable at all. They spent the first week hiding under the couch, only coming out to eat and use the litter box when the coast was clear. Eventually I was able to coax them out with a cat charmer, but I wasn't allowed to get too close or touch them...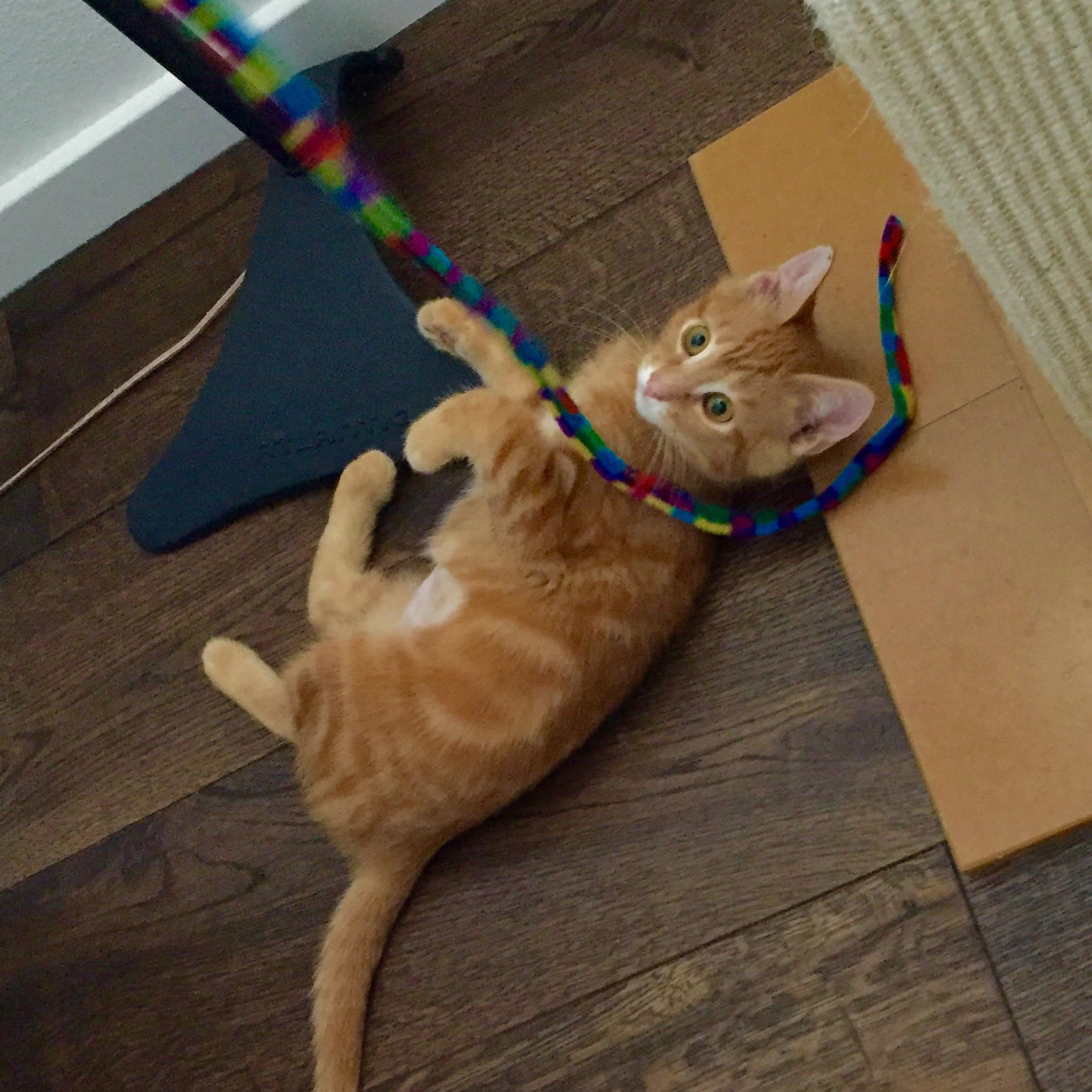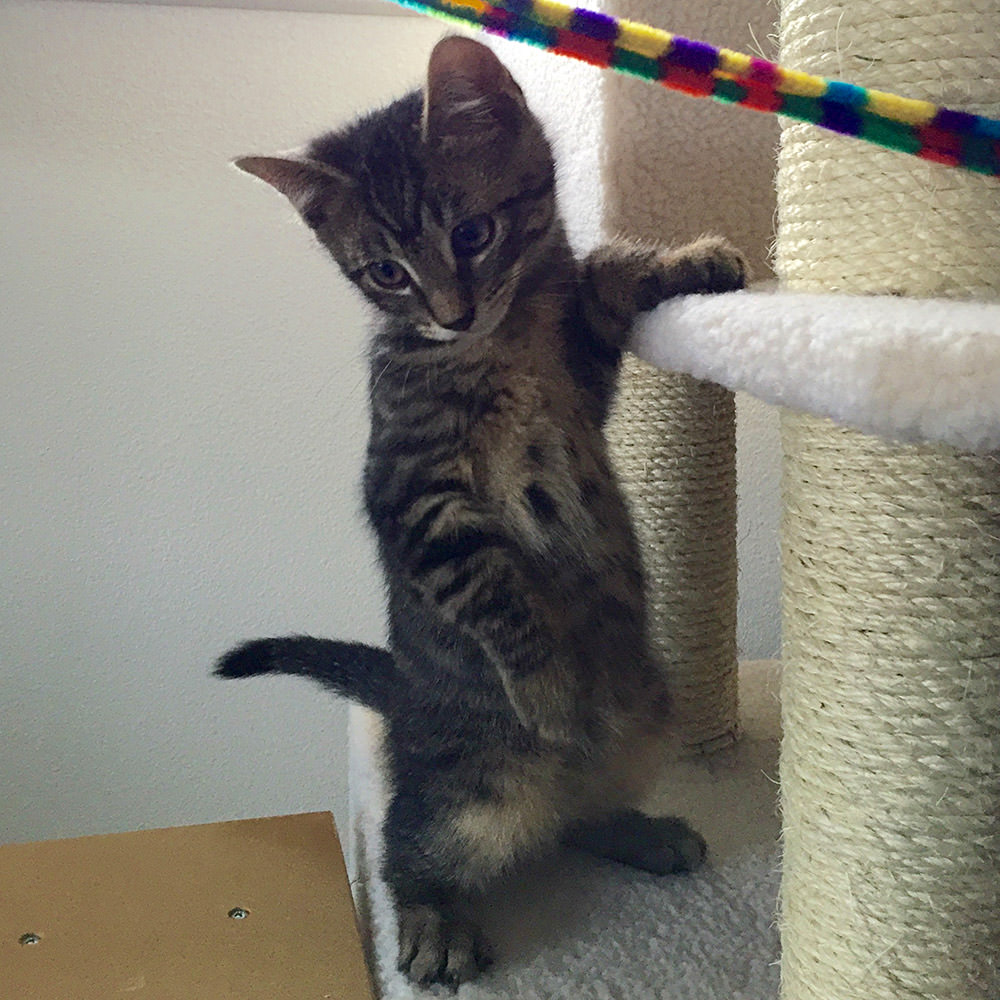 It was incredibly frustrating having cats I couldn't touch. But mom was entertained by their running around, so that was all that mattered. Then one day I'm working on the couch while we're eating dinner and look over to see this...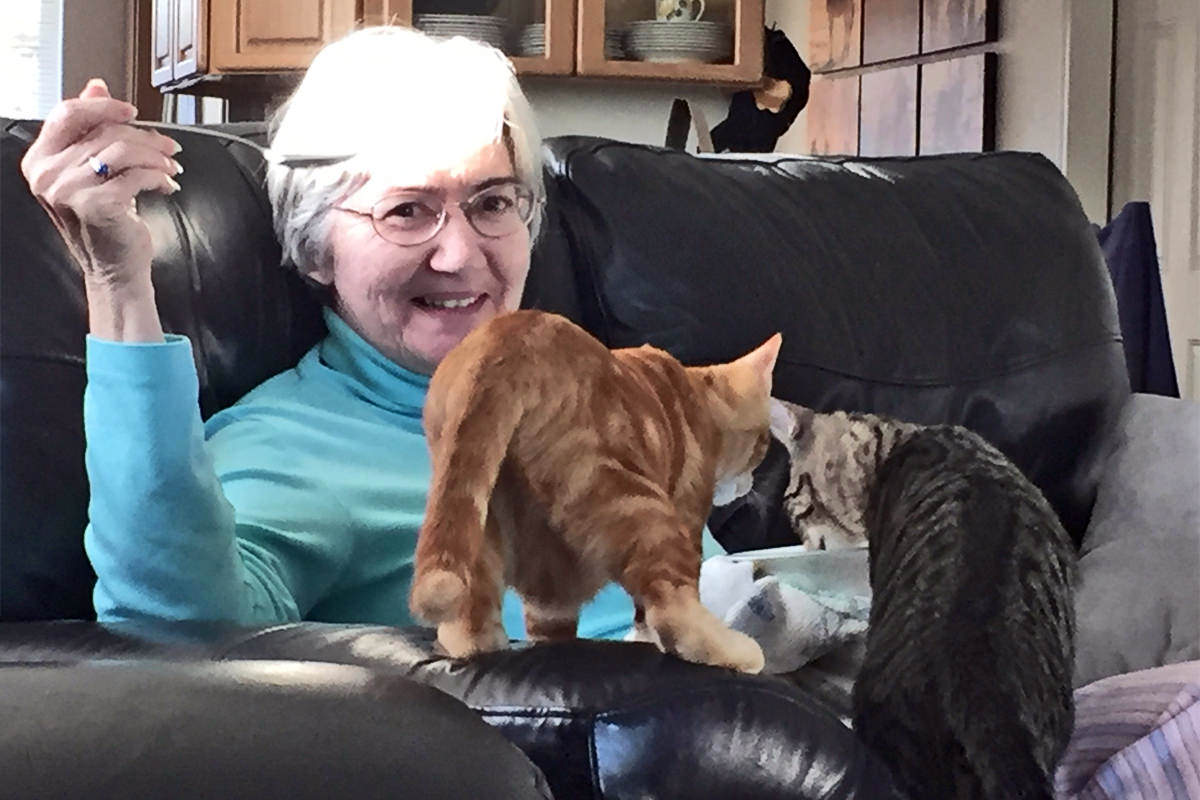 Jake and Jenny were interested in her dinner, and she was talking to them and petting them like it was no big deal. It would be days before they allowed me to touch them.
And so... achievement unlocked.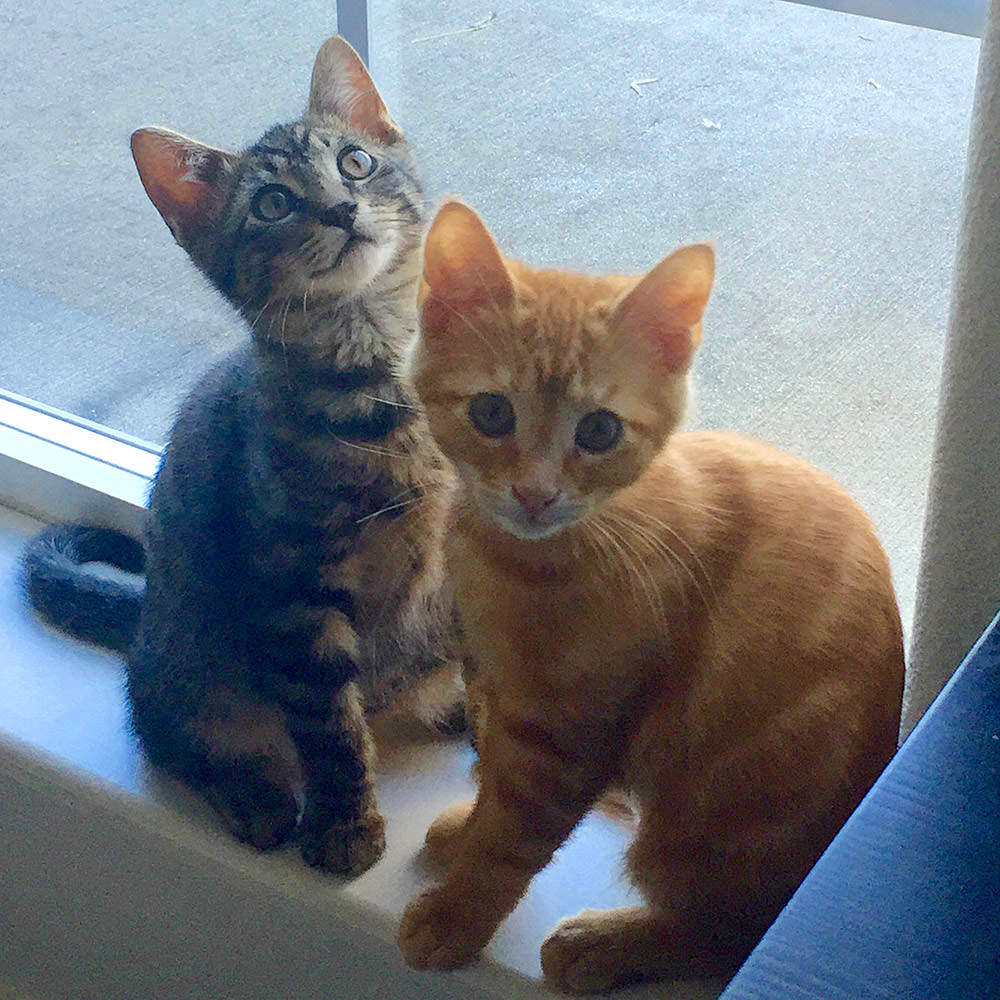 I felt a lot better about leaving my mom alone now that she had cats, and they would be a calming influence amongst the chaos right up until mom had to leave.
And after I was forced to move mom to a facility, having to feed Jake and Jenny their breakfast was sometimes the only reason I had to get out of bed in the morning. Cats, as it turns out, are excellent therapy...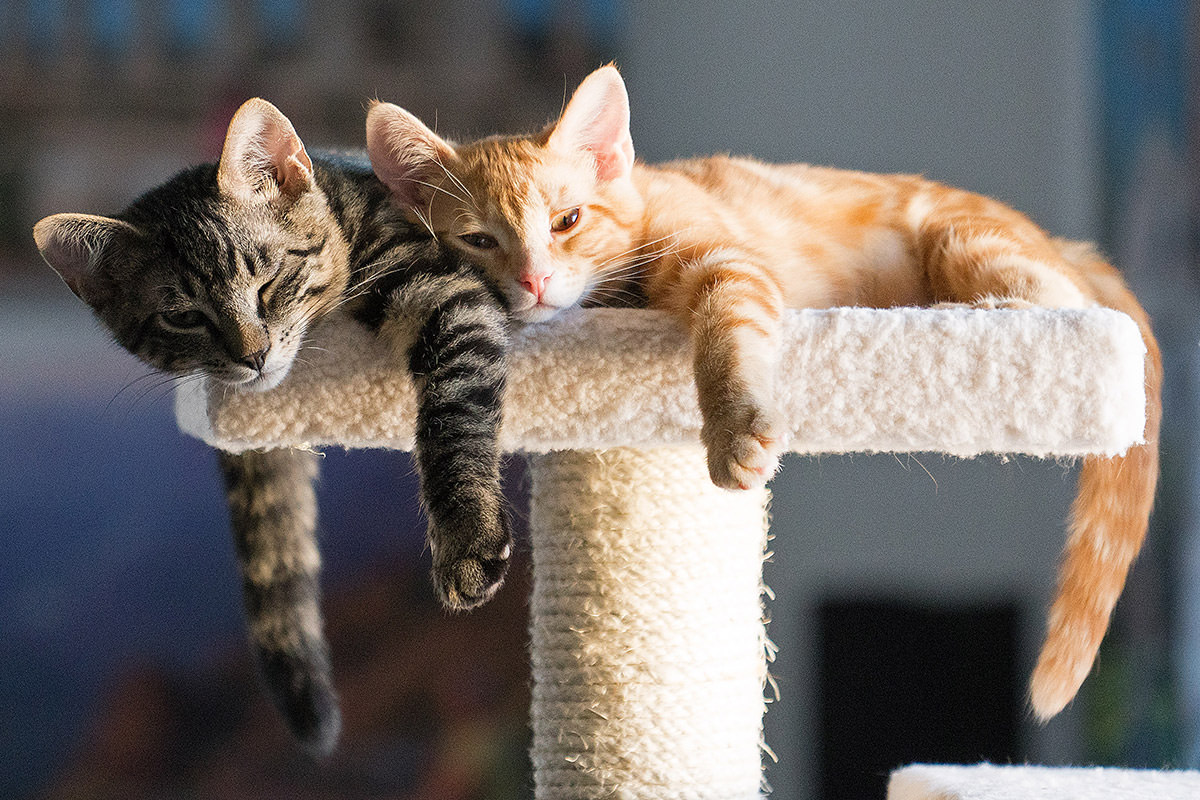 And amazing companions. They're there for me to make even the worst days better...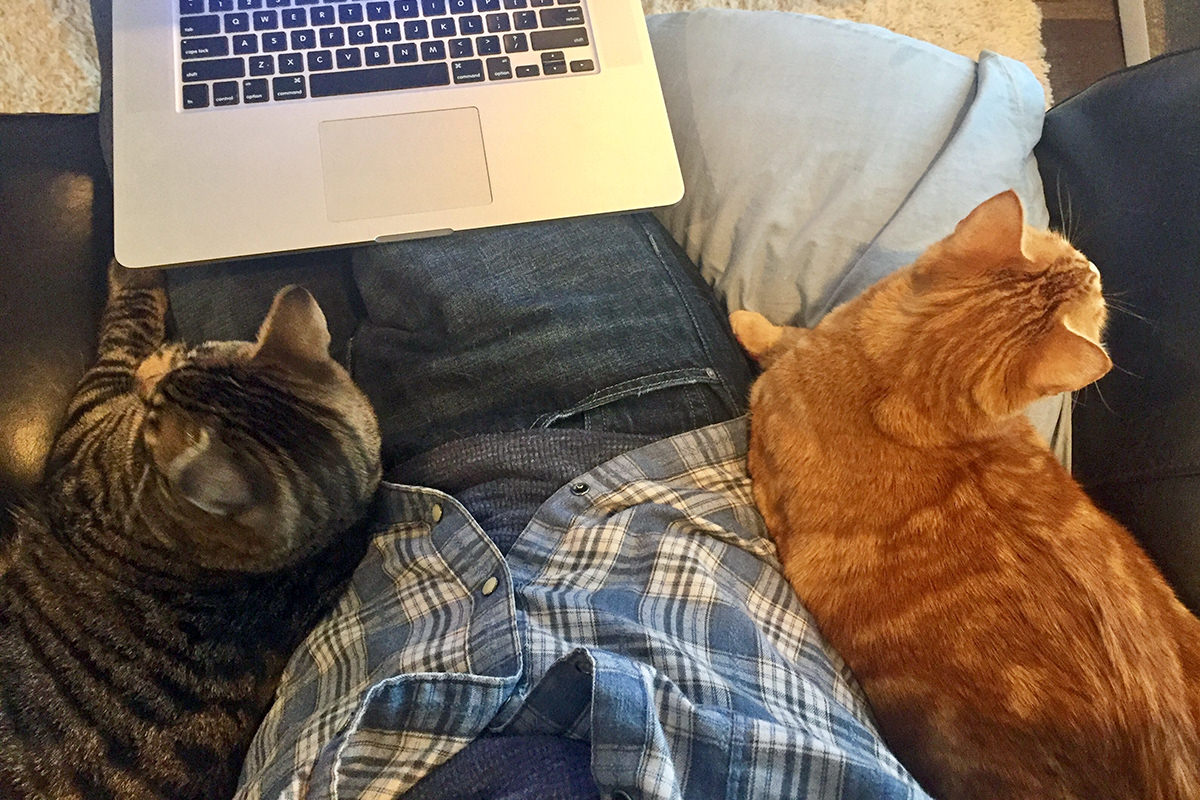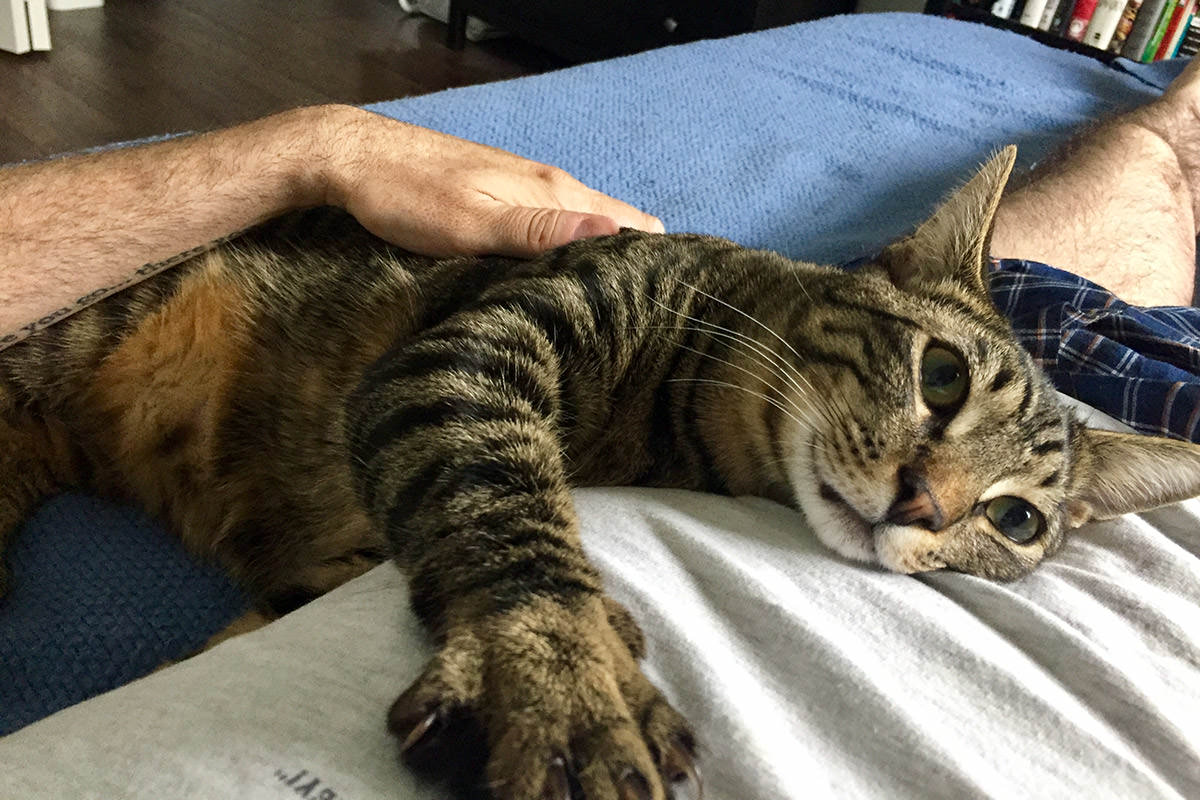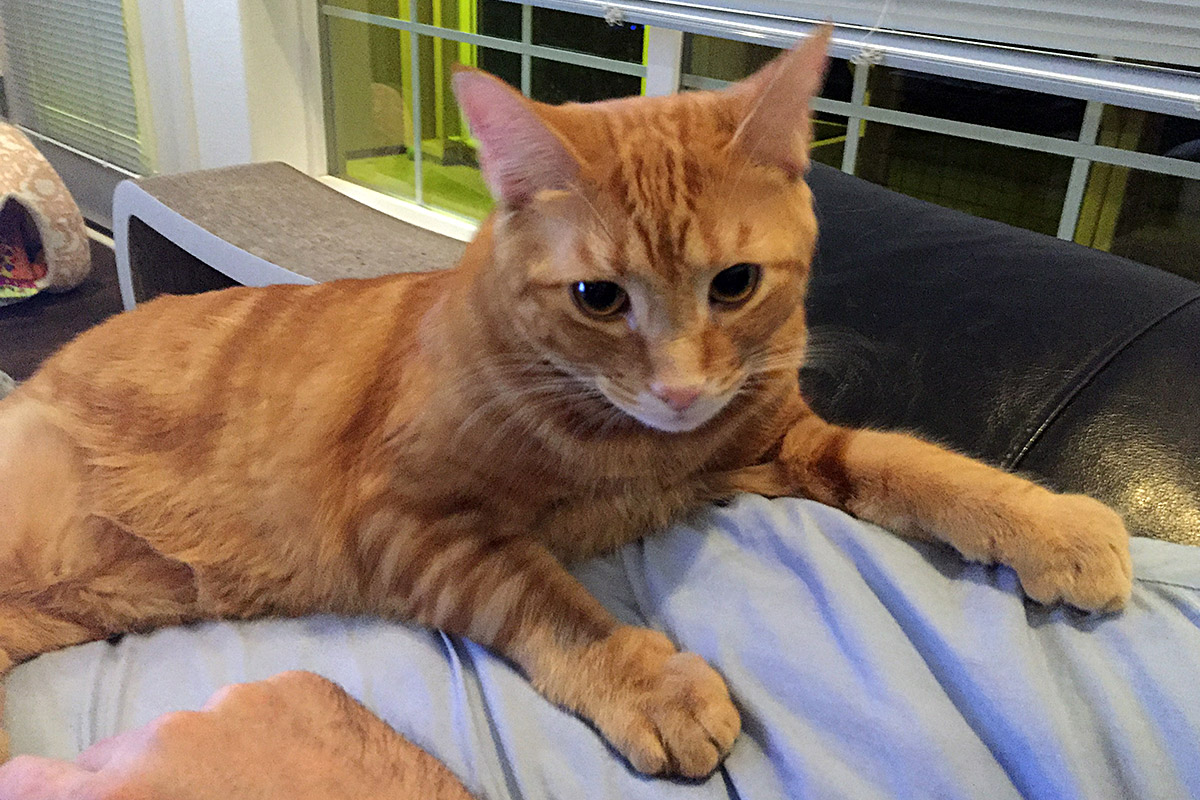 So happy birthday to Jake Ryan Reynolds Simmer and Jenny Elizabeth Hurley Simmer! You've literally saved my life, and bringing you home has easily been one of the best decisions I've ever made. Every day with you is my best day.
Posted on November 30th, 2019

Since I worked on Thanksgiving, I decided to sleep in. Probably not the smartest move this time of year, but I figure I deserve to rise late from time to time.
My day started with some entertainment.
Because this morning Jake decided to investigate the ice left from my glass of Coke Zero...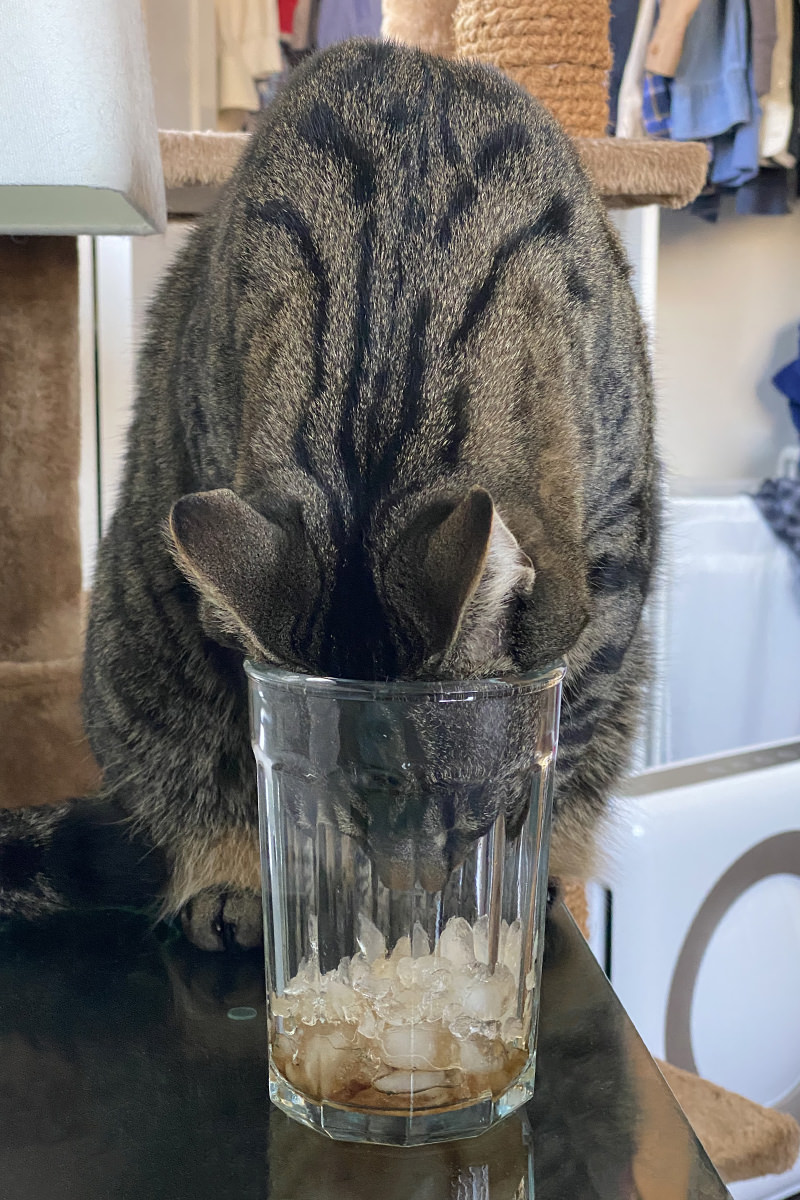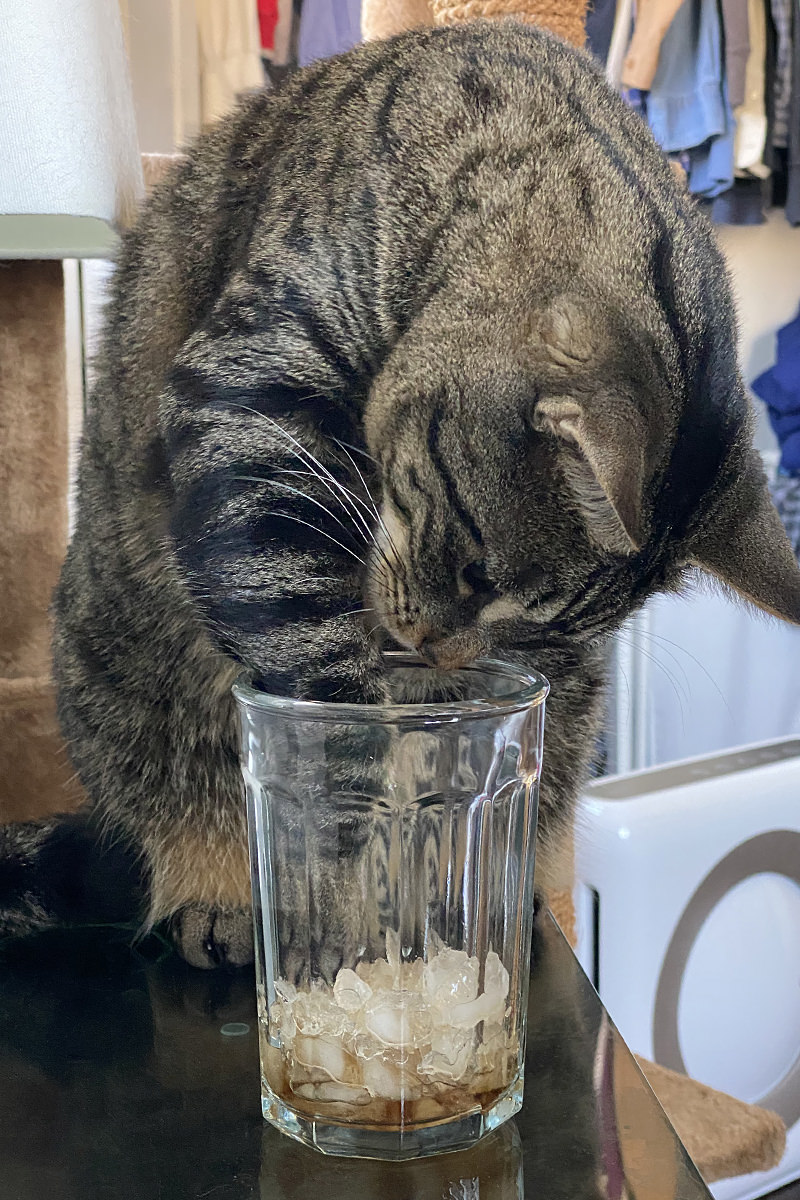 Eventually I took pity on him and pulled a piece out for him. At which point he immediately lost interest of course.
And speaking of Coke Zero... I had a small amount left in the can that I hadn't poured over ice yet. After Jake had his grimy mits on my ice, I decided to drink it from the can as I walked out of my bedroom. When I tilted my head back to get the last drop, I freaked for a second when I saw bugs on my ceiling.
Except they weren't bugs they were staples...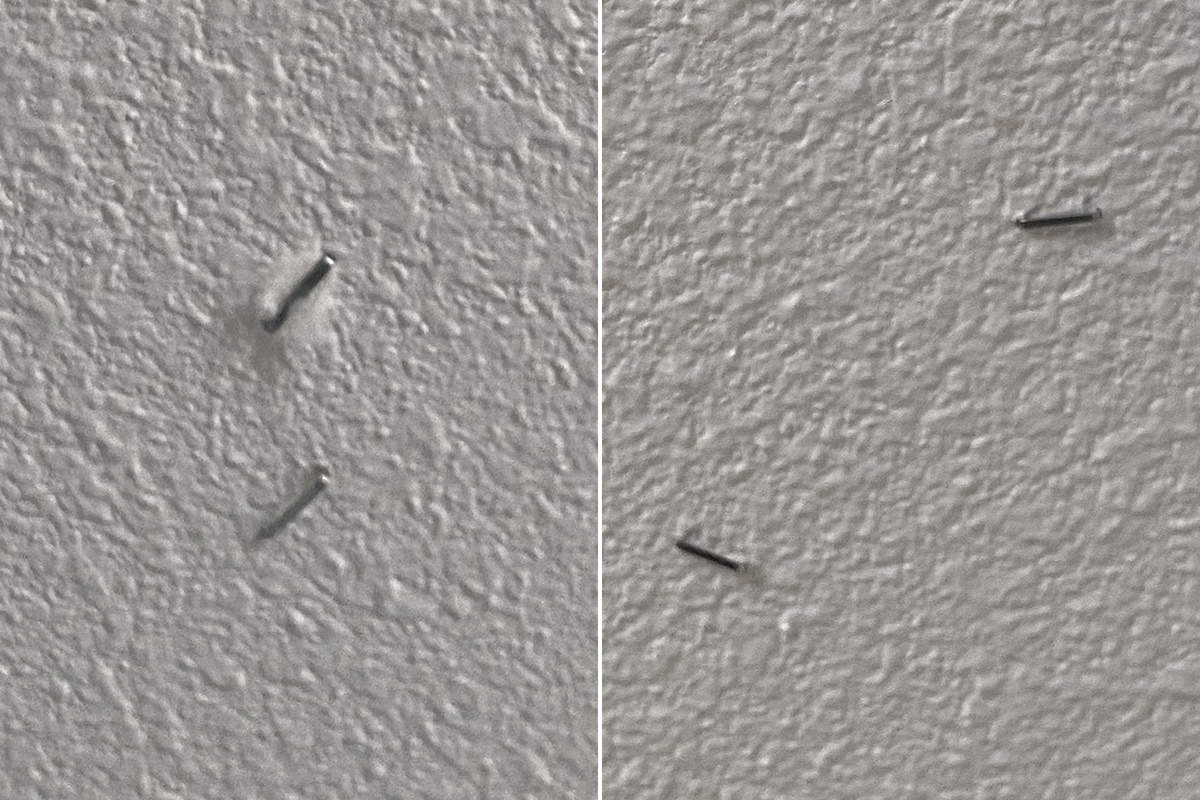 Remember when Jake and Jenny brought in a bird that had wandered into the catio and I had to build a tunnel from the bathroom to the window so it could get out?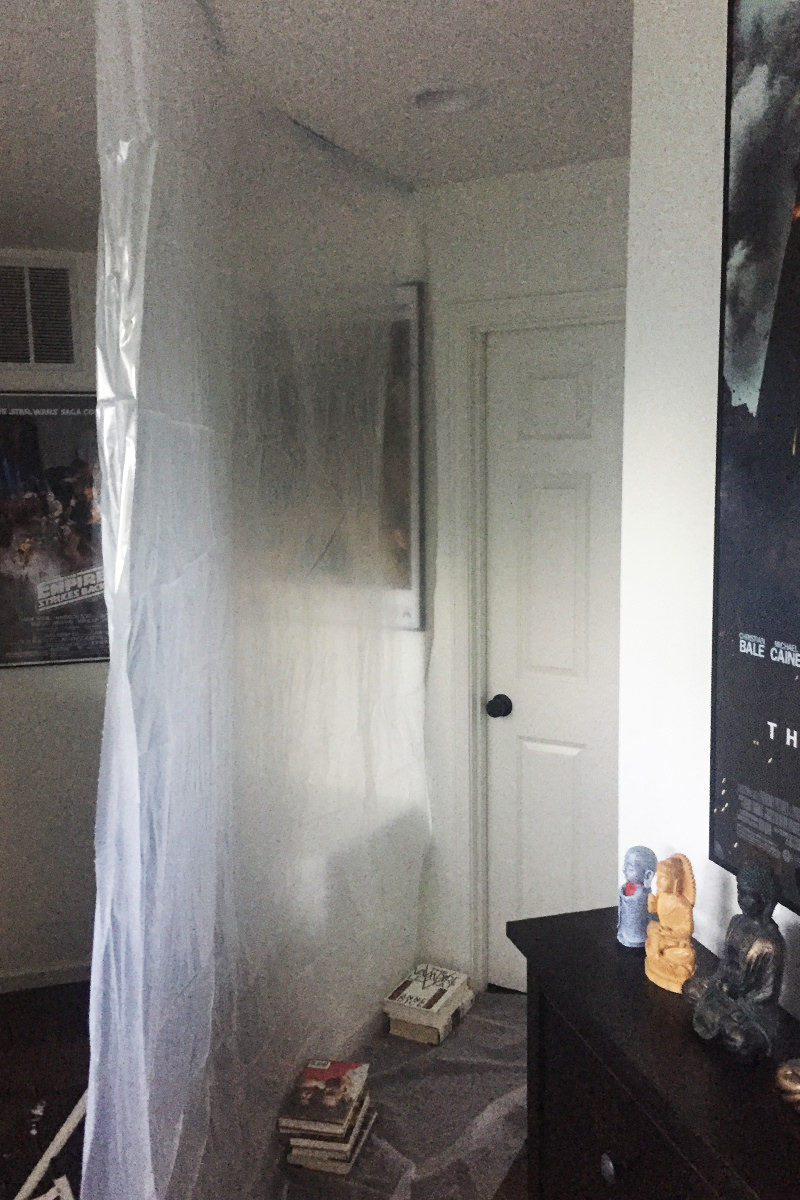 Apparently I never removed the staples after I tore down the plastic. Great. One more thing to add to my list.
Jake is generally a good brother to Jenny. They chase each other, sure, yet it's all in good fun and he doesn't pick on her or abuse her in any way. But he does like to antagonize her from time to time. Usually by pawing at her from on high...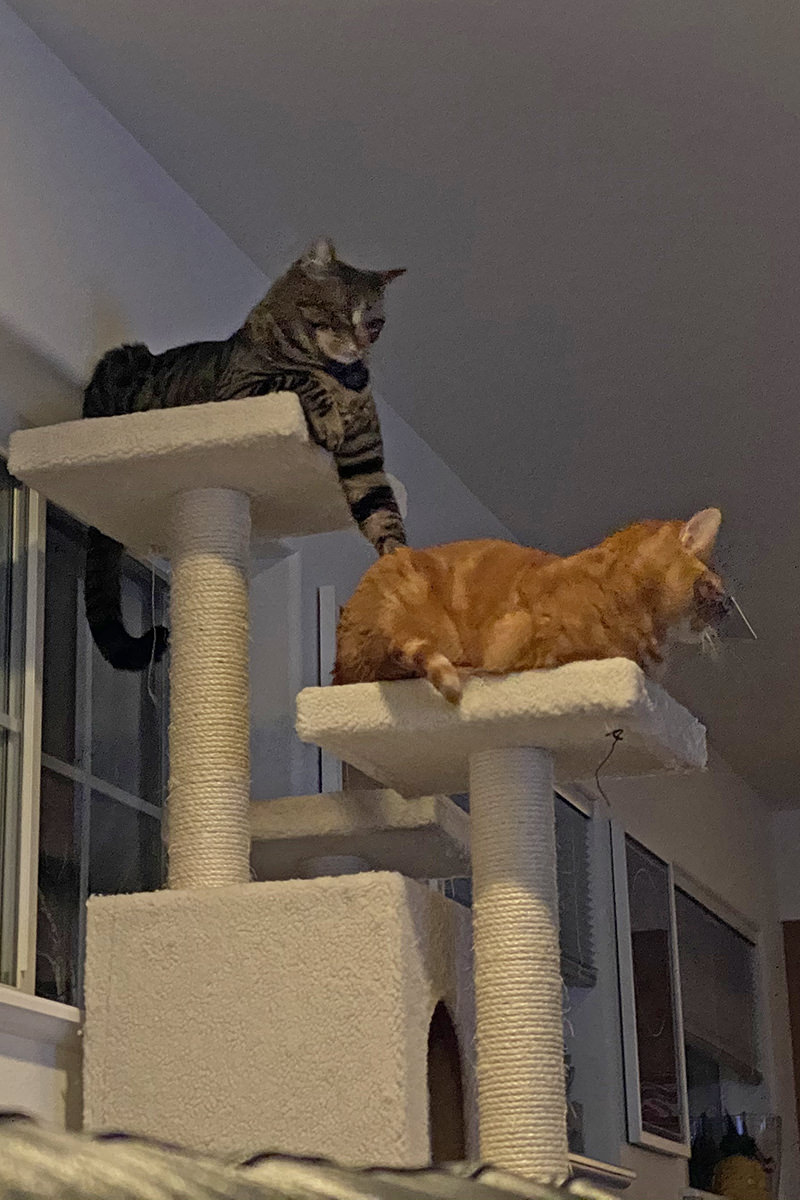 At which point I say "Jake... don't do it..."
That look of "Who me?" is pretty typical. But it worked. He withdrew his paw and didn't bother her again. I'd say something like "I've trained my cats!" but I think we all know that would be a load of bullshit.
And... time to finish adding a heater to Fake Jake's shelter so I can get our local stray through another winter.
Posted on November 24th, 2019

As the days grow colder, Jake and Jenny's singular focus seems to be warmth. I mean, my house is far from cold, but cats can't seem to get enough heat, I guess.
As I've mentioned, their favorite place in the house is on the electric blanket. Which wouldn't be a problem if they would share it. But, for reasons that escape me, this is a rare sight...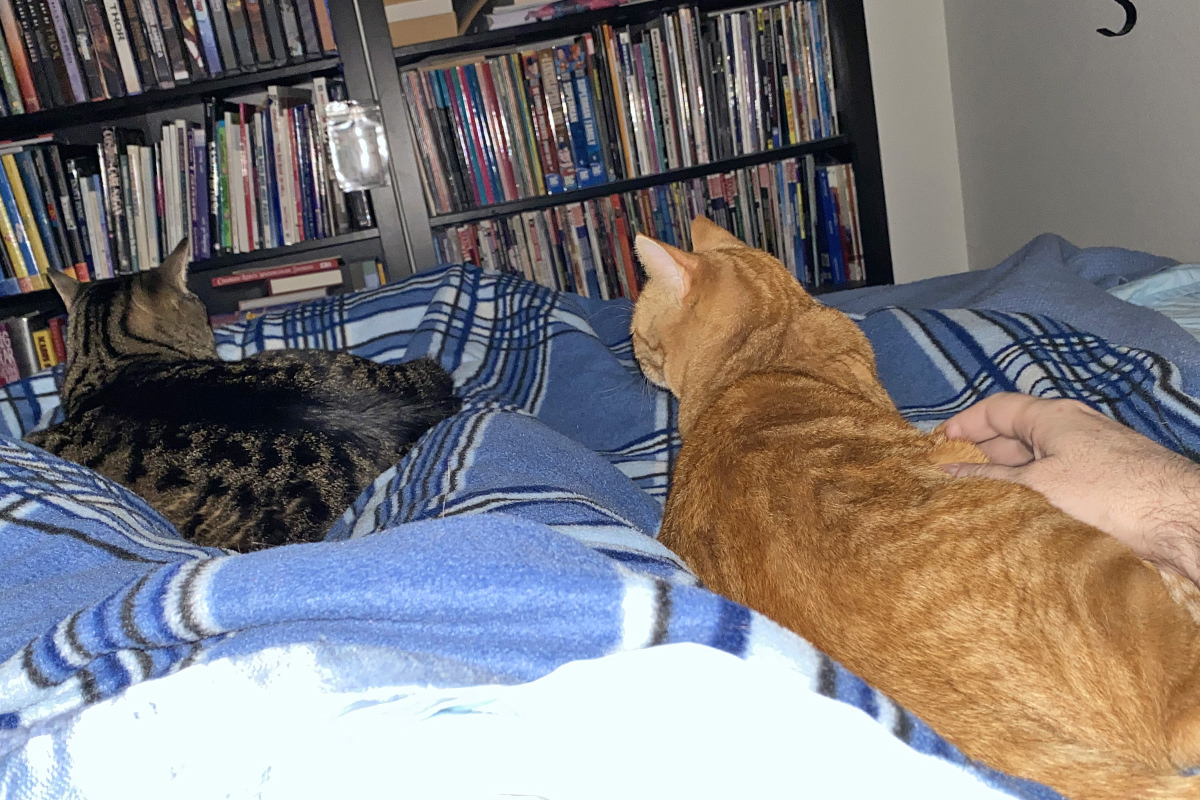 If one of them is on the bed, the other one usually leaves my bedroom. But... once... maybe twice a month... they are willing to share for a while for whatever reason.
Though Jenny still seems to appreciate it most...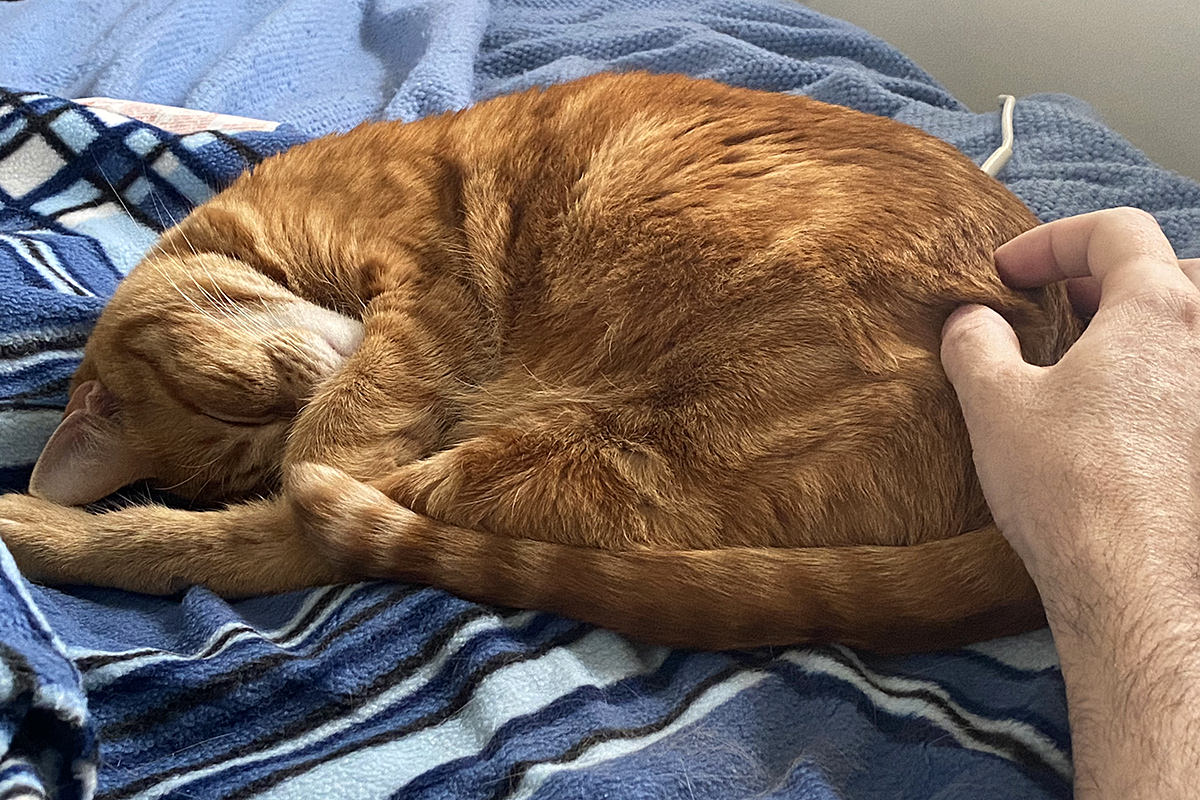 Jake seems happy to steal warmth from me most days...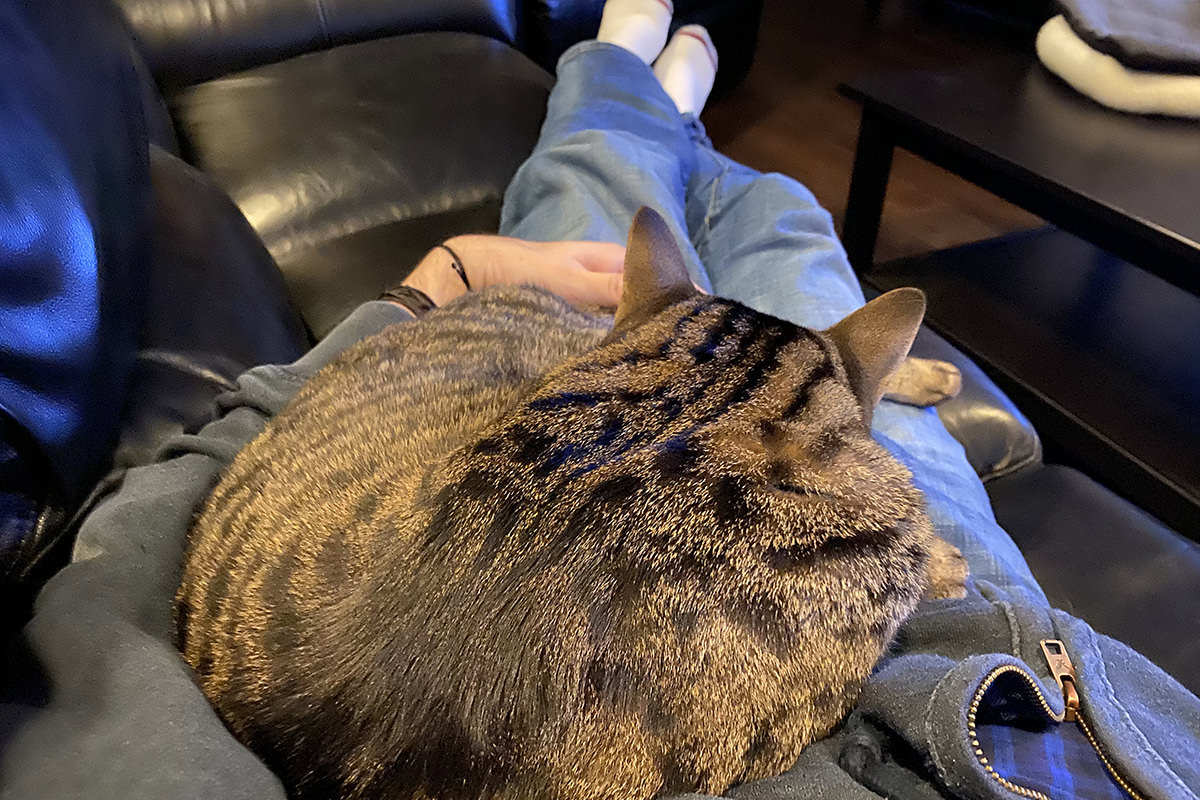 What's weird is how Jake and Jenny have no problems at all sharing a bed when I'm not in it. Since heat rises and upstairs is warmer than downstairs, they spend their days in the guest room. Used to be they would run downstairs to greet me when I come home from work. But lately? Nope. Jake will look up to acknowledge that he's heard me arrive... then go back to sleep. Jenny doesn't even do that much...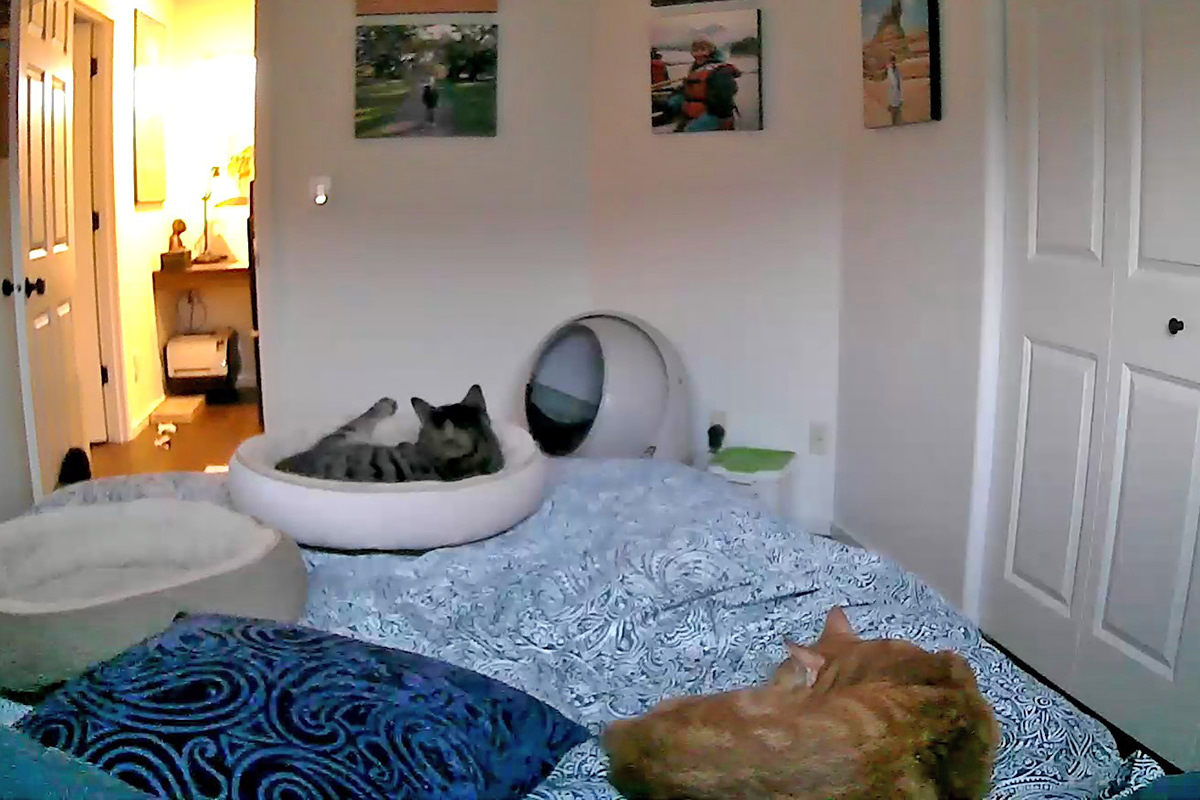 In other news... Chewy sent Jake and Jenny a handwritten birthday card...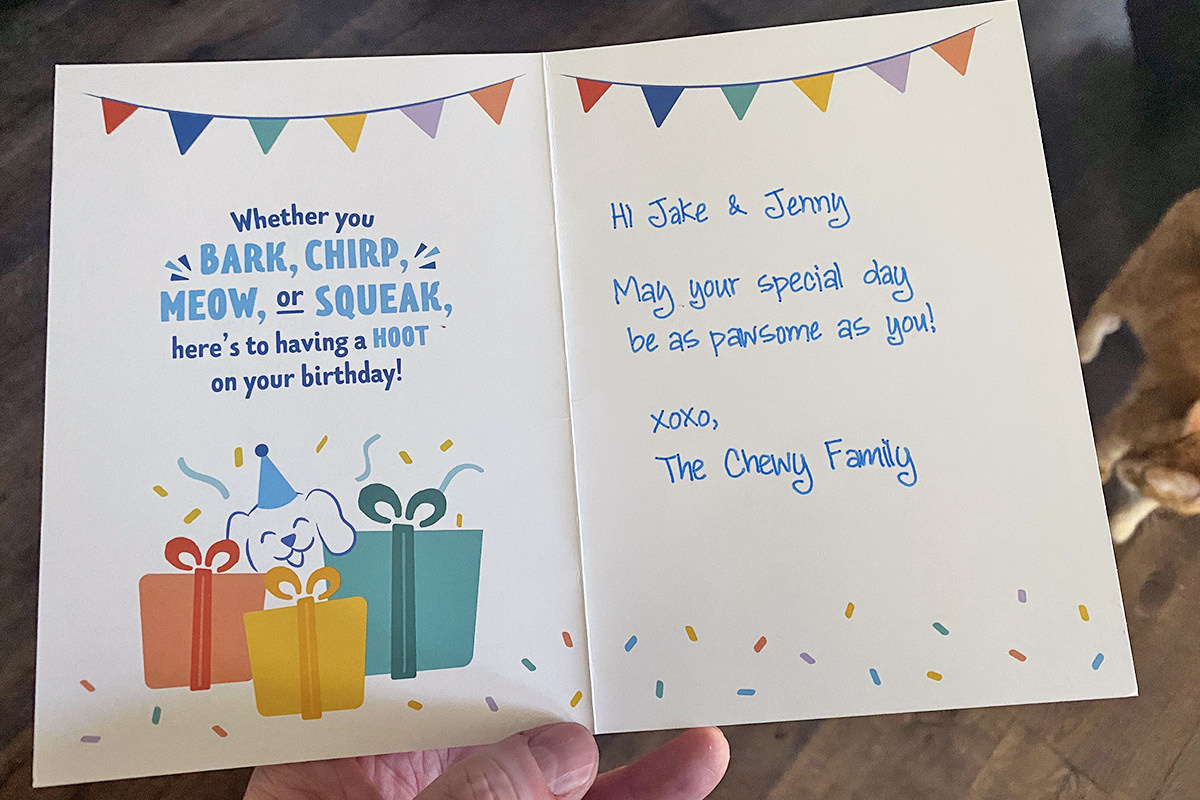 I guess this is how their phone operators spend their time when they're not on the phone? Interesting that they sent a combo card. Apparently their system lists pet birthdays by household so they know when they can send one card for multiple pets.
Still... that's nice, right?
Posted on November 16th, 2019

This morning I was awakened at 4am because somebody was walking through my back yard and I got a security alert on my phone. Just some guy walking by for some reason. Did't look in my windows or anything, so I have no idea... maybe drunk and lost? So I worked for a couple hours, then decided to take a nap. THEN I was awakened by a "person in my house" alert. Which ended up being Jenny sticking her ass in one of the security cameras and just sitting there. =sigh= My houseguests arrive later today, at which time I can turn off my interior cameras and will hopefully be able to sleep in for once tomorrow. That will be nice. Assuming people aren't walking through my yard again.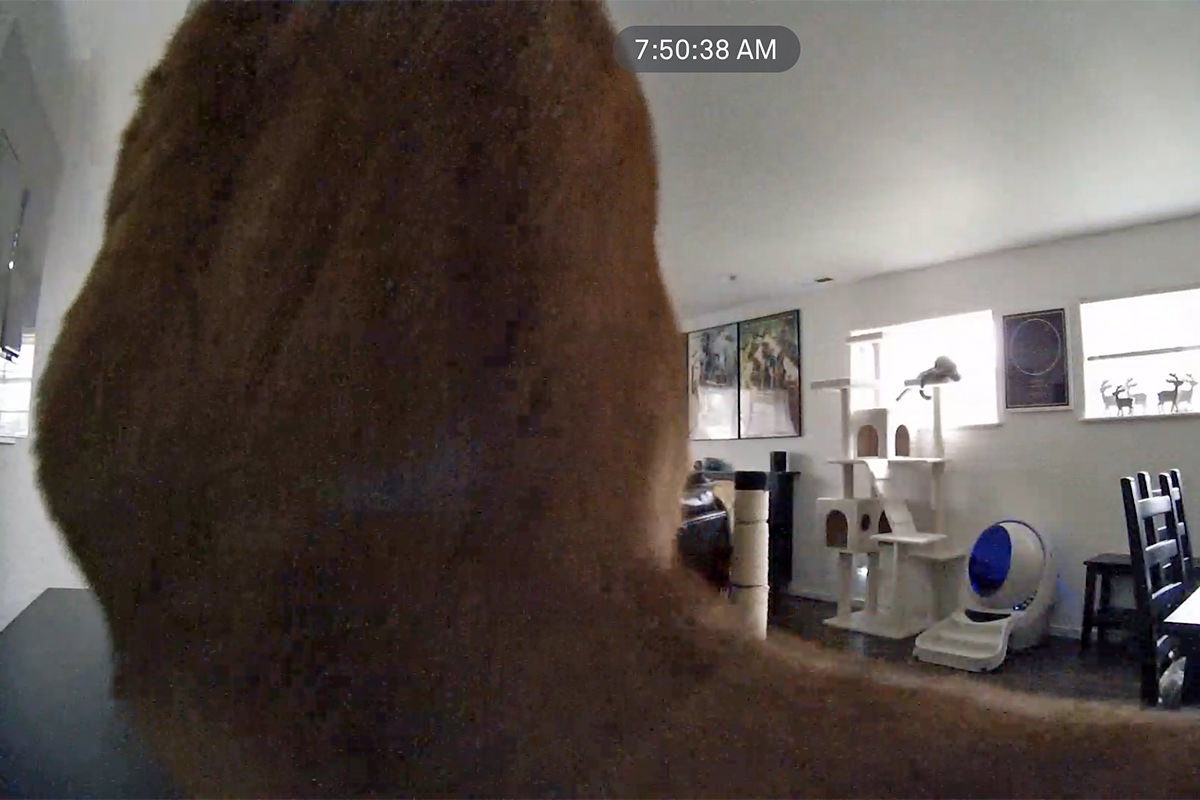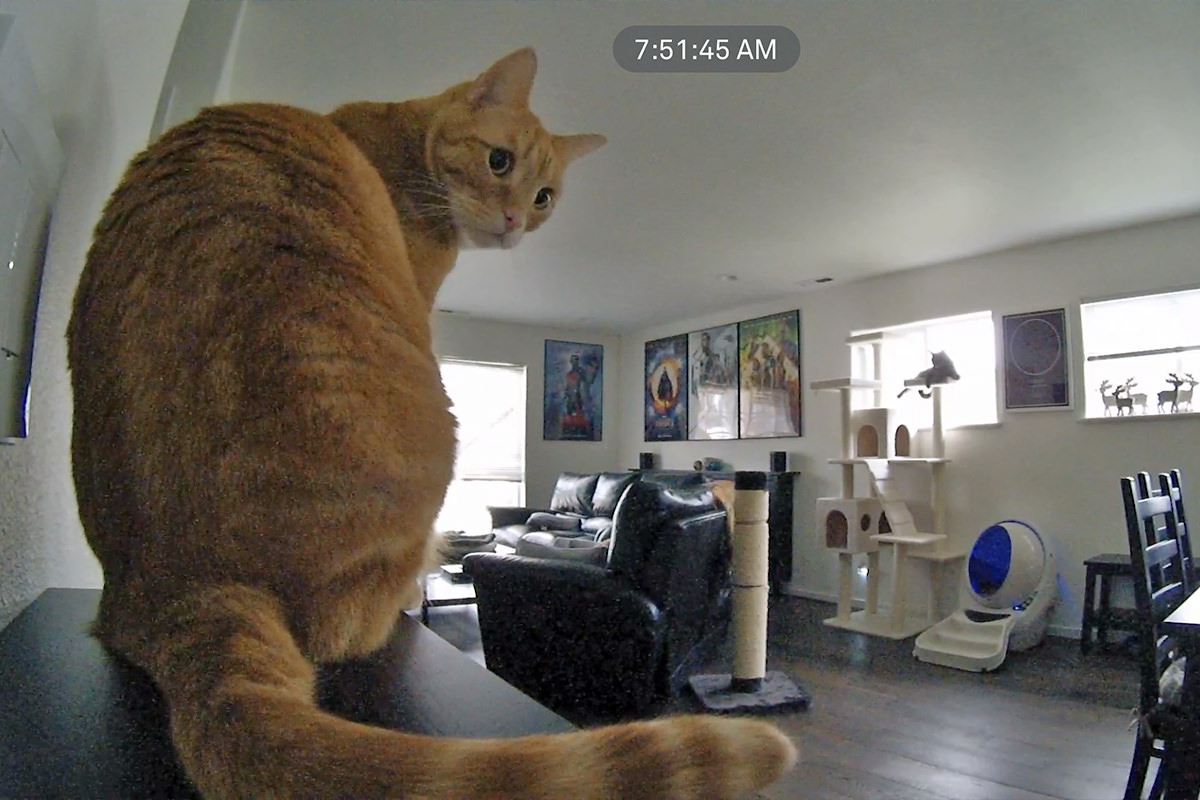 Does this wide angle lens make my butt look big?
As I mentioned a couple Caturdays ago, the stupid clock-changes are a disaster for my cats. They don't understand it. The don't want it. And they most definitely aren't happy about it. I always try to minimize the impact by easing them into it by "falling back" in 15 minute increments, but all it seems to do is draw out their frustration.
Part of the problem is the automated feeder I have. Not only is it a pain to program, but it loses time constantly. So not only am I having to make adjustments for the time change, I'm also having to keep on top of it being the wrong time. All that does is draw out my frustration. I have seriously toyed with the idea of just keeping them on Daylight Saving Time all year long (much like what Washington State wants to do). This would involve my having to get up at 6am instead of 7am each morning for four months so I can feed them the spoonful of wet food they get with their dry food. Something I would gladly do... but it becomes a problem when I have guests over.
The solution seems to be getting a web-enabled feeder. That way I could make tiny 5-minute adjustments from the comfort of my couch and make sure that the clocks on the feeders are keeping proper time without me having to do a thing. I'm a bit shy about doing this, however, given the horrendous experience I had when I previously bought web-enabled feeders (the company shut down the server so the feeders were bricked and I was out $400). Nevertheless... this being the easiest solution, I've been putting aside $20 a month until I could afford one that can be split two ways... or get two feeders that can synchronize their clocks. Alas, at $400 for the two that I want, my $20 a month wasn't going to go very far.
But then...
...I was looking up the cost to get new filters for the cat fountain and saw that there was a new PETKIT SMARTFEED MINI Smart Feeder for $99 on sale for $89 each! The reviews were good, so I decided to take my savings and buy a pair of them...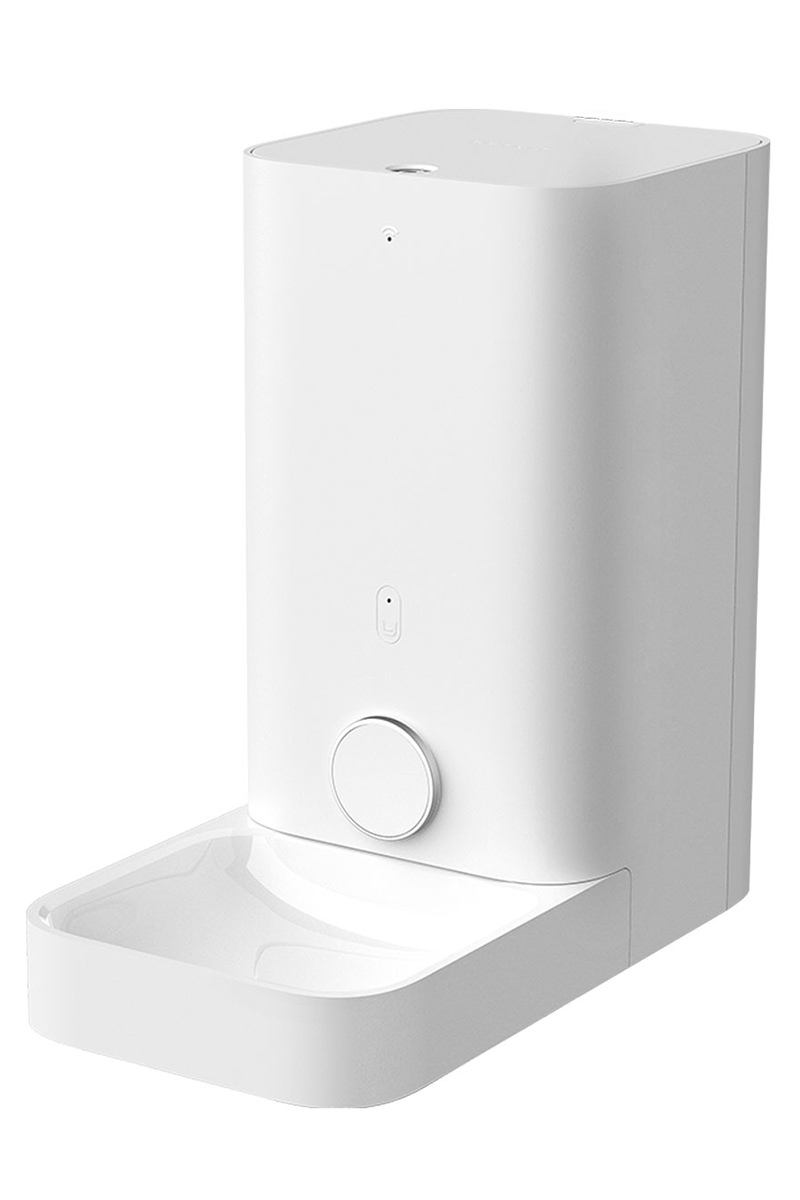 They are absolutely perfect (once getting the WiFi set up which, thanks to their app, appears harder than it actually is). There is one problem, however... I don't like the fact that my cats are eating out of plastic (this can cause feline acne and other problems), so I thought I'd see if I can construct a holder for my metal dishes when I have a chance. Looks like it'll be fairly straightforward. Though the plastic tray that comes with is really clever because it has magnets to hold it into place... so maybe I can come up with a liner of some kind.
So now I have feeders which can be easily reprogrammed from an app on my phone, making adjusting to time changes far, far more easier than what I used to have to go through. Jake and Jenny were scared of them at first... there's a hissing noise when the seal opens... but now they come running when they hear it activating, just like their old feeder...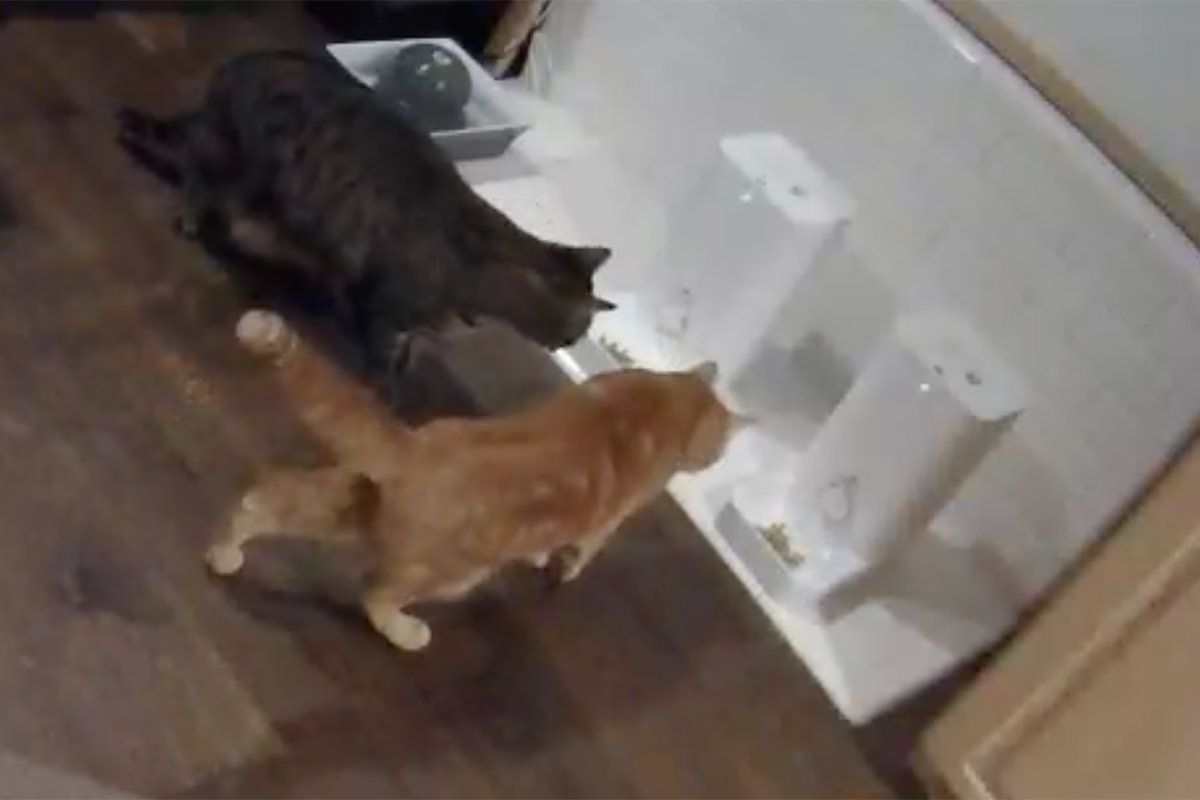 Now all I have to do is cross my fingers that PETKIT doesn't go out of business and close down their servers any time soon.
Posted on November 9th, 2019

I try to make my trips as short as possible so that Jake and Jenny aren't left alone for extended periods of time. Thanks to the automation tech I bought for feeding and litter box cleaning, they actually could be left alone longer, but I get the feeling they would rather me be here.
This feeling comes from the toy gauntlet that they build for me whenever I get back from being away...
Jake still does most of the work... hauling Moose the Mule all the way upstairs... after trotting him on the dining room table. Which is great, because I was dying to disinfect it, and this is just the excuse I need...
After breakfast Jake decided to hang out in bed while I watched emails...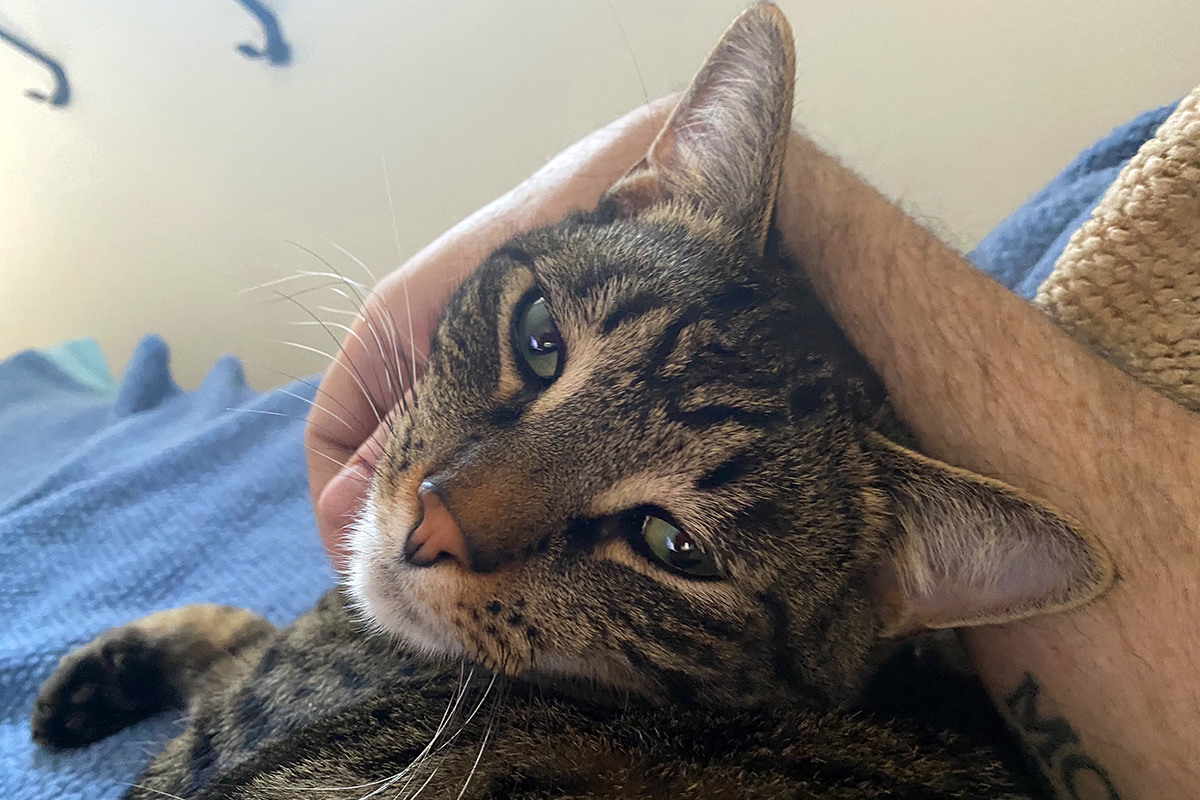 But it was Jenny who wouldn't leave my side. She missed out on two days of scratches, and she was determined to make up for lost time. Unlike Jake who just kind of sits there and is happy to get scratched wherever you want to scratch him, she moves around so you scratch her exactly where she wants to be scratched...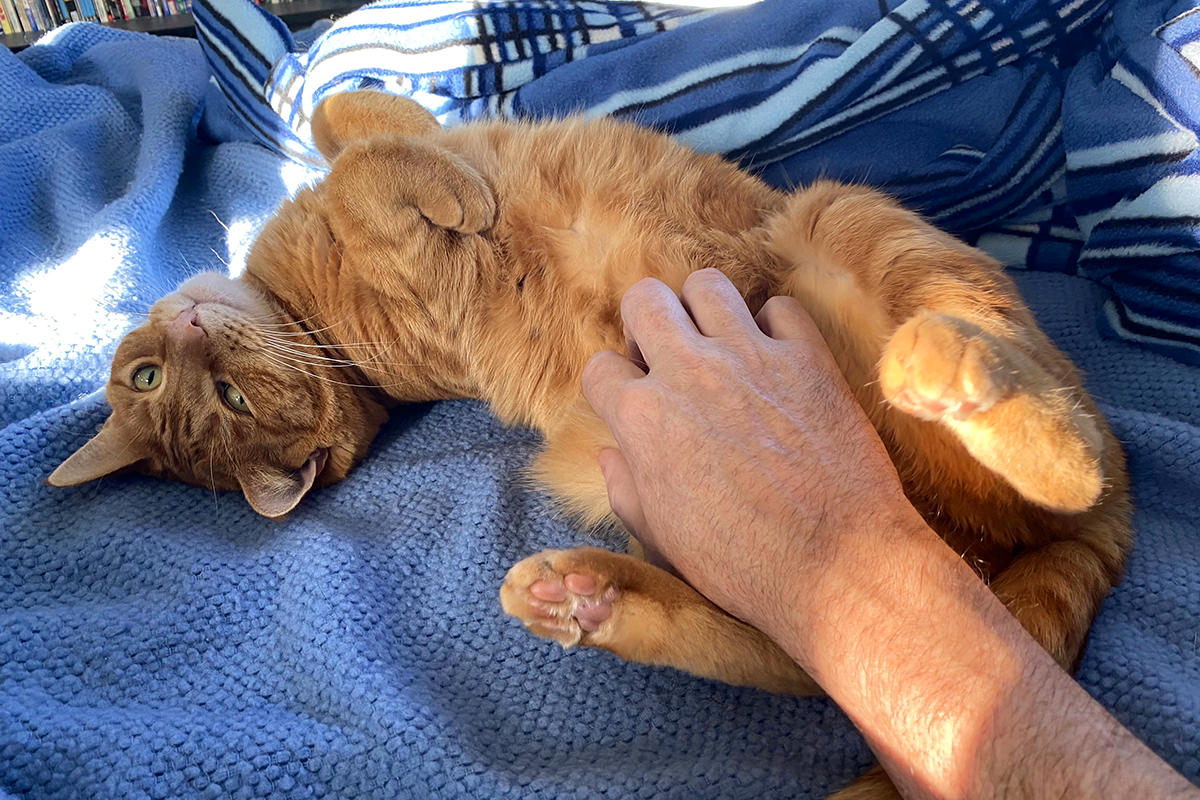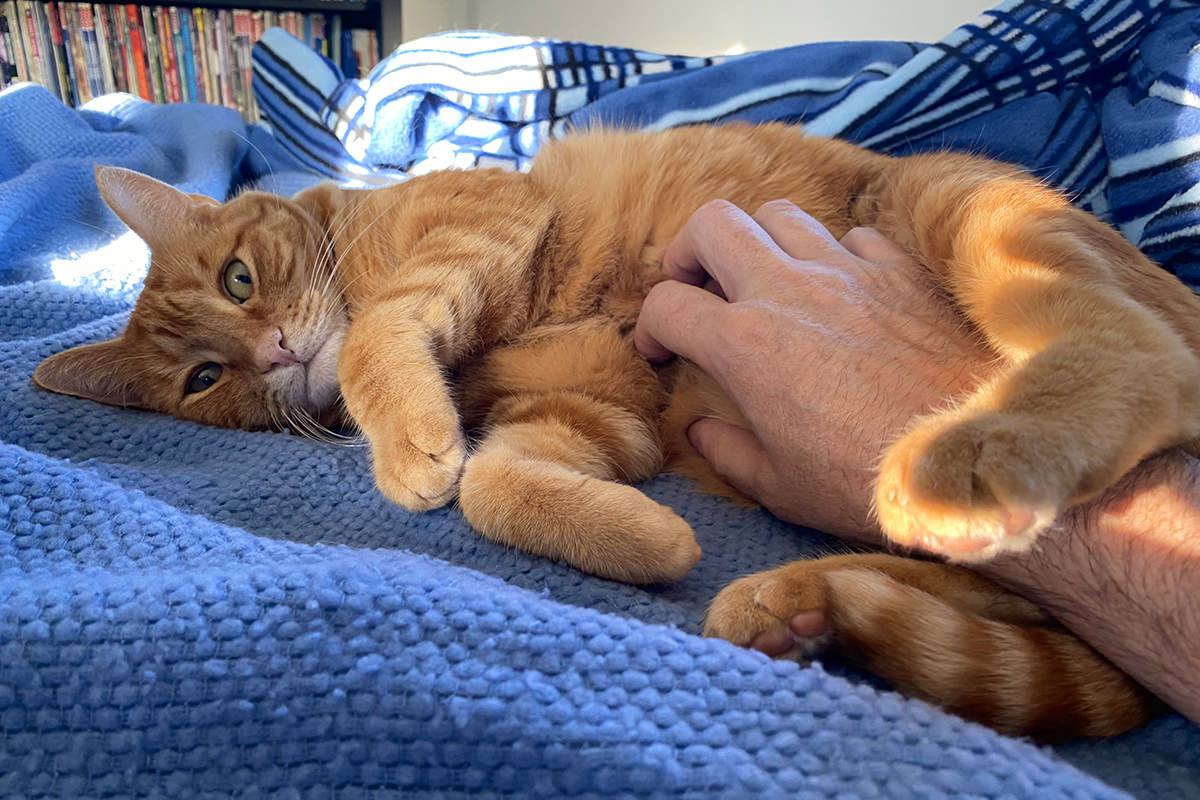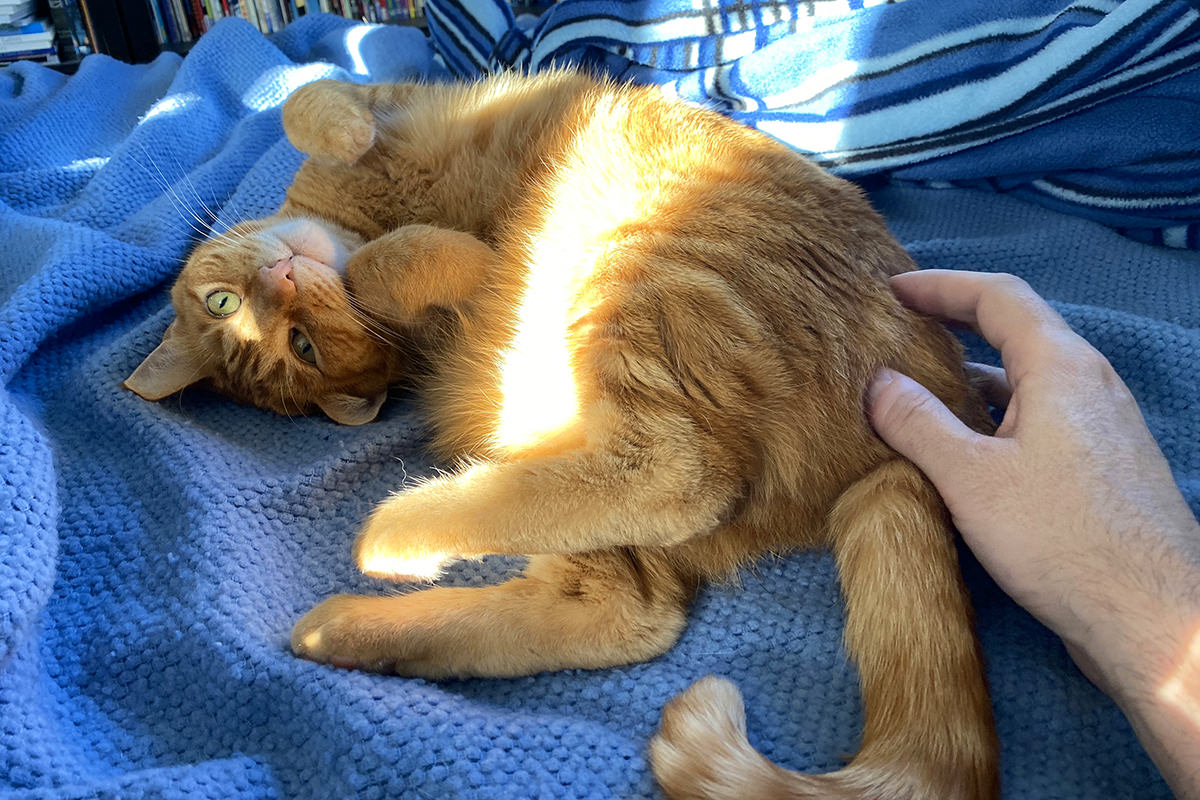 My poor cats are so deprived.
Happy Caturday!
Posted on November 2nd, 2019

I have made no secret of my apoplectic rage over the fact that we still mess with the clocks twice a year. It is a stupid, stupid, STUPID and outdated practice that only serves to screw up our lives. Washington State is working to get rid of the barbaric practice. Our House of Representatives voted overwhelmingly to go on permanent Daylight Saving Time. And now, once our Senate gets off their asses, I'm guessing they will approve it as well... BECAUSE NOBODY F#@&ING WANTS IT! Oregon and California are in accordance and will switch if we switch. Even British Columbia has stated that they would be interested in coordinating with us so the entire West Coast is on the same time because THEY DON'T F#@&ING WANT IT EITHER!
And because state's rights are a joke, passing the House and Senate doesn't men it's a done deal. Because then, once it passes there, we have to get PERMISSION from Congress to actually do it. Which, given the fact that Congress doesn't do jack shit unless it benefits their lazy, corrupt asses, means it could be years before anything happens.
Adding to my loathing of switching clocks? The way it affects my cats.
Their behavior changes when their schdule is altered. Even when I try my best to get them gradually adjusted to it by shifting the clock in only 15 minutes increments, they just aren't having it.
Jake is affected the worst when you delay his feeding. For the past week he's been asserting his dominance towards Jenny and, just like last year, it will likely last another week or so. He'll just randomly decide to climb on top and bite her neck...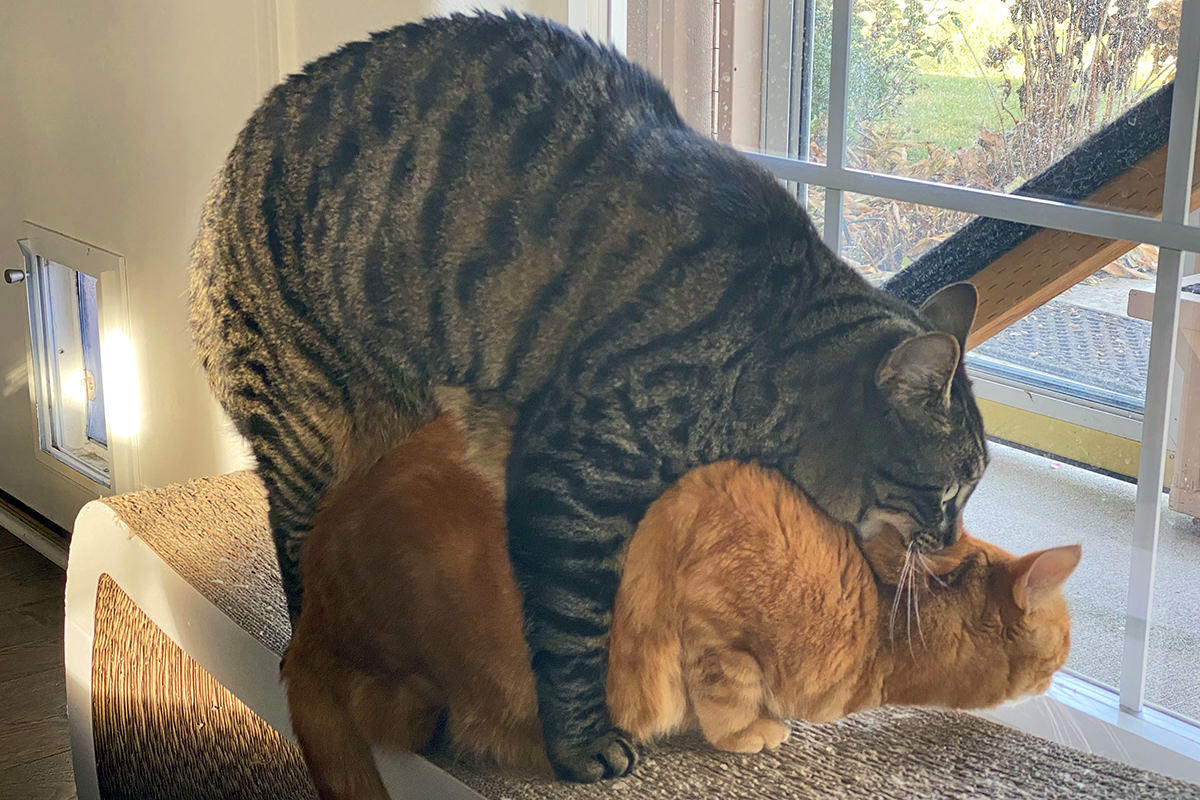 Oddly enough, Jenny doesn't seem to mind. She'll just keep looking around like "whatever" about it. Until she does mind, then she'll start hissing at him and smacking him until he gets off of her...
When this happened last year, I'd go up and pull Jake off of her. That was a mistake. Eventually I realized this made it traumatic for both of them, and it was better to just let Jenny take care of it, which she can do just fine...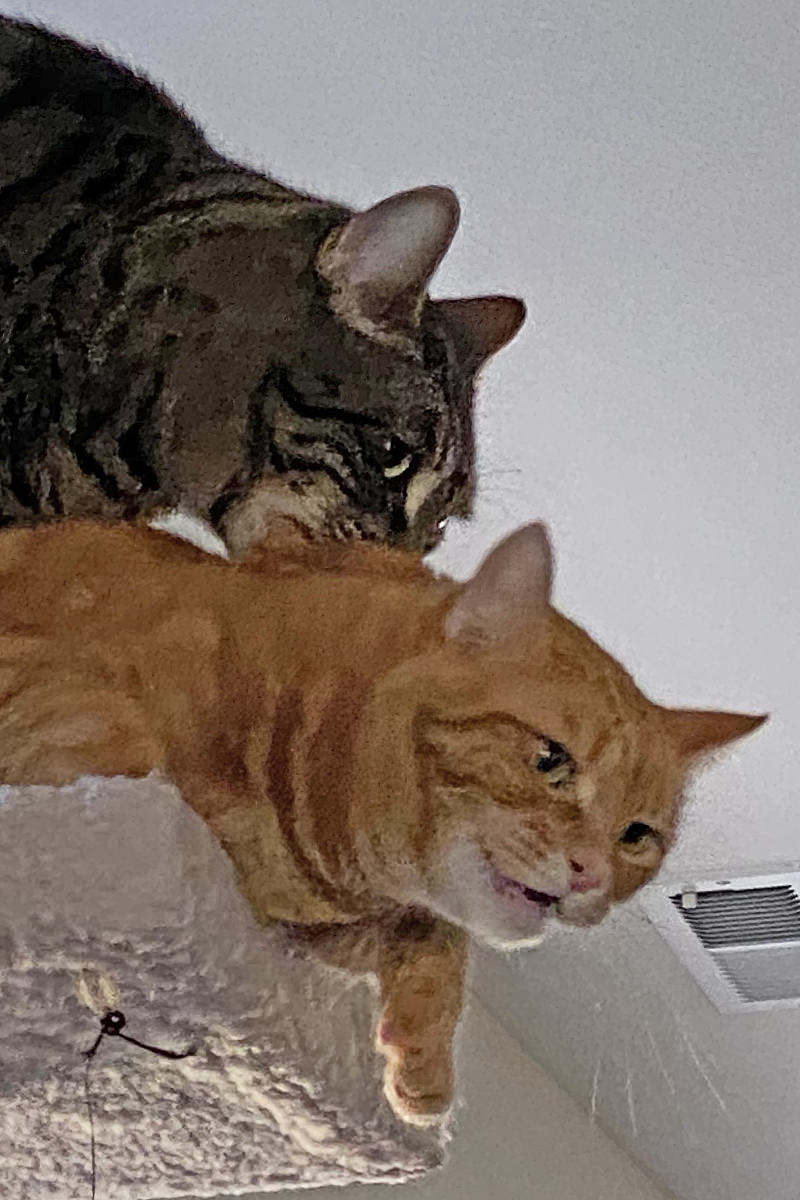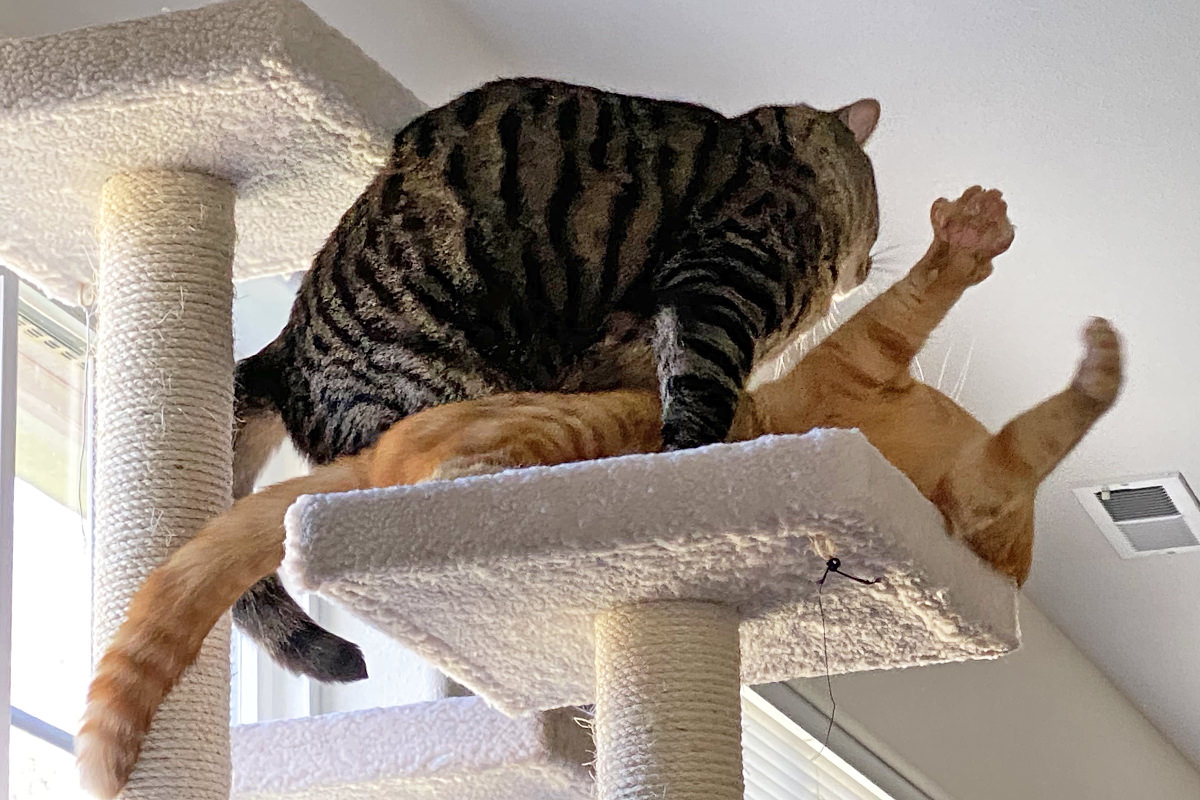 They still get along fine... but during the switch from Daylight Saving Time, we get an occasional show of dominance.
Fortunately it's quail season, which can take their minds off of the clocks changing and put it where it belongs... stalking birds from the catio...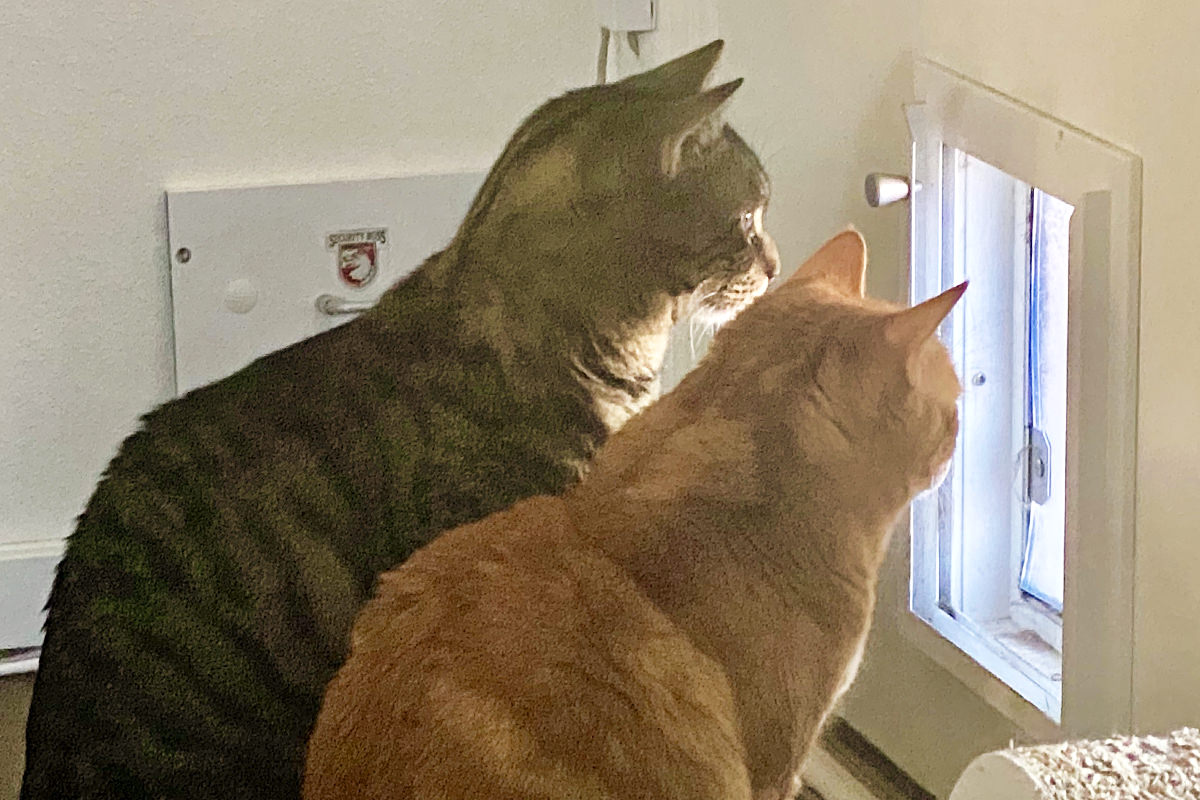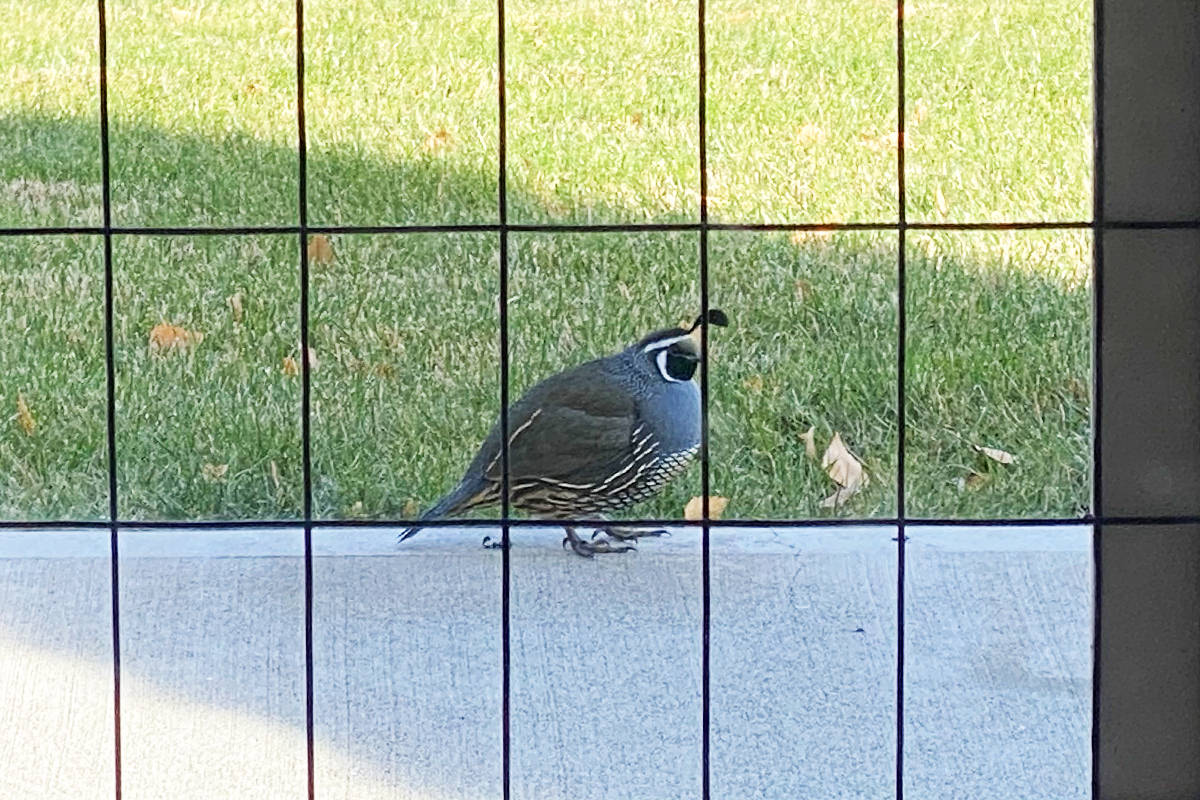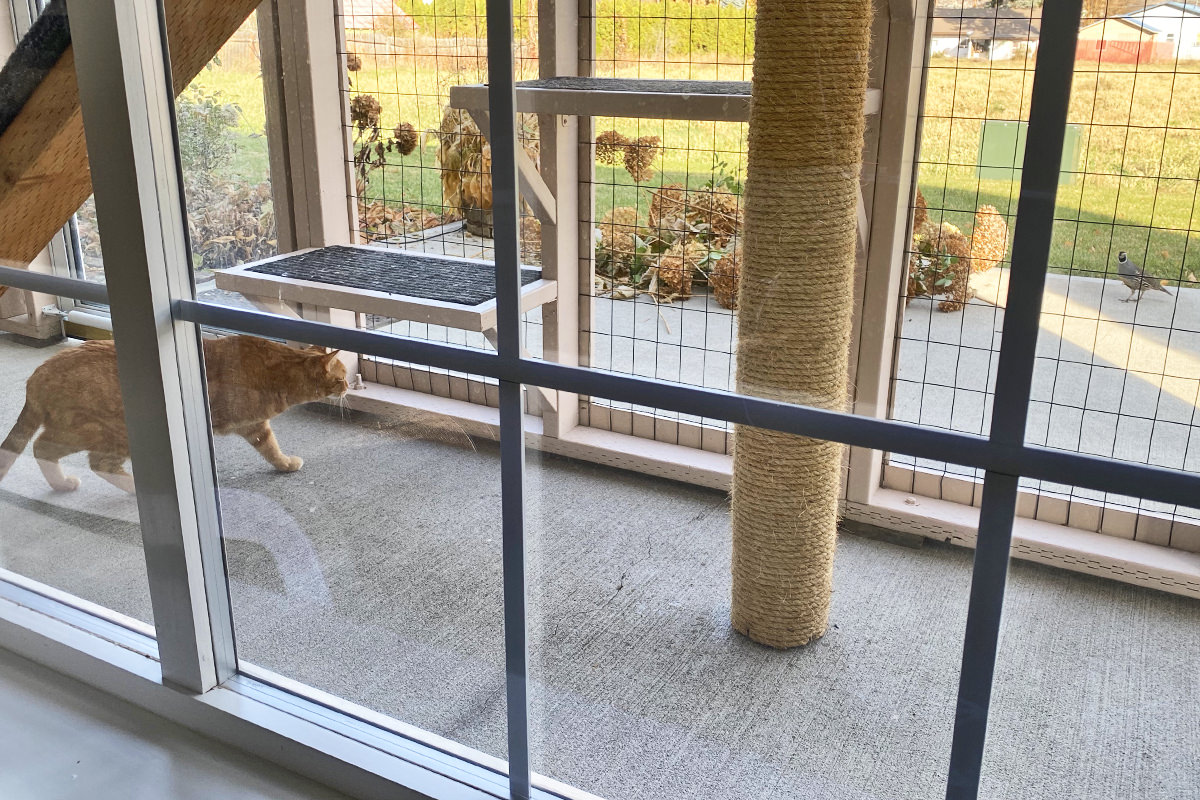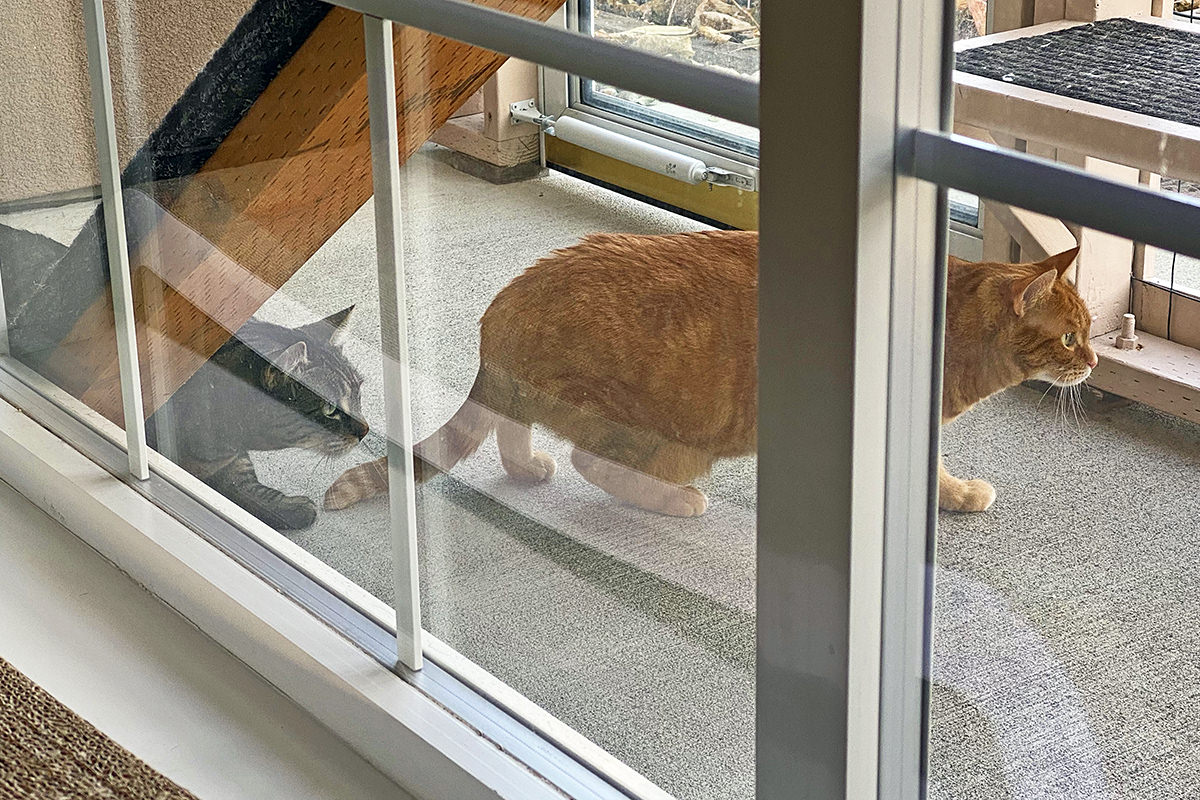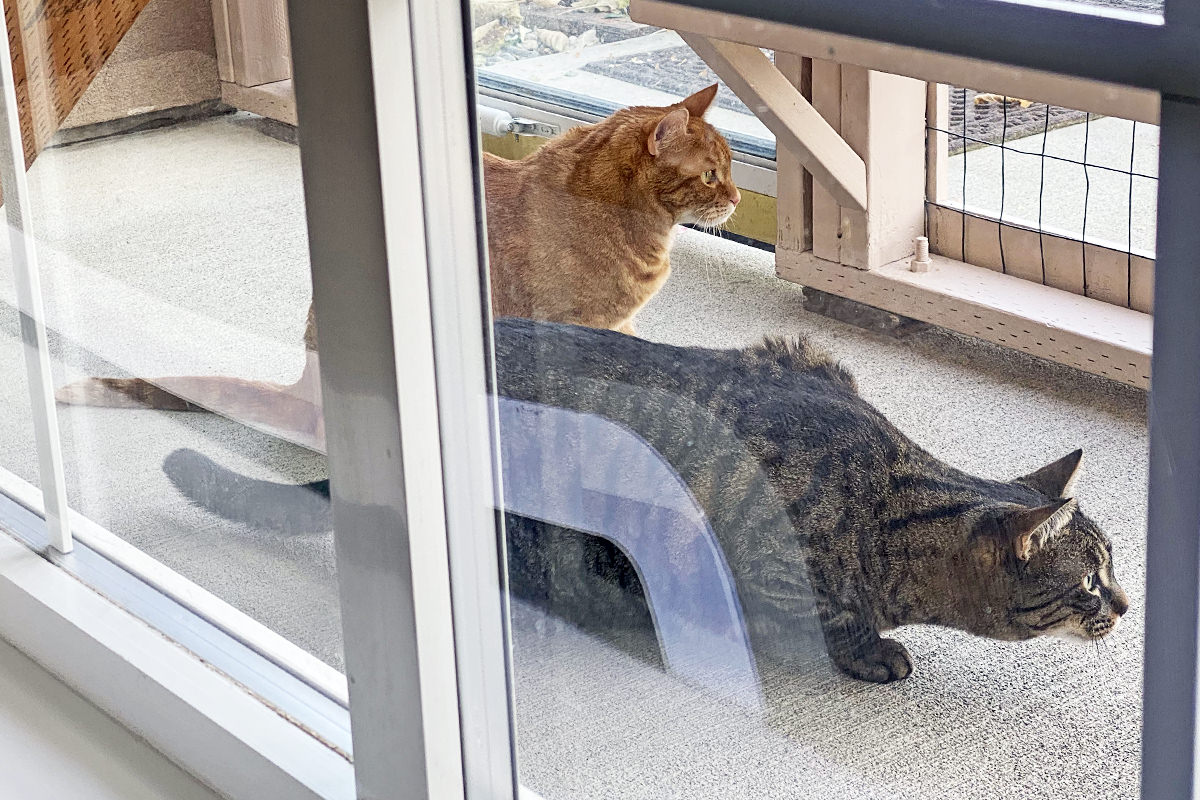 And now I have to get back to work. And hope that Jake can remain calm while I'm gone.
Posted on October 26th, 2019

Both my cats are pretty smart, but Jenny seems to be getting smarter than smart. She learns things.
At 7am the alarm rings on Alexa for me to feed my cats. Both cats are well aware of this and are conditioned to wait for it to sound. This is handy because they don't bother me for breakfast in the morning. The alarm sounds, we go downstairs, they get fed. I also have them trained to expect a treat before I leave each day. I did this so I can leave the house knowing they're both okay and I don't worry (as much) over being gone.
Used to be that any time I went back downstairs after feeding they would both run to me expecting a treat. Jake still does. But this past week Jenny stopped doing that. She knows that I don't really leave the house until I've taken a shower. So now she doesn't get excited about a treat until after she heard the shower running. I know this because I tested it, of course. I can go up and down the stairs a half-dozen times and she won't move unless she's heard the shower run first.
She's just that smart...
Jake, bless his heart, will come running all six times.
Speaking of Jake... have I mentioned that he likes living on the edge?
When he hopped in the cat bed, it slid. So he made the best of the situation. I got nervous about him falling, so I couldn't take looking at this and had to give him a ride back to safety...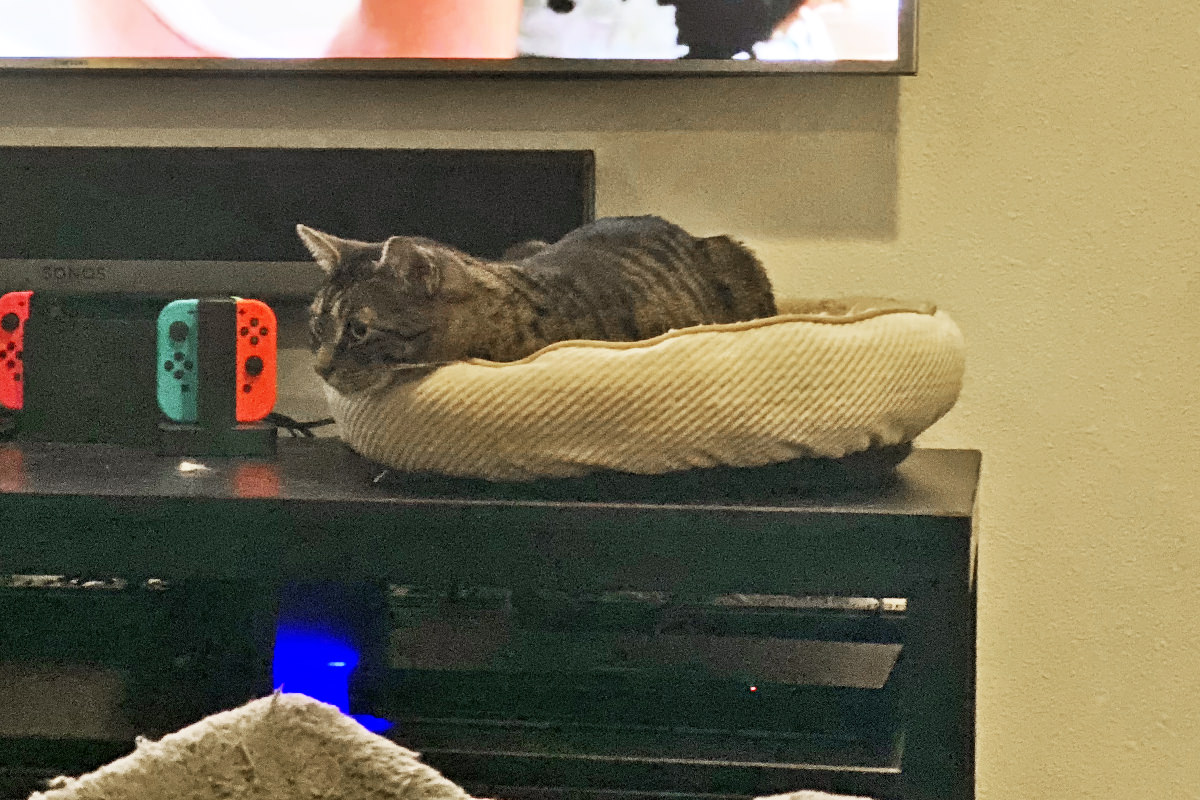 Now that the weather is getting colder, the cats have been taking turns sleeping next to me in bed so they can take advantage of the heated blanket. This is mostly Jake while I'm sleeping and Jenny if I'm awake and watching TV or working in bed...
Whenever they are not on the electric blanket, they're in a kitty bed or sleeping on one of the self-heating pads. Though their method of sleeping varies a bit between them. Jenny must be situated in the absolute center...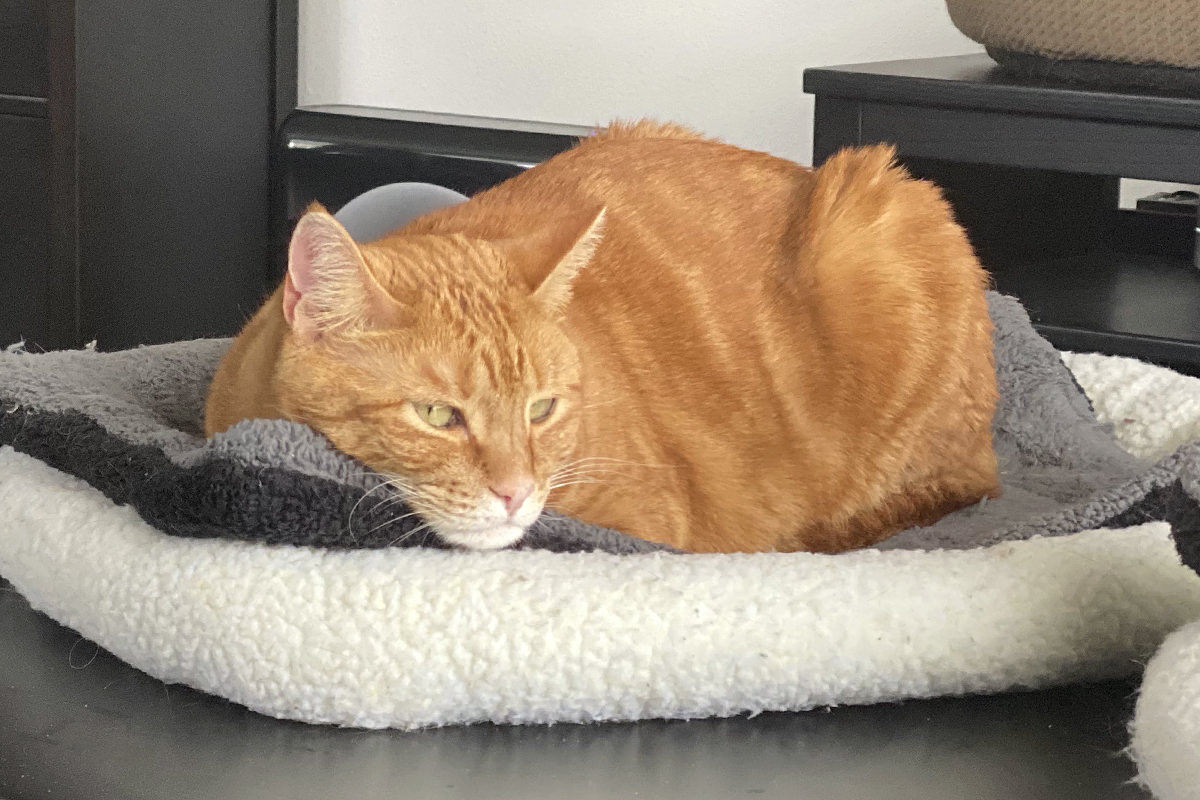 Jake is all over the place. Sometimes he's half-in, half-out. Or with his head or arm sticking out...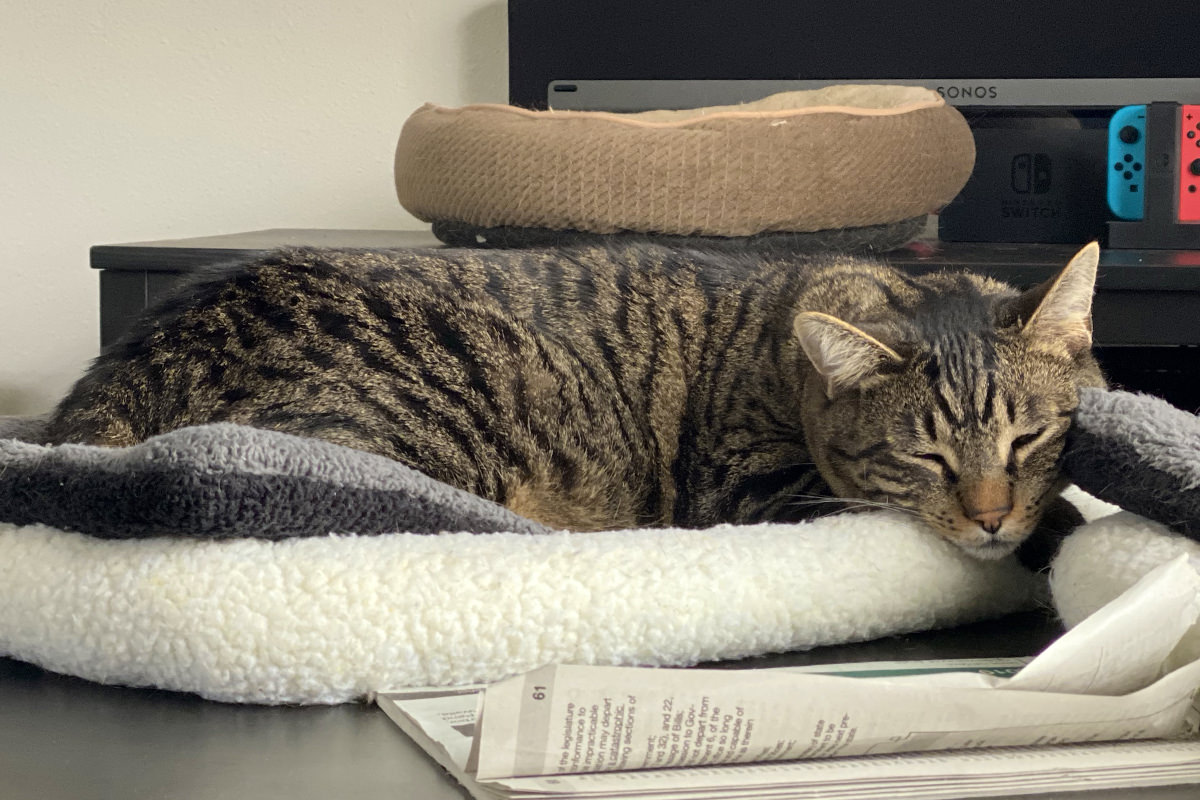 Such is life when you're a bit "fluffier" than the rest.
Jenny has long been a bit particular about appearances, even when sleeping. Or just lounging around looking sexy...
In preparation for Daylight Saving Time (which I HATE HATE HATE!), I've been moving the Alexa alarm for feeding back 15 minutes every few days leading up to it so that there's not a shock when the time change happens. After the first couple days, Jenny expected that I could be convinced to move the alarm back again, so she sat staring at me for a half-hour...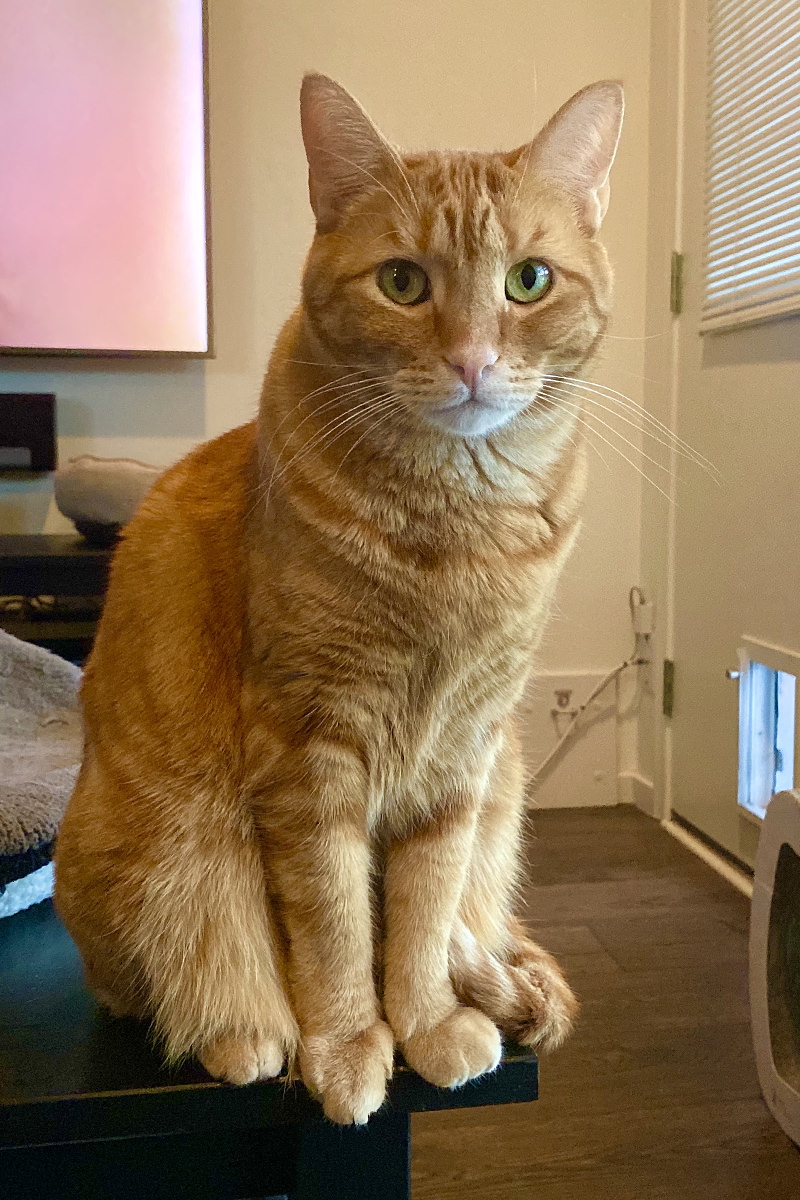 This is something they did all the time before I got them trained on the Alexa alarms for feeding. Now most times they ignore me. Until now. Apparently Jenny seems to know that something's up.
Told you she was smart.
Posted on October 19th, 2019

Somehow... sometime... in the middle of the night I scratched my eye. This happens two or three times a year and I have no idea how I manage it. Do I scratch it with a fingernail? Does a blanket slide across it? Do I get it stuck open when I'm laying on a pillow? Dunno. All I do know is that I wake up in sheer agony, and wishing that I had those OcuCaine drops that the eye doctor uses to numb your eyeball.
In absence of OcuCaine, all I could do is stumble downstairs for some Advil... and nearly die.
When the cats run up stairs, they take a high-speed turn at the top by digging their claws into the stair tread carpet and changing direction. Lately the edge of the carpet has come up, so I have to remember to step around it. Which is something I do by habit.
Alas when I stepped around the carpet, I nearly killed myself falling down the stairs avoiding Blue Mouse... and stepping on Fuzzy Ball Two, which Jake or Jenny apparently ripped off the cat tree last night. My vision was all messed up because of the tears my eyes were making...
After loading up on Advil... and Tootsie Rolls... I went back upstairs to sleep for another 90 minutes before the breakfast alarms rings to feed the cats. But when I got to my bed, it was already occupied...
Any normal person would have moved a cat or two in order to get their bed back. But not me. I slowly and carefully slid in-between them diagonally so they could stay where they were resting. Five minutes later they heard a noise or something and ran off. Which meant my efforts were all for naught. But no worries, Jenny was back soon after...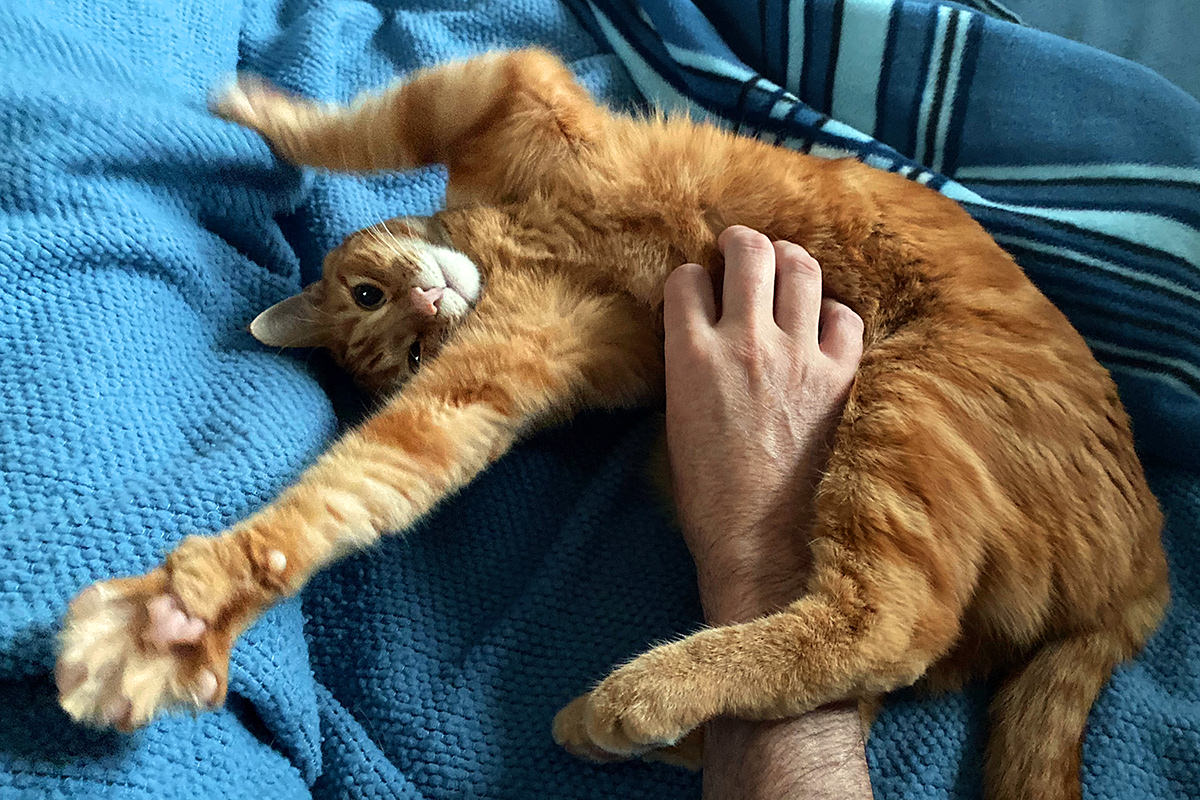 Jake waited until I got downstairs...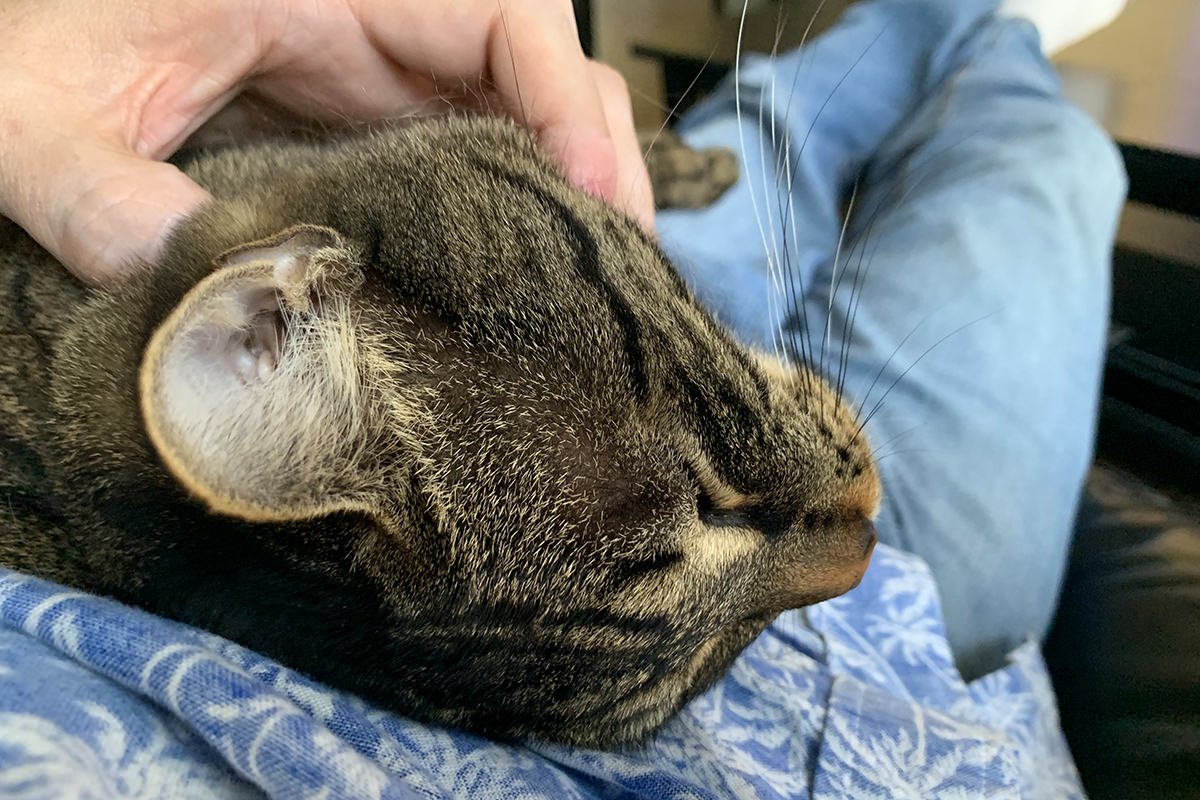 The weather here is that dreary, awful, wet, and grey kind of weather you get before the brisk Fall days with dry blue skies take over. Fake Jake is not a fan at all, and is usually waiting out the rain in one of his shelters...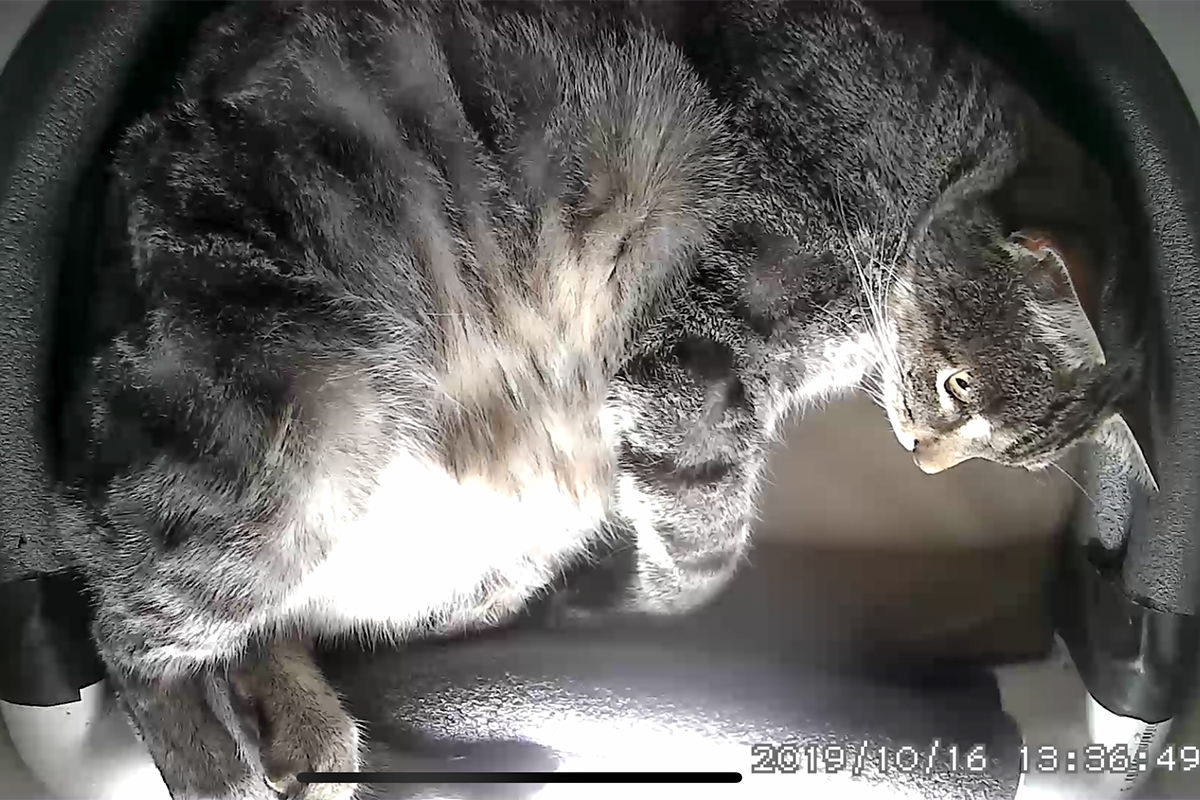 Or sleeping through it...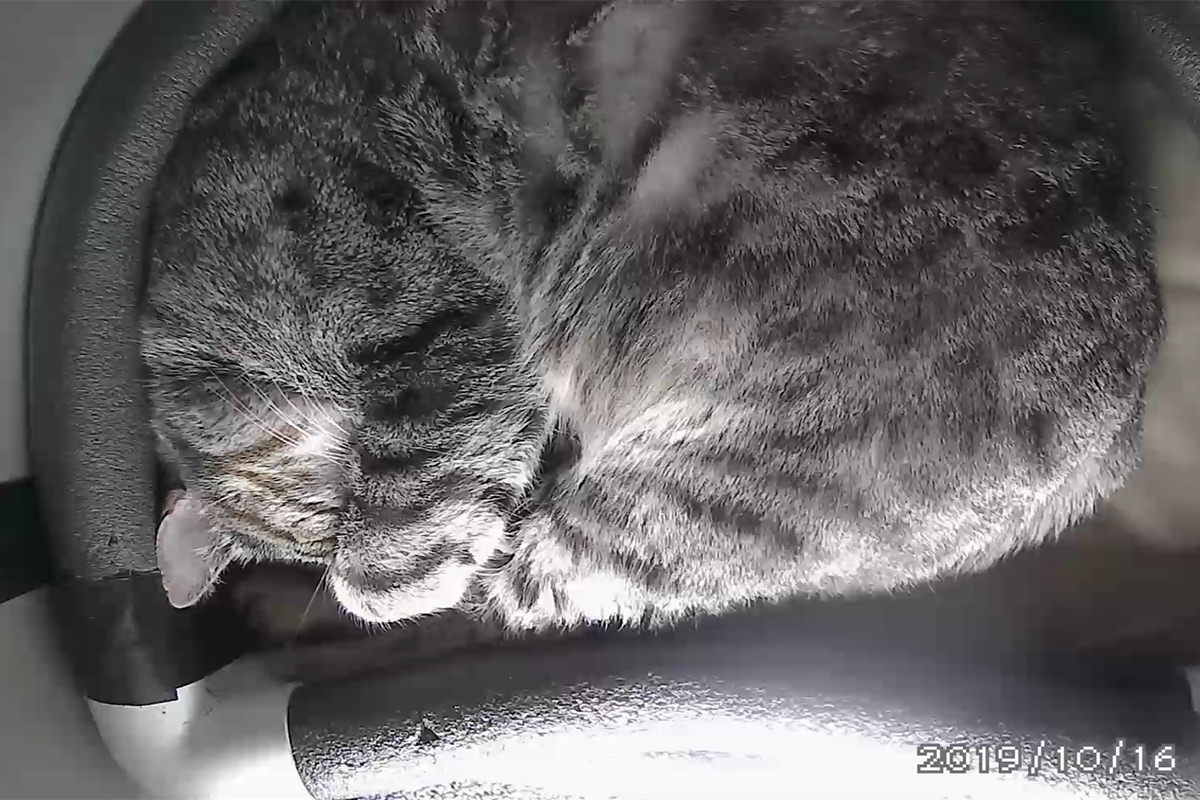 Can't say that I blame him. I'd sleep through these days if I could.
But, alas, it's off to work I go...
Posted on October 12th, 2019

Today after work I was hungry so I ran to the local drive-thru to get some fries to hold me over until dinner. Then I drove home and ate them in my car in my driveway because I didn't want to eat in front of my cats. I would have pulled into the garage and ate them there, but my cats run to the door and wait for me when they hear the garage door opening. The last thing I want to do is get them excited and have them sit there waiting for 15 minutes while I scarf fries.
I mean, come on, this was Jenny staring at me this morning until the breakfast alarm sounded, how can I eat in front of that?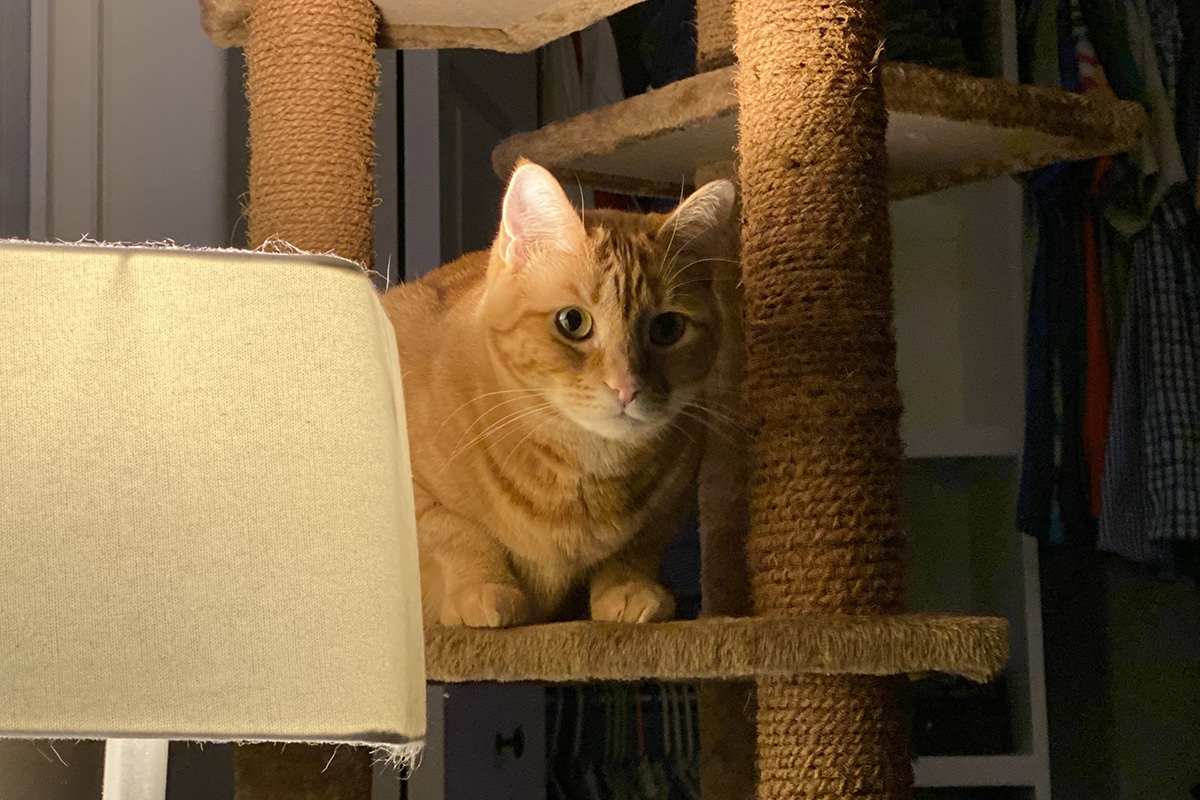 Though perhaps I am being too kind. According to science, Cats Know Their Own Names, Even if They Pretend Not To. I'm telling you right now... Jenny DEFINITELY knows her name. Jake seems to sometimes, but I'm not 100% sure. In any case, yes, they pretend not to... unless it suits them. The little scoundrels.
Speaking of scoundrels, this is me when I hear a skirmish: "HEY! WHO INSTIGATED THIS?!??? Let's go to the tape!" — =watches camera feed= — JENNY! YOU INSTIGATED NOT ONCE... BUT TWICE!!! =sob= I'm so proud of you, my tough little lady!
Little poo-heads!
Though they can also be the most adorable things on earth too. My cats are rarely on my bed at the same time. They take turns... and if one sees the other on the bed, they will leave and come back later. But the electric blanket seems to be a big enough draw that they will make exceptions now...
If you remember from previous years, Jenny's favorite thing in cold weather is the electric blanket, which means she will be there a lot.
Though this time of year both of them spend plenty of time using my body heat as a source of heat too...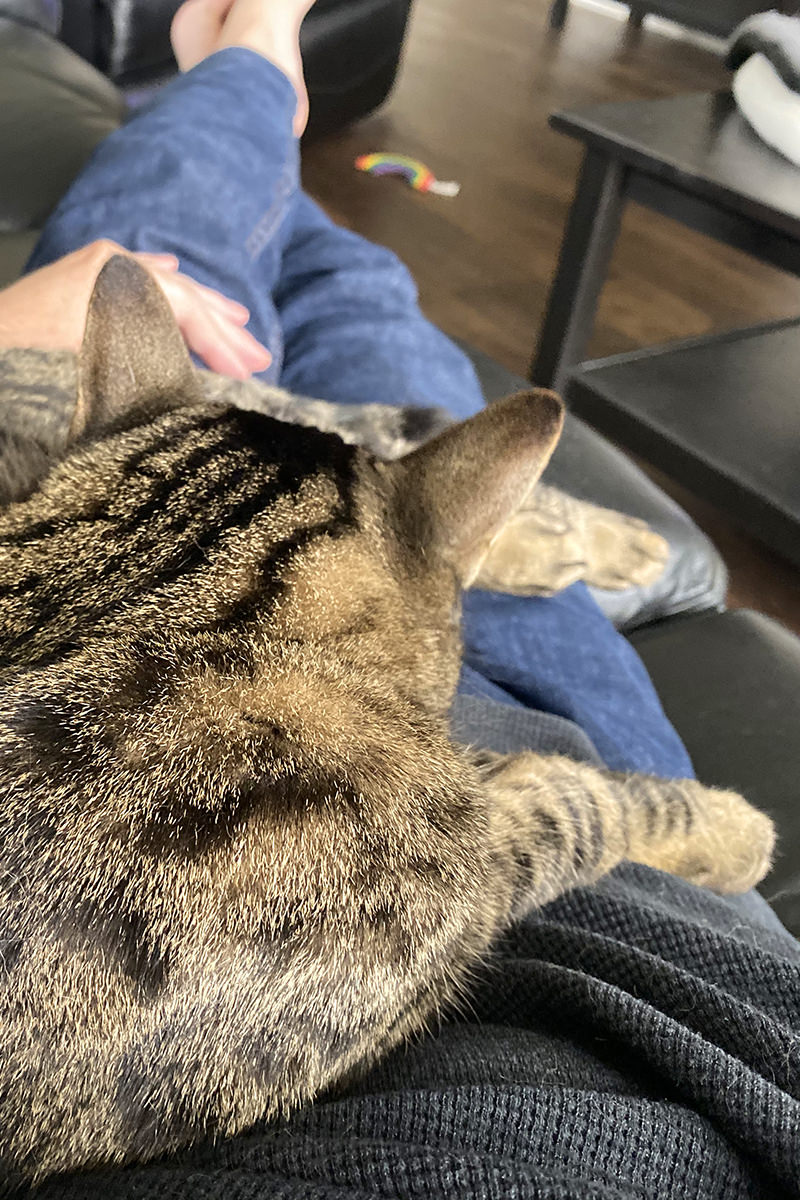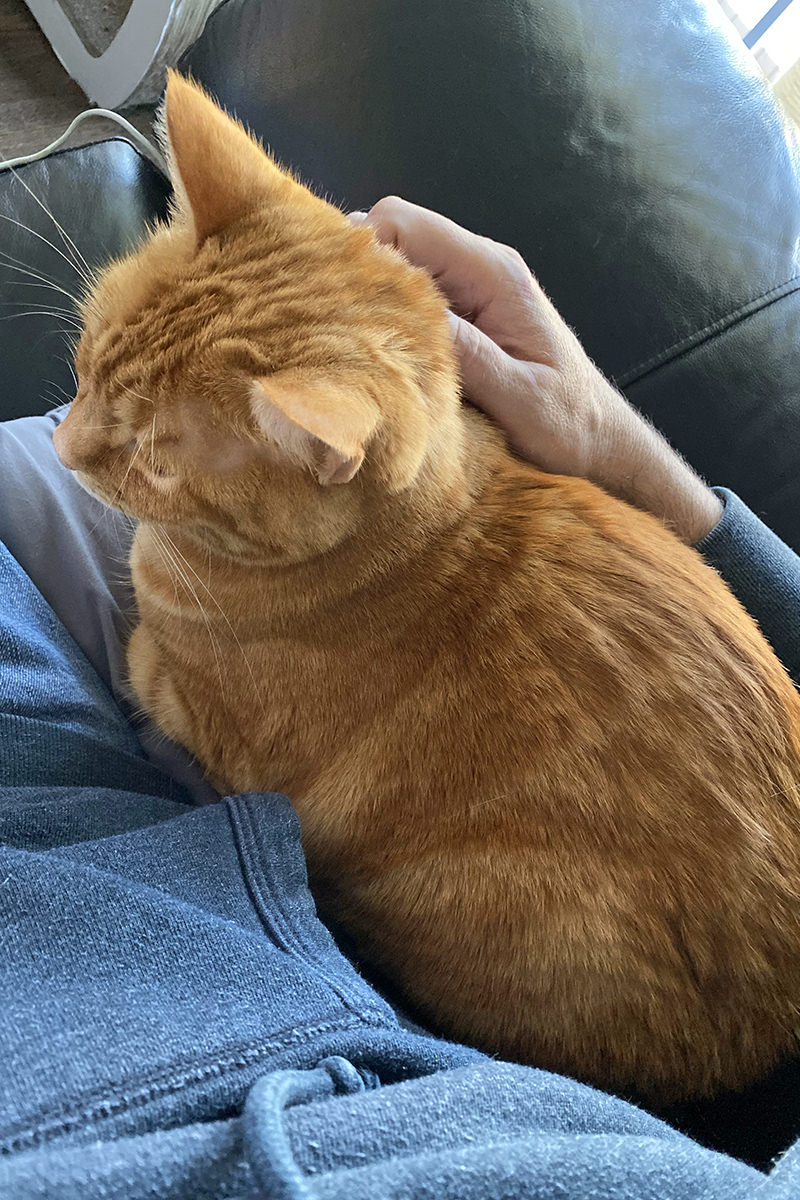 Though, these are cats we're talking about, so everything is not all perfect. Lately Jake has been copping me some serious attitude. Here he is when he couldn't get a pretzel out of the box and I wouldn't help, so he turned his back on me. This is despite my calling his name. AND WE KNOW THAT SCIENCE SAYS HE CAN TOTALLY UNDERSTAND MY CALLING HIS NAME...
Jenny's not innocent in all this. Earlier this week she came into my bedroom meowing for treats. I told her no, that she just had breakfast. She threw herself down on the bed and just stared at me with a look of 100% derision...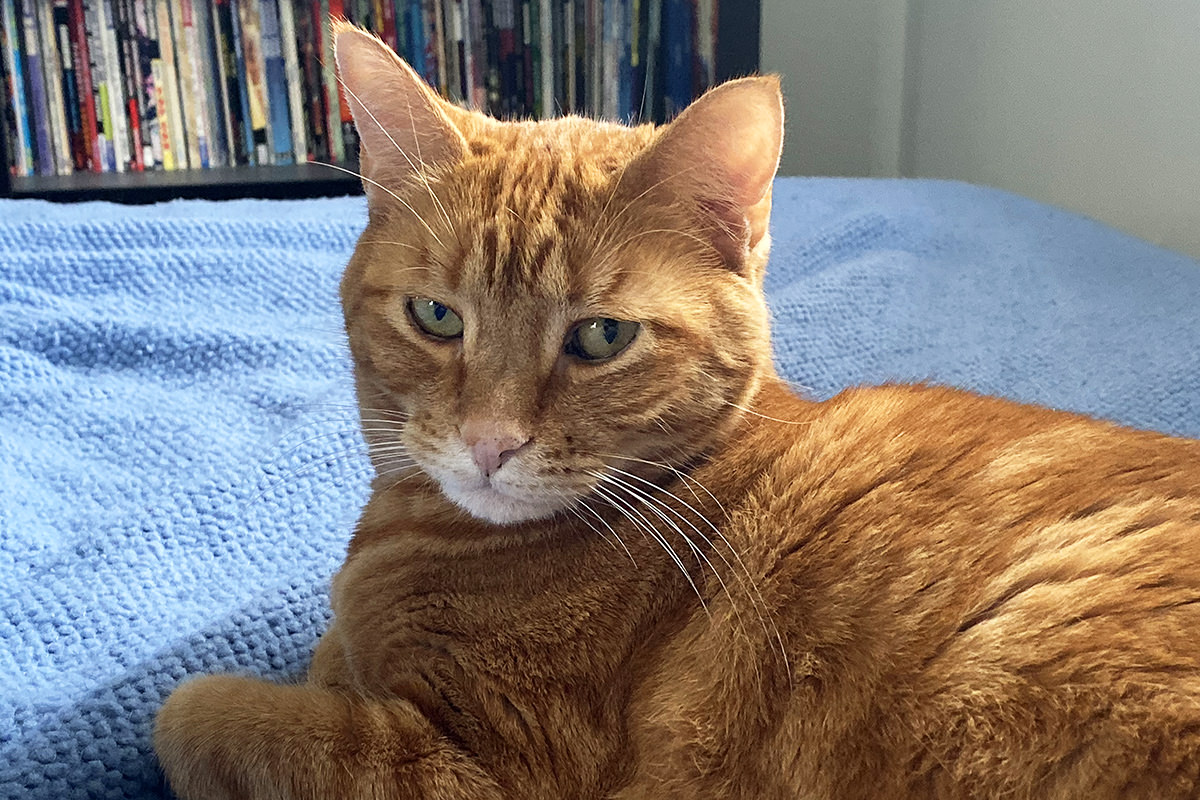 JUST LOOK AT THAT SMIRK! SCOUNDRELS, I SAY!
Posted on October 5th, 2019

I try to keep a clean home at all times. Partly because I never know when people will drop by, but mostly because I just like living in a clean home.
When it comes to cleaning, it's mostly about my cats. They drag toys everywhere. They leave fur everywhere. They track kitty litter everywhere. They bring dead bugs in from the catio. That kind of thing. I'm not saying that I don't make messes of my own, but I am saying that most of the cleanup requirements are not because of me.
Carl the RoboVac helps. He does a very good job of sweeping up kitty litter and fur day-today. But he has his limits, so I end up having to vacuum things like stairs and moldings manually once a week.
And then there's the deep-cleanings.
I used to "deep clean" every other month. Then it was four times a year. Now it's twice a year in March and October (or possibly when I have company staying with me, especially if they have cat allergies). It just doesn't make sense to be cleaning all the time when my cats are just going to get fur over everything. The most important deep cleaning is the Spring. So much dirt gets tracked in over the winter that it's pointless to do any thorough cleaning after the snow falls. So I just wait until March when the snow has gone and things have dried up.
My October deep cleaning is happening over the next couple weeks. Everything gets moved and taken apart. Everything gets scrubbed. Everything gets washed. Everything gets cleaned. It's a lot of hard work, but worth it because I know that my house is free of filth. For a few days, anyway.
The problem is that Jake and Jenny always want to "help."
Deep cleaning is something different and new for them to get excited about, so they are always all over anything that gets moved and investigating every little thing I do. Unless there's noise involved, at which time they run and hide.
Which is why I always vacuum first. It's just easier that way.
I juuuusssst finished vacuuming five minutes ago.... Annnnd they're back already. Apparently there's something happening outside that they simply must look at...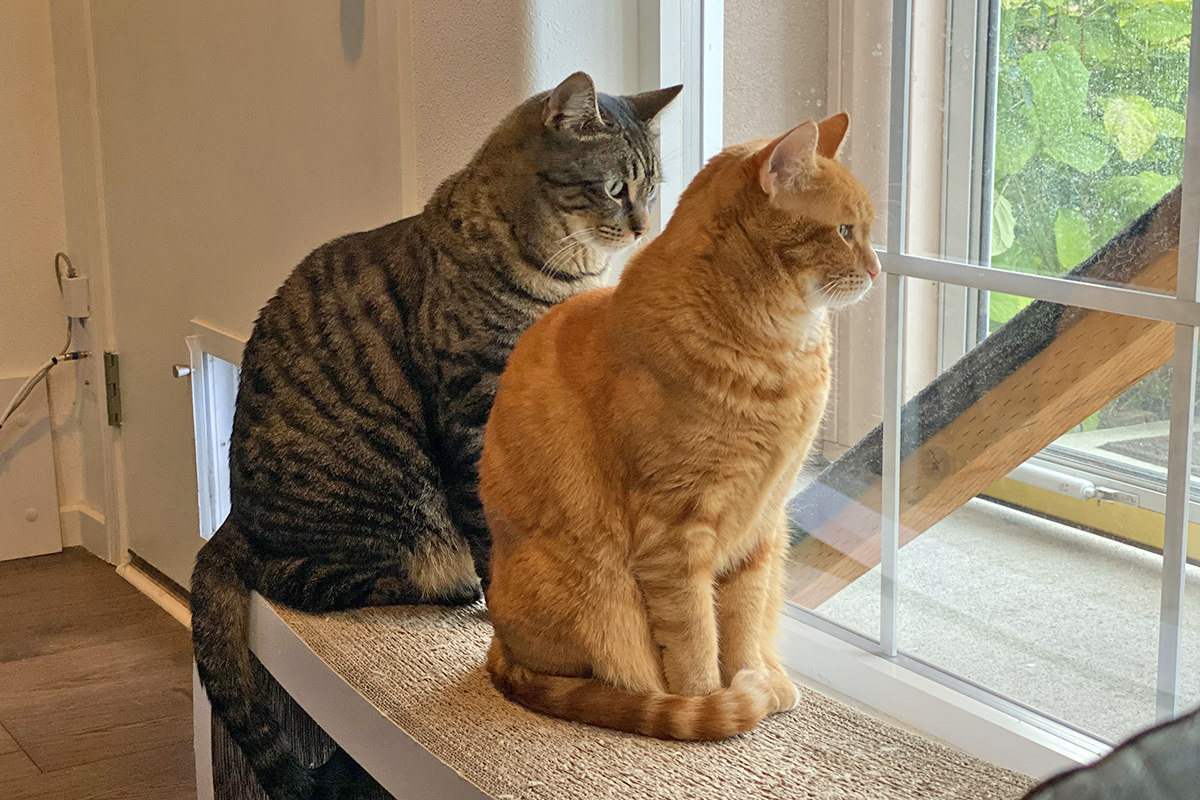 Used to be I could count on them to hide for at least an hour when the vacuum comes out. I guess those days are gone...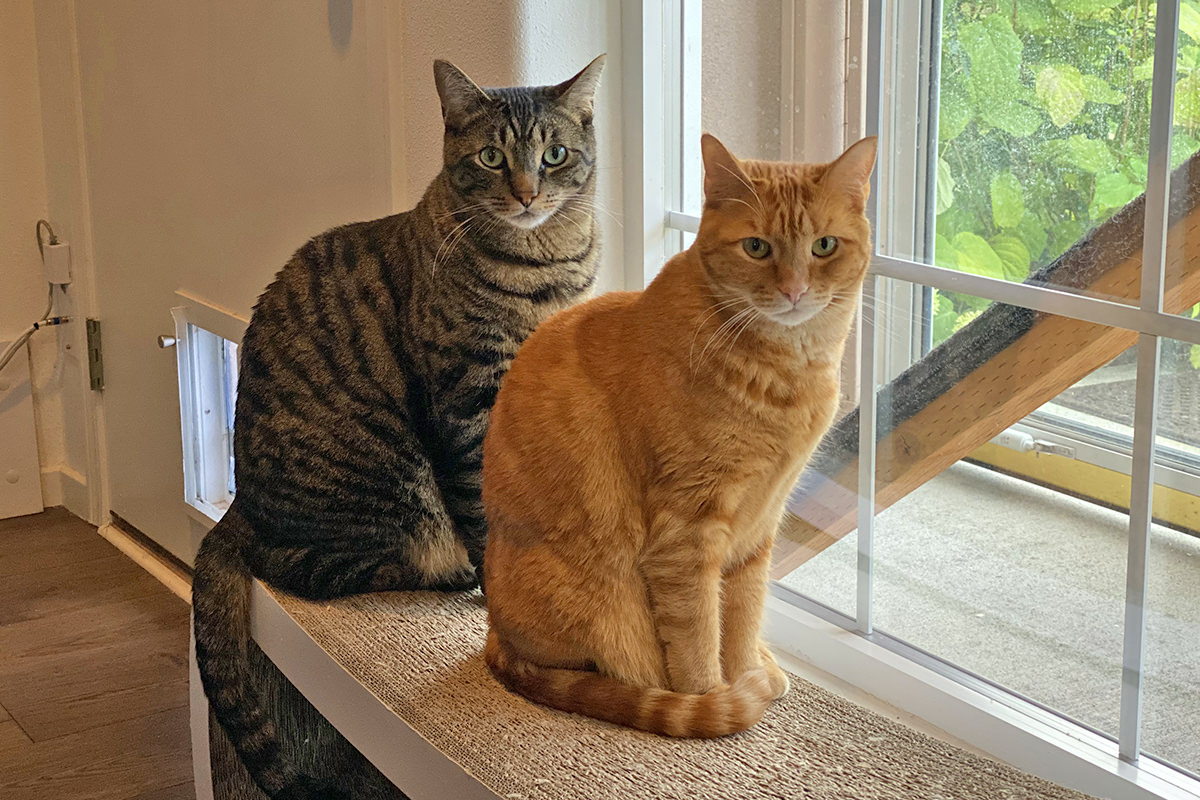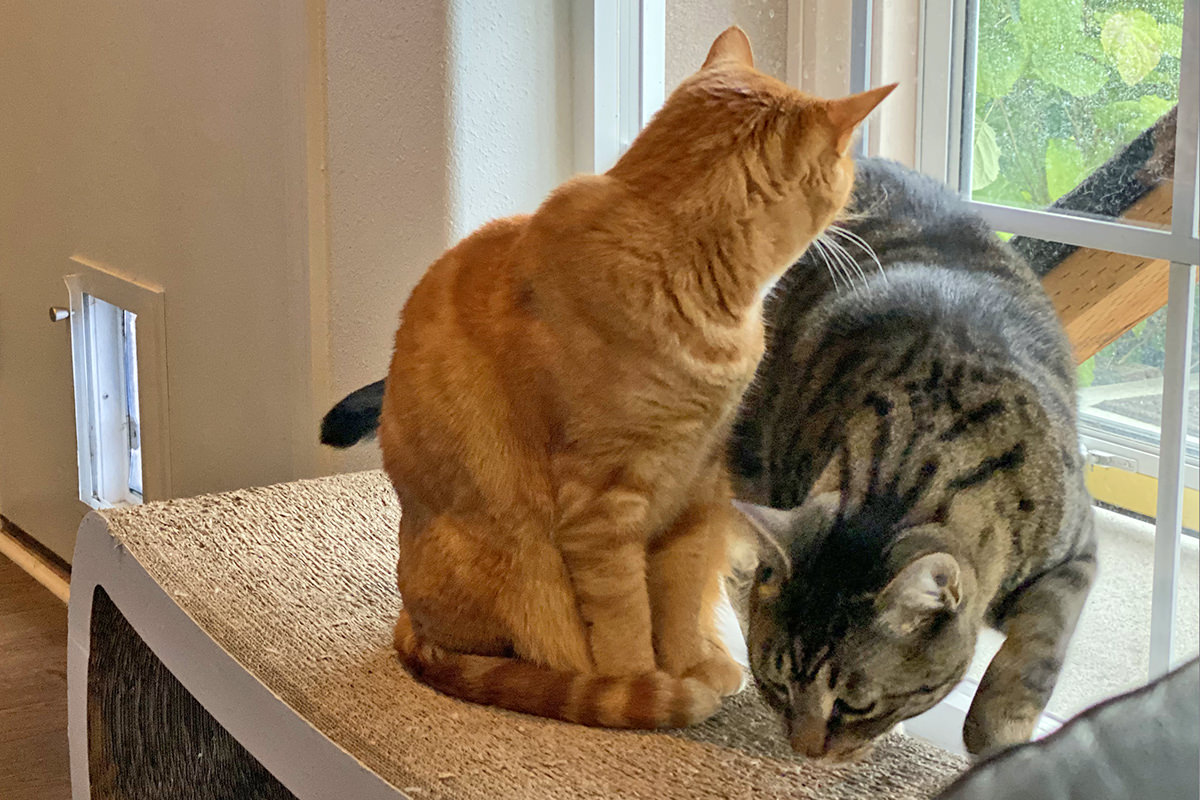 It was probably Fake Jake, who has been hanging around ever since I put the heated winter shelters out for him. Real Jake isn't quite so threatened any more, but Jenny is still mostly terrified. She hisses at him even when she knows she's not in danger...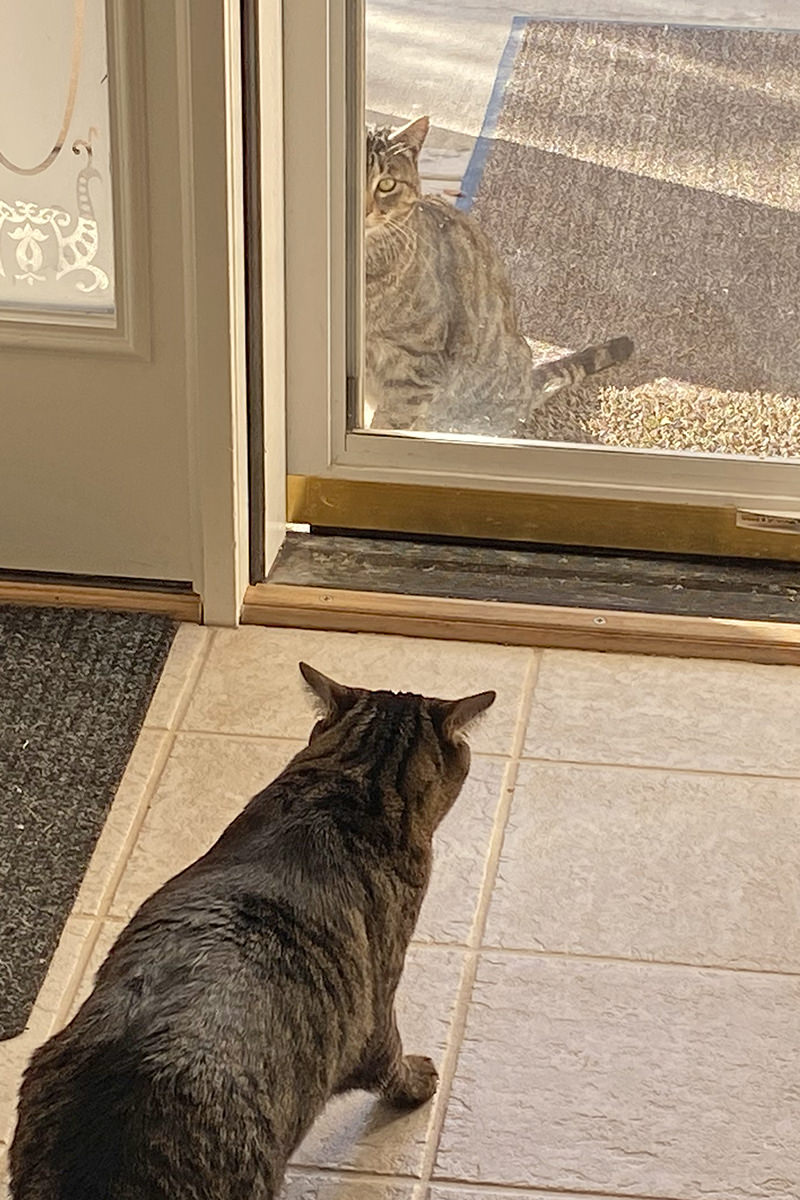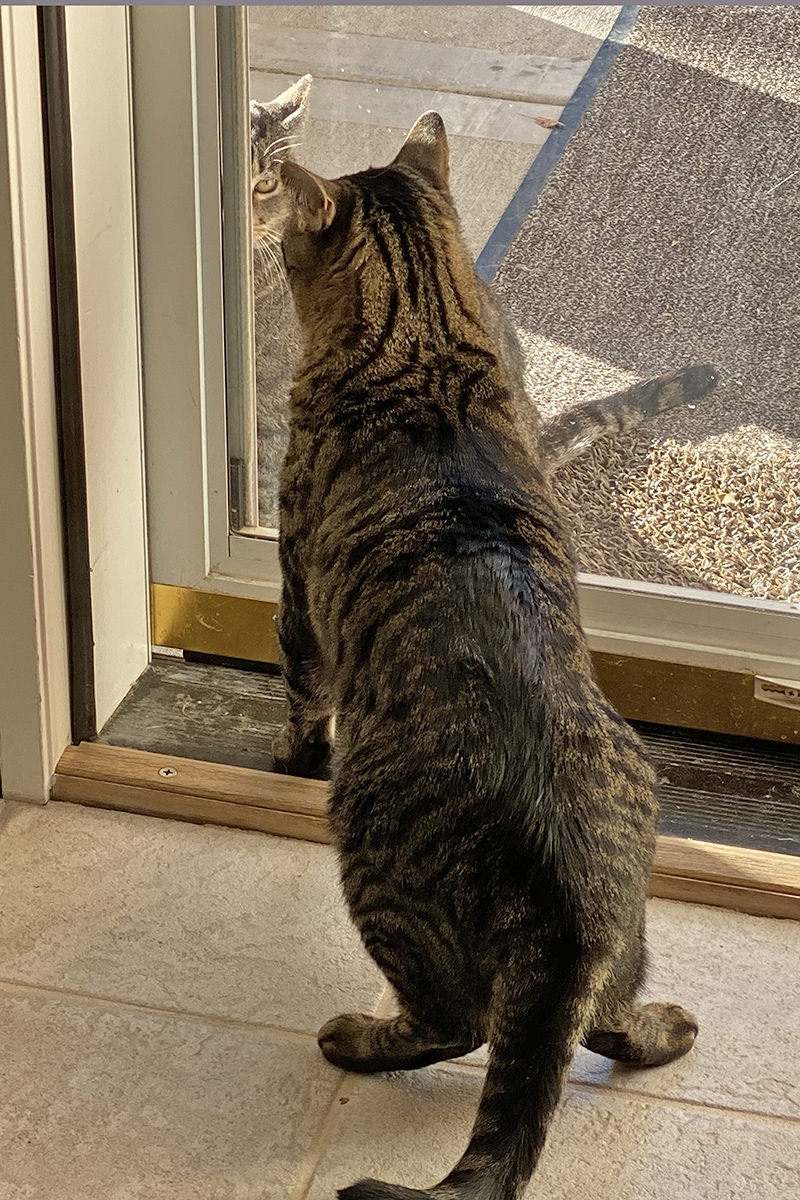 There was a part of me that hoped I could eventually bring Fake Jake inside, but it's just never going to happen. He's horribly aggressive towards other cats and I Would never risk him hurting Jake and Jenny. So... my neighbors and myself do the best we can to take care of him and make sure he has shelter and food. The heated kitty igloos are a favorite spot for him to hang out when it's cold or raining, and I still have cameras inside so I can see if he's hurt or sick or needs help...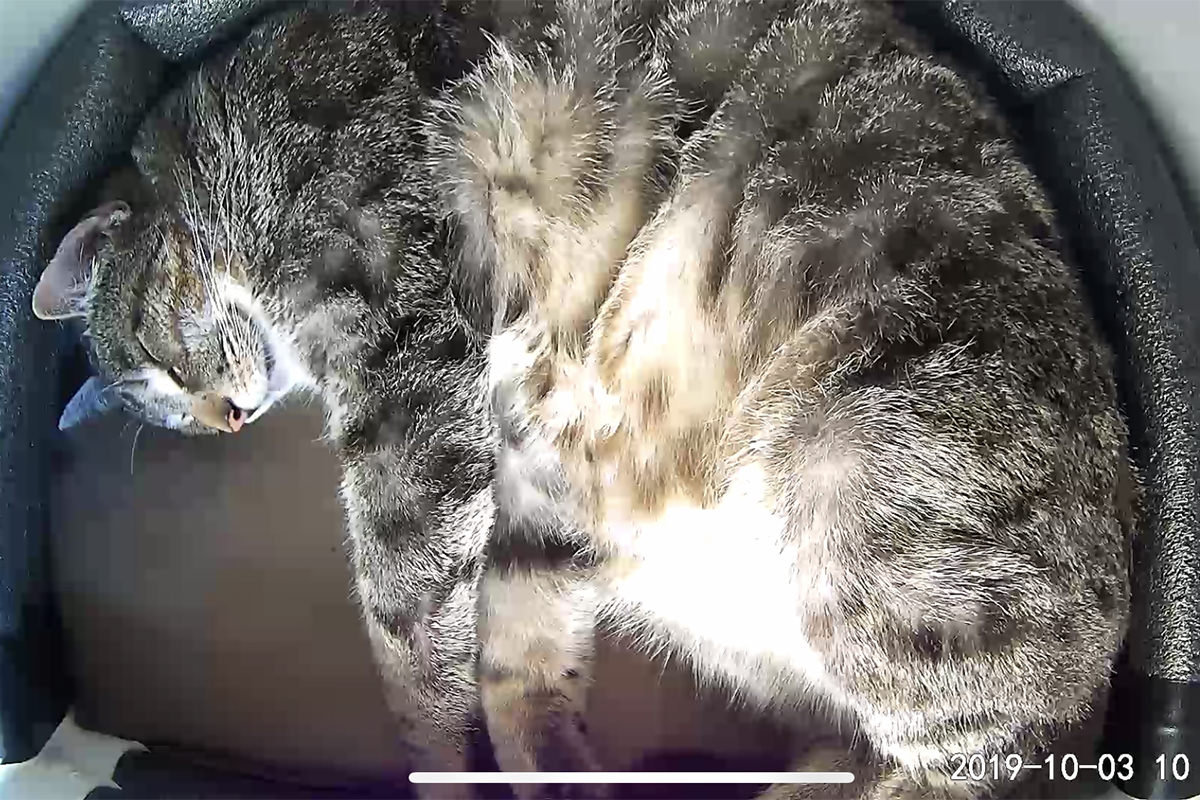 My cats are happy inside now that I've turned the heat on and put out the kitty beds for them to sleep in... or half-in...
See you next Caturday!