Posted on October 20th, 2018

Now that I'm waking up to frost on my car, it seems like a good time to pull out the electric blanket. This is a wintertime essential for two reasons. The first is that it saves money on heat because I'm heating just my bed instead of the entire house. And the second? It's Jenny's favorite thing.
And now Blogograpy presents: The Three Stages of Electric Blanket (according to Jenny)...
1. What? What's This?!? So Jenny hops up onto the bed and immediately notices that something is different. Is that... warmth? She decides to test it out by plopping her butt down on the bed...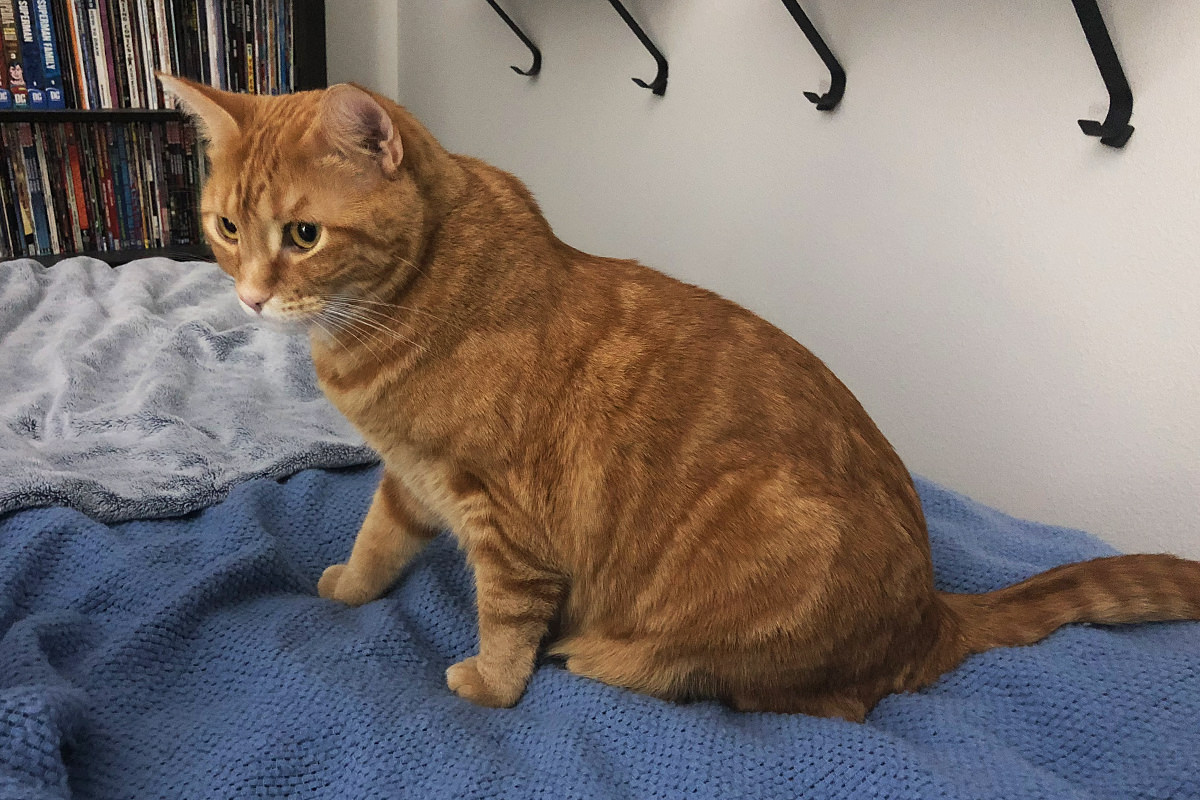 2. Warmth! Glorious Warmth! At this point Jenny is rolling all over the bed trying to decide what part of her body she wants to heat up first...
3. Heat Isn't Enough! The newfound warmth is okay and all, but that's no replacement for tummy rubs, which she demands as well...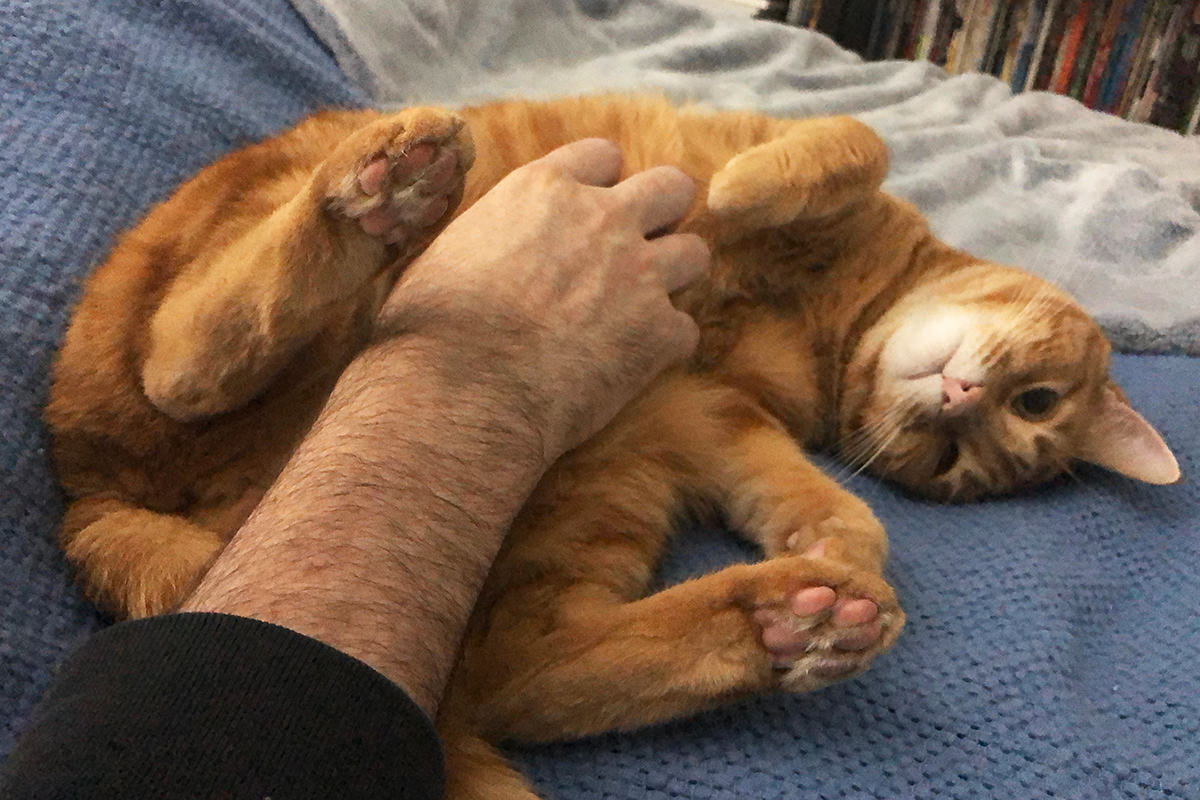 Jake likes the heat too. It's nice to have a warm bum while cleaning your junk...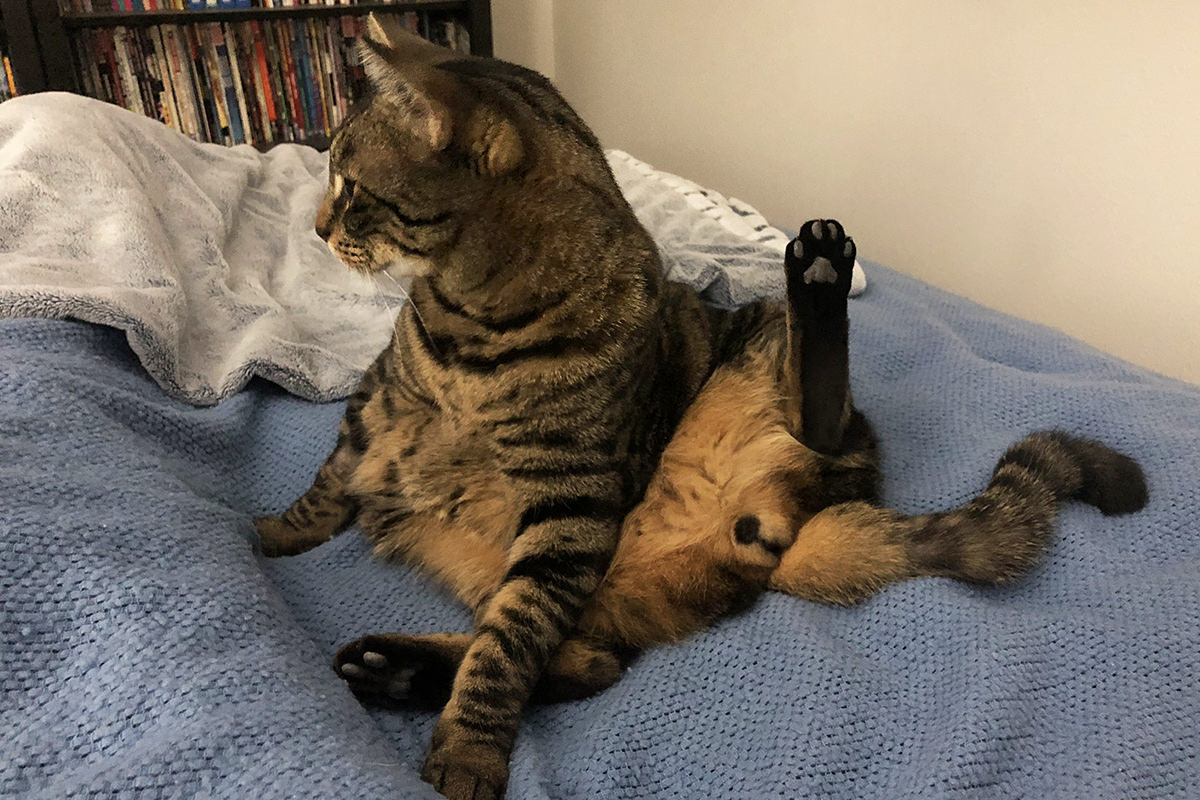 And speaking of Jake... a setback.
Last night while I was watching television, Jake made a spectacular vomit spew from the top level of the cat tower. Before his urinary tract problems, he never vomited. The only time he ever vomited was when his urinary problems started, so now I'm terrified that he's sick again. The poor kitty just can't catch a break. And neither can I, apparently...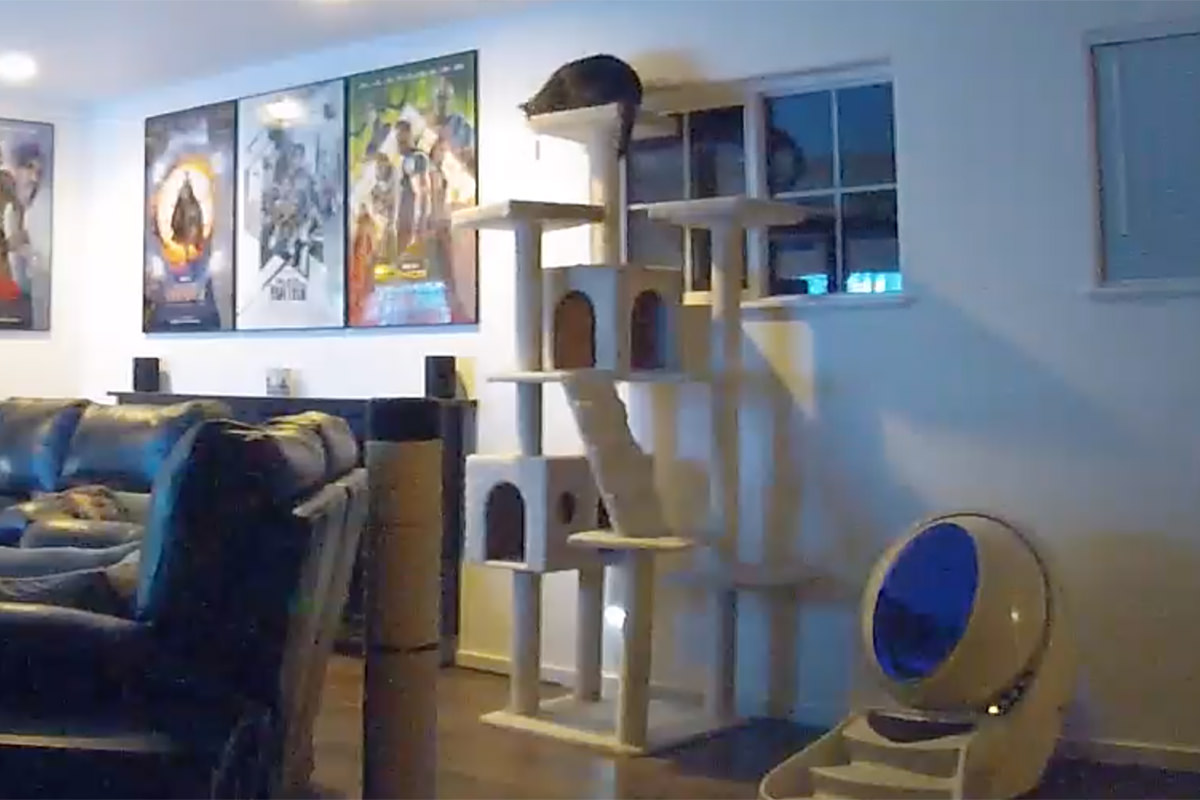 I'm honestly not sure what to make of Jake since he got back from his week-long stay at the vet. He still seems terrified to be left alone. When I'm home, he's on me the entire time... or, lately now, snuggled up to his sister. Jenny tolerates it quite well... until she doesn't. At which time he's right back on me. — When I'm gone he is agitated at first, but sleeps alone or hangs out in the catio alone and seems fine with it. Maybe it will just take a while for him to get over the trauma of all he went through. I hope he'll eventually get back to his "normal." In the meanwhile, it's cute to see him snuggling up to his sister at night...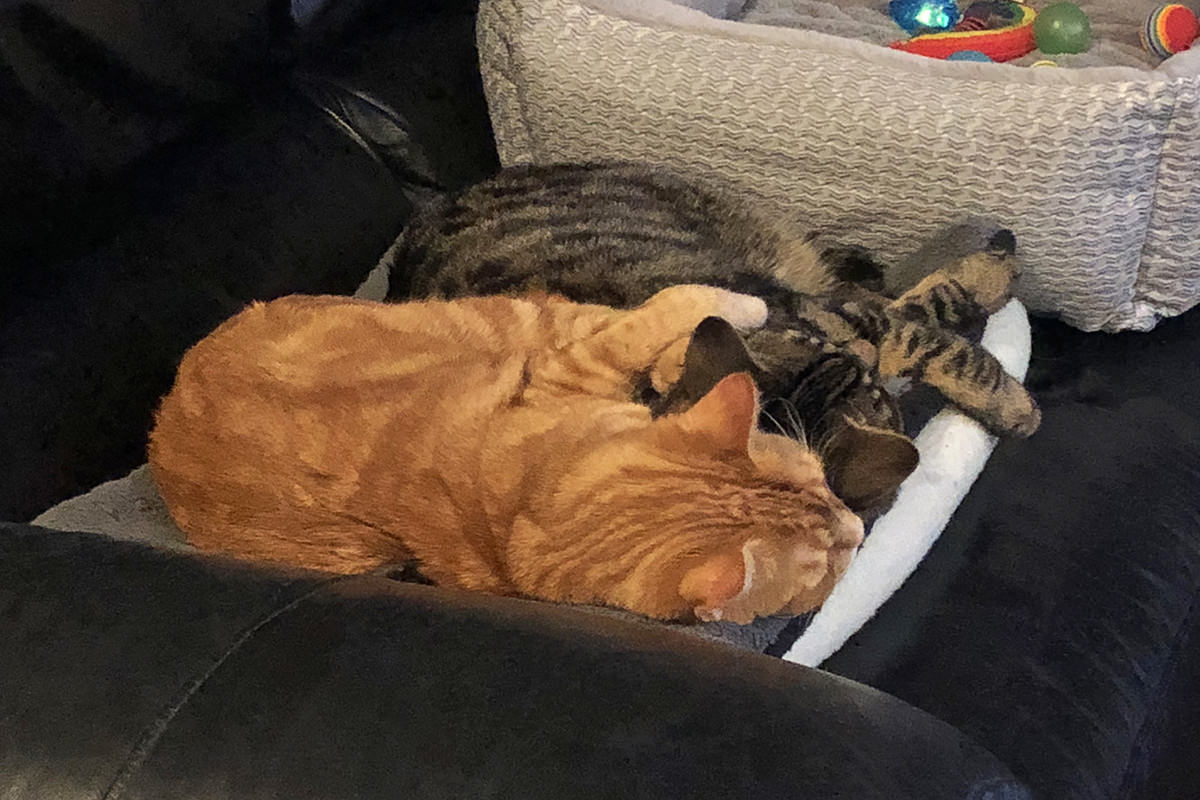 And to have a warm, fuzzy interruption from work when he wants to cuddle up next to me...
At night he still wants to sleep with me or, to be more accurate, on top of me...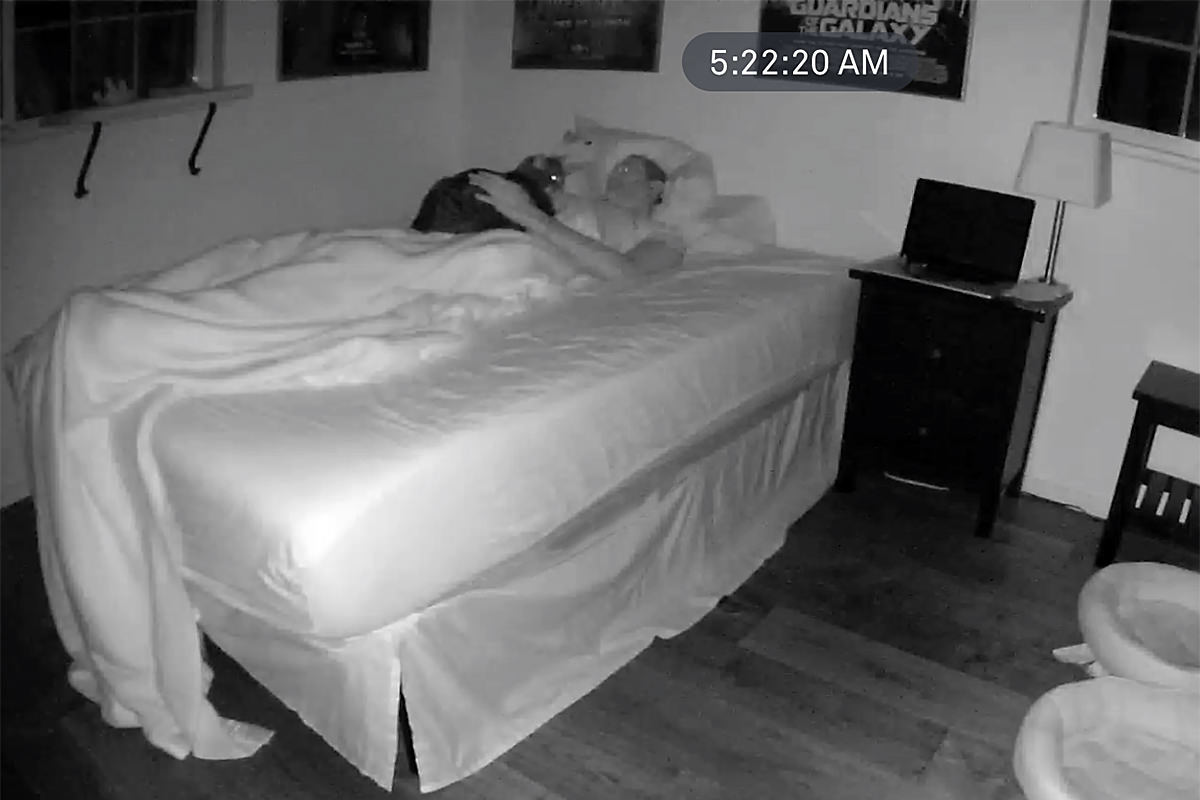 Though now that there's an electric blanket on the bed, it seems like he'd rather sleep on that and just lean up next to me instead...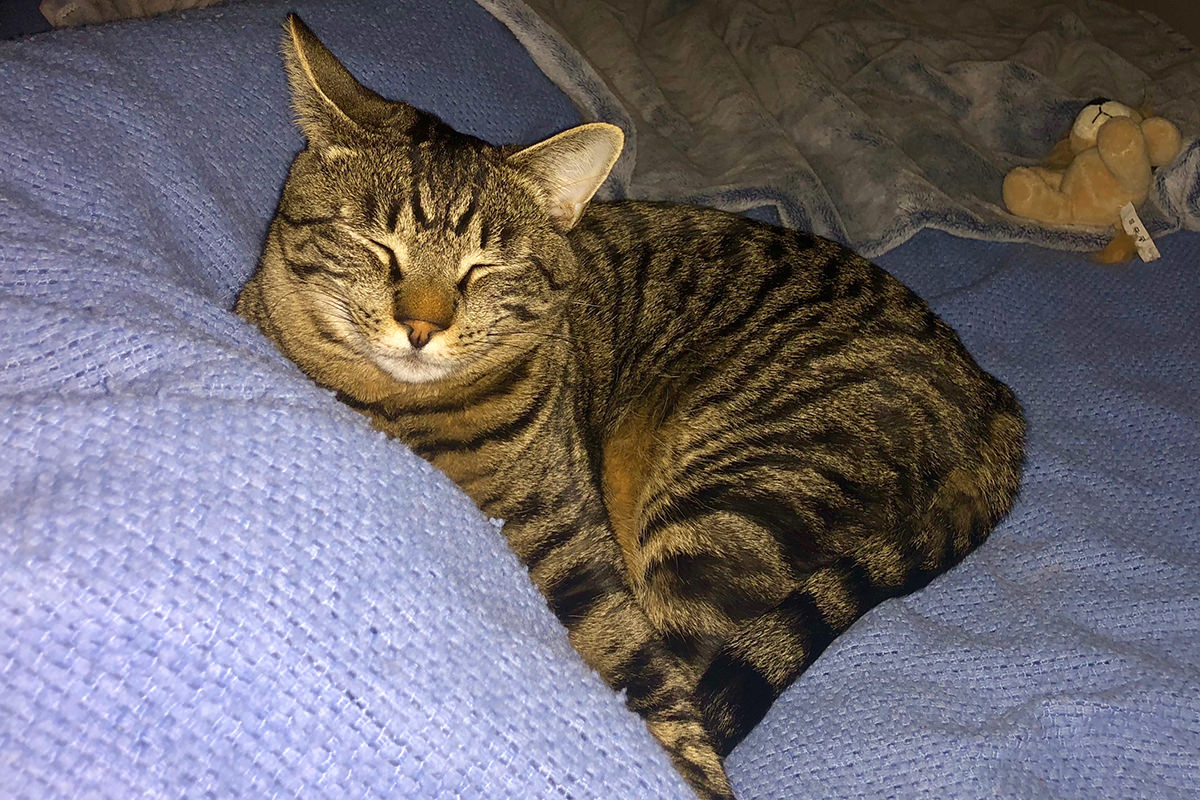 Jake is not one for selfies, as you can tell...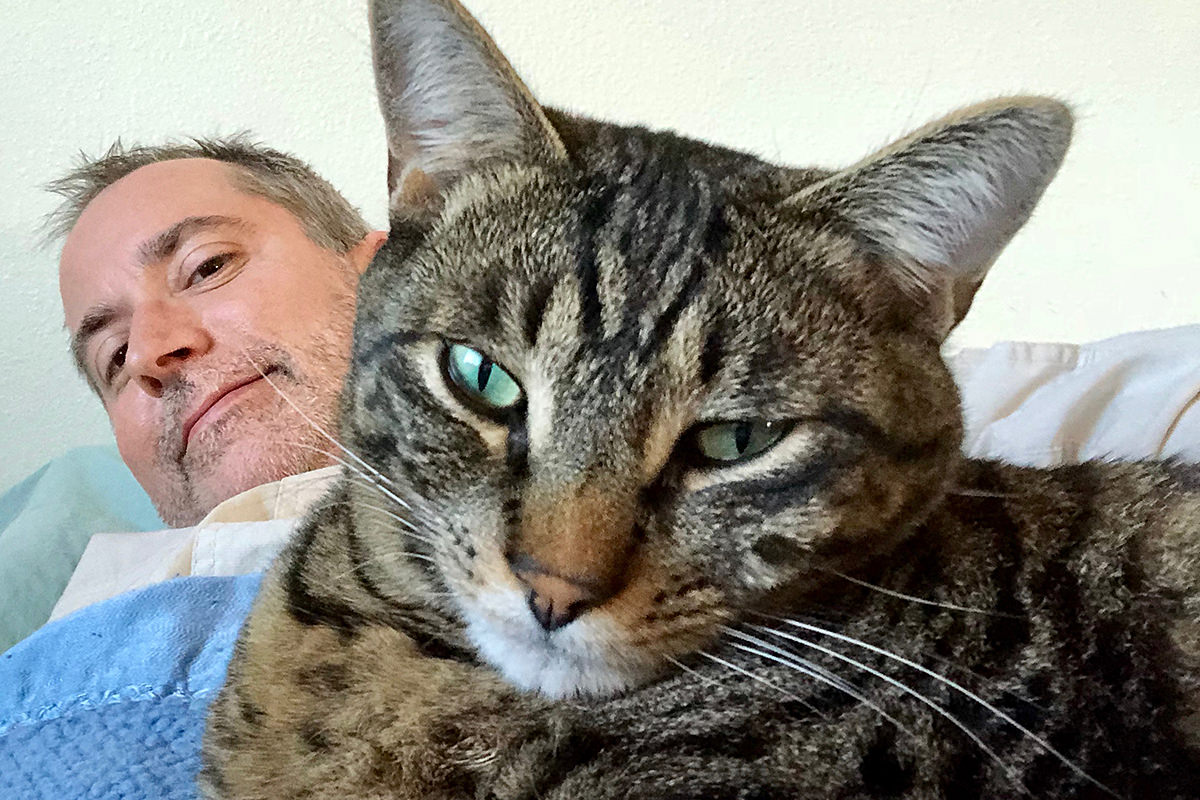 Health-wise, Jake is still peeing far too often... but both the Upstairs and Downstairs Litter-Robots are reporting that the number of uses per day is trending downwards, so maybe one day he'll be back to where he used to be...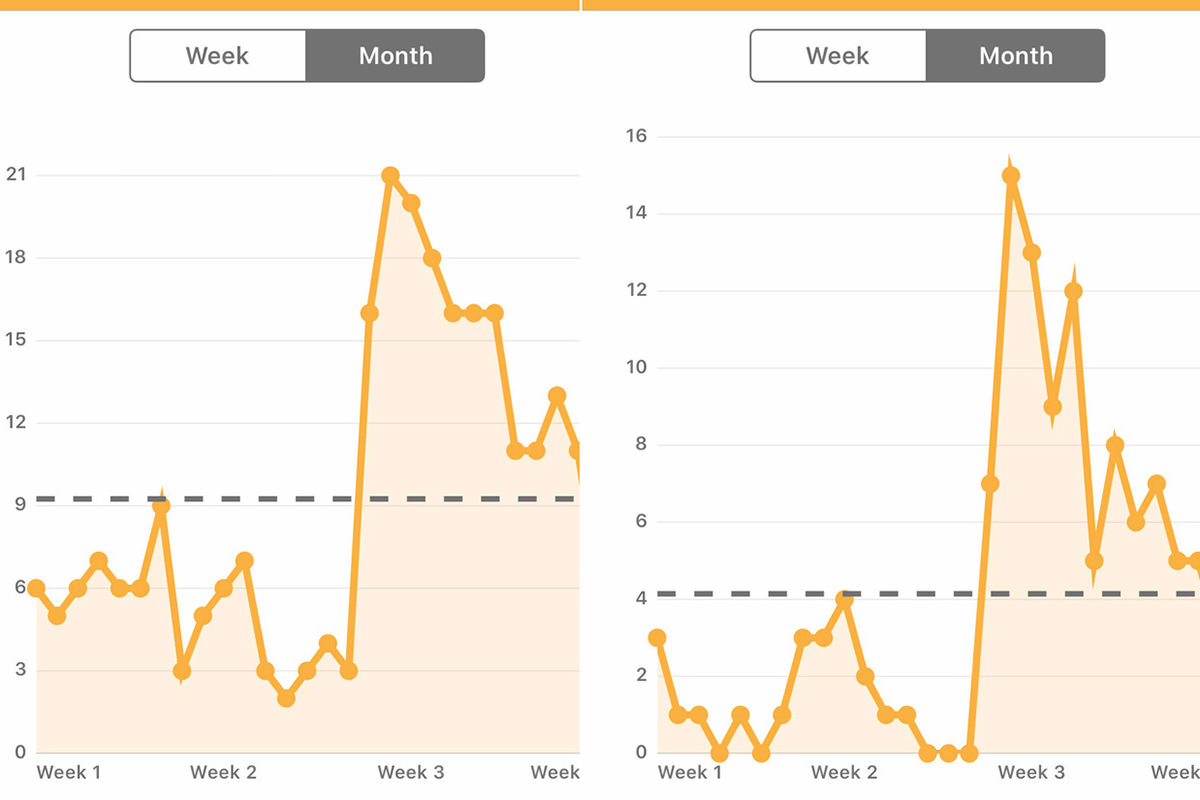 The high peak is when I bought Jake home. The valley before the peak is when Jake was at the hospital and only Jenny was using the boxes. The day after he came back, the Litter-Robot was used thirty-six times. Poor kitty. My vet isn't concerned... yet... but I sent and email on Friday just to ask again if this is normal and will eventually subside.
Fingers crossed.
It can't be fun going to the bathroom ten times a day.
Posted on October 13th, 2018

Last night when I got home from work I decided to try a new frozen pizza brand I haven't had before. I don't know why I bother, because they all end up tasting like crap, but I keep holding out hope. The pizza was, as expected, truly awful.
In more ways that one, as it turns out.
While I was removing the wrapper, some of the cheese topping fell on the floor. Before I could grab a towel and get it picked up, Jake swooped in and chowed down. It was only a half-dozen small shreds... but that was all it took. Within five minutes he was puking his guts out. Poor guy.
I don't purposely feed my cats human food, but Jake has been getting into my food since I first got him, and it's never caused any problems. But now? Barf-time.
Which means I have to be more careful than ever that he doesn't eat anything except his heinously expensive prescribed specialty food.
Other than that, he's mostly back to normal. Except for the fact that he is still peeing far more often than usual (beats the alternative) and clings to me like glue everywhere I go. When I lay down on the couch to work, he'll immediately hop on top of me... only hopping off to pee, then he's right back on me...
Needless to say, any time I'm in bed, Jake is there too...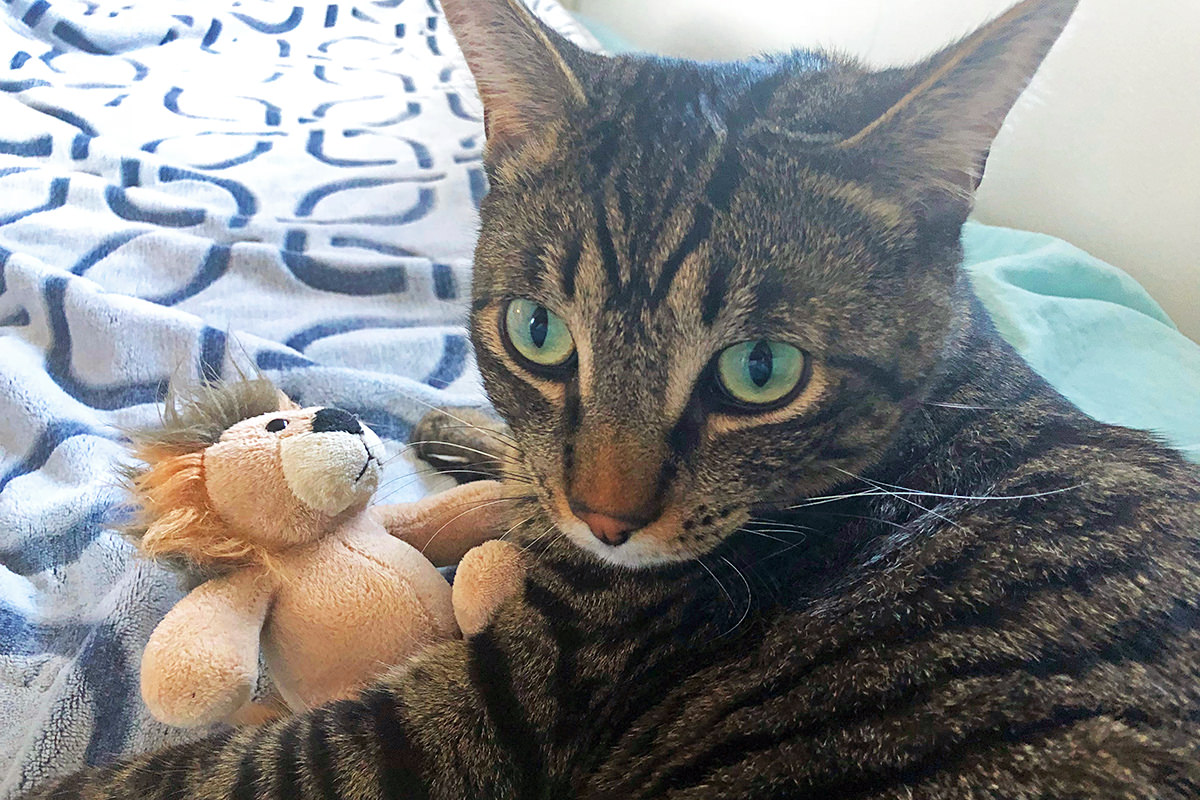 I'm still irrationally upset that his claws were trimmed. I wish I could get past that, because I know they'll grow back... but, still... upsetting...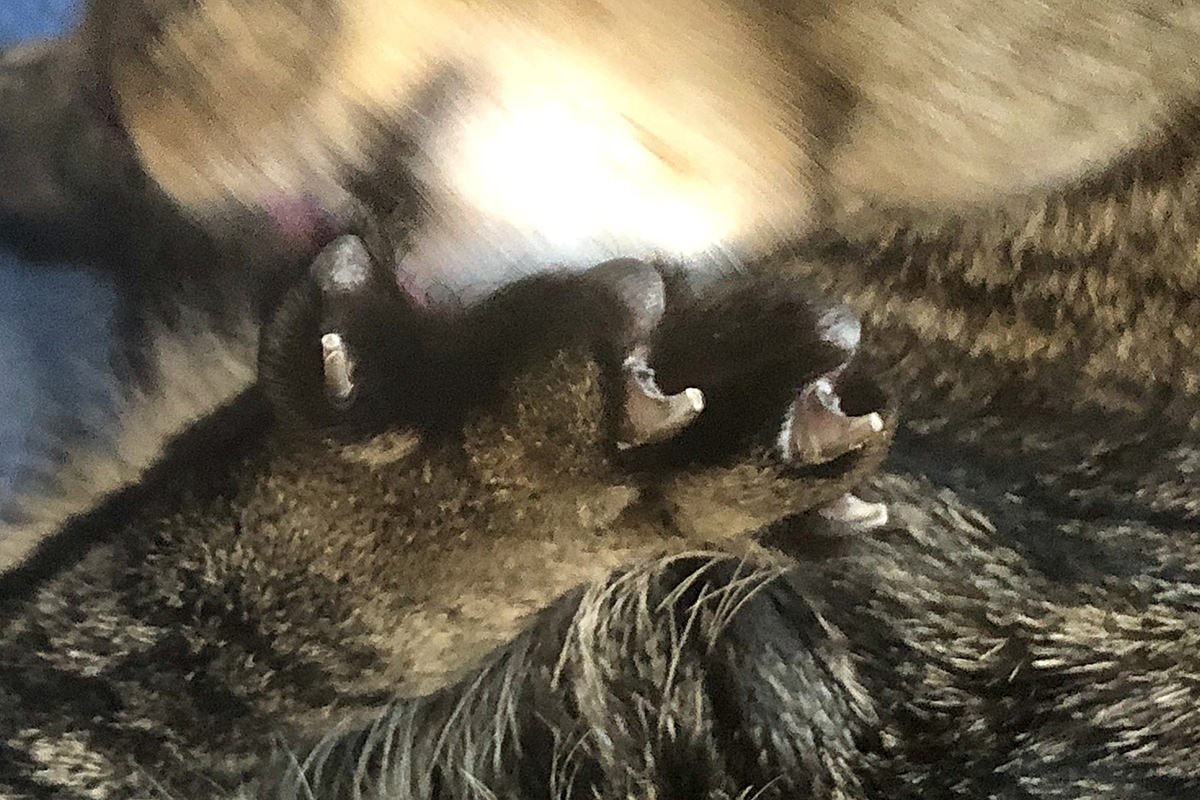 Poor Jenny spends most of her time being jealous that Jake is getting so much attention. For some reason they have an agreement that there can only be one cat in bed with me at a time, and since that's mostly Jake... well... let's just say we've been getting our share of irritated glances...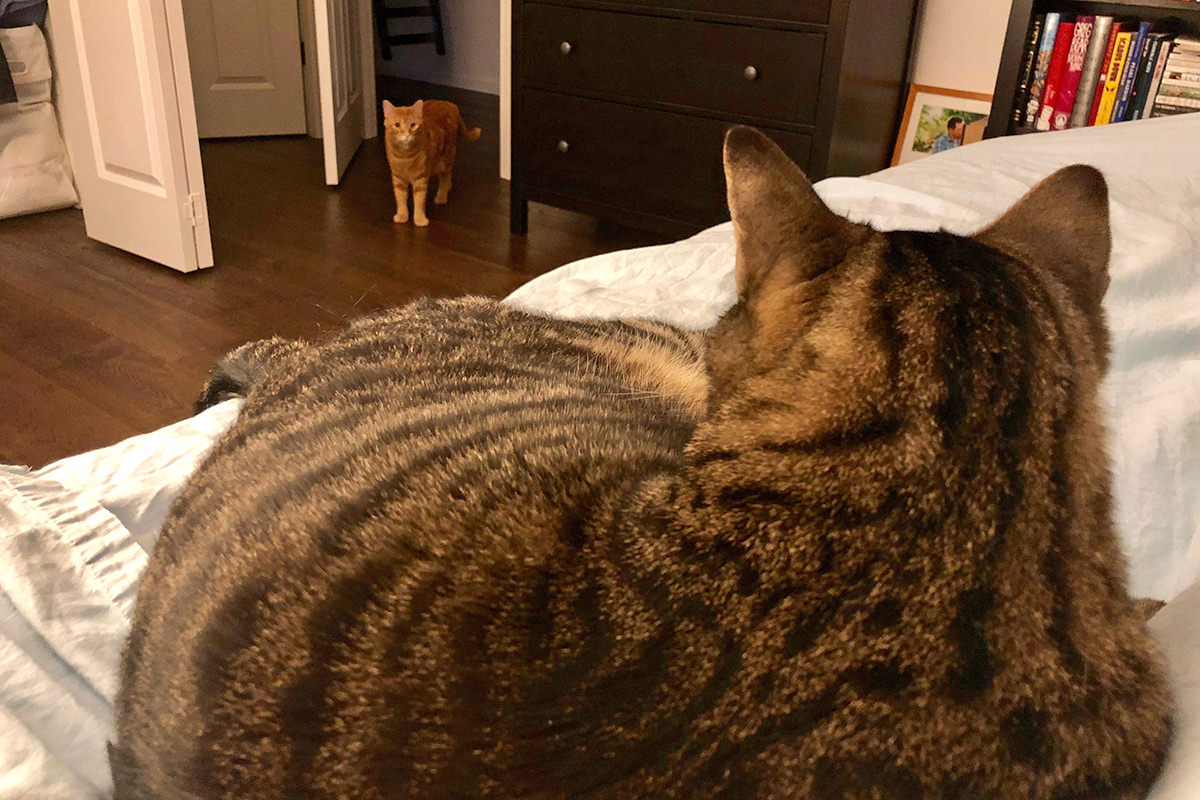 Not that Jenny is completely ignored. I make sure she gets some lap-time too...
This week has been a tough one. I am terrified that Jake's urinary problems are going to come back and they'll end up having to cut him open. Every time he uses the Litter-Robot (which is often) I run to make sure that he was able to pee. Every time he licks his junk, I'm worried it means he's having trouble going again. Next week I'm back to working full days and I won't be able to observe him as easily. I've put alerts on the security camera system for motion at the Litter-Robots, but that's not the same as being here.
Six weeks until my next trip. My hope is that everything will be fine by then and I won't have to change my plans. Again.
Posted on September 29th, 2018

I try really hard not to project human gender traits on my cats. First of all, they're cats. Second of all, they're cats. But it's hard not to. Jenny is a petite and refined little lady. Jake is a big bruiser of a boy. Jenny is complex, scheming, and opinionated. Jake is simple, straightforward, and easy-going. Not that those are necessarily gender-specific traits... but my cats seem to fall into the stereotypes of human society quite well.
And though their personalities are very different, that doesn't seem to matter at the end of the day.
When I first got them and they were scared little kittens, they clung to each other like their life depended on it. After a while, they drifted apart, not really choosing to hang out together. But lately that's been changing. They are back to bathing each other again, which is just too sweet...
A half-hour later...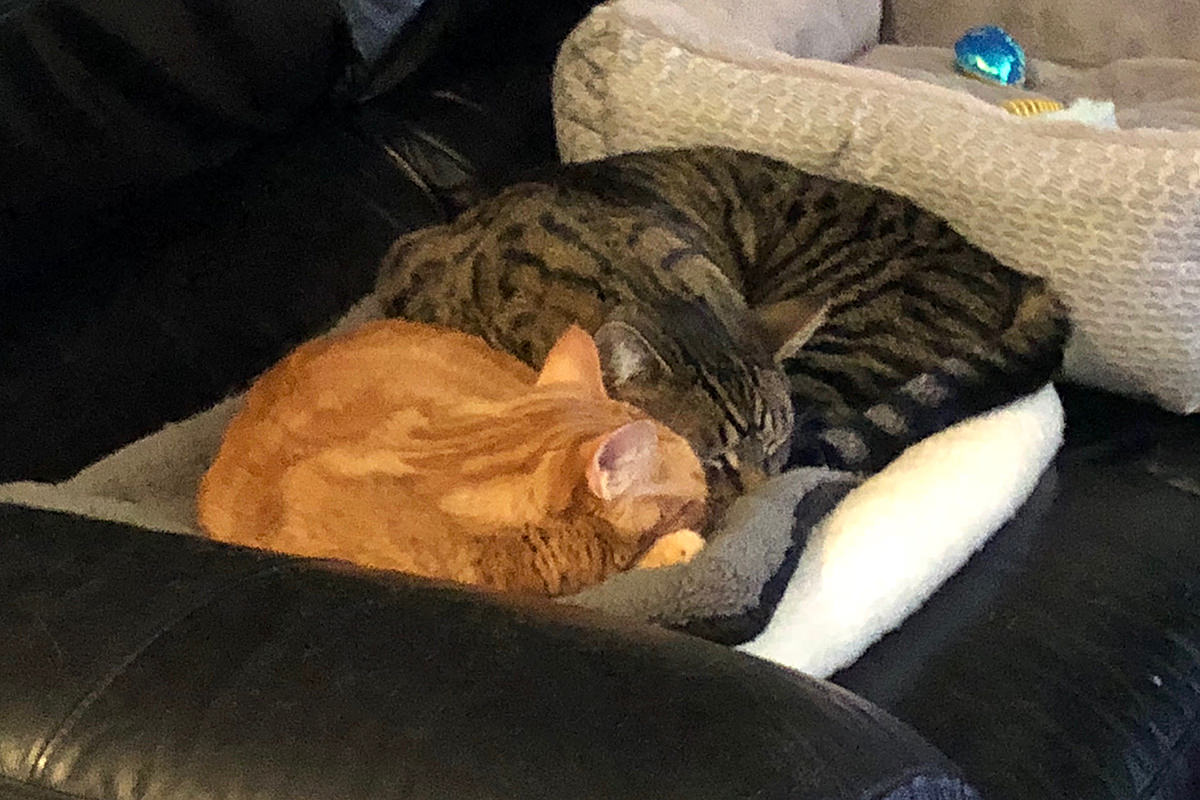 Note the large bed I bought them goes ignored. They would much rather snuggle up in a tiny little bed instead.
That's cats for you.
If only humans with all our different personalities could get along together this well.
Posted on September 22nd, 2018

I flew back to Seattle today so I could drive home this afternoon. Between lane closures and torrential rains over the passes, the drive was not fun. What was fun? Walking through the door and having Jake and Jenny act like I had been gone for a month instead of one day. I think when I'm gone longer, my cats eventually get accustomed to my absence. But with quick trips they haven't adjusted to my being gone, so they more excited to see me. Or something like that.
But Jake and Jenny's weird behavior when I come home is nothing compared to when I am getting ready to leave.
When I drag out the automated pet feeders, they know.
I didn't take a suitcase this trip, but when the suitcase comes out, they definitely know.
Both of them stick to me like glue when they know I'm going to be gone. On Wednesday night, I brought out the feeders. When I went to bed, Jenny ran to the cat's bedroom and dragged a kitty bed in my room so she could sleep near me. The next morning I picked it up and put it on my bench. After she ate breakfast she came back upstairs, flipped it on the floor, then slept in it up-side down...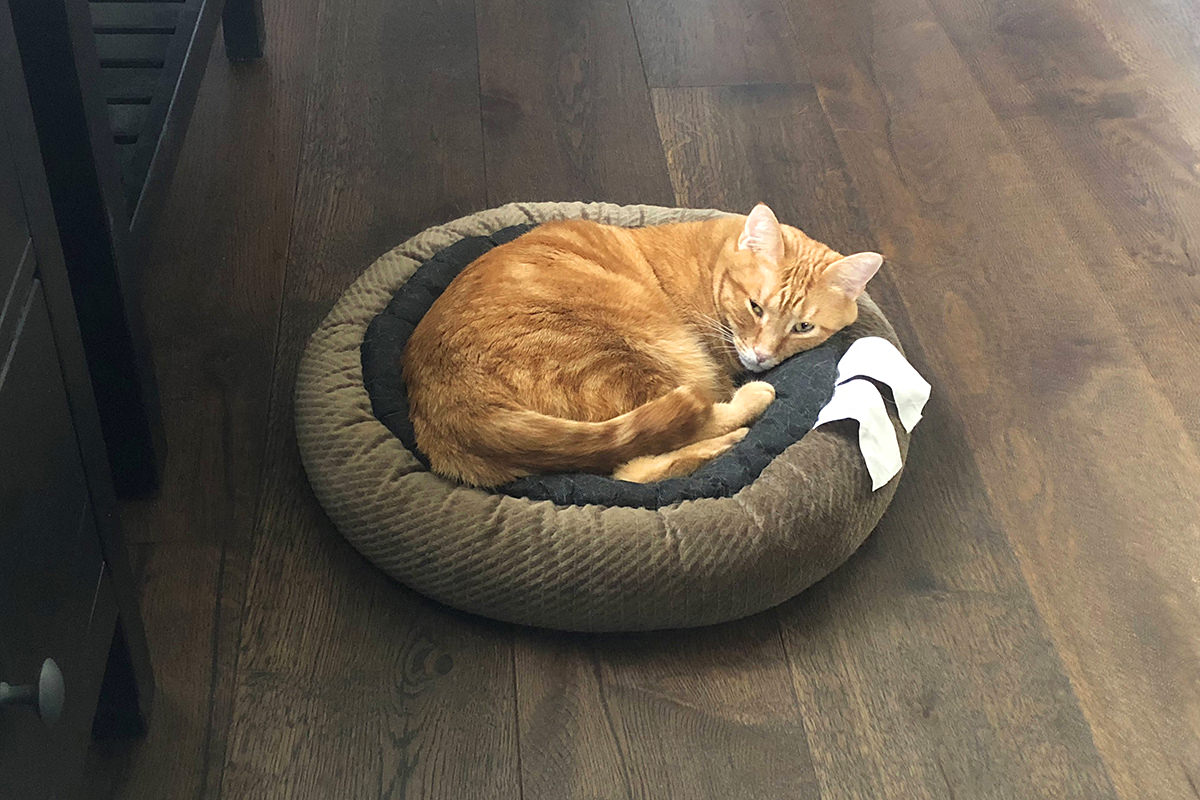 Thursday night she flipped the bed that's on the coffee table onto the floor and took a nap in that...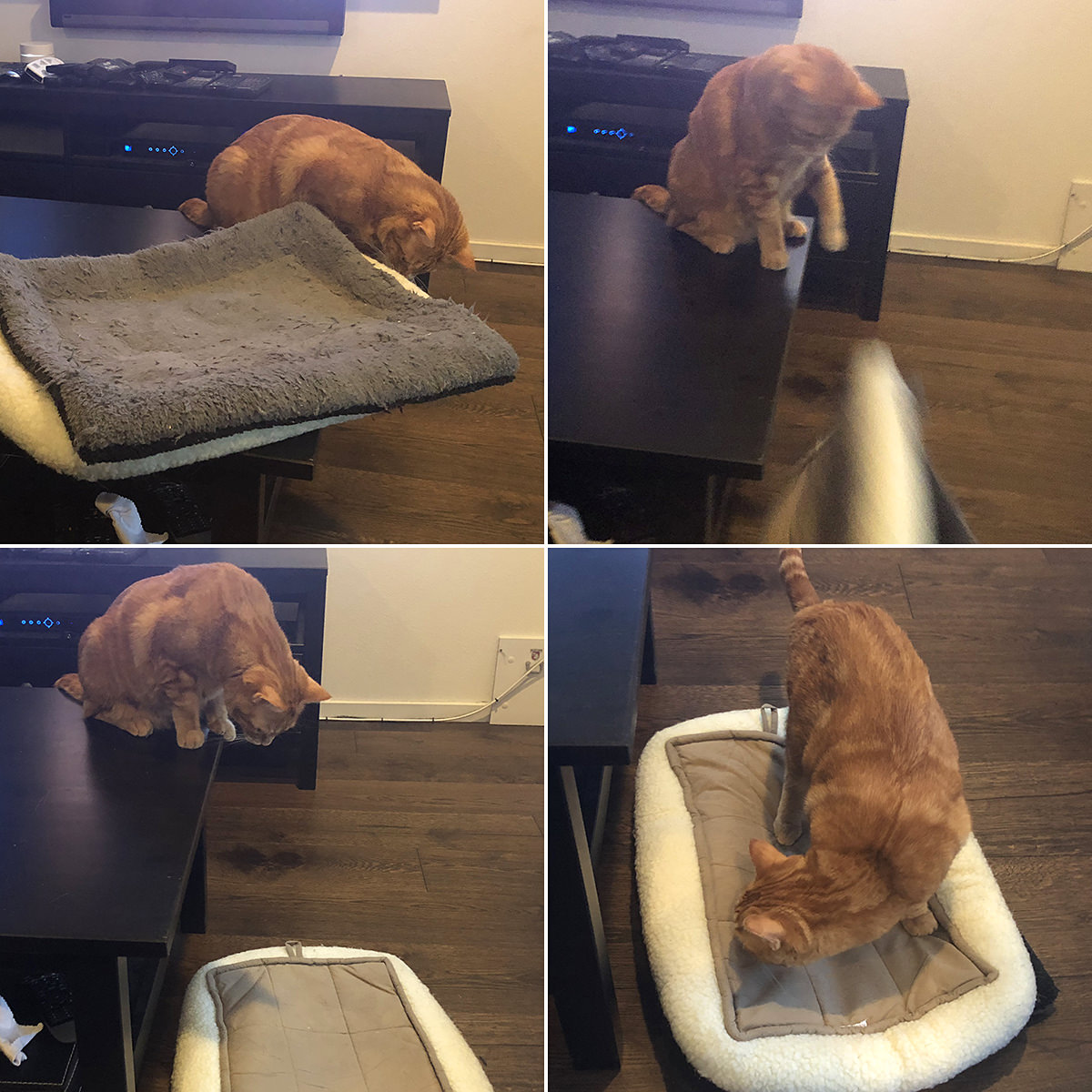 No idea what the up-side-down bed is about.
Even when I manage to get the bed right-side-up, Jenny still has problems to deal with. Like Jake coming in and falling asleep on top of her...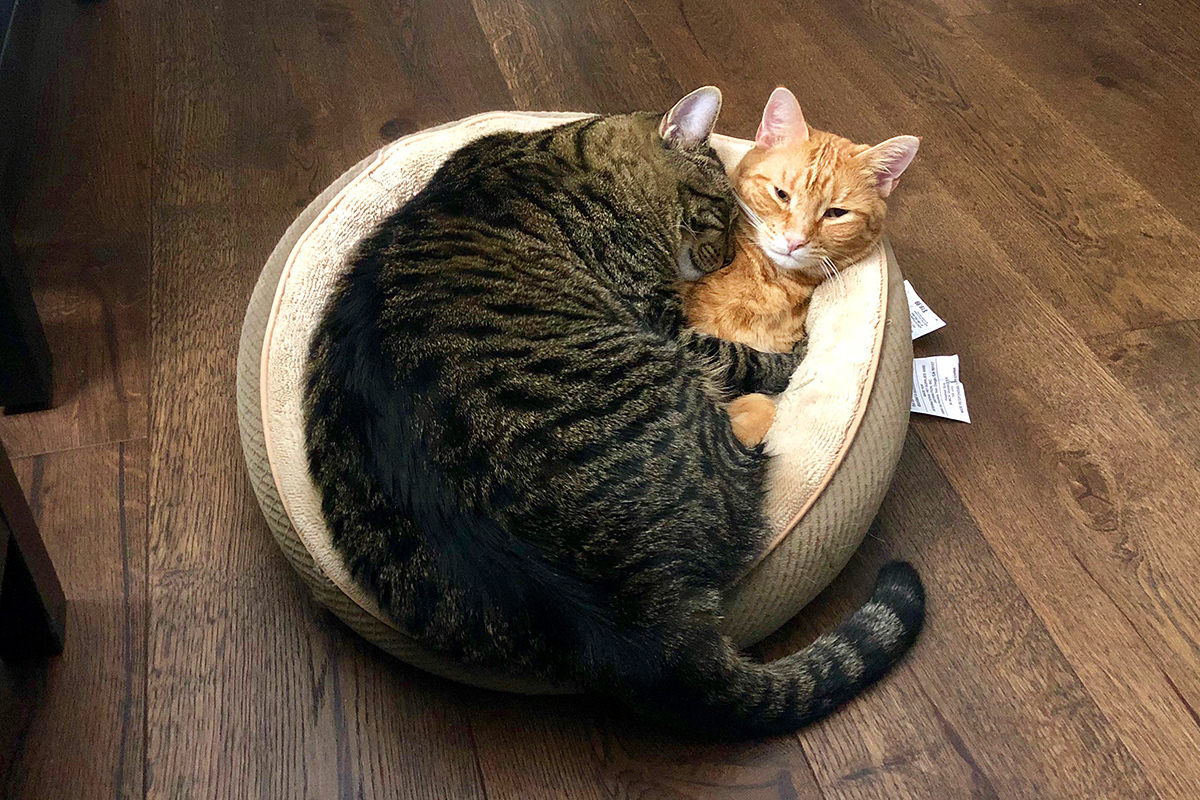 Jake is one big kitty so that can't be comfortable. I went to the cat's bedroom and brought another bed in so they could each have one...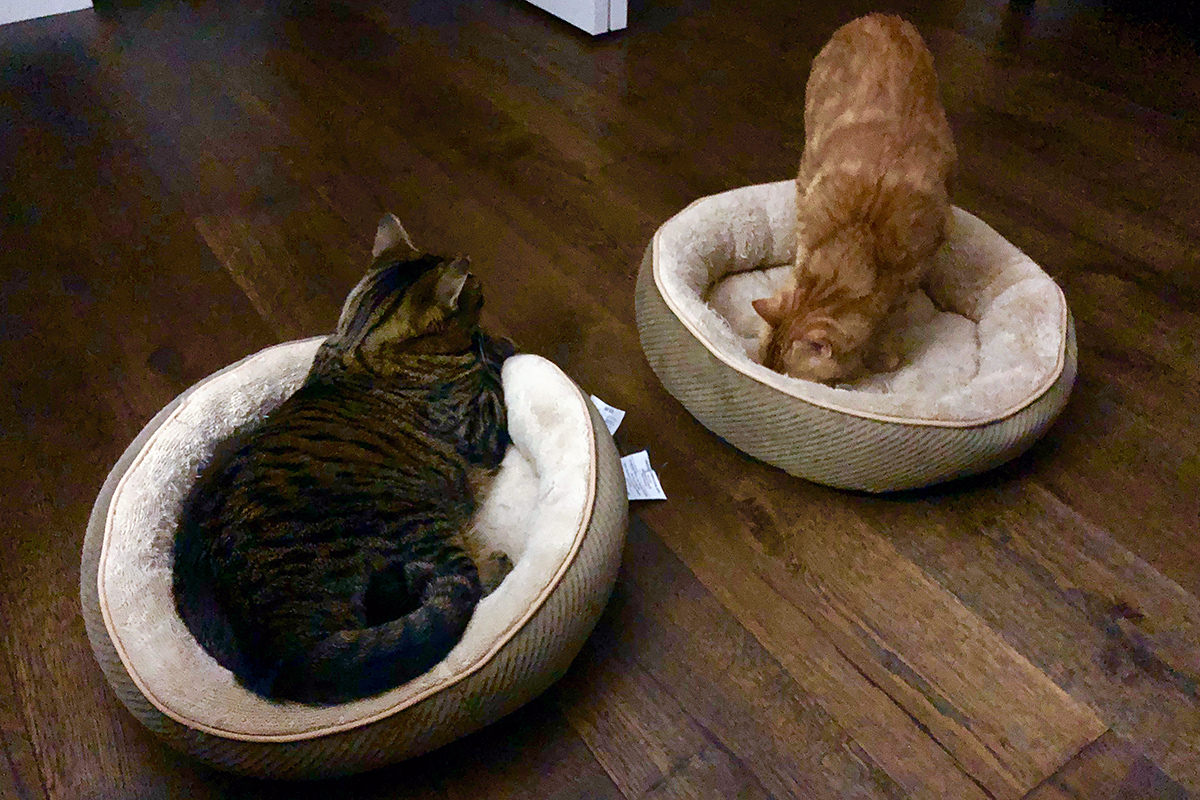 But eventually Jake decided he wanted to sleep on my bed...
And then? I was flying off to Salt Lake City and back again...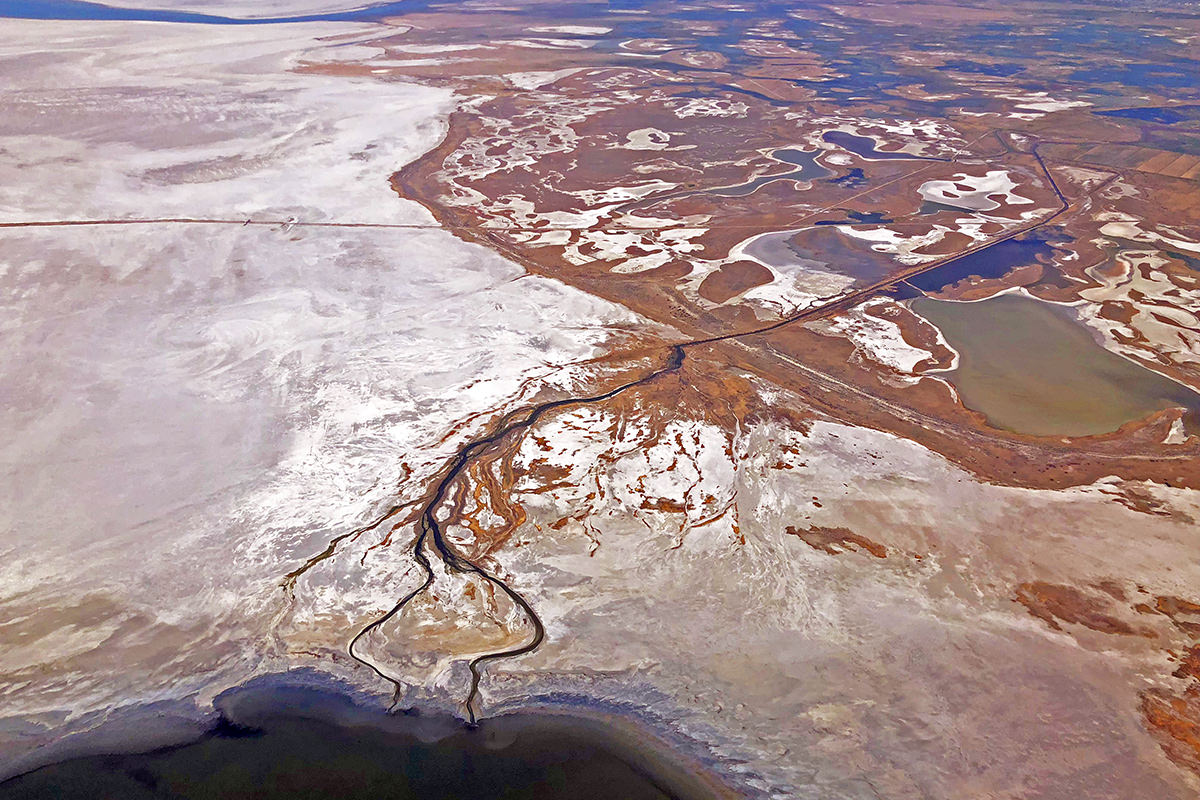 In other cat news... I opened the door to go to work and Fake Jake was there to say hello. My cats immediately ran to the door. And by "my cats" I mean "Jake" because Jenny preferred to say her hello from a distance...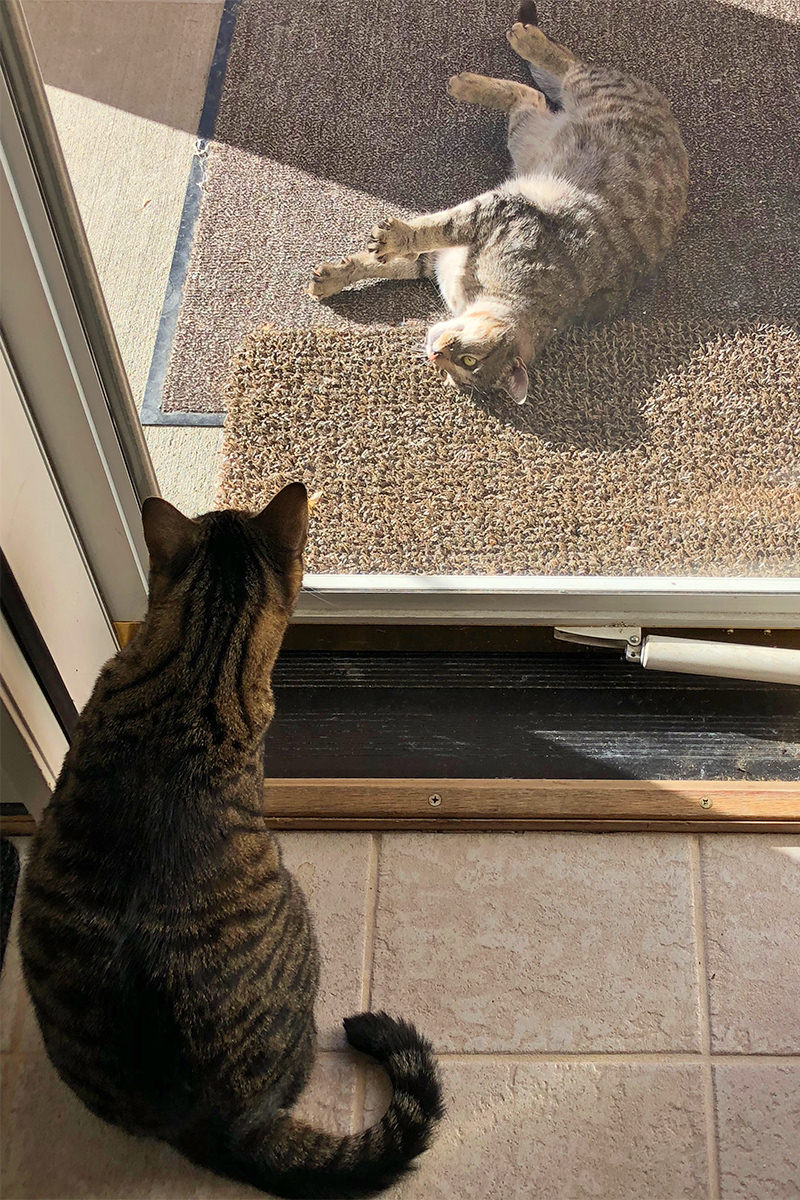 Come mid-October I'll have to tear apart Fake Jake's shelter to put the heating pad back in. I'm thinking I might also see if I can mount a motion sensor or a camera inside so I can track when he's in and out to make sure he's warm and safe when the freezing temperatures come.
Which will be entirely too soon.
Posted on September 15th, 2018

As I've mentioned, my cats are conditioned to expect being fed only after an Alexa alarm sounds. This is fantastic, because they don't bother me for food at all hours of the day and night. It most definitely does not mean that they don't get impatient for that alarm to sound, however. On days they are particularly hungry, they will sit and stare at me around breakfast/dinner time. And heaven forbid I have to go to the bathroom near the breakfast hour. When I exit, this is what will be waiting for me...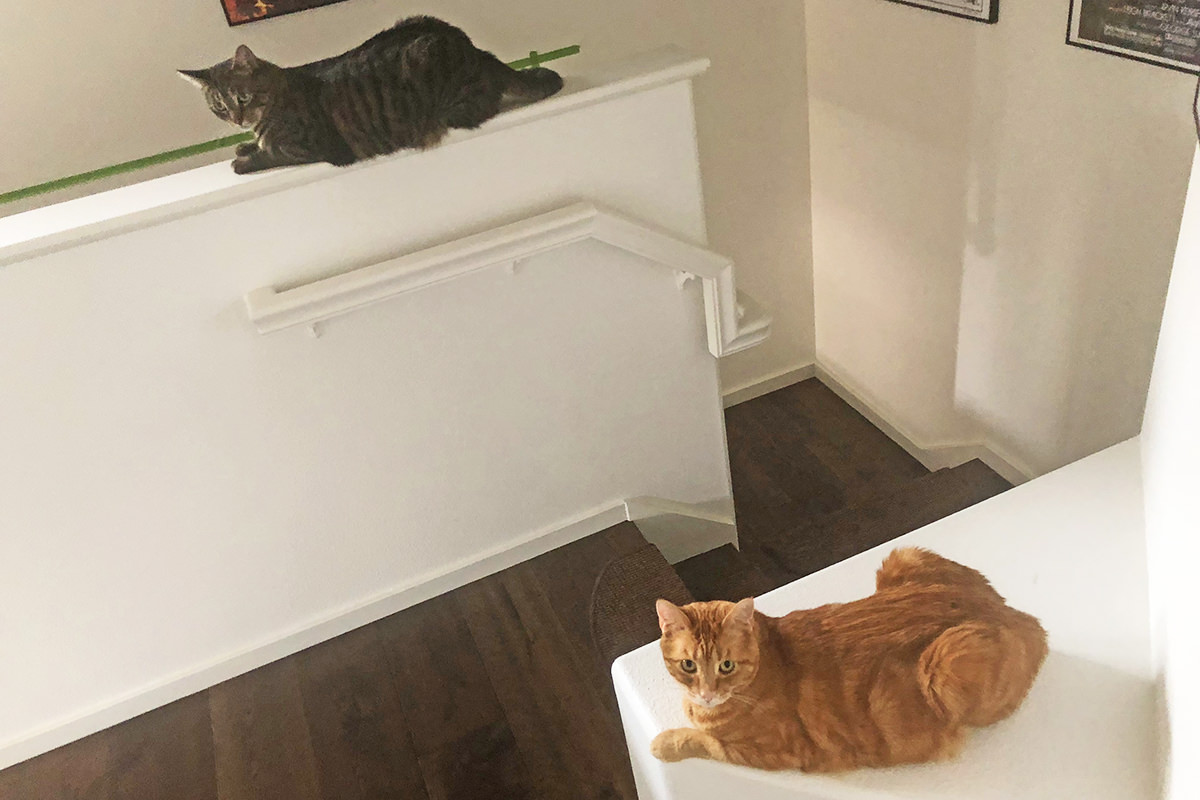 Lately I've been dividing their food up. I give half when the alarm rings, then wait an hour before giving them the rest. Jenny prefers not to eat all her food at once, which means Jake will swoop in and eat everything if I don't. Yesterday I fed them breakfast then went back upstairs to take a shower and check my email. When Jake and Jenny hear me walking around, they know I'm about to head down so they can get more food. Usually they wait for me down there like this...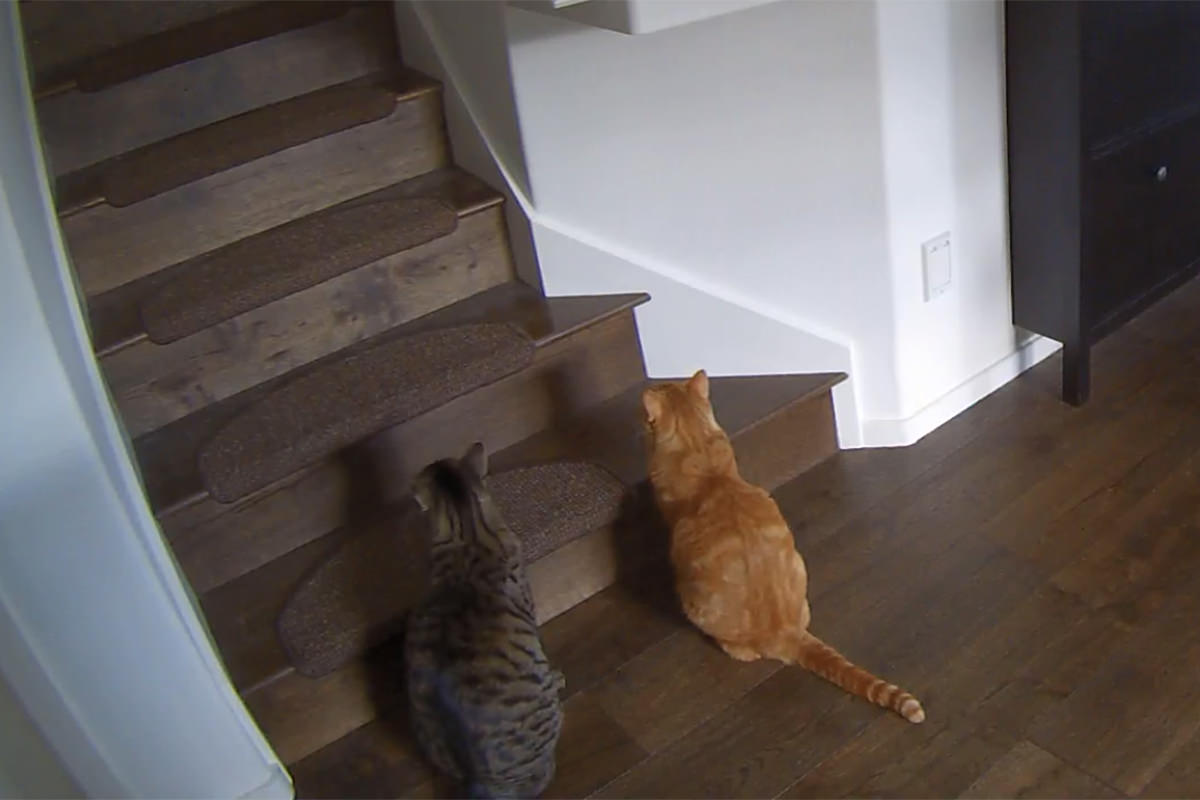 Yesterday when I came downstairs I saw that there was cat puke waiting for me at the bottom.
This is highly alarming, because my cats rarely puke. Jake had a hairball and spewed once. Then I had a couple days of Jenny vomiting when she got sick. That's it. They just don't puke much, for which I am grateful.
After cleaning up barf, I went back through the security cameras so I could see if Jenny was sick again. Turns out it was Jake...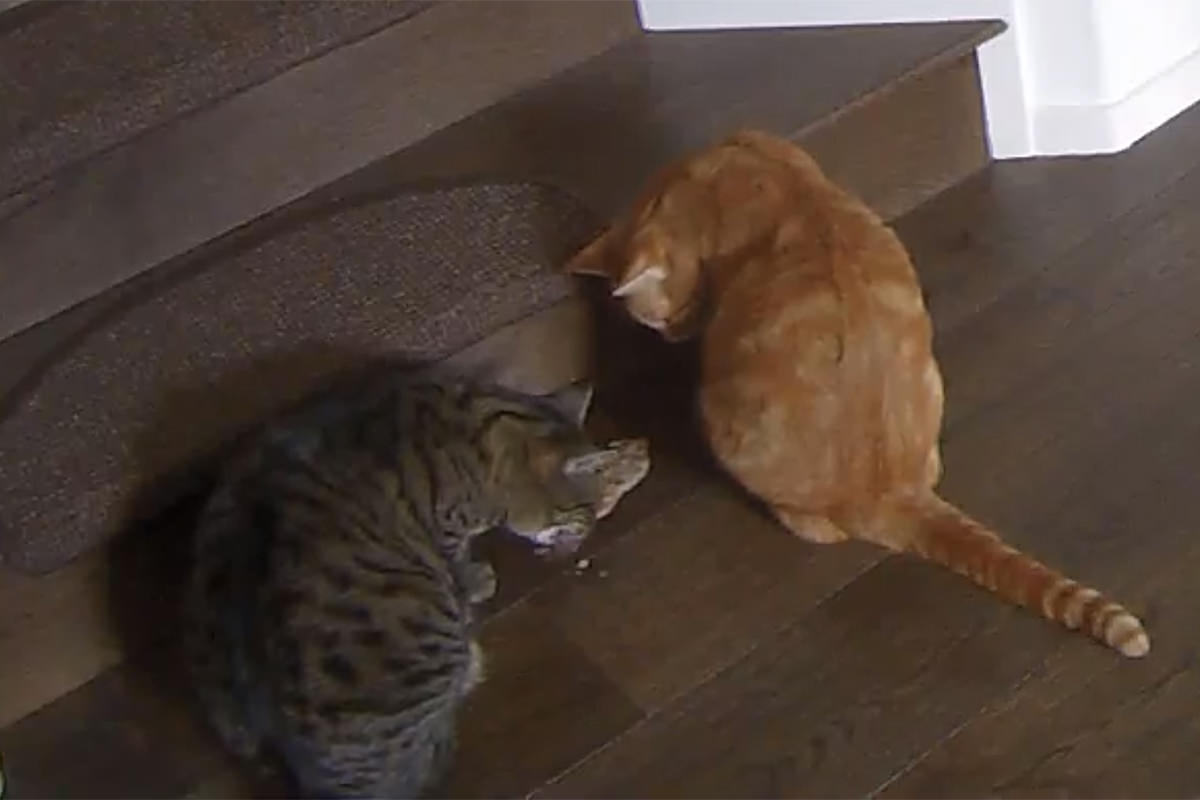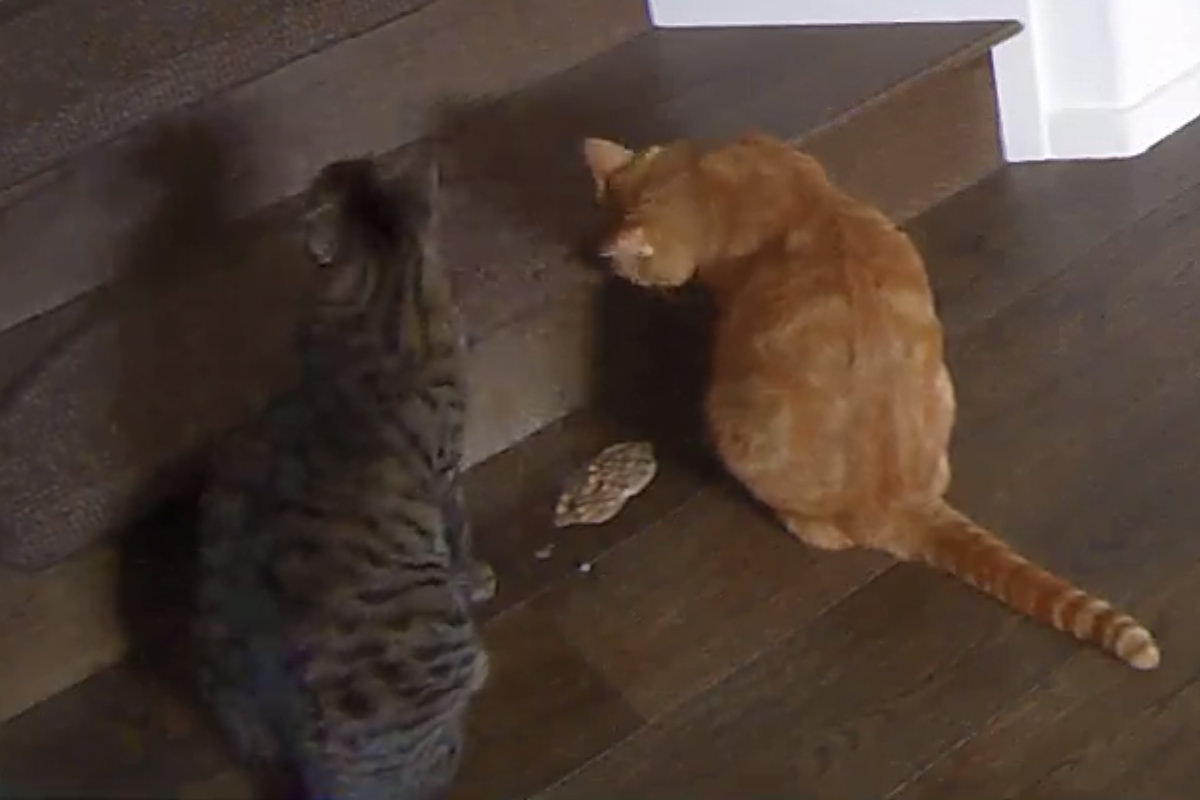 Then I was all "Oh thank heavens Jenny isn't sick again!" and "Oh well, Jake could stand to lose weight anyway."
Such a bad cat-dad.
I remain impressed that Jenny didn't immediately start puking once Jake had puked right next to her. I suppose I should be grateful he didn't puke on her.
He probably would have liked to have puked on her but he's just too lazy to make it happen.
And speaking of Jake being lazy...
I leave Catnip Lobster on the cat shelves that are in my bedroom window. Both of them just love to lay up there and chew on it. Problem is that they get too excited and sometimes toss it off the shelf. Jenny will immediately jump down and continue to wrestle with it. Jake on the other hand? Nope. He just glares at me until I get it for him...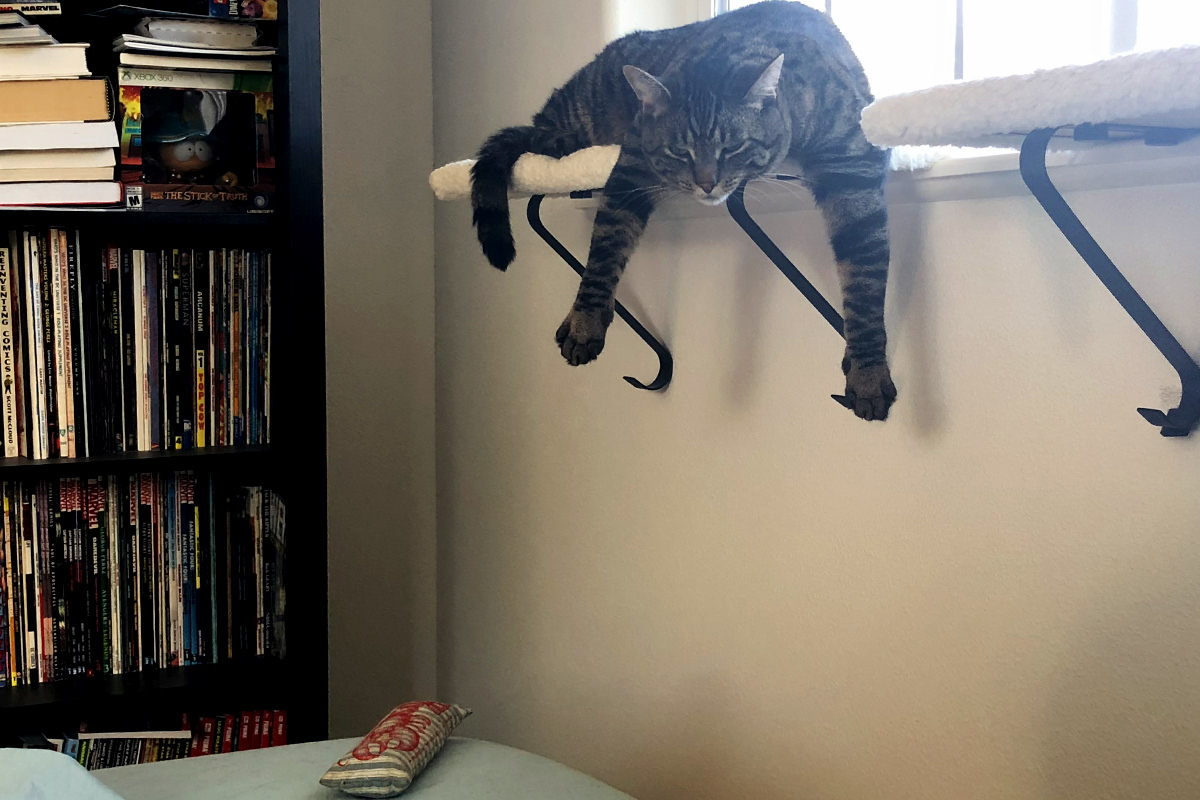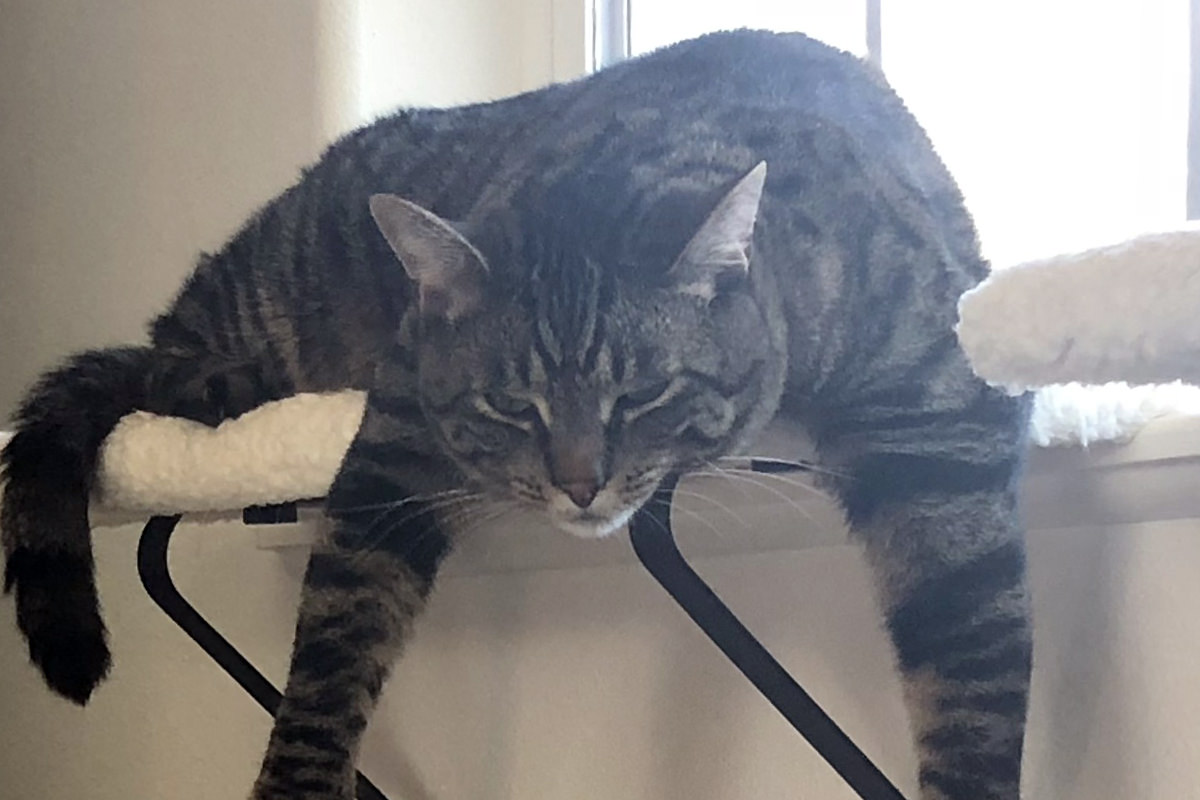 And of course I do.
Guess I'm a good cat-dad after all.
Until next Saturday then.
Posted on September 8th, 2018

Hey! It's my second catioversary!
Before I bought my condo, I specifically asked two questions of the HOA...
1) Can
I have cats? and
2) Can
I build an enclosure on my back porch for them? Originally it was because I had planned on bringing Spanky with me and, since he was an outdoor cat, I figured he wouldn't be happy if he didn't have a way to be outdoors. When Spanky disappeared and I got some kittens to keep my mom company, I still wanted a way for them to go outside safely.
Work was crazy, so I ended up hiring a contractor to frame it out and put the roof on (something that came back to bite me in the ass later). This was the fastest way to get my catio built, and it's been one of the best investments I've ever made...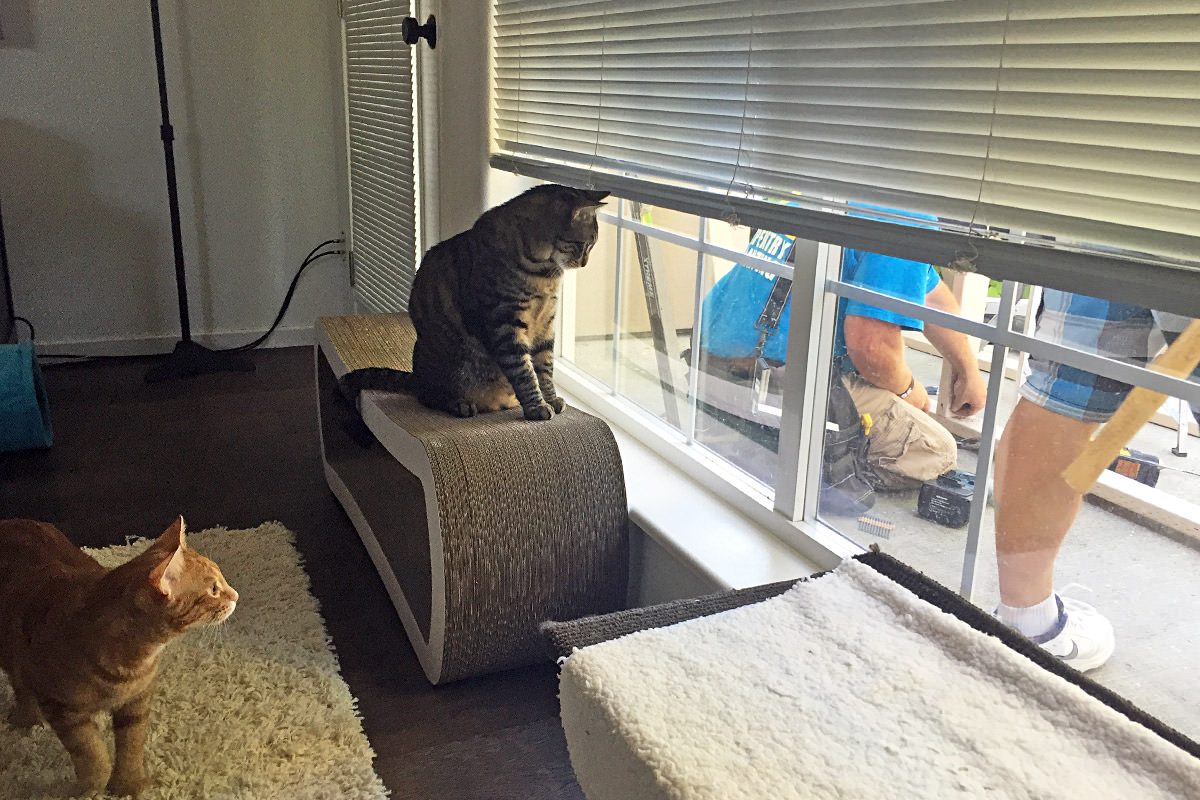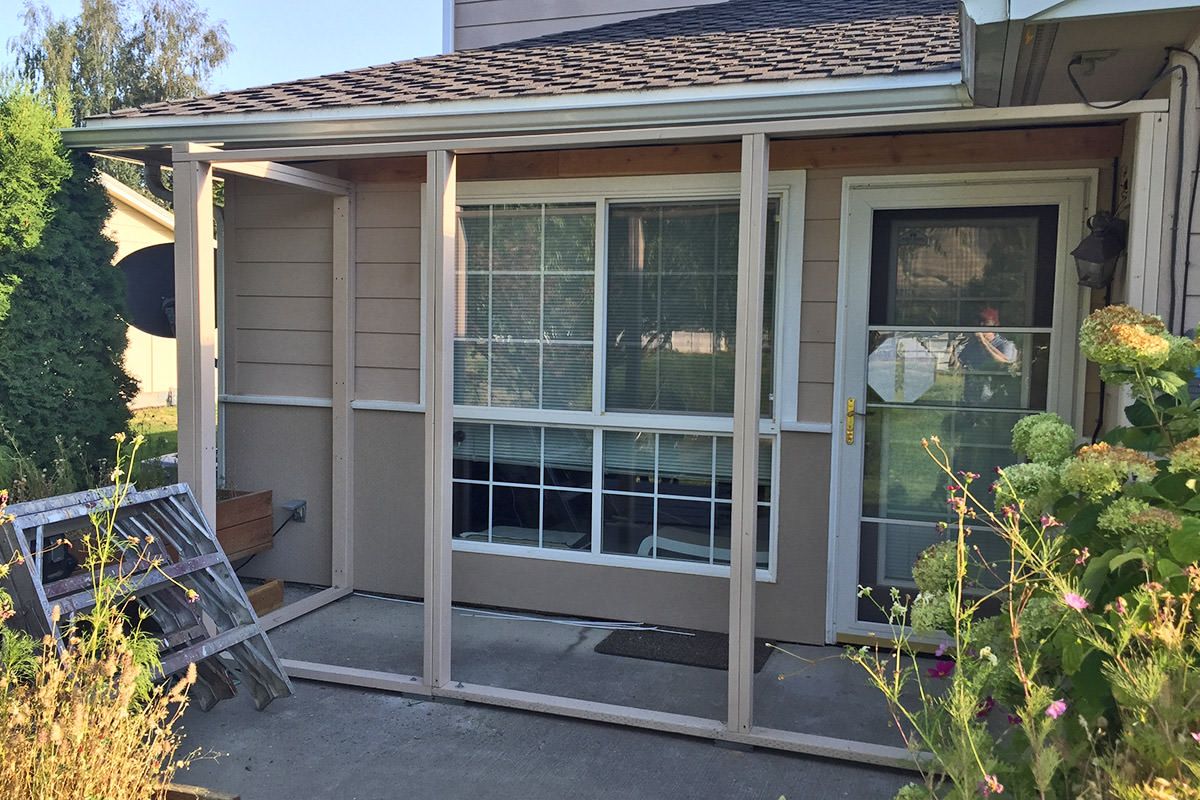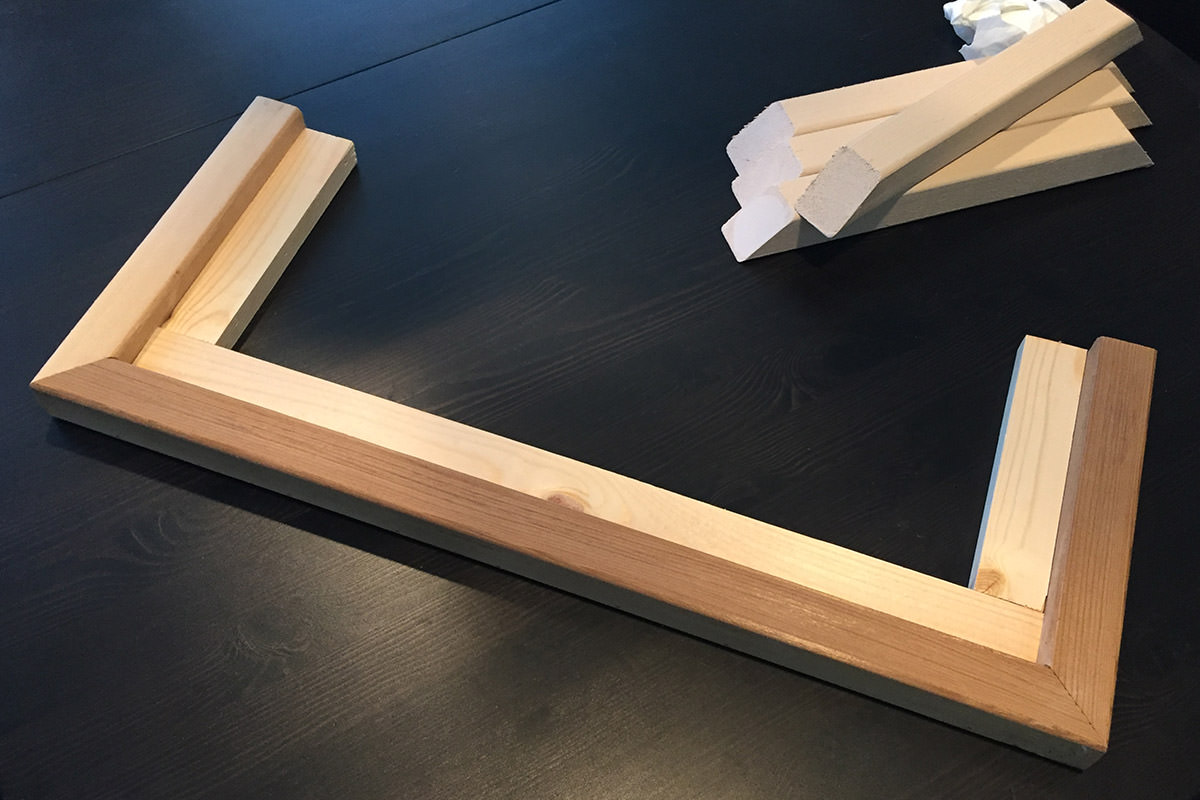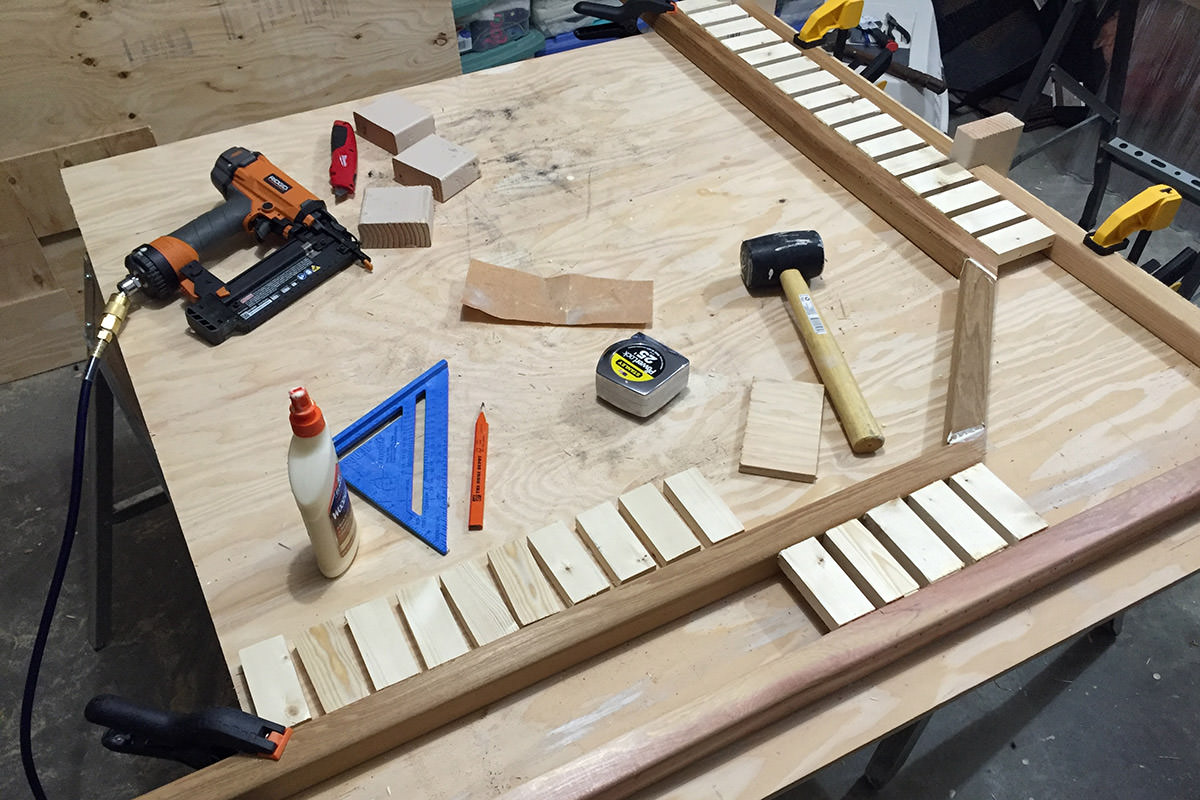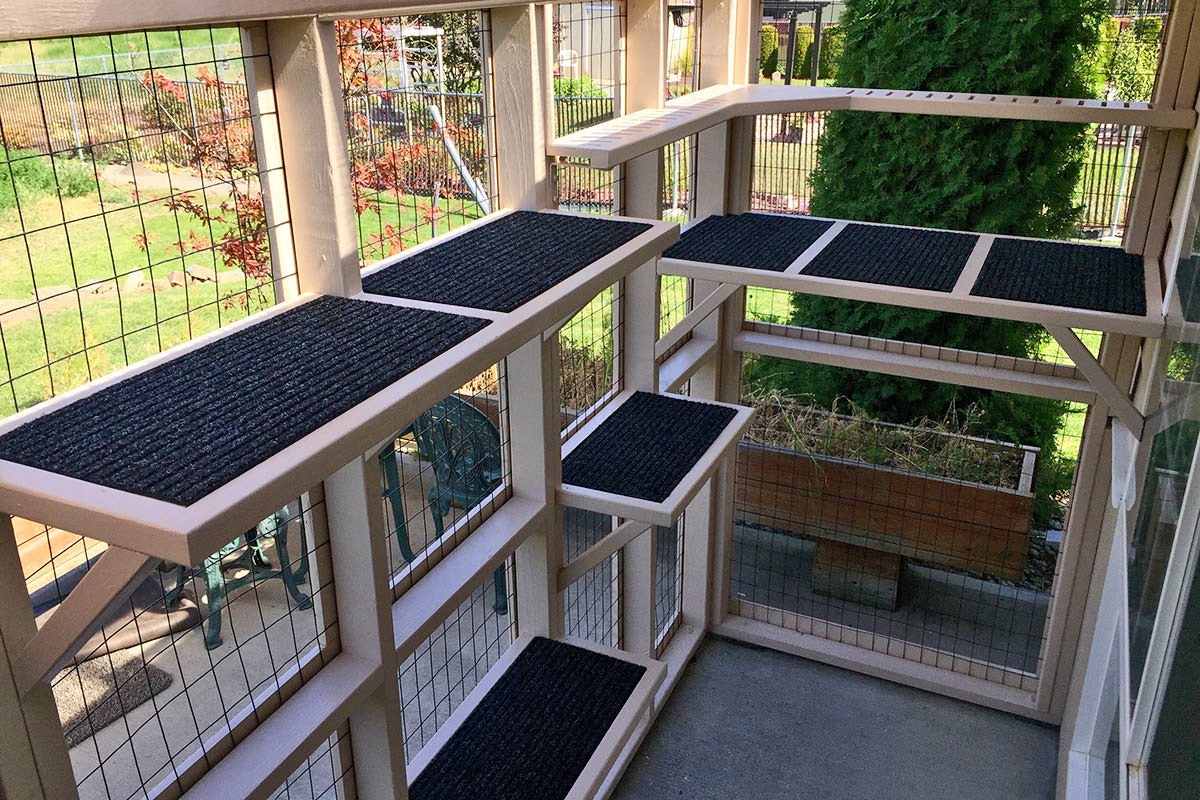 It's been a big hit with Jake and Jenny since day one. These are photos from their first time outside since they were rescued as feral kittens...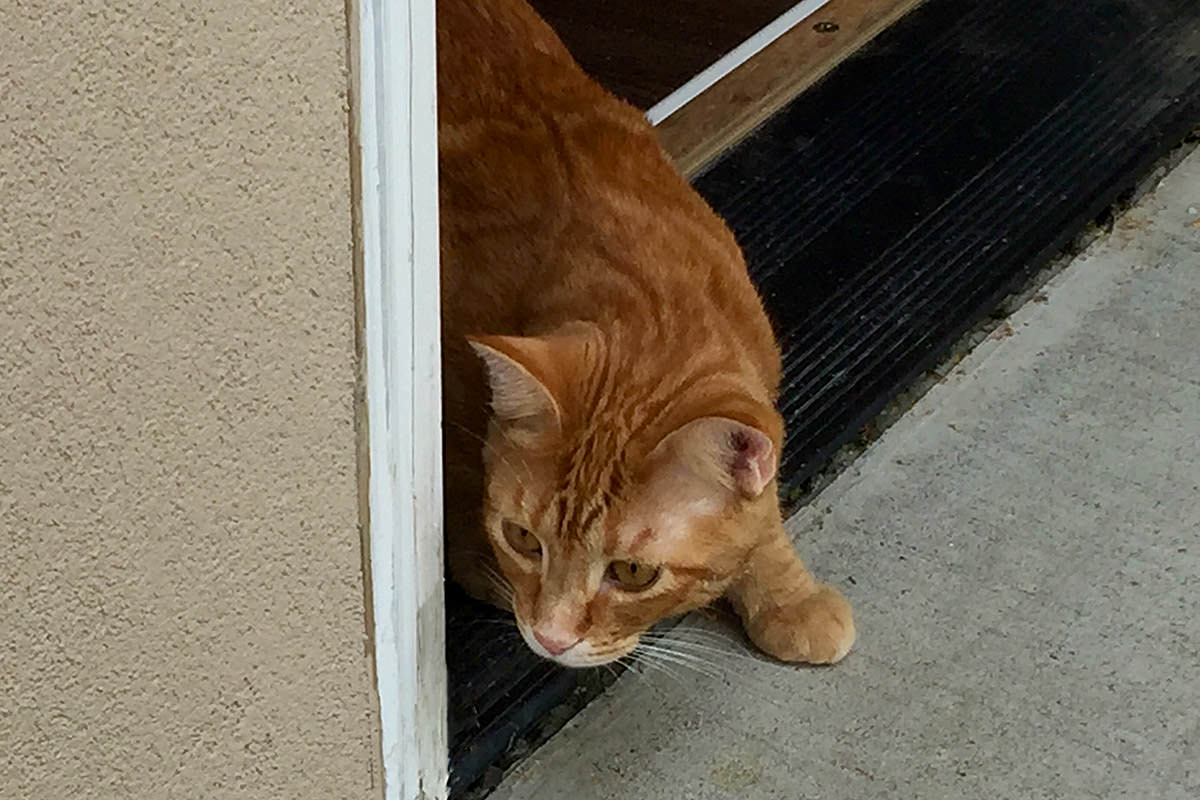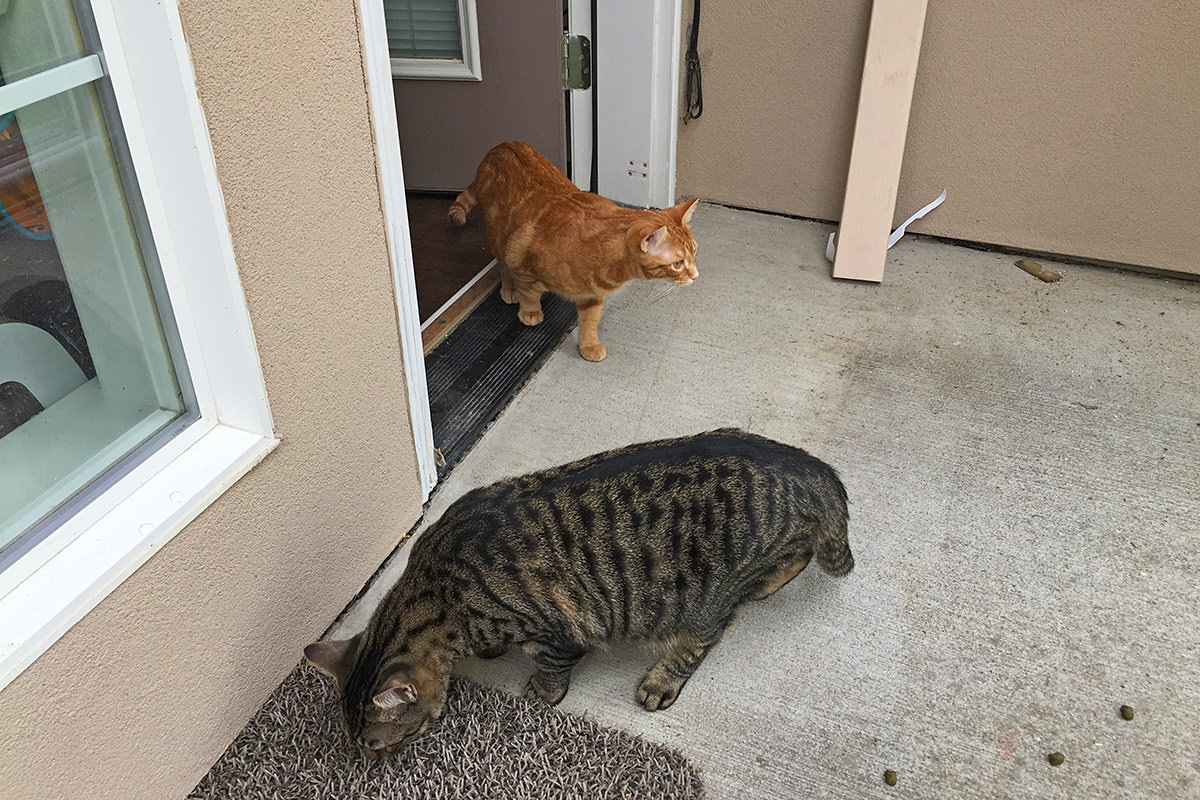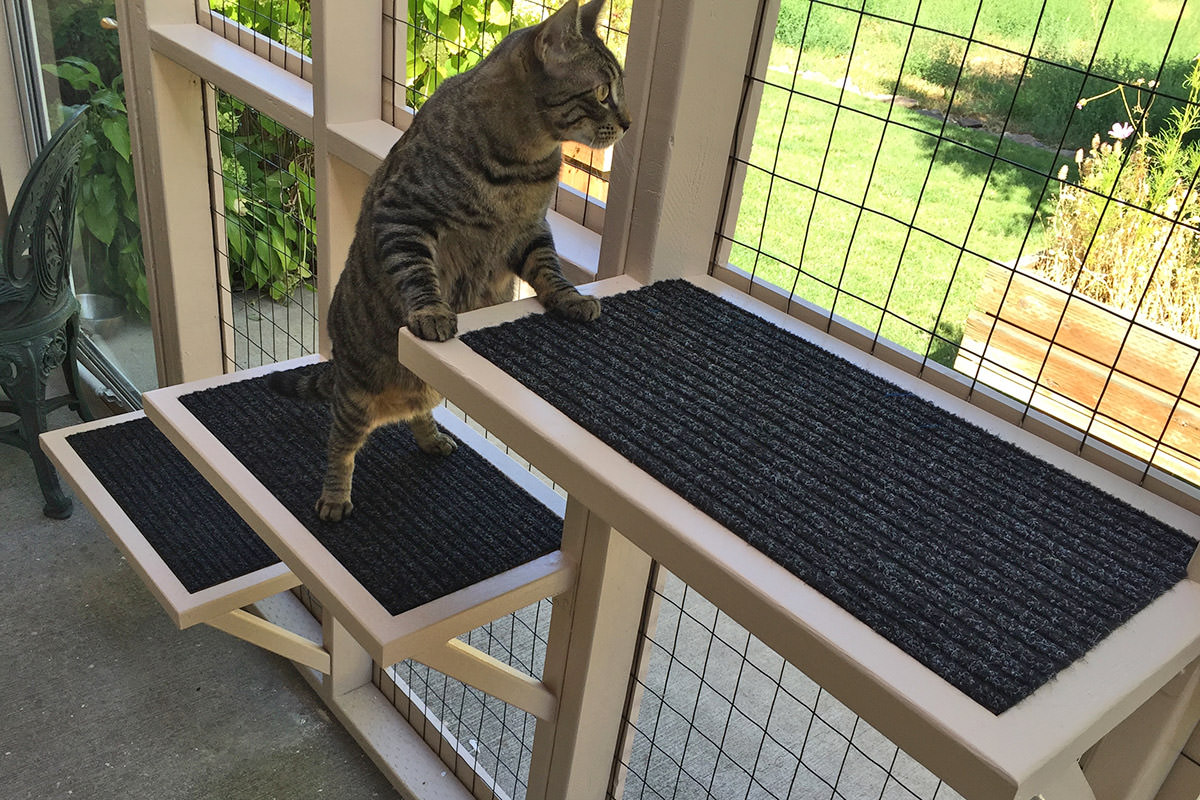 The only way the cats could get out to the catio was if I opened the door for them. After a couple months, I had ordered a new door with a cat door in it so they could go out whenever they wanted. At first I was worried about them staying out at night, so I'd bribe them to come back in with cat treats...
Now, of course, they're in and out in the catio at all hours. In the Summer they'll even sleep out there at night because the weather is so nice. Not that the weather does much to deter them. They'll head out on the coldest day of winter without hesitation. Their favorite catio time is Spring and Fall though, because it's so comfy during the day. They'll go out after breakfast and stay there until it's time to come in for dinner.
In new cat news... Jenny, who always bristled when I'd touch her ears in the past, now maneuvers herself as I pet her so I'll massage them...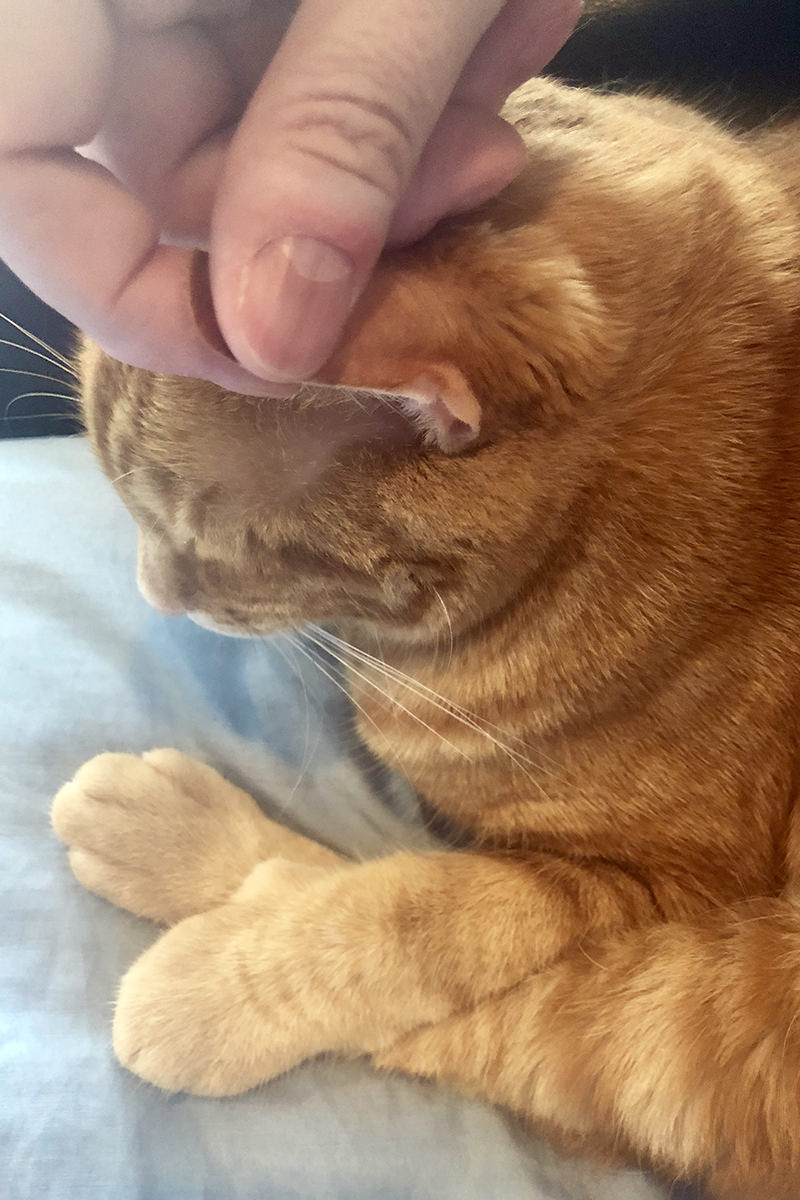 Last night it finally rained again. Something that fills me with dread because rain can also mean lightning and still more wildfires. But I think the only thing that came with it this time was thunder. So... yay? Jake and Jenny slept through the whole thing. Didn't even twitch when the thunder was crashing. This is surprising to me, because usually strange noises send them into a panic.
I'm hopefully that this is a new trend. I'd love for them to stop being afraid when the High School cannon fires at touchdowns and when fireworks are set off.
Fingers crossed.
Posted on September 1st, 2018

Hola cat-fans!
This morning Jake and Jenny were lounging in the catio when the Alexa breakfast alarm sounded so they couldn't hear it. That's no fun for me at all, so I kept increasing the volume until they could hear it.
And boy did they come running!
I've been working long hours this past week, so my cats have been more clingy than usual. They're all over me from the minute I get home until it's time to go to bead...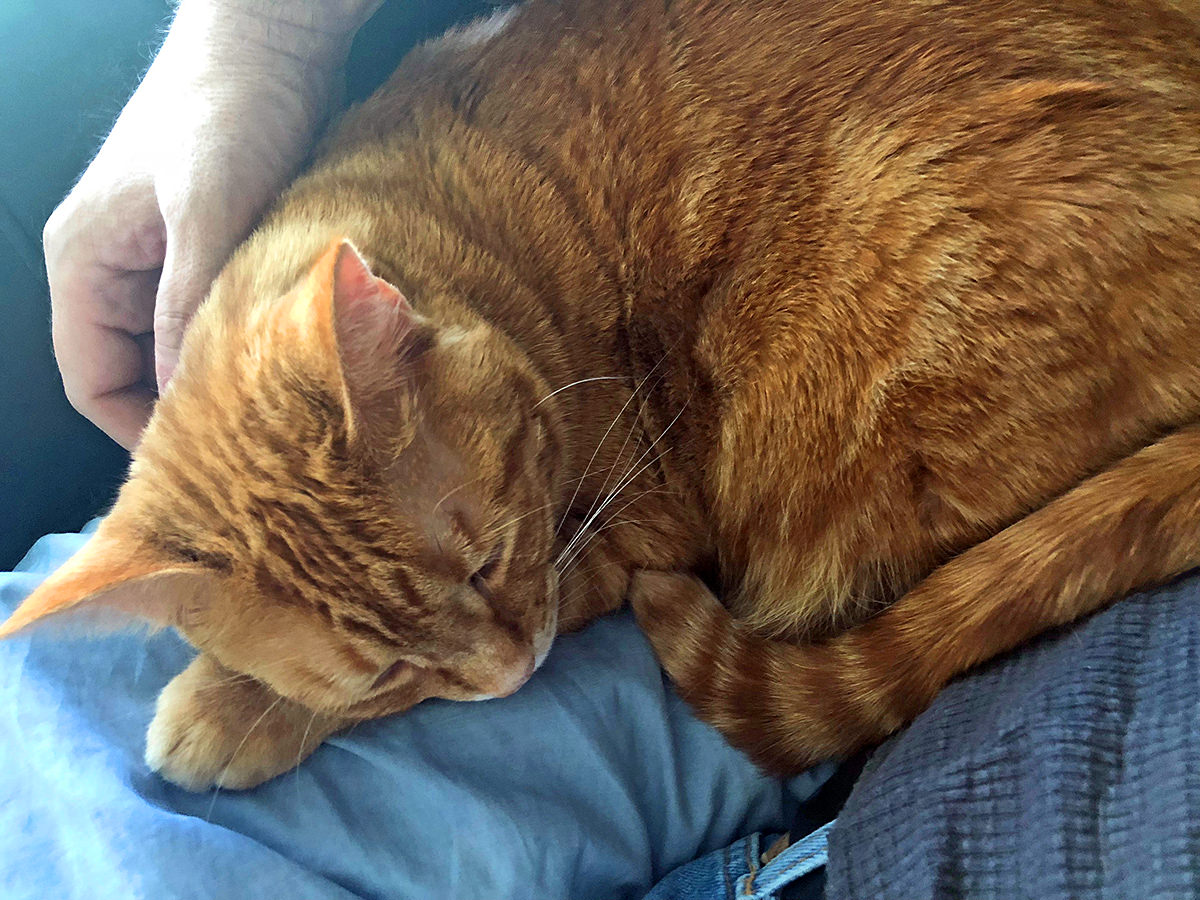 And speaking of bed... a couple days ago I told Jenny it was time for bed. But instead of running up the stairs ahead of me, she decided to stay put. This happens every once in a while, and it's kind of a bummer. So I called to her again, and this time she showed up...
Jake eventually showed up and was looking mighty resentful that Jenny was getting all the attention...
But don't worry... he showed up the next morning and stole Dorito crumbs off my breakfast nacho plate, which made us even...
Nothing cuter than a kitty crunching on Dorito crumbs.
Posted on August 25th, 2018

I won't lie to you, these past couple weeks have been tough. My cats, who are unaccustomed to being told "no" have suddenly found themselves being told "no" quite a lot. They can't go in the guest bathroom because I'm repairing my contractor's shitty renovation work. They can't go into the storage closet because I'm temporarily storing some tools in there. And they definitely cannot go outside because the wildfire smoke has been dangerously unhealthy...
I'm still doing my best to keep them entertained indoors. The bird feeder has been the gift that keeps on giving. Except for my wallet, because the critters consume huge amounts of seed. The cats love it though. Especially when the birds land on the window to get at the food which lands there...
When not watching birds, Jake likes to wander around squawking to go out. Jenny, on the other hand, has resigned herself to her fate and prefers to stare at me with sour looks all day...
Earlier this week I had set some jeans down so I could fold them. Jenny took this as an opportunity to crawl around in them. Happy to have found something new for her to do, I just left them there...
And while my cats have been trying to get out, it seems as though every bug in town is trying their best to get in.
Yesterday after feeding the cats I look over and see that they have stopped eating. I wasn't sure what that was all about, so I walk over and... THERE'S A GIANT SPIDER ON THE FEEDING STATION RIGHT BY JENNY'S FOOT!

Yes, I realize the spider looks like a speck in this photograph,
but you can't see his GIANT LEGS!! He's at least 2 inches across!
Jenny ignores it and goes back to eating. THEN THE SPIDER CLIMBS ON HER DISH!!! At this point, I'm dying (again) but she carefully eats around the spider until she's done with breakfast. Then I get to TRAP A GIANT SPIDER. GAAAHH!!
The smoke did end up tapering off enough yesterday that I finally let them play in the catio when I got home. Which they did. And they were so happy to be out there that they stayed out there all day.
From morning...
Until night...
Hopefully the smoke is under control for a while so they can spend time outside having fun instead of inside wanting to go outside and have fun.
Posted on August 18th, 2018

The bird feeder outside the window continues to be the gift that keeps on giving.
The cats are happy to spend hours watching the birds come and go. Jake spends the most time watching Bird TV... pawing at the window and chattering at them, but Jenny is a bit stealthier about it, preferring to hide like the hunter she is...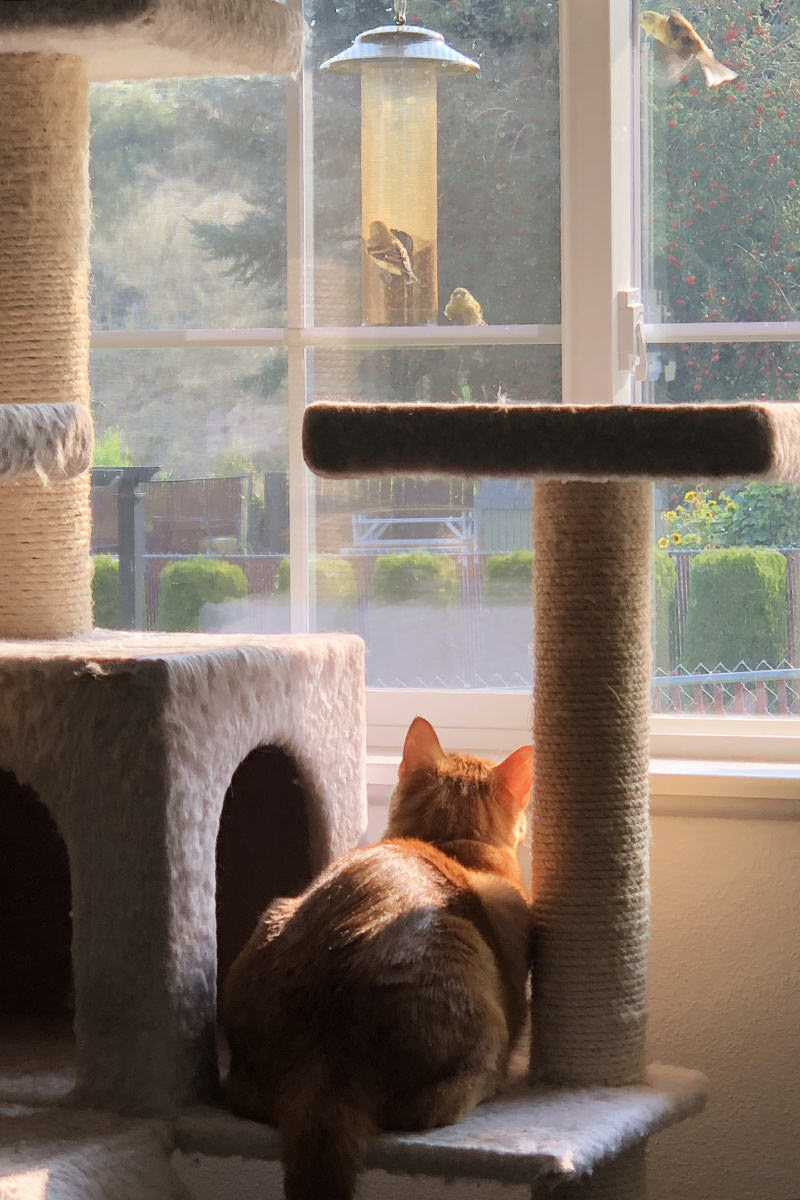 No doubt in my mind that both my cats would be massacring birds by the dozens if they could get at them. Just one more reason to keep them indoors, I suppose. Poor birds.
And poor bugs.
Any time a bug finds its way into my house, Jake and Jenny are all too happy to hunt them down. Like the poor cricket which Jenny was kind enough to bring in this past week. I saw she had something in her mouth... feared the worst... then watched as she spit him on the floor so she could chase him. Jake also decided to run up and get in on the action...
As much as Jake likes chasing an occasional bug, he seems to prefer his toys. In addition to Mufasa, his stuffed lion, he loves his Peeps Bunny...
And he really loves Catnip Lobster...
Every once in a while he plays "Watch the Dummy" and will throw it on the bed and wait for me to pick it up and hand it back...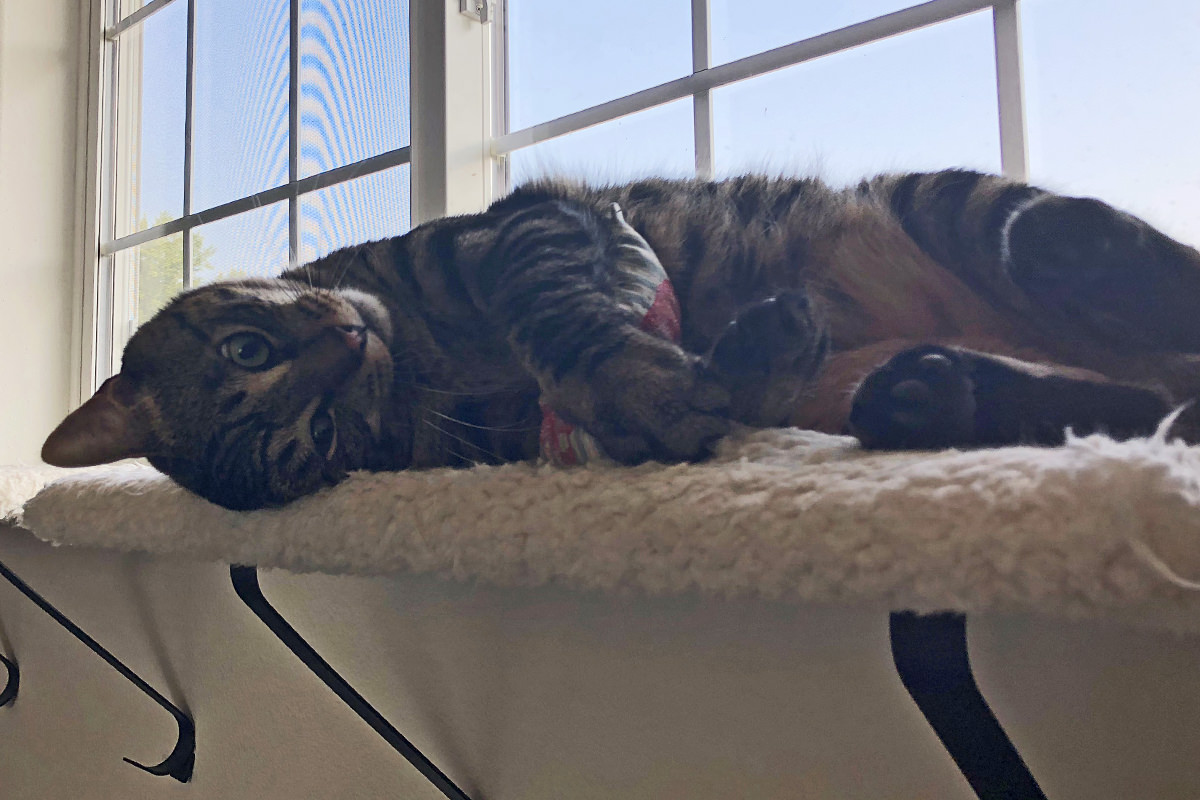 Toys are far preferable to bird corpses, I'd think.
They're definitely preferable to bug vomit.
---
Continuing on with my revisiting of every Marvel Studios movie...
MARVEL STUDIOS MOVIE OF THE DAY, No. 17: Thor: Ragnarok
Original Grade: A+ • Today's Grade: A+
Easily one of my favorite Marvel Studios films... perhaps my very favorite... I love this film now as much as I ever did. Deciding to take Thor in a more comedic direction and deconstruct everything he was to this point was absolutely brilliant, and made the character more cinematically interesting than he had ever been.

SCENE TO BEAT: All of them. I mean, yeah, the Hulk reveal and subsequent fight is awesome... as is Valkyrie's... and any scene with the incomparable Cate Blanchett's Hela was gold... and Jeff Goldblum was too perfect as The Grandmaster... and that gorgeous battle between Hela and the Valkyrie... and the battle on the Rainbow Bridge with Thor at full power... and Thor meeting Doctor Strange is the stuff that comic book dreams are made of... and... and... and... it goes on and on and on.

COULD HAVE BEEN BETTER: Nothing. Absolutely nothing. Though I still think it was shortsighted and selfish to kill off The Warriors Three.

SIDENOTE: Could there have been a bigger love letter to the art of Jack Kirby than this movie? With every new viewing, I'm even more amazed at just how beautiful and faithful Sakaar is to Kirby's work.
Posted on August 11th, 2018

I fell asleep on the couch last night while watching the Marvel Studios movie for today. Not easy to do when it's Guardians of the Galaxy, which is one of my favorites of the bunch. Guess it just goes to show how exhausted I was.
I woke up again when I got an alert that the security camera in my driveway had gone down.
This is the email I got...
And... look closer...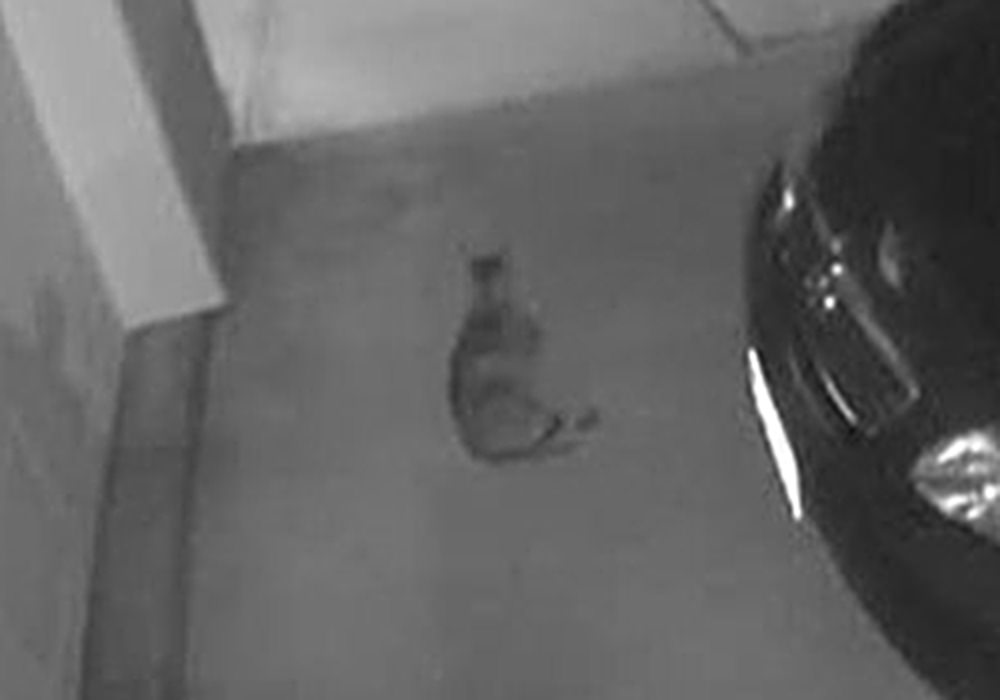 I'm thinking that Fake Jake might be behind my camera going down? The rascal.
I have two more cameras out front, so I was in no hurry to fix whatever it was that was wrong. Instead I finished up my movie and went to bed.
As for Real Jake? Just helping me open my mail this morning...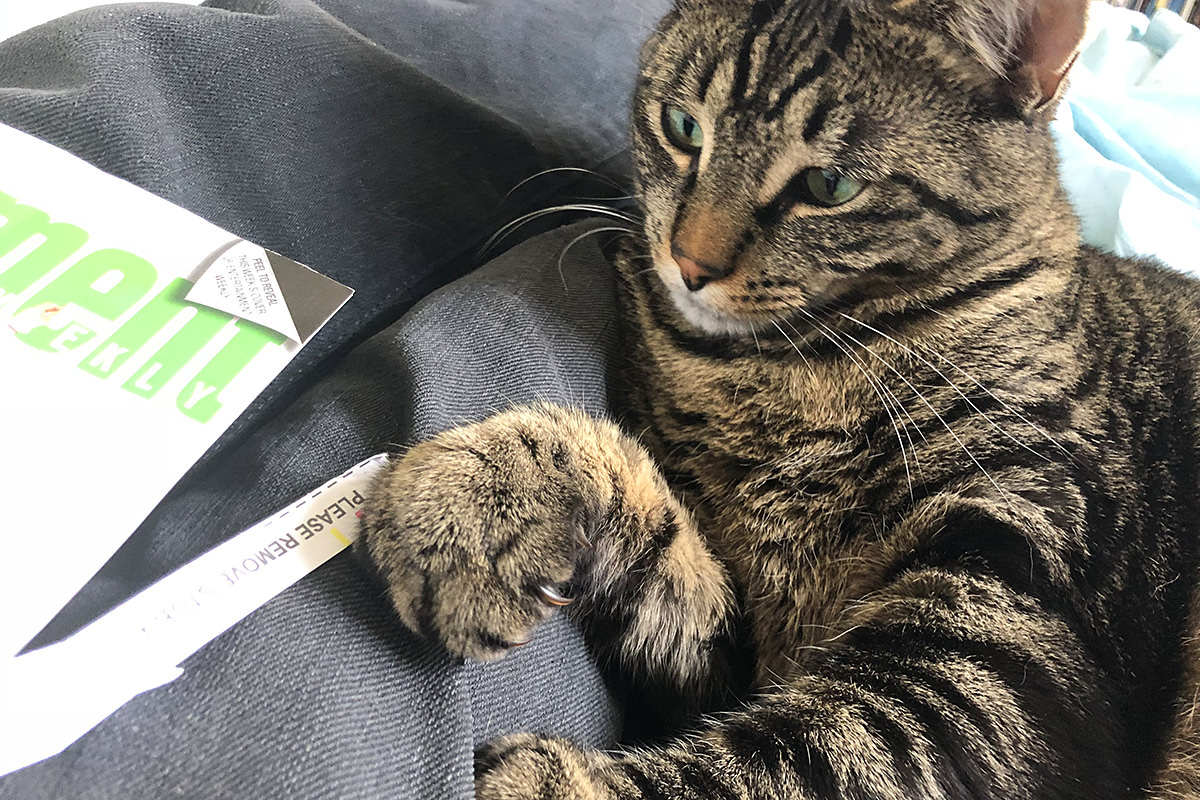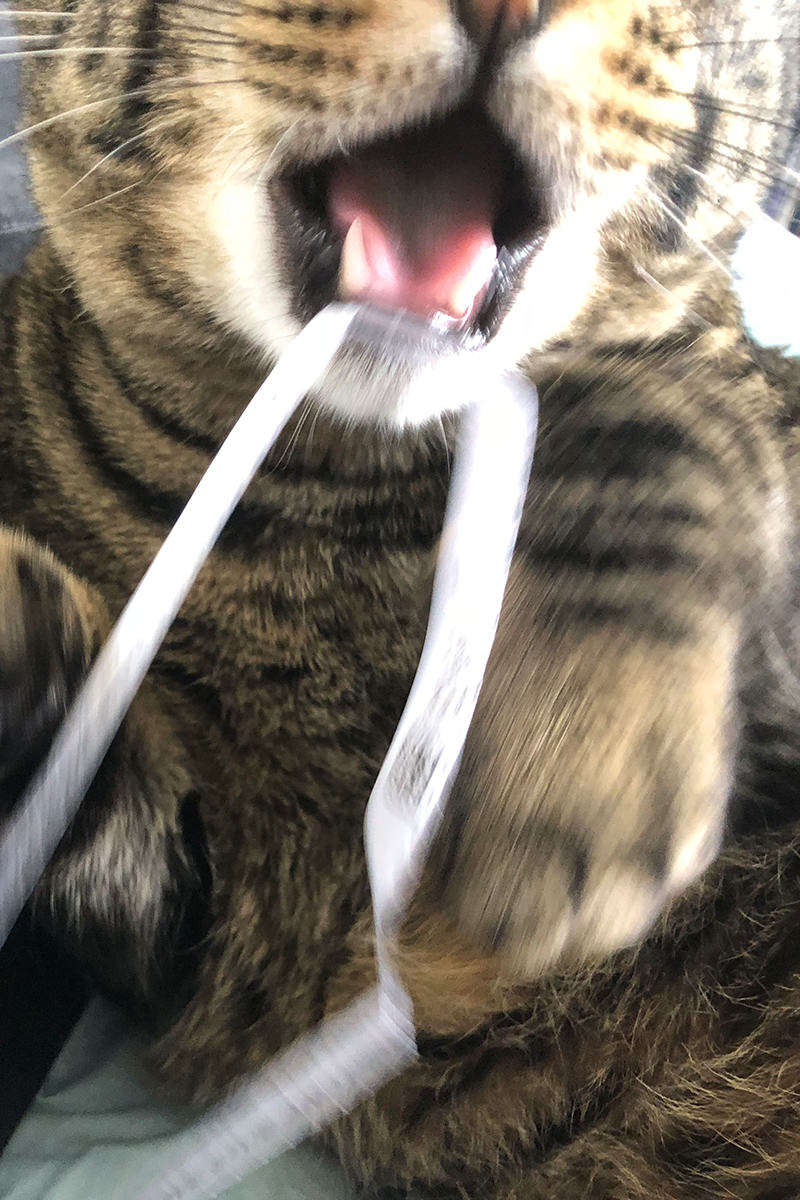 The rascal.
Jenny would rather lay on the floor for some reason...
When I went to Petco for kibble, I saw that the low-carb Tiki Cat dry food was on sale. This was cool... until I noticed that one of the flavors was marked as "clearance," which scares the hell out of me. I really, really hope that they aren't discontinuing this stuff. It's the most affordable food I've found that doesn't overload on carbs. In the meanwhile though, I snagged all eight bags and my cats are set for the rest of the year...
I can probably replace the dry with... something... I guess. But nobody makes the Tiki Cat Velvet Mousse that Jenny eats. And I seriously don't want to have to go back to blending my own. So gross.
Fingers crossed I won't have to.
---
Continuing on with my revisiting of every Marvel Studios movie...
MARVEL STUDIOS MOVIE OF THE DAY, No. 10: Guardians of the Galaxy
Original Grade: A+ • Today's Grade: A+
I re-watched this movie for the fifth?... sixth? time back in June, so I didn't really have to watch it again to jot down my thoughts. But I did it anyway. And I am hooked from the opening scene of Star-Lord dancing through a dead planet every time. If that doesn't sum up my feelings about Marvel's first "sci-fi" entry into the MCU, I don't know what will. The humor... the characters... the settings... the story... the music... all perfect. And perfectly executed, with amazing casting and brilliant special effects (which are so crucial to a film like this). I've admitted that I laughed when I first heard they were bringing this comic book to the big screen, because characters like Rocket and Groot were just an absurd thing to try and translate. But how wrong was I? And after watching Avengers: Infinity War, I'm even more impressed, because they were able to seamlessly mix Rocket and Groot with everybody else to amazing effect.

SCENE TO BEAT: Escape from the Kyln? Escape from Knowhere? The battle at Xandar maybe? I dunno. There are entirely too many good scenes to pick from. I can't even single it out to scenes with one character, because I love them all.

COULD HAVE BEEN BETTER: Ronan the Accuser is a powerful Kree warrior, but I don't get how he was able to wield the Power Stone. I understand that he only touched it for a few seconds, which is why he didn't die... but how was he able to command it after he smashed it into his Universal Weapon hammer? He's an important Kree but, in the end, he's just a Kree. Not a god or ancient being. Or, in Peter's case, the son of an ancient being. It's a puzzler. And I still think the whole "holding hands" at the end was kinda silly.

SIDENOTE: It's amazing how critical this film was to everything that came after it in the MCU. Thanos... Gamora... Nebula... The Collector... and, looking even further forward for next year's Captain Marvel, The Kree. This was also the first time we got a full explanation on The Infinity Stones as well. Doesn't seem possible that such important stuff was set up in what's essentially a comedy, but there's Marvel Studios being all brilliant again.