Posted on December 8th, 2018

The day before yesterday was Jake and Jenny's third birthday and it was a day-long celebration. For breakfast they got the horrific stinky sardines that they love so much. For dinner they got even stinkier fish stew plus kitty treats for dessert. I also gave them the two Maine catnip toy presents I bought while I was in Other Portland. So... not a bad day to be my cats.
Though, let's be honest, every day is a good day to be my spoiled kittehs!
Seems like just yesterday they invaded my home...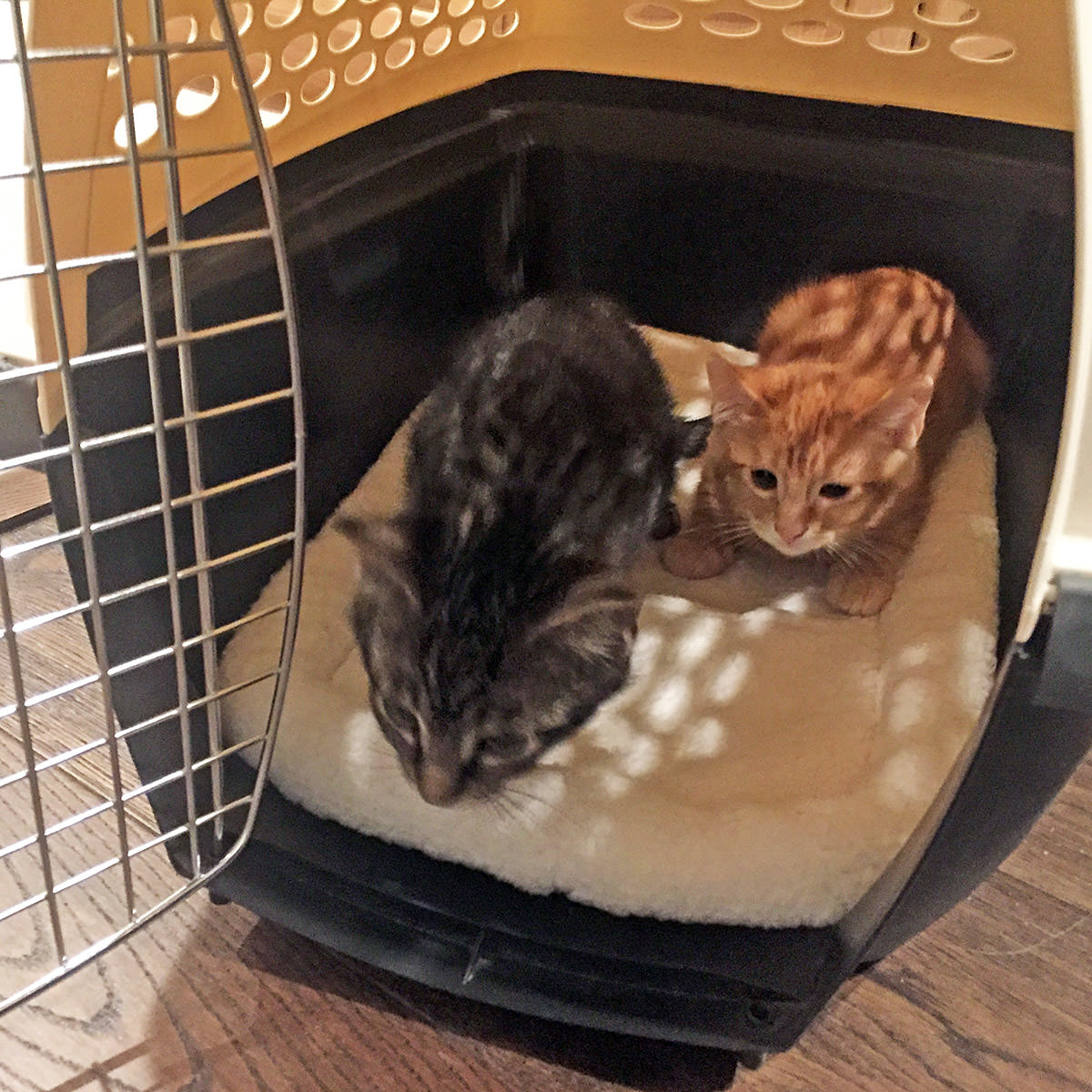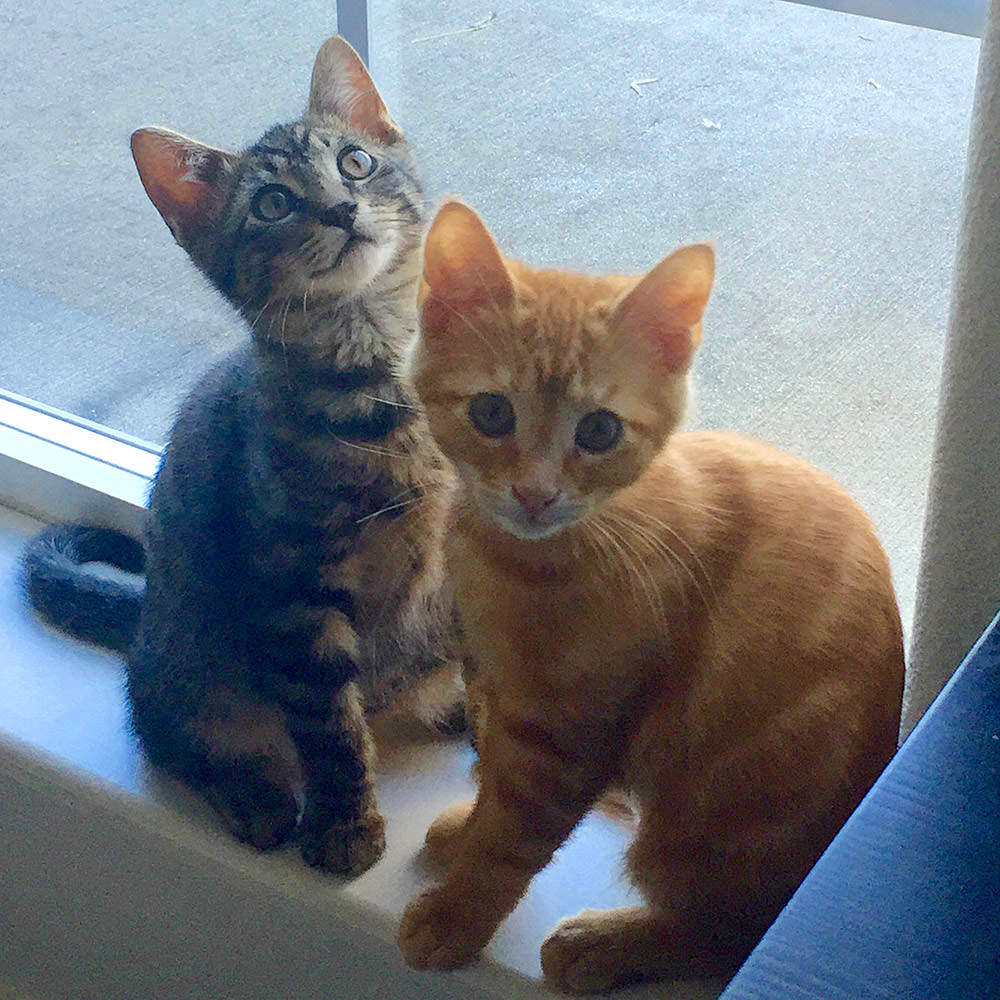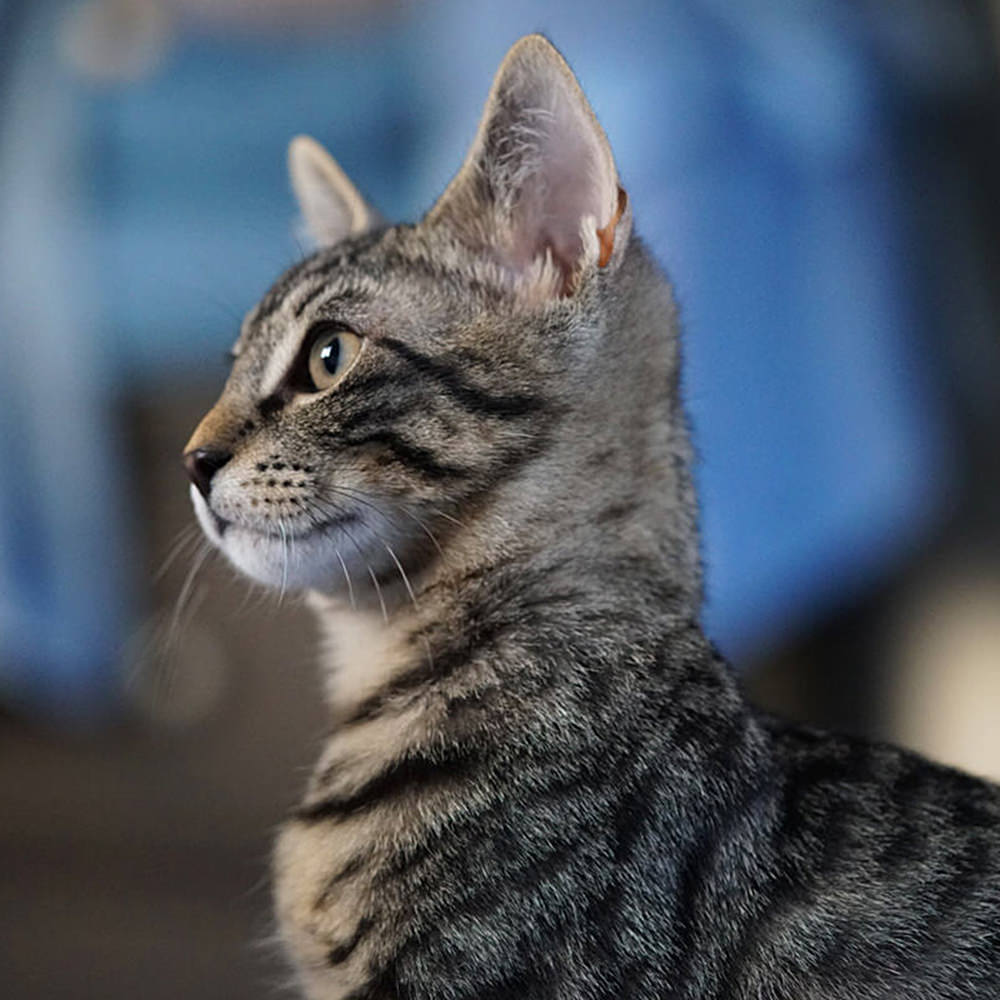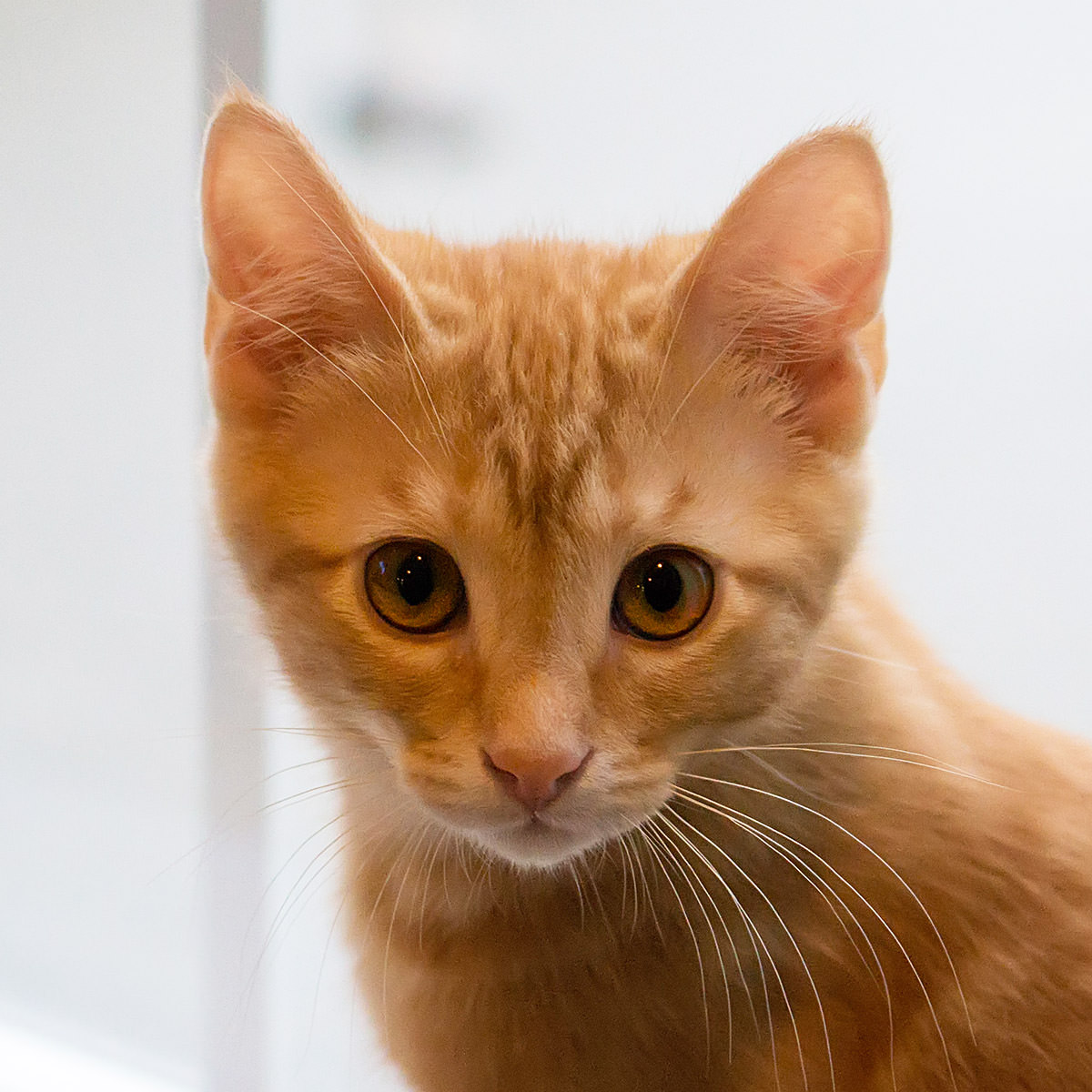 Which brings us to my favorite photo of Jake and Jenny ever...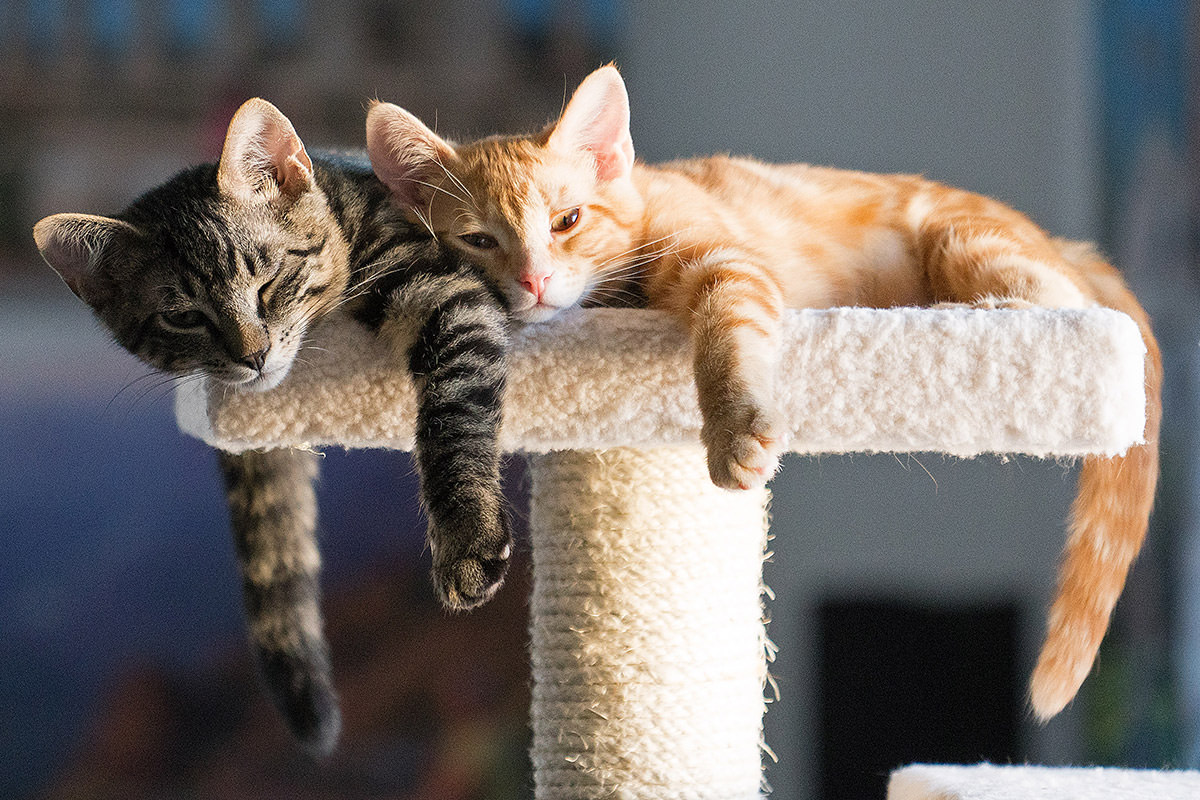 Adorable, aren't they?
They're just as adorable today... but a bit bigger...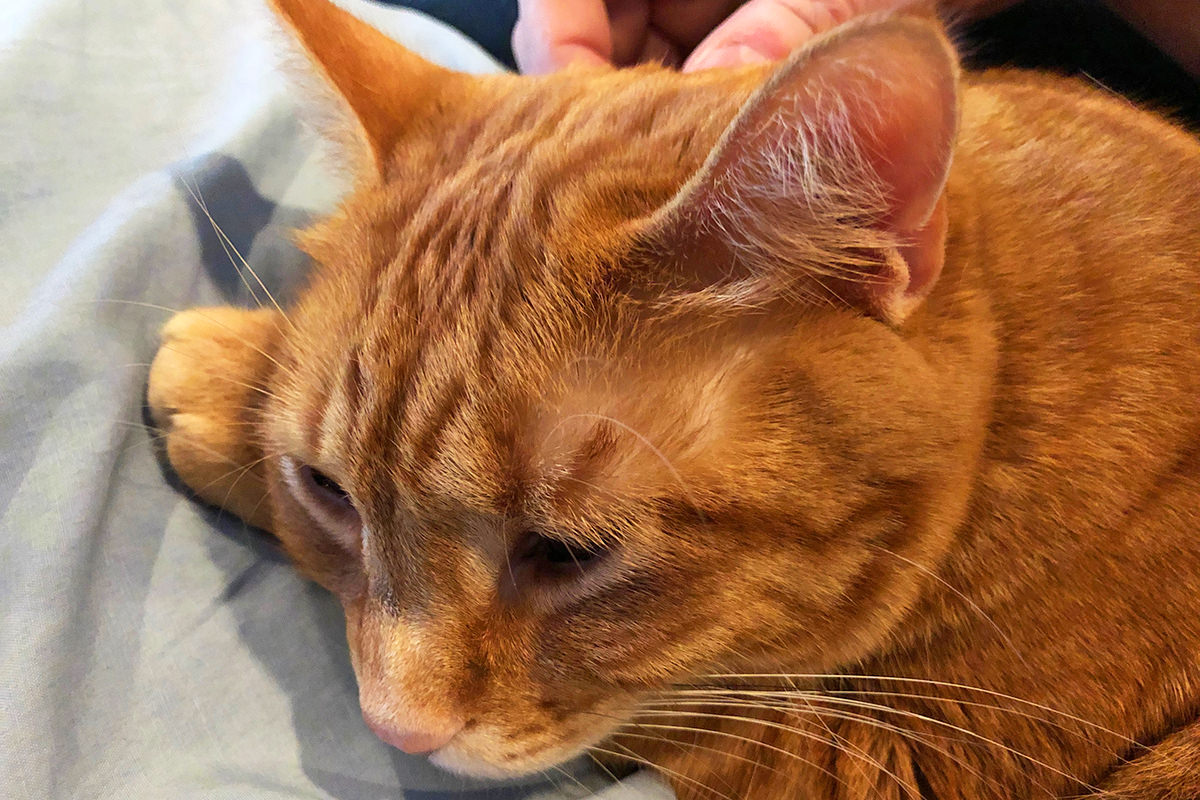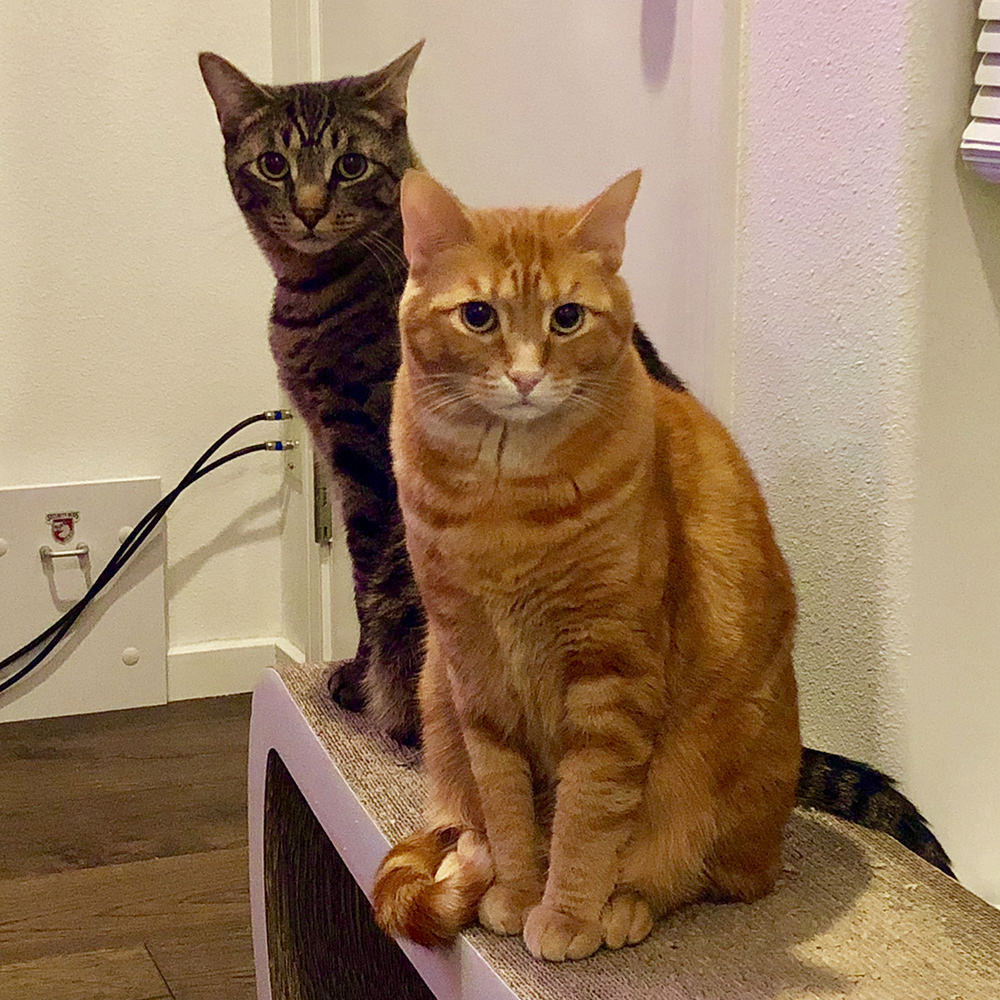 Way back in January I listed my nicknames for my cats. As I was reminiscing over the past three years, I thought to go back and revisit them. Surprisingly, they've changed quite a bit. Though Jake is still "Jakey Bear" 90% of the time, I still mix it up a bit for him. Jenny is almost always "Jenny" and I rarely use nicknames for her anymore. No idea why.
Nicknames for Jake:
Jakey Bear
Sweetie Bear
Pooh Bear
Poo
Poo Head
Poopie Butt
Pooper
Poopernoodle
Pooper Trooper
Super Pooper
Poopinator
My Little Vet Bill
The Six Million Dollar Cat
Thank God I Have Insurance
Nicknames for Jenny:
Jenny Bean
Sweetie Girl
Poo Two
And, on that note, it's their dinner time in three minutes, so I guess I'd better wrap this up. Heaven only knows I wouldn't want to keep them waiting!
Posted on December 1st, 2018

After Jake got back from his procedure to get his urinary tract unblocked, he was peeing a dozen times a day. You could tell he was frustrated and upset about his many, many trips to the litter box, but the medications we tried didn't do much to help. Rather than put him through even more torture of shoving medicine down his throat, I decided to be patient.
Two months after I first took him to the vet... and he's finally back to peeing normally. For the past week the Litter-Robots have been reporting 7-8 cycles per day. When dividing that between two cats, it's 3-4 times a day per cat, which is right where it had been before all this drama started.
To say I'm relieved is an understatement because I'm leaving for a short trip tomorrow. Yes, I've got a cat-sitter checking in and, yes, I've got a security system to keep them safe and cameras to look in on them... but it's not the same.
A part of my cat separation anxiety comes from feeding them. My original auto-feeder, the Feed-and-Go, was bricked and became non-functional when the monsters who made it shut down without warning anybody. Despite how it all ended, I liked the Feed-and-Go because it allowed me to remotely feed my cats if I noticed that Jake ate all of Jenny's food before she got to it or something. I've been looking into other internet-enabled feeders, but haven't found one I like. I bought a timed feeder ages ago as a backup, and decided to try that. I was going to order a second one, but apparently there's no way to sync their clocks which means you end up with one activating before the other. The solution was to buy a "splitter" that will feed two cats from the same feeder...
Problem is that the bowls are too close together, and sometimes Jake can block Jenny from getting to her meal. Also, the drop to the bowls is so high that food was bouncing out of the bowls and onto the floors. My solution for that was to build little chutes to transfer the food farther away...
All it took was cutting the drip well from a couple black plastic paint roller trays I found at Home Depot and taping them to the splitter. Not only does it allow the bowls to be farther apart, the change of angle slows the food pour so it ends up in the bowls instead of bouncing out onto the floor.
In other cat news, I noticed that Jenny has a floopy whisker that curls up. I think it might be due to her digging her face into the edge of the warming pad and laying there for hours. And she sleeping in the same position every day...
I've tried curling it back down, but it doesn't stay. She doesn't seem bothered about it so I guess it'll be that way until it falls out.
Jake, on the other hand, flops around every-which-way when sleeping, so he's floopy-whisker-free...
And so... guess I'd better be packing my suitcase.
Posted on November 24th, 2018

This morning I woke up at my usual 5:30am. About ten minutes later I heard the = whirrrr crunch = of a car sliding on frosty roads and running into something. This happens a lot in early mornings this time of year.* It's slick enough to cause a problem if you're going too fast... but not so slick that they are sanding the roads because the frost melts as soon as the sun comes up.
The commotion got the attention of my cats, who decided to go bat-shit insane. They would haul ass from my bedroom window down to the catio and back again trying to see what was going on. Alas, nothing was visible, so there was nothing to see and the cats went back to staring at me in the hopes I'd serve breakfast early.
Today was the day I got the holiday lights from the HOA to hang them around the building. I don't celebrate Christmas, but they sure look pretty hanging outside my window...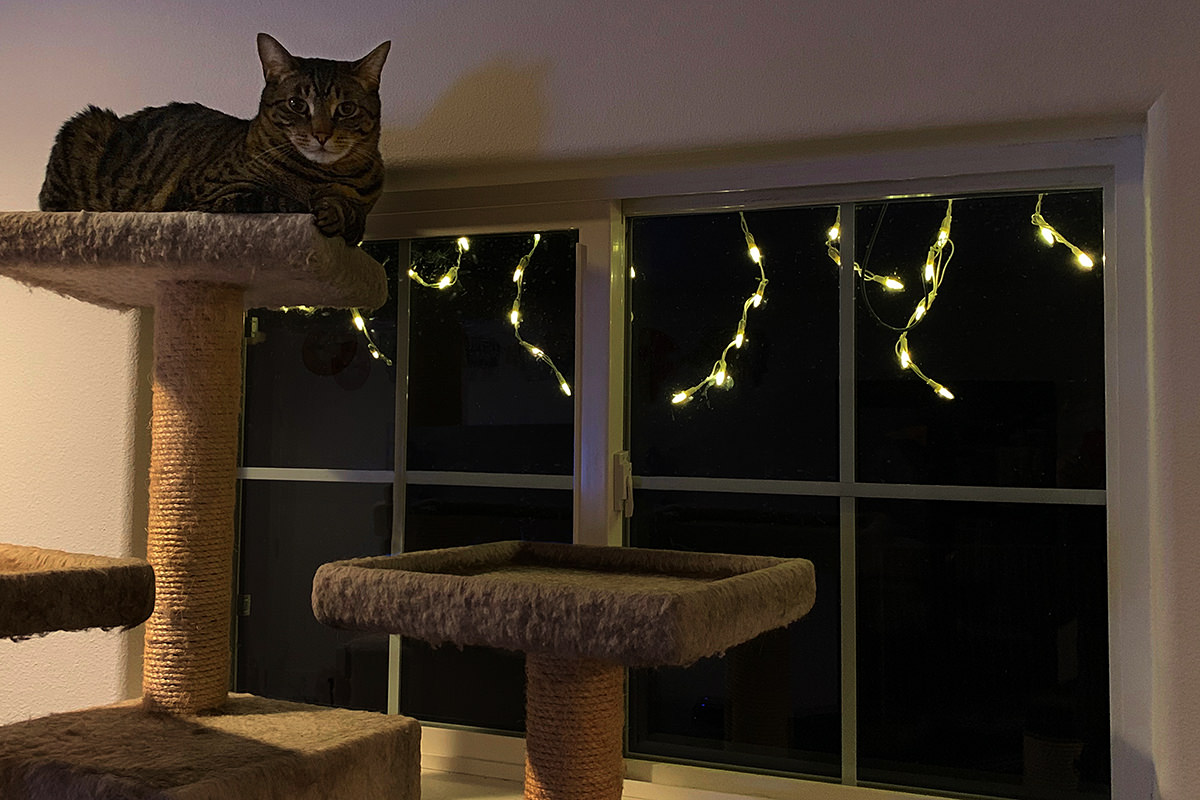 Jenny is not interested in the lights much, but she did hang with me for a while and watch cat videos...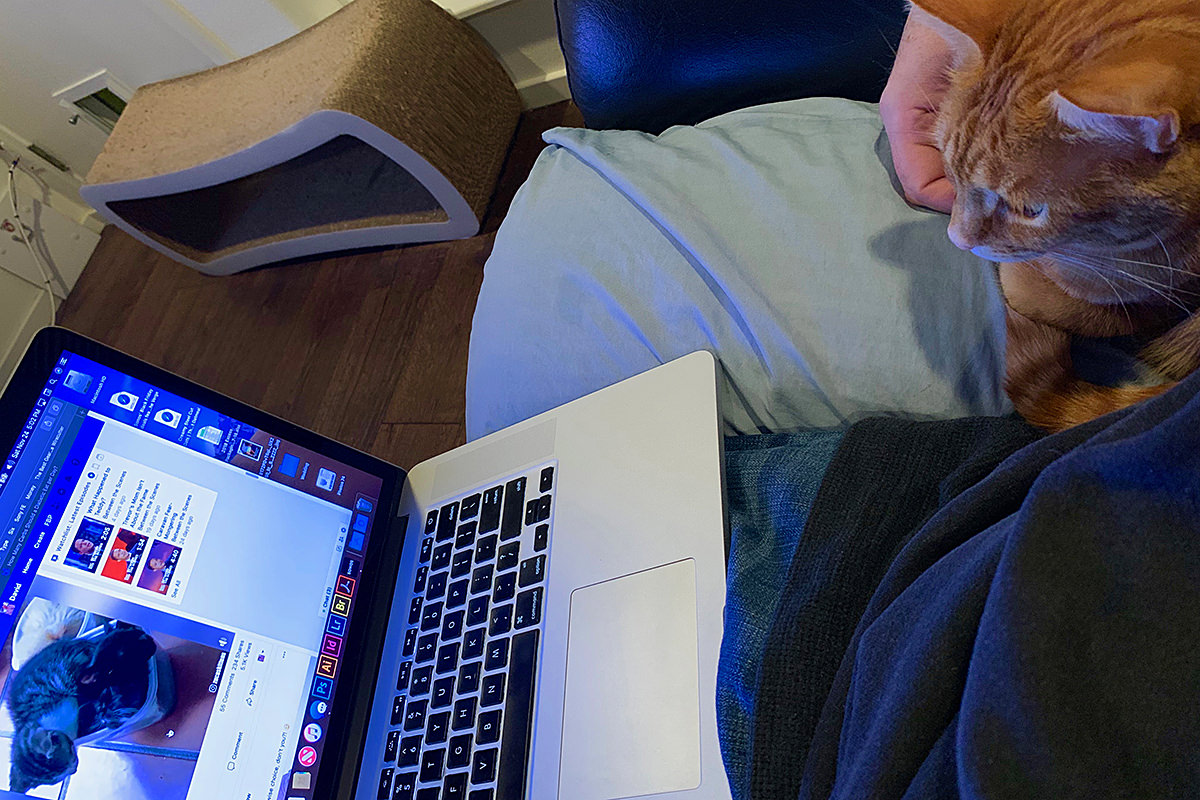 And now I guess I wait for snow.

---
*The most popular place to crash in town is a 90° bend in the road that's behind my house across the field. People are going too damn fast, can't make the turn, then plow into a rock wall. Sometimes they can back out of it and continue on their way. Sometimes a tow truck has to be called.
Posted on November 17th, 2018

I've been steeped in cat drama again this week. Jake and Jenny are still pissed off that the clocks had to change when Daylight Saving Time ended.
But instead of sitting in front of the television hating on me, they are climbing up the cat tree to hate on me from above...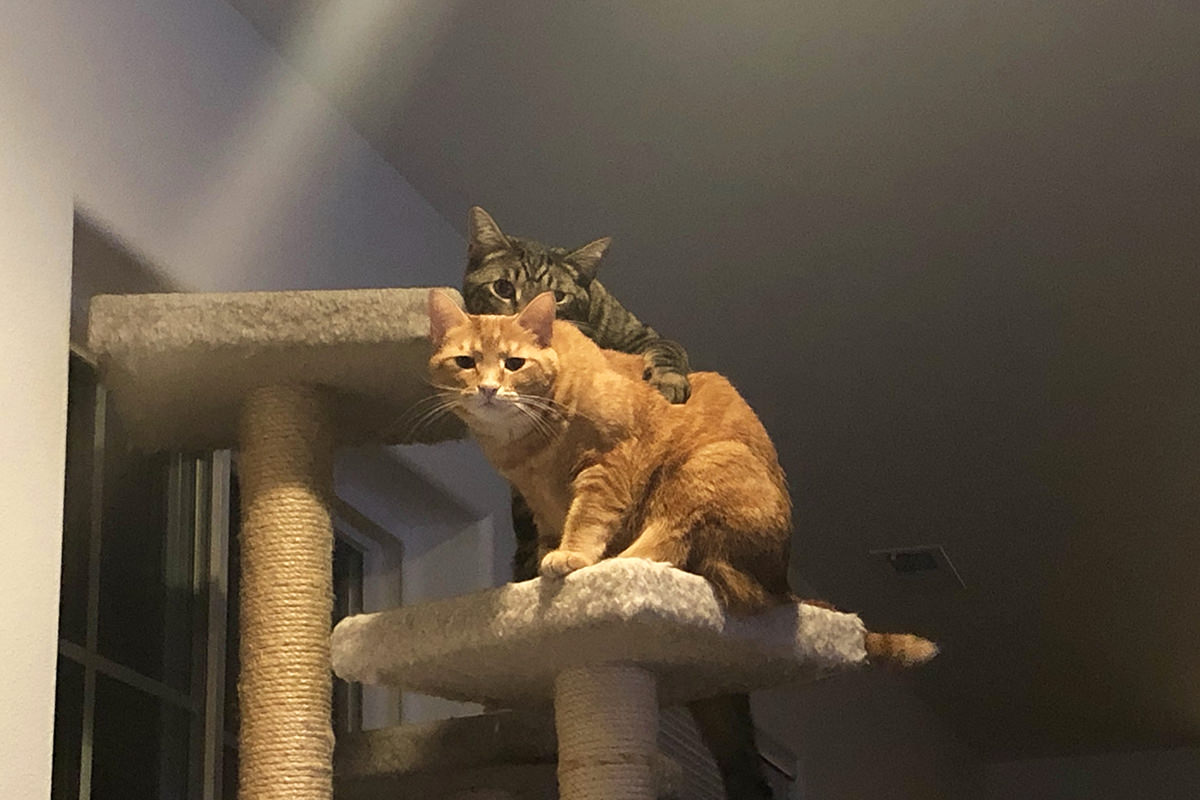 In other news, I finally decided to put one of my security cameras in the guest room (temporarily) so I could find out how Jake is getting up on top of the hutches...
I thought he found a way to grab onto something and pull himself up. It never occurred to me that he could jump this high!
The camera has also allowed me to see what else my cats are up to in there.
Now that the weather is cooler and it's colder in the house, Jenny has taken to sleeping in the little kitty bed I put in the guest room. It was a great plan, until... Jake decided that he wanted to sleep there. He'll watch her go in and get comfortable, then go in and squish her until she leaves...
Though sometimes he is more careful about climbing in with her, and they end up squished together...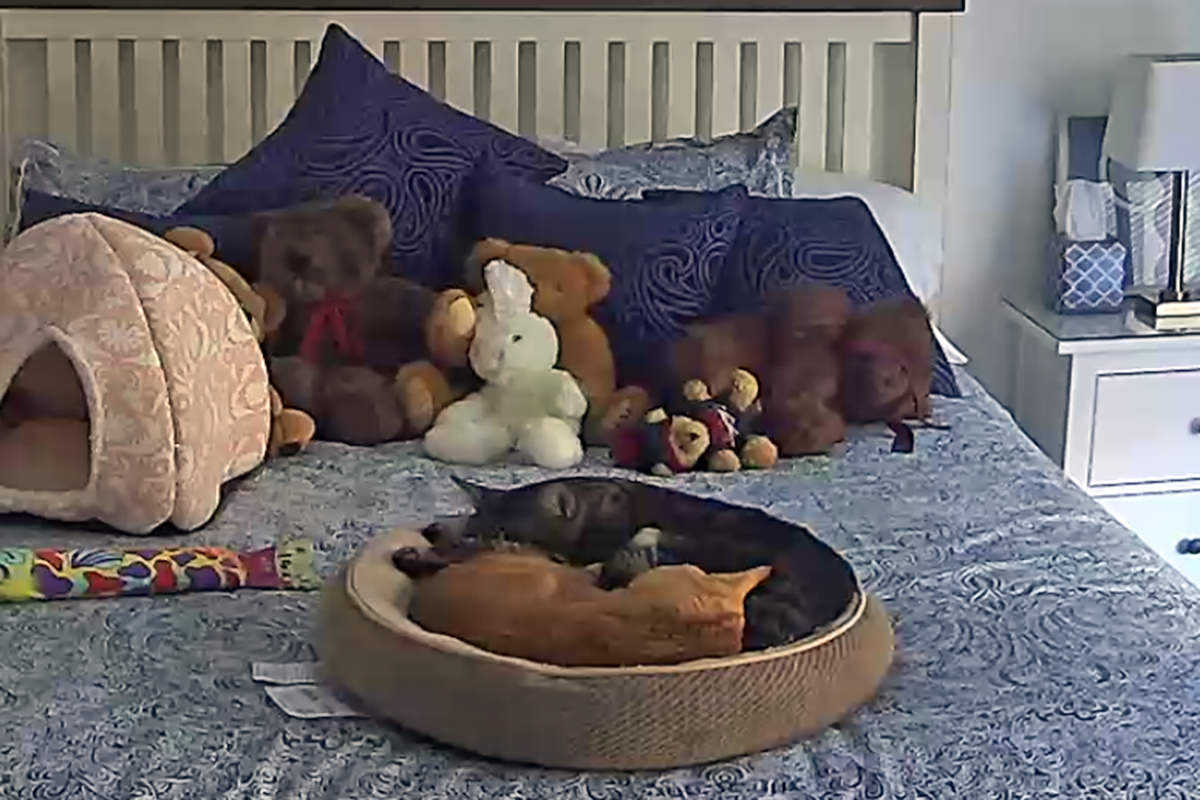 No idea how they are comfortable in there like that.
After seeing what was happening, I added a second bed...
Though sometimes they still end up in the same one...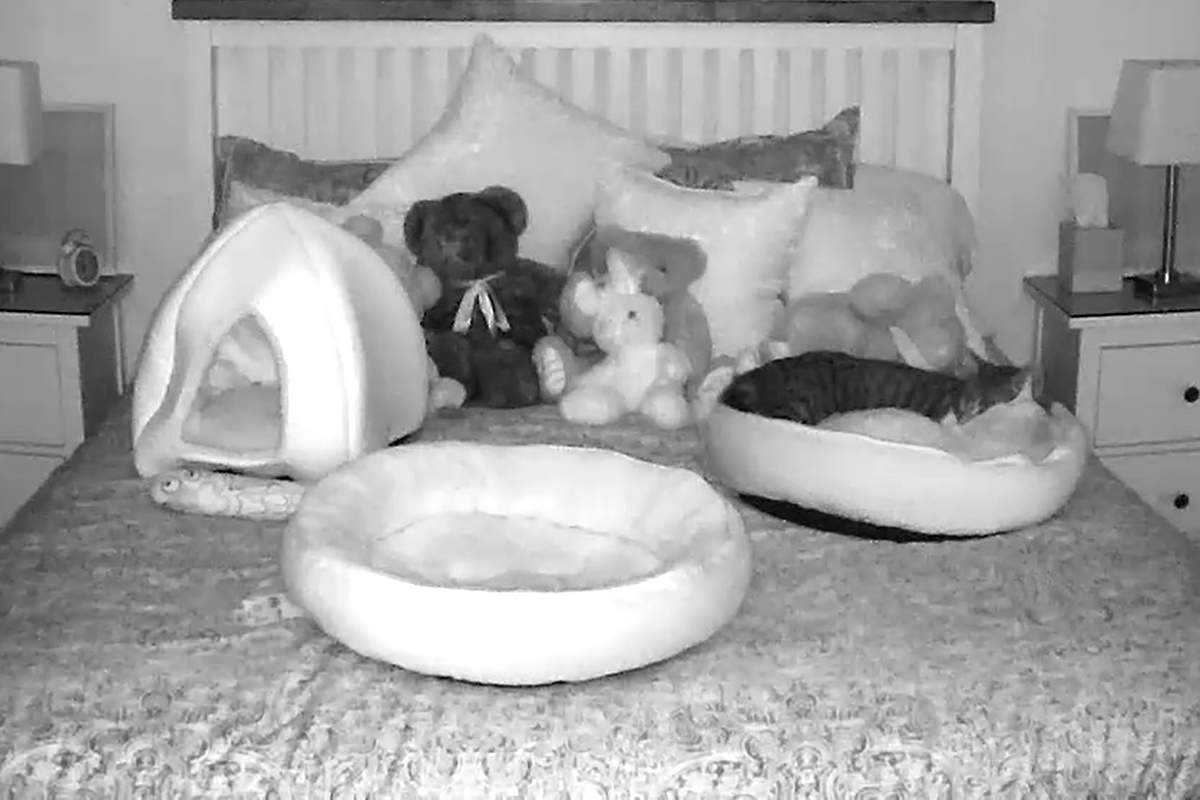 Jenny had a bad dream a couple days ago. It's the first time this has happened in several months (unlike when she was a kitten and had frequent nightmares). She's been a bit clingy after, which is usually just fine. Except when I am trying to do something and she gets in the way...
When the box she was in fell off the couch, Jenny retreated to the cat tree where she could keep a wary eye on it...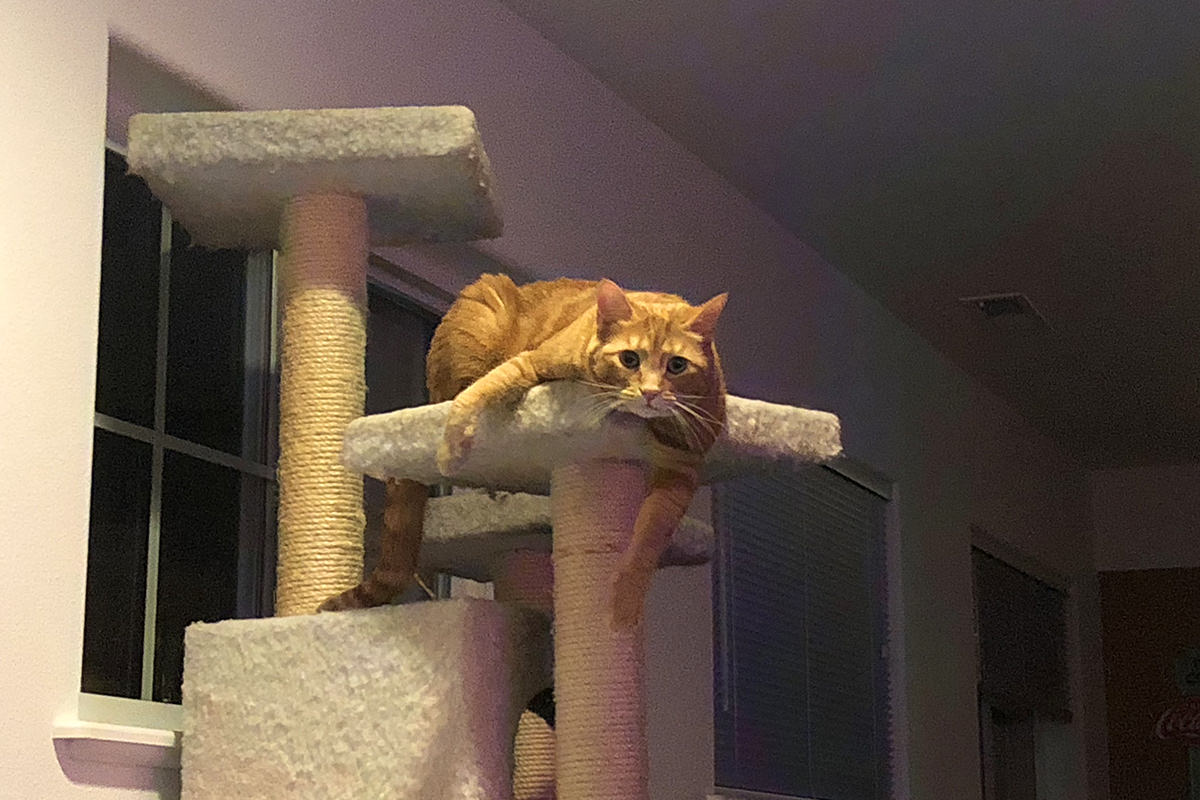 And now... time to clean the litter boxes. Yay.
Posted on November 10th, 2018

Today I headed over the mountains, leaving my cats alone overnight.
As if my cats didn't already hate me.
My week was spent getting death-stares from my cats (well, Jenny, anyway) because my efforts to ease them into Daylight Saving Time ending failed horribly. All they know is that I am starving them to death...
This next photo is from THE NEXT DAY. But you are forgiven for thinking that it was taken two minutes after the one above, because Jenny has the same sour look on her face...
Every day is the same. Jenny will saunter on the warming bed that sits on the coffee table. A little while later Jake will hop on the media center.
And then they will just glare at me.
And tonight, on the night I'm writing this because I was gone yesterday? On Sunday, November 11th, 2018? One week after Daylight Saving Time ended?
Same...
Though I should get some love, since I ended up having to free-feed them while I was gone again. They are thrilled at being the ones to decide when they get to eat (which is all the time).
I can only hope that next week they've forgotten all about Daylight Saving Time.
Posted on November 3rd, 2018

This morning I woke up hungry for a McDonalds Egg & Cheese biscuit, but I didn't want to pay the stupid amount of money they charge for it. I also didn't want to spend the money on gas to get there (the nearest McDonalds is 20 minutes away). The good news is that I had all the necessary ingredients to make my own. The bad news is that I had to wait in bed 20 minutes before I could actually make it.
You may be asking yourself "How the heck does this breakfast biscuit drama relate to Caturday?"
The answer is "Daylight Saving Time ends tonight."
As anybody with pets will tell you, animals don't give a fuck about Daylight Saving Time. But, for some stupid reason humans do, and so our pets have to live with the consequences.
The way I try to minimize the perceived torture of feeding my cats an hour late is to adjust the time for a couple days before and after we do stupid shit with our clocks. Jake and Jenny get fed when my Alexa alarm goes off at 7:00am each morning. Yesterday I fed them at 7:10am. Today I fed them at 7:20. Tomorrow (after the change) I'll feed them at 6:30. Then on Monday it will be 6:40. Followed by 6:50 on Tuesday. Then on Wednesday they'll be back to 7:00am.
Until Daylight Saving Time starts up again. Then it's this whole mess all over again in reverse.
As I've mentioned previously, I've trained my cats to expect dinner when the Alexa alarm goes off. That saves me being woken up early by impatient cats. Since they know that absolutely nothing will happen until Alexa chimes, they don't bother with bothering me.
Except...
They seem to know when Alexa is jerking them around because their internal clocks are eerily accurate. Yesterday morning at 7:05 and this morning at 7:00am on the dot, Jenny started bringing me toys... apparently in an attempt at bribing me into feeding her. This morning after several rounds of bribes, she just kind of sat there staring at me and whimpering...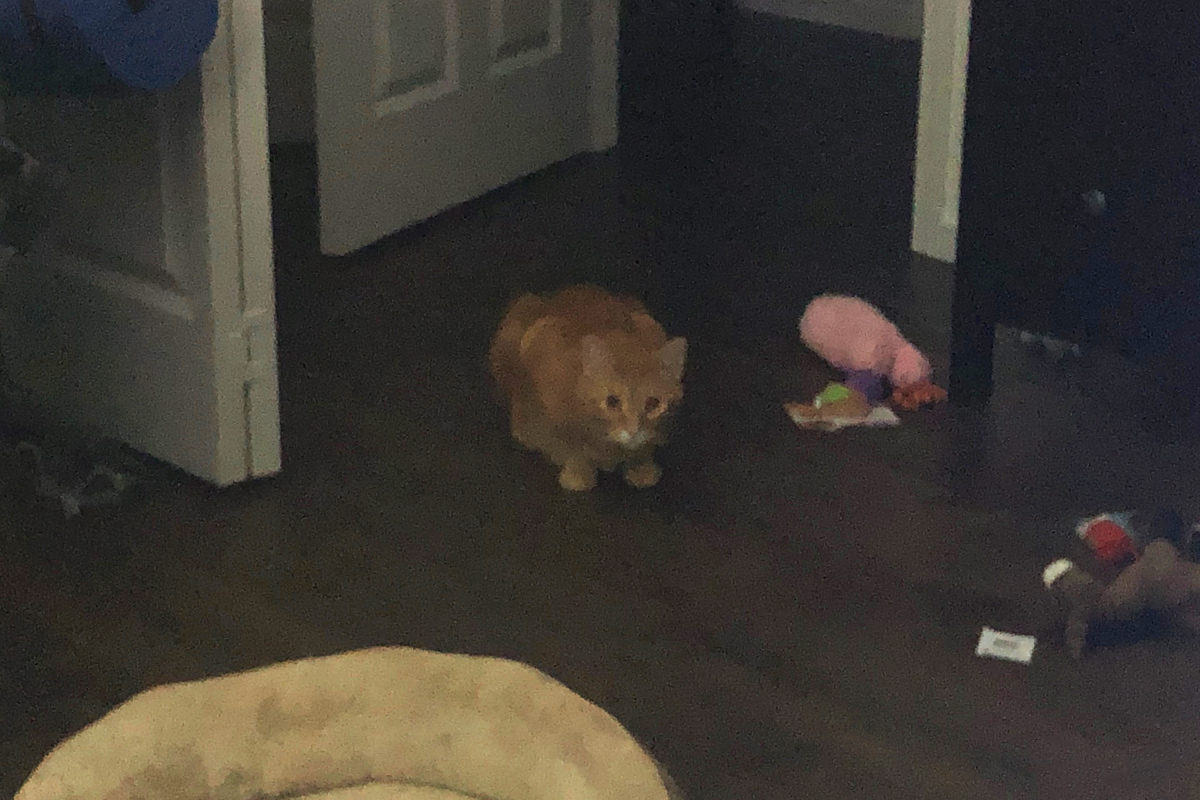 Heaven only knows how bad it's going to get when the delay gets longer and longer.
Stupid Daylight Saving Time. Can we please, FOR THE LOVE OF GOD, just split the difference and finally get rid of this stupid shit once and for all?
Early this week I had decided to wash the cat beds I put on the floor. This change was apparently too much for Jake, who walked in... walked out... walked in... walked out... then walked in again. Like he didn't recognize the place...
Poor Jake. As if he doesn't have it bad enough with his health issues. So far neither the antibiotics or the anti-inflammatory has been doing any good. I'm convinced that he doesn't have an infection and his constant need to go to the bathroom has to do with lingering effects of the catheter he had, but who knows. He's got two more doses of antibiotic left, so maybe. I won't really know until the labs are back.
On Thursday I spent over an hour desperately searching for a work document that I cannot find. What I did find was the exact moment I gave up on keeping my cats off the dining room table and decided to invest in Lysol and a plastic-back table cover. I remember this like it was yesterday. I went to scoot the cats off of the table and my mom told me to just let them be so she would have some company while she ate her chicken soup...
And that was that. I've been disinfecting the damn thing ever since.
I also found photos of Jake's first belly rub...
Up until that point, petting my cats was something you could only do on occasion. As feral rescues, they were very wary of being touched, and the idea of touching them on their bellies was something that didn't even seem possible. Then one day I came home from work and there was my mom... belly rubbing away on Jake's tummy. I think the look on his face tells it all.
Adult Swim fans will be happy to know that Jenny's infatuation with Rick from the amazing cartoon Rick and Morty is still in full swing. I was bored of watching Hallmark Christmas movies and decided to burn through a couple episodes which, not unexpectedly, had Jenny running in the room to snuggle up next to me and watch. There is something about Rick's voice that completely captivates her...
Eventually it was dinner time and the spell was broken. But until that point, wild horses couldn't have dragged her away from the television.
And lastly on this fine Caturday, a meme that was burning it's way through my Facebook this past week...
=dies=
This could be either one of my cats when I attempt some kind of condescending cuteness with them.
I tried to track down the owner of these photos so I could give proper credit, but all I could see was that it seemed to originate on a bunch of Chinese sites and no credit was ever given. Oh well. That's the internet for you.
And now... until next Caturday, then.
Posted on October 27th, 2018

The weather has been particularly overcast, grey, and cold this week. For me it's been kinda depressing. For my cats though? Totally depressing. Neither of them have felt like doing much of anything. They don't want to play. Or explore. Or run around. They just want to sleep. And it's become somewhat of a routine for them. I get home from work. I watch TV for an hour. Then I make everybody some dinner. After dinner Jenny will jump on the couch next to me and just lay there. Sometimes she'll sleep.
Monday...
Tuesday...
Wednesday...
Thursday...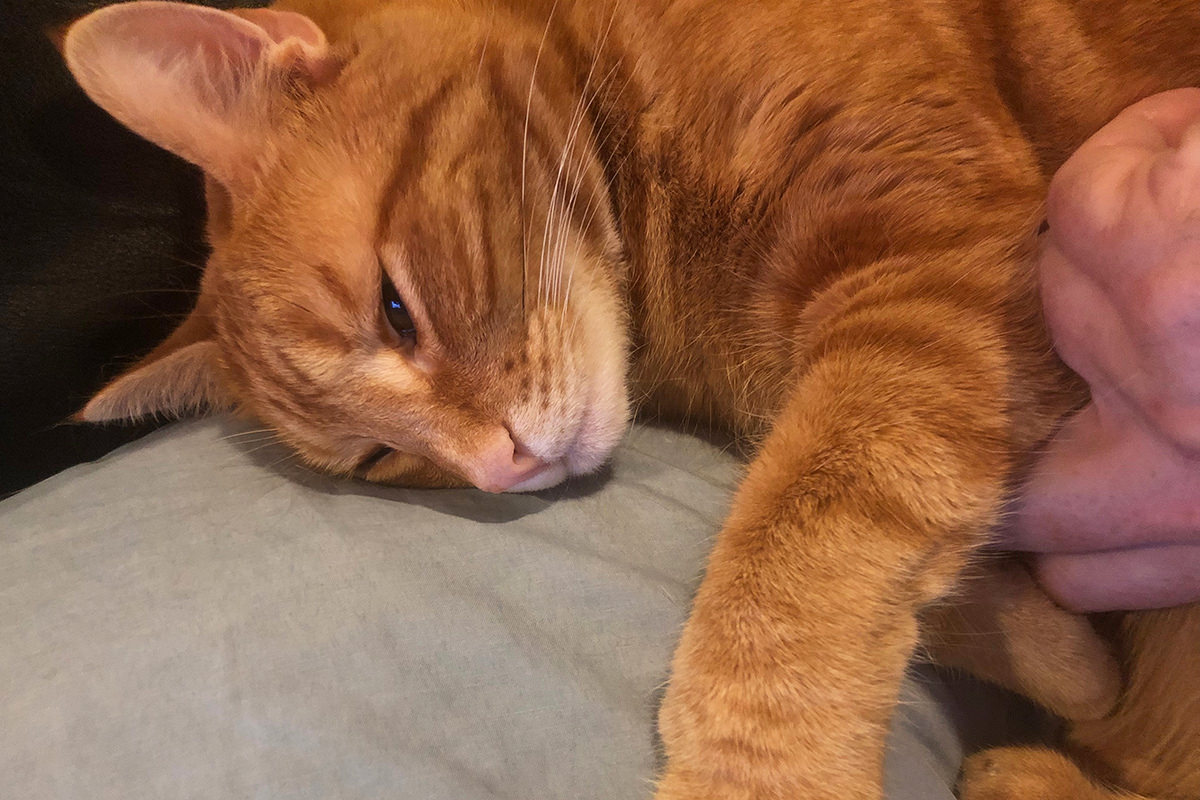 Though yesterday morning I put some jeans on the table so I could fold them. I turned my back to clean out the lint trap in my dryer and...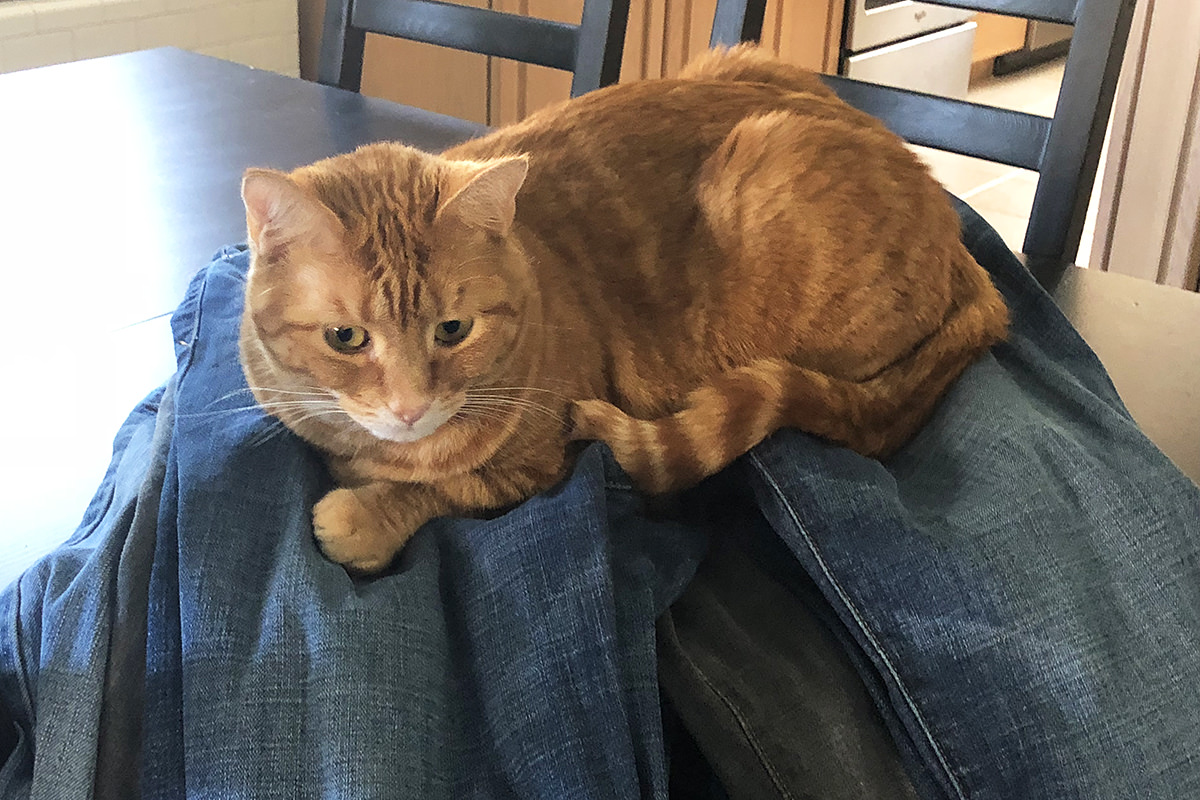 I left them there in case she might want to nap there after dinner. But, alas... right back on the couch...
Maybe I need to look into Kitty Prozac?
As for Jake? He's still sleeping on top of me every night. He's mostly back to normal after the vet, but this has lingered...
Not that I mind... I just wish I had a handle on whether he's doing okay or this is indicative of a problem. He's still peeing a lot. Too much. But he is peeing, which is the important thing. If not... another trip to the vet is in our future.
And that is something none of us want.
Posted on October 20th, 2018

Now that I'm waking up to frost on my car, it seems like a good time to pull out the electric blanket. This is a wintertime essential for two reasons. The first is that it saves money on heat because I'm heating just my bed instead of the entire house. And the second? It's Jenny's favorite thing.
And now Blogograpy presents: The Three Stages of Electric Blanket (according to Jenny)...
1. What? What's This?!? So Jenny hops up onto the bed and immediately notices that something is different. Is that... warmth? She decides to test it out by plopping her butt down on the bed...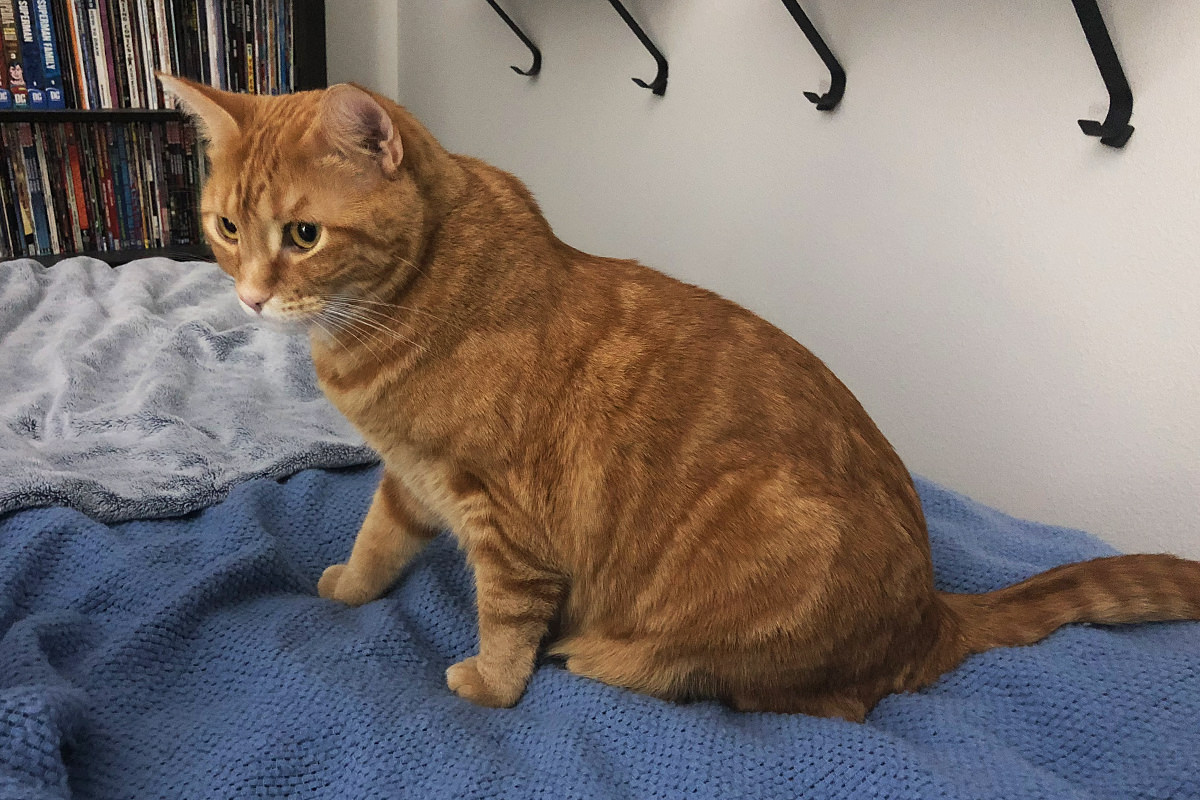 2. Warmth! Glorious Warmth! At this point Jenny is rolling all over the bed trying to decide what part of her body she wants to heat up first...
3. Heat Isn't Enough! The newfound warmth is okay and all, but that's no replacement for tummy rubs, which she demands as well...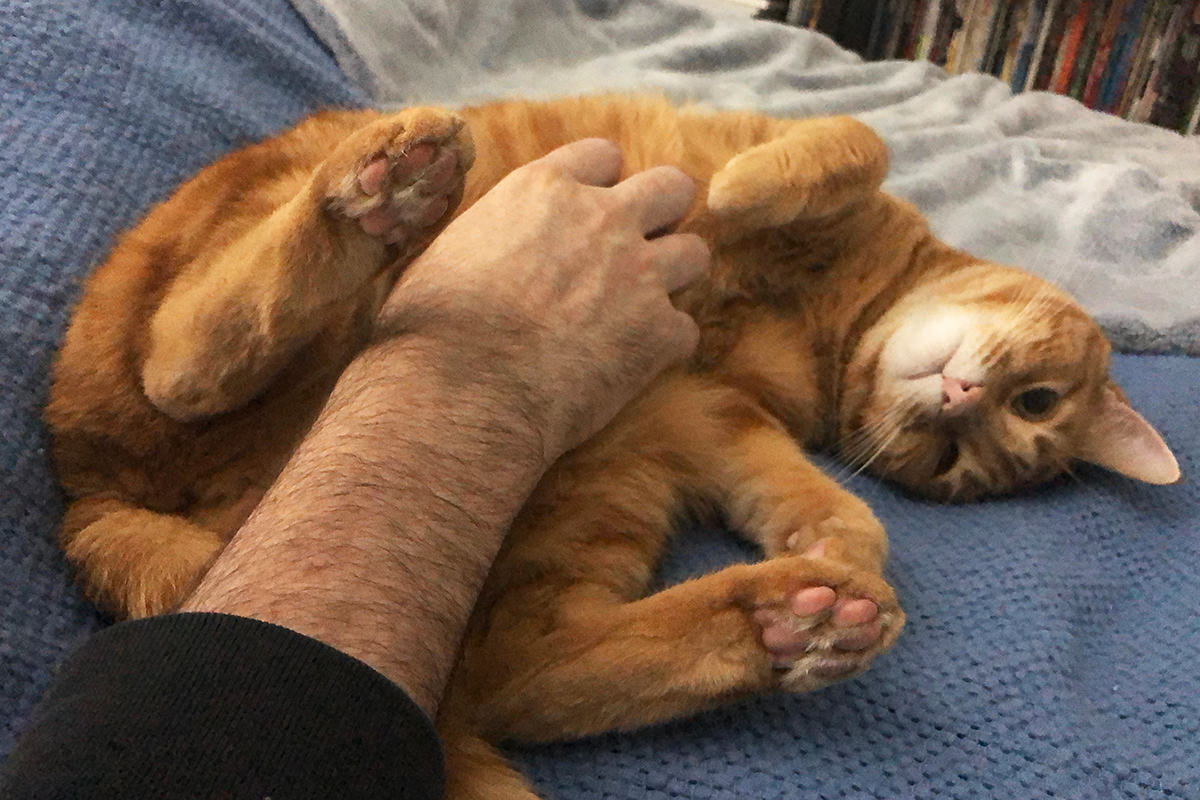 Jake likes the heat too. It's nice to have a warm bum while cleaning your junk...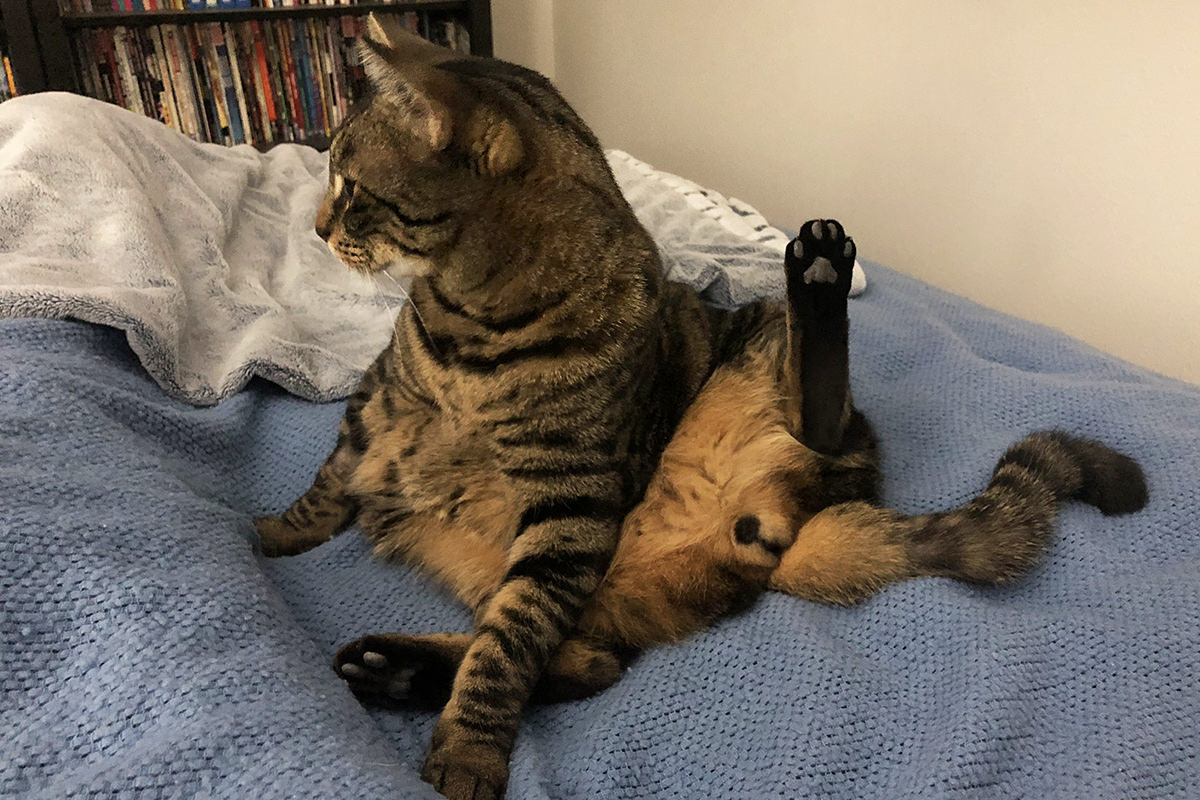 And speaking of Jake... a setback.
Last night while I was watching television, Jake made a spectacular vomit spew from the top level of the cat tower. Before his urinary tract problems, he never vomited. The only time he ever vomited was when his urinary problems started, so now I'm terrified that he's sick again. The poor kitty just can't catch a break. And neither can I, apparently...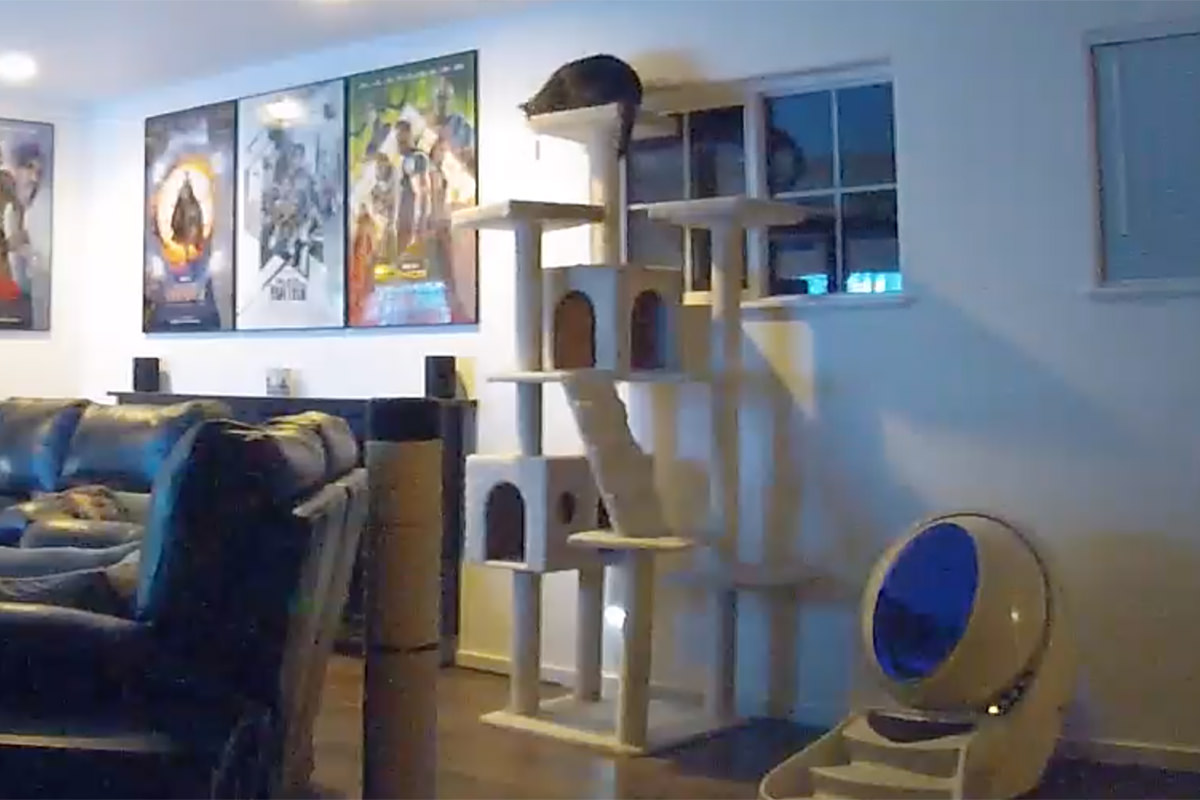 I'm honestly not sure what to make of Jake since he got back from his week-long stay at the vet. He still seems terrified to be left alone. When I'm home, he's on me the entire time... or, lately now, snuggled up to his sister. Jenny tolerates it quite well... until she doesn't. At which time he's right back on me. — When I'm gone he is agitated at first, but sleeps alone or hangs out in the catio alone and seems fine with it. Maybe it will just take a while for him to get over the trauma of all he went through. I hope he'll eventually get back to his "normal." In the meanwhile, it's cute to see him snuggling up to his sister at night...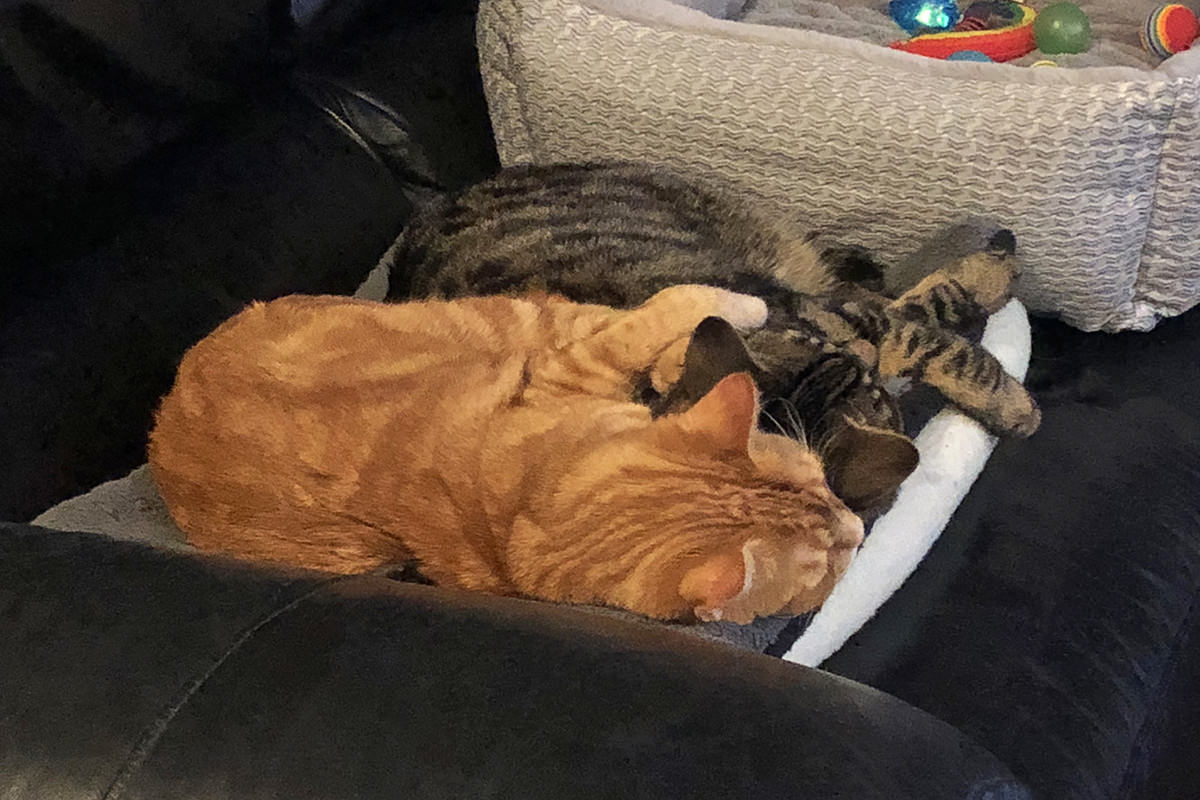 And to have a warm, fuzzy interruption from work when he wants to cuddle up next to me...
At night he still wants to sleep with me or, to be more accurate, on top of me...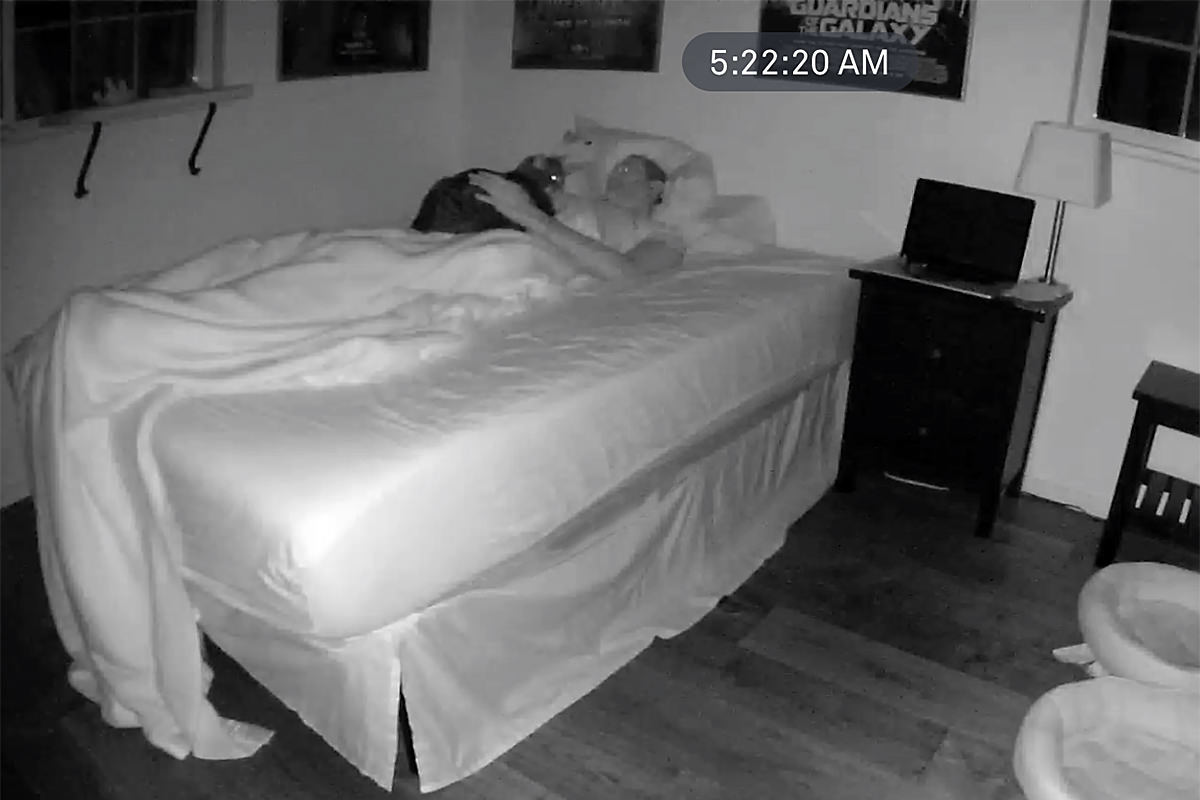 Though now that there's an electric blanket on the bed, it seems like he'd rather sleep on that and just lean up next to me instead...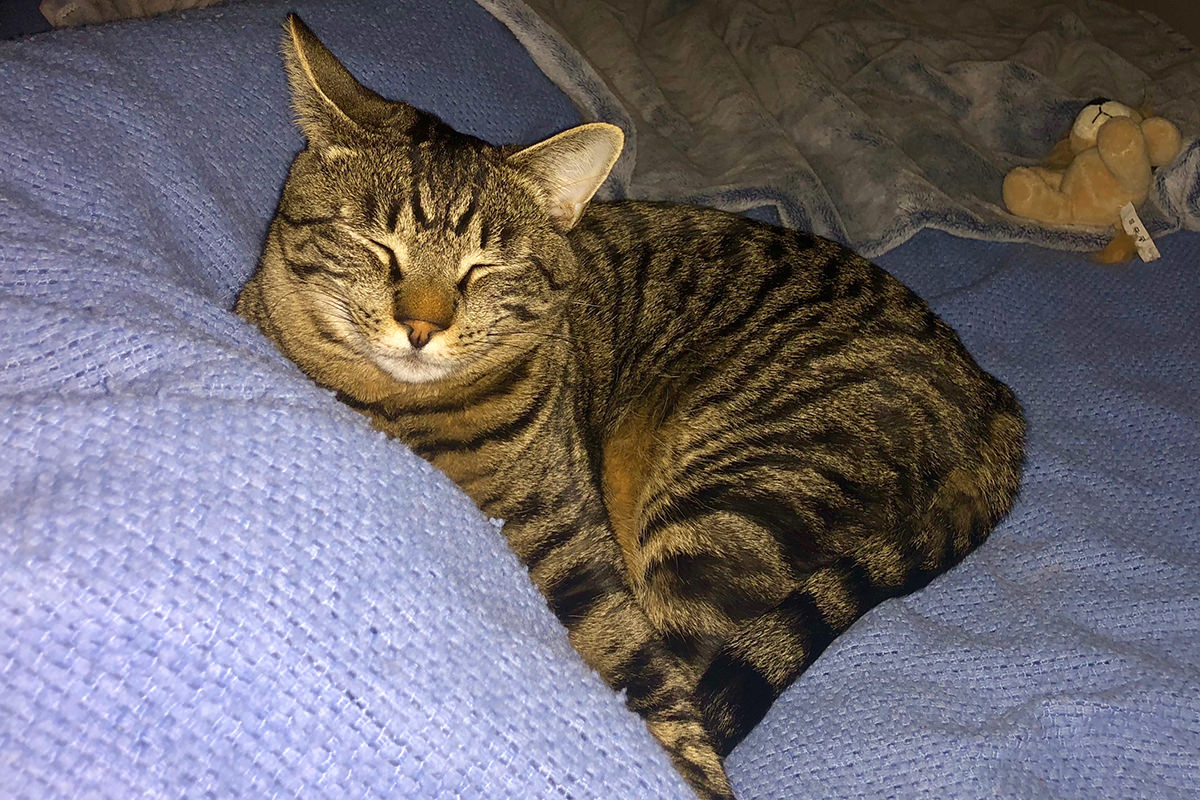 Jake is not one for selfies, as you can tell...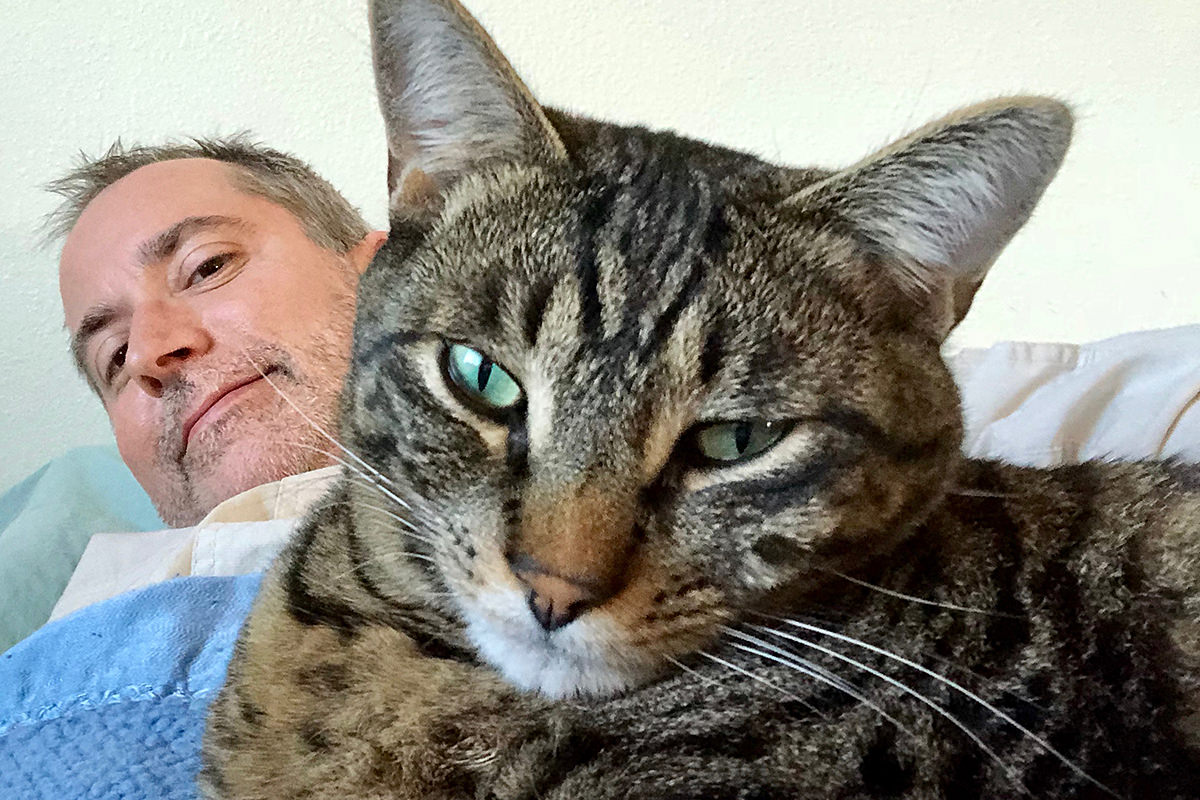 Health-wise, Jake is still peeing far too often... but both the Upstairs and Downstairs Litter-Robots are reporting that the number of uses per day is trending downwards, so maybe one day he'll be back to where he used to be...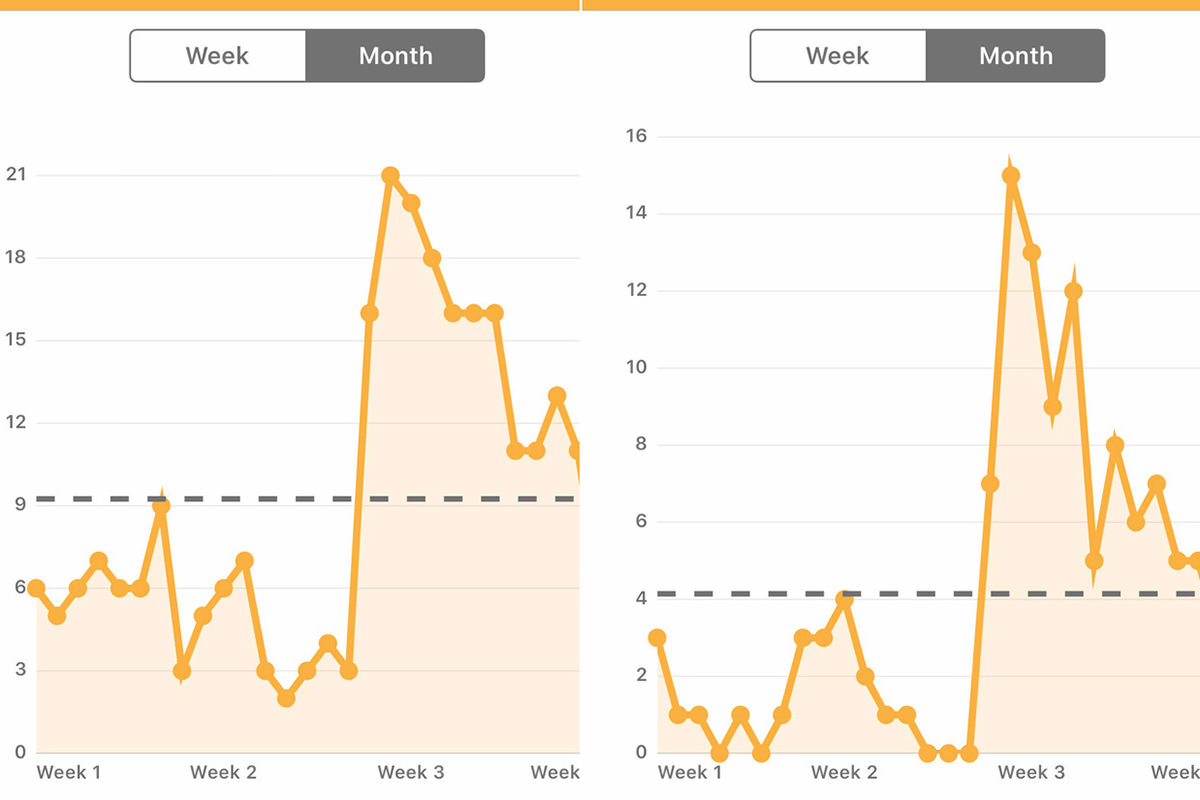 The high peak is when I bought Jake home. The valley before the peak is when Jake was at the hospital and only Jenny was using the boxes. The day after he came back, the Litter-Robot was used thirty-six times. Poor kitty. My vet isn't concerned... yet... but I sent and email on Friday just to ask again if this is normal and will eventually subside.
Fingers crossed.
It can't be fun going to the bathroom ten times a day.
Posted on October 13th, 2018

Last night when I got home from work I decided to try a new frozen pizza brand I haven't had before. I don't know why I bother, because they all end up tasting like crap, but I keep holding out hope. The pizza was, as expected, truly awful.
In more ways that one, as it turns out.
While I was removing the wrapper, some of the cheese topping fell on the floor. Before I could grab a towel and get it picked up, Jake swooped in and chowed down. It was only a half-dozen small shreds... but that was all it took. Within five minutes he was puking his guts out. Poor guy.
I don't purposely feed my cats human food, but Jake has been getting into my food since I first got him, and it's never caused any problems. But now? Barf-time.
Which means I have to be more careful than ever that he doesn't eat anything except his heinously expensive prescribed specialty food.
Other than that, he's mostly back to normal. Except for the fact that he is still peeing far more often than usual (beats the alternative) and clings to me like glue everywhere I go. When I lay down on the couch to work, he'll immediately hop on top of me... only hopping off to pee, then he's right back on me...
Needless to say, any time I'm in bed, Jake is there too...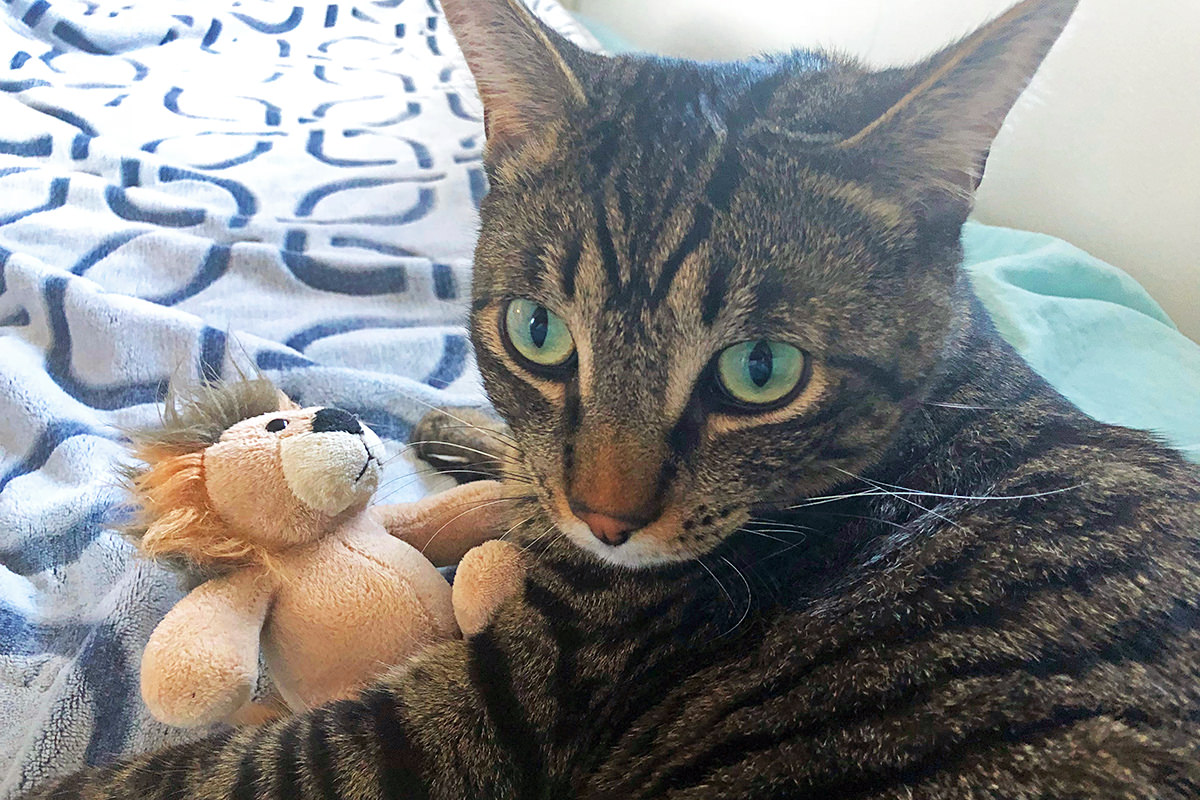 I'm still irrationally upset that his claws were trimmed. I wish I could get past that, because I know they'll grow back... but, still... upsetting...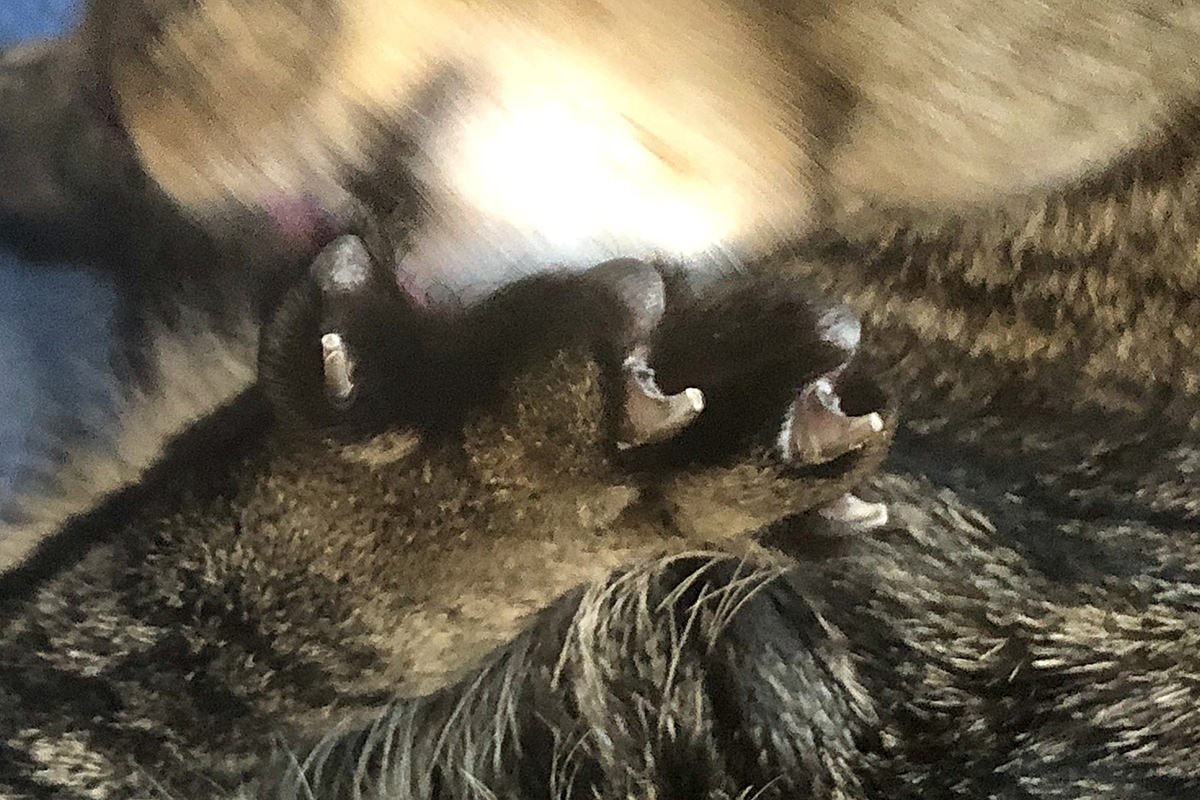 Poor Jenny spends most of her time being jealous that Jake is getting so much attention. For some reason they have an agreement that there can only be one cat in bed with me at a time, and since that's mostly Jake... well... let's just say we've been getting our share of irritated glances...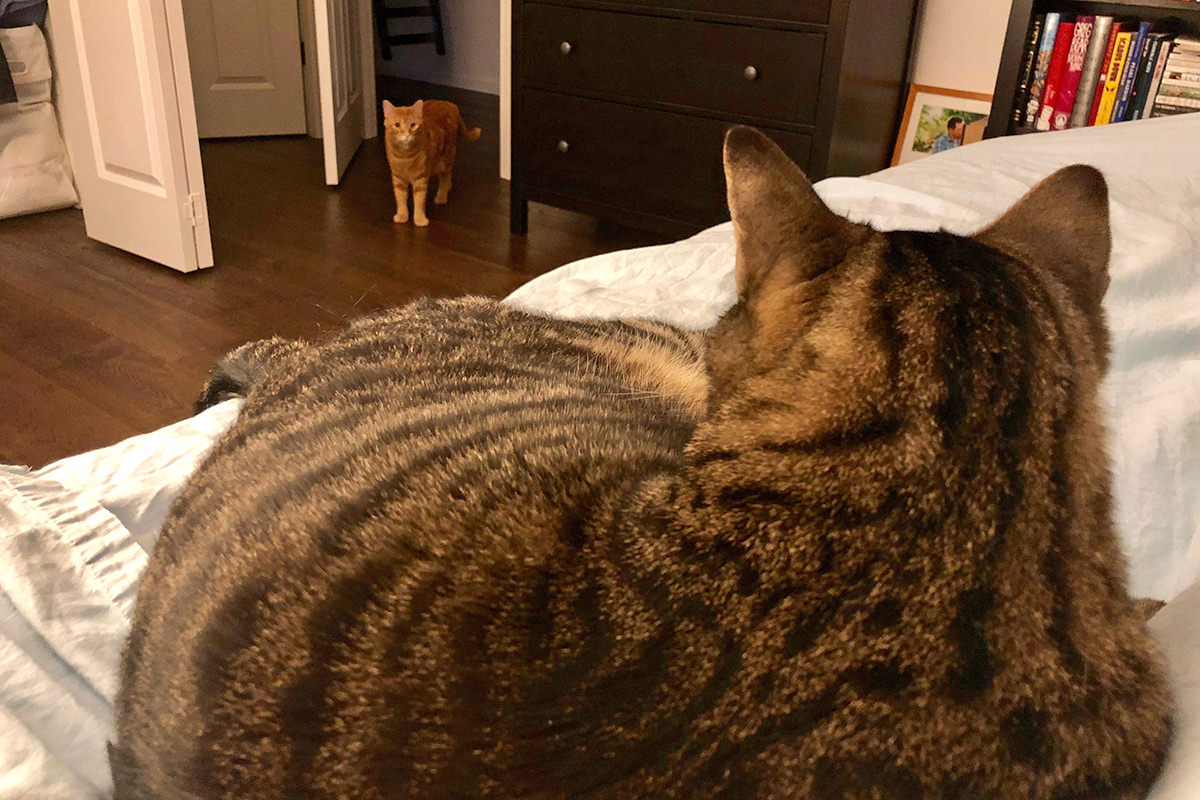 Not that Jenny is completely ignored. I make sure she gets some lap-time too...
This week has been a tough one. I am terrified that Jake's urinary problems are going to come back and they'll end up having to cut him open. Every time he uses the Litter-Robot (which is often) I run to make sure that he was able to pee. Every time he licks his junk, I'm worried it means he's having trouble going again. Next week I'm back to working full days and I won't be able to observe him as easily. I've put alerts on the security camera system for motion at the Litter-Robots, but that's not the same as being here.
Six weeks until my next trip. My hope is that everything will be fine by then and I won't have to change my plans. Again.
Posted on September 29th, 2018

I try really hard not to project human gender traits on my cats. First of all, they're cats. Second of all, they're cats. But it's hard not to. Jenny is a petite and refined little lady. Jake is a big bruiser of a boy. Jenny is complex, scheming, and opinionated. Jake is simple, straightforward, and easy-going. Not that those are necessarily gender-specific traits... but my cats seem to fall into the stereotypes of human society quite well.
And though their personalities are very different, that doesn't seem to matter at the end of the day.
When I first got them and they were scared little kittens, they clung to each other like their life depended on it. After a while, they drifted apart, not really choosing to hang out together. But lately that's been changing. They are back to bathing each other again, which is just too sweet...
A half-hour later...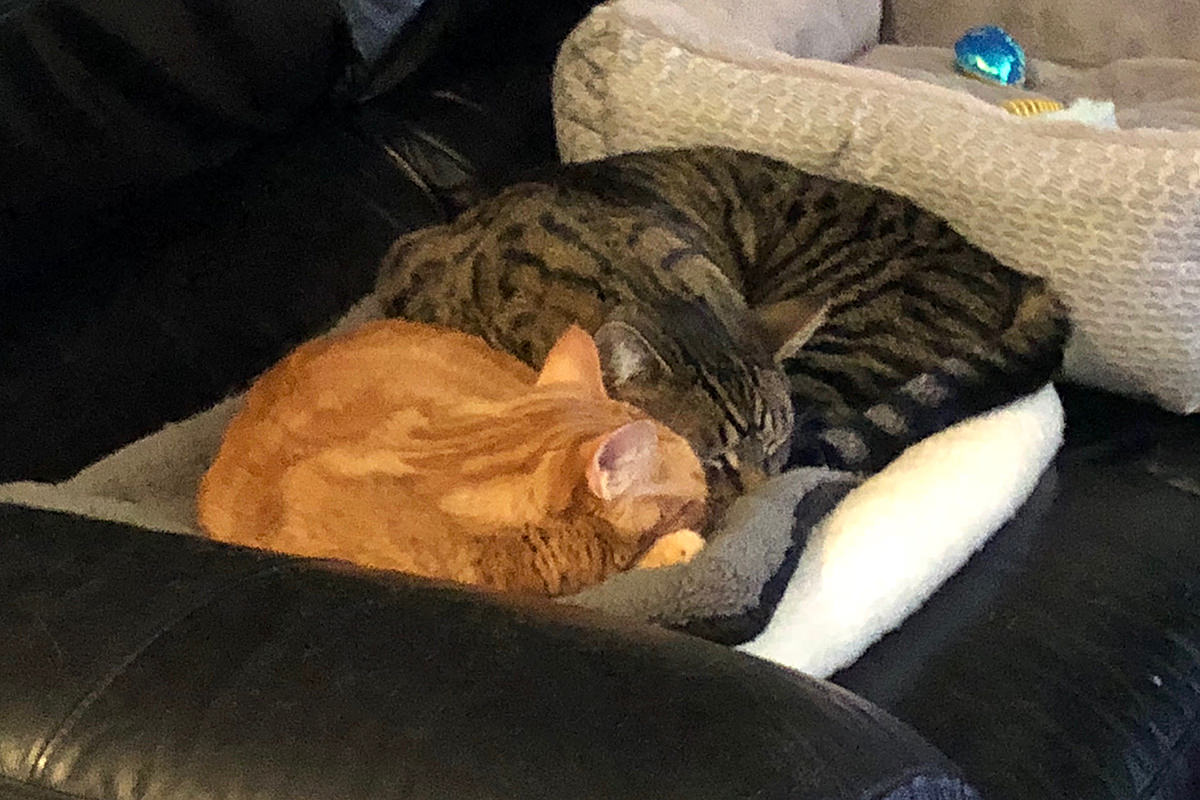 Note the large bed I bought them goes ignored. They would much rather snuggle up in a tiny little bed instead.
That's cats for you.
If only humans with all our different personalities could get along together this well.