Posted on July 6th, 2019

Apparently I had some motivation in me after all?
Today was so beautiful out that I ended up floating the river with friends instead of lounging around the house doing nothing.
Though laying on a floatie drinking booze and letting the river take you is pretty close to nothing...
At the end of our float, there was a couple with their too-cute dogs out enjoying the sun. One of the pups was tuckered out and decided to take a nap under a cap...
But this is Caturday and not Dogurday, so back to the usual feline madness that Saturday brings...
I ended up having to leave the post-float party early because I have ghosts...
Asking Jenny to go close the door had no effect.
Behind my house is a big field filled with dandelions that have gone to seed. So leaving the door open like that will guarantee that dandelion fluff will fill my living room if I don't take care of it, so off I went.

Whenever I have guests staying over, my cats cower upstairs in my storage closet until everybody goes to bed... then they come out and goof around until everybody wakes up and they hide upstairs again. This morning poor Jake was lounging in the catio and didn't make it upstairs before we were all awake. This is the look on his face when he realized he was "trapped" in the catio until we all left for the day...
He didn't have to wait long, but enjoyed staring at us from behind the safety of my massive pole...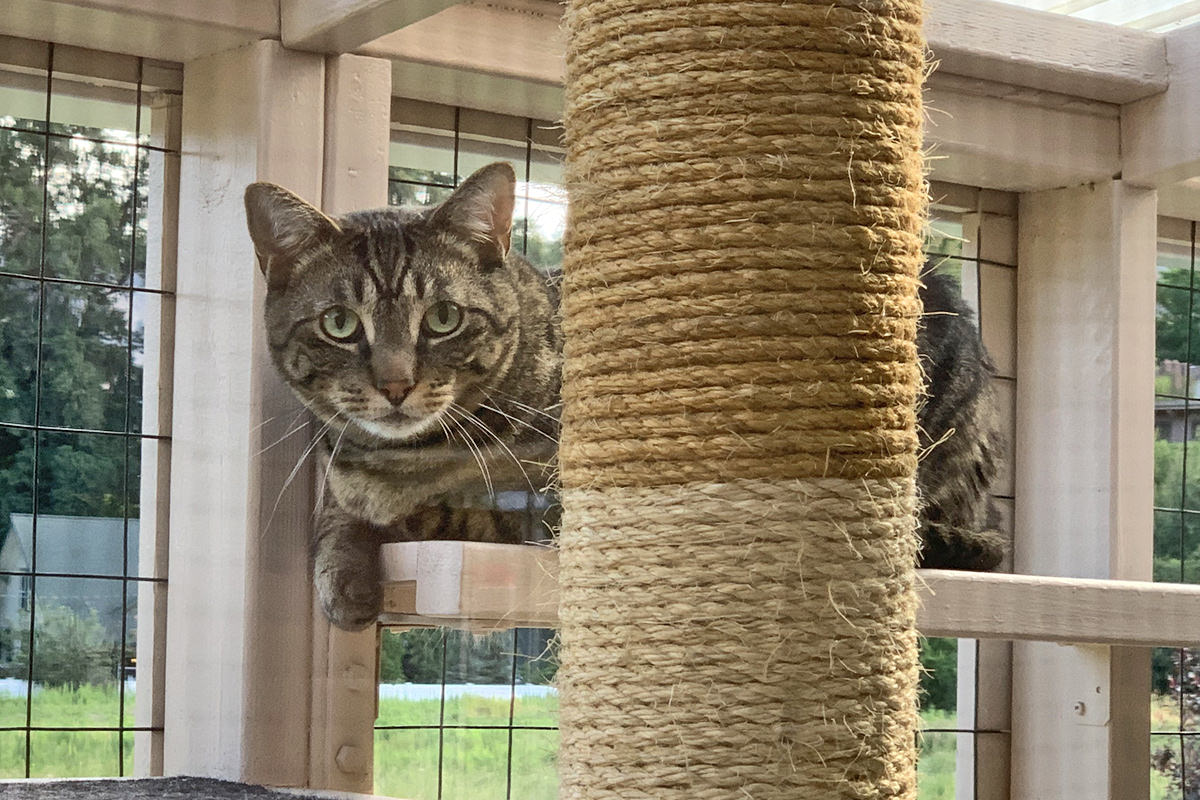 I have tried many, many times to get my cats so they are not afraid of people. It never works. After a few days Jake might come wandering out for a minute if it's quiet and calm, but he's completely scared and on edge the entire time. Jenny won't even think about it. This makes me terrified as to how my cats will manage if I'm in some kind of horrible accident. Will anybody want to adopt them if they are this frightened? Are there kind souls who are patient and caring with a feral rescue who's terrified of people? I sure hope so.
Of course, just getting ready for guests is an adventure unto itself. I try to get everything cleaned up and organized, but this is never easy. "Oh, you just made the bed? Here, let me get on that, even though I haven't been on the bed in weeks...

And now, as I retire on this fine Caturday, I leave you with this...
Oh. And this...
Cats are the best.
Posted on June 29th, 2019

The past week has been filled with wet weather. This used to be a source of great anxiety for my cats. Rain hitting the roof was confusing. But that's been changing over the years. Jake is actually able to sleep through rain, thunder, and lightning now.
Jenny? Not so much.
She meows at the ceiling. She meows at the windows. She's very interested in what's happening outside, but not interested enough to actually go outside and investigate...
Jake is interested because Jenny is interested...

The other day my dinner burned up in the oven. In an effort to help clear the smoke smell out of my house from my cremated pizza, I opened all the windows and doors (but not screen doors) here in the house. And there I was... walking to the kitchen with my dishes... when I see that SOMEHOW I FAILED TO NOTICE THAT THERE WAS NO SCREEN ON THE WINDOW NEXT TO THE CAT CLIMBING TREE! And there was Jake... leaning out the window all "Wassup?" As I start to crap my pants, I quickly made my way to the kitchen so I can shake the "bag of treats" and lure him away from escaping.
It worked, thank heavens. I honestly don't think my heart could take him escaping again. But at least this time I would actually know what happened!

Speaking of cooking disasters just waiting to happen... my old barbecue grill had to be replaced and I had time to assemble the new one this week. As with anything new, Jake and Jenny are invested...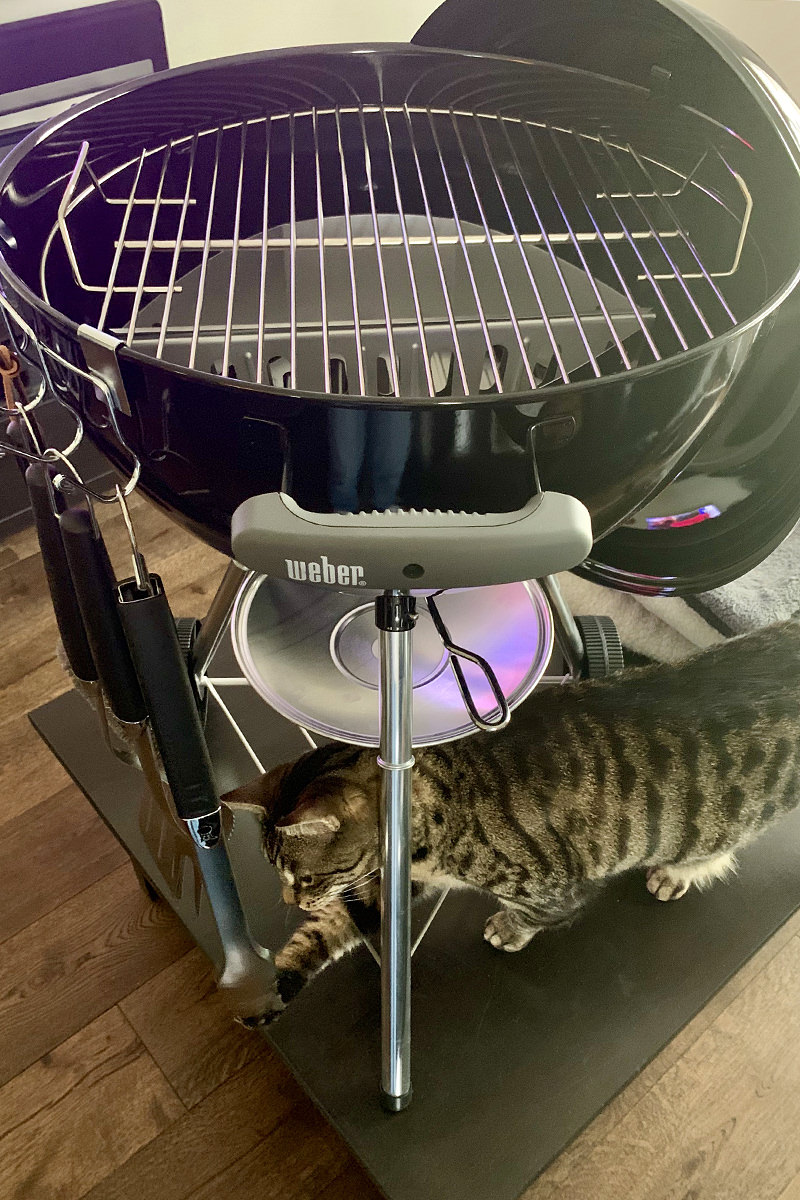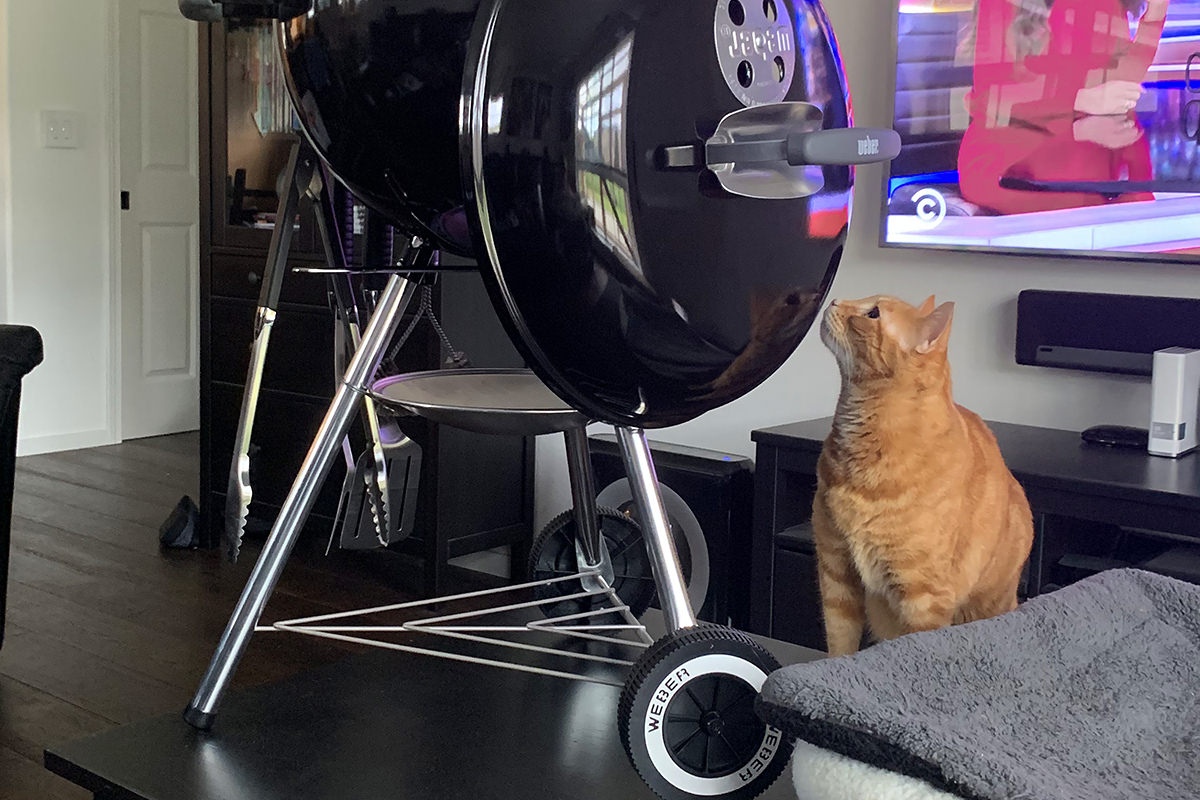 The replacement grill is smaller than the old one, which is perfect for me. This one can fit in the catio without obstructing the door so I can leave it out instead of having to drag it back to the garage each time...
Now that the weather is turning nice again, I may actually get to use it.
Fingers crossed.
Posted on June 22nd, 2019

I always find it funny how Jake will barrel through the patio door when he spots an "enemy" cat wandering by outside and wants to quickly investigate... but when he just wants to go outside, he'll hem and haw at the door flap until he gingerly and reluctantly pushes his face through and ever-so-slowly oozes out.
A while back I was on the phone with a colleague and mentioned that my little trash panda was licking all the snack wrappers from my breakfast. She said "Why is the cat the trash panda... you're the one eating garbage for breakfast!" Touché...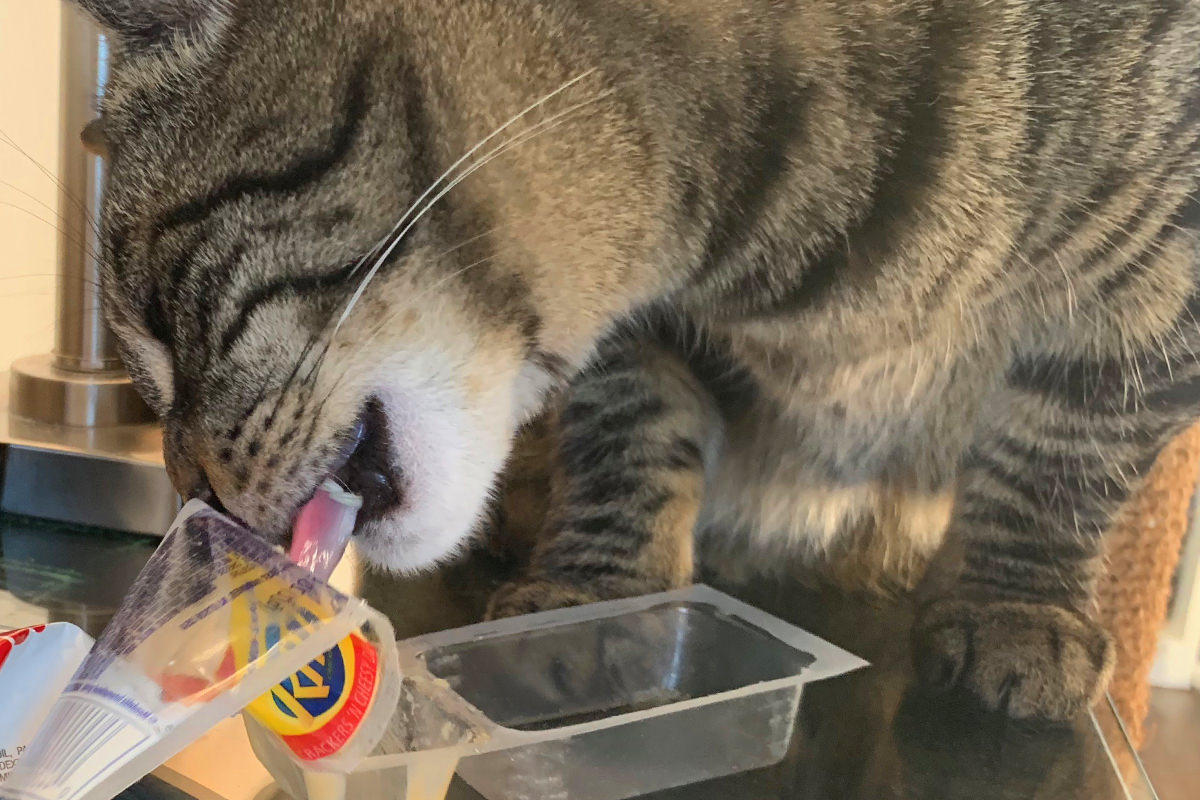 He's still adorable like a panda though...
Since my cats spend most of their day sleeping and most of their night out in the patio waiting for bugs to fly in, there's not much else to say this fine Caturday...
Except...
See you next Caturday.
Posted on June 15th, 2019

I loathe the constant barrage of senseless plastic pollution which permeates modern life in this country. Absolutely everything comes packed in it or protected by it. It's a plague that's destroying the planet, and only getting worse as more and more people like me do their shopping online.
Most of the pillow packs can be deflated and recycled. I don't think they can go in my recycle bin, but they can be saved and dropped into those shopping bag recycling receptacles at grocery stores.
But not before my cats get to play in them, which is one of their favorite things. Especially Jenny, who likes hiding in them...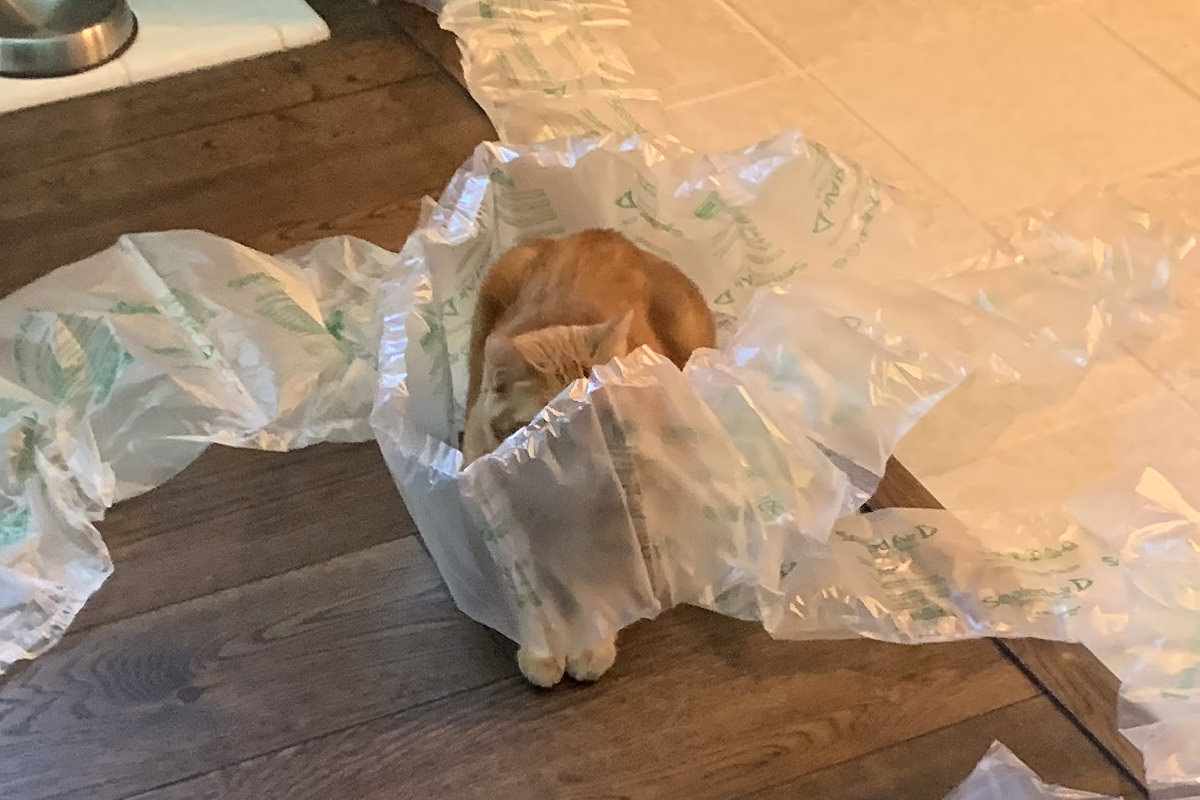 I like to hide toys under the pillow packs so that the cats can have fun playing in them as well...

Jenny is still sleeping on the jeans I put across the back of the couch to dry, so I've just been leaving them there. Sure I'm down two pair, but how can I say no to this?

And then there's Jake being Jake...
My cats are the best. Happy Saturday!
Posted on June 8th, 2019

Today was a rare day when I didn't have to go into work. Instead I worked around the house which is, in so many ways, worse. Sitting at a desk all day doesn't strain my back, whereas painting garage doors, making bread, assembling shelving, and cleaning house definitely does!
Most of the chores I had set for myself were done by 1:30, so I spent the rest of the day hanging out with my cats...
Jake has continued being clingy and wanting attention after his accident. Poor thing. I think his new behavior might very well be permanent...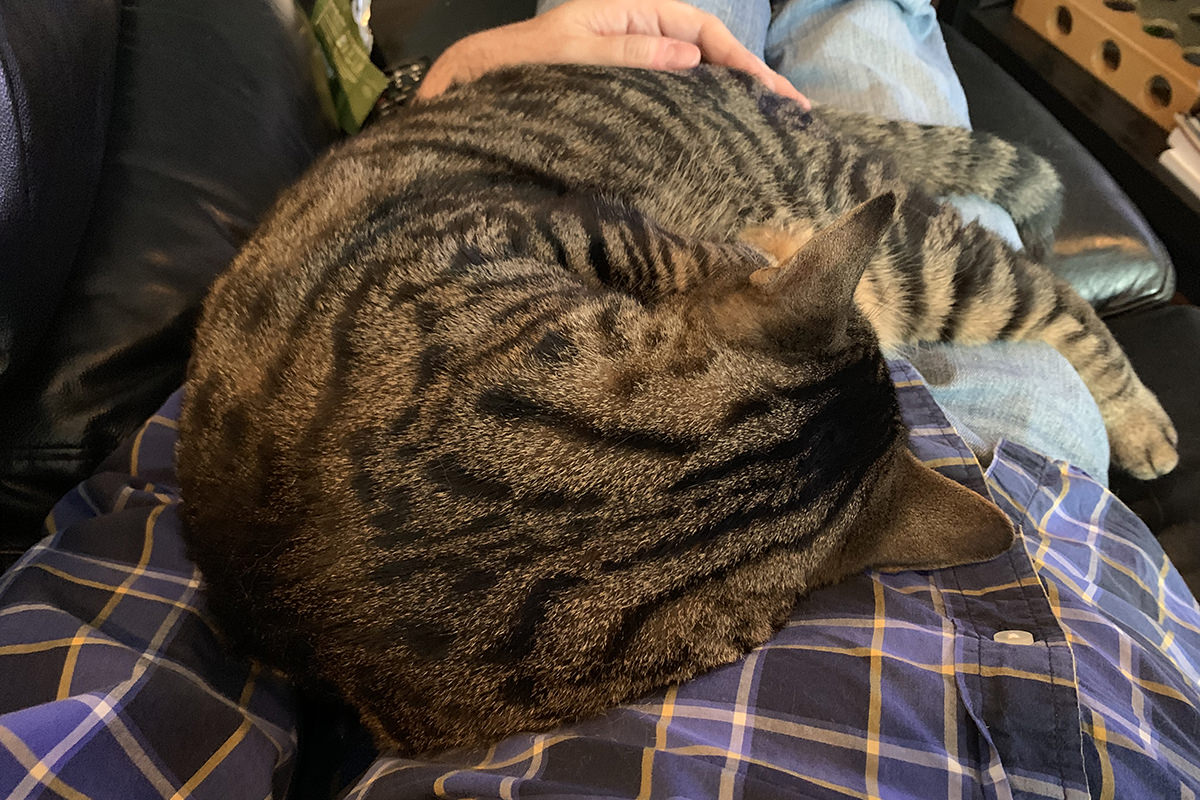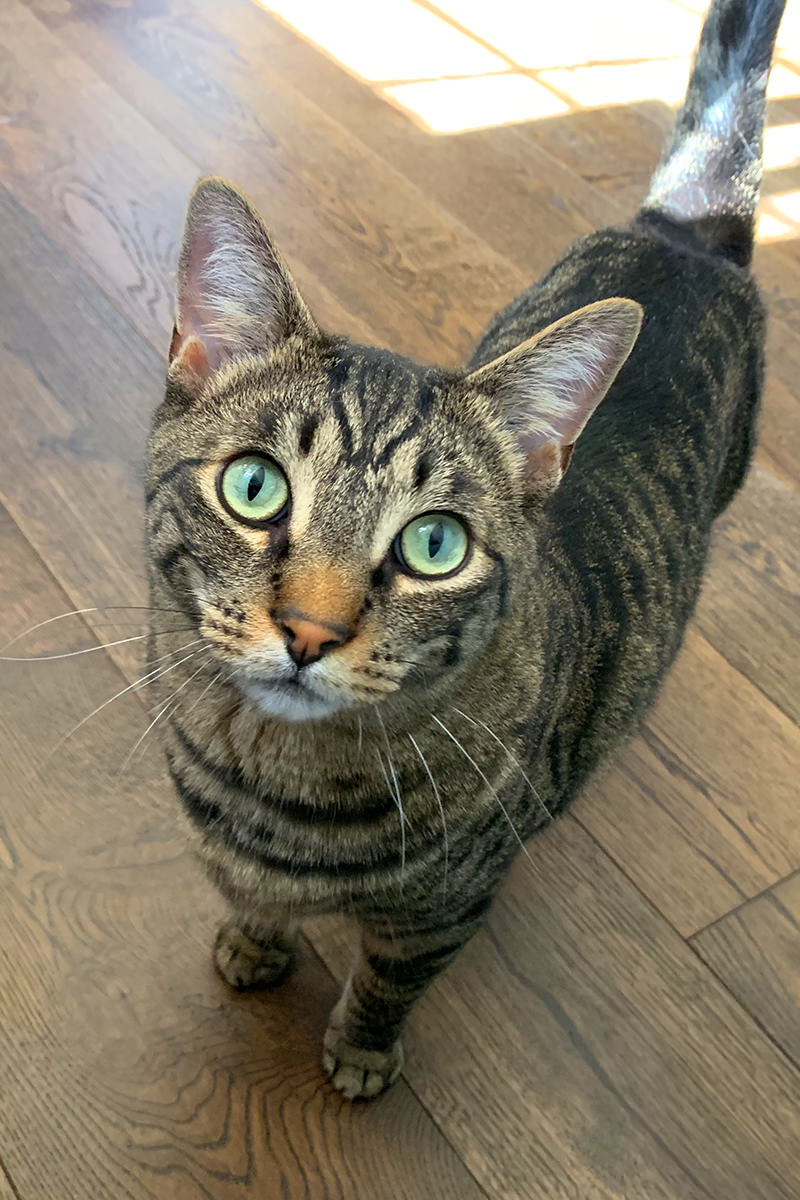 I always make time for my cats, and it's kinda nice to have Jakey Bear for company. Now that it's warmer, he doesn't snuggle up against me very often though, preferring to sleep in a way that's easier to cool off..
Jenny, on the other hand, will still snuggle up against me in any weather...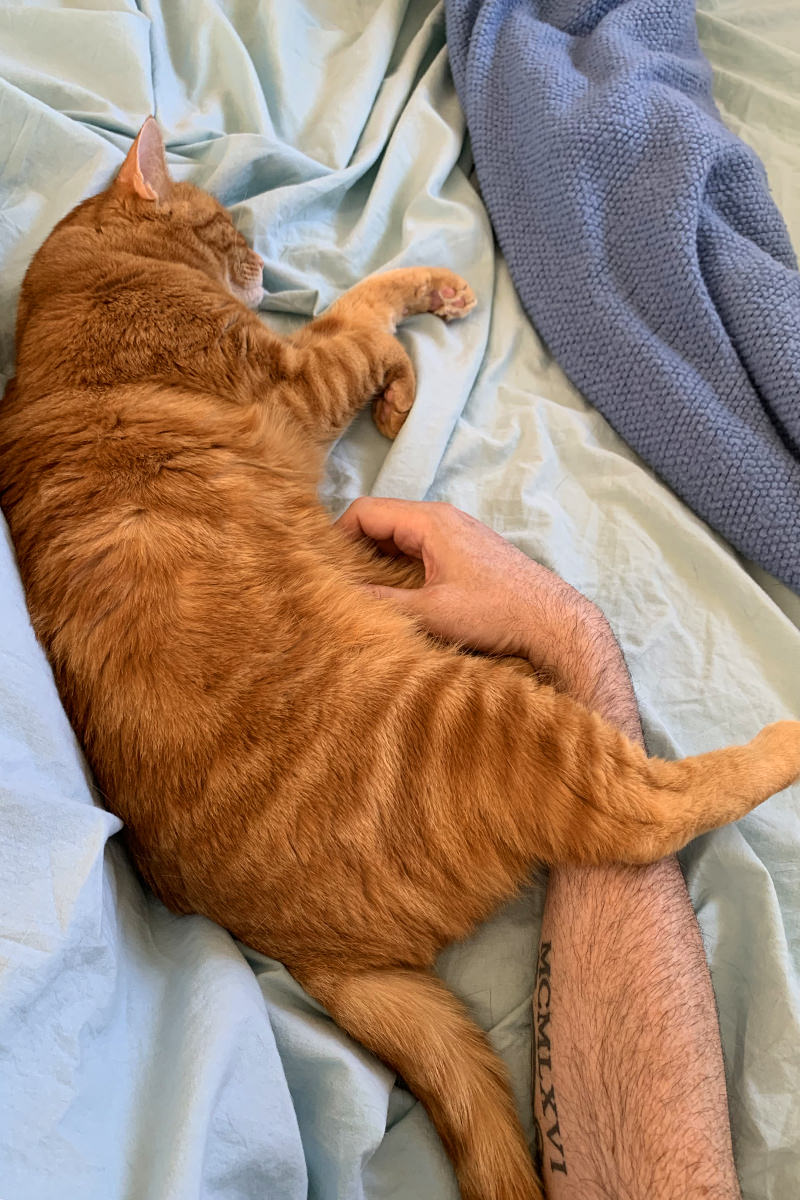 Speaking of Jenny, a while back I happened across a folder of old photos. I think this is when I first noticed that she has an adorable sour face...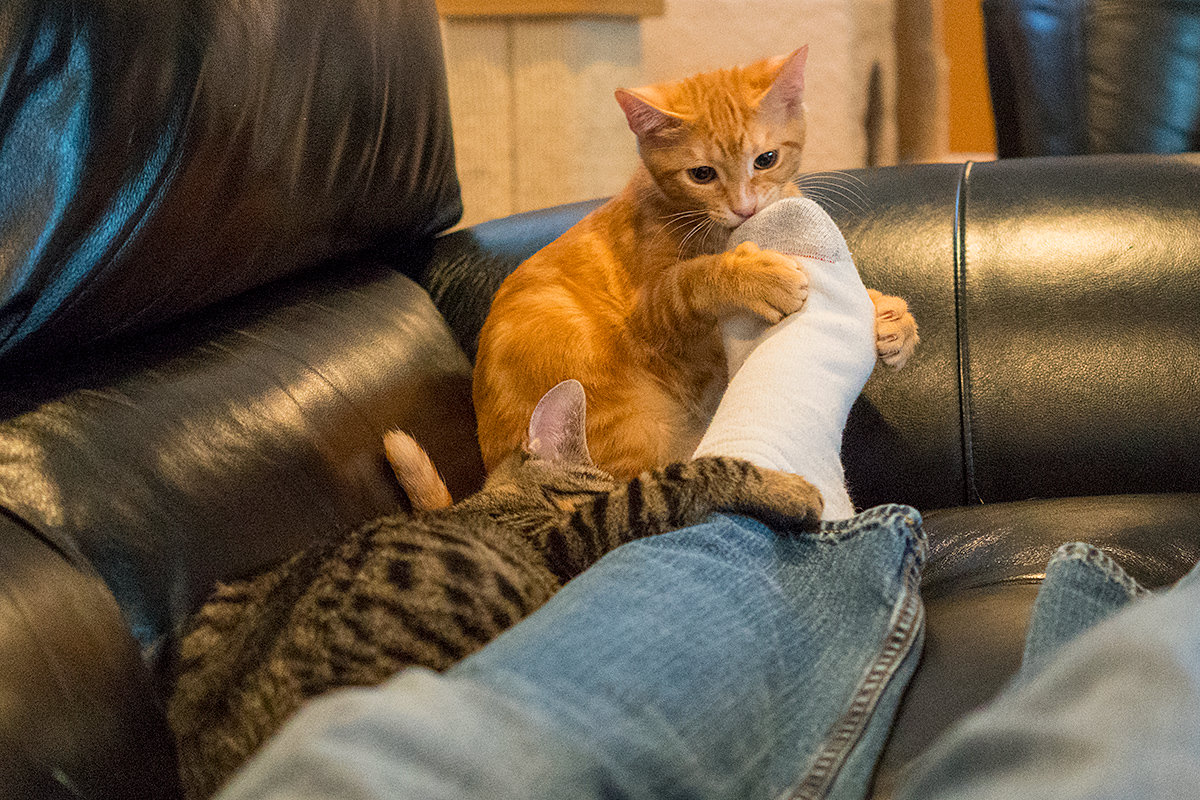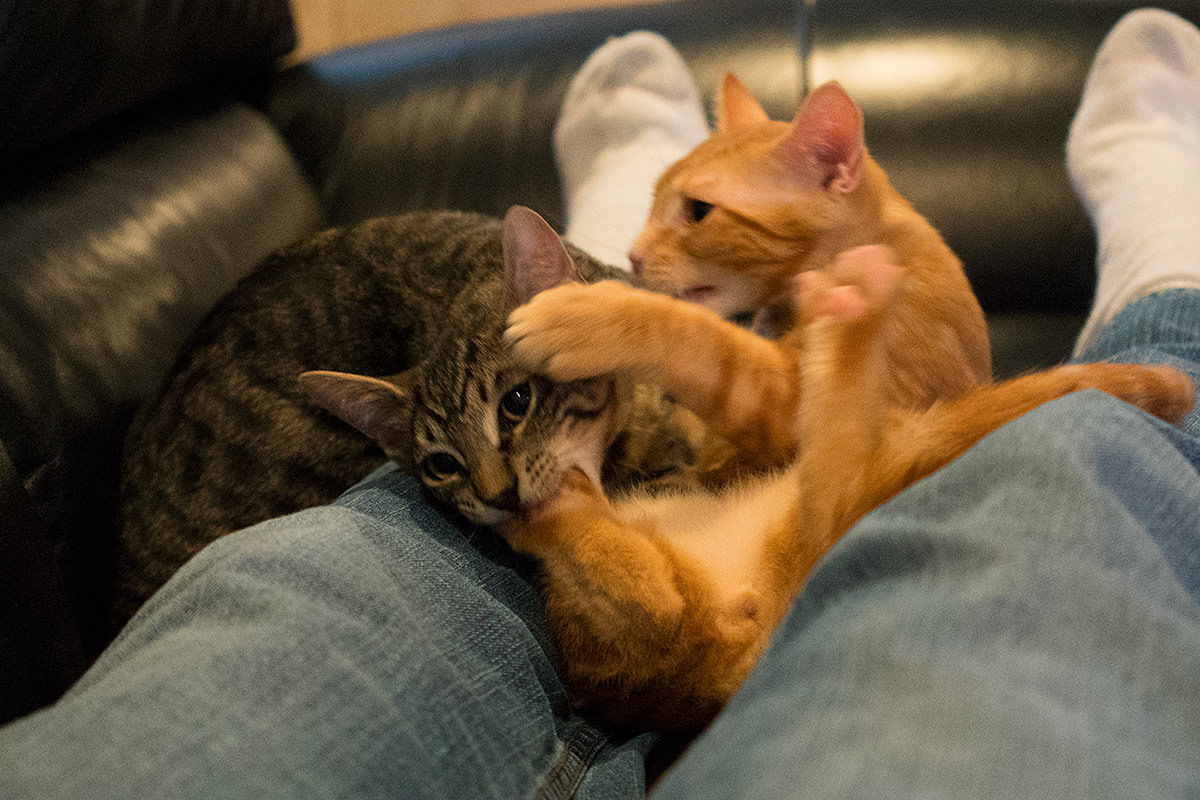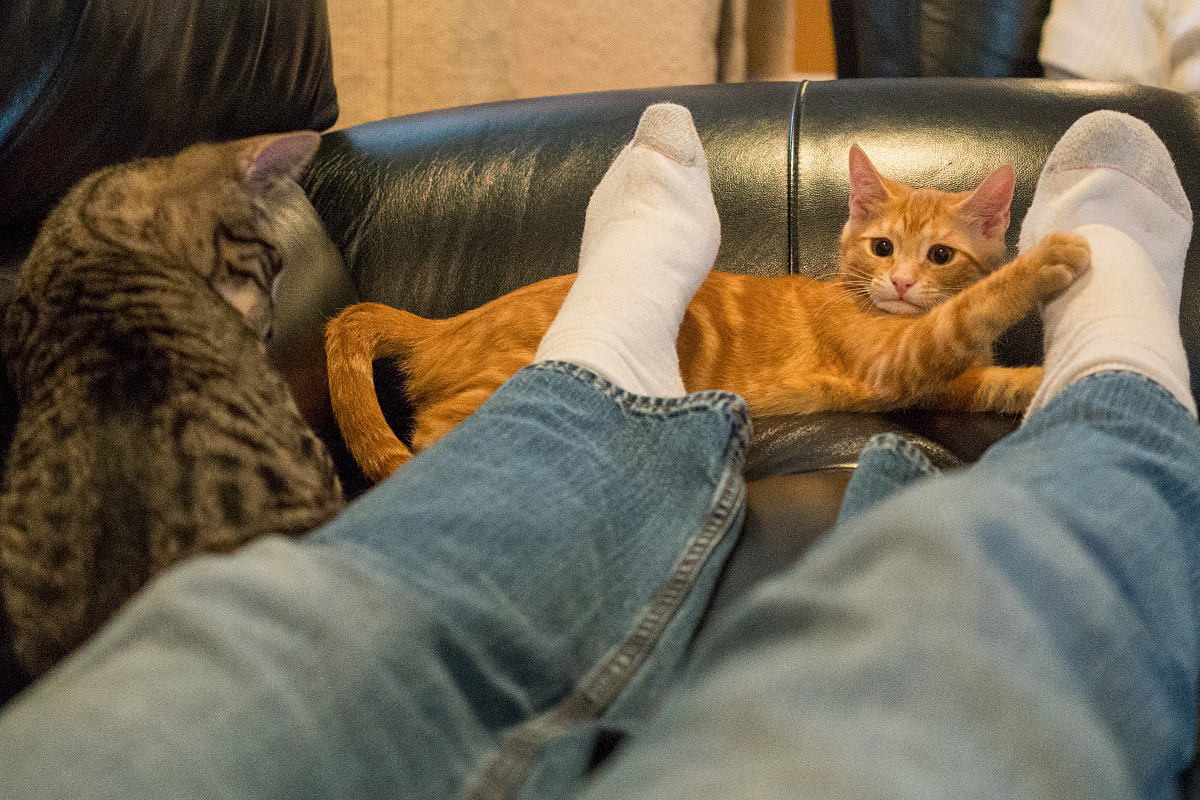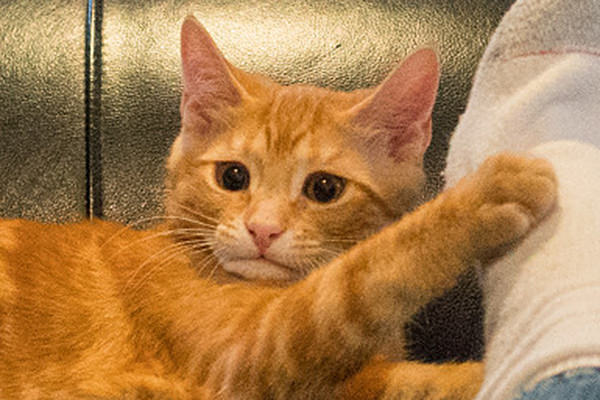 She's entirely too cute. I think her coloration and narrow face camouflages the way most cats have that "smile" where their mouth turns up... so she always looks like she's frowning. Just makes me love her even more!
And now? Time to make dinner, I suppose. Happy Caturday!
Posted on June 1st, 2019

My cats get along very well. Sure they chase each other around the house from top to bottom... but it's all in good fun.
This is not to say that they don't irritate each other from time to time. Jake seems difficult to ruffle, and it takes quite a lot before he will lash out. With Jenny, however, you never quite know what's going to set her off. Sometimes it's the littlest thing. Like her brother sniffing her butt.
Fortunately she has mad kung-fu skills to deal with that...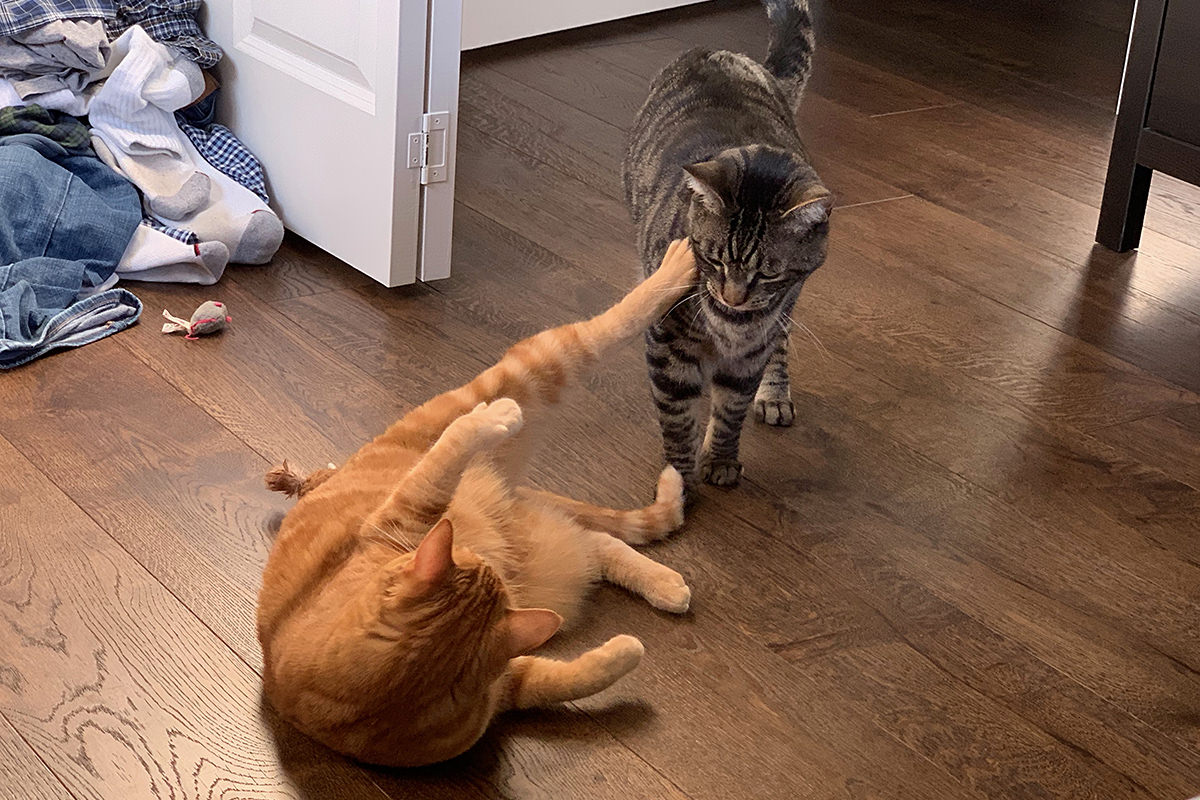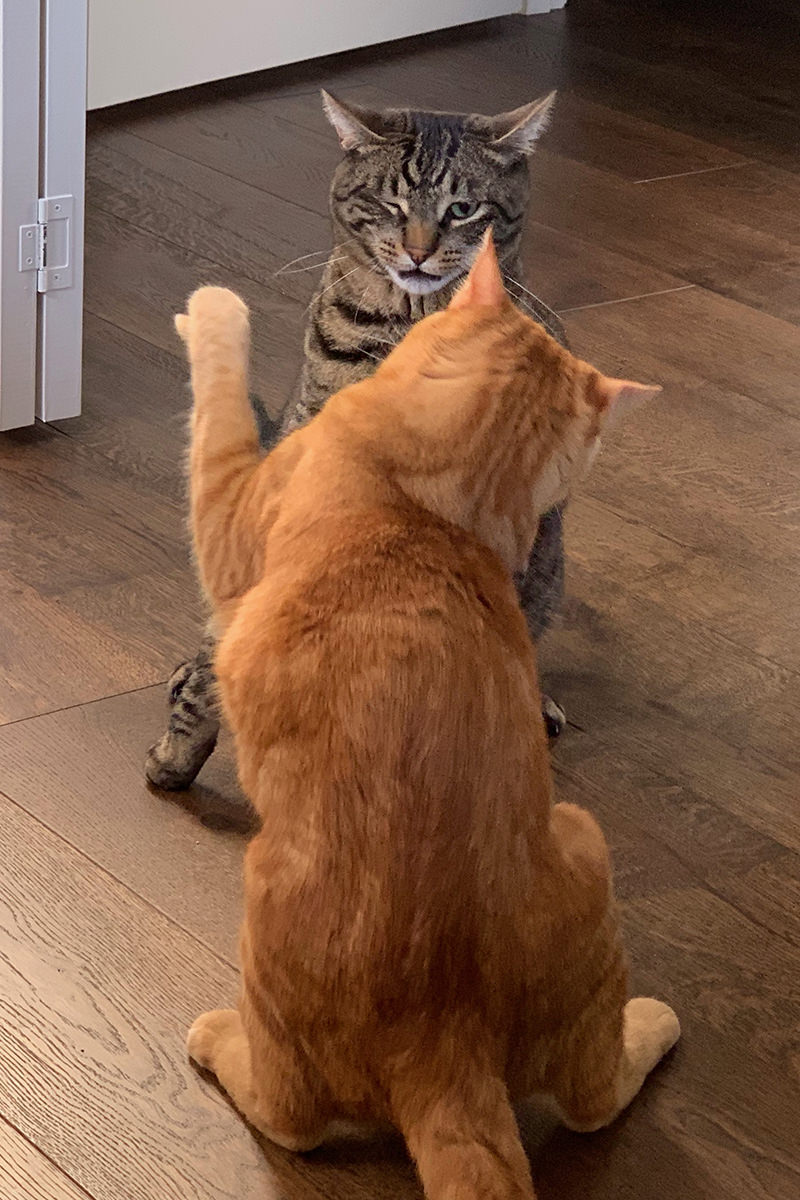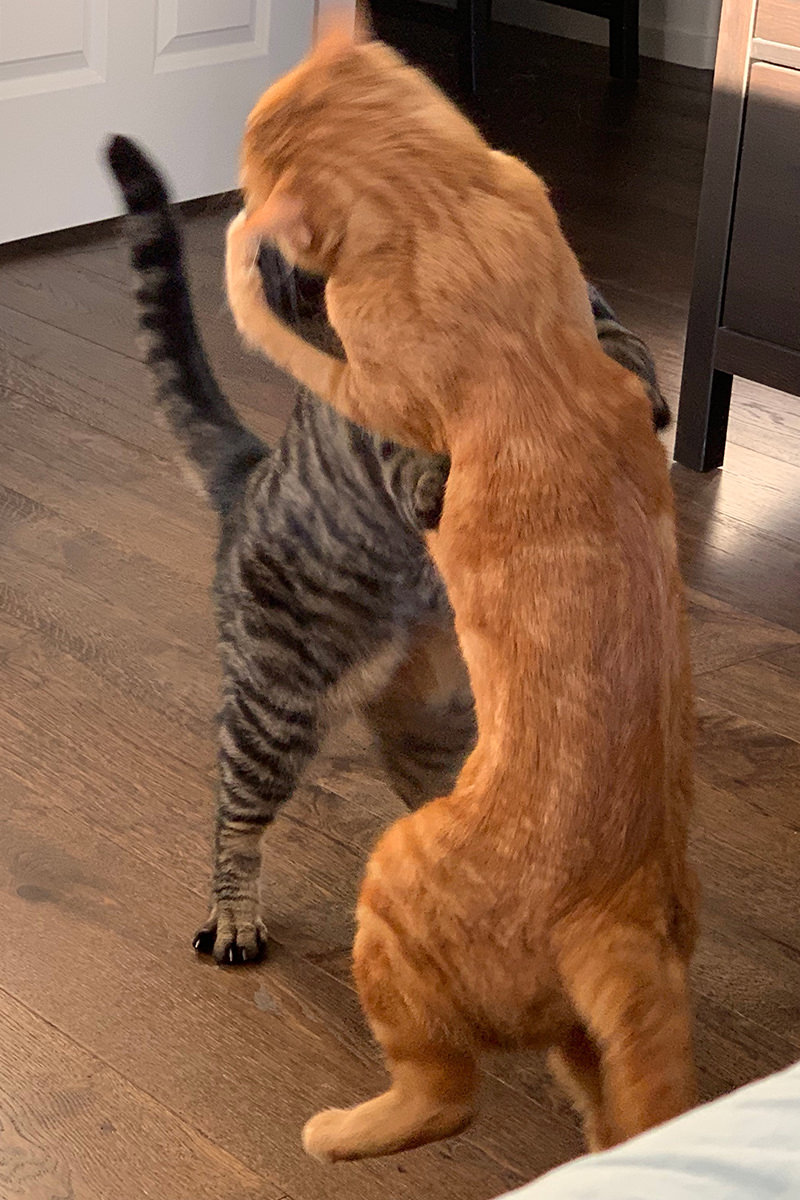 Five minutes later they were side-by-side looking out the window, so these little scuffles don't last long...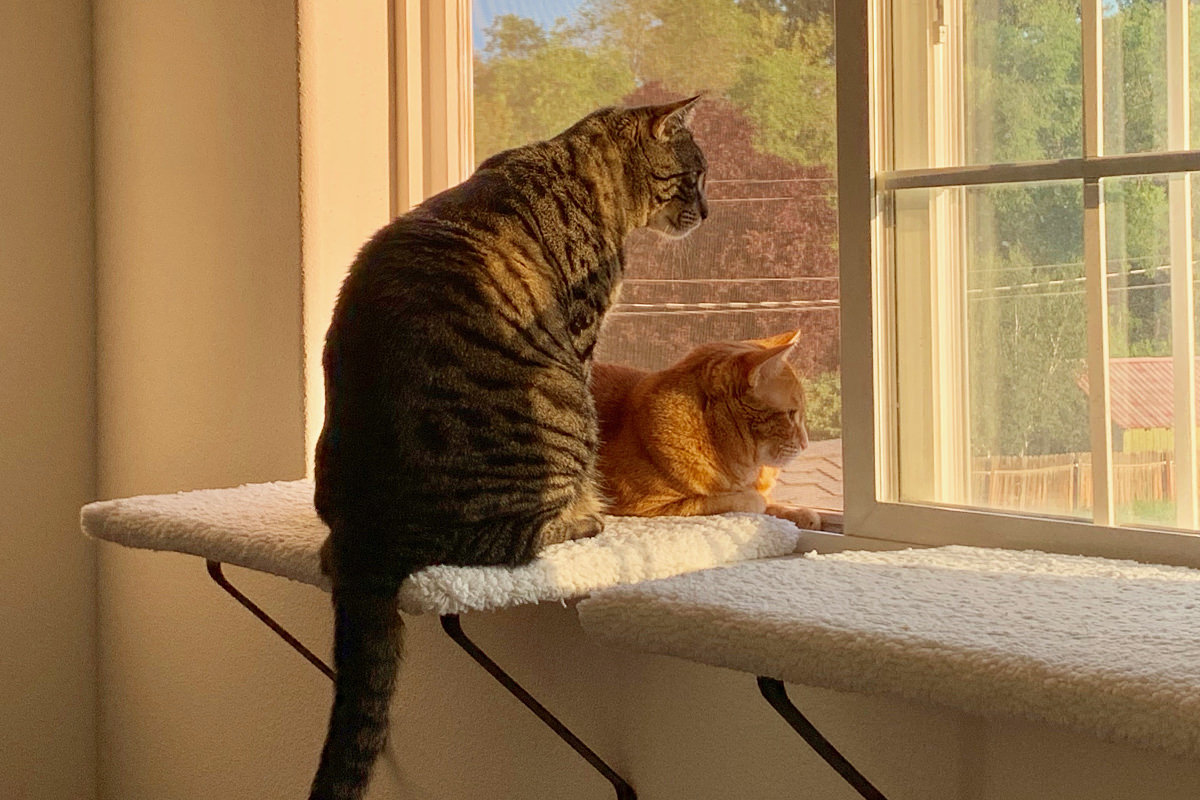 Wrapping up this fine Caturday I will leave you with this...
That would totally be my cats, which is why I won't be buying them a bell any time soon.
Posted on May 25th, 2019

Jake has taken up golfing!
Well, not really. But he has taken up playing with a golf ball I found by the railroad tracks (don't worry, I ran it with at least 10 loads of clothes in the washer to make sure it's safe to play with).
When I brought it home, neither he nor Jenny wasn't the least bit interested. Then early, early this morning I heard a golf bar drop and roll across my bedroom floor (it was dark, so I couldn't see it, but there's no mistaking the sound a golf ball rolling on a wood floor makes)...
Jake jumped on my bed right after letting it drop, so I knew it was him... but how?
Turns out he can fit an entire golf ball in his mouth...
I would have never thought it was possible, but there's the proof.
Just one more thing he can bring upstairs like he does every day. Though now he's putting it behind the bed, which is nice of him. Less to step on when I wake up in the morning...
In Jenny news... she can open doors now. Only doors that slide (for now) like pocket doors and closet doors, but she's figured out how to poke-poke-poke her little paw at the crack until she can work it open. Another thing I didn't think were possible until I sat here last night and watched her do it...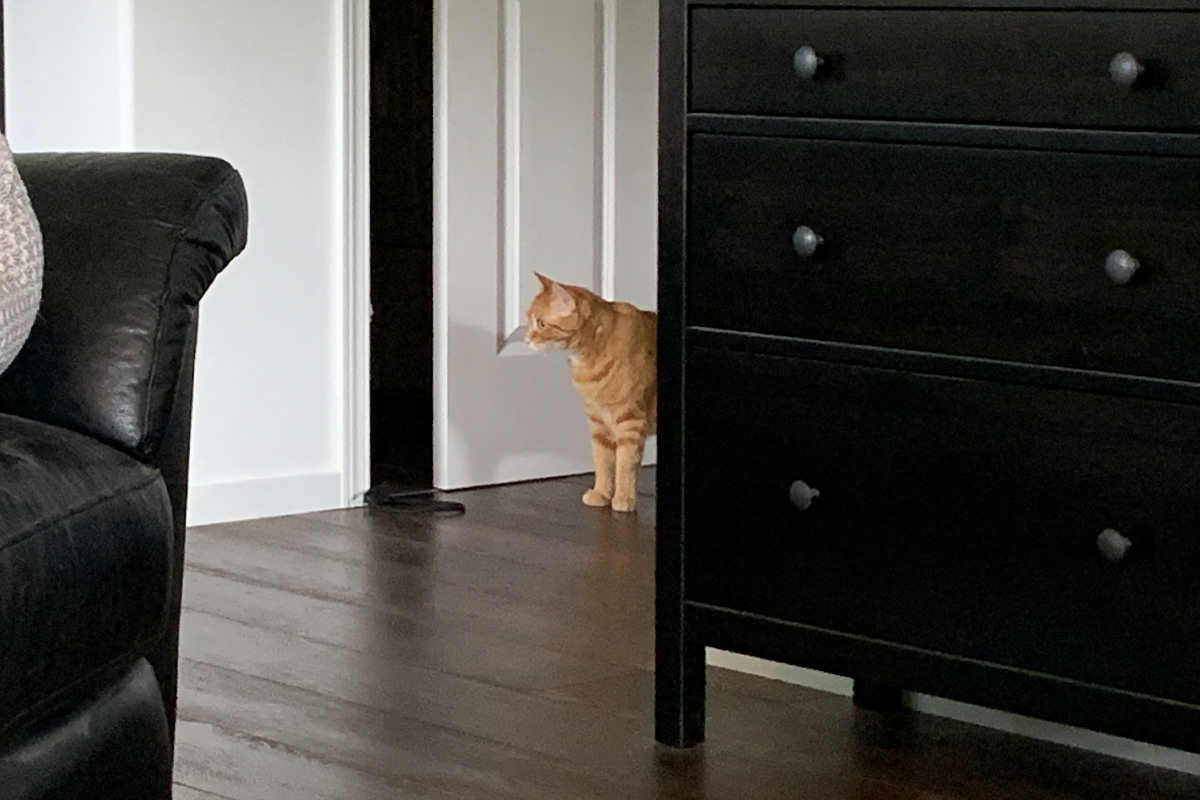 At least now I know that it's not me leaving all the doors open in this place.
Until next Caturday...
Posted on May 18th, 2019

I rescued Jake and Jenny to keep my mom company while I was away at work. As her dementia progressed, being alone was not easy for her. I remembered how much she liked Spanky hanging around at her old place and thought kittens would help. But they were feral rescues and spent most of their time hiding under the couch instead. Eventually, they got used to mom being around and were happy to hang out with her. It took another couple weeks before they trusted me.
On Mother's Day I talked about the books I made as souvenirs of our travels. Yesterday I found photos of my mom actually looking at those books.
I remember it like it was yesterday. Mom didn't seem to notice that Jake was there at first...
Once she did notice, she says "Hey..."
Then... "Don't you chew on my book!"...
And Jake's like, "Well, shit!"...
A heartbreaking, awful time made so much better because of cats. I still don't know how I would have made it through without them.
Earlier this week I was just about to fall asleep when I heard something plastic fall to the floor downstairs. Then I heard the cats batting it around. I am generally very careful about not leaving out anything dangerous, but decided to check the security cameras anyway, just in case. I couldn't tell what they had, but I was certain it was something harmless, so I figured I'd look for it in the morning.
Turns out it's a pencil sharpener.
A pencil sharpener shaped like a nose that a friend gave me along with colored pencils and a Vanderpump Rules coloring book for my birthday...
I put it back next to my pencil cup and forgot about it.
Until Thursday morning when I woke up and found it on my bedroom floor...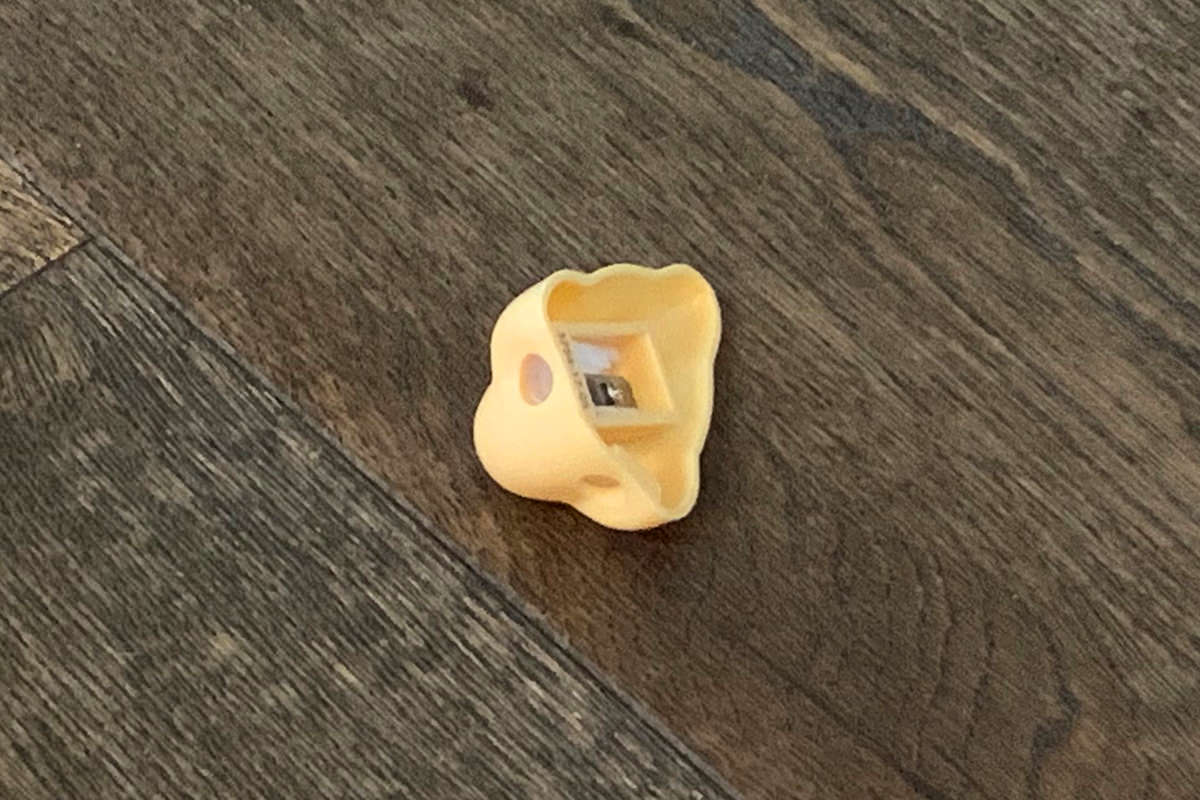 A quick check of my security cameras and, yep, Jake dragged it up the stairs at 2:17am...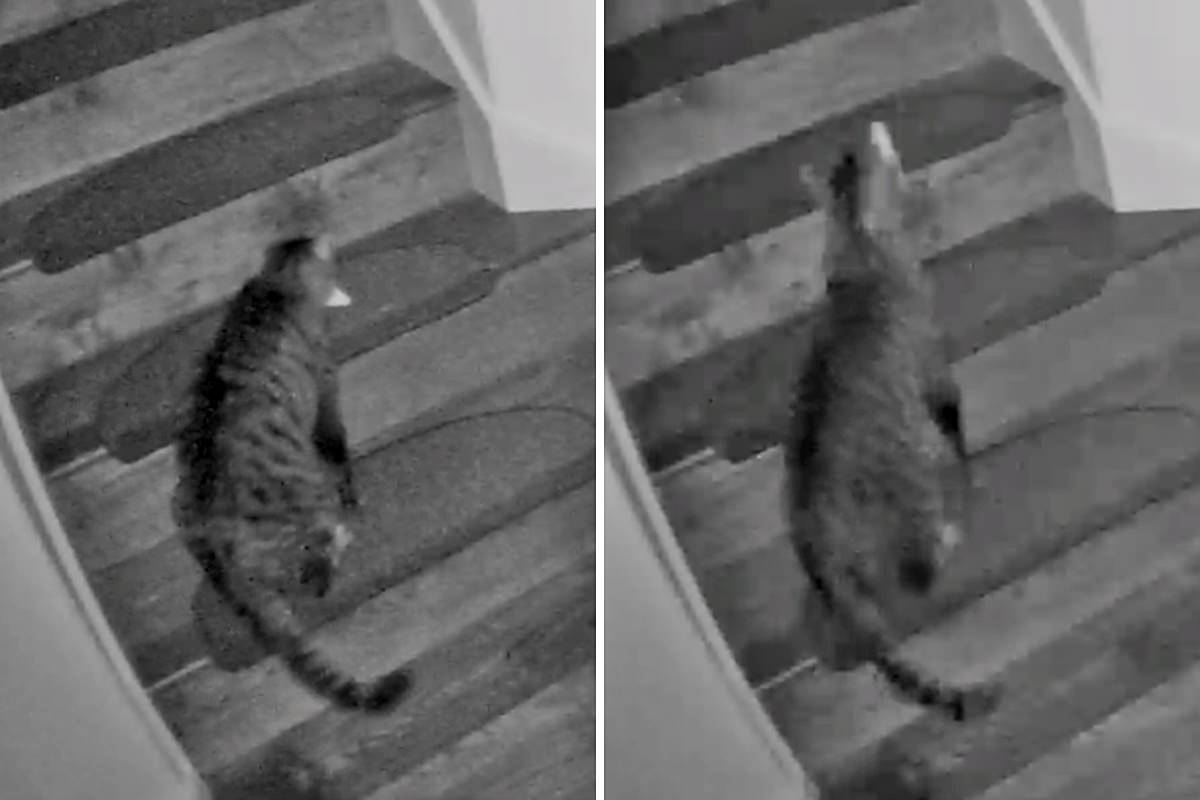 No idea how he managed to carry it up the stairs, but he did. No idea why he thought I needed a pencil sharpener, but he did. Maybe he just likes bringing me stuff. He does that a lot.
Speaking of Jake.
As I mentioned a couple weeks ago, he has not been the same since falling down the stairwell and spraining his leg. I mean, personality-wise, he's the same... but behaviorally he's changed. He's clingy now. Any time I'm home, he's on me. Literally...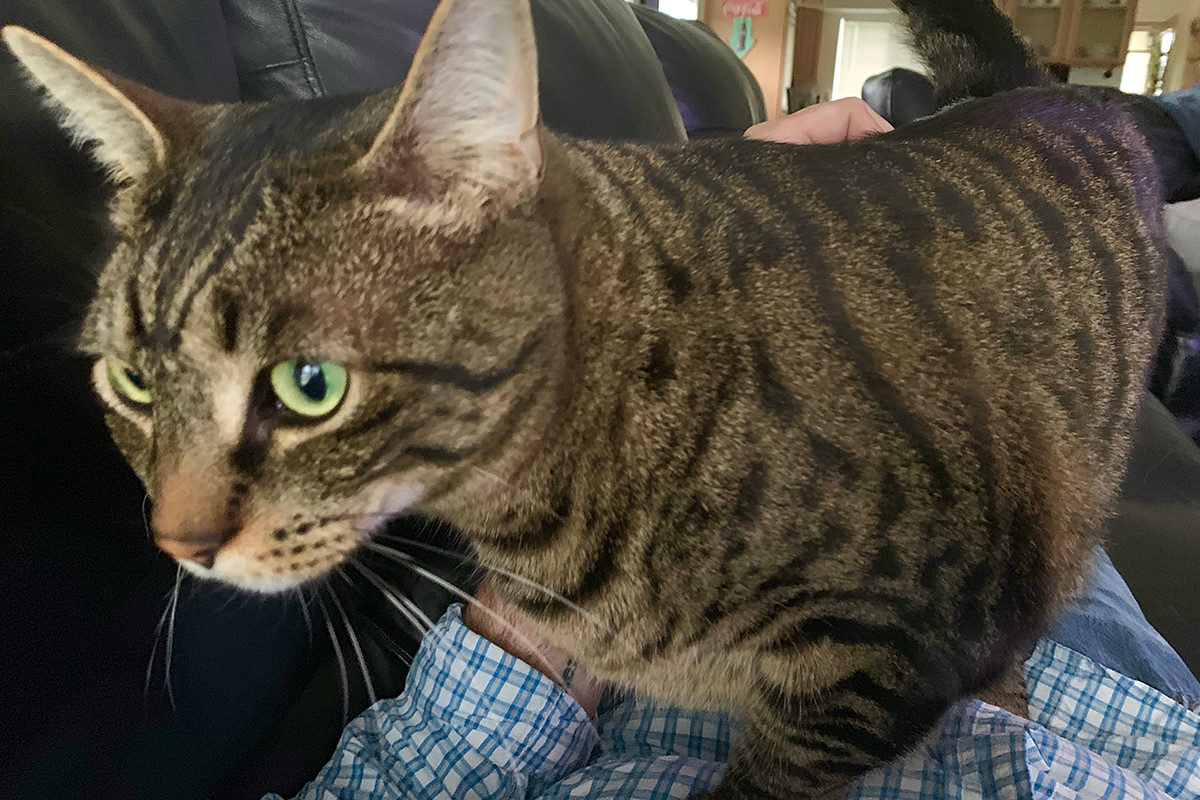 For a while he was sleeping on my bed with me, but he seems to have moved on these last couple of nights, so maybe he's healing? How long is a cat's traumatic memory anyway?
Still likes to nap next to me while I work though. Yesterday I thought something was wrong with him because he was sleeping funny.
For reference, this is how Jake usually sleeps...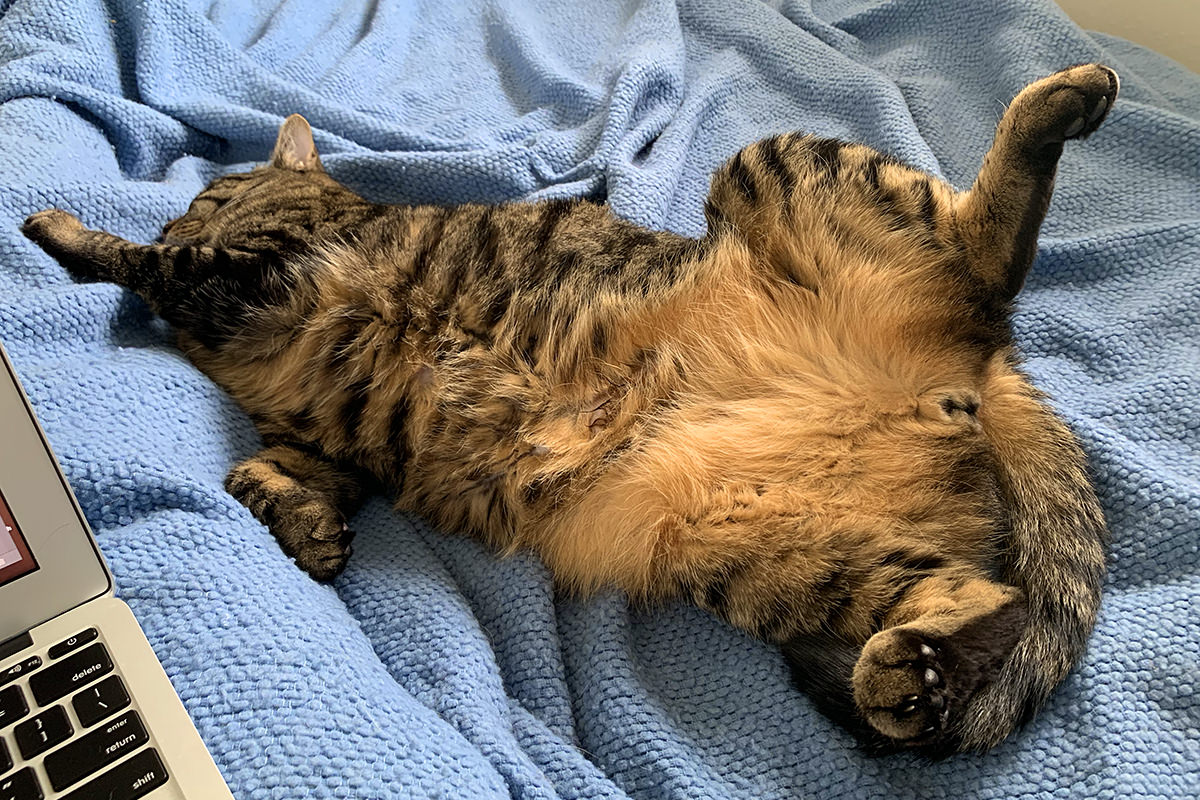 Every time...
Awww... who can resist that fuzzy belly...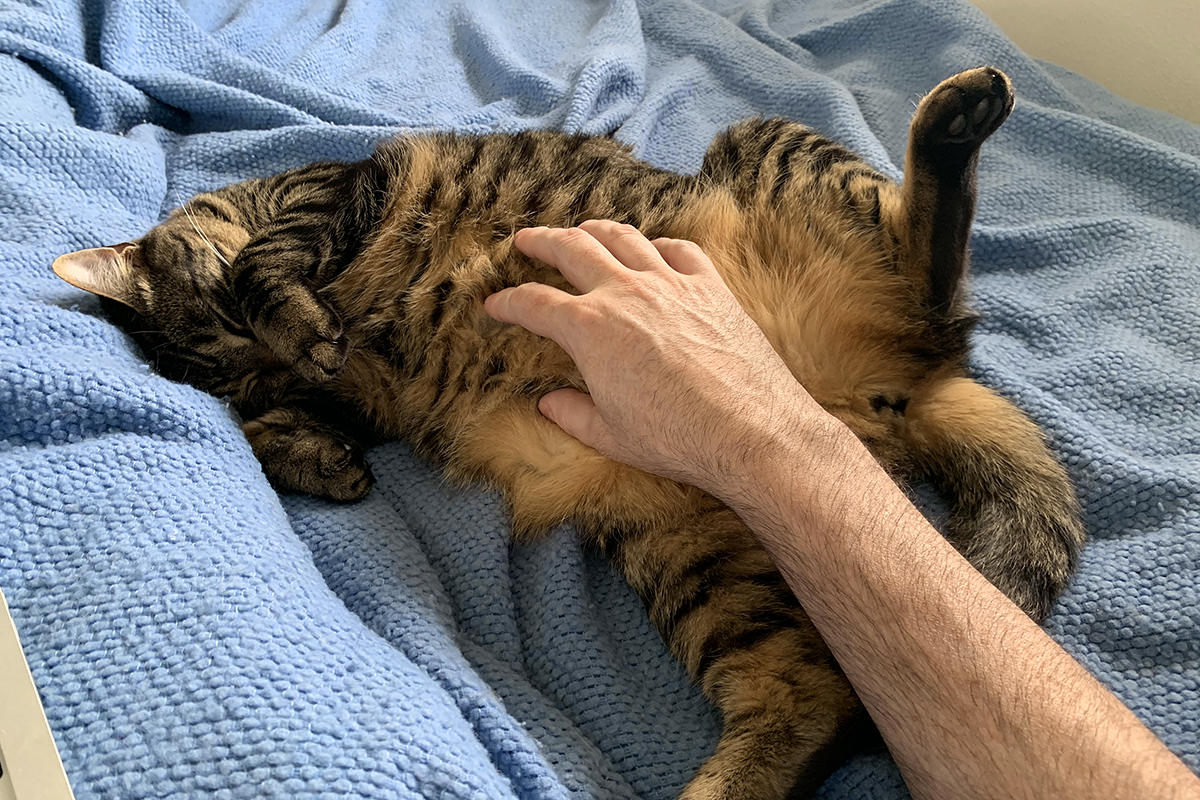 Anyway...
He was sleeping abnormally like this...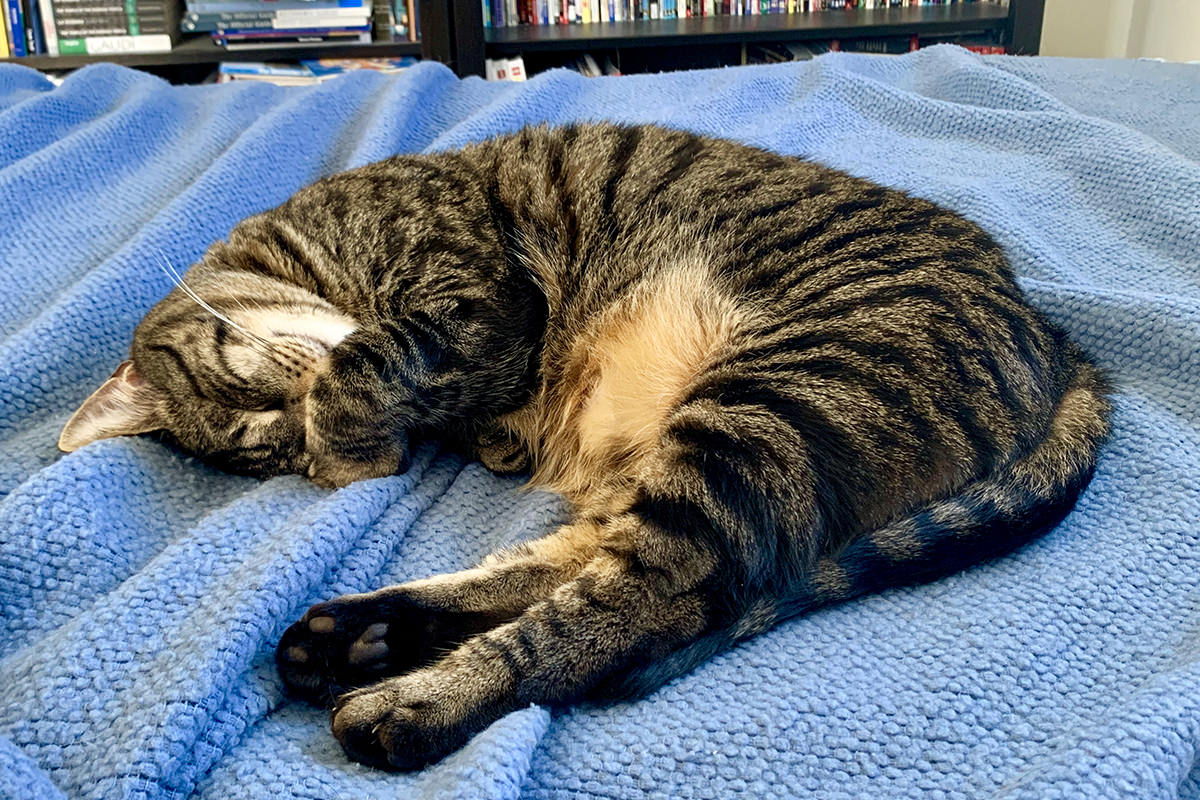 I was genuinely worried. But then he went back to normal...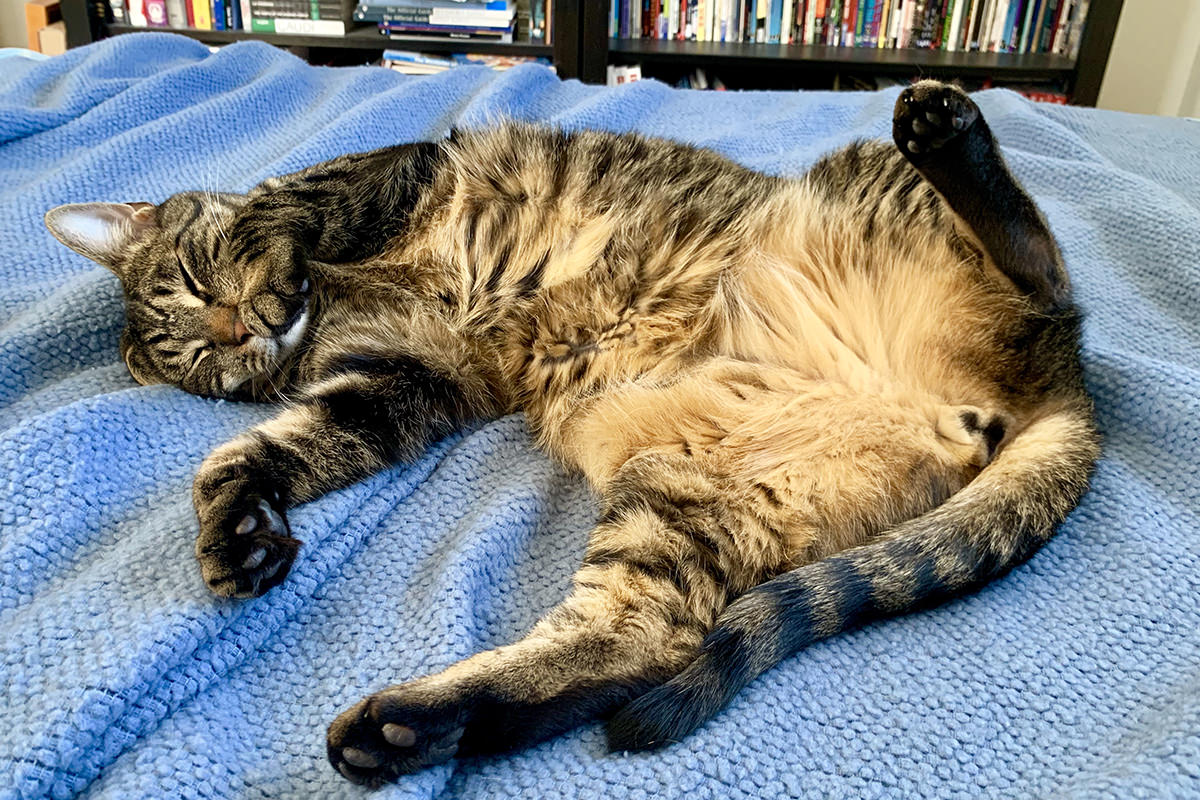 There we go!
And don't worry about Jenny. She still gets her share of belly rubs too...
Until next Caturday...
Posted on May 11th, 2019

I'm not home with my cats this Caturday. I'm over the mountains spying on them through the security system.
Though I don't really need to spy on them to know what they are up to. Every day is pretty much the same this time of year...
5:30am — Wake up and fret until breakfast time.
7:00am — Breakfast.
7:15am — Post-breakfast bathing and running around.
9:00am — Treats.
9:10am — Sleep.
4:00pm — Wake up because daddy's home (if daddy's home).
6:00pm — Dinner.
6:15pm — Post-dinner bathing and running around.
6:30pm — Nap.
7:30pm — Chasing bugs in the catio.
11:00pm — Sleep.
The catio bug-chasing is a huge deal this time of year. Huge.
Both of them love it, but Jenny obsesses over it. Sometimes she will stay out there past midnight chasing them around...
I feel bad when the bugs aren't out yet, because Jenny is out there alone bravely waiting for them to show up...
Sometimes she'll come in to hang with me... but then five minutes later a bug will hit the window and she's on high alert...
Then she's right back at it again.
Jake goes out to the catio often, but a lot of his bug hunting is attempted through the window...

As I type this it's 4:30pm and I'm not home, which means they are asleep...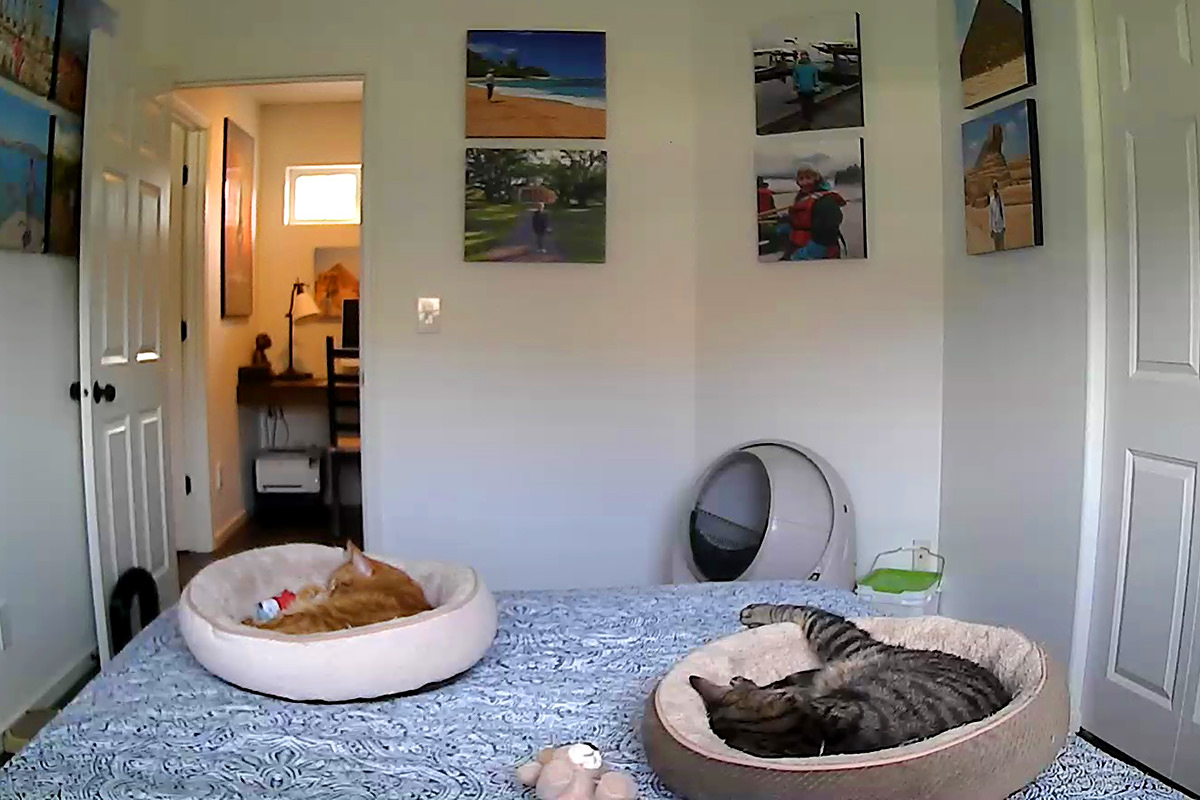 Interesting that they both brought a toy to bed. Jenny brought her Dr. Seuss Thing 2 mouse. Jake brought Mufasa (of course)... but he's too big to fit Mufasa in the bed with him (or his foot, apparently).

And I guess that's it for Caturday this week.
Posted on May 4th, 2019

I'm pretty sure that Jake thinks his name is "Where is Jenny" and Jenny thinks her name is "Where is Jakey Bear." Heaven only knows why I keep asking... they never tell me where their sibling is... but I guess it makes me feel like a concerned parent to ask.
Speaking of being a concerned parent... Jake seems to have (mostly) healed from his tumble off the banister. His limp is very slight now, and sometimes disappears altogether. Hopefully the new Cat Banister Tray will prevent this from happening again.
Even if his physical state is getting back to normal, I'm afraid Jake's mental state is not being so quick to return. He is far more jumpy than he used to be. He also is far more clingy than he used to be. It used to be that my cats left after I fell asleep, but now Jake is with me most of the time I'm home... including when I'm sleeping.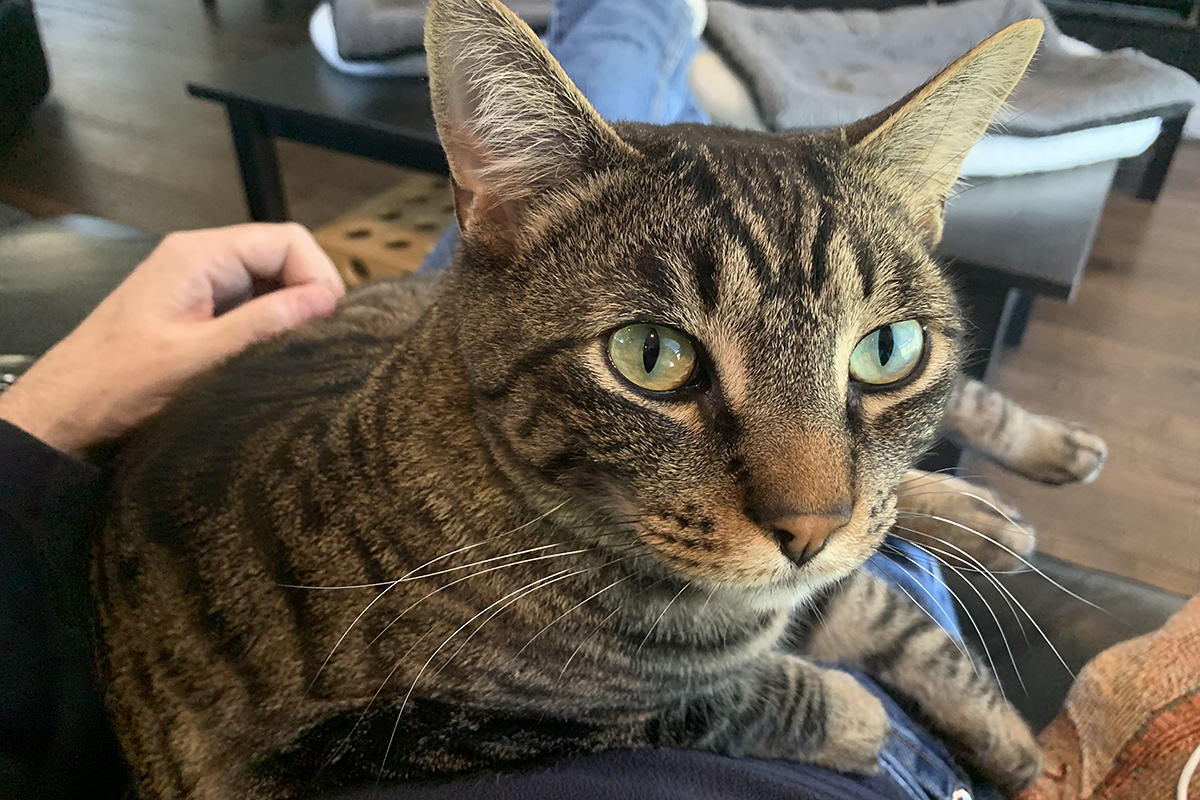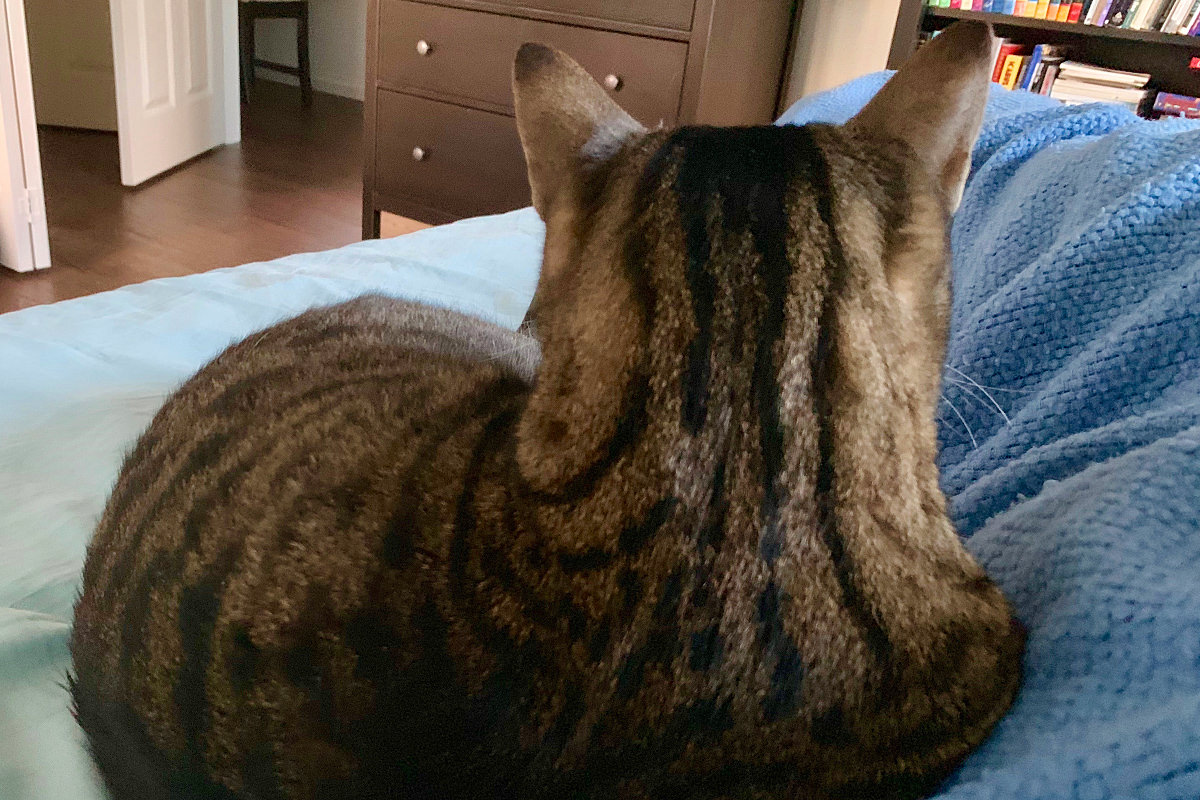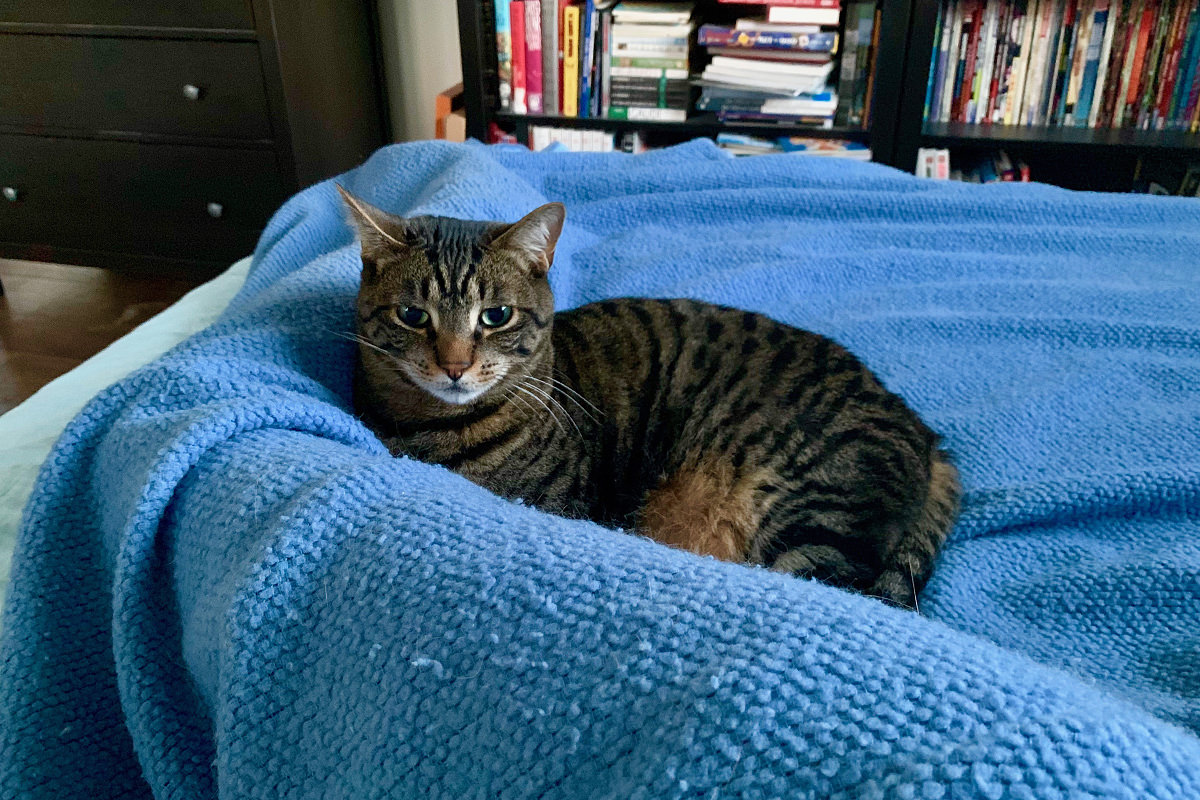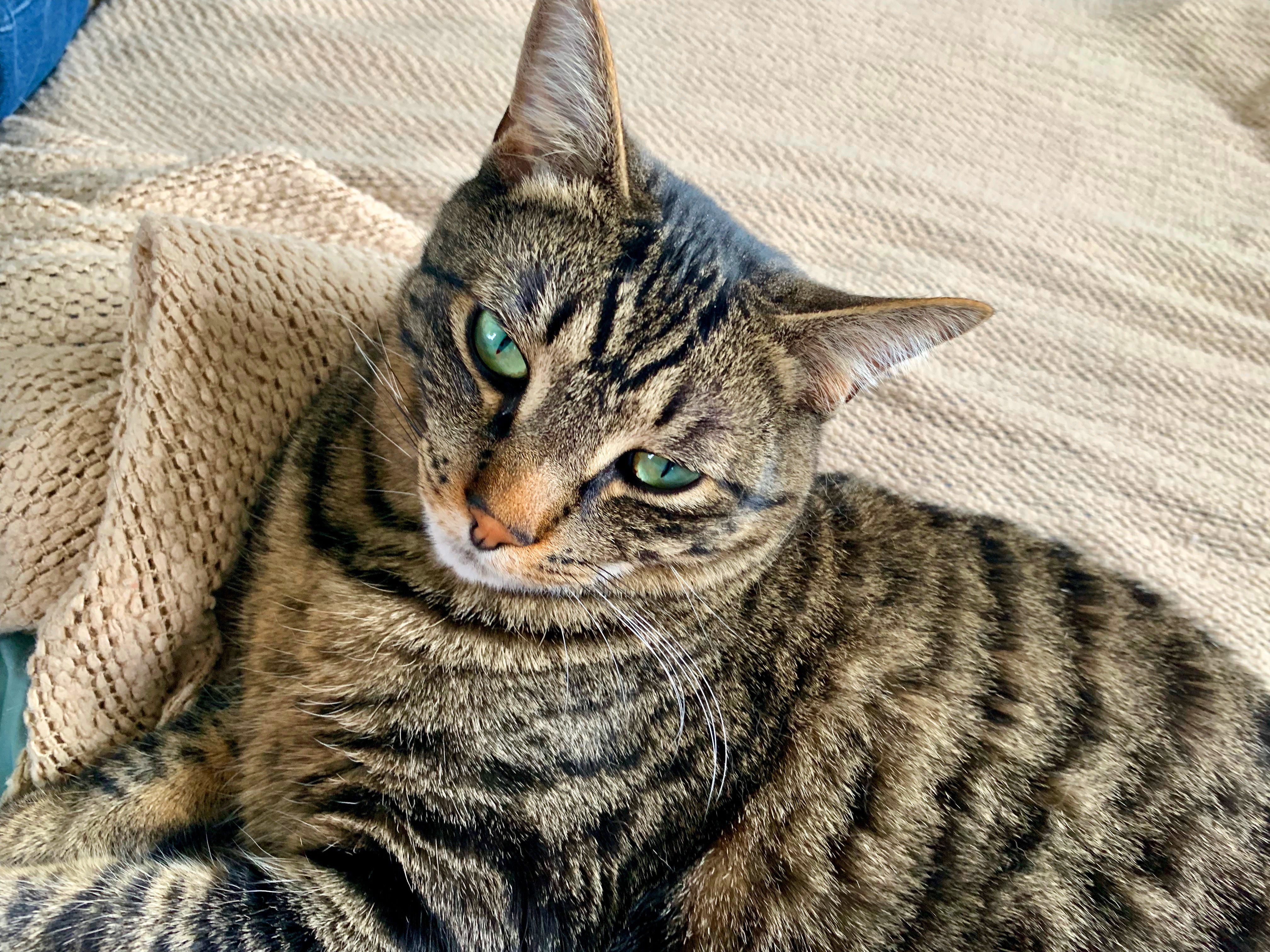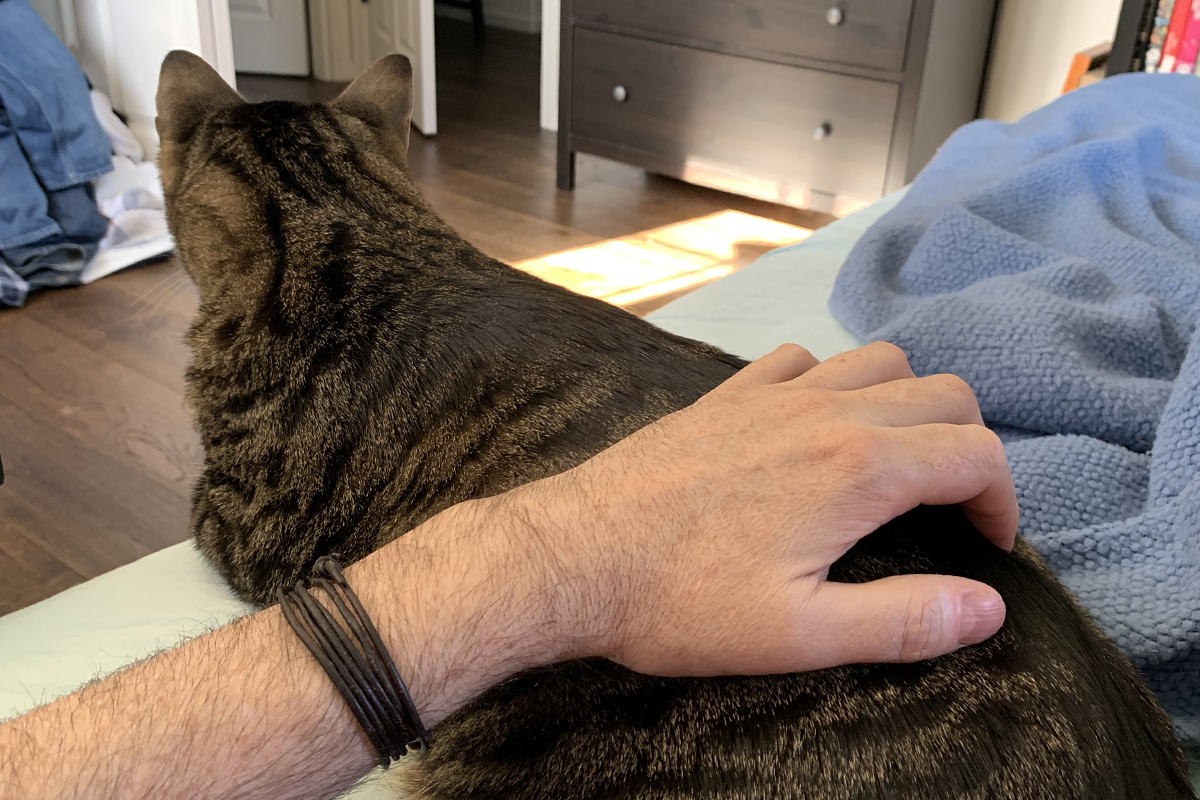 He's pretty much stuck to me like glue...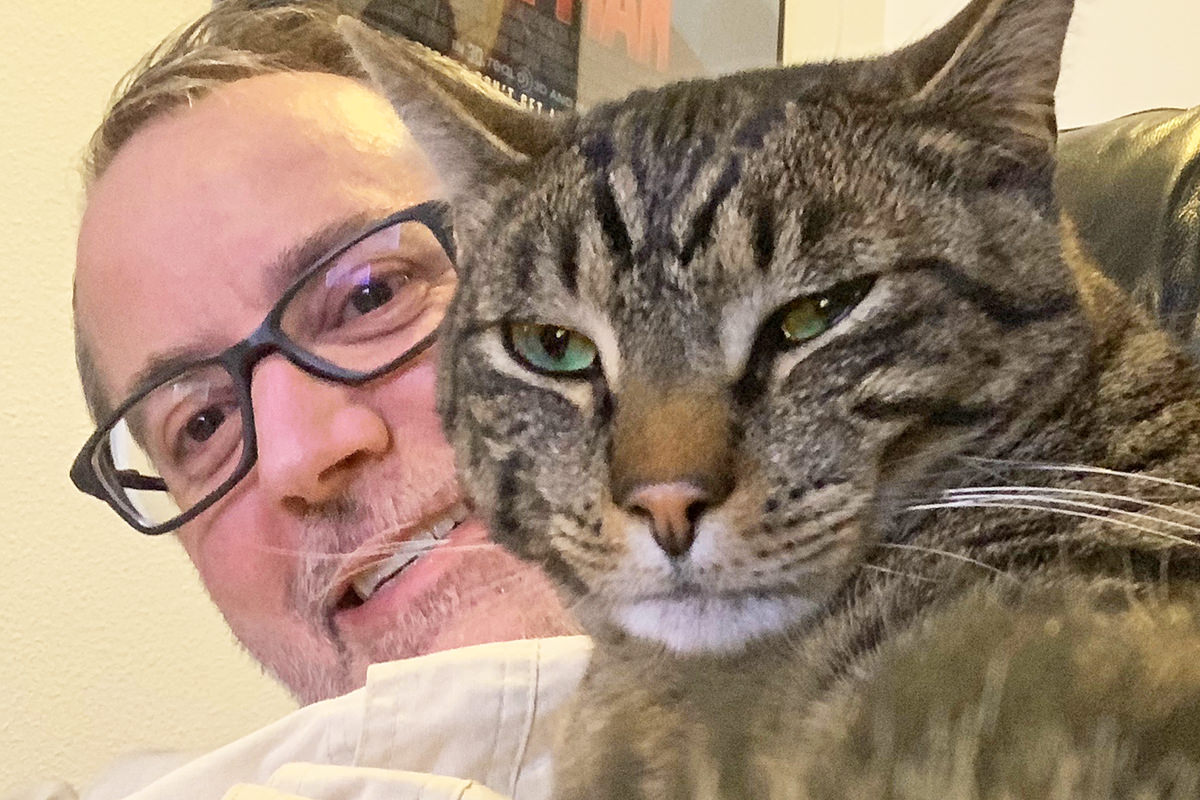 The good news is that Jake is considerably more agreeable to getting Furminated now...

As for Jenny? She's doing great.
She spends most of her time out in the catio chasing bugs and watching birds parade around the back yard...
She still likes to spend time clawing at my jeans...
And she still likes to stare me down each morning until it's breakfast time...
And she still likes hiding in places... even though she's not very good at it...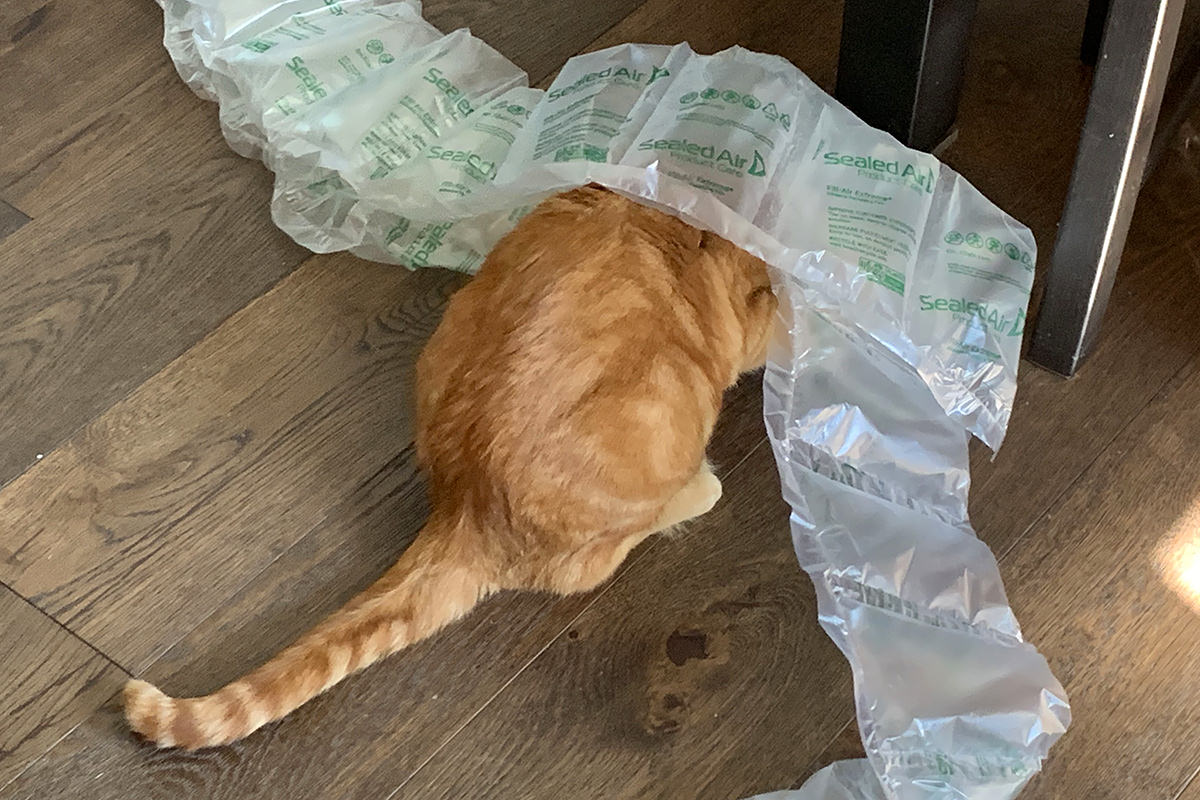 She also likes to shed a metric ton of cat hair every week... but I'm sure she feels bad about it.
And, lastly this Caturday, I ran across this video and liked it so much I was compelled to share it...
Awwwwwwww!
See you next Caturday!