Posted on September 28th, 2019

What happened to the transition between Summer and Fall? Does anybody know?
Usually there's a "grace period" before it starts getting really cold... but not this year. One minute it was blue skies, sun, and warmth... the next minute it's overcast, dreary, and cold. This is a bit of a bummer because I like a month with a low electricity bill since I'm not running the air conditioner or the heater. This year it was just three days before I made the switch.
When it's cold, there's nothing better than a warm cat laying on top of you. Jenny doesn't do this very often, but Jake is totally into it...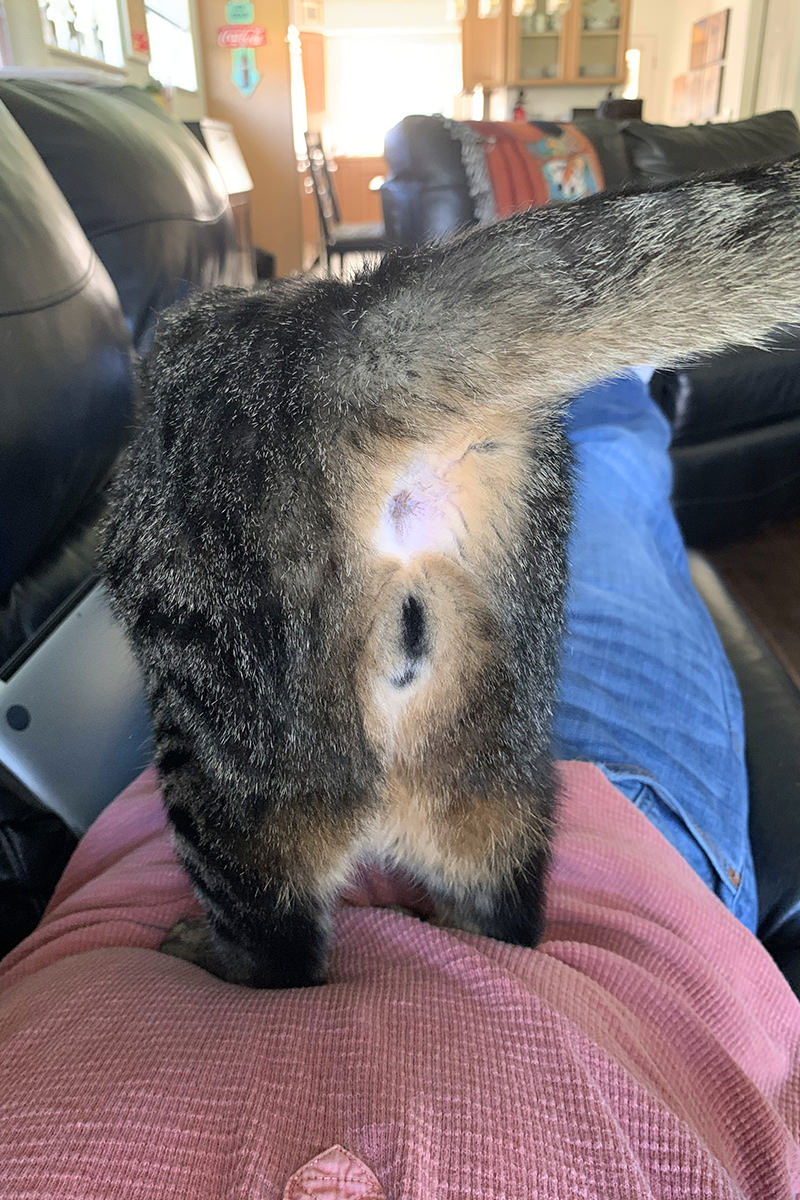 Um... not exactly what I had in mind.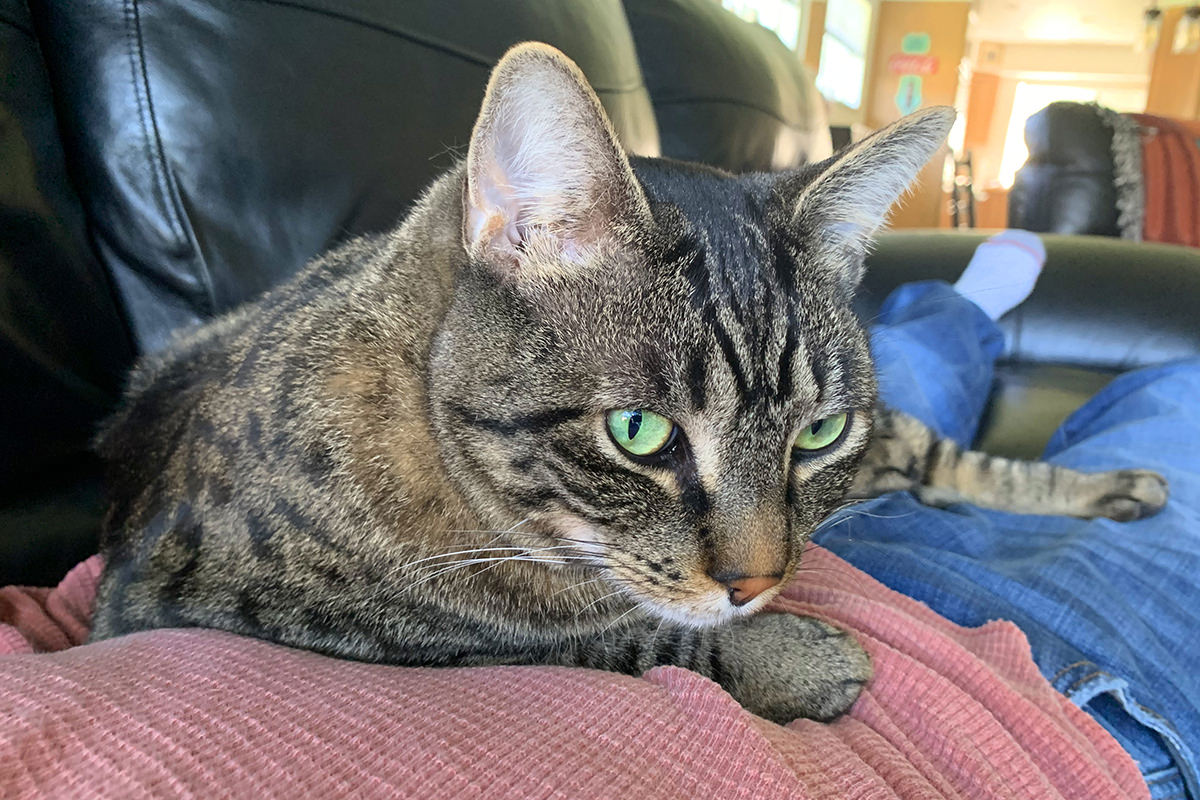 Oh that's better! In other news...
Jenny has had a floopy whisker since she was a kitten...
A while back it fell out and left me wondering if it would grow back straight or floopy again. I noticed it was back... and, yep... it's floopy again. This makes me strangely happy, because it's one of the things that makes Jenny uniquely my cat...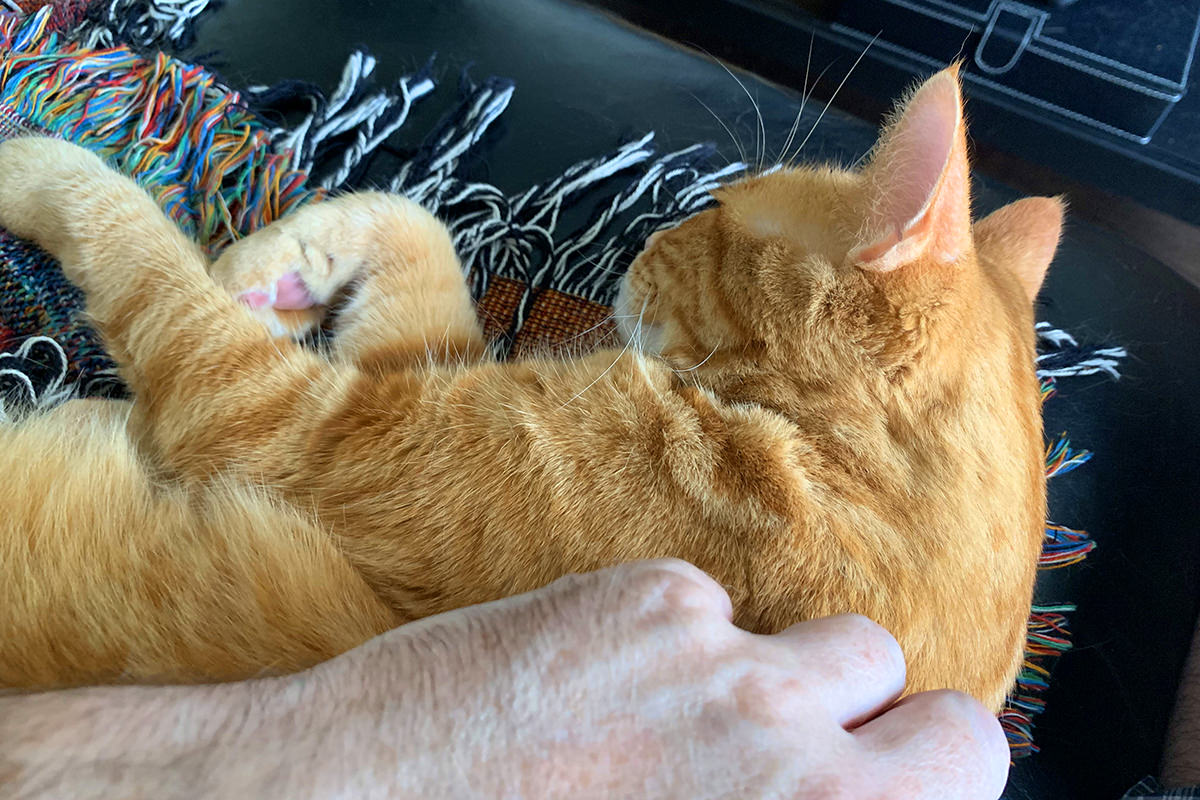 With the weather getting colder and rainy-er I set out the cat shelters for Fake Jake. On Friday I saw that we were due for a cold snap this weekend, so I braved the rain to install heating pads. Good thing too, because Fake Jake has been all over them...
He showed his gratitude by running up to me for butt scratches when I ran out with the garbage. Unfortunately, I left the door open and Jake and Jenny saw me betraying them for another cat...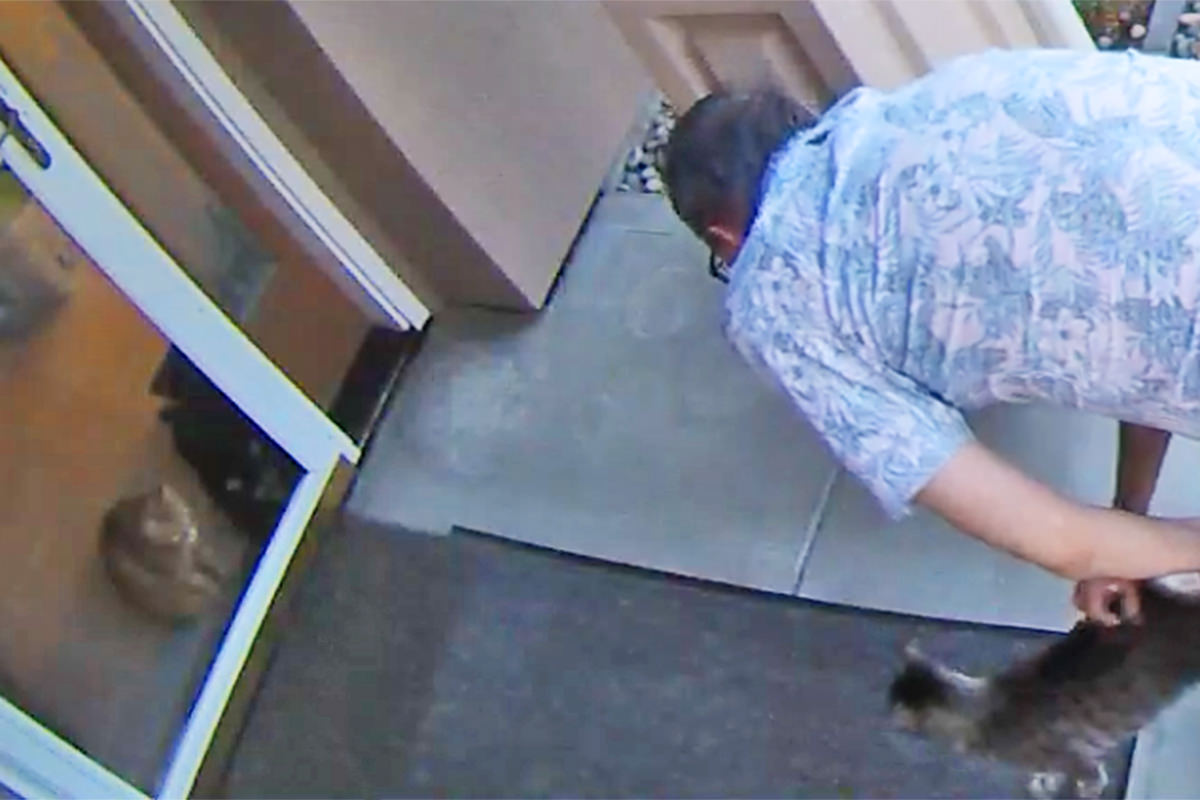 I tried making up for it by giving them their own butt scratches, but they seemed oddly detached...
Anxiously awaiting them pooping in my shoes.
See you next Caturday!
Posted on September 21st, 2019

As I mentioned last Caturday, I ordered a brand new cat tree to replace the disgusting pile of filth that the old one had become. My biggest worry was that the cats wouldn't like new cat tree smell and reject it. So after I put the new one together on Wednesday, I thought I'd keep both trees out so there could be a transition. Turns out it wasn't necessary. They were all over the thing from the minute they saw it...
During their dinner time I hauled the old tree to the garage so I can eventually rebuild it. The new one slid to the old location and the cats didn't seem to notice that anything was different...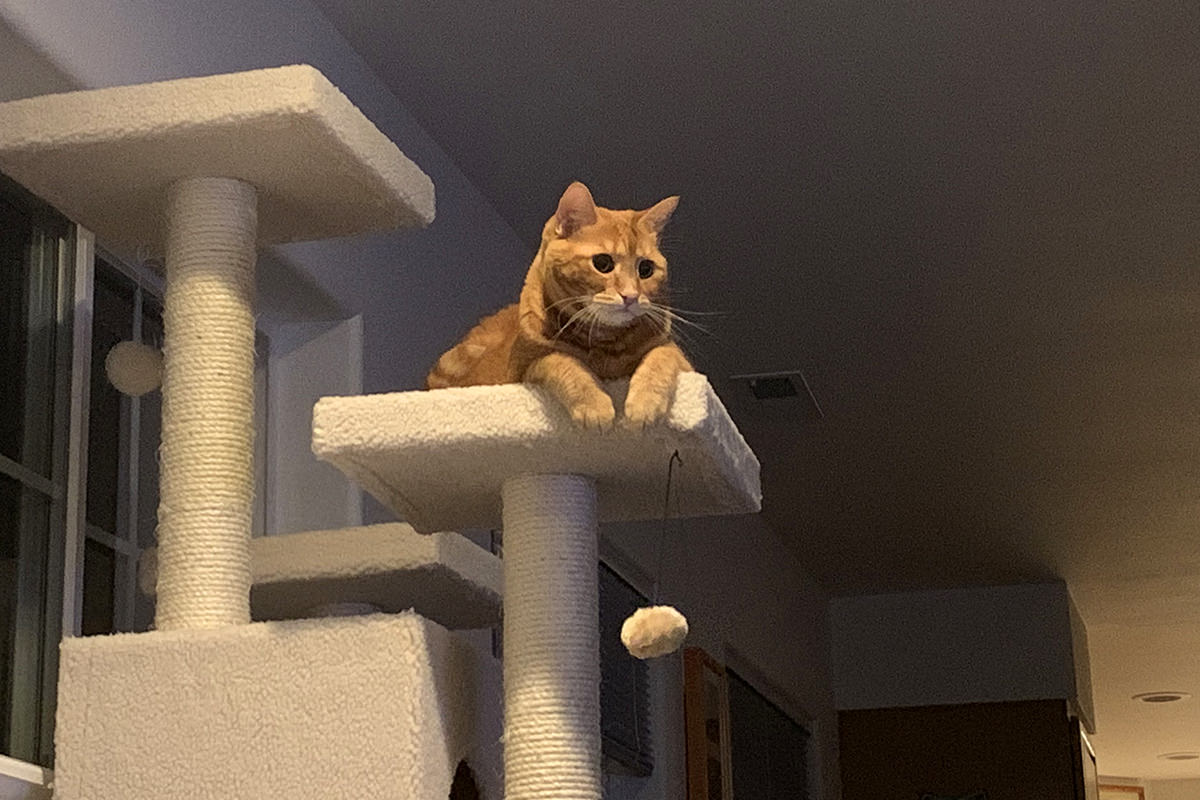 Yesterday I heard some commotion in the dining room. Not knowing what I was in for, I walked in and saw that Jenny was on the dining room table. At first I was all "GREAT! NOW I HAVE TO DISINFECT THE TABLE AGAIN!" But then I saw how neatly she had bundled up the table runner that I had up for dinner last weekend, and was all "Awwwww! Aren't you just the cutest thing!"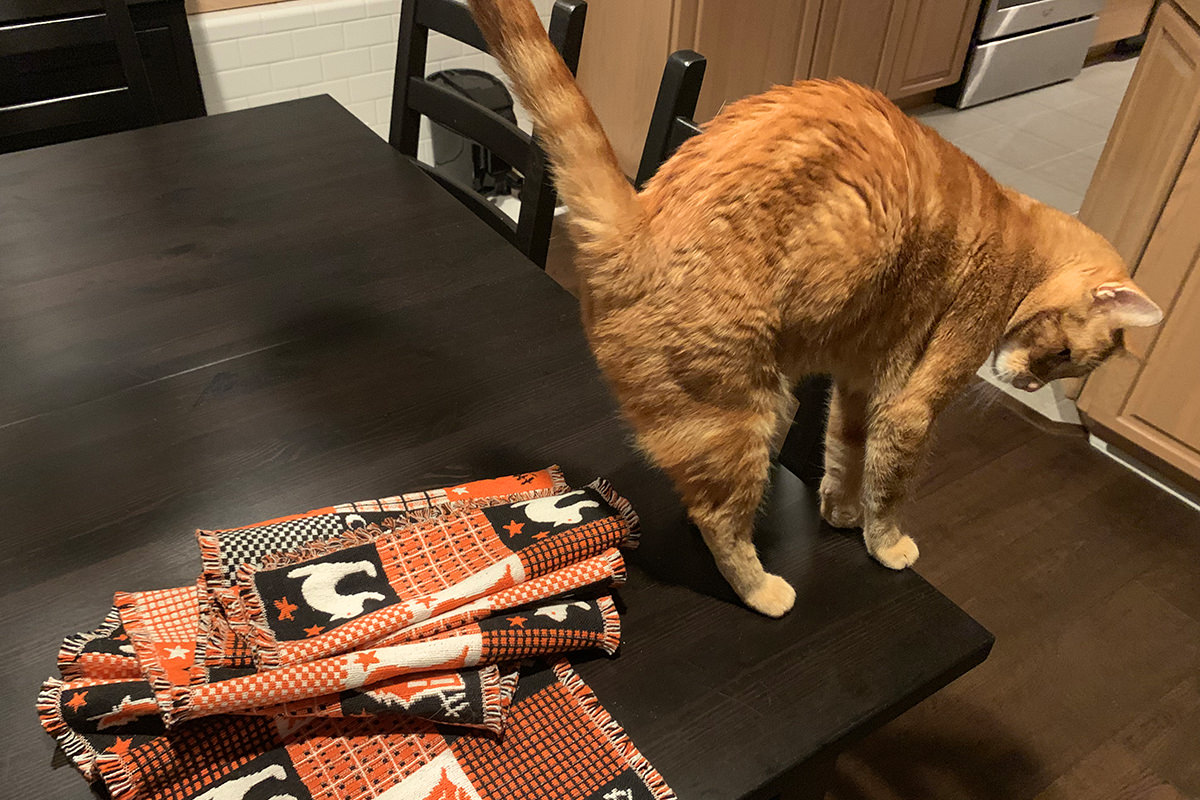 And she really is. I just melt every time I look into that little sour-puss face. And since it's been getting colder, I brought out the cat beds they like to snuggle up in this time of year. So now I get to look into her little sour-puss face every evening when I watch television...

First I added a second blanket to my bed... then this week I added my electric blanket. Something Jake and Jenny just love. But this year Jake has been all over it...
He even gave himself a pedicure on it the other day...
Jenny is pretty aggressive when grooming her claws... but Jake takes it to the next level. There were times I honestly thought he was going to rip his claws right off his foot.

and that's all the cat-news for another cat-week. See you in seven cat-days... same cat-channel... same cat-time!
Posted on September 14th, 2019

And so begins the season when I have houseguests coming and going. Since I spend most of my time here alone, I rather enjoy the company. Jake and Jenny, on the other hand? Not so much.
Despite trying and trying and trying to get them accustomed to other people, they are having none of it. They hide in the storage closet attached to my bedroom and don't come out until the coast is clear. This becomes a problem when I have overnight guests, because they gotta eat, drink, pee, and poop.
I've kinda solved the problem by moving their food, water, and upstairs Liter-Robot into my bedroom and closing the door. It's not a perfect solution, because if there's any noise at all going on in the house, they won't come out to use them, but at least they know they are there when things settle down.
And it's better now than they used to be. Instead of continuing to hide when everybody is asleep, my cats will roam the house until people wake up. Instead of taking days or hours to recover and come out of hiding, they are out reclaiming the house within minutes of my guests leaving.
Even so, I'm thinking of doing some work in the storage closet to make things more cat-friendly. Maybe rethinking things so that they have more comfortable places to hide? Add some ramps and scratching posts to make it more fun?
I feel bad about them feeling they need to hide, so the least I can do is try to make it easier on them.
And speaking of feeling bad...
This time I had people with cat allergies coming over. This is, technically, not a huge problem... thanks to my air purifier, Carl the RoboVac, and a good deep cleaning... but there is one thing that makes a real deep cleaning impossible... the ratty old cat tree that Jake and Jenny love. Thanks to the cheap, ugly fuzzy fabric which covers the thing, it's impossible to keep clean. It's so gross, but I dare not get rid of it. Instead I temporarily moved it to the catio.
Jake was livid. Boy was he mad. He was squawking at me while I was moving it.
Jenny just sat there staring at me like WTF, dude?
So they've been out in the catio all over the thing... still angry at me for having moved it...
The top of the cat tree is Jake's favorite place to sleep so he's out there all the time, bless his little heart...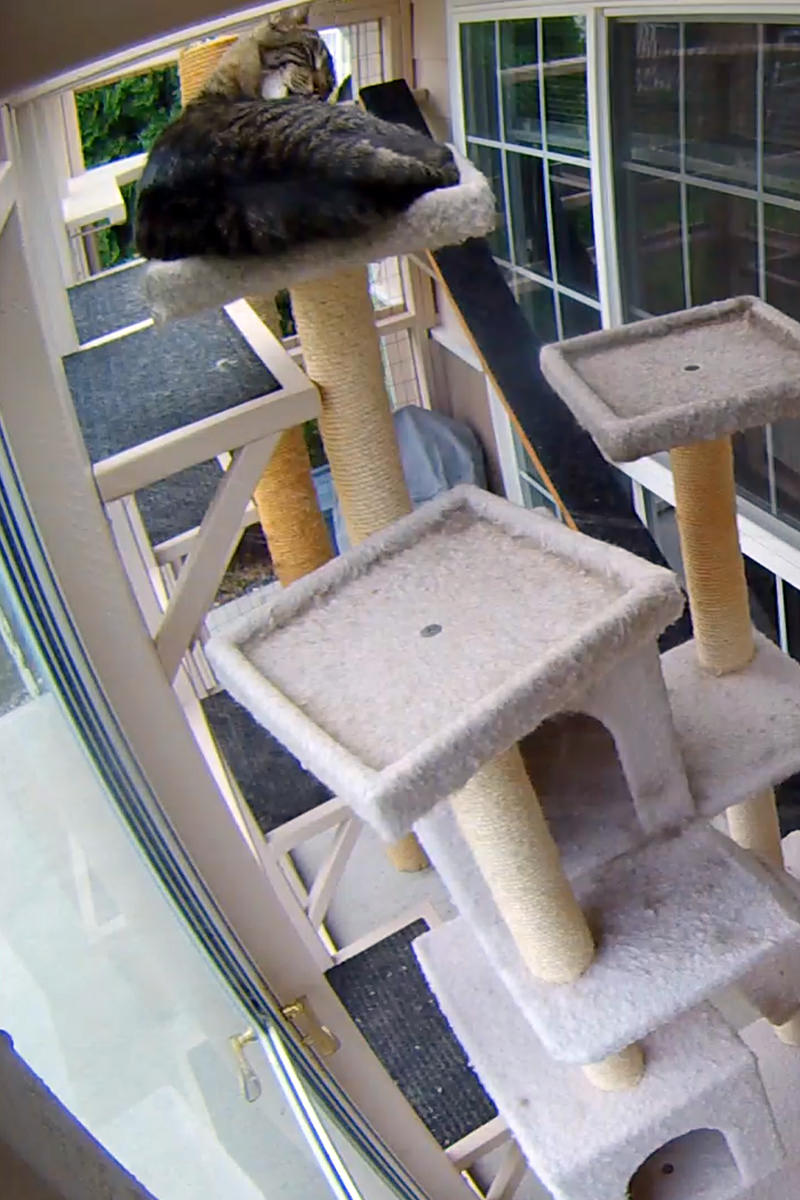 Just look at how disgusting the thing is! And this is after I vacuumed it! I honestly don't want that filthy thing back in my house, so I made a decision. Well, two decisions, actually. First I ordered a replacement cat tree of the exact same model. Once it arrives on Wednesday, I'll put it together and hope that they will transition to it. Then, come Spring, I'll take the old cat tree, strip it apart, then rebuild it from better materials that I can actually keep clean. Should be a fun project. I hope.
In the meanwhile? Here's to my cats not hating me too much.
Posted on September 7th, 2019

I know my cats like me. They greet me when I arrive home. When I'm around, they are always in whatever room I'm in. Heck, they're always waiting outside the door when I'm come out of the bathroom. Granted, their adoration is probably because I feed them, play with them, pet them, scratch them, and buy them stuff... but I'll take it.
This is not to say that it's non-stop adoration around here.
This morning I had to get started cleaning the house. I put it off so I wouldn't interrupt their post-breakfast nap. But when their post-breakfast nap turned into a pre-lunch nap, I finally bit the bullet and started with my weekly chores.
Jake was irritated.
Jenny was livid. She gave me a death-stare that came dangerously close to melting my skin off.
My sweet girl has had a bit of a sour face from the beginning...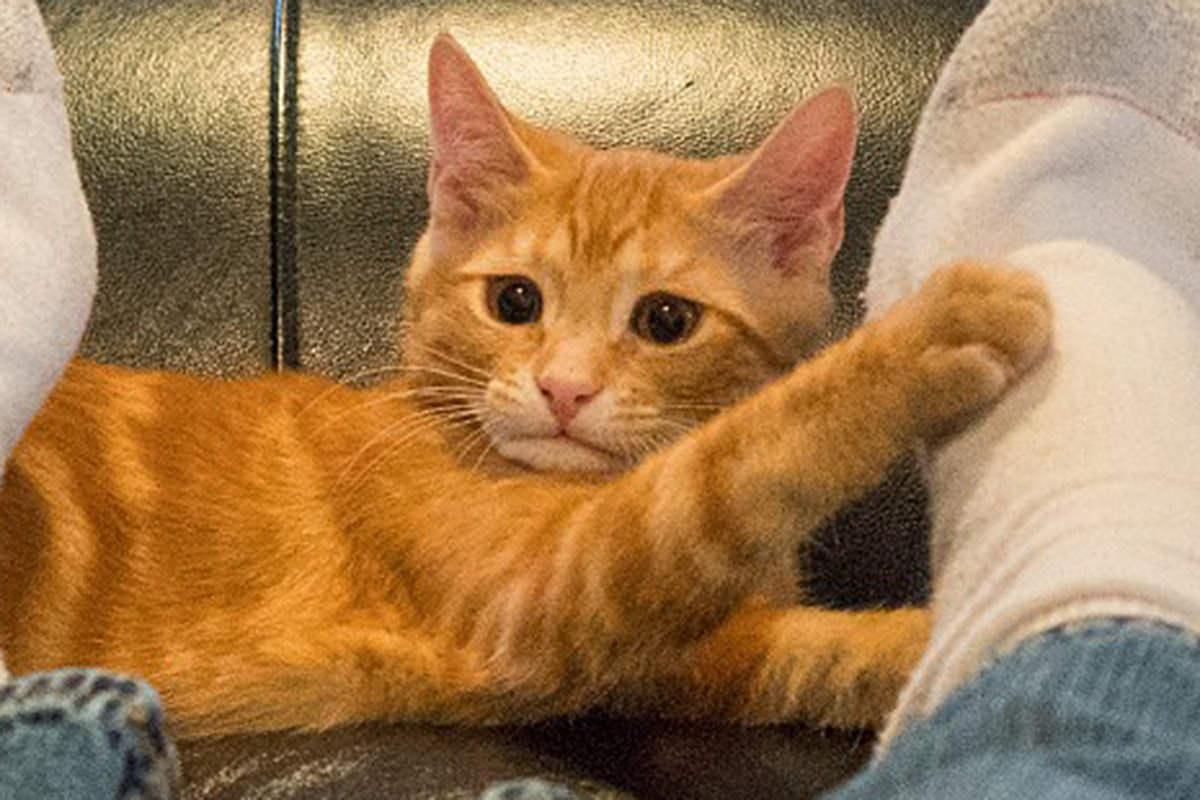 So when she's irritated, you definitely know it...
But even when she's grumpy and irritated one minute...
...the next minute she can be all adorable and melt your heart again...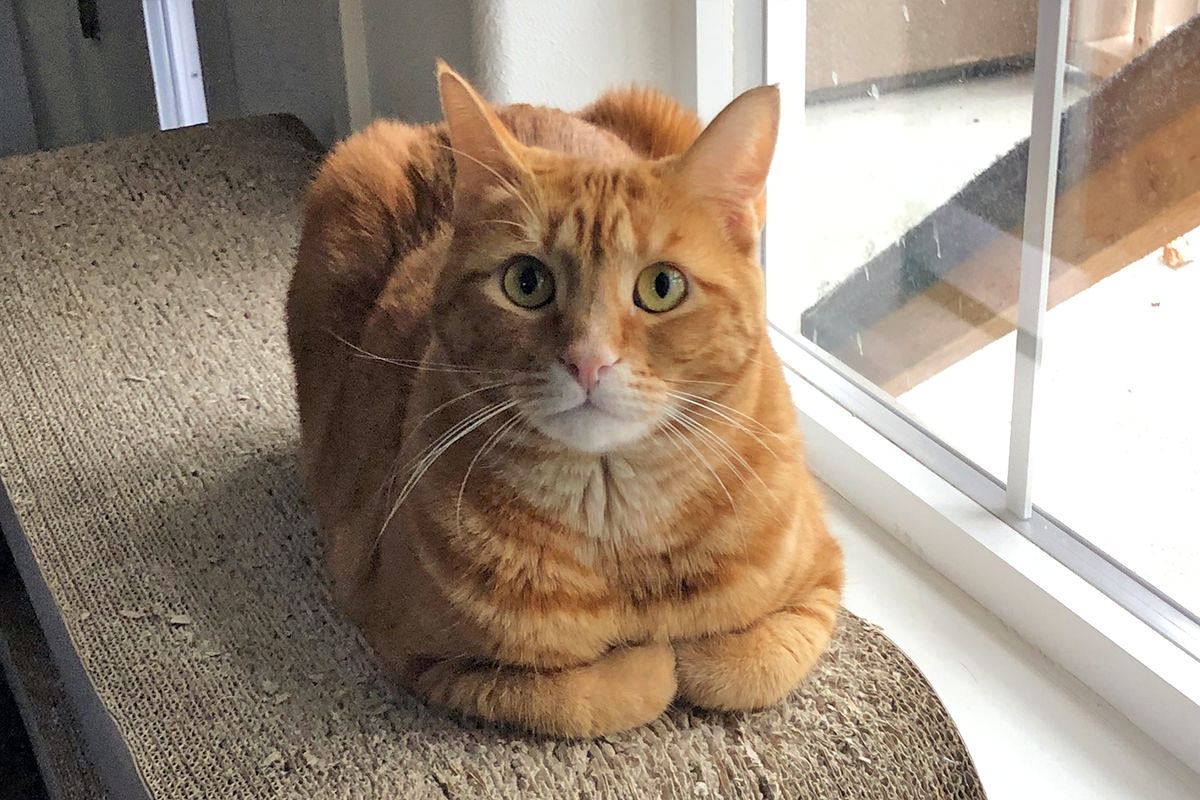 In other Caturday news, Jake and Jenny have been pretty buddy buddy lately. Usually they coexist without much interaction... but now they've been hanging out together quite a bit...
My guess is that it's getting cooler, so they're snuggling up for body warmth?
I hear that. We're supposed to be getting a thunderstorm tonight!
Posted on August 31st, 2019

My cats are 3-1/2 years old. I just looked it up, and this is the equivalent of 30 in human years. Once I managed to work the lump out of my throat, I started thinking back to when I was 30. I think that's the time I started calming down and getting more serious about life. Who I am now was formed in my 30's. That was the time that my personality stopped changing... instead it just grew in intensity.
Uh oh.
If this works the same for cats, then I'm in for an interesting time of it.
Not from Jake, mind you. This is going to be Jake from here on out...

I'm The Dude, dude!
I mean, seriously... this was Jake this morning when I was ready to start my day...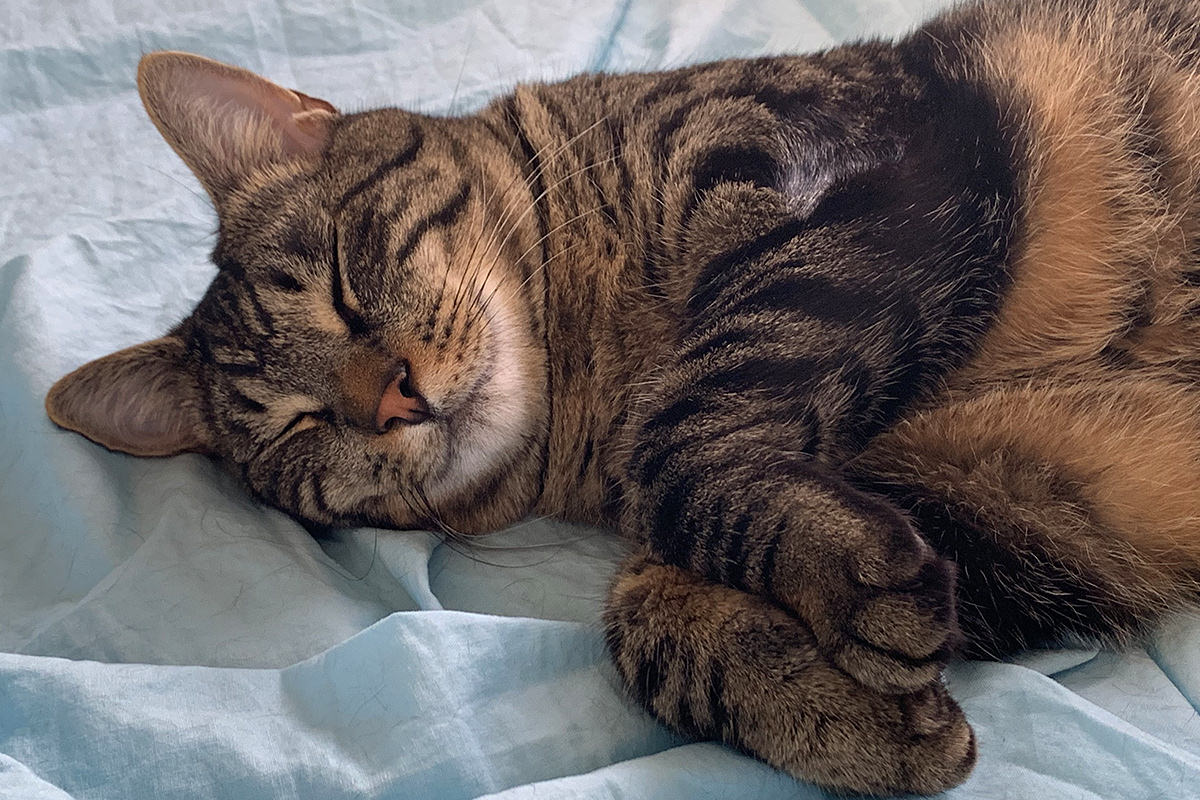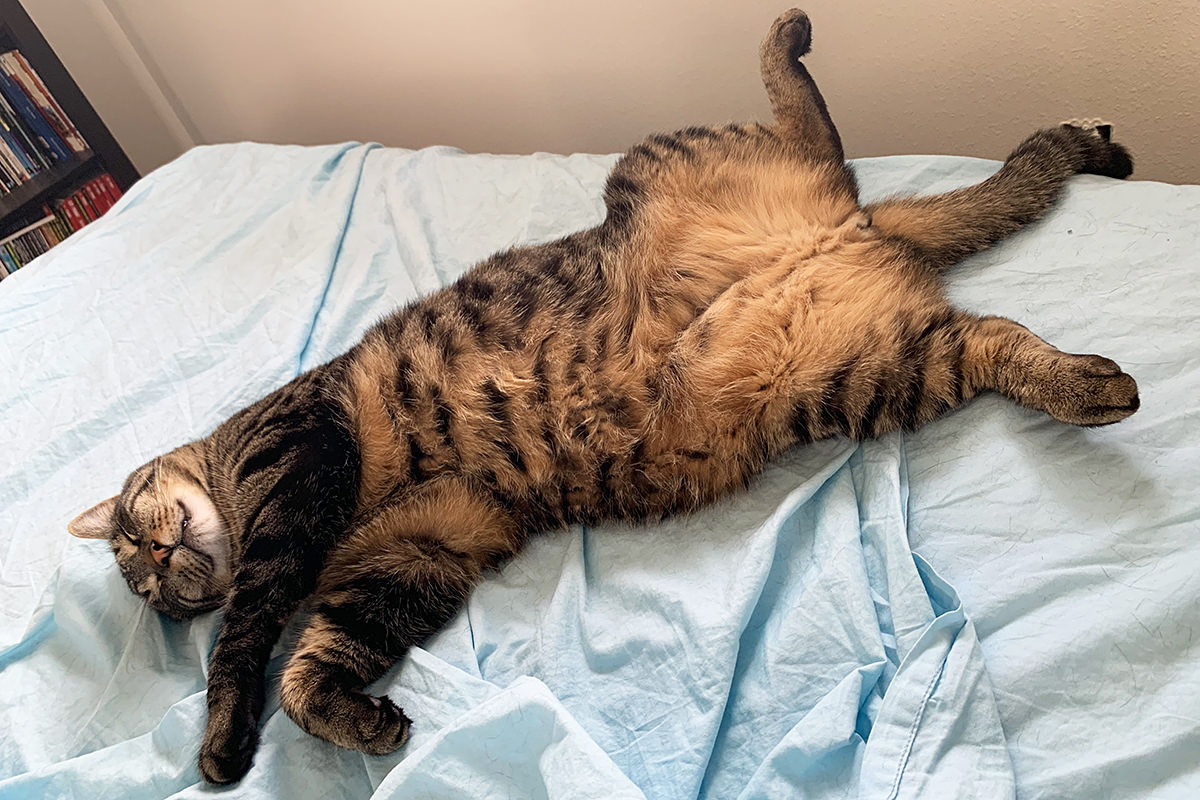 He is so laid back and chill. The only time he is even remotely anxious is when he's waiting for me to dish out his food. Any other time? Unfazed. He might squawk at me if I'm walking by and he wants to be petted, but that's the end of it.
Jenny on the other hand? Entirely different ballgame...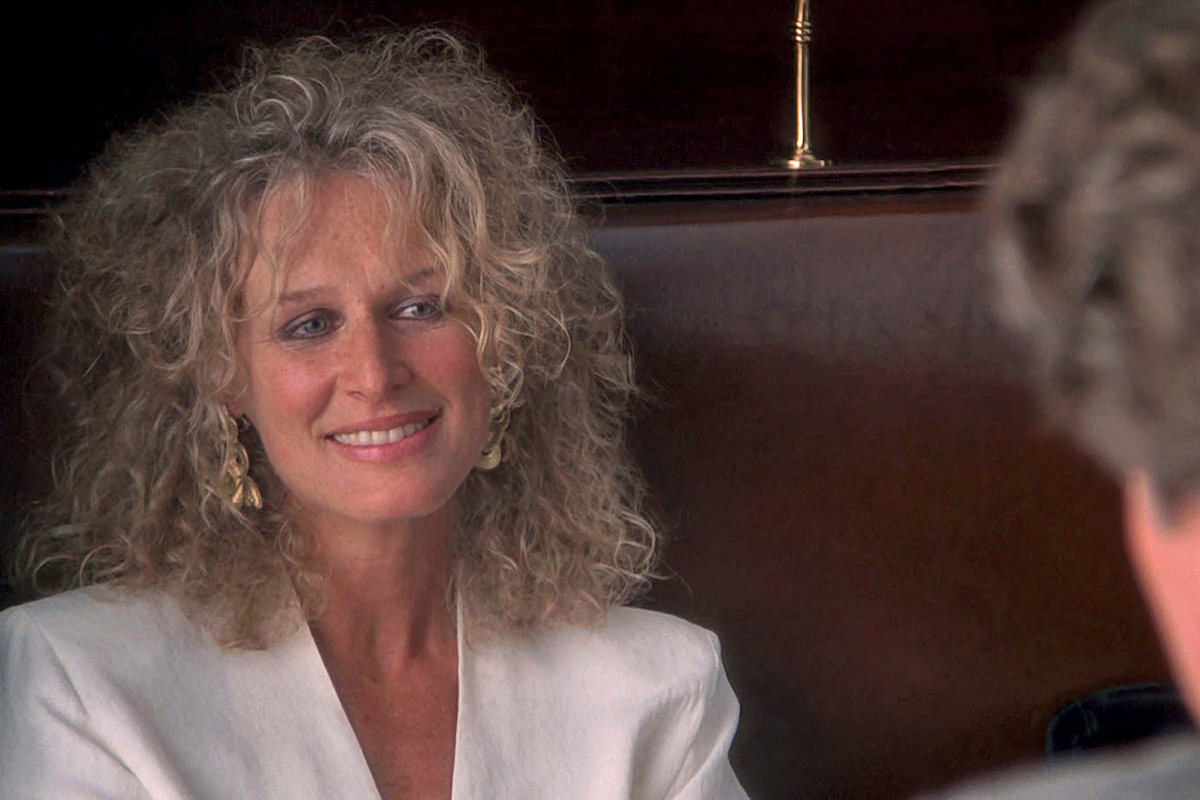 I'M NOT GOING TO BE IGNORED, DAVE!
As she enters into her thirties, Jenny's trajectory has her turning into a demanding, cranky old lady. Which is all kinds of adorable. If she wants to be petted, she will insist you drop whatever you're doing and take care of it. Pet her the wrong way and she has no problem letting you know that she's bitterly disappointed in you. She never used to meow much at all, now she will absolutely meow to get your attention.
Like she just now did after jumping up behind me wanting to be petted...
She's still an incredibly sweet cat, so you can't possibly get upset when she gets a bit demanding... on the contrary, it's just made me love her more... but it's remarkable just how far Jake and Jenny's personalities have diverged.
Jake hops on the coffee table for a nap, and I can slow blink with him for twenty minutes...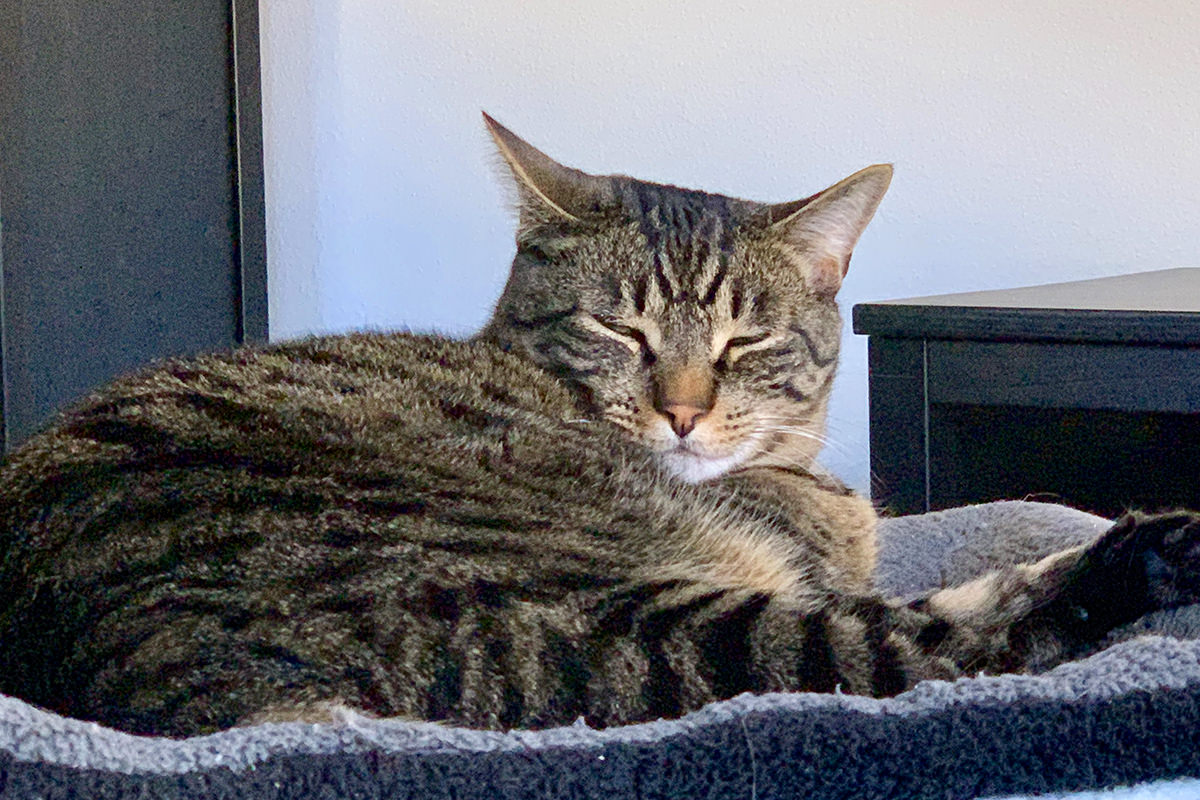 Try slow-blinking with Jenny that same night though?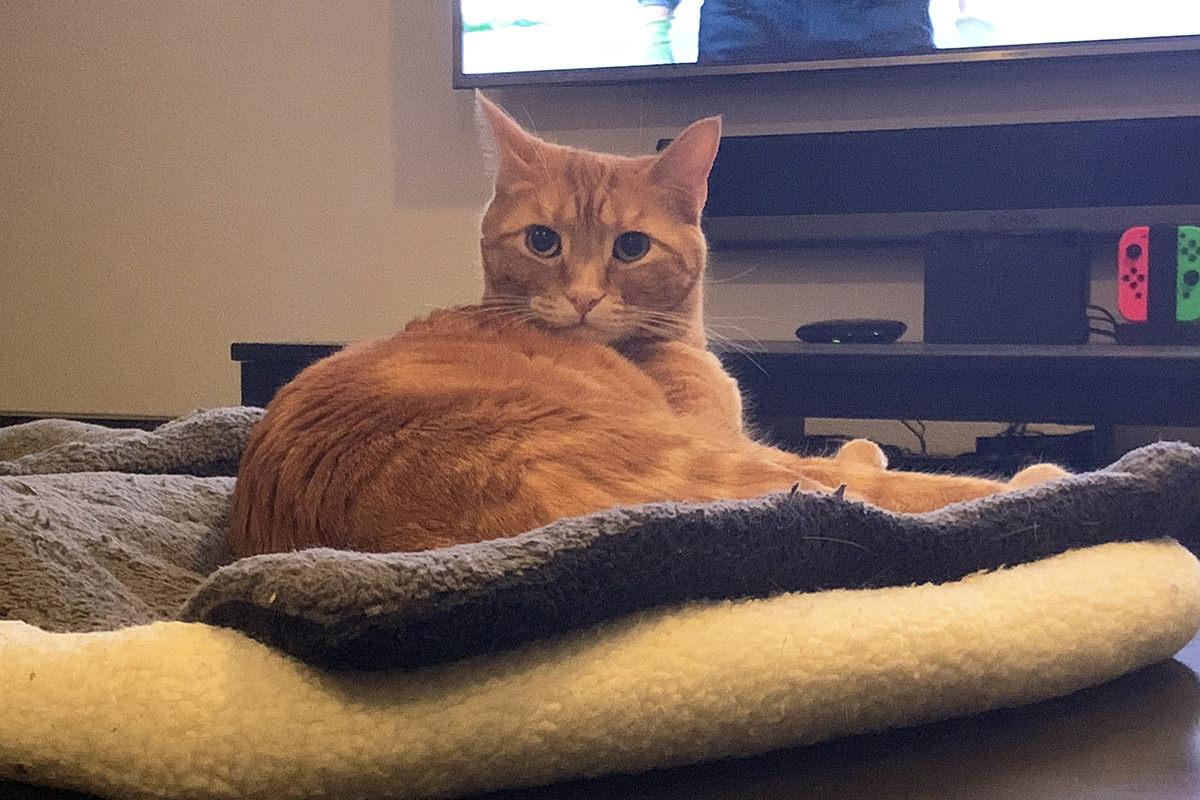 YOU WANT SOMETHING FROM ME, HUMAN?
In 2-1/2 years, my cats will be 40 human years old. They grow up so fast.
Posted on August 24th, 2019

Every once in a while it strikes me just how different my cats are. Jake and Jenny have completely different personalities, but are equally sweet in their own way. Jenny is very smart and calculating. If you aren't petting her in the right spot, she moves so your hand lands where she wants to be petted. She will also complain if you pet her in a way he doesn't like or if you stop petting her too soon. This is the opposite of Jake, who just flops down when he wants to be petted and takes whatever you will give him.
And speaking of Jake...
A friend stopped by to drop something off, which meant Jake was "trapped" hiding out in the catio. After my friend left, I went to the window to tell him that it was safe for him to come back inside (you laugh, but it works). Jake was pissed. SO MAD. He can't meow, but he was acting like he was meowing me a new one. I have never seen him this angry! JUST LOOK AT HIM! (I am on the other side of the window talking to him)...
After this he calmed down and came running inside, but still!
The next morning Jake woke me up at 4:30am. This never happens. My cats simply do not bother me when I'm sleeping unless there's something terribly wrong. I petted him until he stopped whining and crying and fell asleep next to me...
He was still next to me when I woke up. I canceled the Alexa alarm for breakfast so he could sleep in. I thought he'd wake up when the kitty feeder cycled, but he didn't...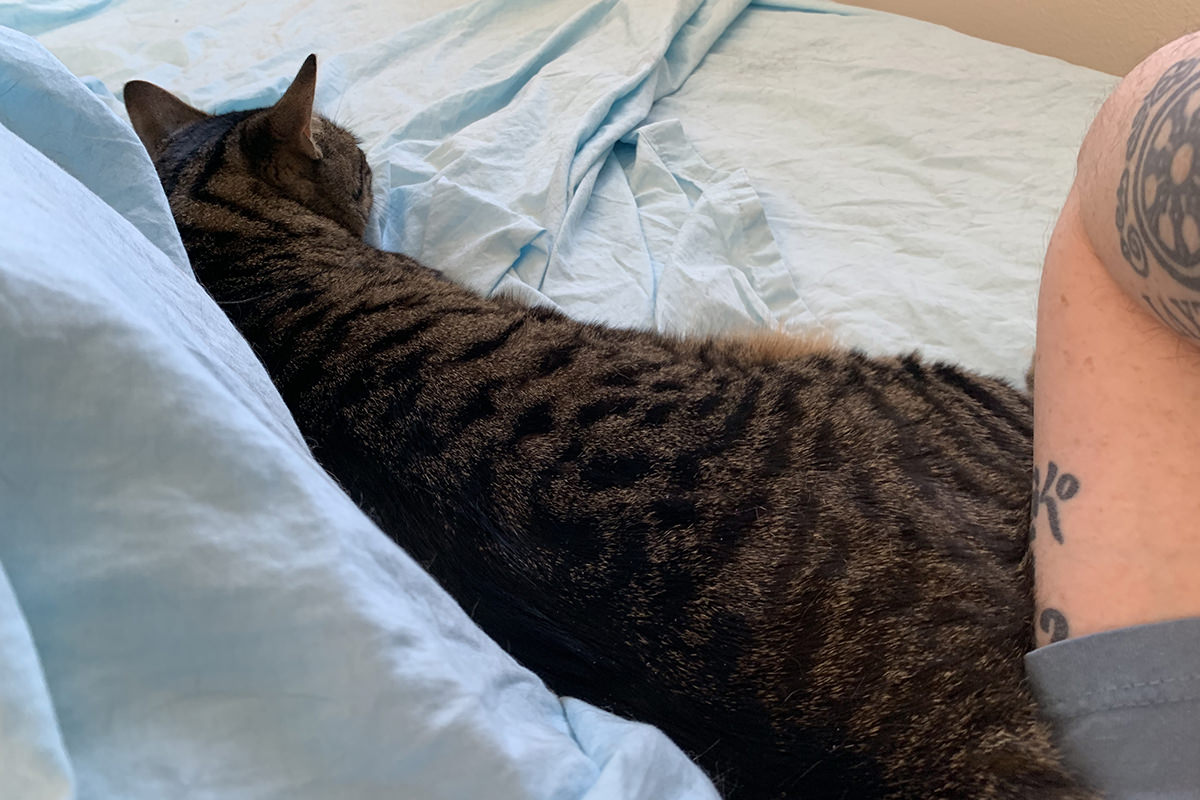 A little after 8:00, he woke up and must have realized that he missed breakfast, because he went tearing downstairs to eat.
And speaking of eating...
Both of my cats are always curious about what I eat. They usually come up and smell it, then wander off when they realize that it's "people food" and not something they want. Since I don't eat meat, the only thing Jake and Jenny want of mine is animal products I eat... like cheese, butter, and eggs. If I set down a plate after lunch and there's butter or mayonnaise or cheese on it? They will definitely lick it clean, so I try not to do that because I think dairy upsets Jake's stomach.
A while back I made chip dip, which is pretty much cream cheese, mayo, lemon juice, and garlic. When I got back from putting my clothes in the dryer, Jenny was very interested in it...
It must have been confusing. On one hand... cheese and mayonnaise. On the other hand... lemon juice and garlic. I didn't shoo her away, but instead sat and watched. I figured that if she wanted to give it a taste, I wouldn't stop her. The problem being that garlic is toxic to cats in quantity, so a taste was all she was going to get. But, after a marathon sniffing session, she walked away. Probably for the best.
And lastly today? The very definition of ape-shit... when a tiny mouse goes running by the catio while your cats are out enjoying the sunset...
There I was sitting watching television when they came running into the house, high-tailing it to the bedroom window. A minute later they were running all over the place like crazy cats. I had no idea what happened to get them so riled up... until I went to the security cameras and saw that a tiny little mouse had run by. I guess that's all it takes.
See you next Saturday.
Posted on August 17th, 2019

Another Caturday... already?
Nothing quite like looking up and seeing your cats staring at you.
This usually happens close to feeding time. I'll be working or reading or something, look up, and there they are...
But lately Jake has been staring at me just to stare at me...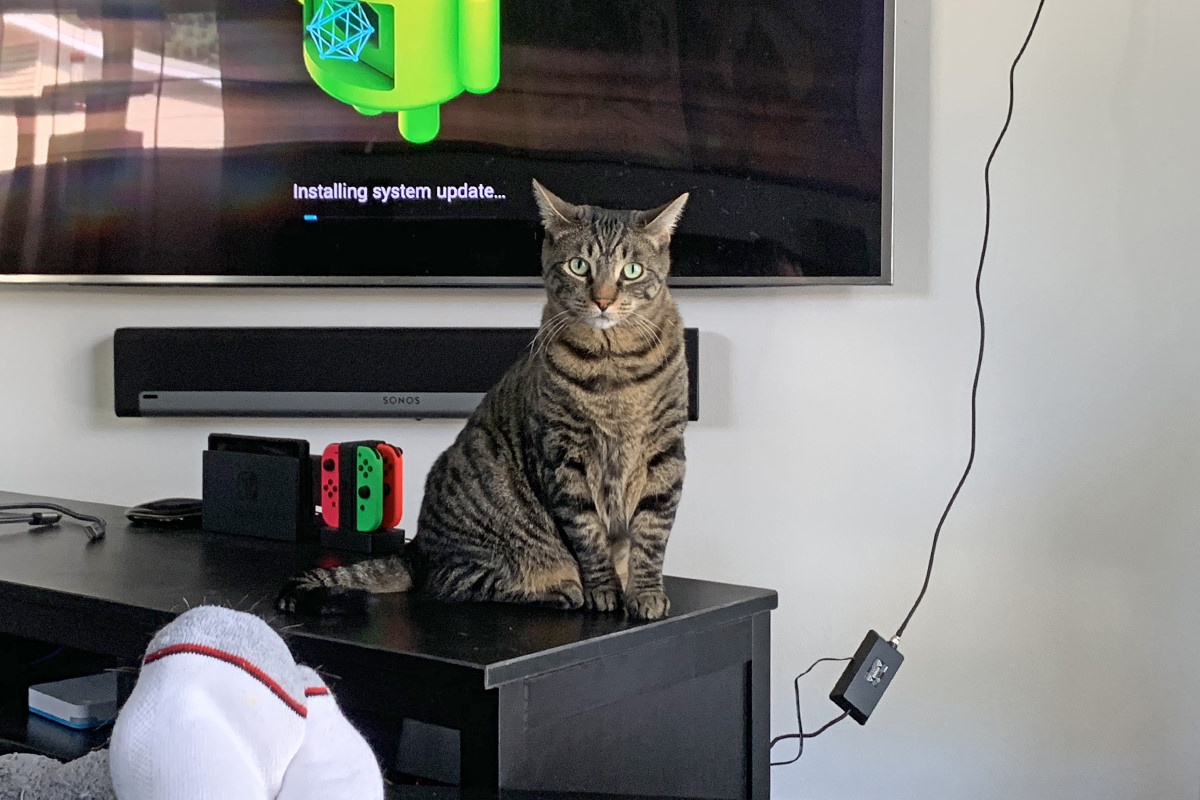 No big deal. I'm a fascinating person, even when I'm doing nothing.
But the other day he actually caught me by surprise. I was getting dressed for work, turned around, and he was... hiding in the cat tree staring at me...
This is a big deal.
My cats have never... not since I first got them as kittens... ever climbed in the little hidey-holes in the cat trees I bought for them. They do not like enclosed spaces and won't go inside of them. Why Jake has all of a sudden taken to hiding in them is a mystery.
In other news... my cats are getting lazy.
A couple days ago I caught Jenny scratching on the scratching post, which is nothing unusual. Except she was laying down while doing it...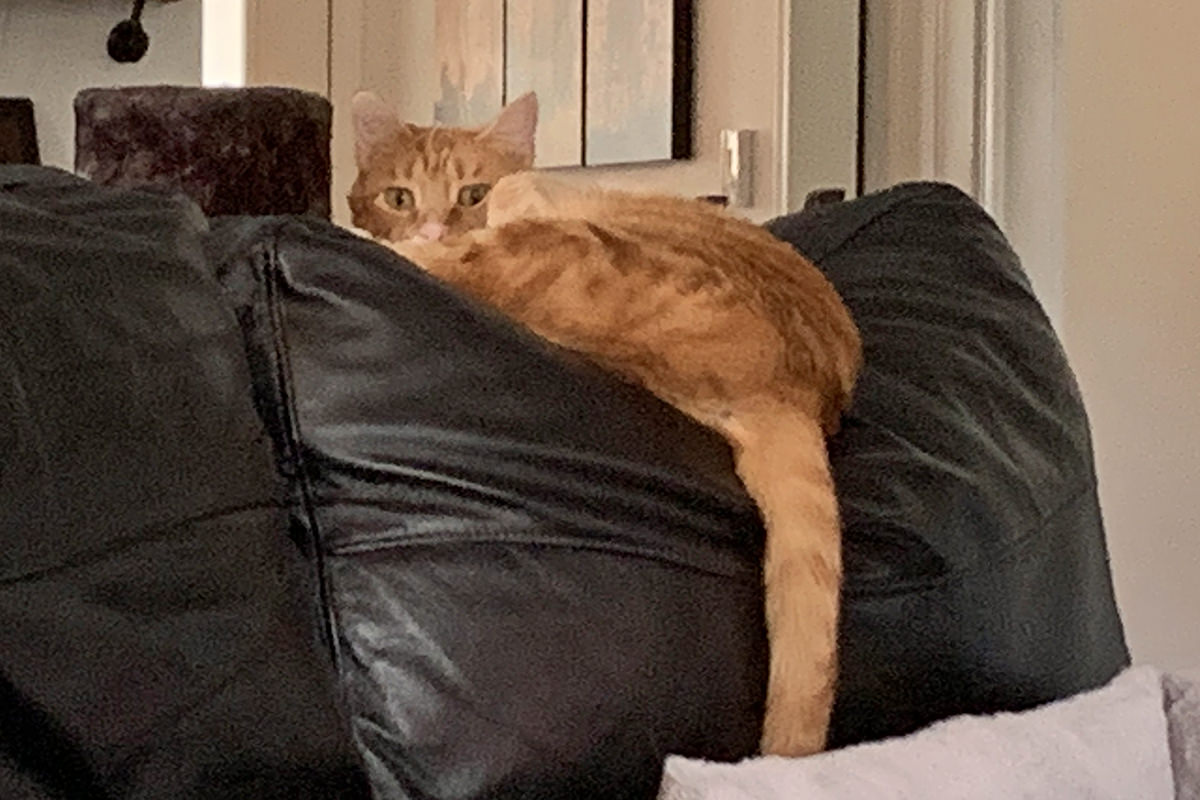 Jake is even lazier. He no longer comes up and rubs against me when he wants a belly rub. He jumps on the bed, shows his belly, then grunts until I rub it...
Jenny is a little more subtle but, then again, she always gets belly rubs when she wants one...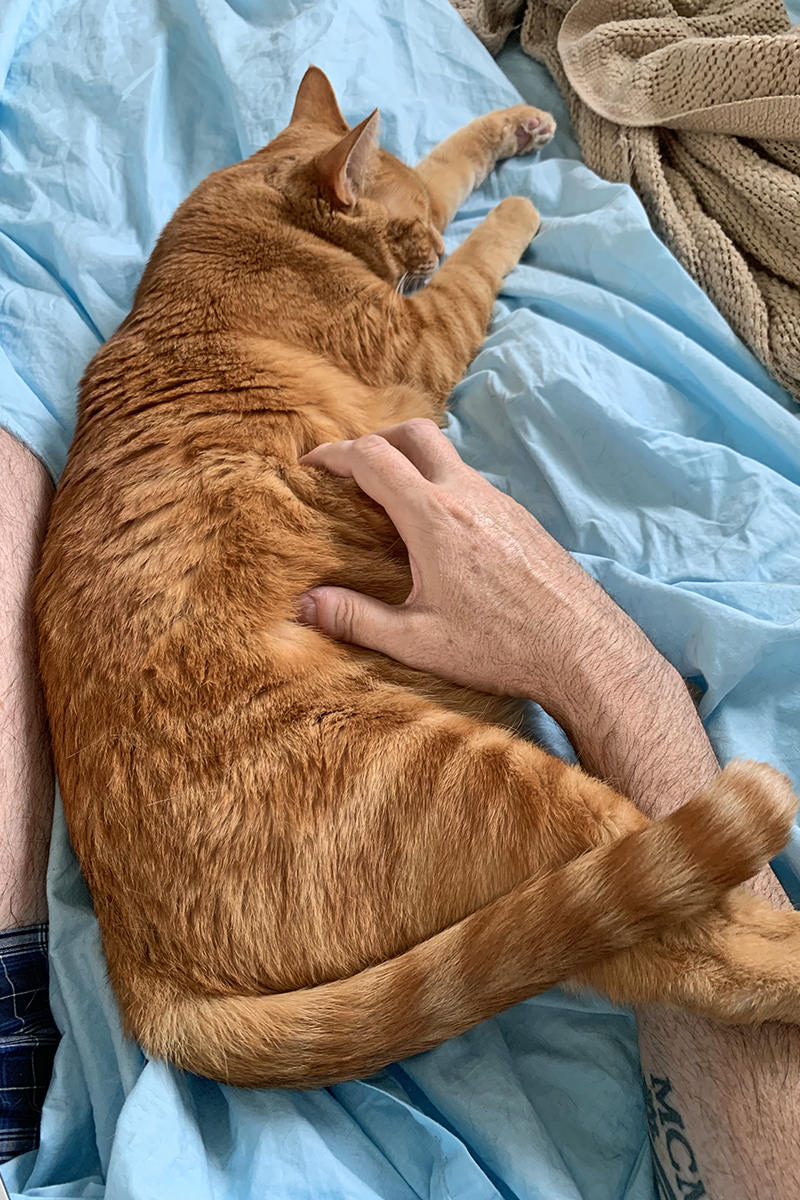 And speaking of Jenny... just to put to rest any doubt that she can handle herself when it comes to her brother... this showed up on my security camera yesterday...
Have a great weekend!
Posted on August 10th, 2019

I have never trimmed my cats' claws. I've never had a need to. There's plenty of stuff I've built and purchased for them to scratch on, so they've kept their claws in good condition without any intervention from me. They also groom their nails often, so they seem to be in good shape whenever I examine them. Of course, I have hardwood floors which means there's no carpet for them to snag on, so that probably helps. Perhaps when they get older and are less active I'll have to start trimming, but it's not been an issue so far...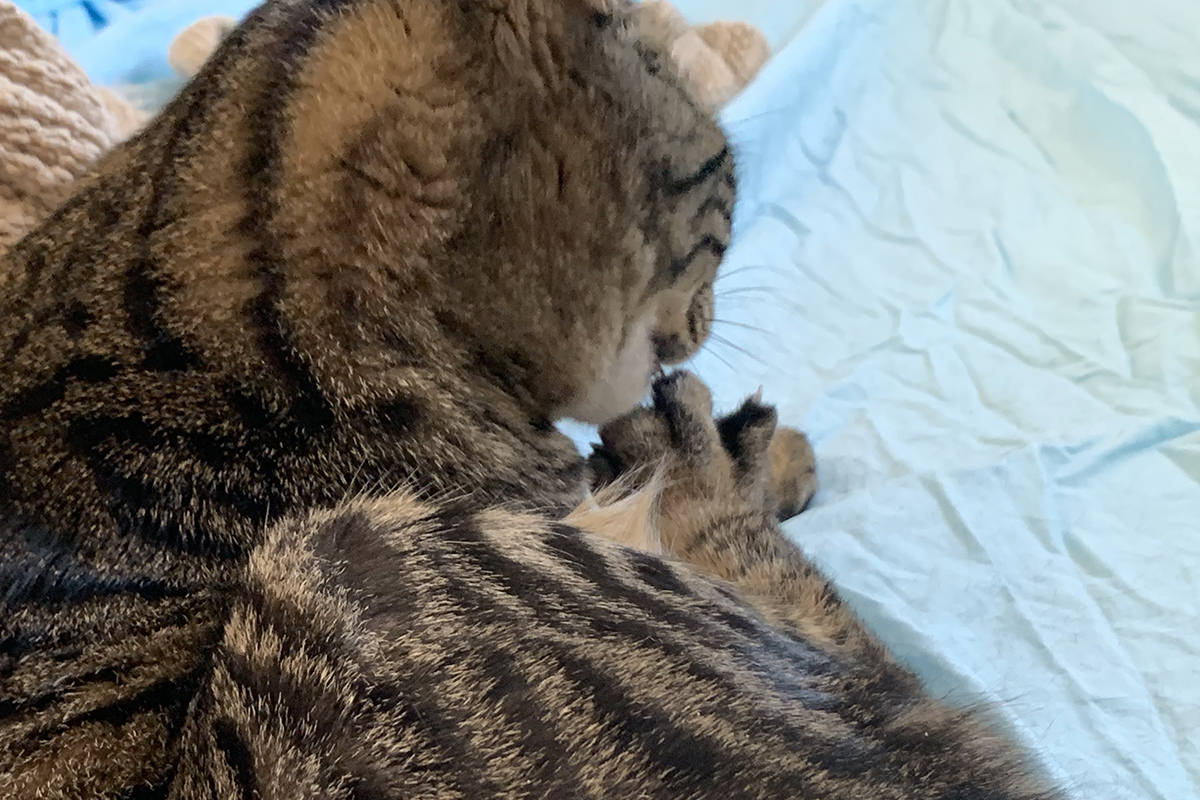 I've never bathed them either. On occasion I've had to wipe off something dirty they've laid on (usually out in the catio), but even that's rare because I try to keep their environment clean. And, again, they are very good about bathing themselves, they don't stink, and so I'll just let nature take its course until I need to intervene...
Cats have self-maintenance as a built-in feature. I plan on taking advantage of that for as long as I can.
This past Thursday was International Cat Day. Which is kinda silly, because EVERY DAY IS INTERNATIONAL CAT DAY in my house!
This is what I woke up to on the 8th, however...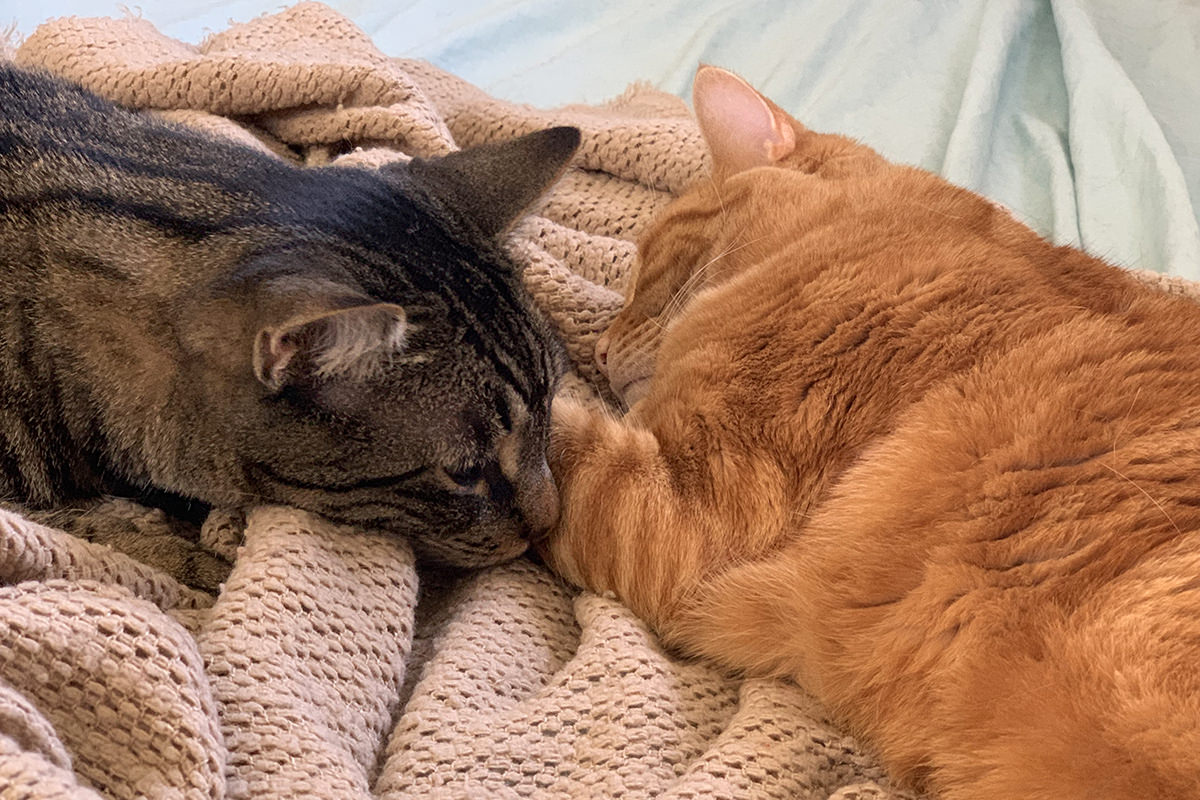 Not a bad start to International Cat Day.
Or any day, really.
See you next Saturday!
Posted on August 3rd, 2019

This past week I've been trying to recover from the work trip that badly messed up my sleep routine. I don't sleep much in the first place, but to basically have to stay awake for three day is not something you can easily bounce back from. My solution has been to just sleep when I'm tired and hope that eventually things go back to normal.
This makes my cats happy, because they just love to have a nap buddy. Especially Jake...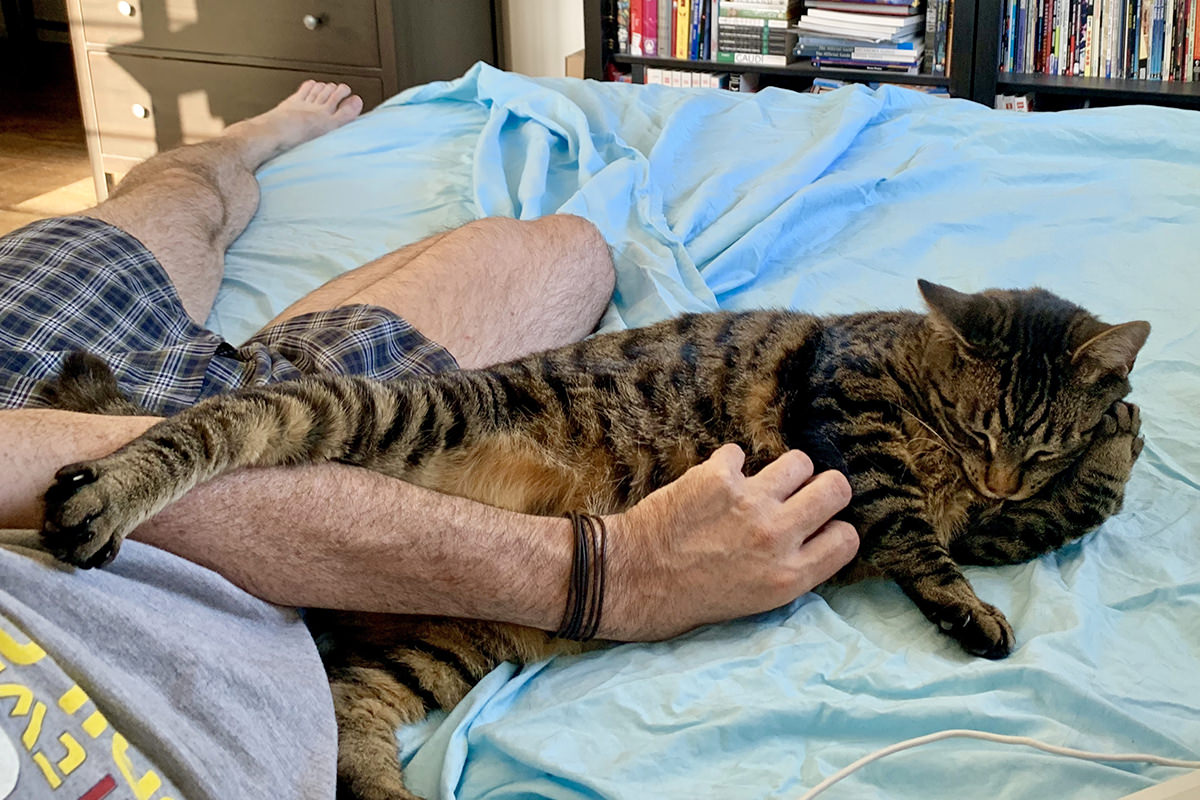 It wouldn't be so bad if he would share the bed instead of pushing me to the edge...
I put a cat bed on the couch so that Jenny could take a nap next to me when I nap...
All is well until I shift position and Jenny has to get all upset over it. Here she is doing her best "Might you have any Grey Poupon" look after I accidentally slid my leg under her bed...

For the past couple months, Jenny has been waiting on the small corner-ledge outside my bathroom so she can get petted after I take a shower. She knows that there's no way I can resist, but has taken to meowing to get my attention anyway. This past week I started recording her each morning...
This adds five to ten minutes to my morning routine each day, but it's worth it! Note the cat hair that goes flying everywhere. I can usually keep her shedding under control by brushing her with The Furminator, but she's been resisting it lately for some reason. Don't know if I accidentally brushed too hard or what, but we're taking a break from it for a while.
And don't worry about Jake getting his fair share of pets. He waits for me on top of the cat tower in my bedroom...
And now, since I've had my shower, I guess it's time for a nap!
But before I go...
Jake has discovered that if he pounces on the pet feeder he can knock loose any kibble that got stuck in the release tube...
I suppose it's only a matter of time before they figure out how to open the thing entirely.
At which point I might as well fill a trough with food when I'm gone and just let them eat until they explode. Silly cats.
=yawn= Have a great weekend!
Posted on July 27th, 2019

So happy to be home.
And my cats seem happy to have me home. As usual when I get back from a trip, they don't want to leave the room I'm in. Unless they are running around chasing each other, because they gotta work off all that excitement somehow.
When I sat down to check email, there was Jenny making biscuits next to me...
When I turned in for the night, I thought they would be all over me, but they just plopped down on the floor next to the bed and that was the end of it. But this morning when I woke up and turned on the television? There's Jake, watching with me...
And after I took a shower and was getting dressed?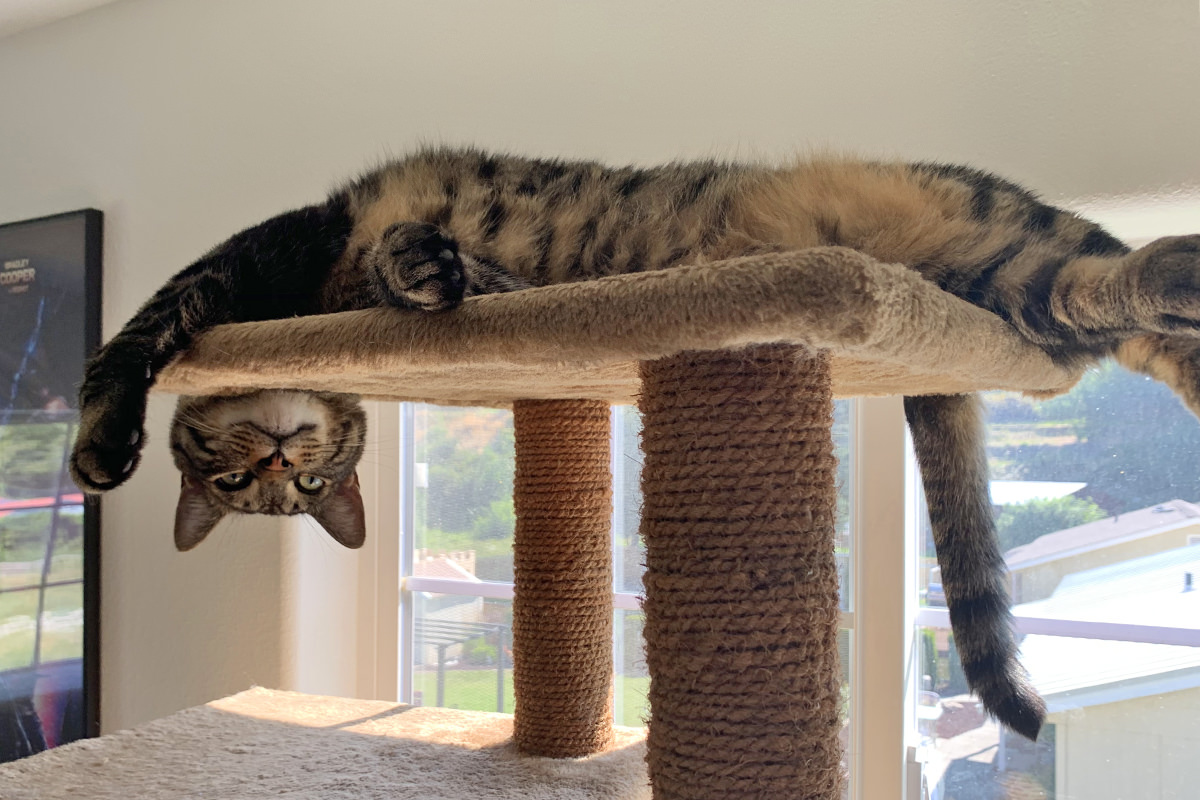 But it isn't all perfect.
I thoroughly cleaned my house before I left. My cats went nuts while I was gone and there's toys, cat hair, and kitty litter tracked everywhere.
And a few half-eaten bug?
WHY?!? Why are my cats bringing in bugs from the catio and eating them inside. WHYYYYY?!? IF YOU MUST EAT BUGS, JUST EAT THEM OUT IN THE CATIO!!!
And speaking of their catio...
Before I left I glanced out my window and thought for a moment that Jenny had murdered Jake...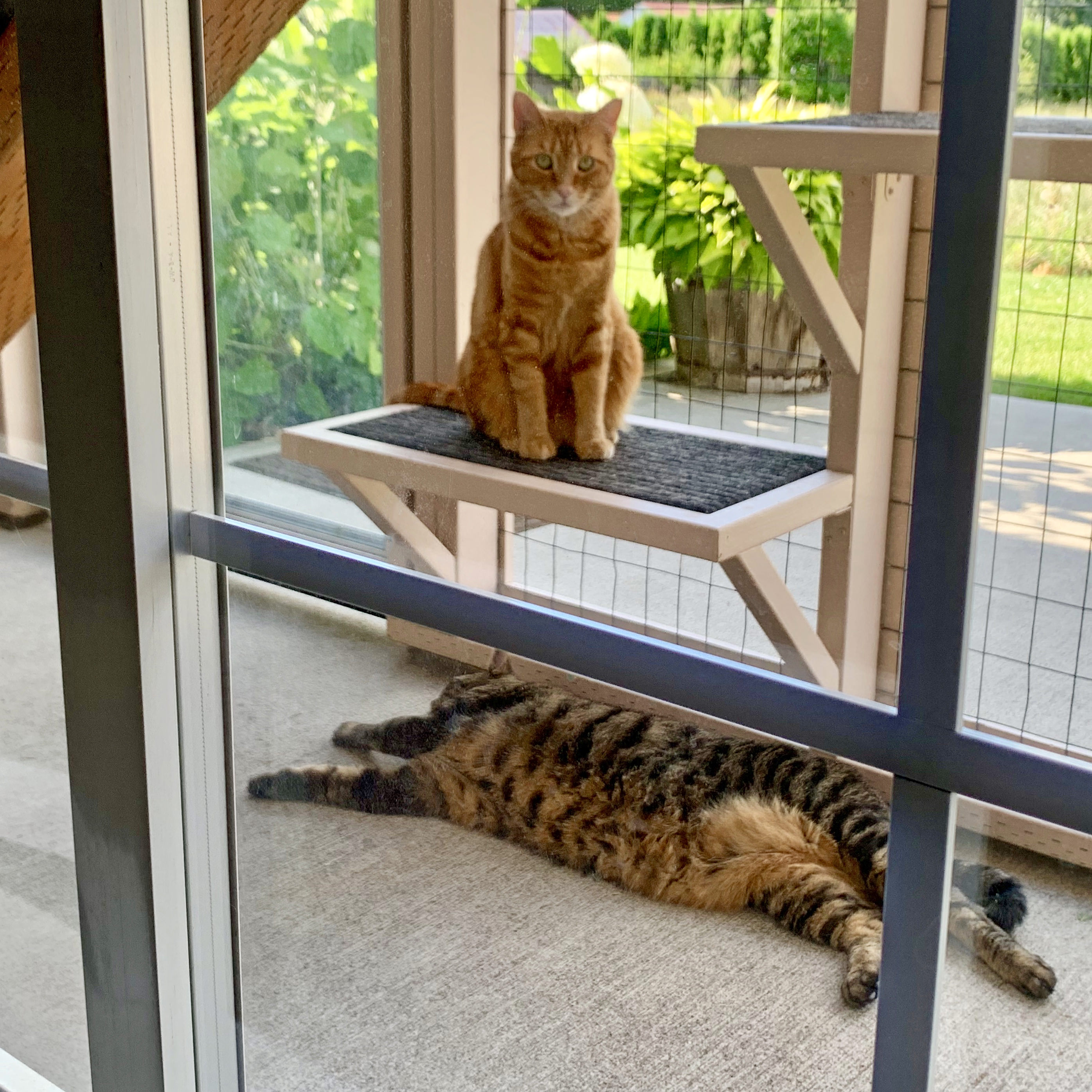 Fortunately, Jake was just sleeping.
And speaking of murder...
I am currently traveling to Maine twice a year for work... once in the winter when it's cold and miserable... and once in summer at the height of tourist season when it's crowded and miserable. I'd love to come in Spring or Fall when it's calmer, but it hasn't happened yet. That's a shame, because Maine is an amazing, amazing place. And I've only scratched the surface.
But at least this time I didn't have to make the drive from Boston to Maine on a weekend. It's a frickin' parking lot the entire way and, after hours of it, you definitely get in a murdery kinda headspace...
And speaking of a murdery headspace... Amazon's anxiously-awaited adaptation of The Boys, one of the most insane comic book series I've ever read, is on now... so... see you next Caturday!