Posted on April 13th, 2019
After some truly lovely weather, we've been getting quite a bit of rain lately. This has been wildly frustrating to the cats in the neighborhood. They want to go out to play and kill stuff, but they definitely do not want to get wet doing it. Today Fake Jake went wandering by my back window and he was soaked. I felt bad for him but, hey, it beats the alternative. As in snow.
I found this video from the dead of winter when Fake Jake thought he would go chasing after the chirping birds in the back field. He gave it a shot, but had a tough time trudging through the snow and had to nope back to where I had shoveled...
A little rain seems tame by comparison.
As for Jake and Jenny?
Still spending a lot of time out in the catio. Even when it's sprinkling, there's still plenty of action to be found. Like when Jake's buddy (whom I've named "Charm") comes to visit...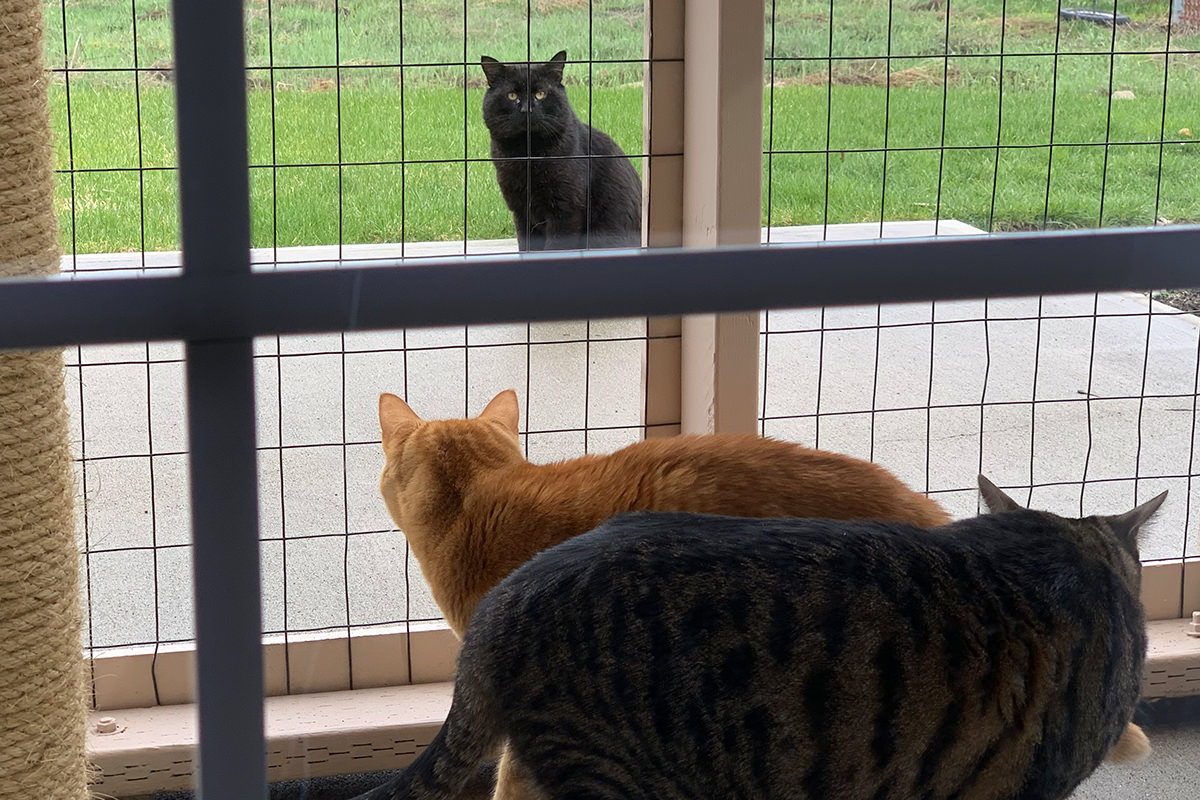 Though when it's particularly cold out, Jake is content to look out the window rather than go outside...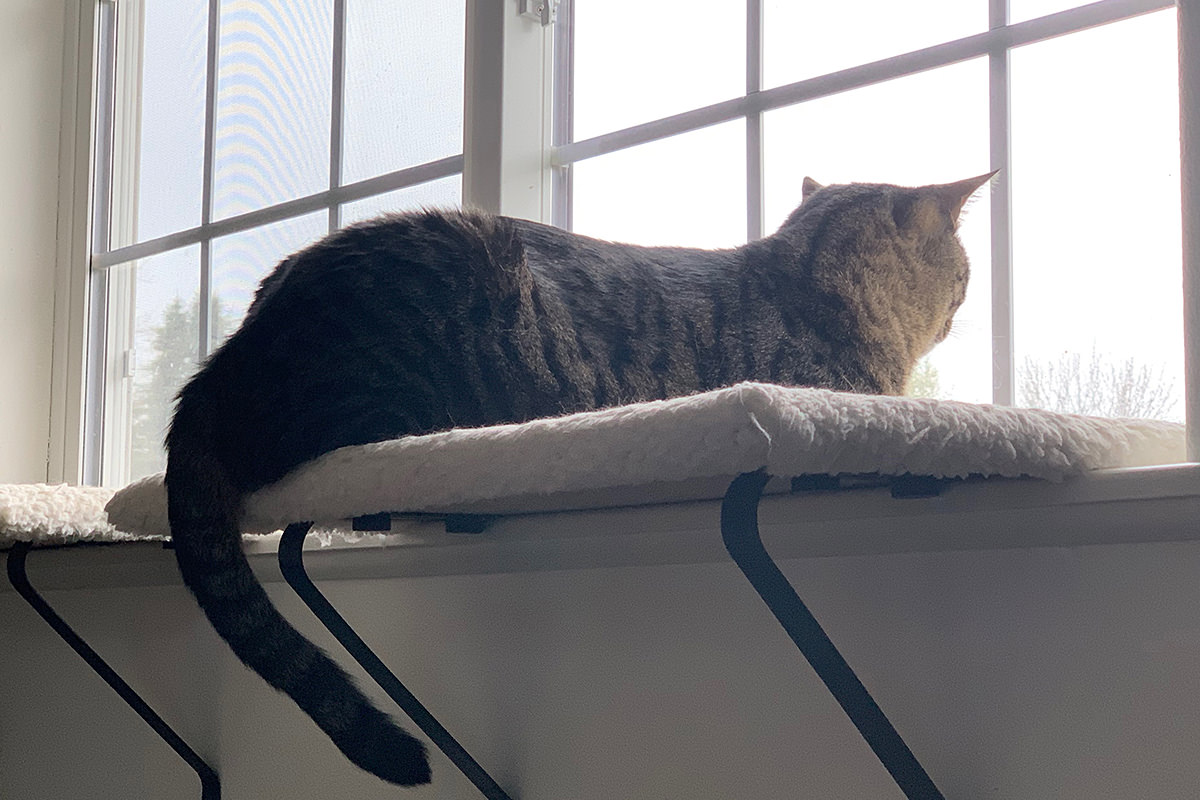 Jenny has no problem in the cold though. She still goes outside even on the coldest days.
Which is odd, because Jake is the one who has a little extra padding on him!
Posted on April 6th, 2019
This week I officially lost my cats to the catio.
It's been so warm out lately that they are spending most of their days laying around outside or watching all the bird activity that comes with Springtime. Jake and Jenny absolutely love it outside, which means the catio remains one of the best home improvement investments I've made...
What also comes with warm weather?
Cat hair. Cat hair everywhere.
For Jenny this is not much of an issue. She loves to be brushed with The Furminator. I try to brush two times a week, but sometimes Jenny will go running to the cabinet with The Furminator in it and start rubbing all around it and complaining until I start brushing. And she can't get enough of it. She'll roll from one position to the next, making it easy to get to every square inch of her fur.
Jake on the other hand?
He'd rather forgo the brushing and go straight to puking up hairballs.
I've started Furminating him while he eats. It isn't very efficient, but it's better than nothing.
Alas, the warm weather earlier in the week turned to colder weather and rain at the end of the week. This has irritated my cats on numerous fronts. The first of which is that I turned off the heat in March so it's been colder inside than they're used to. I keep seeing them snuggling up for warmth when the temperature dips...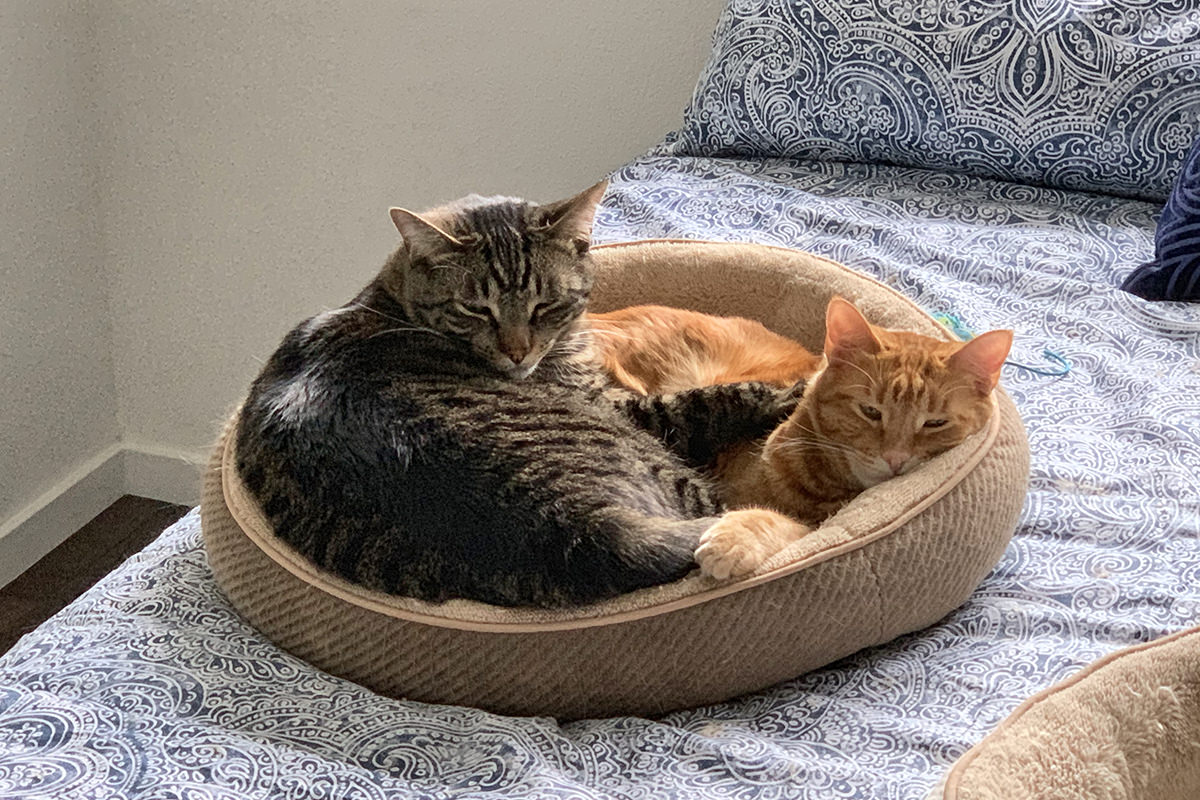 The babies.
It's not that cold.
And now? I suppose Jake and I should get back to watching The Jungle Book...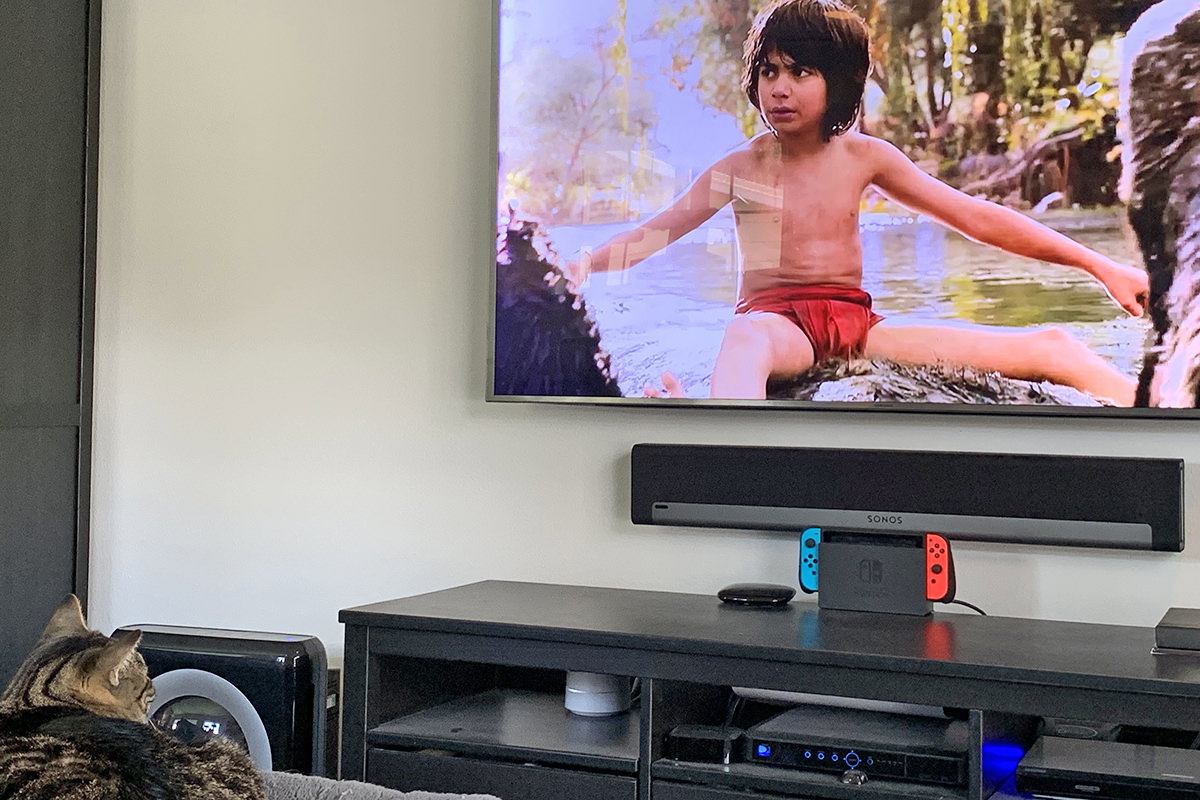 Seriously, Jake is totally into it.
Posted on March 30th, 2019
This morning Alexa's alarm was chiming, letting everybody know that it was kitty feeding time. I went to say "Alexa, Stop" to turn it off... and... couldn't speak.
My voice was completely gone.
This raised two questions:
How can I be sick again, when I just got over being sick a couple weeks ago?
How in the heck can I tell Alexa to turn off an alarm if I can't speak?
I ended up just letting the alarm run itself out because I had no idea how to turn it off. I suppose I could have tried deleting the alarm from the Alexa app, but my cats were way too impatient for that nonsense.
I should have known this was coming. Yesterday I was feeling poorly so I cut out of work early to come home and take a nap. When I woke up, my butt felt warm. At first I thought that I might have filled up a hot water bottle and forgot about it, but when I reached back... it was Jake! His butt was snuggled up against mine...
My cats usually do not hang around me when I'm sleeping. But when I'm sick? They seem to want to congregate around me... taking turns throughout the day. Eventually it was Jenny's turn. Though I think she didn't care as much about me being sick as she did getting belly rubs...
She was asleep in no time, trapping my hand...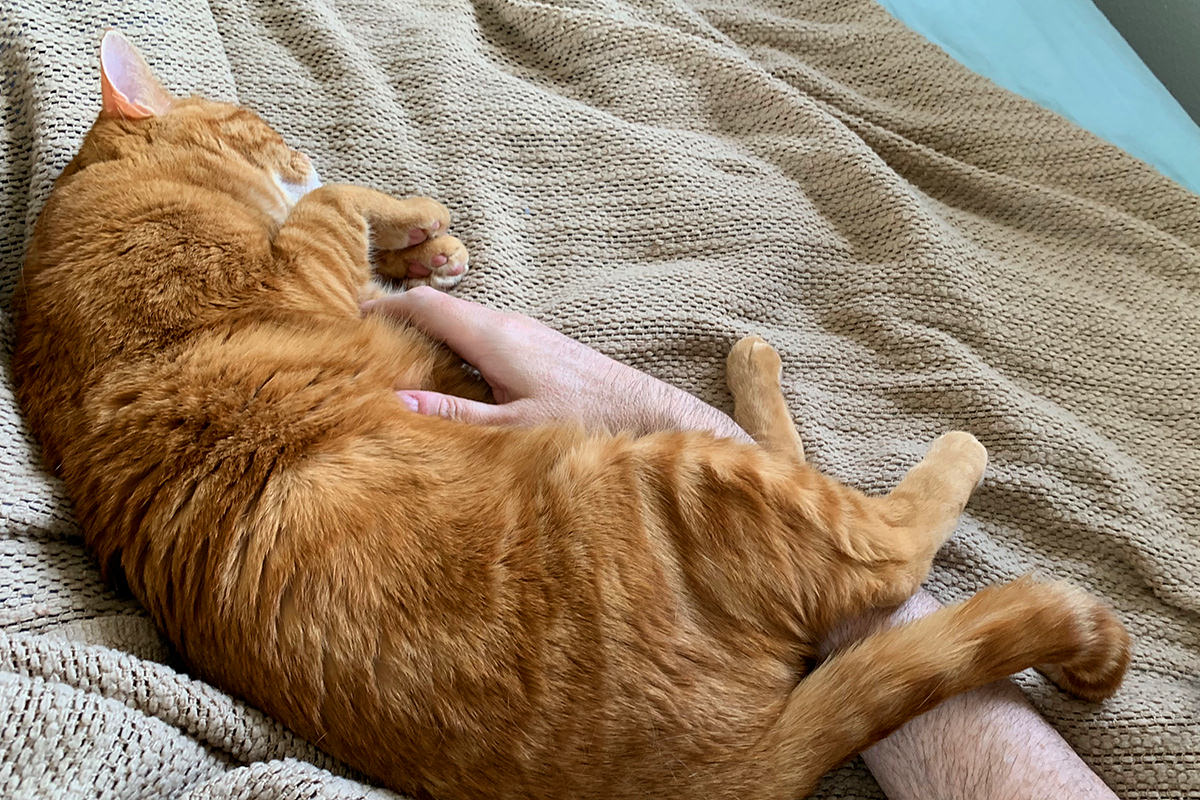 I tried to carefully remove some blankets because I was sweating, but that woke up Princess Floopy Whisker and she was not amused...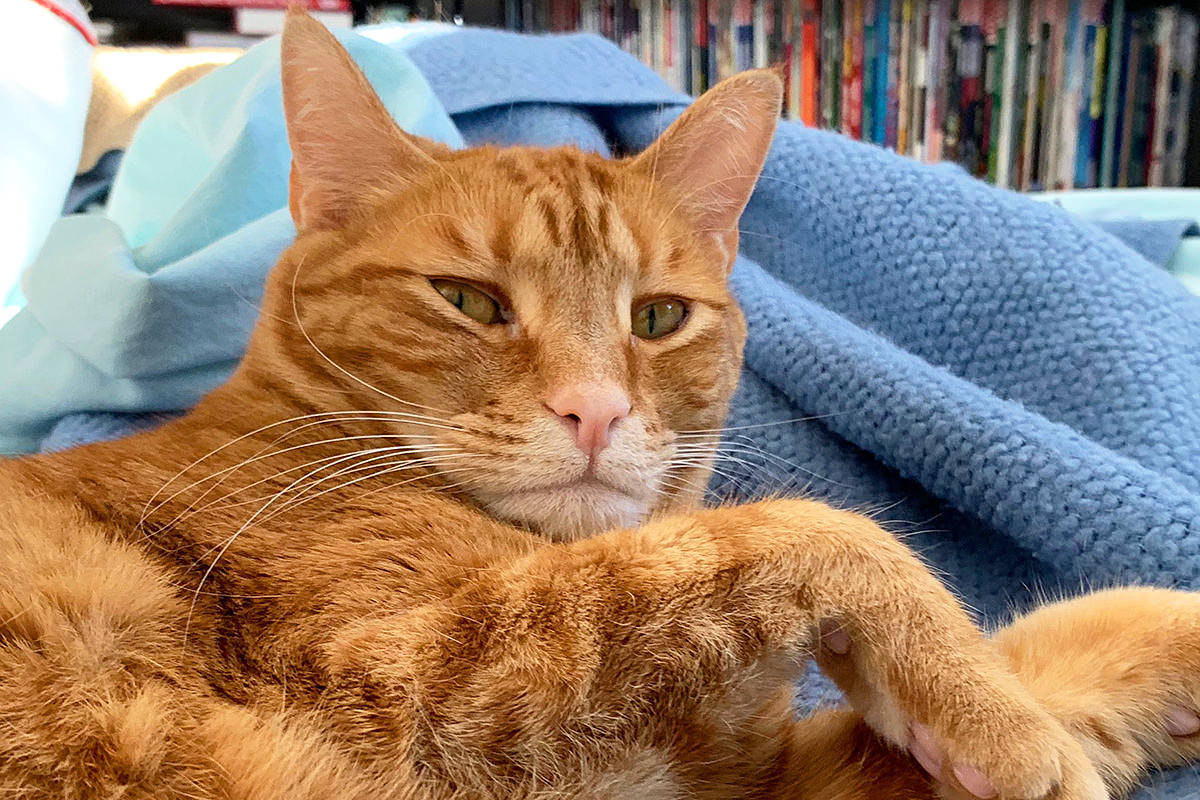 Nobody gives sour-face quite like Jenny. I think it just makes her look even more adorable.
Eventually it was just too hot in my bedroom. It's upstairs, so all the heat rises up. That's great in the winter, but can be a nuisance when the weather starts warming up. And you're sick.
It was plenty cool downstairs. At least it was until I had a warm kitty laying on top of me...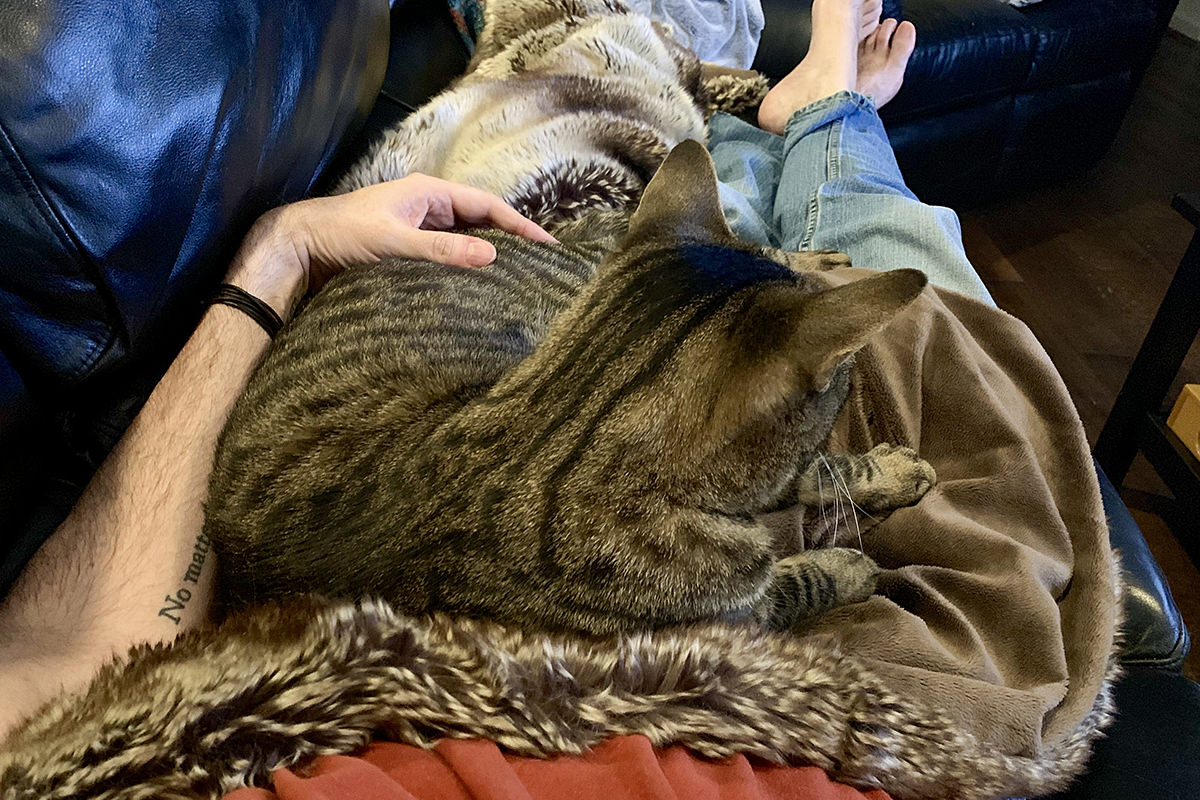 A couple days ago while I was working in bed, I heard a commotion in the cats' bedroom. Since there's always a commotion somewhere, I just ignored it. Then, when I got up to take a shower, I saw that Jake had been dragging all the toys he considers "his" onto the bed. Mufasa, Moose the Mule, Grey Mouse, Thing 2 Mouse, Blue Rag Mouse, Mr. Pretzel, and both Purple Squiggles. And he was still going...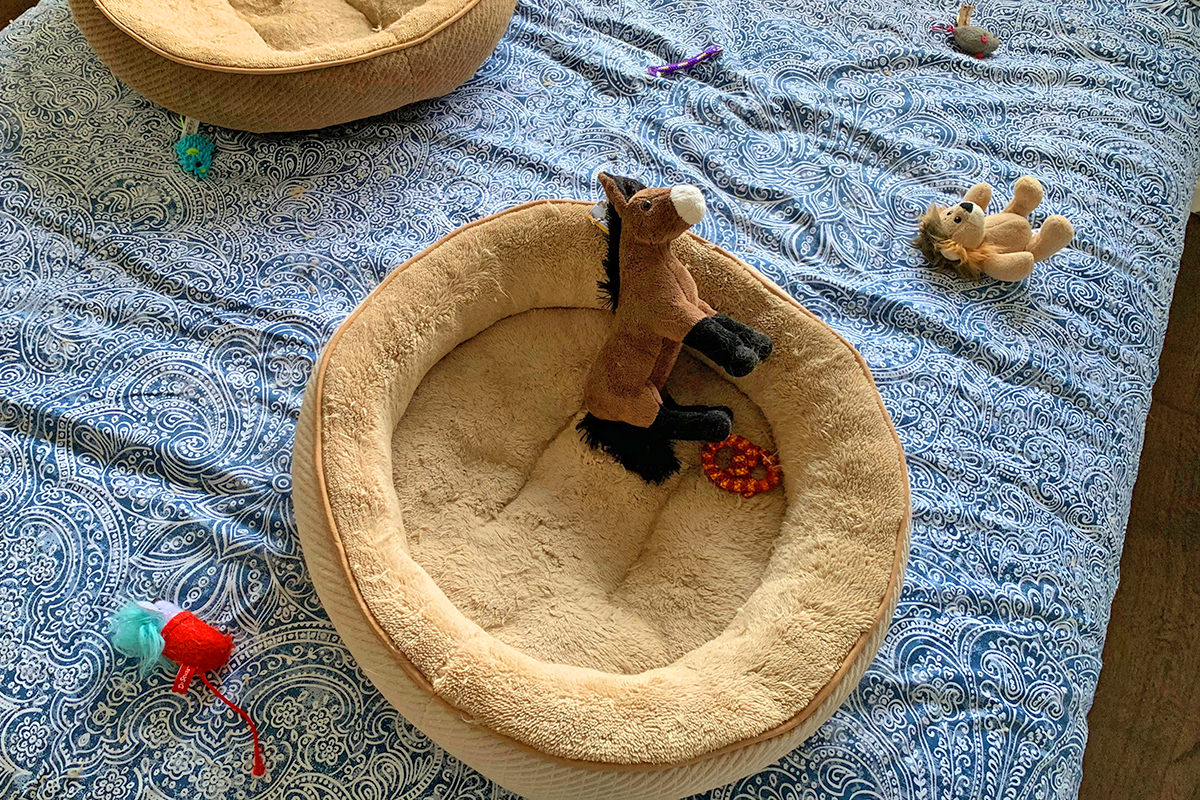 I honestly think that he feels he's hiding them from Jenny so she can't steal them. He's growing really tired of going to play with his toys only to find that Jenny has run off with them somewhere.
Not a very good hiding spot... on top of the bed... but hey, he's trying.
Posted on March 23rd, 2019

And lo Spring did sprung.
This is joyous time of year to be my cats because there's a lot of activity going on outside now that the snow is melting and critters are returning. Jake and Jenny are spending a lot of time looking out windows and being on high alert out in the catio...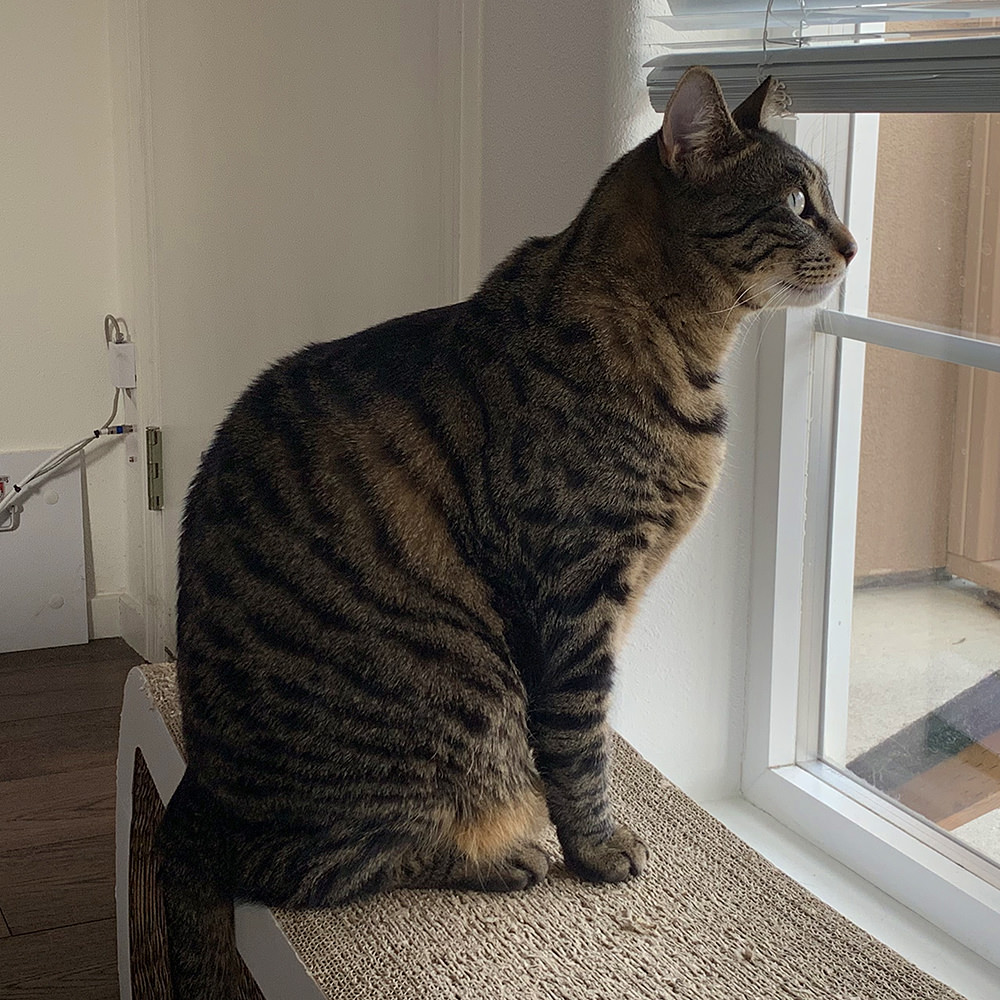 And it's melting so fast! This was the 19th...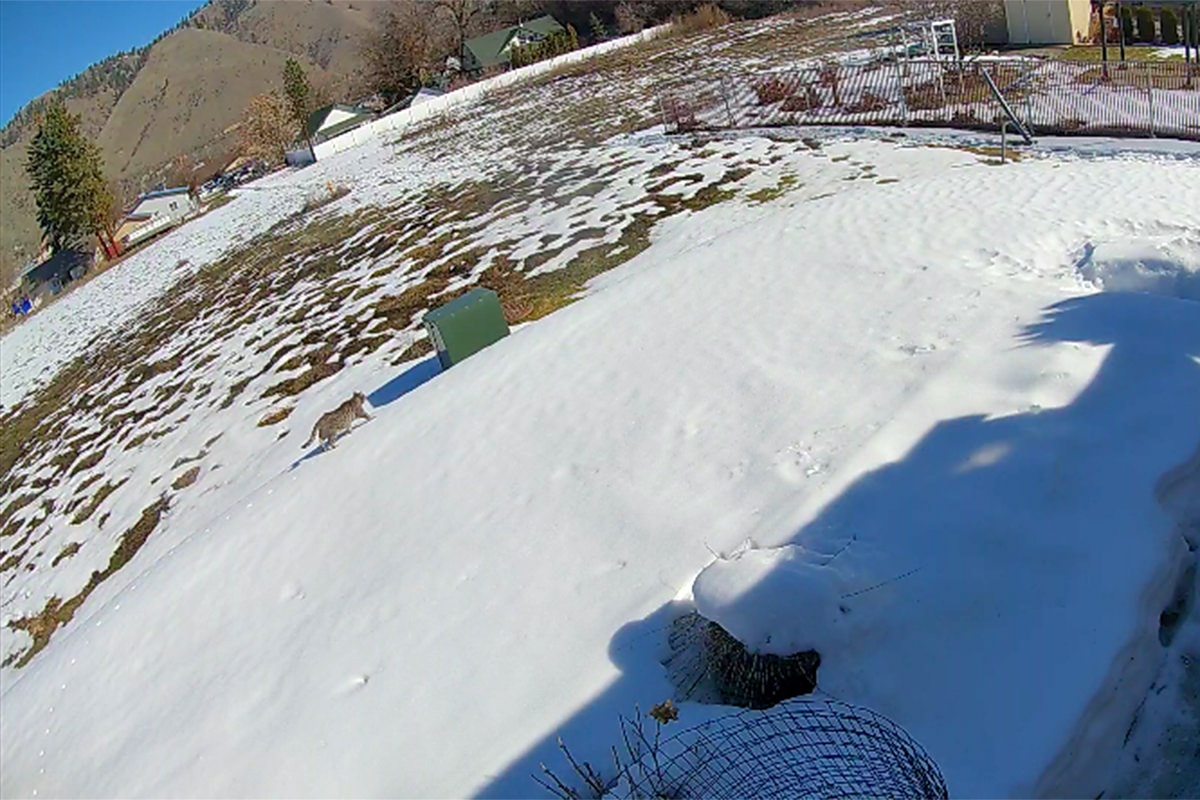 This was the 20th...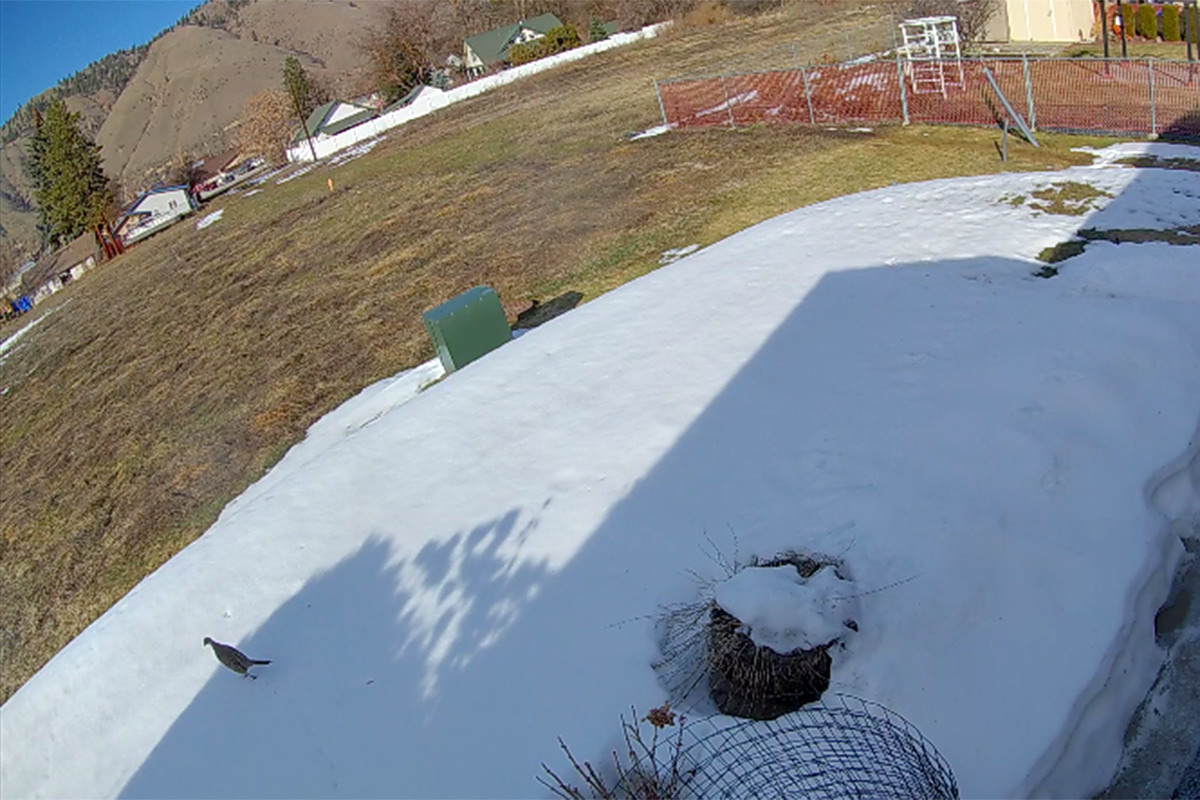 Ooh! Look! BIRD!!!
And here's this morning...
In front of the catio was a 5-inch-thick block of ice that formed from the roof run-off. It's now a tiny little piece. By the end of the day it will be gone.

As Spring arrives, the neighborhood cats are restless. Here's a list of what's roaming around (not their real names, these are just the names I call them)...

• Fake Jake. He's the cat everybody in my corner of the neighborhood has been caring for since his owners moved away and he didn't want to go with them. Last year I built a heated shelter for him when it got cold. This winter I put the heater back inside and he made it through just fine...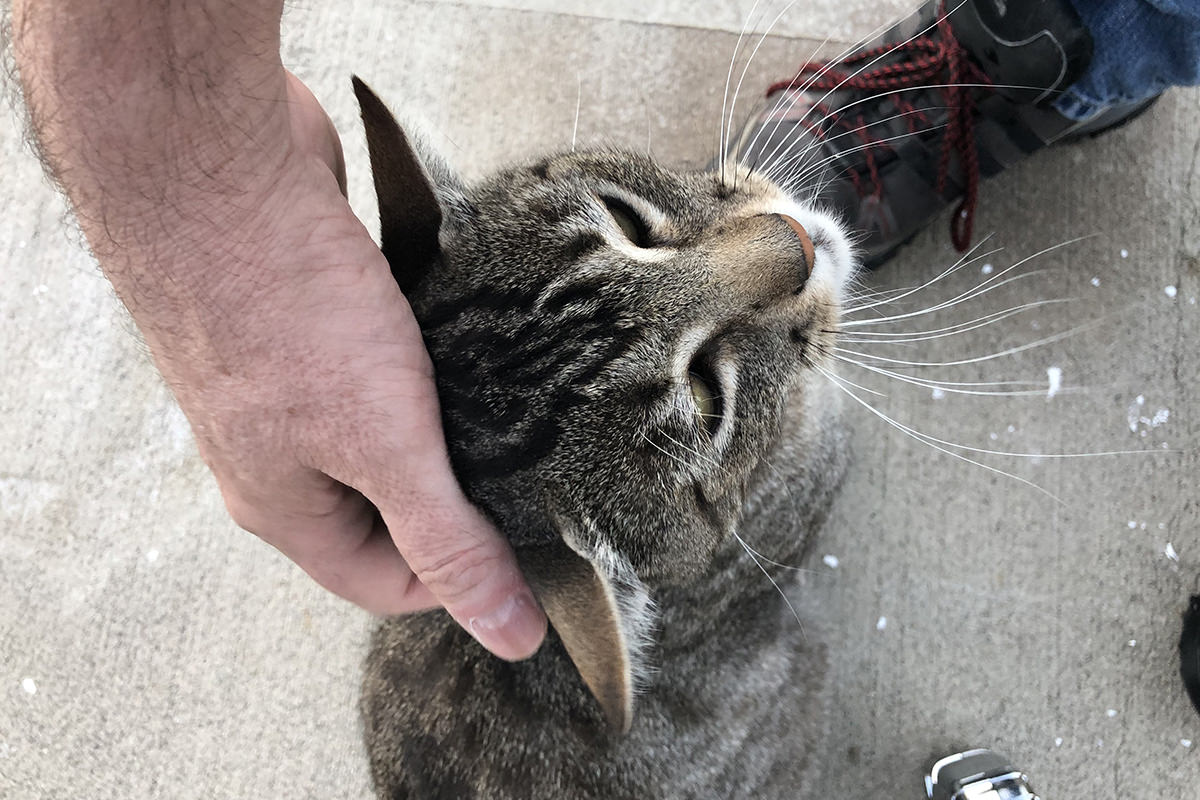 Now that it's warm out, he's spending less time in the cat shelter and more time sitting on people's cars... for a long while...

• Ghost. This is a small grey kitty that lives across the street. They seem to get along okay with Fake Jake, though sometimes he is not in the mood for company and will chase Ghost off. Any time I try to approach them, they run away...
Most of the time I see Ghost, they are following around Fake Jake...

• Charm. This is a big black cat that likes to wait outside the catio so he can visit with Jake. No idea where they live, but I'm thinking they definitely have a home. Seems sweet, but runs away when I try to pet them...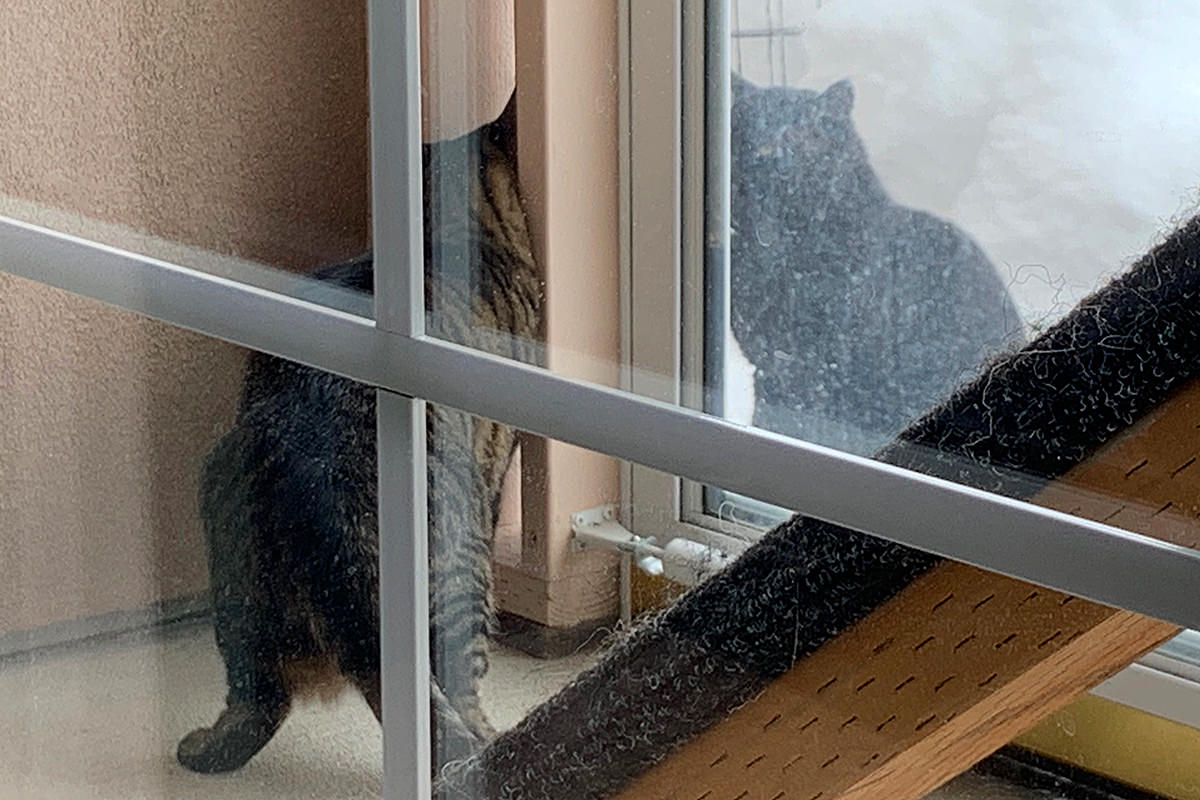 If Jake's not out in the catio, Charm will call for him to come out...

• Killer. This is a white and grey cat who is Fake Jake's mortal enemy. Doesn't come around much, but whenever they do, there's going to be a battle somewhere (turn up your volume on this one, because holy crap!)...
And here again...
I have never seen Killer in person. But in the videos you can see a collar tag glinting in the light, so they belong somewhere.

• Bongo. This is a big grey cat that doesn't want any trouble. They are happy to keep to themselves and walk away when another cat comes along. I rarely see him, because he avoids everything and everybody.

There are other cats around, but I don't see them often enough to know if they are just passing through or if they actually belong here. I'm just hoping that no more felines arrive. Fake Jake doesn't need the competition. I think he has his paws full as it is.
Posted on March 17th, 2019

I am not home on my 100th Caturday... I'm over the mountains saying goodbye to a friend.
It used to be that leaving my cats even for one night was a traumatic experience. Even with a house full of security cameras, I worried from the minute I walked out the door to the minute I walked back through. In my head I knew that cats were solitary, self-sufficient little beasts... but it's still tough not to worry about all the things that could go wrong when Jake and Jenny are left to fend for themselves.
But then I was gone for two weeks on an expedition to Antarctica. With no internet available to check the security cameras, I hired a pet sitter to stop by every day and make sure everything was okay. The rest I left the rest to fate.
Of course everything was fine. Eventually I started having the cat-sitter stop by every-other day instead of every day. Now I only hire a cat-sitter if I'm gone for more than five days. Everything from the litter boxes to the feeder is automated, so that's all that's needed.
Except...
Tonight, for the first time, the cat feeder jammed. A little bit of food dropped out and then... nothing.
I was going to call a neighbor to have them unclog it or put some food out manually, but I figured Jake and Jenny would be fine until I get home tomorrow. Having a small meal for dinner and getting a late breakfast wasn't going to kill them.
But don't tell them that.
Usually when I get home, Jake hears me fiddling with the door and comes running down to greet me. Jenny waits until she knows it's really me before she more cautiously comes to say hell.
But not tomorrow (this is being written on Sunday... sorry I'm late).
When I walked in they were not there. I called for them but they did not come. They weren't in the catio... the living room, or the guest bedroom. So I went upstaris and found them in the other guest bedroom...
Apparently they were pretty mad about having been ditched with a non-working cat feeder.
And they had no intention of forgiving me.
Until I went back down to the kitchen and started shaking the bag of cat treats. They forgave me really quickly after that.
Cat bribery works every time.
Posted on March 9th, 2019

Now that the weather has been nicer, Fake Jake is spending a lot more time outside of the heated shelter I built for him. The nights are still bitter cold though, so he's still hunkered down after sunset.
Many days he is waiting for me when I return home from work so he can get scratches. If it's warm out, I'll even leave the door open so he can visit with Jake through the screen door...
Fake Jake is too violent with other cats for me to risk letting him inside for a visit, but I think it's good for my cats to interact with other cats from time to time.
Though Jenny would still prefer to do so from a distance...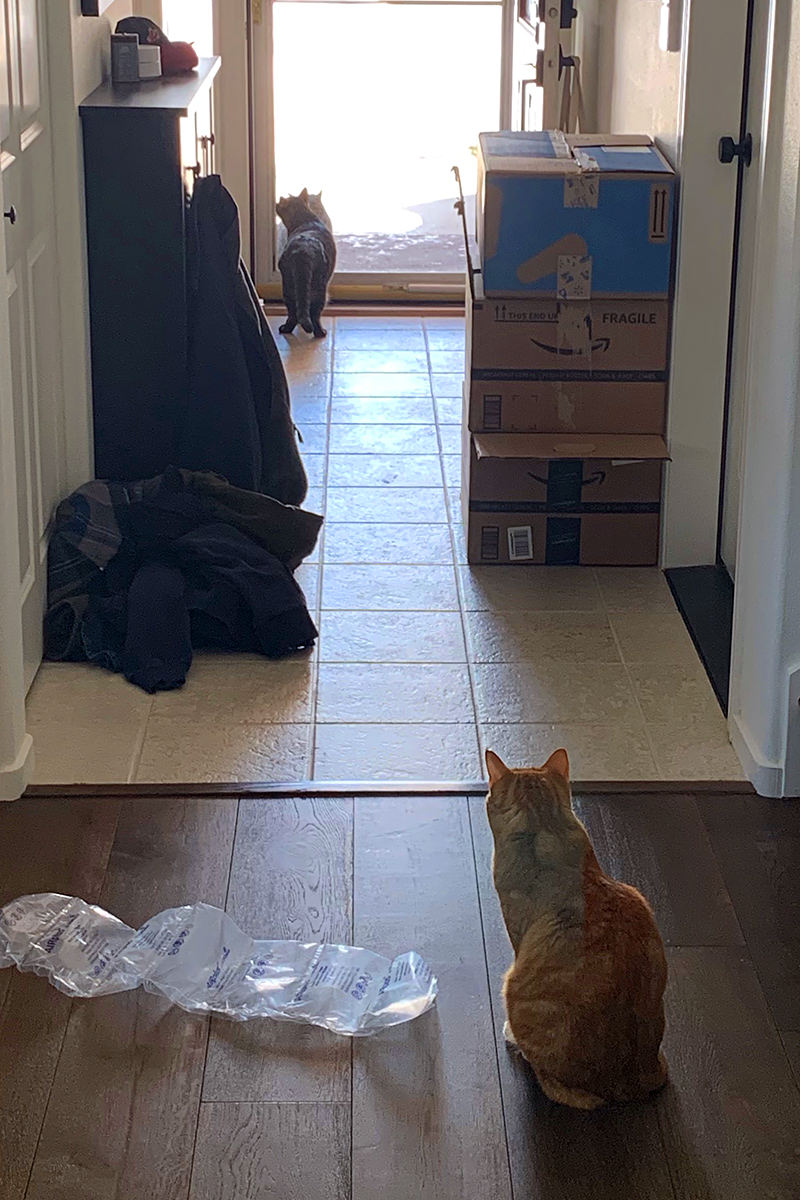 But not always. Sometimes when she's out in the catio, she'll sit quietly as one of the neighborhood cats walks by...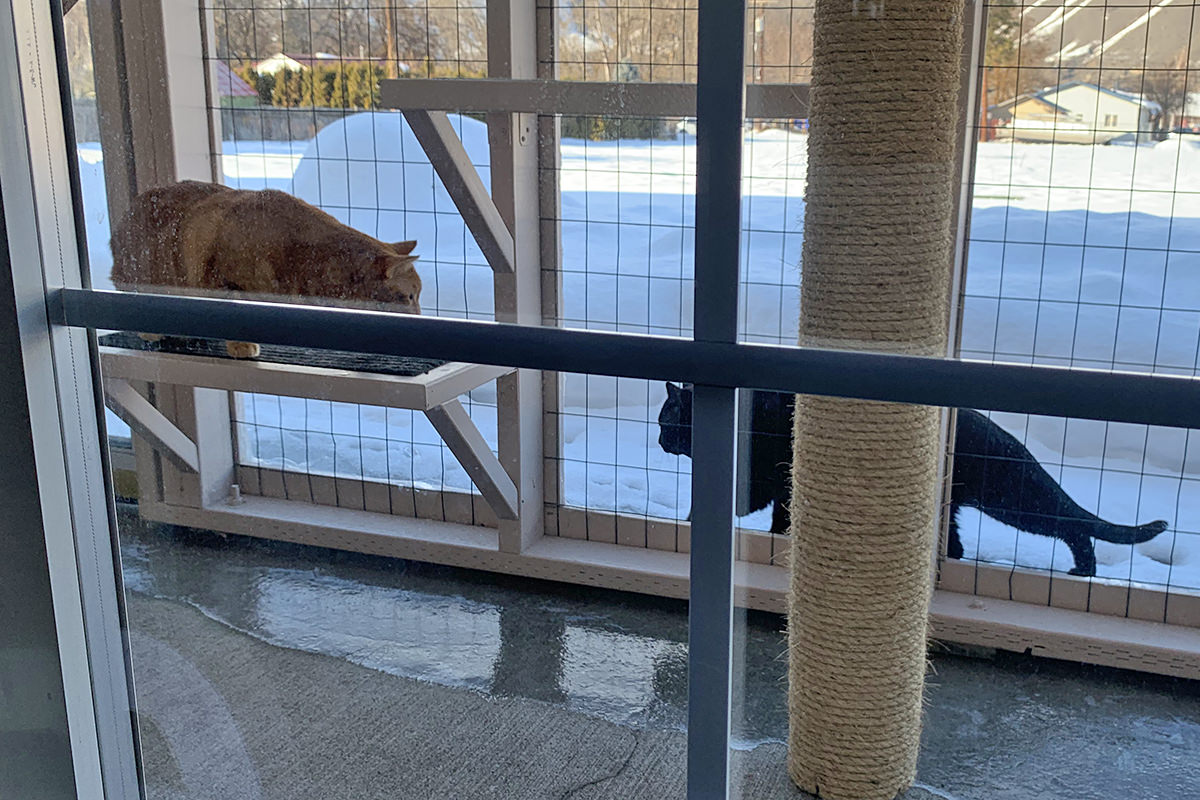 If they turn to engage her through the fence, however, she'll run back inside as fast as her little legs will carry her.
My cats have been doing a lot of rough-housing lately, but it must all be in good fun since they still get along just fine...
I'm really proud of Jenny. She will happily stand her ground (or even be the one to engage in battle) despite the fact that she's 1/3 smaller than Jake. This was not always the case. She used to run away if Jake even thought about taking a swipe at her. But now? She is a scheming death machine who will happily hide in waiting to ambush Jake when she is feeling sassy.
Last night Jake shoved her out of her cat bed (again) at which point she retreated to the cat tree so she could stare daggers down at him...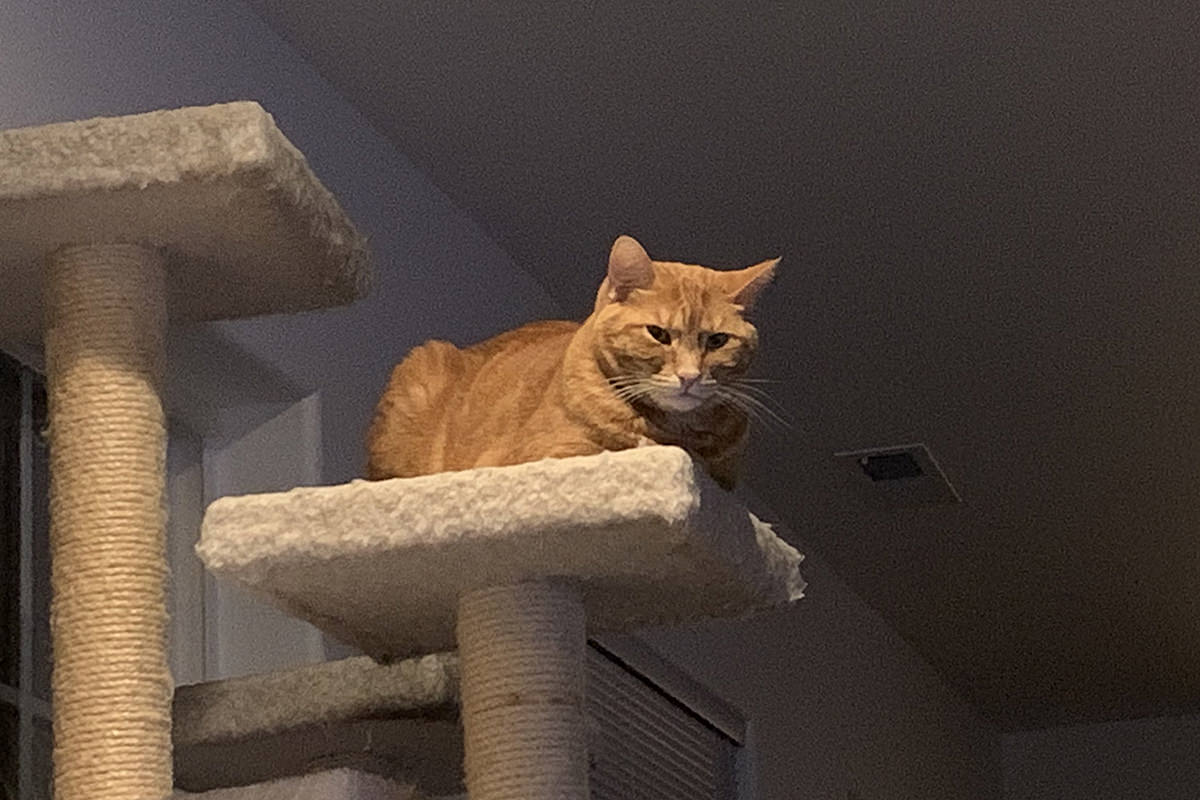 Meanwhile Jake is blissfully unaware that death is lurking from above...
Lucky for Jake, Jenny was really tired and face-planted while she was planning her attack...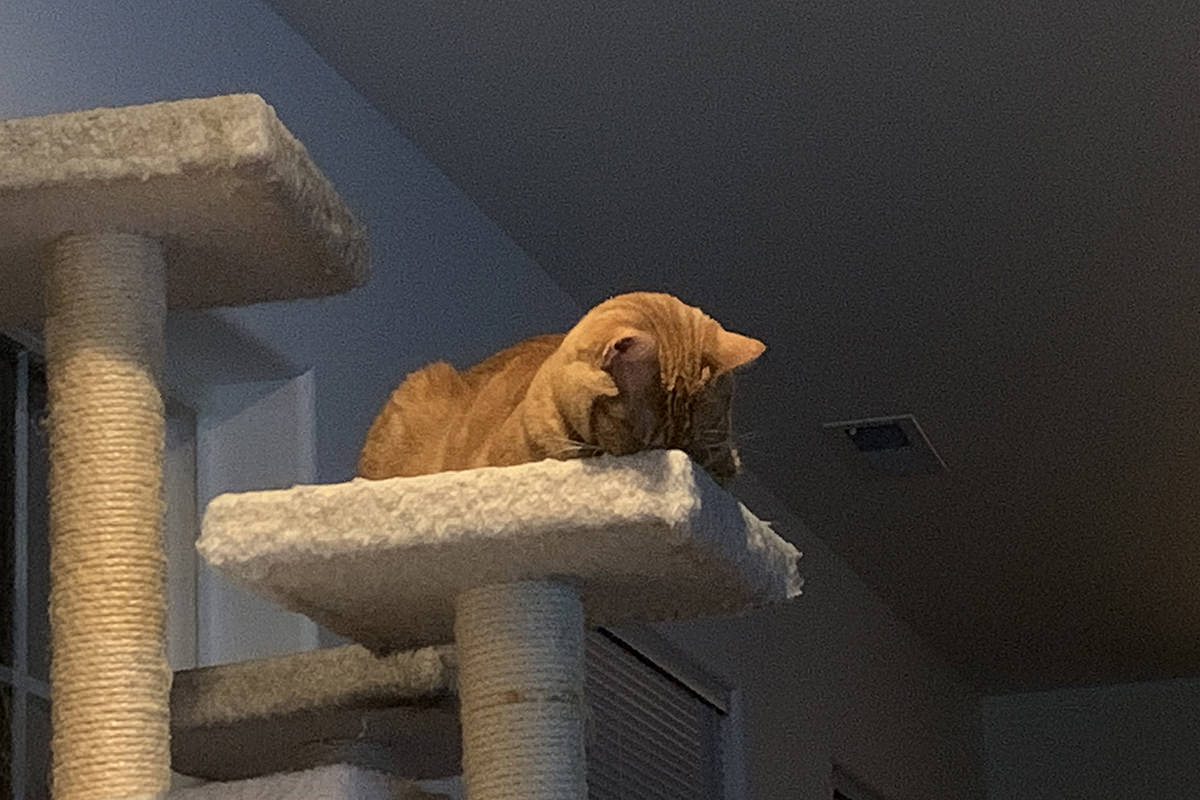 This has been an incredibly difficult week for me, and I think my cats can sense that. On the days I've spent home, they've worked in shifts to keep me company. Jake has even taken to spending the entire night sleeping next to me...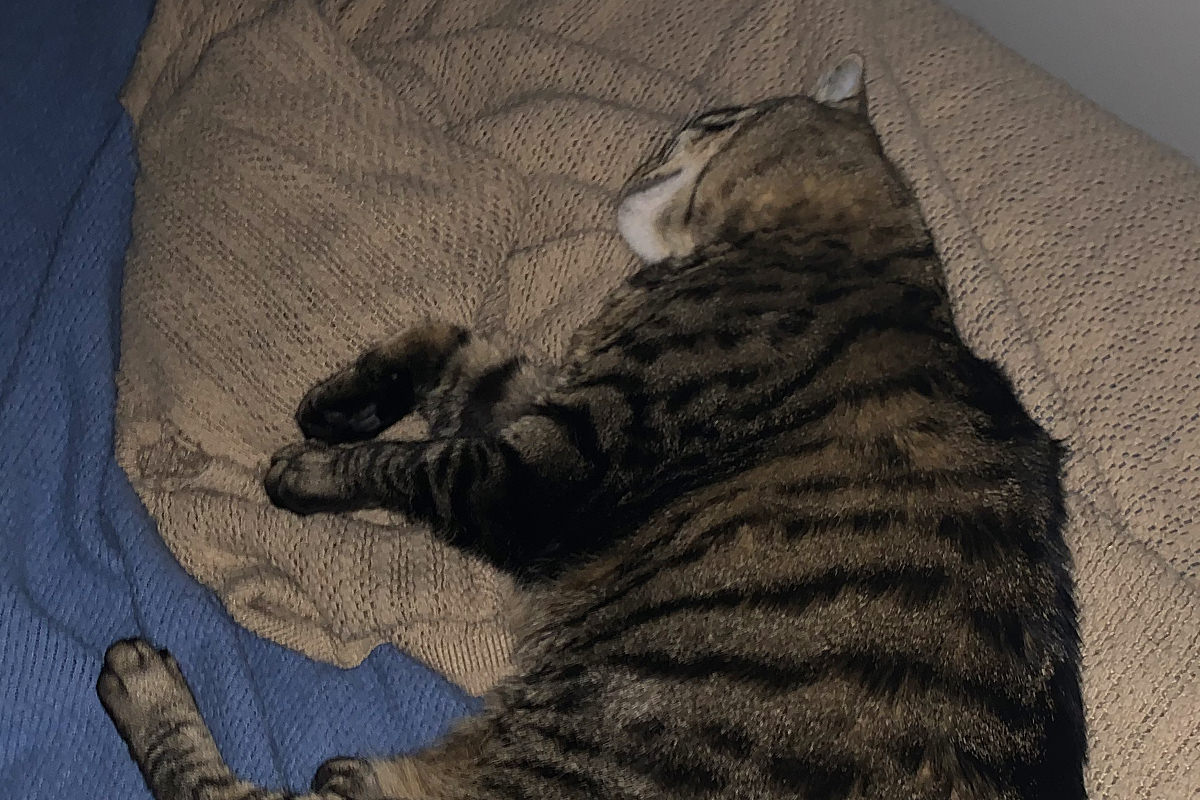 This is a bit unusual because usually Jake and Jenny will only sleep next to me while I'm awake and petting them. The minute I fall asleep and stop petting them, they'll leave.
And speaking of leaving... looks like we've come to the end of another Caturday.

UPDATE: Tonight was a night filled with cat drama. Jake and Jenny saw raccoons outside and got all fired up. This resulted in a lot of running around the house for no particular reason. But, so long as they are entertained, I'm entertained.
Until...
There I was catching up on television when I heard a massive crash upstairs. After running up to see what happened, I see that my nightstand has been knocked over. Jenny is sitting there like "Whut?" and Jake is nowhere to be found. Eventually I find him under the bed and manage to coax him out. Unfortunately he's limping, which has me filled with dread over a possible vet visit. But... Jake's done this before, so I stop panicking and wait it out. Sure enough, pretty soon he forgets that he was ever limping.
All of my dressers and shelves have been anchored to the wall. I heard about kids getting squashed by unanchored furniture, so I took no chances with my cats. It never occurred to me to anchor the nightstands because they're so small... but I guess that's something I need to look into.
Posted on February 23rd, 2019

Like most people with cats, I do what I can to keep them amused. I put cat trees in the windows so they can look out. I buy all kinds of toys. I put scratching posts everywhere. I built a catio so they can go outside. And I play with them when I can find time.
But Jake and Jenny are also fairly inventive when it comes to entertaining themselves. Which mostly involves them chasing each other all around the house.
Jake's latest entertainment? Climbing up to the top perch in the catio, knocking icicles off the roof, then running down and playing with any pieces that landed inside the catio...
Jenny doesn't like the racket, but will gladly go out and play with any ice on the ground once the commotion is over.
The icicles on the catio are pretty small. They don't have the water volume to get very big, so they're not much of a danger. The icicles off the roof, however, are pretty severe. Once Jake and Jenny hear one drop, both cats will rush to the window and hang out for long periods of time waiting for more to drop...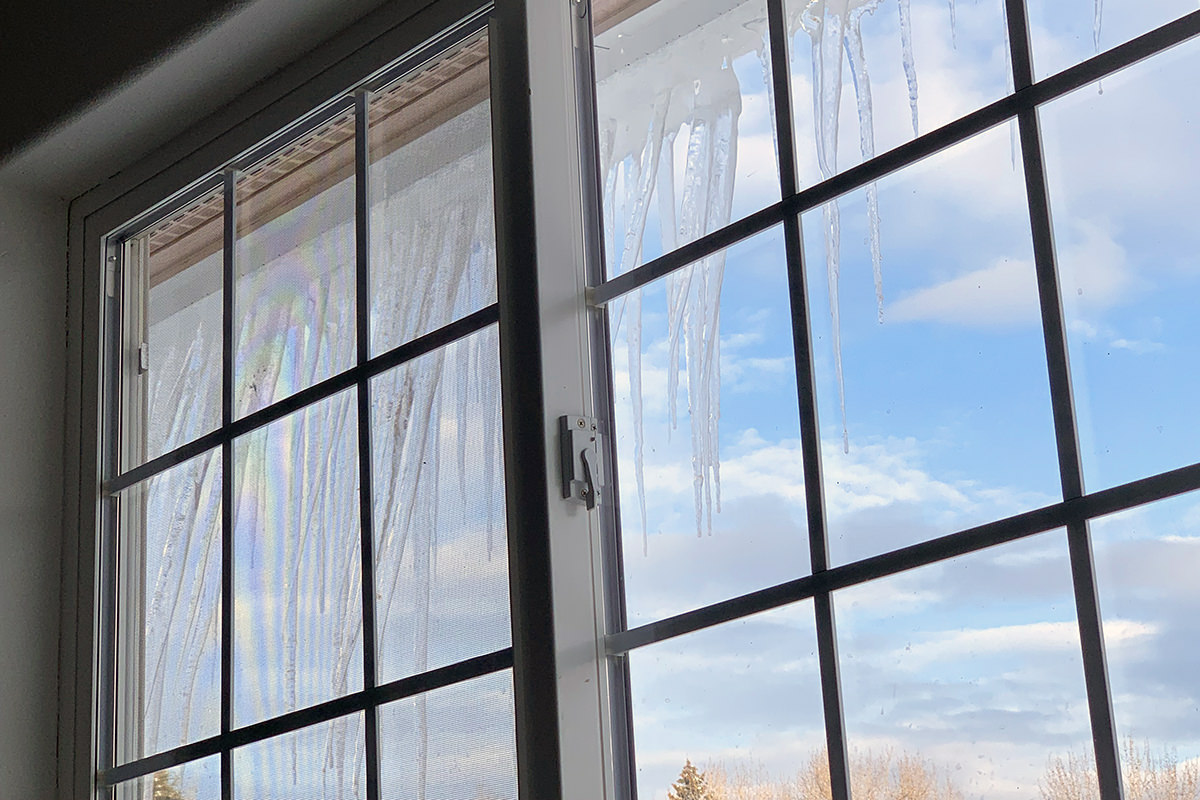 Unfortunately, Jake will stare out any window waiting for icicles, even on a side of the house where there are no icicles. My neighbor slams a car door and away he goes, staring not at the neighbors, but at the roof-line...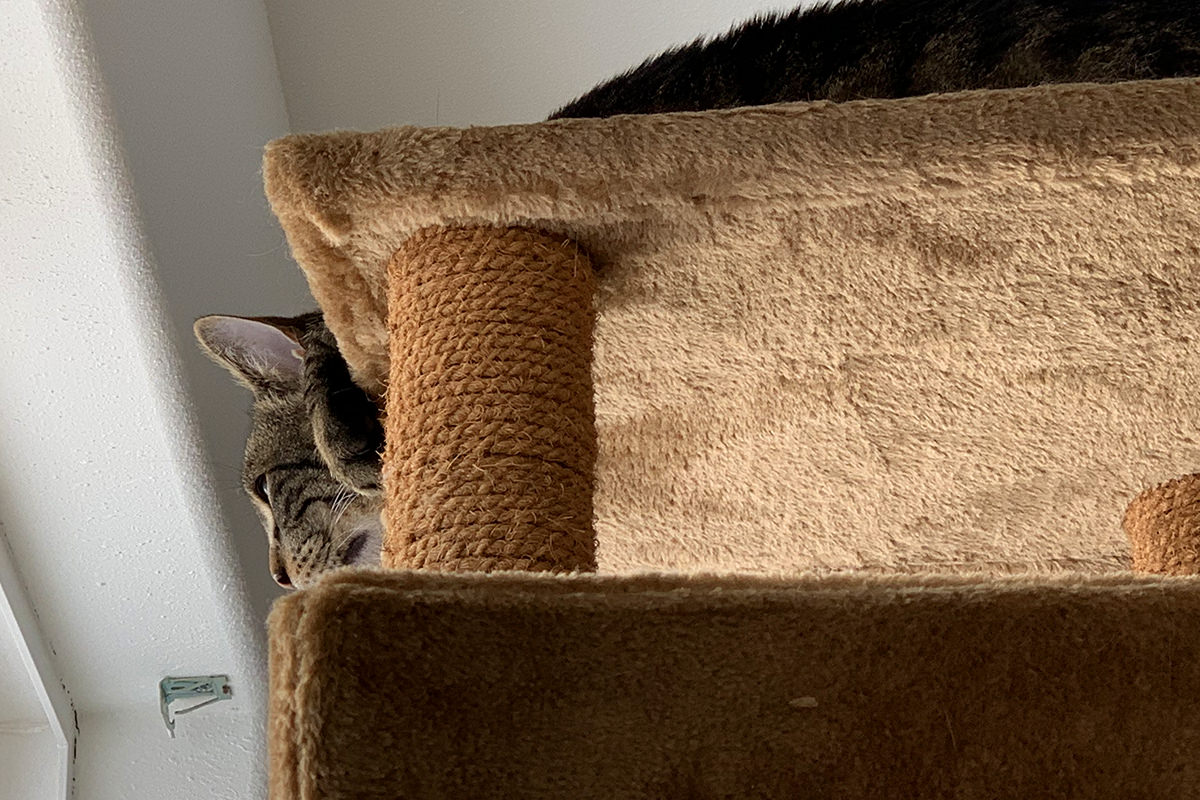 It's okay that he's not terribly bright, because he's awfully handsome...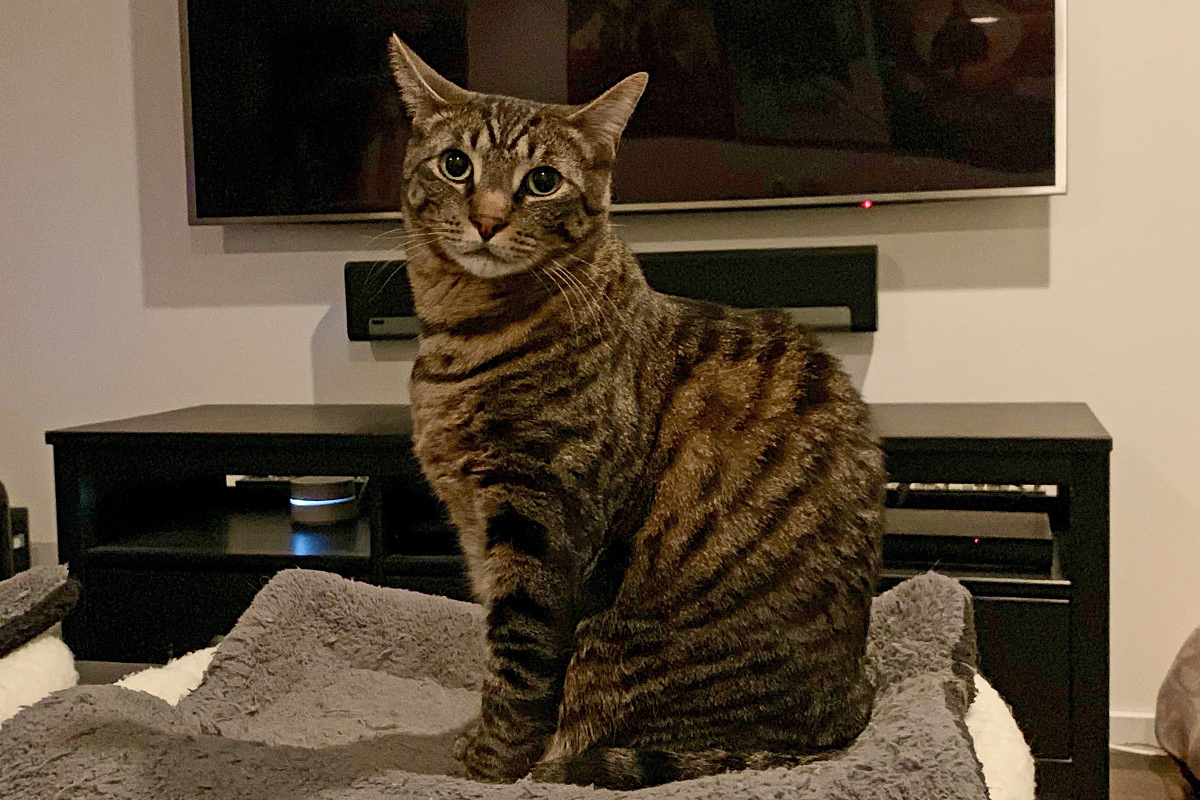 Maybe once the icicles are gone, I'll have to see if tossing some ice cubes in the catio will end up being something they want to play with. It's certainly worth a shot because it beats spending money on toys they get bored of in ten minutes.
Posted on February 9th, 2019

And so we're in the middle of a Winter Storm Warning.
Which sounds like a bad thing, but I'm so grateful that there will be more snow accumulating in the mountains that I just don't care. Not having to go through a drought come Summer is worth it.
Jake doesn't care much about the snow or rain. He mostly ignores the weather. If the snow is really coming down, he might go out in the catio and watch for a while. Jenny on the other hand?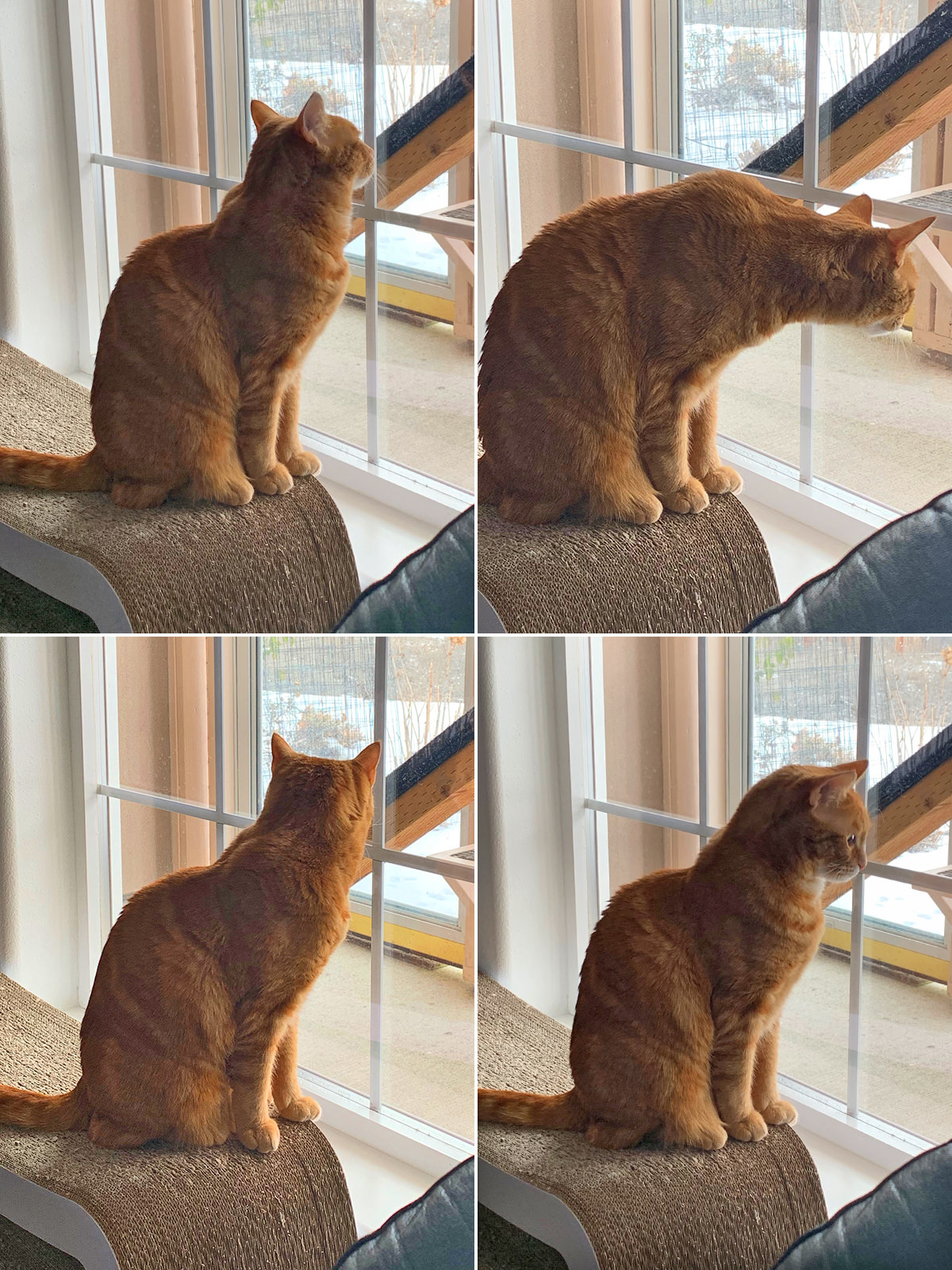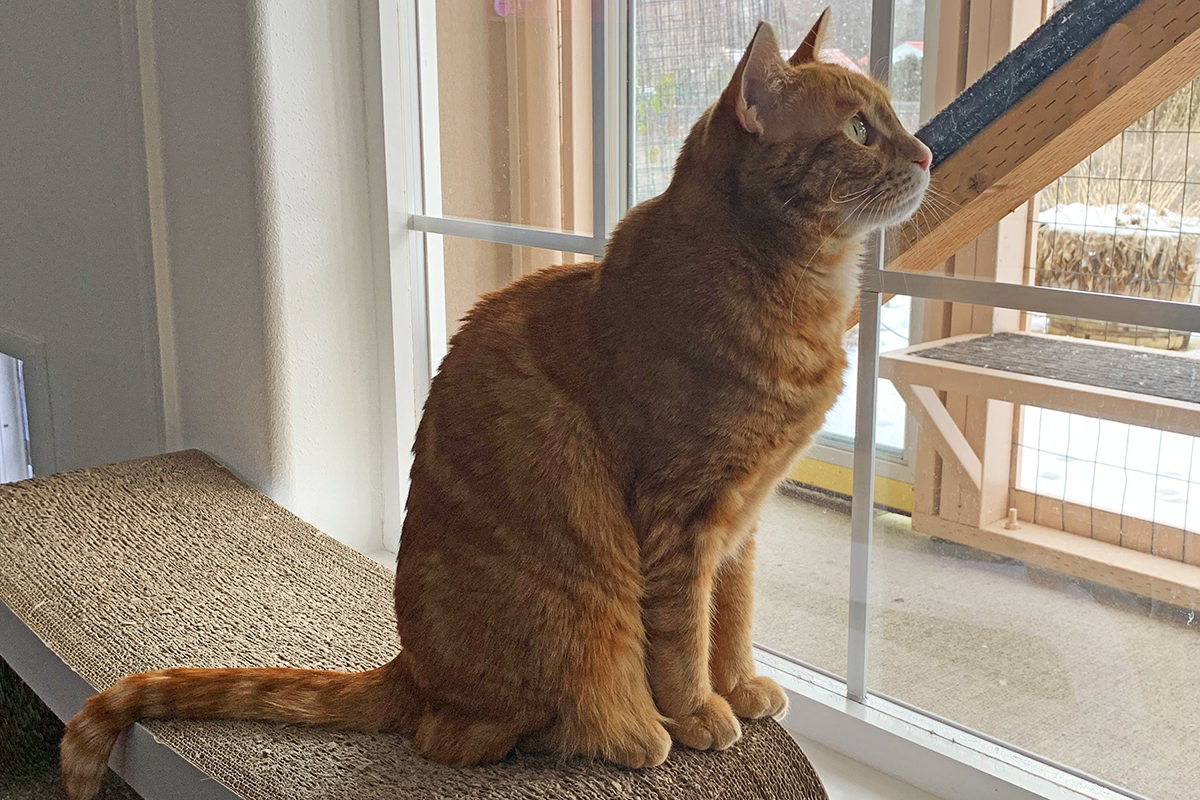 Jenny is greatly upset by the weather. When it rains, she meows at the drops falling on the roof. When she sees big snowflakes falling, she meows at them (and her brother) through the window...
Or hides in a paper bag...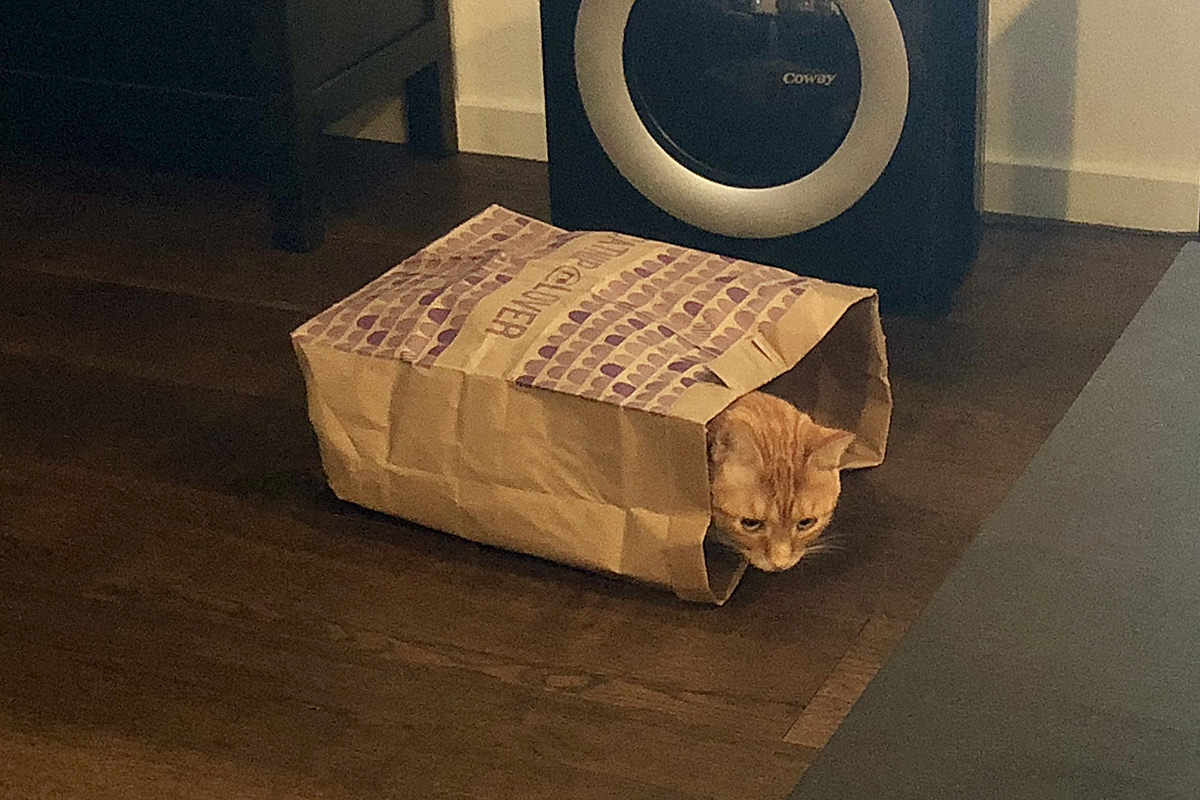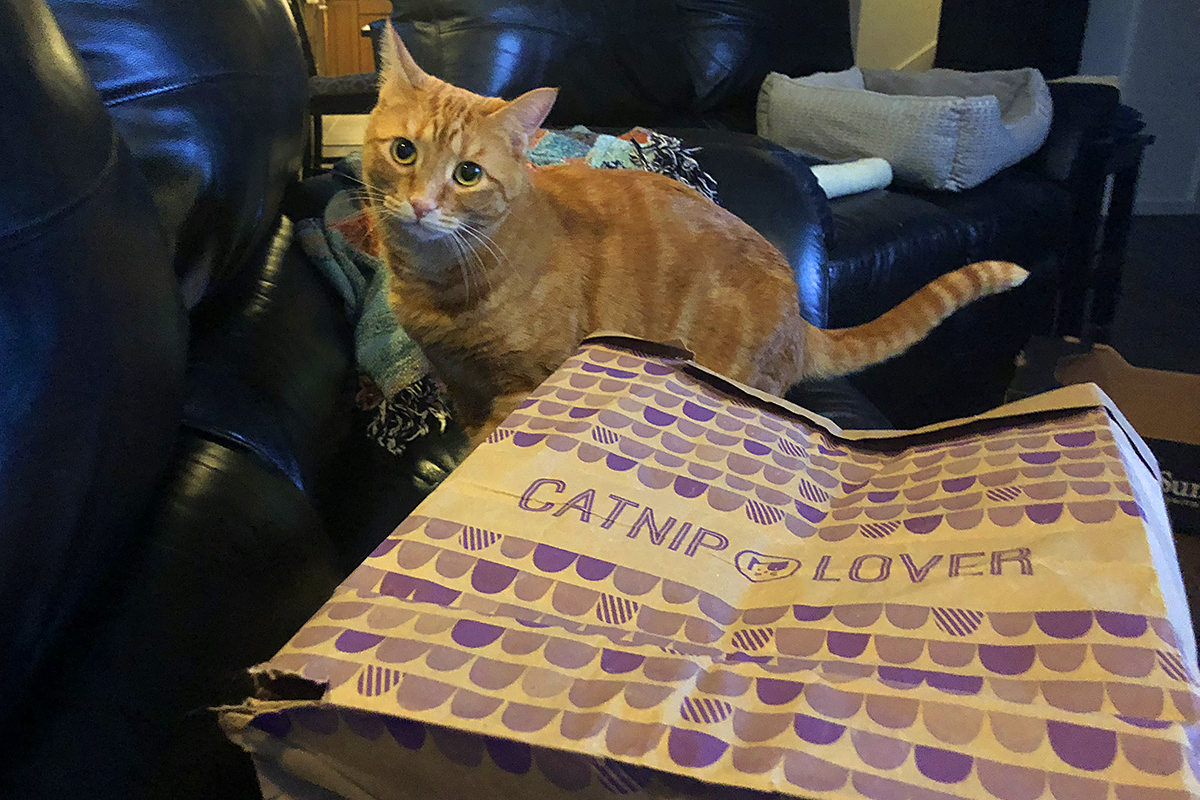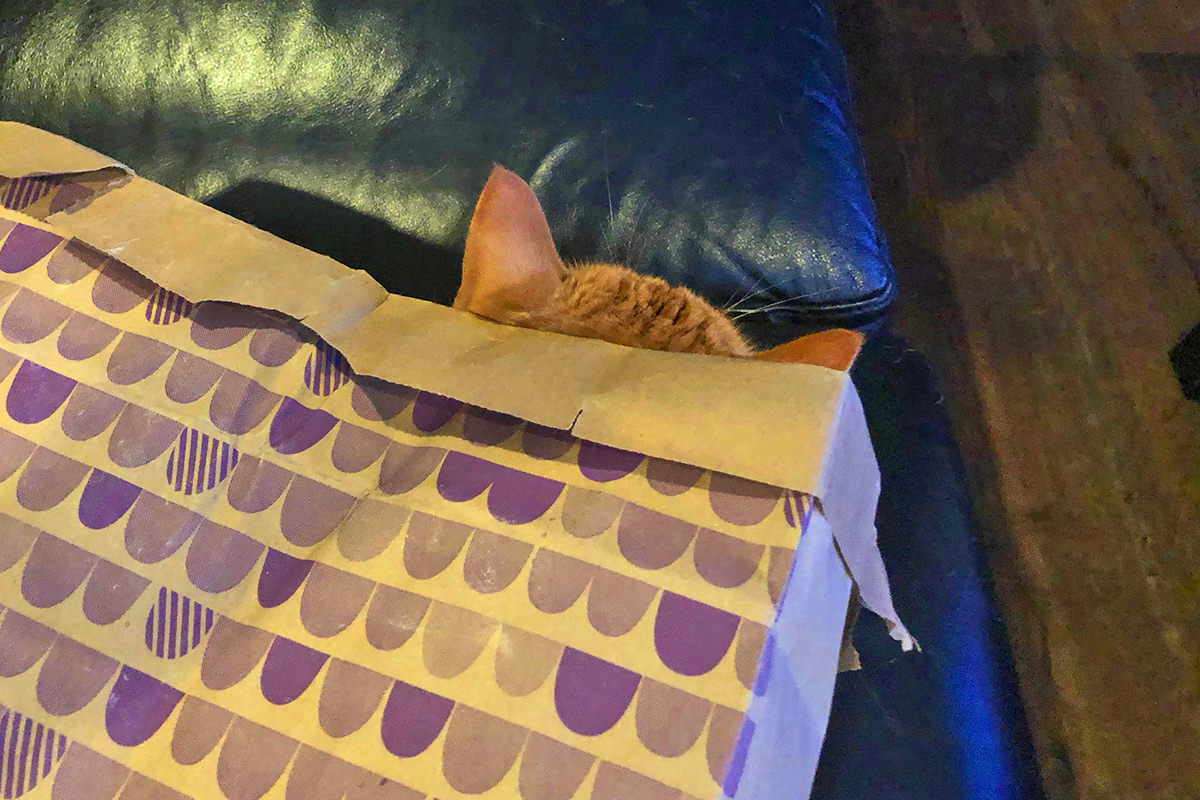 In other news... Jenny is still stealing Mufasa from Jake whenever he does something to piss her off.
So there I was headed to take a shower when Jenny comes charging up the stairs with Mufasa in her mouth at top speed. She dashes into her bedroom and I hear rustling as she runs through the cat tunnel... then strolls out of the room like nothing happened. I must say, this is not a very inventive hiding spot...
Don't worry about Jake though. He knows how to console himself by eating my junk food picnic...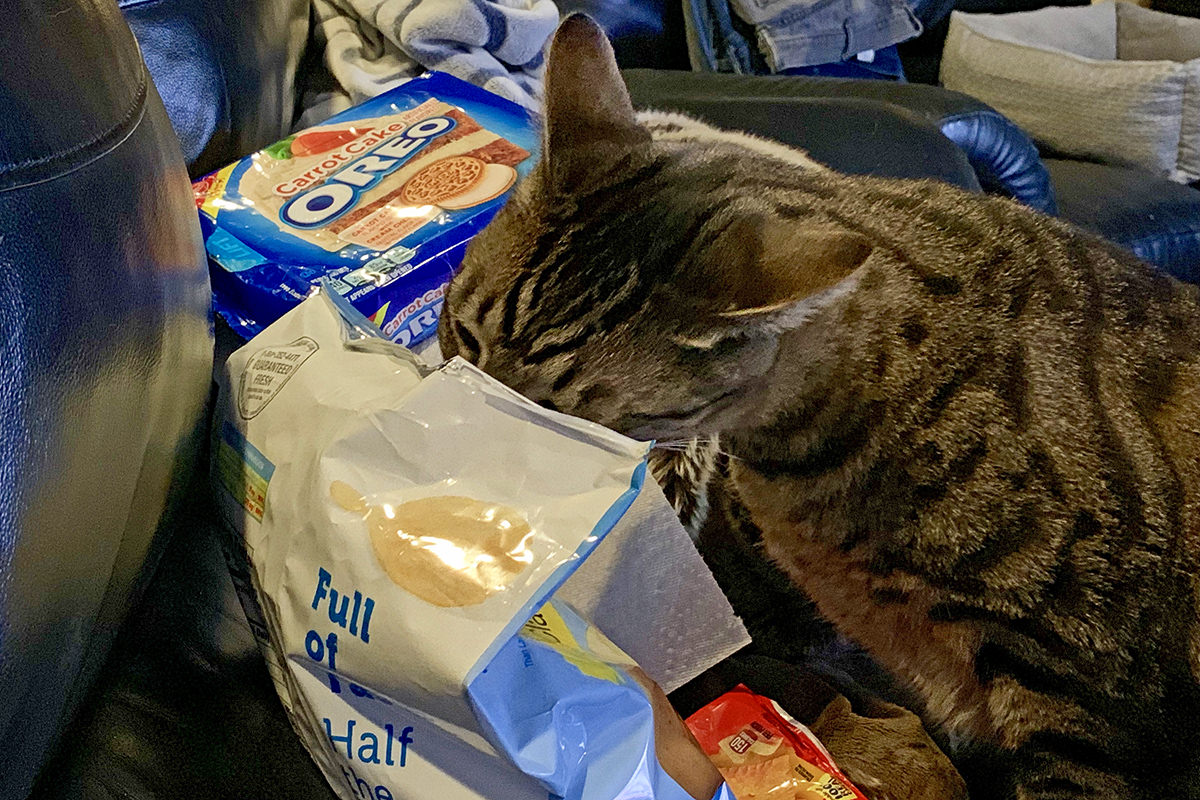 And demanding consolation scratches...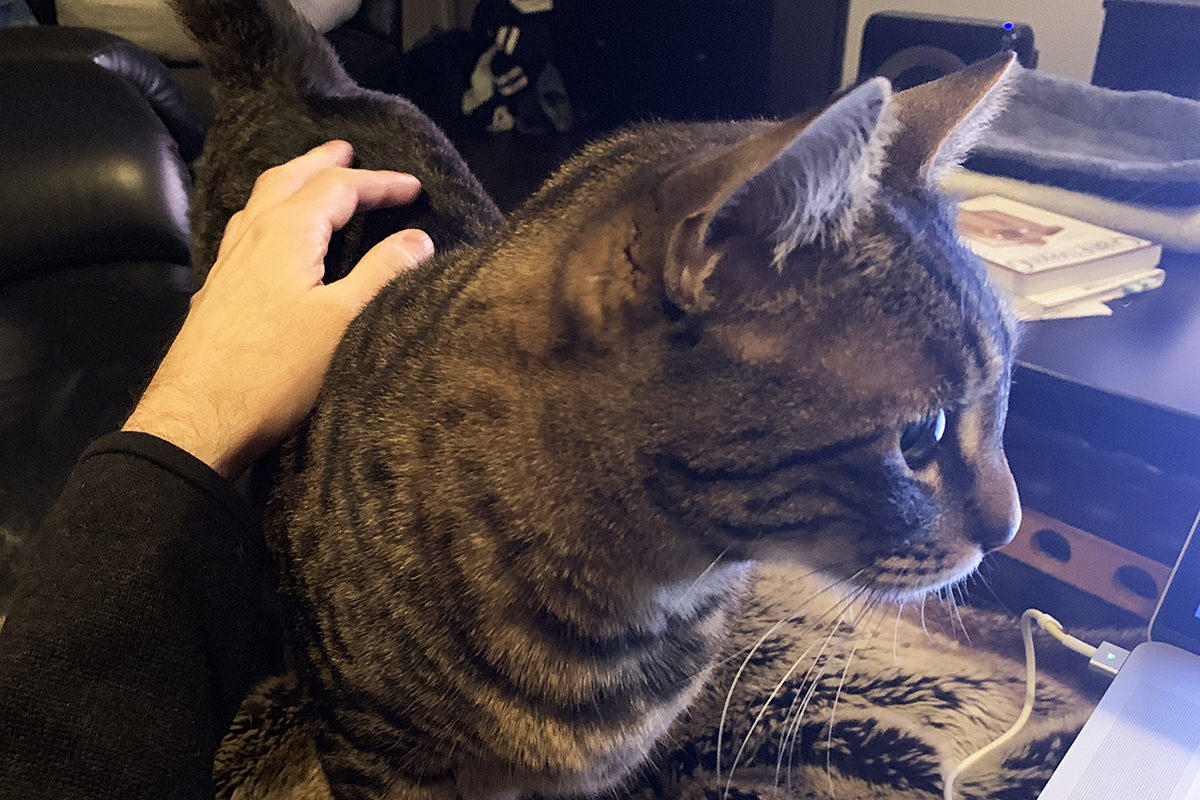 And... it looks like the foot of snow we got is going to be it. Not much of a "winter storm" if you ask me.
But don't try to tell Jenny that.
Posted on February 2nd, 2019

As I've bragged many times, my cats are remarkably well-behaved.
They don't bother me when I'm sleeping. They don't scratch or chew on things they shouldn't. They rarely go where they're not supposed to. And they really don't try to get at my food while I'm eating it. Even Jake has the manners to wait until I'm finished before sniffing my dishes for crumbs. Jenny, on the other hand, doesn't seem interested in people food at all.
At least that's what I thought... until she made a bee-line for my chip dip...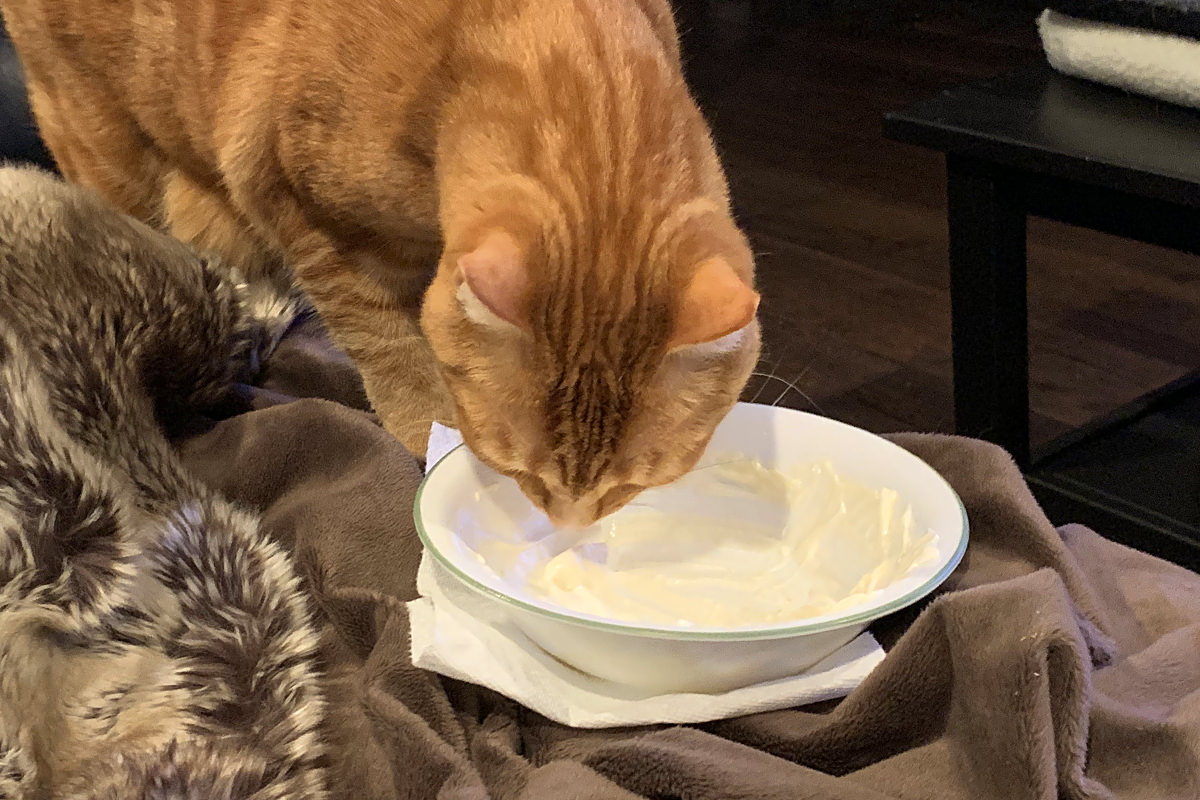 Once she smelled garlic, she was over it in a real hurry, however.
Instead she and Jake decided to stare me down in the hopes of getting an early dinner...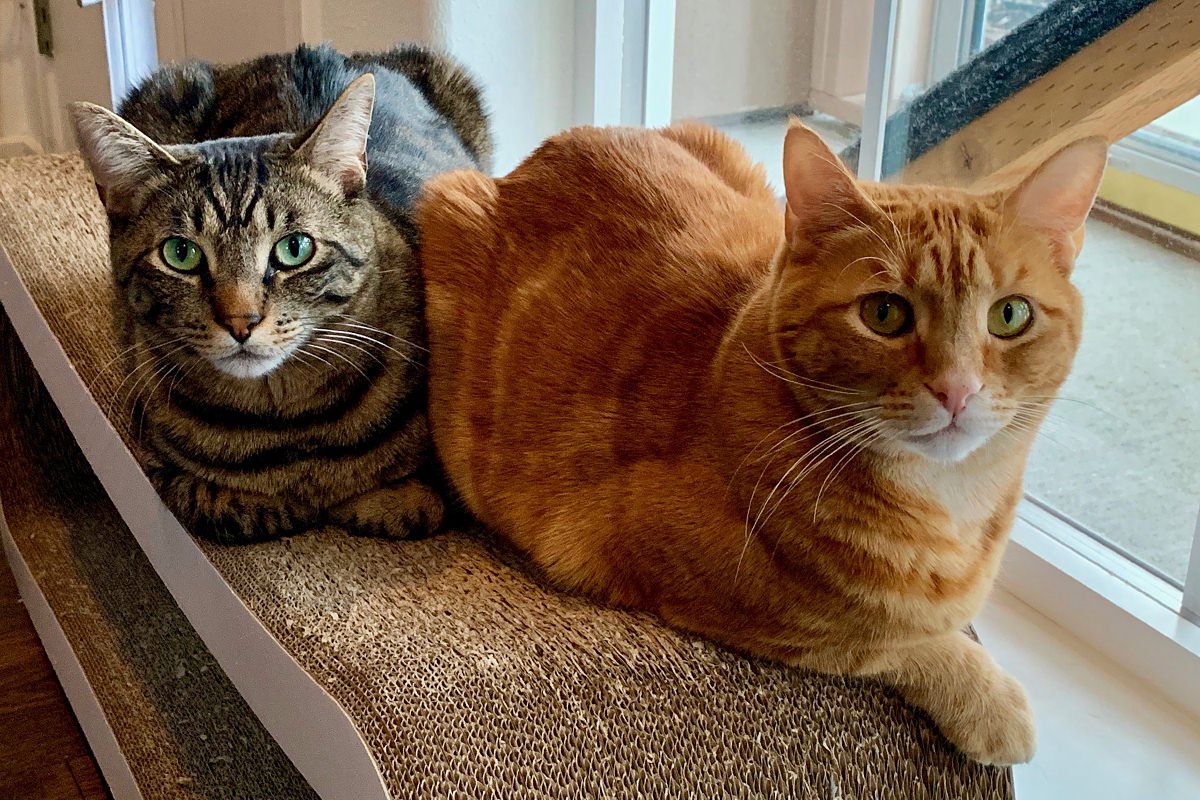 In other news, Jake has started snuggling up with me since his sister has been getting more and more annoyed with him trying to snuggle up to her...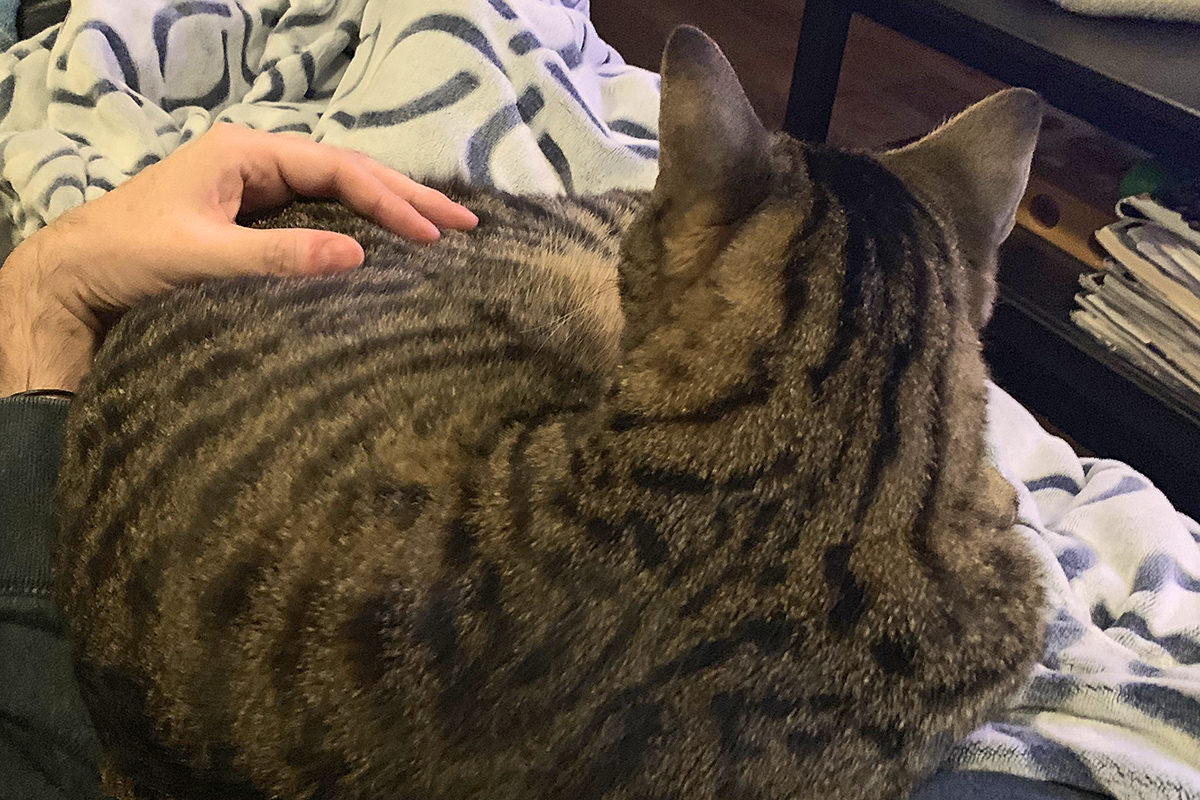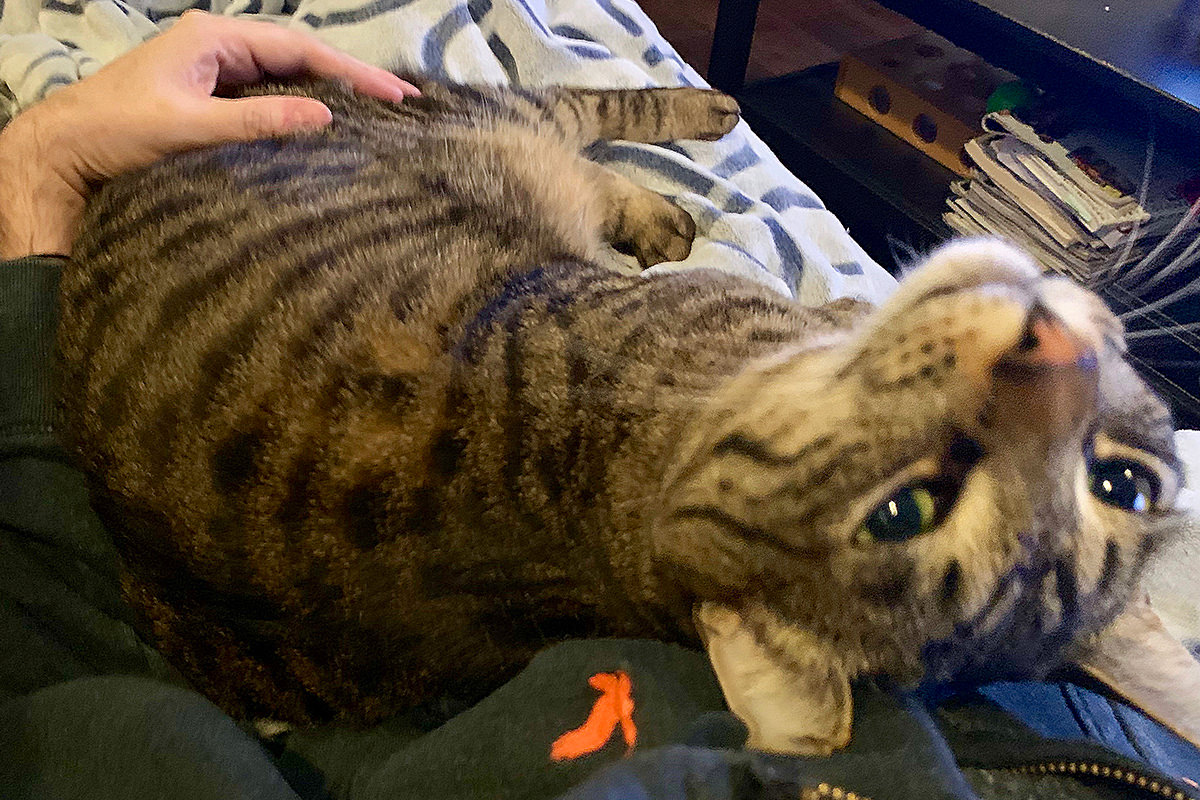 Jenny, who has always loved watching television, has started getting interested in computer videos now. Last night I was watching an otter video when she leaped up on the couch behind me to take a look...
She must really like otters, because she came in for a closer look...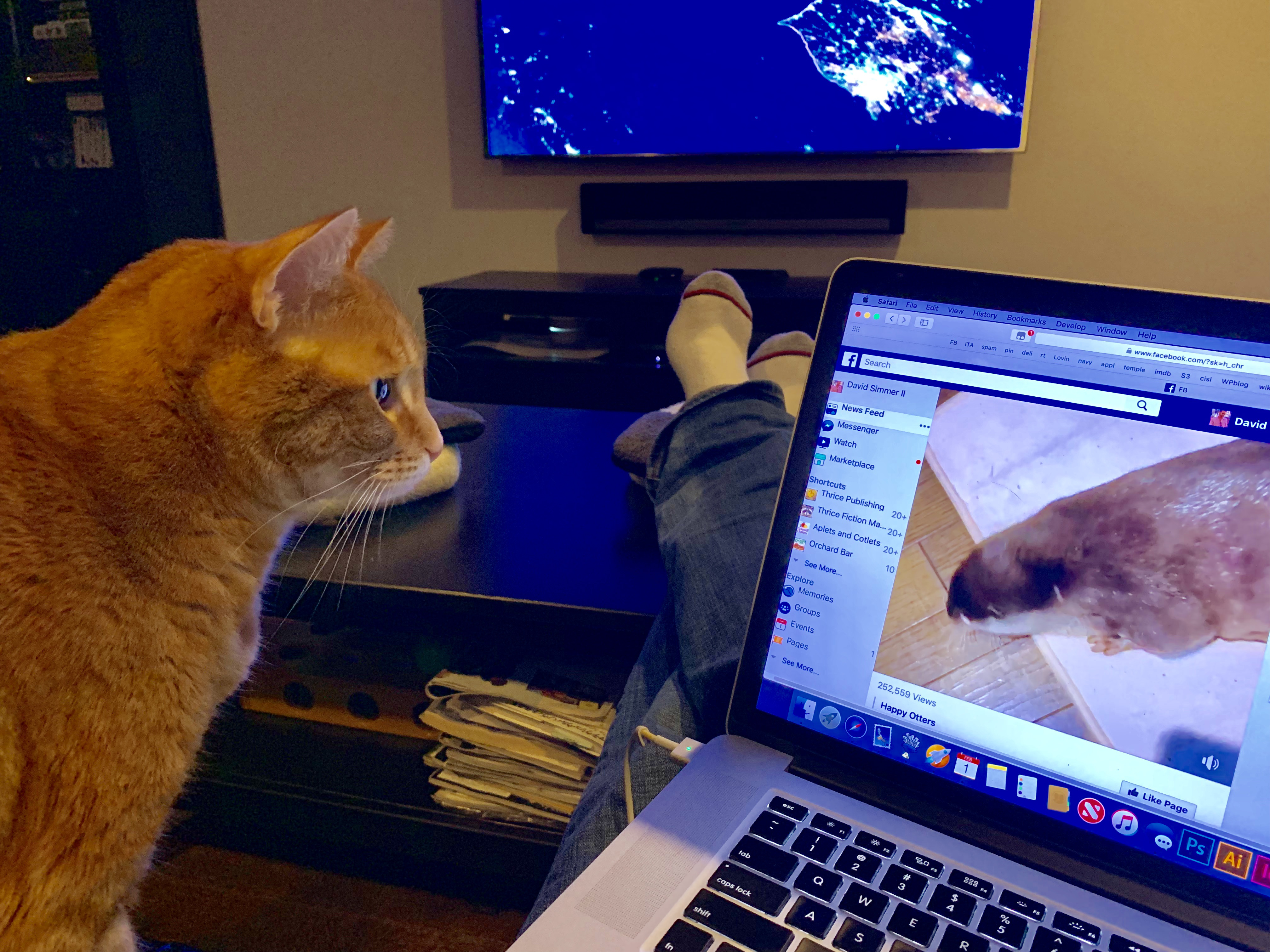 Guess I need to install YouTube on the cats' iPad.
Posted on January 26th, 2019

This morning Jenny demanded belly rubs after she had breakfast. She hopped on the bed, sauntered up to me, then flopped over on her back and waited impatiently. I was happy to comply... except she was irritated at the way I was rubbing her belly. She'd grunt. She'd flop around. She'd paw at my hand to move it. She'd contort herself to get me to the right spot. But no matter what I did, Jenny was having none of it. She kept getting more and more frustrated until she meowed in disgust and walked off.
When I went downstairs to work while my bread was rising, Jenny sat next to me on the back of the couch, but refused to look at me no matter how many times I tried to talk to her...
After some butt-scratches for a little while, she started to forgive me, but was still perturbed...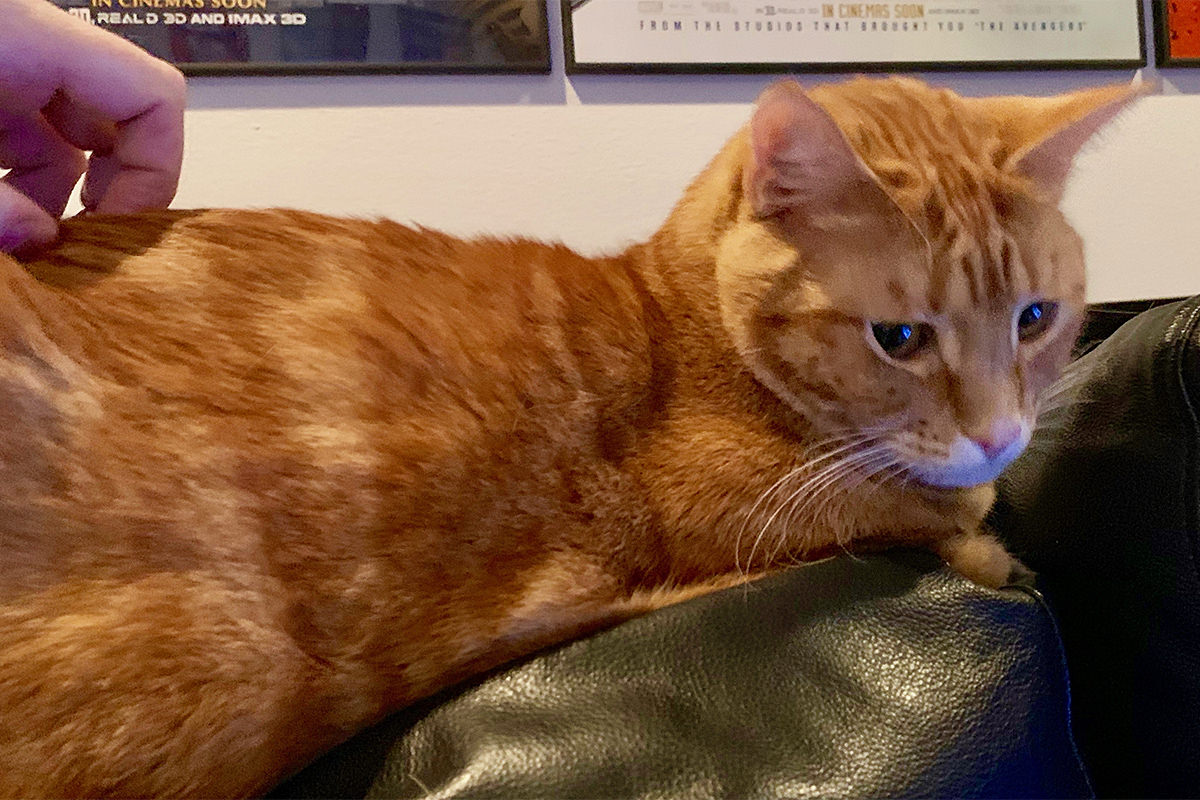 There are times I'd give anything to be able to talk to my cats. This was one of those times.
But then, with a little patience...>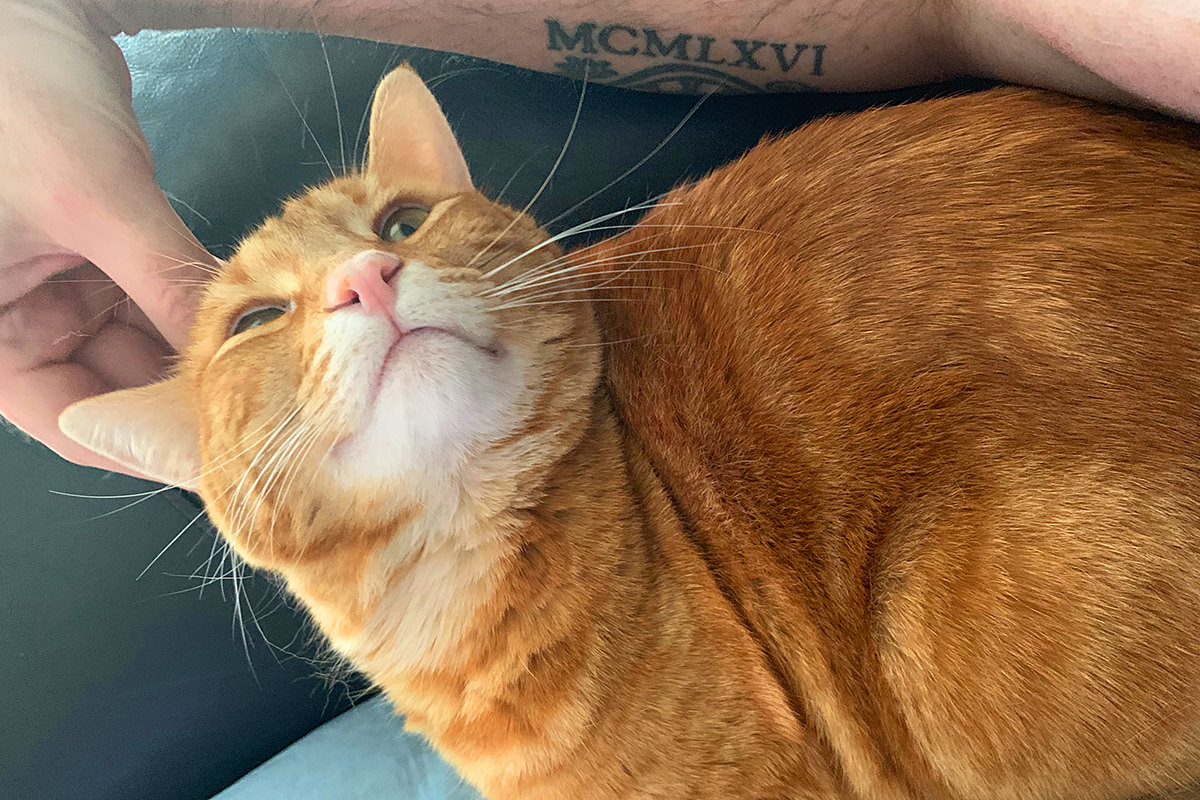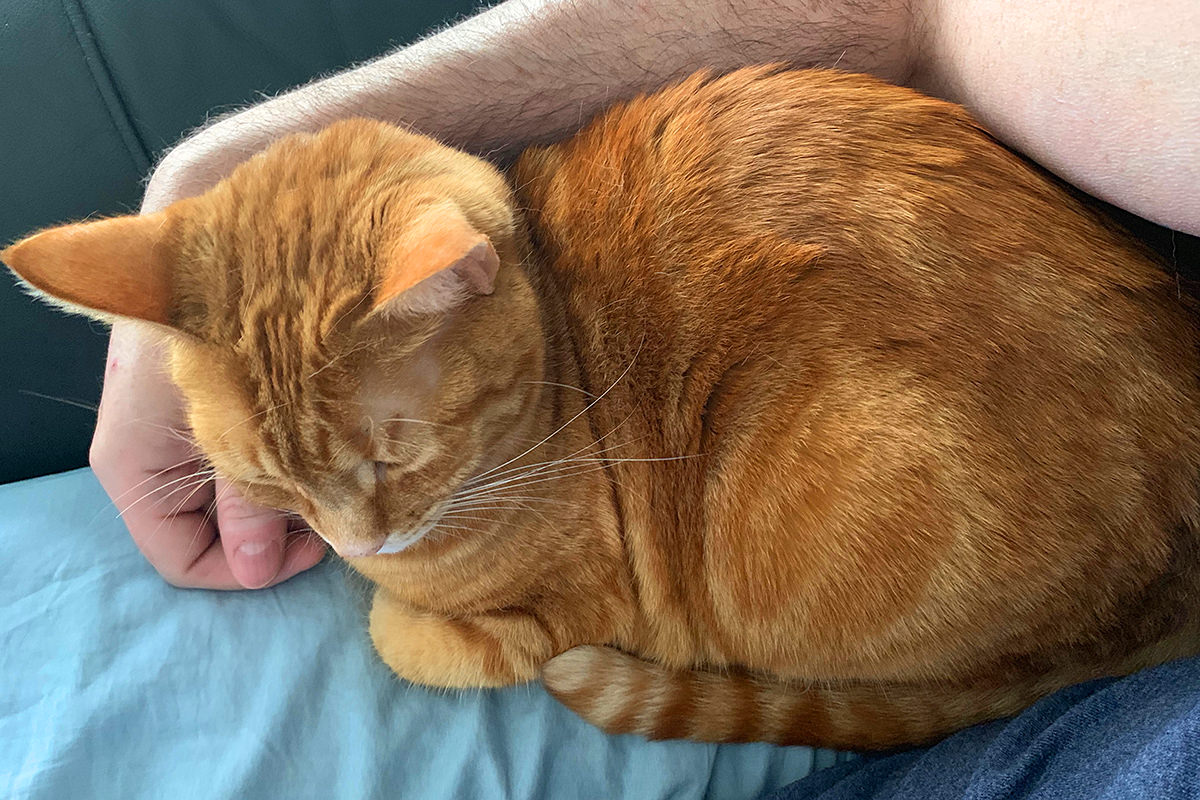 In other news... my cats are still trying to kill me. Yesterday's morning tributes included Mufasa, a piece of rope I used to make the massive scratching pole in the catio, and one of my mom's rubber stamps. Made of wood. Which hurts a LOT when you step on it. Where did it come from? How did they bring it here? How did they fit it in their mouth? What does it mean? How long does it take foot pain to go away? WHY ARE MY CATS TRYING TO KILL ME?!?...
My Philips HUE light in my bedroom lights up on "low" a half hour before I get up at 7am to feed the cats. It then keeps increasing in brightness until my Alexa alarm goes off. It's supposed to be simulating a sunrise or something. Anyway... the minute light clicks on at 6:30am, Jake has learned that this means it's getting close to breakfast. He then hops on the bed to stare at me for a half hour...
IS IT BREAKFAST TIME YET? I'M LITERALLY DYING OF STARVATION! I'M JUST GOING TO SIT HERE STARING AT YOU UNTIL YOU FEED ME. I HOPE THIS MAKES YOU FEEL BAD.
If he's feeling really frisky (or hungry) he will hop on top of me...
Or, if he's feeling lazy, he'll lay down beside me and fall asleep...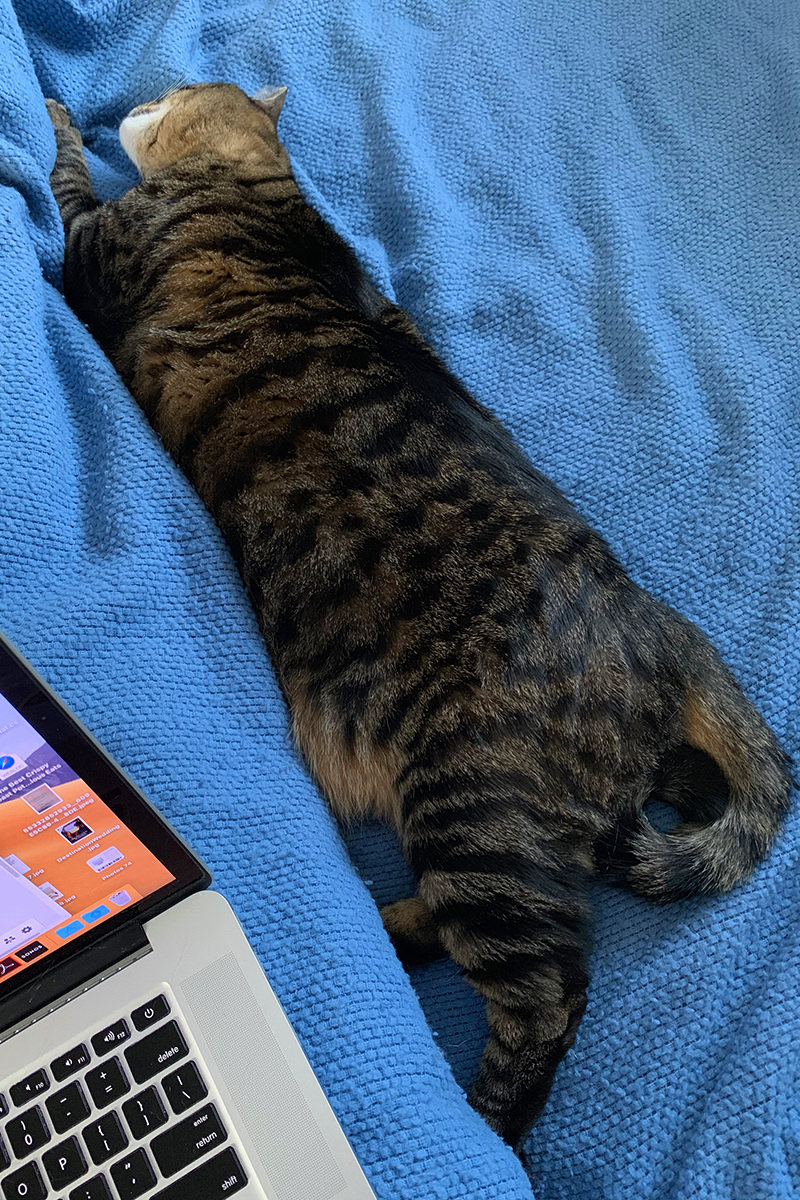 Jake is pretty much back to normal after his health scare. Still likes to sit on my lap when I'm trying to work...
And he still watches for birds to land in the catio so he can attack them...
But his behavior has definitely changed, because he still doesn't want to sleep alone...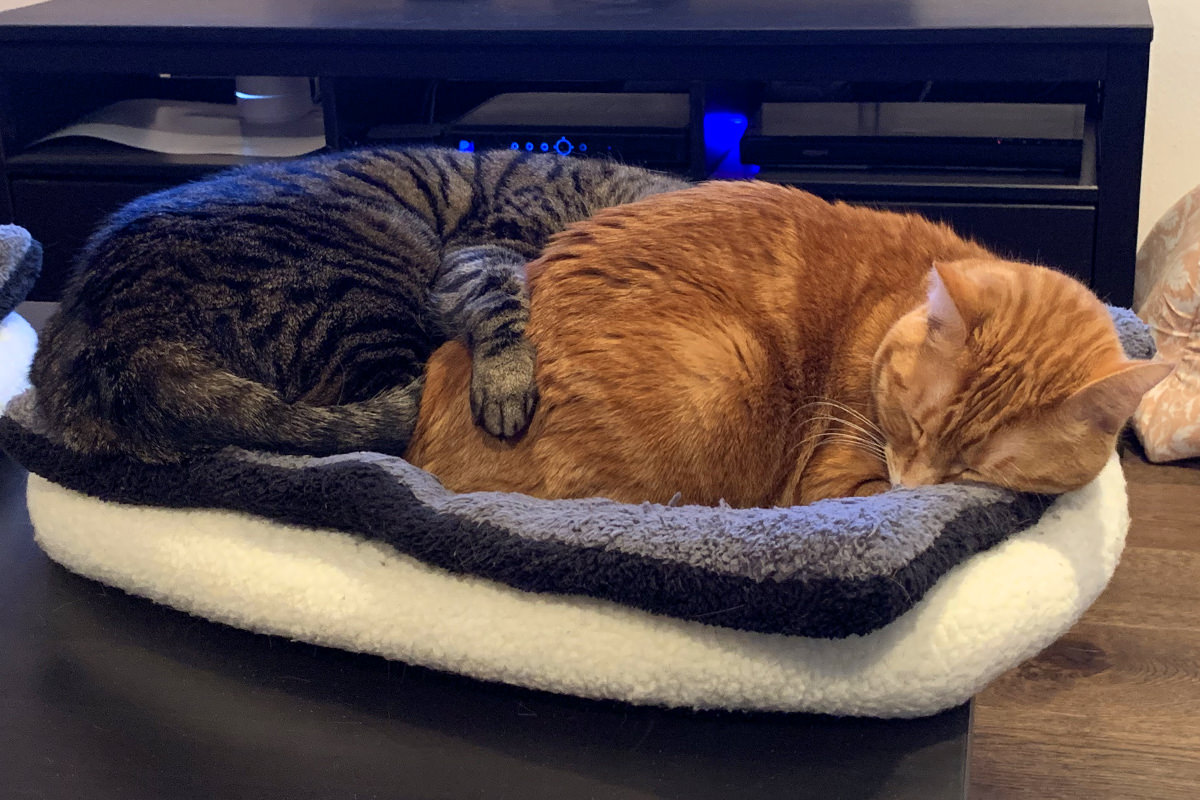 He will sleep in the guest bedrooms alone if I'm at home. If I'm downstairs, he'll sleep in the downstairs guest bedroom... it I'm upstairs he'll sleep in the upstairs guest bedroom. But his days of being fully independent when sleeping seem to be over.
So long as Jenny doesn't mind, I guess it's all good.
Hey, maybe she can train Jake the right way to scratch her belly? He speaks cat, so maybe...