Posted on October 19th, 2019

Somehow... sometime... in the middle of the night I scratched my eye. This happens two or three times a year and I have no idea how I manage it. Do I scratch it with a fingernail? Does a blanket slide across it? Do I get it stuck open when I'm laying on a pillow? Dunno. All I do know is that I wake up in sheer agony, and wishing that I had those OcuCaine drops that the eye doctor uses to numb your eyeball.
In absence of OcuCaine, all I could do is stumble downstairs for some Advil... and nearly die.
When the cats run up stairs, they take a high-speed turn at the top by digging their claws into the stair tread carpet and changing direction. Lately the edge of the carpet has come up, so I have to remember to step around it. Which is something I do by habit.
Alas when I stepped around the carpet, I nearly killed myself falling down the stairs avoiding Blue Mouse... and stepping on Fuzzy Ball Two, which Jake or Jenny apparently ripped off the cat tree last night. My vision was all messed up because of the tears my eyes were making...
After loading up on Advil... and Tootsie Rolls... I went back upstairs to sleep for another 90 minutes before the breakfast alarms rings to feed the cats. But when I got to my bed, it was already occupied...
Any normal person would have moved a cat or two in order to get their bed back. But not me. I slowly and carefully slid in-between them diagonally so they could stay where they were resting. Five minutes later they heard a noise or something and ran off. Which meant my efforts were all for naught. But no worries, Jenny was back soon after...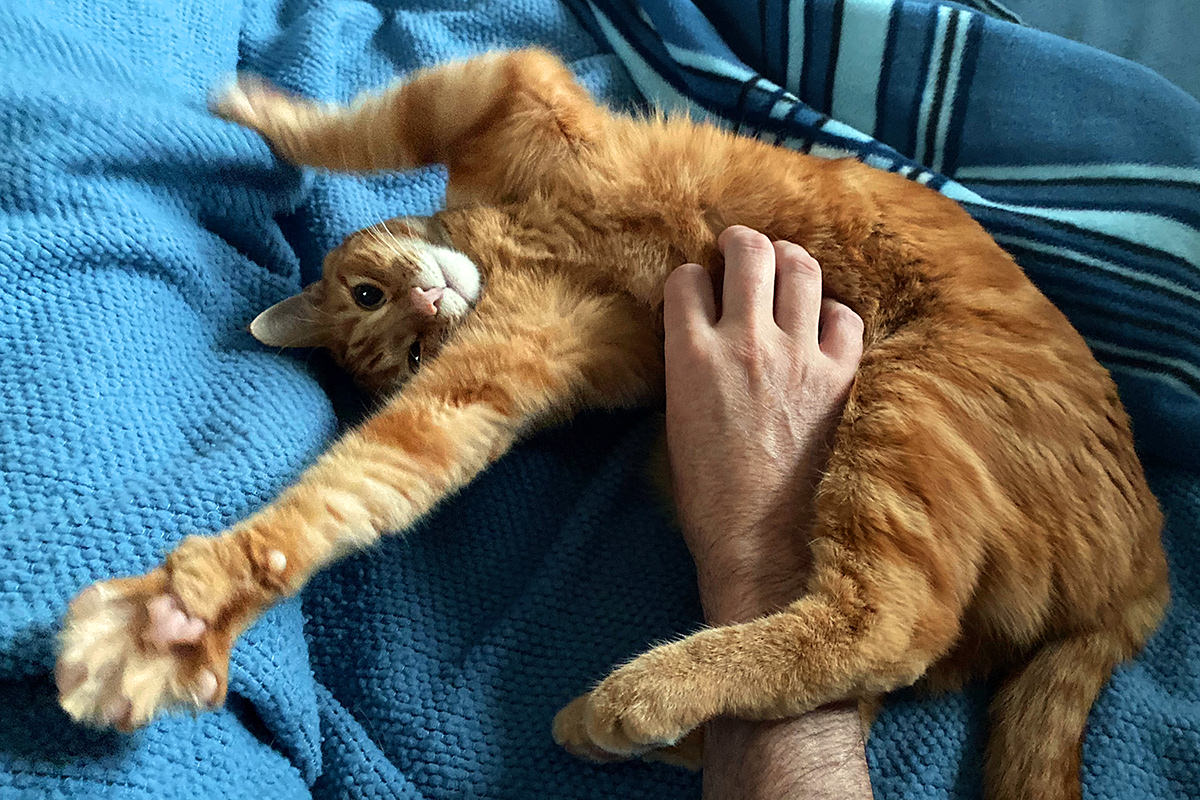 Jake waited until I got downstairs...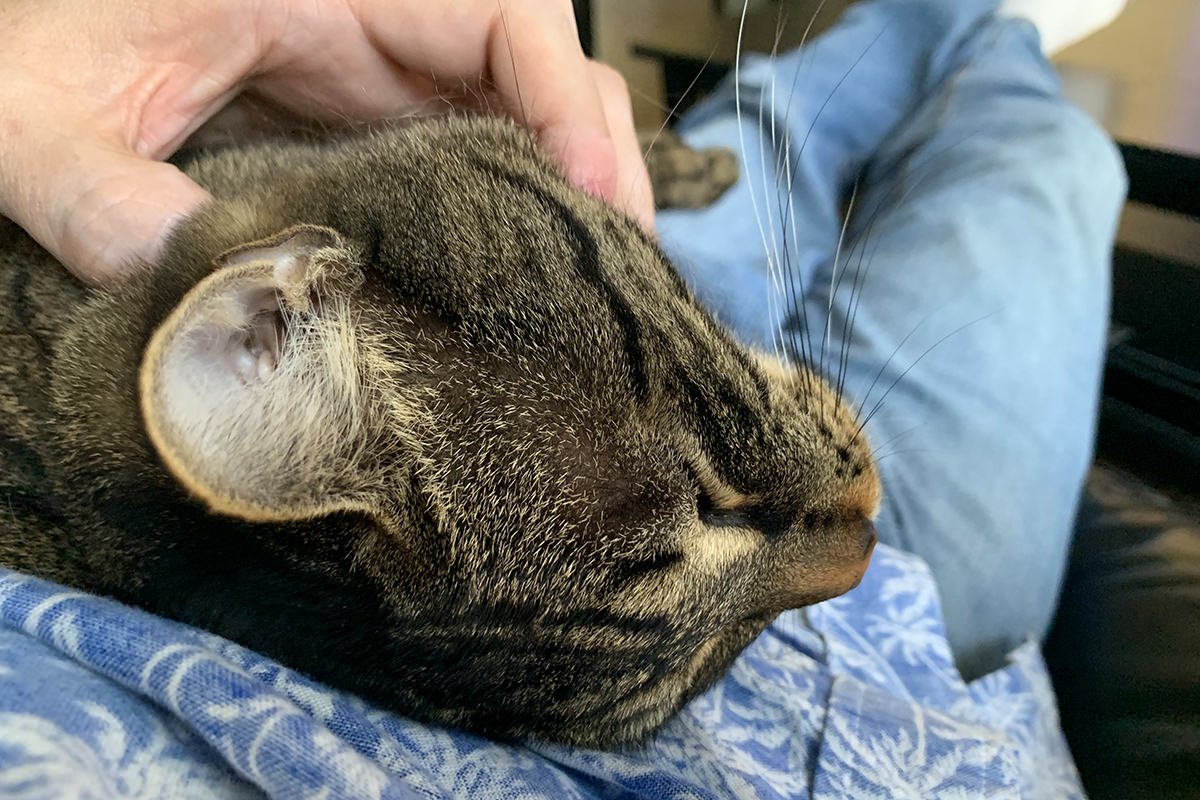 The weather here is that dreary, awful, wet, and grey kind of weather you get before the brisk Fall days with dry blue skies take over. Fake Jake is not a fan at all, and is usually waiting out the rain in one of his shelters...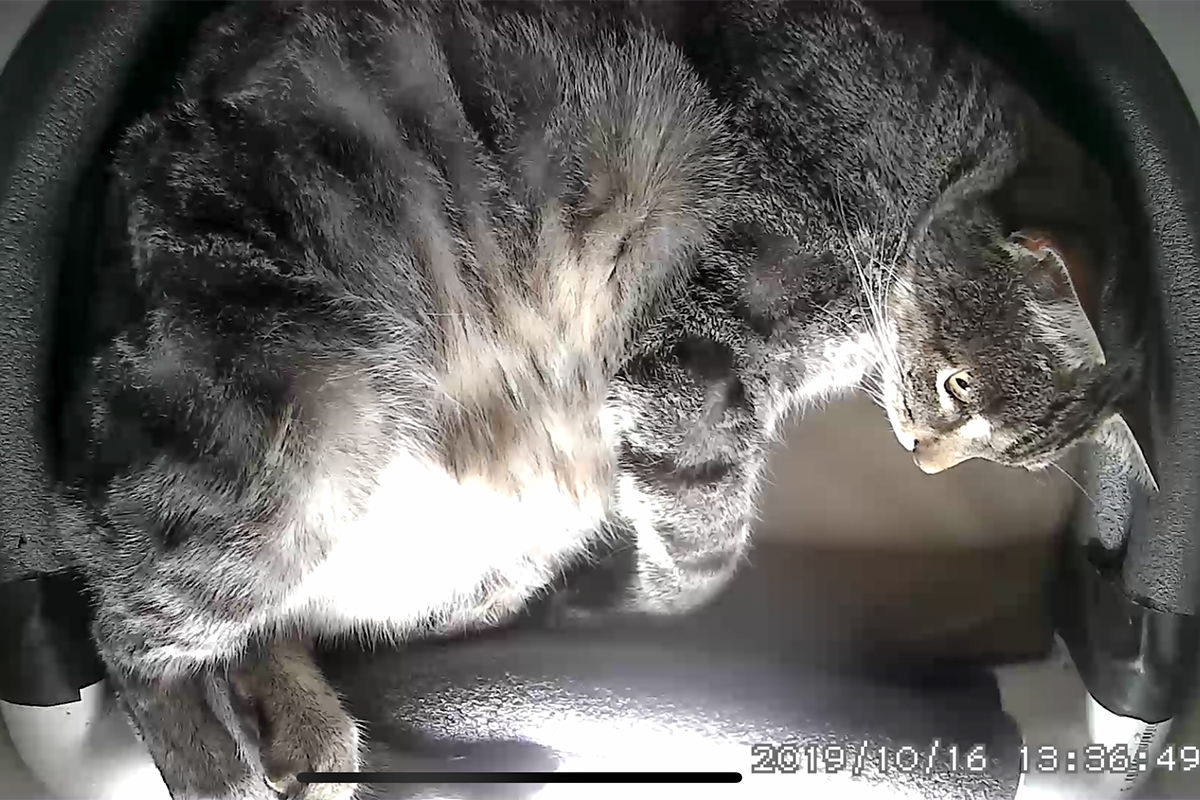 Or sleeping through it...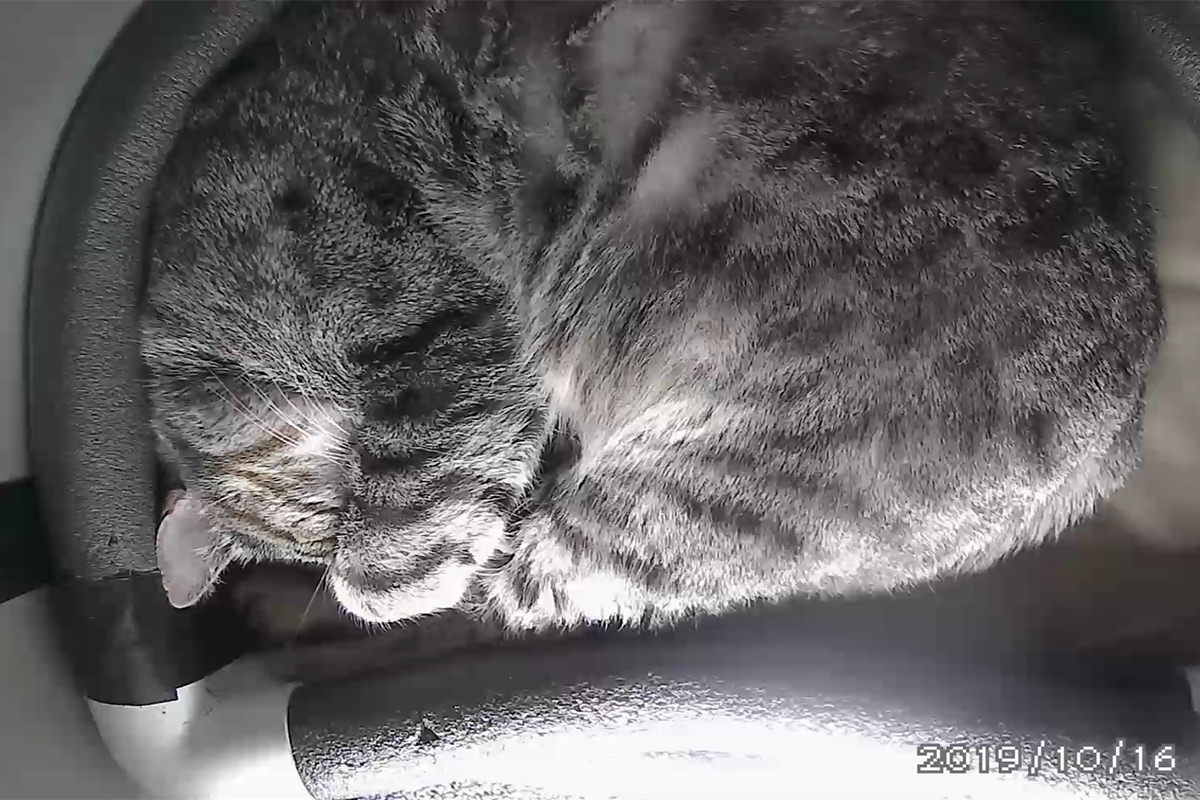 Can't say that I blame him. I'd sleep through these days if I could.
But, alas, it's off to work I go...
Posted on October 12th, 2019

Today after work I was hungry so I ran to the local drive-thru to get some fries to hold me over until dinner. Then I drove home and ate them in my car in my driveway because I didn't want to eat in front of my cats. I would have pulled into the garage and ate them there, but my cats run to the door and wait for me when they hear the garage door opening. The last thing I want to do is get them excited and have them sit there waiting for 15 minutes while I scarf fries.
I mean, come on, this was Jenny staring at me this morning until the breakfast alarm sounded, how can I eat in front of that?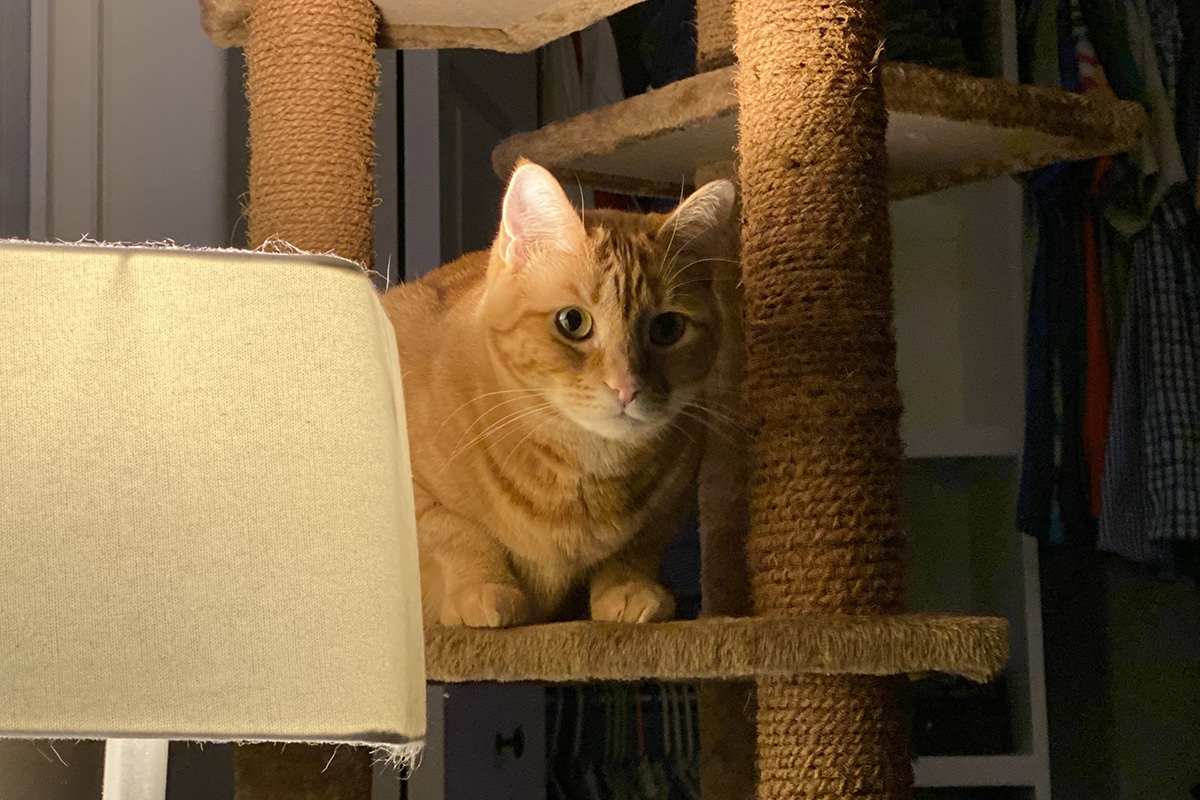 Though perhaps I am being too kind. According to science, Cats Know Their Own Names, Even if They Pretend Not To. I'm telling you right now... Jenny DEFINITELY knows her name. Jake seems to sometimes, but I'm not 100% sure. In any case, yes, they pretend not to... unless it suits them. The little scoundrels.
Speaking of scoundrels, this is me when I hear a skirmish: "HEY! WHO INSTIGATED THIS?!??? Let's go to the tape!" — =watches camera feed= — JENNY! YOU INSTIGATED NOT ONCE... BUT TWICE!!! =sob= I'm so proud of you, my tough little lady!
Little poo-heads!
Though they can also be the most adorable things on earth too. My cats are rarely on my bed at the same time. They take turns... and if one sees the other on the bed, they will leave and come back later. But the electric blanket seems to be a big enough draw that they will make exceptions now...
If you remember from previous years, Jenny's favorite thing in cold weather is the electric blanket, which means she will be there a lot.
Though this time of year both of them spend plenty of time using my body heat as a source of heat too...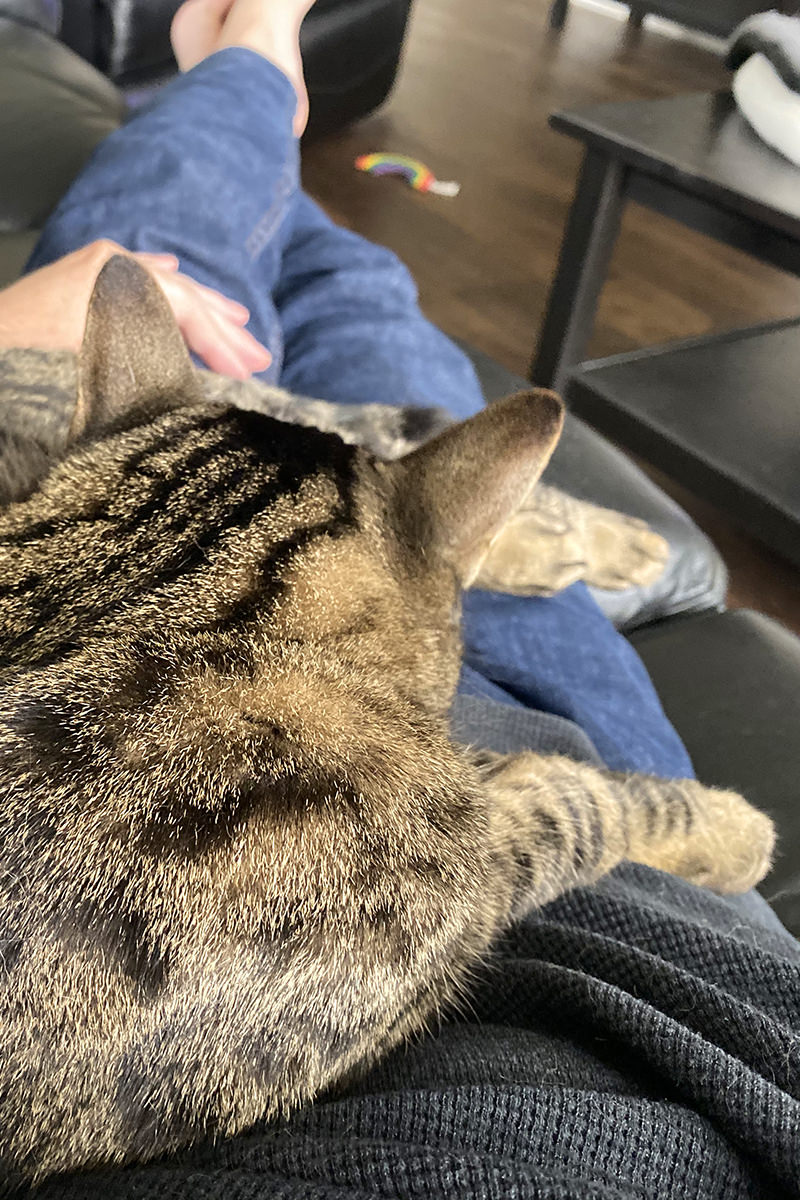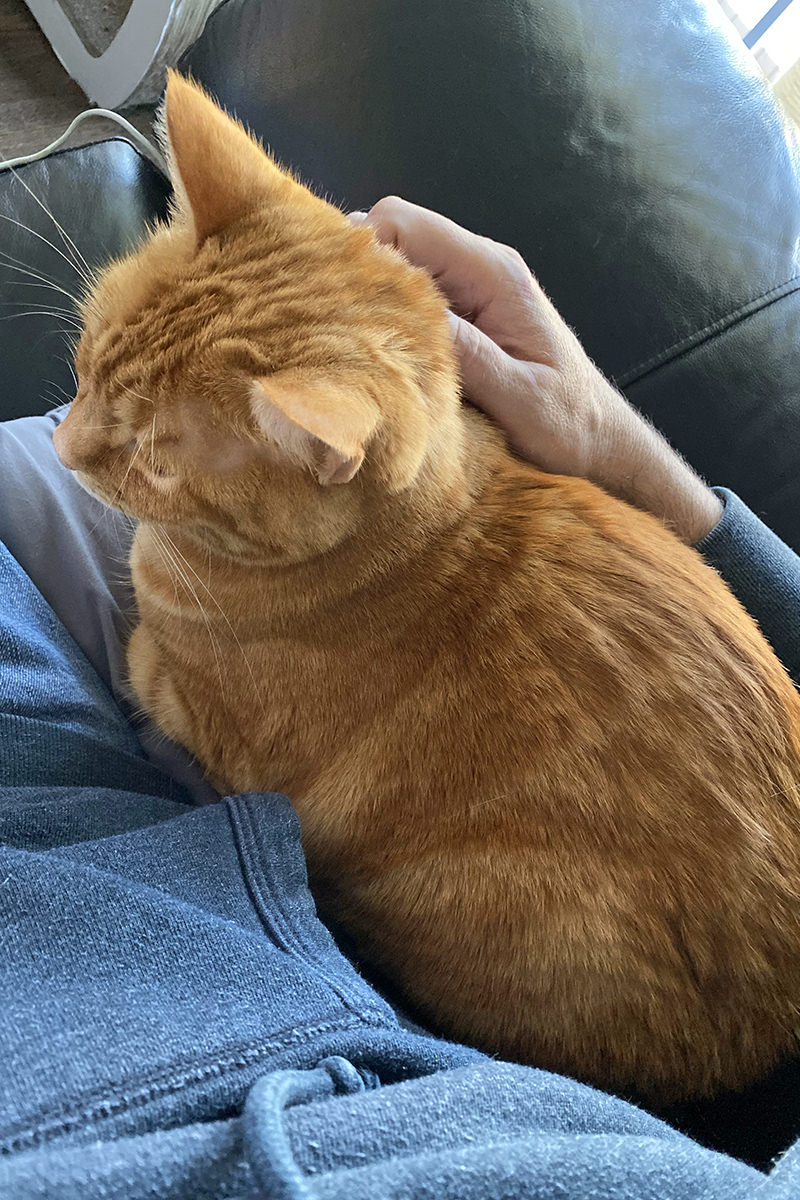 Though, these are cats we're talking about, so everything is not all perfect. Lately Jake has been copping me some serious attitude. Here he is when he couldn't get a pretzel out of the box and I wouldn't help, so he turned his back on me. This is despite my calling his name. AND WE KNOW THAT SCIENCE SAYS HE CAN TOTALLY UNDERSTAND MY CALLING HIS NAME...
Jenny's not innocent in all this. Earlier this week she came into my bedroom meowing for treats. I told her no, that she just had breakfast. She threw herself down on the bed and just stared at me with a look of 100% derision...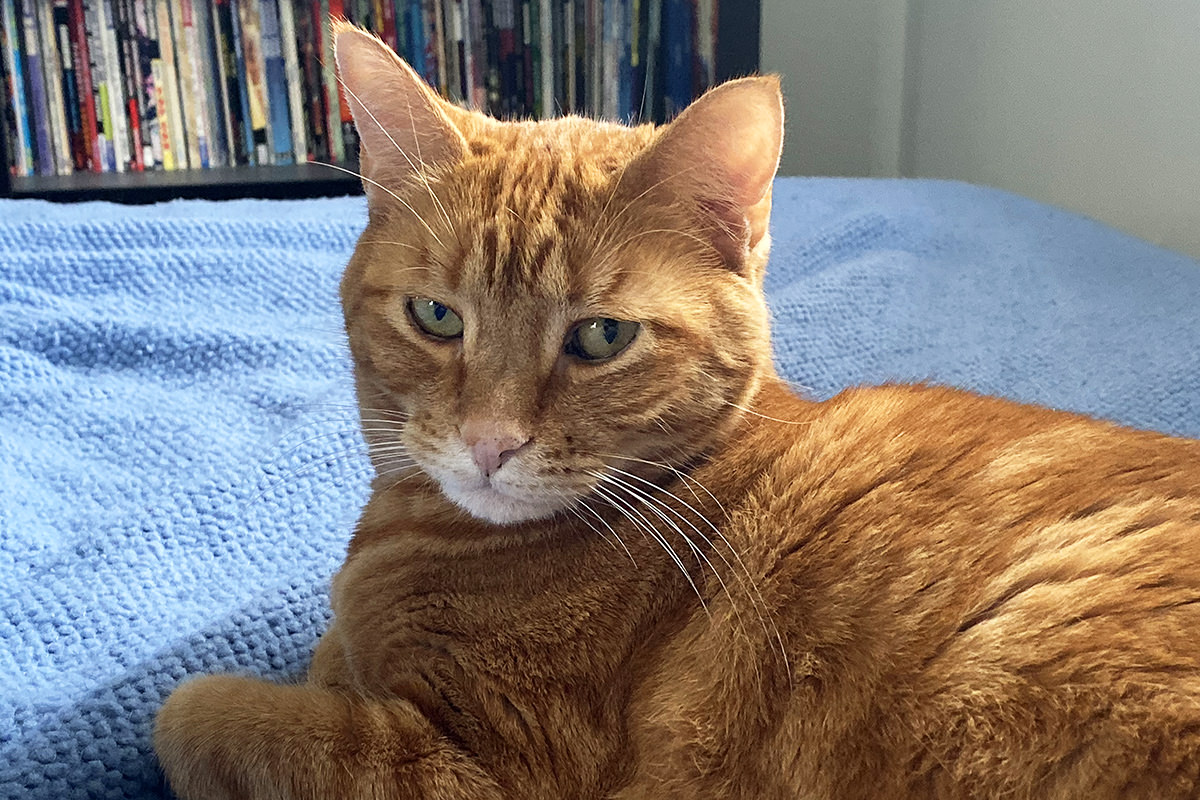 JUST LOOK AT THAT SMIRK! SCOUNDRELS, I SAY!
Posted on October 5th, 2019

I try to keep a clean home at all times. Partly because I never know when people will drop by, but mostly because I just like living in a clean home.
When it comes to cleaning, it's mostly about my cats. They drag toys everywhere. They leave fur everywhere. They track kitty litter everywhere. They bring dead bugs in from the catio. That kind of thing. I'm not saying that I don't make messes of my own, but I am saying that most of the cleanup requirements are not because of me.
Carl the RoboVac helps. He does a very good job of sweeping up kitty litter and fur day-today. But he has his limits, so I end up having to vacuum things like stairs and moldings manually once a week.
And then there's the deep-cleanings.
I used to "deep clean" every other month. Then it was four times a year. Now it's twice a year in March and October (or possibly when I have company staying with me, especially if they have cat allergies). It just doesn't make sense to be cleaning all the time when my cats are just going to get fur over everything. The most important deep cleaning is the Spring. So much dirt gets tracked in over the winter that it's pointless to do any thorough cleaning after the snow falls. So I just wait until March when the snow has gone and things have dried up.
My October deep cleaning is happening over the next couple weeks. Everything gets moved and taken apart. Everything gets scrubbed. Everything gets washed. Everything gets cleaned. It's a lot of hard work, but worth it because I know that my house is free of filth. For a few days, anyway.
The problem is that Jake and Jenny always want to "help."
Deep cleaning is something different and new for them to get excited about, so they are always all over anything that gets moved and investigating every little thing I do. Unless there's noise involved, at which time they run and hide.
Which is why I always vacuum first. It's just easier that way.
I juuuusssst finished vacuuming five minutes ago.... Annnnd they're back already. Apparently there's something happening outside that they simply must look at...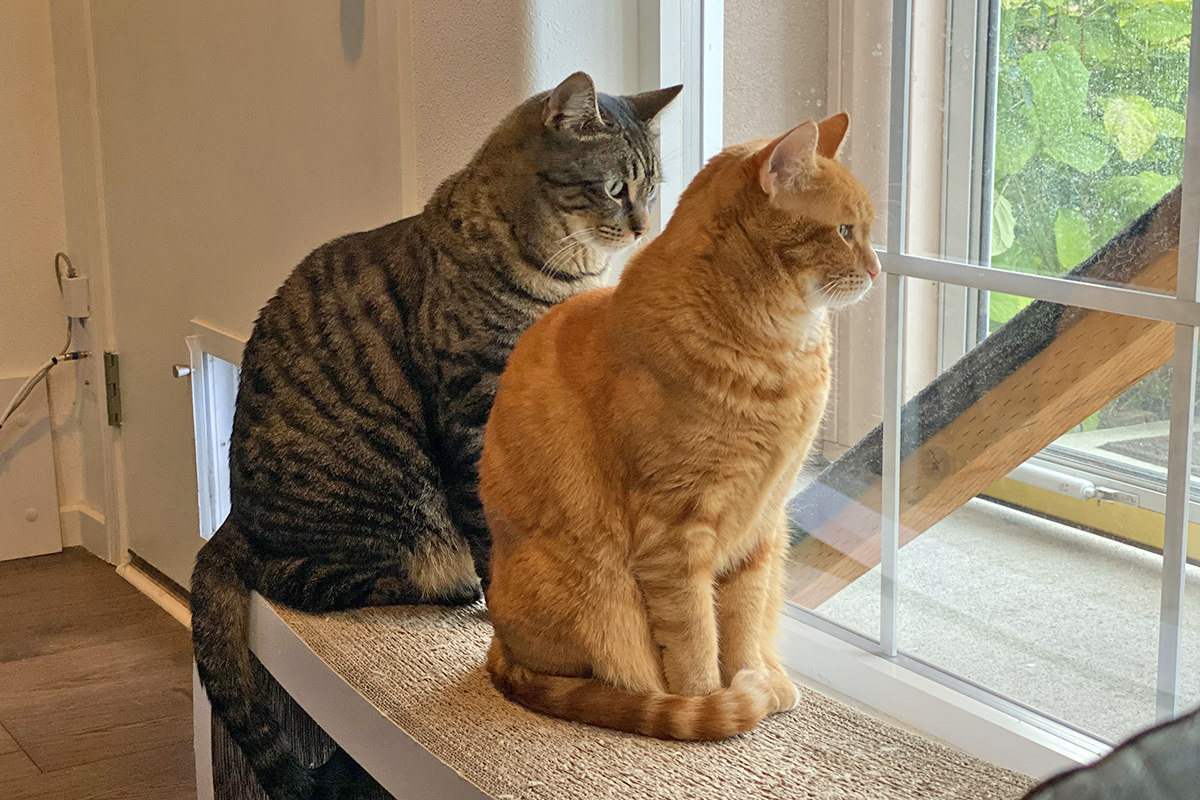 Used to be I could count on them to hide for at least an hour when the vacuum comes out. I guess those days are gone...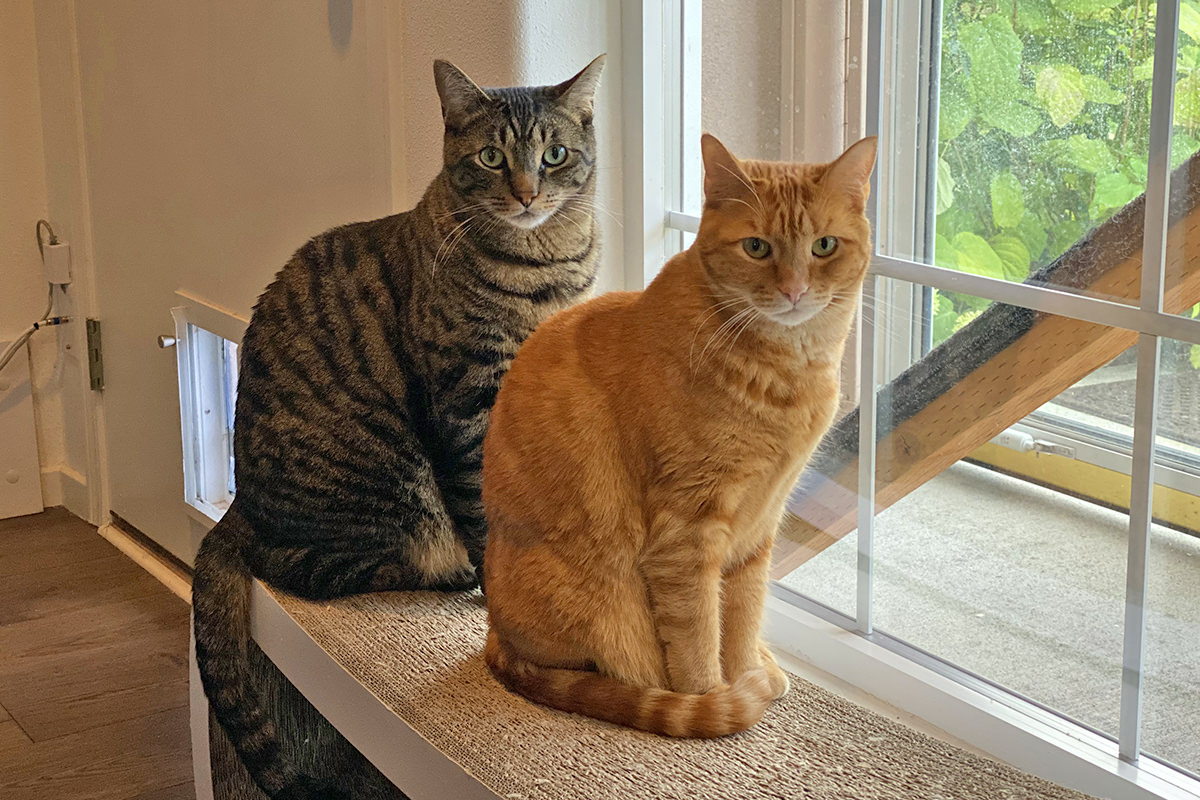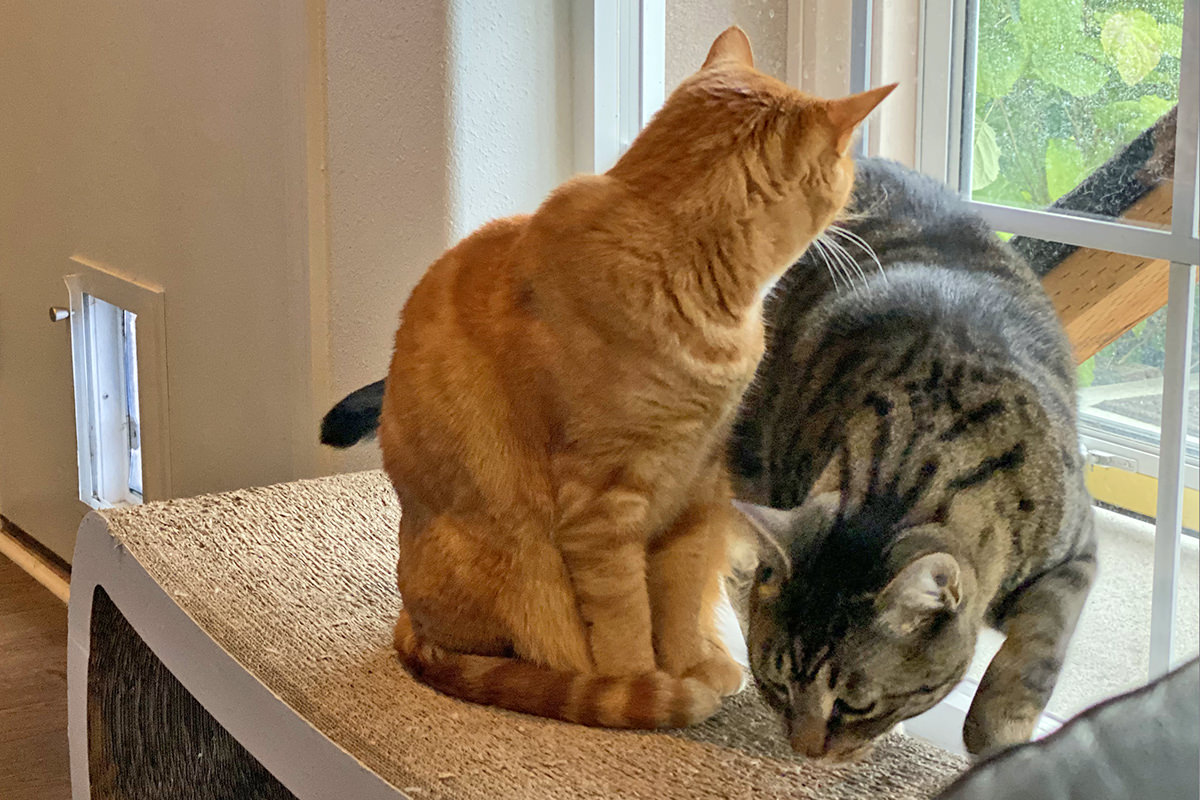 It was probably Fake Jake, who has been hanging around ever since I put the heated winter shelters out for him. Real Jake isn't quite so threatened any more, but Jenny is still mostly terrified. She hisses at him even when she knows she's not in danger...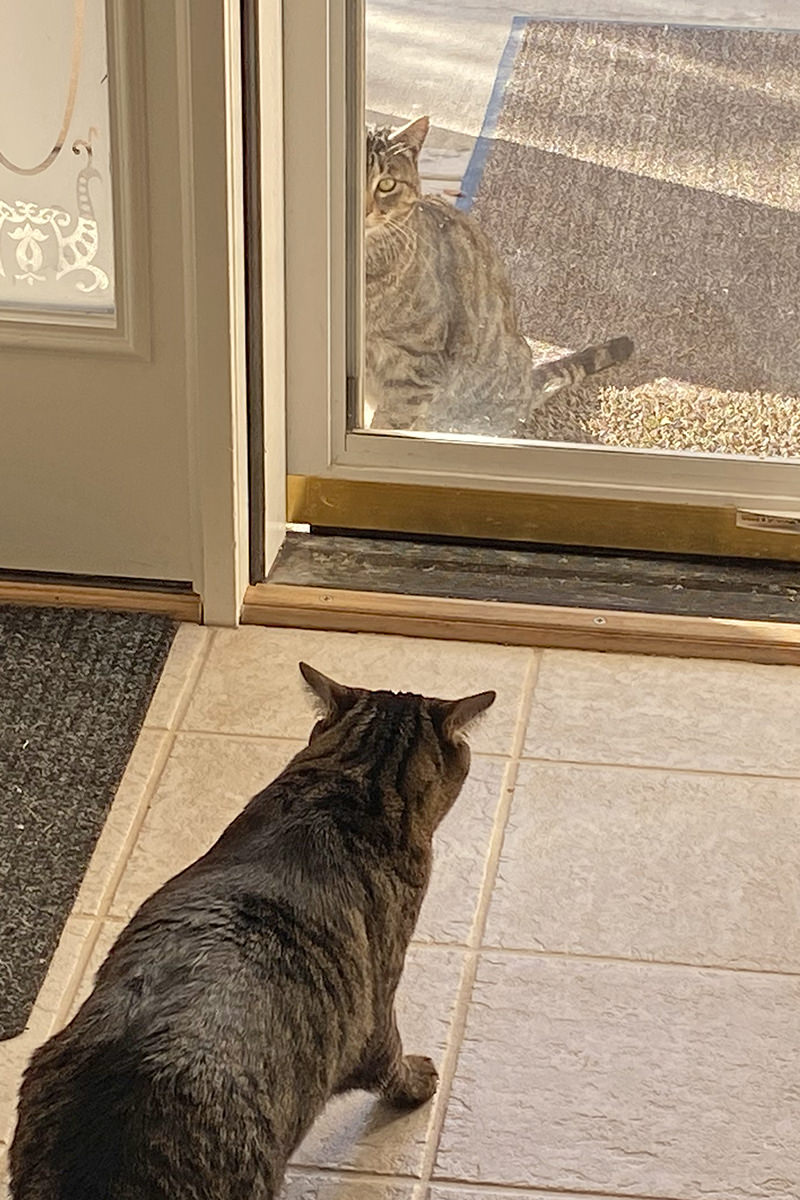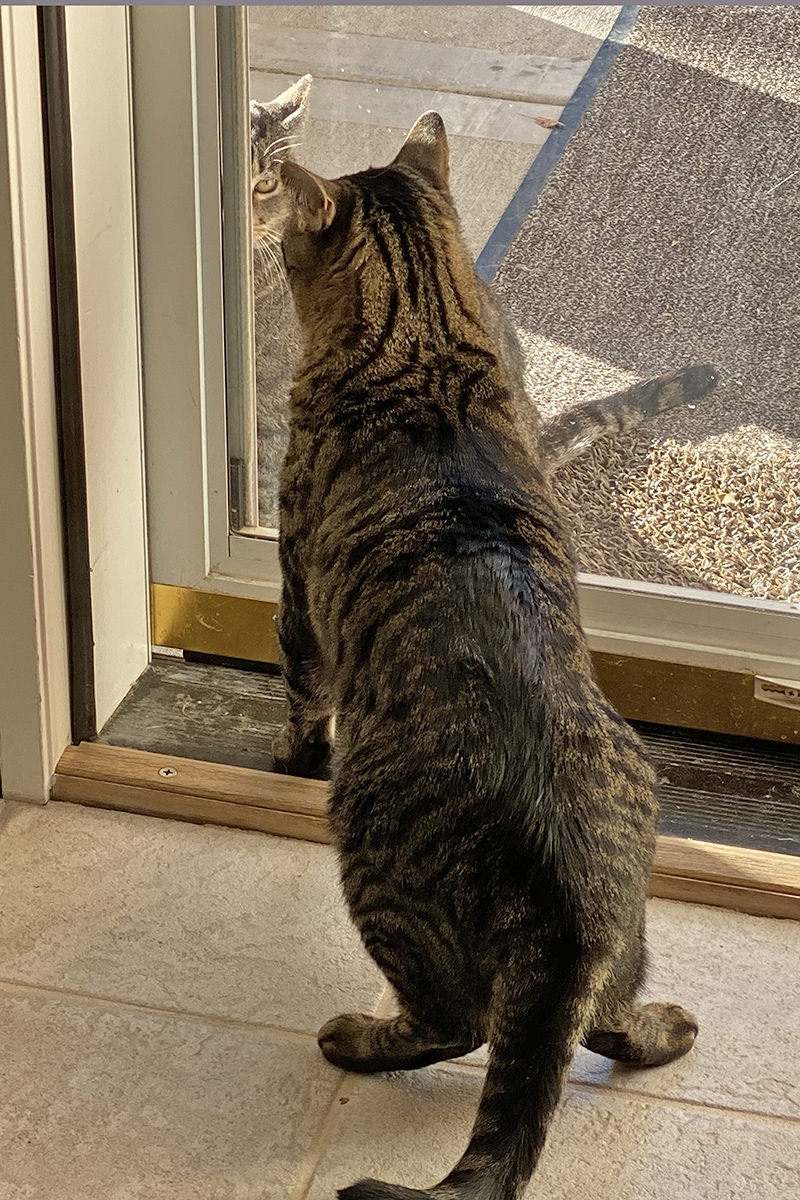 There was a part of me that hoped I could eventually bring Fake Jake inside, but it's just never going to happen. He's horribly aggressive towards other cats and I Would never risk him hurting Jake and Jenny. So... my neighbors and myself do the best we can to take care of him and make sure he has shelter and food. The heated kitty igloos are a favorite spot for him to hang out when it's cold or raining, and I still have cameras inside so I can see if he's hurt or sick or needs help...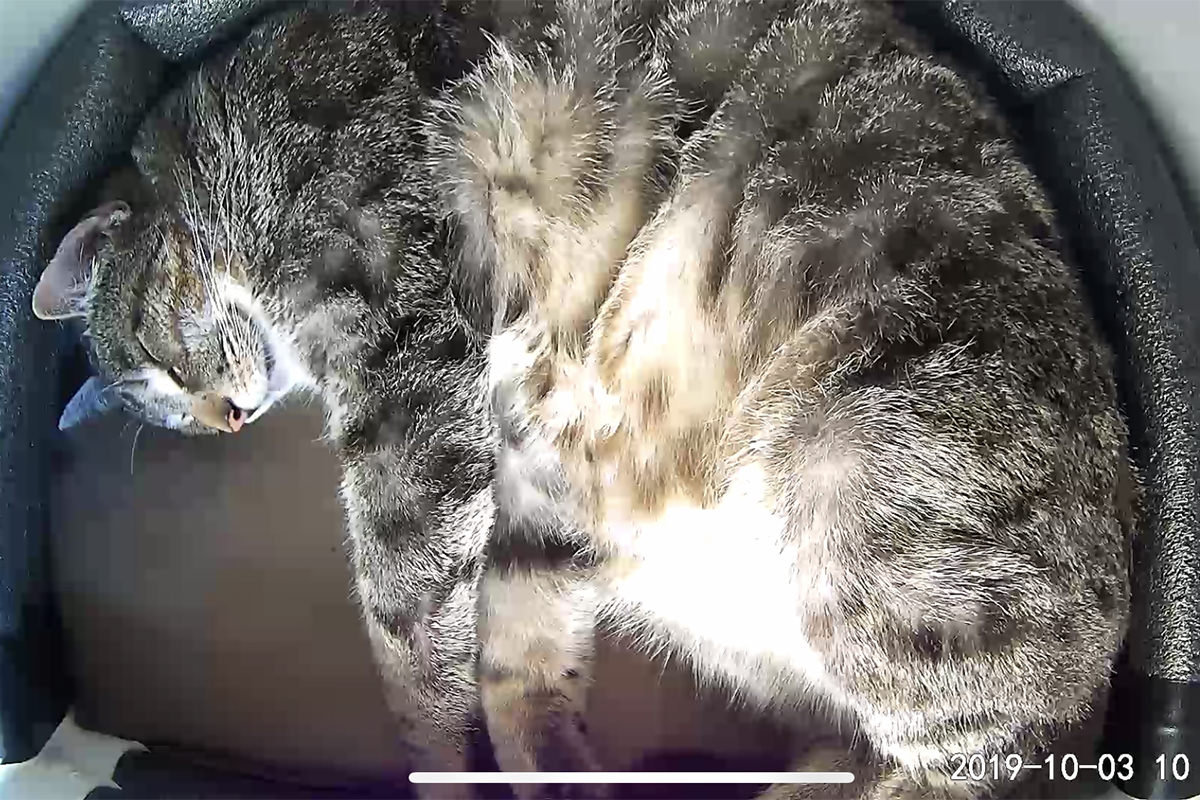 My cats are happy inside now that I've turned the heat on and put out the kitty beds for them to sleep in... or half-in...
See you next Caturday!
Posted on September 28th, 2019

What happened to the transition between Summer and Fall? Does anybody know?
Usually there's a "grace period" before it starts getting really cold... but not this year. One minute it was blue skies, sun, and warmth... the next minute it's overcast, dreary, and cold. This is a bit of a bummer because I like a month with a low electricity bill since I'm not running the air conditioner or the heater. This year it was just three days before I made the switch.
When it's cold, there's nothing better than a warm cat laying on top of you. Jenny doesn't do this very often, but Jake is totally into it...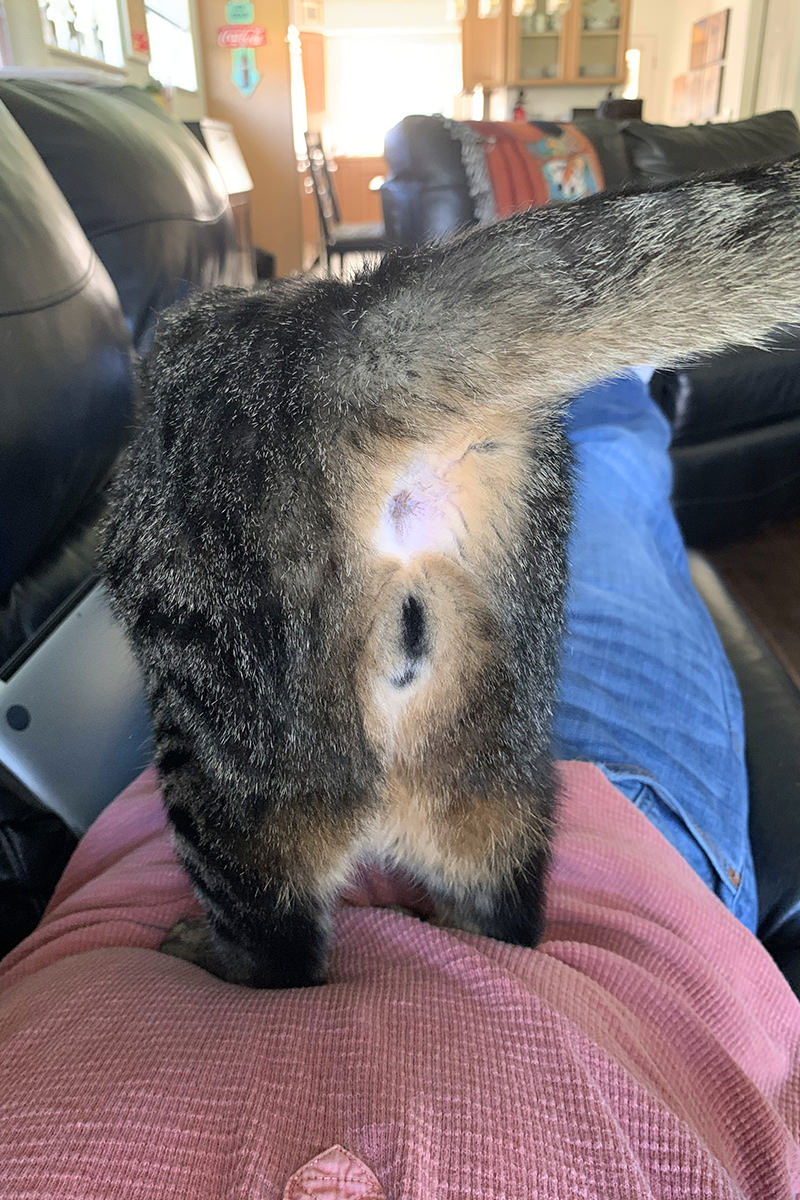 Um... not exactly what I had in mind.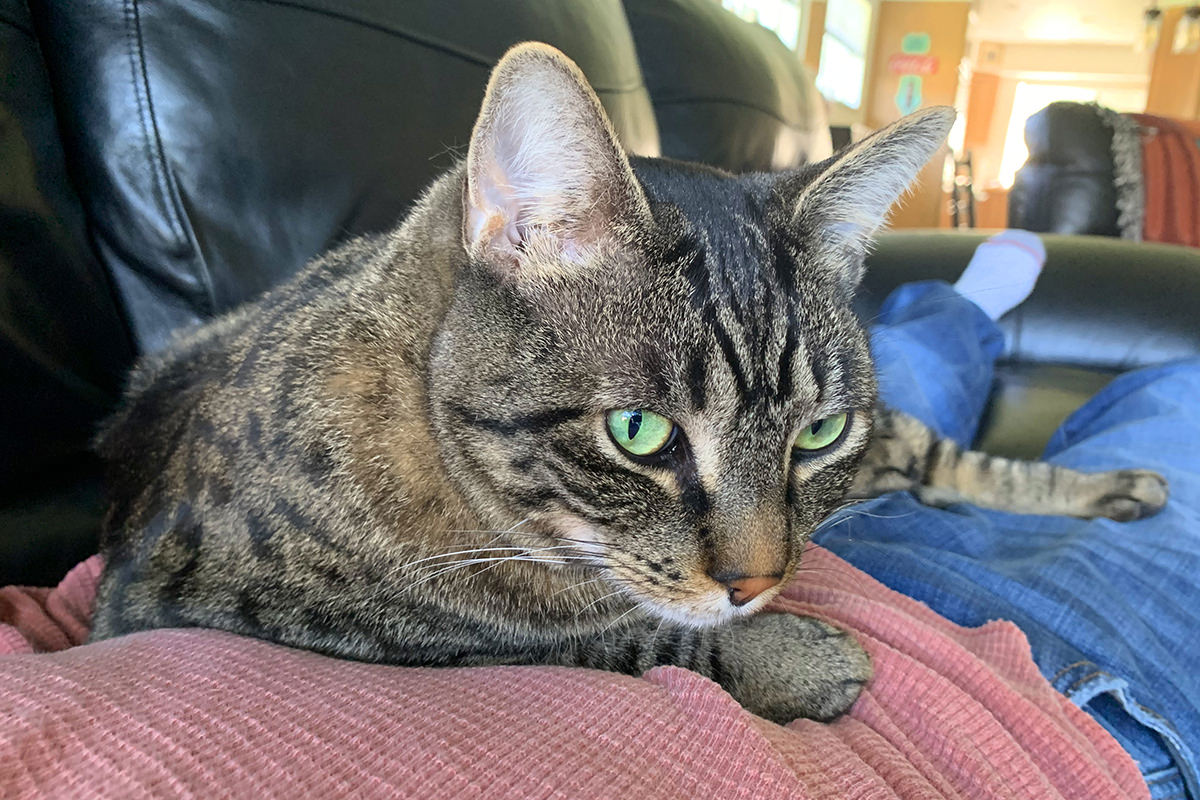 Oh that's better! In other news...
Jenny has had a floopy whisker since she was a kitten...
A while back it fell out and left me wondering if it would grow back straight or floopy again. I noticed it was back... and, yep... it's floopy again. This makes me strangely happy, because it's one of the things that makes Jenny uniquely my cat...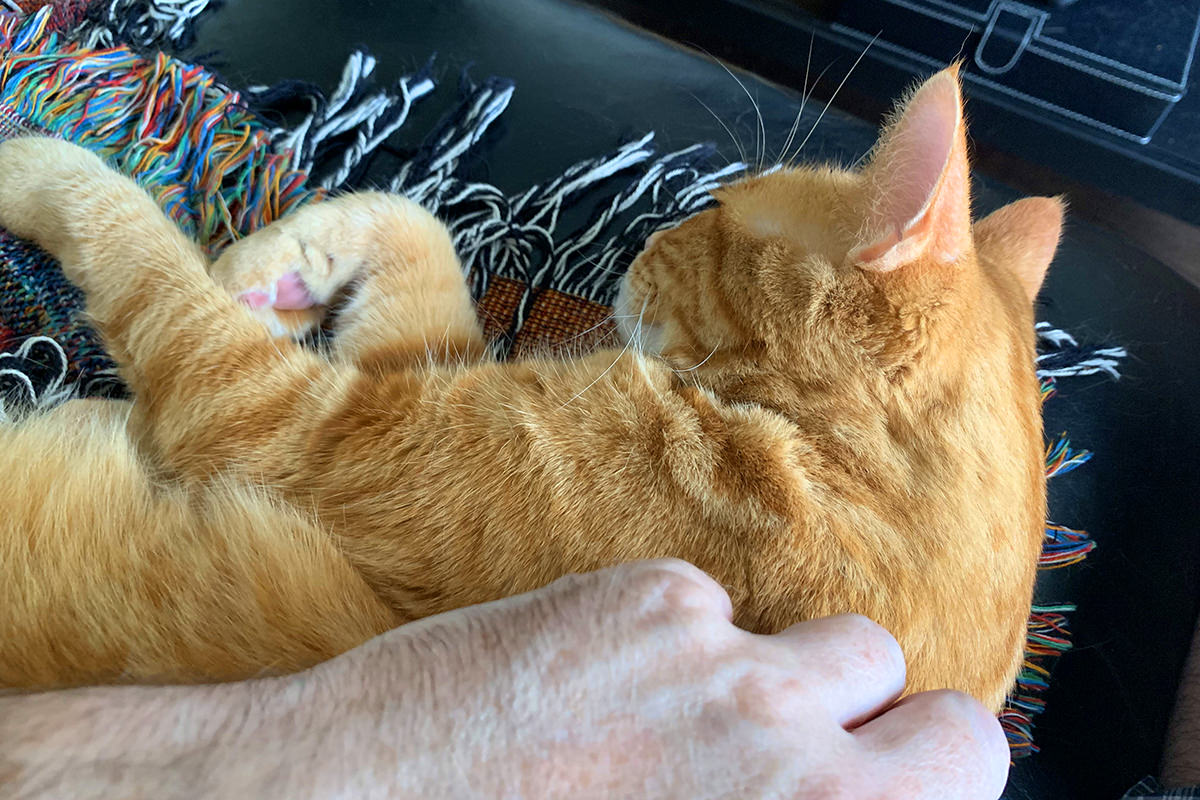 With the weather getting colder and rainy-er I set out the cat shelters for Fake Jake. On Friday I saw that we were due for a cold snap this weekend, so I braved the rain to install heating pads. Good thing too, because Fake Jake has been all over them...
He showed his gratitude by running up to me for butt scratches when I ran out with the garbage. Unfortunately, I left the door open and Jake and Jenny saw me betraying them for another cat...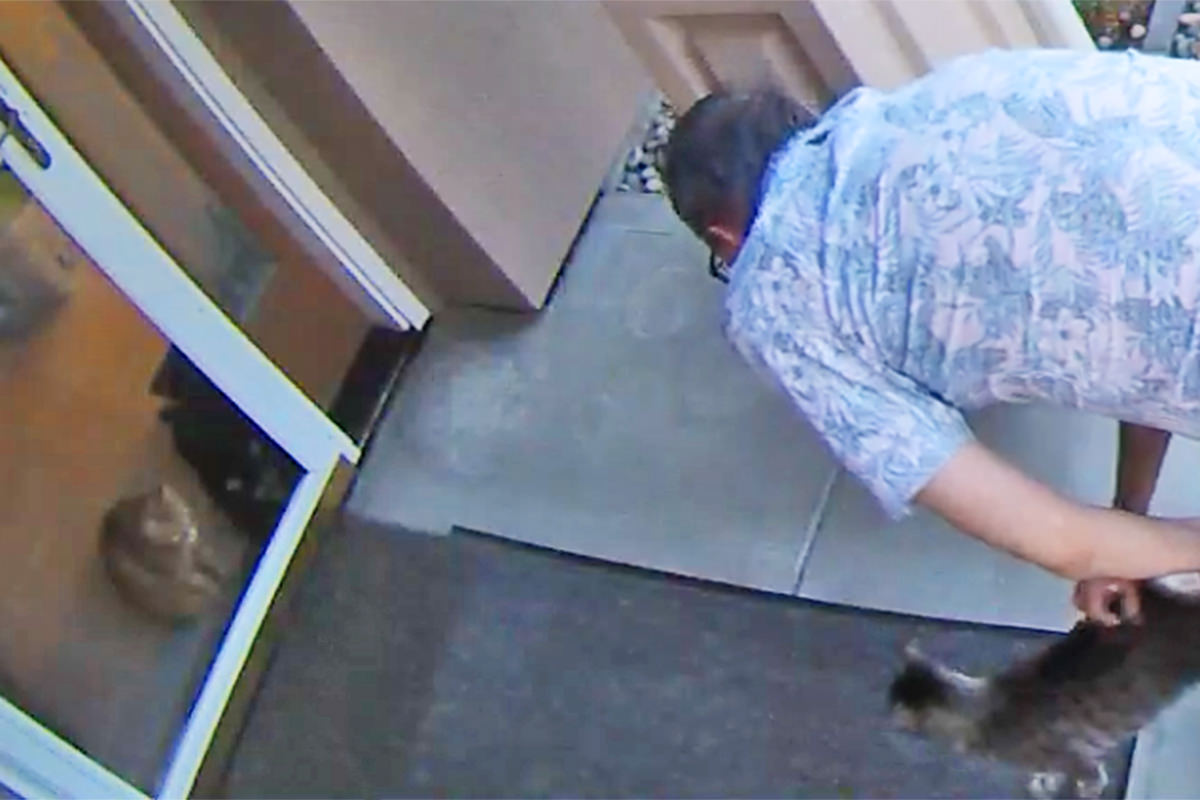 I tried making up for it by giving them their own butt scratches, but they seemed oddly detached...
Anxiously awaiting them pooping in my shoes.
See you next Caturday!
Posted on September 21st, 2019

As I mentioned last Caturday, I ordered a brand new cat tree to replace the disgusting pile of filth that the old one had become. My biggest worry was that the cats wouldn't like new cat tree smell and reject it. So after I put the new one together on Wednesday, I thought I'd keep both trees out so there could be a transition. Turns out it wasn't necessary. They were all over the thing from the minute they saw it...
During their dinner time I hauled the old tree to the garage so I can eventually rebuild it. The new one slid to the old location and the cats didn't seem to notice that anything was different...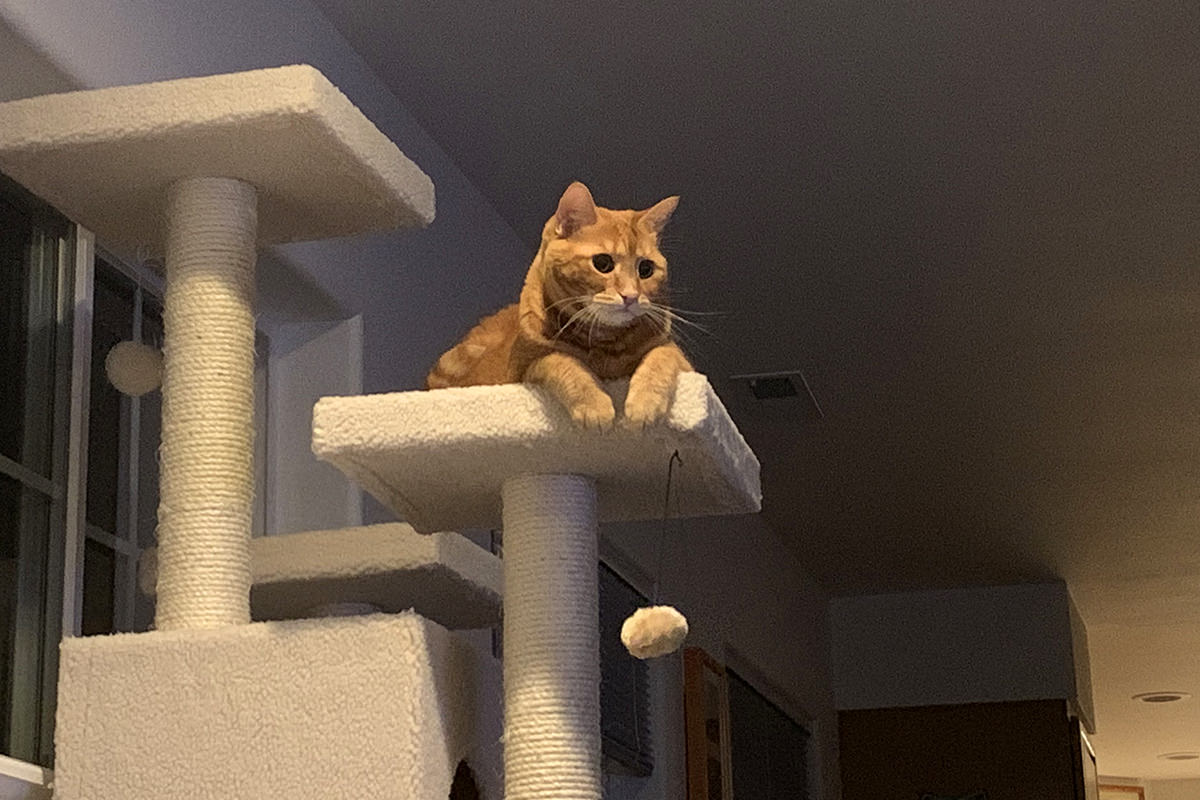 Yesterday I heard some commotion in the dining room. Not knowing what I was in for, I walked in and saw that Jenny was on the dining room table. At first I was all "GREAT! NOW I HAVE TO DISINFECT THE TABLE AGAIN!" But then I saw how neatly she had bundled up the table runner that I had up for dinner last weekend, and was all "Awwwww! Aren't you just the cutest thing!"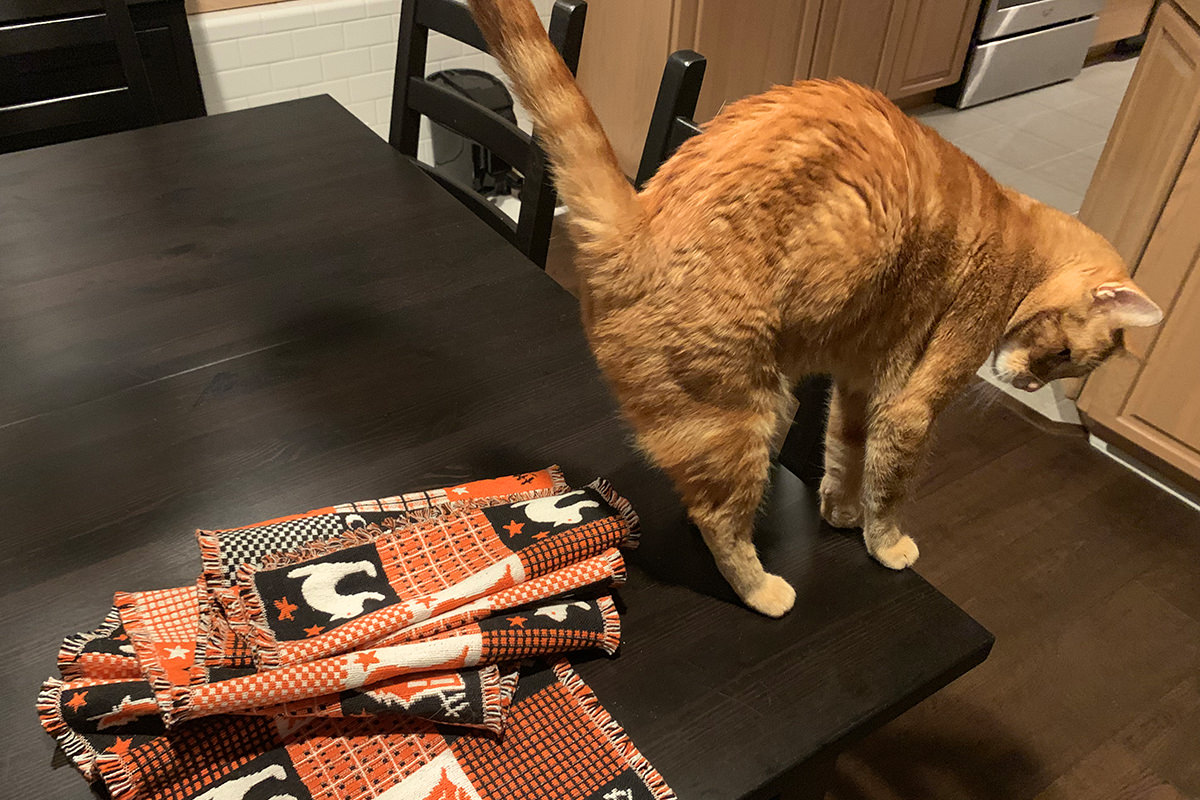 And she really is. I just melt every time I look into that little sour-puss face. And since it's been getting colder, I brought out the cat beds they like to snuggle up in this time of year. So now I get to look into her little sour-puss face every evening when I watch television...

First I added a second blanket to my bed... then this week I added my electric blanket. Something Jake and Jenny just love. But this year Jake has been all over it...
He even gave himself a pedicure on it the other day...
Jenny is pretty aggressive when grooming her claws... but Jake takes it to the next level. There were times I honestly thought he was going to rip his claws right off his foot.

and that's all the cat-news for another cat-week. See you in seven cat-days... same cat-channel... same cat-time!
Posted on September 14th, 2019

And so begins the season when I have houseguests coming and going. Since I spend most of my time here alone, I rather enjoy the company. Jake and Jenny, on the other hand? Not so much.
Despite trying and trying and trying to get them accustomed to other people, they are having none of it. They hide in the storage closet attached to my bedroom and don't come out until the coast is clear. This becomes a problem when I have overnight guests, because they gotta eat, drink, pee, and poop.
I've kinda solved the problem by moving their food, water, and upstairs Liter-Robot into my bedroom and closing the door. It's not a perfect solution, because if there's any noise at all going on in the house, they won't come out to use them, but at least they know they are there when things settle down.
And it's better now than they used to be. Instead of continuing to hide when everybody is asleep, my cats will roam the house until people wake up. Instead of taking days or hours to recover and come out of hiding, they are out reclaiming the house within minutes of my guests leaving.
Even so, I'm thinking of doing some work in the storage closet to make things more cat-friendly. Maybe rethinking things so that they have more comfortable places to hide? Add some ramps and scratching posts to make it more fun?
I feel bad about them feeling they need to hide, so the least I can do is try to make it easier on them.
And speaking of feeling bad...
This time I had people with cat allergies coming over. This is, technically, not a huge problem... thanks to my air purifier, Carl the RoboVac, and a good deep cleaning... but there is one thing that makes a real deep cleaning impossible... the ratty old cat tree that Jake and Jenny love. Thanks to the cheap, ugly fuzzy fabric which covers the thing, it's impossible to keep clean. It's so gross, but I dare not get rid of it. Instead I temporarily moved it to the catio.
Jake was livid. Boy was he mad. He was squawking at me while I was moving it.
Jenny just sat there staring at me like WTF, dude?
So they've been out in the catio all over the thing... still angry at me for having moved it...
The top of the cat tree is Jake's favorite place to sleep so he's out there all the time, bless his little heart...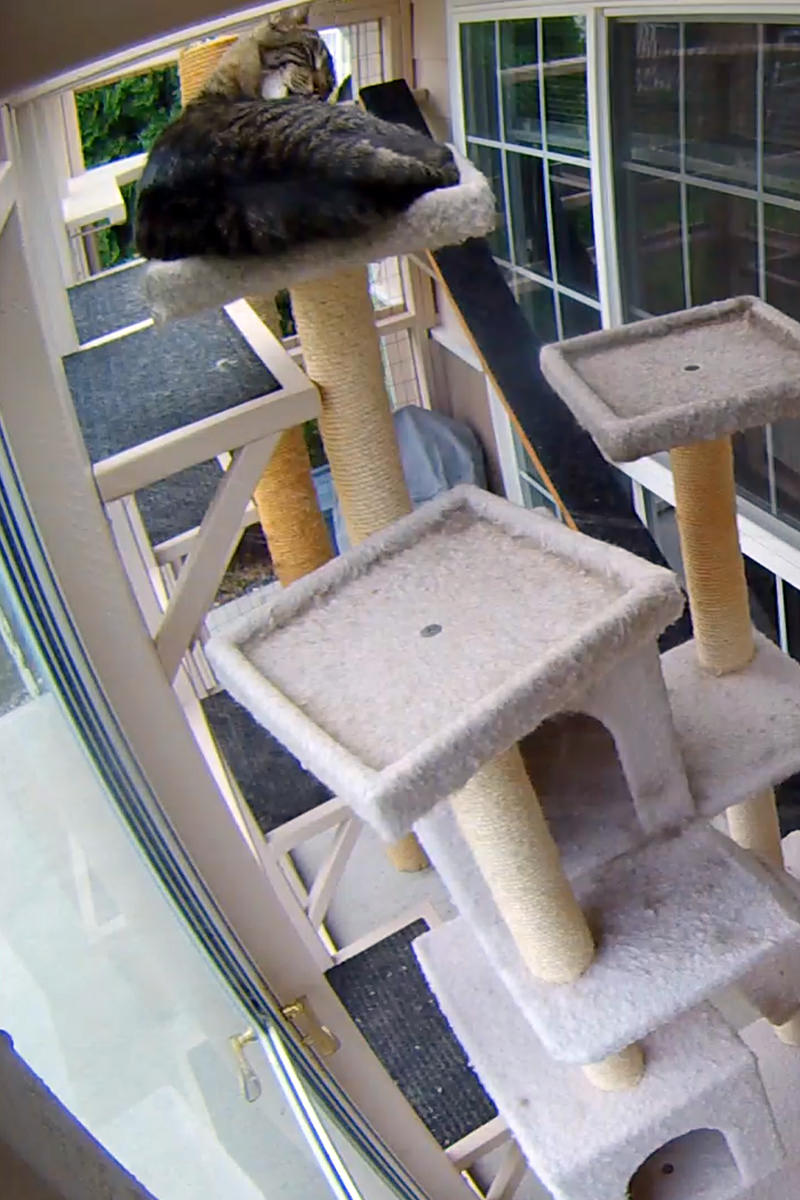 Just look at how disgusting the thing is! And this is after I vacuumed it! I honestly don't want that filthy thing back in my house, so I made a decision. Well, two decisions, actually. First I ordered a replacement cat tree of the exact same model. Once it arrives on Wednesday, I'll put it together and hope that they will transition to it. Then, come Spring, I'll take the old cat tree, strip it apart, then rebuild it from better materials that I can actually keep clean. Should be a fun project. I hope.
In the meanwhile? Here's to my cats not hating me too much.
Posted on September 7th, 2019

I know my cats like me. They greet me when I arrive home. When I'm around, they are always in whatever room I'm in. Heck, they're always waiting outside the door when I'm come out of the bathroom. Granted, their adoration is probably because I feed them, play with them, pet them, scratch them, and buy them stuff... but I'll take it.
This is not to say that it's non-stop adoration around here.
This morning I had to get started cleaning the house. I put it off so I wouldn't interrupt their post-breakfast nap. But when their post-breakfast nap turned into a pre-lunch nap, I finally bit the bullet and started with my weekly chores.
Jake was irritated.
Jenny was livid. She gave me a death-stare that came dangerously close to melting my skin off.
My sweet girl has had a bit of a sour face from the beginning...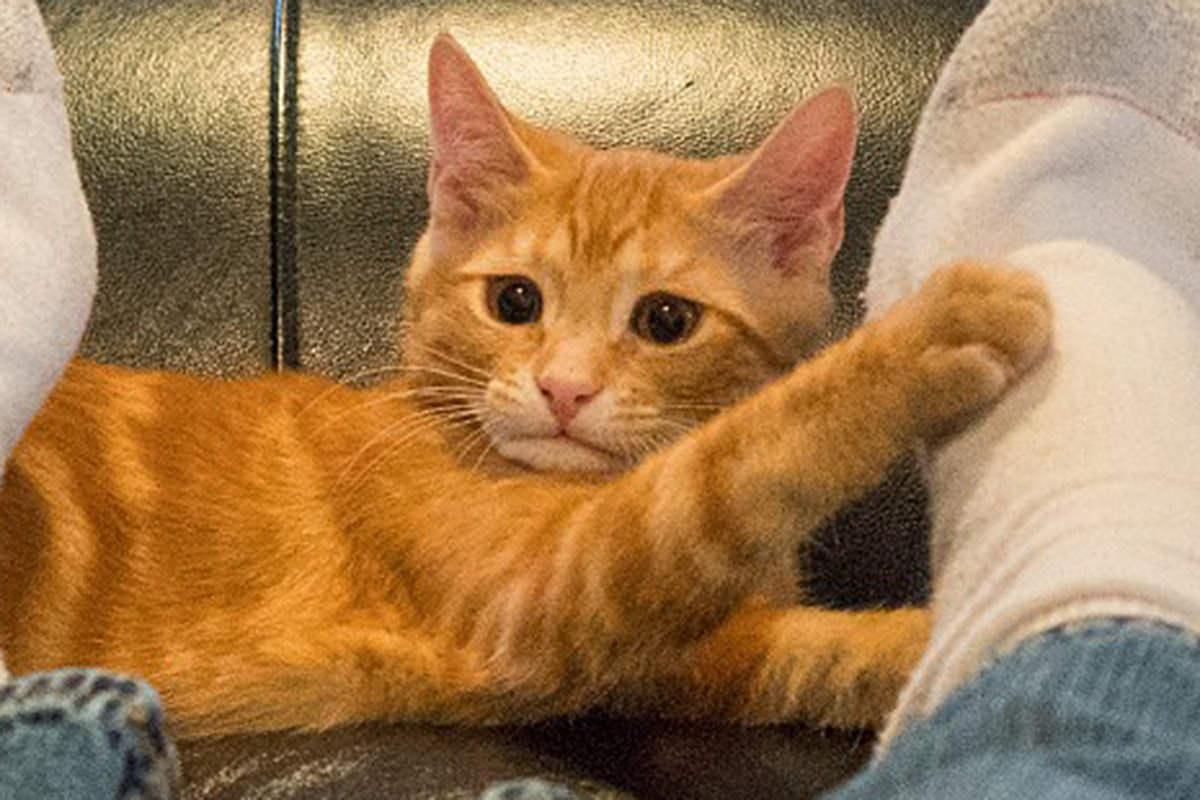 So when she's irritated, you definitely know it...
But even when she's grumpy and irritated one minute...
...the next minute she can be all adorable and melt your heart again...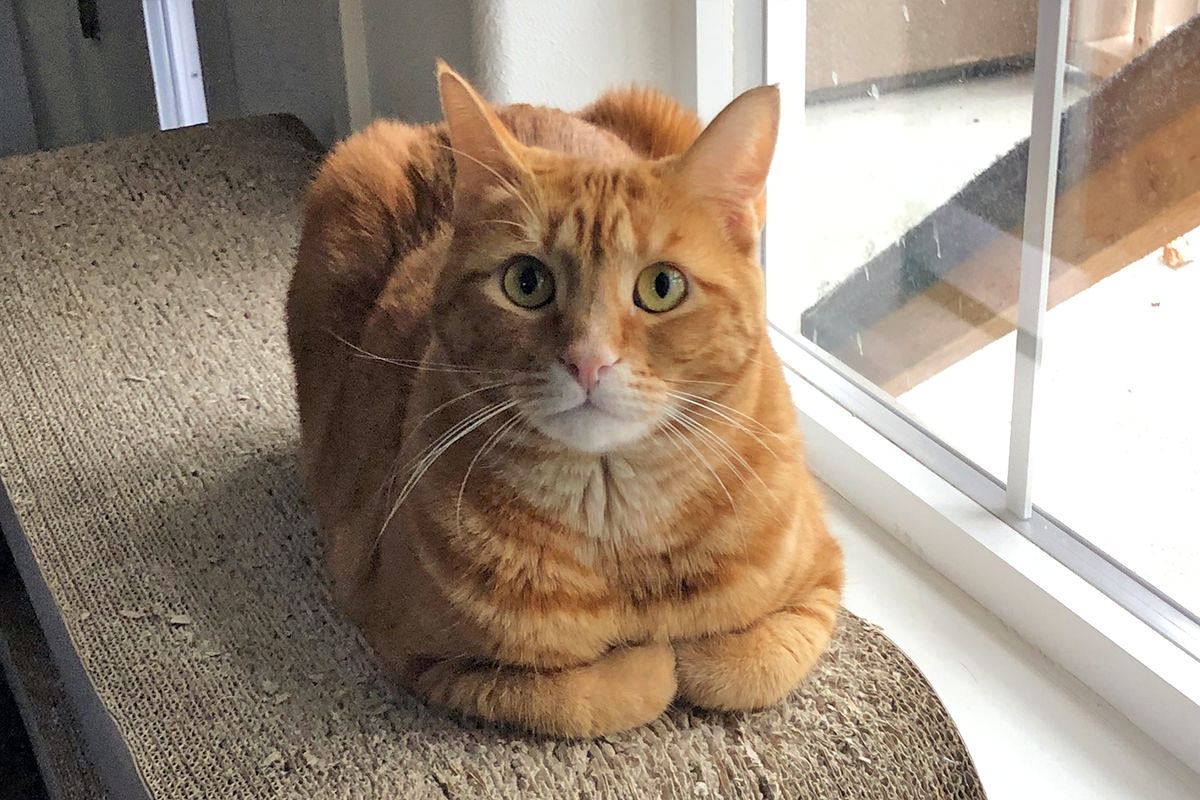 In other Caturday news, Jake and Jenny have been pretty buddy buddy lately. Usually they coexist without much interaction... but now they've been hanging out together quite a bit...
My guess is that it's getting cooler, so they're snuggling up for body warmth?
I hear that. We're supposed to be getting a thunderstorm tonight!
Posted on August 31st, 2019

My cats are 3-1/2 years old. I just looked it up, and this is the equivalent of 30 in human years. Once I managed to work the lump out of my throat, I started thinking back to when I was 30. I think that's the time I started calming down and getting more serious about life. Who I am now was formed in my 30's. That was the time that my personality stopped changing... instead it just grew in intensity.
Uh oh.
If this works the same for cats, then I'm in for an interesting time of it.
Not from Jake, mind you. This is going to be Jake from here on out...

I'm The Dude, dude!
I mean, seriously... this was Jake this morning when I was ready to start my day...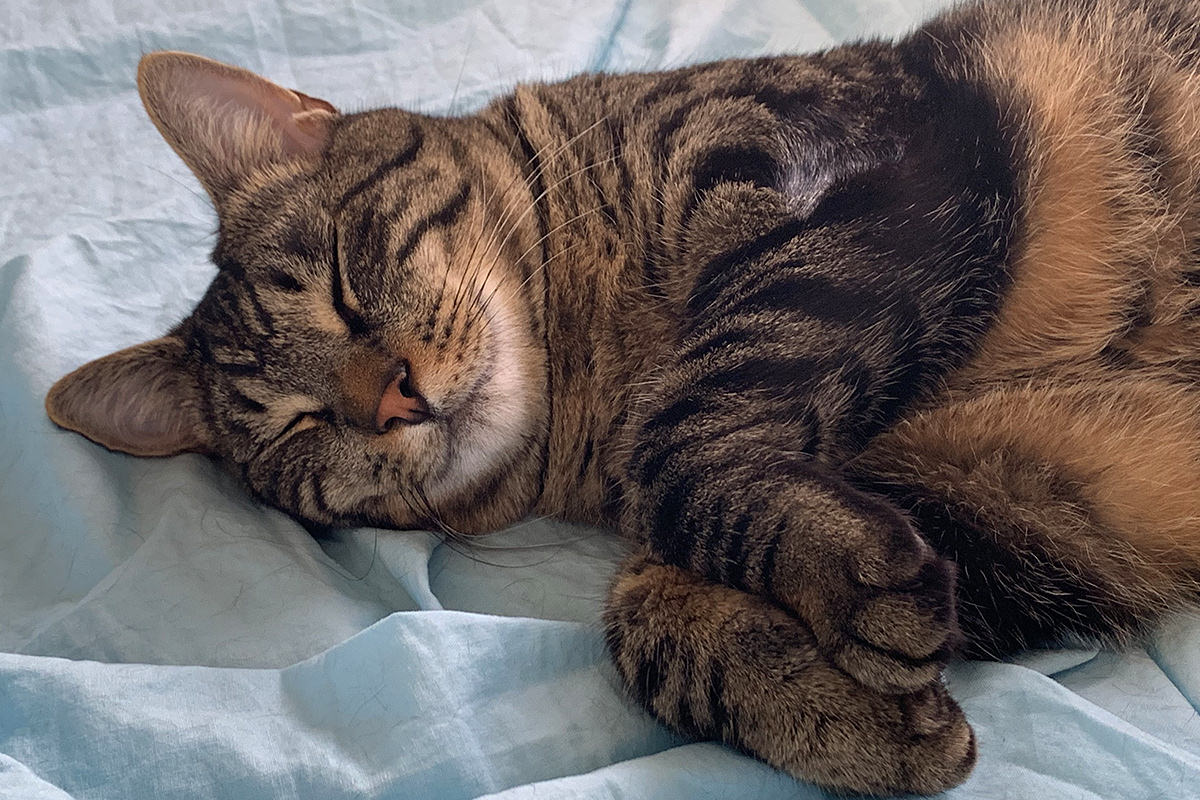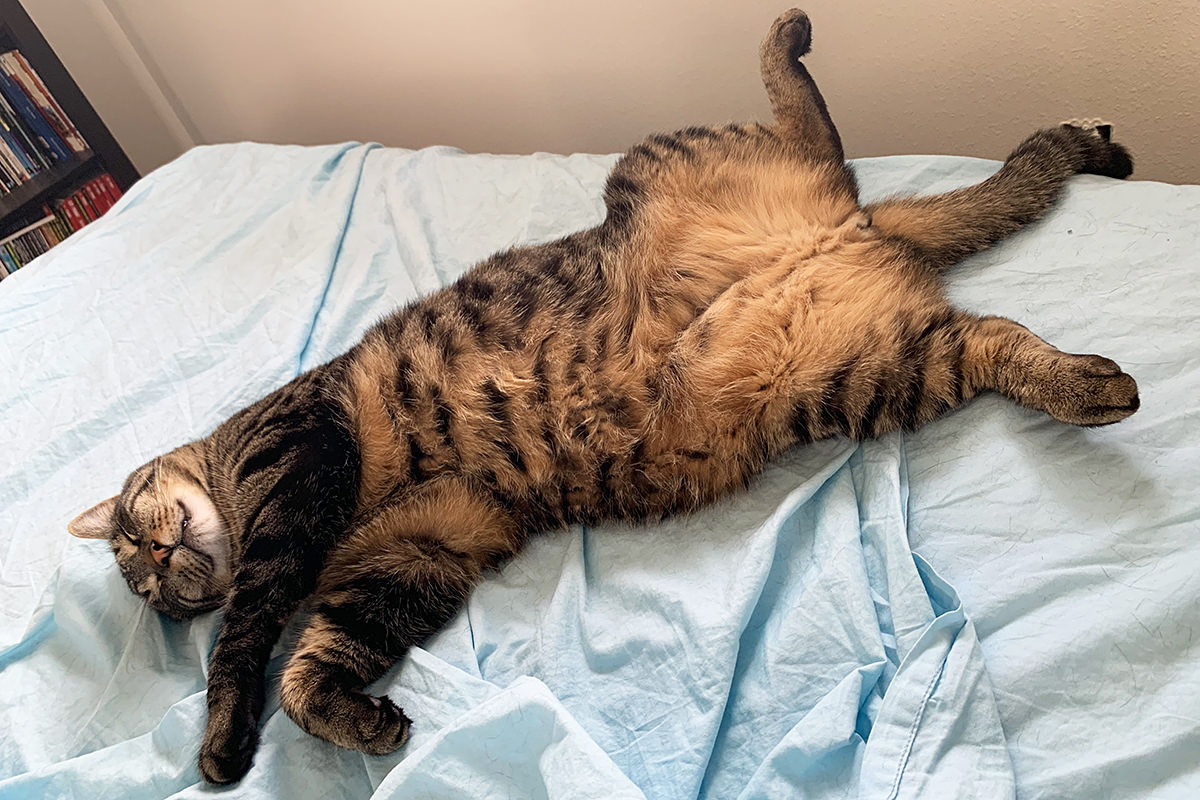 He is so laid back and chill. The only time he is even remotely anxious is when he's waiting for me to dish out his food. Any other time? Unfazed. He might squawk at me if I'm walking by and he wants to be petted, but that's the end of it.
Jenny on the other hand? Entirely different ballgame...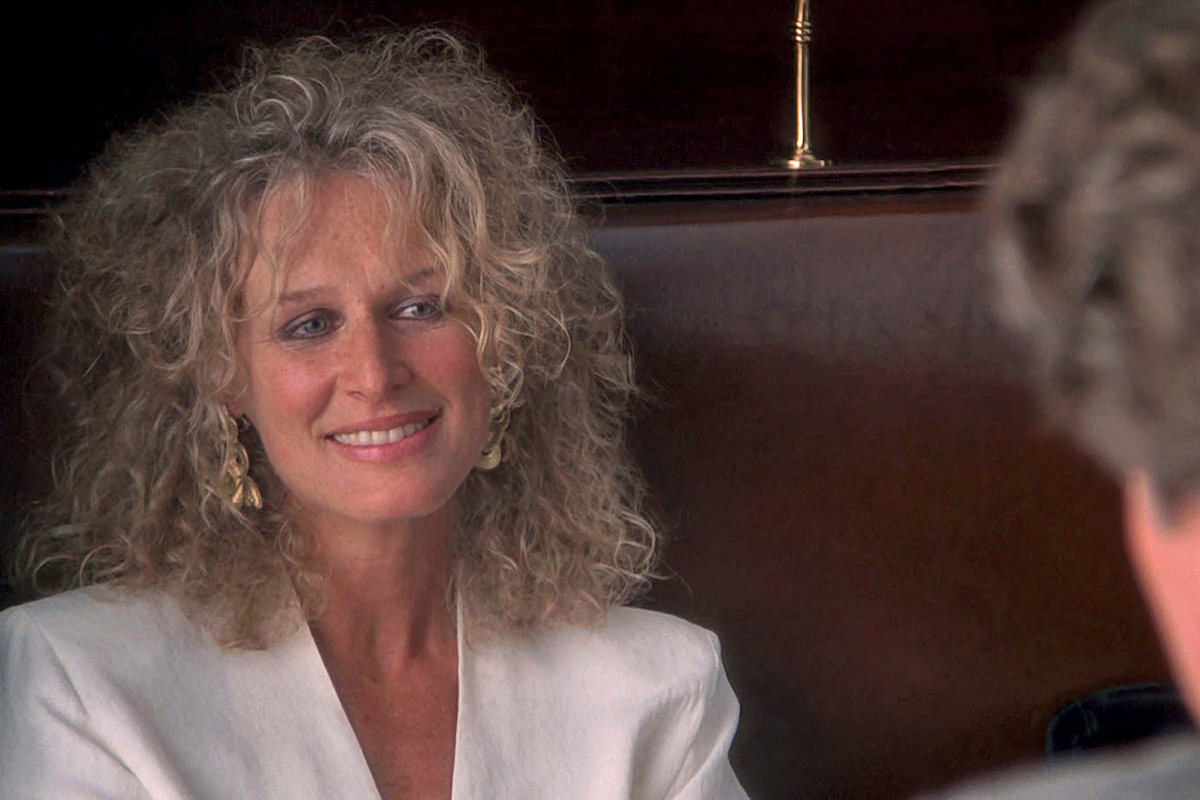 I'M NOT GOING TO BE IGNORED, DAVE!
As she enters into her thirties, Jenny's trajectory has her turning into a demanding, cranky old lady. Which is all kinds of adorable. If she wants to be petted, she will insist you drop whatever you're doing and take care of it. Pet her the wrong way and she has no problem letting you know that she's bitterly disappointed in you. She never used to meow much at all, now she will absolutely meow to get your attention.
Like she just now did after jumping up behind me wanting to be petted...
She's still an incredibly sweet cat, so you can't possibly get upset when she gets a bit demanding... on the contrary, it's just made me love her more... but it's remarkable just how far Jake and Jenny's personalities have diverged.
Jake hops on the coffee table for a nap, and I can slow blink with him for twenty minutes...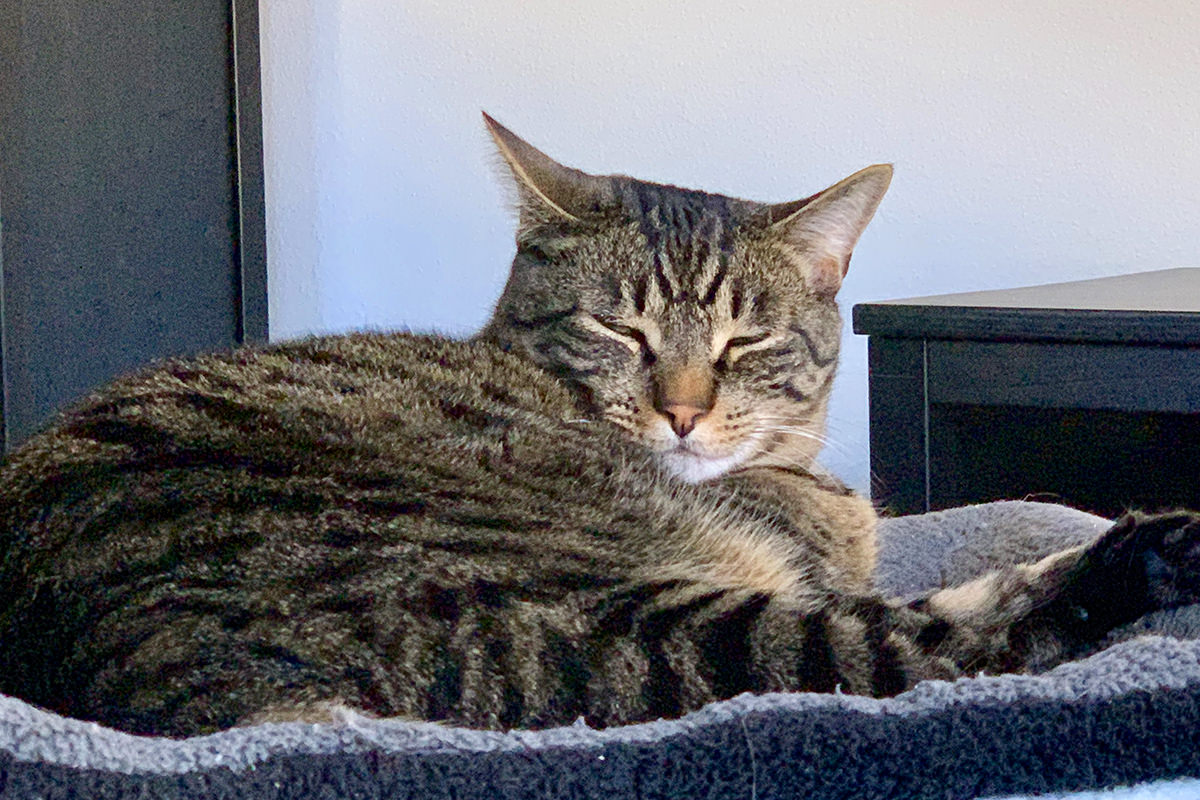 Try slow-blinking with Jenny that same night though?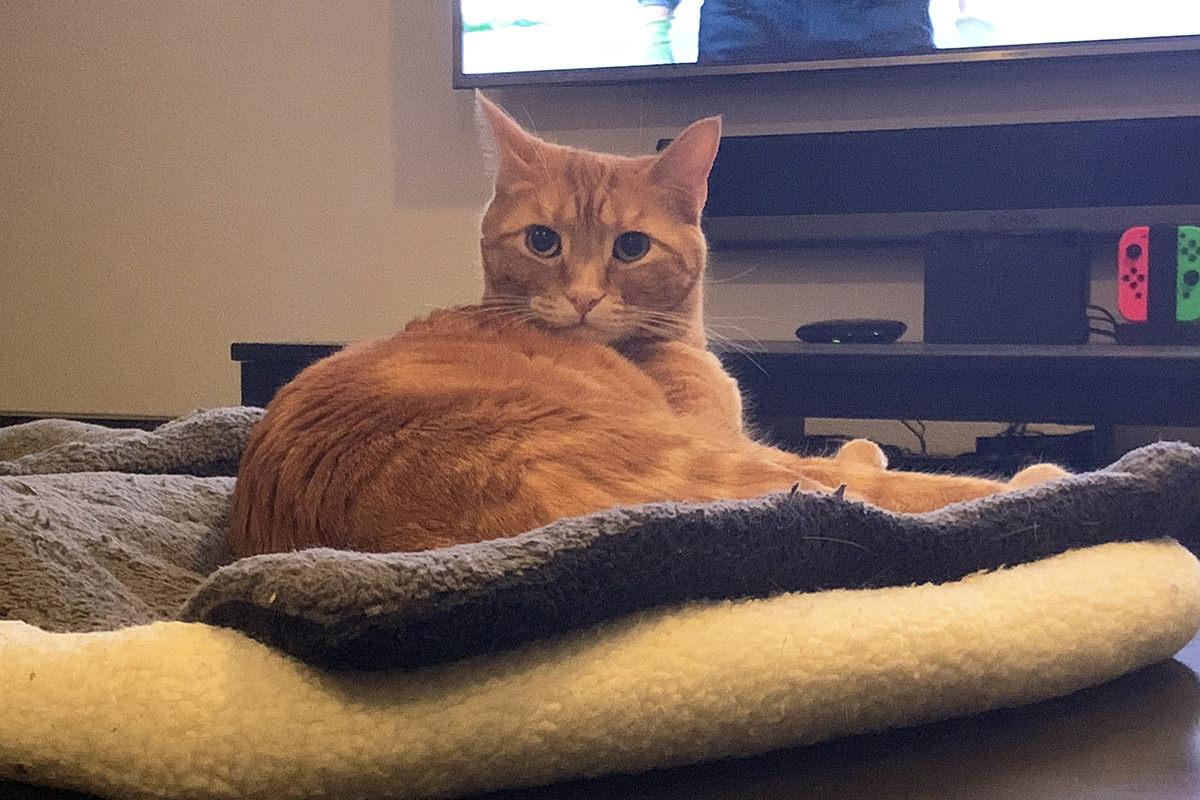 YOU WANT SOMETHING FROM ME, HUMAN?
In 2-1/2 years, my cats will be 40 human years old. They grow up so fast.
Posted on August 24th, 2019

Every once in a while it strikes me just how different my cats are. Jake and Jenny have completely different personalities, but are equally sweet in their own way. Jenny is very smart and calculating. If you aren't petting her in the right spot, she moves so your hand lands where she wants to be petted. She will also complain if you pet her in a way he doesn't like or if you stop petting her too soon. This is the opposite of Jake, who just flops down when he wants to be petted and takes whatever you will give him.
And speaking of Jake...
A friend stopped by to drop something off, which meant Jake was "trapped" hiding out in the catio. After my friend left, I went to the window to tell him that it was safe for him to come back inside (you laugh, but it works). Jake was pissed. SO MAD. He can't meow, but he was acting like he was meowing me a new one. I have never seen him this angry! JUST LOOK AT HIM! (I am on the other side of the window talking to him)...
After this he calmed down and came running inside, but still!
The next morning Jake woke me up at 4:30am. This never happens. My cats simply do not bother me when I'm sleeping unless there's something terribly wrong. I petted him until he stopped whining and crying and fell asleep next to me...
He was still next to me when I woke up. I canceled the Alexa alarm for breakfast so he could sleep in. I thought he'd wake up when the kitty feeder cycled, but he didn't...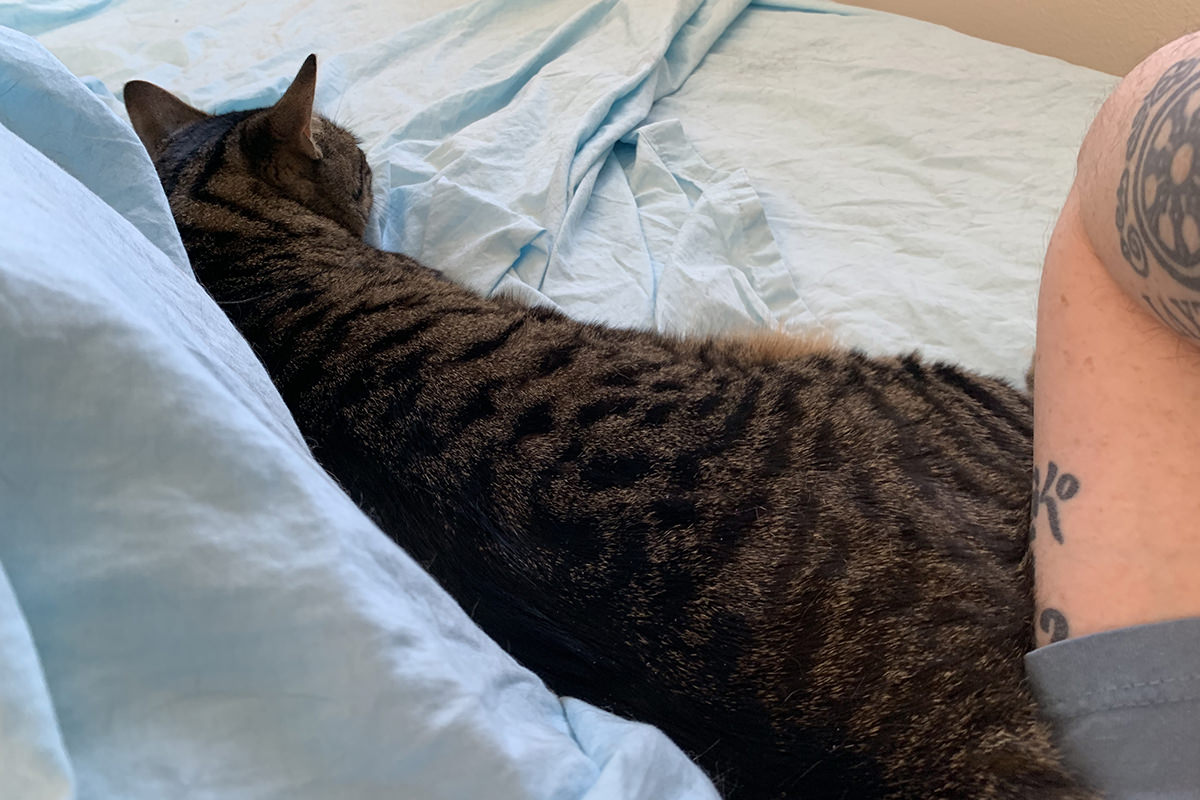 A little after 8:00, he woke up and must have realized that he missed breakfast, because he went tearing downstairs to eat.
And speaking of eating...
Both of my cats are always curious about what I eat. They usually come up and smell it, then wander off when they realize that it's "people food" and not something they want. Since I don't eat meat, the only thing Jake and Jenny want of mine is animal products I eat... like cheese, butter, and eggs. If I set down a plate after lunch and there's butter or mayonnaise or cheese on it? They will definitely lick it clean, so I try not to do that because I think dairy upsets Jake's stomach.
A while back I made chip dip, which is pretty much cream cheese, mayo, lemon juice, and garlic. When I got back from putting my clothes in the dryer, Jenny was very interested in it...
It must have been confusing. On one hand... cheese and mayonnaise. On the other hand... lemon juice and garlic. I didn't shoo her away, but instead sat and watched. I figured that if she wanted to give it a taste, I wouldn't stop her. The problem being that garlic is toxic to cats in quantity, so a taste was all she was going to get. But, after a marathon sniffing session, she walked away. Probably for the best.
And lastly today? The very definition of ape-shit... when a tiny mouse goes running by the catio while your cats are out enjoying the sunset...
There I was sitting watching television when they came running into the house, high-tailing it to the bedroom window. A minute later they were running all over the place like crazy cats. I had no idea what happened to get them so riled up... until I went to the security cameras and saw that a tiny little mouse had run by. I guess that's all it takes.
See you next Saturday.
Posted on August 17th, 2019

Another Caturday... already?
Nothing quite like looking up and seeing your cats staring at you.
This usually happens close to feeding time. I'll be working or reading or something, look up, and there they are...
But lately Jake has been staring at me just to stare at me...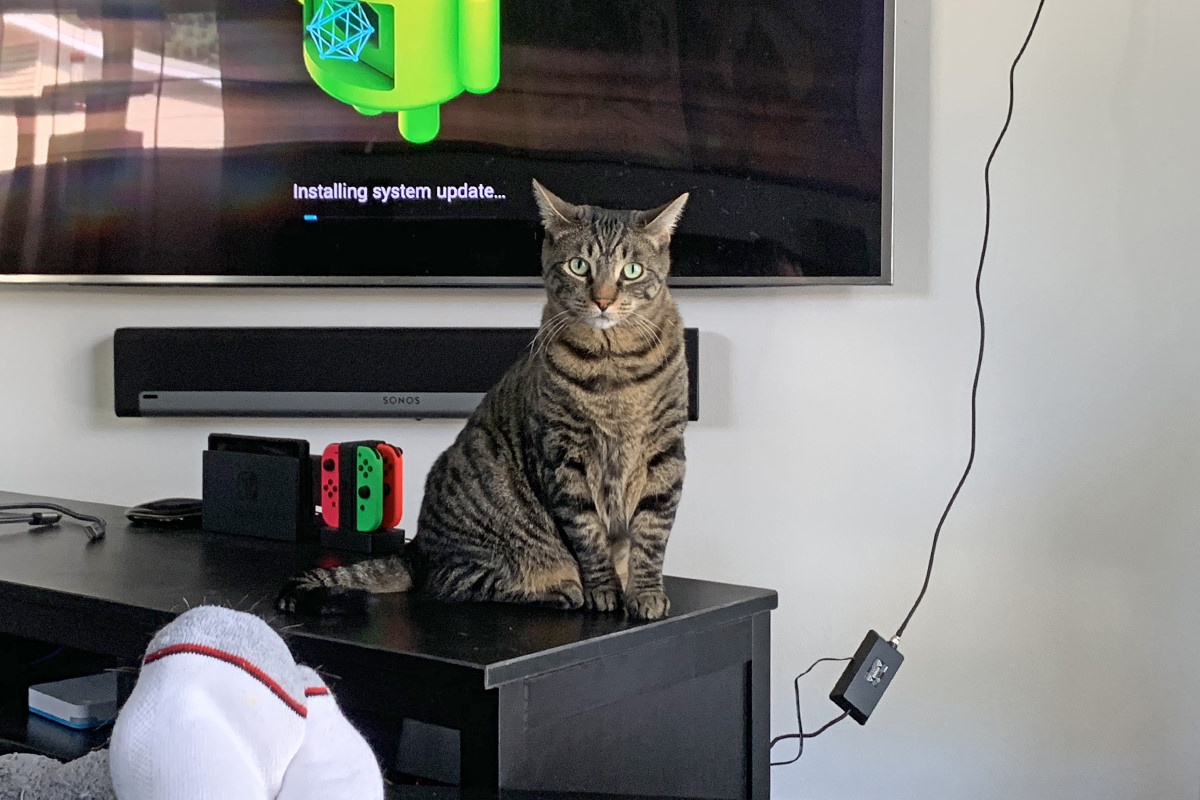 No big deal. I'm a fascinating person, even when I'm doing nothing.
But the other day he actually caught me by surprise. I was getting dressed for work, turned around, and he was... hiding in the cat tree staring at me...
This is a big deal.
My cats have never... not since I first got them as kittens... ever climbed in the little hidey-holes in the cat trees I bought for them. They do not like enclosed spaces and won't go inside of them. Why Jake has all of a sudden taken to hiding in them is a mystery.
In other news... my cats are getting lazy.
A couple days ago I caught Jenny scratching on the scratching post, which is nothing unusual. Except she was laying down while doing it...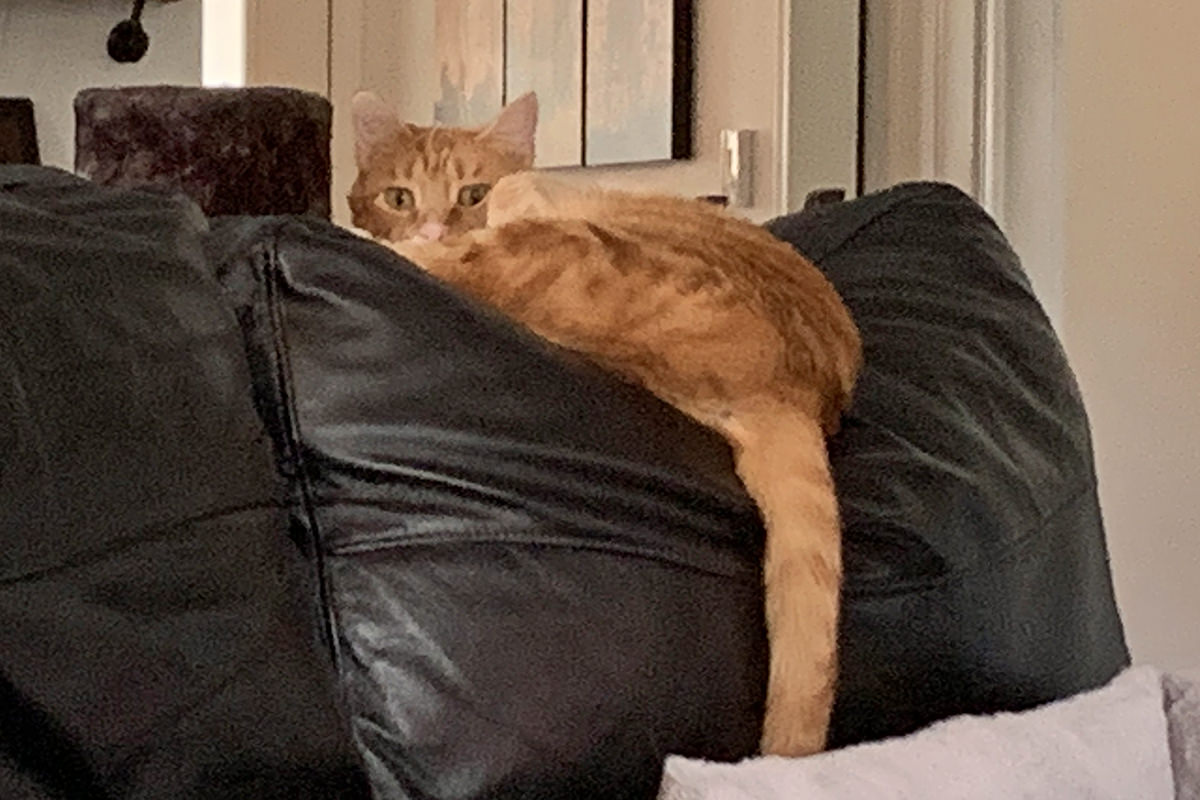 Jake is even lazier. He no longer comes up and rubs against me when he wants a belly rub. He jumps on the bed, shows his belly, then grunts until I rub it...
Jenny is a little more subtle but, then again, she always gets belly rubs when she wants one...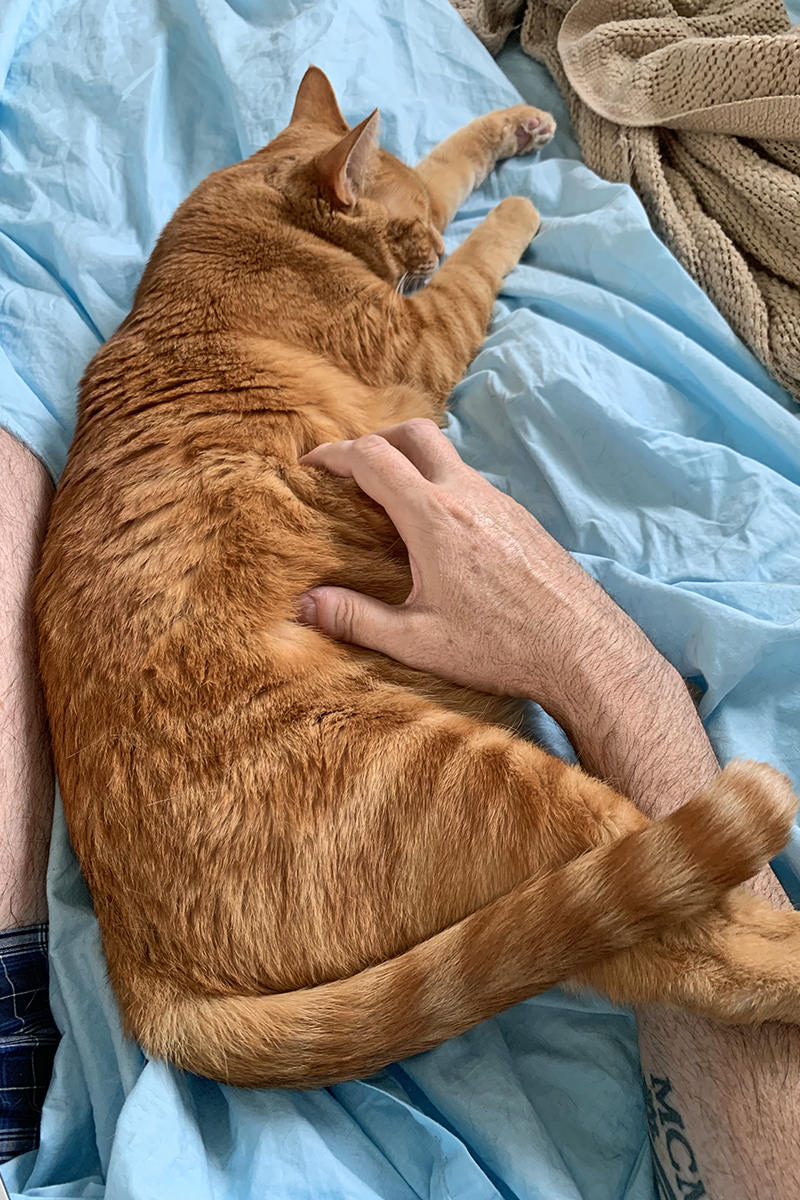 And speaking of Jenny... just to put to rest any doubt that she can handle herself when it comes to her brother... this showed up on my security camera yesterday...
Have a great weekend!