Posted on February 16th, 2020

The reason that Bullet Sunday and Caturday switched places this weekend is that today is the 4th anniversary of my adopting Jake and Jenny.
When their 4th birthday arrived back in December, it didn't really register with me. Probably because that's an estimated date. They were feral rescues who were rescued when they were days old, so "December 6th" may or may not be the actual day. The date that I actually went and got them is not estimated, however, because I wrote a blog entry on that amazing day...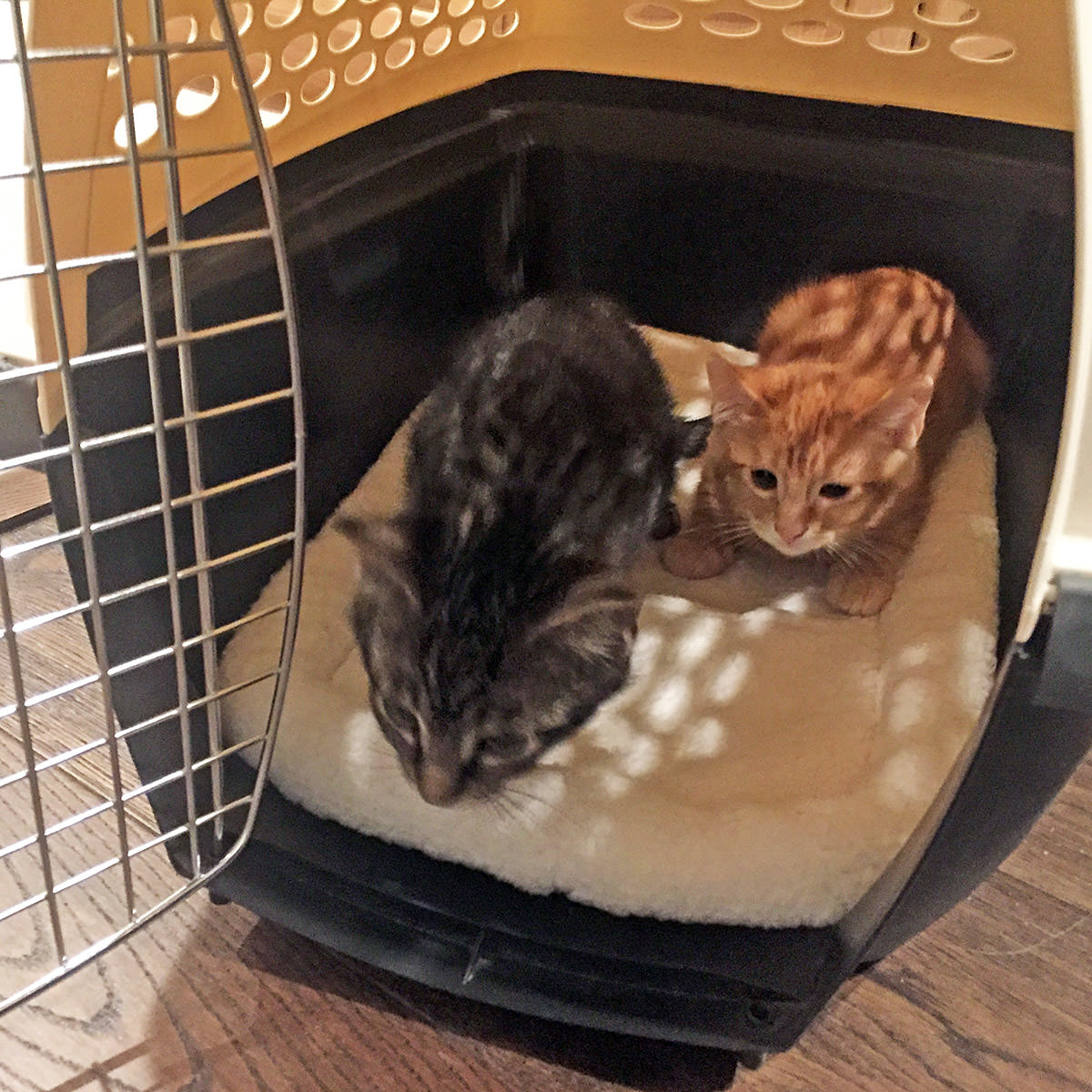 Initially rescued so my mom would have a distraction from her mounting confusion and memory loss, she was able to coax them out from under the couch long before I was...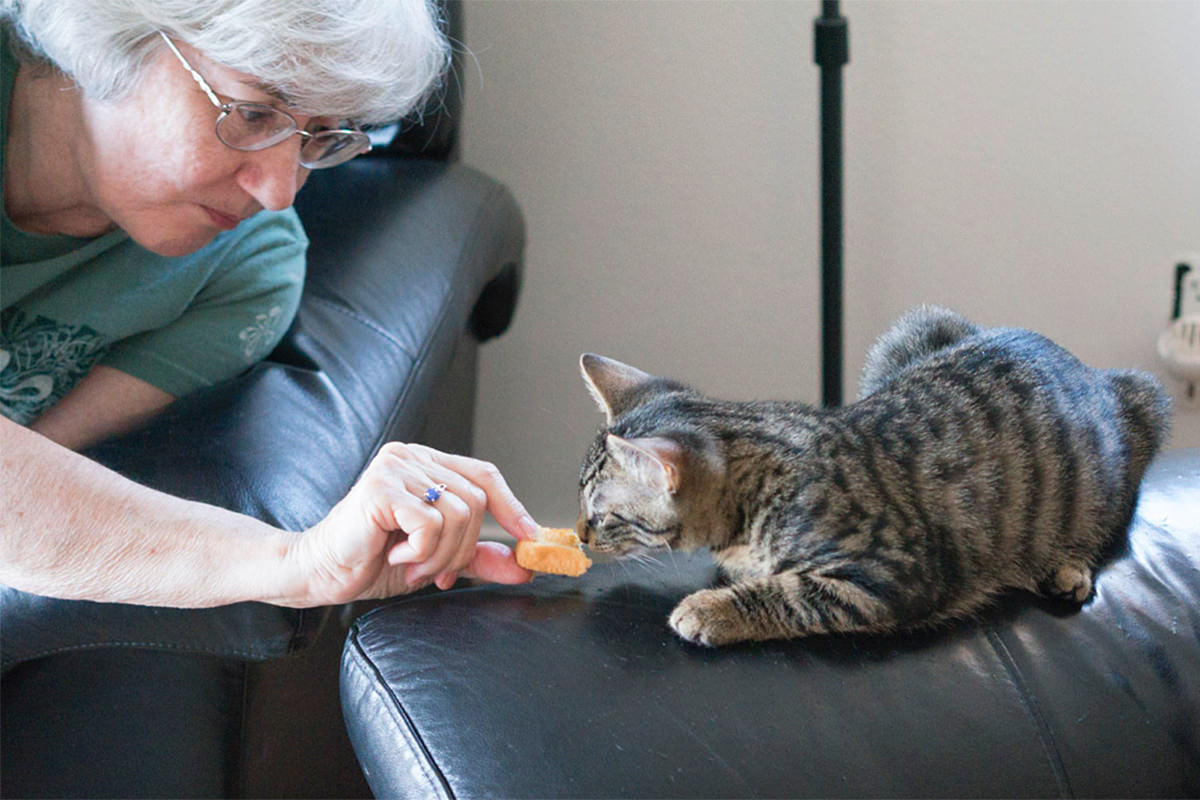 Probably because she was home with them all day so they got used to her faster. Or maybe just because they liked her a lot. Especially Jake, who would flop down and invite her to rub his belly at any opportunity...
Adopting my cats remain one of the best things I have ever done in my entire life.
After my mom passed, they were my reason for getting up in the morning, and they've been saving me every day since.
They are the most amazing creatures, and I love absolutely everything they do. Both of them are exceptionally well-behaved, never scratch up the furniture, always playing nice, and always happy to hang out with me. On those rare occasions something goes wrong... like them getting sick or waking me up in the middle of the night for some bizarre reason... I am never upset. Ever. Because they continue to be one of the best parts of my life...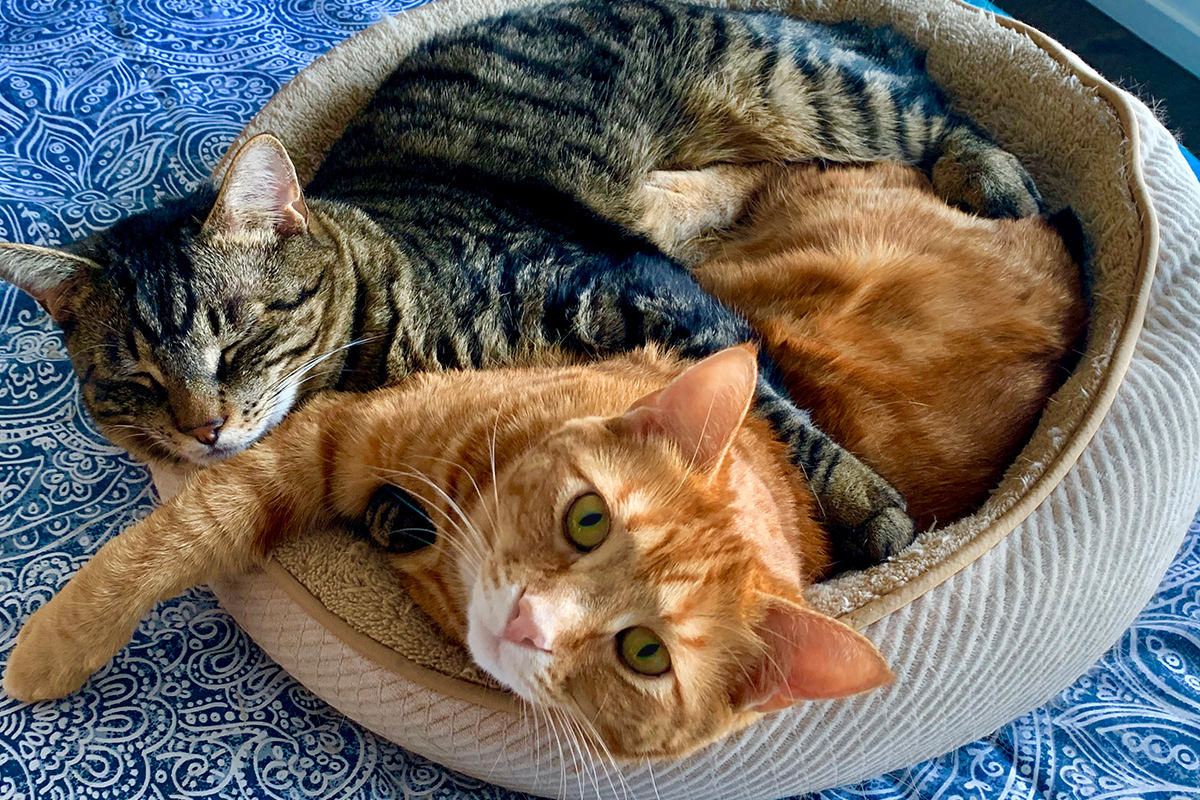 If they have a failing, it's that I could never get them to adapt to other people. I have tried and tried and tried to slowly introduce them to houseguests. Sometimes, after a day or two, if nothing too exciting is going on, Jake might come downstairs to take a look... but he is wary the entire time and never hangs around for very long. My guess is that if somebody were to be around for several weeks they would eventually adapt. If I ever end up in a situation where that becomes a necessity, I sure hope that's the case.
In the meanwhile, I'm just going to keep enjoying their company for as long as I possibly can, because every day I love them just as much as I did when I first got them four years ago...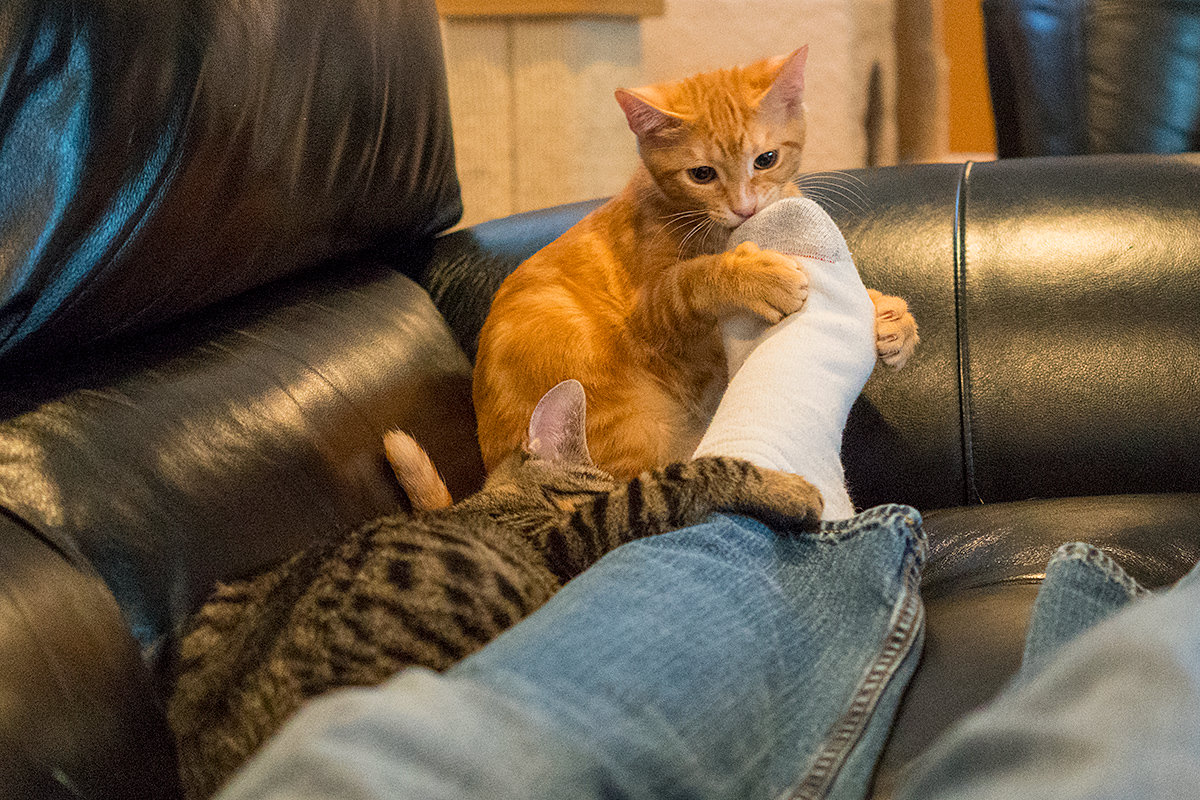 Happy Caturday, everybody!
Posted on February 8th, 2020

As I've mentioned before, there's nothing more stressful in my life than when my cats are sick. I've been very, very lucky*. Other than a rare hairball and an even more rare "scarf and barf," they've been really healthy cats, and they rarely puke.
So when Jenny started being antisocial, then puked in her dinner this past week... then puked in her dinner again when I cleaned it up... I was understandably freaking out. I tried feeding her a snack at midnight and she threw it up immediately. Not good.
Usually Jake and Jenny sleep in their separate beds like they are tonight...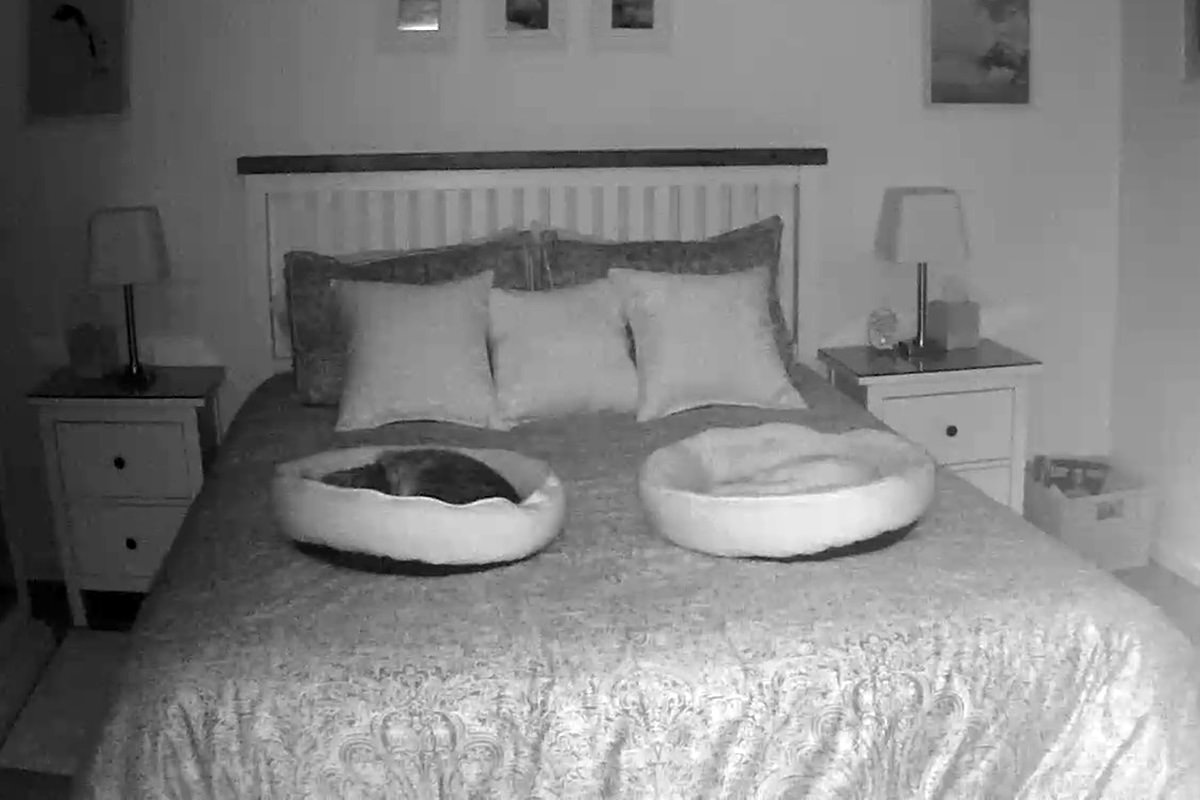 But with Jenny feeling so terrible, Jake sought to comfort her by crawling into bed with her and watching over things while she slept...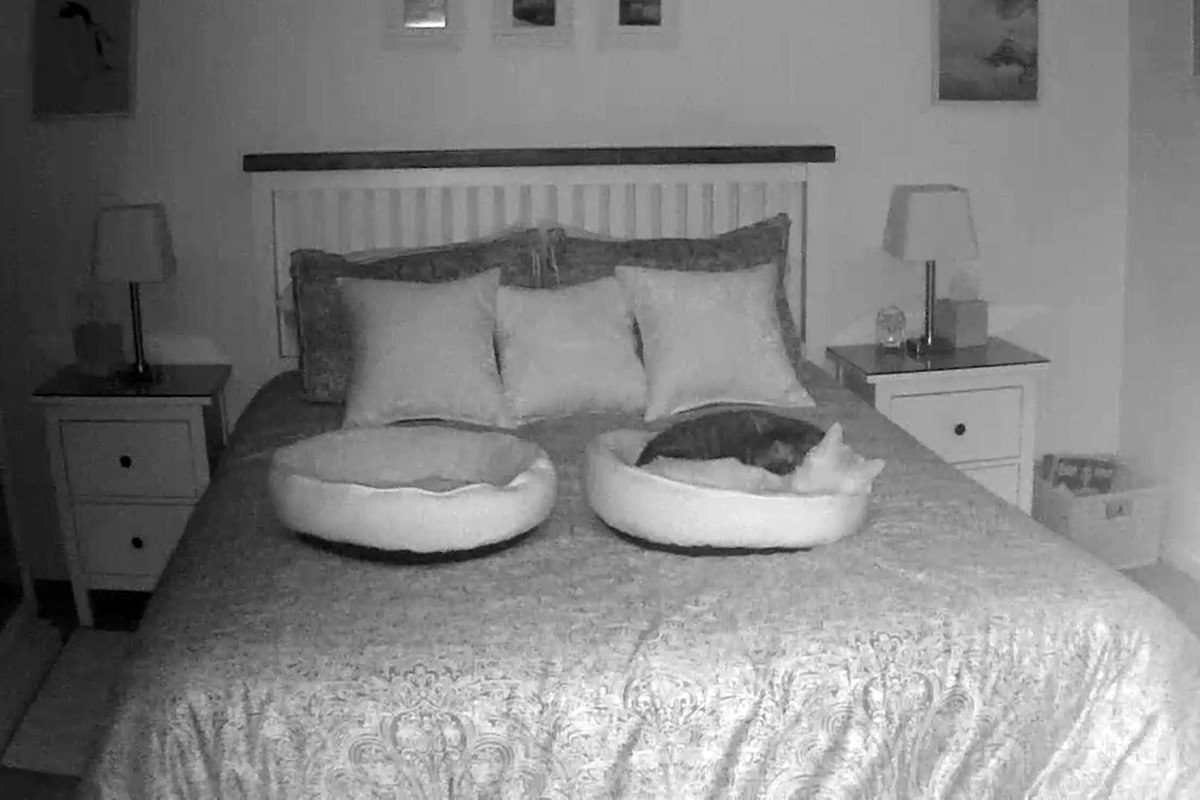 Whether she wants him to or not. I kept checking in on them with the security cameras and saw that she crawled to the other bed... only to have Jake follow her there...
After I dropped a plate on the floor, I thought I probably woke them up. But only Jake was awake. Jenny was still passed out...
He's such a good brother. He does the exact same thing when I take them to the vet and Jenny goes catatonic...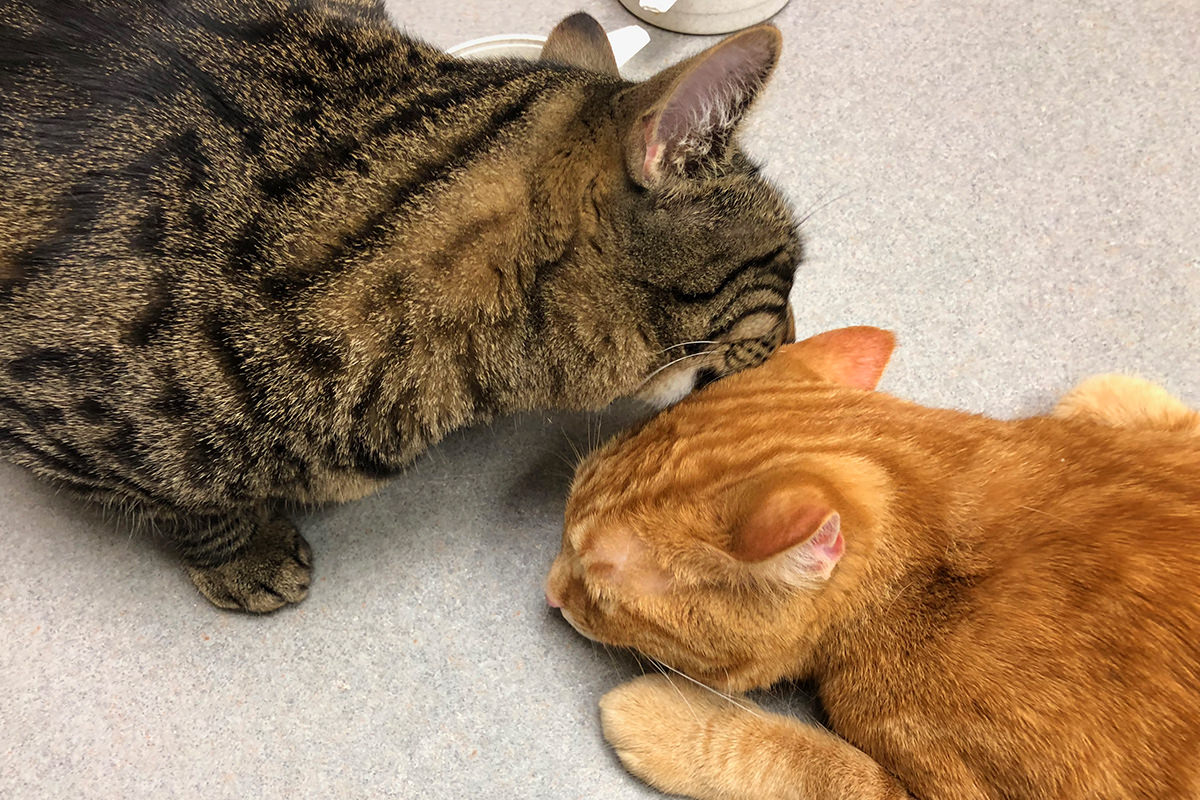 The following morning Jenny had thrown up a bunch of water. Rather than panic and head immediately to the vet, I decided to feed her only small portions to see if she could keep food down. After a day of that, she had a full dinner, but was still being anti-social. She wouldn't let me near her.
Then the next morning she had breakfast without incident, then showed up while I was working in bed and was back to her usual self...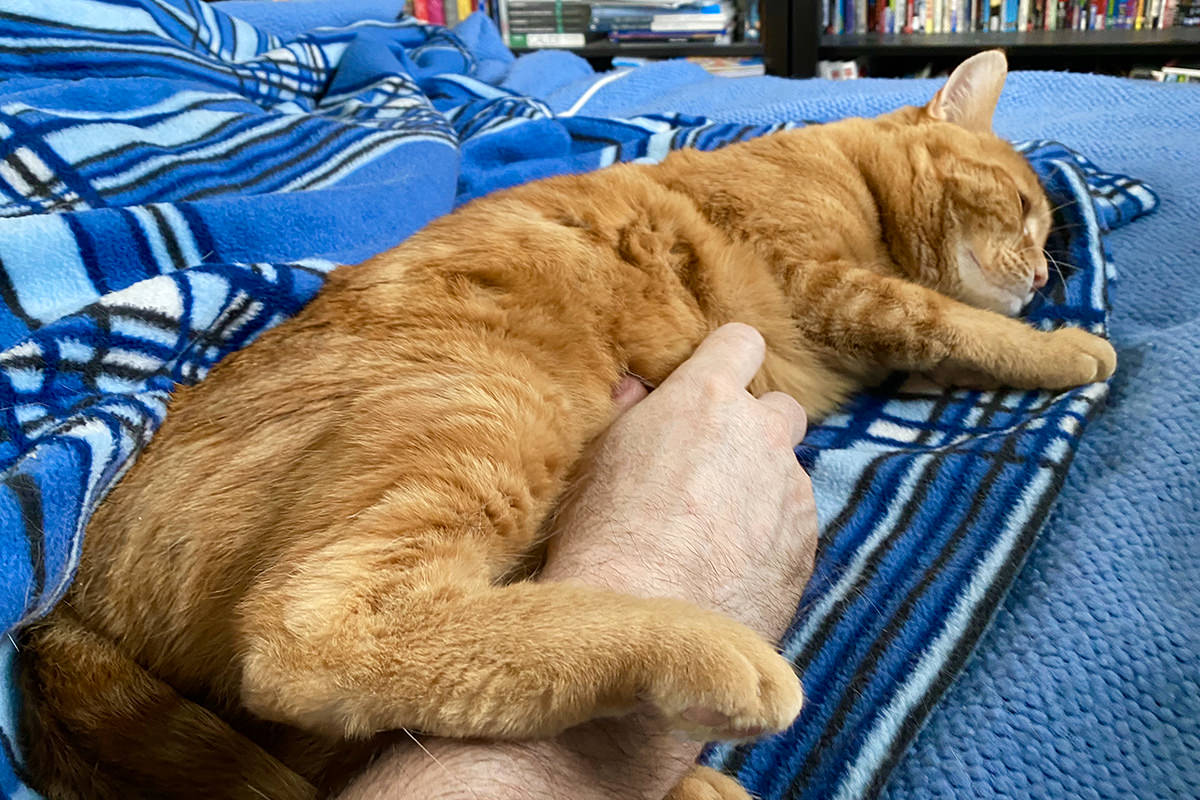 And then there's Jake.
I've been waking up the past several mornings with him LAYING ON TOP OF ME. I finally put a security camera in my bed so I could see what was up. Turns out there's no reason for it. Jake comes wandering in around a half hour before breakfast time, then just climbs right on top...
Which is nothing new. He's constantly crawling up on me even when I'm not in bed... hoping for some scratches...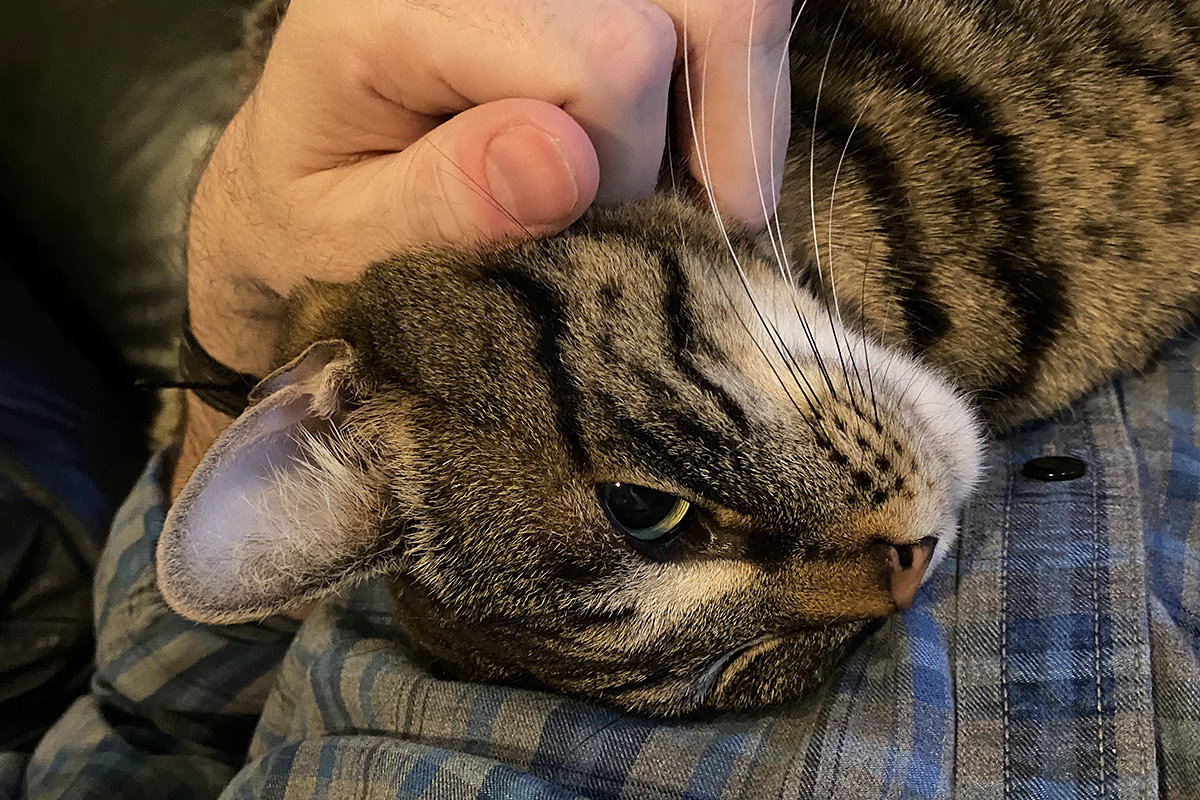 The weather has been warming up at an alarming rate. This has meant that Fake Jake is leaving his shelter more and more. He's out most of the day now unless it's pouring rain out. Nights are still spent laying on the warming pad though...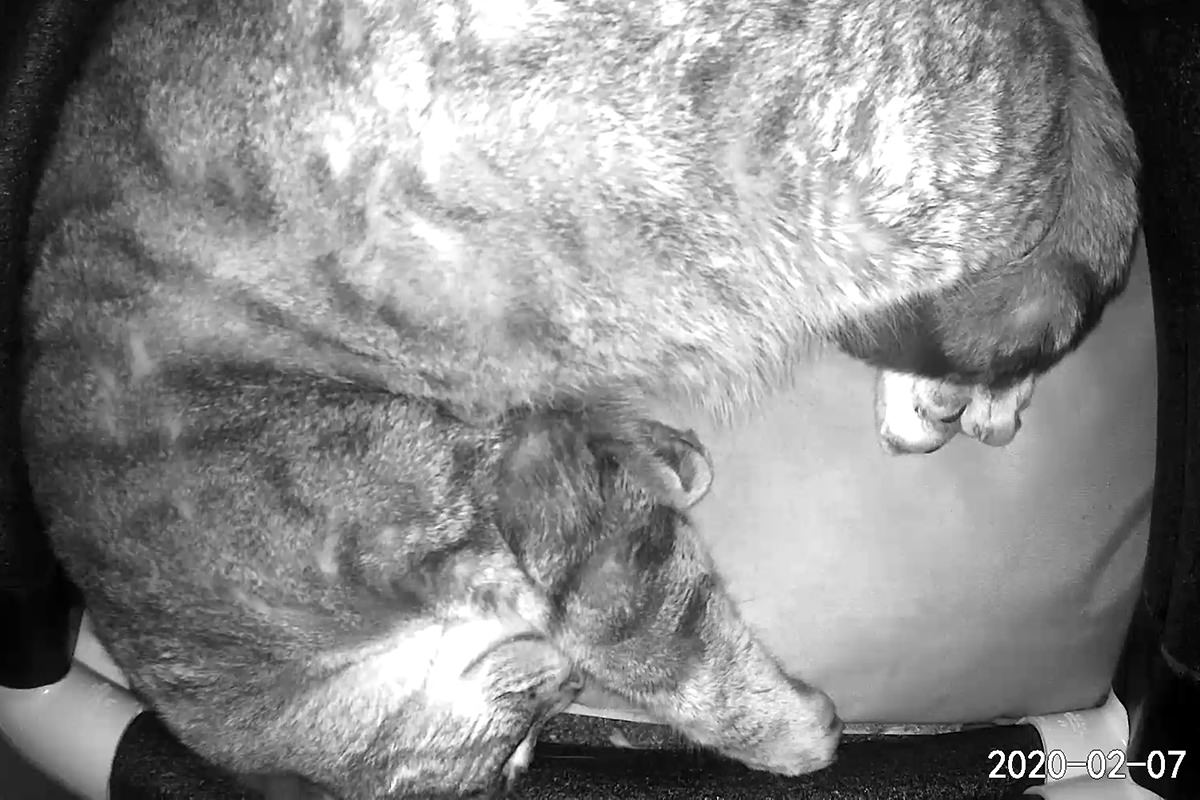 When I got home yesterday, Fake Jake came meowing and running from across the street. He was desperate for some scratches and pets. Then, as usual, he got overly-enthusiastic and snagged me after about five minutes. I just wait until it happens because I know he's not being mean... he's just being a cat... and it seems unfair to cut his time short...
Oh well. That's what anti-biotic spray and band-aids are for, right?
---
*Seriously lucky. I've only had three real "incidents" for the entire four years I've owned them...
Jake started puking and couldn't even keep water down. Eventually he was so lethargic that he didn't even put up a fight when I packed him up in the kitty carrier and took him the vet. When I got there they had a line and asked if he had been using the litter box. I didn't know, so I checked the security system and found out that he had been trying to go to the bathroom many times... but I never heard anything drop when the Litter-Robot cycled. They immediately admitted him and, sure enough, his urinary tract was completely blocked. It was horrifying, and he had to stay in the hospital while I went to Hawaii and back.
Jenny had itchy skin so bad that she was scratching herself raw to bleeding. She was clearly miserable, waking up from sleep in order to scratch. I did my best to scratch her with fingertips whenever I saw her scratching so she wouldn't scratch with her claws. I coudn't figure it out, as there were no dietary changes and the whole-home humidifier keeps the air from going too dry. Eventually I started saturating her fur in the itchy spots with a rotating assortment of anti-itch sprays until, eventually, everything went back to normal.
Jake was hiding and could not be coaxed out. I was mortified that his urinary blockage came back despite switching to a pricey prescription food. At the vet they couldn't find anything wrong. When I brought him home, I saw he was limping badly. Checked the security cameras and, yikes, he fell down the stairwell and hurt his leg.
Posted on February 1st, 2020

You will be pleased to hear that a life-long dream of mine was realized this week: Jake has consistently been falling asleep on my cold feet while I am working in bed. He did it on occasion over the years, but it was seemingly random and by accident. Then, on Tuesday he fell asleep on my toes... and has every day since. It's his favorite place to be now, apparently, and it's certainly my favorite place for him to be. So... win-win then, I guess...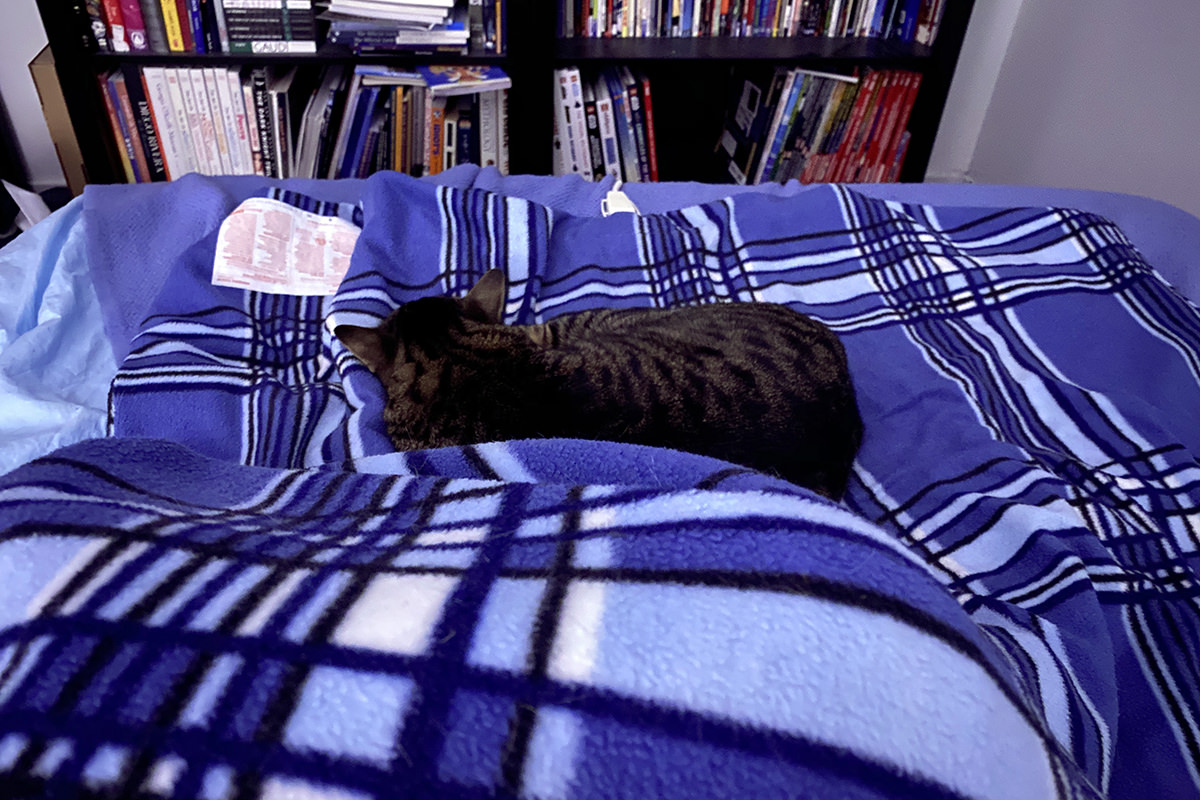 Last week Dolly Parton started a meme sensation that's been picked up by just about everybody...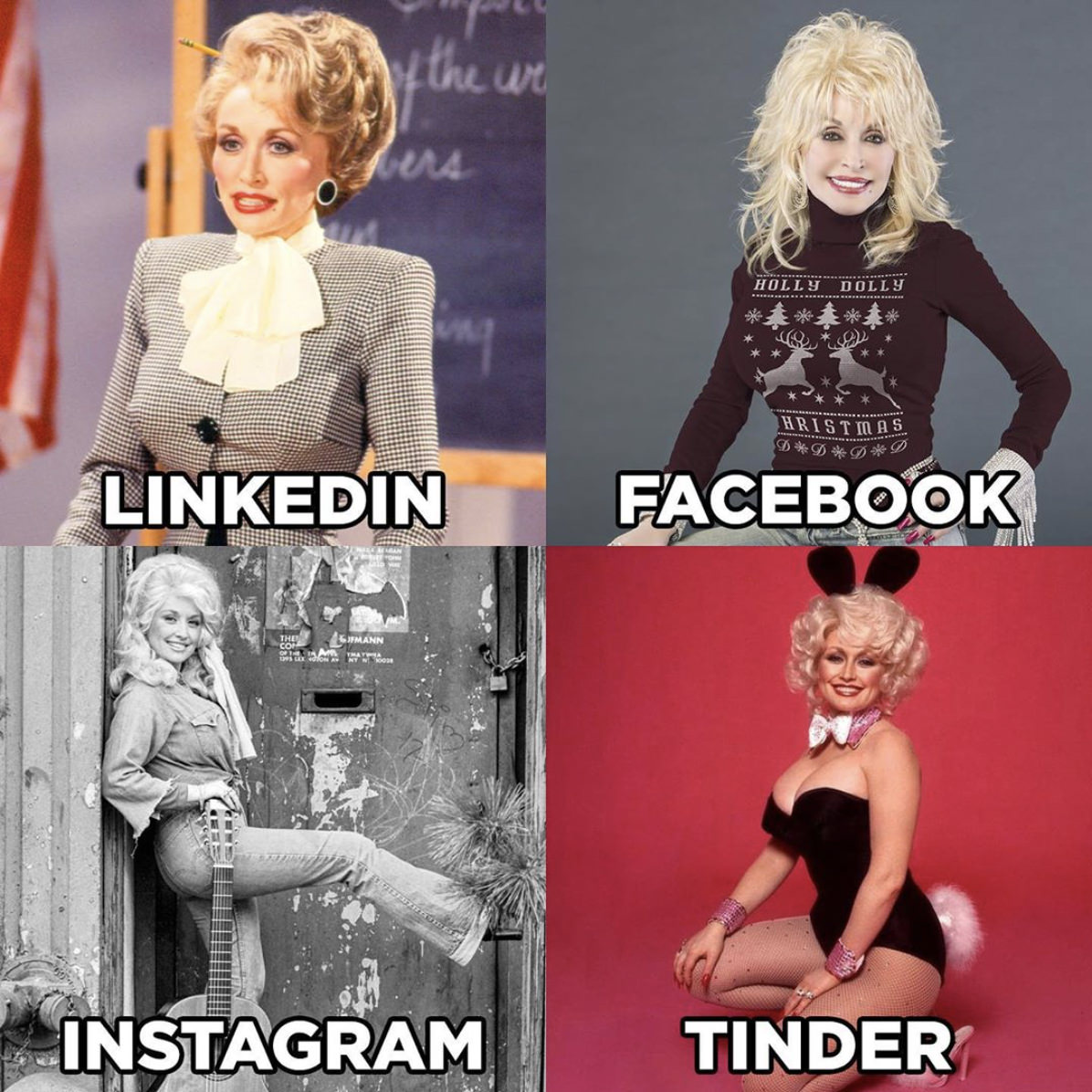 Earlier this week I made one for Jake...
And one for Jenny...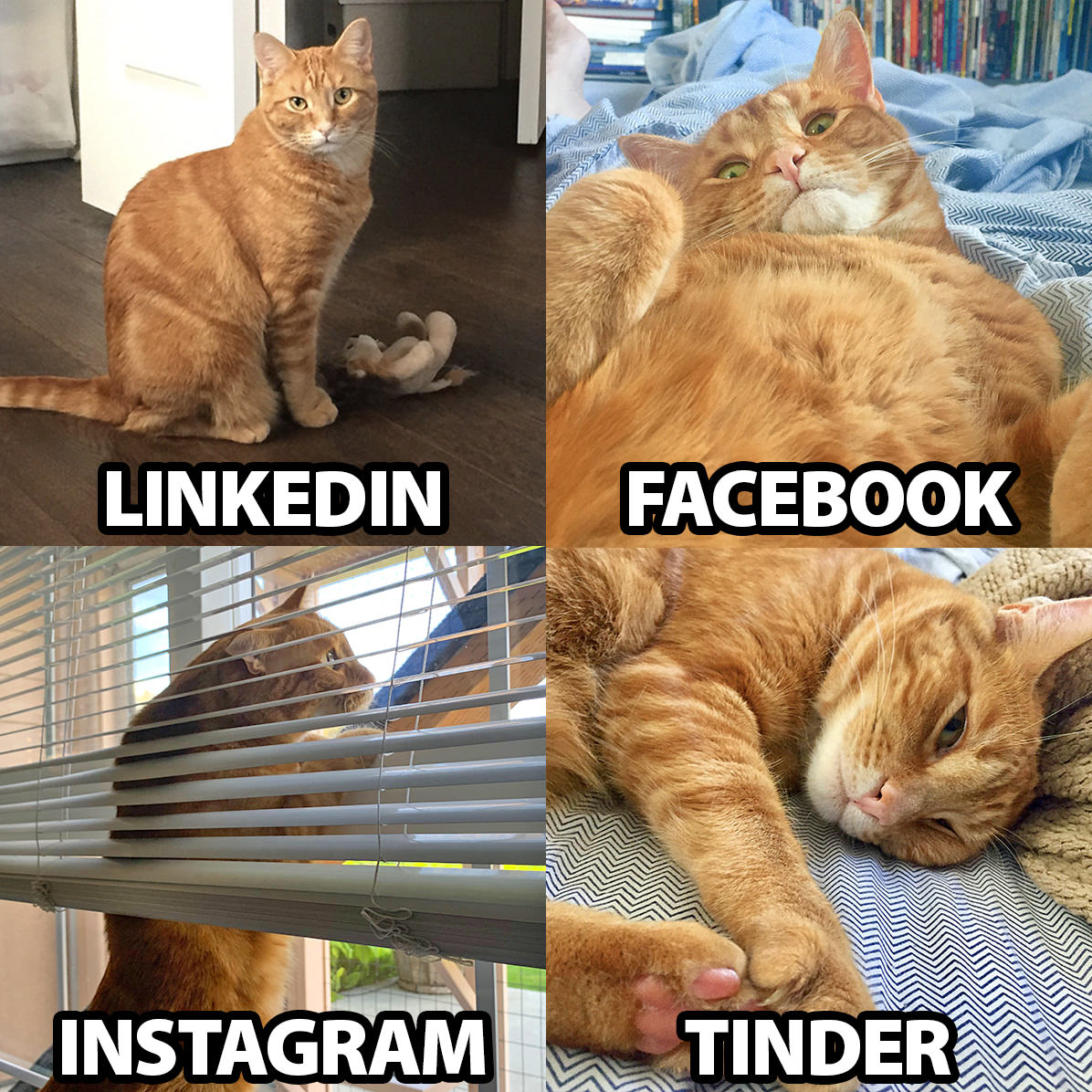 And that's all I have to say about that.
But before I go... watch this until the end...
I love raccoons almost as much as I love cats.
Posted on January 25th, 2020

I've had to pull a chip bag off of Jake's head more than a couple times. Usually they are the "Big Grab" size, and once that goes on his head it don't want to come off! I have to chase him around the house until I can pull it off. Poor Jake.
The larger bags are easier for him to get out of. Unless I cut them down when they are near empty. Then he can get his head stuck in there while digging for crumbs, no problem. Earlier this week he got his head stuck but I was able to pull it off right away. I thought he had learned his lesson, but here he is at it again...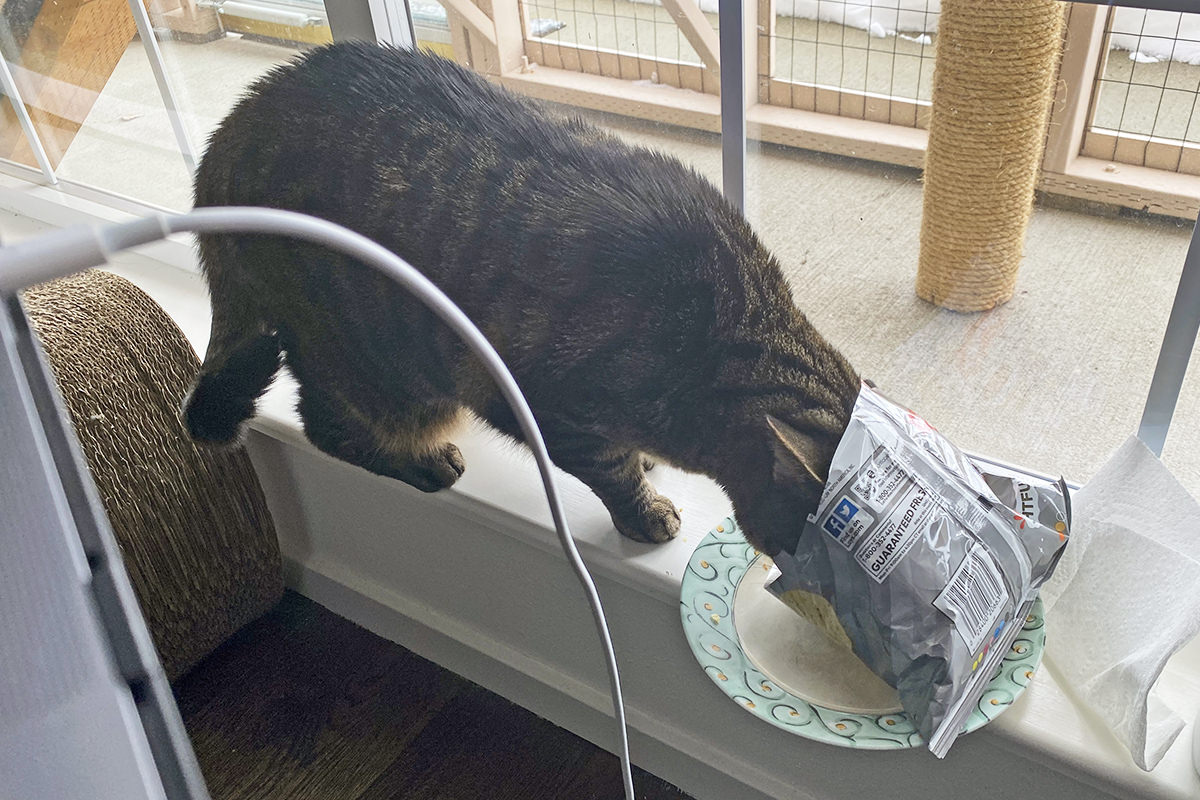 Until... he stopped short of sticking his head all the way in and started digging with his paw to pull the chips out of the bag...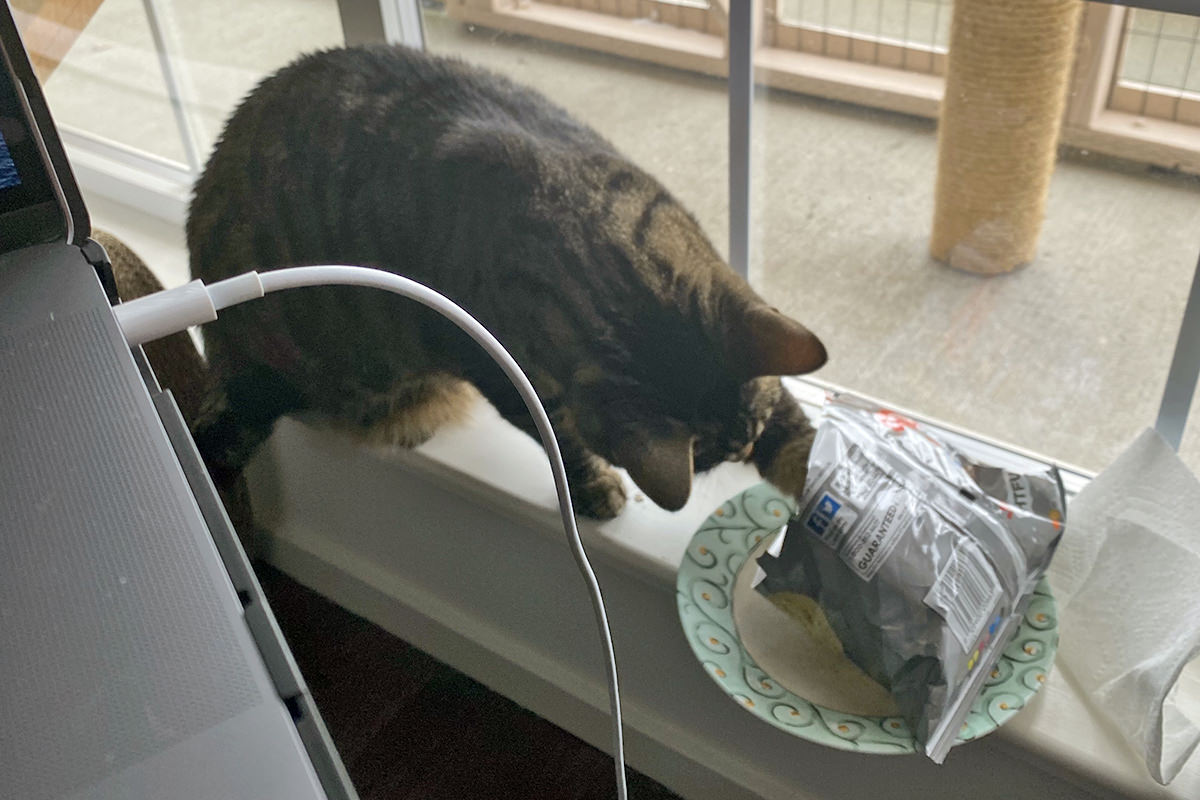 He knocked it on the floor, spilling crumbs. I was going to go toss it in the garbage, but he was learning something and so I put it back...
Sure enough, he fishes a chip out of the bag so it falls on the floor and he can eat it...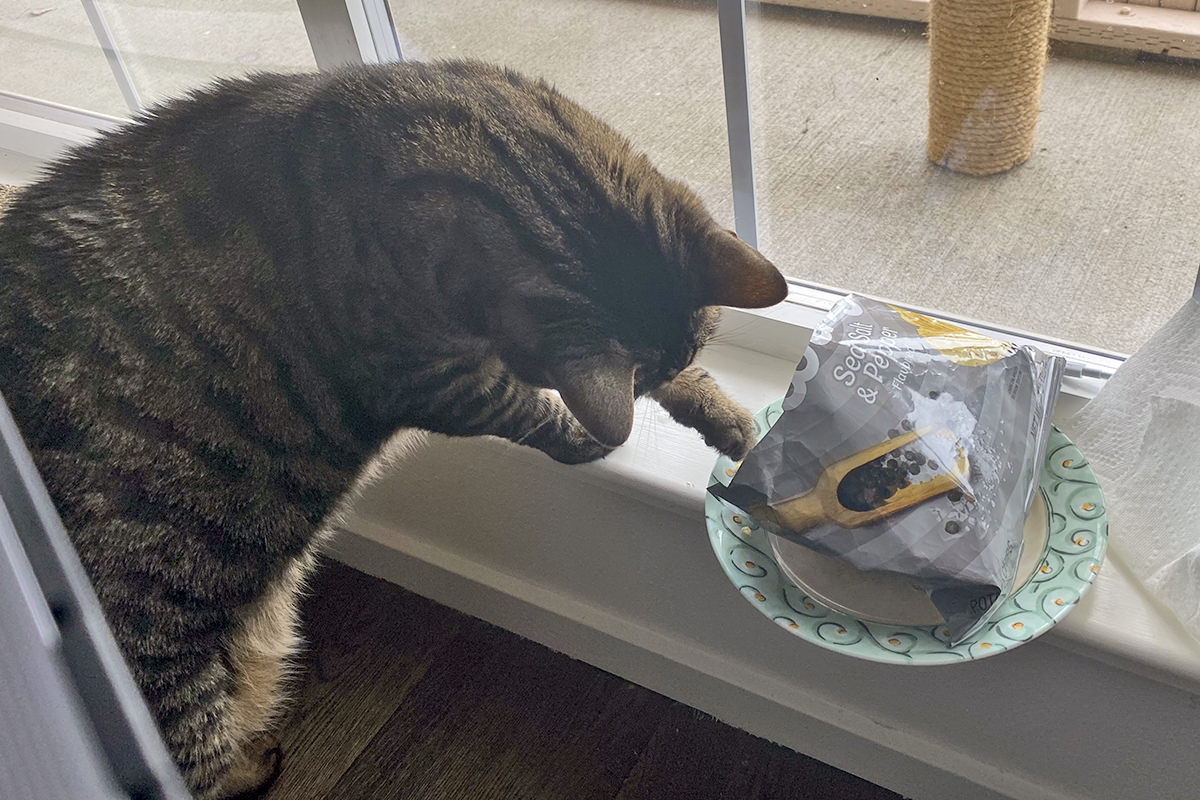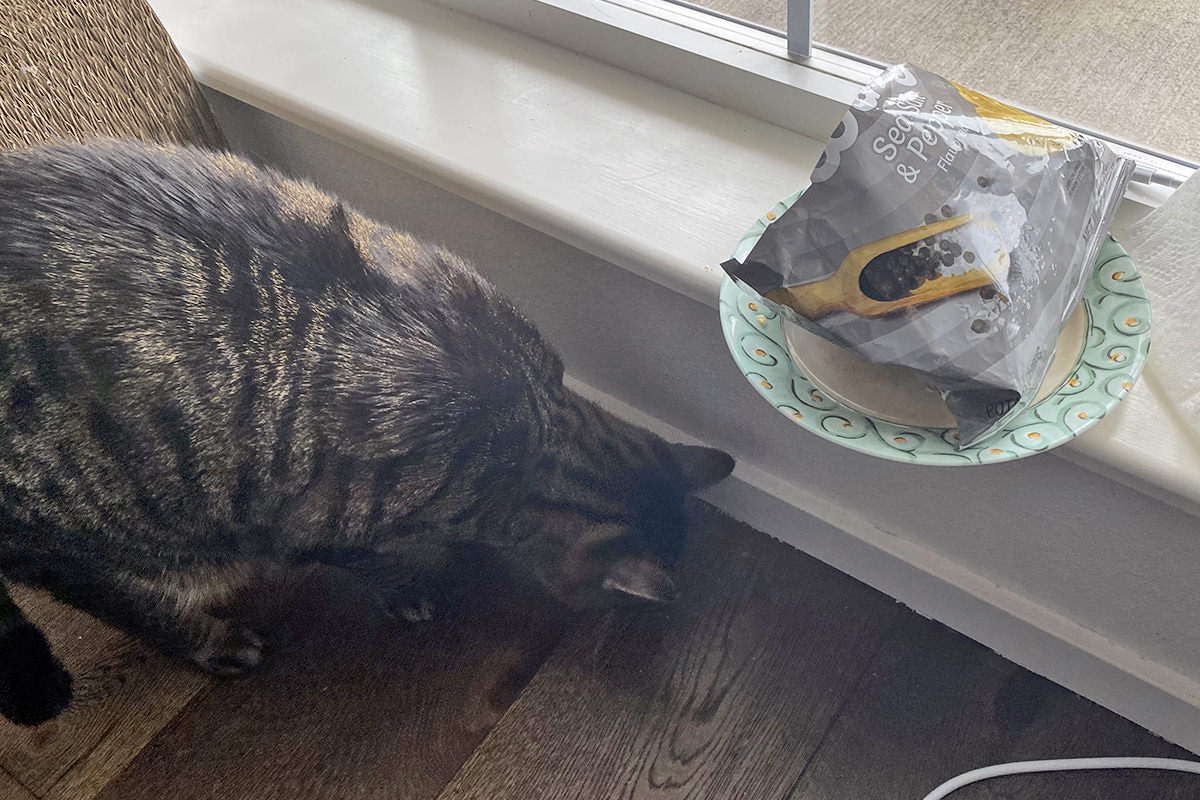 And speaking of Jake...
He's not content to sleep next to me at night any more... he wants to sleep ON TOP OF ME now. This shot is him on my back. It was tough to take because my arm is twisting back with my iPhone...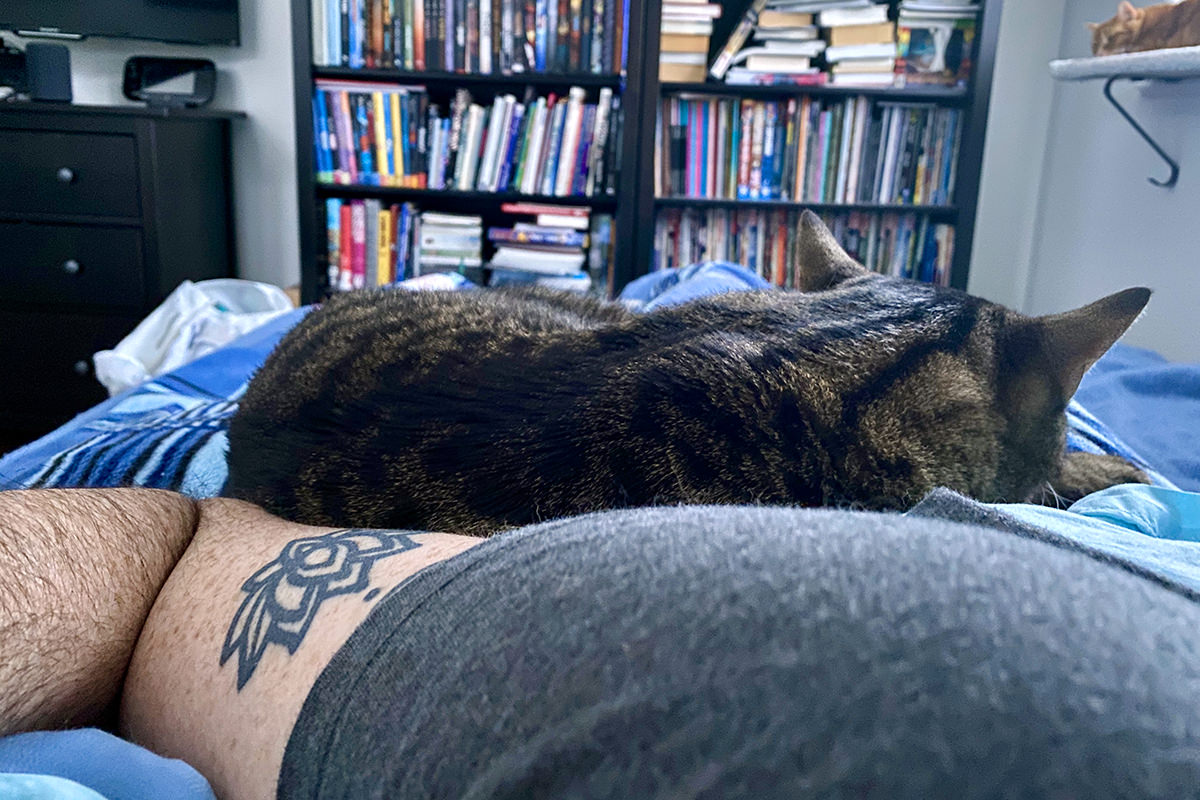 It's easier when he lays on my chest...
Jenny is still being Jenny. She's incredibly smart. She's deviously clever. She's wonderfully . And she's also inexplicably weird at times. I've seen her jump down seven feet without even batting an eye. But earlier this week she hopped up 30 inches into one of my jean cubbies and somehow felt stuck. She cried until I got out of bed and helped her out...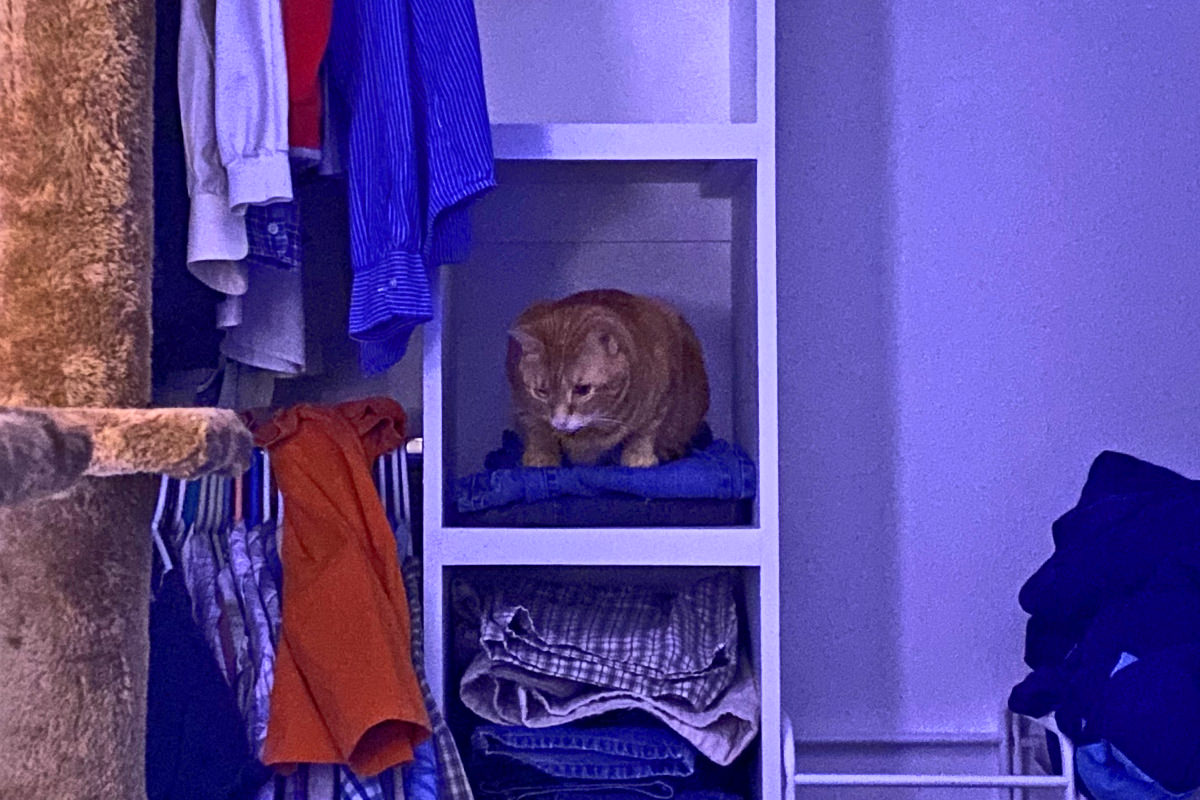 She's a cat alright.
Until next week's adventure...
Posted on January 18th, 2020

Earlier this week before going to work I was in the kitchen packing a lunch when I saw the lights in the dining room turn on. This was strange because that set of lights isn't programmed to turn on until 30 minutes before sunset. I was about to tell Alexa to turn them back off when they went off on their own.
What is going on here?
I head into the dining room and... there it is... Jenny is turning the lights on and off.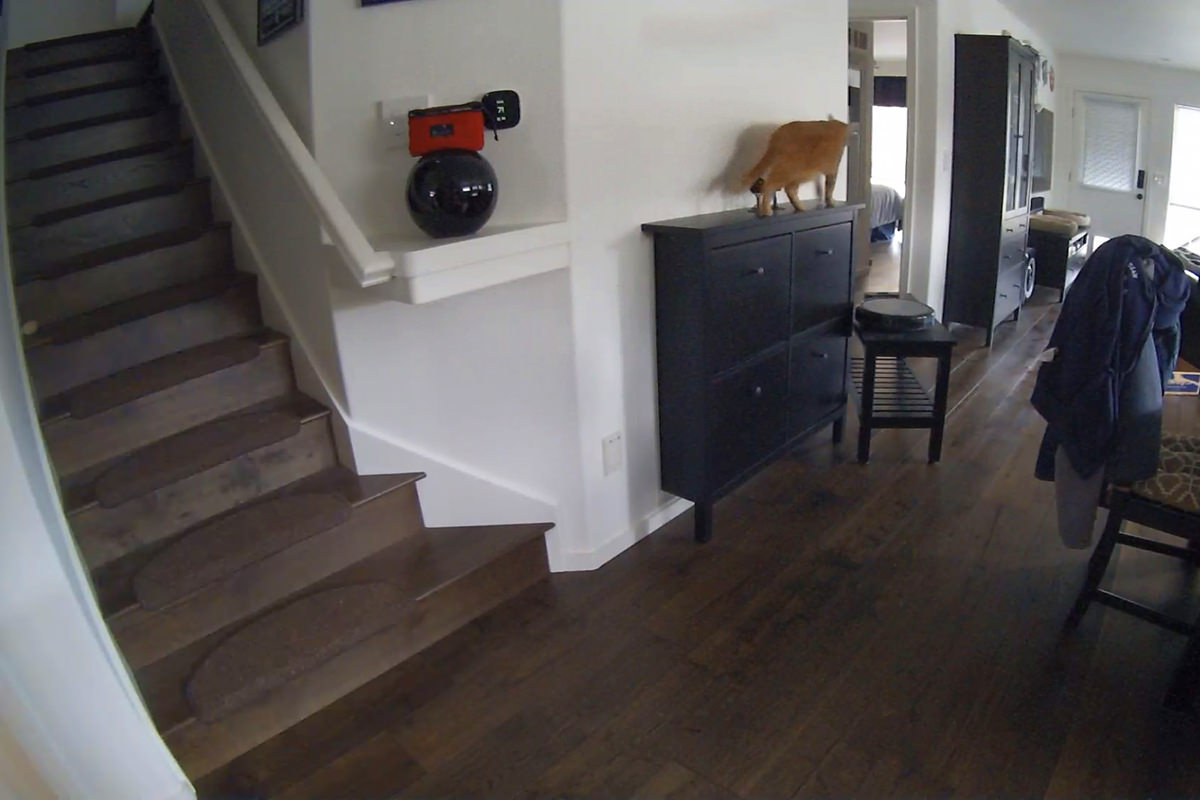 This was not an accident. She's done it twice since then. I don't know if it's fun for her... or she likes the beep that the smart switch makes... or it's her way of getting attention... or what. At first I was just going to de-program the switch. But then I though "why?" Let her have her fun. If it becomes a problem, I'll just deal with it then.
Also this week I set up a security camera in my bedroom to see if Jake is actually sleeping at my feet all night long. It just seemed impossible given all my tossing and turning. But, yep, he sure does. Not only that, but I am not tossing and turning nearly as much as I usually do. I wonder if my cat buddy is responsible? Seems likely. Previous times I've recorded myself to see how I'm sleeping I'm like a maniac.
Speaking of sleeping with cats...
Jenny will fall asleep next to me... so long as I am petting her the entire time. The minute I stop one of two things will happen: 1) Cry until I start petting her again if she hasn't had enough, or 2) Leave if she has. What's weird is that if I am asleep, she will leave. Neither of my cats will wake me up. Last night I was so sick that I couldn't sleep. I went to bed at 10:00pm and watched television and pet Jenny until 2:00am at which time I couldn't take it any more and went downstairs for sleeping pills. Jenny was gone when I got back.
I took a photo of her every 20 minutes. She doesn't move a lot...
I'm willing to bet that had I kept petting her, she would have slept there until the breakfast alarm rang!
Before I sign off this fine Caturday, I ran across this photo last night and it absolutely slayed me. It's adorable times a hundred...
It's also genius. I'd credit the guy for his fantastic photo if I knew who he was. Obviously he's quite the cat lover, as his awesome wardrobe attests.
Until next week... same cat-time, same cat-blog.
Posted on January 11th, 2020

I will never understand my cats.
Never.
After I returned from my travels a week ago, my cats were all over me. They wouldn't leave my side any time I was home. Jake and Jenny could not get enough of me and I was adored.
Until today.
But before I get to that, let's take a look at eight photos of them not being able to get enough of me...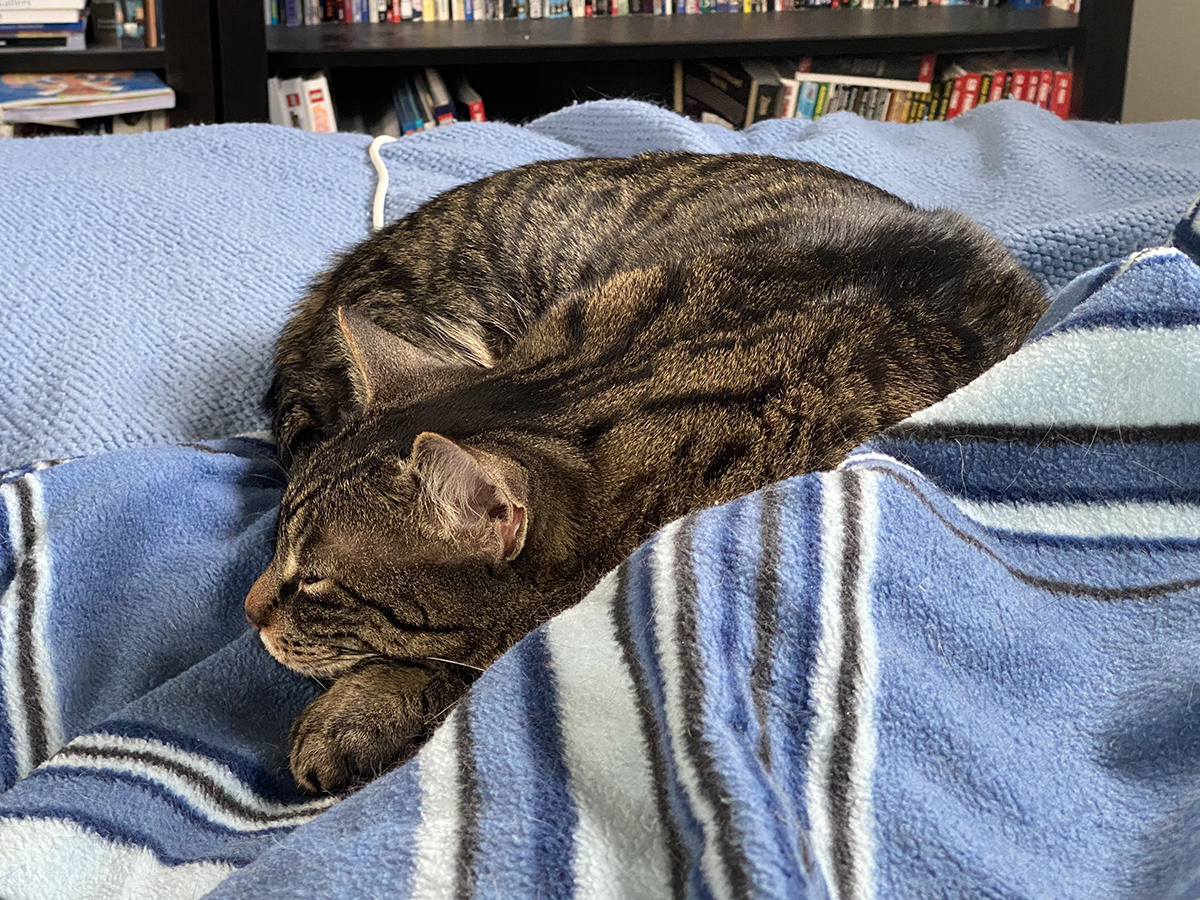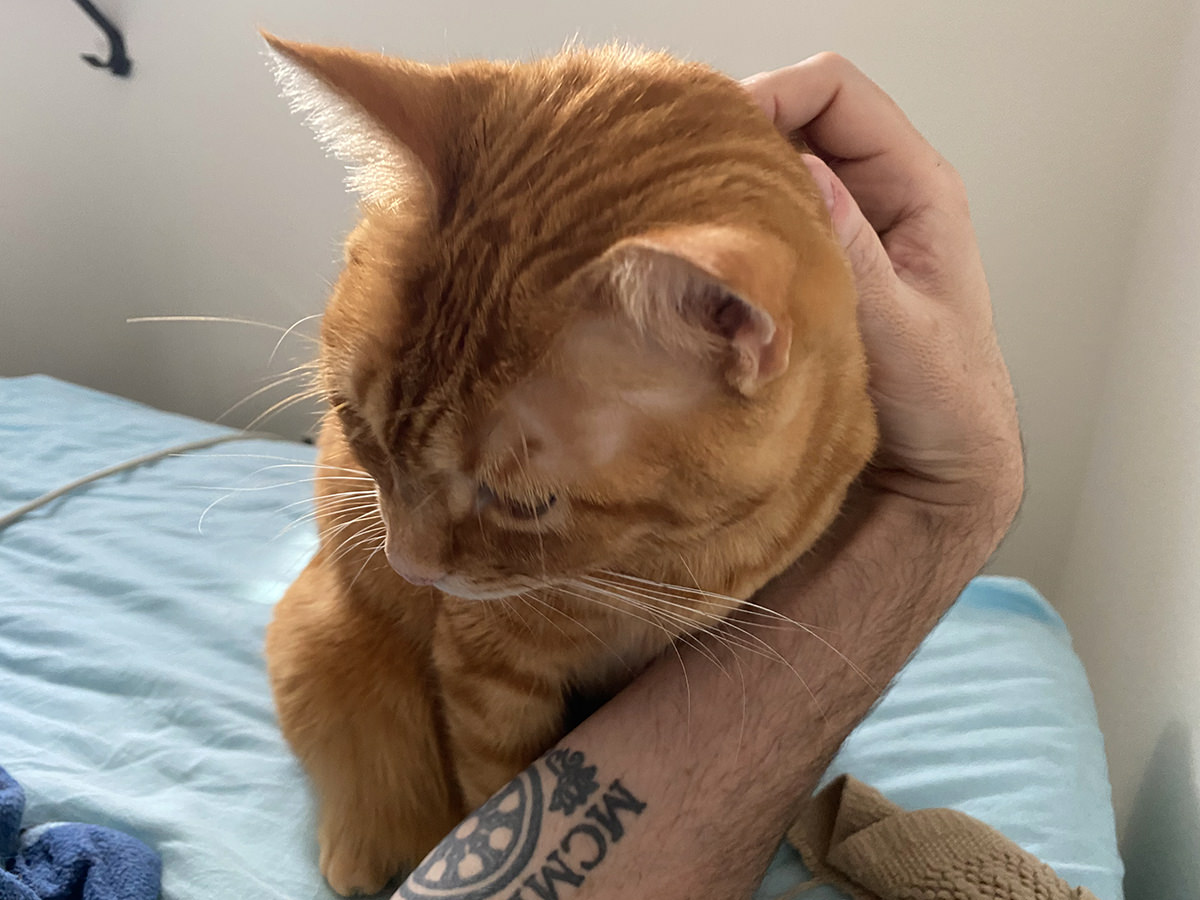 Tonight I was at the office working. I lost all track of time, so I didn't get home before Jake and Jenny's dinner alarm sounded. When I walked in the door seven minutes late, they were both sitting there waiting for me.
They were livid.
L-I-V-I-D-!
They ate their dinner and then, instead of coming into the living room to hang with me, they ran upstairs!
A couple hours later Jake finally came downstairs. After a while he hopped up on the couch next to me. Mostly so he could show me his ass...
After making sure his butthole had been clearly presented, he lay down at my feet and threw his head down on my leg so he could look as forlorned as possible... his dinner was seven minutes late, and he was still devastated by the memory of it all. Devastated.
He went to sleep soon after.
I started talking to him so he would come lay on my lap and keep me company while I watched TV. He looked up at me... grunted... THEN TURNED AROUND AND WENT BACK TO SLEEP...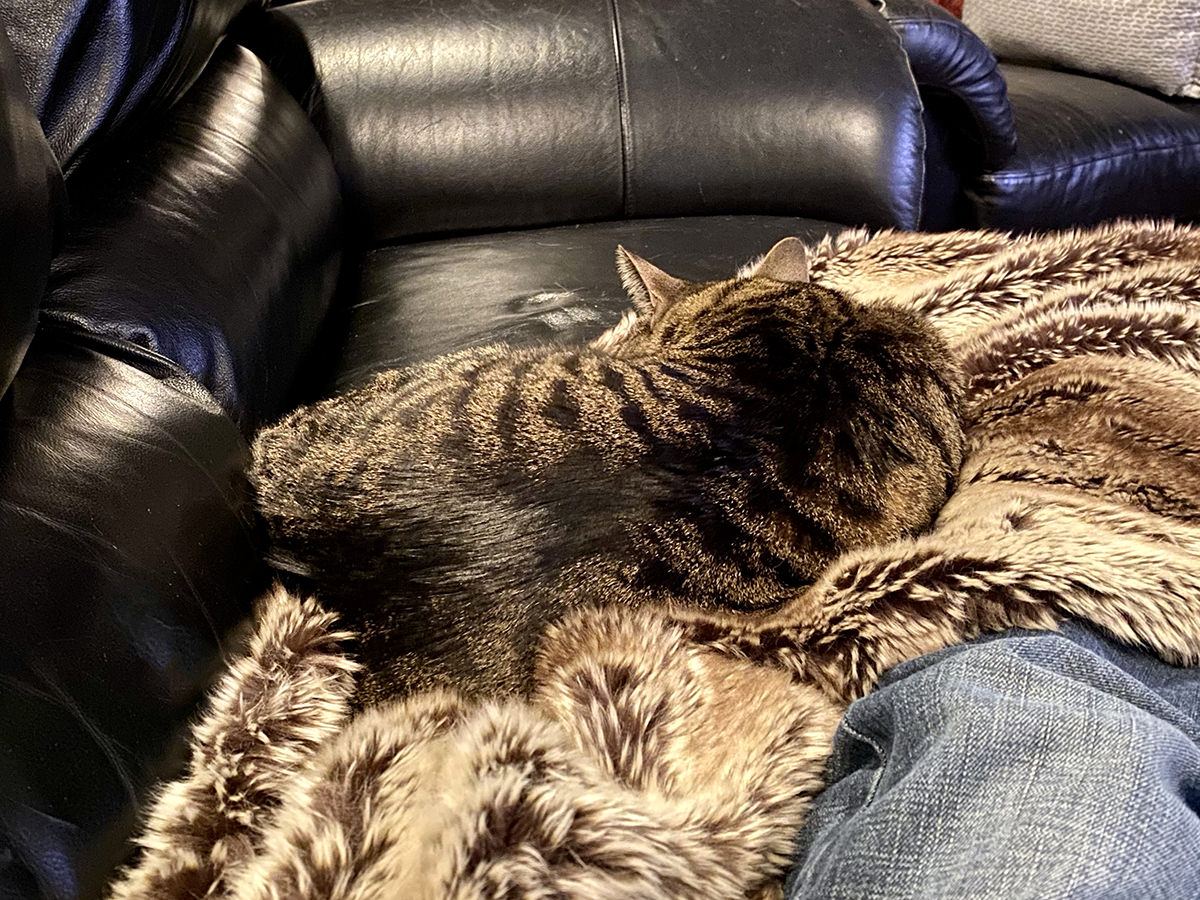 Jenny is still upstairs not speaking to me.
So... gone for seven DAYS, cats can't get enough of me.
Seven MINUTES late for dinner and they are so mad they want nothing to do with me.
I will never understand my cats.
Posted on January 4th, 2020

I've heard a number of scary stories about people who have had to leave their cats only to come back and find their shoes pooped in... their clothes shredded... their furniture chewed up. Basically, the cats get their revenge for being abandoned. For whatever reason, I am blessed with two cats who are not vindictive like this at all. When I come back, they are incredibly happy to see me and then hang around me constantly. Whatever room I'm in, they're in regardless of time of day.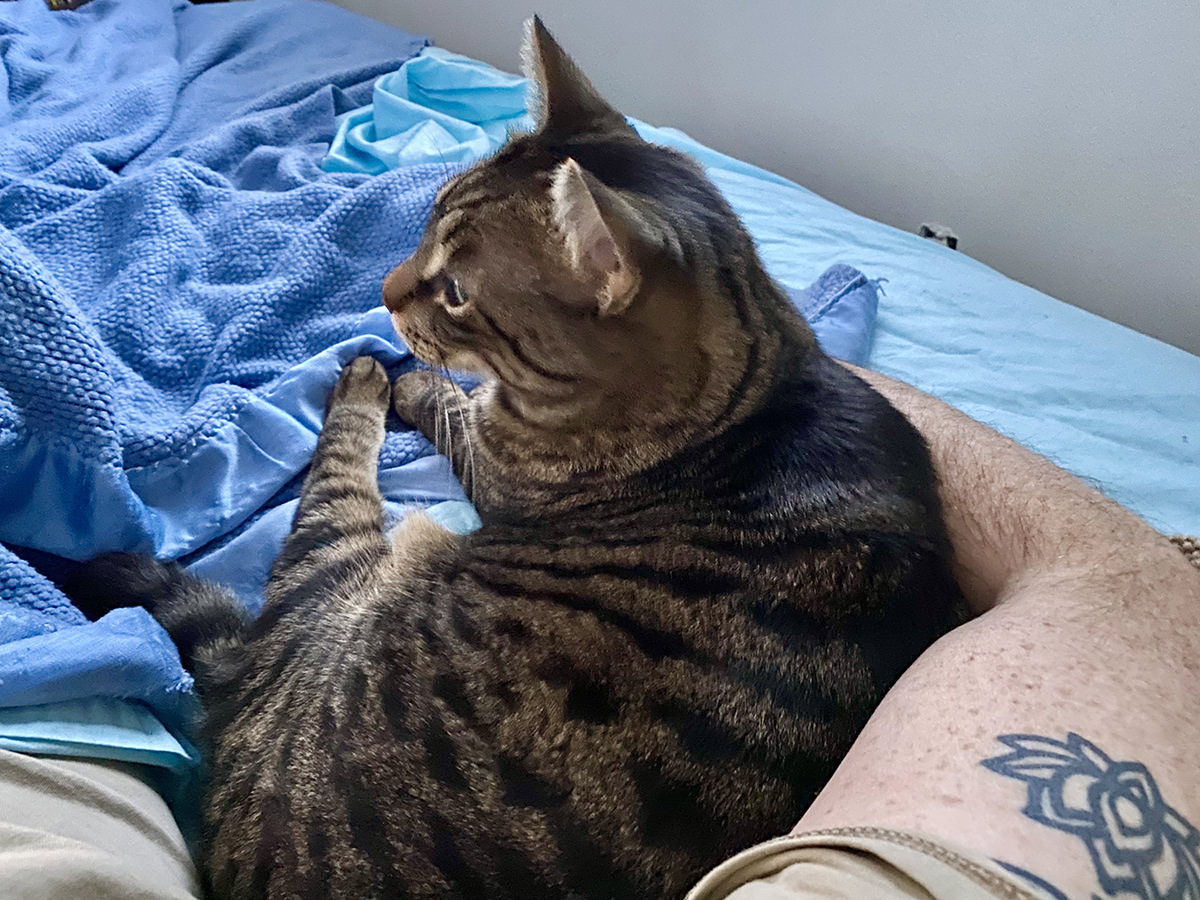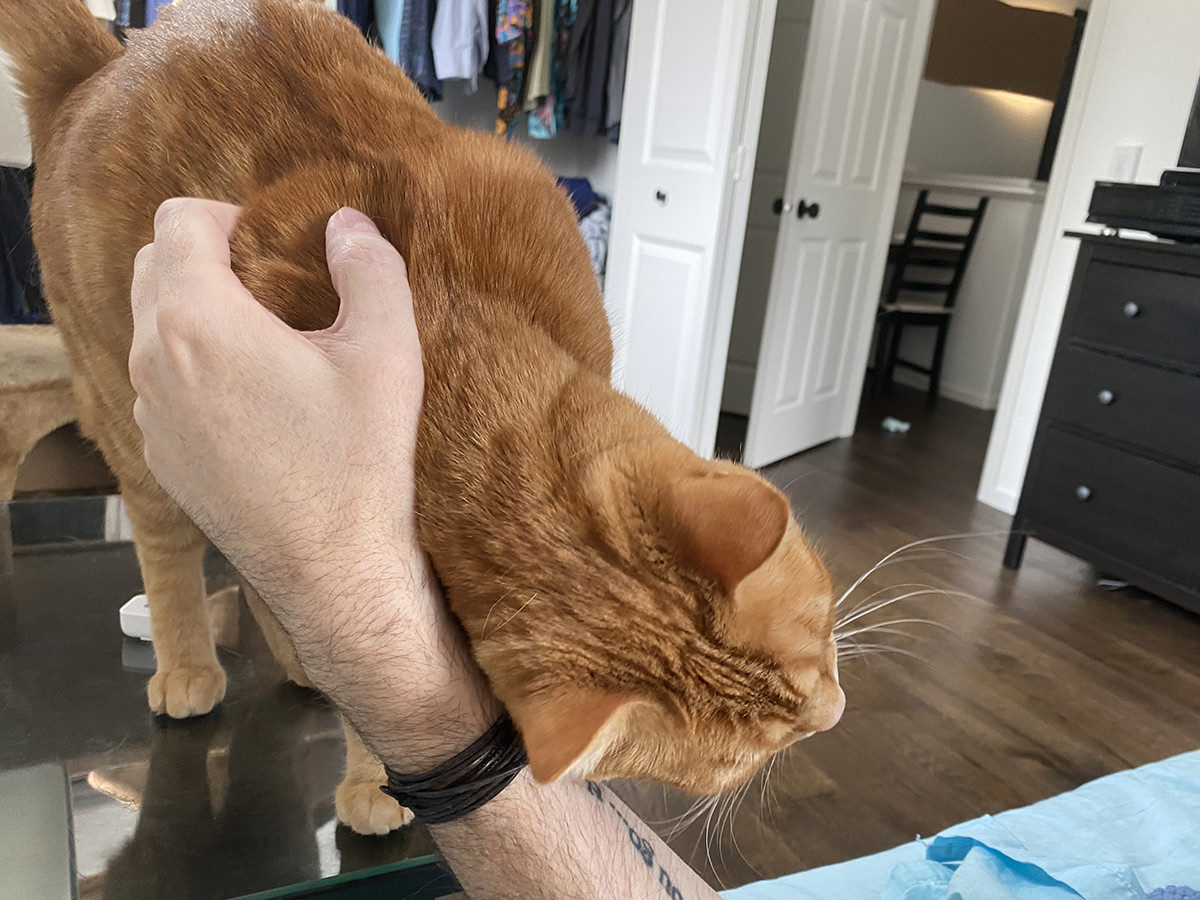 But they will leave me if there's something exciting outside. Like Fake Jake stopping by for a visit...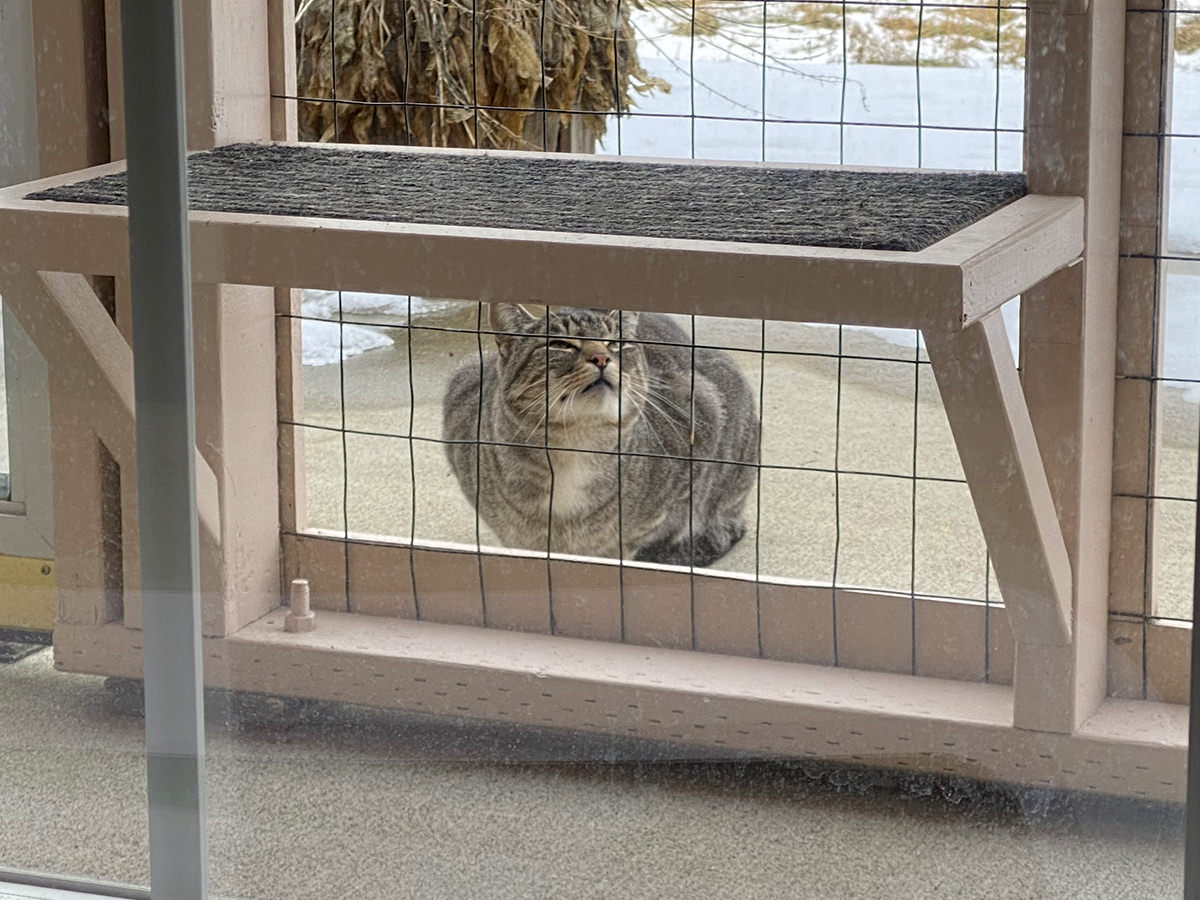 They will abandon me instantly for that...
And now it's time for the second-most dreaded time of year... making an appointment for Jake and Jenny's annual checkup at the vet. Because the most dreaded day of the year... their annual checkup at the vet in February.
Posted on December 21st, 2019

Jakey-Bear is a big kitty. Which has always been a mystery to me. My cats have never been over-fed. They don't get nearly the amount of food recommended on the package (cat food companies want to sell more cat food, so that's not surprising). Early on I would catch him eating Jenny's food when she would walk away, but I solved this by serving smaller portions throughout the day so that Jenny wouldn't fill up and walk away before her portion was eaten. So why?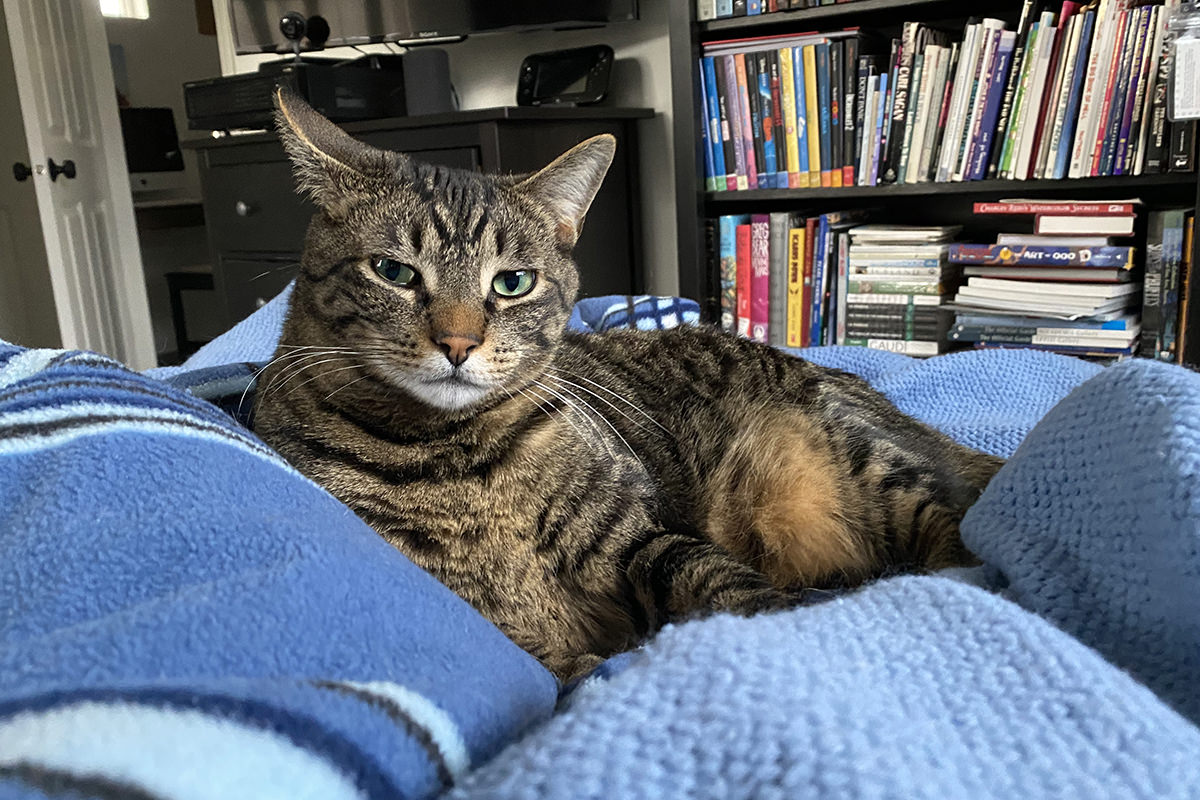 Did you just call me fat?!?
Jenny is the opposite. She begs me for food whenever I get near the kitchen. And every time I have to gently tell her "Noooo... you just had your food." It's like she's hungry all the time! But she's far from starving. She's at a healthy weight. Which I guess makes her a normal cat.

Are any of these crumbs edible?
Jake is now permanently attached to me at night. I've woken up and found him on top of me... I've woken up and found him on my head... I've woken up and found him glued to my ass...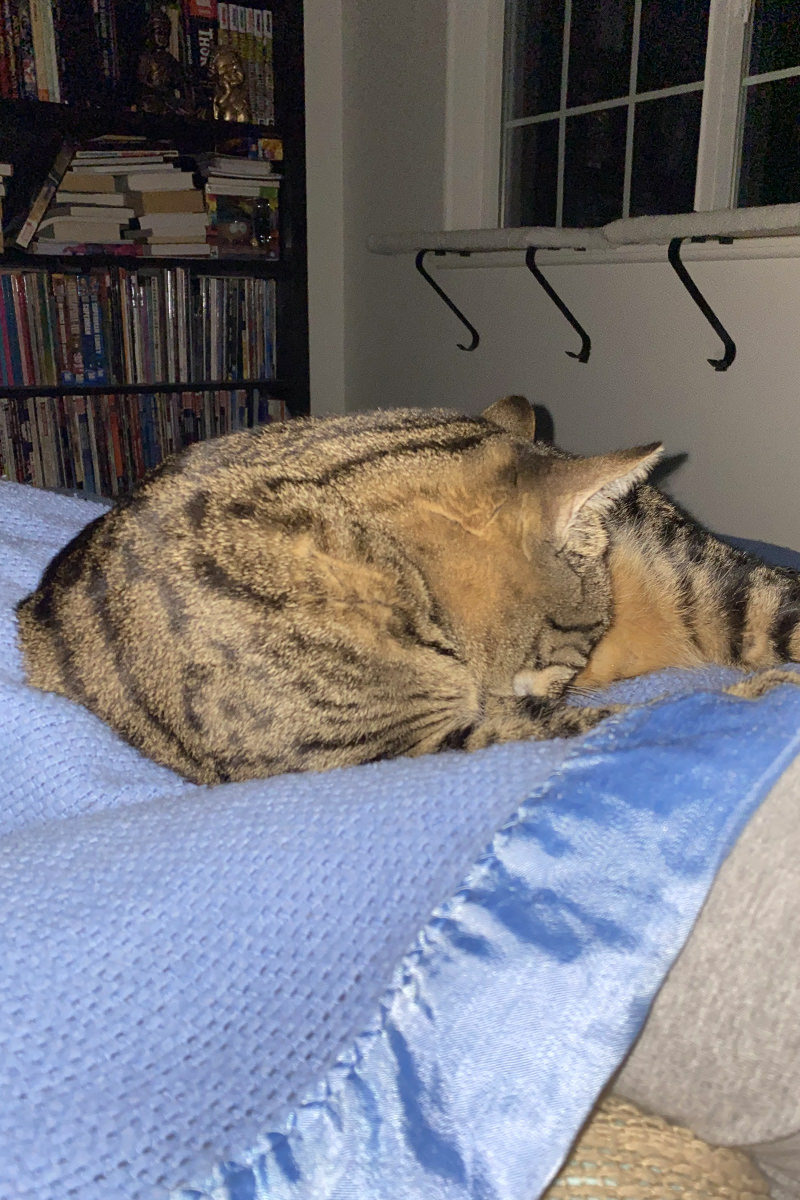 I move a lot while sleeping. Jake doesn't seem bothered. Jenny is bothered, but still likes belly rubs...
Lastly... funny story. I keep catching Jake grooming his claws the same way Jenny does. He starts out fairly gentle with the pedicure but then really starts ripping into them..
Happiest of Caturdays to you!
Posted on December 16th, 2019

Yeah, yeah, I know. It's Monday. But I wanted to get my Hallmark post up as soon as possible, which was Caturday... then it was Bullet Sunday... which leaves us Caturday on Monday. Everybody will just have to deal, I guess.
As I've mentioned a few times, there is a stray cat in my neighborhood whom I named "Fake Jake" after my brother was housesitting and let him in thinking that he was my Jake who had gotten outside somehow. He is a very sweet cat... but also an overly-enthusiastic cat with very sharp claws, so you kind of have to watch out when you're petting him.
Fake Jake belonged to a family down the street. When they moved, they took him with them... but he obviously didn't care for his new digs because he would keep running back to us. For a while there I was trapping him and calling them to come get him. But eventually they stopped coming so I stopped calling. Myself and my neighbor have been feeding him and watching out for him, so I guess it's all good.
I would have brought him inside long ago except... he is very much an outdoor cat. And he is highly aggressive towards other cats. Many a time I have caught him lunging at Jake and Jenny when they are out chilling in the catio...
And so... he gets to remain an outdoor cat.
Though that's tough for me to stomach when it's raining or cold out. Especially when it's cold out, and I see him trying to hunker down and conserve body heat...
When I got back from my Antarctica trip, I couldn't take it any more. I purchased an "igloo" cat shelter. To make sure it was warm enough, I built a berm out of pipe insulation to help keep heat in. I tried to make a door flap, but he felt trapped and wouldn't stay inside...
Fake Jake took to it right away...
I installed a camera on the roof so I can check to make sure he's doing okay...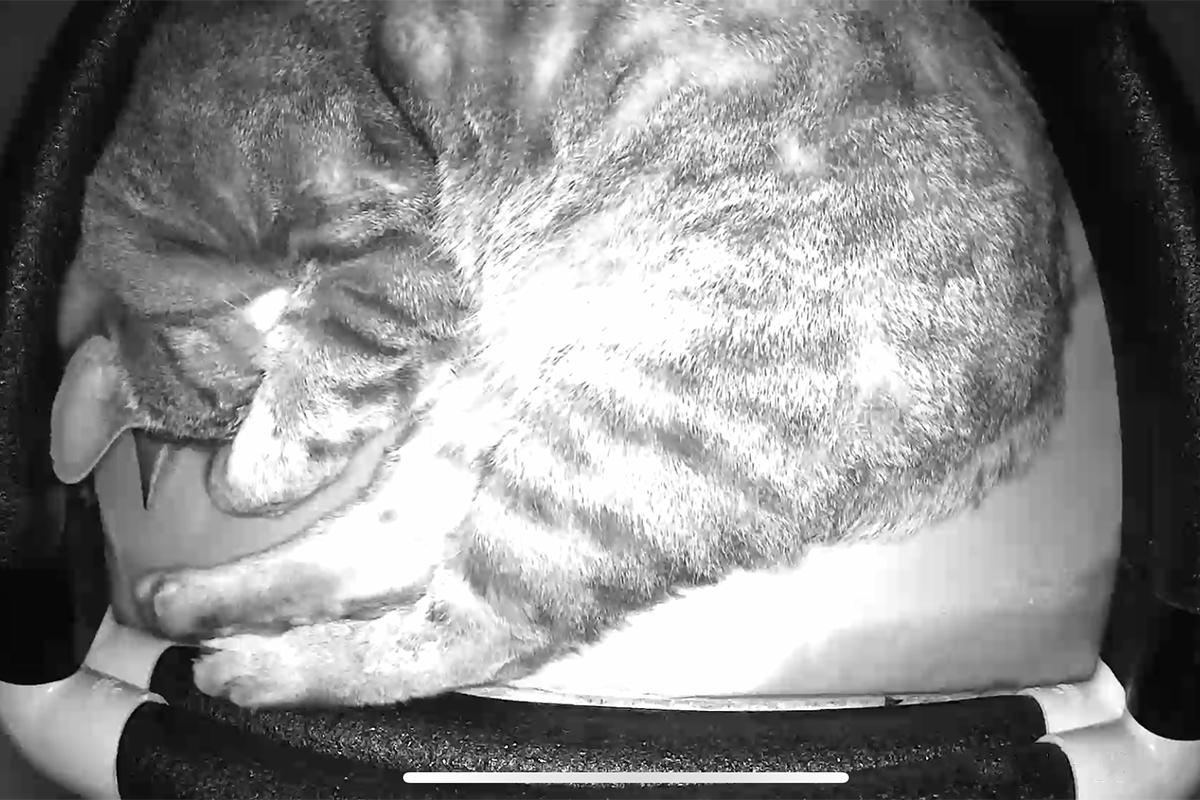 As winter dragged on, the weather was getting unbearably bitter cold. I worried that he would not be able to stay warm enough, so I found an electric "warming pad" to help him out. It doesn't actually get "warm to the touch"... it's designed to rise in temperature when something is set on top of it. Basically to keep the animal from freezing. He really liked that. Now he was in the shelter throughout the day when he got cold instead of only at night.
Eventually I bought a second shelter and warming pad for the back-side of the condos (where he is fed) so he could choose where he wanted to sleep. For a while he was swapping between them. Then one day he stopped using the back shelter. Knowing that the cold weather is harder on cats as they get older, I thought that maybe a heating element in the ceiling would help to keep him warm on both sides. So I cut a removable panel, installed a ceramic element, then fixed a grate over it so Fake Jake wouldn't get burned. In freezing temperatures, it stayed at a cozy 62° which seemed perfect...
The shelters are under the eaves of the roof, so they are kept free of snow... but I wanted to cover up the electronics just the same. But before I did, I thought I would test it to make sure Fake Jake was okay with it. Turns out he was not. He would jump in, enjoy the warmth for a bit, then hop out and leave. He would not sleep there. So at 10:00 at night I finally went out and restored his old shelter. Then, as I was bringing in his newest shelter, I notice that it reeked of cat pee! So that's why he stopped using the back shelter! Some other cat came along and peed in it! Can't say that I blamed him.
I tried scrubbing everything with soap and water, but that did nothing. So now I'm trying different urine-enzyme-killing cleaners to see if I can get the smell out that way.
In the meanwhile, I was being kept up at nights worrying that the warming pad might die and Fake Jake would end up freezing because now he had only one place to go. I couldn't afford to buy the parts for a third shelter, so instead I bought a WiFi temperature sensor on sale on Cyber Monday. I sliced the berm underneath and set the sensor inside of it so it's in contact with the warming pad. I also put it on the side of the shelter where Fake Jake prefers to sleep. I then set an alert that would be sent to my iPhone if the temperature ever drops below 38°, which is way too cold for a shorthair cat to be sleeping in.
What I've found (thanks to the temperature data that the unit collects) is a bit surprising.
No matter how cold it gets... even down to 24° so far... the temperature when in contact with the warming pad hovers around 60°. If Fake Jake is sleeping where the temperature sensor is, it records temperatures over 70°!!! In fact, you can literally see when Fake Jake is in the shelter or out of the shelter just by looking at the temperature!
This morning around 1am, Fake Jake hopped into the shelter for a nap when the outdoor temperature was 27°. The sensor was reading 61° from being on top of the pad... but increased to 72° when Fake Jake was there! Then apparently he left at 2am because the temperature started falling...
Now, seriously, how amazing is that?
Not only do I not have to worry about the warming pad failing because the sensor will alert my phone when it gets too cold... I have also been way too concerned about how cold Fake Jake gets in severe weather. Because, wow, 72°?!? That's what I have my thermostat set to inside my house! Sure, I am still a little upset that the part of his body not on the pad is getting cold... but when I look at the timelapse footage of him sleeping, it looks like he's just flipping over every 10-20 minutes. So he's seriously doing just fine!
Which is a relief, of course, but I still want to see if I can get the cat pee smell out of the second shelter with the heating element. That would be cat paradise for Fake Jake, and he'd go back to having two places to stay warm and dry throughout the winter.
Posted on December 6th, 2019

Yeah, yeah... I know it's Friday. But I have to run with Caturday a day early because it's Jake and Jenny's 4th birthday today!
I was away working for their first three birthdays so this is kinda a big deal for me. This morning I fed them their breakfast, had them completely ignore the new toys I bought for them, then watched as they ran out to the catio because they heard something interesting outside.
So... not quite the exciting birthday I had planned. But... cats. What can you do?
Tonight they will get stinky mashed up sardines in fish gravy for dinner, their favorite treat. It's also a rare treat because I gag while prepping it every time. It's SO gross. But if I don't mash it up then Jenny will just lick the chunks and Jake will pull the chunks outside of the bowl to eat them (getting fish sauce on my floor).
=sigh=
The things I do for love.
It seems like only yesterday I brought them home. But it wasn't yesterday it was February 16th, 2016...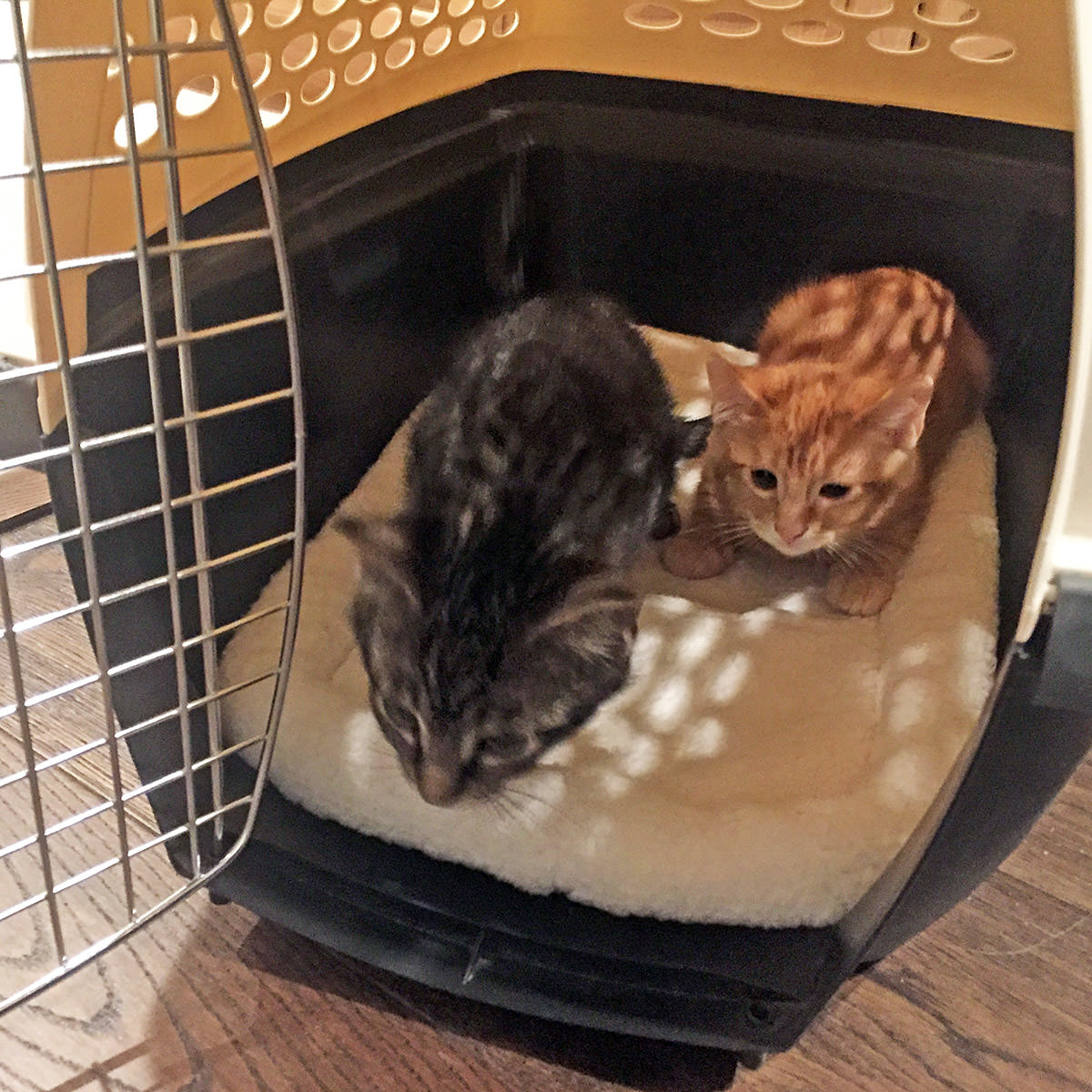 It was a tough time for me. I had just moved into my new home because my mom's apartment was no longer safe for her. The dementia was getting worse by the day and I was completely lost trying to cope with it all. Originally I was going bring Spanky the Cat with us (the stray cat I had been caring for at mom's place) but he had run off just a couple weeks before moving day. And so... I waited for cats to become available at the local shelter so my mom would have some company while I was off working. She loved hanging out with Spanky so it seemed the perfect solution.
Alas, Jake and Jenny were feral rescues and not very sociable at all. They spent the first week hiding under the couch, only coming out to eat and use the litter box when the coast was clear. Eventually I was able to coax them out with a cat charmer, but I wasn't allowed to get too close or touch them...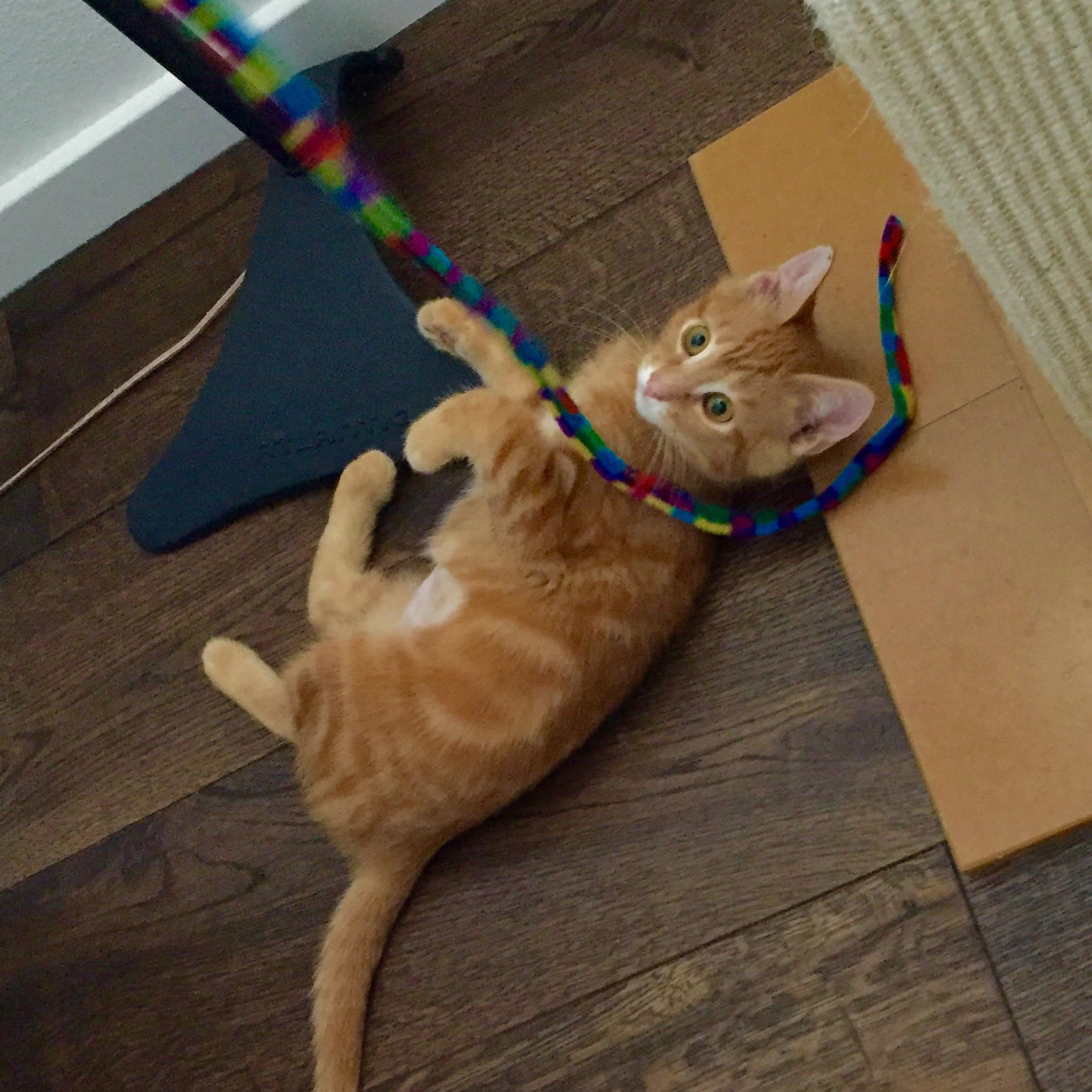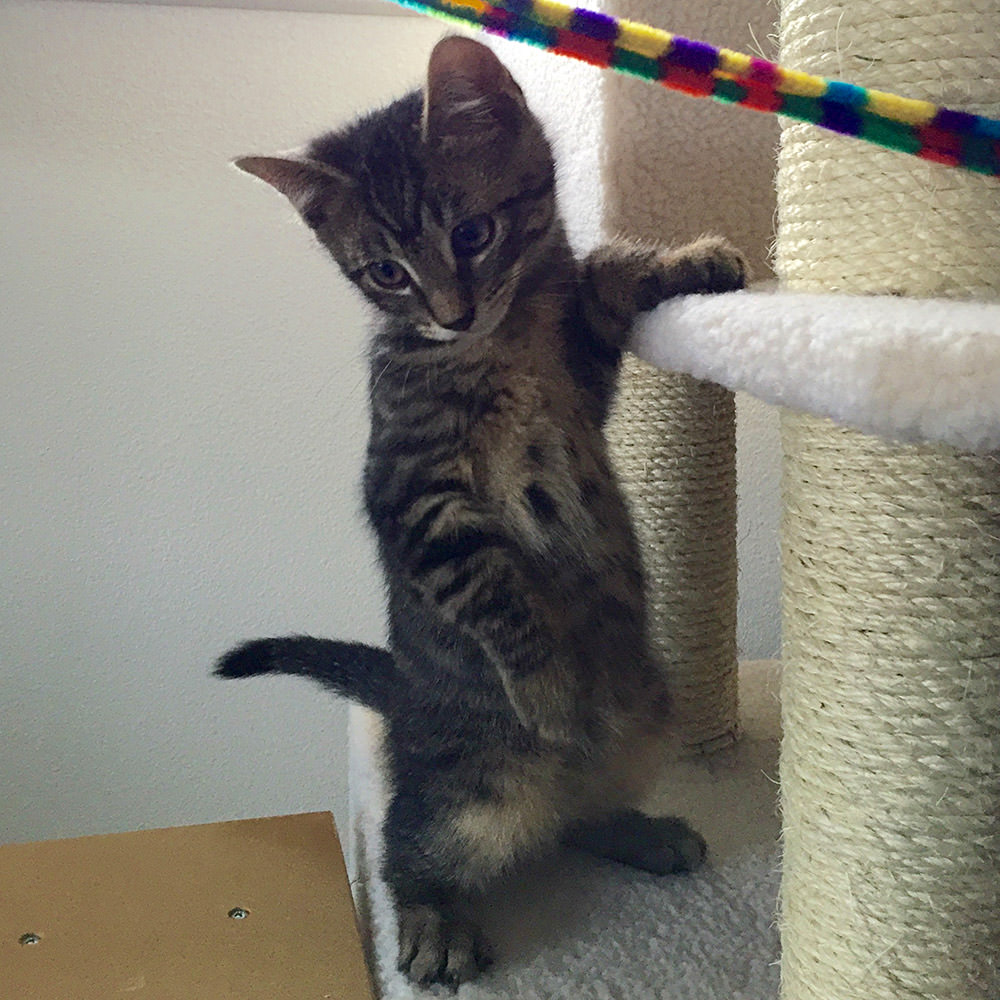 It was incredibly frustrating having cats I couldn't touch. But mom was entertained by their running around, so that was all that mattered. Then one day I'm working on the couch while we're eating dinner and look over to see this...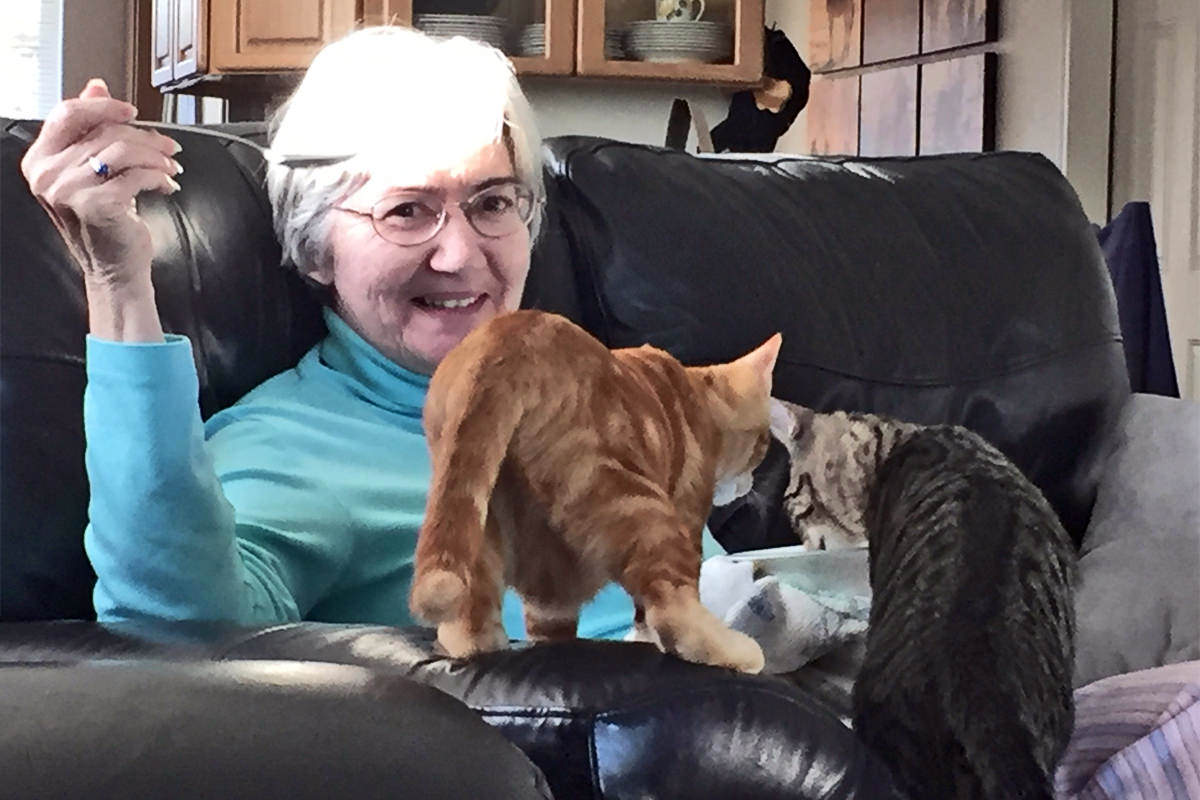 Jake and Jenny were interested in her dinner, and she was talking to them and petting them like it was no big deal. It would be days before they allowed me to touch them.
And so... achievement unlocked.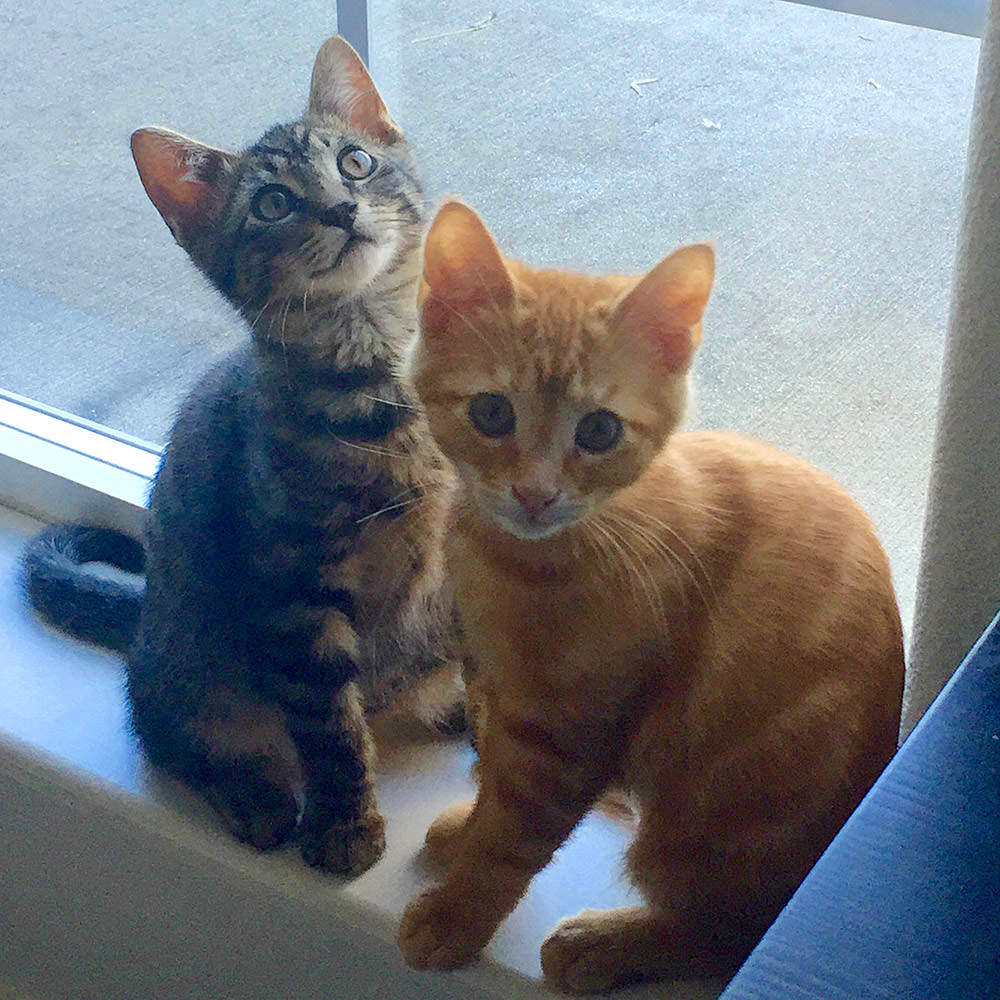 I felt a lot better about leaving my mom alone now that she had cats, and they would be a calming influence amongst the chaos right up until mom had to leave.
And after I was forced to move mom to a facility, having to feed Jake and Jenny their breakfast was sometimes the only reason I had to get out of bed in the morning. Cats, as it turns out, are excellent therapy...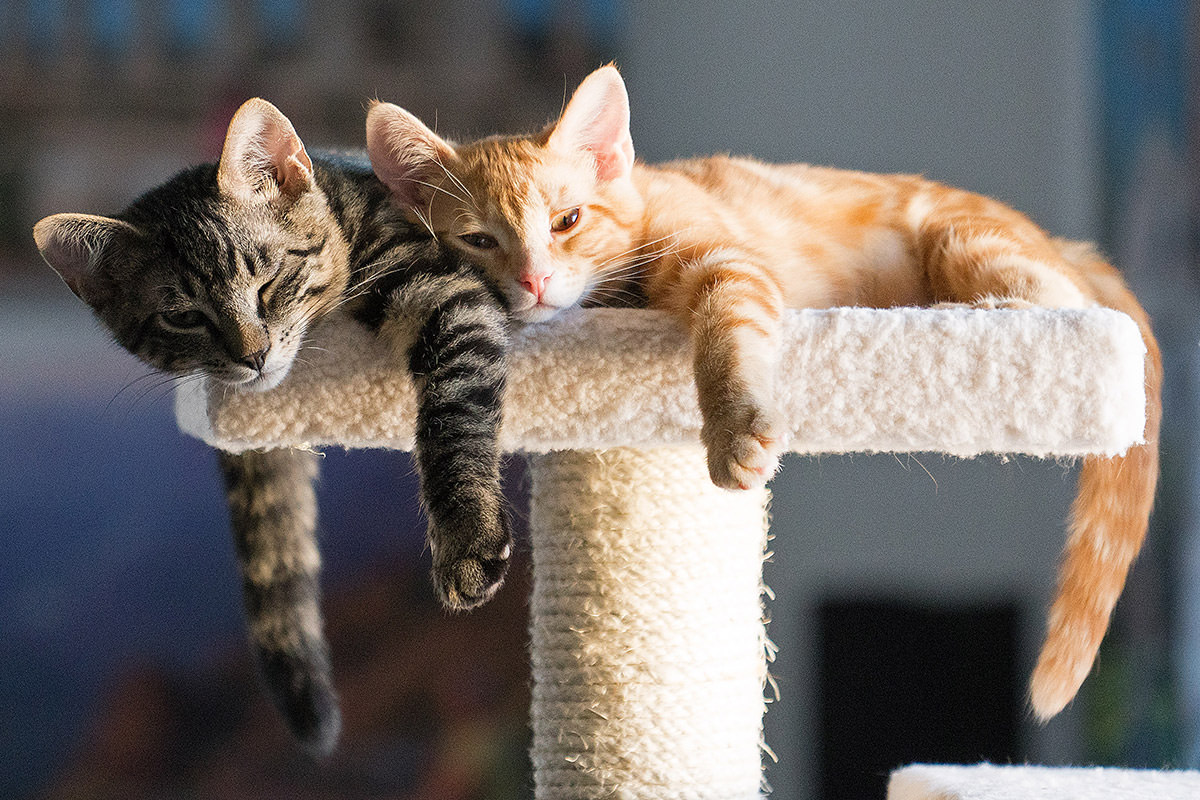 And amazing companions. They're there for me to make even the worst days better...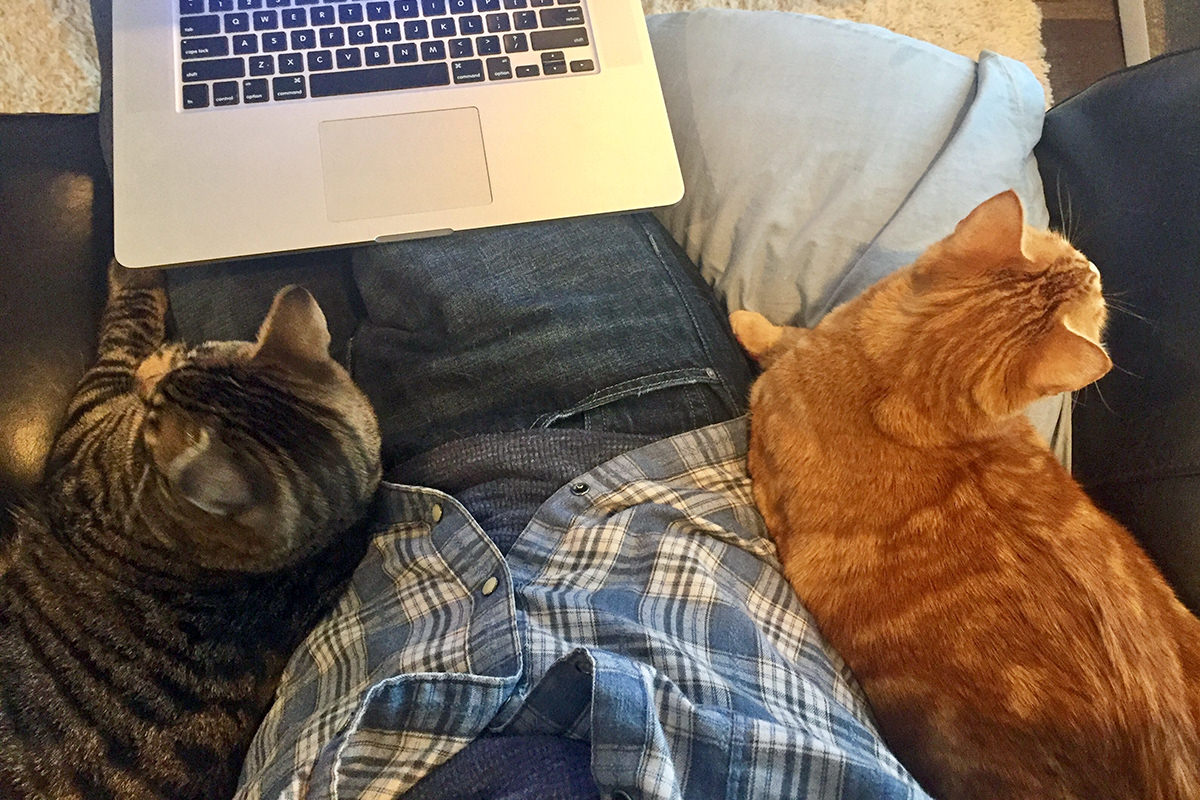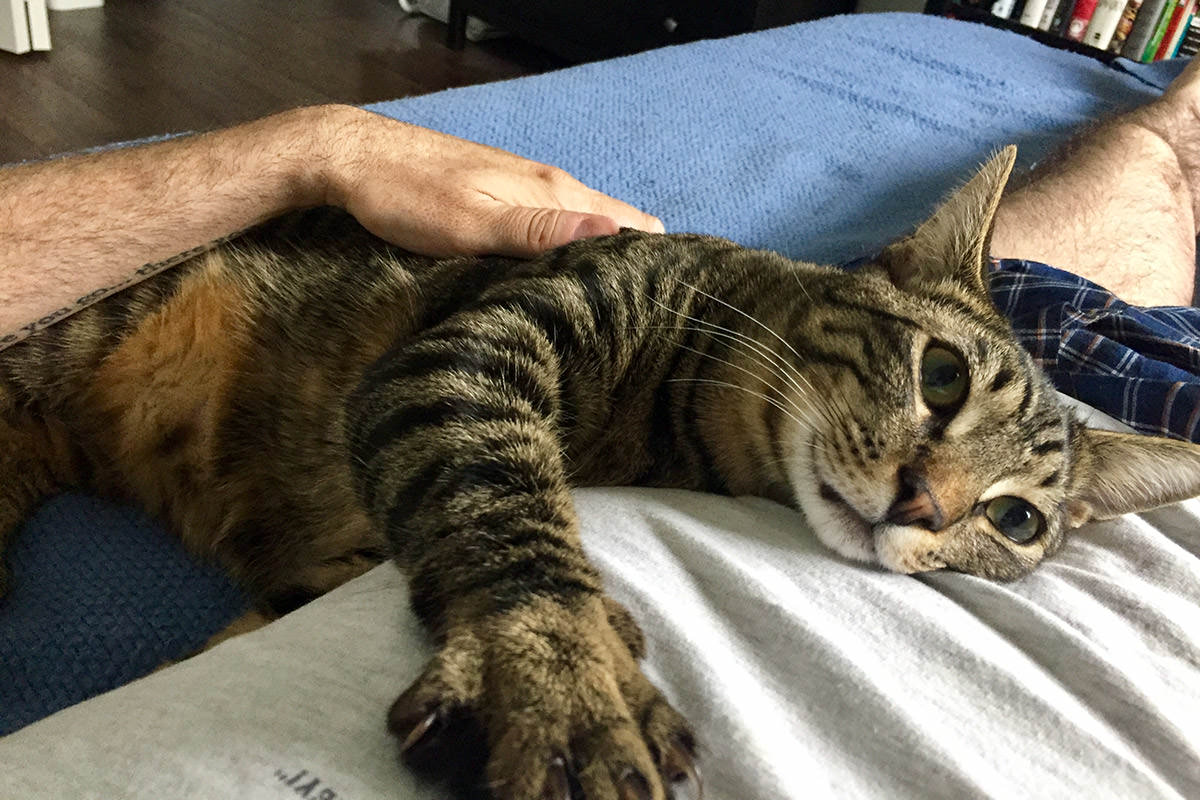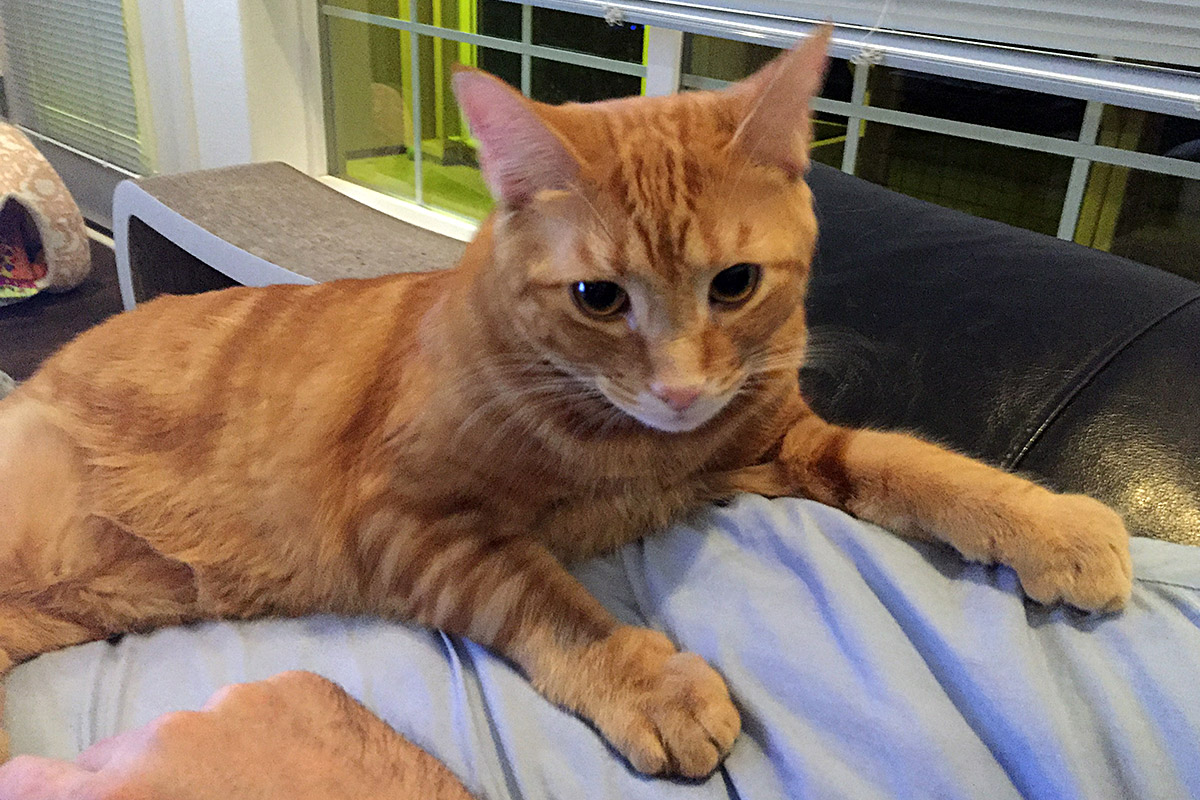 So happy birthday to Jake Ryan Reynolds Simmer and Jenny Elizabeth Hurley Simmer! You've literally saved my life, and bringing you home has easily been one of the best decisions I've ever made. Every day with you is my best day.