Posted on August 11th, 2018

I fell asleep on the couch last night while watching the Marvel Studios movie for today. Not easy to do when it's Guardians of the Galaxy, which is one of my favorites of the bunch. Guess it just goes to show how exhausted I was.
I woke up again when I got an alert that the security camera in my driveway had gone down.
This is the email I got...
And... look closer...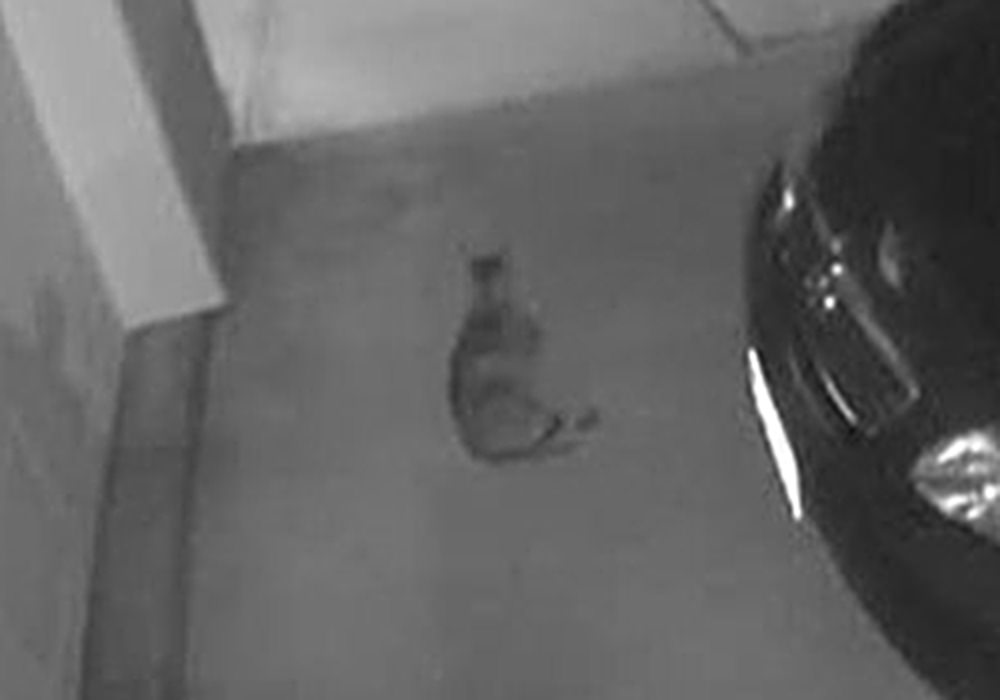 I'm thinking that Fake Jake might be behind my camera going down? The rascal.
I have two more cameras out front, so I was in no hurry to fix whatever it was that was wrong. Instead I finished up my movie and went to bed.
As for Real Jake? Just helping me open my mail this morning...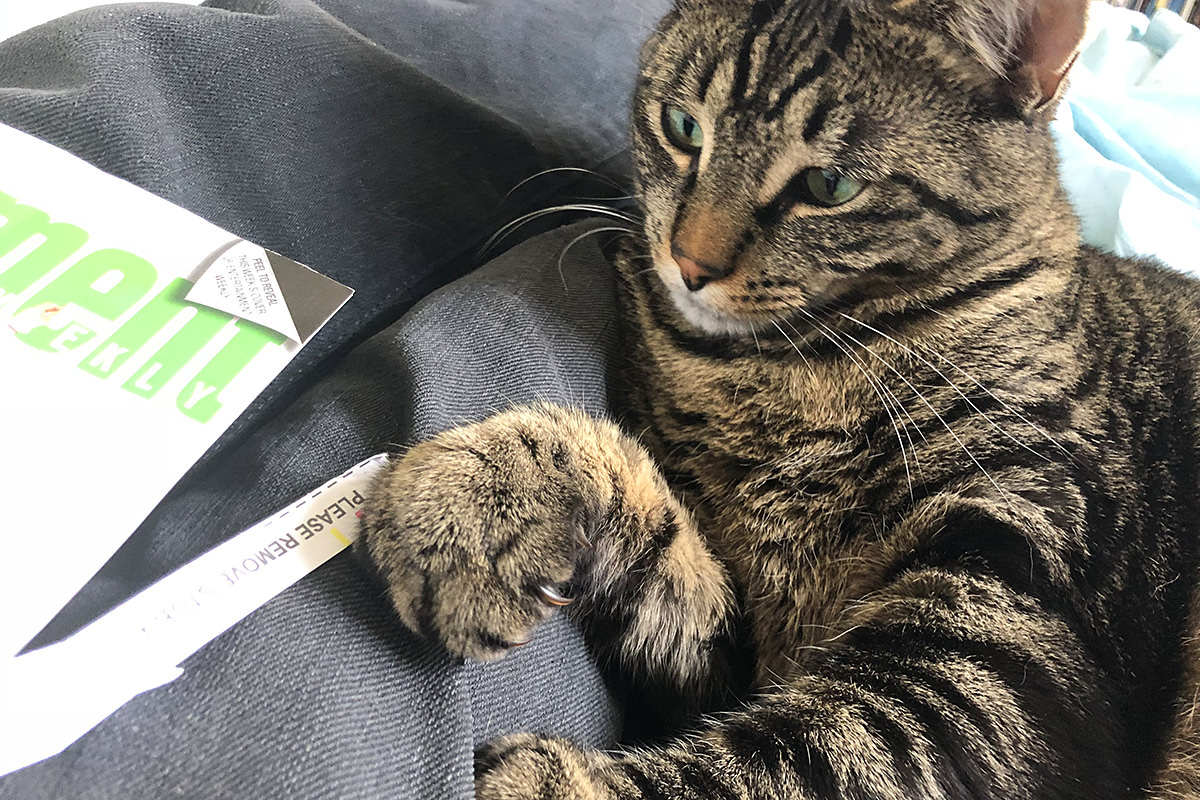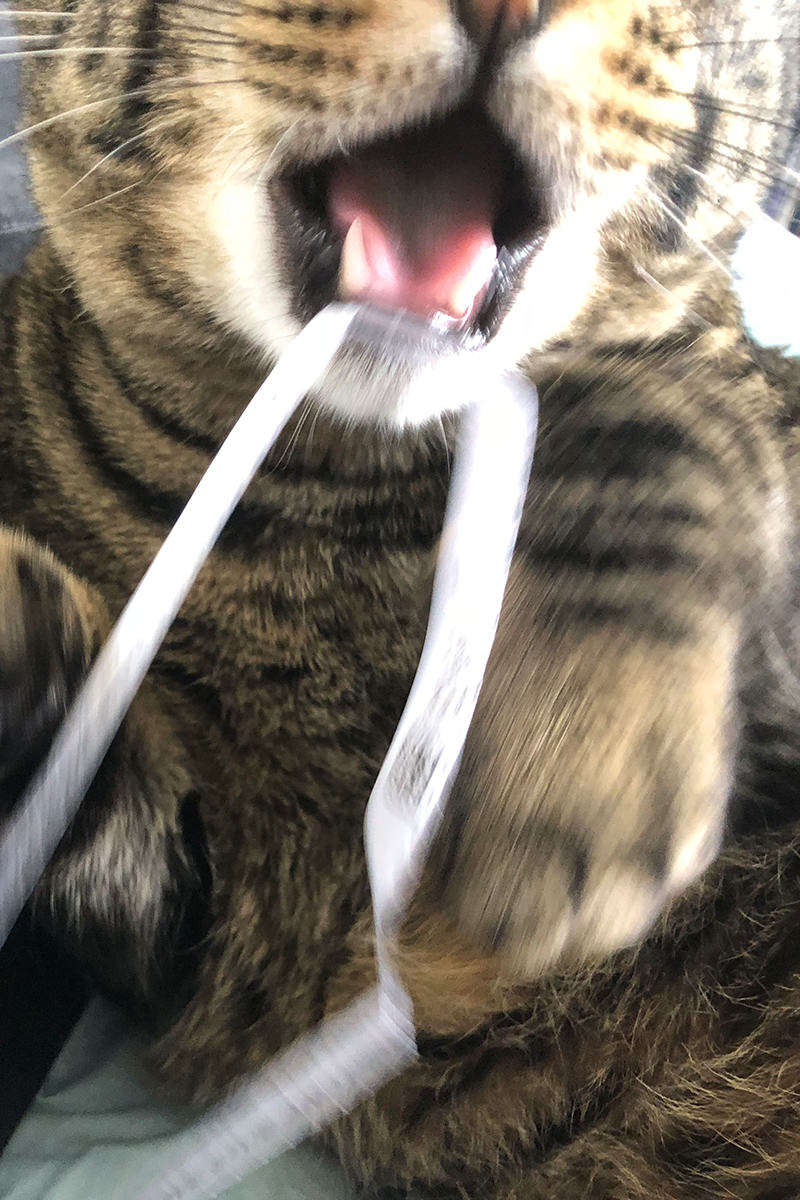 The rascal.
Jenny would rather lay on the floor for some reason...
When I went to Petco for kibble, I saw that the low-carb Tiki Cat dry food was on sale. This was cool... until I noticed that one of the flavors was marked as "clearance," which scares the hell out of me. I really, really hope that they aren't discontinuing this stuff. It's the most affordable food I've found that doesn't overload on carbs. In the meanwhile though, I snagged all eight bags and my cats are set for the rest of the year...
I can probably replace the dry with... something... I guess. But nobody makes the Tiki Cat Velvet Mousse that Jenny eats. And I seriously don't want to have to go back to blending my own. So gross.
Fingers crossed I won't have to.
---
Continuing on with my revisiting of every Marvel Studios movie...
MARVEL STUDIOS MOVIE OF THE DAY, No. 10: Guardians of the Galaxy
Original Grade: A+ • Today's Grade: A+
I re-watched this movie for the fifth?... sixth? time back in June, so I didn't really have to watch it again to jot down my thoughts. But I did it anyway. And I am hooked from the opening scene of Star-Lord dancing through a dead planet every time. If that doesn't sum up my feelings about Marvel's first "sci-fi" entry into the MCU, I don't know what will. The humor... the characters... the settings... the story... the music... all perfect. And perfectly executed, with amazing casting and brilliant special effects (which are so crucial to a film like this). I've admitted that I laughed when I first heard they were bringing this comic book to the big screen, because characters like Rocket and Groot were just an absurd thing to try and translate. But how wrong was I? And after watching Avengers: Infinity War, I'm even more impressed, because they were able to seamlessly mix Rocket and Groot with everybody else to amazing effect.

SCENE TO BEAT: Escape from the Kyln? Escape from Knowhere? The battle at Xandar maybe? I dunno. There are entirely too many good scenes to pick from. I can't even single it out to scenes with one character, because I love them all.

COULD HAVE BEEN BETTER: Ronan the Accuser is a powerful Kree warrior, but I don't get how he was able to wield the Power Stone. I understand that he only touched it for a few seconds, which is why he didn't die... but how was he able to command it after he smashed it into his Universal Weapon hammer? He's an important Kree but, in the end, he's just a Kree. Not a god or ancient being. Or, in Peter's case, the son of an ancient being. It's a puzzler. And I still think the whole "holding hands" at the end was kinda silly.

SIDENOTE: It's amazing how critical this film was to everything that came after it in the MCU. Thanos... Gamora... Nebula... The Collector... and, looking even further forward for next year's Captain Marvel, The Kree. This was also the first time we got a full explanation on The Infinity Stones as well. Doesn't seem possible that such important stuff was set up in what's essentially a comedy, but there's Marvel Studios being all brilliant again.
Posted on August 4th, 2018

This morning I grabbed my phone and delayed Alexa's breakfast alarm because Jake was industriously cleaning his butt, and the last thing I wanted to do was interrupt that. Every once in a while he lets his butt-grooming go, so if he's paying that much attention to things I figure he must need it.
The Alexa alarms I have set for breakfast and dinner are always a great source of amusement. And a smart move on my part, because my cats have been trained to not bother me for food until they hear the alarm. When it gets close to 7:00am/6:00pm, Jake and Jenny will assemble and wait. Then they go nuts when the alarm goes off. I've recorded it these past couple mornings...
Butt first...
And now? My turn for breakfast.
---
Continuing on with my revisiting of every Marvel Studios movie...
MARVEL STUDIOS MOVIE OF THE DAY, No. 3: Iron Man 2
Original Grade: A- • Today's Grade: A-
I have never understood why this movie was so poorly received. Yeah, the story had some problems. Yeah, there were scenes that didn't hang together right. But it was still an enjoyable outing. The acting and visual effects were great. Sam Rockwell was perfect. And Mickey Rourke was not nearly the problem that critics made him to be. On top of all that? The debut of Scarlett Johansson as Black Widow! I enjoyed the film then. I enjoyed watching it again now. And the credits scene with Thor's hammer in the dessert still gives me chills.

SCENE TO BEAT: The opening where Iron Man jumps out of a plane and lands on the Stark Expo stage only to be robotically disassembled to reveal Tony Stark... being Tony Stark, courtesy of Robert Downey Jr. firing on all cylinders. The Iron Man dancers are just a bonus. A close second? Black Widow mowing through a bunch of security guards at Hammer Tech. Amazing.

COULD HAVE BEEN BETTER: Whiplash is just another guy in a suit, following Iron Monger in the last movie... a different guy in a suit. It's a missed opportunity trap that so many Marvel Studios movies would fall into.

SIDENOTE: One of the most famous Iron Man comic book arcs was the Demon in a Bottle storyline where Iron Man became an alcoholic. That they did a quick nod to it in this film at Tony's party was an interesting choice. I think it was a mistake, but... better a quick nod than an entire movie dedicated to alcoholic Iron Man.
Posted on July 28th, 2018

And so my work ended two days early. I can either...
A) Take two days off, get some much-needed down-time and disappear... or...
B) Get an earlier flight home so I can see my cats.
What to do? What to do? What to do?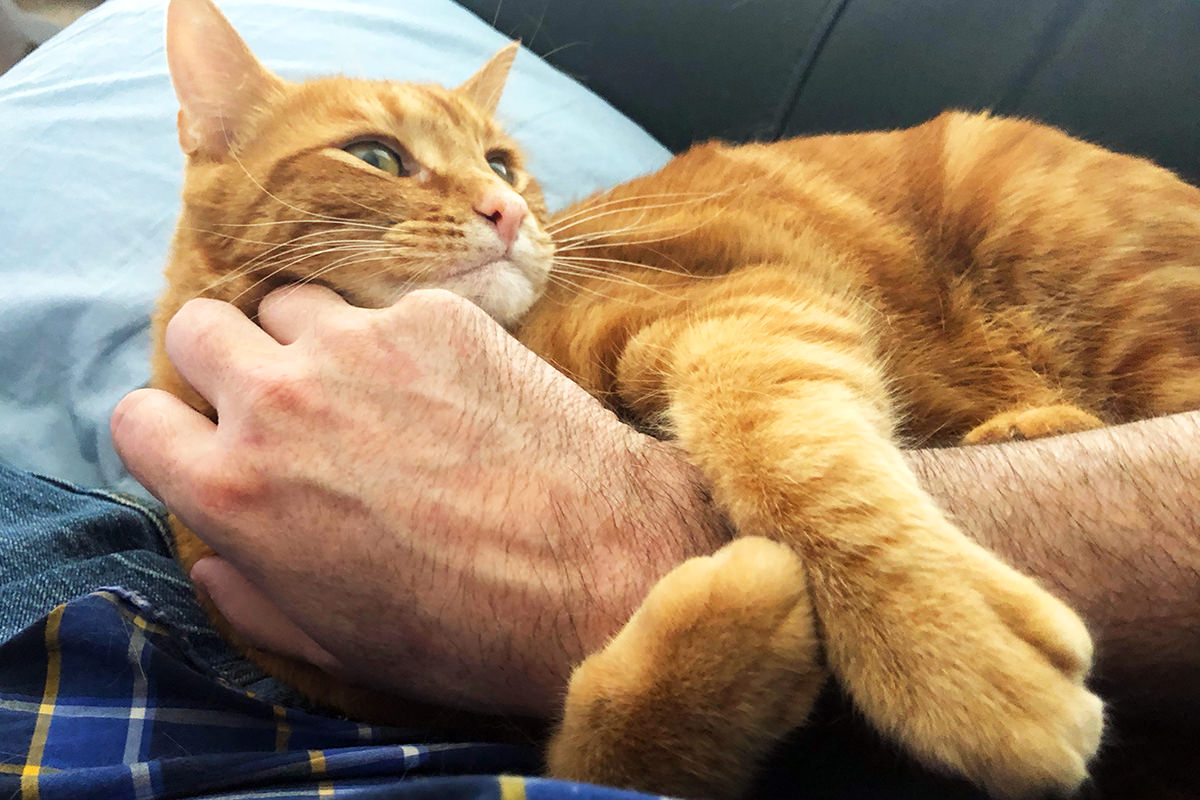 I'll have to think on that and get back to you...
Posted on July 21st, 2018

Turns out that my cats sleeping next to each other like they are kittens is not a phase. I see it all the time now, and it's kinda sweet to see Jake and Jenny getting along so well.
They are particularly in love with the "self-heating" pads I bought last winter. Probably because they are larger than a kitty bed and not because they are cold. I keep my air conditioning off most of the time to save electricity so it's usually around 72-76 in here...
But no worried... Jake still likes curling up next to me for a nap too...
Or pulling the blankets off the bed and sleeping on the floor...
I wish I could sleep anywhere like this.
Or just on planes. I would give anything to be able to sleep on a plane.
Posted on July 14th, 2018

Jake is a lovable lump of a gentleman... Jenny is a lovable petite little lady. It's tough to compare their size because you can't corral them to sit next to each other. All I know is that Jake is quite a bit larger than his sister.
Then the other day after feeding them, I noticed this...
I have no idea which sibling is older.
But Jake will forever be the big brother...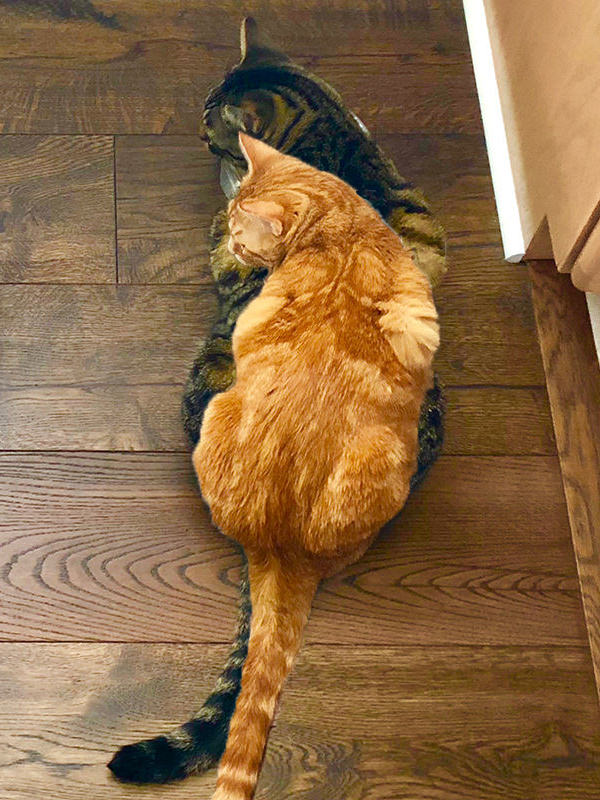 By about a third, I'm guessing.

And now?
Trying to do laundry in a house with cats...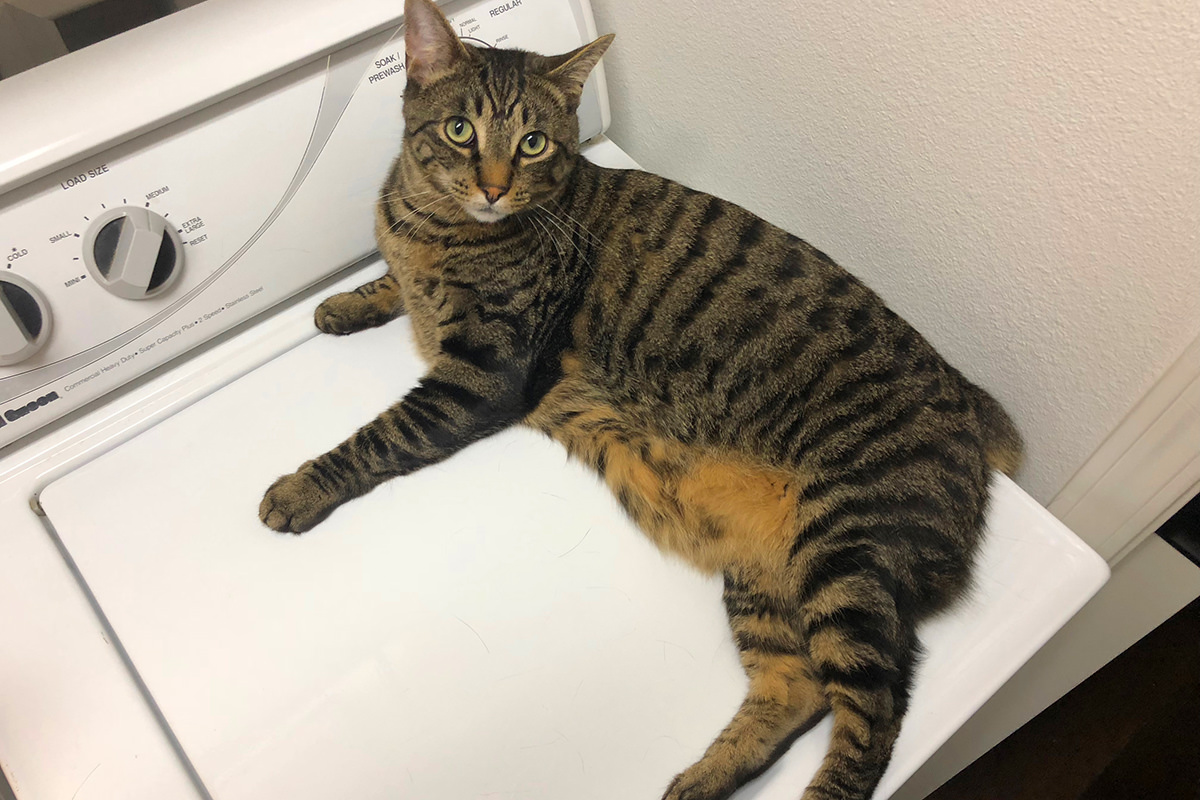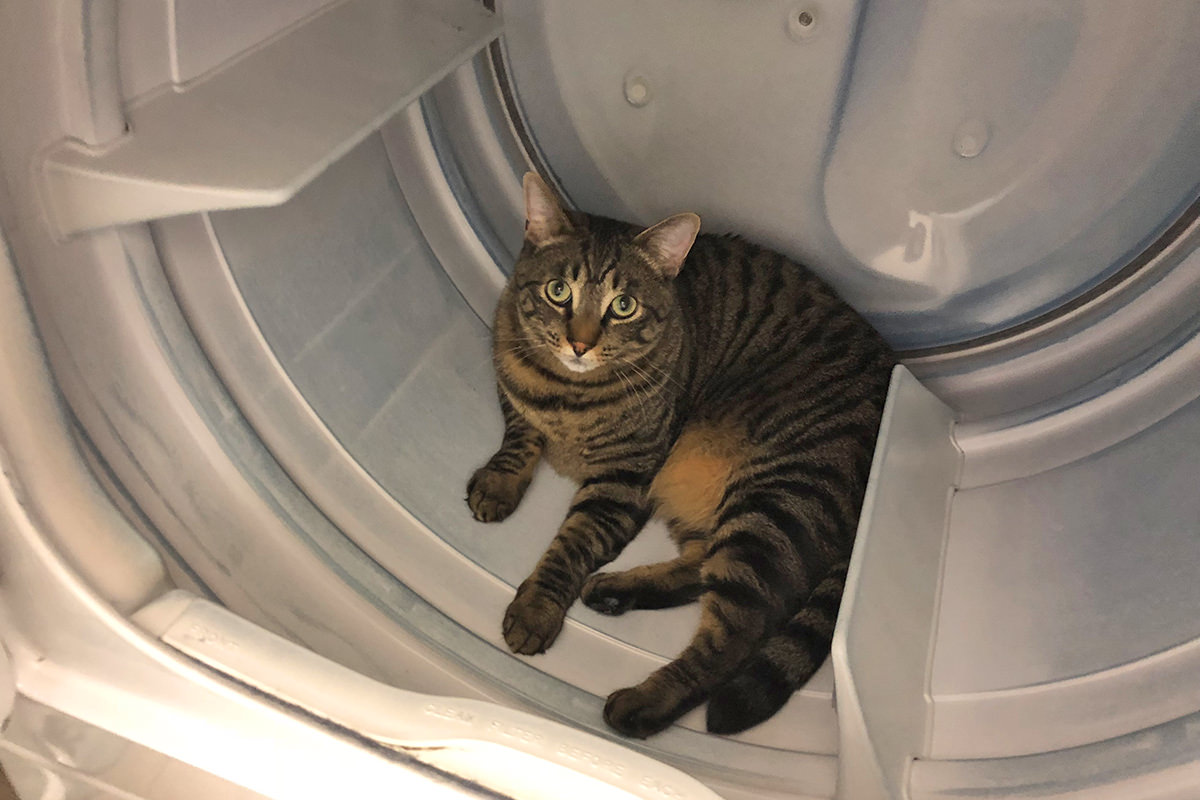 And just when one cat finally gives it up...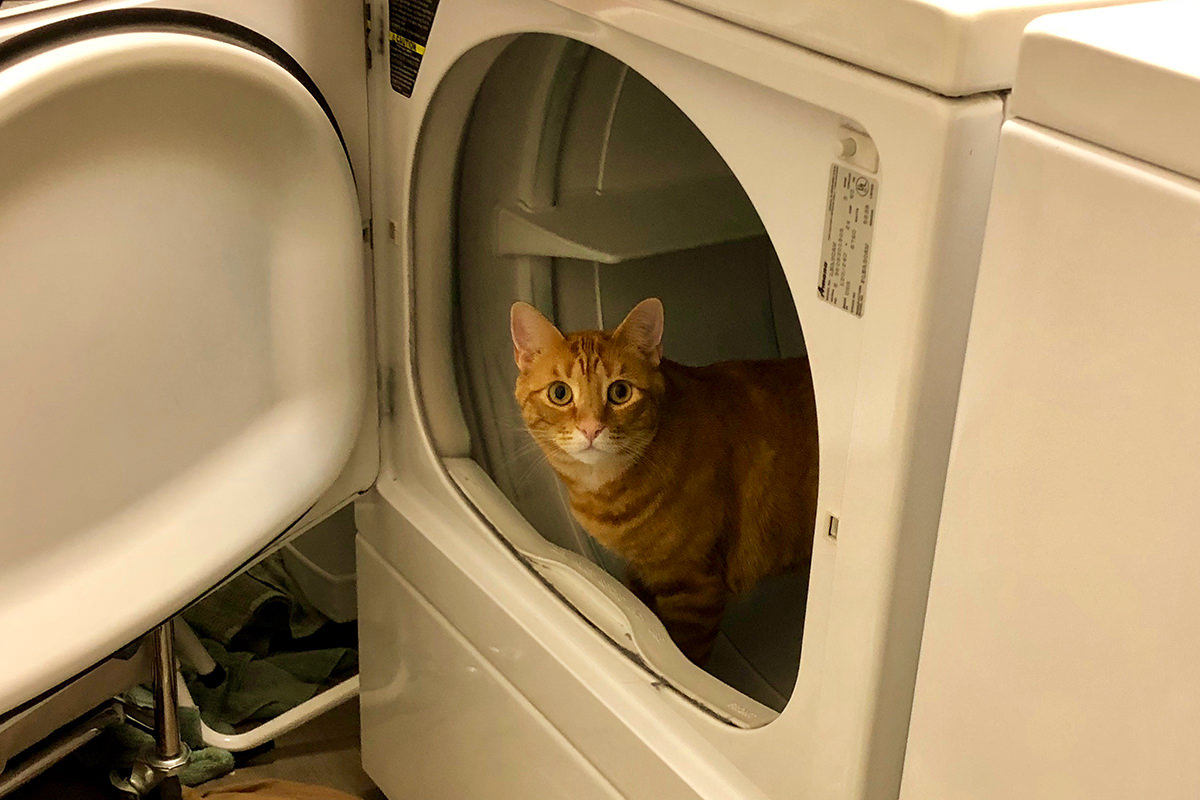 And lastly...
When you spend lots of time and money to create catio perches and toys... but your cats would rather lay on the cool concrete. Hot summer nights and all that...

And last-lastly...
I leave you with cats who like to sleep...
Except Jenny woke up before I could get my phone out, so she's not sleeping any more. But she was sleeping...

See you next Caturday.
Posted on July 7th, 2018

When it comes to my cats, I am the absolute worst kind of parent. Rather than enact strict discipline in my household, I always take the path of least resistance because I find it incredibly difficult to tell Jake and Jenny "no" to anything.
It wasn't always this way. I started out with all kinds of rules. My #1 Rule has always been to keep the cats out of my kitchen... for two reasons. The first is that this is where there front door is located, and I didn't want them to wait there and run outside as I came and went. Second of all is because this is where I prepare food, and I didn't want kitty germs and cat hair all over my counters. I went to great lengths to keep them out. Even going so far as to purchase Scat Mats to electrocute them when they walked across them. Well, "shock" not "electrocute" but you get the picture.
Unfortunately, my cats were smarter than Scat Mats...
Yes. Jumping over the mat. Who'da thunk it? But that wasn't even the start. They would also drag things over the mats so they could walk across without getting shocked.
And so... they were allowed in the kitchen since there didn't seem to be an easy way to stop them. Oddly enough, they stopped hopping on the kitchen counters once I let them in, so I am declaring myself the voctor here.
It goes on and on.
Most all my rules have been tossed out the window. About the only one I have left is to not allow them outside, but they've got a catio for that, so I'm not sure I won that battle.
The latest battle I've lost? Letting them play in the cat food cupboard.
I made the huge mistake of storing all the cat food in a lower cabinet. It's all sealed up to keep it fresh, so they can't really get into anything, but I still try to keep them out so I don't have to clean up all the stuff they drag out of it...
What's interesting to note is that my cats know the difference between the food packets and the treat packets.
They will pull food packets out of the cupboard, but the only packets they try and open are the treat packets. Food packets never leave the kitchen. Treat packets are dragged and thrown all over the house...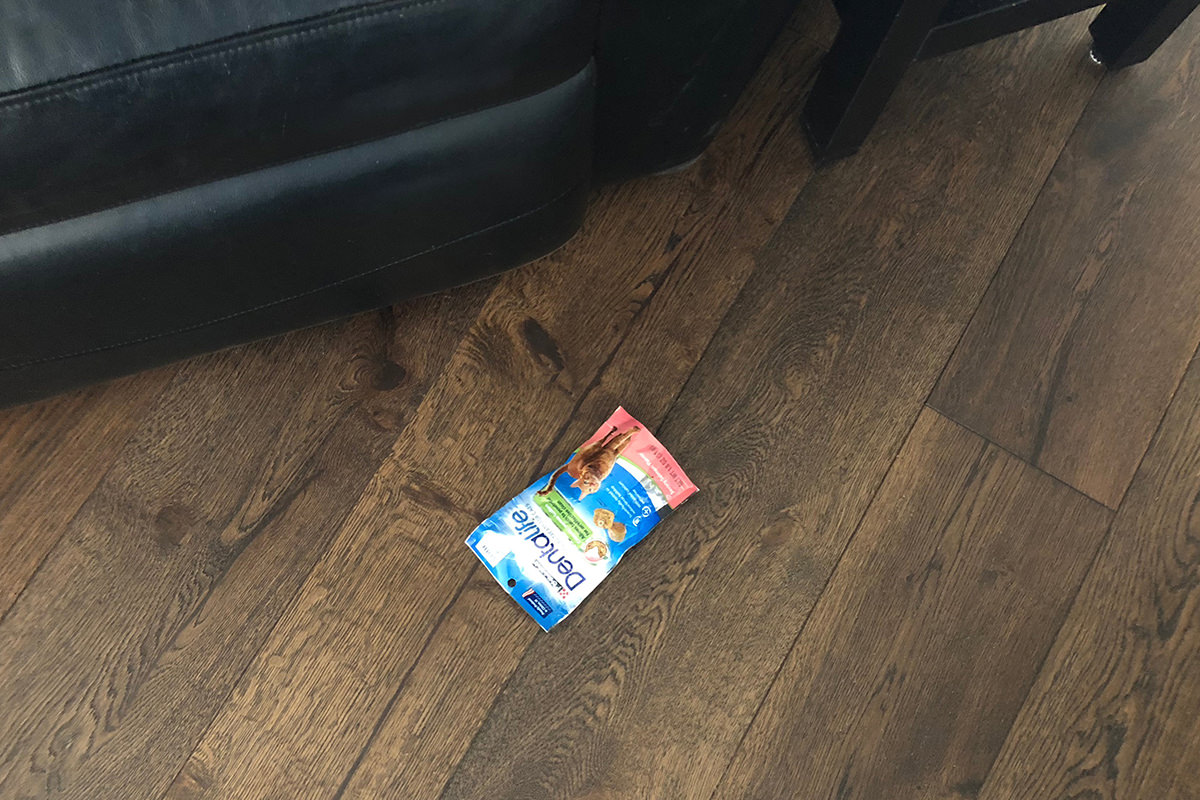 This morning when I woke up, I heard a ruckus downstairs. I knew what was going on before I even looked at the security cameras...
There was Jake, throwing around a treat packet trying to break it open since he can't find a way to bite it open.
Usually, I run downstairs and take it away because I have a rule about not letting them mess around with food like this... but... well... another rule down the drain. Who am I to deny them fun times like this? I've bought toys which they have ignored that cost a lot more than a bag of treats.
And speaking of treats... Jake loves air conditioning. Loves it. The minute he hears the AC kick in, no matter where he is in the house, he will run as fast as he can to get to the vent above the cat tree so he can bask in its coolness...
I've posted this photo (or a photo like it) before, but here's Jake showing his true love of cold air...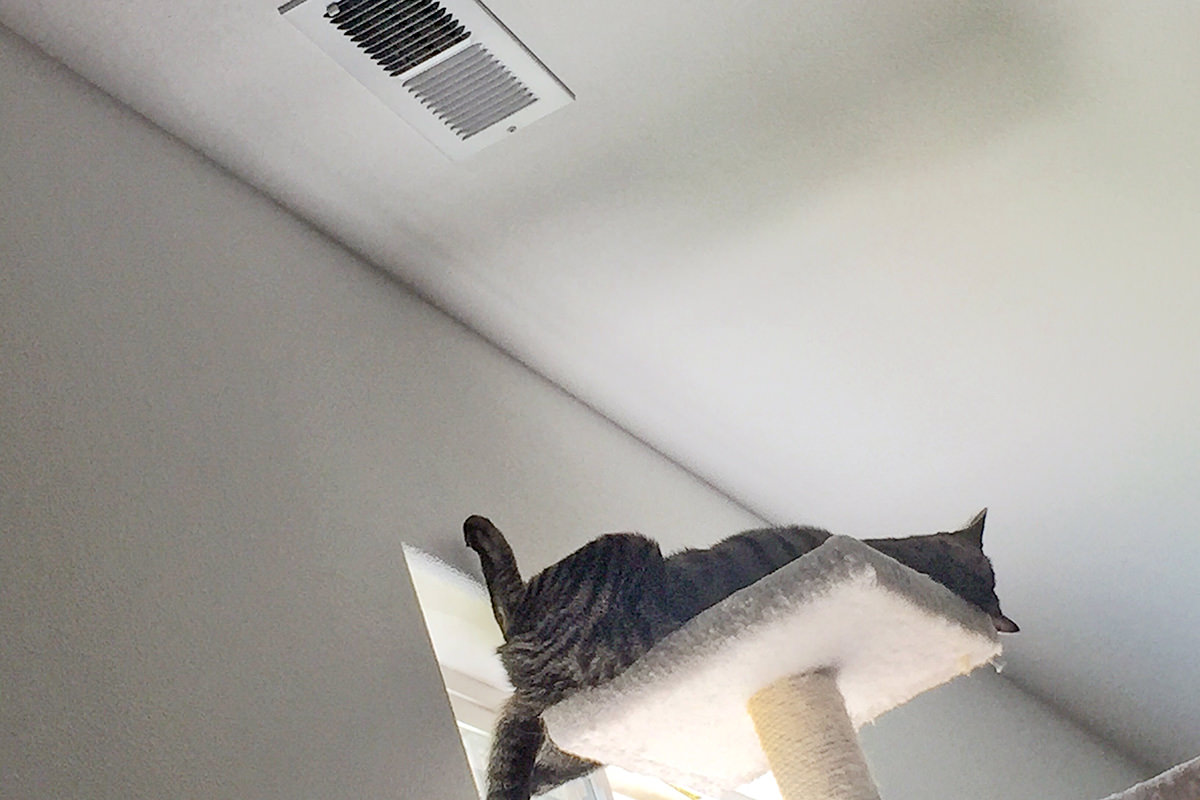 And since we just can't seem to get enough Jake this Caturday...
There I was, working away, when I have to stop so I can check my security cameras and find out which cat is responsible for the foul-smelling dump that just got left in the Litter-Robot. Because this is my life now.
Turns out it was Jake (big surprise). BUT HERE'S THE PART WHERE I FREAK OUT, BECAUSE AFTER HE TAKES A DUMP, HE SITS THERE STARING AT THE CAMERA LIKE HE KNOWS I'M GOING TO BE LOOKING. JUST LOOK AT THIS SMUG LITTLE BASTARD! ALL PROUD OF THAT POOP HE JUST UNLEASHED!
Oh gawd... why in the hell are you reading my blog? Who needs to know this stuff? What is wrong with you?
See you next Caturday!
Posted on June 23rd, 2018

Today I'm driving over the mountains again. Then, after a soul-crushing ordeal that will leave me wrecked, I'm turning around and coming right back home. Not the best way to spend a Saturday, but that's life for ya.
Fortunately I'll return to piles of work to distract me and two cats to delight me.
Now that Summer has arrived, most of Jake and Jenny's time is spent in the catio... watching birds and napping the day away. Which is exactly how I'd want to spend my days if I didn't have to buy food and pay a mortgage.
The sisal pole addition to the catio has been a huge hit. Jenny started climbing it bottom-to-top from the very beginning. Now Jake is into climbing it as well...
It's really amazing to watch them go climbing. They absolutely love it. I guess all cats do...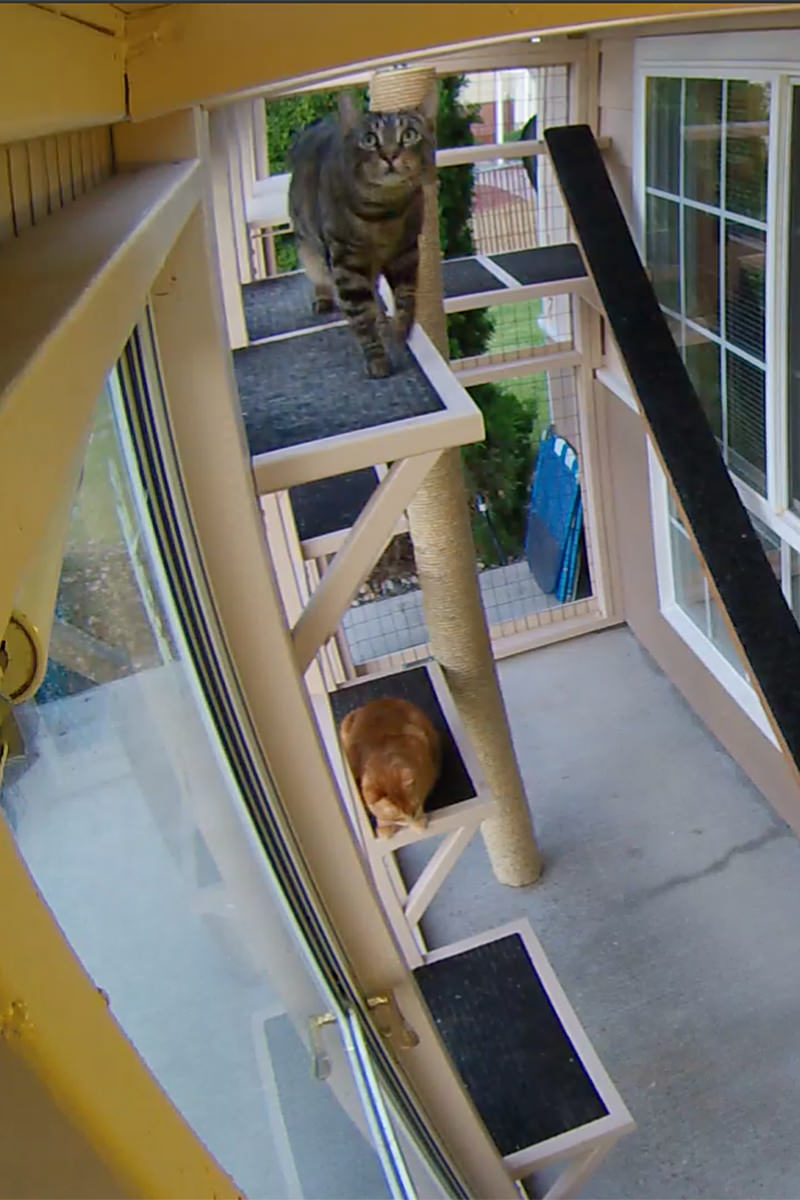 The money to add it wasn't too bad... $12 pole plus $50 in sisal rope plus $15 in glue... but the time to clean it, scrub it, prime it, protect it, glue it, wrap it, and mount it was the killer.
Still 100% worth it though.
Guess it's time to build the final part of PHASE TWO so I can move on to other projects for a while.
Posted on May 26th, 2018

It's a three-day holiday weekend! Except I had to work today, so it's not much of a holiday for me. But hey, I got to come home and clean out my garage for six hours, so it's not like I didn't have any fun.
Last Caturday I posted a photo of Jake all sprawled out and was asked if that's how he always lays down. The answer is "no, not always."...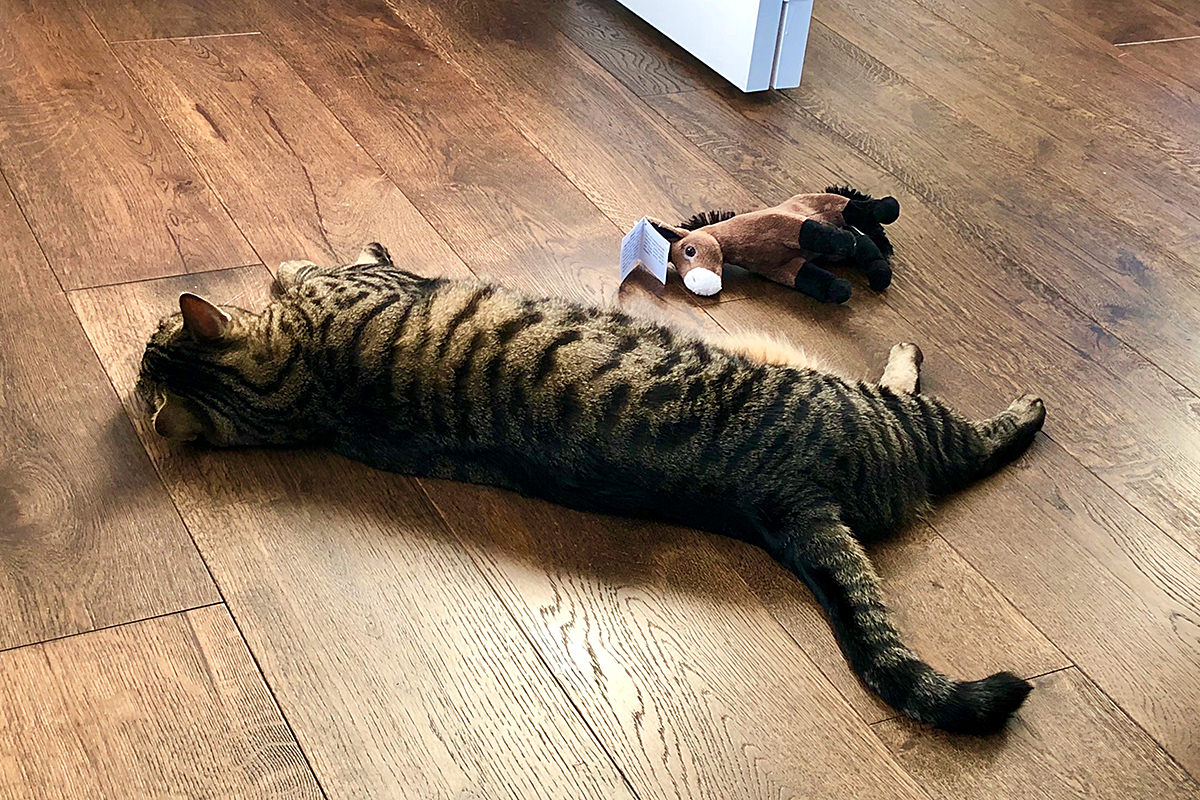 But he does lay like that a lot of times now that the weather is getting warmer and I am trying to save money by not running the air conditioner unless I have to...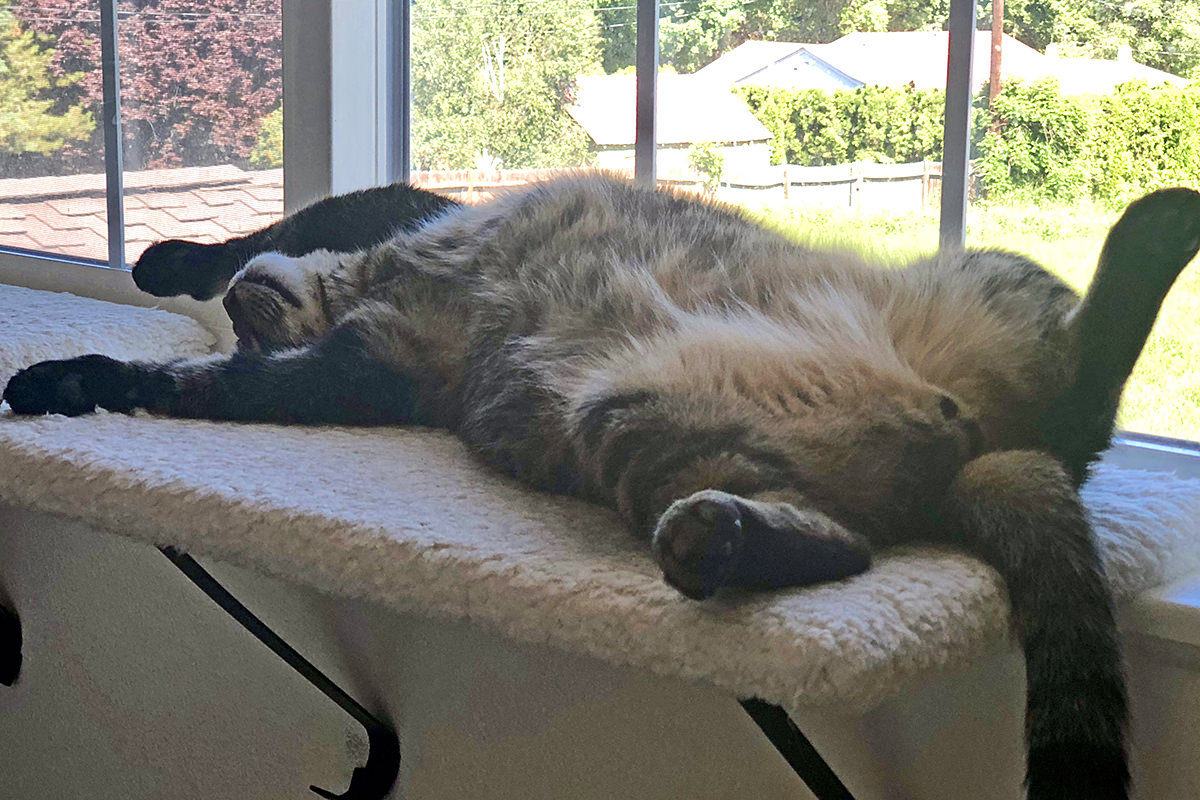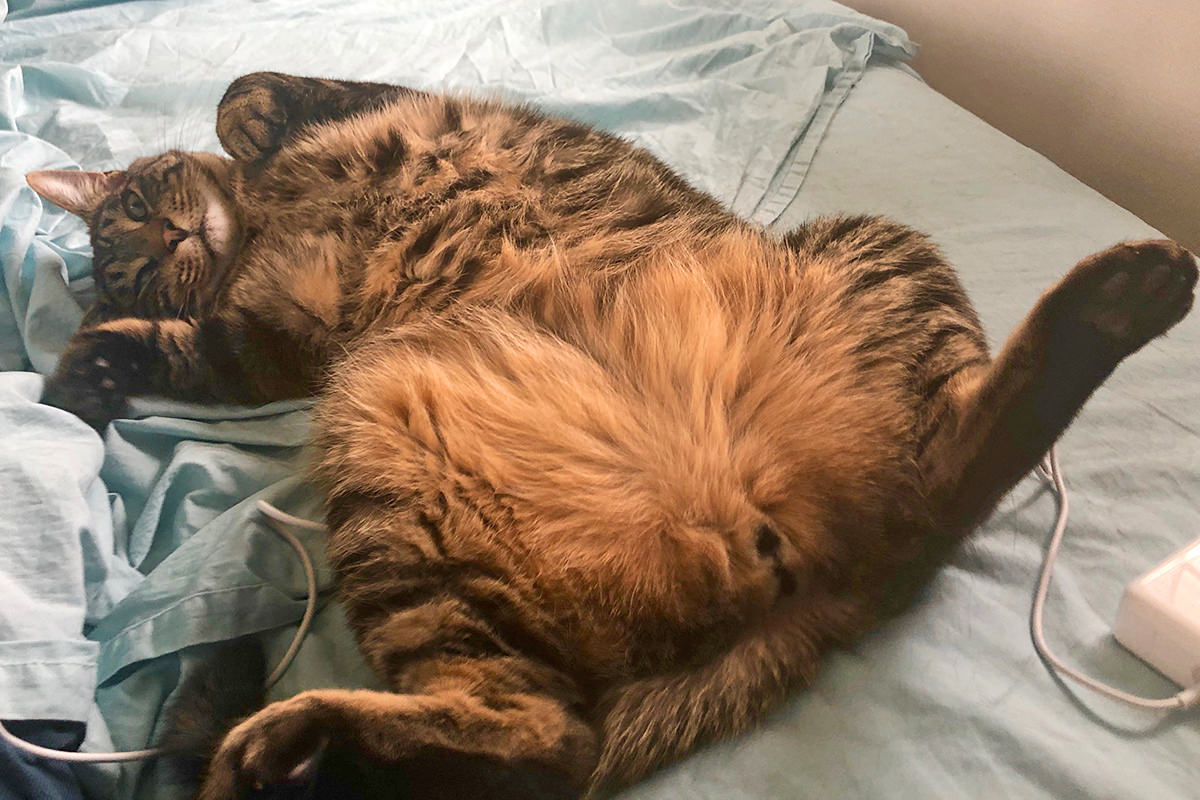 And he doesn't much care what people think about it. You'd probably lay spread-eagle too if it were hot and you were covered with fur...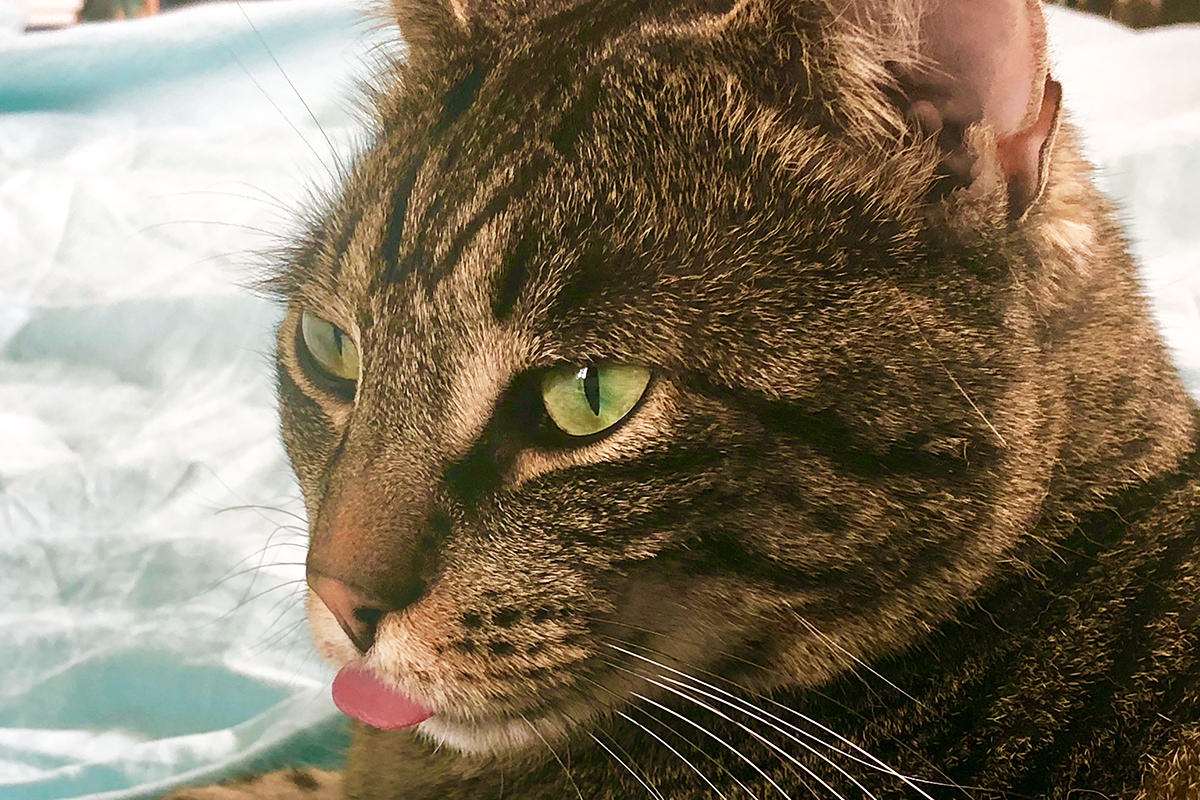 Unless you're Jenny. She's way too much a lady to lay like that.
Speaking of Jenny, she's started getting a bit demanding lately.
So there I was last night, composing an email to head off a major disaster, when I hear the most pathetic WAILING coming from near my feet. I look down to see what in the heck Jenny's problem is, and it's... nothing. Miss Perfect Pretty Princess just wanted to lay down next to me but my computer was in the way. Jeez. You'd have thought she was dying or something. The girl knows how to get what she wants, that's for sure...
Jake doesn't complain, he just jumps up and pushes his way to where he wants to sit. Which means setting down the computer and letting him get his way...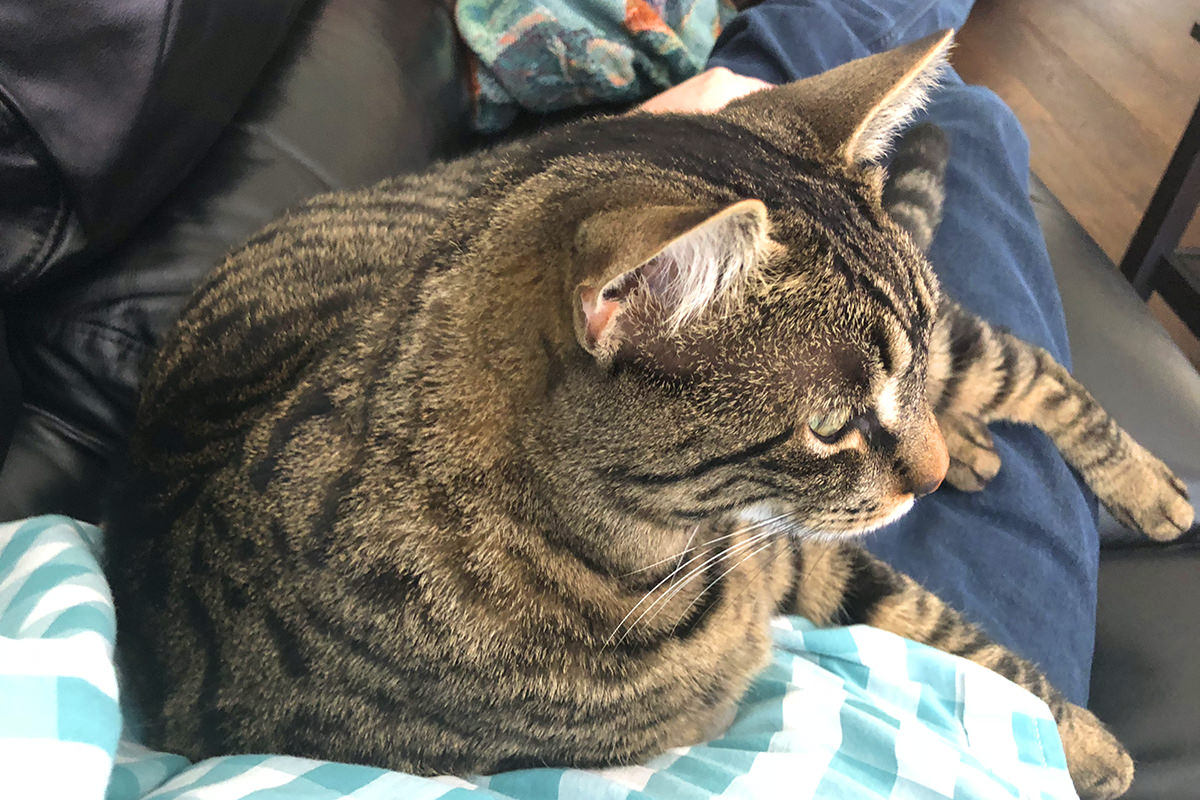 The only one in this house not getting their way is me.
And also any fly stupid enough to wander in. The cats are both completely obsessed with hunting them down...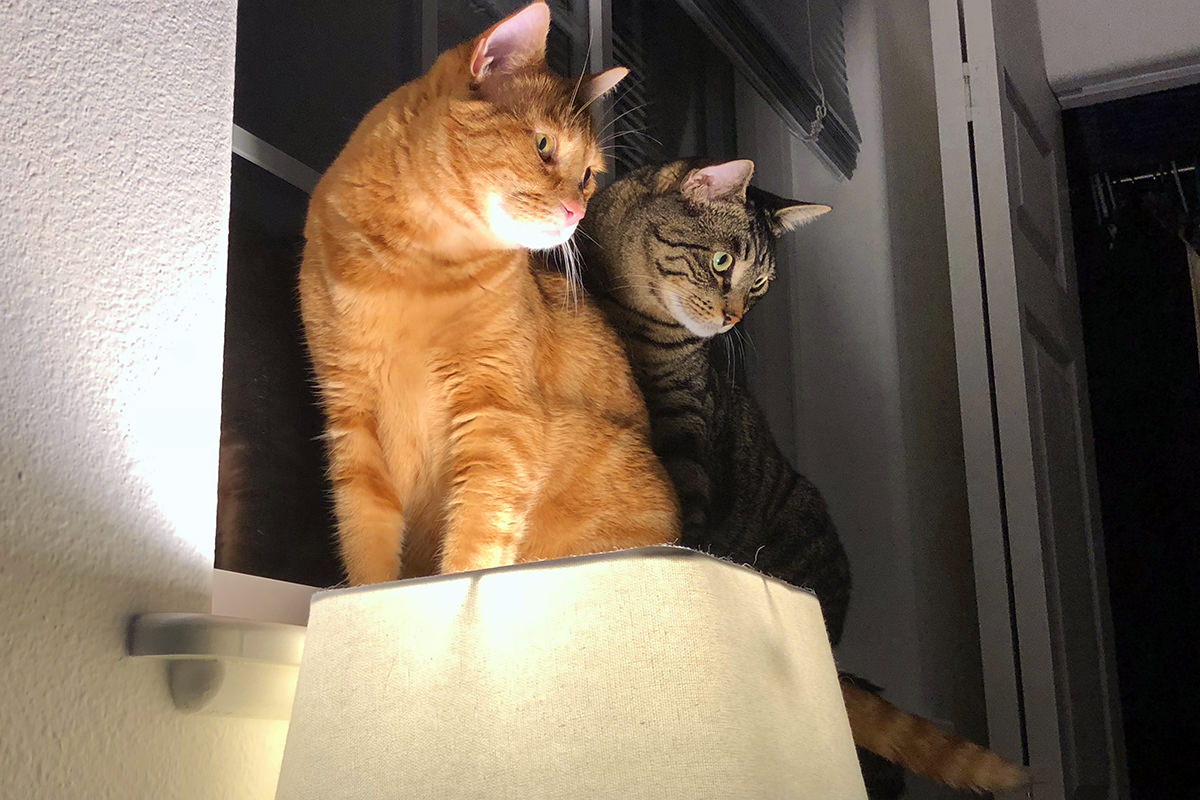 Jake and Jenny are surprisingly good at hunting flies. They're patient. And fast. And resourceful. They catch a lot of them.
Which is fine. Except when they eat the flies. So gross.
Posted on May 19th, 2018

It's kind of strange how having cats has changed my behavior. I am slowly becoming a different person, and it's a direct result of hanging around Jake and Jenny.
Yesterday I received a couple of questions from somebody who found my Antarctica trip in a Google search. I didn't have the answers off-hand, so I had to retrieve my souvenir box. My cats see a box and are instantly in attendance, pawing through everything and chewing on papers, pamphlets, and postcards. And I just didn't care. Two years ago if a cat was chewing on my precious souvenirs I would have ripped them out of their mouths, shooed them away, then been upset for days that my property had been destroyed. But now? It's just stuff. In the grand scheme of things, does it really matter if a postcard has a corner missing? Not to me. Not anymore. They could set the entire box on fire for all I care. I'd rather have happy cats than any amount of stuff. Unless it's going to hurt them, there's nothing I own that's important enough to smack a cat away. Nothing.
But the biggest change has been learning to accept things for what they are. This is a primary concept of Buddhism, and something I've been trying to get a handle on for decades. Jake and Jenny are "just cats." Given their relatively small stature and lack of opposable thumbs, there isn't much in their lives that they can change. Rather than wallow in misery if their attempts to alter their environment fail, they just accept it and do their best to live with it... or they move on. And that's the key. There are some things in life that simply cannot be changed no matter how hard I wish it were otherwise. Rather than dwell on that and be miserable, I've been doing a lot more accepting... and a lot more moving on. And I have been far happier because of it.
Maybe this world would be a better place if more people in charge of things had cats.
But anyway...
So there I was consumed by work when I hear much thrashing and squawking coming from the dining room. Jake is going crazy about SOMETHING, so I get up to see what's going on. Turns out it's just a boy and his mule. Jake is rolling around on the table with Moose...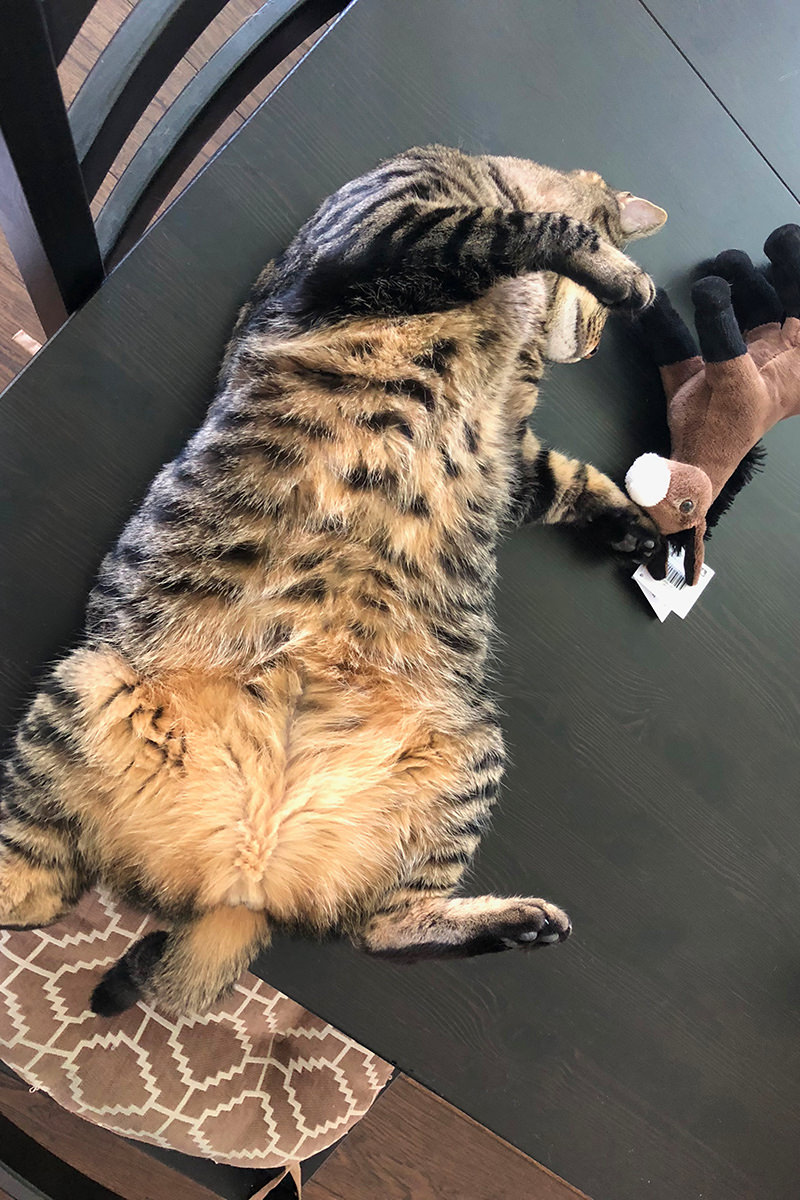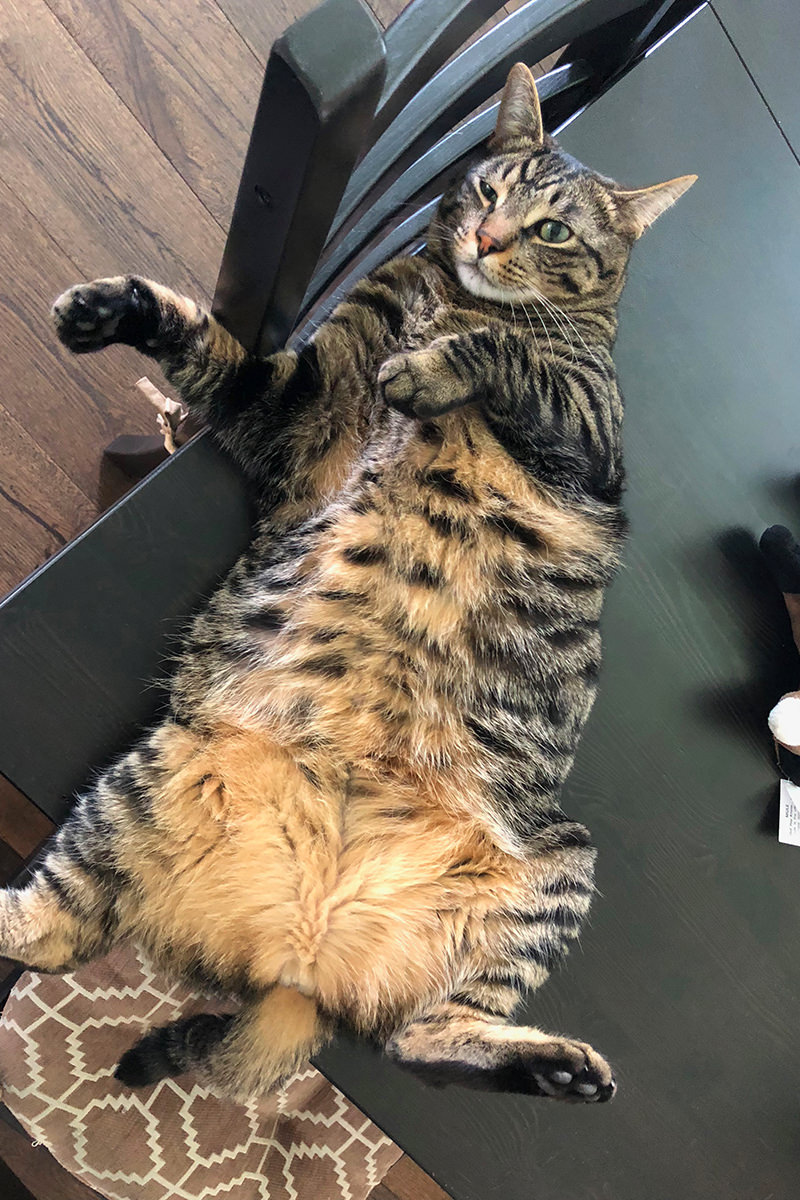 Which makes me SO happy because dividing their attention between multiple stuffed animals means that Mufasa, Jakes prized stuffed lion, might stay in one piece a bit longer.
In other non-news, Jenny's television addiction is still going strong. Her favorite place in the living room is the coffee table where she can lay and watch TV. Many nights she'll fall asleep while watching...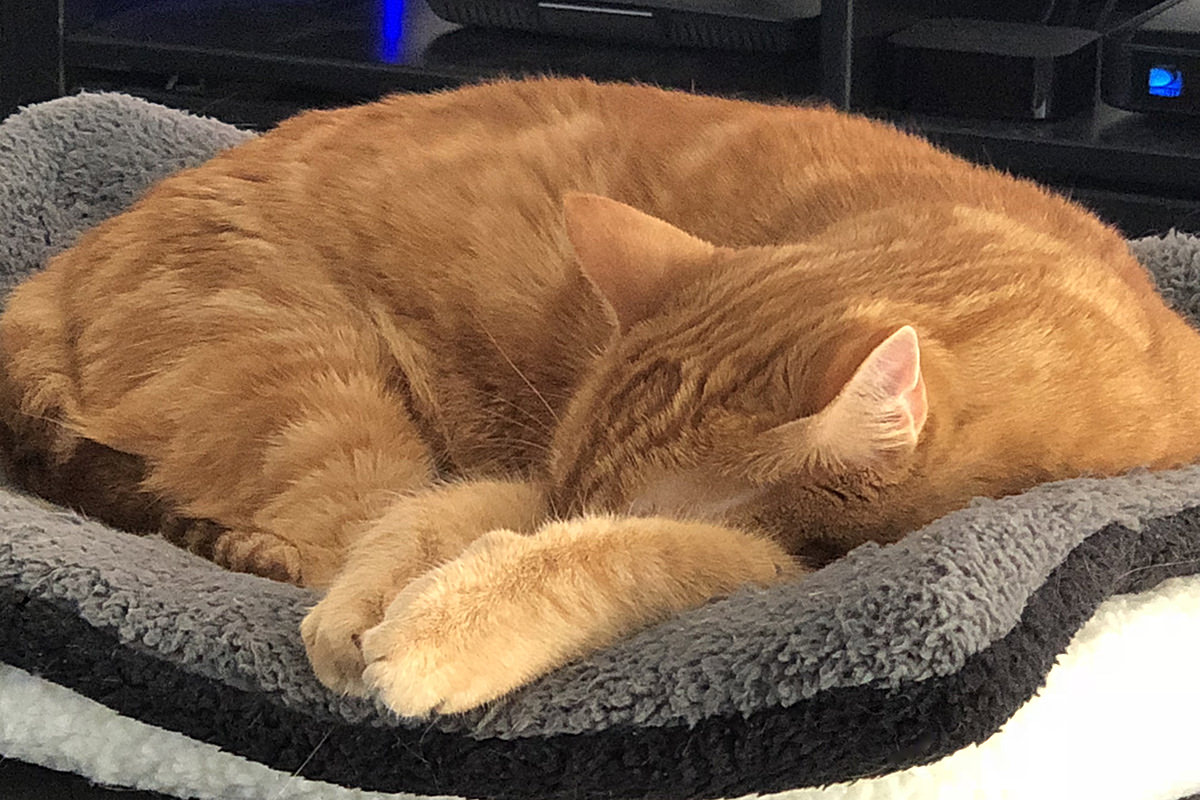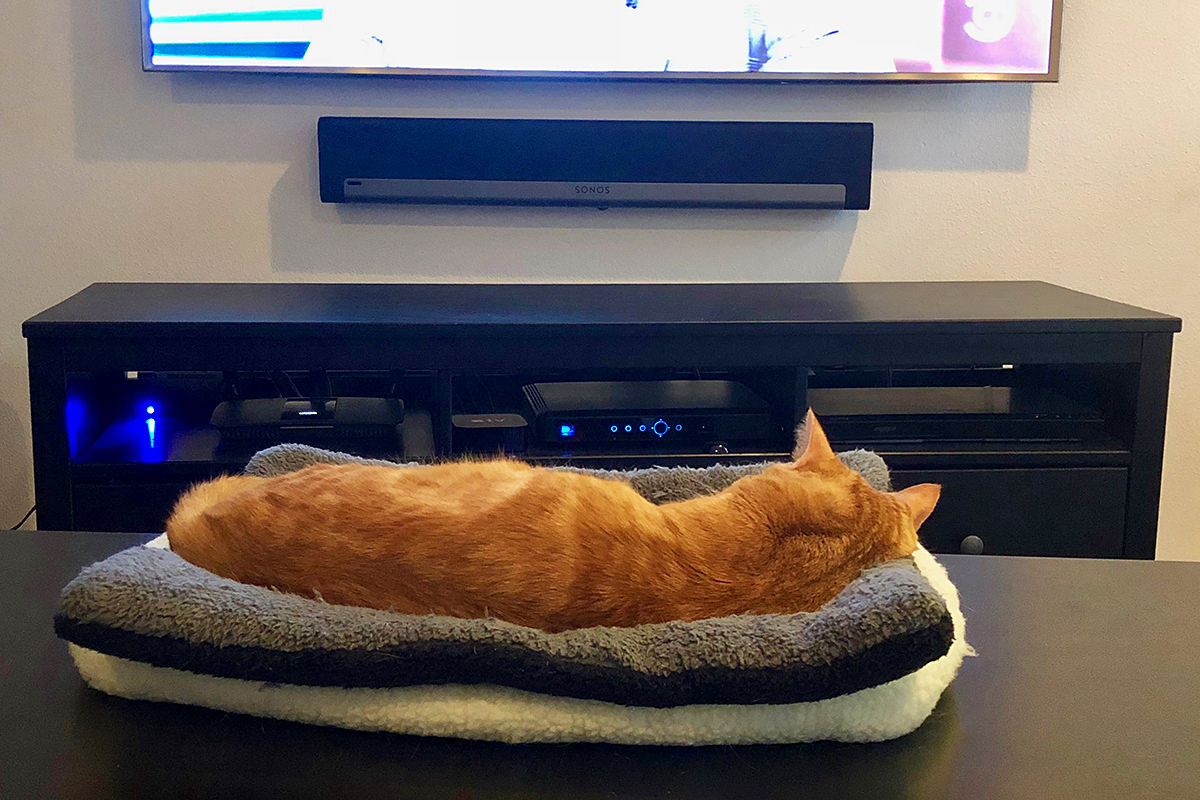 Which is better than the cats' latest trend... wedging themselves in-between me and my work so they can get petted and fall asleep. They are doing this ALL THE TIME NOW. Even worse? They work in shifts. One of them will squeeze between me and my laptop so I have to set it down... then the minute they leave and I go to pick up my computer again... the other one will do the same damn thing...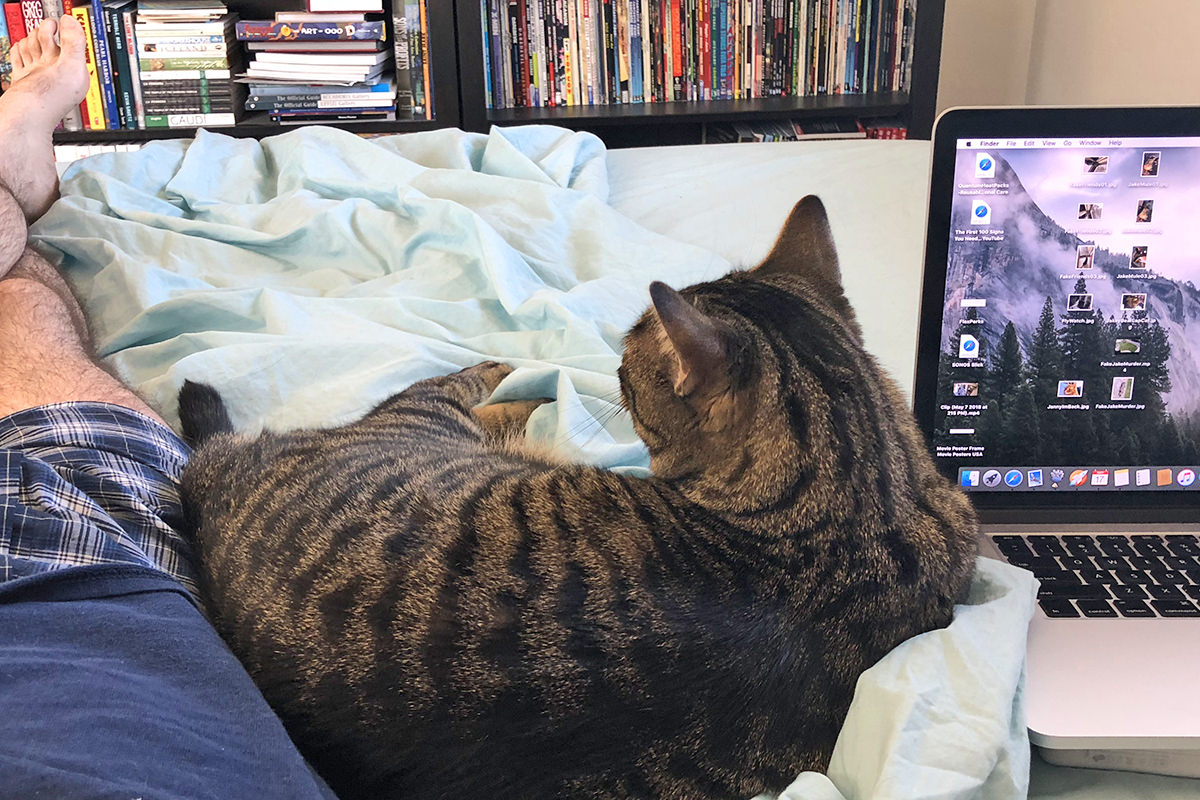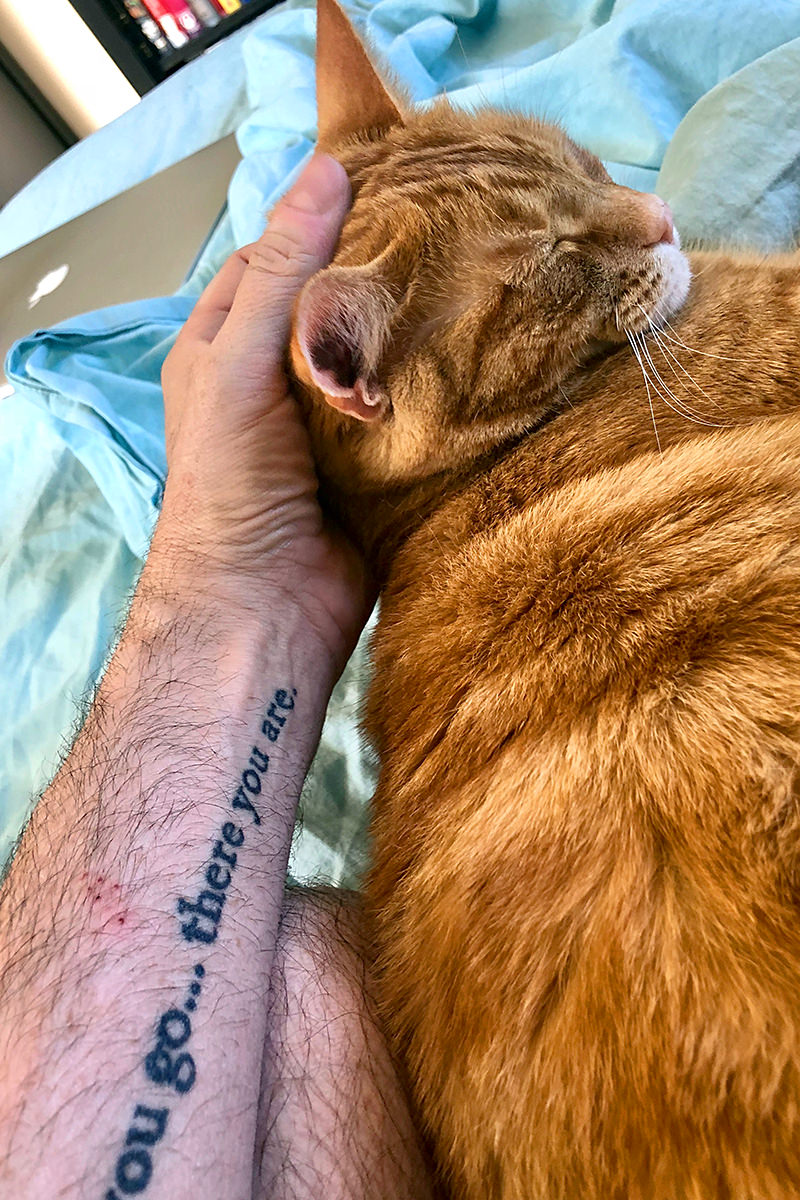 And, lastly, I've been leaving windows and doors open in the mornings before it gets hot in an attempt to keep things cool and let in some fresh air. This cuts down on the expense of having to run my air conditioner as much. This has resulted in Jake and Fake Jake having a couple of "play dates" through the screen door...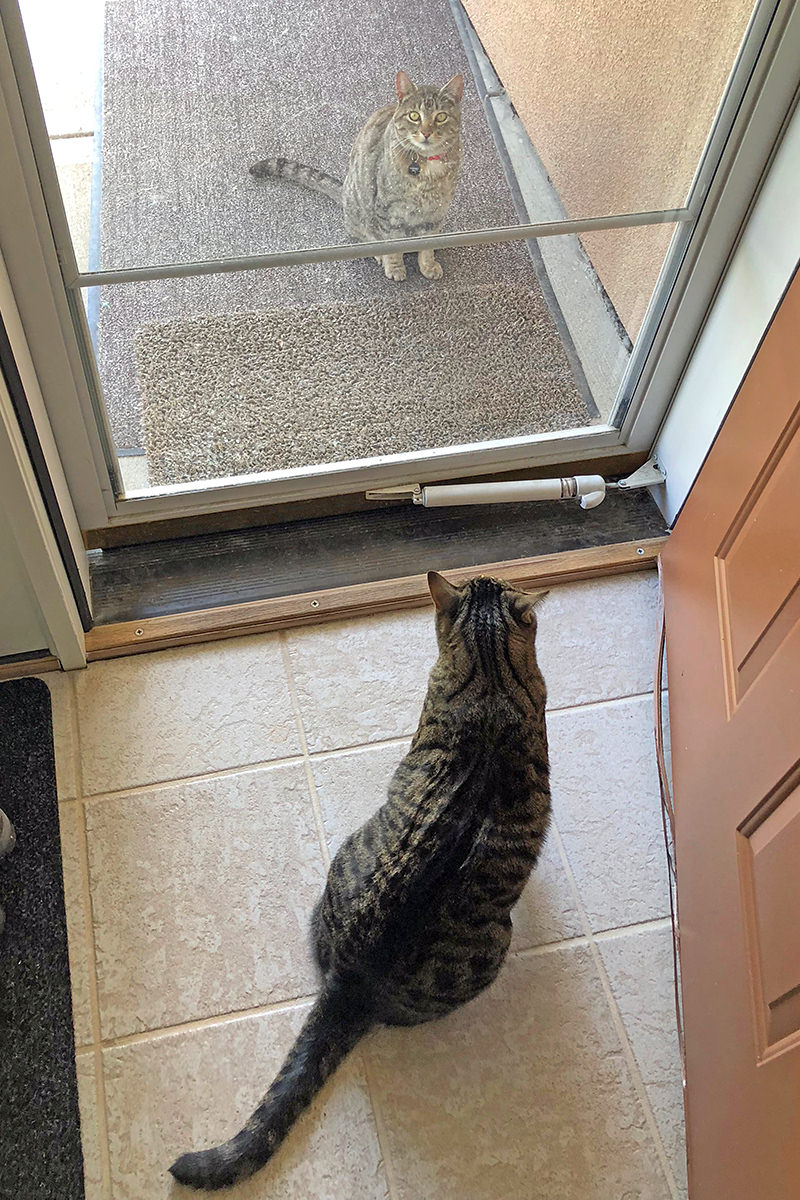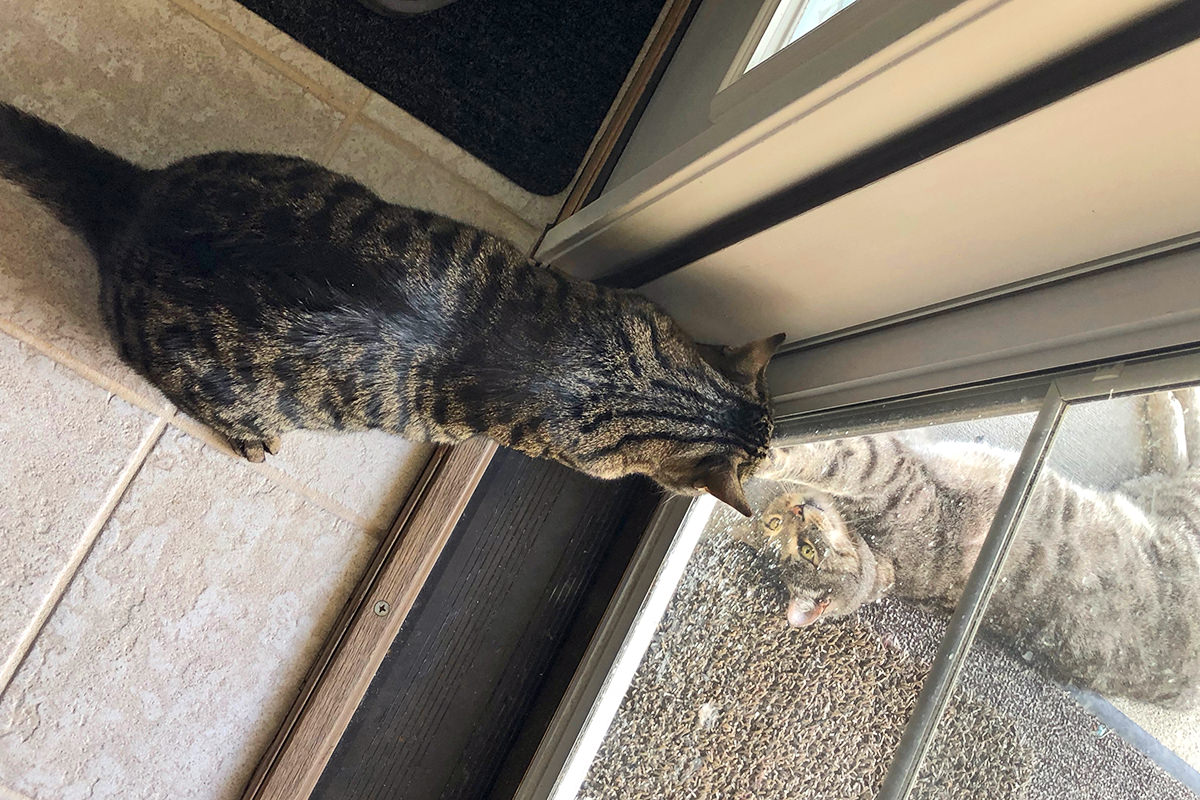 Though how they can see each other through that filthy window I do not know.
A part of me wonders if I'll eventually be able to let Fake Jake in for a visit... but I honestly don't think this will ever happen. Fake Jake can get very aggressive, and I think that would traumatize Jenny quite a lot. She may be able to hold her own when there's a fence between them, but up close and personal? Probably not.
Oh well.
I removed the heater and berm from Fake Jake's shelter, then cleaned it inside and out, so he should have a nice cool place to hide from the sun this summer. That will have to do. If we end up with a heatwave, I can always let him hang out in my garage.
Until next Caturday then...
Posted on April 28th, 2018

And it's officially Catio Season!
Jake and Jenny are out in the catio almost every day, regardless of weather. Freezing temperatures, snow or rain, they love being outdoors. But now is the time of year where they spend more time out in the catio than inside. The sun has changed position, so they can bask in its glory while enjoying fresh air as well...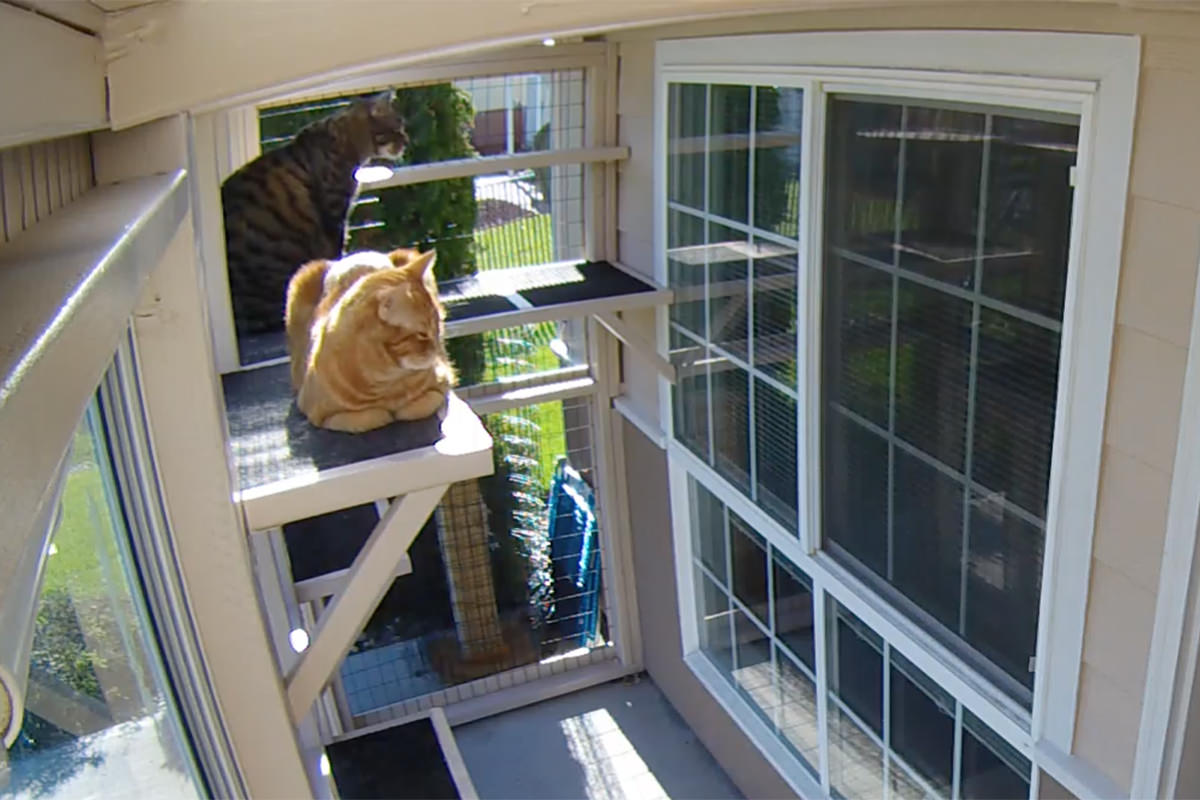 Jenny especially loves it. Jake is happy to lay on top of the cat tree in the window to get his sunlight fix. Jenny will always choose the catio...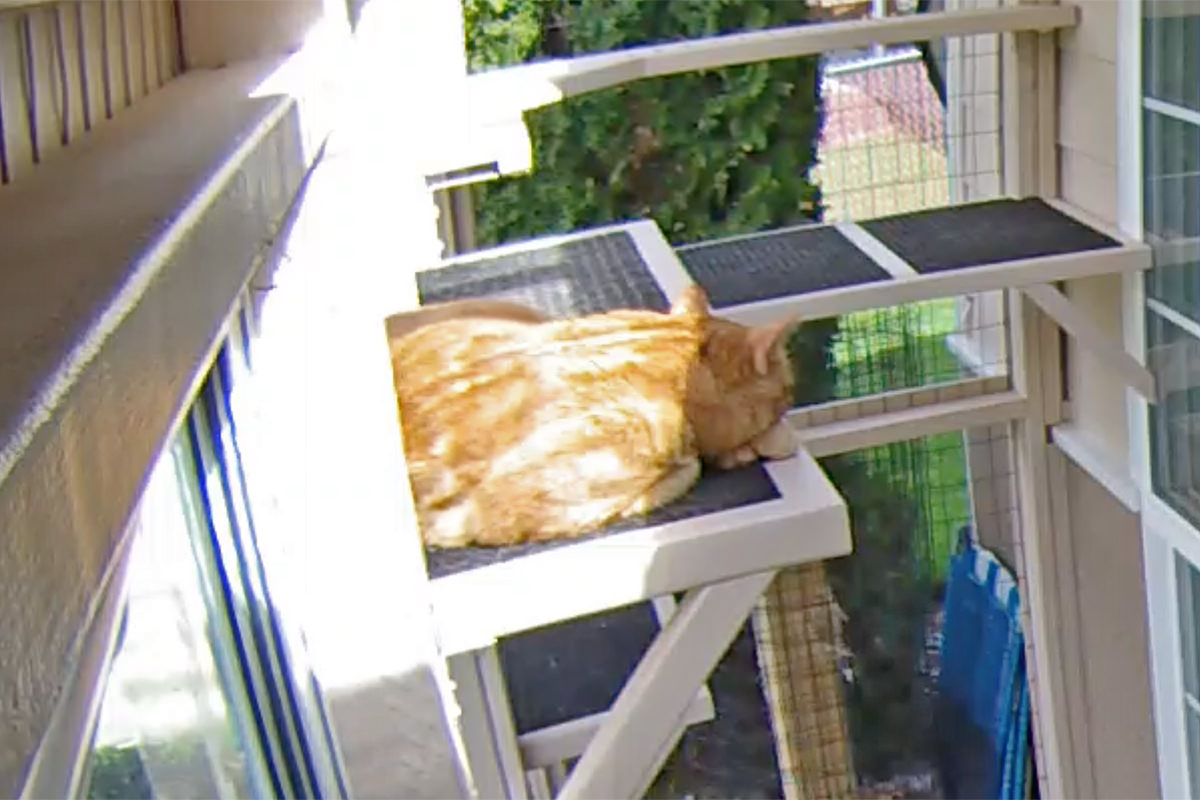 Not that Jake doesn't have his moments. While I was in Europe, he spent the night out in the catio, which I've never seen happen before. And... he still loves keeping a look out for Fake Jake, where confrontations are ramping up as the weather improves...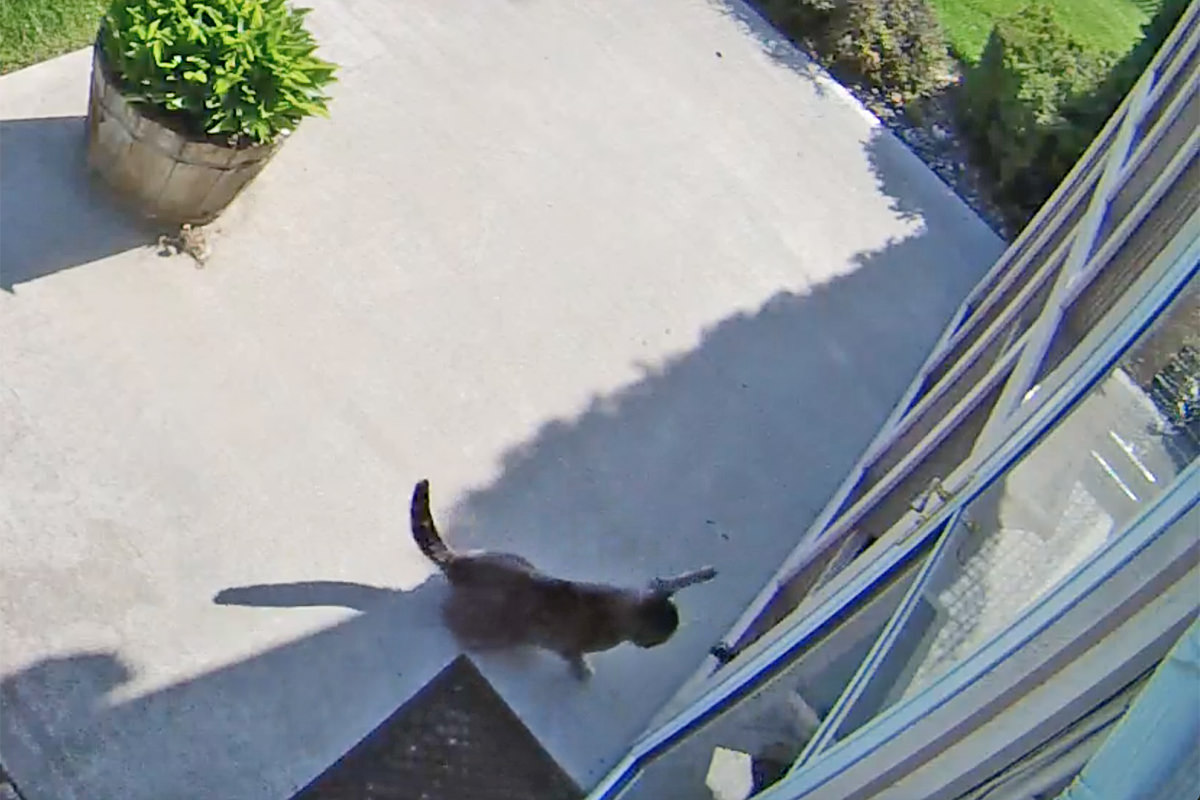 Trying to get a jump on packing for my next trip later this week, I've run into the usual obstacle...

I was expecting that as my cats got older they would become more independent and want nothing to do with me. If anything, the opposite is happening. No matter where Jenny is in the house, if she hears me turn on the television in my bedroom, she dashes up right away. She can sit there watching television for hours...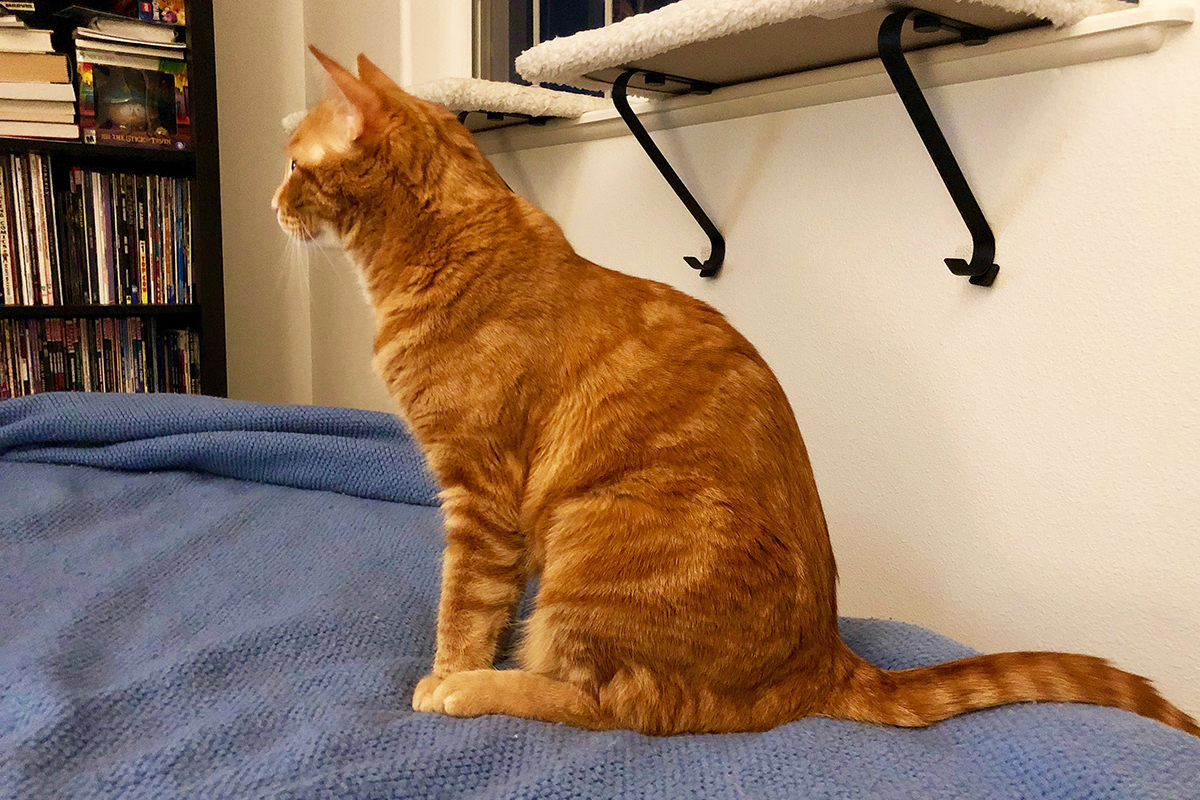 Jake has no interest in television, but he does have a huge interest in sleeping. Last night he spent the night on my bed, which has never happened before. I dozed off and was surprised to find him still around when I woke up...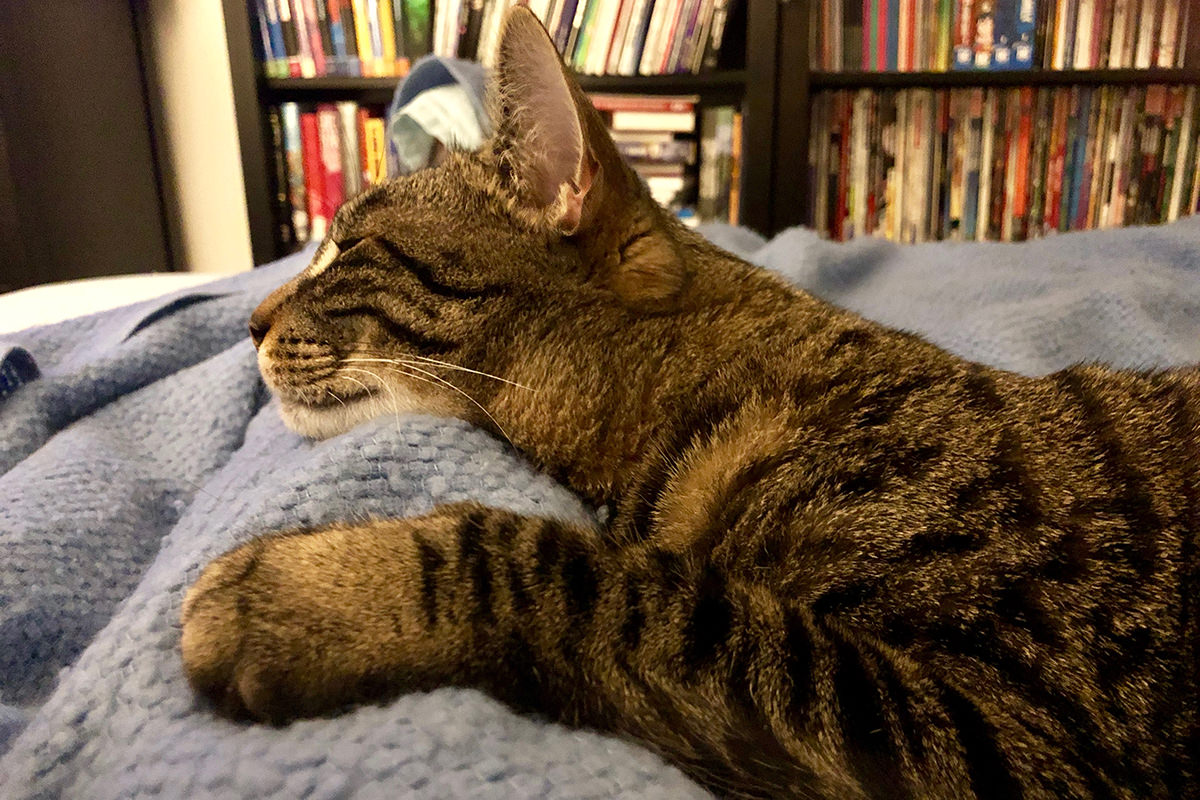 As I turned off the lights and was falling back asleep, Jake started purring like a motorboat. I couldn't see what he was so happy about, so I used the flash on my iPhone...
Apparently he's liking the ceiling fan drying off his undercarriage.
This morning he was still there...

And speaking of things still being around... Jake dragged Mufasa in this morning. I hadn't seen his prized lion since I got back from Europe, so I thought he had been lost or destroyed. Nope...
He probably hid it. Forgot where he hid it. Then found it again.
Why he hides Mufasa was apparent just minutes after Jake ran downstairs for a drink of water. Jenny started tearing into him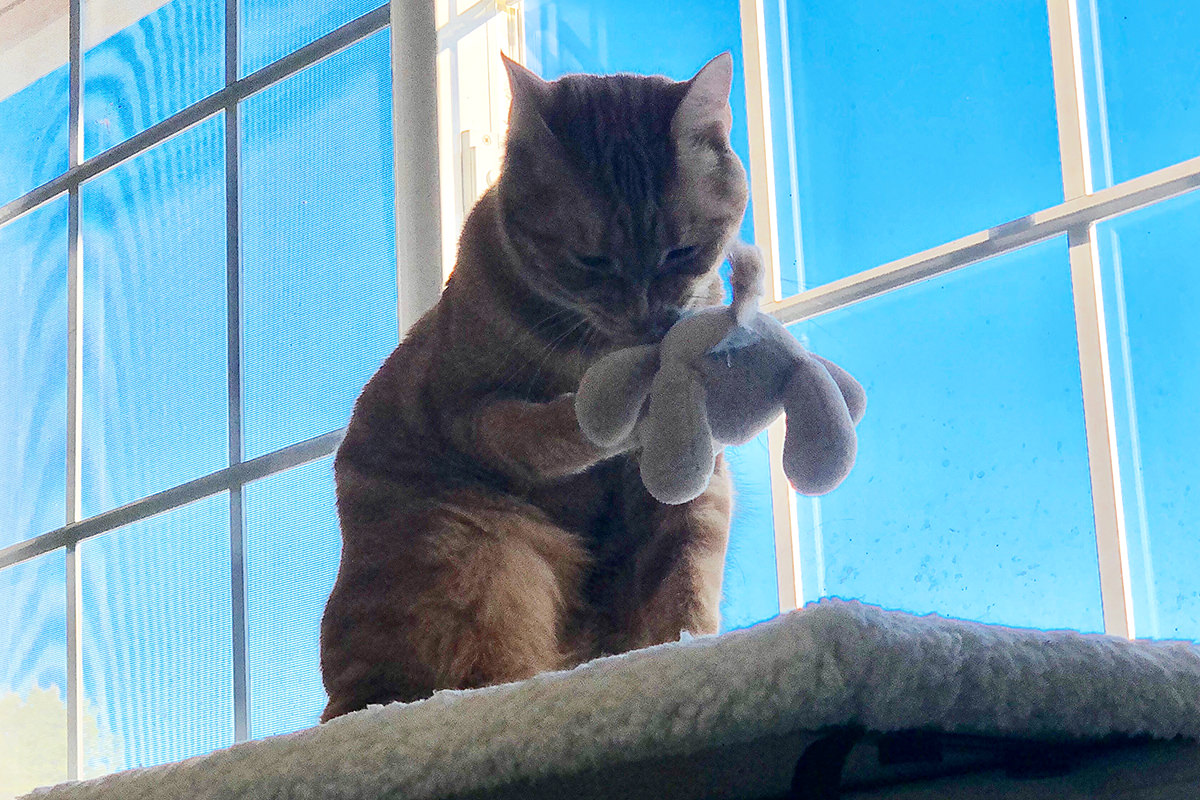 I'm shocked that she hasn't shredded Mufasa to bits by now. Really hoping that one of my friends passing through Johannesburg O. R. Tambo International Airport can pick up some more Mufasas because I'm not sure how upset Jake will be if he ever loses the one he has.
And... so much for the last Caturday in April.