Posted on March 19th, 2019

Just because I've grown comfortable with leaving my cats alone doesn't mean that I don't try and make sure they feel safe and comfortable while I'm away.
A couple months ago I had thrown a pile of jeans on the back of the couch so I could fold them after I cleaned out the lint trap on the dryer. When I came back less than a minute later, I saw that Jenny had climbed on top. I assumed that she liked laying there because they were warm out of the dryer. But eventually I saw she liked laying on top of the jeans even when they weren't warm. Months later, it's still her preferred place to nap.
And so I usually leave one or two pairs of old jeans there just for her. Especially if I'm going away for a while. If it makes her feel safe and comfortable... why wouldn't I? Whenever I check in on the security cameras, that's where she is half the time.
Then tonight... something new.
Jenny decided to crawl into the pants...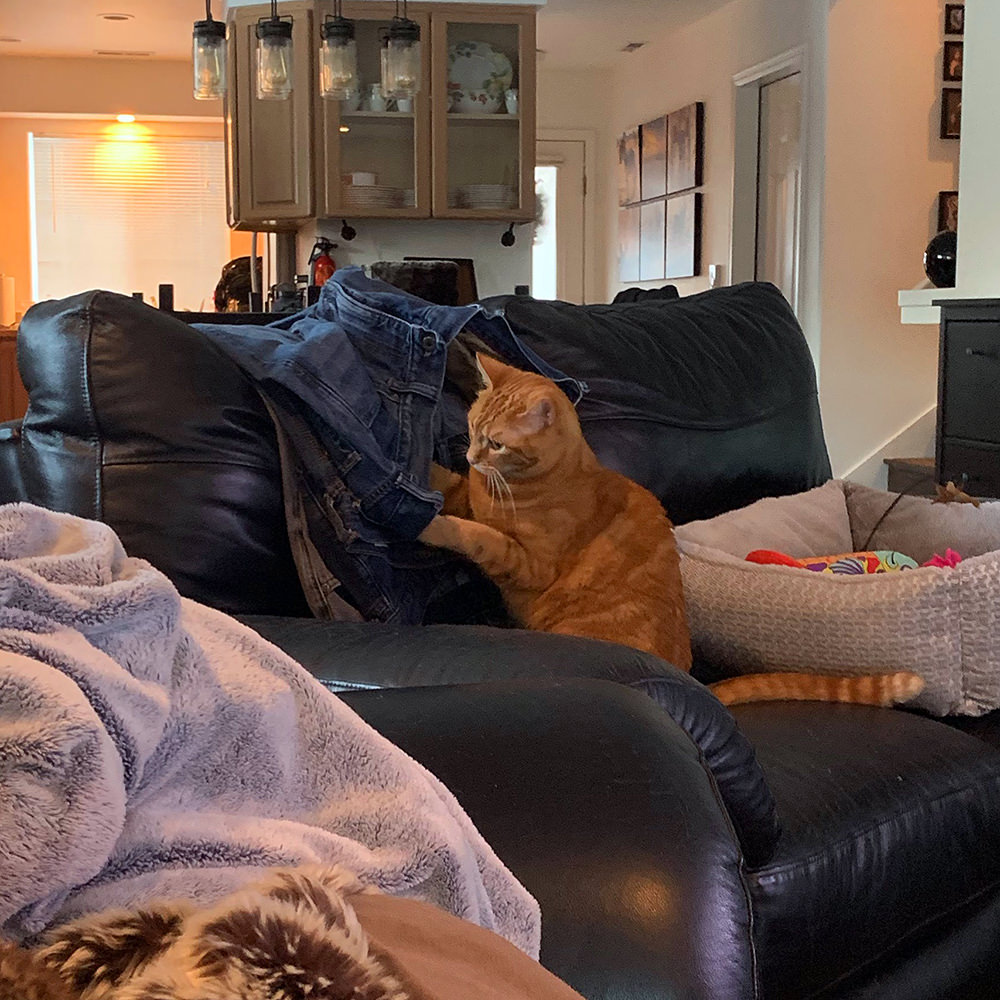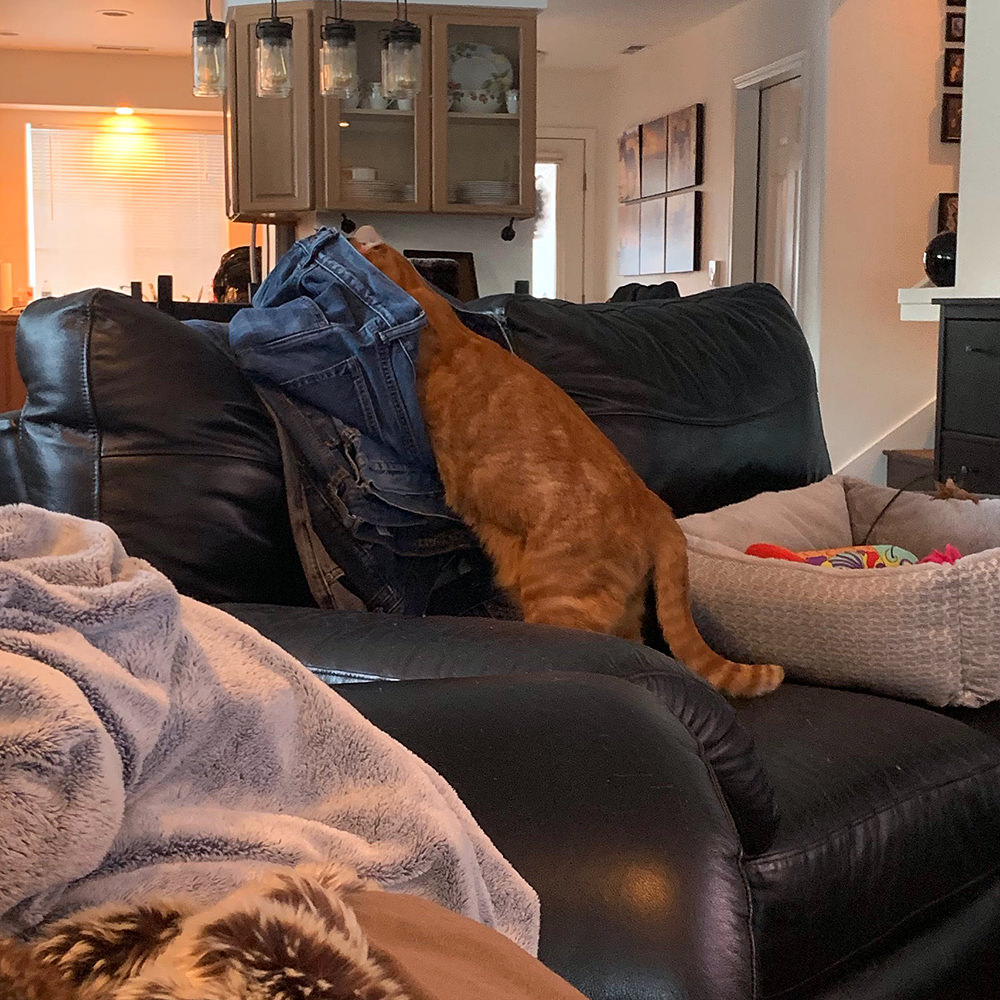 A second after the last photo, she fell out and went ripping up the stairs, but still... pretty funny.
As for Jake?
I swear he can sleep anywhere. Most mornings when I'm working in bed, he camps out on top of the cat tree in my room though...
Cats... so adorable you can't help but love them!
Until...
With the weather growing warmer, the cats have been shedding their winter coats at a frantic pace. Loads and loads of cat hair are blowing across my floor at any given moment. It's so bad that Jake and Jenny are dropping hair far faster than Carl the RoboVac can clean it up. I'd pretty much have to run the poor thing 24/7 in order for my floors to be fur-free.
But that's the least of my worries.
Jake is prone to hairballs. And if there's anything more gross than having to clean up a big wad of puked-up cat hair, I don't want to know about it. So I have been working overtime to make sure that he's brushed with The Furminator as often as possible. At least every-other-day. And, for the most part, this works great. No unpleasant surprises waiting for me when I come home from work.
But then I have to leave for three days... forget to use the Furminator when I get back... and all of a sudden a week blows by without brushing. Which means I'm likely to wake up to a massive hairball in the middle of the room.
Like I did this morning.
Poor Jake, yes.
But what about poor me trying not to hurl while I'm cleaning it up?
And that's what I keep telling myself.
Posted on March 17th, 2019

I am not home on my 100th Caturday... I'm over the mountains saying goodbye to a friend.
It used to be that leaving my cats even for one night was a traumatic experience. Even with a house full of security cameras, I worried from the minute I walked out the door to the minute I walked back through. In my head I knew that cats were solitary, self-sufficient little beasts... but it's still tough not to worry about all the things that could go wrong when Jake and Jenny are left to fend for themselves.
But then I was gone for two weeks on an expedition to Antarctica. With no internet available to check the security cameras, I hired a pet sitter to stop by every day and make sure everything was okay. The rest I left the rest to fate.
Of course everything was fine. Eventually I started having the cat-sitter stop by every-other day instead of every day. Now I only hire a cat-sitter if I'm gone for more than five days. Everything from the litter boxes to the feeder is automated, so that's all that's needed.
Except...
Tonight, for the first time, the cat feeder jammed. A little bit of food dropped out and then... nothing.
I was going to call a neighbor to have them unclog it or put some food out manually, but I figured Jake and Jenny would be fine until I get home tomorrow. Having a small meal for dinner and getting a late breakfast wasn't going to kill them.
But don't tell them that.
Usually when I get home, Jake hears me fiddling with the door and comes running down to greet me. Jenny waits until she knows it's really me before she more cautiously comes to say hell.
But not tomorrow (this is being written on Sunday... sorry I'm late).
When I walked in they were not there. I called for them but they did not come. They weren't in the catio... the living room, or the guest bedroom. So I went upstaris and found them in the other guest bedroom...
Apparently they were pretty mad about having been ditched with a non-working cat feeder.
And they had no intention of forgiving me.
Until I went back down to the kitchen and started shaking the bag of cat treats. They forgave me really quickly after that.
Cat bribery works every time.
Posted on March 13th, 2019

This evening when I got home from work, I sat down to make a list of what I needed to do/buy/pack before leaving, and spotted Jake out in the catio poking his little paw at the ice which had flowed inside. Now that it's getting warmer, the ice is starting to melt, which means thin pieces of it are floating on little puddles. The cats like to bat at them to send ice chips flying across the catio. It's adorable and fun to watch, though you can tell neither Jake nor Jenny are accustomed to getting their paws wet. Each of them will take a swipe then shake, shake, shake their little foot to get the water off.
But only Jake comes running inside to wipe his paws off on me.
No joke. If he gets it wetter than he likes, he will come inside, hop up on my lap, paw at me until he's confident that the water is off, then run right back outside to play some more...
I've never resented the fact that my cats think of me as a food dispenser.
But I am starting to resent it a little bit that Jake thinks of me as a literal door mat. Can you believe that cat owners sign up for this nonsense?
Sure they make up for it in other ways, but still...
Posted on March 9th, 2019

Now that the weather has been nicer, Fake Jake is spending a lot more time outside of the heated shelter I built for him. The nights are still bitter cold though, so he's still hunkered down after sunset.
Many days he is waiting for me when I return home from work so he can get scratches. If it's warm out, I'll even leave the door open so he can visit with Jake through the screen door...
Fake Jake is too violent with other cats for me to risk letting him inside for a visit, but I think it's good for my cats to interact with other cats from time to time.
Though Jenny would still prefer to do so from a distance...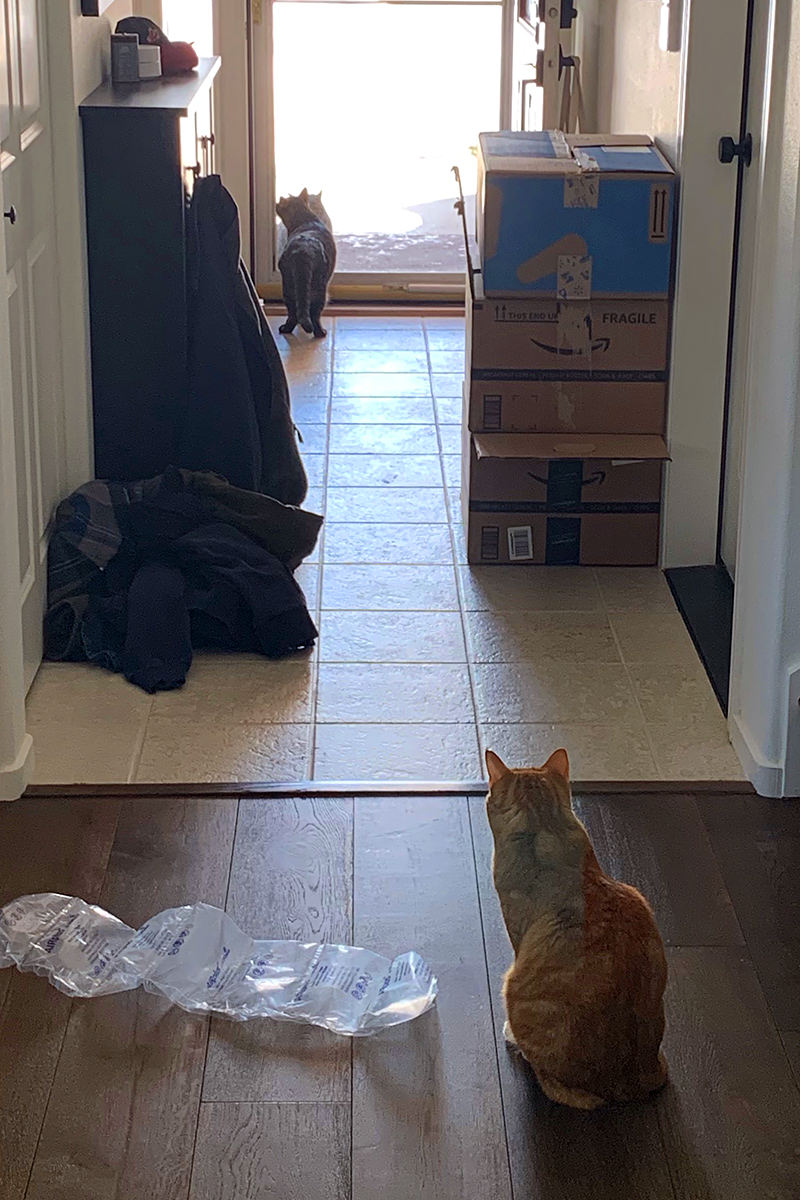 But not always. Sometimes when she's out in the catio, she'll sit quietly as one of the neighborhood cats walks by...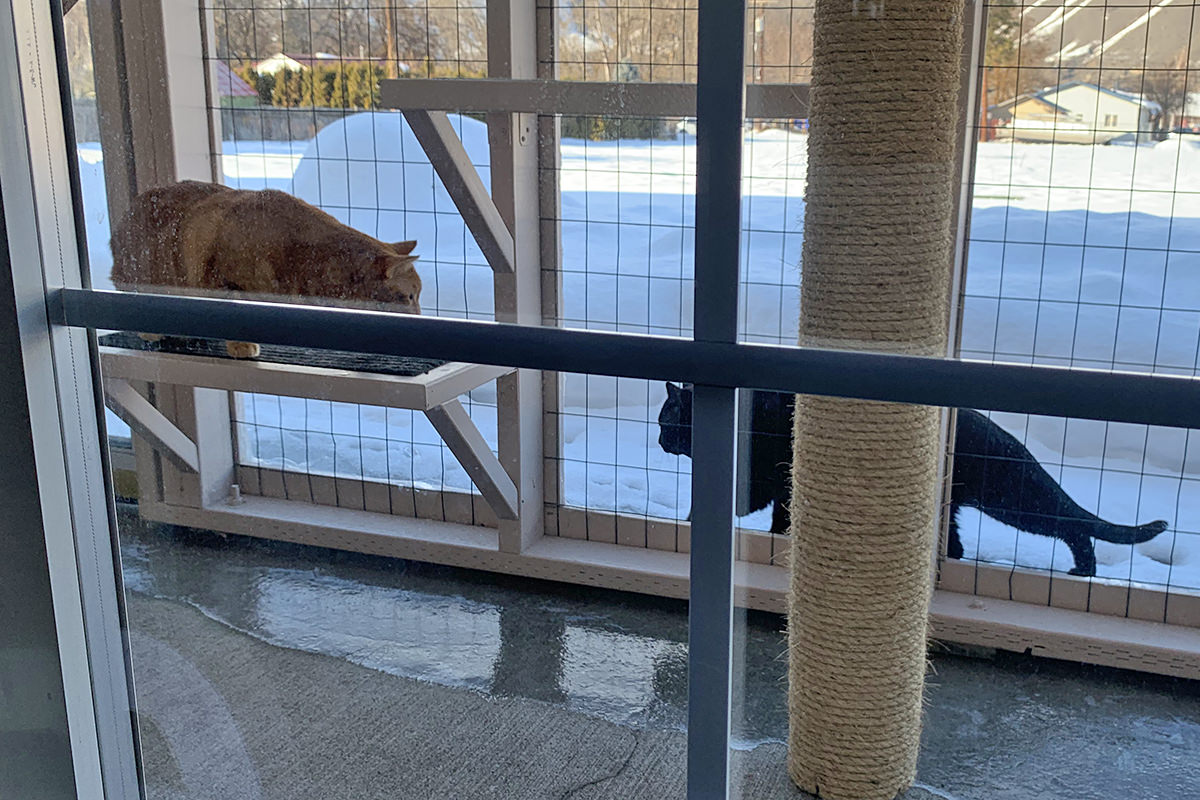 If they turn to engage her through the fence, however, she'll run back inside as fast as her little legs will carry her.
My cats have been doing a lot of rough-housing lately, but it must all be in good fun since they still get along just fine...
I'm really proud of Jenny. She will happily stand her ground (or even be the one to engage in battle) despite the fact that she's 1/3 smaller than Jake. This was not always the case. She used to run away if Jake even thought about taking a swipe at her. But now? She is a scheming death machine who will happily hide in waiting to ambush Jake when she is feeling sassy.
Last night Jake shoved her out of her cat bed (again) at which point she retreated to the cat tree so she could stare daggers down at him...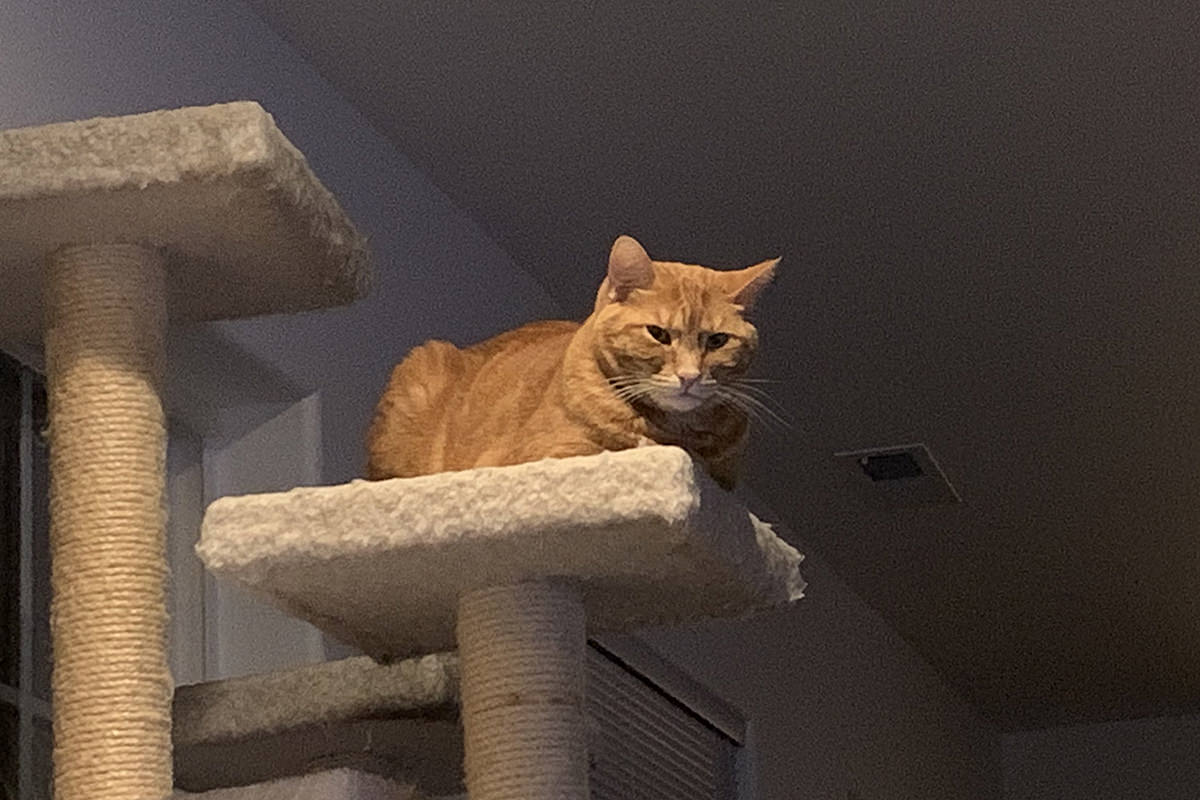 Meanwhile Jake is blissfully unaware that death is lurking from above...
Lucky for Jake, Jenny was really tired and face-planted while she was planning her attack...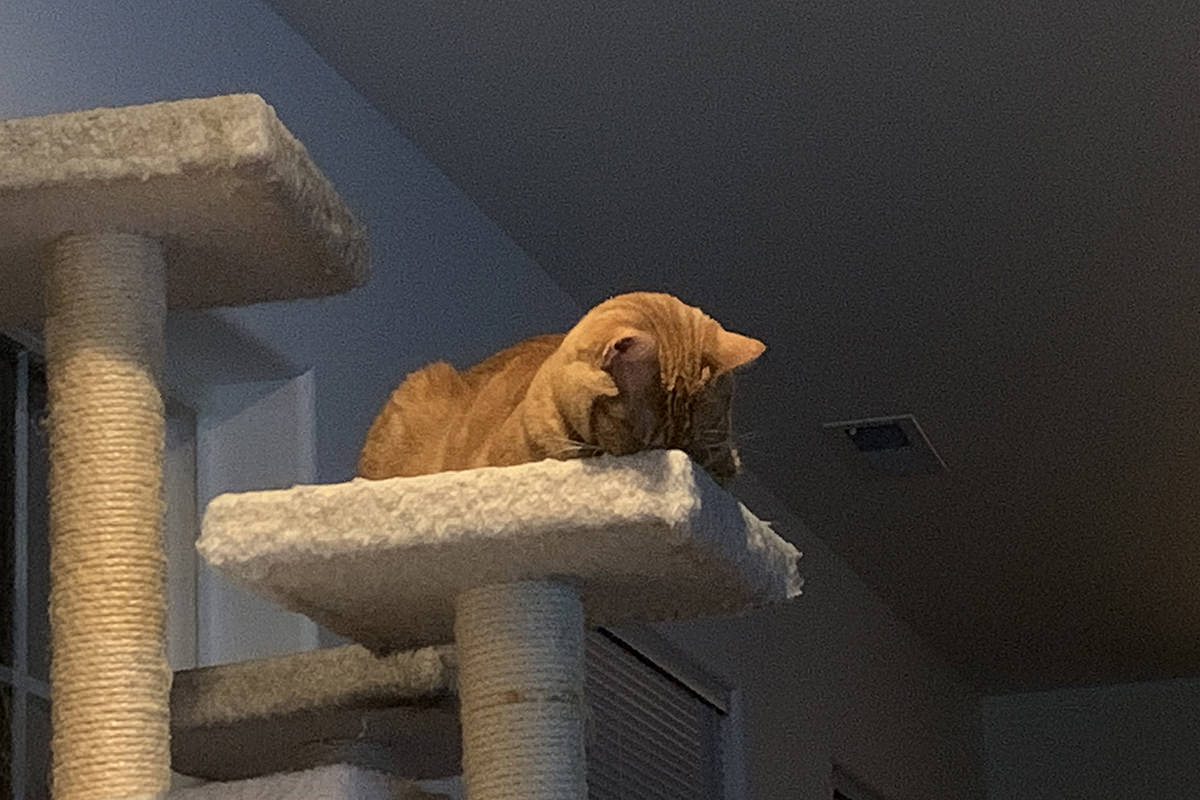 This has been an incredibly difficult week for me, and I think my cats can sense that. On the days I've spent home, they've worked in shifts to keep me company. Jake has even taken to spending the entire night sleeping next to me...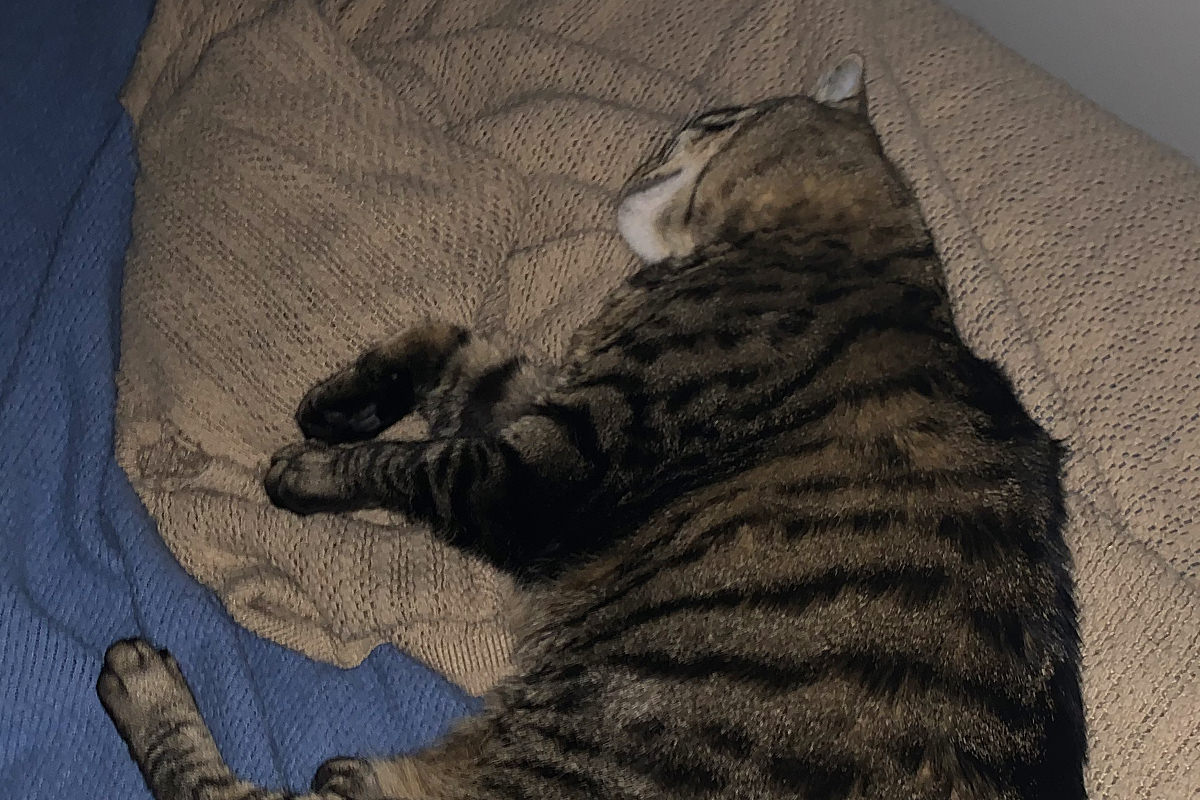 This is a bit unusual because usually Jake and Jenny will only sleep next to me while I'm awake and petting them. The minute I fall asleep and stop petting them, they'll leave.
And speaking of leaving... looks like we've come to the end of another Caturday.

UPDATE: Tonight was a night filled with cat drama. Jake and Jenny saw raccoons outside and got all fired up. This resulted in a lot of running around the house for no particular reason. But, so long as they are entertained, I'm entertained.
Until...
There I was catching up on television when I heard a massive crash upstairs. After running up to see what happened, I see that my nightstand has been knocked over. Jenny is sitting there like "Whut?" and Jake is nowhere to be found. Eventually I find him under the bed and manage to coax him out. Unfortunately he's limping, which has me filled with dread over a possible vet visit. But... Jake's done this before, so I stop panicking and wait it out. Sure enough, pretty soon he forgets that he was ever limping.
All of my dressers and shelves have been anchored to the wall. I heard about kids getting squashed by unanchored furniture, so I took no chances with my cats. It never occurred to me to anchor the nightstands because they're so small... but I guess that's something I need to look into.
Posted on March 2nd, 2019

Without being able to keep any food down for two-and-a-half days, I couldn't do much except sleep. Which was fine. My hope was that I'd be able to snooze through my stomach flu. It was a nice plan, except my head and neck ached so badly that getting comfortable enough to sleep was not easy.
This morning when the alarm to feed the cats went off, my plan was to try eating a bagel for breakfast. But when I got out of bed to go downstairs, I felt waves of nausea crash over me, so I decided to feed the cats then go right back to bed.
That's when I saw that Jake and Jenny had brought up a huge number of toys in the middle of the night... assumably to give me something to play with as I lay around recovering...
Isn't that sweet?
And speaking of bed...
My cats have been by my side for pretty much the entire time I've been confined to my bedroom. Even though I've done nothing but sleep and watch television. Both of them enjoy watching television with me, so it's the perfect holiday to them...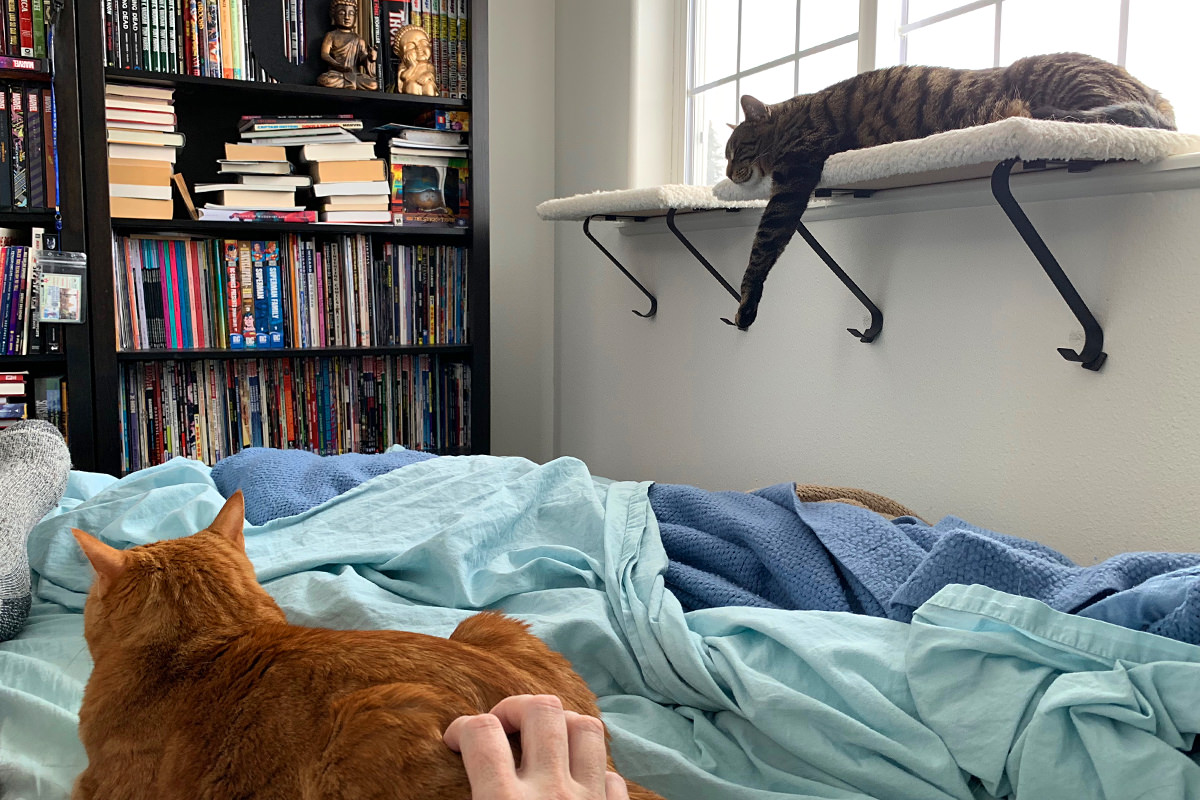 Though Jenny often looked at me warily. I'm guessing it's because she doesn't know whether or not the stomach flu was contagious to cats...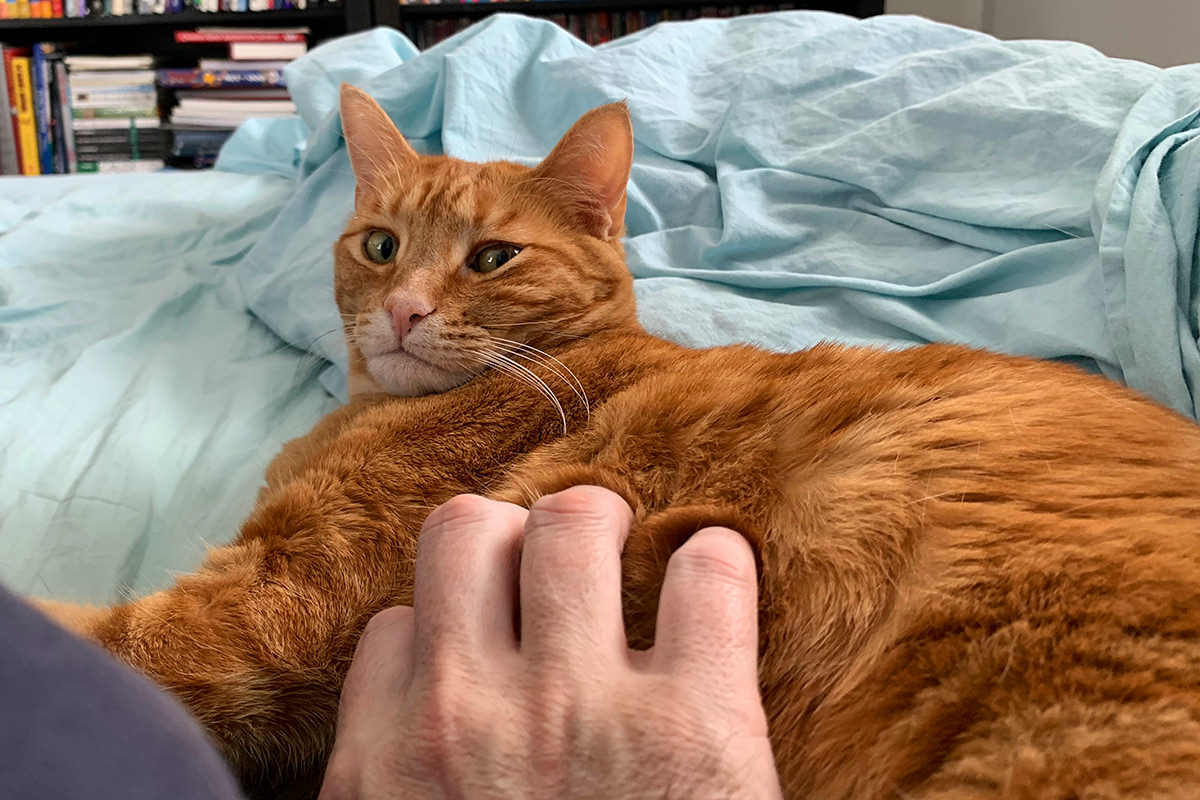 I swear, Jenny can give the most adorable sour looks.
Jake didn't seem to worry too much about getting sick, however...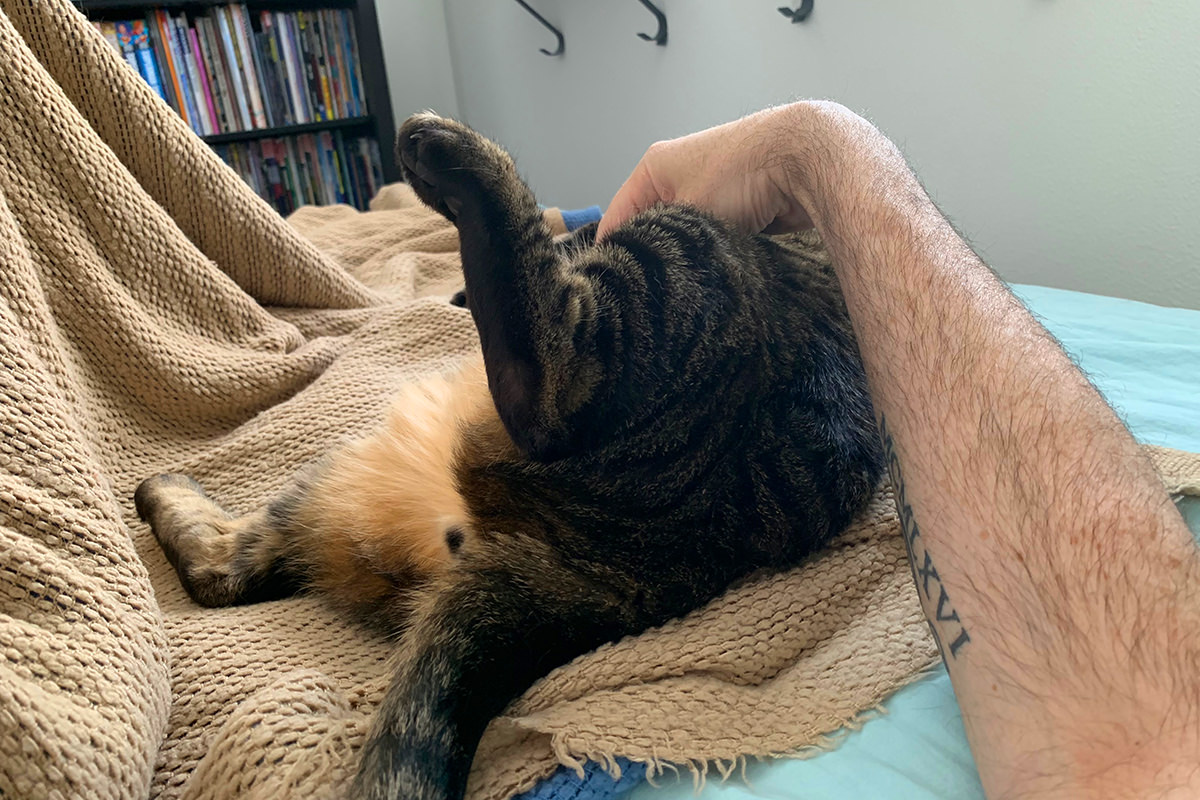 Not that my sickness stopped Jenny from taking her turn getting belly rubs...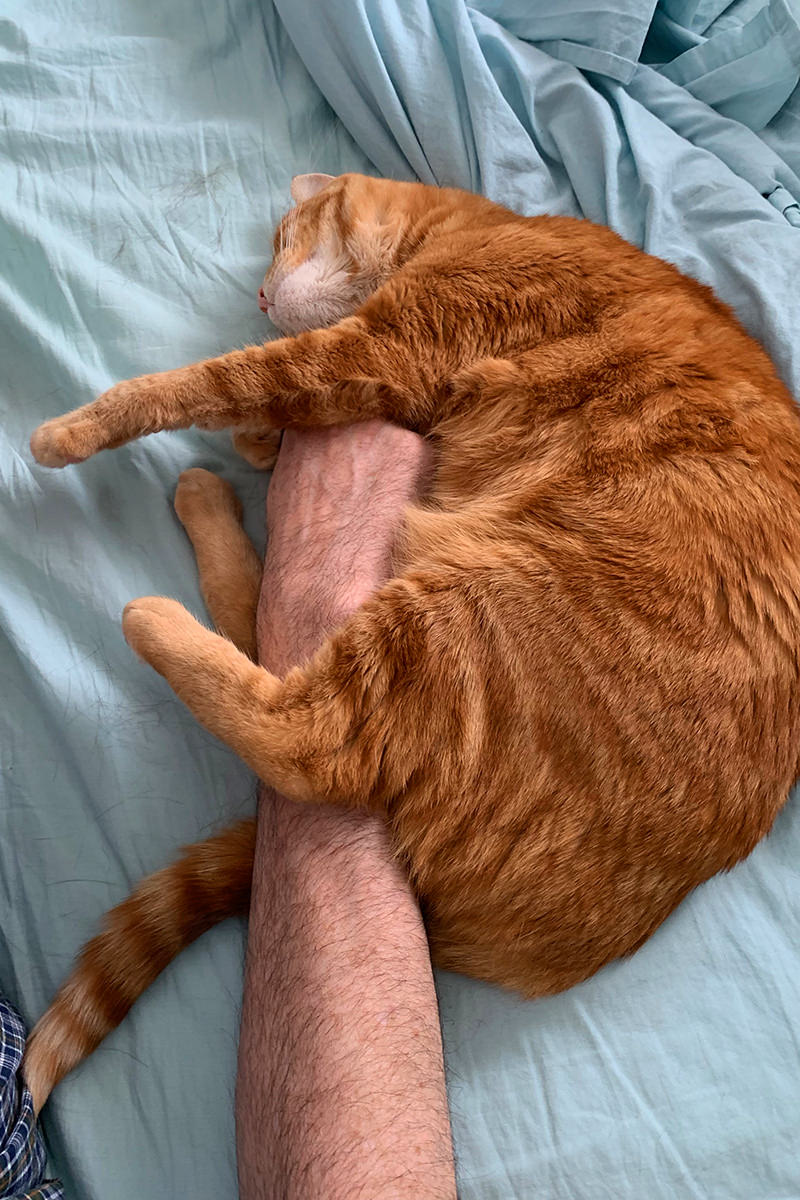 And butt scratches...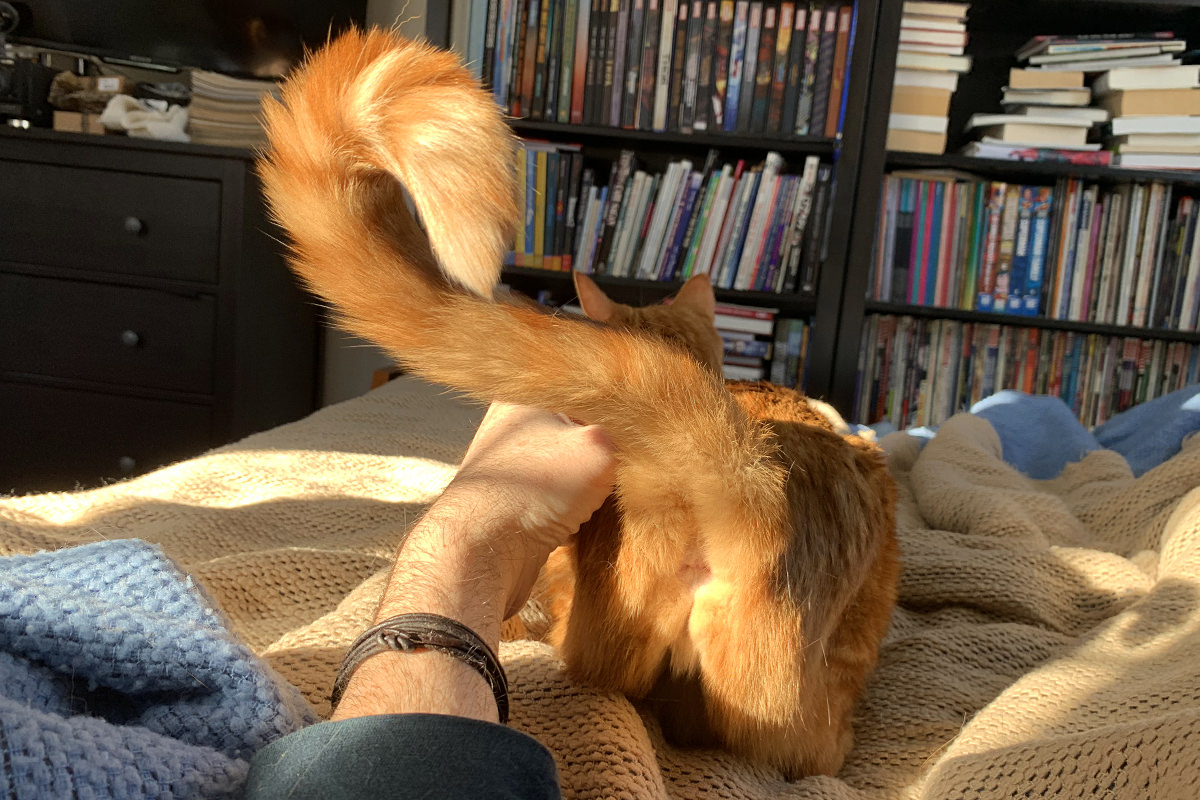 I think the kitties actually like it when I'm sick and spend all day with them...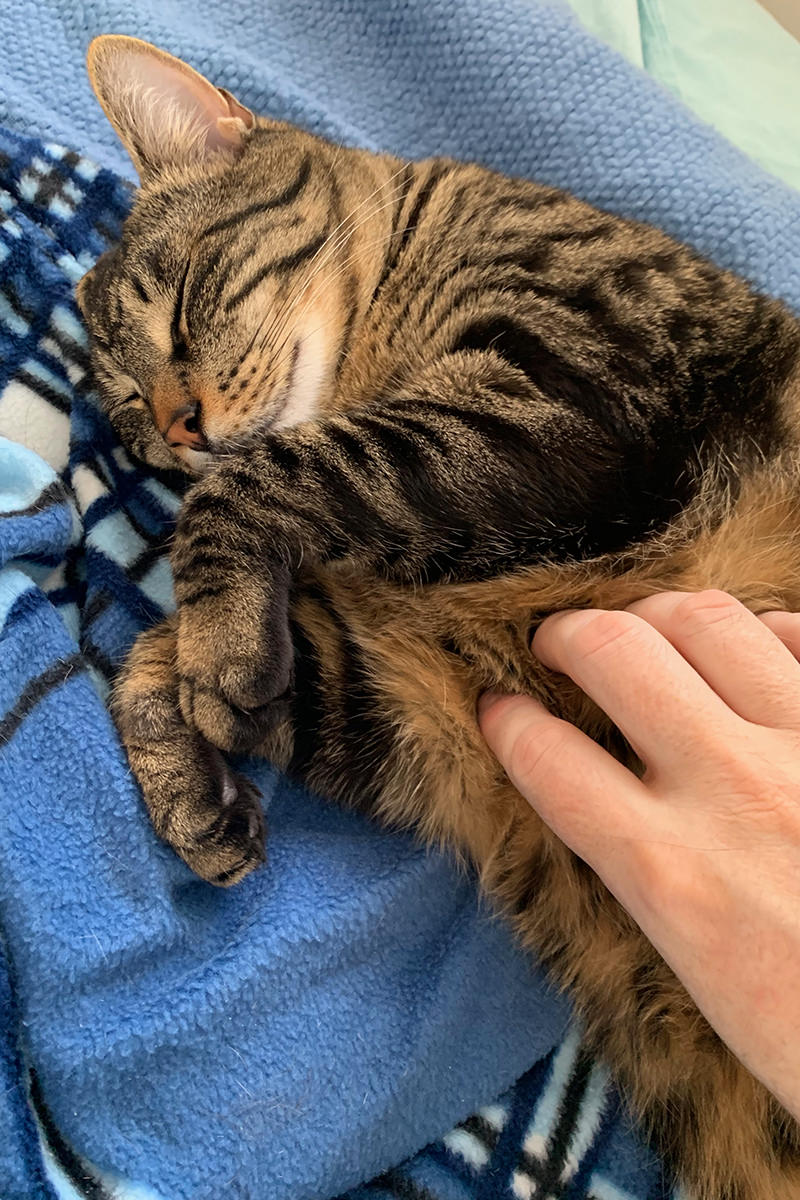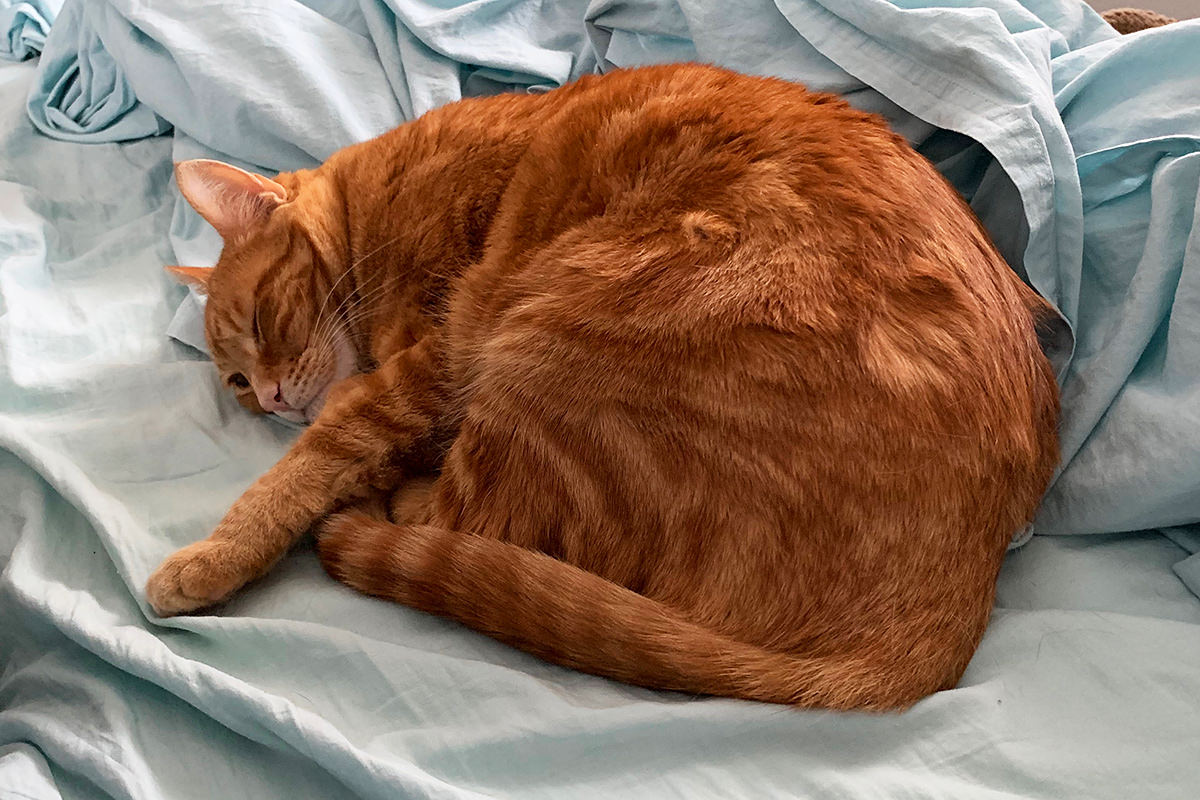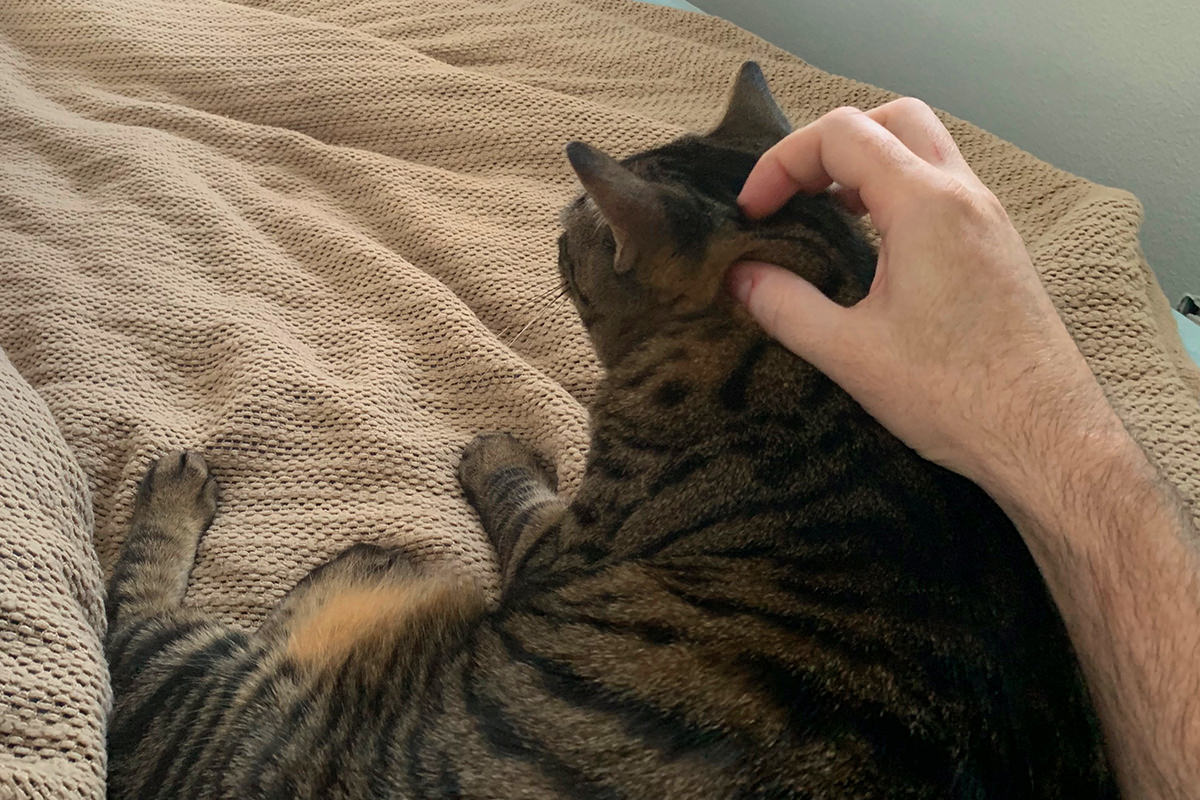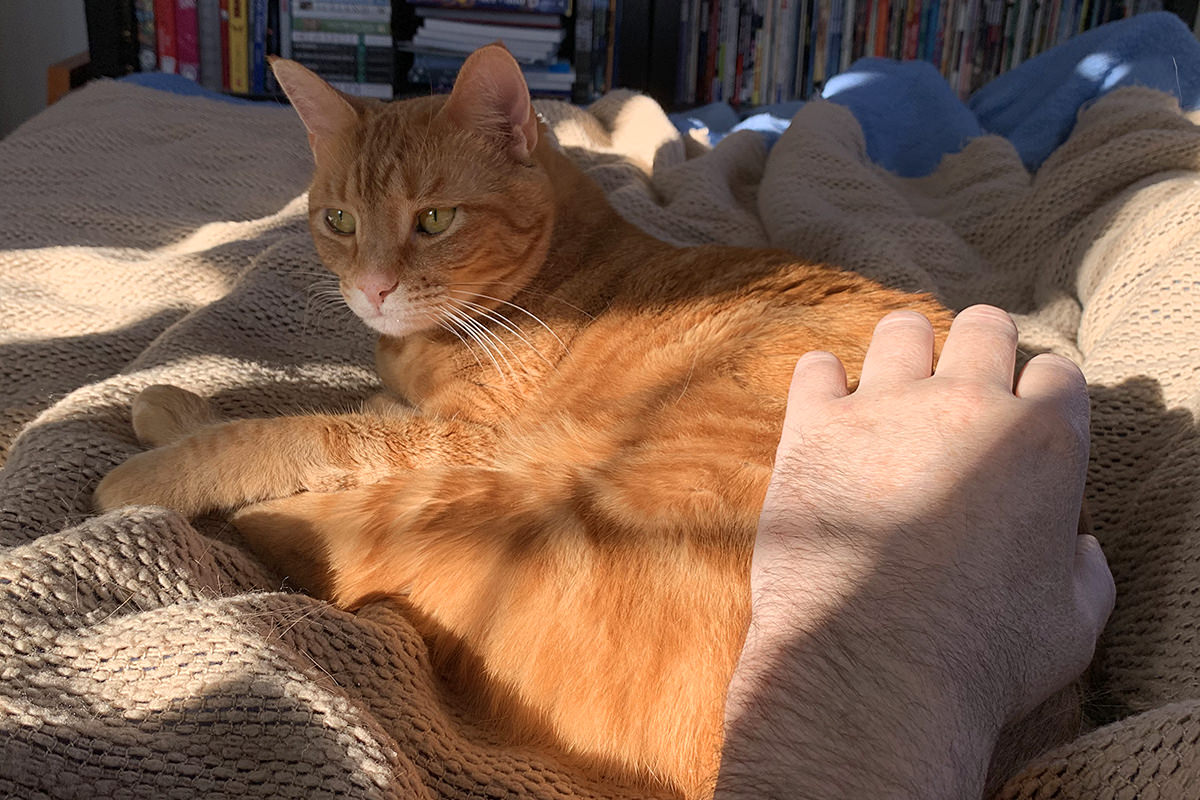 Kinda nice to have somebody keeping me company all this time.
I guess.
I mean, it's not like they decided to clean the house or make their own breakfast to help me out.
Now, if you'll excuse me, it's time for another nap.
Posted on February 28th, 2019

This has been a weird, wacky winter.
To begin with, our snow came late this year. For a while I was worried that we were in for a drought come summertime because there wasn't much of a snow pack in the mountains. After a couple false starts, the snow came down in earnest, and now it's piled up like a "normal" winter here.
Except...
We keep getting warm spells in-between the snowfalls. Warm blue skies will pop up, things will start to melt, you'll think that winter is over... and then it snows again.
Last night as I was watching television there was a rumble coming from the catio. When I looked out the window, I saw that a pile of snow had fallen off the roof, obliterating the path that Fake Jake uses to get to his food and bathroom spot. At first I thought I'd write a note to remind me to shovel it out in the morning... but then I felt bad if poor Fake Jake had to pee in the middle of the night, so I grabbed my snow shovel from the trunk of my car and headed out back to get to work.
Except I couldn't open the door...
Because of all the warm days, the catio screen door was blocked. The water drips off the roof down these massive icicles, forming a pile of ice in front of the door. Making it impossible to open. So instead I had to trudge through snow all the way around the house so I could even get to my patio...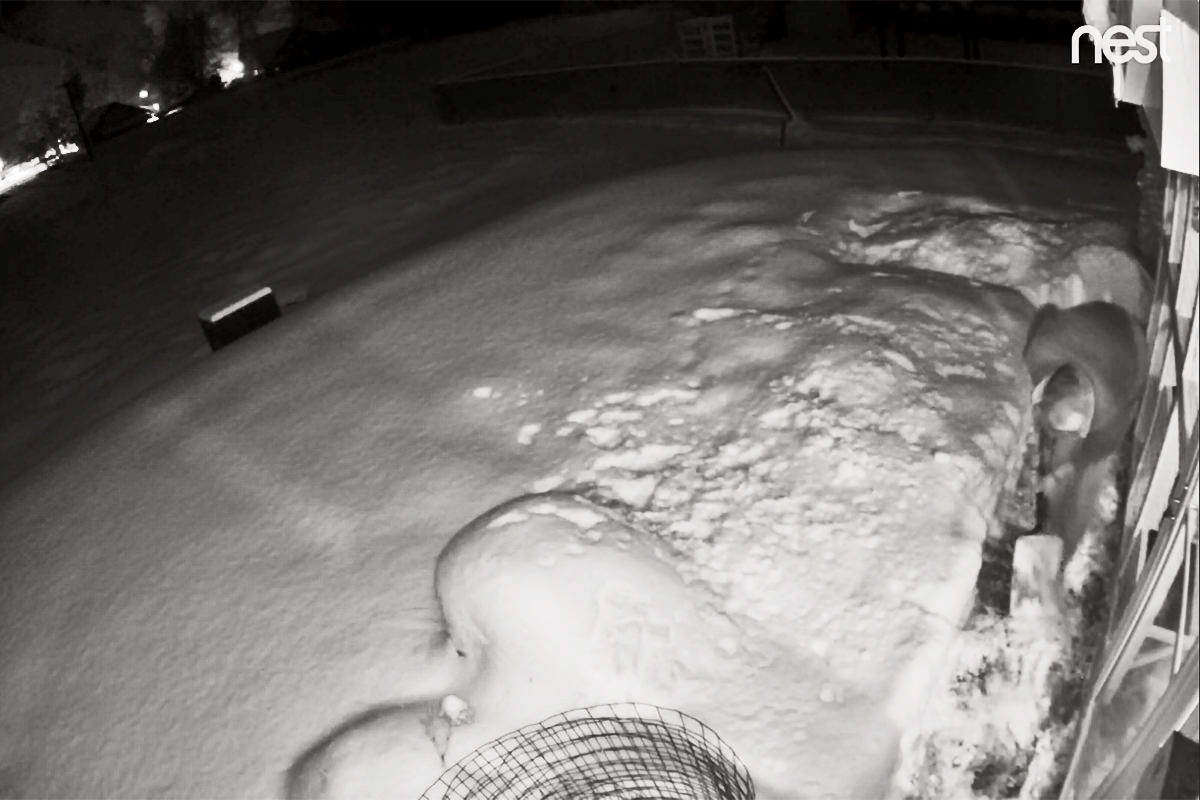 Then I had to trudge back to get a hammer. The icicles were so big that I couldn't snap them off or break them with my shovel. Instead I had to get a hammer and chip away at them. The last thing I want is for Fake Jake to be walking there and have icicles fall and impale the poor guy.
My neighbors probably didn't appreciate my banging away after midnight, but it was all for a worthy cause.
This coming summer I need to work on clearing a pathway under my eaves to make it easier for Fake Jake to navigate in the winter. Right now it's all rocks, which are difficult to walk on, so I need to come up with something different. I also need to see about adding some kind of overhang to my pergola plans so that there's no ice buildup outside the catio. Some kind of snow removal tool in the design would be good too.
Ugh. I hope spring gets here soon so I have time to get everything done that I need to do before next winter rolls around.
Posted on February 26th, 2019

Well, the family of raccoons were back last night. Though this time I only counted three instead of the five that showed up last time.
Usually when another cat wanders by the catio, Jake and Jenny are dashing for the kitty-door at top speed so they can confront whomever is invading their territory. But when it's raccoons, Jake is perfectly happy to watch them pass from the comfort and safety of inside the house...
Once the gaze had passed, Jake went dashing out to make sure they were really gone, which had me all kinds of worried. What if they came back and took a swipe at him? After the problems with his urinary tract last year, I was not anxious for yet another emergency visit to the vet for a rabies check. He spent the rest of the night wandering between all the windows to make sure the danger didn't return. By the time I went to bed at 1:30am, the poor guy was thoroughly tuckered out and fell fast asleep next to me within minutes.
Jenny, meanwhile, was obliviously sleeping in the guest bedroom... never appreciating that Jake was protecting her from the threat of DEATH BY RACCOON.
I can't fathom what raccoons find to eat this time of year. And I notice that they're noticeably thinner than last time. Hopefully it's not scarcity of food that's driven them from where they normally live. Thanks to Jake, Jenny, and Fake Jake, I have my hands full caring for enough animals already.
Posted on February 23rd, 2019

Like most people with cats, I do what I can to keep them amused. I put cat trees in the windows so they can look out. I buy all kinds of toys. I put scratching posts everywhere. I built a catio so they can go outside. And I play with them when I can find time.
But Jake and Jenny are also fairly inventive when it comes to entertaining themselves. Which mostly involves them chasing each other all around the house.
Jake's latest entertainment? Climbing up to the top perch in the catio, knocking icicles off the roof, then running down and playing with any pieces that landed inside the catio...
Jenny doesn't like the racket, but will gladly go out and play with any ice on the ground once the commotion is over.
The icicles on the catio are pretty small. They don't have the water volume to get very big, so they're not much of a danger. The icicles off the roof, however, are pretty severe. Once Jake and Jenny hear one drop, both cats will rush to the window and hang out for long periods of time waiting for more to drop...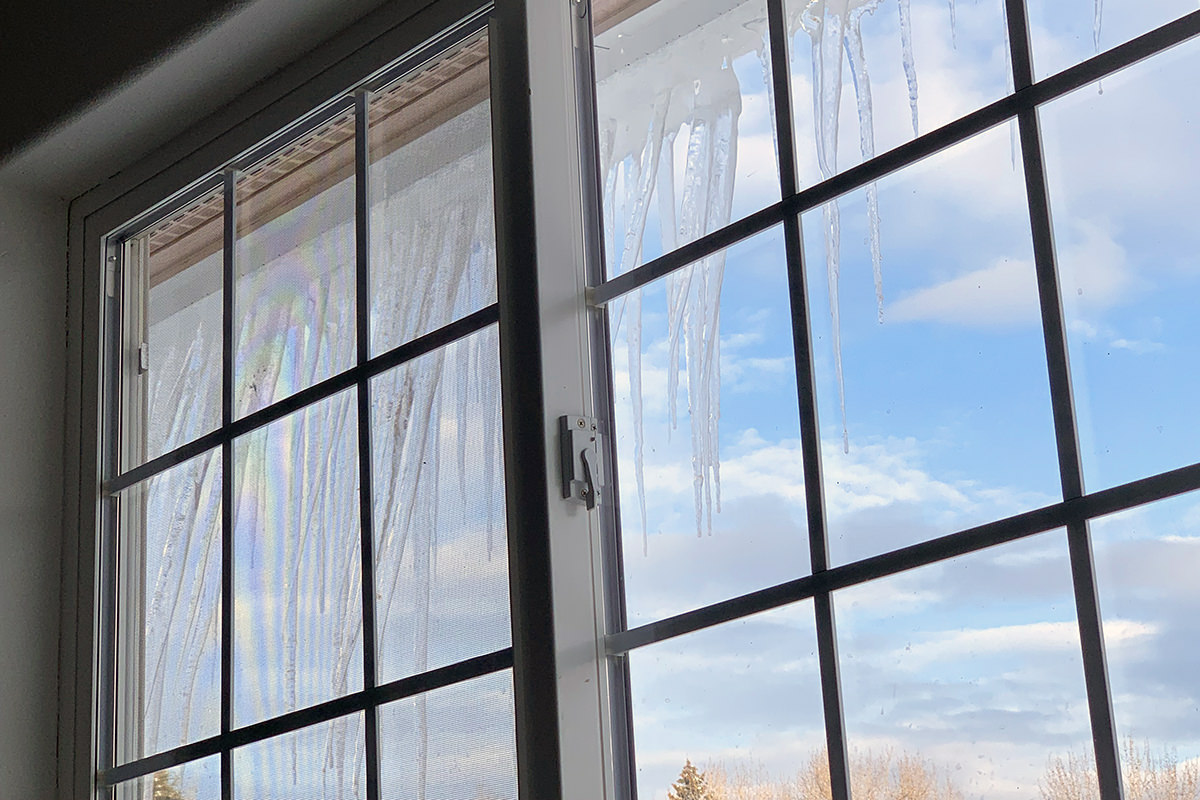 Unfortunately, Jake will stare out any window waiting for icicles, even on a side of the house where there are no icicles. My neighbor slams a car door and away he goes, staring not at the neighbors, but at the roof-line...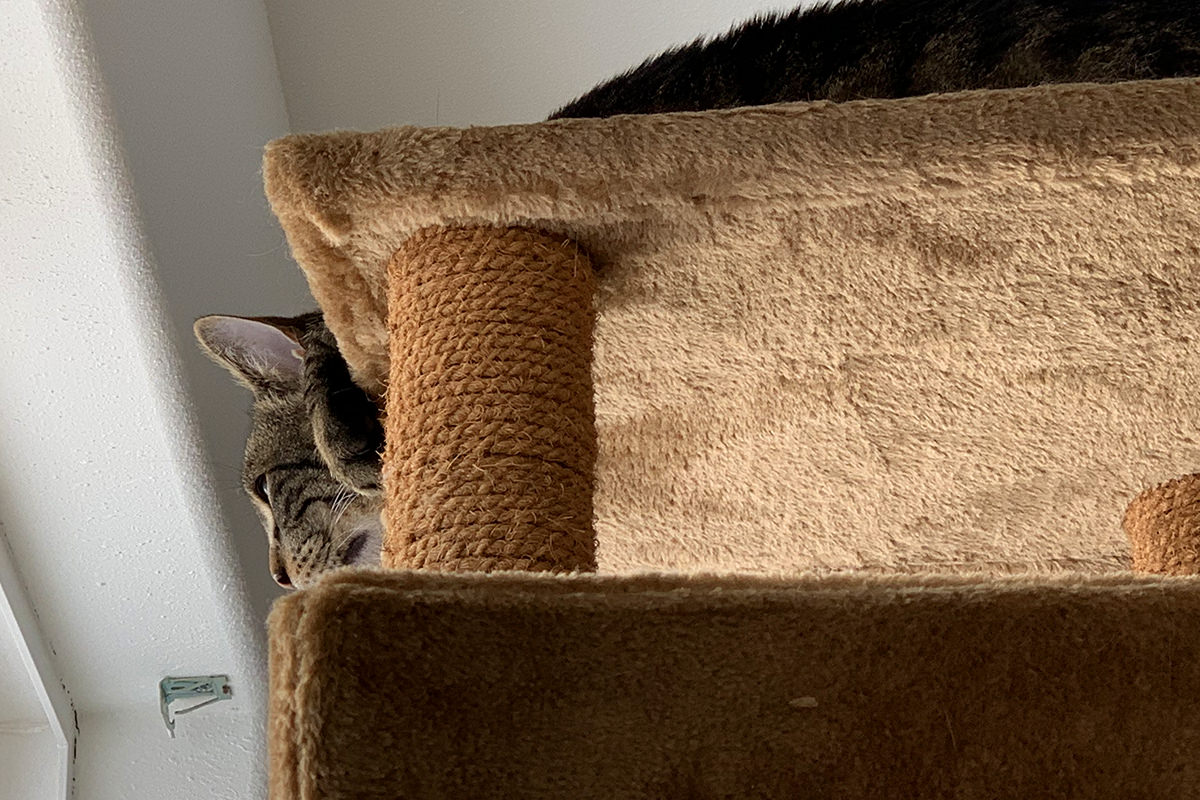 It's okay that he's not terribly bright, because he's awfully handsome...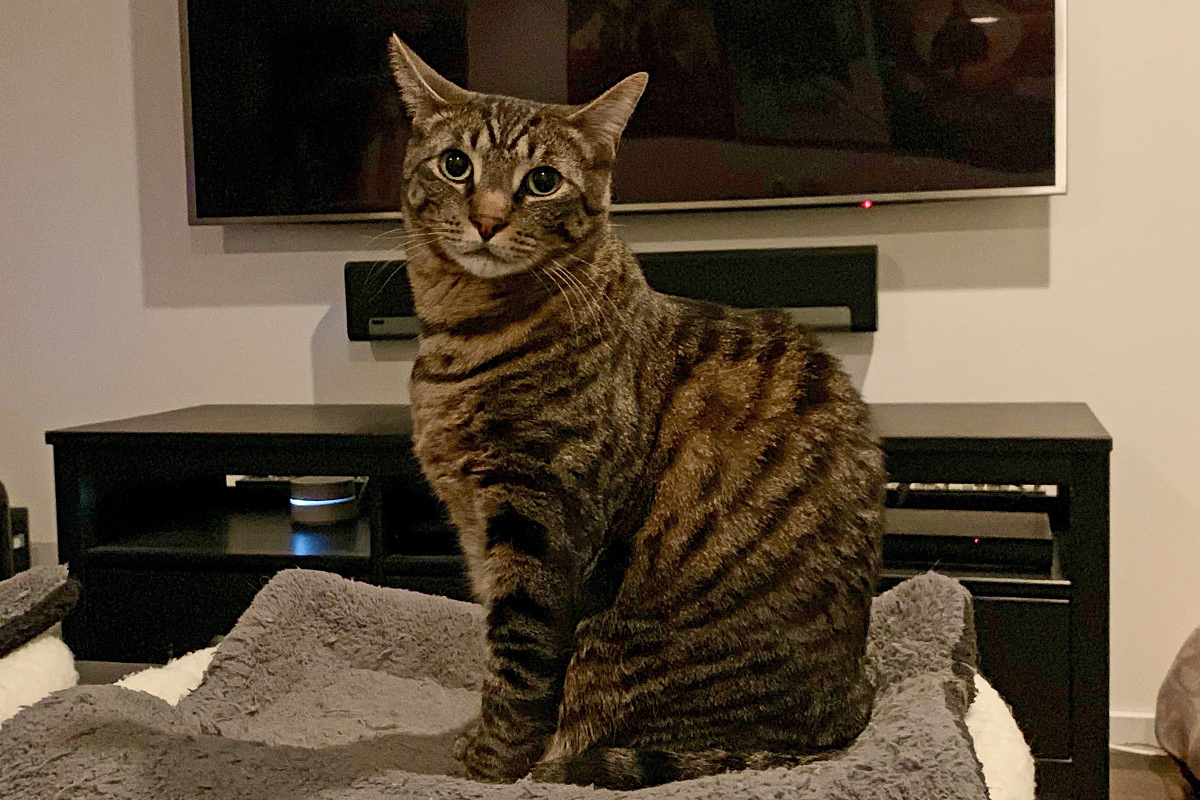 Maybe once the icicles are gone, I'll have to see if tossing some ice cubes in the catio will end up being something they want to play with. It's certainly worth a shot because it beats spending money on toys they get bored of in ten minutes.
Posted on February 22nd, 2019

In order to be able to take time off to go to Vegas, I had to work obscenely long hours the week before I left. Because I had to work obscenely long hours, I was sleep-deprived and my body was run down. Because I was run down, my immune system was compromised. And because my immune system was compromised, I got sick on my flight to/from Las Vegas.
It has been pretty bad. So bad that I've only been able to work part-days since returning. The rest of the time I've been plopped down on the couch watching television with my cats. But mostly Jake...
Jenny is easily spooked and would run away when I'd cough or blow my nose. Jake is somehow able to ignore it. Kinda like with the vacuum cleaner.
The good news is that I'm all caught up on my shows.
The bad news is that I'm going to have to start working late so I can get caught up on the work I missed while I was sick.
The vicious circle continues.
Posted on February 11th, 2019

Worst. Monday. Morning. Evar.
Which is bound to happen when your bed ends up covered in cat vomit and you pull a muscle in your back.
But we'll get to that. First let me back up to yesterday, which was a much better day for me.
As I've mentioned a few times, Jenny has a vindictive streak and knows exactly what buttons to push on poor Jake when he pisses her off. First thing on her list? Stealing Mufasa, his stuffed lion and favorite toy. Many times when Jake has done her wrong, she runs off with Mufasa and hides him away somewhere. Jake will then spend hours trying to find him.
Yesterday I found Mufasa stuffed behind the garbage can in the bathroom so I took him to Jake, who was lounging on top of the cat tree in my bedroom. It was like Christmas morning...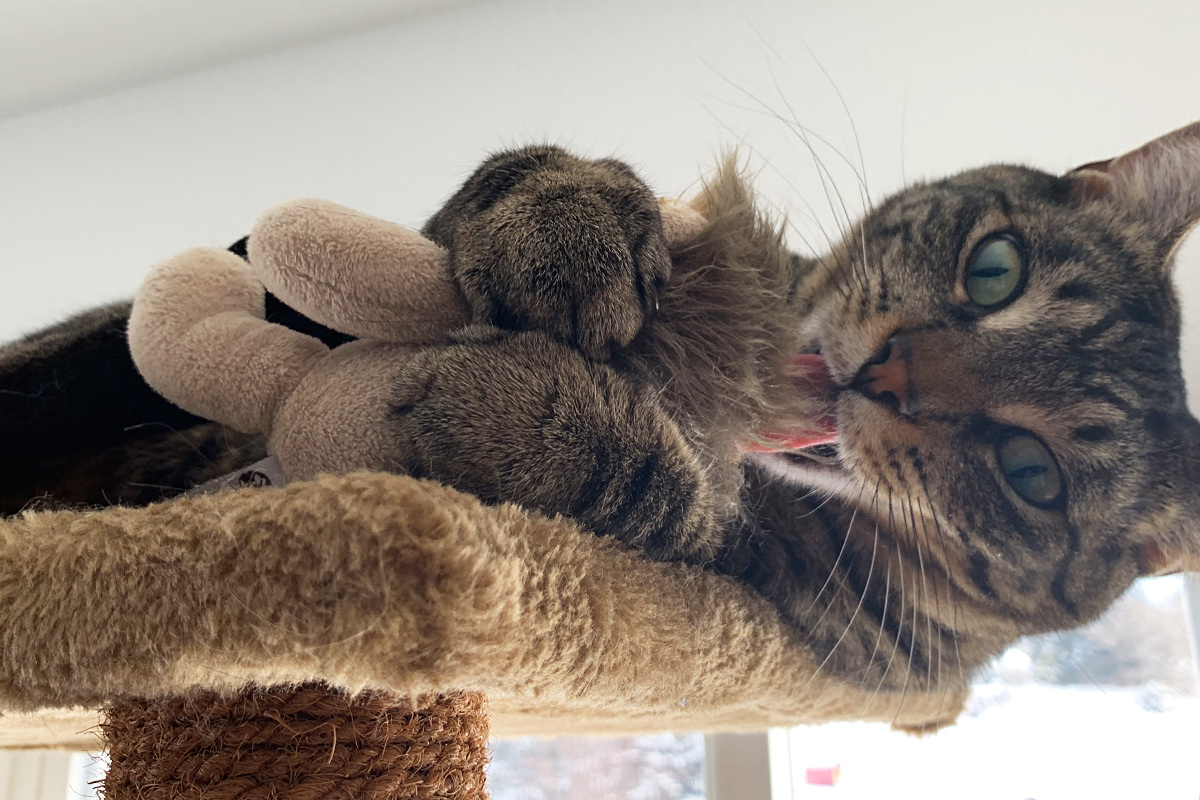 Jake oftentimes latches onto Mufasa with his claws and swings him around...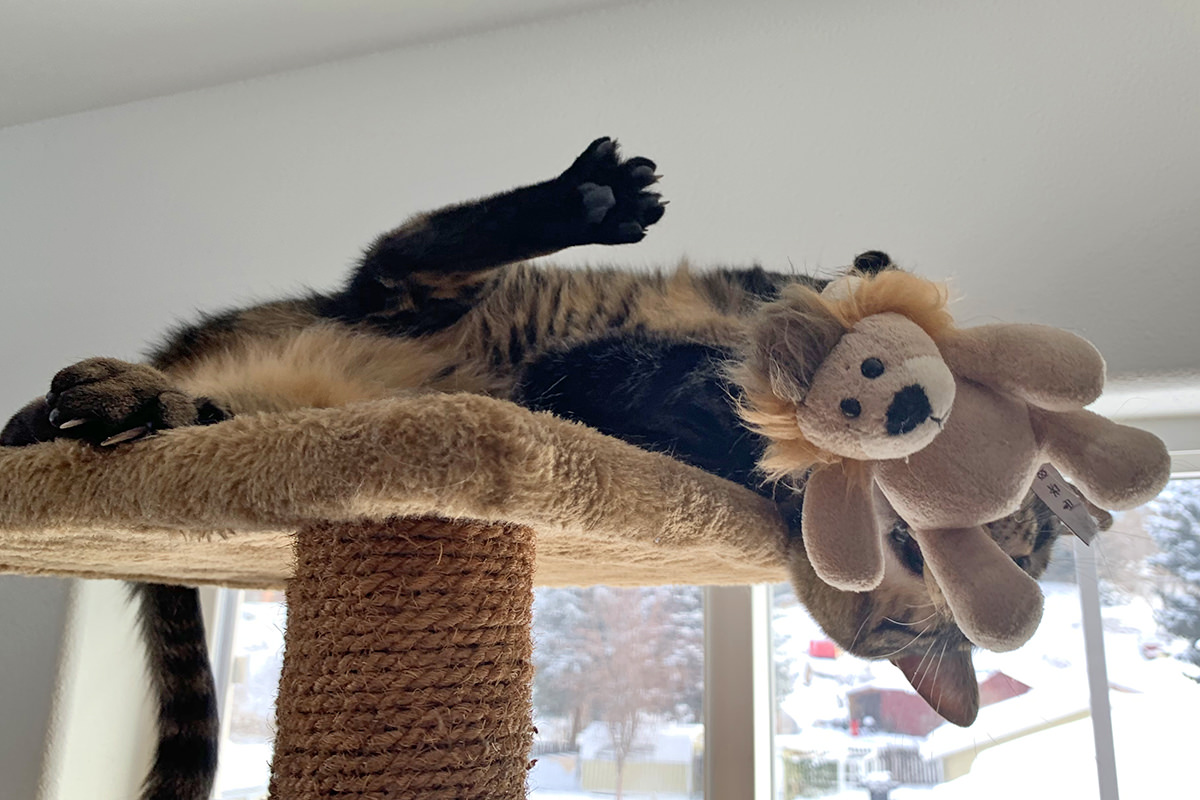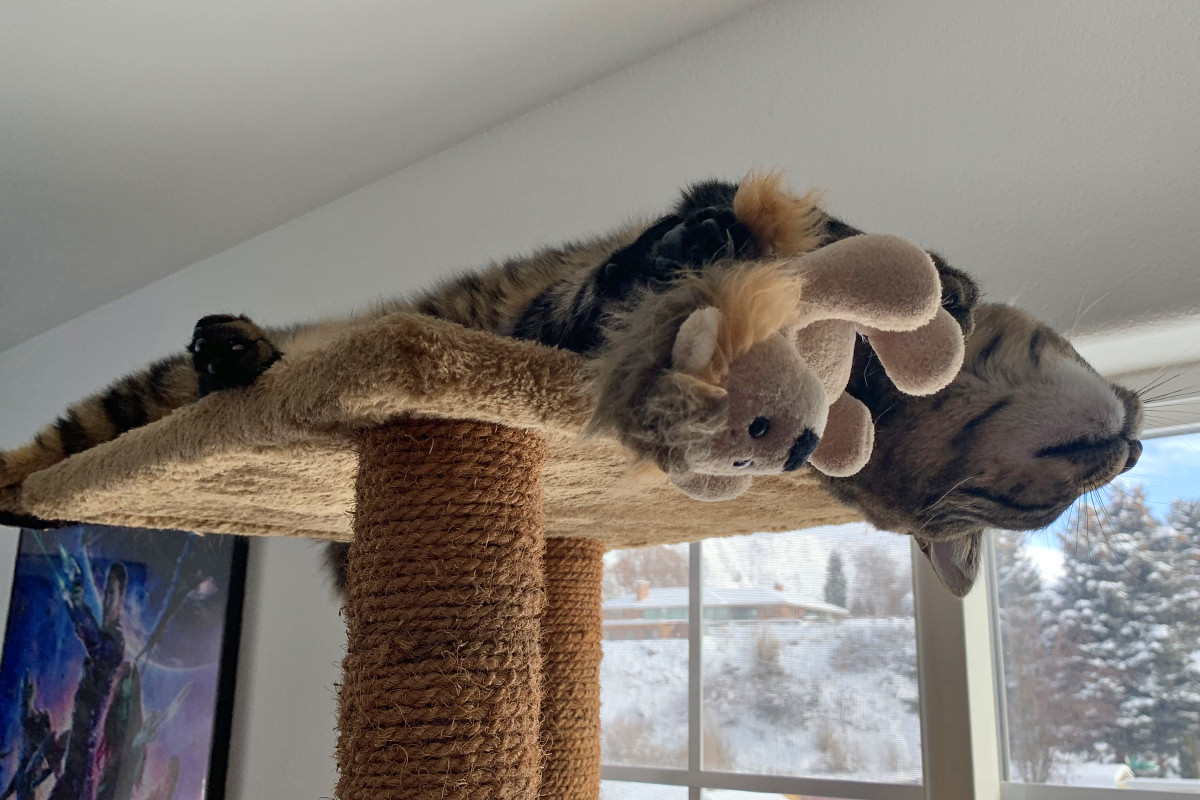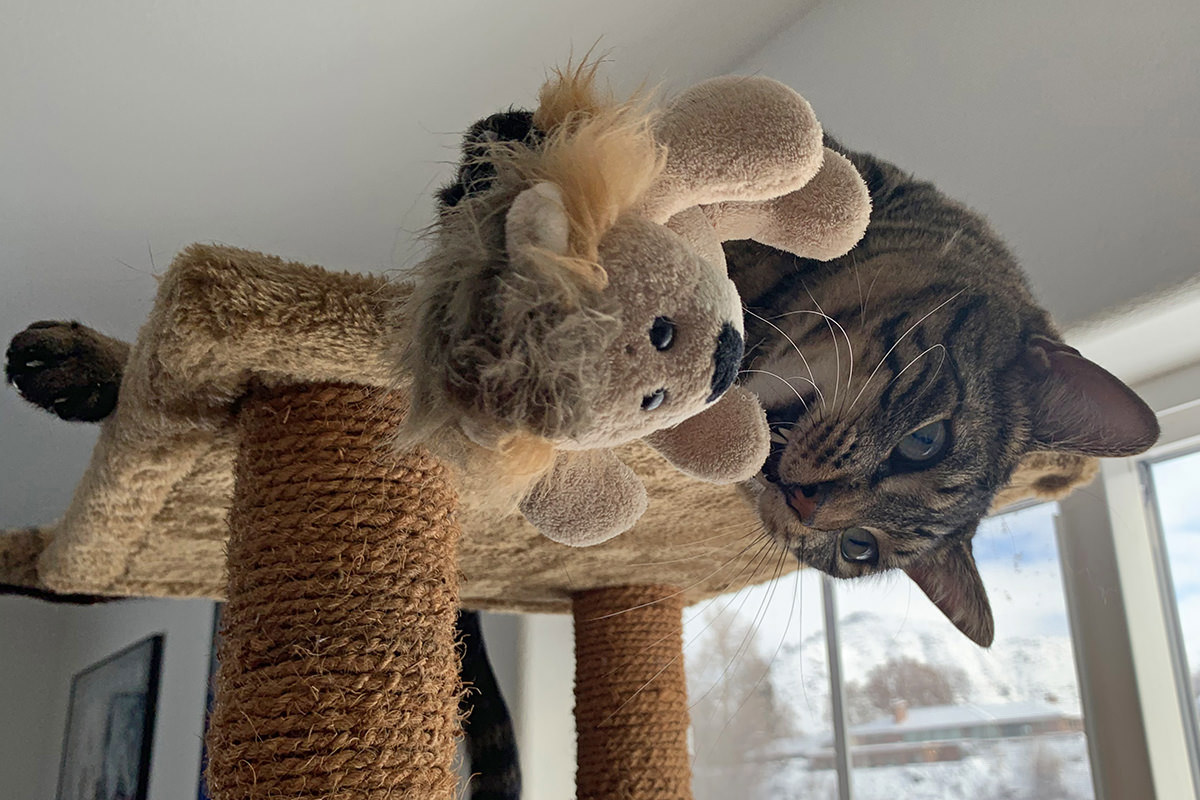 But it always comes back to bite-bite time...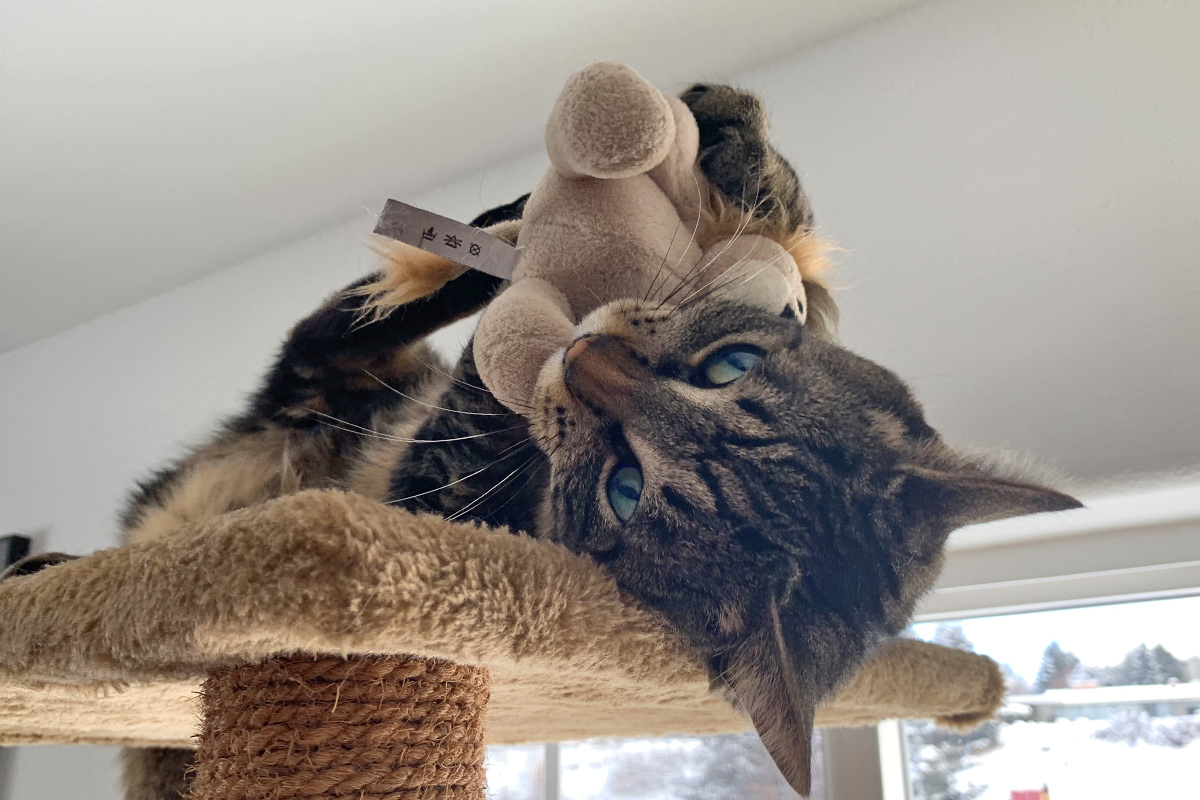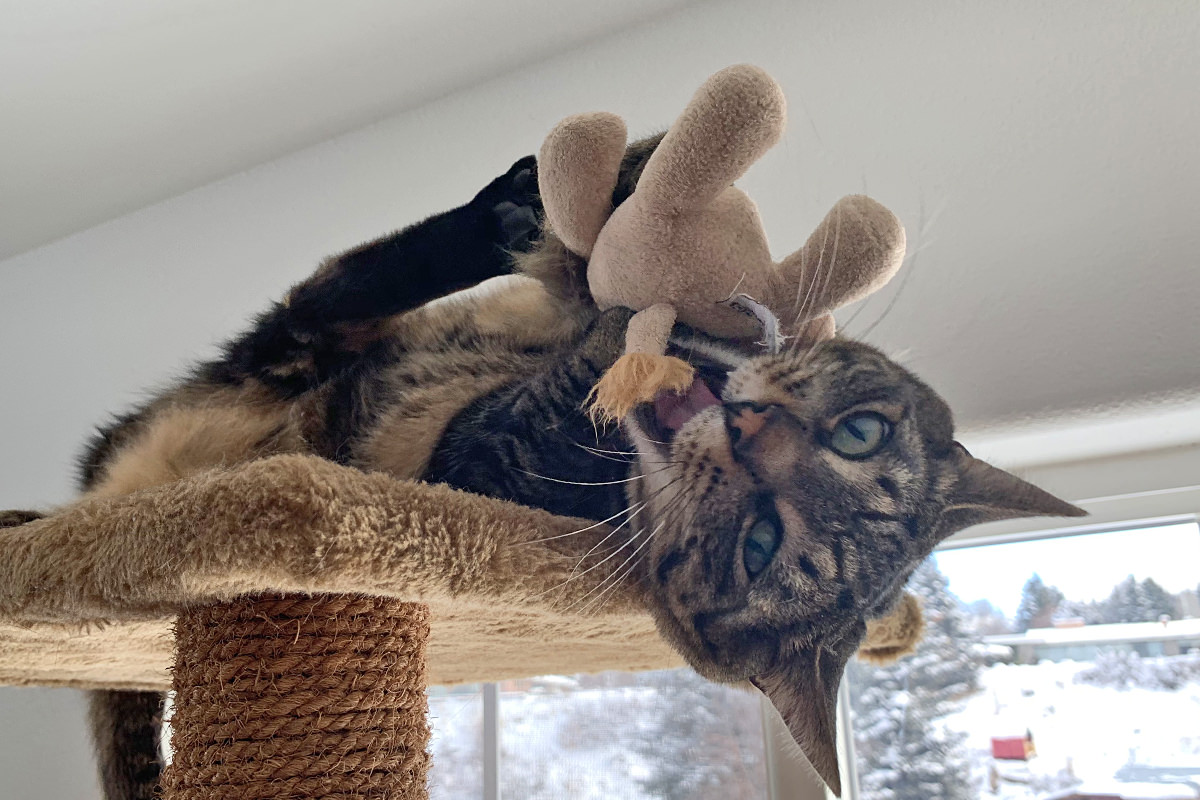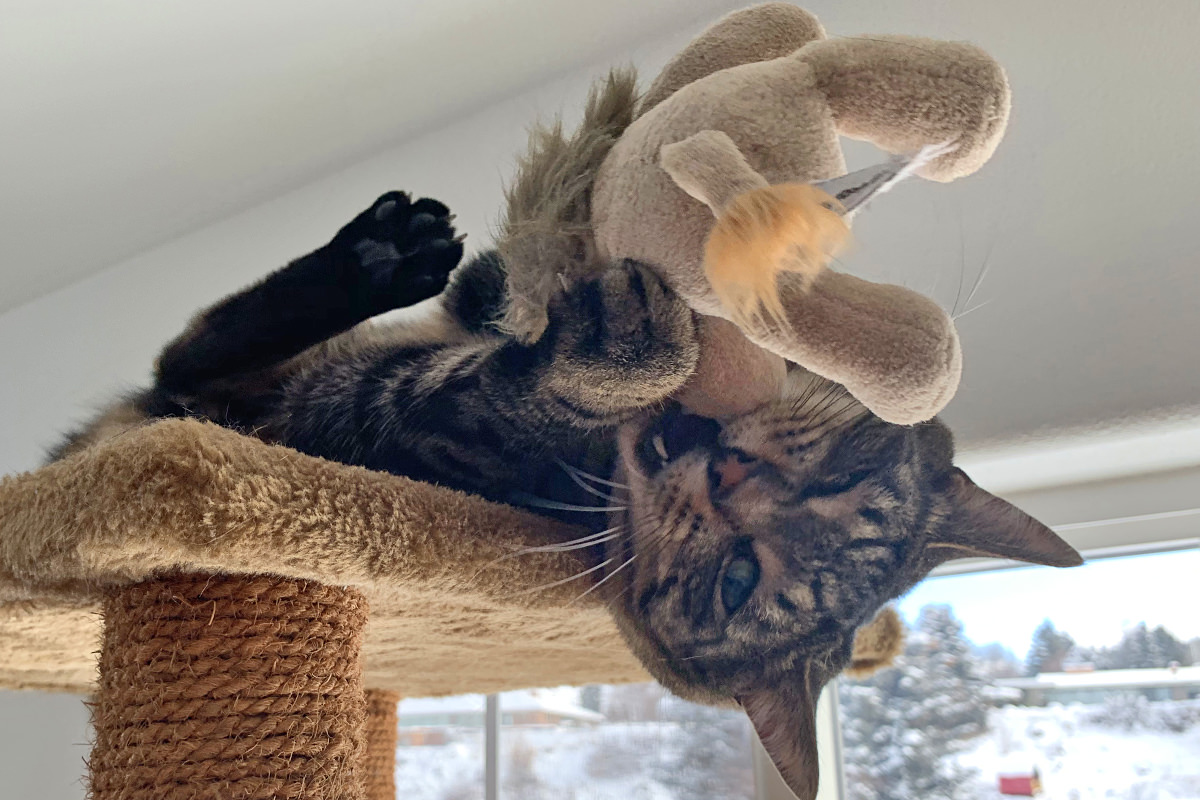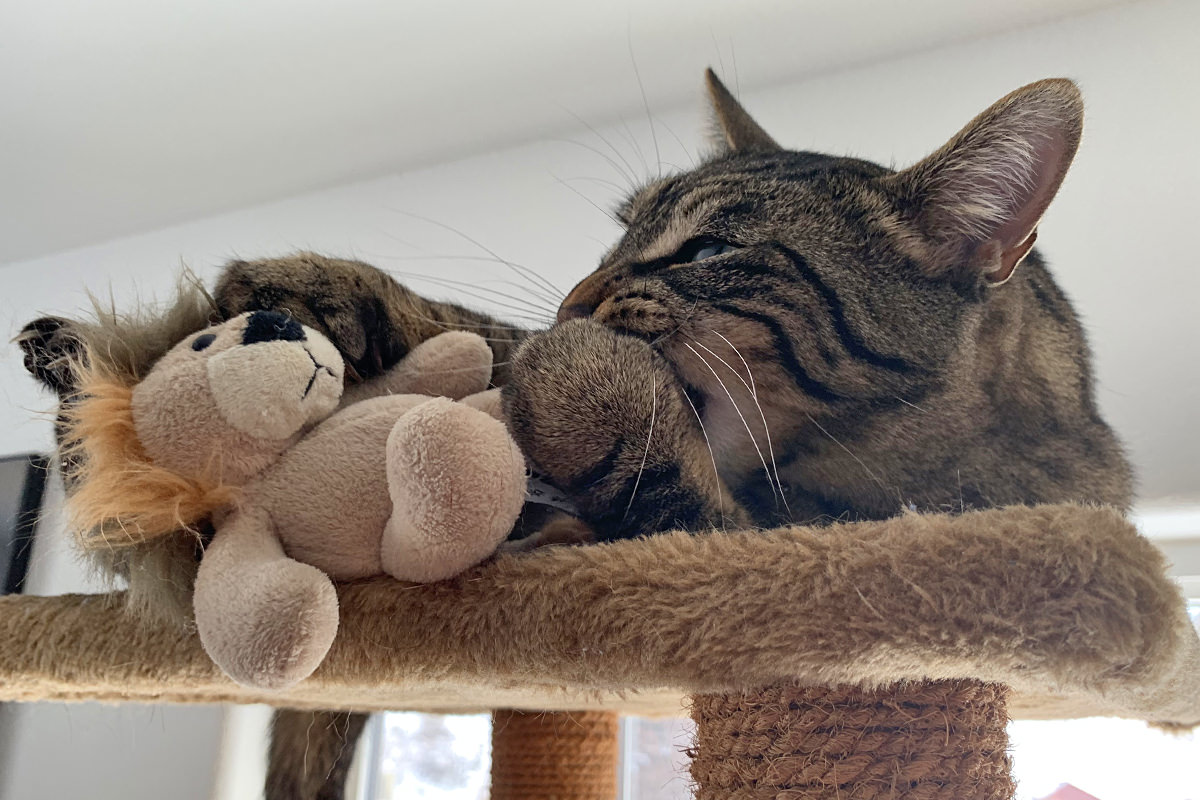 He was all smiles for a good ten minutes...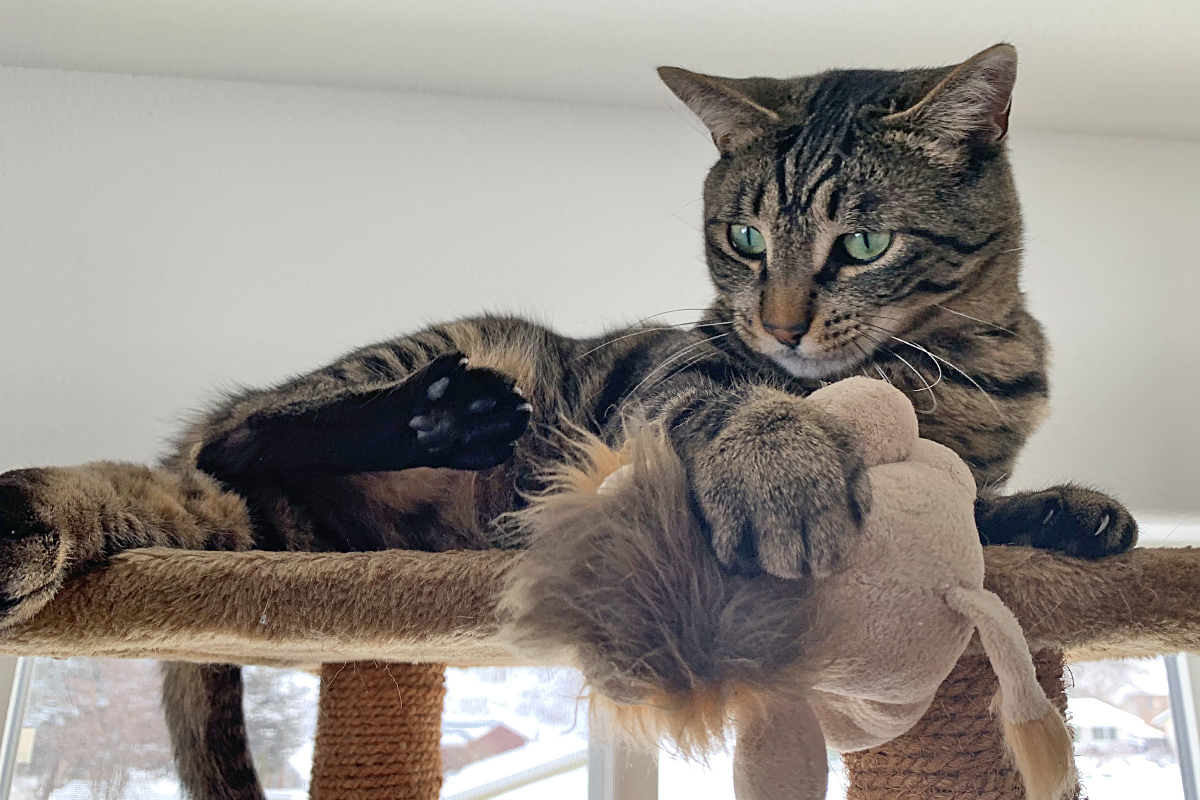 Good times. Good times.
I am dreading the day that Mufasa gets ripped to shreds. I've already had to repair him once, so his time on this earth is coming to an end eventually. A friend checked at the gift shop "Out of Africa" in Johannesburg's airport where I got him but, alas, they are no longer selling Mufasas. Every once in a while I check eBay just to see if one will pop up, but no luck so far.
Anyway...
This morning at 4:00am Jake hops on the bed and wakes me up in distress. He's making chirping noises and acting like he wants to throw up, which is a rare thing for my cats to do. I'm immediately worried that he's sick with a urinary problem again, but it turns out it was just a hairball. A hairball that took him a full ten minutes to hack up, the poor guy. He was pretty whipped after that, so I threw off my vomit-covered sheets and let him rest up for a bit before I took them to the wash.
Not wanting to disturb Jake on my bed after his rough morning, I decided to take a nap on the couch. But it wasn't ten minutes before I heard a cat howling and was freaking out that Jake or Jenny was hurt... only to realize that it was coming from outside. Turns out that the people who plow my driveway piled the snow over the path that I keep shoveled for the neighborhood cat, Fake Jake, to get around my home so he can get to his food and his bathroom out back.
And so... there goes my morning nap...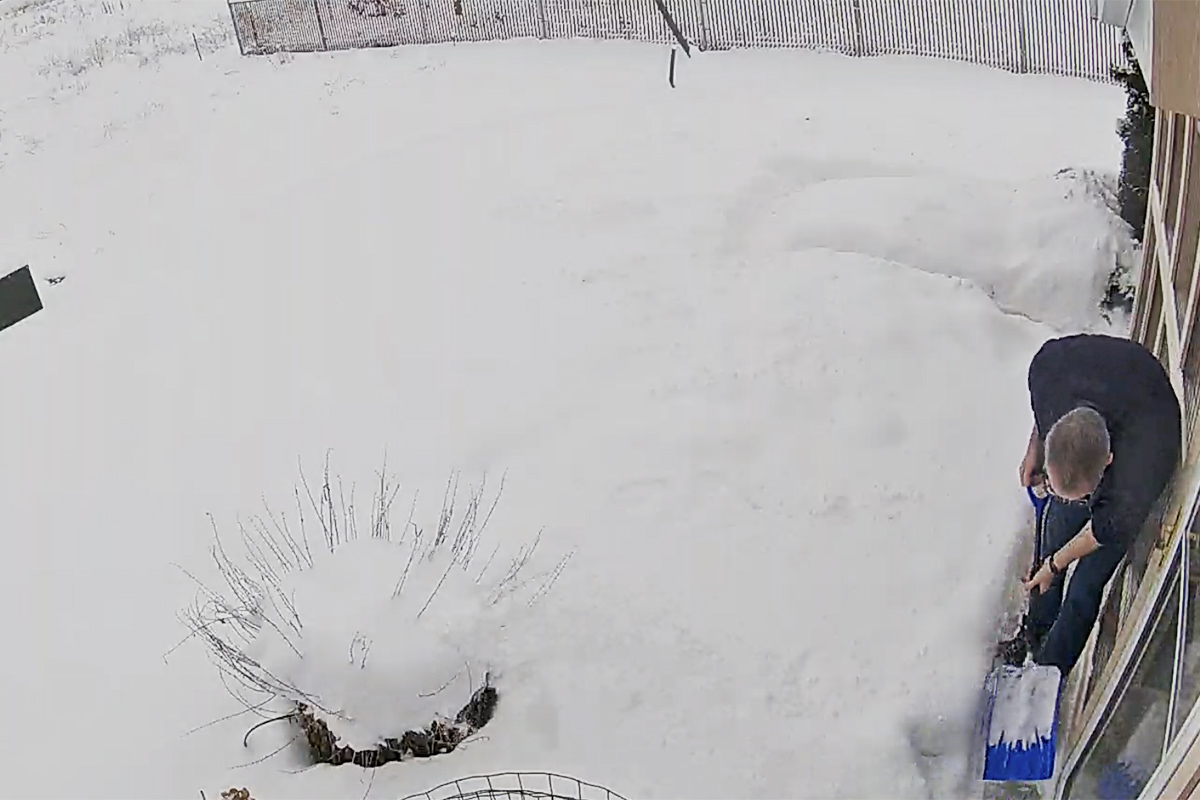 And so... crisis averted...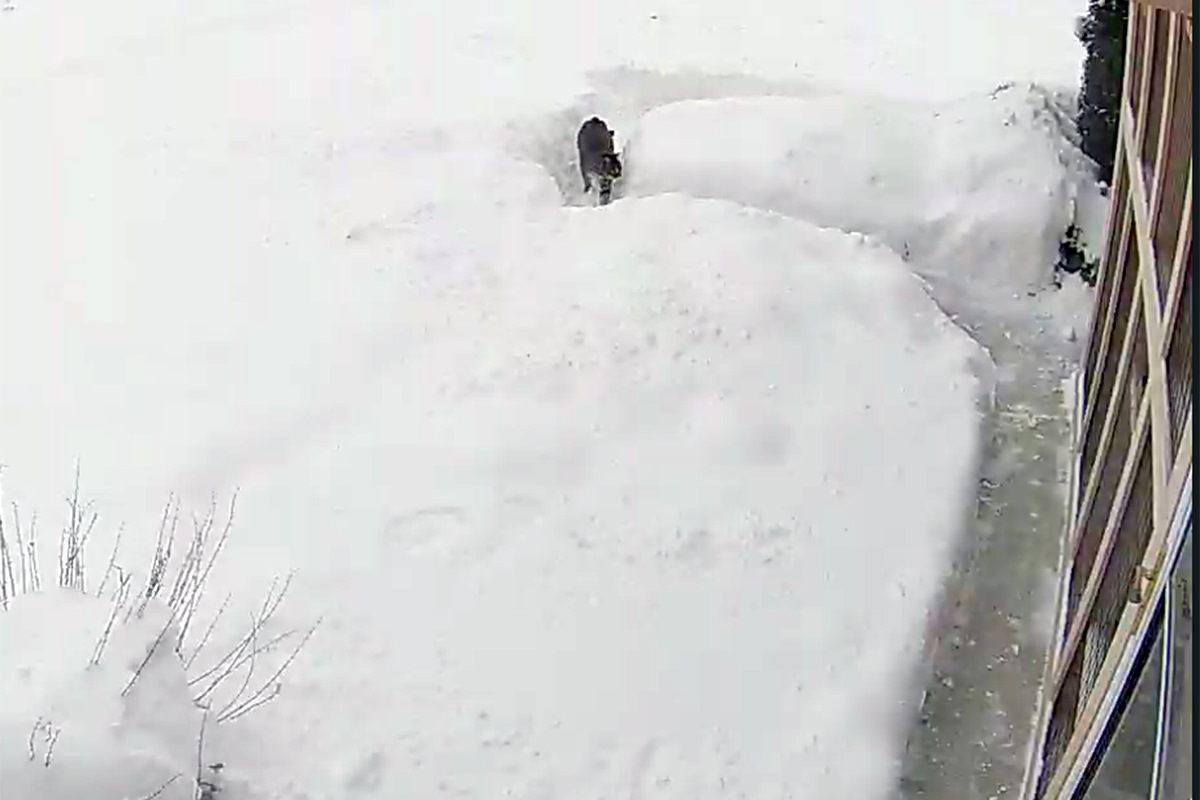 That'll teach me not to get up and start shoveling when the snow removal team messes with Fake Jake's routine!
After my bagel and cream cheese breakfast, I took a shower and got ready for work. All was good... until... I went to get in my car and pulled something in my back. I had screwed it up last week and had been taking care to move gently until it had healed. I thought I was fine... but then had to go shoveling a path for a cat and messed things up again.
Good times. Good times.