Posted on June 8th, 2019

Today was a rare day when I didn't have to go into work. Instead I worked around the house which is, in so many ways, worse. Sitting at a desk all day doesn't strain my back, whereas painting garage doors, making bread, assembling shelving, and cleaning house definitely does!
Most of the chores I had set for myself were done by 1:30, so I spent the rest of the day hanging out with my cats...
Jake has continued being clingy and wanting attention after his accident. Poor thing. I think his new behavior might very well be permanent...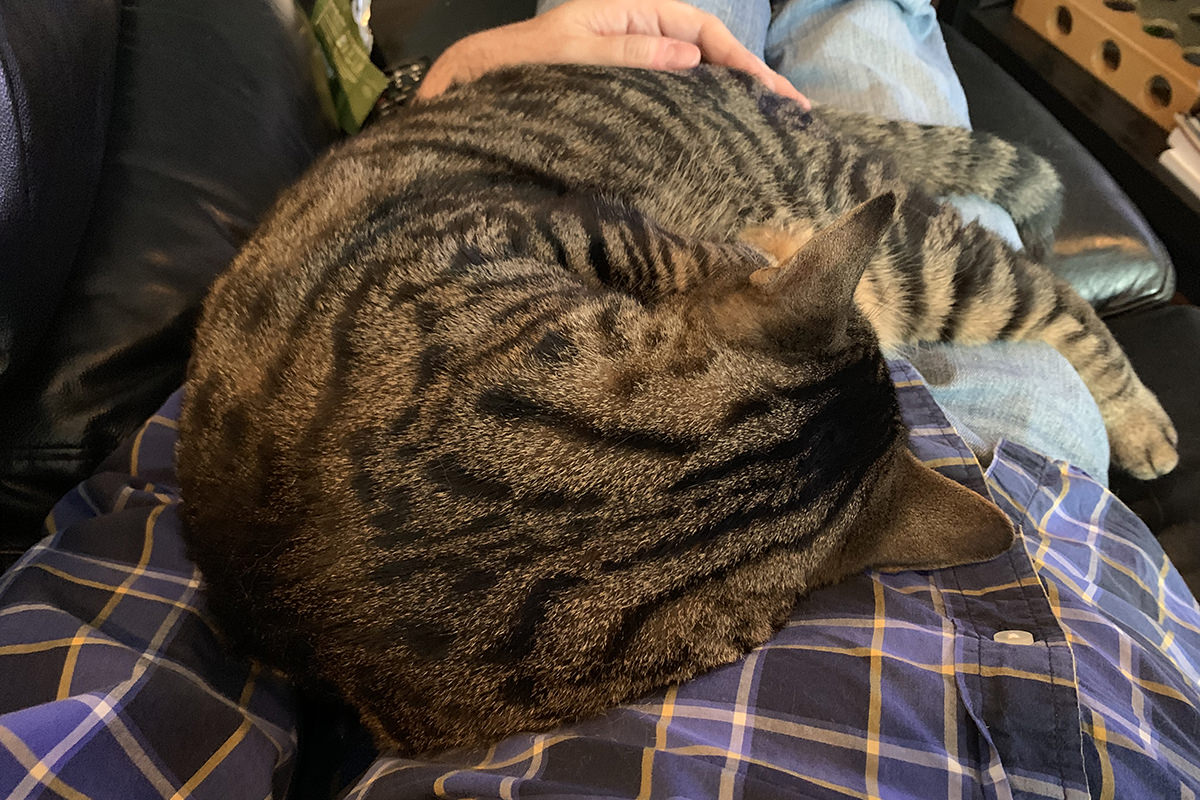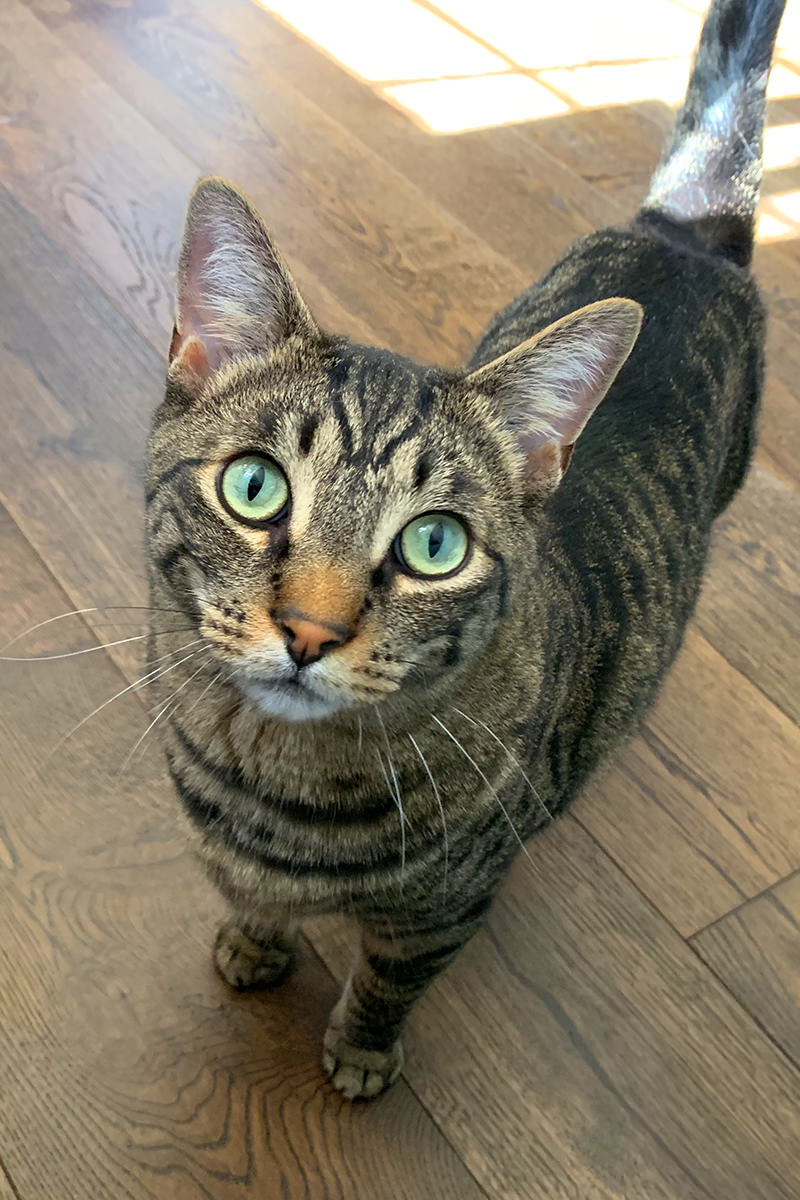 I always make time for my cats, and it's kinda nice to have Jakey Bear for company. Now that it's warmer, he doesn't snuggle up against me very often though, preferring to sleep in a way that's easier to cool off..
Jenny, on the other hand, will still snuggle up against me in any weather...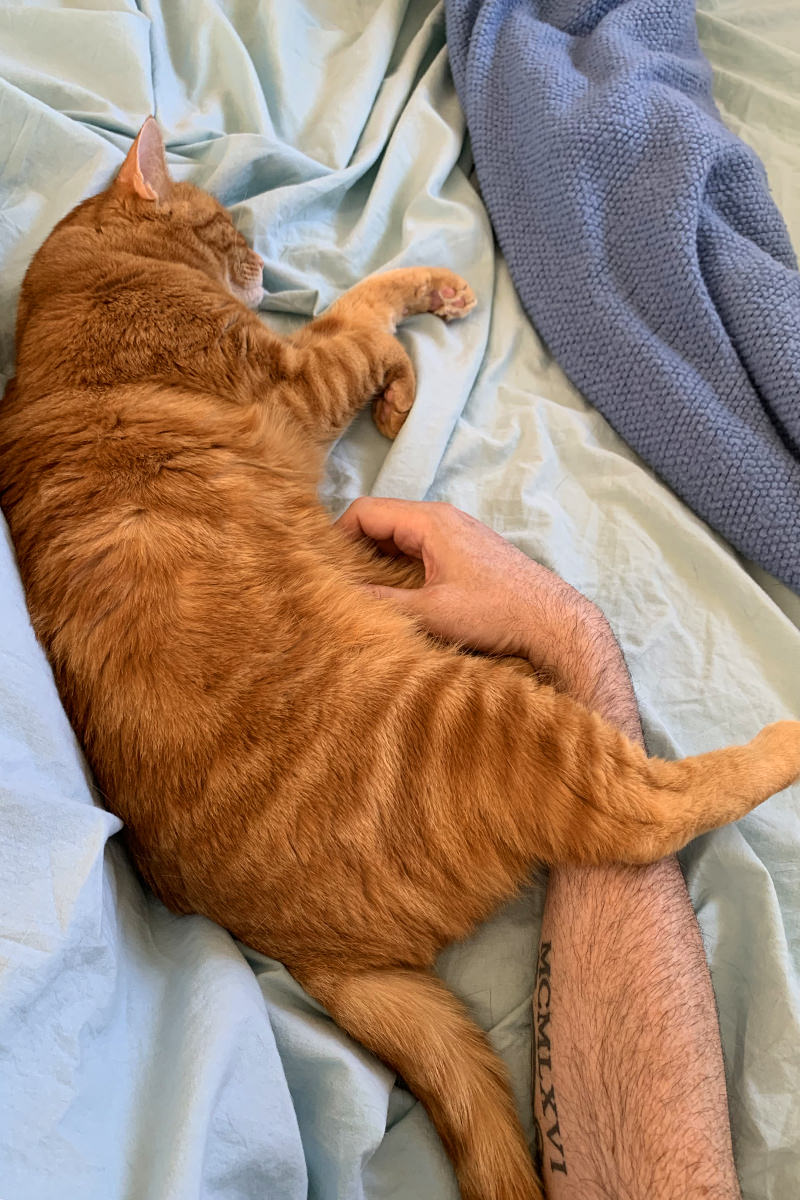 Speaking of Jenny, a while back I happened across a folder of old photos. I think this is when I first noticed that she has an adorable sour face...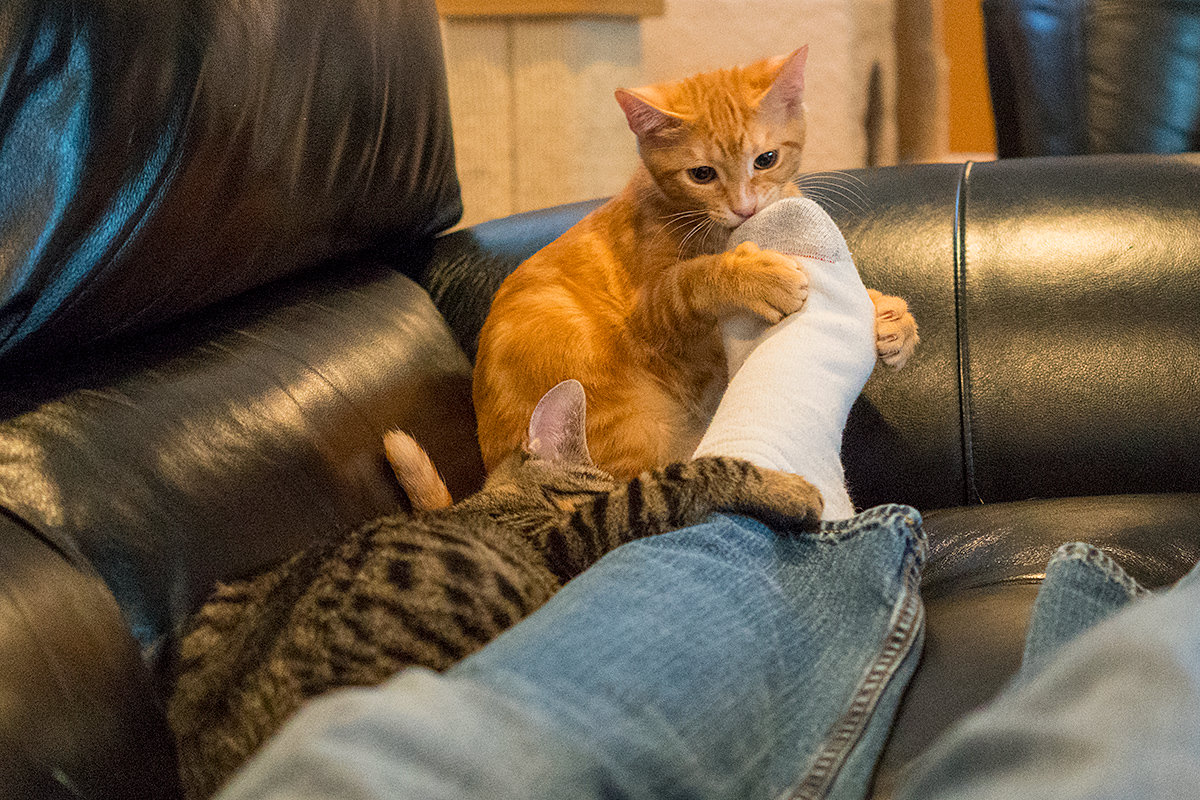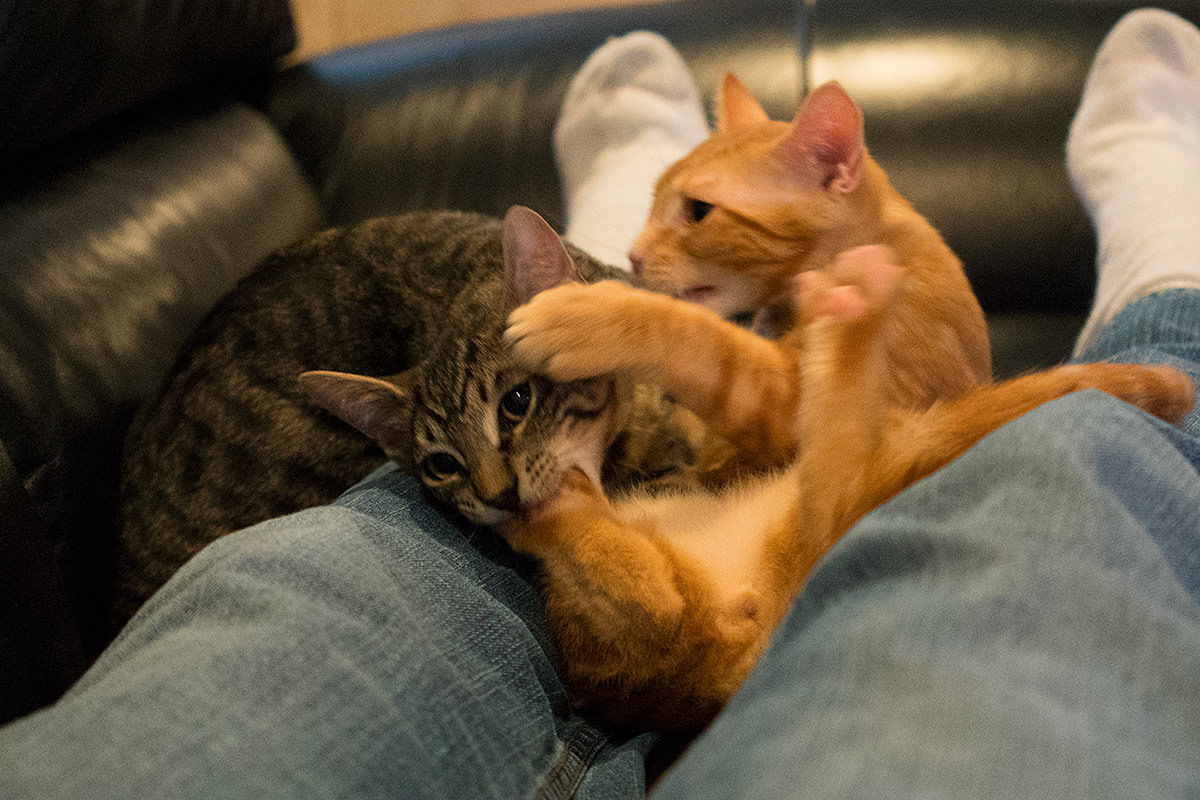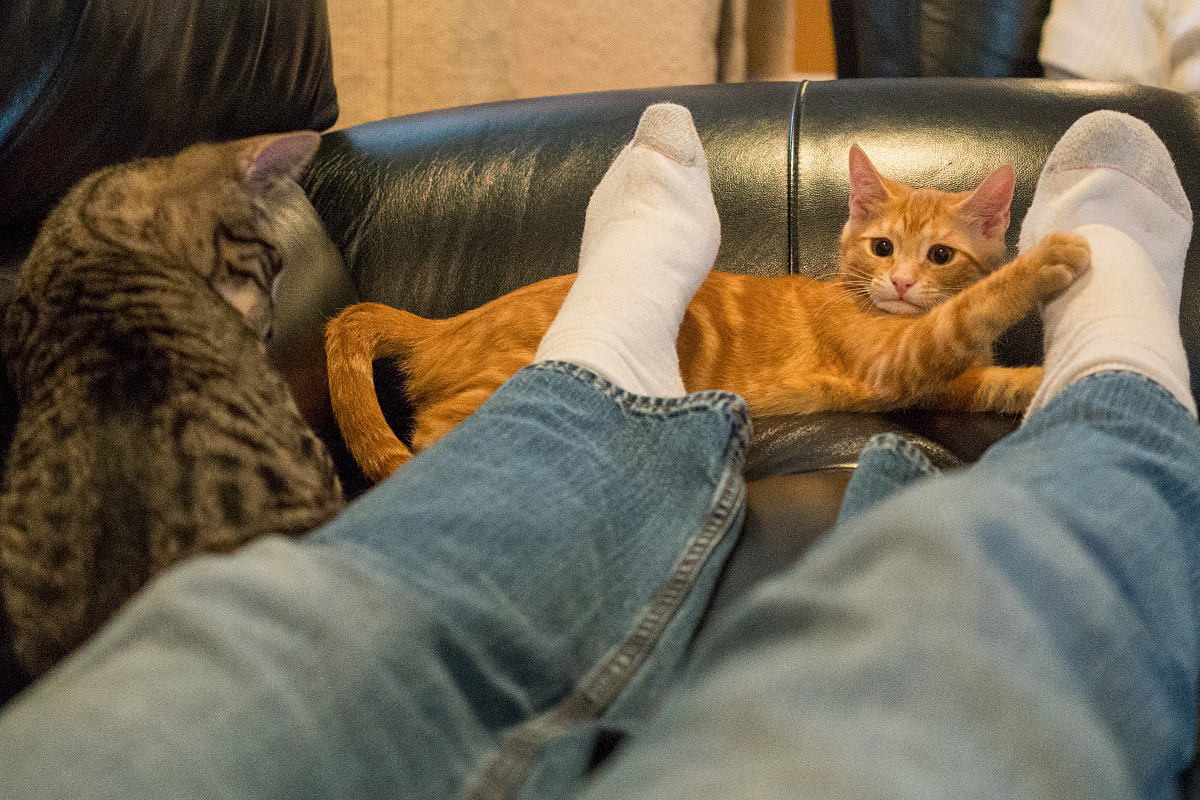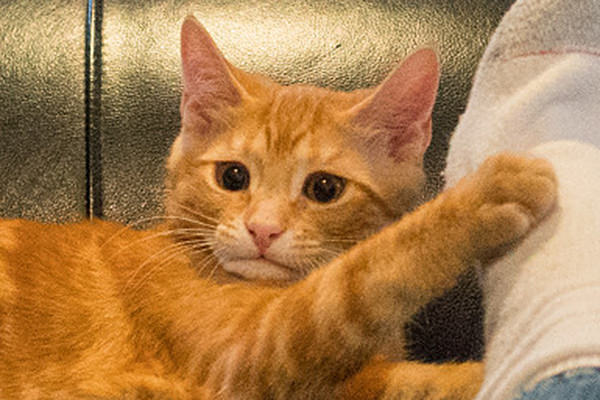 She's entirely too cute. I think her coloration and narrow face camouflages the way most cats have that "smile" where their mouth turns up... so she always looks like she's frowning. Just makes me love her even more!
And now? Time to make dinner, I suppose. Happy Caturday!
Posted on June 1st, 2019
My cats get along very well. Sure they chase each other around the house from top to bottom... but it's all in good fun.
This is not to say that they don't irritate each other from time to time. Jake seems difficult to ruffle, and it takes quite a lot before he will lash out. With Jenny, however, you never quite know what's going to set her off. Sometimes it's the littlest thing. Like her brother sniffing her butt.
Fortunately she has mad kung-fu skills to deal with that...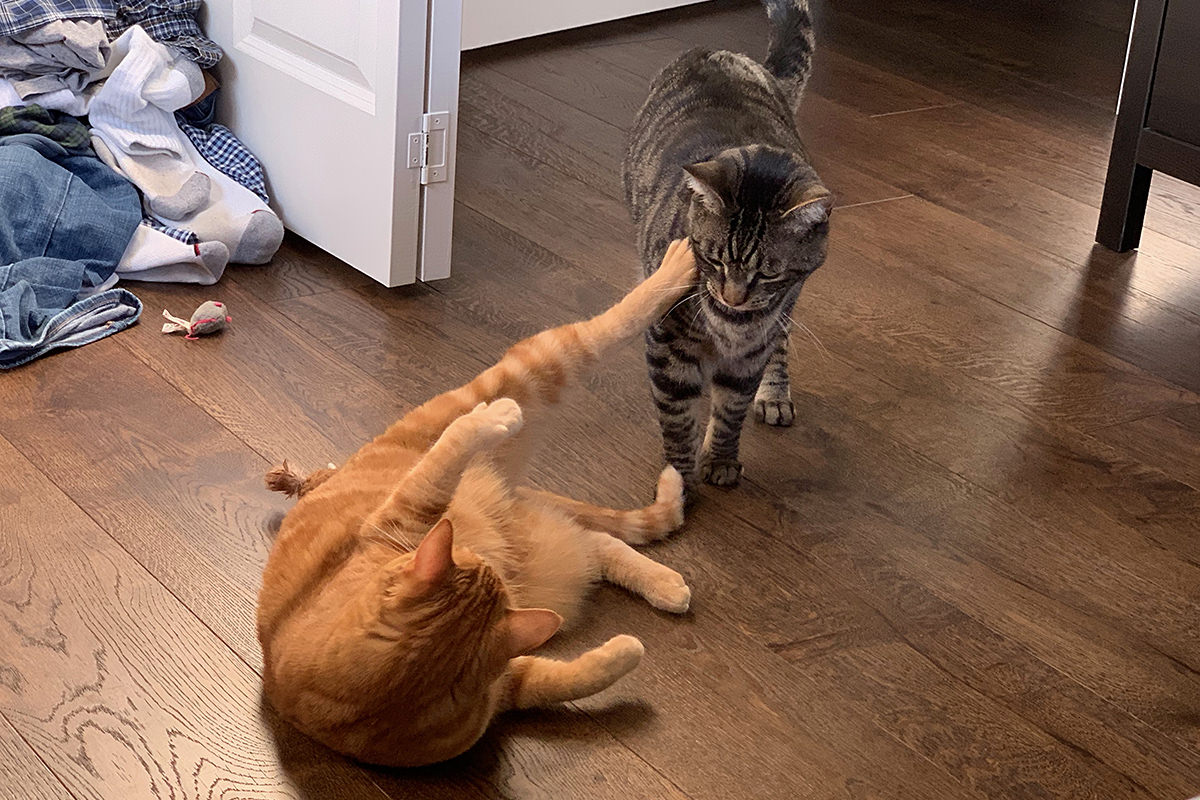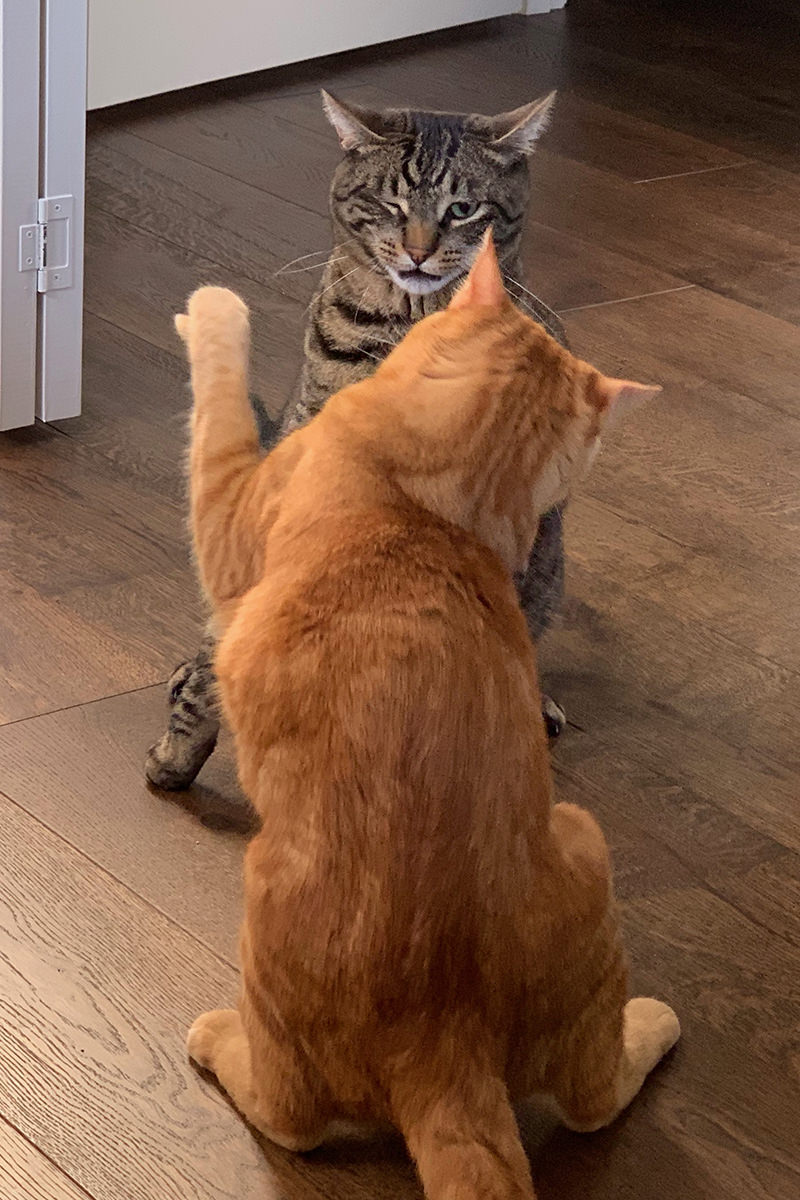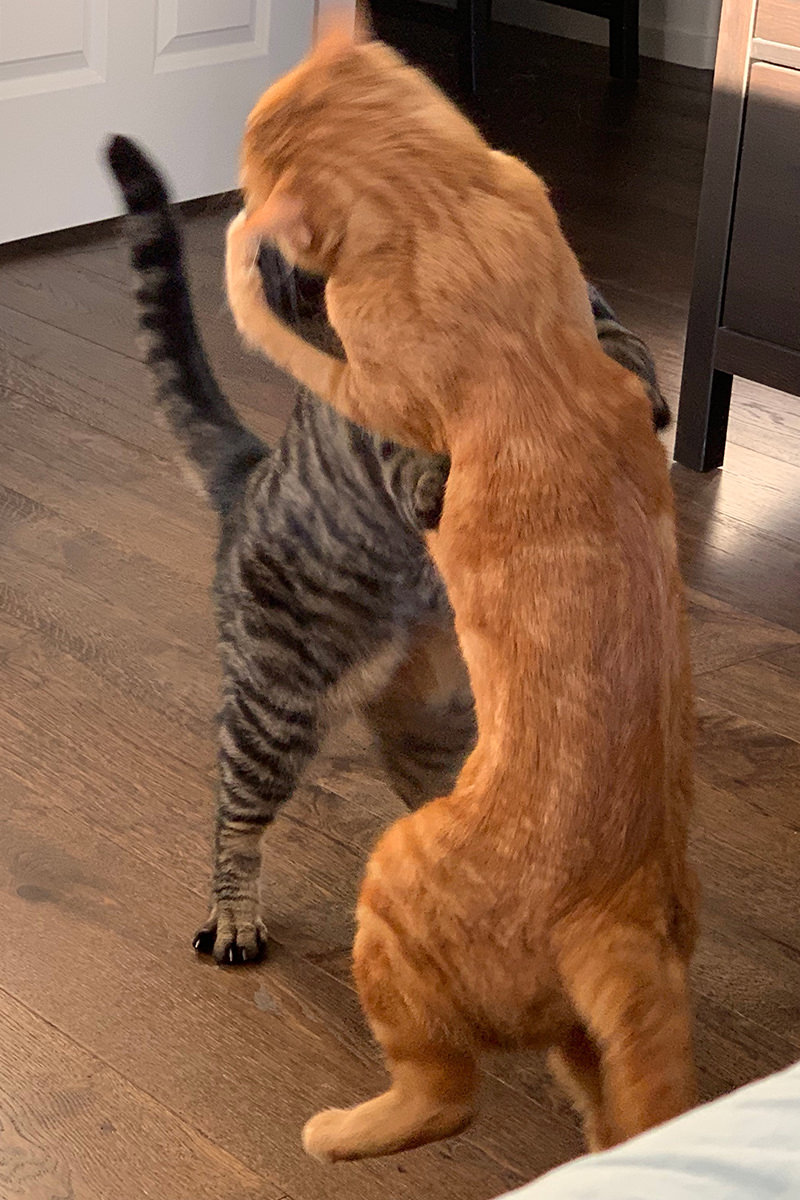 Five minutes later they were side-by-side looking out the window, so these little scuffles don't last long...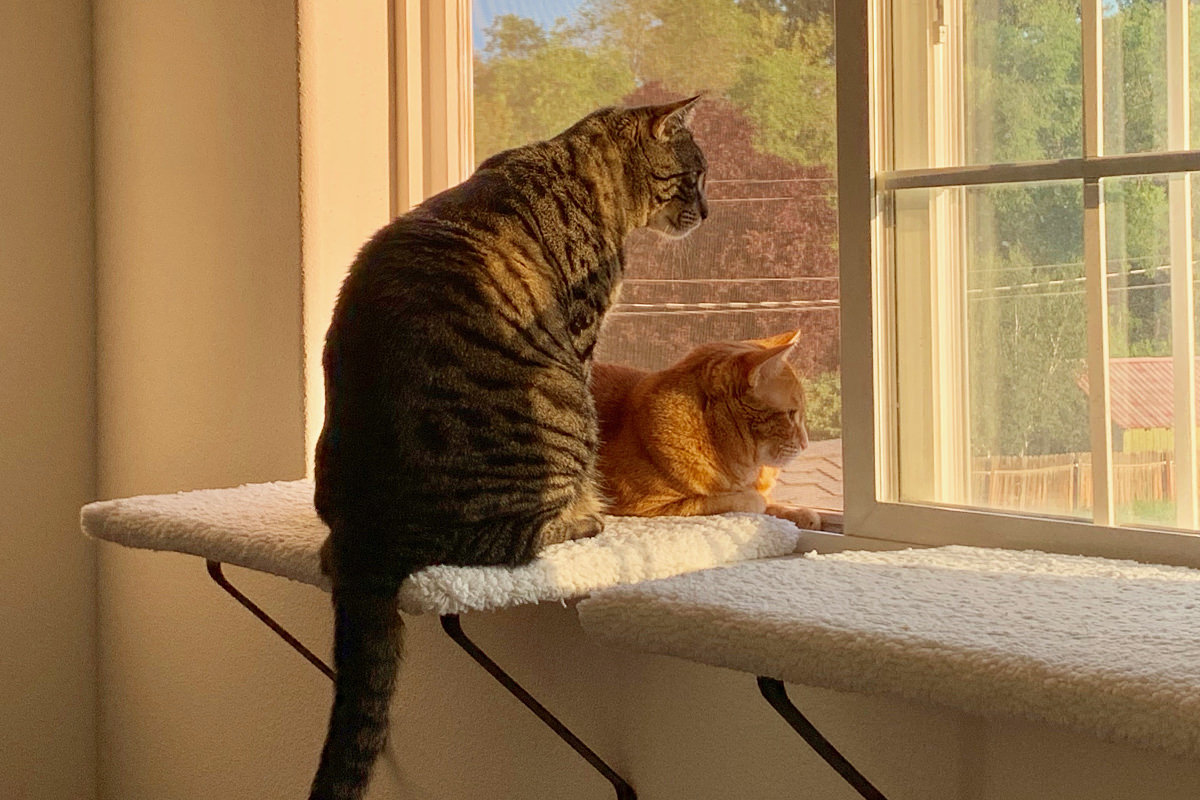 Wrapping up this fine Caturday I will leave you with this...
That would totally be my cats, which is why I won't be buying them a bell any time soon.
Posted on May 30th, 2019
The sunsets sure have been pretty this past week...

And the cats have been out in the catio enjoying them every night.
Posted on May 25th, 2019
Jake has taken up golfing!
Well, not really. But he has taken up playing with a golf ball I found by the railroad tracks (don't worry, I ran it with at least 10 loads of clothes in the washer to make sure it's safe to play with).
When I brought it home, neither he nor Jenny wasn't the least bit interested. Then early, early this morning I heard a golf bar drop and roll across my bedroom floor (it was dark, so I couldn't see it, but there's no mistaking the sound a golf ball rolling on a wood floor makes)...
Jake jumped on my bed right after letting it drop, so I knew it was him... but how?
Turns out he can fit an entire golf ball in his mouth...
I would have never thought it was possible, but there's the proof.
Just one more thing he can bring upstairs like he does every day. Though now he's putting it behind the bed, which is nice of him. Less to step on when I wake up in the morning...
In Jenny news... she can open doors now. Only doors that slide (for now) like pocket doors and closet doors, but she's figured out how to poke-poke-poke her little paw at the crack until she can work it open. Another thing I didn't think were possible until I sat here last night and watched her do it...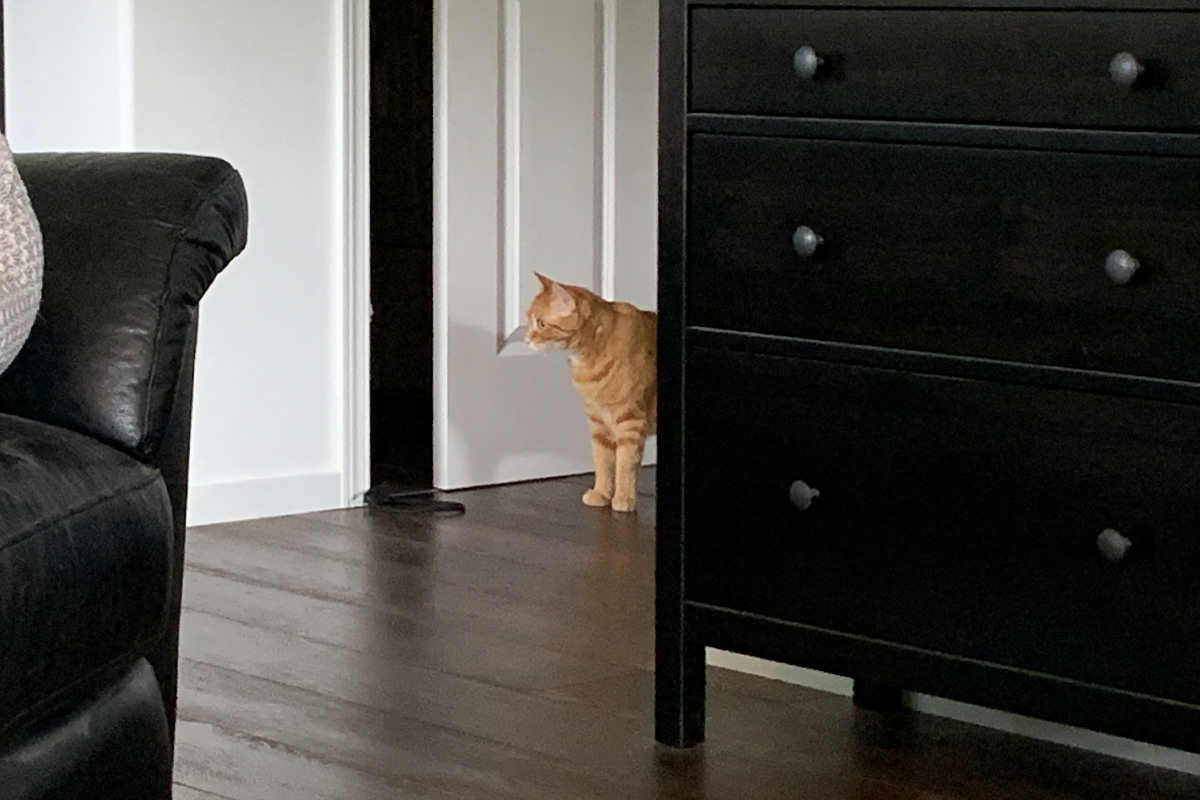 At least now I know that it's not me leaving all the doors open in this place.
Until next Caturday...
Posted on May 20th, 2019
There are times... not many, but enough... that I think I have my life together. Then I get smacked in the back of the head by reality and realize that I'm about as close to having my life together as I am to walking on the moon.
Not that I'm discouraged or depressed about it though. I'm most definitely not. I'm doing the best I can to keep my head above water (and mostly succeeding) so what else is there? Nothing. And I'm content with that. Perhaps one day I won't be, but I'll cross that bridge when I come to it.
Last night I had cashews and crackers for dinner. It was my fallback plan after the frozen pizza I bought was essentially inedible and I could only get through two slices.
Jake, as he does any time I have food, was curious to see what I was eating. Or, to be more accurate, curious to smell what I was eating. Very rarely does he try to actually taste any of it though...
Probably because a boring-ass cracker doesn't even smell like food to him.
Or to me.
I don't know why I continue to buy frozen pizza. It's always bad. But every time there's a new brand that pops up, I roll the dice anyway. This time it was another variation on the "Rising Crust" type pizza. The crust is okay, I guess, but the sauce is pretty weak and the cheese is rubber. I'd throw it out, but the thing cost me $5... so... bad pizza for breakfast... and bad pizza for lunch today.
I have got to save up money for pizza steels so I can work on my own recipe.
Until then? Crackers it is, I guess.
Posted on May 18th, 2019
I rescued Jake and Jenny to keep my mom company while I was away at work. As her dementia progressed, being alone was not easy for her. I remembered how much she liked Spanky hanging around at her old place and thought kittens would help. But they were feral rescues and spent most of their time hiding under the couch instead. Eventually, they got used to mom being around and were happy to hang out with her. It took another couple weeks before they trusted me.
On Mother's Day I talked about the books I made as souvenirs of our travels. Yesterday I found photos of my mom actually looking at those books.
I remember it like it was yesterday. Mom didn't seem to notice that Jake was there at first...
Once she did notice, she says "Hey..."
Then... "Don't you chew on my book!"...
And Jake's like, "Well, shit!"...
A heartbreaking, awful time made so much better because of cats. I still don't know how I would have made it through without them.
Earlier this week I was just about to fall asleep when I heard something plastic fall to the floor downstairs. Then I heard the cats batting it around. I am generally very careful about not leaving out anything dangerous, but decided to check the security cameras anyway, just in case. I couldn't tell what they had, but I was certain it was something harmless, so I figured I'd look for it in the morning.
Turns out it's a pencil sharpener.
A pencil sharpener shaped like a nose that a friend gave me along with colored pencils and a Vanderpump Rules coloring book for my birthday...
I put it back next to my pencil cup and forgot about it.
Until Thursday morning when I woke up and found it on my bedroom floor...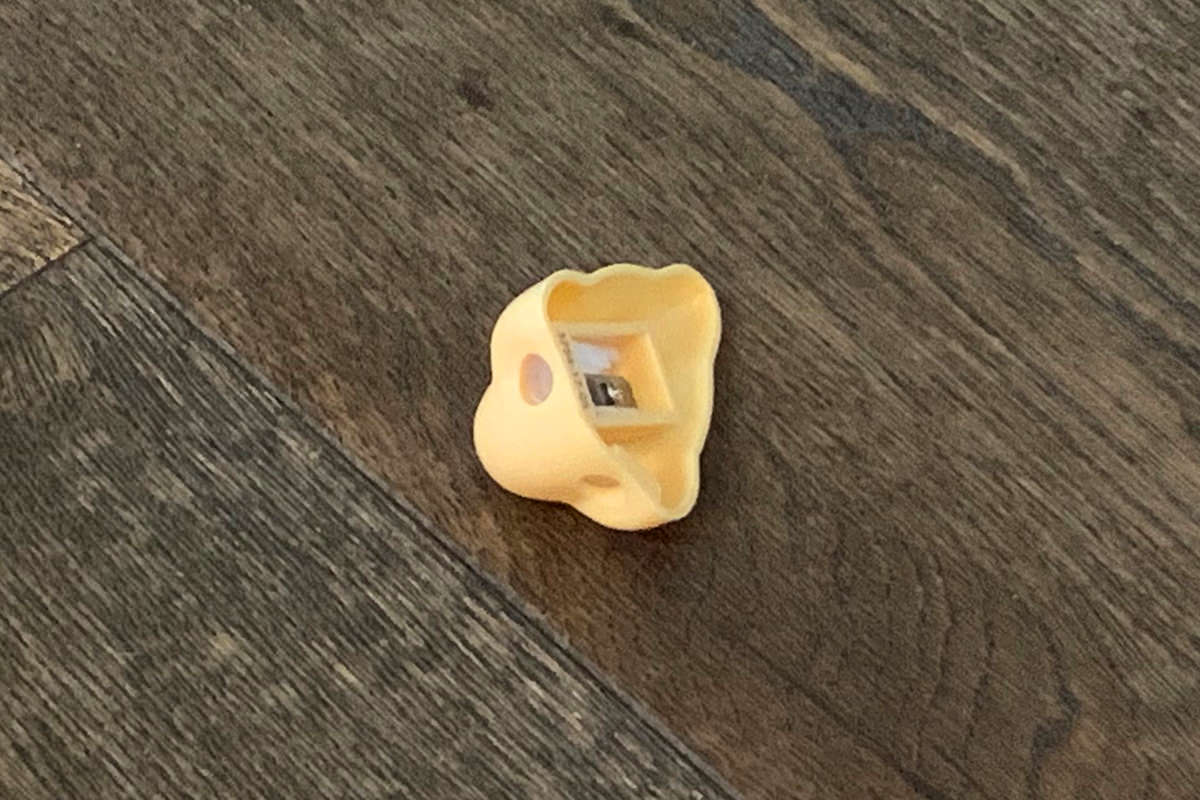 A quick check of my security cameras and, yep, Jake dragged it up the stairs at 2:17am...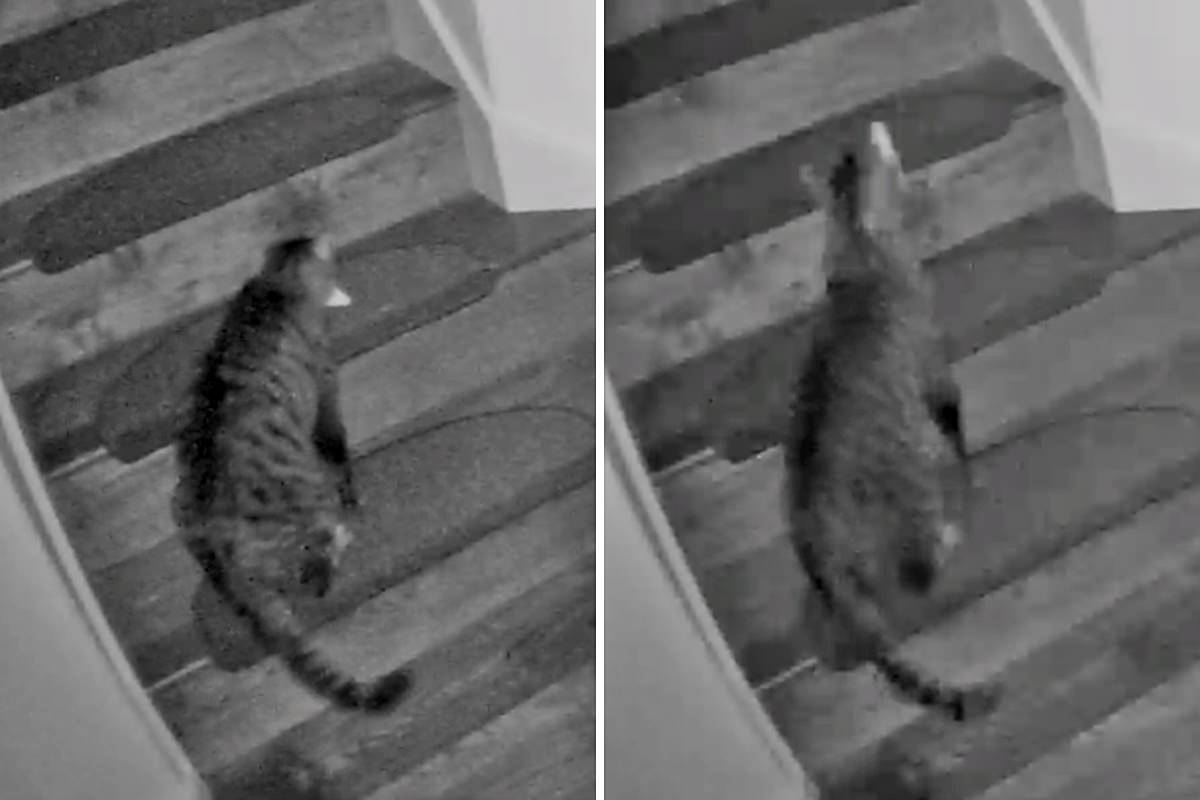 No idea how he managed to carry it up the stairs, but he did. No idea why he thought I needed a pencil sharpener, but he did. Maybe he just likes bringing me stuff. He does that a lot.
Speaking of Jake.
As I mentioned a couple weeks ago, he has not been the same since falling down the stairwell and spraining his leg. I mean, personality-wise, he's the same... but behaviorally he's changed. He's clingy now. Any time I'm home, he's on me. Literally...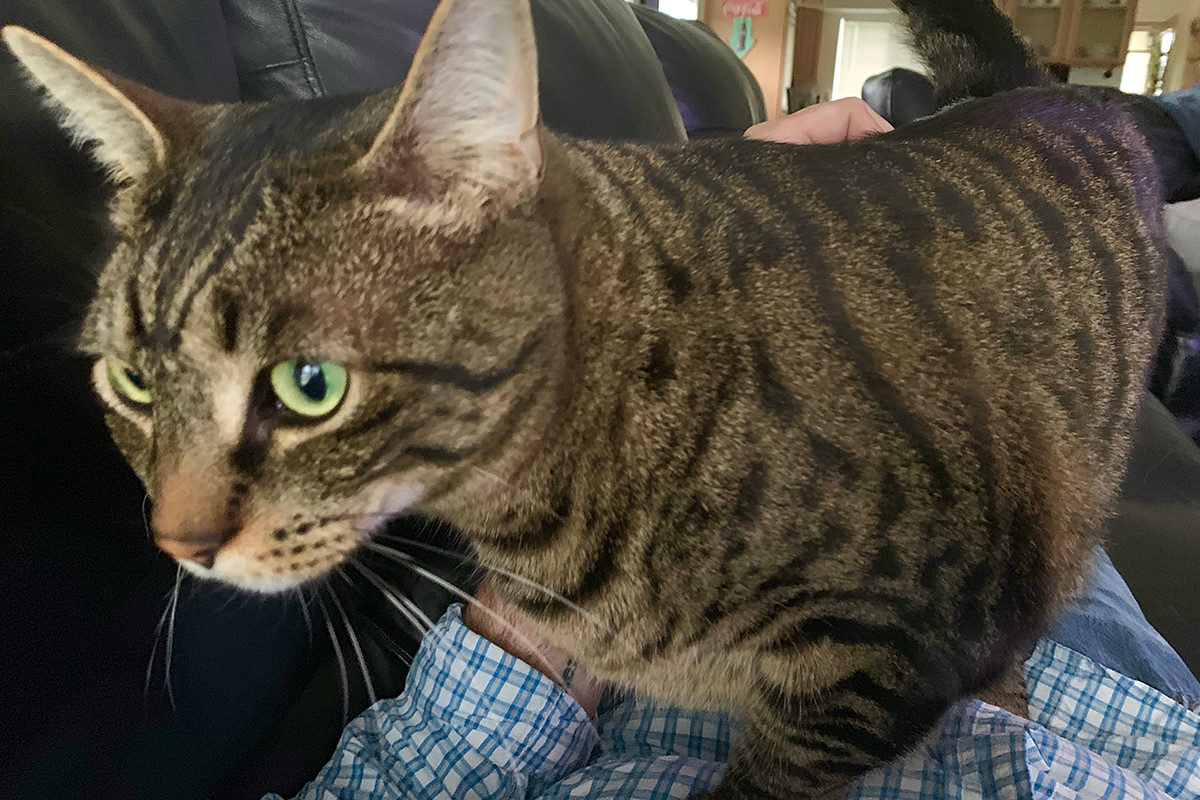 For a while he was sleeping on my bed with me, but he seems to have moved on these last couple of nights, so maybe he's healing? How long is a cat's traumatic memory anyway?
Still likes to nap next to me while I work though. Yesterday I thought something was wrong with him because he was sleeping funny.
For reference, this is how Jake usually sleeps...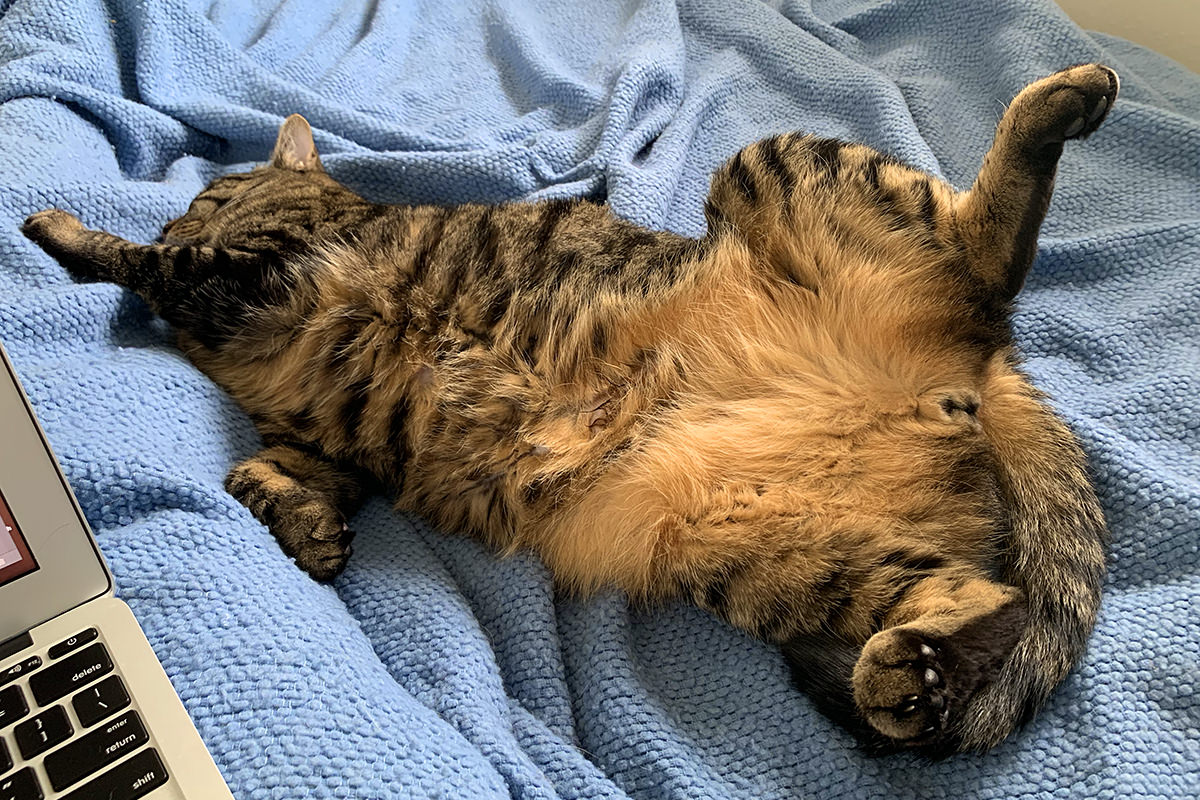 Every time...
Awww... who can resist that fuzzy belly...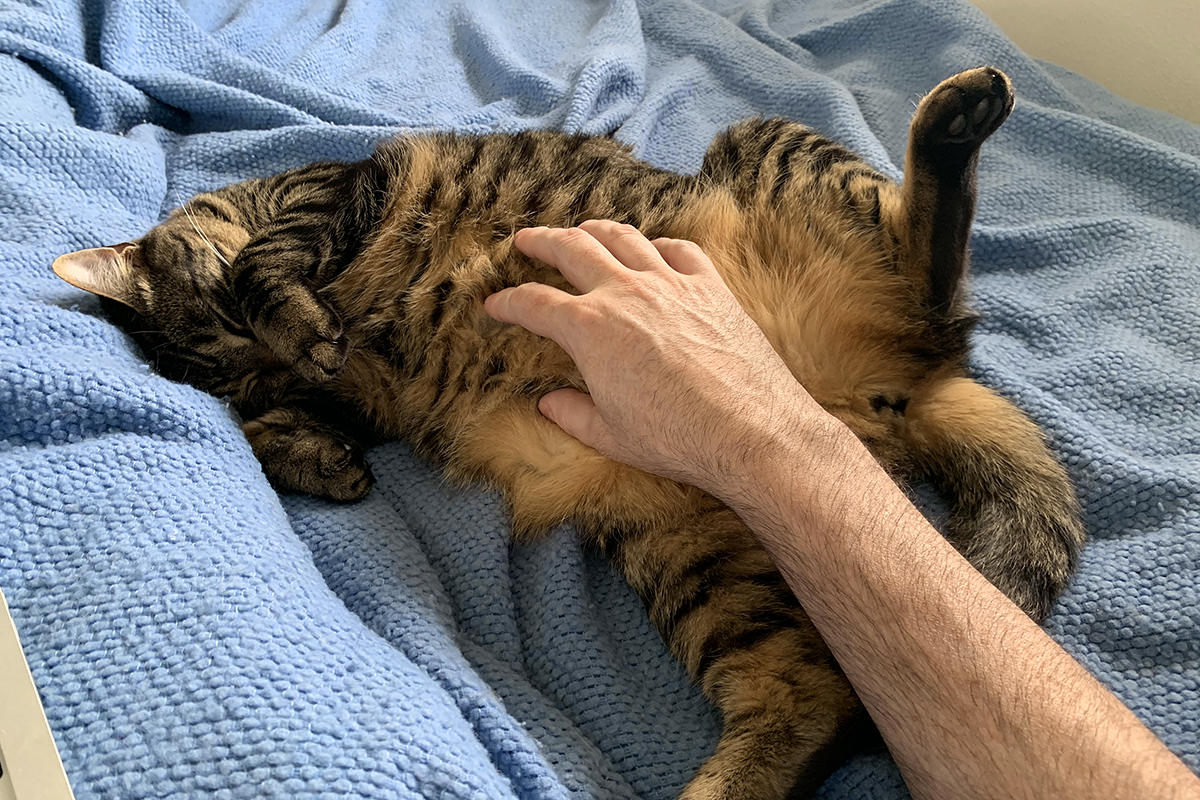 Anyway...
He was sleeping abnormally like this...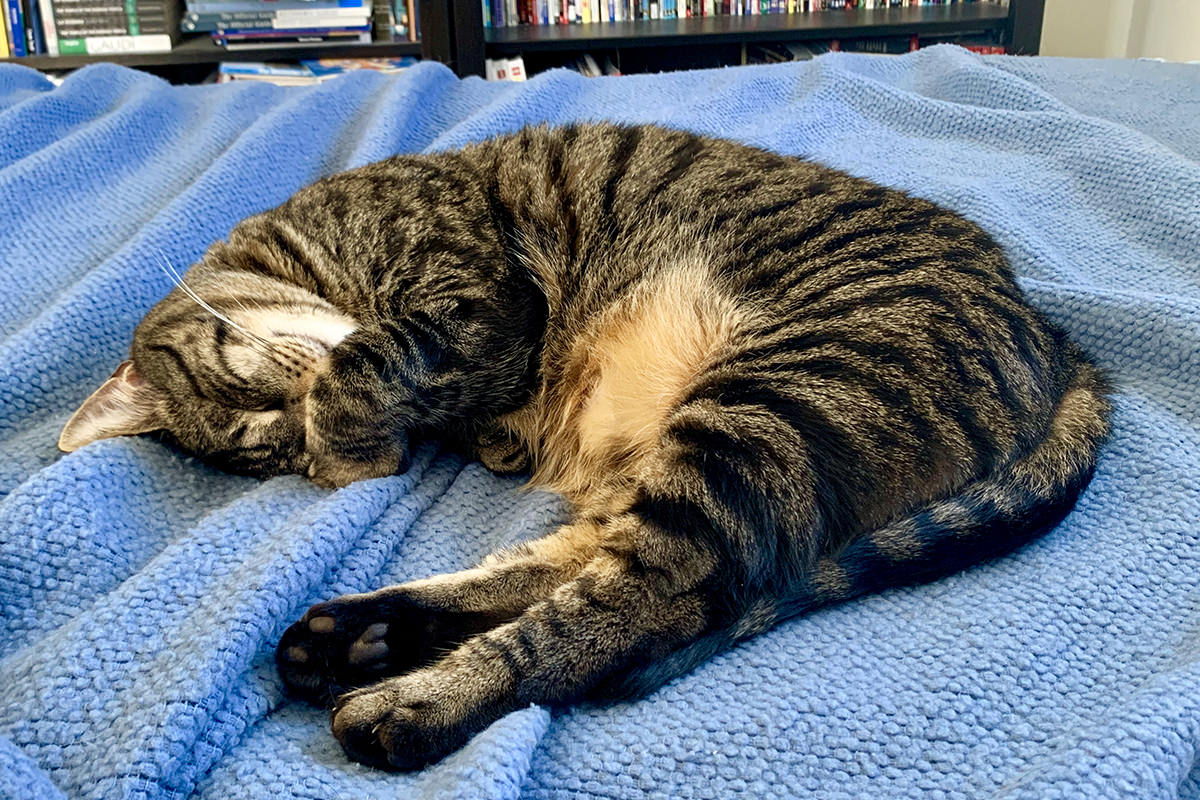 I was genuinely worried. But then he went back to normal...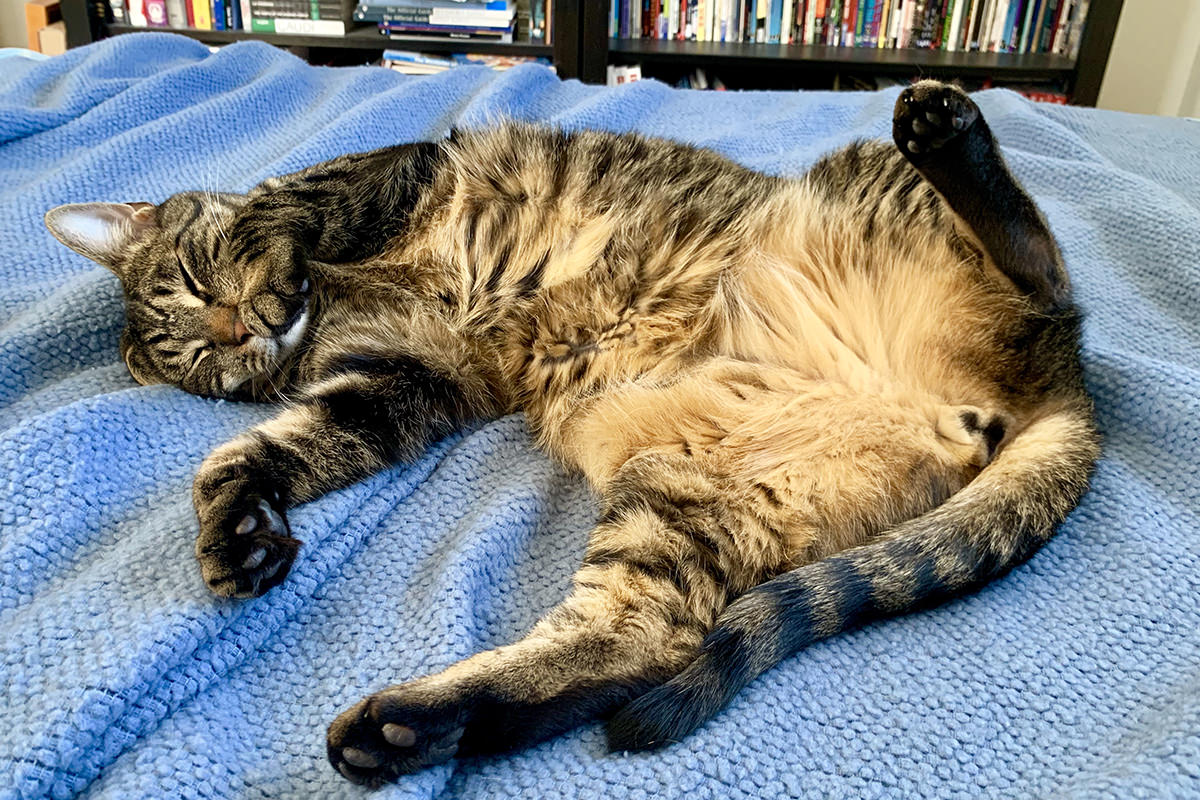 There we go!
And don't worry about Jenny. She still gets her share of belly rubs too...
Until next Caturday...
Posted on May 13th, 2019

My day began at 5:00am when I grabbed my laptop off the nightstand so I could start in on my work emails. Jake, hearing that I was awake, came running in to get his butt scratched, which is fine. What was not fine was when he jumped up to the window perch ten minutes later an immediately began puking up a hairball.
My bad. I apologized to Jake because I went to Seattle for Laser PRINCE instead of grabbing The Furminator and giving him his weekly brushing this week.
Jake was unfazed. He just moved to the other window, pushed Jenny over so he had a place to sit, then went about his business of watching birds fly around..
After catching up on work I got up to clean up the hairball puke only to find that... it was only water? No hairball to be found.
This scares the crap out of me because... A) My cats do not puke often at all... and B) the couple times they have puked and it wasn't a hairball, it was because something was seriously wrong. But Jake didn't seem sick at all, so I made a mental note to keep a careful eye on him for a while.
I tore apart the window perches so I could toss the covers in the wash and noticed that my window sill was filthy. So I ran down to the garage for a scrub brush and bucket only to find that a can in a twelve-pack of Coke had ruptured* while I was gone this weekend. It dripped out of the carton, down the shelf, then spilled out onto the floor.
Where it mixed with the sawdust and formed a gummy syrup that super-glued itself to the cement.
Yay.
My choices were... A) Leave it and clean up the mess later... or B) Clean it up immediately so ants don't fill up my garage. I opted for the latter because I really don't want ants in my wood shop.
After moving tools and relocating boxes and pulling apart shelves and scrubbing and scrubbing and scrubbing, I worked up quite a sweat. This made me realize just how badly I needed a haircut... so I grabbed the clippers and went to town on my head. I have started cutting my own hair again because... A) From what I can tell I don't do a half-bad job... and B) I really don't have money to spend at Super-Cuts after getting Jake's vet bill.
By this time it was past 7am and Alexa's alarm had gone off, letting the cats know it's breakfast time.
When I went back into the house Jake and Jenny were very put out that I had dared to allow a haircut to interfere with their breakfast being delivered in a timely manner.
At least whatever was wrong with Jake this morning didn't seem to affect his appetite.
In other news... the bulbs outside my house bloomed while I was away! The ones out front look pretty good...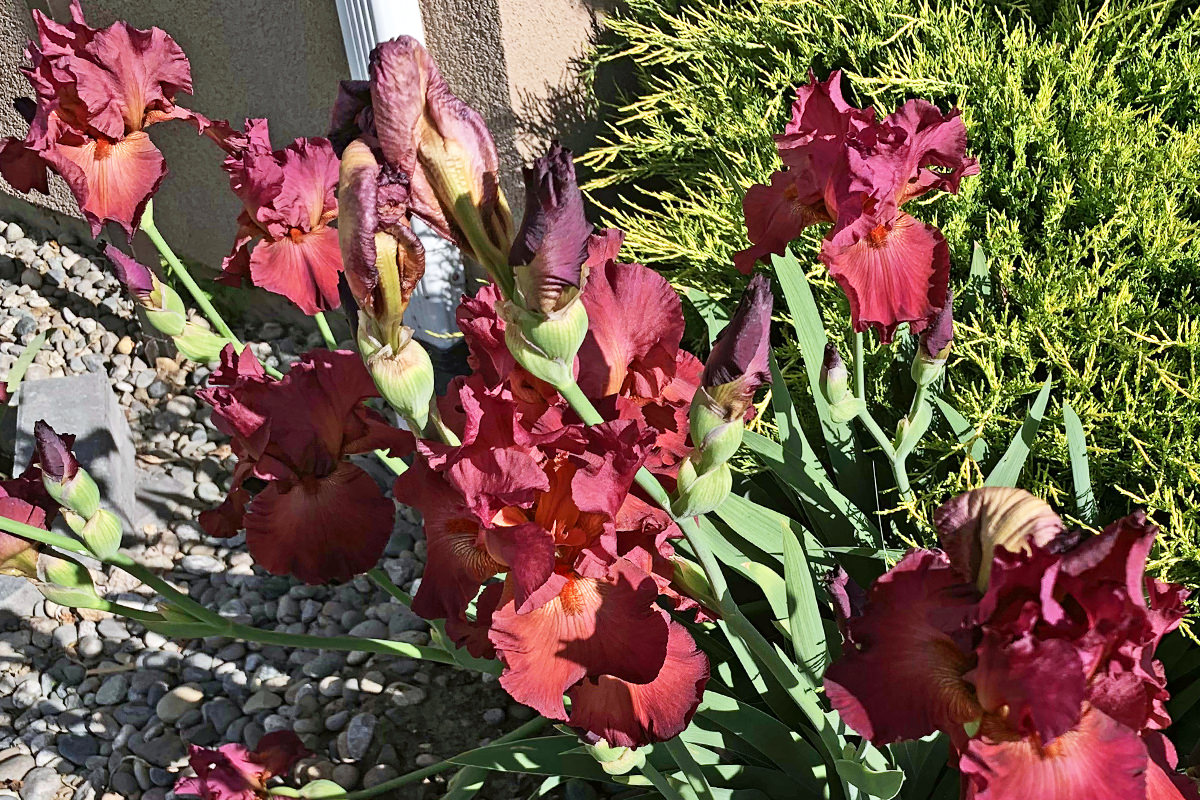 Whereas the bulbs on the side of the house have already collapsed from their own weight and fallen over...
Irises have to be one of the stupidest flowers. When your design doesn't allow your stem to support the weight of your flowers... how are you not extinct? Oh well. I guess they're pretty while they last.
And now, if you'll excuse me, I've got to put the window perch covers in the dryer and get ready for work.
It's a Monday, after all.

*I couldn't even figure out where the can had ruptured. They are so darn thin any more that you can barely hold onto them without crushing the can. I'm not surprised that cans are leaking at random... any thinner and soda cans will just explode when they feel like it.
Posted on May 11th, 2019
I'm not home with my cats this Caturday. I'm over the mountains spying on them through the security system.
Though I don't really need to spy on them to know what they are up to. Every day is pretty much the same this time of year...
5:30am — Wake up and fret until breakfast time.
7:00am — Breakfast.
7:15am — Post-breakfast bathing and running around.
9:00am — Treats.
9:10am — Sleep.
4:00pm — Wake up because daddy's home (if daddy's home).
6:00pm — Dinner.
6:15pm — Post-dinner bathing and running around.
6:30pm — Nap.
7:30pm — Chasing bugs in the catio.
11:00pm — Sleep.
The catio bug-chasing is a huge deal this time of year. Huge.
Both of them love it, but Jenny obsesses over it. Sometimes she will stay out there past midnight chasing them around...
I feel bad when the bugs aren't out yet, because Jenny is out there alone bravely waiting for them to show up...
Sometimes she'll come in to hang with me... but then five minutes later a bug will hit the window and she's on high alert...
Then she's right back at it again.
Jake goes out to the catio often, but a lot of his bug hunting is attempted through the window...

As I type this it's 4:30pm and I'm not home, which means they are asleep...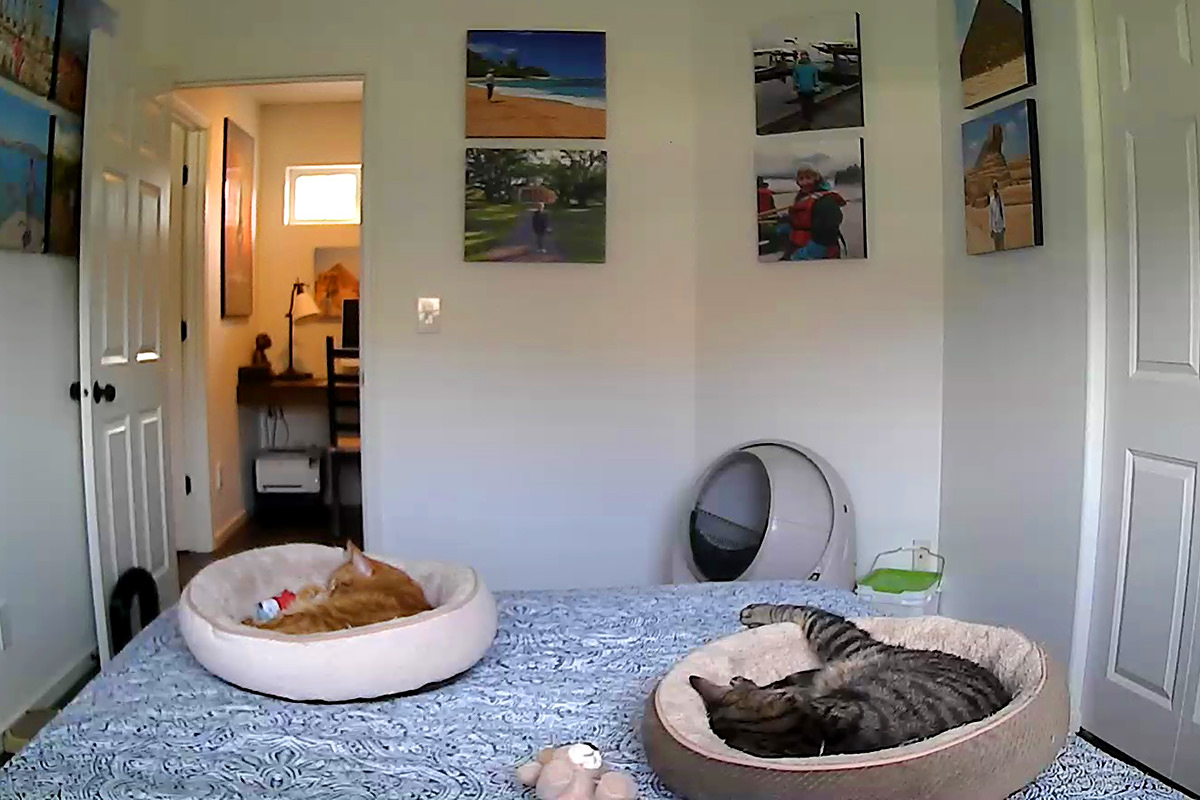 Interesting that they both brought a toy to bed. Jenny brought her Dr. Seuss Thing 2 mouse. Jake brought Mufasa (of course)... but he's too big to fit Mufasa in the bed with him (or his foot, apparently).

And I guess that's it for Caturday this week.
Posted on May 4th, 2019
I'm pretty sure that Jake thinks his name is "Where is Jenny" and Jenny thinks her name is "Where is Jakey Bear." Heaven only knows why I keep asking... they never tell me where their sibling is... but I guess it makes me feel like a concerned parent to ask.
Speaking of being a concerned parent... Jake seems to have (mostly) healed from his tumble off the banister. His limp is very slight now, and sometimes disappears altogether. Hopefully the new Cat Banister Tray will prevent this from happening again.
Even if his physical state is getting back to normal, I'm afraid Jake's mental state is not being so quick to return. He is far more jumpy than he used to be. He also is far more clingy than he used to be. It used to be that my cats left after I fell asleep, but now Jake is with me most of the time I'm home... including when I'm sleeping.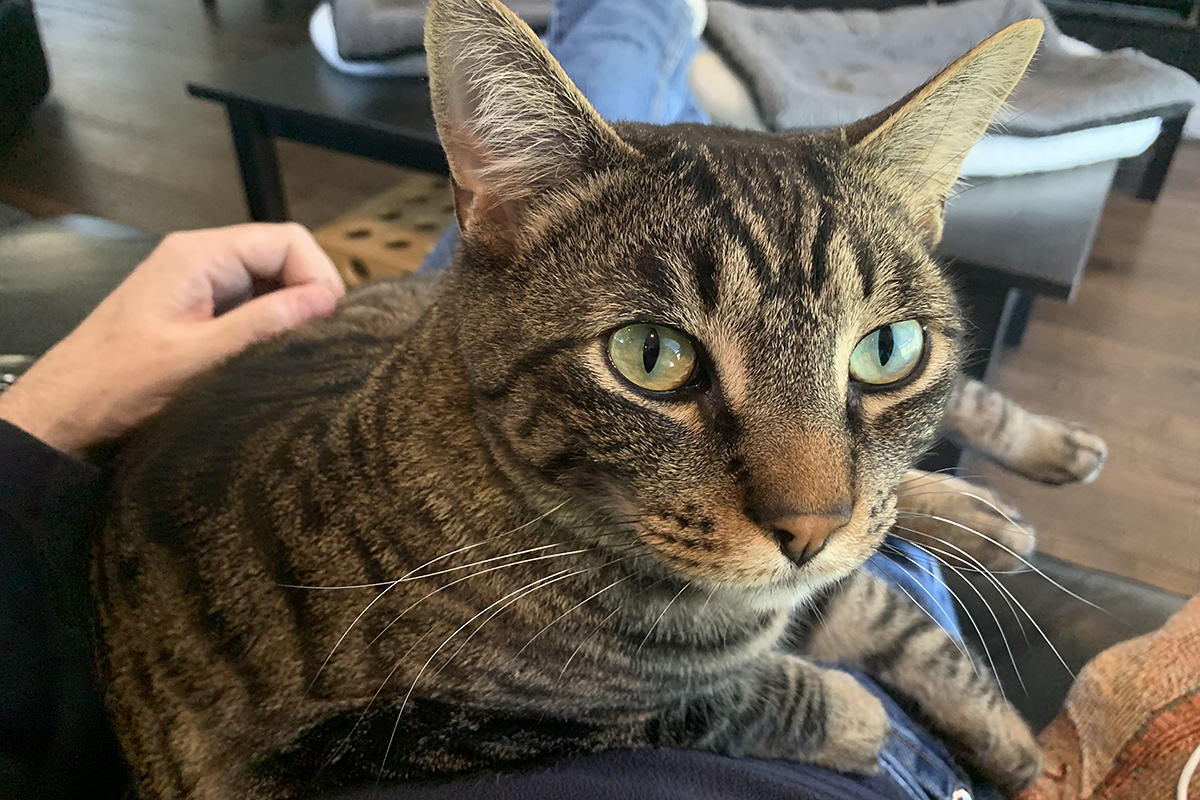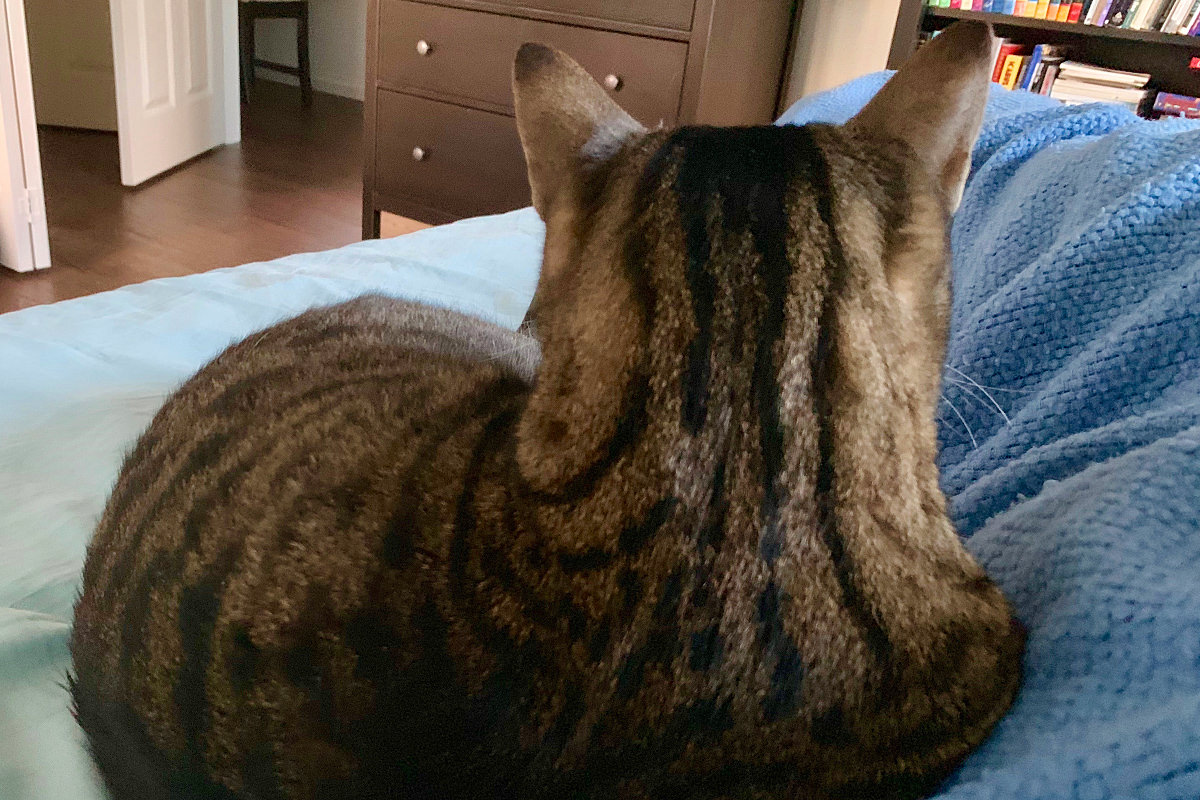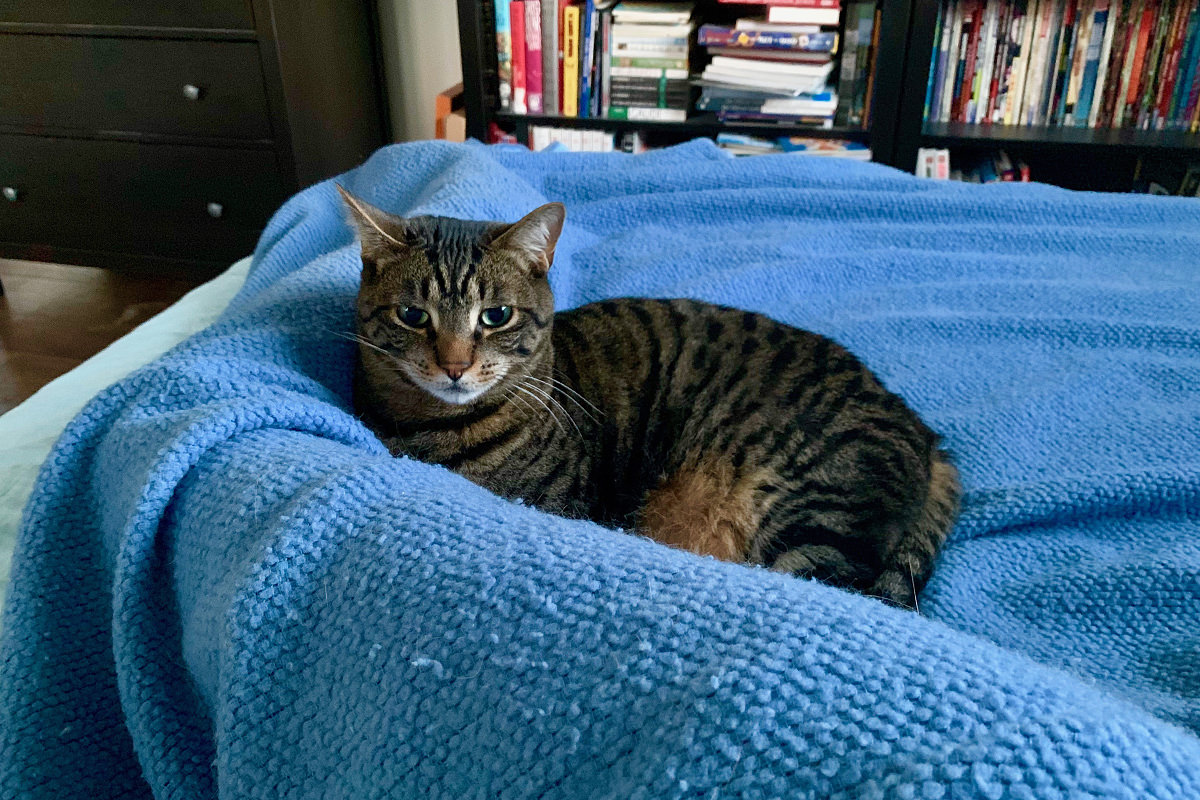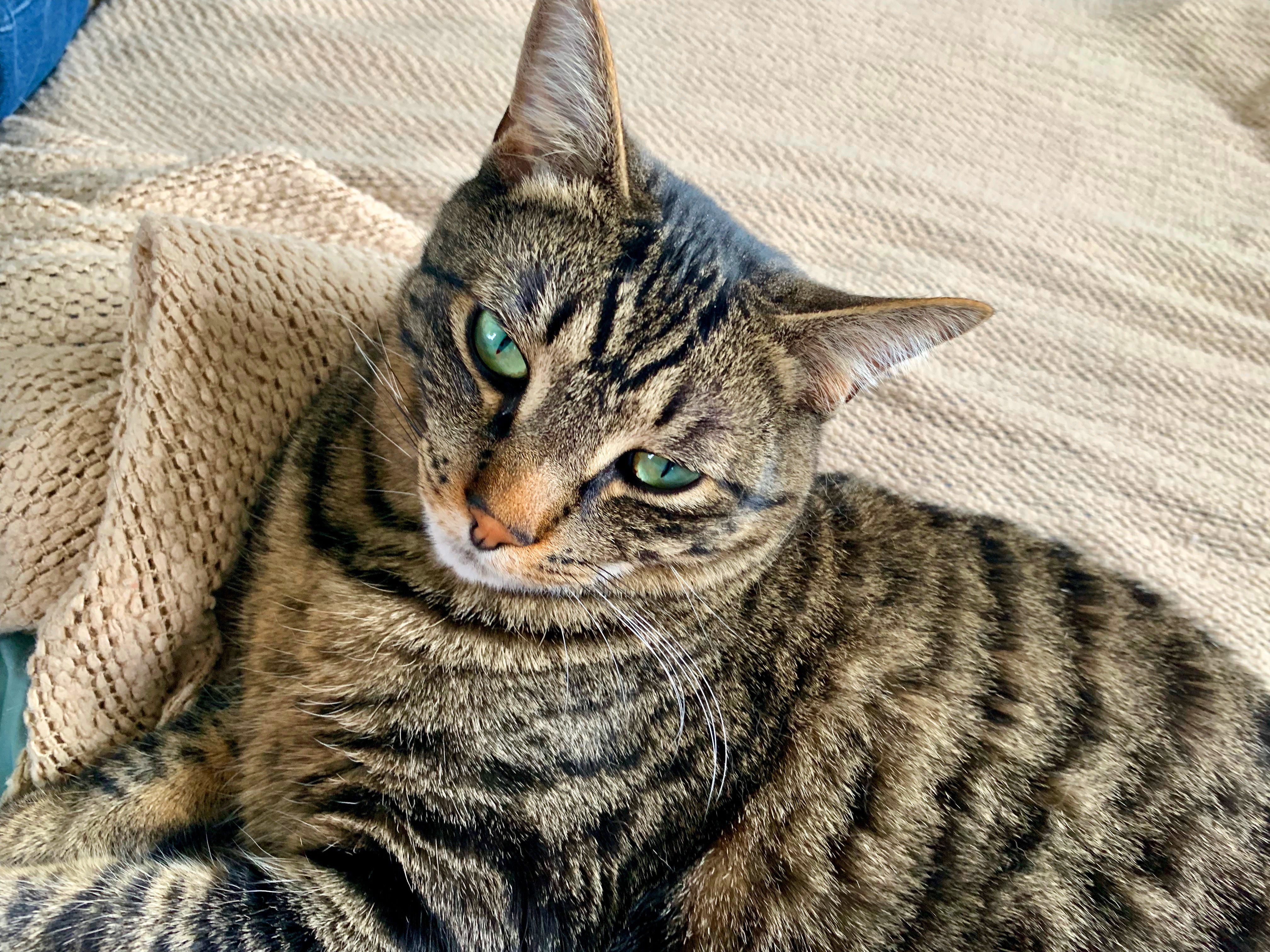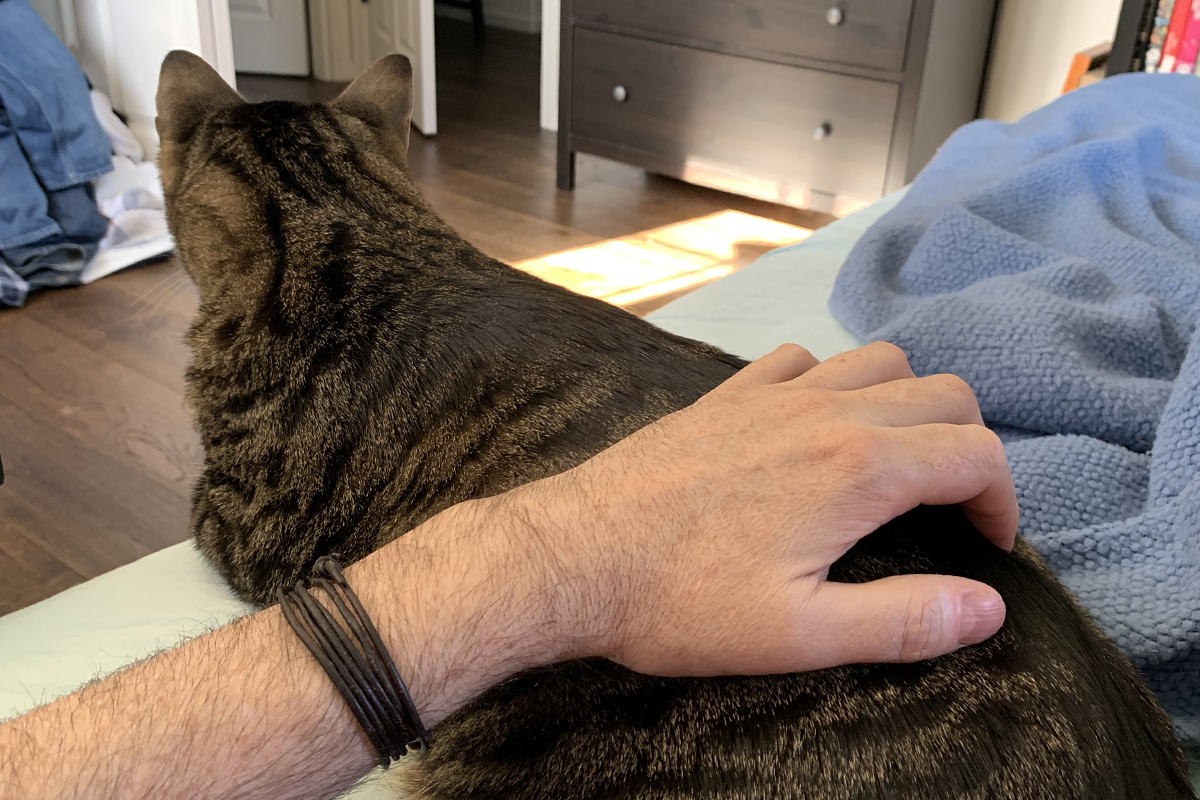 He's pretty much stuck to me like glue...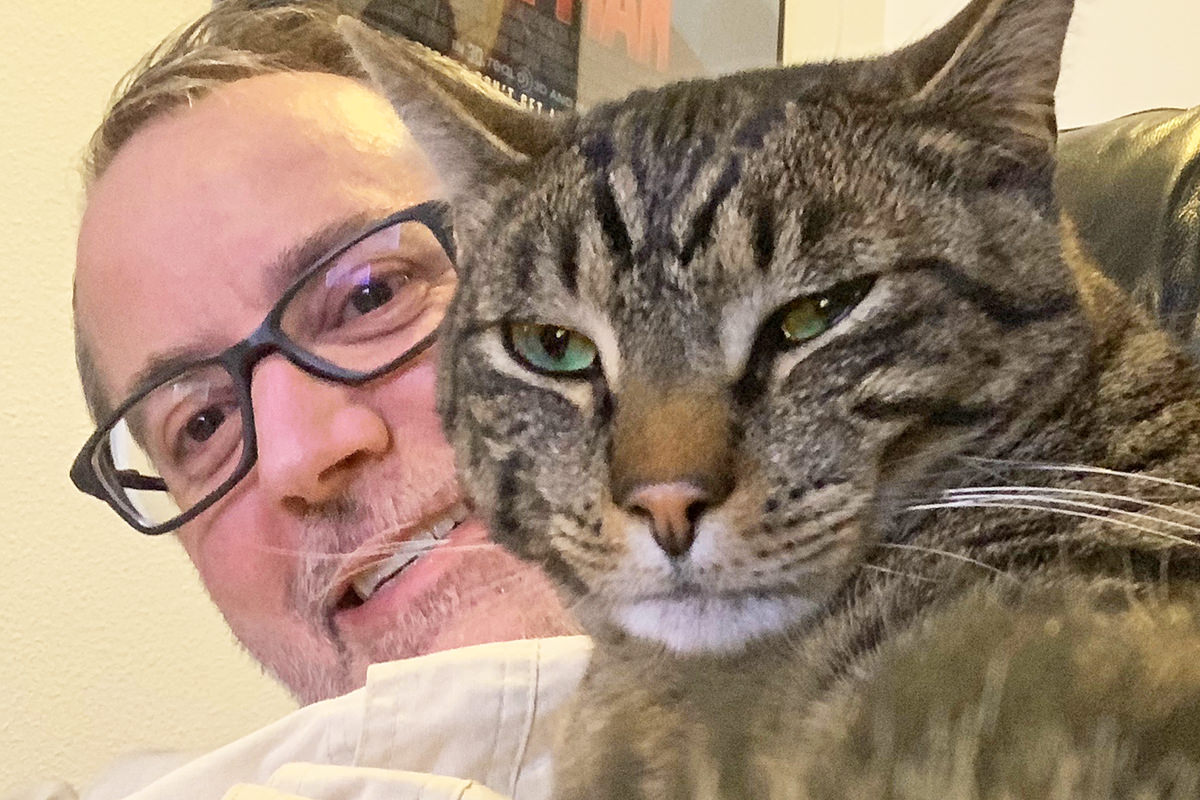 The good news is that Jake is considerably more agreeable to getting Furminated now...

As for Jenny? She's doing great.
She spends most of her time out in the catio chasing bugs and watching birds parade around the back yard...
She still likes to spend time clawing at my jeans...
And she still likes to stare me down each morning until it's breakfast time...
And she still likes hiding in places... even though she's not very good at it...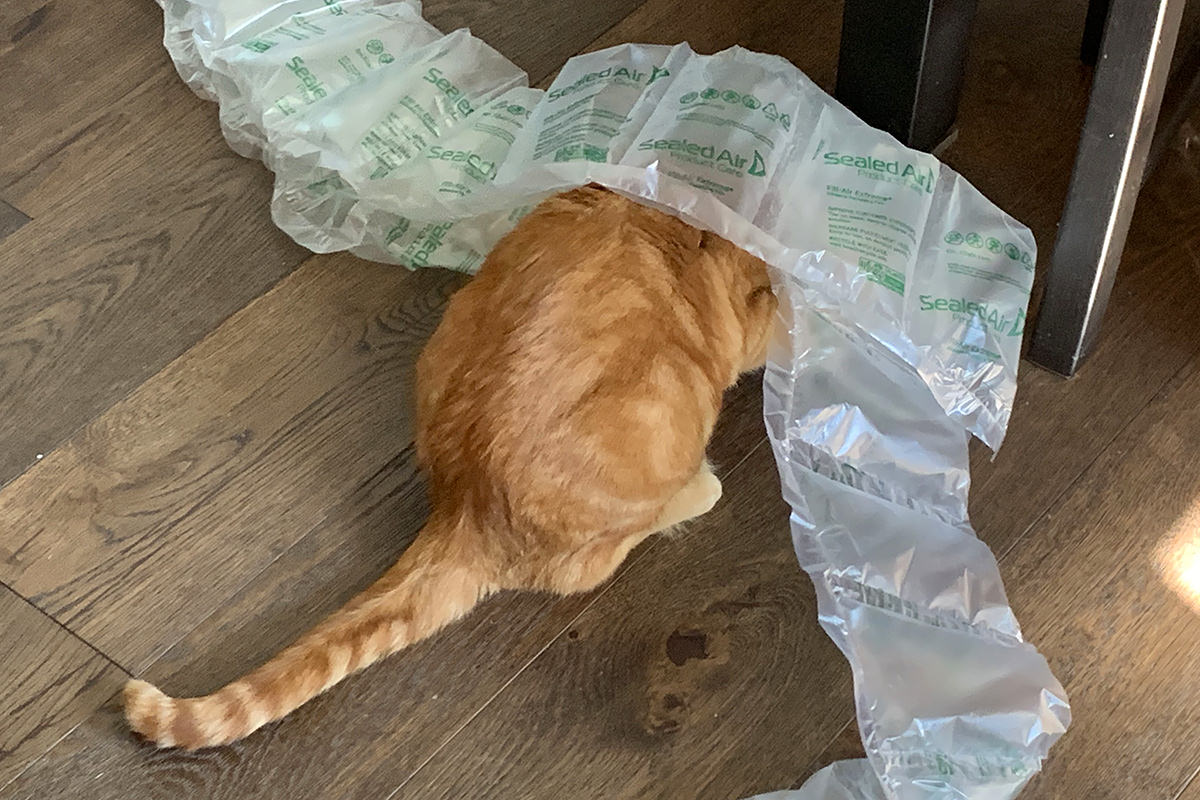 She also likes to shed a metric ton of cat hair every week... but I'm sure she feels bad about it.
And, lastly this Caturday, I ran across this video and liked it so much I was compelled to share it...
Awwwwwwww!
See you next Caturday!
Posted on May 2nd, 2019
It's not like I can say my life is boring... I have been lucky enough to travel the world, meet interesting people, and do really cool stuff... but when I'm not doing that my life is as mundane as it gets. Oftentimes I question why people read this blog* when most of the time all I've got going on in my life is cats.
Take today for example.
I woke up at 5:30am, which is about average. I then check my personal email, see what's happening with my East Coast Facebook peeps, then check my work email. At 7:00am Alexa alerts the cats that it's breakfast time, so we all go downstairs where I feed them. I then do household cleaning and chores until around 8:00am when I hop in the shower and get ready for work. I am usually out the door around 8:30-ish for my 7-minute walk to the office.
I try to be out of the office at 4:00 (today I left at 4:10) and walk back home.
Today there was some excitement when I spotted an old cat with patches of fur missing walking through several yards until it decided to rest on somebody's porch (no idea if that's where home is)...
Once I got home at 4:20, I worked until Alexa chimed for the cat's dinner at 6:00pm. Since I received a notice from Home Depot that my carpet squares had arrived, I decided to run to The Big City (20 minutes away) and pick them up. Afterwards I wanted to have fries for dinner, but was too tired to make them by hand. I was going to drive to McDonalds, but Sonic was closer so I went there.
Huge mistake.
I rarely go to Sonic because they don't have vegetarian options. I only go there when they are having an ice cream promo or some kind of drink special. I've never had their fries before. AND I WILL NEVER HAVE THEM AGAIN! Holy crap! They were not very fresh, barely warm... AND THEY WERE GUMMY! As in, you had to chew through their saggy, bleak texture in a way that is usually reserved for gummy bears. And then there's my OREO Sonic Blast (AKA a McFlurry). The first third of the cup was as expected. A good distribution of OREO pieces that were large enough that they tasted like OREO. The second third was just OREO crumbs. Just a dust, really. And the final third? NOTHING! NO OREO AT ALL!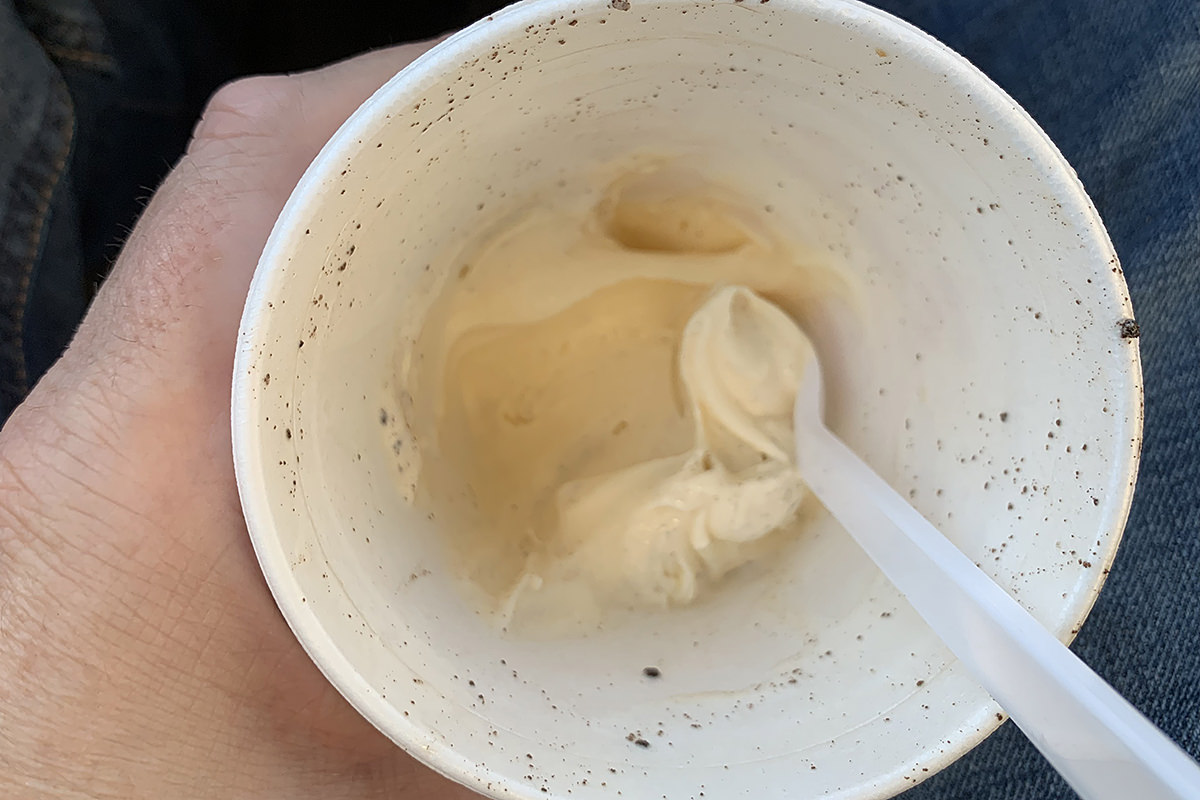 How the fuck did Sonic get to be "America's Drive-In?" Their half-assed food is a blight on the entire country!
Oh.
Never mind.
Anyway... I head home and immediately get to work carpeting my Cat Bannister Tray when I arrive around 7:10pm. The squares were way thin, but surprisingly nice considering how cheap they were. The good news is that I have lots of spares if my cats decide to destroy the ones I installed...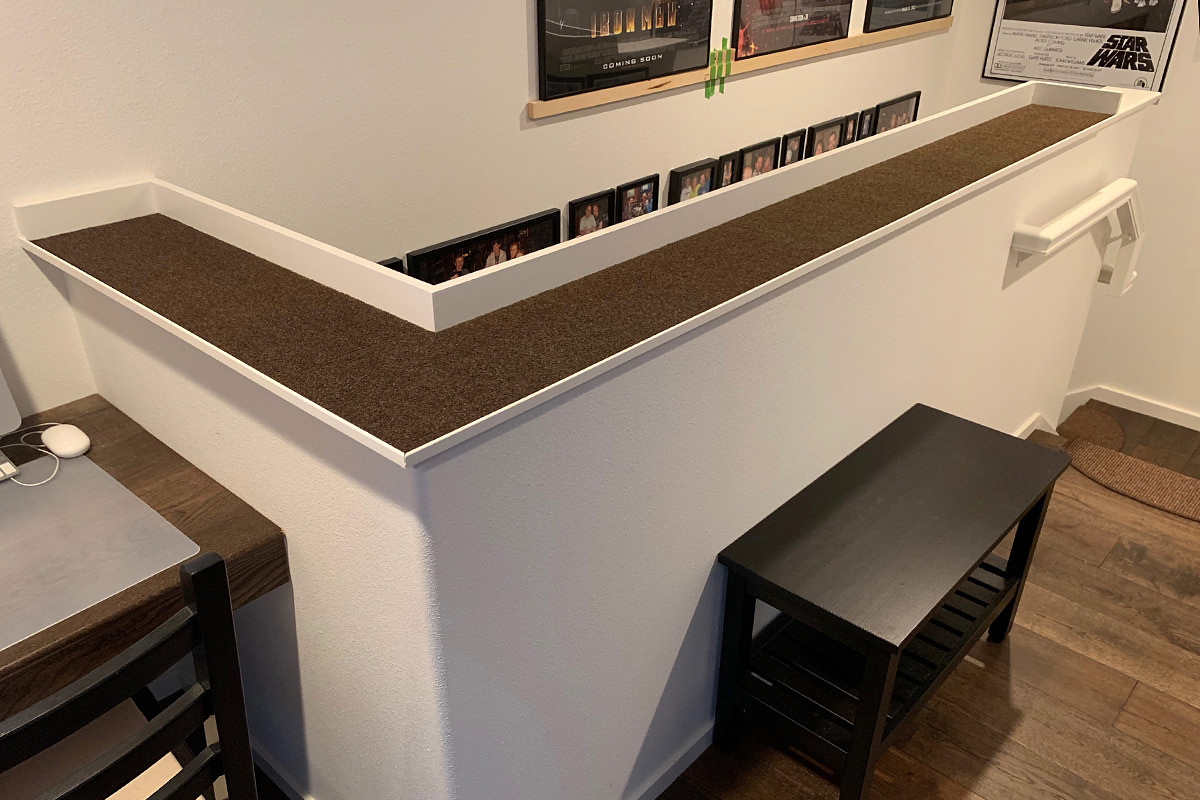 And that was that.
At some point I'll build the cat-stairs up to it so it's safer for Jake and Jenny to get up there... add a shelf under the upper window so I won't go out of my mind with worry when Jenny leaps up there (nearly two full stories above the stairs below!)... and then my project will be completed. At least until I think of something else to add to it.
Around 7:40pm I threw a load of clothes in the wash then finished up a work project a little after 9:00pm.
Then it was clothes in the dryer, catching up on television, clothes out of the dryer, and I was in bed at 11:30pm so I can blog this then start it all over again tomorrow.
Thrilling, I know.
But hey, not every day can be an expedition to Antarctica.

*Yes, people actually do visit this blog. A lot. The interactivity I had from the heyday of blogging is long gone, but my wide variety of topics and daily updates means that Google sends scores of people here every day. Though it's not all search results... most days the number of people coming here directly is fairly substantial. No, I don't know why. You tell me!