Posted on October 5th, 2019

I try to keep a clean home at all times. Partly because I never know when people will drop by, but mostly because I just like living in a clean home.
When it comes to cleaning, it's mostly about my cats. They drag toys everywhere. They leave fur everywhere. They track kitty litter everywhere. They bring dead bugs in from the catio. That kind of thing. I'm not saying that I don't make messes of my own, but I am saying that most of the cleanup requirements are not because of me.
Carl the RoboVac helps. He does a very good job of sweeping up kitty litter and fur day-today. But he has his limits, so I end up having to vacuum things like stairs and moldings manually once a week.
And then there's the deep-cleanings.
I used to "deep clean" every other month. Then it was four times a year. Now it's twice a year in March and October (or possibly when I have company staying with me, especially if they have cat allergies). It just doesn't make sense to be cleaning all the time when my cats are just going to get fur over everything. The most important deep cleaning is the Spring. So much dirt gets tracked in over the winter that it's pointless to do any thorough cleaning after the snow falls. So I just wait until March when the snow has gone and things have dried up.
My October deep cleaning is happening over the next couple weeks. Everything gets moved and taken apart. Everything gets scrubbed. Everything gets washed. Everything gets cleaned. It's a lot of hard work, but worth it because I know that my house is free of filth. For a few days, anyway.
The problem is that Jake and Jenny always want to "help."
Deep cleaning is something different and new for them to get excited about, so they are always all over anything that gets moved and investigating every little thing I do. Unless there's noise involved, at which time they run and hide.
Which is why I always vacuum first. It's just easier that way.
I juuuusssst finished vacuuming five minutes ago.... Annnnd they're back already. Apparently there's something happening outside that they simply must look at...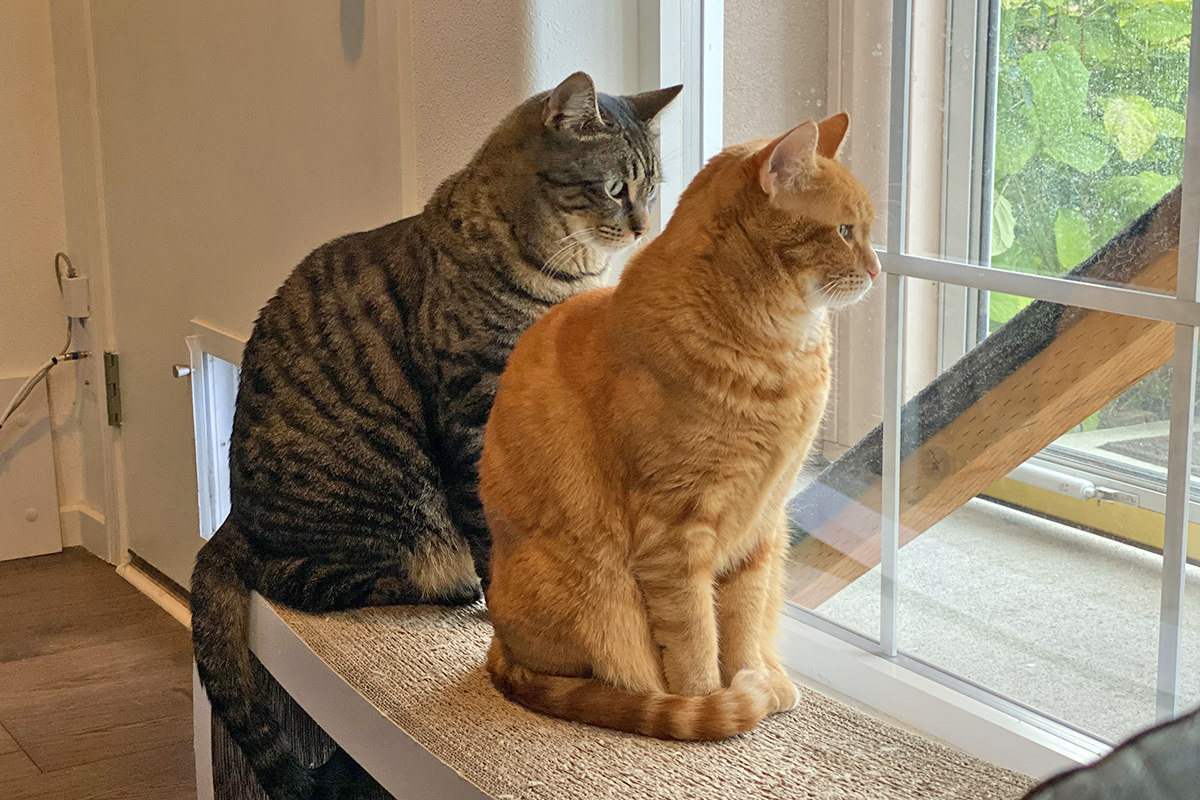 Used to be I could count on them to hide for at least an hour when the vacuum comes out. I guess those days are gone...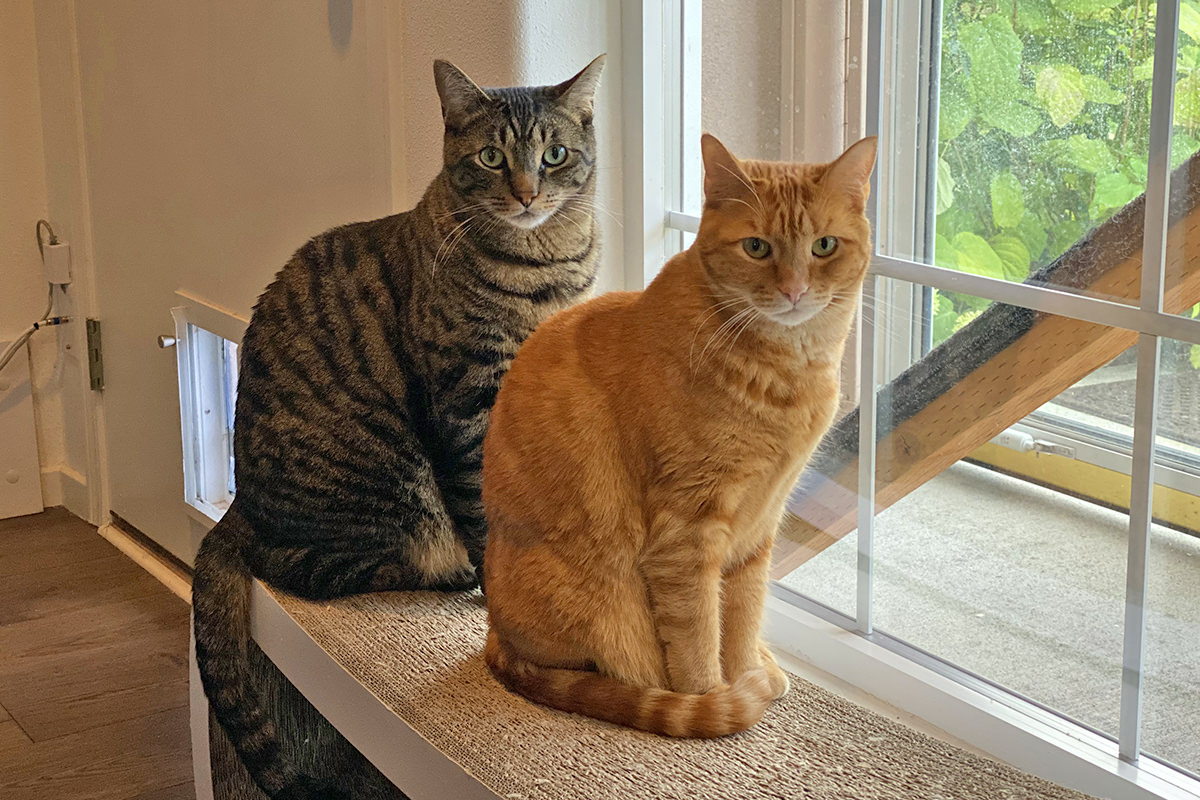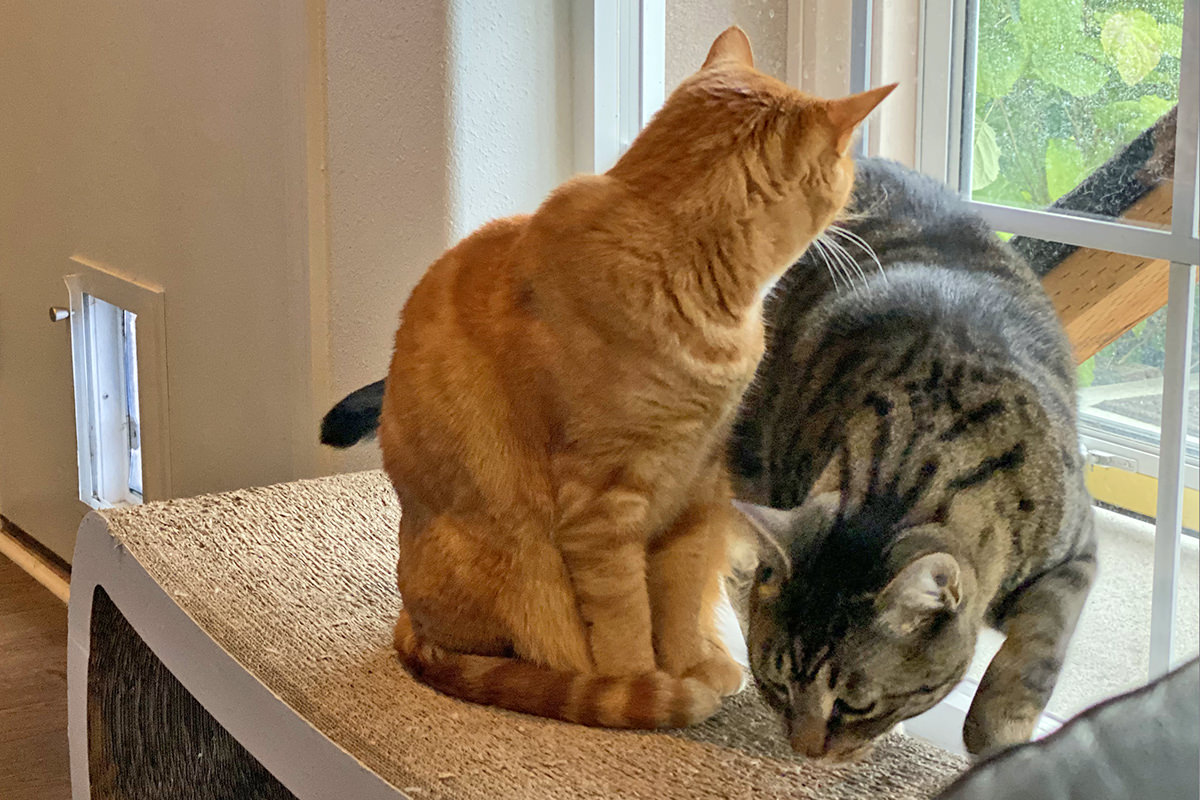 It was probably Fake Jake, who has been hanging around ever since I put the heated winter shelters out for him. Real Jake isn't quite so threatened any more, but Jenny is still mostly terrified. She hisses at him even when she knows she's not in danger...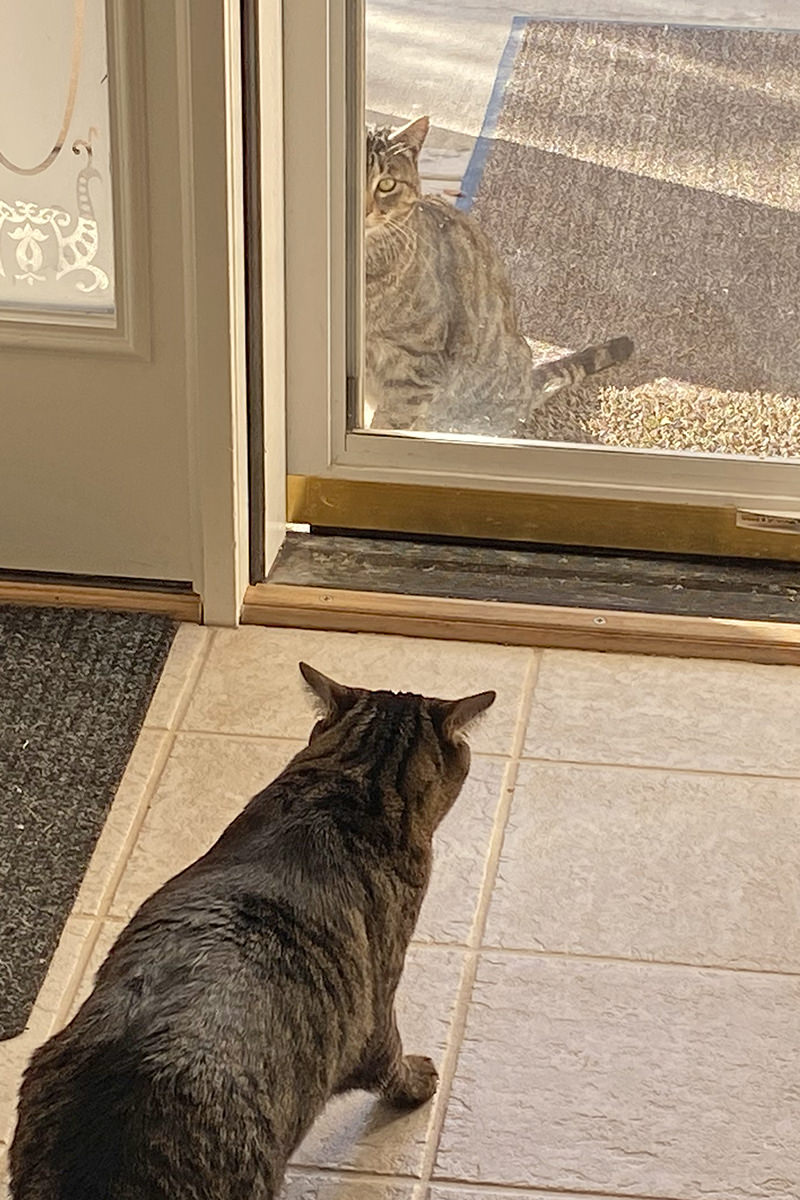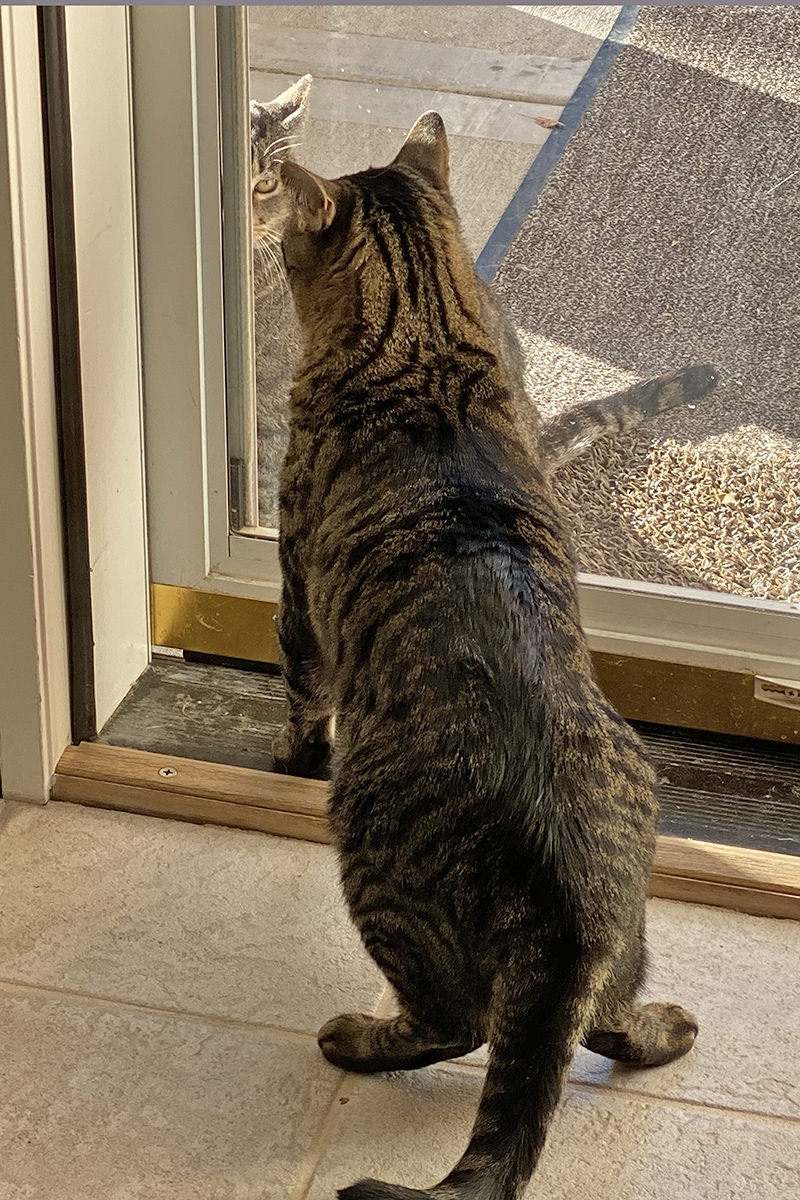 There was a part of me that hoped I could eventually bring Fake Jake inside, but it's just never going to happen. He's horribly aggressive towards other cats and I Would never risk him hurting Jake and Jenny. So... my neighbors and myself do the best we can to take care of him and make sure he has shelter and food. The heated kitty igloos are a favorite spot for him to hang out when it's cold or raining, and I still have cameras inside so I can see if he's hurt or sick or needs help...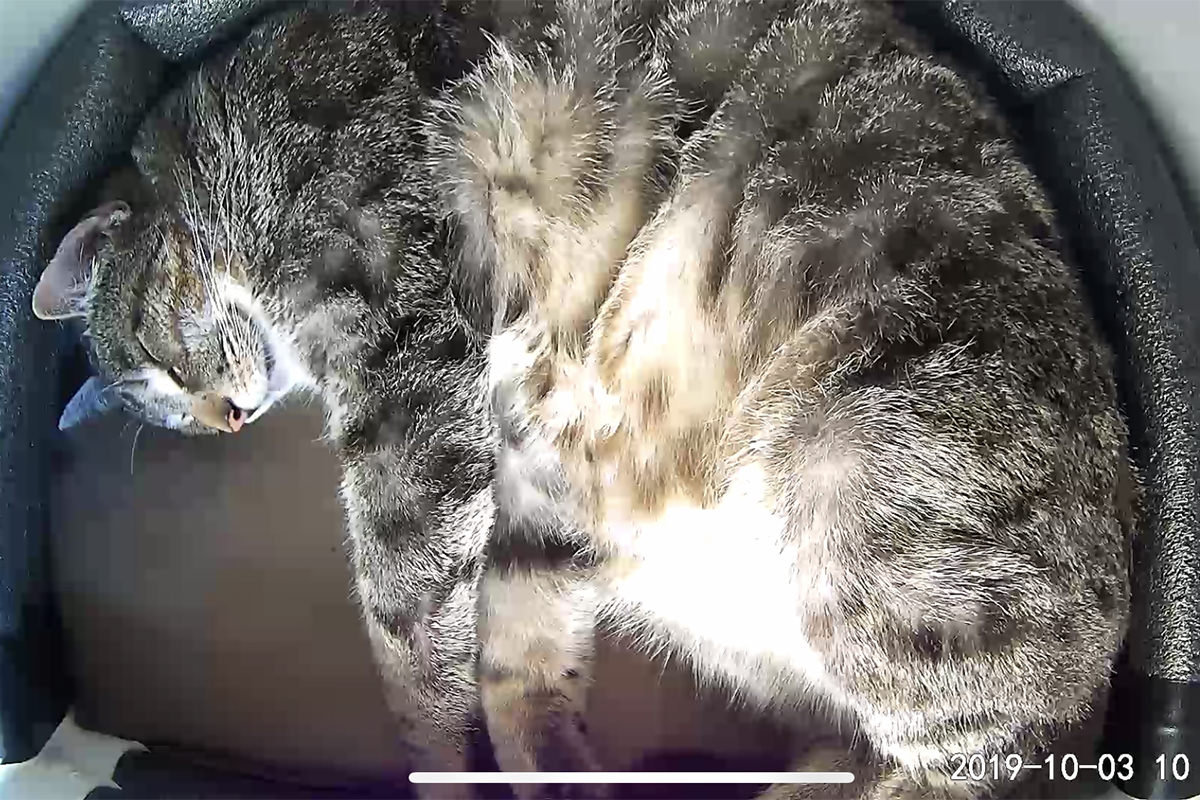 My cats are happy inside now that I've turned the heat on and put out the kitty beds for them to sleep in... or half-in...
See you next Caturday!
Posted on October 3rd, 2019

It is easier to set my Alexa alarm to 7:04am than to reset the clock on the cat auto-feeder which has been gaining time and drifting a little bit later and later every day. So that's what I did last night. There's no sense messing around with the feeder until stupid Daylight Saving Time ends on November 3rd.
This morning Jenny was NOT having it.
At 7am ON THE DOT she was on my bed meowing her head off wanting breakfast and was very cross indeed that Alexa hadn't chimed in on that. Can you imagine what my life will be like in November when I have to set the clocks back and she has to wait ONE HOUR?!? No extra hour in bed for me... I can guarantee that. Actually it will be two weeks of no sleeping in, because I change their clock in 15 minute increments over time until they are off DST. Apparently it helps them adjust easier...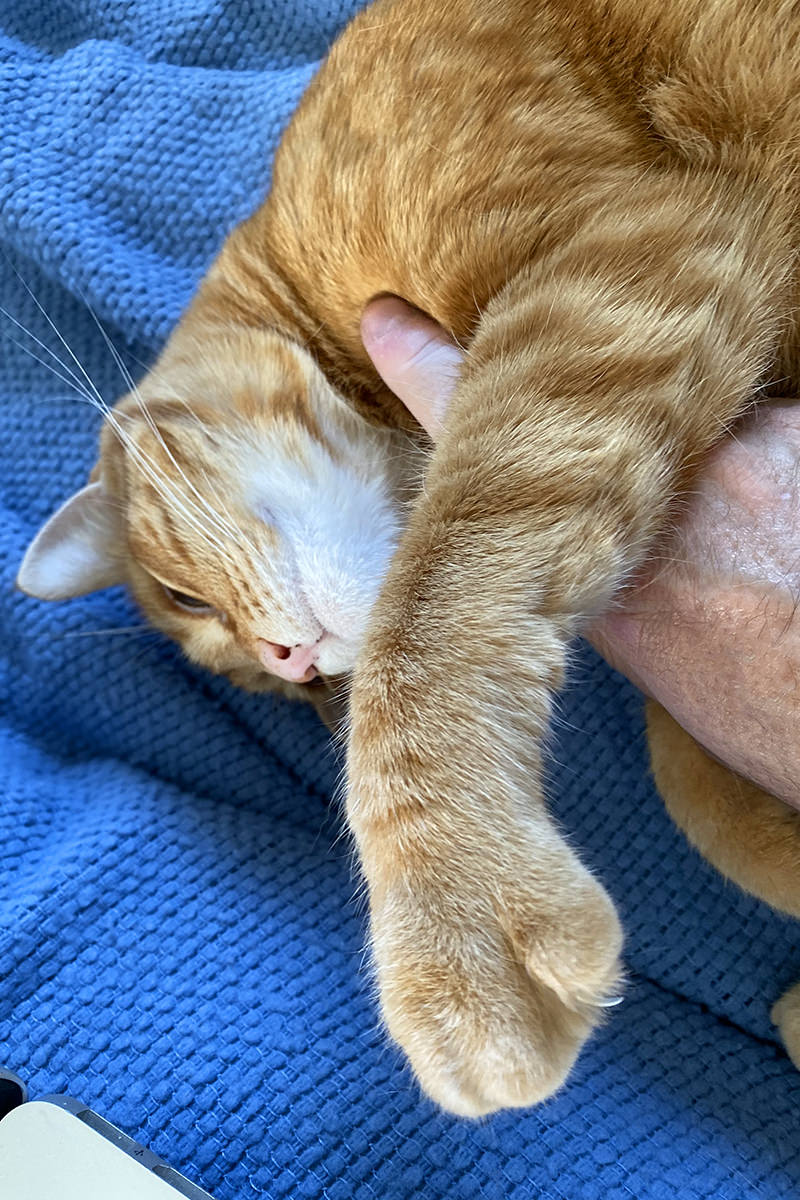 In other news... I was very nervous testing my blood sugar this morning. After all the potato salad I ate last night... and the huge bowl I had just before bed at 1am... I was sure it would hit 300. But nope! My spleen totally had my back and was a chipper 117 this morning. IT'S A POTATO SALAD MIRACLE!
Not a bad way to start my Thursday.
I am celebrating by having a bowl of potato salad for breakfast.
Posted on September 28th, 2019

What happened to the transition between Summer and Fall? Does anybody know?
Usually there's a "grace period" before it starts getting really cold... but not this year. One minute it was blue skies, sun, and warmth... the next minute it's overcast, dreary, and cold. This is a bit of a bummer because I like a month with a low electricity bill since I'm not running the air conditioner or the heater. This year it was just three days before I made the switch.
When it's cold, there's nothing better than a warm cat laying on top of you. Jenny doesn't do this very often, but Jake is totally into it...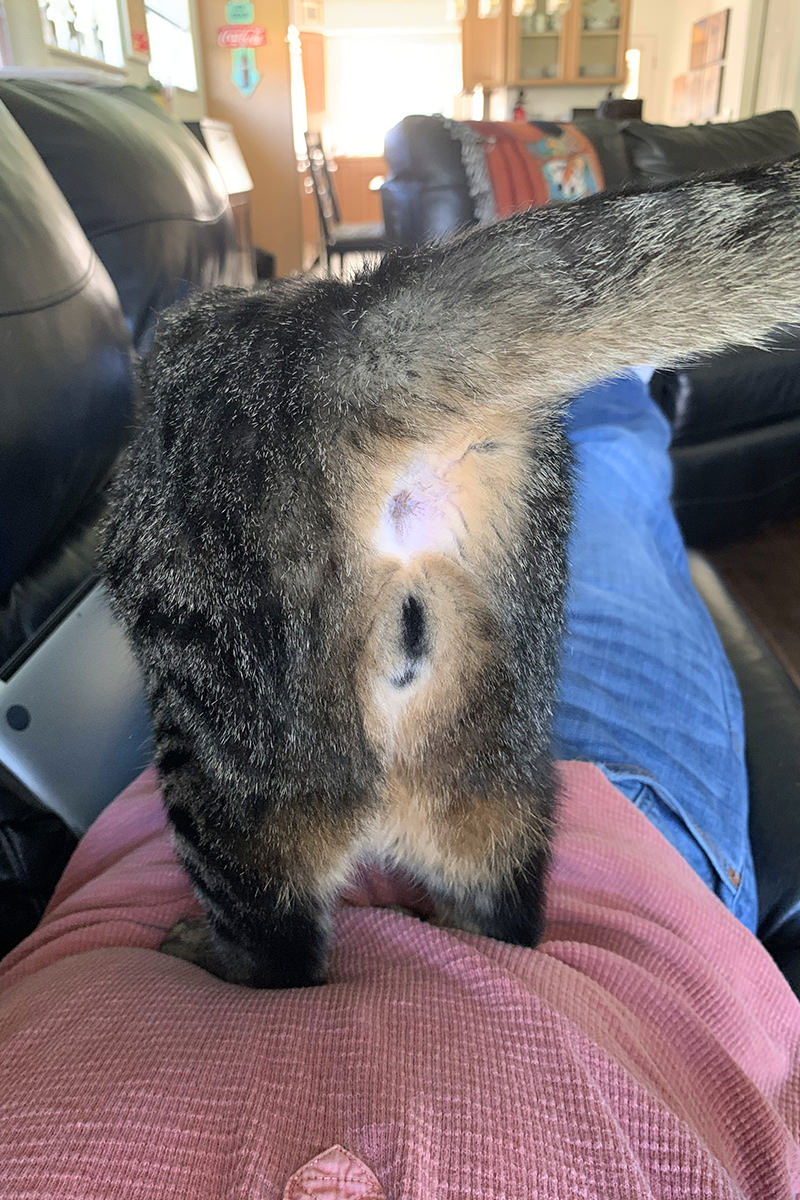 Um... not exactly what I had in mind.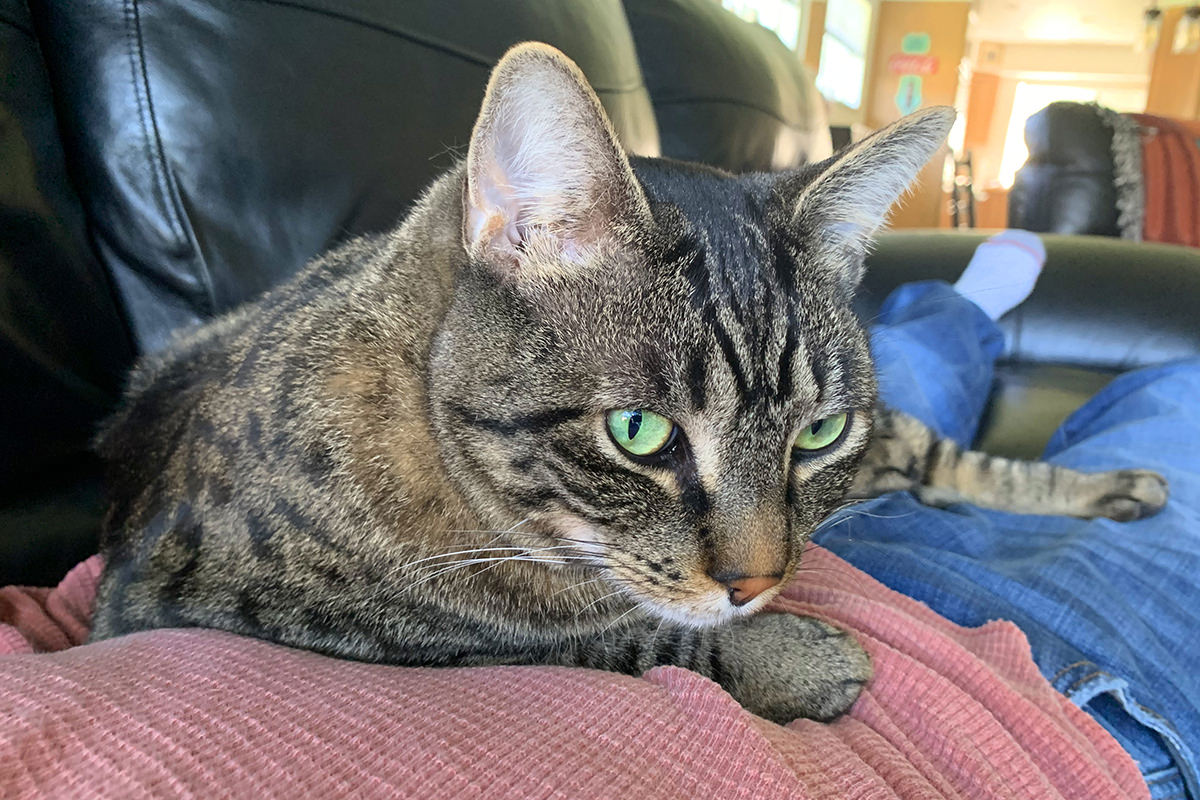 Oh that's better! In other news...
Jenny has had a floopy whisker since she was a kitten...
A while back it fell out and left me wondering if it would grow back straight or floopy again. I noticed it was back... and, yep... it's floopy again. This makes me strangely happy, because it's one of the things that makes Jenny uniquely my cat...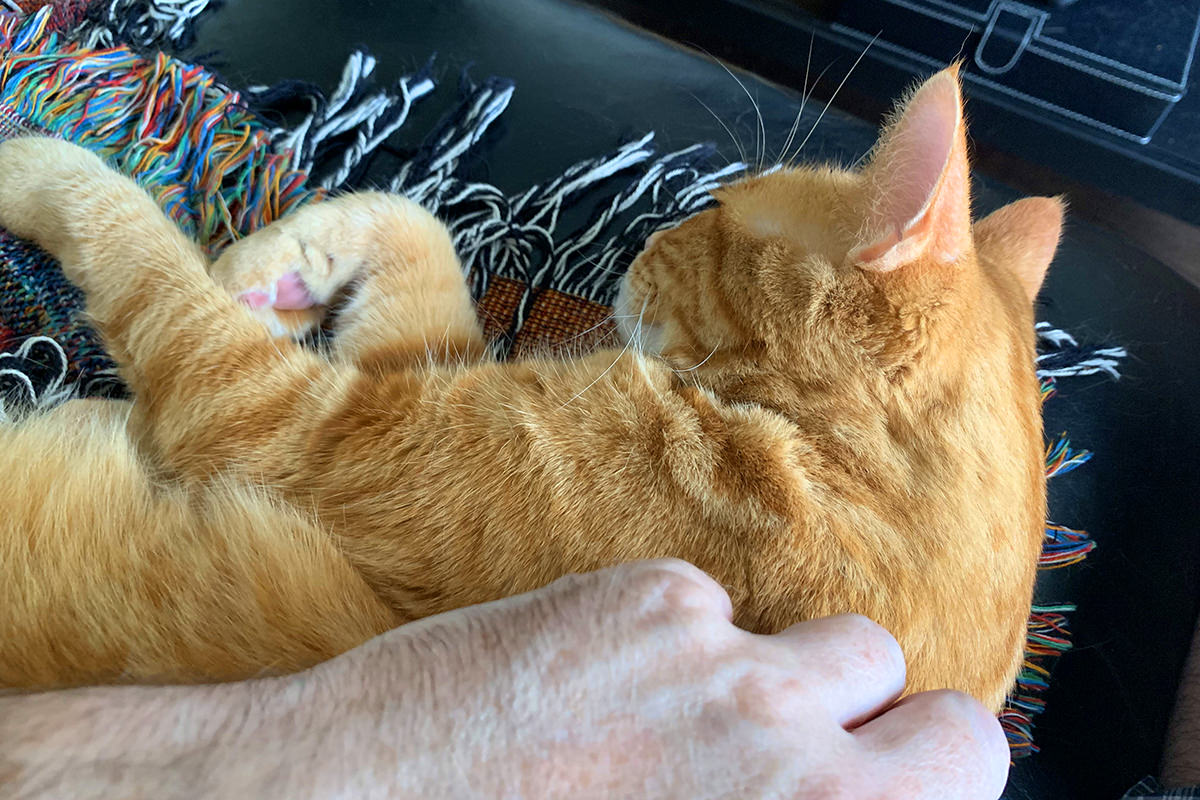 With the weather getting colder and rainy-er I set out the cat shelters for Fake Jake. On Friday I saw that we were due for a cold snap this weekend, so I braved the rain to install heating pads. Good thing too, because Fake Jake has been all over them...
He showed his gratitude by running up to me for butt scratches when I ran out with the garbage. Unfortunately, I left the door open and Jake and Jenny saw me betraying them for another cat...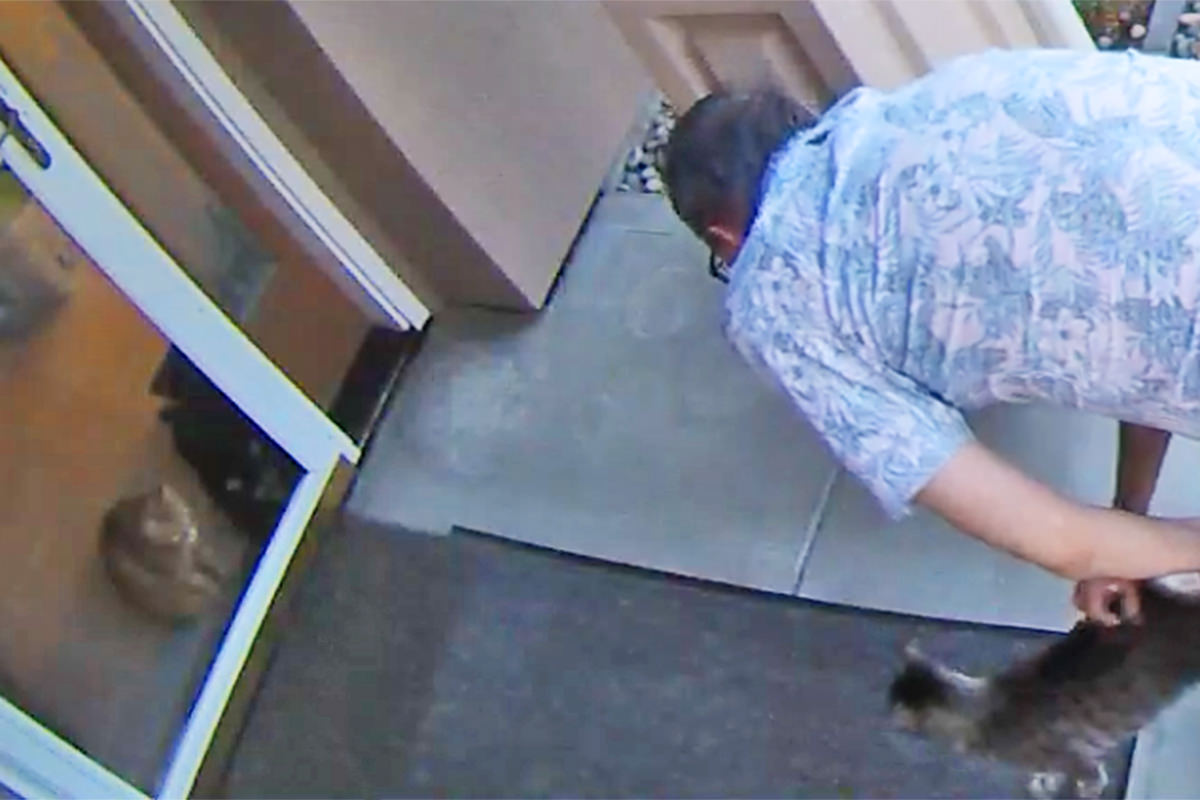 I tried making up for it by giving them their own butt scratches, but they seemed oddly detached...
Anxiously awaiting them pooping in my shoes.
See you next Caturday!
Posted on September 27th, 2019

Facebook has a features called "Memories" which allows you to revisit posts for the day of years past. Most of the time, it's kinda cool to look back and see what was happening last year... three years ago... five years ago... and so on. Other times? Not so much.
A year ago today I was burying my mother.
It's weird... very weird... to think back to that day.
She had died three months prior, but it took a while for her marker to be made and shipped from the Veteran's Affairs office. I ultimately decided to go with the free marker they provide to veterans because the local funeral home had gone out of business and I just didn't want to shop for another one. Also? I really liked the simplicity of it all...
Placing that marker was symbolic of so many things.
For the previous three months I had been in a constant state of stress and anxiety. Closing out accounts. Paying off bills. Writing thank you notes. Sending out death certificates. Disposing of possessions. — It's a million and one things and it seems like it will never, ever end.
Until the marker is set, you write an obituary, and it does.
Except it really doesn't, of course.
It was never a sprint, it was always a marathon. And as I sit here one year later, I'm really glad I didn't know this back then or I probably would have gone insane.
Though it's early. I still might.
In the meanwhile, I have cats to keep my mind off things...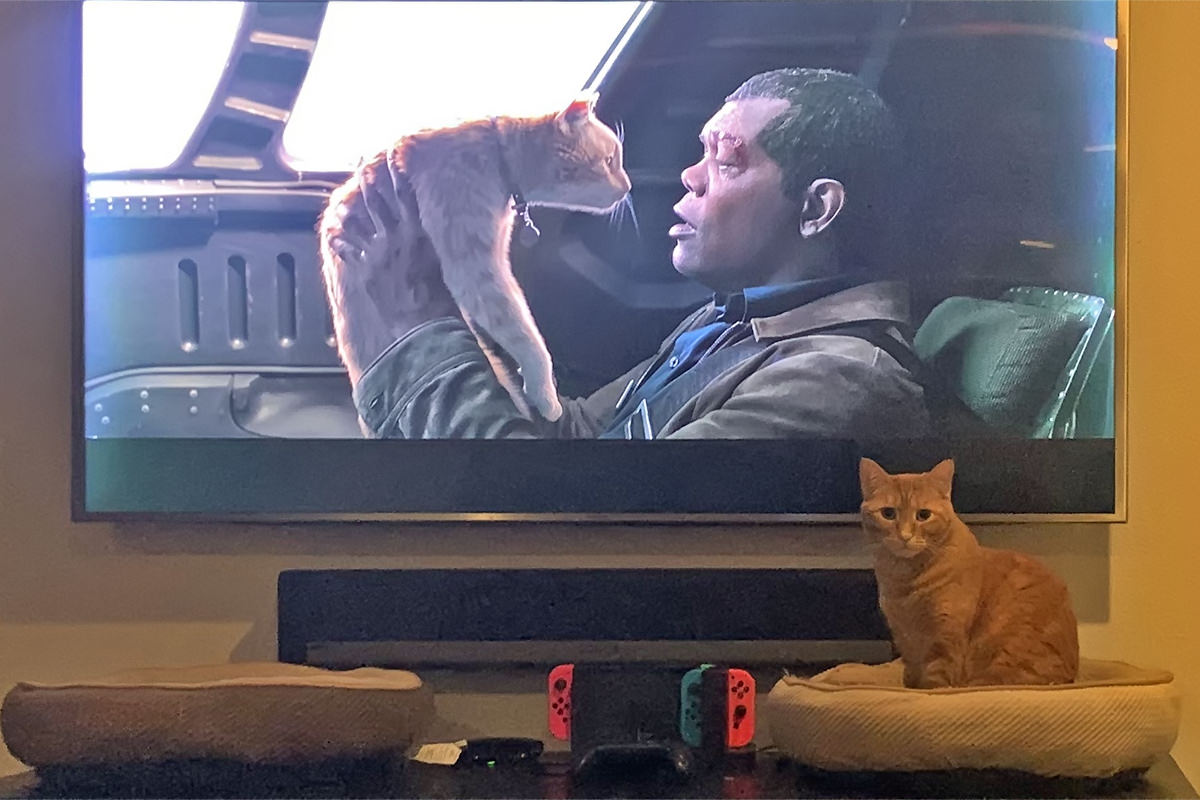 A job for which they are exceptionally well-suited.
Posted on September 26th, 2019

This morning I woke up to a news report that there will be a cold snap in the Cascades starting Friday night. Snow is expected to accumulate anywhere from 4 to 10 inches.
Oh hell no. I am not ready for snow.
Now, usually I don't panic on these things, because any snow that lands will melt in short order this early in the season. I'll be driving over in the afternoon and there likely won't be much of anything on the ground. On top of that, I have been driving in the snow all my life and am pretty good at it, so it isn't a concern. And I have chains just in case things get unexpectedly bad.
But my snow tires expired last year which means I have to get new ones this year. This is a definite cause for concern. If you wait too long, it will be slim pickings or... worst case scenario... there will be a waiting list because they're all sold out. Making matters worse, sometimes you can't get an appointment to get your new tires mounted, balanced, and put on your car because the appointments are fully booked.
So this time I ain't waiting.
I made an appointment during my lunch, and away I went. And now my car has pretty new shoes...
If I drove a lot, I would probably have waited a month to save some tread. But I drive so few miles each season that my tires expire long before the tread is too low to be legal, so I figured I'd just beat the rush so I don't have to worry about getting an appointment when the snow hits.
Buying tires is kinda a weird deal. The advice is always "Buy the best tires you can afford!" because so much is (literally) riding on them. I always followed that advice for my mom's car... buying her the absolute best tires I could get, regardless of cost. When it came to my own car I was far less picky. I always bought mid-quality all-weather tires that were half the cost (and I never bought snow tires). When my mom couldn't drive any more, I donated my crappy Saturn to the veterans and took over the car I got her since it was newer and less crappy. It's a cheaper model 2007 Toyota Corolla, but it's clean, dependable, and in great shape. Since I already had the snow tires for it, I went ahead and had them put on.
And was subsequently shocked at how nice it was to drive through snow, slush, and ice with proper winter tires on!
It's so nice that I don't ever want to go back to all-weathers for winter driving, even if that means I have to spend money I don't have to get new ones. Because not having to brake six feet early on icy roads so you don't slide into an intersection is totally worth it. I remember one time I was driving to the airport at 4:30 in the morning and had to turn around and take an alternate route because my car didn't have enough traction to drive my regular route. At the time I was like "Oh well." But now I know this wouldn't have happened if I had winter tires, so driving my mom's car has been a game-changer.
Especially to my wallet.
In other news...
My cats haven't left tributes in a while. This morning I awoke to Blue Ball, Pretzel, Moose the Mule, the skin from a toy that's been ripped off the cat tree (which they brought in from the catio), and a ball of cat hair. No idea what they are wanting. Maybe it's to turn the heat on? I think it must be to turn the heat on...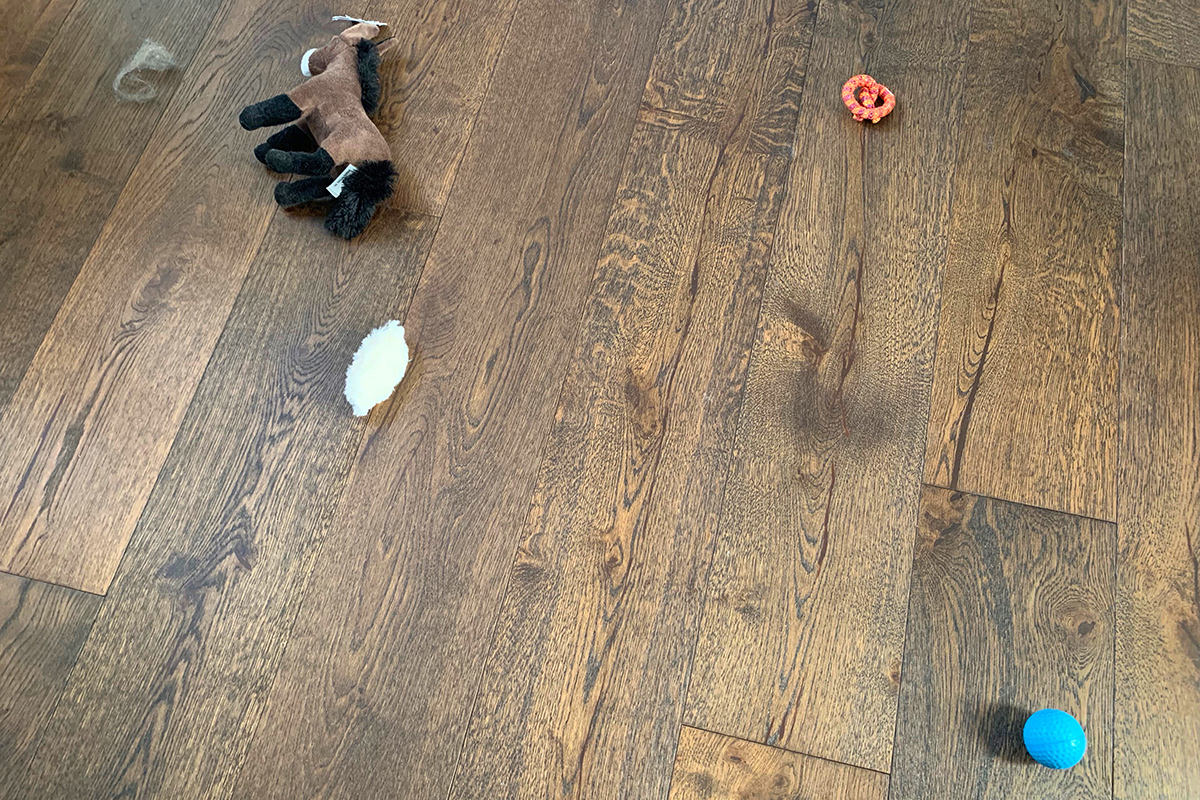 I kinda miss waking up to find what my cats brought me in the middle of the night. They used to do it in exchange for food, I'm guessing. Because once they were trained to wait for the Alexa alarm, they stopped bringing me stuff. Surprisingly, they know enough to not bring tributes to Alexa. Smart kitties.
I wonder if Jake and Jenny will appreciate that we'll be riding on awesome new winter tires when I take them in for their annual vet checkup in February?
Probably not.
Posted on September 24th, 2019

This is the first post I've written entirely on my iPad. Thanks to iPadOS 13 (which was released today) and other apps stepping up their game, it's actually a realistic option for me now.
Not that it's easy, mind you.
It's time consuming and clunky.
Take getting an image to appear in this post, for example. First I have to open the image in Adobe Lightroom for iPad so I can adjust it a bit. THEN I have to save it to my iPad so I can open it in Image Resize, because Lightroom DOESN'T ALLOW YOU TO FUCKING SPECIFY PIXEL DIMENSIONS WHEN YOU CROP A PHOTO. Once I crop it To 1200 × 800, I then have to save it to FTPManager Pro so I can upload it to my blog. It sounds simpler than it actually is. And it doesn't end there. I then have to open up my WordPress admin panel to write the actual post. But since I want to use images where I put them instead of where WordPress wants them, I have to copy and paste code from old entries into new entries.
Like these photos of Jenny going after a fly in the window this morning...
She's adorable, I know.
Eventually (hopefully) one of these days it will be a more streamlined process to edit and upload images and write posts. I'm guessing it took me three times longer to post this on my iPad than it would have on my MacBook Pro. With practice, perhaps I could get it down to twice the time? I dunno. Right now I'm just happy I can do it. An iPad is a lot easier to lug around than a laptop.
Posted on September 21st, 2019

As I mentioned last Caturday, I ordered a brand new cat tree to replace the disgusting pile of filth that the old one had become. My biggest worry was that the cats wouldn't like new cat tree smell and reject it. So after I put the new one together on Wednesday, I thought I'd keep both trees out so there could be a transition. Turns out it wasn't necessary. They were all over the thing from the minute they saw it...
During their dinner time I hauled the old tree to the garage so I can eventually rebuild it. The new one slid to the old location and the cats didn't seem to notice that anything was different...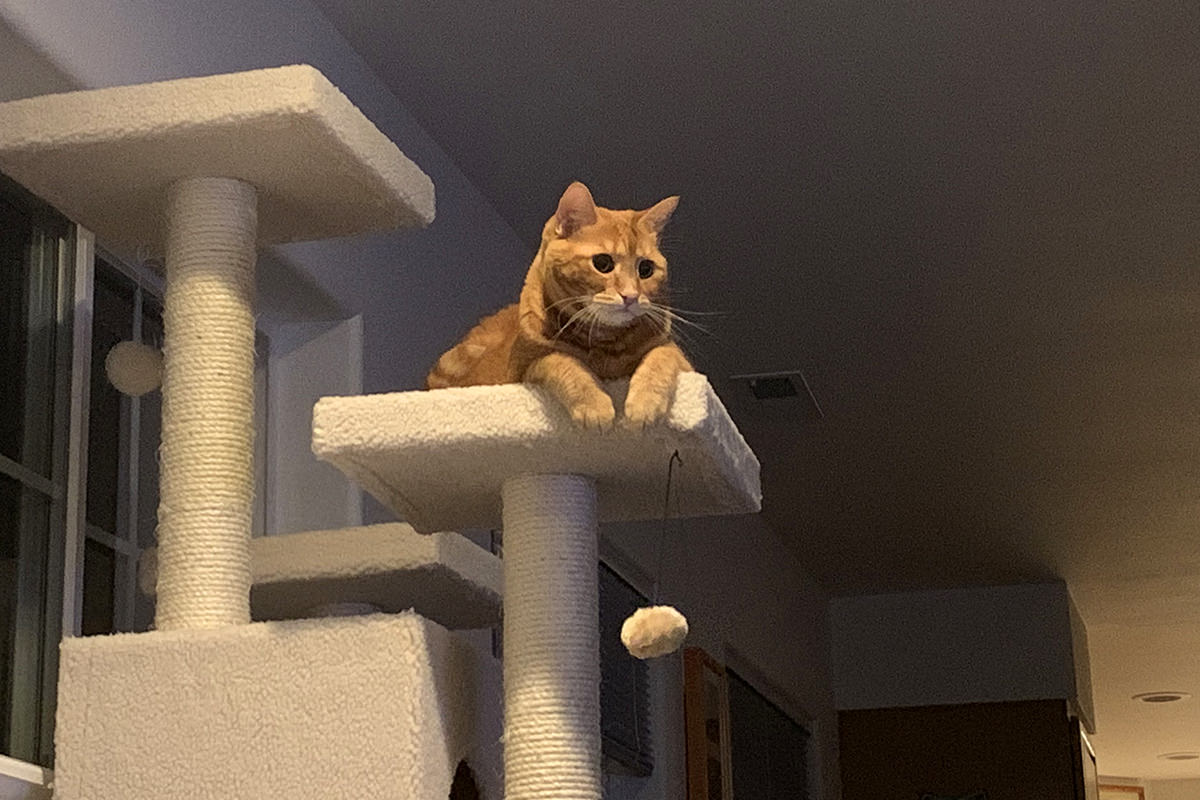 Yesterday I heard some commotion in the dining room. Not knowing what I was in for, I walked in and saw that Jenny was on the dining room table. At first I was all "GREAT! NOW I HAVE TO DISINFECT THE TABLE AGAIN!" But then I saw how neatly she had bundled up the table runner that I had up for dinner last weekend, and was all "Awwwww! Aren't you just the cutest thing!"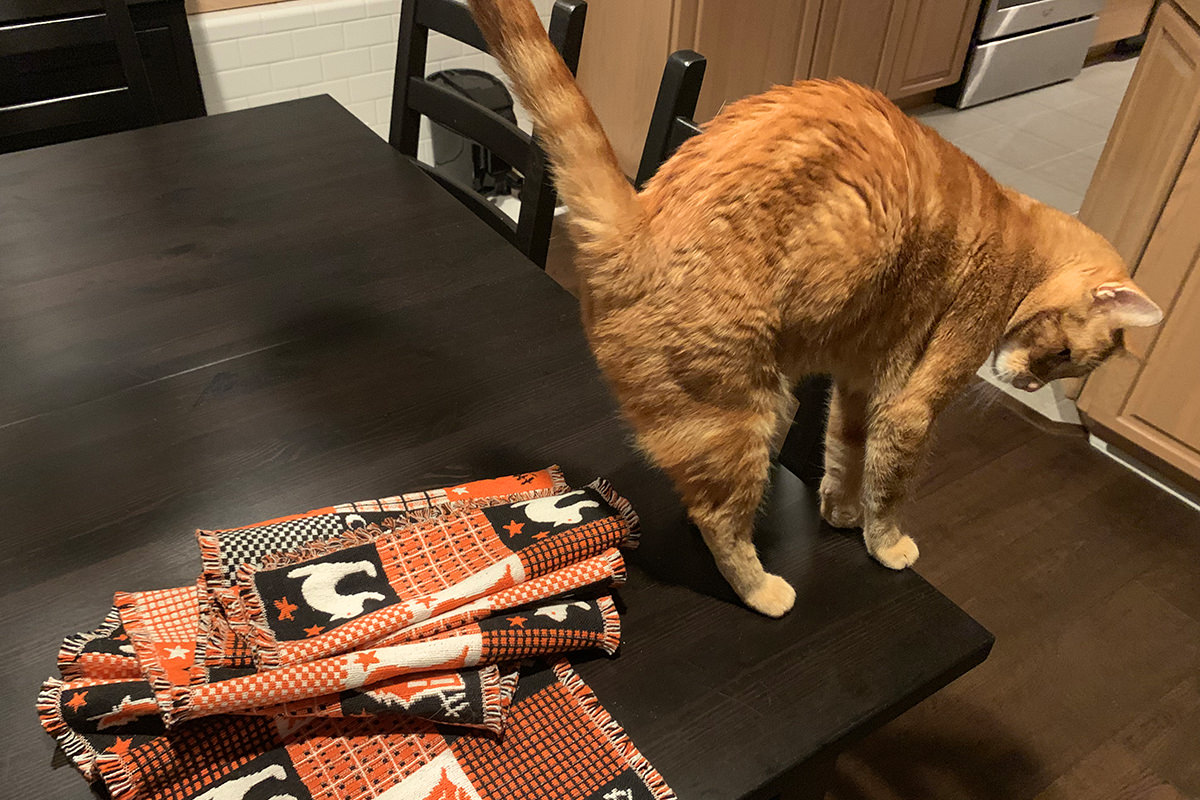 And she really is. I just melt every time I look into that little sour-puss face. And since it's been getting colder, I brought out the cat beds they like to snuggle up in this time of year. So now I get to look into her little sour-puss face every evening when I watch television...

First I added a second blanket to my bed... then this week I added my electric blanket. Something Jake and Jenny just love. But this year Jake has been all over it...
He even gave himself a pedicure on it the other day...
Jenny is pretty aggressive when grooming her claws... but Jake takes it to the next level. There were times I honestly thought he was going to rip his claws right off his foot.

and that's all the cat-news for another cat-week. See you in seven cat-days... same cat-channel... same cat-time!
Posted on September 20th, 2019

I've been having a tough time of it lately. I either pulled something in my leg... or twisted something in my leg... or maybe it's a blood clot in my leg... or perhaps nerve damage... I dunno. All I do know is that it feels as though all the bones in my left leg are being broken over and over again. It's excruciating. And sleep has been tough to come by because of it.
My guess is that it will probably have to be amputated. But I suppose that's for a doctor to decide.
Today I was too exhausted and in too much pain to get anything done, so I left work early to drug up, wrap my leg in hot packs, and take a nap.
I don't want to brag, but it was a huge success. I slept so good that there was a cat on me when I woke up. That's some great sleeping right there...
I would have liked to have stayed in bed for the rest of the day, but I have a massive to-do list that I need to be working on before winter arrives.
First up was figuring out why some of my SONOS speakers are showing up as "offline" to Alexa. It happened after the last update and it's been driving me crazy. It's also been driving the cats crazy, because one of the speakers that Alexa can't recognize is the speaker which plays their breakfast and dinner alarms.
The horror.
A half hour later and I eventually solve the problem by uncoupling my surround sound setup, making all the speakers be individual "rooms," then running "discovery" so Alexa could see all of them again. Then setting up my surround system from scratch again. What a pain in the ass that was.
But that's technology for ya. Making things easier for you while making things more difficult at the same time.
But try explaining that to a cat.
Posted on September 17th, 2019

Remember when I said that I would not be dragging Jake and Jenny's filthy cat tree back into my home? Remember also when I said that I ordered a replacement that will be here Wednesday, and they can just deal until it gets here?
Well...
Jake had decidedly different ideas about that.
He's been spending all his time out in the catio lounging on it... and whenever he's in the house, he's whining to me about it... or looking mournfully out into the catio at his favorite place to hang out.
I felt so bad that I really had no choice but to drag that filthy thing back inside last night...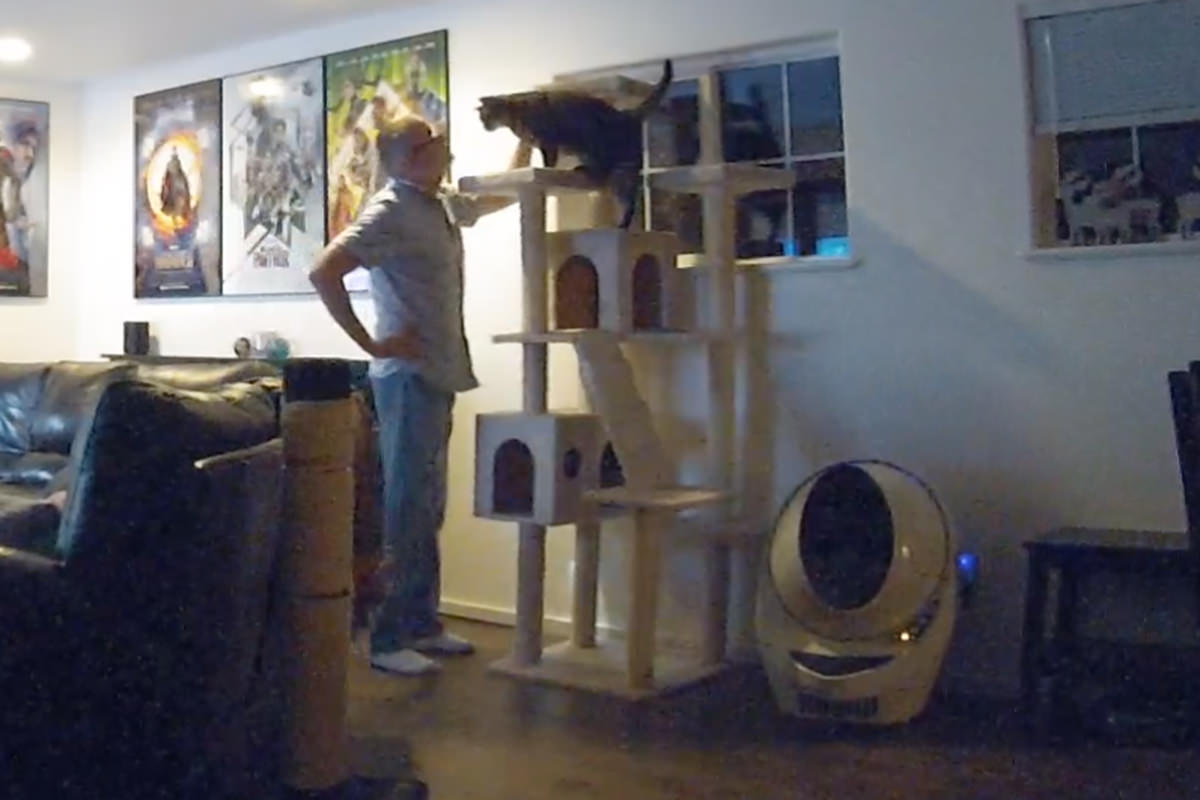 The new cat tree is supposed to arrive tomorrow. If they don't take to it, there's no way... no way... I am dragging this gross thing back in my home. There's just no way.
Posted on September 14th, 2019

And so begins the season when I have houseguests coming and going. Since I spend most of my time here alone, I rather enjoy the company. Jake and Jenny, on the other hand? Not so much.
Despite trying and trying and trying to get them accustomed to other people, they are having none of it. They hide in the storage closet attached to my bedroom and don't come out until the coast is clear. This becomes a problem when I have overnight guests, because they gotta eat, drink, pee, and poop.
I've kinda solved the problem by moving their food, water, and upstairs Liter-Robot into my bedroom and closing the door. It's not a perfect solution, because if there's any noise at all going on in the house, they won't come out to use them, but at least they know they are there when things settle down.
And it's better now than they used to be. Instead of continuing to hide when everybody is asleep, my cats will roam the house until people wake up. Instead of taking days or hours to recover and come out of hiding, they are out reclaiming the house within minutes of my guests leaving.
Even so, I'm thinking of doing some work in the storage closet to make things more cat-friendly. Maybe rethinking things so that they have more comfortable places to hide? Add some ramps and scratching posts to make it more fun?
I feel bad about them feeling they need to hide, so the least I can do is try to make it easier on them.
And speaking of feeling bad...
This time I had people with cat allergies coming over. This is, technically, not a huge problem... thanks to my air purifier, Carl the RoboVac, and a good deep cleaning... but there is one thing that makes a real deep cleaning impossible... the ratty old cat tree that Jake and Jenny love. Thanks to the cheap, ugly fuzzy fabric which covers the thing, it's impossible to keep clean. It's so gross, but I dare not get rid of it. Instead I temporarily moved it to the catio.
Jake was livid. Boy was he mad. He was squawking at me while I was moving it.
Jenny just sat there staring at me like WTF, dude?
So they've been out in the catio all over the thing... still angry at me for having moved it...
The top of the cat tree is Jake's favorite place to sleep so he's out there all the time, bless his little heart...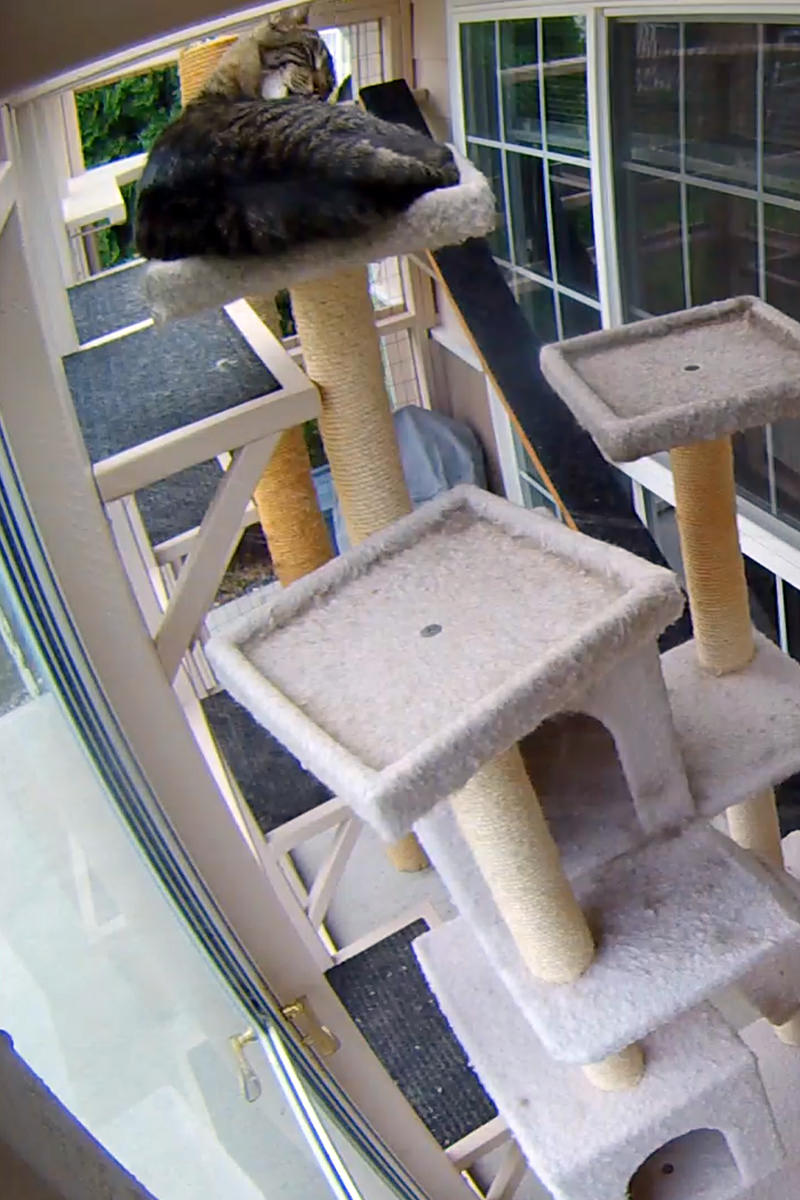 Just look at how disgusting the thing is! And this is after I vacuumed it! I honestly don't want that filthy thing back in my house, so I made a decision. Well, two decisions, actually. First I ordered a replacement cat tree of the exact same model. Once it arrives on Wednesday, I'll put it together and hope that they will transition to it. Then, come Spring, I'll take the old cat tree, strip it apart, then rebuild it from better materials that I can actually keep clean. Should be a fun project. I hope.
In the meanwhile? Here's to my cats not hating me too much.