Posted on November 12th, 2017

Put on that winter jacket, because winter is here along with an all new Bullet Sunday, which starts... now...

• Save It! I hate, hate, HATE the messing with the clocks twice a year. Daylight Saving Time ended a week ago, but my cats still haven't fully adjusted. Hell, I haven't fully adjusted yet either. At some point somebody has to end this madness.

• Canes! Back when I was traveling to L.A. twice a year, I decided to take an early run to Disneyland to get a handmade candy cane at Christmastime. It was insanity. The line to get one was crazy-long (now I guess they just hand out wristbands or something?) and they are really expensive ($10 when I bought one... probably $15 now!). And yet... a freshly made candy cane during the holiday season? Magic! Worth every penny! I'd buy one again... though the standing in line to get a wrist band is kinda a waste of Disney-Time! And speaking of raising canes at Disneyland, I just found this cool video...
I wonder how tough it is to make your own candy canes at home?

• Reveal! After watching a show on the beautiful restoration of Michelangelo's Sistine Chapel, I became more than a little obsessed with the art of restoring art. And why I've been captivated with art dealer Philip Mould's Twitter feed where he's been sharing some restoration photos like this one...
Amazing. I need to see if I can track down a blog where they keep track of stuff like this.

• No Wonder! This is incredibly fucked up.

• It's a Wonder! This, on the other hand, is incredible.

• Dance! This is the best thing I've seen on the internet this week, even though it's four years old...
Except bats eating grapes. It doesn't get cuter than bats eating grapes...
There. I can face another week now.

Time for a hot chocolate, I think. See you next week... I'll be the one bringing the bullets.
Posted on May 20th, 2014

Today started out so badly, but ultimately ended up being a really good day.
Mostly because I got to go to a huge candy show with Jenny (of RunJenRun fame) and then drop into a sugar coma.
And because I got to make my own custom box of Tic Tacs...
I called mine GREEN PASSION... and it's a mix of Green Apple and Passion Fruit...
After work I went out for dinner and saw that Disney is pulling out all the stops to promote Angelie Jolie's Maleficent...
Trump Tower Chicago is such a pretty building. But I guess The Donald must have run out of money because only the "T" and the "R" are up on the building... and only the "R" has the lights on...
On the way back to my hotel, I spotted these two lonely Safety Men... guarding nothing...
But at least they have each other.
Which is nice, because then it started to rain.
And thunder.
And lightning.
Which made sleeping a bit of a challenge.
As if insomniacs didn't already have it bad enough.
Posted on February 23rd, 2013

I got almost nothing done today. But it wasn't for lack of trying.
I actually started working when I woke up at 4:00. But since I didn't get to bed until 2:00, I was asleep again at 7:00. At least I was until I was awakened at 7:30. After that, I tried working off and on all day, but could never quite get into it. About the only accomplishment I can lay claim to is backing up my photo library and geotagging a couple hundred photos (I swear by all that's holy I will NEVER buy another camera without GPS).
Other than that? Nuthin'.
Which is tough considering all the stuff I've got on my to-do list.
In other news, I've taken up cigarettes again...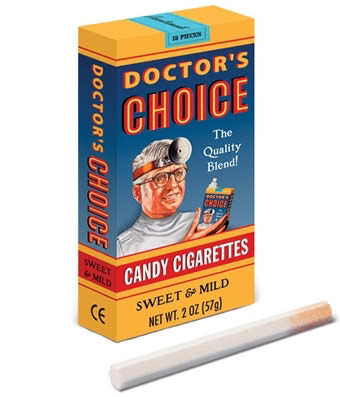 Judge me all you want, but nothing calms my nerves like a nice candy cigarette.
Posted on April 19th, 2011

As I write this, it's 8:11pm on April 19th, 2011. Thanks to events in Terminator 2, Skynet has just become self-aware and we're all doomed. I, for one, welcome our machine overlords.
Anyway...
You know how when you go to eat a Reese's Peanut Butter Cup how you have to go through all the hassle of removing that stupid brown paper cup? What a horrible waste of time! Who wants to mess with that crap? I buy Reese's Peanut Butter Cups because I want to eat them... not because I want to play around with stupid paper!
Well, the people at Hershey must have felt my pain and frustration, because they've released NEW Reese's Minis. Tiny little peanut butter cups that are UNWRAPPED, just like God intended...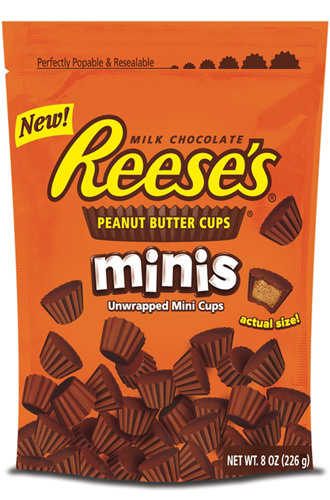 So now there's no time blown on futzing with that stupid paper cup. You can just tear off the top and pour them into your mouth directly...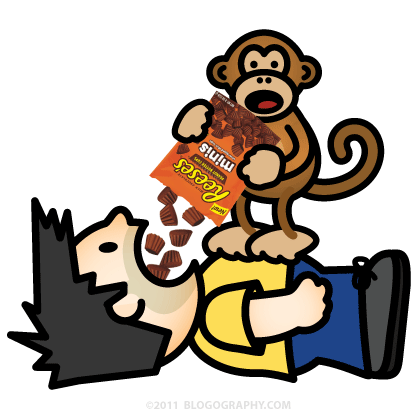 Now THAT'S how I eat a Reese's!

Annnnnnnd... SHIT! My entire website is down. Either Media Temple is dicking around with things AGAIN, or Skynet really has become self-aware, and I will never be able to post this entry!
Looks like Blogography has been terminated. :-(

UPDATE: Annnnnnnd... we're back.
Posted on January 30th, 2011

I just realized that I blew past my 4-year anniversary of Bullet Sunday back in October. NO CAKE FOR YOU!

• I DO COCAINE! Today was not the best day. I'm still not sleeping properly, which has me wondering why I haven't collapsed from exhaustion. Must be all that cocaine Coke I'm doing drinking. It all started when I woke up at 4:30am (after falling asleep around 1:00am). On the way to the bathroom I smacked my foot into the cupboard closet. Getting into the shower tub, I smacked the other foot. After getting dressed, I walked hobbled the five nine minutes to the tram stop... where I just missed my tram. Since there's a limited schedule on Sunday, I had to wait 22 minutes for the next one. In the cold. And of course I didn't wear gloves or a coat over my sport jacket, so I froze. To get relief for my busted-ass feet, I sat down on the bench... which is metal. Cold metal. Worried that my ass might freeze to the seat, I decided standing was better no matter how painful. My troubles weren't over once I boarded the tram, however, because when we got to the next stop there was a delay. Which means I missed my connecting tram. Lather. Rinse. Repeat.

• I TAKE PICTURES! Trying to take my mind off my frozen ass, aching feet, and the fact that I was now going to be ten minutes late to work instead of twenty minutes early, I took pictures of the frost that had accumulated on the tram stop glass. It's kind of strange... kind of beautiful...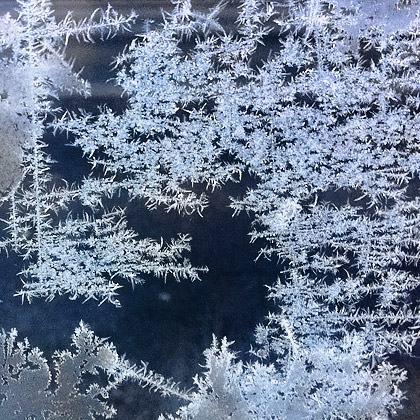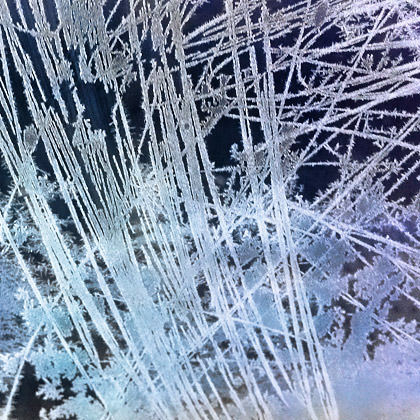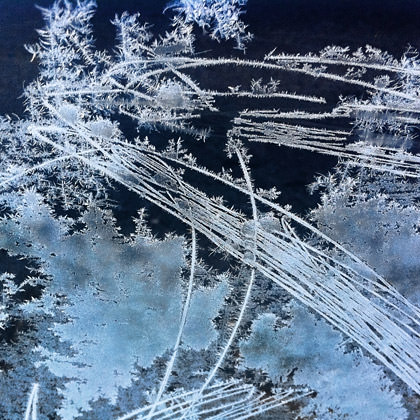 • I MOURN CHOCOLATE CHICKENS! On my way back from work at the candy show yesterday, I spotted a very cool giant chocolate chicken that some company had put on display. I wanted to take a photo, but my iPhone was somewhere in my backpack and I was too lazy to retrieve it. Instead I made a mental note to go back today and snag a shot. Much to my horror, THIS is what awaited me...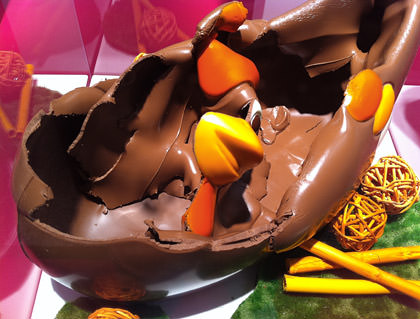 "HOLY CRAP!" I shrieked like a five-year-old girl, "THE CHICKEN... SHE'S MELTED!" And then, realizing there were other people in the room, I looked at my feet and whispered "I will avenge you, my fallen chocolate comrade." Apparently, shining a nice hot bright light on a hollow chocolate chicken is paramount to disaster. Oh well, it's sadly comforting that somebody is having a worse day than I am.

• I WORK LIKE A DRUNKEN SAILOR! Though my day may have personally sucked ass from walking on two aching feet for the better part of 8 hours... from a work standpoint it was quite rewarding. I was busy all day long and the hours flew by. But then I stopped to grab a sandwich for lunch and the world came to a halt when a man and a woman sat down at the table opposite me.
They were the single most perplexing and rude eaters I have ever encountered.
I am not exaggerating when I saw hogs have better manners.
At first I was mortified. The display was so horrendous that I lost my apetite and could barely choke down my sandwich. But, after a while, my revulsion turned to fascination. How in the hell does something so anti-social and balls-nasty ever develop? Such filthy manners simply cannot occur in nature... it's as if they were trained to be this nasty. Despite myself, I used my iPhone "Voice Recorder" to capture the sheer horror of the sounds (I'd have recorded video, but I never want to re-live that terror). This is what I witnessed...
Shoveling. The spooning of food to their maws never stopped... even while chewing. This caused food to fall out of their mouths as they ate, which they would then shovel back into their mouths.
Smacking. They were incapable of chewing with their mouths closed, and smacked louder than anybody has ever smacked before. The sound was defening.
Snorting. The man would make a loud, gag-inducing snort after every fifth or sixth bite.
Blowing. Apparently the snorting wasn't working well enough, so he'd blow his nose (loudly) into his napkin every five minutes... while continuing to chew with his mouth open!
Spitting. This was the worst... the man would regularly spit things back onto his plate. His dessert was an apple, which he would slurp and smack for a dozen chews, then spit the mangled apple peel out! It was all I could do to keep from vomiting.
Coughing. Saving the best for last... during his shoveling, smacking, snorting, blowing, and spitting... the man would go into a coughing fit, blowing half-chewed food out of his mouth. It would land on the table...on the floor... even on people walking by! Of course he couldn't be bothered to cover his mouth... that would mean he'd have to stop shovelling!
Scarred for life, I eventually had to walk away. There's only so much of this you can take if you ever want to eat again.

• I CURSE LIKE A BEE! My iPhone has the ability to roam globally on the world's GSM network. AT&T partners with a number of different carriers in most places and offers (relatively) affordable data-roaming packages that work extremely well. EXCEPT IN GERMANY! As I blogged previously from Berlin, data and voice service on my iPhone with AT&T's roaming partner "E-Plus" sucks copious amounts of donkey schlong. When I got a call from Marc yesterday at the train station, the call quality was so bad that I couldn't make out what he was saying. Data is an absolute joke, because I've used up 75% of my megabytes and have nothing to show for it. Web pages don't load. Emails get stuck while downloading. 3G drops constantly and won't re-connect... I usually have to end up rebooting my phone two or three times just to make a Gowalla check-in, because a reboot is the only way I've found to get data back. And all the while you are struggling to get any kind of data connection, your expensive allotment of megs is running like water. I know that AT&T's is not responsible here (I have zero problems in every other country I've visited), but I still blame them. They shouldn't advertise that you can roam in Germany when, for all intents and purposes, you can't. I have screenshot after screenshot after screenshot showing the problems, so hopefully I can get my money back...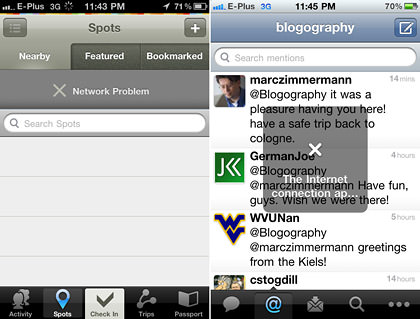 • I EAT SOMETHING I CALL DINNER! Instead of making the long trek to my favorite fried-potatoes-and-mayo place (again) for dinner, I stopped at a nearby kebob shop for greasy potato goodness. Unfortunately, they tasted awful, and I had my fill half-way through. I thought I might go drop my stuff at the hotel then go back downtown for a proper dinner, but I was tired and the trams run infrequently on Sundays. Soooo... I ended up eating candy samples for dinner (since I'm not a buyer, I generally don't take any samples at the candy show, but some companies give them to you anyway). Needless to say, it will be interesting to see how much sleep I get while fighting this sugar-high and nightmares of food-smacking whores. Anything over two hours would be a gift.

And that's all she wrote.
Tomorrow. Cologne. I'll go to Cologne, and I'll think of some way to get my appetite back. After all, tomorrow is another day!
Posted on May 25th, 2010

The highlight of my day was watching Jenny eat chocolate-covered bugs.
I would have totally eaten chocolate-covered bugs too, but I'm a vegetarian.*
*Honestly, if I wasn't a vegetarian, I would have been yumming those bugs right up! Crickets? Mealworms? Grasshoppers? Bring 'em on! This has absolutely nothing to do with me being afraid of insects or wimping out. Not even a little bit.** I could totally go Survivorman on some bugs!
**Okay, maybe a little bit.*** This is all about putting bugs in your mouth and chewing them up, after all.
***Or a lot. One of those two.
Posted on September 28th, 2009

Okay. Yesterday I wrote about the wonderment that is Ghost DOTS!
And now I found something even better. Something so great that it is FUNDAMENTALLY LIFE-CHANGING in its AWESOMENESS!!
Because there is a new Halloween Assortment DOTS Bag which, in ADDITION to Ghost DOTS, also includes Candy Corn DOTS and Bat DOTS!! I know it seems too good to be true, but here they are...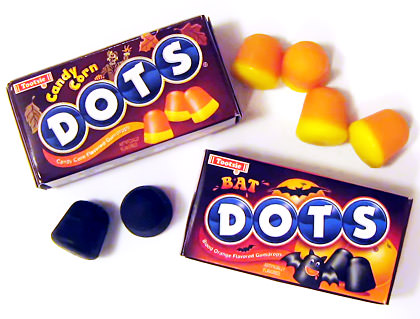 The Candy Corn DOTS taste kind of like... well... candy corn.
The Bat DOTS look like they'd taste like licorice, but then don't... they taste like Mandarin Blood Oranges!
Both of them are pretty frickin' sweet.
This is shaping up to be the best Halloween ever!
Posted on September 27th, 2009

Sweet! It's the 150th edition of Bullet Sunday!
• AT&T FAIL! I am quickly becoming disenamoured with the AT&T mobile service for my iPhone. At first, everything was swell and I found the service to be on-par with Verizon, my previous mobile provider. But as more and more people jump on the iPhone bandwagon, AT&T's service keeps getting progressively worse. When I was in Las Vegas, I tried to place a call to Jenny across town (who also has an iPhone). We could not get a call to connect for more than a few seconds no matter how many times we tried. Then when I was in Alaska, I was barely able to make phone calls or use data over Edge in any port. I can only guess that the service is overwhelmed whenever cruise ships pull into port (which must really suck if you're a local). You'd think AT&T would build more capacity for these obviously high-use areas, but no. They don't even have 3G. It's as if AT&T is totally shocked over the massive success of the iPhone, and never bothered to prepare otherwise. Dumbasses. If Apple is smart, they'll choose NOT to renew their exclusive contract with AT&T and spread the congestion around on other networks. Which is where I'll be if AT&T doesn't get their shit together.

• Ghosts! I like Halloween for a lot of reasons, bit the biggest? THE CANDY! In addition to Candy Corn, which is one of my favorite sweets, I like all the "fun-sized" versions of my old favorites. Even better is the "special edition" items that are released just for the holiday. Like GHOST DOTS! It's one of the best candies ever...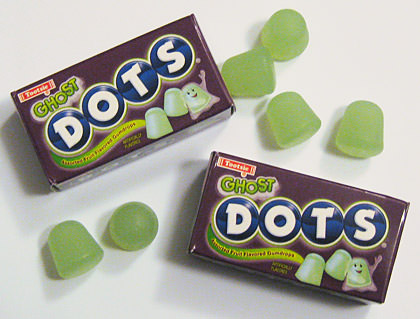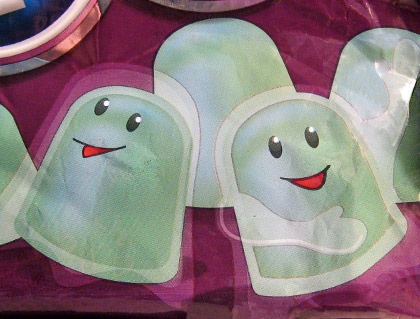 Awwww... cute! And delicious! Even though the pieces all look the same, they are actually flavored just like the original DOTS candies. The package says "Which Flavor? Which Ghost? IT'S A MYSTERY!" which just makes a fun candy even better!

• Bears! After going through the 317 photos that were worth keeping from my trip to Alaska, I've come to the conclusion that I love bears. Of all the images I took, the pictures with bears are far-and-away my favorites...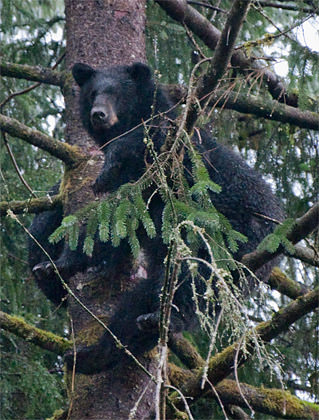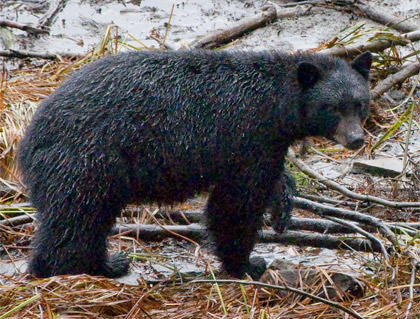 One day I've got to plan a vacation that revolves around bear-watching. That would have to be one of the best trips for a photographer ever.

• Search Me! Today is Google's 11th birthday! Amazing how in all these years that no other search engine has come along which can touch it. I had hopes that Microsoft's "Bing!" would at least pose a challenge and up the search game, but so far I've been unimpressed. Here's wishing Google more innovation (and a little luck!) for another 11 years.


And now I suppose I really should finish unpacking so I can start re-packing for next week. Life. She is a viscious circle, no?