Posted on November 23rd, 2018

Black Friday is the one day of the year I set aside to shop for clothes. Not in stores, of course... never in stores... but online. I put aside money every month so that when today arrives I can buy my clothes for the following year at 40% to 80% off. This year all my savings went to pay for vet bills, so I didn't end up buying a stitch of clothing. But it wasn't a big deal. I have a pile of summer clothes I bought for my Hawaii vacation (but didn't get to use because Jake got sick) and I still have loads of winter clothes left from the stuff I bought for Antarctica last year.
Guess I'll be wearing a lot of Hawaiian prints next year at Summertime. I rather like Hawaiian though, so I'll survive.
And so... no new clothes. But that doesn't mean I didn't purchase anything for Black Friday. On the contrary, I just blew my tax refund before I even have it! Something I try very hard not to do... but there were some bargains I could not refuse...

SONOS SUB
Ever since investing in the SONOS wireless speaker ecosystem (which I love, for the most part) I've been saving money for the subwoofer to complete my Dolby 5.1 setup. My existing SONOS speakers already have pretty good bass, but I miss that punch you can feel when watching movies. Problem is, the thing is SEVEN HUNDRED DOLLARS!!! The amount I've managed to save? $120. Which means buying a SUB was a few years off yet. And then SONOS went and had a Black Friday sale for $100 off the regular price...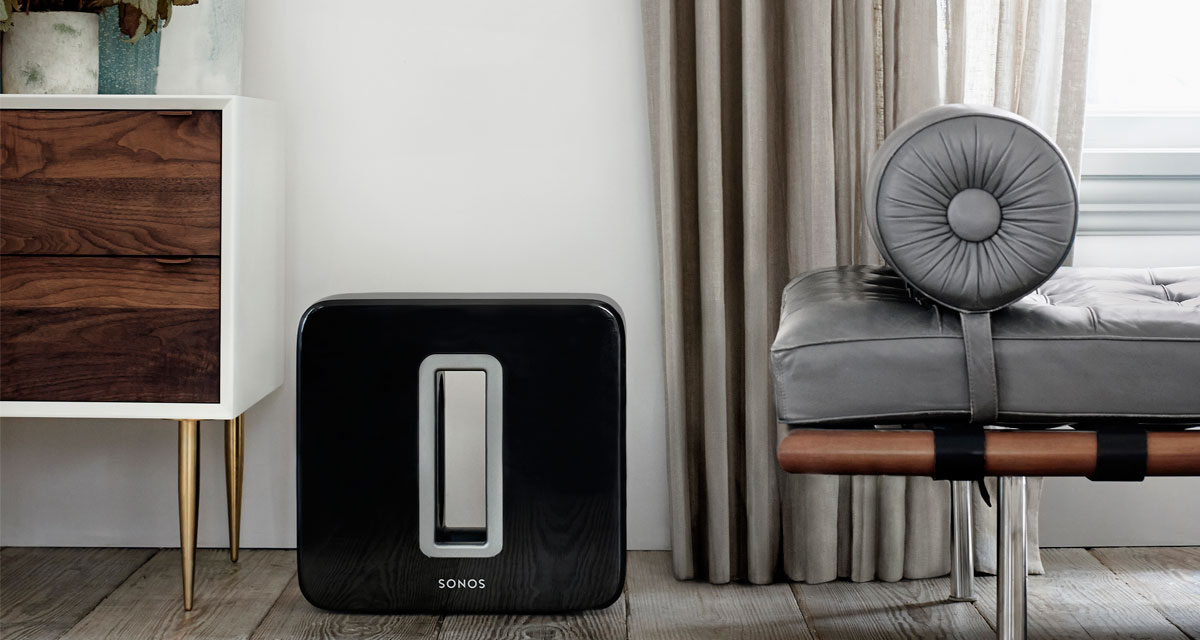 I could not pass up $100 savings, even though I only had a fraction of the remaining $599 I needed. And so... there goes a huge chunk of my tax refund!

Philips Hue LED Smart Bulb Starter Kit
I was set against the Hue LED lights because they were hideously expensive and require a hub. Instead I went with hub-less bulbs that were a fraction of the price. And... you get what you pay for. The cheaper bulbs I bought are crap, and refuse to stay connected to the internet (even though they are practically sitting on top of my Google WiFi router). They also refuse to change color via IFTTT, which is what I use to remind me when it's recycle day. So I made up my mind that I'd invest in the Gold Standard of smart-bulbs (Hue) next year. But then Amazon had the $149.99 starter kit on sale for a ridiculous $79.99, and I couldn't pass that up...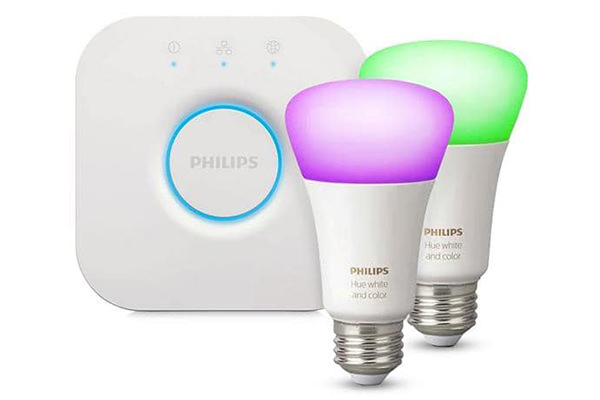 The side-benefit of investing in Hue is that Alexa can control them directly, which is kinda nice. I probably won't be turning my porch lights on manually (they're programmed to turn off/on automatically based on sunrise/sunset times), but it's nice to know I could tell Alexa to do it if I needed her to.

iTunes $100 Gift Card
I buy all my apps, movies, music, and TV shows from Apple. Which is why I wait for Amazon to put their $100 iTunes cards on sale for $80, because it's like getting free money... money I'd end up spending anyway. I do this every year. Sometimes I get lucky and manage to find a different store (like Best Buy) who put theirs on sale as well. $200 covers the bulk of the stuff I buy at Apple in a year, so paying $160 is a no-brainer...
UPDATE: I kept checking all day to see if Best Buy dropped their price. They just did. Not on the $100 card, but $10 off their $50 cards, so I got two of them. Sweet!

Dyson V7 Animal Absolute Vacuum
I am not a fan of Dyson. Their technology is great, but their construction is cheap. I still have the one I bought my mom sitting in the garage with a burnt out motor (which I really need to have fixed one of these days since it's still under warranty). So when I wanted to buy a cordless "stick" vacuum to replace the dying vacuum I use to clean my hardwood, it was not going to buy a Dyson. But when I did the research, the Dyson models came out on top every time. And so I bit the bullet and bought the model they make for pet hair (V7 Animal) because it was on sale for $240 (regular $399)...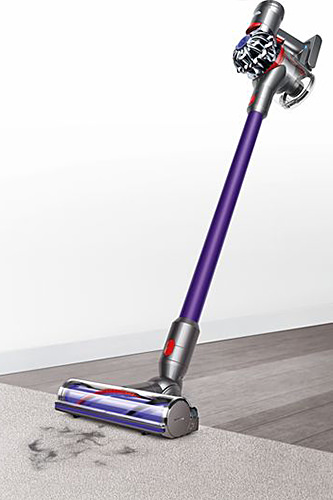 I am really hoping that this last longer than my mom's upright, which didn't even make it a year. I'll only use it once or twice a month (Carl the RoboVac does the day-to-day cleaning) so fingers crossed.
UPDATE: I received a notice from Dyson that the V7 "Absolute" which also comes with a fluffy head for better cleaning on hardwood (which is all I have) was on sale for $238 (regular $450)... two dollars less than the "Animal" I bought that doesn't have the fluffy head! So, essentially I'm getting the $100 head for free, PLUS a "deep clean kit" that retails for $80... plus everything that comes with the "Animal" version. This is pretty shitty... why didn't Dyson offer this deal yesterday with all the other deals? And so... I ordered one of those and will just refuse delivery of the original shipment. If you buy direct you get a money-back guarantee, and I am definitely taking advantage of that.

What I Spent
My grand total for the day? $1078. Factoring in the $120 I had saved up for my SONOS SUB, I ended up putting $958 on my credit card (probably close to $1000 once tax is added). I loathe, loathe, loathe having credit card debt, but I'm trying to be okay with it since I'll be able to pay it off with my tax refund next year. Given that the full price of all the crap I bought was $1580, I can't complain about getting 1/3 off.

What I Didn't Buy
There were a few things I had in the back of my head to purchase. Stuff I want... not need. But once I ended up getting the SONOS SUB, everything else was taken off the table because that ate up way more money than I was wanting to spend. Guess these Black Friday deals will have to wait until next year...
Nintendo Switch Games — Probably wouldn't have time to play them much anyway, so I'm good.
Beats Solo3 Wireless Headphones — I have a nice pair of wired headphones, so I'm good.
Cookware Set — The old stuff I inherited from my mom works fine, so I'm good.
Cat Tree — Jake and Jenny's cat tree is getting pretty raggedy. My ultimate goal is to build one that doesn't look crappy (like most all cat trees do). But, in the meanwhile, I was going to get a fresh replacement. Theirs still works just fine though, so they're good.
And so... until next year then...
Posted on November 25th, 2016

There is no amount of savings that would encourage me to shop retail today. None. Even if they were giving shit away for FREE, I'd still be going into work then hiding at home the rest of the day. Buddhism has taught me not to get caught up in "stuff" and focus on more important things, so fighting over a bunch of "stuff" is about the last thing I'm inclined to do.
That does not, however, mean I won't be shopping Black Friday and Cyber Monday sales online.
Every month I put aside $50, which comes out to $600 of funds that I spend on clothes come Black Friday. With careful shopping, you can easily turn that $600 into $1200 (or more!) worth of buying power, and 90% of my clothes for the entire year are bought during this time. I especially love that I can buy pricey brands that I could never afford otherwise.
$100 denim being sold for $40? Yes please.
$80 shirts for $25? I'll take 'em.
All underwear is Buy One Get One Free? Alrighty then.
Jackets half-price? I could use that.
Nothing quite like getting a pile of designer clothes at cheap-ass prices. This is literally the only time I enjoy shopping. This year I actually went overboard... spending closer to $700 than the $600 I had saved... but I lost some weight and ended up needing smaller sizes, so it was still a bargain.
This is the time of year I always take my spare change jar to a CoinStar machine, so I'll probably make up that $100 in no time to stay on budget (last year I had accumulated $136 in coinage!).
Which is good, because I also found Lego Star Wars: The Force Awakens for Wii U on sale for $17 (Regular $39.99)...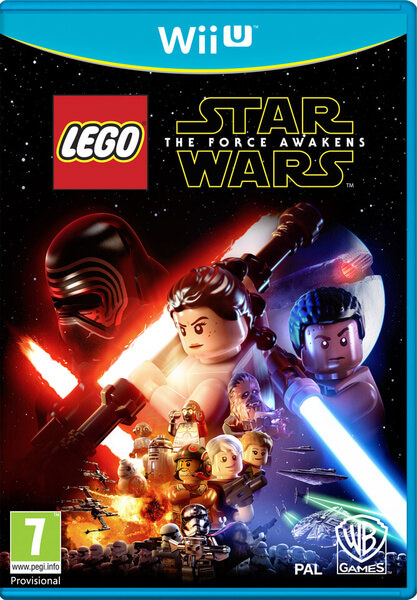 Doesn't get much better than that!
Happy Black Friday, everybody!
Posted on November 28th, 2014

Annnnnd... just bought all my clothes for 2015.
For the past four years I shop for clothing only on Black Friday online sales so I can purchase stuff I ordinarily could not afford (Lucky Brand, Banana Republic, etc.) or to get double the amount of stuff I would normally get (American Eagle, iTunes Cards, etc.). Amazing how putting aside $50 a month nets $600 that has buying power of $1000 to $1200 this one time of year.
Unlike the many, many people who profess to despise Black Friday as a blight on the holiday season and humanity in general... I am happy to publicly embrace this celebration of consumerism gone amuck. Not because I have some vendetta against the holidays (or whatever), but because I like to save piles of money.
Not that I would ever step foot in an actual store today.
I prefer the relative safety of my web browser to the madness of full-contact shopping...
Black Friday is also the time that I cash in all the pocket change I save up the rest of the year (so I have even more cash to spend on deals). It always adds up to a lot more than I'd expect...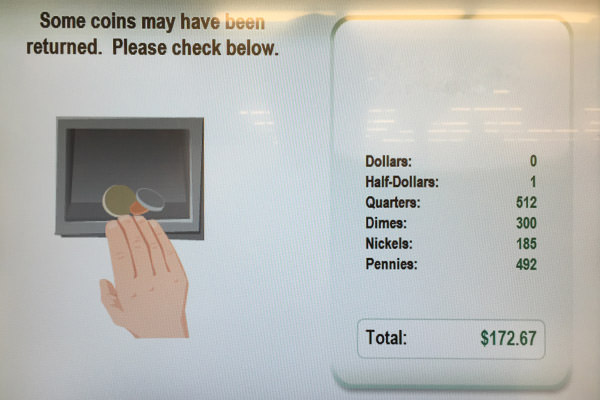 ONE HUNDRED SEVENTY-TWO DOLLARS AND SIXTY-SEVEN CENTS?! How do I accumulate that much coinage?
Fair warning... CoinStar does not accept foreign monies (or penis salad buttons) as legal tender...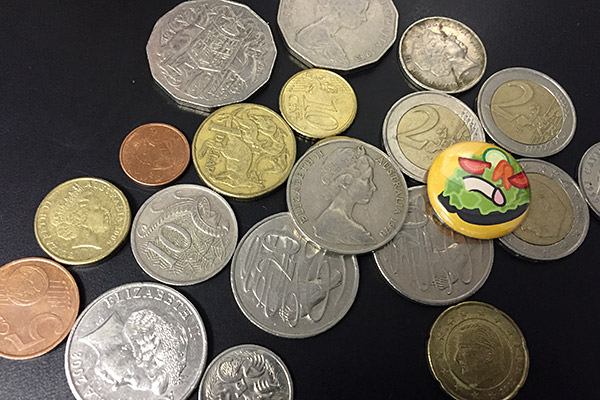 Annnnnd... now that I've spent all my money, I suppose it's time to get back to work.
So I can earn money for next year.
It's a viscious circle, yo.