Posted on February 5th, 2019

A while back Jake managed to murder a poor bird that wandered into the catio, leaving me a not-so-nice present when I returned home.
My hope was that this would be a rare incident. But the little maniac struck again last night. Luckily this time I was home and could run out and admonish him so the bird could escape...
If I weren't so mortified at Jake's homicidal tendencies, it would actually be funny. The minute I open the back door he's like "whut?" and the bird plops right out of his mouth and wanders out to the back porch.
As soon as the bird had escaped I immediately ran to get a box I could cut open as a temporary shelter to keep the snow off of him and (hopefully) keep him safe from another cat. But by the time I had made it back there he had flown away...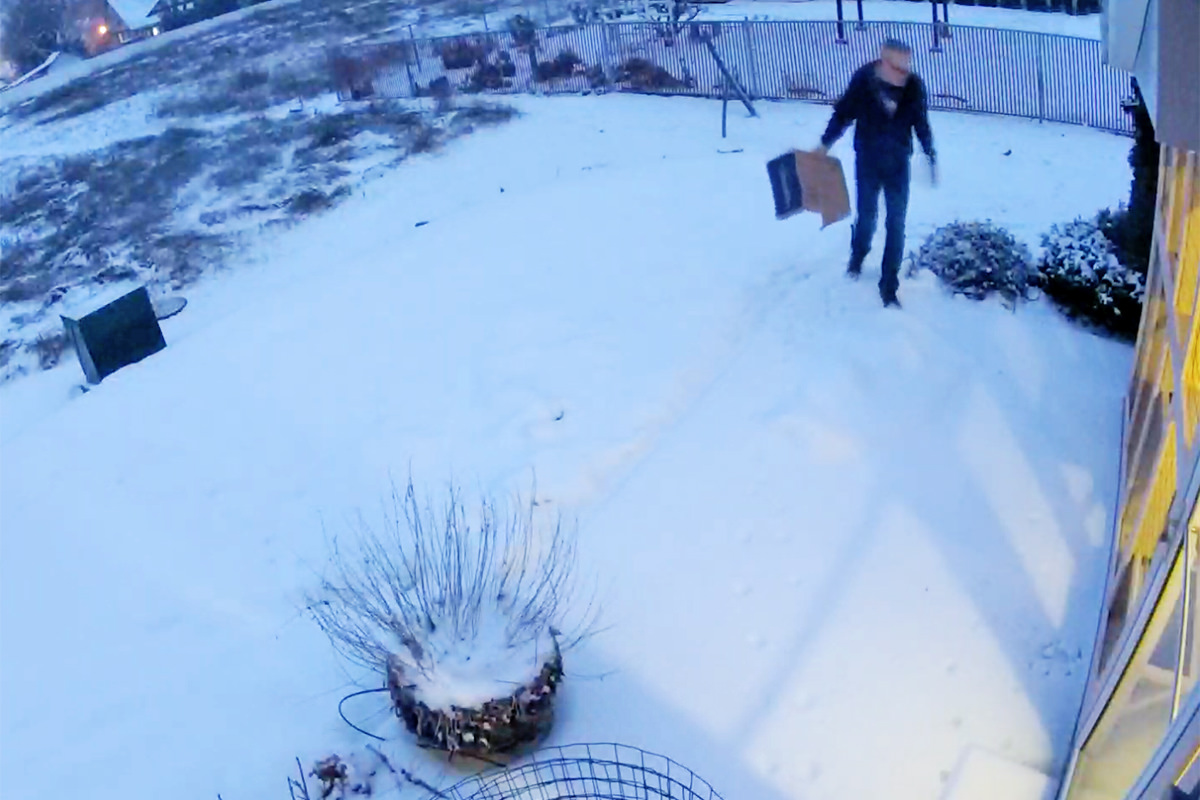 He didn't look gravely injured, just shocked, so I'm hopeful he was able to recover. I have no idea how much damage Jake does when he attacks, but I'm assuming there's some kind of puncture wound from his claws/teeth. Poor bird.
Except...
A couple weeks ago I got an alert that somebody was breaking into my house. It ended up being a bird...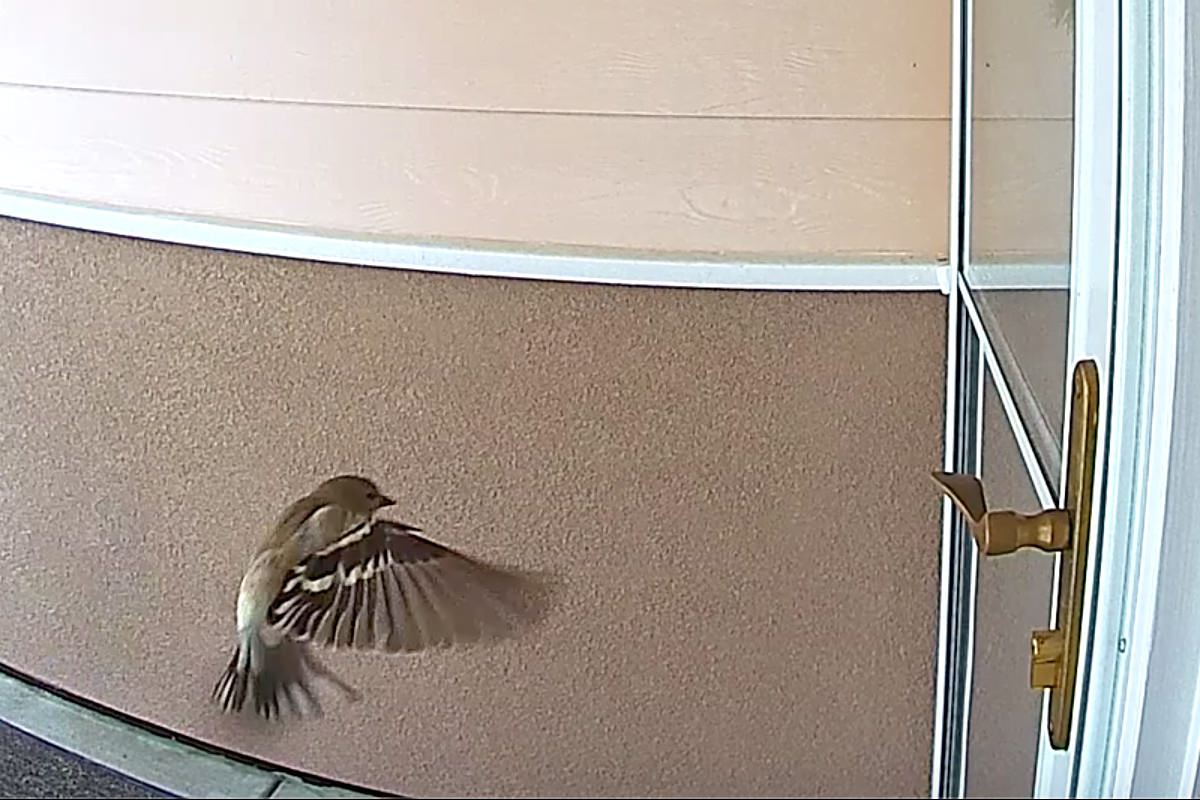 Just before it snowed, it happened again...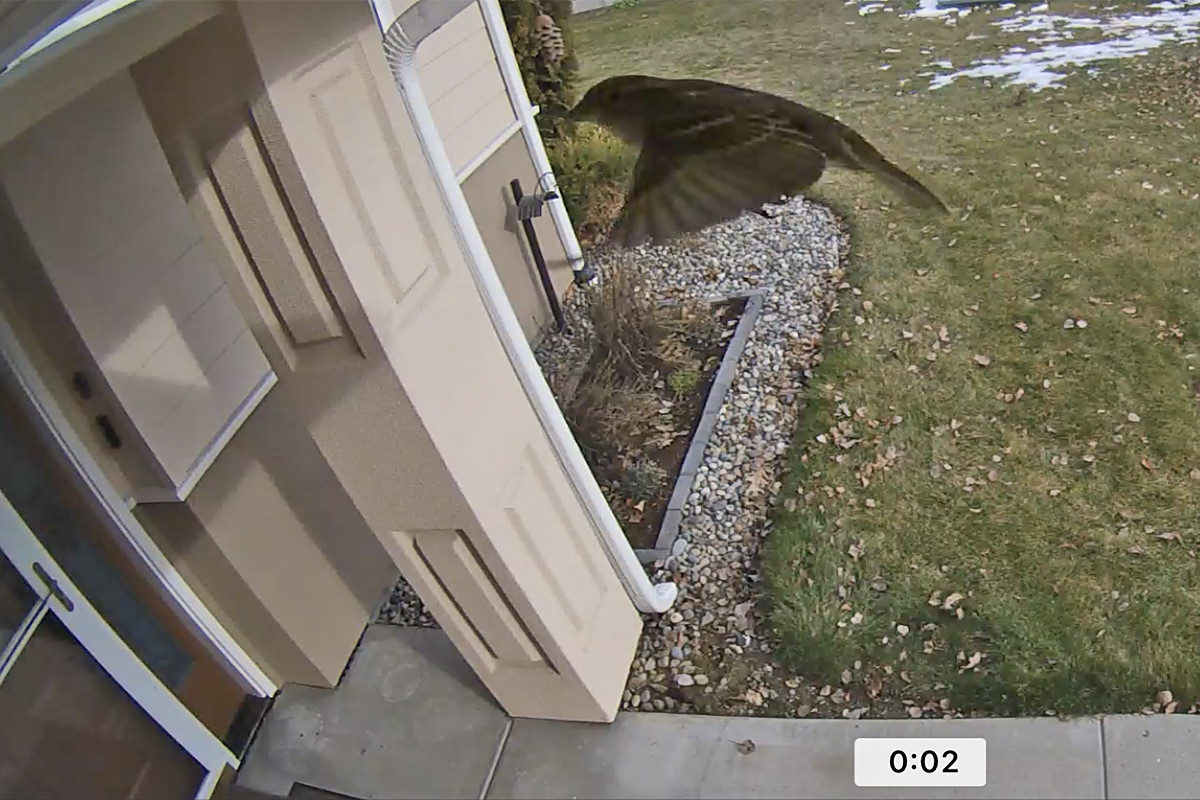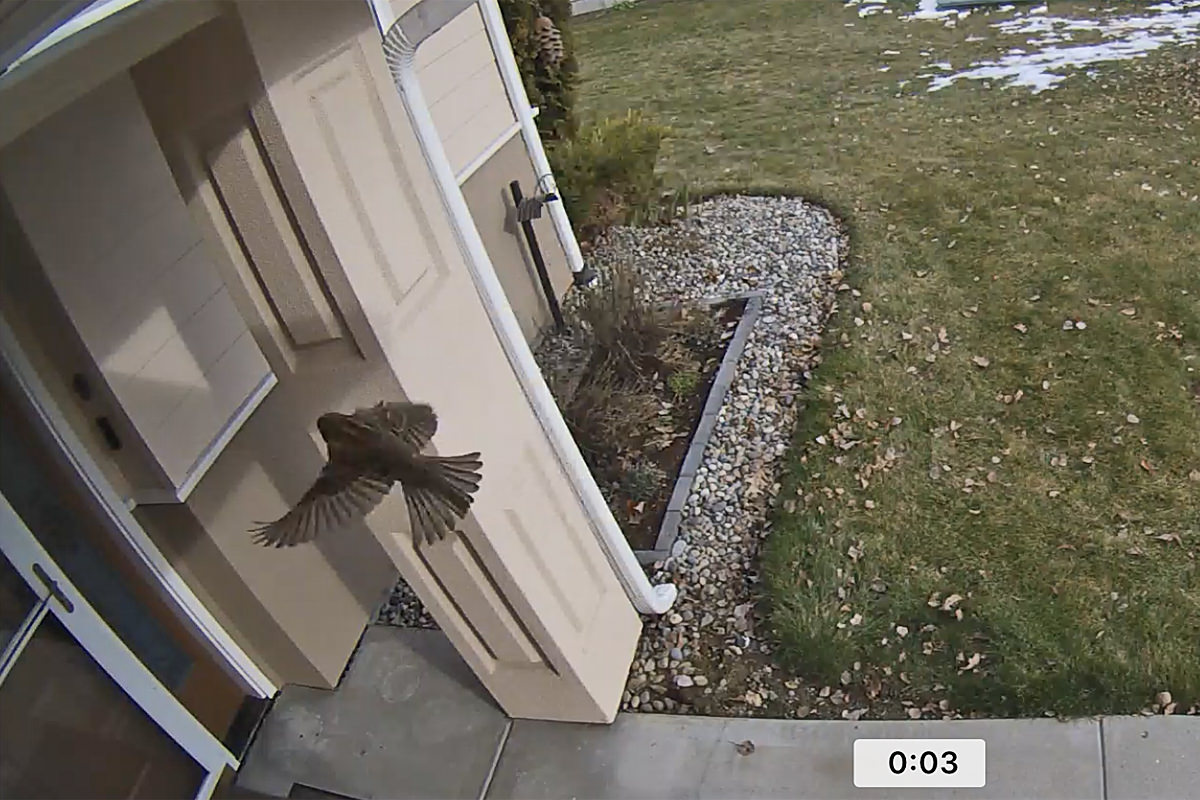 Maybe these bird break-ins are not accidental.
What if... they are seeking revenge?!?
Somebody alert Tippi Hedren.
Posted on January 17th, 2019

This morning while I was at work, I received a notification from my security cameras that somebody was breaking into my front door. This happens whenever anybody is in the vicinity of the exterior doorknobs. I wasn't too worried because my door locks weren't reporting any tampering. But I was curious. Did somebody leave me a pamphlet or something? Let's take a look, shall we?
Well, that's disappointing...
But pretty.
I love birds. Especially in flight...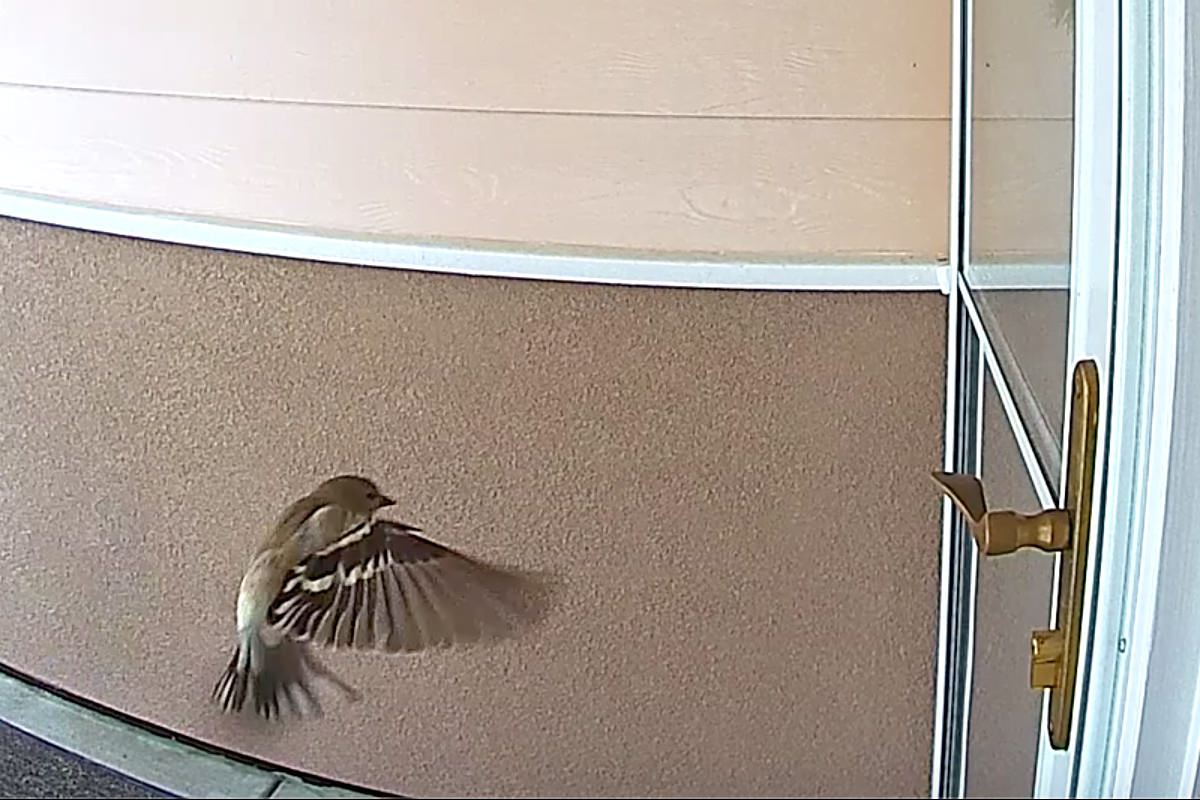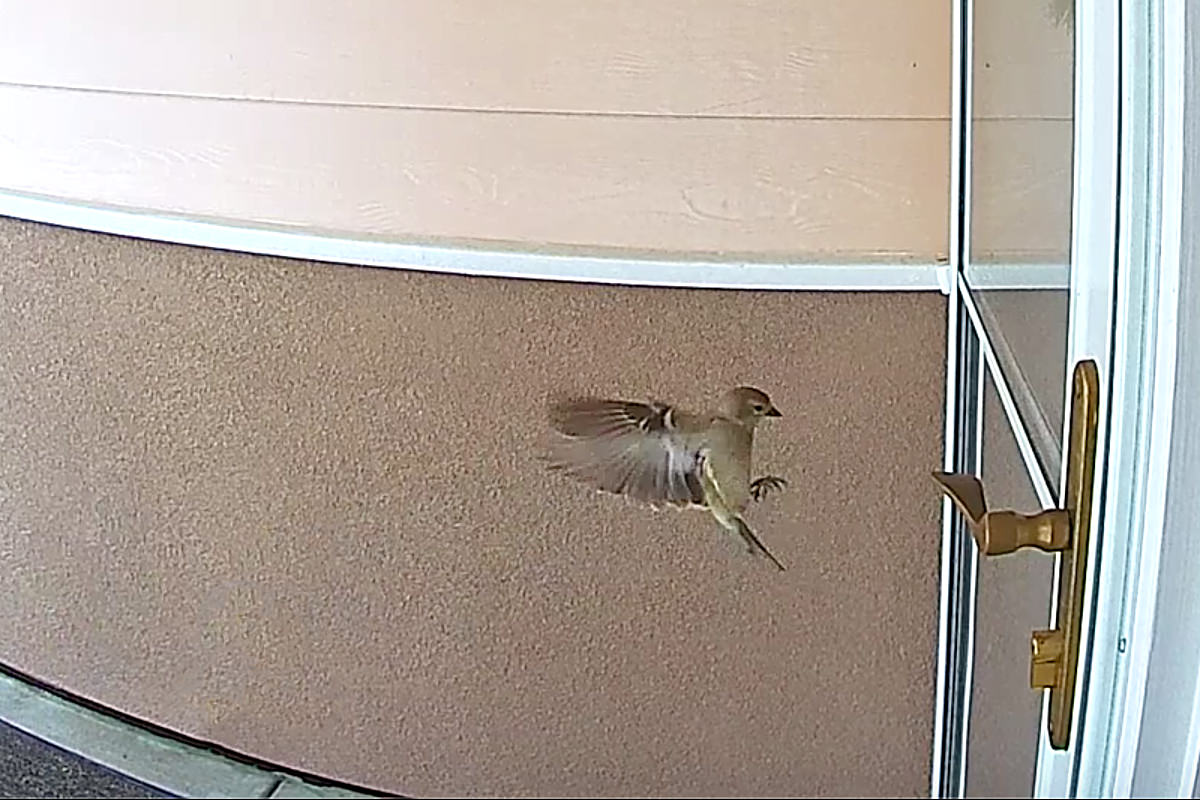 And now, if you'll excuse me, the first episode of Star Trek: Discovery Season Two is here! I loved the first season, so I'm hoping for more Star Trek goodness this time around...
Live Long and Prosper...
Posted on September 6th, 2018

The bird feeder is not depleting as quickly as it once was so I'm guessing the smaller birds are starting to head south? Still going through a lot of seed though. And Jake and Jenny still spend hours watching them out the window too.
This morning when I went out to refill the feeder (again) I saw a small gold bird sitting on the rocks around my flower bed. Usually birds take off the second I open the door, so this was puzzling to me. Thinking he might be hurt or stunned, I thought I'd fill a shallow dish with water and put it next to him. Alas he hopped away every time I tried, so there wasn't much I could do except grab my camera...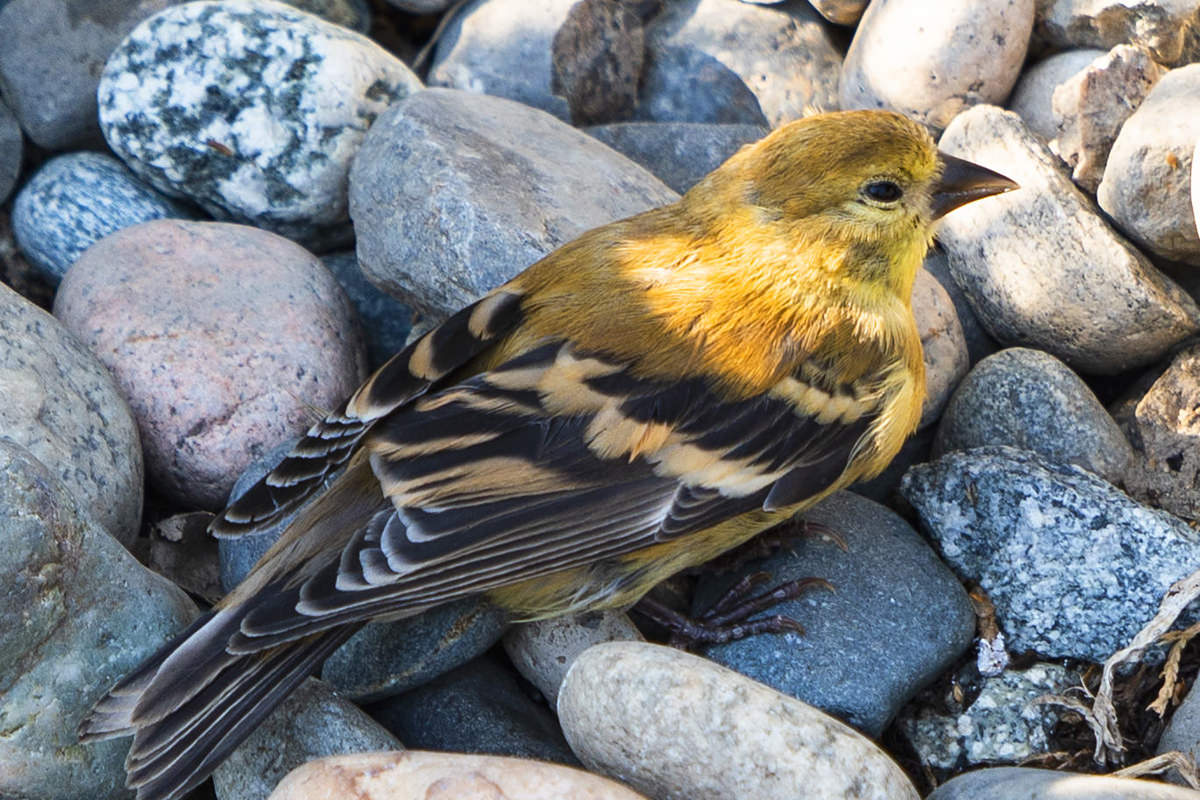 Fake Jake would pounce on him in a second, so I did my best to shoo him under a shrub so at least he could rest up in a spot that didn't make him an easy target. Most cats just kill birds for fun. Fake Jake will actually eat them. Which doesn't make me any happier about it (he has food, he doesn't need to hunt!) but at least the poor things aren't being killed for sport.
When I was downloading that bird photo off my camera, I noticed the photo before it was this one...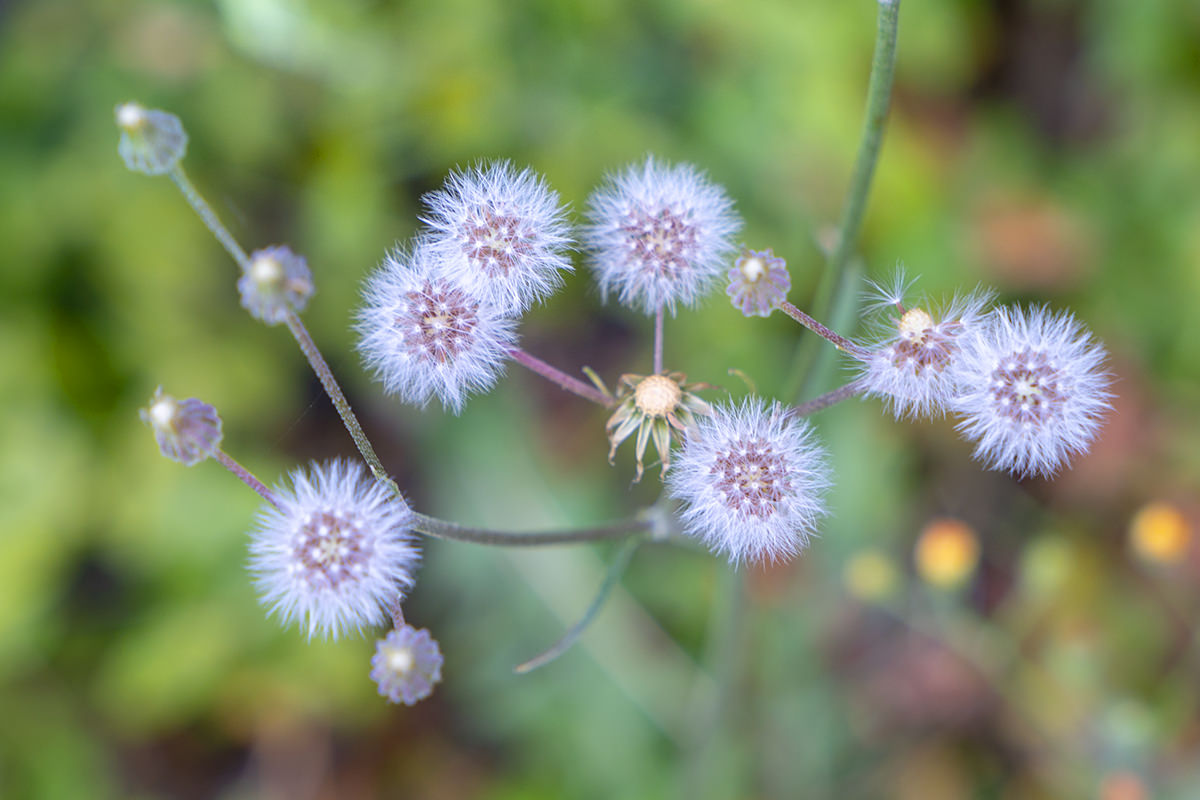 No idea where I took it. On the date that was time-stamped on the image I wasn't traveling anywhere, so I'm guessing I shot it somewhere close to home, but I have no memory of it. Boy does it suck getting old. I wonder how long until I forget how to wipe my ass?
Hopefully before I forget how to pay somebody to wipe my ass for me!
Posted on August 28th, 2018

Today after work I ran into The Big City so I could pick up more bird seed. Not that I really have money to be throwing at birds, but they have been so dang entertaining for my cats that I pretty much have to.
Birds are weird in my neck of the woods. During the summer, regular (cheap) bird seed gets me nowhere. The birds that are looking for food are little things and I guess it's just too big for them. And so I buy "nyjer seed" (aka thistle seed) which is tiny stuff that's five times more expensive. In the winter the little birds have gone, and it's only the bigger birds that stick around. That's when I can pull out the cheap stuff and everybody's happy.
I thought I'd be smart and see if the feed store had bulk nyjer. Turns out they did, but at $2.09 a pound, it was actually more expensive than what I can get at Lowe's. My favorite seed is their "Nyjer Plus" which is cut with bits of sunflower seed. The birds don't seem to mind that at all, and it makes less of a mess. Alas, that's almost always out of stock, but today I got lucky...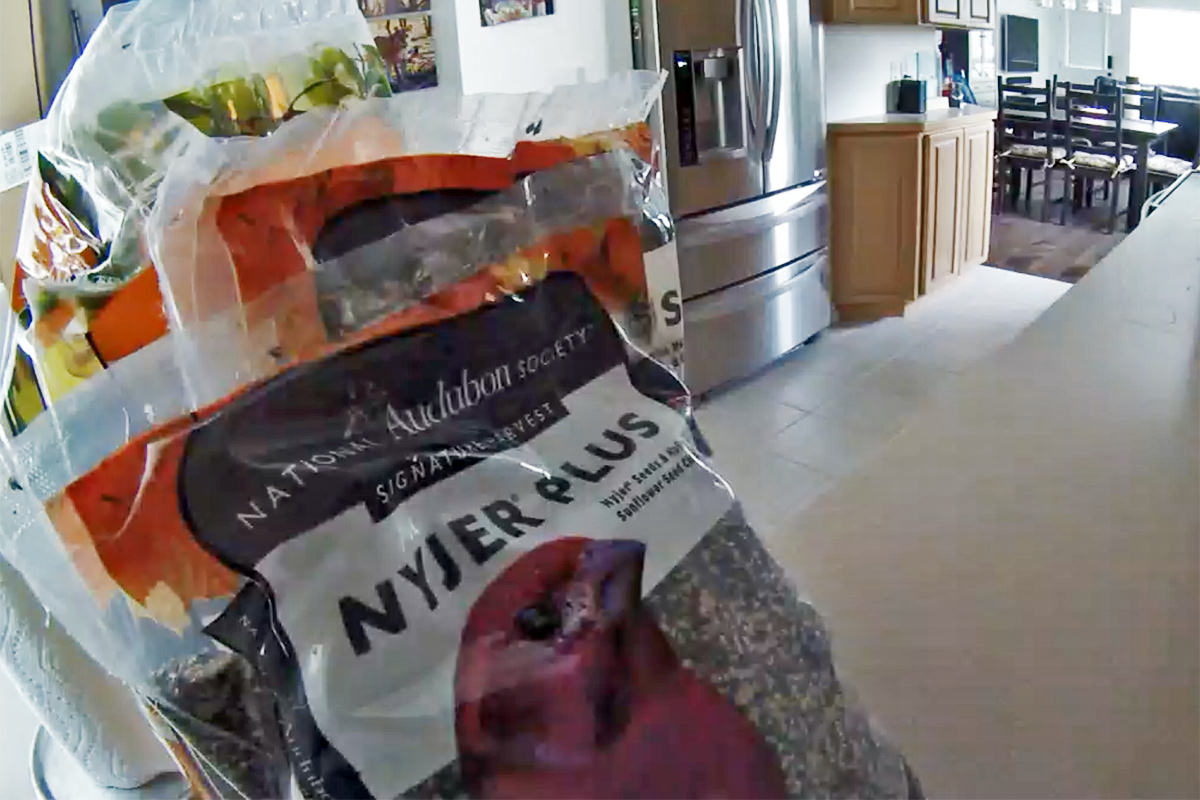 Weird how my entire day can be made by bird seed being in-stock at the hardware store, but there you have it. Maybe this is a sign I need to start a new woodworking project? Probably.
The entire time I was looking for bird seed, this was going through my head...
Interesting side-note... apparently we're getting the first new album in 14 years from Tears for Fears this Fall!
One more thing to look forward to...
Posted on September 26th, 2017

I love my cats... honestly, I do. 99% of the time they are a wonderful addition to my life, and I can't imagine living without them.
And yet...
This morning I got out of bed and was surprised that neither Jake and Jenny were hanging around trying to convince me that they needed an early breakfast. Even weirder? There was no "tribute" from Jenny waiting for me (she brings me toys each morning... in exchange for my feeding her, I'm guessing). These unprecedented events had me worried that they had broken out of the catio or something, and I would be spending my day tracking them down.
Except...
When I turned to go downstairs, I saw them both at the bottom waiting for me.
Ominous.
Then, as I walked into the kitchen to get their breakfast, the pieces of the puzzle started sliding into place. The wild running around this morning was apparently due to a bird in the house. I knew this because there were feathers in front of the cabinet where I keep the cat food...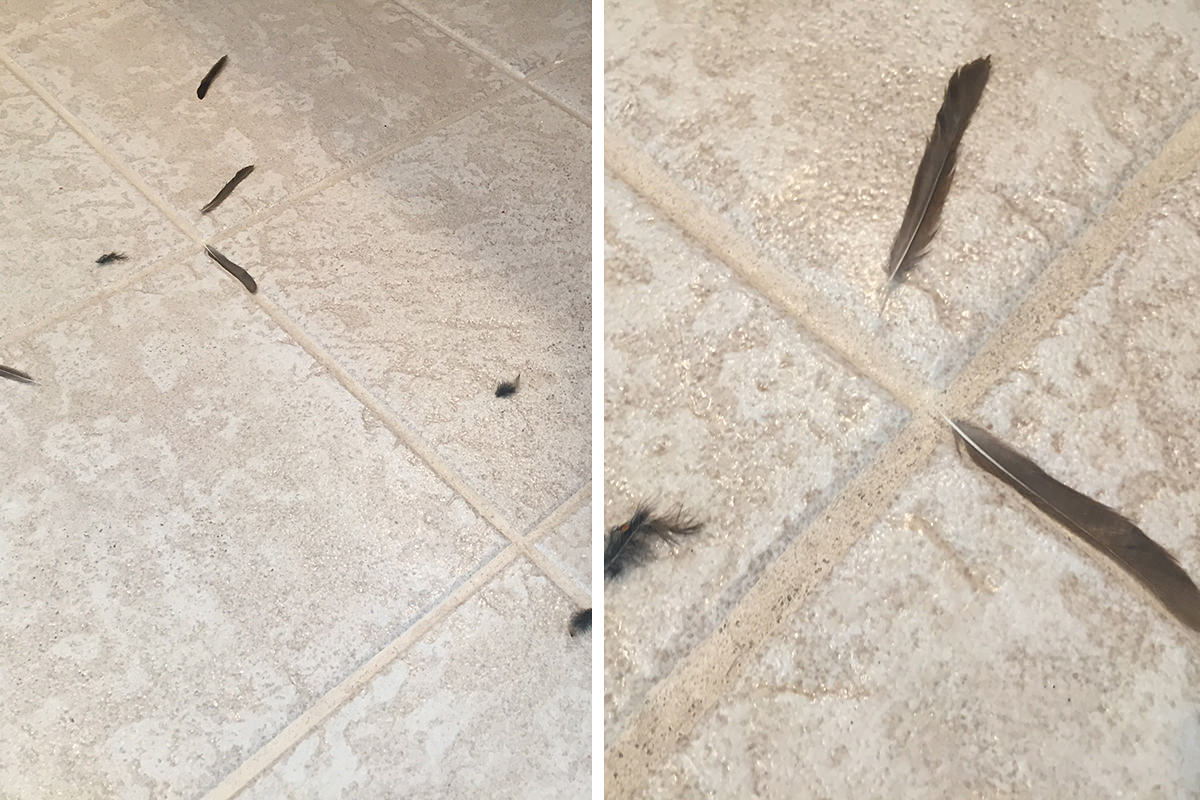 And so I go rushing back upstairs to check the security cameras and... sure enough...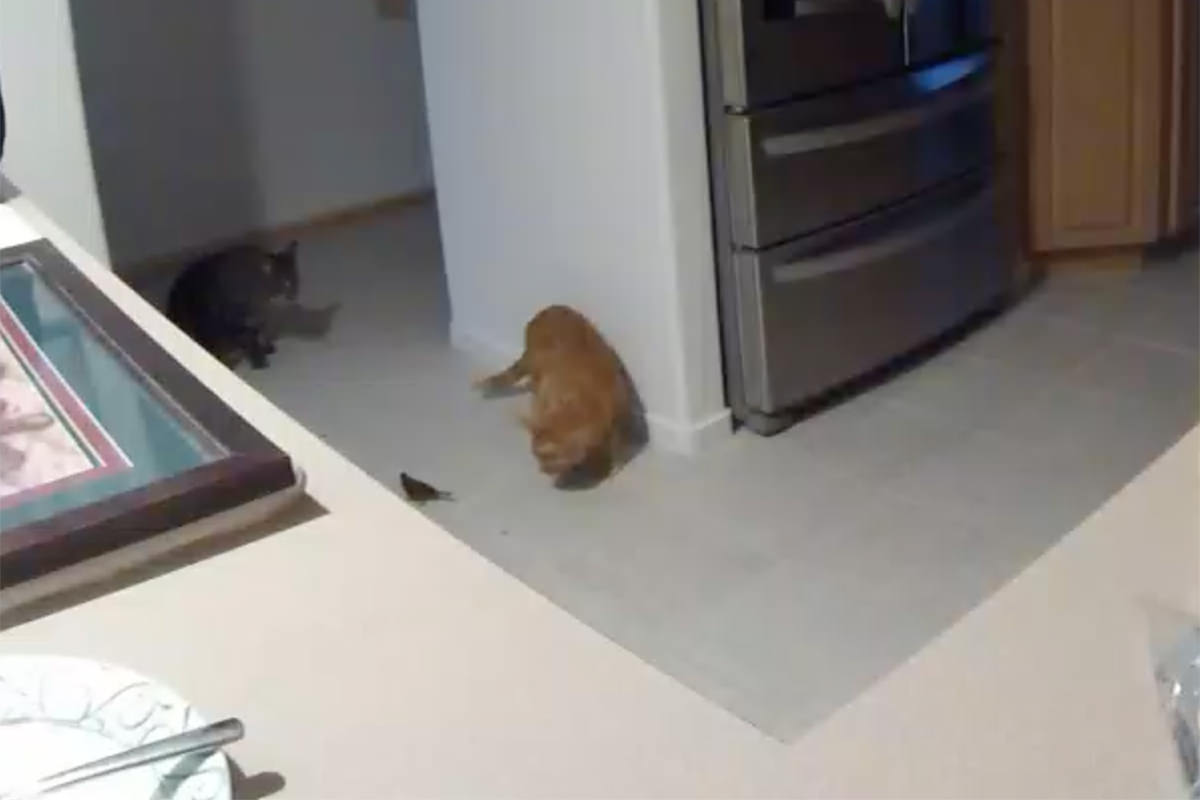 I start going back through camera footage in an attempt to figure out how long this has been going on. Here's from an hour prior...
It's amazing how stealthy cats are. Jake hopped up and was practically on top of the bird before he flew away...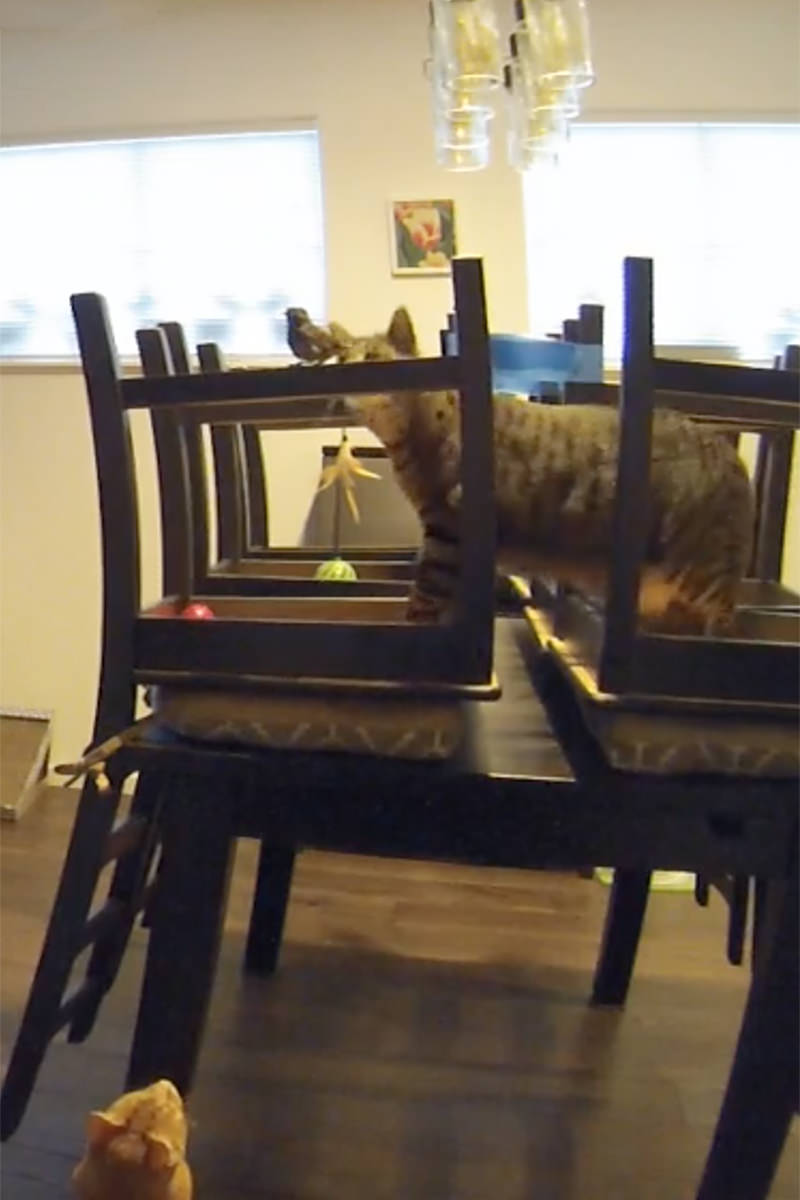 Here's an hour-and-a-half prior...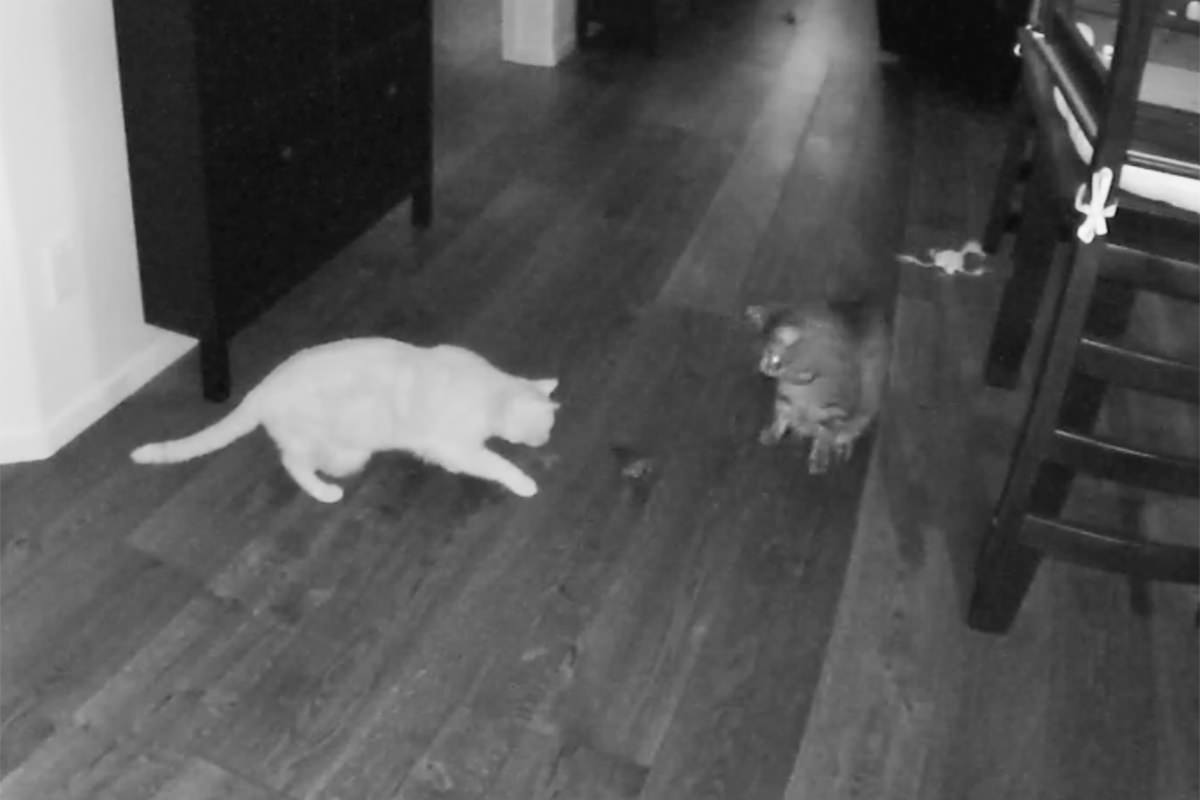 Poor bird! This footage (featuring Jenny making a spectacular leap to catch him) was from almost two hours prior...
And here's her leap from from a different angle...

So proud of her... but also horrified.
I scrubbed the cameras from the time I went to bed until the time I saw the bird feathers. I was expecting to see footage of one of the cats coming in from the catio with the hapless bird in its mouth... but I never saw anything of the kind. It's as if the bird just magically appeared around 4:45am out of thin air. I suppose it's possible that the bird flew into the garage while I was cleaning it and followed me in the house when I had the door open... but wouldn't I have noticed that? No idea.
Meanwhile... I have a bird in the house.
I go back downstairs to look for it and, not two minutes later, Jake and Jenny go tearing through the house, chasing the bird upstairs. I go running after them just as the bird goes flying in my bathroom. Poor thing saw the skylight in there and thought he could escape through it. Not knowing what else to do... I close the bathroom door.
And now what?
Do I sneak in the bathroom and try and catch it?
Do I wait for the bird to become exhausted and hope I can scoop it up and take it outside?
My mind is reeling. About the only thing I know for sure is that I won't be hurting it or killing it. So... What about building a tunnel from the bathroom to the cat's bedroom and opening a window? THAT JUST MIGHT WORK!!!
So I start at the bathroom door...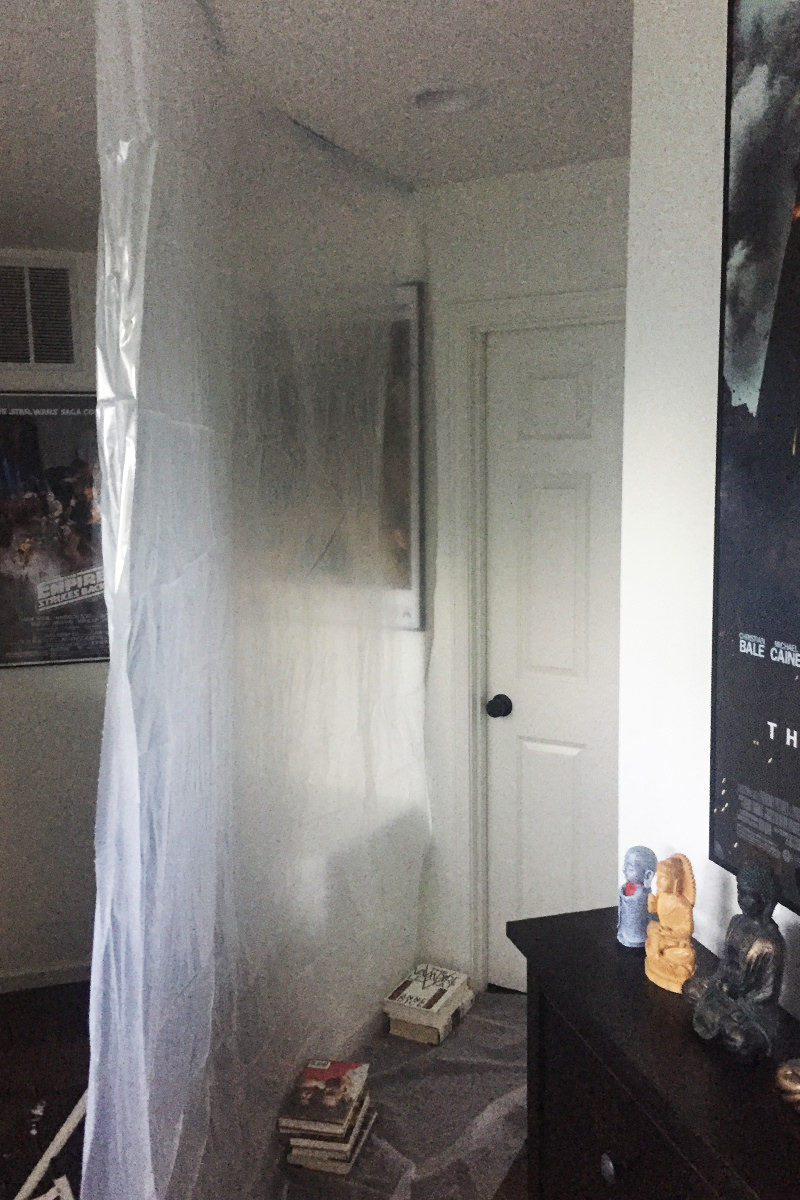 And build it to the cat's bedroom door...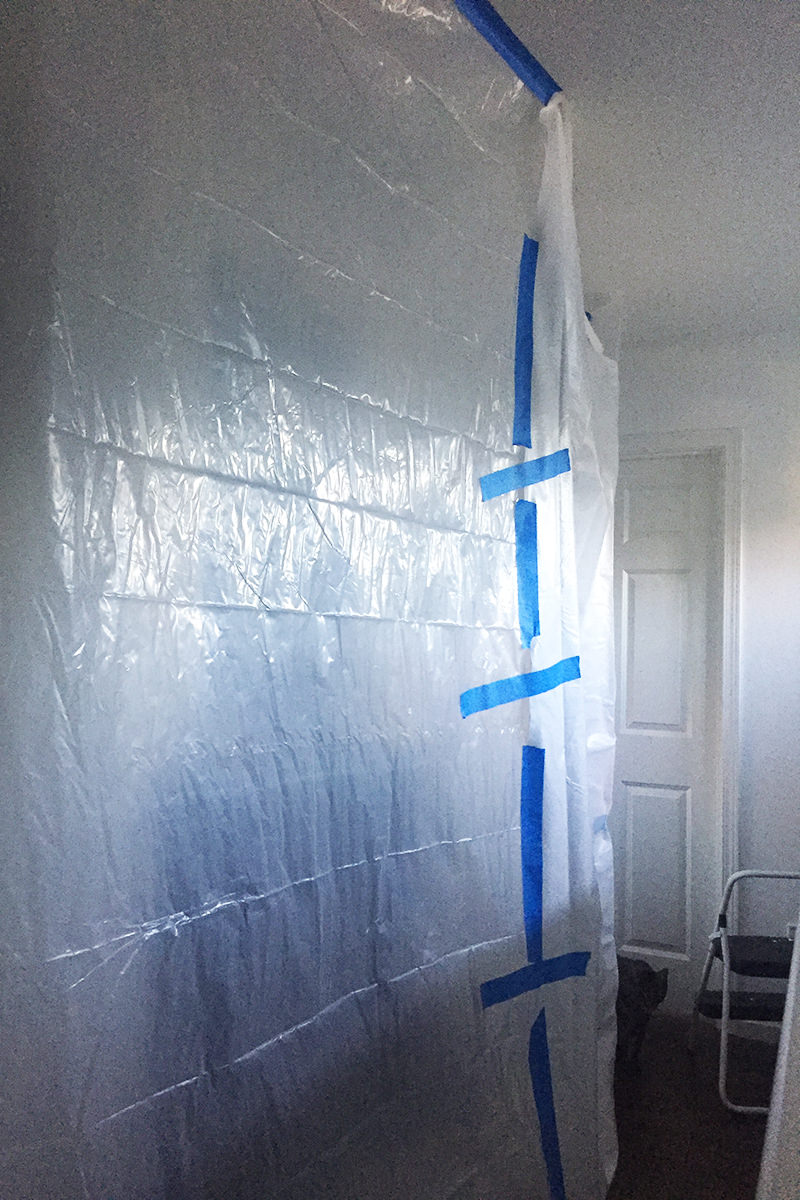 And... here we go. I apologize for shooting vertically (something I never do for video, because WTF?), but it was the only way to get the important information in-frame...
A few notes...
Yes. Yes. I know that building a tunnel was a bigger ordeal than what was needed... but I just don't care. The idea was to get the bird out of my house without hurting him. Trying to catch him in a pillowcase or a cooking pot or whatever was too risky. If he breaks a wing, he'd end up dead.
The tunnel took about 15 minutes to build.
The posters in my bathroom are by Robert Lyn Nelson, a painter I like from my visits to Maui.
The Kleenex box was too big and covered the bird when I was attempting to move him, so I reached for my Aveda Botanical Kinetics Hydrating Lotion (which, by the way, is magic in a bottle if you're looking for a moisturizer).
The cat's bedroom is a mess because I had just taken down the extra bed I put up to house friends that might need to evacuate from the wildfires. I pushed all the furniture in the middle so the bird couldn't get stuck between it and a wall.
I rotated the camera at the end, not thinking that the movie wouldn't rotate with it. Oops. The bird seemed to fit in the frame better that way.
I am amazed that the cats didn't kill the thing. Or eat him. Heaven only knows they had enough opportunities. Guess they thought he was a fun toy rather than breakfast? I'm grateful beyond words, because THAT would have been a horrible mess to clean up.
Birds are tougher than you'd think. This poor guy took a beating and was undoubtedly traumatized, but took it all like a champ and didn't seem to be injured when he flew off.
And that was that.
Earlier this month I had posted this on Facebook...

And now?
I think that might not be such a great idea after all.