Posted on April 20th, 2016

Long before I became an actual certified diver, I had longed to dive The Great Barrier Reef. It was just so beautiful... full of color and life in a way that defied reality. Once I became a certified diver in 1986, diving The Great Barrier Reef was at the top of my bucket list.
Twenty-five years later, I finally got to check it off my list.
And it ended up being a bit of a disappointment. Thanks to Cyclone Yasi blowing through eight months earlier, there was significant damage to the reef and, while still beautiful and amazing, it didn't live up to the pre-Yasi splendor I had seen in photos and video.
I chalked it up to bad timing and promised myself that I'd return to Australia one day after the reef had recovered.
Except that isn't happening.
If anything, the reef has only gotten worse since I visited.
In an article I read today, 50% Of The Great Barrier Reef is now dead or dying and 93% is bleached.
I don't know if there's any chance of this horrible situation reversing itself, so I guess I should be thankful that I got to see what I saw when I saw it.
Because you just never know.
So now I'm starting to think I should start being thankful for everything that I got to see when I saw it.
And I try to be.
It's the places I haven't yet seen that's terrifying me now.
Will they even exist when I finally get around to going?
Posted on August 25th, 2015

This was an awful day in so many ways.
I don't even want to talk about it. Instead, here's a picture of a happy lizard I took while in Australia...
I need a vacation.
Posted on October 11th, 2011

After skipping two Bullet Sundays while I was on vacation, my plan was to get back on track this past Sunday. Alas... it wasn't to be. So here we are with a very special, never-before-seen, extremely rare, hopefully never-to-be-repeated BULLET SUNDAY ON TUESDAY!
And I think I'll make it easy on myself by going back through my comments and emails from the past couple weeks to do a Q & A kind of thing from the questions that I got asked. If I missed one, let me know.

• Isn't it awesome that you have blogging friends as far away as Australia? Yes. Oh heck yes. Since the vast majority of my travel is done alone, I can't overstate how grateful I am that I have friends to keep me company no matter where I go. Any time I feel like giving up on my blog, I remember all the great people I've met through blogging and just can't. It's the reason I keep going.

• Certified diver? Is there anything you don't do? That's what I asked myself after taking skydiving lessons! I like to try cool stuff, and SCUBA diving was just one more thing to check off my list. I really do love it though, so I wish I could afford to do it more often.

• Why aren't you being paid to take vacations and photos, yet? I dunno! Somebody should be paying me to go on vacation! But then I worry that vacations would become all about work, and I'd need a vacation from my vacations. :-)

• I want to hold a koala! What does their fur feel like? Is it soft? Koala fur is thick and kind of coarse and wooly... but still kinda soft. For really soft fur, however, you want to pet a kangaroo. Kangaroos have baby-kitty-soft fur! This is actually kind of bad news for them, because they get made into glove liners and slippers and such.

• Do they sell Fiji Water in Fiji? Oh yes. The bottled stuff is everywhere, and no cheaper than if you bought it here. Of course, you can get "Fiji water" from the tap for free, so that's where I drank all of mine from.

• Loving this trip. Now please tell me about that boat ride. The sail from Fiji was on a 50-foot yacht called Pelorus Jack. It was most definitely not a calm day at sea, which meant a couple people got pretty sick. Call me a sadist, but I actually enjoyed the rough ride, as it made for a more exciting trip! In my opinion, the boat was overcrowded, but it still beats those giant catamarans that head out with so many people that they're practically hanging off the edges. Surprisingly, they allowed me to stand on deck despite the choppy seas after I explained that I had been on sailboats before and was comfortable doing so. I was expecting them to say that I had to stay seated for insurance purposes (or whatever), but they were completely cool with it. For that alone, it was an awesome sail.

• Aren't sea snakes really venomous? So I'm told. But, like so many things in the wild, they really don't bother you unless you bother them first. So long as they are not provoked or feel threatened, they'll pretty much just avoid you. That being said, our dive guide picked one up and held it for a bit before letting it swim off. He later said that a bite wouldn't have been fatal to him, so maybe this particular snake has a weak venom or doesn't make very much of it. When diving, I never touch a damn thing. There are a lot of things that can seriously hurt or kill you. As an example, the cone shell is said to be so poisonous that that the venom in just one of them is enough to kill 700 men. Fire Coral isn't lethal, but it is so painful that you'll wish you were dead. The biggest threat to people on Australia's coasts are deadly Box Jellyfish, but they weren't in season when I was there.

• Nothing BAD happened this trip? Who are you and what have you done with Dave2?? Well, sure, problems came up... I just didn't want to dwell on them while I was on vacation. If forced to make a list, it would go something like this: 1) The V-Australia checkin at Sydney's domestic airport is fucking insane (even though I like the airline itself) and I had to seriously resist the urge to kill on several occasions. 2) The people on my first Fiji sailing cruise had -zero- respect for the ocean, and trampled everything they could stomp their fins on. 3) I hate... fucking hate... Brisbane's airport, easily one of the most traveler-hostile airports I've ever experienced. 4) I paid ridiculously high prices for internet access, yet it sucked most everywhere I went. 5) I need to remember that late-night flights are are so much better than early-morning flights, and the $25 I saved only to be exhausted two days in a row just isn't worth it. Other than that, it was a pretty uneventful trip... at least where bad things are concerned.

• How expensive is "expensive?" As in Australia? Very expensive. At least if you're using the US dollar. When I go on vacation, I don't go crazy with spending money... I don't have that kind of bank... but I do budget generously for expenses. The last thing I want to do is fly all the way to Australia and not be able to afford to do or see stuff. So I save money and then set a budget. But this vacation was one of those rare times where my budget was totally inadequate. I blew through my initial funds before I even left the USA while booking airfare and hotels. So I dug deeper into my savings and increased my budget for the actual trip. But it still wasn't enough. When I got home I had a whopping $1300 in credit card debt. It's depressing, but it happens. My consolation is that I had an incredible trip and definitely got my money's worth.

• Now that you've crossed both Greece and Australia off your "list of places you most want to visit," where to next? It won't happen right away (I'll have to financially recover from Australia/Fiji first!) but eventually I need... need... to visit India. And I'm not quite "done" with Australia, as I want to do a Melbourne-Adelaide-Canberra-Tasmania run with New Zealand at some point. But I'm not picky, really. Anywhere I haven't been yet is somewhere I want to go.

Annnnd... that's a wrap! Hopefully next Bullet Sunday will actually be on a Sunday. Fingers crossed.
Posted on October 7th, 2011

This morning I woke up and realized, just like that, my vacation is over.
Well, not really, because I had today in Sydney... but since I've been going balls-out non-stop since I arrived, this day was set aside to decompress and relax before my flight home tomorrow.
My loooooooooong flight home.
Though since it was blissfully cool outside (despite the beautiful sunshine and blue skies) I did go say goodbye to Sydney Harbour...
Yeah, yeah... they're iPhone photos! I'm done lugging around my camera gear for a while.
I also stopped by the Vintage Cafe (where Kazza and I ate my first day here) for some more of their mind-blowing marinated peppered cheese and bread...
The rest of my day was spent unpacking everything I own, then re-packing it in a way that wasn't insane (as it quickly becomes if you're living out of a suitcase for this long).
Looking back, this was a pretty darn spectacular vacation. I crammed in quite a few awesome things into two weeks. Probably more than I should have. I also got to spend time with some really great people, which is about the most awesome thing of all.
And now I wish I didn't have to go home.
Not because Australia and Fiji have been so great I don't want to leave (though that's also true), not because I don't miss my friends and family (which I absolutely do), and not even because I don't want to go back to work (I'm actually anxious to start working again)... it's because of the awful political hate parade that I know is awaiting me back home.
I dread coming back to it so much that I feel physically ill just thinking about it.
Over the past two weeks I can't tell you how nice it's been to not be inundated with all the bickering, hatred, lies, disrespect, persecution, and general asshattery that's become typical of our political landscape in the USA these past couple of years. I am just done with it.
At least as much as I can be.
See you on the other side of the Pacific.
Posted on October 3rd, 2011

Today was doubly lucky for me as I got to meet with one of my long-time blogger friends, Mooselet, and visit the Lone Pine Koala Sanctuary!
Koalas, like most animals, are adorable when they're babies. Unlike most animals, koalas stay adorable no matter how old they get. So, as you can imagine, visiting a sanctuary which has 104 koalas on the premises is guaranteed cuteness overload.
And it didn't disappoint.
I've seen koalas in zoos before, but at a distance and in a very different setting. The experience you get at Lone Pine Koala sanctuary is something entirely different...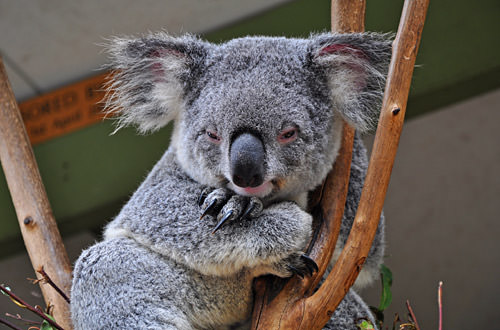 Koalas are mostly nocturnal, so you see a lot of sleepy guys in the daytime.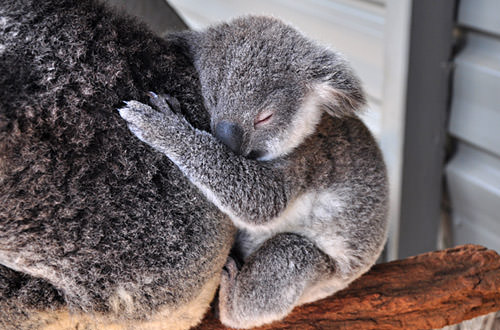 Baby koalas are, as you'd expect, a veritable explosion of cuteness.

This guy is about as relaxed as you can get when it comes to sleeping in a tree.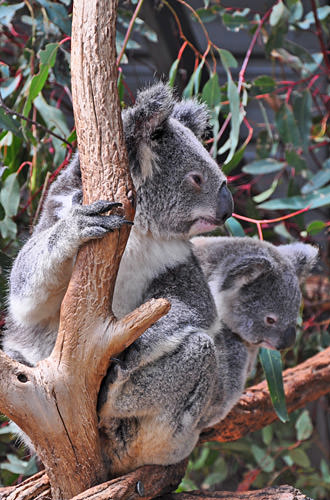 Everybody starts to wake up.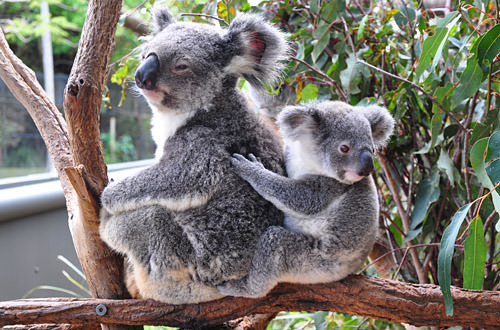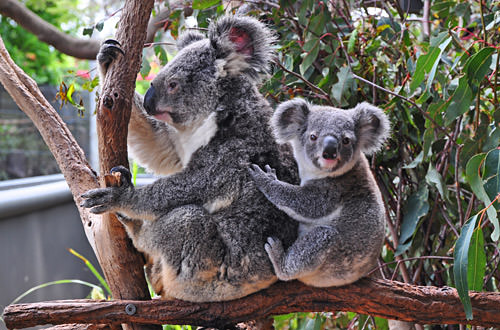 Baby koalas get to hitch a ride wherever they go. Must be nice.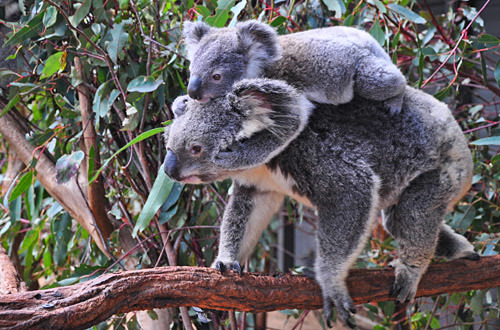 Looks kind of like he might be koala surfing on momma there.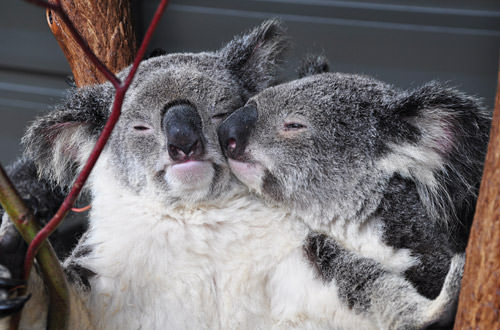 Koala pals.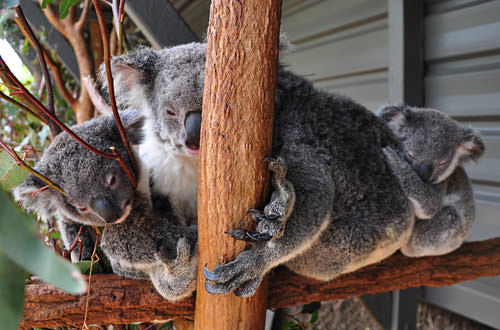 Koala cuddle cluster. You find yourself saying "Awwwwww!" a lot at this place.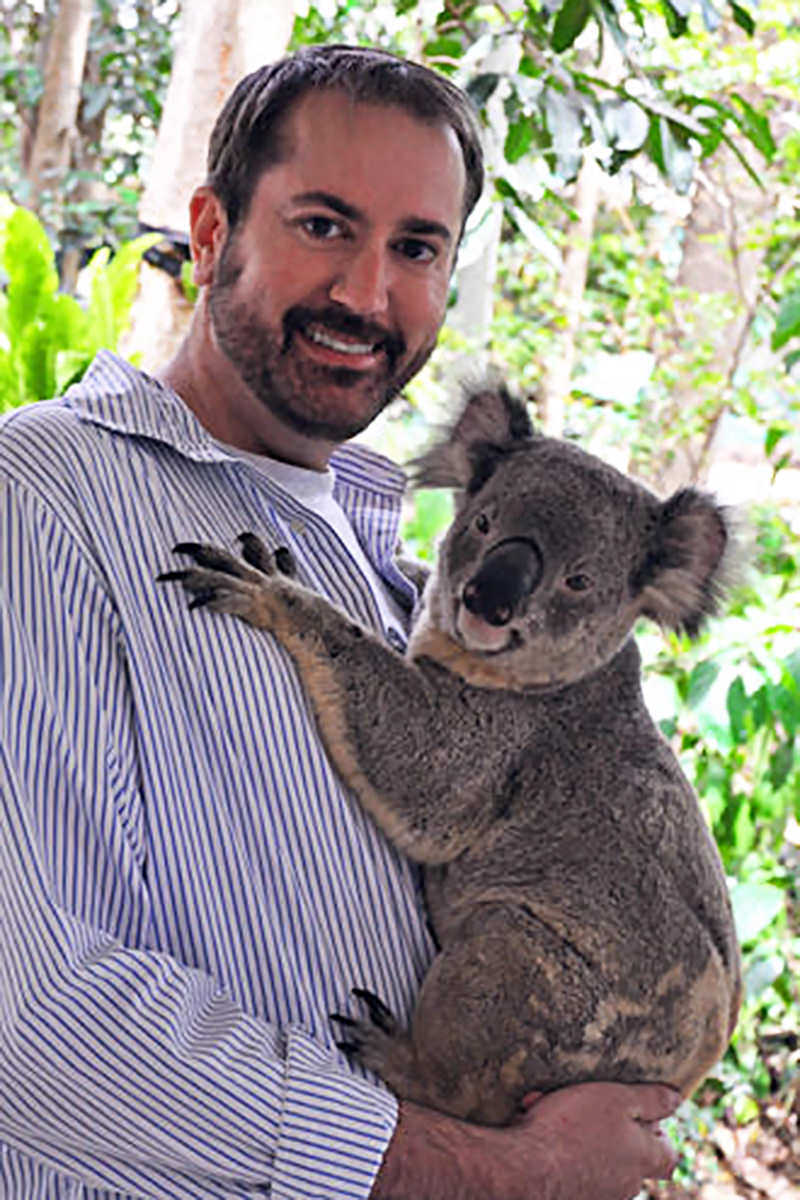 Talk about cute overload! (I'm the one on the left).
Lone Pine has more than just koalas though... they've got all kinds of animals, reptiles, and birds around...

Crocodiles have a killer smile.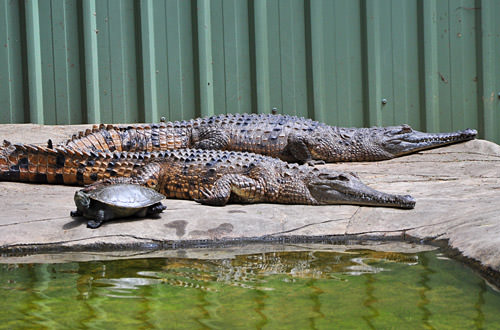 RUN, TURTLE! RUN YOU FOOL!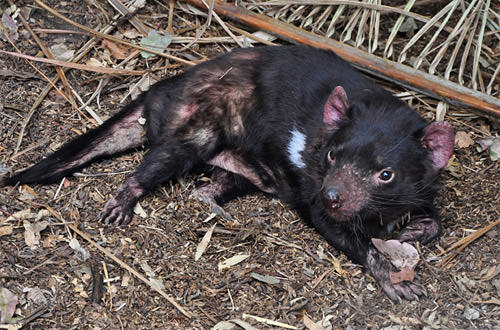 Tasmanian Devils, which I just love, are highly endangered and will be extinct in the wild soon.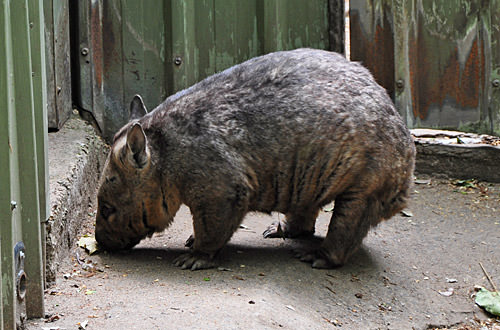 Wombats are too adorable. Like fuzzy piglets or something.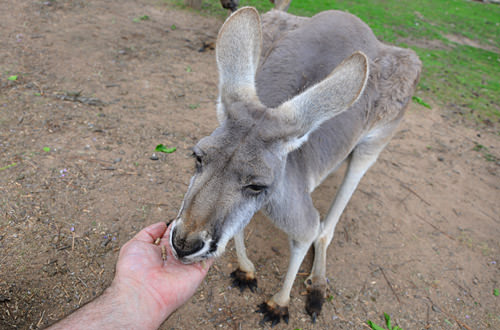 Feeding a kangaroo. They're amazingly polite about it.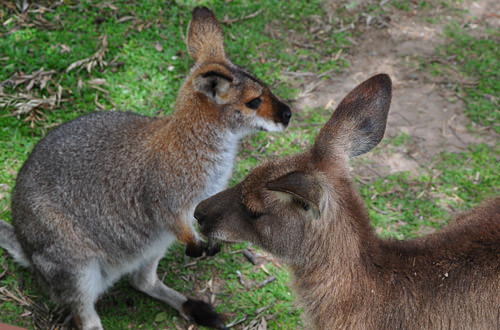 A wallaby and a kangaroo hanging out.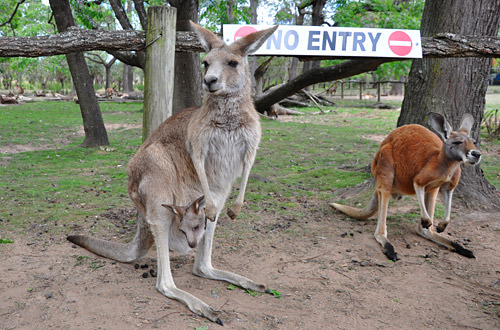 A momma kangaroo with a joey in the pocket!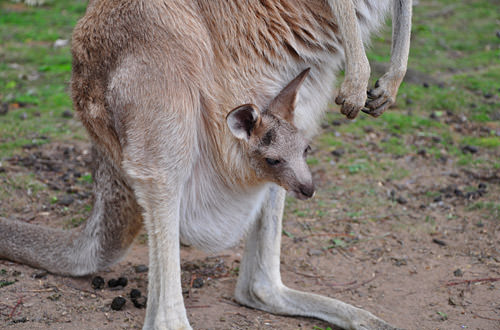 Joey on the lookout.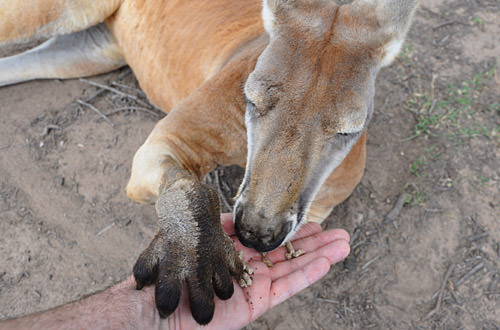 I CAN HAZ CRUNCHY FOOD PELLETS? NOM! NOM! NOM!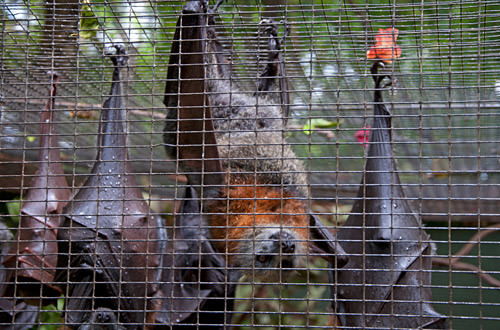 Soggy bats try to sleep through the rain.
After rain broke out at the koala sanctuary in yet another bizarre weather change (there were flawless blue skies when I arrived this morning), Mooselet was nice enough to drive me up Mount Coot-tha for a look over the city...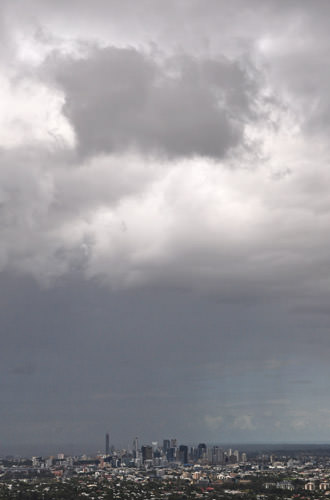 After lunch, the rain started letting up, which made for a nicer view of Brisbane...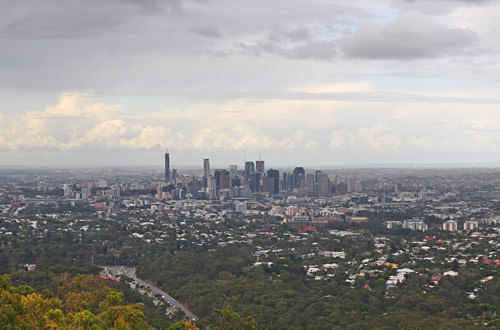 Pretty much the perfect way to spend a vacation day... thanks for coming along, Mooselet!
Posted on October 2nd, 2011

After finally making it to my flight out of Cairns, I landed in Brisbane two hours later. From there it was a 35 minute ride to my hotel, followed by another hour and 10 minutes on a train, followed by yet another 30 minutes on a bus... before I finally made it to the Gold Coast and the Hard Rock Cafe Surfers Paradise.
The Gold Coast has a feel very much like Miami Beach, with loads of high-priced properties and plenty of beachfront. When I arrived, the weather was flawless, with blue skies and warm sunshine tempered by a slight breeze...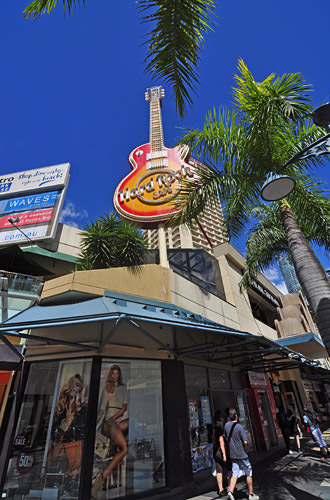 The cafe itself is a beautiful older property with loads of cool memorabilia to look at...
After having lunch and looking around the cafe for a while, I headed to the beach only to find that the clouds had started moving in...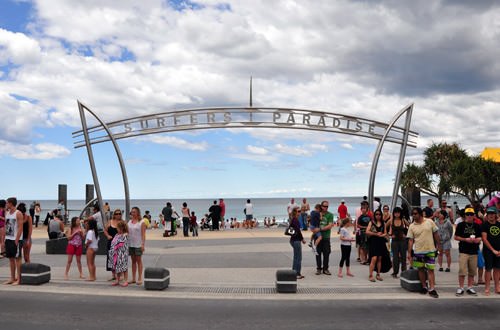 By the time I had wandered around for a while and made it back to the Hard Rock, the weather had taken a drastic turn...
That's quite a difference considering it happened in under four hours!
Luckily, the skies were clear once again when I made it back to Brisbane.
And now that Hard Rock #139 is out of the way for me, I suppose I'd better see about unpacking my suitcase.
Posted on October 2nd, 2011

I have ranted endlessly over how stupid Daylight Saving Time is. In this modern age of electricity and fanciful inventions LIKE THE FUCKING LIGHT BULB, there is no reason to be docking around with the clocks. Just split the difference, have everybody move forward by a half-hour one final time, then leave the clocks the hell alone.
Never was the dumbassness of stupid Daylight Saving Time made more clear to me than this morning when my iPhone woke me up at 3:30am so I could get ready for my taxi to the airport at 4:15am. Except when I got down to the reception desk to settle my account, they were all confused because it was only 3:15am. Why was I an hour early?
Well here's why... in their infinite wisdom, Queensland, the state where Cairns is located... does not practice Daylight Saving Time. Bravo for them. Well done. Except New South Wales, where apparently my iPhone is getting its time data, does observe stupid Daylight Saving Time, which went into effect at 2:00am this morning...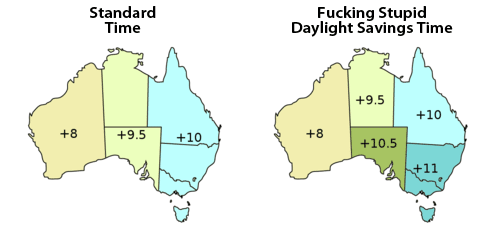 Maps taken from Wikipedia, where you can read about the whole damn tragedy

And I thought the USA was a mess.
The upshot of all this is that I lost an hour's sleep for nothing.
And the best part of all? I get to go through all this bullshit yet again when I get home. Because stupid Daylight Saving Time in the USA ends November 6th and stupid Washington State still practices stupid Daylight Saving Time... unlike more enlightened states like Hawaii and Arizona.
When I am Supreme Ruler of the Known Universe, stupid Daylight Saving Time is the first thing to go.*
*After the entire cast of Jersey Shore, obviously.
Posted on October 1st, 2011

While trying to fall asleep as American tourists were fighting on the balcony below mine last night, it suddenly occurred to me that I have no idea what's going on back in the USA. I haven't once bothered to look at a news site, glance at a paper, or watch TV news since I got here. For all I know, President Obama resigned after declaring war on Canada, and Lindsay Lohan did her patriotic duty by stepping up to run the country after staging a military coup where she firebombed Montreal*.
I'll bet Seattle never gets a Tim Hortons' now. Thanks a lot, President Lohan.
Anyway...
I had just three goals here in Cairns.
Visit with my friends

.

Dive The Great Barrier Reef.

Visit the Daintree Rainforest**.
There are quite a few ways to visit the rainforest. Most involve tours, and I really, really hate tours. I also really hate renting a car, getting lost, and driving into a crocodile den where I get eaten as an appetizer. So I decided to split the difference by ignoring my fear of heights and taking the "Skyrail Buckets of Death" up over Daintree...

The controlled-burn fires in the area really smoke up the horizon.
Skyrail is (of course) the longest tram line system in the world. Which means the terror never seems to end. Indeed, you can't even see the end of the damn thing from high up in the buckets...

WE'RE ALL GOING TO DIIIIEEE!
Along the way there are stops you can take to see the local sights. Like Barron Falls...

Apparently during monsoon season the falls overflow and is quite an impressive sight.
But the main attraction once you reach the end of Skyrail is the village of Kuranda. There's all sorts of stuff to see and do here with plenty of eateries and shops to keep you busy. I was told more than once that the Australian Butterfly Sanctuary was worth a stop. I thought it was included in my Skyrail ticket cost, but that's not the case... it costs $18 AUD to get in. EIGHTEEN DOLLARS! I very nearly skipped it, but had four hours to kill, so I bought a ticket. And wow, was I ever glad I did...

Some of their wings were so raggedy that I was surprised they could fly at all. Poor butterflies.
After lunch I got a little bored with Kuranda and headed back to the train station for my trip back to Cairns.
And so there I was waiting to board the train back to Cairns when I hear this shrieking coming down the stairs. It's a woman dragging her offspring down the steps to the station. The little hellion is obviously not hurt, he's just being a little brat. But that doesn't stop a woman on the platform next to me from saying "Oh, the poor dear, I wonder what's wrong?" Whereas my first instinct is to douse the little shit in holy water and scream "THE POWER OF CHRIST COMPELS YOU! THE POWER OF CHRIST COMPELS YOU!" in an attempt to perform an exorcism. On the brighter side, the station is pretty nice...

Established 1891... and still going strong.

Probably the best-maintained rail station I have ever seen, which is very cool.

I think that's a representation of the giant snake that the Aboriginal people believe carved out Barron Canyon?
I paid extra money (too much money, probably) for the "gold service" which allows you to sit in the luxury compartment with free drinks, free snacks, and a souvenir gift (a pin and a pen). The car itself was quite beautiful, and very probably close to 100 years old...

The chairs are probably new, but the interior is carved wood. They don't make 'em like that any more.
The train ride down is pretty special. Most of the time you're clinging to the side of a cliff where the onboard entertainment system beguiles you with awesome facts like "This section of the railway was the most difficult to build because the rock kept crumbling away." Not exactly something you want to hear, which is why I wanted to scream "HOLY CRAP! WHY ARE YOU TELLING US THIS NOW?!? But I just gritted my teeth and enjoyed the views...

The train makes a quick stop so everybody can look down Barron Canyon... from the West this time.
In all honesty, this photo doesn't do it justice. This canyon is SUPER MASSIVELY HUGE!

Stoney Creek Falls, which seems like it's at the half-way point to Freshwater Station.

The bridge over Stoney Creek Falls on the opposite side of the train.
Once I got to Freshwater Station, my Skyrail ticket included a transfer back to my hotel via bus, which was nice. Now I'm hungry, but don't dare risk a dining experience as crappy as my "nachos" last night here at the hotel. Since I have an early, early, early flight, I guess I'll just go hungry.
And dream of Tim Hortons doughnuts.
*And don't think that they didn't have it coming. Lindsay Lohan may spend most of her time drunk off her ass in a cocaine-fueled frenzy, but she knows the strategic importance of a first-strike scenario where the French-Canadians are concerned.
**Okay, I'll admit that visiting the Daintree Rainforest was not actually on my list of goals. But you can't fly after diving for at least 24 hours, so I had to do something.
Posted on September 30th, 2011

Not quite the awe-inspiring experience I was hoping for.
Even before I became a certified diver, I've longed to dive The Great Barrier Reef. It just seems like one of those things that everybody should have on their bucket list. And while my actual dives were nice, it was a fairly underwhelming day. At first I thought it was just me, but my German table-mates felt the same way. I guess we can chalk it up to overly-high expectations?
Or maybe not. Because when I spoke to the dive master, he had mentioned that our first dive site "Coral Gardens" used to be amazingly beautiful. But it was wiped out by a cyclone eight months ago. This begged the question "Why in the heck don't you dive someplace else then?" but I don't know enough about the region to even know how widespread the damage was*.
But oh well. Not every dream is going to turn out as we had hoped, and I've been luckier than most.
Anyway...
I still had a good time. I haven't been diving in well over a decade, but it all came back to me really quickly. I don't know how, but I had forgotten what a wonderful experience diving is. It's about as close to flying as mere humans can get, as you are neither sinking or floating... you just are.
I bought a new underwater camera for the trip, but didn't end up taking many photos. After I almost missed seeing a turtle because I was concentrating on my camera, I thought I'd put my attention to better use. There's just so much to see.
Here's a few snapshots I took before retiring my camera...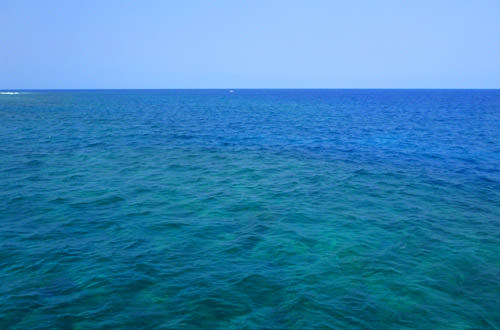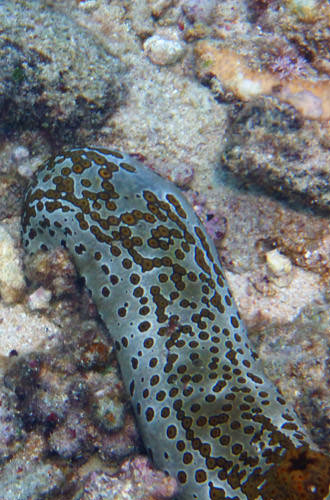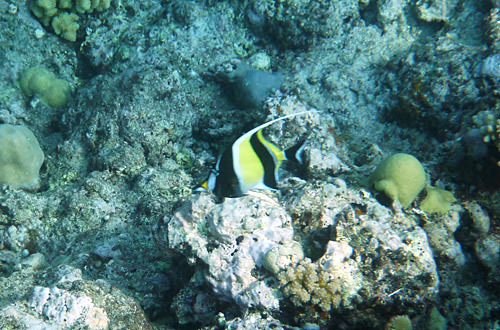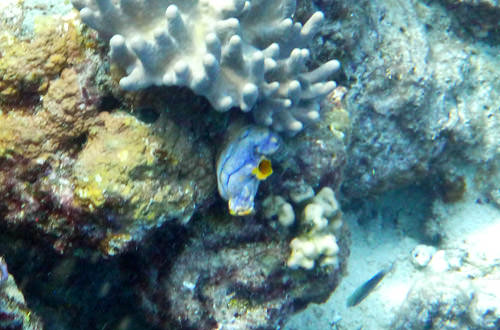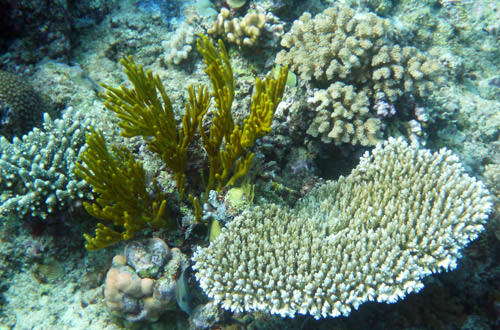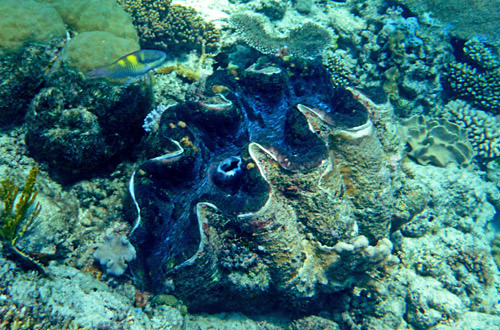 Sadly, no sharks made an appearance.
I know people think I'm joking but, having swam with sharks before, I was really hoping to see one. They are absolutely fascinating to watch. And, no, I'm not saying I wanted a man-eating Great White to drop in... just a regular shark would have been fine.
Though the nachos I had for dinner tonight were so bad that I found myself kind of wishing I had been eaten by a shark so I could have avoided the suffering.
For some inexplicable reason, Aussies mix the salsa into the chips & cheese when they make nachos (instead of serving it on the side). This makes absolutely no fucking sense, because the chips on the bottom end up a soggy, inedible mess...
Seriously, what the fuck? I've been testing out a lot of unusual dishes since I got here, like this delicious pumpkin-feta pizza from last night...
But the terrible "nachos" have been my first disappointment. Blargh.
No worries. I'm sure tomorrow's dinner will be awesome.
*Speaking of damages... I was shocked... shocked... at how many people were sick on the boat-ride out. No less than six people were puking their guts out non-stop. Thankfully, I don't get sea-sick, but the sight of so many people hurling was not an easy thing to take in. Fortunately, there are barf-bag stations all over the ship...
And while I really do feel sorry for those people whose day was ruined because of sea-sickness, I find it odd that people don't find out if they are prone to getting motion-sick before paying big money to head out on the open ocean like this.
No worries. I'm sure the rest of their vacation will be great.
Posted on September 29th, 2011

After an early-morning flight sitting next to a little French kid so adorable that I wanted to take him home with me, I arrived in sunny Cairns (which is a pleasant change from the crap weather in Sydney).
After checking into my hotel, it was time to meet up with my friends Wes and Karen, whom I haven't seen in over a decade. They drove down from Port Douglas to have lunch and wander around a bit. This made for a nice afternoon since I had done -zero- research on the area, and had no idea what Cairns was about. First surprise was that the city proper doesn't have a beach. It sits on a mud flat...
As you head north, a beach does appear...
But it's not like you'll be doing any swimming there...
Luckily, the people of Cairns have an awesome water park right off the mud flats to compensate...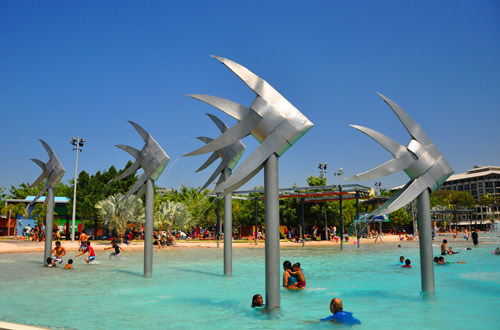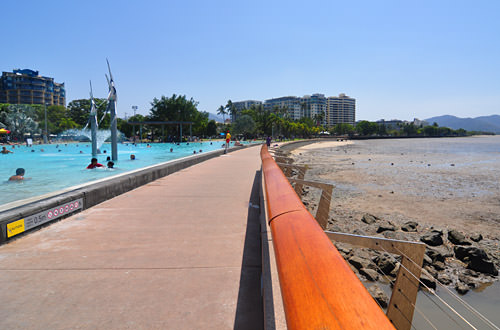 In what little I've seen of Australia so far, I've fallen in love with the "no worries" laid back atmosphere. But Cairns takes it to an entirely new level. The city is so laid back that it's almost as if even the locals are on perpetual holiday. And it's completely contagious. Right now I'm finding it very hard to give a crap about anything. Far easier to just be happy and see where the day takes you.
This attitude could be a real problem if I don't find a way to turn it off once my vacation is over.