Posted on Monday, January 1st, 2018
Posted on Wednesday, January 10th, 2018
Posted on Friday, January 12th, 2018
Posted on Monday, January 15th, 2018
Posted on Friday, January 19th, 2018
Posted on Wednesday, January 24th, 2018
Posted on Friday, February 2nd, 2018
Posted on Monday, February 5th, 2018
Posted on Tuesday, February 13th, 2018
Posted on Wednesday, February 14th, 2018
Posted on Wednesday, March 21st, 2018
Posted on Friday, March 23rd, 2018
Posted on Friday, March 30th, 2018
Posted on Friday, April 20th, 2018
Posted on Sunday, April 29th, 2018
Posted on Sunday, May 20th, 2018
Posted on Tuesday, May 22nd, 2018
Posted on Thursday, May 24th, 2018
Posted on Monday, May 28th, 2018
Enjoy that barbecue!
Posted on Friday, June 1st, 2018

Happy Pride Month, everybody!
But especially to my hetero-challenge friends who mean more to me than butter.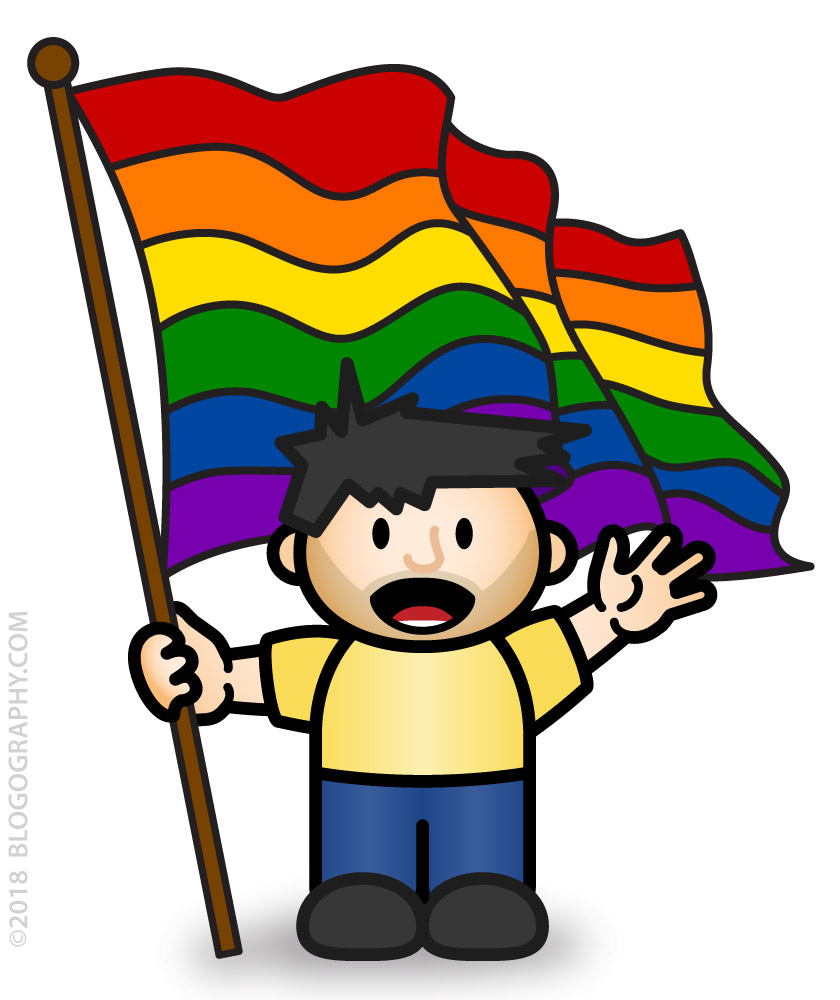 And if this isn't the perfect thing to post for the start of Pride, I don't know what is...
Be happy out there, people.
Posted on Monday, June 18th, 2018

Everybody is laughing at the idea of spending billions of dollars we don't have on a "space force." But you won't be laughing when the alien invasion comes and we are DOMINATINNNNNNG SPAAAAACE!!!
Oh... you say aliens that are capable of interstellar travel will have technology that makes any "space force" we come up with about as threatening as a BB gun? Well... well... WE CAN STILL KEEP THE MEXICANS FROM INVADING THE MOON! HA!! CHECKMATE, HATERS!!!
=ahem=
Space exploration has always resulted in amazing technologies that eventually filter downward and make everybody's life better. I 100% support my tax dollars going towards organizations like NASA, who do a lot more than just push the boundaries of human knowledge... they also invest in technologies which keep us safe and help us to have a better understanding of the world we inhabit and (at least until the current administration) the dangers we face from the destruction we're causing to it.
Likewise, I also 100% support my tax dollars being spent on defense. Sure, I think it's insane that we have such a massive military complex when so many of the current threats we face can't be remedied that way... and it seems crazy that we have weapons enough to destroy the world a hundred times over and are told we still need more... but I want our military to always have access to cutting-edge technology which keeps them (and us) safe. So yeah, budget for that. Not military parades and golf trips on Air Force One, but that.
And now we're getting a space force?
We've got homeless vets, a stupid-ass 100% completely ineffectual wall to build, and legions of other problems that could use our tax dollars... but pew! pew! pew! pew!
Tags:
Dumbassery
,
Dumbasses
,
Dumbfuckery
,
Fuck This Shit
,
Fucking Assholes
,
Fucking Scumbags
,
Fucktards
,
Liberal Redneck
,
Pig-Fucking Assholes
,
Stupidity
,
Trae Crowder
,
Truly Stupid People
,
Trump's America
Categories:
News – Politics 2018
—
Click To It:
Permalink
—
1 Comment: Click To Add Yours!
Posted on Wednesday, June 20th, 2018

Another day...
Another...
Whatever the fuck this is...
Posted on Sunday, June 24th, 2018

Gather ye rosebuds while ye may, because an all-new Bullet Sunday starts now...

• Go West! And so tonight was the second season finale of HBO's Westworld. After being shocked to my core my the brilliance of the first season, I was really looking forward to what happens next. Unfortunately what happens next has largely been a confusing mess and a disappointment. All sympathy built up for the hosts trying to break free of their endless torture evaporated as psycho-Dolores lowered herself to the level of a human and wholesale slaughtered people by the hundreds...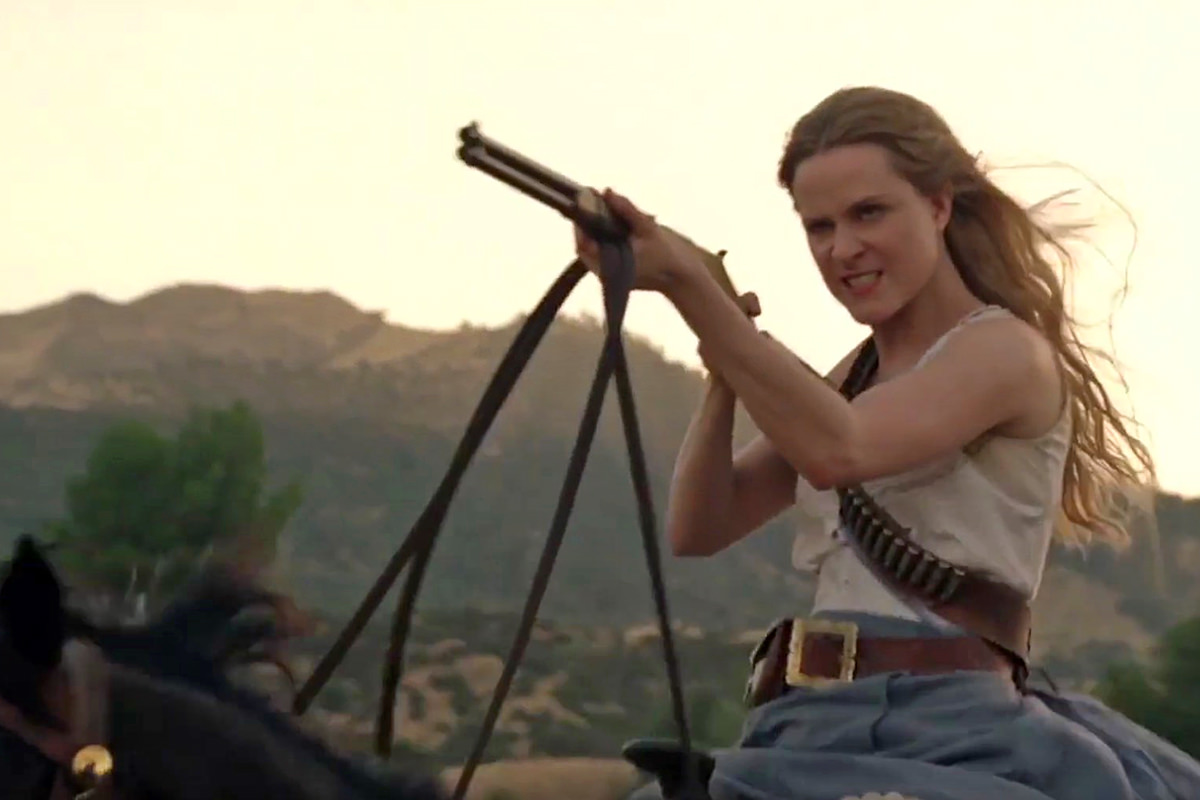 But there were bright spots of course. The diversion into Shogunworld was a bit boring, but at least it was different. The return of "Ford" was a welcome treat. And then came episode 8, Kiksuya, which was a totally random departure, but absolutely beautiful to behold...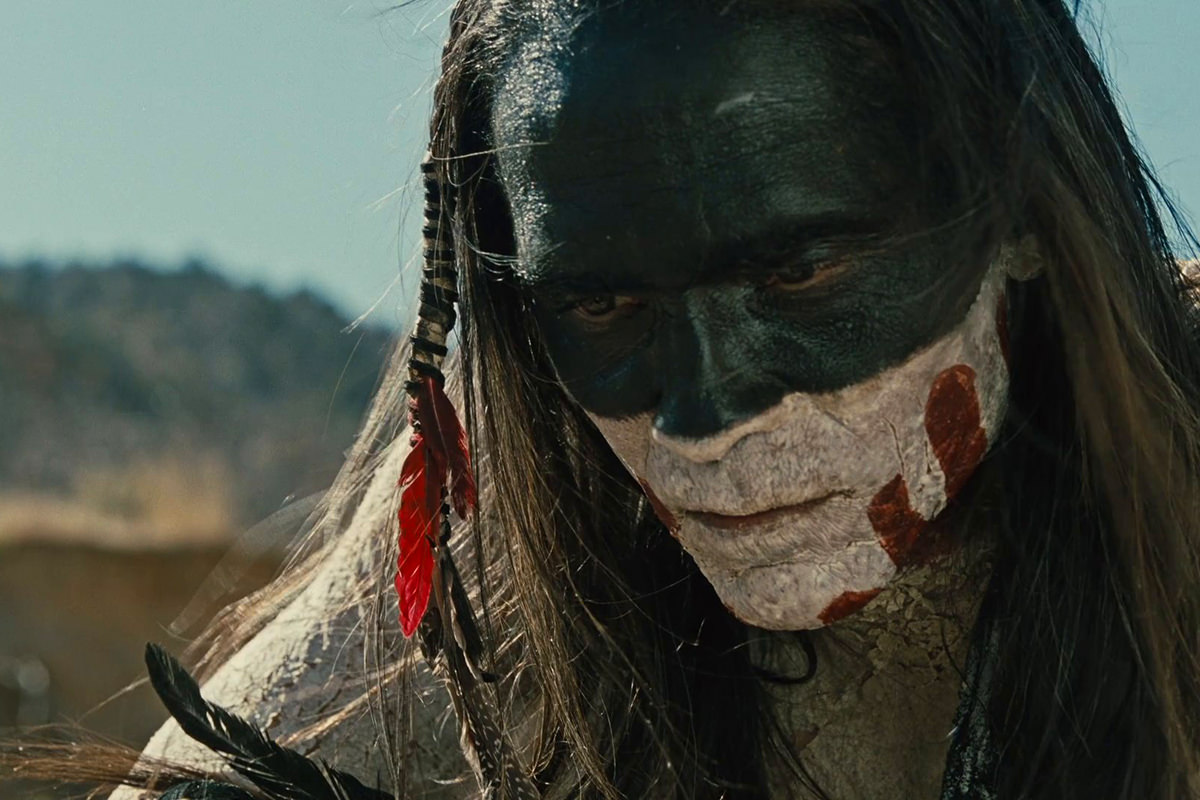 And then there was the finale.
I won't delve too deep into spoilers here for those who haven't seen it. But I will say that this season was a frustrating jumble of timeline jumps that were needlessly complex... and clumsy in execution compared to the first season. The finale didn't do much to make the more esoteric story beats any easier to comprehend, but it did wrap up some critical storylines and toss in enough twists to make me glad I invested my time in watching it. Here's hoping that the third season will try not to go so absurdly meta-philosophical and be more clever than obtuse.

• Paul! If you're even a casual fan of The Beatles, this is for you...
If you're a massive fan like me, it's really for you though.

• Batfleck! This article about DC's horrible handling of the Affleck Batman era nails it. How can you have a Batman at the end of his career be a part of a larger, continuing story? The Batman that Zack Snyder created makes absolutely no sense for The beginning of a franchise... Affleck or no Affleck... and it drives me crazy that Snyder was so sublimely oblivious to this fact. What? Batman is just going to be this old, broken, sad character on his last legs in every movie from here on out? So stupid. I've waited most of my life for DC characters to come together on the big screen... I've been dreaming about it since the Christopher Reeves' Superman movies... and I'll never forgive Zack Snyder for his heinously bad vision that ruined everything. All he had to do was look at the Bruce Timm animated shows (or decades of actual DC comic books) to see how Batman could work... both alone and in a larger narrative... but he decided to make something totally lame, incoherent, and just plain awful instead. He was the wrong choice for these films from the very start because he had no interest in portraying the characters as they are, but instead wanted to"put his own stamp"on them. And sadly, that's exactly what we got.

• Simba? This was made over a year ago. I am just now finding it. High-larious...
Genius!

• Fan! Jake was hanging around while I was working in bed. He wanted to be petted, so I obliged for a bit...
Then the temperature started rising so I turned on the ceiling fan...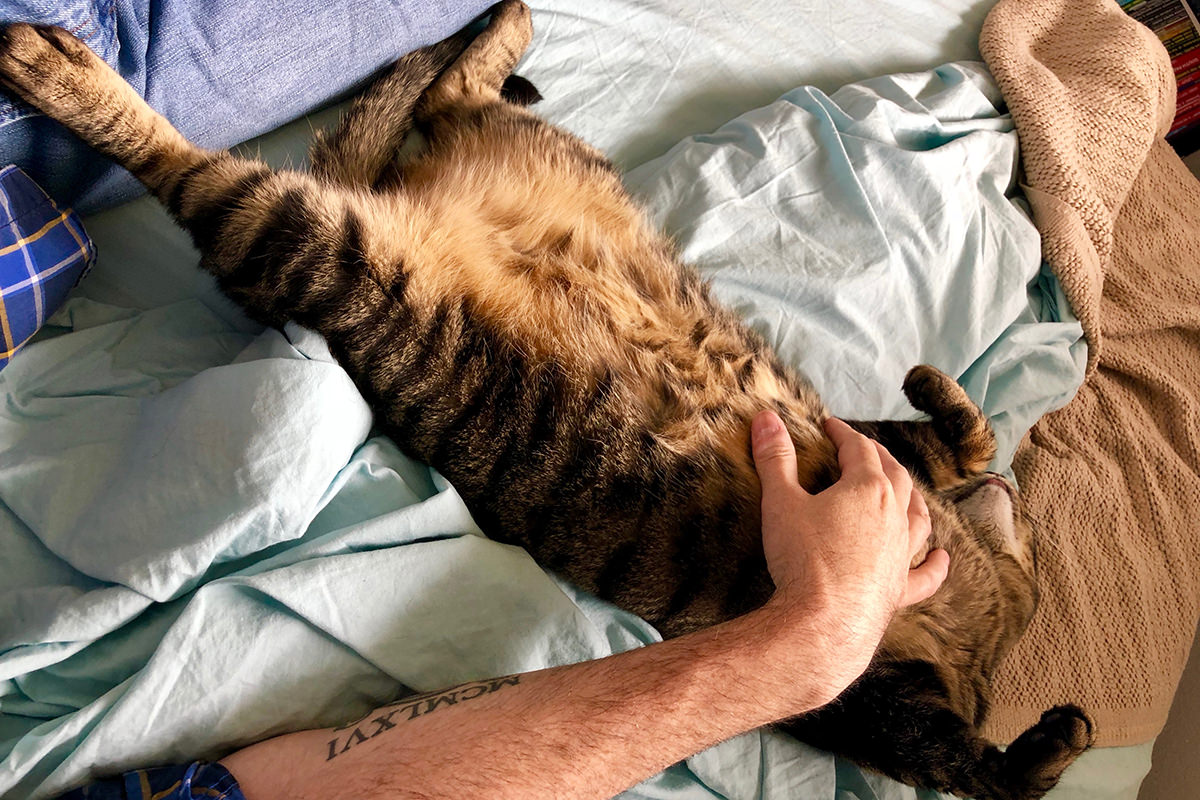 Jake loves airing out his junk, that's for sure.

• Act! Posted for no particular reason...
It's textbook, really.

And, on that foreboding note... time to finish up Luke Cage on Netflix! If you're not watching this, it's worth your time. The show is a slow-burn with incredible acting by a cast to die for. If Alfre Woodard doesn't get a truck-full of awards for her amazing work on Luke Cage, there's something wrong.
Tags:
Batman
,
Bullet Sunday
,
Cats
,
Movies
,
Music
,
Television
,
Westworld
,
YouTube
Categories:
Movies 2018
,
Music 2018
,
News – Politics 2018
,
Television 2018
—
Click To It:
Permalink
—
1 Comment: Click To Add Yours!
Posted on Sunday, July 15th, 2018

We're on fire again and smoke fills the air... but don't despair, because an all new Bullet Sunday starts now...

• M-S-G Can You Dig It? Absolutely fascinating...
I don't eat Chinese food hardly at all (it's not very good here, and choices for vegetarians are severely limited)... and yet I've heard the MSG myth forever.

• Monkey Business! In case everybody doesn't know... I put the first volume of Bad Monkey Comix up to read online for free. You can take a look by clicking on this image...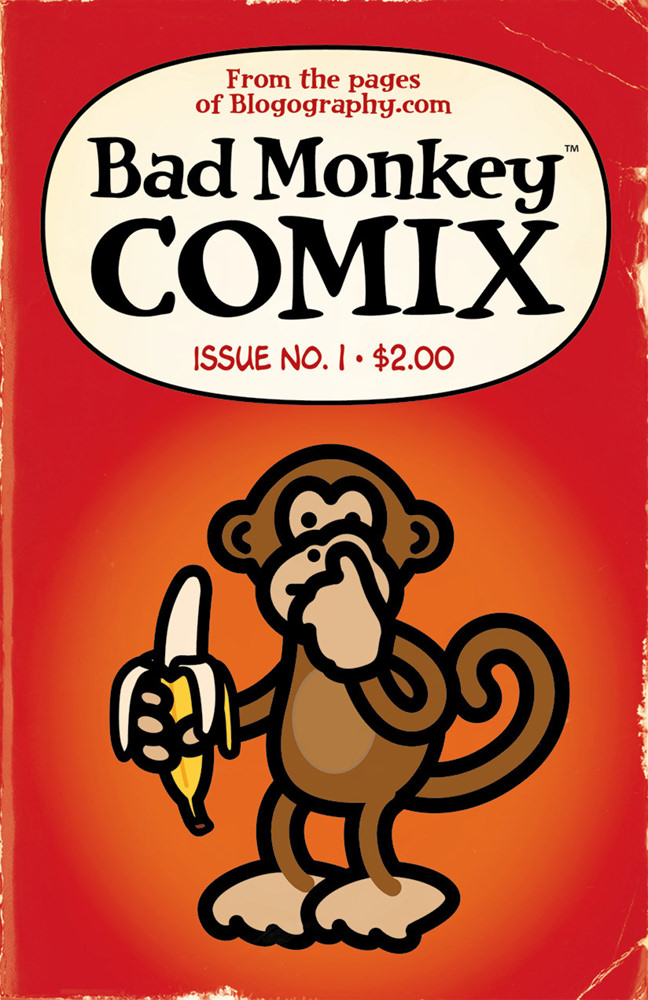 Or you can just click this link!

• New MacBooks! Apple's new "Pro" MacBooks once again lacking the ports that "pros" need to actually FUNCTION in their fucking JOBS. Such a crock of shit. DONGLES! DONGLES EVERYWHERE!!!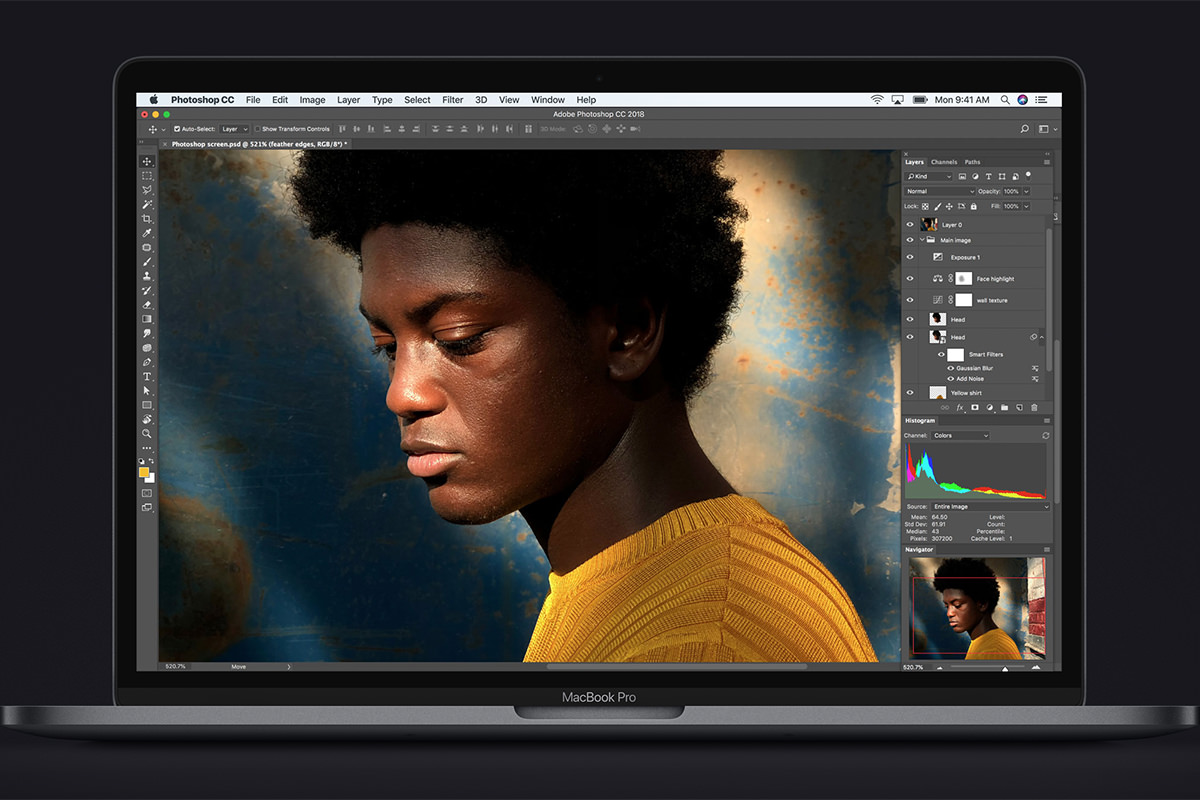 I thought that Apple was supposed to be working with pros to find out what they want in "pro" products? I don't think that's true. Otherwise they wouldn't be sticking with a shallow, shitty keyboard and no standard USB ports. At least you get more than one port now. Still no MagSafe, which sucks.

• Science Fact! Tom Bailey's new album, Science Fiction, is here! If you pre-ordered, it has probably arrived (my autographed copy of the deluxe set did!) but you can also listen to it on the usual streaming services. I'm saving my review for another entry, but here's a sneak preview: love it.

• Be You! Oh noes. Roll up on a woman, call her a slut because of what she is wearing, then think that you can then proceed to slut-shame her into submission? Not. This. Woman. Not today. My guess is not any day...
What absolutely kills me about this is how we rave about "American freedom"... but never seem to back that up. Whether it's telling a Muslim woman she's wearing too much... or telling this woman she's wearing too little... everybody is just DYING to tell OTHER PEOPLE HOW TO LIVE THEIR LIVES. Well fuck that. Live your truth. Be who you are. Defy those who would oppress YOUR FREEDOM by defining what it means for you to be free. So long as you're not endangering others, be free to be you.

• Incompetence. I have been trying very hard to keep politics off of Blogography because I don't want it degrading into a comedy of horrors that makes me want to slit my wrists every time I visit my own blog. But things are so bad right now. So bad. And people don't even seem to realize what's happening. The Trump Administration trade fiasco is probably going to damage this country more than anything so far. Companies are already laying off scores of workers because the reciprocal tariffs are making it impossible for them to operate. It's horrendous, and it's just the beginning. From Professor David Honig...
I'm going to get a little wonky and write about Donald Trump and negotiations. For those who don't know, I'm an adjunct professor at Indiana University - Robert H. McKinney School of Law and I teach negotiations. Okay, here goes.

Trump, as most of us know, is the credited author of The Art of the Deal, a book that was actually ghost written by a man named Tony Schwartz, who was given access to Trump and wrote based upon his observations. If you've read The Art of the Deal, or if you've followed Trump lately, you'll know, even if you didn't know the label, that he sees all dealmaking as what we call "distributive bargaining."

Distributive bargaining always has a winner and a loser. It happens when there is a fixed quantity of something and two sides are fighting over how it gets distributed. Think of it as a pie and you're fighting over who gets how many pieces. In Trump's world, the bargaining was for a building, or for construction work, or subcontractors. He perceives a successful bargain as one in which there is a winner and a loser, so if he pays less than the seller wants, he wins. The more he saves the more he wins.

The other type of bargaining is called integrative bargaining. In integrative bargaining the two sides don't have a complete conflict of interest, and it is possible to reach mutually beneficial agreements. Think of it, not a single pie to be divided by two hungry people, but as a baker and a caterer negotiating over how many pies will be baked at what prices, and the nature of their ongoing relationship after this one gig is over.

The problem with Trump is that he sees only distributive bargaining in an international world that requires integrative bargaining. He can raise tariffs, but so can other countries. He can't demand they not respond. There is no defined end to the negotiation and there is no simple winner and loser. There are always more pies to be baked. Further, negotiations aren't binary. China's choices aren't (a) buy soybeans from US farmers, or (b) don't buy soybeans. They can also (c) buy soybeans from Russia, or Argentina, or Brazil, or Canada, etc. That completely strips the distributive bargainer of his power to win or lose, to control the negotiation.

One of the risks of distributive bargaining is bad will. In a one-time distributive bargain, e.g. negotiating with the cabinet maker in your casino about whether you're going to pay his whole bill or demand a discount, you don't have to worry about your ongoing credibility or the next deal. If you do that to the cabinet maker, you can bet he won't agree to do the cabinets in your next casino, and you're going to have to find another cabinet maker.

There isn't another Canada.

So when you approach international negotiation, in a world as complex as ours, with integrated economies and multiple buyers and sellers, you simply must approach them through integrative bargaining. If you attempt distributive bargaining, success is impossible. And we see that already.

Trump has raised tariffs on China. China responded, in addition to raising tariffs on US goods, by dropping all its soybean orders from the US and buying them from Russia. The effect is not only to cause tremendous harm to US farmers, but also to increase Russian revenue, making Russia less susceptible to sanctions and boycotts, increasing its economic and political power in the world, and reducing ours. Trump saw steel and aluminum and thought it would be an easy win, BECAUSE HE SAW ONLY STEEL AND ALUMINUM - HE SEES EVERY NEGOTIATION AS DISTRIBUTIVE. China saw it as integrative, and integrated Russia and its soybean purchase orders into a far more complex negotiation ecosystem.

Trump has the same weakness politically. For every winner there must be a loser. And that's just not how politics works, not over the long run.

For people who study negotiations, this is incredibly basic stuff, negotiations 101, definitions you learn before you even start talking about styles and tactics. And here's another huge problem for us.

Trump is utterly convinced that his experience in a closely held real estate company has prepared him to run a nation, and therefore he rejects the advice of people who spent entire careers studying the nuances of international negotiations and diplomacy. But the leaders on the other side of the table have not eschewed expertise, they have embraced it. And that means they look at Trump and, given his very limited tool chest and his blindly distributive understanding of negotiation, they know exactly what he is going to do and exactly how to respond to it.

From a professional negotiation point of view, Trump isn't even bringing checkers to a chess match. He's bringing a quarter that he insists of flipping for heads or tails, while everybody else is studying the chess board to decide whether its better to open with Najdorf or Grünfeld.

— David Honig
This level of incompetence when it comes to trade is going to completely and totally fuck us. And make no mistake that we, as a country, are fucked. And this is just trade. We are equally fucked in many other areas. Which leads me to believe that President Trump thinks that the era where America was "great" is The Great Depression.
And don't think that just getting a new president in two years is going to fix the problem. The things that have been screwed up may very well take decades to correct. If they are correctable at all.

• Czech! Came home to see Stripes was on this past week. It was at the part where their unit has accidentally crossed the border into Czechoslovakia and so, naturally, they're all going to die. Amazing how international relations have changed within my lifetime. I've been to Czechoslovakia... and China... and Romania... and other countries it was assumed I would never be able to step foot in back in the day...
Of course... thanks to the ineptness of the Trump Administration, we may very well be going back to those times, so I guess I'm happy to have enjoyed it while it lasted. Pretty soon the only place that Americans may be able to travel is Russia and North Korea.

• Which Brings Us To... So... under President Obama we were the laughing stock of the world you say? What about now, you feckless ridiculous ignorant fuck?
The absurdity of where we are as a country keeps hitting new lows.

And, I think that's enough bullets for a smoke-filled Sunday. See you next week!
Tags:
Apple
,
Bullet Sunday
,
Davetoons
,
Dumbassery
,
Dumbfuckery
,
Music
,
Politics
,
President Trump
,
Travel
,
Trump's America
Categories:
Apple Stuff 2018
,
DaveToons 2018
,
Music 2018
,
News – Politics 2018
,
Travel 2018
—
Click To It:
Permalink
—
1 Comment: Click To Add Yours!
Posted on Monday, July 16th, 2018

Holy shit.
I missed half of this crap. It's just so unreal.
Which is saying something given the nature of our current reality...
Didn't know that Ireland wasn't a part of the UK?!? It just keeps getting worse and worse and worse.
Within the span of a 45 minute press conference! This is a perfect snapshot of the bigger picture and how there' no bottom to hit when it comes to our president.
Posted on Thursday, July 19th, 2018

The current host of The Daily Show is Trevor Noah, a South African native who was tasked with the impossible job of filling Jon Stewart's shoes after he left the desk.
For the most part, he's done an amazing job. He is incredibly funny, whip-smart, and has a delivery that makes every joke land with a lethal precision that makes so many other comedians feel like a blunt instrument.
The Right tends to dismiss him as a progressive mouthpiece, but that's a gross simplification. It makes him sound like he's a Left-Wing Tomi Lahren who just stupidly parrots talking points without actually contributing anything to the conversation. That's not even remotely true. Trevor has a viewpoint that's uniquely his own, which is on full display on his "Between the Scenes" YouTube Channel where he is totally off-script and just talking to the audience.
Anyway...
On the occasion of Nelson Mandela's 100th birthday, Trevor... who is in a unique position to offer commentary... paid tribute on tonight's show. I have watched this segment three times now, and won't be deleting it from my DVR. If you've ever listened to anything I've had to say here, trust me and take a look at the following 8 minutes...
Only Trevor Noah. If you haven't listened to his audiobook for Born a Crime, you owe it to yourself to do that.
Listening to Mandela telling how he received his "Christian name" is fascinating to me. And profoundly sad. The idea that your name is unacceptable because other people have a problem with it seems... inhumane.
But inhumane treatment was nothing new to Rolihlahla Mandela.