Posted on Wednesday, February 21st, 2018

My addiction to home renovation shows has reached critical mass. My list of woodworking projects I want to do has gotten so long now that I would have to retire if I even wanted to make a dent in it.
Right now I'm excited for Spring to come so I can turn my garage into a woodworking shop again and get started on two (well, actually three) projects...
Custom Picture Frames. I am building a wall collage in my stairwell of family and friends photos. I'm to the point where there are no frames I can buy to fit in the places I need to fill, so I need custom frames to make it work. Alas, they are SO expensive, so I bought a router table and am going to make my own. It's so much easier than I thought it would be. I also have some prints that I'd love to display, but could never find frames to fit. Now I can make my own.
Remodel My Laundry Room. I want some narrow shelving that will be easy to build, but the main thing I want to do is build new cabinet doors as practice for...
Remodel My Kitchen. I ran out of money when I was remodeling my home, so I never got to replace the kitchen cabinets which I hate hate hate. I then decided I would just reface them with new doors and drawers, but that was also insanely expensive. So then I decided to buy the tools to build my own doors and drawers. I'm also confident that I can tile my own backsplash. About the only thing I am not confident about is replacing the countertops, so I'll have to hire somebody after I'm done with what I'm going to do.
That's months of work given that I can only work nights and weekends.
And yet...
I've got another project I'd really like to tackle.
I want a pergola on my patio.
Well, a pergola over the part of the patio which remains after I built a catio out there. It might also be cool to build a cat run into it with seating on top, like yo...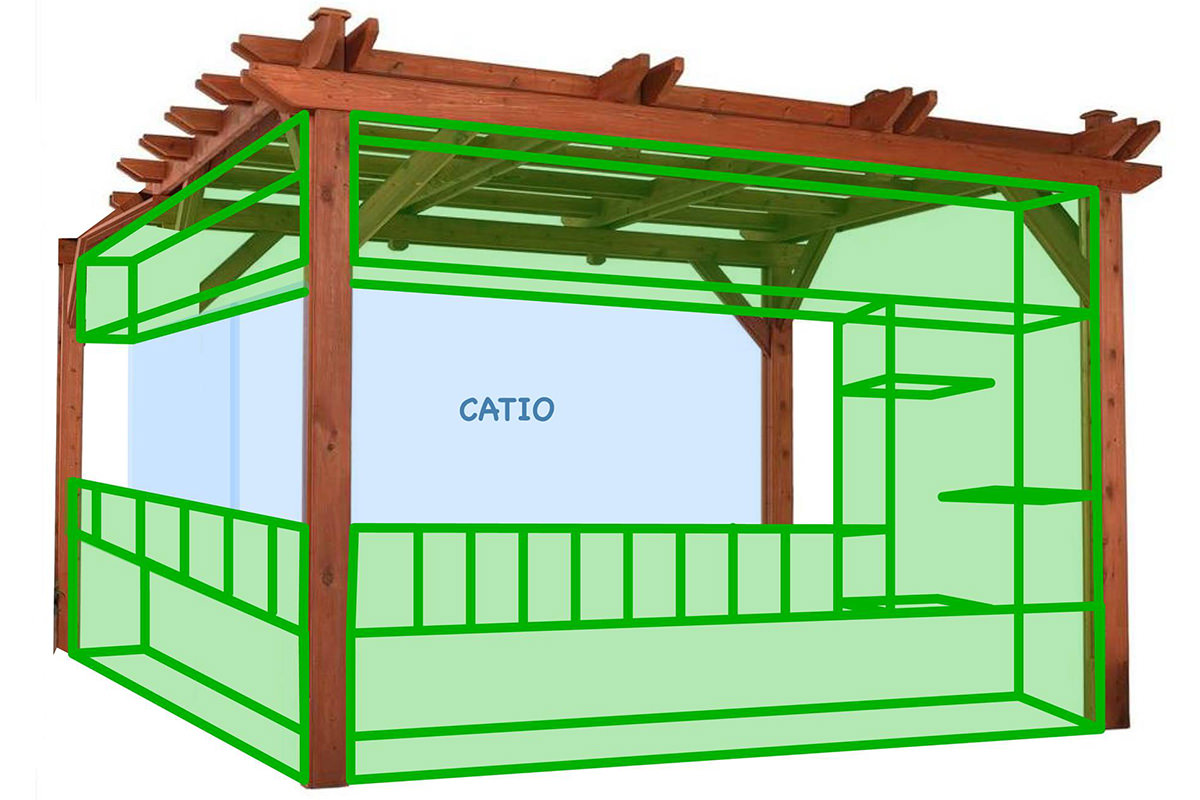 That way I could sit outside and read a book under a little bit of shade while my cats run around. Big Fun for all of us!
By far, the biggest project I've ever tackled, if I end up doing it... but it looks like a lot Big Fun to build too!
Posted on Thursday, February 22nd, 2018

This morning I was working from home when I hit a snag and needed to be in the office to finish up. I was hurrying to get out the door when I noticed that something was on my floor. Too small for a mouse, so I was guessing it was some kind of hideous bug trying to get out of the cold. So I went to get a glass and piece of board to trap him and... it was a hairball. A Jake hairball.
Jake has, on rare occasions started hacking like he had a hairball, but he's never puked one up. I guess there really is a first time for everything.
So, after cleaning that disgusting mess up, I tracked him down to the pad on my media center (formerly the stereo receiver) to make sure he was okay. I asked him about the hairball, but all he did was demand belly rubs...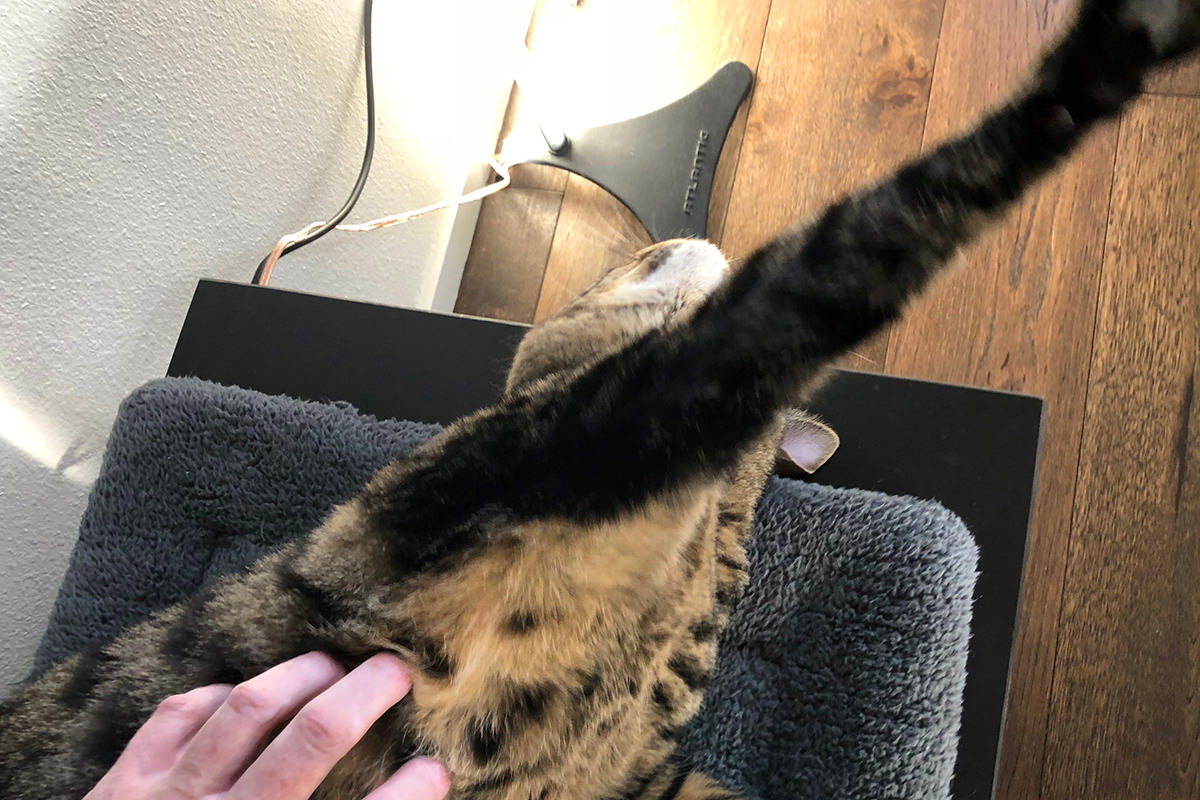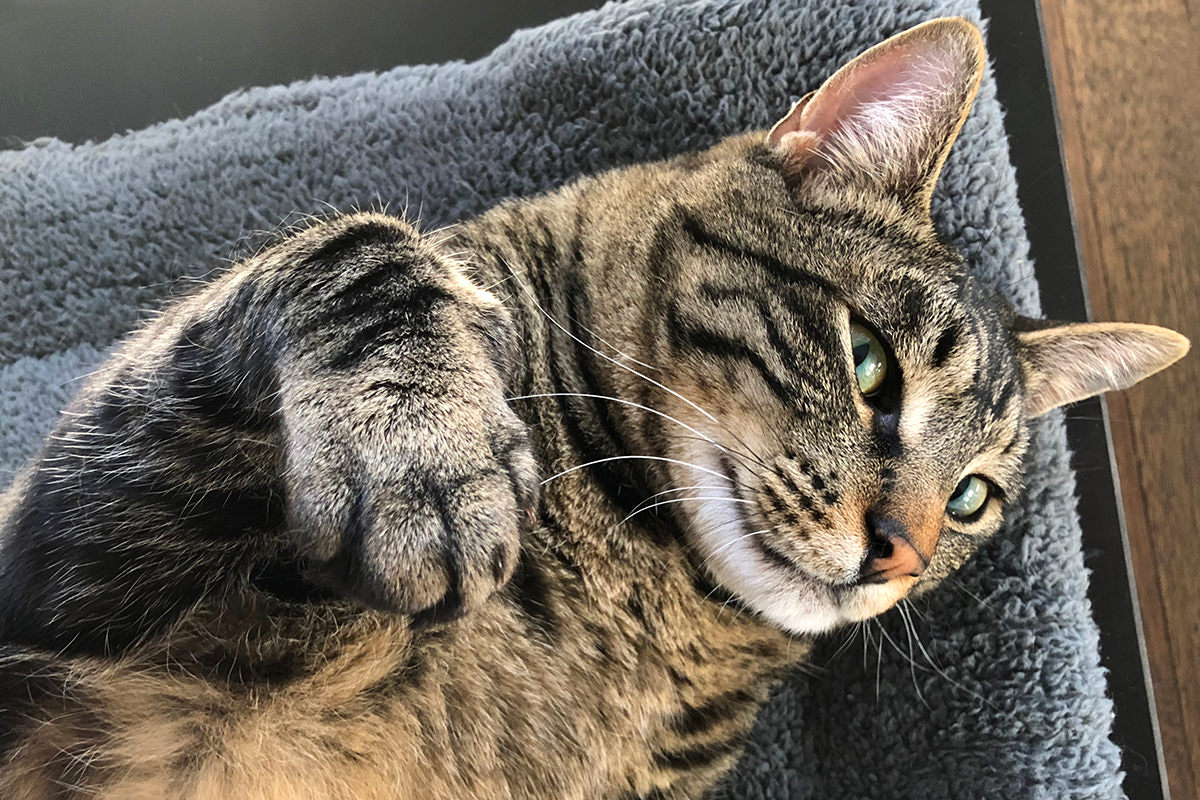 So my fears that Jake might have hairball inducing PTSD from his vet visit are apparently unfounded. If it was a problem, apparently it's all fixed by belly rubs.
Jenny never seems to have hairball problems but, then again, she's more into getting brushed with THE FURMINATOR, so I suppose that's to be expected. So as to avoid any further hairball incidents with Jake, it looks like I may have to start insisting he gets FURMINATED whether he likes it or not.
Because the first time I step in a hairball I will totally lose it.
Posted on Tuesday, January 29th, 2019

The weather has been exceptionally nice these past couple days, which is both good and bad. Good because I can park outside and do some light woodworking in my garage. Bad because I worry about us having enough of a snow pack in the mountains to avoid drought this summer.
Yesterday when I got home from work I started experimenting with making cabinet doors and drawer facings. What I want are simple shaker-style pieces which look like they would be easy to build. And, relatively speaking, they are...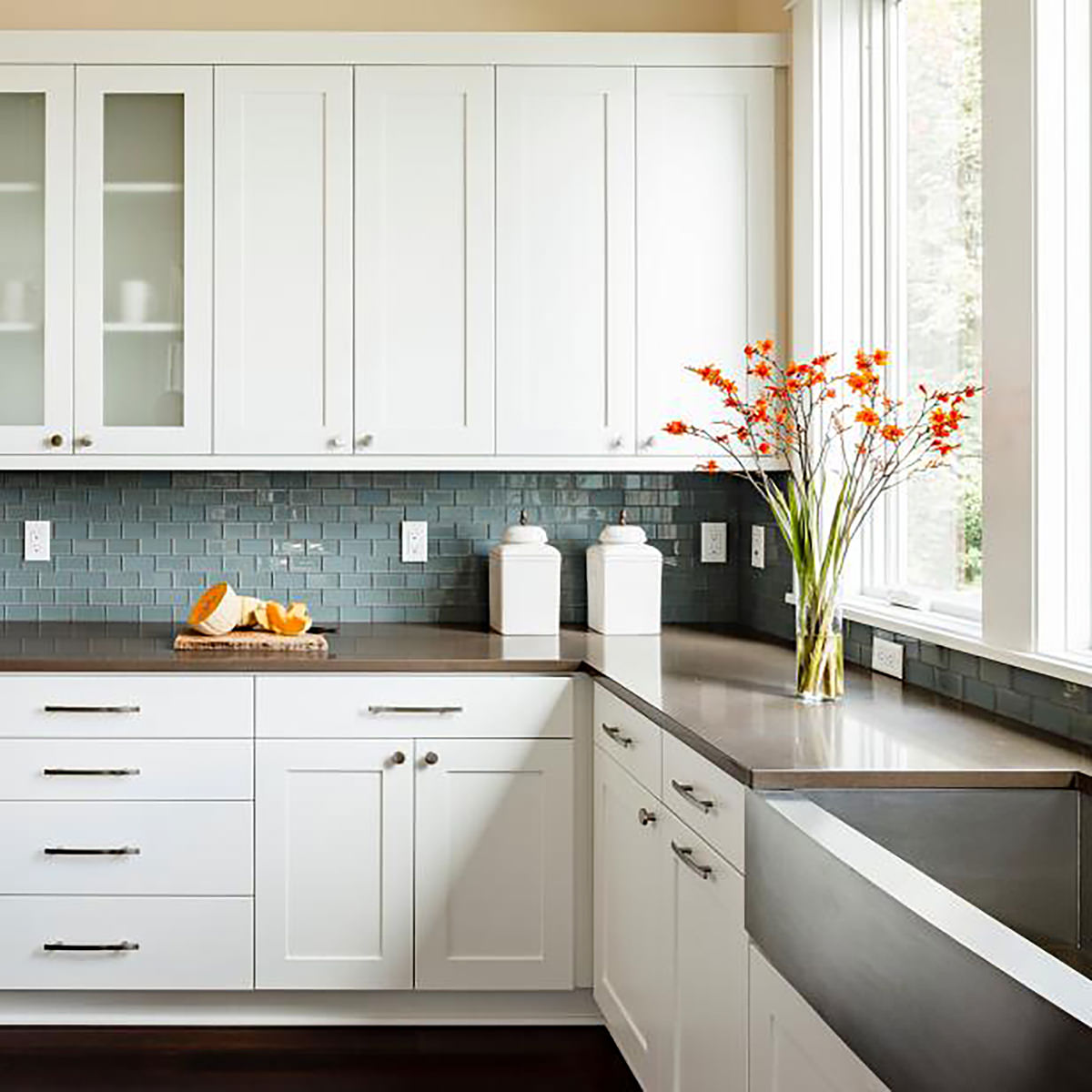 These are the doors and drawers I want... almost exactly. Photo from HGTV.
But getting doors and drawers that will look great takes great patience, attention, care, and time.
Take the drawers in the above photo, for example. It looks like you just saw off a piece of wood, paint it, slap a handle on it, then crack open a cold one because you're done. But it's not that simple. Every edge has to be routed because a sharp corner has little strength and will be nicked up and dented in no time. But you can't overdo it or else they won't look like they're meant to look. And then there's the biggest issue I face... having flat, flat, super-flat boards to work with.
This is a surprisingly weird thing to have to worry about.
You'd think that the boards you buy would be cut flat (which they are) then processed in such a way that they remain flat. This is not even remotely the case. After the wood has been cut from a log it's usually dried so it doesn't warp too badly, but temperature, humidity, and other factors work on the wood over time and cause it to bend. Every single "true-wood" board I have ever bought has been warped in some way. Every board. This is a huge problem when you are trying to build something that's supposed to be flat. Like a drawer face or a picture frame.
So... what to do?
Option A is to use a material like MDF (medium density fiberboard) or hardboard. It's real wood fibers mixed with resin and heat-pressed into sheets for building. It's inexpensive, smooth, flat, won't warp, paints super-smooth, and is easy to work with. In the past it was fairly weak and lacked the strength of true wood, but now-a-days it's pretty durable stuff and can be almost as strong. As a bonus, it's easy to work with as well. The downside is that it can chip or come apart easily if you're not careful about how you use nails and screws. Since I'm painting everything white, this may be a good choice for me because you'll never see the material. I also like the idea that it's cheaper and won't warp or split.
Option B is to use "true wood" and buy a planer. Running everything through a planer will provide the super-flat boards I need to build nice doors and drawers. This is wasteful and time-consuming, but you get the durability and strength that's made wood the material of choice since cabinetry began.
Option C buy fresh-planed wood from a cabinet shop. Not really an option because it's far more money than I have to spend.
My plan is to build a couple drawer faces and cabinets with MDF and see how it goes. Once I get them built I'll beat on them a little bit to make sure they're not going to fall apart. If they hold up well, then I guess I've found my material. If not, I guess I'm getting a planer. Which is something I wanted to buy anyway, but my kitchen remodel is such a huge deal that I am not thrilled with the time involved in having to use it.
For the most part I am anxious to get started on my kitchen and excited to tackle such a challenging project. But there's a small part of me who is very aware that I don't know what I'm doing yet and no amount of YouTube videos will prepare me for the real thing. Which is why it's nice that the weather has been so good and I can experiment. I'll be a lot more confident about my plans if I have some experience under my belt.
Also? By starting in on cabinetry early I'll have more time this summer to work on more catio projects. Jake and Jenny are wanting new adventures!