Posted on Friday, January 4th, 2019

For the past two years, I've named Schitt's Creek "The Best Show You're Not Watching" in my annual television wrap-up. I just watched through all four seasons again to prepare for Season Five, airing on the 16th.
It's most definitely one of my favorite shows going, but it's tough to fit it on a list because I'm always behind while waiting for it to appear on Netflix. Now I see that POP TV is on my DirecTV, so I will finally be able to watch it when everybody else does. That'll be nice, and I anticipate that the upcoming fifth season will land on my Top Twelve at the end of 2019.
If you haven't seen it, the concept is pretty simple. An absurdly wealthy family loses all their money when their accountant doesn't pay their taxes. With no home to their name, they ends up moving to Schitt's Creek... the only asset they have left. It was bought as a joke for a birthday gift and was deemed too worthless by the IRS for them to bother taking it.
Hilarity ensues.
In the first and second season, much of the humor came from super-rich people having to adjust to their new life in a new town where the locals are very different from the people they're accustomed to.
I liked the show... didn't love it...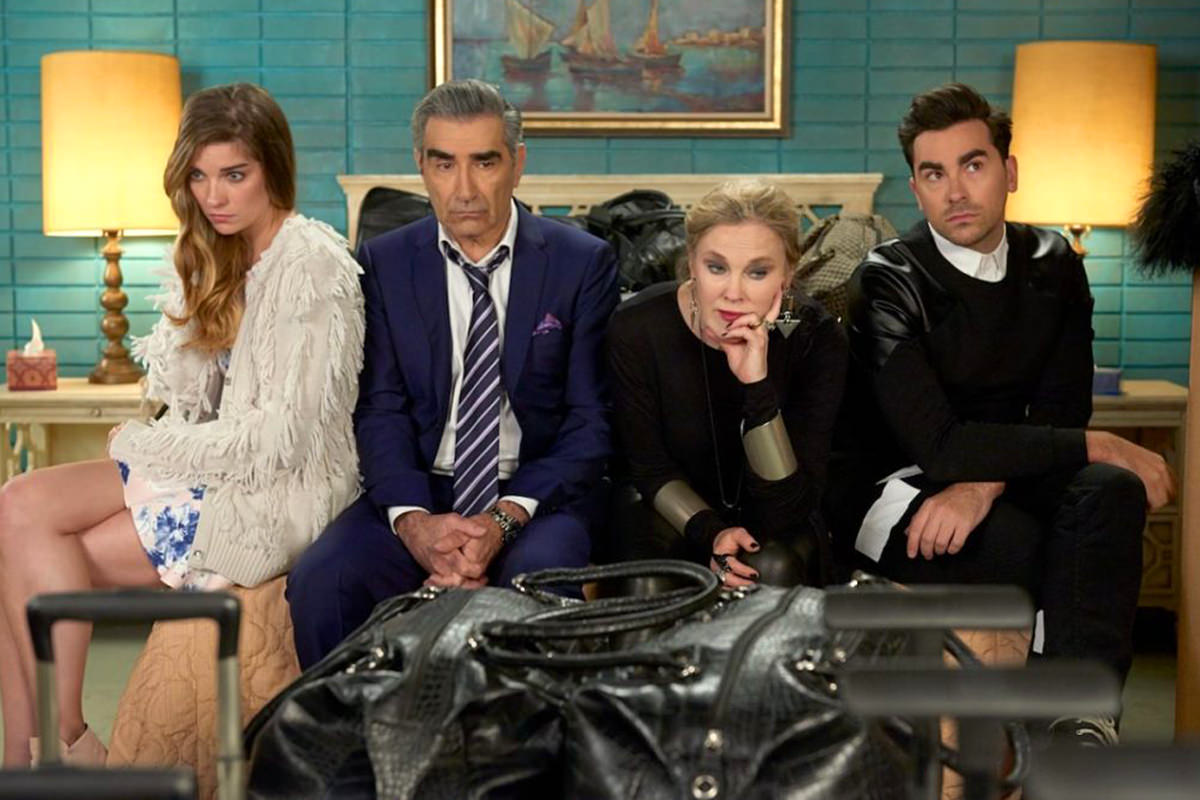 Then everything changed in the third season.
It was at that point that The Rose Family started accepting their new lot in life and began assimilating into the community. That's when the show became total genius and one of my favorite things ever. Since New Year's, I've been rewatching the first four seasons so I can be caught up before the new season starts on the 16th. I finished this morning.
Here's what I love about the show and why you should be watching...

BEST TELEVISION COUPLE: DAVID & PATRICK
I'm not even joking here. This is hands-down my favorite couple on television. When they first meet, Patrick is just another new local who is in charge of approving David's small business loan. And though you know that David is pansexual, their romance comes completely out of left field. And you're there from the very start...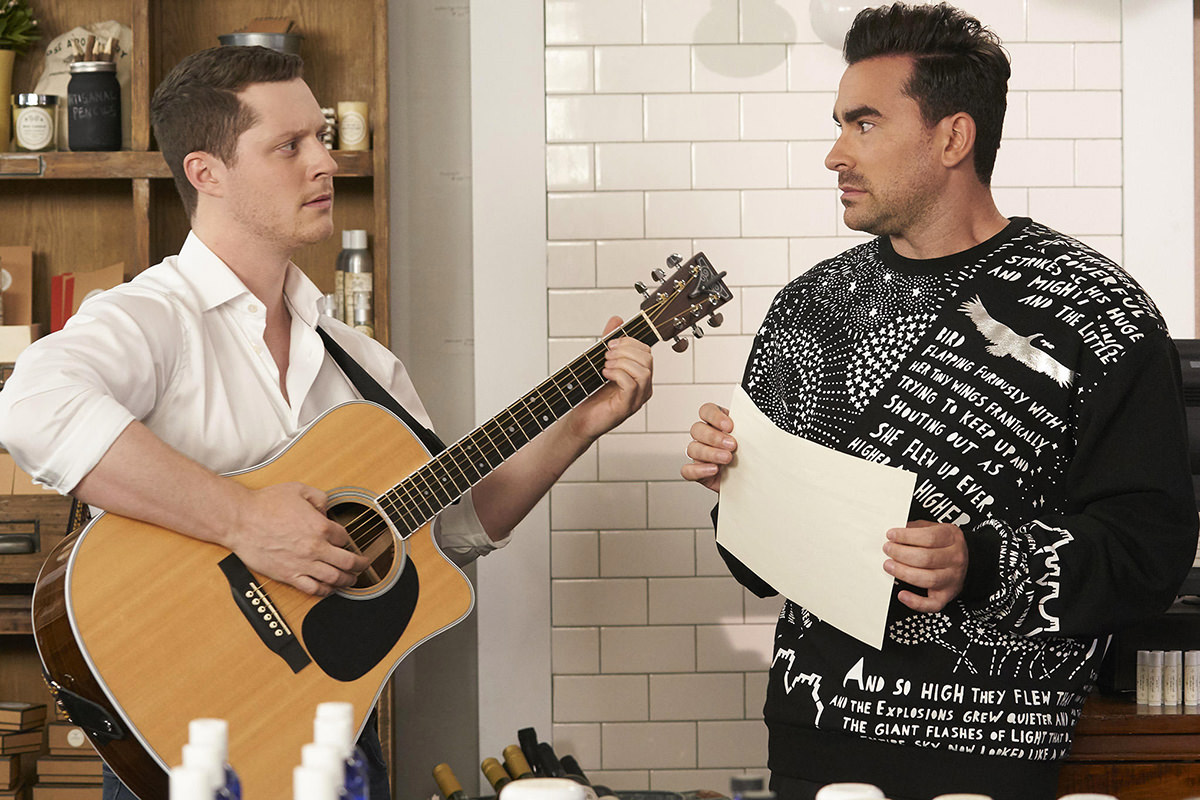 They couldn't possibly be more opposite, but it's just one of the many things that makes their relationship so heartwarming and sweet. One thing's for sure, you'll never listen to Tina Turner's Simply the Best the same way again...
For people who say that they started watching Schitt's Creek but couldn't get into it, I tell them to skip right to the third season. Patrick appears half-way through, and everything about the show changes. The fourth season is even better. After that you'll want to go back and watch the first two.

BEST TELEVISION BEST FRIENDS: DAVID & STEVIE
Their relationship started as disdain... evolved into friendship... blossomed into friends with benefits... then landed on best friends...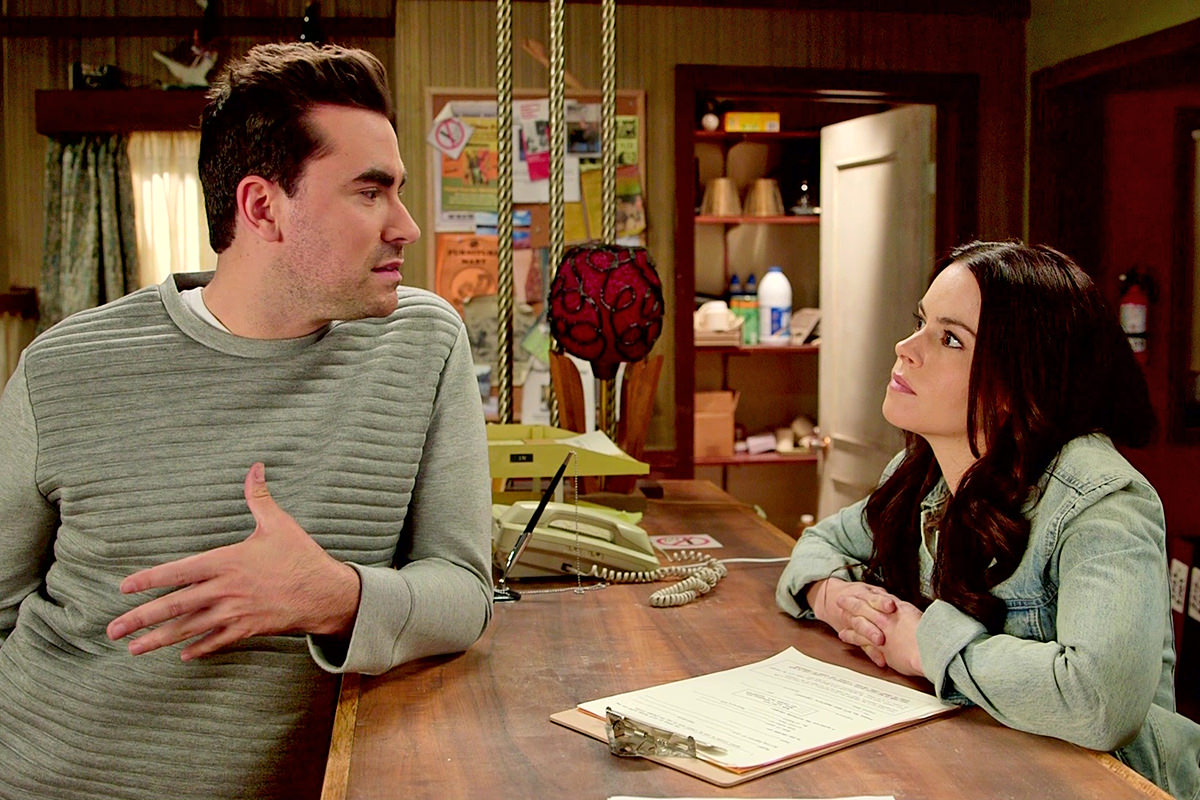 David and Stevie end up best friends because it seems unlikely that they could be best friends with anybody else. It's funny, sweet, and just works...

BEST TELEVISION SIBLINGS: DAVID & ALEXIS
Spoiled from birth, they behave exactly as you think they would. For the most part, they seem indifferent to each other, but still make a hilarious team. And Alexis's never-ending stories of horrible situations she's escaped from is always interesting. Almost as interesting? The way she pronounces "David." Which she says constantly. Day-vhed... Day-vhed...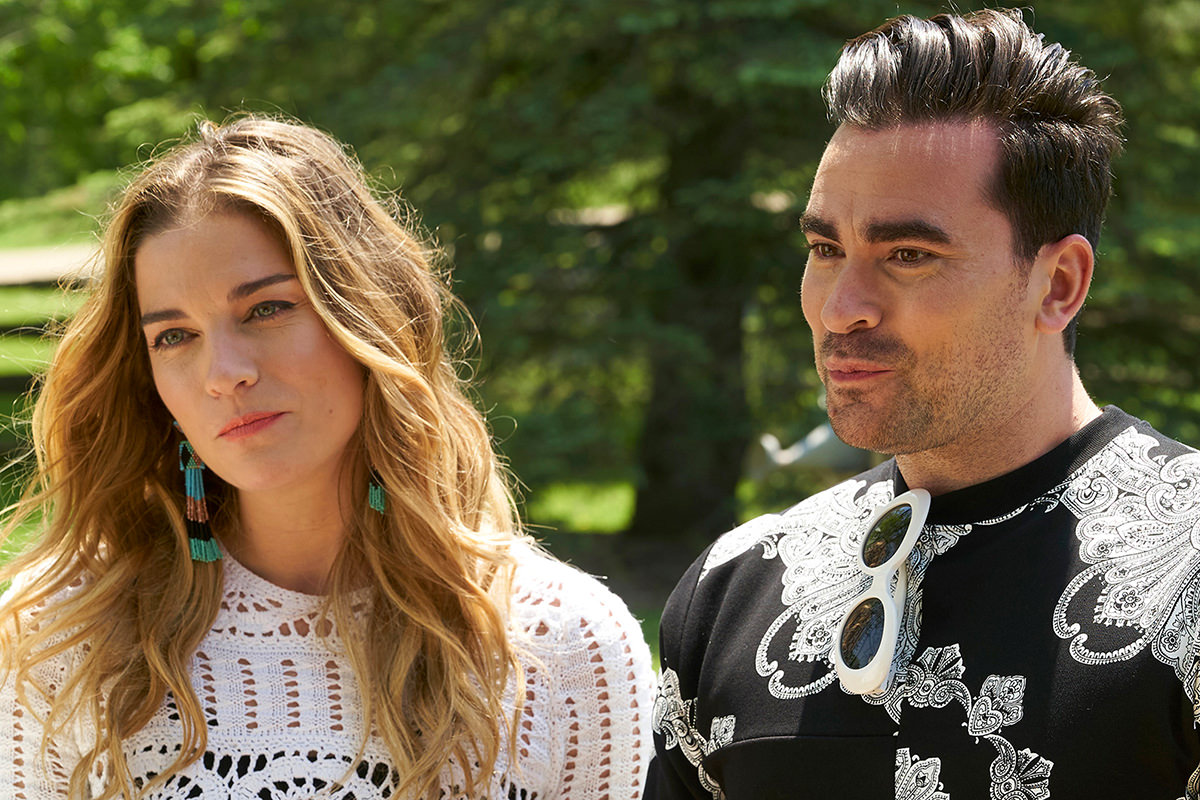 BEST TELEVISION FASHIONISTA: MOIRA ROSE
Catherine O'Hara has long been one of my favorite actors. Even so, nothing could prepare me for her mind-boggling performance as the Rose Family matriarch. She has adopted an accent for the role that's tough to pin down. She grew up "normal" so we can only imagine that she talks the way she does because that's how she imagines wealthy people speak. But it's not her accent that makes the character so insanely watchable... that's only part of it. What really makes Moira appealing is the outlandish wigs and outfits that she's always wearing. Where do they all come from? Who knows? You'd think she would have long since ran out of new fashion, but she's always got outfits waiting in the wings...

BEST TELEVISION EYEBROWS: JOHNNY ROSE
Eugene Levy is positively nuts on the show... even though most of the time it's his reaction to the state of things that's the most rational.

BEST TELEVISION REDNECK: MAYOR ROLAND SCHITT
Chris Elliott could have easily sleepwalked his every scene with this character, but seems to be injecting some genuine decency and sweetness into him. So instead of just being a bumbling, clueless, moron... he ends up being a genuinely nice guy that you want to root for instead of dismiss. His wife, Jocelyn, has a bit more going on when it comes to smarts. But that's probably because she's a high school teacher...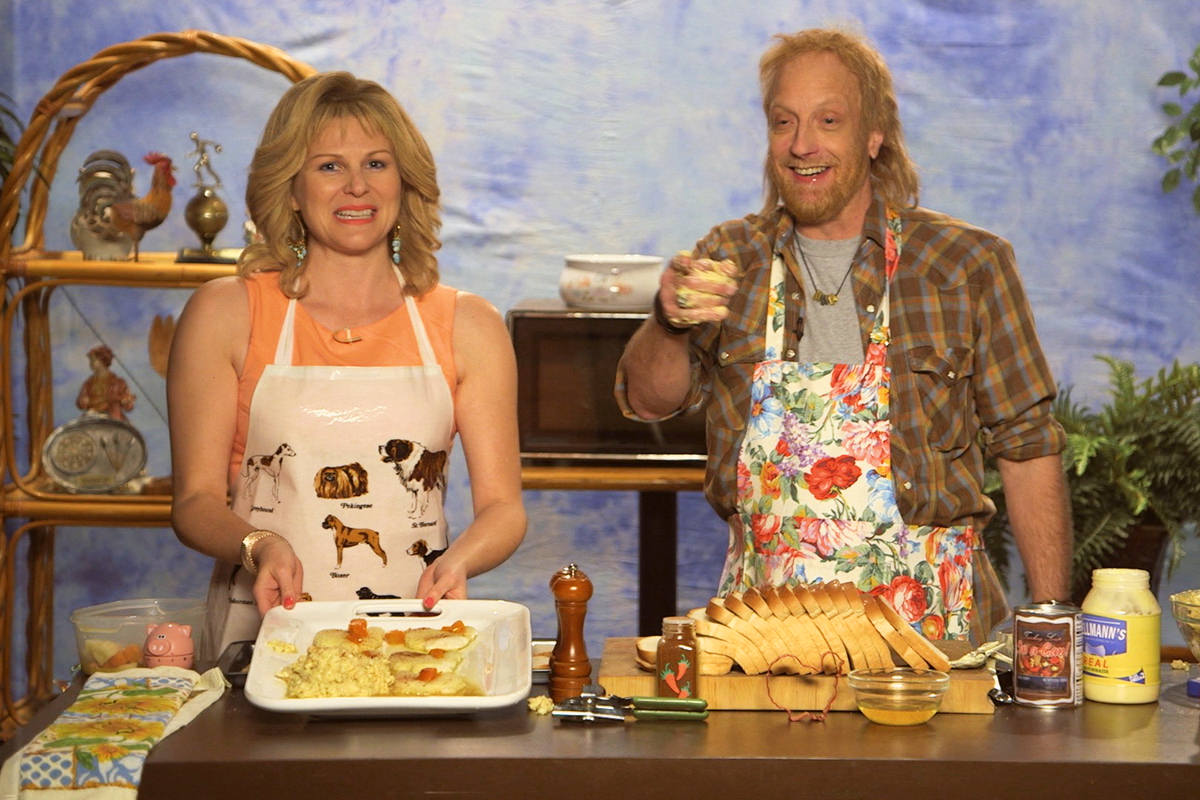 BEST TELEVISION BEARD: MUTT SCHITT
And you don't realize it until Alexis goes nearly catatonic after he shaves it off...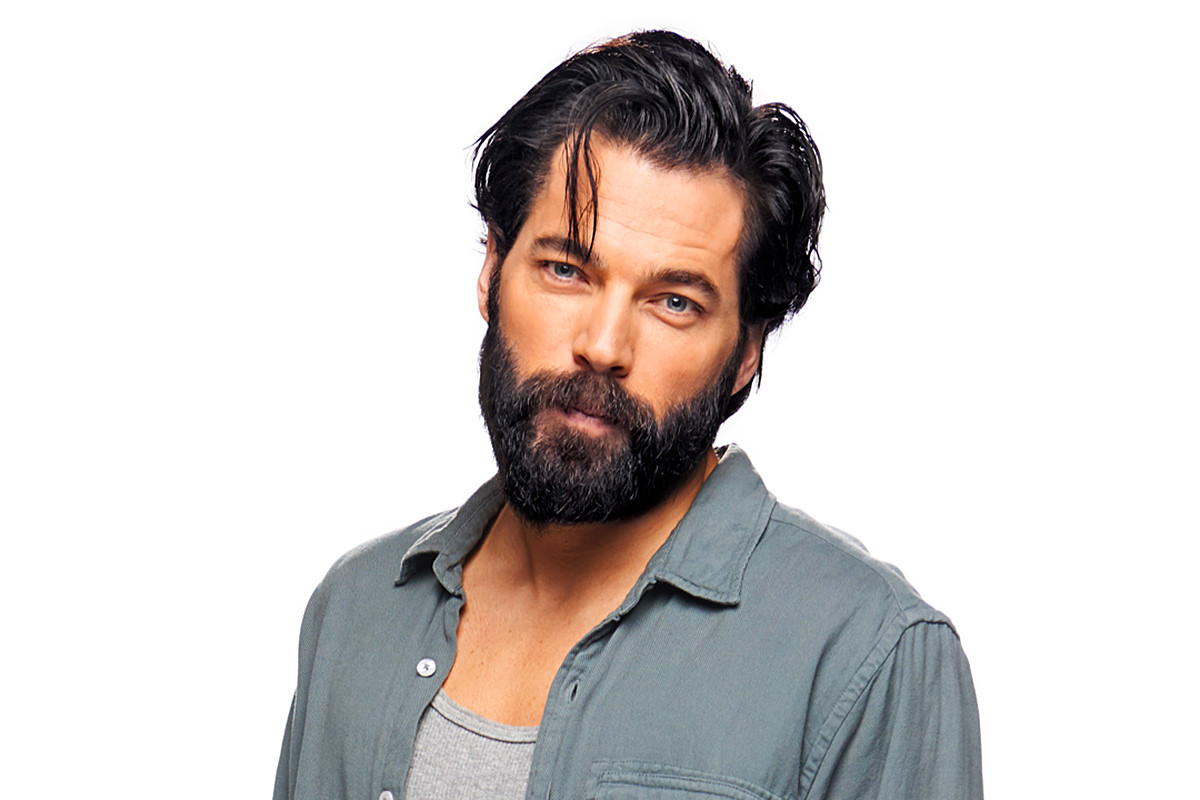 If you haven't seen Schitt's Creek, take a look.
If quirky humor is not your thing, jump to the third season. It's still quirky, but more grounded.
If you aren't in love with the show by the end of the last episode of season three, there's no hope for you my friend.
Posted on Saturday, January 5th, 2019

For the longest time after I got Jake and Jenny, they were completely silent. They didn't meow at me or try to communicate at all. I, on the other hand, talked to them all the time.
Then Jenny started talking back. Jake tried to talk back, but he can't meow for some reason (unless he's stressed out, apparently). He kinda squawks a bit though. Especially if I look in his direction and he wants to be petted. Jenny mostly wants kitty treats when she meows.
They don't talk to each other at all. They chase each other around from time to time, however. Otherwise they just kinda work around each other. Sometimes literally.
Jenny was sitting directly in front of the cat door looking at something outside. Jake then decides HE wants to look outside, but he can't see around his sister. He tries one side... then the other side... then goes back to the other side. And still can't see out. He was not happy...
Finally he figures out that if he twists his head, he can look past her...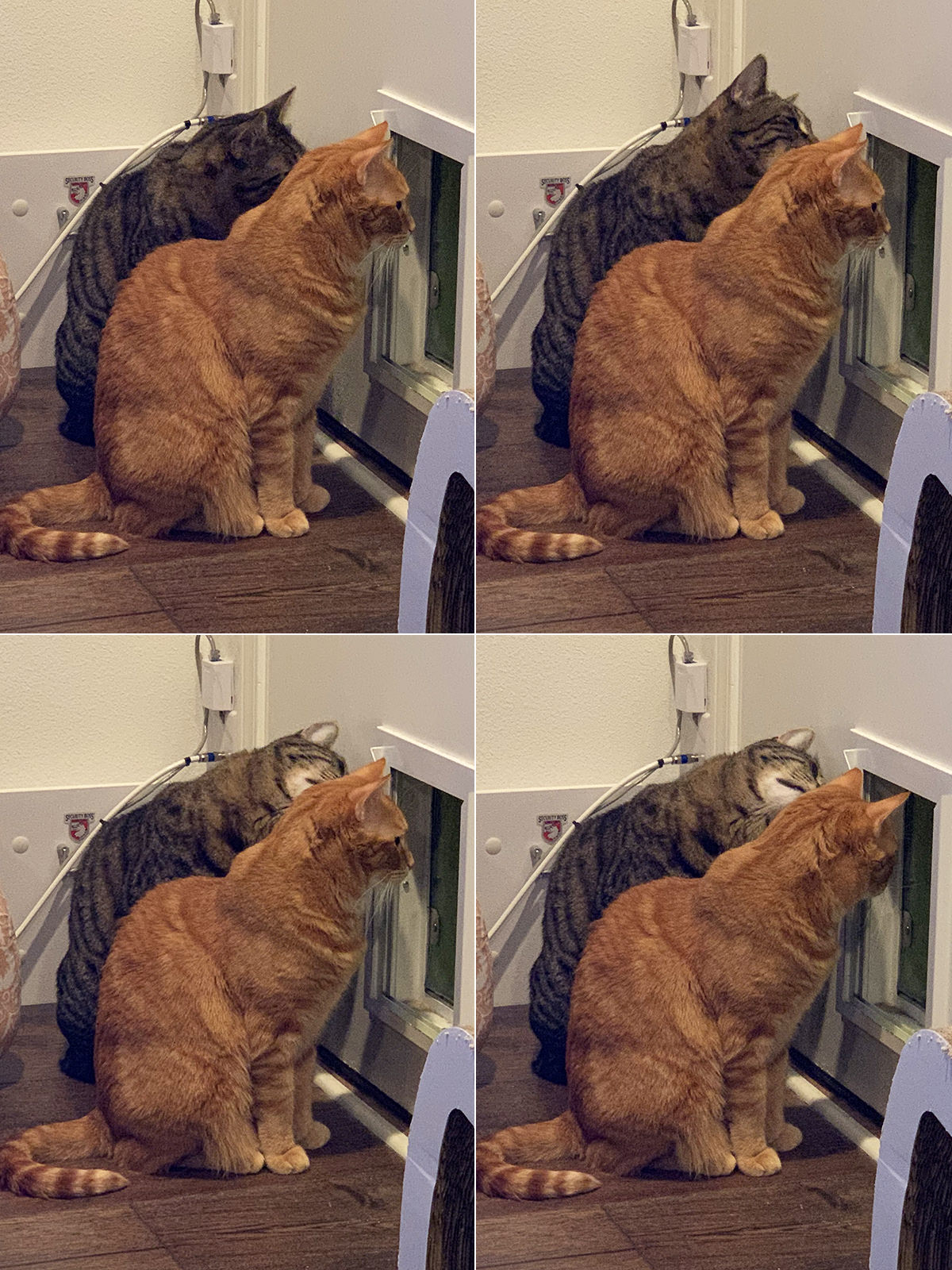 He looked outside sideways for several minutes until Jenny got bored and left.
Jenny gets bored easily. Which is why I think she likes watching television so much. Her favorite thing to watch is Rick and Morty. But I was re-watching Isle of Dogs recently and she was totally absorbed...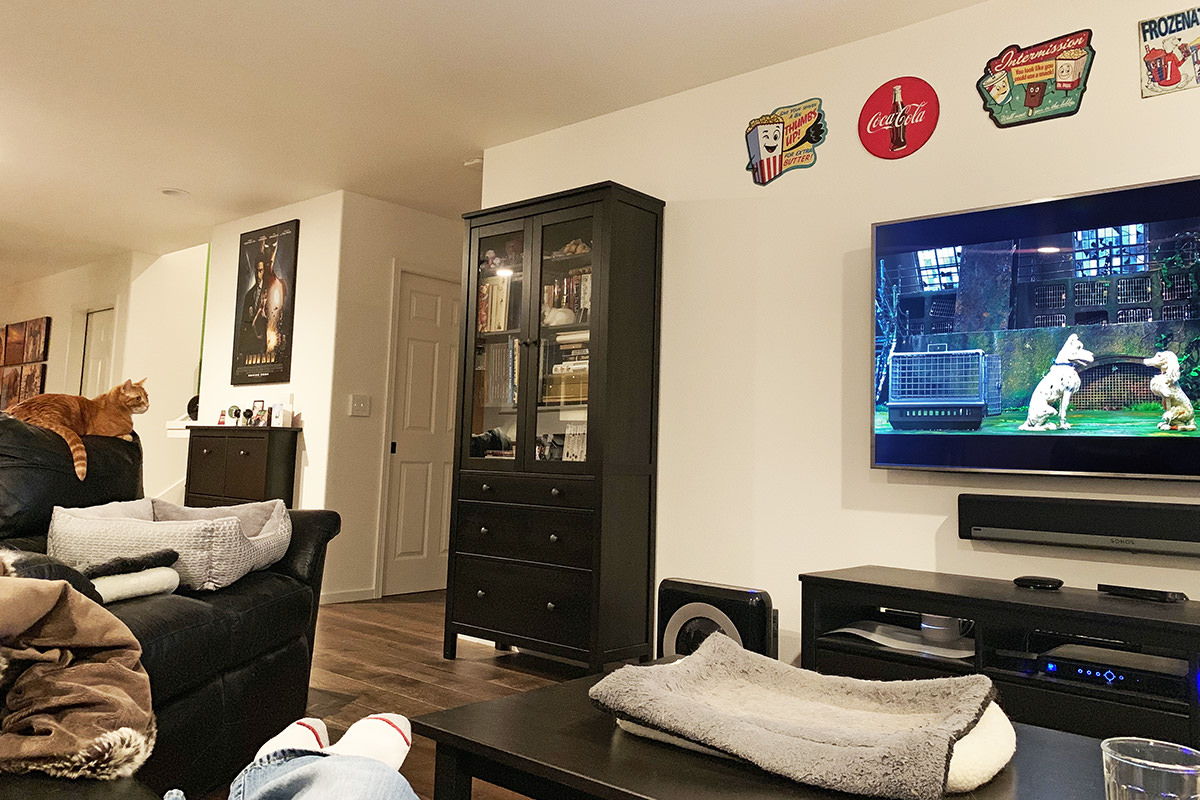 After a while she decided she wanted to sit next to me while watching the movie, which is what she usually does...
She's too adorable, even if she has a couple floopy whiskers...
She's even more adorable when she decides that the drawstrings on my favorite hoodie are more entertaining than what's on television. It only cost me $100 and I had to fly to the bottom of the earth to get it... but please do chew on my Hard Rock Ushuaia hoodie. It's fine...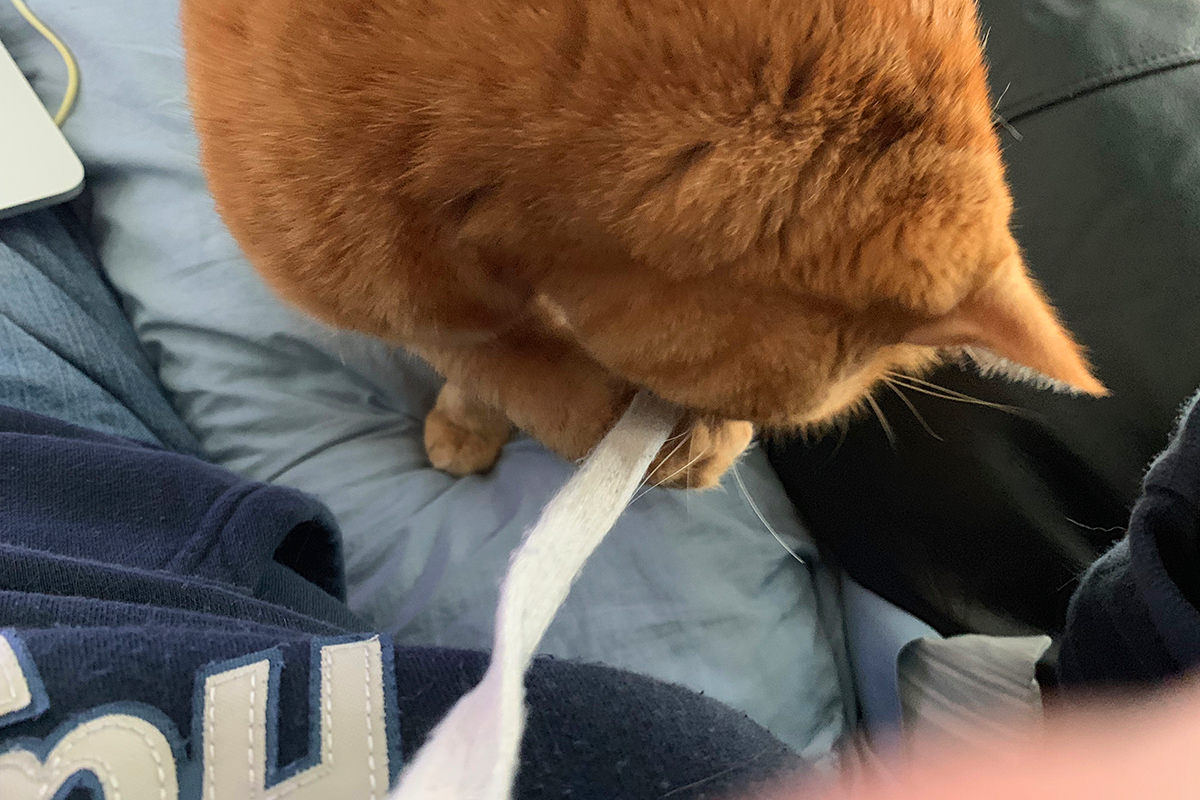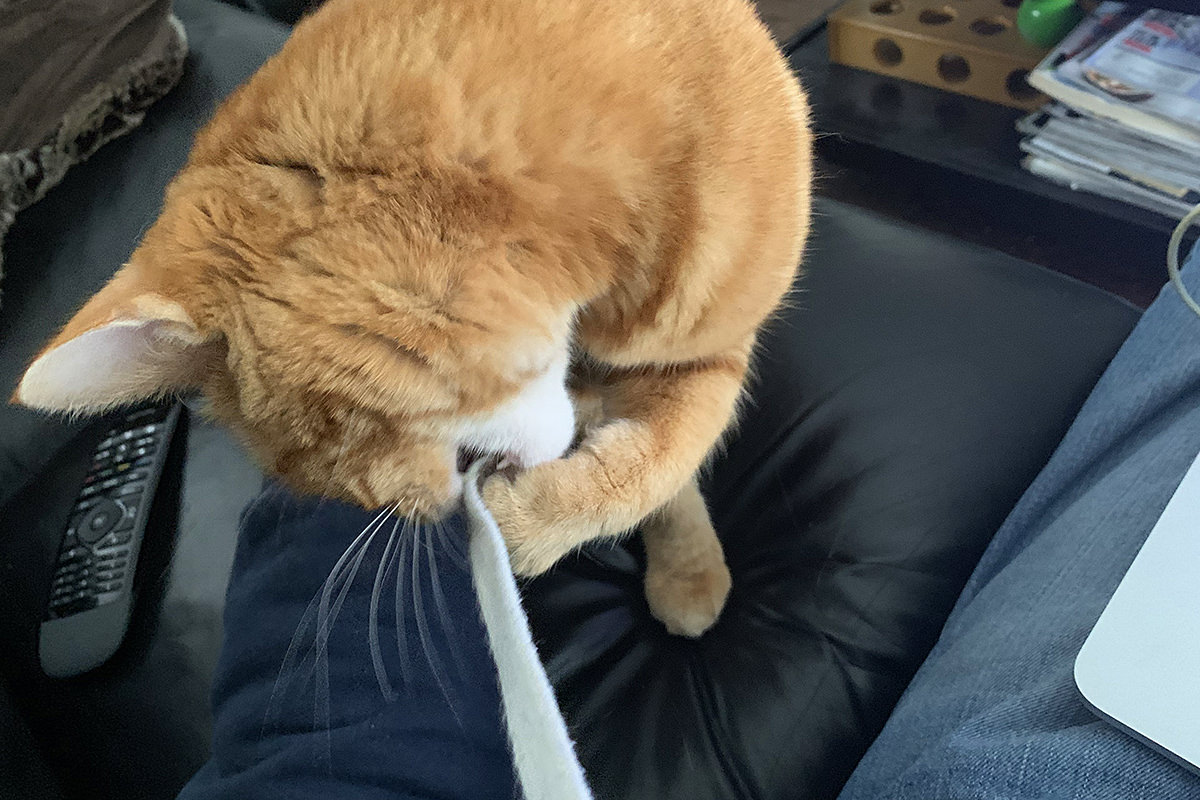 Jake never wants to sit and watch television with me. He just climbs on my lap and falls asleep. He does like my computer to scratch his face though. They both do...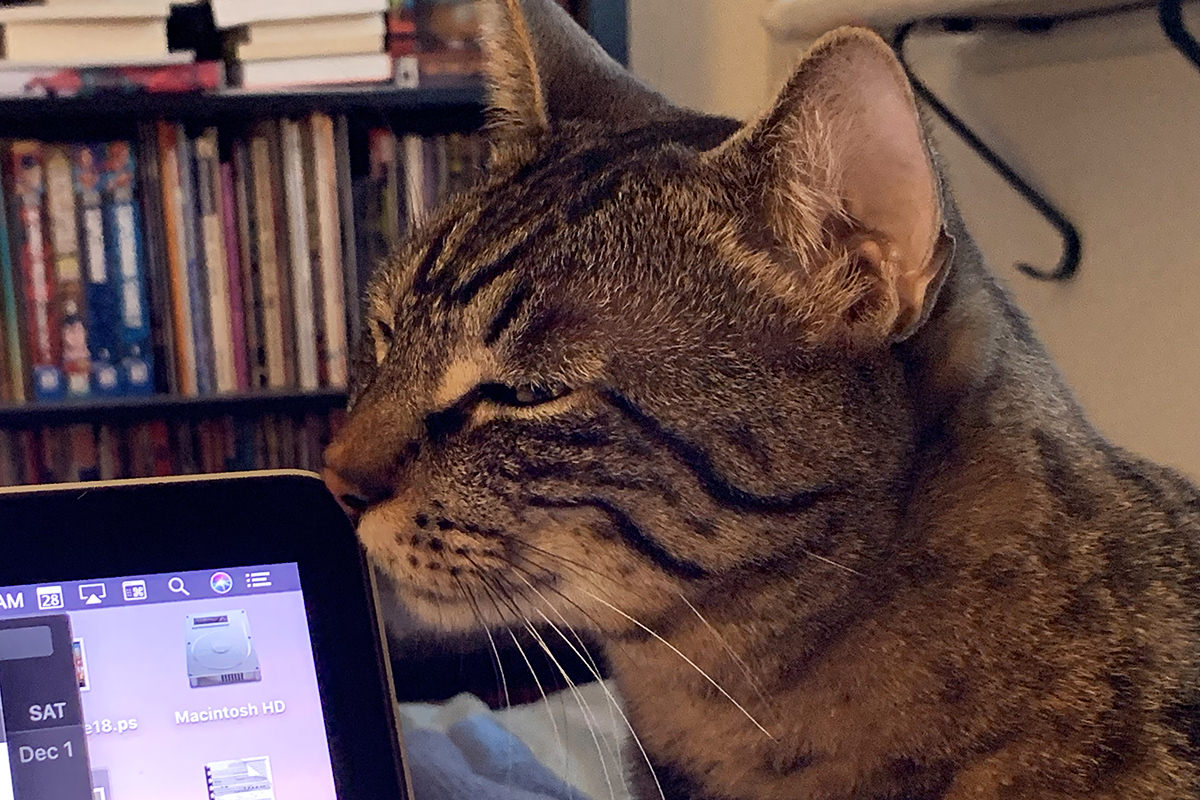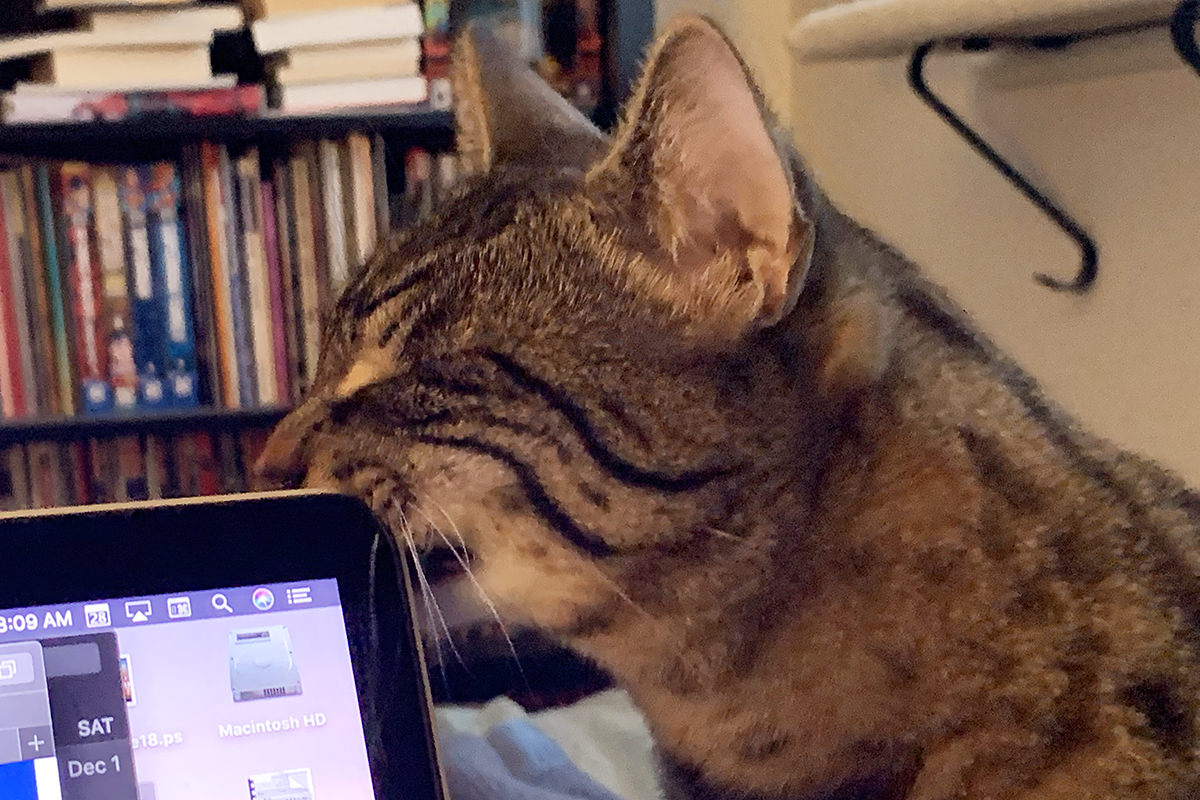 With the exception of my hoodie strings, my cats are surprisingly great about not chewing on stuff they shouldn't be chewing on. They are happy to chew on their toys when they feel the need. Assuming they let each other.
After dinner one day this past week, Jake was laying on the floor gnawing on Mufasa. Jenny comes bolting through the room, snatches Mufasa, then goes running to the stairs.
"JENNY! Why are you stealing your brother's toy?" I ask. She then drops the toy, runs up the stairs, and glares at me. I grab my iPhone to capture the moment, at which time she looks away and whistles. Or appears to be whistling. Can cats whistle? I dunno. So guilty!
Jake wasn't too bothered. A minute later he went out in the catio because he saw Fake Jake walk by.
Fickle kitteh.
See you next Caturday!
Posted on Sunday, January 6th, 2019

I know that having to skip a Bullet Sunday for my year-end wrap-up was tough, but don't despair... because an all new Bullet Sunday starts now...

• Bandersnatch! This past week all the internet buzz revolved around Black Mirror: Bandersnatch, Netflix's new "Choose Your Own Adventure" movie. As the movie played you would be presented with choices which determined how the rest of the movie would progress...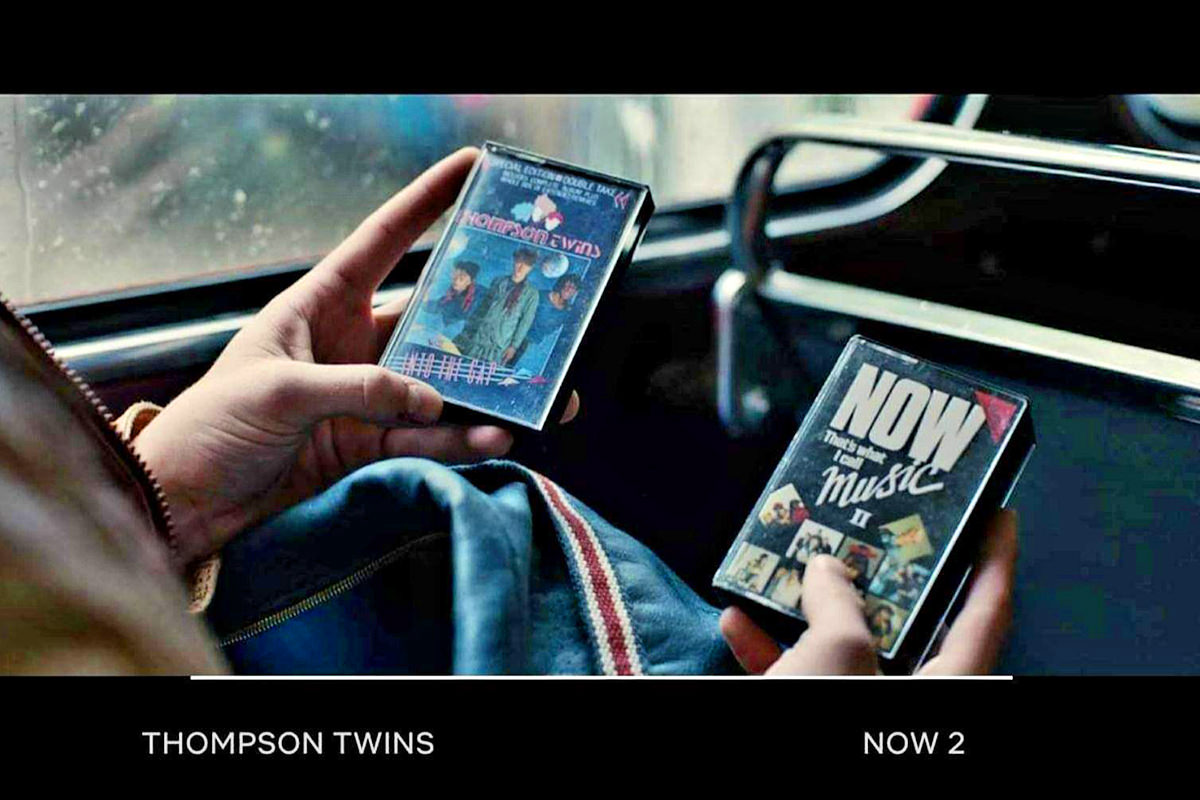 Any guesses as to which music I picked?
This novelty alone would be pretty lame. Unless the story was really terrific, why would you want to replay it over and over to see how your choices affect things? But this is Black Mirror, and they took their excellence to another level here. First of all, the story itself addressed the idea of free will vs. control... and completely breaks the fourth wall by going meta with the concept in some story branches. It was really well done, and I ended up playing through several different scenarios to see where the story would land. Once I had gotten through the major different branches, the differences became more and more subtle, so I ended it. I'm told there are some other stories that are more hidden, but time time required to find them was too much for me. Overall, I loved Bandersnatch! It took full advantage of the concept, the performances were great, and I was entertained throughout. My only criticism was that I could play on my AppleTV (which was incompatible) and ended up having to watch on my computer. Other than that? Well worth your time to check out!

• Magic! Every once in a while, Disney's magic extends to their advertising. That's definitely the case with this wonderful ad that was airing for Disneyland Paris...
And now I want to go to Disneyland.

• Good News! If you're a little depressed with how 2018 ended up (Lord only know I am), here's the link for you: I'm Honestly Fed Up With All The Bad News So I Illustrated The Best News Of 2018 (And Recent Years).
And for all those people buying into President Trump's claim that the Mueller Probe is wasting tax dollars, here's more good news: Mueller Probe Cost $25 Million So Far, Report Says. It's Pulled in $48 Million From Tax Cheats. It's paying for itself (and then some) as well as ripping into political corruption. What's not to like?

• Micropenis! I never suspected that Tucker Carlson has a tiny, minuscule, impotent, wee little penis... but here he is telling everybody about it. Study after study has shown that men who are threatened by women who make more money than them have tiny dicks... and who am I to question science?
What a pathetic, sexist, whiny, tragic, little pissant Tucker Carlson is. The amount of sublime ignorance as to how modern relationships work here is stunning. And yet, there are people believing this bullshit and faux science, so I'd imagine Tucker Carlson isn't going to be out of work any time soon.

• SCANDAL! Oooooh! Here it is! A SCANDALOUS video of Alexandria Ocasio Cortez was just released from her school years! I wonder what it is? Sex with animals? Doing drugs? DOING DRUGS WHILE HAVING SEX WITH ANIMALS? My gawd... what a totally reprehensible role model. SHE SHOULD RESIGN IN SHAME!!!
Seesh. From they way some conservatives are (over)reacting, you'd think that she grabbed somebody by the genitals without consent... or cheated on her spouse with a porn star and tried to cover it up... or was defending white nationalists... or hiding her tax returns. The hypocrisy is blinding.

• Roller Kingdom! There was a time I wanted to be addicted to roller skating instead of crack too. But times change...
Alas, the local roller rink was torn down ages ago here, so I guess crack it is!

• Portland! Trying to end on a happy note, this is painfully accurate... and funny...
I miss having work trips to Portland. It is really terrific city.

Stay frosty, everybody.
Posted on Sunday, January 13th, 2019

Don't let the long cold nights of winter get you down... because an all new Bullet Sunday starts now...

• Duck! It's no secret that I love museums. I've made it my mission in life to see many of the world's great (and not-so-great) museums as I can. Which is why I got a big kick out of this article: Museums around the world are soliciting duck pics from each other...

Image Courtesy of The Museum of English Rural Life.
If you're even a little fan of art, this article is a must-see.

• Cars! These Walmart curbside pickup "cars" commercials are phenomenal...
I can't fathom how much money it cost to license all these properties.

• Akeem! One of my all-time favorite movies is Coming to America starring Eddie Murphy and Arsenio Hall in multiple roles. It's a great story chock-full of funny situations and had some real heart to it...
There are many other things to love about the film... namely James Earl Jones and Madge Sinclair as Eddie Murphy's parents. But there are also the incredible designs for the country of Zamunda. Make no mistake, Zamunda was Wakanda way before Wakanda was the benchmark for fictional African countries!
And now it comes to light that there is a sequel in the works with Eddie Murphy reprising his role as Prince Akeem. Right now, I am deliriously happy about that. But given how badly things could go wrong, I'm also more than a little nervous.

• Again! Again! Speaking of an Eddie Murphy movie getting sequels... apparently Boomerang, another movie I love more than butter, is getting a television sequel...
The show will continue the story with Marcus and Angela's son and Jaqueline's daughter. No word if Eddie Murphy, Halle Berry, or Robin Givens will be making an appearance. But I sure hope so. The thing that gives me hope is that Lena Waithe is onboard. As is Halle Berry as an executive producer. Fingers crossed.

• Monument! As somebody who loves travel photography but can't stand people walking through my shots, I was excited to hear about "Monument." This new technology that Adobe is developing will automatically remove moving objects from photos. It's a fascinating idea that I'm anxious to try out. There's a video which takes a look at Moment but Nick Offerman is an idiotic distraction throughout. Why in the hell they couldn't have just presented the tech without the comedic bullshit is beyond me...
It's only a matter of time before machine learning with this kind of smarts gets dropped into all our cameras. As popular attractions become more and more crowded, it will be a handy and very welcome thing to have.

• Puck! My new brown sugar container came with a small terra cotta coaster in the box. I was telling a friend about it and laughing because I don't have any glasses small enough to fit on it. "ARE YOU HIGH? YOU SOAK IT IN WATER AND PUT IT IN THE CONTAINER SO YOUR BROWN SUGAR DOESN'T DRY OUT!" In my defense, there weren't any instructions. Just the little puck thingy in a baggie. How was I to know?
Is this some secret everybody knows but me? Is there some brown sugar conspiracy to exclude me from this magic?

And... I'm spent. No more bullets for you.
Posted on Thursday, January 17th, 2019

This morning while I was at work, I received a notification from my security cameras that somebody was breaking into my front door. This happens whenever anybody is in the vicinity of the exterior doorknobs. I wasn't too worried because my door locks weren't reporting any tampering. But I was curious. Did somebody leave me a pamphlet or something? Let's take a look, shall we?
Well, that's disappointing...
But pretty.
I love birds. Especially in flight...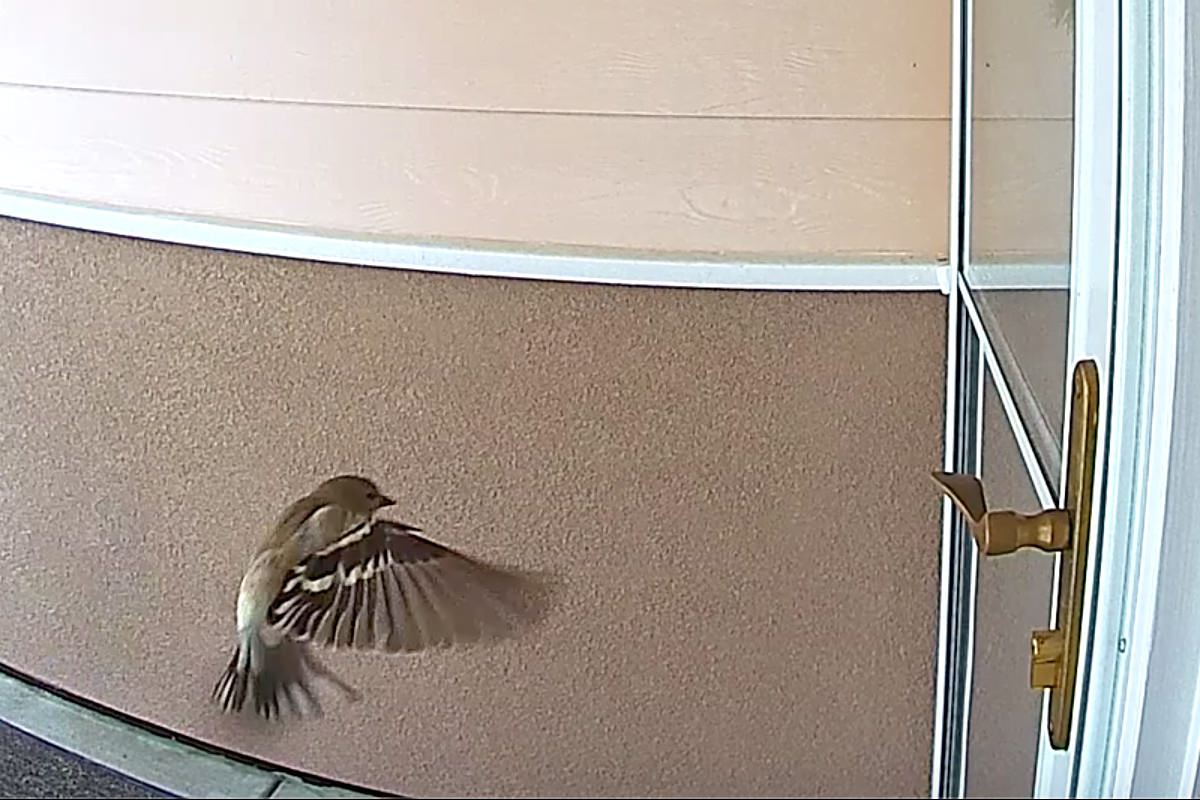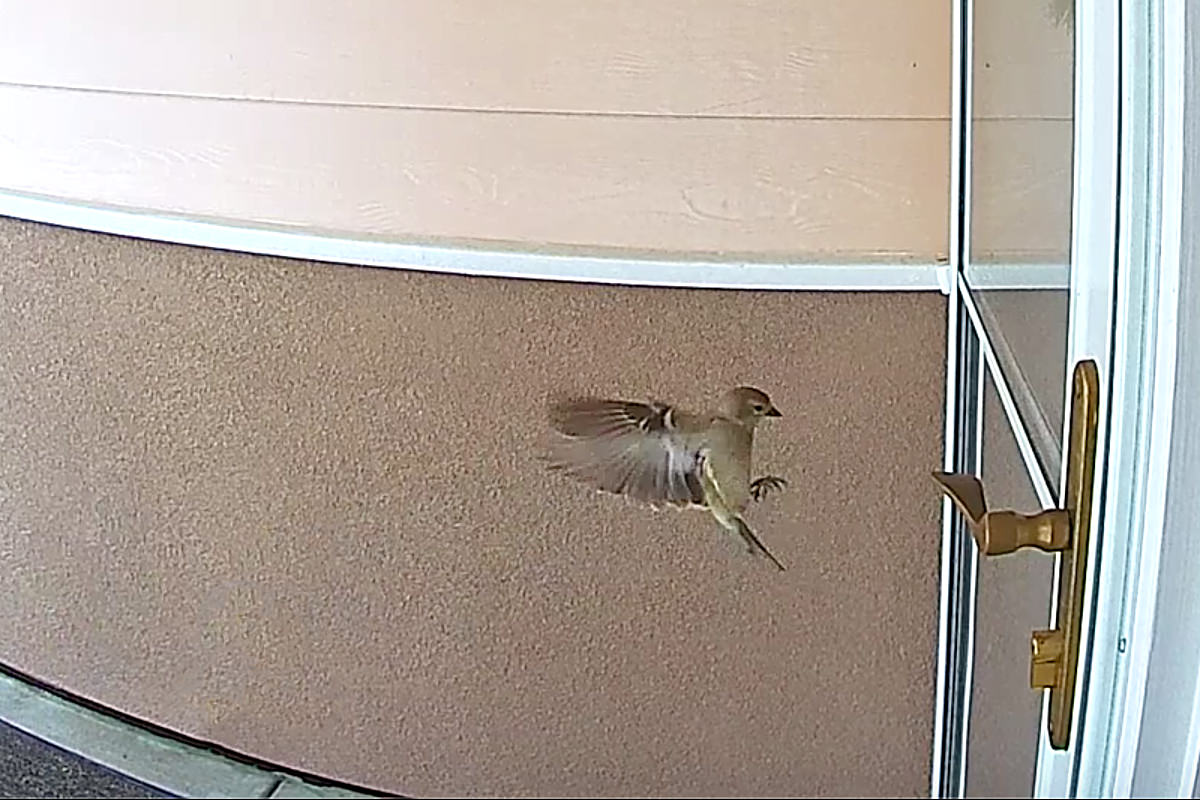 And now, if you'll excuse me, the first episode of Star Trek: Discovery Season Two is here! I loved the first season, so I'm hoping for more Star Trek goodness this time around...
Live Long and Prosper...