Posted on Thursday, January 2nd, 2020

I have come to the conclusion that once you pass 50 it takes two days to recover for every day you go without a bare minimum of sleep. I went three days without sleep, so it's going to take six days before I recover. Which, for me, will be sometime Saturday.
It was not always like this. Used to be I would operate on a few hours sleep for weeks and suffer no ill-effects. Sometime in my mid-30's this changed and I needed a couple hours extra sleep to recover from a week of insanity. Then I hit 40 and suddenly I needed a day for every day of missed sleep to recover. That was at least manageable. But two days per day? How do I schedule for something like that? Being able to operate at only half-speed is killing me.
Last night I went to bed much earlier than I usually do (around 11:00pm instead of 1:30am) in an attempt to make up for lost rest. Jake, who usually sleeps with me most nights now, fell asleep in the downstairs guest room so I wouldn't be bothered by him. This left Jenny, whom will hop off the bed and go sleep in the other guest room the minute I fall asleep.
But not last night.
Oh no. I fell asleep while petting her and she was very upset about it.
VERY.
I woke up to the sound of her walking around my room howling because I dared to fall asleep before she was done with being petted. When she gets upset or wants attention, she will meow from time to time... but this was howling. Keep in mind that this camera is downstairs, so what you're hearing is one floor and three rooms away from the microphone. That's how unbelievably loud she was...
I love how she is so loud that Jake wakes up and is all WTF?!? and goes walking upstairs to see what Jenny is on about.
And so... I pet her for another twenty minutes until she was satisfied, then eventually fell asleep and hour-or-so later. Not quite getting the sleep I was hoping for, but... well... cats... you know.
Speaking of cats...
One of my favorite things on YouTube is Super Easy, Barely An Inconvenience, a series of "pitch meetings" for popular films by Ryan George for Screen Rant. The guy does the same thing every time and yet it is hilarious every time. The most recent pitch meeting is for the Cats movie, and it's one of the best yet...
And so now I'm binge-re-watching all of the episodes of Super Easy, Barely An Inconvenience while I work, which is a fantastic use of my time. Better than most stuff on television if I'm being honest.
And here's hoping that Jenny gets all her required petting in before I fall asleep so I can maybe... possibly... perhaps... kinda get some sleep tonight?
Well, she's a cat, so I'm not holding my breath. But maybe I should hold my breath. Can a cat howling in your bedroom wake you up if you've passed out from holding your breath?
Posted on Sunday, January 5th, 2020

We may be on the verge of World War III as a reckless, clueless president is intent on starting a war to distract from his impeachment, but all is not lost because an all new Bullet Sunday starts... now...

• Oh Deer. So there I was falling asleep last night when the security system alarm goes off on my phone telling me that there was a person on the side of my house and in my back yard. I thought it might be a cat trying to get into the catio again, but Jake and Jenny were in bed with me. Nope... definitely not a cat... it was A FAMILY OF DEER! A couple others came along after this video...
Apparently with the warmer weather they are looking for something to eat, because they spent some time in my shrubs before moving on...
I feel horrible that somebody may harm them as they try to survive by heading into suburbia.

• RIP Syd Mead. It's unbelievable how so much of how we envision the future was defined by one guy... Syd Mead. He has created a tremendous volume of incredible work, and I was saddened to hear of his passing.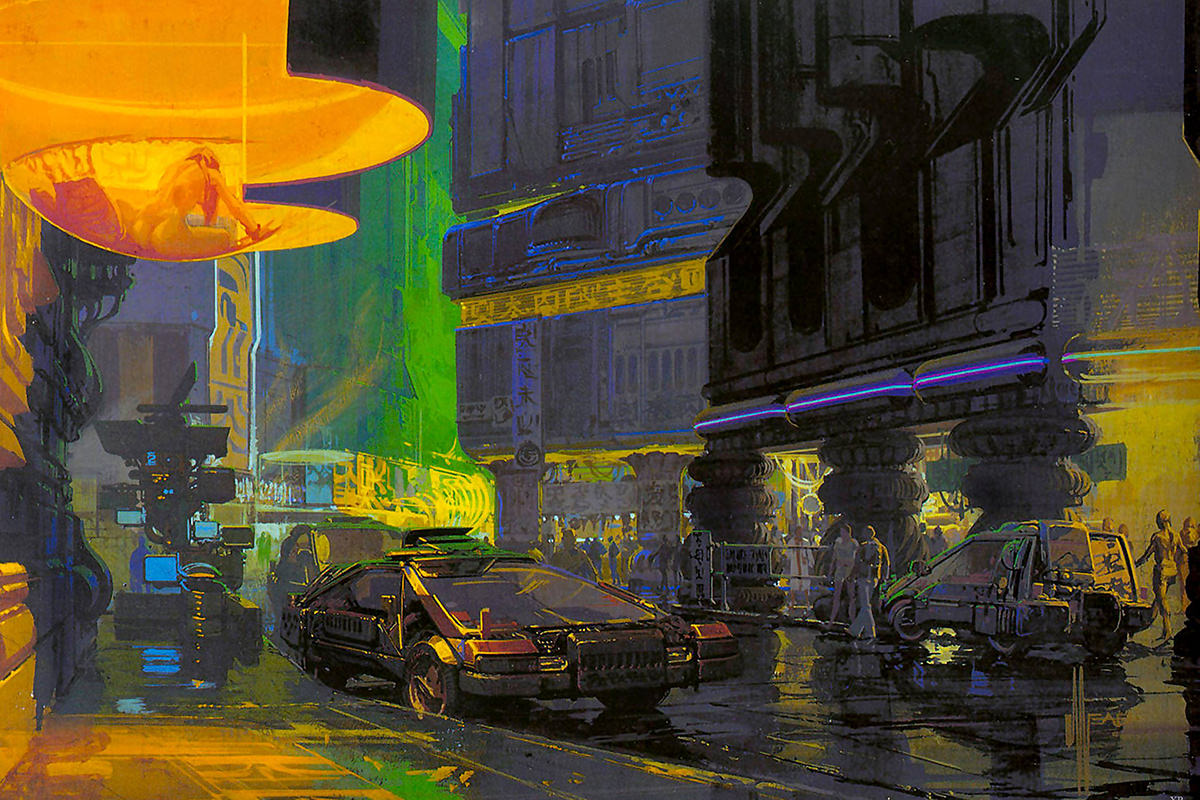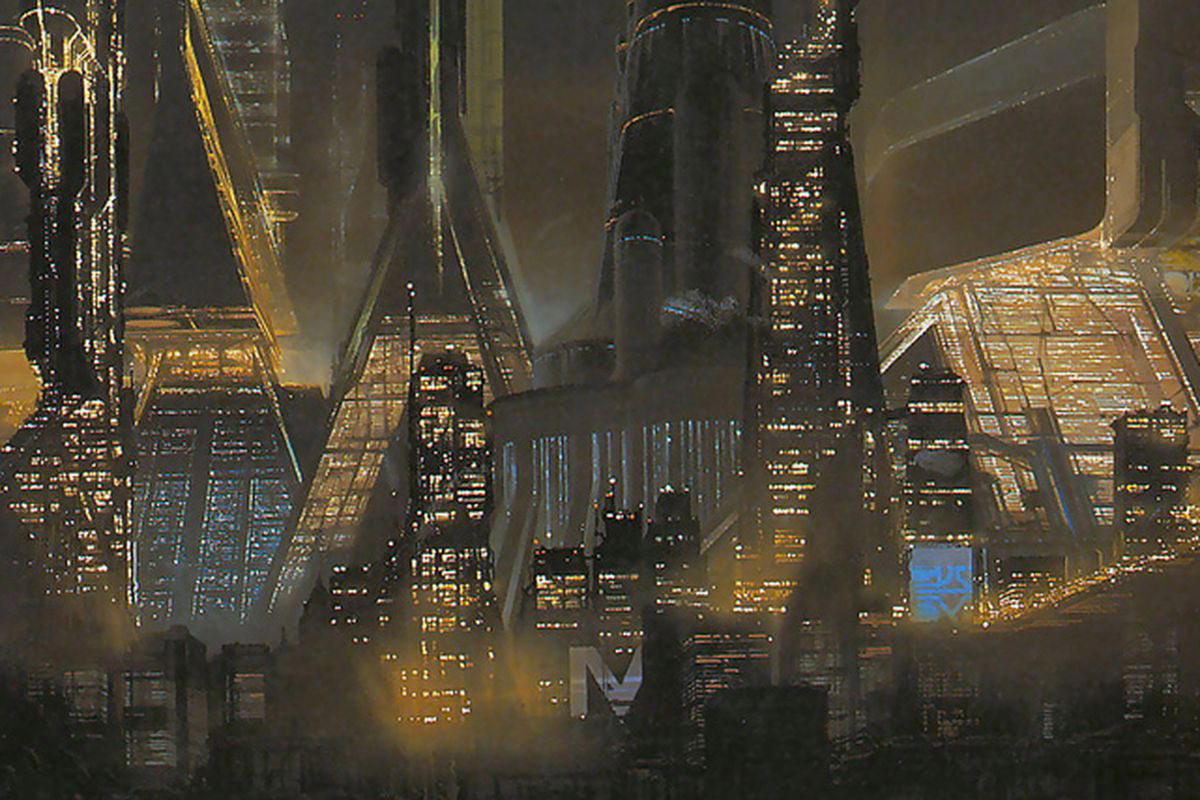 2010, him. Aliens, him. Blade Runner, him. Blade Runner 2049, him. Star Trek the Motion Picture, him. Tron, him. You will be missed, sir.

• Poop. I loathe coffee. I have never liked it despite my proximity to Coffee Central (AKA Seattle). On those occasions where it's the only thing to drink, I will try it (again) and want to barf (again) so I've just stopped trying. Finally, finally I've found a video which encapsulates how I feel about the entire situation...
Smart kitty.

• Persevere. And speaking of cats... for all the challenges you meet in 2020... take courage from this cat who perseveres over whatever life throws at them!
Way to go, buddy!

• Squishy. HOLD UP A MINUTE... how many butternut squashes were y'all going to let me buy, peel, and cube before telling me that they make LUXURY BUTTERNUT SQUASH that comes pre-peeled, pre-cubed, and frozen for my convenience?
Y'all are on my list now. — I think I was dangerously close to breaking down crying in the supermarket when I saw it in the freezer case. This changes so much!

• Fly Someone. And lastly, I missed this adorable Christmas commercial from Heathrow Airport. Well worth your time to watch...
What a nice way to end Bullet Sunday! Have a good one, everybody.

Stay safe and be kind, everybody...
Posted on Sunday, January 12th, 2020

The world may be cold and bleak right now but there's a bit of warmth to be had, because an all new Bullet Sunday starts... now...

• WWDD? I am very late to the party with What Would Diplo DO? but am very glad that Hulu recommended it to me. James Van Der Beek plays a parody of real-life DJ Diplo and the result is some of the funniest television I've ever seen. I can't believe that Diplo signed off on this (as well as produced it). I hesitate to link to this (NSFW) trailer because the show is so much better than this would indicate, but here it is...
It seems impossible we haven't seen a second season since the show was originally released in 2017. Since there's only five episodes available (which I've already watched twice), I need more Diplo in my life.

• Deeply Faked. I was disappointed by The Irishman... everybody involved has done better work elsewhere and I was bored by it all. But I did watch it. And a big part of the movie is the fact that the story is told over a long period of time. So Netflix had to pony up a big chunk of money for computer FX to de-age the characters. It was done well enough that it wasn't distracting... nor did it stray too far into uncanny valley territory. But it wasn't terribly convincing either. Which is why I find the fact that some guy used free "deep fake" tools to do a much better job of it for zero dollar so amusing...
These are the same free tools that did a far superior job of replacing Superman's face after Henry Cavill couldn't shave his mustache for Justice League. I wonder how long until Hollywood gets smart about these tools. I also wonder how long before faked video is indistinguishable from authentic video... and how that's going to change the world. What happens when you can't tell what's real any more?

• HEADLINE: 32-year-old Medford man fighting severe flu case. I stopped getting the flu vaccine because it never seemed to make a difference. I started again when I became a granduncle because I wanted to take every possible precaution that I wouldn't get him sick. My doctor once asked me if I had gotten my flu shot and I told him that I stopped doing that. His reply? "Well, 50,000 people a year die from the flu, but it's your call." That didn't change my mind, but I see this story and what he said is stuck in my head. 32 years old. Man, I wish this poor guy the best of luck and hope he gets better soon. Get your flu vaccine, people. And if you want to know more about it, the CDC has a page for that.

• Front and Center. Holy cats! This $3 utility restores MacOS X window functionality so that clicking on one window will bring all windows for that app to the front. I have NO idea why Apple changed this behavior from all the MacOS's before X, but it drives me insane. And now it's BACK, baby. No idea how much I've missed this. 100% critical app.

• WAKANDA FOREVER! Yo, Marvel Studios... what is it going to take to get an M'Baku series on Disney+? The guy steals every single scene he's in! He lives in one of the most magical places on earth! He's a character everybody loves! Winston Duke is a cinematic treasure! It's like... how many pieces need to click together before you do what needs to be done? Is Kevin Feige asleep at the wheel?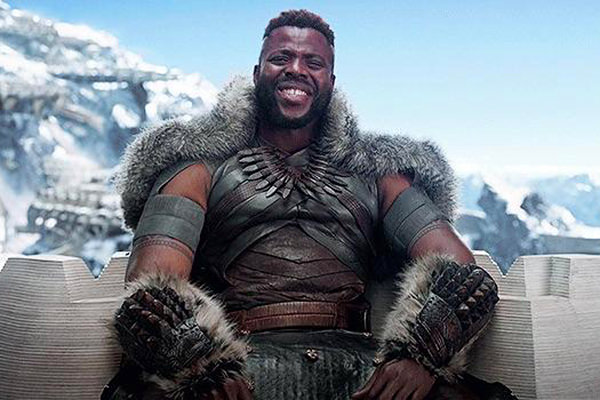 And who wouldn't guest star in THAT piece of awesome? Black Panther? Shuri? Okoye? Nakia? They could all make an appearance. This is a show that's begging to be made.

And now for some hot chocolate.
Posted on Monday, January 13th, 2020

When I got home from work I burned through thesecond season of Fleabag. Don't ask me why it took me this long to get around to it. Maybe it's because I didn't freak out over the first season like everybody I know did. Sure I liked it, but it wasn't better than sliced bread, I tell you what.
No, it's the second season of Fleabag that's better than sliced bread.
And speaking of better than sliced bread...
Nice to see that Marvel dumped some serious money into giving Black Widow the movie she deserves. Taskmaster is the perfect opponent, so something to look forward to (as if I weren't already).
Posted on Wednesday, January 22nd, 2020

For years now... a decade really... I've been experimenting with setting up a personal NAS (Network Attached Storage) media server that's connected to the internet. There are a lot of reasons I'd like to have such a thing, but the big one is that I want to be able to access my vast photo library from anywhere on earth. If I'm in Germany and want to show a friend a photo of the Hard Rock Cafe Yokohama (something that actually happened) it would be great if I could do that. Sure I have the option of paying for a photo service, but then I have to convert all my images from RAW format and lose the ability to access/edit the original photo remotely if I want to.
So I purchased a 1 Terabyte single-drive, internet-enabled "WD My Book Studio" NAS back in 2010 with that in mind. Everything ended up being a total mess and didn't work at all like I was hoping. It's been sitting in a drawer ever since.
Fast forward to 2019 and I decided to try again. I used money I had saved in 2014 for a trip to Norway's fjords with my mom (that we never got around to taking) and purchased a QNAP TS415+ NAS and two Western Digital 8 Terabyte RED drives to put in it. The drives are mirrored in a RAID configuration so I don't lose any data if one of them dies. Note that there's a television remote. That's because this model has an HDMI port so it can hook up directly to a television...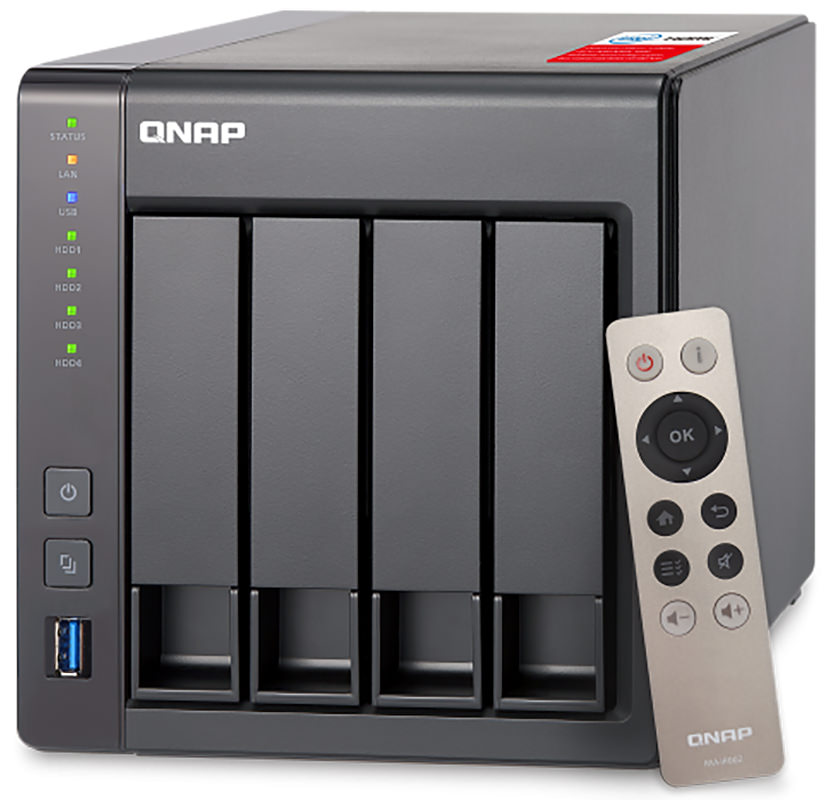 Today I finally set it all up. It was fairly straightforward, though not the most user-friendly thing to do. It spent hours doing a "RAID resync" (whatever the hell that is), which makes zero sense. The drives were empty and freshly formatted. How can it take over 24 hours to "resync" NOTHING? Note that QNAP doesn't bother with beta testing their apps. If they did, somebody might have noticed that the displayed percentage overwrites the text label, making it tough to read its progress...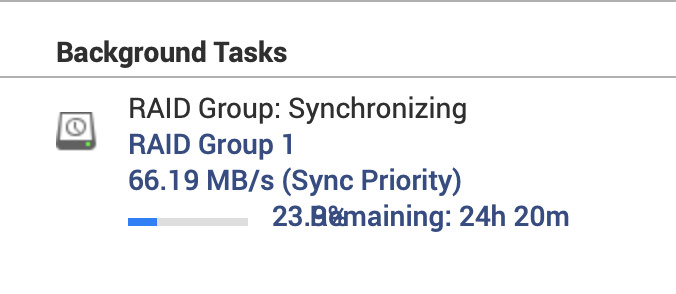 Before you can do anything, you have to set up a "Storage Pool" from your drives. I maxed my pool out at 100% of my available drive space, because why only use part of your drives? QNAP is pretty brain-dead when you choose to do this... it will endlessly pester you with alerts because it defaults to a threshold of 80% usage. Insanity. If somebody sets their pool to 100% of drive space, why not ask if you want to disable the threshold alerts? I had to do it manually. Sadly, after setting things up, my 8TB mirrored drive resulted in only 7.1TB of space available. No idea what happened to nearly a FULL TERABYTE of storage (this seems high for overhead), but whatever.
Anyway...
Rather than have to install a third-party app, I decided to give the QNAP "Qmedia" app a try on my AppleTV since it's the "native" application from QNAP. It is complete and total shit. Despite "pretending" to remember where you left off when viewing videos, it doesn't. You can't even fast-forward the video you're watching, which is mind-blowing. I have no fucking idea why they even bothered. Qmedia is useless.
I'd rather not have to switch television video input sources from my AppleTV every time I want to watch something off the NAS, but apparently that's going to be how this goes. So I grabbed the QNAP remote and went for it. First I had to install an app (of course) but no big deal. Then I actually tried to use the thing and it's a total clusterfuck. The "VideoStation" app is just a fucking web browser interface. It's difficult to read because it's not sized for a television. It's impossible to use with the included remote because the remote doesn't do anything. You have to plug in a mouse and keyboard to make it work.
There's an "HD Player" app that looks like it's geared more towards television displays and using the remote control but it's fucking useless too, having many of the same problems as Qmedia. It goes non-responsive constantly, doesn't allow fast-forwarding (pressing the up arrow to skip forward is not the same thing), starts at the beginning of a video even if you tell it to resume from where you stopped, has a shitty interface that makes sorting through a large number of videos a nightmare, has crap video quality that you can't adjust for brightness or anything else, and is an overall steaming pile of fail.
I swear, QNAP is the most ridiculous fucking company. Why bother to make claims of being a multimedia center that can connect directly to your television if it does THIS shitty of a job of it? The whole thing is a fucking joke.
Fortunately there's plenty of options for serving your media from a NAS if it has a computer onboard like the TS451+ does. The "big two" are Kodi and Plex. Kodi is open source and free. Plex is free, but you can support the project by paying to subscribe to "Plex Pass" for additional features (like being able to download media on your phone for local playback instead of streaming it). Most people I know who started on Kodi ended up with Plex, so I just skipped a step and installed Plex Server on my NAS.
For what it is, Plex Server is pretty sweet. It transcodes just about anything you throw at it. Including the RAW Digital Negative photo format from Adobe (DNG) that I use. Which means I don't have to save out JPEGs in order to access my photo library remotely. Nice! I need to work on settings for this, however, because Plex compresses things pretty heavily for transmission. This results in some ugly visual artifacts, banding, and color shifts...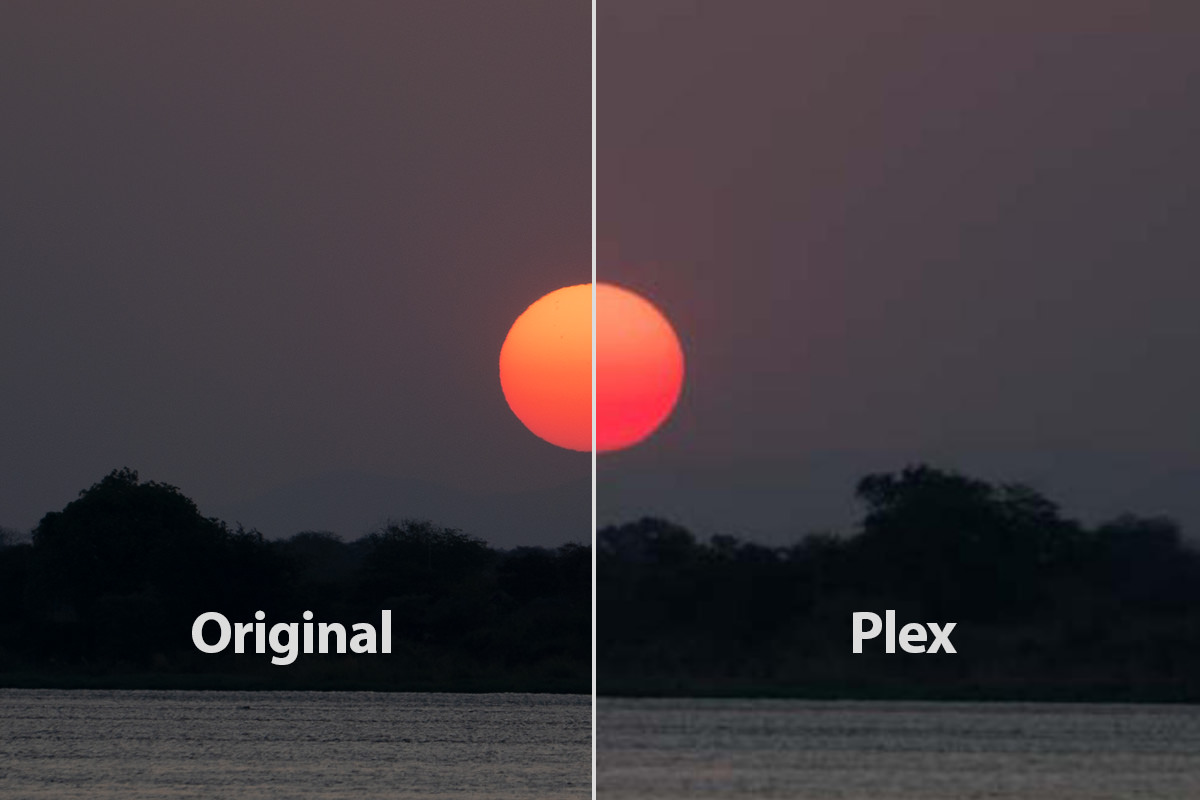 Video works brilliantly from Plex BECAUSE YOU CAN ACTUALLY FUCKING FAST FORWARD THROUGH IT ON APPLE TV! Plex does a really good job of cataloging it as well. Thank heavens, because I'd light my QNAP NAS on fire if I had to suffer through their shitty apps. The only problem I've run across is having the video stop and tell me that my connection isn't fast enough, which is absurd because AppleTV is literally plugged into the same high-speed hub as the NAS! There must be some kind of setting for that I'm missing. Fortunately, it's a rare event.
I don't steal media. All the movies and television shows I have are on DVD/Blu-Ray or purchased on Digital. Well, with two exceptions... Cupid (the Jeremy Piven original) and Oh Grow Up! (one of my favorite shows of all time)... are not available to purchase. Lord only knows I wish they were, because my digitized versions of VHS tapes are really poor quality. I've used Vudu's Disc-To-Digital service to convert the bulk of my DVD/Blu-Ray collection to Digital legally. But not all of my stuff is available for conversion. Now I have the option of ripping them to the NAS and viewing them digitally no matter where I am via Plex Server. Technically, any time you break the protection on a DVD you are breaking the law, but that's a bullshit law. I would happily pay to convert them to digital if the studio who owns them would allow them to be converted. What I'm not going to do is buy the same movie all over again. Fuck that. I already paid for it, I should get to pay a small fee for a new format, not have to buy it all over again. And so... I have a small collection of DVDs ripped to my NAS temporarily until the studio allows them to be converted and I can pay for that. Plex does a great job of streaming from my living room to remote locations in HD. No, the video quality is not as good as what comes off of iTunes... especially if the iTunes version is 4K... but it's plenty good enough for my iPad or iPhone. I'm sure if I didn't have tons of security cameras flooding my bandwidth I could set the quality higher, but it's really not necessary.
Music streaming (local and remote) is handled quite well through Plex, and my SONOS system can address Plex directly. This means I can download all my music from iTunes, put it on the NAS, then drop iTunes Music Match and iTunes itself with no problem.
And so... bravo Plex.
I'm going to try out "Plex Pass" for a month and see if I want to upgrade to the lifetime membership for $120. Something tells me that's a purchase I will end up making. I certainly can't do without Plex if my alternative is the QNAP crap.
UPDATE: Yeah. Easiest decision to make to get the Plex Pass... the apps for streaming are included and you're helping the team behind it to keep developing the app.
So okay... the QNAP multimedia is bullshit. What about the NAS itself? Well, I'd love to report on that, but the minute I login, it either immediately disconnects me...
...or it allows me in but gives me a shitload of error messages. My favorite? Telling me it's running out of memory. If 2GB is not enough memory to do even the most basic tasks, then why ship with just 2GB memory? QNAP has their own version of Microsoft "Clippy" to break the bad news, which is a weird choice...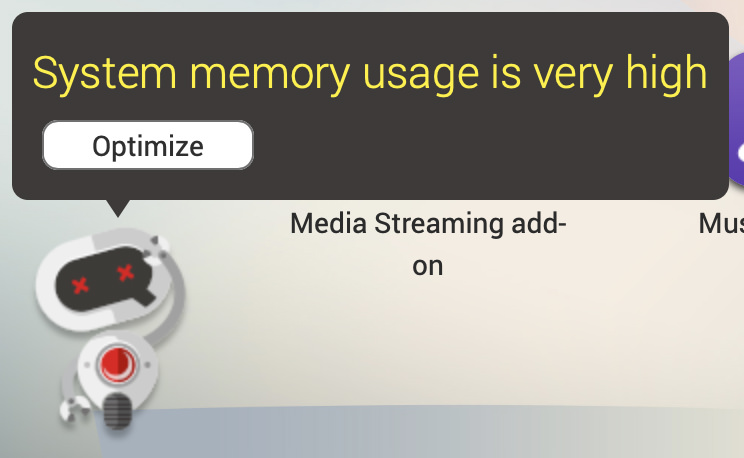 Even better? If you choose "optimize" he does a happy dance when he recovers 0MB of memory! Once I can log in again, I'll turn off and uninstall absolutely everything except the bare minimum I need (which includes Plex Server, of course), so I'm hoping that will fix these problems.
My NAS can act as a Time Machine backup for my Mac, but I really don't need that any more. All my data is stored in the cloud, so the only thing that would need to be replaced on my MacBook if it were destroyed are the apps, which I can just download from the developer again.
QNAP provides Apple File Services so I can access my NAS over my local network easily. Weirdly enough, you are required to install Windows File Services in order to install Apple File Services, but (luckily) you can kill the Windows File Services after installation to save precious memory and everything seems to work fine.
Speaking of memory... QNAP is happy to sell you more, but they charge outrageous pricing for the stuff. I mean laughably outrageous pricing. Far better to buy it yourself (which I'm guessing I'll have to do sometime soon if killing apps don't work).
Remote management and access to my files is a breeze thanks to QNAP's tools and a service they call CloudLink. The NAS talks with QNAP so even though its IP address may change, you can still reach it with no trouble.
And so...
I fucking hate the fact that QNAP doesn't really work as a media center as advertised. THAT'S WHY I PAID EXTRA FOR THIS MODEL!
Their video apps are worthless garbage that can't even do rudimentary shit like fast forward video.
They don't include enough memory to do even basic tasks.
Their HDMI television output can not be altered for settings like brightness, contrast, color, etc., which is no big deal considering it's fucking useless without decent apps for it anyway.
The included remote control doesn't control shit. And what it can control is garbage and doesn't work.
Their web interface is brain-dead idiocy that confuses even the most simple things.
Nothing about operation of the QNAP unit is even remotely intuitive. Nothing is easy to find and the byzantine menu system is difficult to use. The fact that they don't have an abstraction interface for moderately-experienced users makes zero sense. They ONLY want to serve the professional market? How strange.
I am still relatively new to the QNAP TS451+ NAS and the Western Digital RED drives, so I can't comment much about them. I can say that Western Digital are the only brand of hard drive that hasn't disappointed me so I'm hoping that trend continues. Also, despite the shitty media center aspects and overly-difficult controls, QNAP is highly respected in the IT industry. I just wouldn't bother paying extra for an HDMI port and remote that you will probably never use because their software is shit. Put that money towards a Plex Pass where it will do some good.
Tags:
Apple
,
DaveLife
,
Internet
,
Movies
,
Music
,
NAS
,
Plex
,
Technology
,
Television
Categories:
Apple Stuff 2020
,
DaveLife 2020
,
Internets 2020
,
Movies 2020
,
Music 2020
,
Television 2020
—
Click To It:
Permalink
—
4 Comments: Click To Add Yours!
Posted on Thursday, January 23rd, 2020

I am a massive fan of the original Star Trek series. And the original cast movies too.
I did not like Star Trek: The Next Generation because it was just so boring. Aside from an occasional good episode, the lack of conflict on the ship and Gene Roddenberry's "new vision for the future" was a massive downgrade from where he started. Then Star Trek: Deep Space Nine came along and, while beloved by critics and fans, was somehow worse. Odo the non-shape-changing shape-changing alien? Quark comic relief? The Prophets? I mean, sure there was Avery Brooks, but holy crap. AND THEN, just when I thought things couldn't possibly get worse... Star Trek: Voyager. I was totally excited for it. At first. Enemies on the same ship? CONFLICT! Biomechanical ship? COOL! Stranded across the galaxy where survival is a constant struggle and no allies in sight? EXCITING! But then they ended up doing the same old Next Generation shit all over again and boring the heck out of me. Star Trek: Enterprise was a step in the right direction, but they burdened it with a "Temporal Cold War" that was a boat-anchor tied to the show in a horrible way.
Naturally, when CBS announced they were coming out with Star Trek: Discovery, I was skeptical. The cast was amazing (seriously amazing) and they looked to be doing something new, but the ship looked like shit and the early previews with engine spores and stuff looked like crap.
Boy was I wrong.
The first season of Discovery was phenomenal.
The performances and characters were incredible. The stories were cool as all getout. And the "big twist" was about the best thing to come out of Star Trek in decades. I loved just about everything about it. Critics said it "wasn't Star Trek" and hated on it terribly. This made me laugh my ass off, because it was easily the most "Star Trek" thing to happen since the original series! People who said it "wasn't Star Trek" were saying it wasn't "NEXT GENERATION Star Trek." Which, of course, was my favorite thing about it. The second season wasn't as good, but it was still worth watching.
And now there's Star Trek: Picard...
Obviously I was not enthusiastic about the continuation of a show which I feel is the point Star Trek went terribly wrong. I like Patrick Stewart... like him a lot... but more Star Trek: Next Generation was not something I was interested in. Paying extra for CBS All Access to see it was the nail in the coffin. Except... I read more than a couple interviews with Patrick Stewart and other people working on the show who promised that it was not going to be more of the same old thing. They were doing something new.
Well, sign me up! Even though I was certain it was going to suck.
Boy was I wrong.
First of all, Patrick Stewart is phenomenal in this. He's playing up the age of his character rather than trying to act like he's twenty years younger. Second of all, my mind was completely turned around when Picard said the words "Starfleet was no longer Starfleet!"
Finally somebody understands what the show needs to be interesting. The story being set up feels like it's going to be entertaining. The cast they've assembled is great. The guest-stars from the old new generation seem like they will be used to good effect. And, oh yeah, the special effects are fantastic...
I have high hopes that the talent behind the show have an ending that's going to be worth it all.
CBS sure seems to think so... they renewed the show for a second season AND invited Whoopi Goldberg back, who's "Guinan" is one of the most interesting characters to come out of the old new generation. So fingers crossed.
Something else that was new today? Jay & Silent Bob Reboot...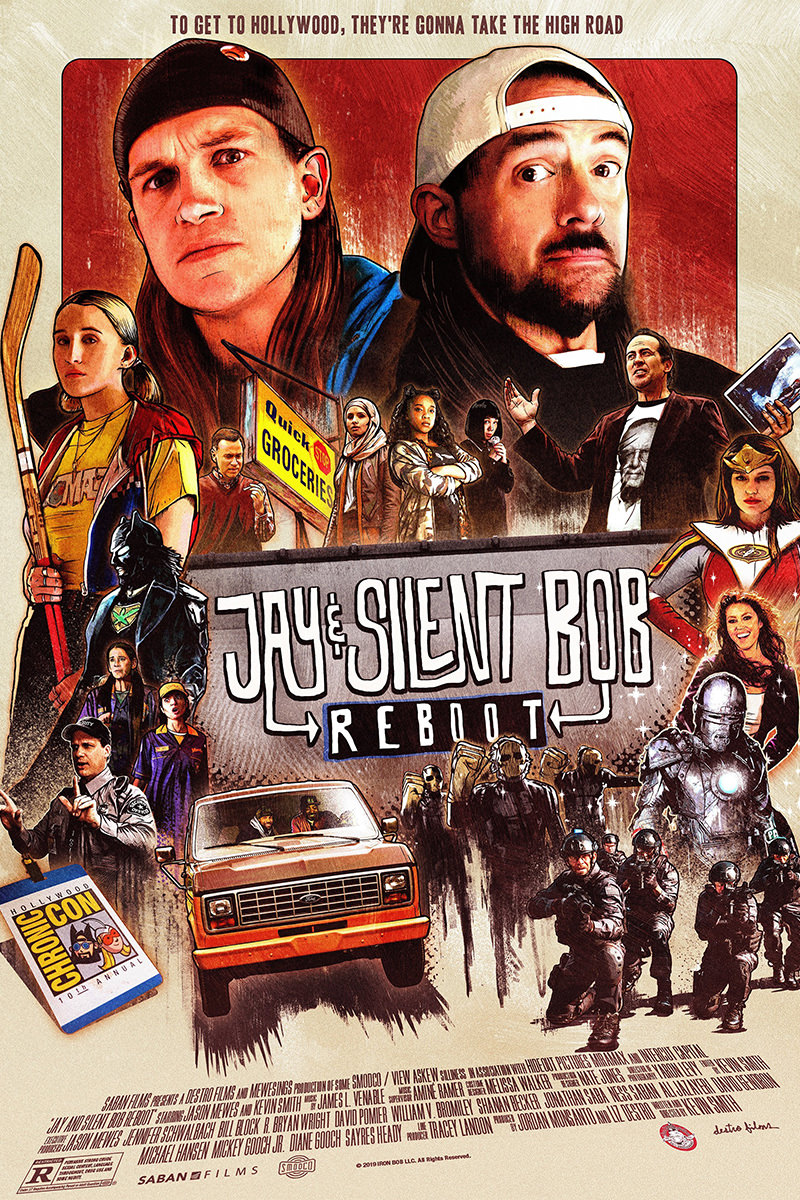 I'm a huge fan of Kevin Smith's "Askewniverse" films... Clerks, Mallrats, Chasing Amy, Clerks II, and (to a lesser degree), Jay & Silent Bob Strike Back. And now we're getting the sequel, Jay & Silent Bob Reboot. To me it was a mixed bag. Sure it was great seeing all the characters again and it was pretty funny in spots (though a lot of the humor relies on the viewer having seen all the previous films), but it's almost reached a parody of the parody it was parodying and priority is put on famous cameos and injecting his wife and daughter into things rather than humor, insightful commentary on pop culture, and the characters that made me love the movies so much.
I was glad I saw the movie (worth the $10 price tag), but couldn't help but think that half of it was wasted. I am really, really hoping that Smith goes back to form with Clerks III instead of sabotaging himself again.
Kevin Smith needs to Picard himself instead of giving up more Voyager.
Posted on Wednesday, February 5th, 2020

I used to buy a lot of movies. Like... A LOT a lot of movies.
But now the budget I used to devote to buying films has been transferred to streaming services, so I rarely bother any more. Unless it's a film that I know I'll be watching over and over and over again, it's just not worth the money. For a while I had transitioned from buying to renting, but even that is too high a price. Why rent Terminator: Dark Fate for $6 when that could pay for an entire month of Hulu? The movie will show up on a streaming service I rotate through eventually, so I'm happy to wait.
My weakness is sale movies.
A movie I wouldn't rent for $6 is really appealing when it can be purchased for $6.
As I type this, Dredd is on sale for $5. This is not the absurd "I AM THE LAW!" Stallone version (which I actually thought was semi-decent) but the wonderful Karl Urban version which was excellent...
Based on the British comic book, Judge Dredd, the new movie version was surprisingly faithful. Blood, guts, gore, destruction, and dark humor abound. I enjoyed it enough that I'd definitely watch it more than once, so $5 is quite a bargain, isn't it? Assuming I live long enough to watch it five times, that's just a buck a showing for 90 minutes of hardcore entertainment.
And so I bought it.
Where else can I have this much fun for just $5?
Speaking of movies... I just read that Kirk Douglas died at 103 years old. He had an amazing career as an actor. I remember him most from a Disney double-feature that ran at the local drive-in where he was in 1954's 20,000 Leagues Under the Sea. I also remember him from such movies as Lust for Life (the Vincent Van Gogh biopic), Spartacus, and One Flew Over the Cuckoo's Nest. As the father of Michael Douglas, he started a dynasty that continues with his grandson, Cameron Douglas. Resst in peace, sir.
Posted on Sunday, February 9th, 2020

It's Oscar Sunday but I just don't care, because an all new Bullet Sunday starts... now...

• Crapple! Given my longstanding rant against Apple being complete and total assholes by sticking their customers with shitty butterfly keyboards for years before they FINALLY thought to replace them with something not-quite-so-horrible, this one's for you. It's at the 2-minute mark...
People think this is funny... but, but I'm the biggest Apple Whore I know, and even I was seriously shopping for PCs before the 16-inch MacBook Pro was released. I hope Apple is fucking embarrassed at this, because they should be.

• Gold! I used to do a big thing on the Oscars, but I stopped giving a shit when they kept rewarding the same old crap. This year it looks like things are on a better track. Here's my list...
Best Picture:

Should Have Won

—Jojo Rabbit,

Won

—Parasite. Not the least bit disappointed. Parasite was a remarkable film.
Lead Actor:

Should Have Won

—Jonathan Pryce,

Won

—Joaquin Phoenix. I have no desire to see Joker. It's not the comic book character and I don't care how many accolades it gets.
Lead Actress:

Should Have Won

—Renee Zellweger,

Won

—Renee Zellweger. That was a pretty darn impressive performance, even if I was kinda meh on Judy.
Supporting Actor:

Should Have Won

—Brad Pitt,

Won

—Brad Pitt. It's surprising that Brad Pitt actually lives up to the hype. I've been a fan since 12 Monkeys, and he should have won for Tarantino's Inglourious Basterds AND Once Upon a Time in Hollywood.
Supporting Actress:

Should Have Won

—Scarlett Johannson,

Won

—Laura Dern. Dern is a fine actor, I just hate hate HATE the film Marriage Story. Complete crap. Jojo Rabbit, on the other hand, is genius.
Director:

Should Have Won

—Bong Joon Ho,

Won

—Bong Joon Ho. As a diehard Tarantino fan, Once Upon a Time in Hollywood should have ben a shoe-in. And he was, until I saw Parasite.
Animated Feature Film:

Should Have Won

—Toy Story 4,

Won

—Toy Story 4. I don't think this was as good a finale for the series as Toy Story 3 was, but it was a good story with mind-blowing animation by Pixar.
Animated Short:

Should Have Won

—Hair Love,

Won

—Hair Love. I liked all the nominees... and Kitbull was such a great short. But Hair Love feels new and timely in a way that made a huge impression on me.
Adapted Screenplay:

Should Have Won

—Taika Waititi,

Won

—Taika Waititi. This was the no-brainer of the night.
Original Screenplay:

Should Have Won

—Bong Joon-ho and Jin Won Han,

Won

—Bong Joon-ho and Jin Won Han. This was a tight race for me. I loved Rian Johnson's Knives Out, 1917, and Once Upon a Time in Hollywood... but Parasite felt truly original. Don't ask me why Marriage Story is here though. It's just people yelling at each other.
Cinematography:

Should Have Won

—Roger Deakins,

Won

—Roger Deakins. Despite not liking The Irishman even a little bit, I think the cinematography was great. And Once Upon a Time in Hollywood was gloriously shot. But 1917 was next-level, and I regret deeply not seeing it in theaters.
The love for Parasite, which would usually be thrown in the "Best Foreign Language Film" category (it still was and won there too), was a breath of fresh air. I didn't see it until last week or else it surely would have been one of my favorite movies of 2019.

• Mythical! If you haven't been watching Mythic Quest: Raven's Banquet on Apple TV+, it's worth a look. Especially if you love video games. Apparently Rob McElhenney (who is at his most Rob McElhenneyist here) and Charlie Day consulted heavily with Ubisoft to get some semblance of accuracy even though this is a comedy about what goes on behind the scenes at a video game company. It shows. The show is absolute gold, and will easily make my list of favorites for 2020. It's not quite The Office or The IT Crowd, but it kinda draws from both...
The jokes come fast and most of them land well. I cannot believe that they got F. Murray Abraham. He has the perfect amount of gravitas for his part. But this is Rob McElhenney from start to finish and he's absolutely perfect.

• Starch! Wow. How come nobody told me that adding corn starch to scrambled eggs makes them taste like they've been slow-cooking for 30 minutes? This is reeeeeally nice. So creamy and rich. If you haven't tried it, these are pretty great. Also works wonders with omelettes. I will never cook scrambled eggs without it.

• NEWS: Antarctica logs hottest temperature on record with a reading of 18.3°C. That's 65°F, people. When I visited, there were many times I took off my jacket because Antarctica was too warm to have it on. I worry for the wildlife which calls this continent home. How is this going to disrupt their habitat and can they survive it?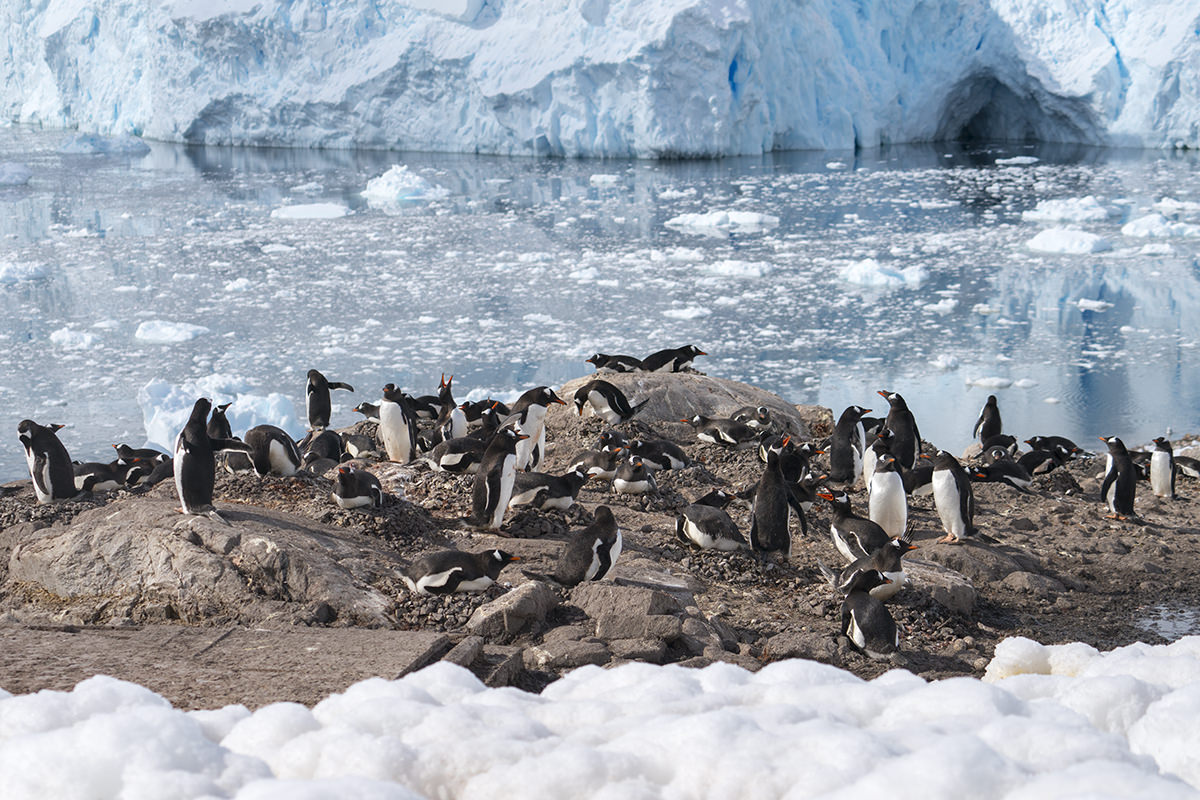 Penguins are already having a tough time of it, and things look to be getting worse. And then there's polar bears starving in the Arctic. Troubling times for our planet.

• trAIn! Apple has put Artificial Intelligence "Machine Learning" in their iPhone and are making good use of it (especially with the camera). As time goes on, it's just going to be surreal how it changes our lives. Take for example this footage from Denis Shiryaev, which upscaled the video to 4K with machine learning and resounded it... Arrival of a Train at La Ciotat, by Auguste and Louis Lumière, 1896...
Looks old, but almost new. Here's the original footage...
We are really close to the unreal easily being mistake for the real, if we're not there already.

• Netflix Fix! And, lastly, apparently there is a God... you can finally tell Netflix to STOP AUTO-PLAYING FUCKING PREVIEWS WHILE YOU ARE TRYING TO SEARCH FOR SOMETHING TO WATCH! People have been complaining about this bullshit FOR YEARS and Netflix did nothing. Apparently somebody finally figured that customers were worth listening to... or maybe it's because many other streaming services are treating customers with a lot more respect by not irritating the ever-loving-shit out of them...
Apparently you set it once in your preferences and it goes into effect everywhere. I haven't yet verified this, but I sure hope it's true.

And that's a wrap, little golden statue dude!
Tags:
Apple TV+
,
Bullet Sunday
,
Food
,
Movies
,
Netflix
,
Television
,
Travel
Categories:
Apple Stuff 2020
,
Bullet Sunday 2020
,
Food 2020
,
Movies 2020
,
Television 2020
,
Travel 2020
—
Click To It:
Permalink
—
4 Comments: Click To Add Yours!
Posted on Tuesday, February 11th, 2020

The Academy of Motion Picture Arts and Sciences finally addressed the omission of Luke Perry from the "In Memoriam" segment of The Oscars telecast... tl;dr, they only have a limited amount of time so he got bumped to their website instead.
Now, far be it for me to tell The Academy how to run their low-rated shitshow, but they can shove one of those little gold statues straight up their collective asses.
First of all... Perry appears in Once Upon a Time in Hollywood, nominated for Best Picture in the same fucking telecast. And he was glorious in it. Totally held his own against Leonardo DiCaprio in a fantastic, critical scene. You can't claim that Once Upon a Time in Hollywood is a great movie without acknowledging his part in it. Of which Quentin Tarantino said this...
"It was really fun," says the director. "I had a couple of different roles I could have put Luke in. Luke was like, 'I want to be on the Western show!' Because he's just a really great rider and he loves doing Westerns. When we did one of his big horse scenes, Luke slides the horse to the front of the saloon and all the other riders fall in alongside him. I was like, 'Luke, do you want us to help you out? Do you want me to put a mark on the ground?' He was like, 'Quentin? You could take a dime and throw it in the dirt and I will land on that dime. The take you'll use is when everyone else gets it right.'"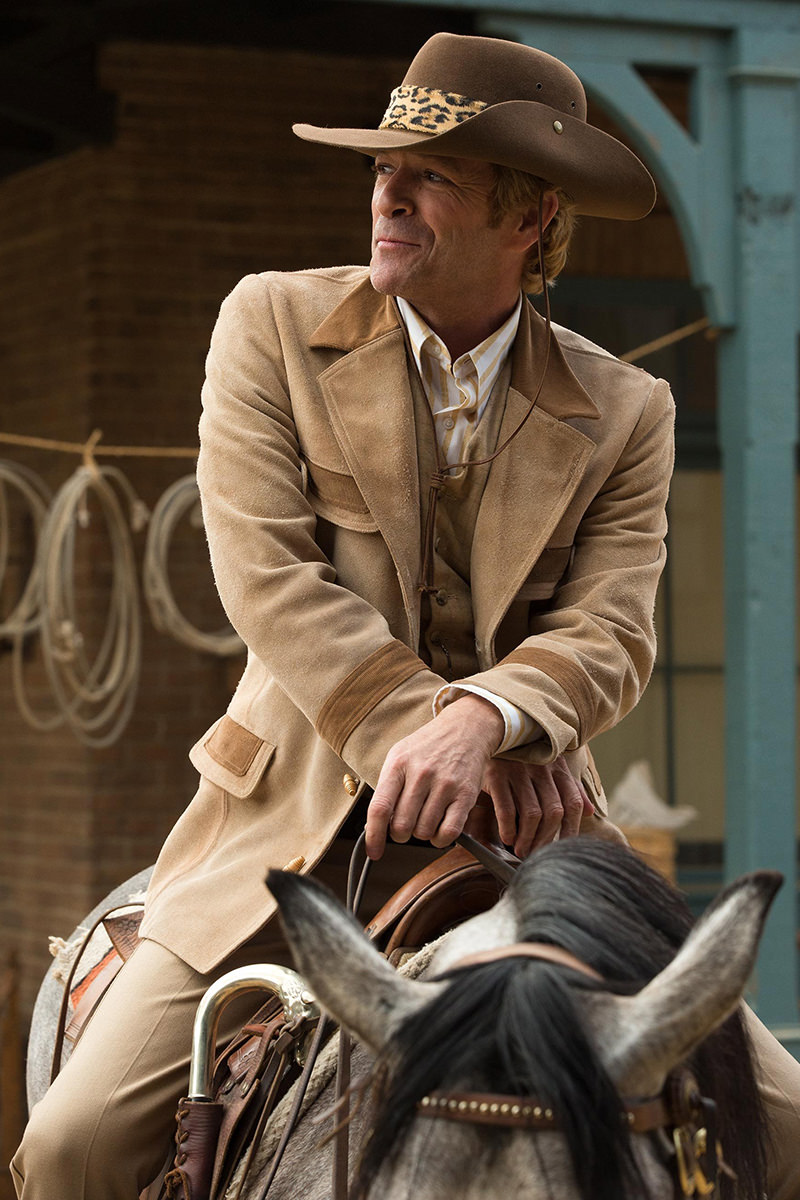 Second of all... THIS WAS LUKE PERRY'S FINAL FILM ROLE!!! How the fuck do you use "we were short on time" as an excuse when the guy's last film is a Best Picture nominee at the time of broadcast? Insanity.
Third of all... did I mention that he was in The Fifth Element? Only like ONE OF THE GREATEST MOVIES OF ALL TIME!
But anyway...
I'd like to end this diatribe on a good note, so here we go...
As you may or may not be aware, I am a Hallmark Movie fanatic who has seen hundreds of them. If you go to the main screen of Dave's Hallmark Movie Page and scroll down to FAVORITE MOVIES you will see Love in Paradise (2016) listed there. This is essentially "The Luke Perry Hallmark Movie" and I reviewed it thusly...

✓ Favorite Love in Paradise (Winterfest • Emmanuelle Vaugier and Luke Perry • January 2, 2016)
Okay, come on, it's a Luke Perry movie! Say what you like about him, he's a surprisingly good actor and can make even the smallest parts something special (remember him in The Fifth Element?). In this one he plays a former Western movie star who's having to do TV commercials for beans in order to make a living. But when a family ranch in Montana calls him away from his pampered New York City lifestyle as a publicity stunt, both parties get more than they bargained for. This one is funnier than you'd think... mostly because Luke Perry has never been one to shy away from poking fun at himself and is just plain funny. As a fake cowboy trying to keep up with a real cowboy's routine, he plays it note-perfect. And you really can't discount Emmanuelle Vaugier as the straight-man, because she's terrific too. The romance is a bit forced, but the chemistry between the leads is flawless. I didn't even mind that this was yet another SAVE THE RANCH FROM EVIL DEVELOPERS story.

In the movie a big point is made about Luke Perry's character being a fake cowboy star who didn't know how to ride a horse. On his movies he had people to ride the horses for him, and he just pretended to mount and dismount. But, by the end of the story, he's a darn good rider and it made me wonder if Perry had to learn how to ride for the movie.
— queue the laugh track —
After Googling for an answer, I found out exactly what Quentin Tarantino was talking about. Apparently I missed the riding movie 8 Seconds (1994) where his prowess in the saddle was showcased. After reading his short interview in American Cowboy, I of course checked out 8 Seconds. The movie was panned by the critics, but adored by fans, and I can see why. Technically it wasn't great, but it had a lot of heart... and Luke Perry was at its center. From there I found other Luke Perry Westerns like Fine Step and A Gunfighter's Pledge plus a series of other Hallmark movies in the Goodnight for Justice series. The guy was a serious cowboy actor. Who knew?
And so... yeah... Luke Perry didn't get an on-broadcast mention in the "In Memoriam" section of The Academy Awards, but he was a dedicated and beloved actor for decades who ended his career in an Oscar-nominated movie. If that's not a qualification, I don't know what is.
And don't ask The Academy of Motion Picture Arts and Sciences because they apparently don't know either.