Posted on Thursday, January 3rd, 2019

Ages ago (when blogging was still a thing) I had "met" a guy named Craig on his blog, Puntabulous! It was one of the funniest things I've ever read and I became an immediate fan (so much so that I ended up guest-posting there). Sadly, Puntabulous! Has been lost to the ages (and the Wayback Machine has only spotty entries archived). Currently Craig's old site seems to have been poached by a Slovakian link farm or something, but we'll always have the memories!
Fast-forward nine years and I'm part of a gift exchange where, miracle of miracles, I get Craig's name. I'm never sure what I am supposed to buy for gift exchanges, so I decided to to mash-up some of his favorite things and make something for him (the only way I could be sure I wasn't getting him something he already had!). And those things are... LEGO, Power Rangers, Star Trek: The Next Generation, his boyfriend Steve, and his cabin.
Custom LEGO Craig posters it is then!
This is what I came up with...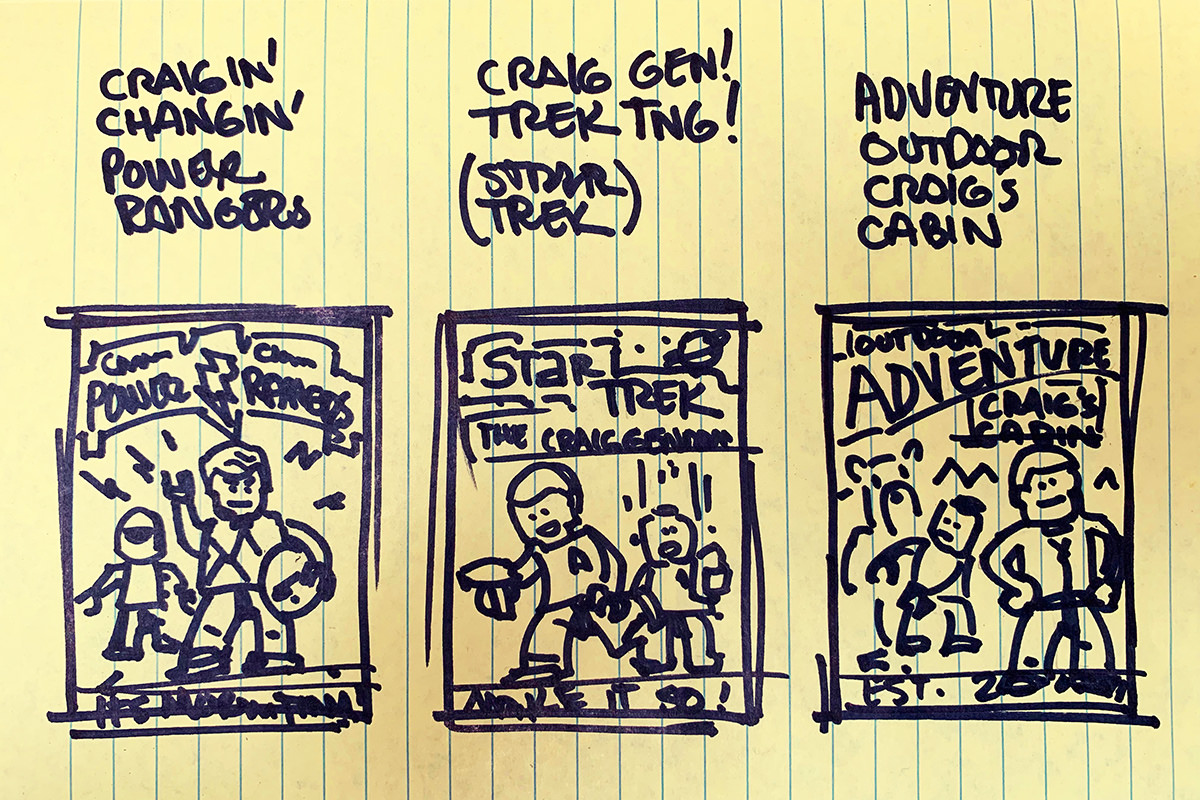 I am a huge fan of LEGO video games, so I thought I could just draw little minifies doing fun things and be done with it. Except it was a lot harder than it looked to get them looking "real" so I ended up downloading a 3D model that I could pose in Blender...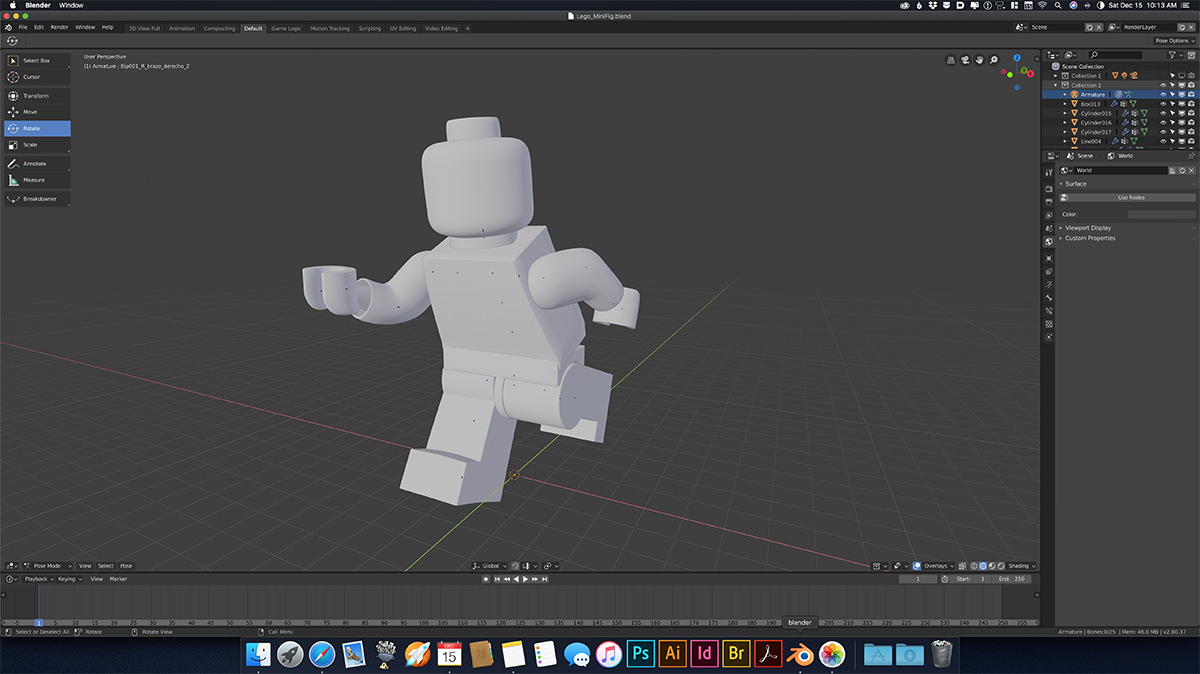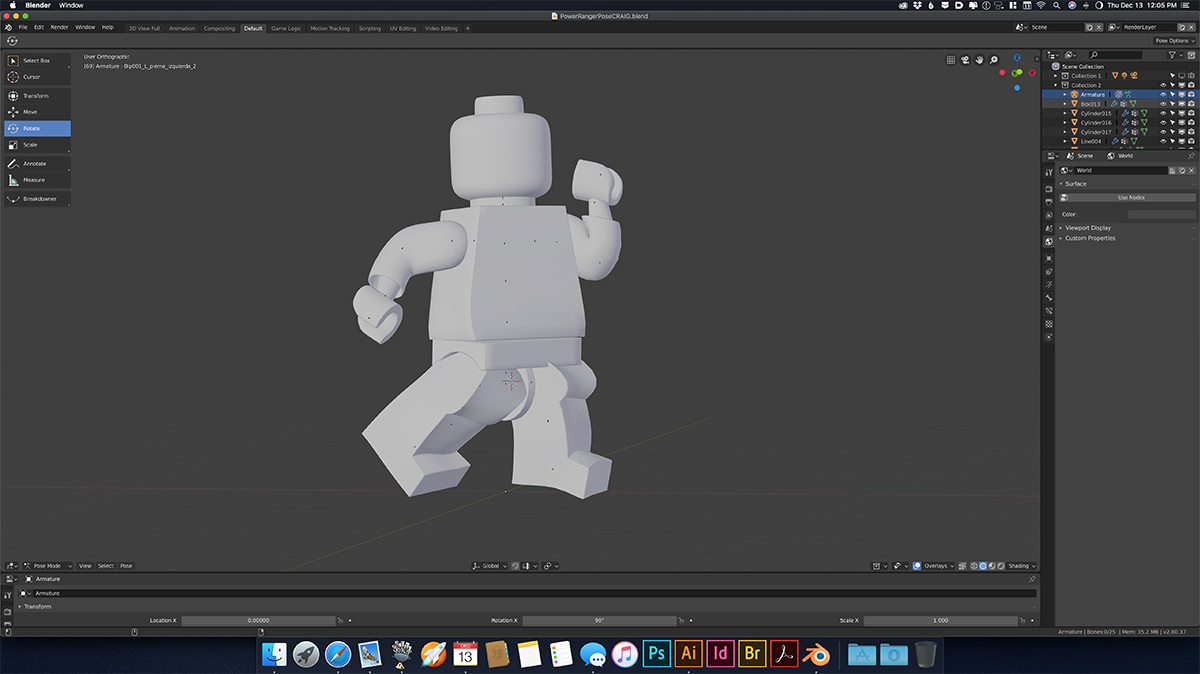 Then drop them into the layouts I had come up with...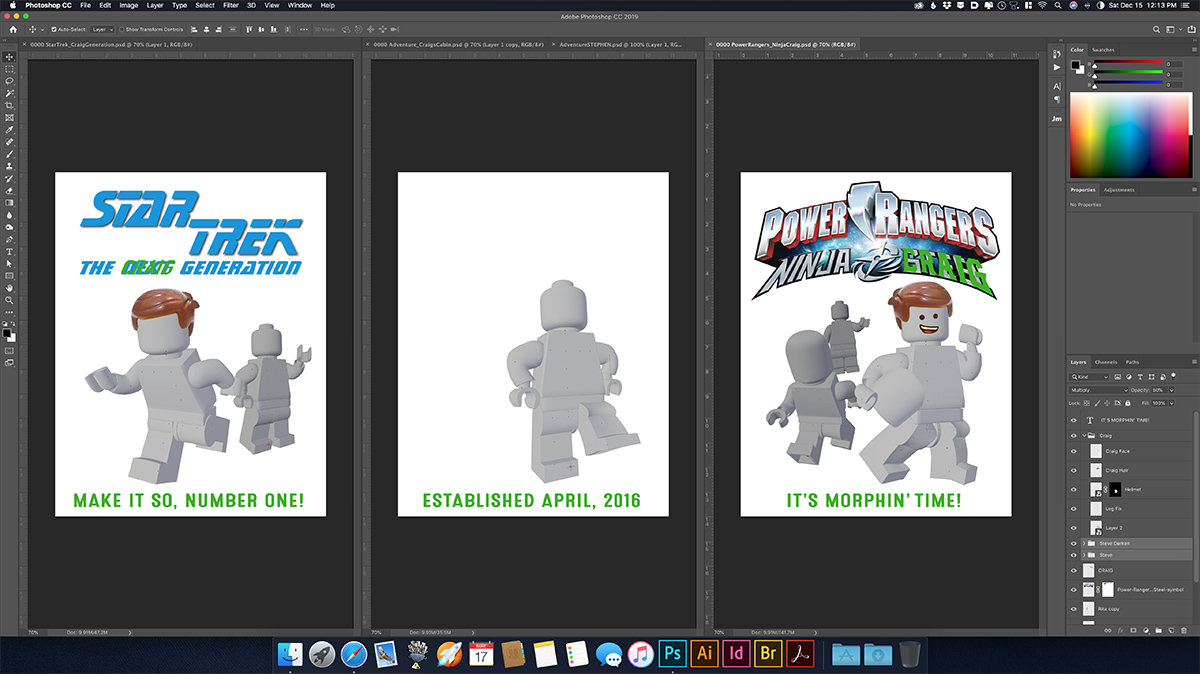 Power Rangers: Ninja Craig
I didn't know much about the Power Rangers except that they would scream "It's Morphin Time!" and transform from super-powered-ninjas into robot dinosaurs. Or something like that. After little Google research I found out there were loads of Power Rangers series. I liked the logo for Ninja Steel because I could turn it into Ninja Craig. All I had to do was drop in Steve Blue Ranger and Rita Repulsa, and, done...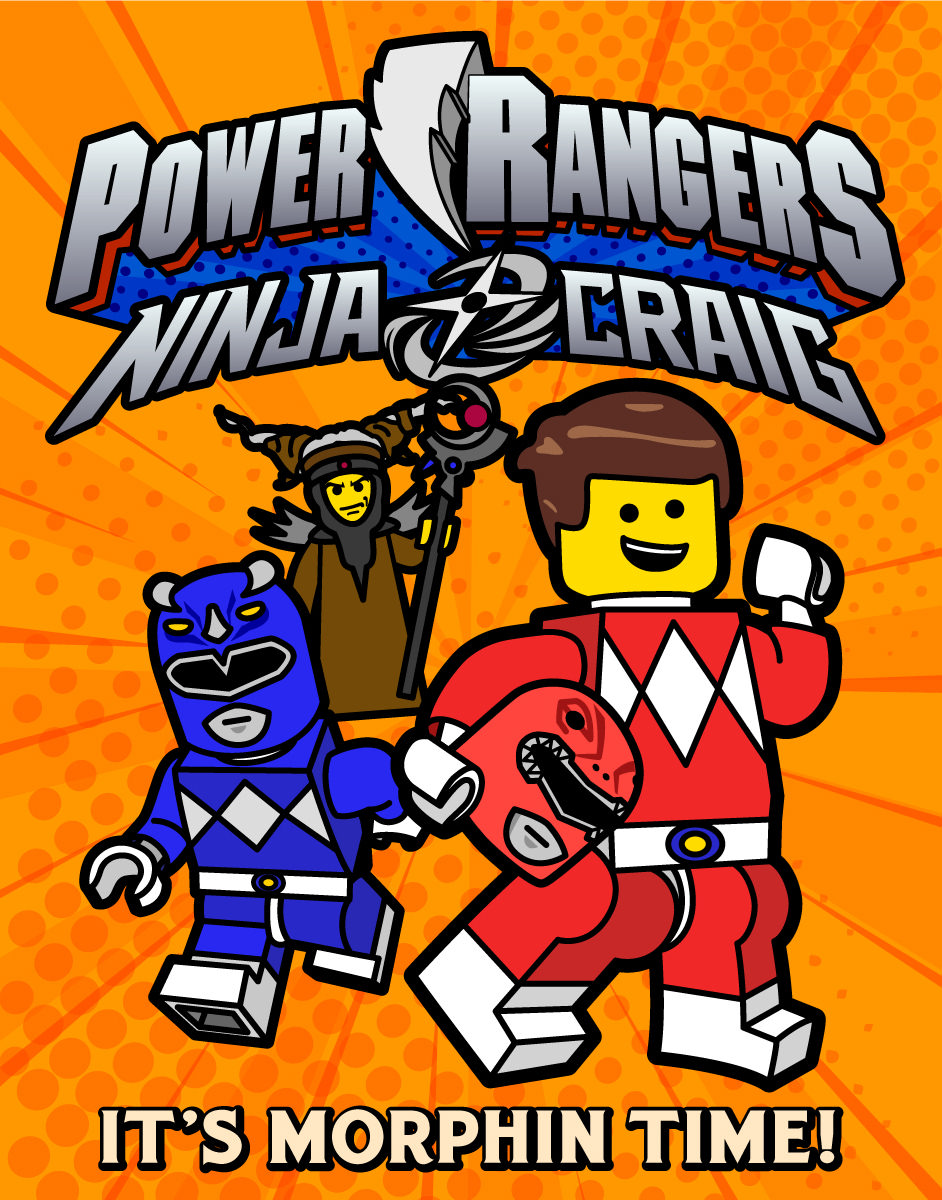 At first I had the same generic helmets for both Rangers but, upon closer inspection, I noticed that all the Rangers had different helmets! This meant I had to go back and re-draw them to be accurate...

Star Trek: The Craig Generation
I'm more of a "original series" guy than a "Next Generation guy," but had seen all the episodes (of course), so it was easy to decide what I wanted to do...
I drew Craig as Number One, Steve as Data, and was planning on putting a LEGO Enterprise-D in the background. But I could never get it to look recognizable in simple LEGO form. Then I did some cyber-stalking and found a photo of Craig wearing a T-shirt that had the "LEGO Space" logo drawn as an X-Wing circling the Death Star...
Very cool! The original logo is the one I grew up with and looks like this...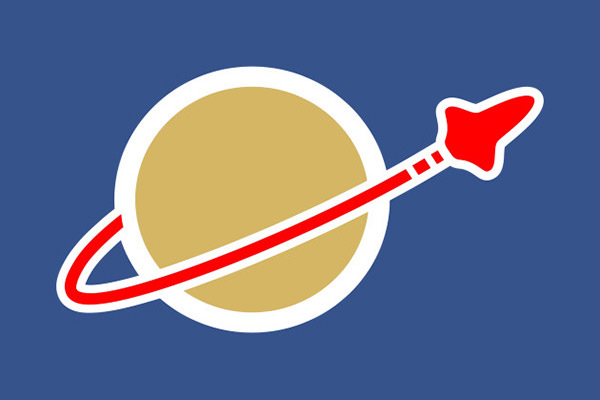 It was made cool again when they introduced Benny in The LEGO Movie ...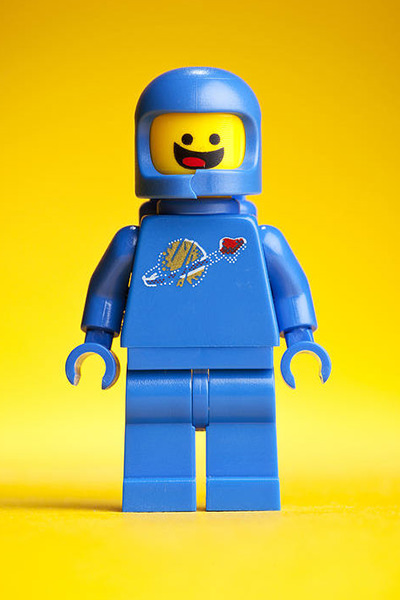 It was a simple matter to redraw it for Star Trek: The Next Generation like so...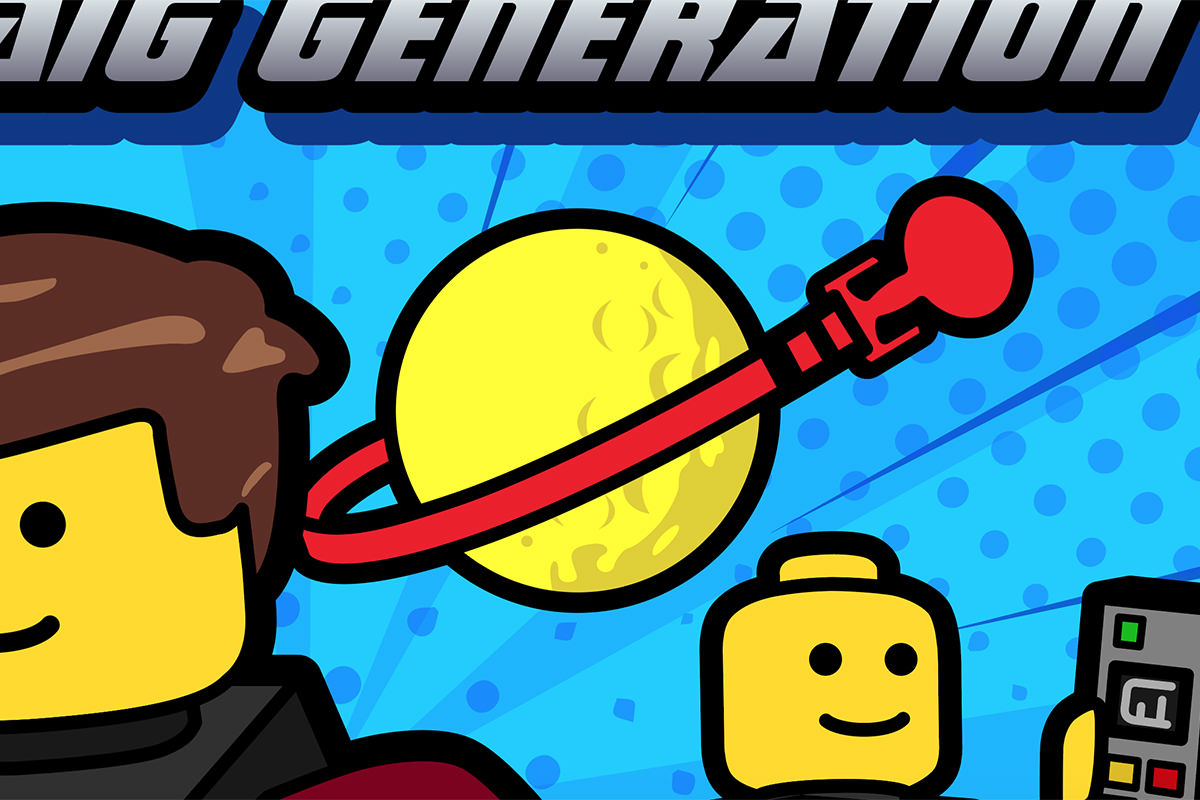 Craig's Cabin
My original idea (shown in my sketch above) was to have LEGO Craig in a majestic pose while Steve was being surprised by a bear in the background. The LEGO bear is a rare piece that goes for big money on eBay, but I was able to find enough photos of it that I could probably draw it. Problem is, the LEGO bear is kinda hard to recognize in a cartoon drawing, so I decided to give poor LEGO Steve a break and attempt to draw Craig's actual cabin in LEGO back there...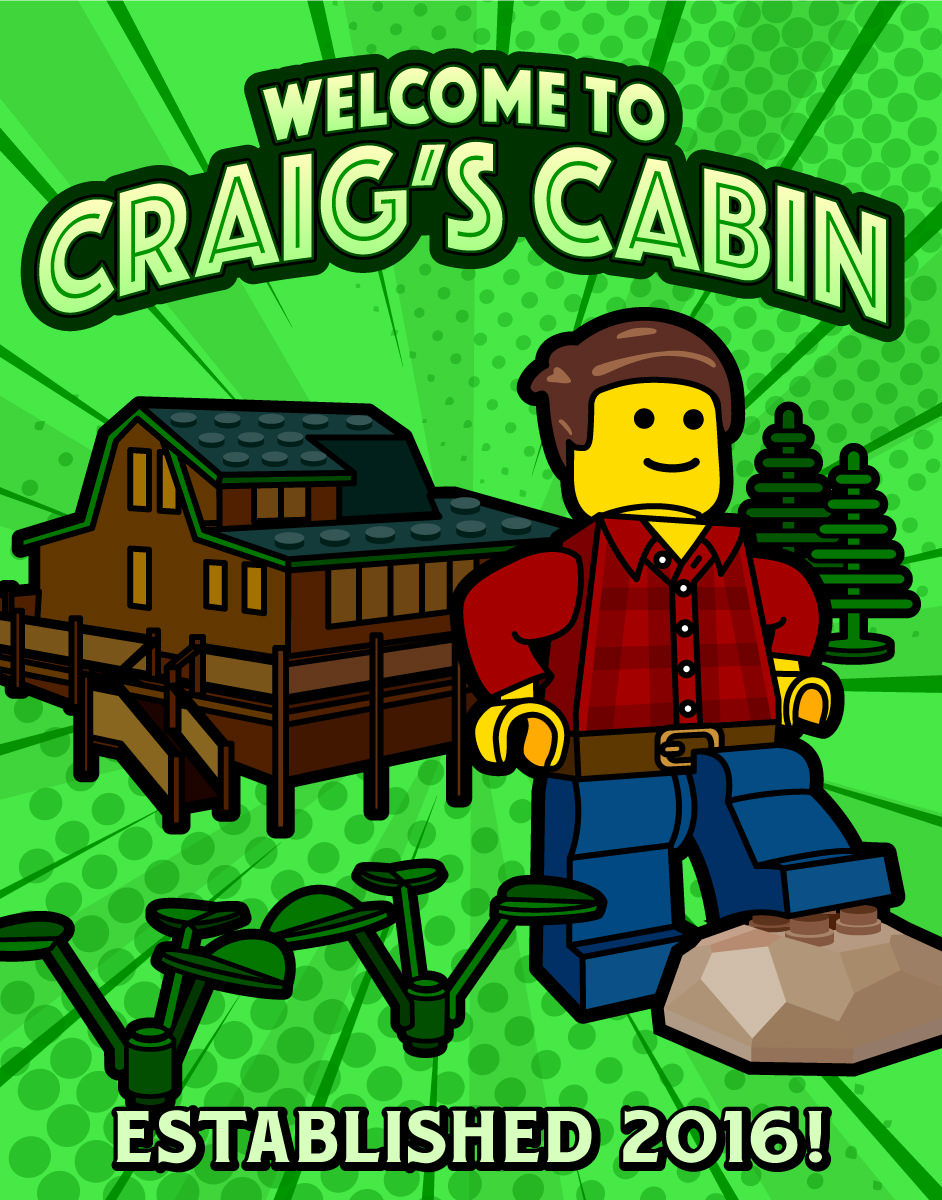 It ended up looking pretty good once I got the LEGO studs on the roof panels. Then I added some happy little LEGO trees and happy little LEGO plants and I was good to go. But my favorite part is the plaid shirt "print" on LEGO Craig...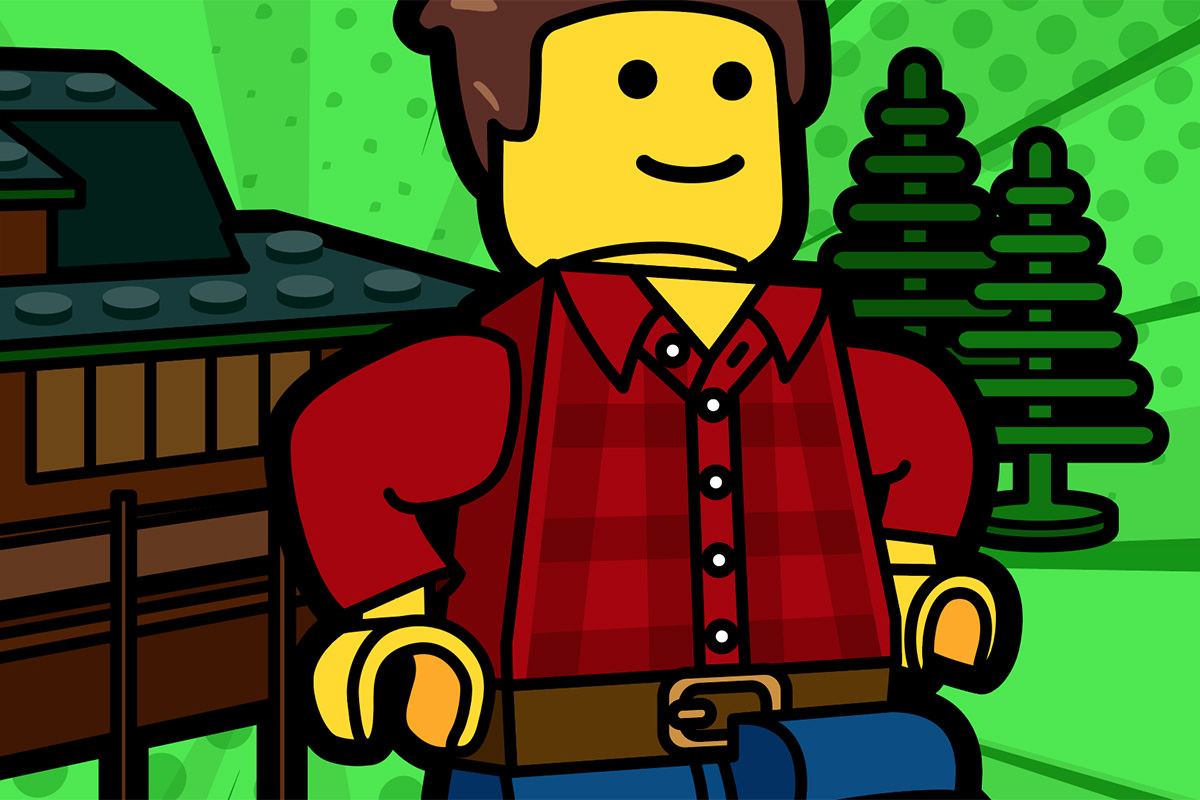 Fun!
Has me anxious for February 2019 to get here so I can see The LEGO Movie 2...
Who knew that LEGO DUPLO would end up being so evil?
Posted on Sunday, January 13th, 2019

Don't let the long cold nights of winter get you down... because an all new Bullet Sunday starts now...

• Duck! It's no secret that I love museums. I've made it my mission in life to see many of the world's great (and not-so-great) museums as I can. Which is why I got a big kick out of this article: Museums around the world are soliciting duck pics from each other...

Image Courtesy of The Museum of English Rural Life.
If you're even a little fan of art, this article is a must-see.

• Cars! These Walmart curbside pickup "cars" commercials are phenomenal...
I can't fathom how much money it cost to license all these properties.

• Akeem! One of my all-time favorite movies is Coming to America starring Eddie Murphy and Arsenio Hall in multiple roles. It's a great story chock-full of funny situations and had some real heart to it...
There are many other things to love about the film... namely James Earl Jones and Madge Sinclair as Eddie Murphy's parents. But there are also the incredible designs for the country of Zamunda. Make no mistake, Zamunda was Wakanda way before Wakanda was the benchmark for fictional African countries!
And now it comes to light that there is a sequel in the works with Eddie Murphy reprising his role as Prince Akeem. Right now, I am deliriously happy about that. But given how badly things could go wrong, I'm also more than a little nervous.

• Again! Again! Speaking of an Eddie Murphy movie getting sequels... apparently Boomerang, another movie I love more than butter, is getting a television sequel...
The show will continue the story with Marcus and Angela's son and Jaqueline's daughter. No word if Eddie Murphy, Halle Berry, or Robin Givens will be making an appearance. But I sure hope so. The thing that gives me hope is that Lena Waithe is onboard. As is Halle Berry as an executive producer. Fingers crossed.

• Monument! As somebody who loves travel photography but can't stand people walking through my shots, I was excited to hear about "Monument." This new technology that Adobe is developing will automatically remove moving objects from photos. It's a fascinating idea that I'm anxious to try out. There's a video which takes a look at Moment but Nick Offerman is an idiotic distraction throughout. Why in the hell they couldn't have just presented the tech without the comedic bullshit is beyond me...
It's only a matter of time before machine learning with this kind of smarts gets dropped into all our cameras. As popular attractions become more and more crowded, it will be a handy and very welcome thing to have.

• Puck! My new brown sugar container came with a small terra cotta coaster in the box. I was telling a friend about it and laughing because I don't have any glasses small enough to fit on it. "ARE YOU HIGH? YOU SOAK IT IN WATER AND PUT IT IN THE CONTAINER SO YOUR BROWN SUGAR DOESN'T DRY OUT!" In my defense, there weren't any instructions. Just the little puck thingy in a baggie. How was I to know?
Is this some secret everybody knows but me? Is there some brown sugar conspiracy to exclude me from this magic?

And... I'm spent. No more bullets for you.
Posted on Wednesday, January 16th, 2019

My only complaint about Marvel Studios is that they are restricting themselves to three movies per year. This seems lacking in ambition. I understand not wanting to crowd the theaters in a wash of super-hero films, but maybe after the 21st Century Fox merger is complete they will up their game a bit? Hopefully.
In the meanwhile...
The first trailer for Spider-Man: Far From Home dropped earlier this week...
The most obvious piece of new information here is Jake Gyllenhaal as Mysterio...
He doesn't seem like he's a villain... yet? I guess?
From appearances, it would seem Peter Parker is being deputized by Nick Fury to become "Spider-Man: Agent of S.H.I.E.L.D." or something like that. Apparently to fight some elementals terrorizing Europe. That's seems pretty mundane and impersonal for a Marvel movie, so I'm guessing something (or more likely, someone) is behind it all.
Since the new Spider-Man takes place after Avengers: Endgame it's interesting to note that life on earth has returned to normal. Which means it returns to normal in Endgame. Which seems to indicate that Thanos and his snap were eradicated from the timeline? We shall see.
And then there's Captain Marvel...
New character posters for the forthcoming movie have been unleashed. Notably absent is a poster for Ronan the Accuser. Kinda weird that he didn't get one when everybody else did...
Captain Marvel / Carol Danvers, of course...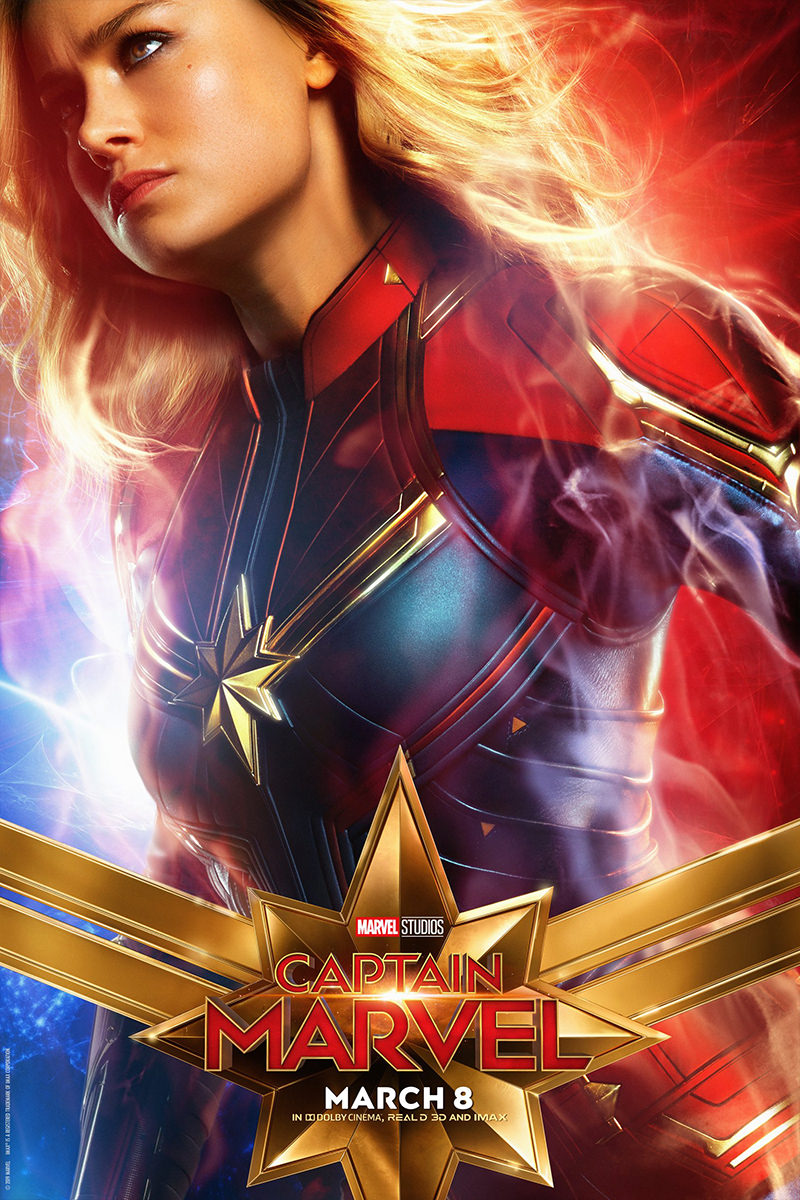 Agent Nick Fury, having been CGI youthed to his 90's self...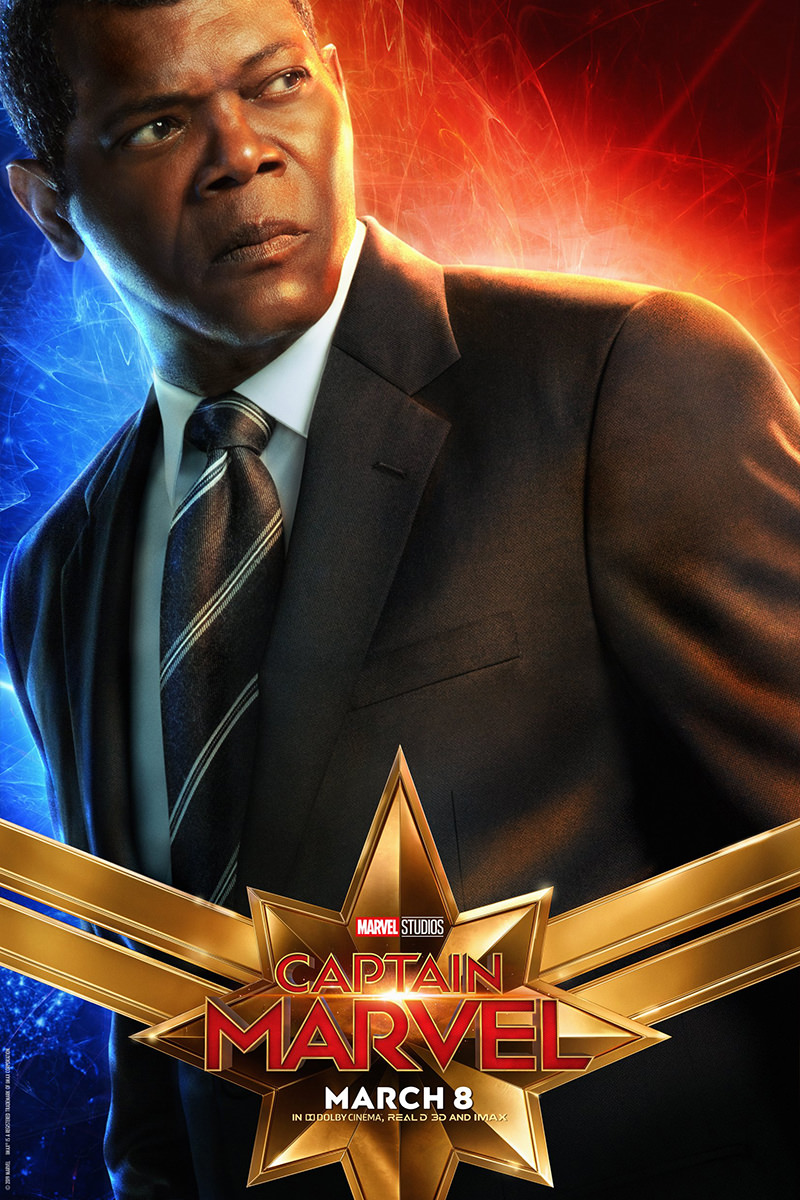 Agent Phil Coulson, likewise youthified...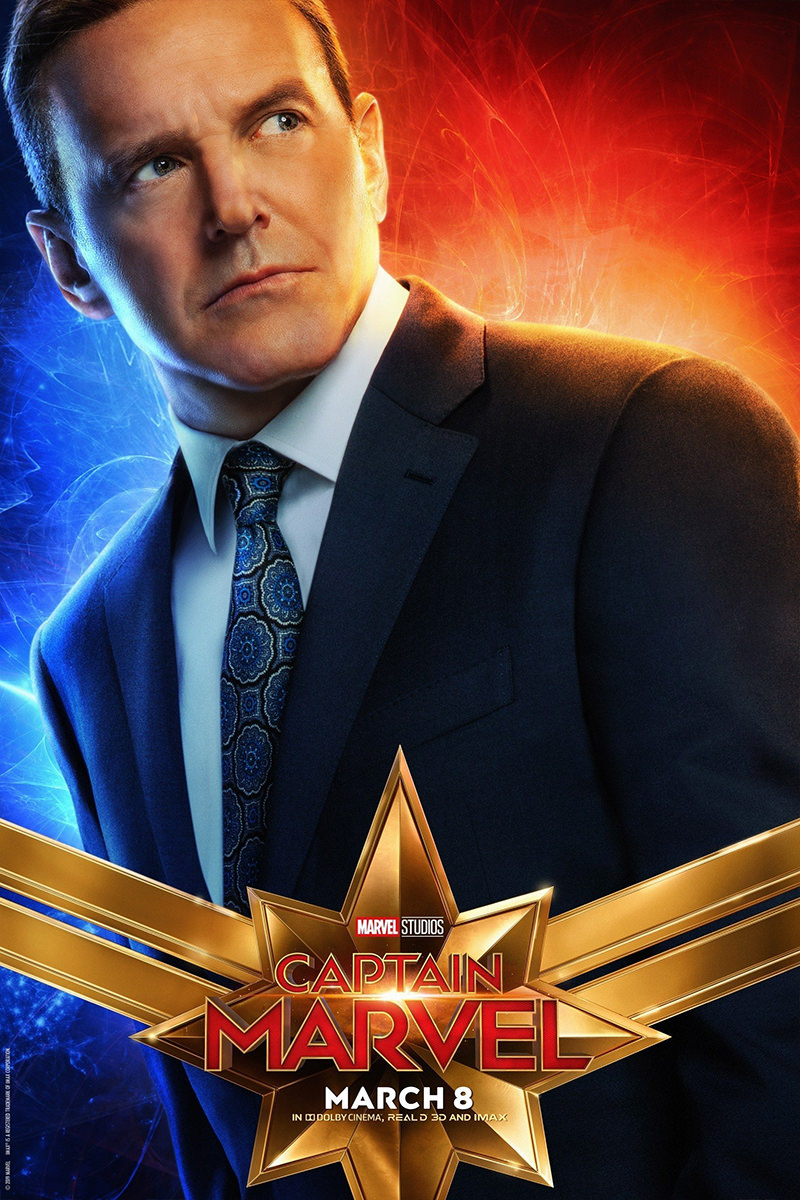 Maria Rambeau, whom I'm guessing is future-hero Monica Rambeau's mom and fellow pilot...
Goose, Carol's cat... which is named "Chewie" in the comic books (after Chewbacca)... and is apparently named after Anthony Edward's Top Gun character here...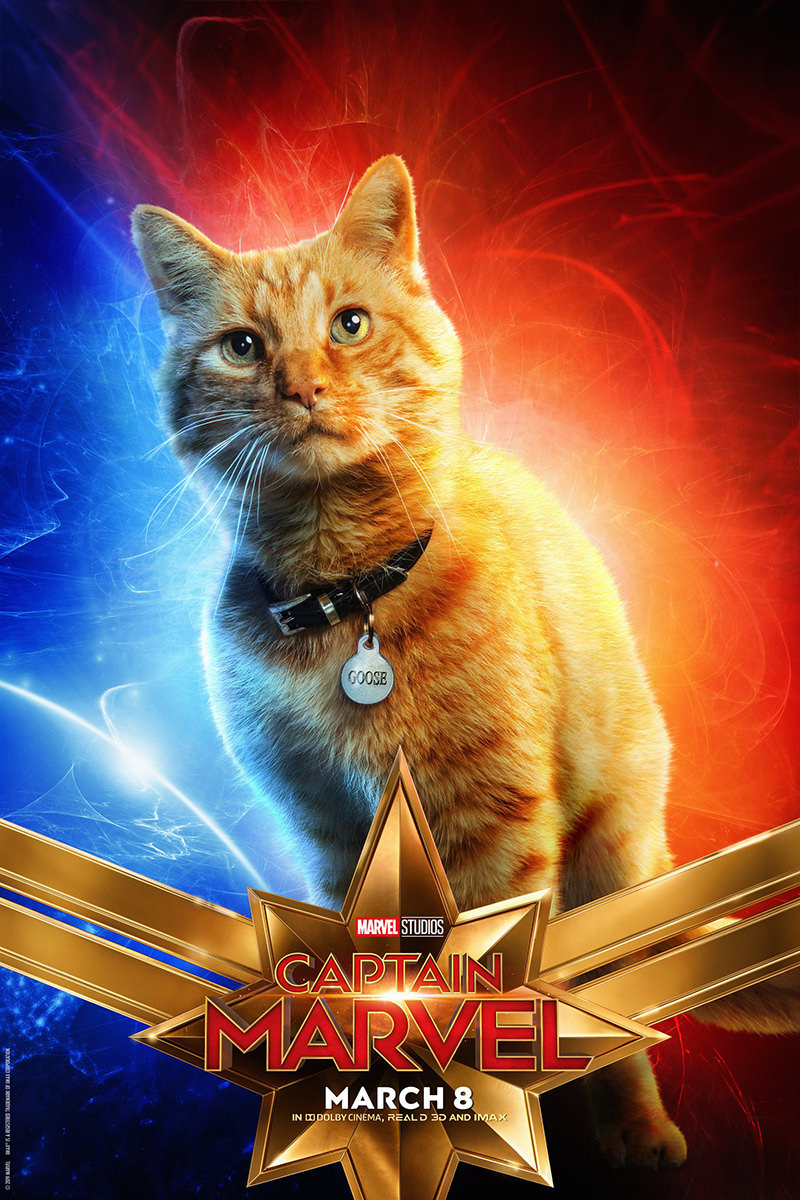 Mar-Vell(?) is the original Captain Marvel in the comic books but, since the origin is changing for the movies, he could be playing somebody completely different...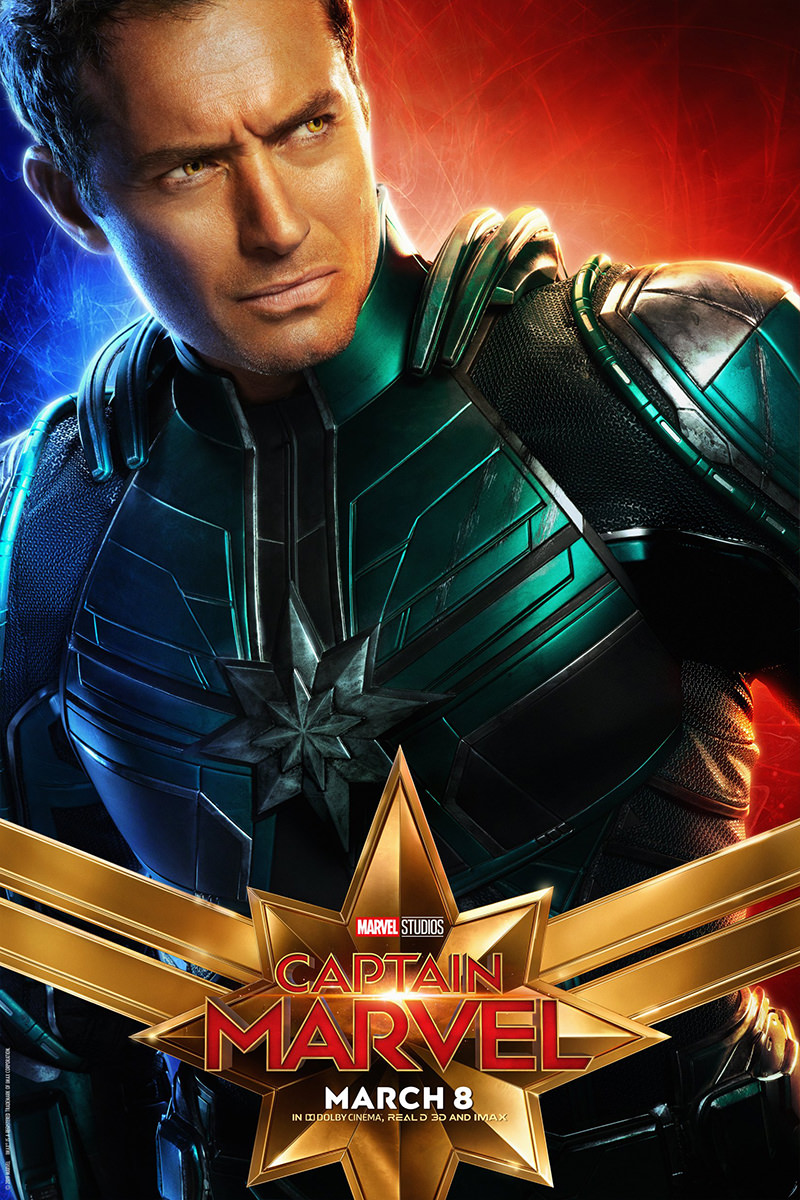 Korath, whose last appearance was in the first Guardians of the Galaxy movie...
Minn-Erva, an enemy of Carol in the comics, but apparently isn't that (yet) in the movie...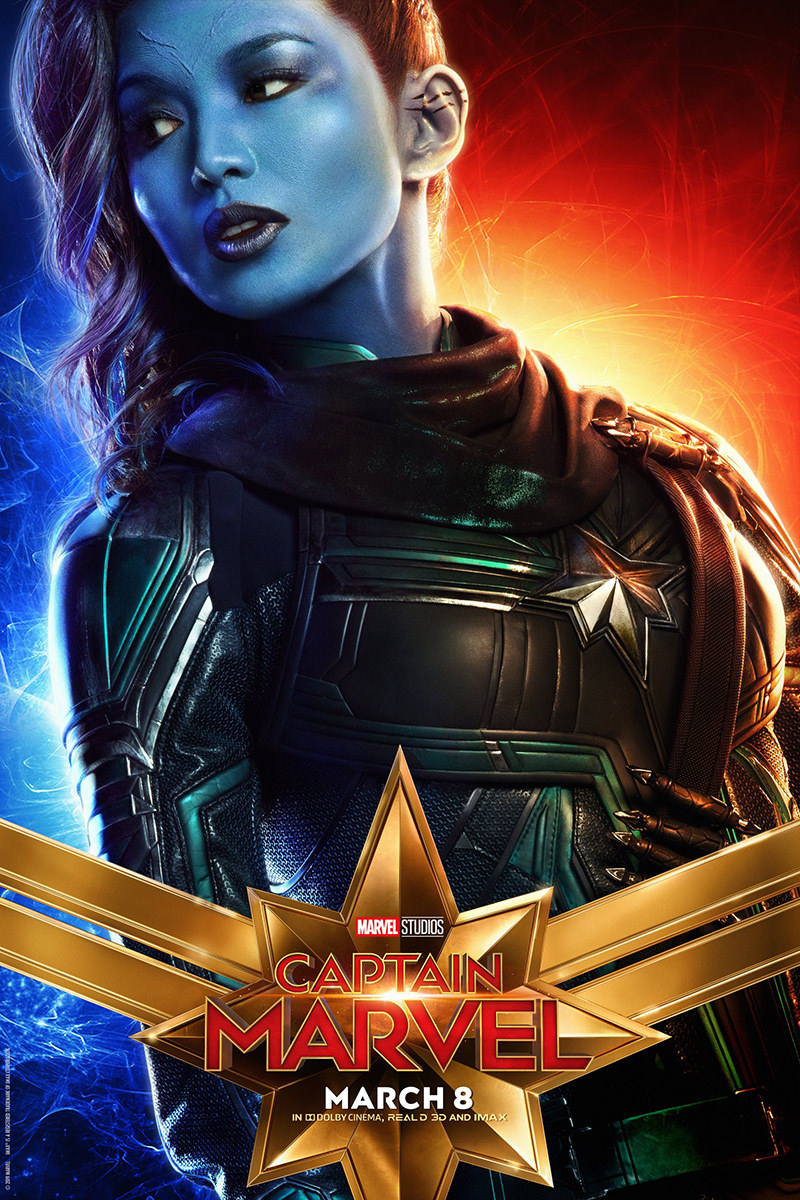 Talos, an evil alien Skrull shown here in his human form...
??? No idea who Annette Bening is playing in the movie... Supreme Intelligence in human form perhaps...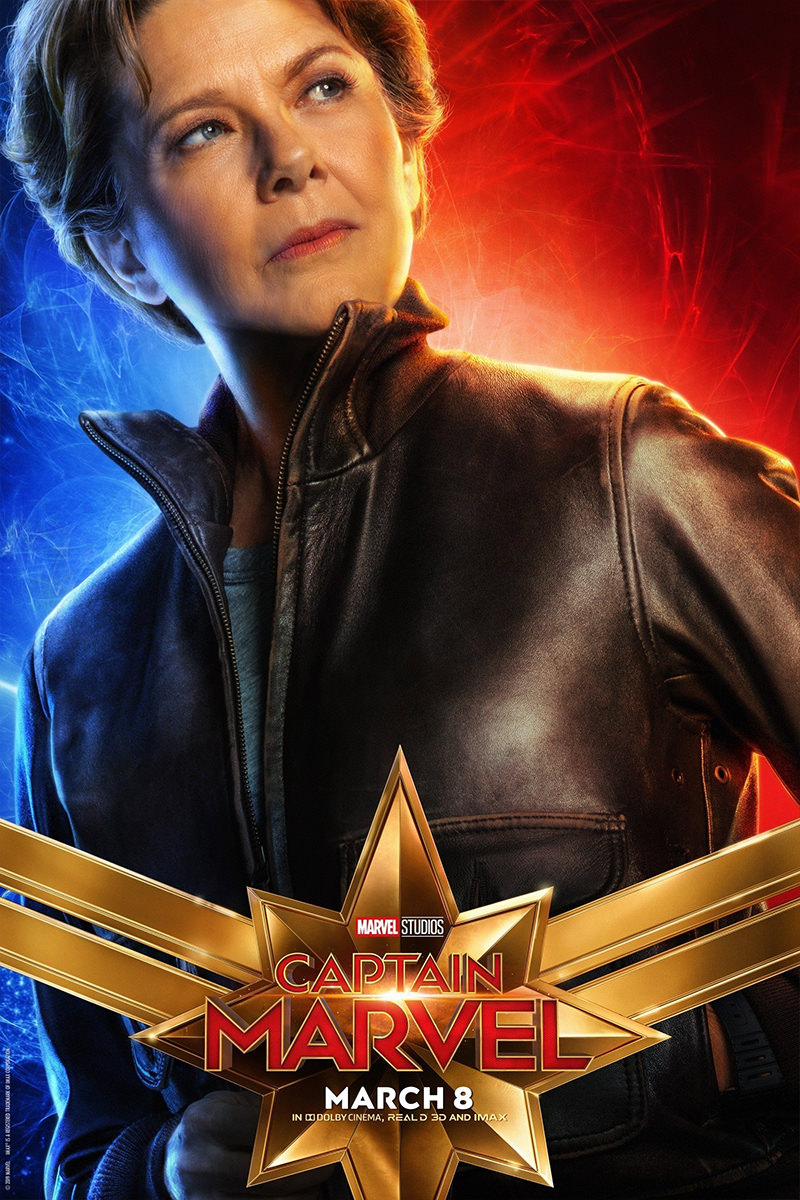 March 8th can't get here soon enough.