Posted on Thursday, January 2nd, 2020

I have come to the conclusion that once you pass 50 it takes two days to recover for every day you go without a bare minimum of sleep. I went three days without sleep, so it's going to take six days before I recover. Which, for me, will be sometime Saturday.
It was not always like this. Used to be I would operate on a few hours sleep for weeks and suffer no ill-effects. Sometime in my mid-30's this changed and I needed a couple hours extra sleep to recover from a week of insanity. Then I hit 40 and suddenly I needed a day for every day of missed sleep to recover. That was at least manageable. But two days per day? How do I schedule for something like that? Being able to operate at only half-speed is killing me.
Last night I went to bed much earlier than I usually do (around 11:00pm instead of 1:30am) in an attempt to make up for lost rest. Jake, who usually sleeps with me most nights now, fell asleep in the downstairs guest room so I wouldn't be bothered by him. This left Jenny, whom will hop off the bed and go sleep in the other guest room the minute I fall asleep.
But not last night.
Oh no. I fell asleep while petting her and she was very upset about it.
VERY.
I woke up to the sound of her walking around my room howling because I dared to fall asleep before she was done with being petted. When she gets upset or wants attention, she will meow from time to time... but this was howling. Keep in mind that this camera is downstairs, so what you're hearing is one floor and three rooms away from the microphone. That's how unbelievably loud she was...
I love how she is so loud that Jake wakes up and is all WTF?!? and goes walking upstairs to see what Jenny is on about.
And so... I pet her for another twenty minutes until she was satisfied, then eventually fell asleep and hour-or-so later. Not quite getting the sleep I was hoping for, but... well... cats... you know.
Speaking of cats...
One of my favorite things on YouTube is Super Easy, Barely An Inconvenience, a series of "pitch meetings" for popular films by Ryan George for Screen Rant. The guy does the same thing every time and yet it is hilarious every time. The most recent pitch meeting is for the Cats movie, and it's one of the best yet...
And so now I'm binge-re-watching all of the episodes of Super Easy, Barely An Inconvenience while I work, which is a fantastic use of my time. Better than most stuff on television if I'm being honest.
And here's hoping that Jenny gets all her required petting in before I fall asleep so I can maybe... possibly... perhaps... kinda get some sleep tonight?
Well, she's a cat, so I'm not holding my breath. But maybe I should hold my breath. Can a cat howling in your bedroom wake you up if you've passed out from holding your breath?
Posted on Friday, January 3rd, 2020

Somehow, someway I managed to seriously injure my right shoulder. I think the muscle in it is torn or something. No clue whatsoever how it happened, but it's been a couple months. Probably slept on it wrong, because that's a thing that happens after you turn the-big-five-oh.
Anyway...
Since I am not a pro athlete or even remotely physical in any way, this is not a big deal. It doesn't bother me at all during the day because, let's face it, there's not a lot of shoulder action that comes from typing on a keyboard, clicking on a mouse, or watching television. The only time it bothers me is when I am trying to fall asleep* and I end up laying on it funny. Then... ouchies. But, no big deal, I just load up on some Ibuprofen and take a couple Bendryl, problem solved.
Except when it isn't.
Which was last night.
As I mentioned a couple times now, Jake reeeeeally likes to snuggle with me at night now. Lord knows why with all the tossing and turning I do, but he apparently likes a wild ride while trying to sleep. Or he's just terrified I'm going to leave him for a week like I did over the holidays (=insert sad emoji=). On those nights when he wants to sleep on top of me, it's especially awkward because I'm a side-sleeper. So in order for this to work, I have to grab a pillow or two and build a "shelf" beside me that he can lay on. Because, you know, laying beside me might result in him getting crushed and he won't do it. It looks something like this...
When Jake hopped up last night and waited (im)patiently for me to build his sleeping shelf, I had to reach behind me to grab a pillow. Unfortunately I did that with my bad shoulder and twisted in such a way that I let out a yelp. Jake did not have any sympathy at all. He promptly hopped on top of me and fell asleep.
Then, at 3:00 in the morning, I could not get to sleep and simply couldn't take the agony any more. I gently lowered Jake to the bed (much to his annoyance) then escaped from under the covers so I could go drug up on an Ibuprofen and Benadryl cocktail.
And go to the bathroom... again... something else that happens after you turn the-big-five-oh.
When I got back to my bed, he had decided to lay down RIGHT IN THE MIDDLE OF IT, which meant I had to kinda work my way around him. Eventually he curled up BETWEEN MY LEGS... SO COMFORTABLE... and I passed out 20 minutes later thanks to over-the-counter drugs I was abusing.
When I woke up to the 7:00am cat feeding alarm blaring, Jake was sniffing my face... probably wondering if I was dead. Because if I wasn't dead, why wasn't I rushing downstairs to feed him his breakfast?!?
And so my day was spent attempting to get caught up on work while in a sleep-deprived stupor... occasionally wincing with pain.
How about you?
Though, if you're under 50 years-old without cats, I probably don't want to know.

*I lie. I found out while traveling last week that it hurts my shoulder a great deal if I offer to get a suitcase full of bowling balls down from the plane's overhead bin for a young woman who is 90-lbs. soaking wet if she's a day** and would probably be crushed in the attempt.
**Or however the fuck that metaphor goes. I am from the Pacific Northwest where we don't do that.
Posted on Saturday, January 4th, 2020

I've heard a number of scary stories about people who have had to leave their cats only to come back and find their shoes pooped in... their clothes shredded... their furniture chewed up. Basically, the cats get their revenge for being abandoned. For whatever reason, I am blessed with two cats who are not vindictive like this at all. When I come back, they are incredibly happy to see me and then hang around me constantly. Whatever room I'm in, they're in regardless of time of day.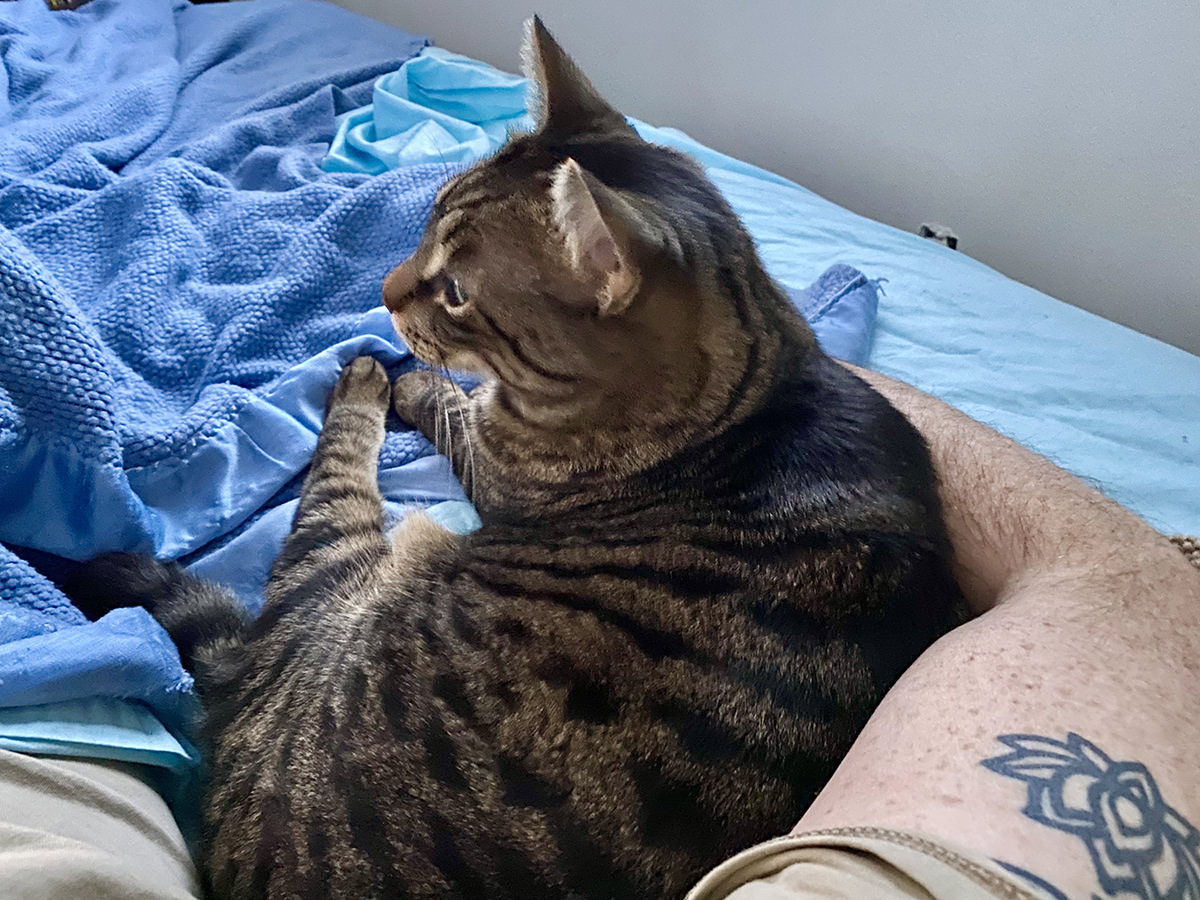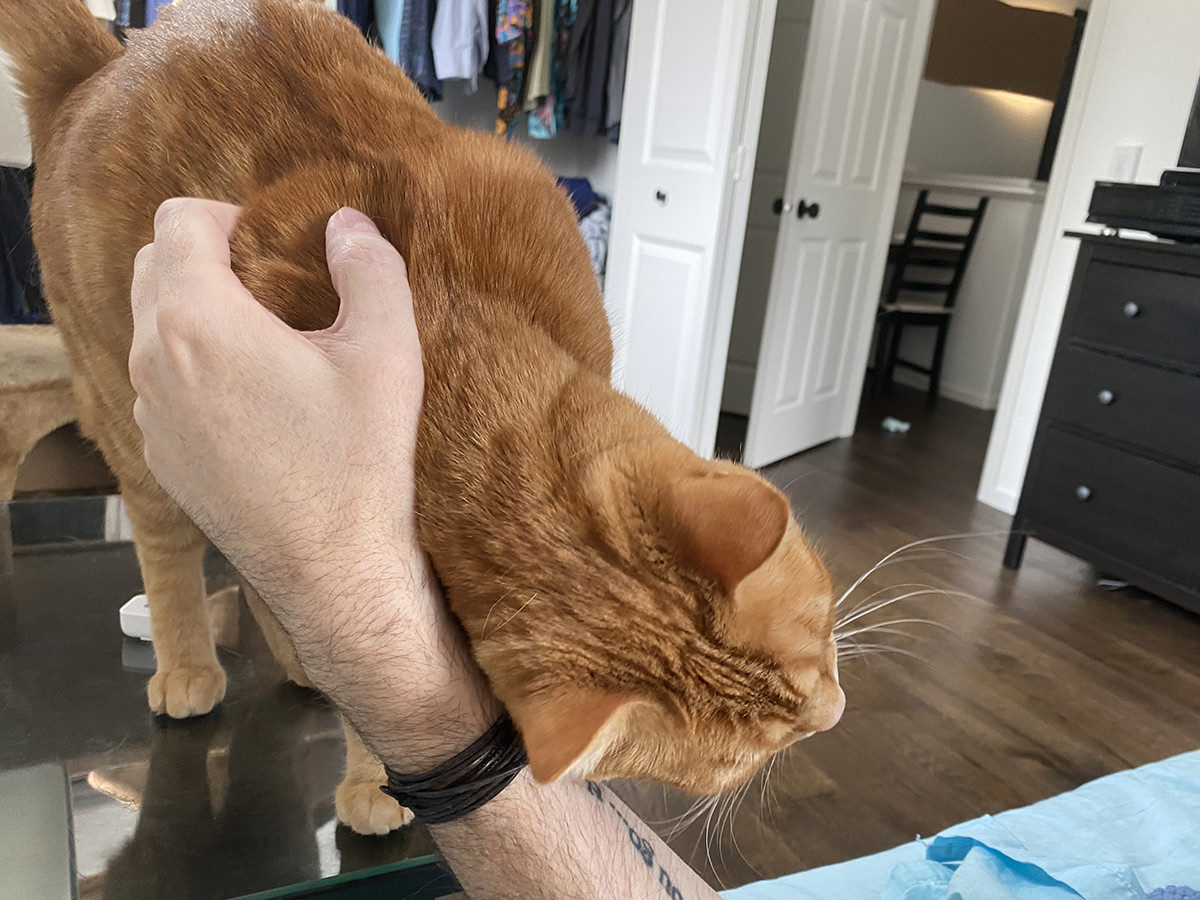 But they will leave me if there's something exciting outside. Like Fake Jake stopping by for a visit...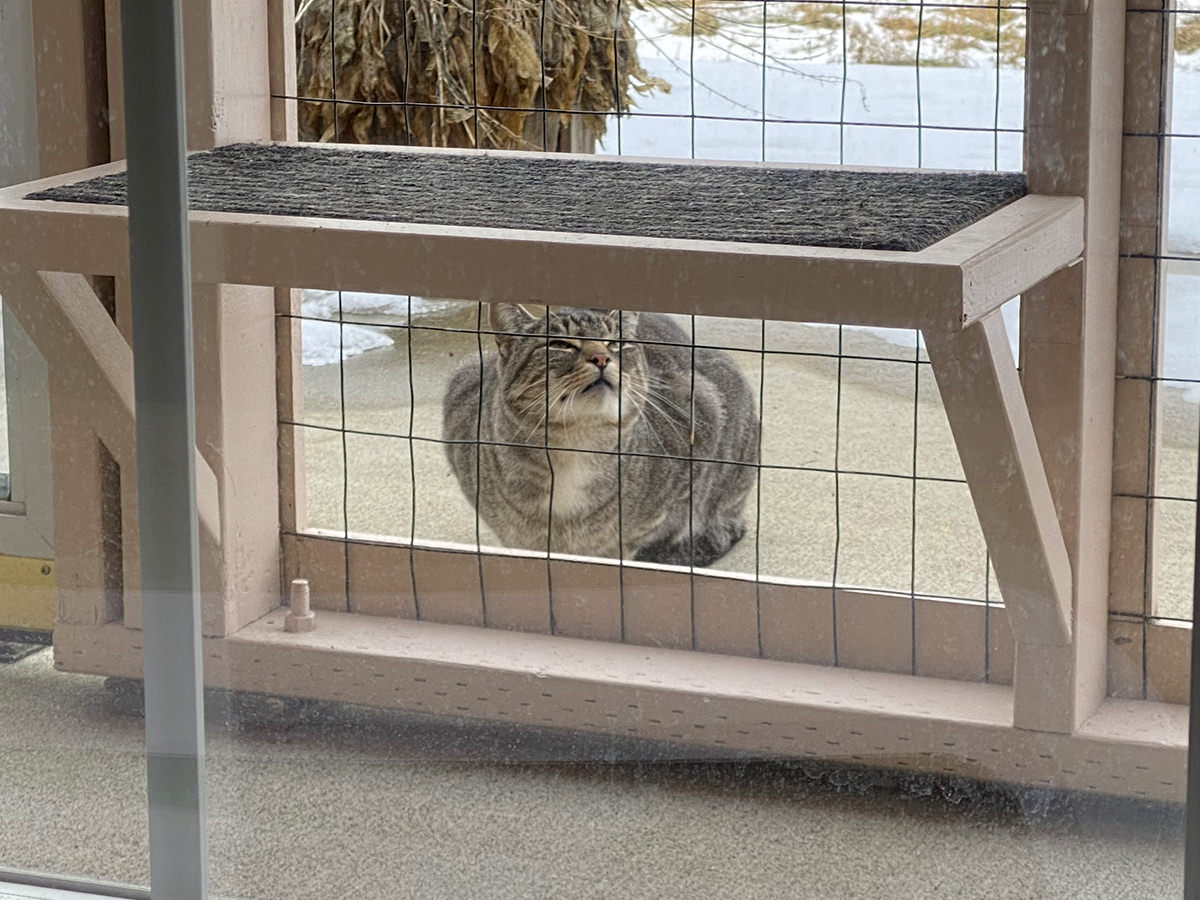 They will abandon me instantly for that...
And now it's time for the second-most dreaded time of year... making an appointment for Jake and Jenny's annual checkup at the vet. Because the most dreaded day of the year... their annual checkup at the vet in February.
Posted on Sunday, January 5th, 2020

We may be on the verge of World War III as a reckless, clueless president is intent on starting a war to distract from his impeachment, but all is not lost because an all new Bullet Sunday starts... now...

• Oh Deer. So there I was falling asleep last night when the security system alarm goes off on my phone telling me that there was a person on the side of my house and in my back yard. I thought it might be a cat trying to get into the catio again, but Jake and Jenny were in bed with me. Nope... definitely not a cat... it was A FAMILY OF DEER! A couple others came along after this video...
Apparently with the warmer weather they are looking for something to eat, because they spent some time in my shrubs before moving on...
I feel horrible that somebody may harm them as they try to survive by heading into suburbia.

• RIP Syd Mead. It's unbelievable how so much of how we envision the future was defined by one guy... Syd Mead. He has created a tremendous volume of incredible work, and I was saddened to hear of his passing.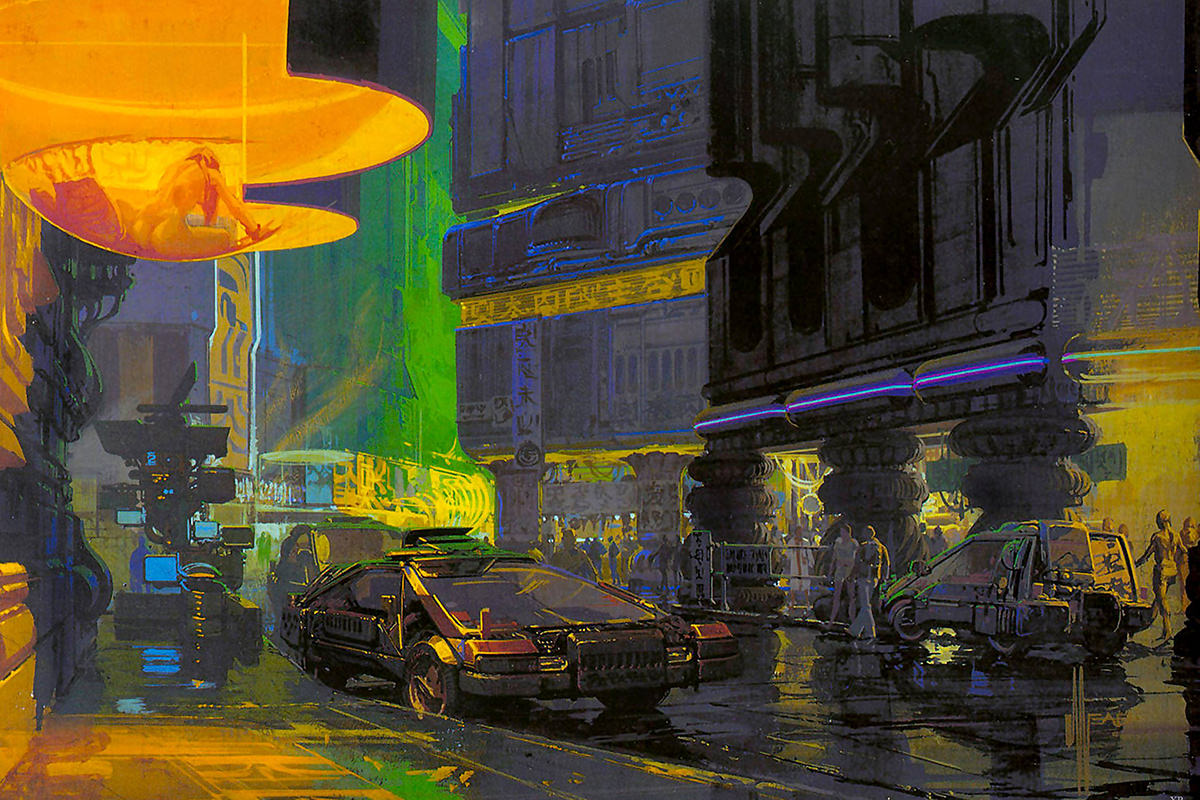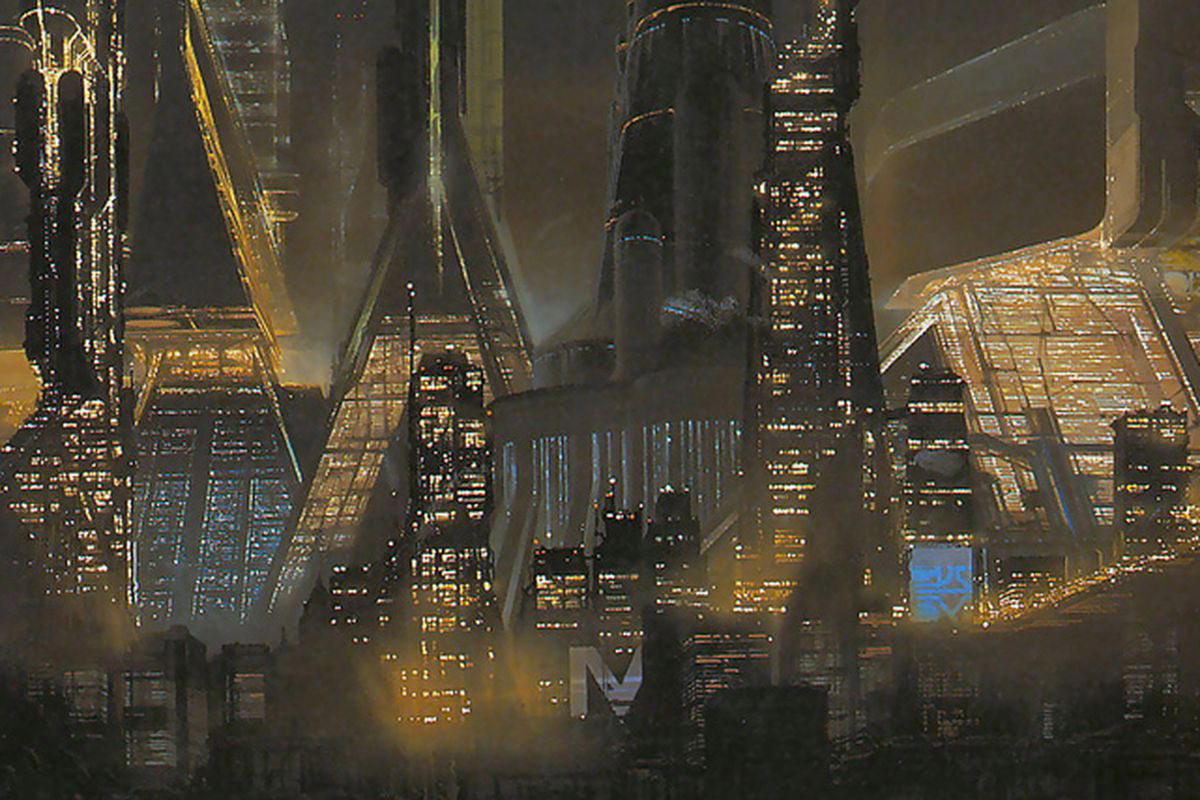 2010, him. Aliens, him. Blade Runner, him. Blade Runner 2049, him. Star Trek the Motion Picture, him. Tron, him. You will be missed, sir.

• Poop. I loathe coffee. I have never liked it despite my proximity to Coffee Central (AKA Seattle). On those occasions where it's the only thing to drink, I will try it (again) and want to barf (again) so I've just stopped trying. Finally, finally I've found a video which encapsulates how I feel about the entire situation...
Smart kitty.

• Persevere. And speaking of cats... for all the challenges you meet in 2020... take courage from this cat who perseveres over whatever life throws at them!
Way to go, buddy!

• Squishy. HOLD UP A MINUTE... how many butternut squashes were y'all going to let me buy, peel, and cube before telling me that they make LUXURY BUTTERNUT SQUASH that comes pre-peeled, pre-cubed, and frozen for my convenience?
Y'all are on my list now. — I think I was dangerously close to breaking down crying in the supermarket when I saw it in the freezer case. This changes so much!

• Fly Someone. And lastly, I missed this adorable Christmas commercial from Heathrow Airport. Well worth your time to watch...
What a nice way to end Bullet Sunday! Have a good one, everybody.

Stay safe and be kind, everybody...
Posted on Saturday, January 11th, 2020

I will never understand my cats.
Never.
After I returned from my travels a week ago, my cats were all over me. They wouldn't leave my side any time I was home. Jake and Jenny could not get enough of me and I was adored.
Until today.
But before I get to that, let's take a look at eight photos of them not being able to get enough of me...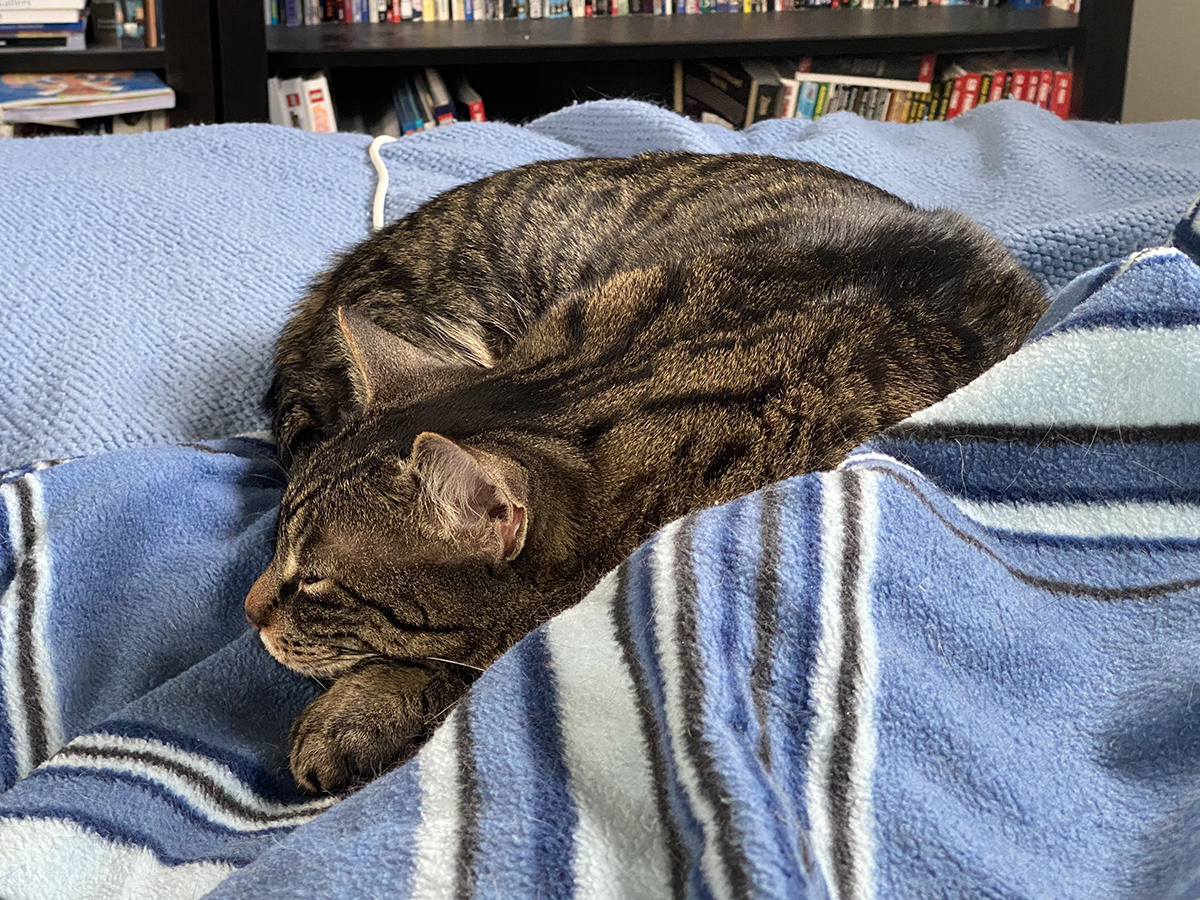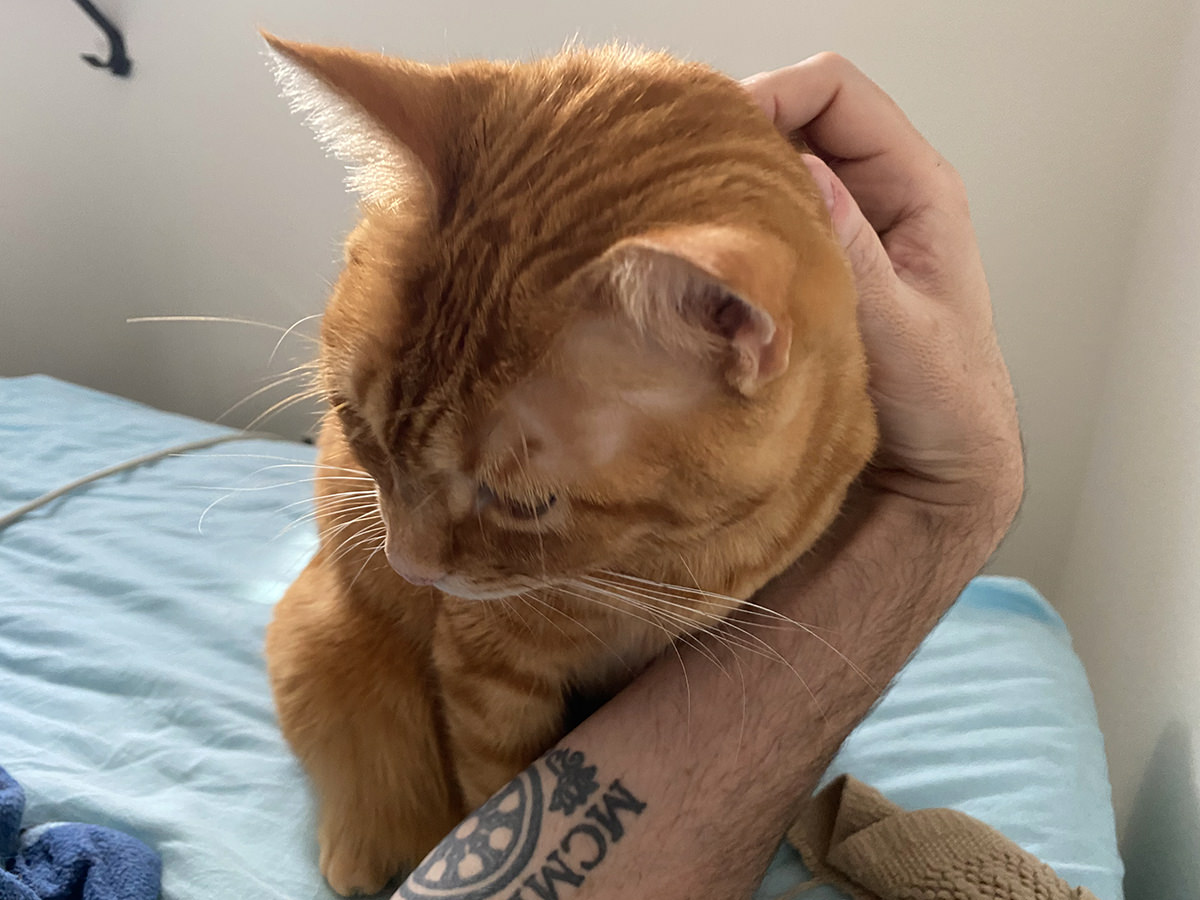 Tonight I was at the office working. I lost all track of time, so I didn't get home before Jake and Jenny's dinner alarm sounded. When I walked in the door seven minutes late, they were both sitting there waiting for me.
They were livid.
L-I-V-I-D-!
They ate their dinner and then, instead of coming into the living room to hang with me, they ran upstairs!
A couple hours later Jake finally came downstairs. After a while he hopped up on the couch next to me. Mostly so he could show me his ass...
After making sure his butthole had been clearly presented, he lay down at my feet and threw his head down on my leg so he could look as forlorned as possible... his dinner was seven minutes late, and he was still devastated by the memory of it all. Devastated.
He went to sleep soon after.
I started talking to him so he would come lay on my lap and keep me company while I watched TV. He looked up at me... grunted... THEN TURNED AROUND AND WENT BACK TO SLEEP...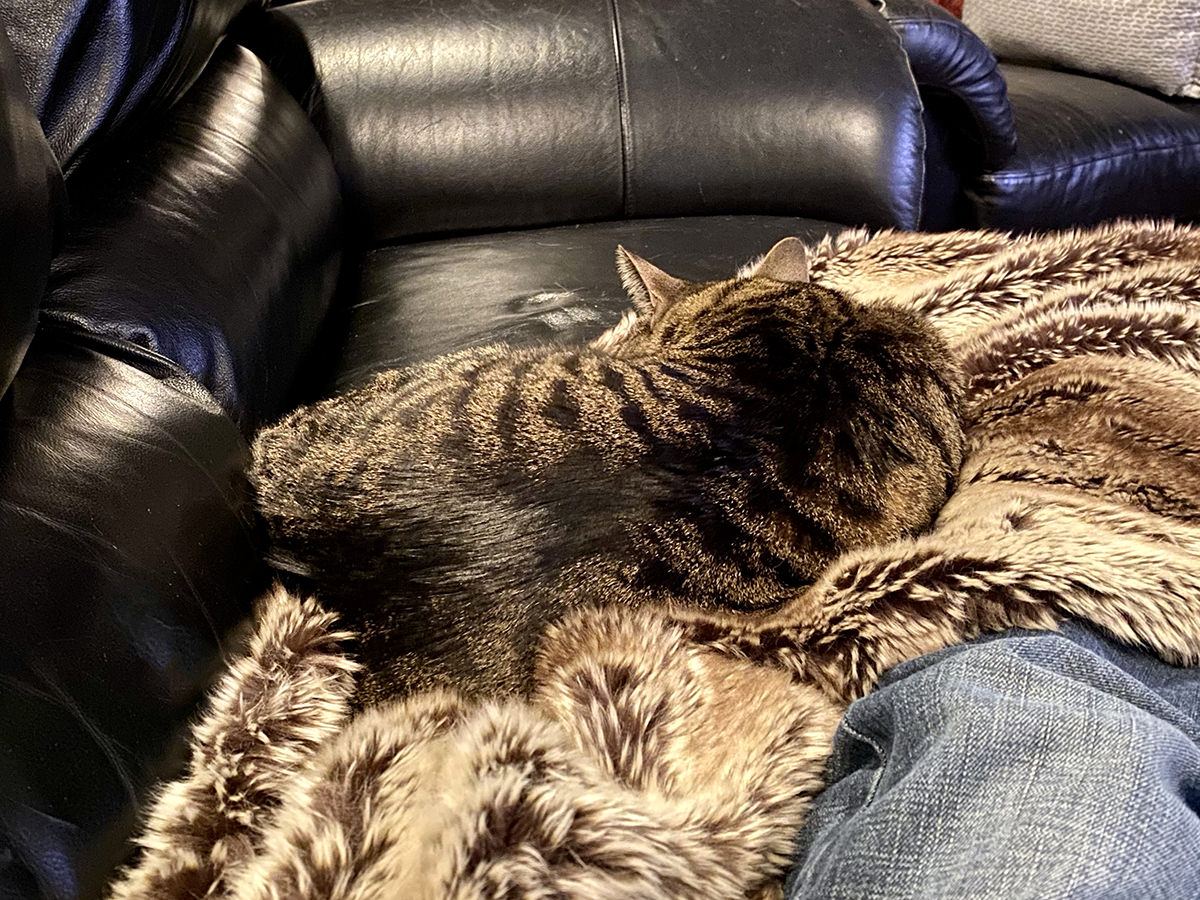 Jenny is still upstairs not speaking to me.
So... gone for seven DAYS, cats can't get enough of me.
Seven MINUTES late for dinner and they are so mad they want nothing to do with me.
I will never understand my cats.
Posted on Saturday, January 18th, 2020

Earlier this week before going to work I was in the kitchen packing a lunch when I saw the lights in the dining room turn on. This was strange because that set of lights isn't programmed to turn on until 30 minutes before sunset. I was about to tell Alexa to turn them back off when they went off on their own.
What is going on here?
I head into the dining room and... there it is... Jenny is turning the lights on and off.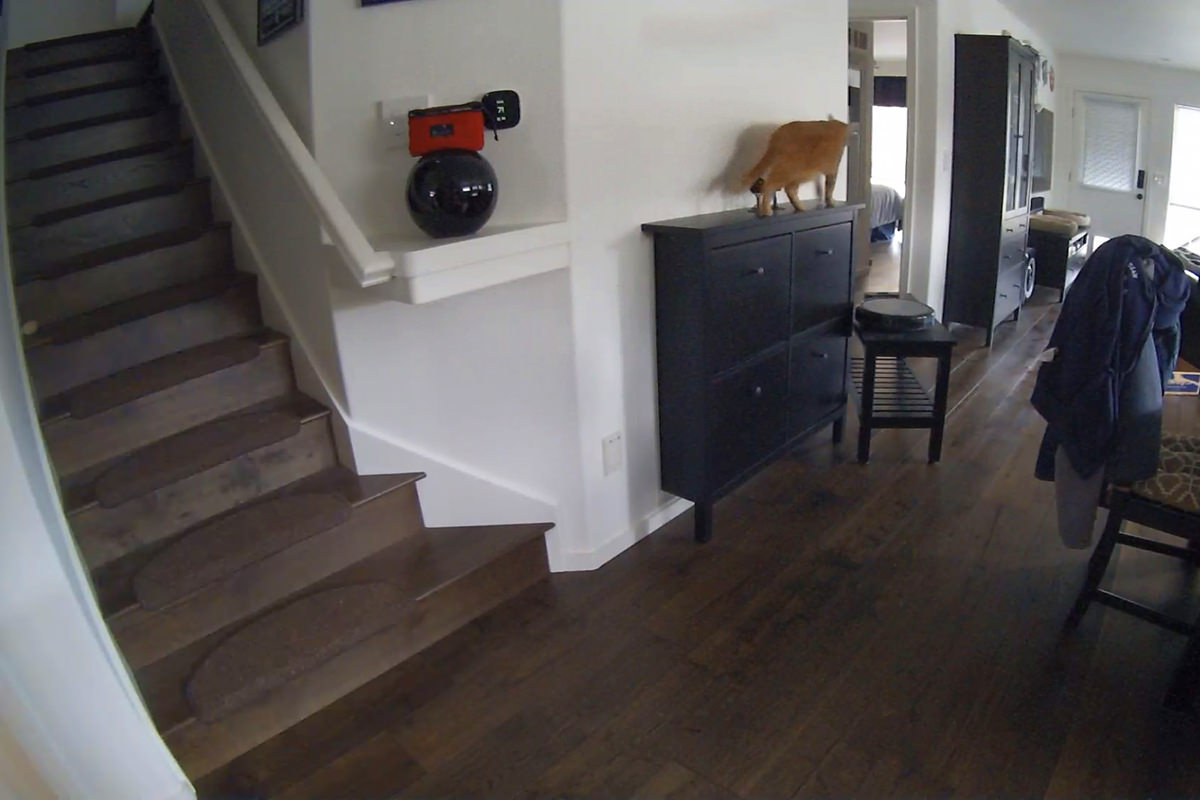 This was not an accident. She's done it twice since then. I don't know if it's fun for her... or she likes the beep that the smart switch makes... or it's her way of getting attention... or what. At first I was just going to de-program the switch. But then I though "why?" Let her have her fun. If it becomes a problem, I'll just deal with it then.
Also this week I set up a security camera in my bedroom to see if Jake is actually sleeping at my feet all night long. It just seemed impossible given all my tossing and turning. But, yep, he sure does. Not only that, but I am not tossing and turning nearly as much as I usually do. I wonder if my cat buddy is responsible? Seems likely. Previous times I've recorded myself to see how I'm sleeping I'm like a maniac.
Speaking of sleeping with cats...
Jenny will fall asleep next to me... so long as I am petting her the entire time. The minute I stop one of two things will happen: 1) Cry until I start petting her again if she hasn't had enough, or 2) Leave if she has. What's weird is that if I am asleep, she will leave. Neither of my cats will wake me up. Last night I was so sick that I couldn't sleep. I went to bed at 10:00pm and watched television and pet Jenny until 2:00am at which time I couldn't take it any more and went downstairs for sleeping pills. Jenny was gone when I got back.
I took a photo of her every 20 minutes. She doesn't move a lot...
I'm willing to bet that had I kept petting her, she would have slept there until the breakfast alarm rang!
Before I sign off this fine Caturday, I ran across this photo last night and it absolutely slayed me. It's adorable times a hundred...
It's also genius. I'd credit the guy for his fantastic photo if I knew who he was. Obviously he's quite the cat lover, as his awesome wardrobe attests.
Until next week... same cat-time, same cat-blog.