Posted on Tuesday, January 1st, 2019

Happy New Year's Day! Happy 2019!
I'm doing really well this morning since I decided to stay home and hang out with my cats instead of going out and drinking my weight in alcohol last night.
All was going well until the fireworks started blasting around 7:00pm. Jenny, who is usually the biggest scaredy cat over the smallest thing did surprisingly well. She was shocked at first, hid under the bed for a while, but was pretty much ignoring the noise an hour later. Jake, on the other hand, was scared out of his furry little mind. I was able to lure him out from under the bed with treats, but he was on edge the whole night and would be terrified whenever more fireworks would start banging.
Rather than be afraid alone, he decided to try and squeeze in next to Jenny on the coffee table cat bed where she had set up camp...

Jenny wouldn't budge, so Jake finally just shoved her out of the way...

Jenny was not at all happy about this. So she tried smacking him on the head to get him to leave...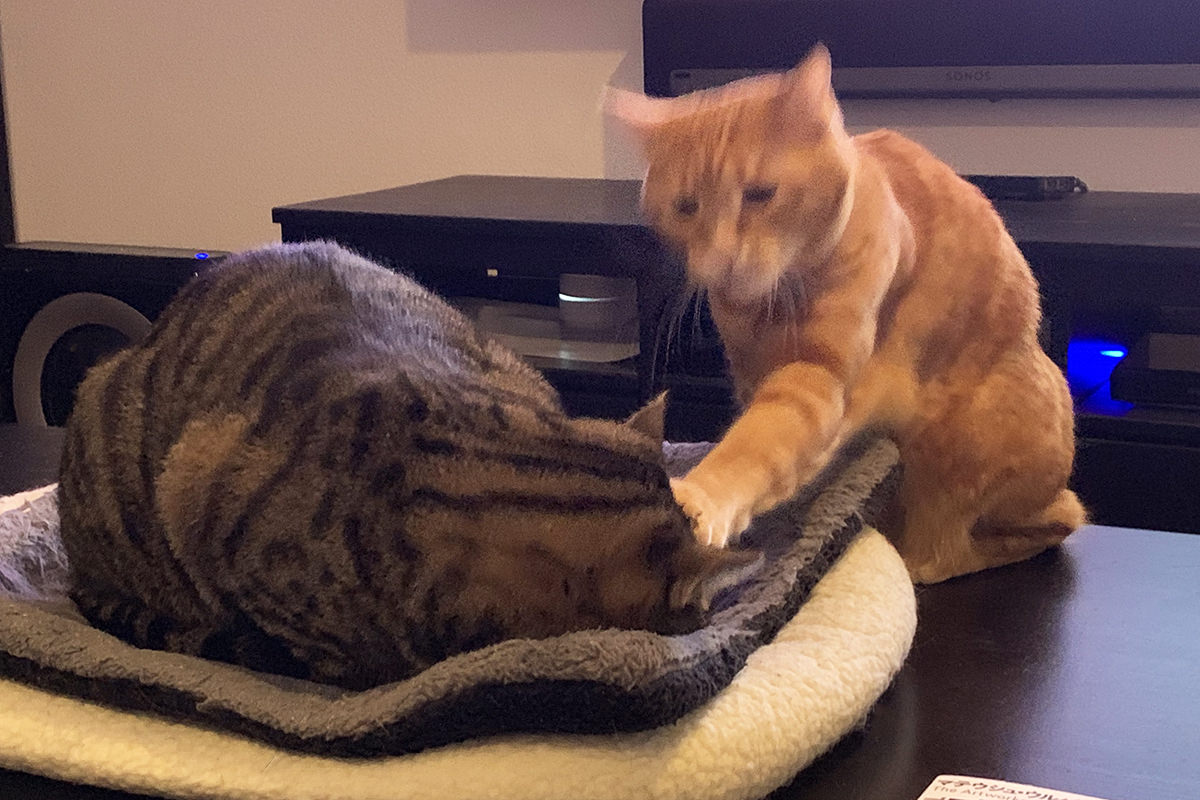 When that didn't work, she decided biting him on the ear might be the answer...

Finally she decided to just squeeze in next to Jake like he had tried to do to her...

It kinda(?) worked...

I thought maybe she had succeeded in forcing him out just like he had forced her out...

But he was just getting re-situated and wasn't planning on going anywhere...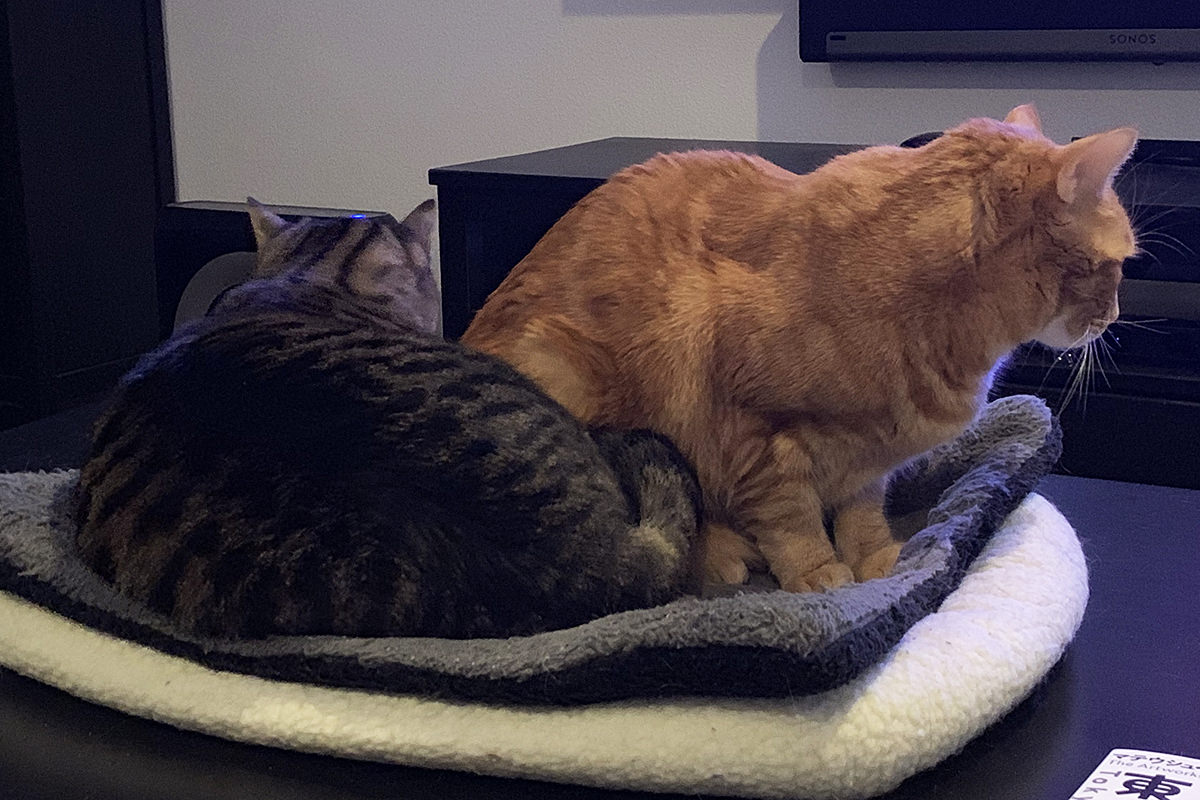 And so... they ended up sharing...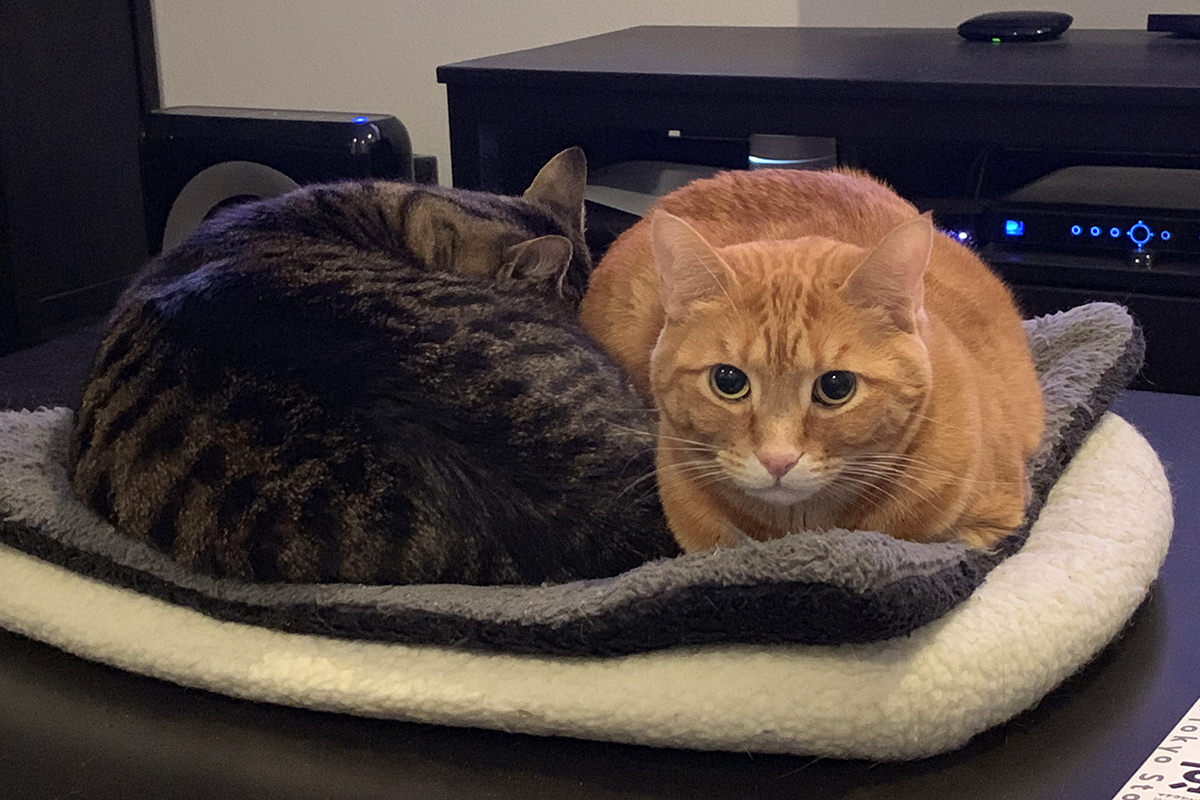 Which Jenny was not happy about because she couldn't get comfortable...

Finally she flipped around, which was just the ticket. Jake was happy to have something to hang onto since the fireworks were still going on...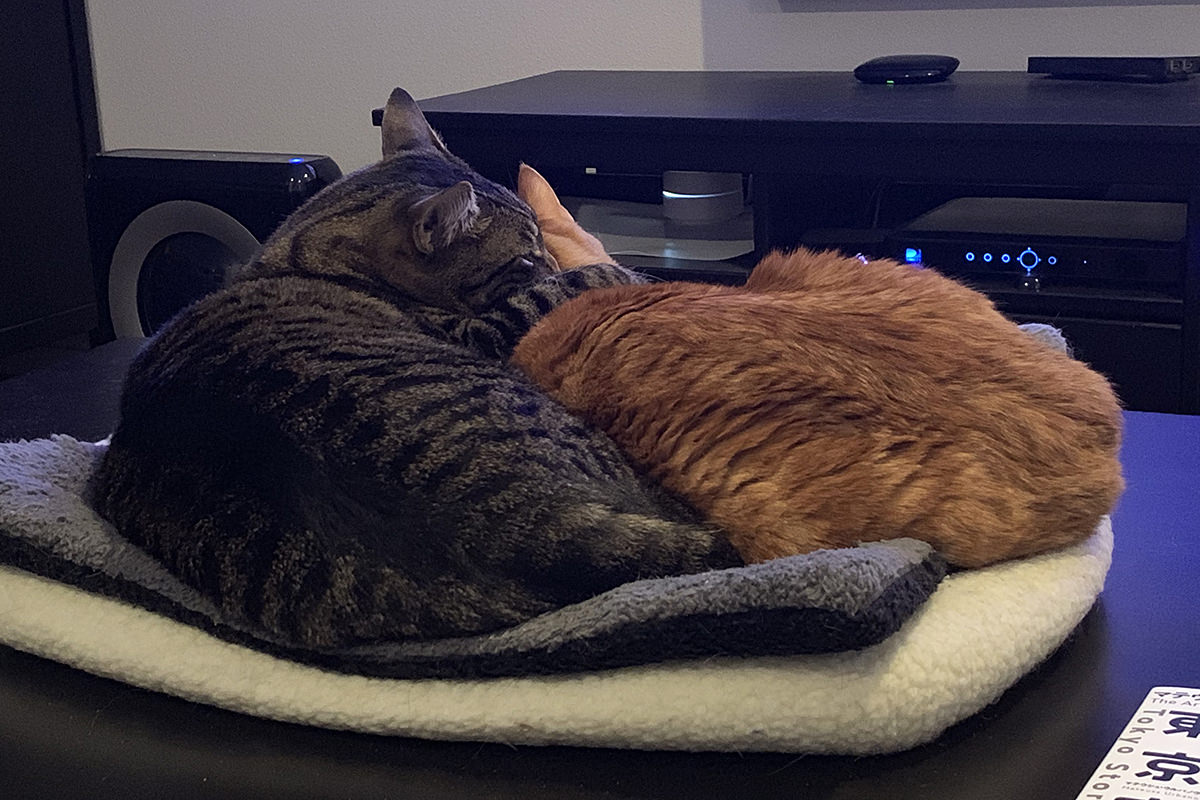 But eventually Jenny was tired of being crowded and decided to find someplace else to ride out the firework noise. Jake looked a little depressed after she left...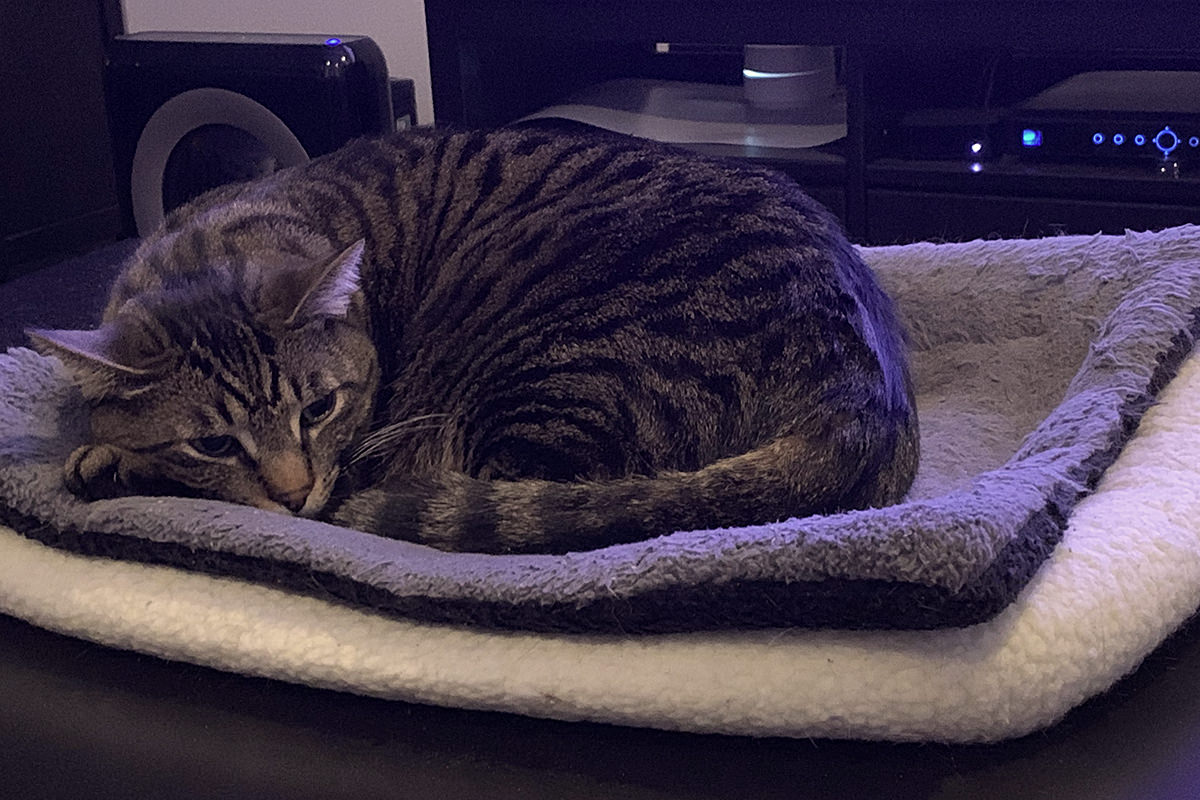 If only cats could just do a couple shots of Jägermeister to make everything better.
Fortunately belly rubs work just as well...
But more on that tomorrow...
Posted on Saturday, January 5th, 2019

For the longest time after I got Jake and Jenny, they were completely silent. They didn't meow at me or try to communicate at all. I, on the other hand, talked to them all the time.
Then Jenny started talking back. Jake tried to talk back, but he can't meow for some reason (unless he's stressed out, apparently). He kinda squawks a bit though. Especially if I look in his direction and he wants to be petted. Jenny mostly wants kitty treats when she meows.
They don't talk to each other at all. They chase each other around from time to time, however. Otherwise they just kinda work around each other. Sometimes literally.
Jenny was sitting directly in front of the cat door looking at something outside. Jake then decides HE wants to look outside, but he can't see around his sister. He tries one side... then the other side... then goes back to the other side. And still can't see out. He was not happy...
Finally he figures out that if he twists his head, he can look past her...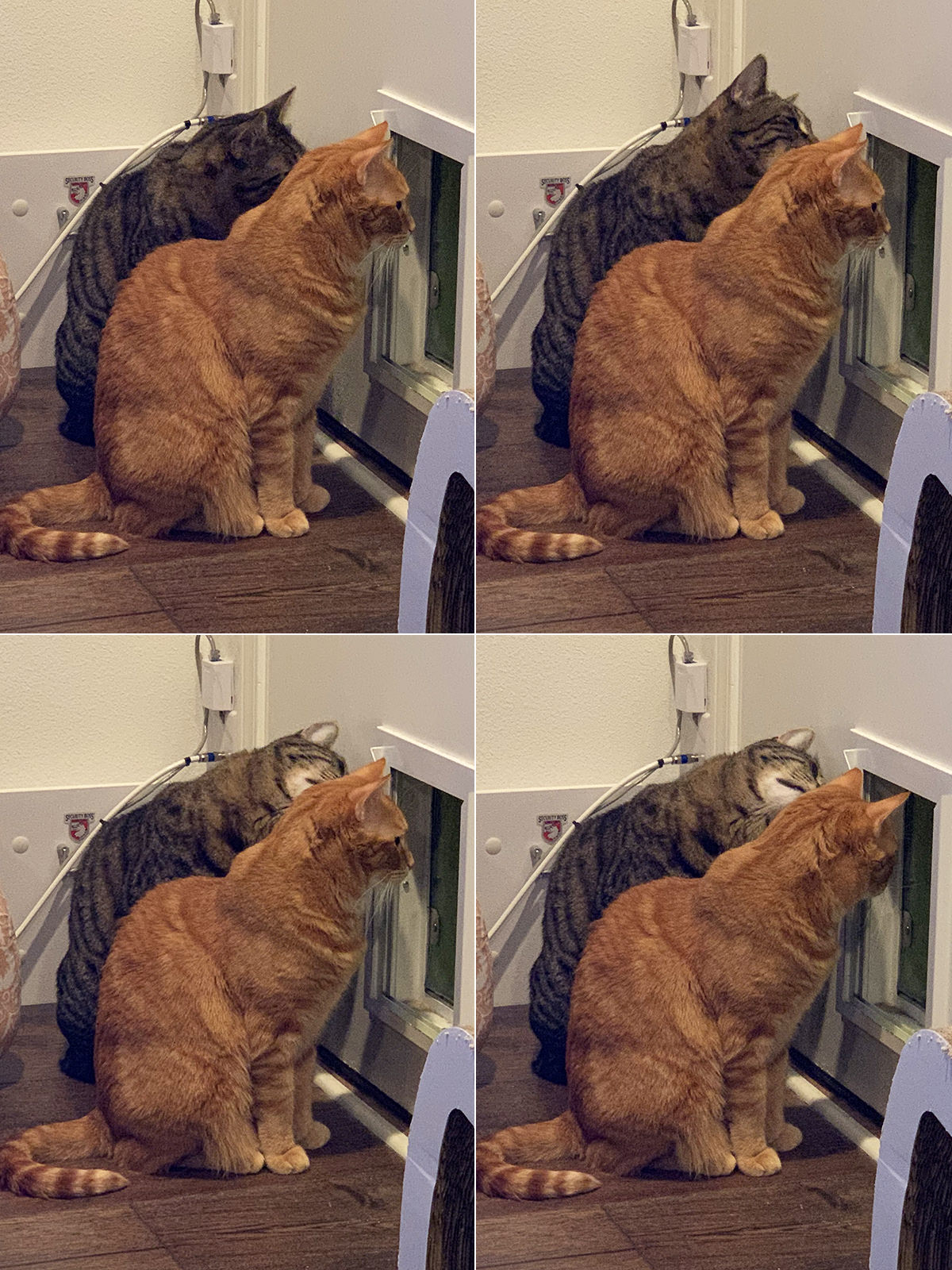 He looked outside sideways for several minutes until Jenny got bored and left.
Jenny gets bored easily. Which is why I think she likes watching television so much. Her favorite thing to watch is Rick and Morty. But I was re-watching Isle of Dogs recently and she was totally absorbed...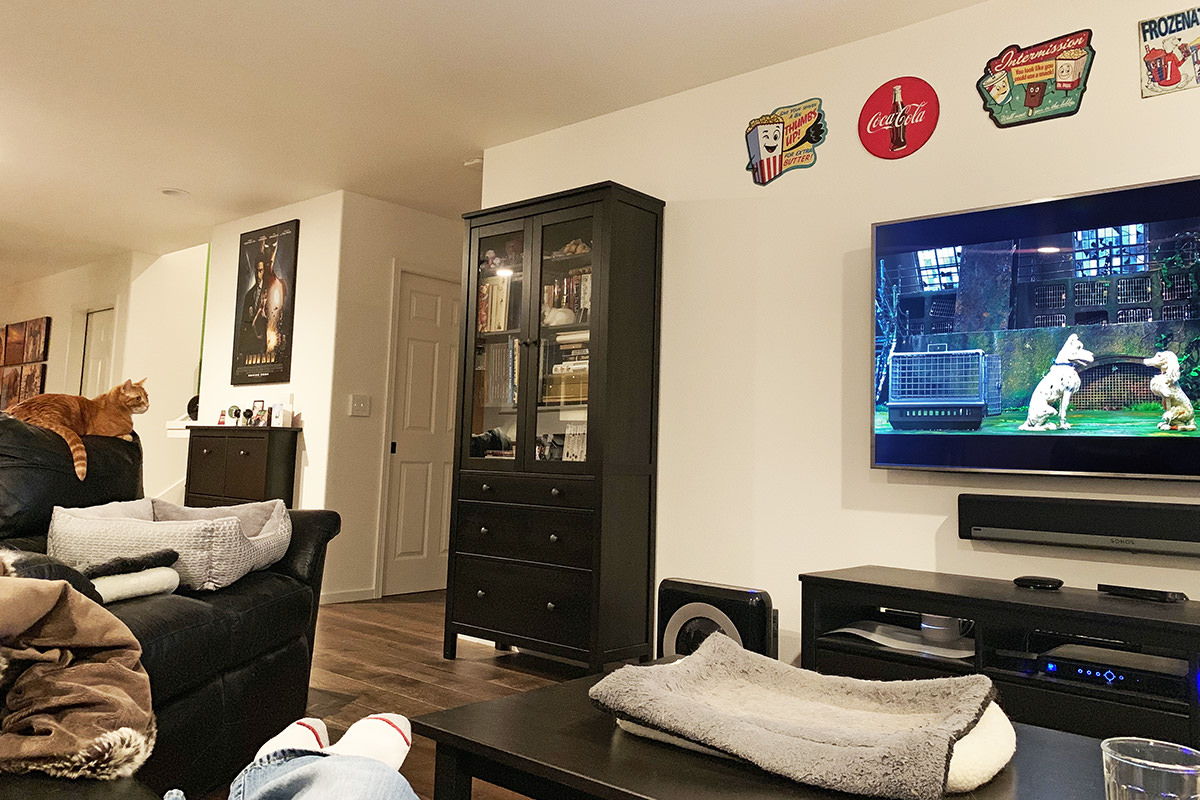 After a while she decided she wanted to sit next to me while watching the movie, which is what she usually does...
She's too adorable, even if she has a couple floopy whiskers...
She's even more adorable when she decides that the drawstrings on my favorite hoodie are more entertaining than what's on television. It only cost me $100 and I had to fly to the bottom of the earth to get it... but please do chew on my Hard Rock Ushuaia hoodie. It's fine...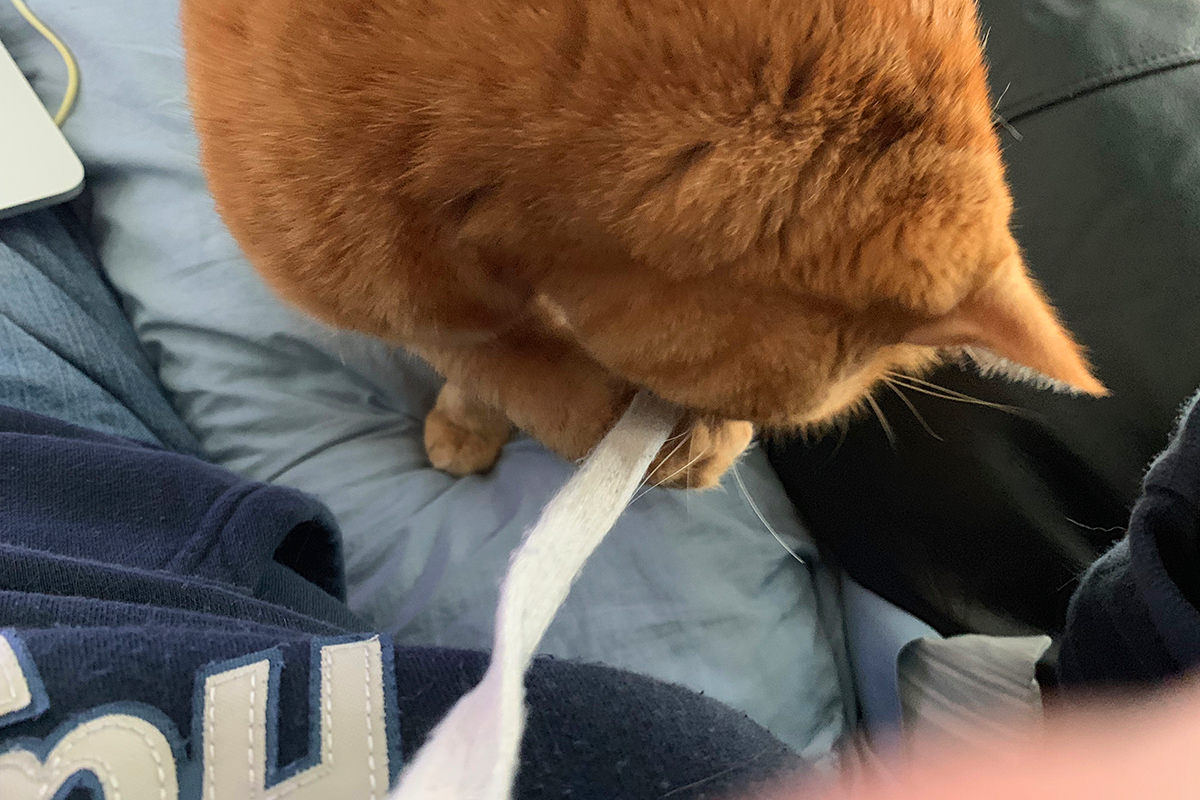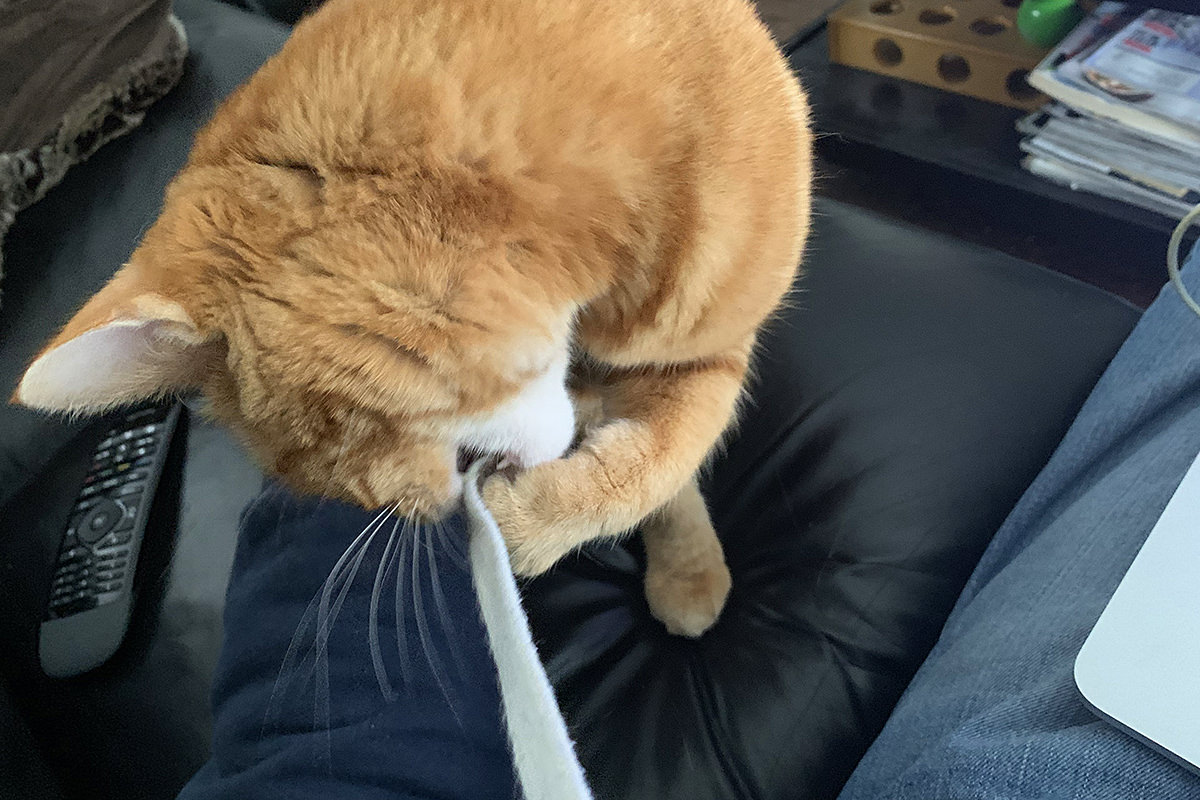 Jake never wants to sit and watch television with me. He just climbs on my lap and falls asleep. He does like my computer to scratch his face though. They both do...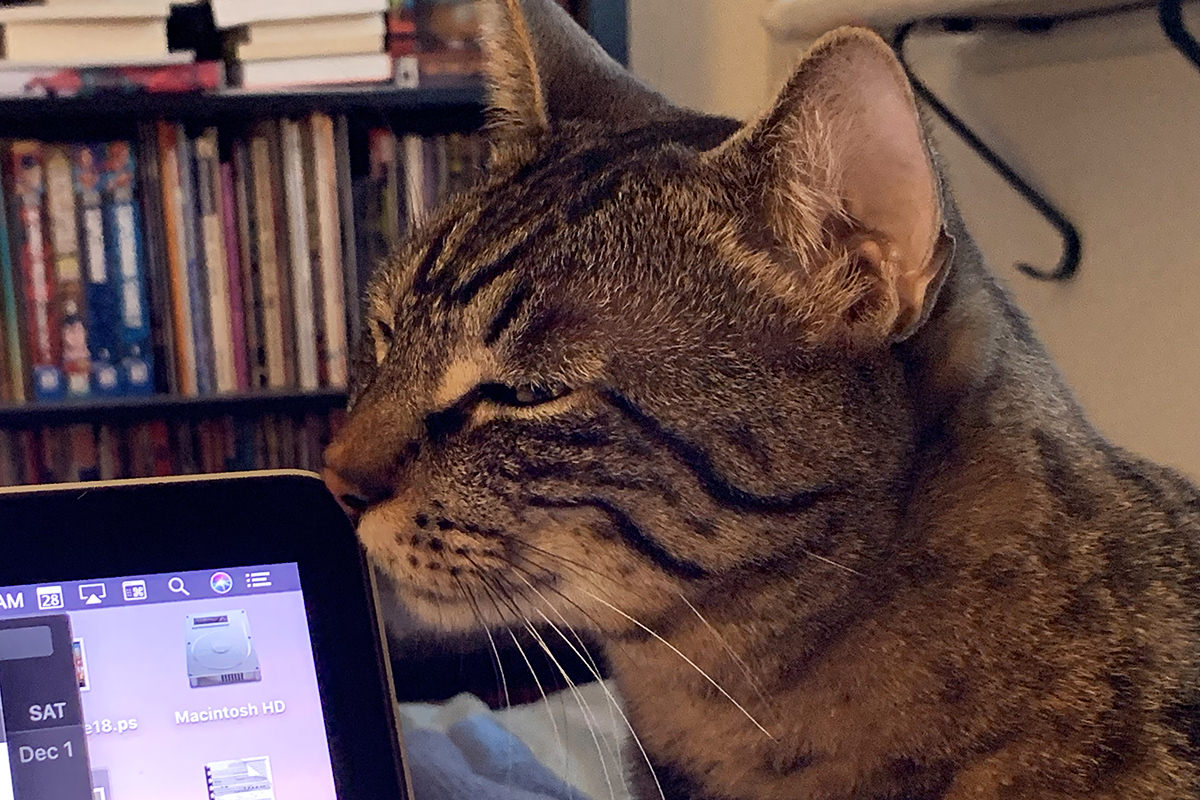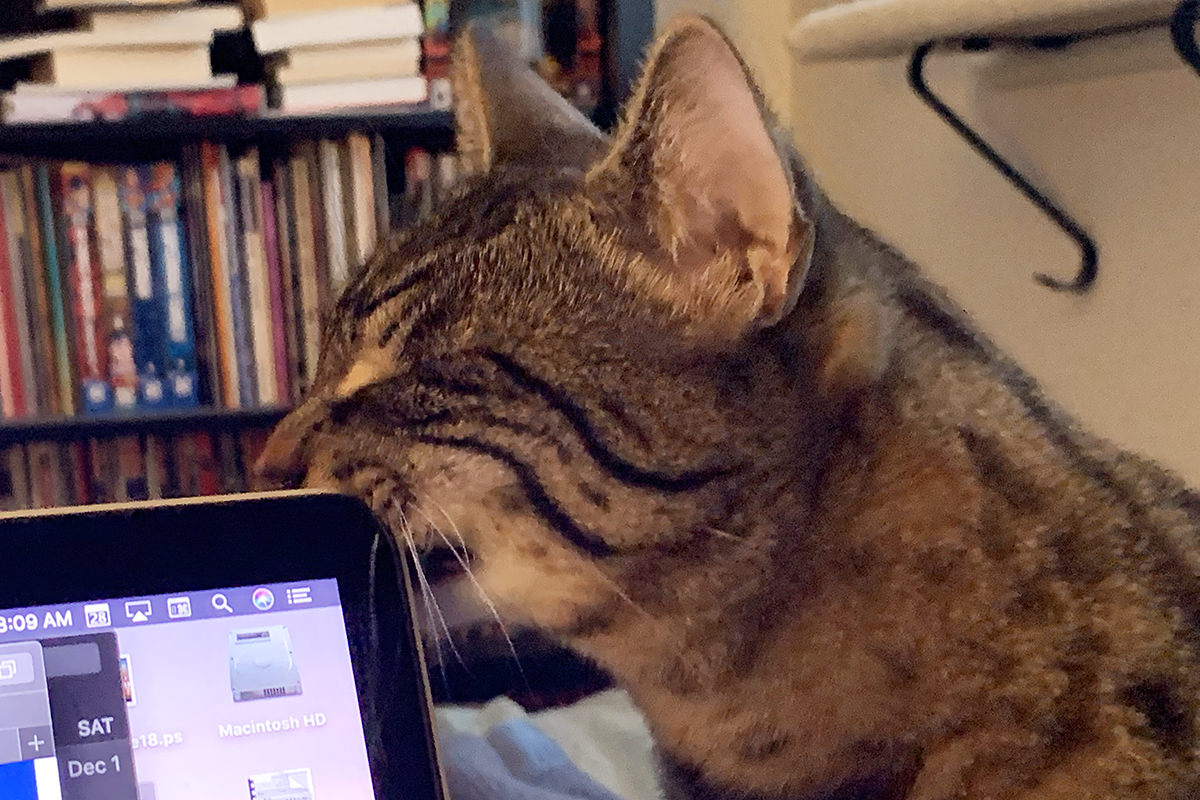 With the exception of my hoodie strings, my cats are surprisingly great about not chewing on stuff they shouldn't be chewing on. They are happy to chew on their toys when they feel the need. Assuming they let each other.
After dinner one day this past week, Jake was laying on the floor gnawing on Mufasa. Jenny comes bolting through the room, snatches Mufasa, then goes running to the stairs.
"JENNY! Why are you stealing your brother's toy?" I ask. She then drops the toy, runs up the stairs, and glares at me. I grab my iPhone to capture the moment, at which time she looks away and whistles. Or appears to be whistling. Can cats whistle? I dunno. So guilty!
Jake wasn't too bothered. A minute later he went out in the catio because he saw Fake Jake walk by.
Fickle kitteh.
See you next Caturday!
Posted on Wednesday, January 9th, 2019

There are two reasons I decided that Jake and Jenny were going to be indoor-only cats. The first reason was to protect them. I don't want them attacked by dogs... run over by a car... or hurt by some heinous excuse for a human being. No, for my peace of mind and their safety, they are staying indoors.
The second reason was to save the poor birds, mice, and other critters that cats seem to relish torturing.
That being said, I really didn't want to deny my cats access to the outdoors. There's too many interesting things to look at (and even more interesting things to smell) which can help make their lives more exciting than if they were trapped inside all the time. and so... I built a "catio" for them so they can go out when they feel like it. Jake and Jenny love the catio... especially in Spring and Summer when they are out there all day lounging around.
Unfortunately, an occasional bird wanders into the catio. It's happened twice. The first time I was able to build a tunnel to shoo the poor thing outside. The second time I managed to rescue it and get it un-stunned so it could fly off.
Then yesterday it happened a third time. Unfortunately I wasn't home to rescue the poor thing, so I came home to a dead bird yesterday...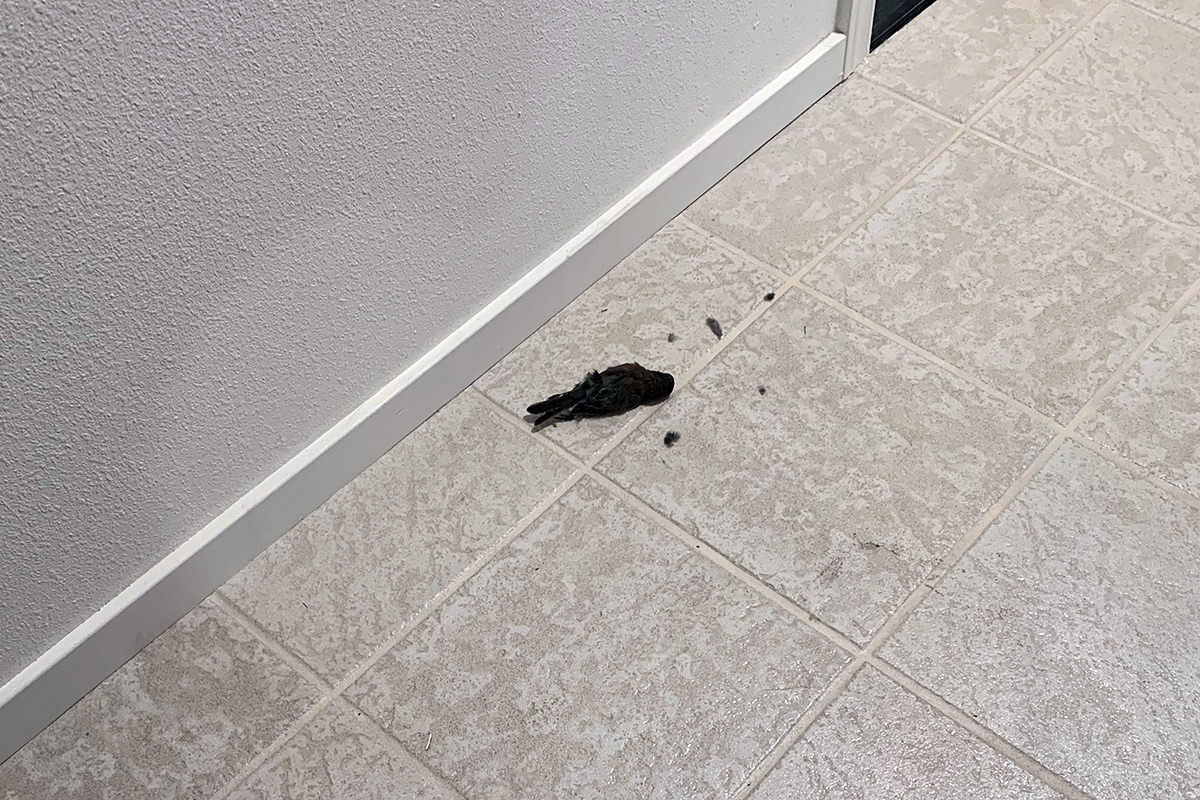 I had no idea which of my cats were responsible. My money was on Jake. He was the one who caught the birds the other two times. So I check the security cameras and, sure enough...
Jake sure can move like lightning when he wants to!
A part of me wants to add a fence screen to the bottom foot of the catio to hopefully prevent birds from hopping in. But then I worry that if a bird comes in from above and wants to get out, a screen might make that tough. And so... since it has only happened three times in three years (with only one fatality), maybe I should just hope it continues to be a rare event and leave well enough alone.
Having to disinfect my home because the cats bring in dead birds is no fun at all. I mean just look at Jake going nuts and tossing that poor bird carcass around...
Bring on the Pine-Sol.
And not just for dead birds.
Tonight Jake threw up his dinner.
This is scary and worrisome to me. I'm hopeful that he somehow ate a shred of cheese from my pizza to make him vomit. Because the alternative could be that he's got urinary problems again. The first time was such a horrible ordeal for the little guy that I am in no hurry to go through that again.
And I'm sure Jake would agree.
Posted on Thursday, January 10th, 2019

Last month I was reading through one of the dozens of "Little Things You Can Do to Save The Planet" type articles I found online. In the list was the idea to wear clothes more than once before washing. At first I dismissed it out-of-hand. I'm not wearing dirty clothes! I don't even wear dirty clothes when I travel! And it's true. I bring more than enough clothes to make sure I can change every day.
But then I got to thinking...
Most days I wake up, take a shower, put on a pair of jeans, go to work, then come home and change into a pair of sweats after tossing my jeans in the hamper. Which means I wear the jeans for 8 hours in a clean environment and then waste water, energy, and detergent washing something that's not dirty.
And so... for a month now I've been coming home and hanging my jeans on a different color hanger so I can wear them a second time later on. Easy.
And since it was so easy, I decided to revisit the list and see what else I might be able to do.
It looks like my next step will be trying a biodegradable cat litter. I didn't realize that the clay litter I was using doesn't biodegrade.
Hopefully my cats will use it. Because something tells me that they really don't care about saving the planet...
They do care about having a clean place to poop. And I would just as soon have it not be my floors.
Posted on Saturday, January 12th, 2019

Ever since Jake got home from his week-long stay at the vet, he's been more clingy than usual. He also doesn't want to be left alone. If Jenny follows me upstairs while he's asleep, he'll wander around crying when he wakes up until I holler down for him.
This has been tough of Jenny, who likes her independence.
I've tried to make sure that everywhere there's a bed she likes to sleep in, there's a second bed for Jake. This was a little confusing for her at first...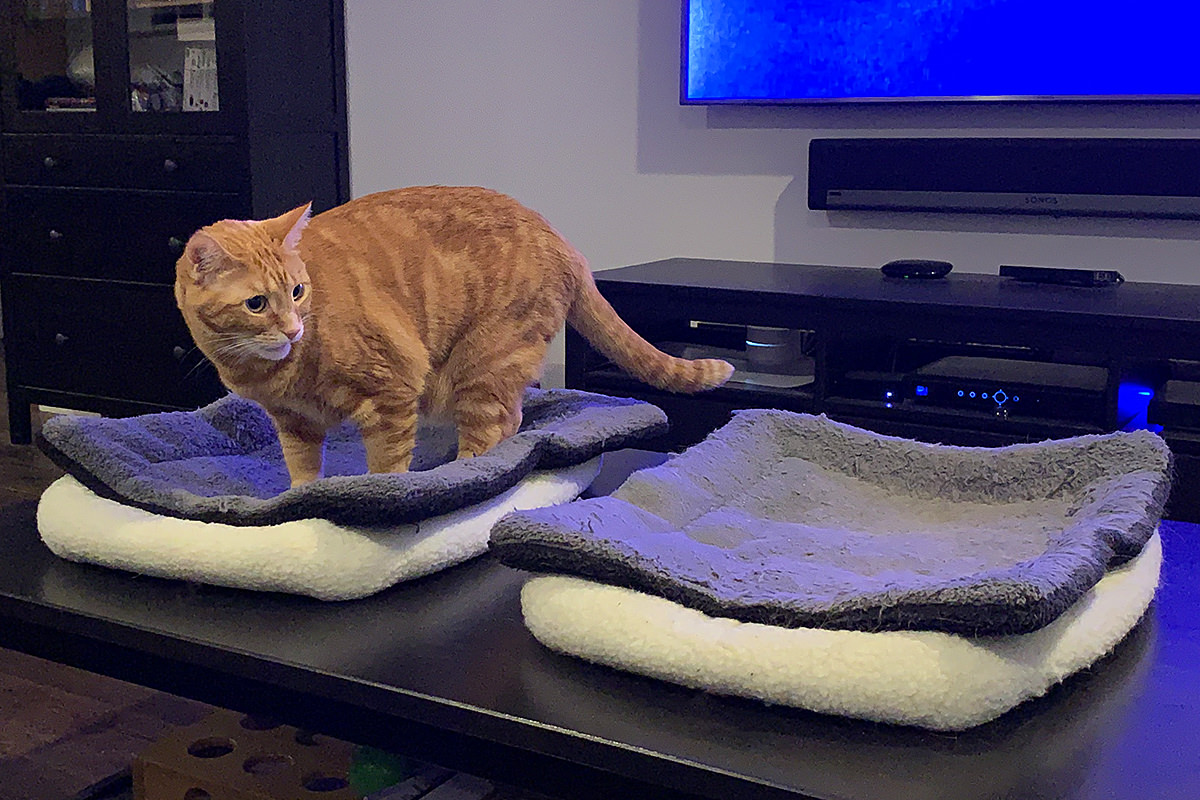 But it actually ended up working...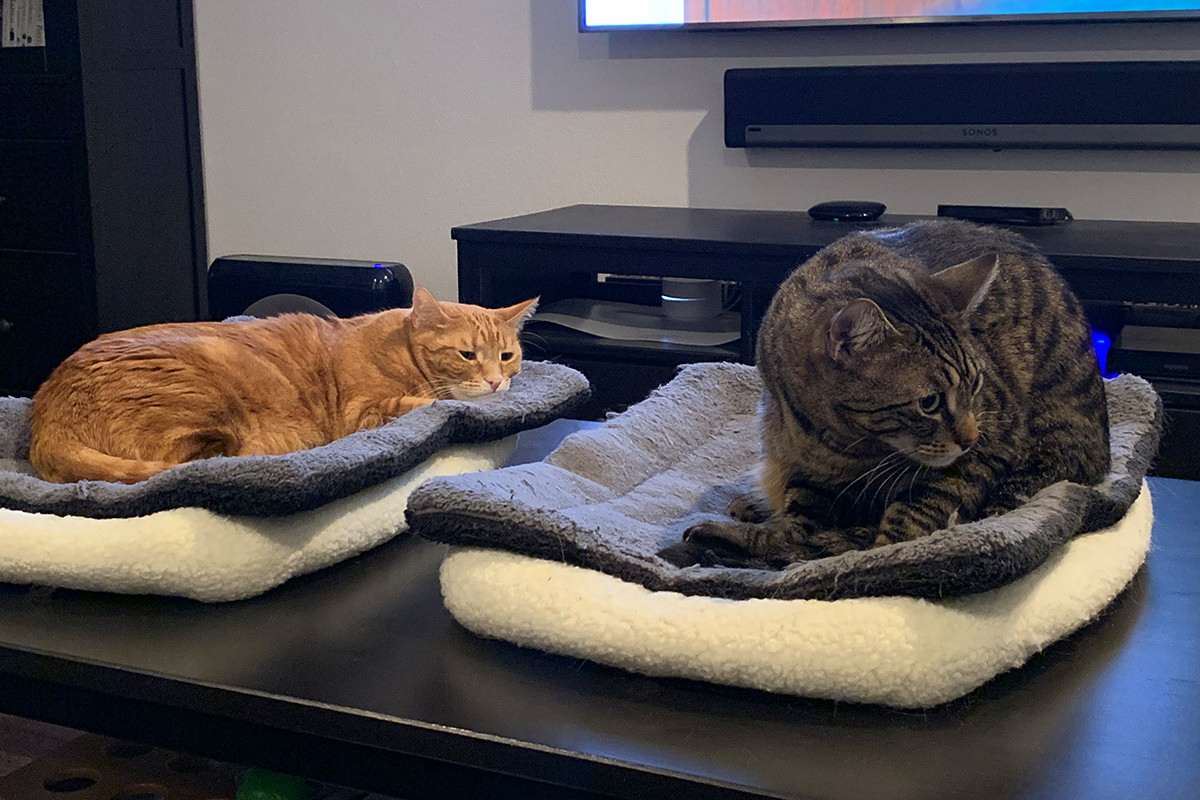 For a minute or two. Then Jake was right back to crowding in on her...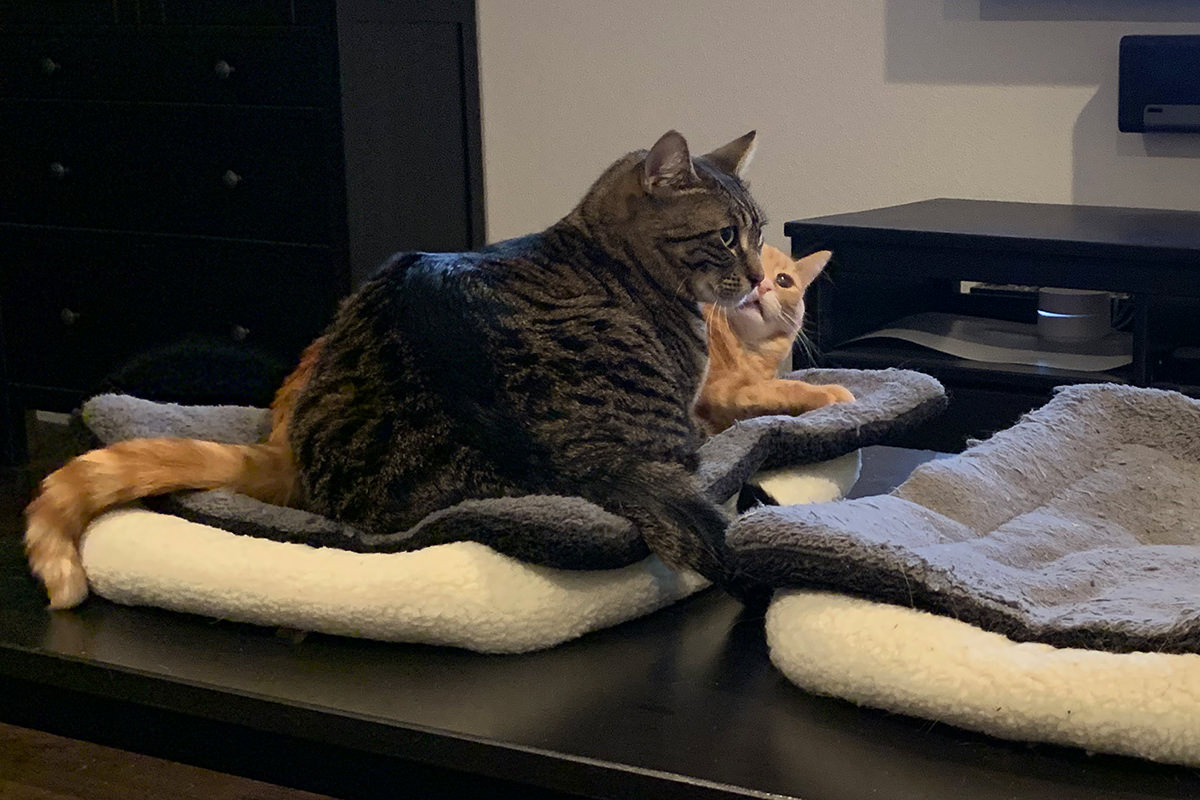 Needless to say, she isn't thrilled...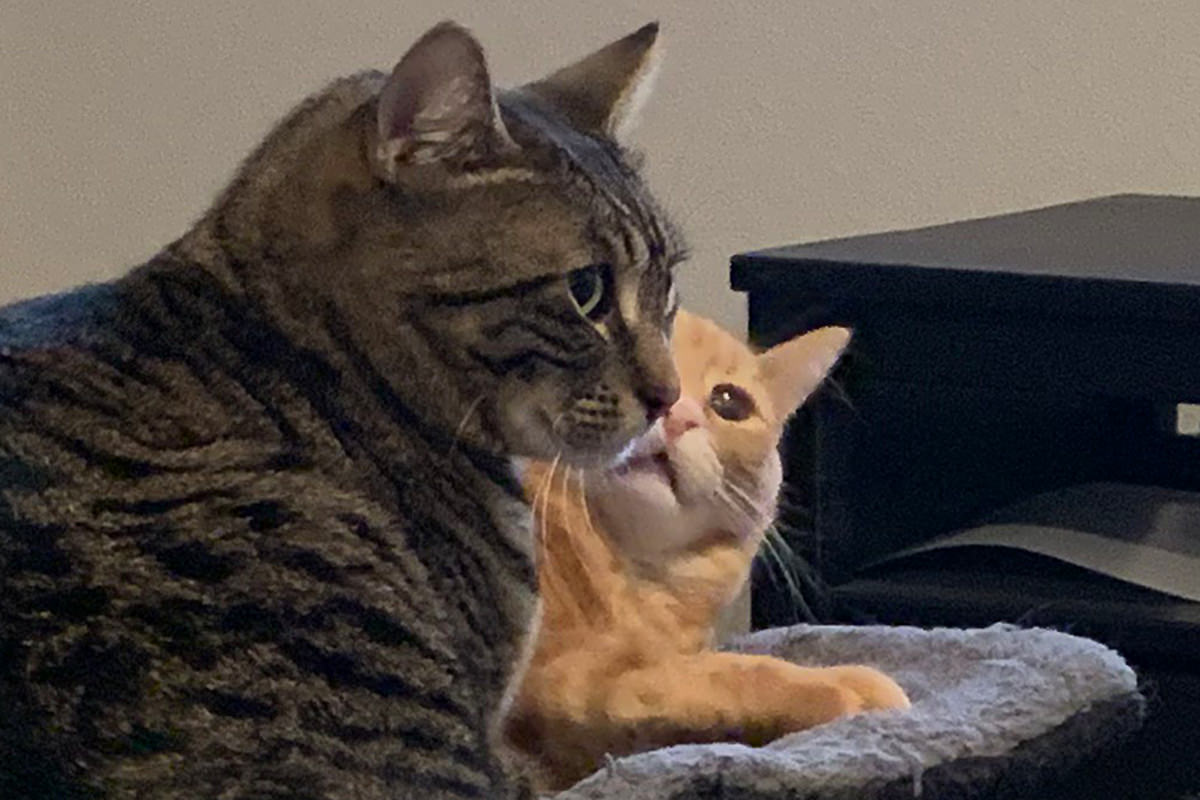 After a while Jenny escapes, leaving poor Jake alone again...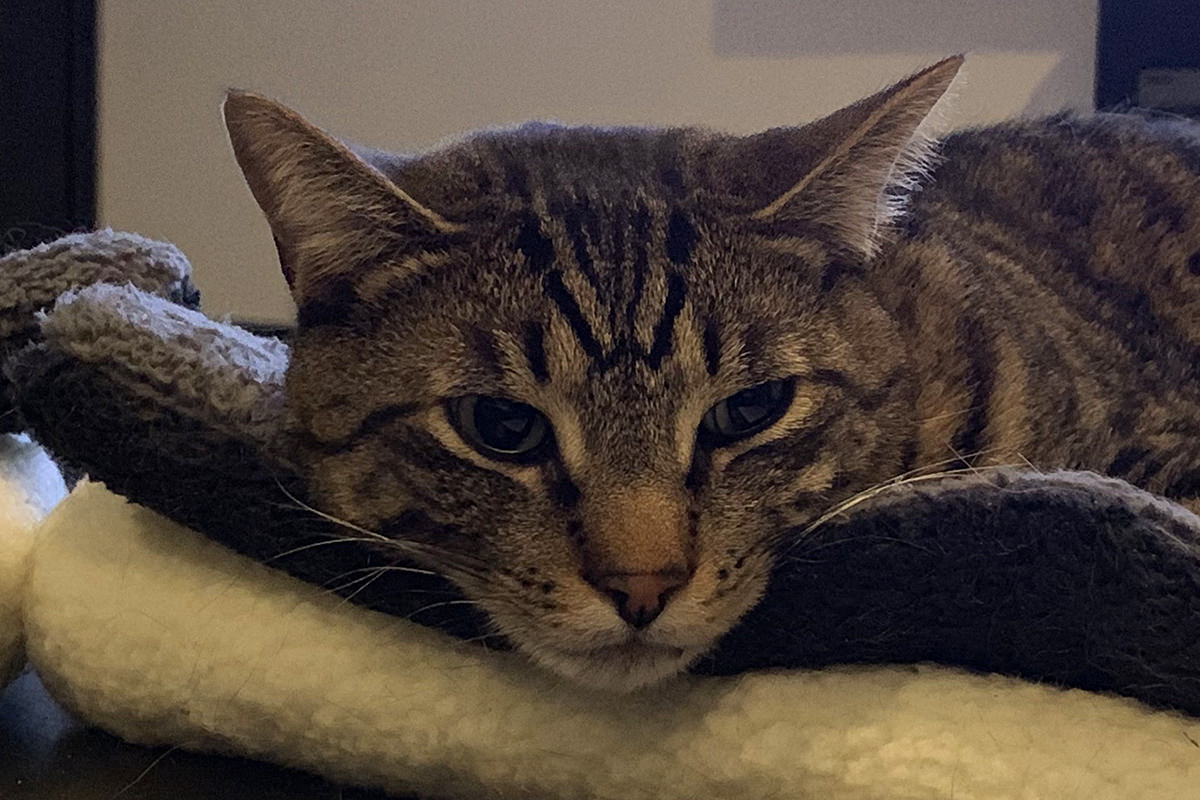 Every once in a while Jenny does a bit of rearranging, which kinda works...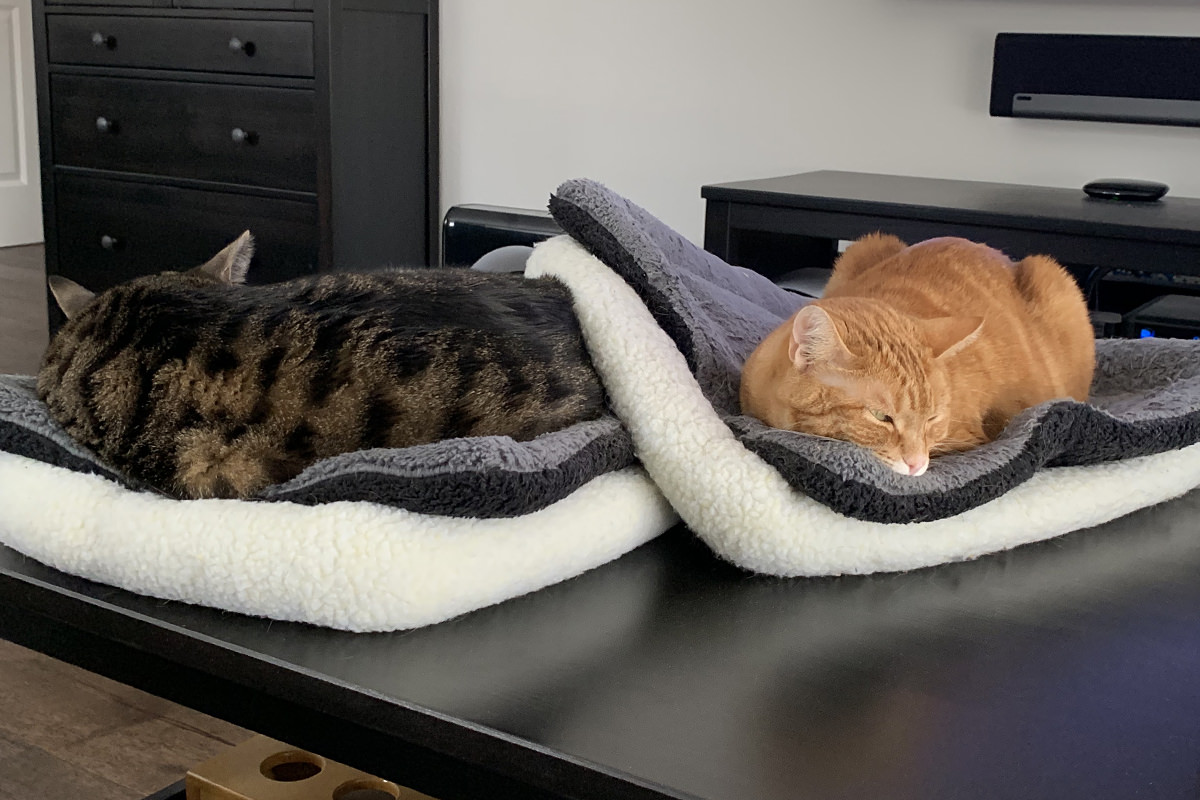 But the minute things are back to the way they were, Jake wants to share again...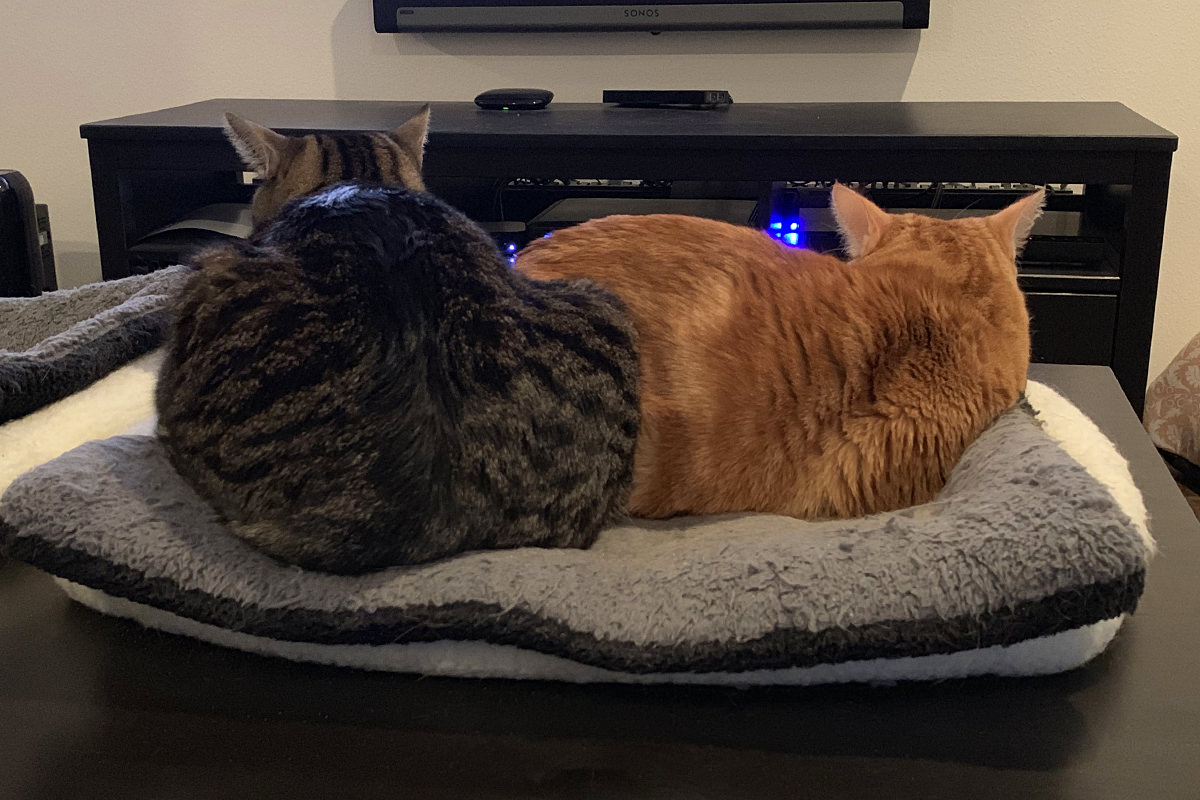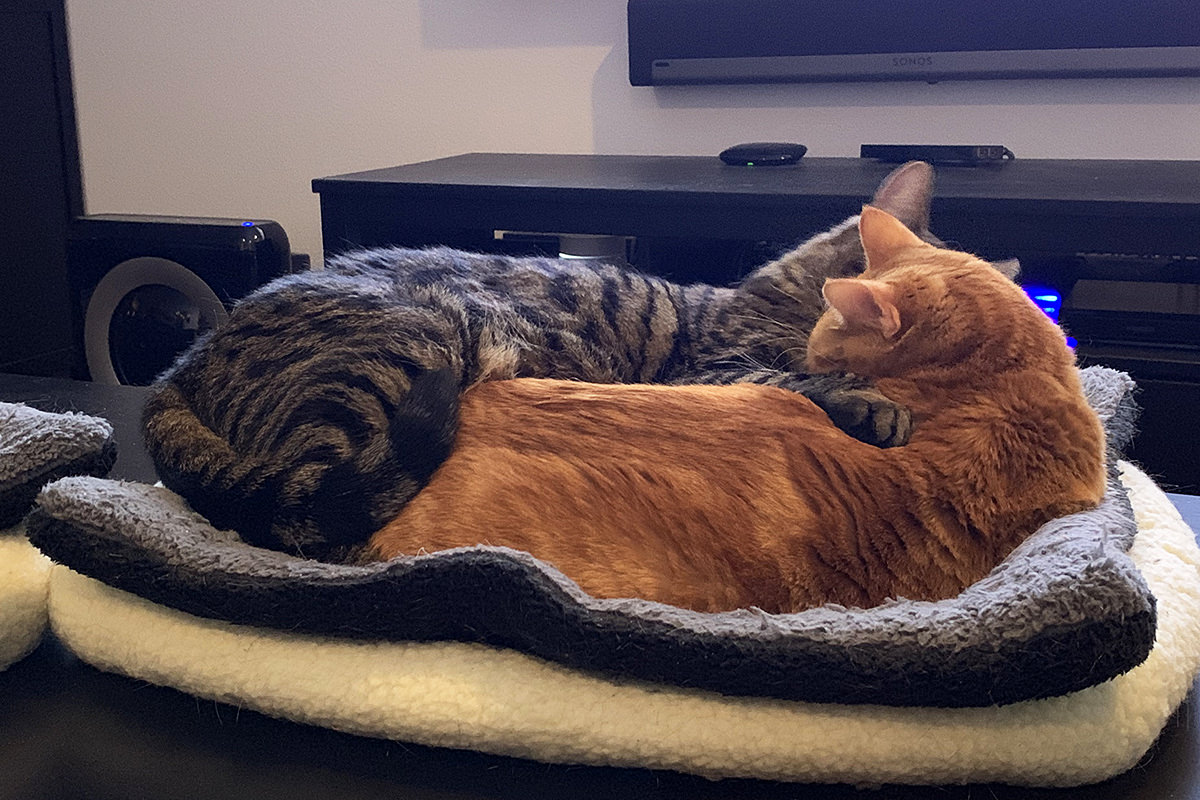 It's been three months since the vet, so I can only guess Jake's behavior change is here to stay.
How this is going to affect Jenny's behavior remains to be seen.
Posted on Friday, January 18th, 2019

We keep getting promised snow in the weather forecast, but it never comes. Then yesterday morning it started coming down like crazy. We had inches accumulate in short order. My cats couldn't get enough of it, and spent all morning hanging out in the catio watching the flakes fall. They came in for breakfast, but then it was right back outside.
When it was time to go to work, I stuck my head out to make sure all was well...
JENNY: =meow=
JAKE: =squawk=
ME: Yes, I see that. It's snowing!
JENNY: =meow=
JAKE: =squawk=
ME: Yes, how exciting!
JENNY: =meow=
JAKE: =squawk=
ME: No, you can't go play in it. You'll get all wet and make a mess in the house!
JENNY: =meow=
JAKE: =squawk=
But then I got to thinking that it's unfair they don't get to experience snow like outdoor cats do. They also don't get to experience walking on grass. What I need to do is create some kind of catio tunnel out to the yard. Then I need to find a way to bury some latches under the grass so I can secure a cage there. That way I can have a safe way for Jake and Jenny to walk on snow in the winter and grass in the summer... but also have it be removable so the lawn can be mowed.
Something to think about. In the meanwhile... I can shovel a little snow into the catio for them to play with.
Jenny ran out immediately so she could see what it was all about...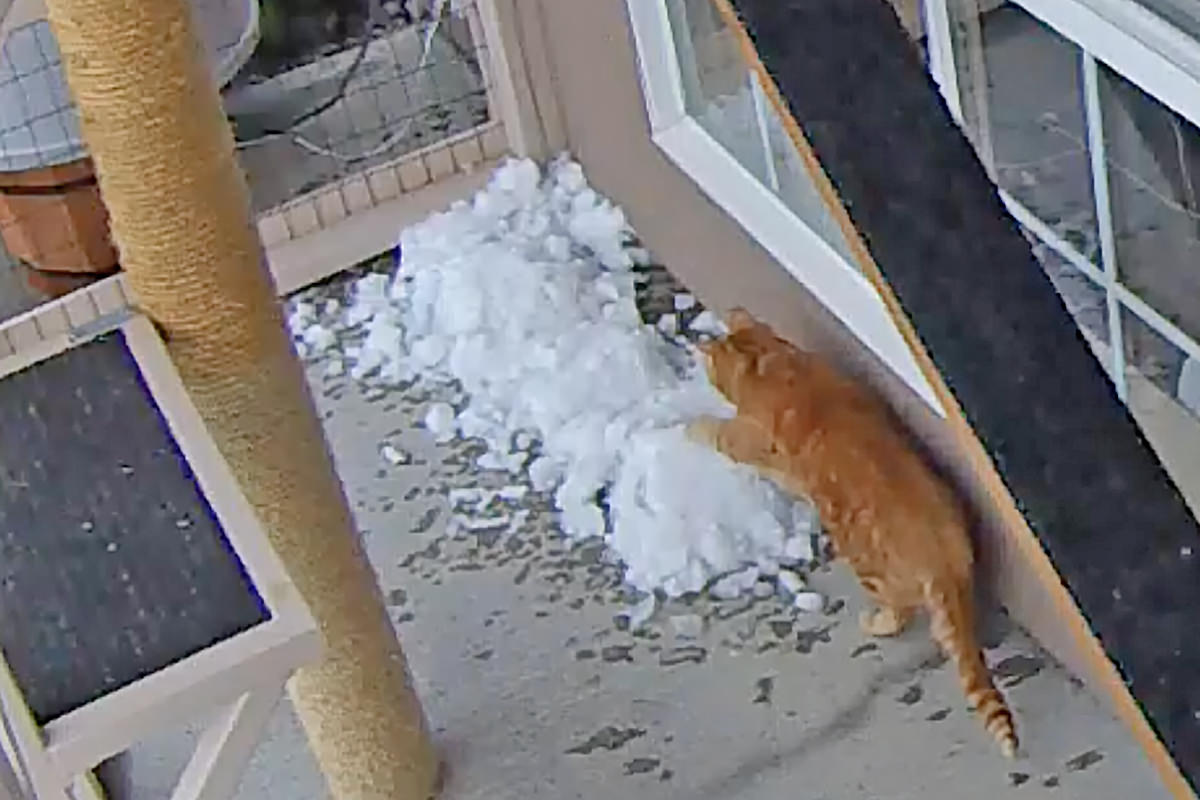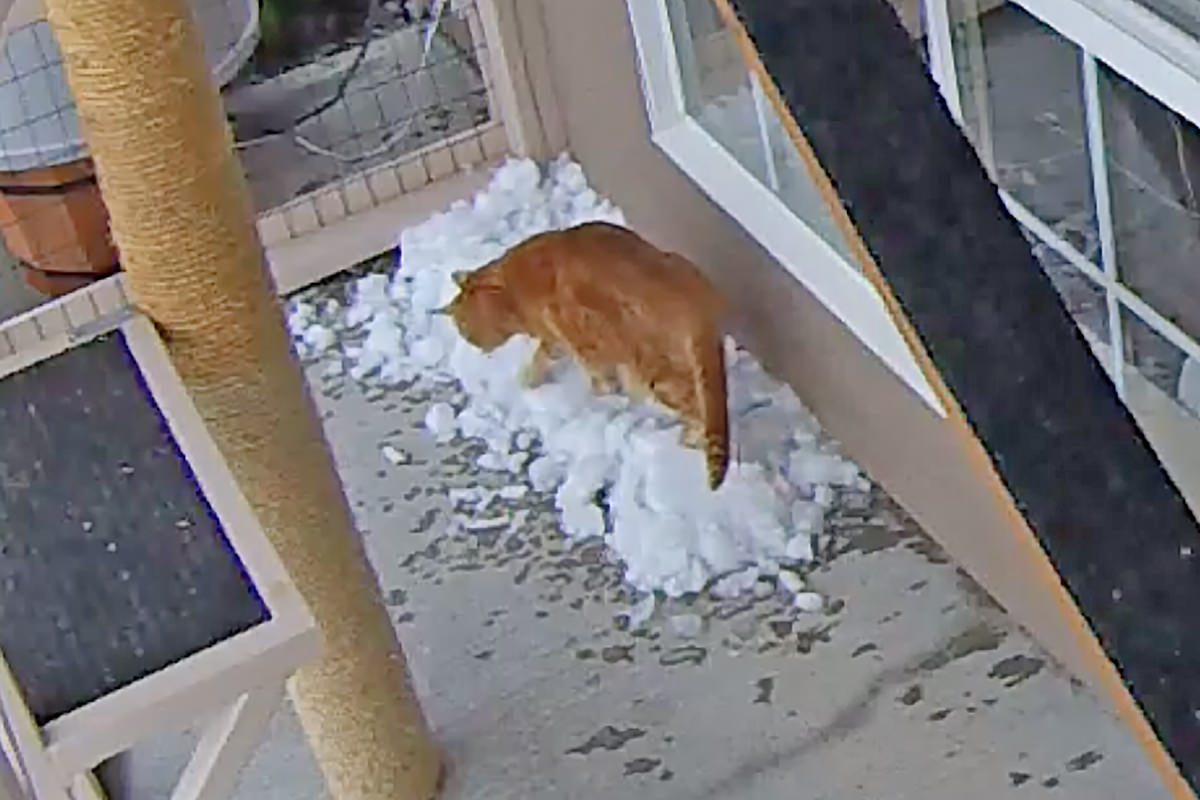 Jake was a bit more cautious. He circled around it trying to sniff out what it could be. Probably trying to determine if he could eat it...
Then he pawed around it for a while...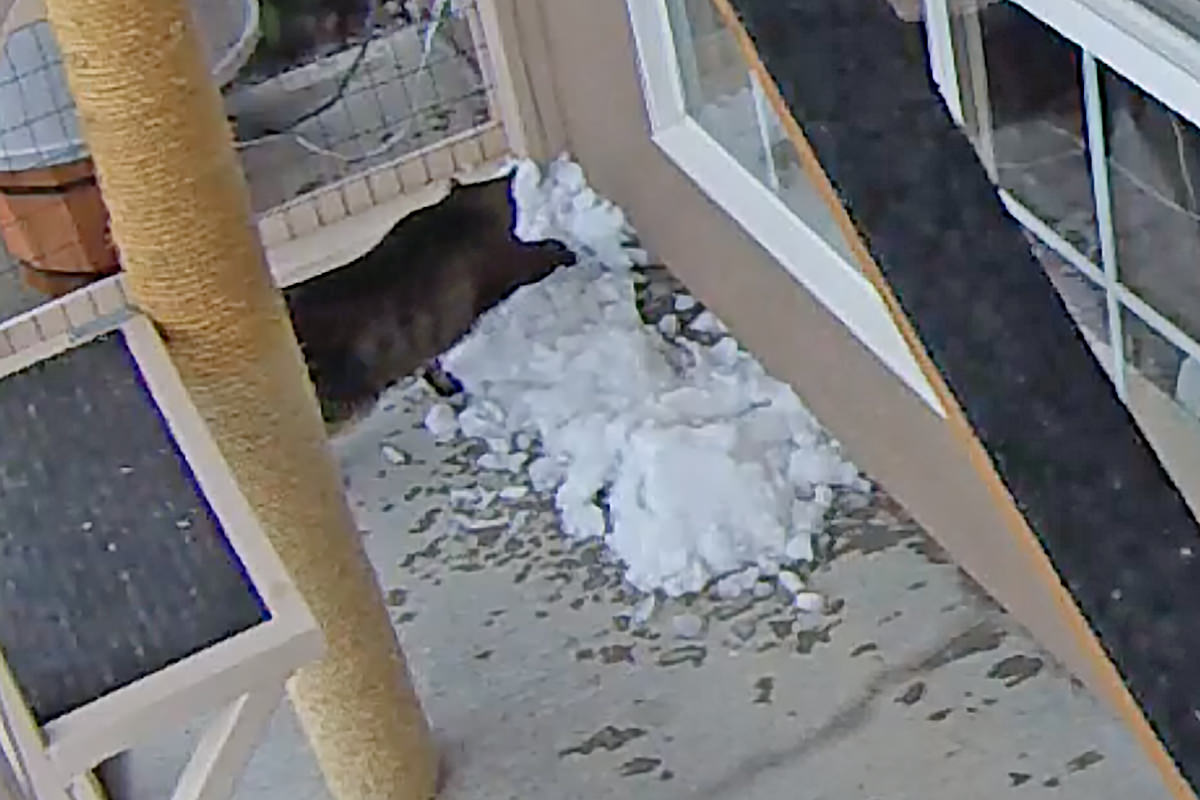 Eventually he saw me through the window and started squawking at me. Assumably telling me that the snow made his feet cold. I tried to explain that he needs to step off the snow to fix that, but he just stood there complaining...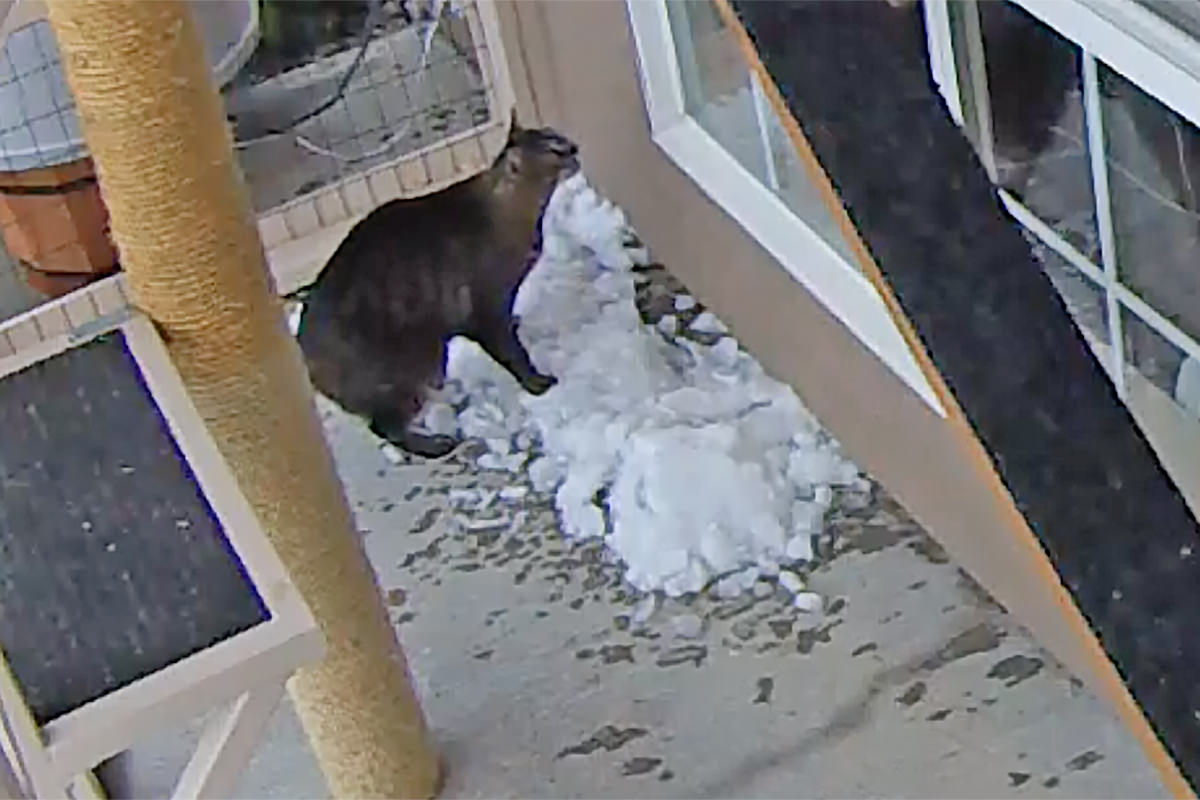 And that was the end of that. Tonight it's pouring rain, which I'm assuming will melt all the snow. Again.
Guess it was good while it lasted.