Posted on Wednesday, January 3rd, 2018
Posted on Saturday, January 6th, 2018
Posted on Monday, January 8th, 2018
Posted on Saturday, January 13th, 2018
Posted on Tuesday, January 16th, 2018
Posted on Saturday, January 20th, 2018
Posted on Monday, January 22nd, 2018
Posted on Thursday, January 25th, 2018
Posted on Saturday, January 27th, 2018
Posted on Saturday, February 3rd, 2018
Posted on Wednesday, February 7th, 2018
Posted on Saturday, February 10th, 2018
Posted on Saturday, February 17th, 2018
Posted on Monday, February 19th, 2018
Posted on Tuesday, February 20th, 2018
Posted on Wednesday, February 21st, 2018
Posted on Thursday, February 22nd, 2018
Posted on Friday, February 23rd, 2018
Posted on Monday, February 26th, 2018
Posted on Tuesday, February 27th, 2018
Posted on Saturday, March 3rd, 2018
Posted on Tuesday, March 6th, 2018
Posted on Friday, March 9th, 2018
Posted on Saturday, March 10th, 2018
Posted on Monday, March 19th, 2018
Posted on Tuesday, March 20th, 2018
Posted on Thursday, March 22nd, 2018
Posted on Saturday, March 24th, 2018
Posted on Tuesday, March 27th, 2018
Posted on Saturday, March 31st, 2018
Posted on Tuesday, April 3rd, 2018
Posted on Saturday, April 7th, 2018
Posted on Saturday, April 21st, 2018
Posted on Saturday, April 28th, 2018
Posted on Monday, May 7th, 2018
Posted on Wednesday, May 9th, 2018
Posted on Saturday, May 12th, 2018
Posted on Sunday, May 13th, 2018
Posted on Saturday, May 19th, 2018
Posted on Wednesday, May 23rd, 2018
Posted on Saturday, May 26th, 2018
Posted on Tuesday, May 29th, 2018
Posted on Saturday, June 2nd, 2018
Posted on Friday, June 8th, 2018
Posted on Monday, June 11th, 2018
Posted on Tuesday, June 12th, 2018
Posted on Saturday, June 16th, 2018
Posted on Thursday, June 21st, 2018
Posted on Saturday, June 23rd, 2018
Posted on Monday, June 25th, 2018
Posted on Wednesday, June 27th, 2018
Posted on Saturday, July 7th, 2018
Posted on Monday, July 9th, 2018
Posted on Tuesday, July 10th, 2018
Posted on Saturday, July 14th, 2018
Posted on Friday, July 20th, 2018
Posted on Saturday, July 21st, 2018
Posted on Sunday, July 22nd, 2018
Posted on Monday, July 23rd, 2018
Posted on Tuesday, July 24th, 2018
Posted on Saturday, July 28th, 2018
Posted on Monday, July 30th, 2018
Posted on Thursday, August 2nd, 2018
Posted on Saturday, August 4th, 2018
Posted on Wednesday, August 8th, 2018
Posted on Saturday, August 11th, 2018
Posted on Monday, August 13th, 2018
Posted on Wednesday, August 15th, 2018
Posted on Saturday, August 18th, 2018
Posted on Wednesday, August 22nd, 2018
Posted on Saturday, August 25th, 2018
Posted on Monday, August 27th, 2018
Posted on Tuesday, August 28th, 2018
Posted on Saturday, September 1st, 2018
Posted on Thursday, September 6th, 2018
Posted on Saturday, September 8th, 2018
Posted on Saturday, September 15th, 2018
Posted on Monday, September 17th, 2018
Posted on Saturday, September 22nd, 2018
Posted on Saturday, September 29th, 2018
Posted on Monday, October 1st, 2018
Posted on Tuesday, October 2nd, 2018
Posted on Wednesday, October 3rd, 2018
Posted on Thursday, October 4th, 2018
Posted on Sunday, October 7th, 2018
Posted on Monday, October 8th, 2018
Posted on Tuesday, October 9th, 2018
Posted on Wednesday, October 10th, 2018
Posted on Thursday, October 11th, 2018
And now... time to clean up another round of cat puke. Poor Jake. I really thought he had turned a corner when he didn't throw up after yesterday morning. It was a lot less than last time though, so maybe he's nearing the light at the end of the tunnel?
Fingers crossed.

Last night when I got home from work I decided to try a new frozen pizza brand I haven't had before. I don't know why I bother, because they all end up tasting like crap, but I keep holding out hope. The pizza was, as expected, truly awful.
In more ways that one, as it turns out.
While I was removing the wrapper, some of the cheese topping fell on the floor. Before I could grab a towel and get it picked up, Jake swooped in and chowed down. It was only a half-dozen small shreds... but that was all it took. Within five minutes he was puking his guts out. Poor guy.
I don't purposely feed my cats human food, but Jake has been getting into my food since I first got him, and it's never caused any problems. But now? Barf-time.
Which means I have to be more careful than ever that he doesn't eat anything except his heinously expensive prescribed specialty food.
Other than that, he's mostly back to normal. Except for the fact that he is still peeing far more often than usual (beats the alternative) and clings to me like glue everywhere I go. When I lay down on the couch to work, he'll immediately hop on top of me... only hopping off to pee, then he's right back on me...
Needless to say, any time I'm in bed, Jake is there too...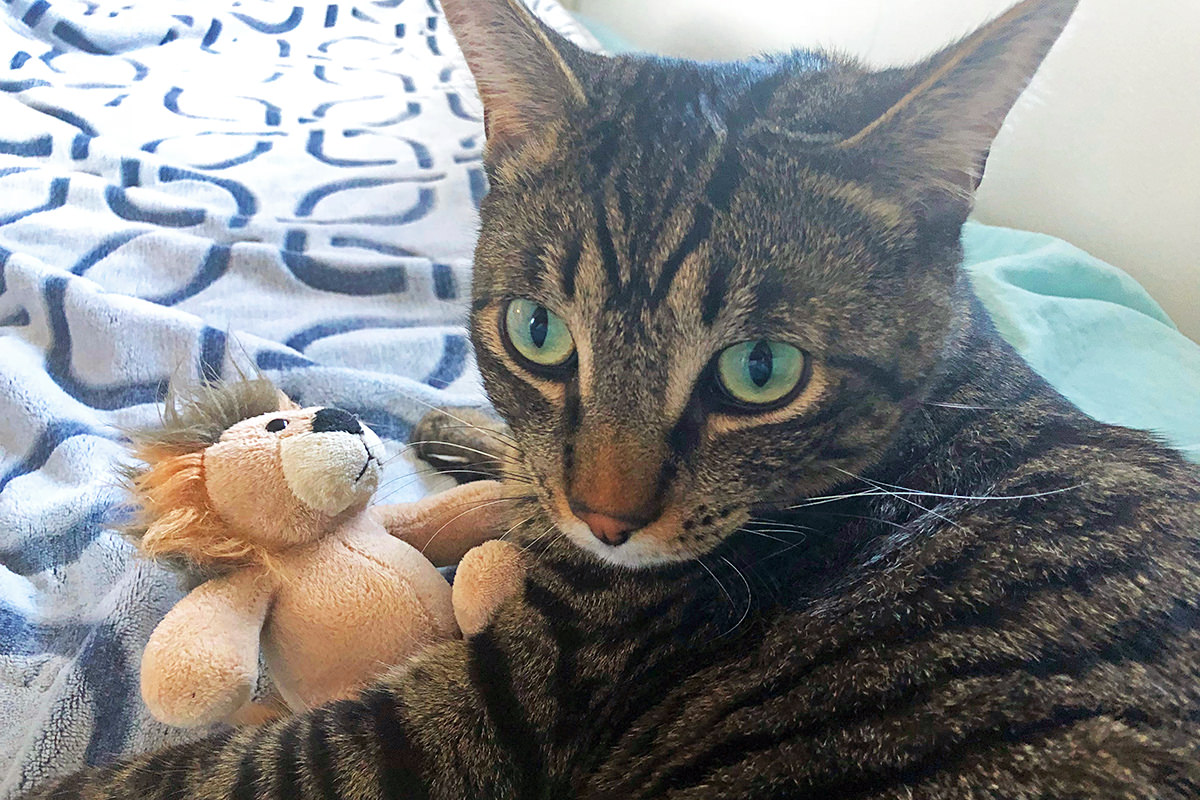 I'm still irrationally upset that his claws were trimmed. I wish I could get past that, because I know they'll grow back... but, still... upsetting...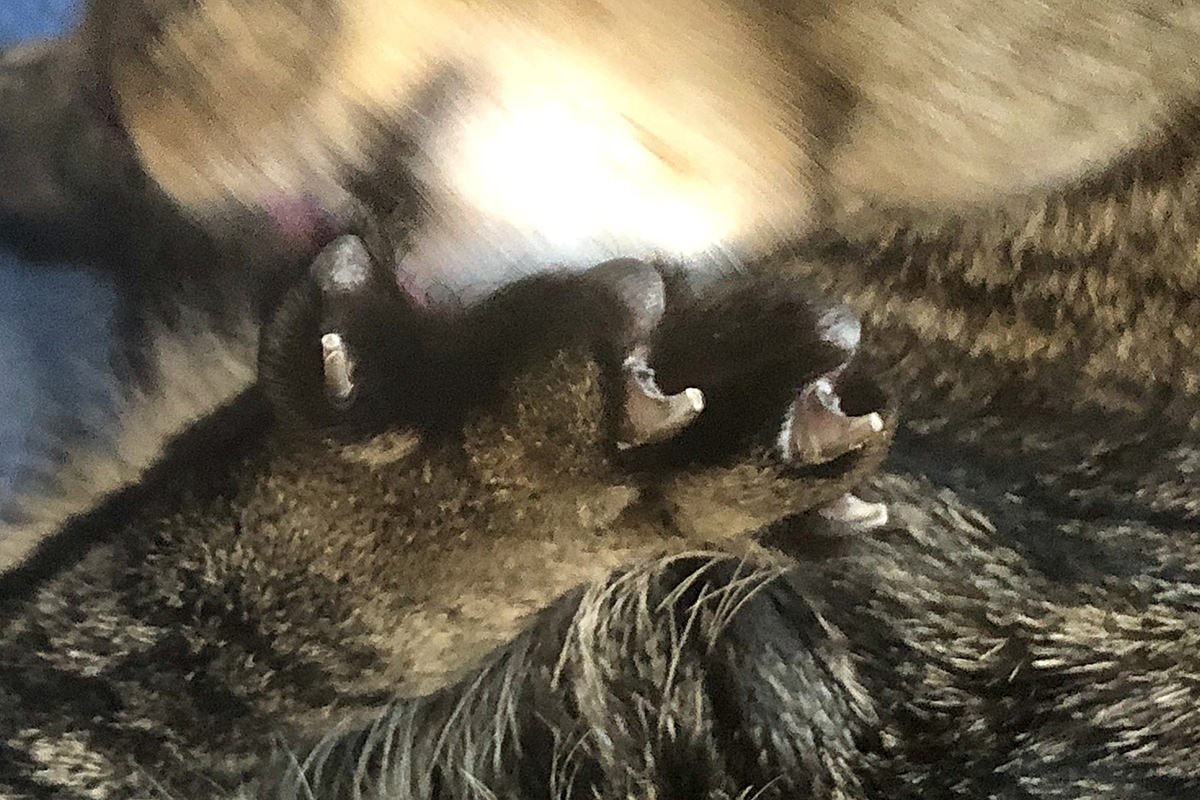 Poor Jenny spends most of her time being jealous that Jake is getting so much attention. For some reason they have an agreement that there can only be one cat in bed with me at a time, and since that's mostly Jake... well... let's just say we've been getting our share of irritated glances...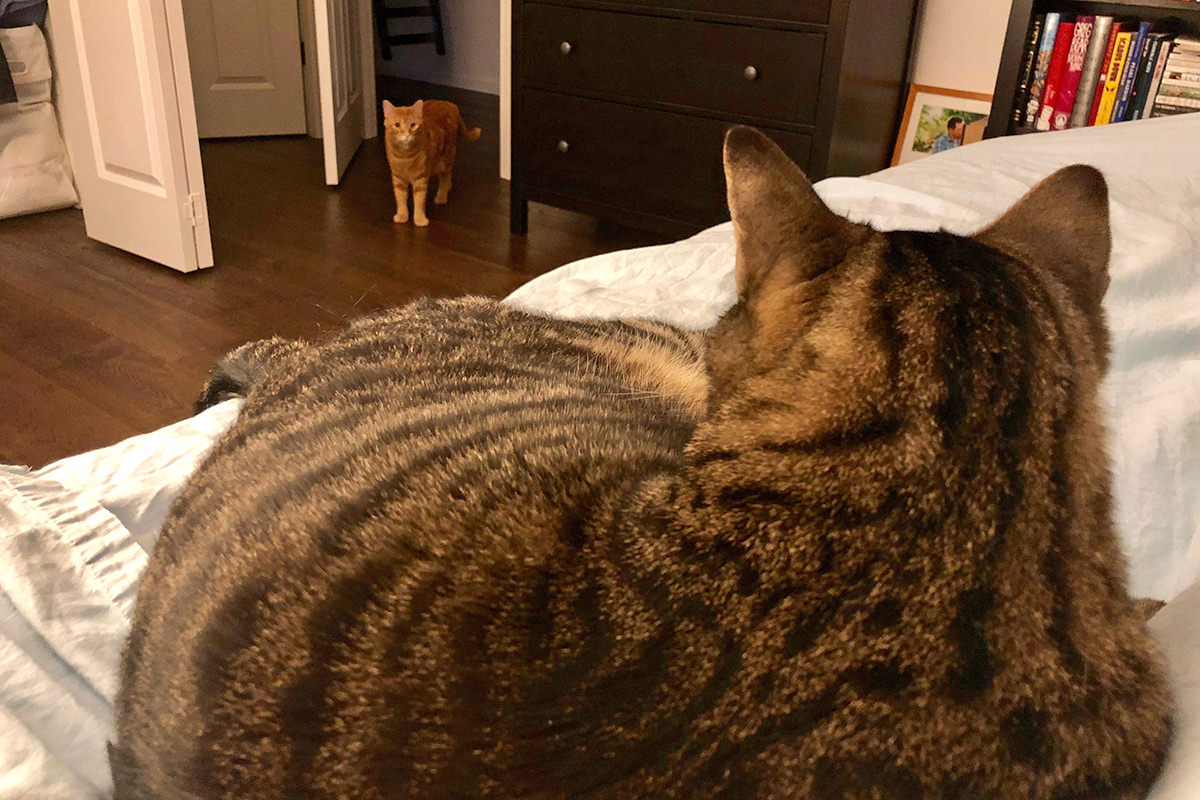 Not that Jenny is completely ignored. I make sure she gets some lap-time too...
This week has been a tough one. I am terrified that Jake's urinary problems are going to come back and they'll end up having to cut him open. Every time he uses the Litter-Robot (which is often) I run to make sure that he was able to pee. Every time he licks his junk, I'm worried it means he's having trouble going again. Next week I'm back to working full days and I won't be able to observe him as easily. I've put alerts on the security camera system for motion at the Litter-Robots, but that's not the same as being here.
Six weeks until my next trip. My hope is that everything will be fine by then and I won't have to change my plans. Again.

Spent my weekend getting ready for winter, but it hasn't been all bad... because an all new Bullet Sunday starts now...

• Jakespreading. My concern for Jake is either growing or easing depending on which minute of the day it is. On one hand, he is peeing regularly. On the other hand, it's too often... sometimes up to three times an hour. On one hand, he is pretty much back to normal. On the other hand, he has been increasingly clingy. Now he's sleeping with me every night. Which mostly looks like this...
He's sleeping next to me, using my leg as a pillow.
Except...
For the past two nights, sleeping beside me hasn't been good enough. He wants to sleep on top of me. Which is no biggie when I'm laying on my back but, given my recent back pains, I'm more comfortable on my side. He tries to climb on me but there's not enough room, so he falls off and starts getting upset. I fix the problem by leaning against a pillow. He falls asleep on the pillow (and against me), but is fooled to thinking he's sleeping on me. So it's all good, I suppose. But I think I'm going to start looking into some warm pads that might prove more tempting than a pillow. In the mornings when I come back from taking a shower, I always find him laying on the slats above the heating vent, so I'm guessing he might be in love with a warm place to lay just like his sister...
Tomorrow I'm going to place another call to his doctor so I can ask about the alarming number of times he's peeing... and to ask if I should be concerned that he's grooming his junk more often these past couple days. Call me paranoid, but I'd do just about anything to make sure he doesn't have another extended stay away from home.

• Who? First of all, I love Jodie Whittaker in the new season of Doctor Who. She is sublimely perfect in the role, and everything you could want for The Doctor she projects in spades. Quirky without being silly. Smart without being stuffy. Entertaining without being absurd. She IS Doctor Who...
Which is why my disappointment in her first episode being horribly boring was more upsetting than it usually would be. Things picked up a bit in the second episode that aired tonight (the new TARDIS is pretty great), but it still feels like a bit of a slog to get through. I really, really hope that things start picking up... giving both Whittaker and Doctor Who fans the show we deserve.

• Boca? When I was last at the grocery store, I noted that Boca Burgers have pretty new packaging. What surprised me is that the burgers inside are different. They are darker. And the taste is different. Not necessarily in a bad way... they're just... different. Still tasty...
What I cannot tell is what in the hell they are replacing. Used to be there was "Original Vegan" and "All-American Flame Grilled"... these are "Original All American," which I can only guess is taking the place of both? They ain't vegan (contains cheese like the All-American Flame Grilled) so maybe they are discontinuing those? Confusing.

• The Vote. LOLOLOL! Maria Cantwell just released a commercial saying that "drug companies are too powerful and prescription drugs cost too much money." Guess the blowback she got after accepting $75,000 from Big Pharma then voting against cheaper drug re-importation has her worried? Typical piece of shit politician... says whatever she feels she has to at the moment in order to get elected, and then she'll jettison it when she decides to suck Big Pharma dick for cash again. We get the politicians we settle for. We get what we deserve. Not that we're given much choice. My Washington State Voter's Pamphlet just arrived and there's only one candidate I actually want to vote for. The rest are just votes against Trump-enabling Republicans.

• Asshole. Vice President Pence would do best to just shut the hell up on all matters pertaining to anything because, odds are, his boss has tweeted something totally fucked up on the topic, which makes Pence come off as a hypocritical asshole. Like this...
Why the hell Pence pretends to give a shit about journalists when it's been made very clear that Trump's administration condemns journalists as an "enemy of the people" is beyond me. Disgusting and pathetic. Like most everything to do with President Trump.

• Groupon! Congratulations to Hasan Minhaj on becoming a father...
I can't wait for his show, Patriot Act, to debut on Netflix come October 28th! And, needless to say, if you have Netflix and haven't seen his incredible standup show, Homecoming King, you should do that immediately.

Annnnd... scene. See you next Sunday.