Posted on Wednesday, January 1st, 2020

And so here we are in 2020. I am siding with The US Naval Observatory that says a new decade begins a year from now in 2021 and runs through 2030. But it's only natural to see a zero at the end of a year and think back to what's happened in the past decade. Fortunately, I have a blog that goes back to 2003, so I know exactly what I was doing a decade ago in 2010.
From a blogging standpoint, everything has changed. As in... ten years ago blogging was still a thing. Now, of course, blogging has been shoved aside in favor of Facebook and other social media. No idea why I stick with it. I am inclined to think it's just a habit I can't break. What I may do is rethink daily blogging and just blog when I feel like it. Problem is that once I start skipping days, I may not start again. I guess I'll cross that bridge when I get to it. If I get to it?
Personally I don't know what to think. A decade ago my mom was here and I had grandparents, now they're all gone. I was in a bad relationship, now I'm happy to be single with cats. I was much better off financially, but now I have a house and mortgage. I know I was happier a decade ago, yet I'm pretty happy with my life now too. I was a lot less healthy, but now I'm over fifty and closer to death. All things considered, I'd go back to 2010 in a heartbeat. But would I do anything differently to justify living all those years over again? Probably, if I knew what I know now.
When it comes to 2020 things are very much up in the air. Many things in my life are in strange places so it's tough to make plans. For once I think I'd be happy if things were to just stand still for a year. I do know that I will try to be grateful for every day that I have family, friends, cats, work, something to eat, and a roof over my head. Do I really need anything more?
And speaking of 2020, here is my favorite thing about it this year so far...
And to you, dear readers, here's hoping your New Year is a good one.
Posted on Tuesday, January 28th, 2020

And... I killed my blog.
The template for this blog is really old. So old that it's starting to break with the newer versions of WordPress. Comments haven't worked properly in over two years. Commenter name and contact information is no longer stored and the comment field is wider than the blog container. Not that it's a tragedy since I don't get many comments now-a-days, but still... it annoys me.
And so last night* I set out to see if I could fix it.
Idiot that I am, I didn't backup my old templates. Nor did I write down the old settings I had. Instead I just plowed forward and made tweaks that I thought would make things work a bit better.
Nope!
Screwed everything up. Couldn't even log in.
Long story short... I had to download my blog archive, extract the template code, rebuild WordPress, rebuild my custom templates (faults and all), then re-link the database so my entries could be found again.
Time to complete? THREE DAYS!
I am writing this on Thursday, January 30th after having finally getting everything working again this morning before I headed into work.
What I would like to do is purchase a spiffy new "Gutenberg-Ready" template and modify it so that it looks like my blog. Then I could do all kinds of cool stuff that the new WordPress editor allows me to do. Problem is that I don't have time. I'd hire somebody to do it for me, but I have even less money than time. And so... I guess I should just be grateful that Blogography keeps on running at all.
Until WordPress releases an update that breaks my blog completely. Which is any day now, I'm sure.

*The word "yesterday" being relative, in this case.
Posted on Friday, January 31st, 2020

I started another woodworking project last night, lost track of time, and was too tired to go to the store as I had planned.
And so I went after work today.
Which was a huge, huge mistake because everybody and their dog was buying crap for their Super Bowl watch parties. The traffic is jacked up on the road to the grocery store on a good day... but today? Bedlam.
All I really needed was potatoes and eggs so I could whip up some potato salad for dinner tomorrow, but there were sweet savings in celebration of Super Bowl Weekend that I was compelled to take advantage of, so I guess it made the horrible trip worthwhile.
Now I'm too tired to blog.
Posted on Monday, February 10th, 2020

I don't usually share work here that's not my own, but sometimes there's something that really begs to be shared, and I'm all too happy to oblige.
I ran across Michele Rosenthal's work many years ago when I was looking for an illustrator for a packaging project. She has a wonderful paper-cut-out kind of style that I love, and is able to distill concepts down to a simple presentation in a way that looks effortless. I've bookmarked her site (along with a hundred other artists) and check in from time to time to see what's new. A couple years ago, it what this work of sublime brilliance...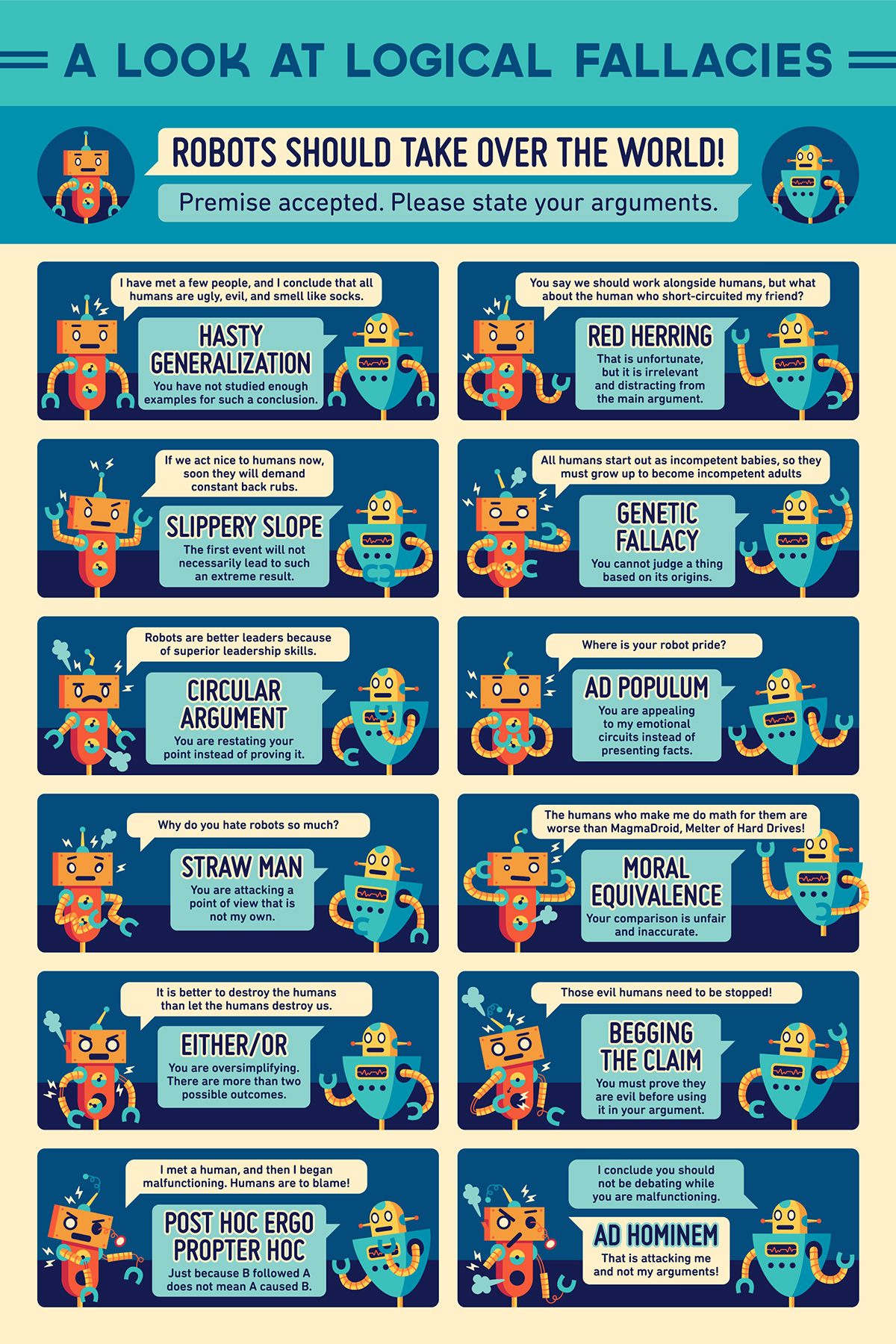 To see the full-size piece or buy a poster, you can visit her website.
Somebody posted it to Facebook today, and I was reminded of how great it was. But the best part was that Michele created some "stickers" that you could paste when you're debating with somebody online and they unload a logical fallacy to support their (poor) argument...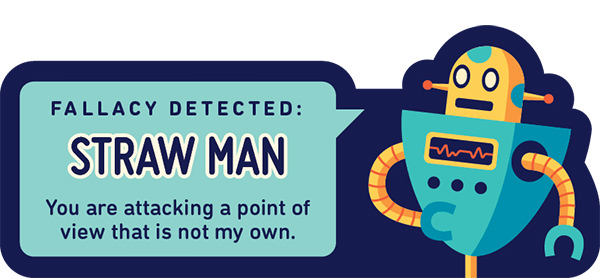 You can see all the stickers on Michelle's website here and here.
I used the stickers exactly one time.
It did not go over well... at all.
In fact, to say "It did not go over well" is a monumental understatement. Their initial reply to my sticker was pretty scathing and yet another logical fallacy. My response was another sticker.
I was unfriended and blocked.
So as not to lose the entirety of my online friends, I just set the stickers aside and decided to use them only in the event of a serious emergency.
Which is all the time, but I'm trying to show restraint. Hey, I'm guilty of logical fallacies myself. I just try not to be mean about it.
Well, mostly.