Posted on Wednesday, January 1st, 2020
Posted on Thursday, January 2nd, 2020
Posted on Friday, January 3rd, 2020
Posted on Saturday, January 4th, 2020
Posted on Sunday, January 5th, 2020
Posted on Monday, January 6th, 2020
Posted on Tuesday, January 7th, 2020
Posted on Wednesday, January 8th, 2020
Posted on Thursday, January 9th, 2020
Posted on Friday, January 10th, 2020
Posted on Saturday, January 11th, 2020
Posted on Sunday, January 12th, 2020
Posted on Monday, January 13th, 2020
Posted on Tuesday, January 14th, 2020
Posted on Wednesday, January 15th, 2020
Posted on Thursday, January 16th, 2020
Posted on Friday, January 17th, 2020
Posted on Saturday, January 18th, 2020
Posted on Sunday, January 19th, 2020
Posted on Monday, January 20th, 2020
Posted on Tuesday, January 21st, 2020
Posted on Wednesday, January 22nd, 2020
Posted on Thursday, January 23rd, 2020
Posted on Friday, January 24th, 2020
Posted on Saturday, January 25th, 2020
Posted on Sunday, January 26th, 2020
Posted on Monday, January 27th, 2020
Posted on Tuesday, January 28th, 2020
Posted on Wednesday, January 29th, 2020
Posted on Thursday, January 30th, 2020
Posted on Friday, January 31st, 2020
Posted on Saturday, February 1st, 2020
Posted on Sunday, February 2nd, 2020
Posted on Monday, February 3rd, 2020
Posted on Tuesday, February 4th, 2020
Posted on Wednesday, February 5th, 2020
Posted on Thursday, February 6th, 2020
Posted on Friday, February 7th, 2020
Posted on Saturday, February 8th, 2020
Posted on Sunday, February 9th, 2020
Posted on Monday, February 10th, 2020
Posted on Tuesday, February 11th, 2020
Posted on Wednesday, February 12th, 2020
Posted on Thursday, February 13th, 2020
Posted on Friday, February 14th, 2020
Posted on Saturday, February 15th, 2020

What in tarnation is happening here? There's no need to check your calendar... because an all new Bullet Sunday on Saturday starts... now...

• Red Sox! And so it begins... the team is converging on Fort Meyers for Spring Training, which begins full-squad workouts on Monday. Well, full-squad except Mookie Betts, who got traded to L.A. for some stupid reason (okay, it was probably to fall under the Competitive Balance Tax threshold for 2020, but still stupid)...

Photo from NBC Sports
I sure hope Boston has a better season this year than last year.

• 1917! If you know me, you know I love maps. This is so frickin' cool.

• You Better Work! As somebody who loves RuPaul, there was no way I was going to miss his new 10-episode series on Netflix...
From the trailer I expected it to be entertaining and funny. I did not expect it to be as deep, smart, and genuinely sweet and touching as it. Bonus: There's a lot of familiar faces popping up throughout, including many, many contestants from Drag Race. What sabotages the show is two things. 1) The kid is irrationally bratty and shitty at random times, screaming her head off for no reason. I have no idea why Ru and Michael Patrick King felt it necessary to go that far. And, 2) It doesn't have an ending and absolutely everything was left in the air with no resolution whatsoever. If Netflix doesn't give it a second season, viewers are screwed. Still, worth tuning in for.

• Miss Jackson! Janet Jackson Herself has announced that her new album and tour, Black Diamond, will be dropping this summer.

• Great Scott! These deep fakes are just getting more and more frightening...
Frightening because they are looking more and more realistic.

• Goo! If you did any kind of graphic design work in the 1990's, odds are you know of Kai Krause. His design tools allowed you to create some truly wondrous stuff... but had the absolute worst possible interfaces to get there. I never understood why they were so utterly wacky and nonsensical. Apparently, it was to spur creativity... to get people to just "play" with things until they were intuitively doing what they wanted to do. It never worked like that for me. I'd much rather have proper menus and tools that made it clear what was happening. Kai's Power Goo, for example, was just a mess. But it was Photoshop "liquify" before there was Photoshop liquify, and you have to respect that...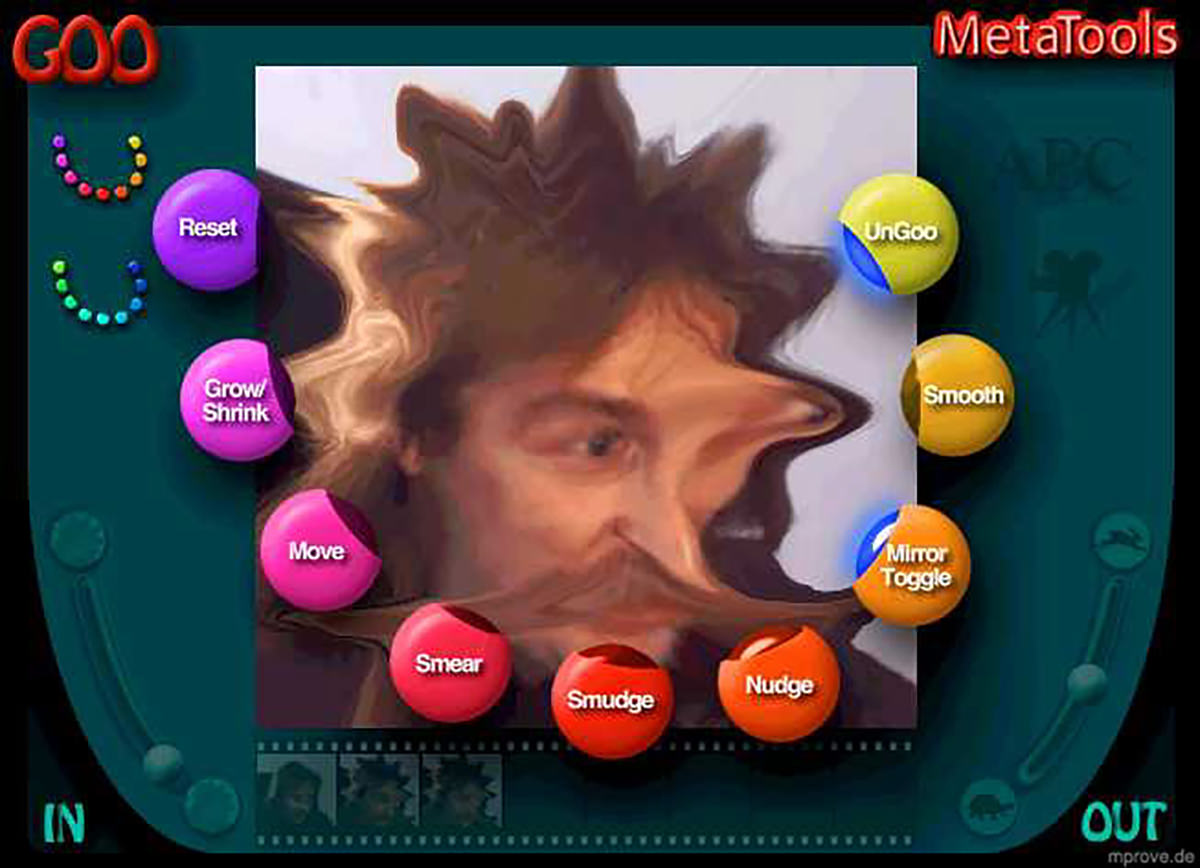 I owned absolutely everything Kai ever released. Used his tools all the time, even as I hated the way they worked. Even so, I found the story of his interface design an interesting read.

And that's Sunday Saturday Bullets.
Posted on Sunday, February 16th, 2020

The reason that Bullet Sunday and Caturday switched places this weekend is that today is the 4th anniversary of my adopting Jake and Jenny.
When their 4th birthday arrived back in December, it didn't really register with me. Probably because that's an estimated date. They were feral rescues who were rescued when they were days old, so "December 6th" may or may not be the actual day. The date that I actually went and got them is not estimated, however, because I wrote a blog entry on that amazing day...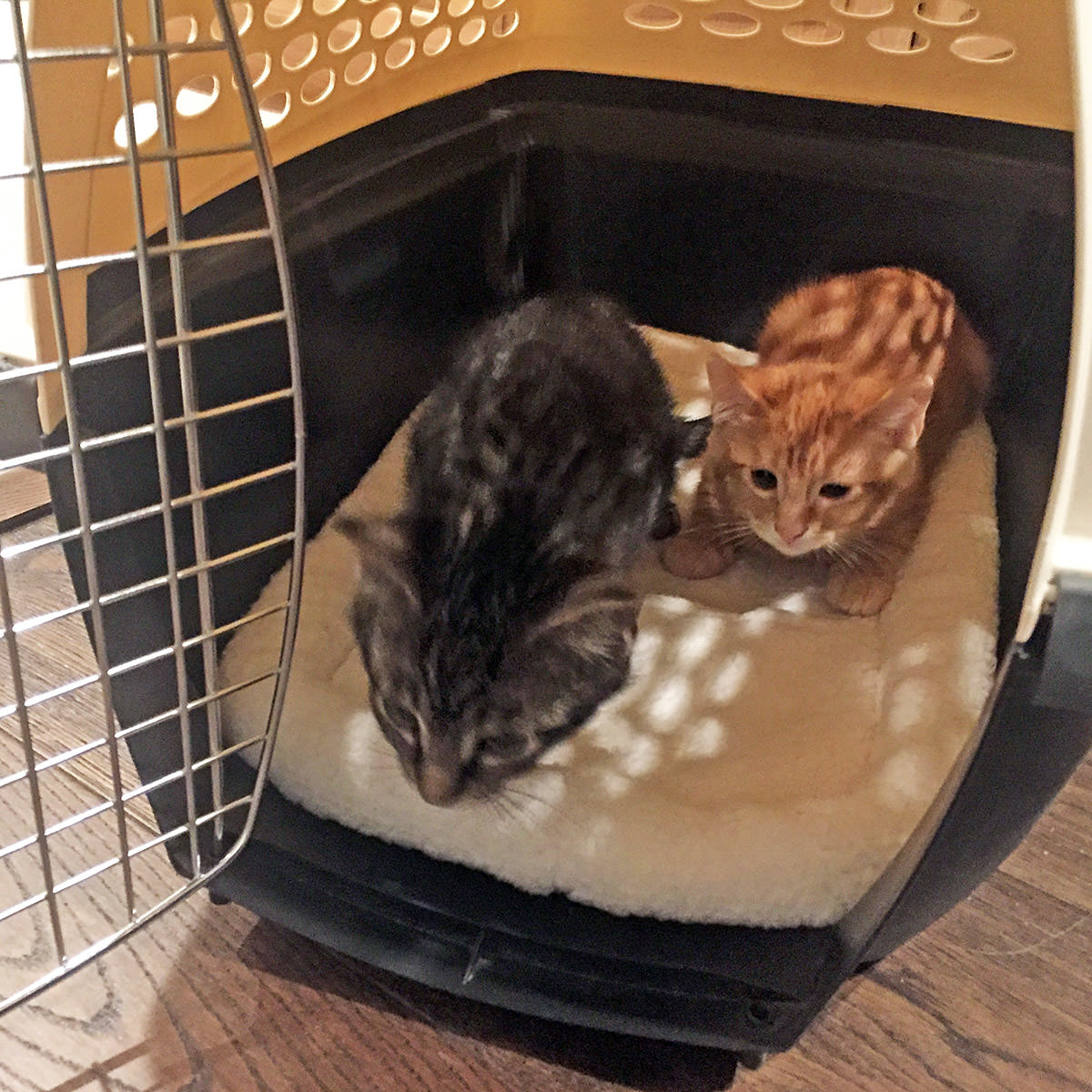 Initially rescued so my mom would have a distraction from her mounting confusion and memory loss, she was able to coax them out from under the couch long before I was...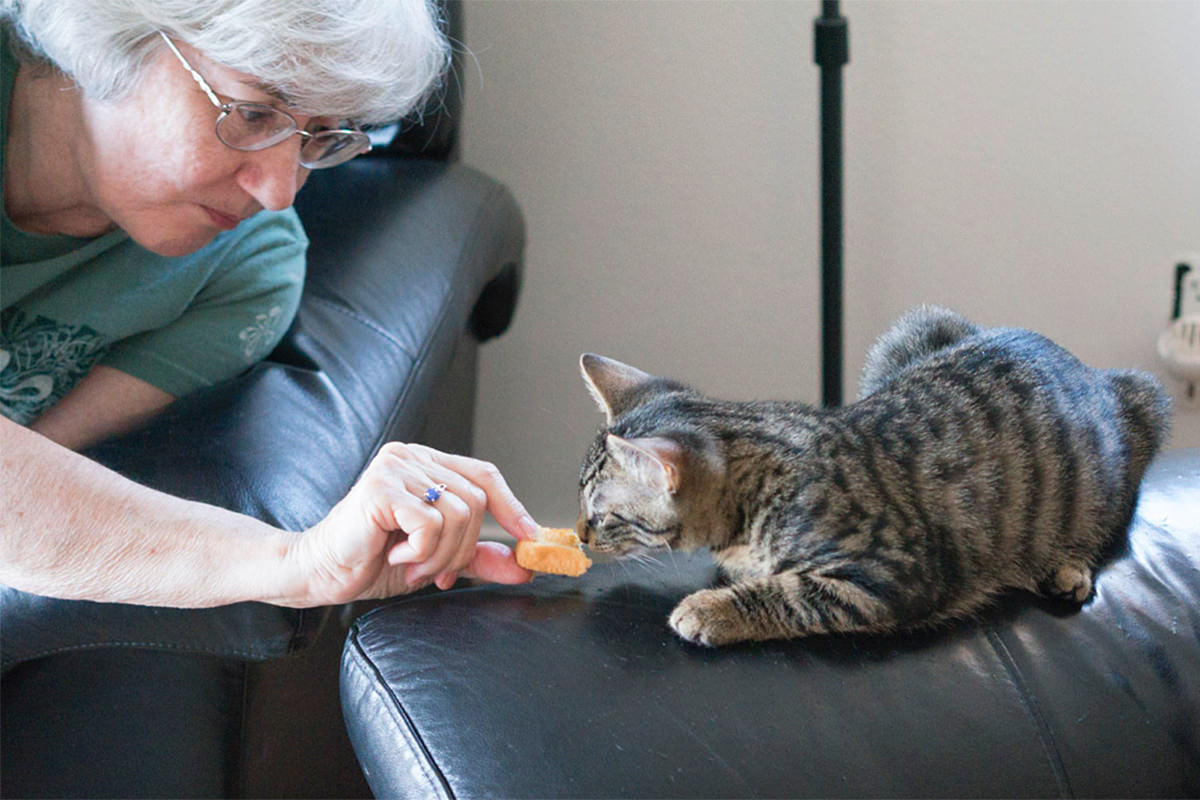 Probably because she was home with them all day so they got used to her faster. Or maybe just because they liked her a lot. Especially Jake, who would flop down and invite her to rub his belly at any opportunity...
Adopting my cats remain one of the best things I have ever done in my entire life.
After my mom passed, they were my reason for getting up in the morning, and they've been saving me every day since.
They are the most amazing creatures, and I love absolutely everything they do. Both of them are exceptionally well-behaved, never scratch up the furniture, always playing nice, and always happy to hang out with me. On those rare occasions something goes wrong... like them getting sick or waking me up in the middle of the night for some bizarre reason... I am never upset. Ever. Because they continue to be one of the best parts of my life...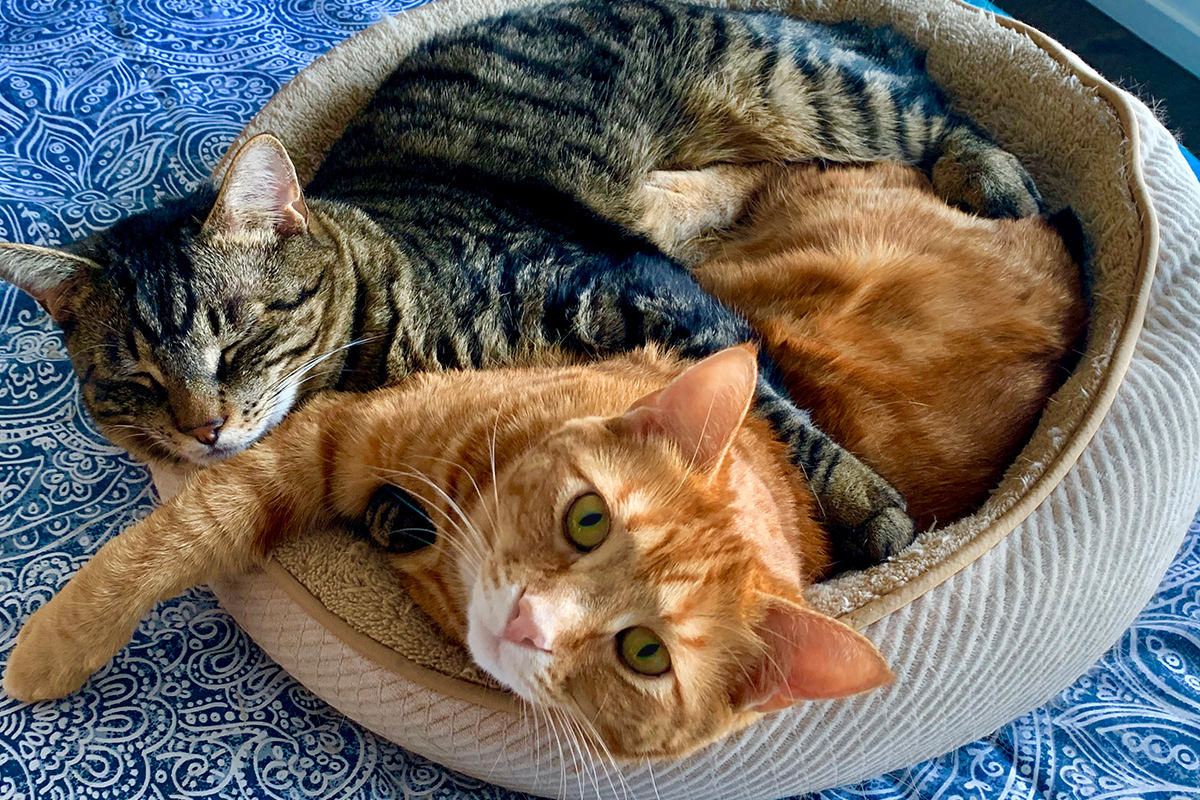 If they have a failing, it's that I could never get them to adapt to other people. I have tried and tried and tried to slowly introduce them to houseguests. Sometimes, after a day or two, if nothing too exciting is going on, Jake might come downstairs to take a look... but he is wary the entire time and never hangs around for very long. My guess is that if somebody were to be around for several weeks they would eventually adapt. If I ever end up in a situation where that becomes a necessity, I sure hope that's the case.
In the meanwhile, I'm just going to keep enjoying their company for as long as I possibly can, because every day I love them just as much as I did when I first got them four years ago...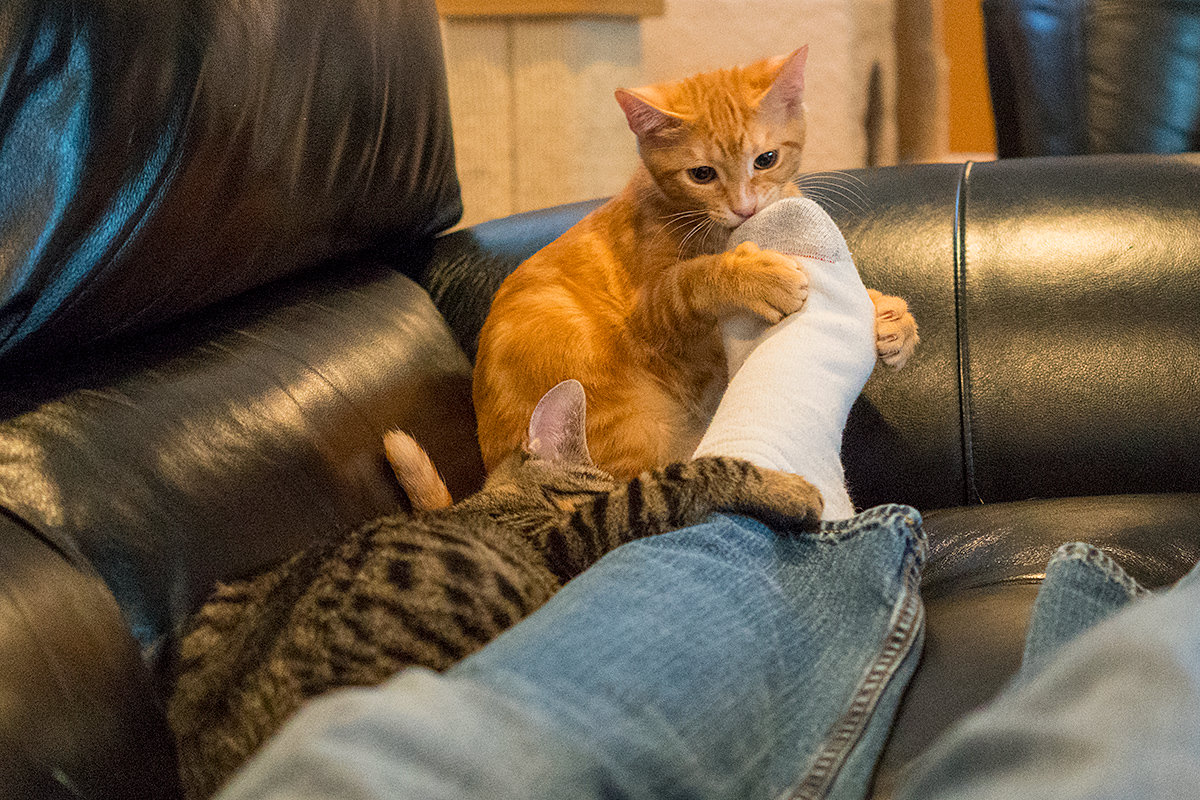 Happy Caturday, everybody!
Posted on Monday, February 17th, 2020

My arm crippling arm pain has not relented. I can keep it at bay by laying in bed, propping it so it doesn't move, and doing N-O-T-H-I-N-G and so I've been trying hard to do just that. I'll work on my laptop for an hour or two if I can, then do nothing for at least three hours, then see if I can work some more.
To say this has cut into my productivity is an understatement. But it's either that or be hopped up on truly unhealthy amounts of painkillers. Even just Ibuprofen in wild amounts for too long can cause kidney and liver damage or stomach bleeding. And so... I'll take a big ol' pass on that.
But here's the problem... doing nothing, as enticing as that may sound, is just so boring!
I never "just watch television" or "just watch a movie." Sure there are some television shows or movies that I pay more attention to than others... especially foreign language media where I am having to read subtitles... but even then I've got paperwork I'm working on or have my laptop nearby. I just have to. But now that writing or shuffling papers or typing on a computer can potentially be excruciating, it's not quite the option it usually is.
In an attempt to find middle ground, I've been trying out Apple's speech dictation technology to type stuff into the computer. It's both shockingly good and shockingly frustrating at the same time. You can't really dictate words while watching television or a movie. But otherwise? It works great. Mostly. But when it doesn't? It makes me want to scream.
This entire post has been dictated while travel videos are playing silently on my television. Surprisingly, there have been few errors. But just try typing an ellipsis as three periods instead of that stupid ellipsis character (... instead of …). You cannot. If you say "word period period period," then Apple will type "word. Period." And if you've read my blog for any amount of time then you know I gotta have my triple-period ellipsis.
Which is why I think I'll just end this here instead of getting to a point where I must type another one.
Posted on Tuesday, February 18th, 2020

The weather is nice enough that I've started to walk to work again. Just have to make sure I'm in a long sleeve shirt and am wearing gloves and then, after a brisk seven-minute walk, I'm at the office.
And it was all good until I realized that I had to take home a bunch of notebooks, reference manuals, and binders that I needed for the evening's work. My initial thought was to walk home, then drive back to get everything, but I decided to use grocery bags I had squirreled away in my filing cabinet and just carry them home that way.
You may be asking yourself "Huh? Didn't he say that he had an injured arm? How did he manage that?" And, if you did, you have a better memory than I do. My arm was hurting as always, but at a comparatively minimal amount, so I didn't even think about it. I'm so used to the pain that I barely notice until I pull/twist it wrong.
Alas, I eventually did remember... when I was half-way home and unbelievable pain starting shooting up the back of my arm. Dropped half my bags on the spot. THEN I was like... how am I going to get these home now that one of my arms is useless?
I moved the two dropped bags off the sidewalk and took the other two to the field behind my house. Dropped them off, then went back. Carried those to my back porch. Then went back for the two I had dropped in the field. Surprisingly, nobody came along and stole them or kicked them, or peed on them, or whatever it is that assholes are wont to do.
My seven-minute walk ended up taking in excess of twenty, at which time I was so tired and in so much pain that I went to bed. Woke up to feed the cats. Went back to bed. Woke up to watch some television. Went back to bed.
Never opened a single notebook, reference manual, or binder that I had worked so hard to bring home.
Story of my life.
Tomorrow I'll be taking the car to work.
Posted on Thursday, February 20th, 2020

If there's one thing I'm certain of, it's that humanity as a whole is on the decline.
Today reeeeeeally drove that home for me. Vividly. And so I decided to go home and turn off the world for a while. Which would usually mean that I'd clean house, play video games, or build something, but I didn't feel like doing any of that.
Fortunately Netflix decided to tell me that there's a new offering called #CATS_THE_MEWVIE, which is a documentary about cats on the internet...
Yep. That did the trick.
Even if some of the people on this are nuts. Or assholes. Or both.
Ready to face the horror show that we call "Reality" again.
Posted on Friday, February 21st, 2020

As I mentioned just over a year ago AND way back in 2011(!), I have a massive number of files archived on old media. As I said at the time, "At some point Real Soon Now, I need to transfer all my older files to Amazon's online storage. Then it doesn't matter if I can't read CDs or magneto-optical, or ZIP, or JAZ, or SyQuest... all I have to worry about is whether or not I can read the format that the files are in."
Turns out that today was the day.
I had an image file from 1994 that I absolutely could not do without, and so I ended up having to drag my old PowerMac G3 (from 1997) out of the basement at work so I could figure out how to get the files off the darn thing. It was the latest Mac I had with SCSI on it... and the only Mac I had with both SCSI and ethernet!
Say what you will about Apple, but their computers are reliable as all get-out. The thing turned on immediately...
Though I'm kinda glossing over what it took for me to get to this point.
First I had to find a display that would work. I have a fairly big one with the correct connector, but I wasn't sure that a Mac this old had enough video memory to use it. And so here I am with this teeny-tiny CRT monitor that crackles from time to time, which means it will likely explode (implode?) any minute now. But hey, all I'm doing is looking at files, so it's all good.
This was pre-USB, so I had to look through a mass of boxes full of cables and keyboards and mice to find ADB-compatible peripherals. Easier said than done. The first mouse I tried had a ball that had shrunk and no functioning button. The first keyboard had characters that refused to type.
The first several times I booted it up, it would stall for some reason. But each time it would get a little further. This was weird, but eventually it was booting up all the way.
And then it told me that my computer's date was at 1956 or something like that, so it took another few attempts at booting up before I could manage to change it. After that I had no problems booting... but a real headache trying to get everything running.
Attempting to figure out how to make SCSI devices mount without conflict is all voodoo to me. You just have to keep trying until something works. Then, what works for the Jaz drive doesn't work for the Magneto-Optical drive, so you have to start all over again.
While the computer had an ethernet port, I could not speak to any server on the network. It was still using AppleTalk over Ethernet, and that had been turned off ages ago. So how was I going to get my files off of JAZ and Magneto-Optical SCSI disks? Turns out the answer was FTP, baby. This ancient Mac had Fetch 3 installed!
Also installed? WARLORDS II (!) One of my favorite games of all time. It's been ported in various ways to various platforms, but it never seems to work the same. I guess now I've got a way to actually play it again if I really want to...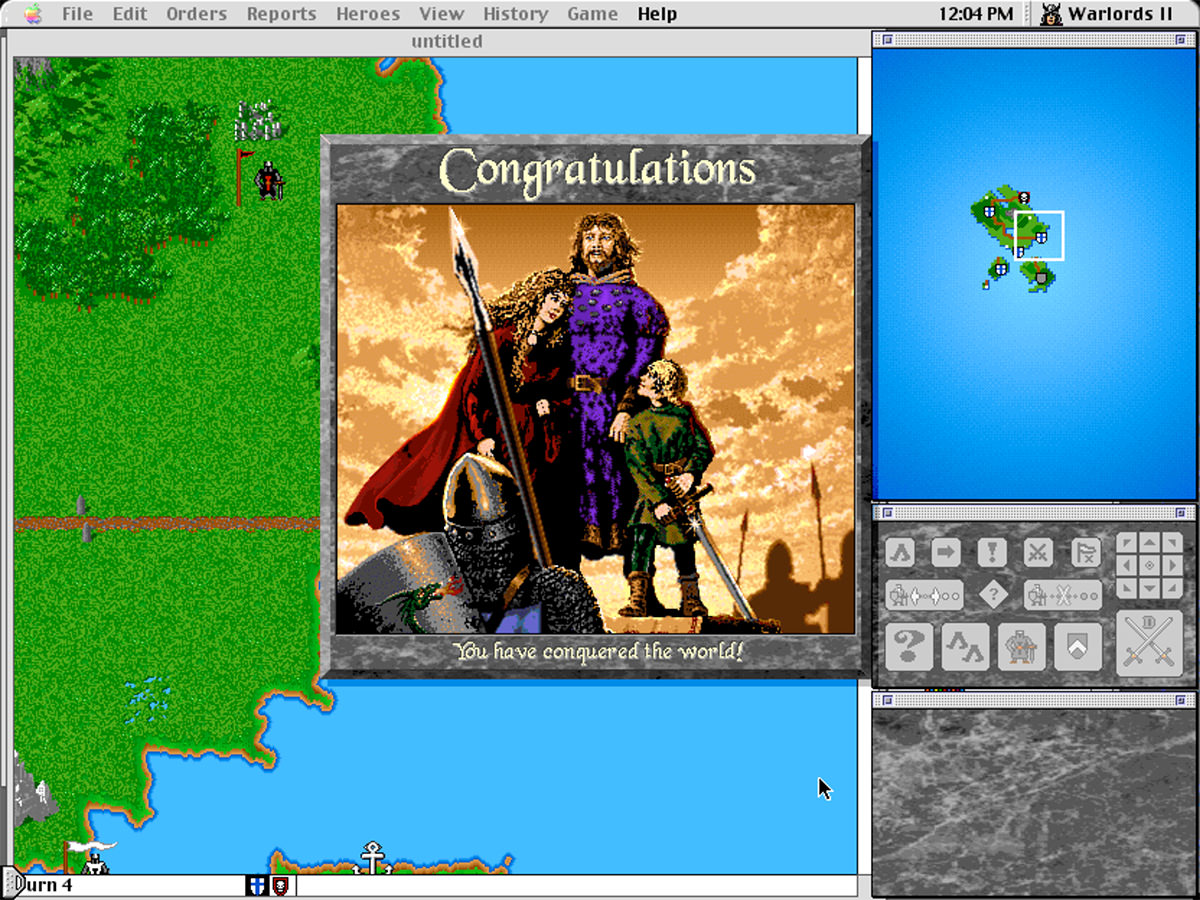 One thing I had forgotten about from the good ol' pre-OS-X days was having to allot memory for your apps...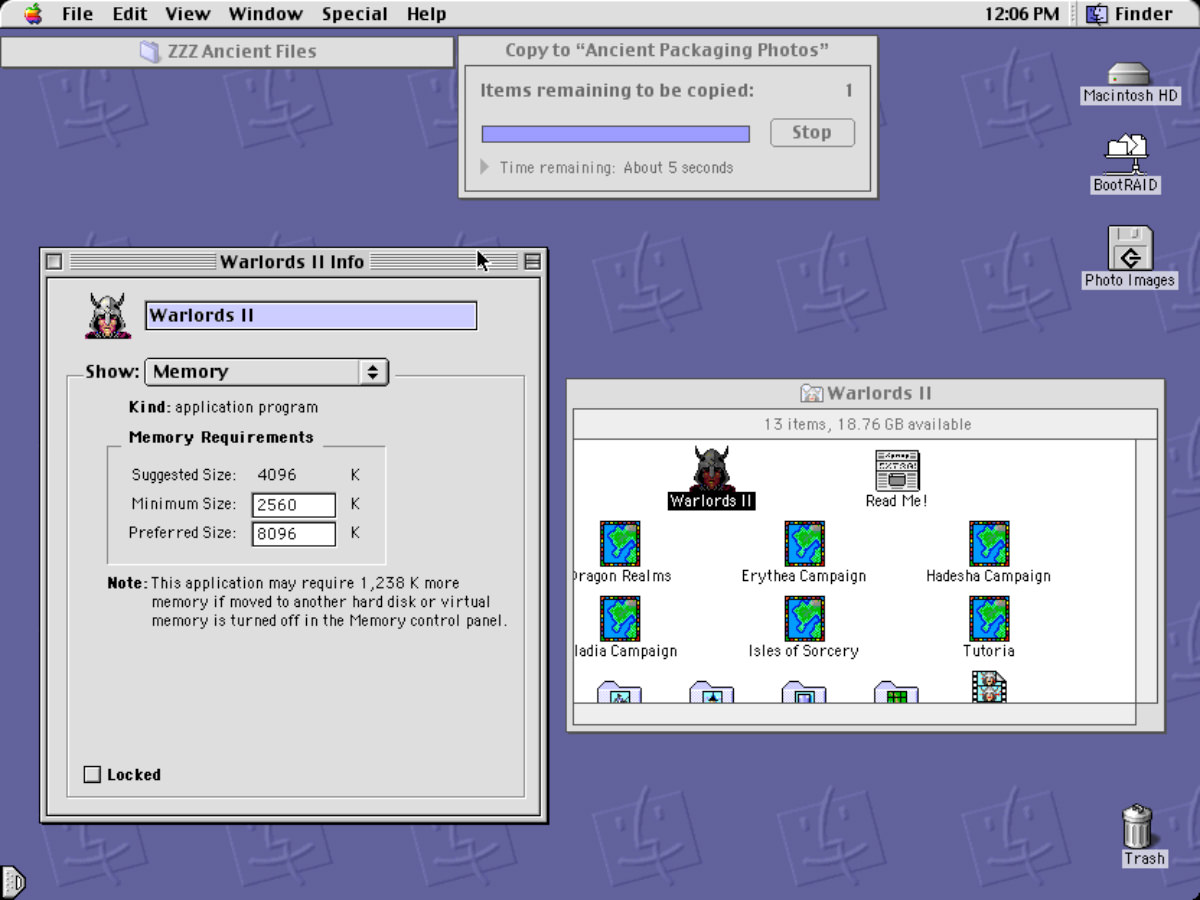 Guess that what happens when you're running with a whopping 160MB of memory! Happy those days are over.
Interesting to note that the "secure internet" is not browsable in the three browsers I had loaded on this machine (including Netscape and Internet Explorer). But if I go in an turn off the security certificate redirect on Blogography, there it is...
My sites which are not secure load surprisingly well...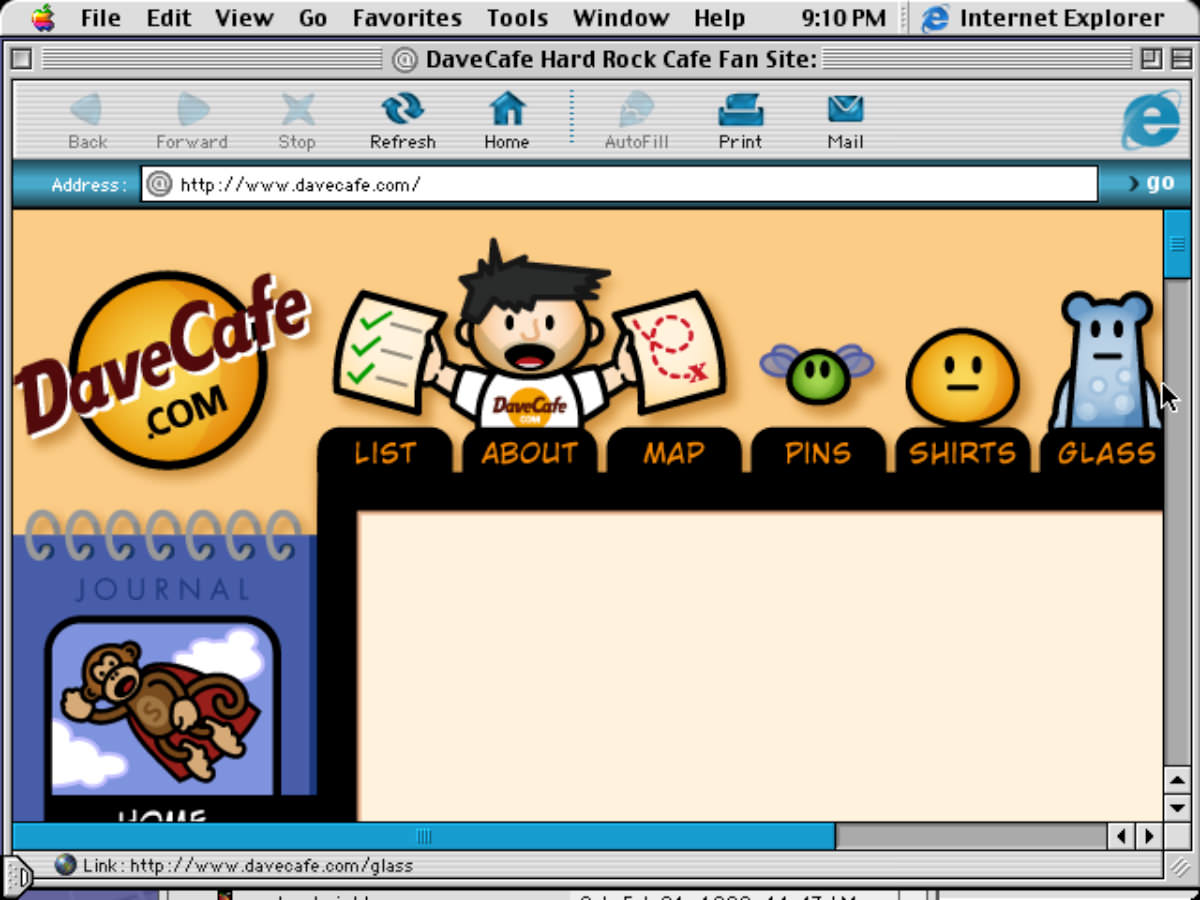 But the display was a bit wonky, with stuff floating way down the page. Which, let's be honest, is not surprising given that I was running Internet Explorer.
But anyway...
Eventually my files were found, I got them transferred to an FTP server, and all was good in the world (after I found out that Stuffit makes a .SIT archive extractor for modern Macs).
And that was the excitement for my Friday.